Strange workshop
One aspect I really enjoy about being involved in the car industry is constantly getting to meet new people. Cars are a social hobby – let's face it – you tend to leave the house a lot more than you would if you were into knitting or washing cats. Whether it be from going along to a local meet, spending time on forums or in particular this case visiting a local workshop, owning my Datsun 280Z 'Project Z' has led to me being introduced to some genuinely awesome people.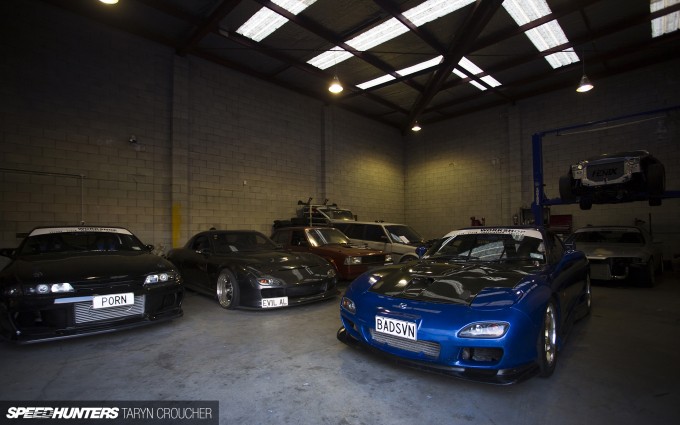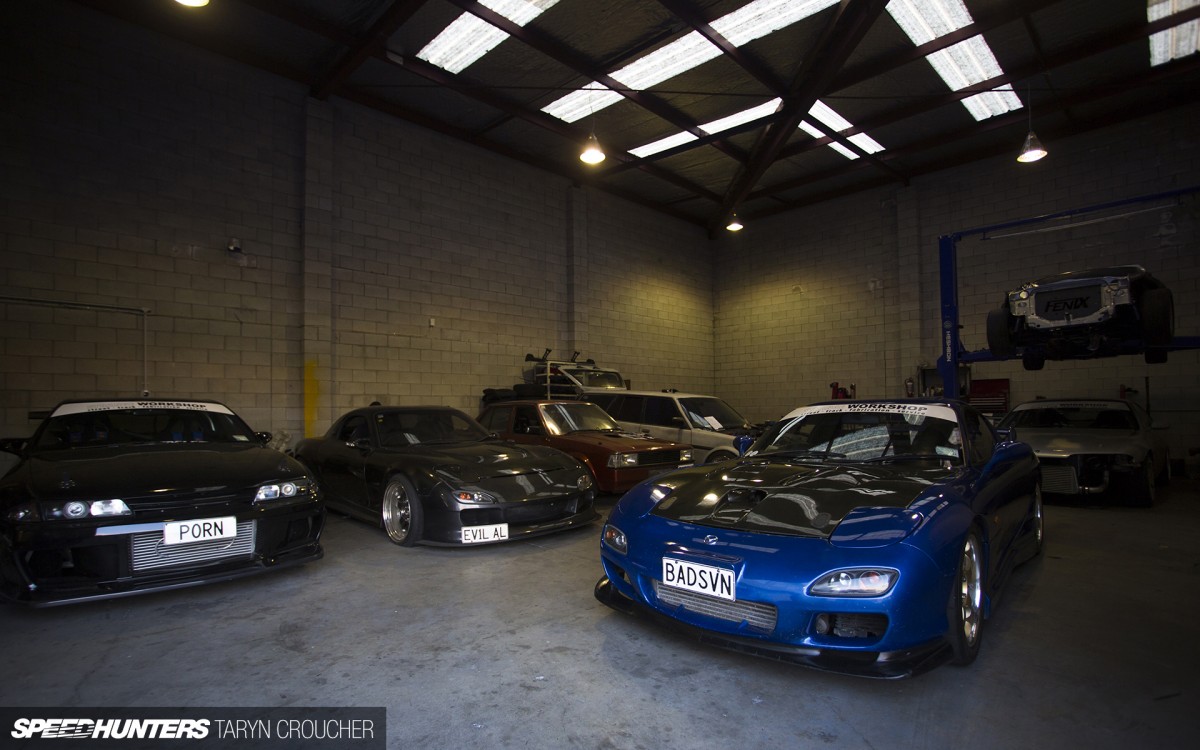 Last week Project Z was loaded onto yet another truck and transported over to Strange Workshop near my home in Auckland, where we'd been given a tip that local car builder Jon Sowden was an all-round good bloke that could give us a hand and the use of a hoist to fit a bigger fuel pump and fuel lines, sort out the throttle set-up and fabricate a new exhaust system to go behind the new headers.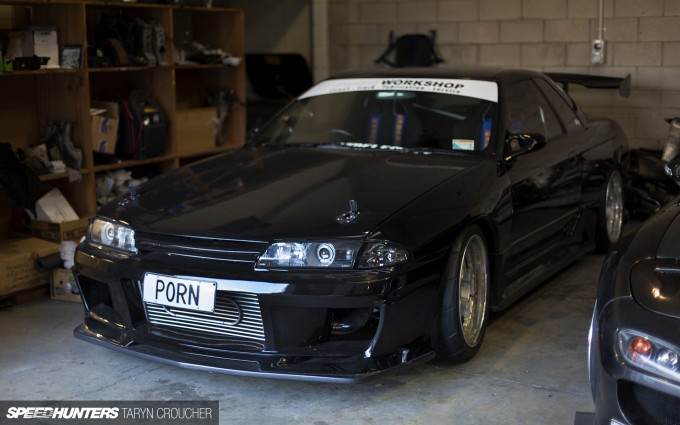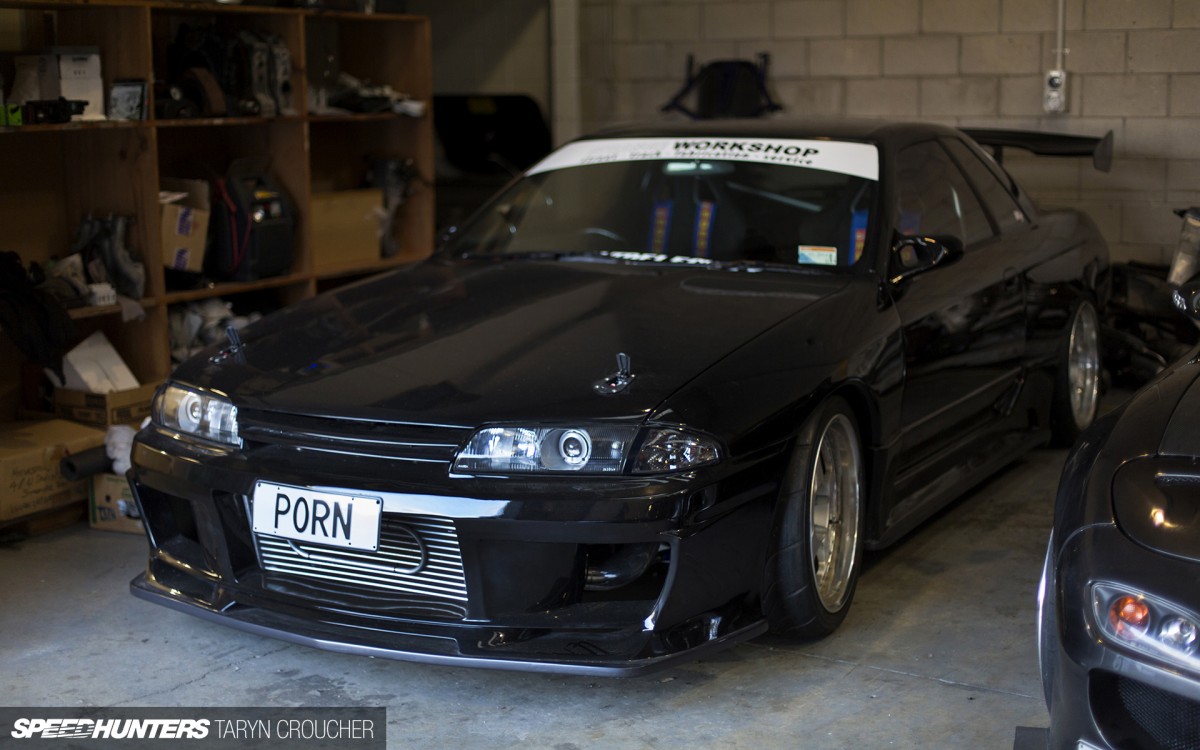 Since opening his own workshop last year, Jon has already built up an impressive reputation, having built and worked on some of Auckland's coolest performance cars, like 4&Rotary head Azhar Bhamji's 507hp 20B Mazda RX-3, and this highly modified 13B turbo-powered R32 Skyline – both of which have recently featured on the cover of New Zealand Performance Car magazine.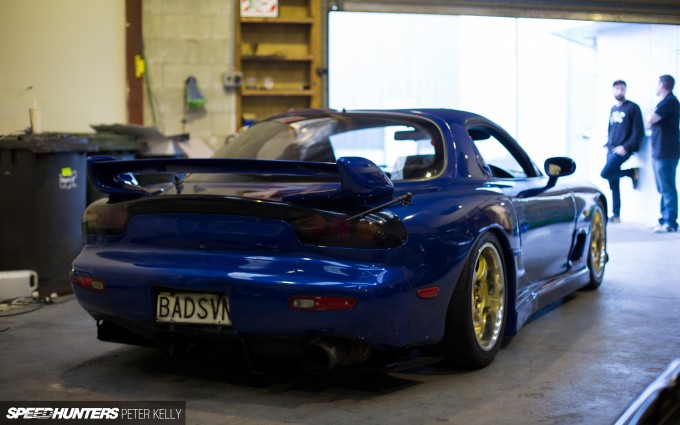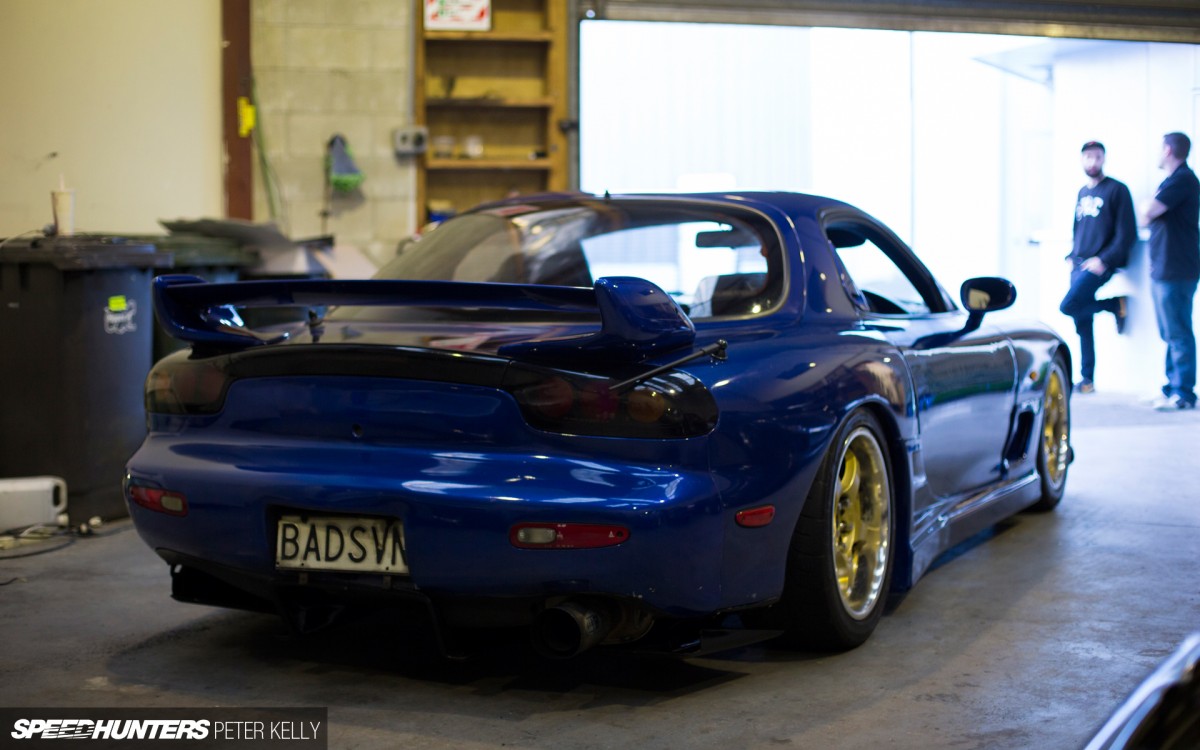 But when I arrived at the workshop there was one car in particular that I couldn't take my eyes off. Sitting nice and low and oozing JDM character, this menacing FD3S RX-7 looked as if it had just arrived fresh out of a container from Japan. I was instantly taken down memory lane back to 2011 when I visited RE-Amemiya in Chiba, as this car emulated that same aggressive function-over-form styling of some of the rad 7s sitting around the RE-Amemiya shop when I was there.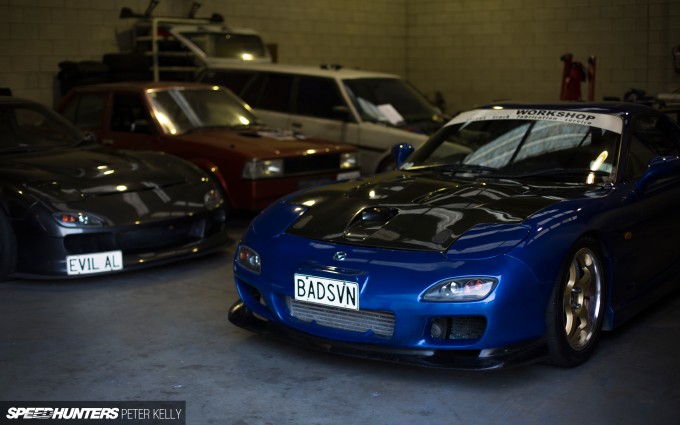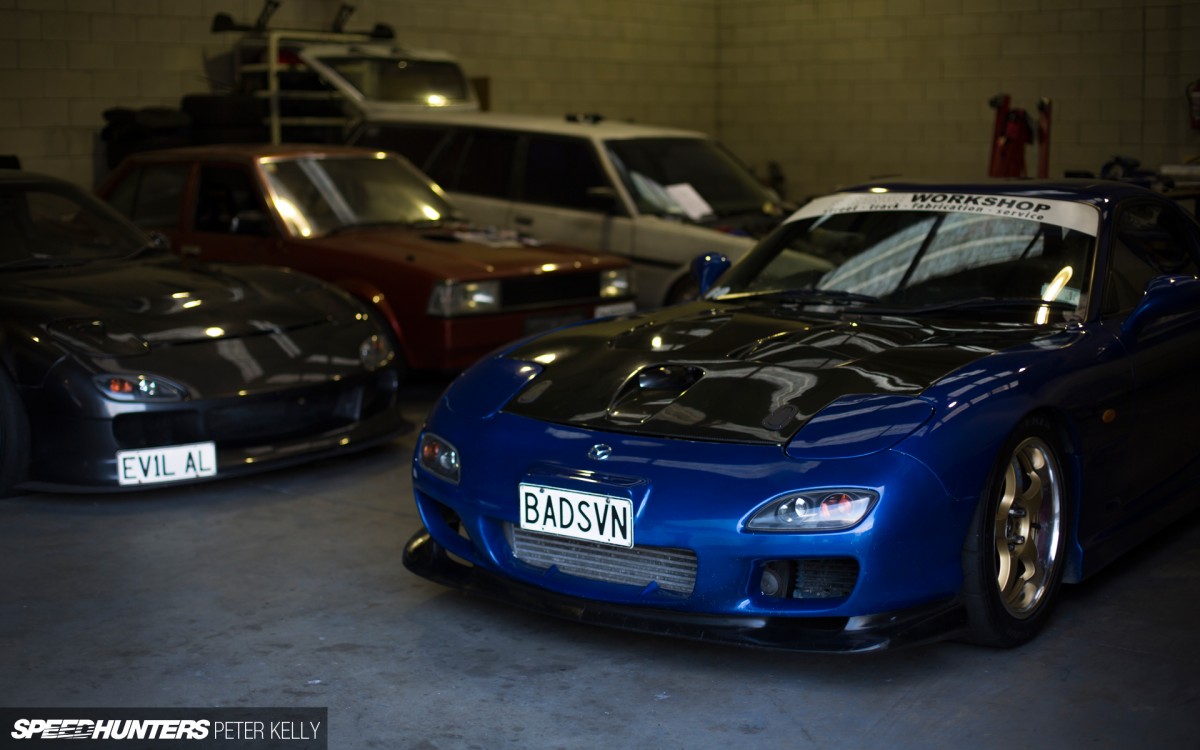 As I soon found out, this particular FD was actually Jon's personal car, an ongoing project which he has owned for around six years. You wouldn't be able to tell by looking at it, but it used to look like this when he originally bought it. For some unknown reason, pretty much every panel had been attacked with a ball-peen hammer (angry ex-girlfriend maybe?), but with a bit of cash, time and TLC he has eventually rebuilt it into the tough street machine you see here.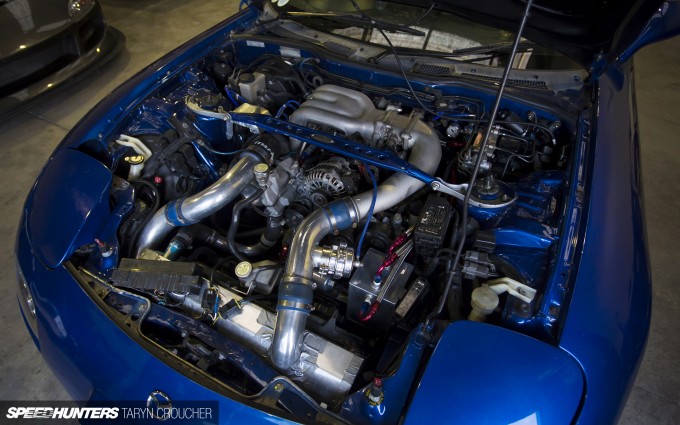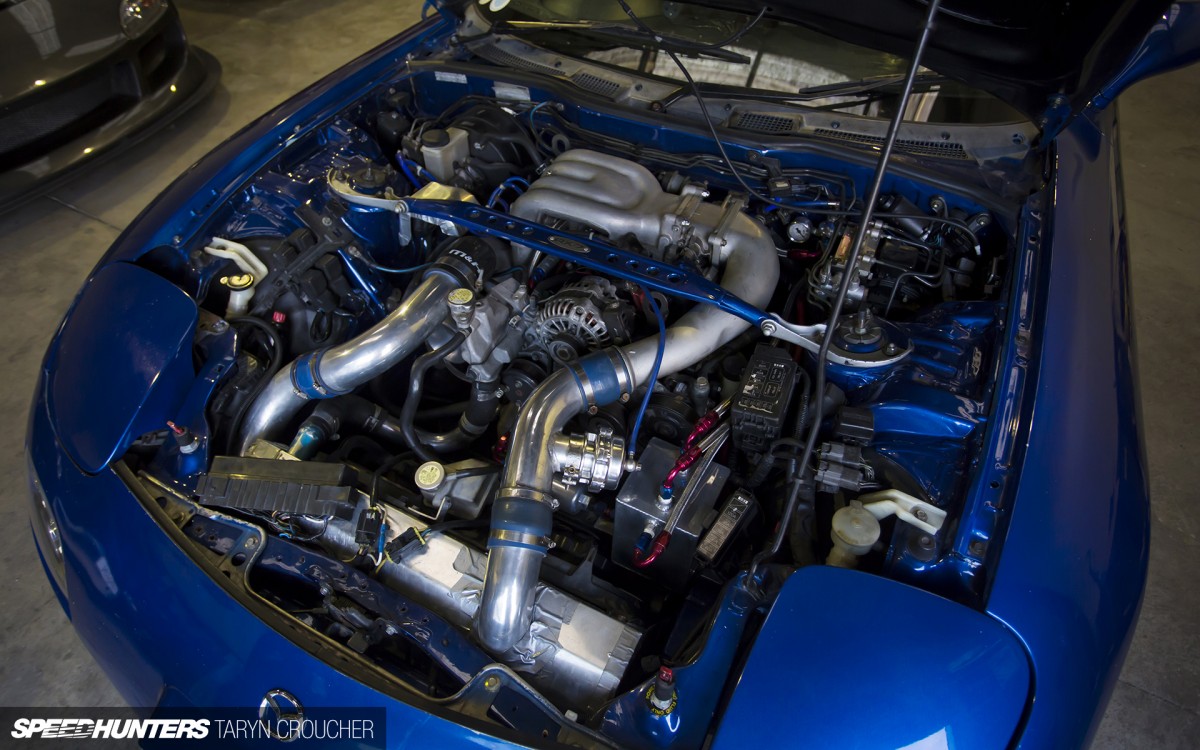 I say tough not just because of its angry looks, but because of the healthy 410hp the extend-port 13B powerplant is supplying to the rear wheels. The car is not built for show in the slightest and the pure function-over-form engine bay is a good indicator of that, but all the necessary work has been done to ensure that the FD performs to its peak on both the street and on the track, where Jon tries to take it out as often as possible.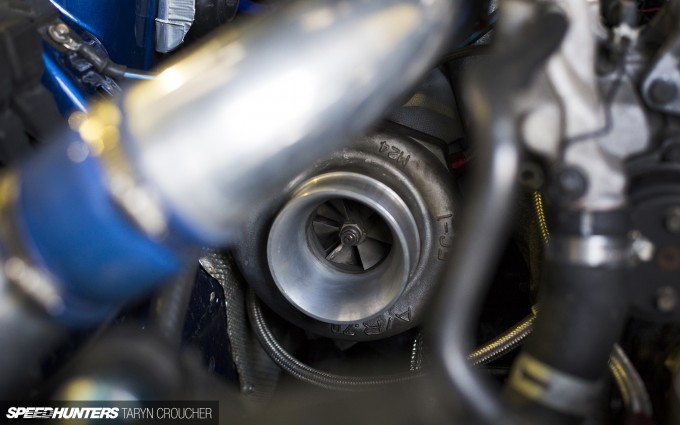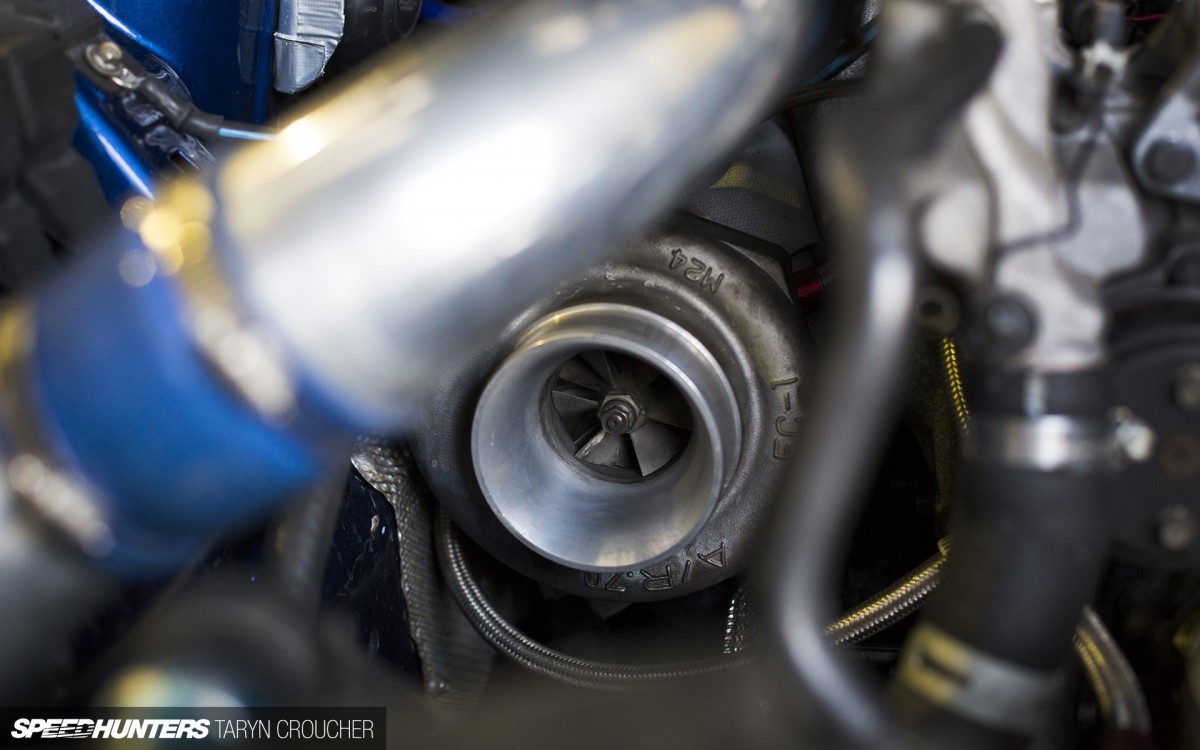 The FD also runs a Garrett GT35R turbo with a 60mm wastegate, and when Jon turned the key and brought it to life I couldn't help but smile. The idle was loud and rough, but not too abrupt. It sounded so damn good! It made me scratch my head as I began to wonder – when did I start enjoying the sound of a rotary so much? I never used to be a huge fan, but I guess over time I've slowly began to form an appreciation for the Wankel engine. Perhaps it's something to do with a certain 'mad' Kiwi drifter? As I dazed off into an absent-minded fantasy about racing through the mountains in an Initial D-style hill climb battle, my daydreaming was suddenly interrupted by a serious question. "Do you want to drive it?"
A dream opportunity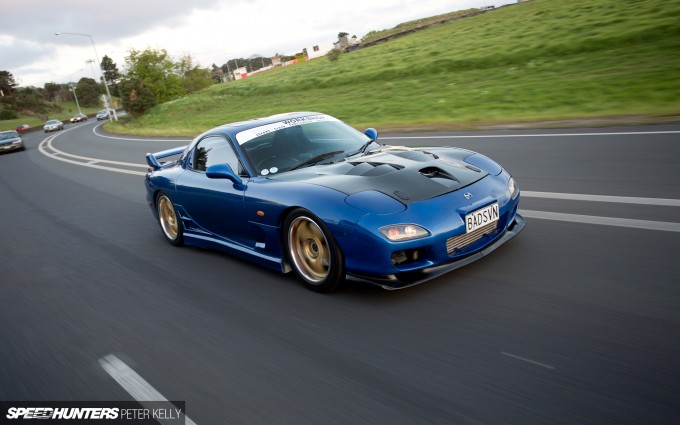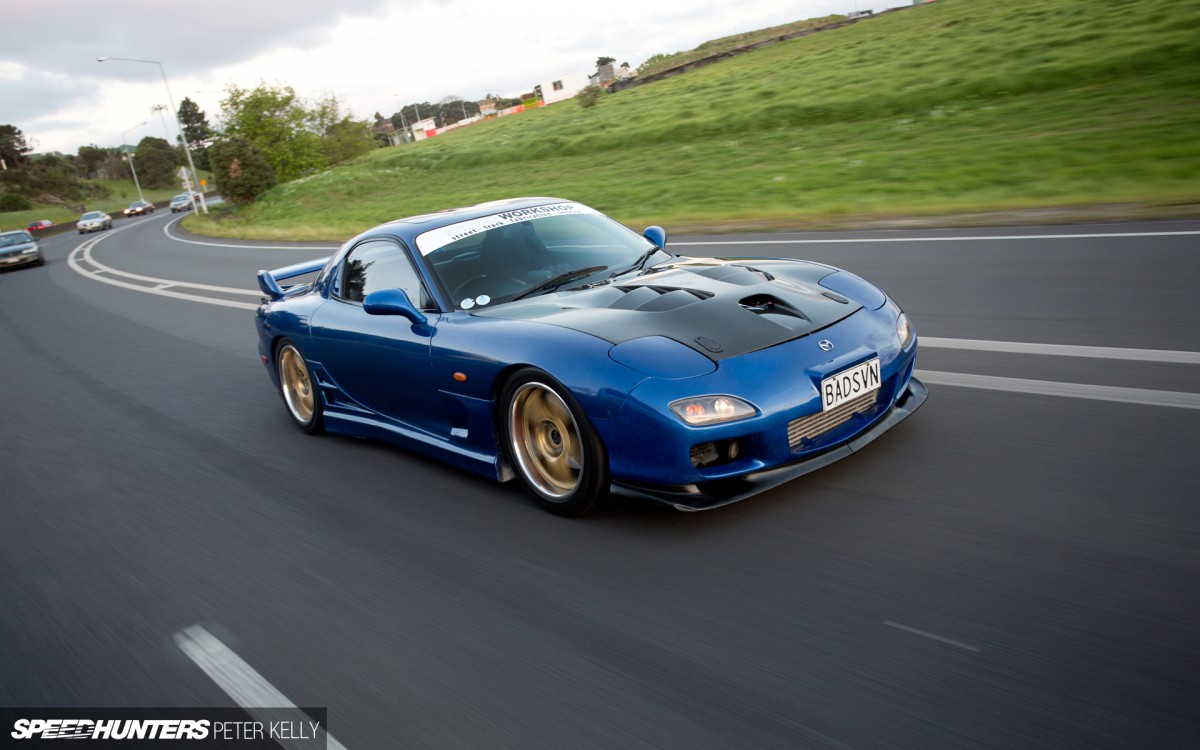 I think we all know what my answer was. I arranged a time the following week to meet back at Jon's workshop with my camera gear, and I was bubbling with excitement. In all honesty, I'd only ever driven a stock Spirit R RX-8 in the past,  and I was curious as to what its badder, meaner big brother had to show for itself, especially in modified form.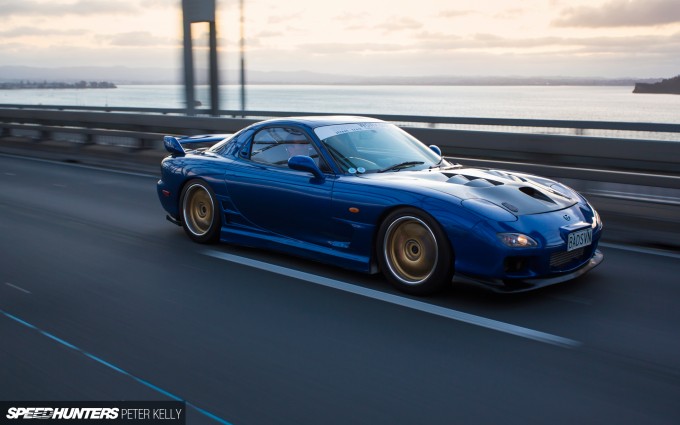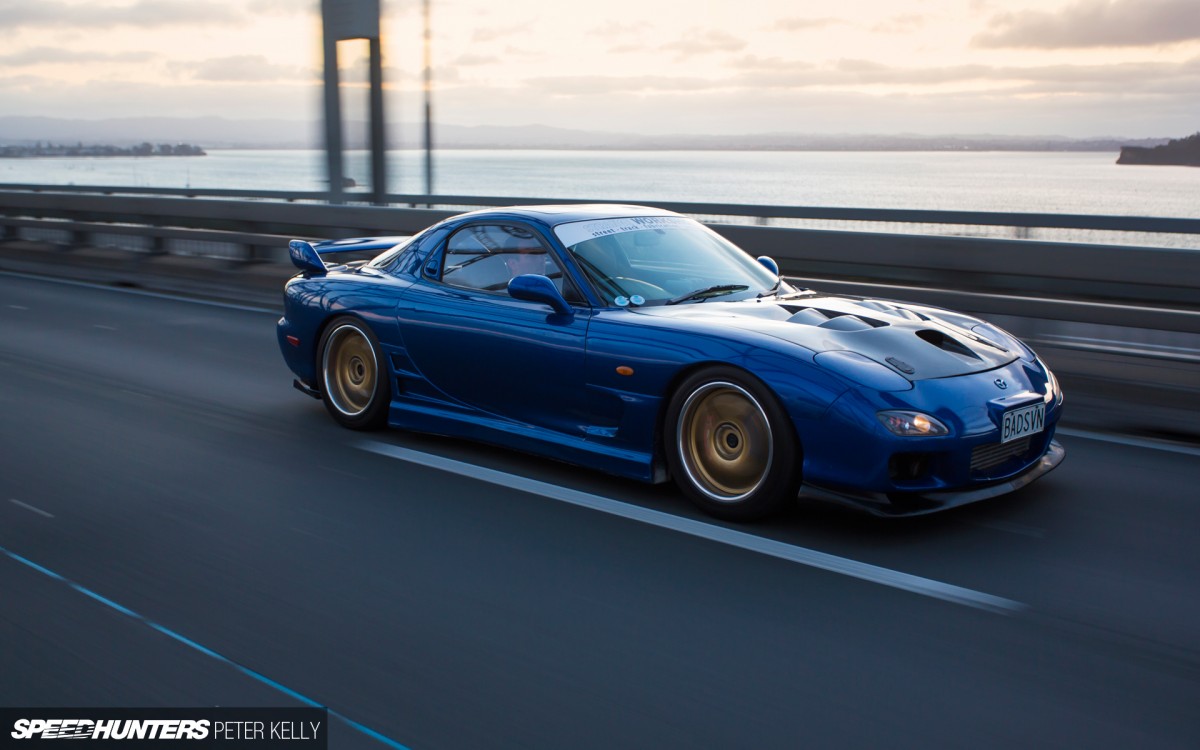 We followed Jon onto the northern motorway and over the Auckland Harbour Bridge, away from the bustling city…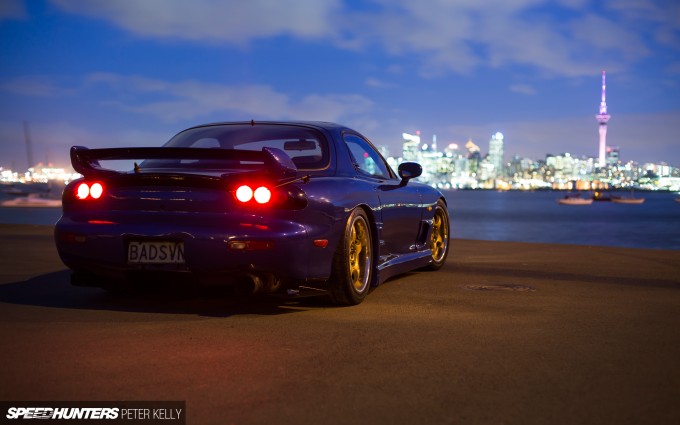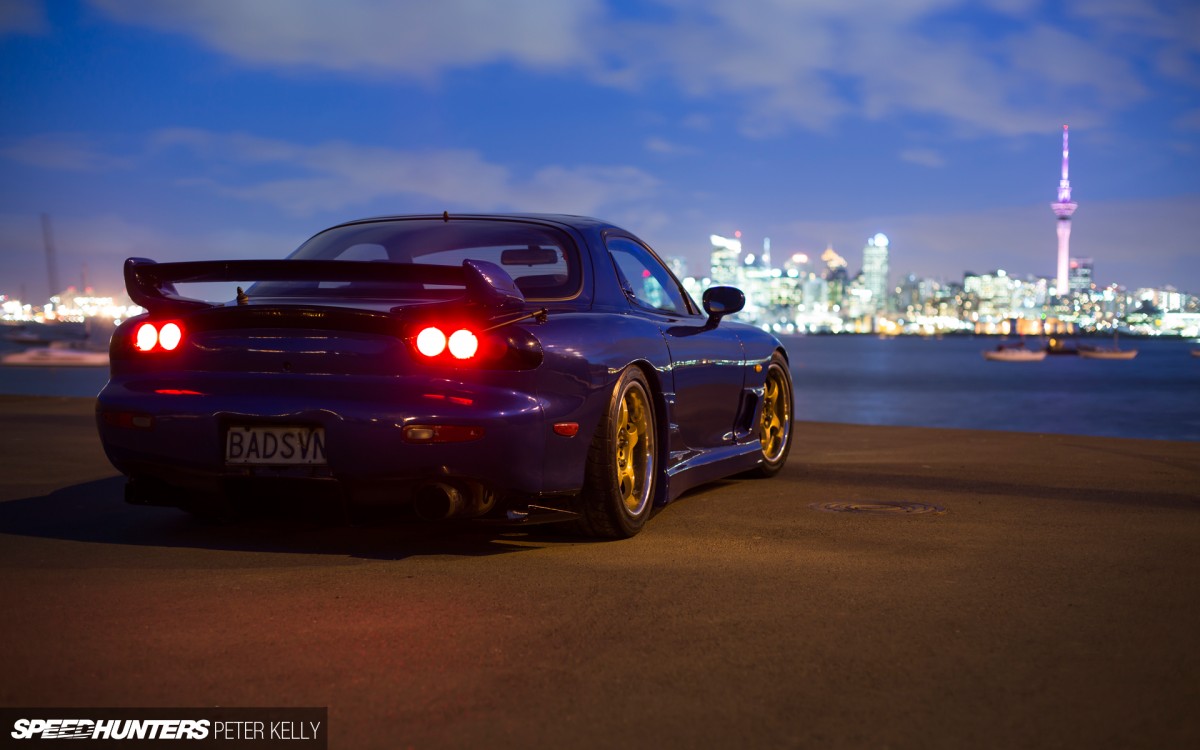 … but before we headed out to some quieter mountain roads for a bit of fun, it only seemed right to make the most of the fine spring evening and grab a few quick photos next to the Auckland city waterfront.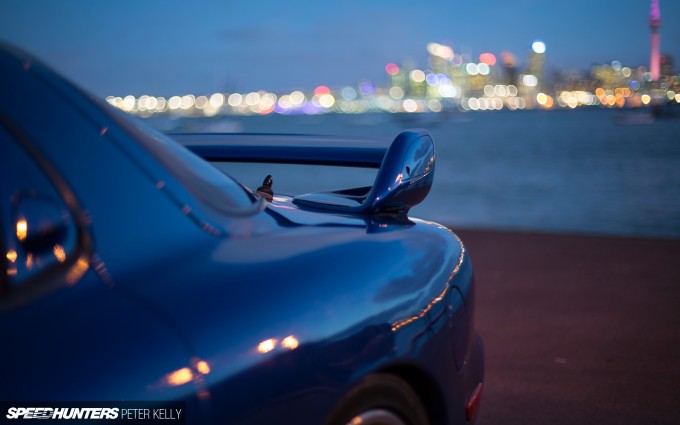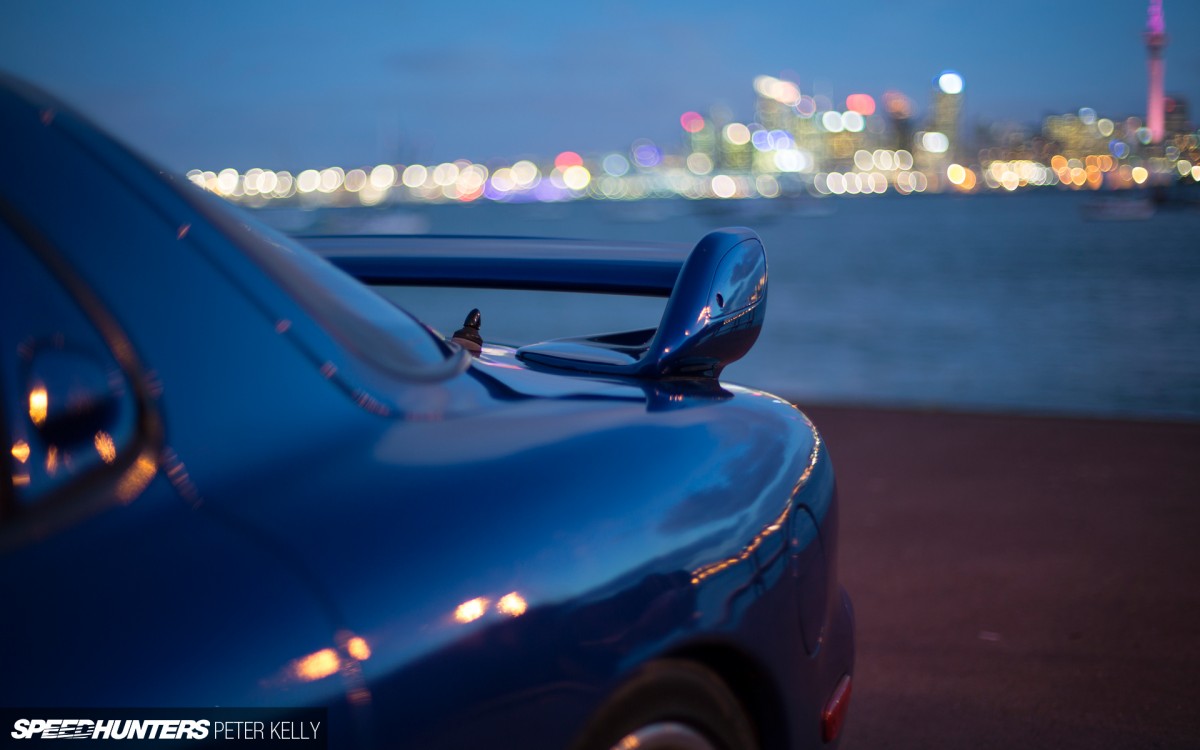 After its unfortunate panel damage, the FD was fixed up and repainted in Series 8 Innocent Blue mica paint, and it looks so good with the understated factory spoiler – an adjustable item, also from a Series 8 RX-7.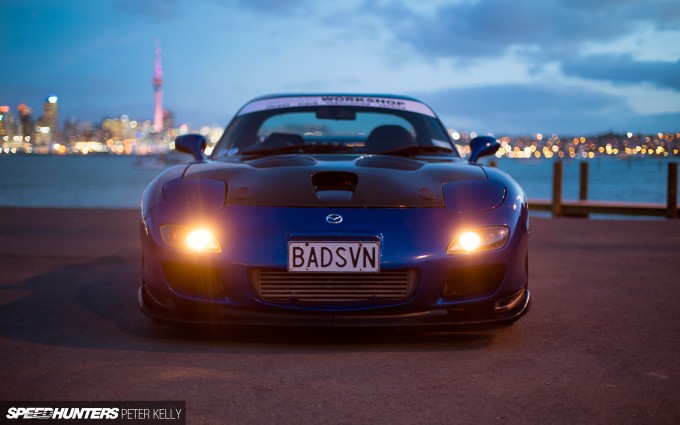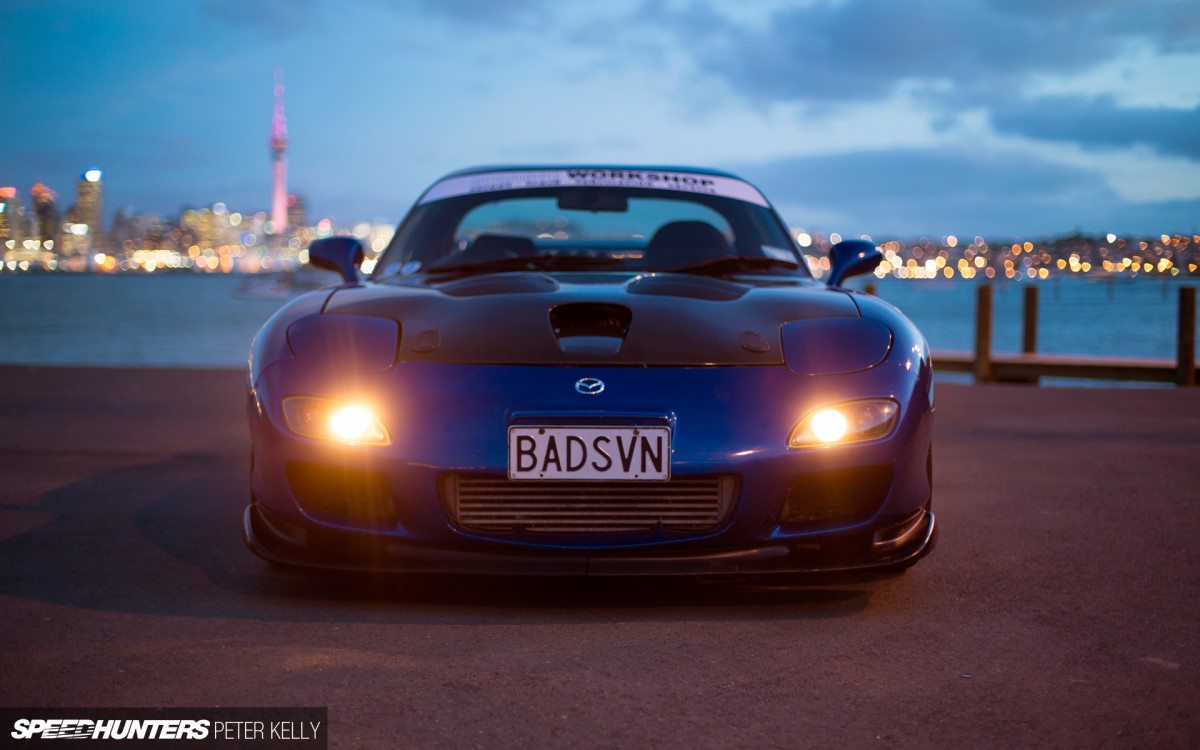 It also has a Series 8 front bumper and front guards, with a front lip…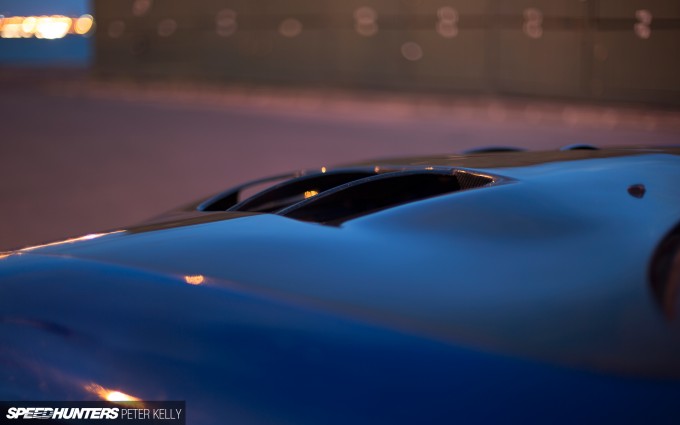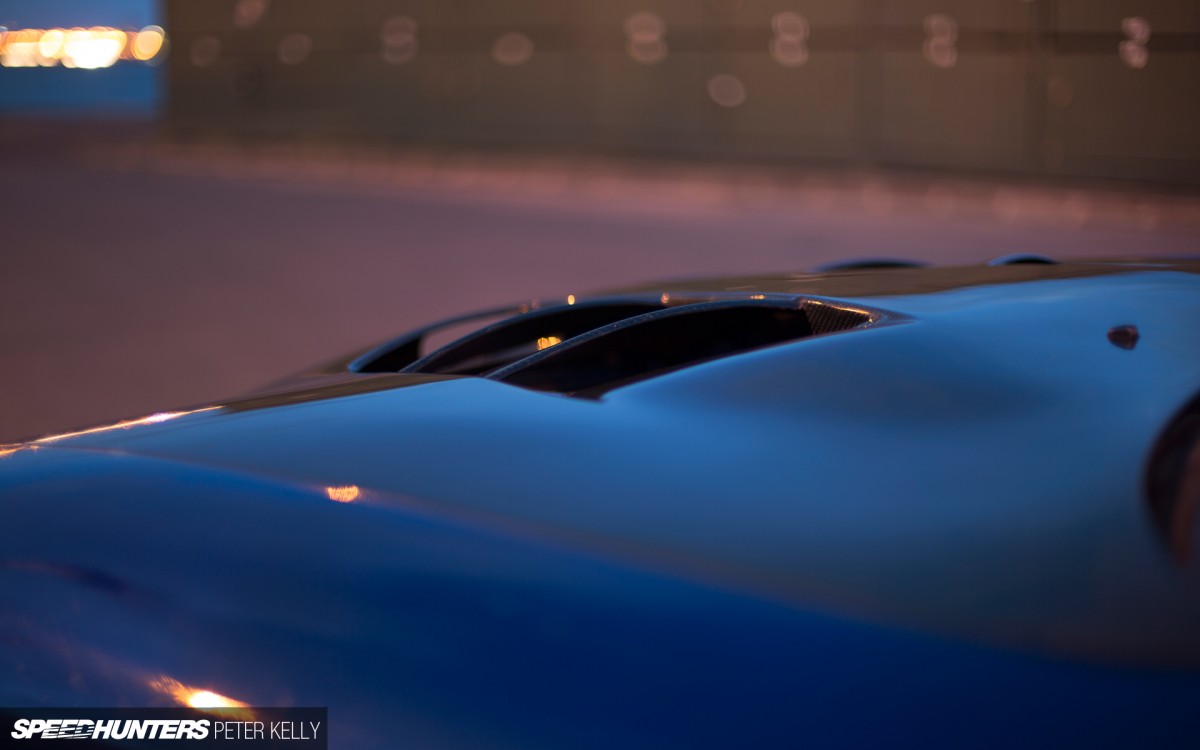 … and a Scoot Sports vented bonnet to add further aggressive styling to the exterior.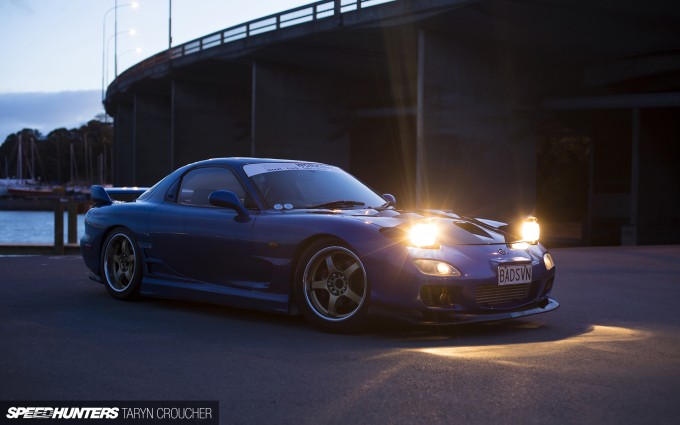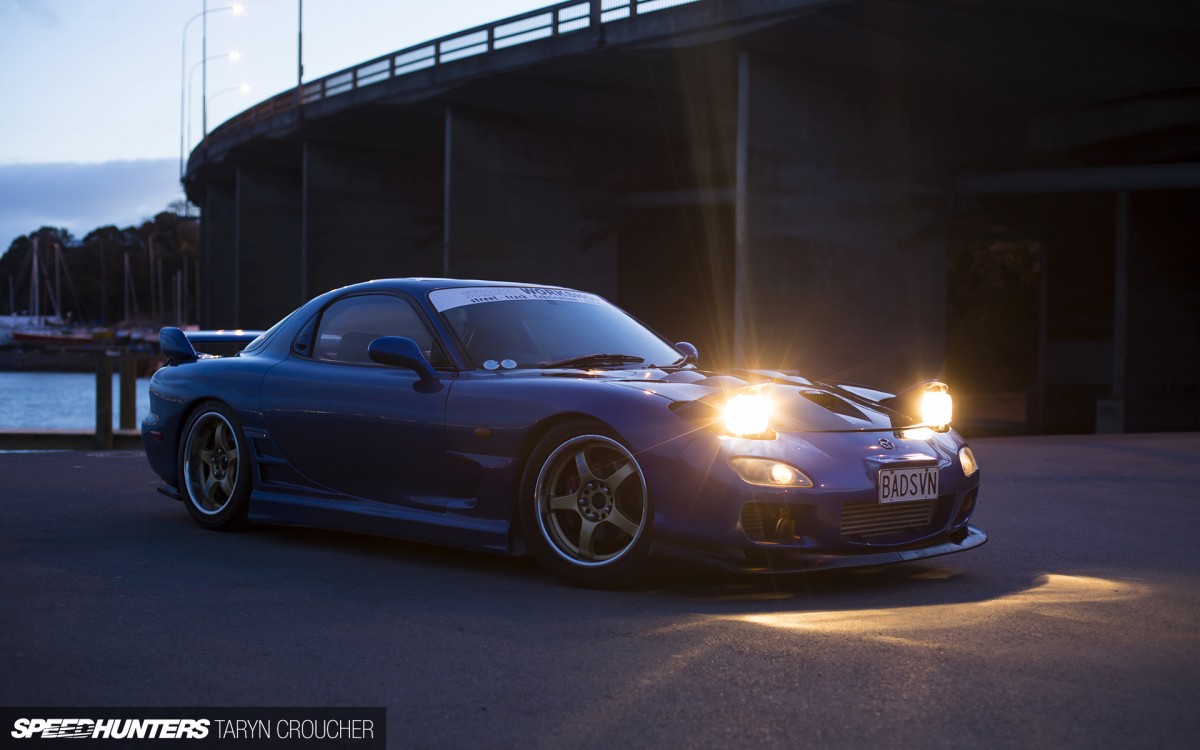 With its C-West side skirts, RE-Amemiya rear diffuser and well-suited 17×8 & 17×9 Rays Gram Lights wrapped in sticky Bridgestone Potenza semi-slicks for that early 2000s Japanese tuner feel, the FD3S definitely gives off a tough JDM street vibe. While we were taking these photos, two cars (on separate occasions) nearly drove off the wharf trying to get a better look at it!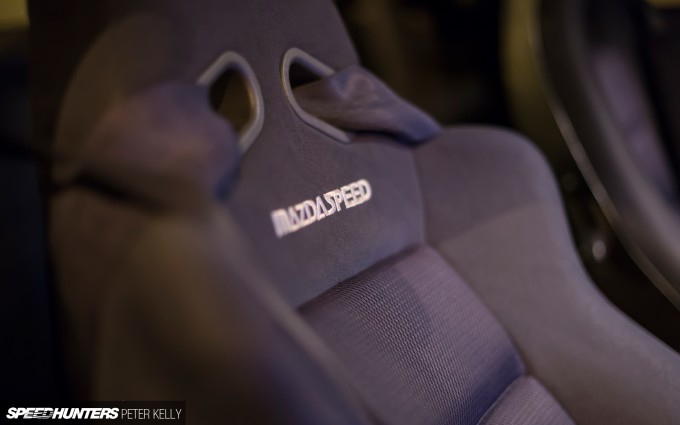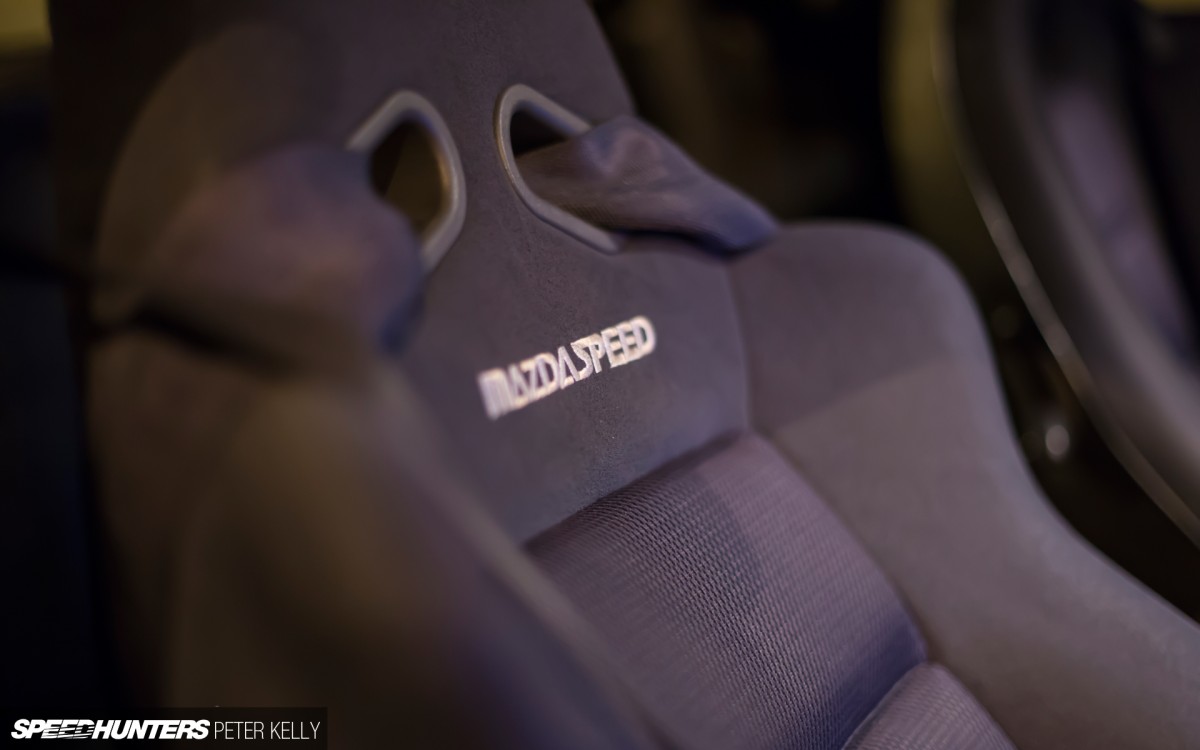 As I sunk into the comfy Mazdaspeed driver's seat, I started to get a feel for the interior. It felt good to sit low down in the cockpit with the dash wrapped around me.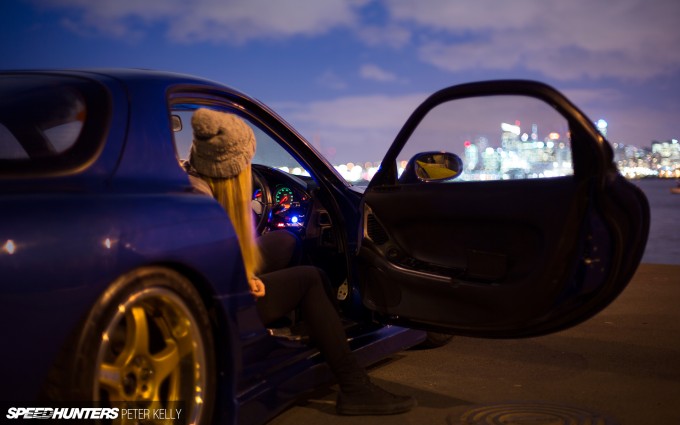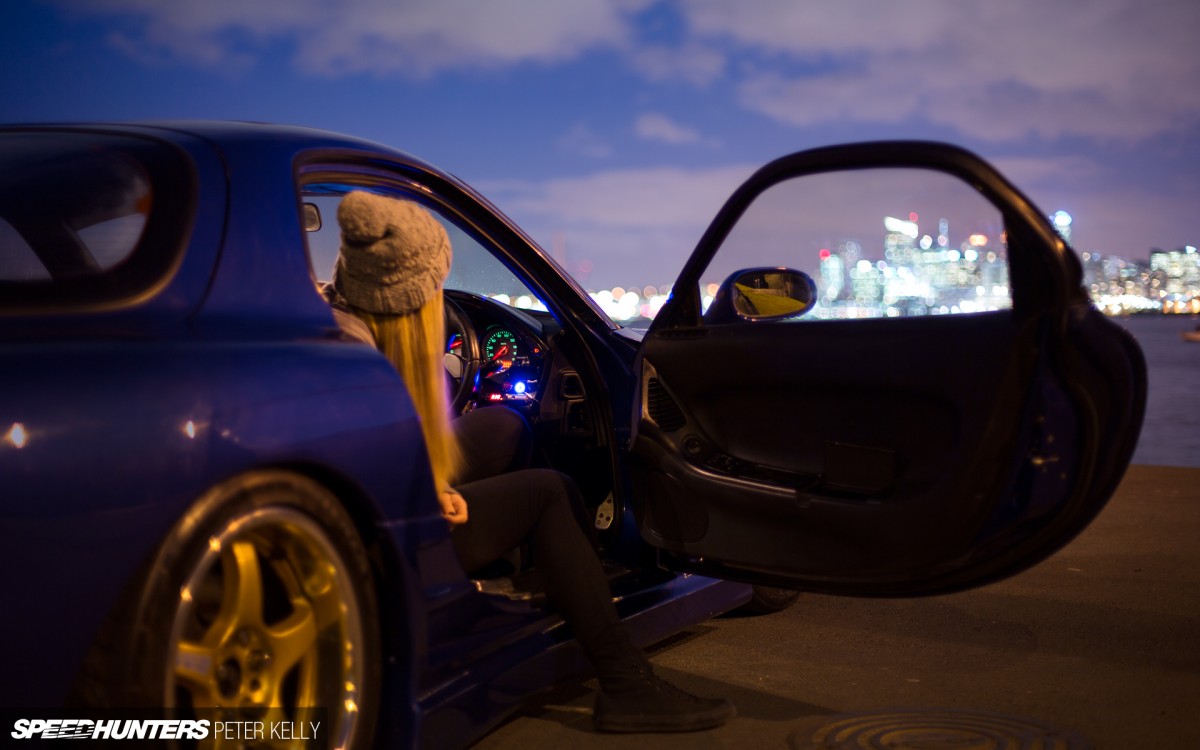 I also liked the feeling of the hand brake and gear shifter being mounted high up on the transmission tunnel, again helping that feeling of being nice and low down in the car.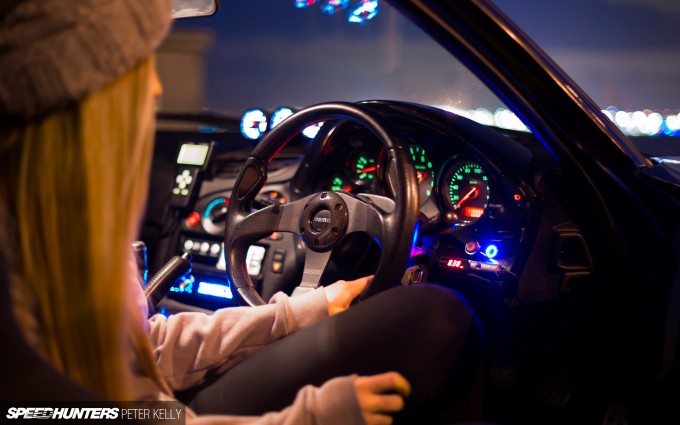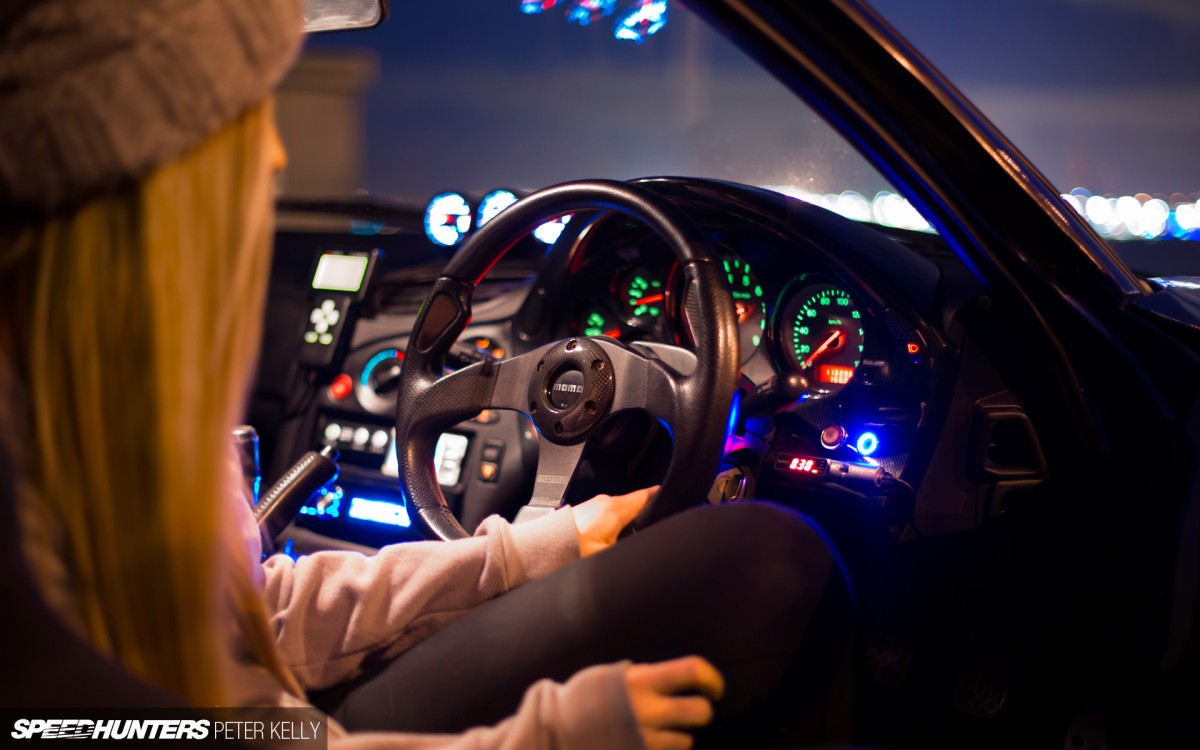 The centre console and Defi gauge arrangement was a flurry of flashing lights and colours which made me feel like an excited kid that had eaten way too much candy. By this stage I was well and truly ready for a bit of Tokyo Drift/Initial D/Wangan Midnight-inspired action…
Into the night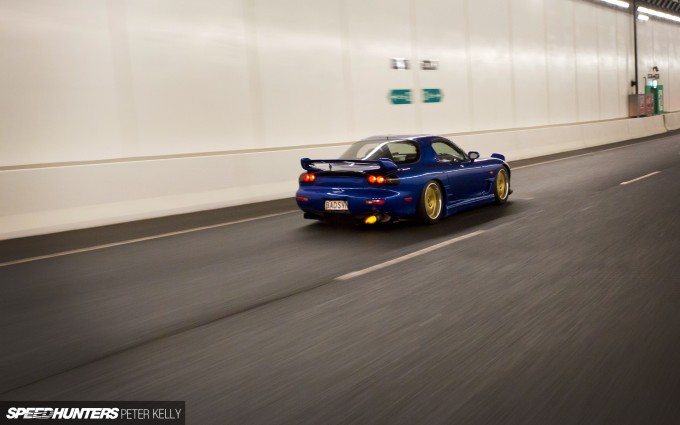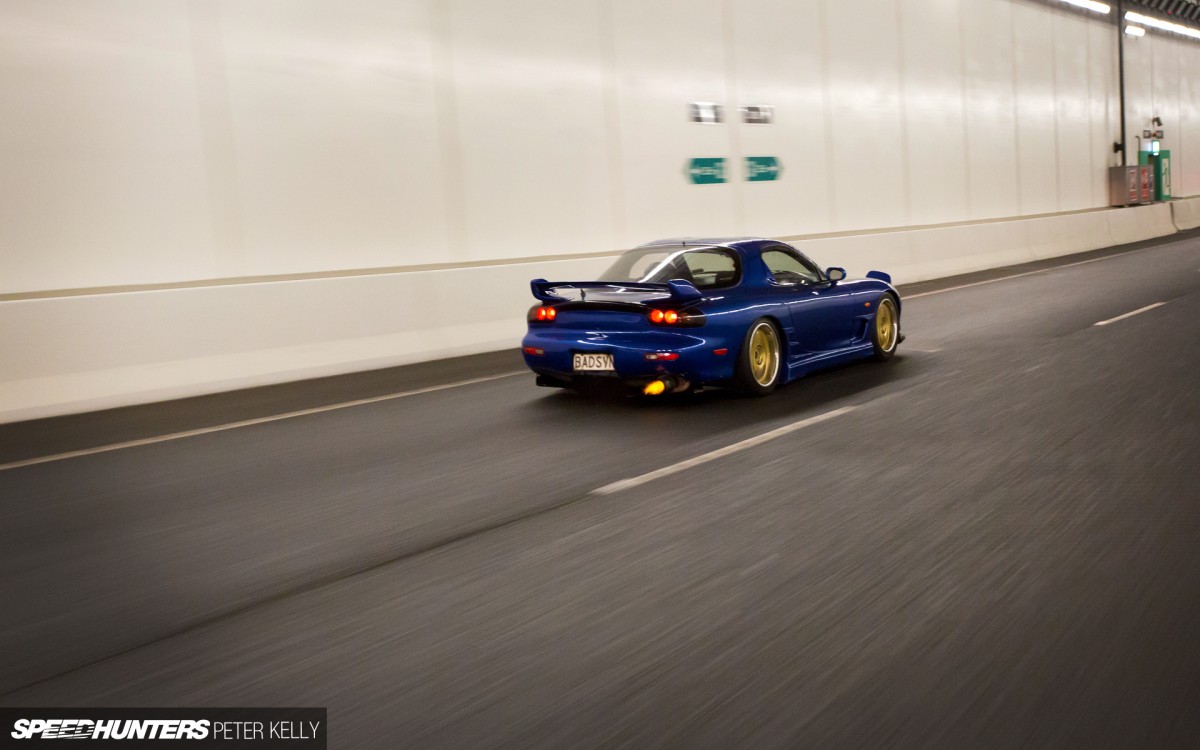 … and the FD3S was most definitely capable of giving me just what I wanted. The temptation to chop down a gear and get some blue and orange flames going throughout this tunnel was too strong to resist!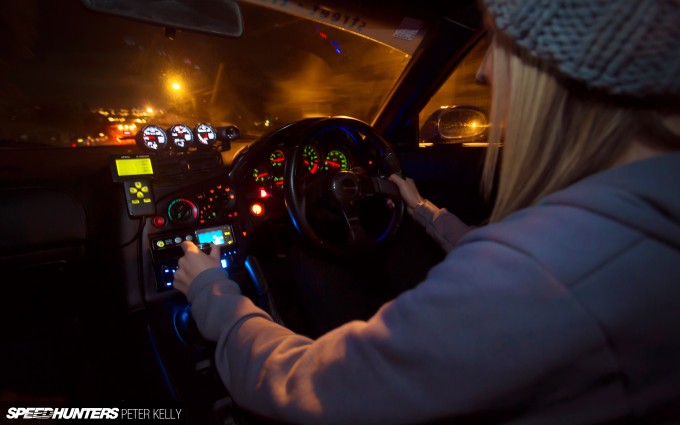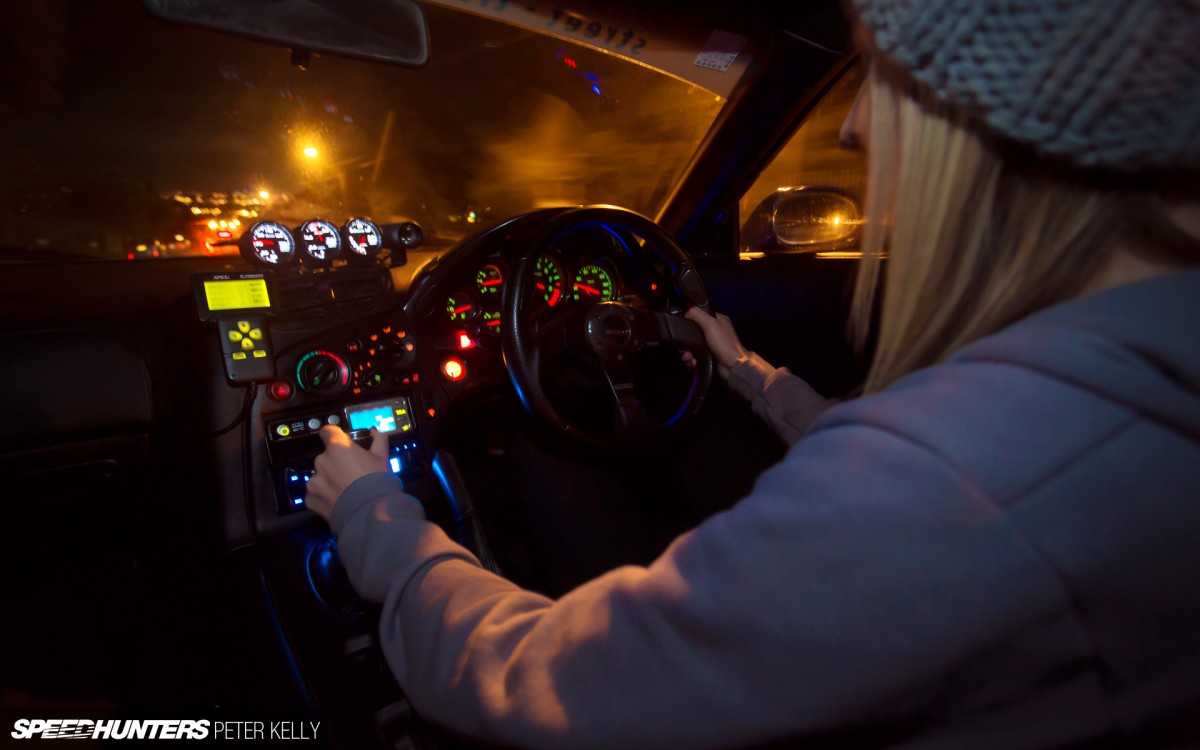 This was also the first time I'd driven a car with a pucked clutch and I was curious to see how it would feel. I'd read about how they can be quite touchy and difficult but I was really surprised how easy the custom 6-puck was to drive with. I'm sure my opinion would change pretty quickly if I were to get stuck in Auckland rush hour traffic though.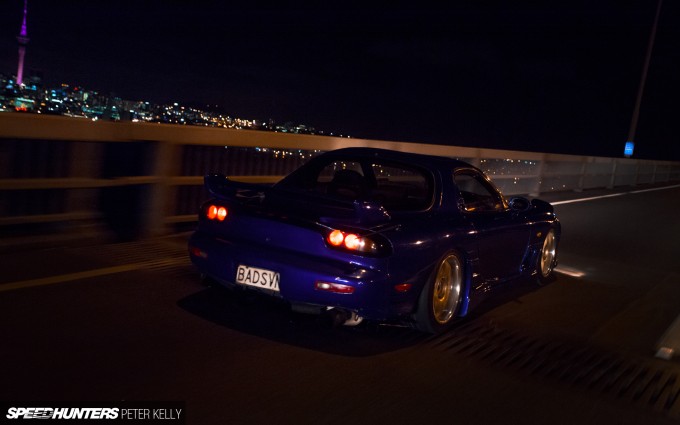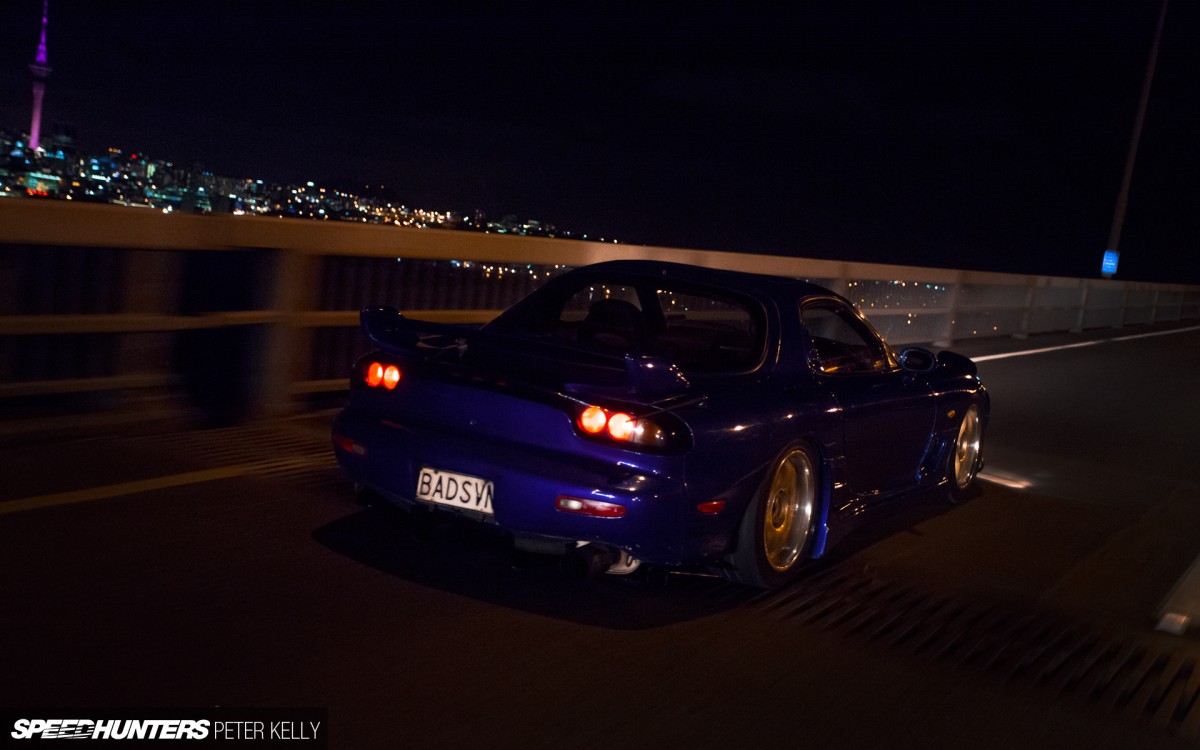 The more the FD heated up, the more it popped and banged as it dumped fuel into the exhaust system as I stepped off the throttle – it was like a hyperactive child screaming for attention, or perhaps more like a wild animal embracing its predatory instincts.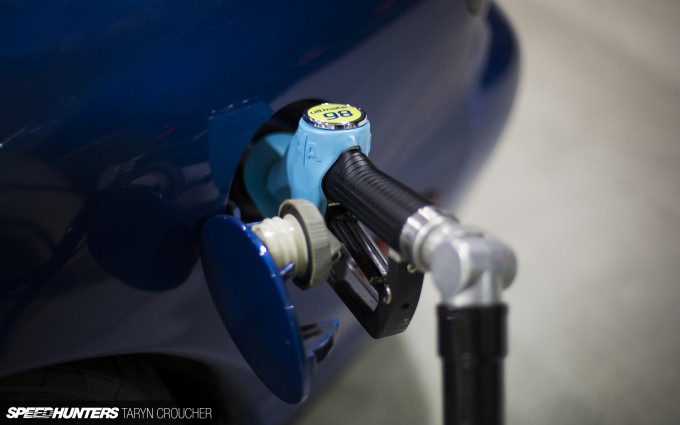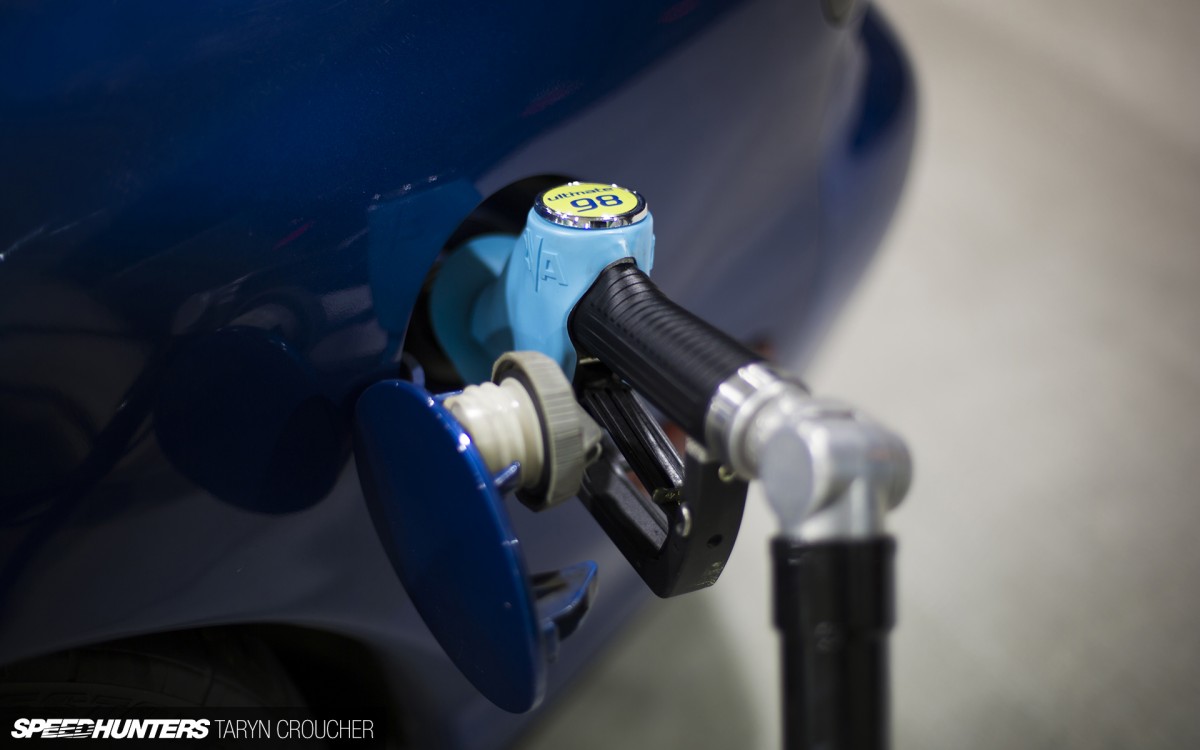 It was a thirsty animal too, and we had to stop off to fill up on 98 high octane. Yes, that's available at most gas stations here in NZ, thank goodness!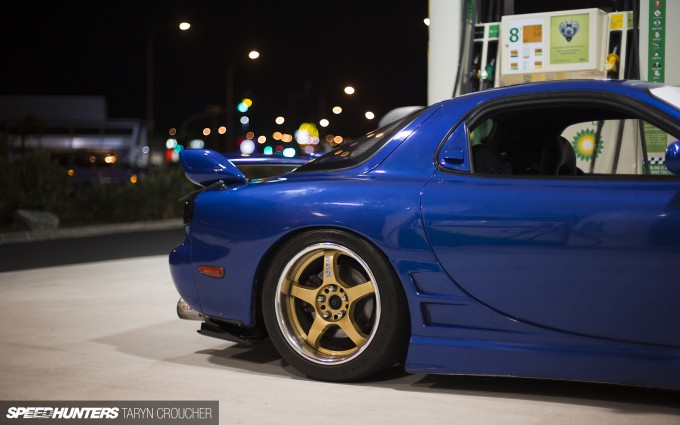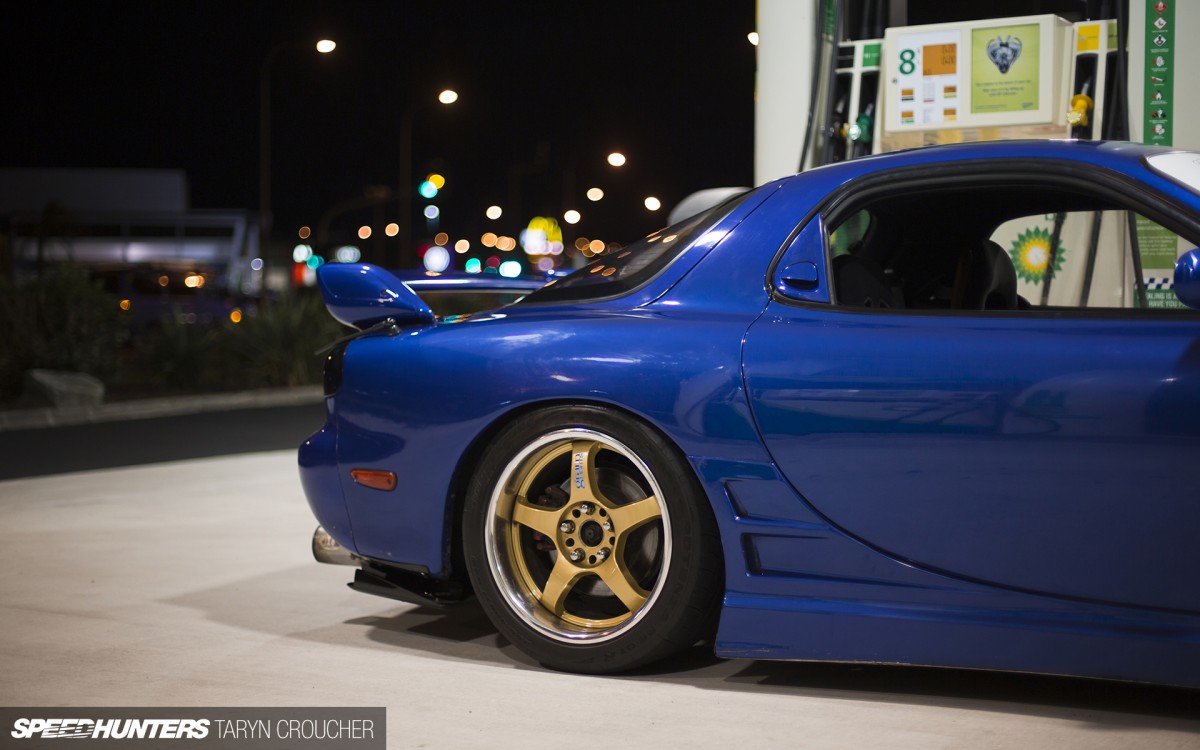 This is no show car, and I think that's what I love most about it. It's not easy for me to admit this (especially coming from someone who is so openly passionate about slammed cars with ridiculous-fitting wheels), but I love how raw, functional and well-used this car is, and if it was my car I wouldn't change a thing. It might not be the newest or most technologically advanced vehicle out there, but the FD3S is a beautifully designed street car created with the driver in mind, and I loved every minute of being behind the wheel of it.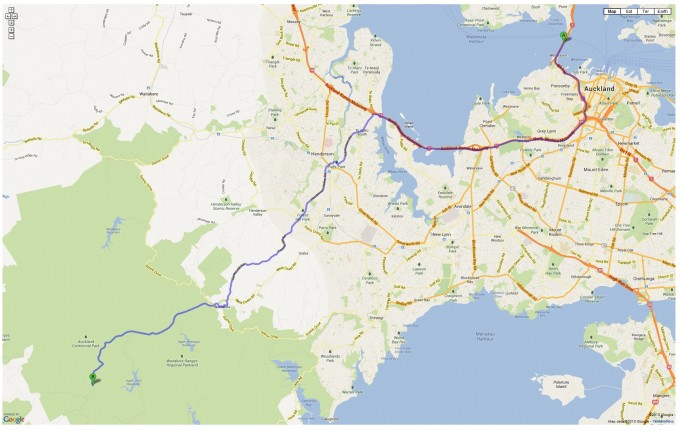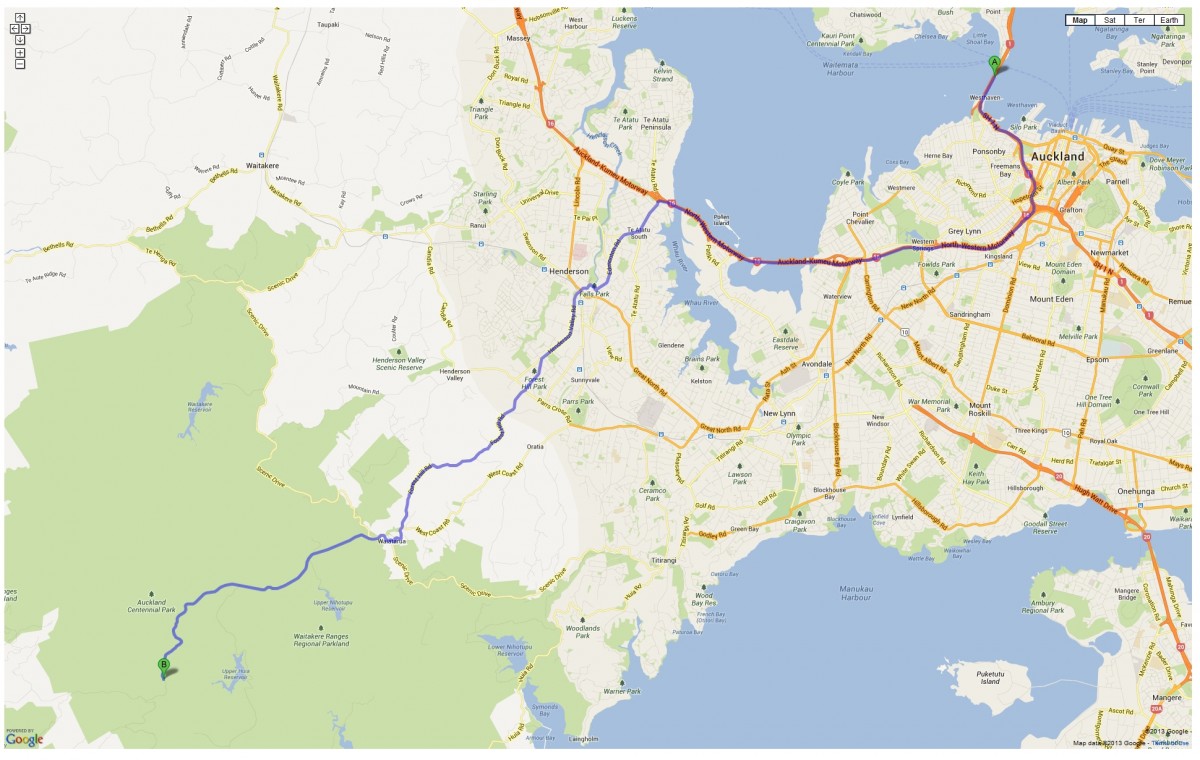 Later that night we headed out to Scenic Drive and Piha Road, two well-known local routes snaking through the Waitakere Ranges above the city, and I was finally able to live out my midnight touge dream.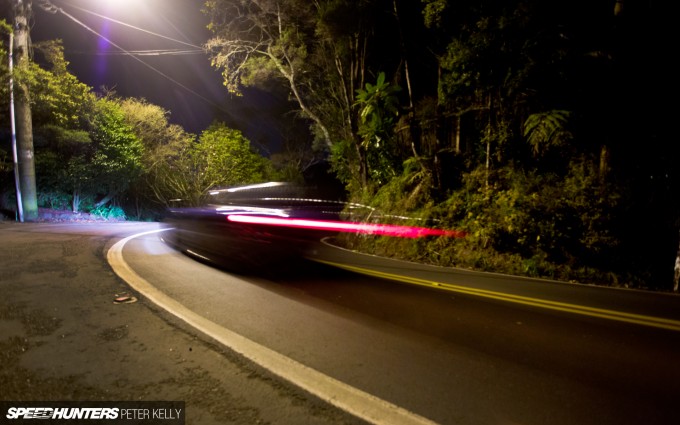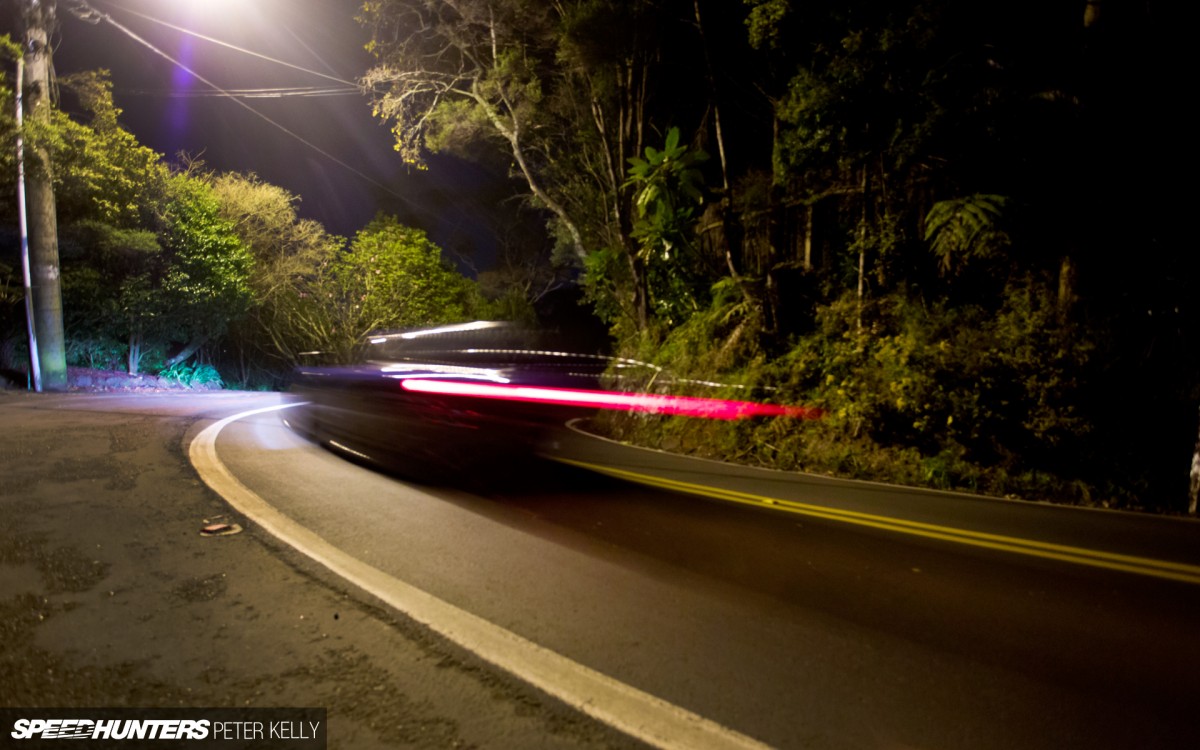 Though there's plenty of FDs out there making more power, I felt like this car provided a beautiful balance of handling, grip, stopping power and raw, surprisingly linear acceleration – it was an exciting, if slightly frightening car to drive, yet stopping just shy of being overly terrifying.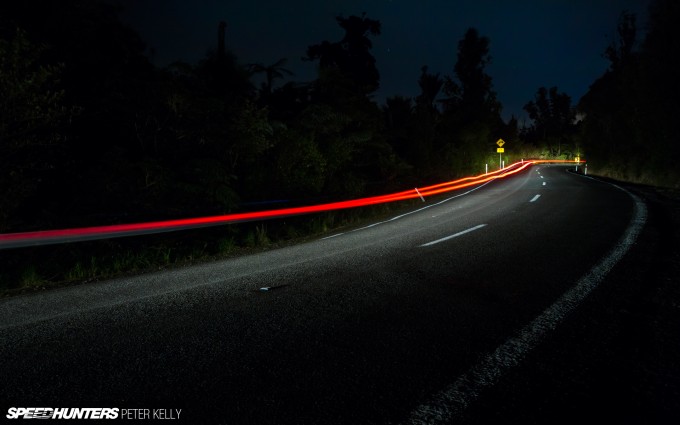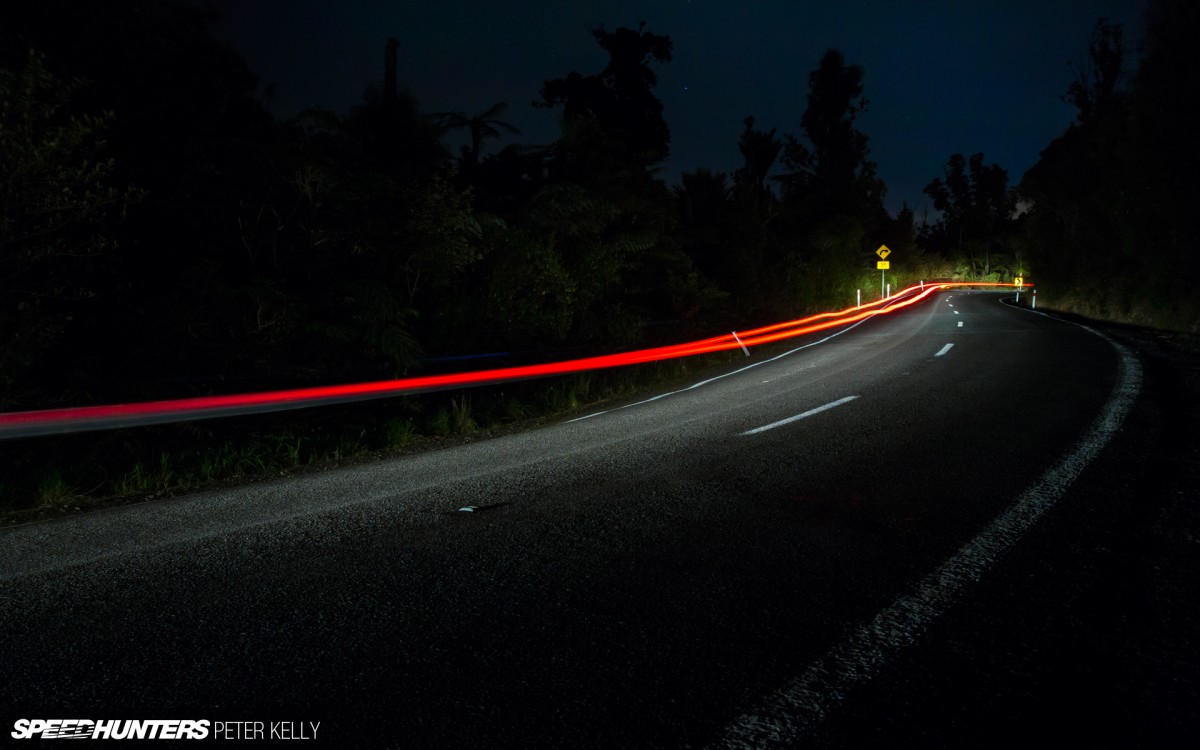 The Bridgestone semi-slicks never once protested as the car dipped into cambered corner after cambered corner, and as long as the 13B was kept above 4000rpm, the GT3540 effortlessly pulled the car out onto the next straight and all the way to the rev limiter, before the next gear was slammed with a loud thud from the exhaust and an accompanying eerie orange glow illuminating the bush that lined the worn bitumen.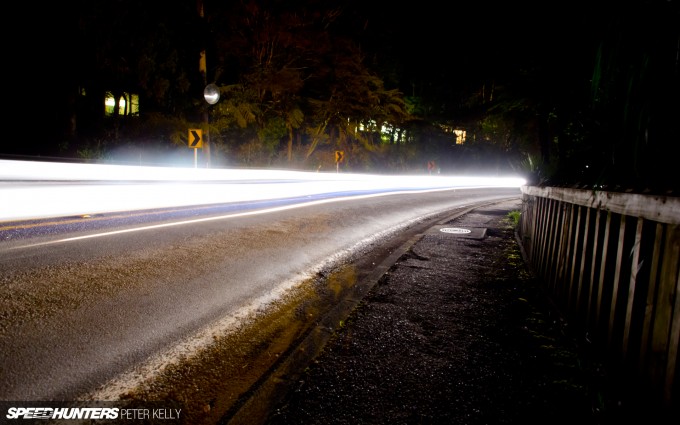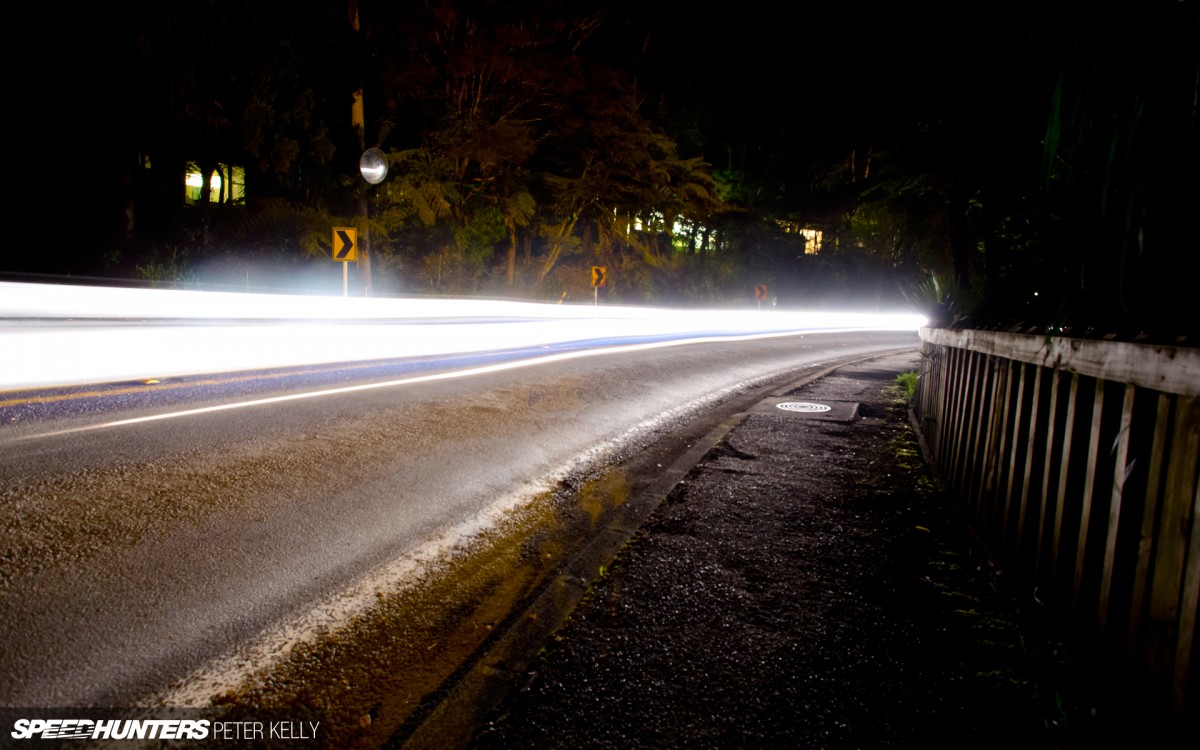 Had I somehow had a bird's-eye view of the scene, it no doubt would have been a beautiful thing in the otherwise dead-calm of night. Did I pretend that I was Keisuke Takahashi racing in a heated hill climb battle through the Japanese mountainside? Yes. Am I embarrassed to admit it? No – I won, of course.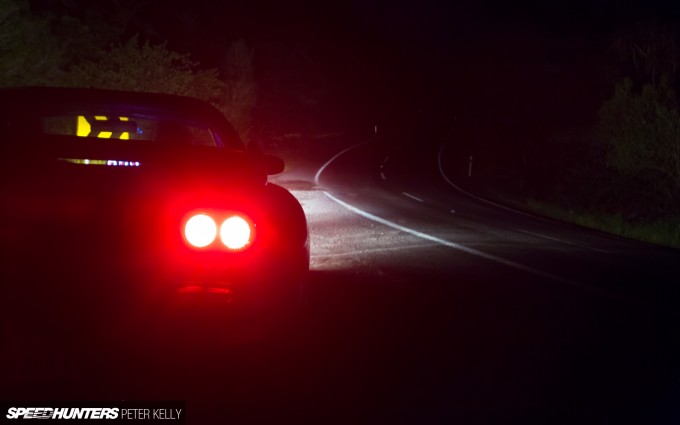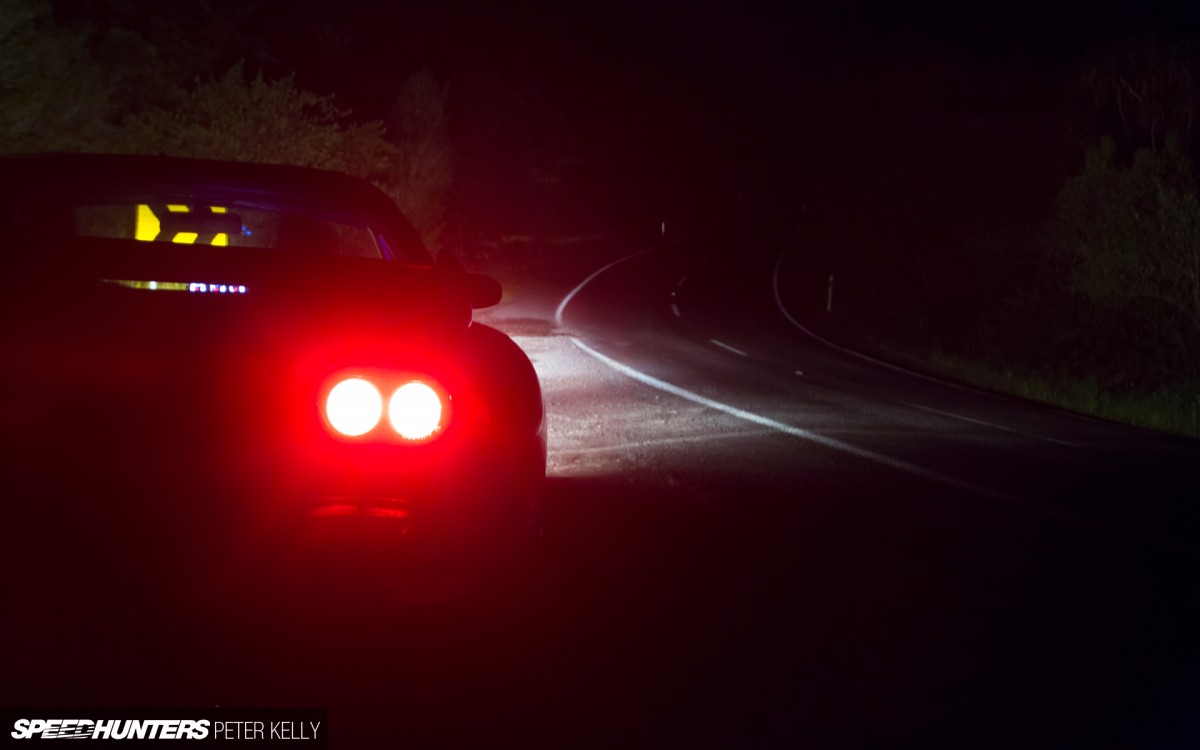 Thanks to Jon, I've now been given a glimpse into the life of a modified FD3S owner – and a quick one at that.
I want one!