The WTAC side show
In my mind, it's a pretty good sign when you get to the end of a multi-day event and figure out that there wasn't enough time to really look at everything properly. But it's what we've come to expect from great events like last weekend's Yokohama World Time Attack Challenge.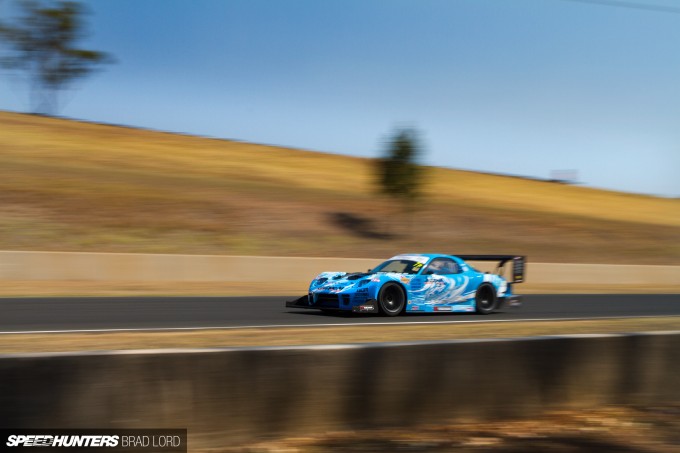 As you might have figured out from our previous posts – or all by yourself if you were lucky enough to be there in person – there are many more layers to the WTAC than what its name might first suggest.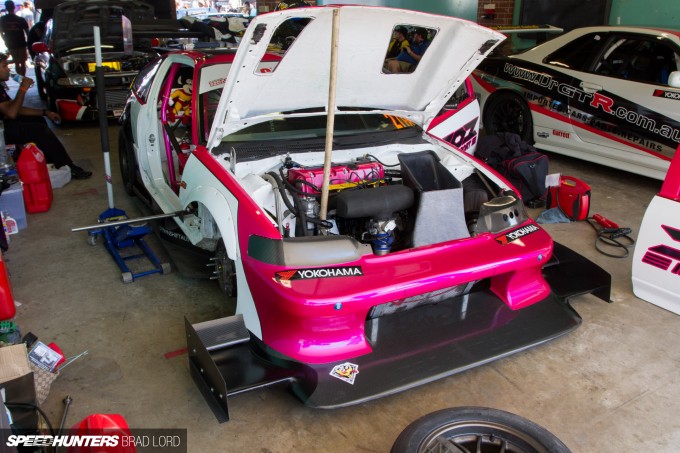 While the main event is centered around the relentless pursuit of the ultimate lap, outside of the pit lane and the four-deep stacked pit garages– another world of automotive eye candy awaited.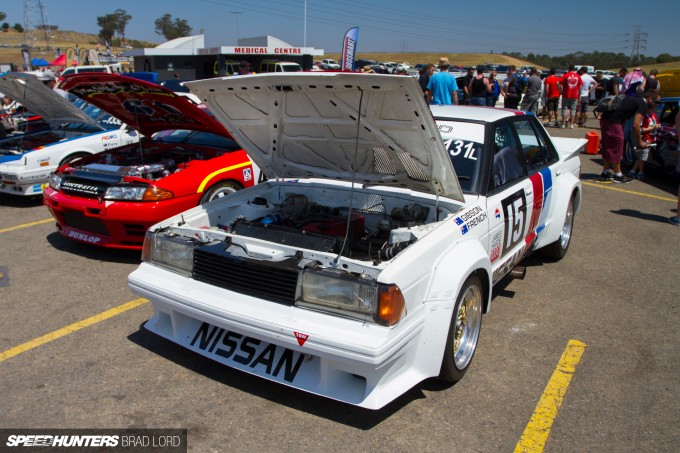 Given the WTAC's size, you don't need to look far around the paddock area to find yourself standing in front of some amazing cars. From local classics from bygone eras of motor racing – in this instance one of just a few Group C-spec Nissan Bluebird Turbos ever built in Australia…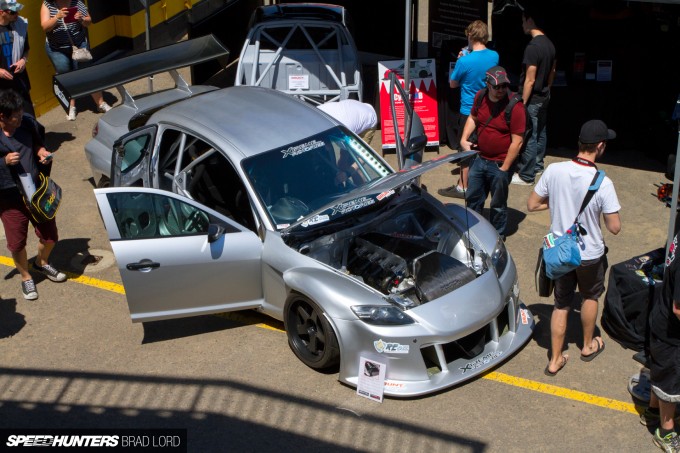 … to amazing works in progress, like the Grunt Performance/Xtreme Rotaries four-rotor RX-8 that Dino alluded to yesterday. There is something here to appease almost every automotive taste.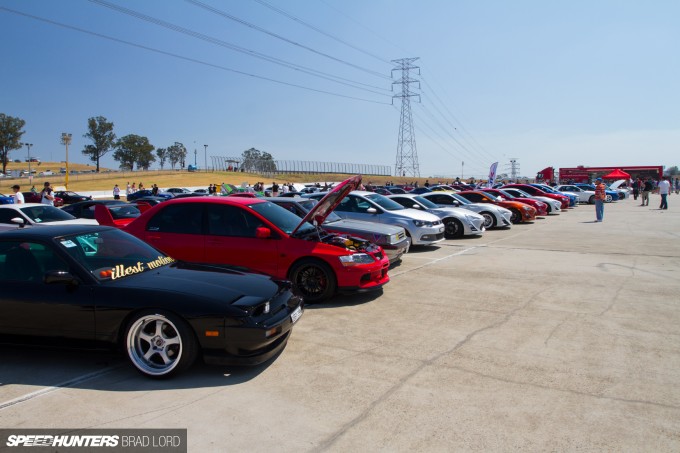 As awe-inspiring as the machines that take to the circuit are, many maintain a really strong connection to the street. That's not at all surprising given they were all born from production cars I guess, but the fact served as inspiration for me to check out exactly what Sydney's vibrant modified car scene was all about in and around Saturday's Motographics Show & Shine.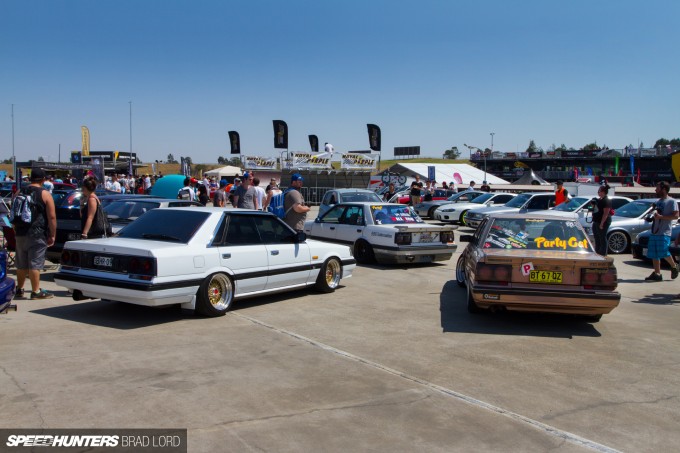 A stone's throw from the on-track action, Sydney Motorsport Park's driver training arena is a perfect location to host a sub-event of this nature, and there was plenty of room for what was at least a couple hundred cars on display.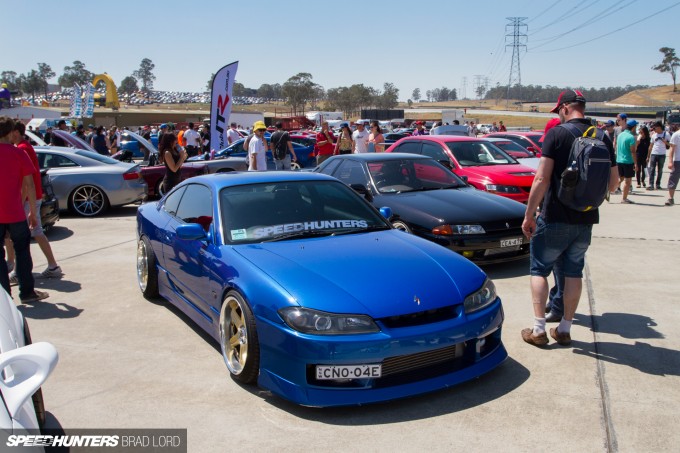 And at the height of the day, when the concrete expanse was at its fullest, the makeshift car park became a very busy place. I like the simple style of this S15 Nissan Silvia/200SX, and that Speedhunters window banner doesn't look half bad either, right?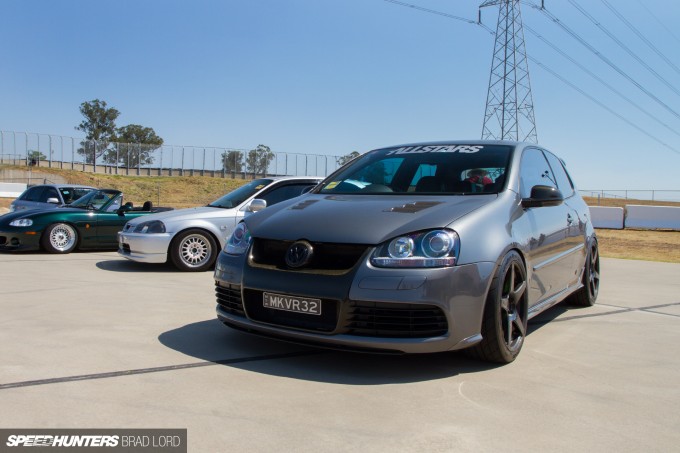 That less is more ethos is something that the modified car faithful in this corner of the world have really got their heads around. Take this ADV.1 wheel-equipped Golf R32 pieced together by Justin Fox at Zen Garage for instance. Just perfect.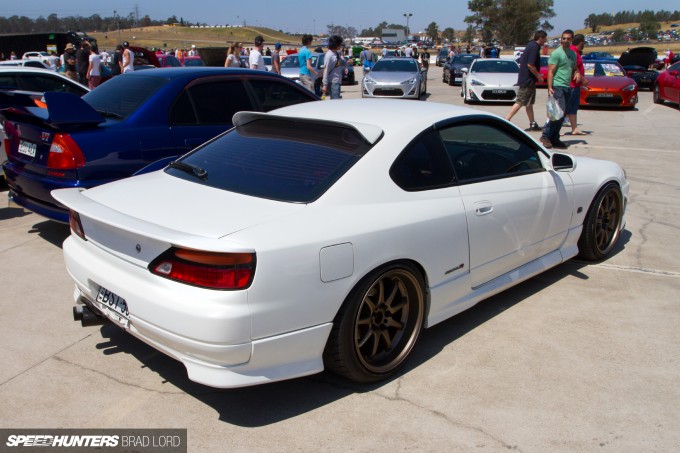 It's stark contrast to a movement that, by large, once revolved around outlandish paintwork, airbrushing and chrome. I much prefer the thinking conveyed in this lip-kitted and Work Emotion-fitted S15.
Function over form?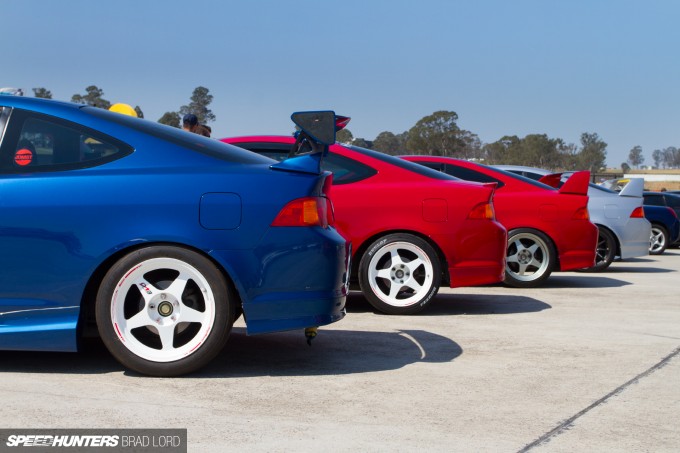 Function seemed to be rife wherever I pointed my camera, but I'm not sure if this is something truly reflective of the local scene, or whether it was just because this was the WTAC and the attraction was performance? Maybe some Sydney-siders will be able to shed some light…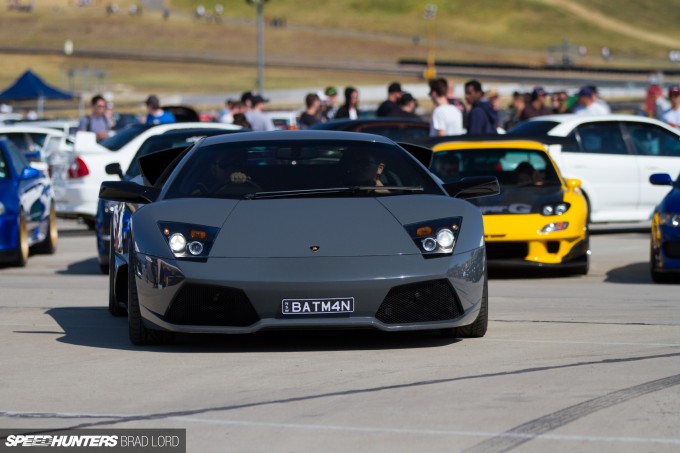 There was a very diverse mix of metal though, that's for sure. From exotics…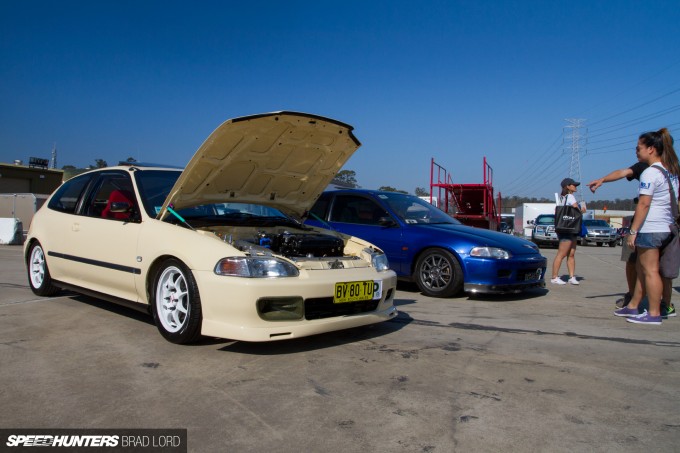 … through to more budget-conscious, but equally interesting builds. For FF duties, it's hard to go past a well-sorted EG Civic hatchback, and this pair appeared to have taken the right track in their respective approaches.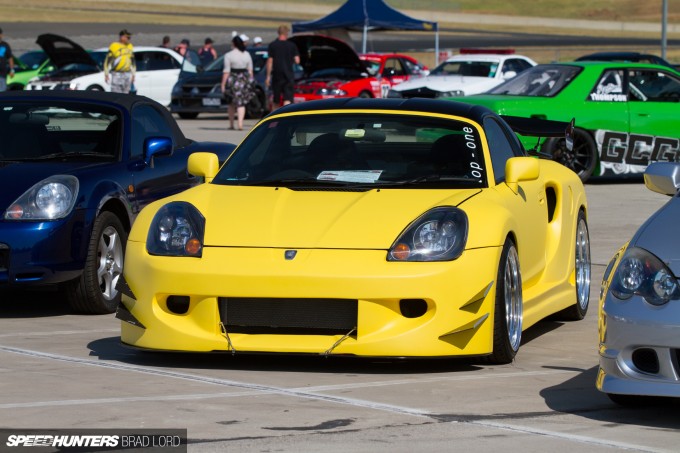 Although there's no questioning the Toyota MR-S's/Spyder's tunability, I've always been put off by the convertible's slightly awkward proportions. But this one, sat perfectly on SSR Professor wheels and wrapped in some purposeful-looking aero, might have just changed my mind.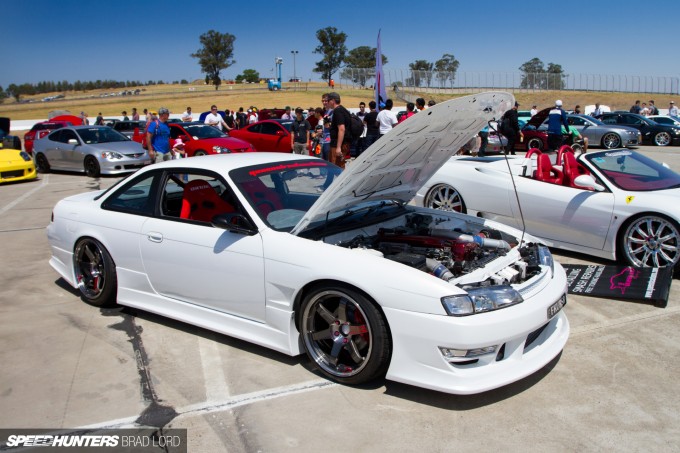 Speaking of purpose, this super-clean kouki S14 had plenty – RAYS Volk Racing TE37 SL edition wheels and an RB26 engine conversion included.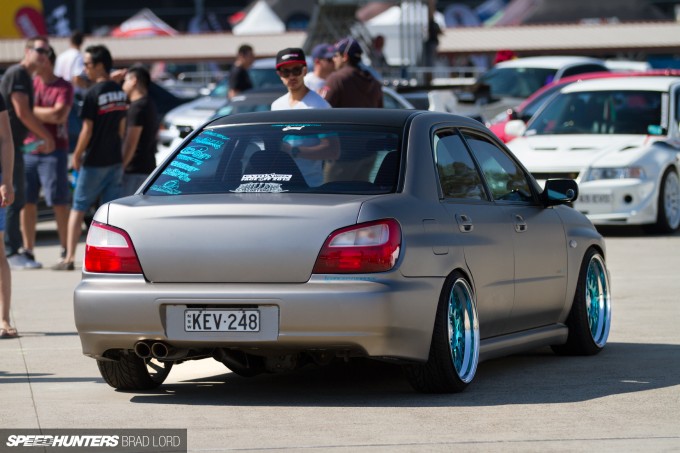 While I think it's safe to say that Australia has its own car building flavour, it's not all that hard to spot influences borrowed from elsewhere around the world. If it wasn't for the right-side steering position and NSW registration, you could easily imagine this Subaru Impreza WRX at a SoCal meet.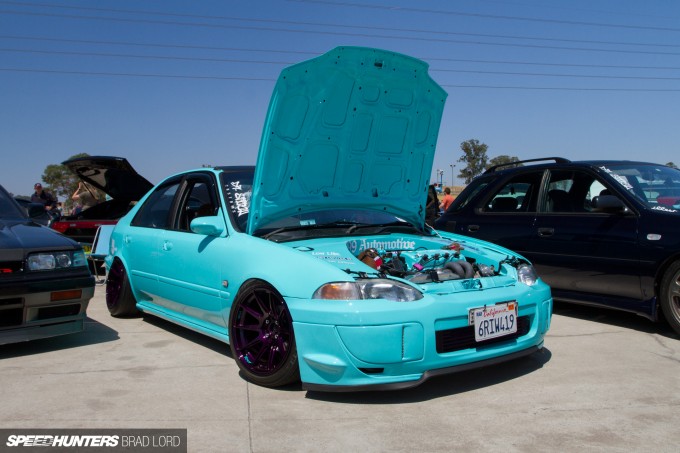 The same goes for this EG Honda Civic sedan fitted with a turbocharged D-series motor. It didn't really need the Californian plates to give the theme away.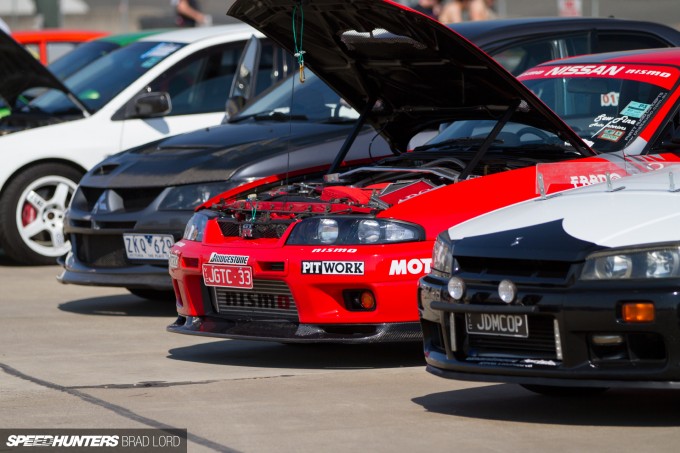 The Japanese influence was easy to spot too.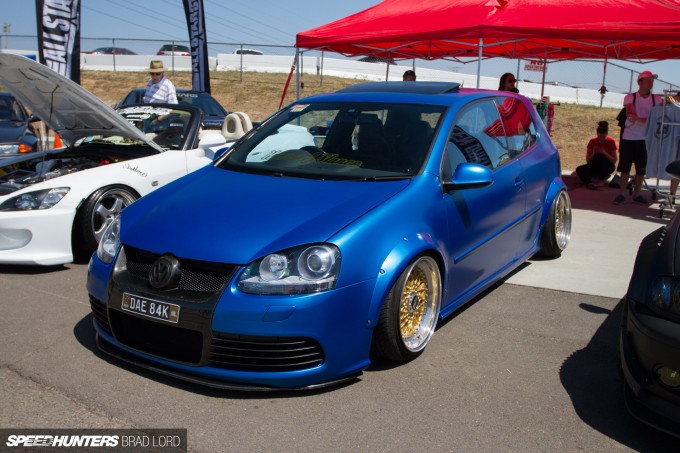 Of course, up-to-the-minute modifying methodology always finds a way to transcend geographical borders too. This Golf on BBS wheels received a lot of attention during the course of the event.
Best in show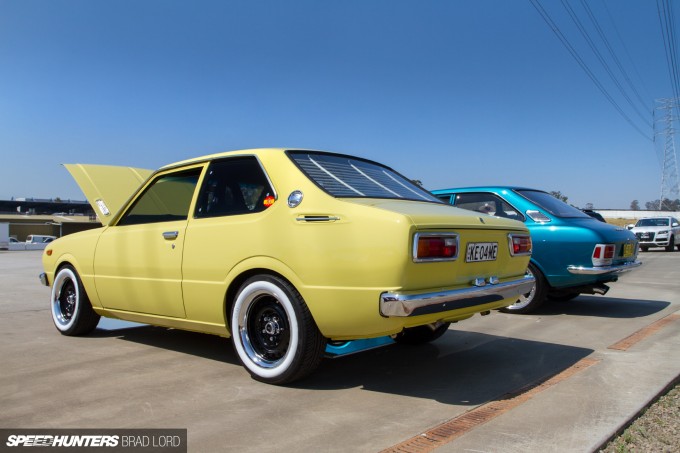 One of my favourite cars to uncover was this two-door KE30 Toyota Corolla, which had been re-engineered to an amazing standard; outside, inside and even underneath. Although the exterior was treated to a meticulous original restoration…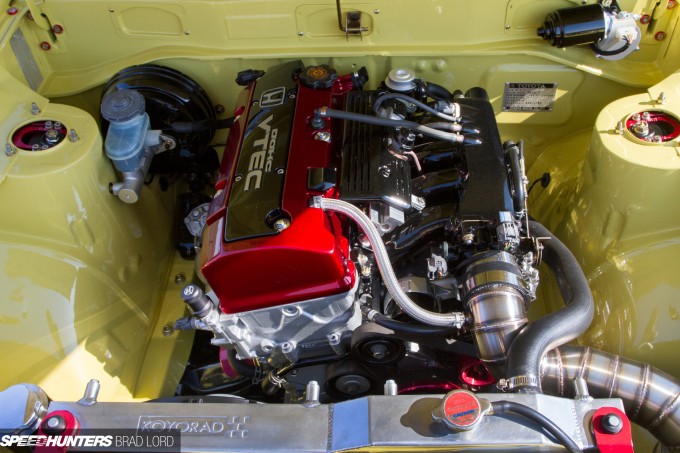 … under the bonnet the factory-fitted 3K 1.3-litre motor was nowhere to be found. An F20C from the Honda S2000 is a pretty nice fit in the Corolla's engine room, don't you think?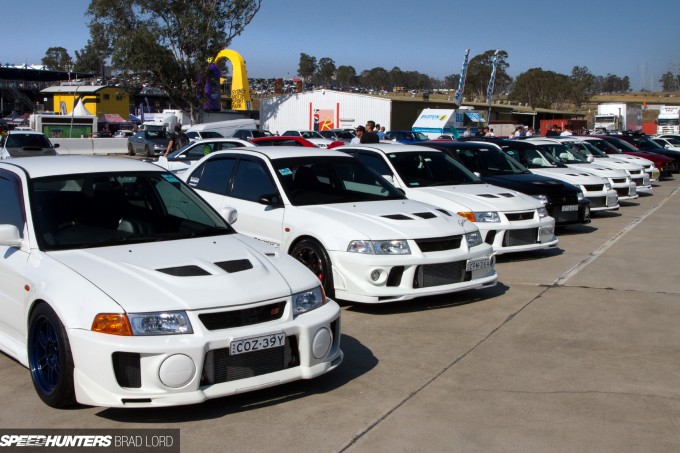 As you'd expect at a time attack event, there was a rather large contingent of Evolution grade Mitsubishi Lancers on hand.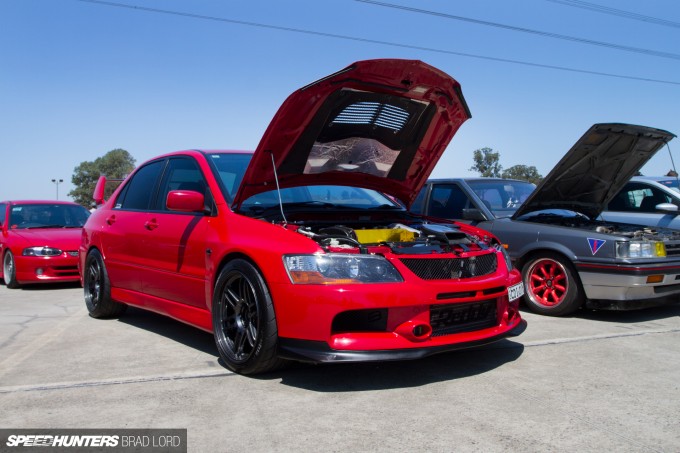 It was nice to see that most of them had been tastefully upgraded too, with most modifications building on the Evo's rally-bred base, rather than attempting to try and reinvent it.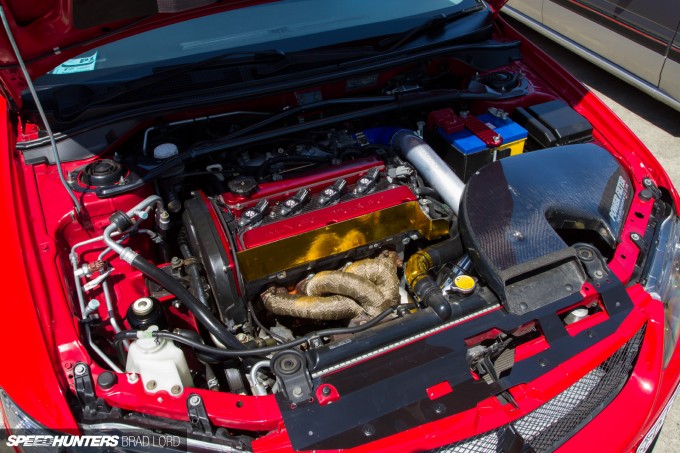 I'm going to hazard a guess and say that at least 450hp dwells within this 4G63 engine.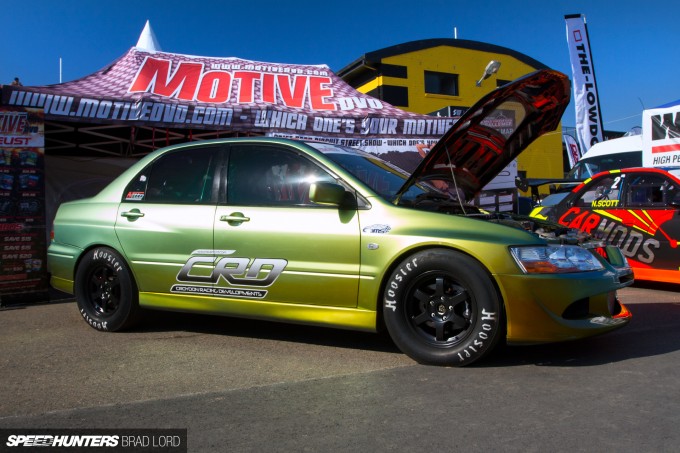 The CRD (Croydon Racing Developments) Evolution VIII on the other hand is slightly more modified than your average. Built for straight line duty, last I heard the green and gold machine was outputting around 1000hp…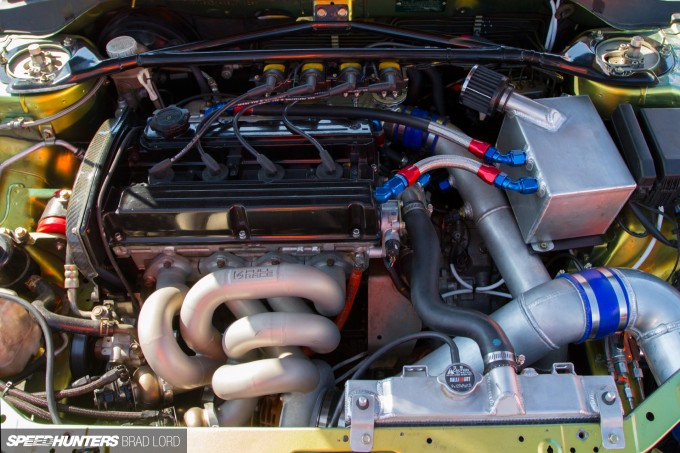 … thanks to a serious CRD 4G63 build centered upon a Nitto 2.2-litre stroker kit. It's a beautiful thing!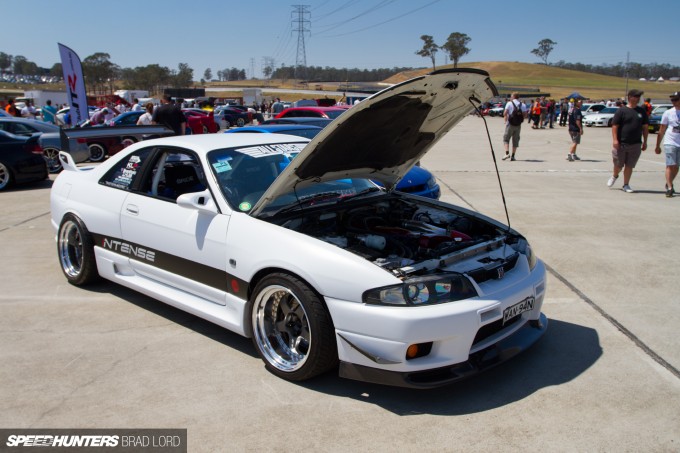 Although the BCNR33 GT-R is often overlooked as a tuning base, there's lots to love about the middle child – especially when they've been dealt some quality modifications. In this this case it was a bunch of Japan-sourced aftermarket parts, including a set of super-deep Work Meister S1 wheels.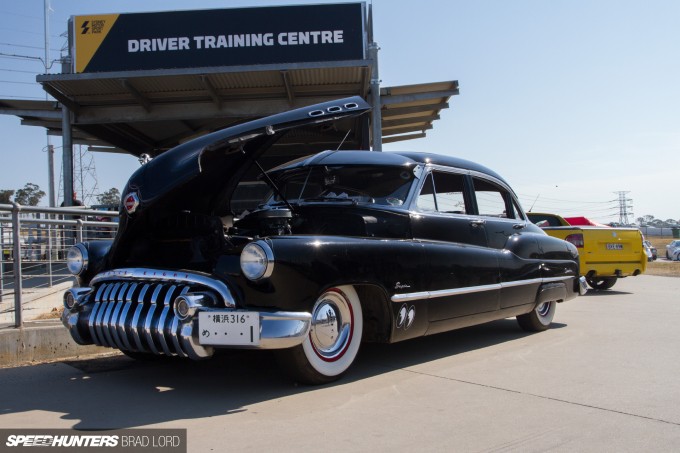 I'm not entirely sure whether this cool mild custom Buick Eight had actually been imported from Japan or not, but it definitely looked like it could have been plucked straight from the Mooneyes Area-1 carpark in Honmoku, Yokohama.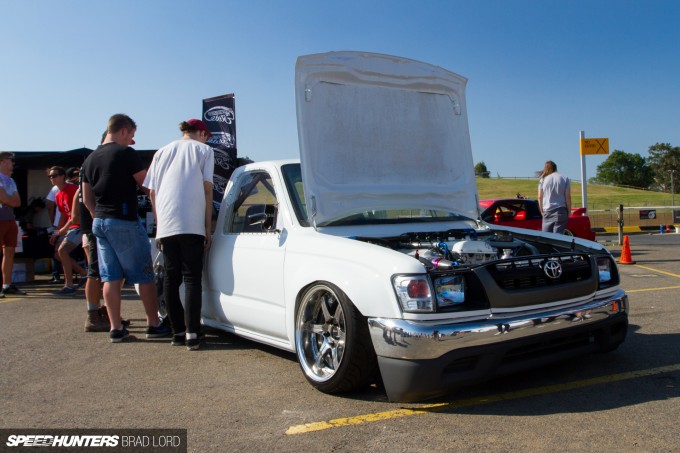 I don't think there was a moment that passed by when there wasn't people gathered around the Engineered to Slide Toyota Hilux.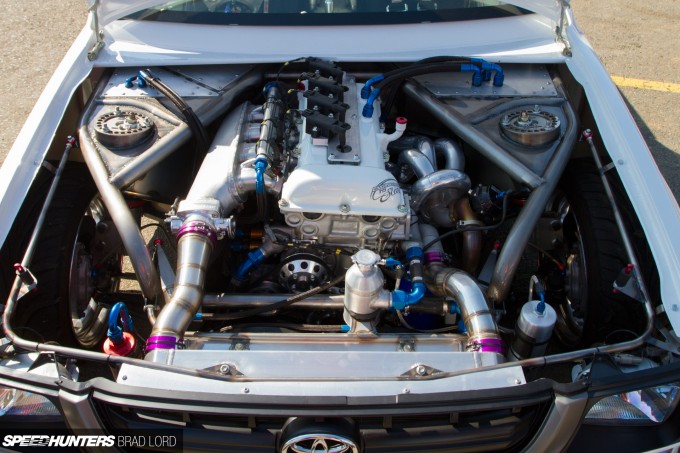 But given the extent of work that's gone into this one-of-a-kind machine, it's not really hard to see why, is it? Dino managed to photograph the ETS ute during the event, so expect a final build story entry from its creator, Nigel Petrie, very soon.
Build it and they will come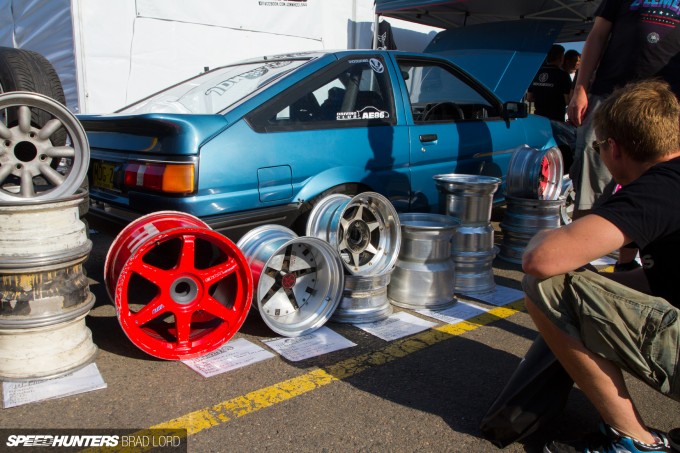 If you're looking for a sure-fire way to attract people to your booth, a display of old school JDM wheels will always do the trick. For a long time the Australian style seemed to revolved around modern, oversized wheels regardless of the vehicle's vintage, but looking around WTAC a shift in thinking was quite evident.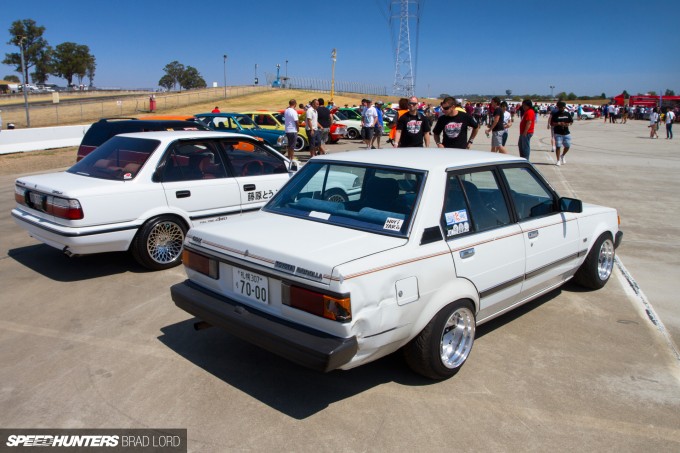 Sure, there were still those who prescribed to the original school of thought, but it was cool to see many owners of older cars mixing things up with small and wide rim selection.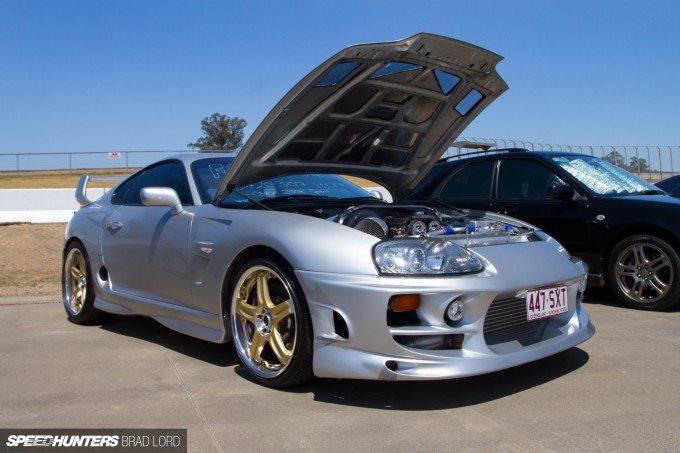 Judging by its Bomex and TRD aero, and Volk Racing GT-C wheels, this JZA80 Toyota Supra appeared as though it had been on the scene for a while. It was for sale too, and $200K worth of investment noted.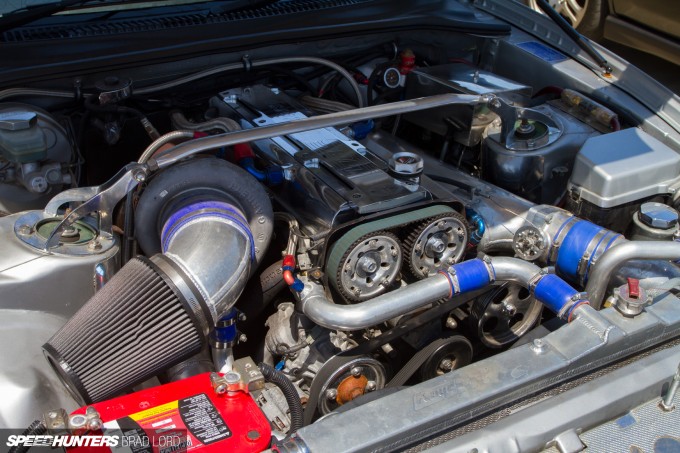 If the dinner plate-sized Garrett turbo and GAS Motorsport insignia on the cam cover is anything to go by, it looks like a big chunk of the change was tipped into the 2JZ. A lot of power is generated here, I'm quite certain of that.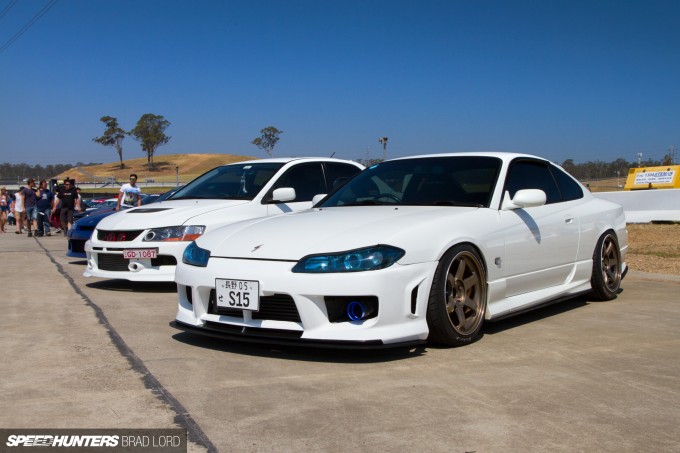 Sometimes it was all in the little details; like the subtle lip treatment on the rear fenders of this clean S15.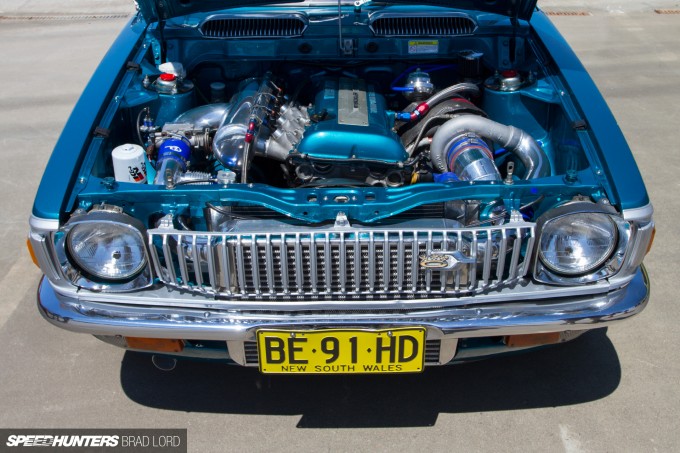 Other times, the modifications were less discreet. Given the Nissan SR20DET conversion and the size of that turbo, I bet this little old Corolla is more than a handful!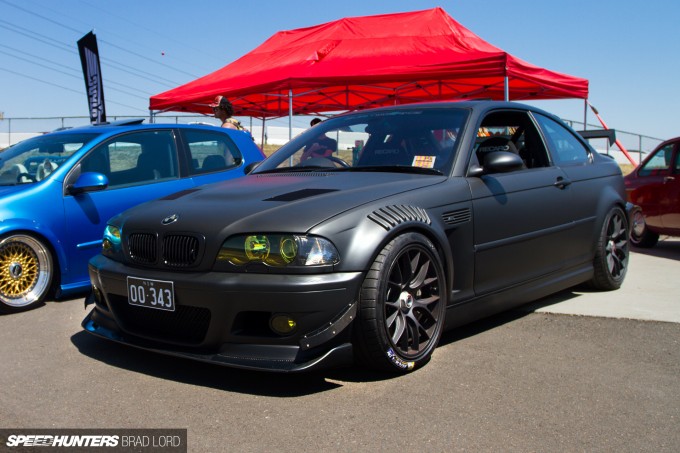 But in many cases it was the sum of all parts that worked together to create something unique, like the oh-so-tough matte black E46 M3 on the Zen Garage/All Stars booth.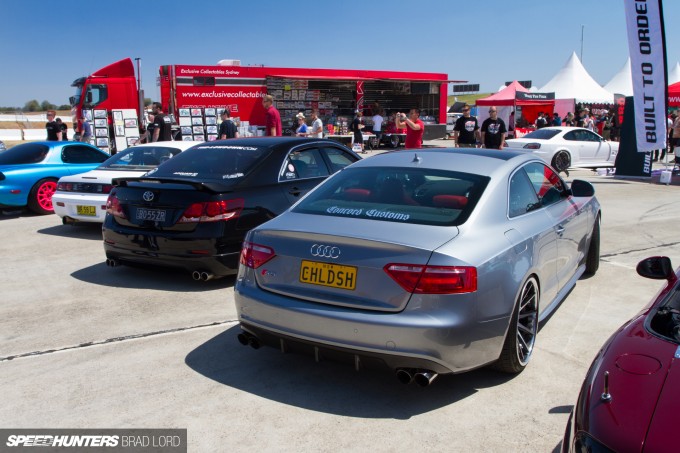 Had it not been for so much else going on around the facility, I could have spent a lot more time than I managed to strolling up and down the aisles.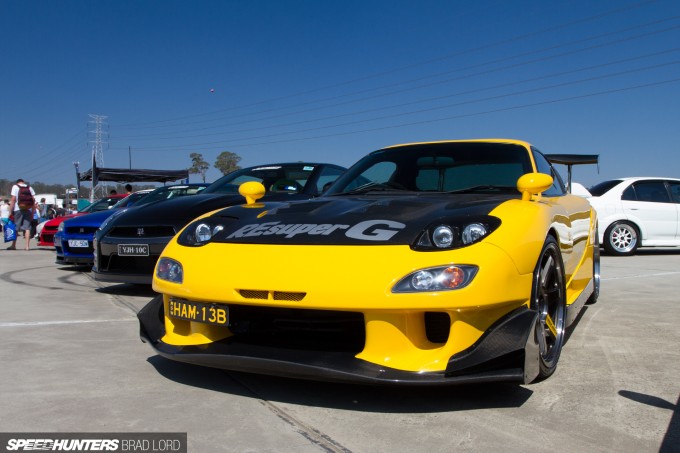 That said, sometimes I just had to stop and stare. This perfectly executed and absolutely immaculate RE-Amemiya FD3S clone had that effect on me. I would have loved to known what was going on in the RX-7's engine room…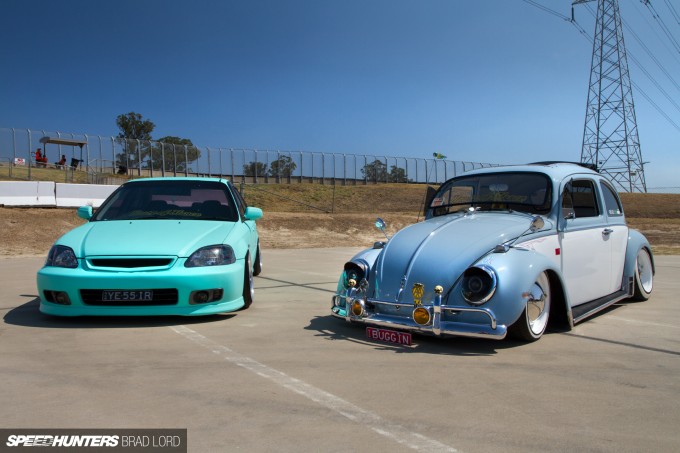 As a short, sharp insight into the local street scene, I really liked what I saw at the Motographics Show & Shine. With the 2013 World Time Attack Challenge done and dusted, and the promoter promising bigger and better things for next year, I can only hope that this facet of the greater event is on that radar too.