Eighties love
You can probably imagine how hard of a task it must have been for me to select five cars to Spotlight out of almost 400 rides that showed up at this year's Slammed Society gathering in Fuji. There was one car however…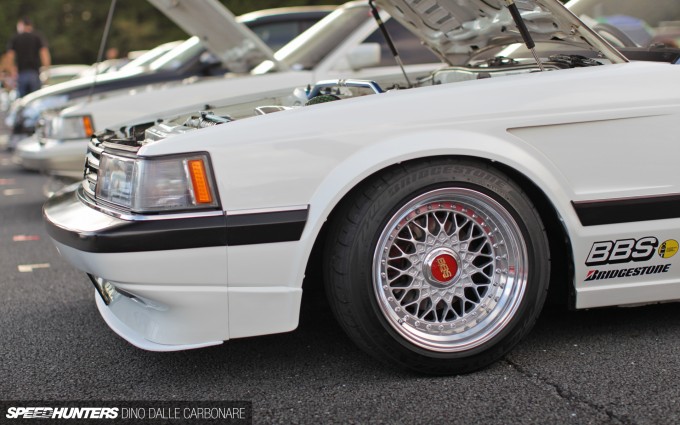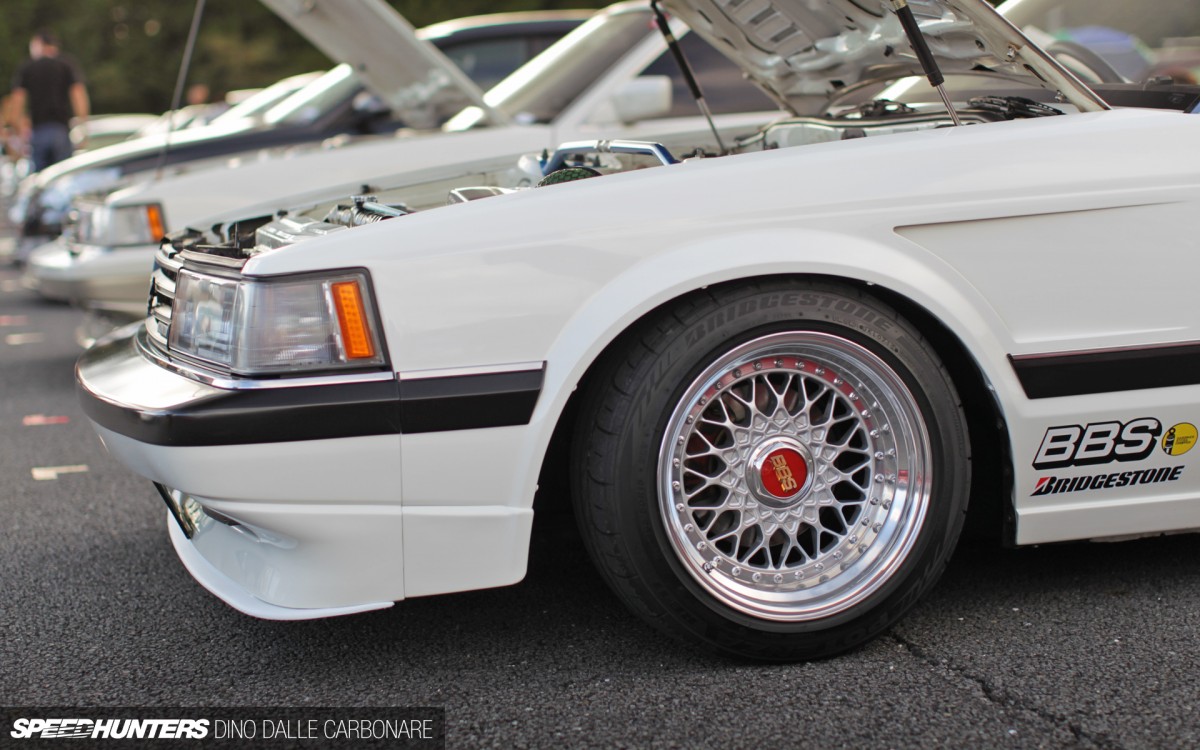 … that I saw early in the morning while it was still lining up to get into the display area, that I knew would end up making it into this post. While old school '80s Soarers are common sightings at events of this nature, the 'RB26 Inside' sticker on its side window really intrigued me.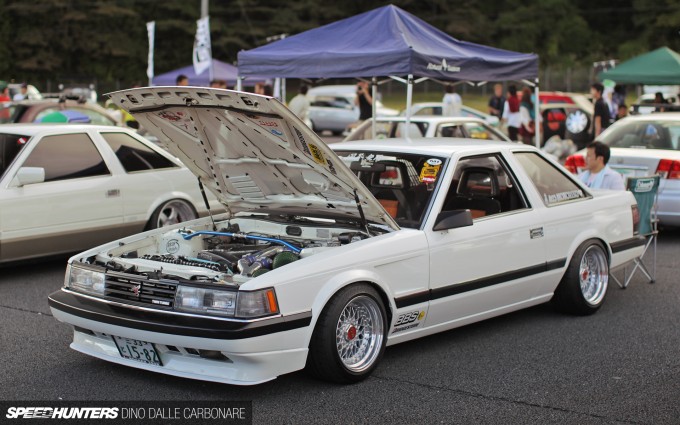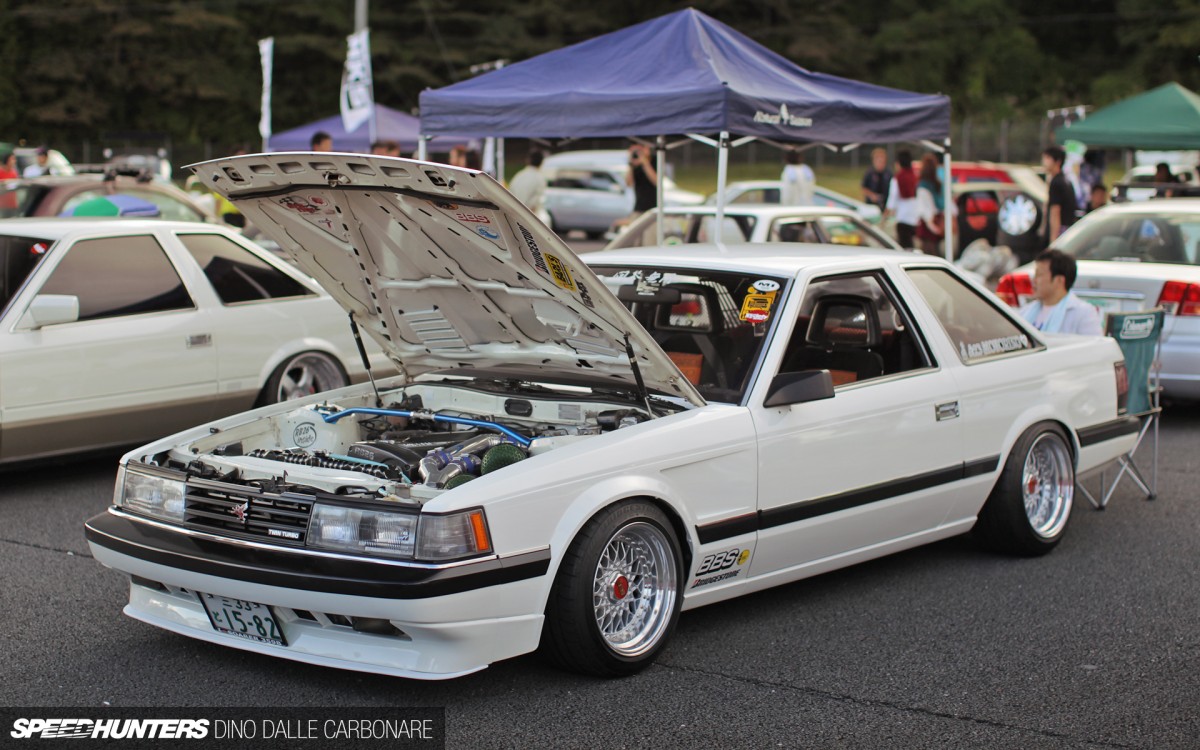 It wasn't until later in the afternoon that I actually managed to find the car, sitting pretty on its BBS rims and with its hood proudly opened as if to say: "That's right, have a look under here."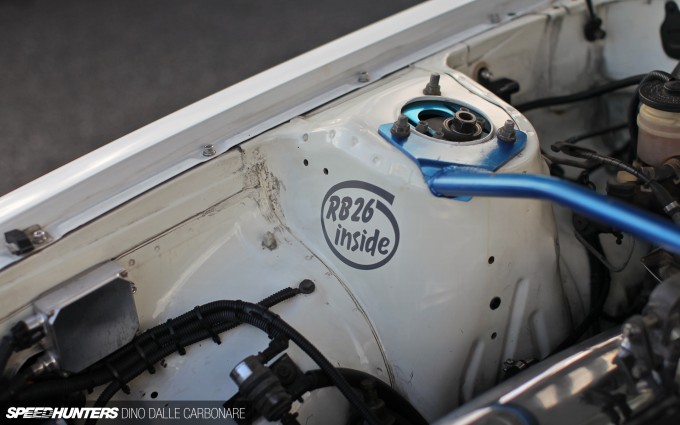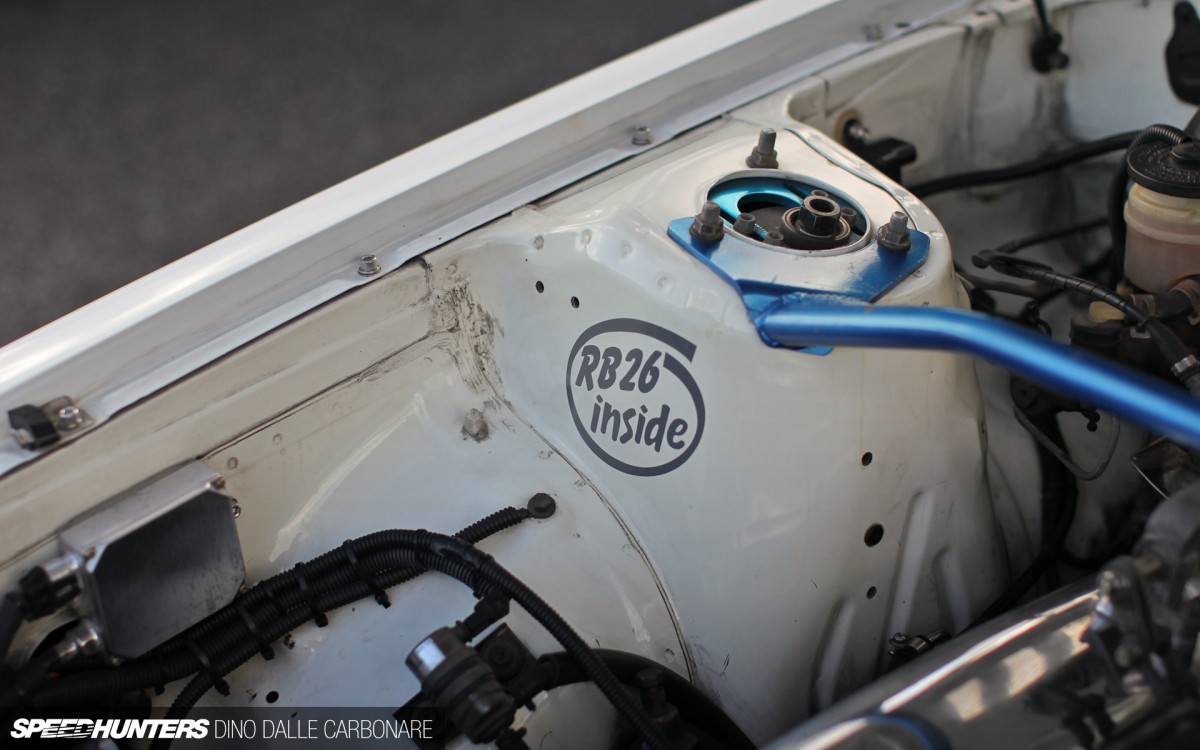 There's that sticker again…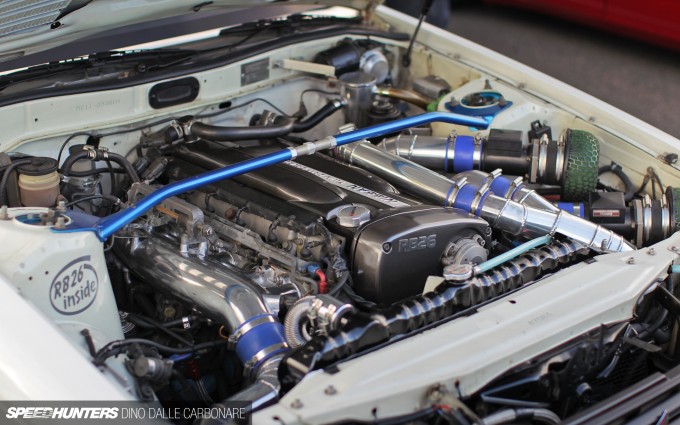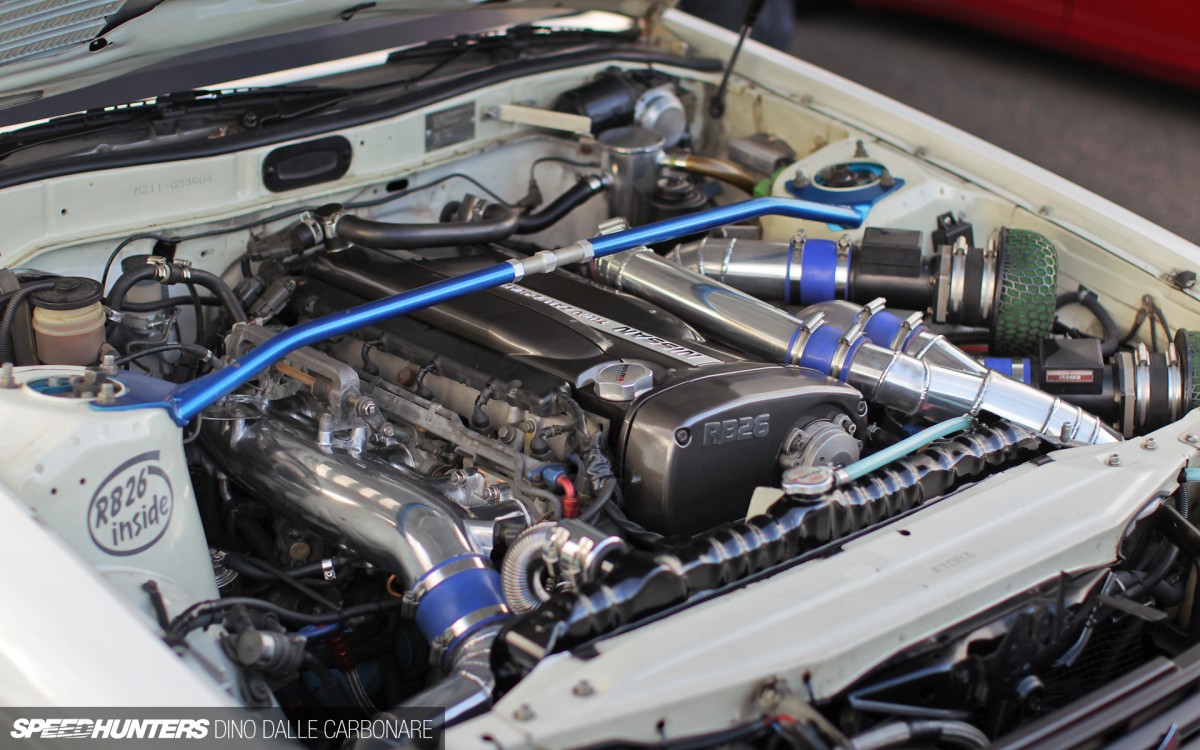 … and there's the engine! As it said on the label, this MZ11 Soarer has traded the original 5M-GEU 2.8L straight-six for some Nissan-bred power. While the exterior of the car did a great job of representing all that is right about the Japanese nostalgic car scene – cleanly maintained and dumped on a set of vintage rims – its engine conversion was a great representation of how things are done in Japan too.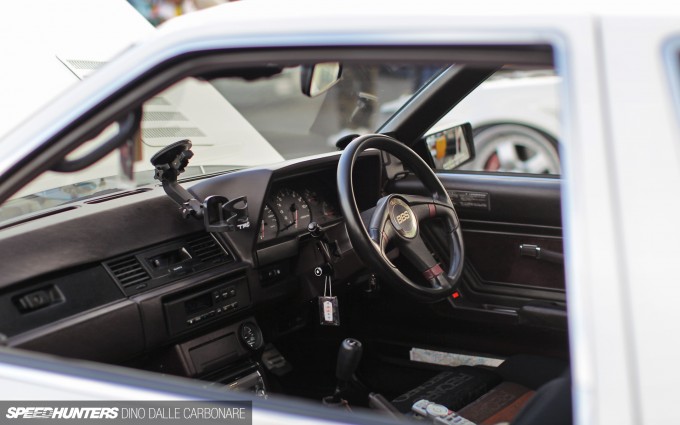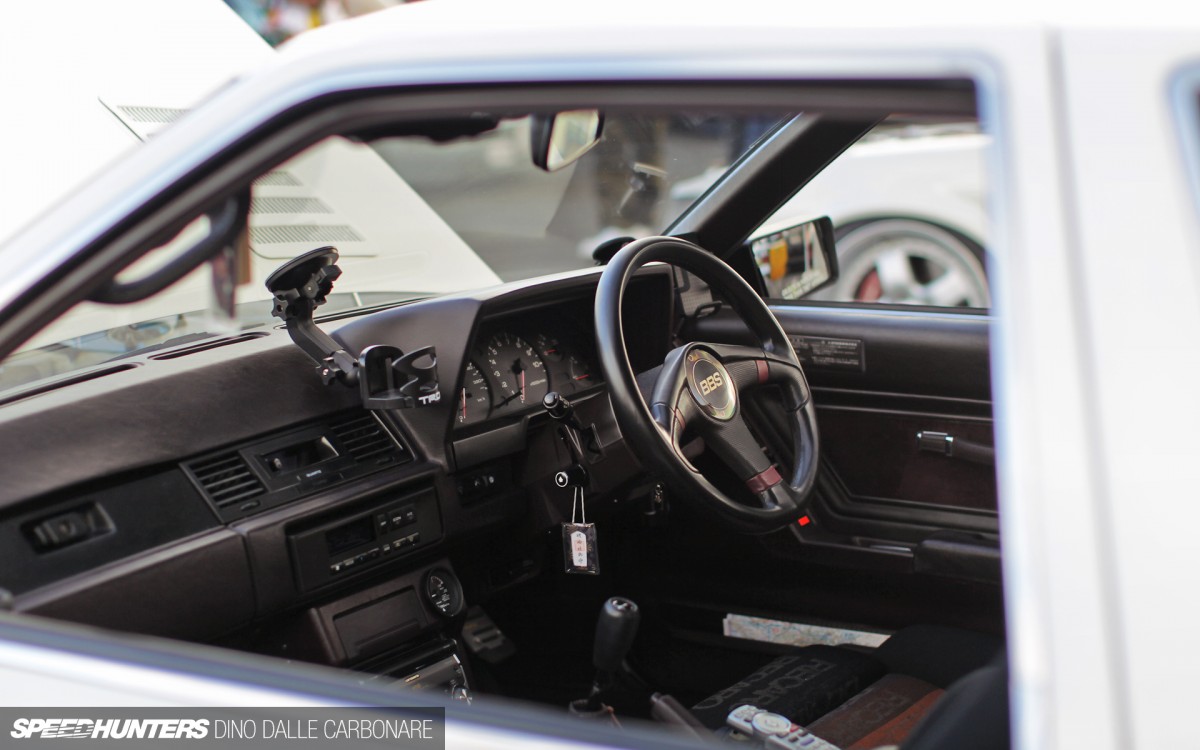 To finish things off the interior featured period-correct Recaro seats, an old '80s BBS steering wheel, and a TRD windshield-mounted cup holder for a touch of real awesomeness. This was hands-down one of the best cars at the show.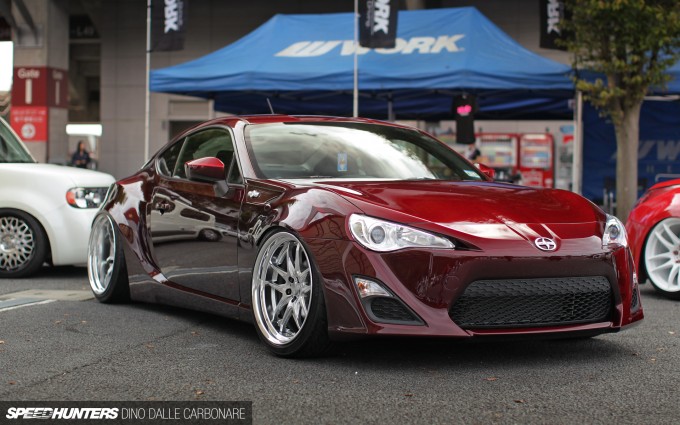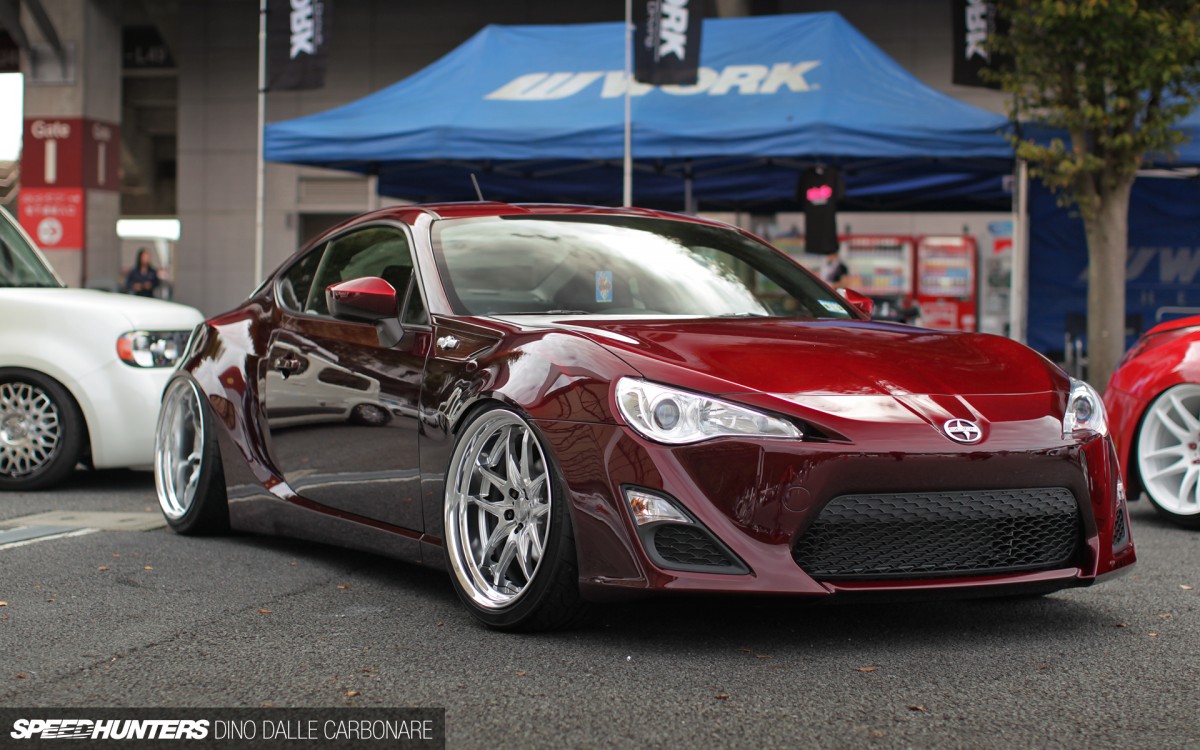 From comments on my first post, I'm very happy to see that you guys appreciated the work that has gone into creating the Weld ZN6. As Jonny from Weld told me, he wanted to approach the whole project in an old school sort of way, so this maroon beauty is a great second car to follow the MZ11 above.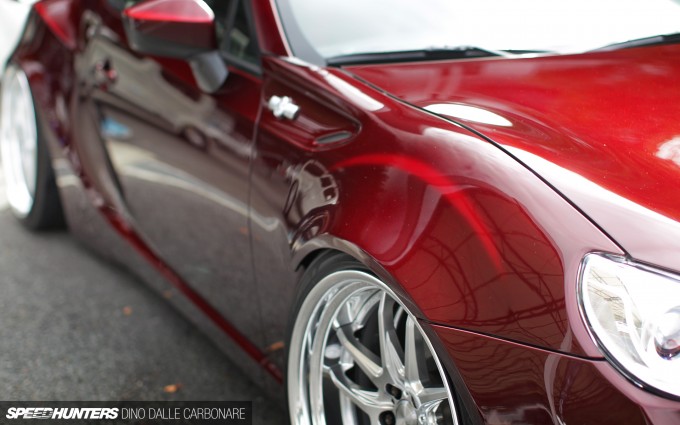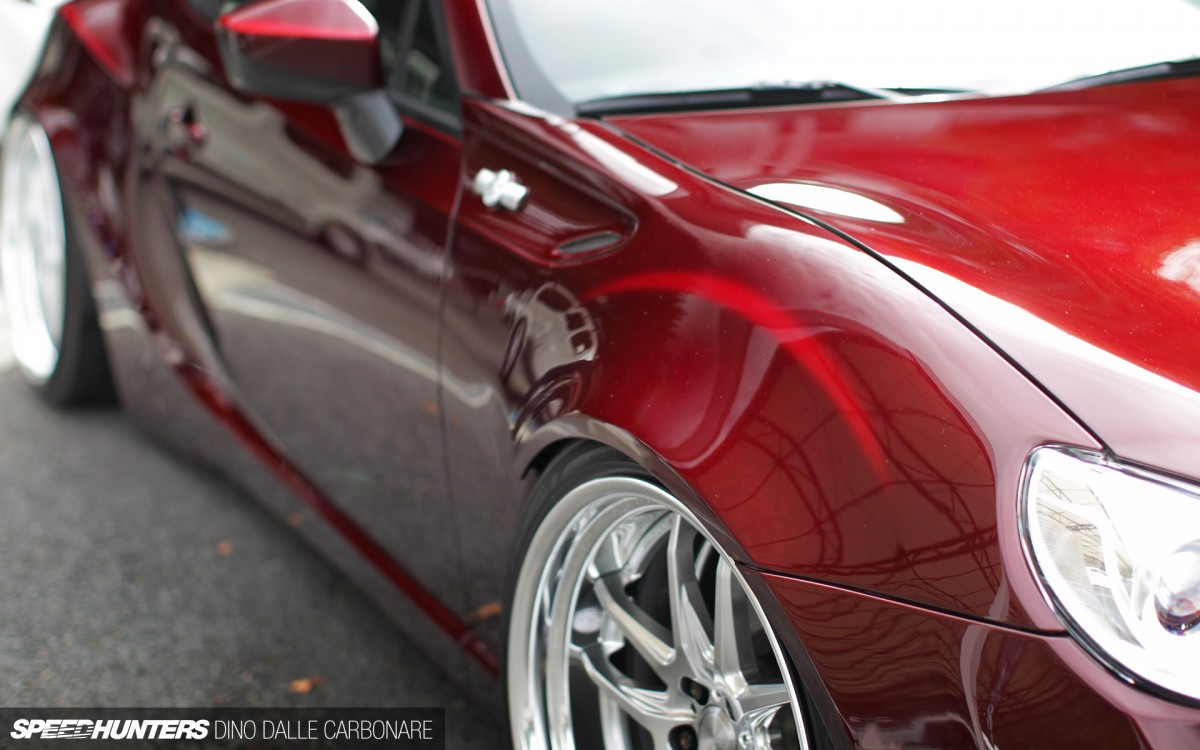 'Old school' to Jonny means no FRP. Once the design was finalized the fenders were cut and small pipe frame welded in an arch-like pattern to set the new dimensions and girth of the widened lines. Metal was then welded on top and slowly formed the old fashioned way to create the desired effect. Highlights in the paint are there to emphasize the new lines, both front…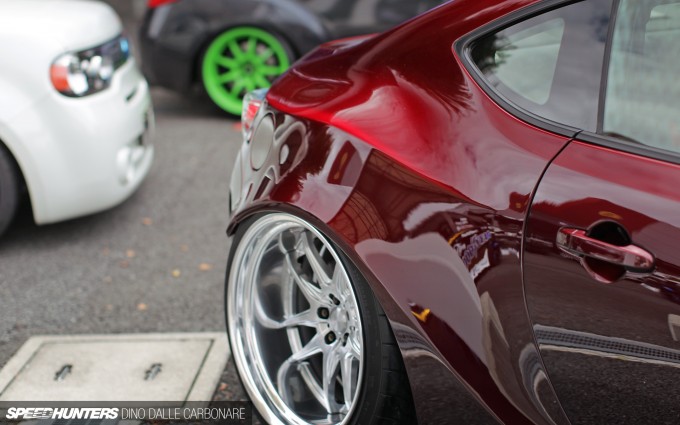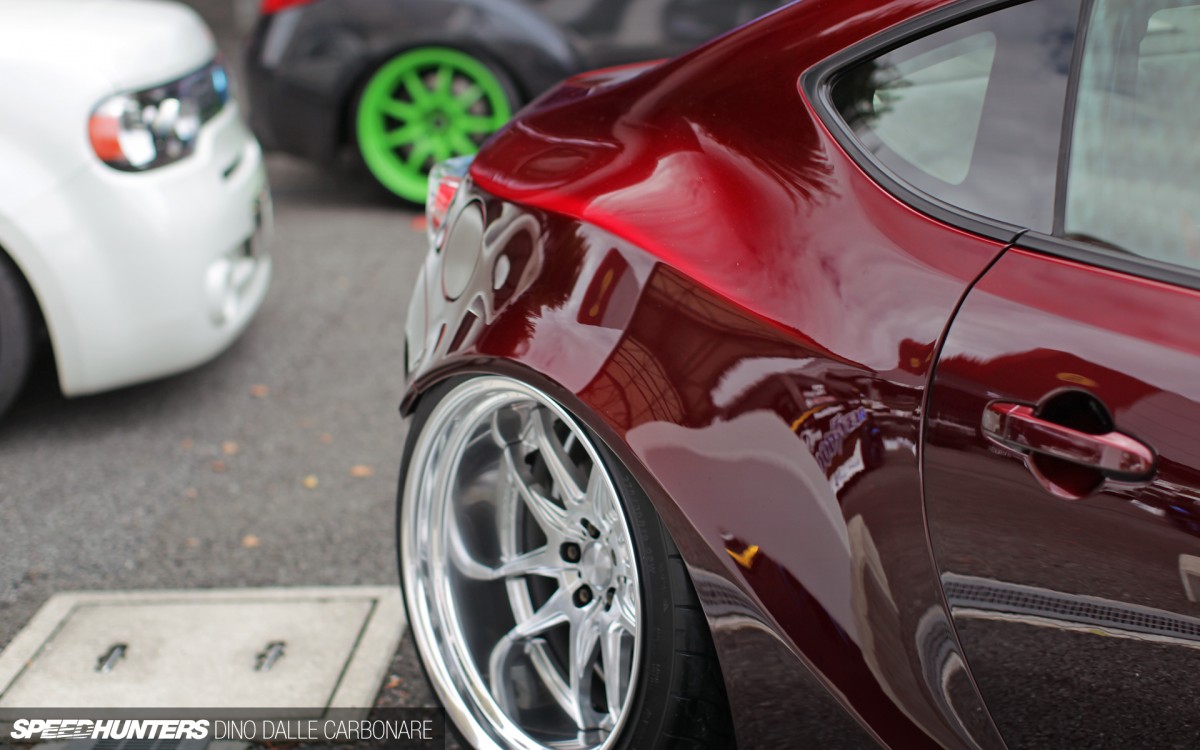 … and rear. You really have to see the car up-close to get the full effect and appreciate the work that's gone into it.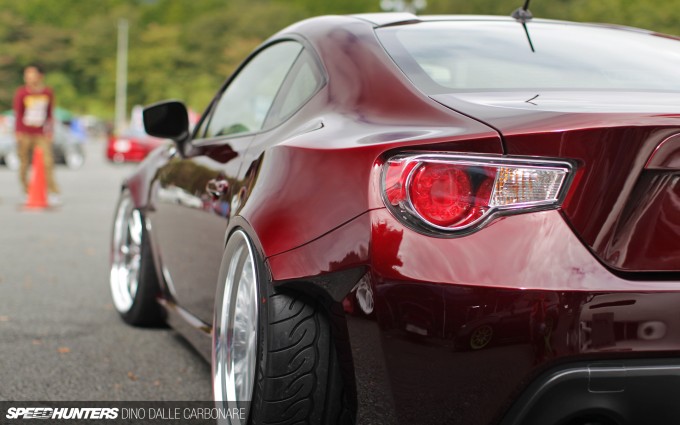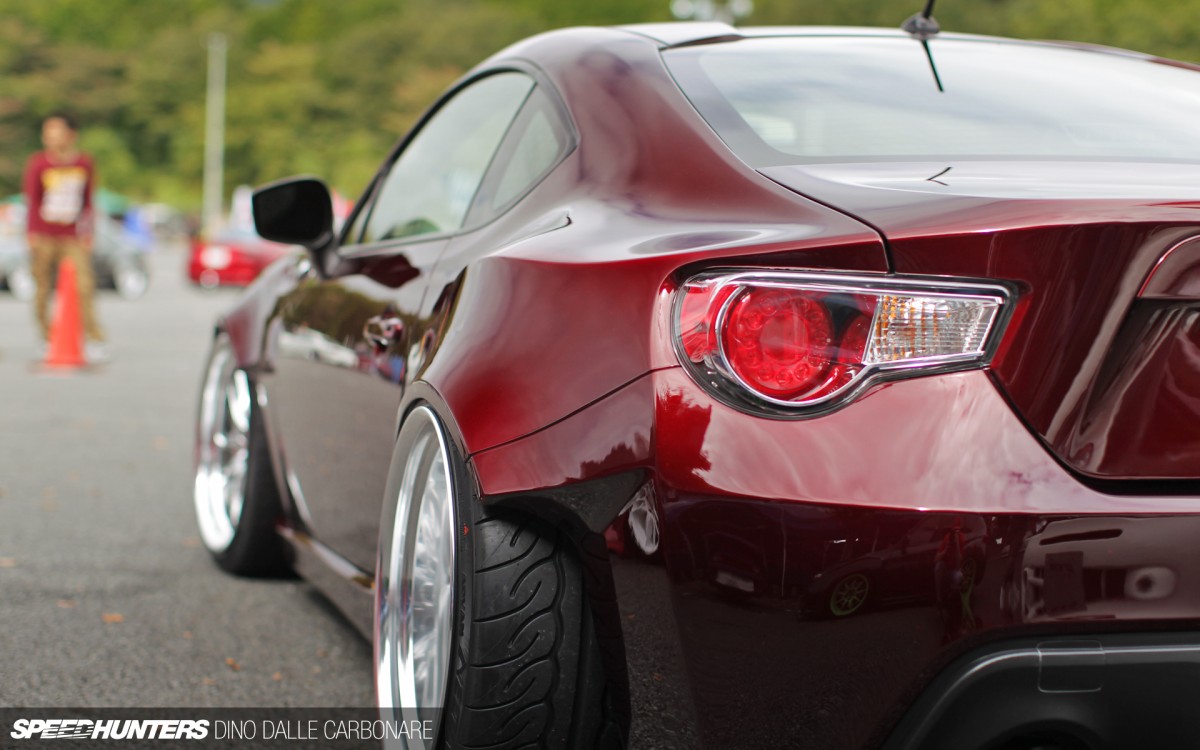 It sits wide and squats over custom 19-inch Work Emotions CRs clad in Yokohama Neova rubber. Check out the way the rear bumper flows into new widened fender line!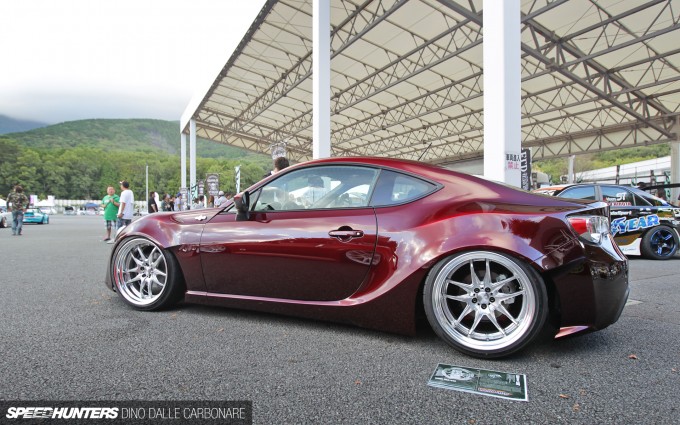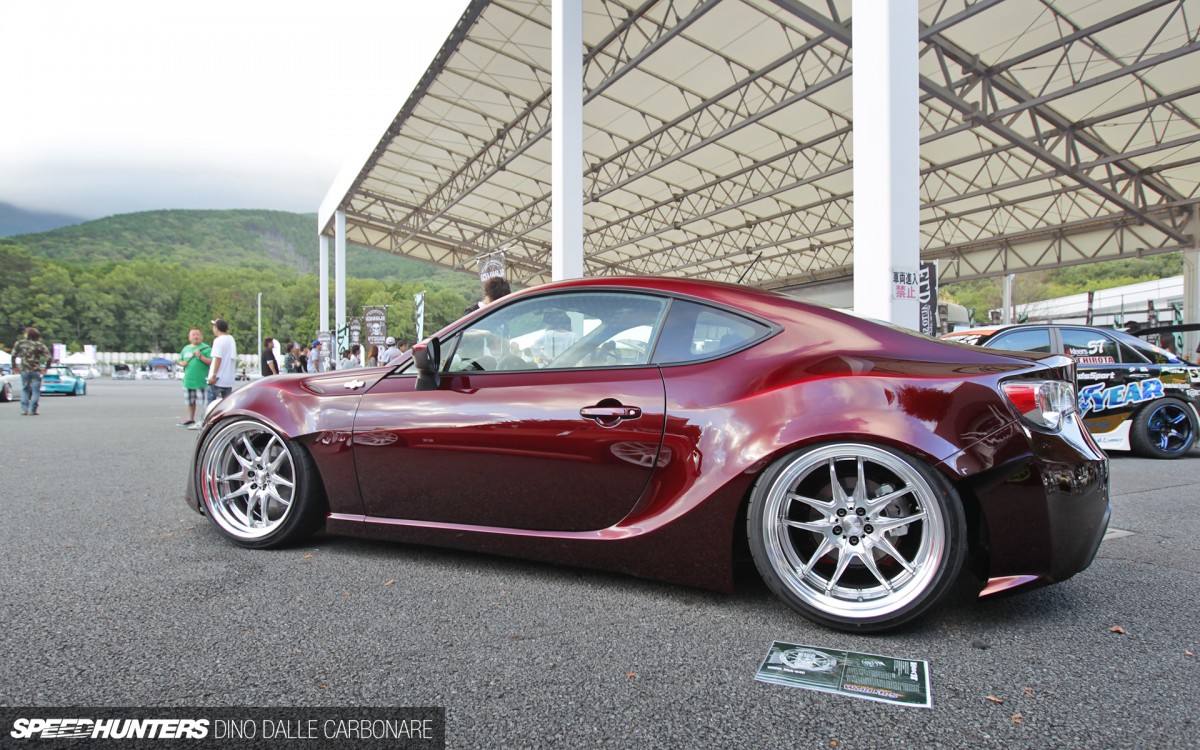 As Jonny went on to explain to me, the old school approach means dampers and springs, not air suspension. I particularly like the car from this angle as you can see how the side skirts integrate into the rear fenders. Let's hope the planned engine work will be finished soon as this is one car that's just begging to be featured!
The WTF cars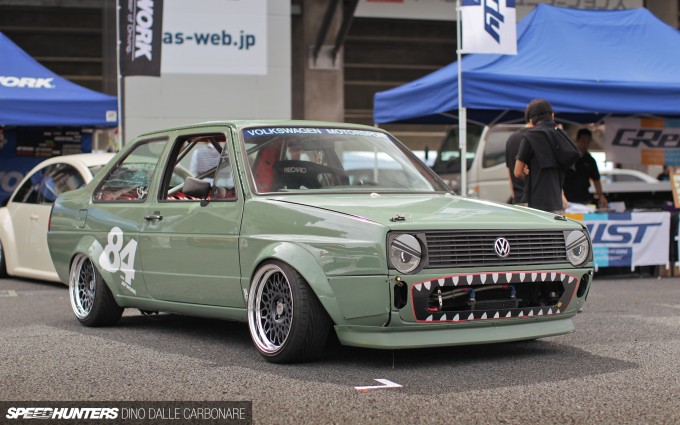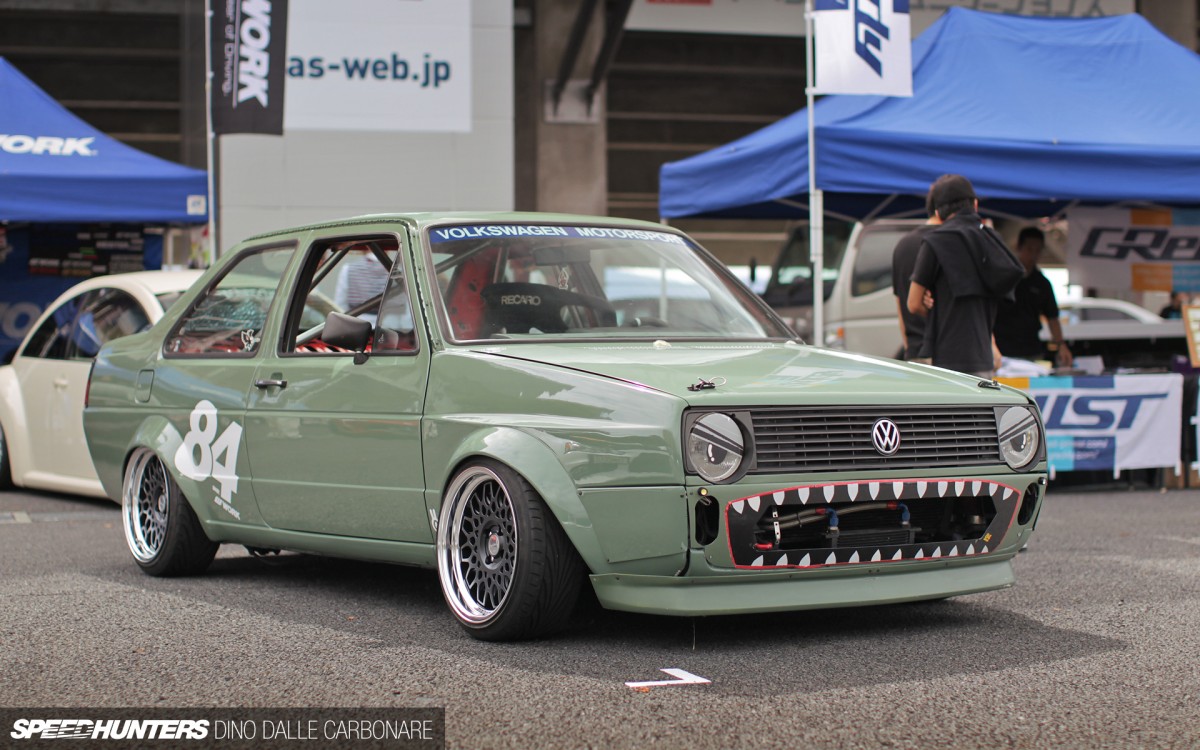 I had a definite double-take moment when I spotted this MK2 Jetta. It sat so unconventionally with a lower ride height at the rear…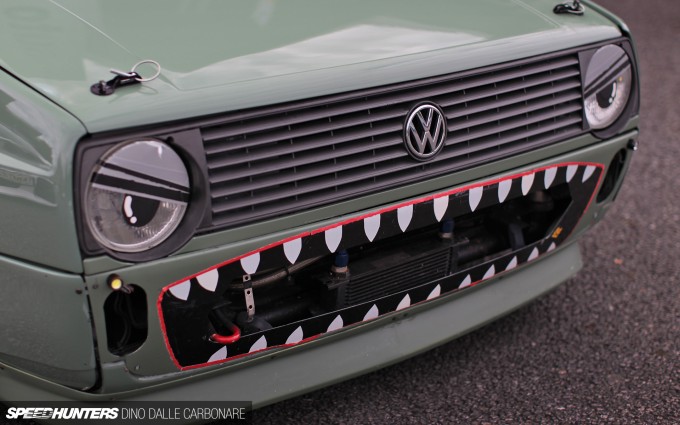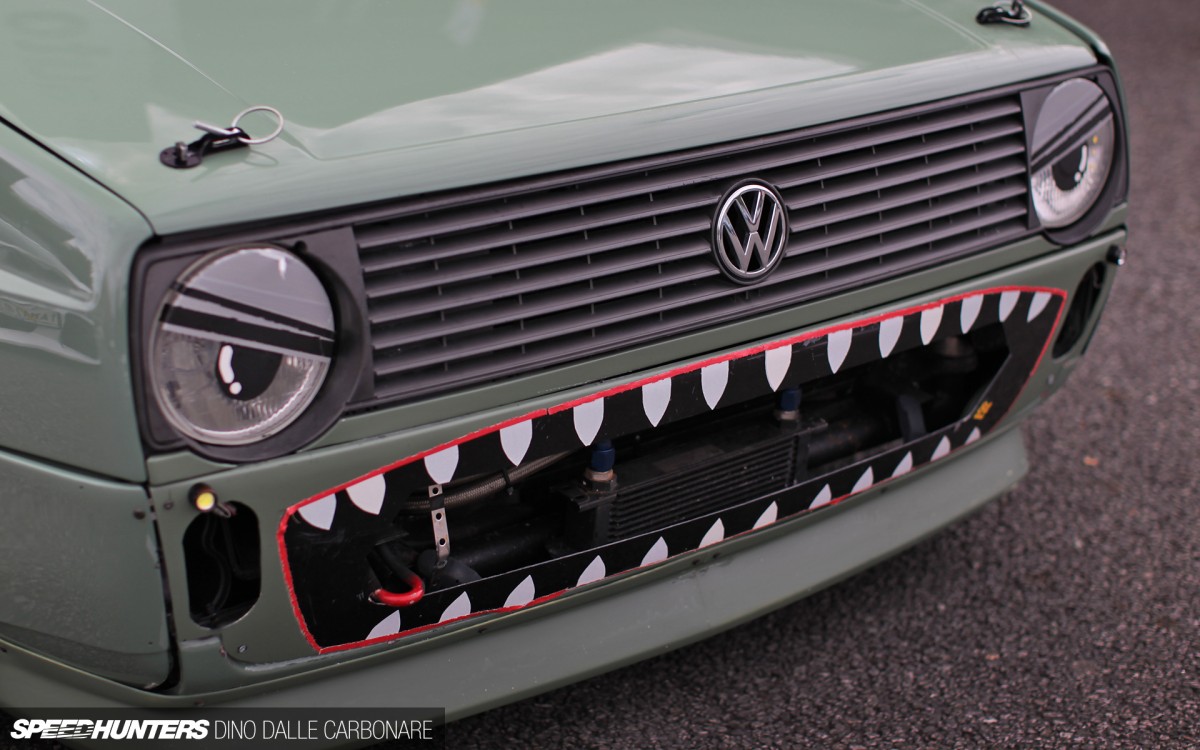 … and then a gaping toothed-grille and exposed oil cooler at the front. The car is built by 84Base Motor Works, a shop in Niigata that is obviously not scared of trying new things.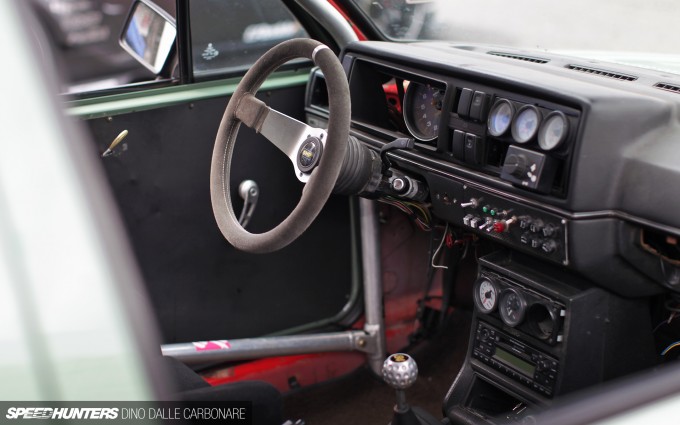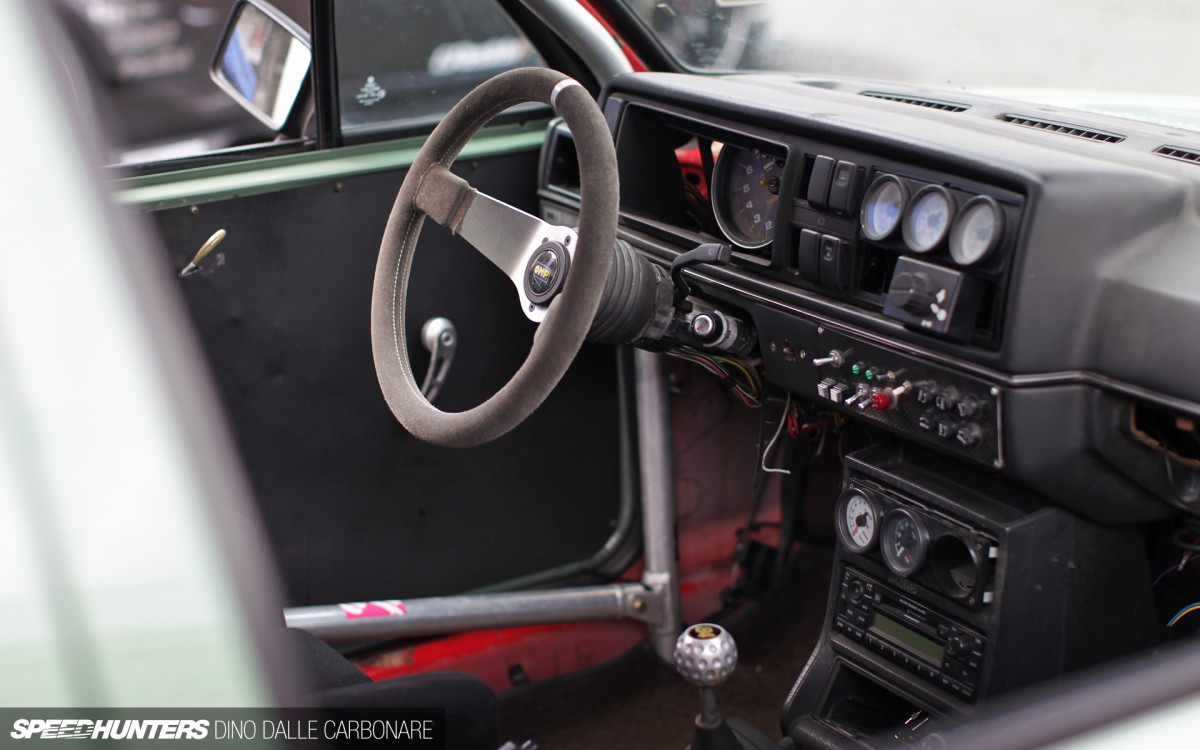 The car has been stripped out and fitted with a bolt-in roll cage, as it's often used on the track.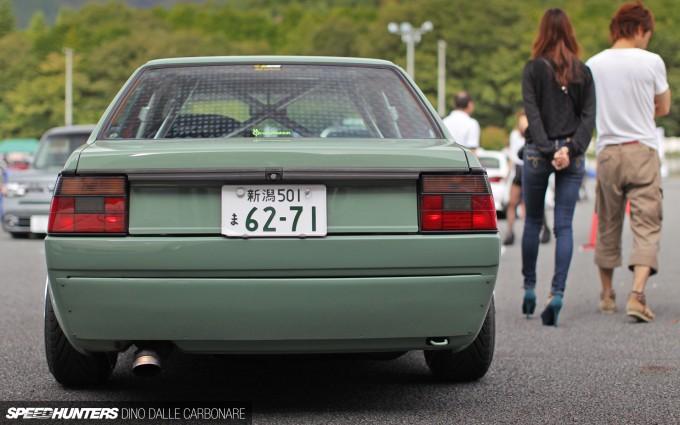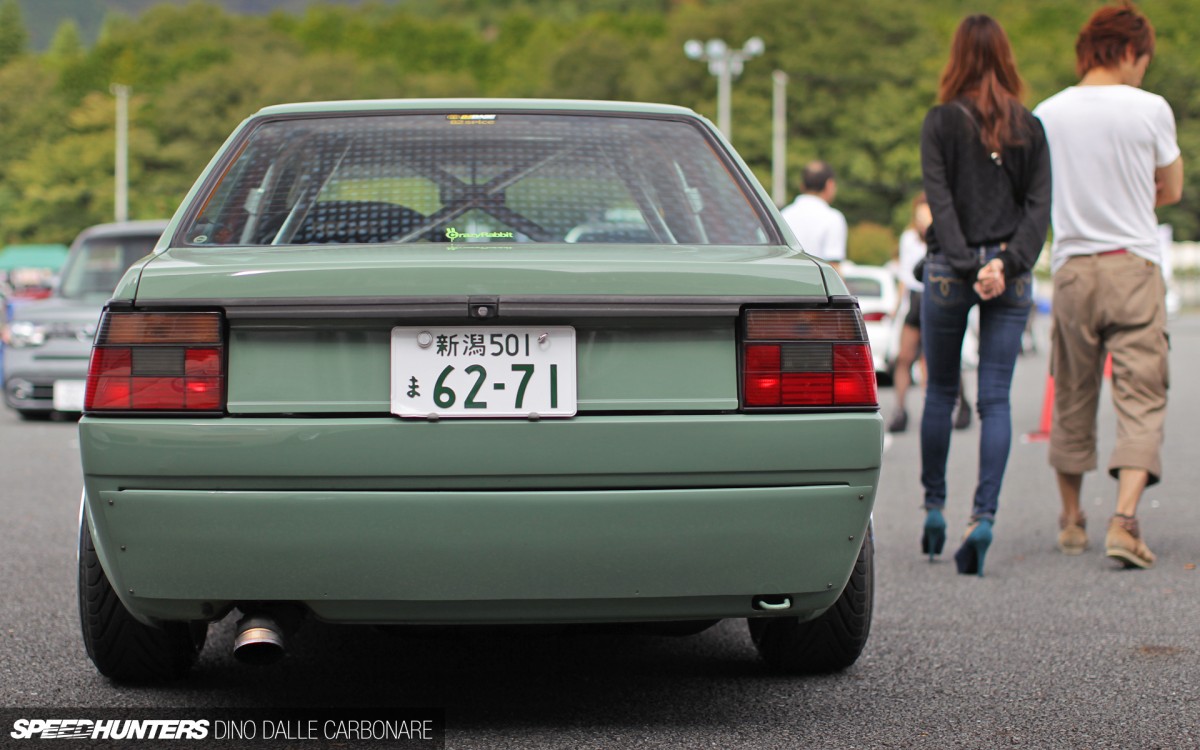 Much like the pastel military green exterior hue, the rest of the bodywork is actually pretty simple and clean…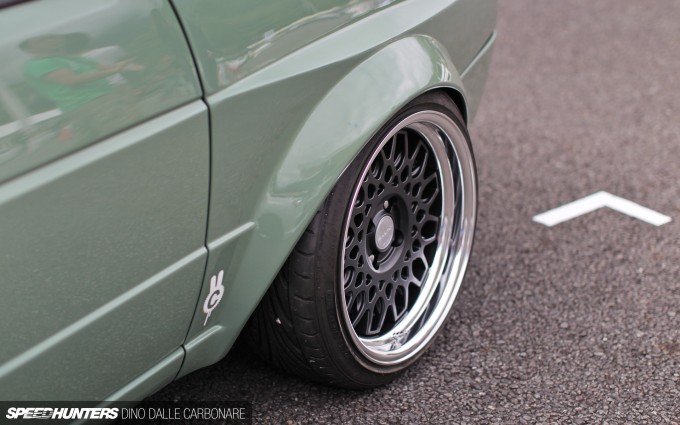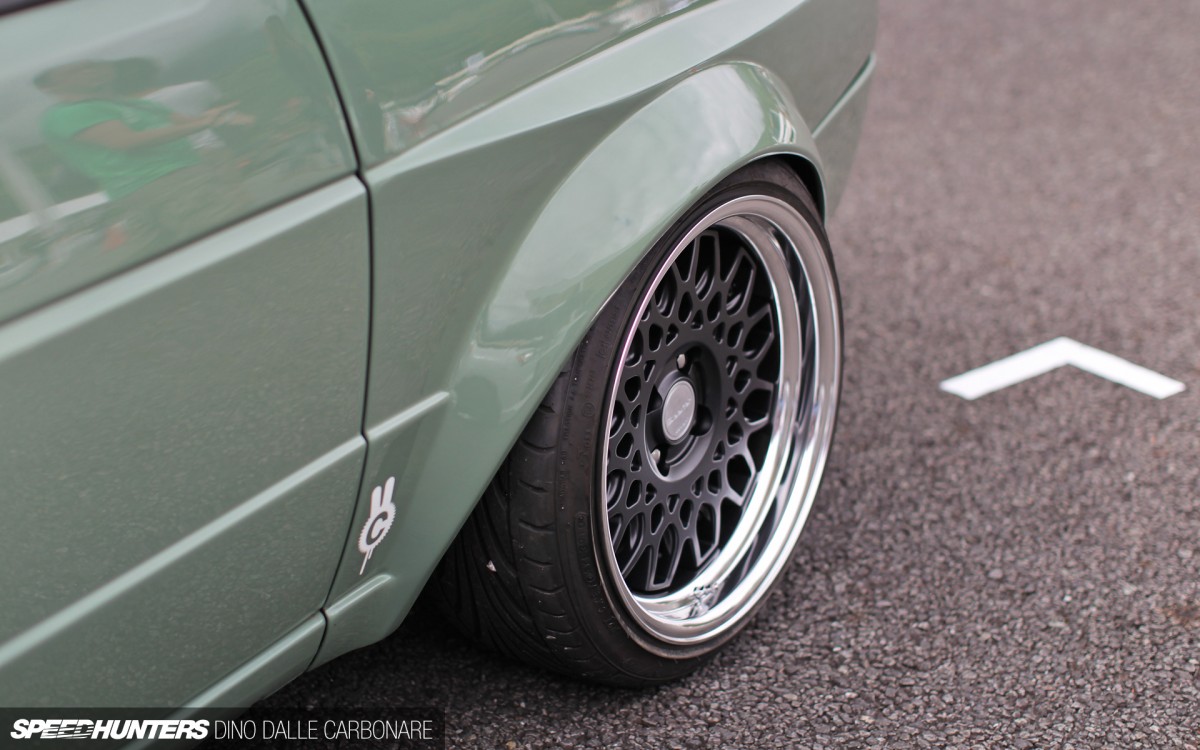 … except for the blistered front and rear fenders. For this event it had been fitted with the recently-released Work Seeker CX rims sporting a satin black face and anodized silver rim.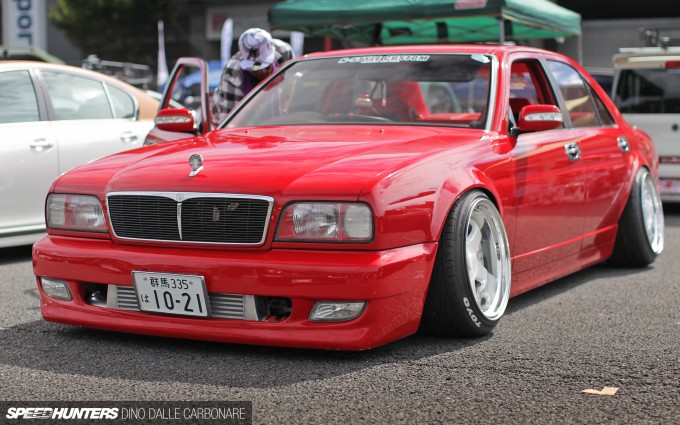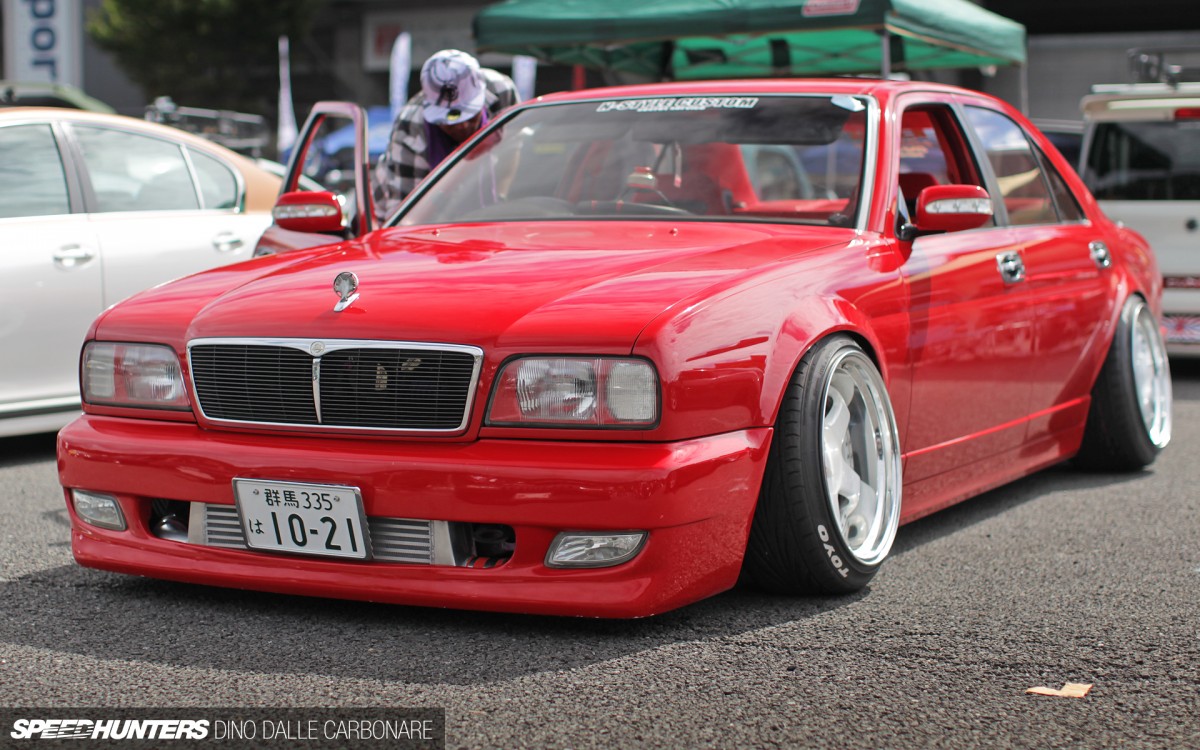 Larry and I are about to start releasing a long list of feature cars we shot a few months back at N-Style in Gunma. When we showed up to the shop its owner Nagahama-san, had organized 10 or 12 cars for us, but there was one missing from the group that I really wanted to shoot after seeing it last year at the Nagoya Exciting Car Showdown. I'm talking about this VIP-styled Cima…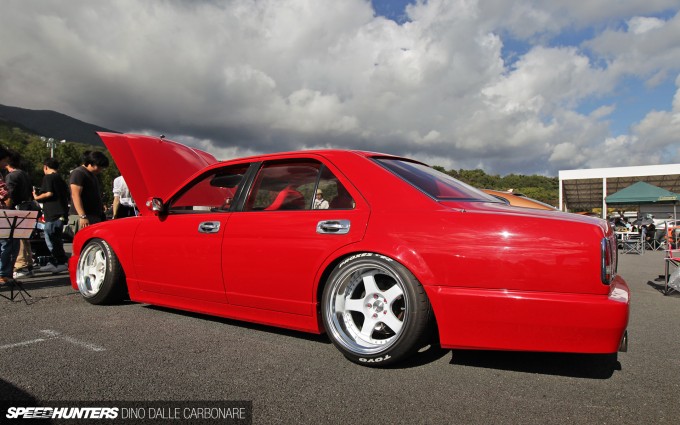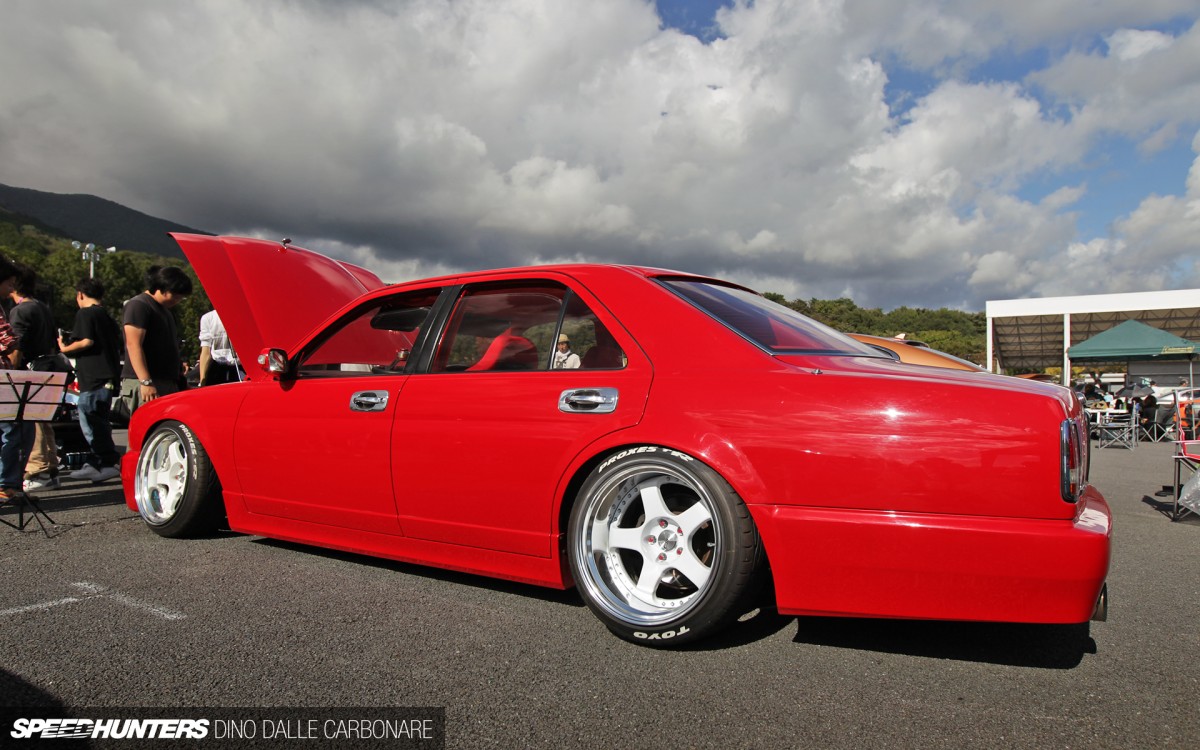 … which is actually more like a sporty take on the whole VIP thing. At the time the owner told me that the car was away getting some engine work…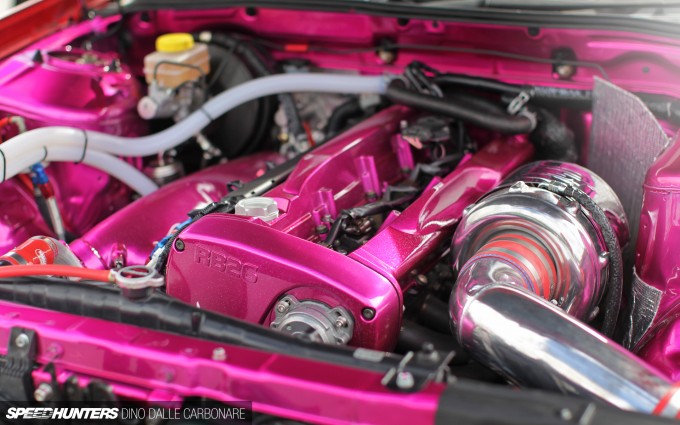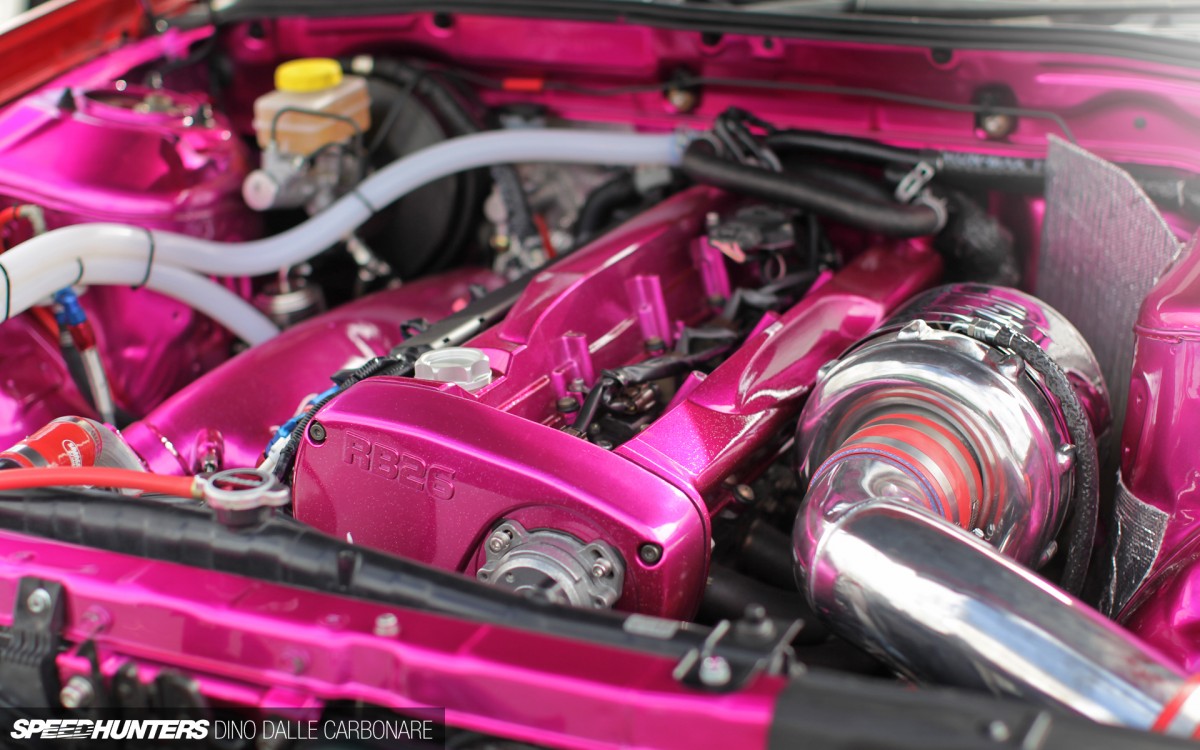 … which was finished just in time for the Slammed Society event. As he described it, it's now running a "full tune" RB26 swap, with detailing in…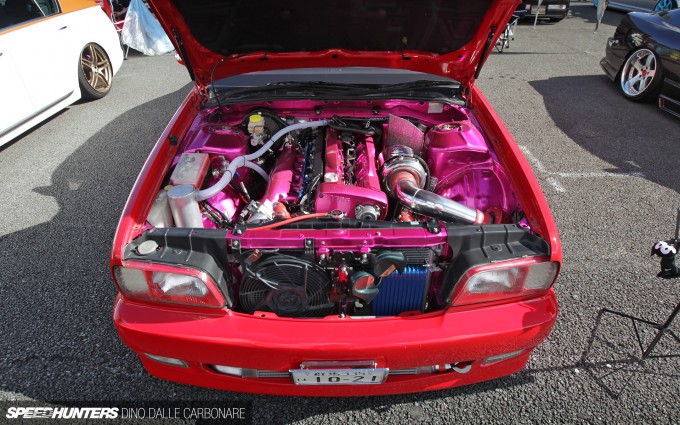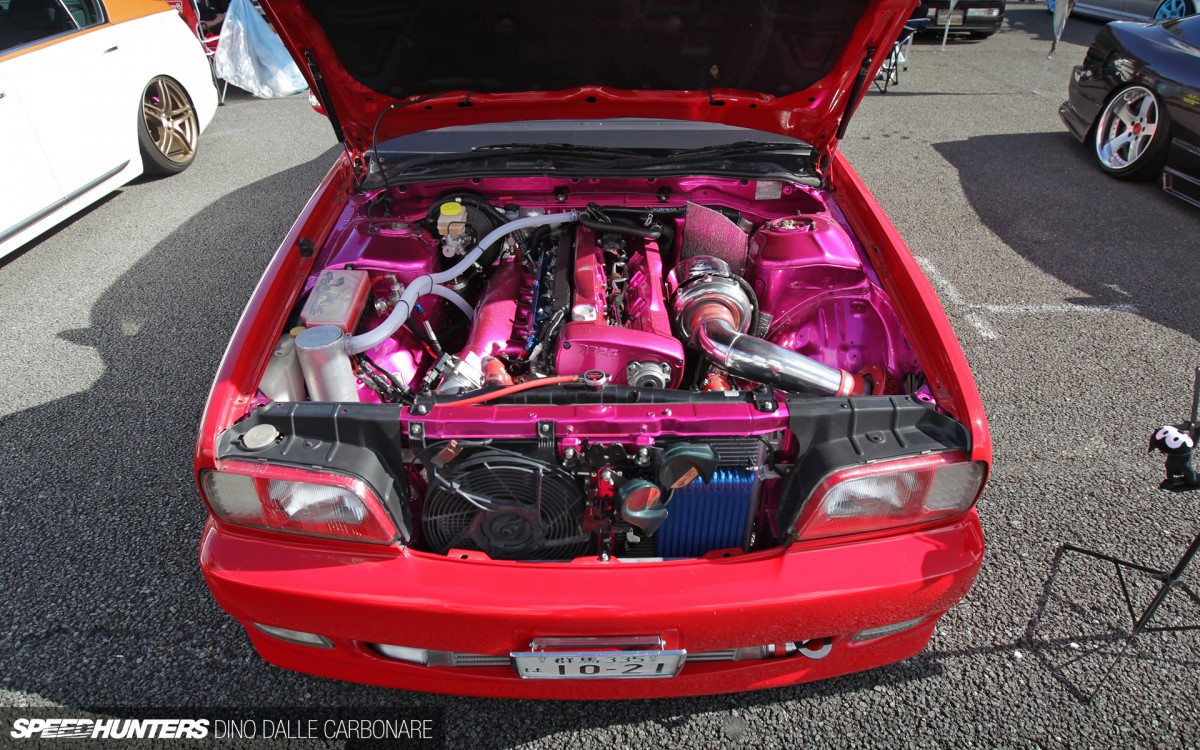 … metallic pink!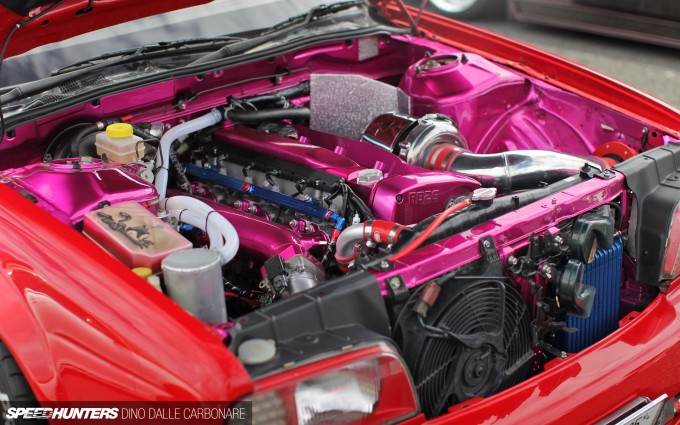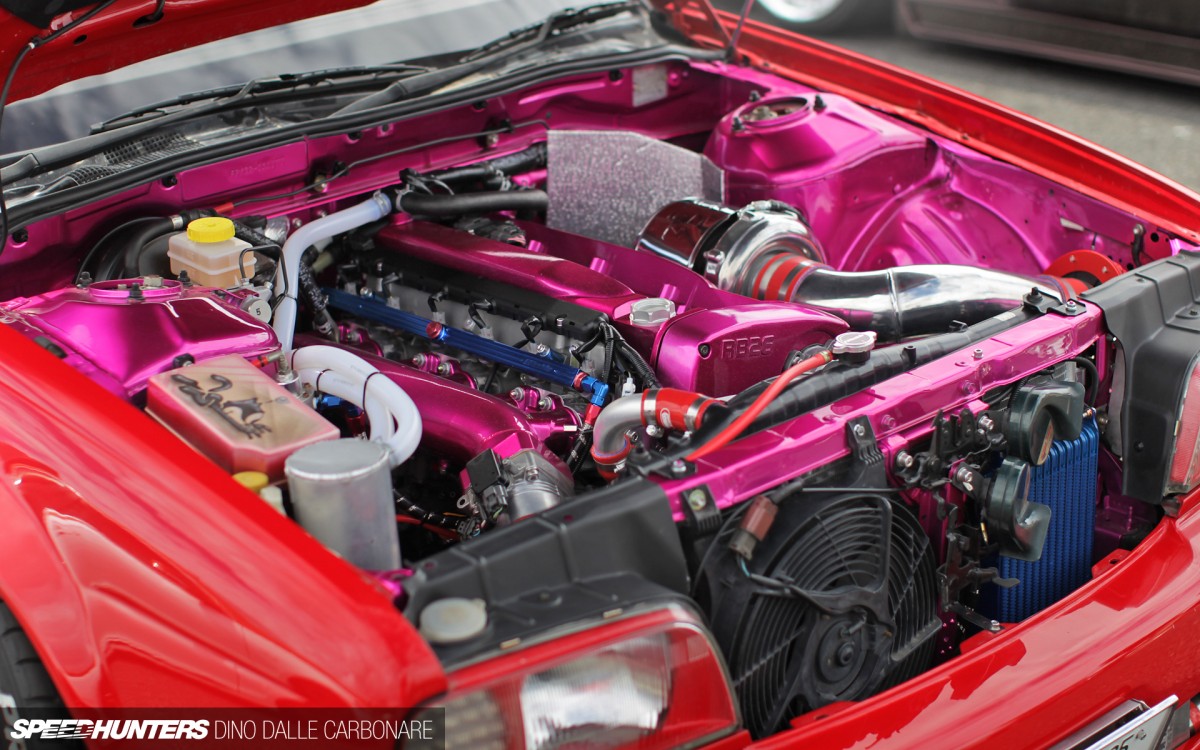 WTF indeed – and why not! To me, this is another defining car in Japanese scene. Damn I love this place!
Vintage conclusion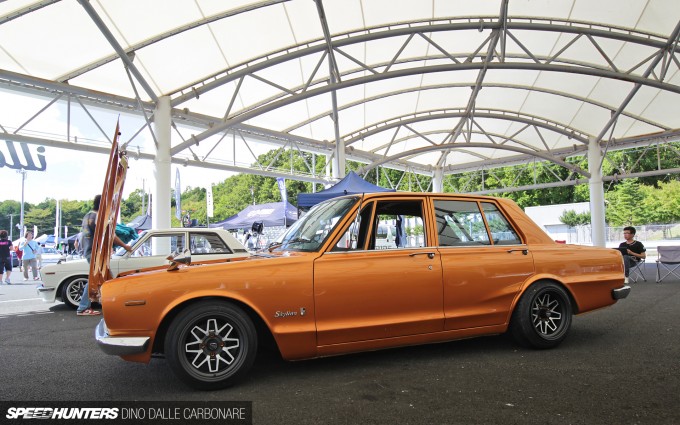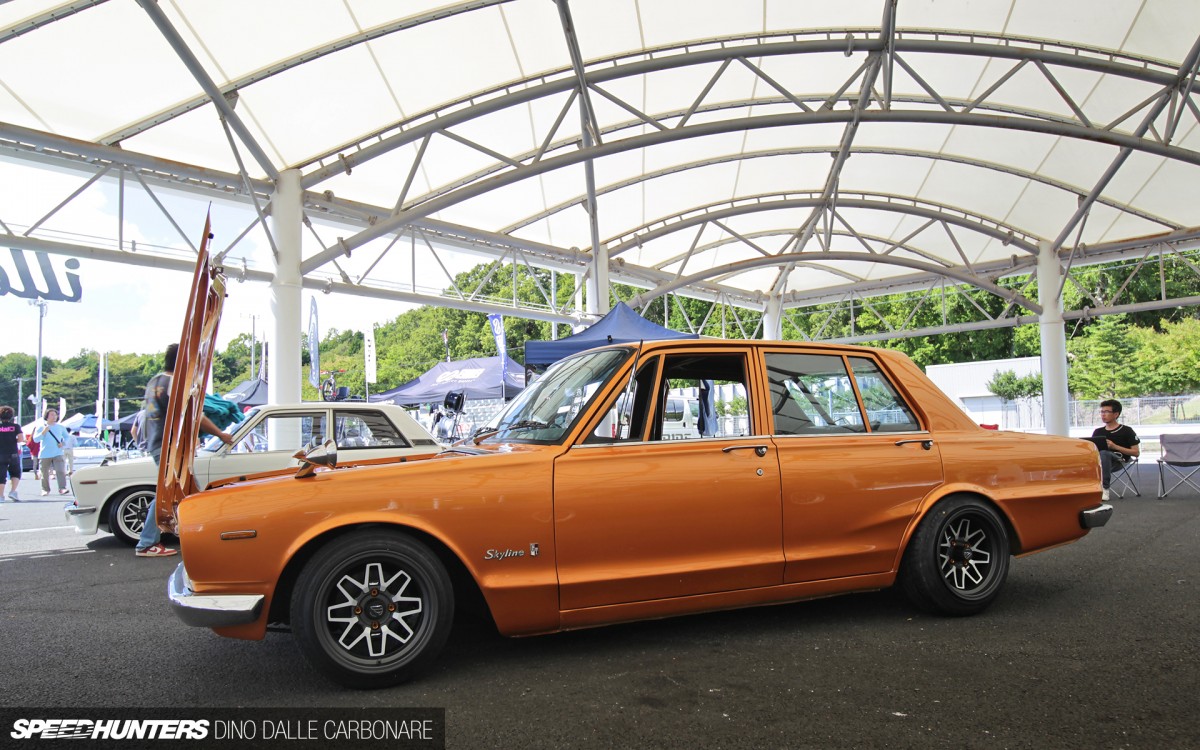 To finish up I thought I'd throw in a true vintage car in the mix, and this bronze four-door Hakosuka stood out as one of the cleanest at the show.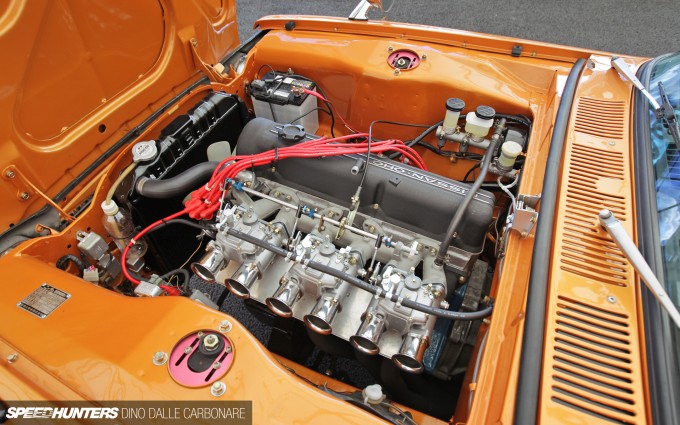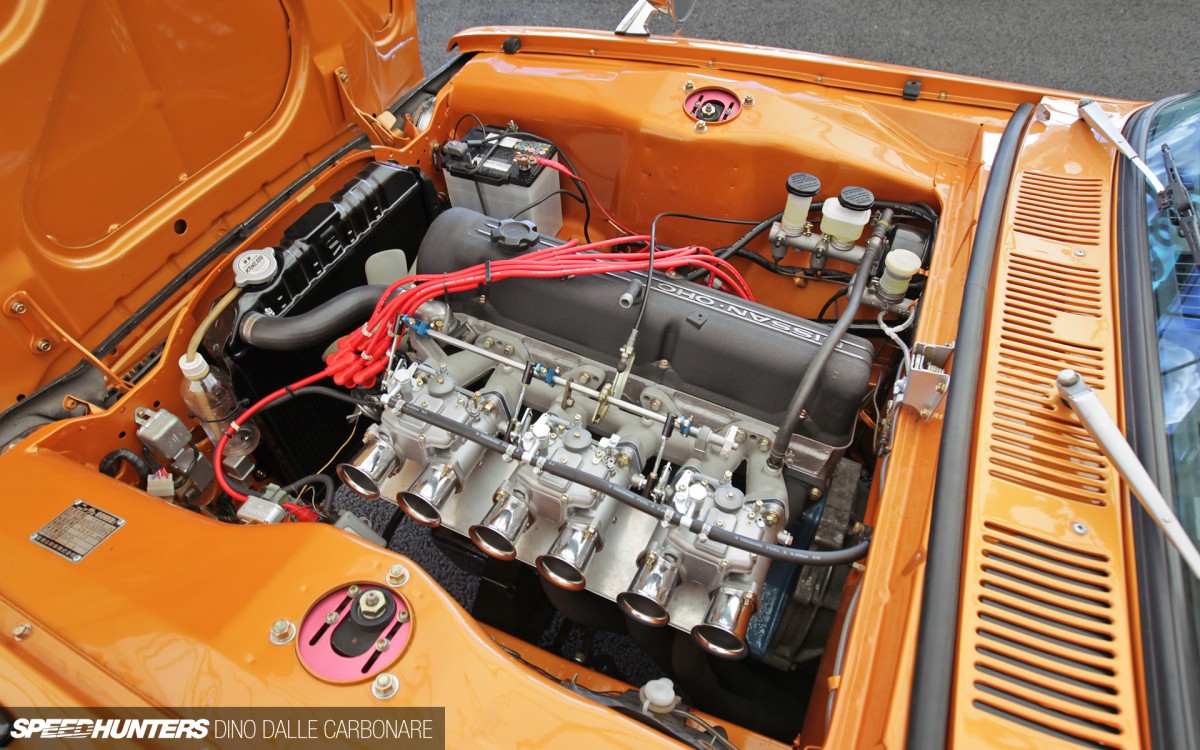 Judging by fresh paint and engine work to get the L-series looking and performing good, it had obviously just been through a pretty extensive restoration.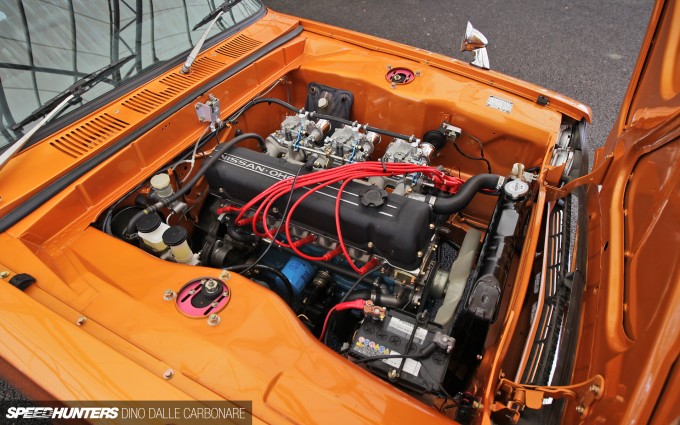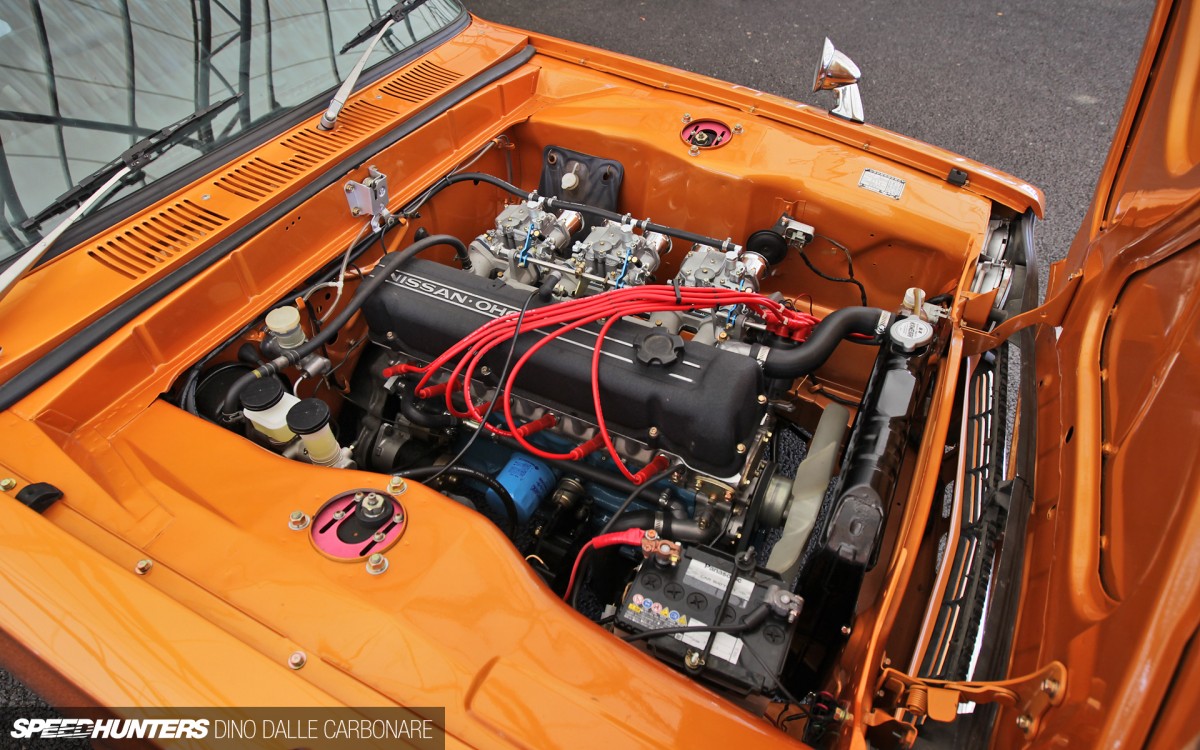 The car sits on adjustable coilovers…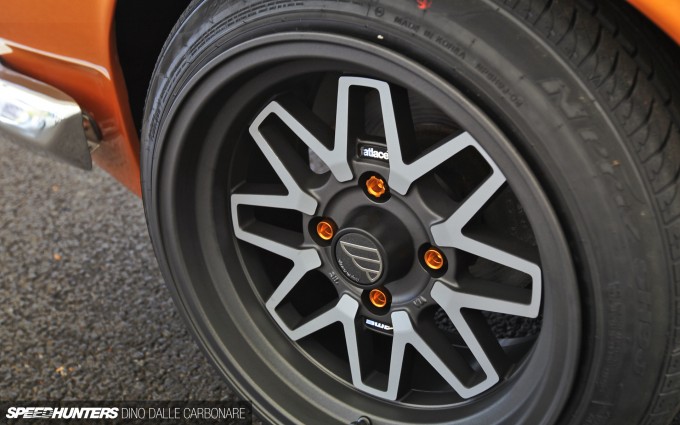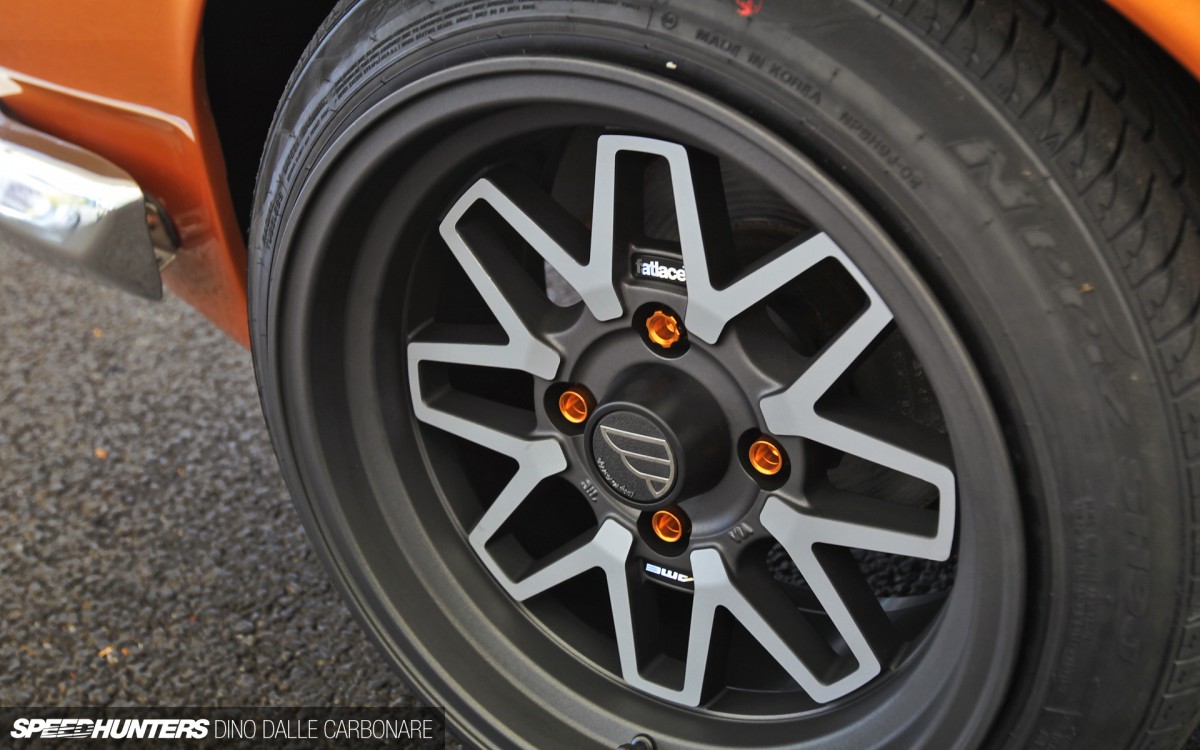 … and is dropped on the new AME x Fatlace F/Zero2 rims.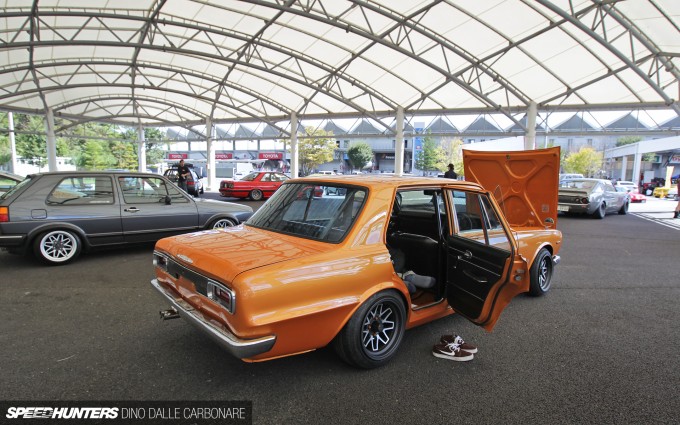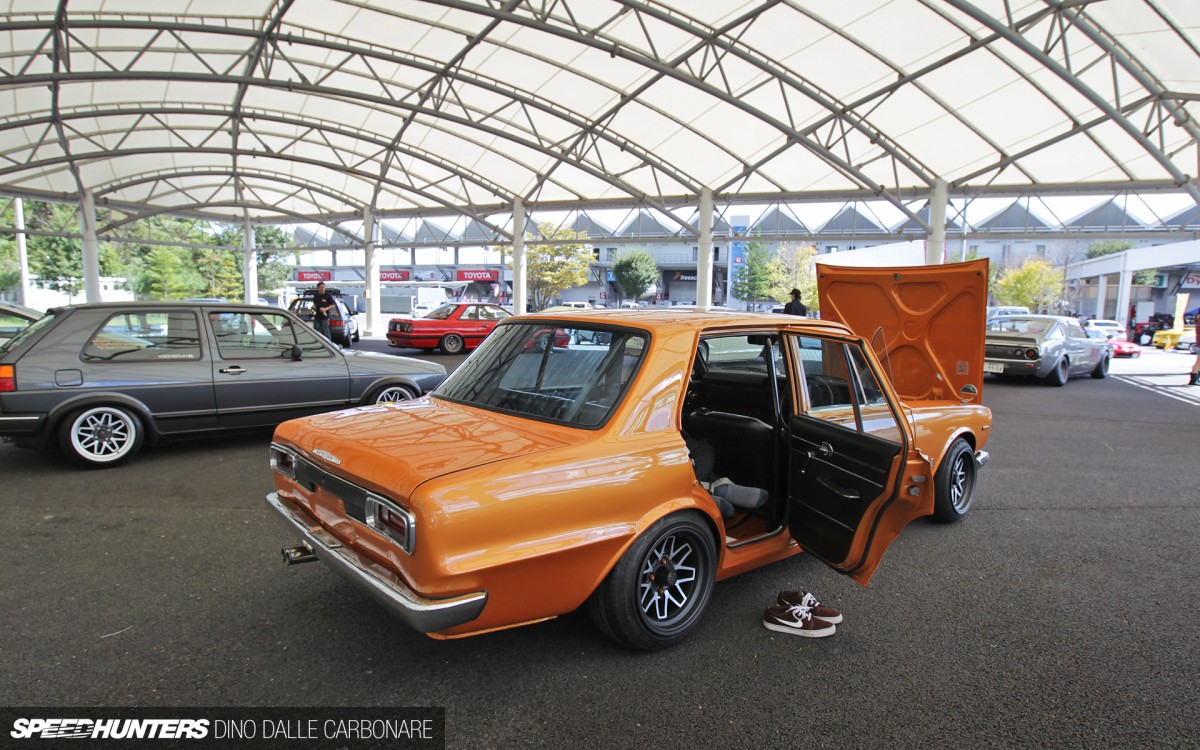 Having a set of rear doors comes in handy when grabbing a quick nap at a show!
Don't miss the next and final part of the coverage from Slammed Society coming up tomorrow.
Dino Dalle Carbonare
Instagram: speedhunters_dino
Slammed Society Fuji 2013 coverage on Speedhunters
More Slammed Society stories on Speedhunters