As you've noticed I like to write about automotive collectables from time to time. Whether it's plastic model kits, diecast cars or radio controlled vehicles, most of us probably got our start building or playing with some sort of miniature automobiles during our childhoods. If it weren't for those toys or models,  there's a good chance we wouldn't be the auto enthusiasts that we are today.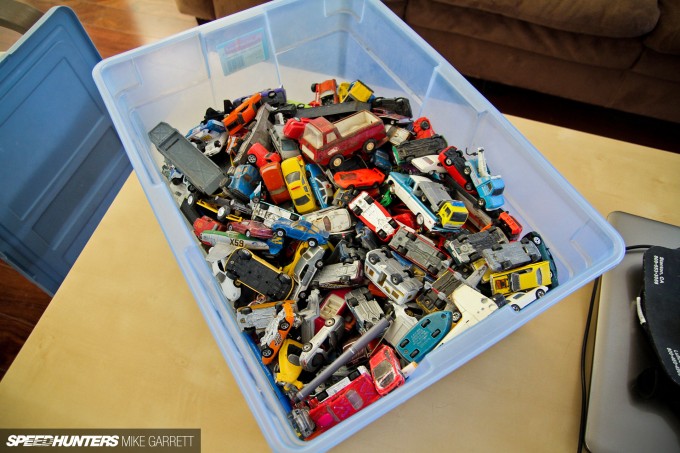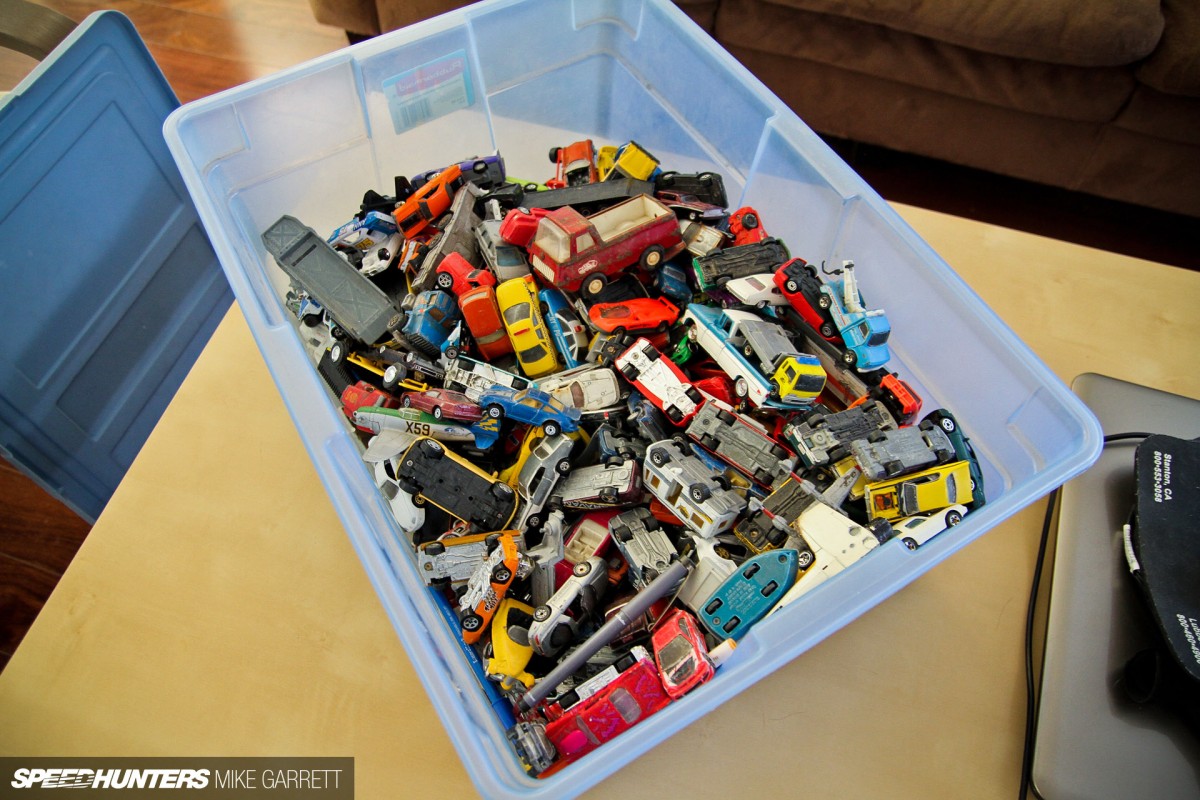 So with that in mind, I thought I would do something different this time around. Rather than share someone's highly detailed scale creation or visit a high end collectables shop, I want to share something a little more personal.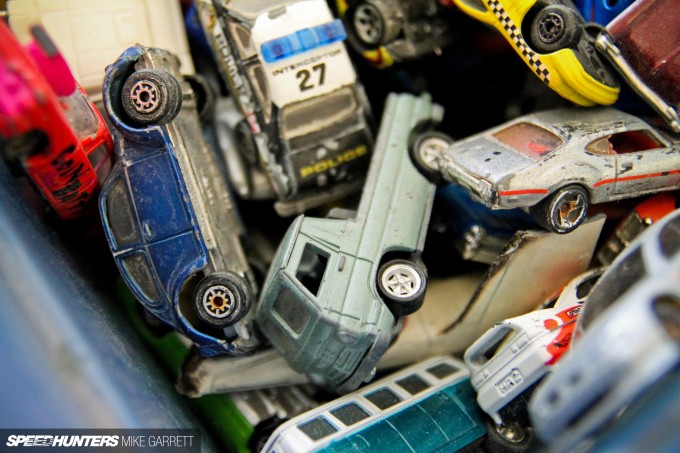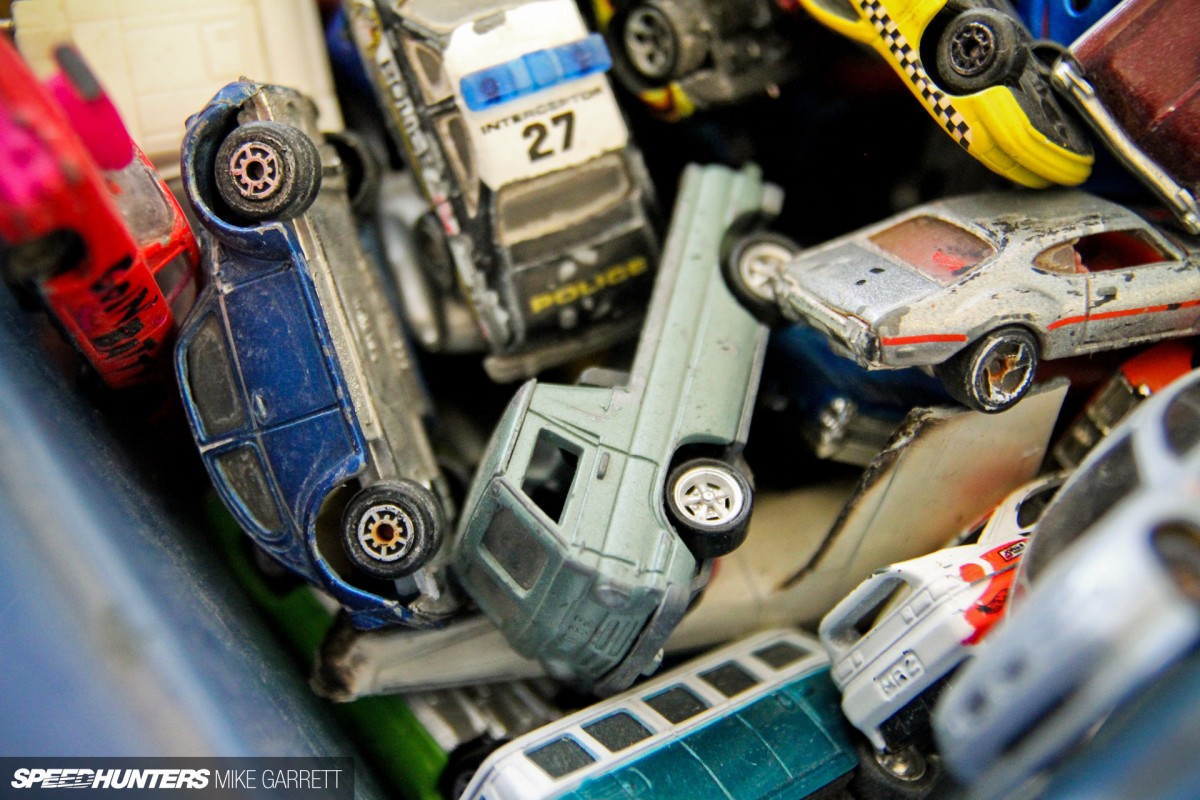 What you're looking at is a giant bin of toy vehicles that my younger brother and I spent countless hours collecting, playing with and sometimes destroying during our boyhood years.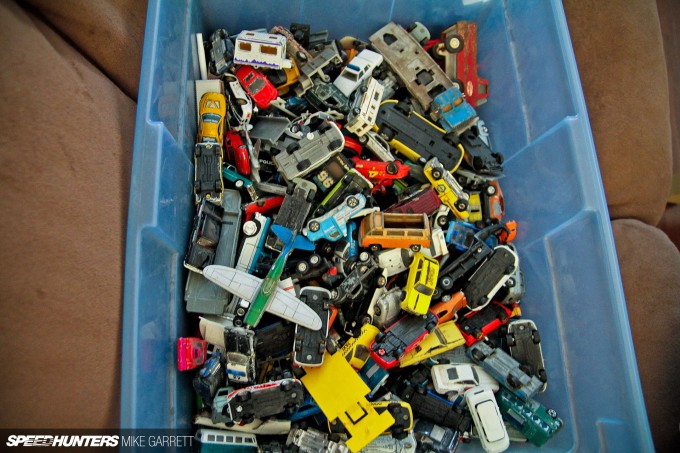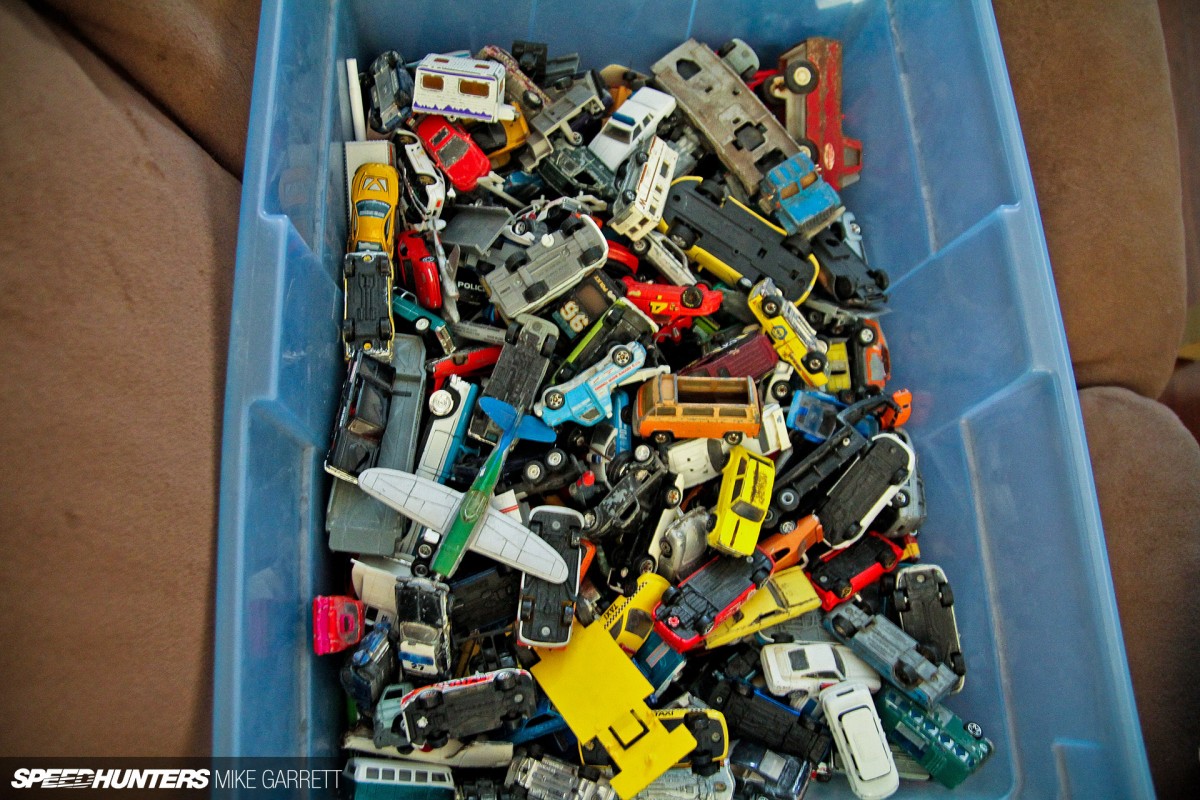 The bin has been sitting in a closet in my parents' house for years – perhaps waiting until my brother and I have kids of our own.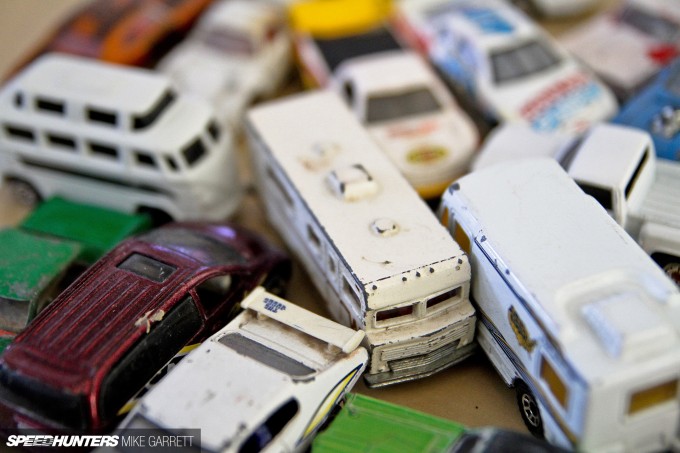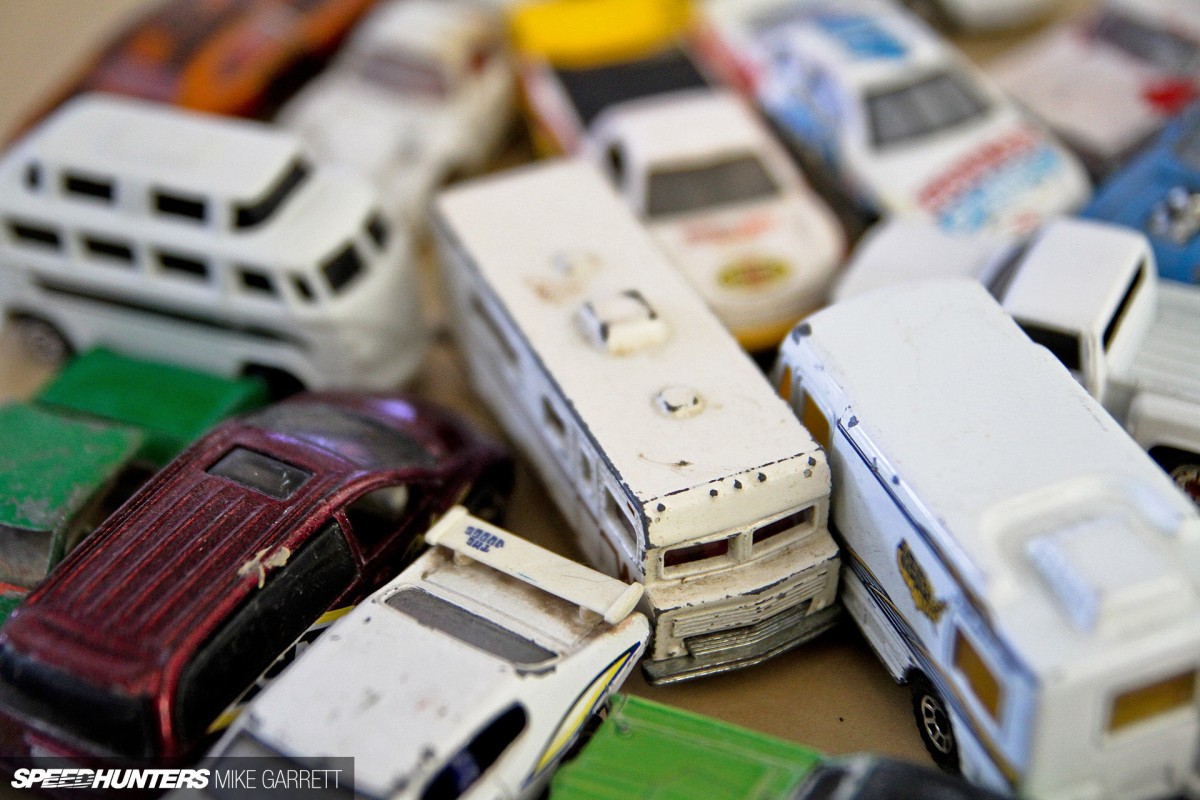 While I'm not sure how interested our future children would be in a box of old toys, the other day I decided to grab the insanely heavy bin of cars and take a look through it. What I found was such a wave of nostalgia that I thought it'd be fun to share some its contents here on Speedhunters.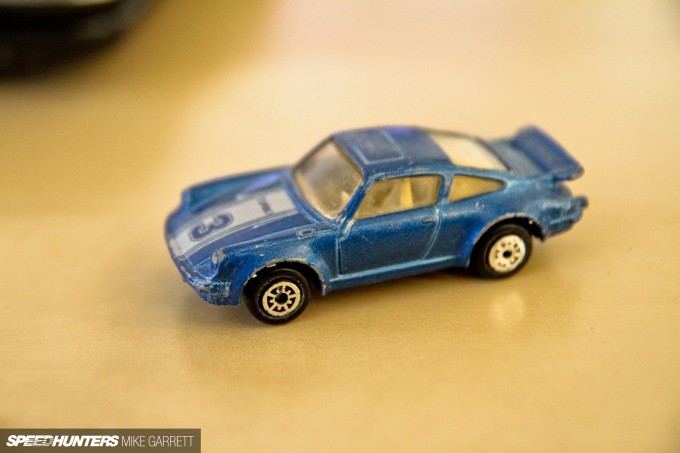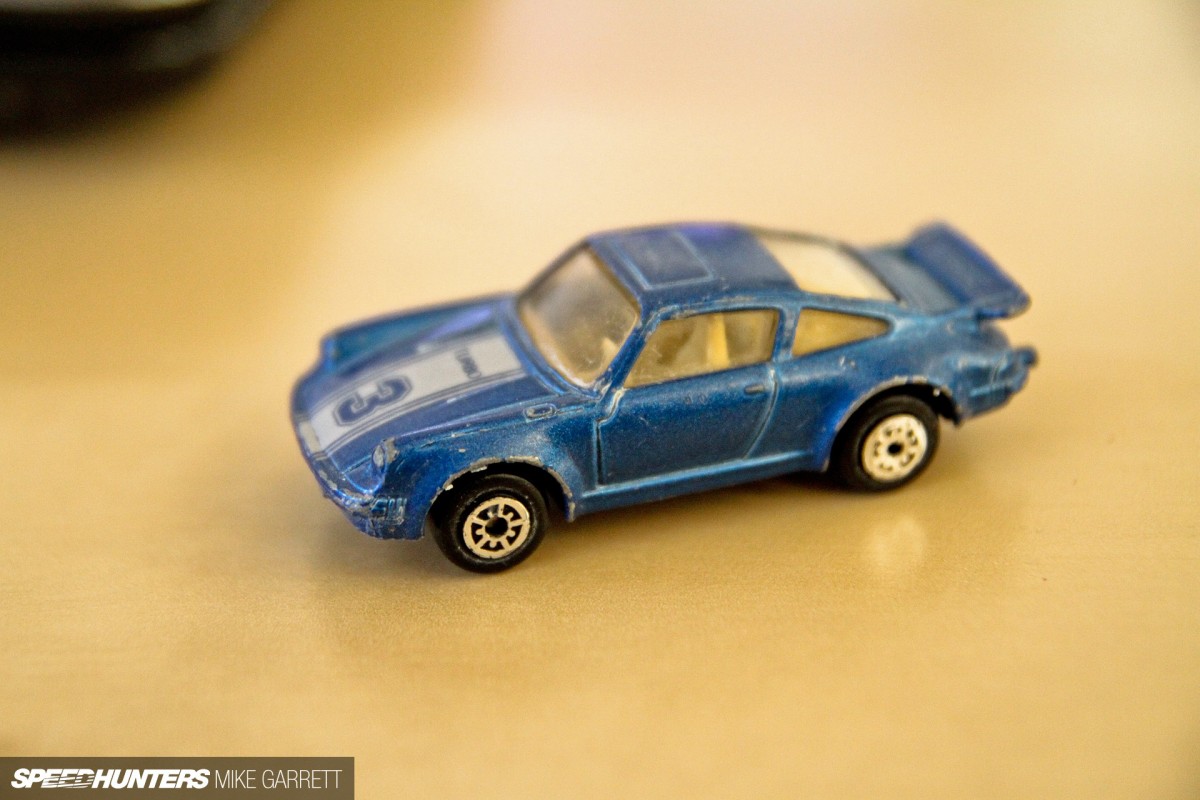 The cars in the bin represent just a minor fraction of the cars and trucks my brother and I had when we were younger, with our toyboxes filled with everything from Micro Machines to Tonka trucks. Most of them were thrown away, sold off, or donated – but this box remains.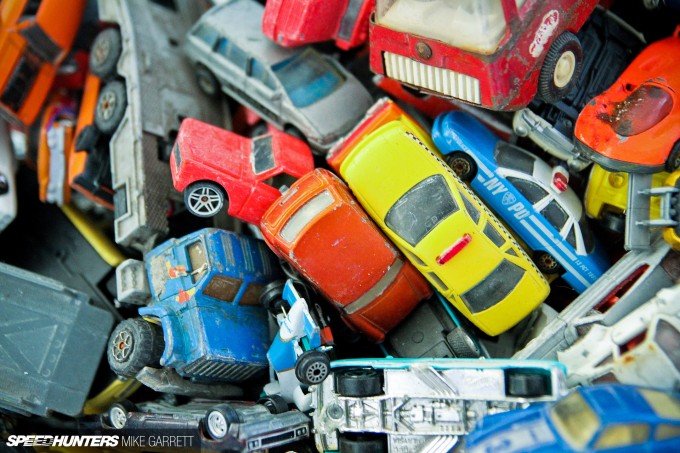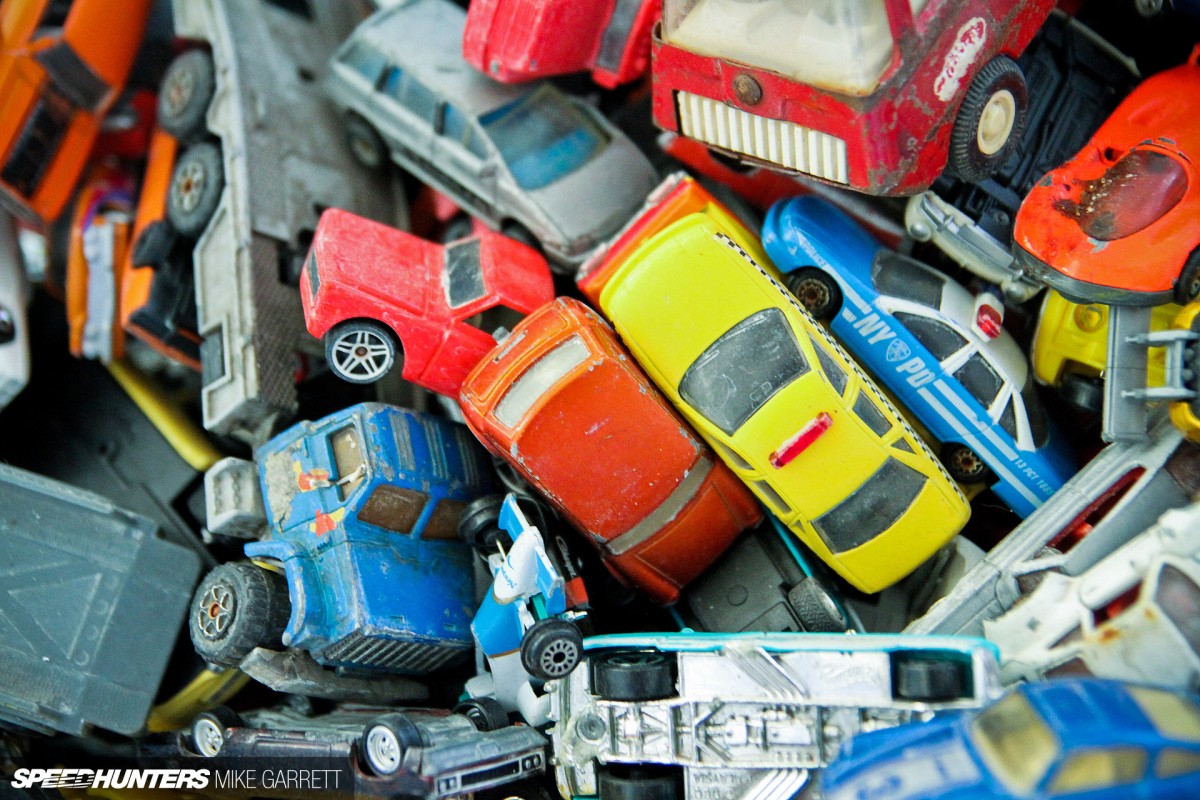 As kids, toy cars were just about the only thing we played with, along with the occasional airplane or military vehicle. You wouldn't find many action figures or fantasy toys in our house. The sound of toy cars being dumped onto the living room floor for a play session is something I'll always remember.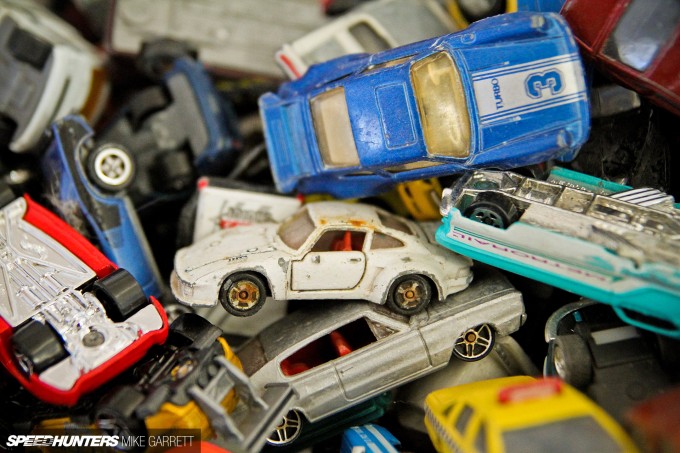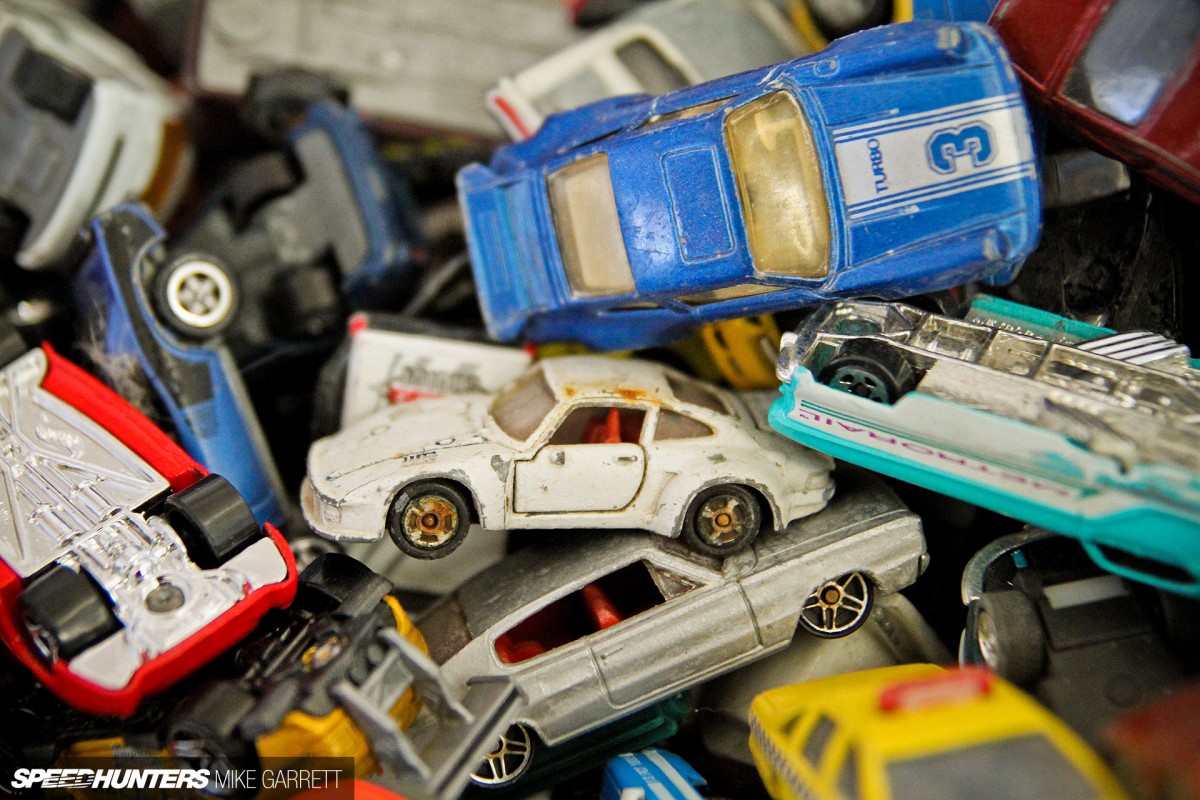 Along with childhood toys, the bin also includes diecast cars we acquired as we grew into our teenage years. Even as middle schoolers and high schoolers we never really stopped buying diecast cars, and now they're mixed together in a pile of cars that spans more than a decade of playing and collecting.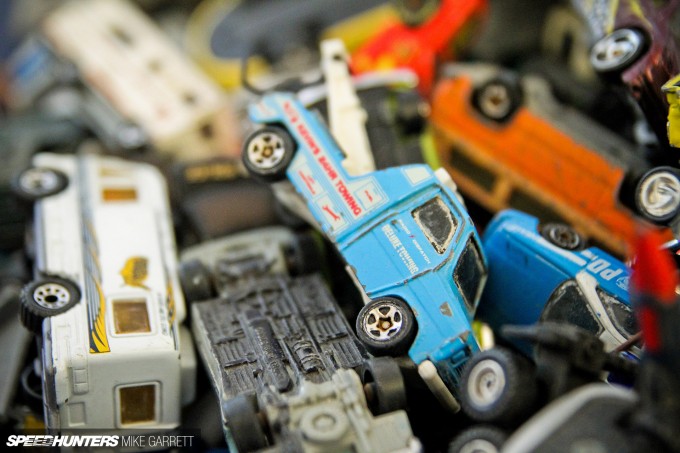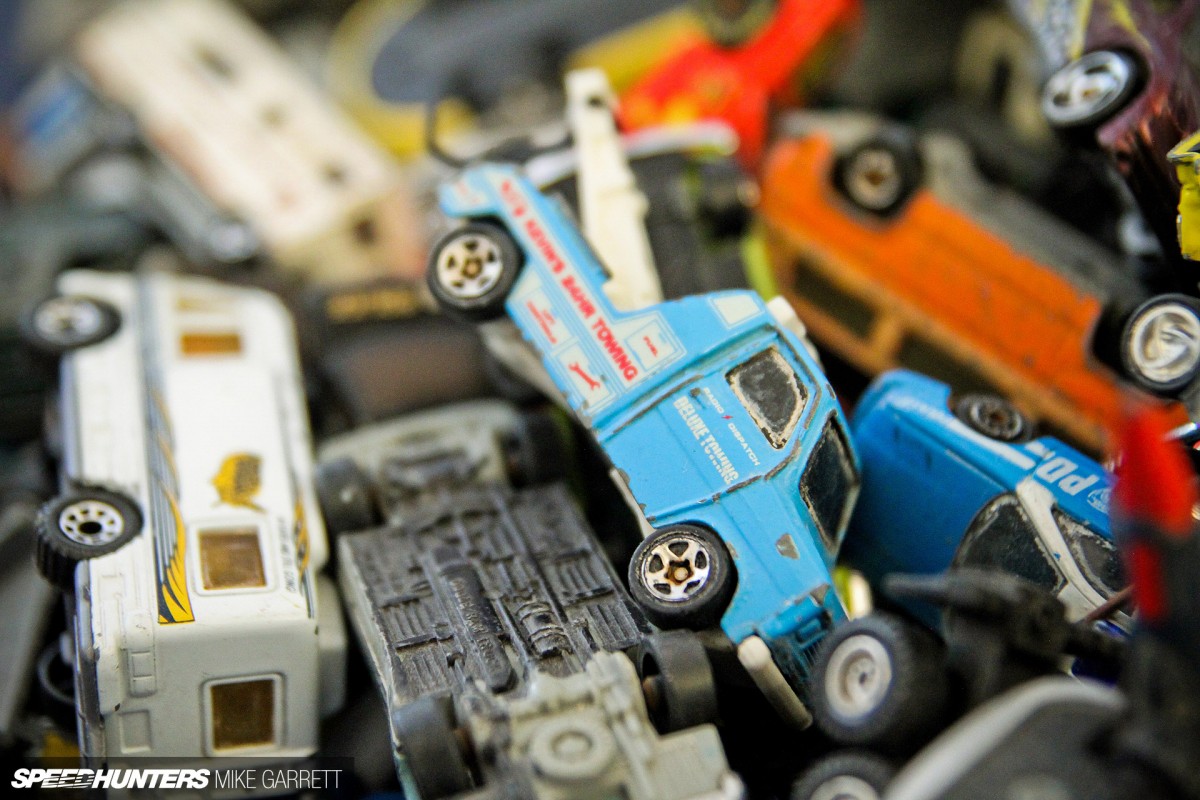 The cars in this box were acquired in all sorts of ways. Some were bought by our parents as a treat for good behavior on a shopping trip, some were bought by us later on with our weekly allowance and others were bought second hand at swap meets we'd go to with our dad.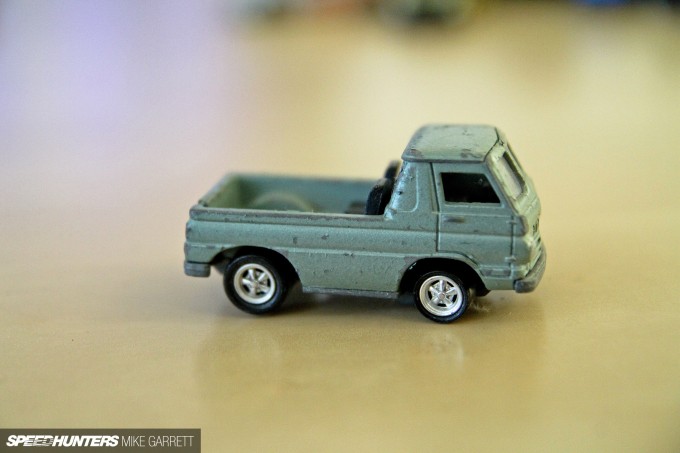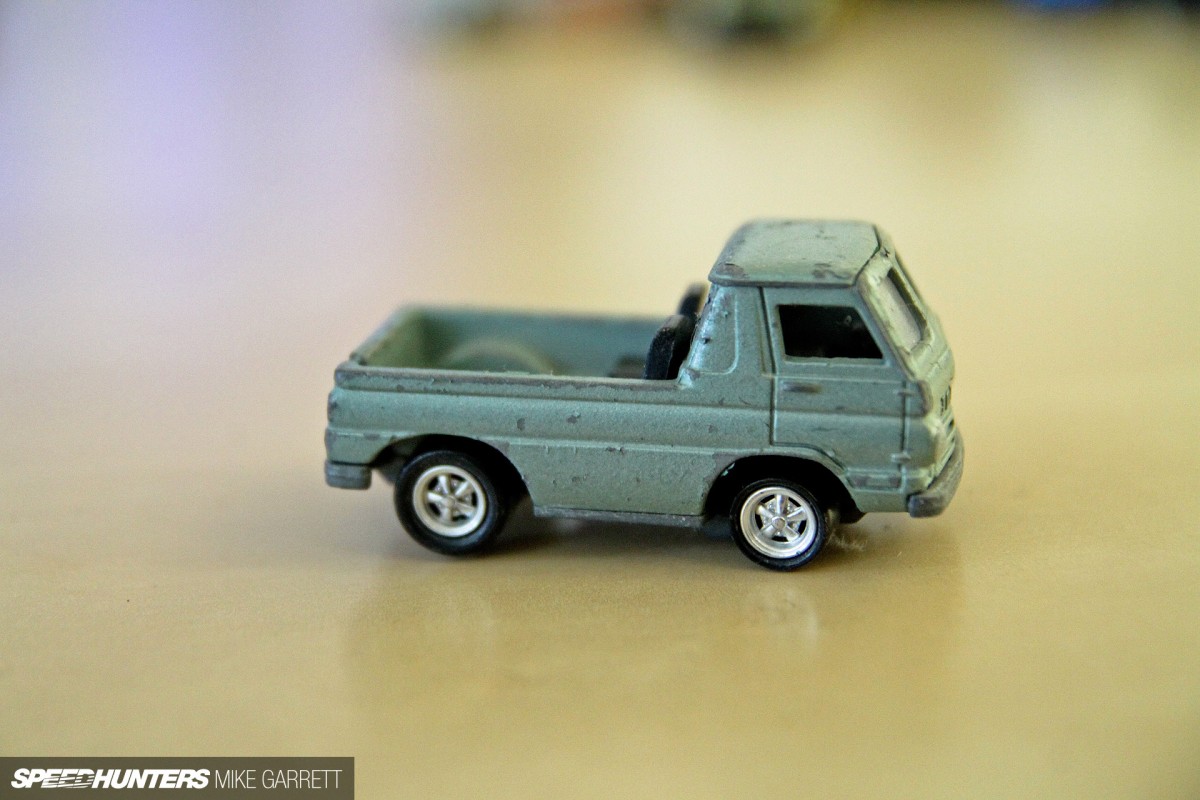 The range of toys in the box is quite large. There's cheapo grocery store diecasts from the '80s and '90s, tons of Hot Wheels and Matchboxes and even collector-oriented Johnny Lightning and Racing Champions vehicles.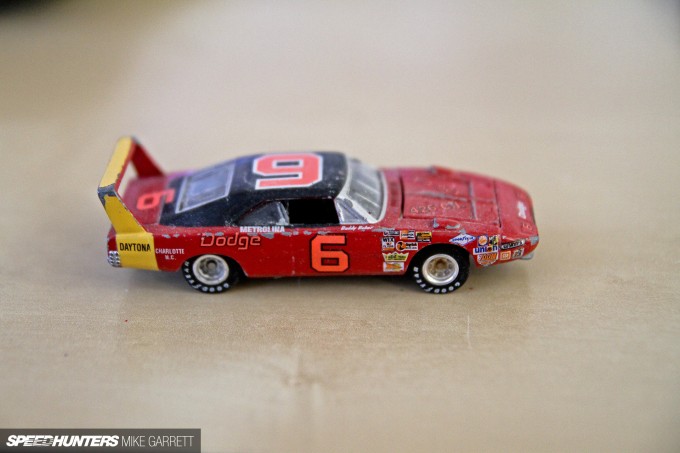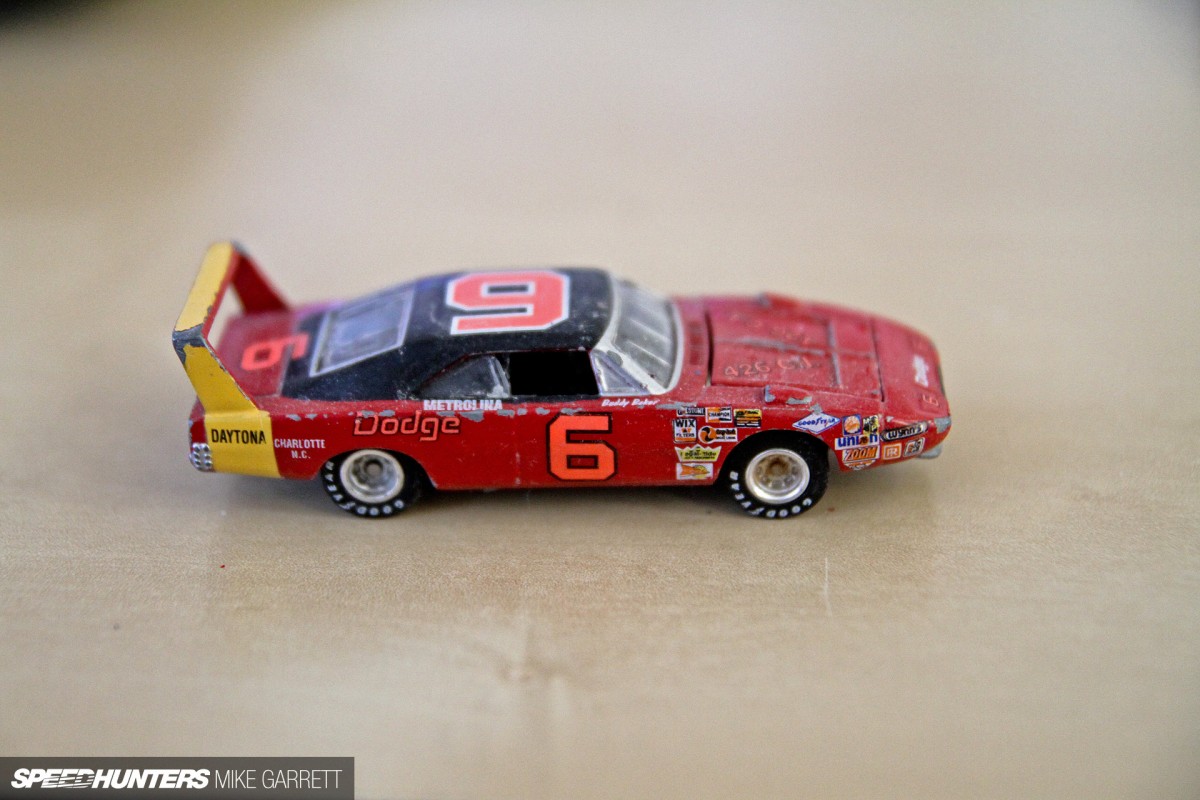 And while some of these diecasts were designed with the collector in mind, we mostly saw them as something to be opened up and played with while making lots of car noises. The wear and tear certainly speaks of that.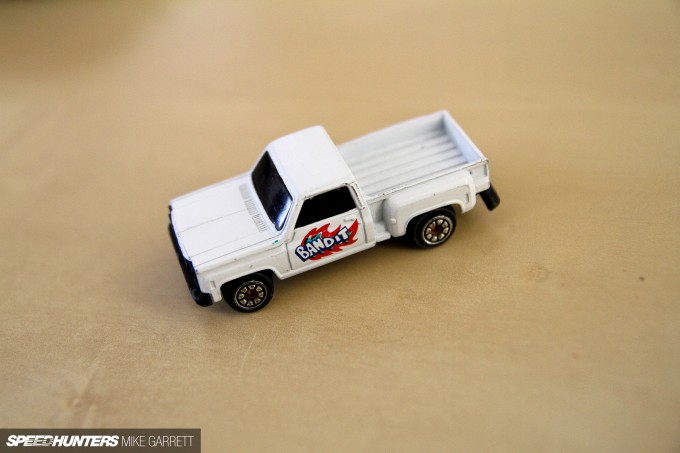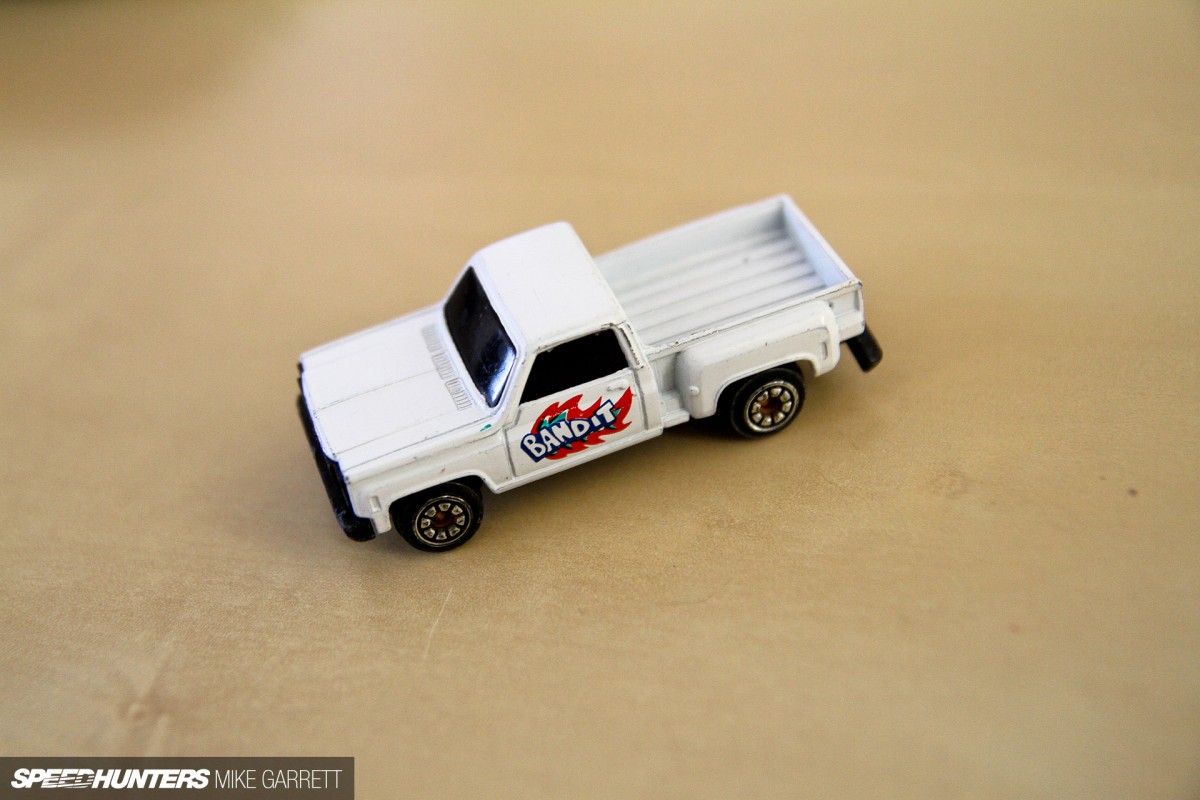 Next up, I thought I'd go through and pick out a few of the cars from the box that I found particularly interesting, nostalgic, or just plain weird.
Vintage goodies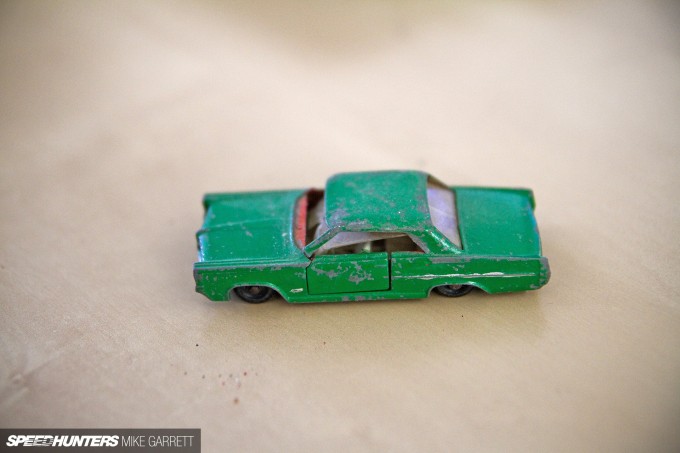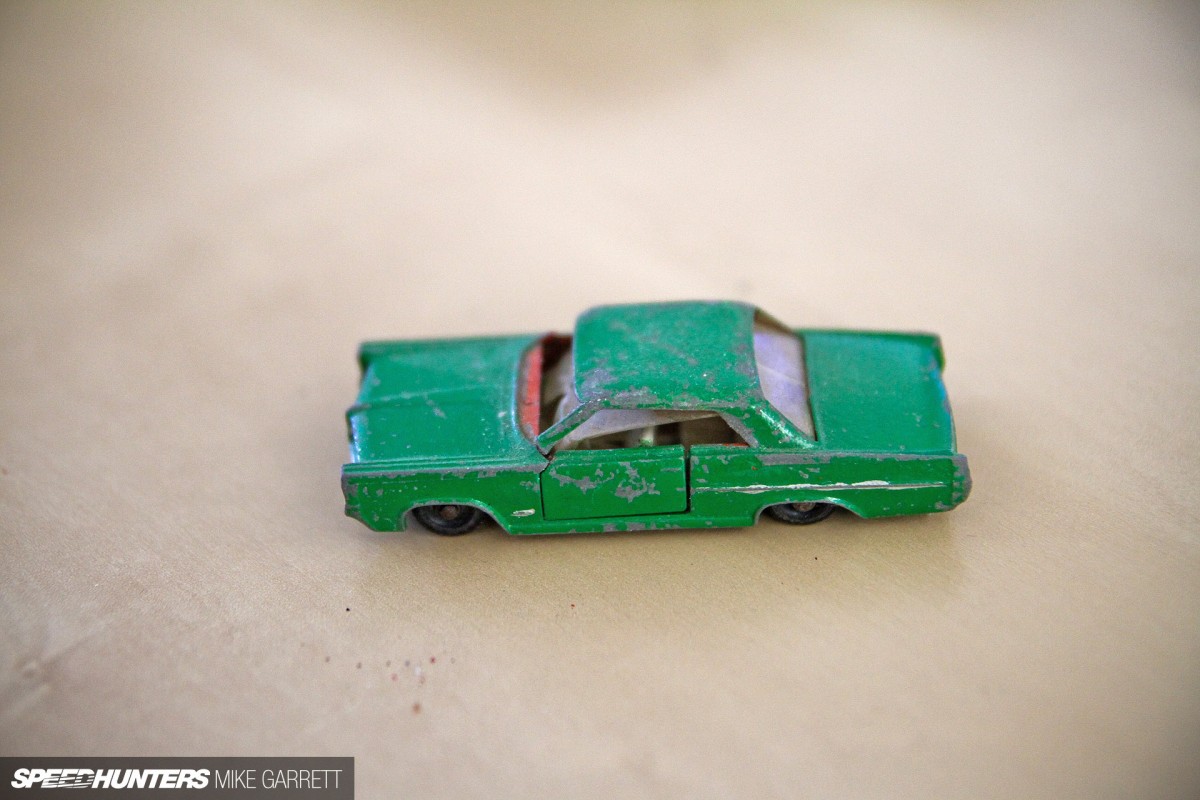 Some of the cars in the box are actually very old – like this English-made Matchbox Pontiac Grand Prix from the '60s. Obviously we didn't get this one when it was new, so it must have come from a swap meet somewhere.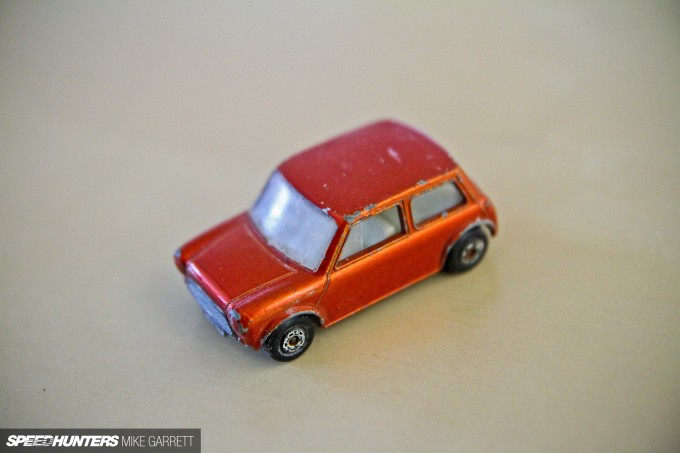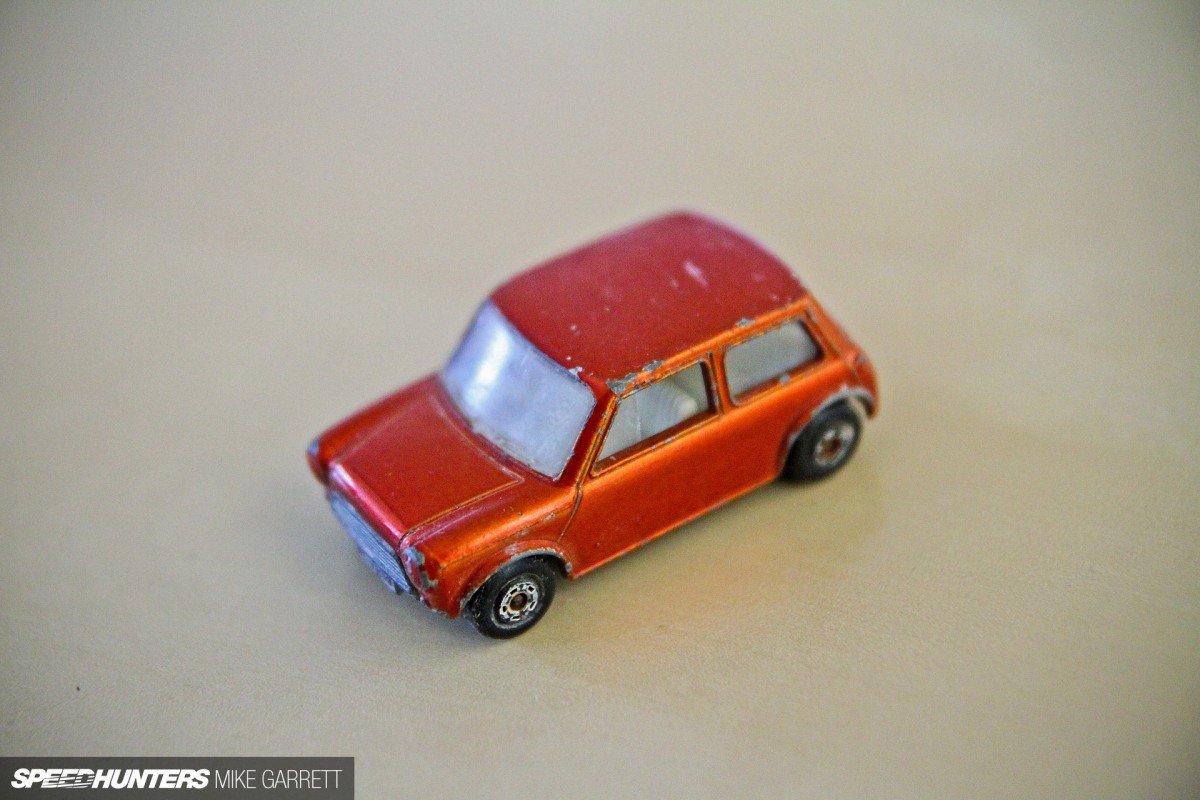 This Mini is another one of those great original Matchbox cars from the '60s and '70s. Unlike a lot of cars in the box, this one's actually held up pretty well.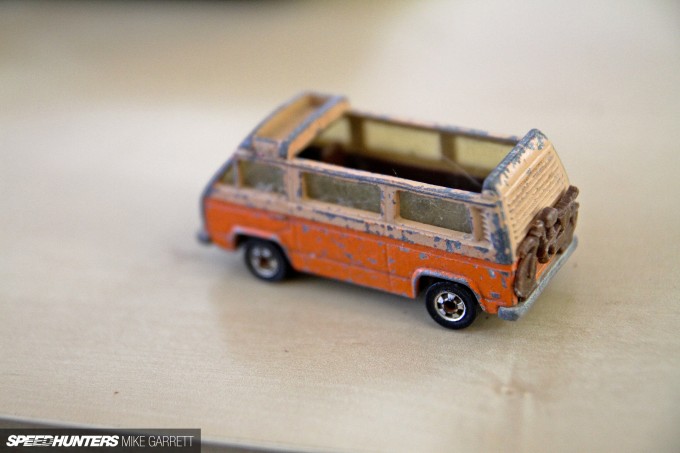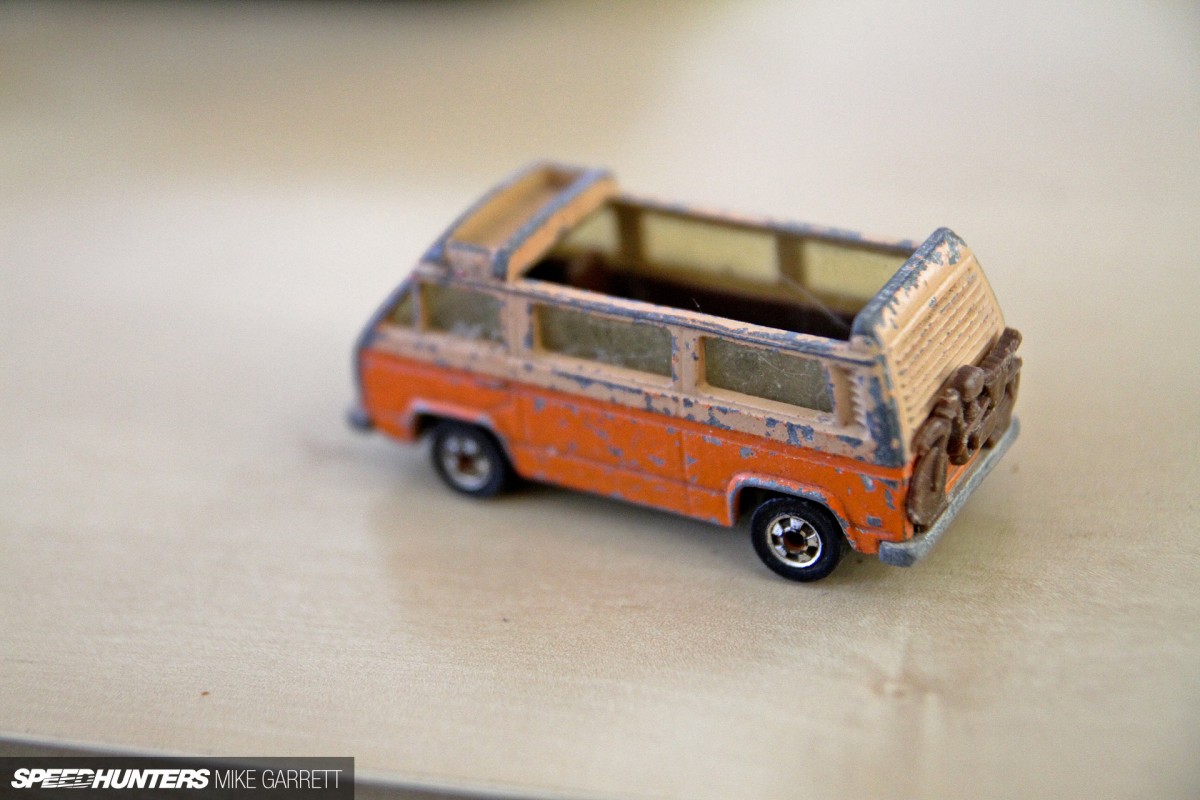 There's also some old school Hot Wheels thrown in. I remember this VW Vanagon was one of my favorites to play with, though I was disappointed that the motorcycle on the rear was not detachable.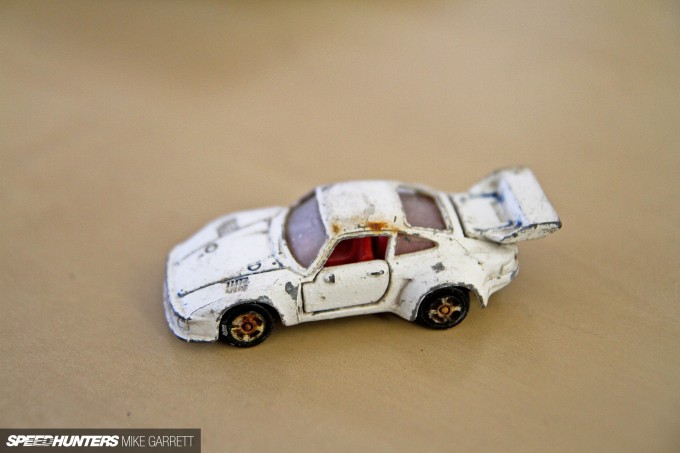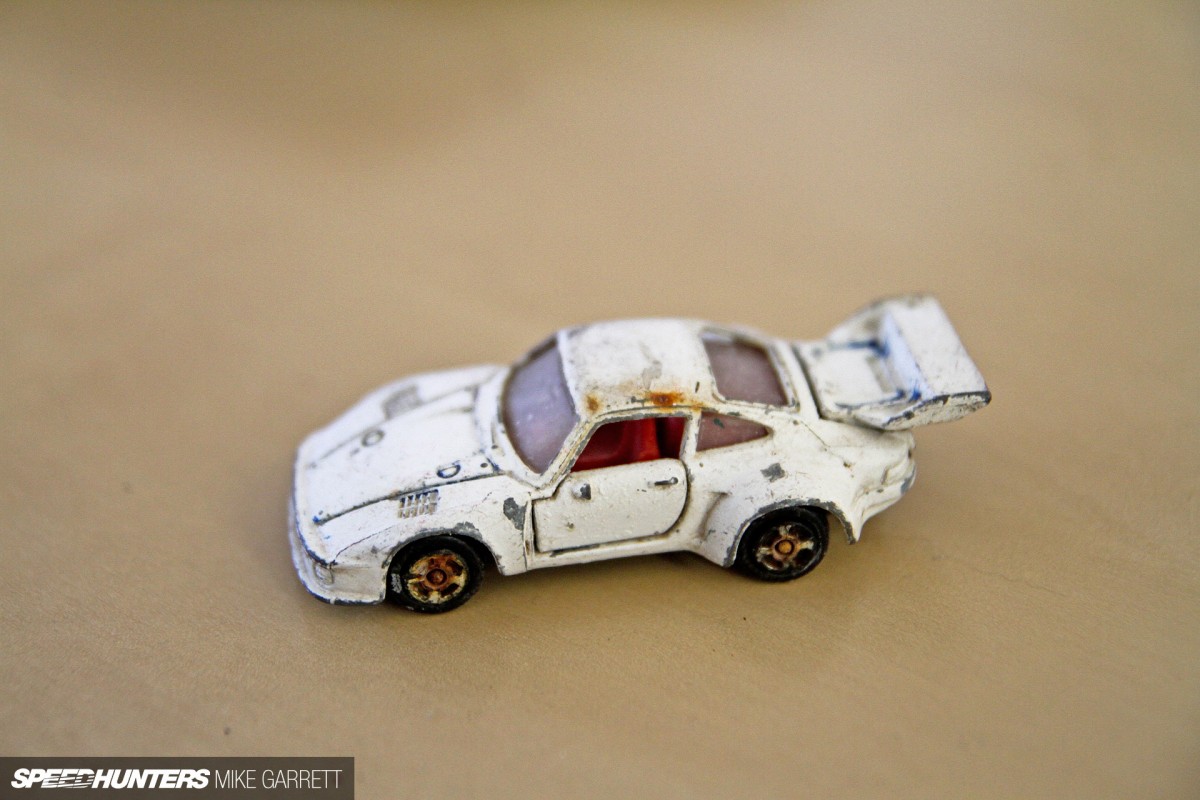 I was surprised to find that our tastes in toy cars as kids is just as diverse as our taste in real cars today. Here's a Porsche 935 that saw plenty of hard play.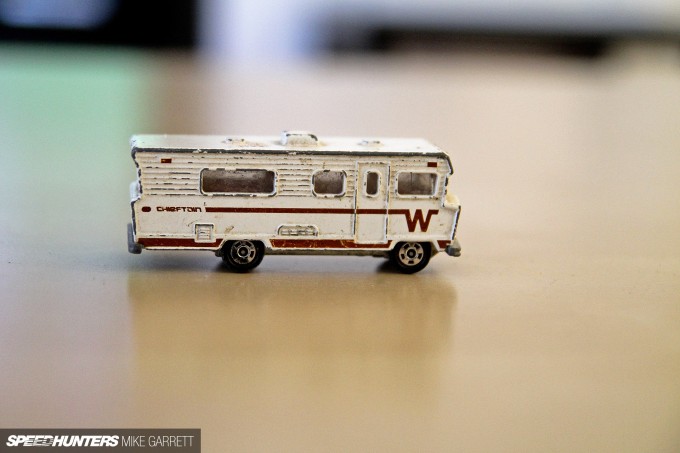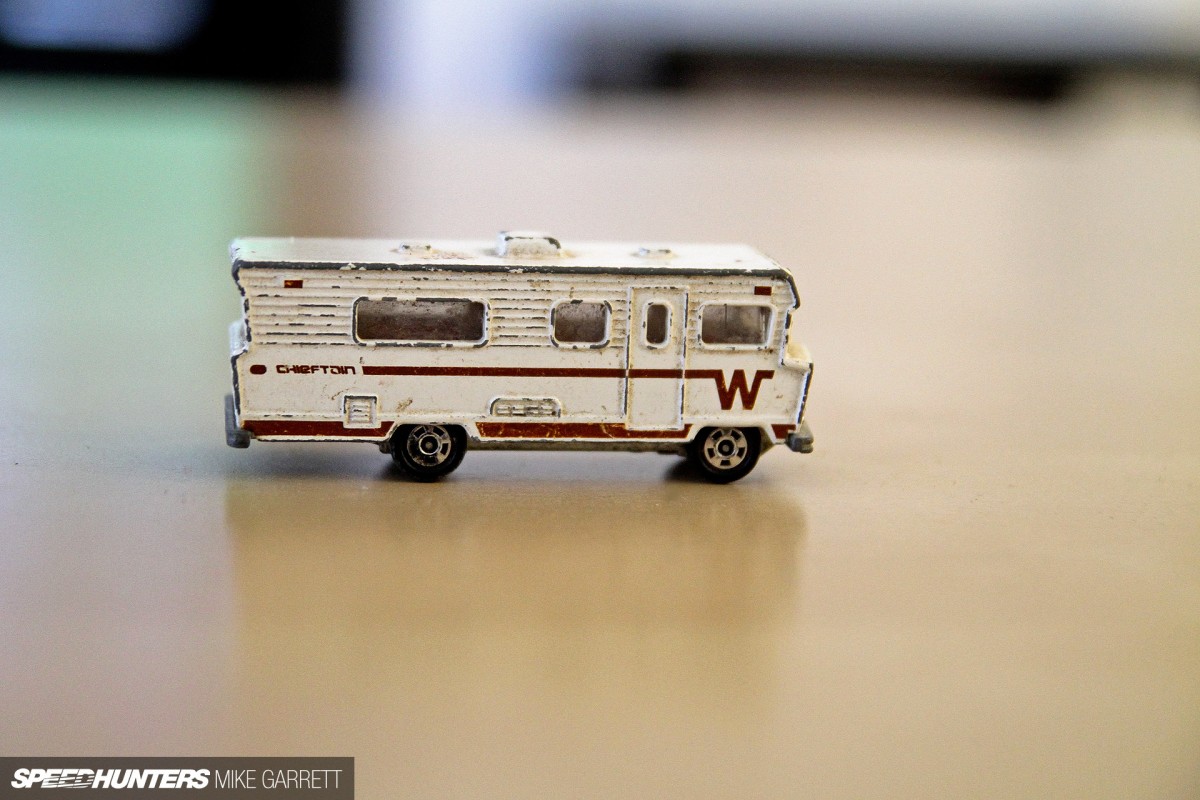 How about this? It's a made-in-Japan Tomica Winnebago RV from the 1970s. If only that kid version of myself knew that as an adult I'd be travelling to Japan and buying Tomica diecasts…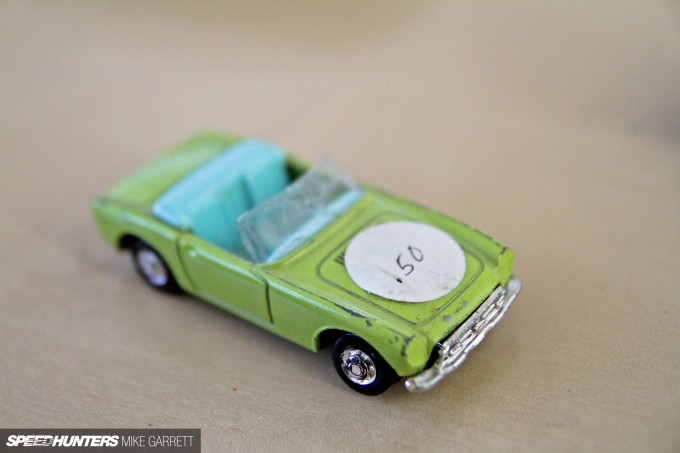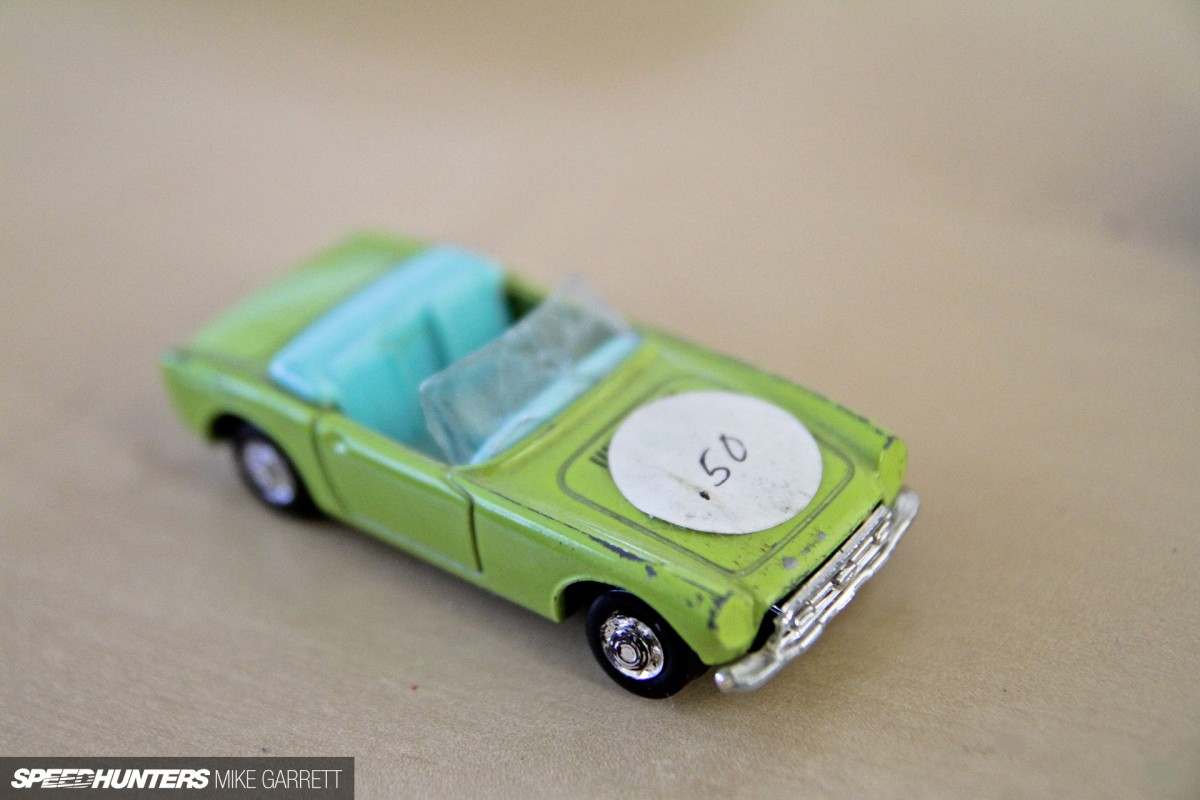 While some of the cars in the box I immediately remembered, others I struggled to recall. This is a Play Art Honda S800 that I apparently paid 50 cents for at a swap meet or yard sale.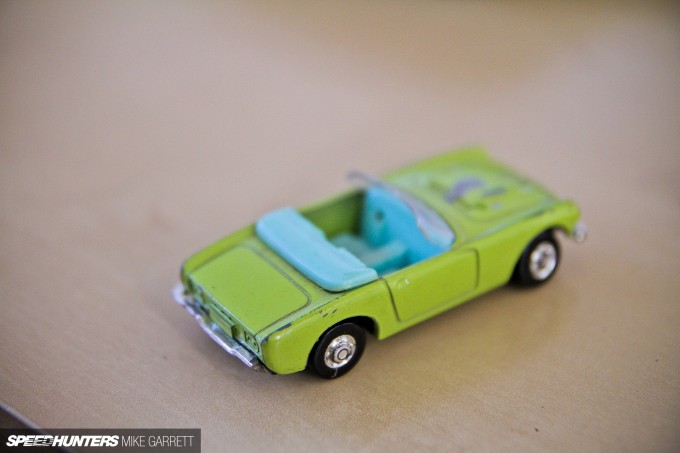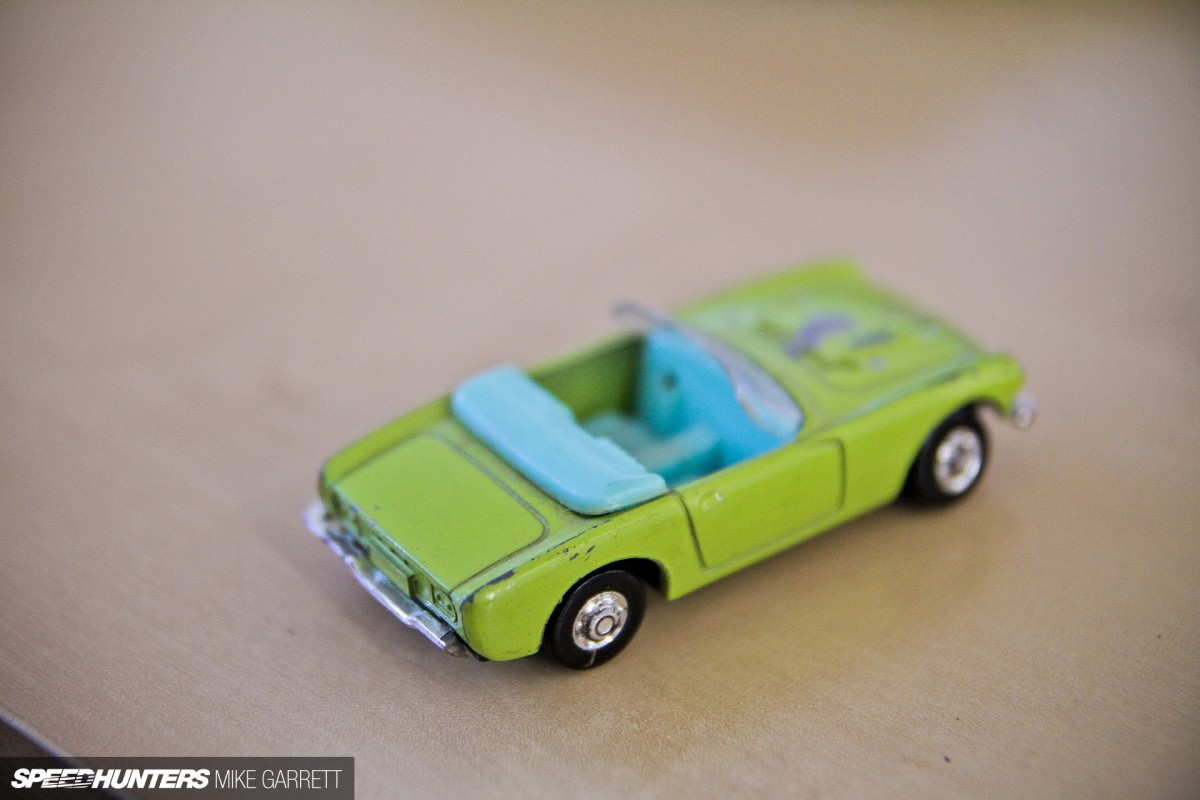 I probably didn't even know what an S800 was at the time, but for some reason I saw fit to add it to the collection.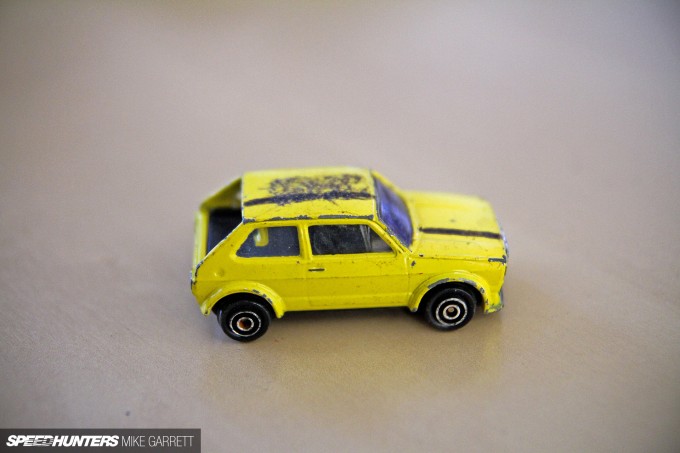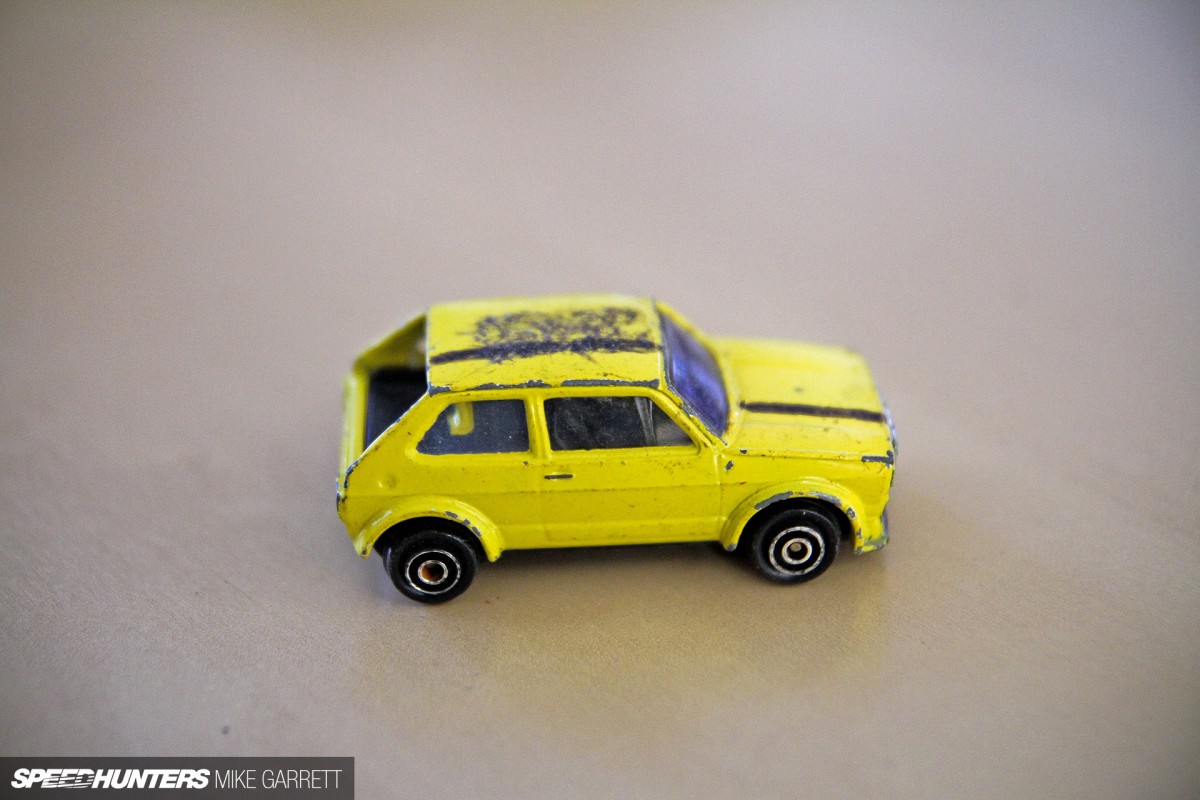 Here's a Mk1 VW Golf that one of us decided to customize with a racing stripe; drawn by a Sharpie marker of course.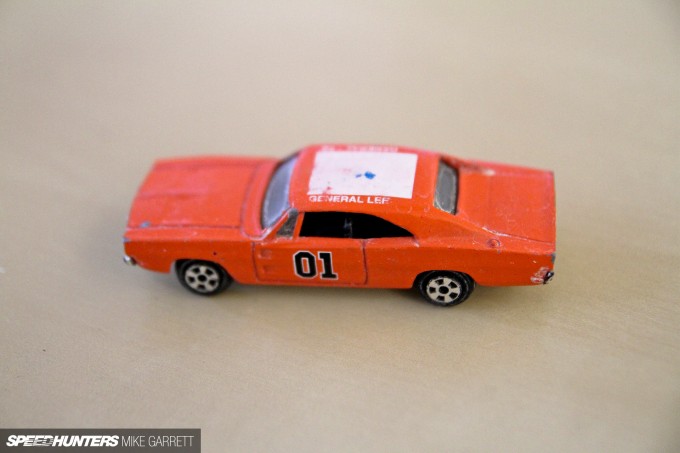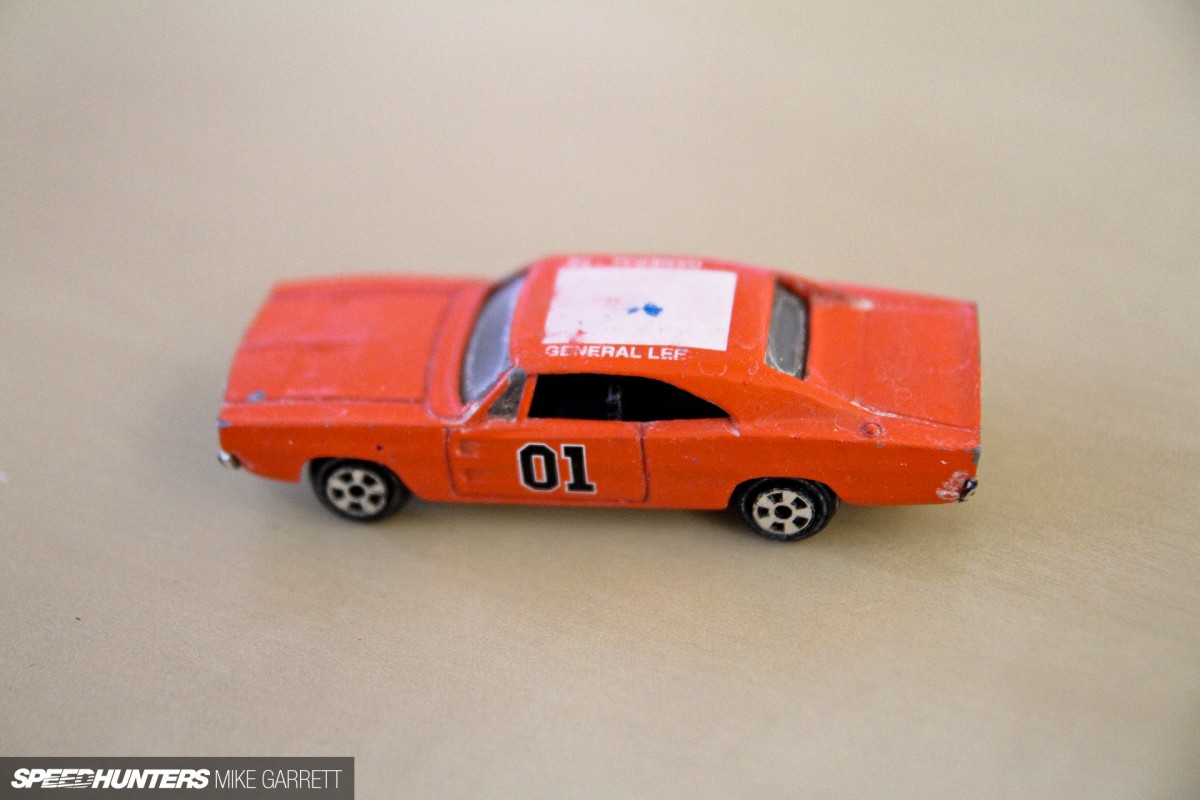 You can't leave out the Dukes of Hazzard!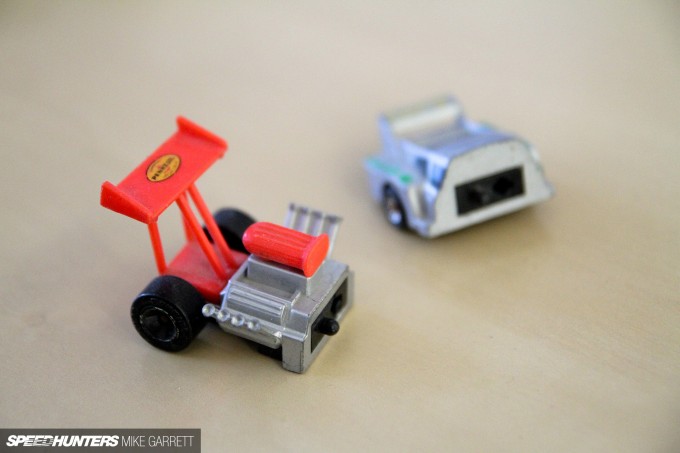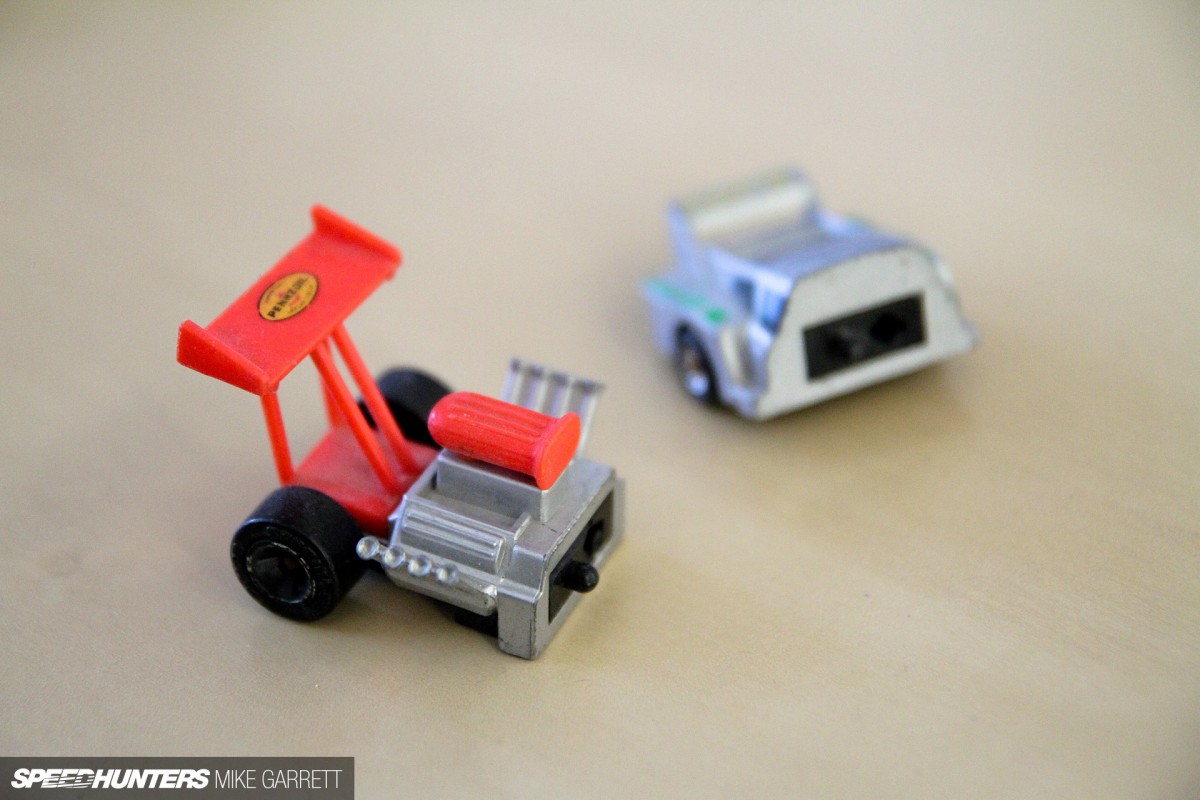 Does anyone remember Connectables? They were Matchboxes that you could take apart and mix with each other. I was obsessed with them in the late '80s. Unfortunately most of mine have been lost over the years, and all that remains are the rear sections of a dragster and Porsche 935…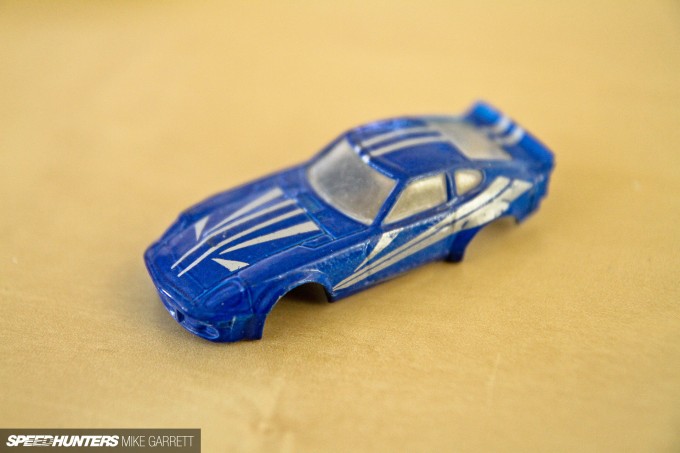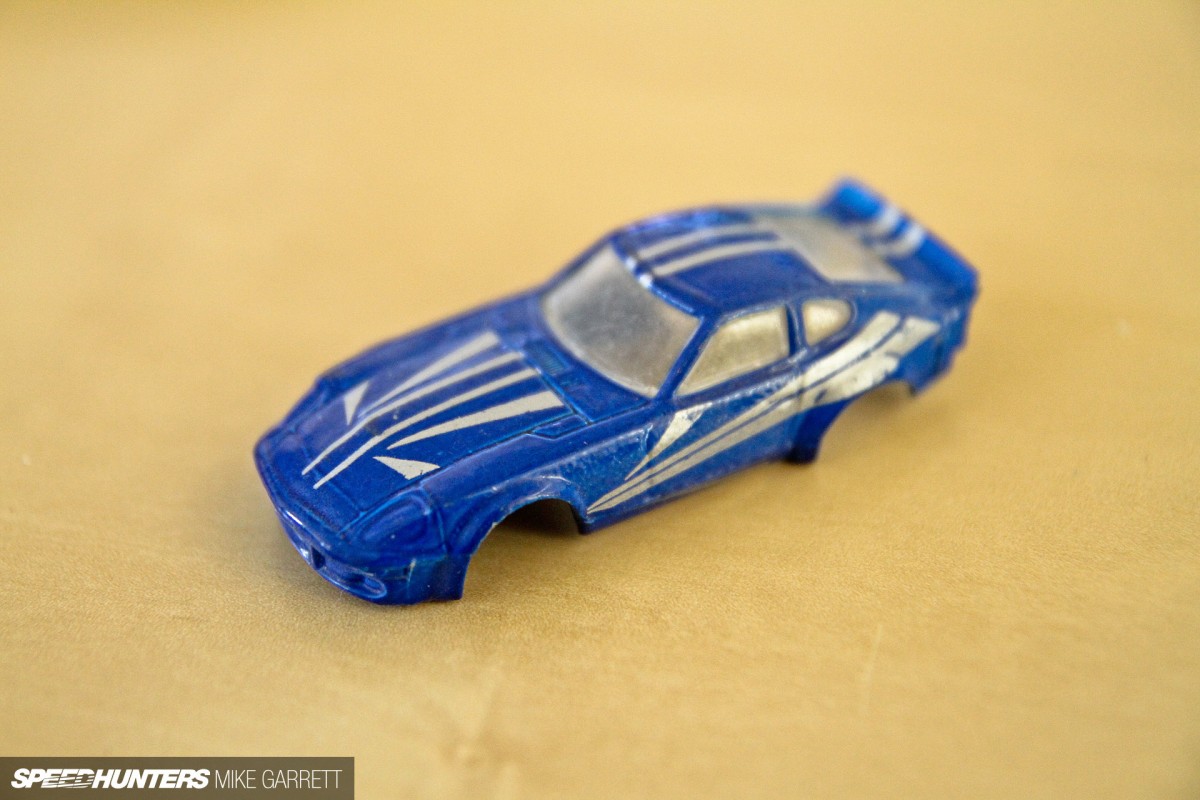 While digging through the pile I also found this Datsun 240Z that had become separated with its chassis at some point. I can't recall the maker of this one, but check the works-style flares and spoiler.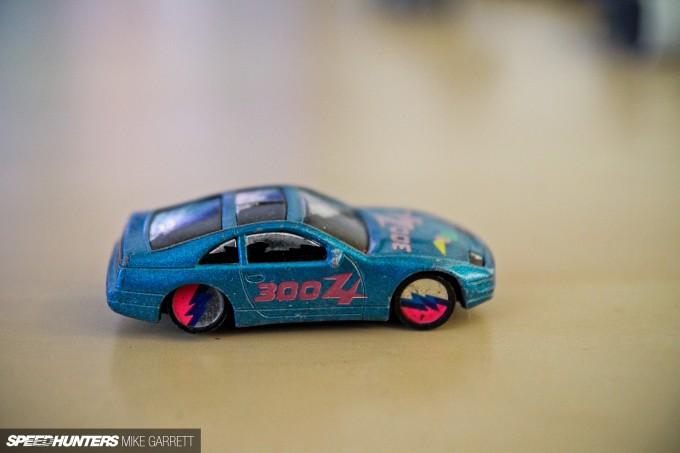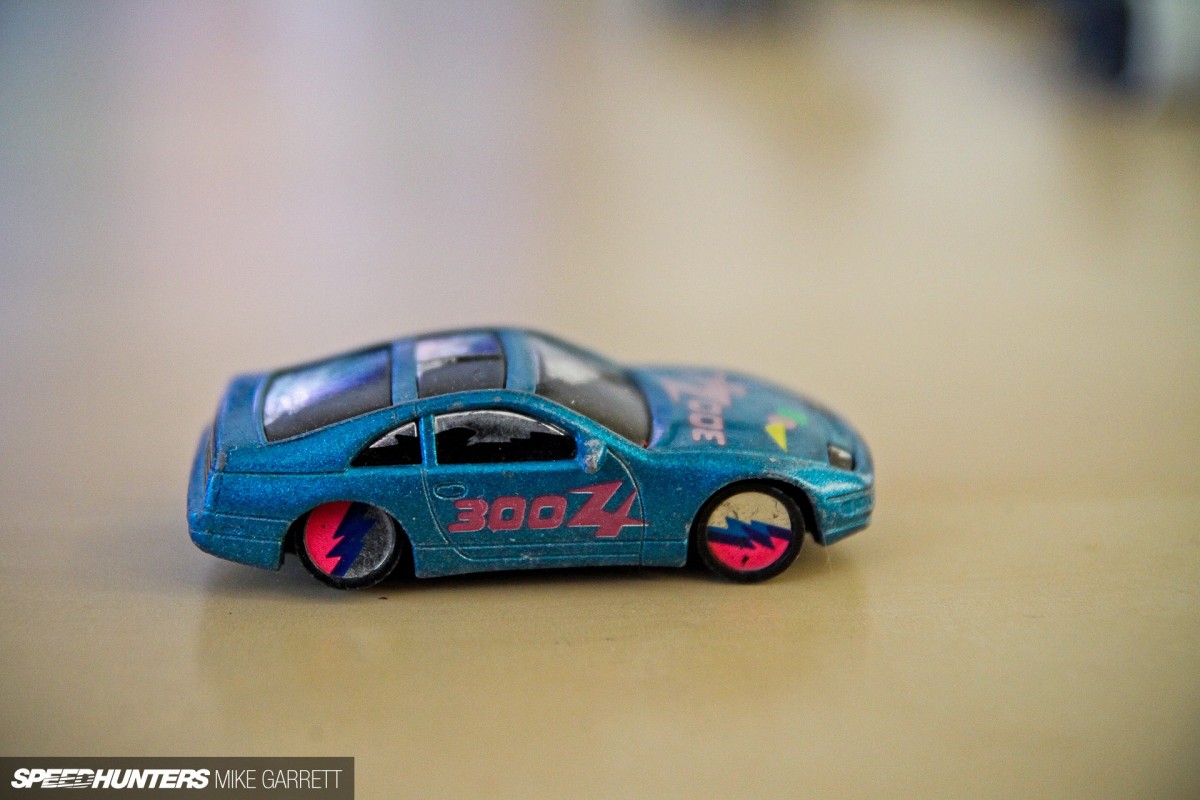 How about this 'futuristic' Matchbox Z32 300ZX from the early '90s? Dig those modern graphics and timeless wheel design…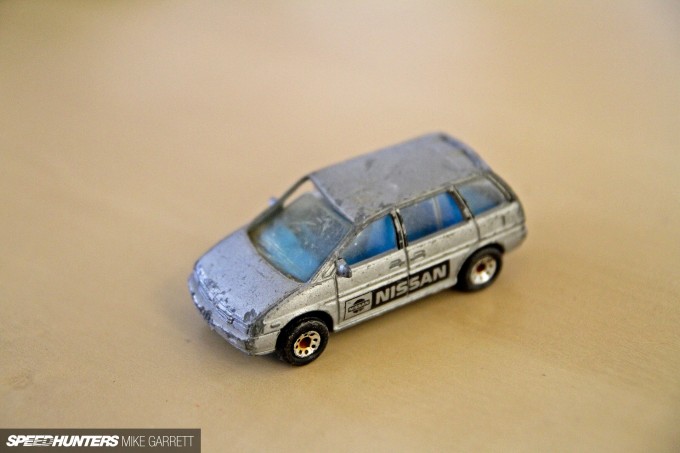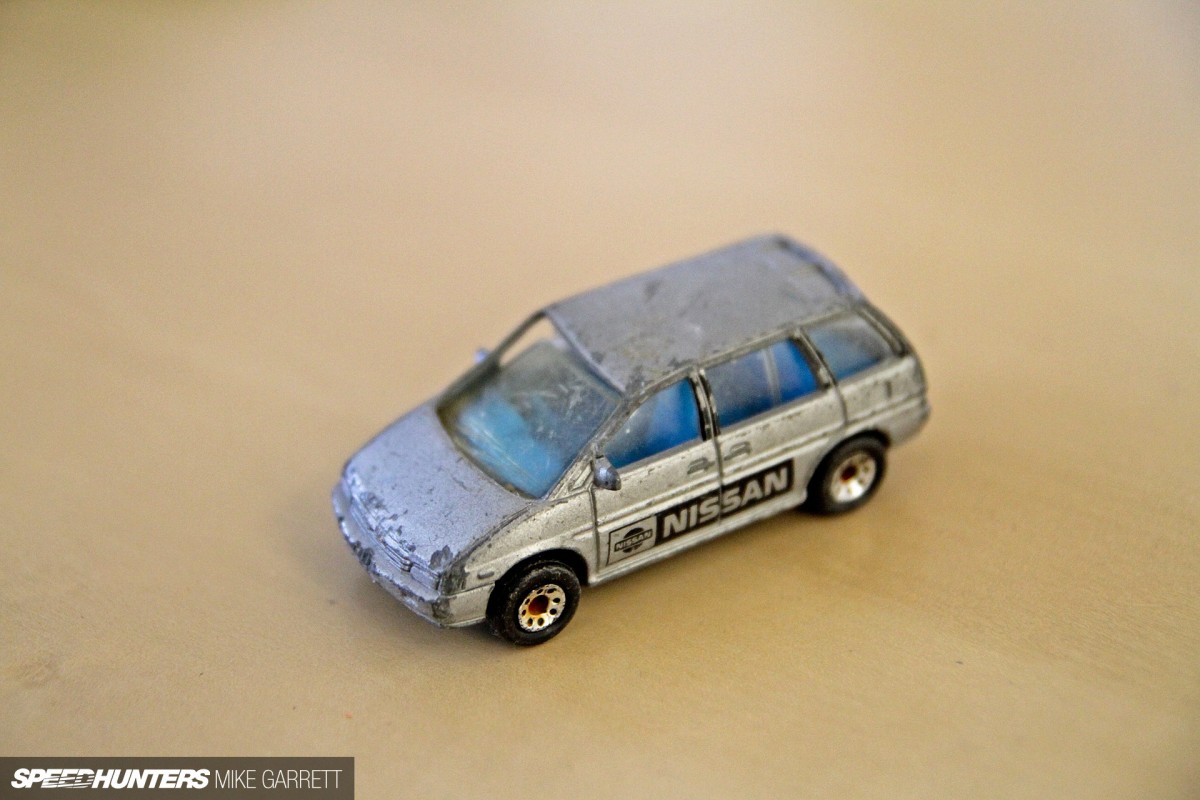 This Nissan Prairie looks like it had an especially hard life. Poor thing.
Let's play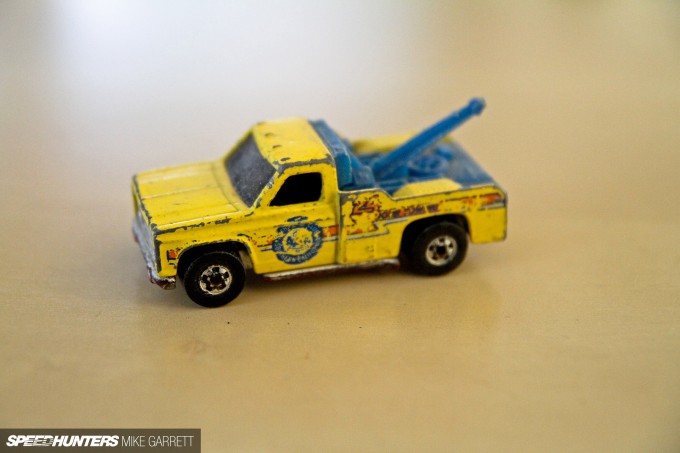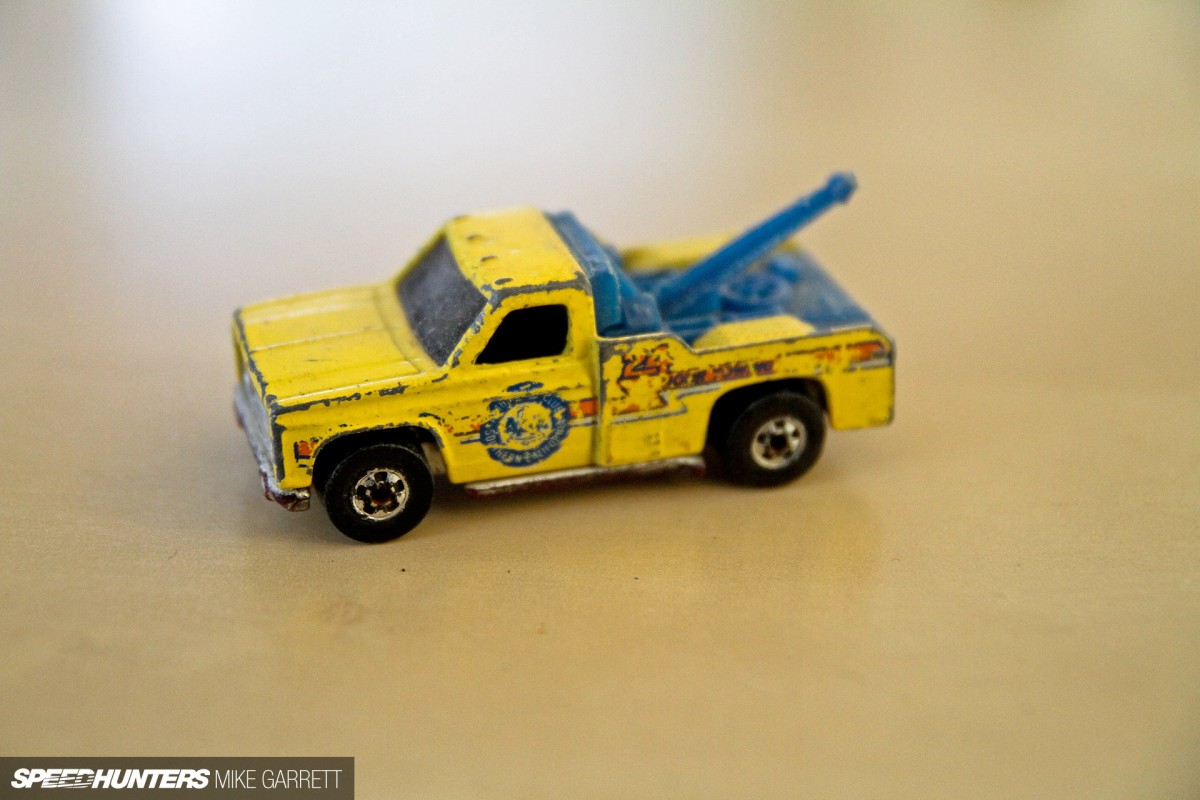 Strangely, some of our favorite vehicles to play with weren't exotics or race cars but tow trucks and other more blue collar vehicles.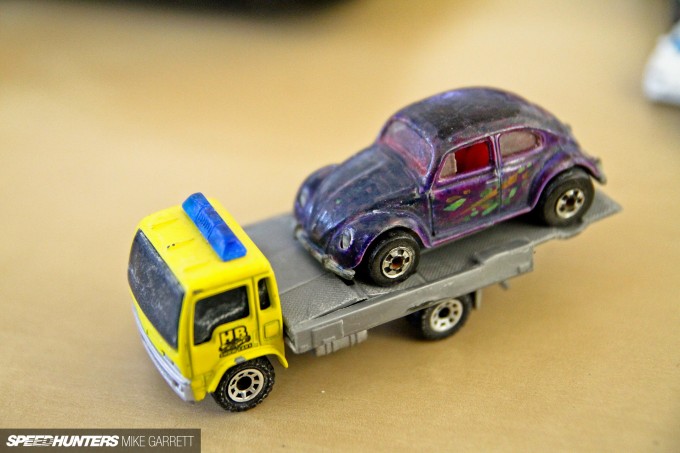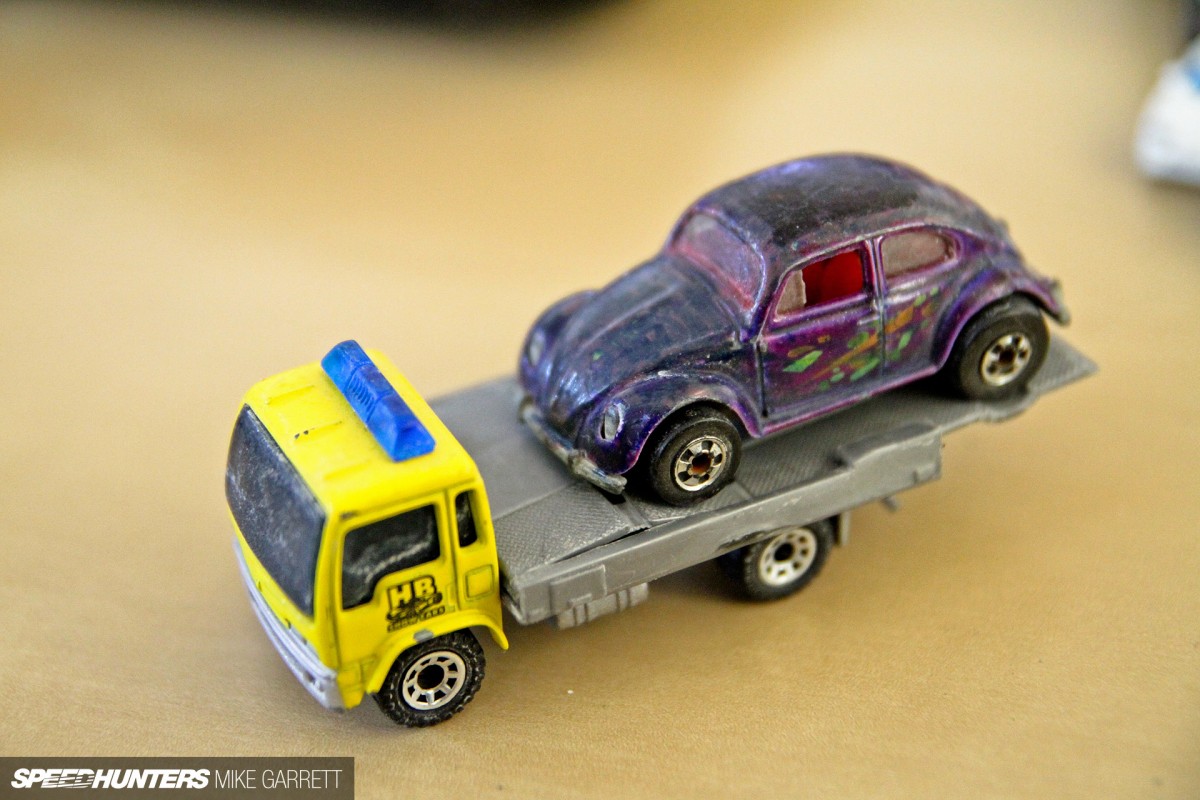 I remember this Matchbox flatbed hauler being one of my favorites. As you can see, the VW Beetle it's carrying is not quite to the same scale.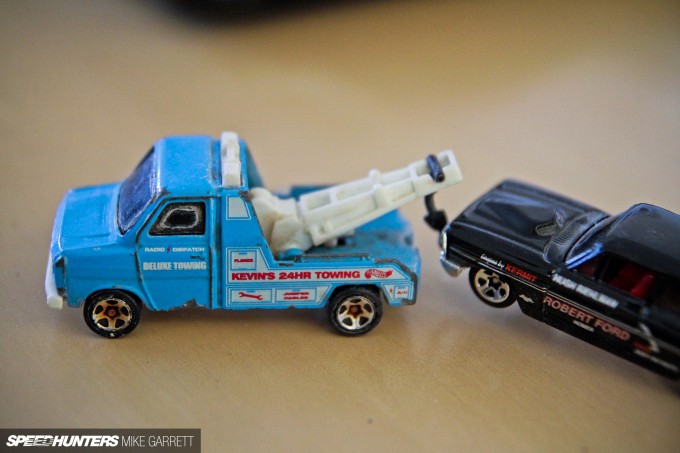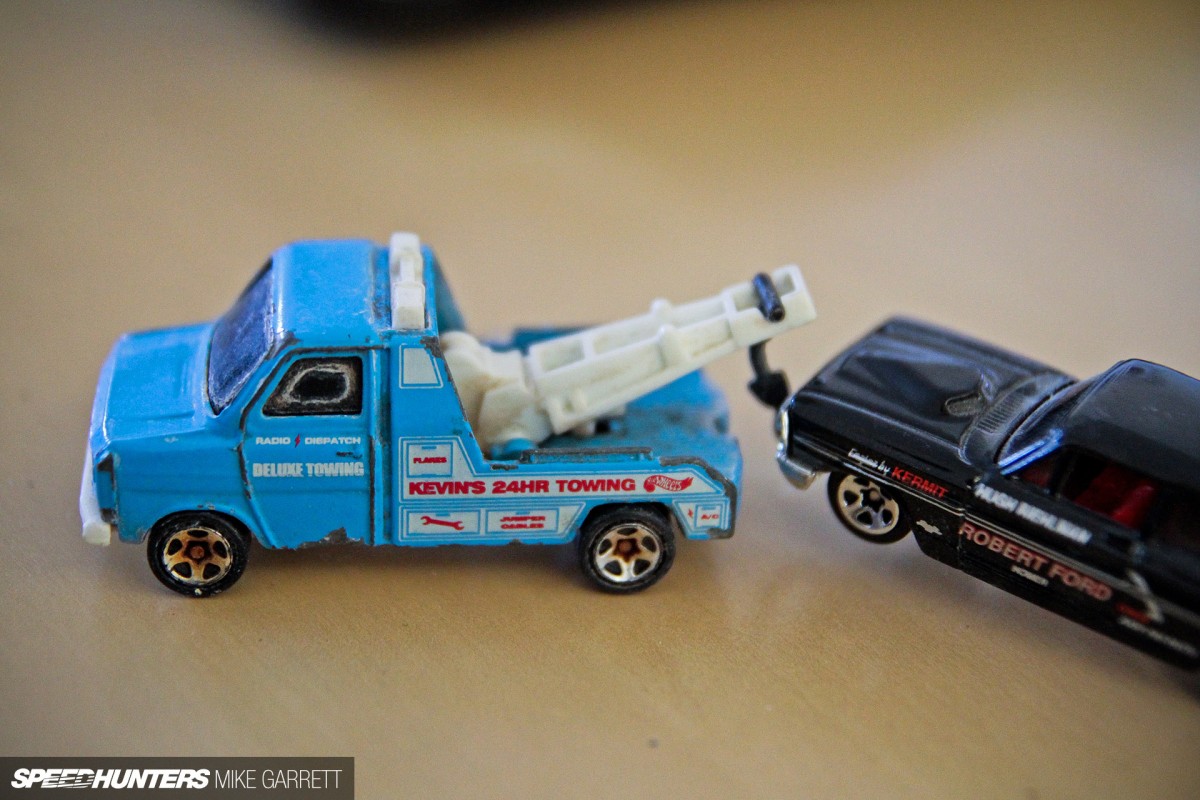 Another favorite was this Hot Wheels tow truck complete with a working hook that would actually latch on to the cars.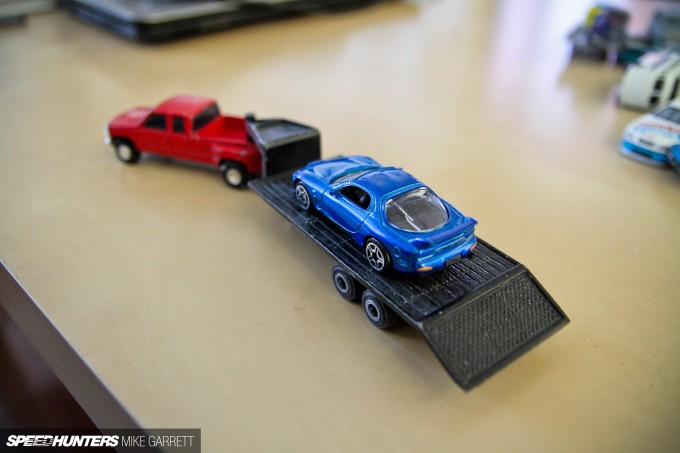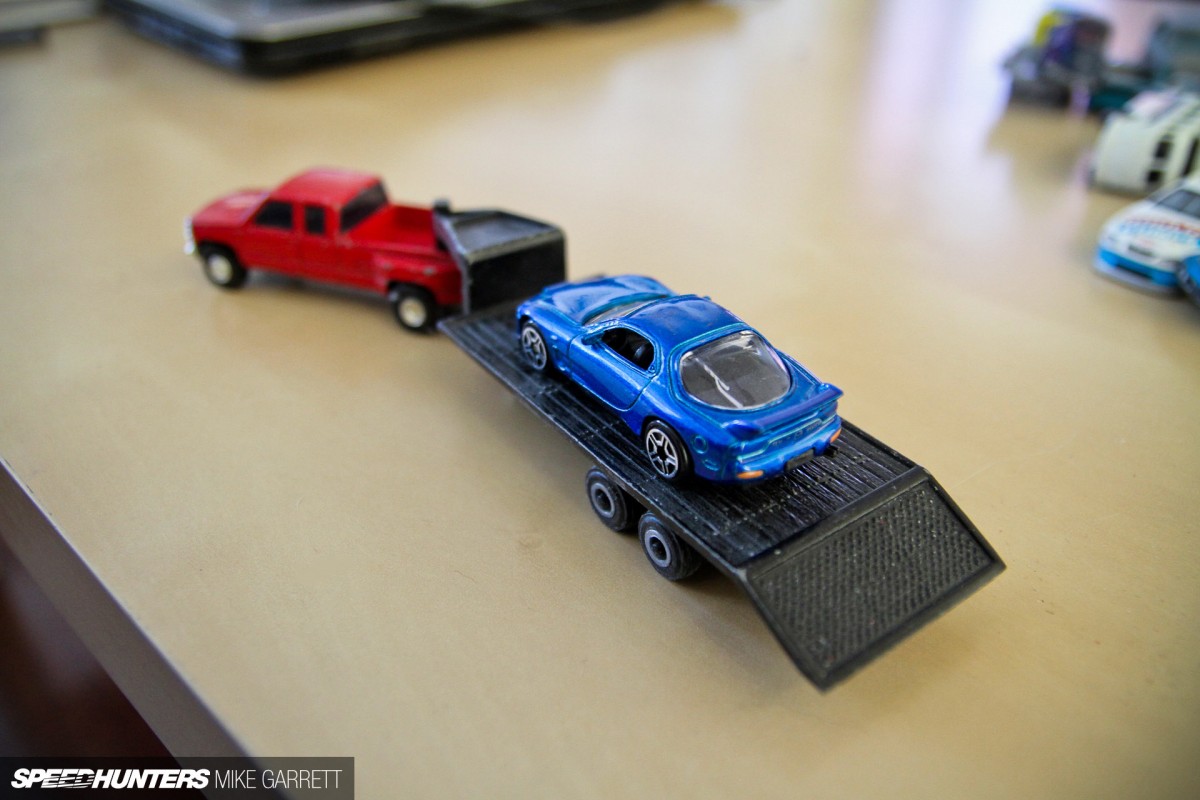 Later on, I think my brother bought this badass Chevy Duallie and fifth wheel trailer combo.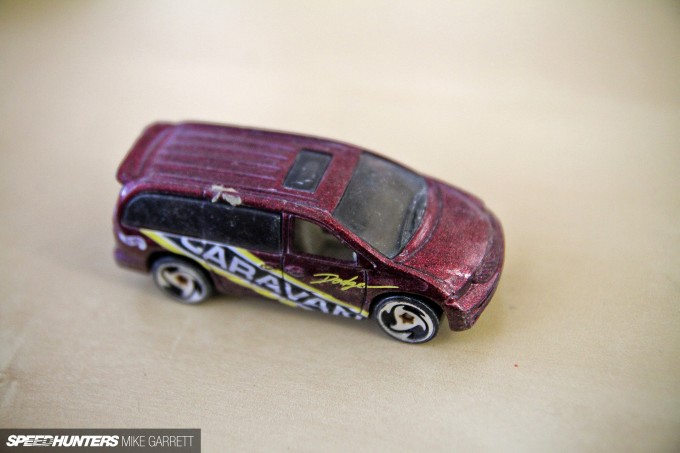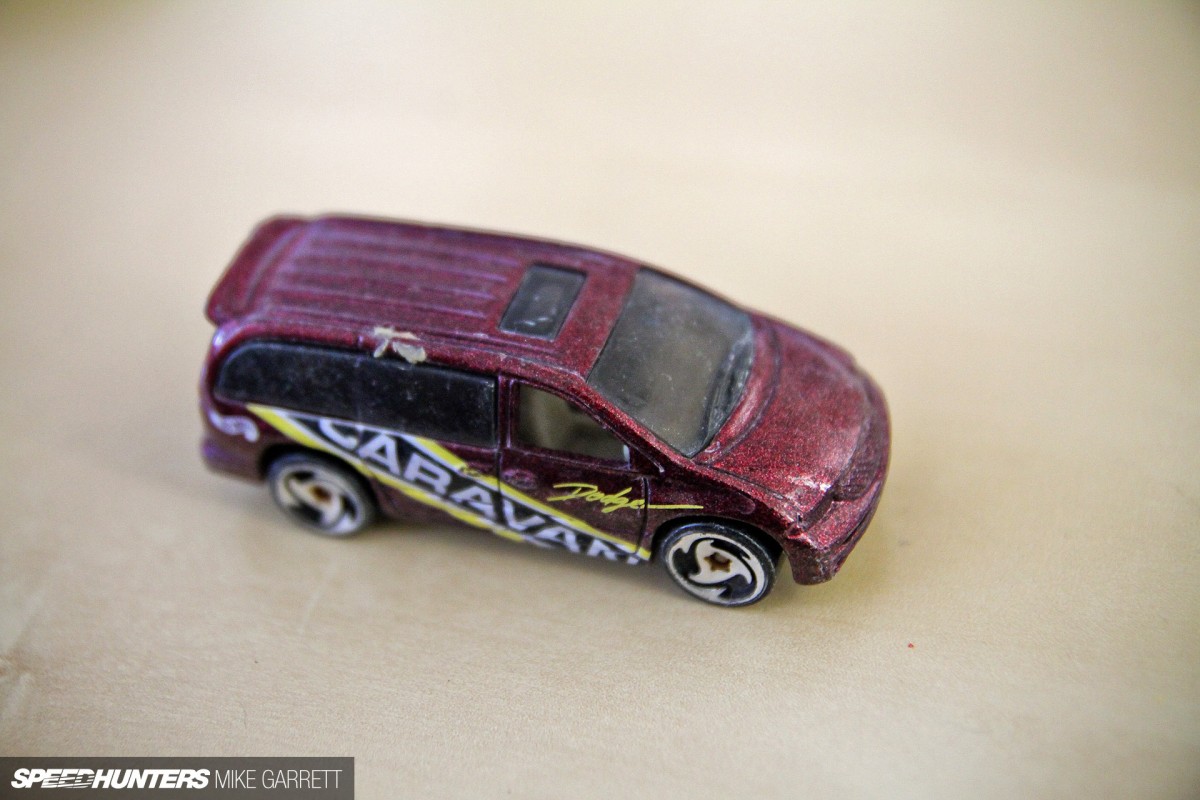 Looking for more nostalgia? How about this Hot Wheels Dodge Caravan? I'm not quite sure why we bought this one, but those graphics and wheels are as '90s as it gets.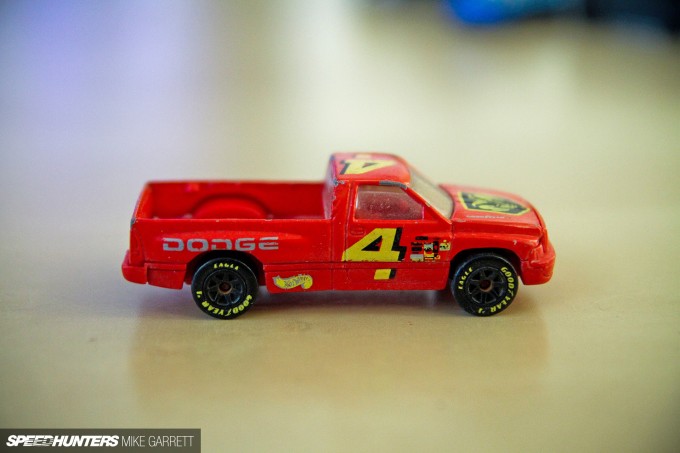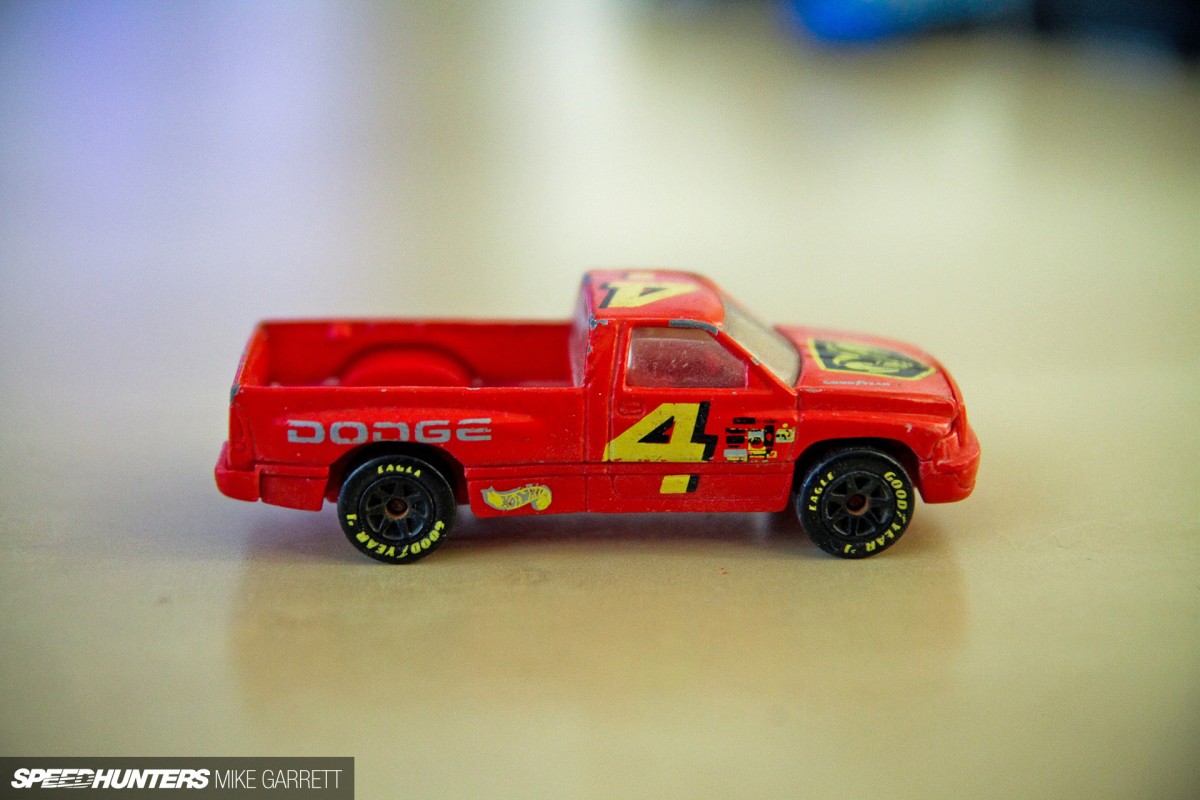 I remember thinking the 'new' 1990s Dodge Ram was really cool, so this NASCAR style Hot Wheel was a favorite.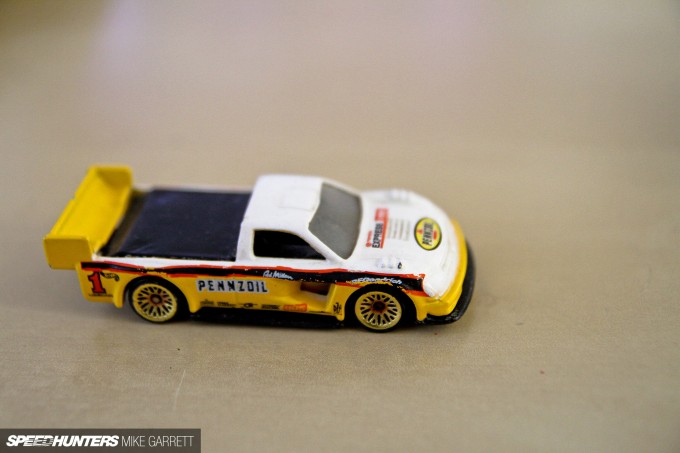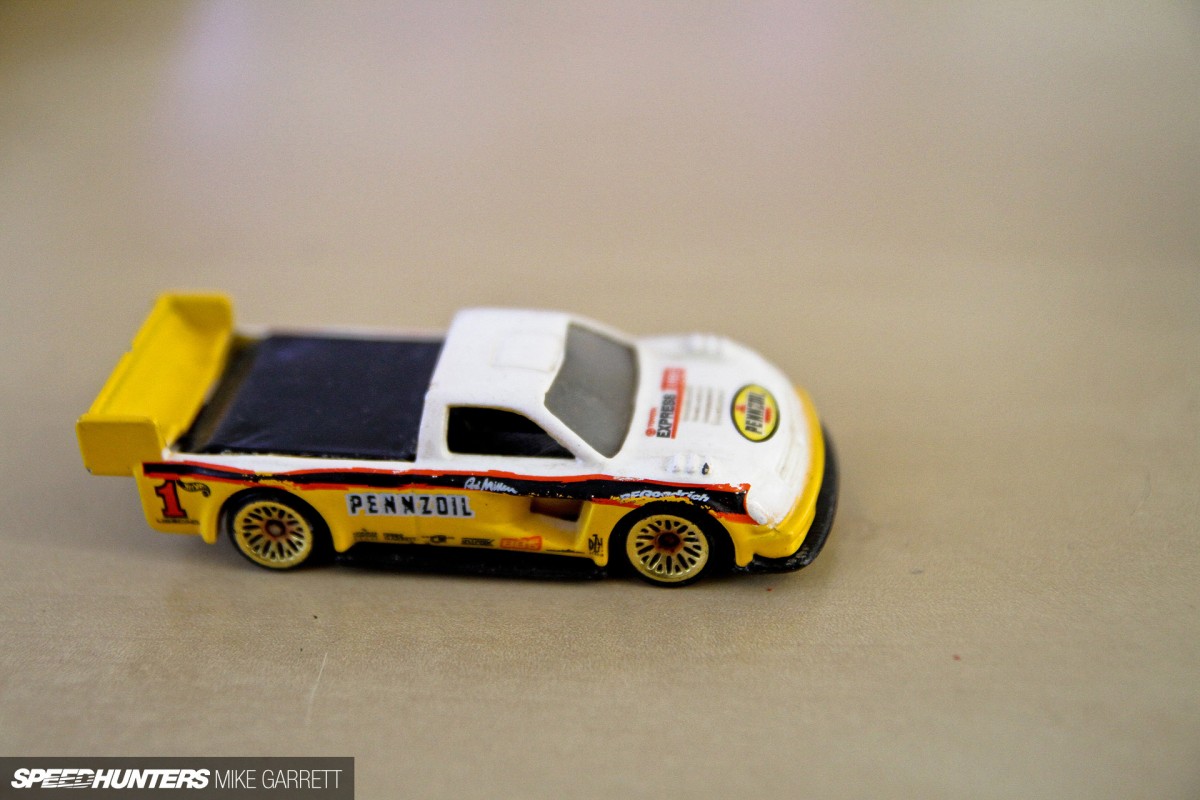 Based on their condition and age, some of these Hot Wheels were purchased when we were a bit older – like this Pikes Peak Toyota Tundra…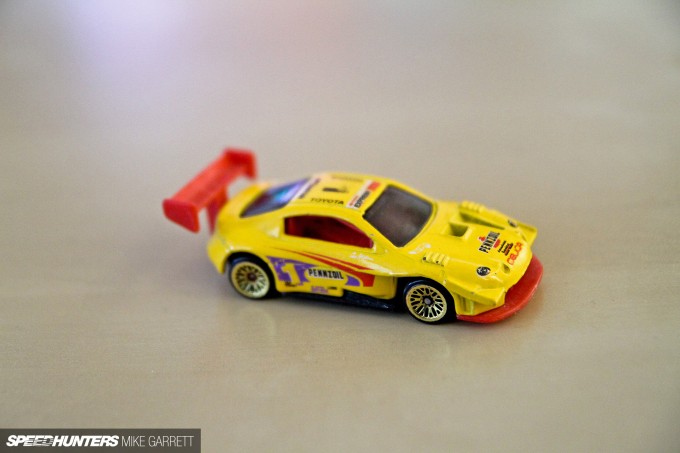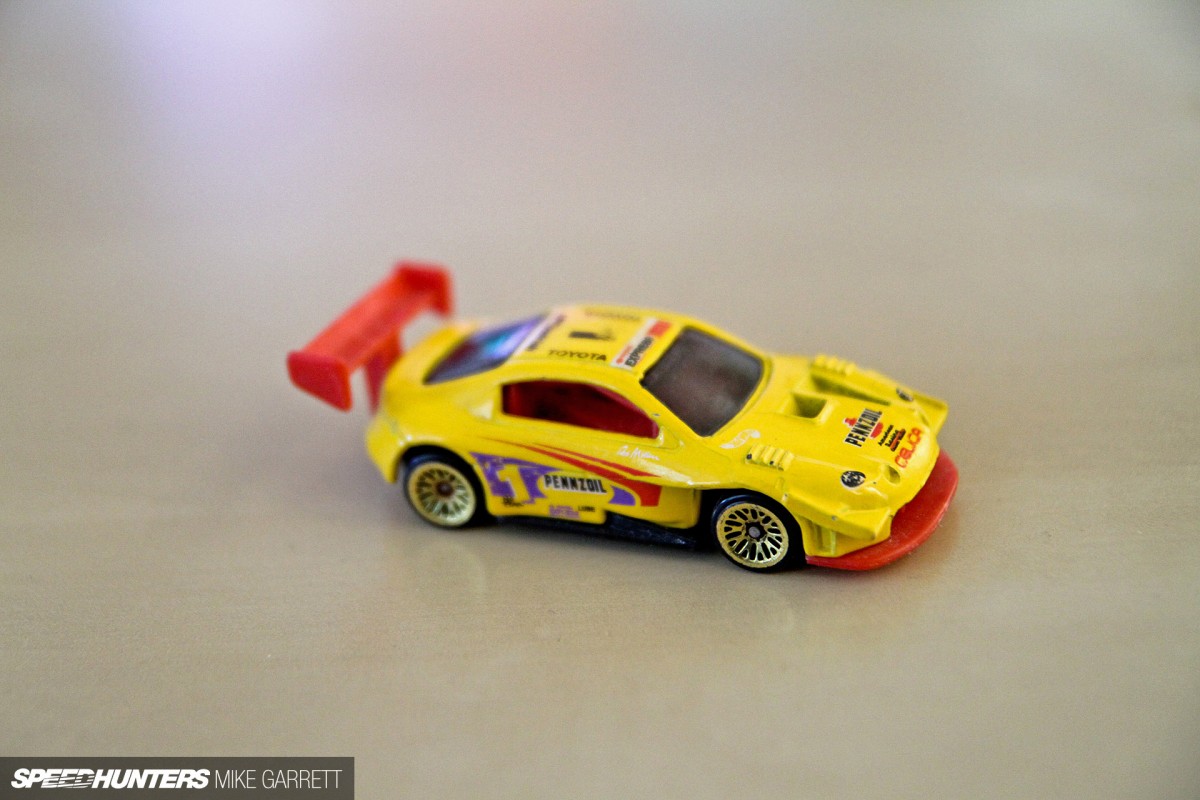 … and a Celica to match.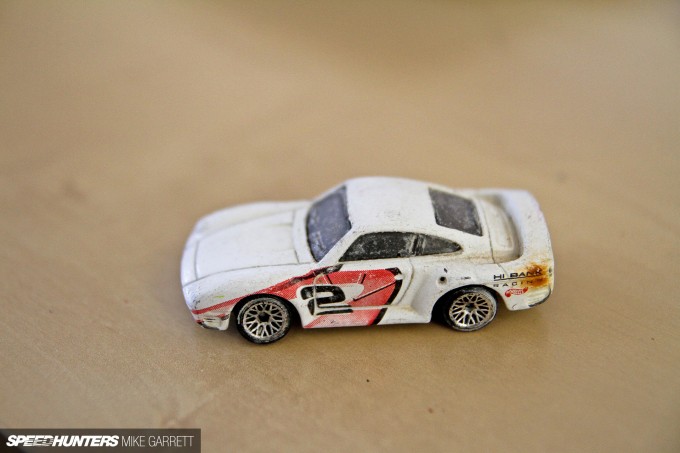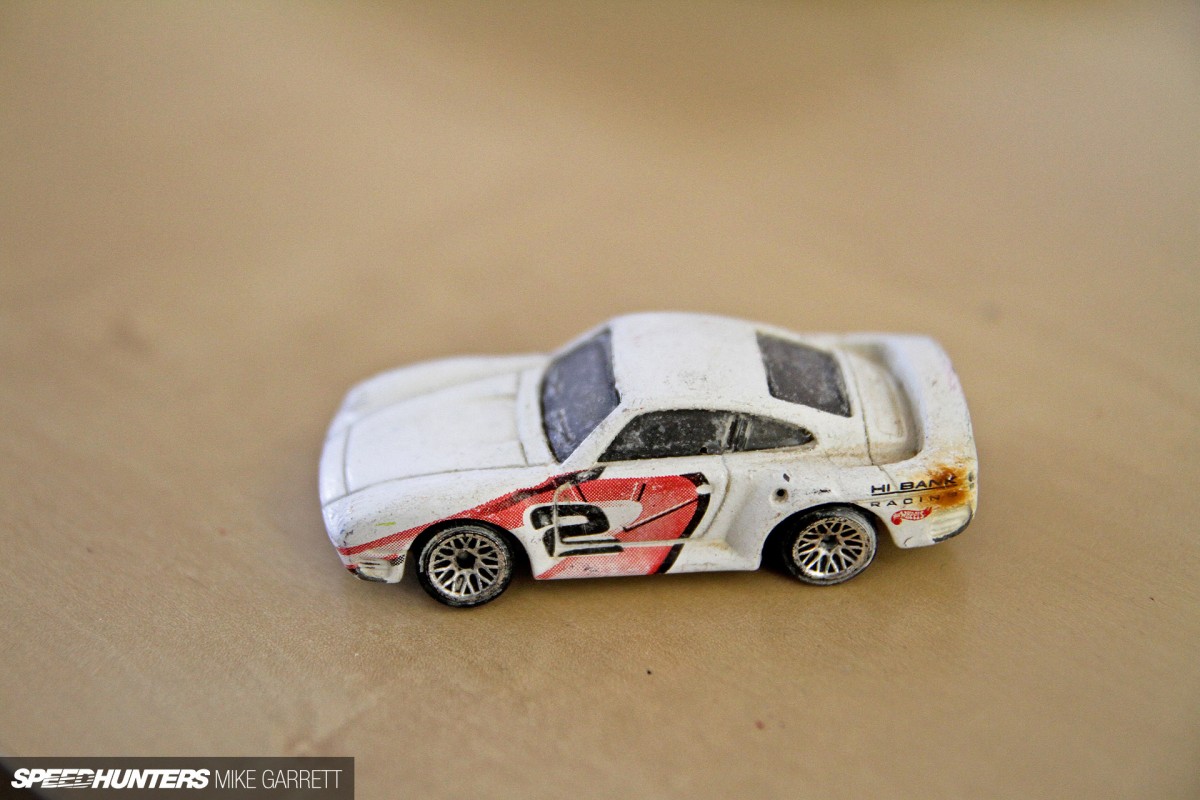 This Porsche 959 might have picked up some rust after we got out the hose and did some miniature mud bogging and rally racing in the front yard.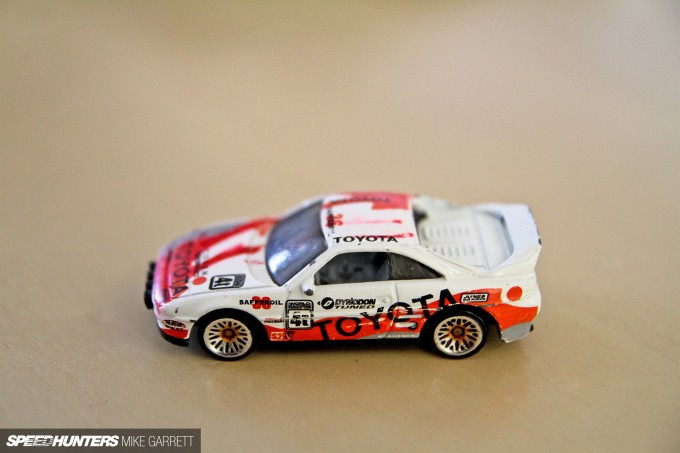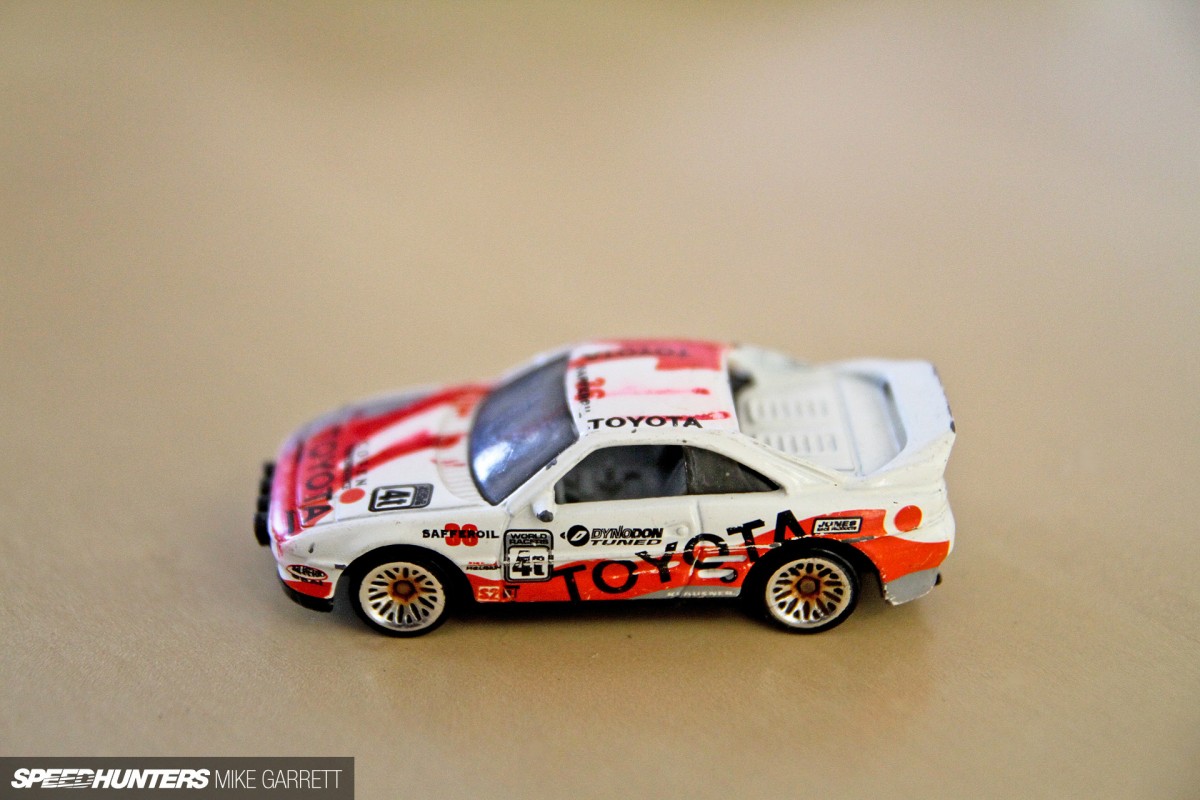 Speaking of rallying, here's a super cool Hot Wheels MR2 that I had completely forgotten about.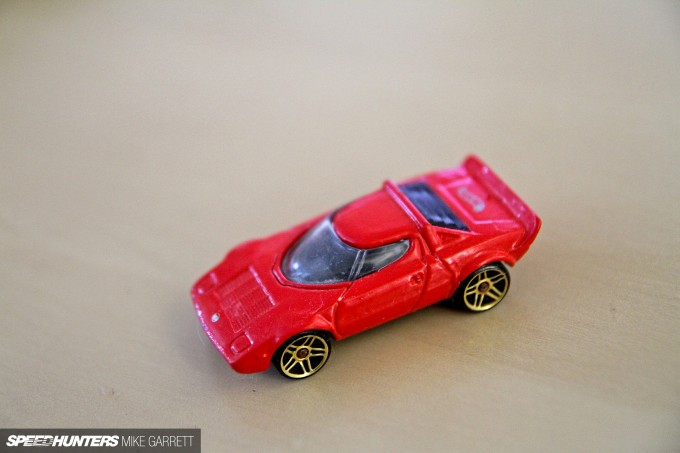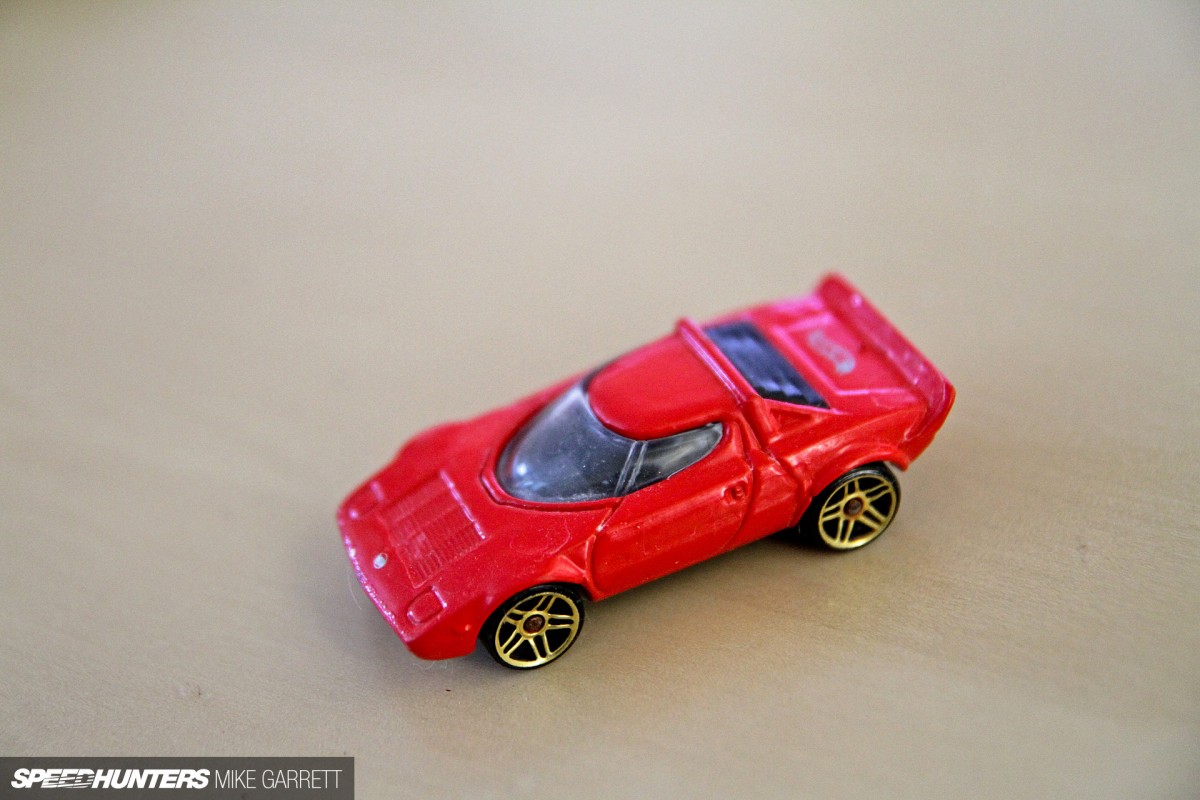 Another neat one is this Hot Wheels Lancia Stratos from the early 2000s. This one's probably nice enough to put in the case with my recently acquired Hot Wheels.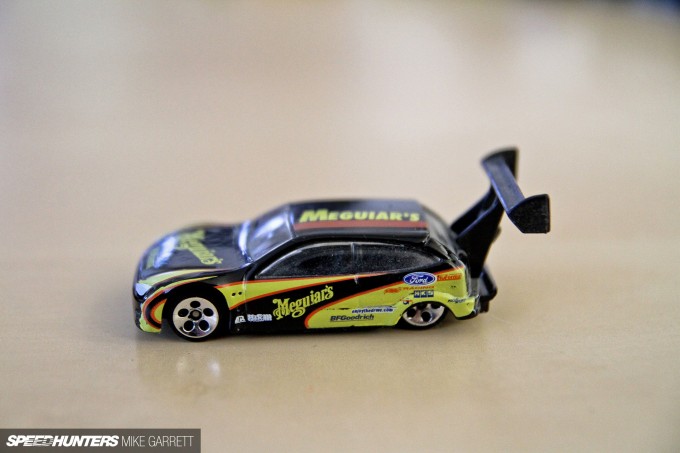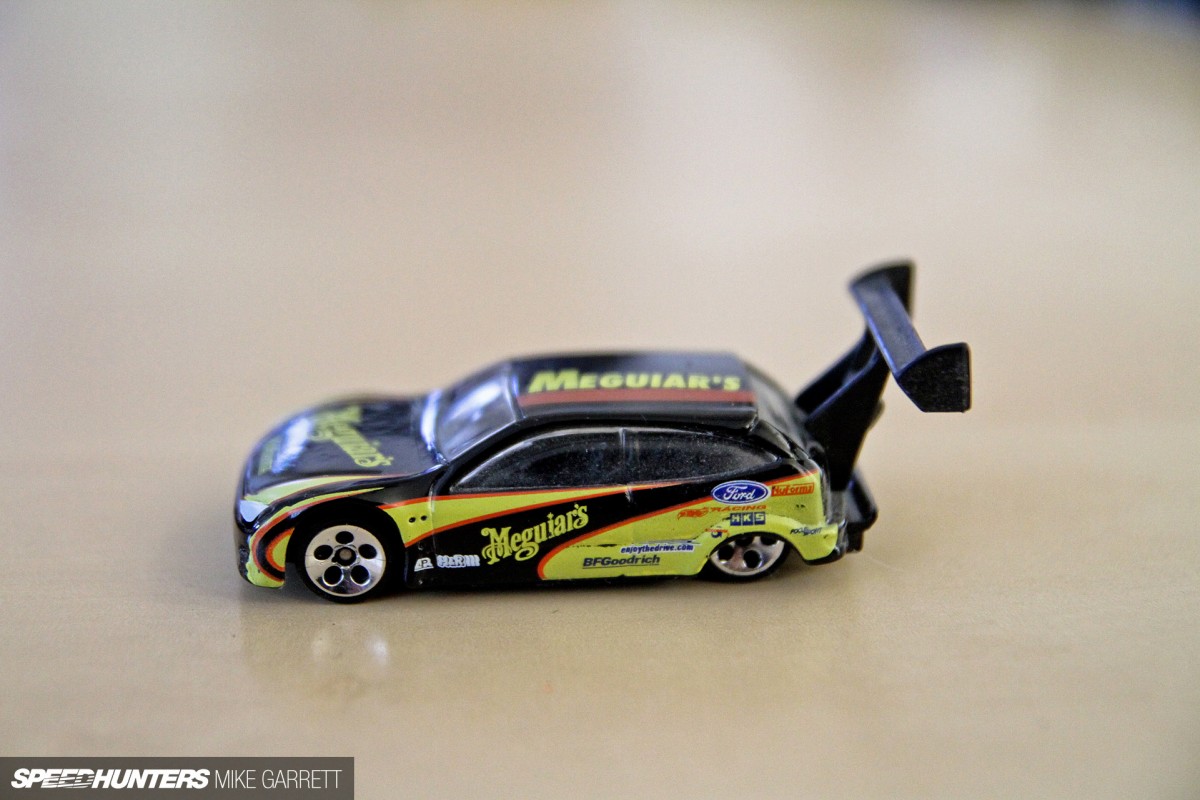 Here's the Meguiar's Ford Focus drag car released back in 2001.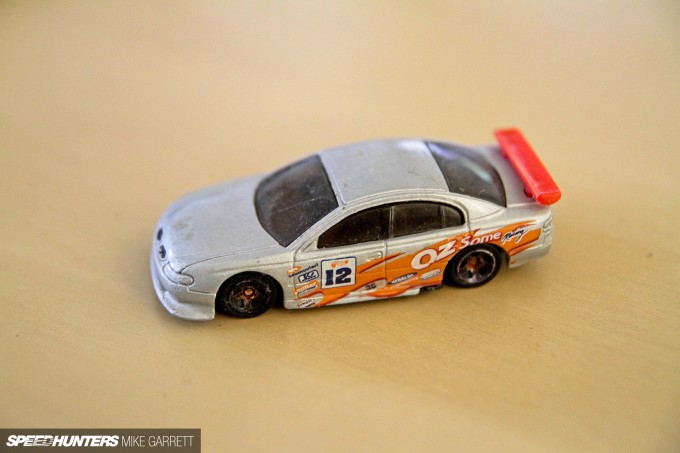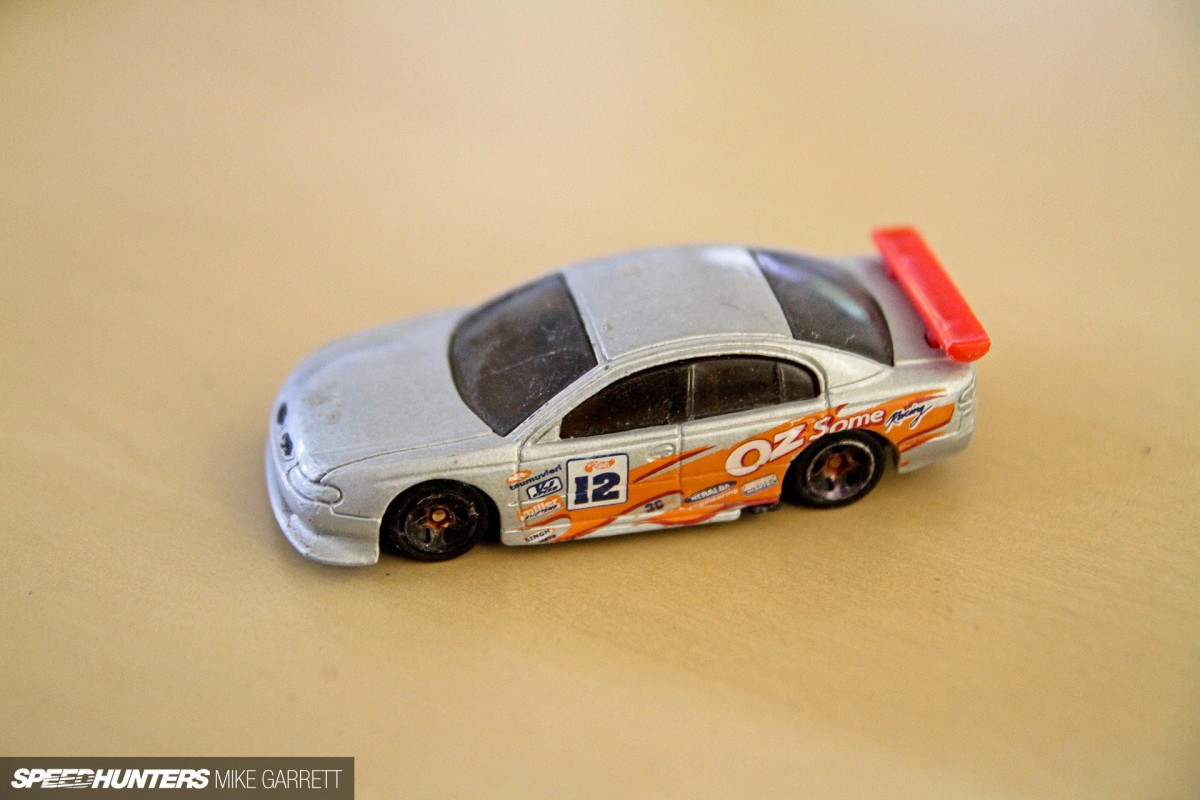 I even found this Holden Commodore V8 Supercar released in 2000. Another one I'd completely forgotten about.
Going micro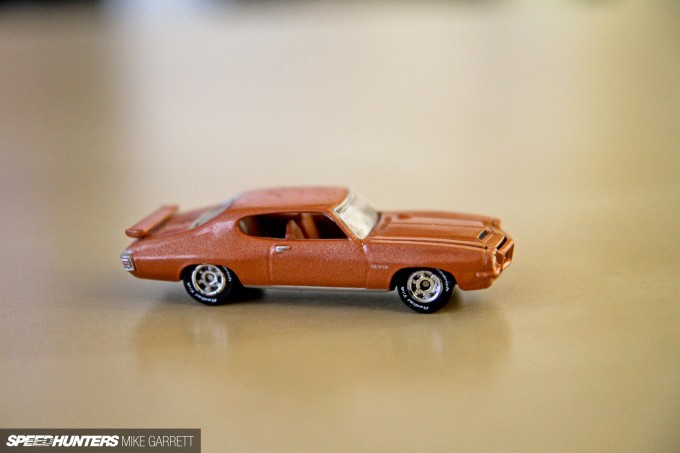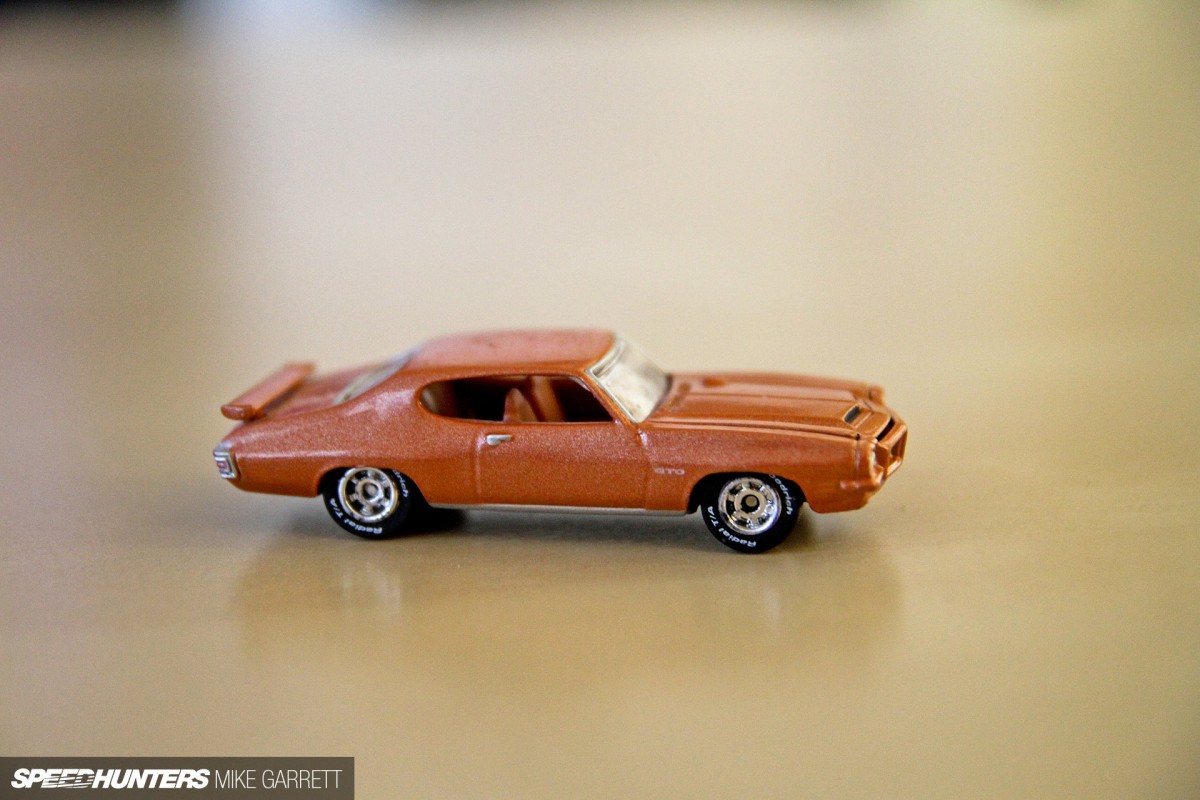 Since we always liked muscle cars, plenty of Johnny Lightning diecasts found their way into our bin. This GTO must have been a more recent addition, based on its presentable condition.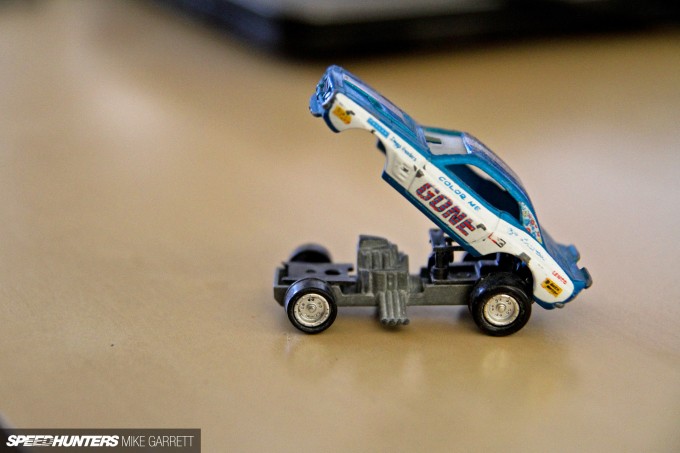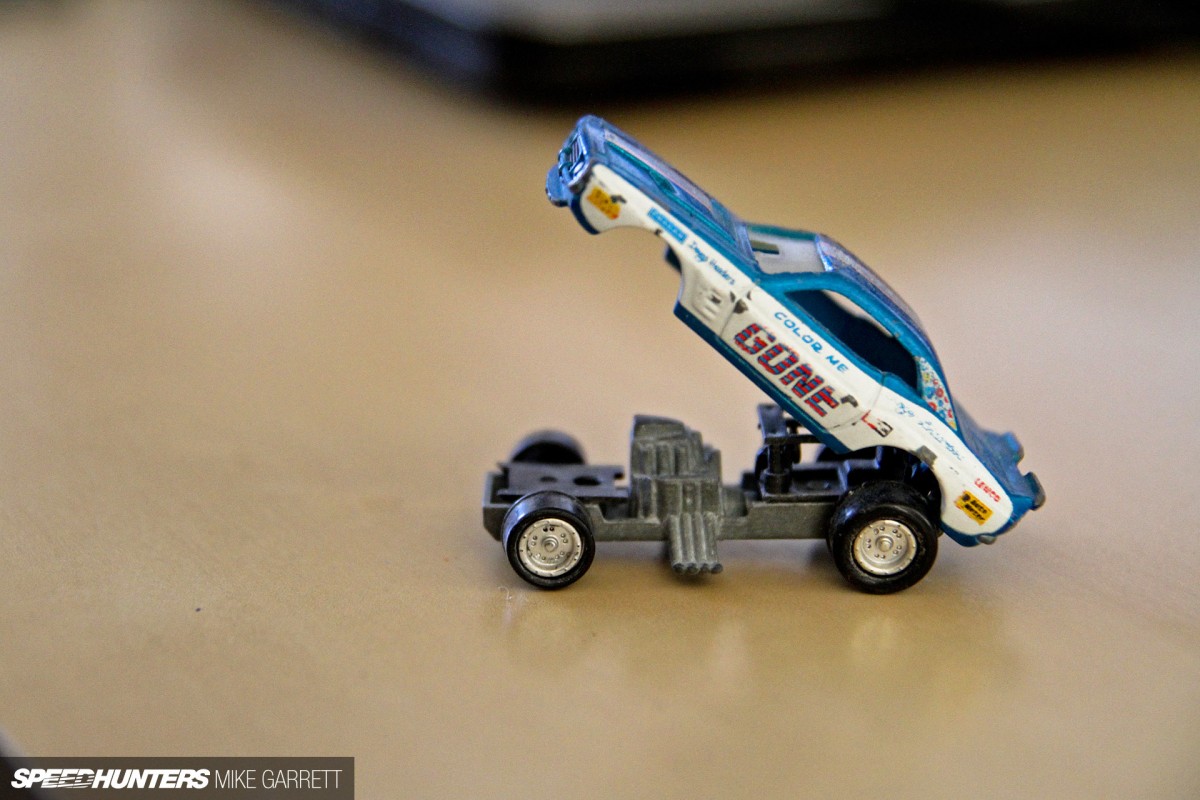 These flip top Funny Cars were especially fun to play with.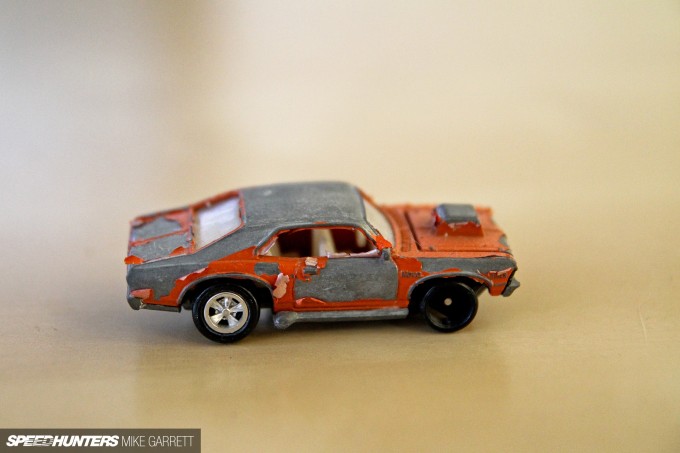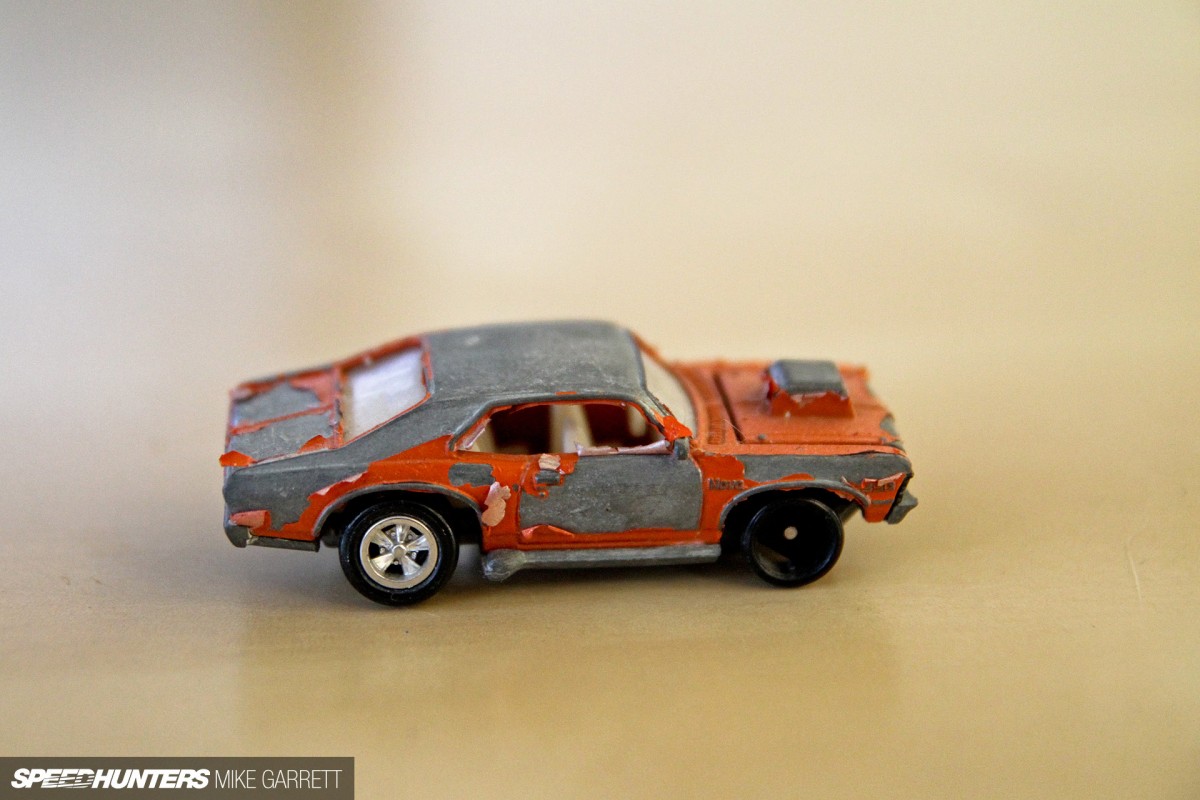 At some point we decided to strip the paint and pull off the wheel caps to make cars look like something Joe Dirt would drive.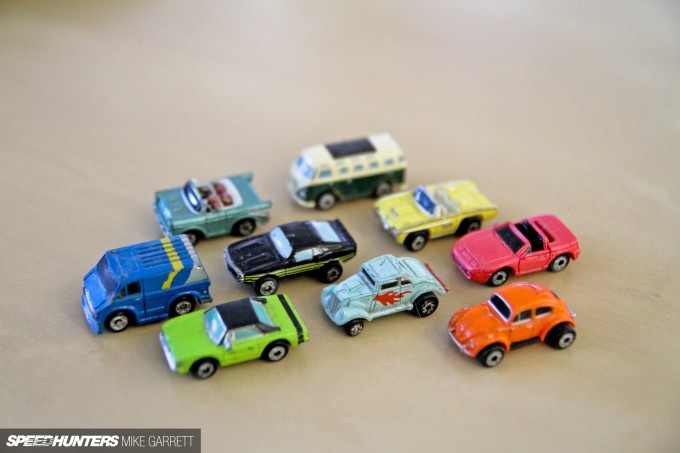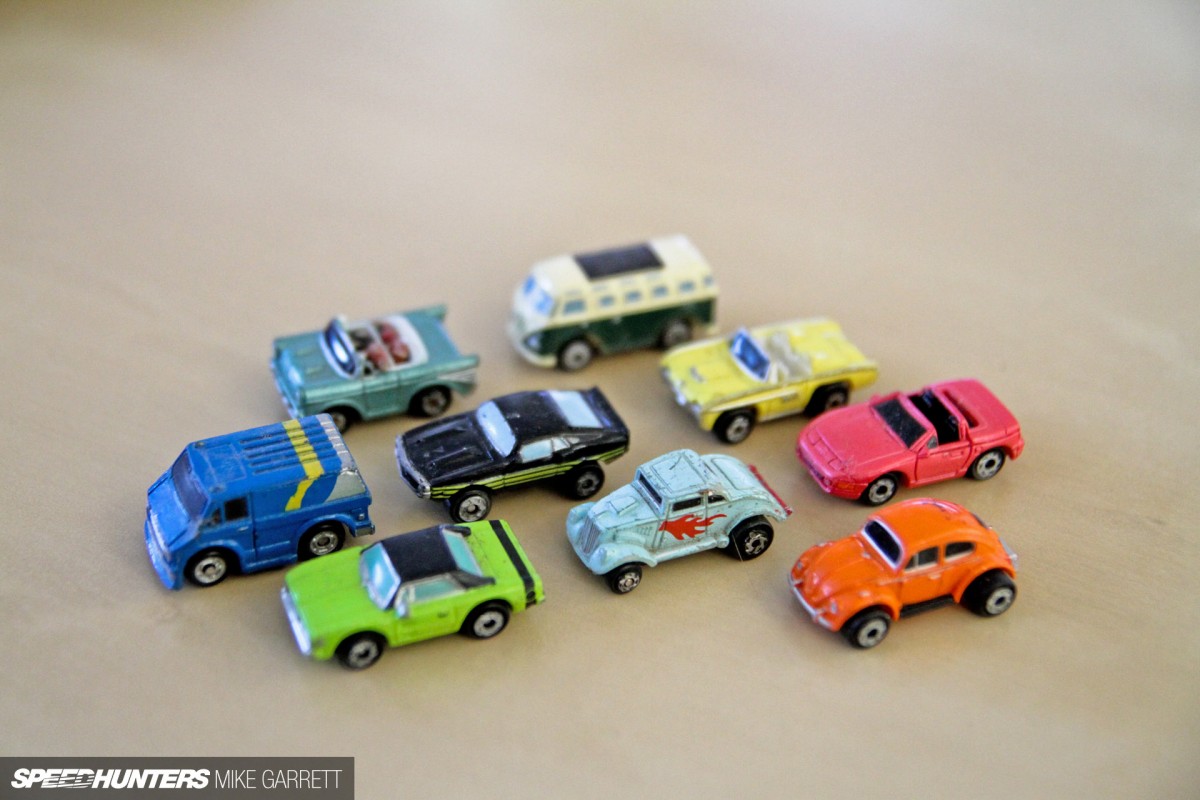 You can't leave out the Micro Machines. These just might have been my favorite toys as a kid. At one point I had well over a hundred of them.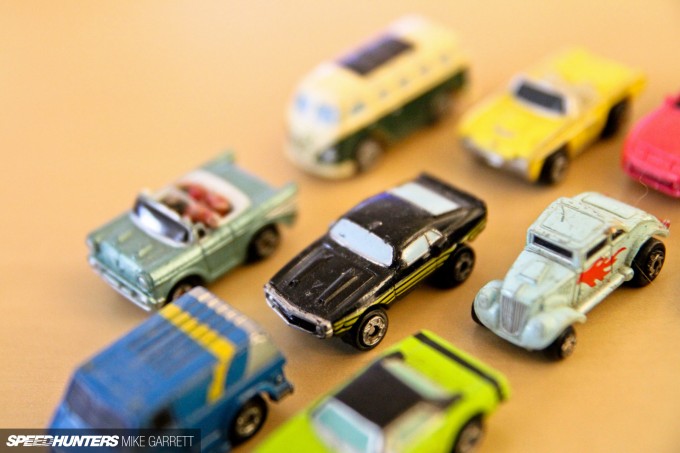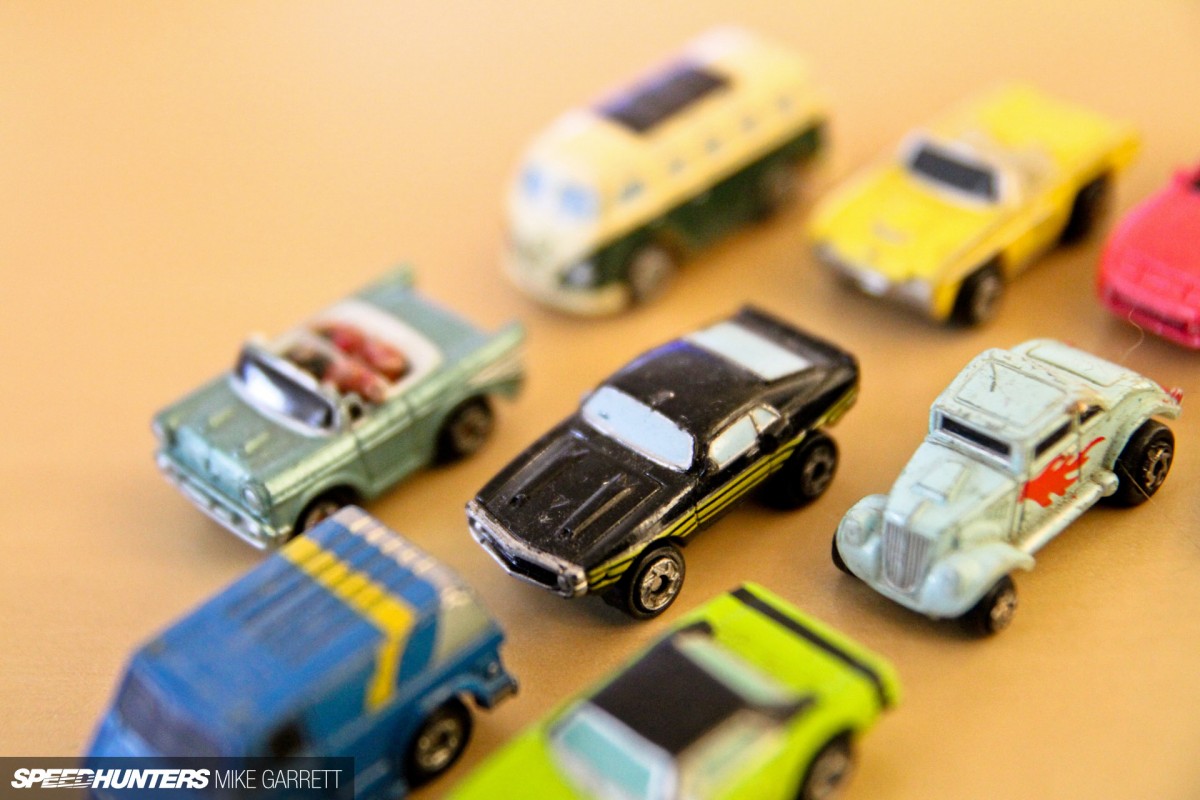 The bottom of the bin was filled with these little things. I'm pretty sure Micro Machines were near the top of my Christmas list every year…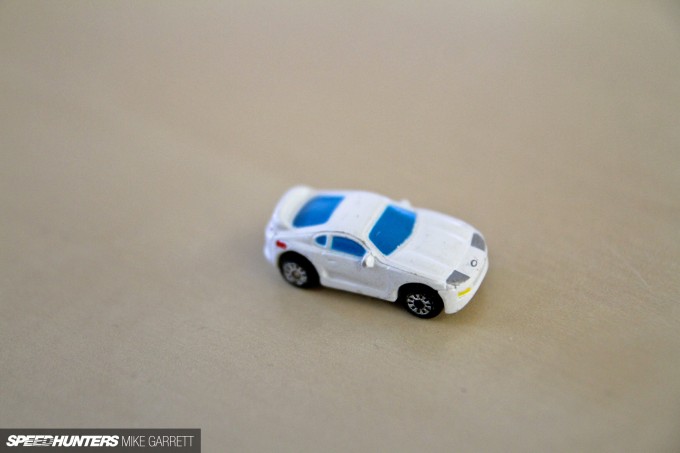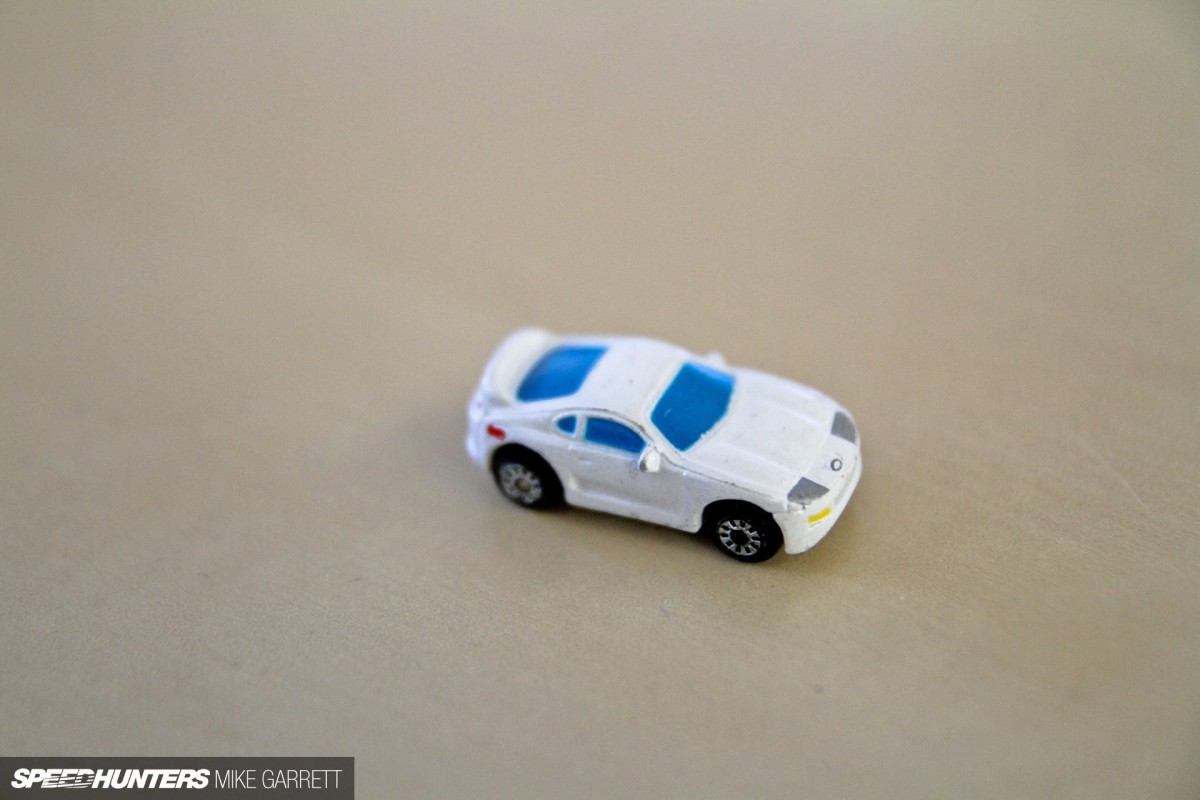 I even found a Micro Machines version of a JZA80 Toyota Supra. Cool.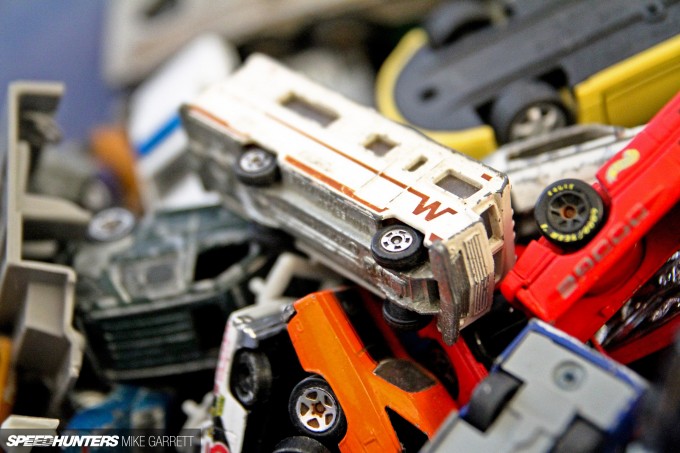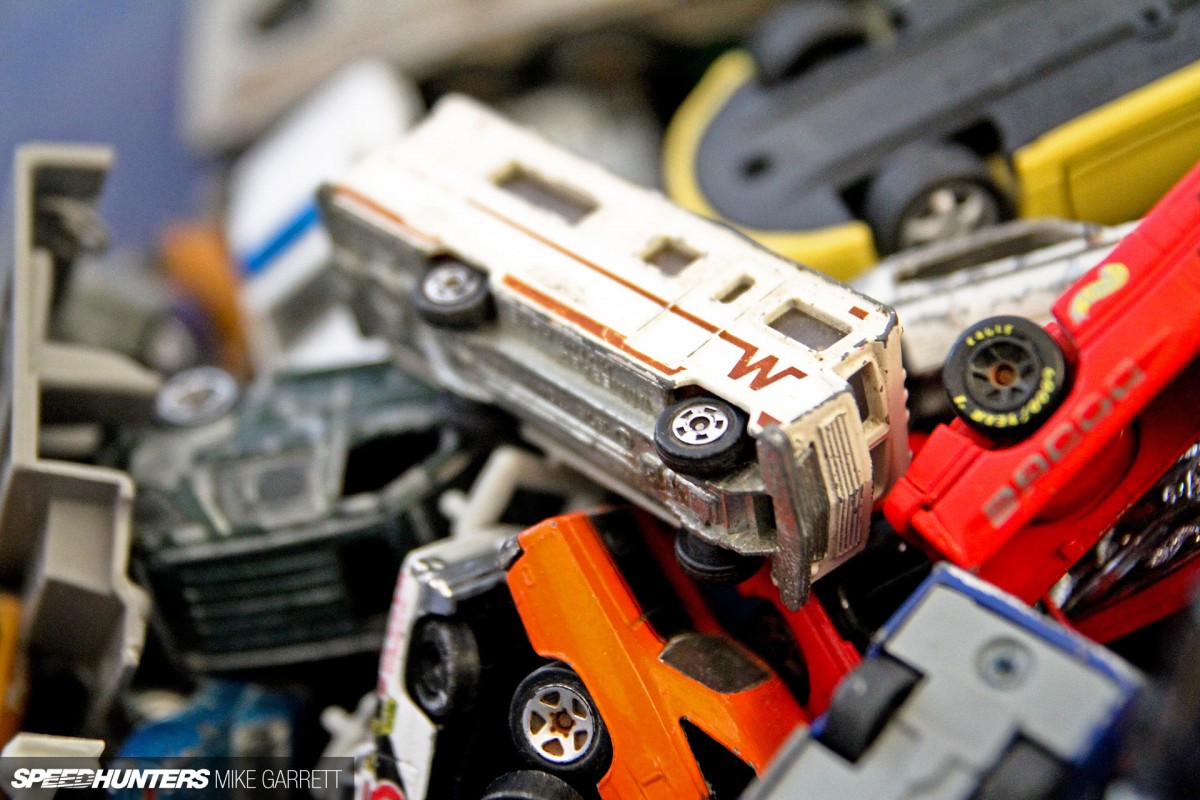 I have no doubt that some of the vehicles in this box would be worth a lot of money today – if they were still in the packaging or in mint condition. As they sit, these beat-up toy cars have no monetary value.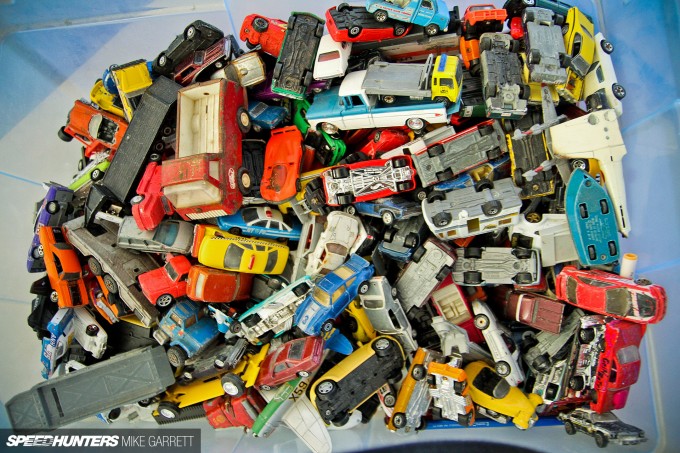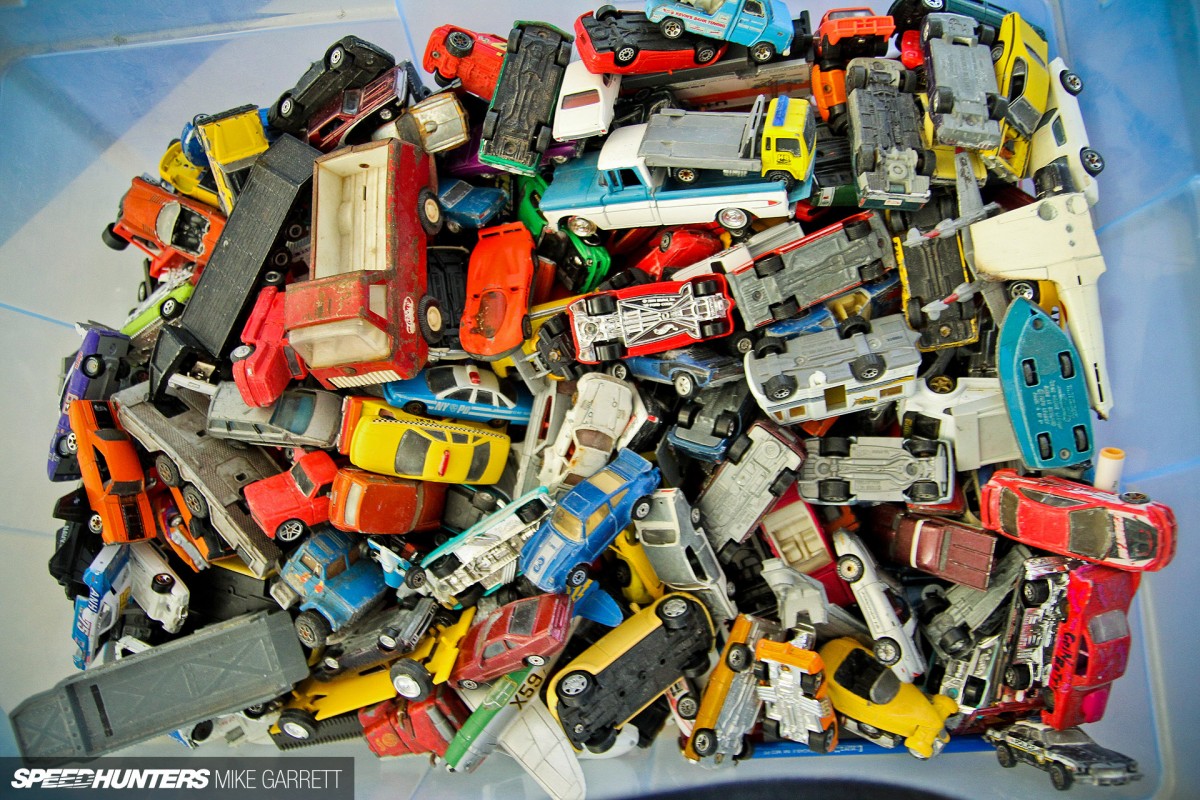 But at the same you can't put a price on the hours of fun my brother and I had collecting and playing with these things. Even more importantly, if I hadn't spent those years rolling these cars across the carpet, tile, dirt, mud and concrete, I may not be where I am today living a life surrounded by cars.