Irwindale
Just a few days after the largest Formula Drift event in ten years, it was announced that the House Of Drift will probably be no more. I'm going to miss it. So much North American drifting history has taken place at this historic race track. I don't know if another venue will ever be as glorious as the 1/2 mile oval track, so I wanted to showcase some of my best images from the 2013 Formula Drift Finals.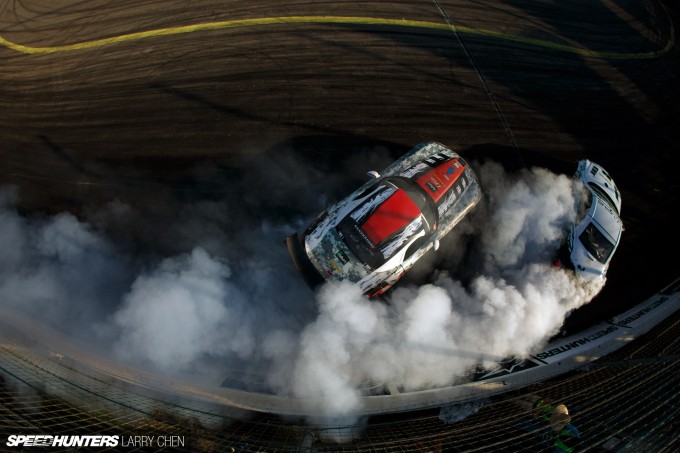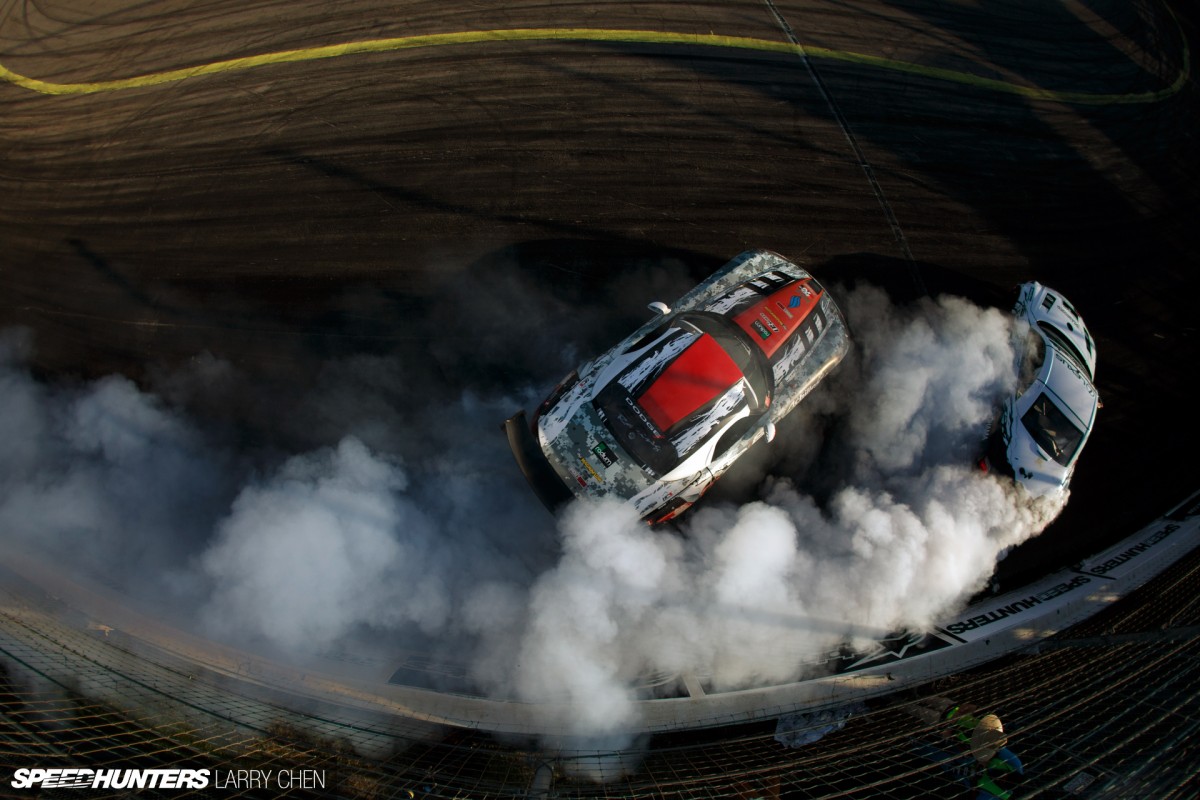 Seeing as this FD Irwindale may be the last, it made me appreciate moments that I have captured in time just that much more. With today's accessibility to the best photographic technology, there's no excuse not to tell the story of the perfect drift with smoke billowing out from underneath the wheel wells.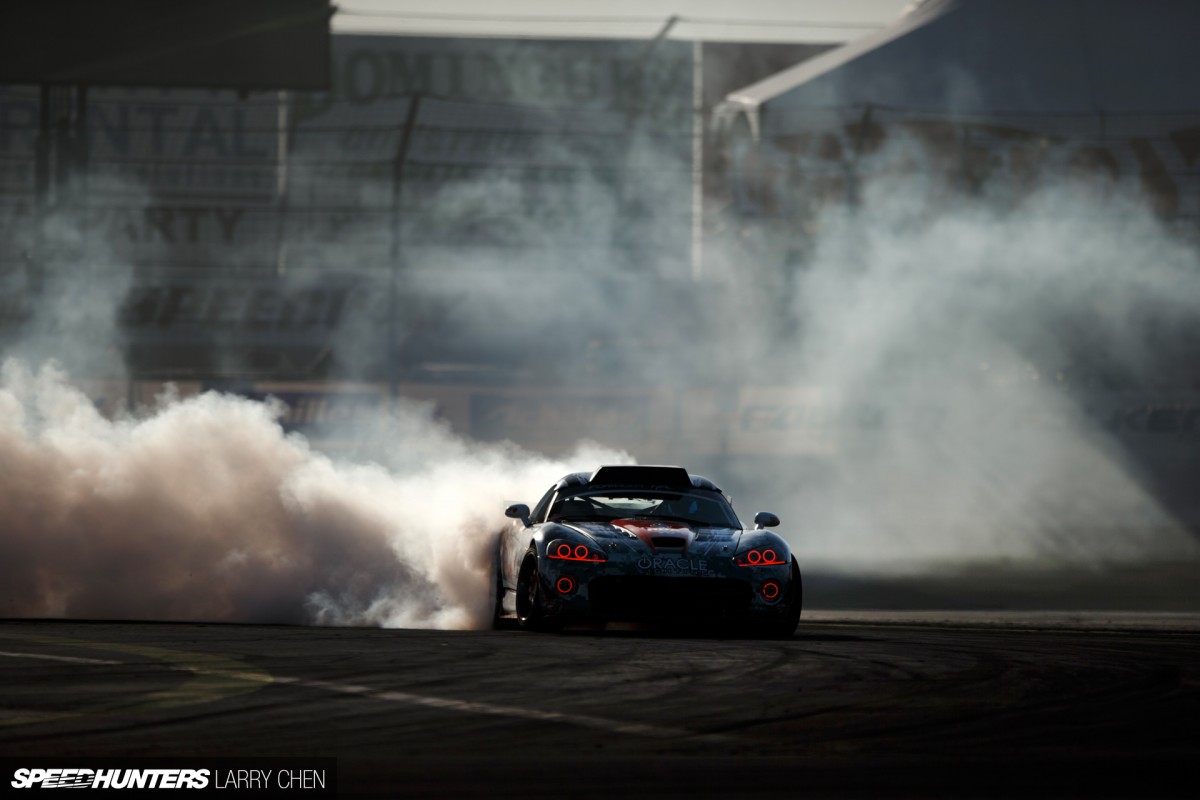 Irwindale has been very good to many drivers, including Dean Kearney, who qualified a personal best this past round, in fourth place.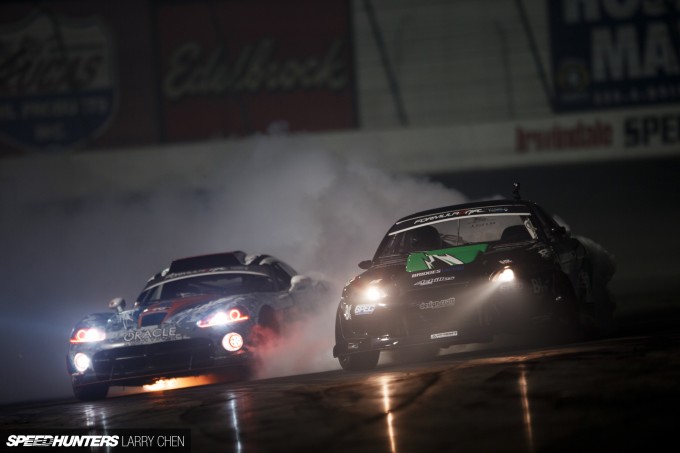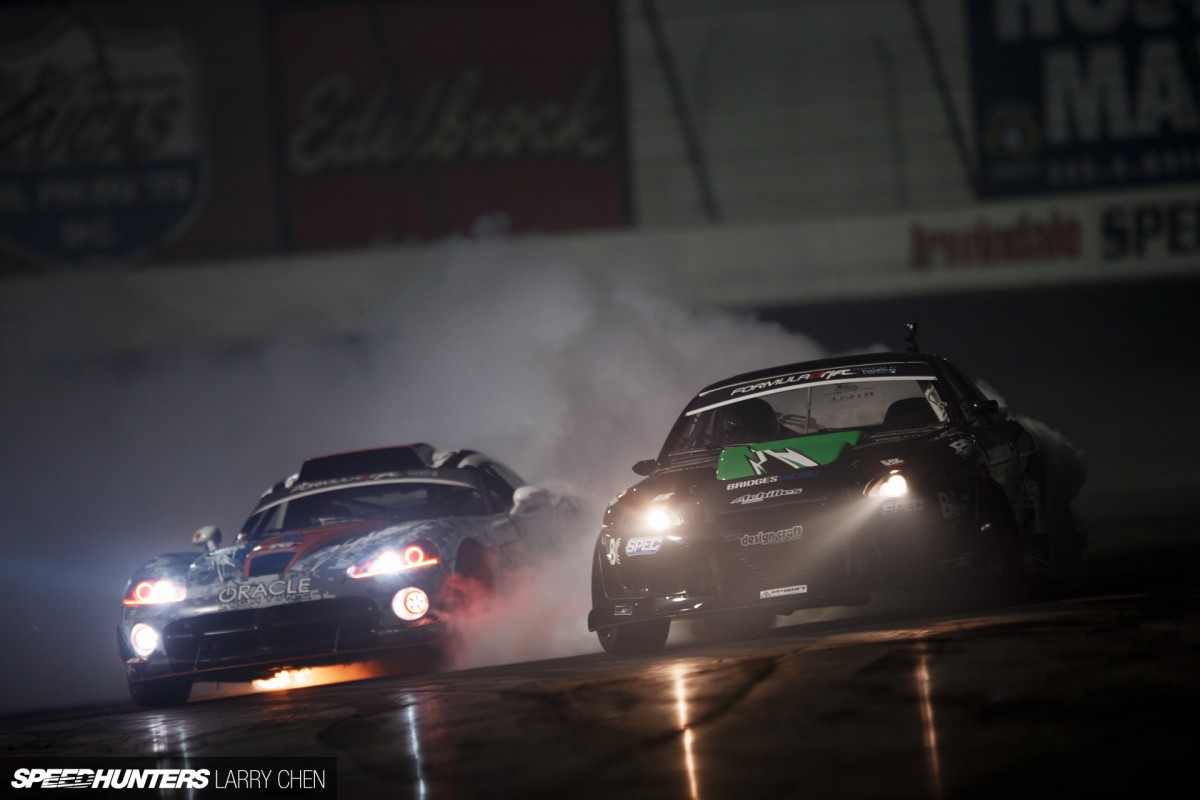 The angry Dodge Viper spat out fire as the Irish driver piloted all the way to the top eight bracket with Robbie Nishida.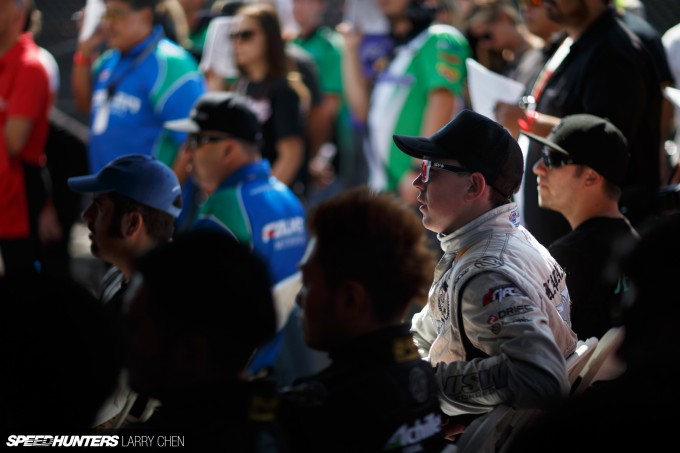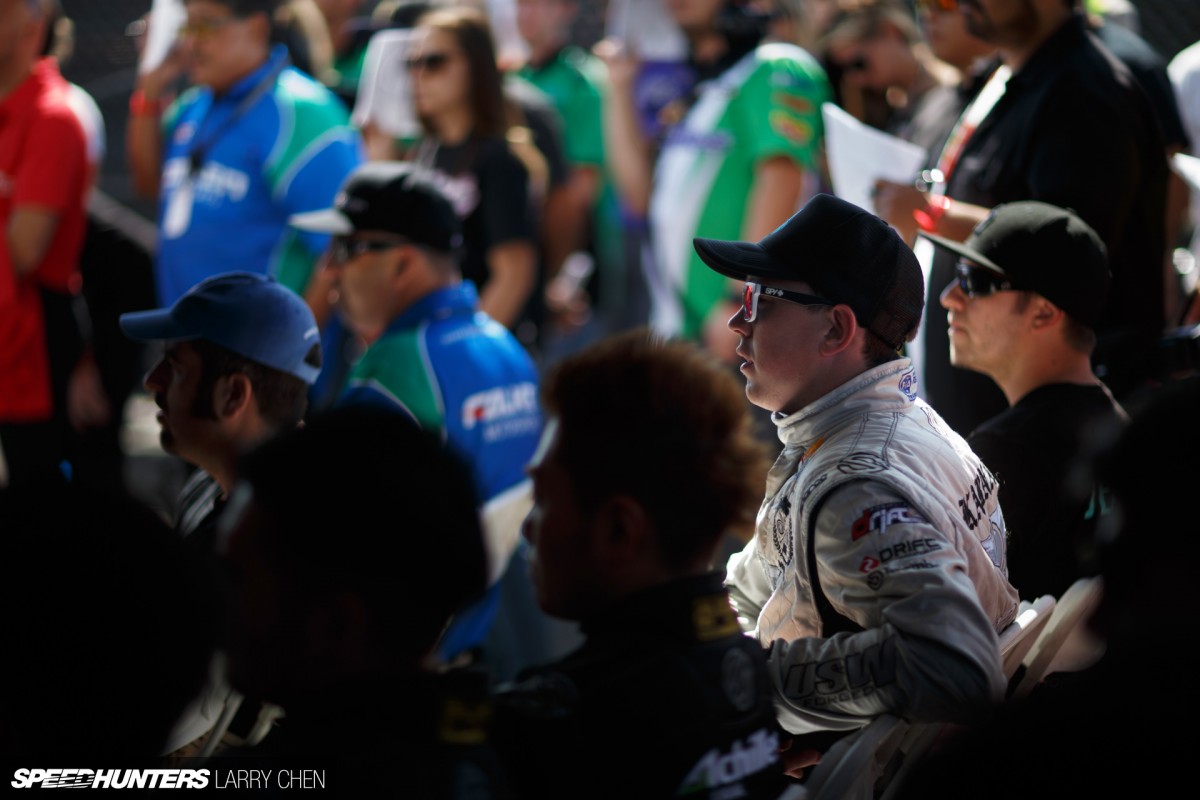 His weekend would end there, but just like every other driver who competed this past round, he made his mark in Formula Drift history.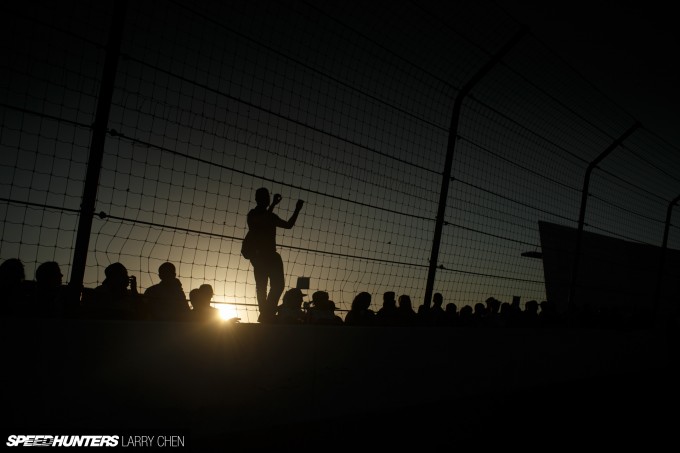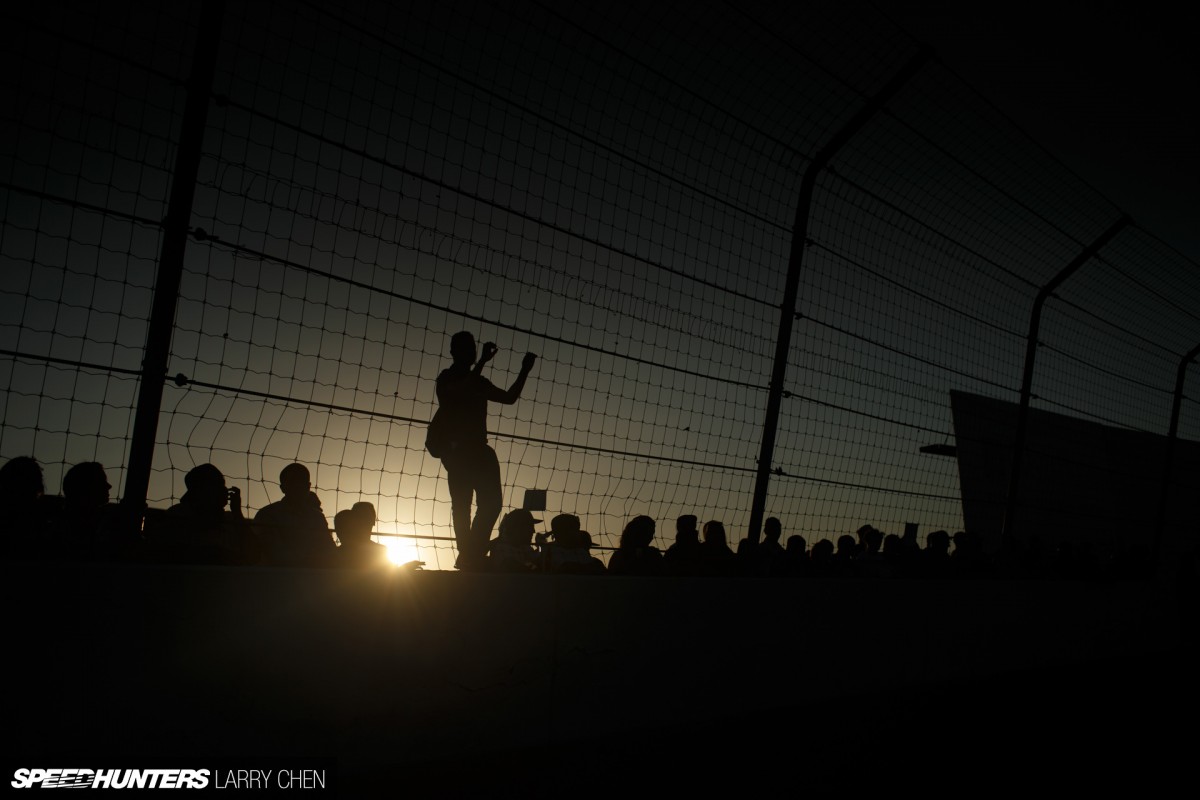 I think most drift fans would agree that some of the greatest moments in Formula Drift history happened on the banks of Irwindale.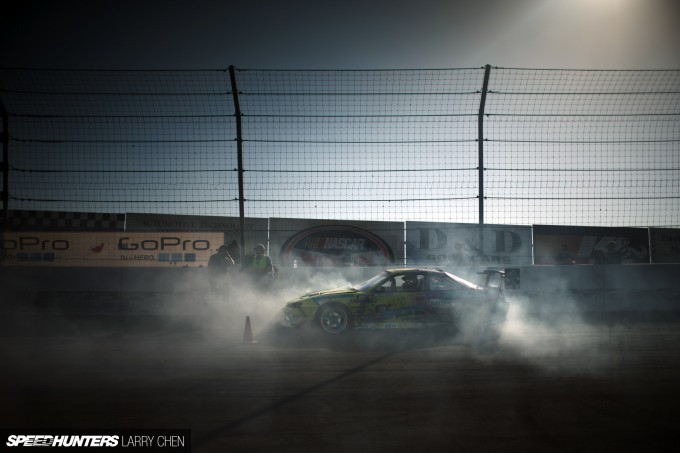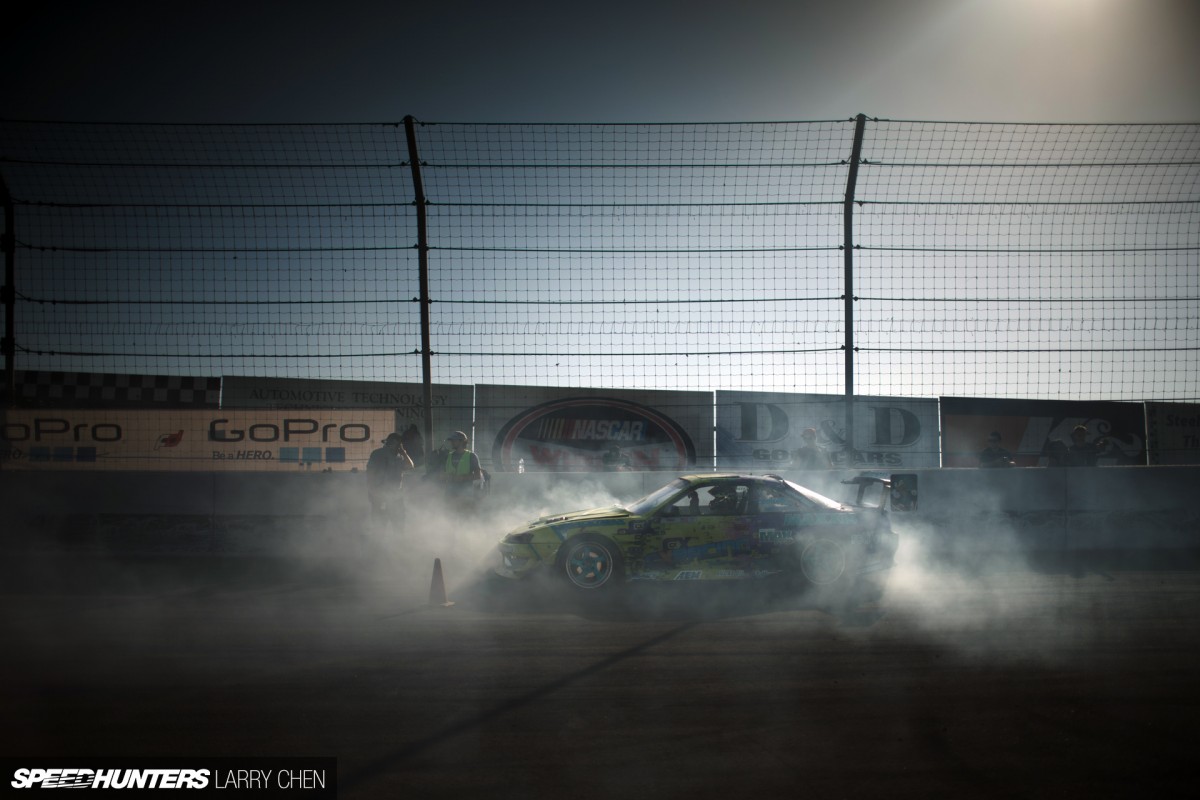 Just last year, Matt Field was competing in Formula Drift but had flown under the radar until his two 'one more time' battles with Daigo Saito.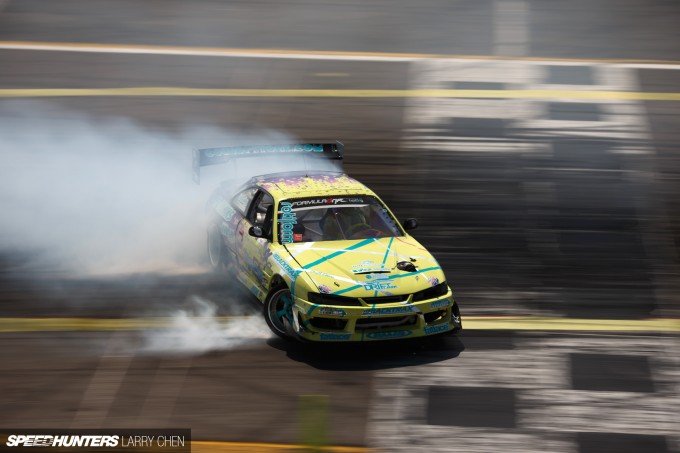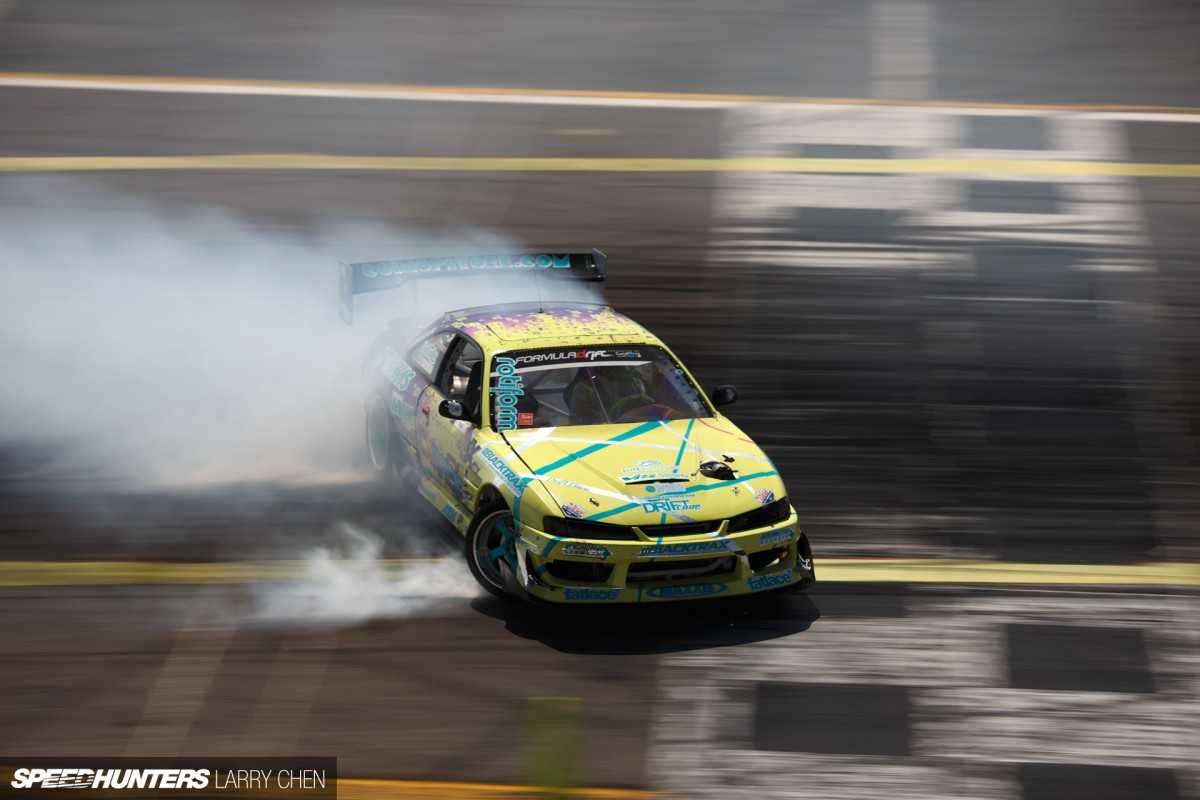 This year he has earned his very first podium and has become a force to be reckoned with.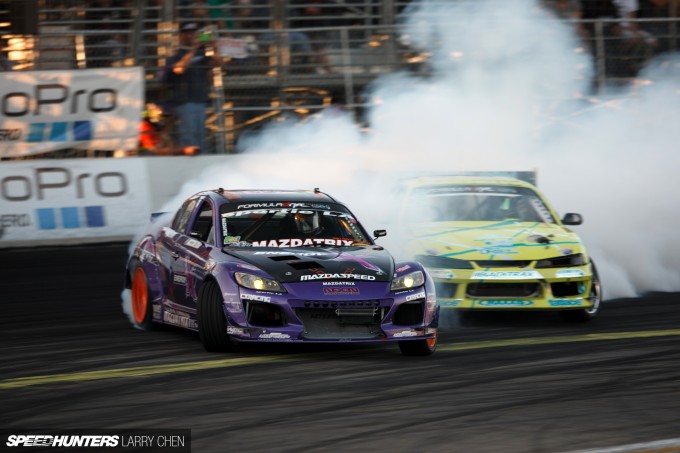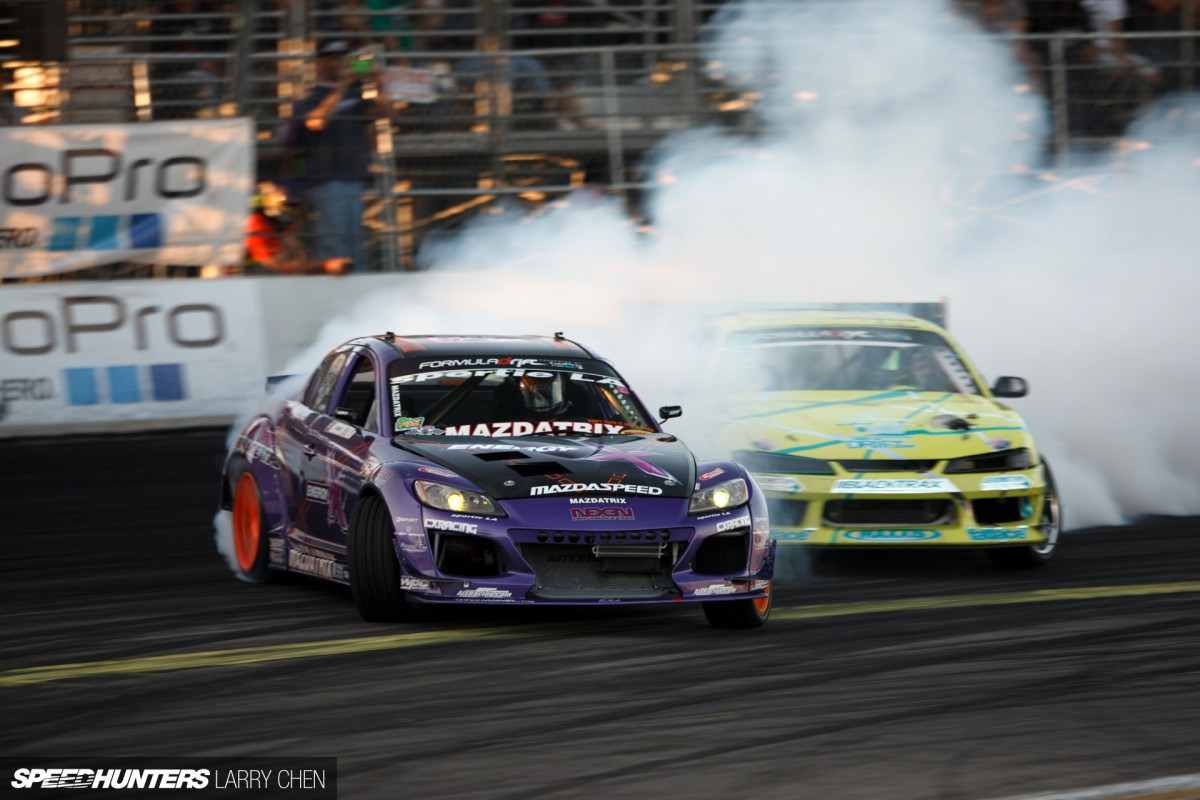 This round he made it into the top 16, but was knocked out by Forrest Wang before he had a chance to go for a rematch with Daigo Saito.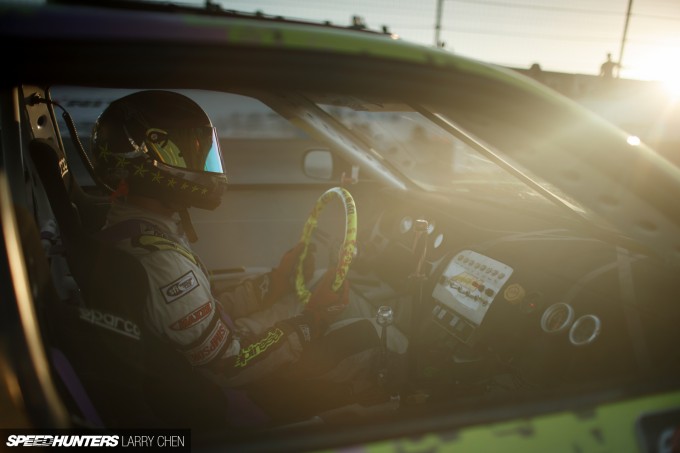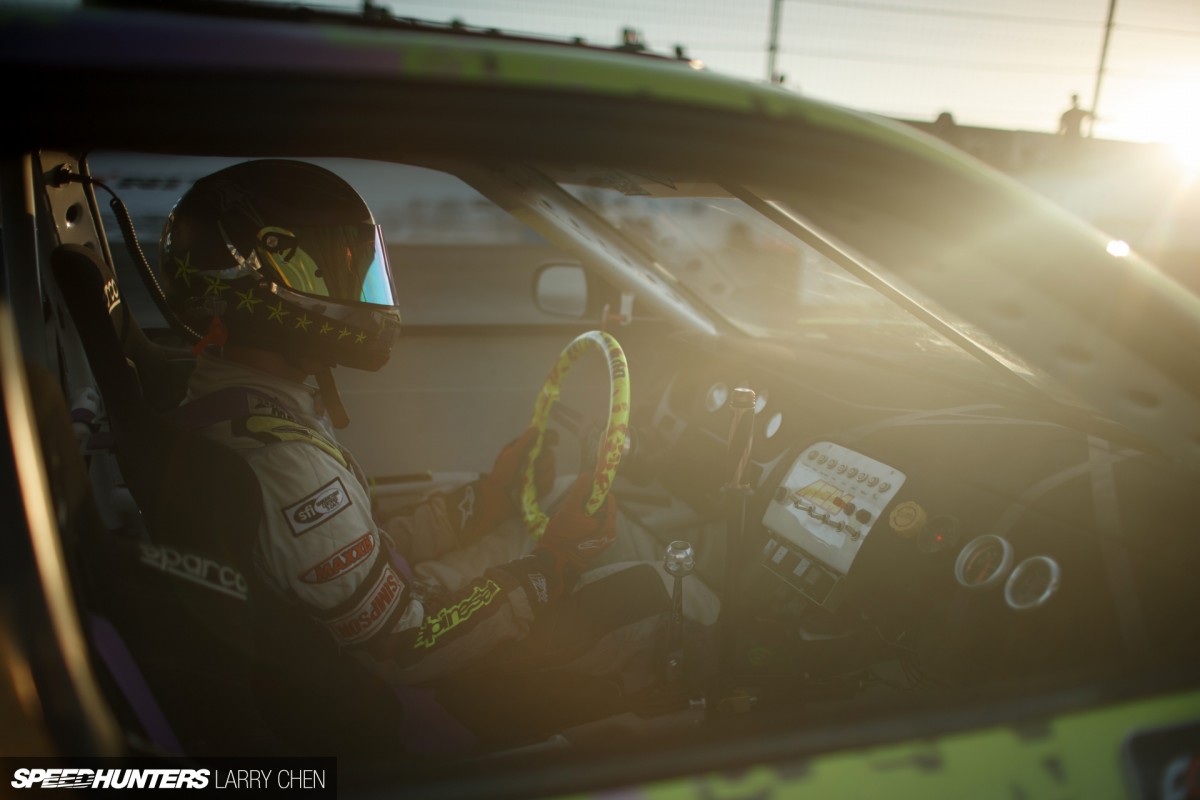 Matt will be building a brand new car from the ground up next year, as his S14 chassis is getting retired.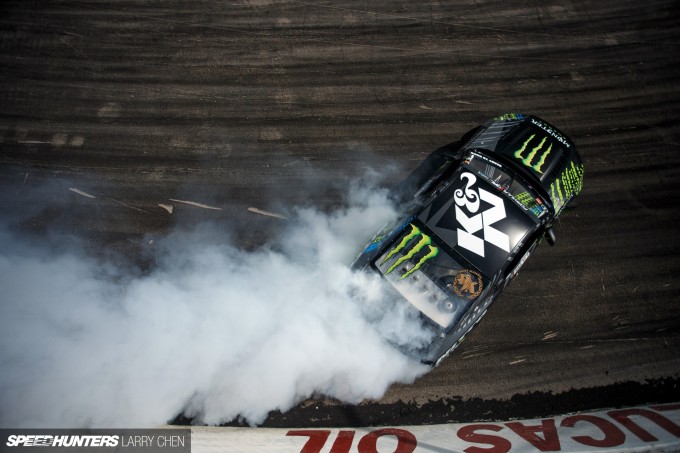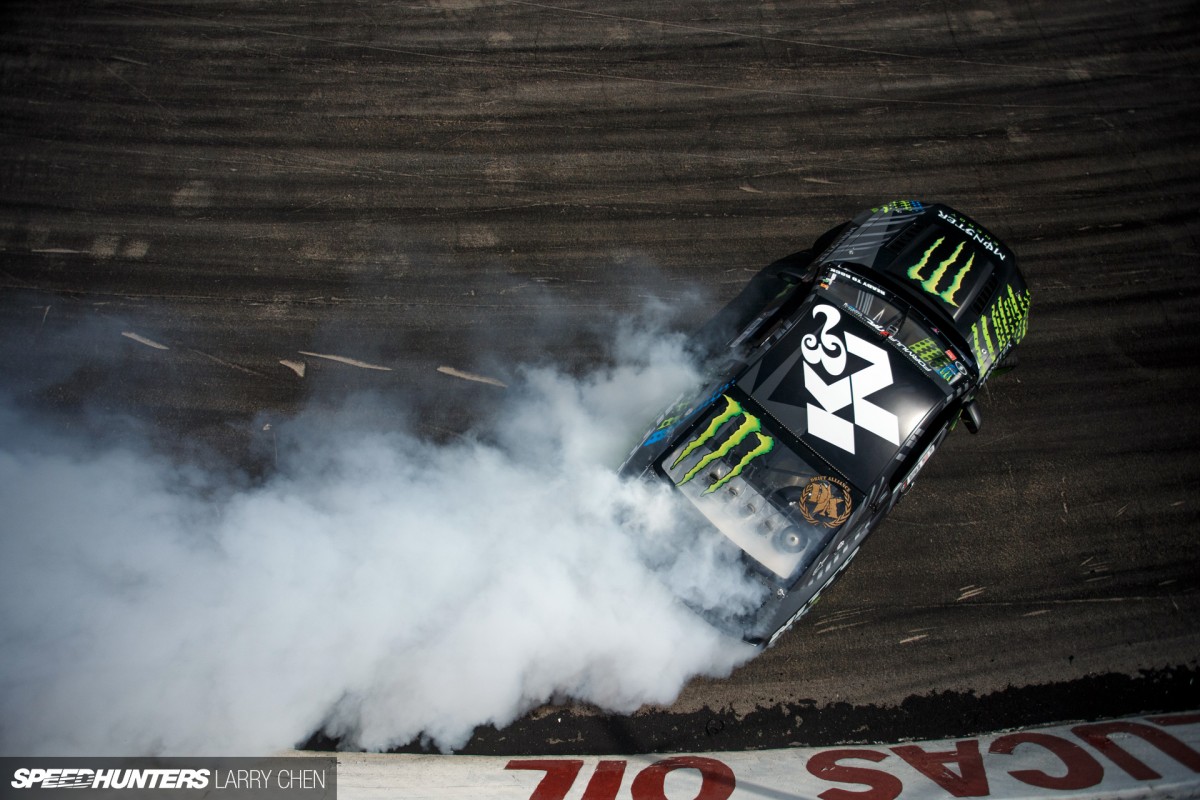 In terms of career-defining moments,  Speedhunters driver Vaughn Gittin, Jr. has had them all at Irwindale. It's where he won D1GP USA vs Japan and it's also where he earned his very first Formula Drift Championship.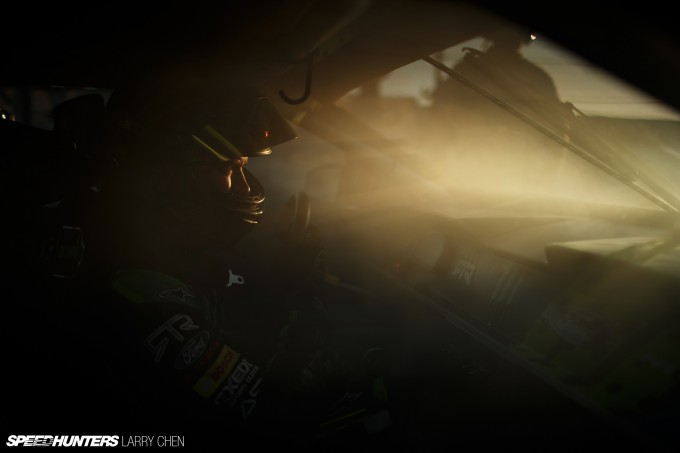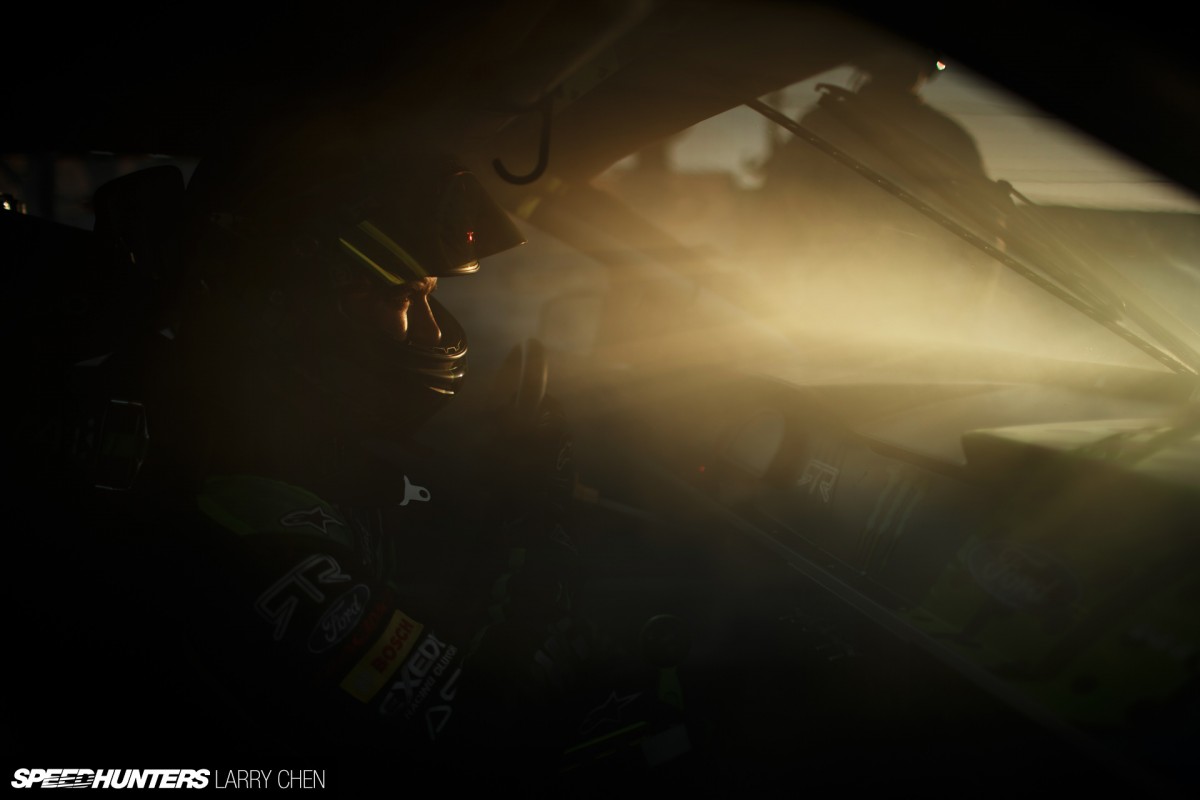 As Vaughn mentioned in his interview, things did not go according to plan this year, but seeing as this was his first year owning his own team, it could have turned out far worse.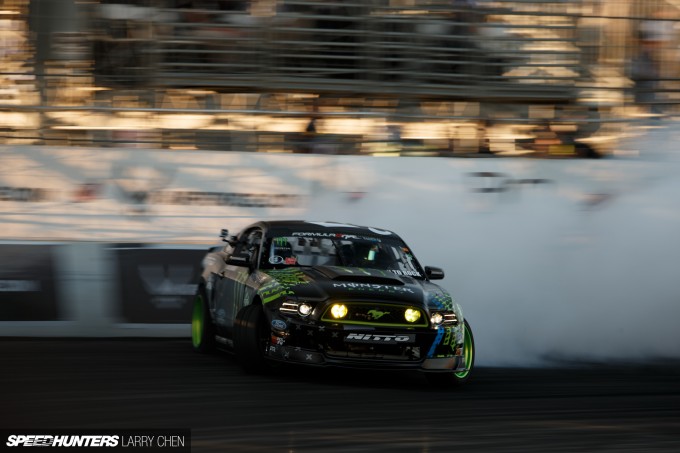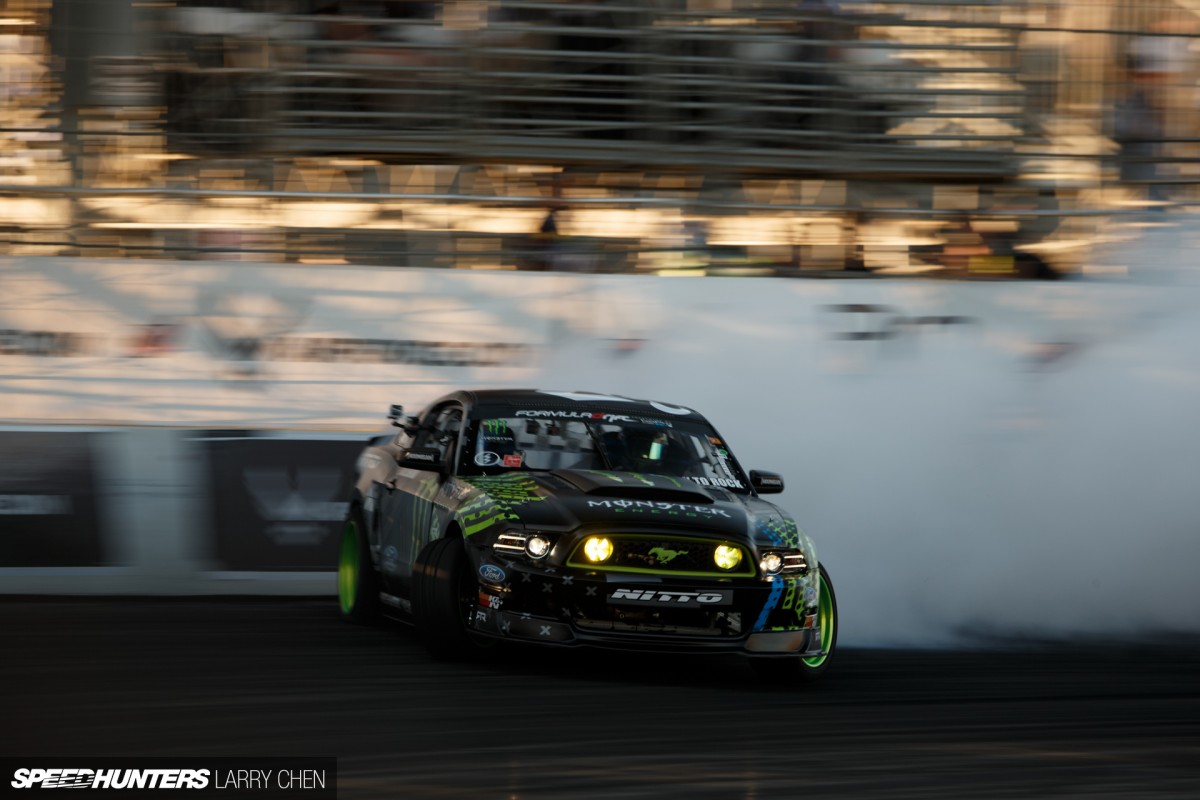 Vaughn charged super hard going into this round, because he didn't have anything to lose. Eventually he knocked himself out in the top eight bracket.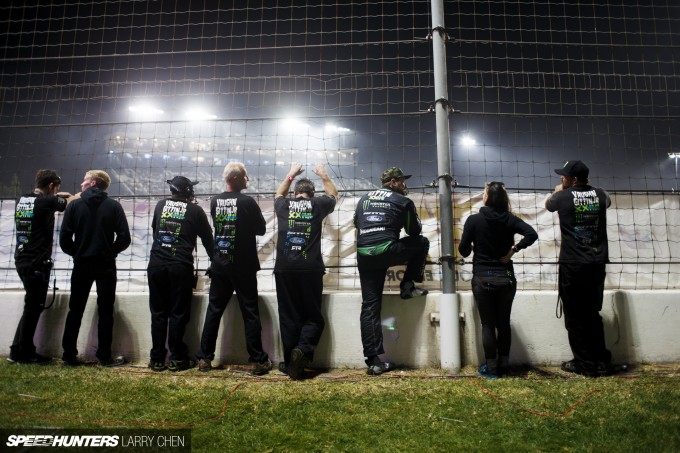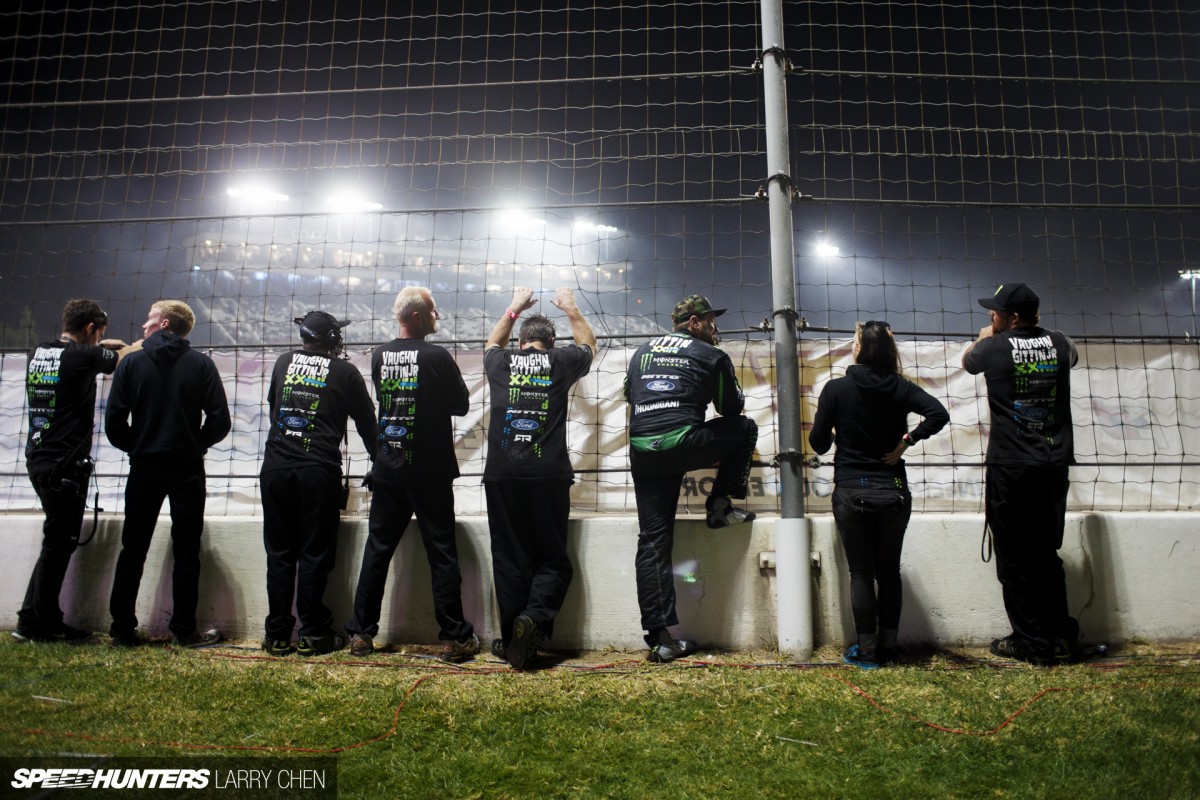 Sometimes the best way to end a season is to watch how the rest of it unfolds in front of you.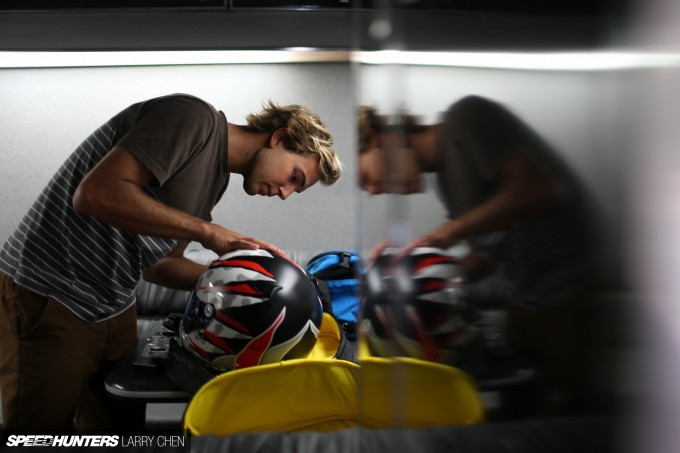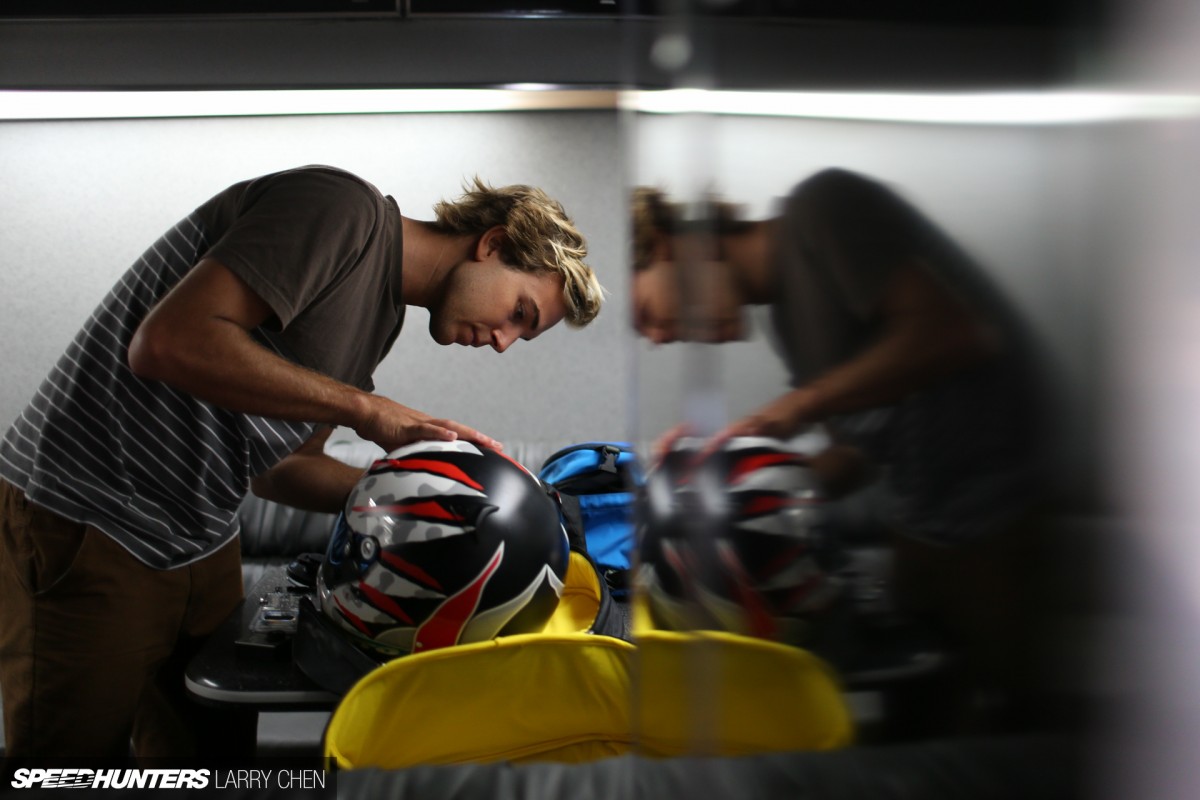 Surfer dude and all round great guy, Matt Powers, did not have such an ideal season this year.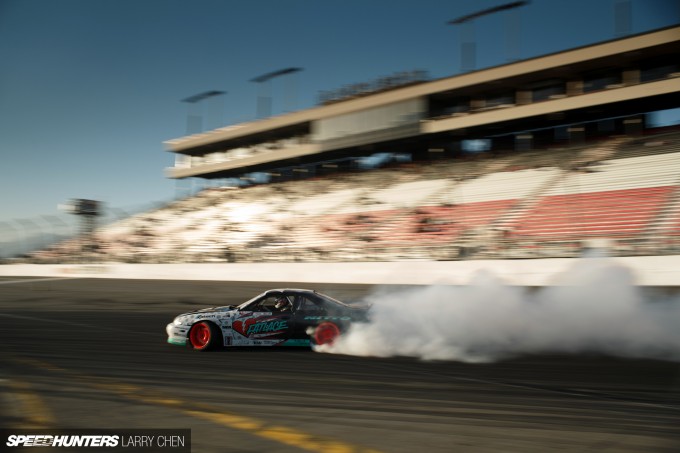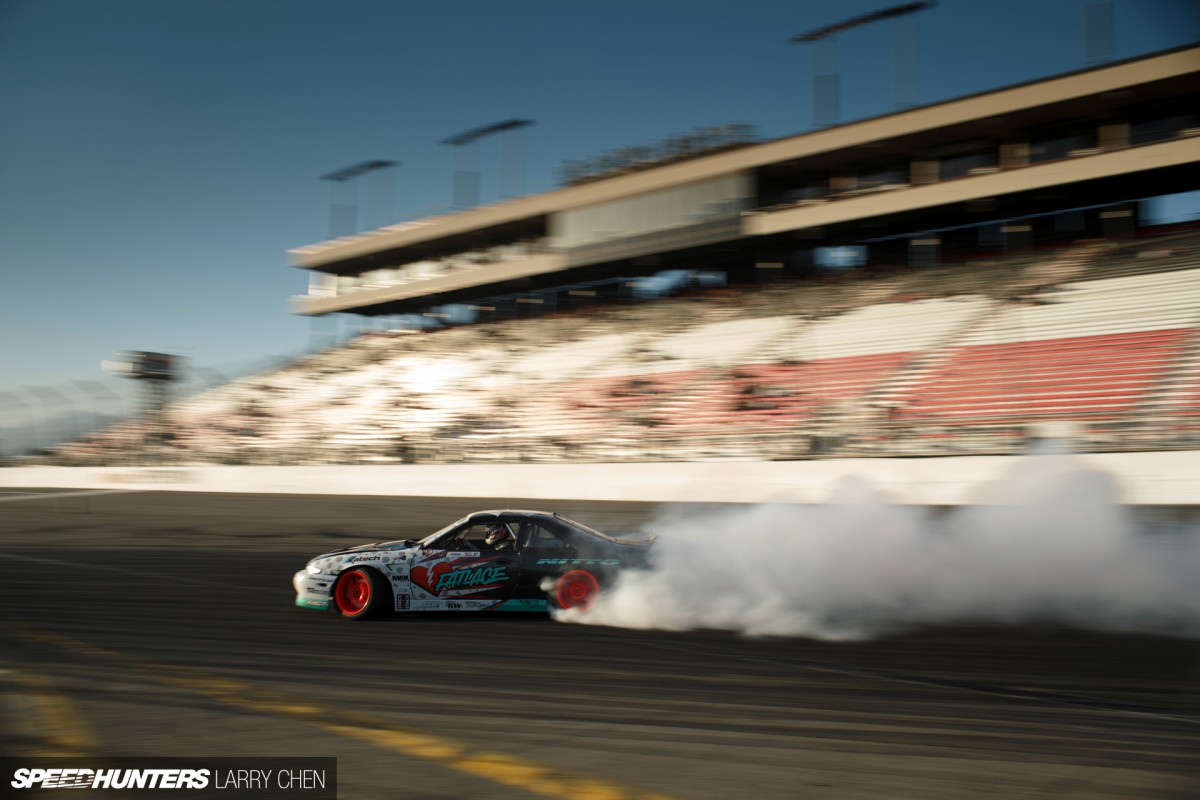 It's gotta be so tough to be a privateer, but I know he will continue to push hard, because like the rest of the guys out there, he just loves to drift.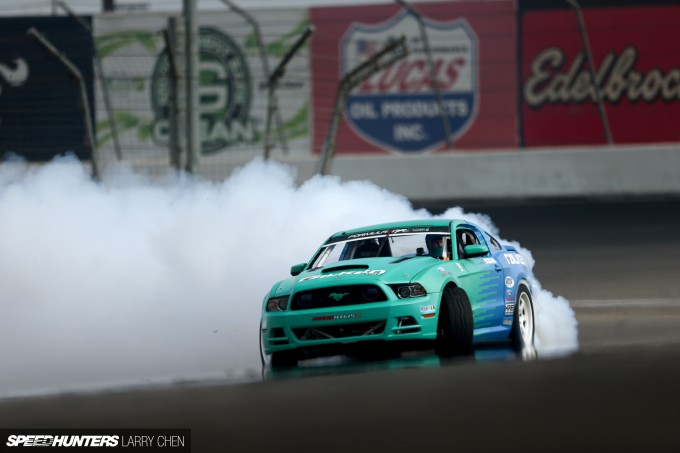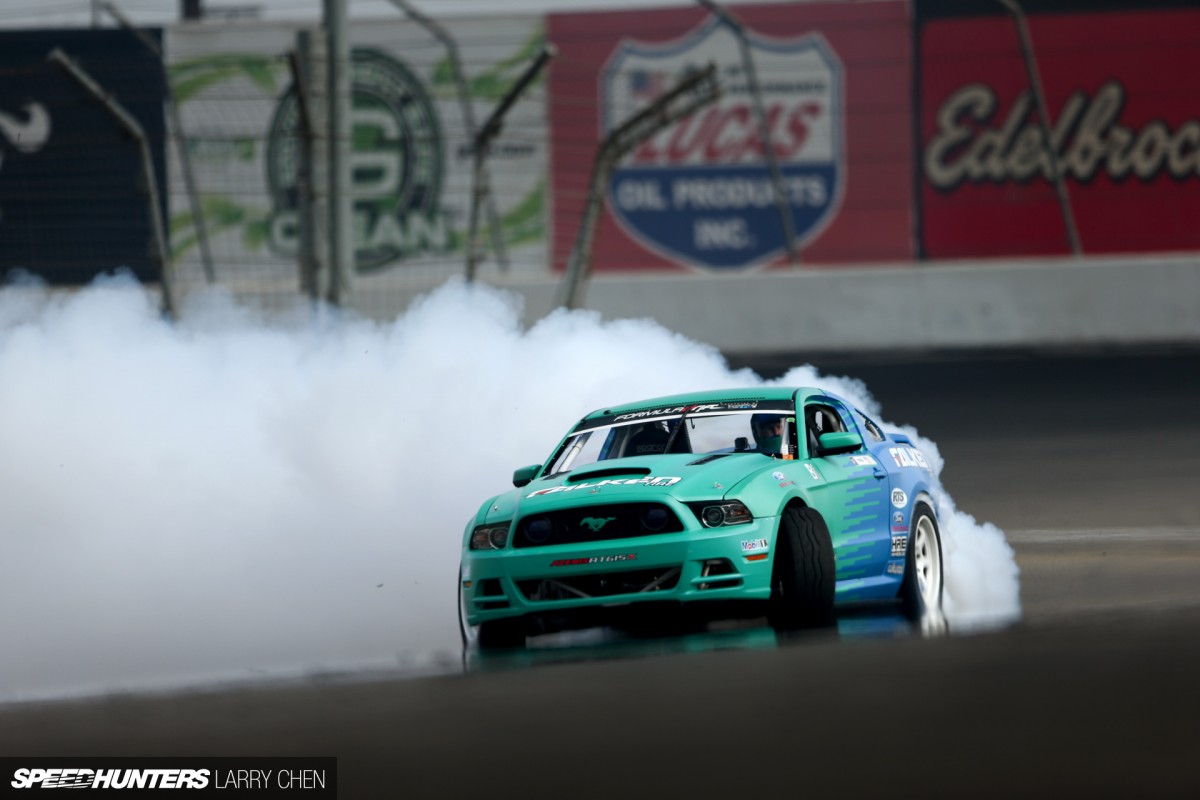 After all that's why we're all a part of this community. I remember photographing Justin Pawlak for the first time. He told me he was looking for sponsors, and now look at him. He drives for one of the biggest teams.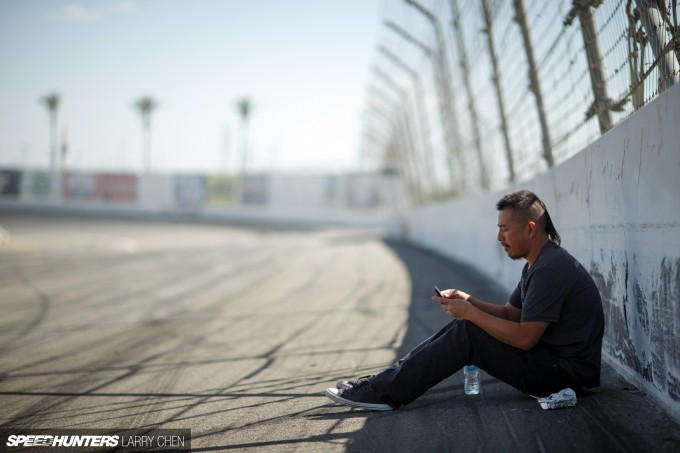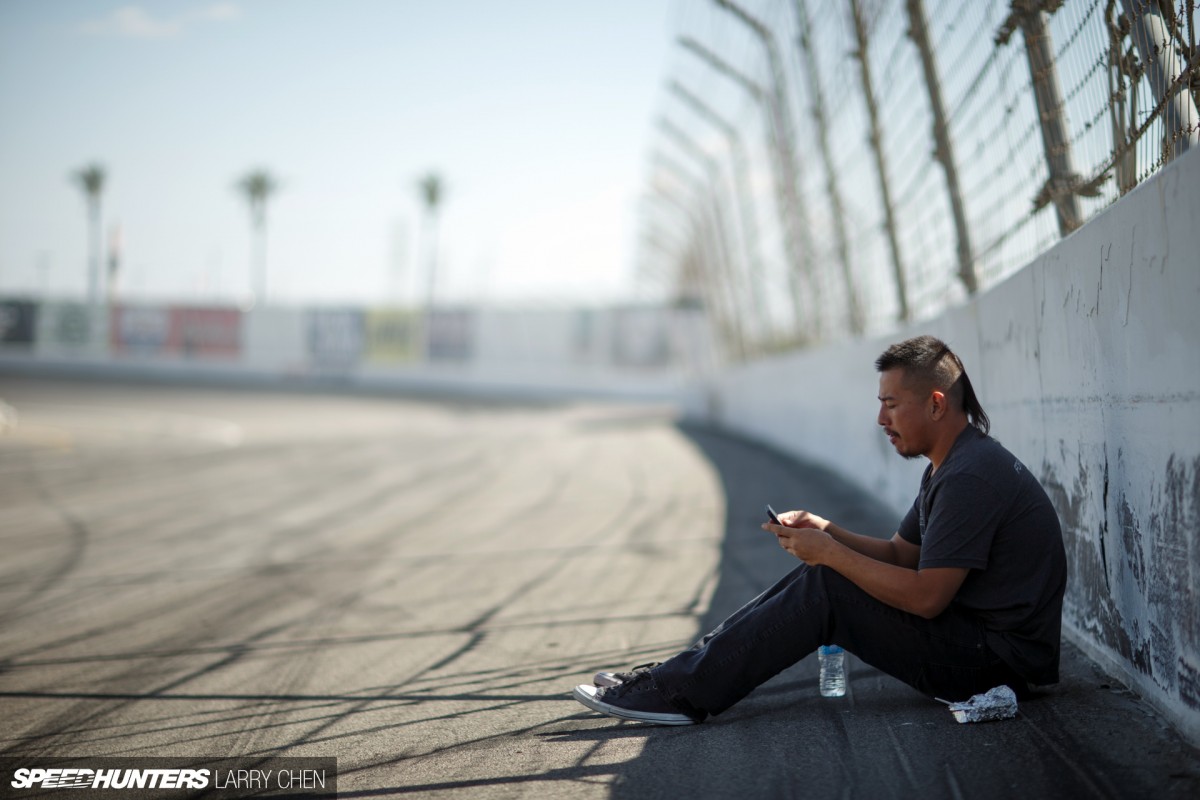 There are so many guys who have been around since the beginning, including judge Andy Yen. He started out as a driver and competed for two years before hanging up his driver's suit and helmet to progress the sport to where it is today.
Up in smoke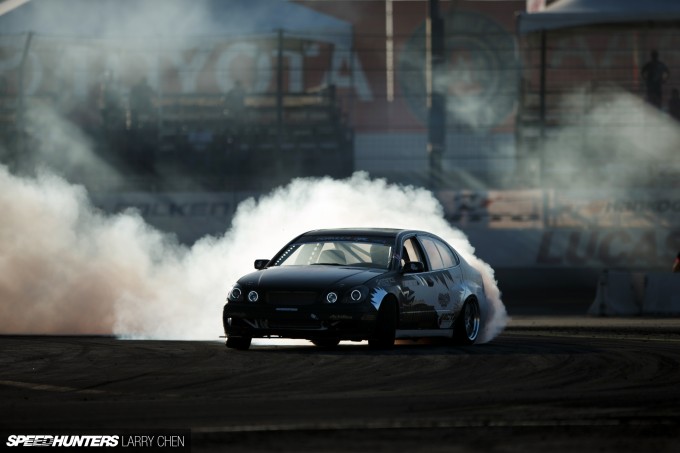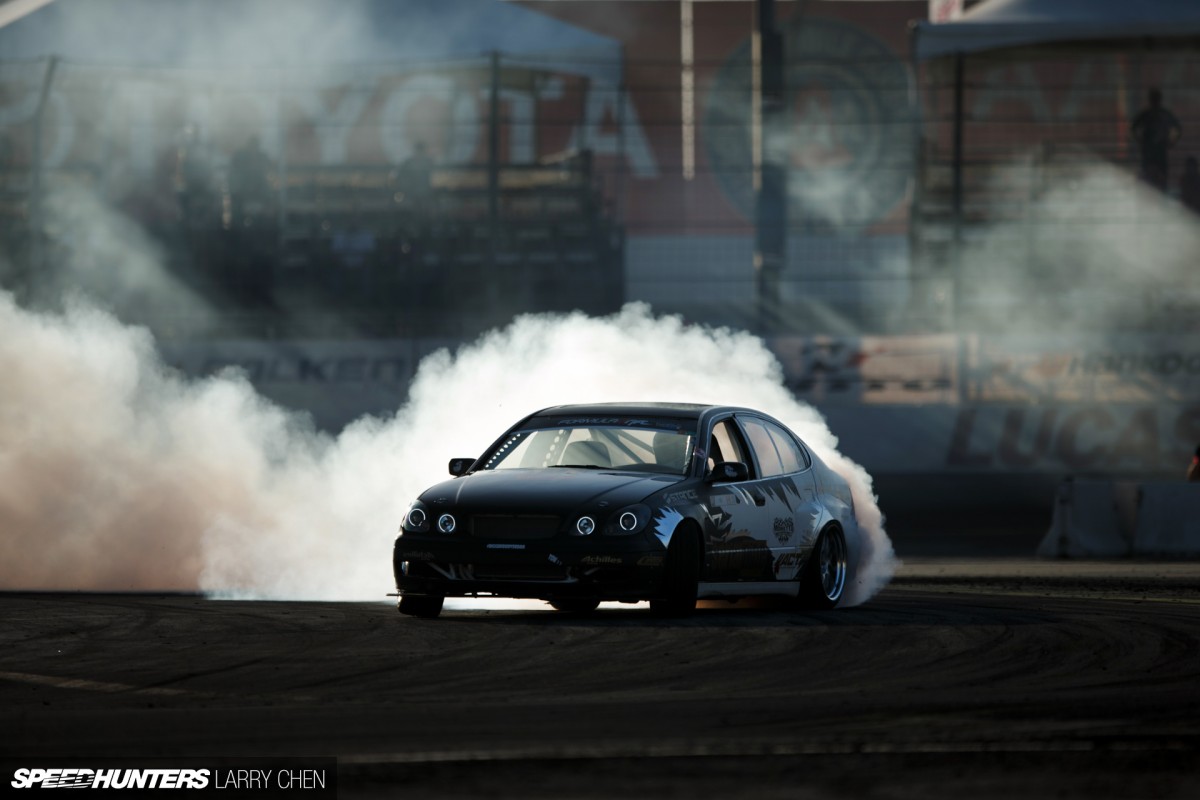 I always say this, but photographing drifting is so incredibly dynamic, because of the tire smoke.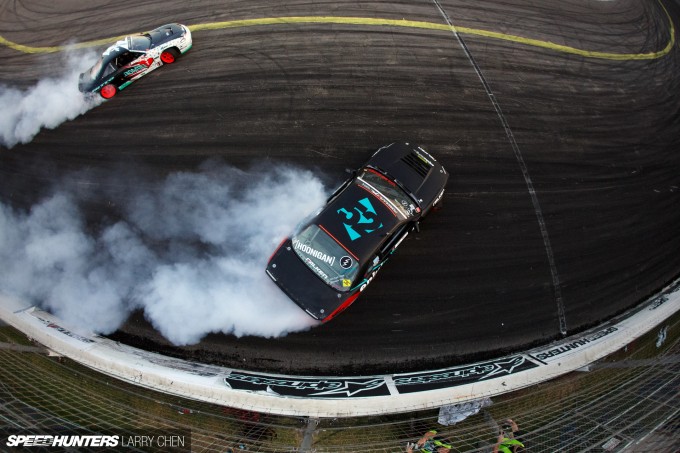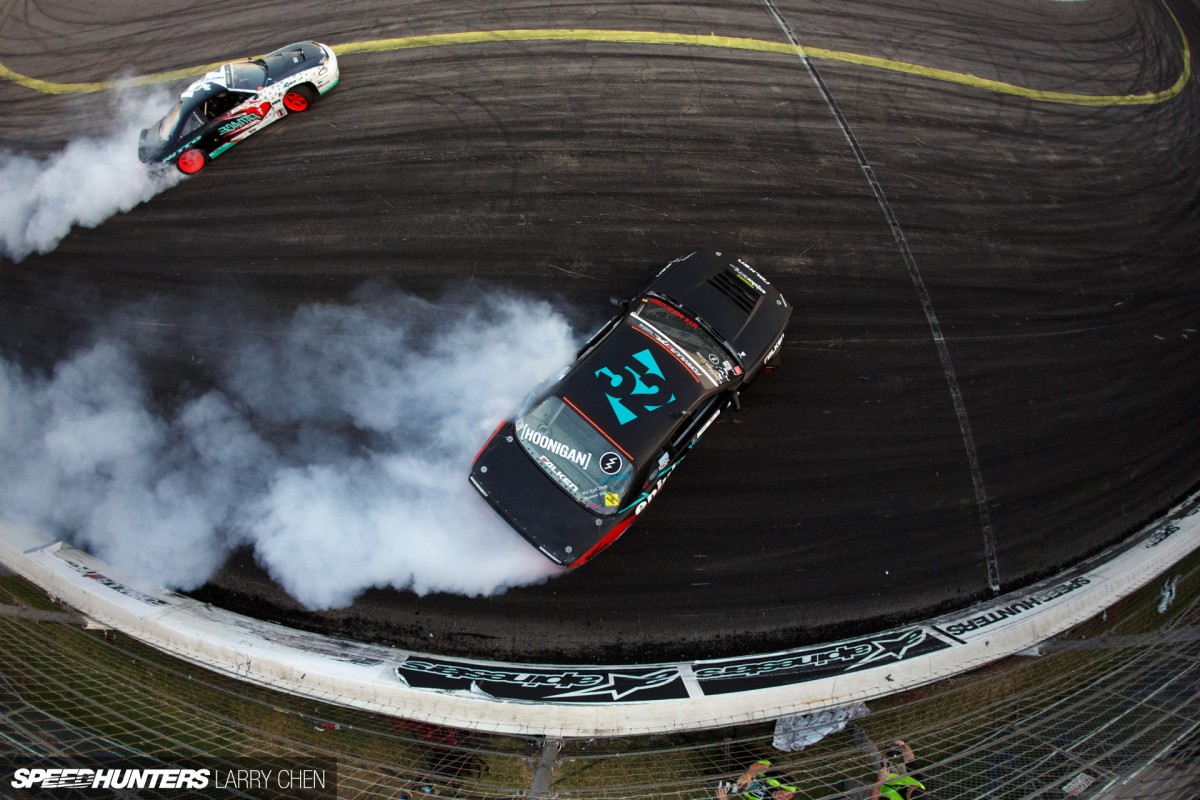 Photographing drifting is especially beautiful at Irwindale, because of the track layout.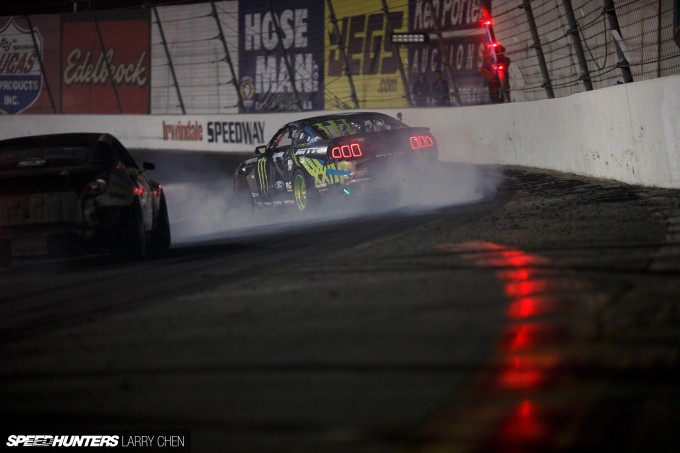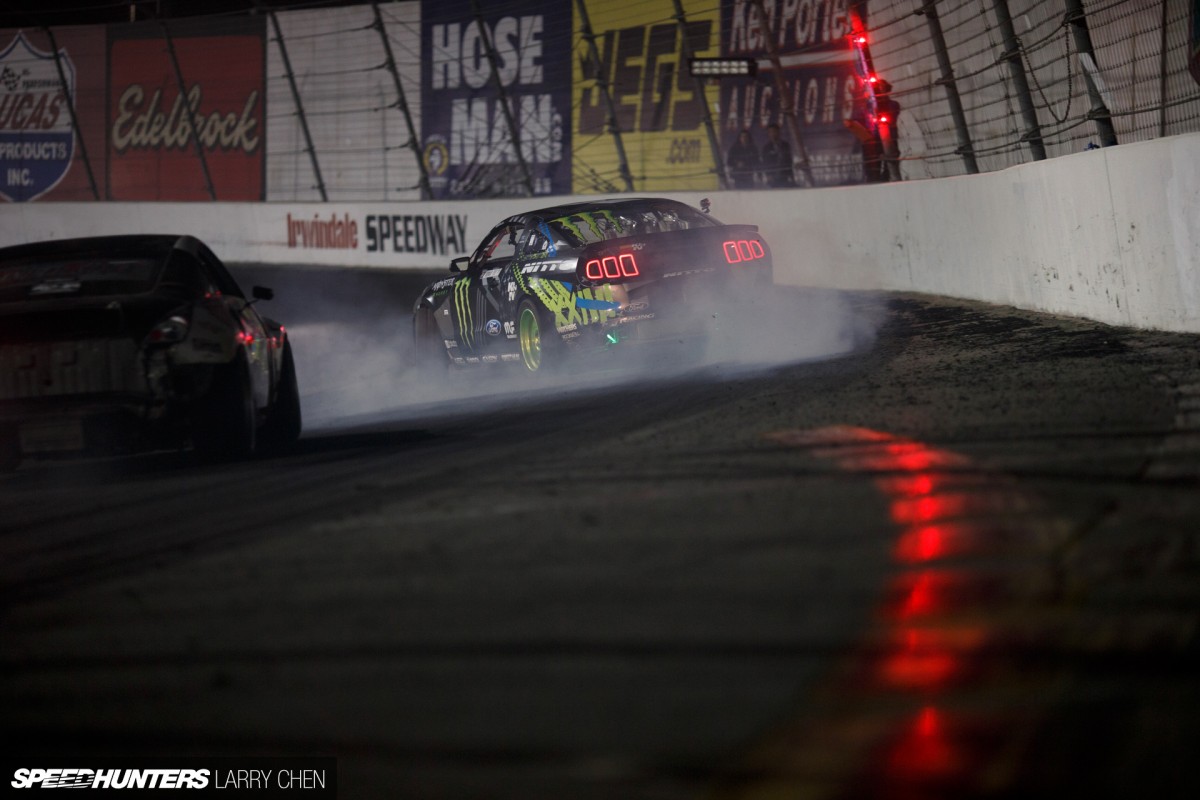 I don't think there's a better venue out there for drift fans…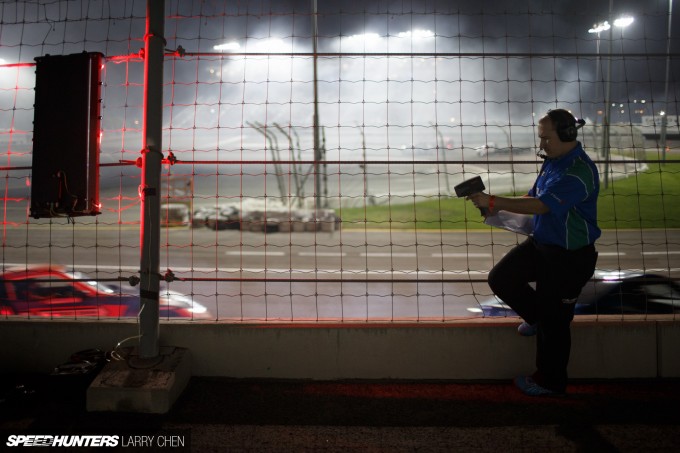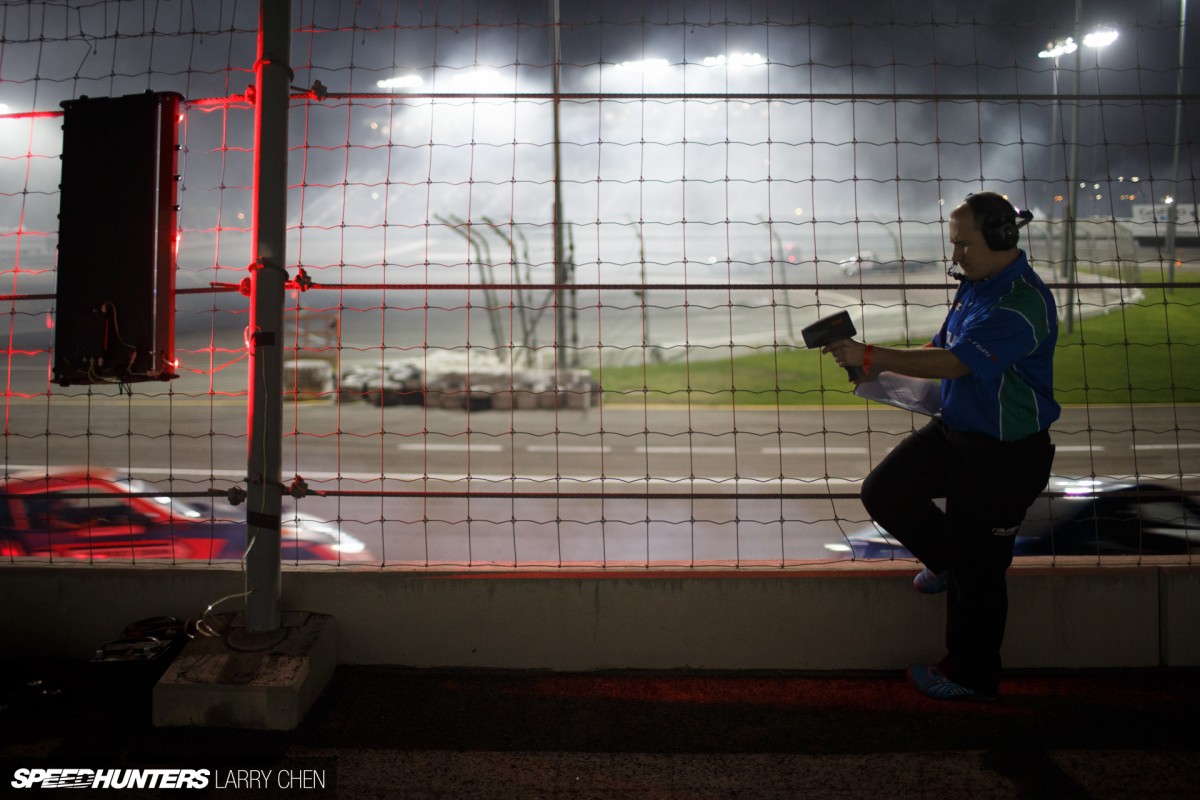 You have the element of speed with guys entering at the top of fourth gear.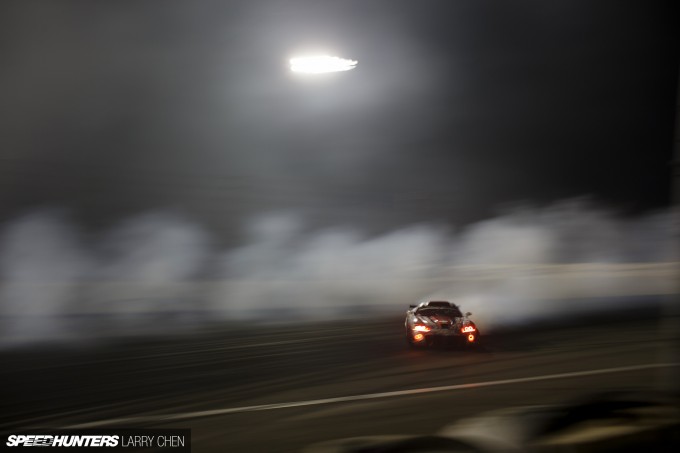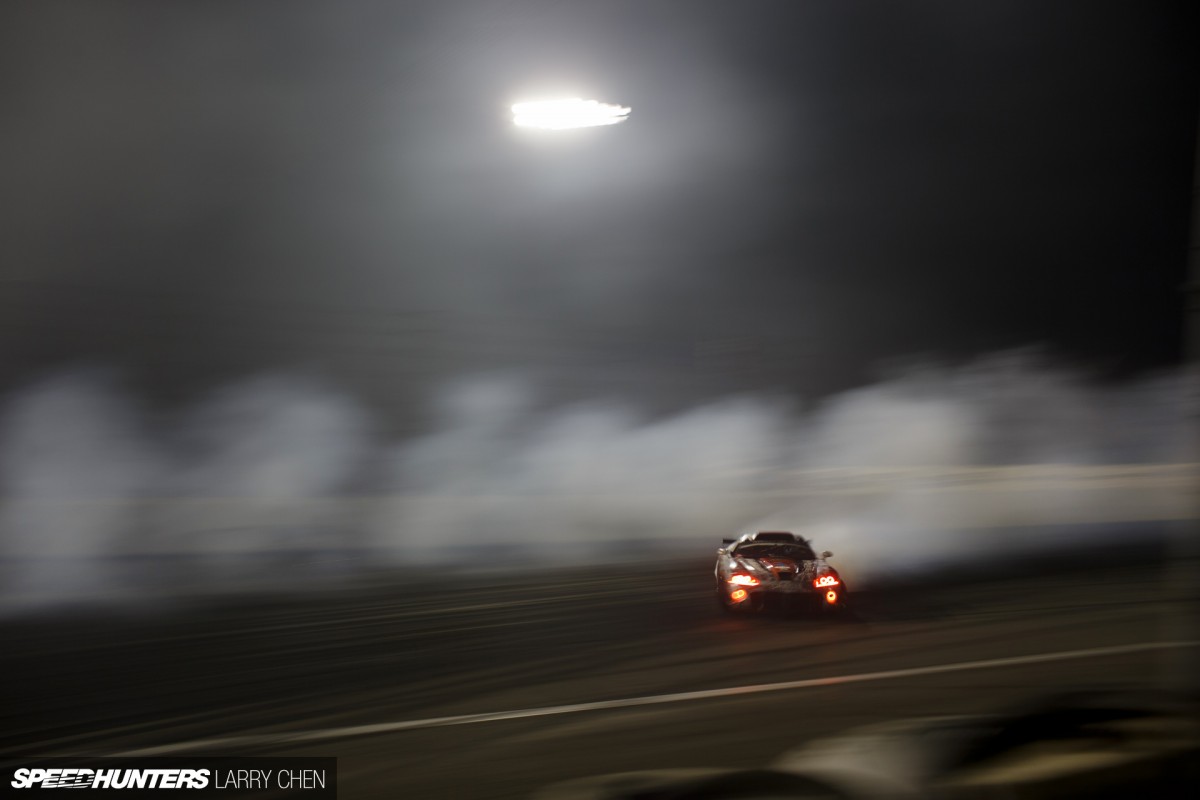 And there is this insanely high speed bank that can easily eat your car alive.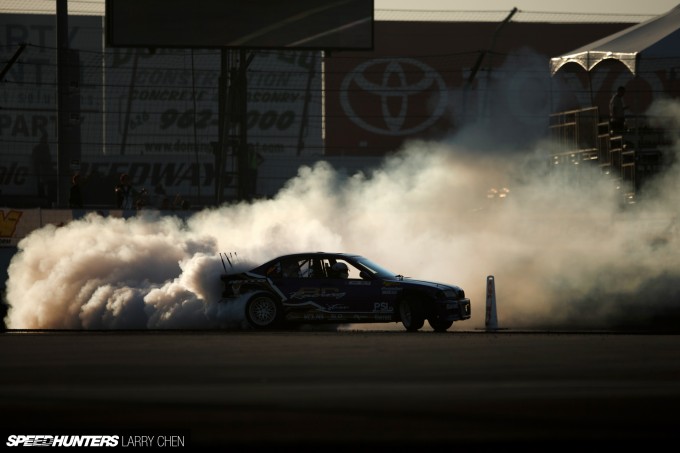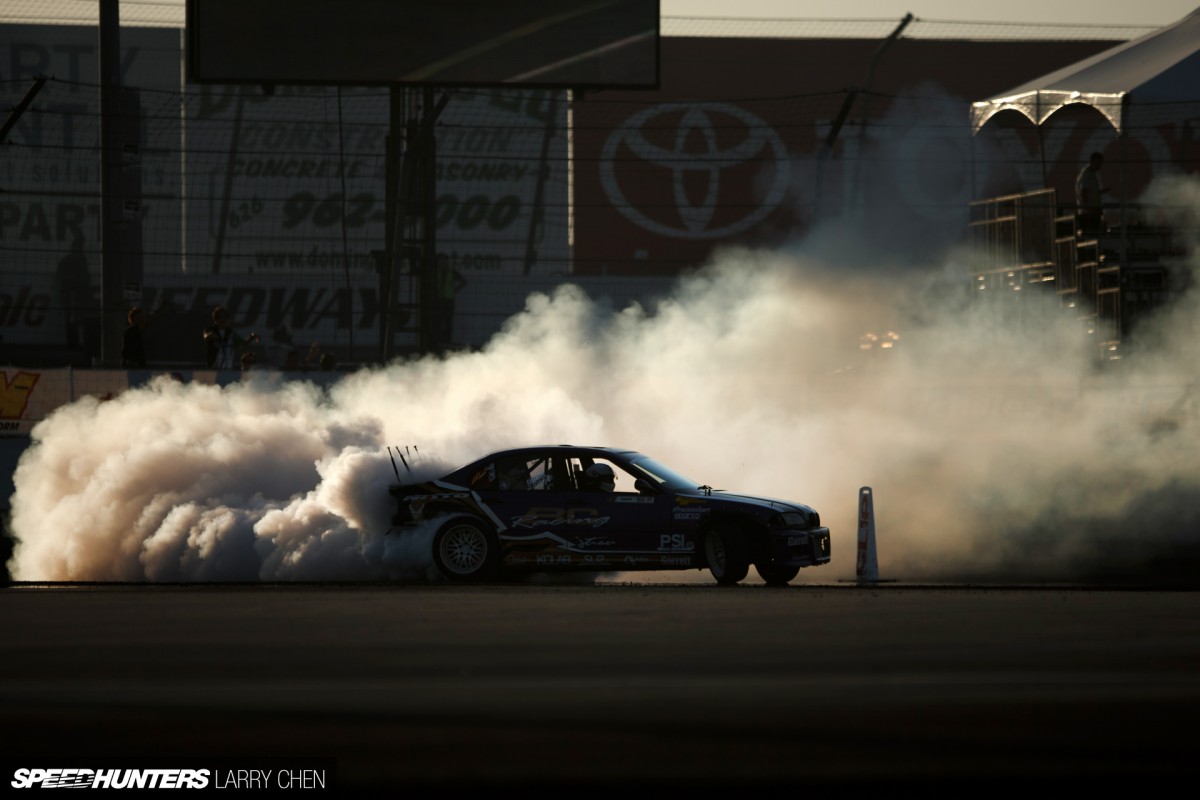 There is of course the beautifully soft light that hits the smoke just right during sunset.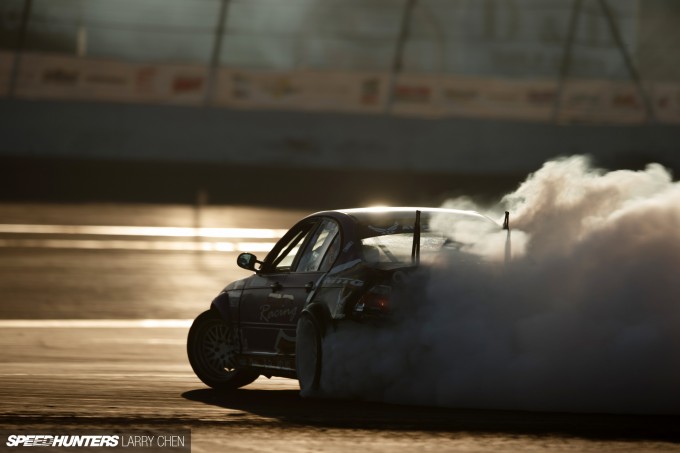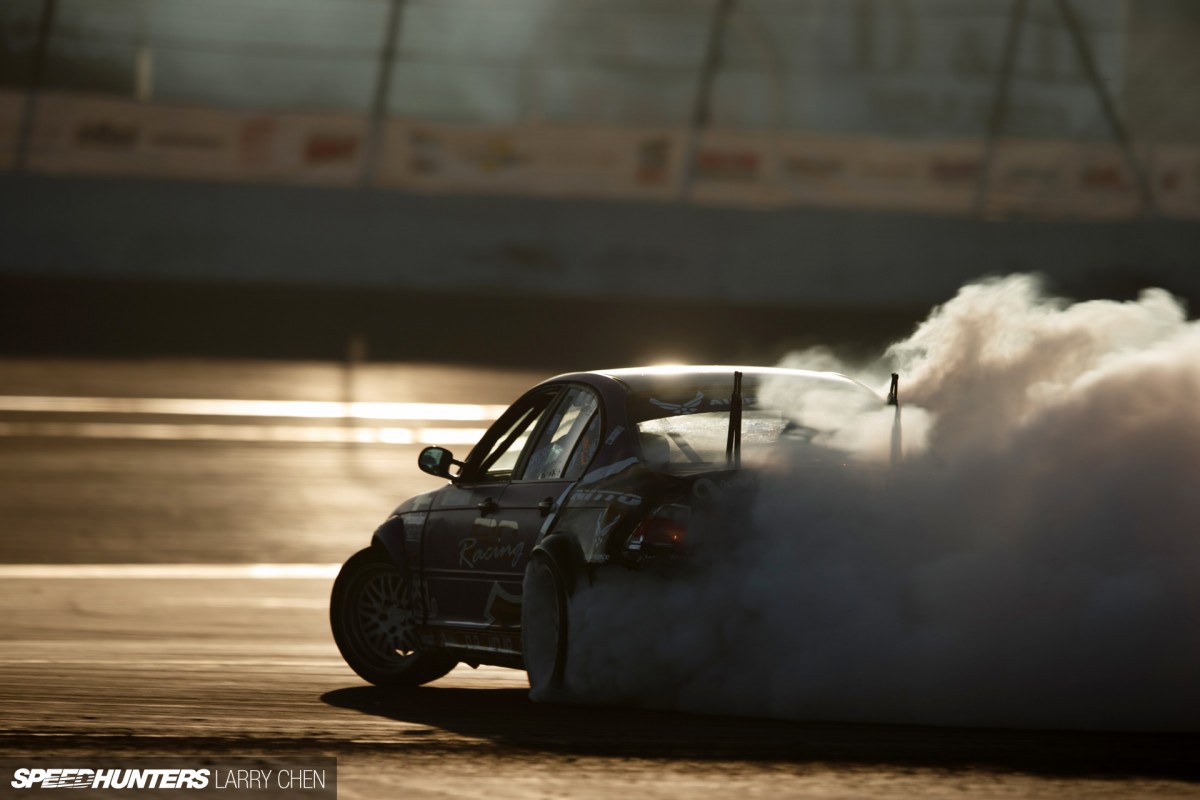 With the crazy machines the teams are running nowadays, there's more tire smoke than ever before.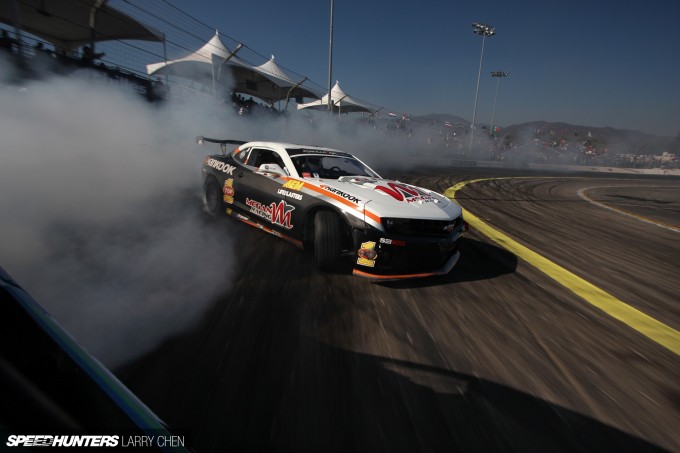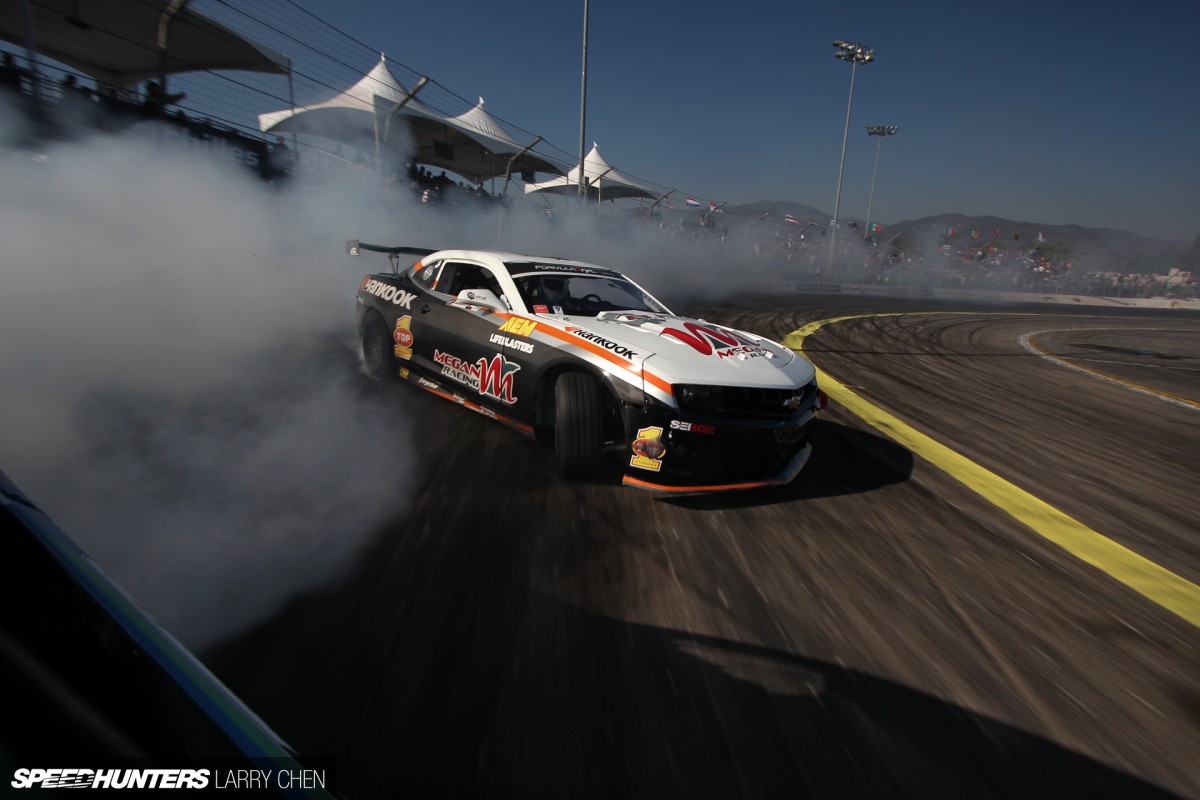 Even though Formula Drift has been running at Irwindale for ten years now, it's still very exciting to watch.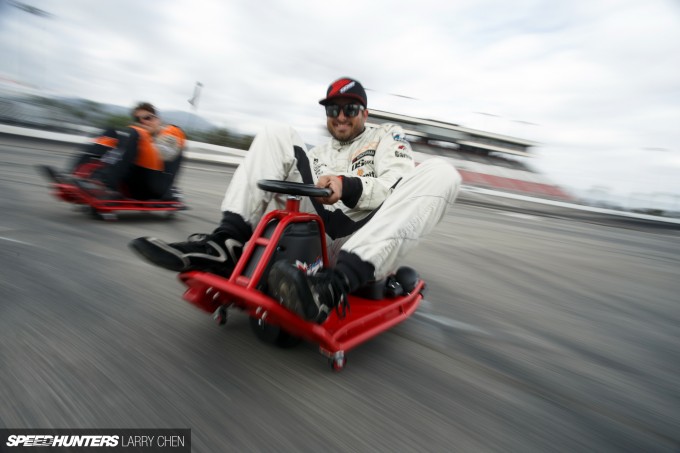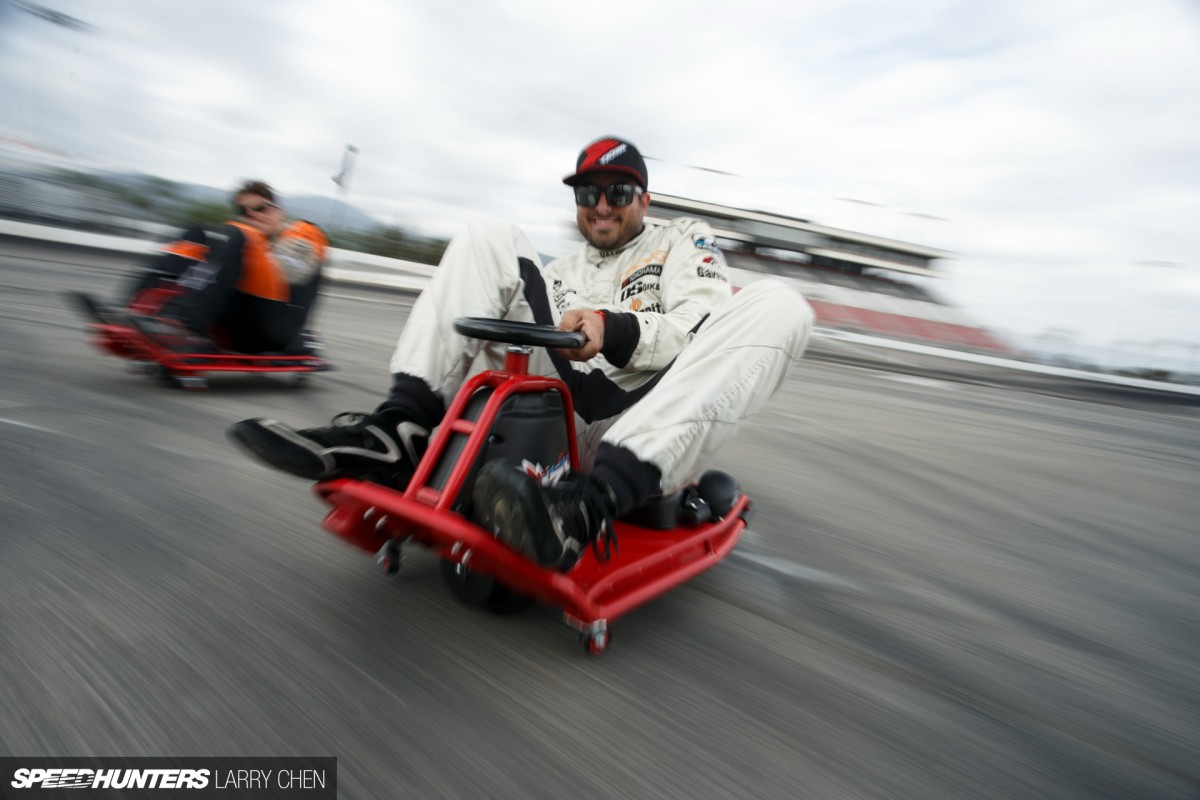 The track was never meant to be used for drifting though; it was originally designed specifically for Nascar. Who would have known these crazy sideways dudes would come by and take over?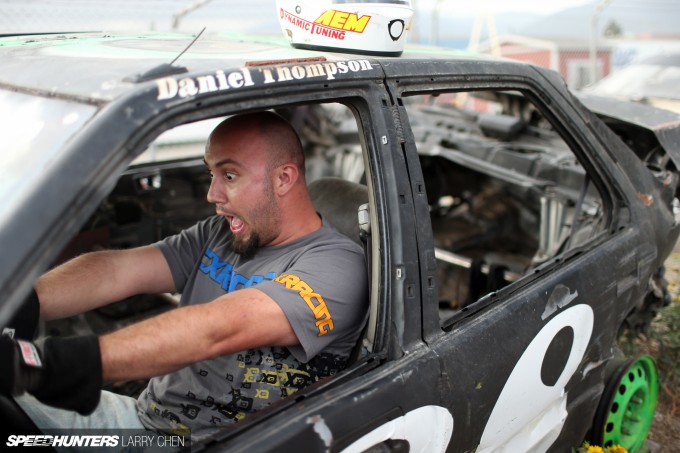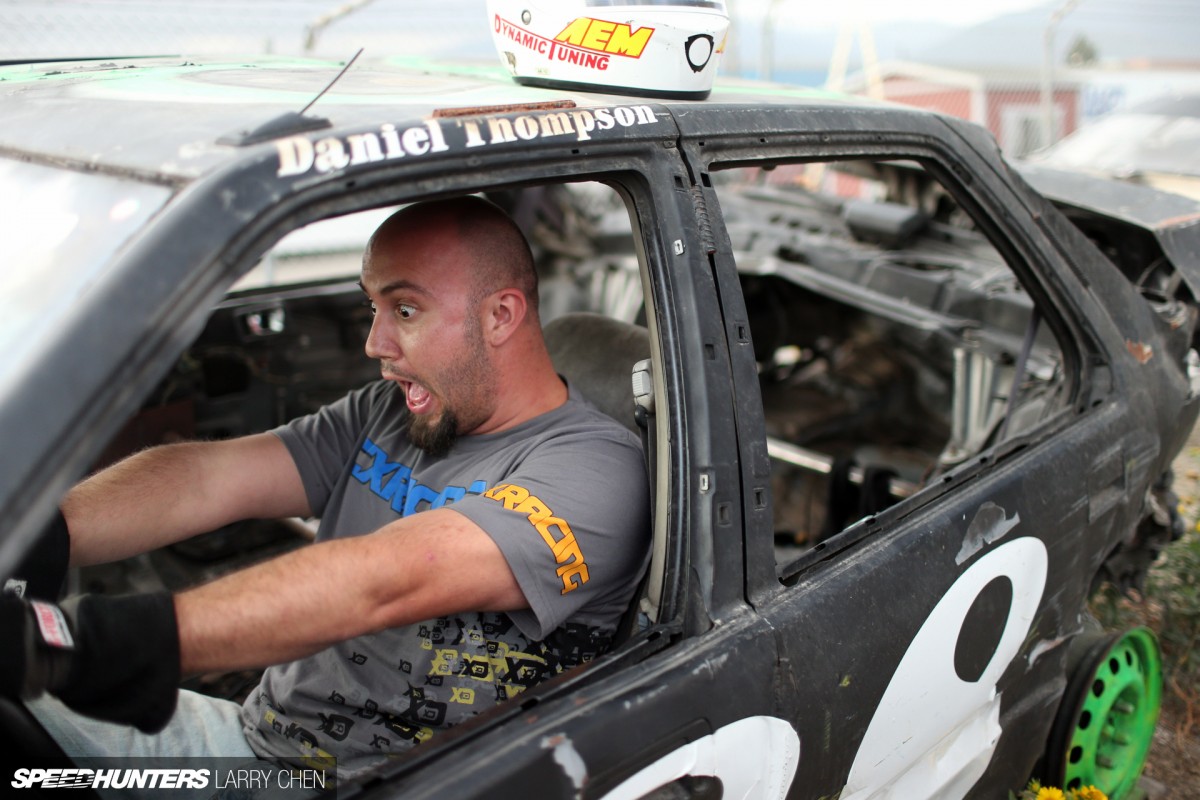 They also use Irwindale for skid plate racing. Jeff Jones jokingly got into a skid plate car that had one too many run-ins with the wall.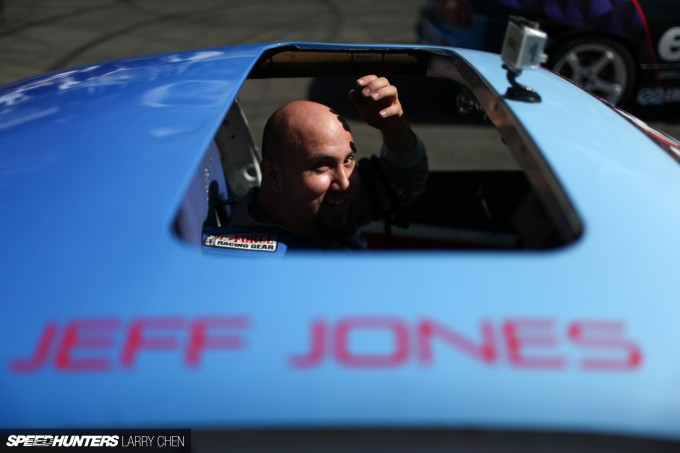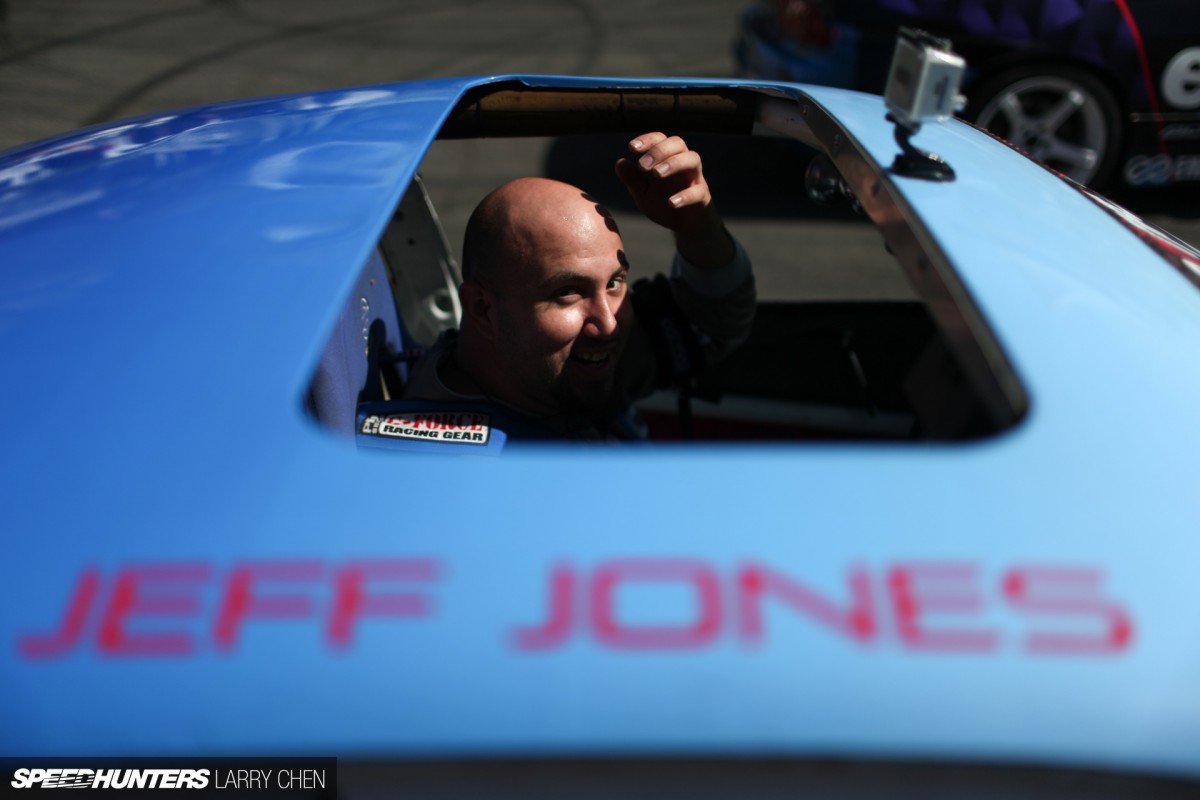 I bet these Formula Drift drivers would be great at skid plate racing. Jeff Jones for 2014 skid plate champion?
Motorsport is dangerous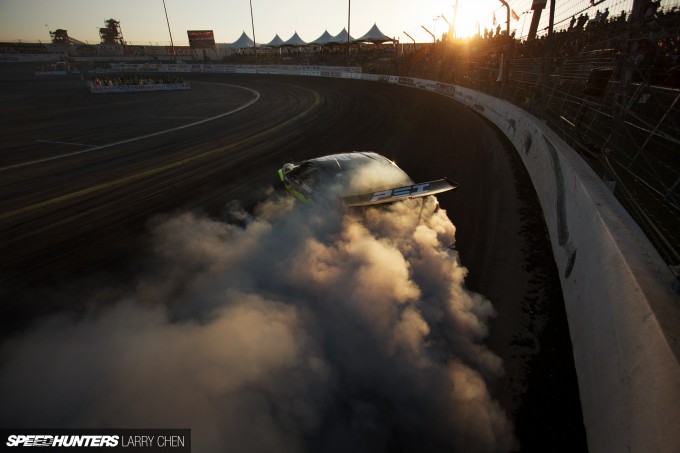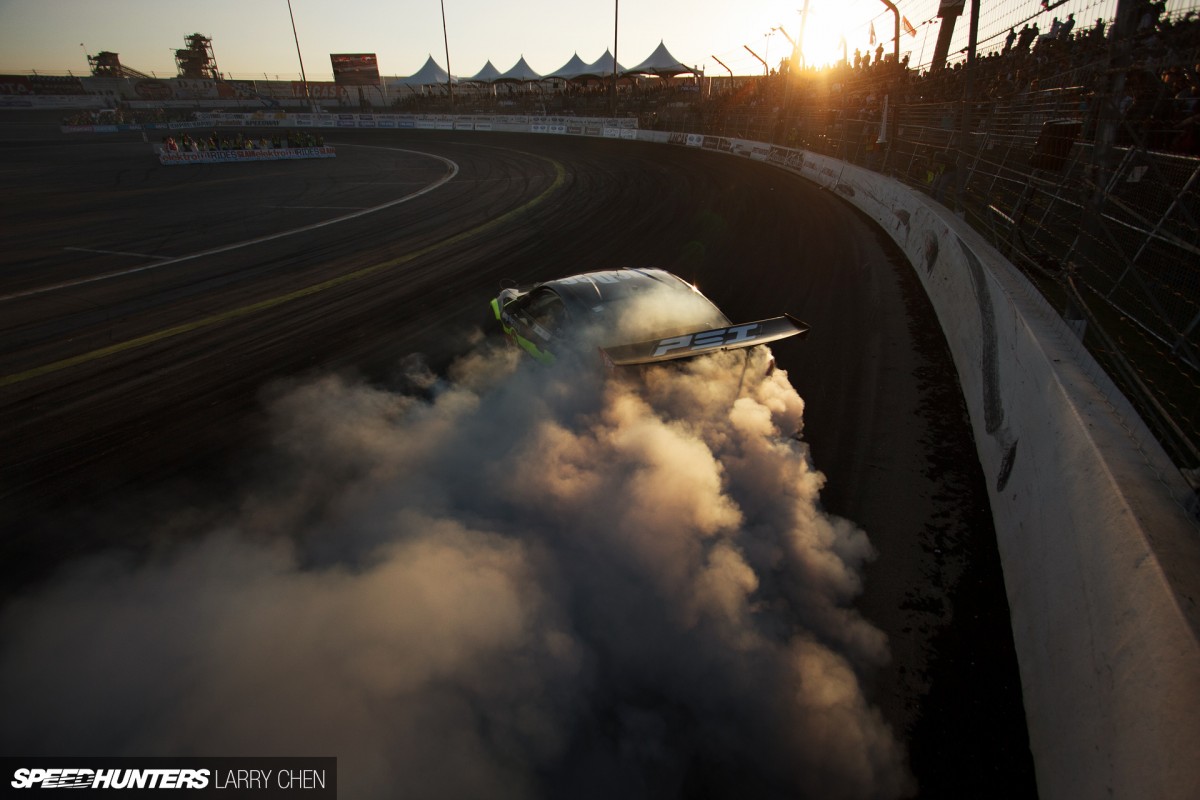 As soon as the sun goes down, the track temps drop and the amount of grip available changes.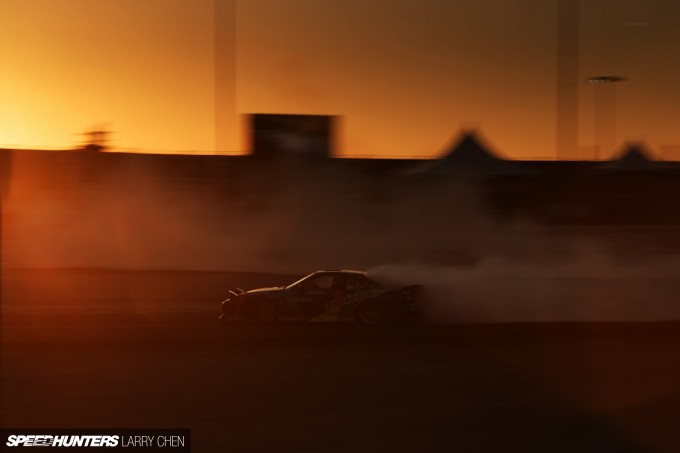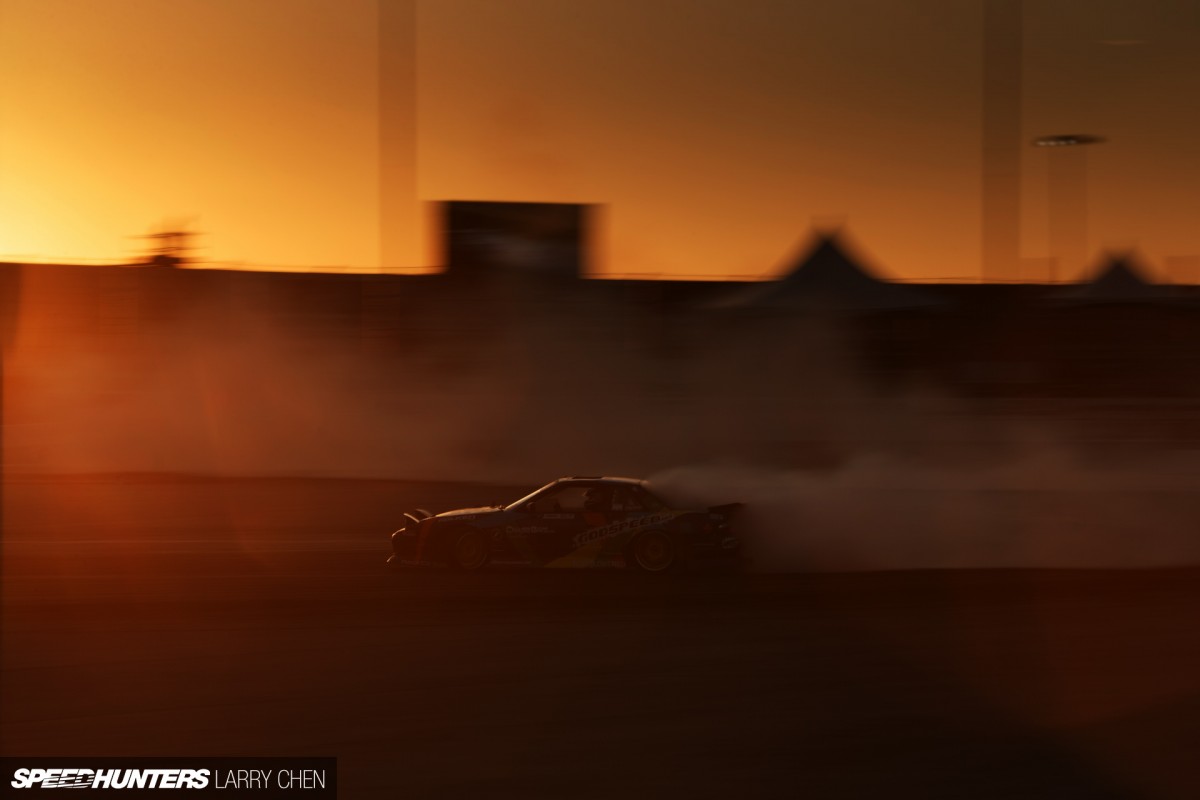 For the inexperienced driver it becomes more and more dangerous.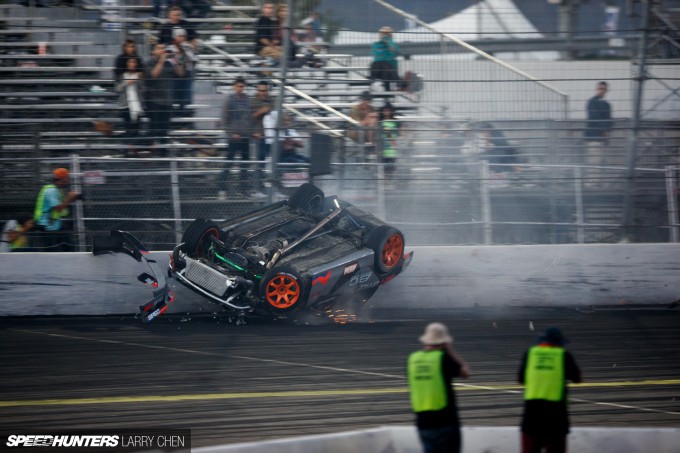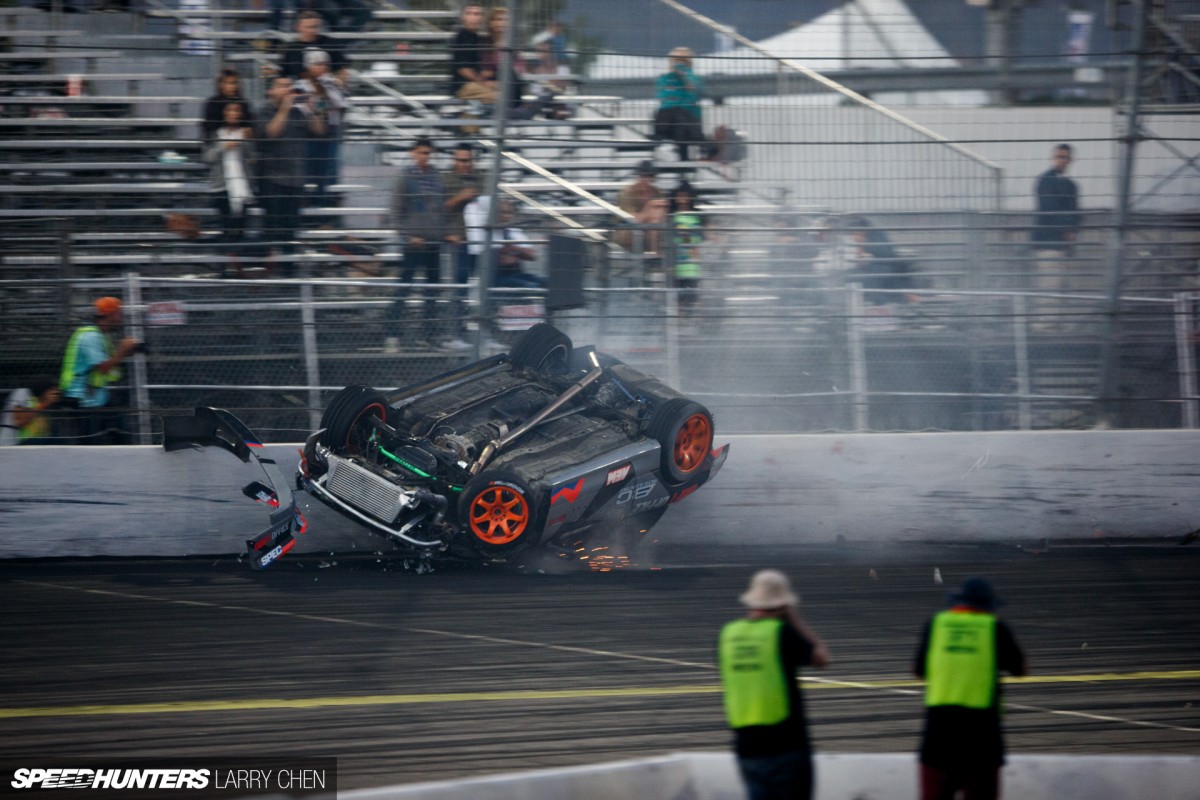 Victor Moore experienced that first hand in qualifying, as he went just a little too fast into the wall and it sucked him in.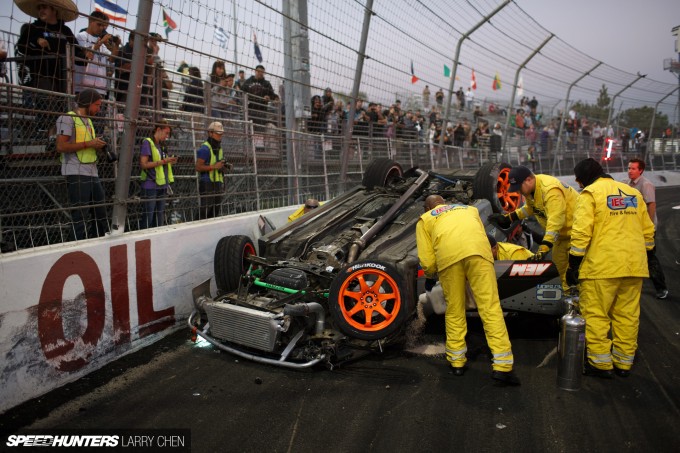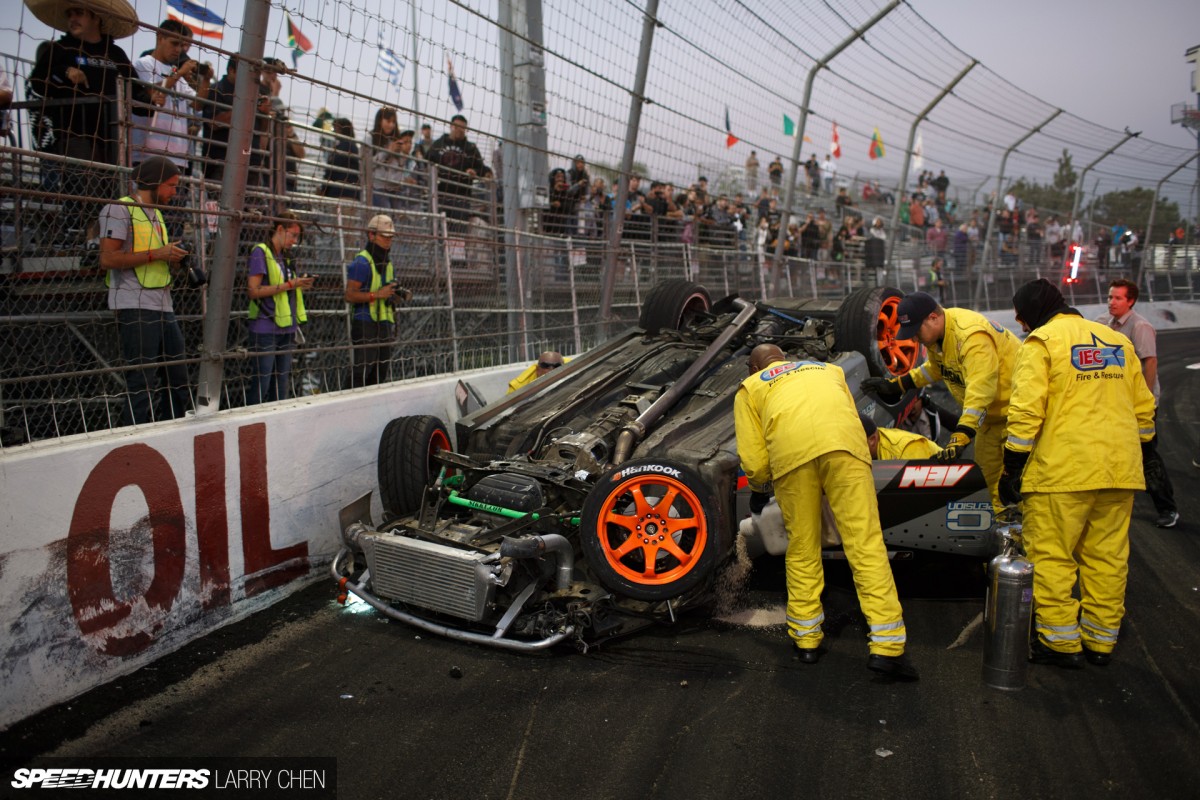 Victor walked away unscathed, but his car was a complete write off.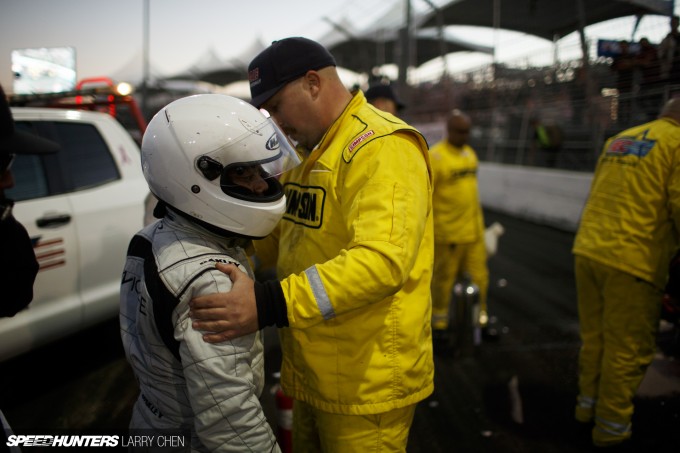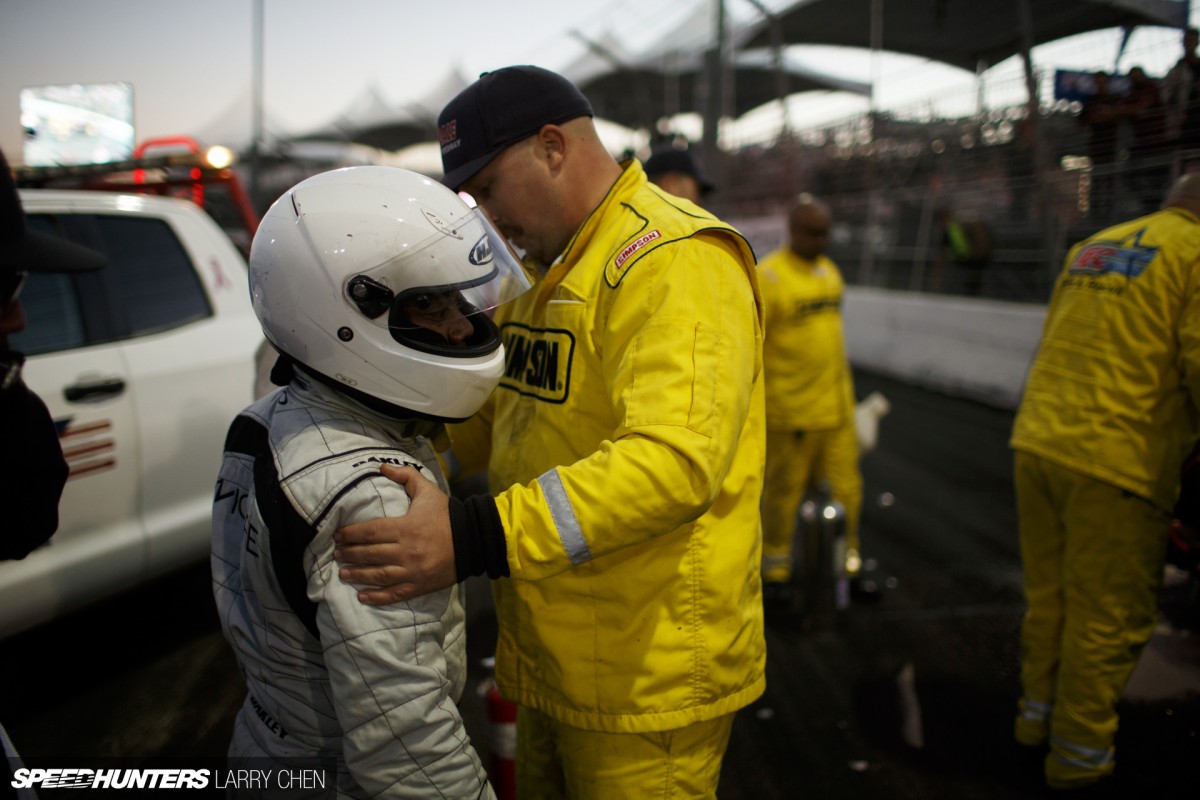 As the EMT was looking over him, all he could think about was his car, laying there shiny side down.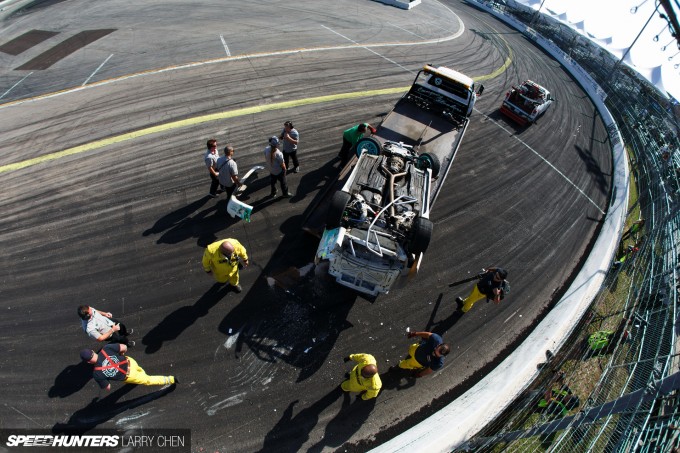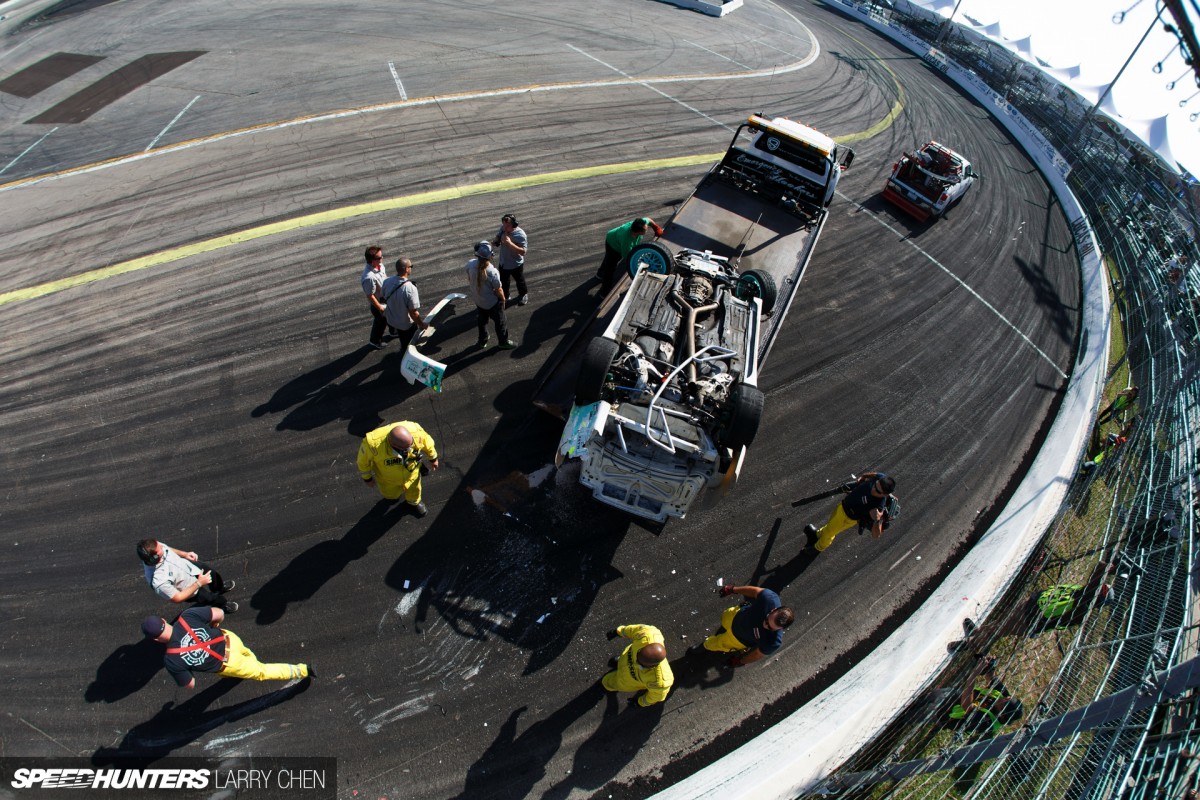 Victor was not the only one to lose his car to the notorious Irwindale bank. Rookie driver Chris Jeanneret also rolled his S-chassis during qualifying.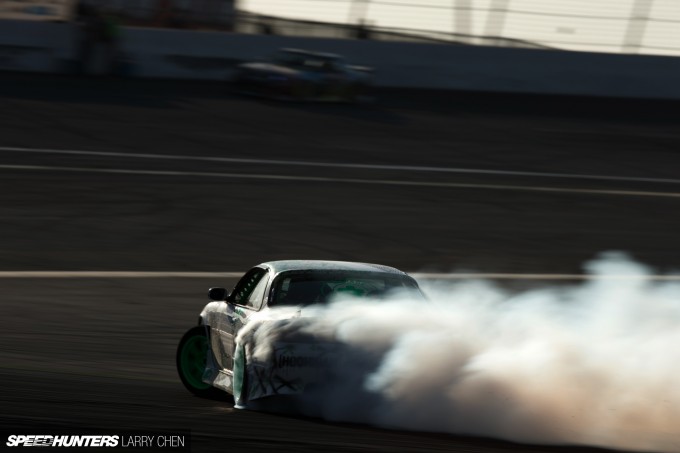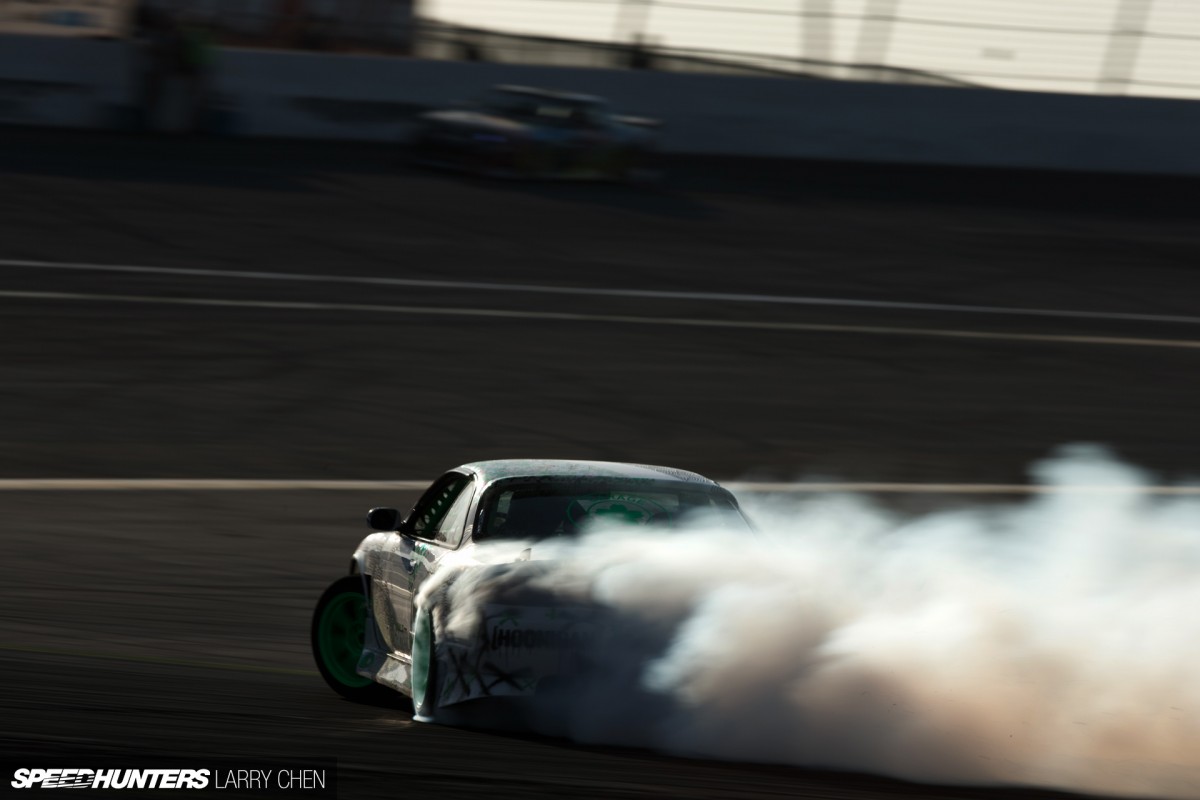 It seems this year was especially hard for the rookies. Maybe it's because the top guys are just getting that much better.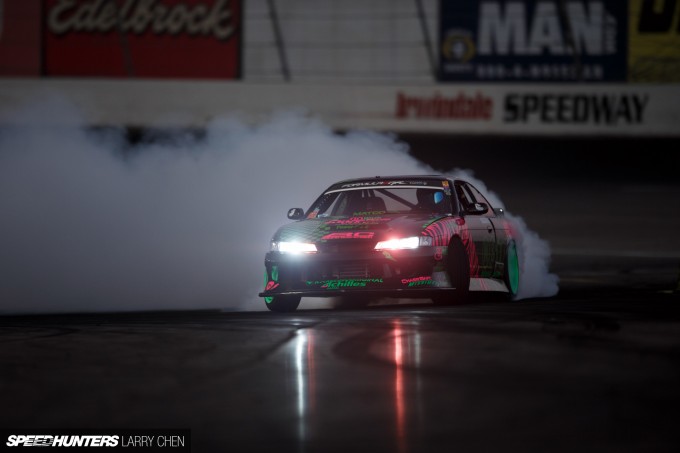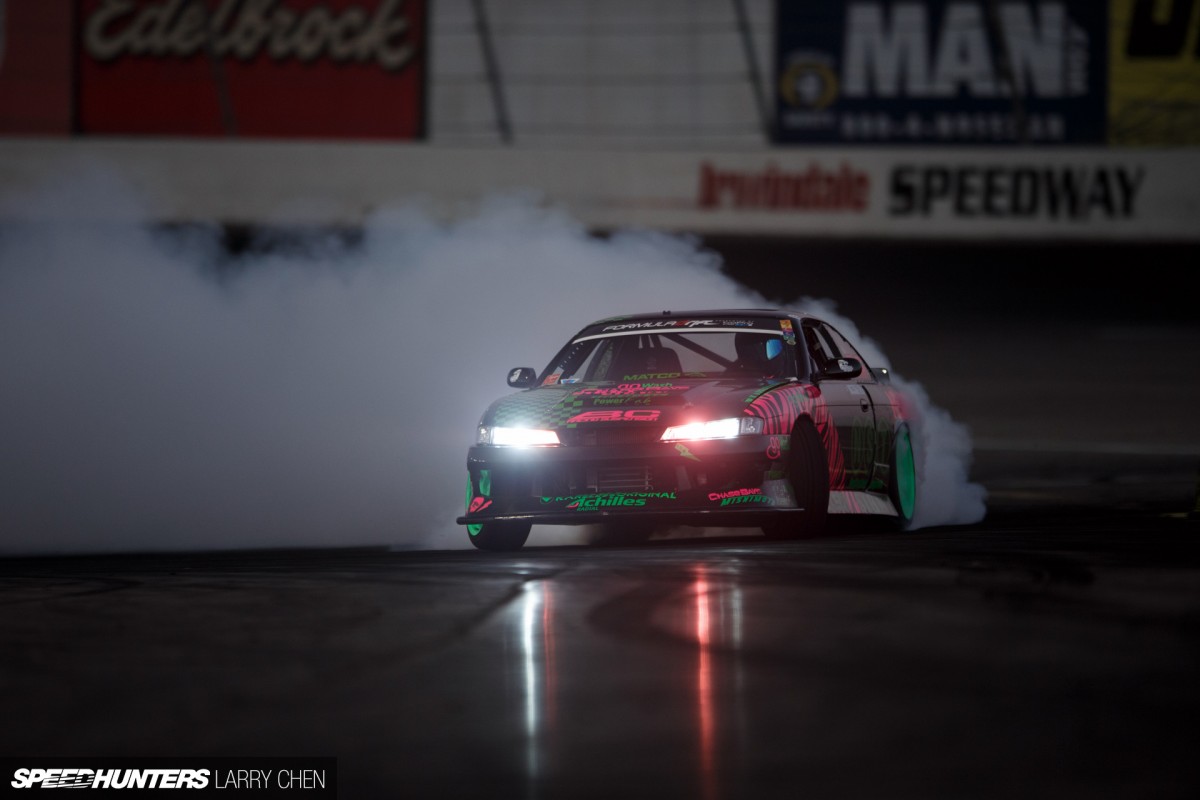 Either way, it takes some real guts to even attempt to tackle the Irwindale bank.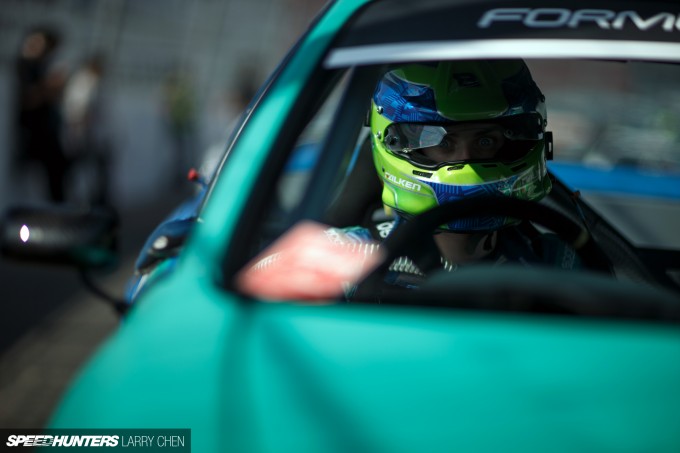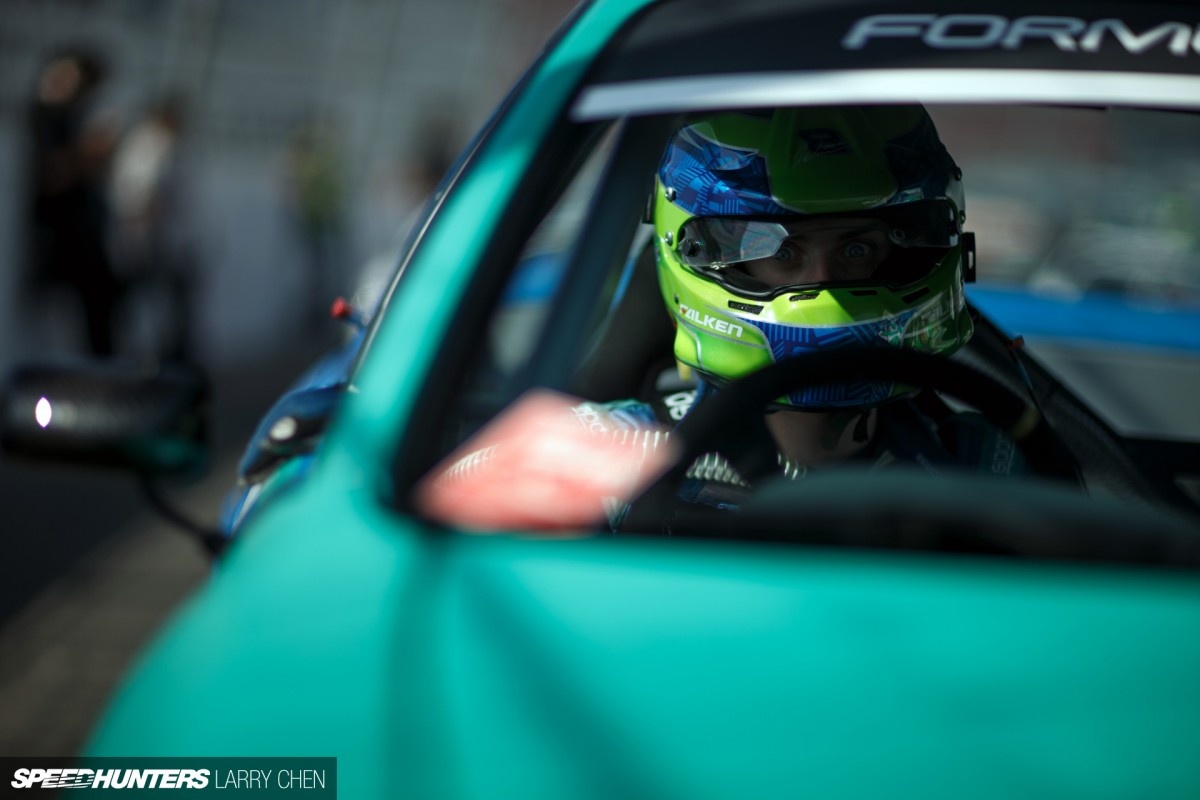 Darren McNamara drove his first event at Irwindale back in 2007 for D1GP. He assumed it would be a piece of cake considering he was already a champion in his native Ireland. He finally understood what all the fuss was about after competing.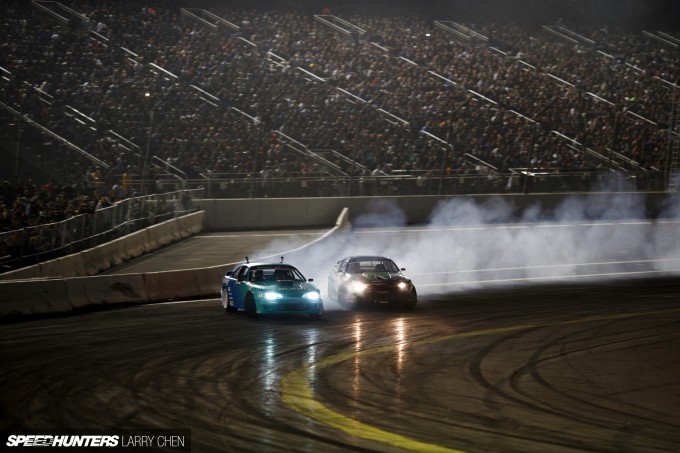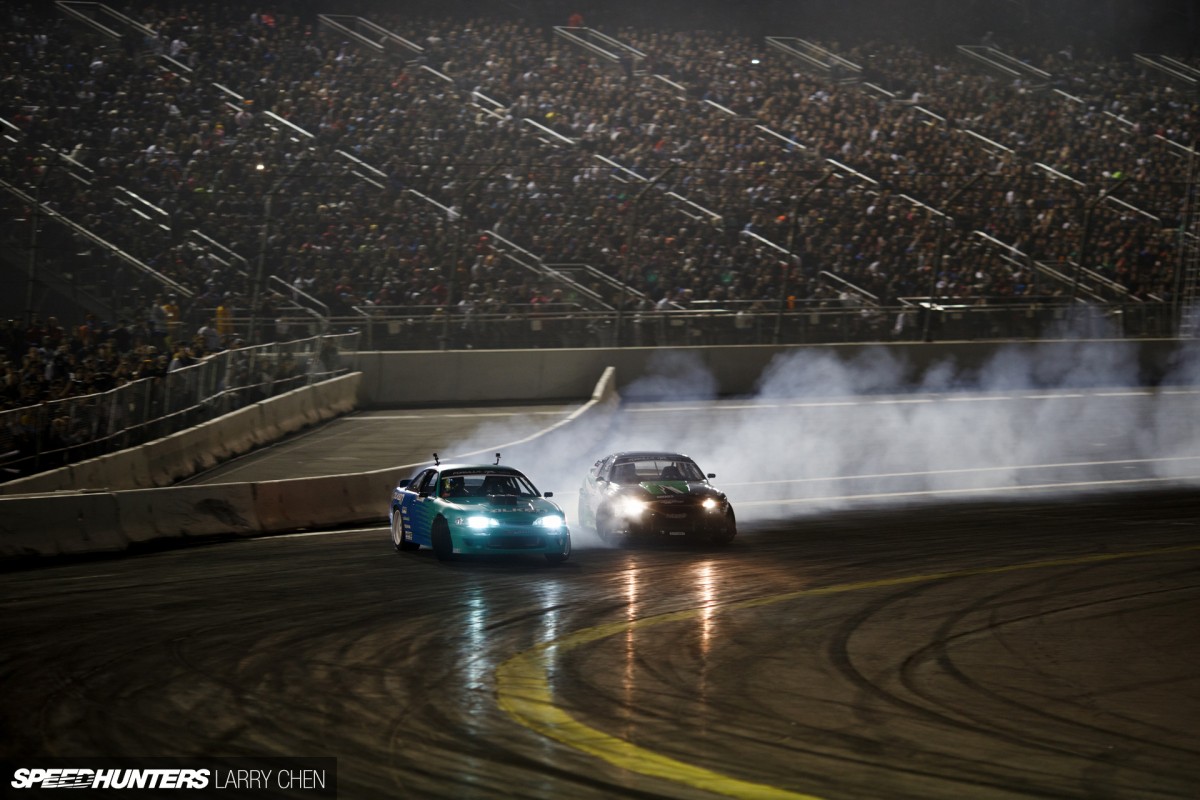 He had his very first championship right at his fingertips back in 2011, and ever since then he has been pushing very hard to get back into the race for the top honor in the drifting world.
Packed grandstands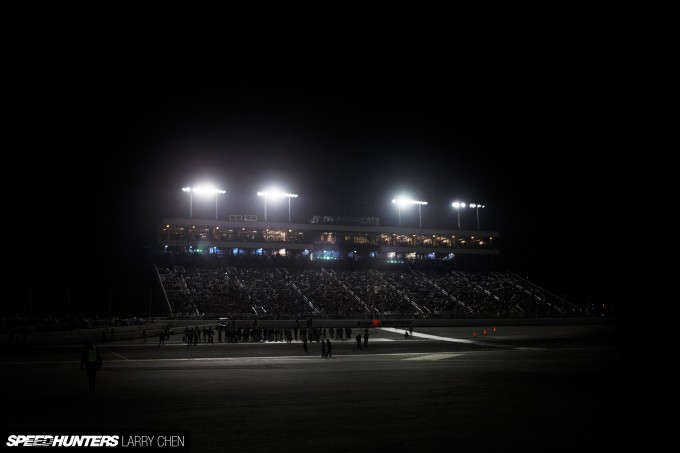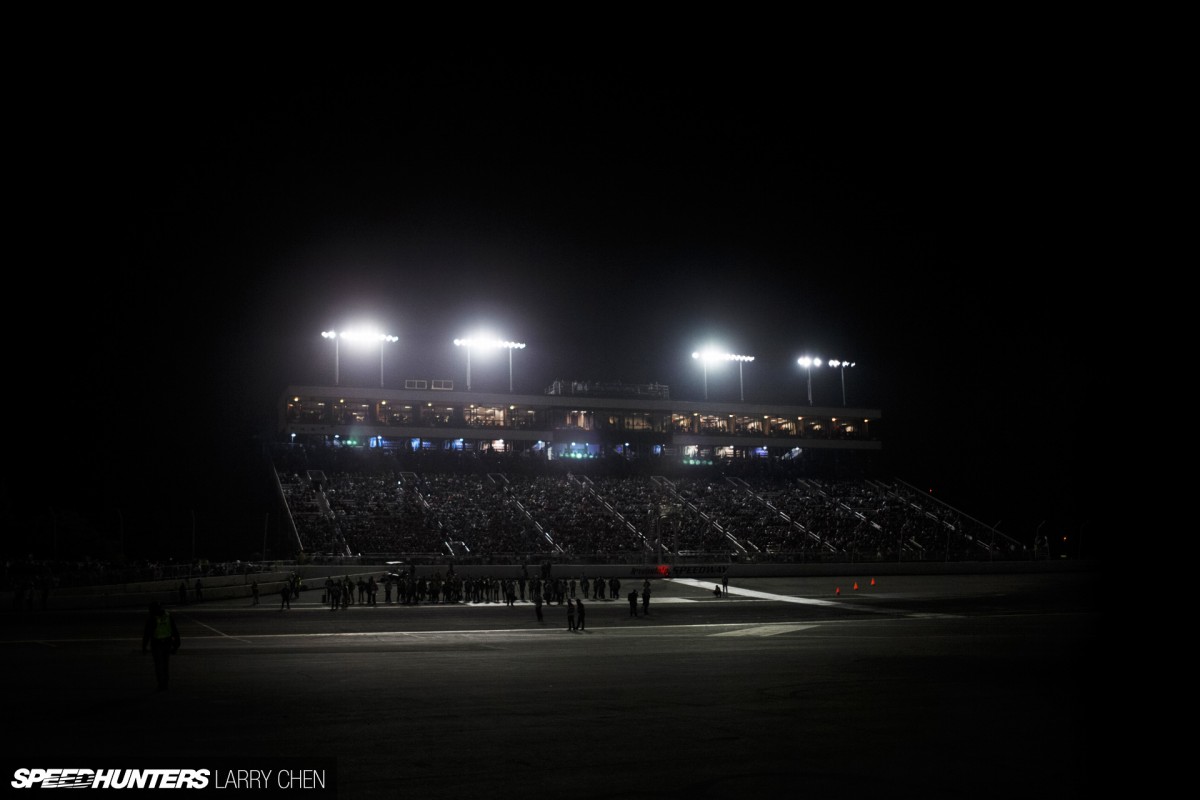 Every year I wonder how Formula Drift will top their last as it seems attendance numbers continue to climb.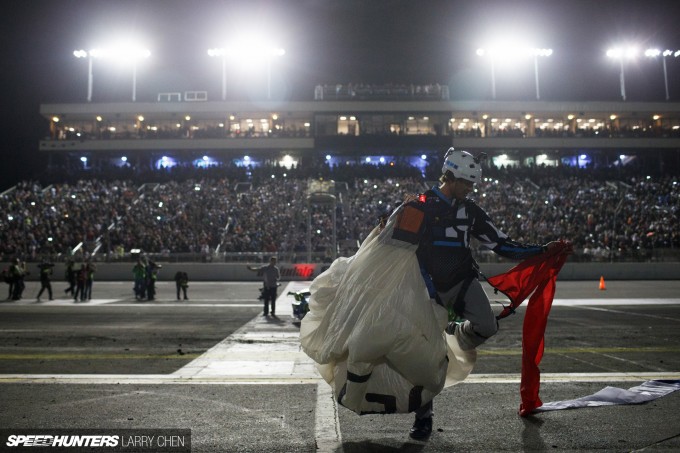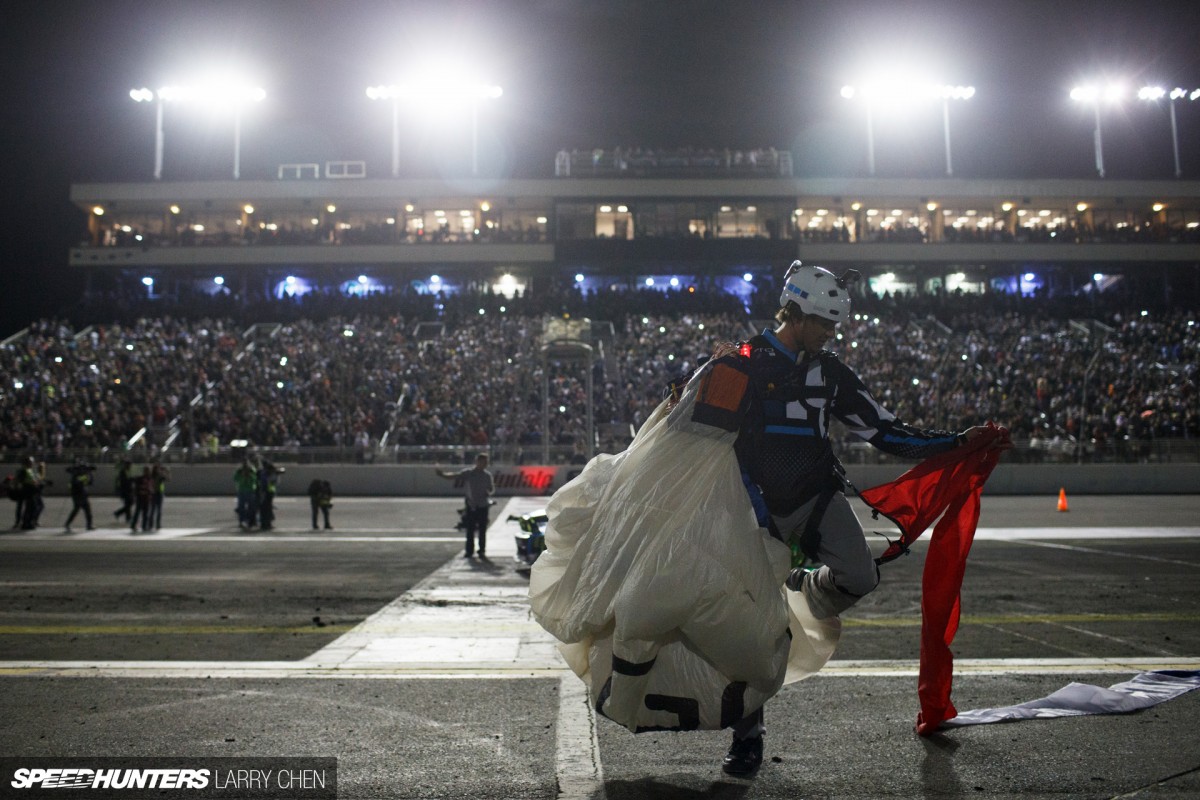 This year for the tenth anniversary, there were a few special events that took place including the GoPro skydivers stopping by to say hello.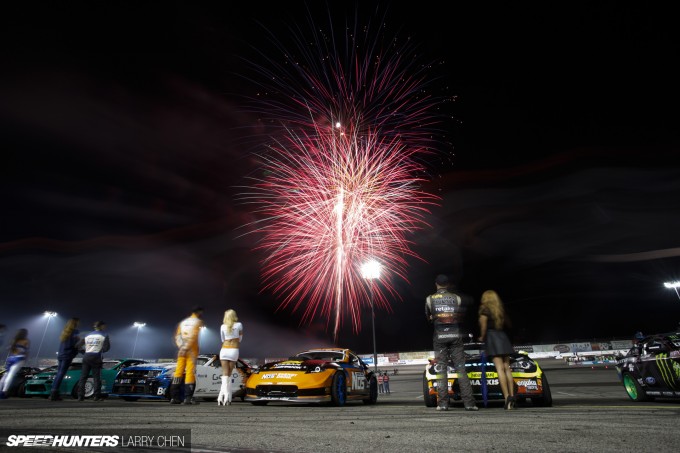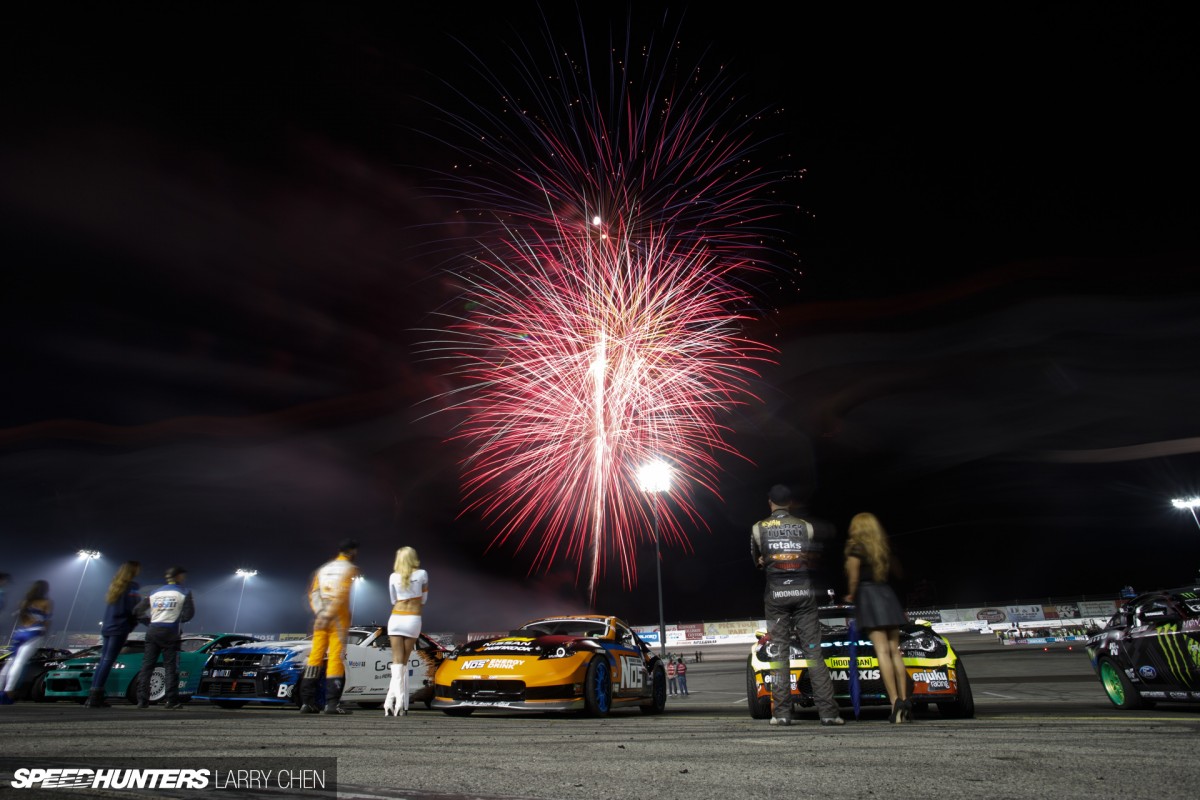 A tenth anniversary celebration would not be complete without a fireworks show.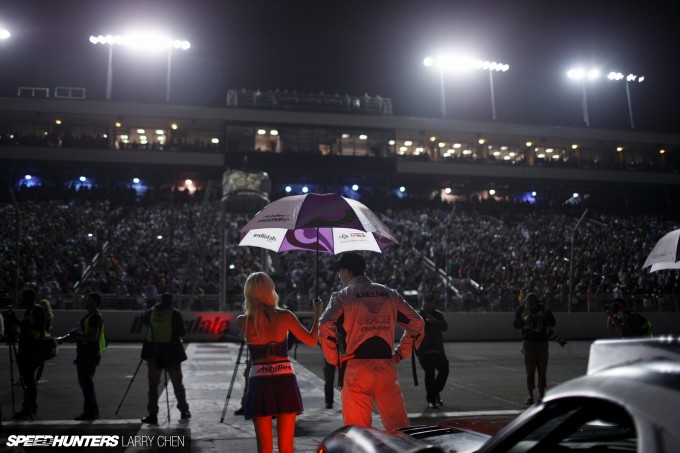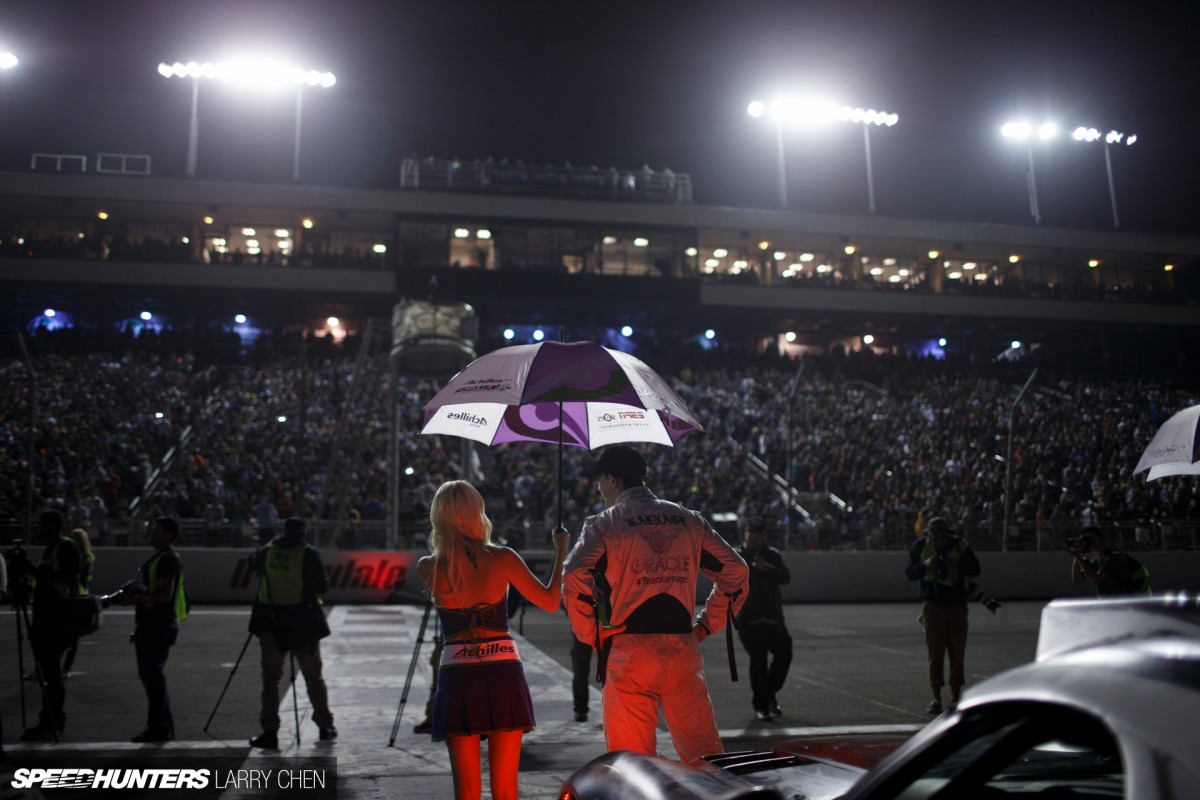 I've never heard such a loud roar from the stands when the drivers came out for the top 16 introductions.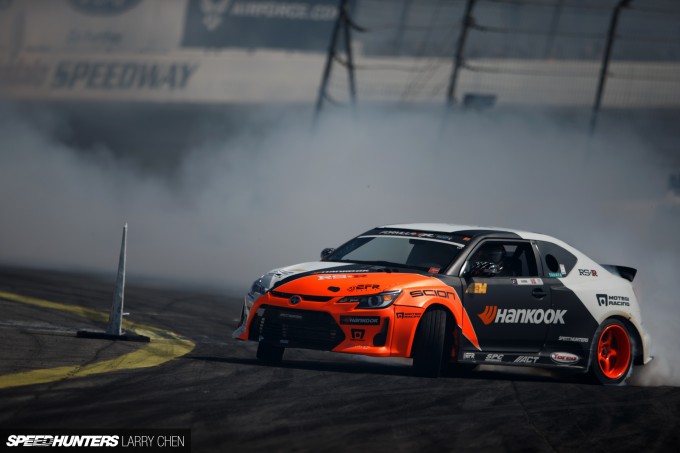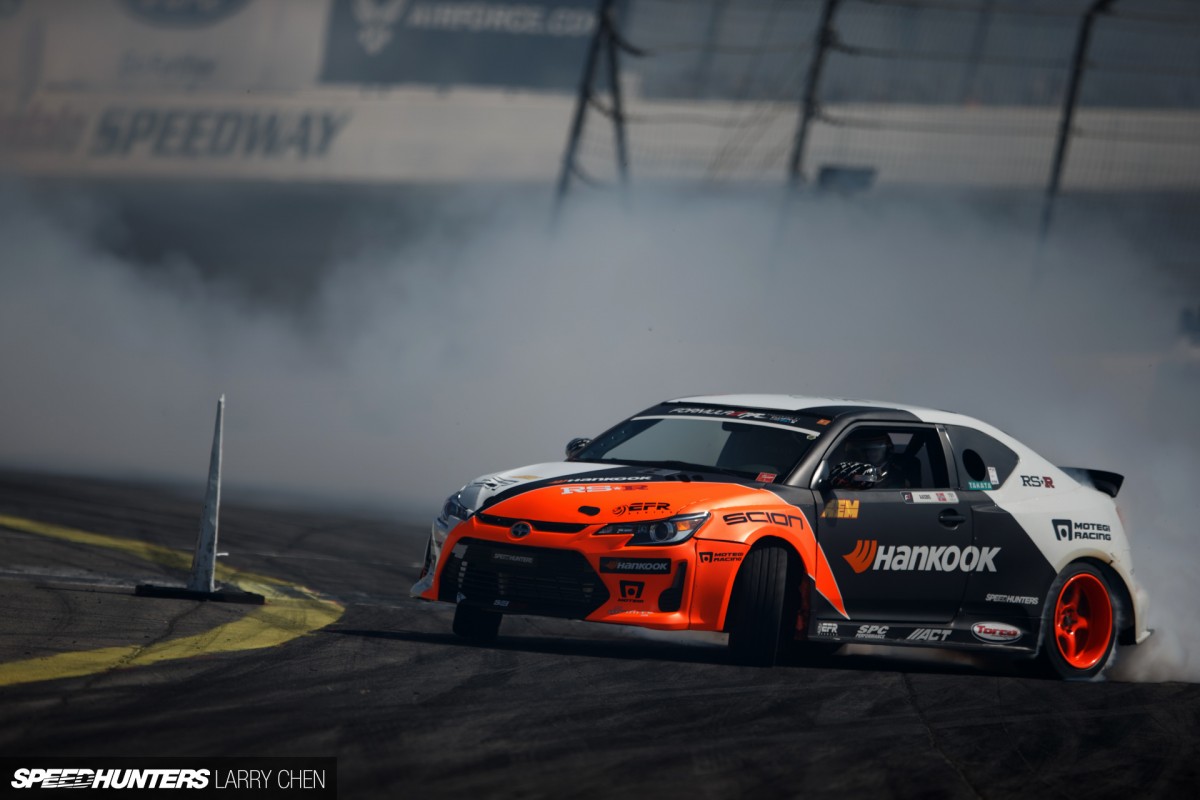 It's been such a crazy year for Speedhunters driver, Fredric Aasbø. Besides Vaughn, there's no other driver who's considered such an international ambassador to the drifting world.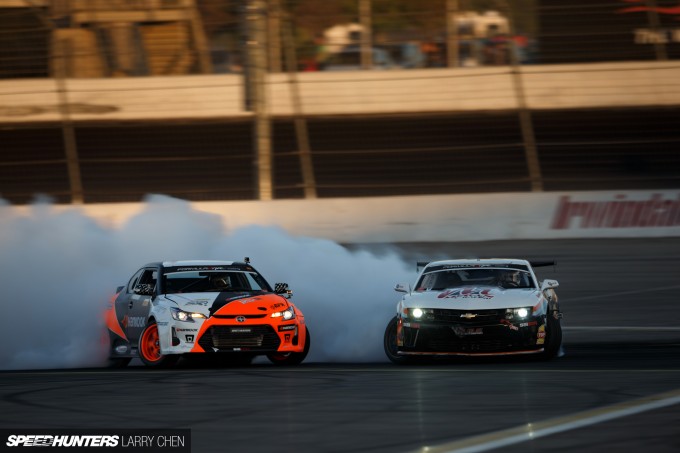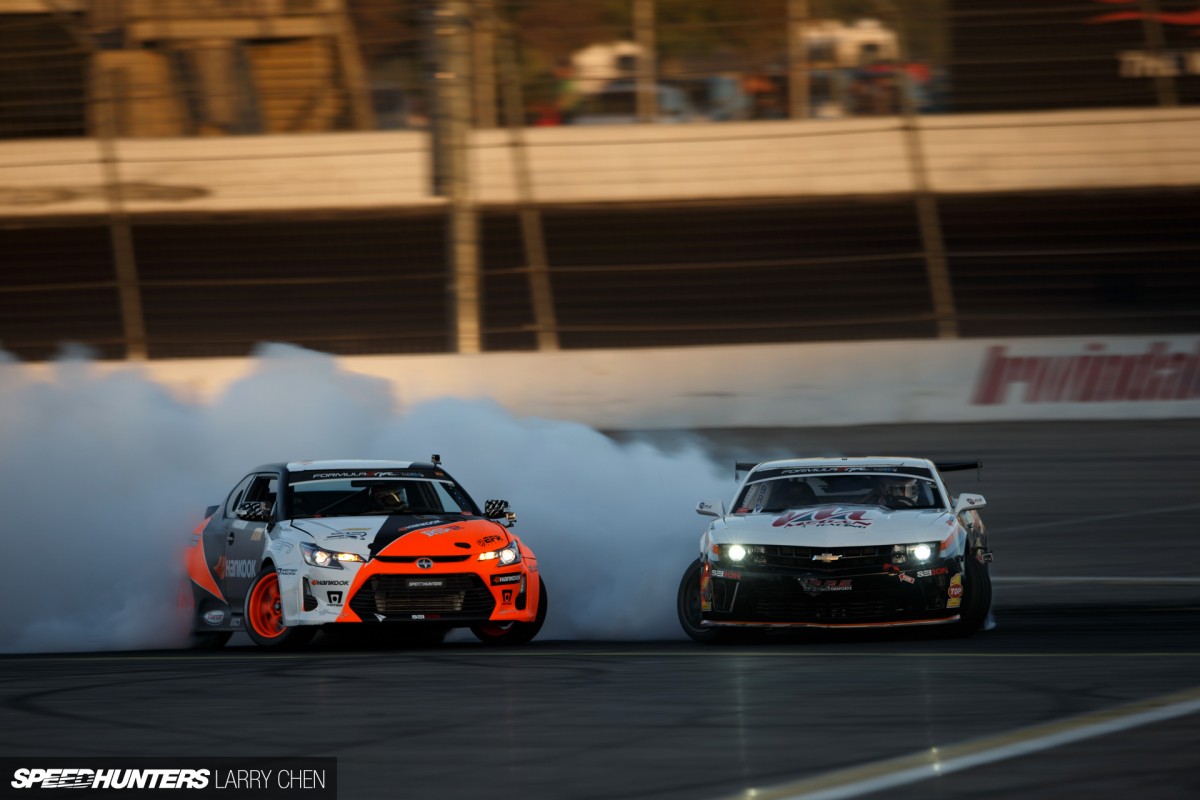 Fredric was mathematically in the championship race, but since it was a long shot he just took it for what it was and drove his heart out.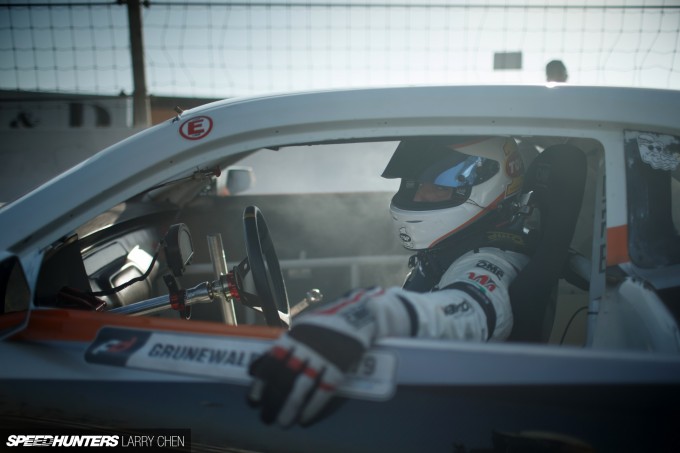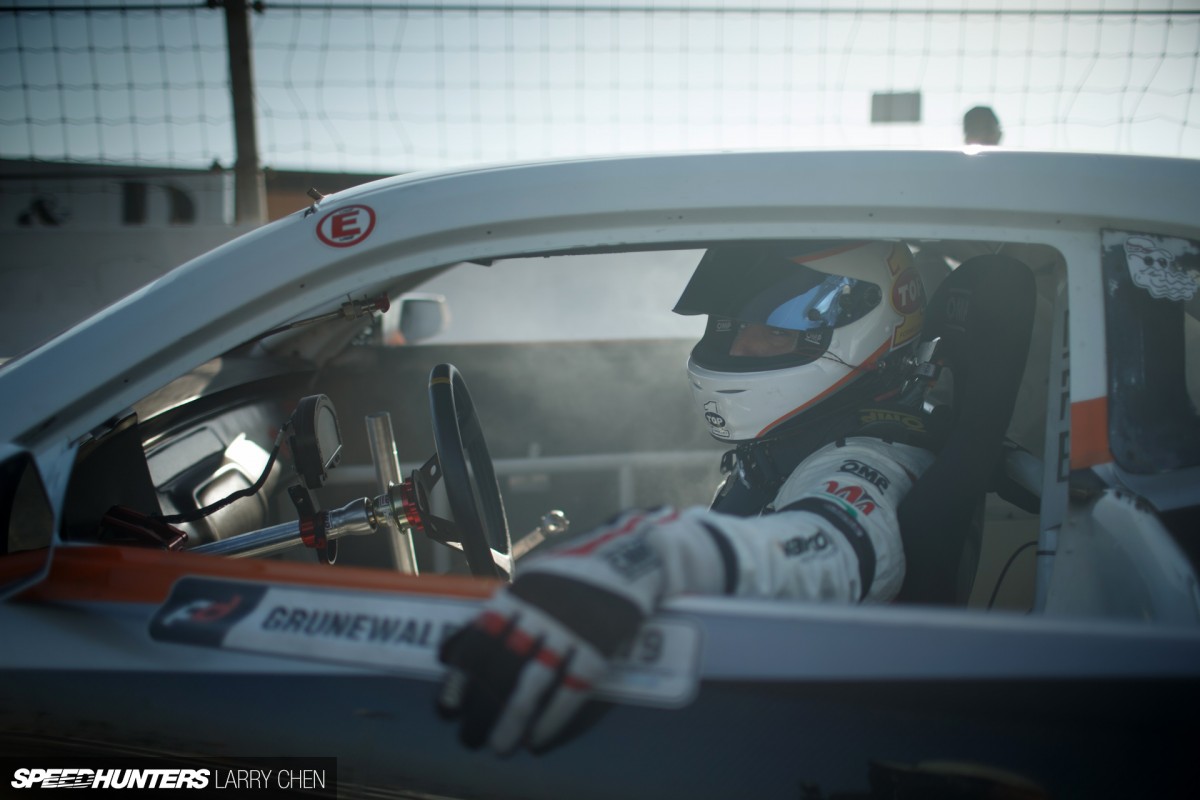 He knocked out Conrad Grunewald in the top 32 and it looked like he was on his way to his first ever win.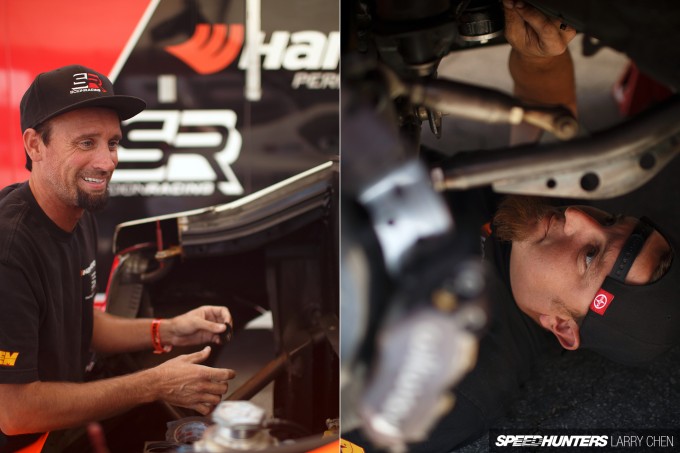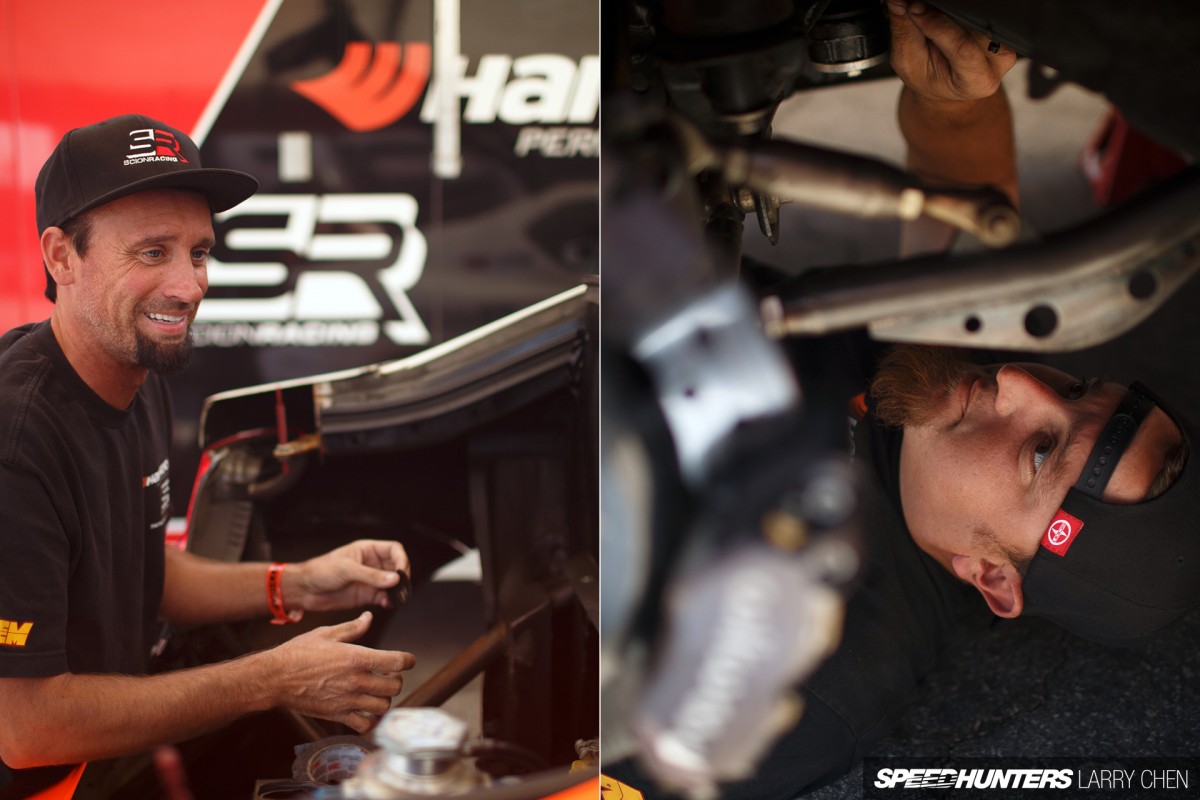 His mechanics, Sean and Aldo, are always working very hard to keep his car in tip-top shape. They actually won the crew members of the year award, which was voted on by their peers.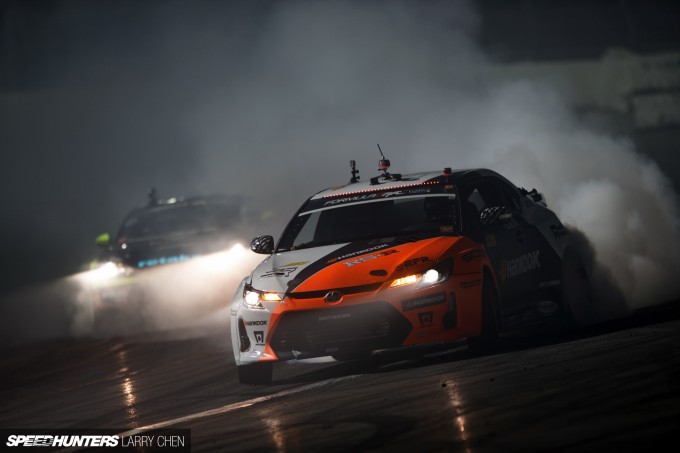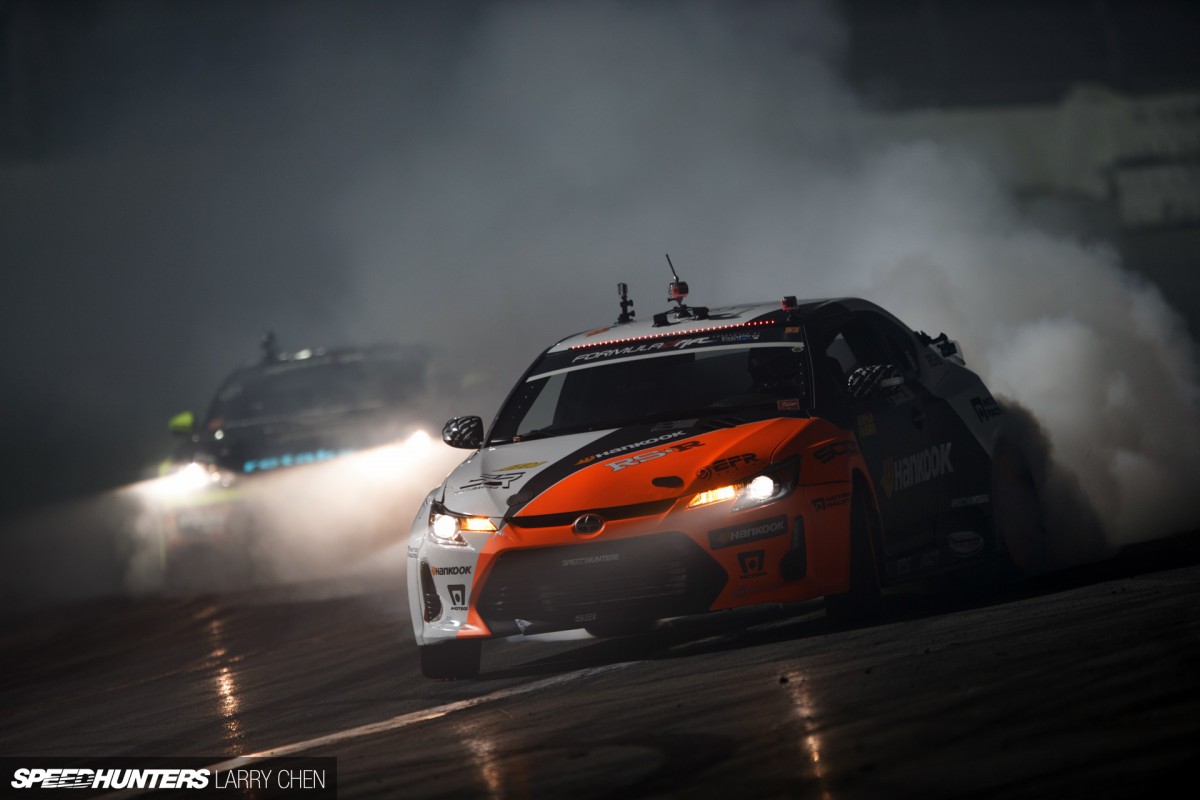 Fredric met Ryan Tuerck in the top 16, and after a 'one more time' battle, his weekend ended early.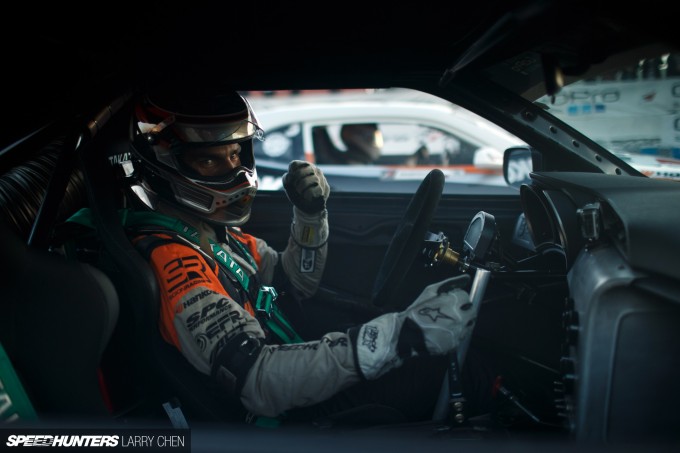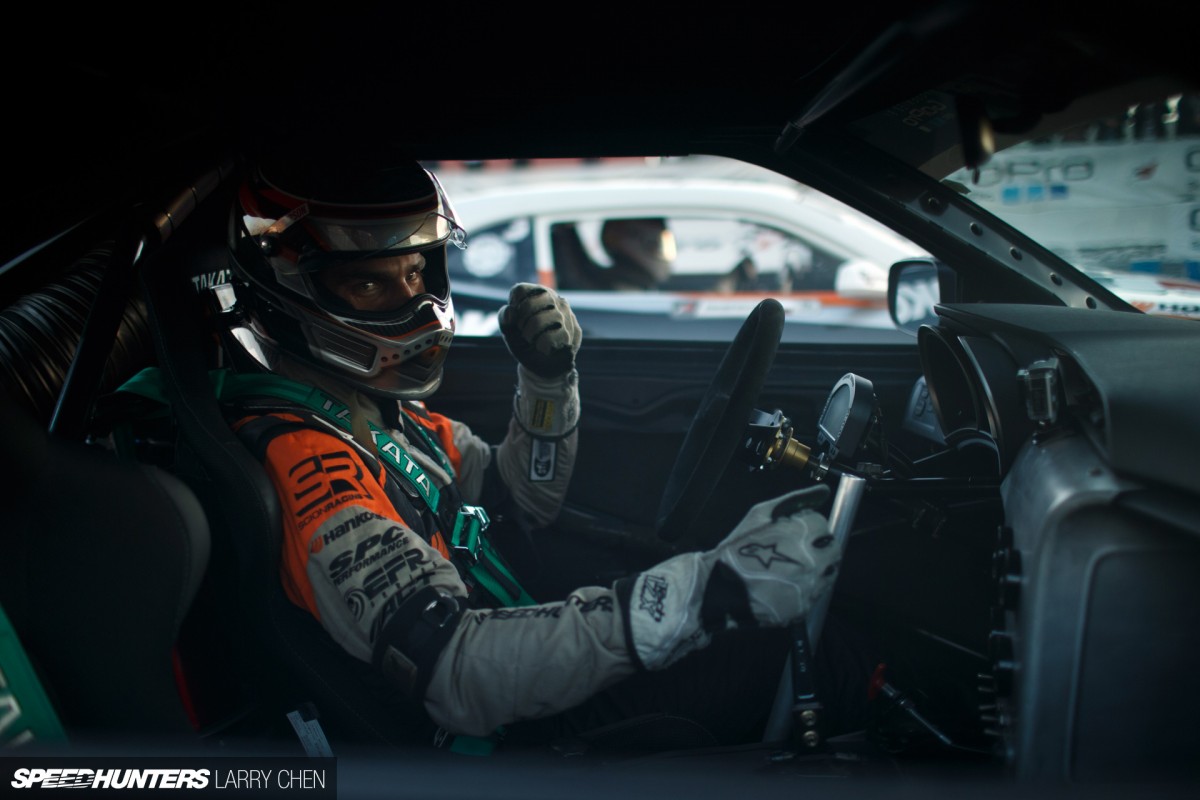 Out of all the drivers that I travel with, it seems that I go to the weirdest places with Fredric. We both live out of suitcases, and more often than not we end up in the same country somehow.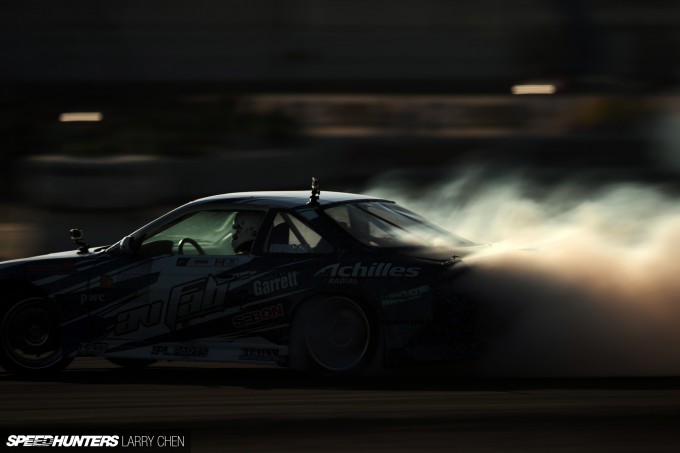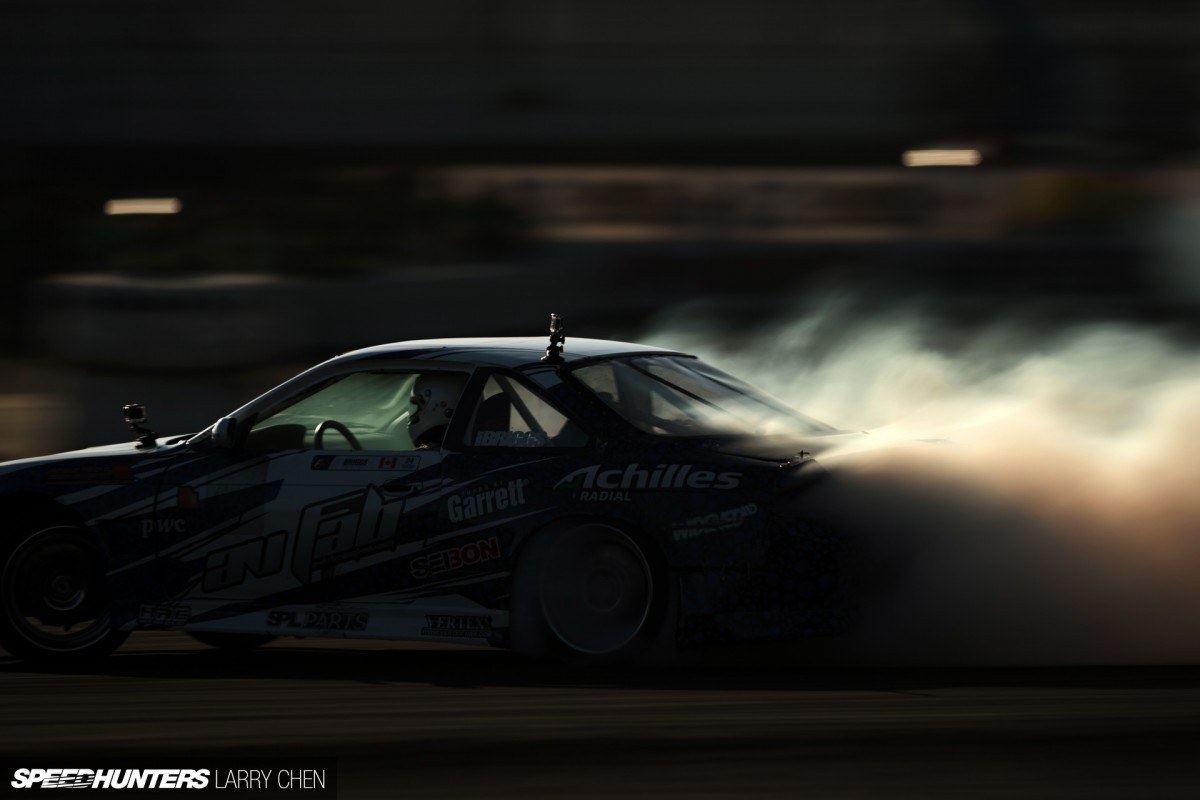 With the way Formula Drift is growing, I'm interested in seeing where the privateers fit into the series.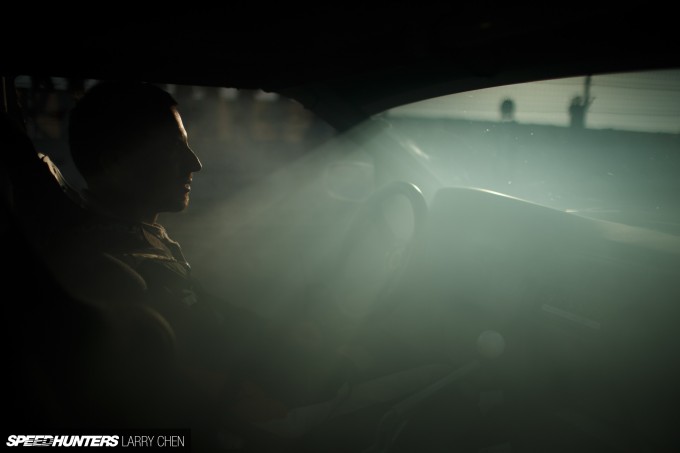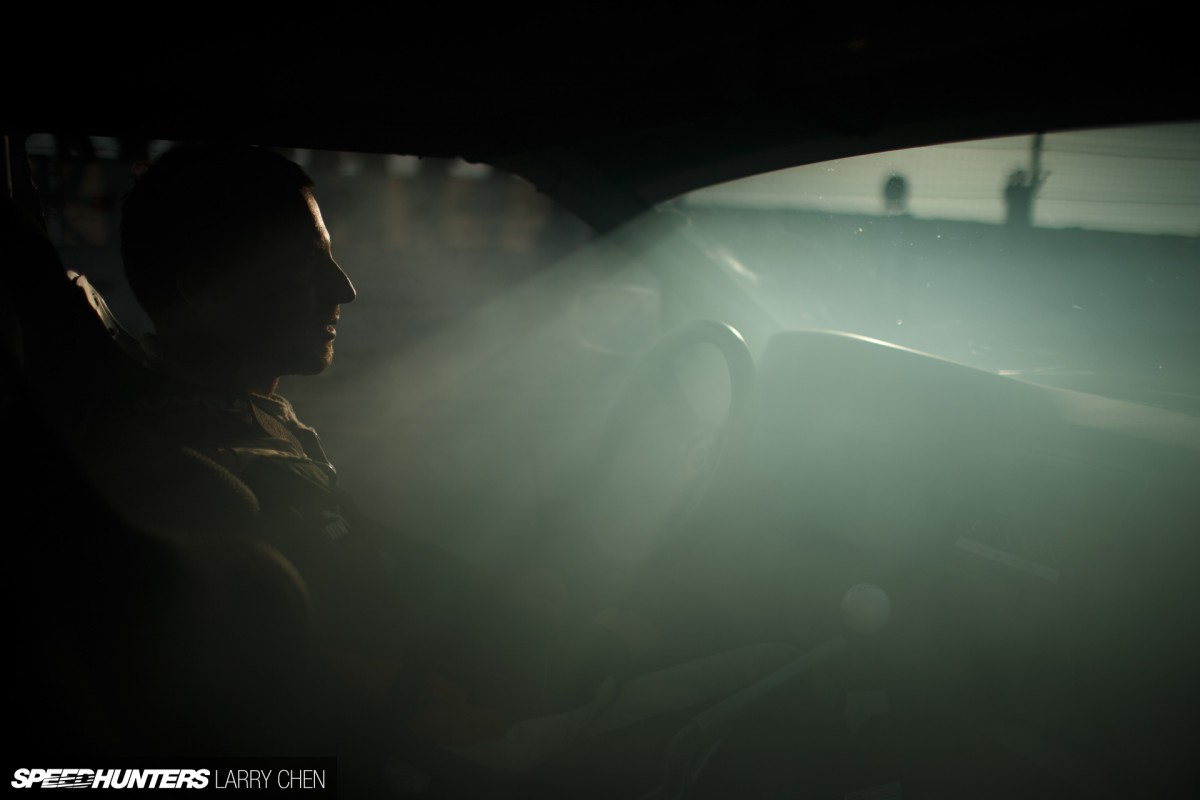 Drivers like Dave Briggs pour their hard-earned money into his program with hopes of one day being able to make a living off the sport that he loves so much.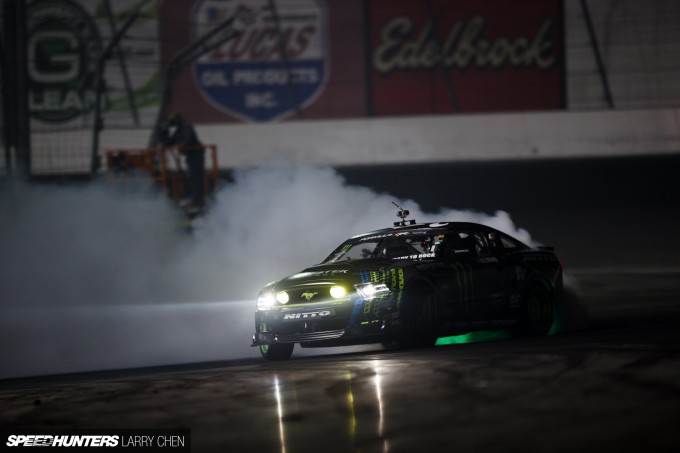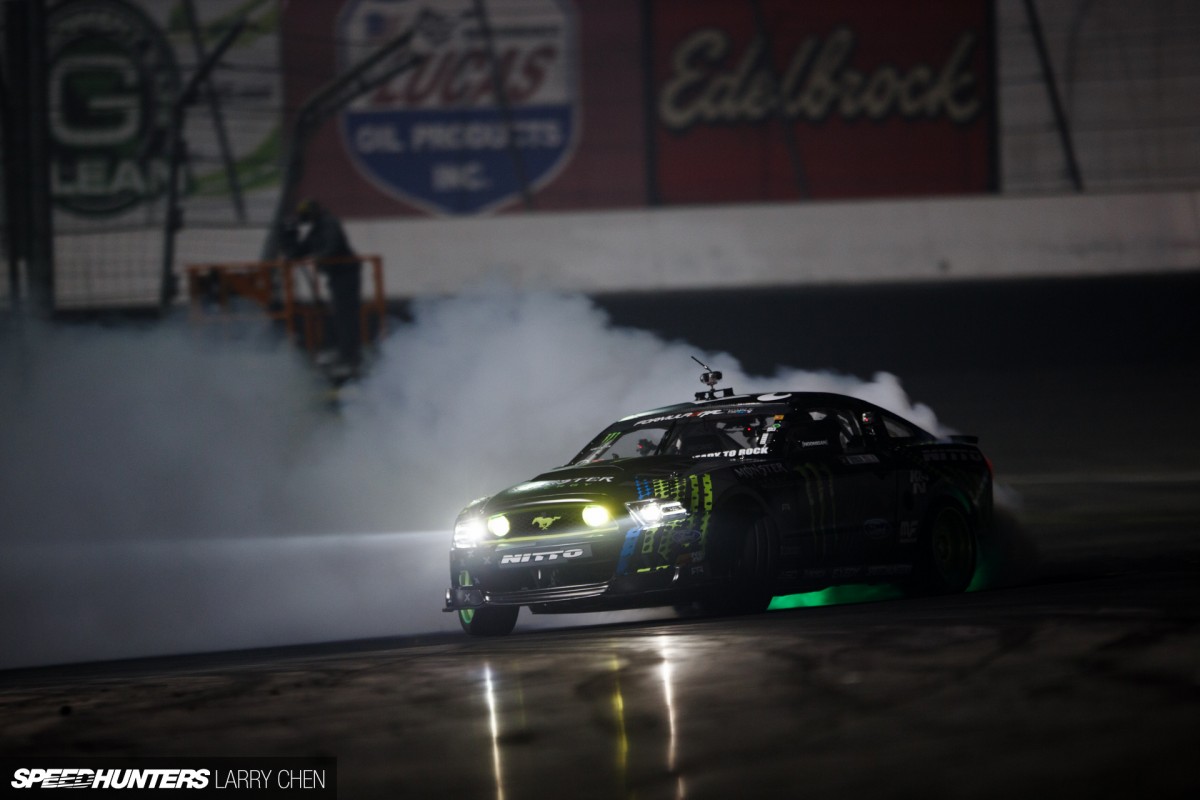 Anything is possible, as Vaughn started out with nothing at one point and has built a drifting empire out of it.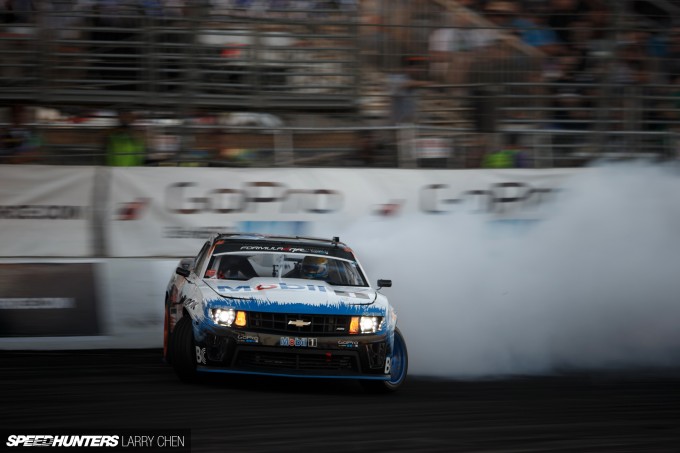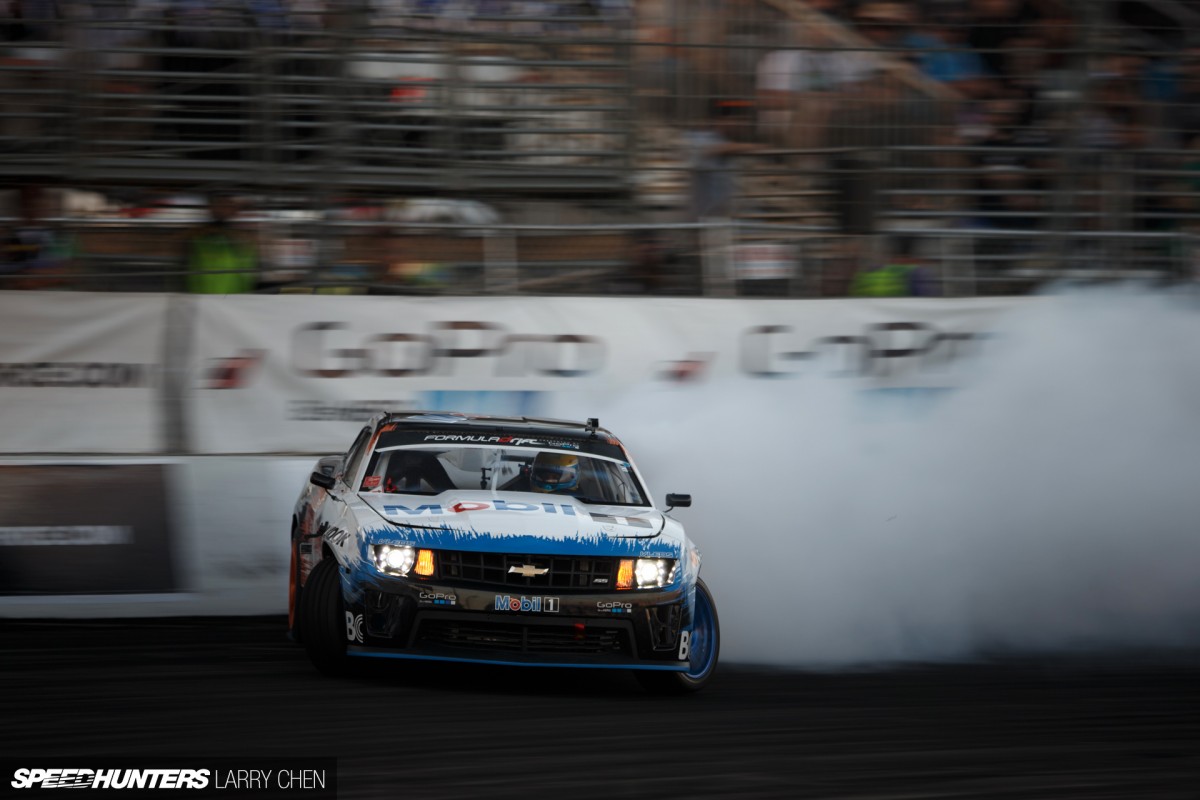 I think I'd also like to see more traditional race car drivers like Tyler McQuarrie join the FD ranks as it helps to already have wheel-to-wheel racing experience.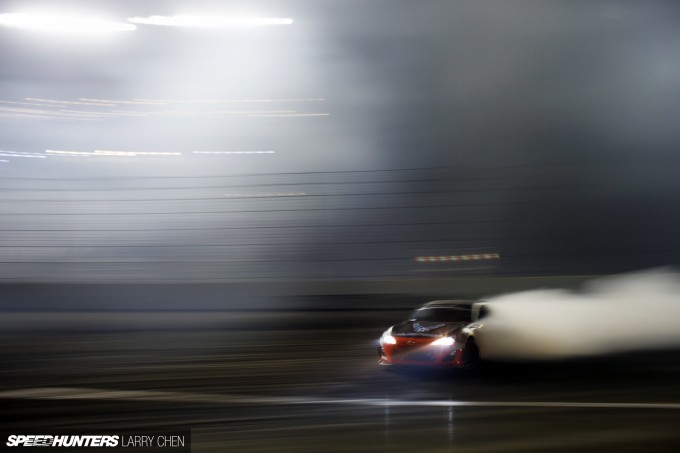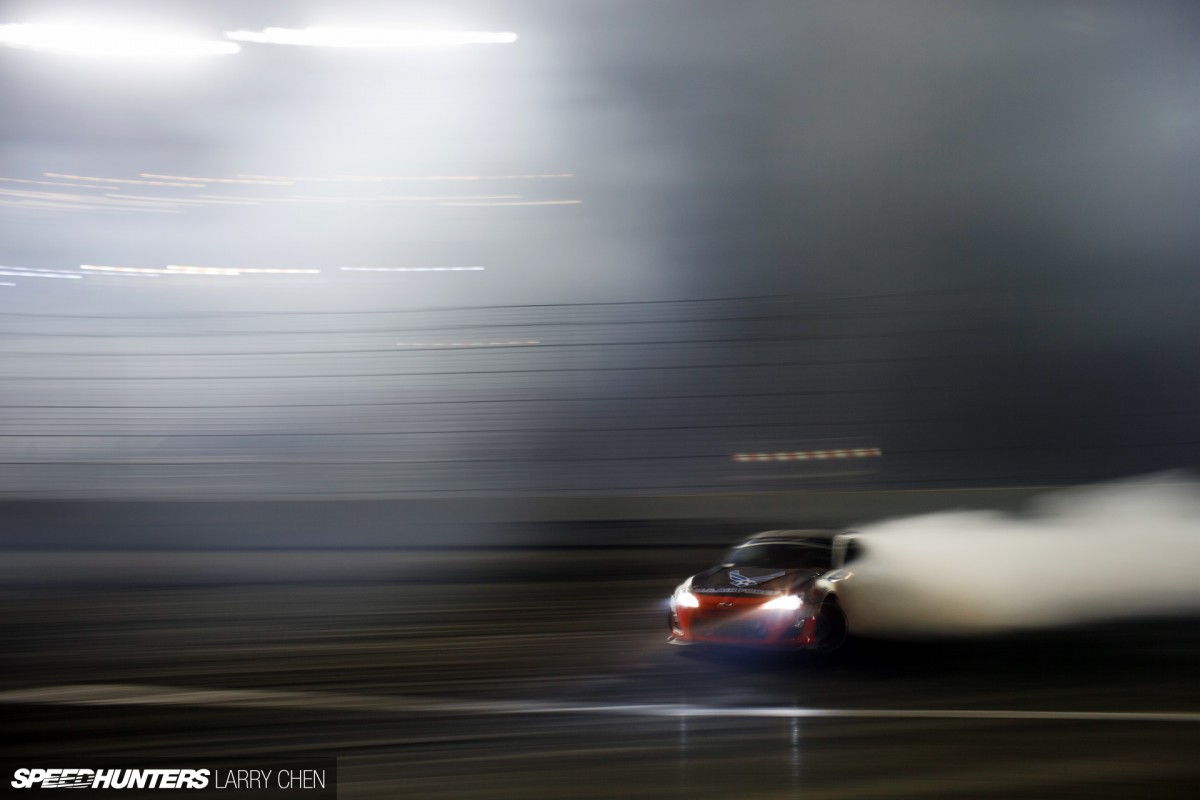 I just have to close my eyes and I can hear the roar of the engines drowned out by the roar of the packed grandstands. The glow of the stadium lights, the rising tire smoke. I'm really going to miss it.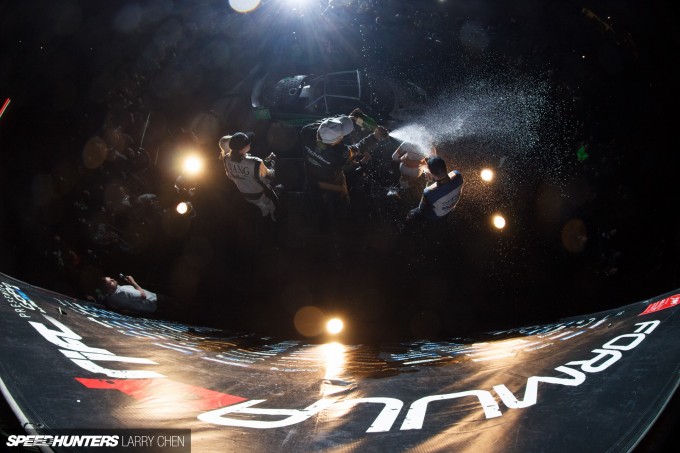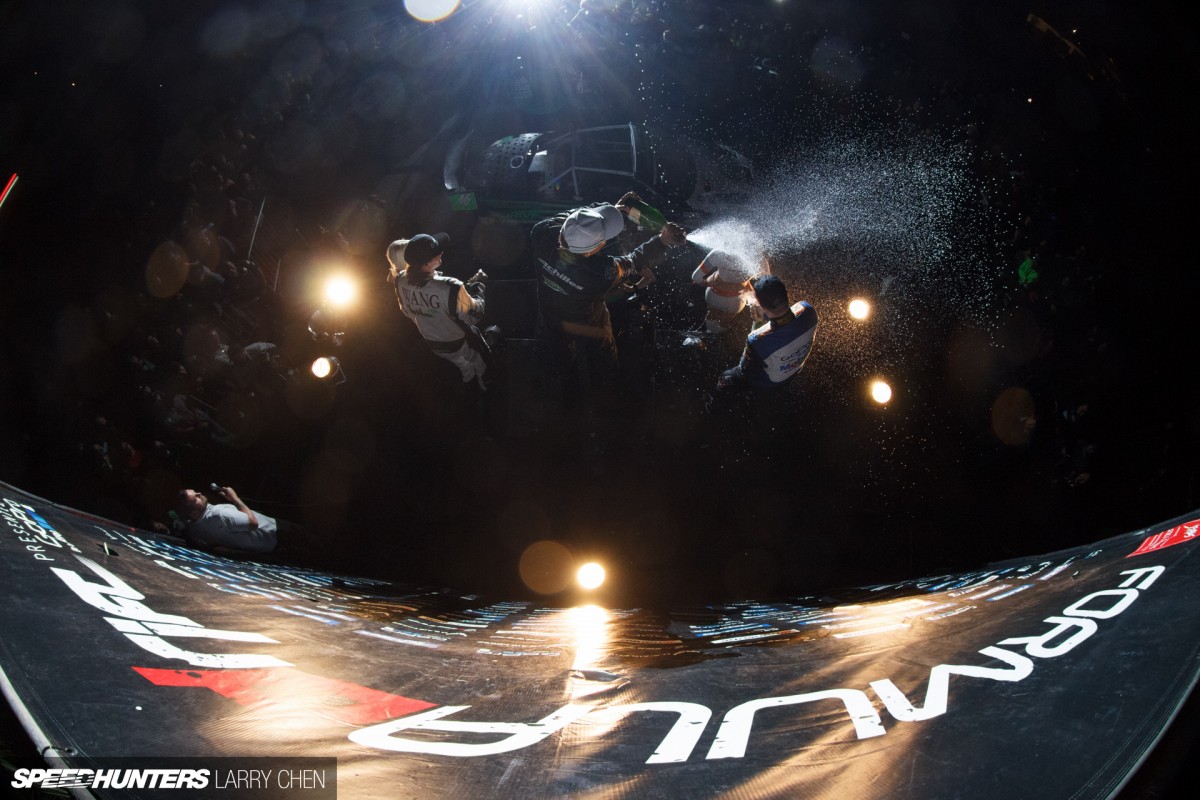 Congratulations to the event winners, Daigo Saito, Tyler McQuarrie and Forrest Wang. Stay tuned for an in-depth look at Michael Essa's championship weekend.