Final fight
The tire smoke has settled, and Michael Essa in the GSR Autosport BMW E46 has come out on top as the 2013 Formula Drift Champion. I wanted to give you guys a little insight on how it went down. This Formula Drift championship was unlike any other as there's still lots of controversy surrounding the events that happened that fateful night at Irwindale Speedway. I pick up where I left off in my qualifying post with Michael Essa qualifying on top and Chris Forsberg in eighth. The two titans are just 24.5 points apart going into main competition.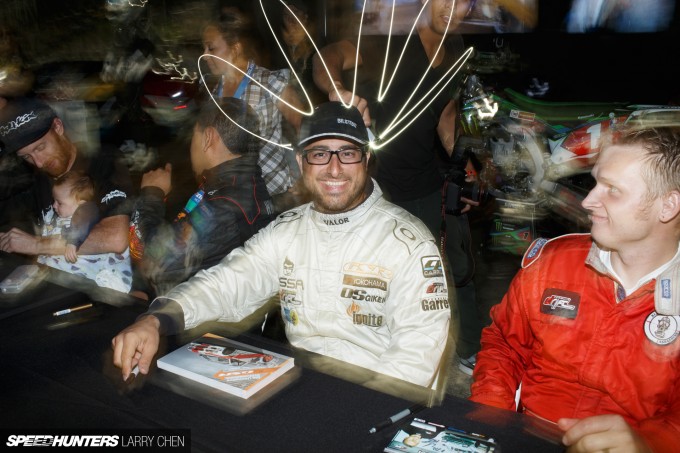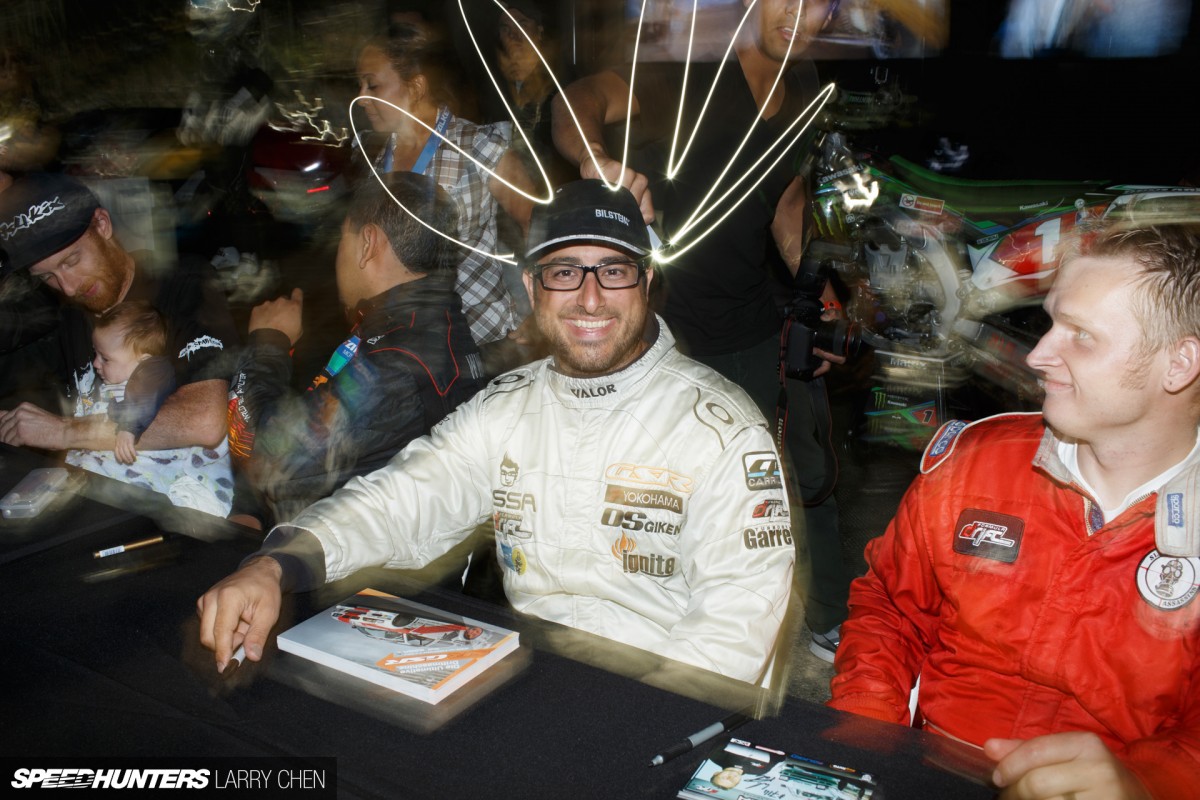 After qualifying, Mike was glowing as he told me that he was not going to hold back, and the key to winning the championship will be a great qualifying run. Without a doubt he threw down an amazing run.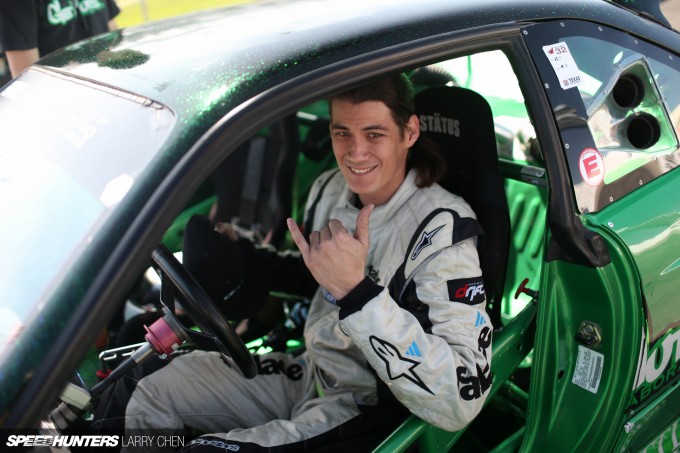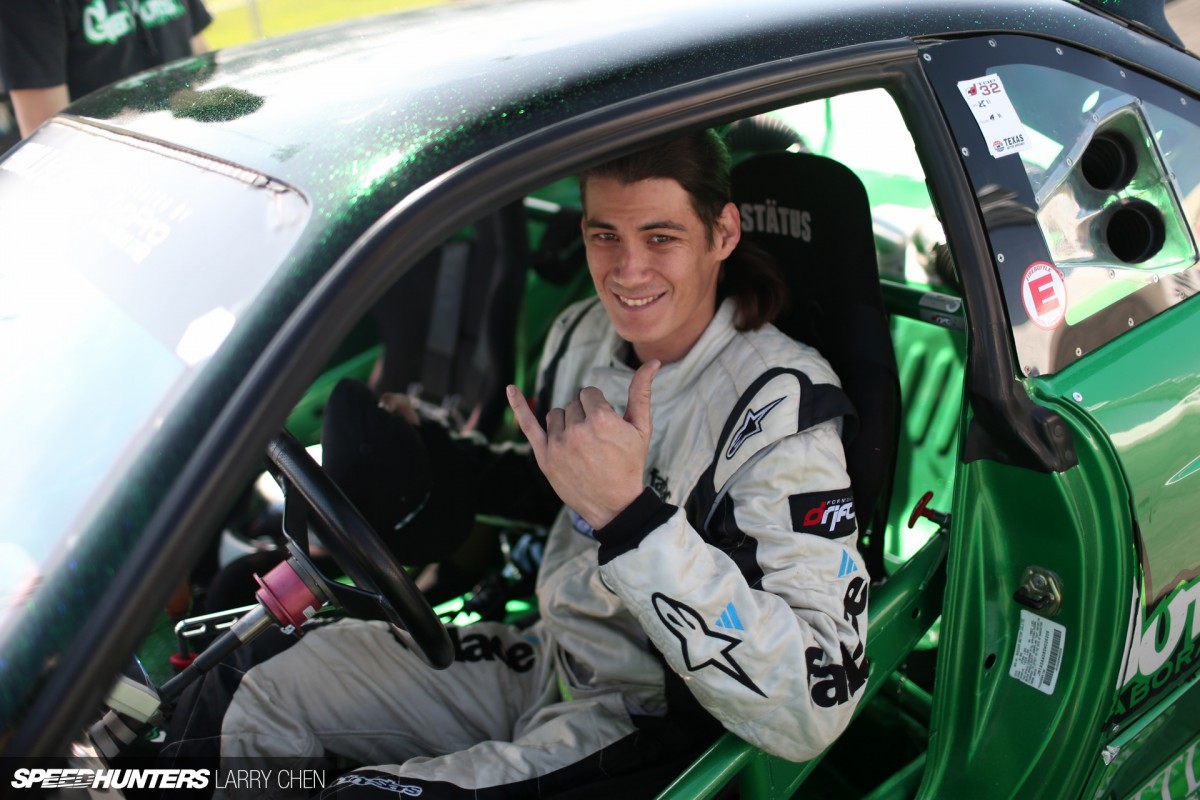 Aside from Essa earning his first championship there were many other firsts that night, including privateer Forrest Wang getting on the podium for the very first time. What a great way to finish off the year for this young driver with one of the best drifting styles around. In the beginning of this year we featured his car, and he told me that hopefully if he did well enough he could pick up some more sponsors. I know for a fact that he will be back next year with a bigger and better program.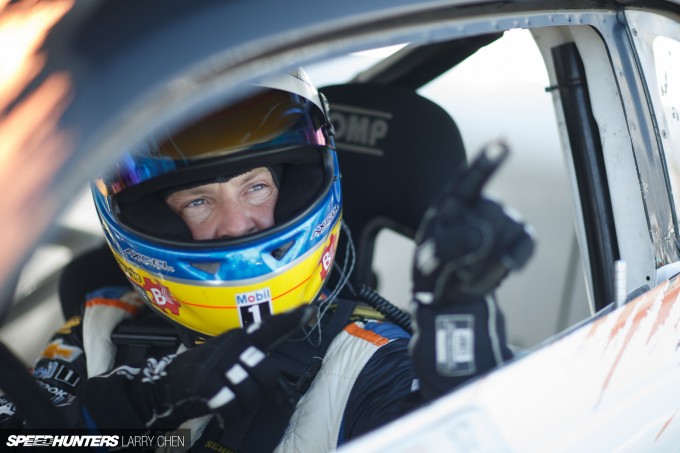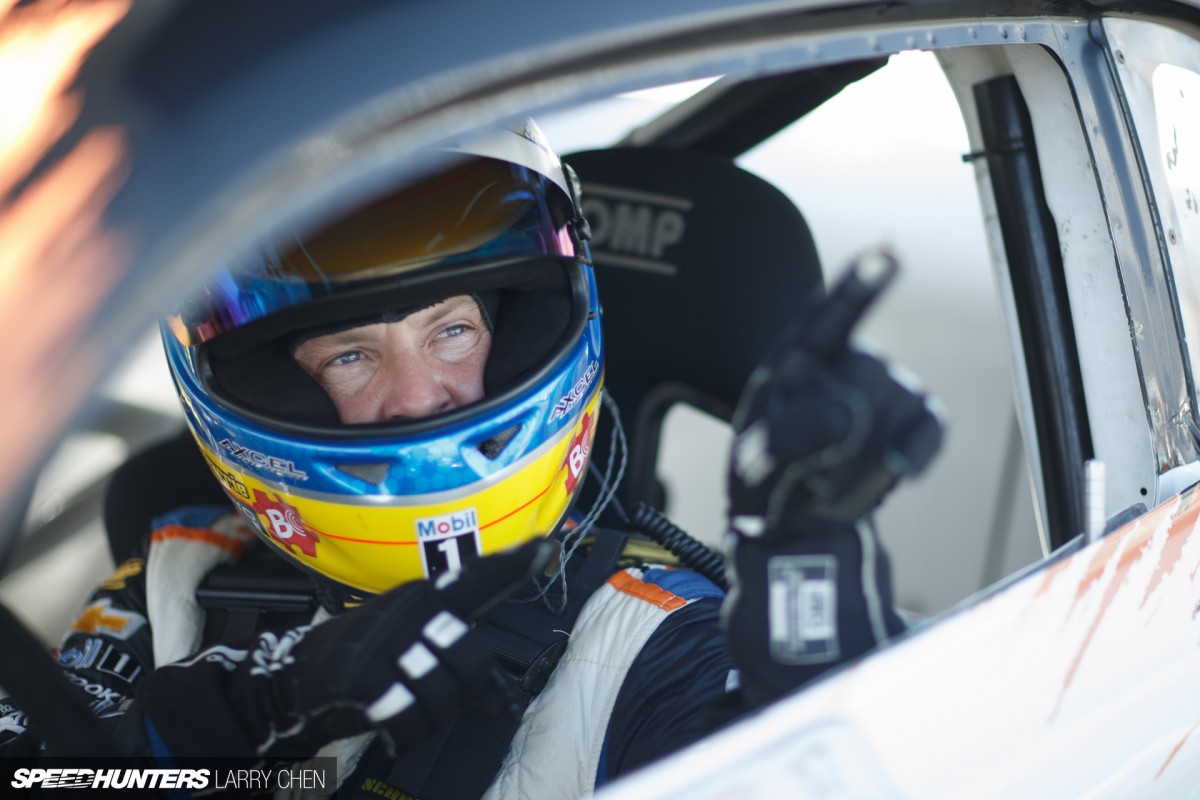 Tyler Mcquarrie ended up getting second place after losing to Daigo Saito in the finals, but before the weekend started, that podium finish was quite a distance away for Tyler – he's had one of the toughest years so far. It seems that nothing has gone right with his program. Although, what better way to end the year than with a podium finish.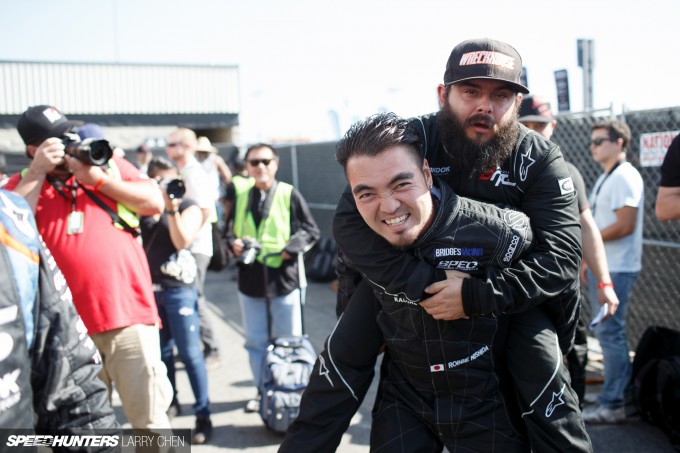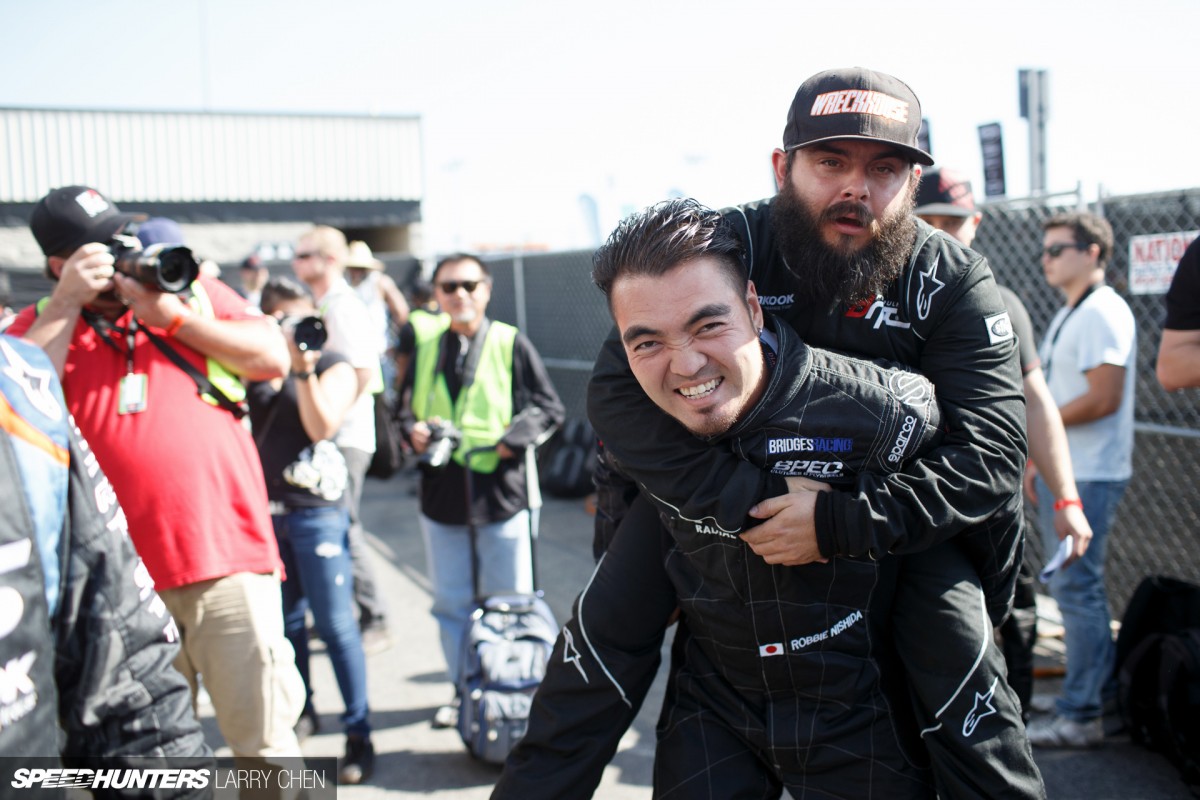 Two drivers who have really garnered quite a bit of attention recently had to battle against each other in the top 32. Robbie Nishida has been competing in professional drifting for as long as I can remember, and after years of struggling it seems he has finally found his groove. This was such a breakout year for him and I am sure we will see him again on the podium next year.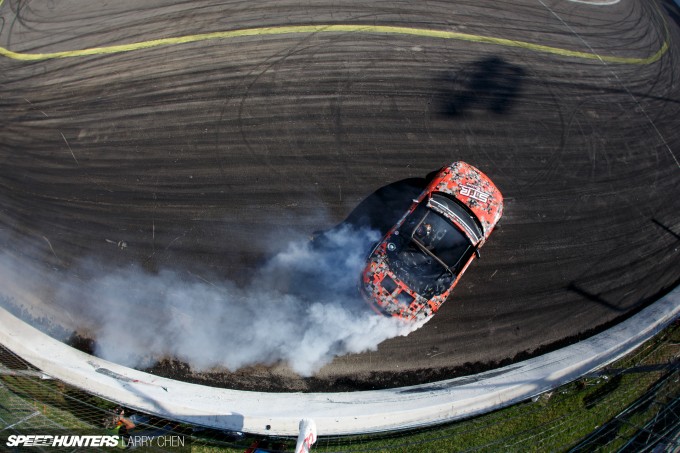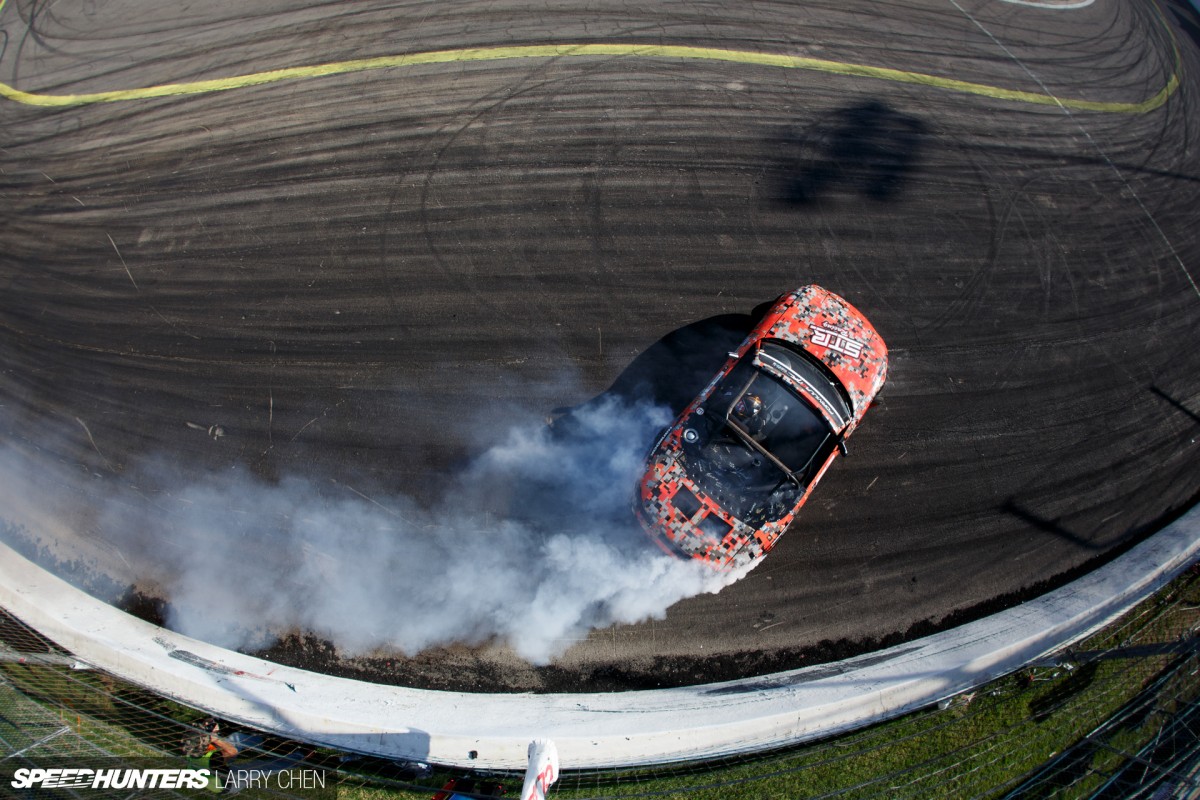 Danny George ended up getting two top 16 finishes this year – not bad considering it was only his second year competing in Formula Drift. On top of that, his entire program is crowd funded, aside from help with a few things like tires etc. He even won favorite car of the year as voted on by the Formula Drift fans.
Ready for war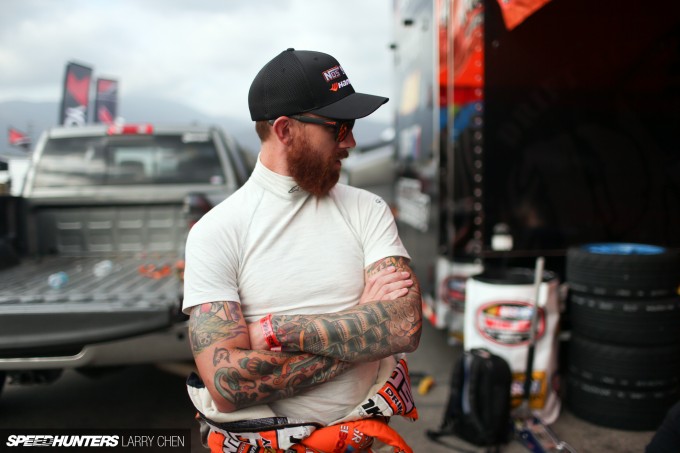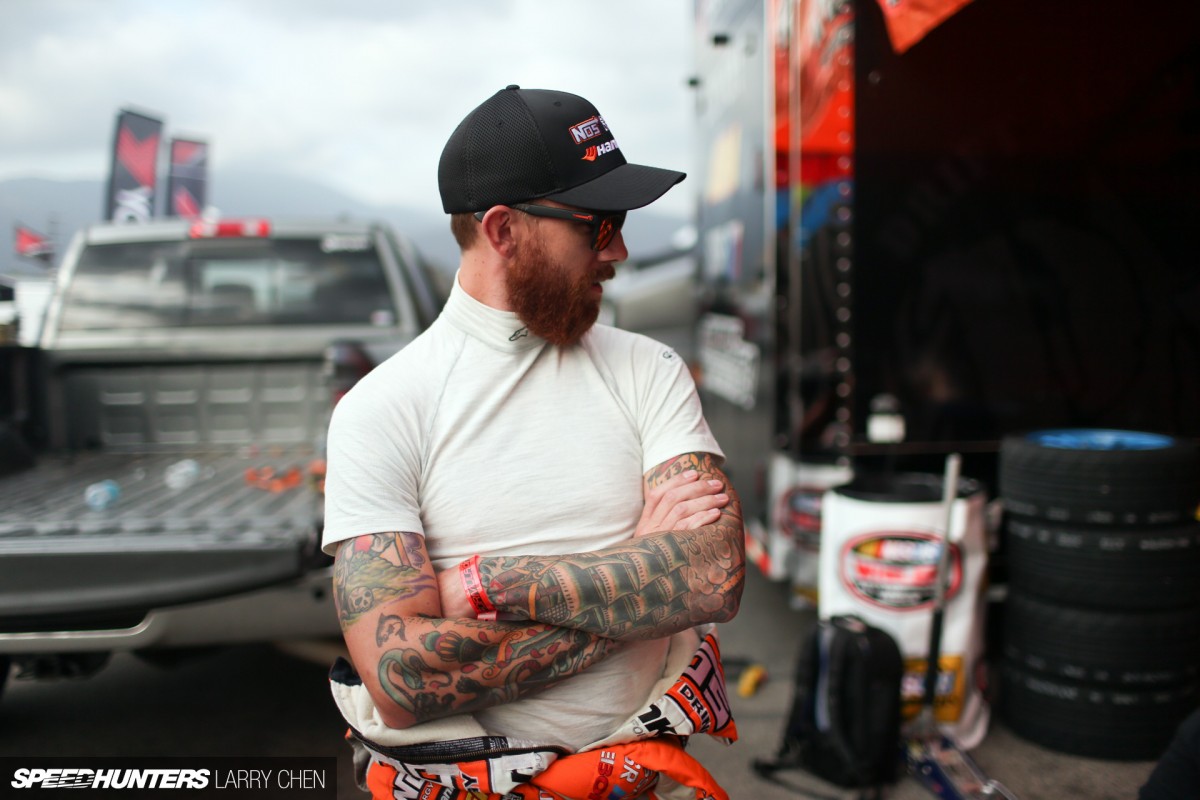 Chris Forsberg went into qualifying as always shooting for first place, but ended up in eighth. It was not ideal for the championship chase, but it would land him in a very interesting bracket.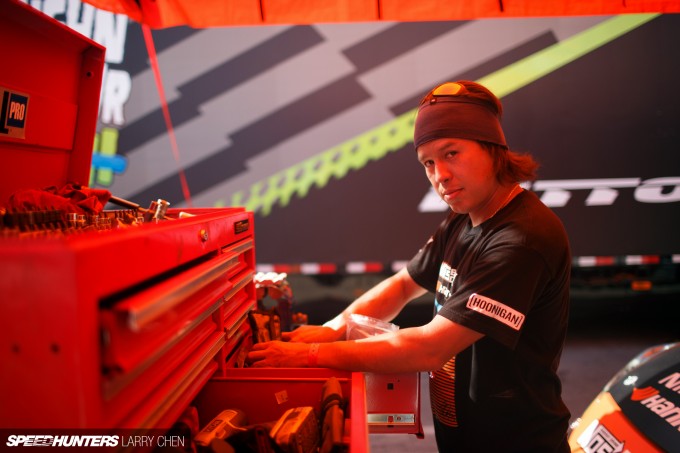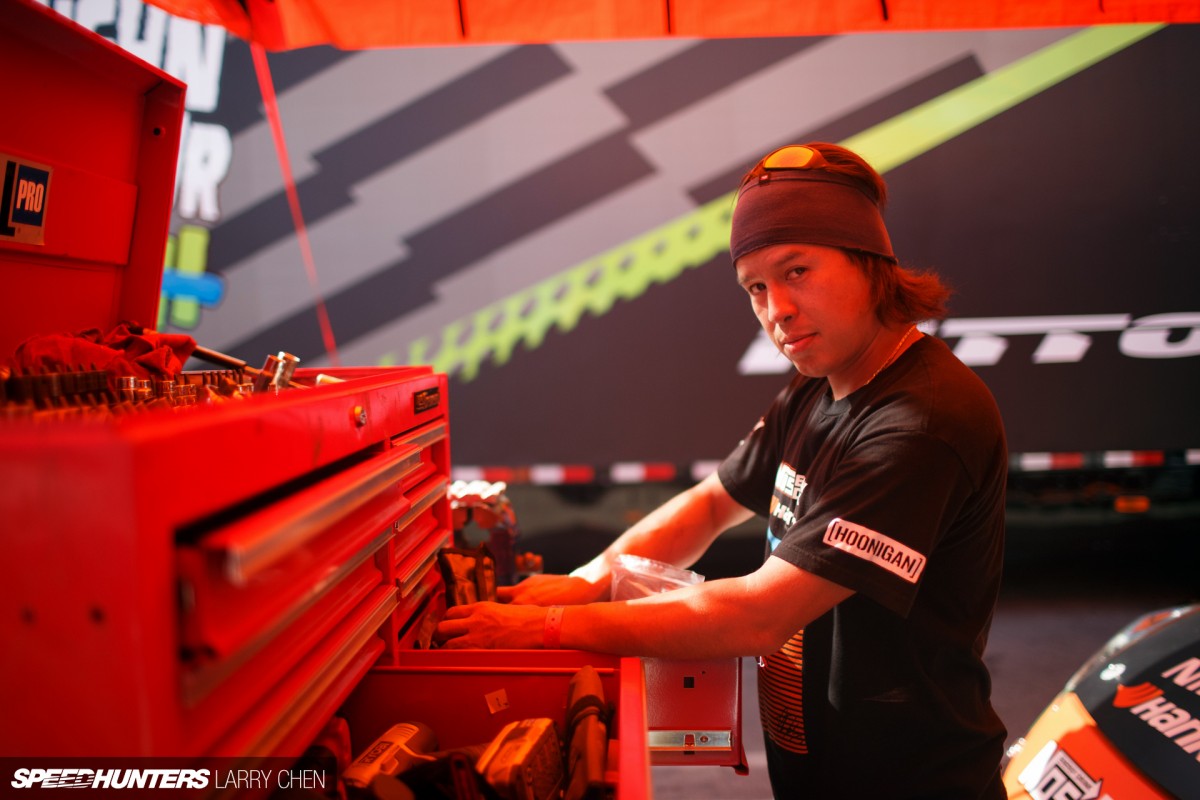 Many other teams coming into Irwindale, including Mike Essa, added more power with nitrous kits etc. Chris and the rest of the team decided that they got this far running a reliable program all year, so they should just stick to what has worked for them.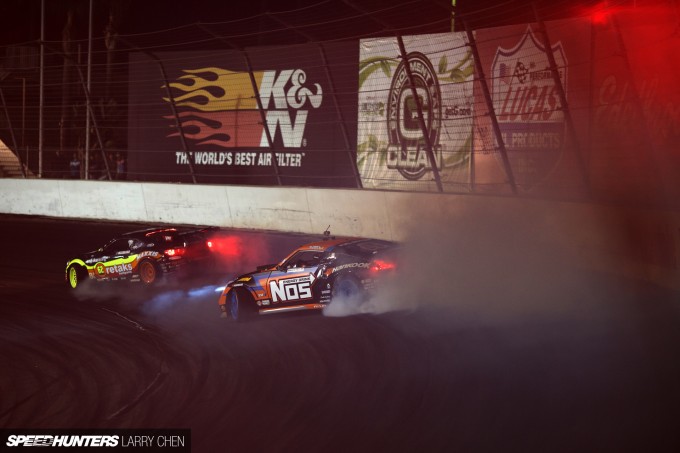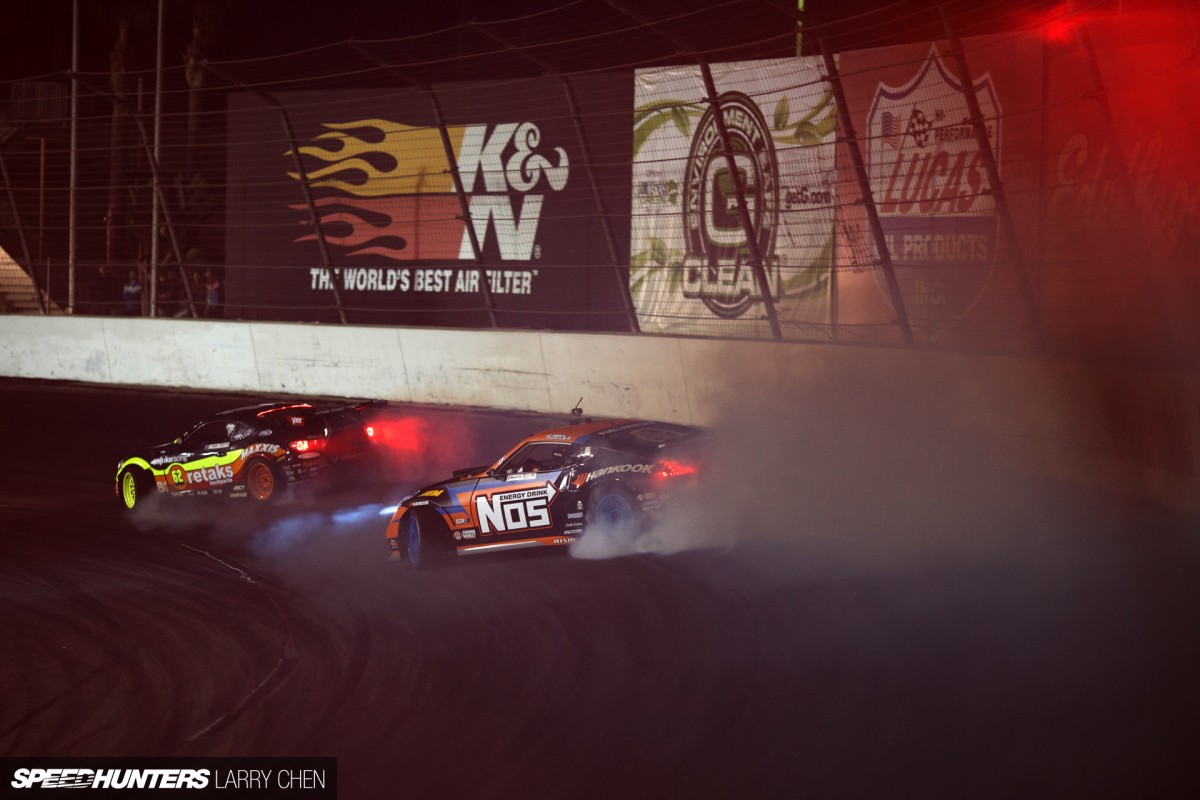 There was no point in adding more power just to pop the motor early in competition.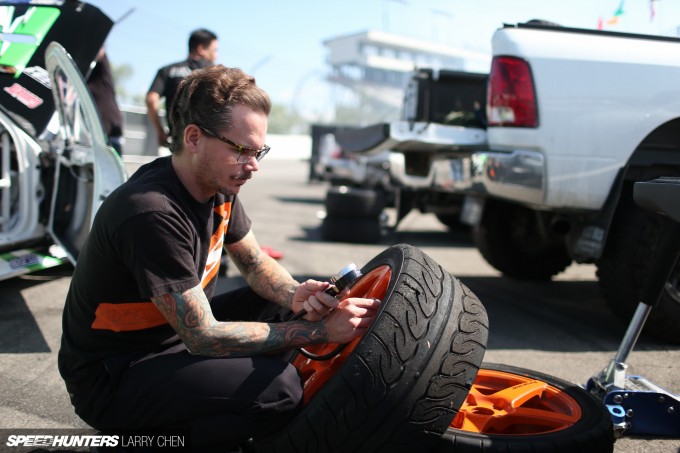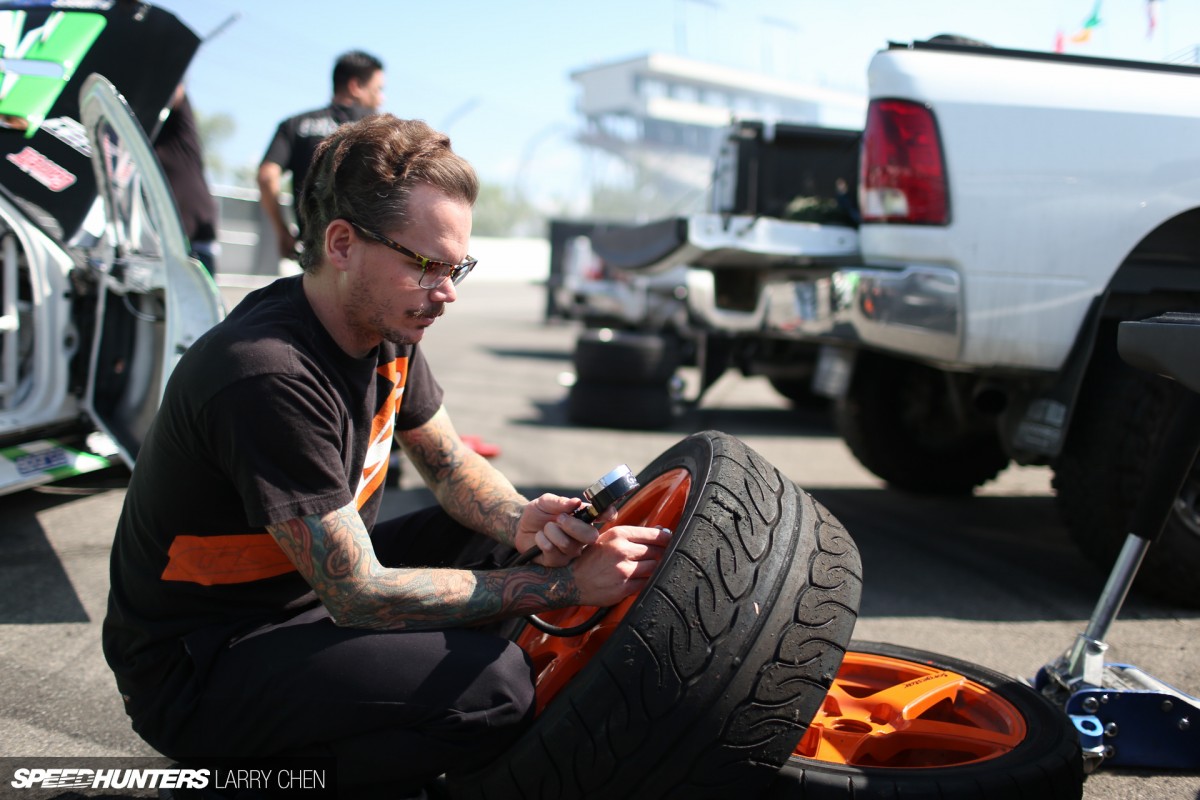 The GSR Autosports team had a different strategy altogether. They were going to go all in and push super hard all weekend. It showed right off the bat as they qualified in first, almost three points ahead of second place qualifier Vaughn Gittin, Jr.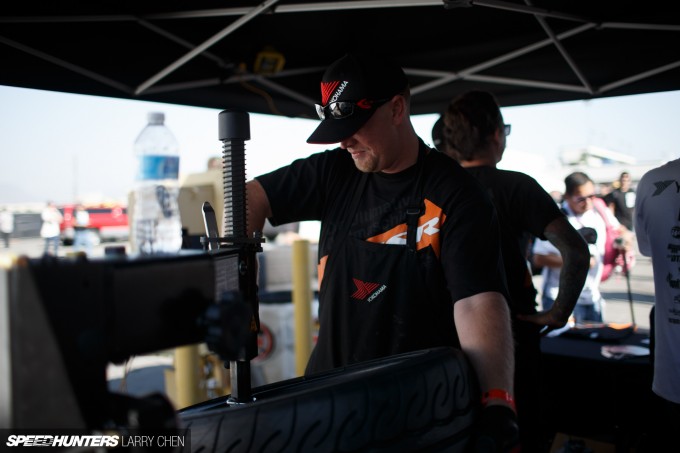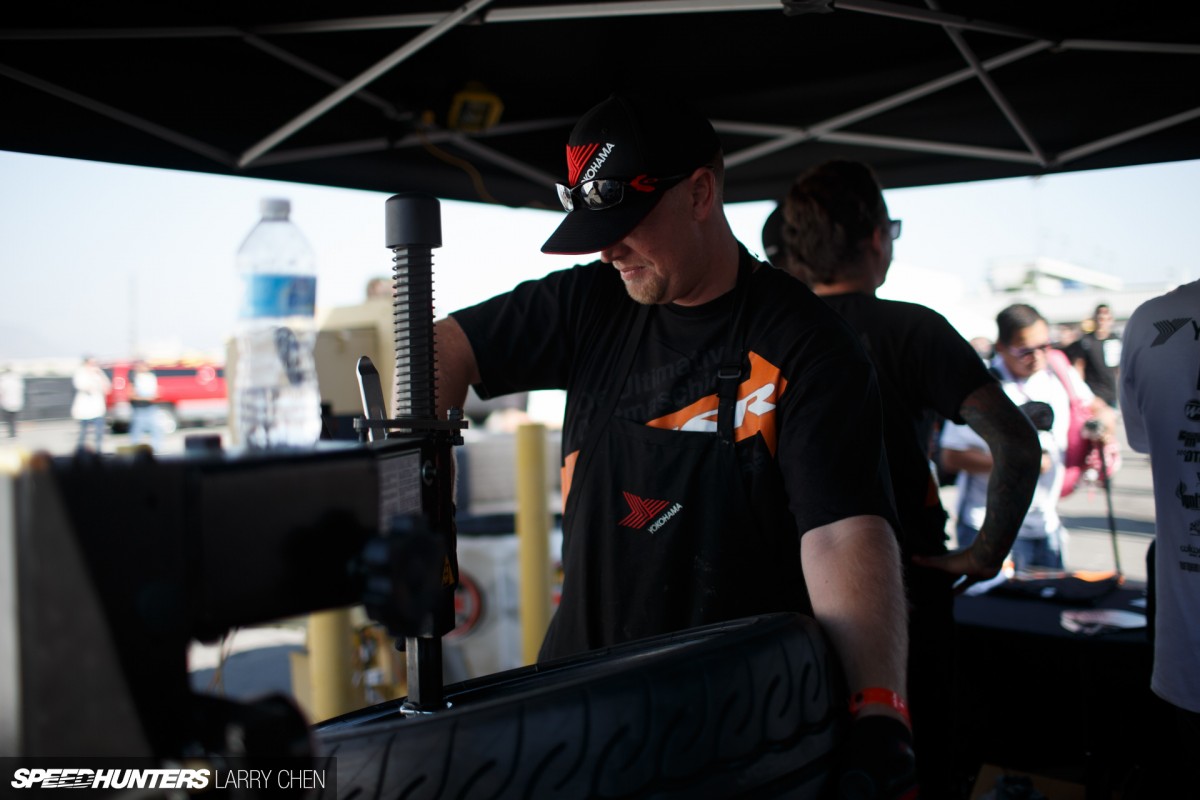 The GSR Autosport team was tiny, with most people doing two or three jobs. As a privateer you have to cut costs and work with what you have.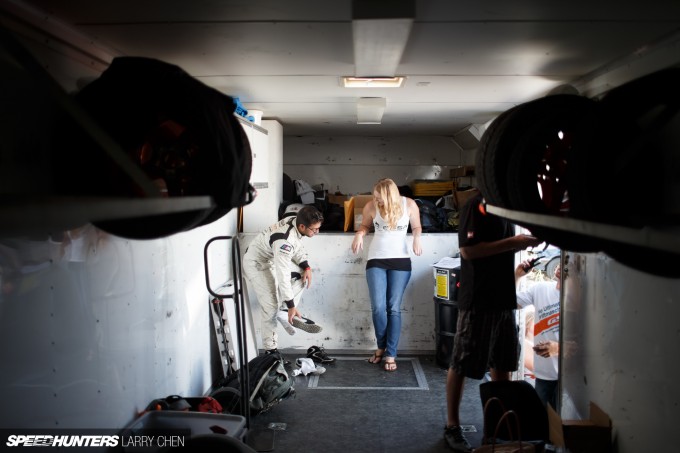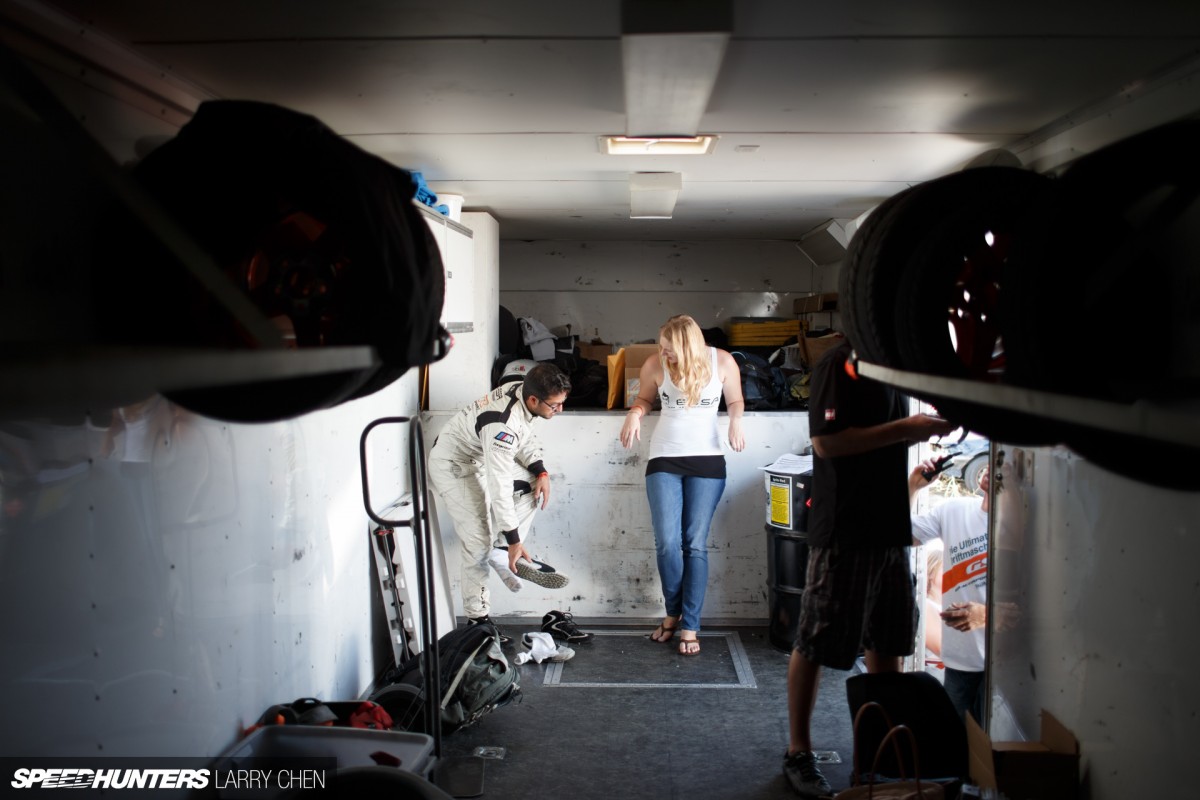 I've been following Mike for years now and I watched him start from pro-am to where he is now. He is also very lucky that he has a family that fully supports his efforts as a professional drifter.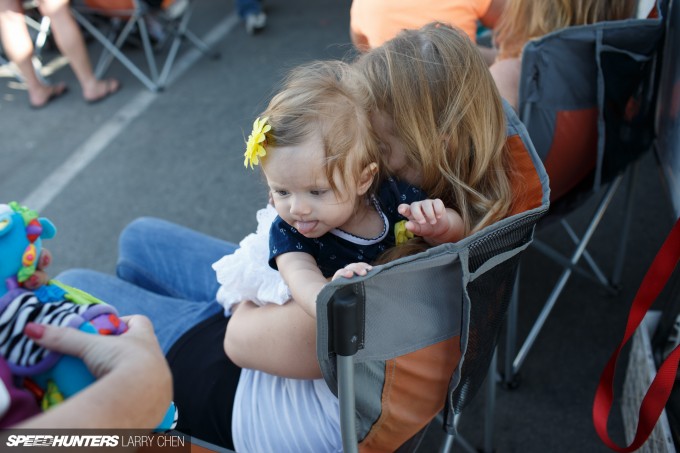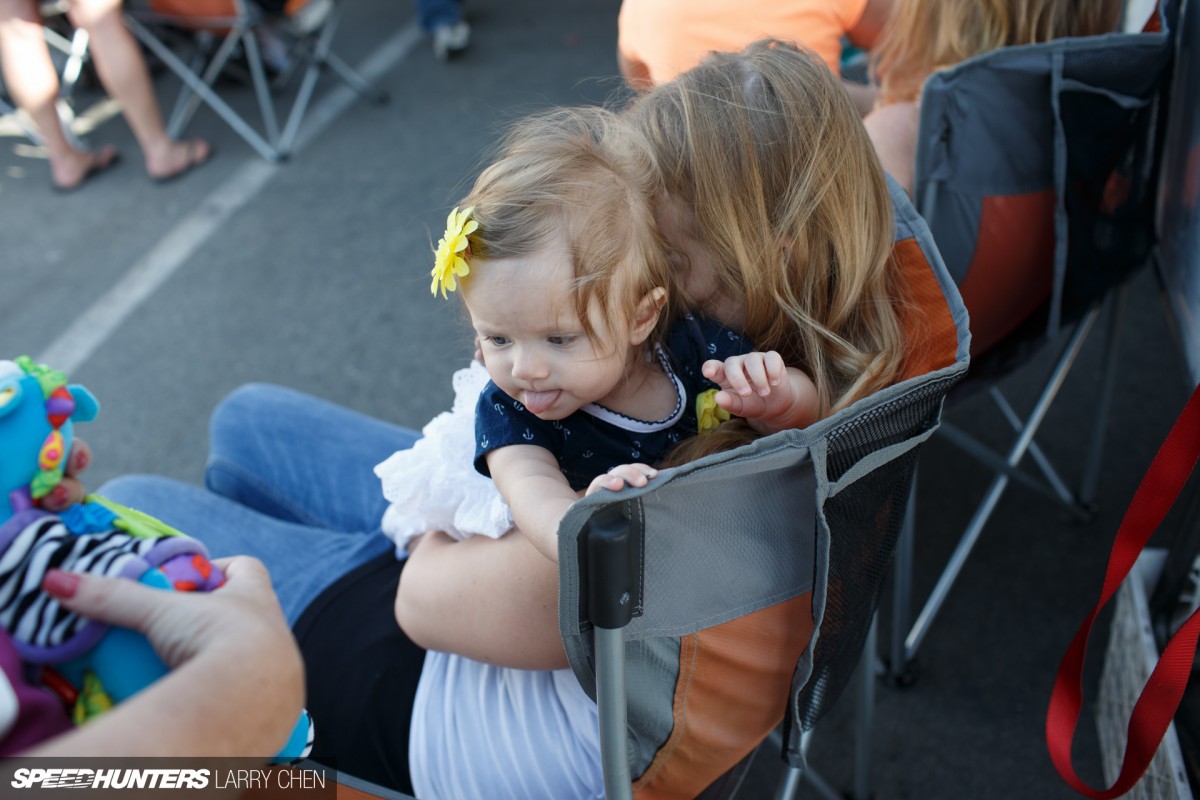 Even Essa's newest member of the family was out to cheer him on. His Daughter was born just this year.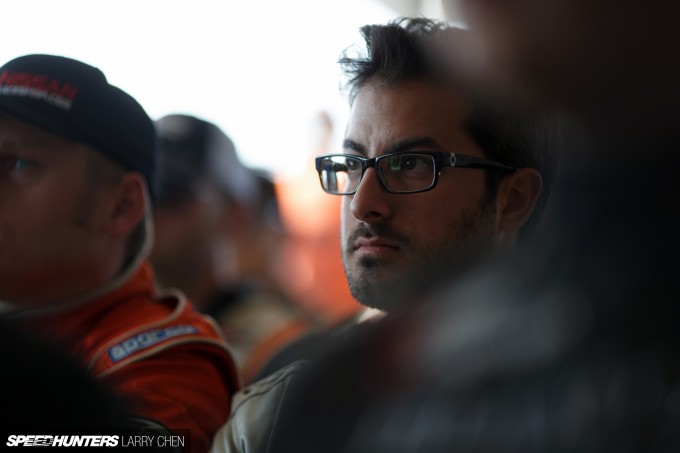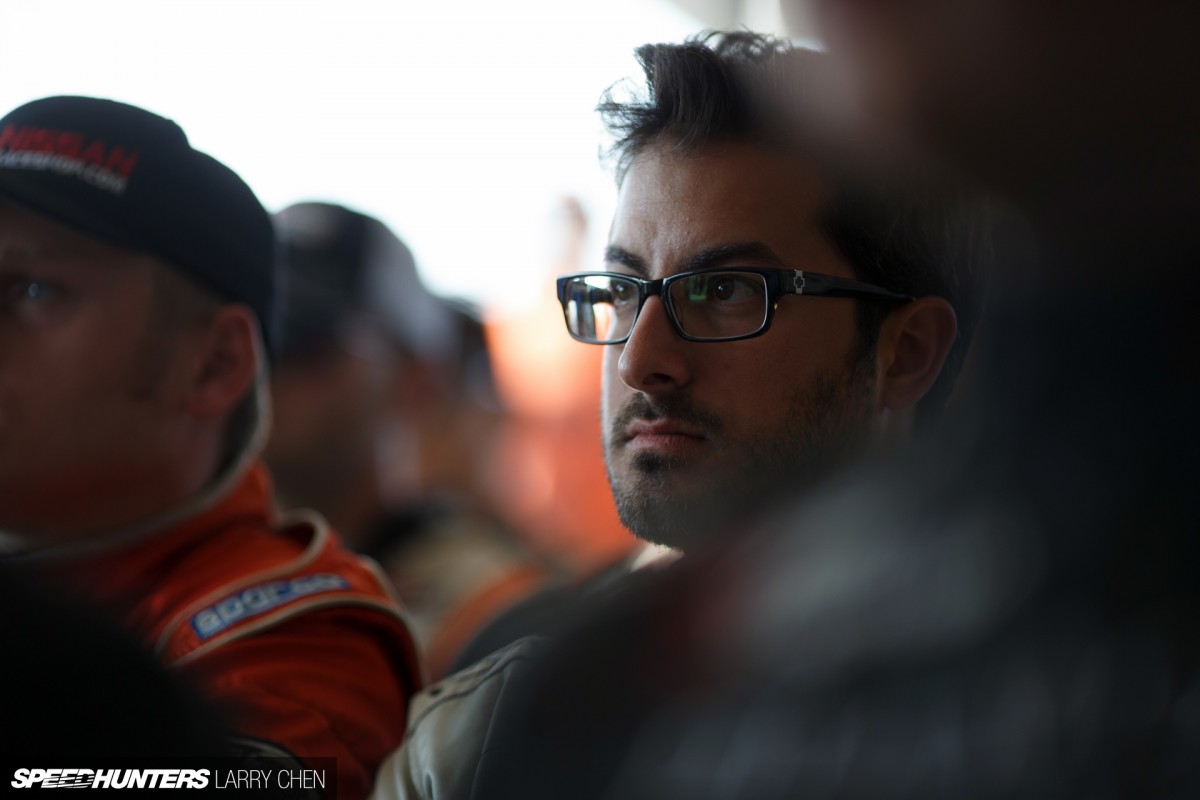 With the addition of nitrous, the BMW was putting out more power than it was all year. There was no way he could tell what was going to happen next.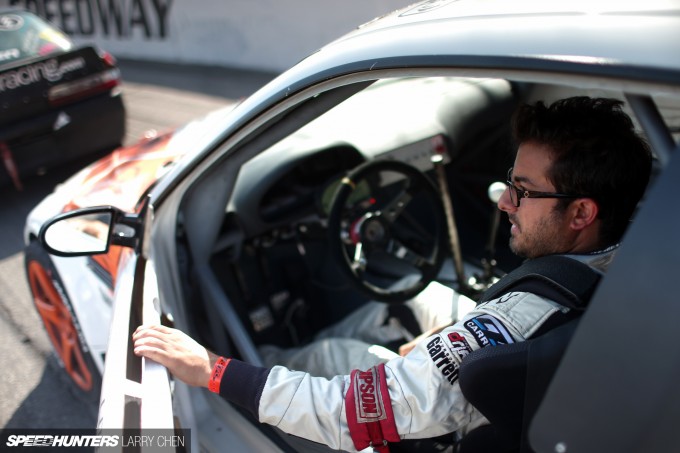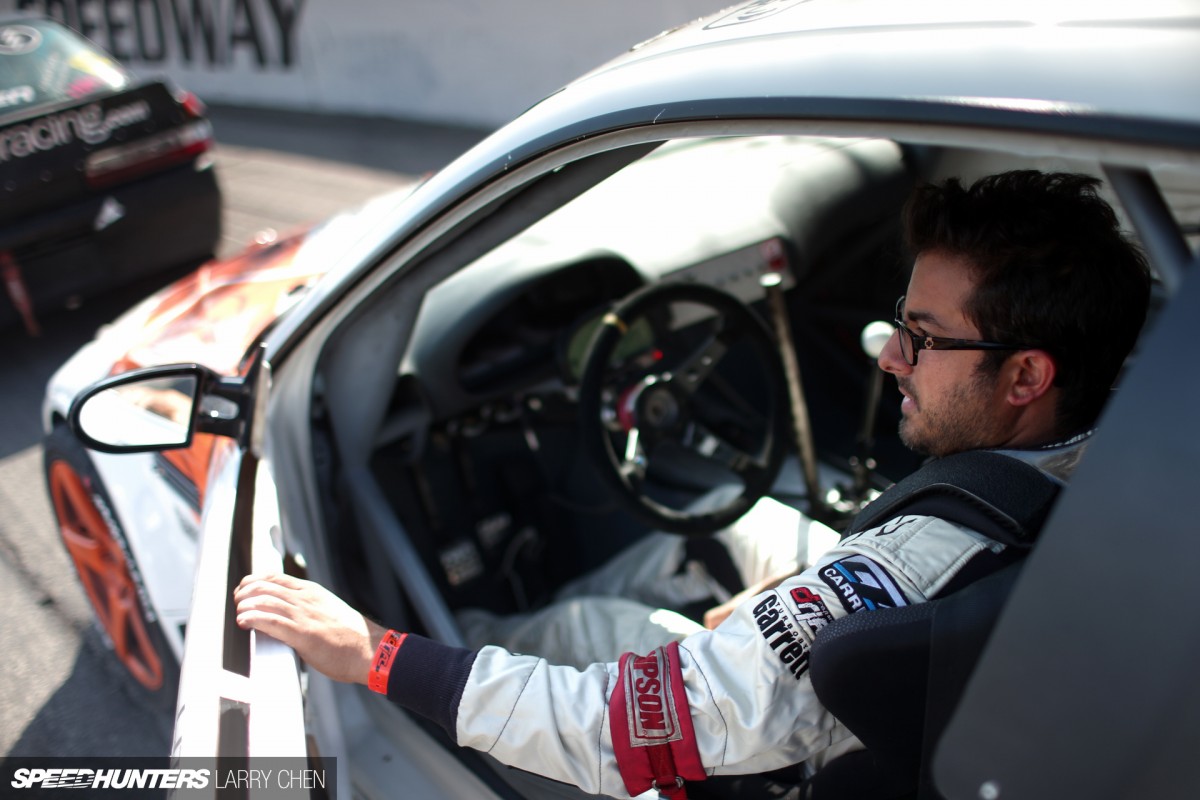 During practice everything seemed alright. All Mike had to do was get into the top 16 and it would be much harder for Chris Forsberg to nab his second championship.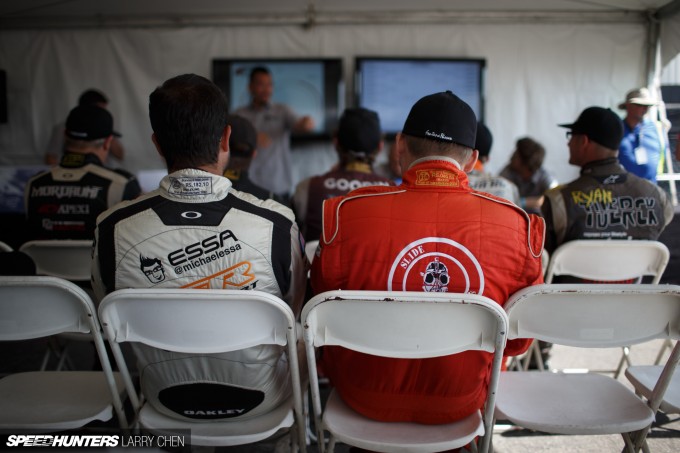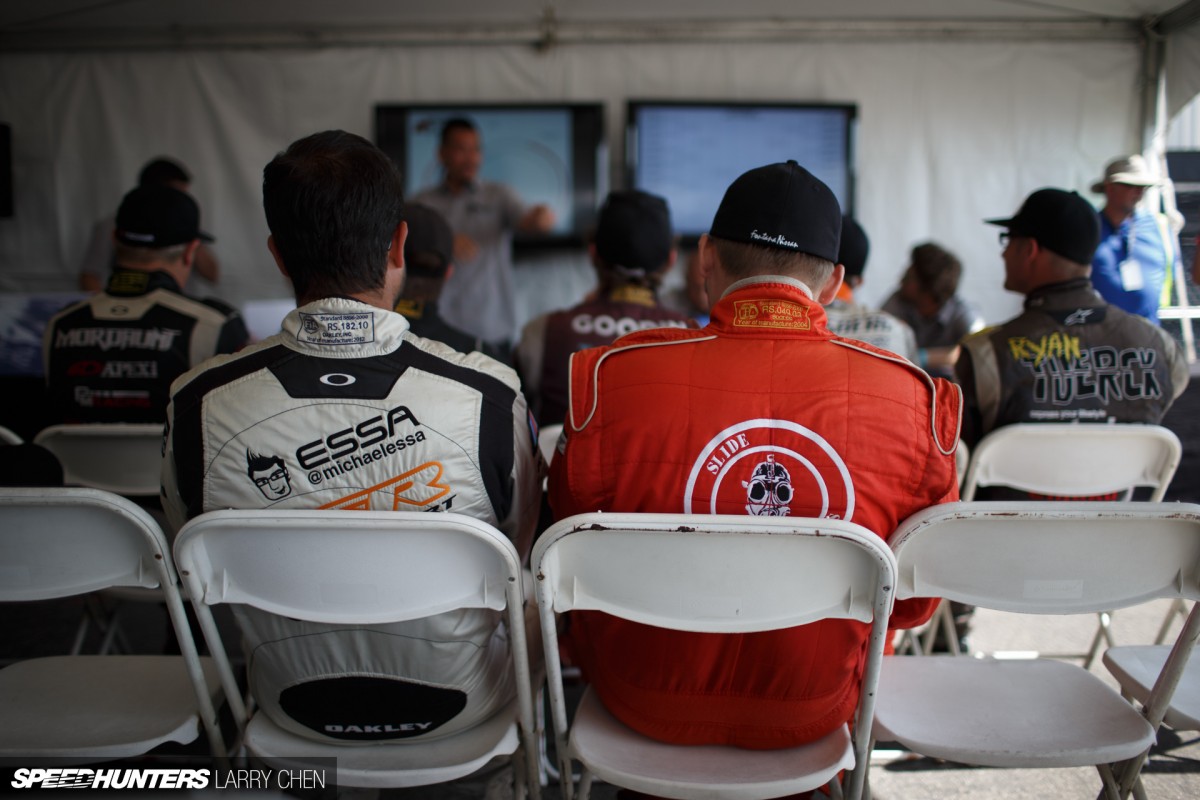 In the top 32 bracket Mike was going against his buddy Luke Pakula, whom he started drifting with years ago. Luke just earned his FD license last year and this year was his rookie year in FD. They are both part of the drift crew Slide Assassins, in fact Luke was wearing Michael's old race suit from when he started in FD.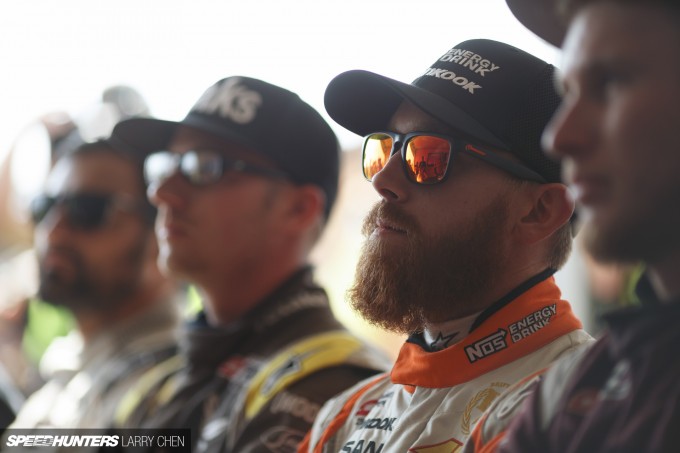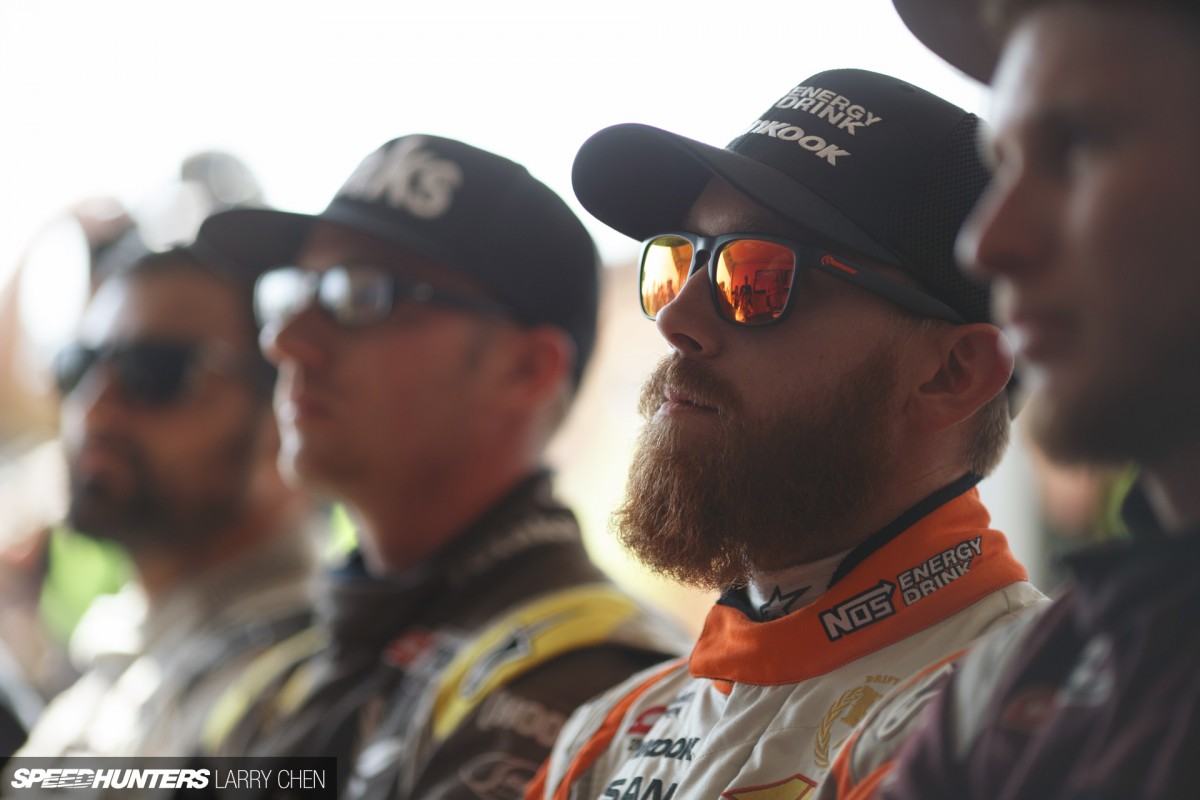 However, if Mike did not make it to the top 16 bracket, then Chris Forsberg just needed to beat Daijiro Yoshihara to earn his second championship. At this point, everyone figured it would be easy for Essa to win it considering his lead.
Going to battle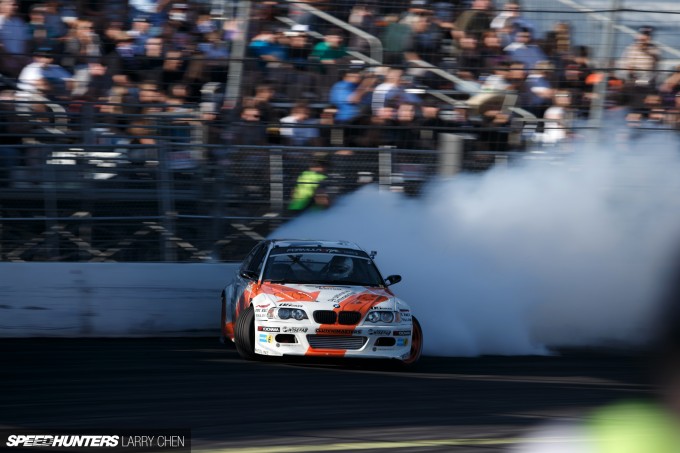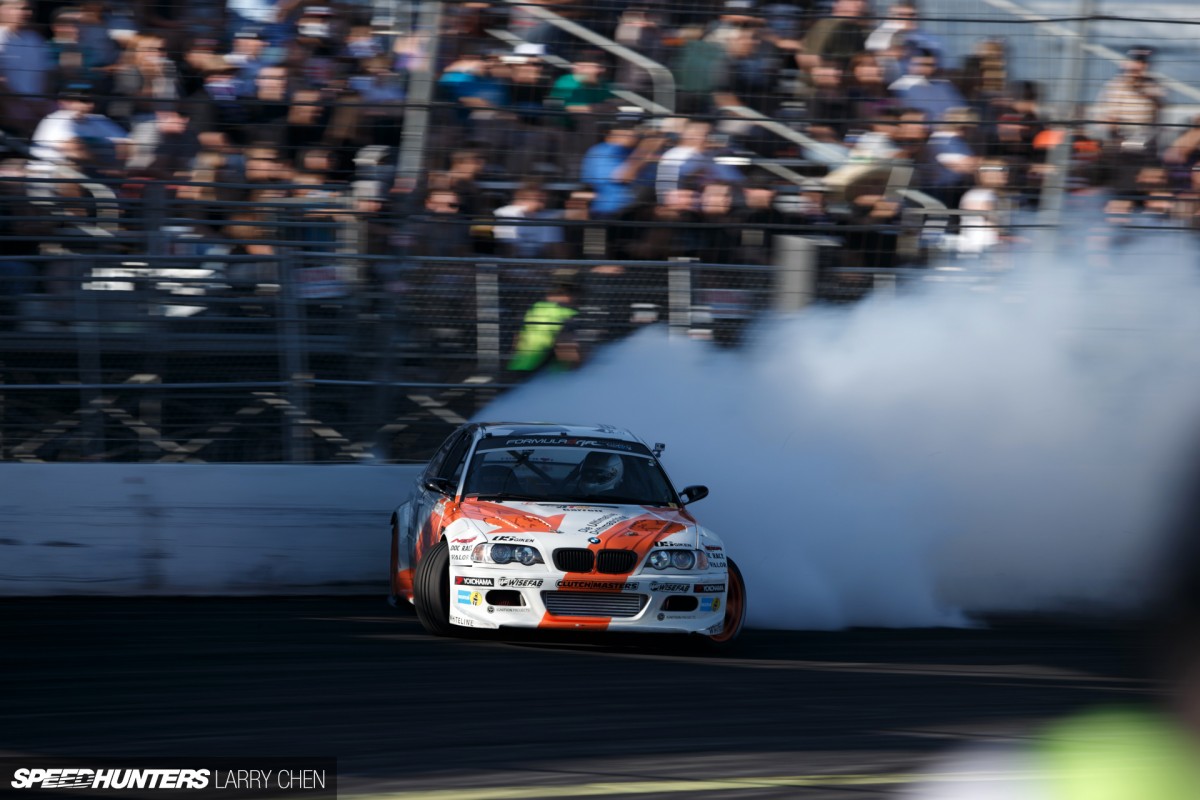 Come top 32 Mike went out guns blazing. He went all out, just like during his qualifying run. His opponent was nowhere to be found. It was not looking good for Forsberg at this point, because Essa would just have to do one more run and he would be in the top 16. Which of course means there would be a great chance that Essa could meet Forsberg in the top 8.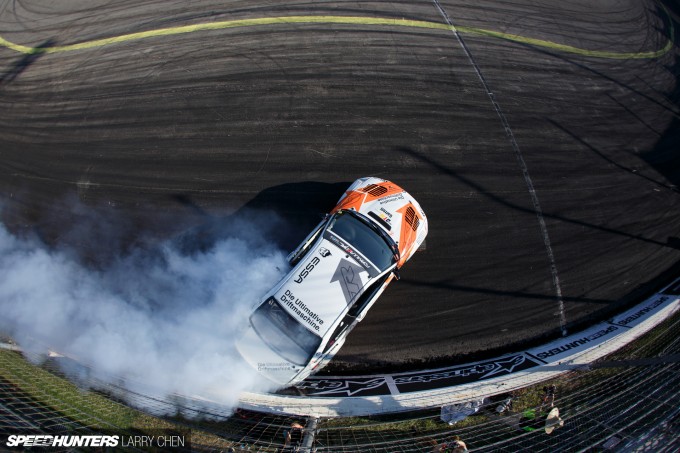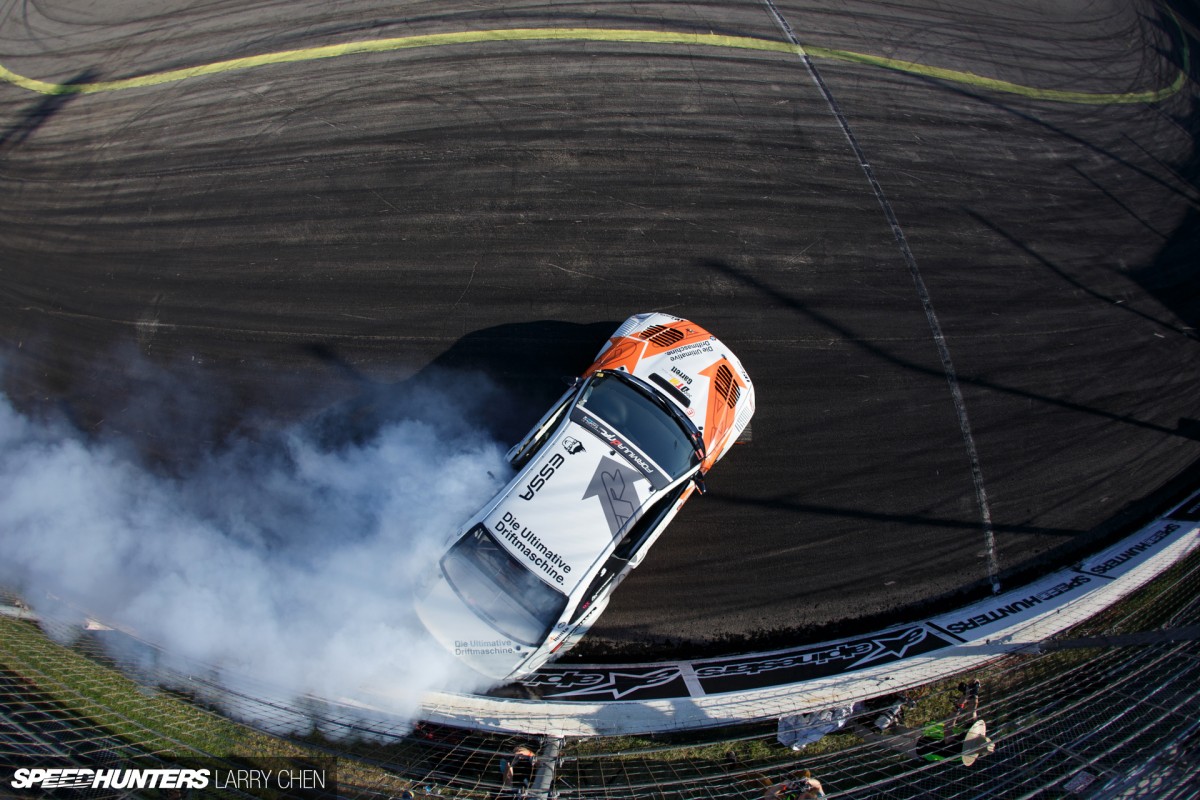 But then something went wrong, and Essa could barely stay in drift to finish the run. I was not sure what happened at first, but I heard moans in the crowd. I looked over and I saw everybody rushing towards a smoking BMW drift car.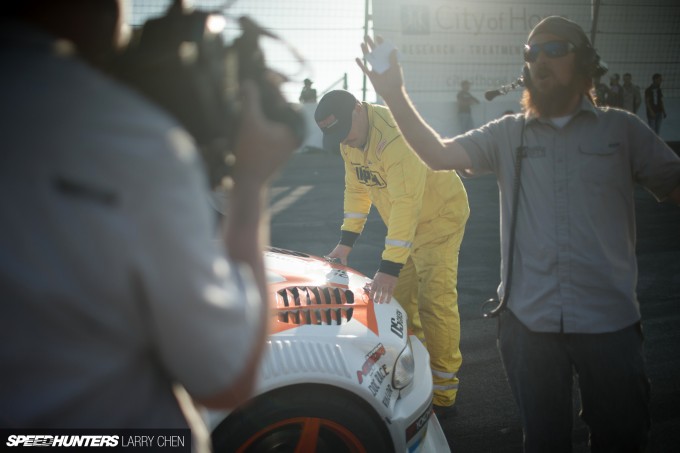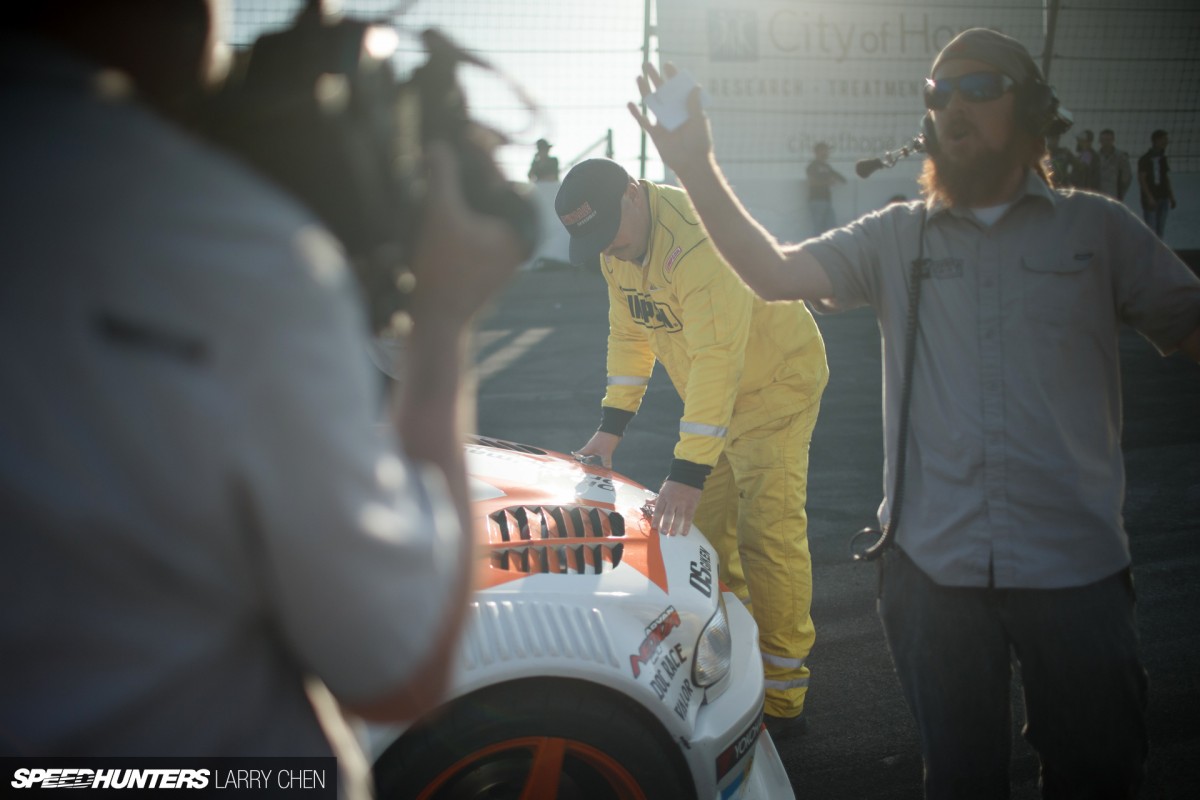 Was it on fire? Just to be sure the safety crew went to check it out. It was not on fire, but the motor was not running. This was not looking good at all.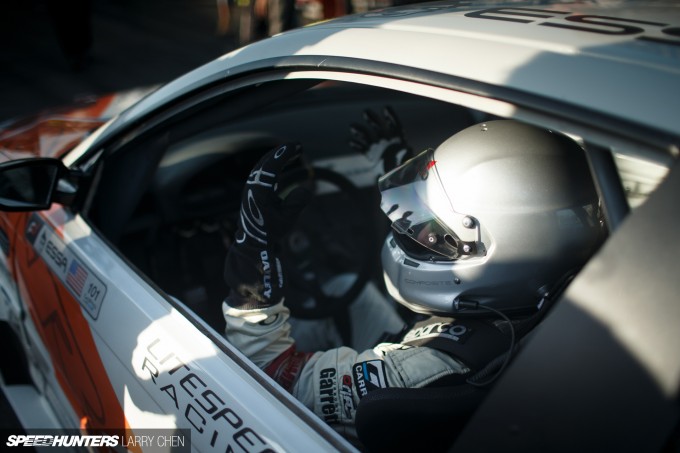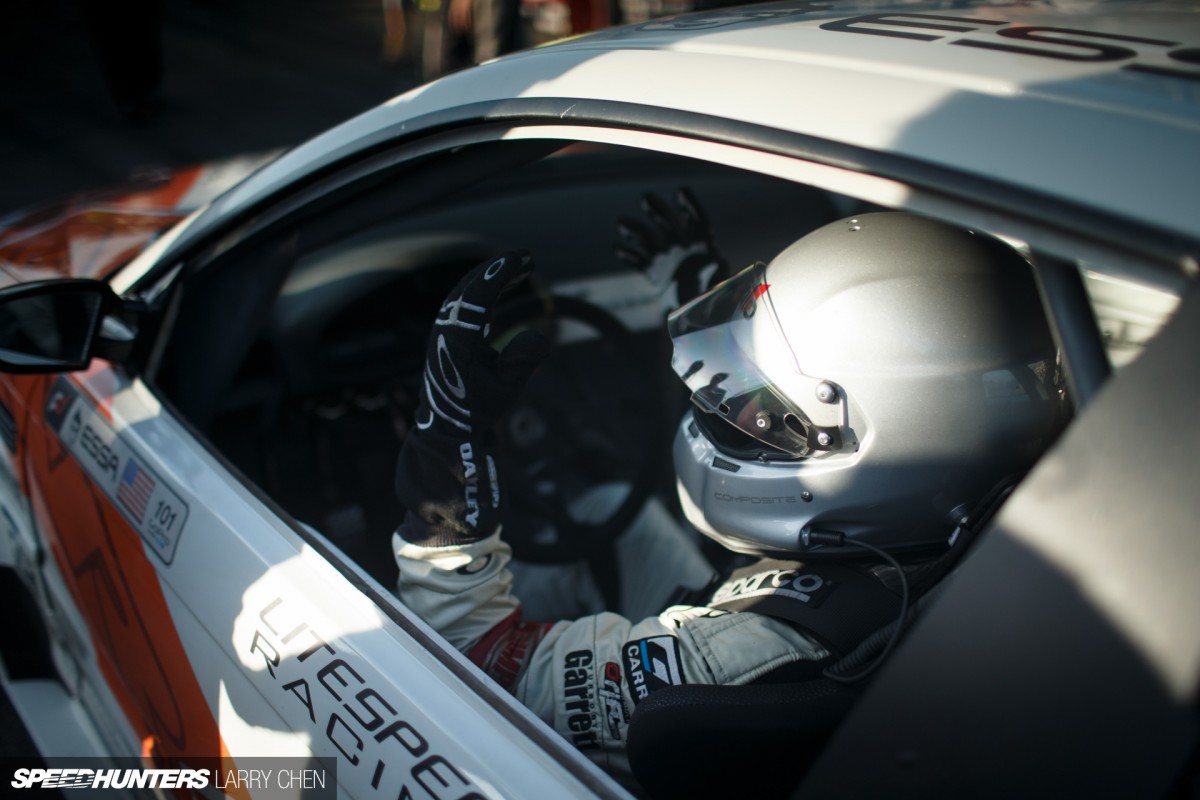 Mike had no idea what happened. He just told me that he had to clutch kick many times just to stay in drift at the end of the course.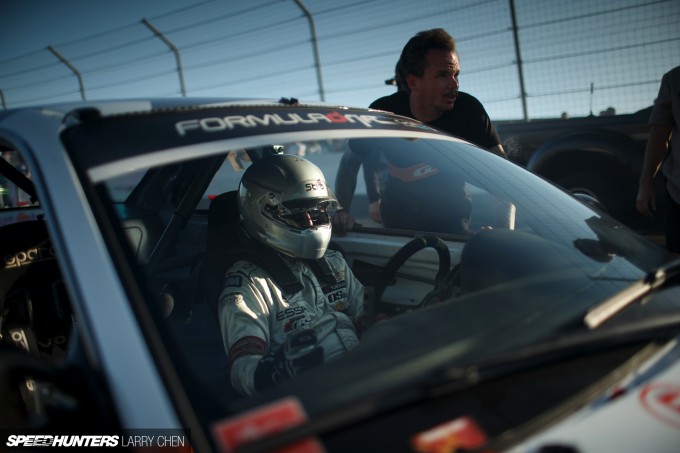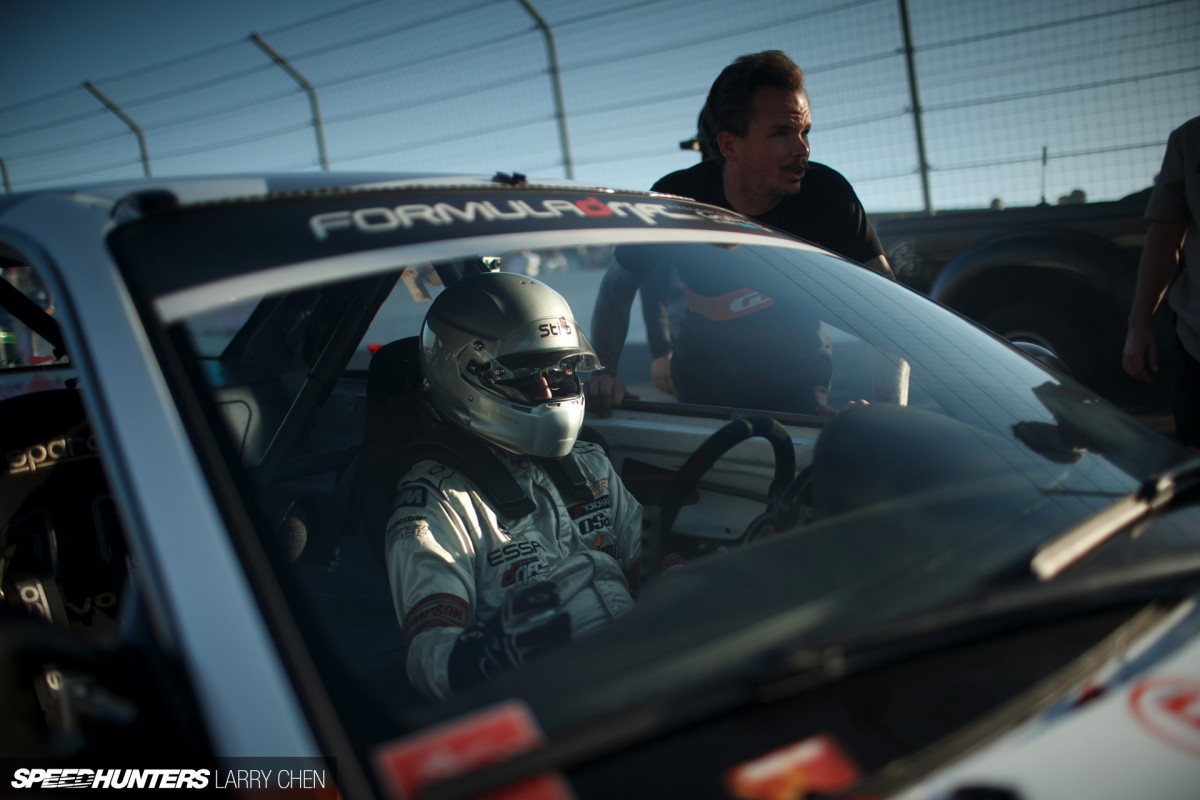 The team was frantic; they were running out of time. Since Luke got a zero on the first run, Essa had to at least pull to the line for their second run if they wanted to move on to the top 16 bracket.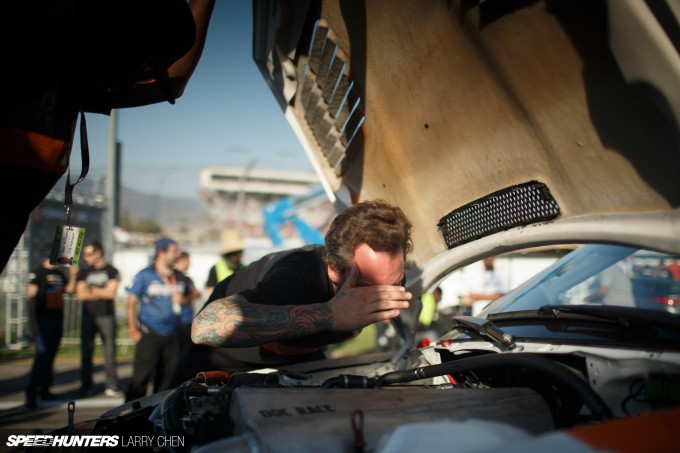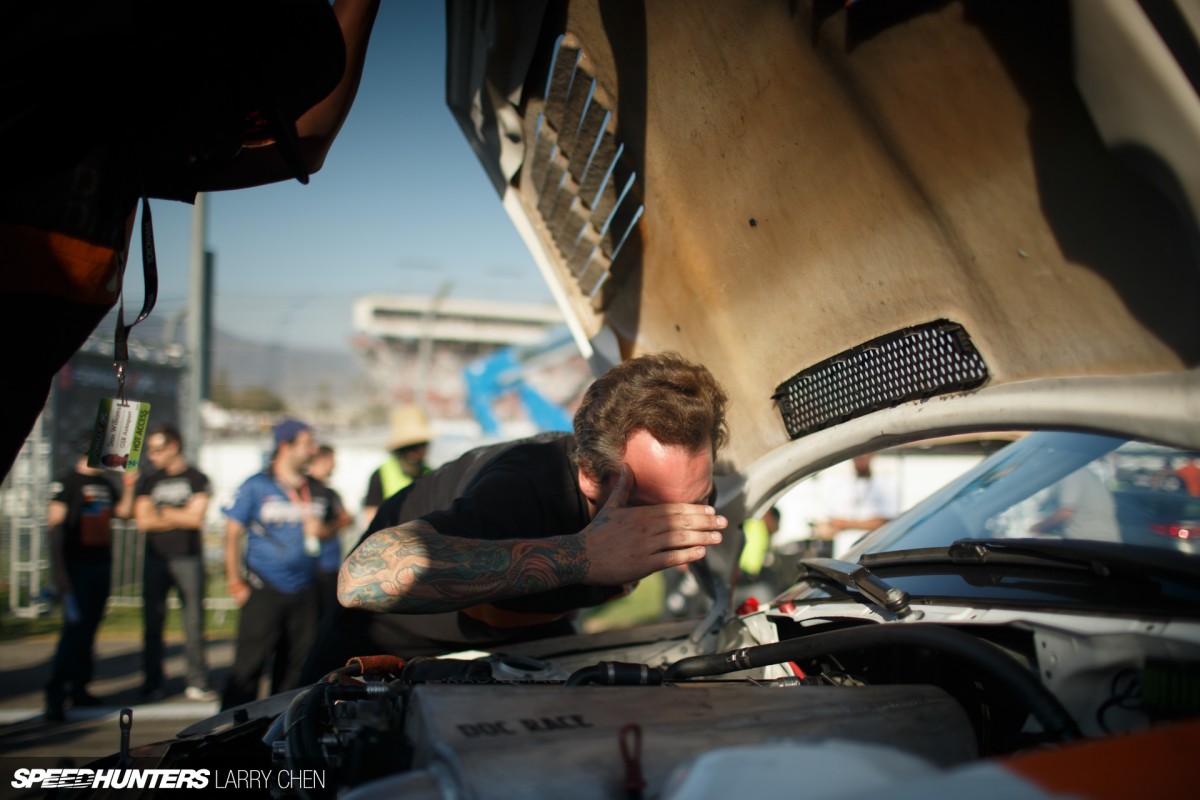 His crew checked out the motor but it was not looking good.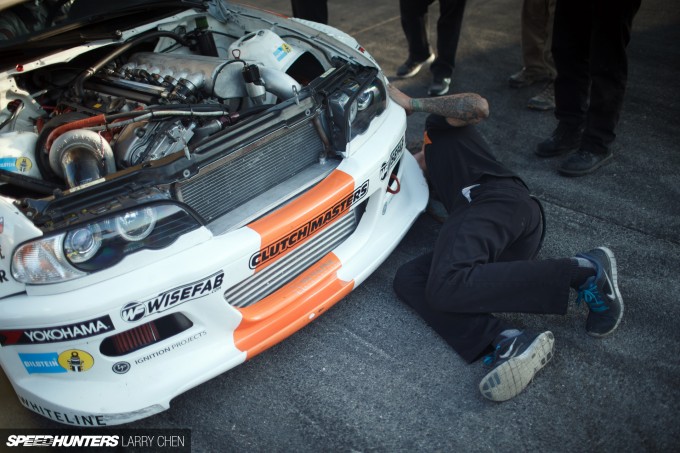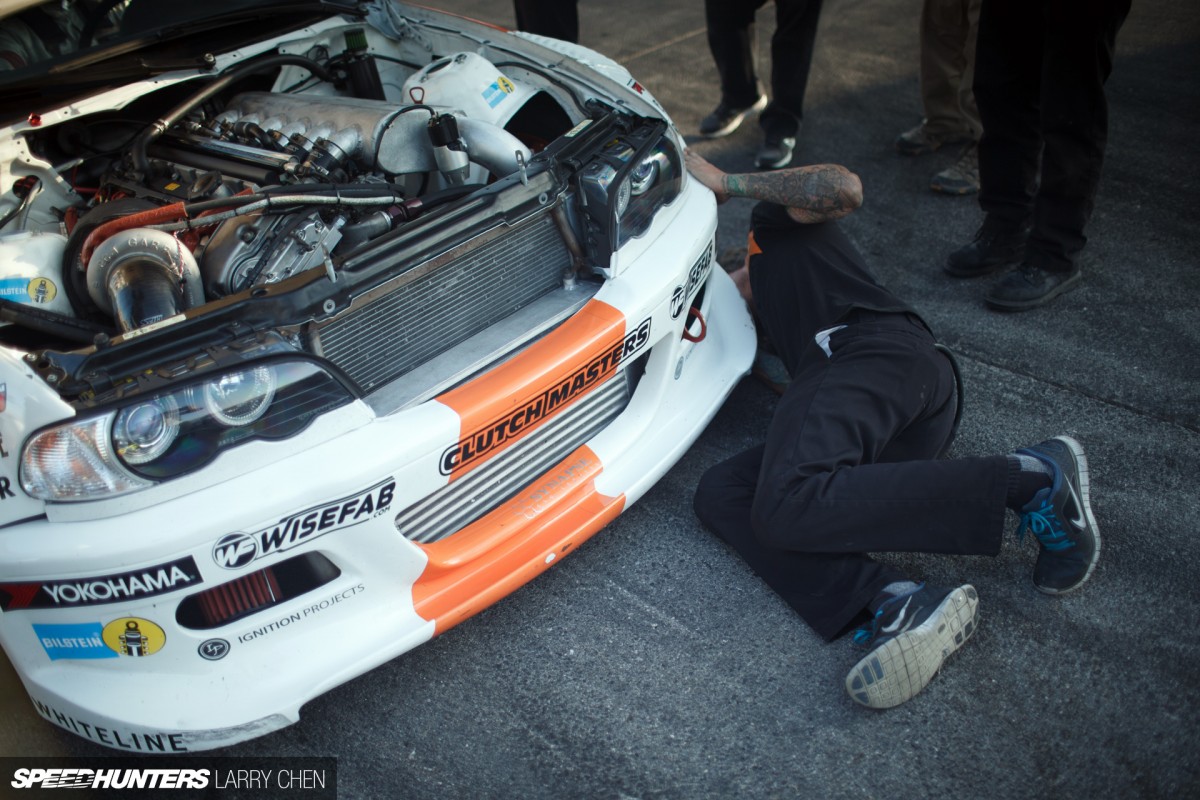 The engine had seized and it would not start. The starter just clicked, but it could not turn the motor over.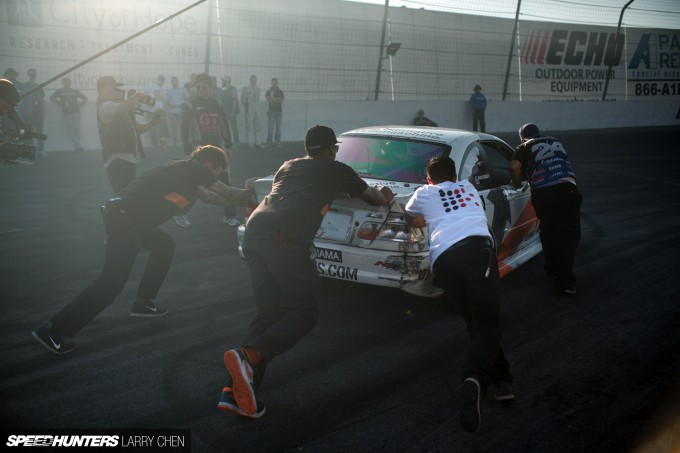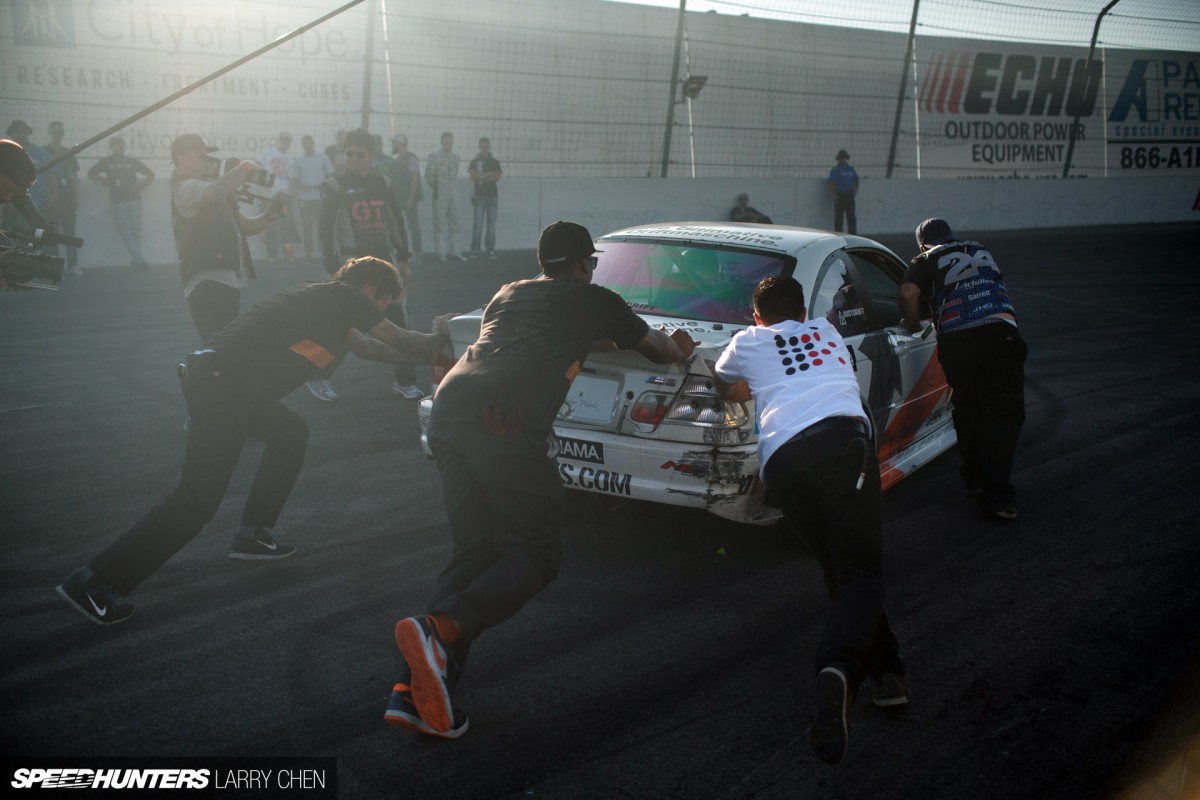 The guys tried to push start it, but it just would not turn over at all. So they called for a competition time out.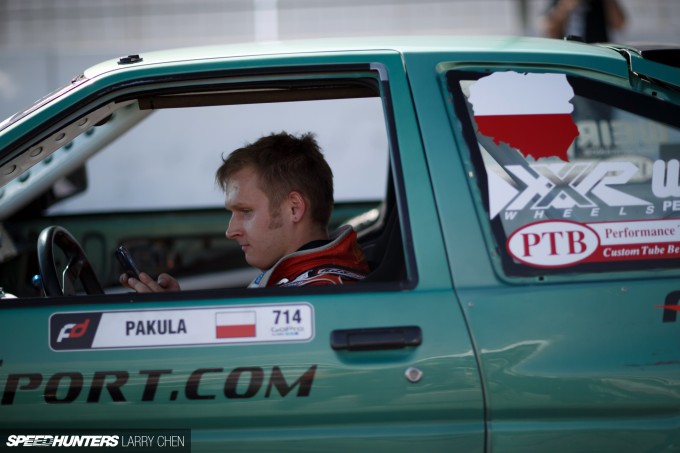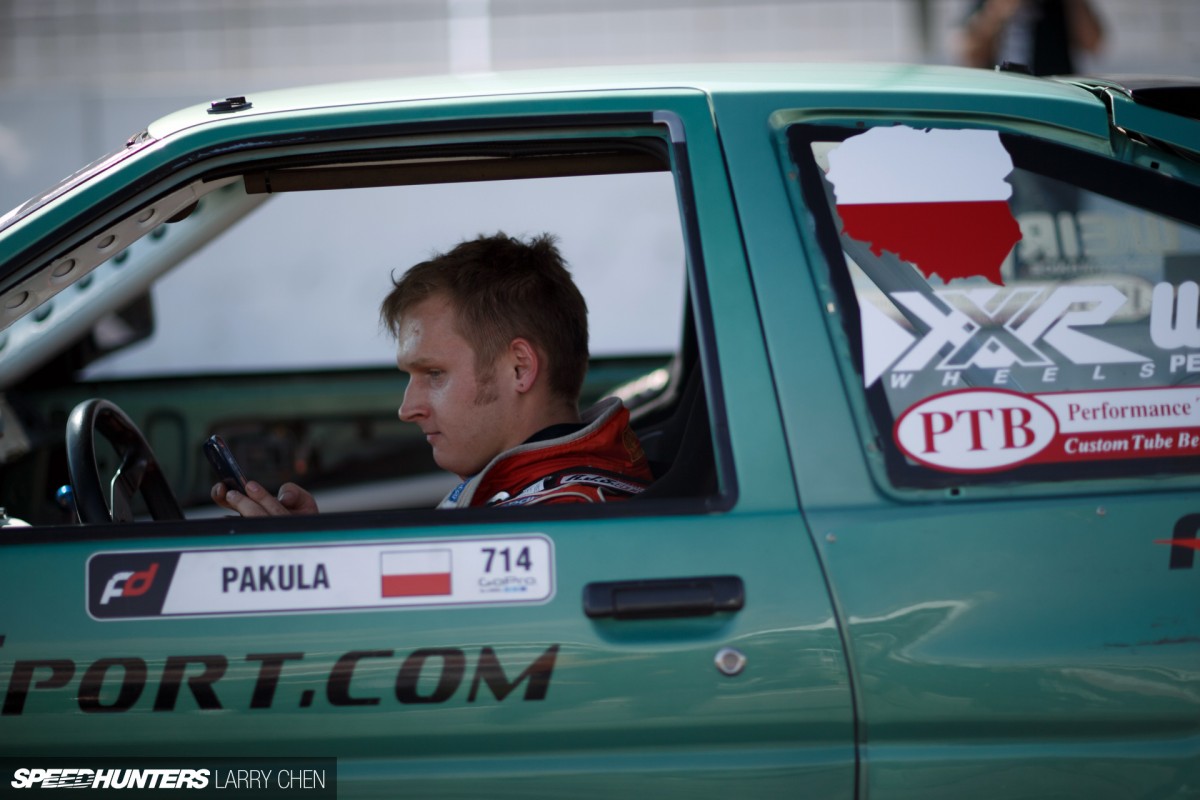 Luke sat on the line waiting for his friend. Now this is when it gets interesting. Luke pulled off the line because he said his car was not working properly and he forfeited the run, which effectively gave him double zeros.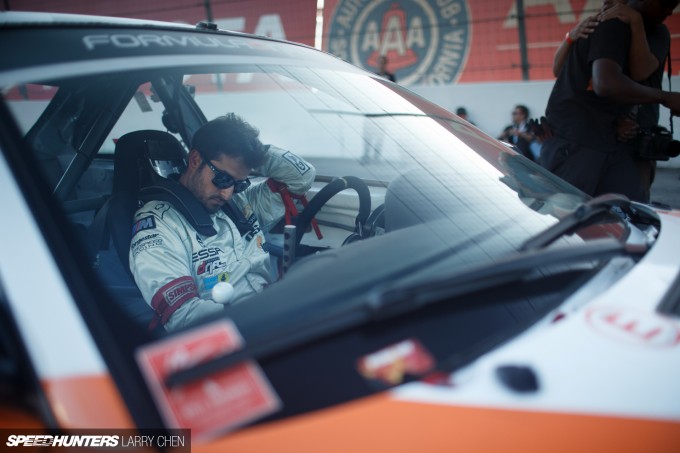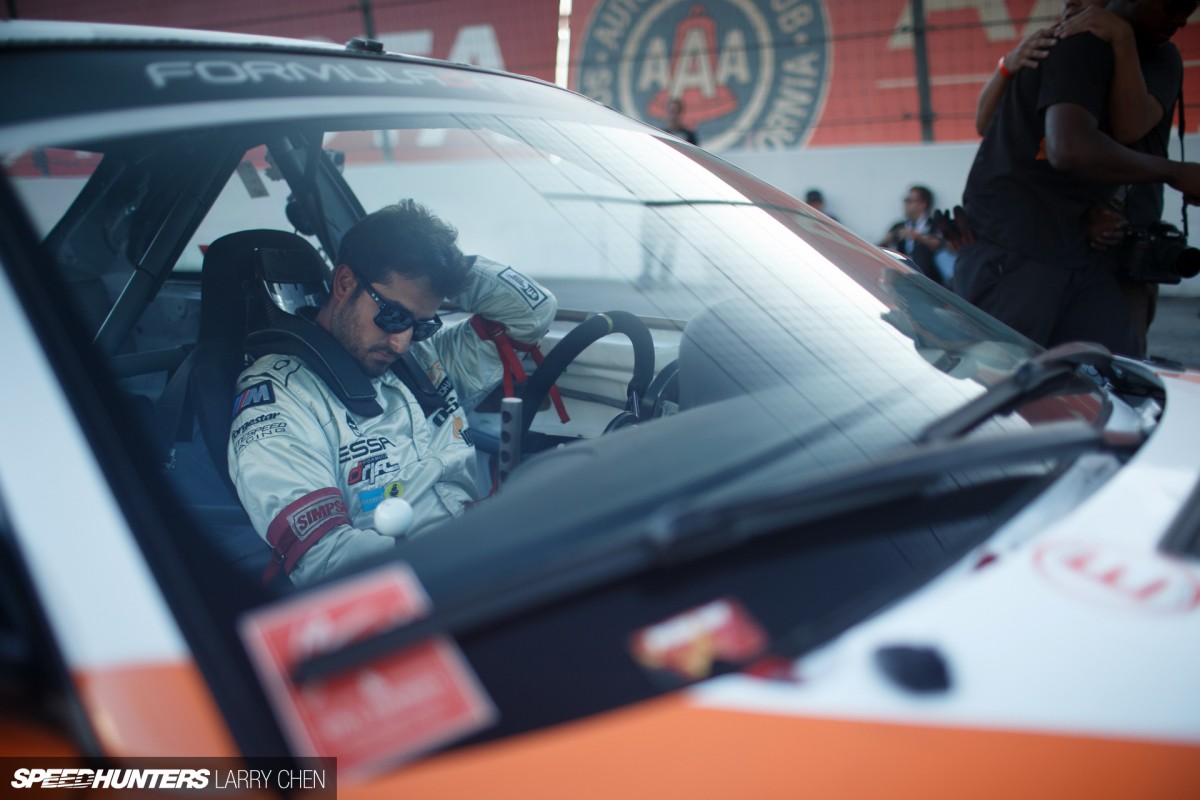 Mike was absolutely crushed. This was pretty much the worst thing that could happen to end a dream season.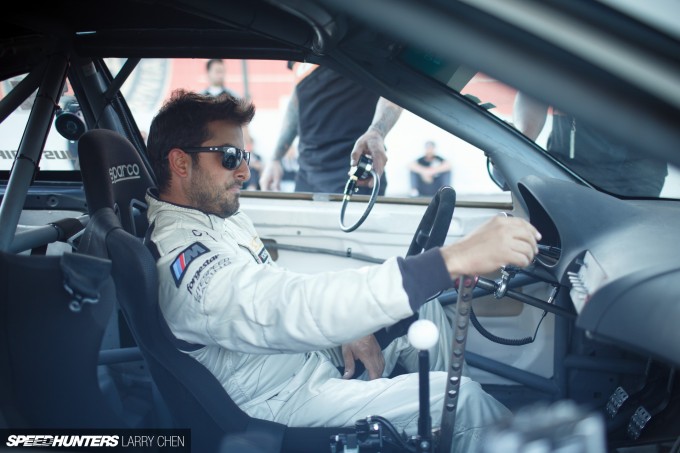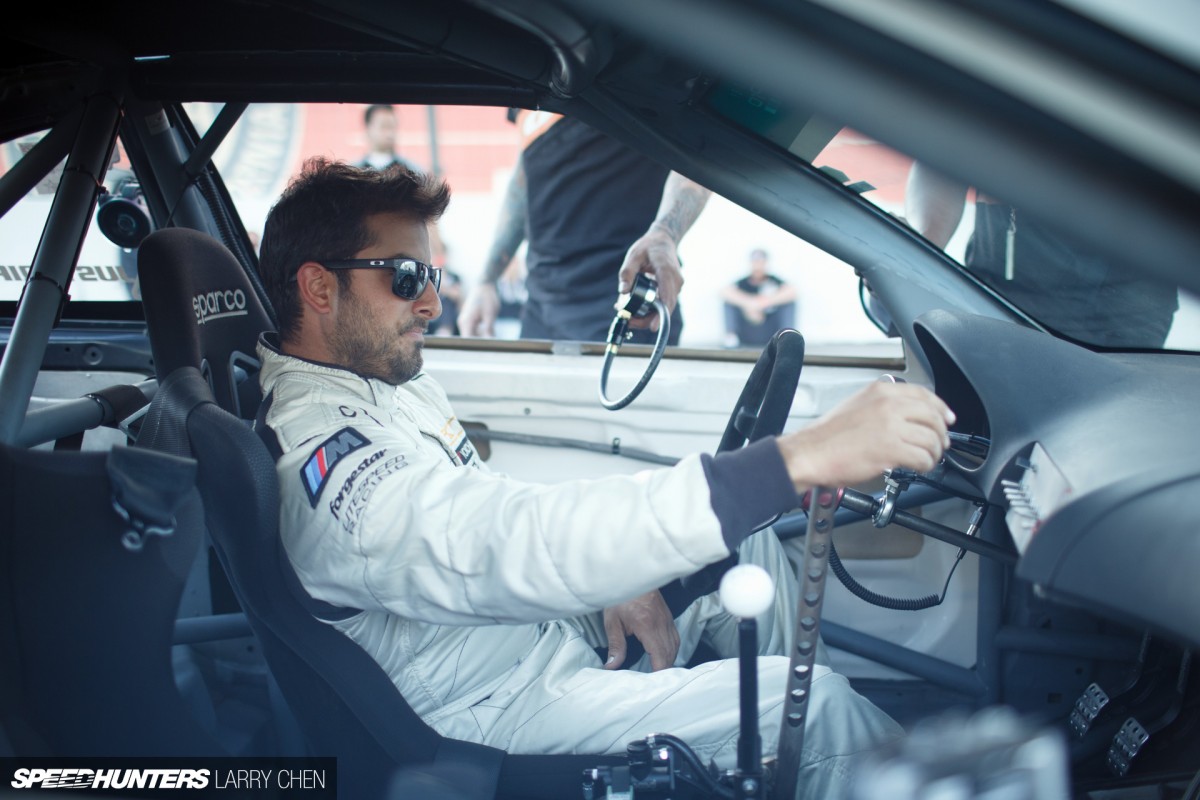 He tried turning over the motor just one last time to make sure that it was over and he gave up.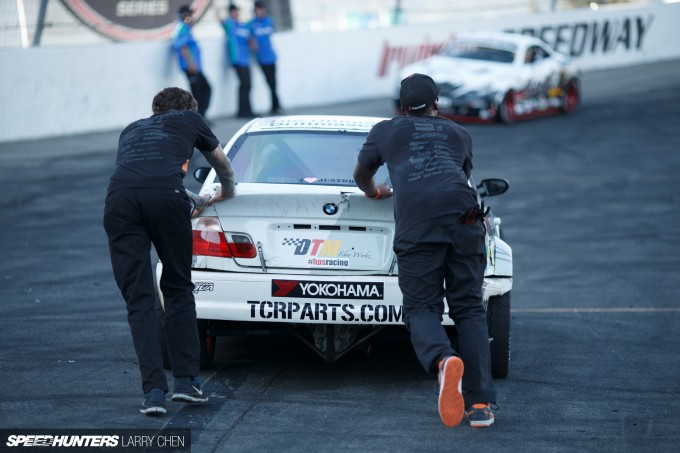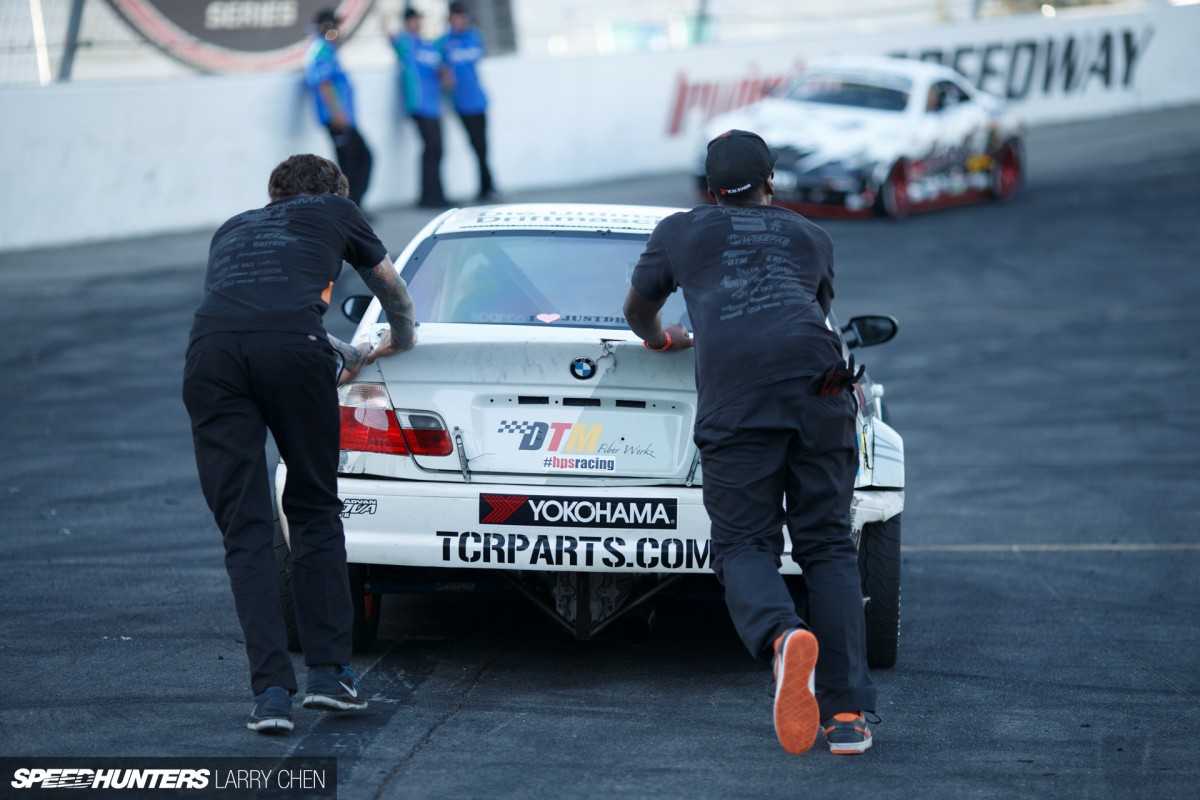 The crew pushed the car away. Little did they know Formula Drift was in debate on whether or not to award the win to Essa or not because Luke forfeited.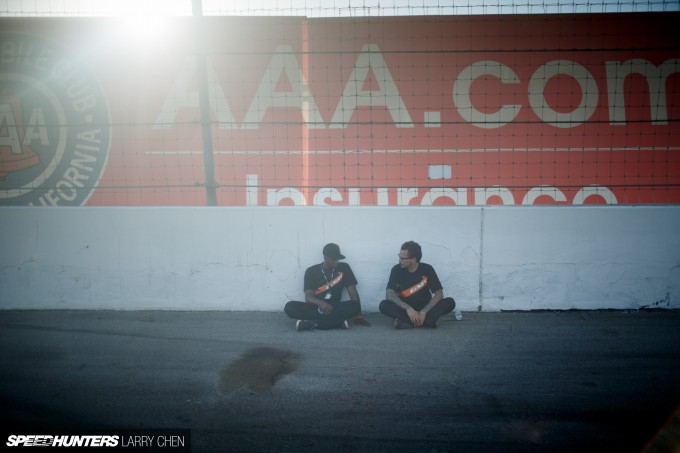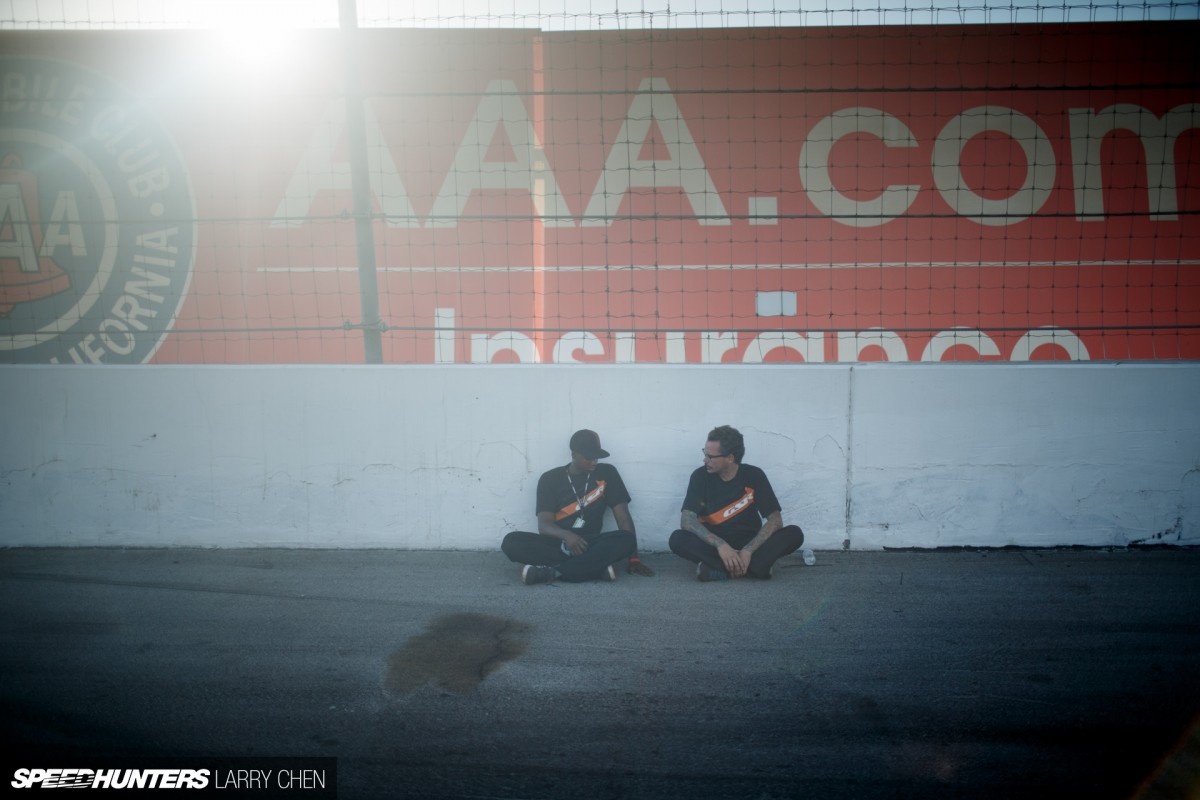 The team just sat and waited for the result.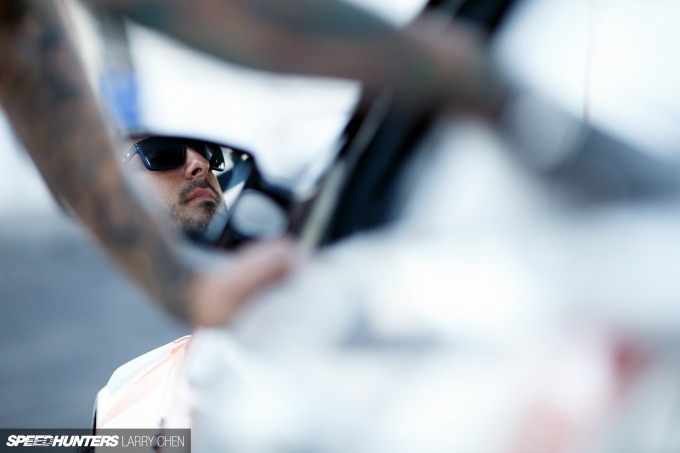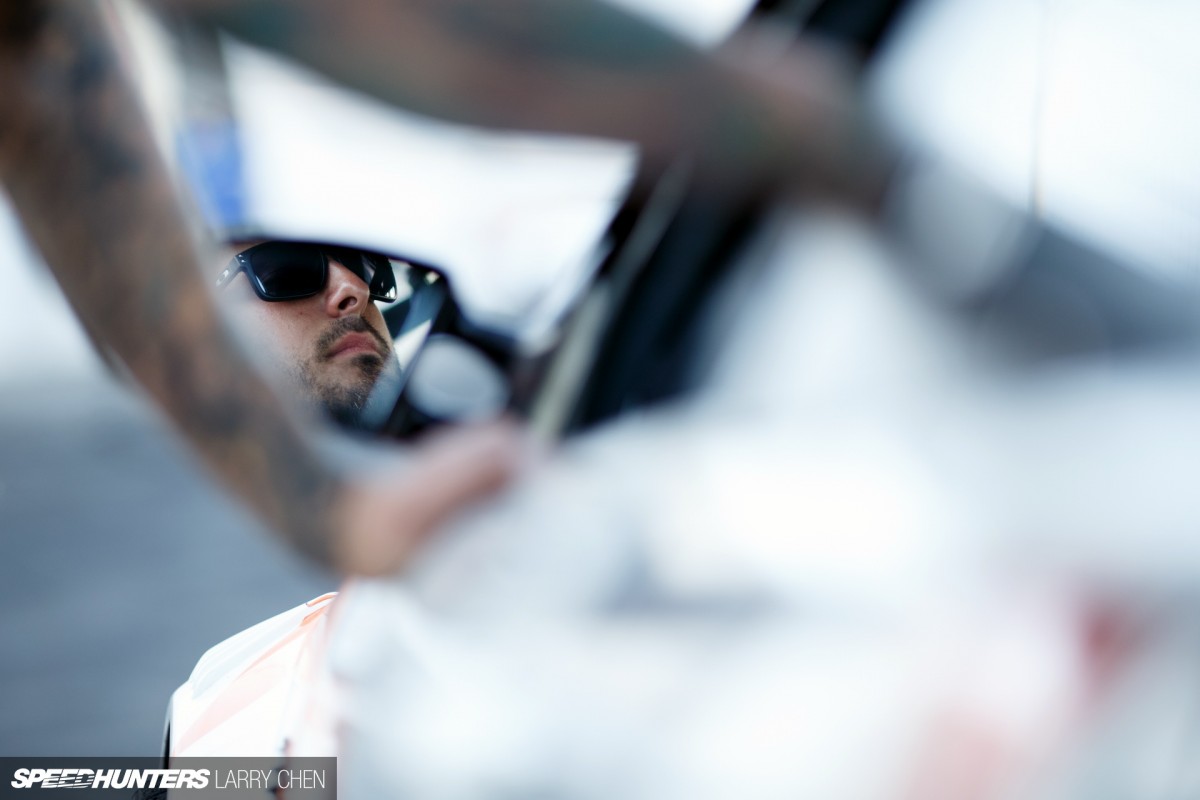 This must have been the longest few minutes of Mike's life. Just sitting in his broken car, wondering what will happen. The championship was out of his hands at this point.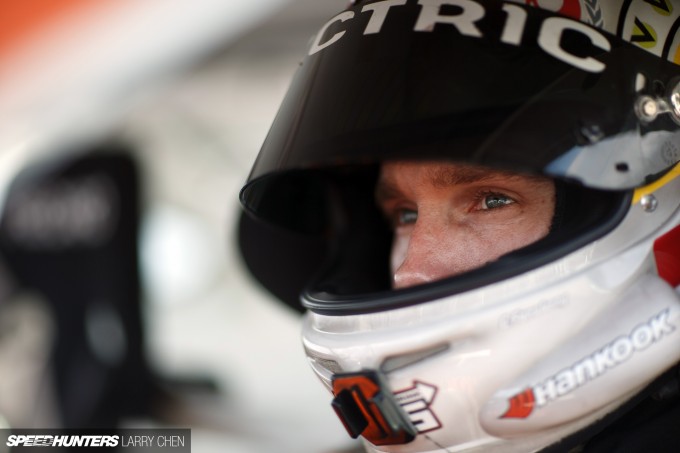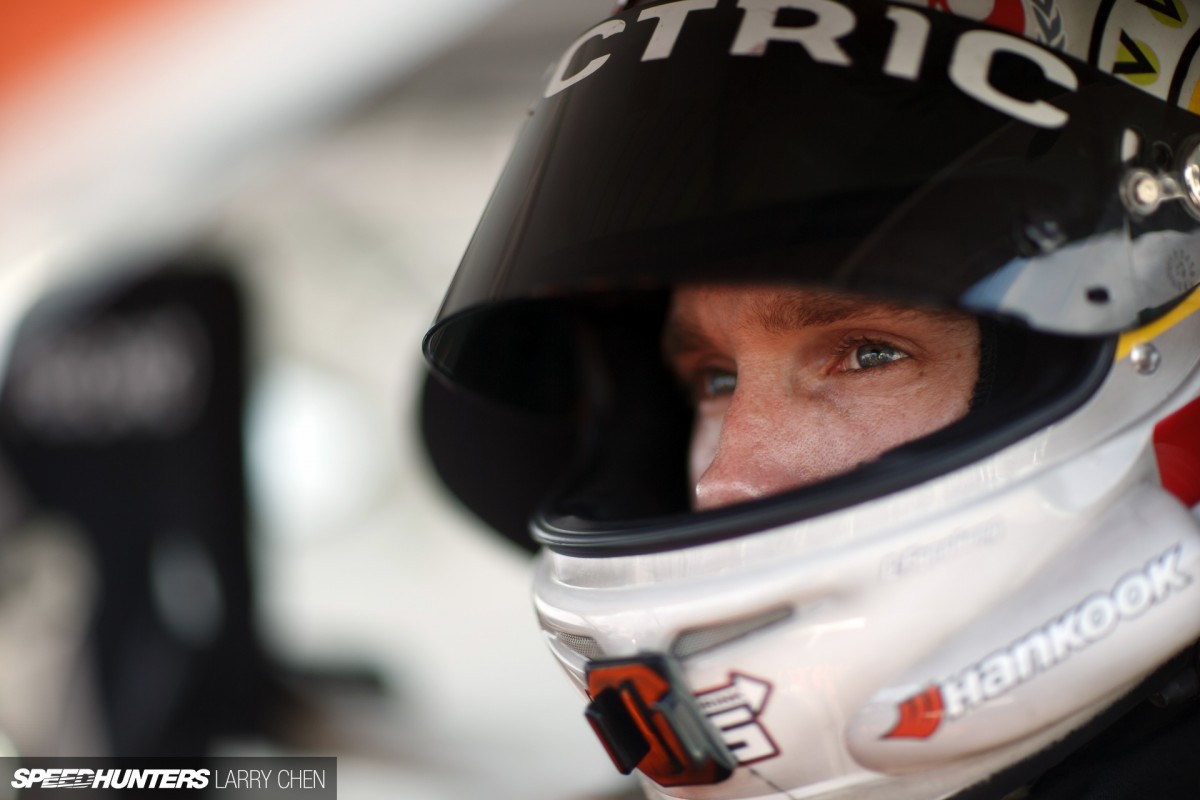 Chris Forsberg watched all of that commotion unfold, but he had no time to think as he was up against 2011 champion, Daijiro Yoshihara, in the top 32.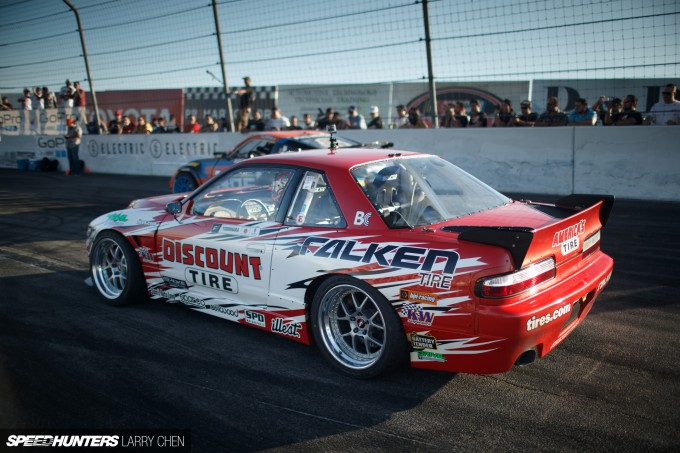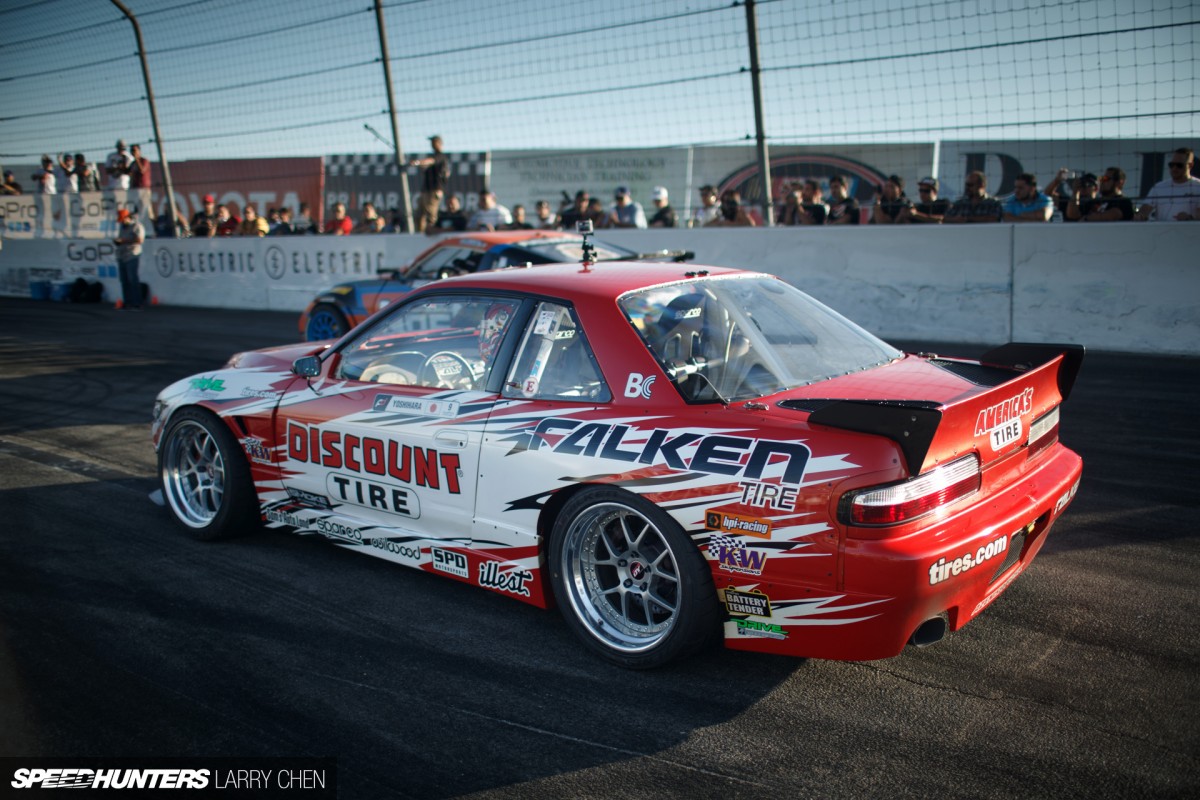 At this point Chris had no idea that Essa's battle was still up in the air. Mathematically, if Essa was knocked out of the top 32, it meant that Forsberg had to beat Dai to win the Championship.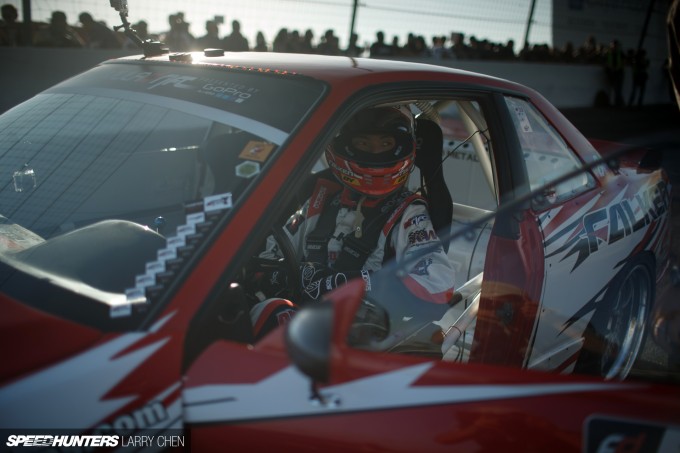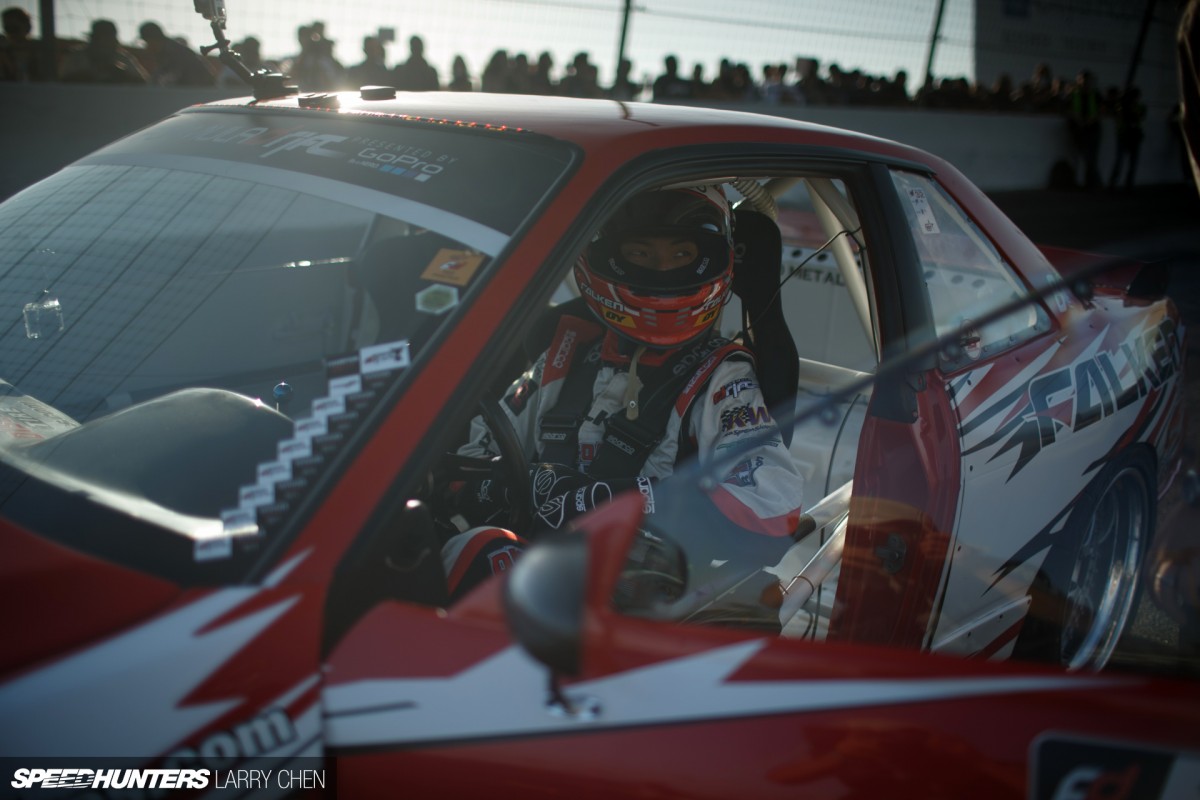 I am sure Daijiro had that in the back of his mind as well going into this epic battle. Even though he was not having such a stellar year, he was still going to charge super hard.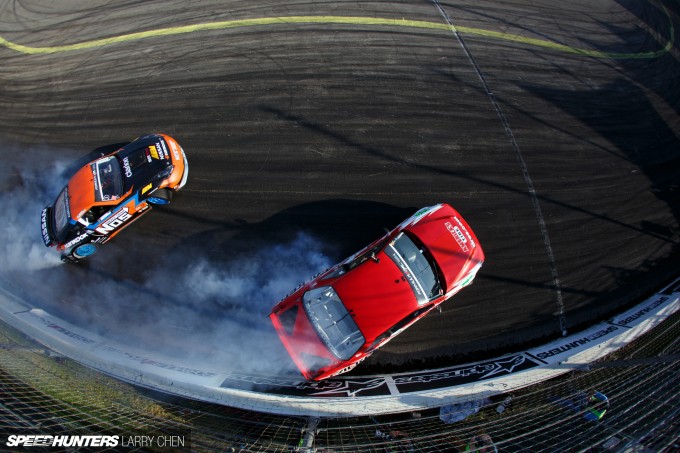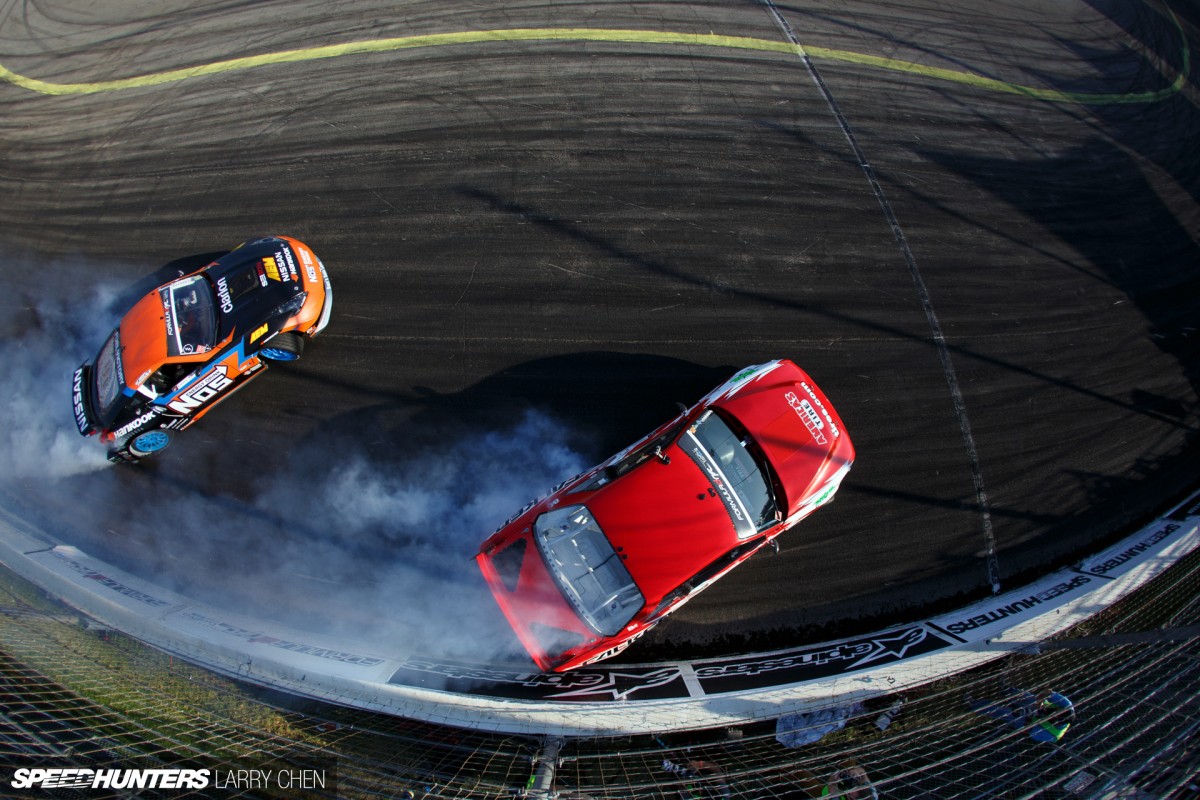 Dai let it all hang out, scraping the wall on the inner bank all the way.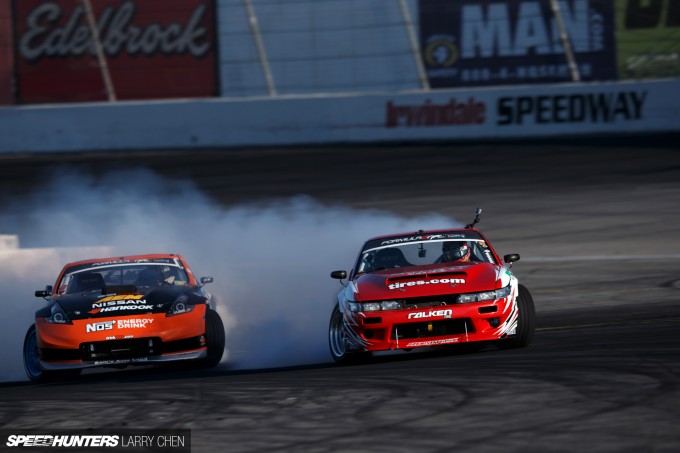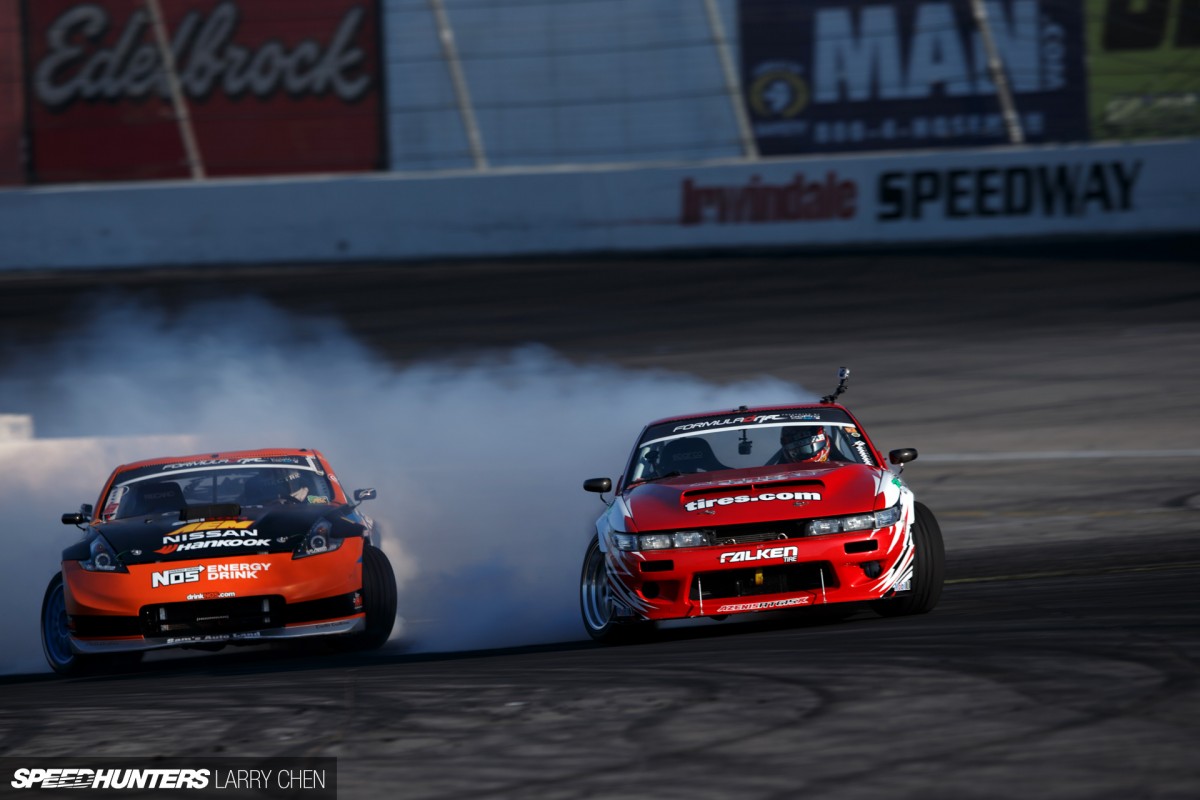 However he could not shake Forsberg. It was up to the judges at this point.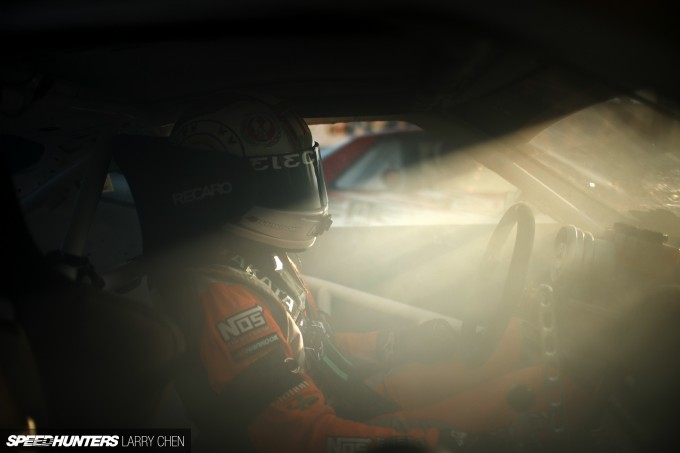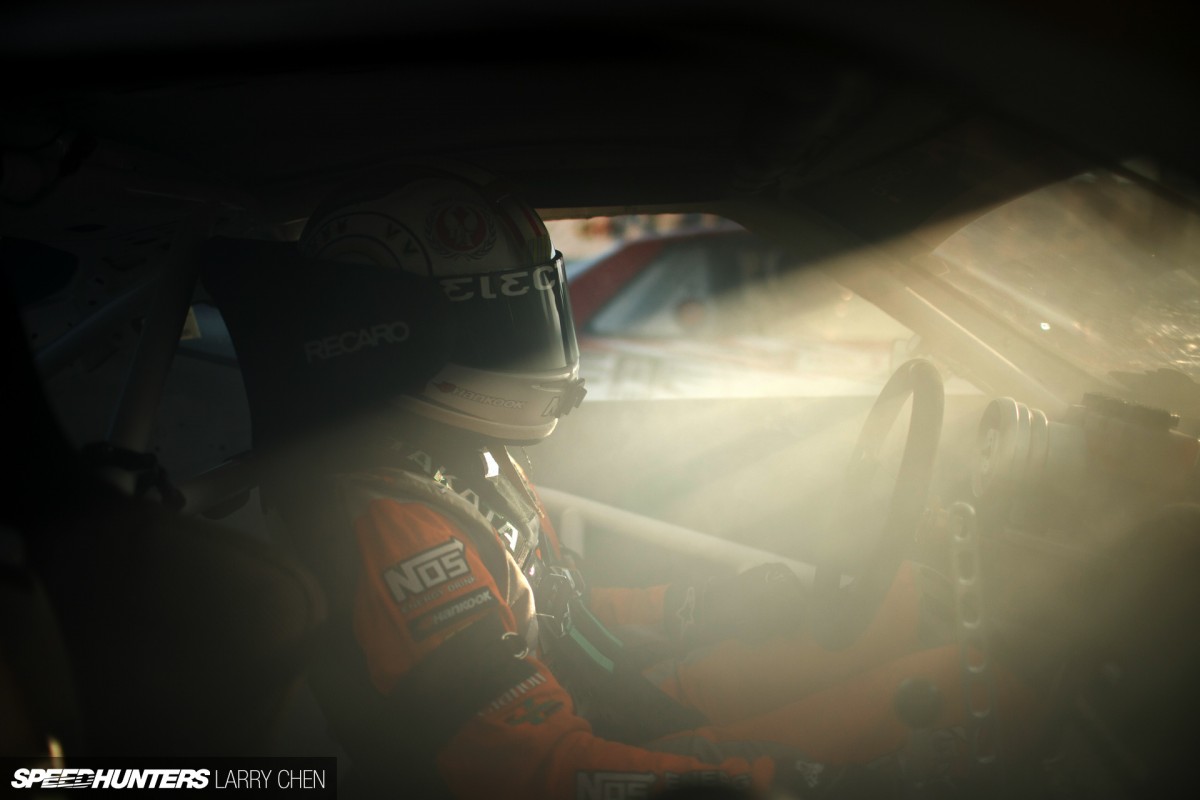 The call came in that Forsberg would take the win, but he did not celebrate, as word came in that Essa would move on to the top 16 despite his broken car.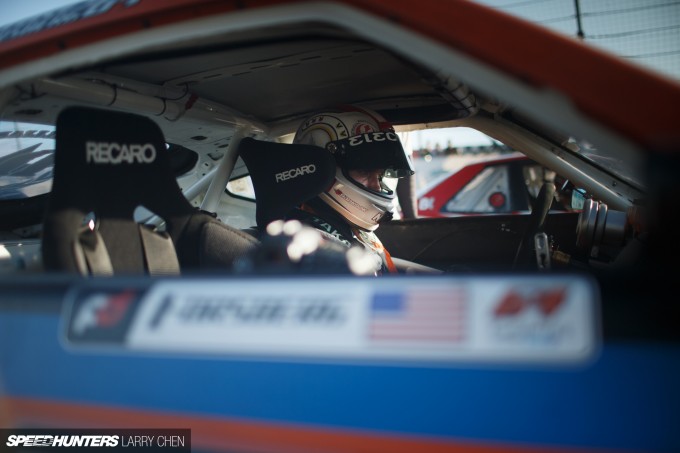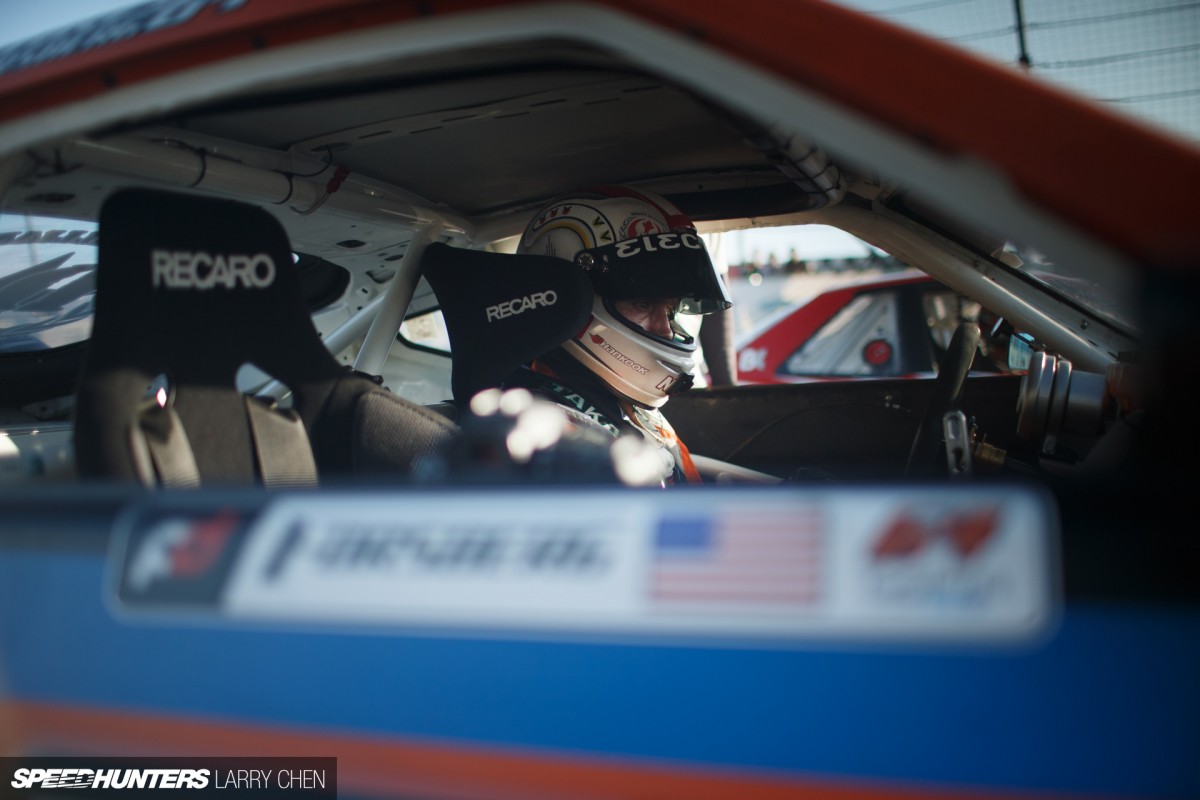 Chris was not happy at all. He felt that he should have won his second championship right then and there.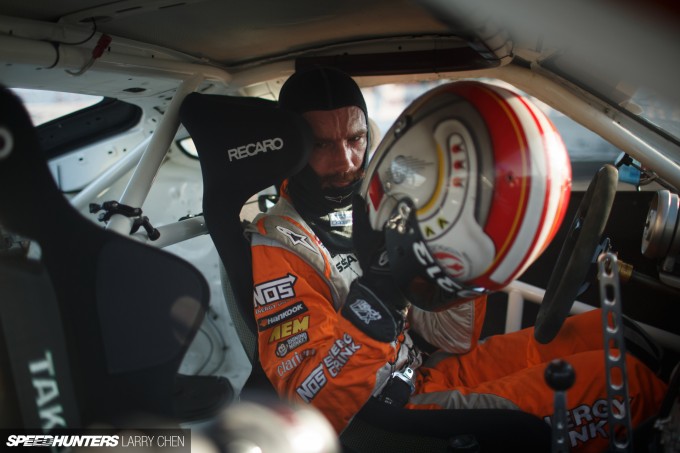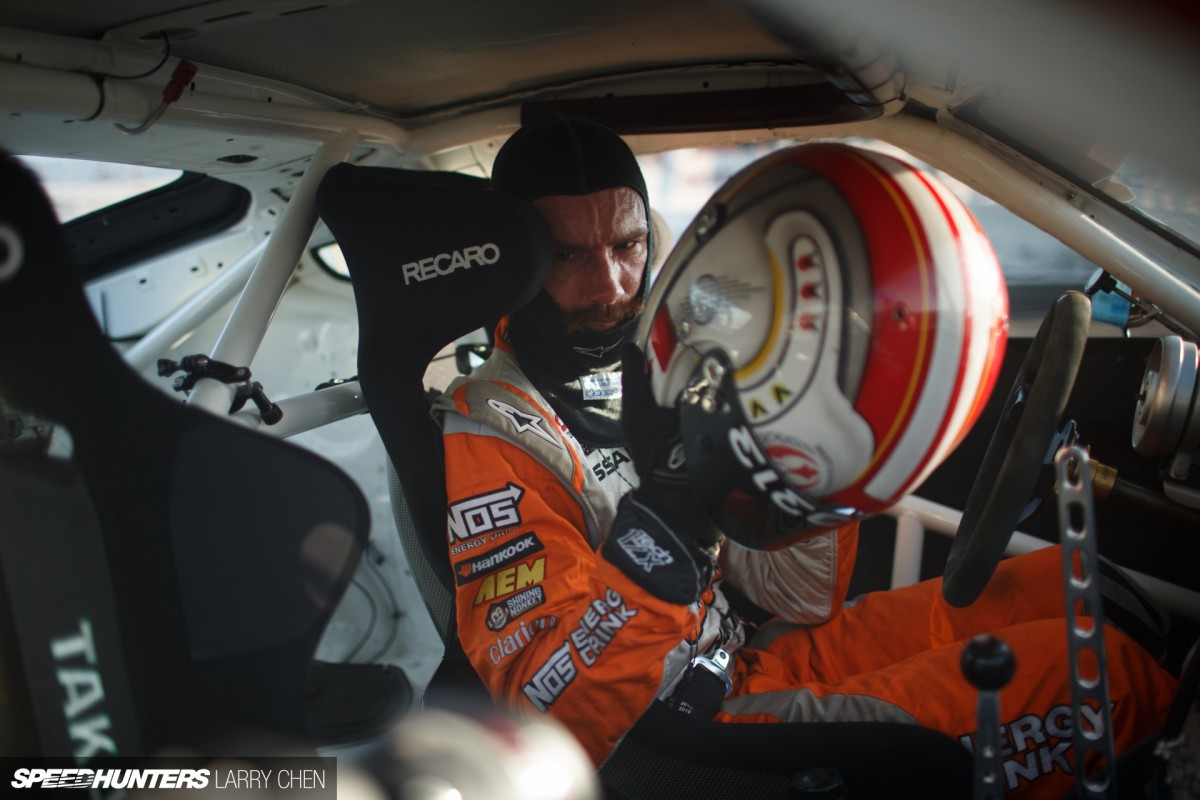 To top it all off, his VK56-powered 370z was overheating badly. He would have to win the championship the hard way. Now he would have to earn second place or better in order to take the lead from Essa.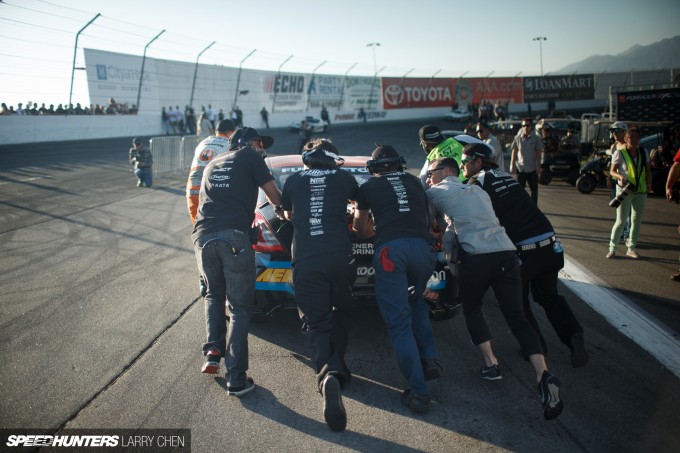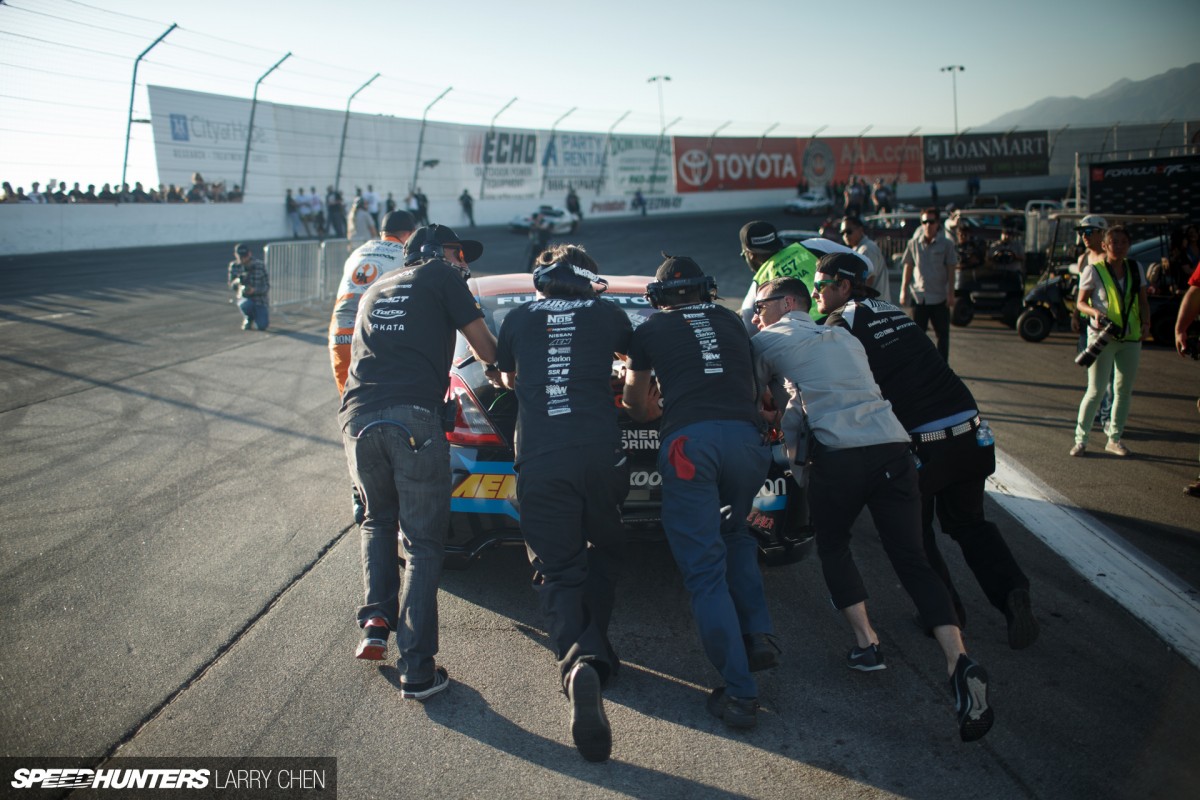 His crew helped him push the Z-car back to the pits, so they could regroup and move on to battle for the championship.
A new champion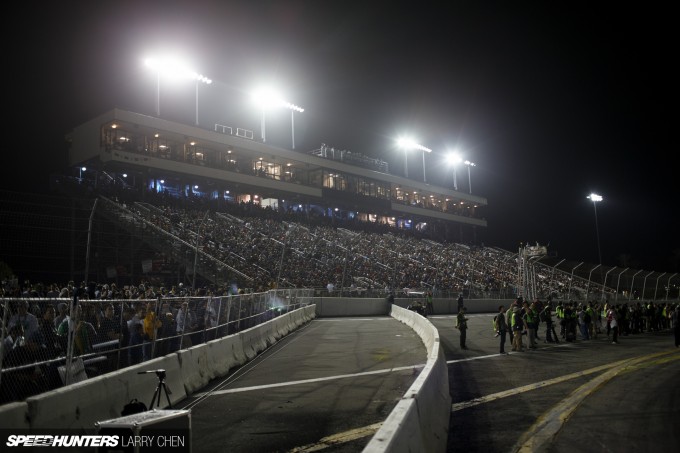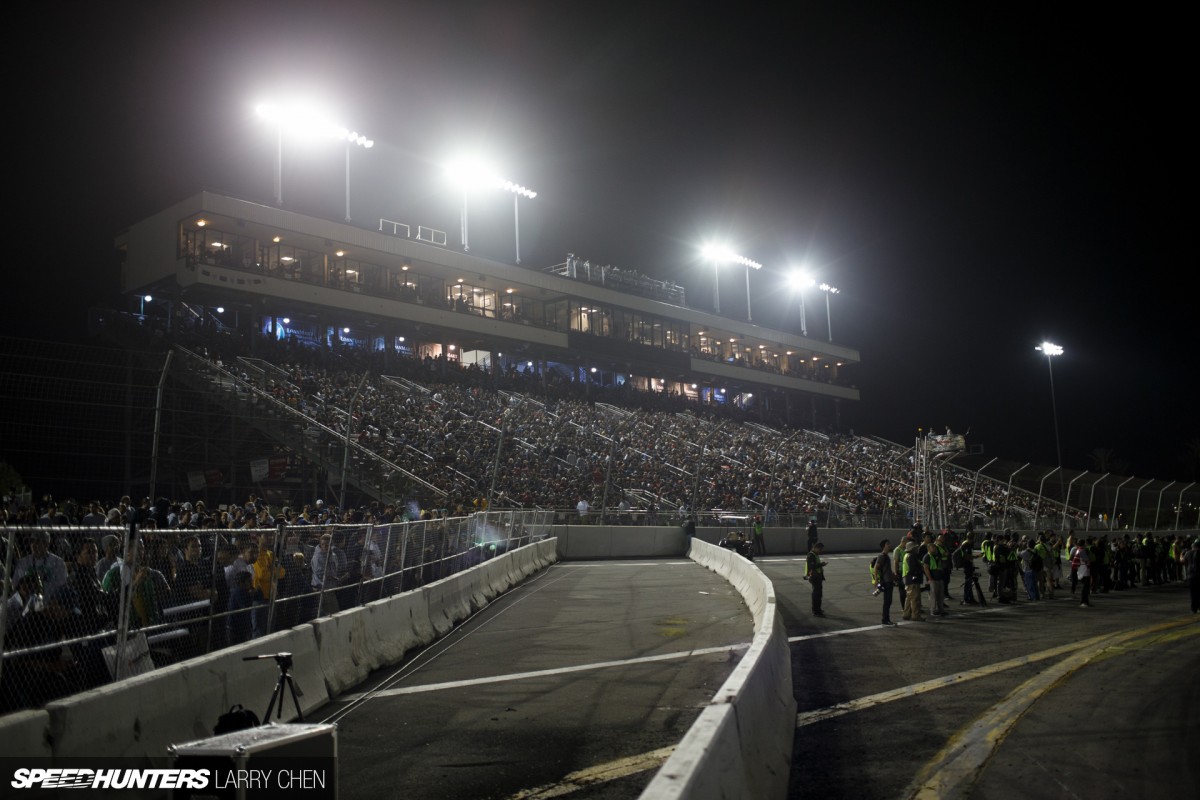 The top 16 introduction was bitter sweet as Essa's BMW could not make it. Over the course of the half-time break, Chris Forsberg's team filed two protests with Formula Drift hoping to overturn Micheal Essa's win against Luke Pakula. Formula Drift rejected both protests.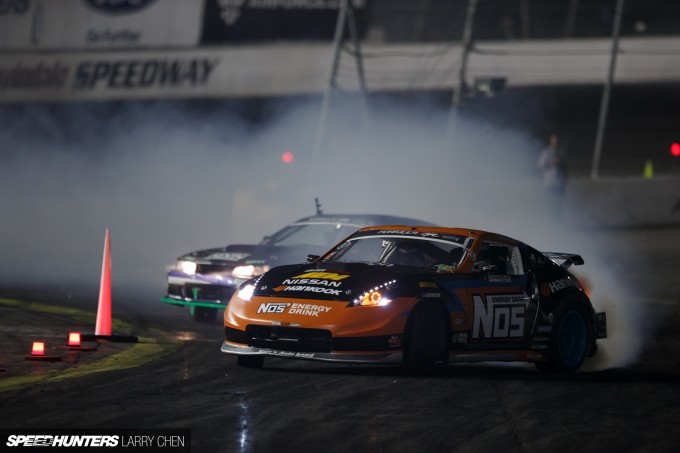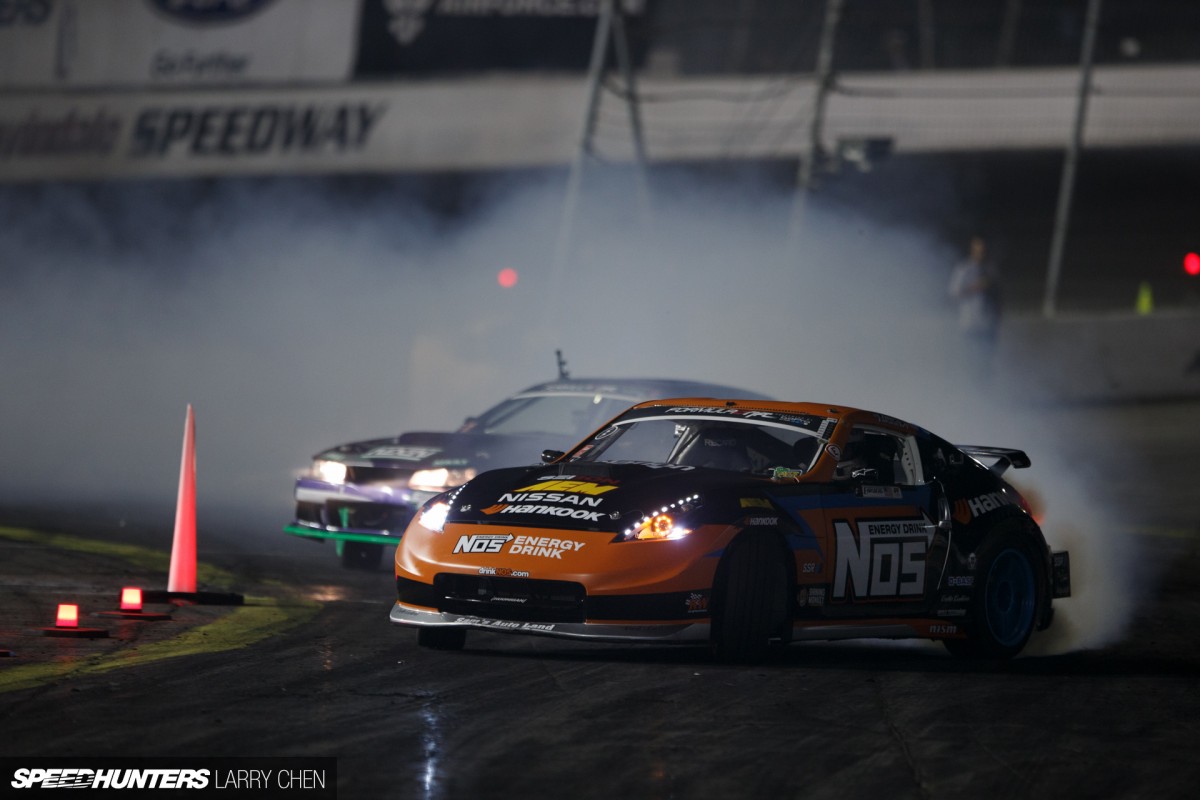 With Essa out of the picture, all he could do was watch as Forsberg battled his way through the ranks. It started with Odi Bakchis in the top 16 bracket.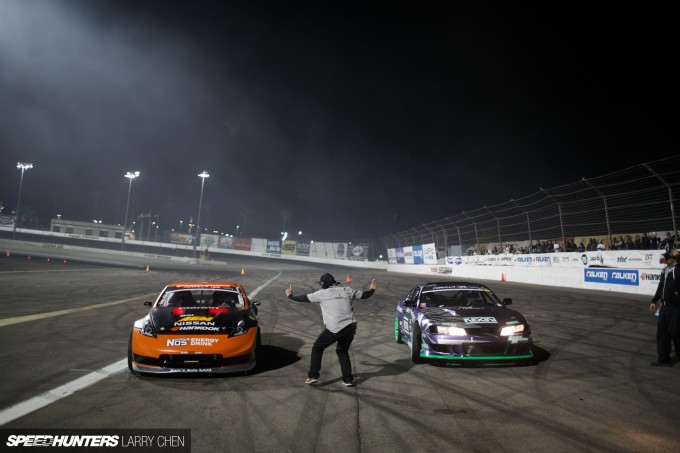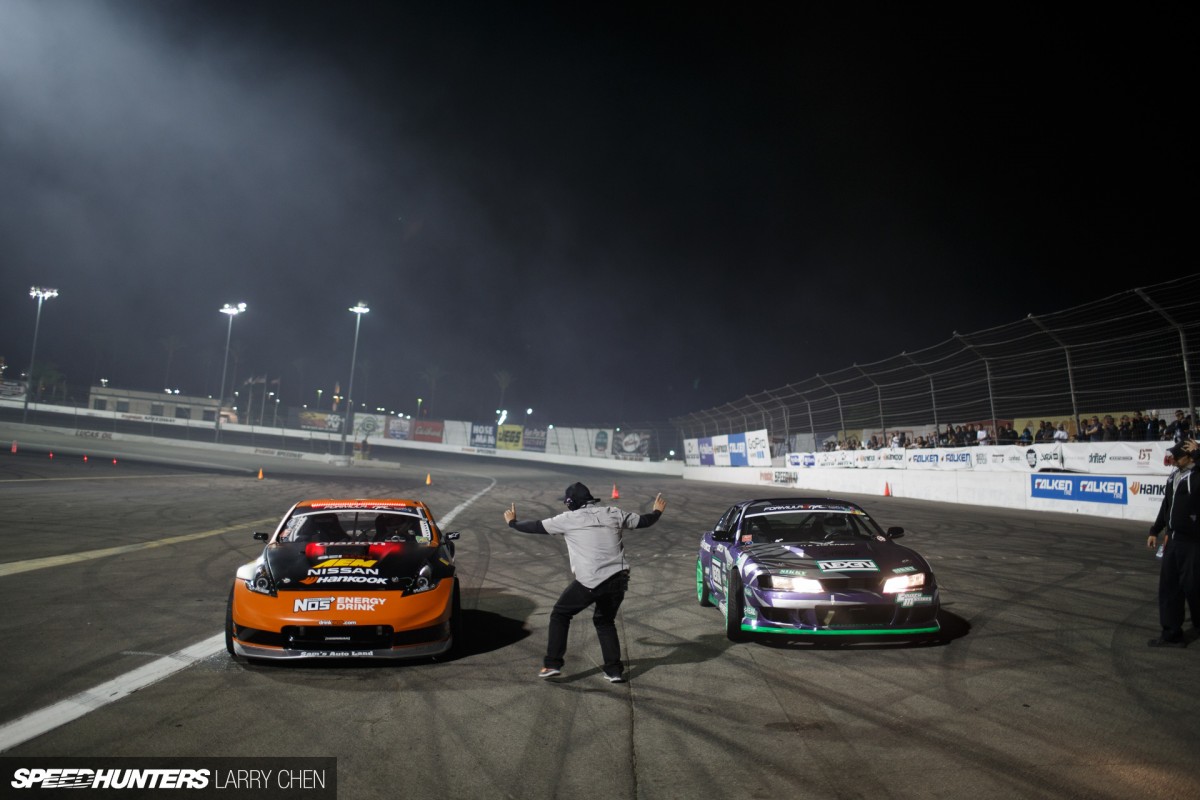 After an intense battle the judges called for a 'One More Time,' but both cars were having trouble. The 370z was still overheating.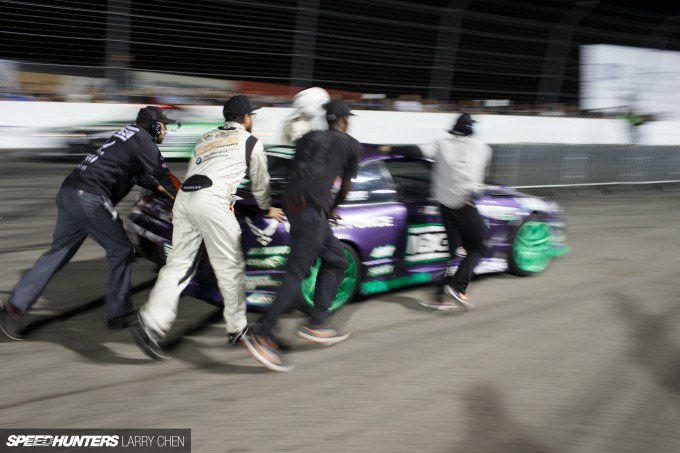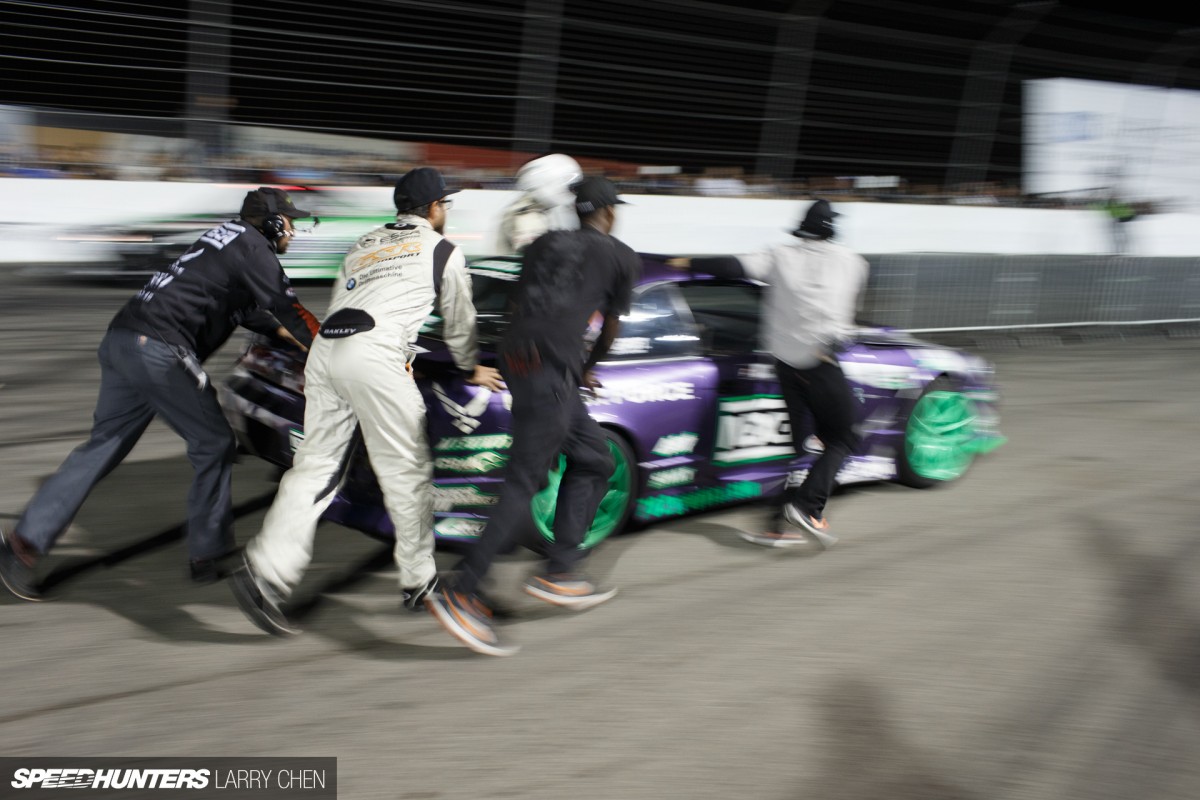 Essa even helped Odi's team push the car back to the hot pits.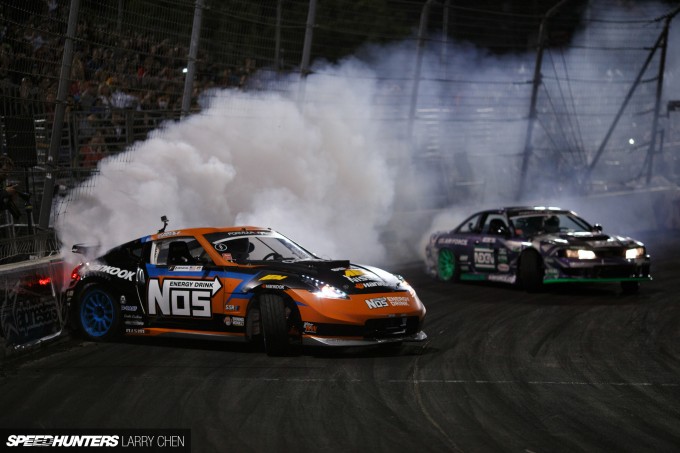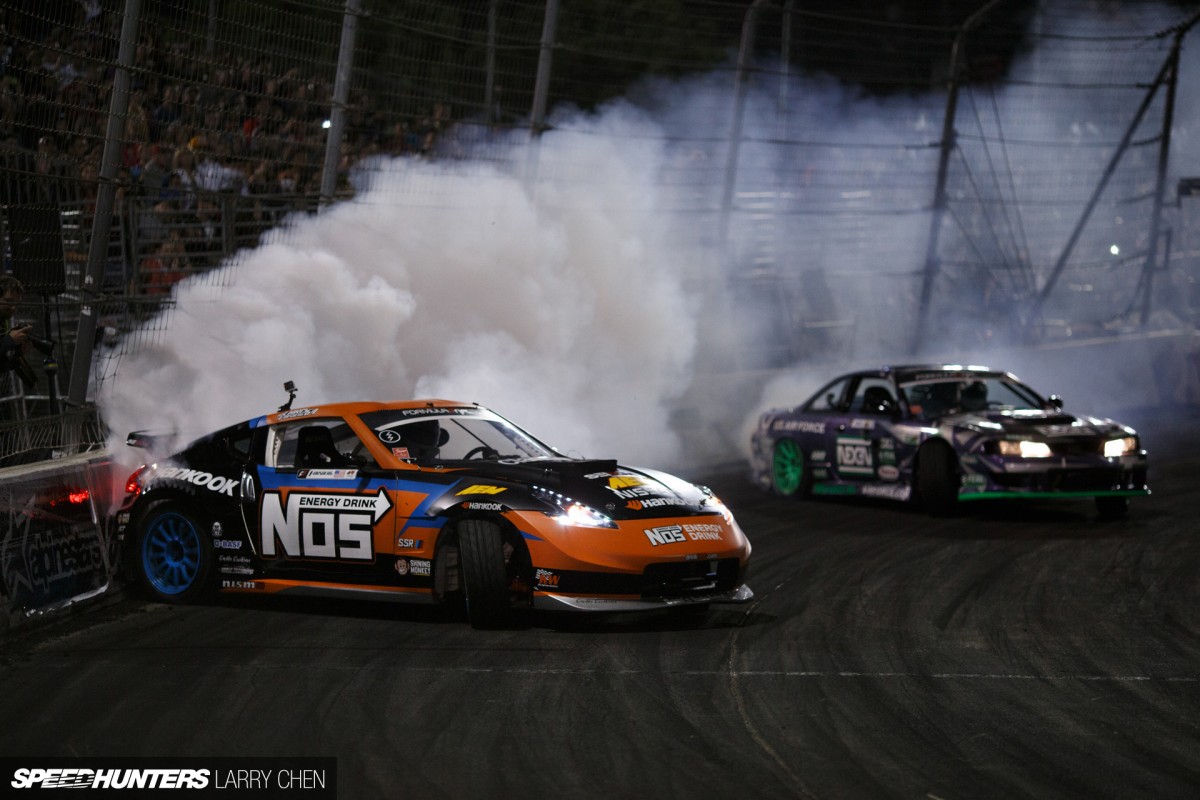 When it came time to battle again, Chris laid down an amazing lead run and ended up moving on to the top 8 bracket.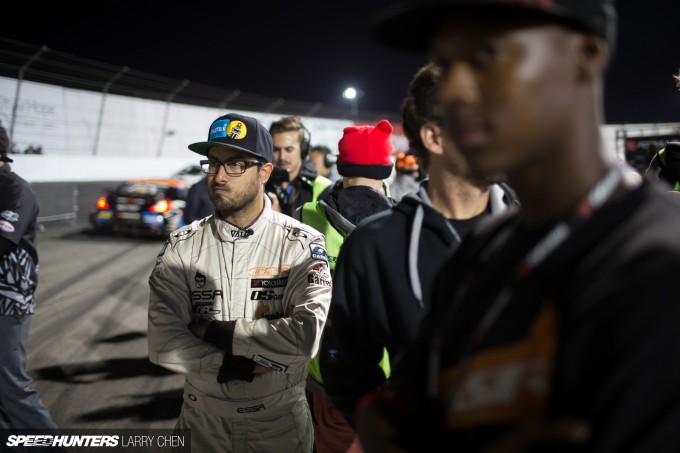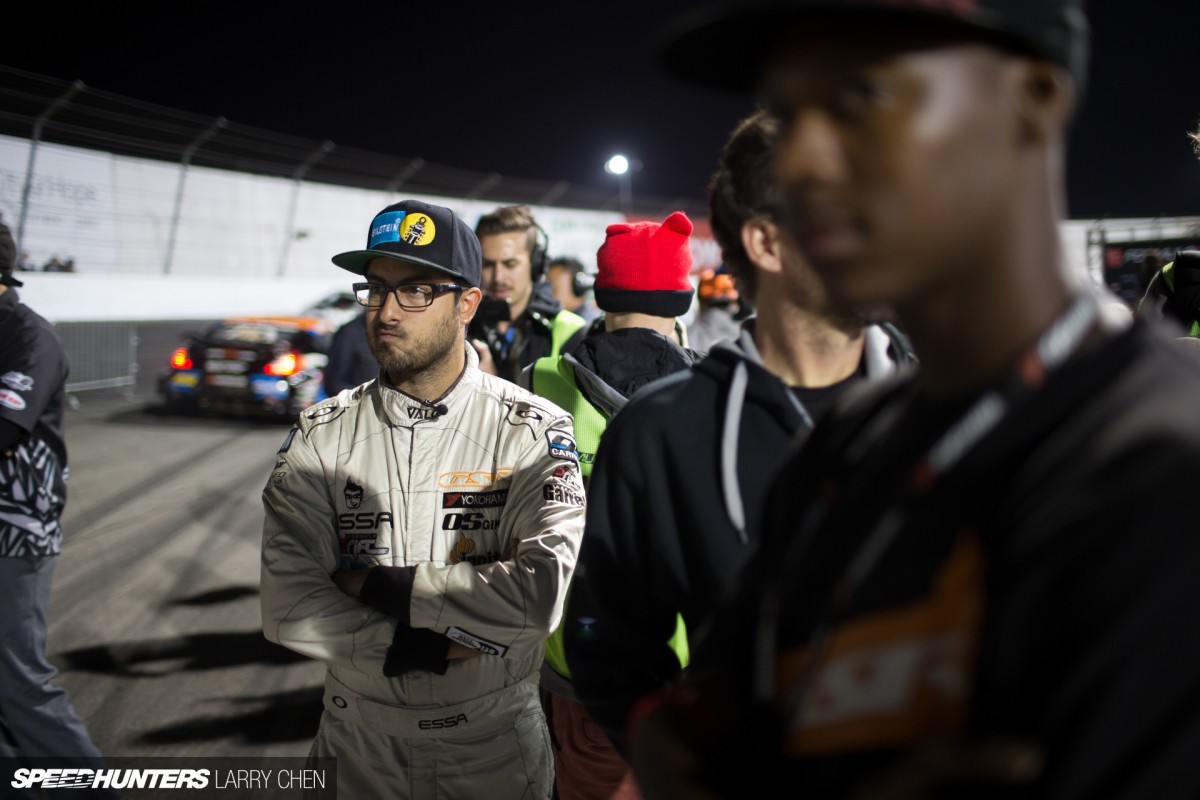 Essa was not very pleased. He just wanted it to be over already, win or lose; it was such an emotional rollercoaster. He just hated that he was on the sidelines watching as a spectator and that he could not change the outcome of the night.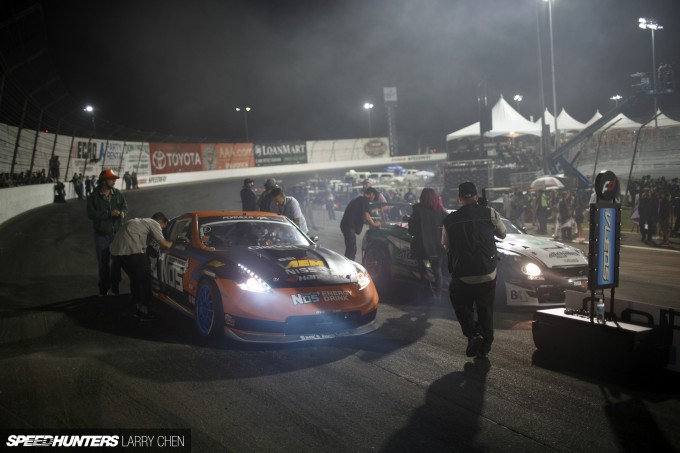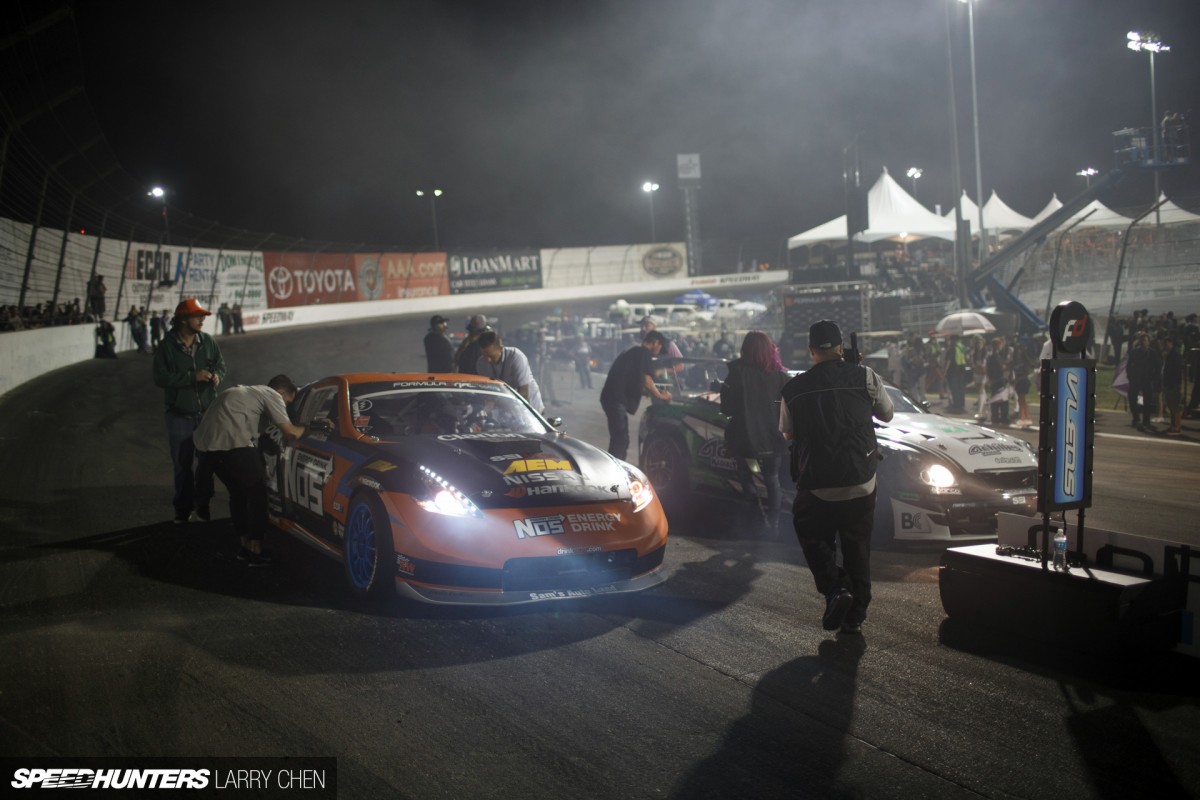 Surprisingly, as I predicted in my earlier post, Daigo Saito would be the deciding factor for the 2013 championship.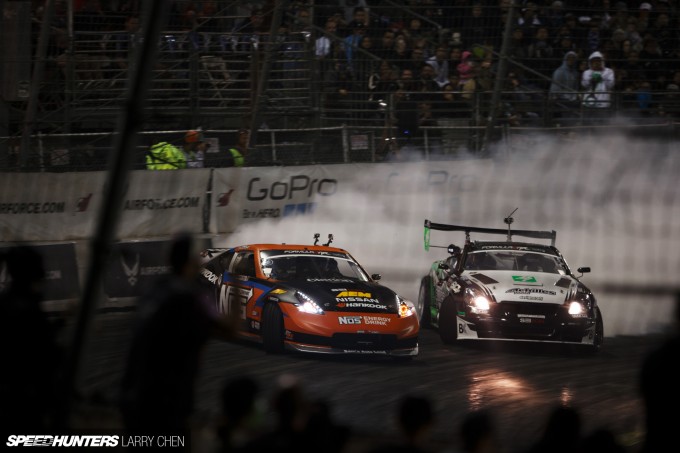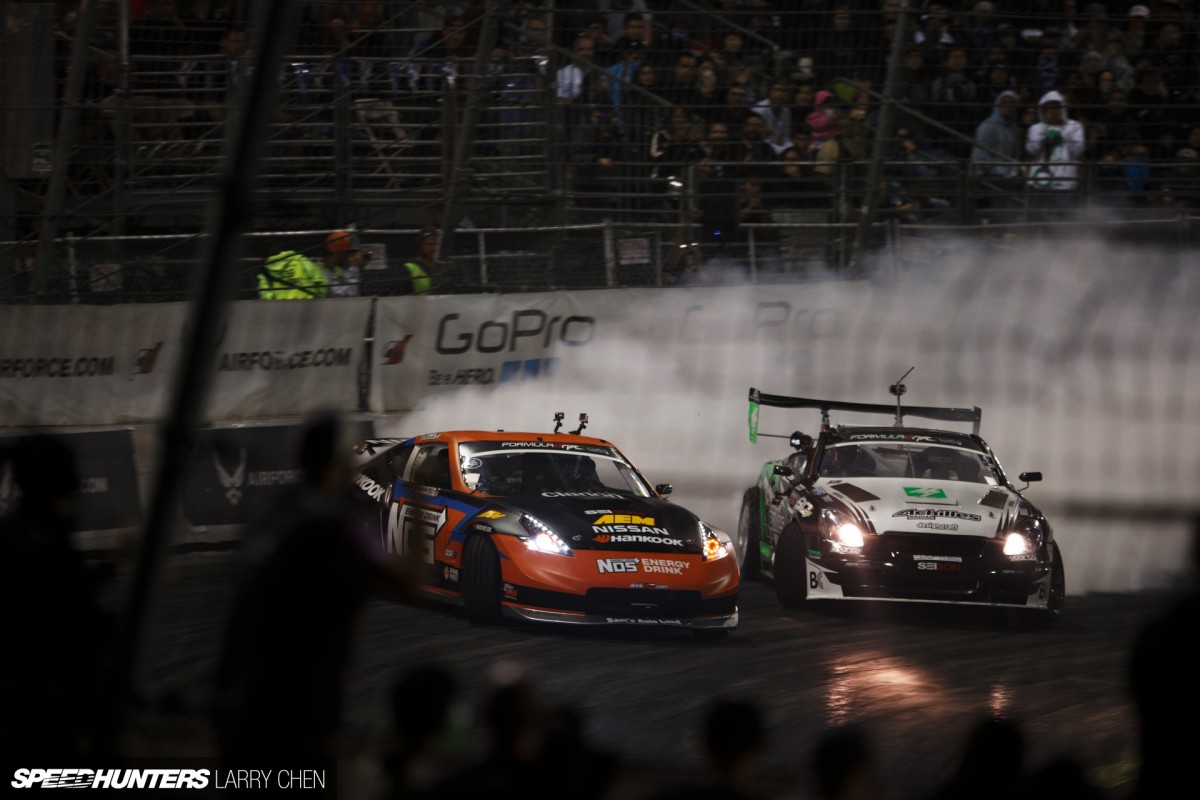 Drifting history was unfolding as they took off for Forsberg's lead run. Daigo was very close and he was following Chris's every move.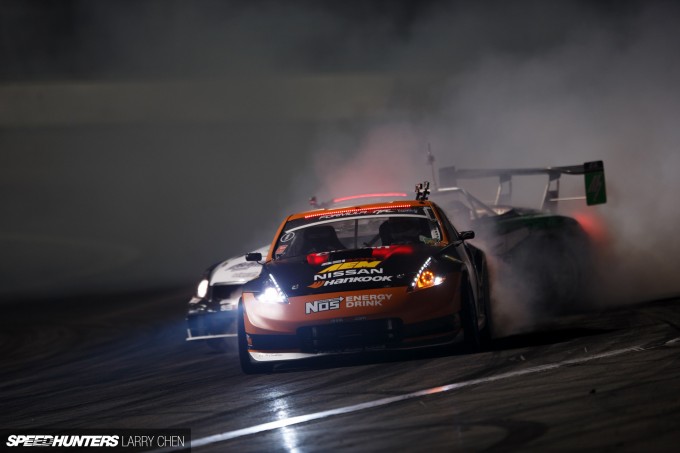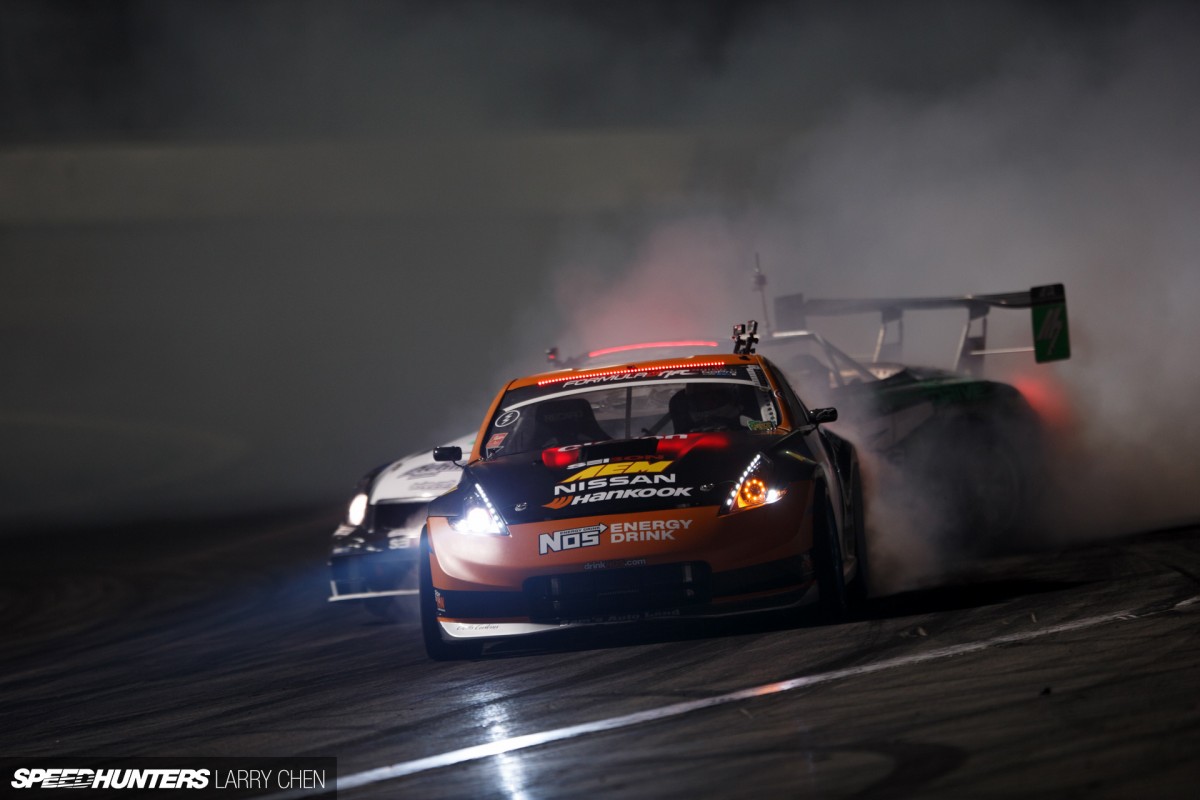 The two FD Champions battled super hard, but Forsberg could not keep up with Daigo. It was up to the judges at this point, but it was not looking good for Forsberg.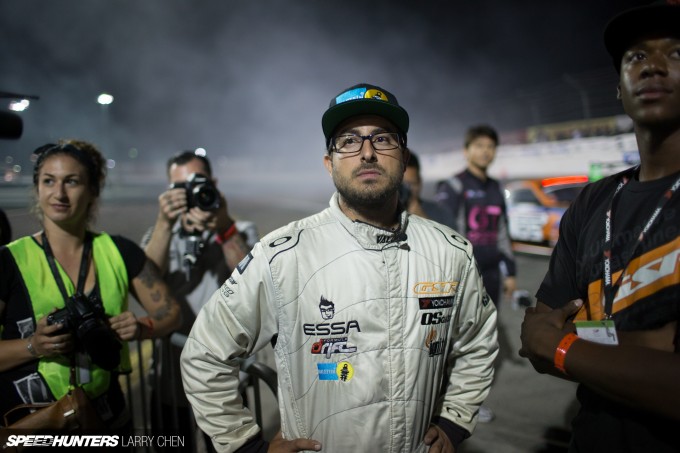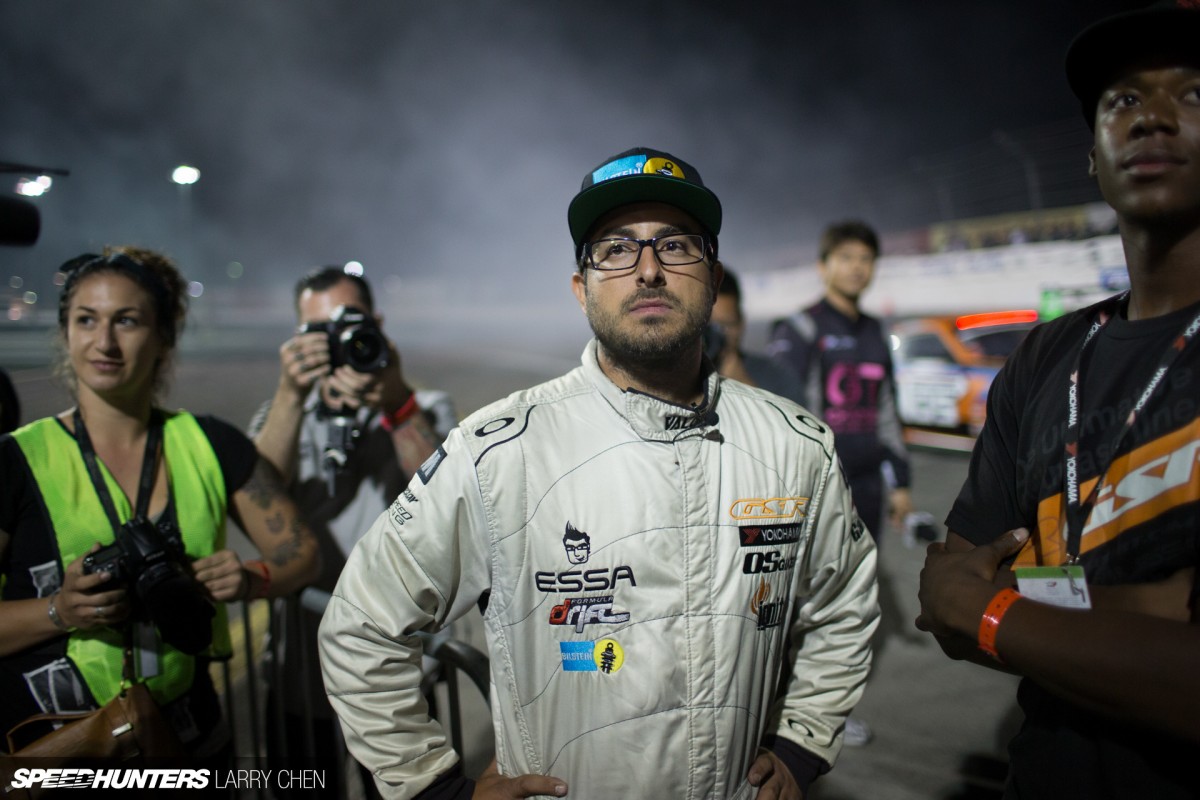 All eyes were on Micheal Essa as we all waited for the judges' verdict. It took much longer than anticipated. The first judge voted for a 'One More time.'  Essa did not move a muscle. The second judge voted for Daigo. Everyone gasped.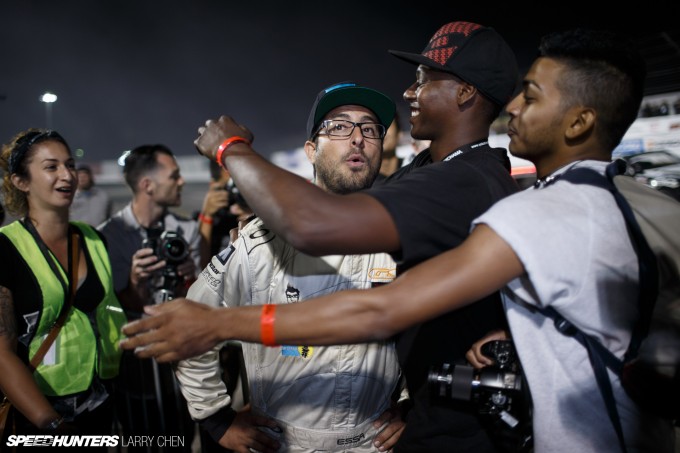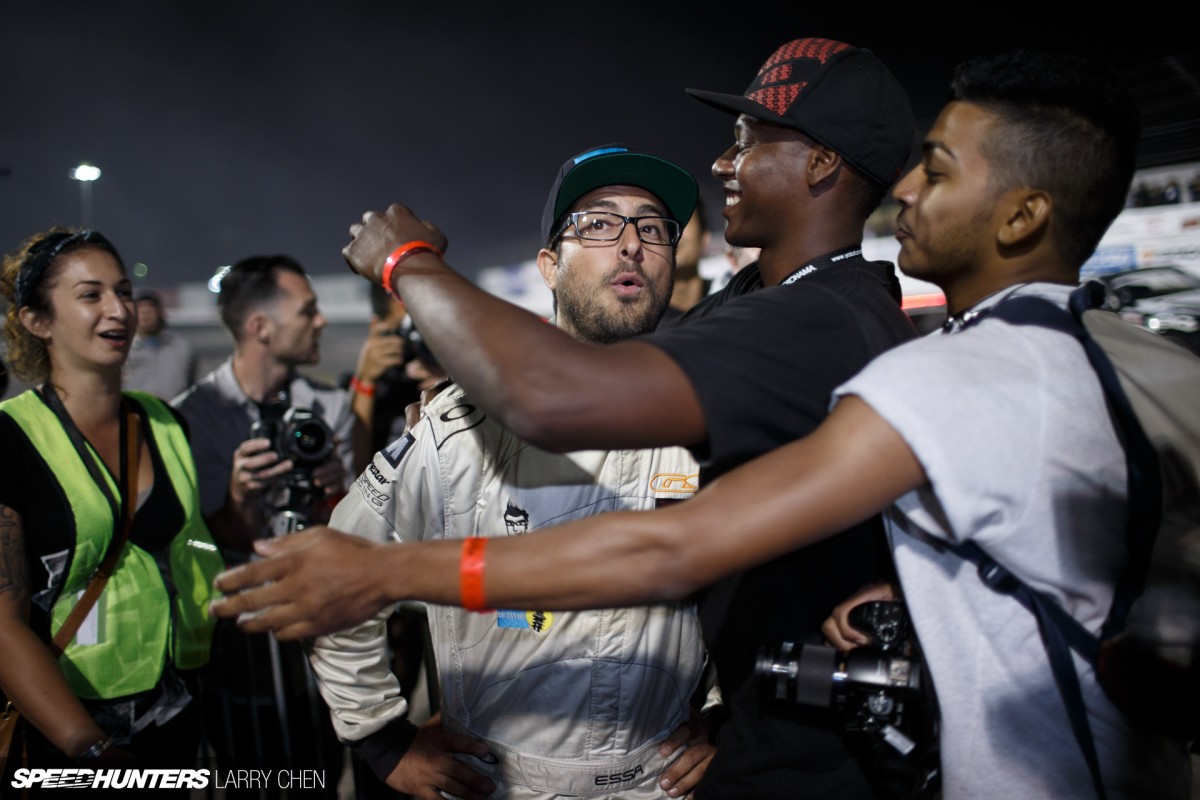 When the third and final judge revealed his vote for Daigo Saito, the crowd erupted. Privateer Micheal Essa was the 2013 Formula Drift Champion.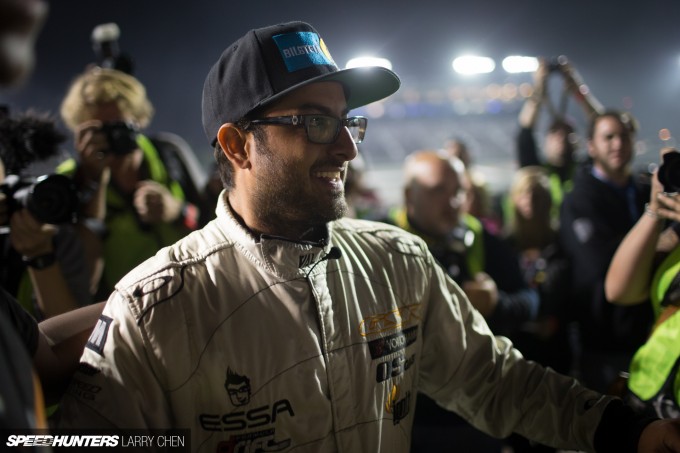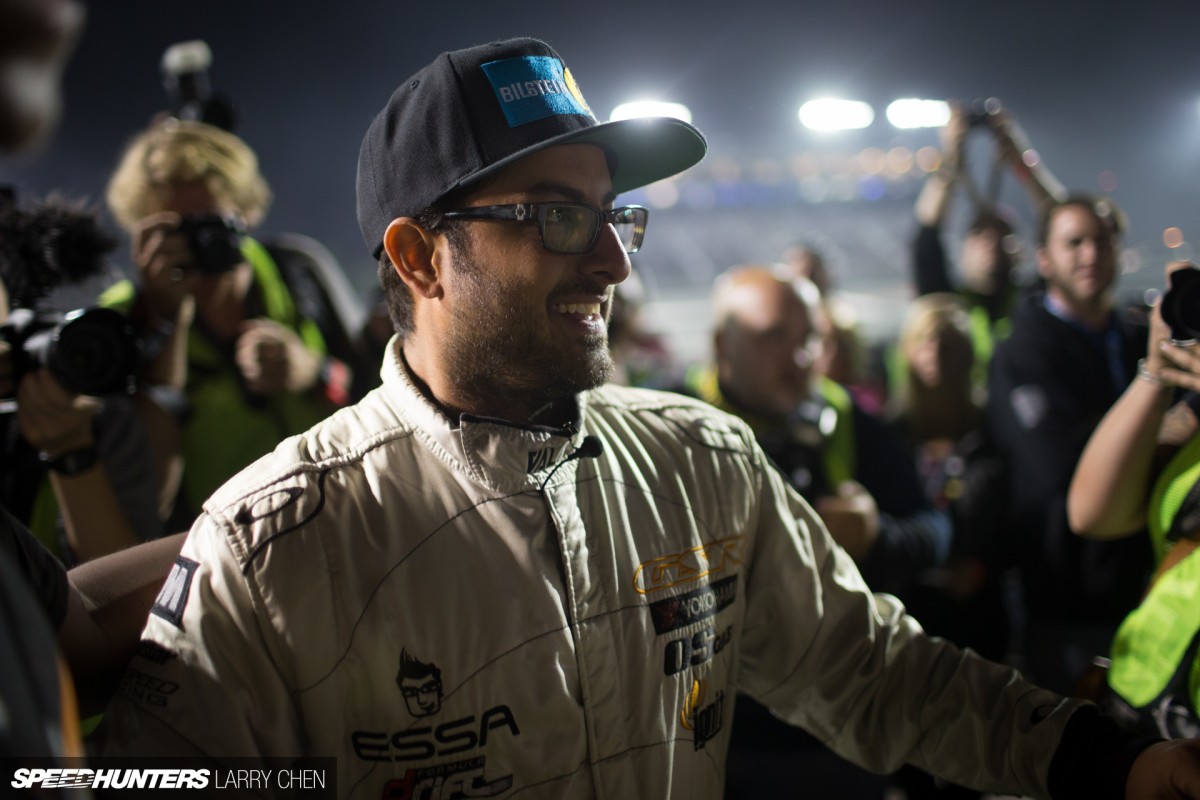 However, it was a bitter sweet victory. I am not sure if it was his soft-spoken nature, but he did not celebrate like past champions, jumping on cars, climbing on fences, and getting thrown in the air by his peers. There was still a tension in the air.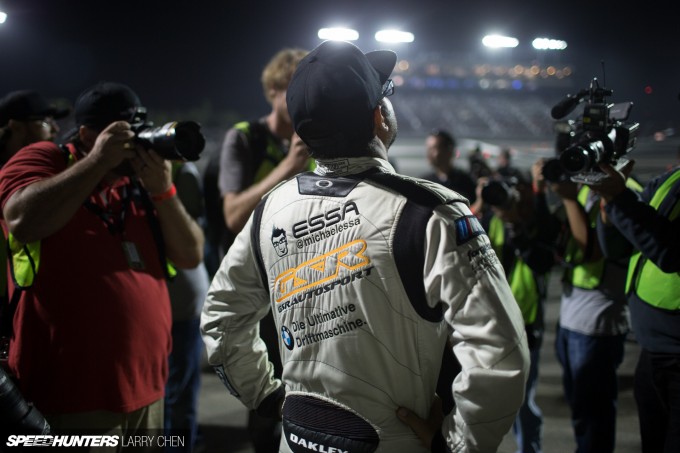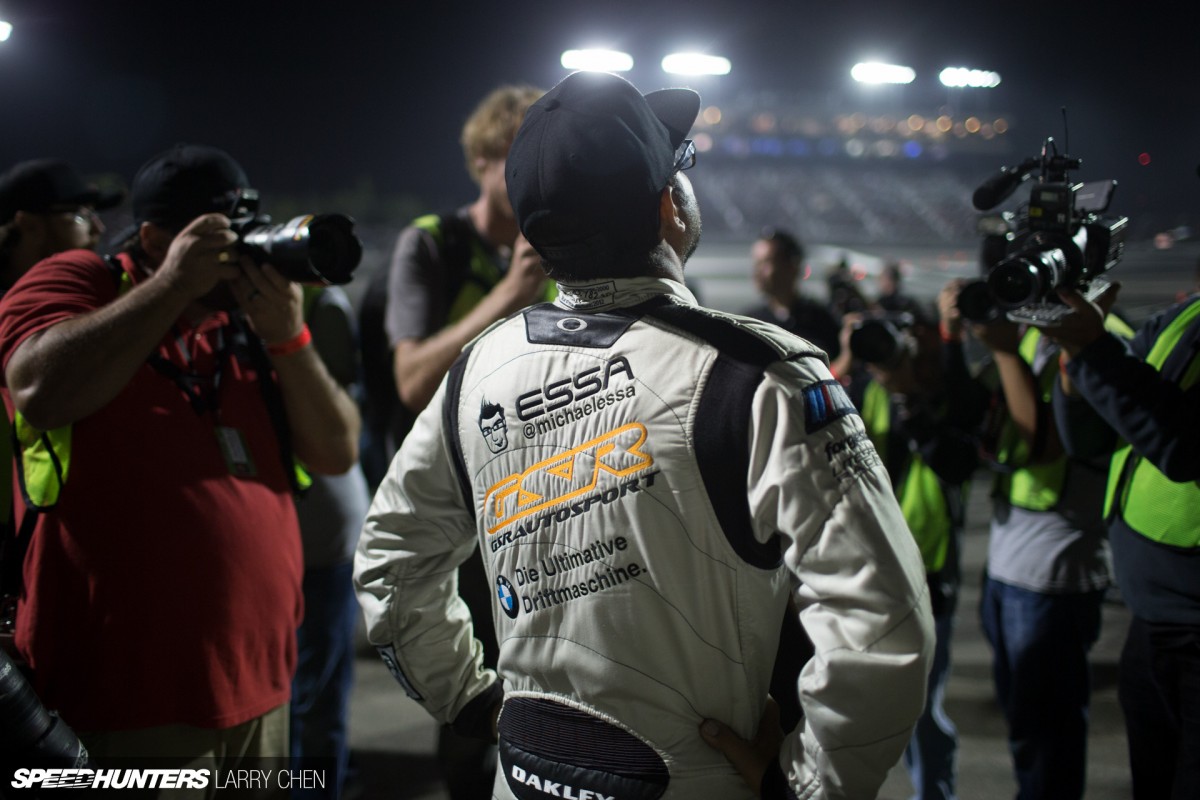 Either way I could tell that he was very relieved. An entire season's work led up to this one moment. All the weight of the championship was lifted off his shoulders. As he said before, he did not even expect to be in the chase for the championship in the beginning of the year. It did not really come to fruition until Formula Drift Texas, when he fully realized that he stood a chance of taking the title.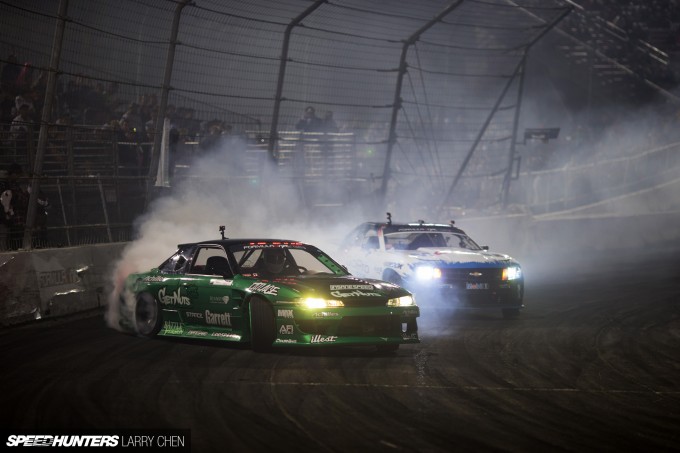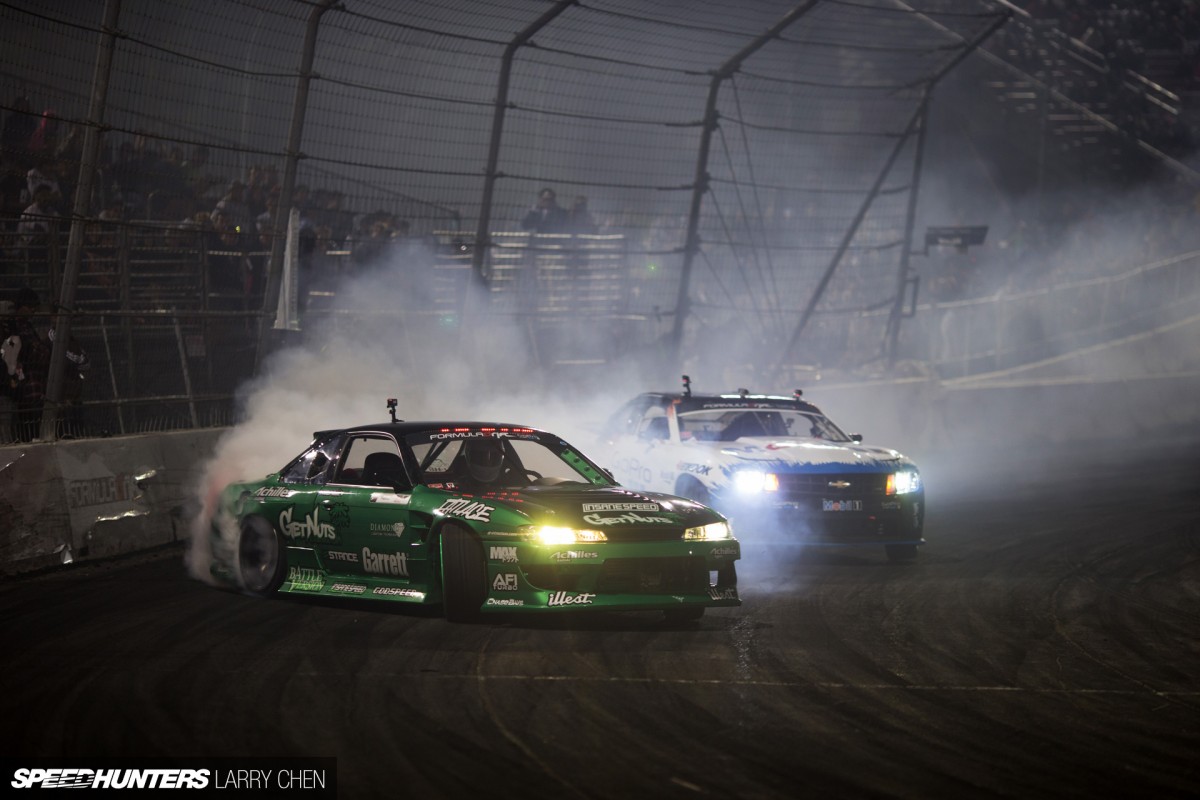 Drifting's top honor was decided, but the battle for the podium was still on. Forrest Wang went against Tyler McQuarrie for a spot in the finals. The Hawaiian native could not keep up with Tyler which meant he would have to face Robbie Nishida for third place.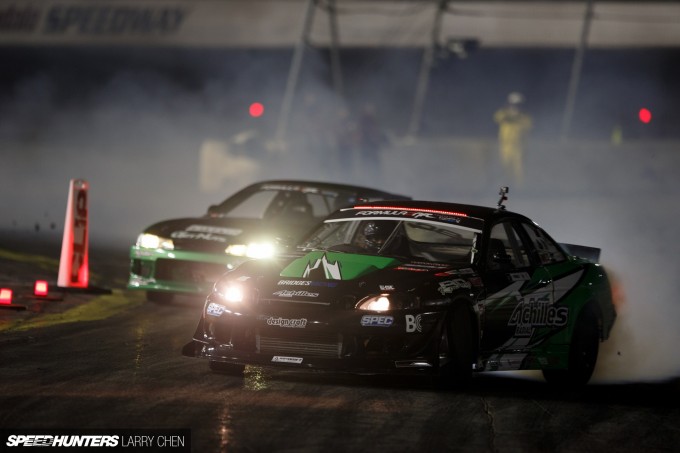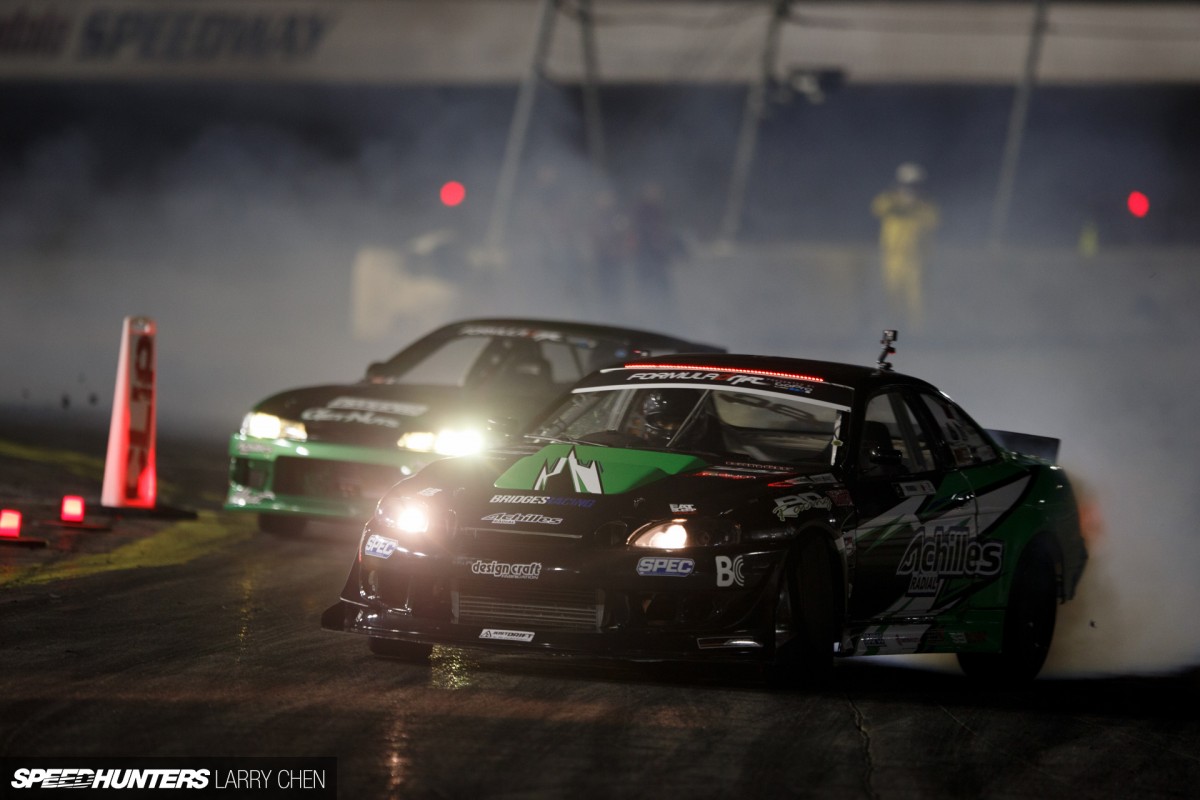 Robbie drove a little too hard and made contact with the wall, gifting the win and the last podium spot to Forrest Wang.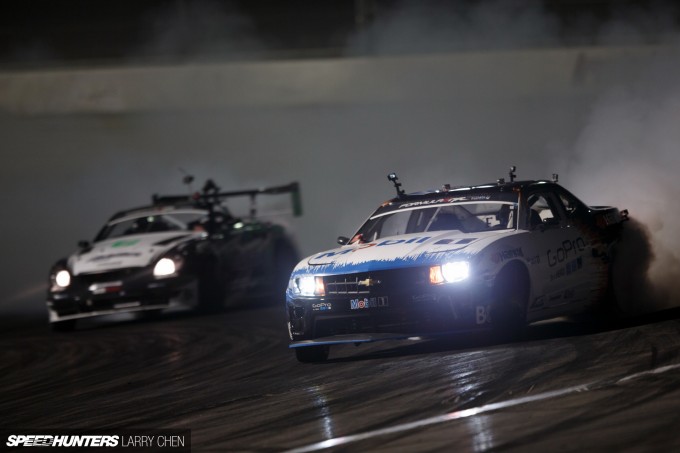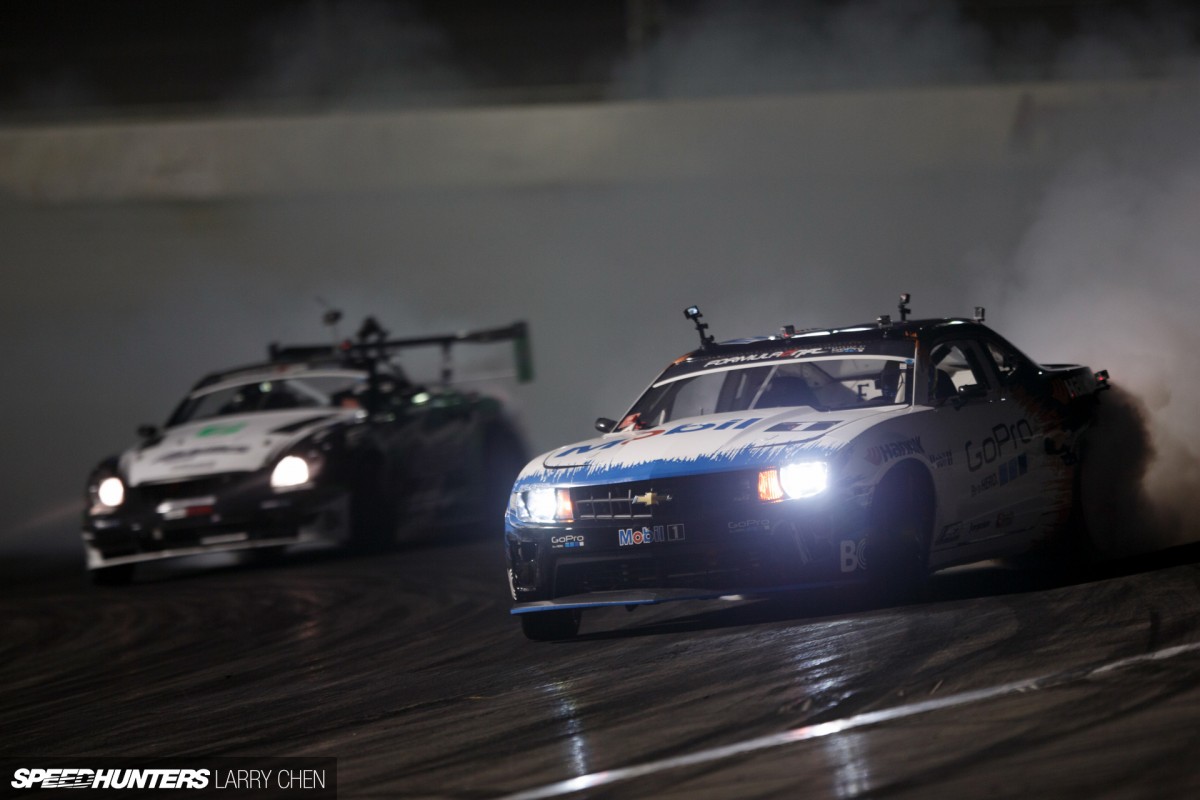 I was so sure that Tyler McQuarrie would take the win against Daigo 'The Ninja' Saito, because in Tyler's lead run, Daigo hit a cone which zeroed him out for that run. All Tyler had to do was complete a clean run and he would take the win, just like he did back in 2011 at the very same event.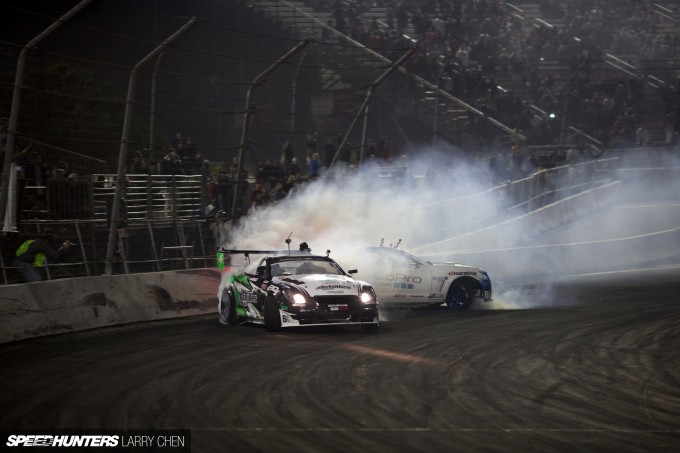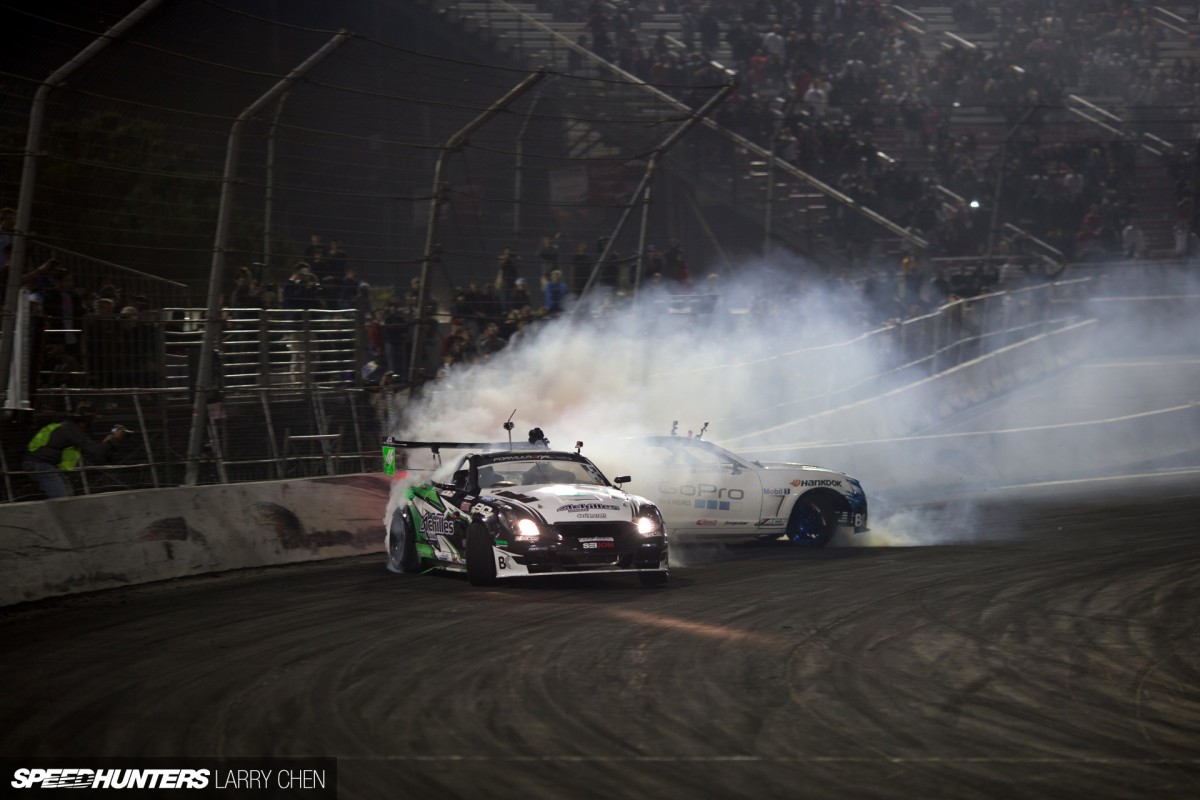 As Fredric Aasbø once told me, every drifter has a bag of tricks, and they utilize them in battle. He said that Daigo Saito has the biggest bag of tricks out of them all.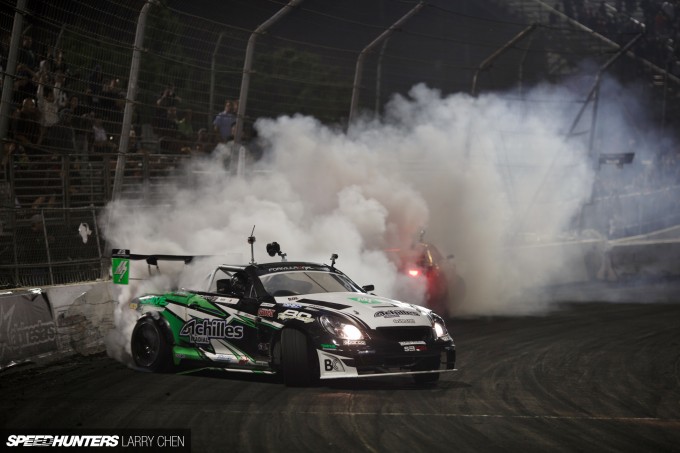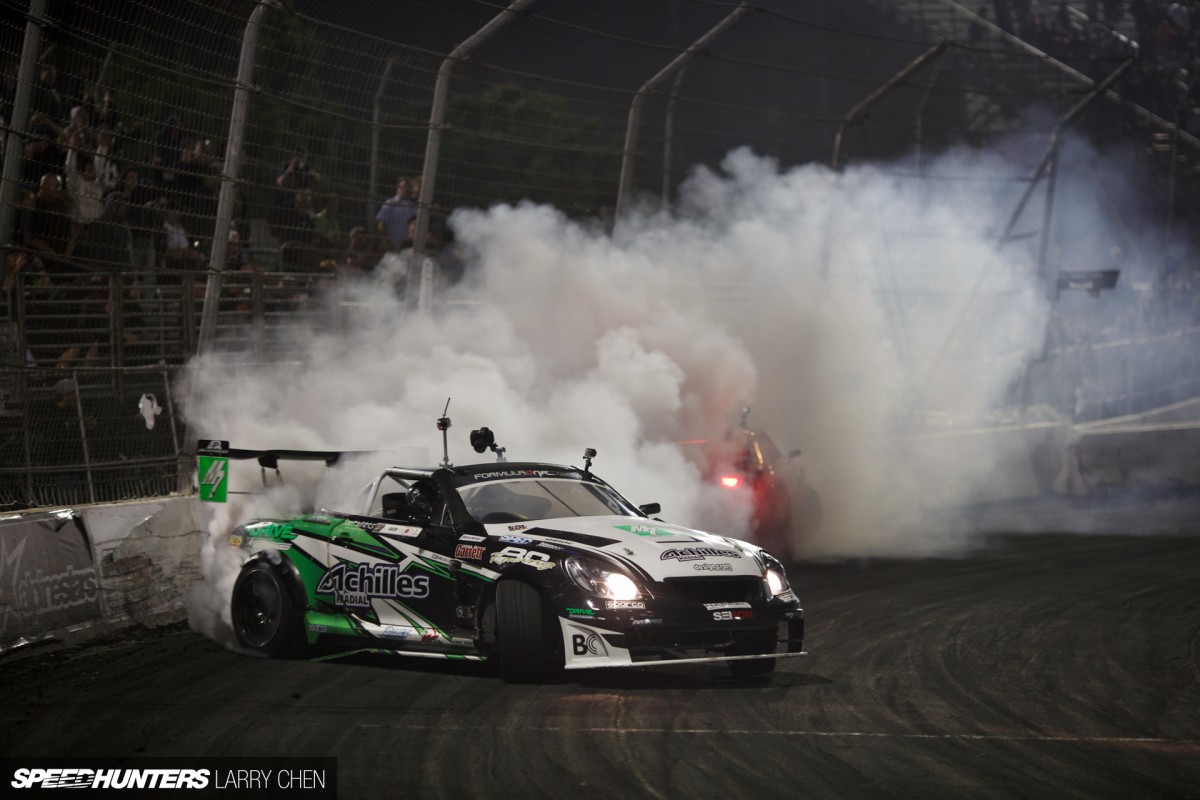 Daigo lead Tyler into the wall super hard and won the 2013 Formula Drift finals at Irwindale Speedway.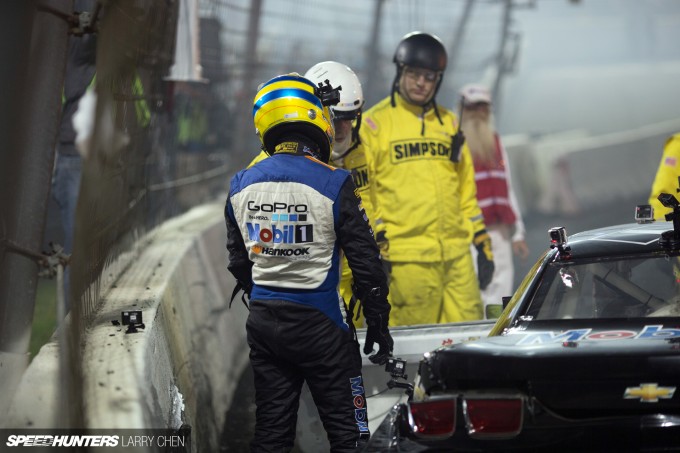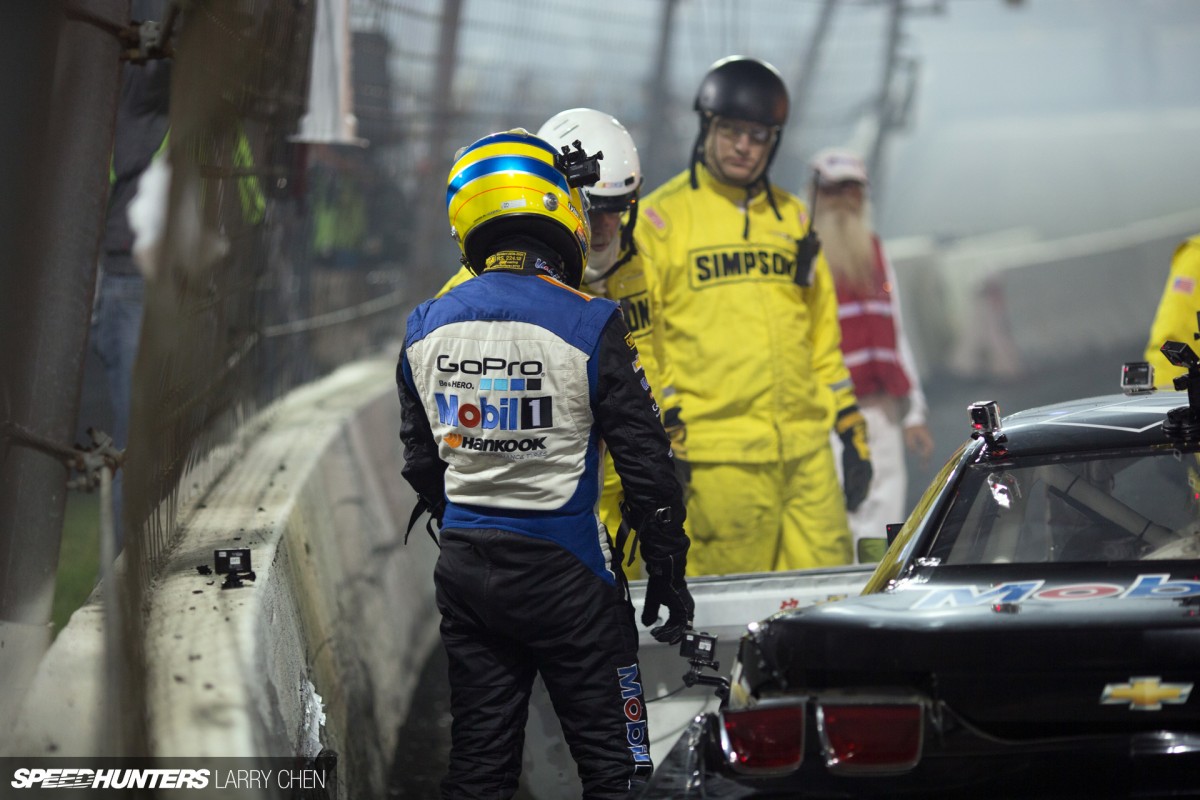 The Californian native and professional racing driver was not happy with his performance. He was so close to glory once again. What a way to finish off a season.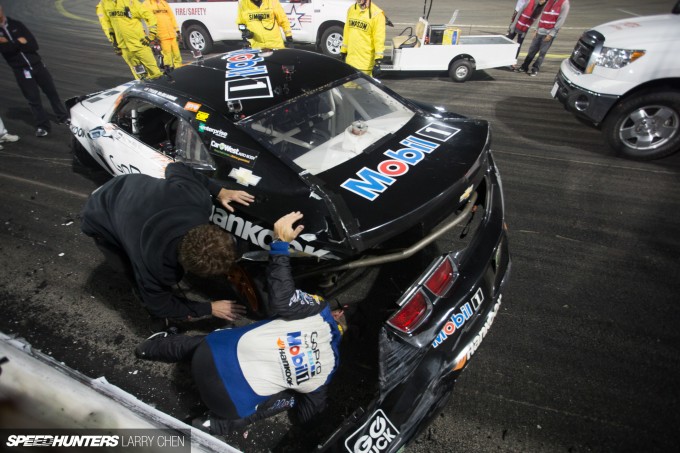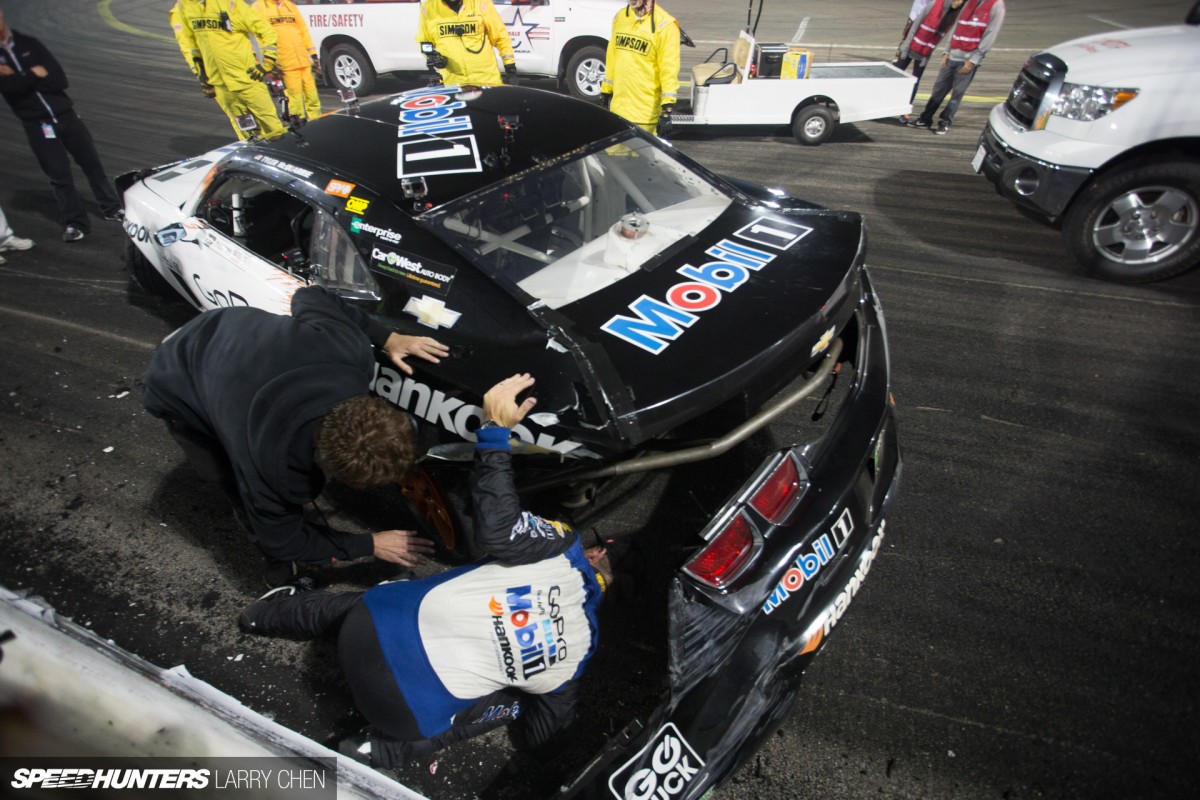 Bruised and battered, but the Chevy Camaro will drift again.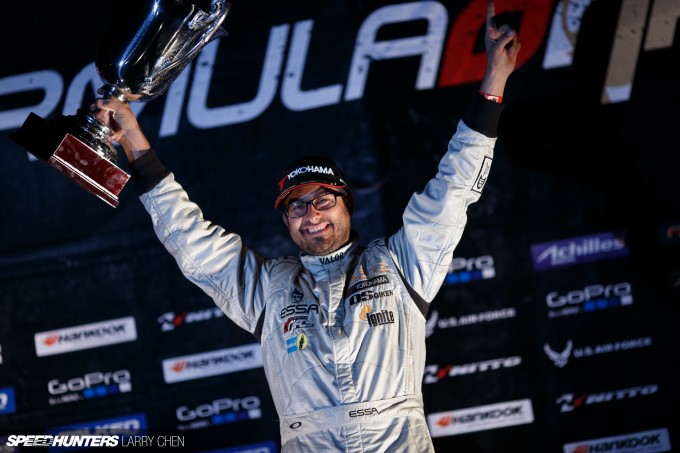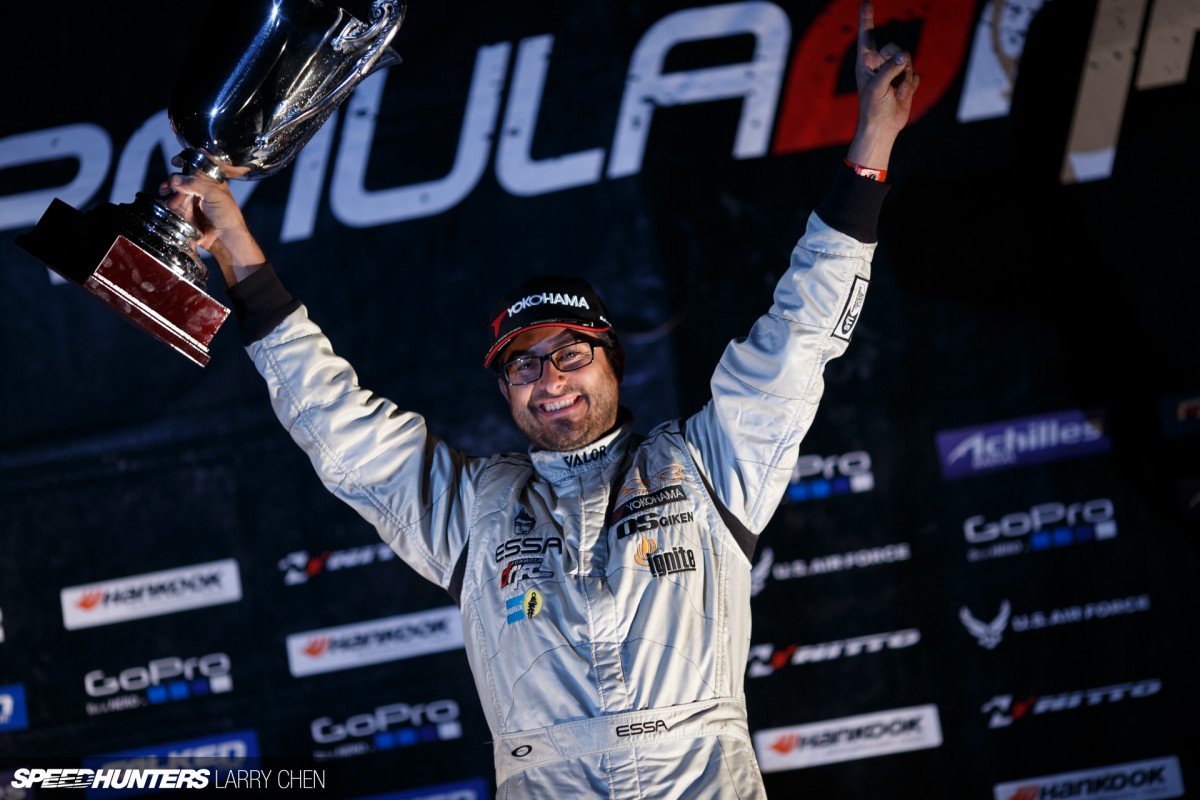 During the press conference Michael mentioned that he was not very happy about his motor going so early on, as he wanted to battle for the championship with Chris Forsberg head to head in the top 8. That really would have been epic.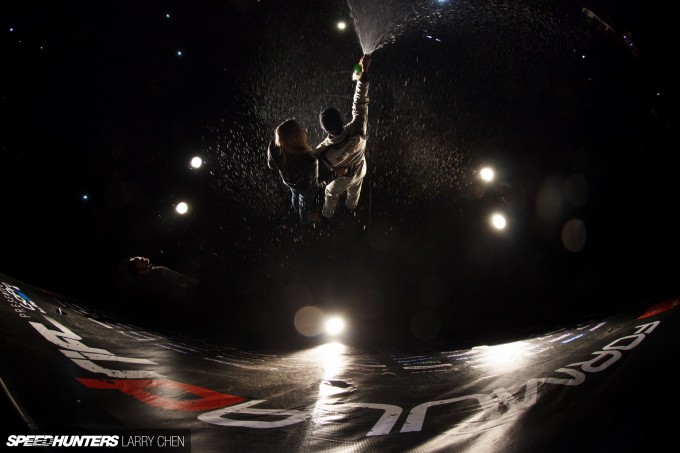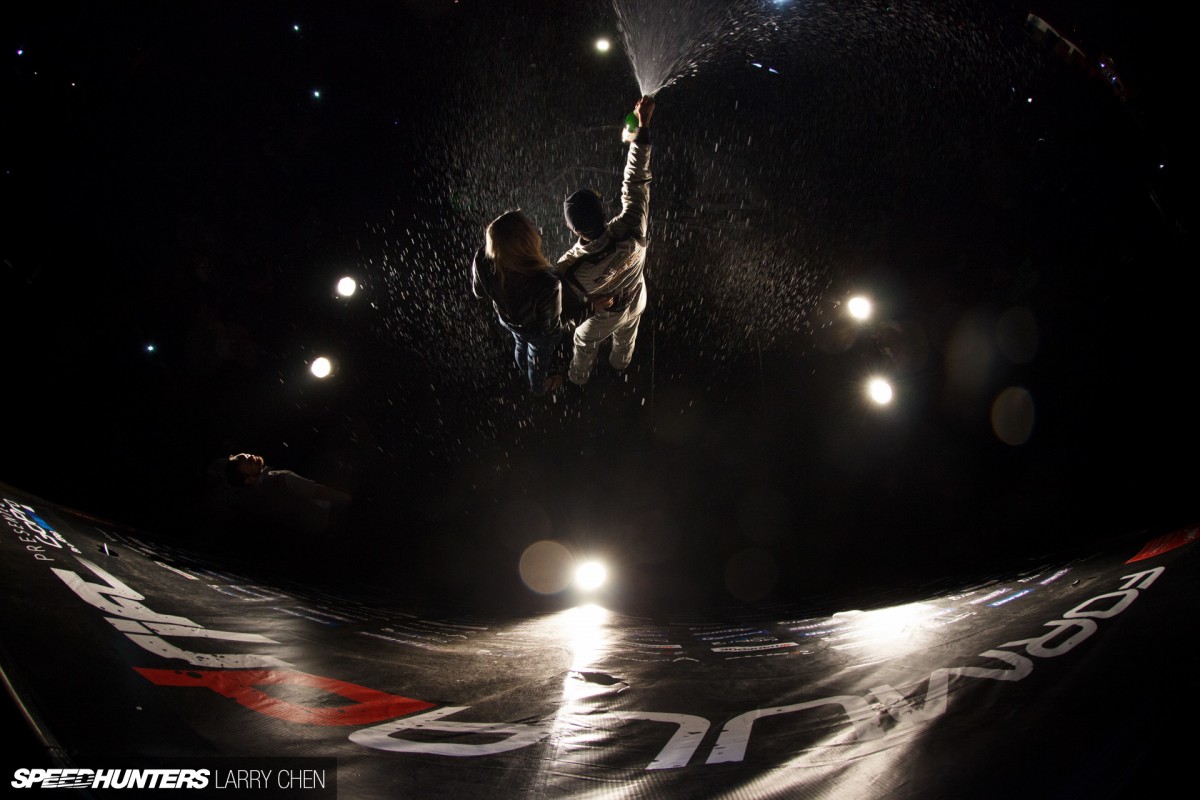 The sport has changed so much in ten years. Maybe it's a good thing that a privateer took the championship this year. It gives hope to all the up-and-coming drifters of tomorrow. There's no way that this sport I love will grow without new blood. What do you guys think about Micheal Essa's Championship?