Seventh heaven
Taking a platform designed for one purpose and modifying it to conform with another is a sure fire way to make an impact in the modified car world. Here at Speedhunters we thrive on fresh thinking and unconventional approaches to car building, whether it be a Volkswagen Golf dealt a rear-wheel drive conversion and 1000-plus horsepower of twin turbo Chevy V8 (it's coming – I joke you not!), or – as in this particular instance – a svelte, black series seven Mazda RX-7, simply built for show over go.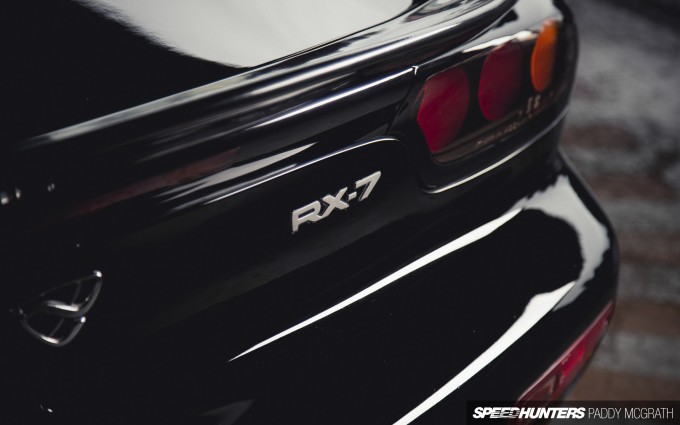 I'm sure the idea of taking a bonafide sports car and installing the sort of modifications that are largely known to exacerbate rather than enhance, will be lost on many readers, but for Steve Palmer and his RX-7 – the subject of an impromptu Paddy McGrath photo shoot at the recent UK Players Show – this build was never about conforming to the accepted norm. It was about taking the car he dreamed about owning long before he could even drive, and putting his own creative spin on it.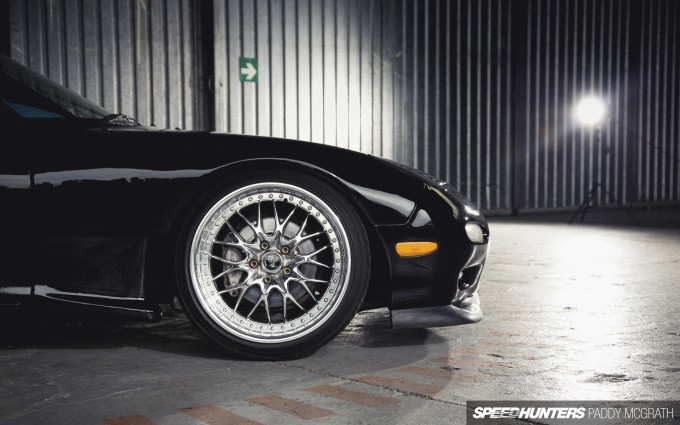 As a modifying base, the final (for now at least) incarnation of Mazda's revered rotary-powered platform is ripe for it. It's an early '90s design, granted, but this is a car that still enjoys a huge amount of aftermarket support, so personalisation is an easy proposition more than two decades after the fact.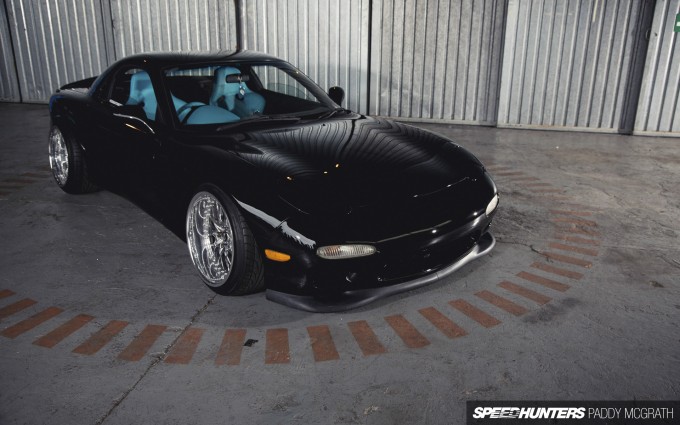 When it came to the specific direction of the build however, the route wasn't so clear-cut. Essentially Steve was torn between two approaches: track-spec, so caged-up and wearing an RE Amemiya bodykit and functional lightweight rims – or smoothed over and fitted with the widest, deepest-dished wheels he could get his hands on. He chose the latter.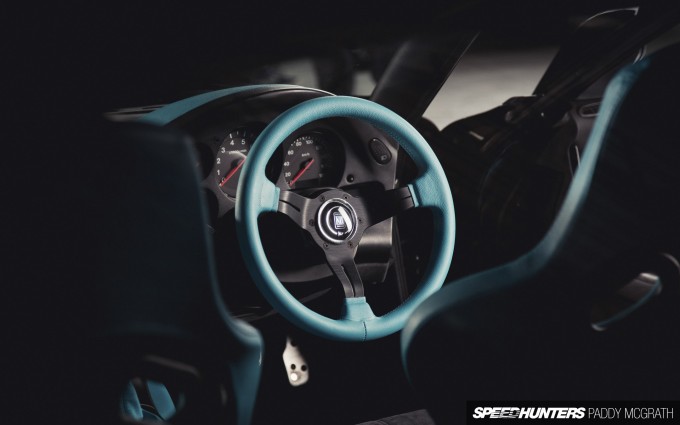 The only aspect of the FD where Steve didn't need to second guess himself was in the overhaul of the interior…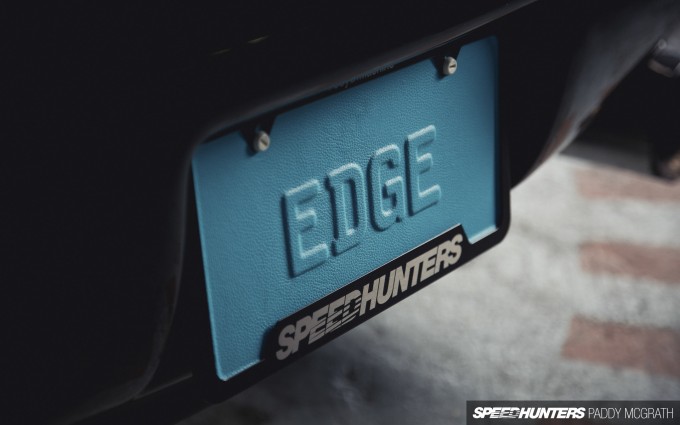 … which makes perfect sense considering Steve's an auto trimmer by trade, and right from the project's inception had planned to use the RX-7 to demonstrate the talents of his company Edge Automotive Interiors.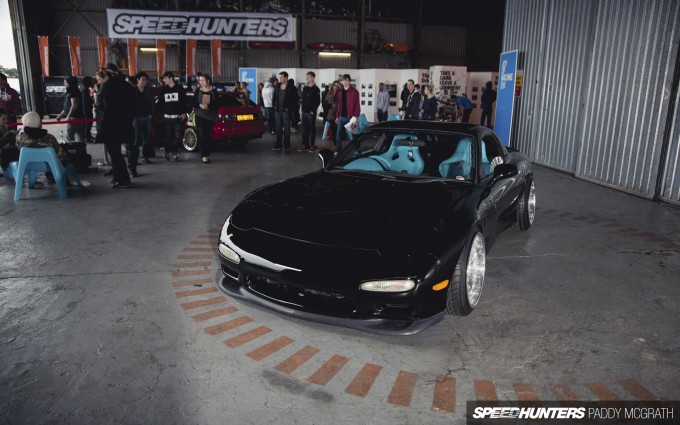 To achieve the clean look he was after, Steve smoothed over the front bumper and fitted Concept 7 front guards. Although he's adamant that the wheels would have squeezed under the factory fenders with some subtle – or perhaps not-so-subtle – refashioning, an extra 25mm width each side with the FEED-inspired fibreglass replacements are a perfect fit.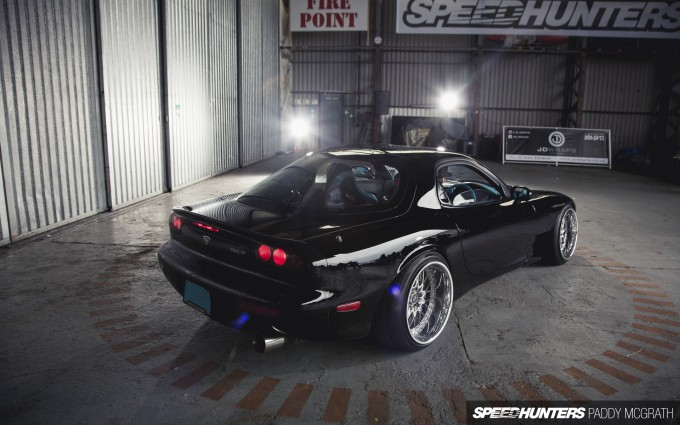 The look continues to the rear, with massaged guards, a smooth boot lid and an extremely subtle yet very cool, Concept 7 duck tail lip spoiler which perfectly complements the Mazda's organic curves. That low-slung stance? It's a static set-up, courtesy of HSD DualTech twin-tube coilovers with 14-way damper adjustment.
Squeeze and tuck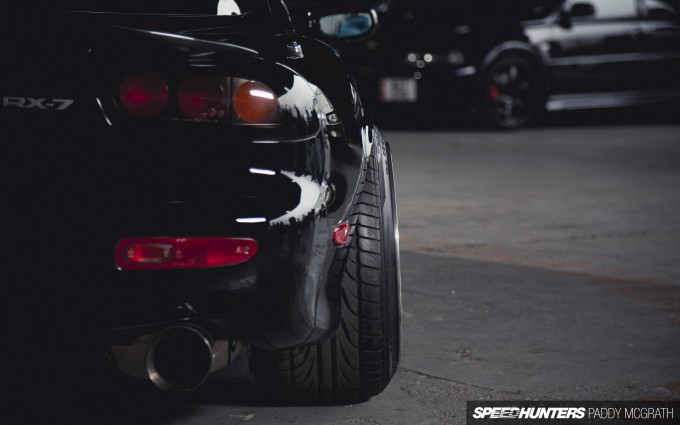 It's quite easy to overlook the subtle enhancements that Steve has made to RX-7's body, but you can put that down to the impact collectively being made by the wide wheel and stretched tyre combination.

The oh-so-tough polished Work Rezax II rims measure up at 18×10.5-inch with a +15 offset on the front end and 18×12-inch +/-0 offset at the rear, shod with 225/40 and 265/35 Falken FK452 rubber respectively.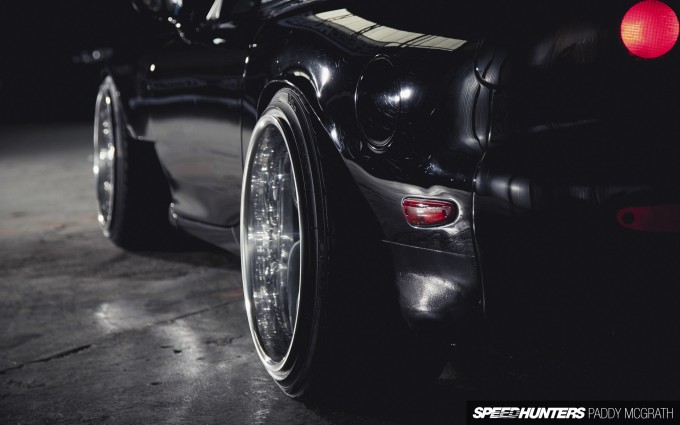 There's a lot of room under FD3S rear guards, but even though they've had a good pull, they can barely contain the zero offset Works. Actually, they don't contain them at all, which is understandable considering they were originally set up for wheels that sat inwards 20mm from the current set up. According to Steve, there's still a little more give in the steel arches yet, but with bigger plans being brewed for the rear end, the aggressive fitment will suffice in the meantime.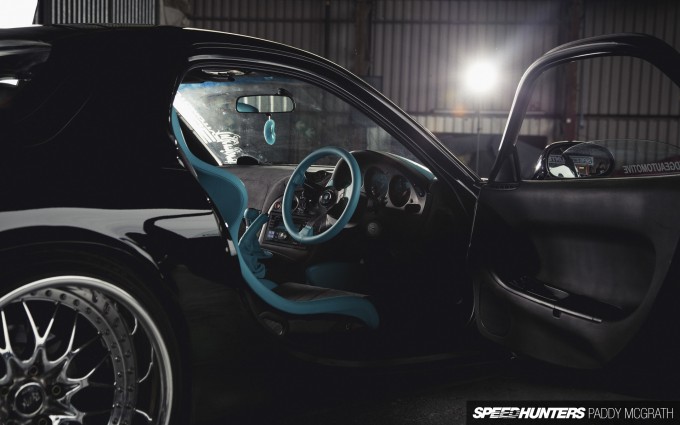 Working with his favourite materials and a needle and thread, Steve has done an amazing  job in transforming the RX-7's cockpit from the sea of black plastic that once consumed it.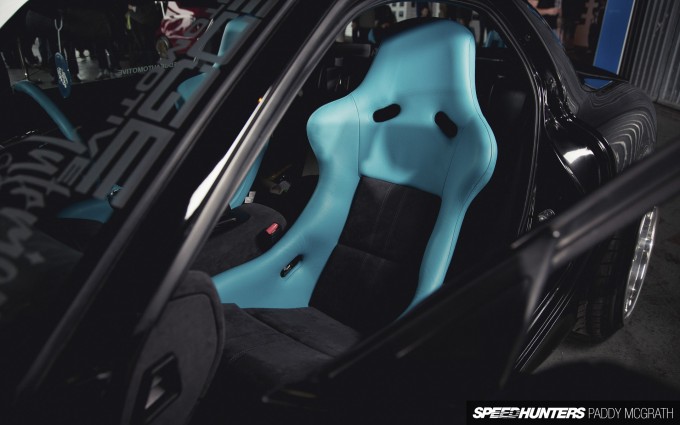 A pair of Recaro Pole Position racing seats were on Steve's must-have list, but in lending his craft to the cause they've taken on a whole new look. Black Alcantara now features on the cushions, with high-grade leather (dyed in his company's official blue hue) wrapping around the front side of the frames.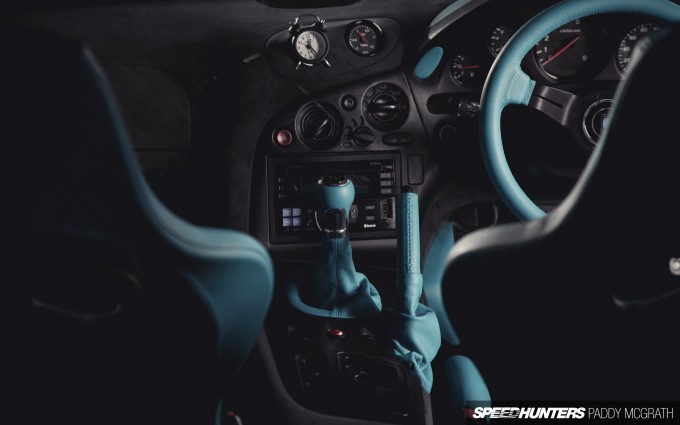 The splash of colour extends to the Nardi Torino Deep Corn steering wheel, the shifter and handbrake, and a few other pieces around the interior. To be honest, I'm not normally a fan of this sort of thing, but I actually really like what Steve's done here.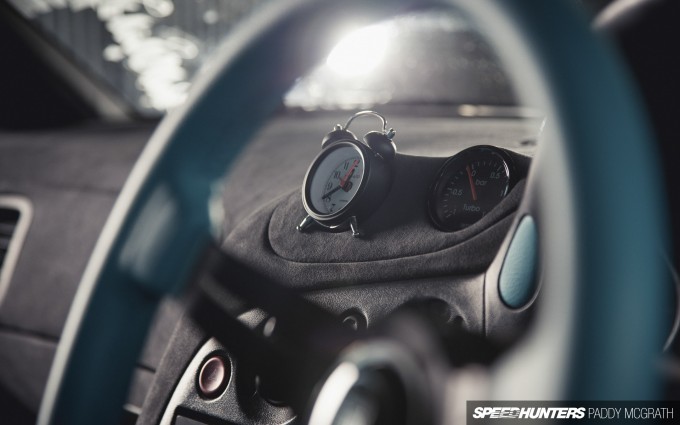 I'm pretty sure I've never seen anything like this before, but the retro-styled Asda clock that shares space with a Smiths boost meter in a custom gauge pod is a quirky and original addition to the space. From this angle you also get a good look at the dashboard, which Steve also dealt the full Alcantara treatment.
Perfect execution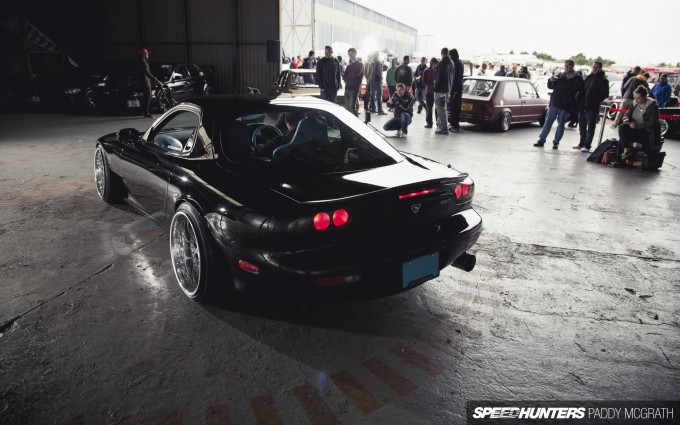 It's another small, yet very well executed detail, in a build where I think it's very safe to say that less is definitely more. In saying that though, chances are it isn't going to remain that way for too much longer.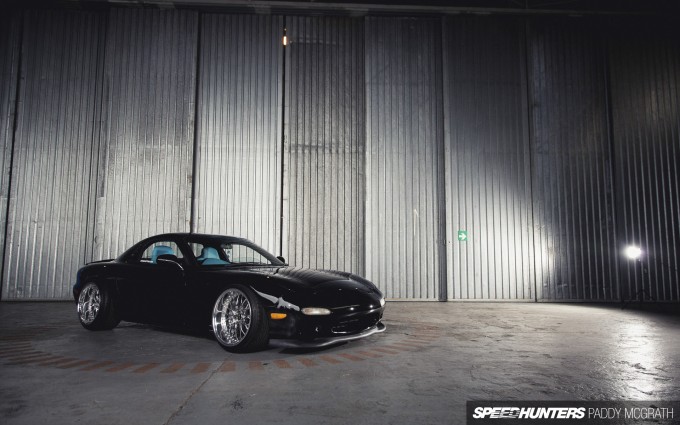 Steve has some bigger plans for the RX-7, and in keeping with the modifications he's made to date, they'll continue to be focused on style rather than speed. The ideas might still be bouncing around in his head, but don't be surprised if it turns up at a future Players Show featuring a suspension system, new wheels, more interior trim work, and maybe even an exterior colour change.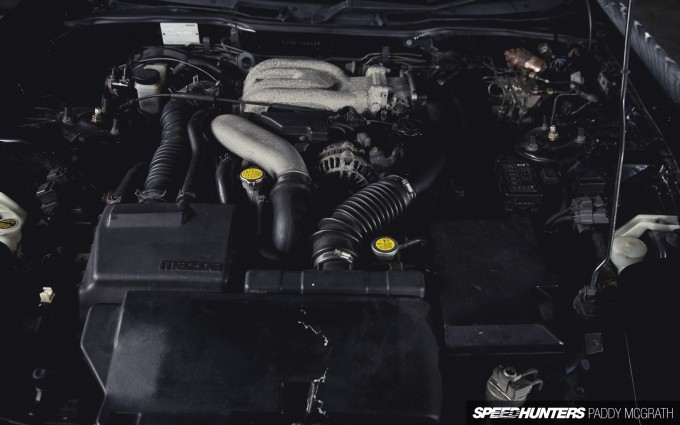 There's not a whole lot in store for the engine bay, nor the twin sequential turbocharger-equipped 13B twin-rotor motor that dwells within it – except a few hard pipes and quick tidy up perhaps.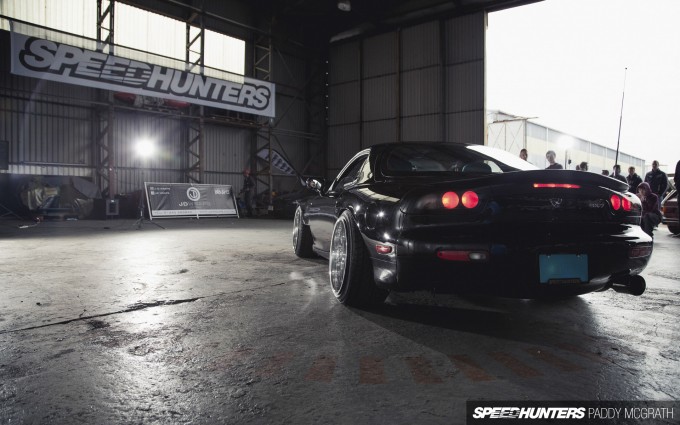 With more than 280hp on tap in factory form though, it's hardly lacking in the performance department. Most importantly, it's fast enough for Steve, and that's the main thing, right?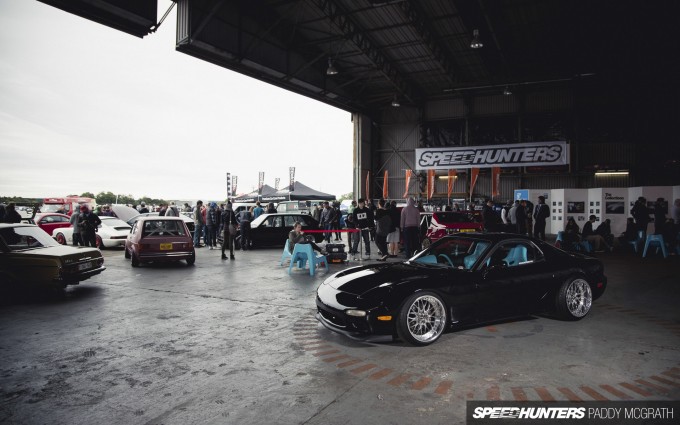 Whether you think Steve took the right track with this build or not, I don't think there's any questioning the fact that he's been successful in making an impact – and more so, with a surprisingly small number of modifications. We're definitely looking forward to seeing what the future holds for this slick 7.
Brad Lord
Email: brad@speedhunters.com
Edge Automotive 1996 Mazda RX-7
Engine
Factory 13B twin turbo
Driveline
Factory five-speed manual, rear-wheel drive
Suspension/Brakes
HSD DualTech adjustable coilovers, factory four-wheel discs
Wheels/Tyres
Work Rezax II 18×10.5-inch ET15, Falken FK452 225/40R18 (front), Work Rezax II 18×12-inch ET0, Falken FK452 265/35R18 (rear).
Exterior
Concept 7 front guards, smoothed front bumper, Concept 7 duck tail spoiler, smoothed boot lid, pulled rear arches
Interior
Recaro Pole Position seats trimmed in blue leather and black alcantara, dashboard trimmed in blue leather and black alcantara, Smiths 52mm boost gauge, Asda clock in custom gauge pod,  Nardi Torino 330mm Deep Corn steering wheel trimmed in blue leather, gear knob, handbrake and gaiters trimmed in blue leather
More Players Show 2013 stories on Speedhunters
More Mazda stories on Speedhunters