The gentle brute
The S range models from the Audi stable have always puzzled me. They seemed like a compromise between the regular range of models and the fire-breathing RS line cars.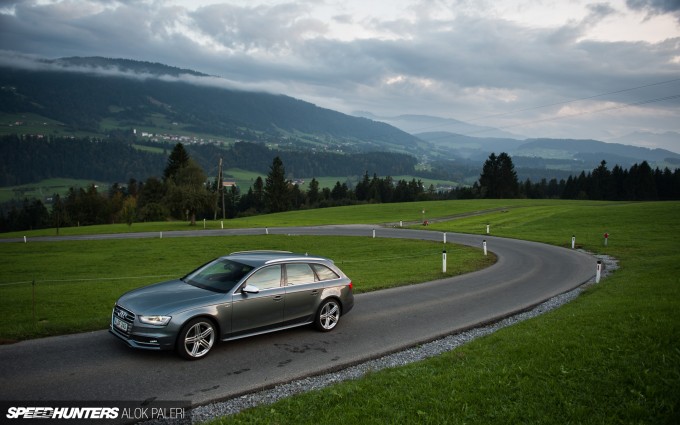 Seeing as a friend of mine owns a facelifted B8 S4 Avant, I asked him very kindly if he'd lend me the car after work for an evening. Since petrol is considerably cheaper in Austria compared to Germany, a short hop across the border for bit of spirited driving made all the sense in the world.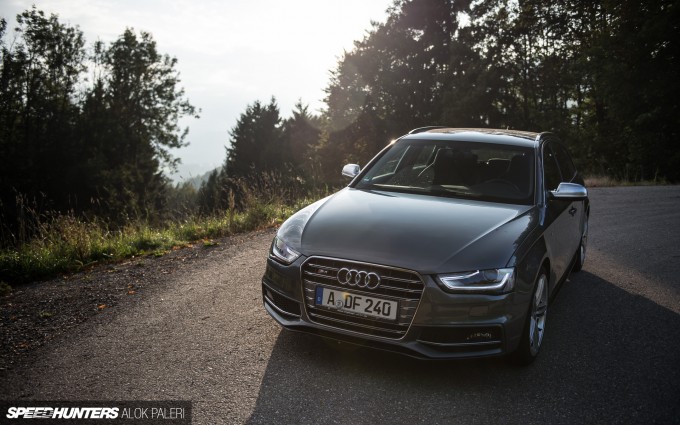 Unlike the much more aggressive B8 RS4 Avant, the S4 is very sedate on the eyes. I got passing nods from car guys at gas stations, but for everyone else this was just yet another silver gray Audi estate.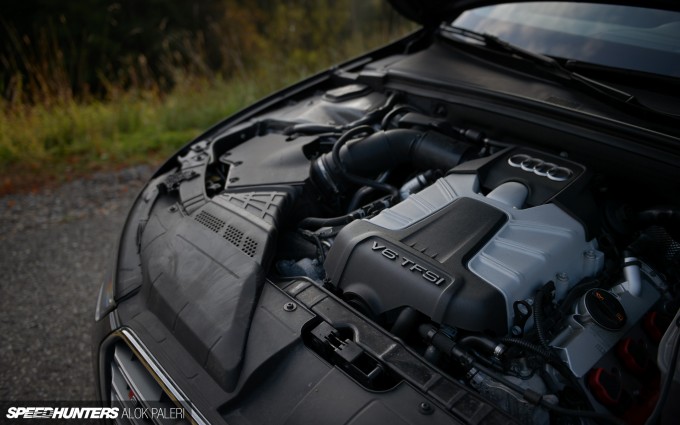 One of the victims of downsizing, the S4 is powered by an all-aluminum three-liter V6 turbo engine, as opposed to the larger displacement 4.2 liter V8 in the B6/B7 S4. Nevertheless, it produces 329 brake horsepower that are shuffled to all four wheels via a seven-speed S-tronic double clutch transmission and the famous quattro all-wheel-drive system. Earlier Audis always garnered criticism for having their engines mounted way too far up front, but things seem to be taking a different direction in this Avant, as you can see here.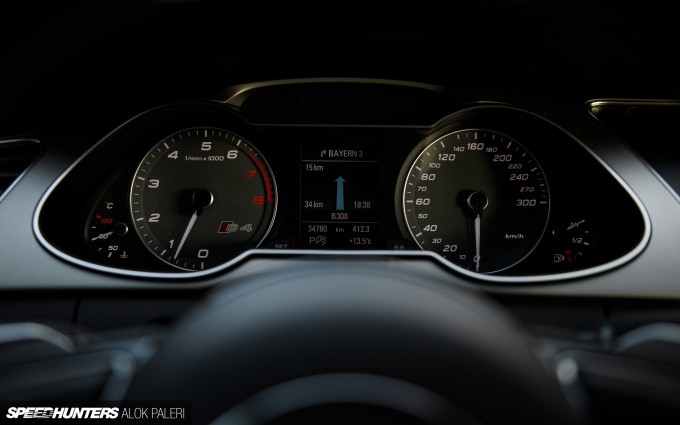 There are several driving modes available that alter the throttle response and shifting patterns according to the wishes of the driver, as well as a full manual mode. This gives the car a proper two-faced character, varying between the extremes of gentle seventh gear cruising in the Efficiency mode doing barely any revs and the wailing, needle-to-the-redline Sport mode.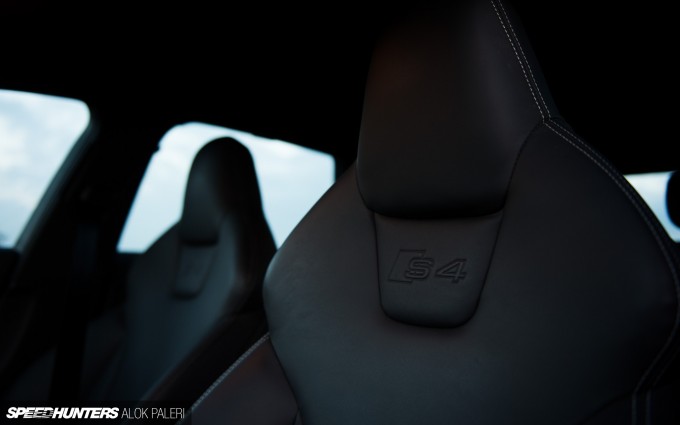 The seats, with their embossed S4 logo, are very comfortable and supportive, especially when it comes to side support during hard cornering. These particular ones are also heated, which came as a boon to me since I was often driving with my windows down for any sudden photo ops.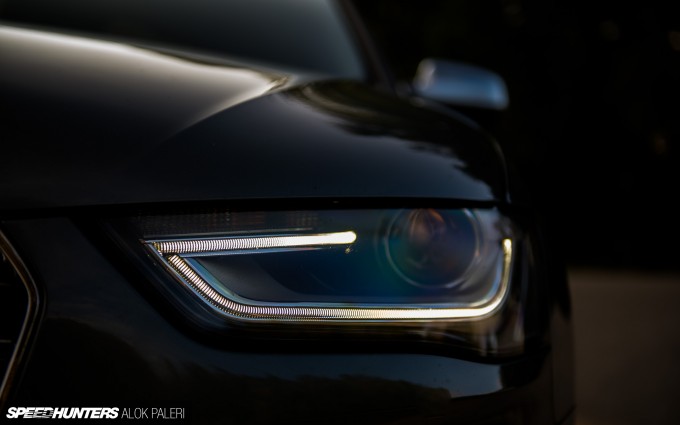 One of the notable visual differences from the pre-facelift model is the lack of the traditional discrete LEDs in the headlamps; they've been replaced by what looks like an illuminated light strip.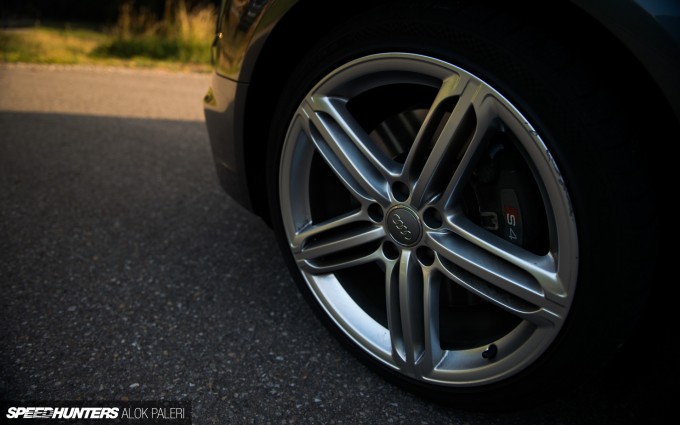 The 19-inch wheels on this car appear to have seen quite some city use (and abuse), but as it is daily driven in a city full of tall curbs, I'm sure we can let it slip.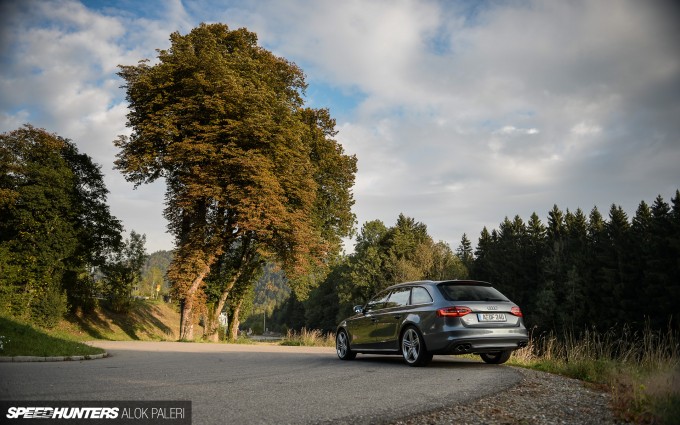 I love how the bunched five spoke design lends a lot of muscle to what is otherwise a very elegant sleeper.
Getting acquainted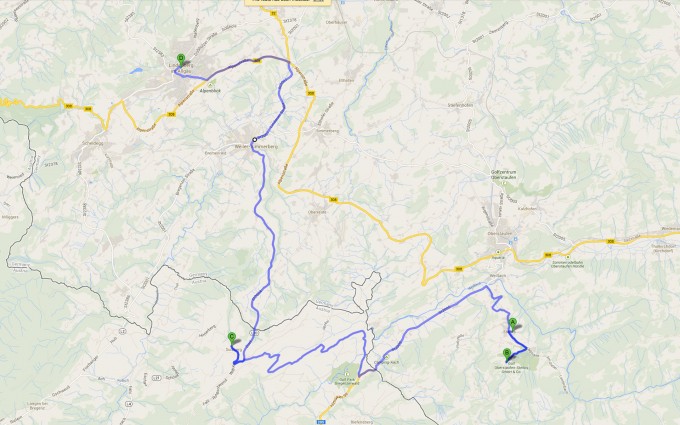 After consulting a few friends, I decided to start from Oberstaufen in Germany, drive a short bit of freshly paved asphalt up to the town of Steibis, cross over to Austria around Aach, pass by Sulzberg and then return to the town of Lindenberg im Allgau.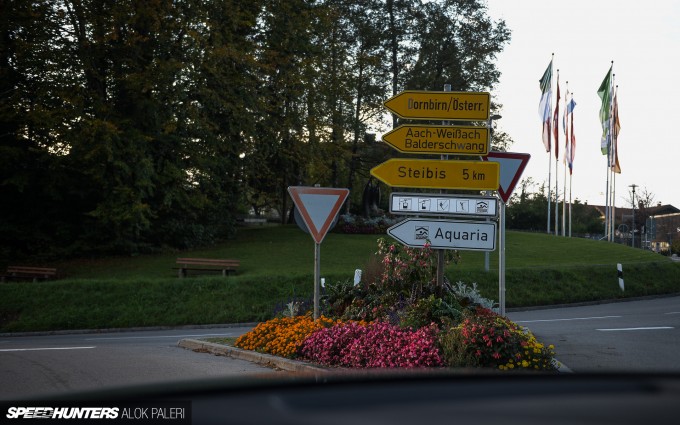 After having filled the S4 to the brim, I set off and headed towards Steibis.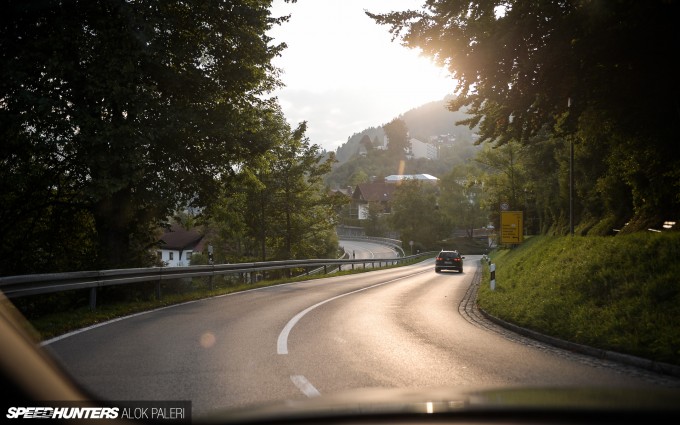 Driving through Oberstaufen really feels like riding a roller-coaster. Quite how they managed to pack such twisting road sections within this little town amazes me.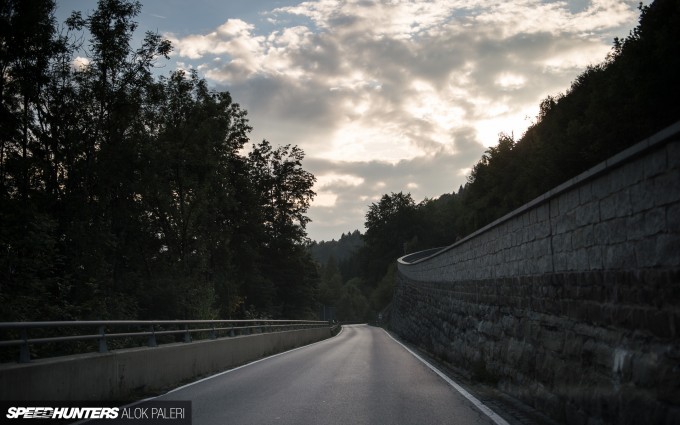 As the winter slowly approaches, the sunsets get longer and longer, stretching the 'golden hour' to a couple of hours.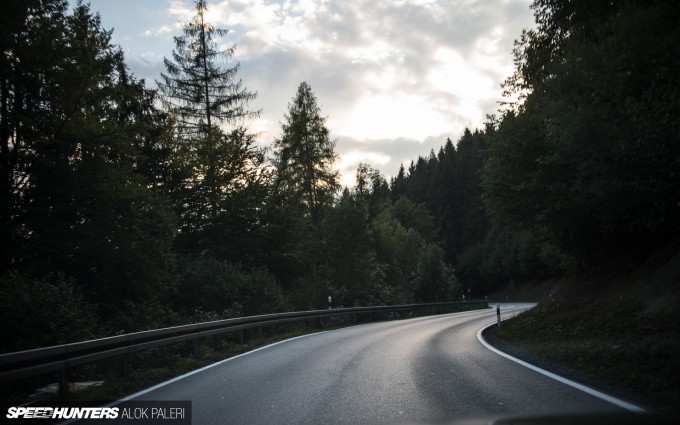 This route came recommended to me by a friend who is a motorbike nut. He explained to me how the biggest dangers for motorcyclists are blind corners, especially when you add spirited driving to the mix. The reason why most motorbikers love this route is because there is so much visibility. You can often see several corners ahead if there is any traffic coming your way.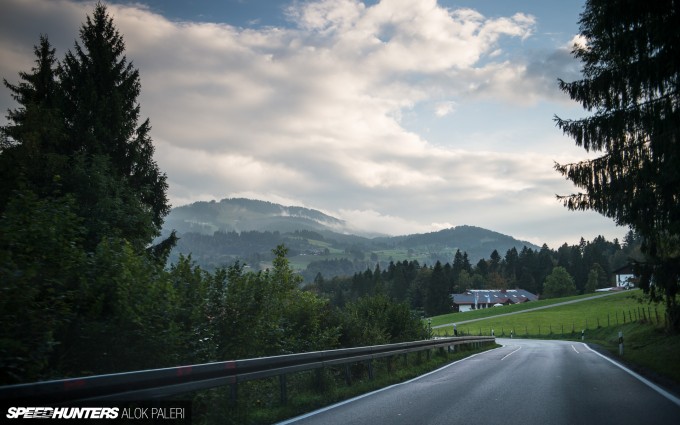 There are several little towns on the way, each having a view better than the last.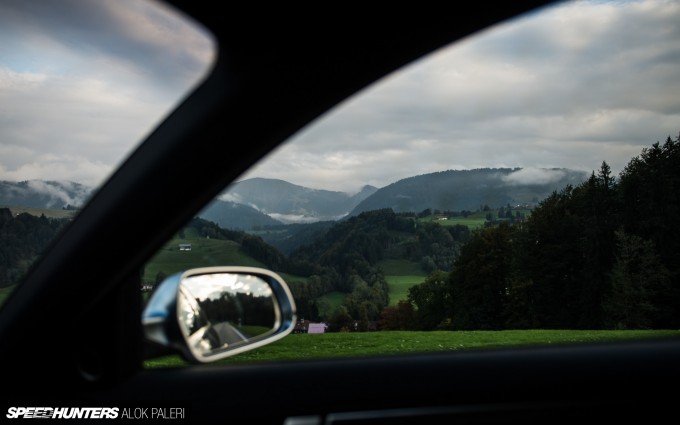 Since I was doing this trip solo, I had to come to a stop several times to take in the view. I just never tire of the fog-capped hills.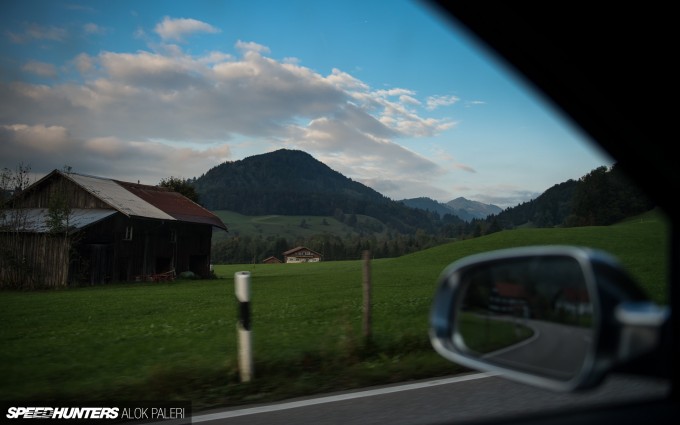 Lack of traffic seems to be a regular phenomena with the Dream Drives I've done. I'm not complaining though; it allowed me to stop every now and then to enjoy the scenery.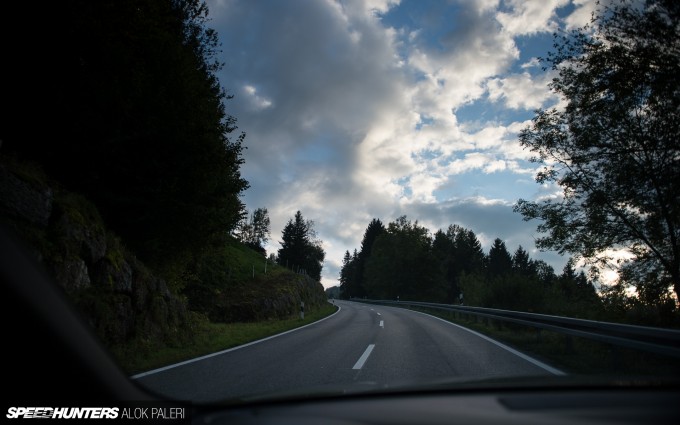 The road up to Steibis is initially very long winded, but tightens up incredibly as you get to the end.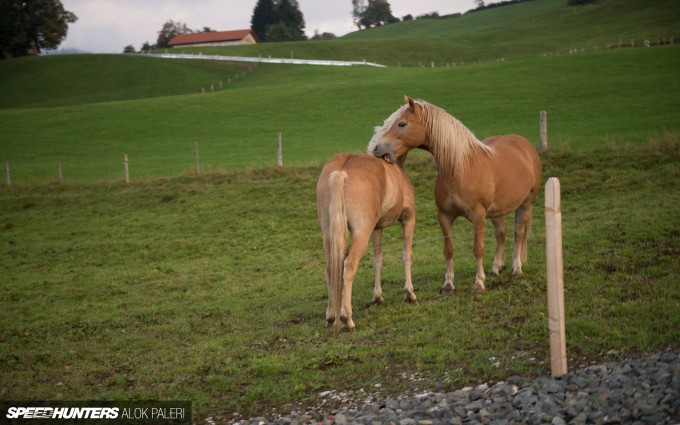 On my way up, I even spotted two extra horsepower hanging out at the side of the road!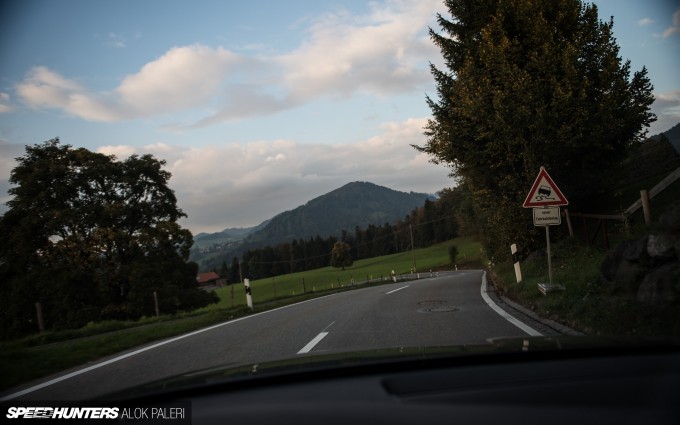 There are several warning signs along the road informing drivers of the slippery conditions due to the fresh asphalt cover.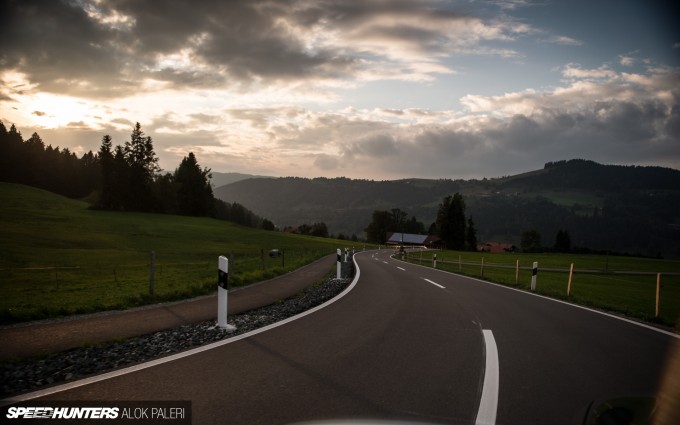 These are important because it is very easy to get carried away on this bit of road going down from Steibis.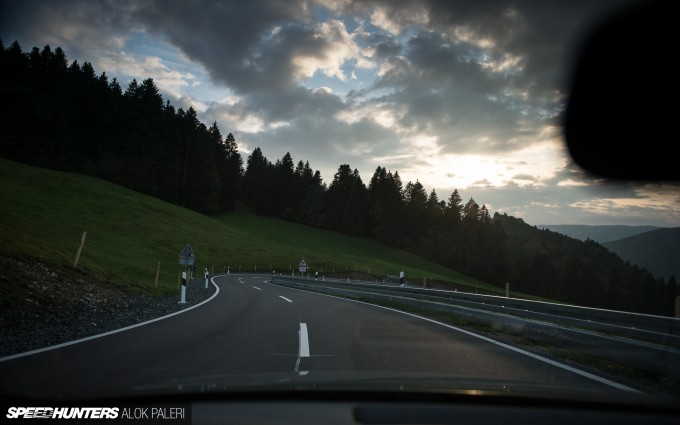 In dry conditions the car just grips and goes thanks to the quattro all-wheel-drive system.
Running for light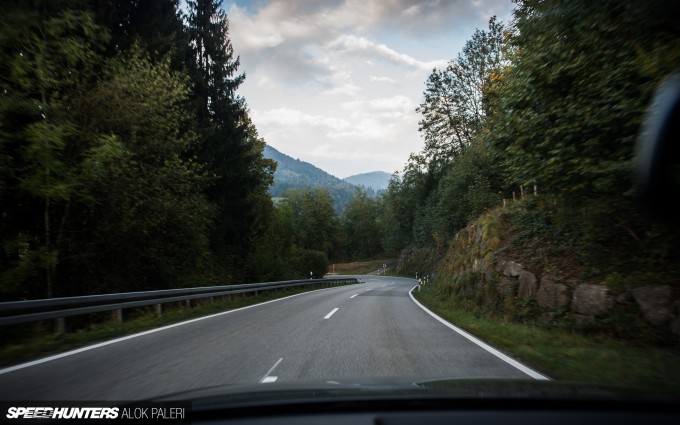 I was constantly keeping track of where the sun was, since I wasn't sure how much time I had with daylight to finish the shoot. Since the roads alternate between being open and going through woods, it was often hard to judge.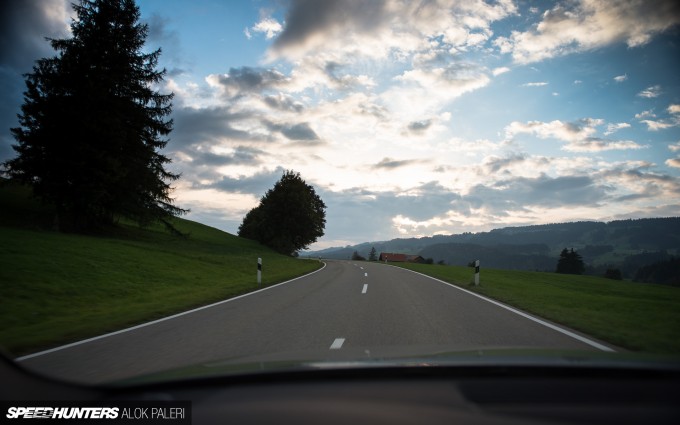 The roads opened up soon enough and my worries were put to rest: I still had some time left.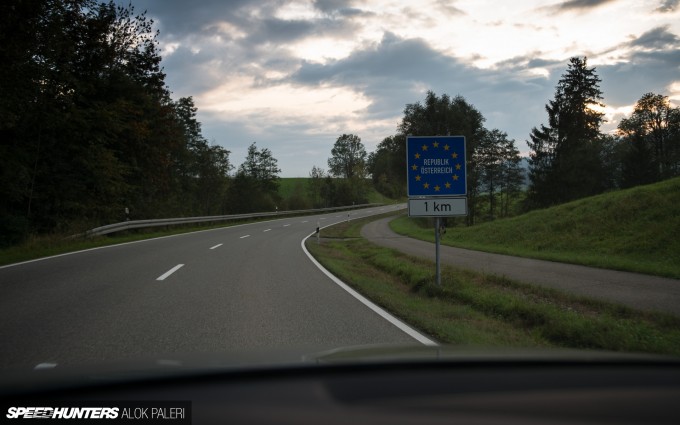 Many of such roads are discovered by drivers and riders who often try to circumvent the motorway toll charges in Austria by driving on the back roads.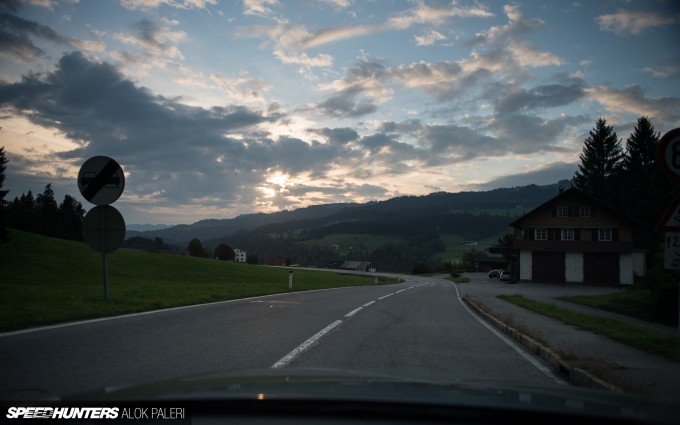 Once we crossed over to Austria, I was instructed to look for a sign showing the direction to Sulzberg.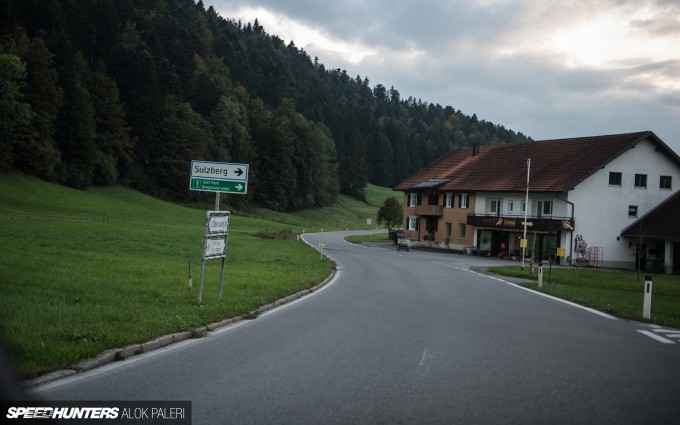 After driving a couple of kilometers down the road I found it, much to my surprise.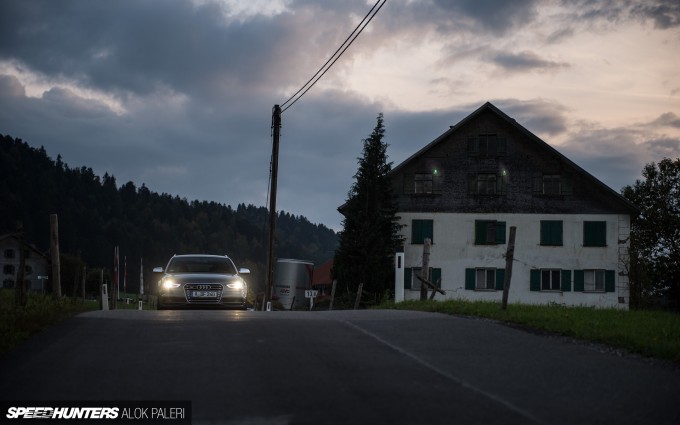 It seemed that my friend had forgotten I'd be driving a car on this route, as this section was quite narrow. Luckily for me again, it was almost entirely devoid of any traffic.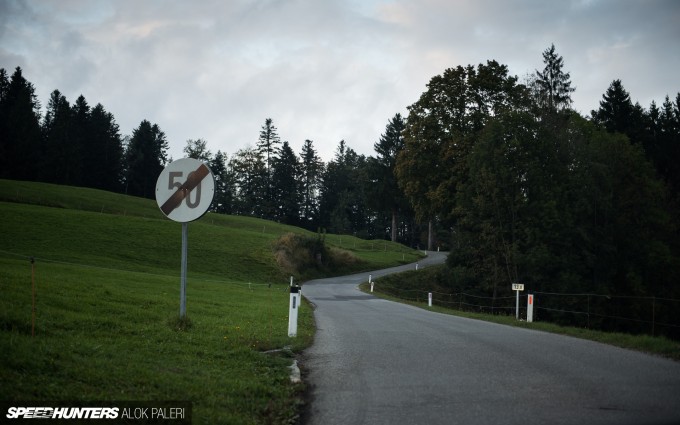 I loved this sign that lifted the 50kph speed limit, raising it to the regular 100kph. If only it was easy doing that sort of speed on a technical section like this. Ah, the humor!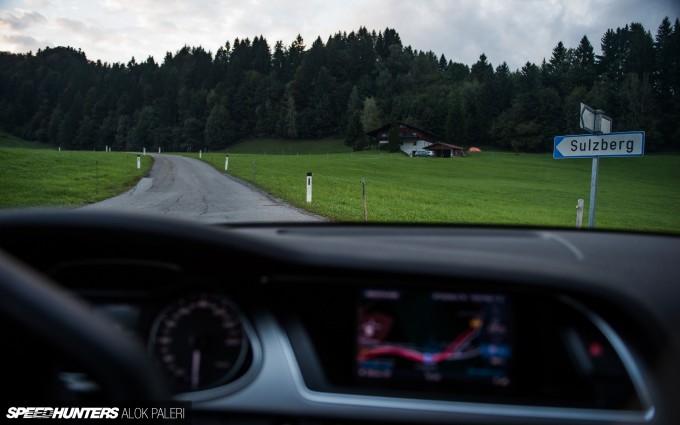 More signs reinforced my blind belief that I was not getting lost.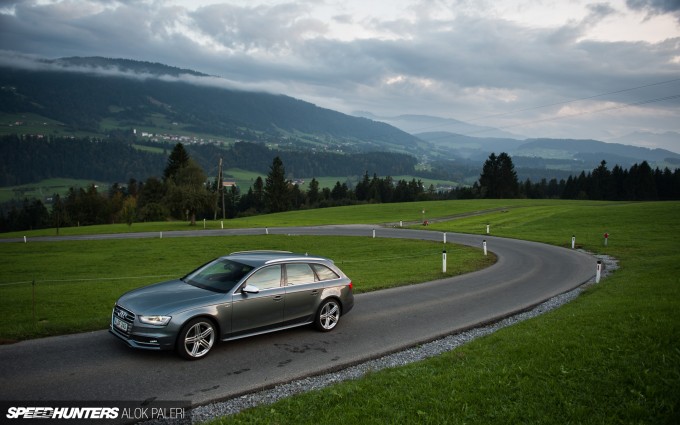 A quick stop was called for so that I could step outside and take in the view; it would have been too easy to get distracted while driving and clip a few of the many, many cows that walk these fields.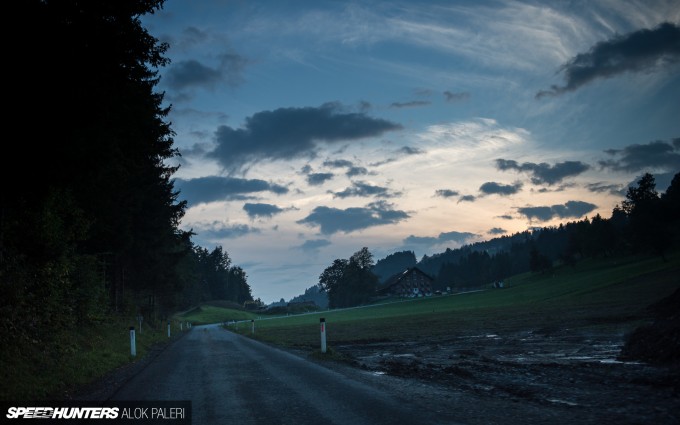 After taking in a full dose of Mother Nature showing off, I drove over to the other side of the mountain. Because of the tree cover, it immediately got much darker.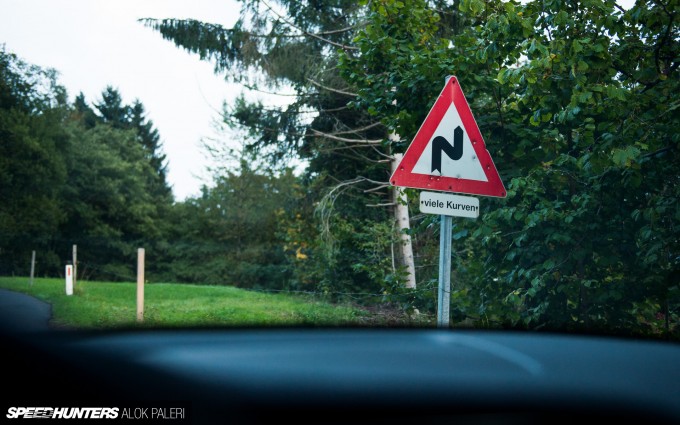 This is another sign I found on the route that was very encouraging. The text below the sign reads Many Curves.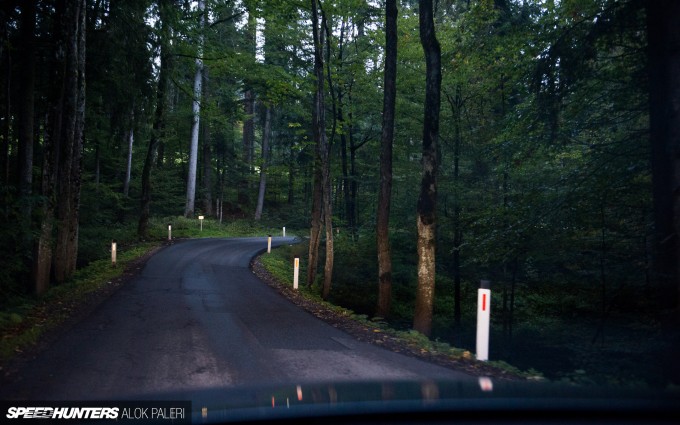 What came next was a short but very twisty, tree-lined forest road. I don't think in S mode the S4 ever got above third gear through this bit, with the six-cylinder engine screaming through the woods.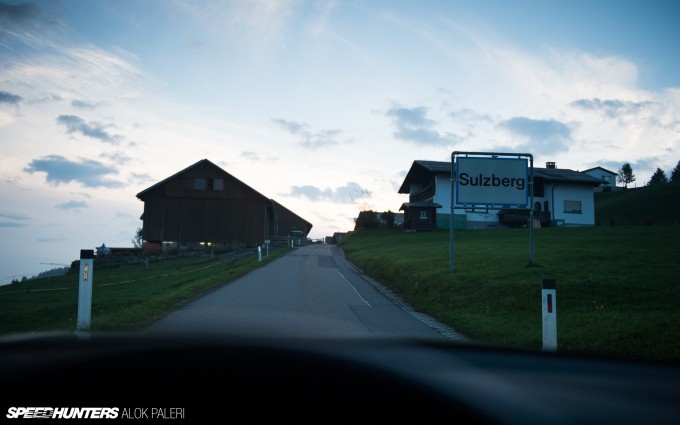 Sulzberg is a little town on the top of a mountain, full of little cafés, restaurants, ice cream shops and guest houses.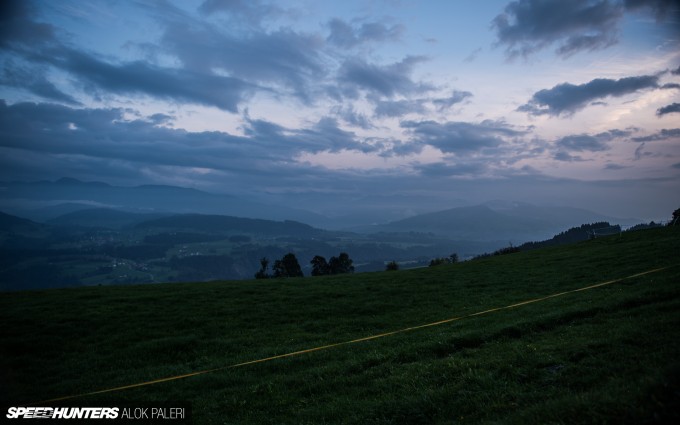 If I had a view like this from my office every day, I doubt I'd get any work done at all!
Back to Germany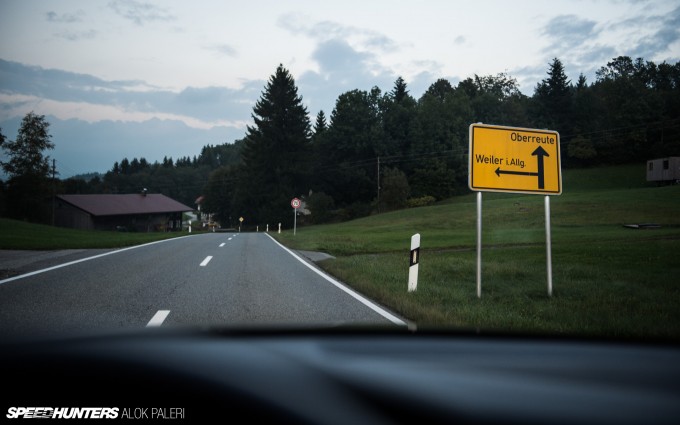 Sulzberg sits right next to the German-Austrian border, so as soon as I had come down the valley I was back in Germany. If you continue straight from here, you would join the Deutsche Alpenstrasse, part of which we have covered already in a Renault Megane RS. I therefore took a left towards Weiler im Allgäu.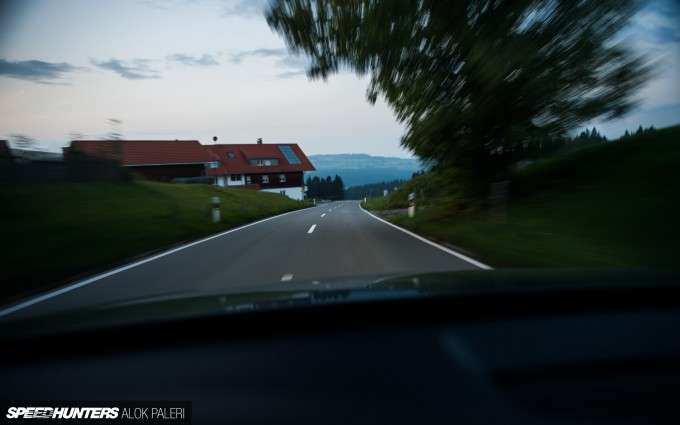 The sun had set at this point and I still had a few kilometers to go till I got to my destination of Lindenberg im Allgäu, which was also on top of a hill.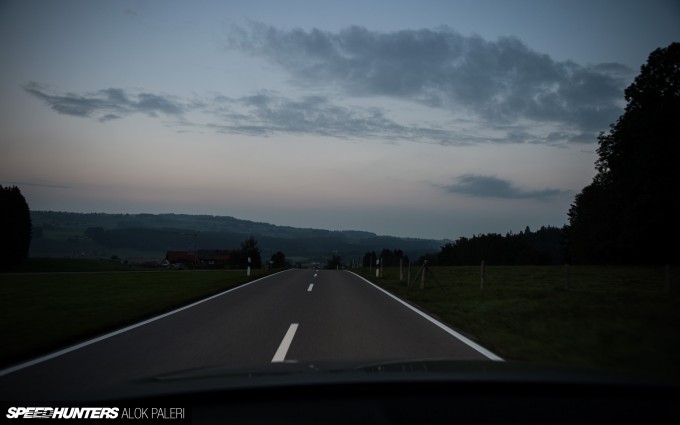 The last leg of the drive is very gentle, with open vistas and little to no sharp corners, characterized by frequent blind crests.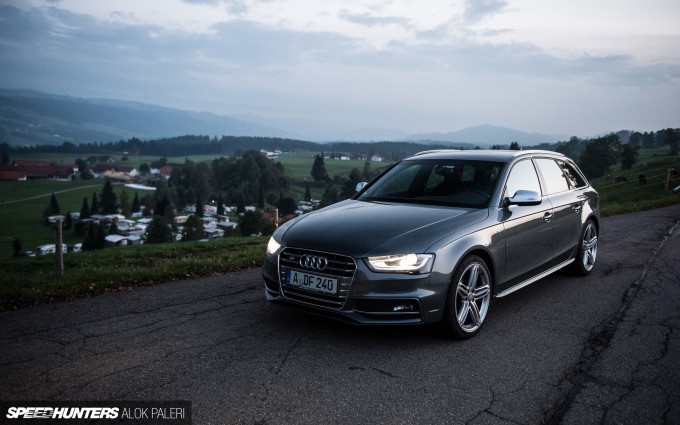 Bringing a car like this to such a dynamic route as the one I'd just done allowed me to explore and exploit the different characteristics of a car that puzzled me a lot to start with.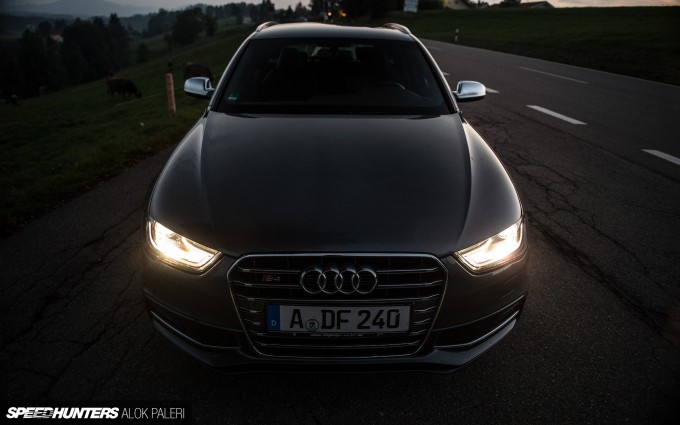 It truly is a gentleman's rocket.
Where would you like to see us go next?