Chasing time
There aren't too many motorsport codes left in the world where vehicle design and engineering methodology is really only limited by imagination, but it's one of many great things about time attack racing. In the short space of time since HKS's carbon fibre cloaked TRB-02 Mitsubishi Lancer Evolution set a new standard of awesome with its commanding, and at the time, record-destroying lap of Tsukuba Circuit in Japan, some amazing feats of car building have been undertaken for the time attack cause, and throughout all corners of the globe.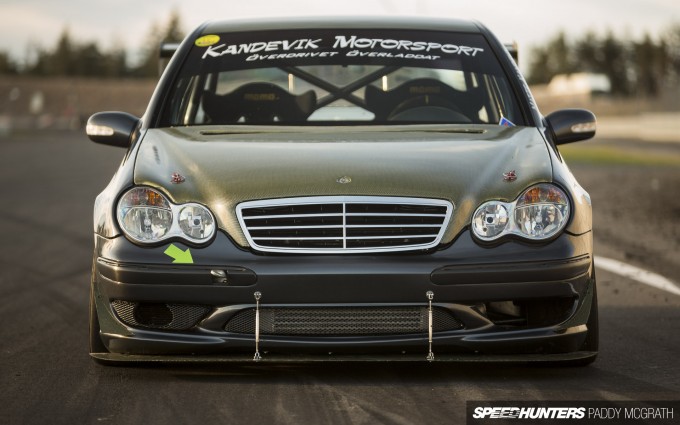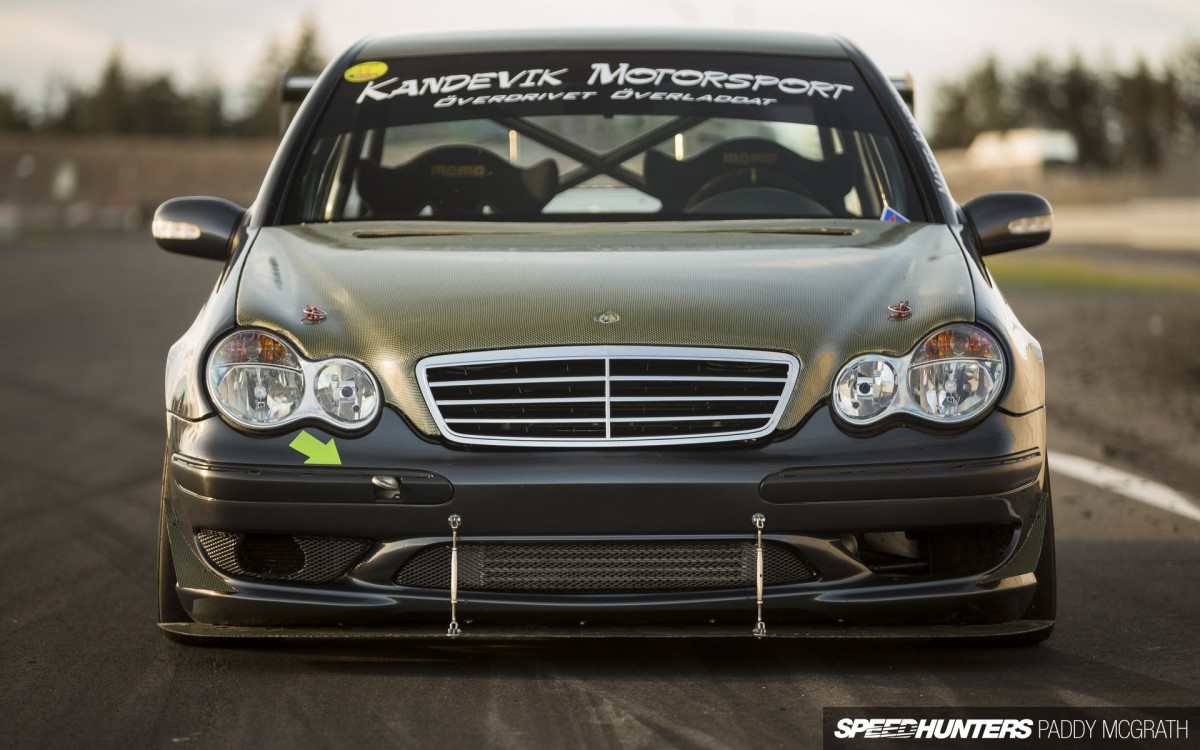 If you're a Speedhunters regular though, it should come as no surprise that it was in Norway where we were introduced to one of the most unique, and perhaps inspirational, clock-chasing machines we've ever laid eyes on.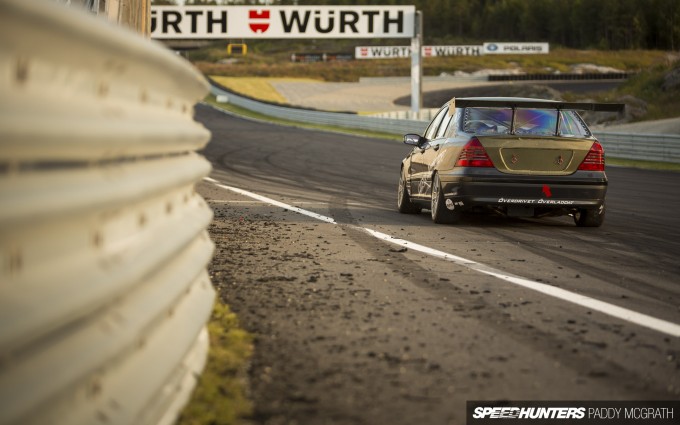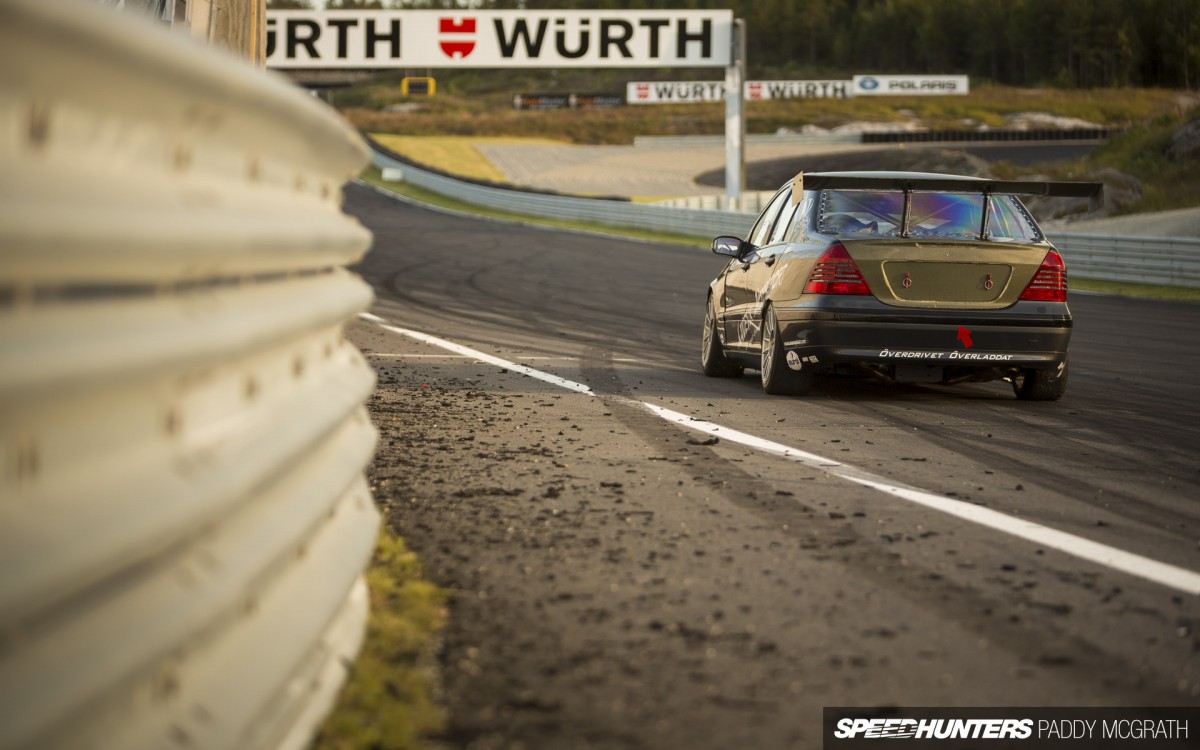 I use the word inspirational because, unlike a big-budget, sponsor-fuelled pro build, this one was entirely undertaken by its owner, in a residential garage, during nights and weekends. Not that you'll probably pick it given what Paddy and I are about to show you.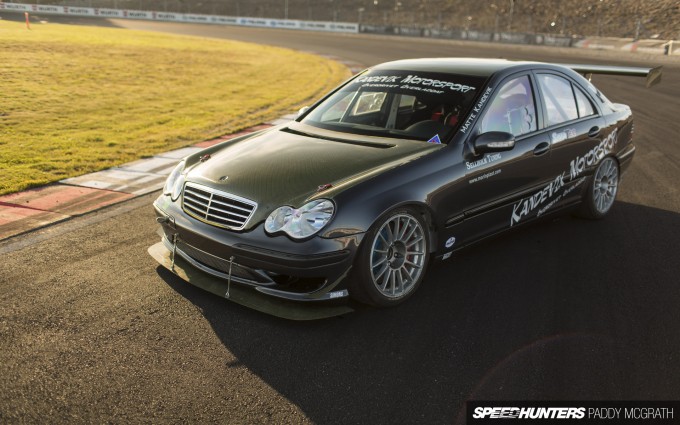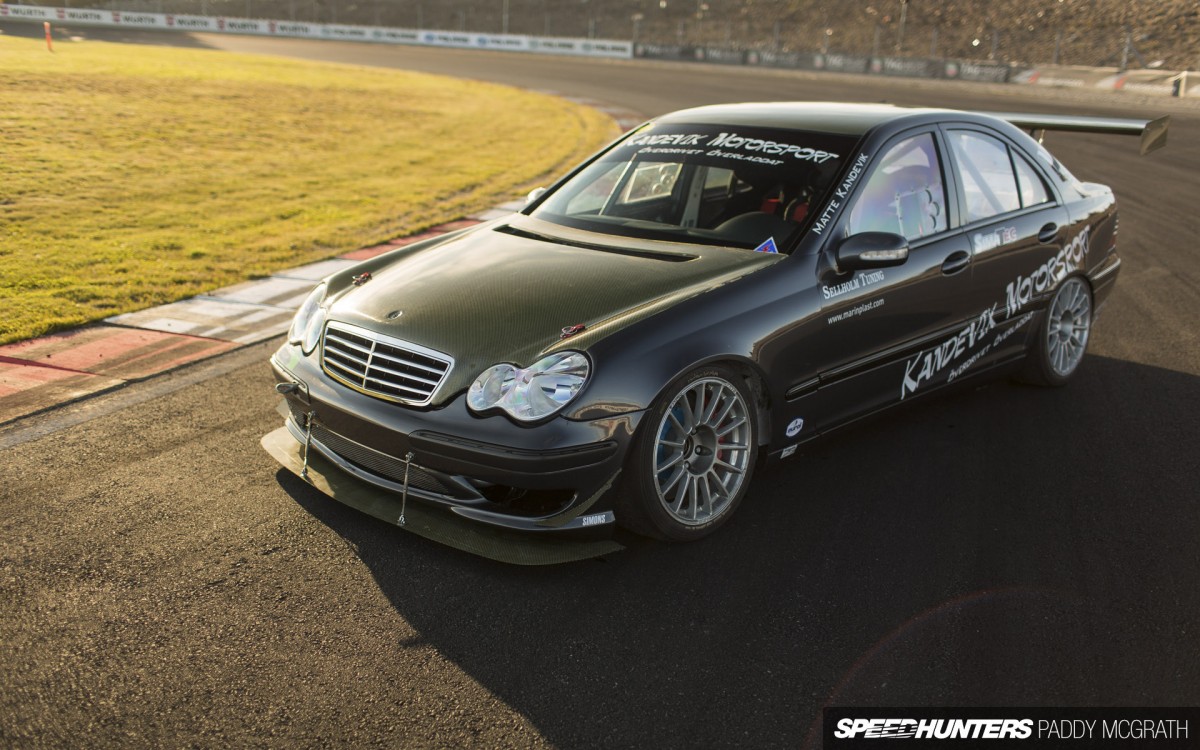 Like so many cars we've had the pleasure of featuring from around the Nordic region, Mattias Kandevik's C-Class Mercedes-Benz is not quite what it might first seem. Sure, it mostly resembles the car it was when it rolled off Mercedes-Benz's production line…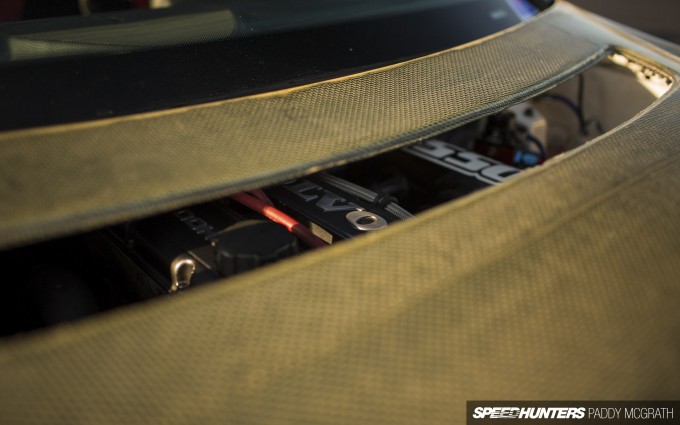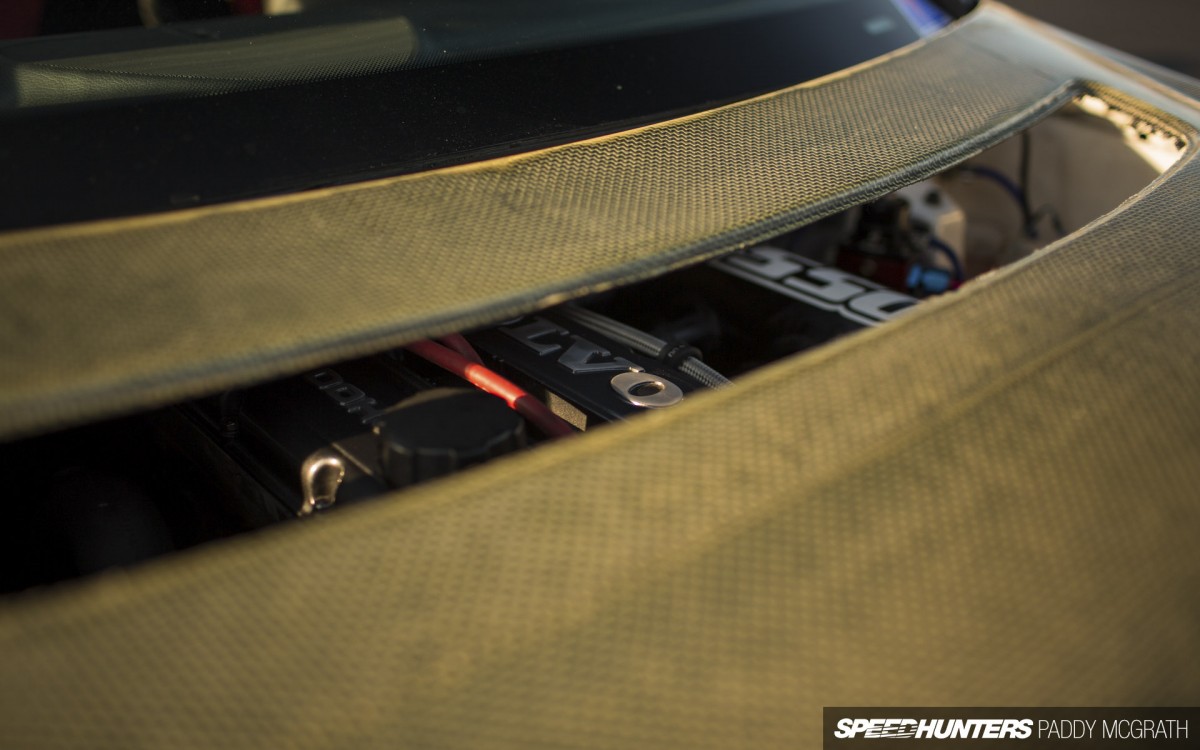 … but dig a little deeper – or perhaps just take a peak through the vent in the custom bonnet – and you'll see that it's actually far from it.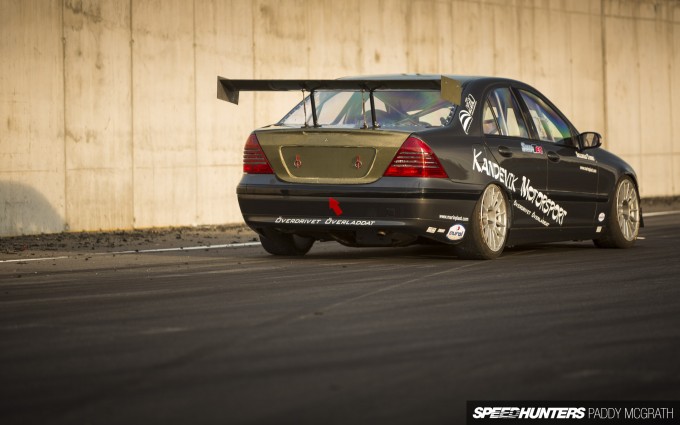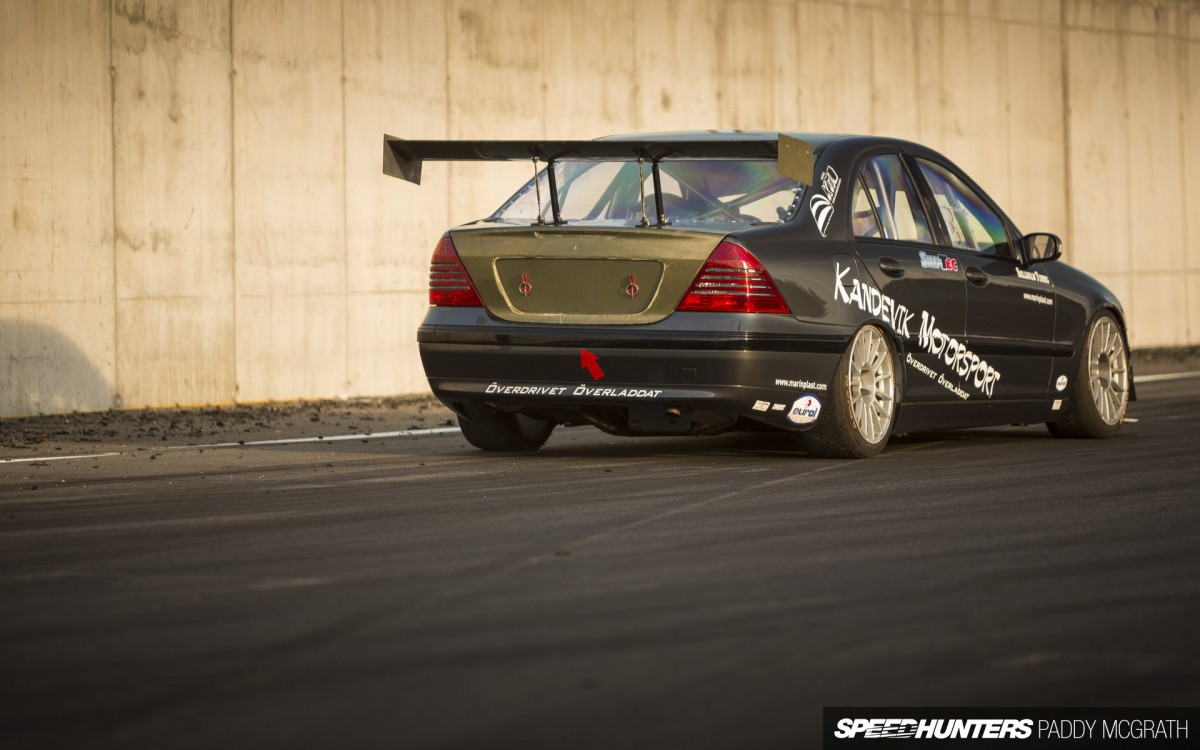 But why begin with a C-Class in the first place? For Mattias, it was simply a case of wanting to use a base that he hadn't seen used before in time attack coupled with the fact that when he began the build back in late 2011, he was working as a Mercedes-Benz technician.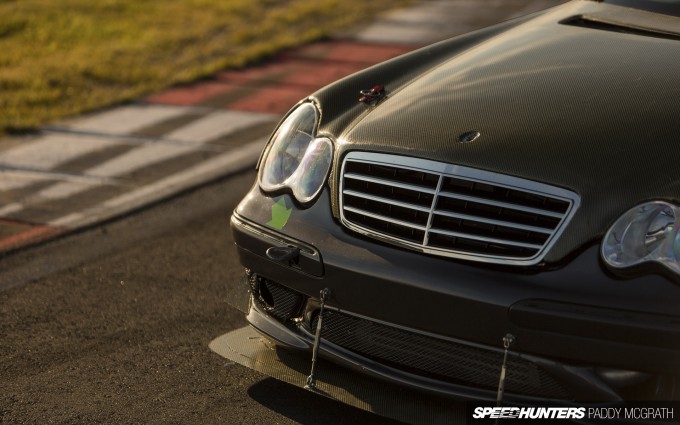 Initially, inspiration for the way the car looked was drawn from BMW's British Touring Car Championship E36 and the Mercedes-Benz machines entered in the Swedish Touring Car Championship, but once Mattias got stuck in, it simply evolved as it progressed.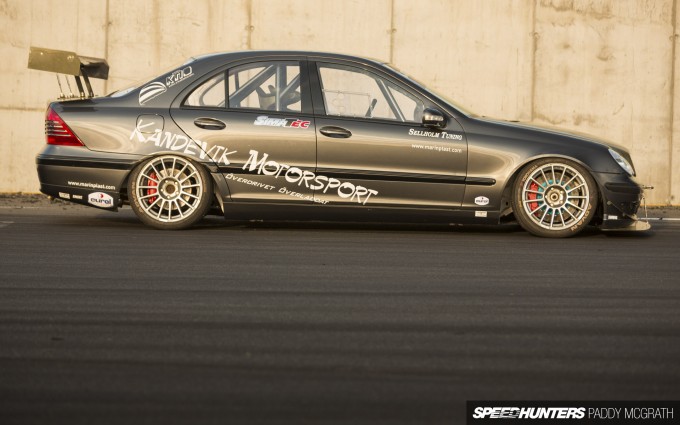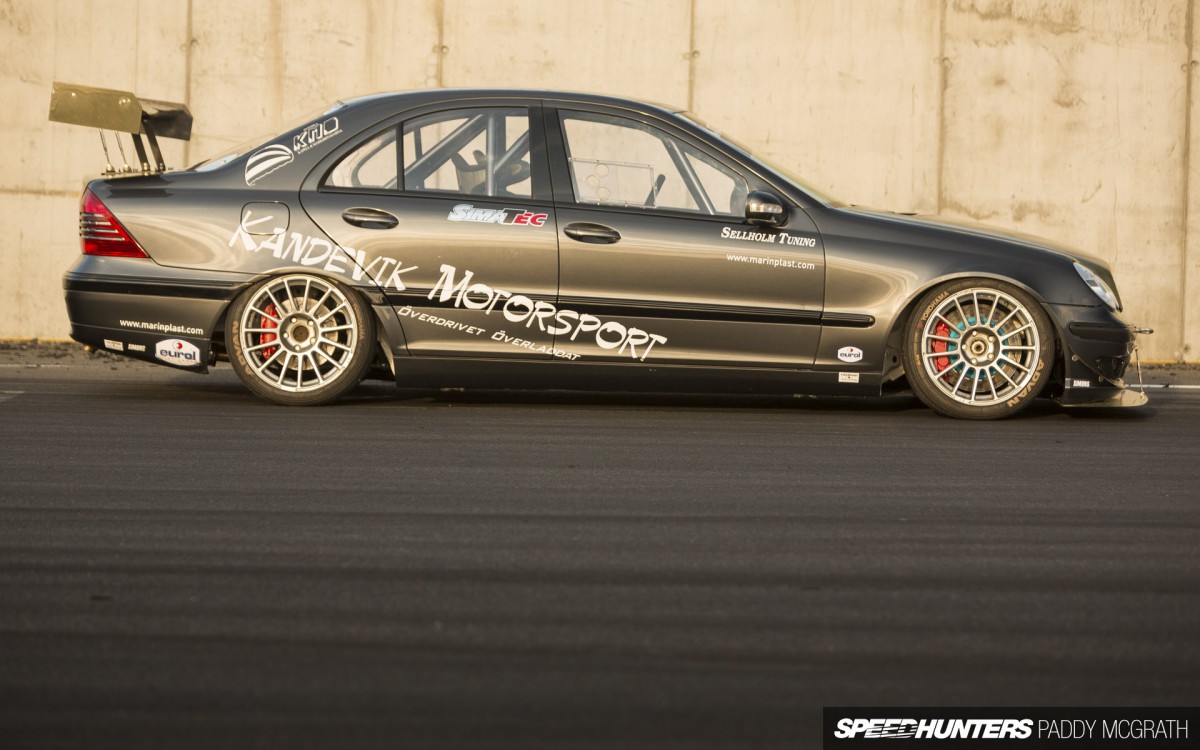 It's not the first build he's lent his skills with tools and a welding torch to, and his previous project, which was based around an E30 M3, actually played a big role in the direction Mattias took with the C-Class.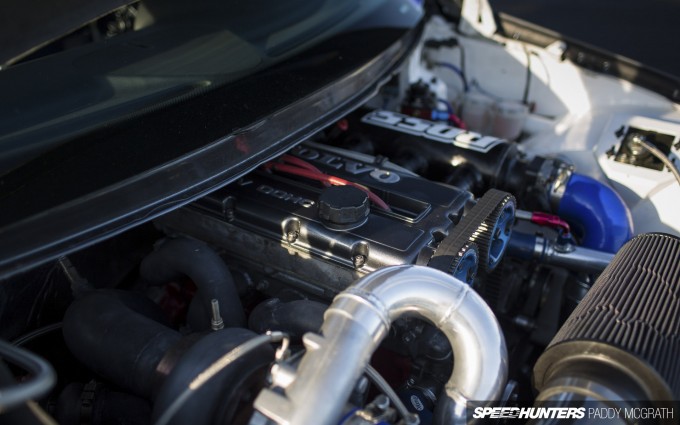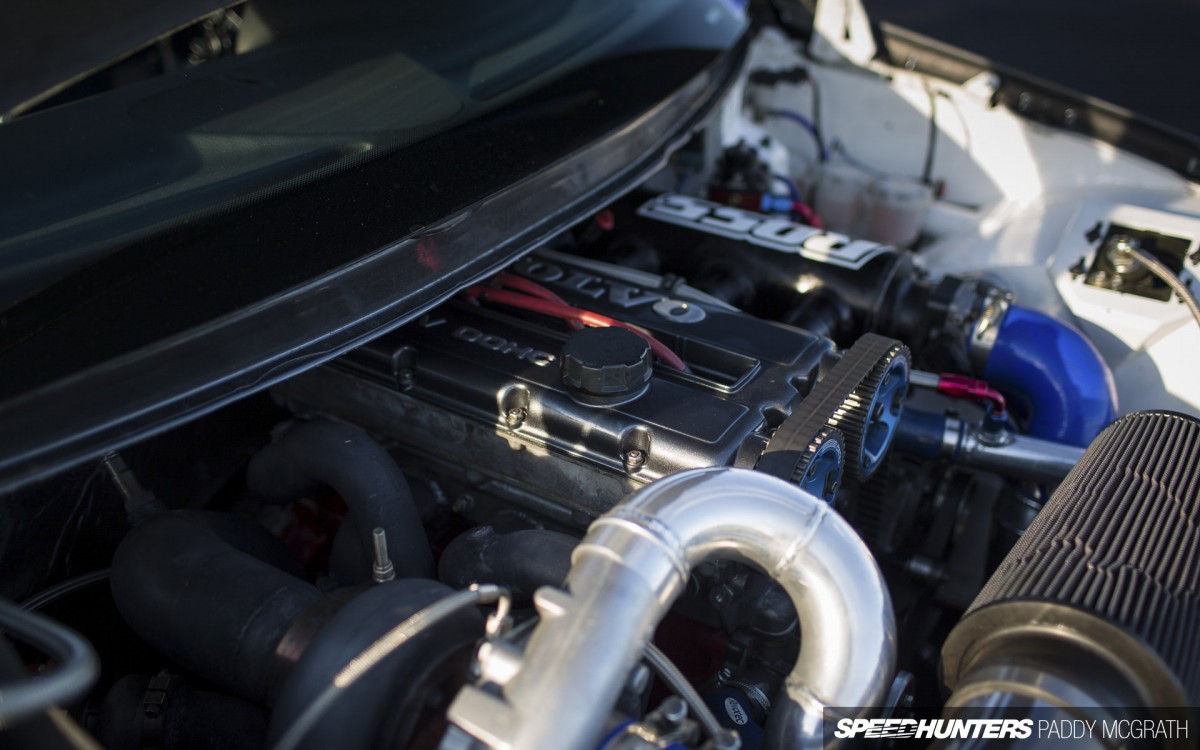 That's because the E30 wasn't powered by BMW's venerable S14 engine, but rather the hard-tuned, turbocharged Volvo mill that you're looking at now. When the M3 unintentionally ended up on its roof – and was subsequently decommissioned for racing – by default it ended up in its new home. It almost made sense too, given that it was quite a bit lighter than the comparable Mercedes-Benz powerplant Mattias had originally slated for the build.
Engineered for speed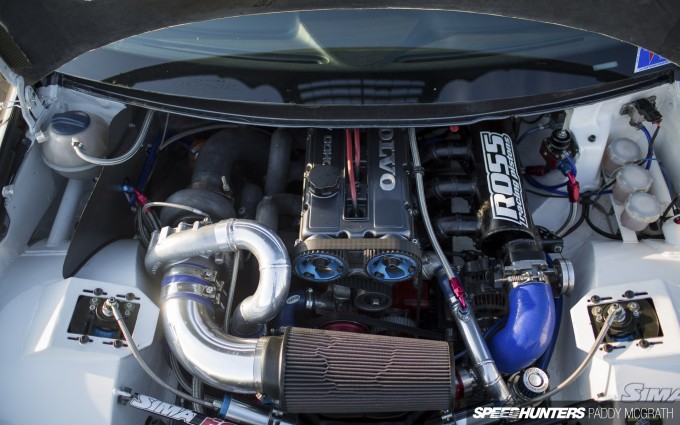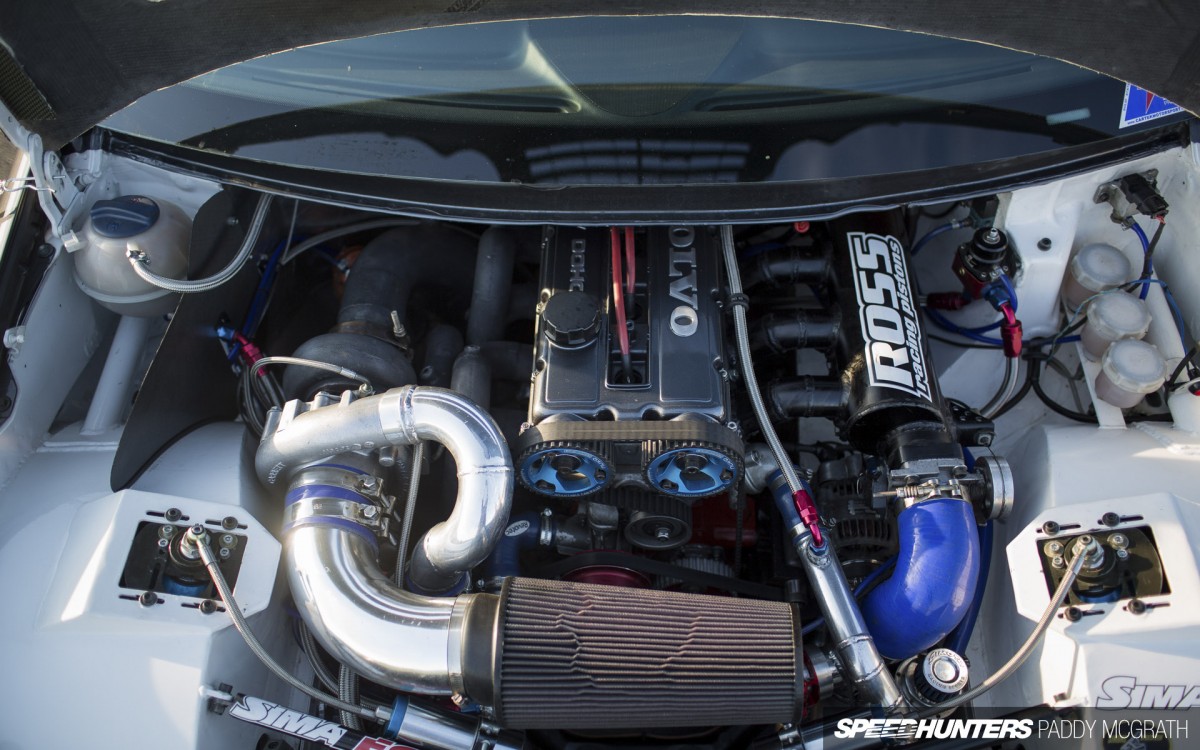 The engine itself was built around a 2.3-litre Volvo B230FK four-cylinder block that's been positioned almost half a meter rearward of where the original Mercedes-Benz unit was located, necessitating some extensive remodelling of the firewall, and a set of modified mounts. As you'd expect, it's far from factory-spec too, and now features Ross forged pistons, Verdi forged rods and a modified crankshaft to collectively build a stronger, more boost-friendly bottom end.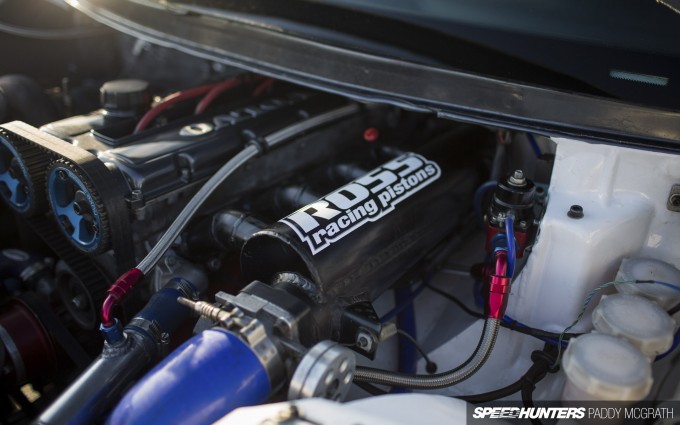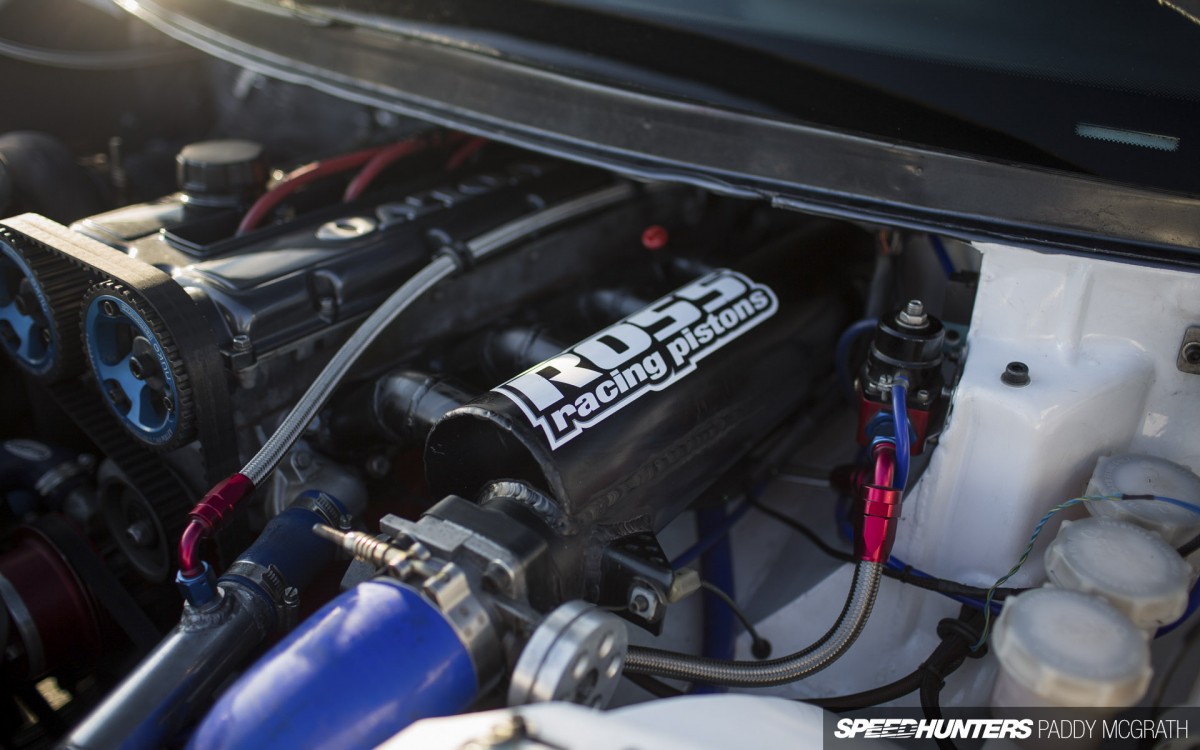 Up top, the original 8V SOHC cylinder head has been swapped out for a B234F 16V DOHC equivalent, which in turn was given the full treatment before being torqued down on ARP studs. Custom 280-degree/10.0mm-lift camshafts fitted with Nuke Performance adjustable gears live here, as does an upgraded valve train. Mattias knocked up the custom aluminium intake manifold himself, and added a three-inch throttle body borrowed from a Volvo 960 on the end.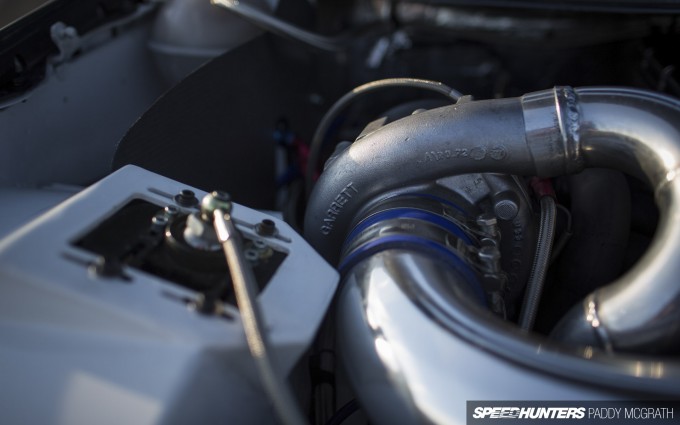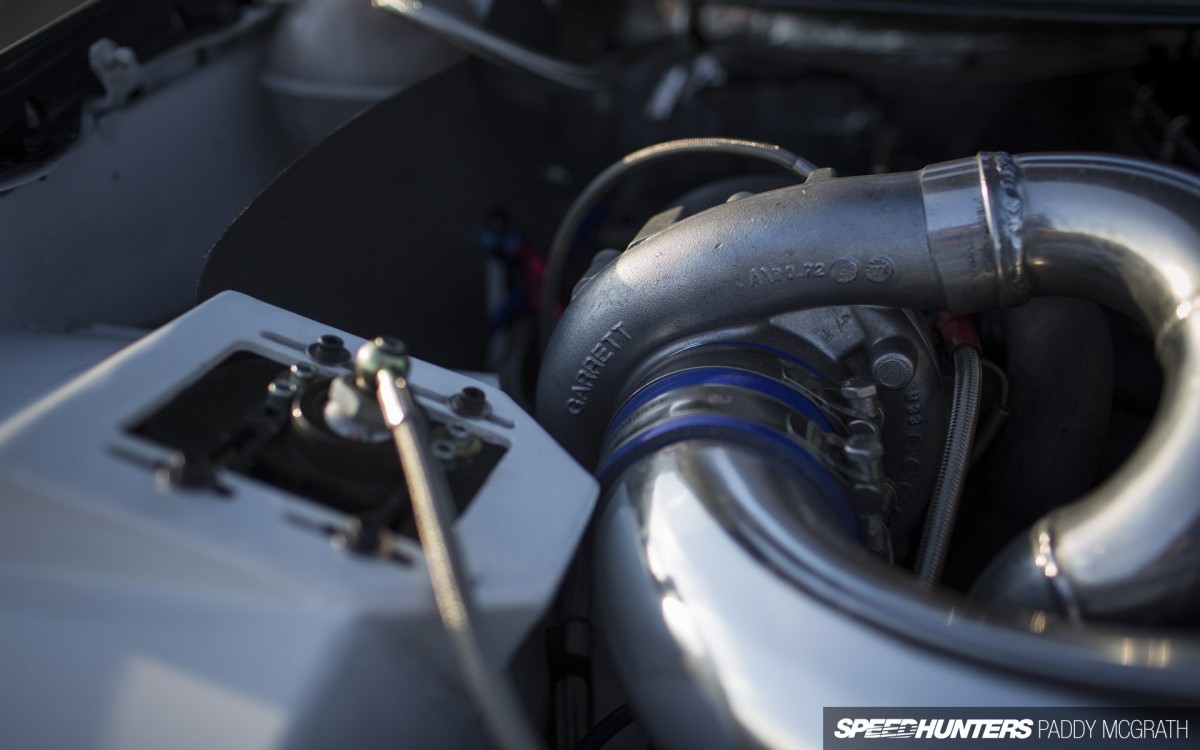 He hasn't mucked around with the turbocharger set-up either, squeezing in a large single Garrett GT4094R. There's a custom tubular manifold of course, plus dual TiAL MV-R 44mm wastegates in lieu of the turbo's twin-scroll design. A 3.5-inch diameter down pipe runs off the back end into a full custom stainless steel exhaust system.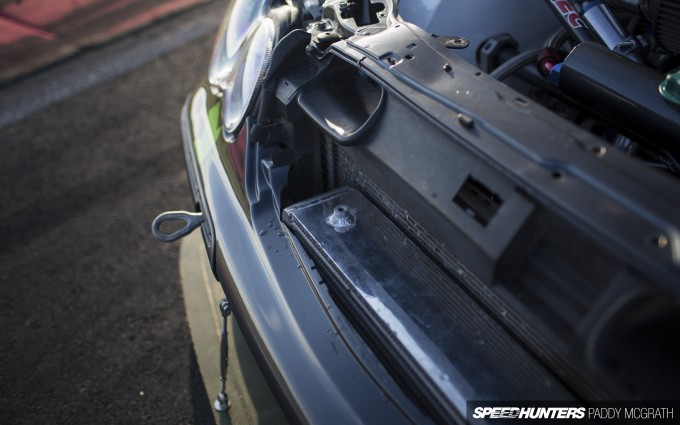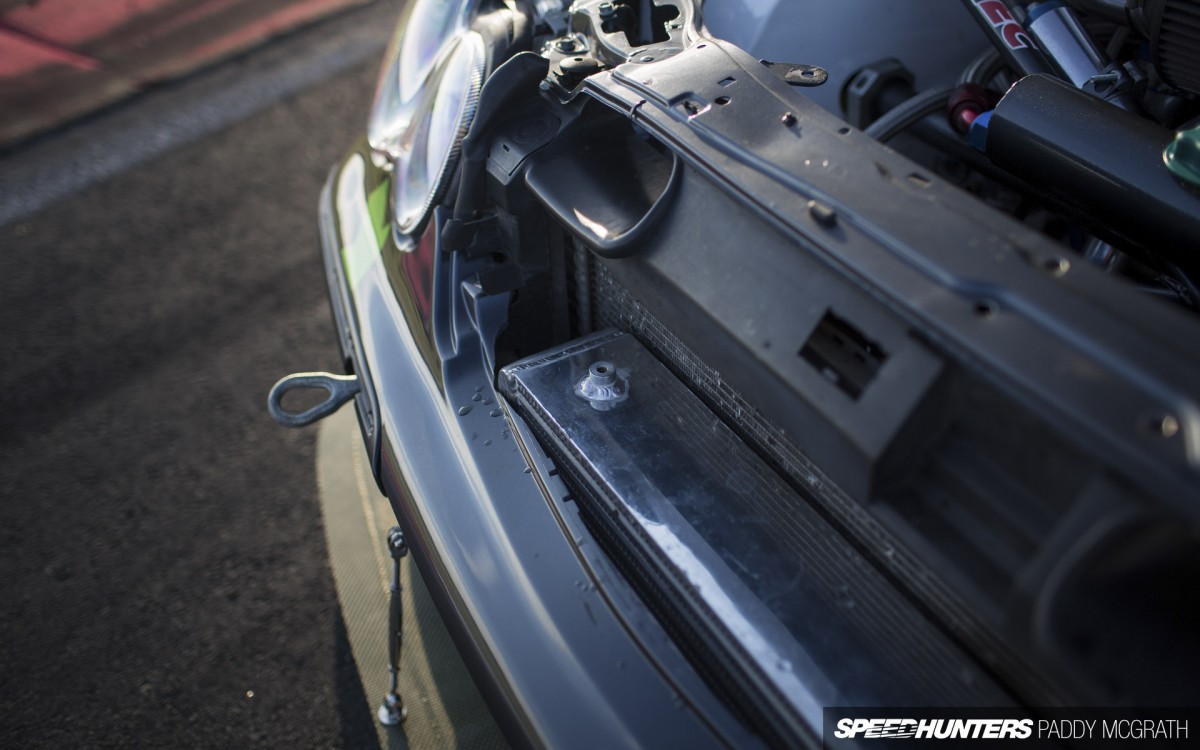 On the intake side of the arrangement you'll find a modified KL Racing intercooler plumbed in through custom-built aluminium pipes and a TiAL Q 50mm blow-off valve.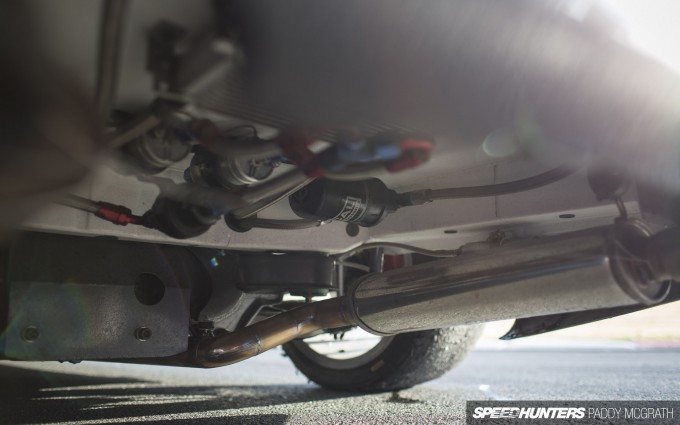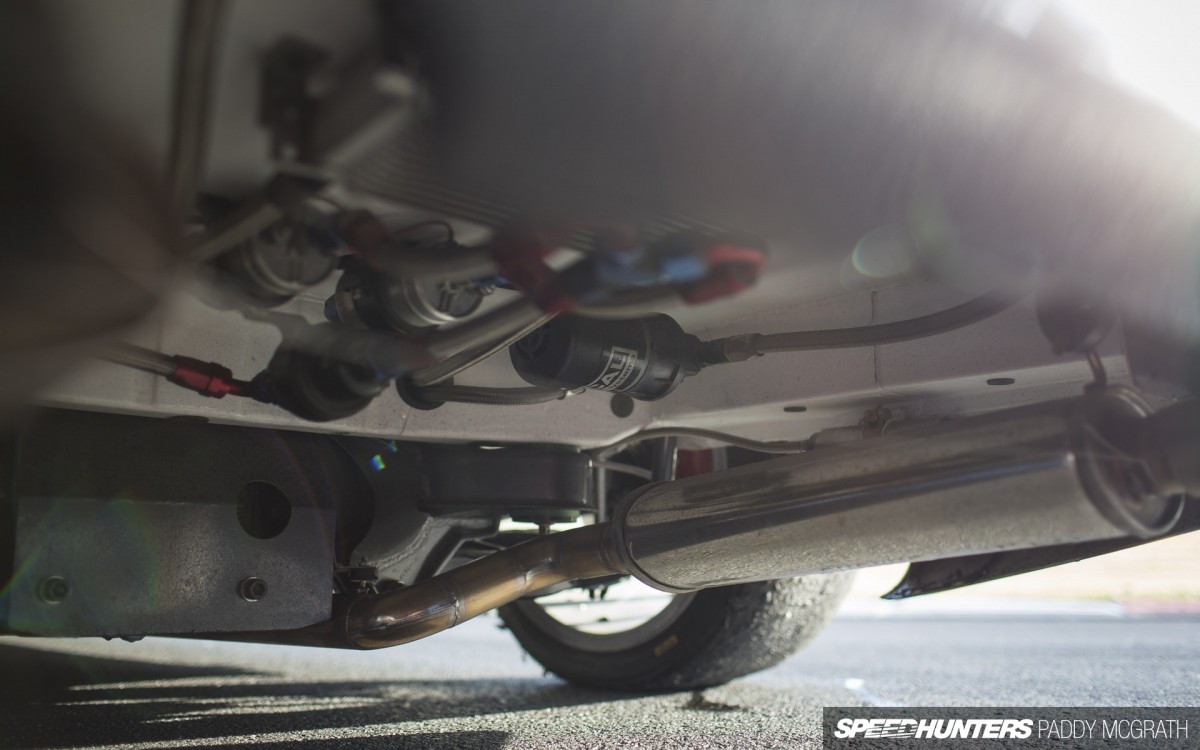 With plenty of space behind the rear axle, it's here that Mattias has mounted the twin Bosch Motorsport 044 fuel pumps that supply Shell V-Power 98 to the engine via four Bosch 1680cc injectors fed through braided stainless steel lines, an Aeromotive A1000 regulator and a Nuke Performance rail.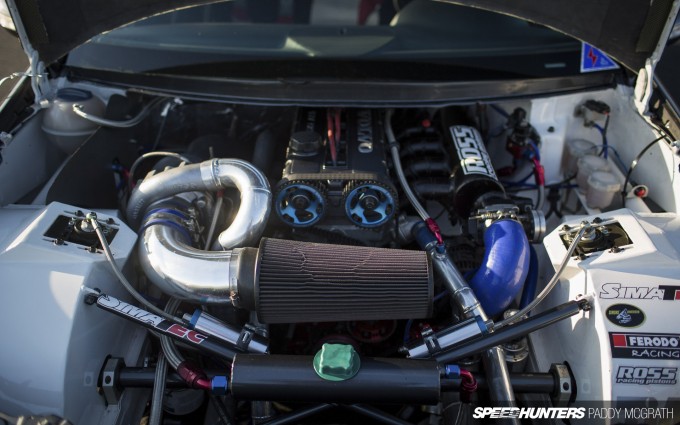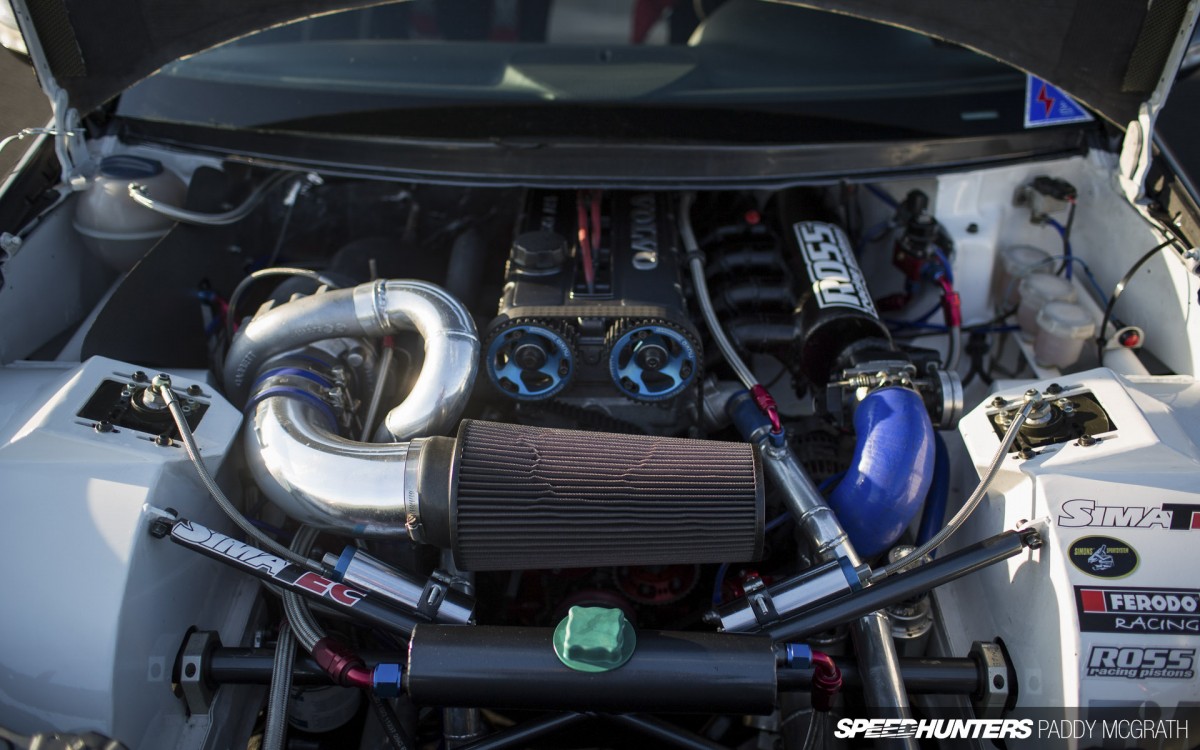 Wired through a custom harness, the engine's MoTeC M600 ECU has been tuned to deliver a solid 525hp and 650Nm at 6,000rpm, equipping the C-Class with the sort of power it needs to turn quick lap times.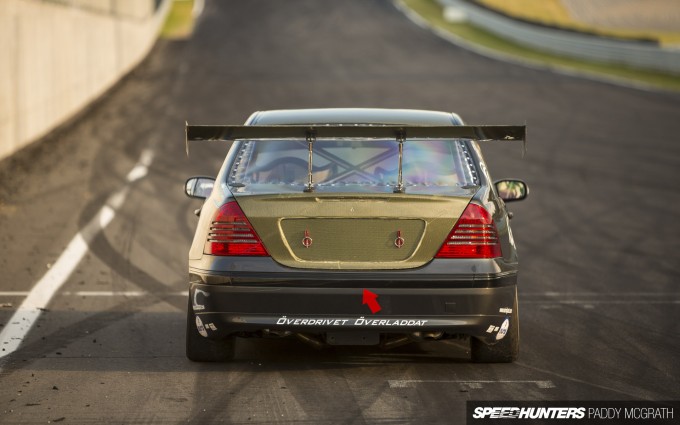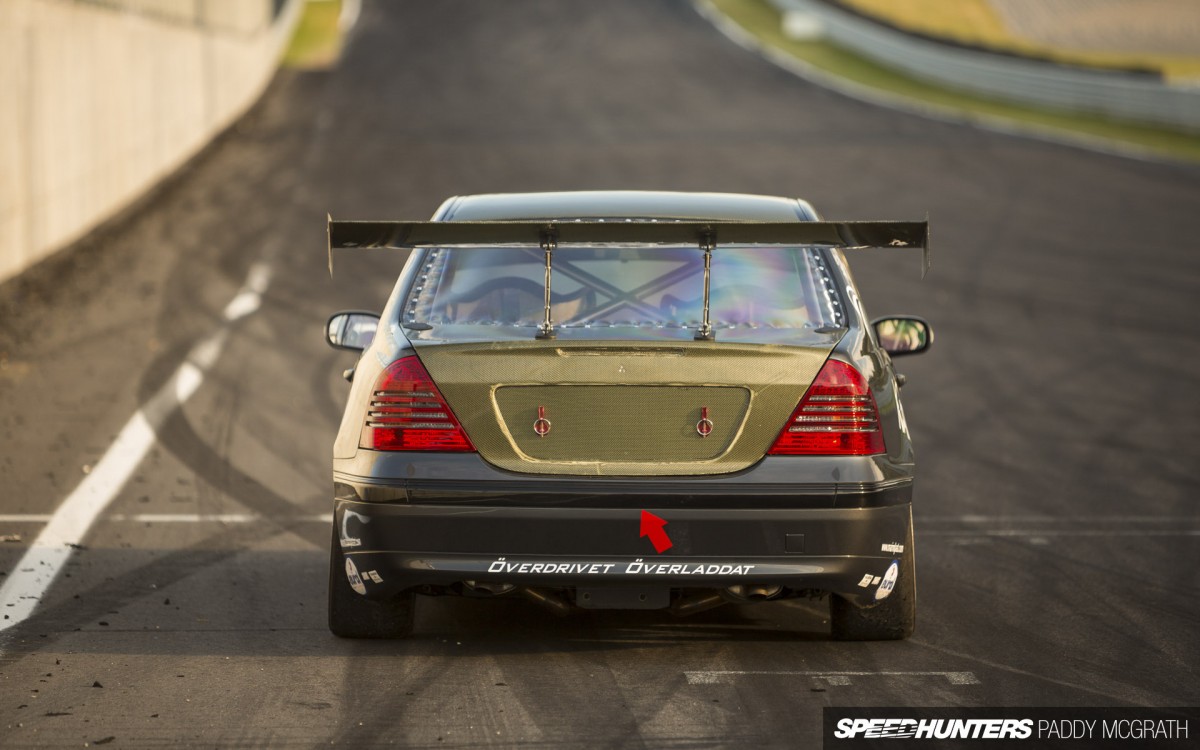 That's something further enhanced by a throughly overhauled driveline, although don't go looking for Volvo or Mercedes-Benz gear. Instead, Mattias has added another manufacturer into the mix by the way of  a ZF five-speed manual gearbox from a BMW E36 M3 and a limited slip diff-equipped rear end pilfered from an E28 535M. It was far from a straight-forward fit though, requiring some cutting and shutting to mate the transmission to the engine, a modified E36 driveshaft, plus a pair of Nuke Performance axles.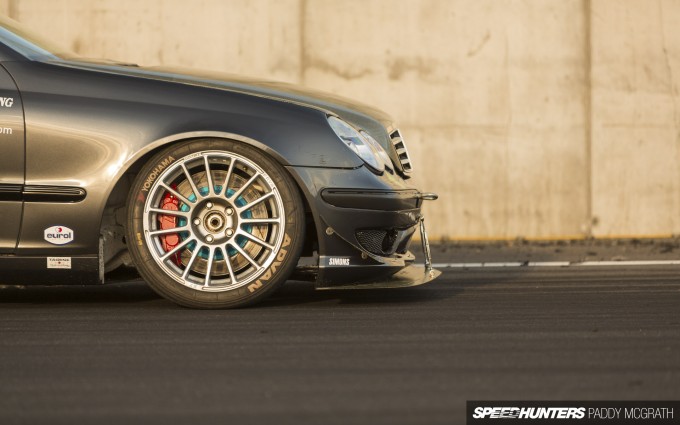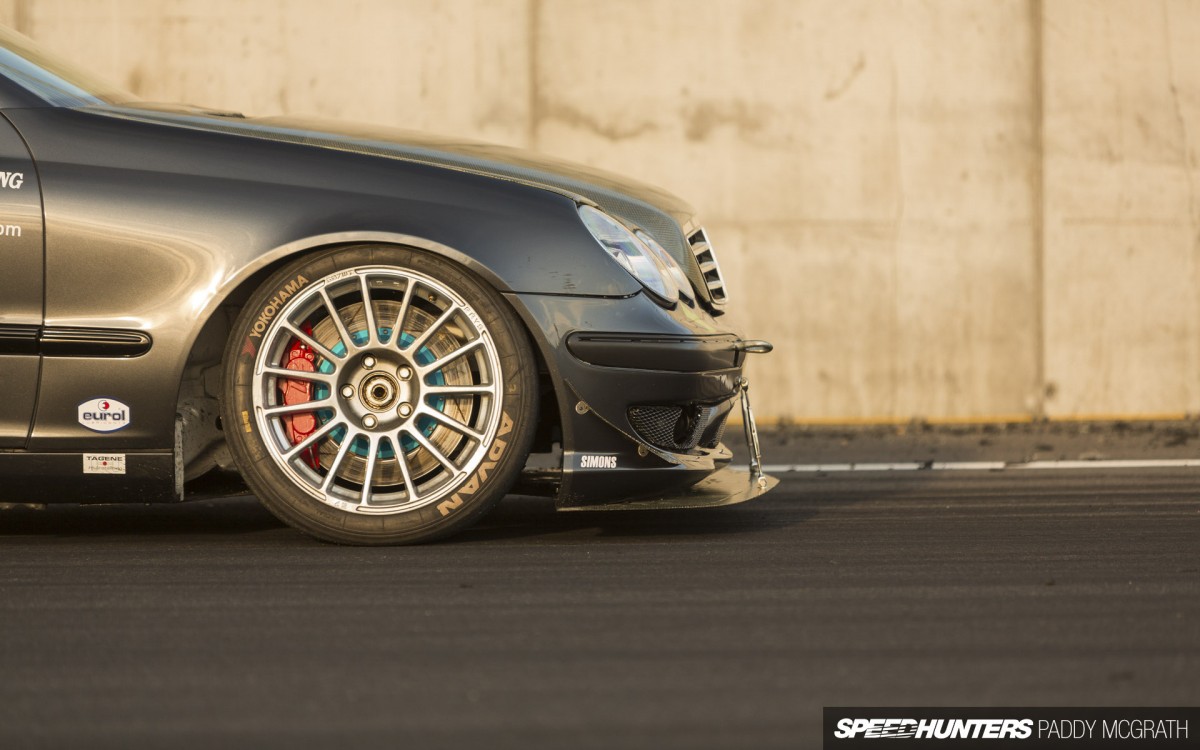 The suspension system includes a number of custom-built and modified parts too, including a fully adjustable five-link in the rear. There's Sellholm Tuning coilovers front and rear, adjustable sway bars from the same maker, plus multiple uses of Hirschmann Motorsport uniballs/spherical rod-end bearings. Given the chosen discipline, big brakes are a given – an Alcon six-pot set-up over 355mm vented rotors in the front and Brembo four-pots over 295mm rotors in the rear getting the nod. The touring car-inspired look is perfectly set off by a set of 17-inch RAYS 57 Motorsport G07WT-II alloys shod with Yokohama slicks.
Pure function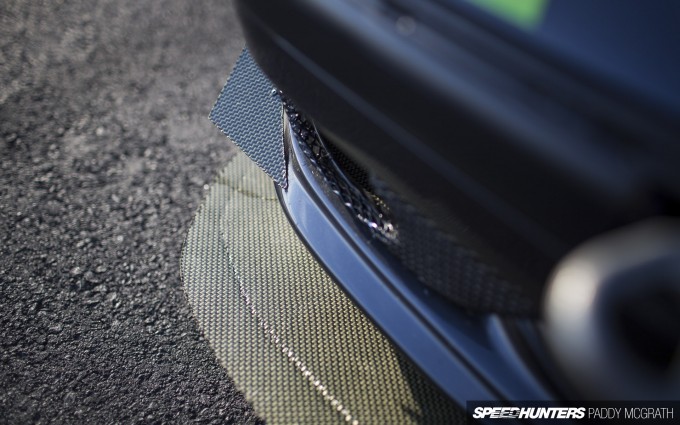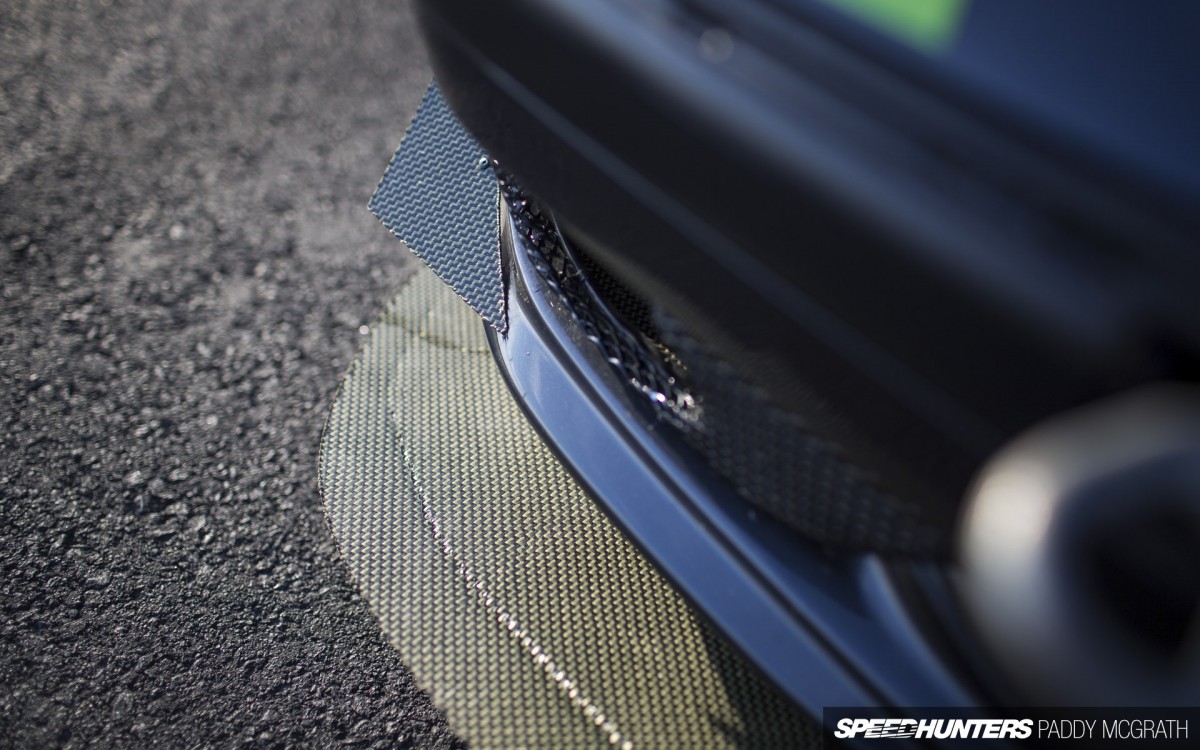 Mattias really has left no stone unturned with this build; a point that's driven home by the expansive use of carbon and carbon/Kevlar, and it's all his own work too. That includes the custom-formed bumper canards attached to a modified C32 Mercedes-AMG bumper, and a front splitter and flat under-tray which extends back as far as the gearbox.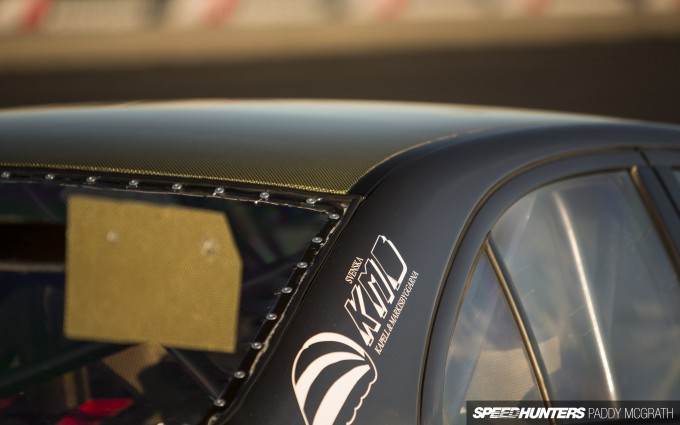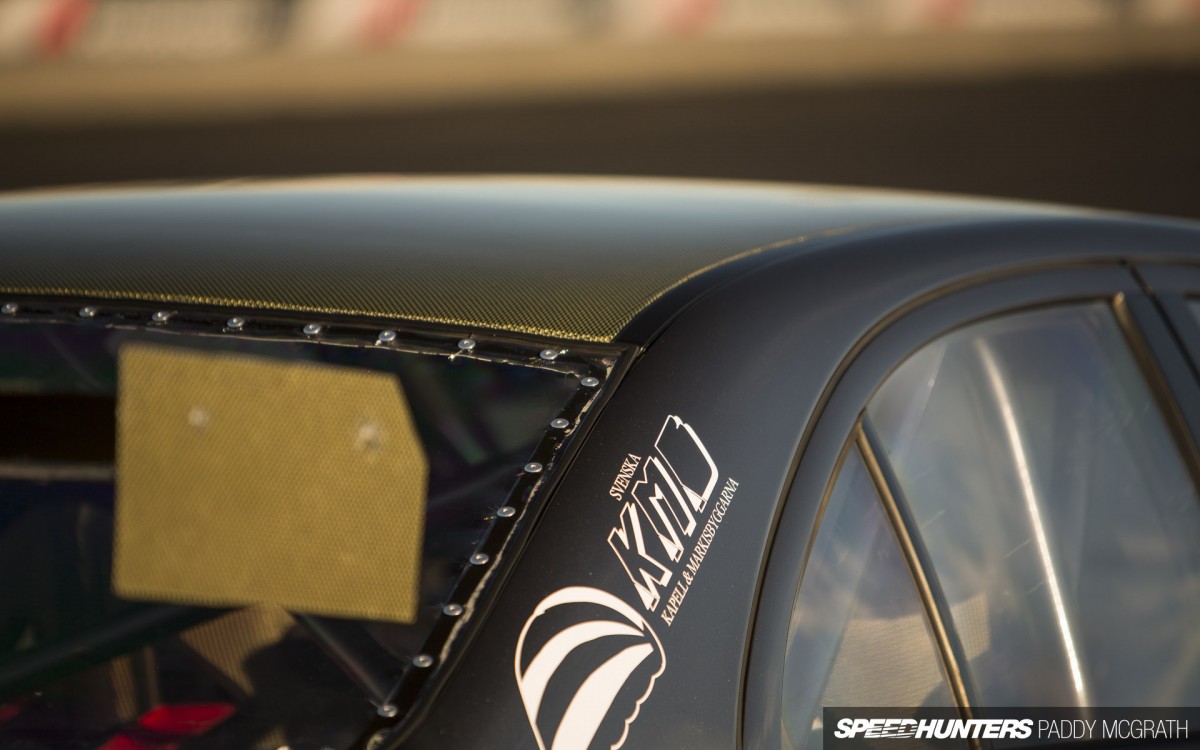 On top of losing 8kg from each door through liberal use of his Sabre saw, Mattias has shed more weight out of the C-Class by replacing the side and rear windows with Lexan and the roof with a carbon/Kevlar skin. The latter, for example weighs 2kg as opposed to 10.5kg of steel.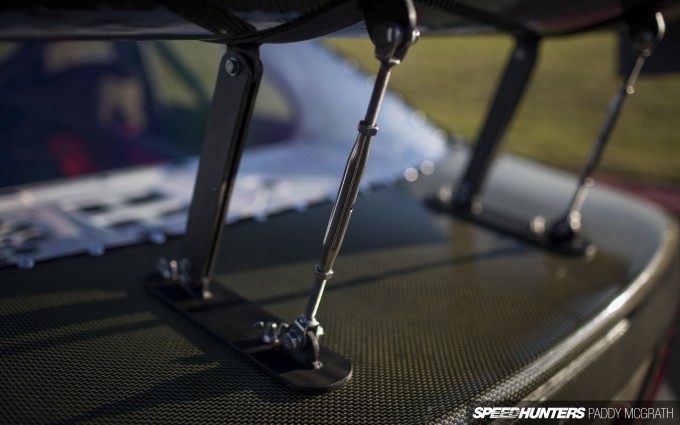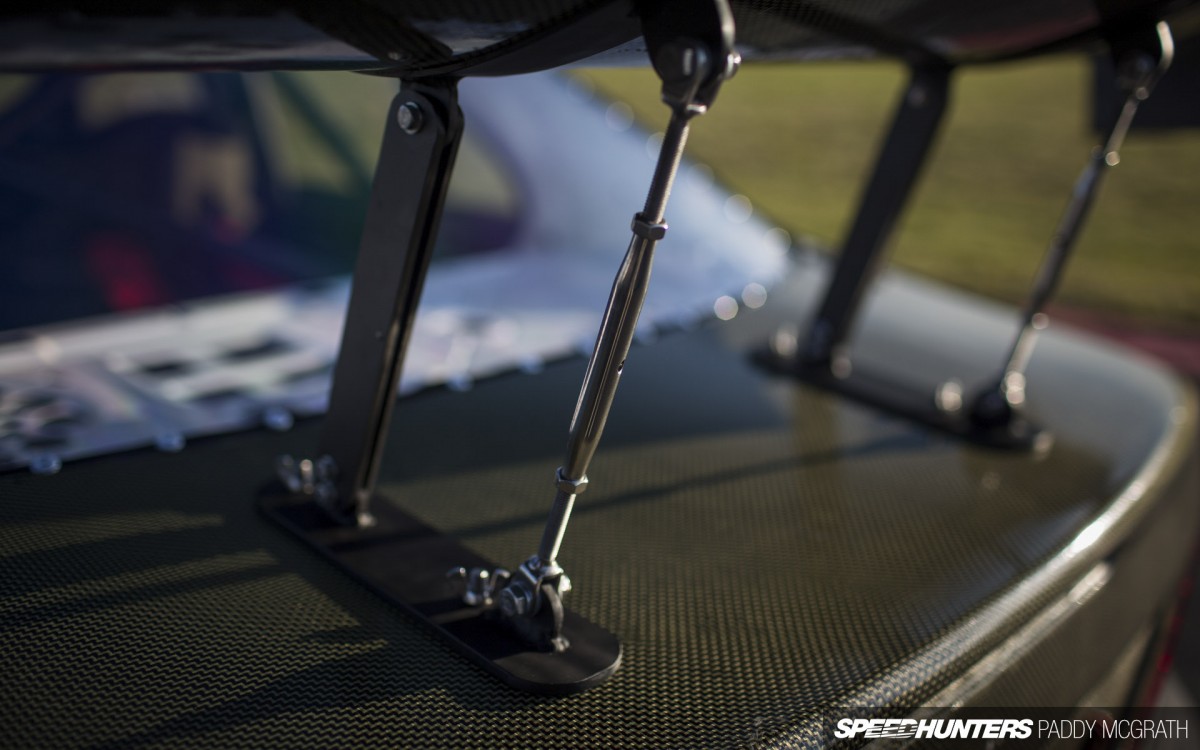 The original 21kg bonnet gave way to a 2.5kg replacement, and the boot lid weighs in at just 1.3kg versus 11kg. The large rear carbon/Kevlar wing and componentry that hold it in place are all Mattias's handiwork too. The total weight of the car is 1200kg with a perfectly even 600kg-600kg front-to-rear split.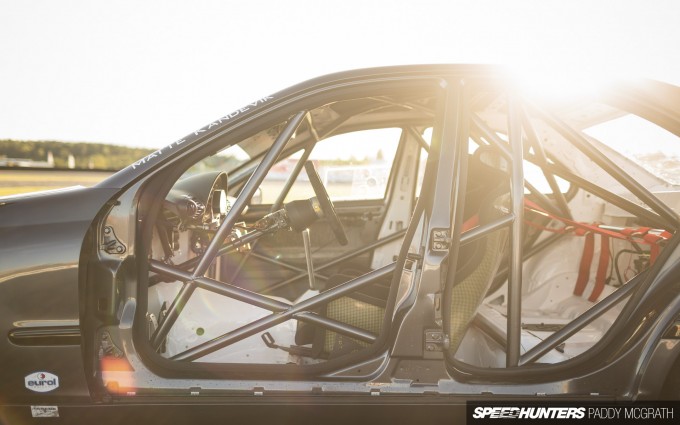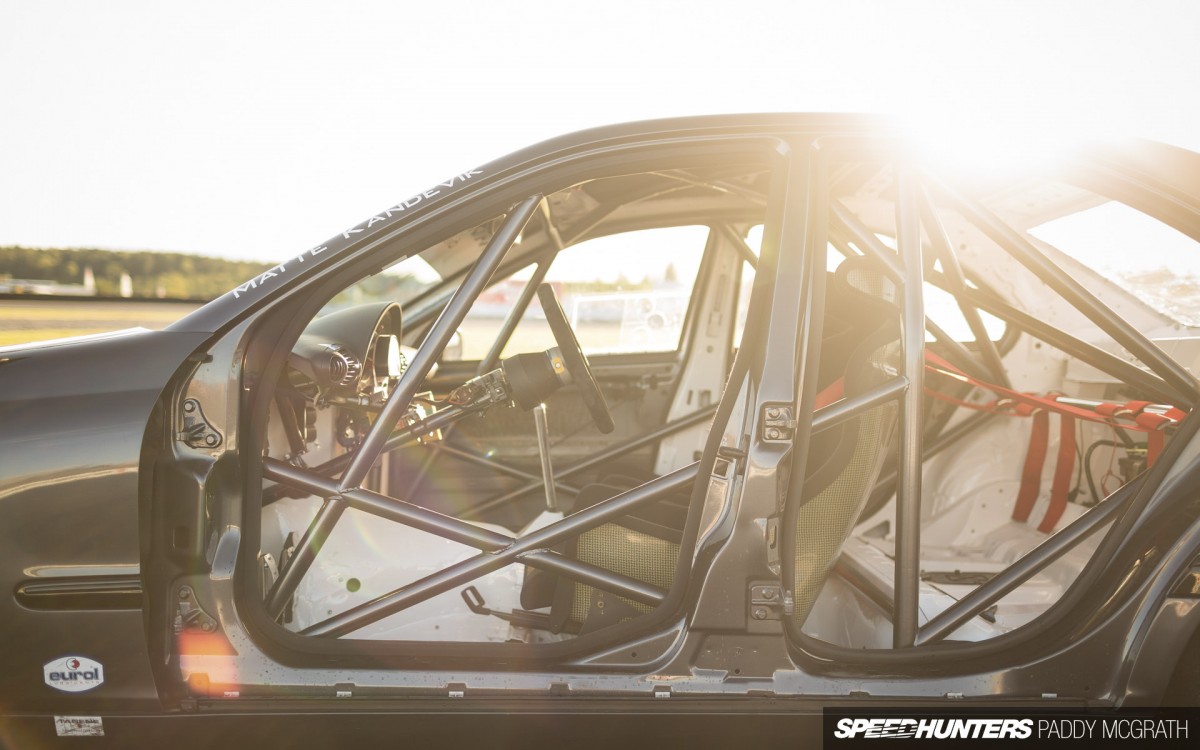 With the two driver's side doors removed – a quick proposition given the mounting system employed – you get some sort of idea of the complexity of the roll cage, and how far back Mattias sits in the car in an effort to improve weight distribution.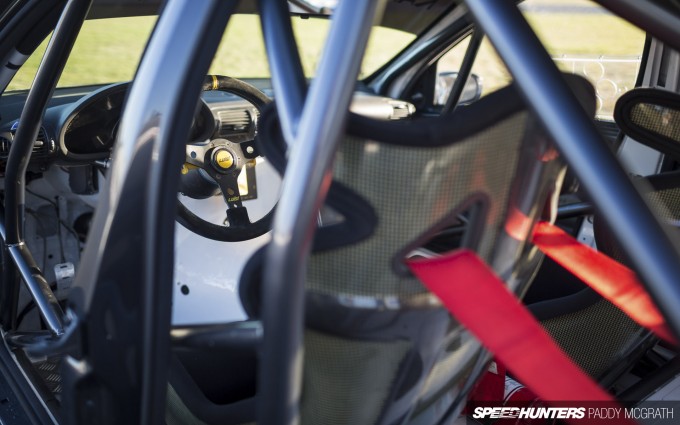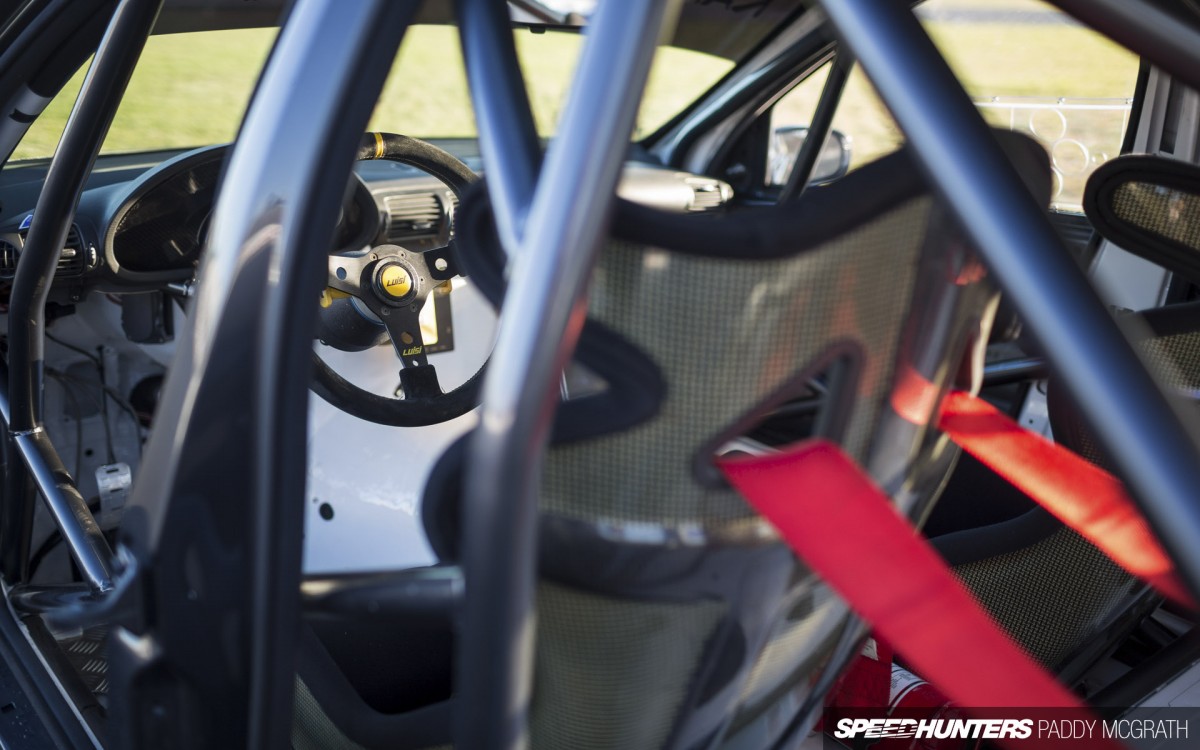 Otherwise, the layout is simple. The top half of the factory C-Class dashboard has been retained, albeit in a gutted state, and Mattias becomes at one with the machine through a Luisi Racing Corsa steering wheel, a carbon/Kevlar-formed Momo race seat fitted with a Mocomp Motorsport harness and a fully adjustable OBP pedal box.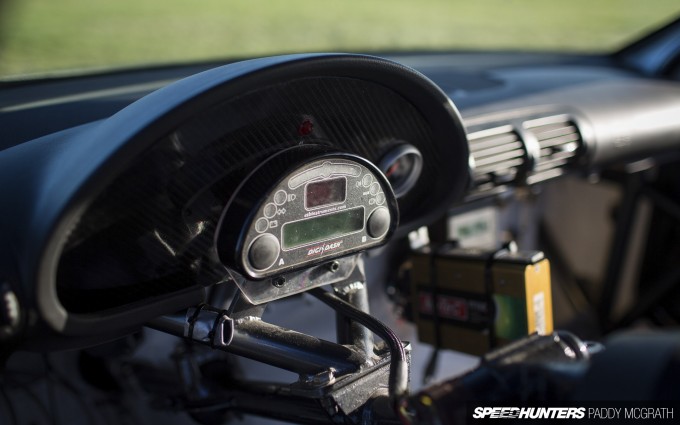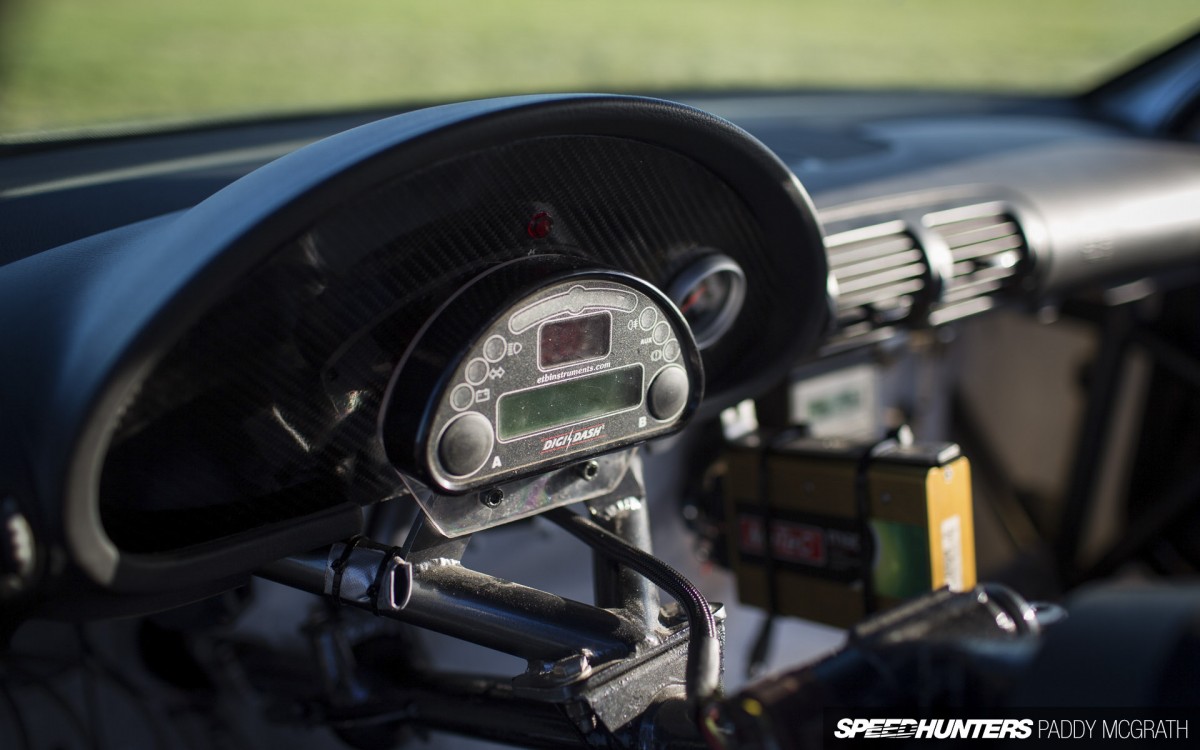 Any engine information he needs to know on the fly is displayed through the ETB DigiDash2 unit and an Auto Meter boost gauge that's been mounted into a custom carbon fibre binnacle.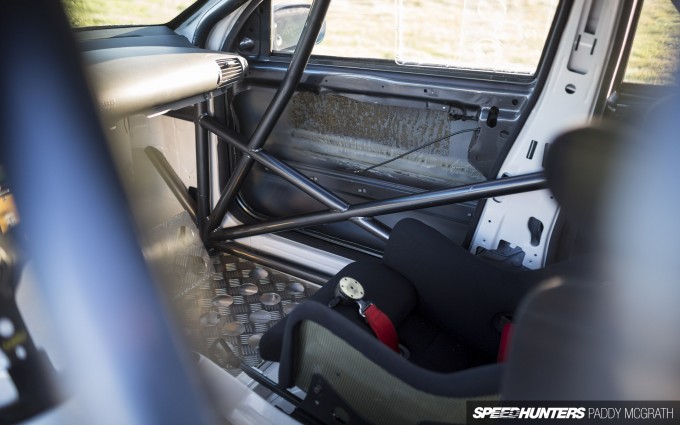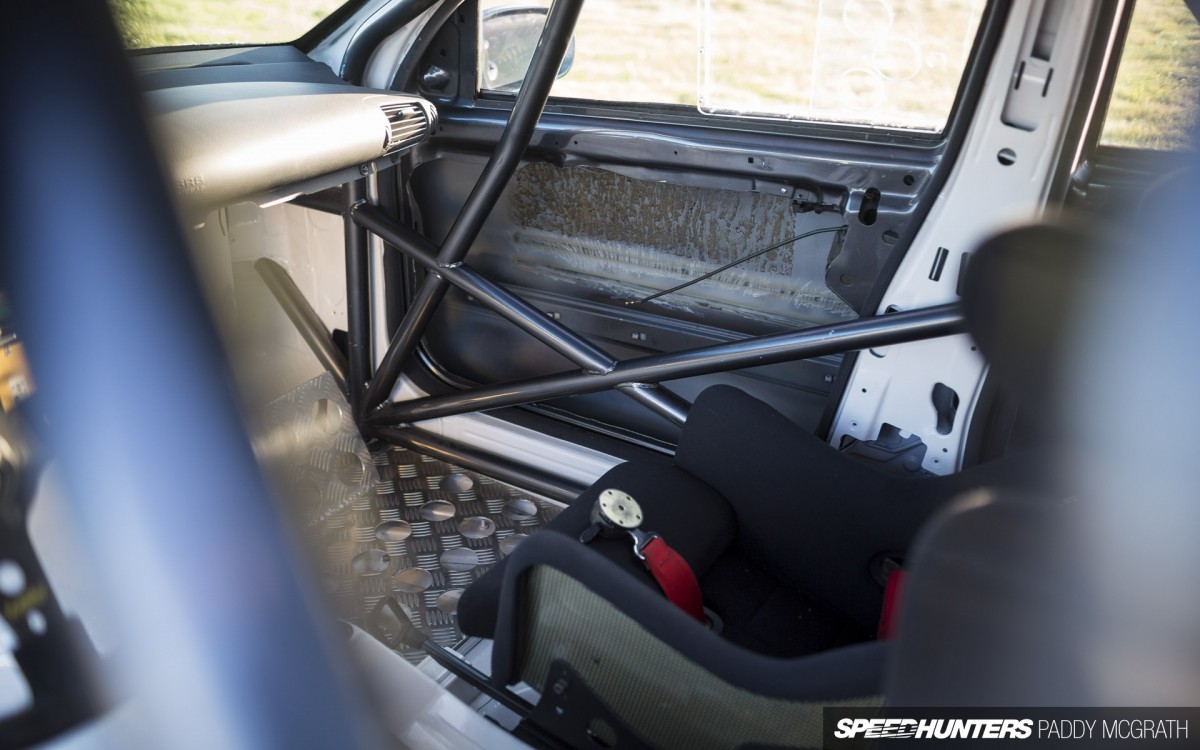 Considering the extent of the modifications, which are evident everywhere you look in the car, I was surprised to learn that Mattias managed pulled it all together in just 18 short months working only nights and weekends.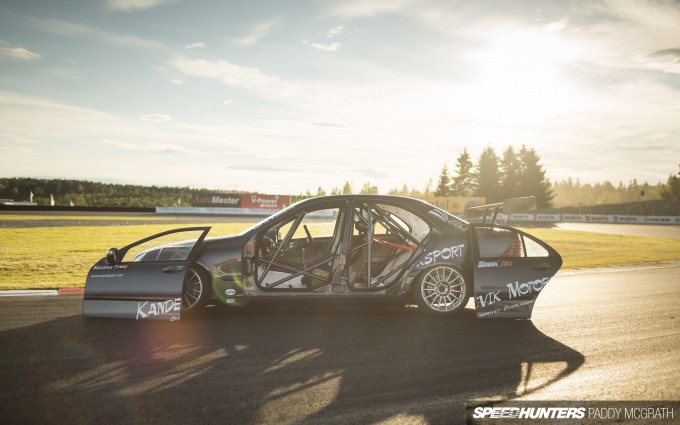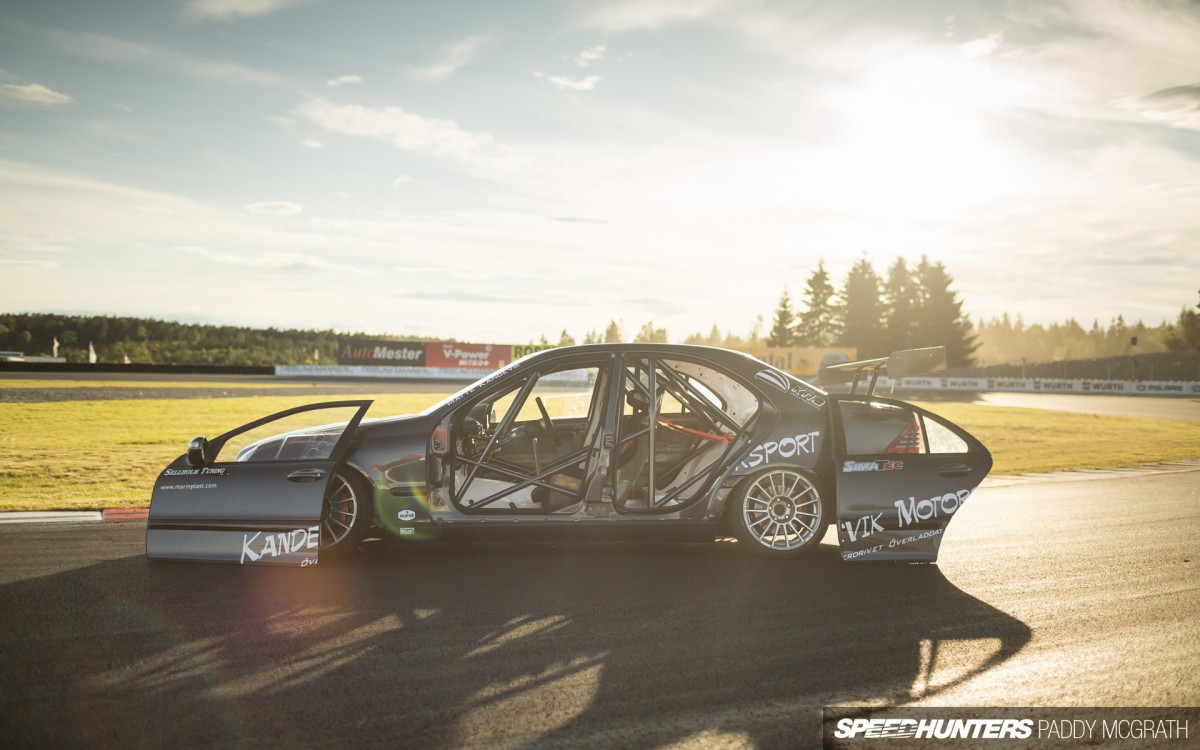 By his own admission though, for the first six months of the build period he was pretty much living in his garage every other waking hour that he wasn't working his real job, and up until it was finally finished back in June this year, Friday and Saturday nights usually wrapped up at 2 or 3am. I'm sure you'll agree that his unwavering dedication to the cause has definitely paid dividends, because this is a very cool car from whichever angle you look at it.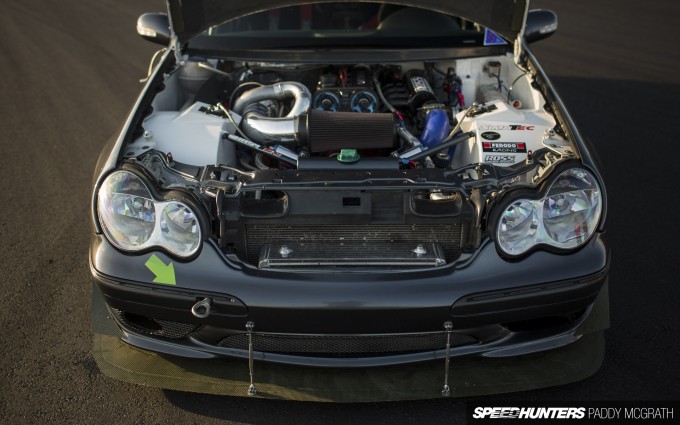 For Mattias it's one thing seeing the car completed, but another to actually get it out onto the track and use it. So far that's only happened for shakedown purposes, so it remains to be seen how competitive it will be in the Nordic Time Attack Series and within the Gatebil Extreme ranks. Given its performance in testing, or more specifically its handling prowess which Mattias likens to a magnet, it's going to be a lot of fun regardless.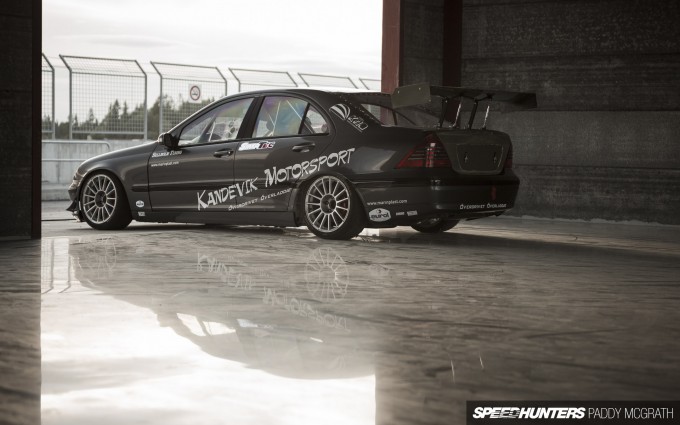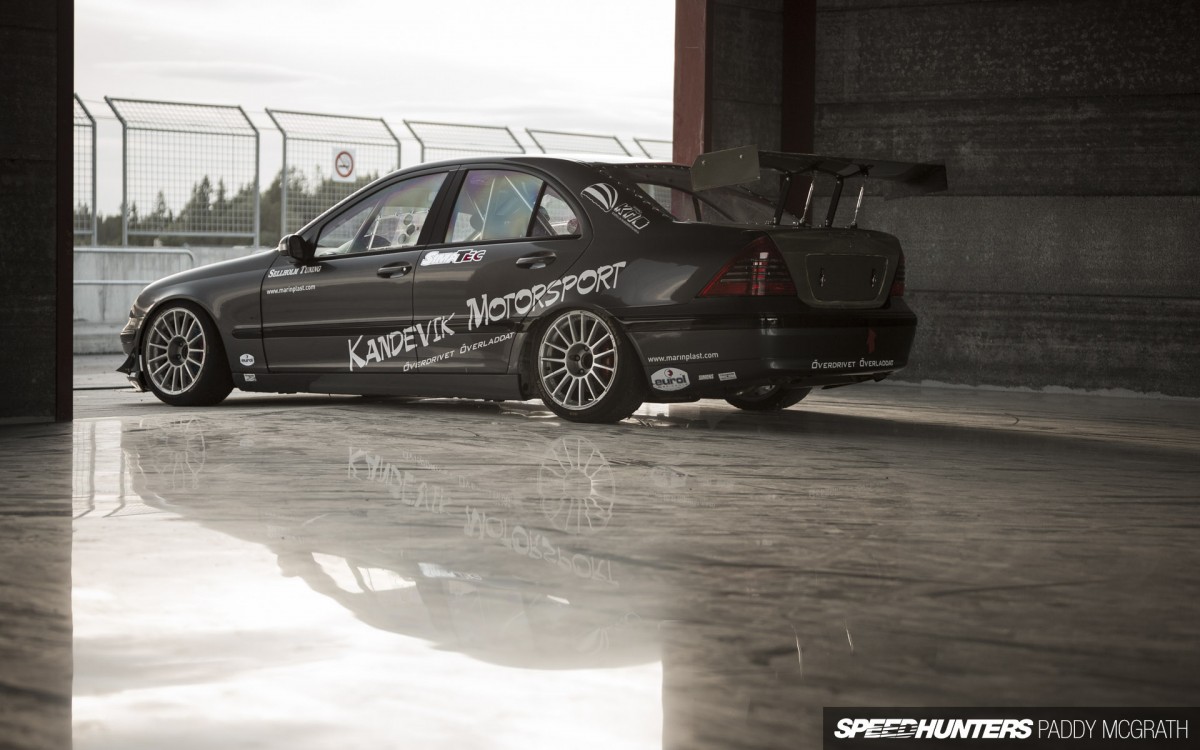 Before the C-Class turns a proper wheel in anger though, there's a six-speed sequential transmission that's set to be amalgamated into the package, and a few other minor tweaks that the multi-talented Swede will be attending to over the winter months. And that's not all either. With a new, secret time attack project already in its throes that Mattias promises will feature much more power and be more extensively engineered than this one, he's got his work cut out for him all over again. If it's half as impressive as the C-Class, we already know it's going to be something special.
And on that note, we wrap up our #WeHaveBoost theme for October. We hope you've enjoyed the turbo-fuelled ride. It's been our pleasure bringing you over the past few days!
Brad Lord
brad@speedhunters.com
Photos by Paddy McGrath
Twitter: @PaddyMcGrathSH
Instagram: speedhunters_paddy
paddy@speedhunters.com
Kandevik Motorsport Mercedes-Benz W203 C-Class
Numbers
Max power: 525hp, max torque: 650Nm at 6,000rpm
Engine
Volvo B230FK 2.3-litre DOHC 16-valve inline-four, 8.5:1 compression ratio, Ross forged pistons, Total Seal rings, Verdi rods, Ross rod bolts, modified Volvo B23 crankshaft, custom 280-degree/10.0mm lift camshafts, Nuke Performance adjustable cam gears, stainless steel valves, double valve springs, custom retainers, custom-coated non-hydraulic lifters, ARP head studs, Mira machined valve seats, Opel Ascona timing belt, modified engine mounts, K&N air filter, Volvo 960 3-inch throttle body, custom aluminium intake manifold, repositioned factory fuel tank, 2x Bosch Motorsport 044 fuel pumps, Aeromotive A1000 fuel pressure regulator, Nuke Performance fuel rail, 4x Bosch 1680cc injectors, custom exhaust manifold, custom stainless steel exhaust system, Bosch coil, Autotech ignition leads, Volvo 960 Bosch ignition amplifier, Garrett GT4094R twin-entry turbocharger, 3.5-inch down pipe, TiAL 50mm blow-off valve, 2x TiAL 44mm wastegates, modified KL Racing intercooler, custom aluminium intercooler pipes, Volvo B20 oil pan, Setrab oil cooler, Derale remote oil filter kit, Mercedes-Benz C-Class radiator, custom wiring loom, MoTeC M600 engine management system, engine repositioned 450mm rearward
Driveline
BMW E36 M3 ZF 5-speed gearbox, custom aluminium shifter, Sachs twin-plate clutch, modified Volvo B23 flywheel, ARP flywheel bolts, modified BMW E36 driveshaft, BMW E28 535M differential with machined ramp angles, custom Nuke Performance axles
Suspension/Brakes
Sellholm Tuning 2-way adjustable shocks, Sellhom Tuning springs, custom top mounts, Sellhom camber plates, custom adjustable links, Hirschmann Motorsport uniballs, Sellholm Tuning adjustable sway bars (front adjustable and rear), custom cross bars, rear adjustable 5-link set-up, custom rear cross bar, custom rear subframe bushes, modified Mercedes-Benz C-Class steering rack, modified BMW E30 steering column, Alcon 6-pot calipers with Alcon 355mm rotors (front), Brembo 4-pot callipers with Alcon 295mm rotors (rear), custom Sellholm Tuning hats, Ferodo pads, braided stainless steel brake lines, brake bias adjuster
Wheels/Tyres
RAYS Engineering 57 Motorsport G07WT-II 17-inch wheels, Yokohama 240-610-17 slicks
Exterior
Modified Mercedes-AMG C32 front bumper, custom carbon/Kevlar front spoiler, custom carbon/Kevlar front splitter, custom carbon/Kevlar canards, Mercedes-Benz C-class side skirts, rolled fender edges, custom carbon fibre undertray, modified Mercedes-Benz C-Class rear bumper, Lexan door windows and rear screen, custom carbon/Kevlar rear wing, lightened doors, custom carbon/Kevlar bonnet, custom carbon/Kevlar boot lid, custom carbon/Kevlar roof skin, LED taillights, Mercedes-Benz Grey Metallic paint
Interior
Custom roll cage, Momo Kevlar seats, custom seat rails, Mocomp harness seat belts, Luisi Racing Corsa steering wheel, quick-release steering hub, OBP adjustable pedal box, ETB DigiDash2, Cartek battery isolator kit, custom aluminium shift knob, Innovate LM1 Lambda meter, Auto Meter boost gauge
Thanks
Stefan at Kallebäcks Motor, Robert at Västkustens Marinplast AB, Rikard at Sellholm Tuning J12WS, Tagene Wheel Adjustments, Svenska KMB, Rickard at Simatec, my friends, family and girlfriend