Racing pedigree
Here at Speedhunters, I sometimes feel like a bit of an oddity. I don't have the amazing photographic talents of a Larry Chen, the encyclopaedic race car knowledge of a Rod Chong or the stunning beard growth of a Sean Klingelhoefer. But I do have one trick up my sleeve that's come in handy recently and that's knowing what it's like to drive an Evo.
So when we were contacted a while back and asked if we'd like to come and experience the 311RS – a special limited production version of the Evo X – I found myself being volunteered. And I don't mean that in a 'being shoved forwards against your will' kind of way either, but a 'happy, smiling kid running into an ice cream shop' kind.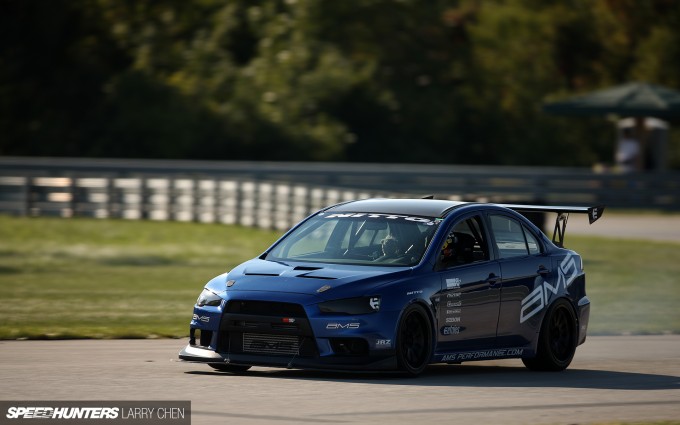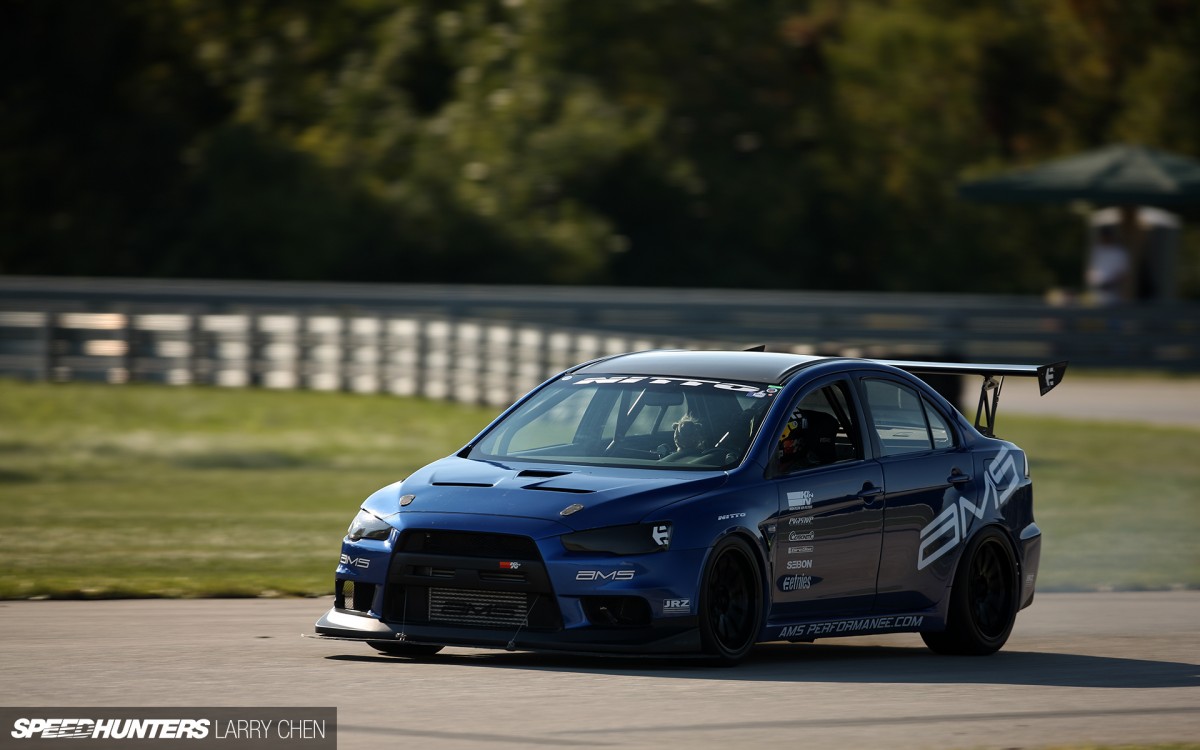 The 311RS is the brainchild of Ryan Gates, a name that might be familiar to you. At the helm of the Gates 311 Evo X, he was the NASA TT-A National champion in 2008, and both the Redline Time Attack Modified class champion and the Super Lap Battle Modified class champion in 2009, taking a bunch of lap records in the process.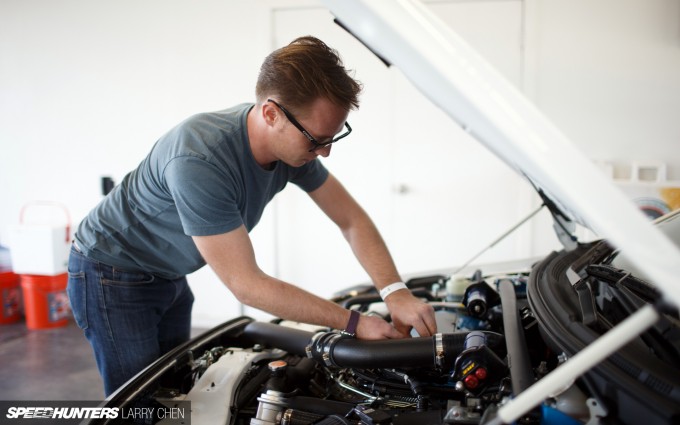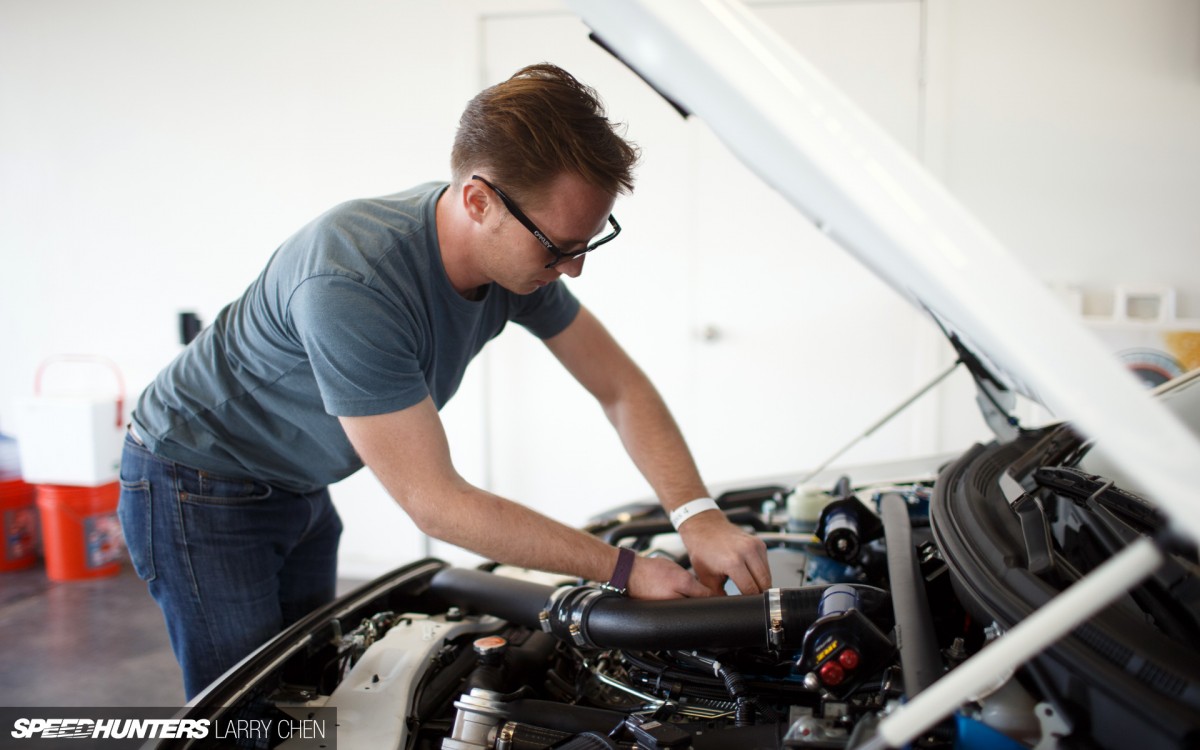 With all the knowledge both he and his technical partners gained along the way, the idea is to pull together the lessons learnt to create a version of a road car that's perfectly suited for both road and track. And when someone who's has as much success as Ryan decides to build a car, you know it's something you should be interested in.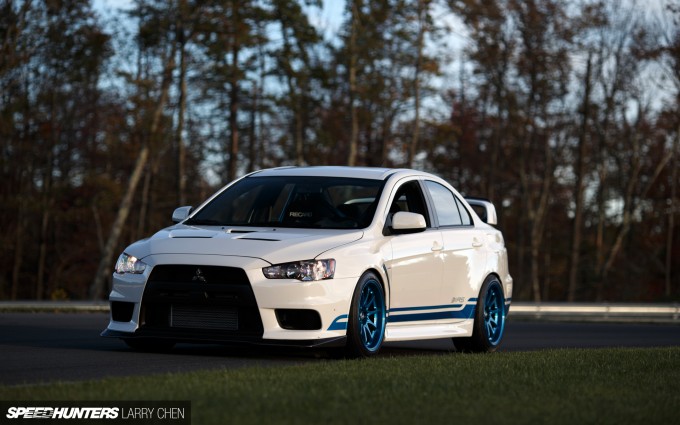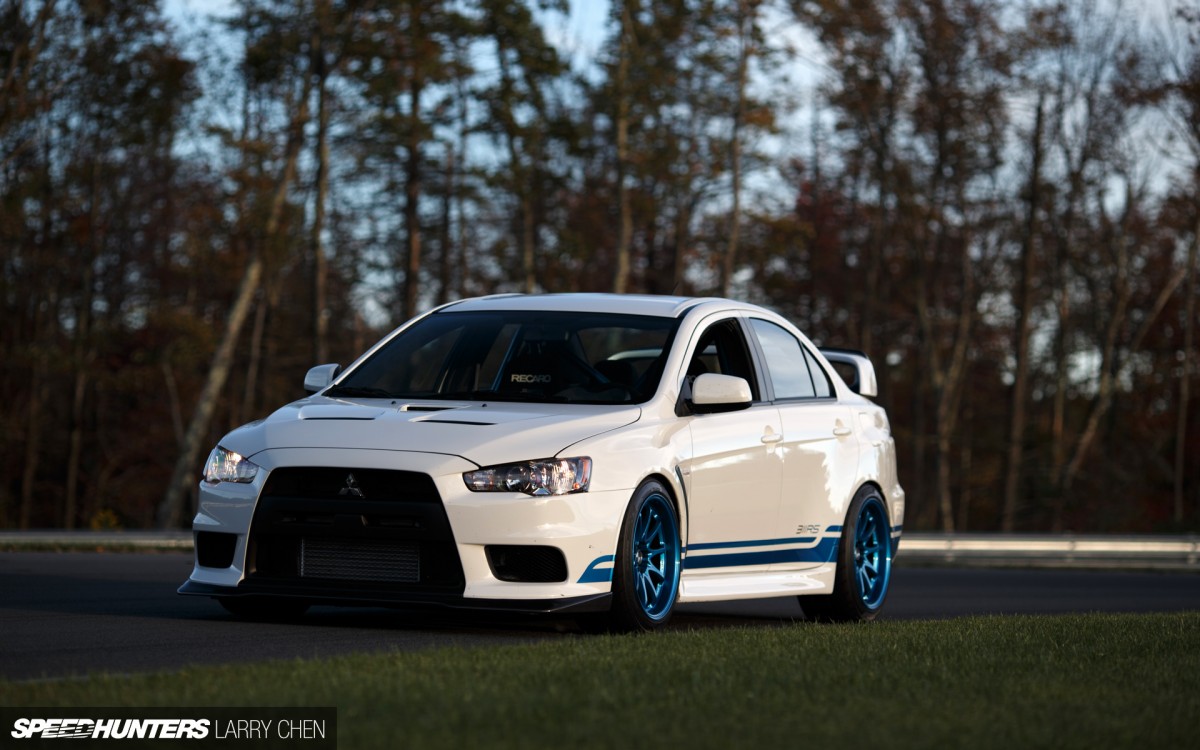 We met up with Ryan in New York recently, where he brought along #1 of the 11 cars planned for production. As soon as you first lay eyes on the car, it's obvious that it's something special. The subtle blue stripe livery (designed by Jon Sibal) and gorgeous matching Volk Racing CE28s by RAYS  mark the car out as something unique, whilst still retaining an overall understated feel.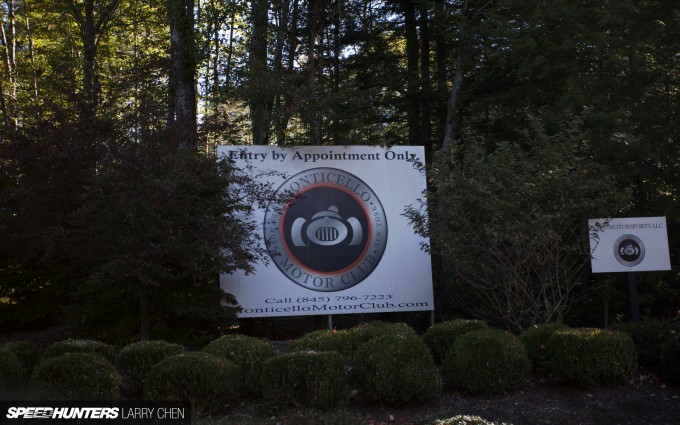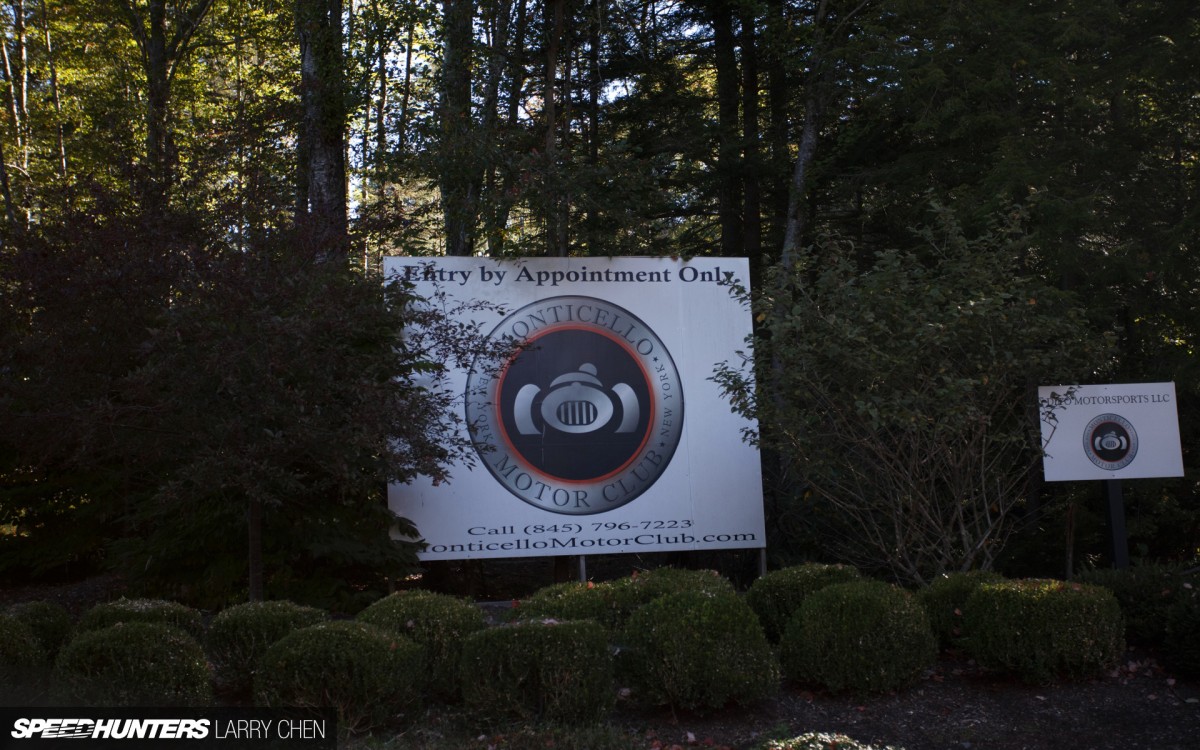 After a quick nose around the Evo in the morning, we jumped into our hire car and set off for our destination. We were headed to Monticello Motor Club, a rather fantastic motor club resort and private track, which would provide the ideal location to get to experience the 311RS in a proper Dream Drive.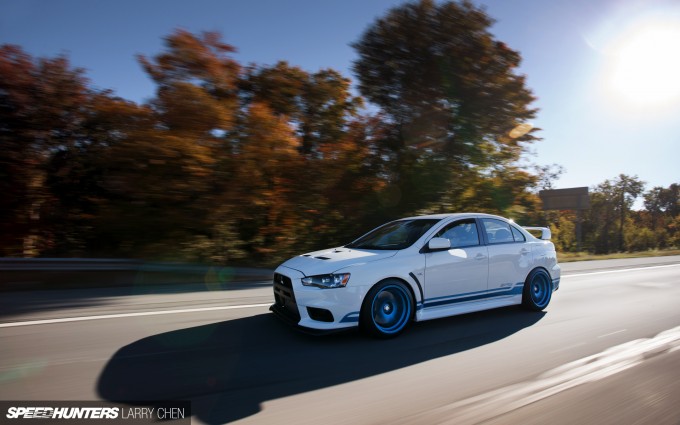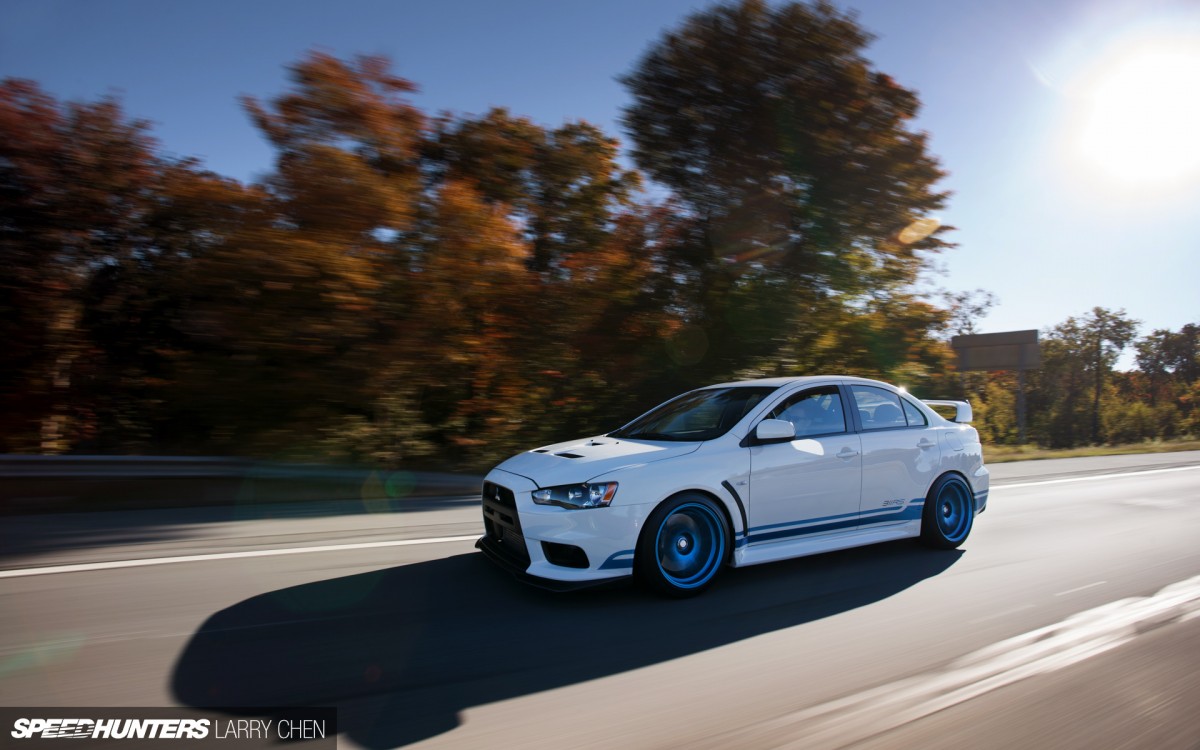 What a perfect day! In so many ways…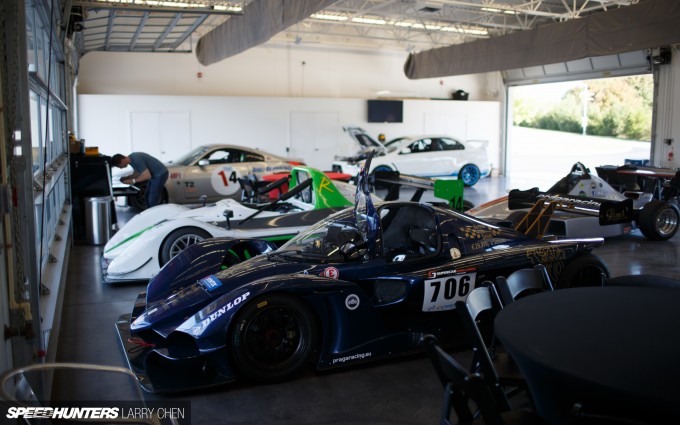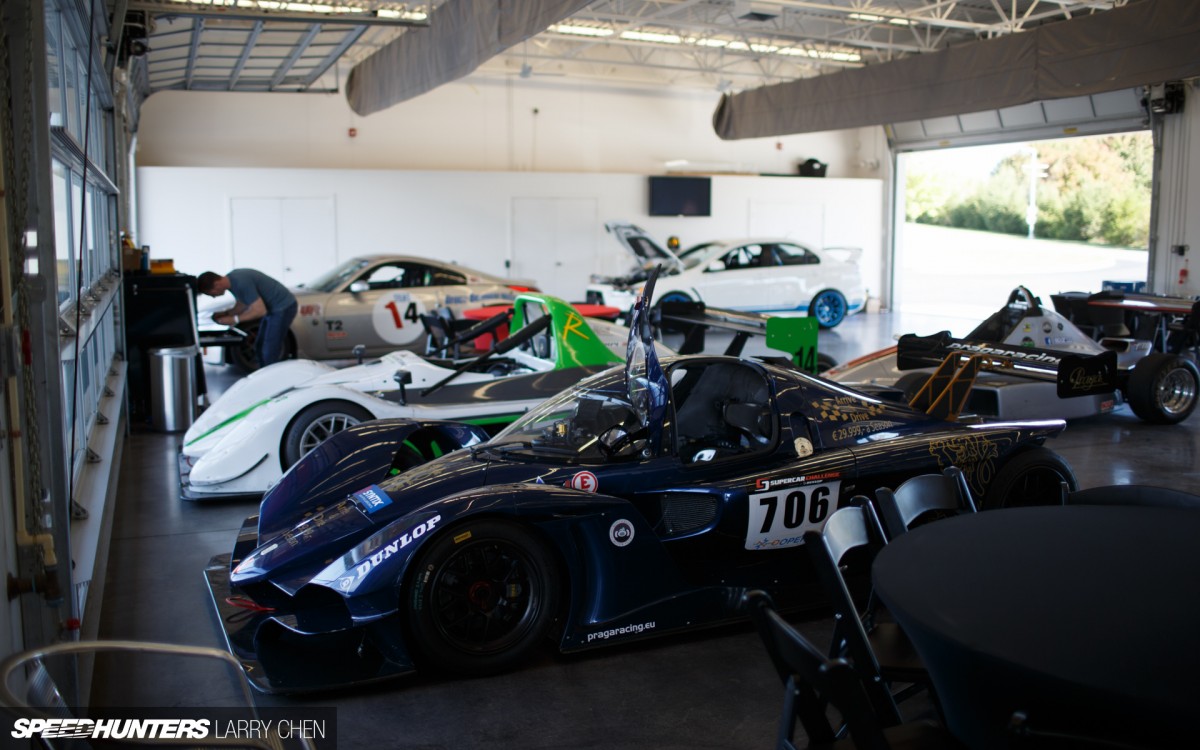 As we pulled up into the garage, it was obvious we weren't alone. There was some serious machinery here!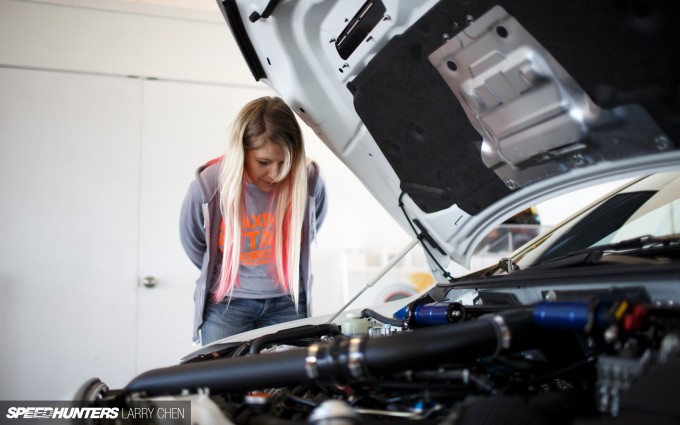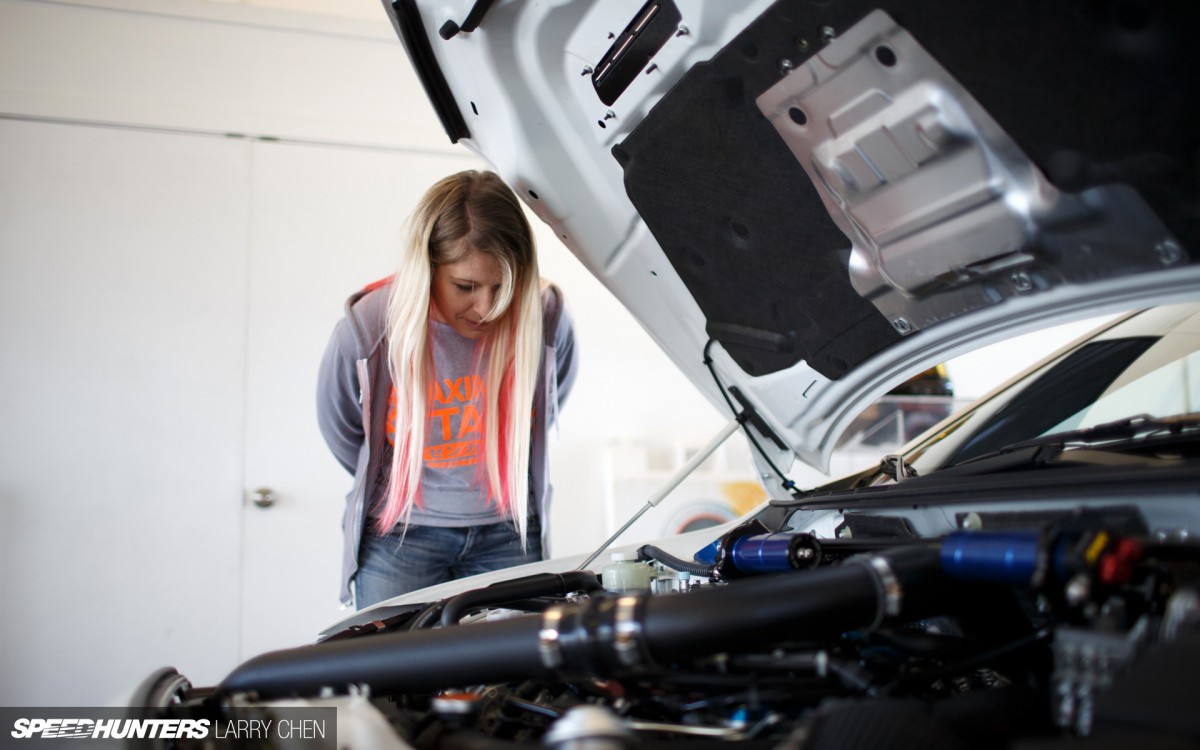 I was already keen to check out the internals of the car I was here to drive.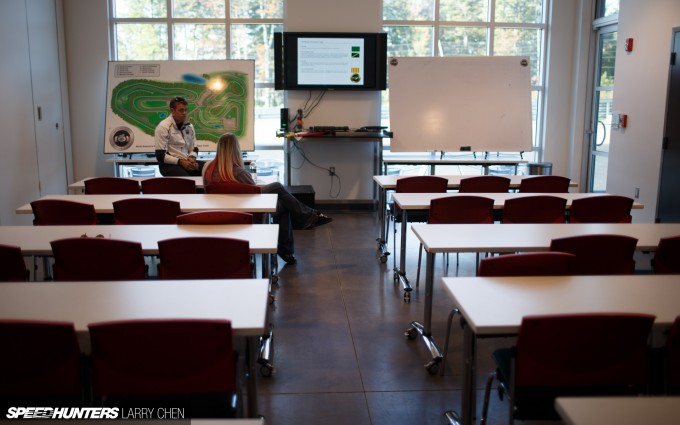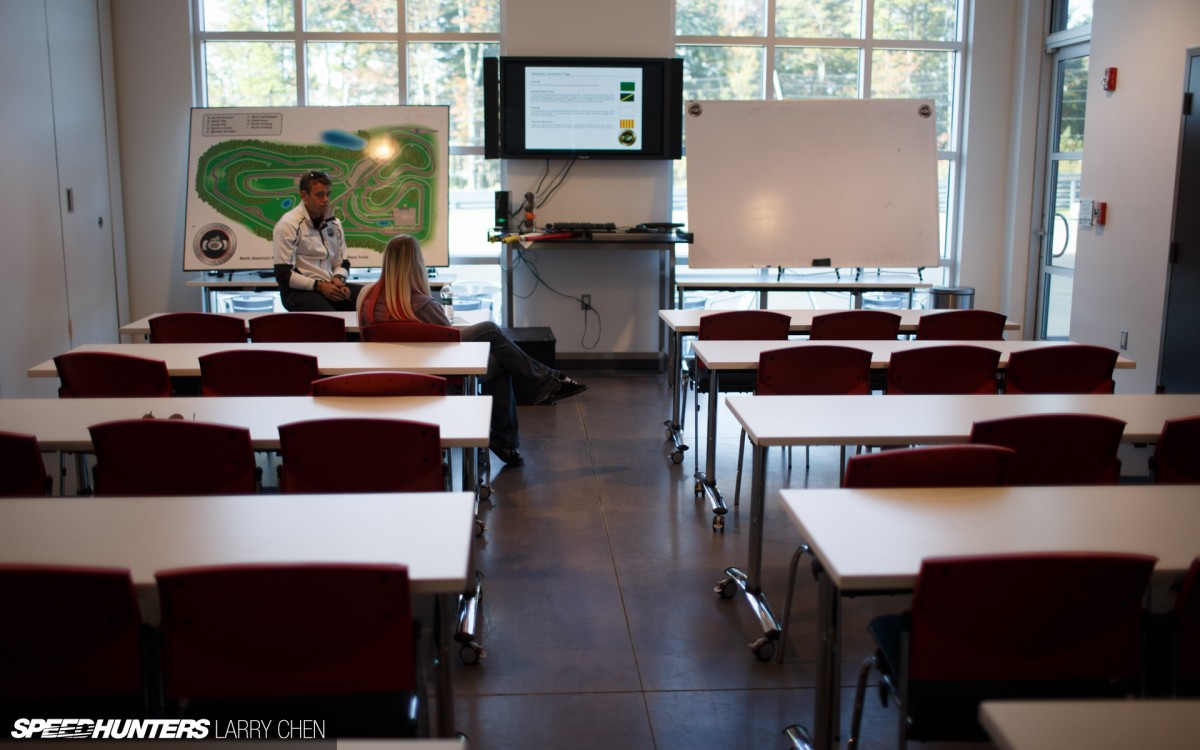 But first things first. In order to get out on the track, I had a safety briefing to sit through. Everything seemed pretty standard – yellow flag, red flag, pulling out of the pit lane, invite an overtake by waving your hand out of the window… wait, what? Here at MMC (and perhaps other US tracks – this was my first after all), you drive with your windows constantly down (something you're not allowed to do in the UK/Europe), pull to whichever side you want to stay on and shove your arm out of the window to indicate what side the other car can use to overtake. Umm… did they know how short my arms were?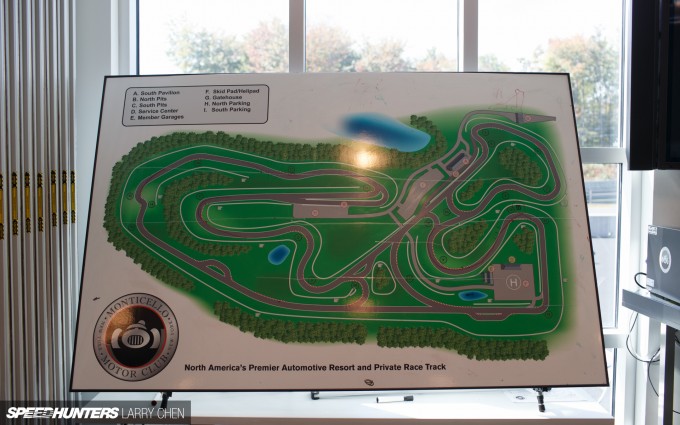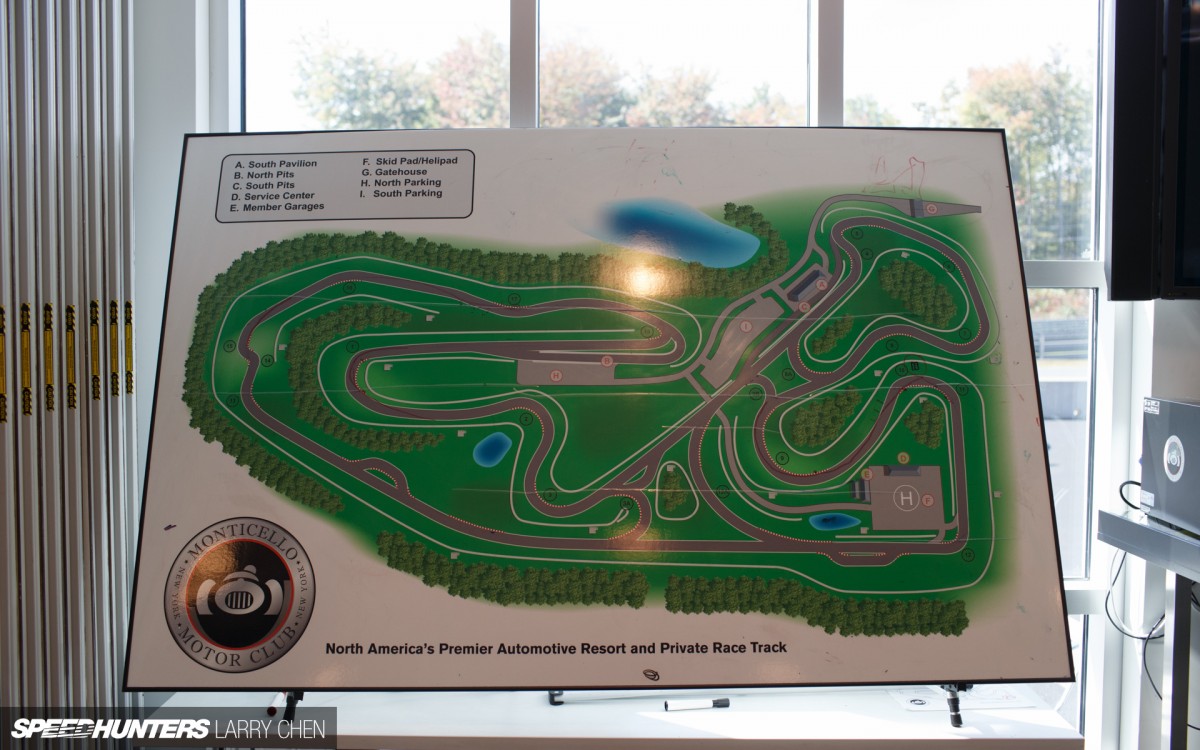 Despite this difference, the thing drawing my attention most was the circuit layout. This isn't a small track – that's 4.1 miles of circuit and 19 corners right there. This place is nearly as long as Spa! Trying to fit a circuit layout like this in your memory before going out on track is a futile effort but one that I always try, and fail at, anyway.
Fast tracked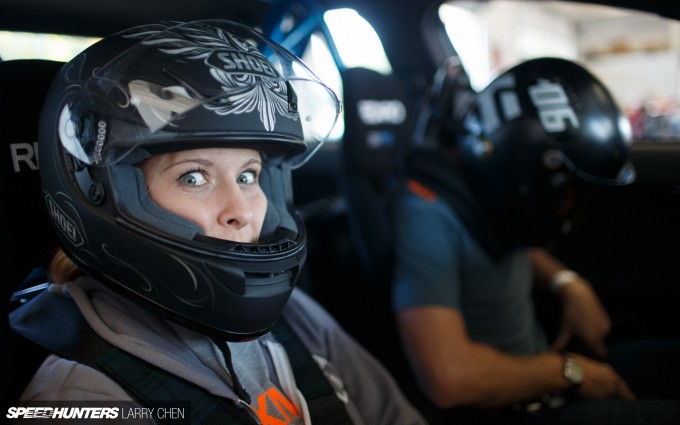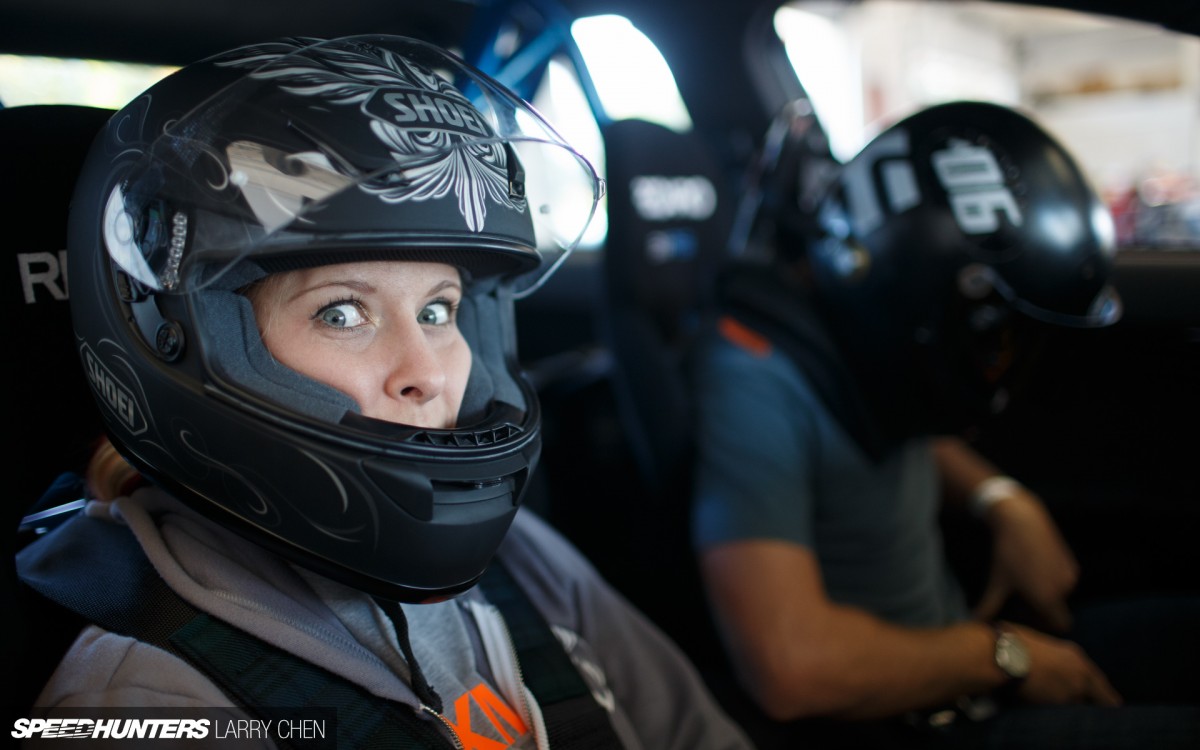 Before I went anywhere behind the wheel though, it was time for Ryan to take me out for a few laps to get me acquainted with the track and the car.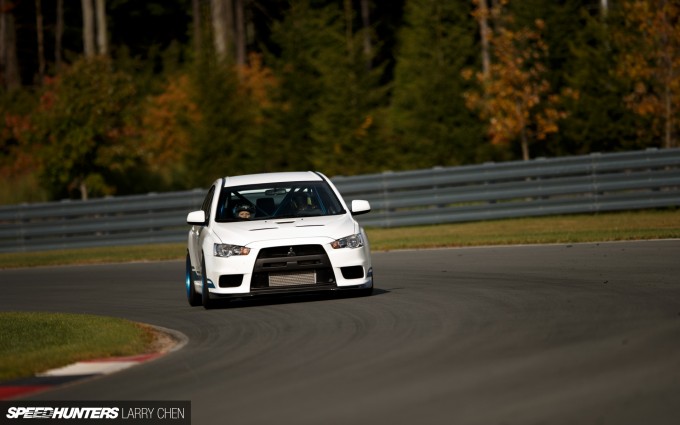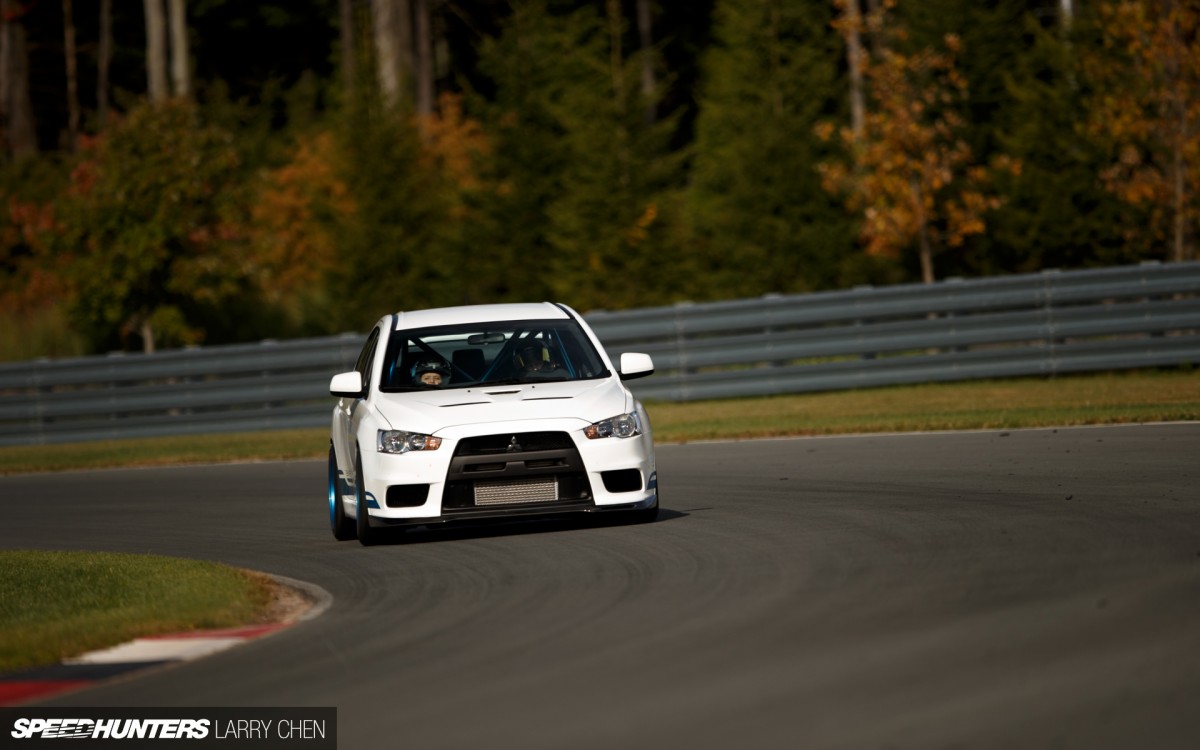 As we started off on a warm-up lap, I went into my usual passenger mode – shut up and try to take in as much of the circuit as possible. And wow, what a circuit! Not only was it immaculately maintained in beautiful settings, but it featured a fantastic variety of corners – hairpins, fast sweepers, chicanes, blind crests and varying radius turns, with some elevation changes thrown in too. Today was going to be a good day!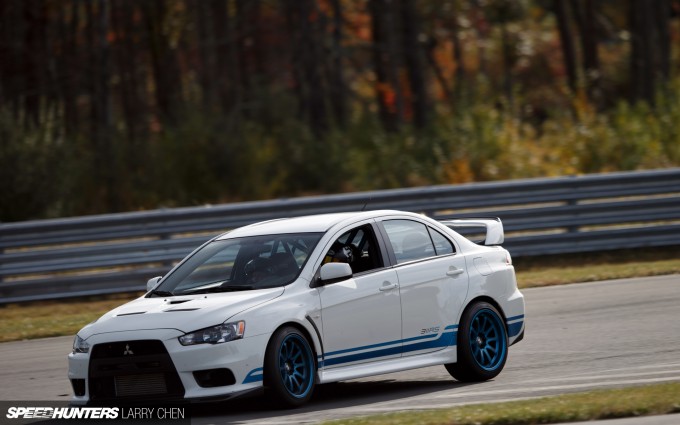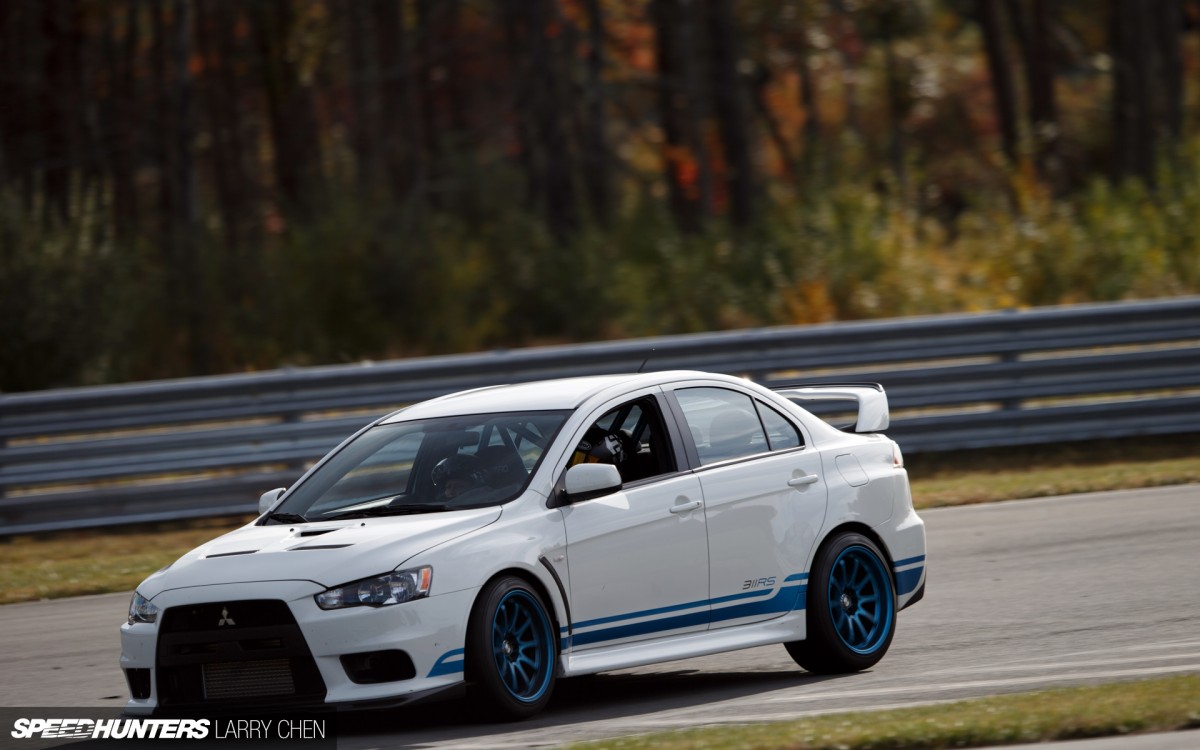 My focus soon shifted to the car though. The 311RS was deceptively quiet at idle and when pottering about, but open her up and the Akrapovič exhaust provide a beautiful raspy note to the 4B11 engine. The car seemed to handle great – just on road settings so far – and as Ryan demonstrated, it wasn't against sliding the back end around a touch on corner exit too. In fact, Ryan's making it all look easy – though as he later admits, he's done a lot of miles in this car – or rather, the development model. And his racing background can't be hurting either. No pressure then…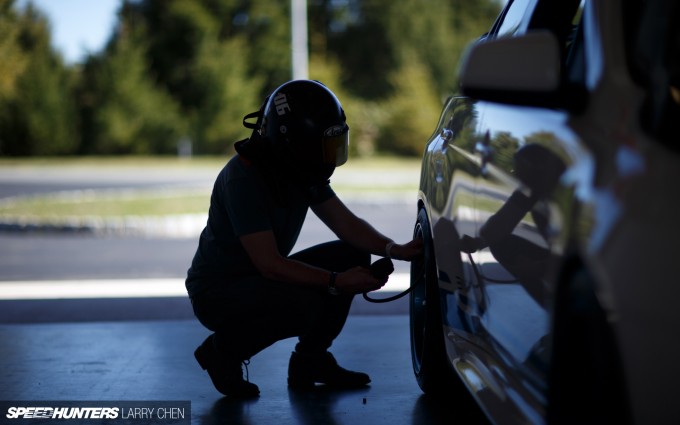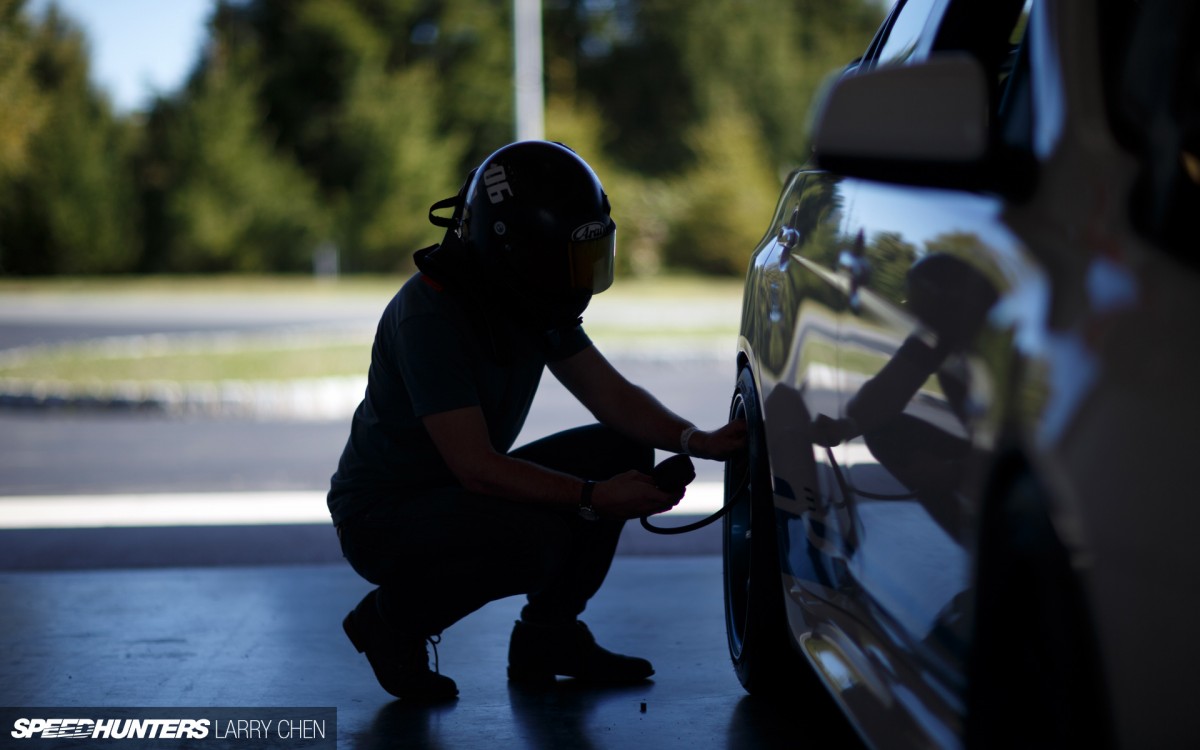 For now, it's back to the pit garage, where Ryan set to checking the tyre pressures, changing the suspension to the first race setting and filling the car up with race fuel so that it can run the track map, giving approximately 440whp. Meanwhile I have to go out on circuit for a few laps with an instructor to prove I'm not going to kill anybody. As the Evo's busy being prepared, I'm forced to take the hire car. The three laps I completed in it were some of the scariest I've ever had on track, not least when I got a bit too confident at the technical uphill blind section and ended up dropping a wheel on the exit thanks to the masses of understeer. Sorry Mr MMC instructor!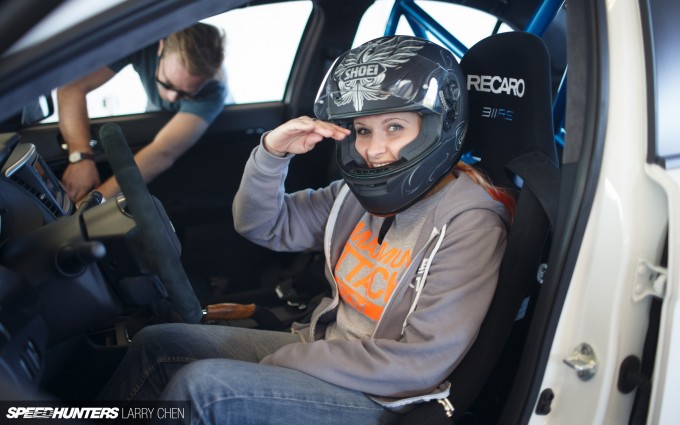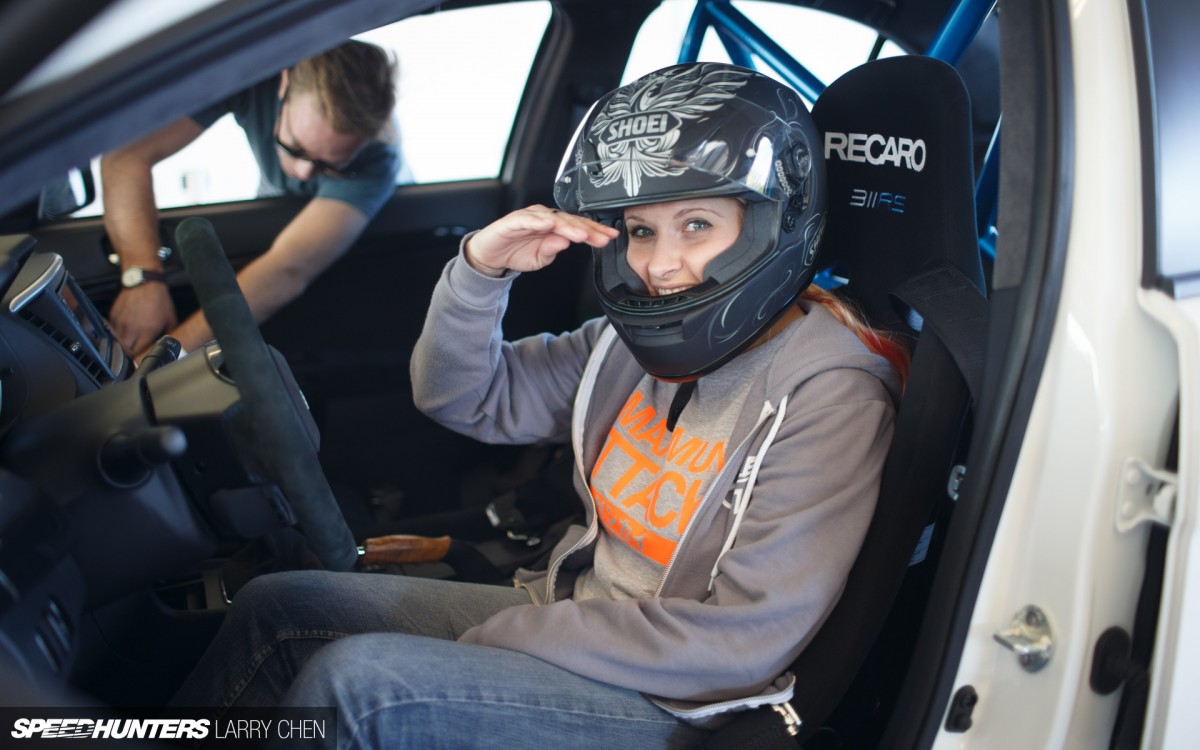 Leaving the hire car to cool down (and the brakes to stop smelling!), it was time to get behind the wheel. As it often does, my short arse-ness was proving a bit of an issue. Although I'd been low down in the passenger seat, I was able to see over the dash. But the driver's seat was lower and now I had a steering wheel to contend with as well. This is not me saluting, but rather trying to demonstrate the level of the steering wheel in my view. I think I need to grow a bit.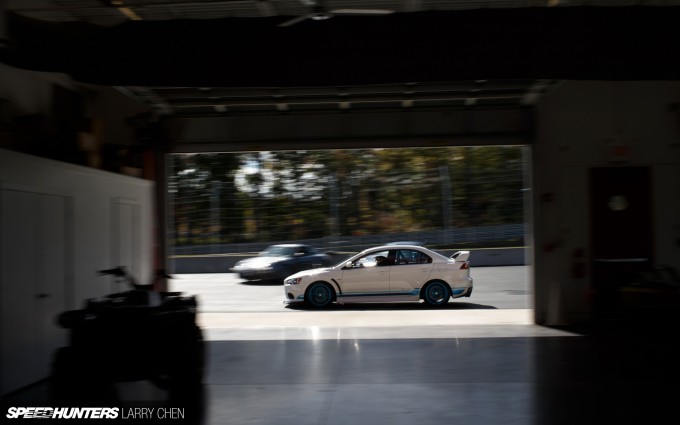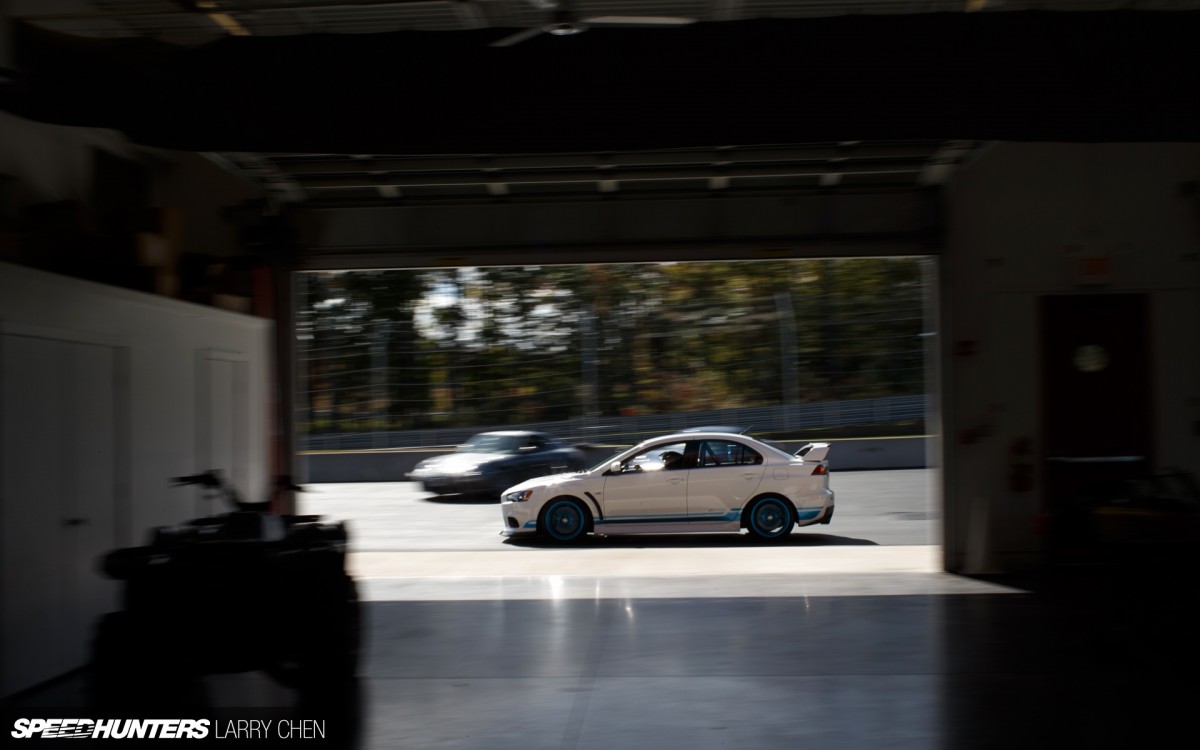 Cushion pinched from the passenger seat, I was finally above steering wheel level. So at last it was time to head out and have some time getting acquainted with the car. As we pulled up to the end of the pit lane, a marshal wandered over and informed us that the session would be ending soon, and that I'd only get one lap before I would have to pull in. Typical! A bit of smiling and cajoling and he agreed to two. Here goes…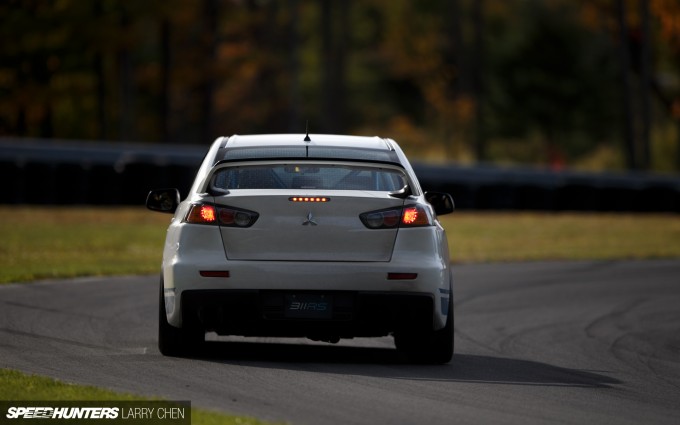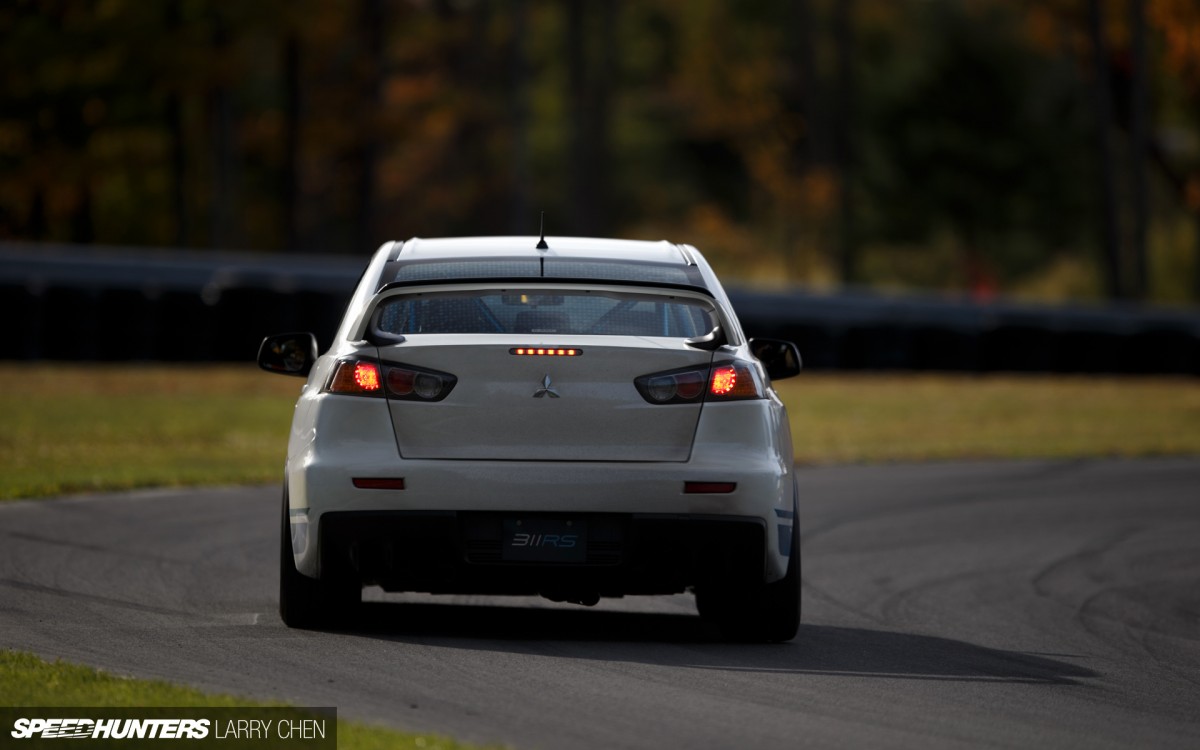 So I eased out onto the circuit. The thing that instantly hit me was how sensitive the throttle was – there was a steady onslaught of power available through the accelerator, but it only needed the lightest of touches to access it. Much less than I'm normally used to. Noted. The steering was direct and precise (as an Evo should be!) but the turn-in was sharper than in my VI. Also noted.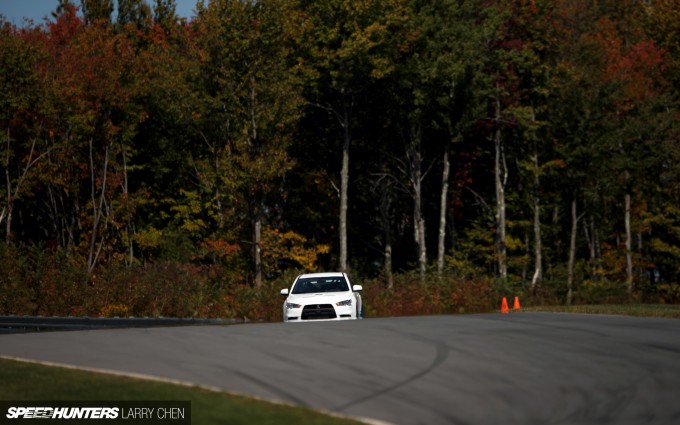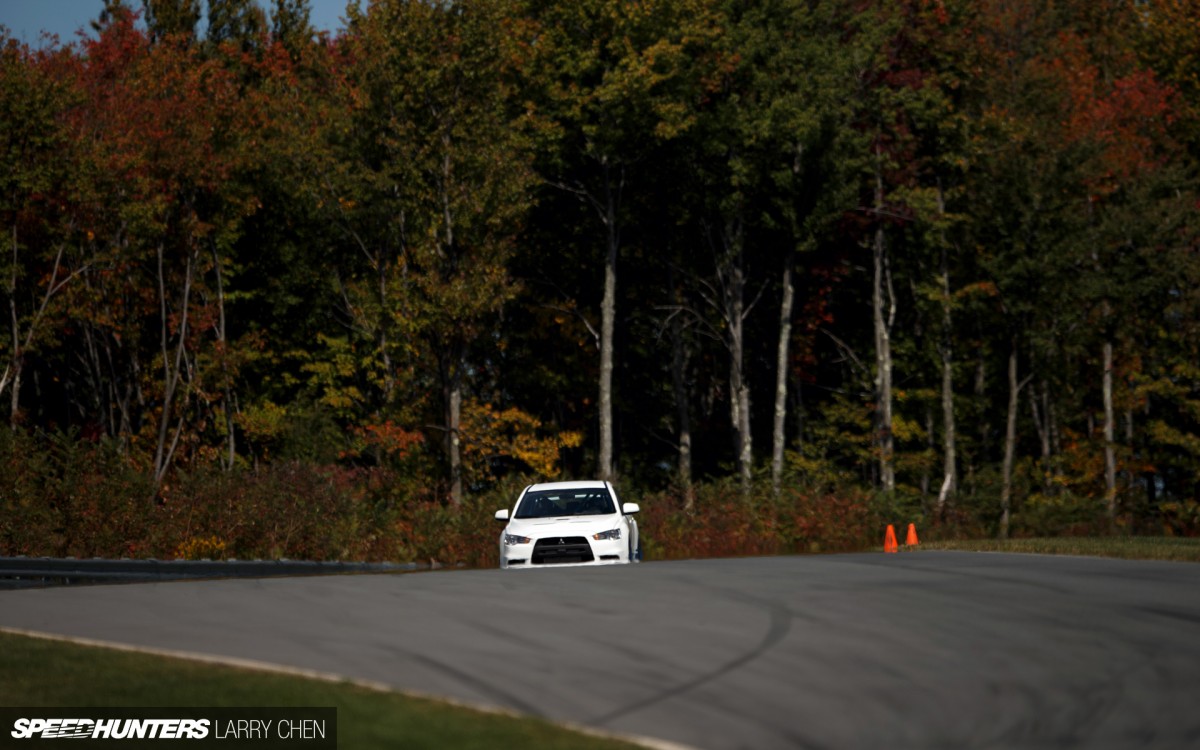 Although I initially thought the brakes didn't have quite as much bite as I was expecting, with a bit of encouragement from Ryan, I discovered that they really stepped up a notch when you were hard on them. I also discovered that I'm not nearly as good at changing gear with my right-hand as I am with my left! Sadly, that was to be my last observation for the moment, as the chequered flag came down and I had to head back to the pits.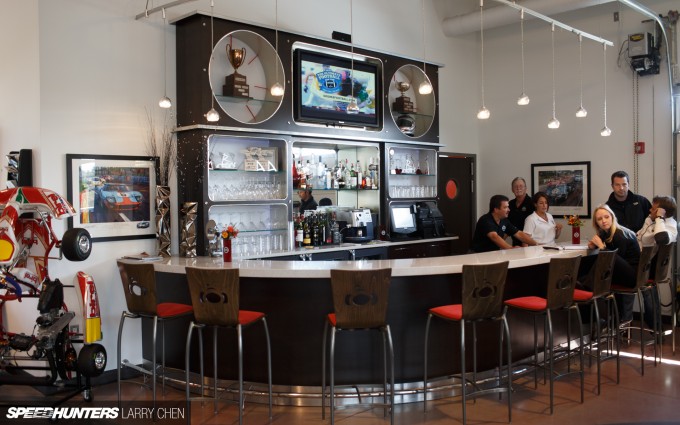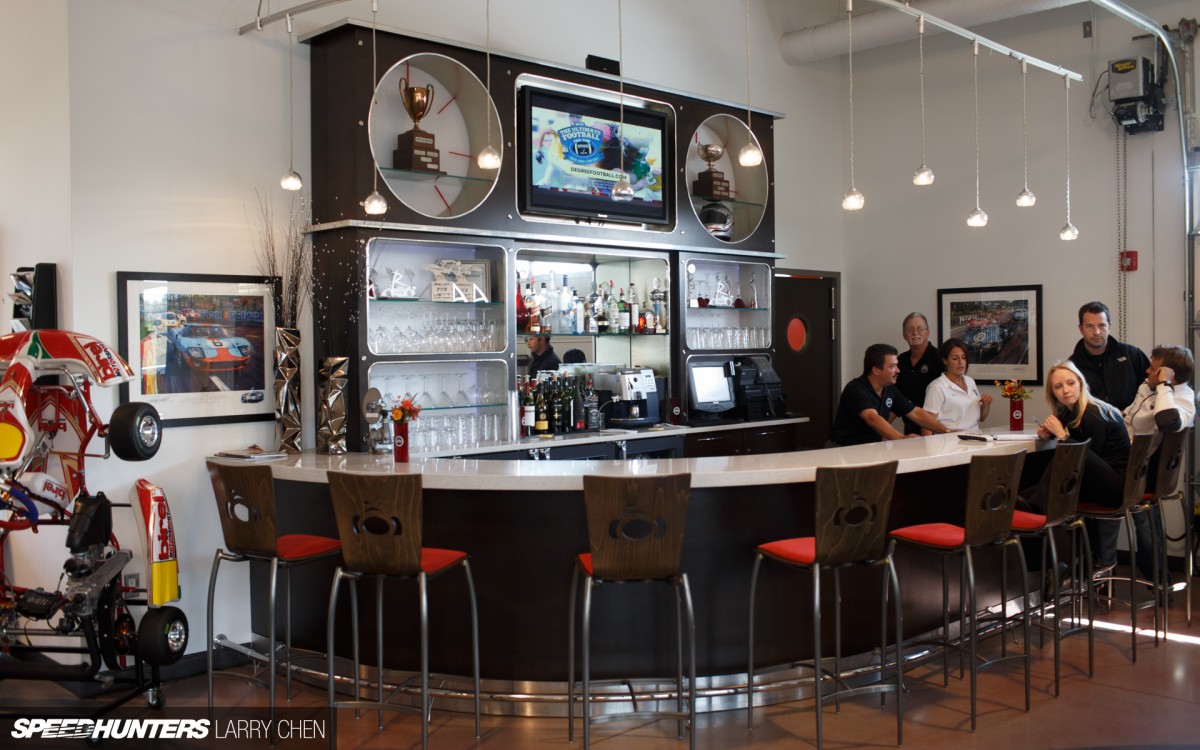 It was time for lunch and a bit of a nose around. The circuit was only opened in 2008 and features a host of top-notch facilities. Its members pay a one-time joining fee, then a small yearly fee, and in return, they get a certain number of track days at the track – 12 a year at the base level, and full use of all the facilities. What's perfect though is that nearly every day at MMC is an open track day for members. I'm hugely jealous that there's nothing like this in the UK. I don't think they'd ever get rid of me!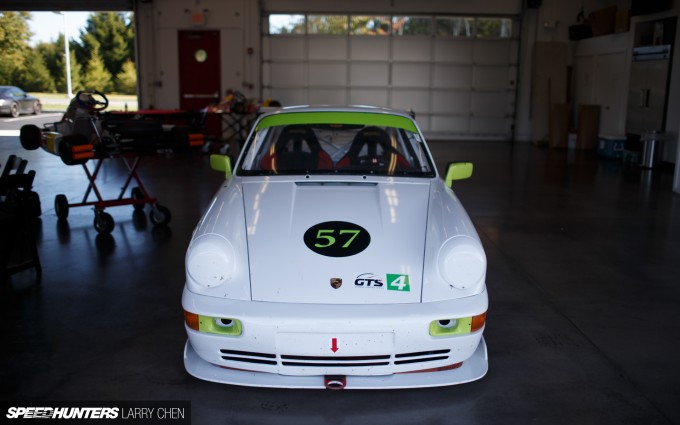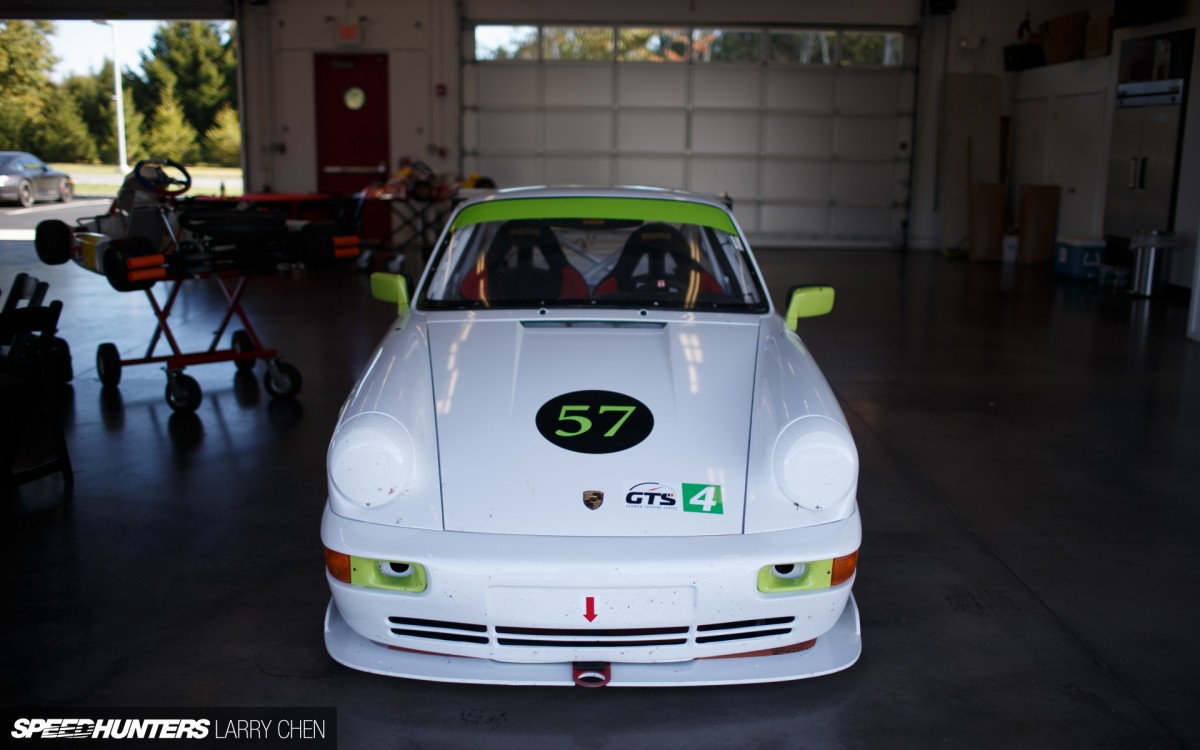 Stomachs full, we headed back to the garage, wandering past some of the other machinery hanging around.
The devil's in the details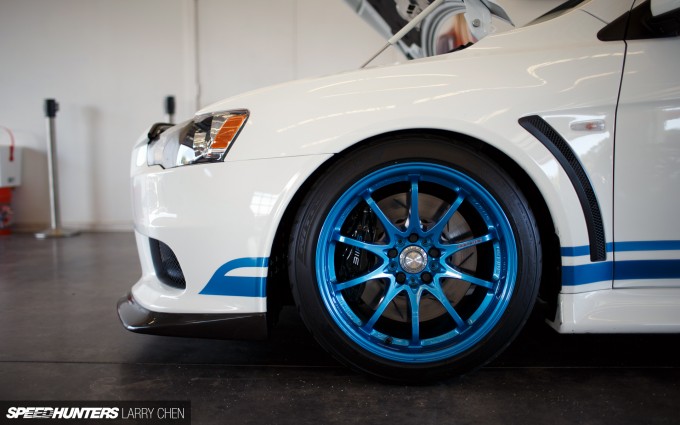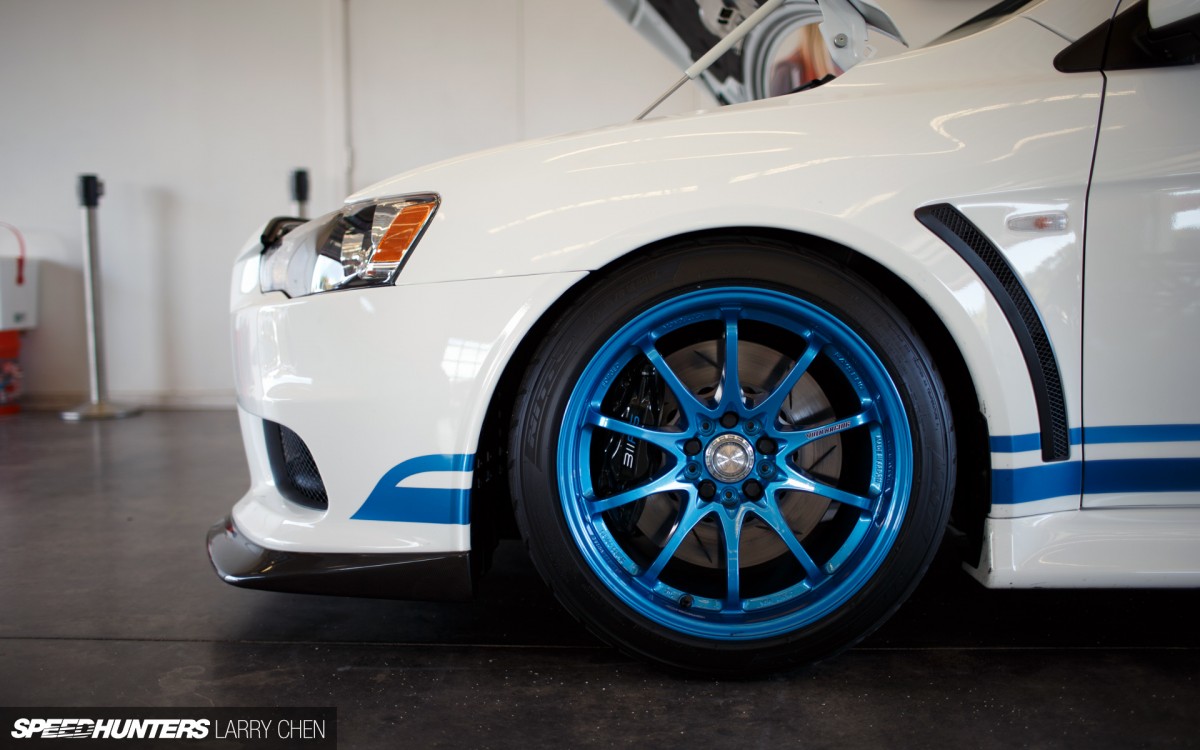 As the track was still shut, I took the opportunity to take a more thorough look around the 311RS. What I like so much about it is that each component that's been installed has been carefully considered so that the overall package reads like a perfect shopping for a road/track car.
The stunning blue that's used throughout is a special mix by DuPont made for this car. That stripe on the side is not a sticker either, but properly painted. The front lip adds a touch of aggression to the car's nose, as well as giving an aerodynamic benefit.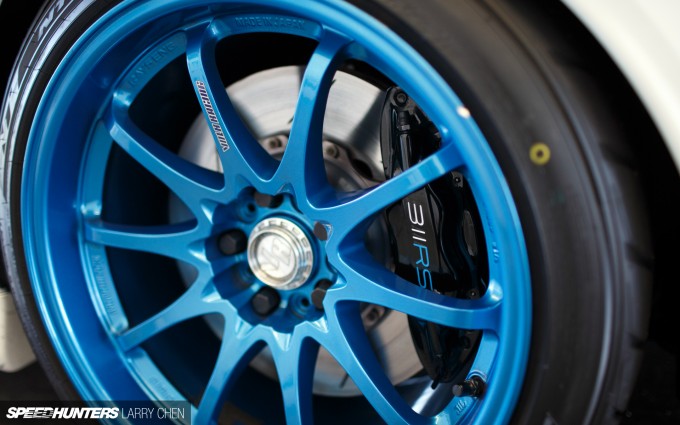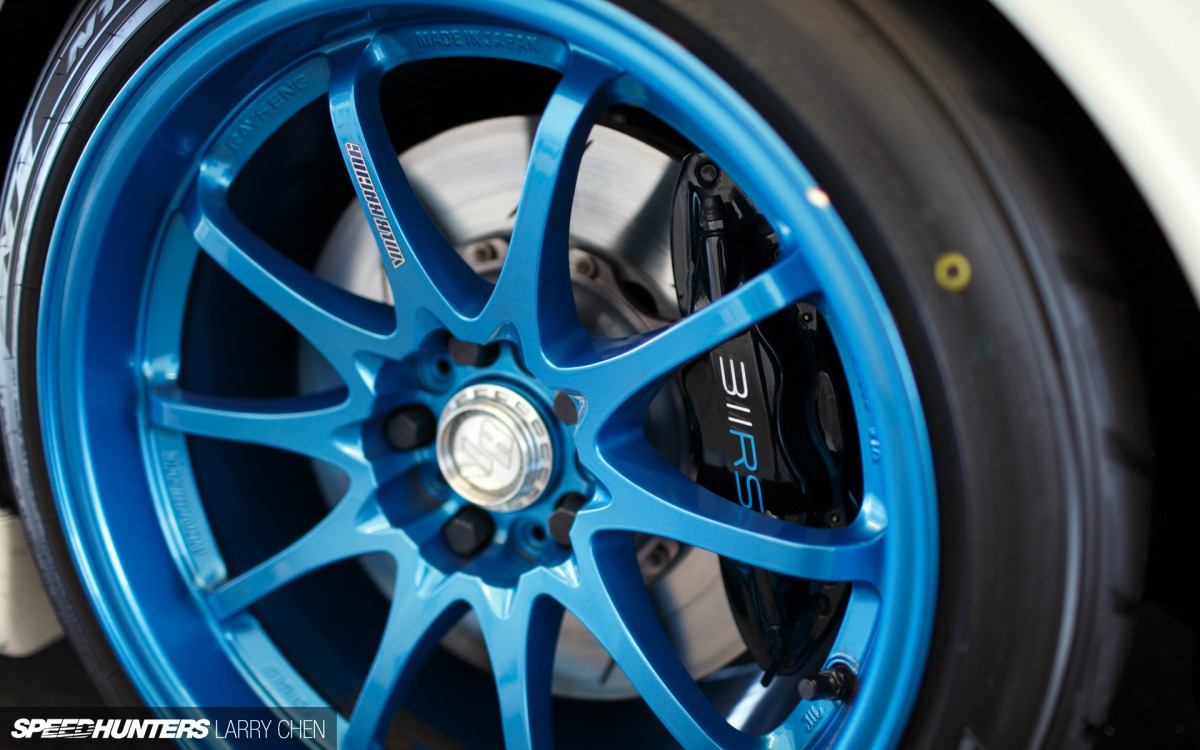 The colour continues on the wheels, where it looks amazing. Of course, the wheels aren't exactly shabby either – the forged Volk CE28s are light and strong – perfect for a track car – and as well as being another of my all-time favourite wheels, complement the lines of the car beautifully. The 18×10.5s fit perfectly on each corner, shod with 275/35/18 Nitto NT05 tyres.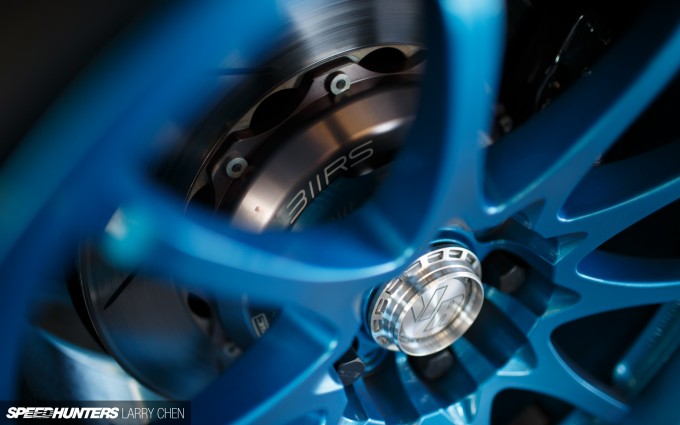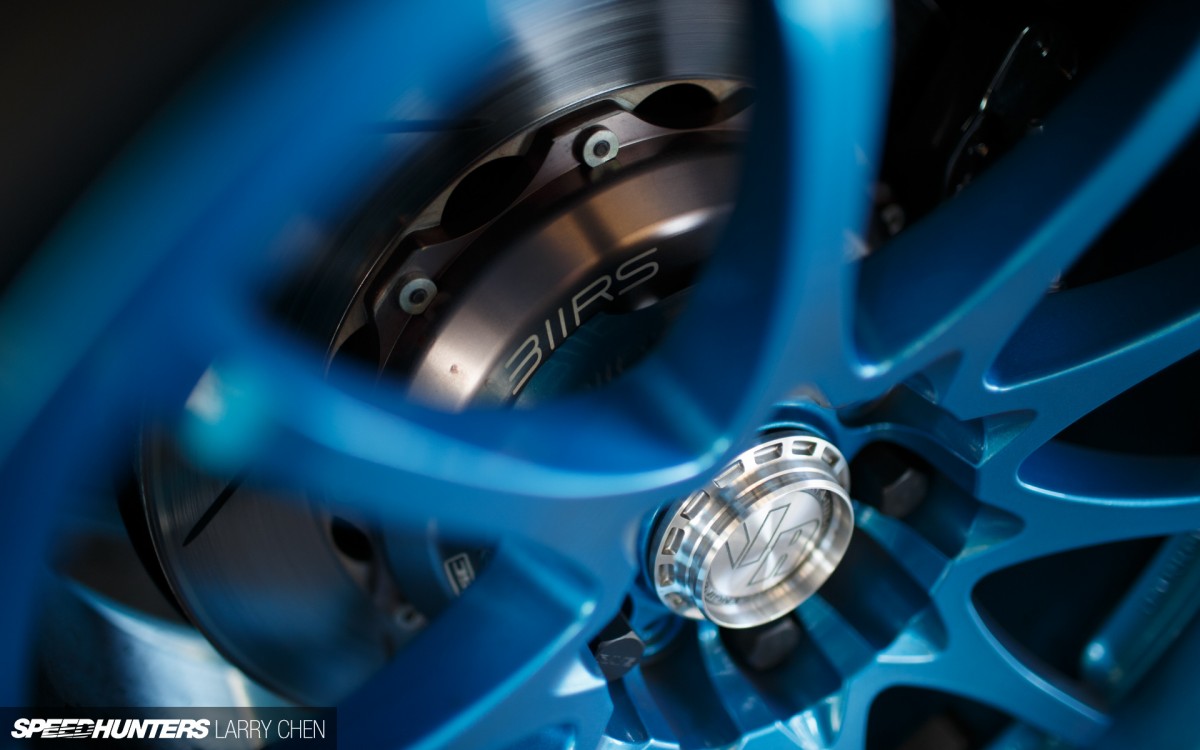 As you look around the car, you'll find the 311RS logo featuring subtly in some out of the way places, like here on the hubs for the Girodisc two-piece floating brake discs. The pads have been specially developed for this car and feature a combination of two compounds, meaning that it has good initial bite at cold temperatures, but also extra stopping power on track when hot. They've been designed to be the perfect combination for both road and track. The standard calipers are maintained and braided brake lines and Castrol SRF fluid have been added to turn the already good standard brakes into a potent little stopping set-up.
Oh, and did I mention how much I love those wheels?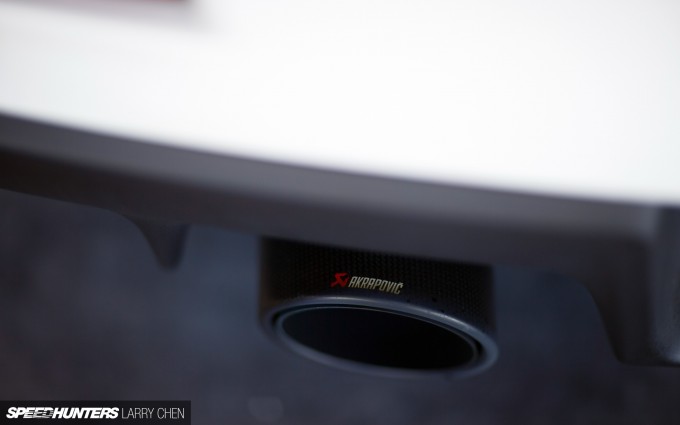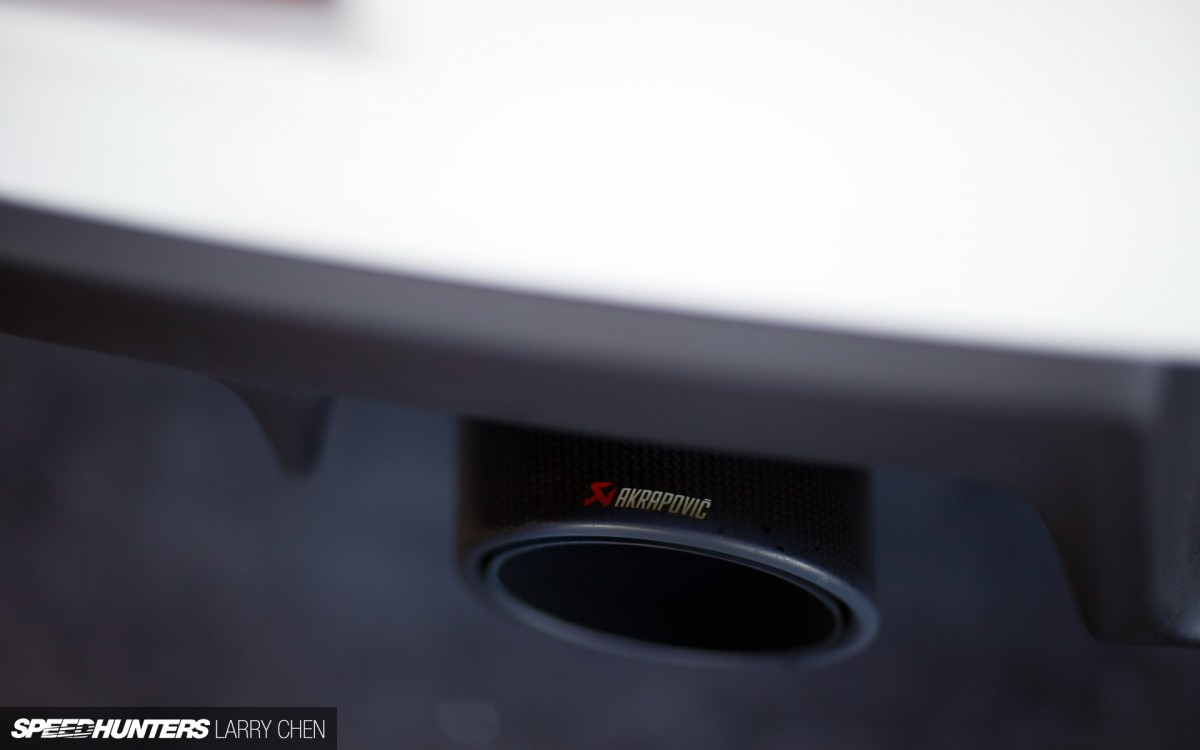 The fantastic exhaust note comes courtesy of the full Akrapovič titanium exhaust system with these sexy carbon fibre tips…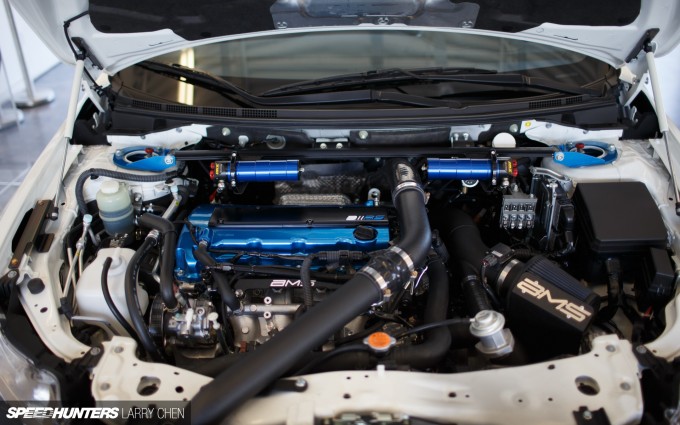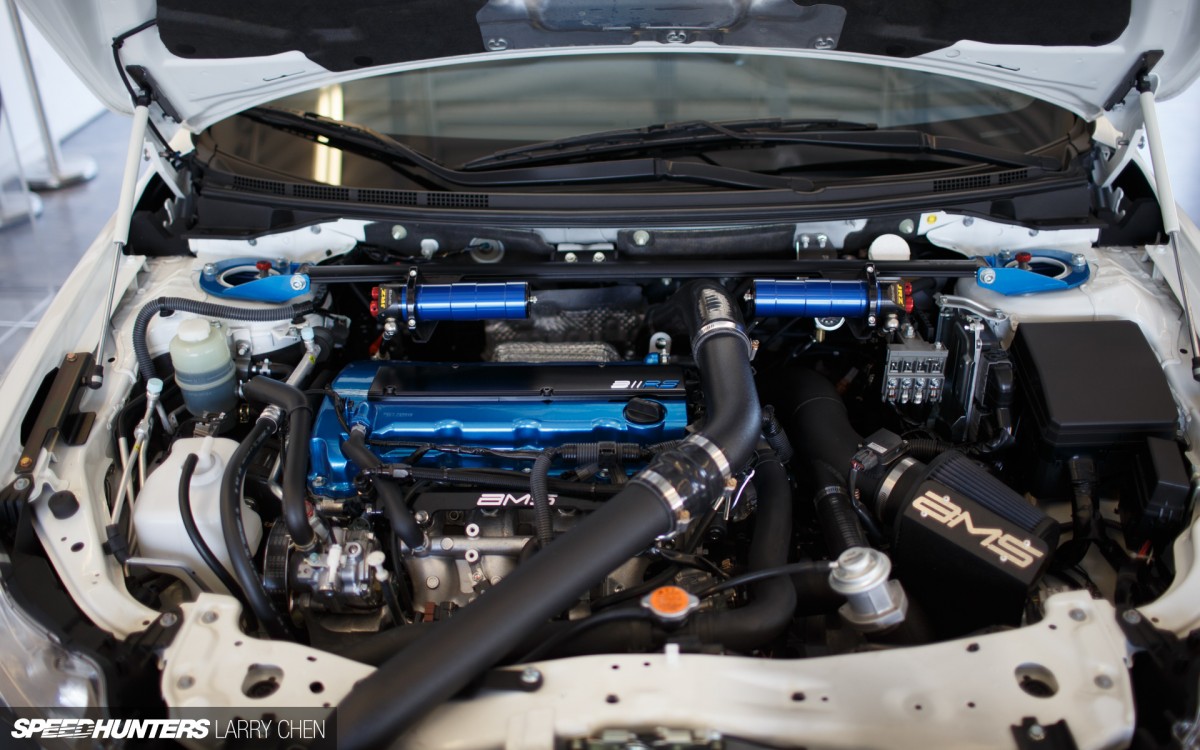 … while a peek under the bonnet reveals what's pushing the power their way. All engine components are supplied by AMS and in this particular car, that means a light stage one tune. An uprated OEM turbo, intake, intercooler, fuel system upgrade and engine remap sees a healthy 440hp at the wheels on race fuel, and 400whp on pump gas.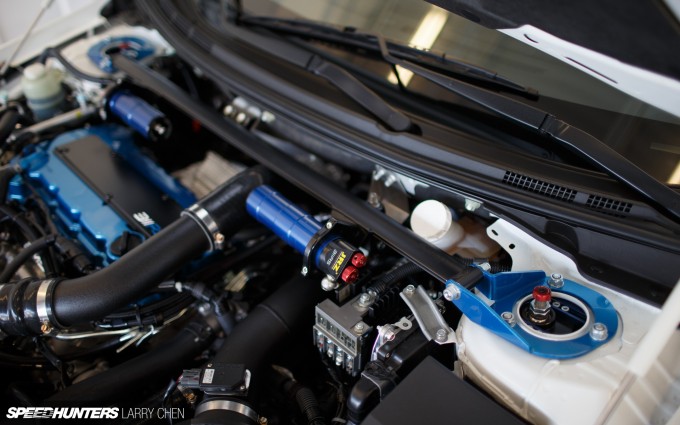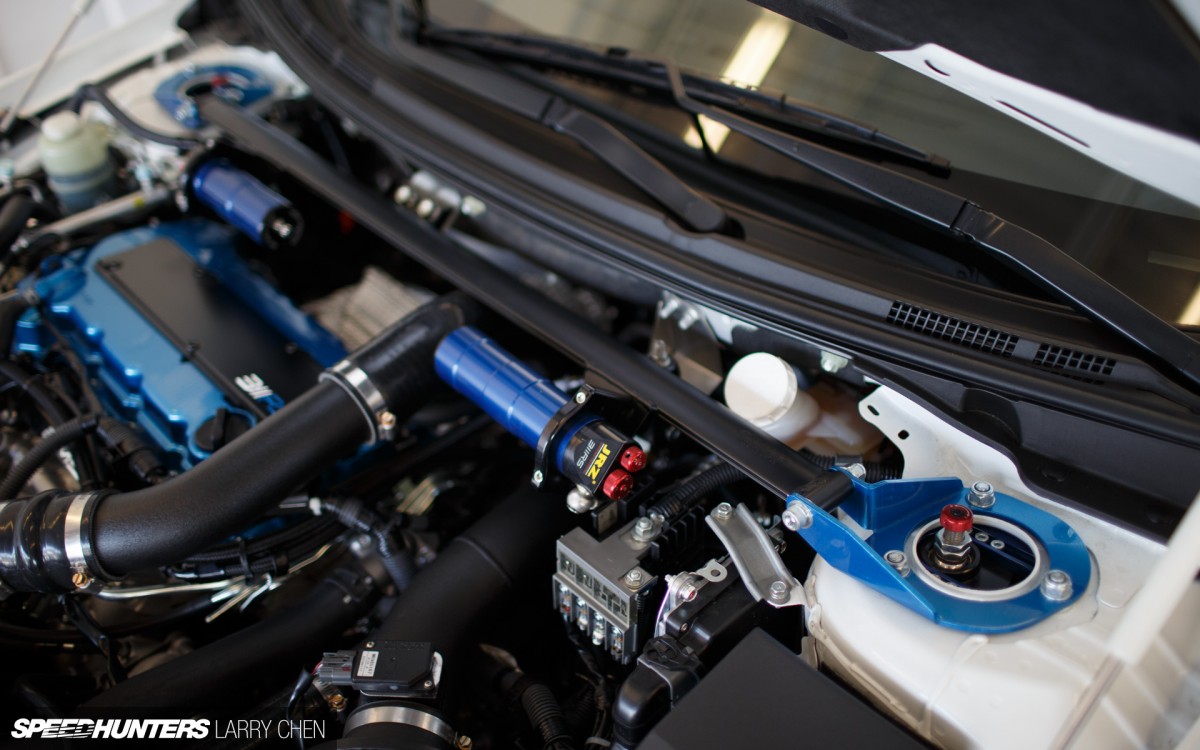 While the standard Evo X is no slouch in the handling department, much care and attention has been paid to the 311RS's tarmac-hugging capabilites. Each car features a full custom JRZ coilover set-up tailored especially for the car. This particular example is kitted with the top-of-the-range motorsport-based option of the 1231 which offers three-way adjustable damping, along with remote reservoirs and custom CNC billet top mounts. There's also Cusco front and rear strut braces, an uprated rear anti-roll bar, and a custom geometry set-up (including corner weighting), honed by Ryan's years on the track. This is the true focus of the car.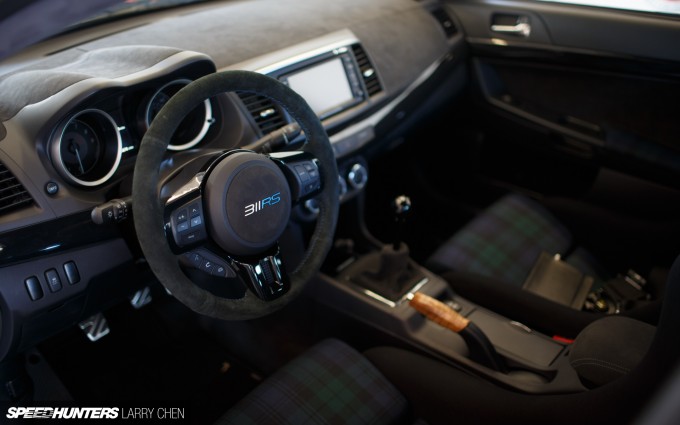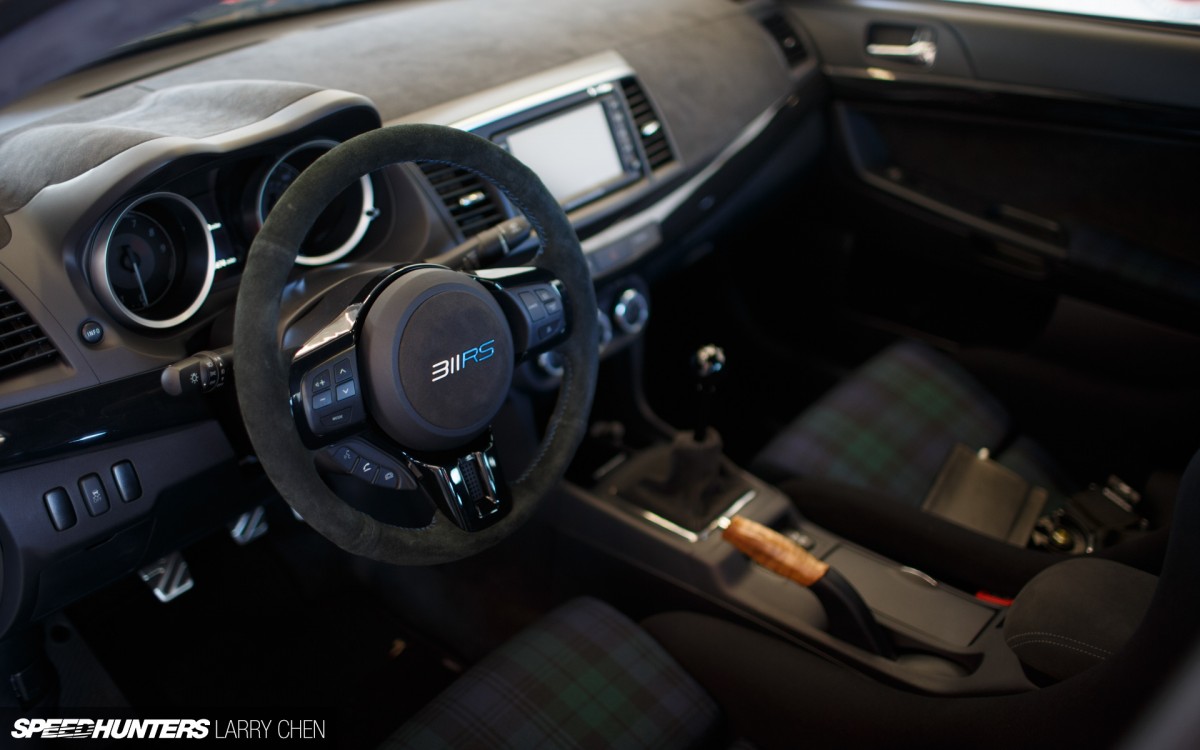 On the inside, the focus has been on improving everything you as a driver interact with, whilst taking some styling cues from classic sports cars. The simple ball-style gear knob takes influence from vintage Ferraris, whilst the carved wood handbrake is sculpted to the fit of your hand.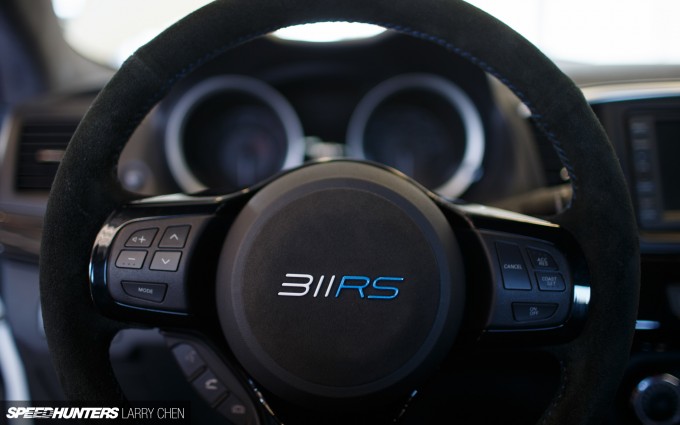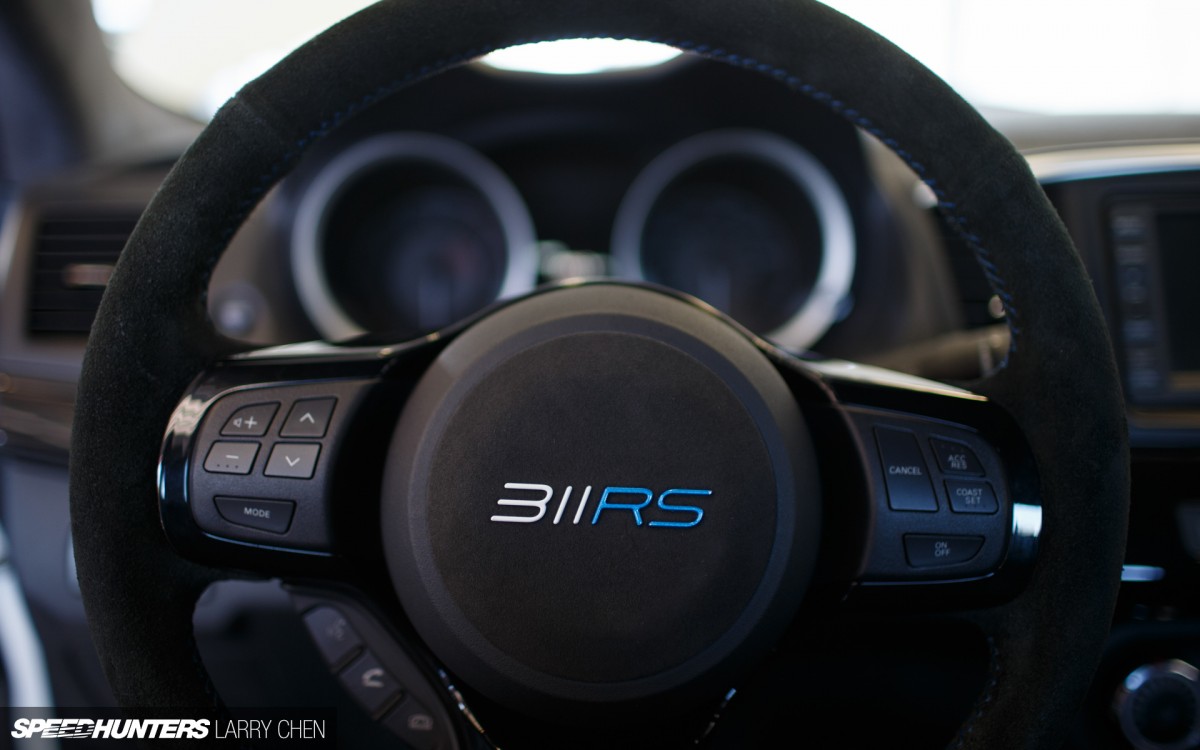 The steering wheel is covered in a hard-wearing material developed by skate shoe maker etnies called e-Suede, which provides great grip and also just feels damn nice. The rest of the dash and the head-lining is also covered in this tactile material.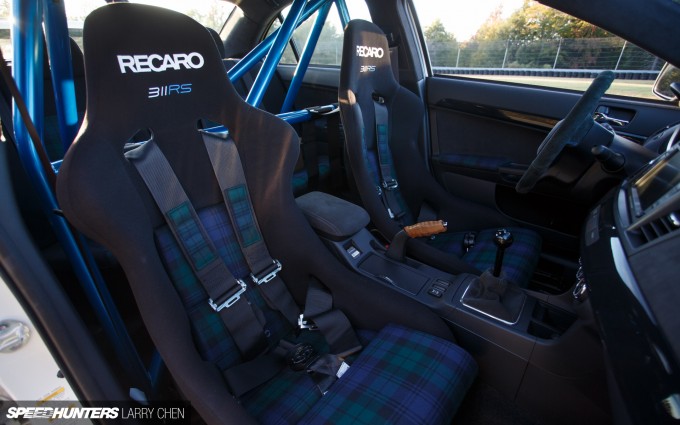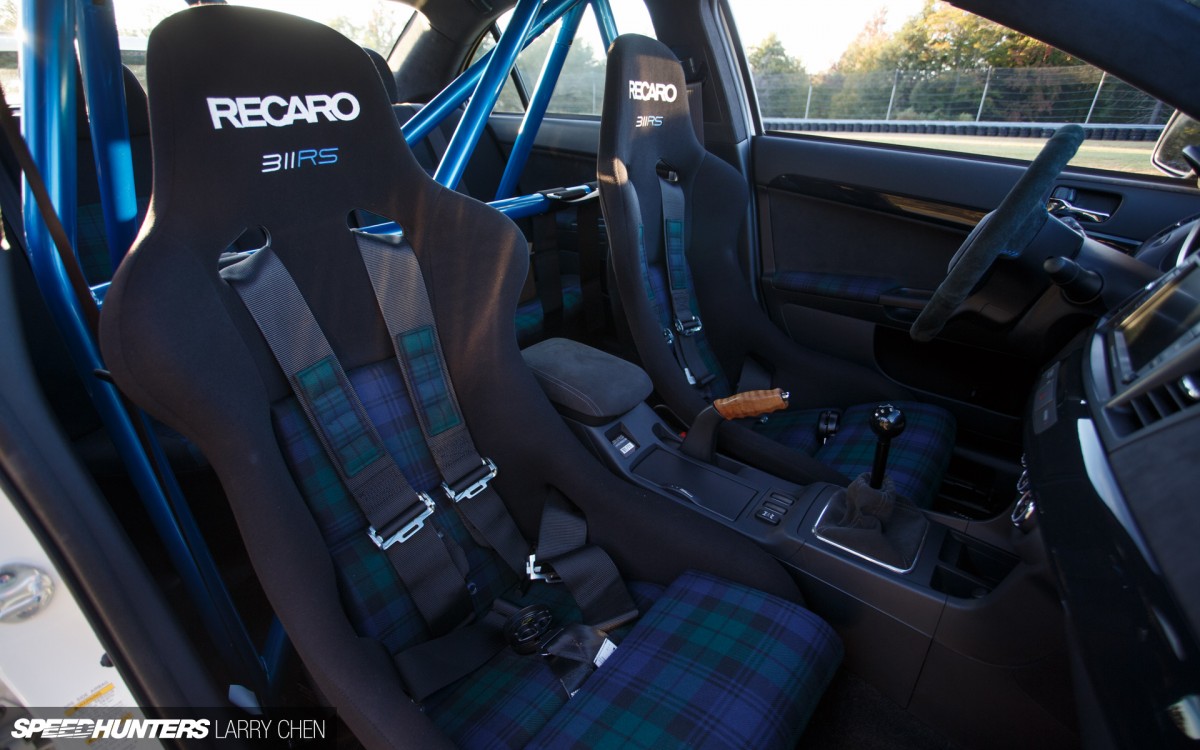 The Recaro Pole Position seats are trimmed with a Black Watch tartan insert (continued on the Schroth harnesses) and are surprisingly comfy. The tartan might not be to everyone's taste – it reminds me of older VWs, most notably the original Golf GTi – but they can be offered in plain e-Suede as well if a bit of Scottish flavour is not quite your thing.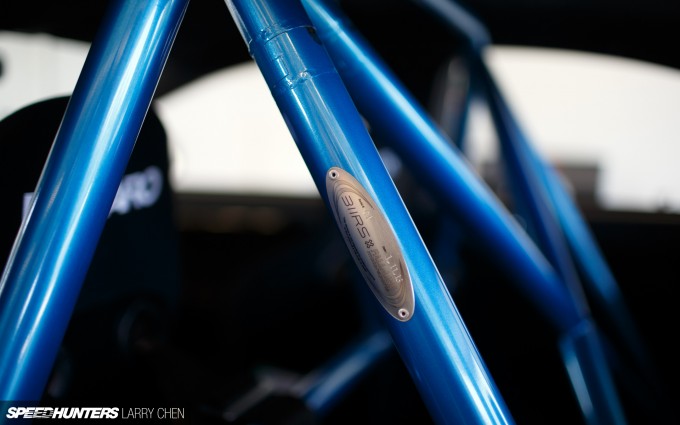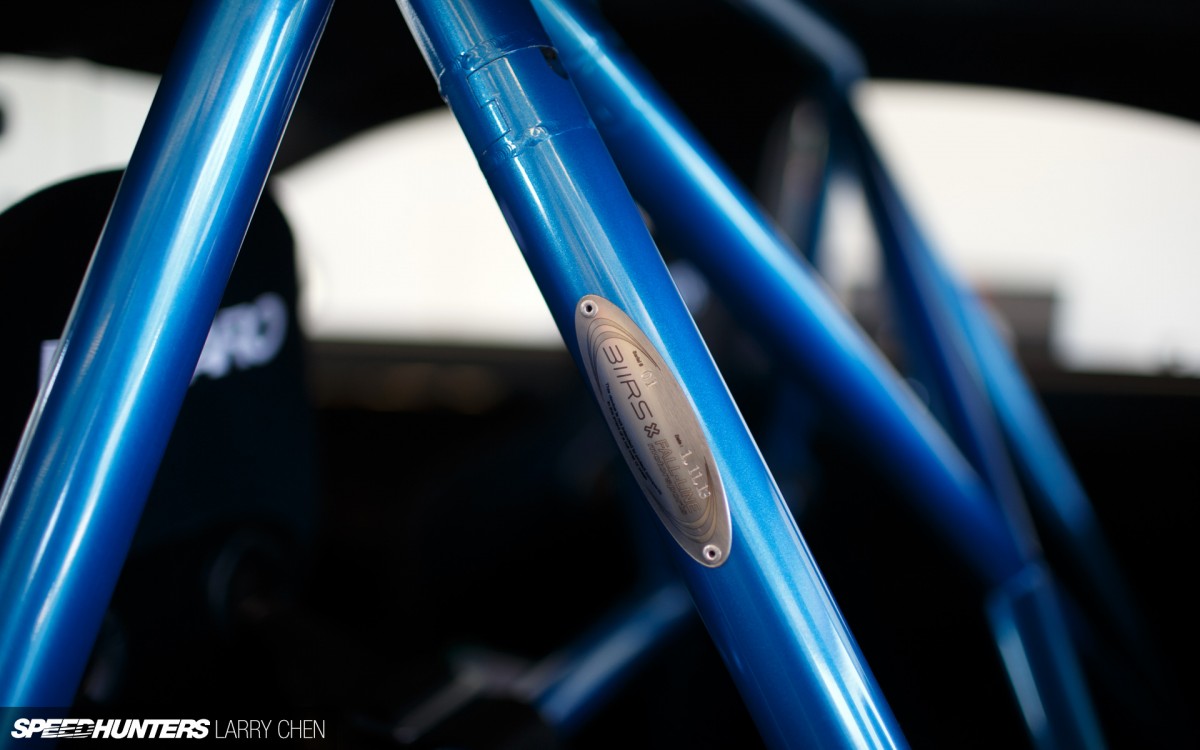 In the back, a bolt-in roll cage is painted in the same brilliant blue, and features a fire extinguisher neatly mounted behind the passenger seat and another symbol of the car's identity. The cage features sections that are easily removable too, so could be removed if you would want to carry passengers in the back. Although, from the perspective of an Evo owner with my back seat sitting in my office, I'm not sure why you'd want to do such a thing!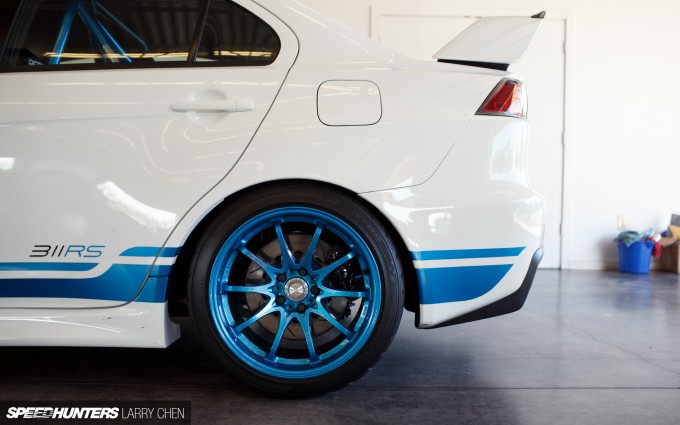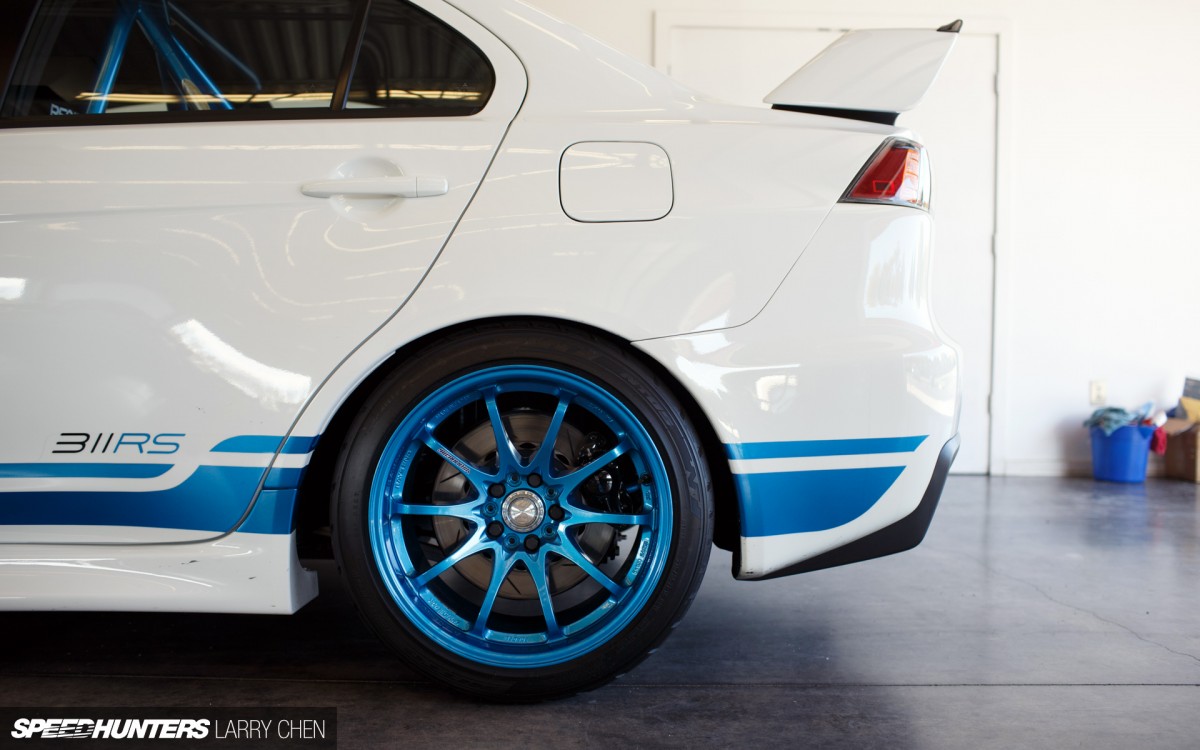 The car has also lost around 200lbs (91kg) just from the use of lightweight components and even comes with a warranty! That's right, Mitsubishi will still warranty the 311RS as normal – any non-standard parts are covered by a separate warranty with Ryan and the partners involved. So you get a modified car that's still under warranty. Now that I like the sound of!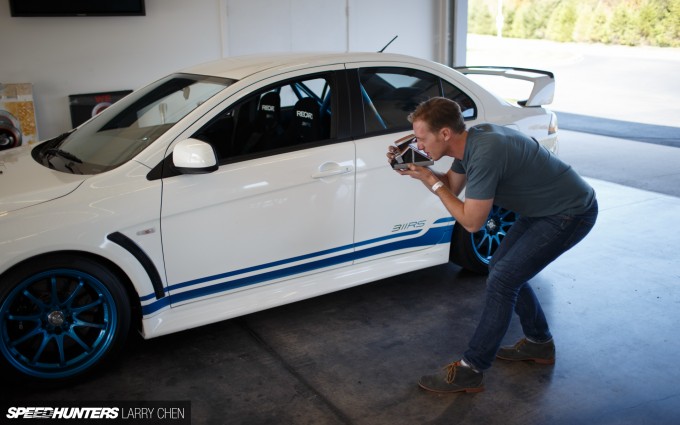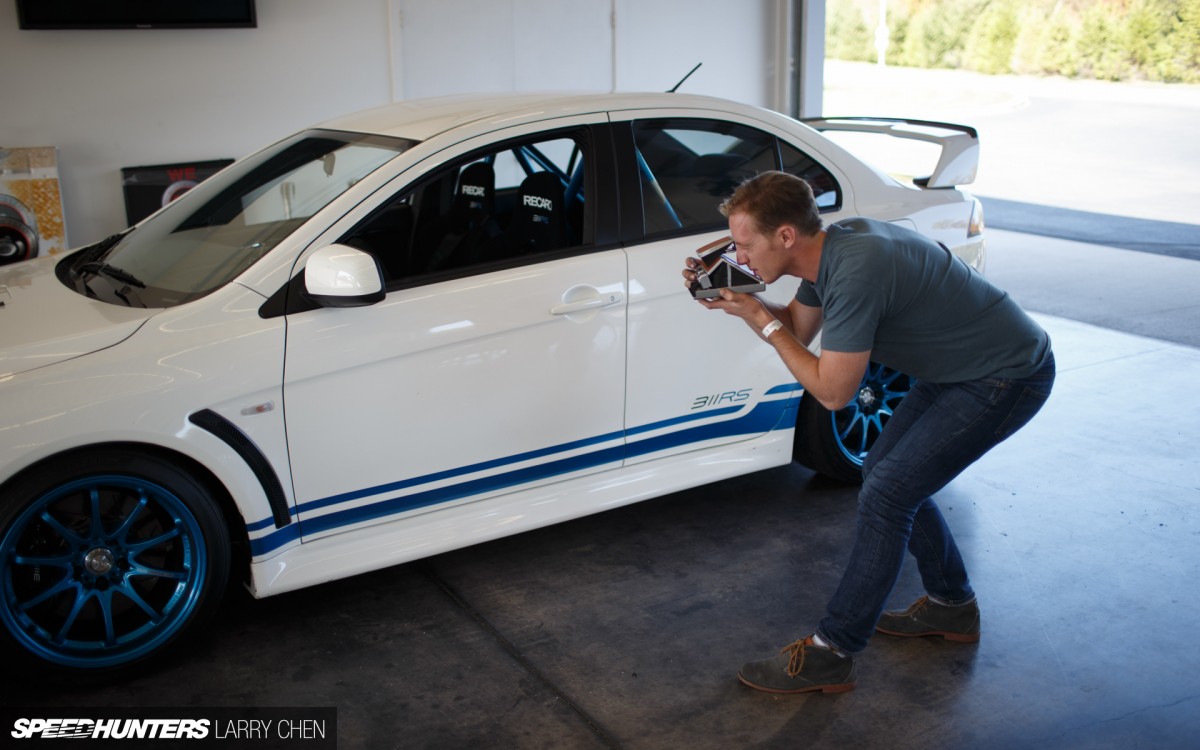 The downtime also gave Ryan some time to grab some snaps of the car on his vintage Polaroid SX-70 camera. Each car will be accompanied by a package of eight pictures of it taken on Impossible Project PX70 film – a unique art package to accompany the car.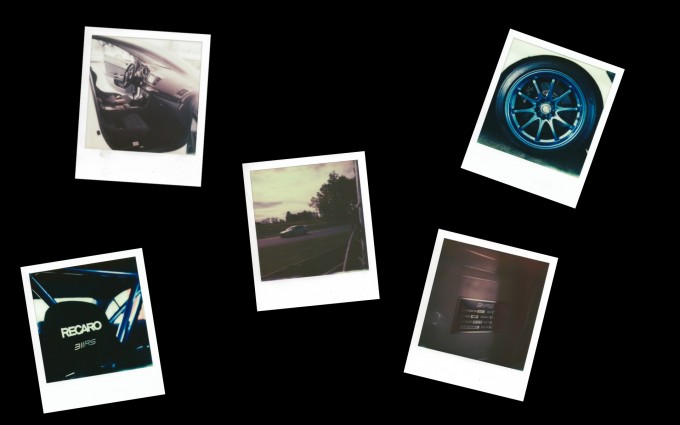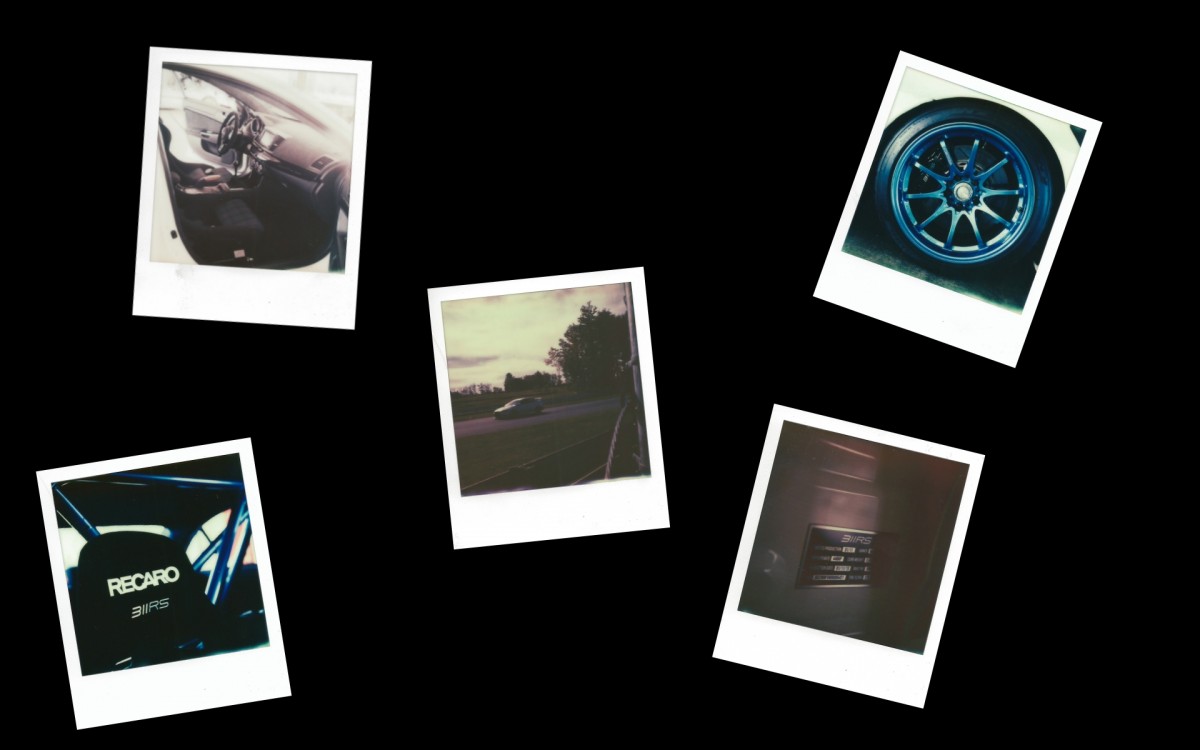 It's a really cool little touch – the Polaroid and choice of film, offer a certain style to the photos that you just don't get with modern SLRs. I know it especially appealed to Larry. Once Ryan has all of the cars delivered, his next step will be trying to persuade Mr Chen to do an entire Speedhunting feature in this format.
The driving force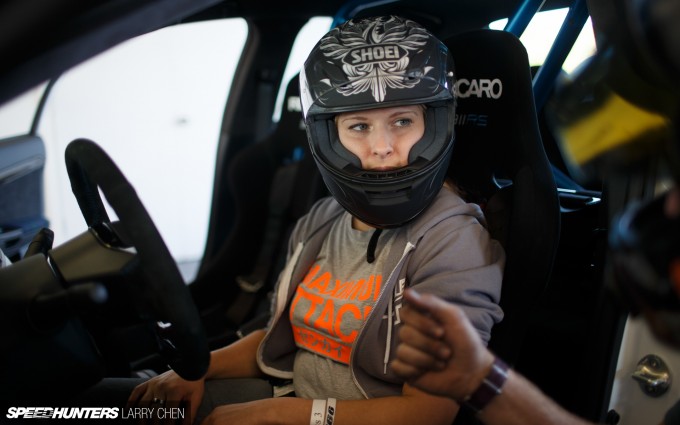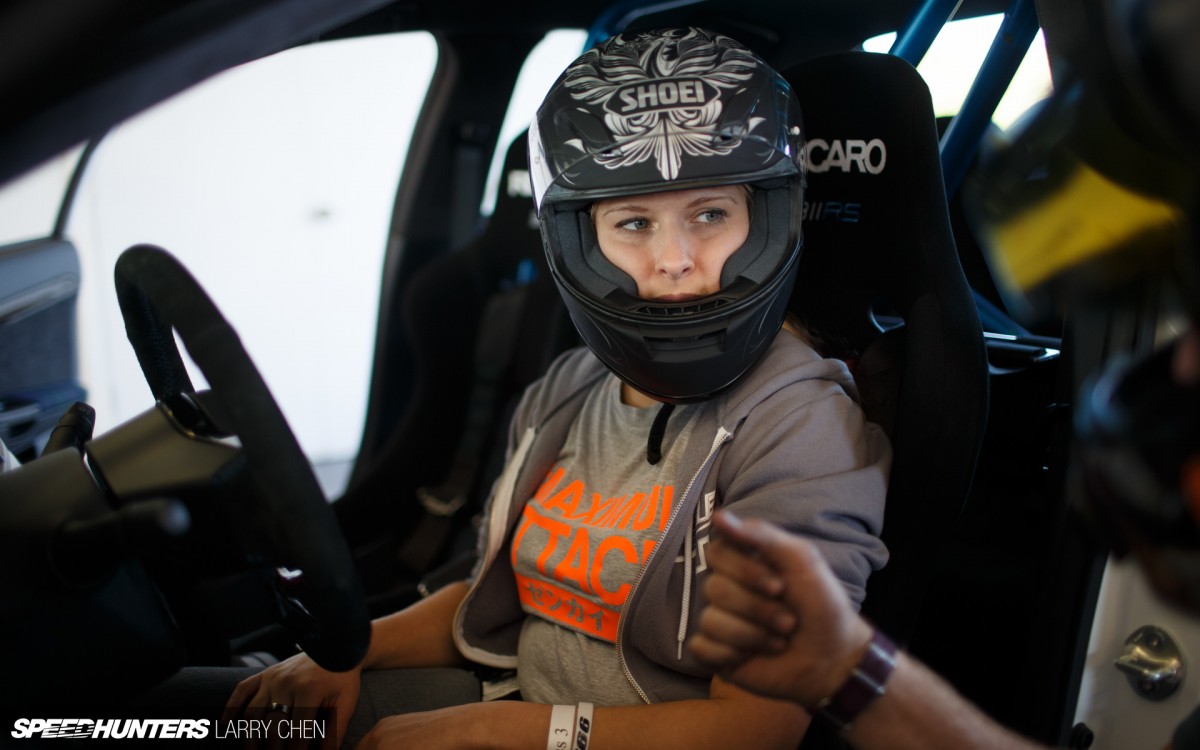 Enough looking about though – I'm here to drive. After a mere two laps earlier, I'm keen to get back on track and so, after Ryan disables the ASC for me, it's time.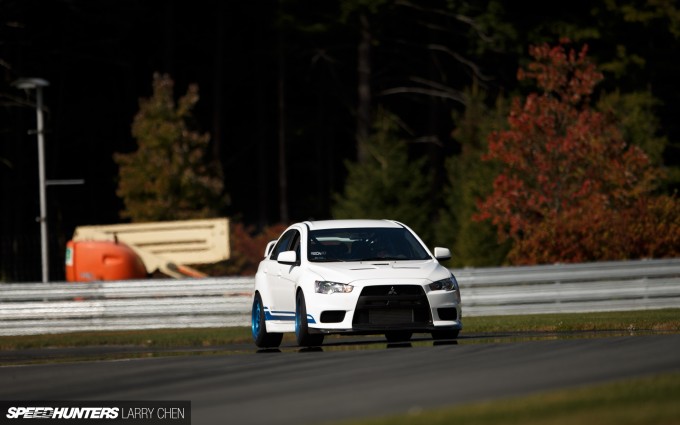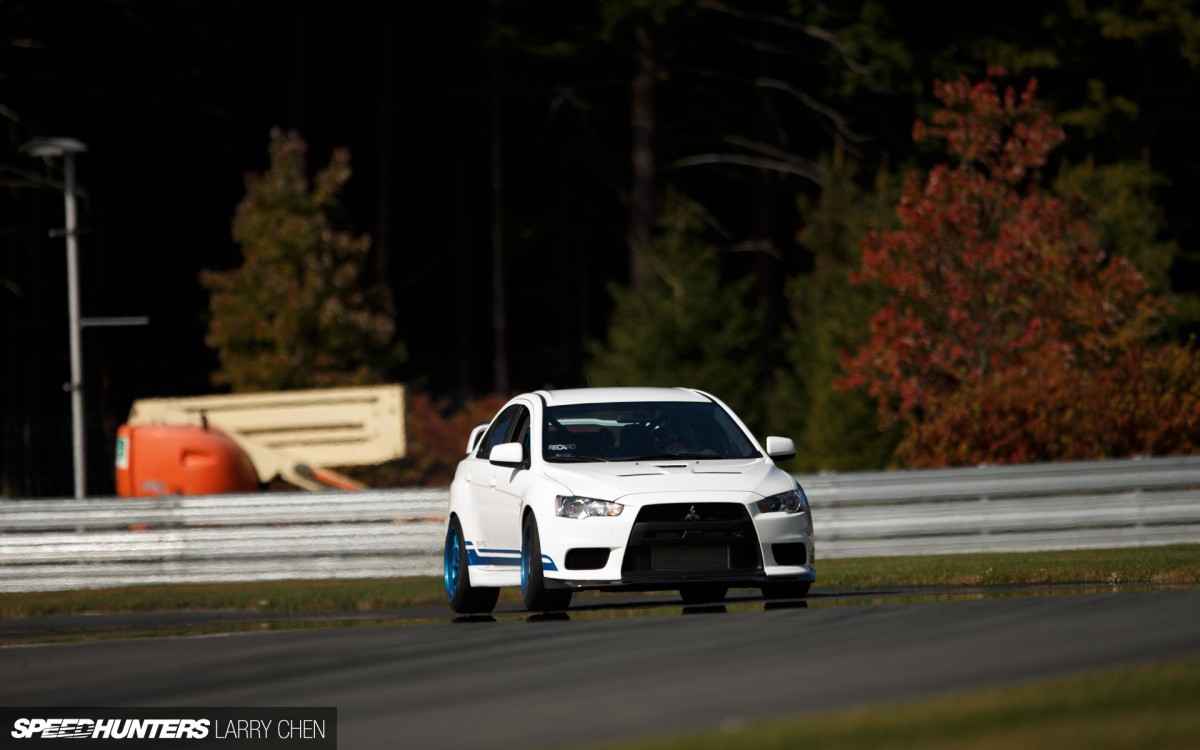 I gradually settle into the car, getting everything warmed up and then beginning to explore the car's capabilities. Despite the initial differences in feel, as soon as I start pushing on, everything starts to feel quite familiar. The biting point on the clutch is higher than in my car, the brakes require a more firm pressure to get the most out of them and the sensitiveness of the accelerator definitely took a bit of getting accustomed to in order to be able to hold a steady throttle round corners. But once I got past all that, underneath was a car that reacted in much the same way as my own.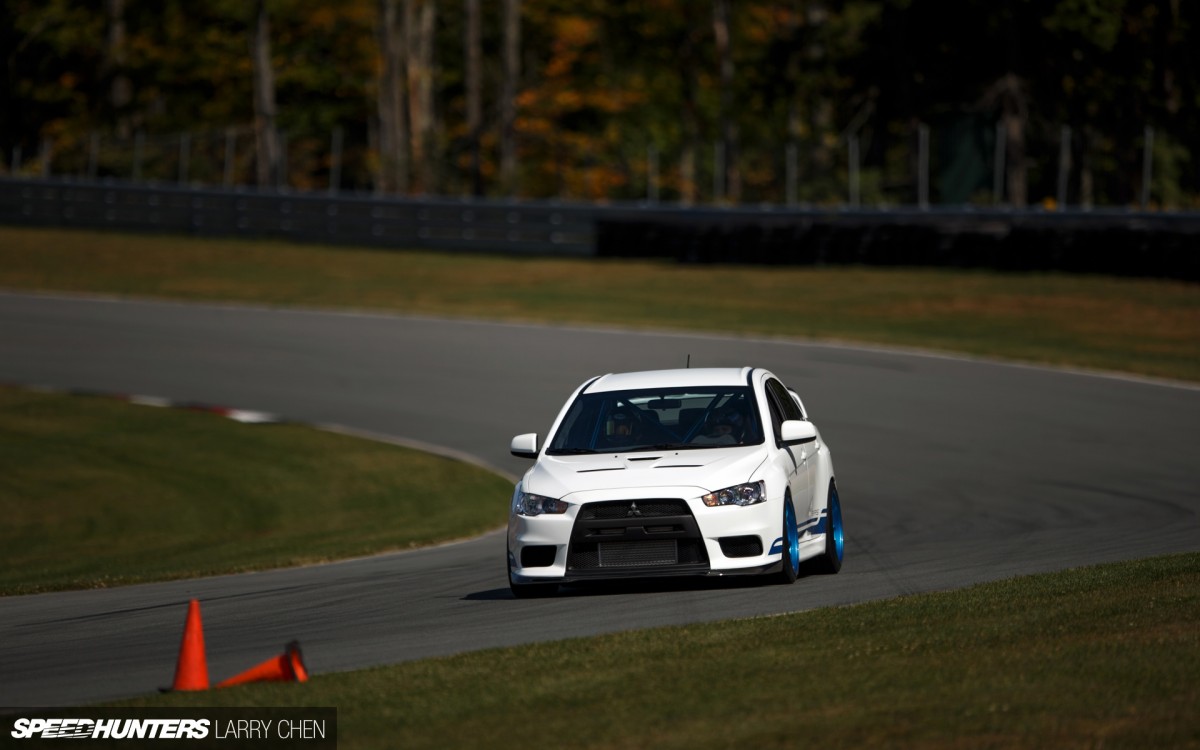 The car felt incredibly responsive – the quick turn-in was confidence boosting and it felt level and planted in the corners, only breaking loose a little at the rear on corner exit, which helps to combat the native understeer I know only too well. It might feel tighter and newer than my own car, but with 13 years separating them, I think that's only fair!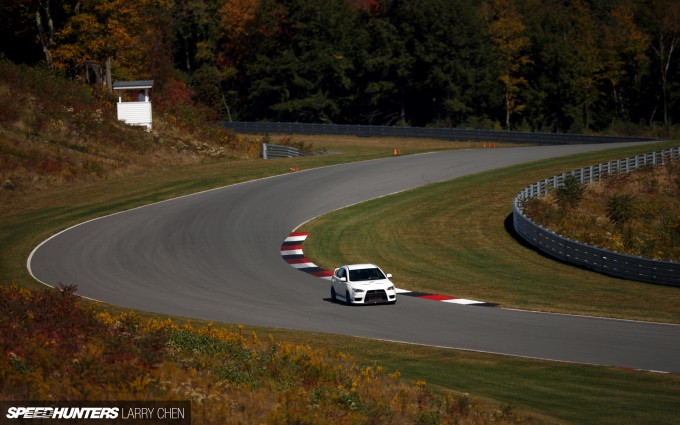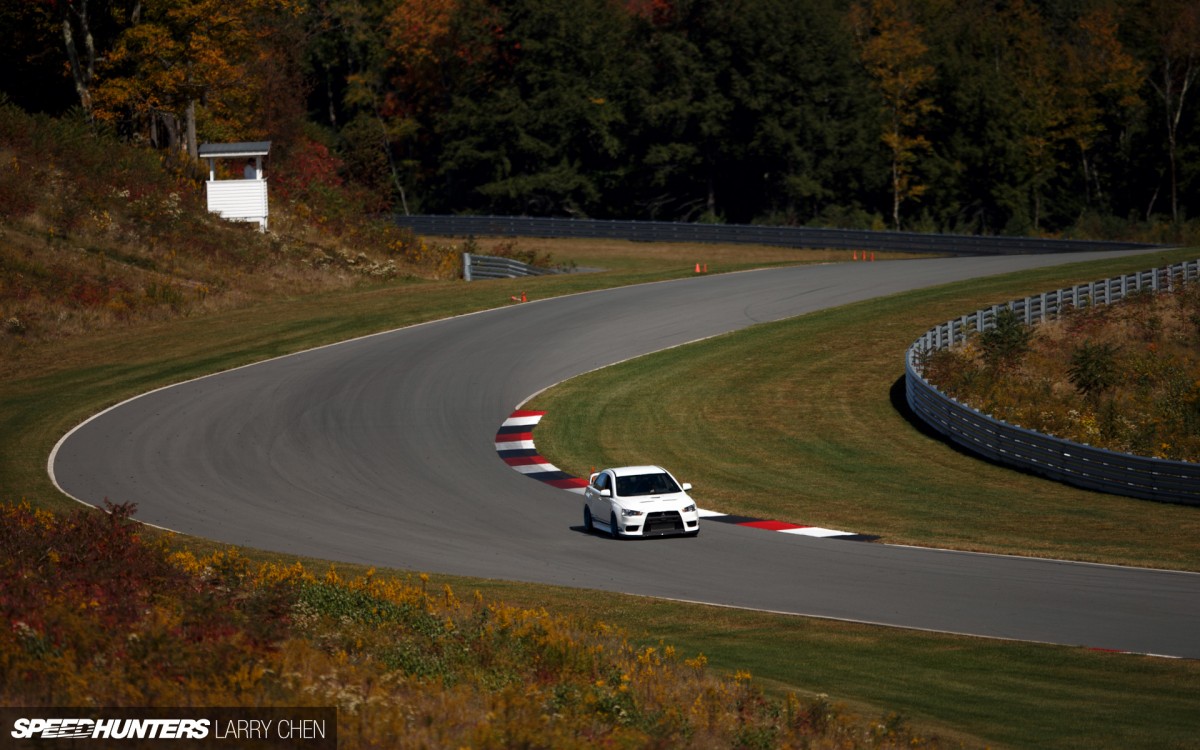 The long straight at the back really offered a chance to open the car up. There's a slight right-hand kink but it's taken flat out – at around 130mph if my quick glance at the speedo was not mistaken. At the end of it, there's an uphill right-hander, followed by a tight left-right combination that's almost blind on approach, then falls away over the crest with an off camber right sweep. At first I'm nervous of it – the exit of the final right-hander is where I dropped a wheel in the hire car. By the end of the session, I'm enjoying it hugely – slamming the brakes on, bringing the car down to fourth, then third, turning into the right-hander, then quickly piloting it through the left-right twist, feeling the rear break away a little on the exit and running the car out to the kerb.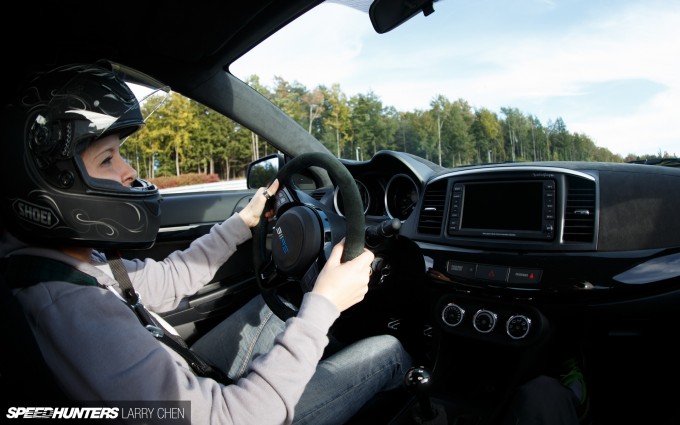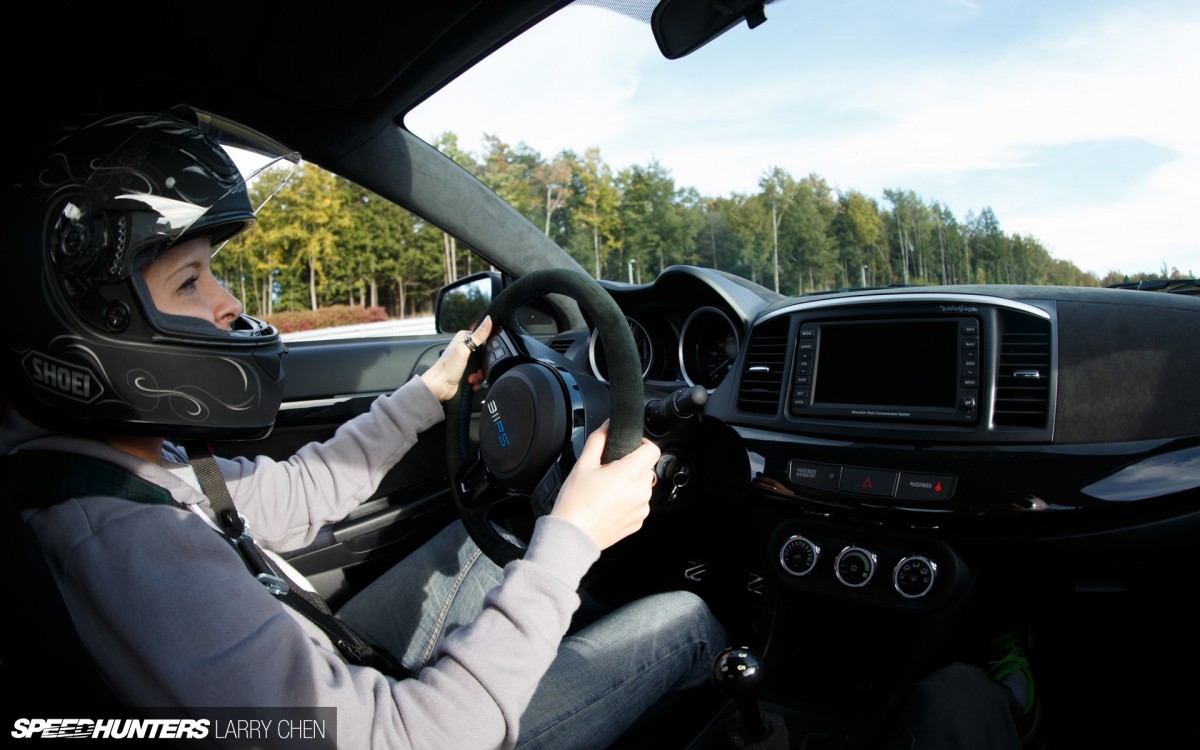 By the time the session was finished and I came in, I was grinning like an idiot. What I love about the 311RS (and indeed my own Evo) is just how much fun it is to drive. The car really encourages you to push on and despite just running on road tyres, just relishes being chucked around in the corners. The combination of a brilliant set-up and just the right amount of power means that this is just about the perfect road/track toy. You could drive it to the circuit, have an absolute blast going round all day, embarrassing far more expensive machinery, and then drive it home in perfect comfort.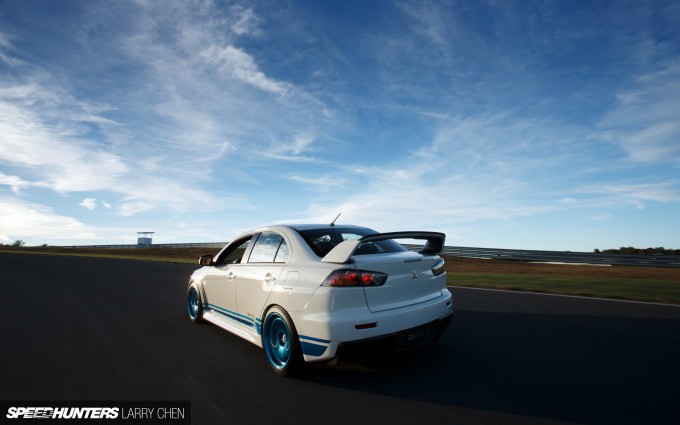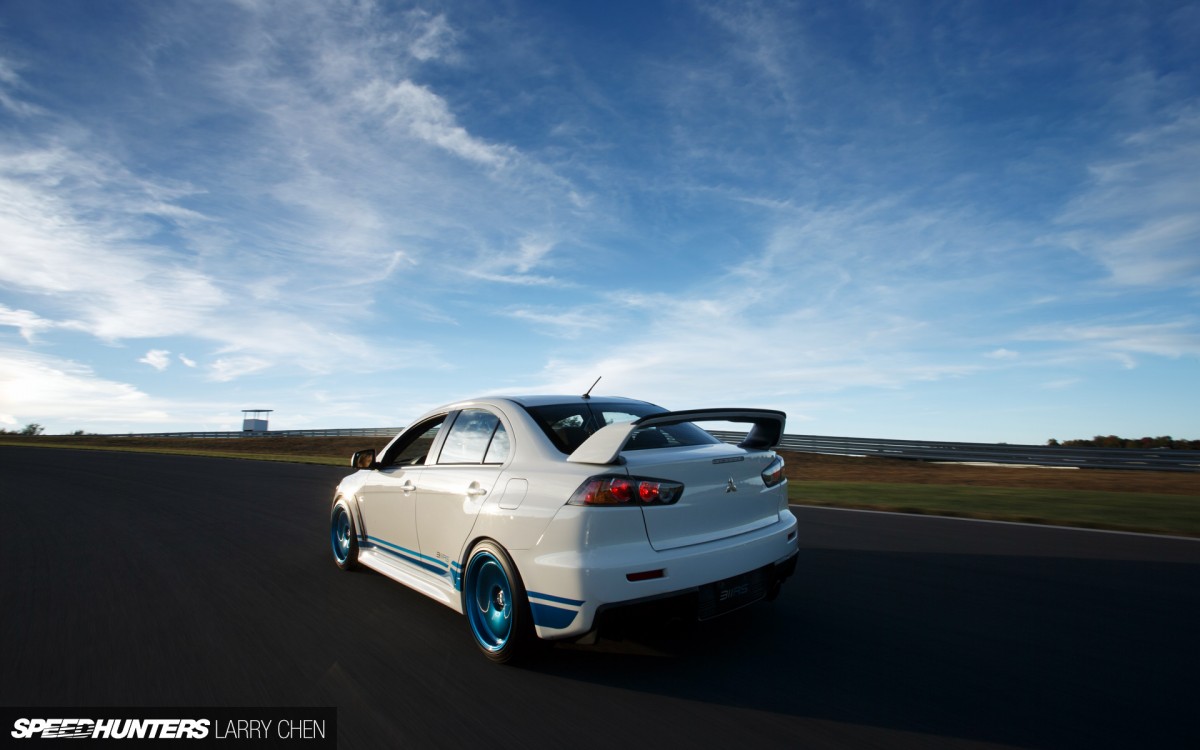 It's a car that's tailored for the driving experience, and while it's very dialled in on track, that doesn't compromise on its behaviour on the road either, every component working in sync to provide a huge dollop of enjoyable potency.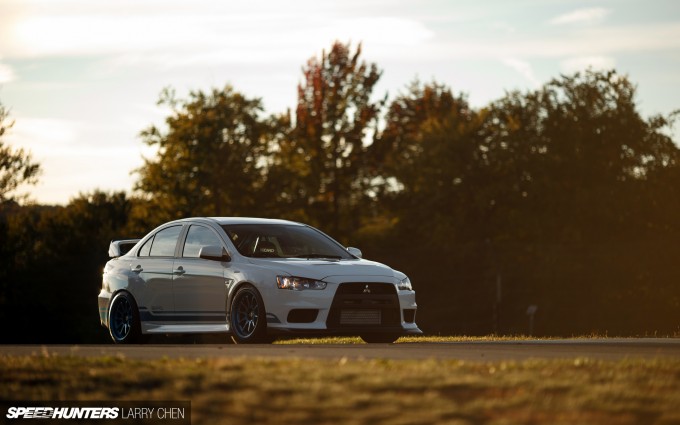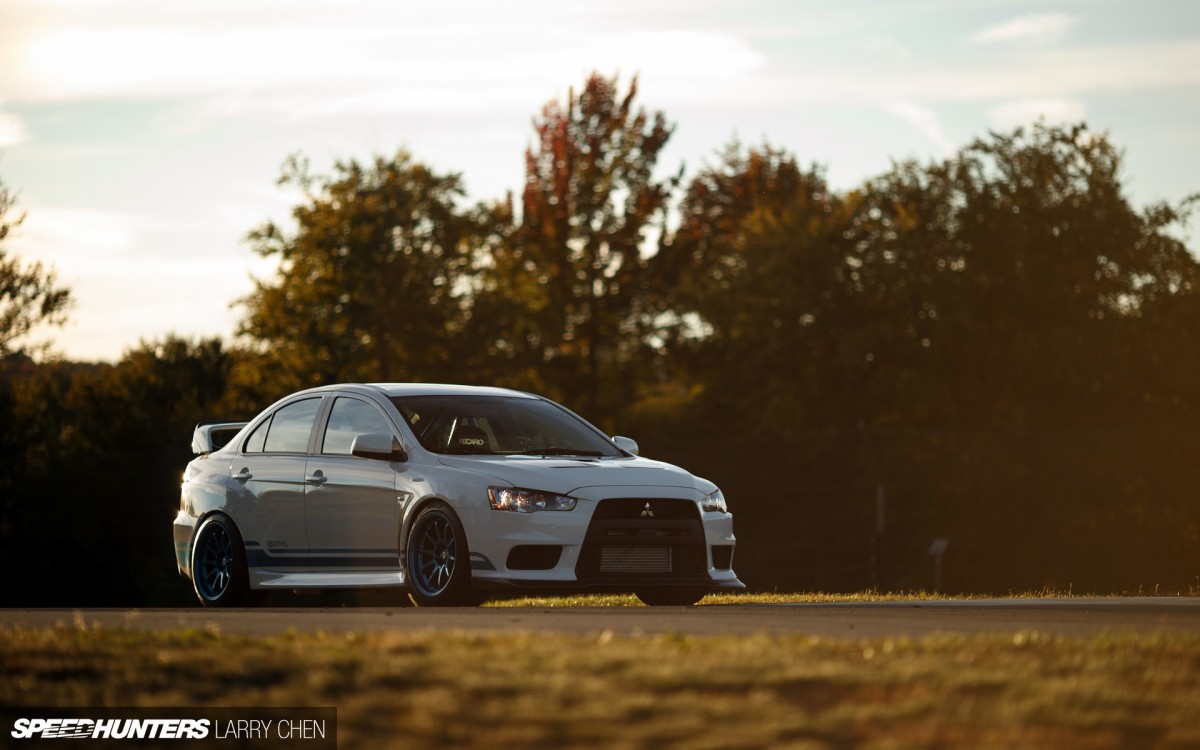 It's safe to say the 311RS struck a chord with me, and it's not just because I own a car wearing the same badge either. It's unique but understated, potent but practical – it's everything I've come to love about the Evolution brand. And then some.