An event to remember
A crash is nothing new in drifting. Body parts get damaged, tie rods are bent and battles are lost. The two drivers involved in this particular incident have accepted it from the beginning: there will be crashes that you just can't avoid. The AE86 entered the corner with too much angle, its tires were way over the limit of adhesion, and for that brief moment in time the two drivers were along for the ride, waiting for their cars to come to a rest. There are things that you just can't predict. That's what makes drifting so interesting.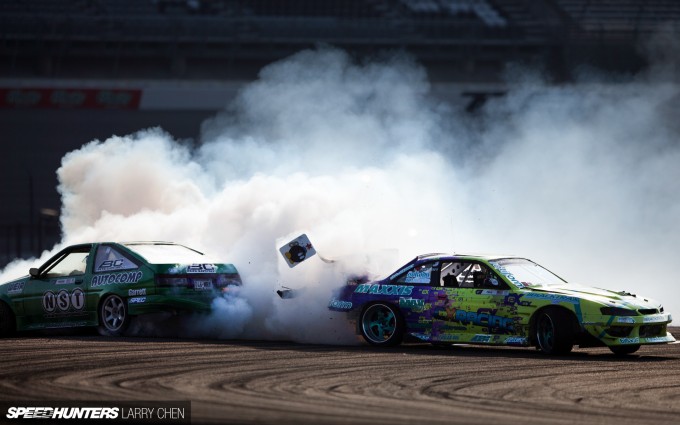 It was surreal as I watched it happen through my lens, while my finger pressed hard on the shutter release. It reminded me of seeing jousting in the movies, but instead of wooden lances breaking into a million pieces it was carbon fiber and fiberglass bits flying everywhere.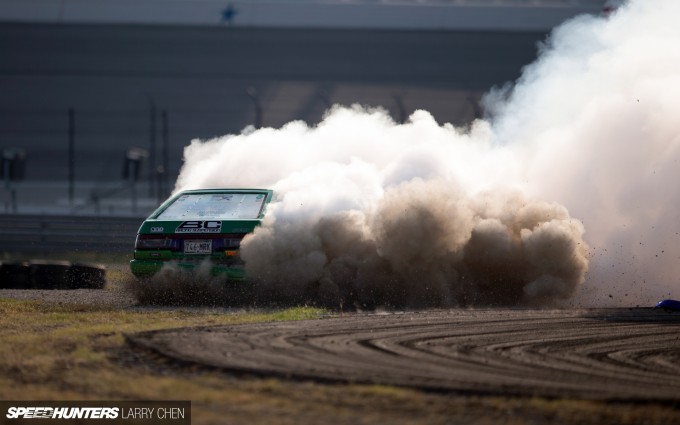 Piloting the ill-fated AE86 was privateer Will Parsons. What was he thinking at that moment? I'm sure he could not see a darn thing. What about his opponent? What was Matt Field thinking as he clipped his rear end?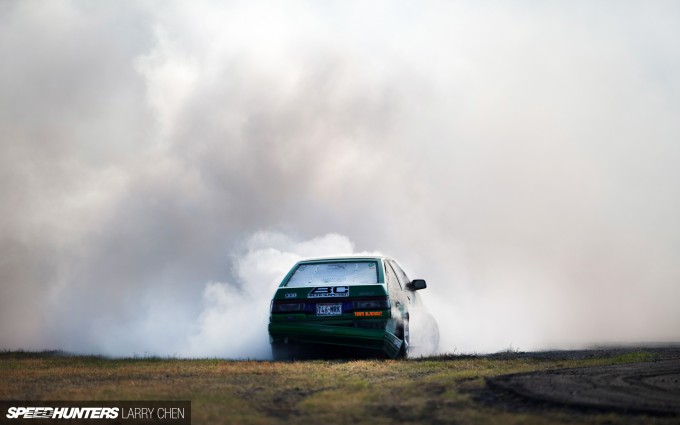 A split second later the AE86 came to a stop. Tire smoke bled out of the many orifices of his battered Toyota Corolla. Hopefully one day the little green monster will drift again, but today the battle was lost – and spectacularly, might I add.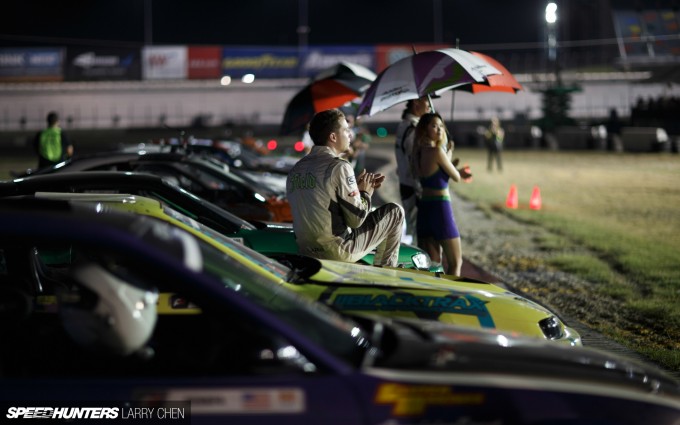 Formula Drift Texas was an event to remember. Privateer Matt Field would move on to earn his very first podium.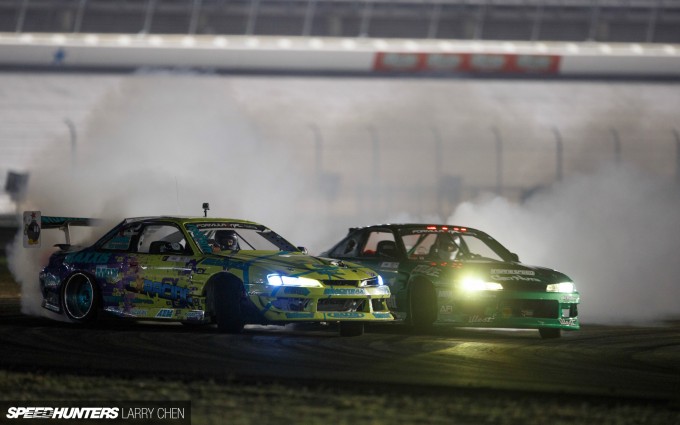 It's easy for all of us drift fans around the world to say that we saw it coming. Heck, he shocked the drifting world when he battled toe to toe with Daigo Saito almost one year ago at the Formula Drift Finals in Irwindale.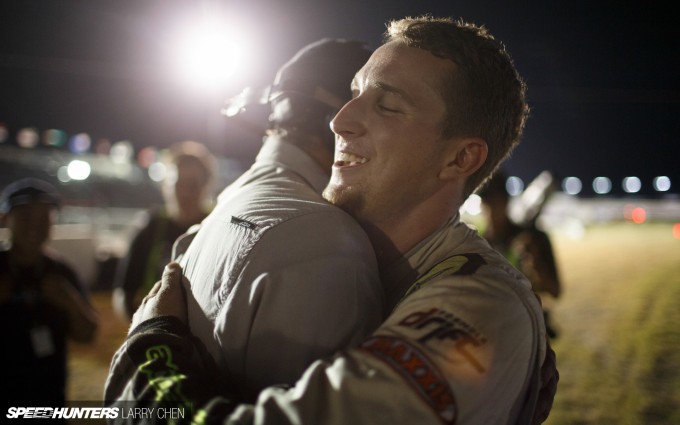 After a long-fought battle while developing his supercharged LS-powered S14 for three years, his dream of getting on the podium has come true.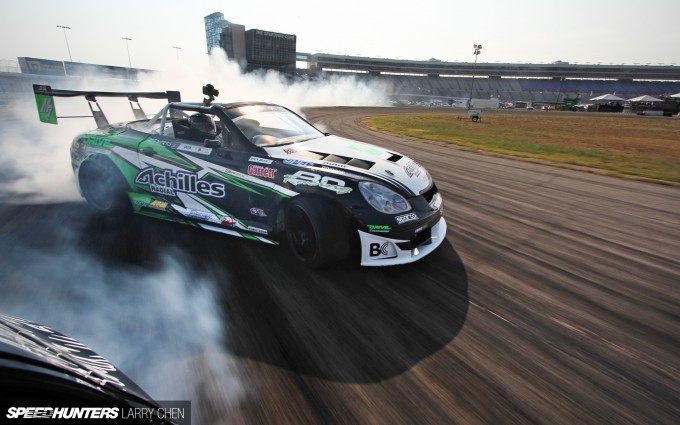 At the same time, dreams were crushed. Daigo Saito came into this year looking for a second championship and he came out swinging.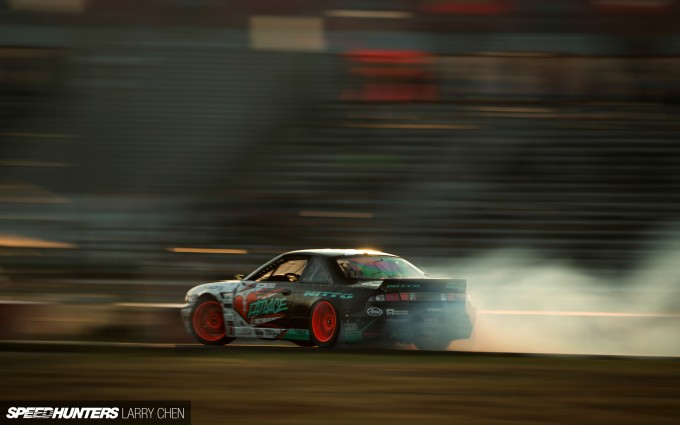 He would meet with our good friend Matt Powers in the Top 32. If Daigo wanted to take the title once again he would have to secure a podium. Matt drew the short straw qualifying as high as he did, as usually it means that you face an easier opponent.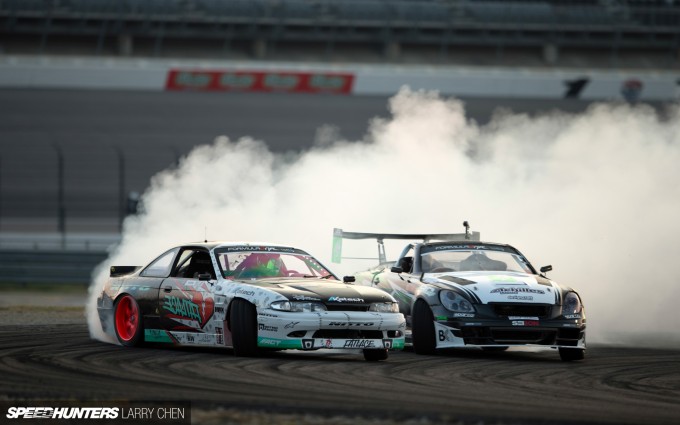 The two titans has met before in battle last year in Long Beach and the win went to Daigo Saito.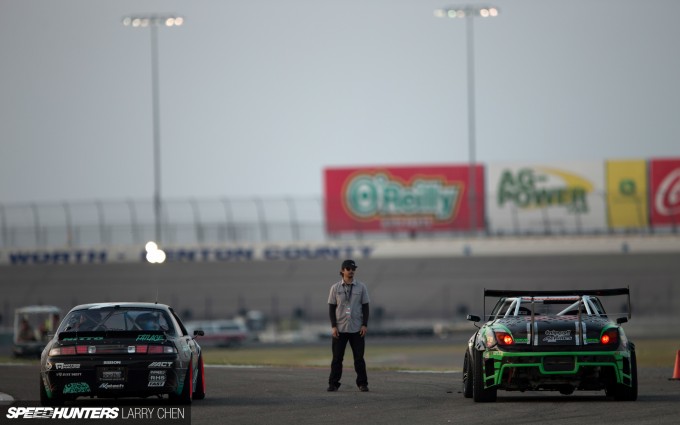 Daigo ran into electrical problems and his car shut off while mid drift forcing him to straightened just for a split second, gifting Powers the win.
Powers to the people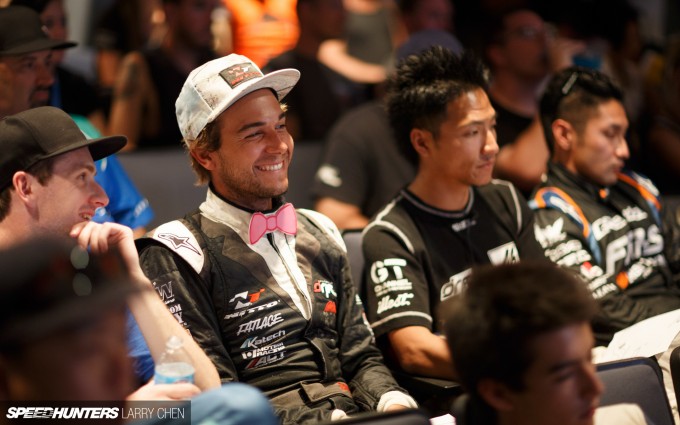 I spoke with Matt, and even though he won, he was not happy with his performance.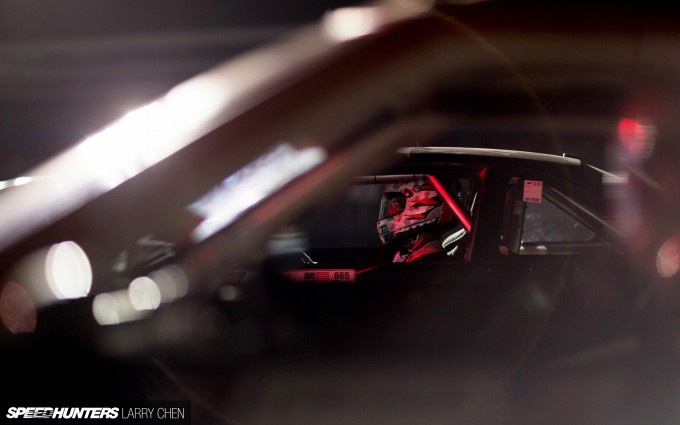 He hated winning by default, he wanted to win legitimately – although a win is a win, and he was a part of changing the course of the championship. Now Daigo Saito is 80 points behind first place going into Round 7 at Irwindale.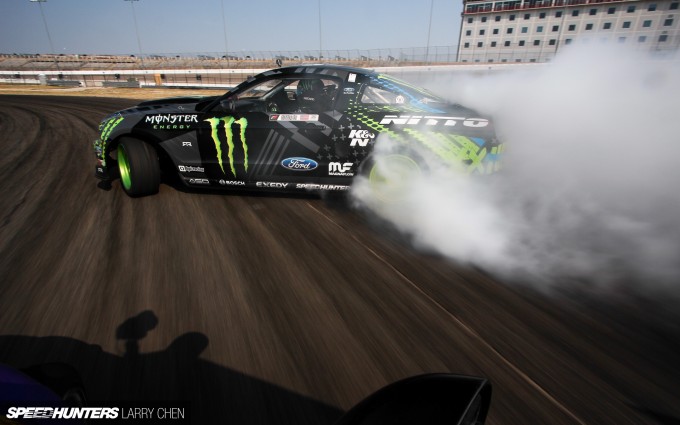 Right now there is a six-way battle for the championship, mathematically speaking. Vaughn Gittin Jr is only half a point closer than Daigo to earning his second championship, at 79.5 points behind first place.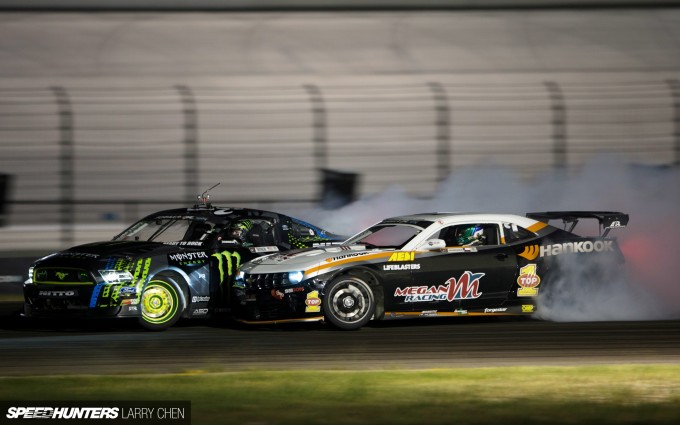 His battle with Conrad in the Top 16 was epic to say the least. I awarded Conrad with the Speedhunters Battle Of The Event for his aggressive style. The crowd went absolutely nuts when he touched Vaughn's door.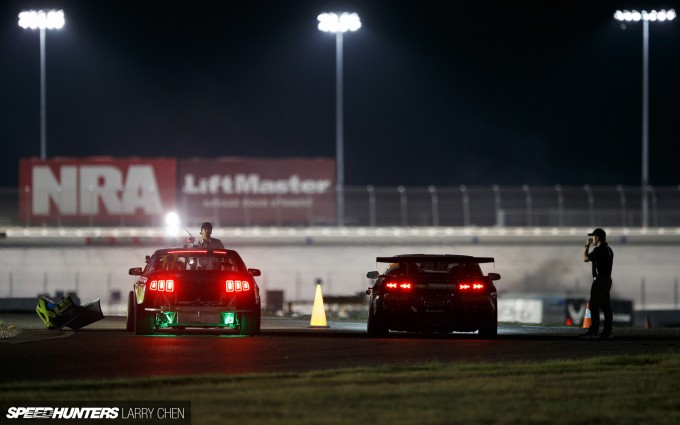 The Bow Tie versus Blue Oval battle would go One More Time, but the win was given to Vaughn by just a slight margin.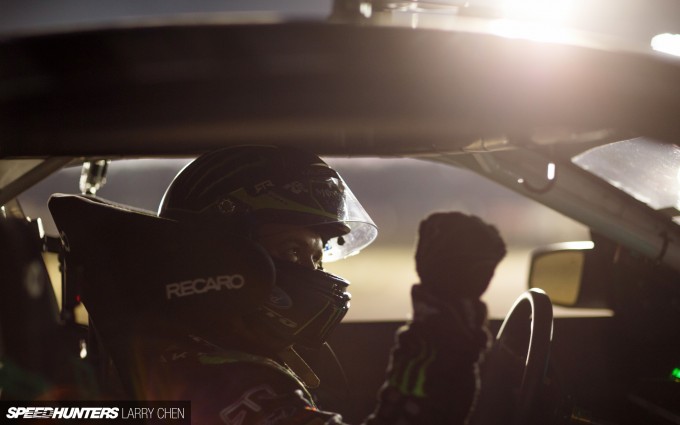 Vaughn's celebration was cut short as he was protested in his Top 8 battle, which would have pitted him against Matt Field in the Top 4 for a spot on the podium.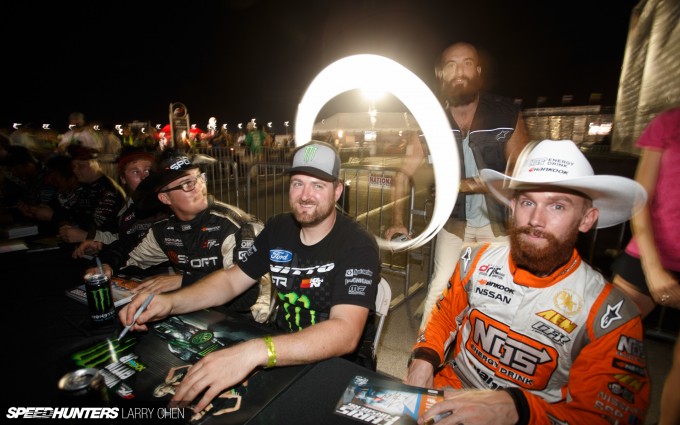 The Monster drifter has been competing in Formula Drift since day one. That means he has been to all 66 Formula Drift competitions. Even though he has had a bit of a rough year this season, he is still all smiles. Stay tuned for an interview I did with Vaughn as an informal follow-up to my previous interview.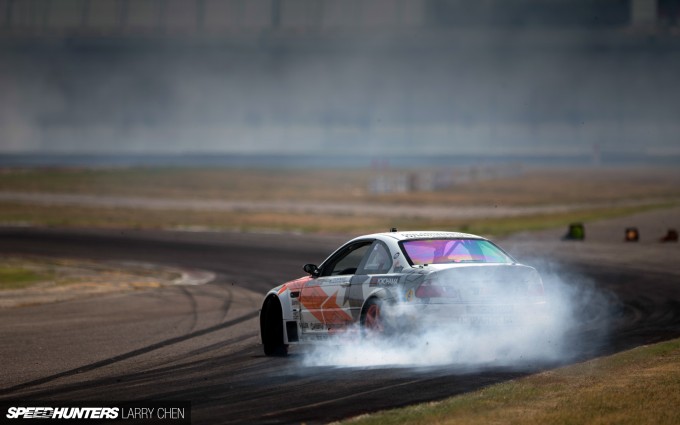 The big story of the season of course is Mike Essa, with his breakout performance this year in a brand new E46 Chassis.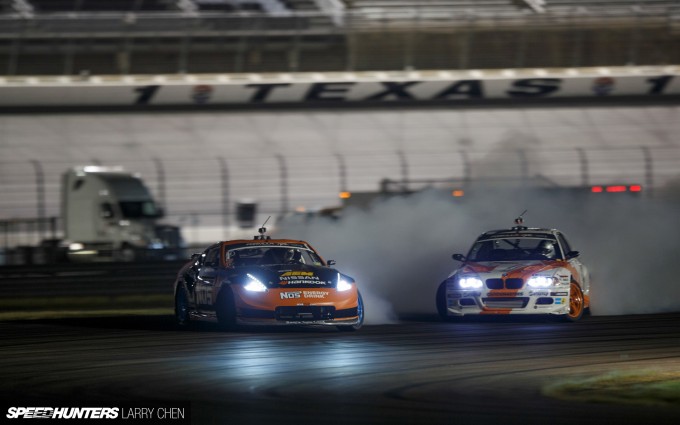 He took the lead in the championship from Chris Forsberg after beating him in the Top 4 bracket. What's amazing was the fact that they have met six times before and Chris knocked him out each time except for one time, in Palm Beach this year.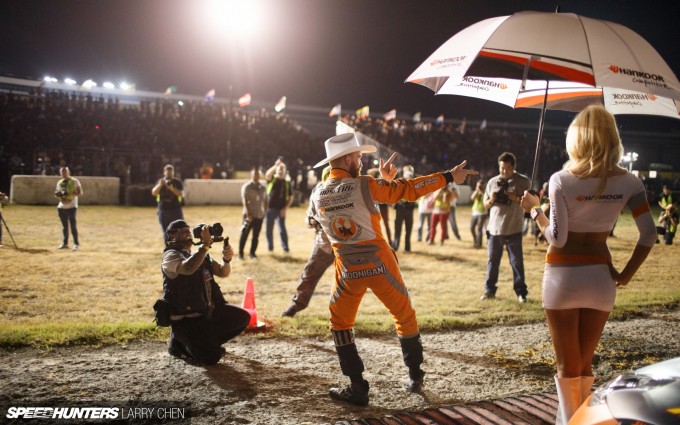 Of course Chris was no slouch either, as he had quickly adapted to the high speed Texas course.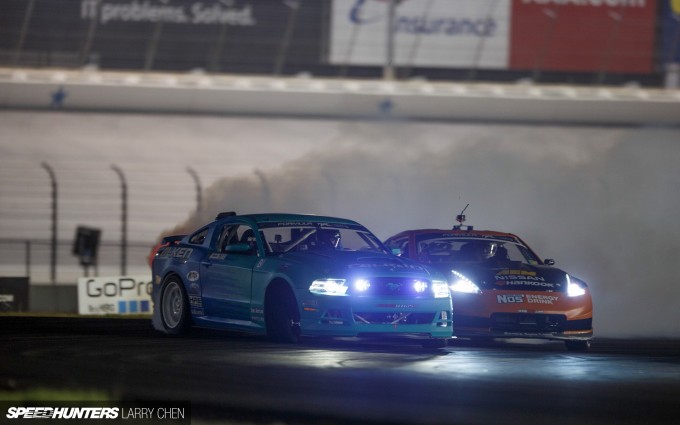 His side of the bracket was super stacked, as he met Justin Pawlak and Daijiro Yoshihara before getting in the Top 4.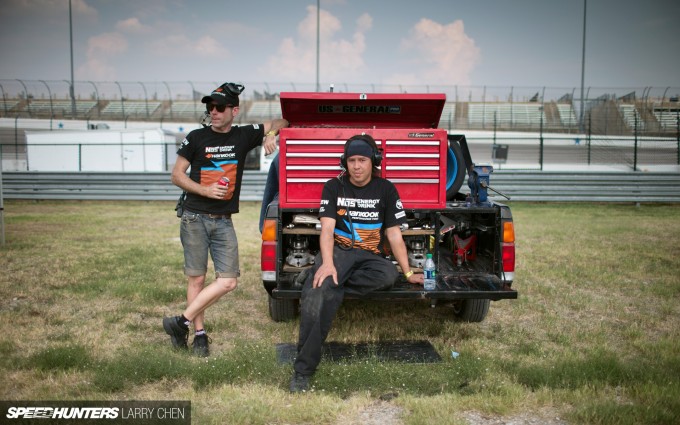 Chris and his team were in good spirits going into Round 6, as they had the lead by a few points. Not even a few minor mechanical issues phased him during qualifying.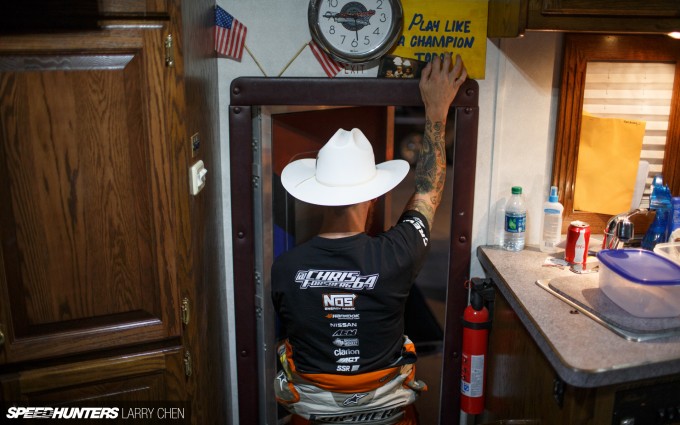 Chris always taps his lucky charm as he exits his trailer going into battle, and it seemed to have worked for the most part – although he will need all the luck he can get because the race for the championship is super close. He is in second place.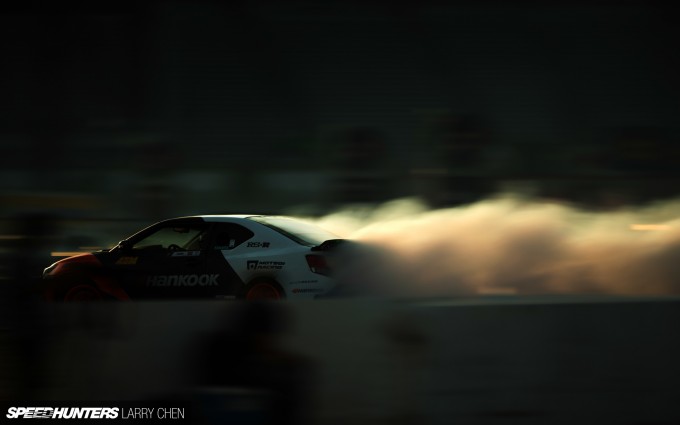 Currently in third place is our very own Fredric 'The Norwegian Hammer' Aasbo. He was fifth place going into the final round the year before, so it seems like he is getting closer and closer to his first championship.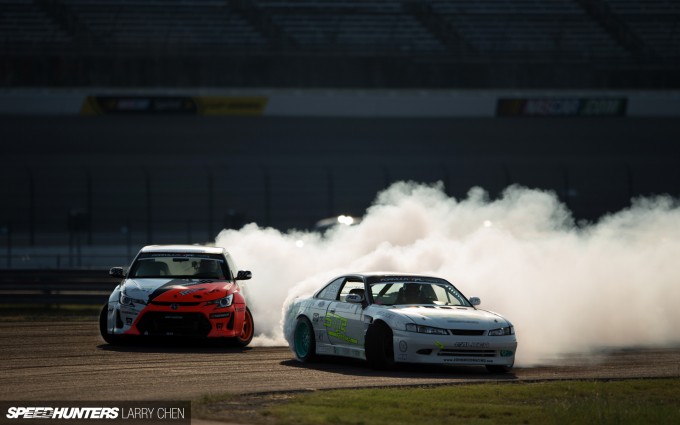 The weekend started out with a bang for Fredric as he qualified second with a 104mph entry speed. He easily moved onto the Top 16 going up against rookie driver, Chris Jeanneret.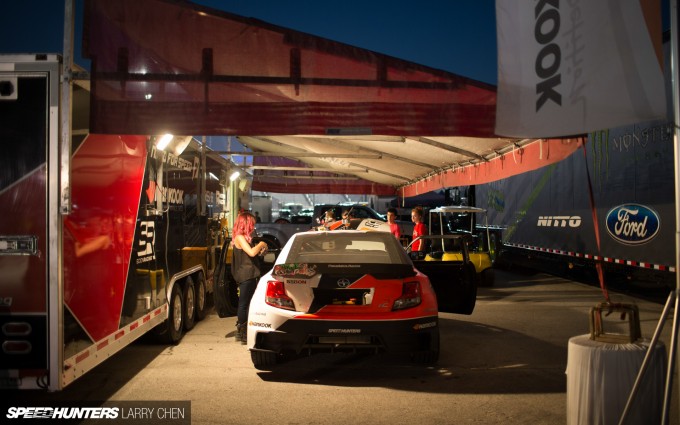 However, there was trouble when Fredric pulled into his pits. There was a boost leak and Top 16 was just around the corner.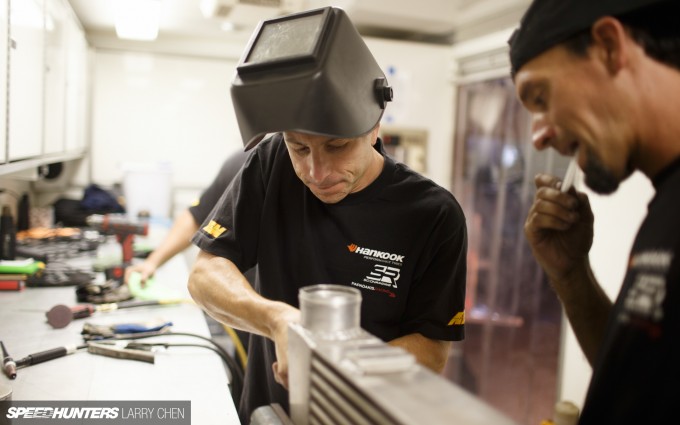 The mad scientist, Stephan Papadakis, and the rest of the team tore apart the front of the car to find a crack in the intercooler. They welded it up quickly and slapped the car back together in time for Top 16.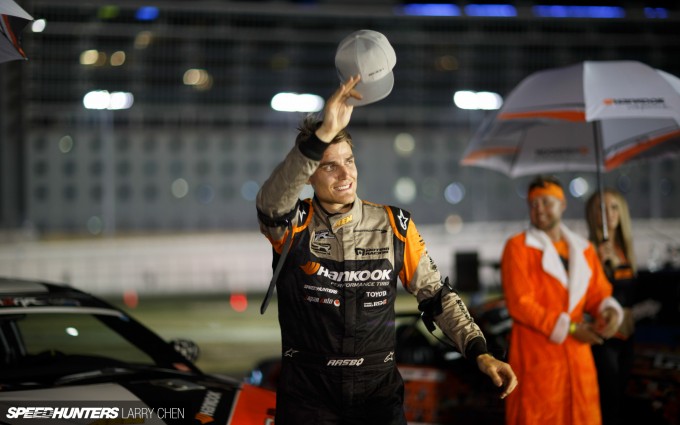 Even though Fredric qualified second, he said he never really understood the Texas course. He ended up getting knocked out by the event winner, Mike Essa. Judging from watching practice, my money was on Fredric that weekend for the win. Although, nothing was going to stop Essa from reaching that top spot.
The track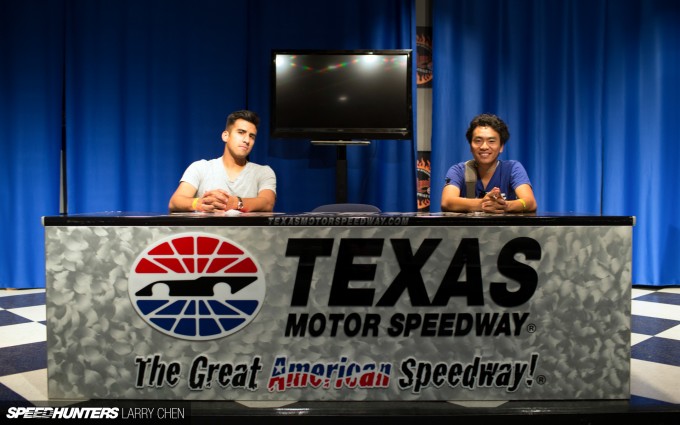 I was actually very excited to come back to Texas Motor Speedway as I have shot a few events there already. Although I was not very excited to fly into Dallas Fort Worth with my partner in crime, Joe Ayala…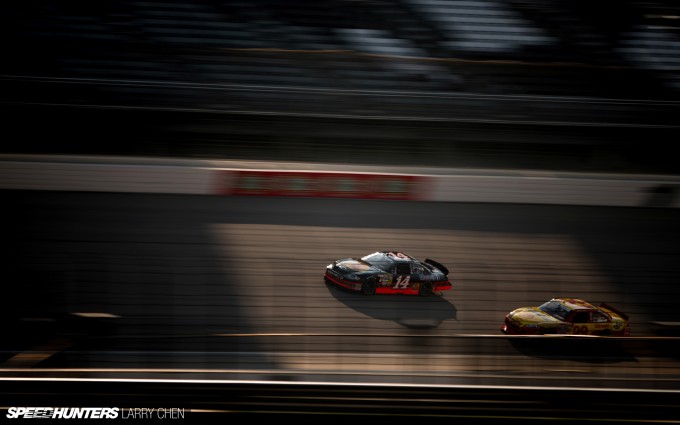 I've covered two Nascar Truck Series events there, as well as Global RallyCross. The facilities were top notch.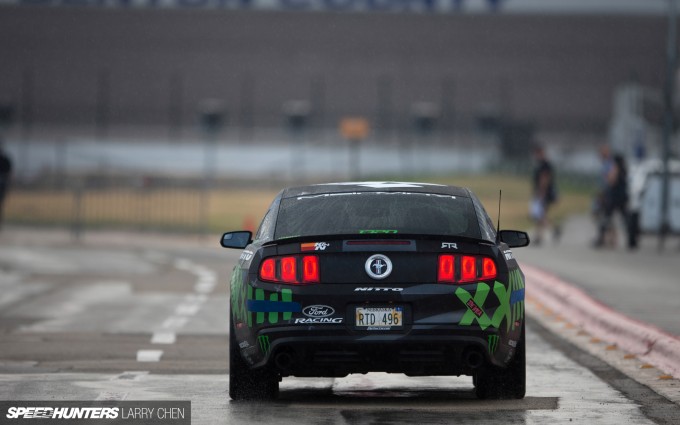 The race fans were hardcore to say the least. Check out this fan-built replica of Vaughn Gittin Jr's Mustang!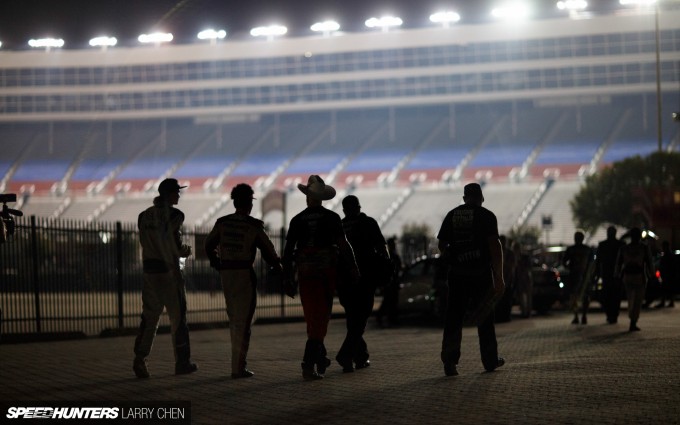 Texas Motor Speedway was by far the largest and most professional track that the Formula Drift Pro Championship has ever stopped at.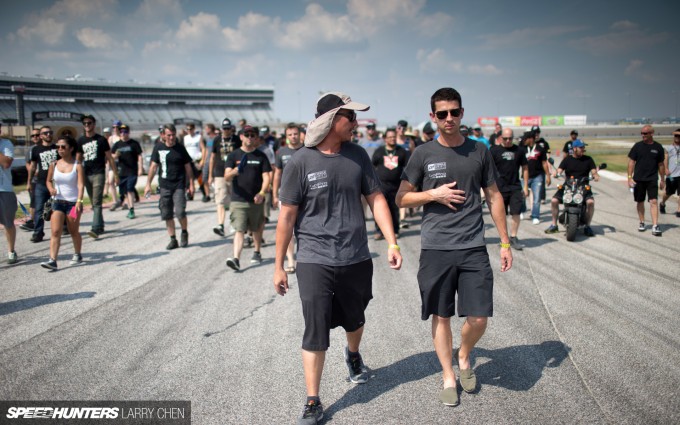 Although, the only part of the track that we utilized was the inner road course.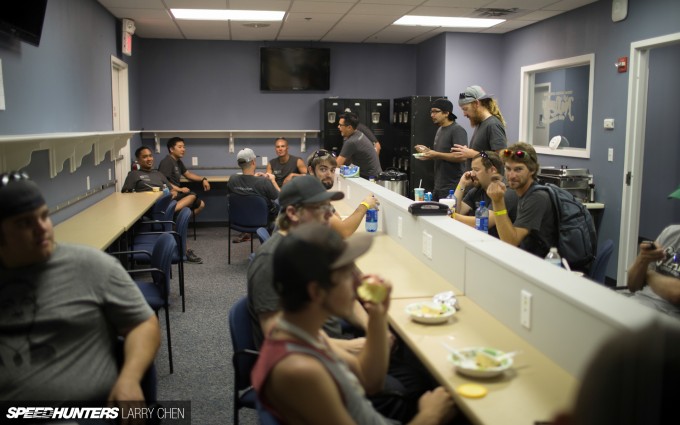 The staff loved it as there was a nice place to relax in between sessions in a nice air conditioned room. The ambient temperature was constantly over 100 degrees Fahrenheit.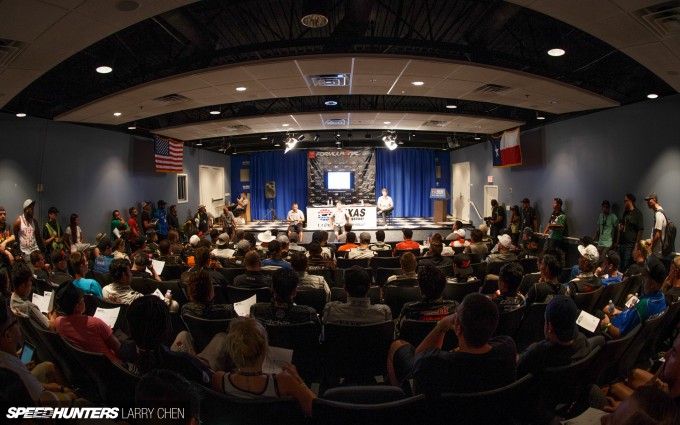 I was late for the drivers meeting, but I heard something about how the target area was only two meters wide and that it was right below the main port.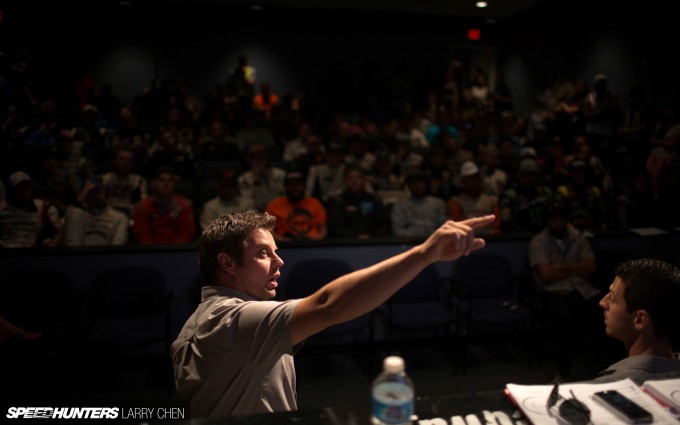 Also they mentioned something about the shaft leading directly to the reactor system.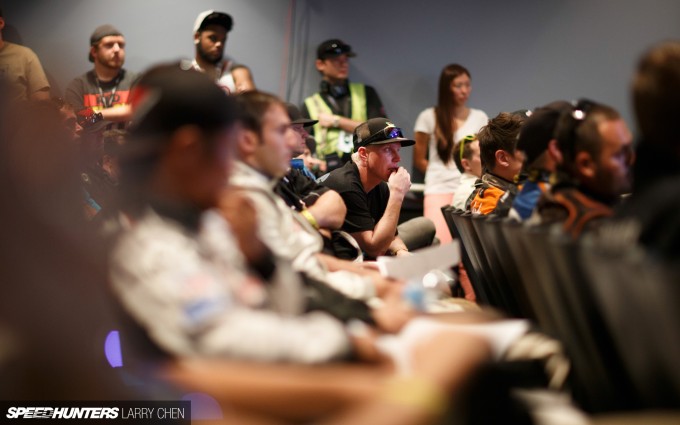 As usual with brand new courses there were lots of questions for the judges. Kenneth Moen said that he used to bullseye womp rats in his T-16 back home.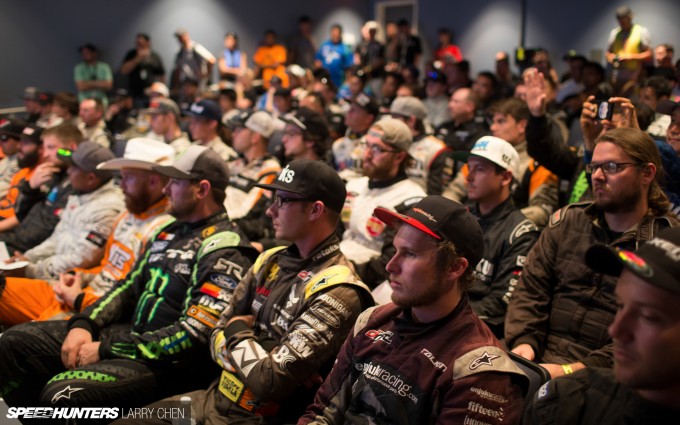 One thing is for certain, this round of competition was one of the most controversial of all time, with six protests in a single night and two judging calls overturned.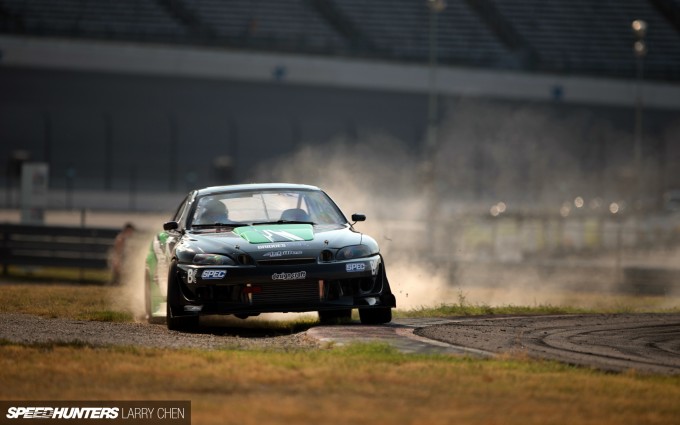 It took many drivers, including Robbie Nishida, a while to really get a grip on the highest speed course that FD has ever seen.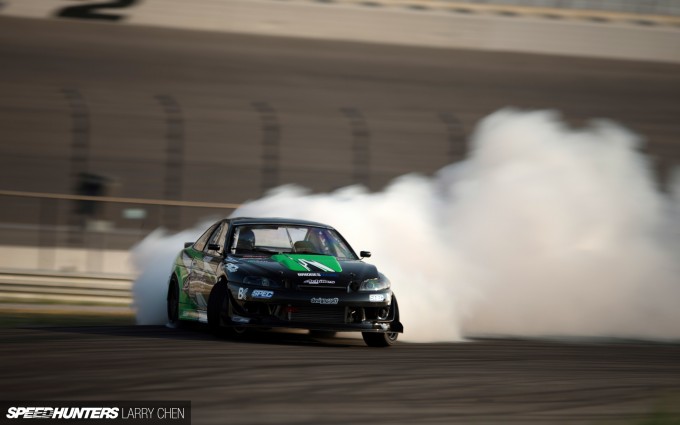 Eventually Robbie was putting down insane runs, with his fastest entry speed at 111 miles per hour. He went up against Odi Bakchis in the Top 32 and won; however, Odi's team protested, the two drivers battled it out again and Robbie eventually moved on.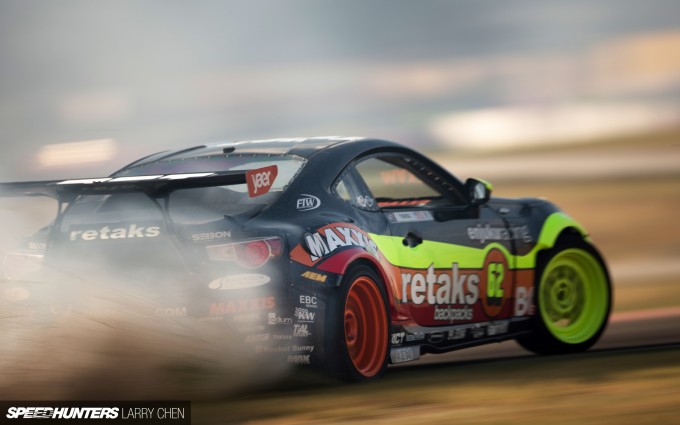 There were also a few notable drivers absent from the Top 32, including Ryan Tuerck in his 2JZ-powered Scion FR-S.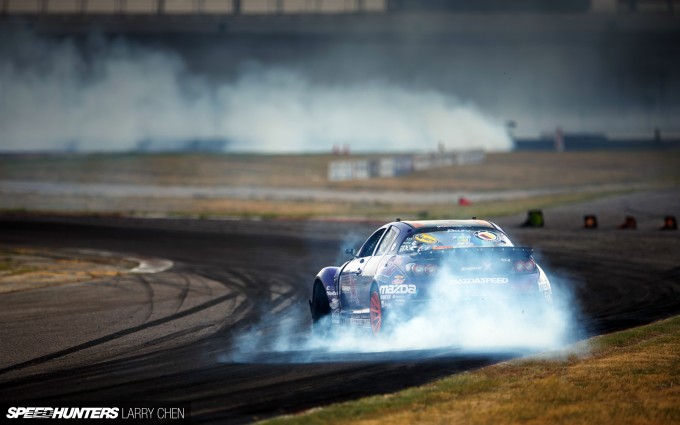 Also absent from the Top 32 was the qualifying monster, Kyle Mohan. This year he has retired three motors all due to mechanical failures.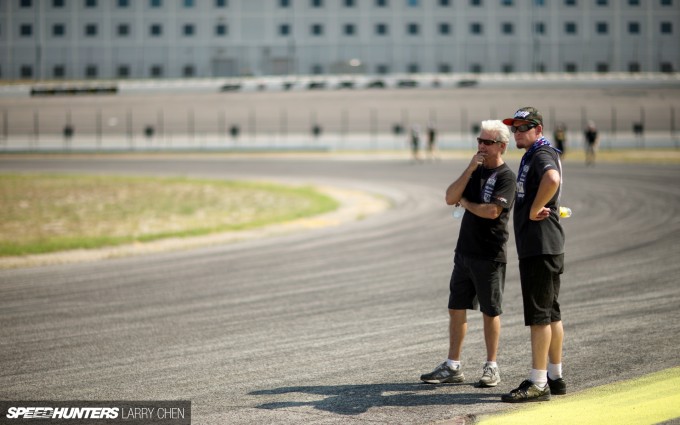 Next year he is hoping to come back strong with a brand new three-rotor RX-8.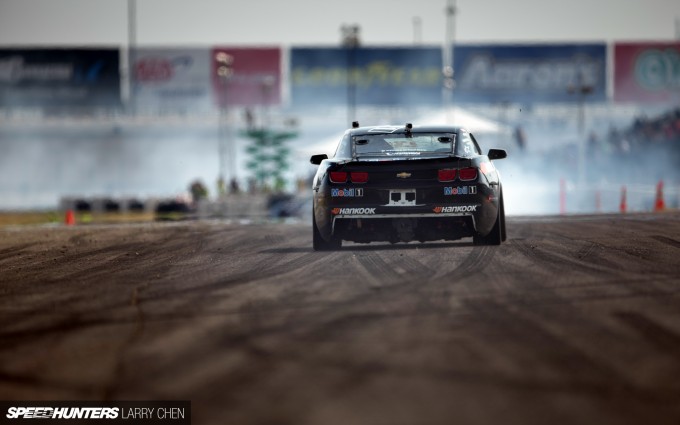 The actual course was fairly simple looking from the outside, but it was super technical due to its high entry speeds. It was very hard for the higher horsepower cars to get any traction while they accelerated down the straightaway.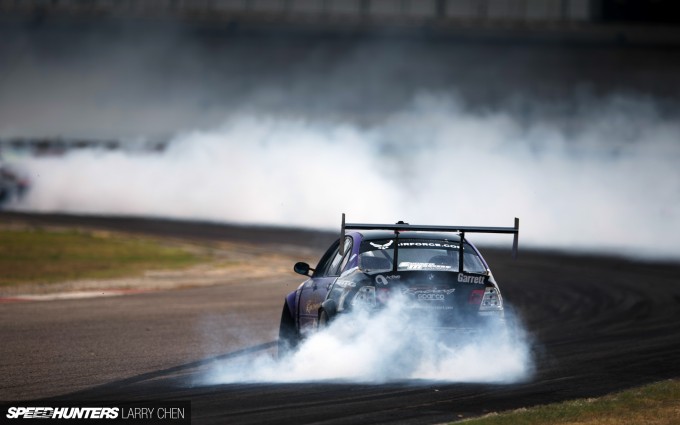 The initiation was very important and every driver had their own take on it. I think Chelsea Denofa had one of the most beautiful looking initiations out of the entire grid. There were always two tiny puffs of smoke from a slight pull of the e-brake.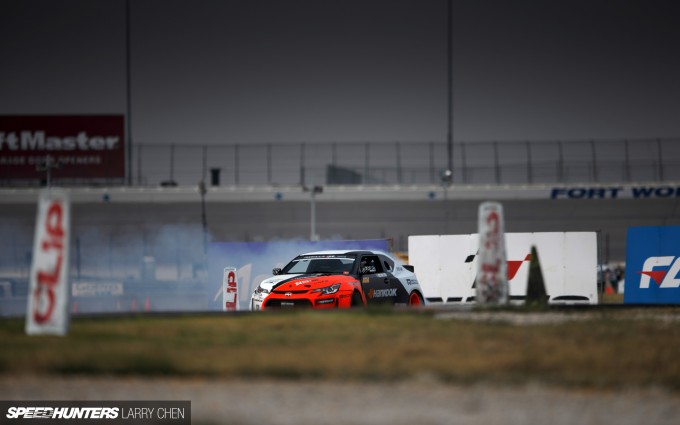 Then the drivers had to navigate a sea of clipping points.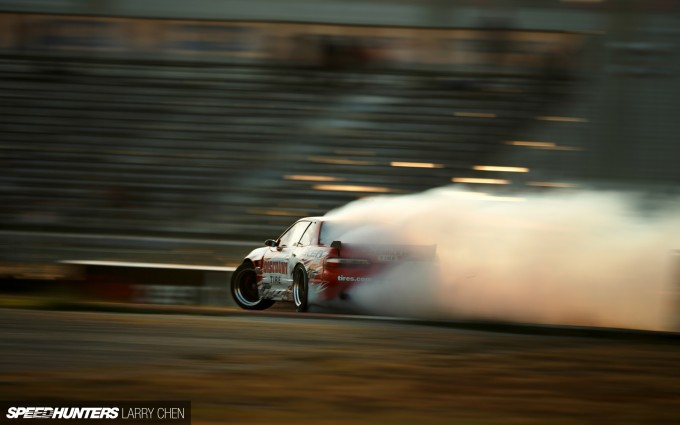 Right before the final transition there was a stretch of track where you could really put down some mean smoke.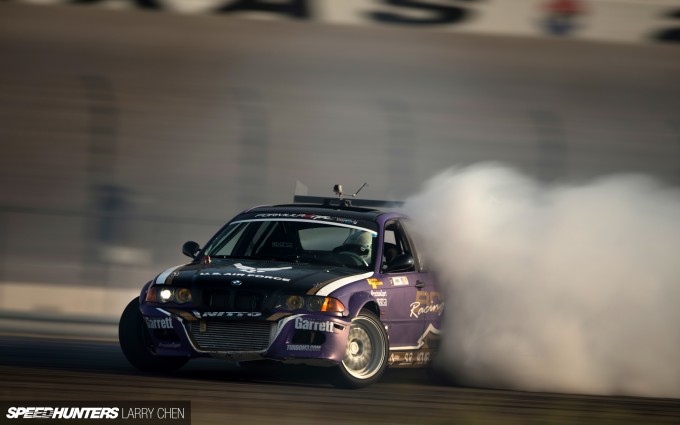 Chelsea was one of the few drivers who had the chance to drift the track previously at an XDC event. He mentioned that the final turn seemed endless, as it was a complete 180-degree sweeper.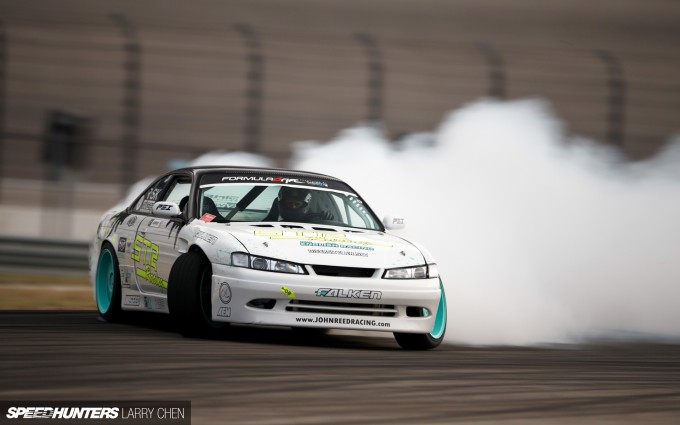 Right before corner exit is where you could finally floor it, as smoke just billowed out from the rear wheel wells.
Scorched earth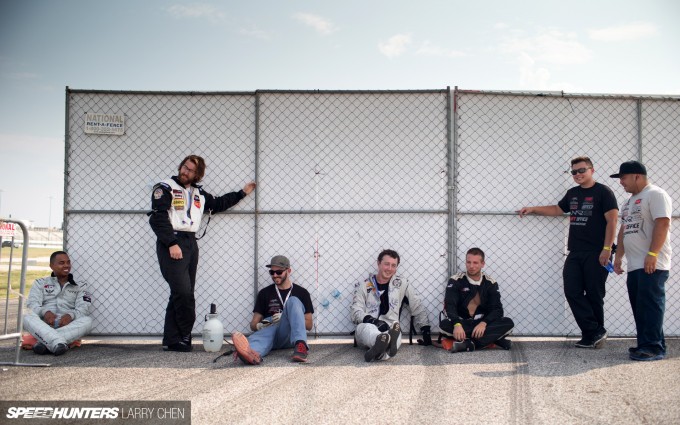 The heat was seriously effecting everyone. I actually preferred the Las Vegas heat, because it was always very dry and the event was mostly at night. The Texas heat was very humid and most of the event was in the daytime.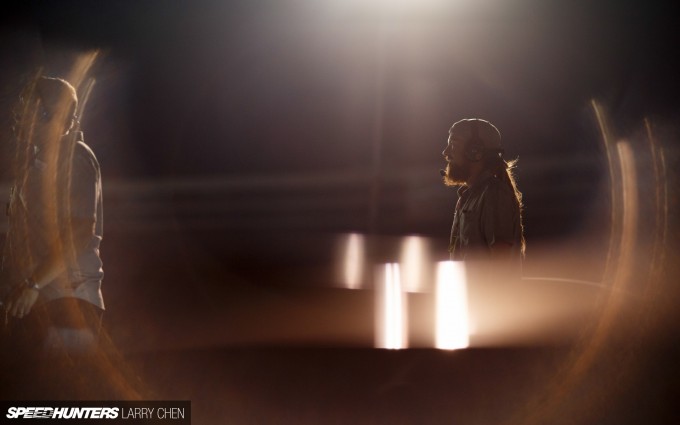 Although there was some relief when the sun went down, whereas I remember a few years ago getting into my truck at Vegas at 2am in the morning while the ambient temperature was still 102 degrees.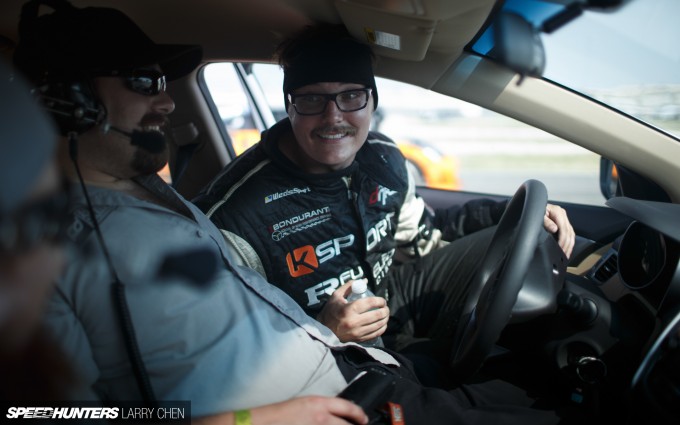 To escape from the heat at the starting line in between breaks the staff would hide in their rental cars, but the occasional driver would join in on the fun.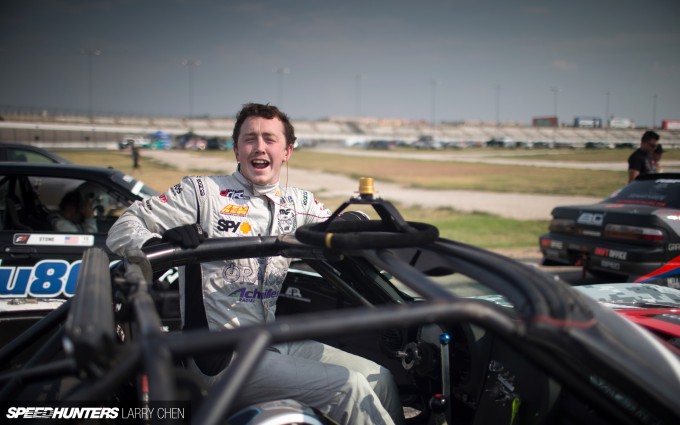 I figured it was easier for the convertibles on the grid, but according to Dean Kearney it was much worse since he was just baking in the sun while waiting to go.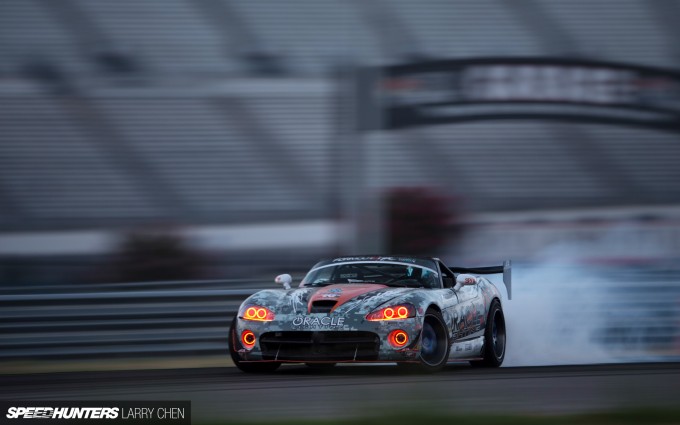 He also mentioned that the Dodge SRT Viper was one of the hardest cars he has ever driven and all he wanted was to drive a Nissan S-Chassis. He may be right, but damn that Viper looks good going sideways.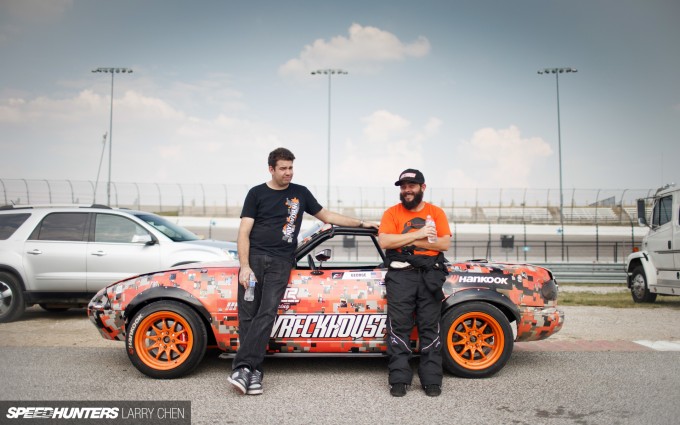 Another much smaller convertible driven by a much smaller driver made Top 16 for the second time ever.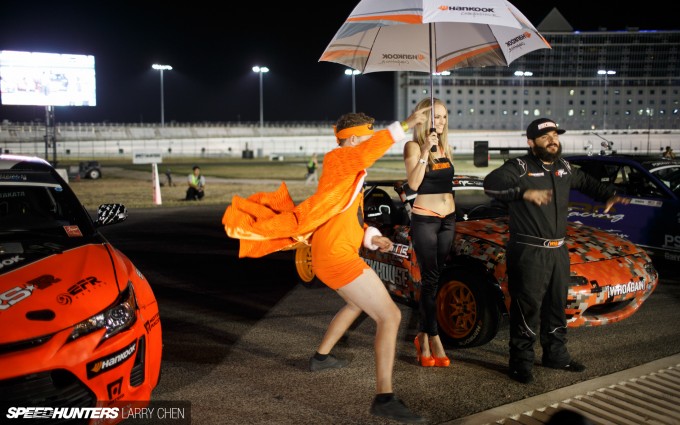 Danny George's spotter actually wanted to be a part of the Top 16 ceremonies, so afterwards he ran to the spotters' tower to fulfil his spotters duties – in his hot pants of course.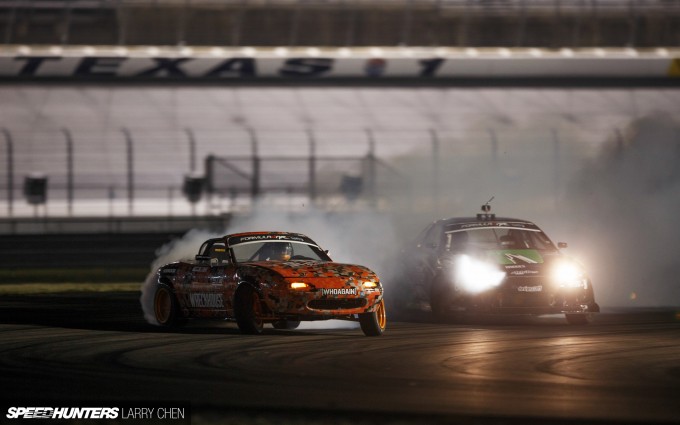 He put up a great fight, but he was knocked out in the Top 16 by Robbie Nishida.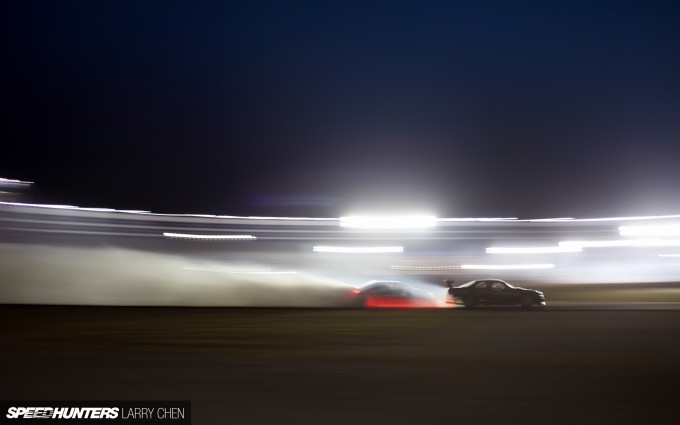 The venue was actually very beautiful and it provided for some great photography.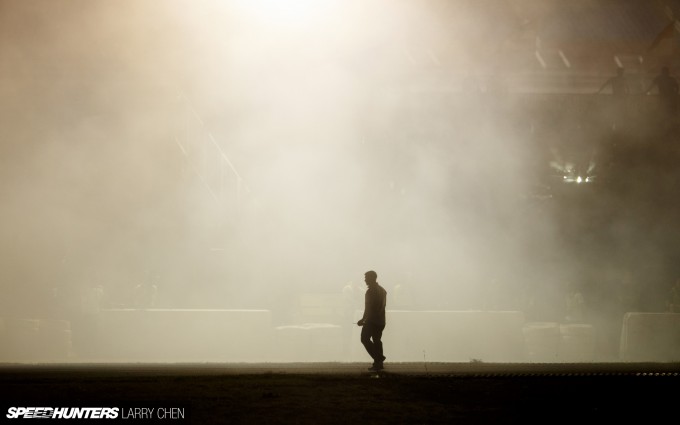 When photographing a new track it is always very important to find as many different angles of attack as possible.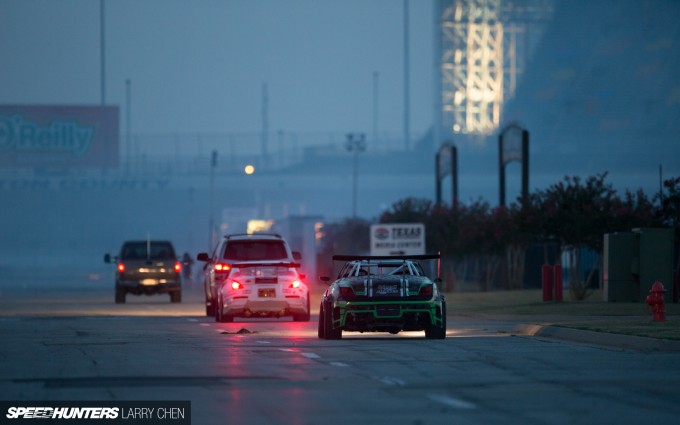 Because of the cloudy skies it actually provided for some very dramatic lighting as the event went from day to night.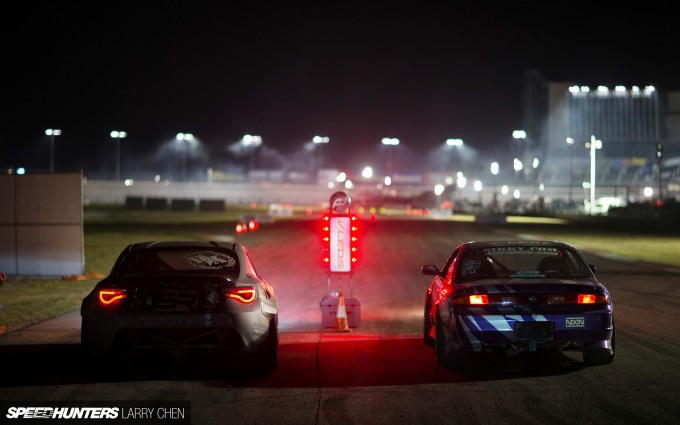 As always, some of the best action was during Top 32 practice right after qualifying. It was the perfect time to practice some door to door tandem action.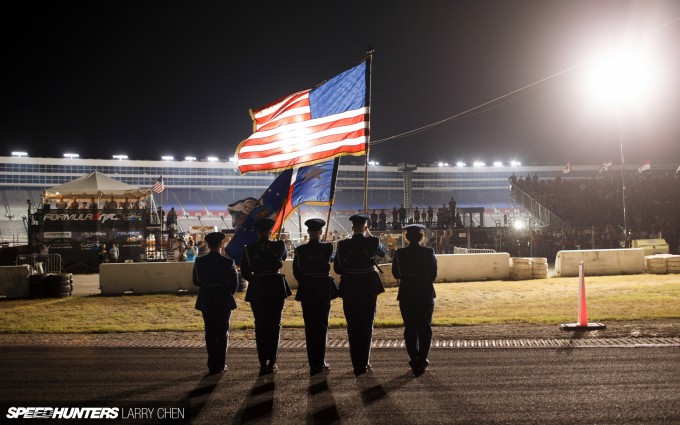 The main event was absolutely packed. The series had not been to Texas in eight years. I think it was definitely a good decision to come back. The crowd was very vocal when it came down to judging decisions and such.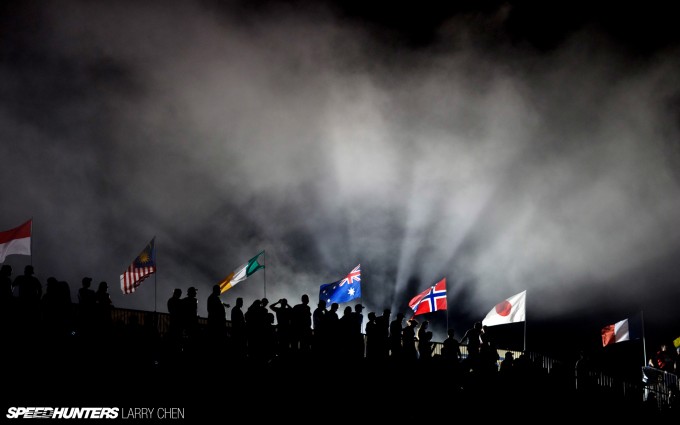 It's actually really neat to see what the series has evolved into. It's become a such a draw for drift fans that many travel from all over the world just to check out one of these events.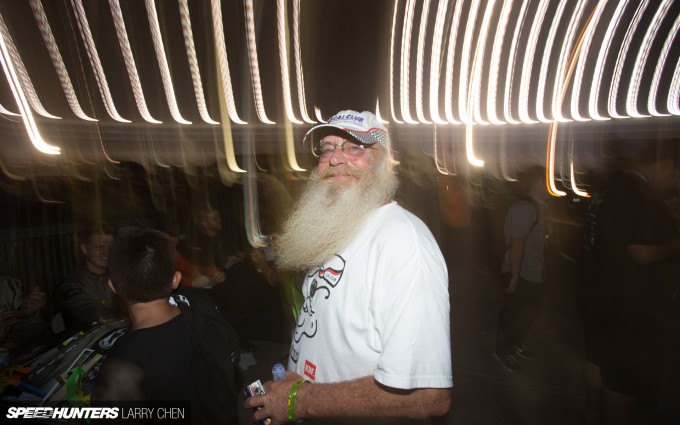 Bil 'Santa Claus' Baldwin used to be just a corner worker at Round 1 at Long Beach and Round 7 at Irwindale. Now he has become quite the fan and he travels the series on his own dime.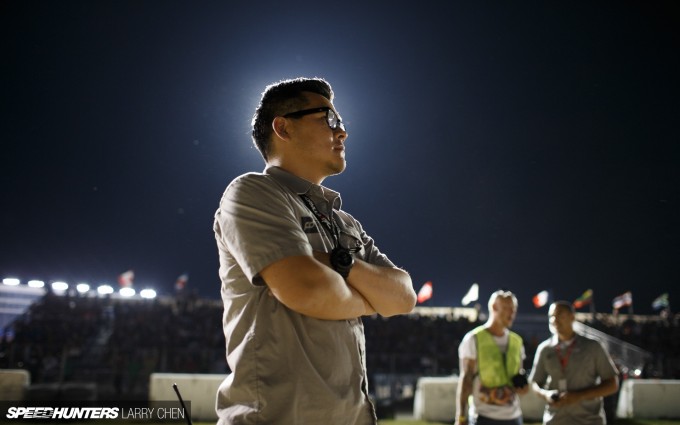 I know Jim Liaw, the president and co-founder of Formula Drift, was happy to see the stands that packed. By the time Top 16 competition started it was standing room only.
'D' Dimension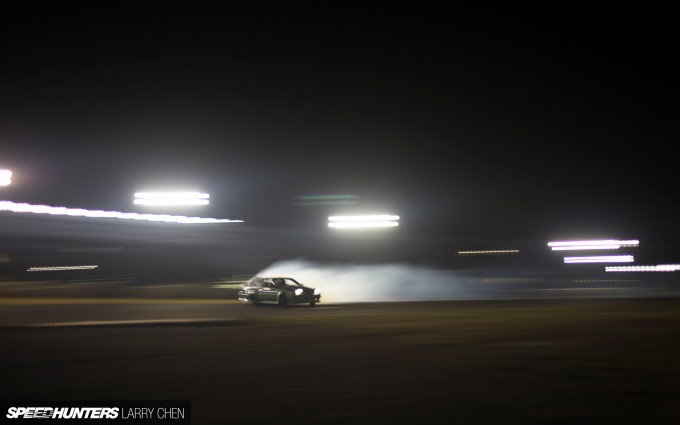 There was definitely a draw for the locals as a few Texas were competing, including Will Parsons, who also was in the crash sequence in the beginning of this article. This was his second time qualifying in the Top 32 at 20th place, which was his personal best.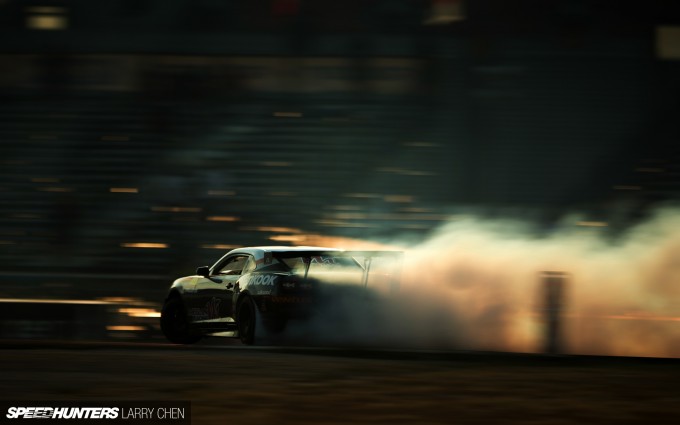 Another Texan in the grid was Conrad Grunewald, who actually earned his first podium back in 2005 when FD made their previous stop to Texas.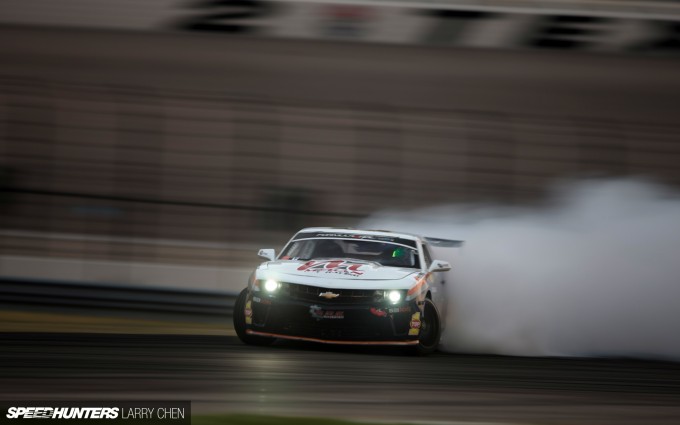 He did not have such good luck in qualifying, as he botched his first run, but in his second run he managed an 86.2. That would have landed him in fifth position if Formula Drift was still running the old qualifying format.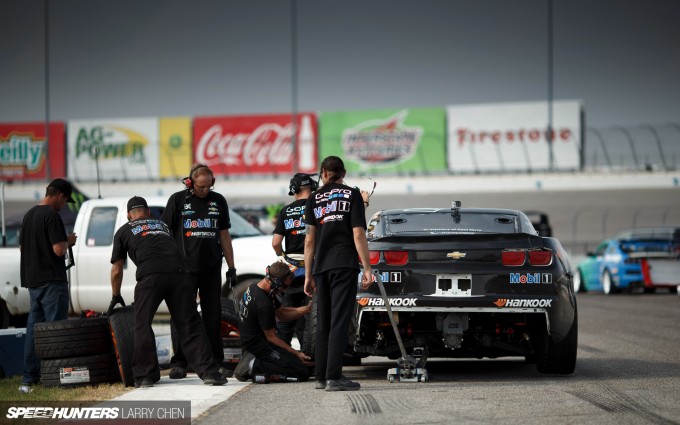 The other Chevy Camaros run by Tyler McQuarrie Racing were not having such good luck either.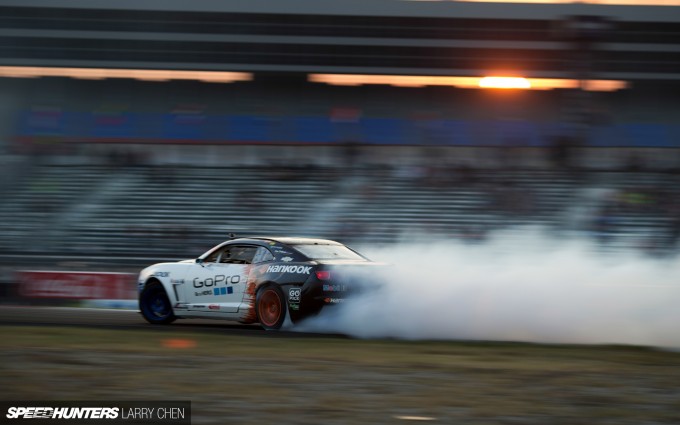 It's been a pretty tough year for Tyler as team owner, but he is still trying very hard to get back on the podium. It's almost been two years since Tyler won Formula Drift Irwindale, back in 2011.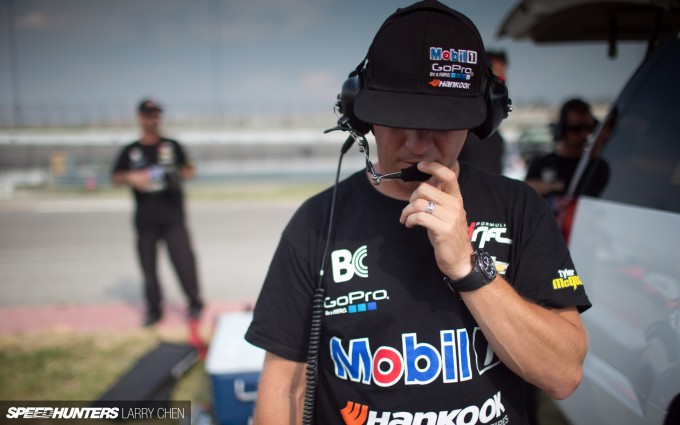 Right now he is also concentrating on helping his teammate and Formula Drift Rookie JR Hildebrand.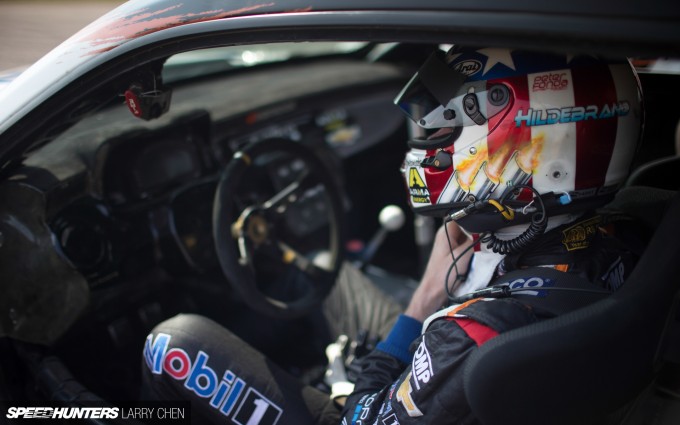 The last time I was at Texas Motor Speedway, I watched Hildebrand compete in IndyCar on the main oval. I thought for sure this event would be the one where he would make Top 32 because he was driving well enough that it was hard to tell his Camaro apart from Tyler's.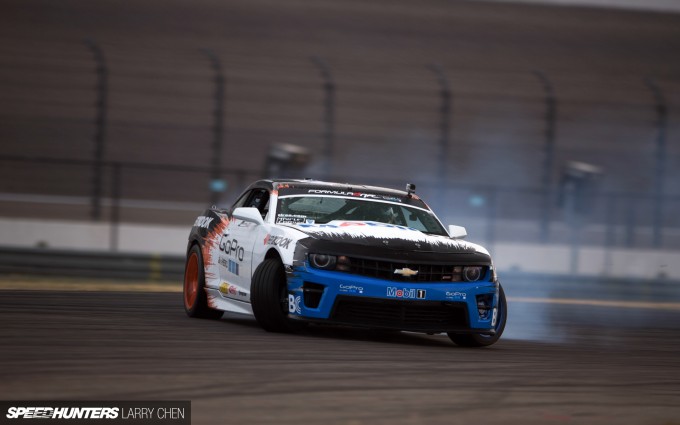 He was very unlucky when it came time to qualify as he was the only driver to have to qualify in the rain. He did not make the cut, but I hope he keeps trying, because I think he is good for the sport.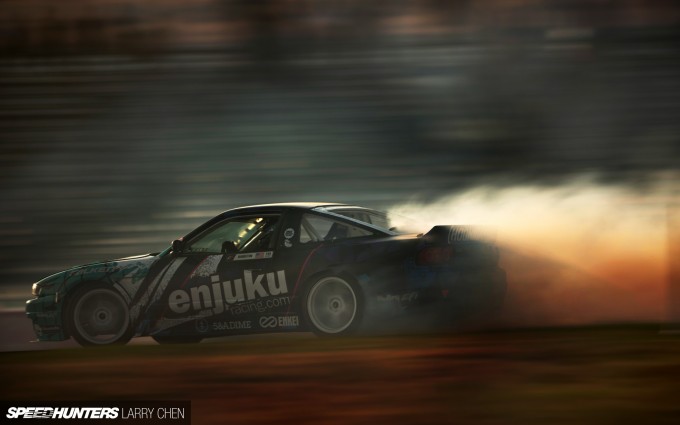 Hildebrand was not the only rookie who was having issues. Texas native and rookie of the year hopeful Nate Hamilton was looking forward to qualifying well at his home track. However, during practice Nate went off course, damaging his car enough to make it nearly undriveable.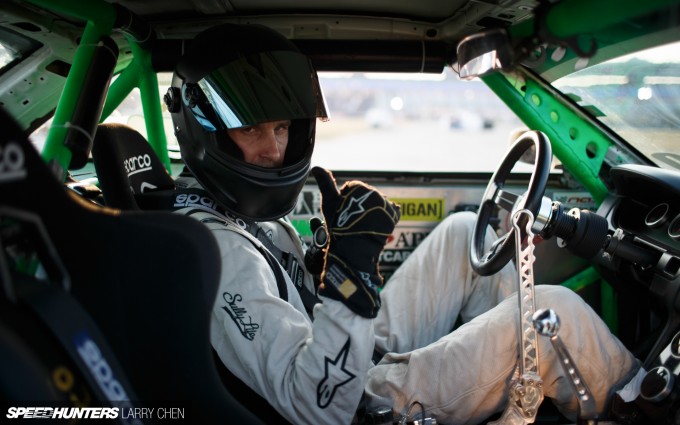 Also going for that coveted rookie of the year title is Rob Primo, who also happens to be the tallest FD driver on the grid, standing almost an entire foot over me at six feet and nine inches. (2.057 meters).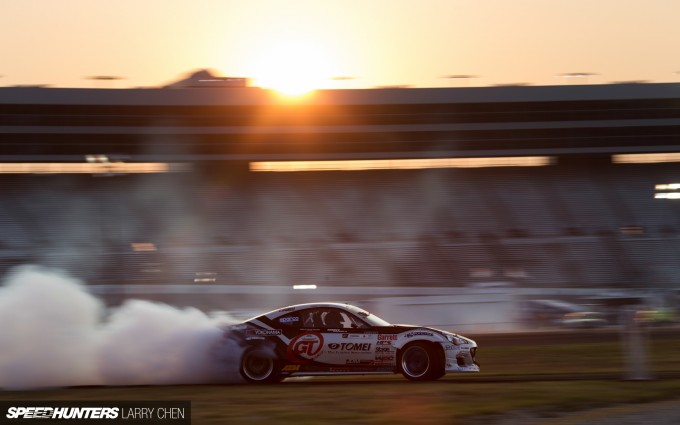 He met with Toshiki Yoshioka, who is far from a rookie, in the Top 32. The native Japanese driver is actually one of the few to ever win a Formula Drift event, but in a Toyota AE86 Corolla no less.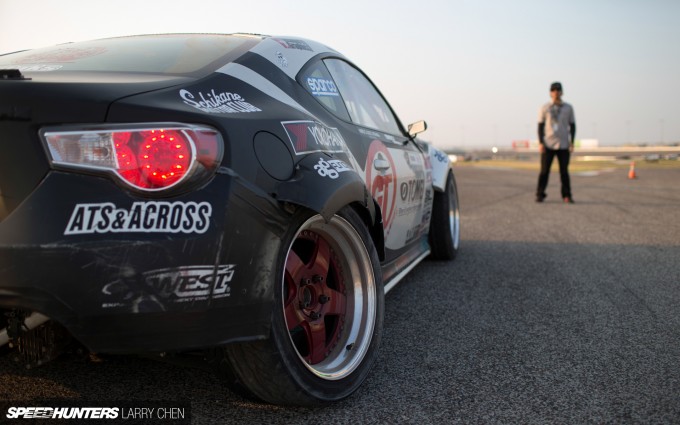 The drivers had contact, which gave Toshiki's BRZ the meanest toe-out I've ever seen on a drift car.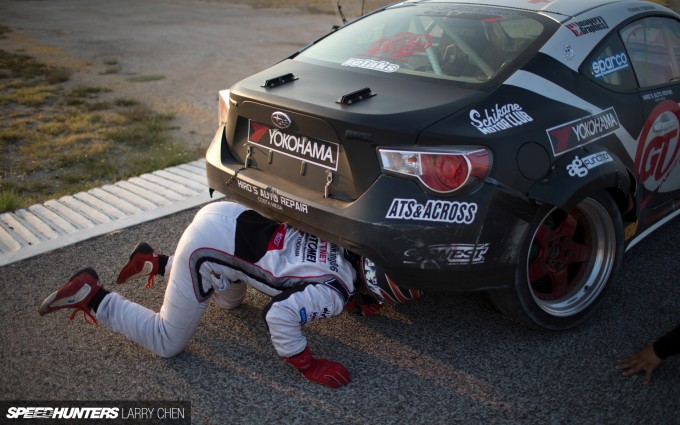 He crabbed all the way back to the pits, and eventually moved on to the Top 16 after winning his One More Time battle with Rob Primo.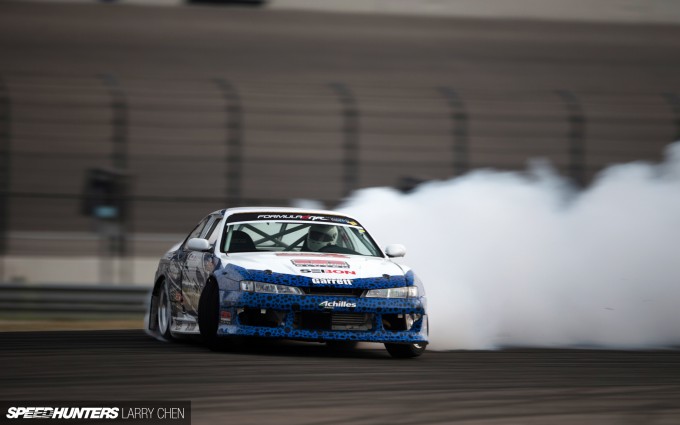 Also absent from competition was Dave Briggs in one of the last SR20-powered cars on the grid. He was just one tenth of a point shy of making it into the Top 32.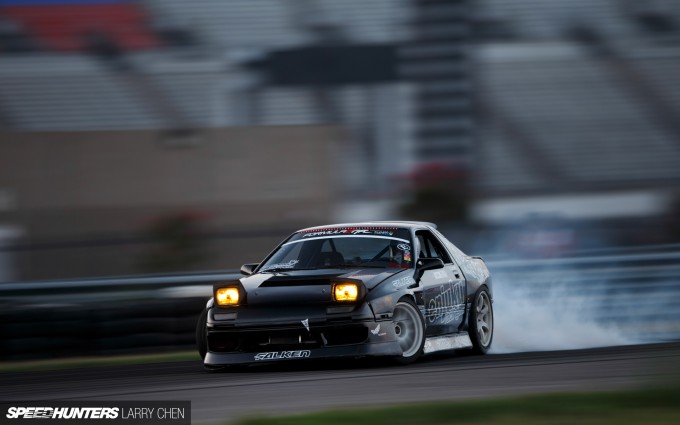 After missing out on a few events this year, privateer Jeremy Lowe was back in his rotary-powered FC RX-7. It seems to be getting more and more rare seeing a Mazda with a rotary heart in the drift world.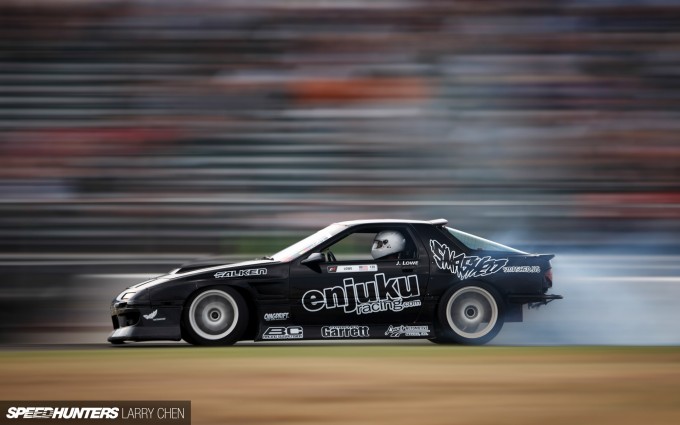 It really goes to show that sometimes simple is better, as I think Jeremy's RX-7 is one of the best looking cars on the grid today.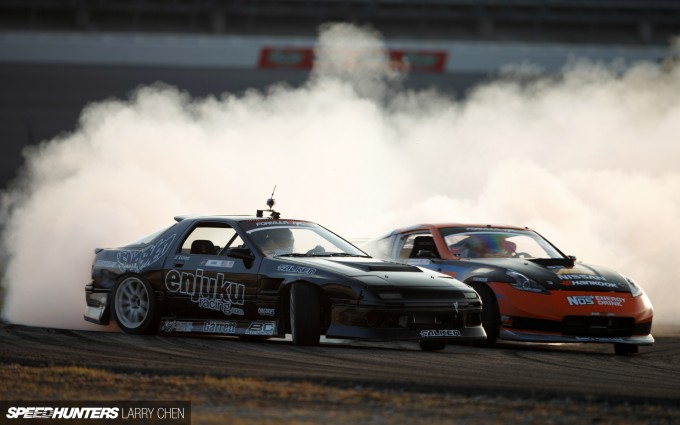 Unfortunately for him he got paired up against Chris Forsberg in the Top 32. He put up a great fight, but he got knocked out with a quickness as their entry speeds were almost 10 miles per hour apart.
Final fight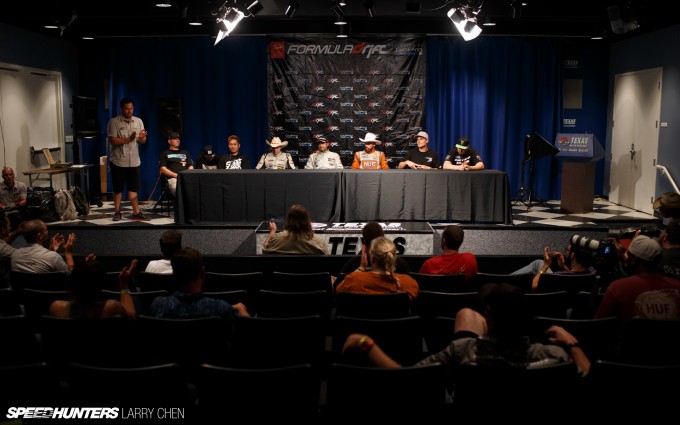 Seeing as there was just one more event left and with the championship still up in the air, Formula Drift held a press conference after the podium ceremony.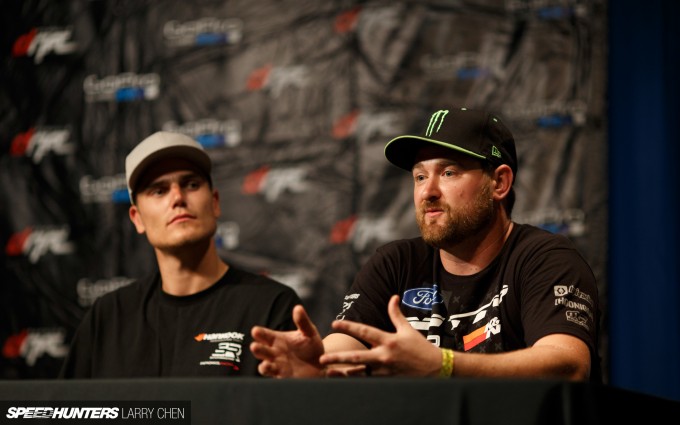 There the drivers touched on how the event went, as well as a few drivers bringing up their displeasure for how the protests were handled.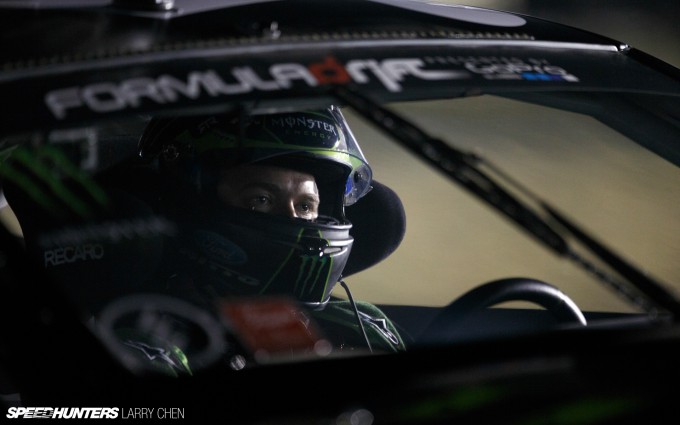 In the center of it all was Vaughn Gittin Jr. With his recent technical penalties he felt that he was unfairly targeted.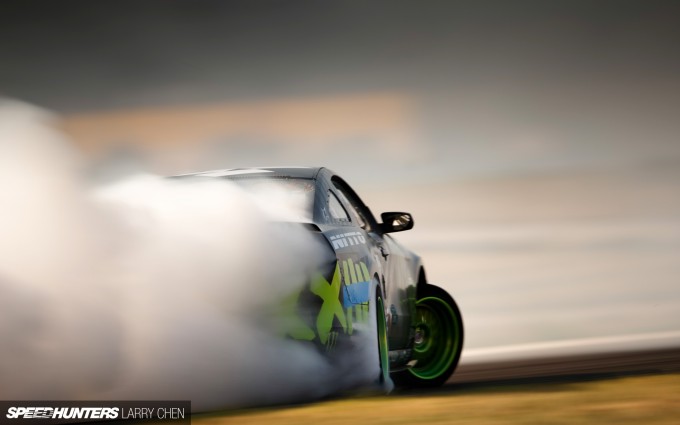 Some very out of place things would have to happen for Vaughn to even get a shot at his second championship, but you never know. Personally I think that the 2011 final at Irwindale was the most exciting drift event I've ever been too. There were so many different scenarios that could have played out with many different championship outcomes.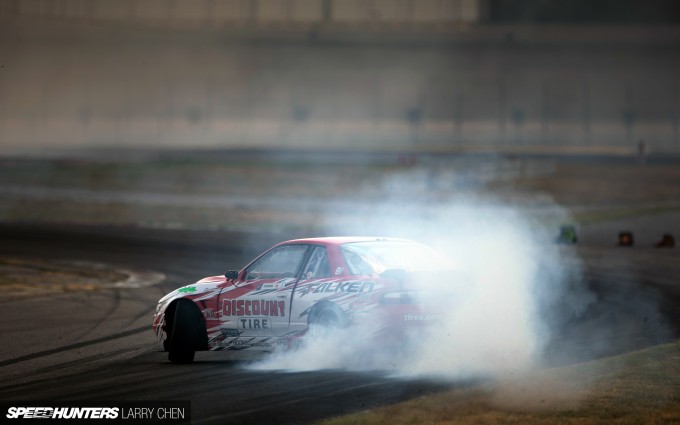 As the drivers got knocked out the lead changed many times, with Justin Pawlak, Chris Forsberg and Darren McNamara all very close. Of course Daijiro ended up with the win. Hopefully something to a similar degree happens in the final round of the 2013 season.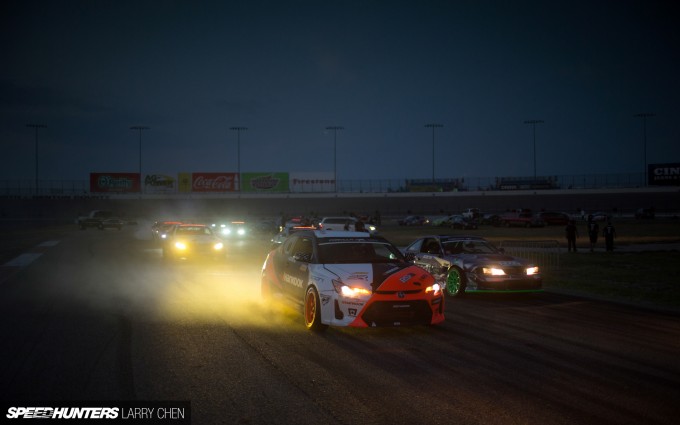 What is really interesting is that Fredric Aasbo only had one third place podium this season and he is still in the running due to finishing in the Top 8 or better every round. If he could win at Irwindale, there is a very good chance he could earn his very first championship.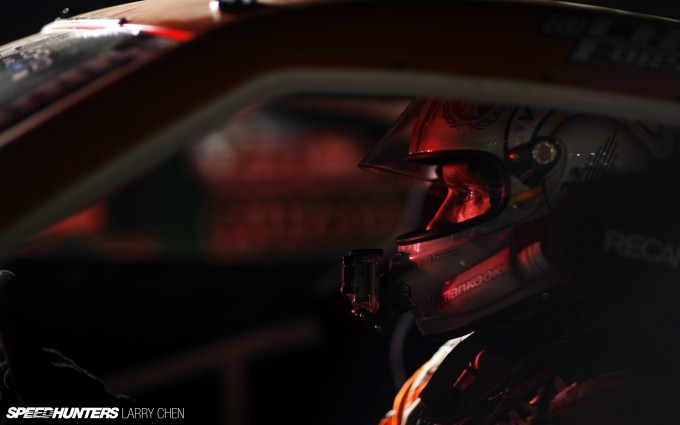 Of course that would mean that both Chris Forsberg and Mike Essa would have to get knocked out very early on in competition.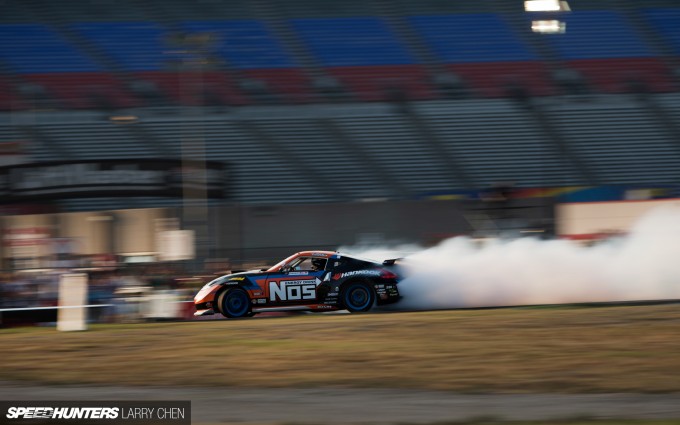 With the nerves of steel that the both drivers possess I doubt that will happen.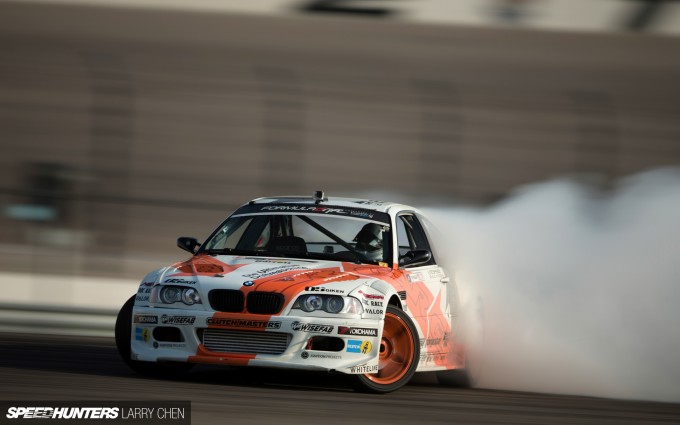 It's very interesting to think that last year, Mike Essa was not even considered a threat to the front runners as he finished in 12th place overall. With a 15.5 points lead over Chris Forsberg, he is most definitely the favorite for his first championship. Then again, Chris has had three podiums at Irwindale, which includes a win, all the back in 2005. Mike's best finish at Irwindale was in the Top 16. I guess we will just have to wait to find out.