Man, what a crazy month July was. Were there ever more madness-inducing builds or a greater amount of combined horsepower featured on Speedhunters in a single month? It was quite an experience witnessing and then sharing all those amazing cars with you.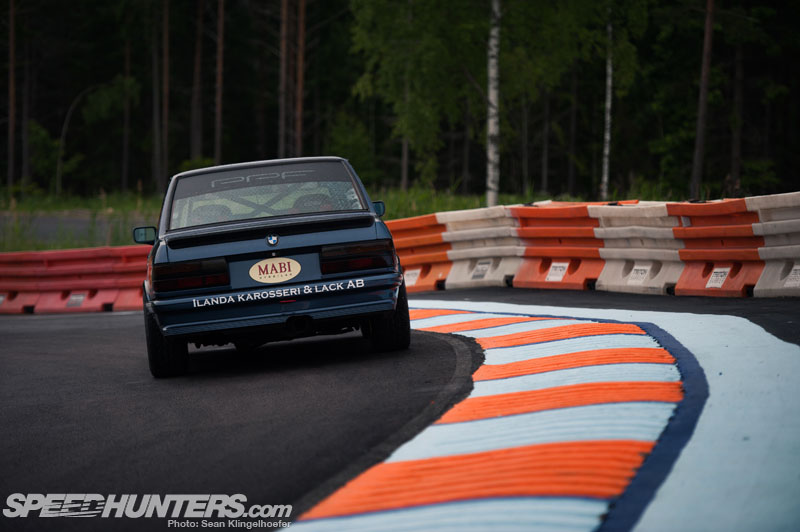 We couldn't have possibly fit everything we saw into one month though. One of the extras that overflowed was an impressive little BMW E28 built by Sweden's Alexander Granlund and photographed by Sean and Paddy during their adventures in the region.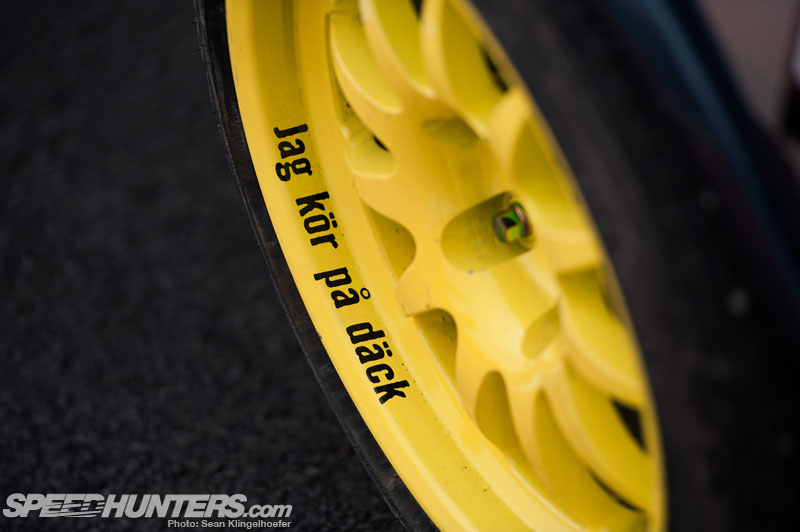 Although Alexander's BMW has evolved over the years to become a fully fledged pro-spec drift car, it definitely wasn't intended to be that way.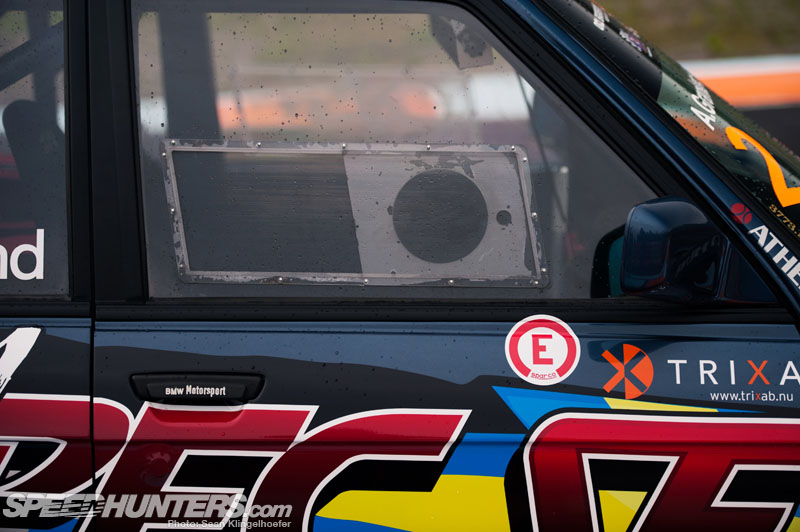 The story of this build begins almost exactly four years ago. Alexander was working on a different E28 and was in need of some fuel injectors for his build so he rang a friend who he thought might be able to help. It turns out the friend didn't have the injectors, but he did have an entire E28 chassis that he offered up to Alexander.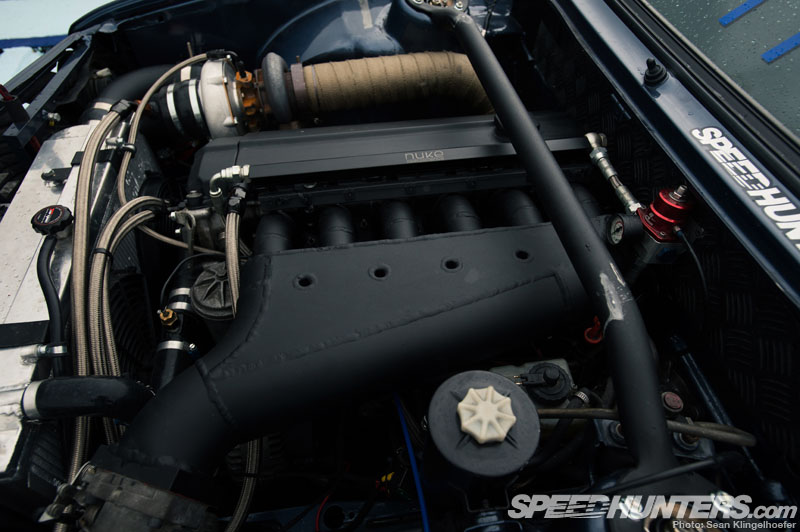 Because the car being offered was a higher spec M535 rather than the 528 he was working with it, he decided to take his buddy up on the deal and used the new chassis as the basis for his build instead.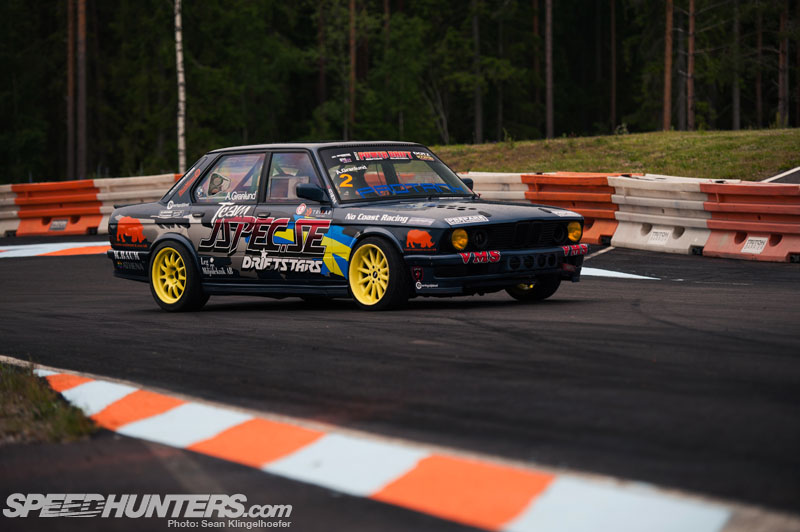 As is usually the case, Alexander's initial goals for the build were modest. He just wanted something that he could enjoy both on the street and at track days. He began by installing a roll cage and then built a turbocharged M30B35 engine that made a stout 405 horsepower to the rear wheels.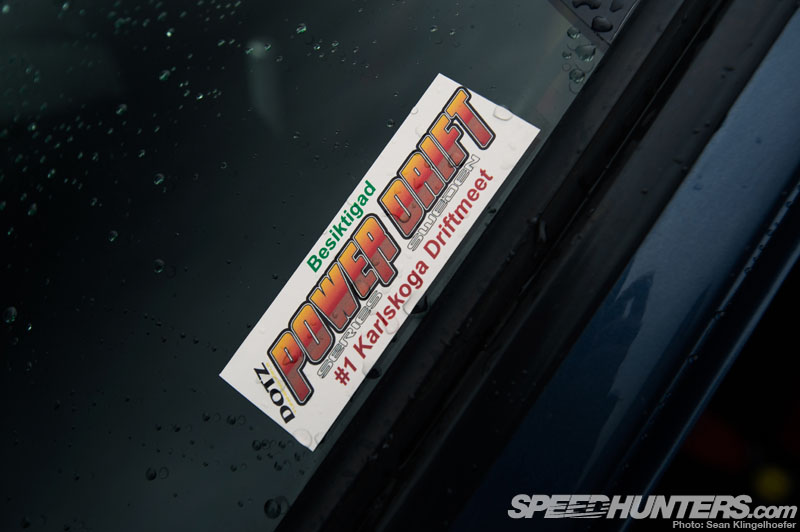 After a season of track days and drift events, he decided that more power was in order, so he built a new motor that made 566 horsepower to the rear wheels. At this point Alexander was still driving completely for fun, but in the spring of 2012 he heard about the establishment of a new Swedish drift series called Power Drift, so he went to see what it was all about. It didn't take much convincing to get him to join the series.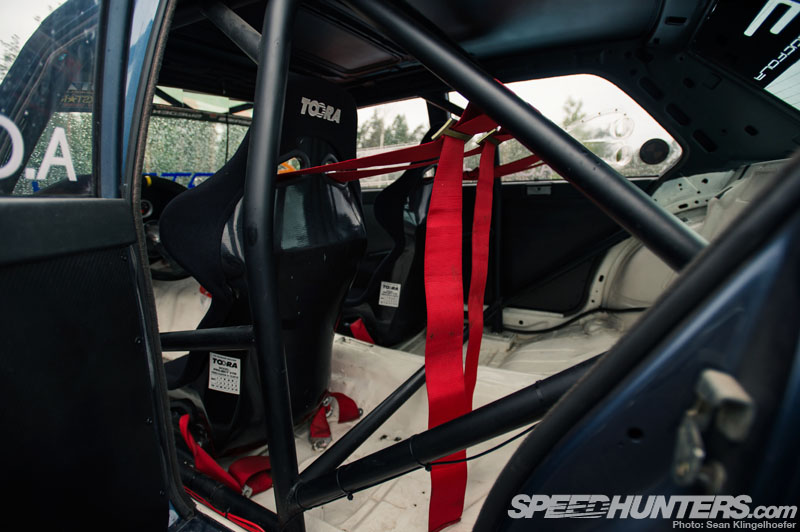 But it wasn't as simple as just showing up at an event and driving. There were technical regulations that needed to be met, and with just one month to go before the first event, it was a major challenge to get the car ready in time. During that month Alexander says he spent far more time in the garage than he did sleeping.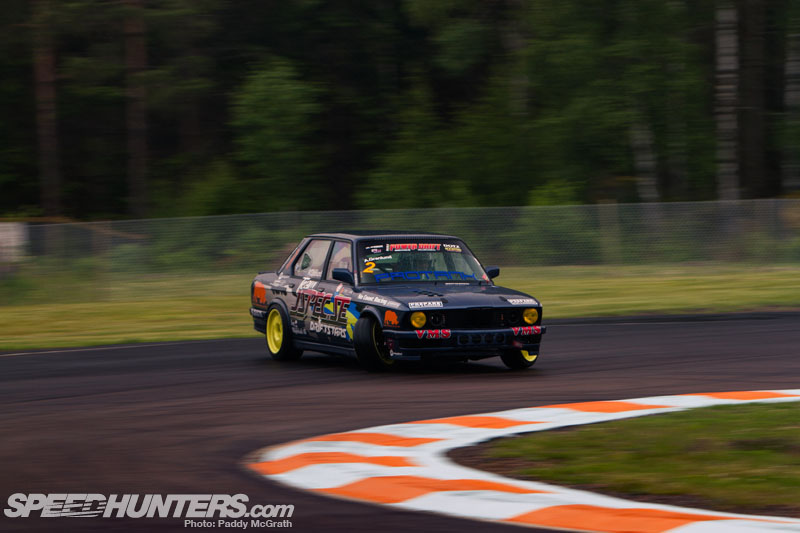 Finally, the car was ready for its competition debut and Alexander embarked upon his first season of Power Drift running as a self-supported privateer. He was running the same engine set-up as before, and even though he found the car to be lacking in low rpm power in many situations, he was still able to take third place in the season championship.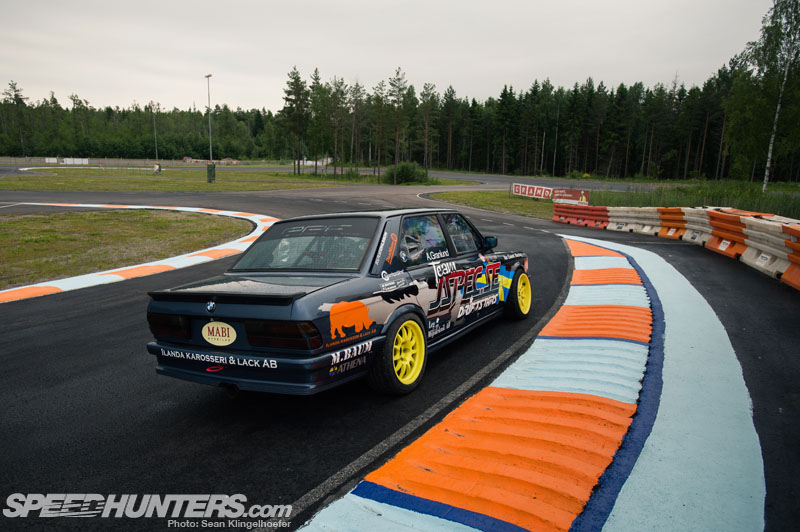 The rigors of competition had taken their roll on the body and chassis of the decades-old BMW, but Alexander was able to get the car looking a lot more presentable looking for the next season with the help of his new sponsor Ilanda Karosseri and Lack Auto Body.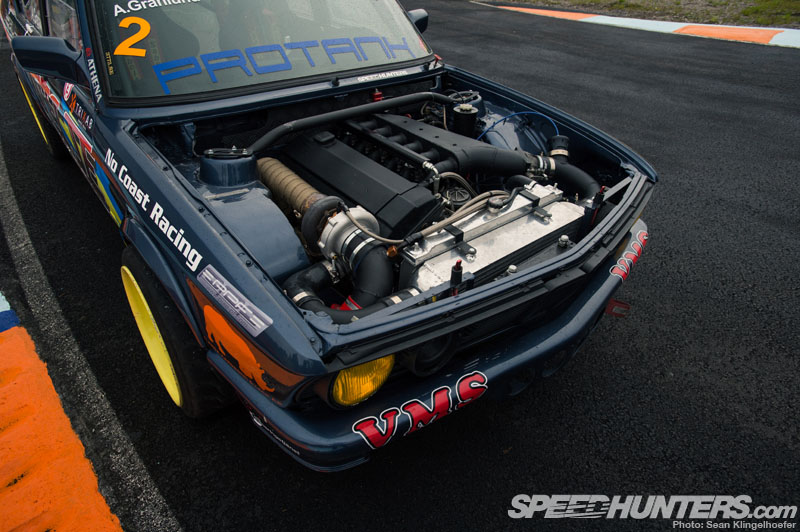 With a year of experience under his belt, it was much easier to attract sponsors and with the added support he was able to address the lack of bottom end power he experienced with the old engine setup.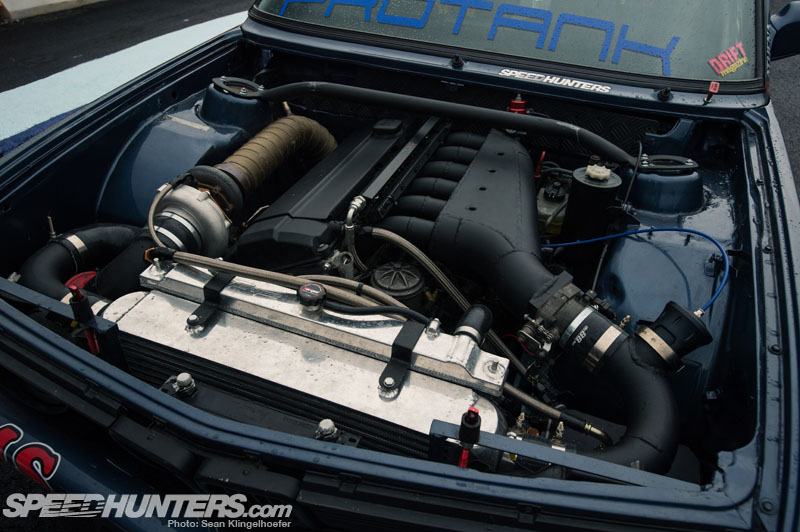 During the off season, he replaced the motor with a brand new set-up using an M50B25 engine with fully built internals and a three liter crankshaft from an E60 530, along with custom fabricated intake and exhaust manifolds.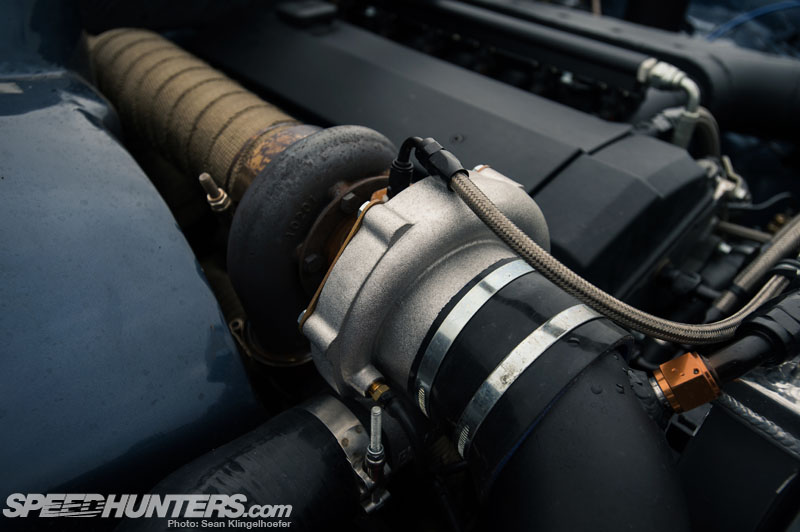 Boost comes from a Precision 62/65 turbocharger with a Precision 46mm wastegate, and Alexander also installed the largest intercooler he could possibly fit. The result of the new engine setup is 691 horsepower to the rear wheels with 850 newton meters (626 foot pounds) of torque.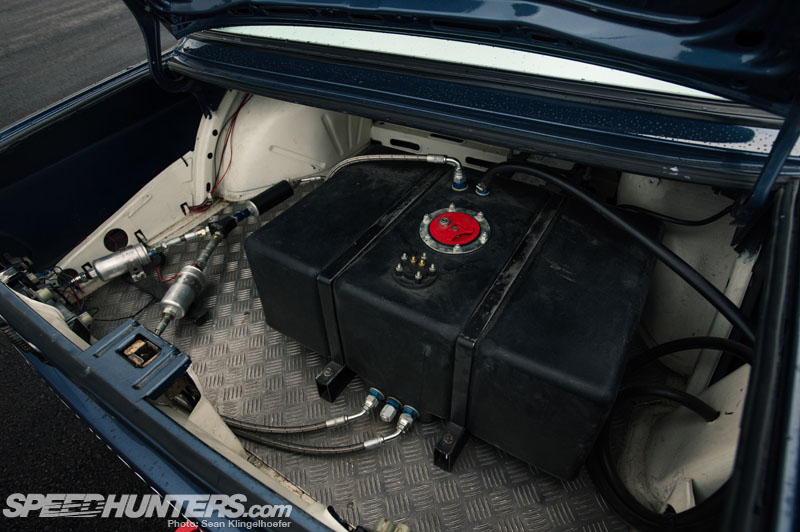 To fuel the motor, the car is equipped with Bosch 1,200cc injectors and twin Bosch fuel pumps which are supplied from an FIA-approved fuel cell mounted in the trunk.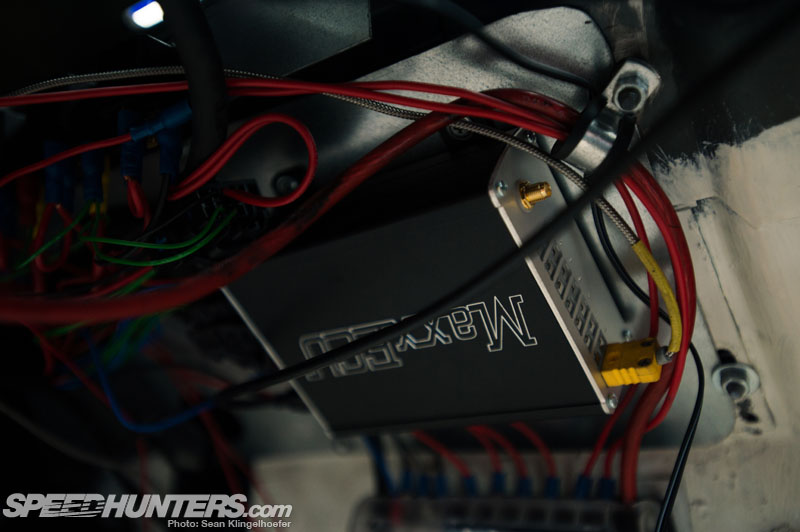 The whole set-up is then overlooked by a Maxx ECU engine management system.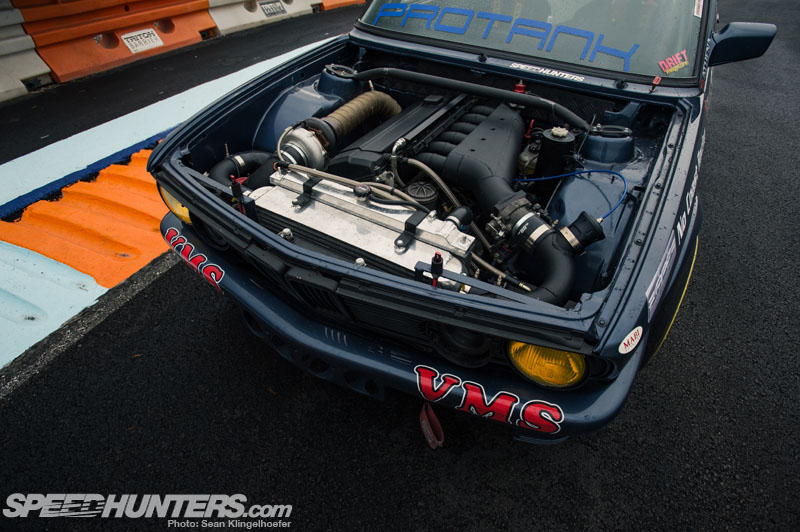 While it wouldn't have been terribly difficult to just throw a ton of horsepower at the car from the get-go, I do like the way Alexander has gradually upped the power in equal proportion to his track time  and competition experience.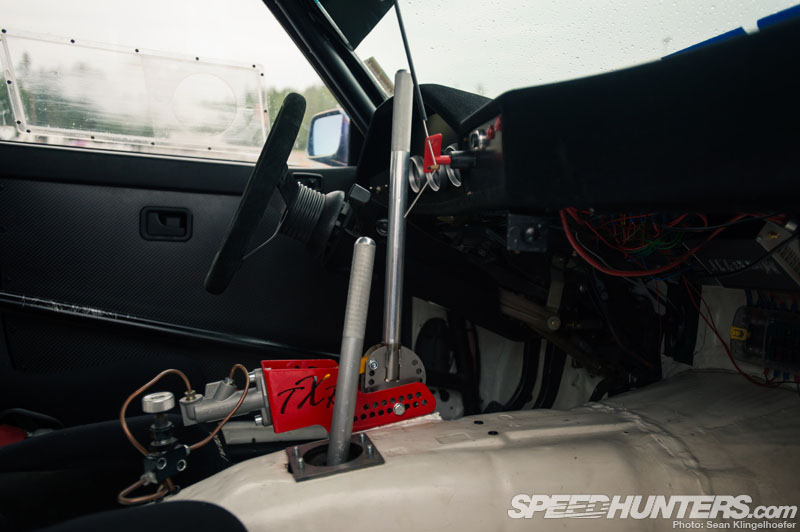 As for the driveline, the turbocharged six cylinder is mated to a ZF transmission with a TXR Performance shifter, a Clutchmasters twin plate clutch and billet aluminum flywheel. Out back, there's a complete E34 M5 subframe and differential swap to get the power to the ground.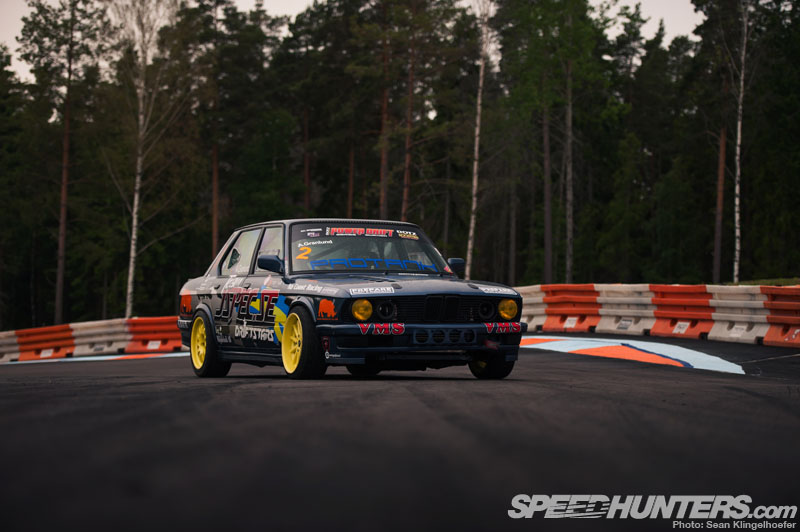 When Alexander redid the motor for the current season he also completely rebuilt the front subframe and steering using parts from an E36. Along with the E36 steering column and subframe, he also made custom arms for the wider track and made a custom kit to increase the all important steering angle.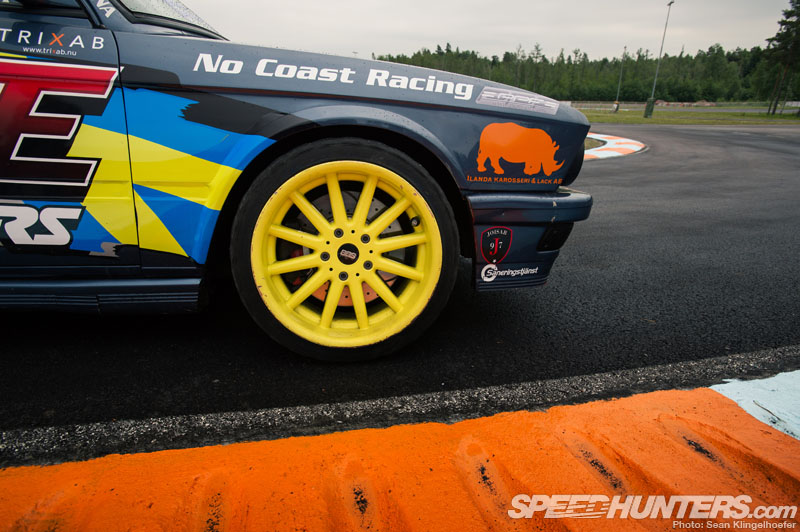 Braking is handled by E46 330 calipers and discs in the front, and E34 M5 components in the rear. As for wheels, Alexander runs 17×8.5 BBS Pitlines up front, along with a variety of different wheels that are mounted on the rear during events.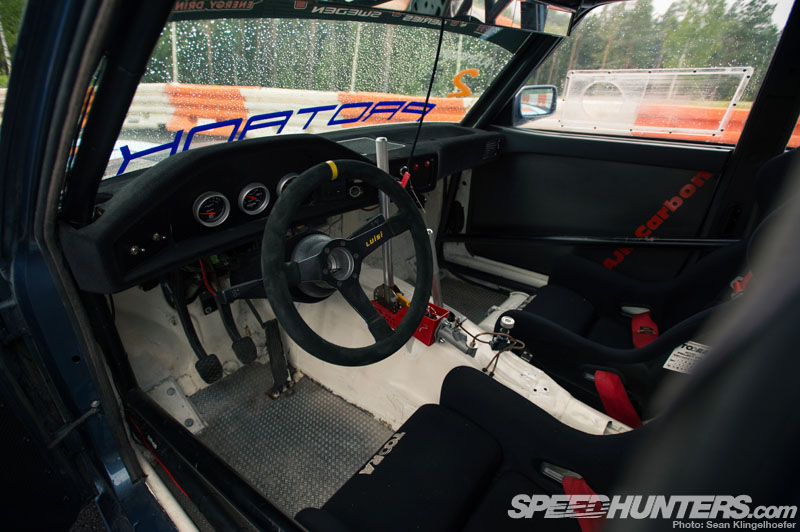 Inside the car you'll find a full roll cage to protect Alexander during competition, along with a Luisi steering wheel…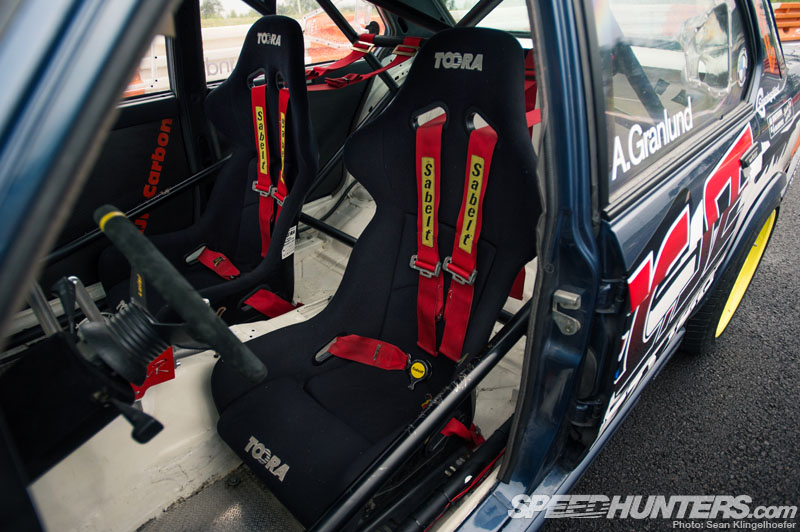 … and a pair of Toora bucket seats with Sabelt harnesses.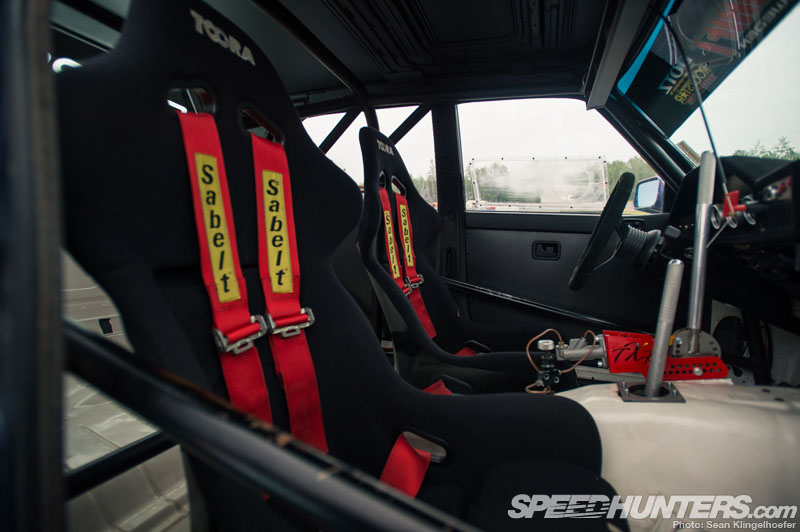 There's also the requisite hydraulic E-brake setup, supplied by TXR performance.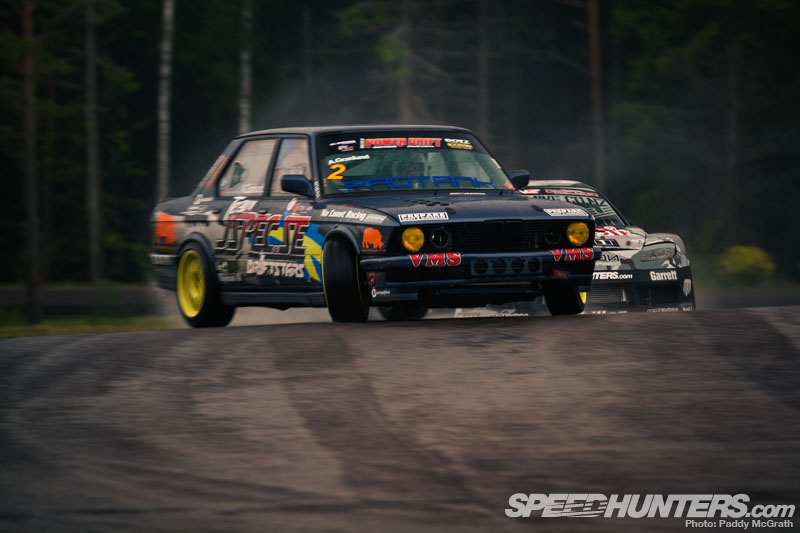 But even with additional sponsors and more competition experience, it hasn't all been smooth sailing for Alexander and the E28. Most recently the car had a gearbox failure, and when we spoke to him last, he was working hard to install a gearbox that can handle the abuse. Based on how far this car has come in a few short years, I have no reason to believe he won't be back out there soon doing his thing in the remaining events of this season and beyond.
Words by Mike Garrett
Instagram: speedhunters_mike
mike@speedhunters.com
Photos by Sean Klingelhoefer
Instagram: seanklingelhoefer
sean(at)speedhunters(dot)com
and Paddy McGrath
Twitter: @PaddyMcGrathSH
Instagram: speedhunters_paddy
paddy@speedhunters.com
Alexander Granlund's BMW E28
Numbers
Max power – 691whp, max torque – 850Nm (626 ft. lbs)
Engine
M50B25 bottom end, balanced and polished crankshaft from E60 530, support girdle , H-beam rods, CP pistons, M50B25 head with double intake-camshafts, harder valvesprings, custom-made intake manifold, custom-made exhaust manifold, Precision 46mm wastegate, Precision 62/65 turbo, 3.5″ exhaust system, custom intercooler, Nissan S15 aluminum radiator, PPF blow-off valve, VAG cop coils, Bosch 1,200cc injectors, Nuke fuel rail, 2x Bosch 044 fuel pumps, Aeromotive fuel pressure regulator, FIA-approved fuel cell, Maxx ECU engine management system

Driveline
ZF gearbox, TXR Peformance shifter, Clutchmasters kit with billet aluminum flywheel and twin disc clutch, E34 M5 diff
Suspension/Brakes
E36 front subframe, E36 steering column , E36 BC front coilovers, custom arms, custom steering angle kit, E34 M5 rear subframe, XYZ E34 rear coilovers, E46 330 front calipers and discs, E34 M5 rear calipers and discs, TXR Performance hydraulic E-brake
Wheels
BBS Pitline 17×8.5 J (front),  misc wheels for events (rear)
Interior
Full roll cage, Toora seats, Sabelt harnesses, Luisi steering wheel, Autometer gauges, Najkcarbon carbon fiber door panels, NASCAR rear view mirror
Scandinavian month on Speedhunters
Welcome Home Hunters: Driftbashing in Sweden