Here in California we are well through the dog days of summer and already beginning to shape up our plans for the fall season. But my mind keeps drifting back to the beginning of the year and the several weeks I spent Speedhunting in Japan. To put it simply, it was one the most enjoyable and productive trips I've ever embarked on, and months later I am still sorting through new material from my JDM adventures to share with you guys.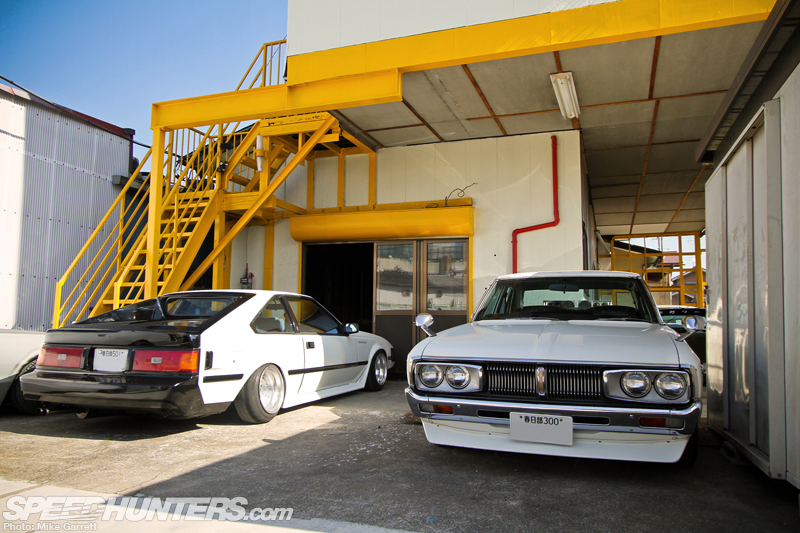 During my month-long stay in that fantastic land I was able to capture everything from drift events and late night parking lot meets, to big museums and hidden-away workshops. Even with everything I've posted already, I've been waiting for the right time to share one of the most memorable moments of the entire trip – my visit to the Mizuno Works shop in Saitama Prefecture.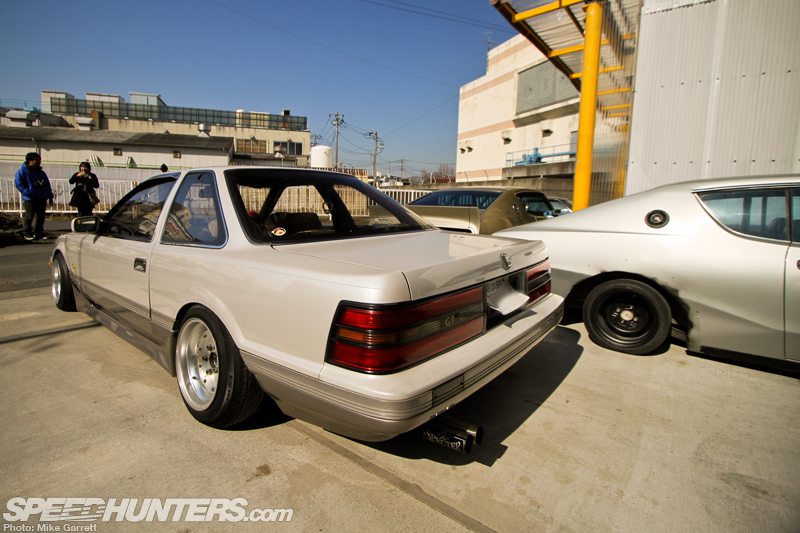 Being a fan of vintage Japanese iron, I'd long been familiar with the cars of Mizuno Works, having seen them at various events and in Japanese magazines over the years. I'd always thought it'd be nice to visit and learn some more about this place. I knew that our own Sean Klingelhoefer had a chance to visit the shop for a print story a few years ago, and when I brought up the idea to him about checking it out Mizuno Works for a Speedhunters feature he said it was something I should absolutely do.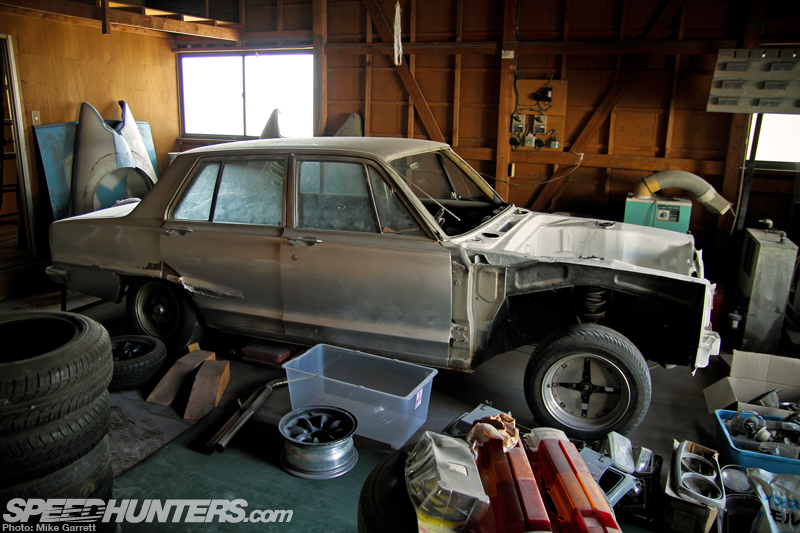 So I made a quick phone call and asked if it'd be ok to drop by and have a look around – which it was. Shortly after found myself heading north out of Tokyo into Saitama's mix of countryside, industry and suburbia to eventually arrive at the place that had given birth to so many of my favorite cars. While I certainly expected to see some cool stuff, there was no way to be prepared for what I was about to find.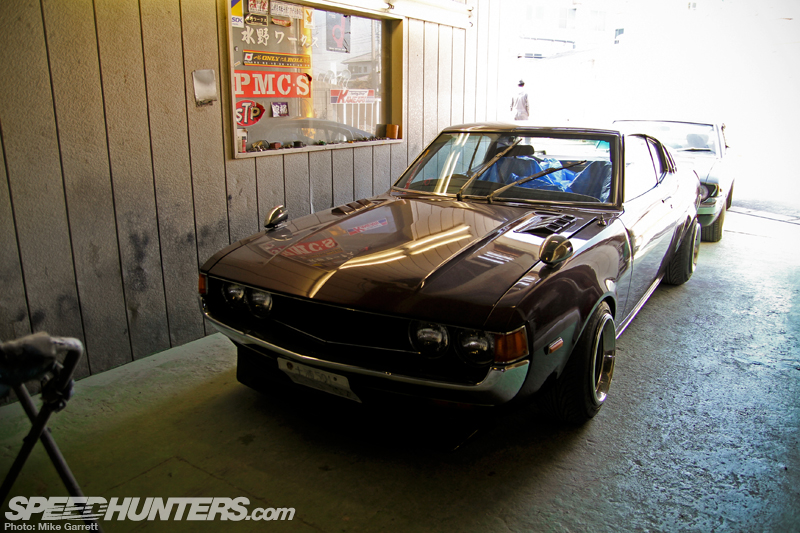 As with most shops in Japan, Mizuno Works is not large. But what it lack in size is more than made up for by its incredible stash of cars, parts and an atmosphere that is unlike anything else I've seen before. The place is nothing less than a holy temple of vintage Japanese street car culture.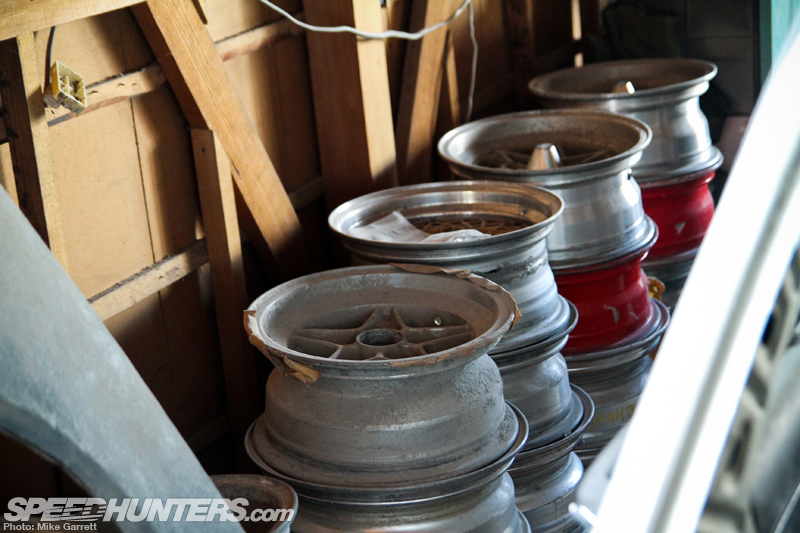 But make no mistakes – this is not a shop where you come to see meticulous restorations and cars being built to look like they just rolled off the assembly line. Rather than turning out museum-quality restos, Mizuno Works has built a reputation as one of Japan's finest builders of hardcore shakotan street machines.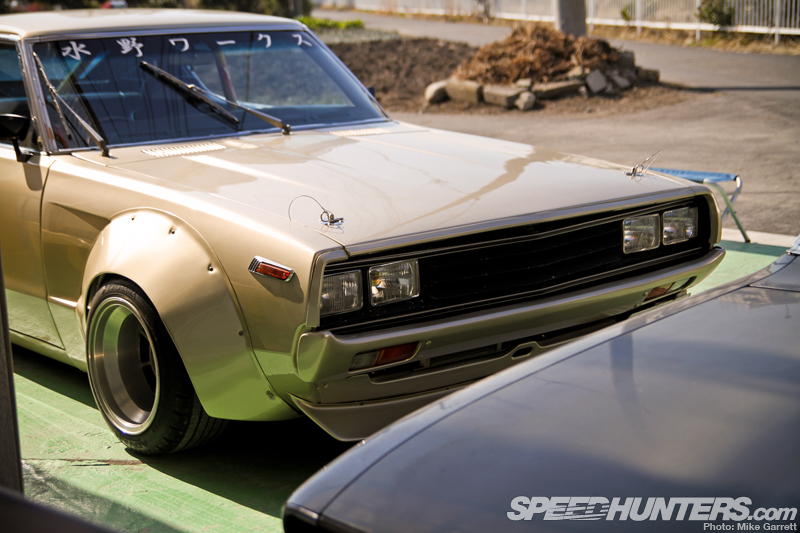 This little garage has rolled out some of Japan's best known and most respected kyusha builds – heavily modified Skylines, Zs, Soarers, Celicas and so many more.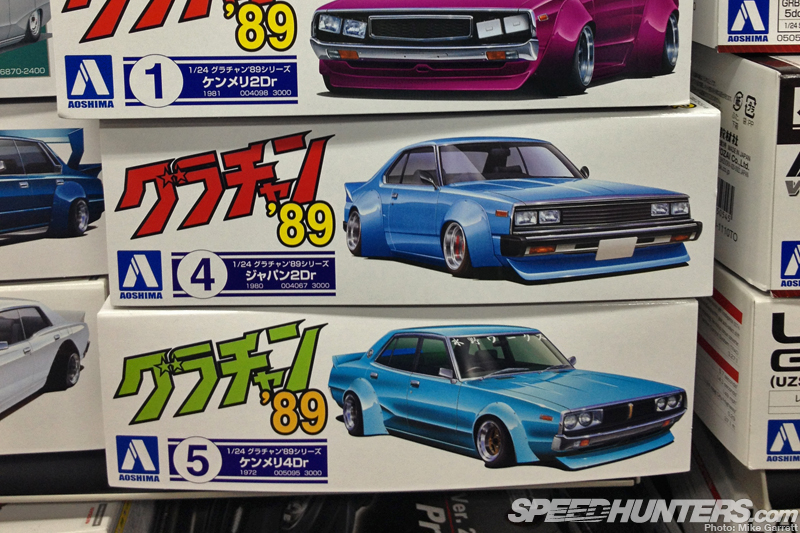 In fact, if you head to a hobby shop in Japan there's a good chance you'll come across scale replicas of Mizuno Works cars and parts. That should give an idea of the strong reputation this place has among the kyusha community in Japan.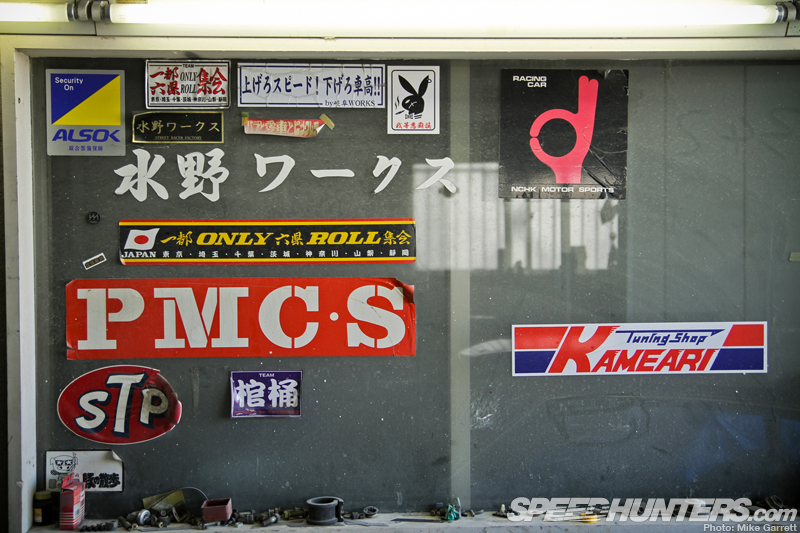 But even with the legend that his shop is surrounded with, Mr. Shintaro Mizuno is one of the most humble and gracious guys you'll ever meet. Strangely, when I asked if I could snap a quick portrait shot to include in the story, he actually said he'd rather not.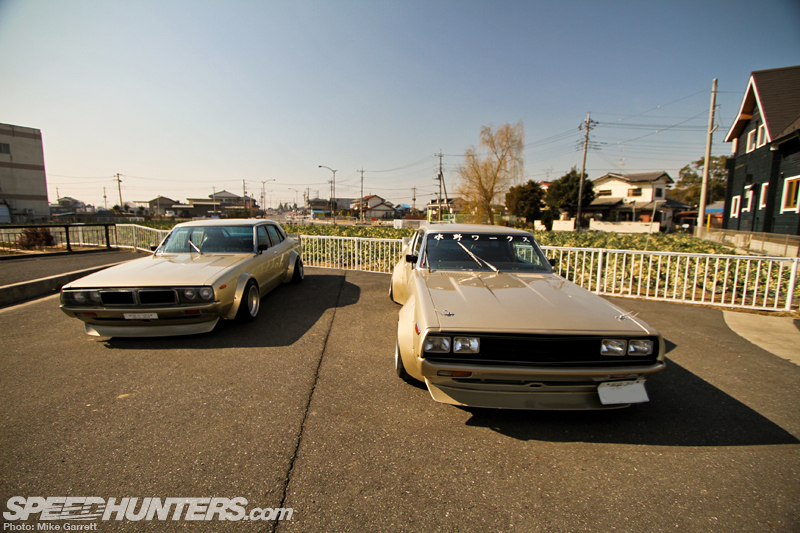 Now this wasn't at all because he is self-conscious or was trying to protect his identity from the law or anything. He just said that he prefers his work and his cars to speak for themselves and that he has no desire for personal fame. Mizuno-san is an old school dude with old school values.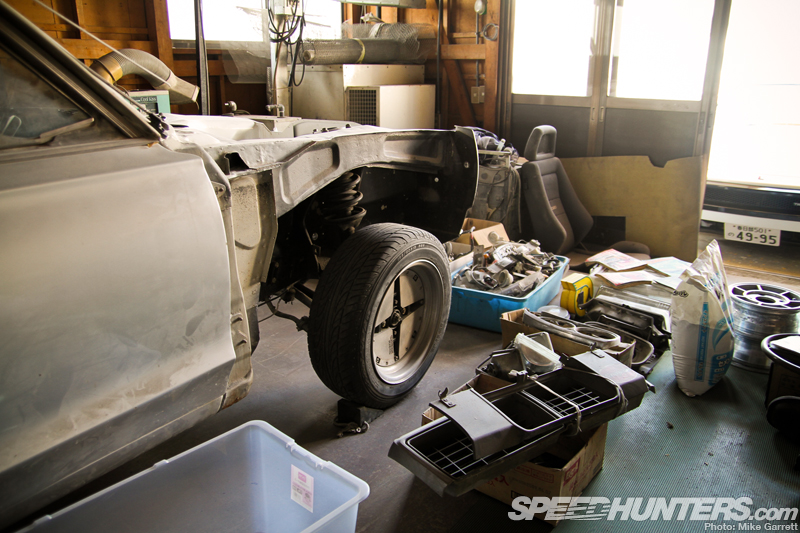 Walking into the shop, you are greeted by by an incredible assortment of vintage car parts, and the distinct aroma of a body shop that's hard at work. Just about all of the work is done by Mizuno-san himself, while his wife also helps him run the family business.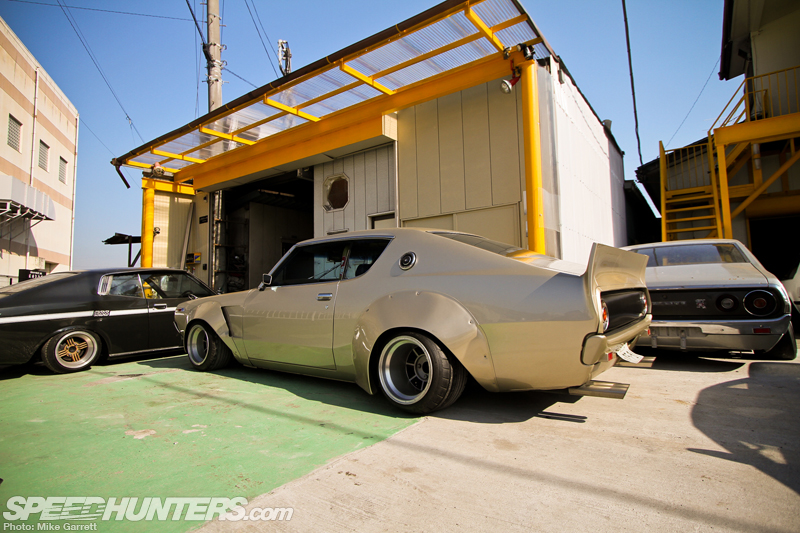 Although its primarily known as a body shop, Mizuno Works is really a one-stop destination for all things kyusha, offering FRP parts, one-off body bodywork, complete builds, used car sales and more.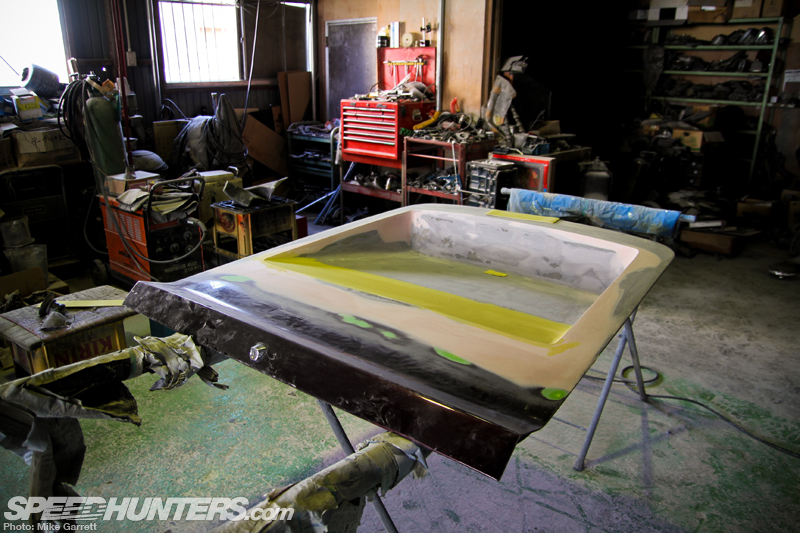 As far as the bodywork and parts and go, there are two main side to the Mizuno Works operation. A good part of the shop's business comes from area car enthusiasts who bring their cars in for one-off body work and paint, mechanical work and also to ready their cars for Japan's tough shaken inspections.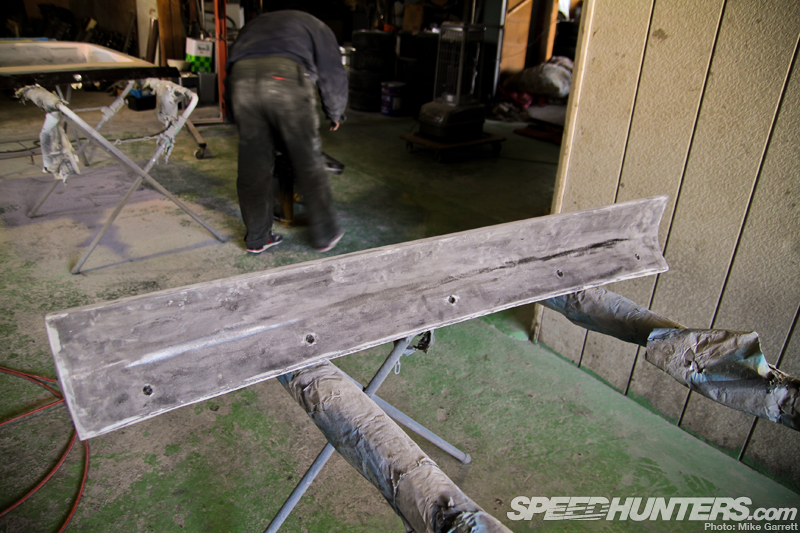 In addition to that, Mizuno Works also offers its own line of FRP body parts that are shipped to people all over Japan. Popular items include over fenders, rear spoilers, chin spoilers and more. As you'd expect with a small grassroots company like this, all of the parts are made to order. Again, nearly all the work is done by Mizuno-san himself, who has been building and driving badass cars for his entire life.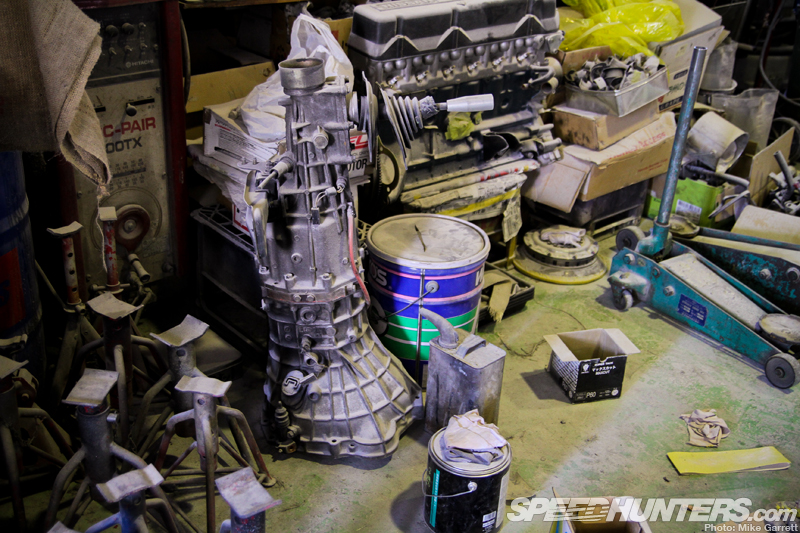 But as you continue to look around the shop, you find that this place is about so much more than just body work and FRP parts. The place is just stacked with spare components of all type – enough gear to build a few complete cars from scratch I'm sure.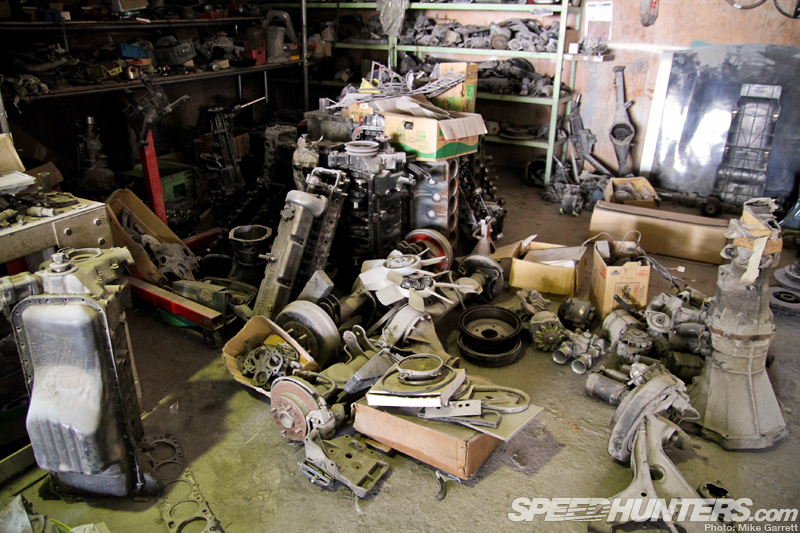 Engine blocks, cylinder heads, transmissions, rear differentials, steering wheels and everything else you can imagine – all spread around in a seemingly chaotic manner.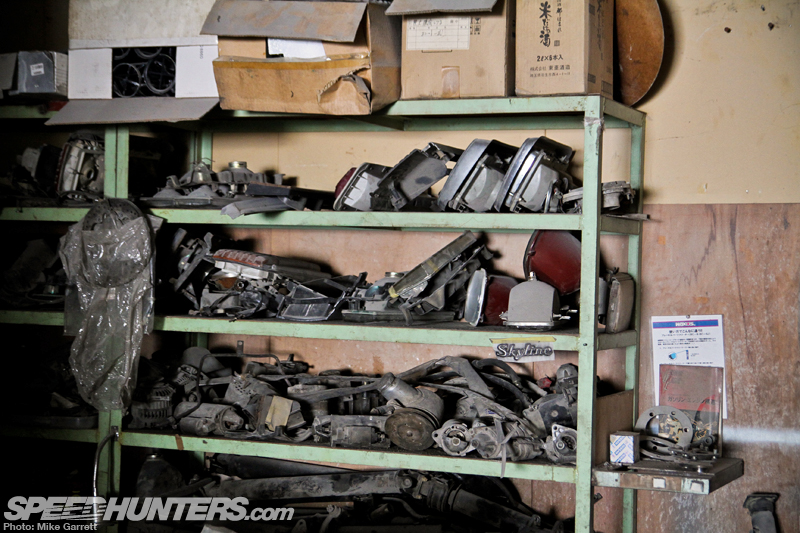 Yet, you can bet that Mizuno-san knows exactly what he has and where to find it should he need the parts for a build or if a customer comes looking for something specific.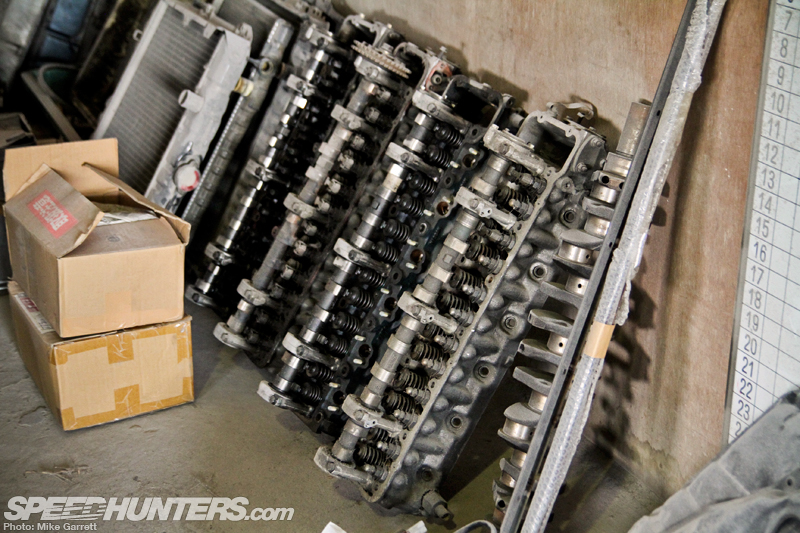 It's not surprising that most of the engine parts spread around the shop come from Nissan's venerable L-series motor – the choice for the Skyline, Fairlady Z and so many of the other cars that Mizuno-san specializes in.
And then there's the vintage wheels…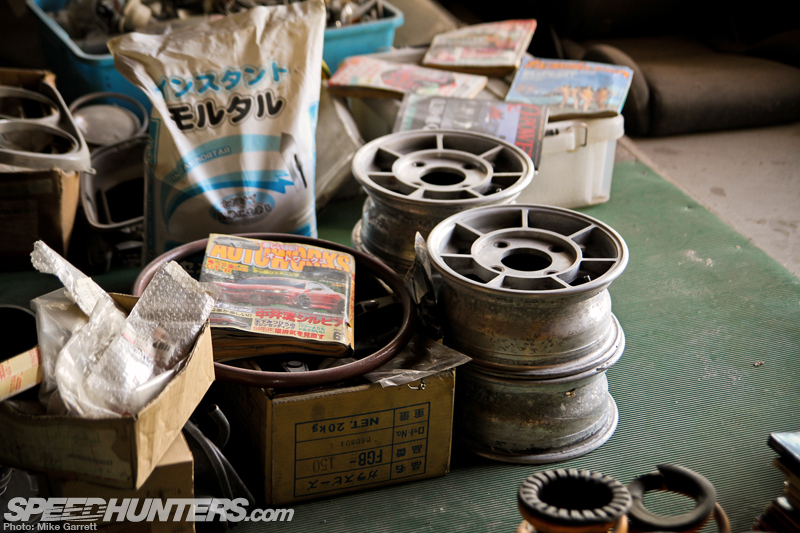 Mizuno-san is an expert in the field, and his shop might as well be a museum dedicated to the art of bitchin' old school wheels.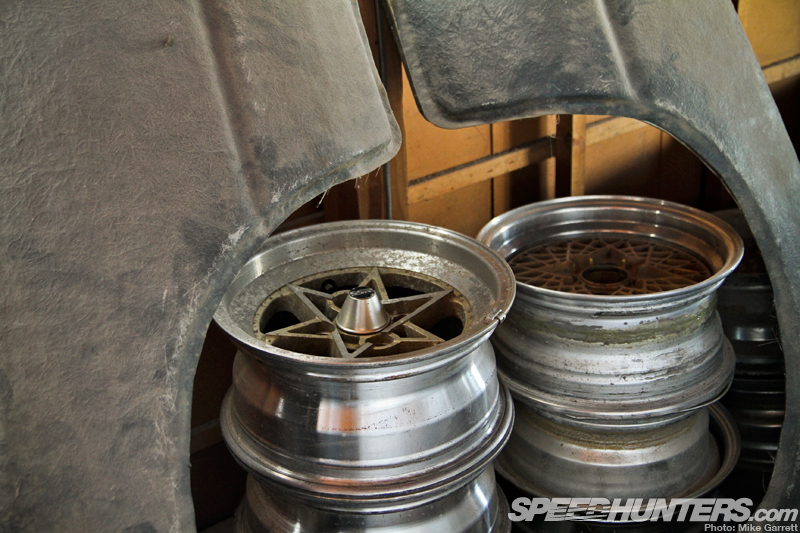 Now even a Japanese gearhead would be overwhelmed by the incredible selection of rare parts spread around Mizuno-san's workshop…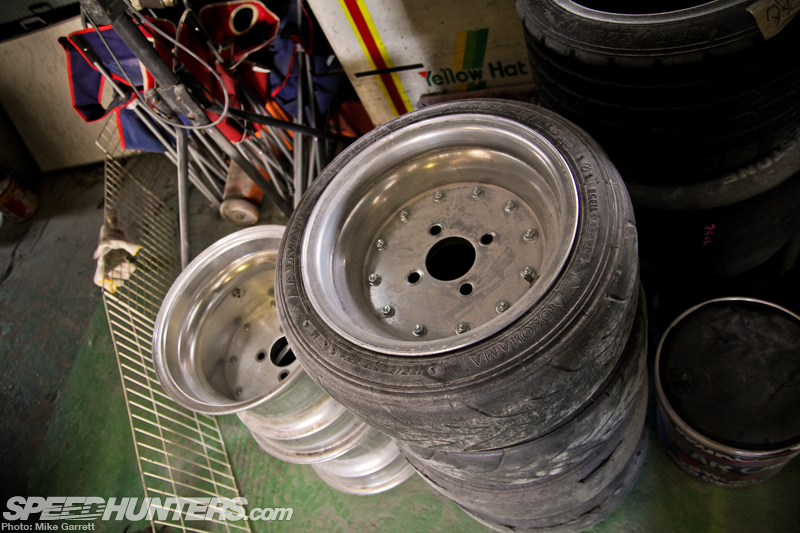 … but for someone that comes from the US where this stuff is even harder to find it's an even crazier experience. Wheels like these SSR Mk.1s are a dime a dozen compared to some of the rarities in Mizuno's collection.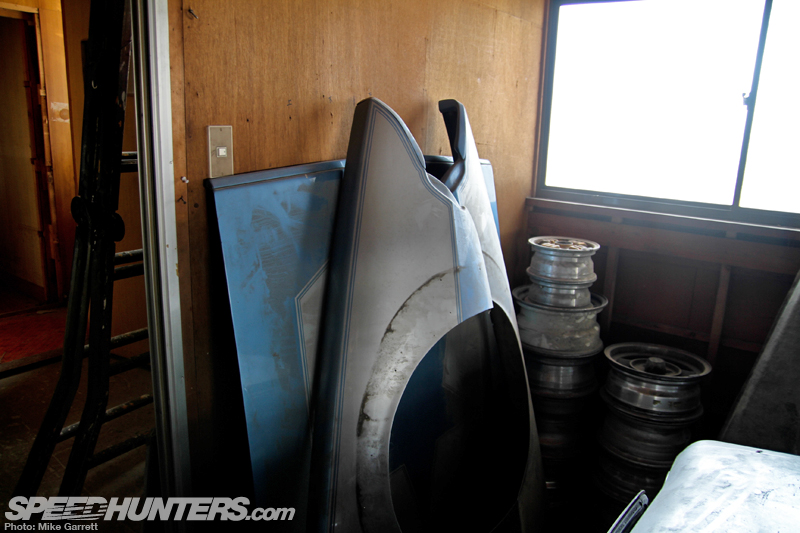 Elsewhere, the shop is littered with body panels from from a variety of cars, like this set of front fenders and hood that have already been given a long-nose conversion.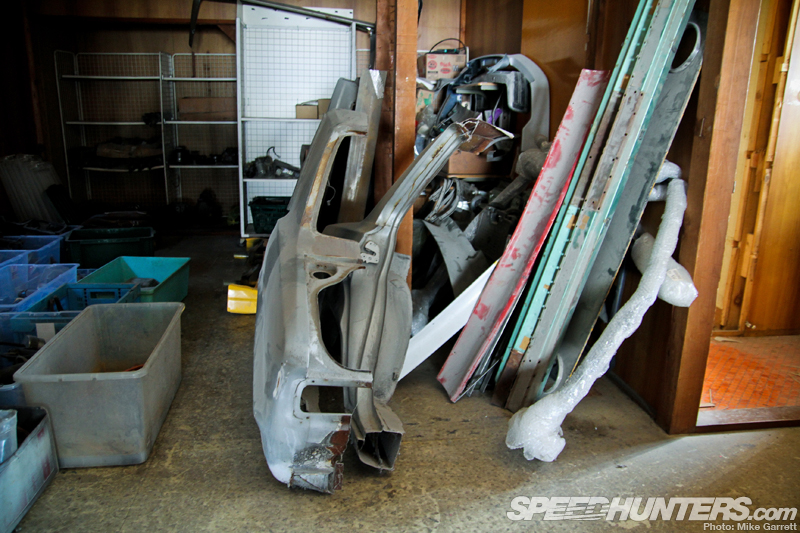 In another corner I found a pair of complete rear quarter panels that are easily recognizable as coming from a Hakosuka Skyline.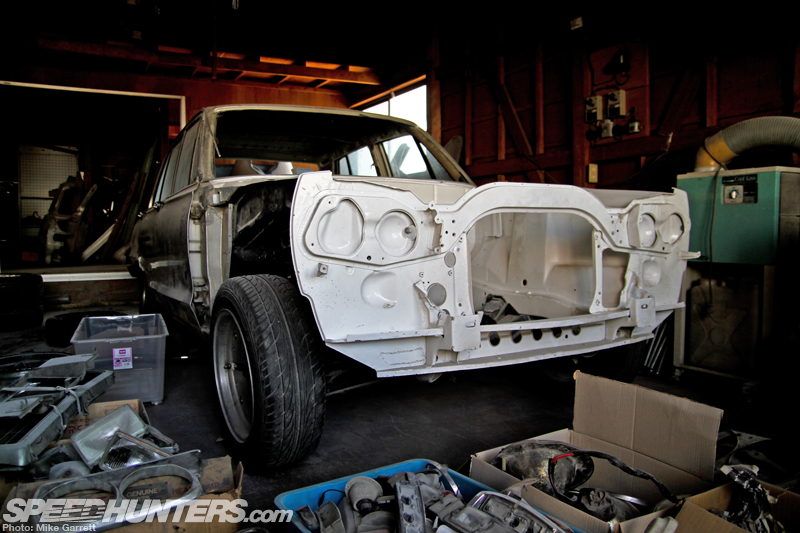 Speaking of the Hakosuka, also sitting inside the shop was this C10 Skyline sedan part way through being brought back to life.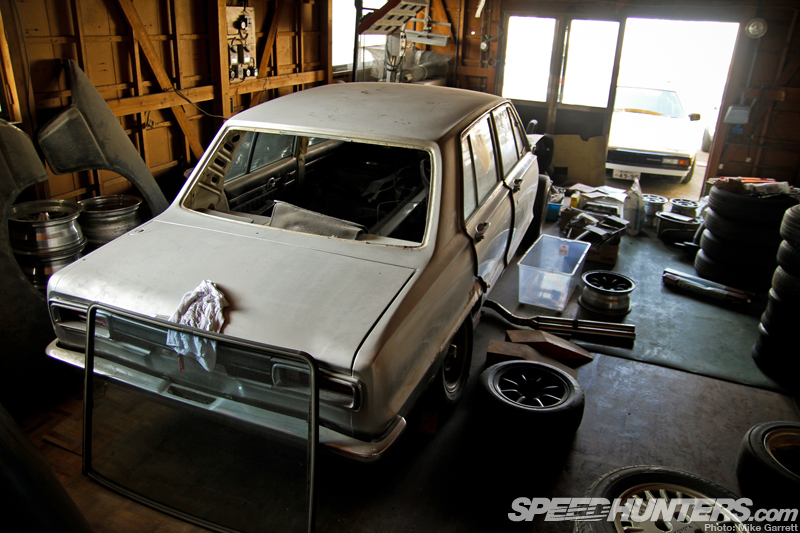 Given how busy Mizuno-san is it might be a while before we see this car out on the road, but I can't wait to see what a full Mizuno Works-style Hakosuka sedan will look like.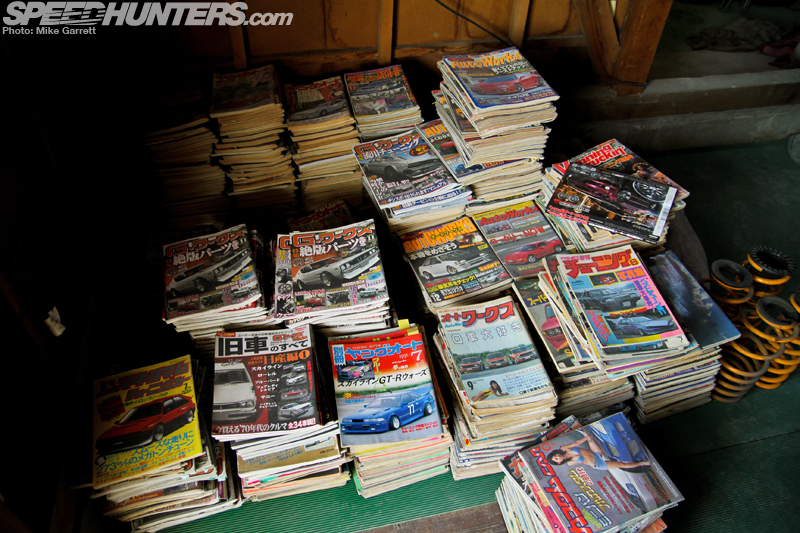 Equally impressive to a geek like myself is the incredible library of vintage Japanese car magazines found in the shop.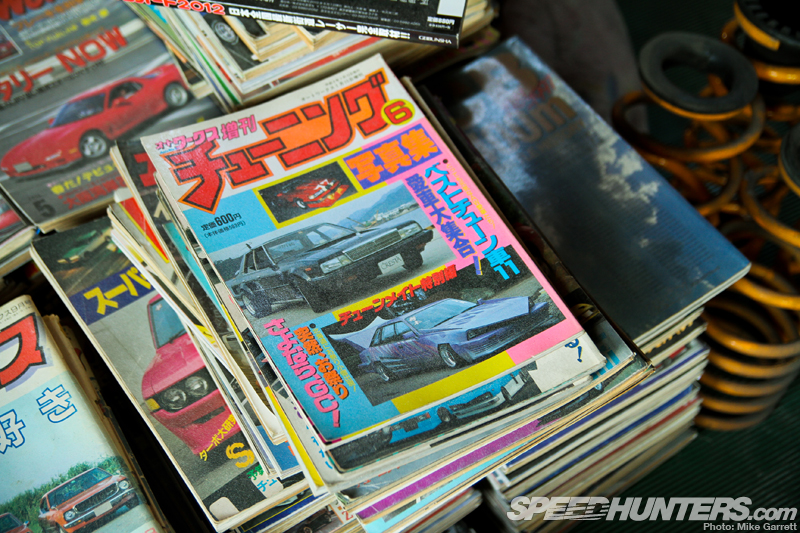 Auto Works, Young Auto, Custom Car and so many more. If I had the time I could have spent hours and hours just sitting there flipping through the dusty, yellowed pages of these magazines.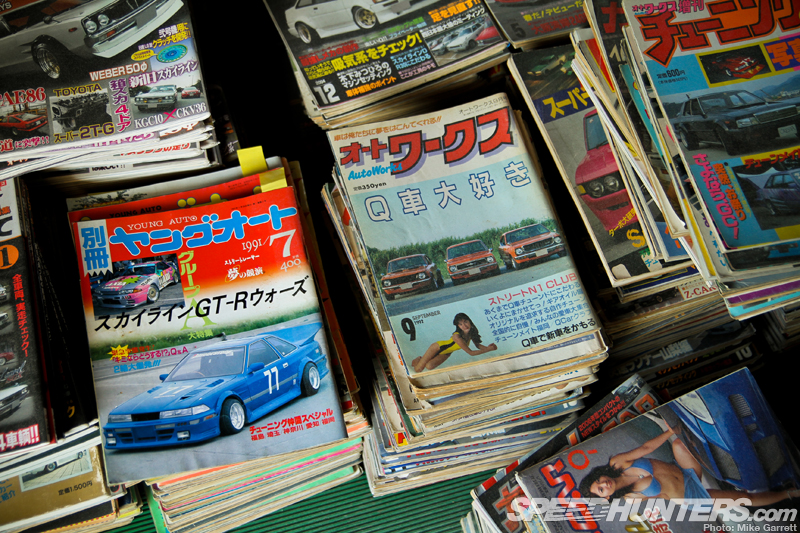 All of them had been collected by Mizuno-san over the course of a few decades, and many date back to when the great cars of the Showa era were modern machines rather than the classics they are today.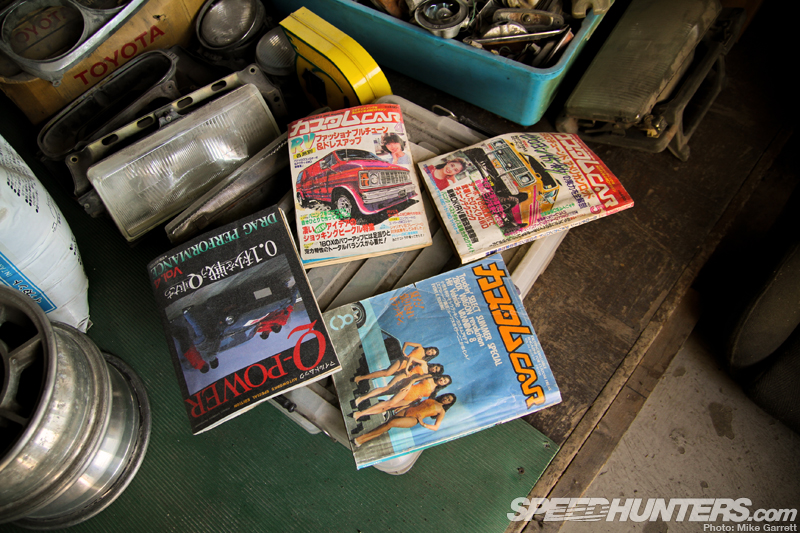 As I continued to wander the shop, I chatted with Mizuno-san a bit about his background and his tastes in cars and I learned some fascinating things. While his specialty is modifying Japanese domestic cars from the '70s and '80s, he's also a big fan of lowriders, muscle cars and other American vehicles of the same era. In fact, when he was 18 or 19 years old he actually traveled all around the United States alone on a Greyhound Bus. That's something that you won't find too many Japanese tourists doing today.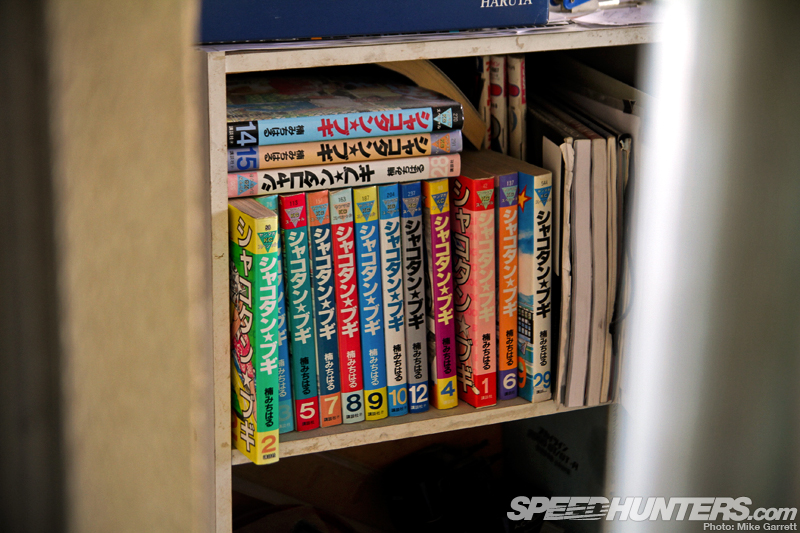 There's also plenty of Shakotan Boogie love around Mizuno Works. No surprise there.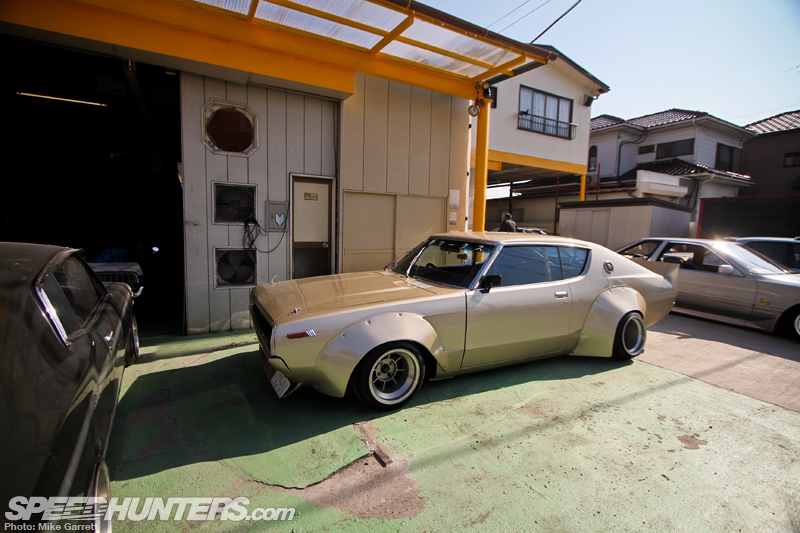 Once I was done poking around inside the shop, I headed outside to check out the stunning array of machinery that was parked around the workshop and its side yard.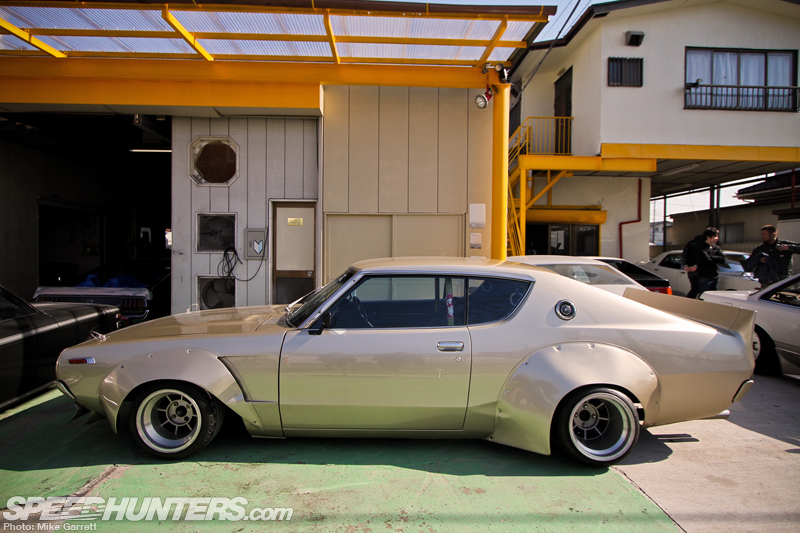 For starters, there was the pair of Mizuno Works signature Kenmeri Skylines, but I think I'll go ahead and save my in-depth look at these cars for later, as there's already too much awesome stuff to cram into this story.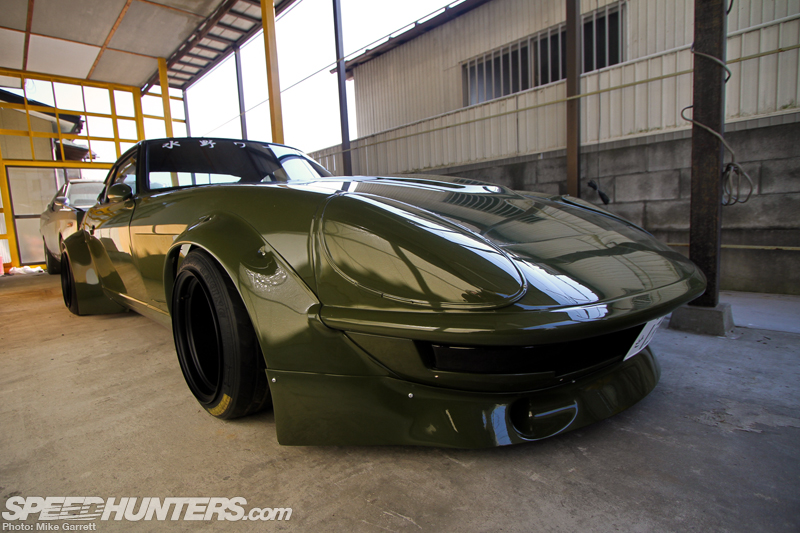 Heading around to the side, I found the shop's amazing 240ZG demo car. To me this car perfectly embodies everything the company is about, and the unique style that Mizuno-san injects into all of his builds.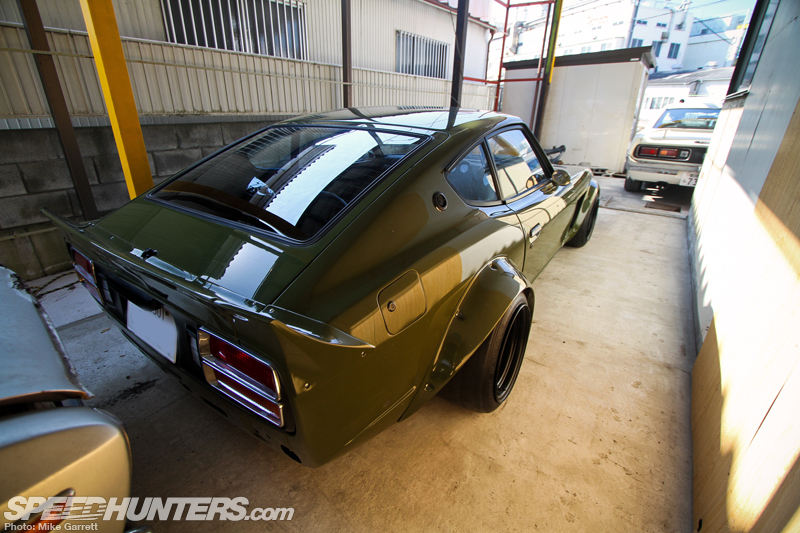 Now Japan has not shortage of badass Fairlady Zs, but there's just something about this car that's at an entirely different level. First off there's the necessary Mizuno Works original body parts, and the understated olive green paint that stands in perfect contrast to the car's competition-inspired body work.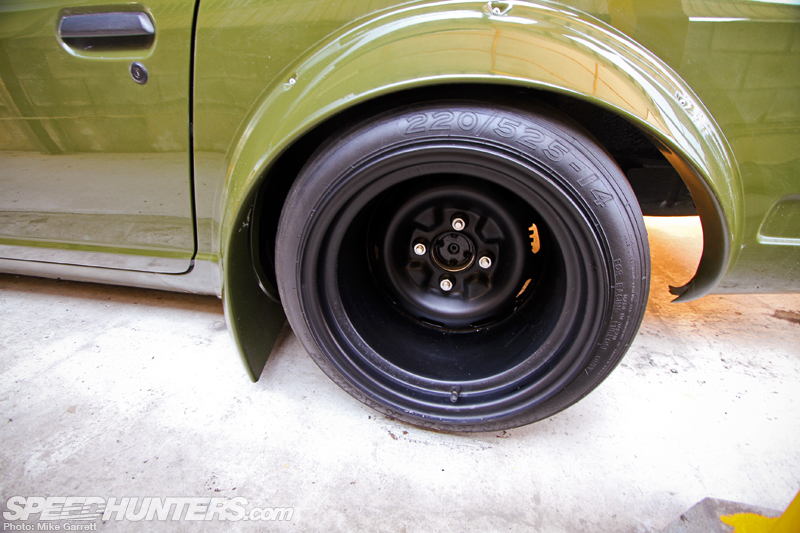 Equally fitting are the Z's custom-widened 14″ tetsuchin steel wheels with 220/525-14 Dunlop racing slicks.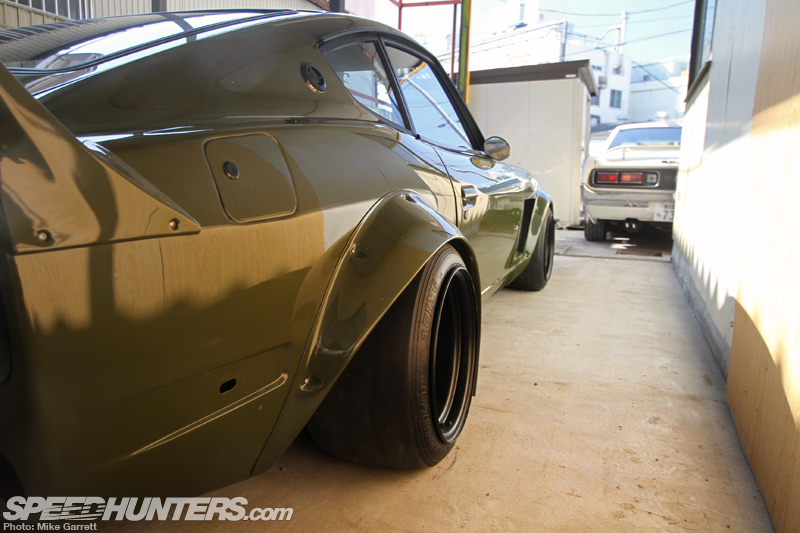 At the time I saw it, the Z was lacking an engine and transmission, but to be honest the car was so good looking that it easily works as a static piece of art – and it's not like Mizuno-san doesn't have a huge stash of L-series parts to get the car back on the road when he finds the time.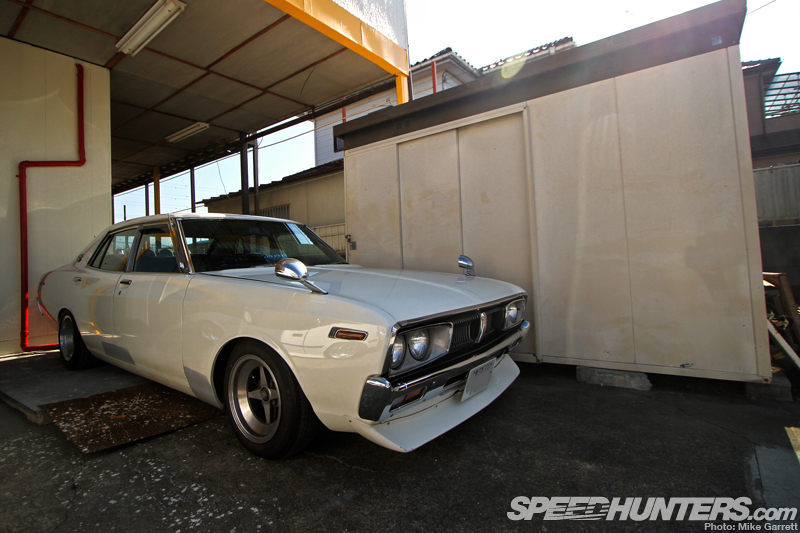 Another cool machine that was hanging around the shop was this C130 Nissan Laurel Sedan, more commonly known in Japan as the Gamera Laurel.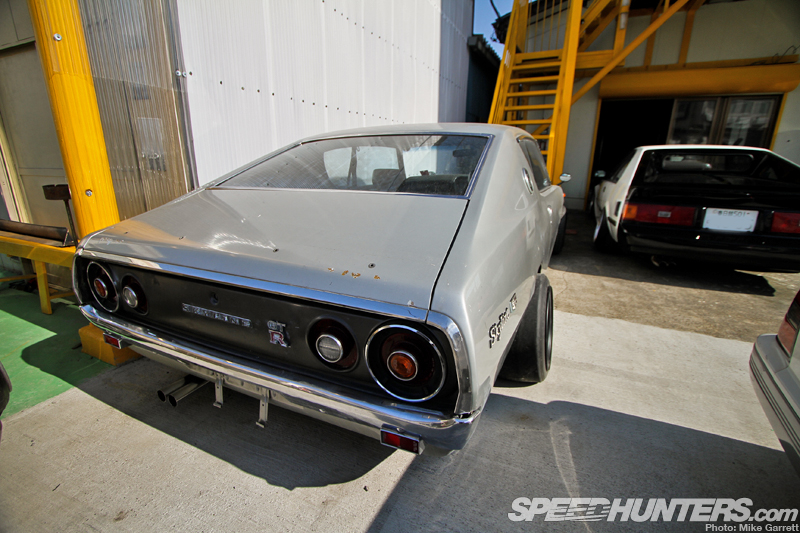 I also spotted yet another Kenmeri Skyline, this one a silver two-door that's clearly a work in progress.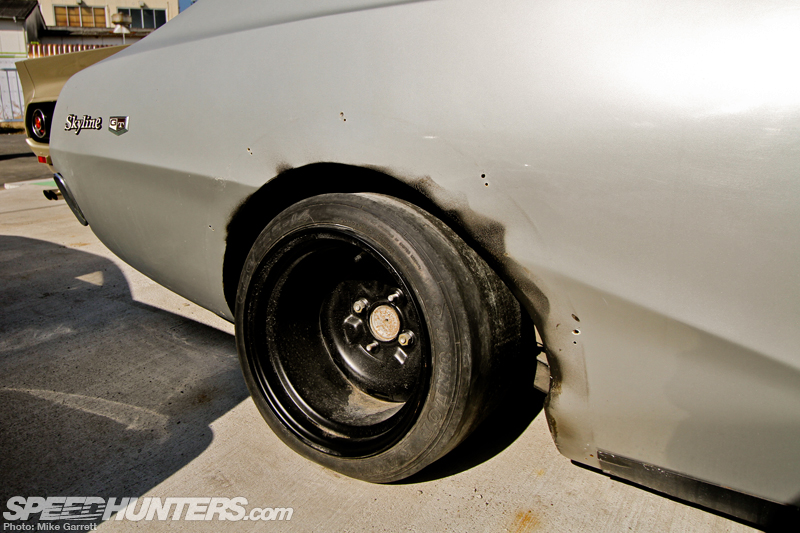 I think this angle provides a good look the the sort of body modification that is required to fit a Kenmeri with a set of Mizuno Works overfenders. Purists need not apply.
One of the more unusual cars that was hanging around the shop was this Toyota Corona Mark II GSS. Although these aren't common platforms to get the shakotan treatment, you can see here how good it looks with a dropped stance and a set of proper wheels.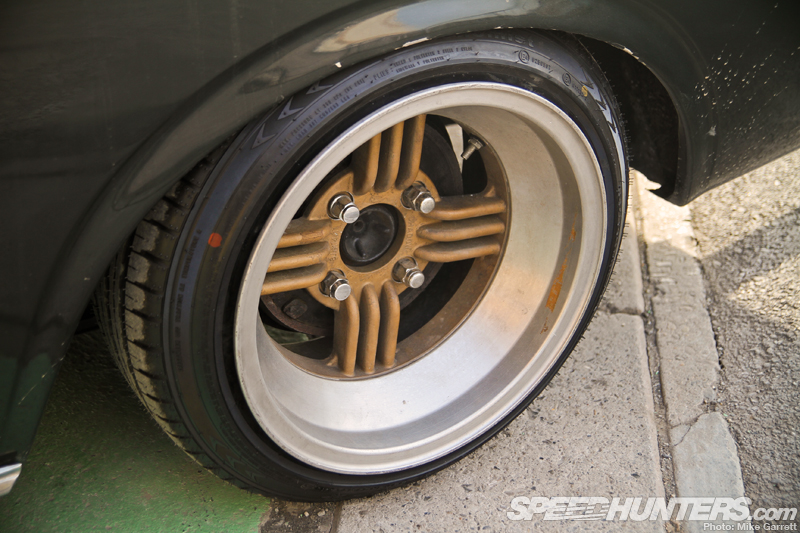 Speaking of which, the GSS was fitted with a set of 14×8-inch Techno Shadow Spokes – a model that was right at the top of the list when I asked Mizuno-san what his personal favorite wheel was. There's certainly no arguing with the man's taste.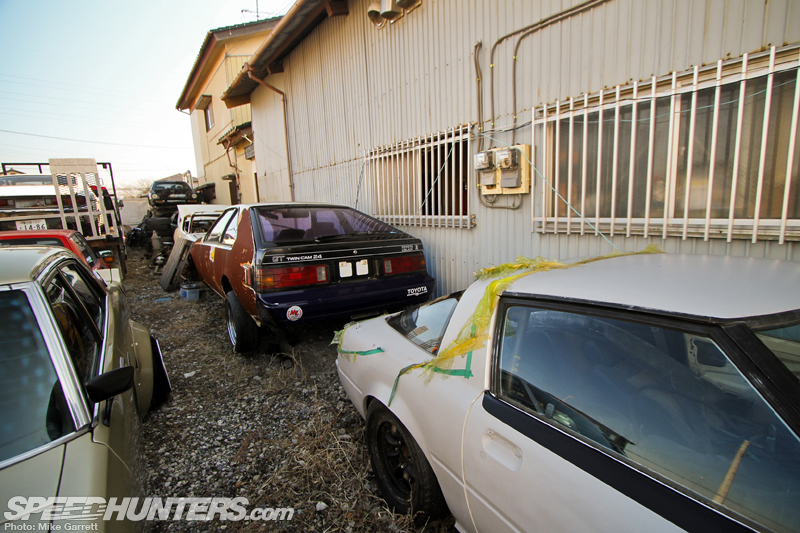 From there, I headed out to the side yard, which is home to an even larger group of vintage cars in various states of repair.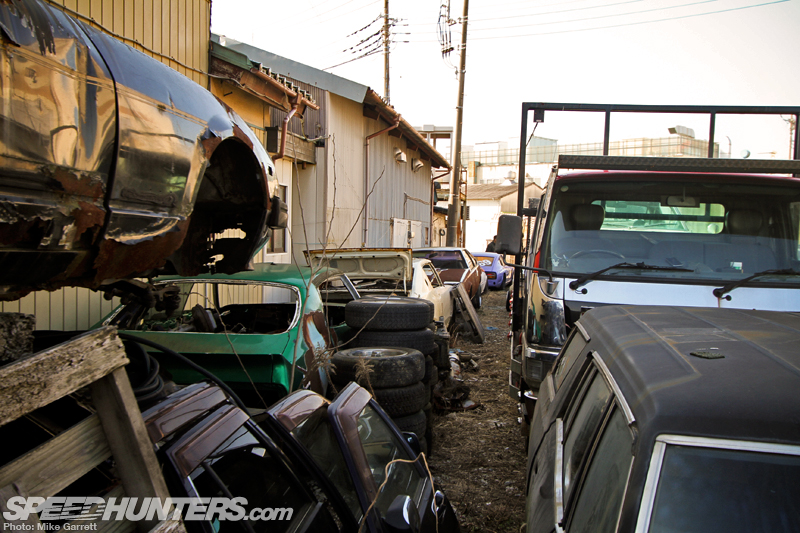 While most 'normal' people might see this as nothing more than a bunch of junky old cars, for those that know, it's so much more than that.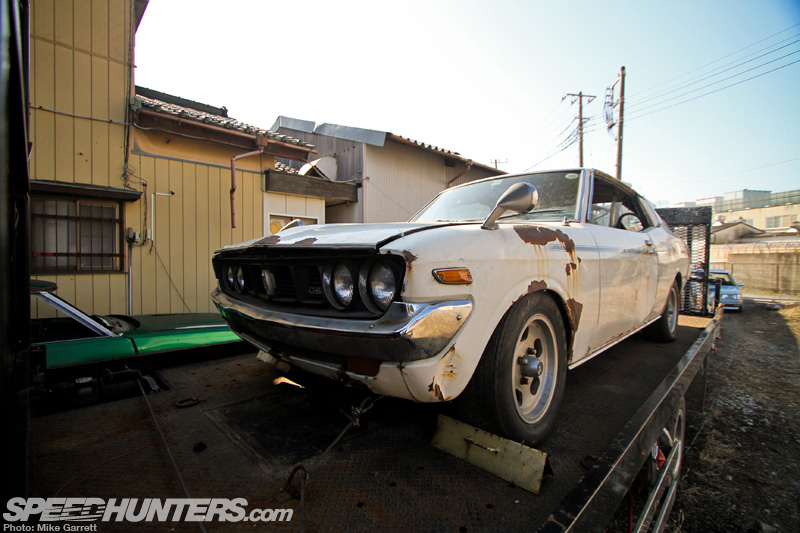 Here I found another Corona Mark II GSS…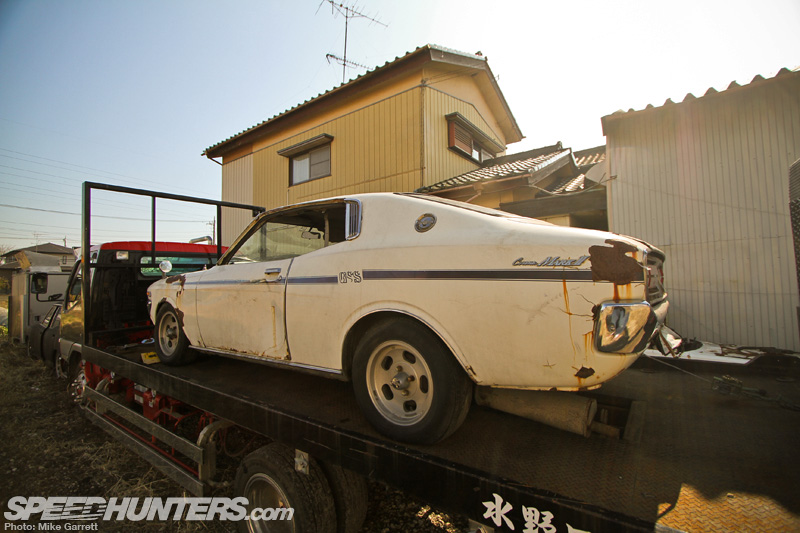 … although this one clearly needed quite a bit more work than the green example sitting out front. Still, there's no doubting the project potential here.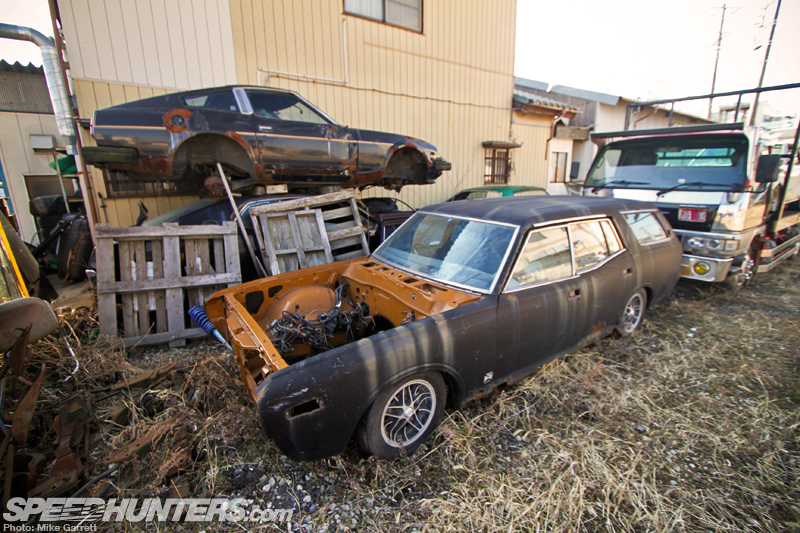 Elsewhere in the Mizuno Works junkyard, I found the rusted carcass of an S130 Fairlady Z and a 330-chassis Nissan Cedric (or Gloria?) wagon that looked like it might still have some life left in it.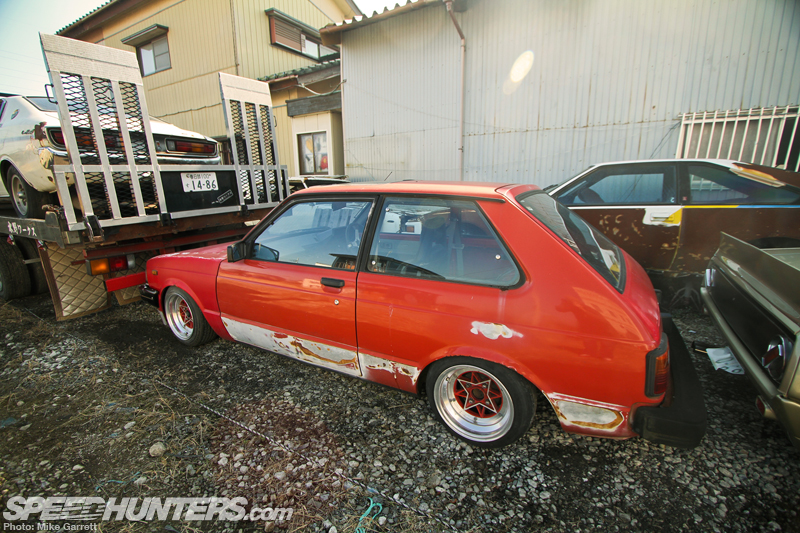 How about this little KP61 Starlet? It was looking quite tough despite the fact it could use some cosmetic TLC.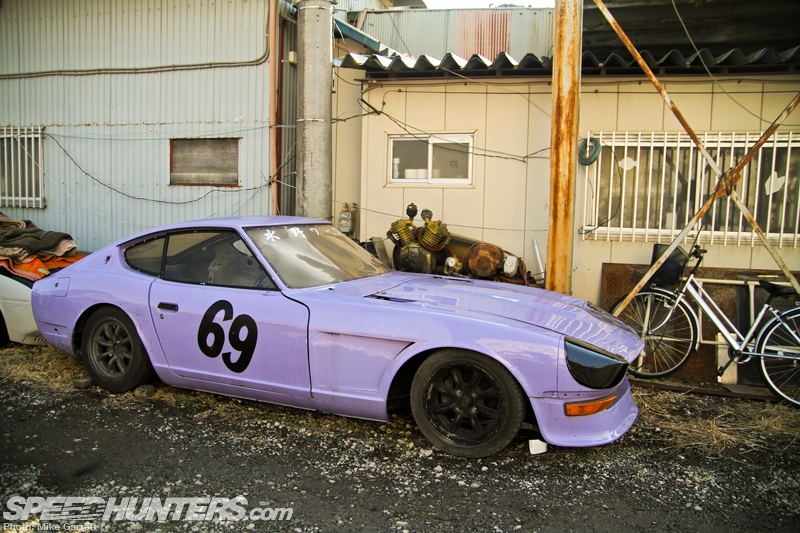 Here's an S30 Fairlady Z that might look familiar to those with keen eyes. This is the same car that was displayed at Tokyo Auto Salon several years ago when it was wearing a G-nose and some aggressive over fenders.
The Z has since been stripped down and lightened for drag racing use. Besides building some wicked street cars, attacking the 0-400 is one of Mizuno-san's big passions.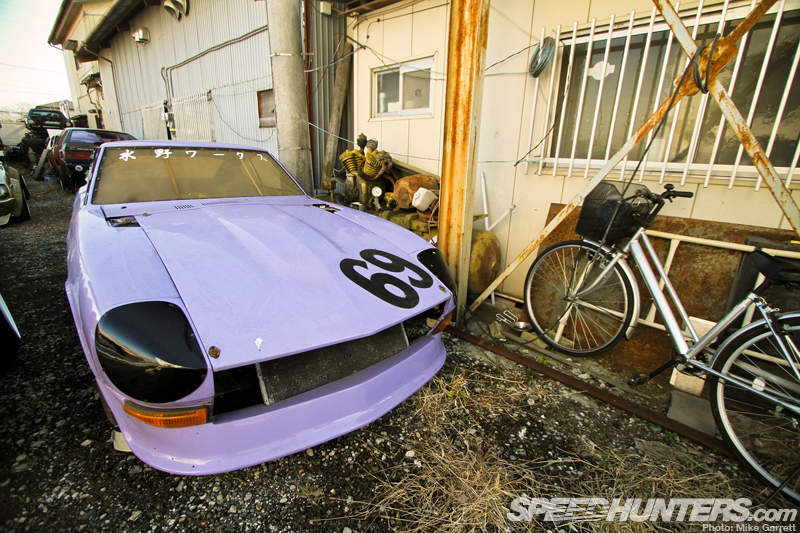 When I talked to him earlier this year, he was really looking forward to getting back out and racing following the reopening of the dragstrip at Sendai Hi-Land Raceway, which was closed for a long while after the Touhoku earthquake of 2011.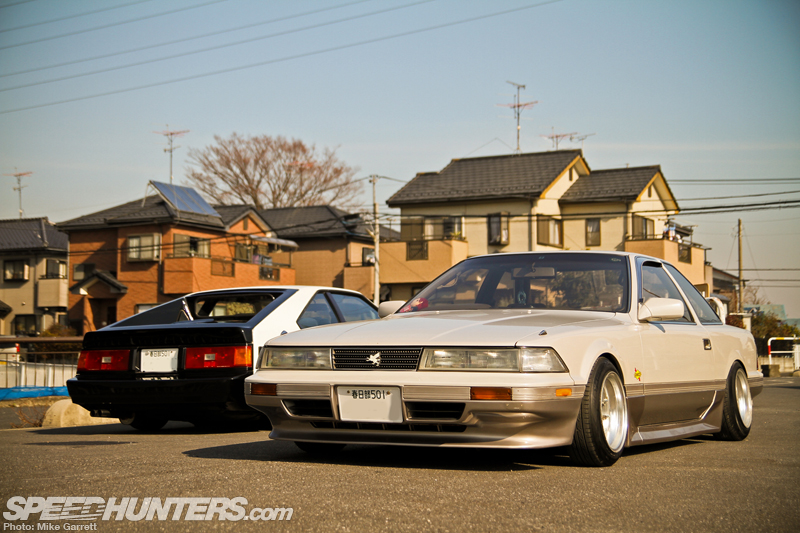 As I spent more time hanging around the shop and chatting with Mizuno-san, I couldn't help but draw comparisons to a certain garage that builds world-famous wide body Porsches over in neighboring Chiba.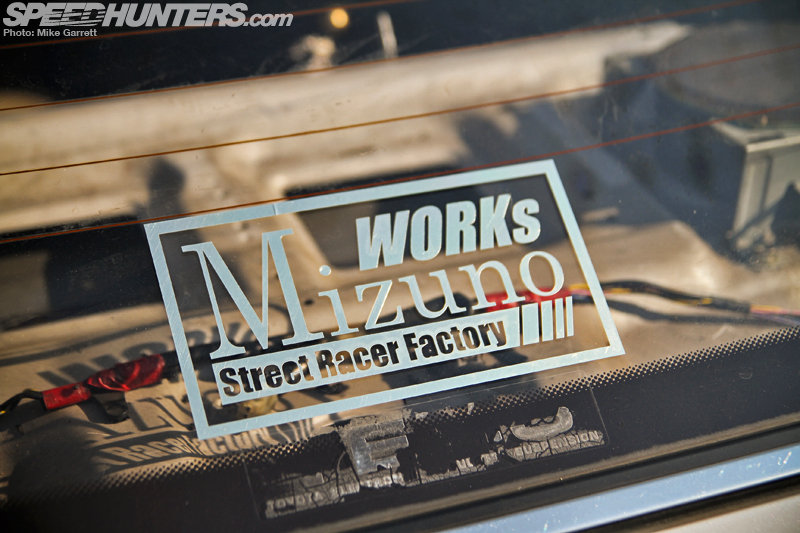 Sure, the cars might be different but the craftsmanship, sense of style and the aura you find around Mizuno-san and his shop reminded me so much of how I felt when I first visited RAUH-Welt more than half a decade ago.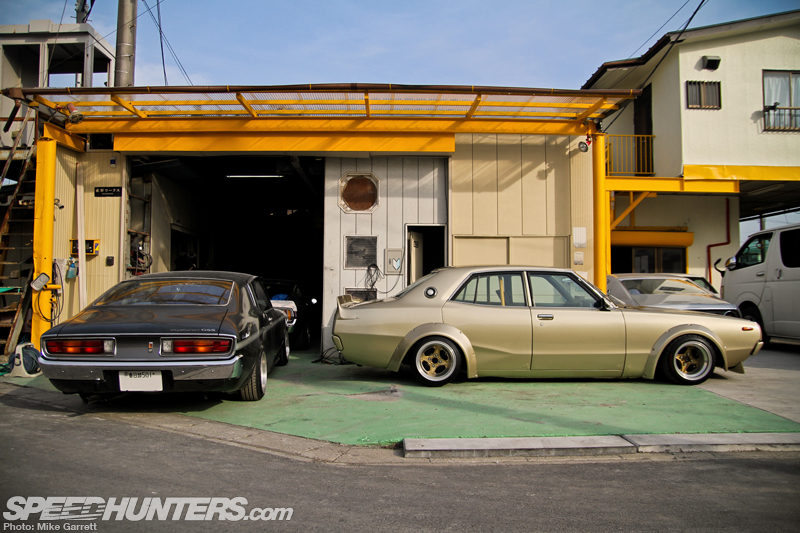 And while Mizuno Works has no plans to become an international sensation like Nakai-san and RWB have, the humble man from Saitama and his cars have impressed and influenced me in a way that few others have done before. Considering the amazing stuff I've seen as a Speedhunter, I guess that's saying quite a lot.
A big thanks go to Mizuno-san, his wife and the rest of the shop crew for providing me with an afternoon I'll not soon forget. I can't wait to go back and see what's cooking next time.
Mike Garrett
Instagram: speedhunters_mike
mike@speedhunters.com