And the rain poured
I got a stark reminder of just how passionate the Japanese are about their cars yesterday. I got up nice and early with the intention of heading down to Fuji Speedway to check out this year's R's Meeting. Except one quick look out through the bedroom window revealed an almighty downpour, something we were all expecting as there had been warnings of a pretty big typhoon heading up towards the capital. Now this was no light drizzle – when it rains in Japan it really rains, and more so during a typhoon. Surely nobody would bother taking their GT-Rs out in this weather, considering that the last time we had one, highways were shut and Fuji was ravished by landslides.
Still after a few quick calls it seemed that the meet was going to happen no matter what, so after packing two changes of clothes I jumped in the car and set out. As soon as I jumped on the Tomei expressway there were GT-Rs all over the place, driving as slow as 70-80 km/h to avoid hydroplaning all over the place. The rain was coming down so strong I couldn't see anything even with the wipers set at full speed, but despite this I just kept passing Rs. It took a while but eventually I got to Fuji…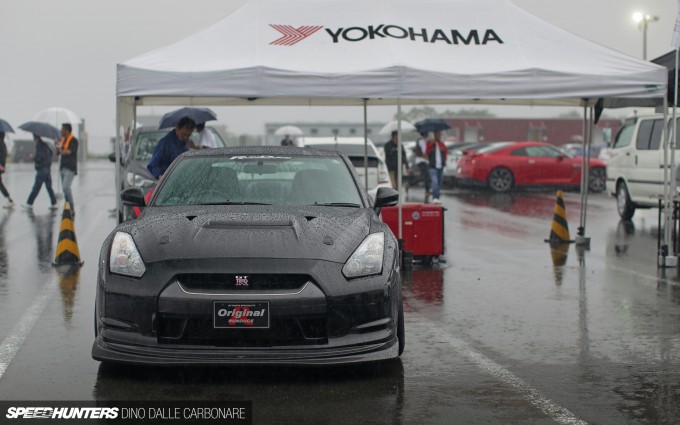 … and was surprised to see things were proceeding just as normal! All the tuners and parts makers had set up their little display areas…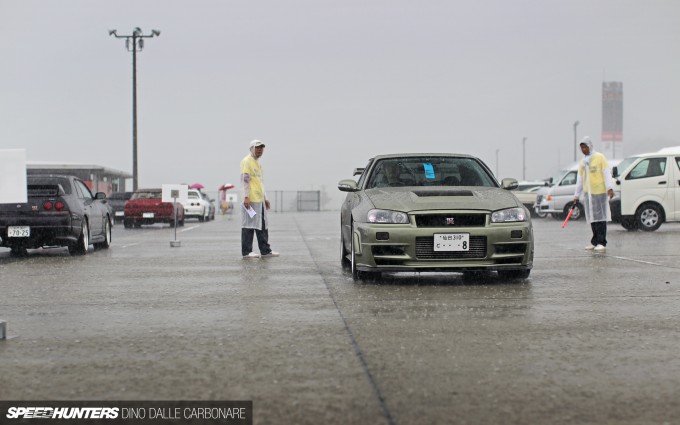 … and people slowly kept rolling in. Despite wearing some rain protection I got soaked down to my underwear in what must have been ten minutes, but I didn't really care as the torrential rain as always was making for some awesome photo opportunities.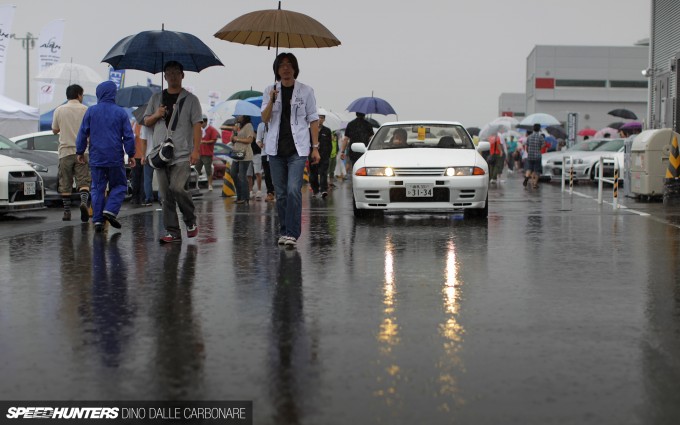 With this GT-R Magazine meeting happening only once a year, it seemed no GT-R owner was prepared to skip out on this very special day, so people armed themselves with umbrellas and proceeded to check out the stands and cars on display.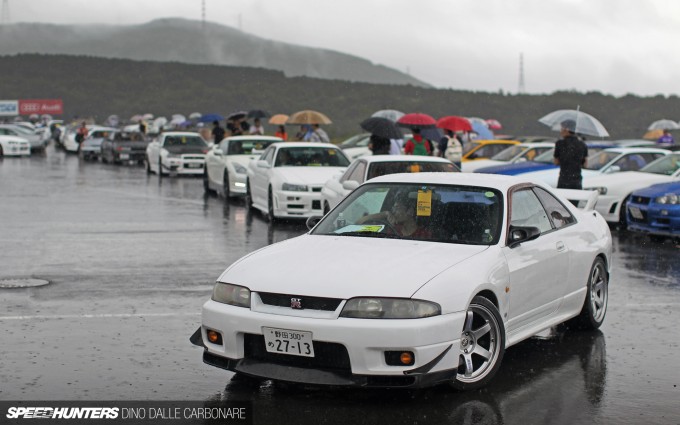 Due to obvious reasons all track activity was cancelled, which was a pity as I was looking forward to seeing some drag racing on the main straight like they held last year.
Walking the paddock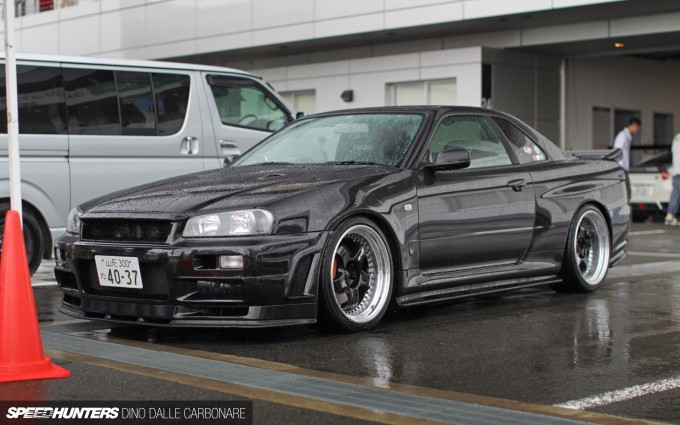 But that wasn't a problem as there was plenty to see in the paddock itself. I decided to first do a quick walk around to see which tuners had dropped by and of course what cars they had brought with them. I got stopped on my track by this Screen-tuned R34 on Meisters…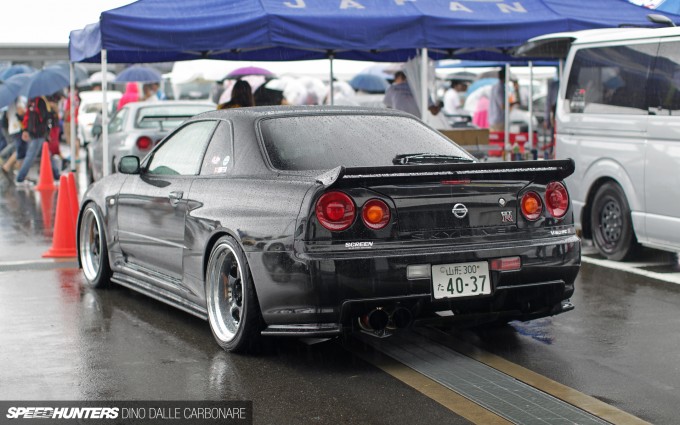 … and sporting a low mounted drag spec wing at the back. Menacing!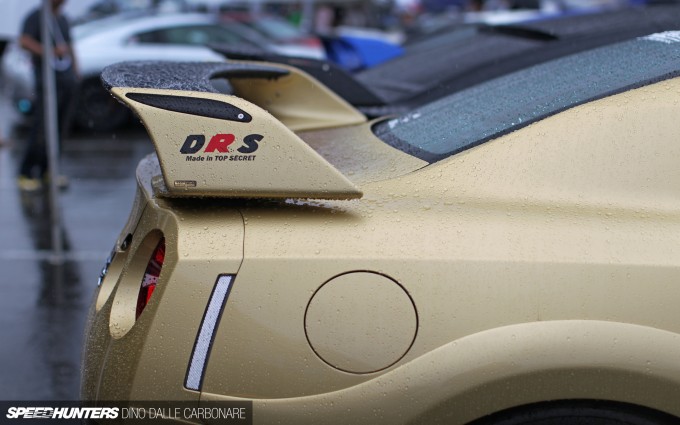 It's impressive the amount of innovation that Smoky over at Top Secret keeps doing with his R35s. Aside from a few interesting customer cars lined up in front of his tent he had also brought his signature gold demo car which was fitted with an updated aero which included front and rear overfenders.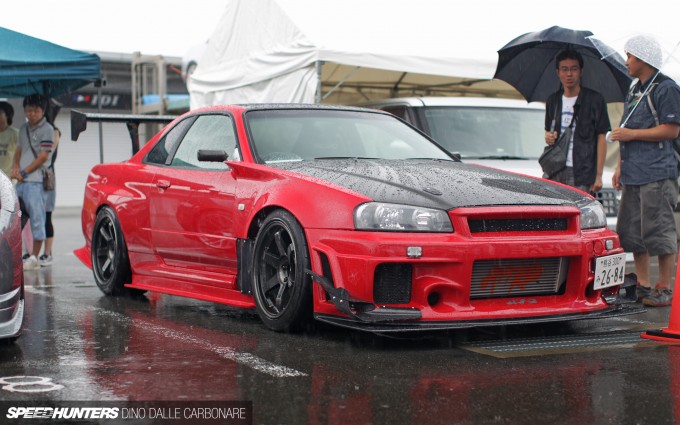 Nagano-based shop, Autech Tsukada – a.k.a. ATTKD – have been busy turning their street registered demo R34 into an even meaner-looking machine thanks to some pretty wild front fenders.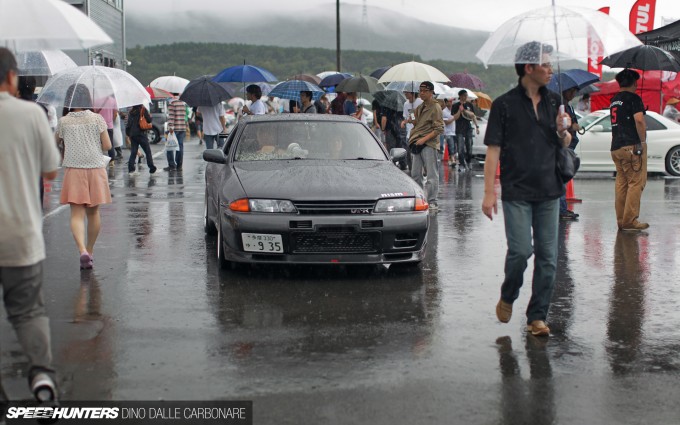 Things started off pretty quietly but it wasn't long before the atmosphere really got into gear.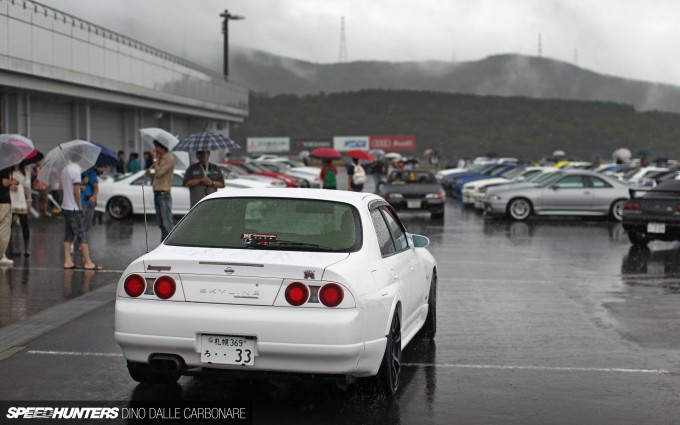 One of the biggest attractions of this event is always the photography session; this is where GT-R owners pay up a small fee to get their cars shot for a special insert that will accompany the next issue of the magazine; a great way to get your car immortalized in a publication which is nothing short of the Bible for R-owners!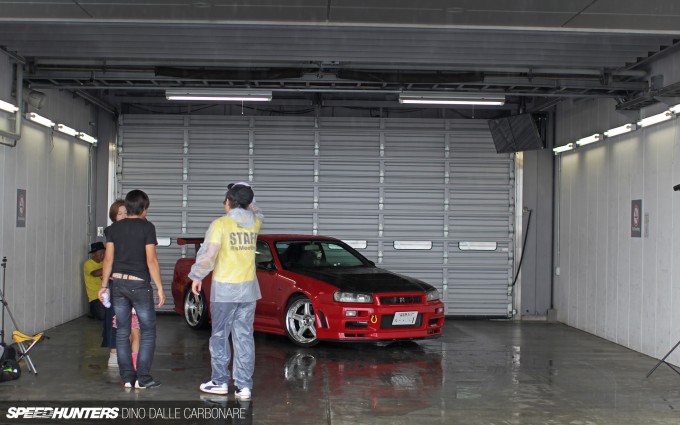 A few pits at the top of the paddock were turned into photography studios and the cars positioned one by one as the mag's photographers got busy.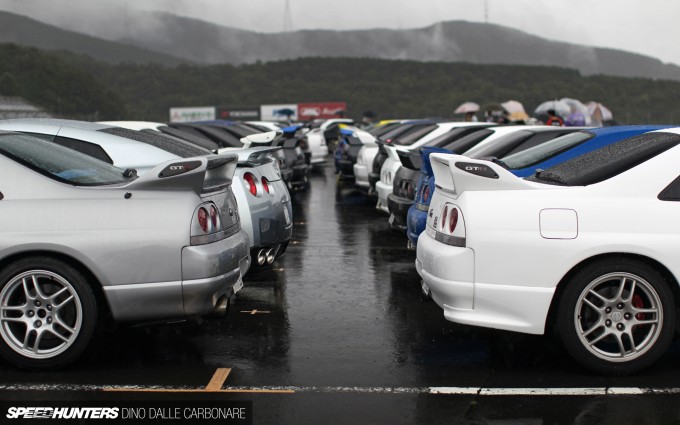 There were tons of cars waiting to get snapped, all parked up…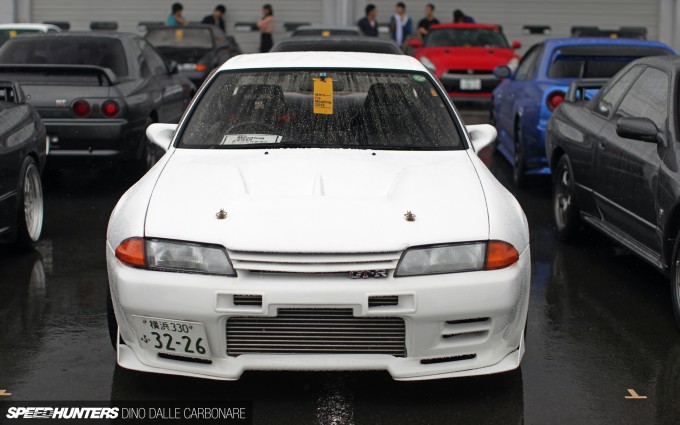 … creating a superb mix of generations, all the way from the R32 to the big R35.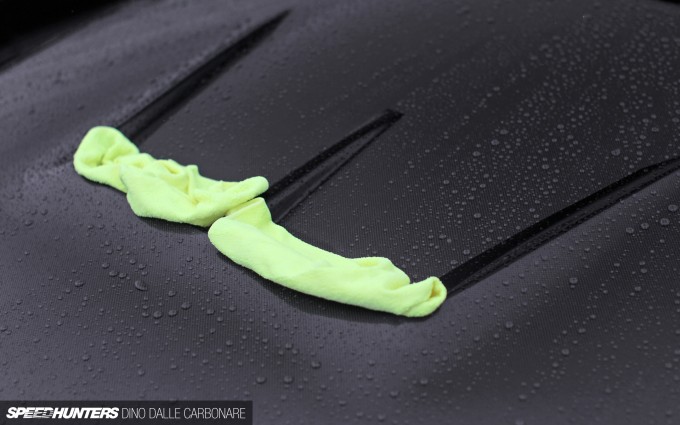 Those running vented hoods had to come up with ways to keep water out of their engine bays, and Costco microfiber towels proved a rather popular solution.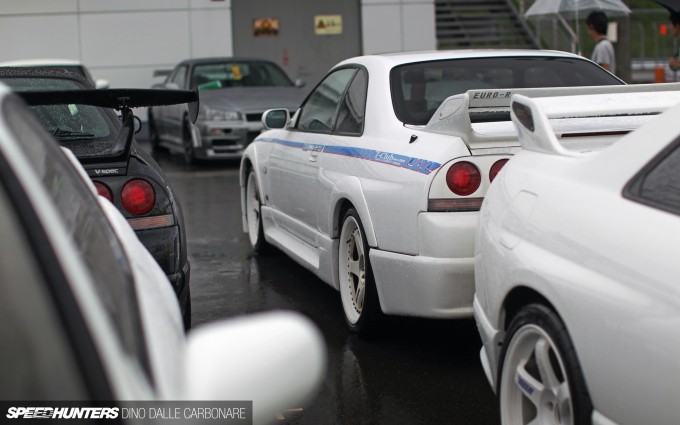 As I slowly made my way through what seemed like a good hundred or so cars in this area something a little unexpected happened – it stopped raining!
The rain stopped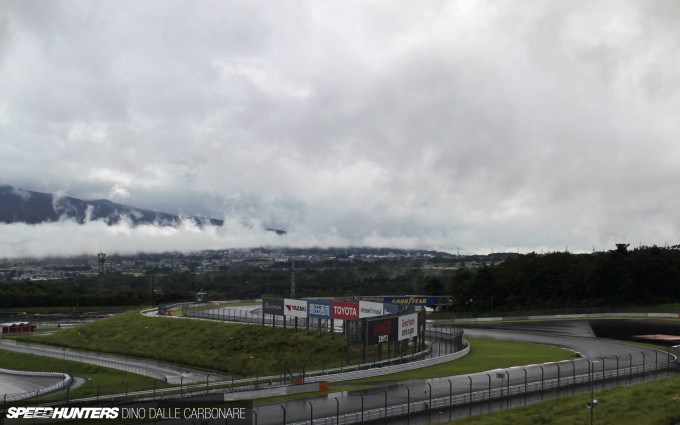 The low clouds began opening up and things were looking positively brighter!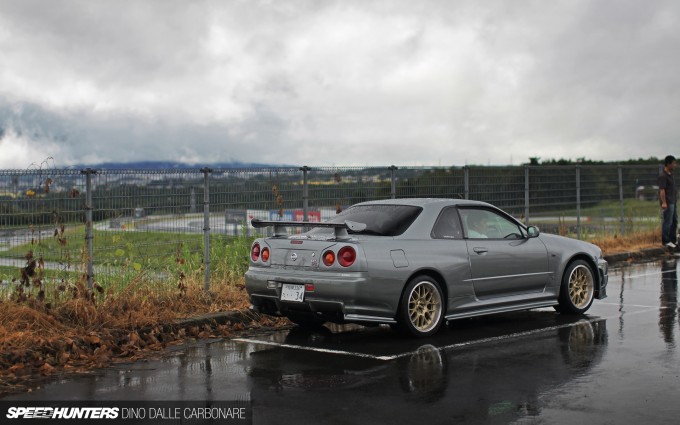 A lot of people had been sitting in their cars up until this point, waiting for things to hopefully clear up before venturing out, but with no water falling from the skies…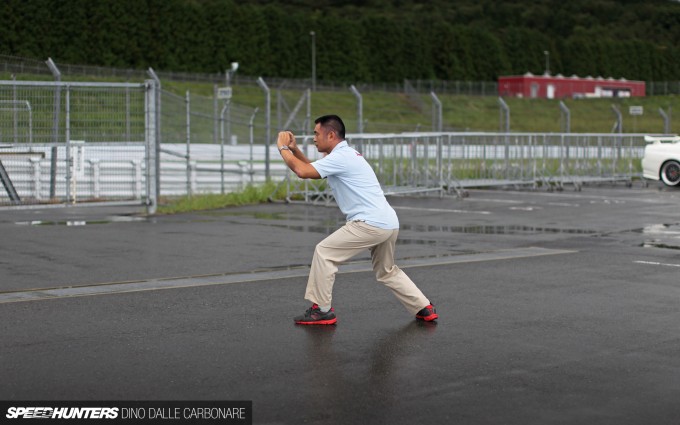 … it was time to go for a walk and start taking some pics. #jdmphotostance is always a must!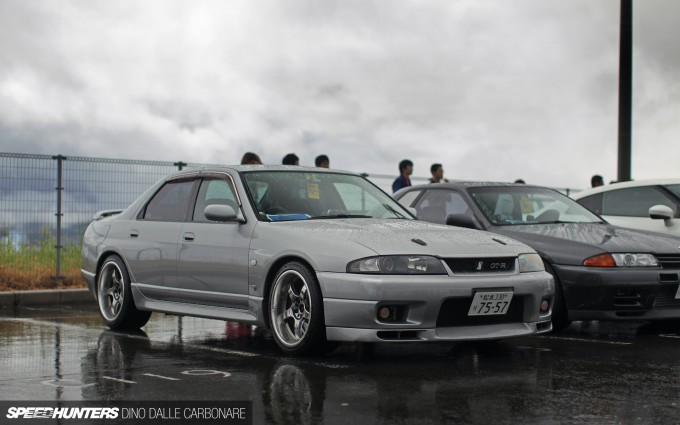 Along with the Nismo Festival at the end of the year the R's Meeting is always the place where you can expect to see some rarities like the 40th Anniversary Autech four-door GT-R. It's a pity Nissan never made an BNR34 four-door GT-R because these cars are beyond cool!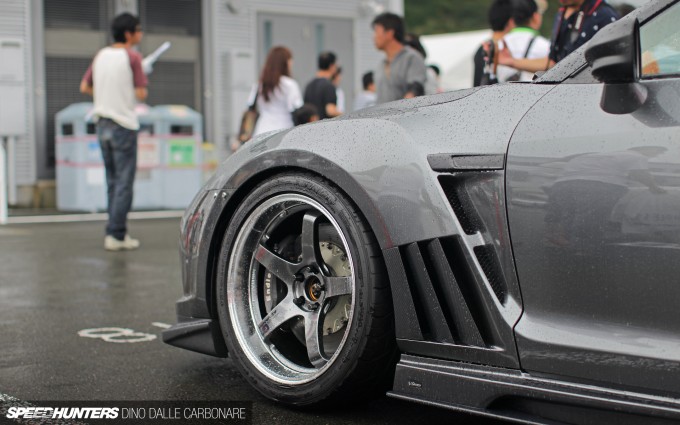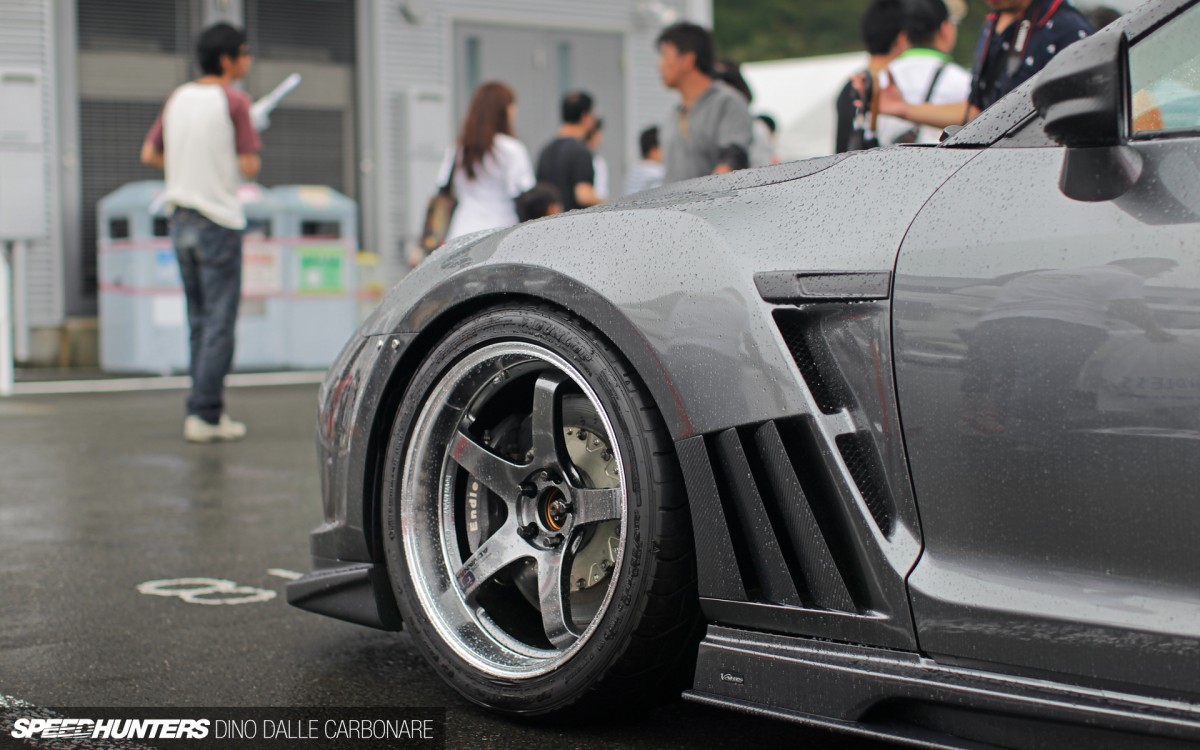 Seeing that walking around with soaking clothes isn't particularly nice, I decided to head back to my car, dump the useless rain gear that had done nothing to protect me and put on some dry clothes.
GT-R Generations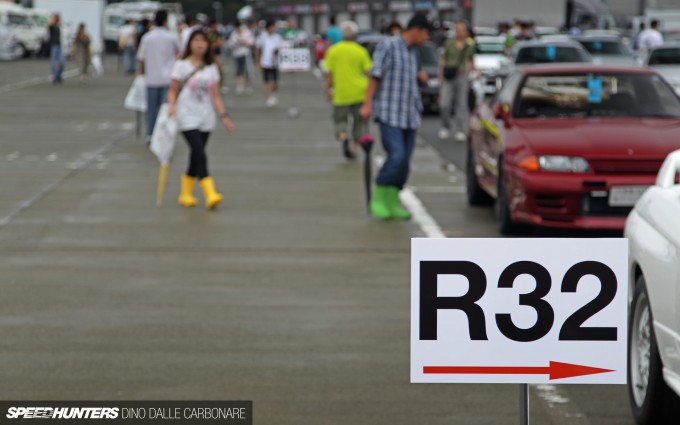 Feeling nice and dry I immediately headed over to another reserved area where people had signed up online to get access to the 'by-generations' parking.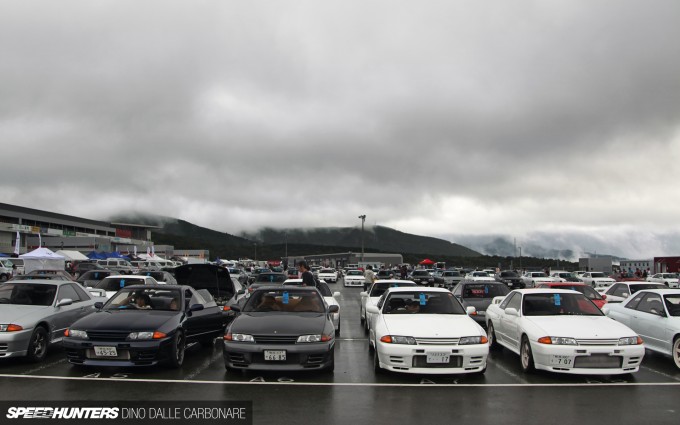 As ever there were plenty of R32s present…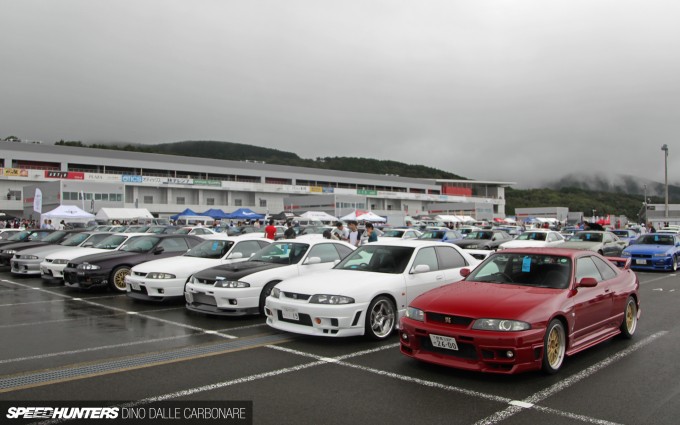 … but the turn up for R33s was a bit lacking this time round.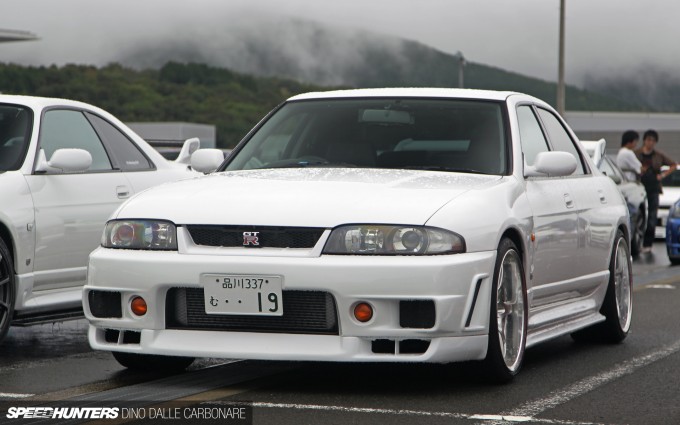 Still that's where I found yet another Autech four-door, this time a slightly tuned one with a few aero touches and a regular high GT-R wing. Hope this first look at this year's R's Meeting has gotten you in the mood for more GT-R goodness. Trust me, I have plenty more to show you!