New love
It's safe to say that I've fallen in love with the Porsche 911 recently. Especially after having a chance to race one in the 12 hours of Motegi. I find myself constantly scouring the internet for a 964 in my price range, which of course is out of the question, unless I go with one that has multi-color body panels and rusty floor boards.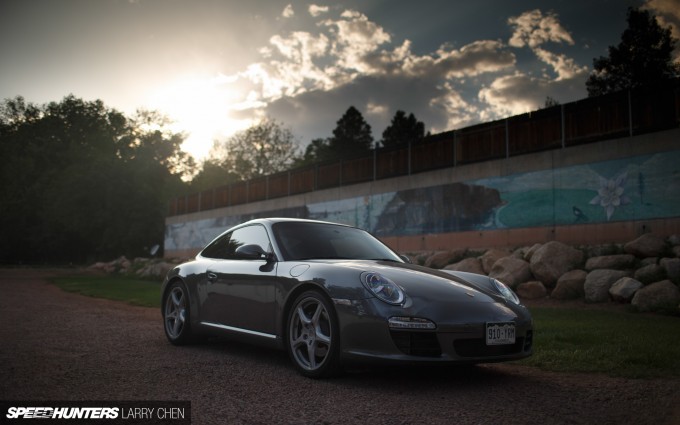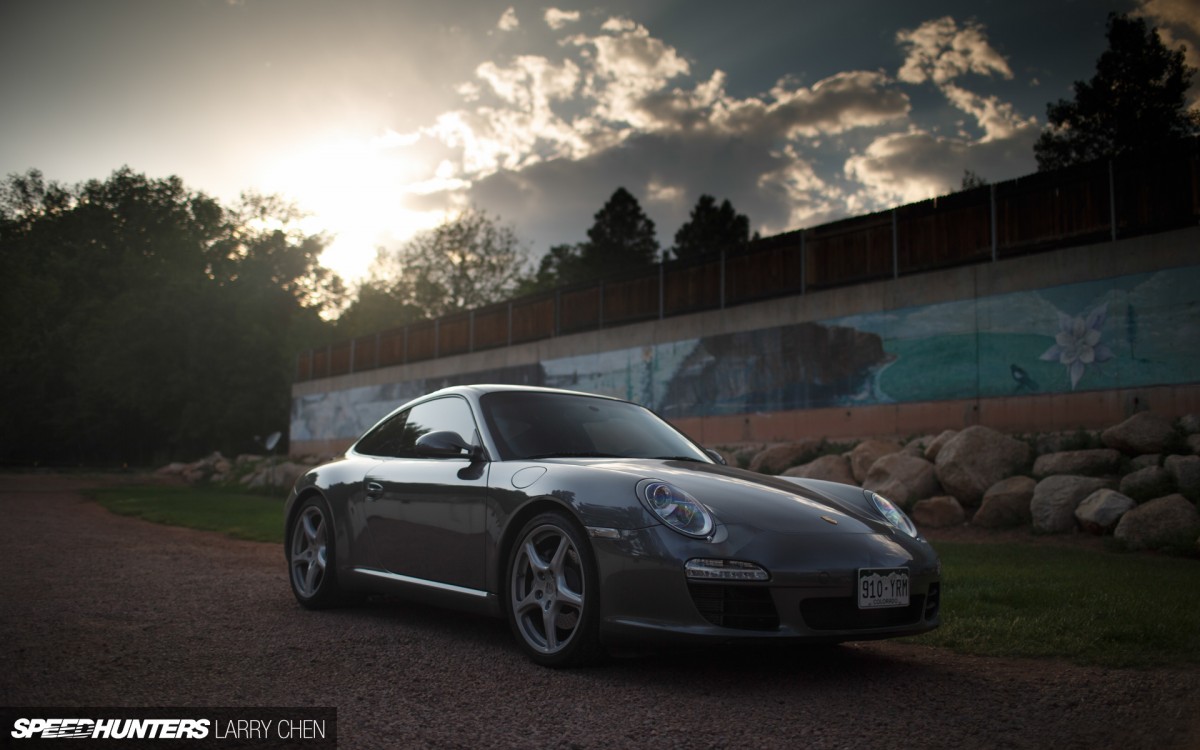 The good thing is I get to scratch that itch every now and then, in the form of a dream drive.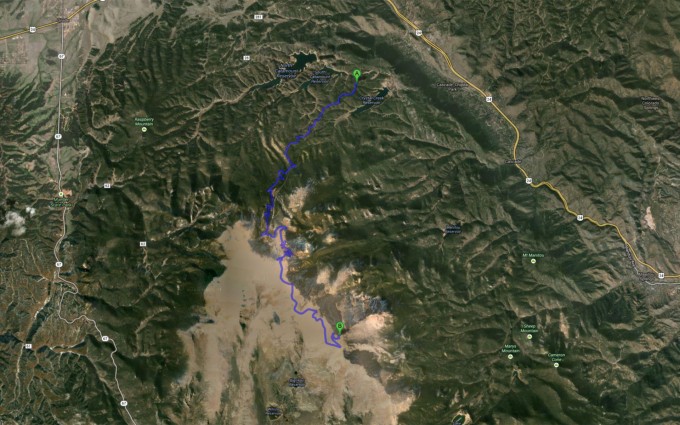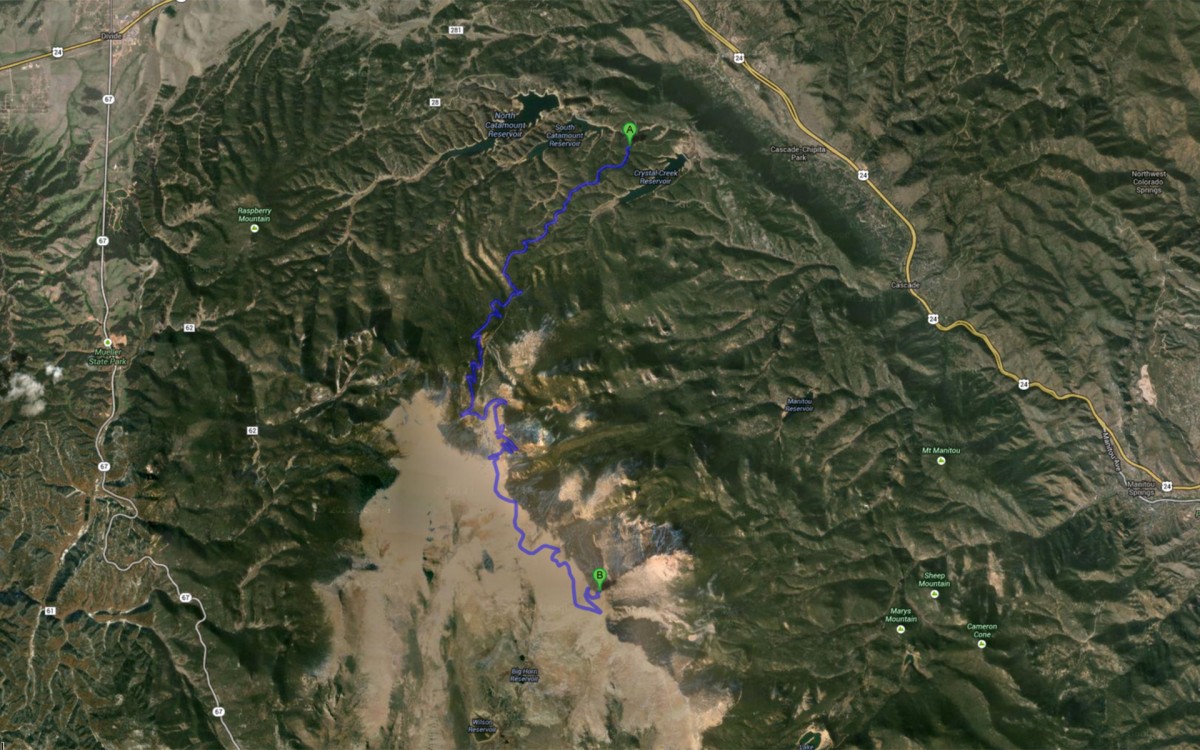 Since I began covering the Pikes Peak International hill climb I've always had terrible rental cars that could barely putt putt their way up the 12.42 mile course. Sometimes I would have to downshift to first gear just to make it up a hill without stalling.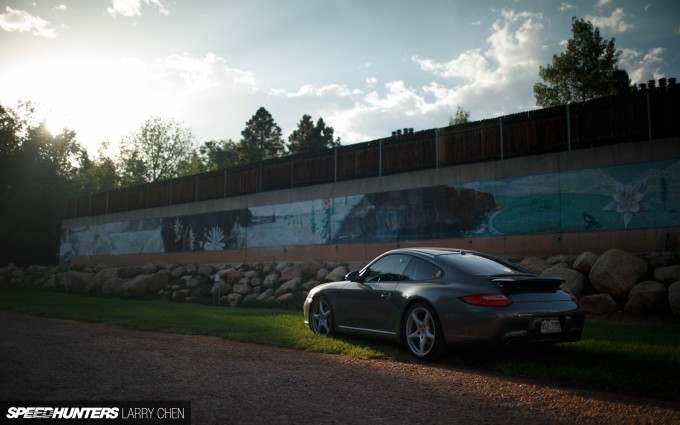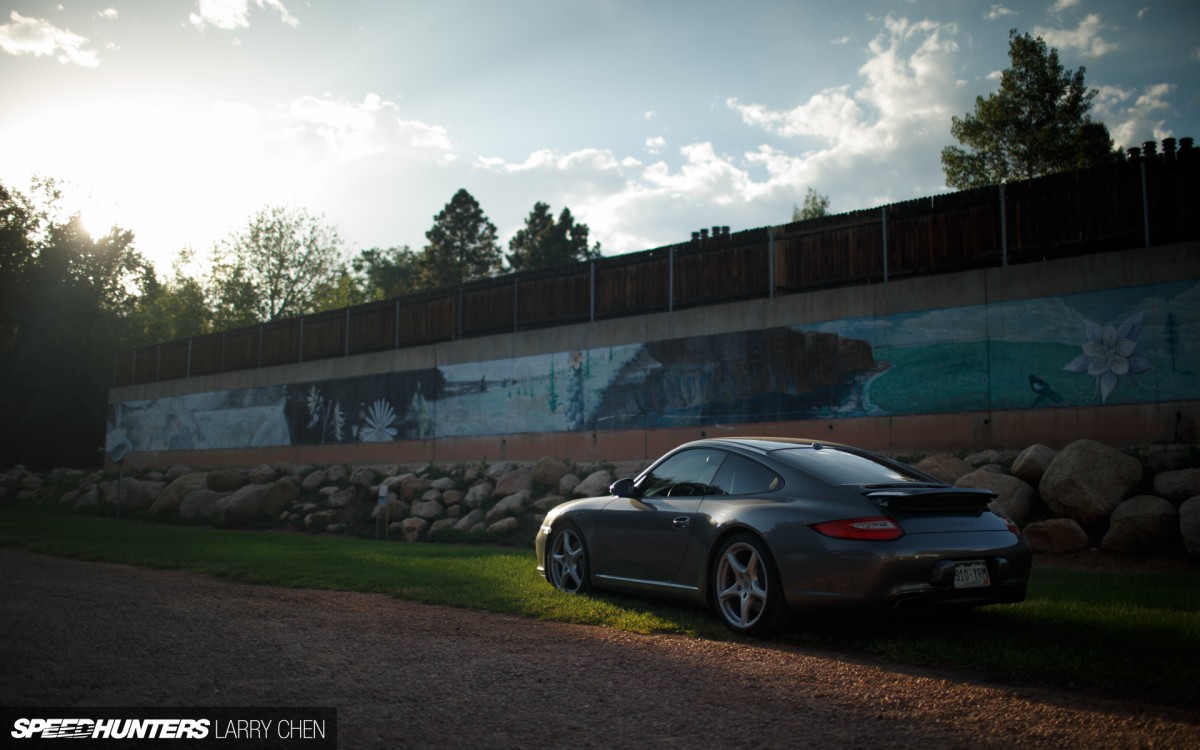 Lucky for me I have a friend in the Luxury car rental business in nearby Denver. It's called "Car Fling" and they let you rent nice cars like this 997 Carrera for the weekend or if you just want a bit of fun they rent it out on an hourly basis as well.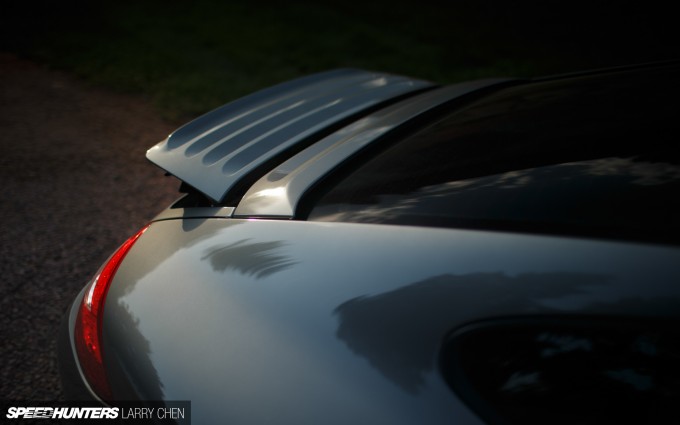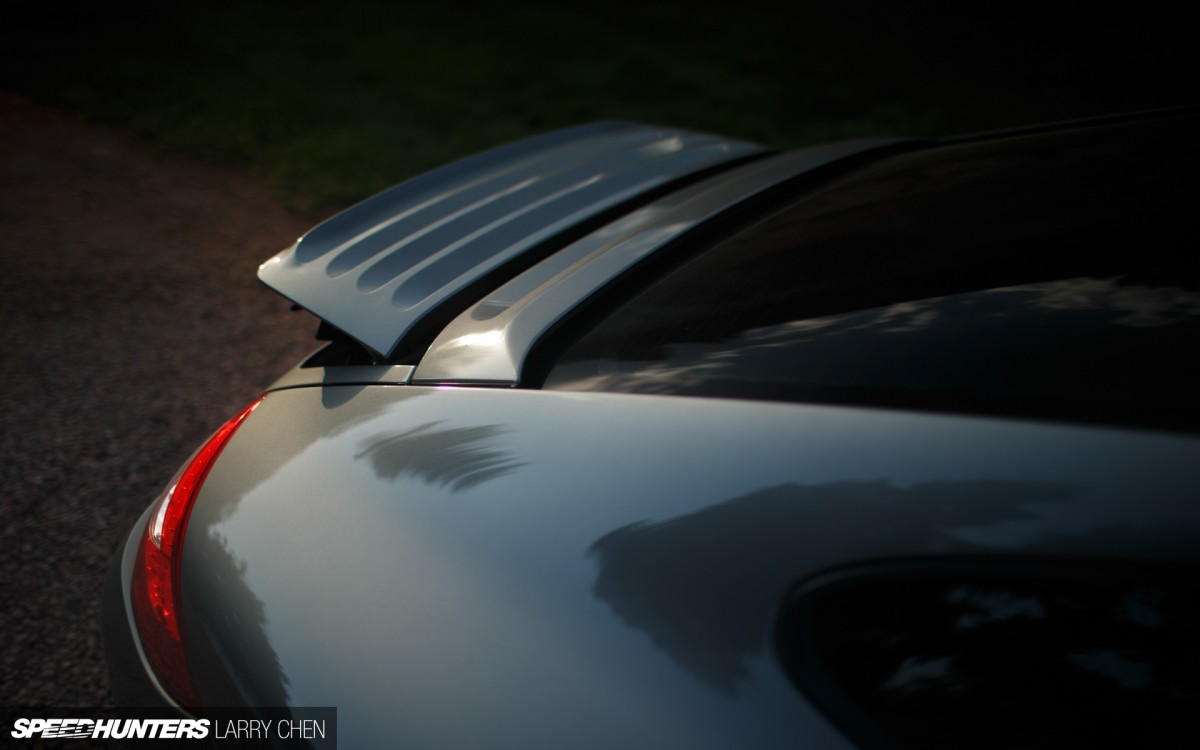 I think that is the perfect way to experience a nice sports car without having to pull out a second mortgage on your house. So instead of the econo-box rental car, my lens mule and work vehicle for the Pikes Peak hill climb was this Porsche 911.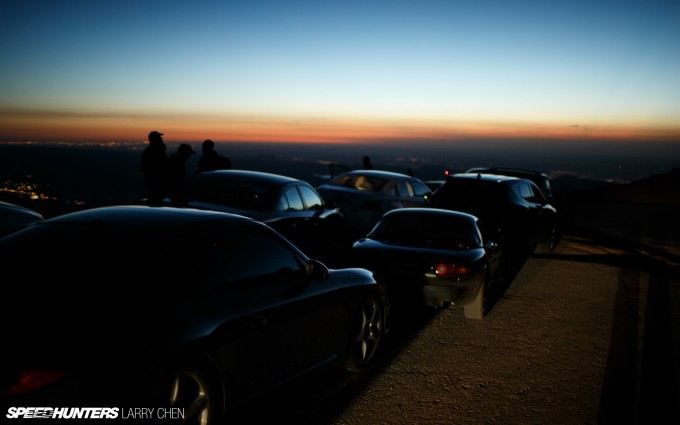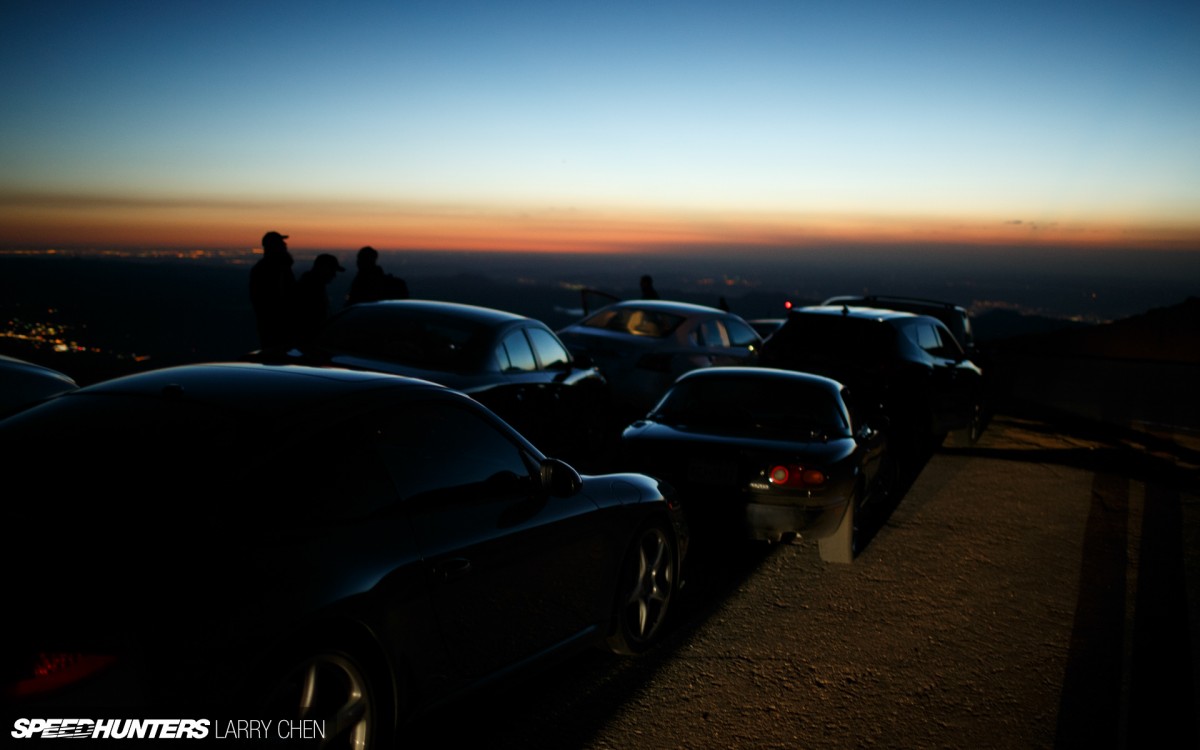 I was a bit worried at first as I was not so sure the Porsche would clear some of the off-road areas that they make you park in, but it fared just fine. It helped to enter and exit everything at an angle.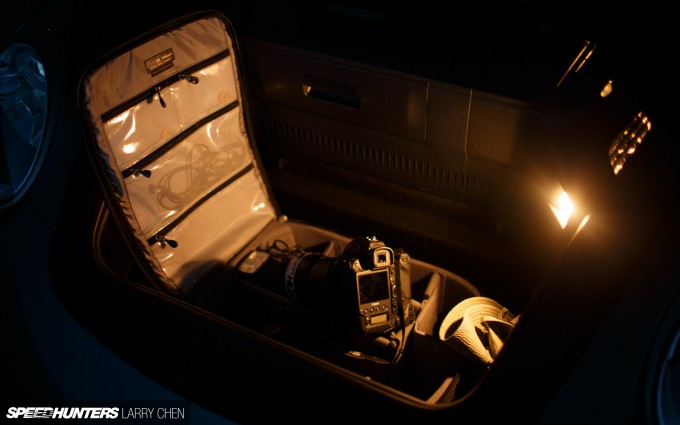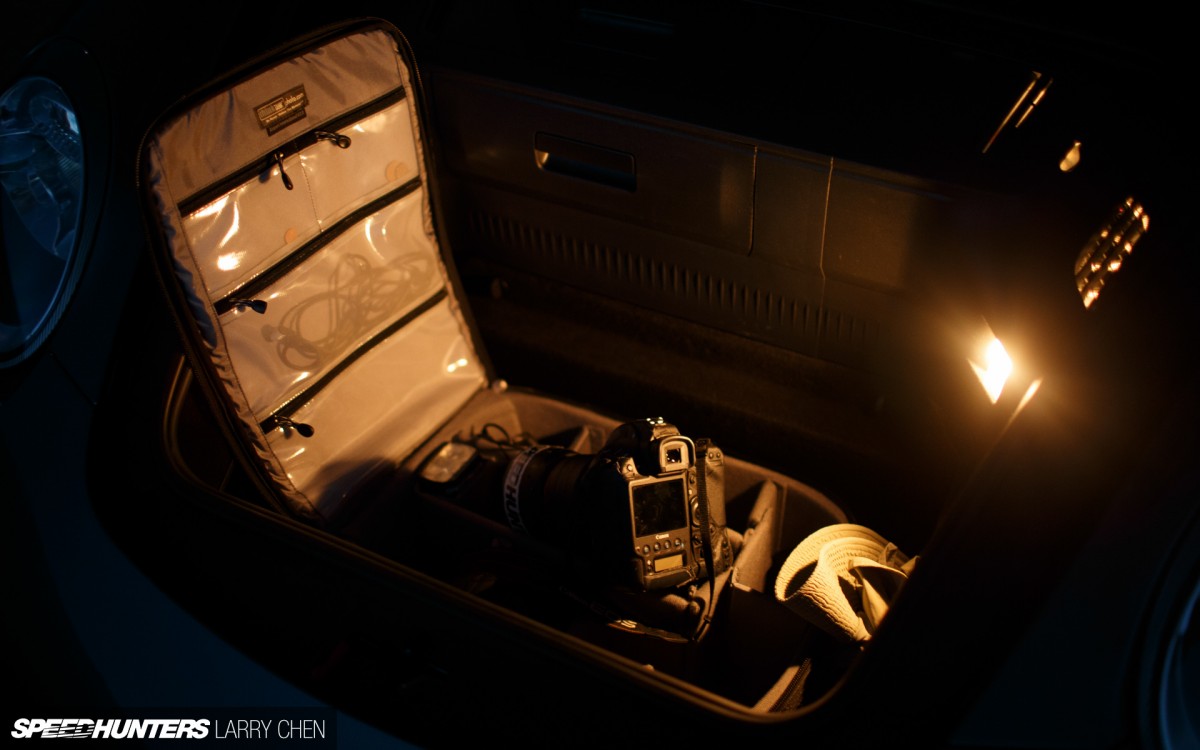 As for space? It fit two photographers' full gear in perfectly fine. I just love that this was a usable sports car.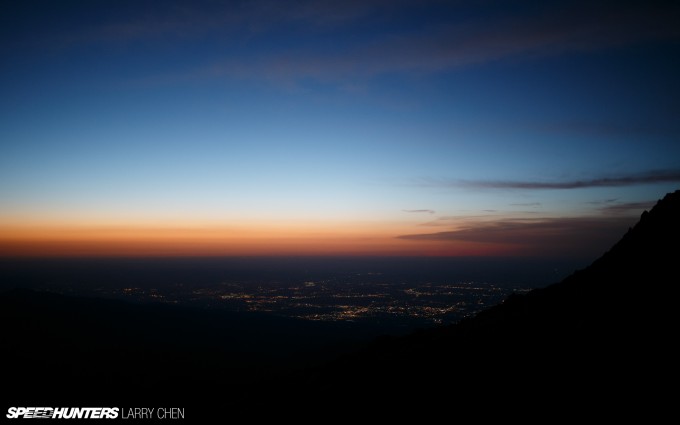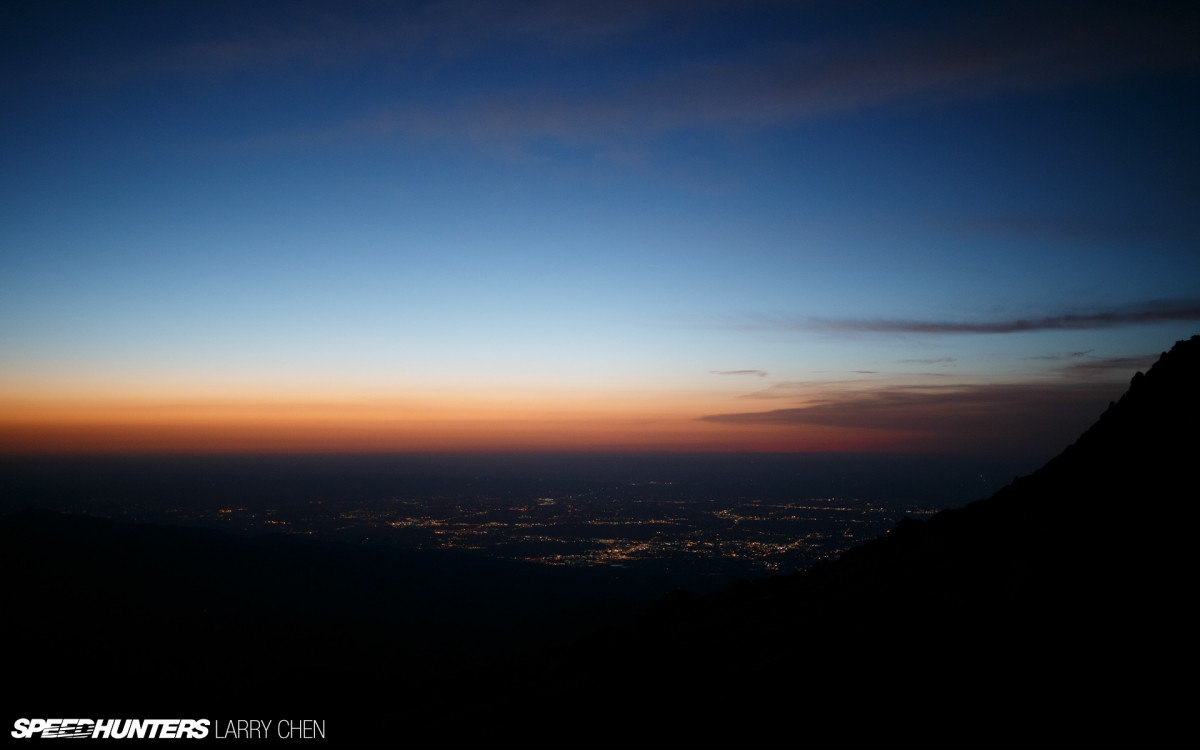 In order to make it up the hill in time for sunset we had to wake up at 3am every day. It was totally worth it to get to the good spots, but it takes a toll on your body for sure.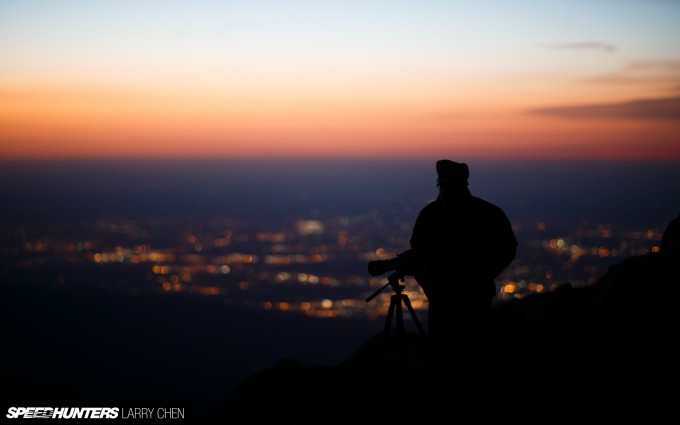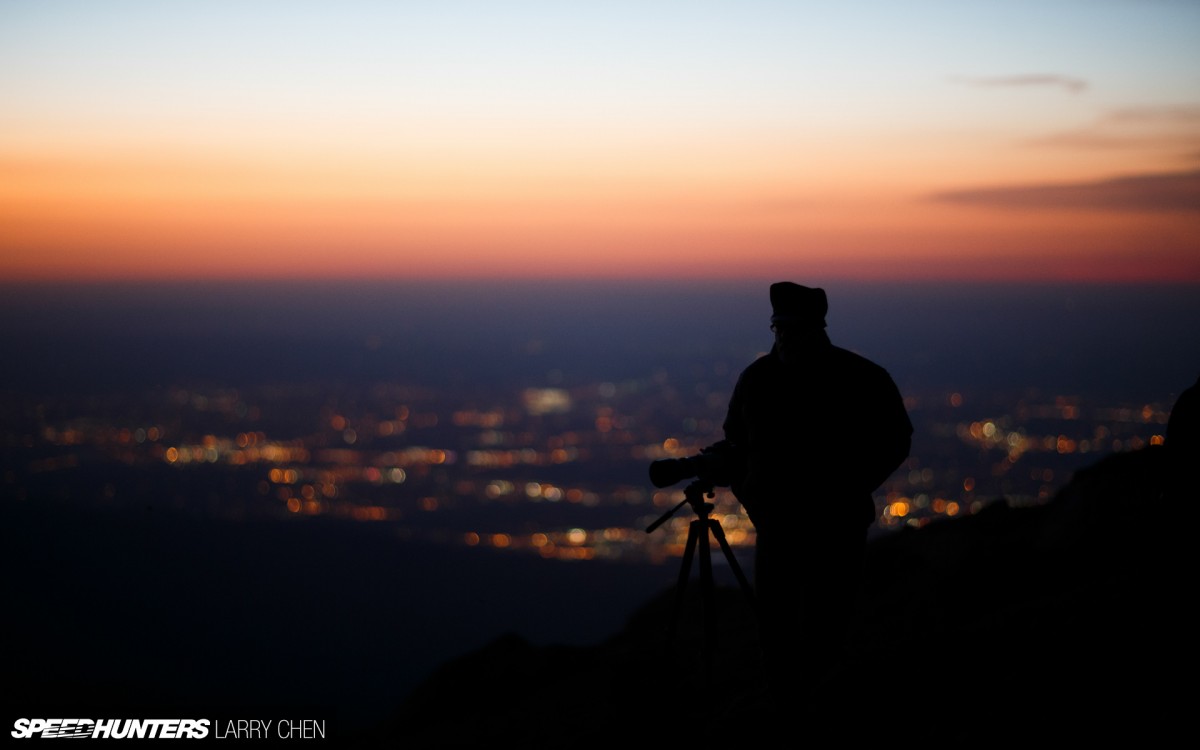 The views from the top were spectacular as always. The lights from Colorado Springs would flicker and slowly disappear as the sky grew brighter.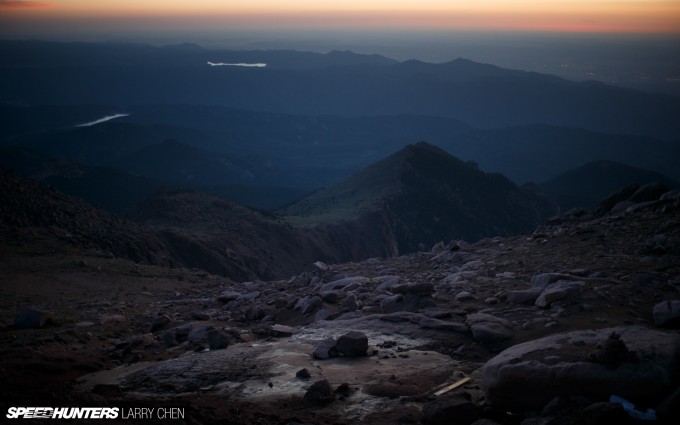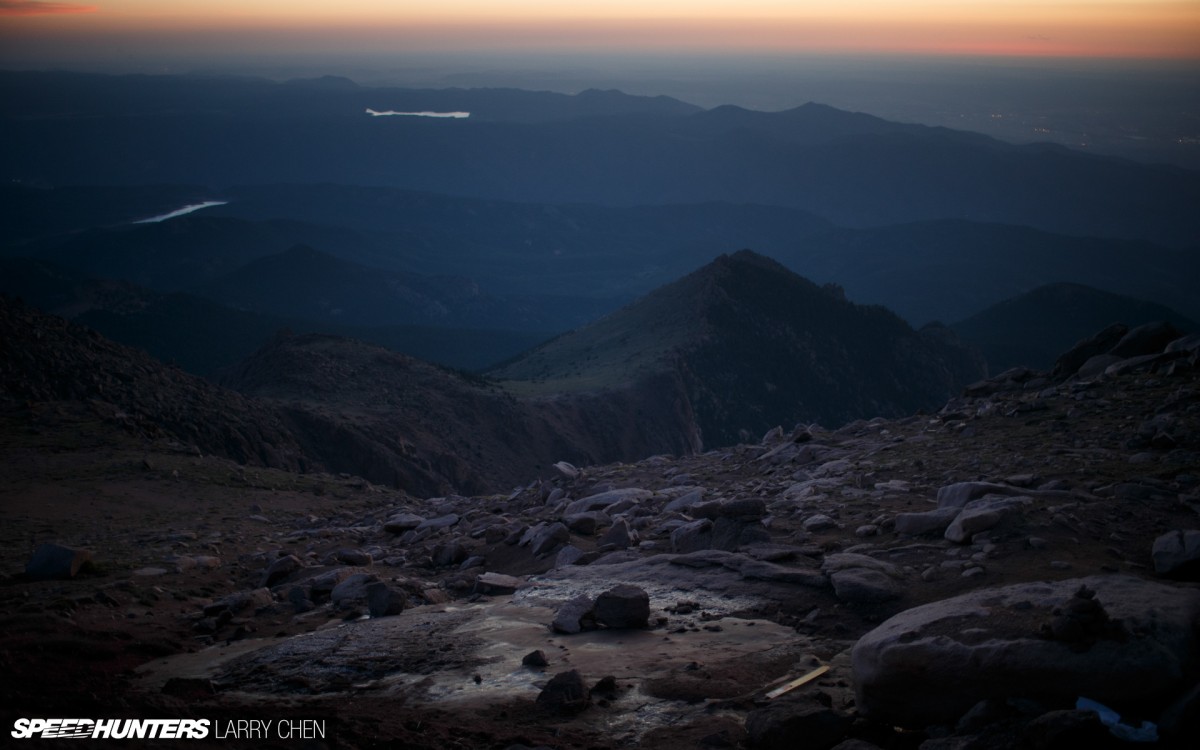 Even in the middle of August there was ice near the top. We were way above the tree line already. Pretty much nothing grows or lives up there.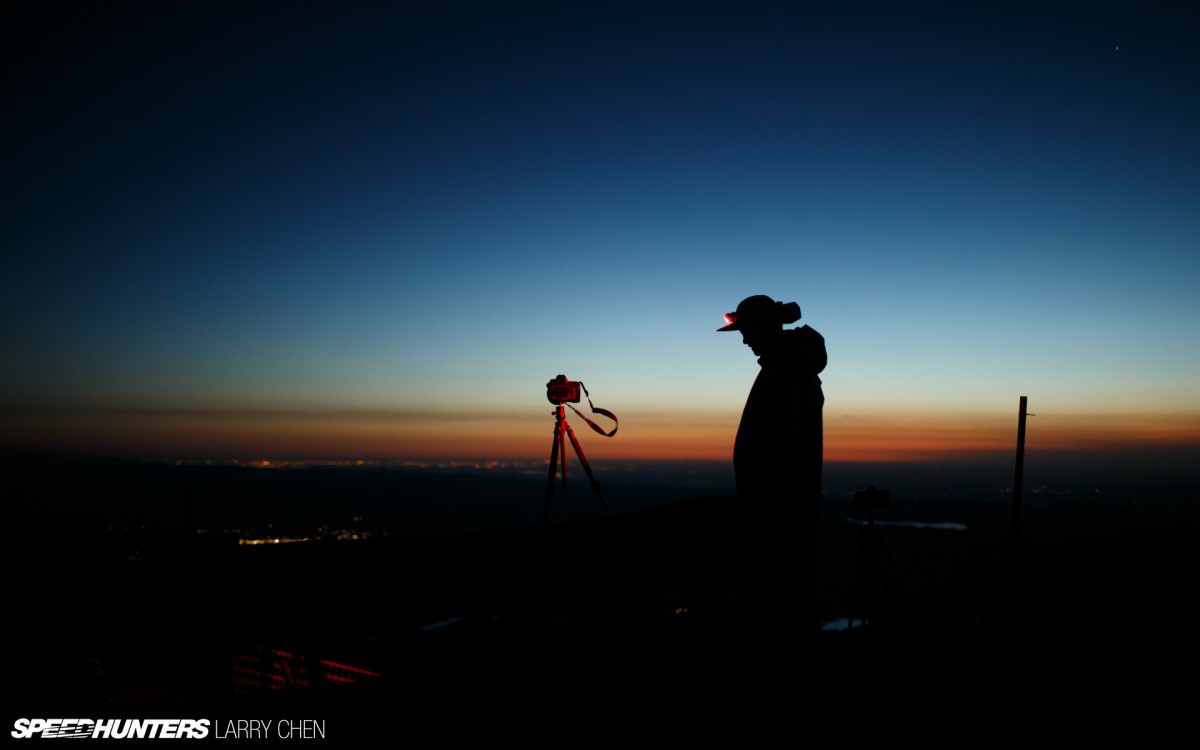 I was surprised as it seems there were more and more people that are as crazy as I was to wake up this early to catch the sunrise.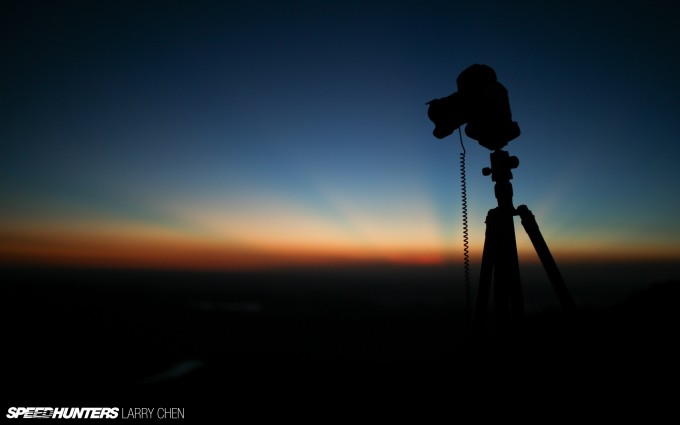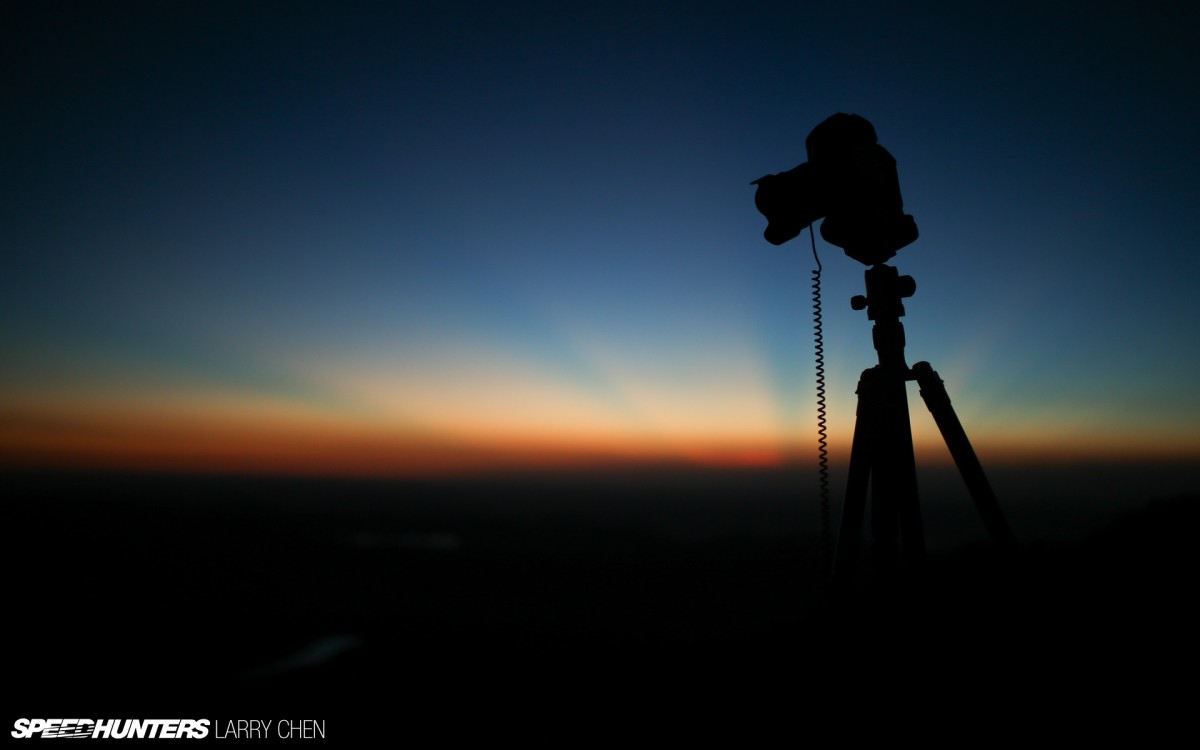 This was the perfect time to do long exposure shots or time lapse video. You could see individual rays of light peaking over the horizon.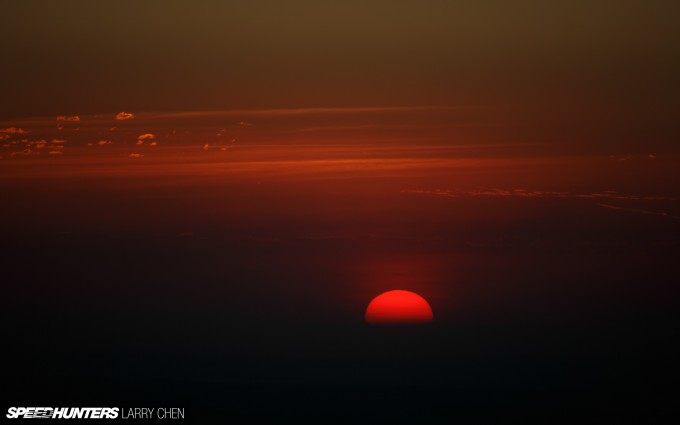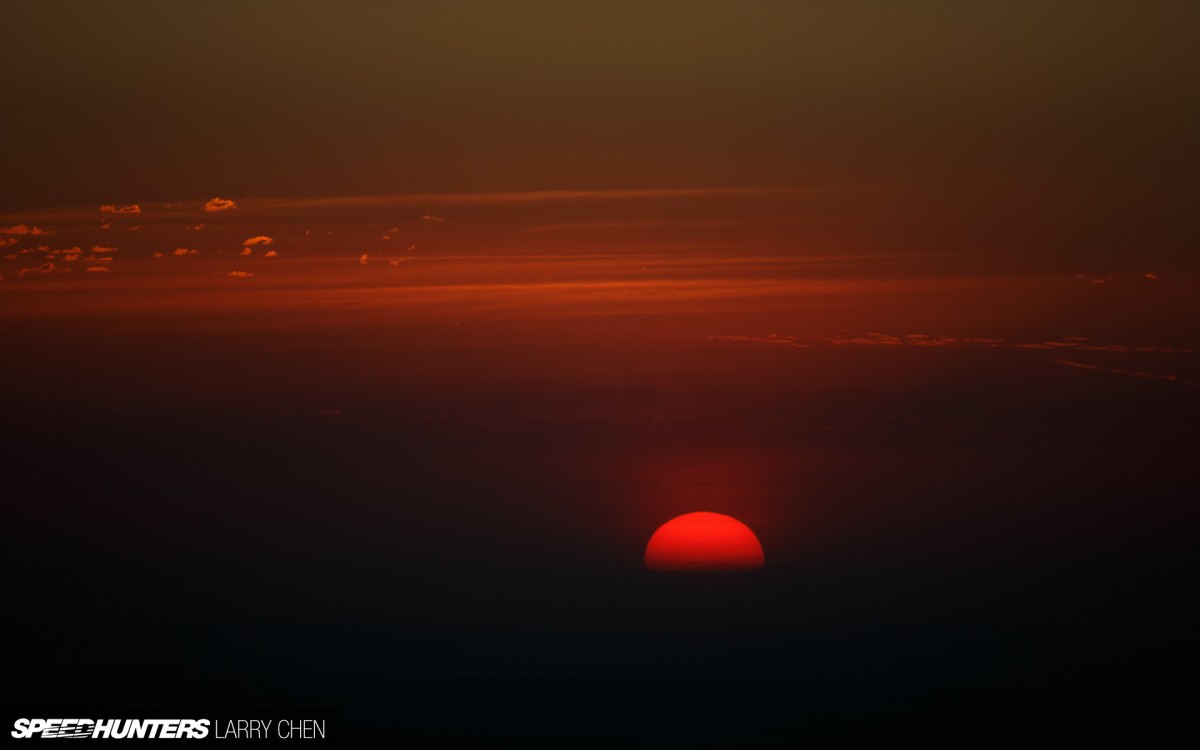 There you had it, a perfect sunny side up egg just sitting right over the horizon. I don't know if I will ever get tired of this beautiful scene.
The road ahead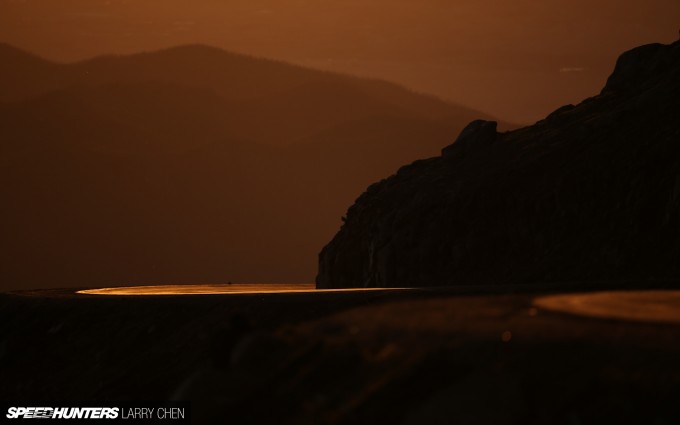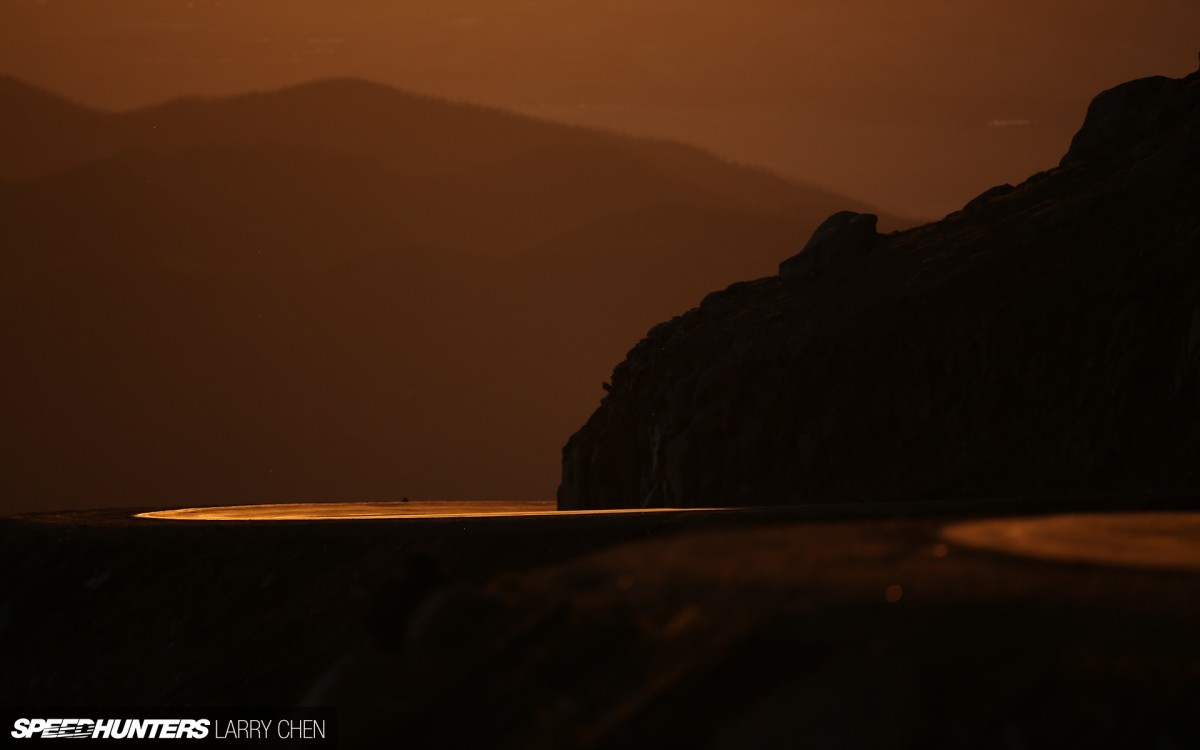 The rise of the sun revealed the road that I drove on while half asleep to get to the top. The asphalt gleamed with the light hitting it just right.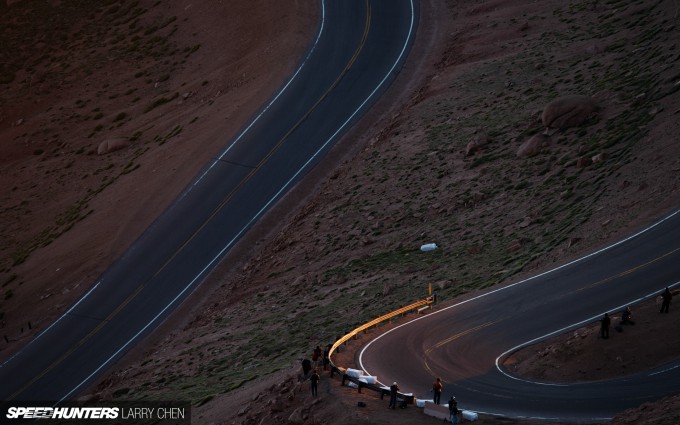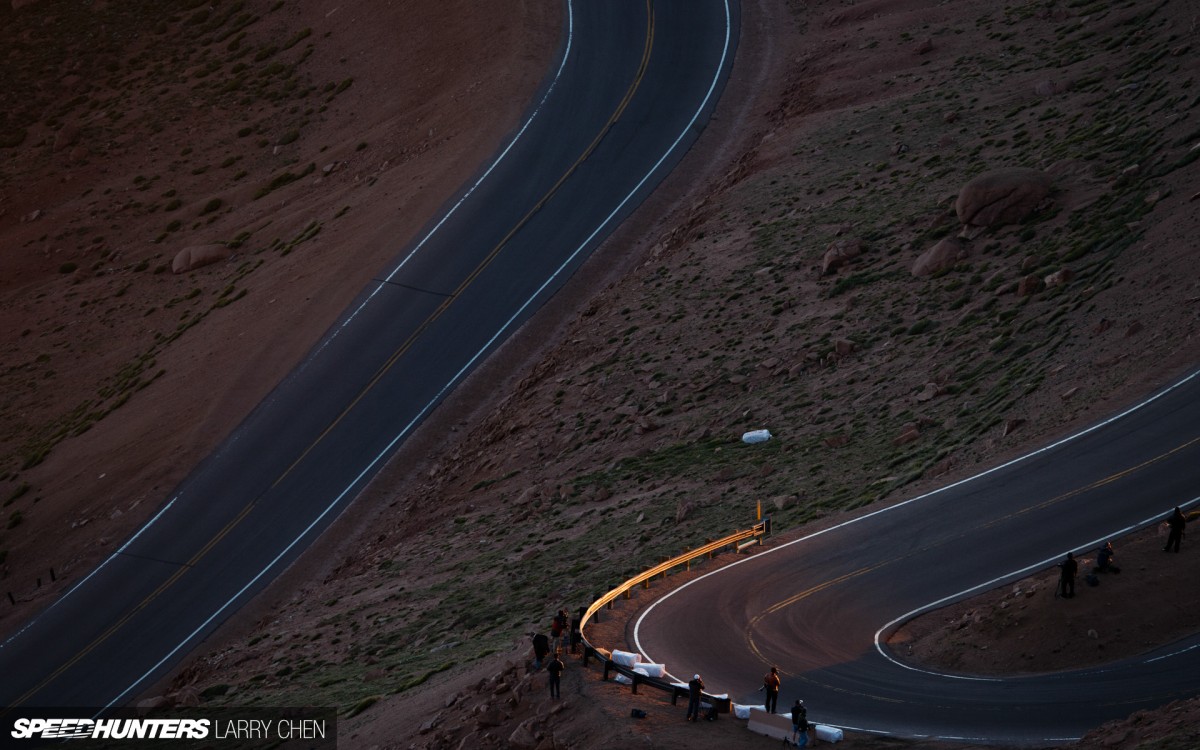 They're some of the most beautiful ribbons of roads on earth and it's open to the public. Any time of the year you can drive this very road – you just pay a toll.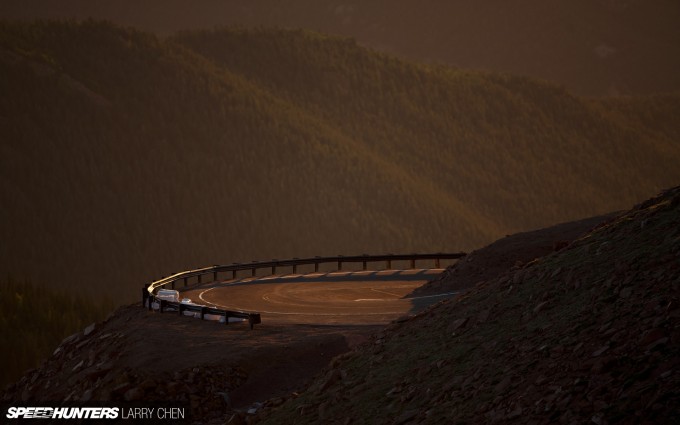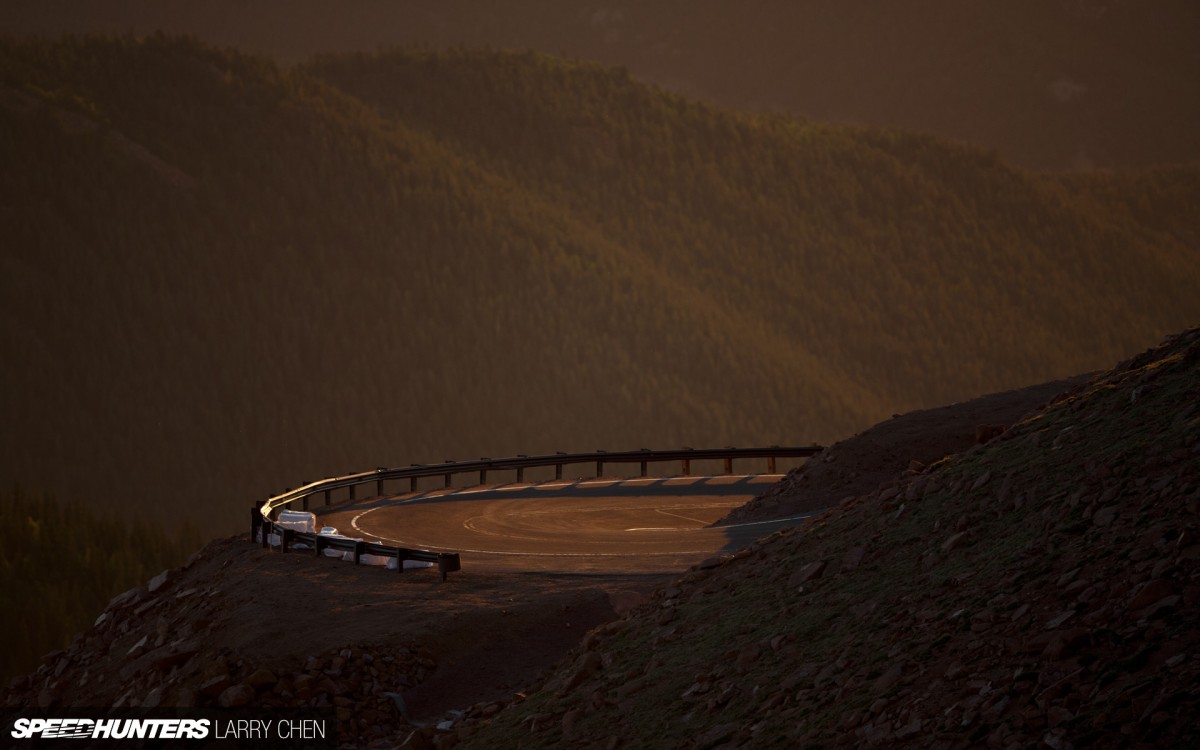 The vast drop off is absolutely stunning. The air is so thin and crisp, you could see so far – much further than if you were at sea level.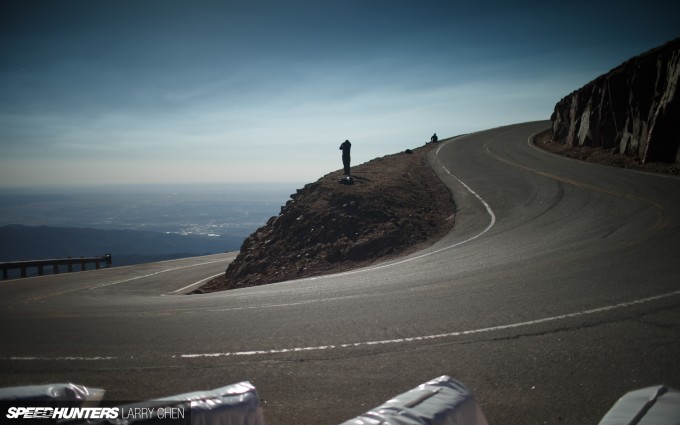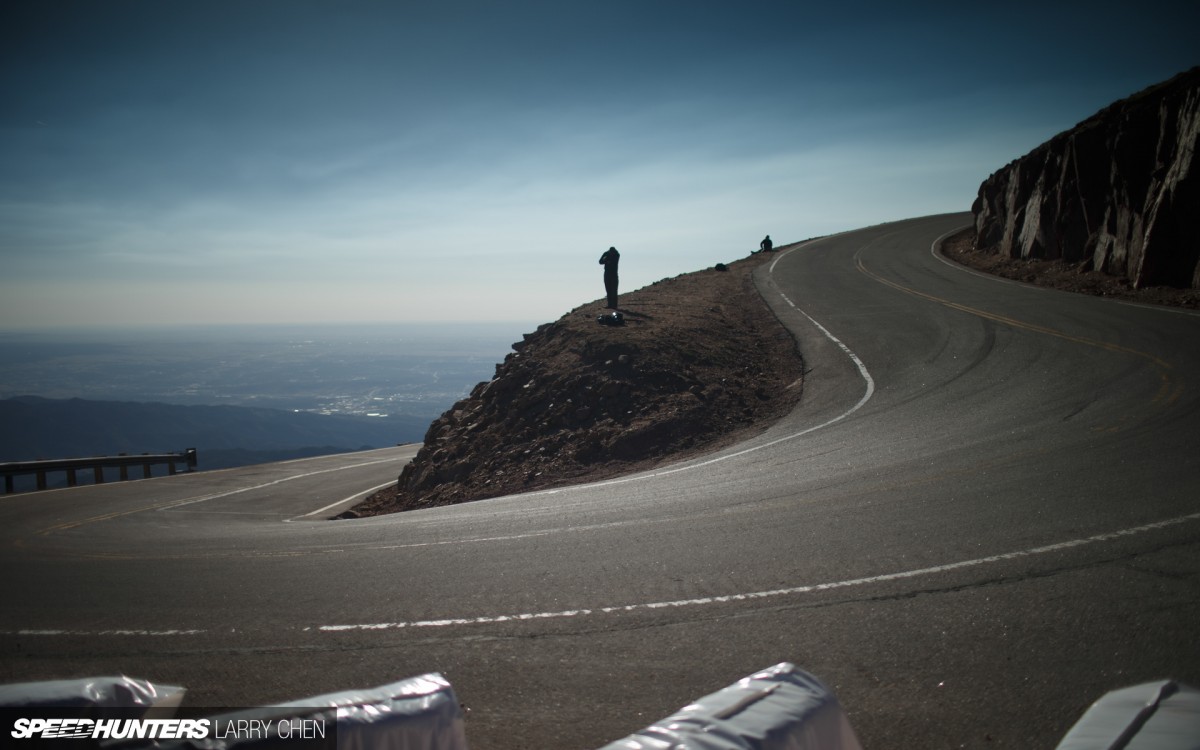 The hairpin corners have so much elevation change that many cars will three wheel going up them.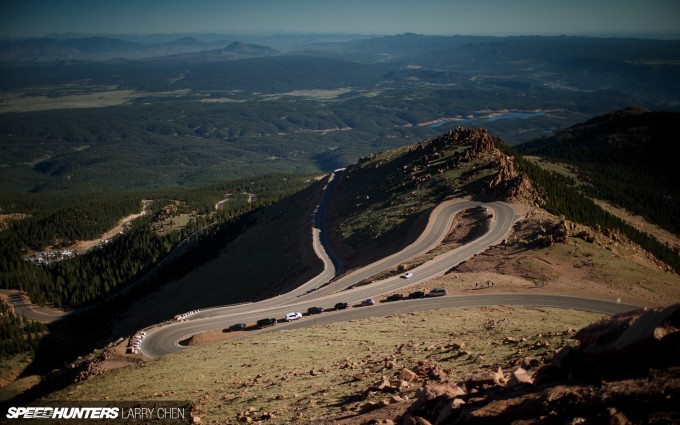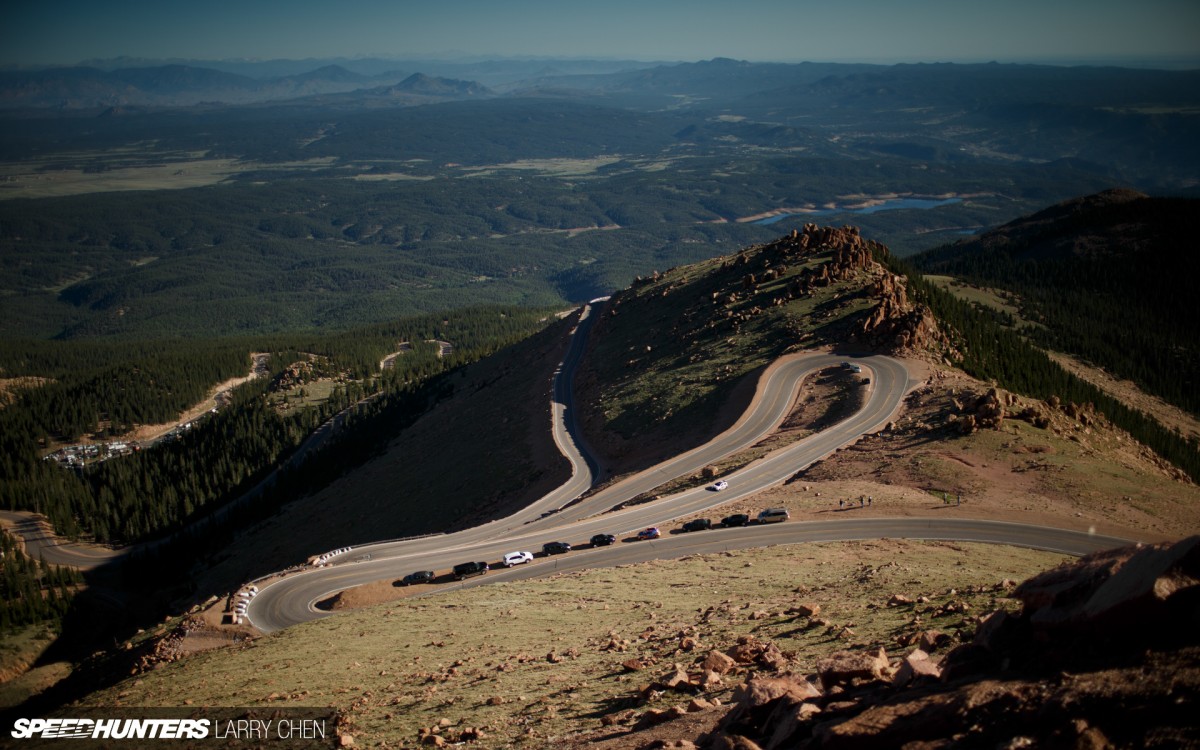 The Ws are one of the hardest parts of the race course. They really forces you to brake early, because it's so easy to want to brake just a little bit later, which will eventually result in a meeting with a guardrail.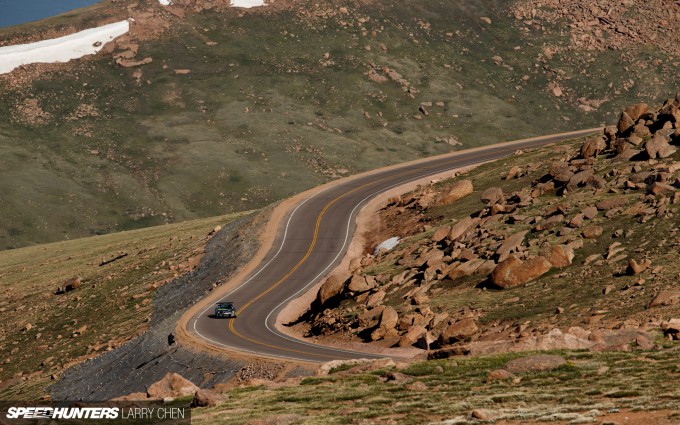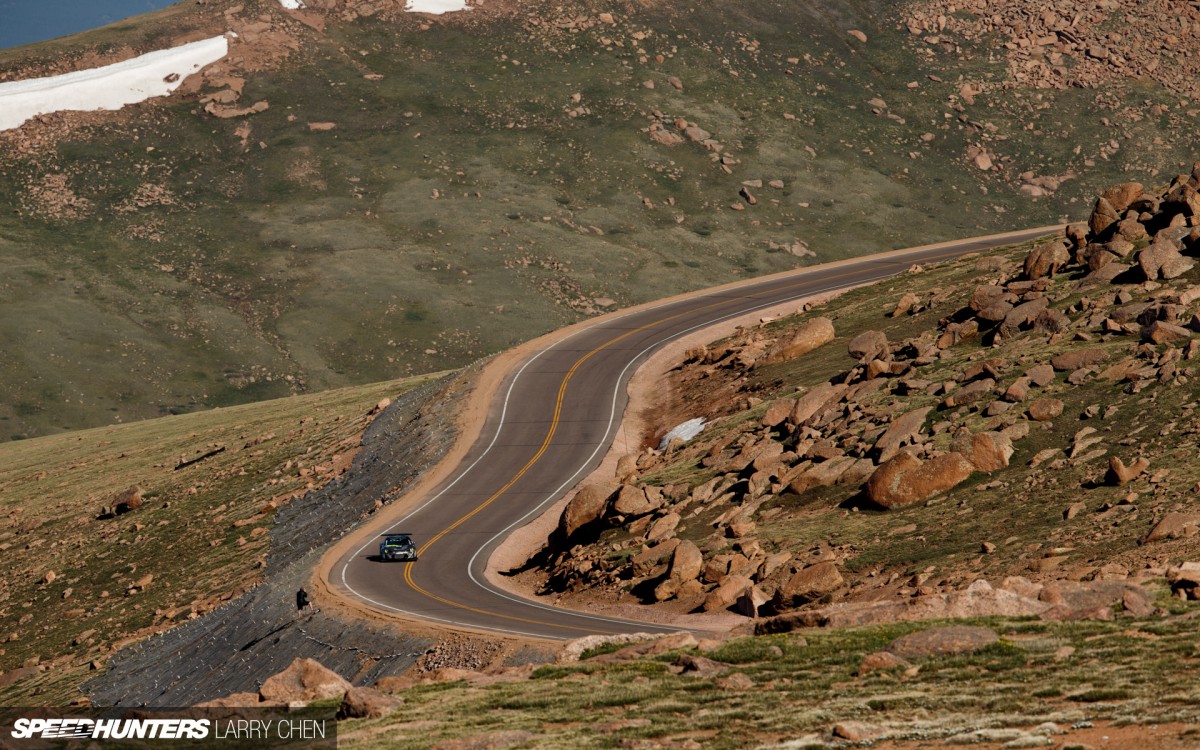 Most of the rest of the course does not have guardrails at all. So I was always very careful driving up while it was still dark.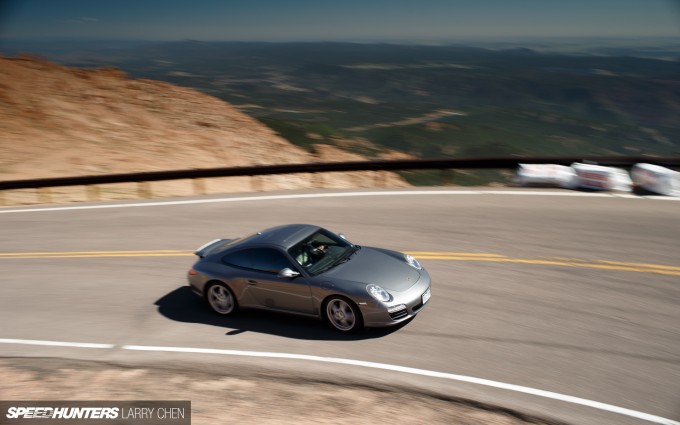 After the races we have a tradition of making it all the way to the top to grab some freshly baked donuts.
Giving chase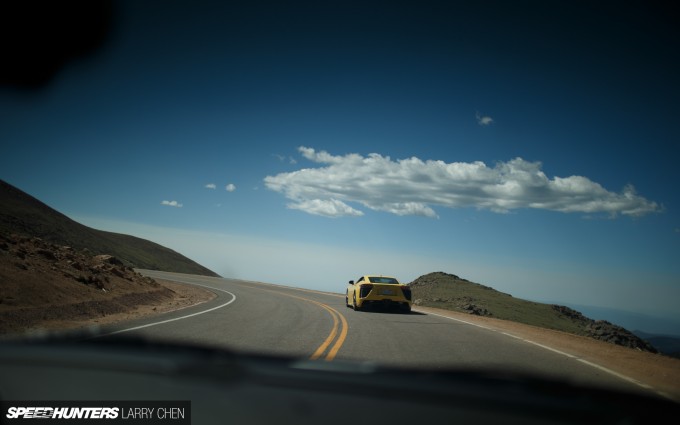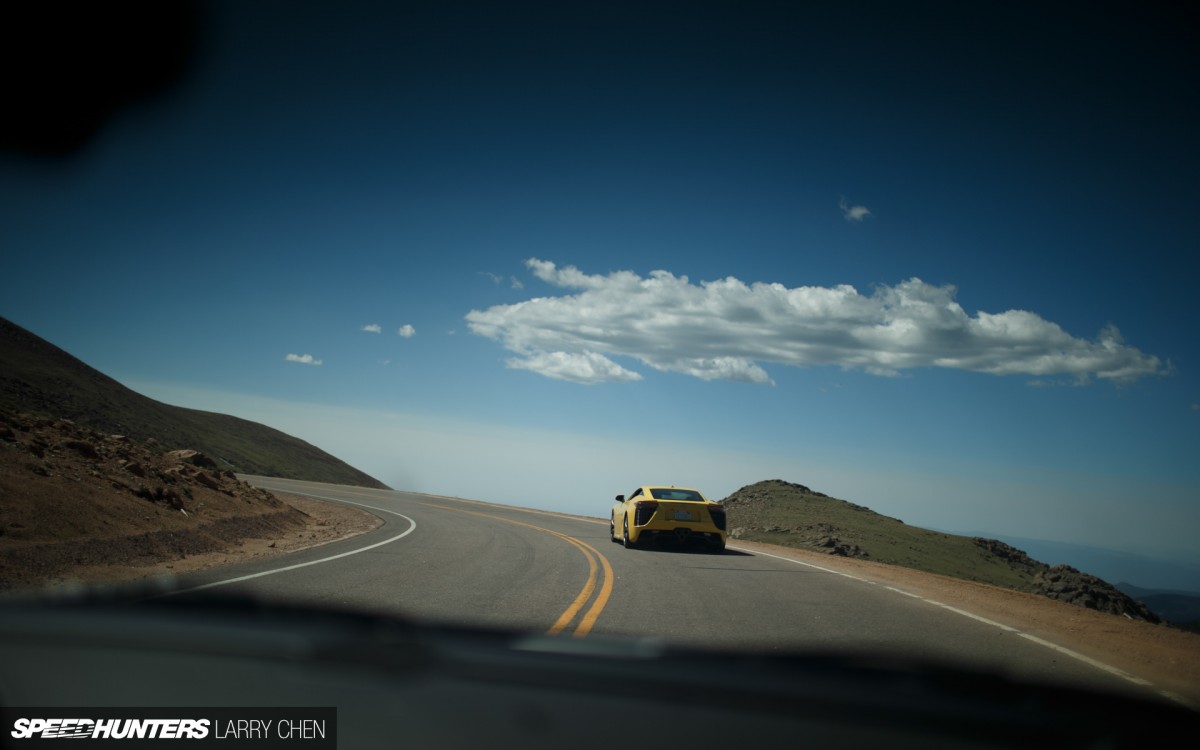 On the way up we encountered a yellow Lexus LFA, that was tackling the corners fairly hard.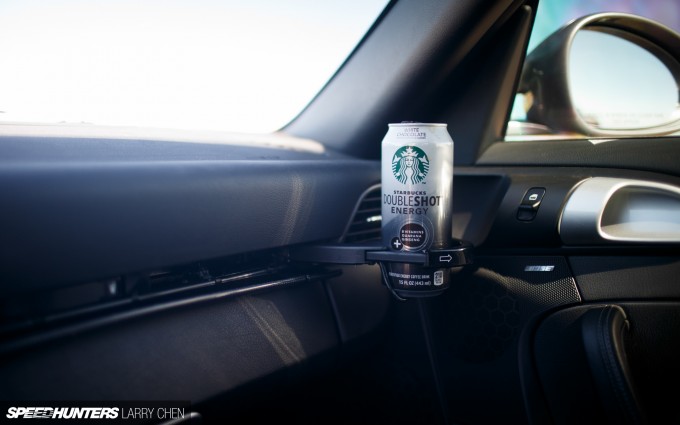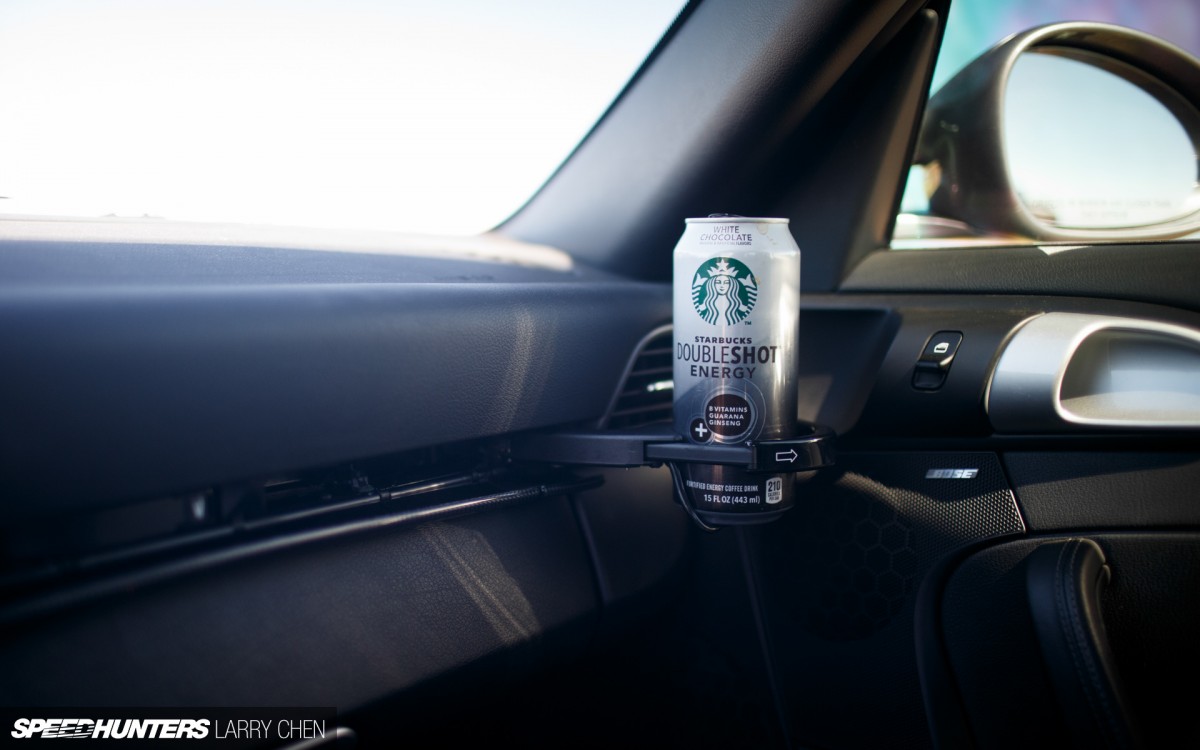 With caffeine in our veins we decided to give chase.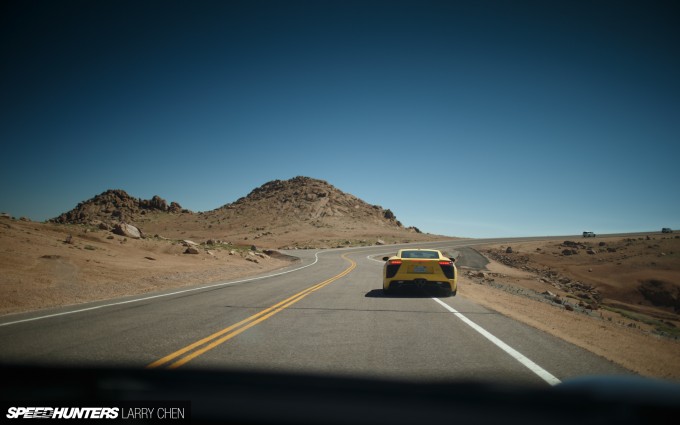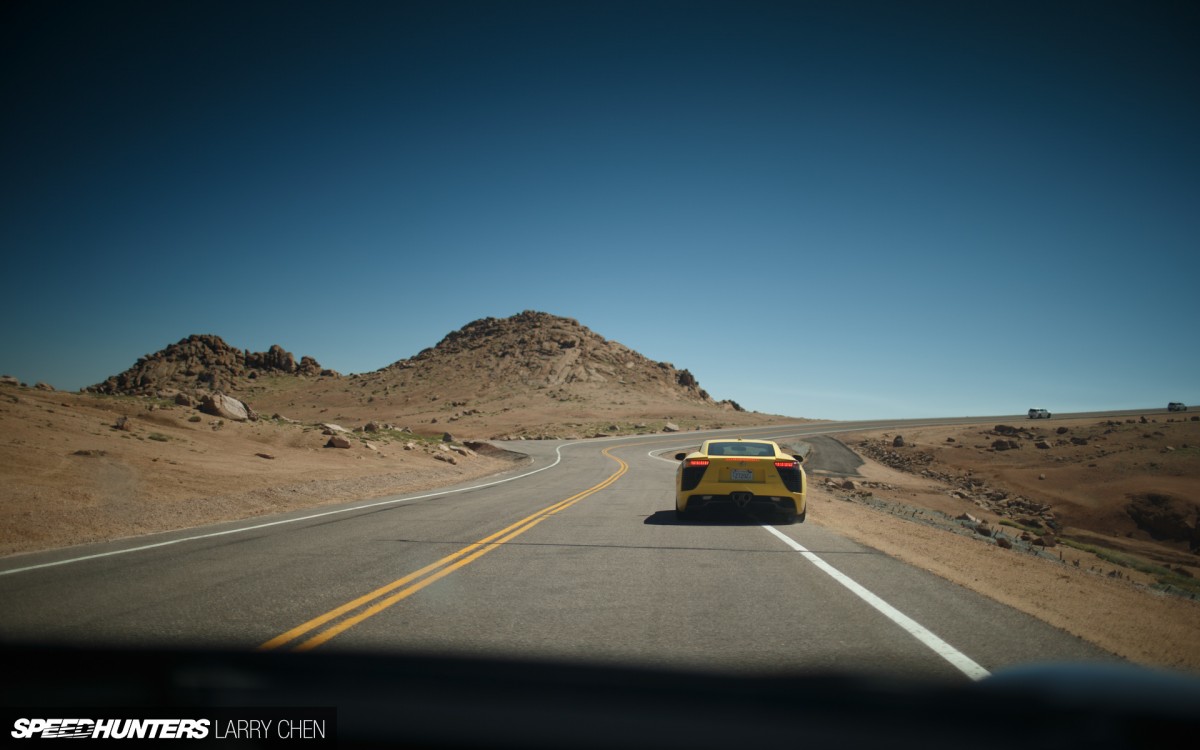 Eventually the mystery super car driver pulled over.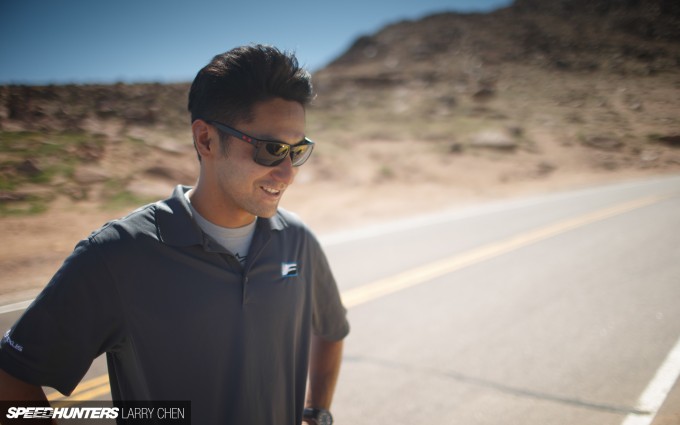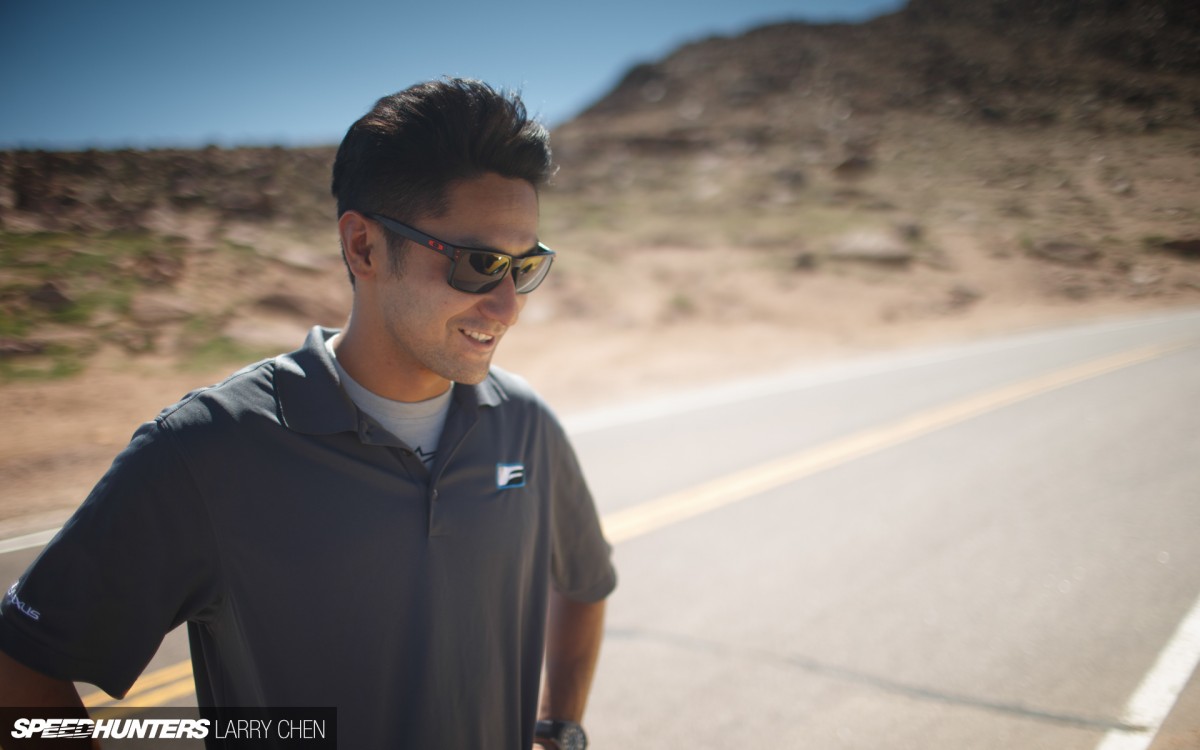 It was none other than Formula Drift veteran, Ken Gushi. He was driving a Lexus IS-F in the exhibition class in the hill climb, and Lexus thought it would be a good idea to let Ken run around in an LFA as a rental car.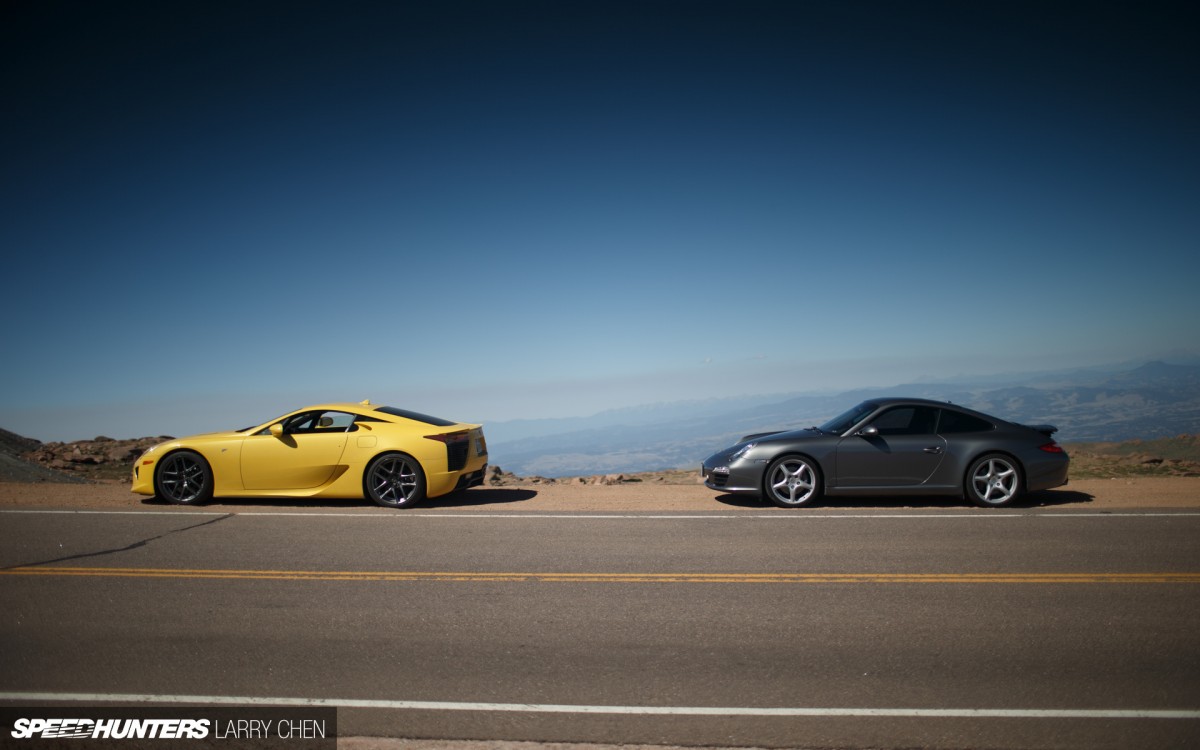 I was thoroughly jealous. Then again, I couldn't really complain.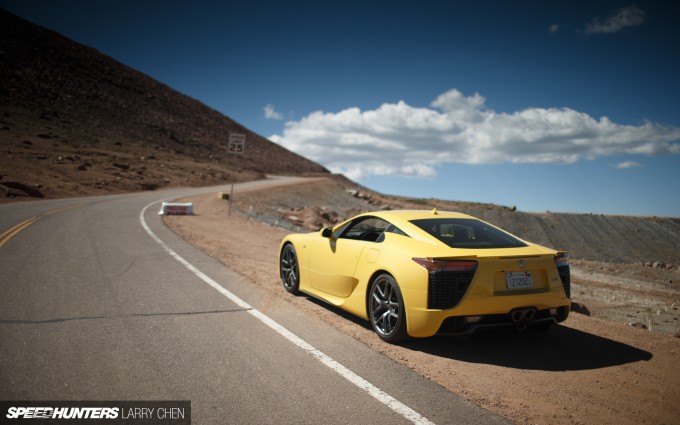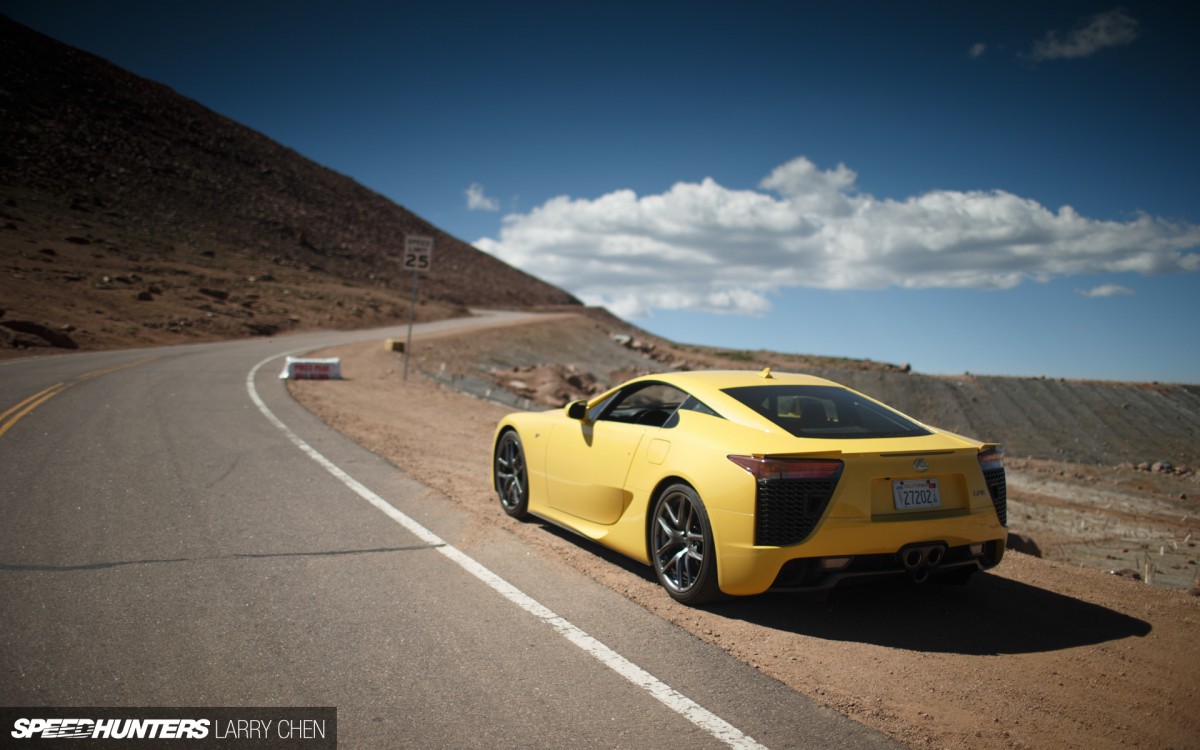 I've seen the LFA at car shows, but never on the road. It's just a shame that Lexus made so few. Then again, how many cars could you really produce at a loss?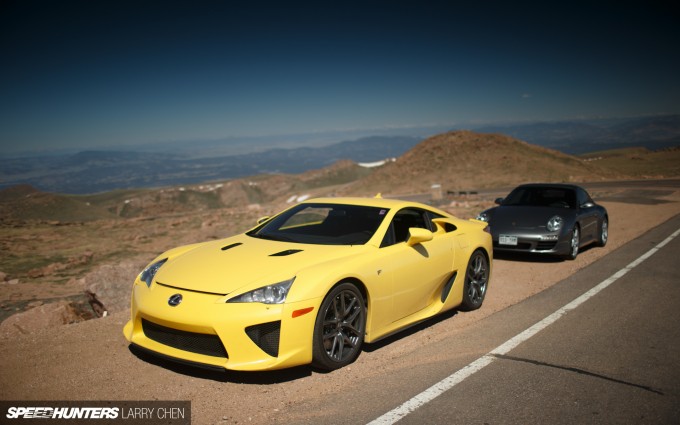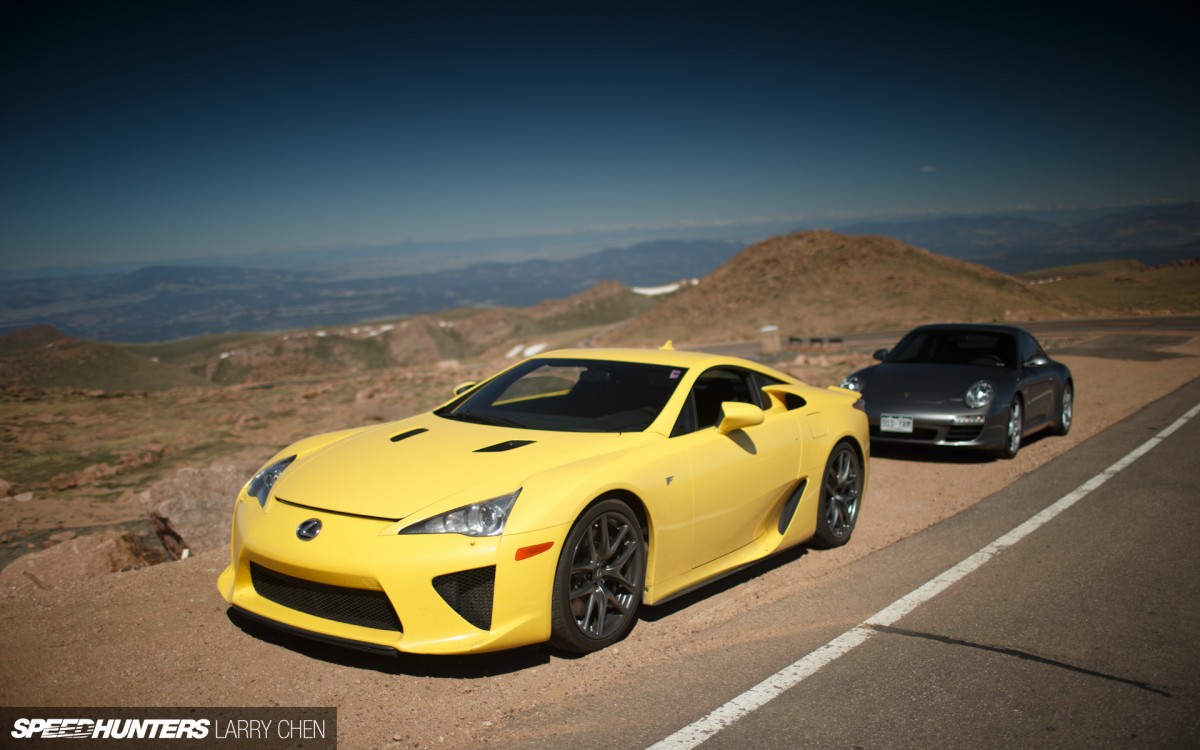 I normally don't ask for rides in other people's cars, but I couldn't pass this opportunity up and I asked Ken to take me for a spin.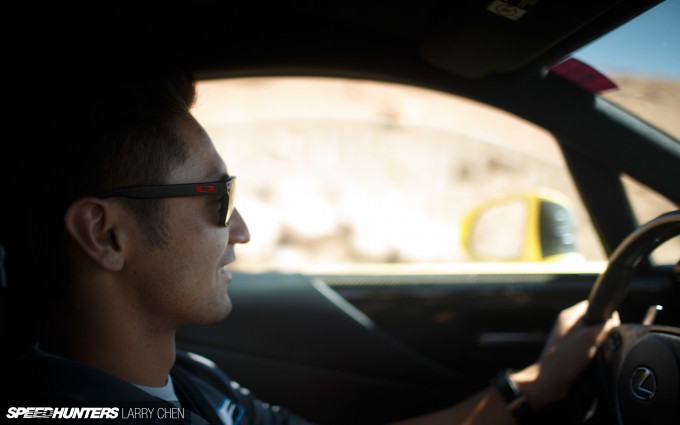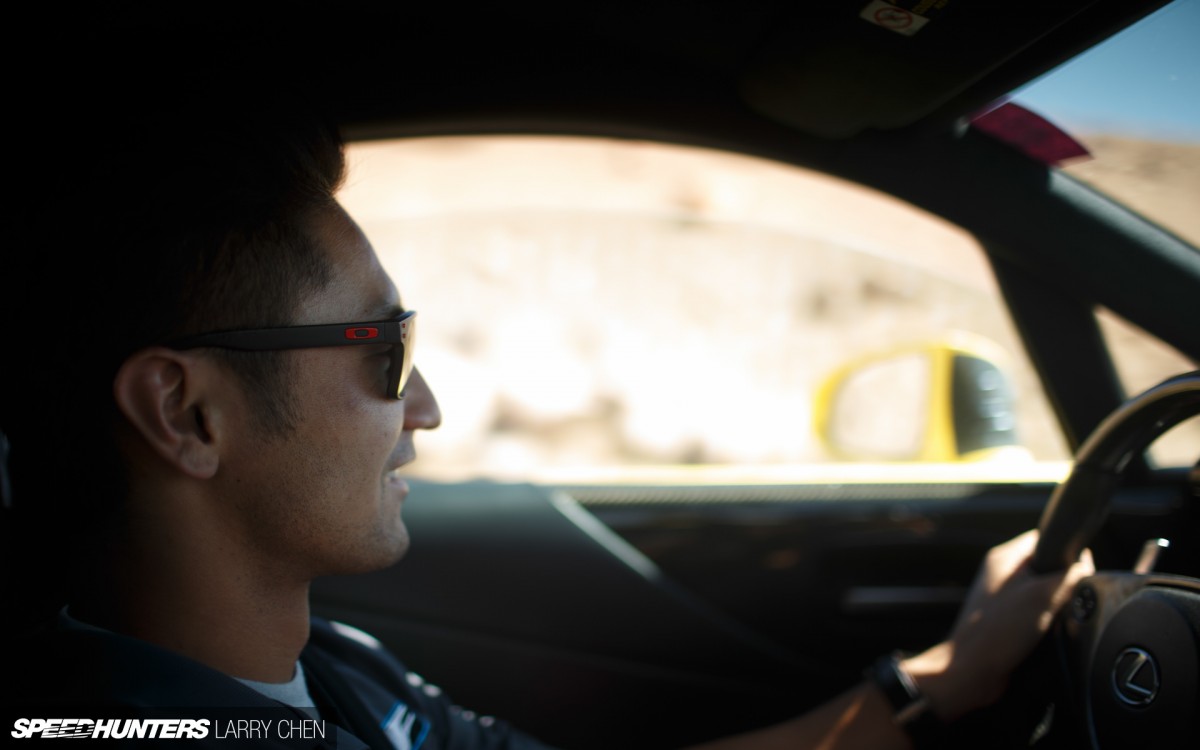 It drove like a normal car and when Ken was not foot to the floor it felt very tame. As soon as he floored it, the high pitched exhaust note filled the cabin and the smiles came out.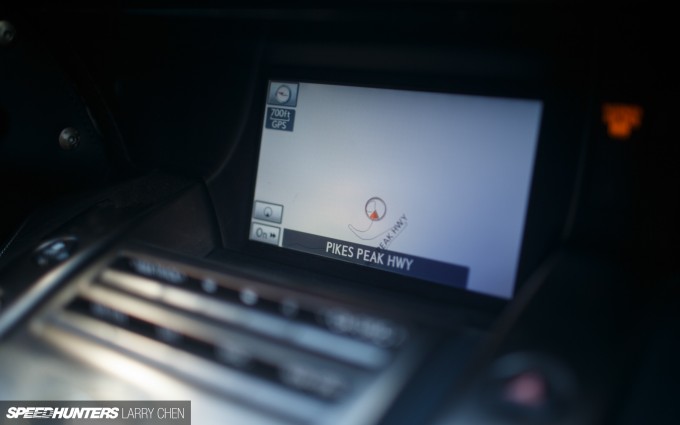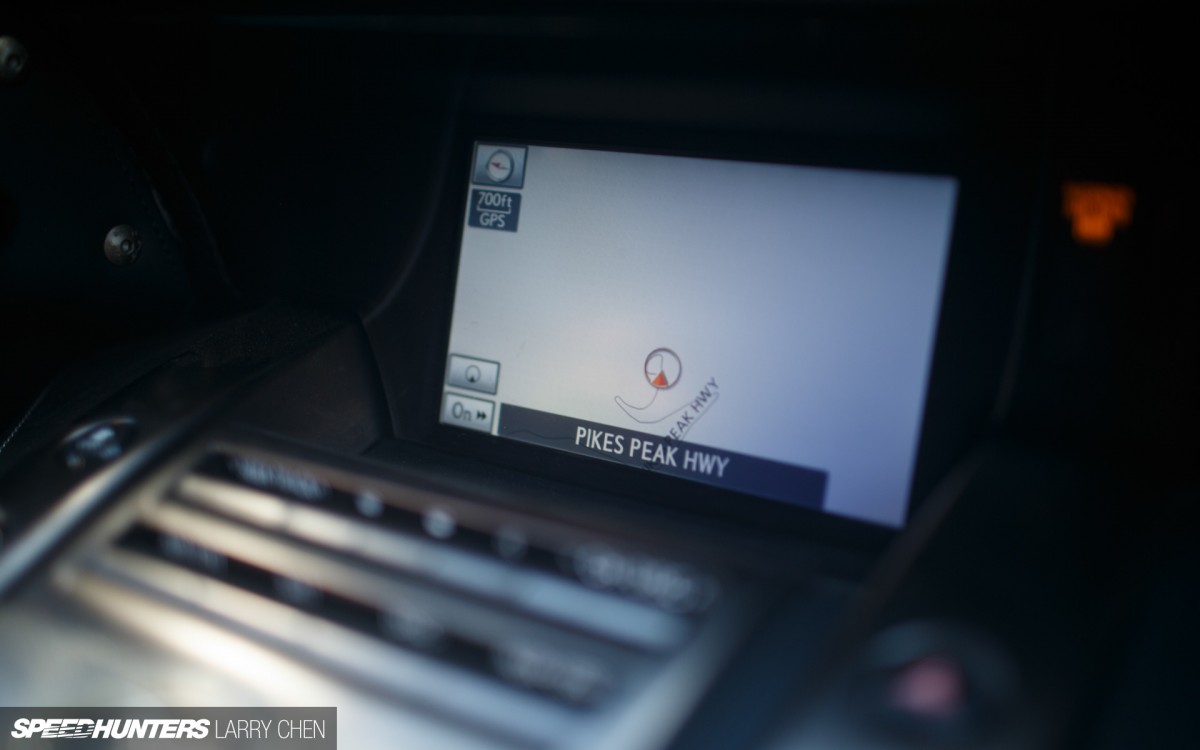 Before we knew it, we were at the summit.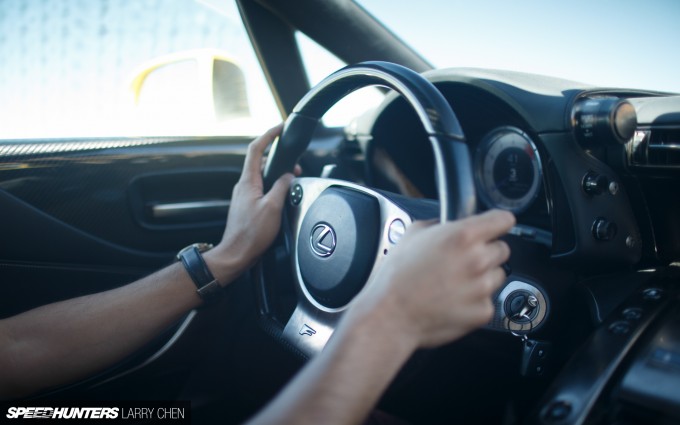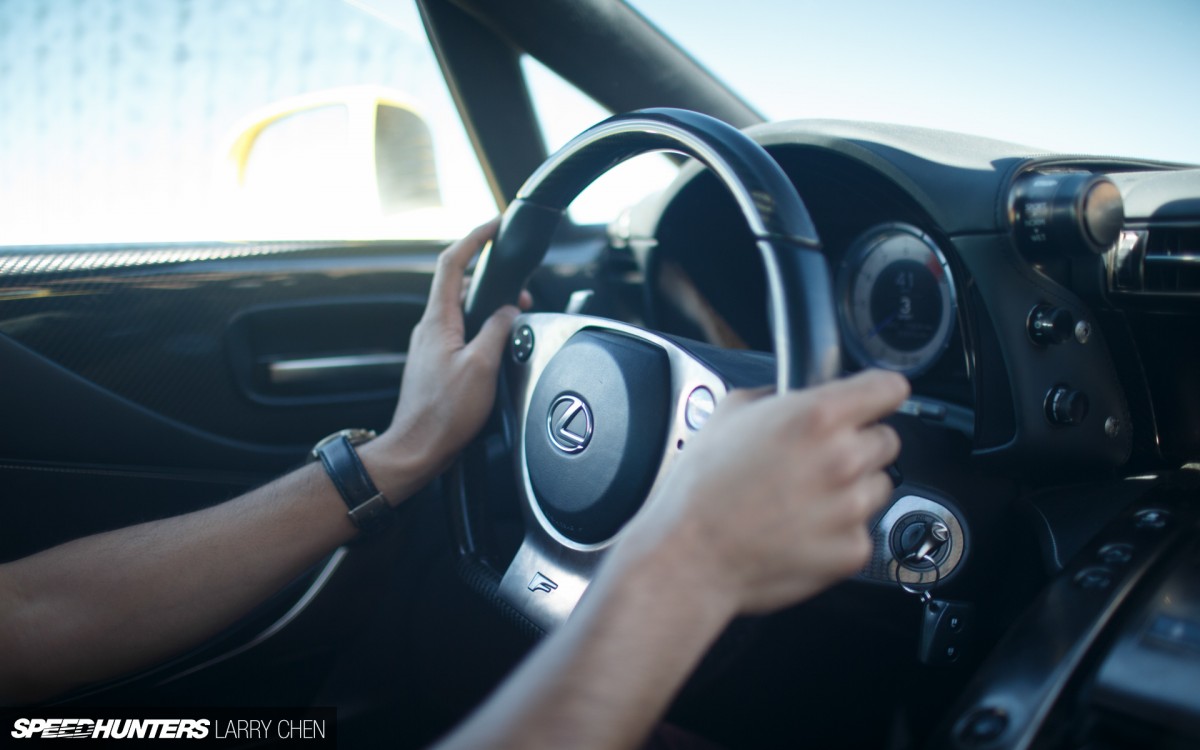 On the way back down he showed me how quickly it could shift in sport mode. It was impressive to say the least, but I would still rather have a third pedal.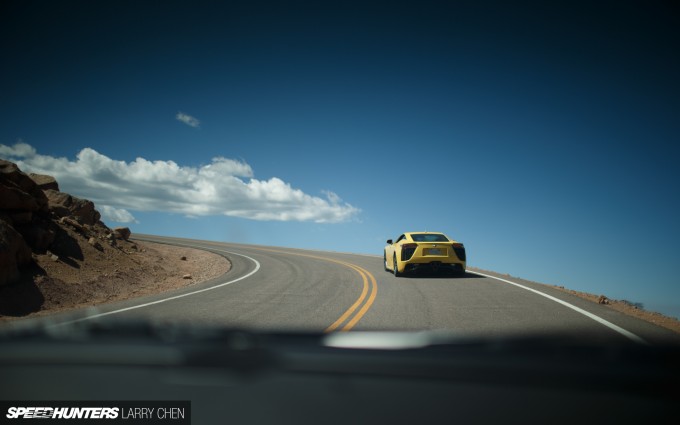 We followed him back up, foot to the floor, but at 14,000 feet that does not mean much. The 911 had maybe half of the power it did back down in the city.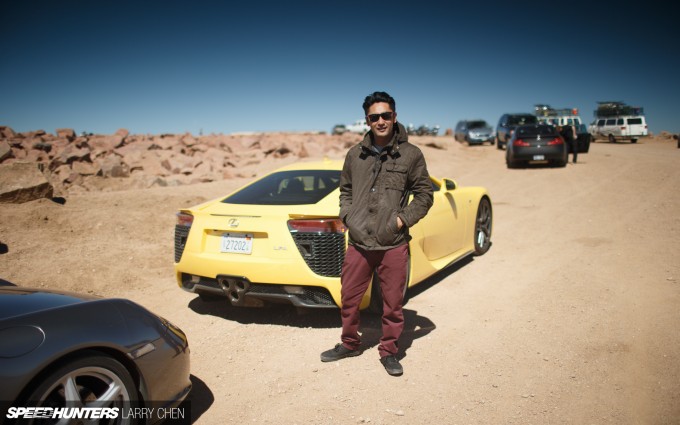 To practice the course before race day, Ken was going to drive up and down the mountain a few more times.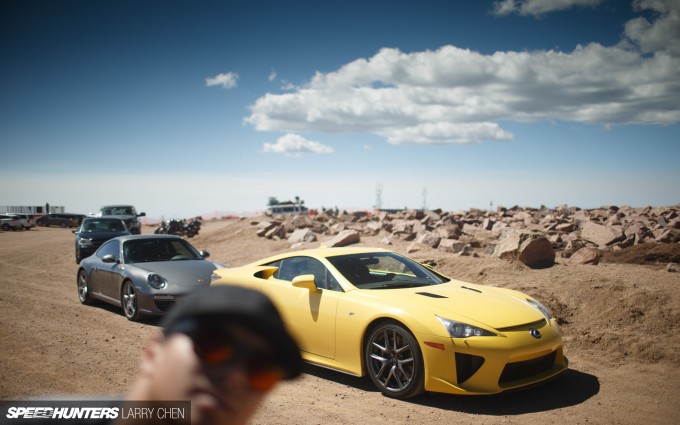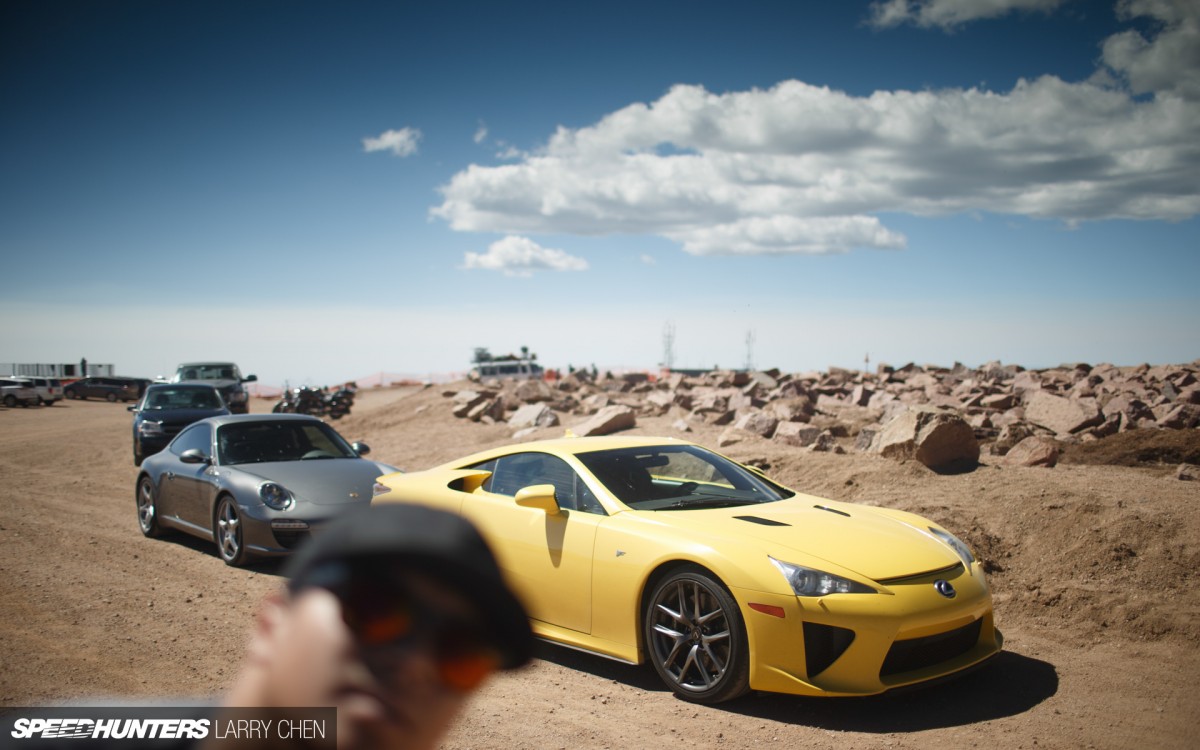 I tried to get one last photo before Ken went down, but got photobombed by Linhbergh.
Top of the world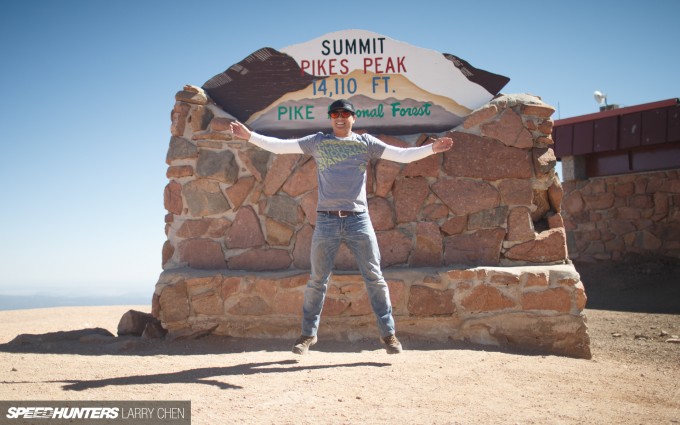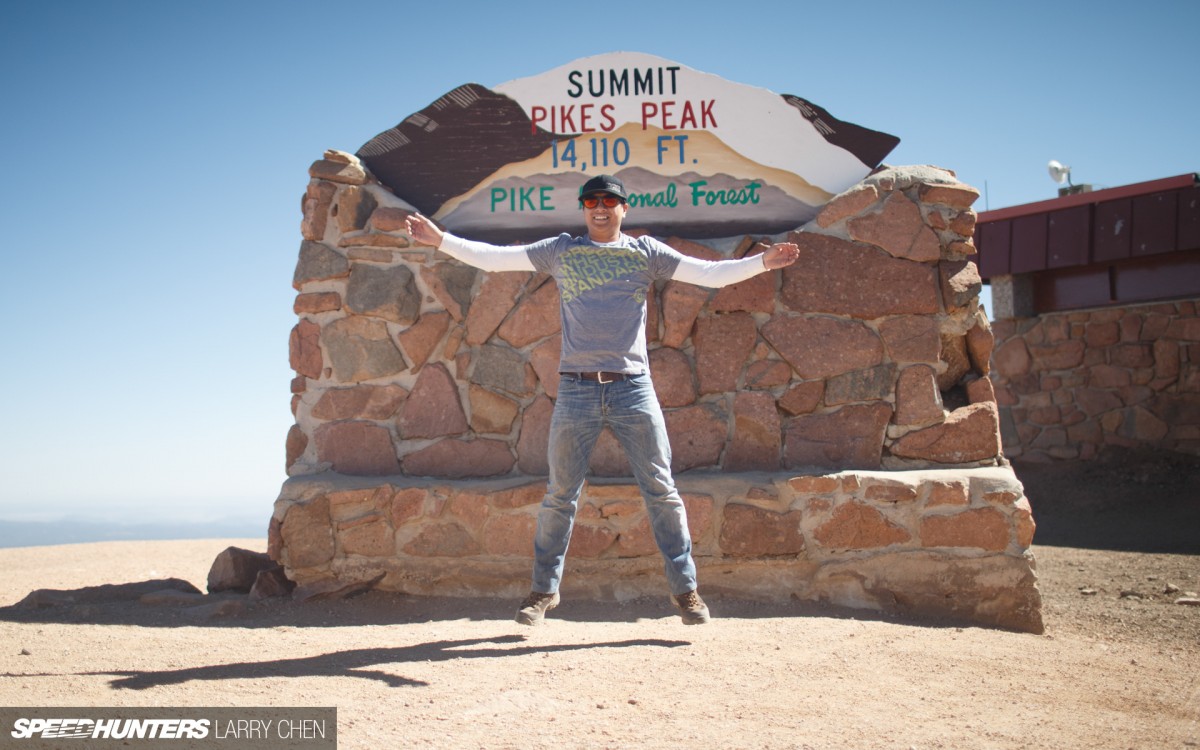 One of the challenges that we do when we get to the top is to try to do as many jumping jacks as possible before you feel like you are going to pass out.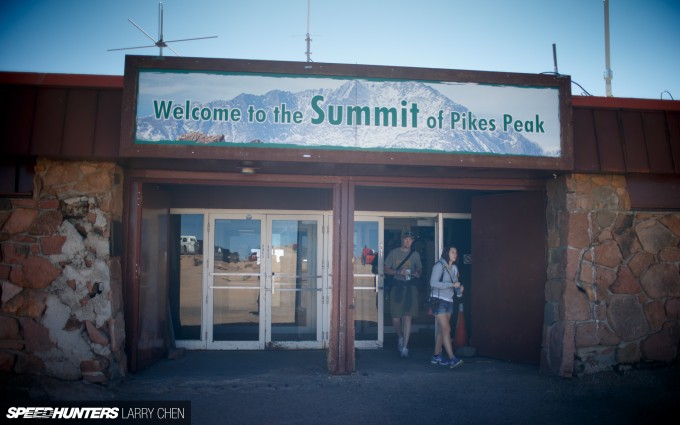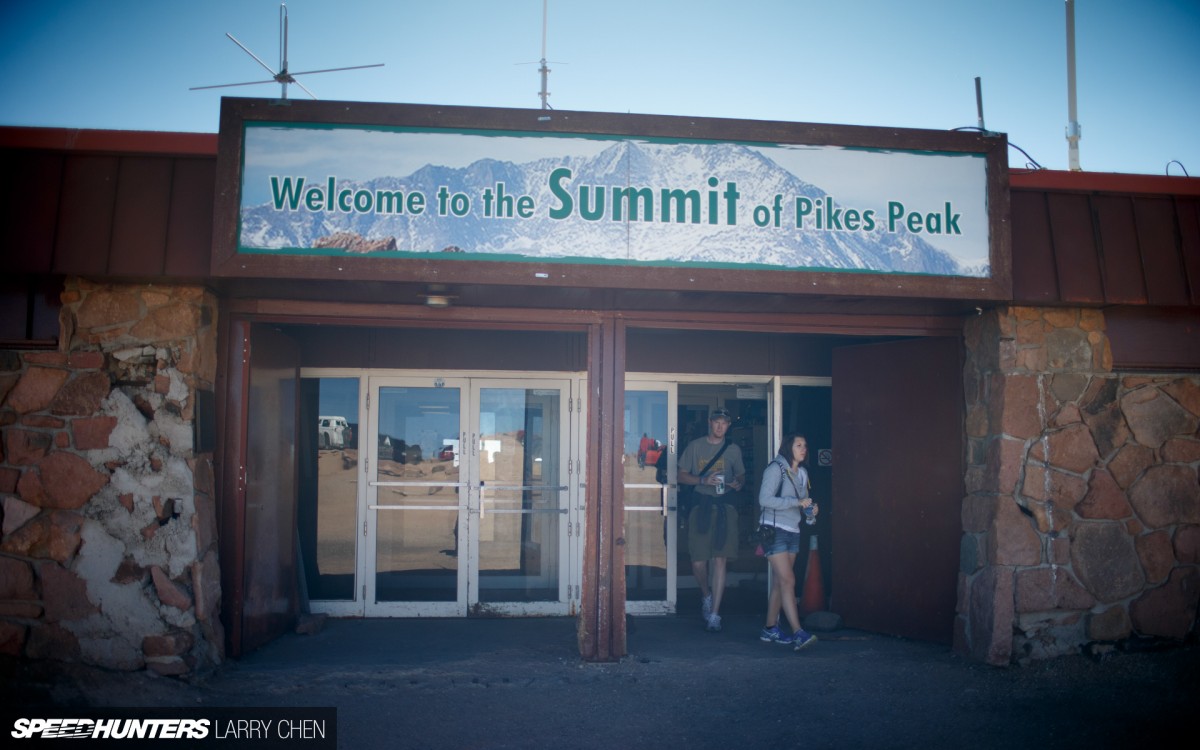 This is the gift shop at the summit and they make the best donuts I have ever tasted.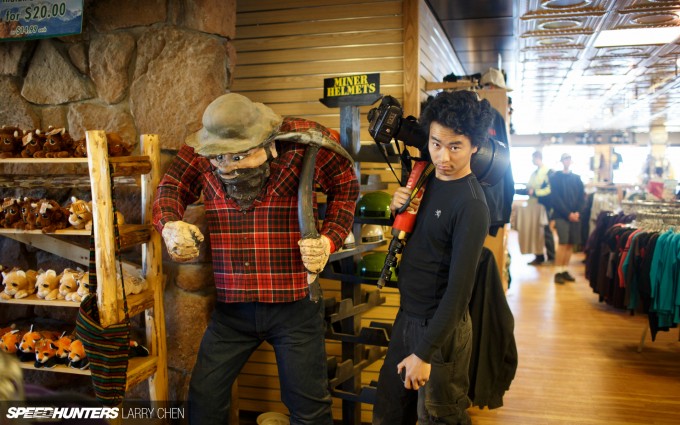 It's a great place to take a break or just to hang out. They even had wi-fi up there.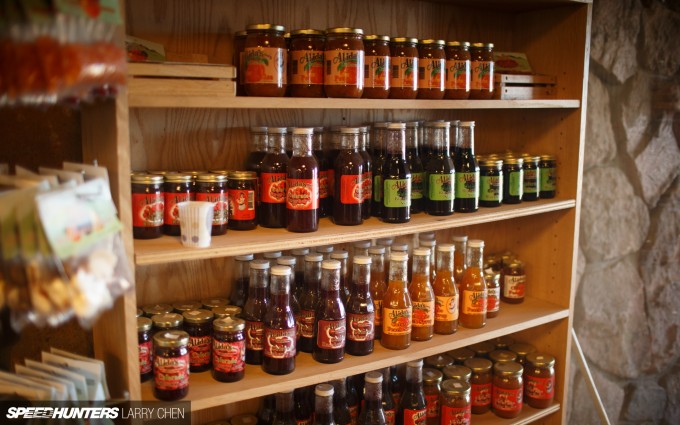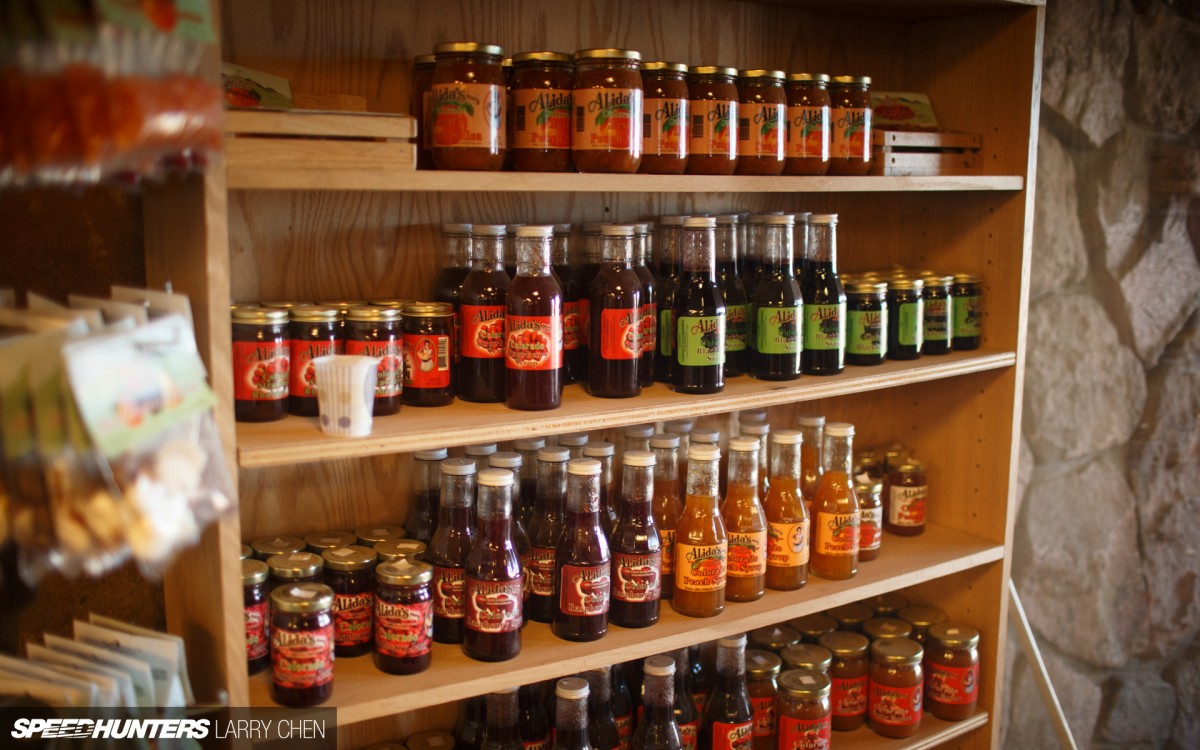 It's crazy to think that some poor dude has to drive all this stuff up to the summit in a delivery truck.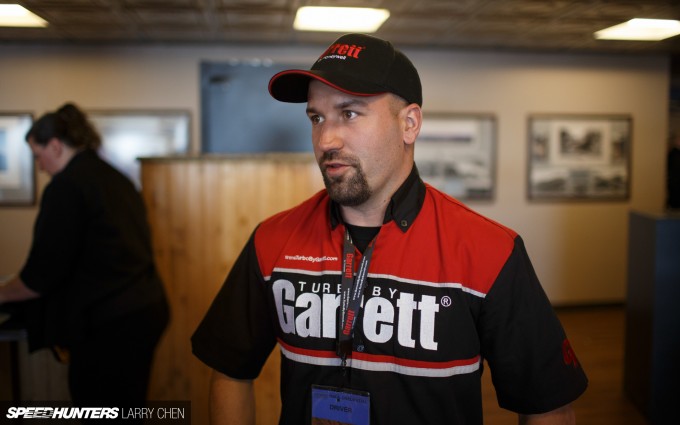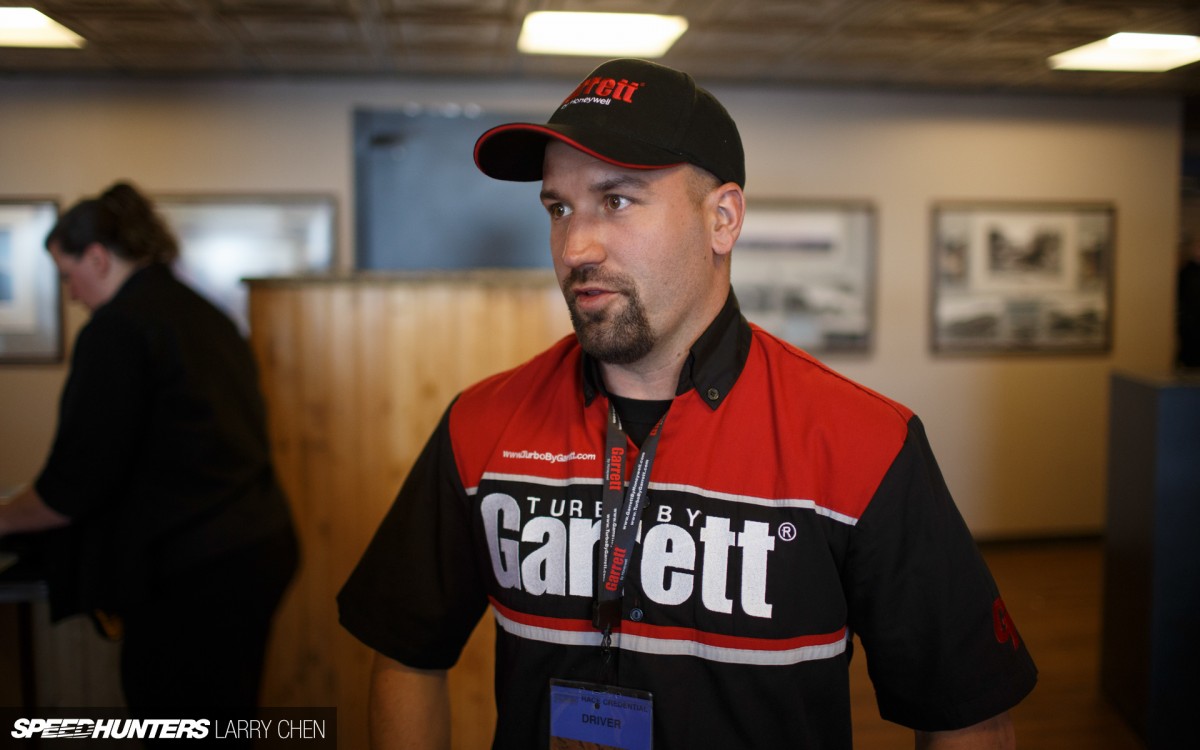 You can always find drivers at the summit just hanging out. We ran into Cody Loveland recovering from a bad incident in his NSX. It caught on fire and he escaped with just a singed forehead.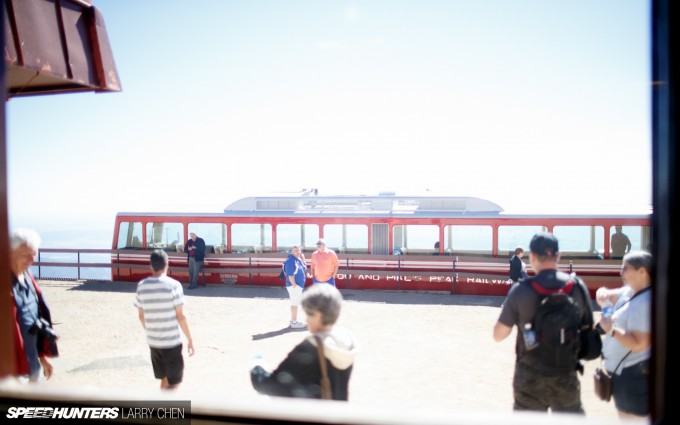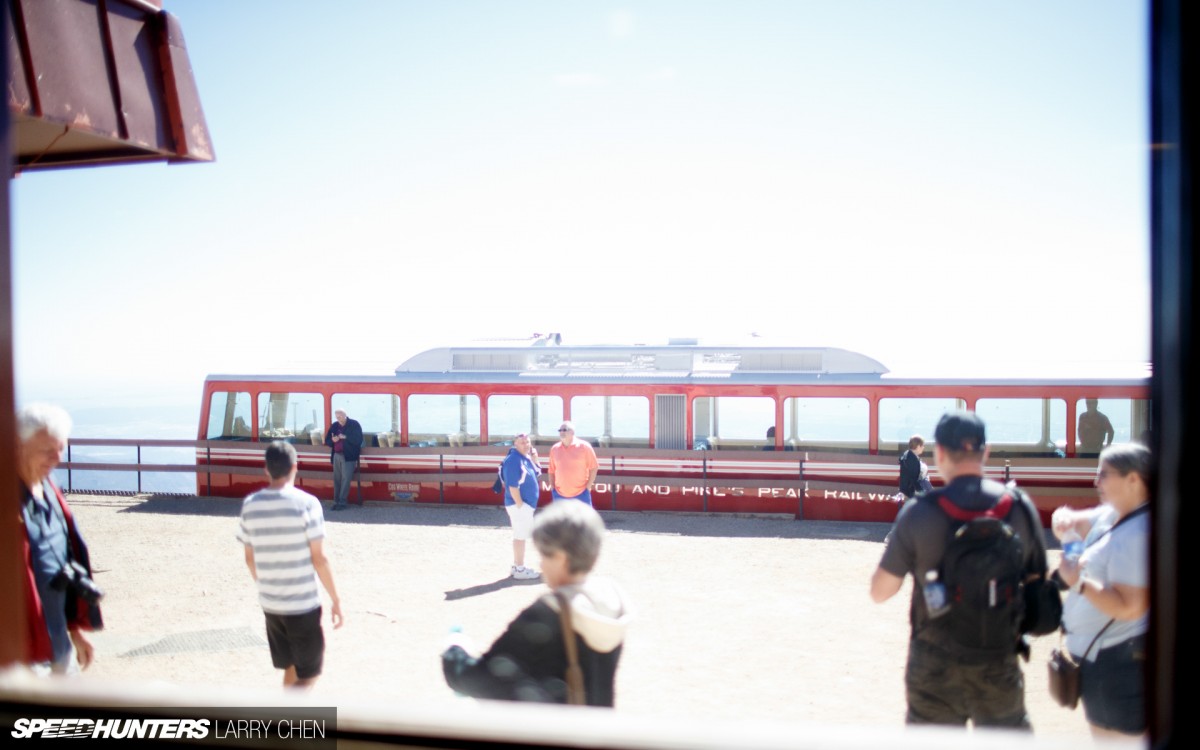 If you don't want to make the drive up you can take a train as well, but where's the fun in that?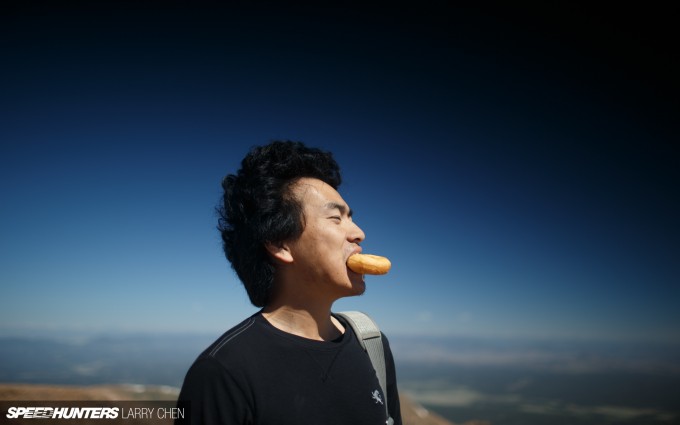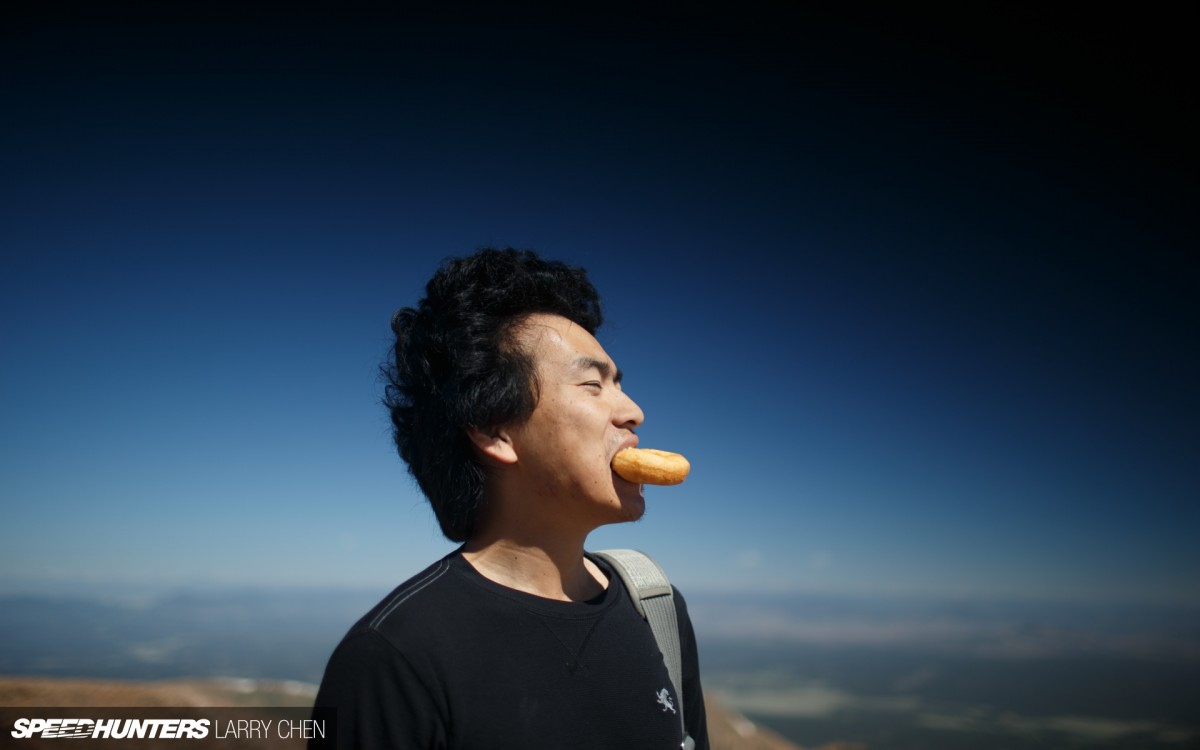 We always buy a few donuts to eat and a few to take down with us. They shrink as you get lower and lower in elevation.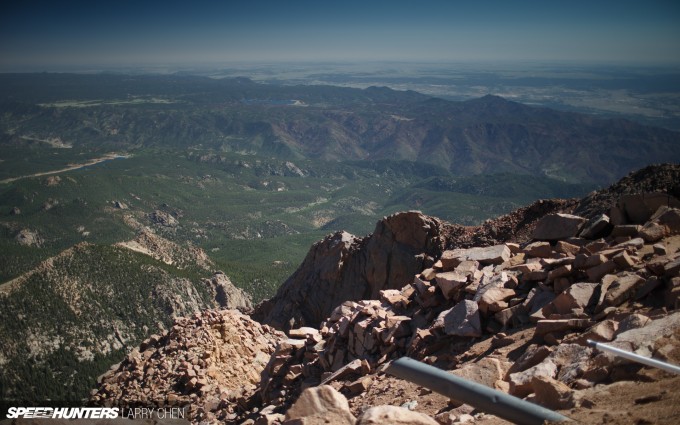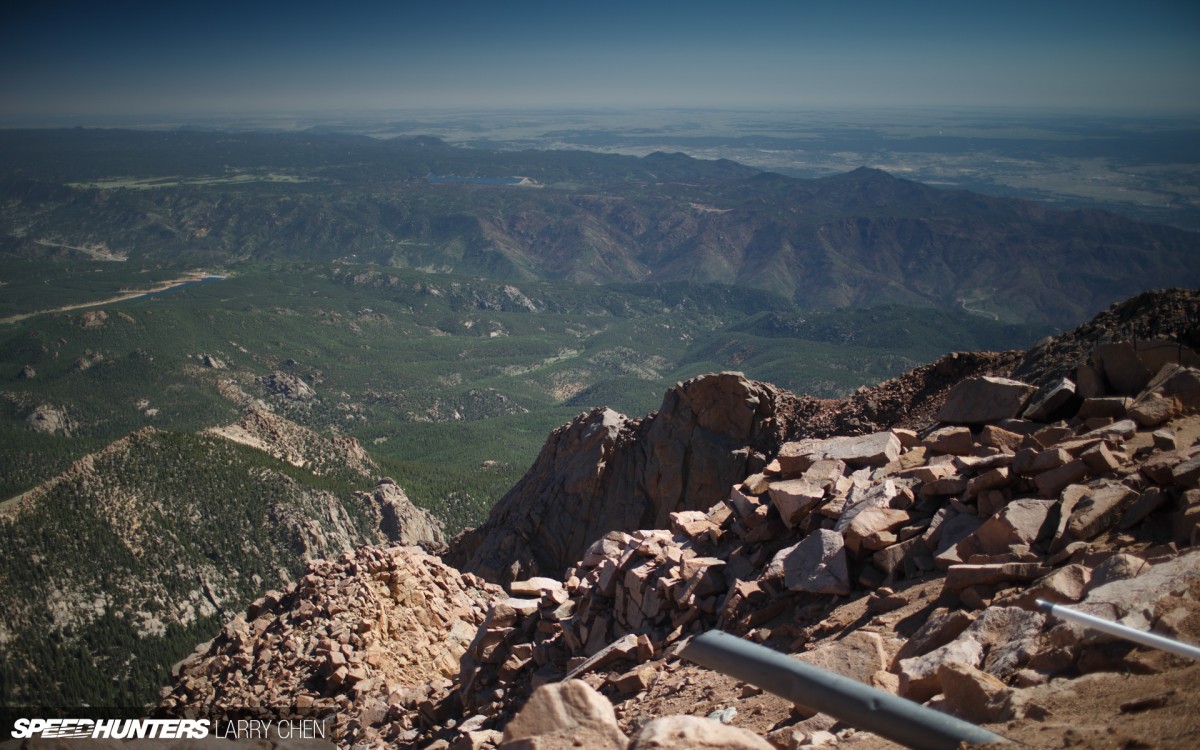 The view from the top was spectacular as always. However, just thinking about it gives me a headache. It takes quite a while to get acclimated to the altitude. The first time I covered Pikes Peak, my head did not feel right for a week afterwards.
Heading down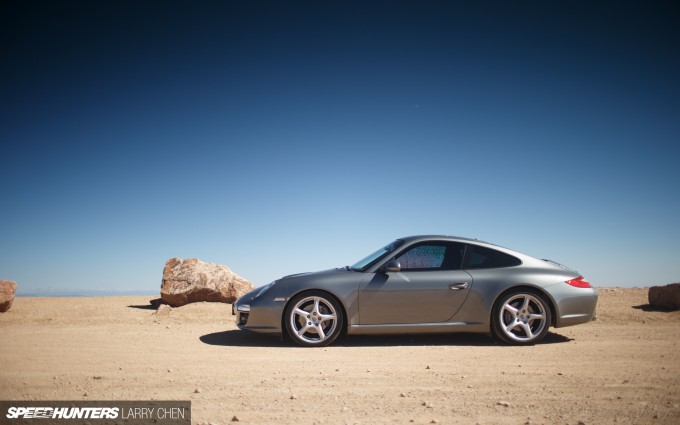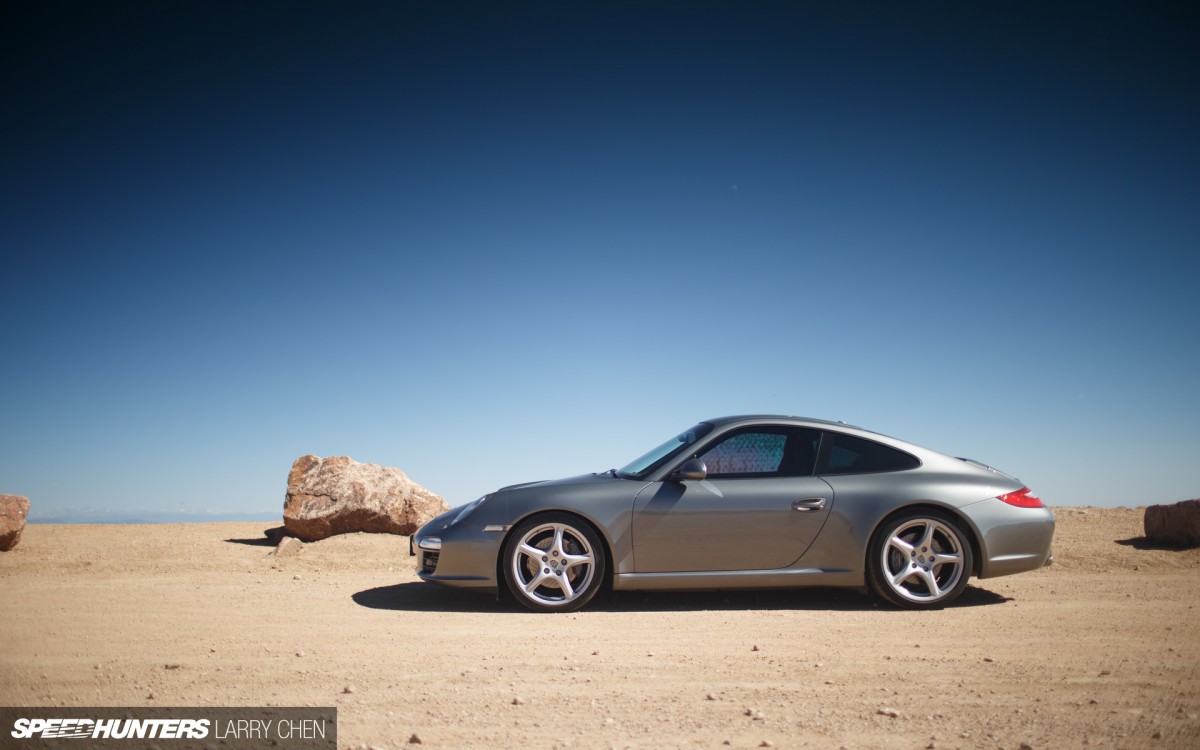 What goes up must come down. I think driving downhill was my favorite part of this dream drive.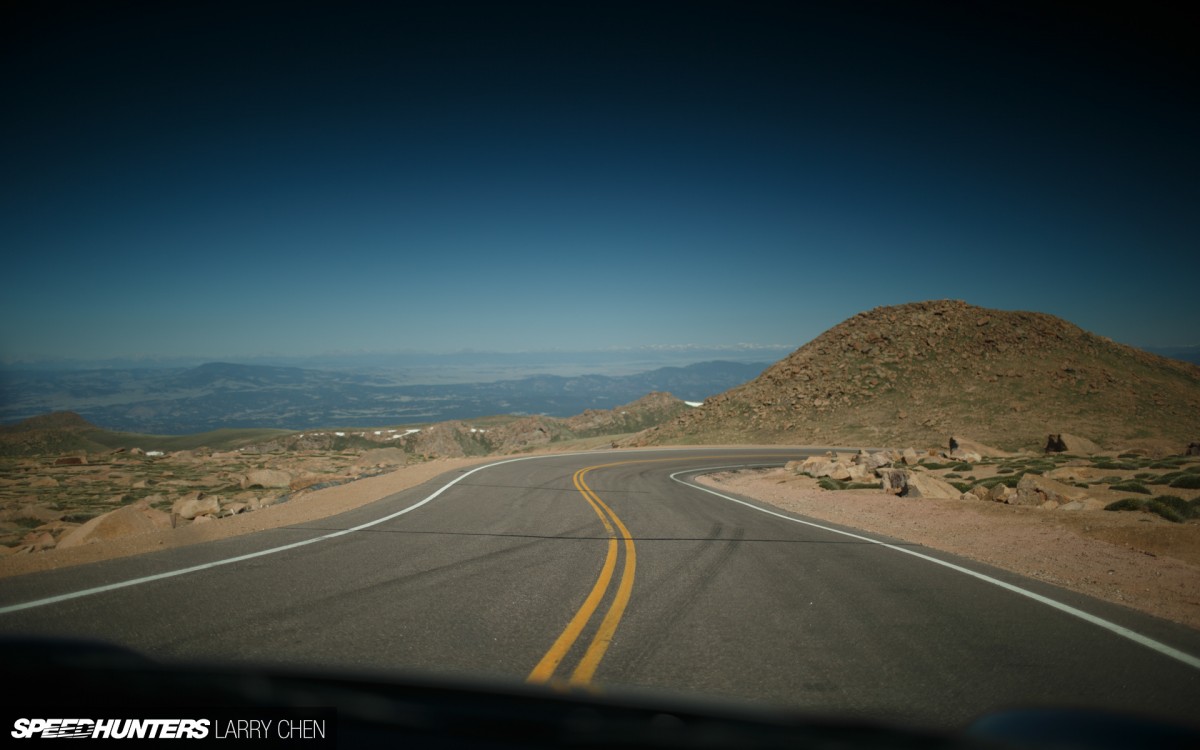 The loss of horsepower was definitely not as noticeable going downhill. It felt so at home in the corners and it was not overly stiff even with everything in sport mode.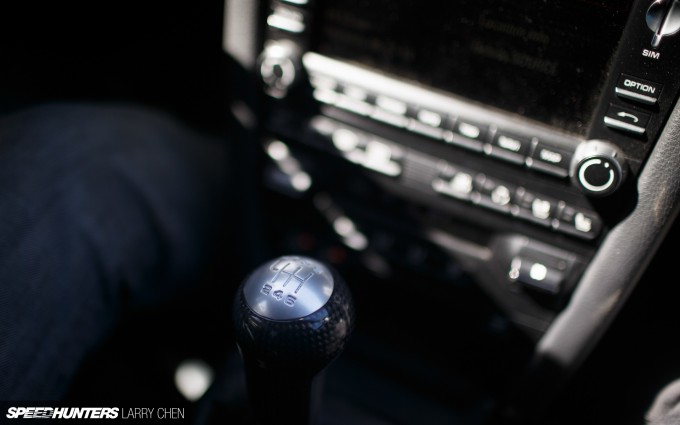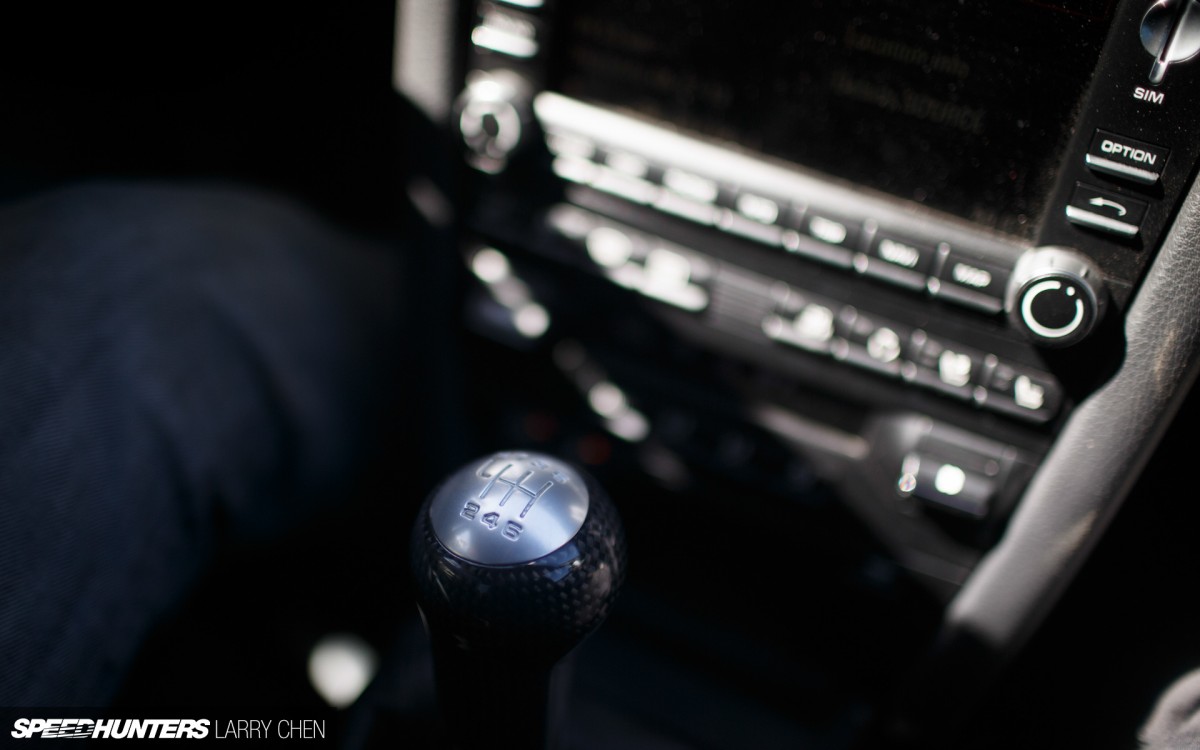 I think my favorite part of the 911 was the fact that it was stick. It makes it so much more fun to drive.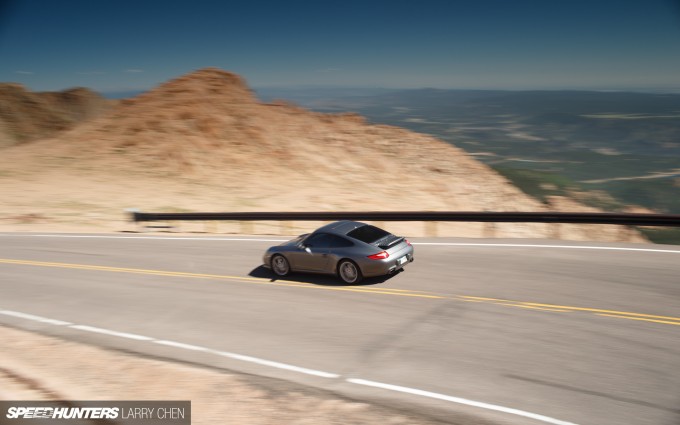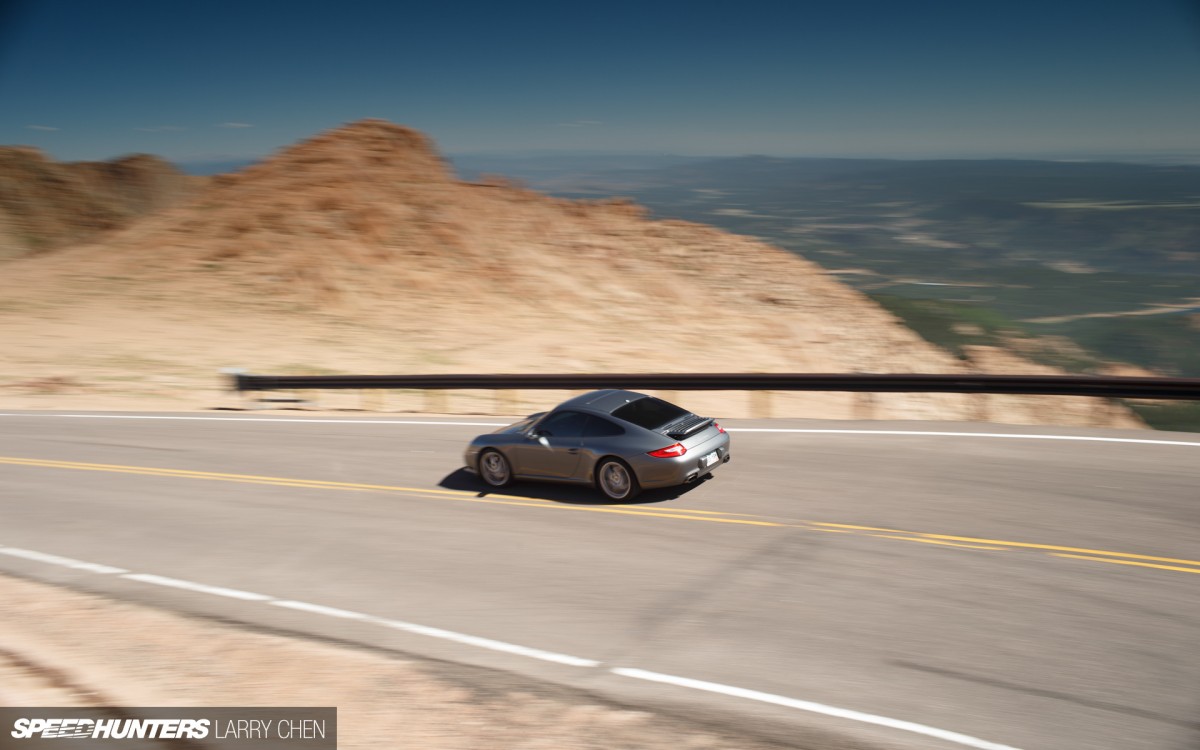 I could totally see myself owning a 911, but of course I would opt for an older one since I'm not really looking for a daily driver. This 997 on the other hand was the perfect daily driver. It's not too flashy and it has plenty of storage space.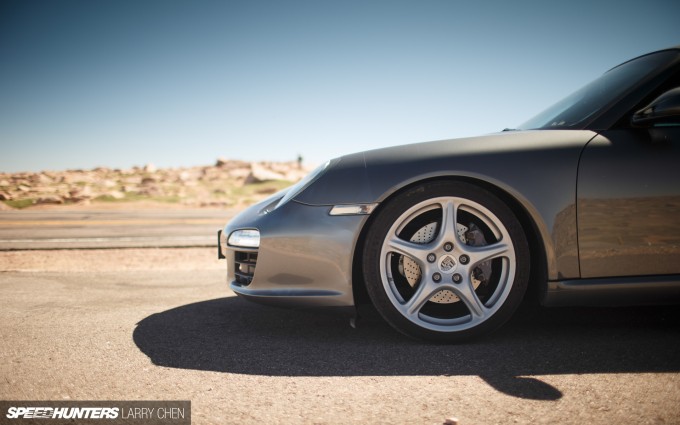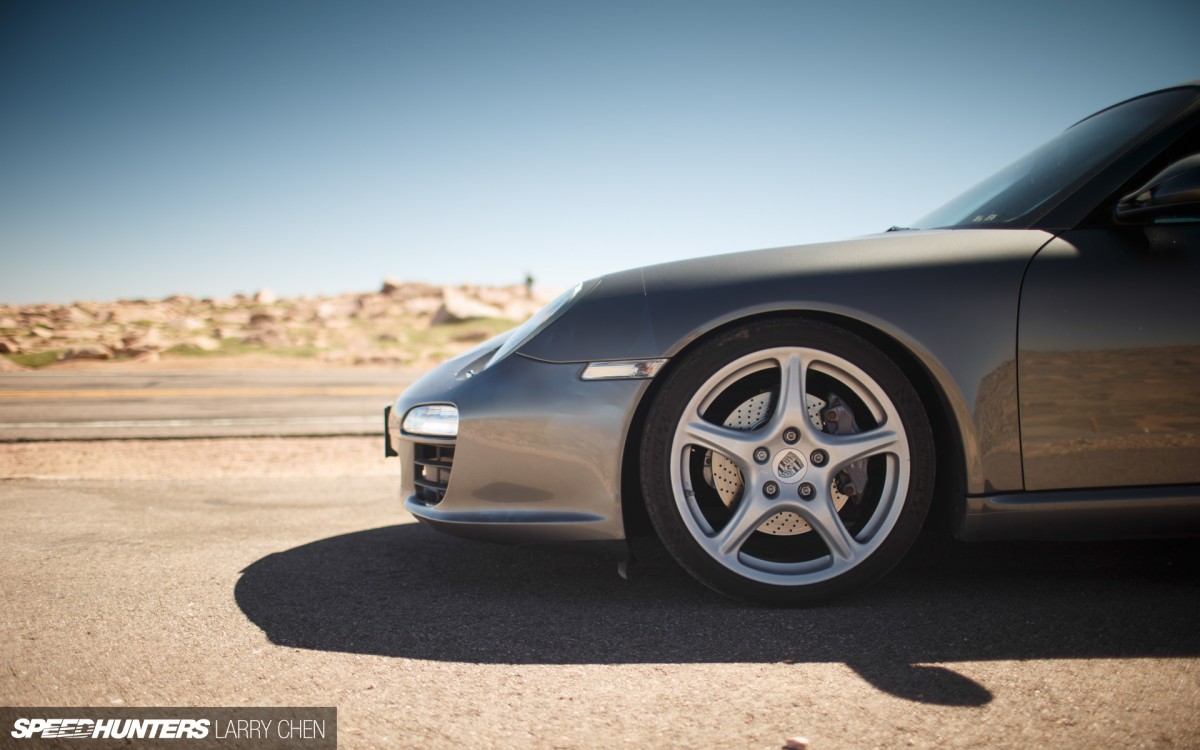 The brakes really stood out as well. There was no fade whatsoever. Around halfway down there's a brake check station where they measure the temps of your brakes before you can pass through. The Porsche passed with flying colors.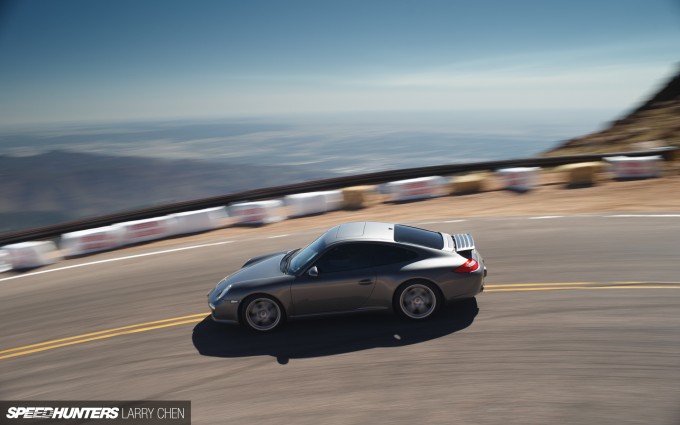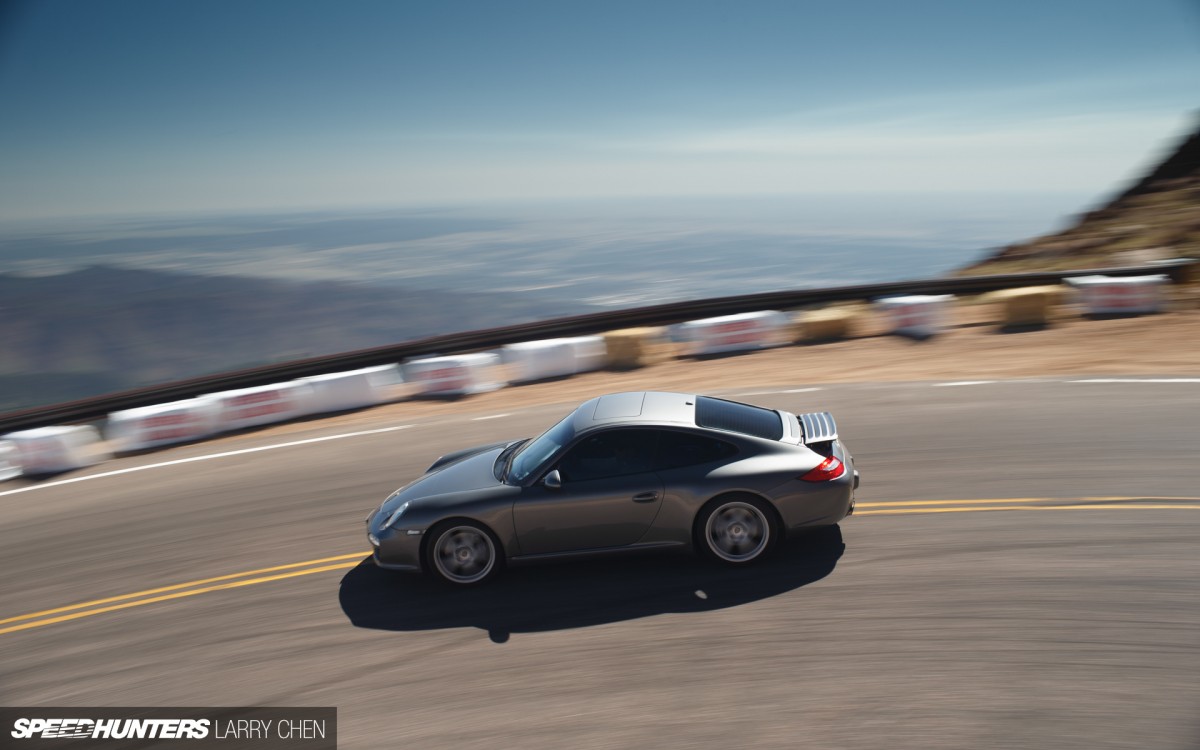 The exhaust note was great, and you could clearly hear the flat six working hard when you stepped on the gas, but it was completely quiet when you let off. I'd definitely get an aftermarket exhaust for this car if it were mine.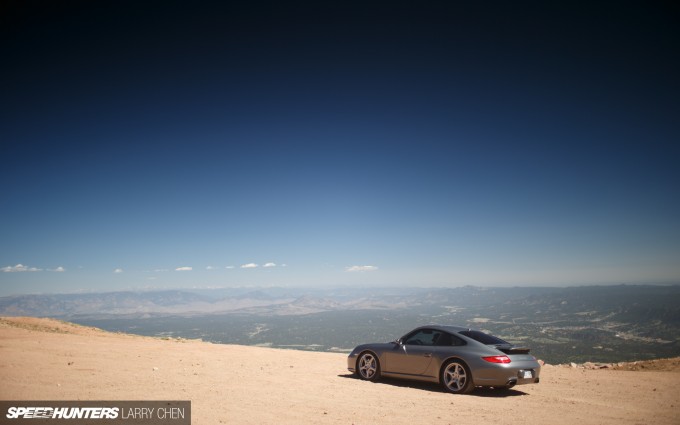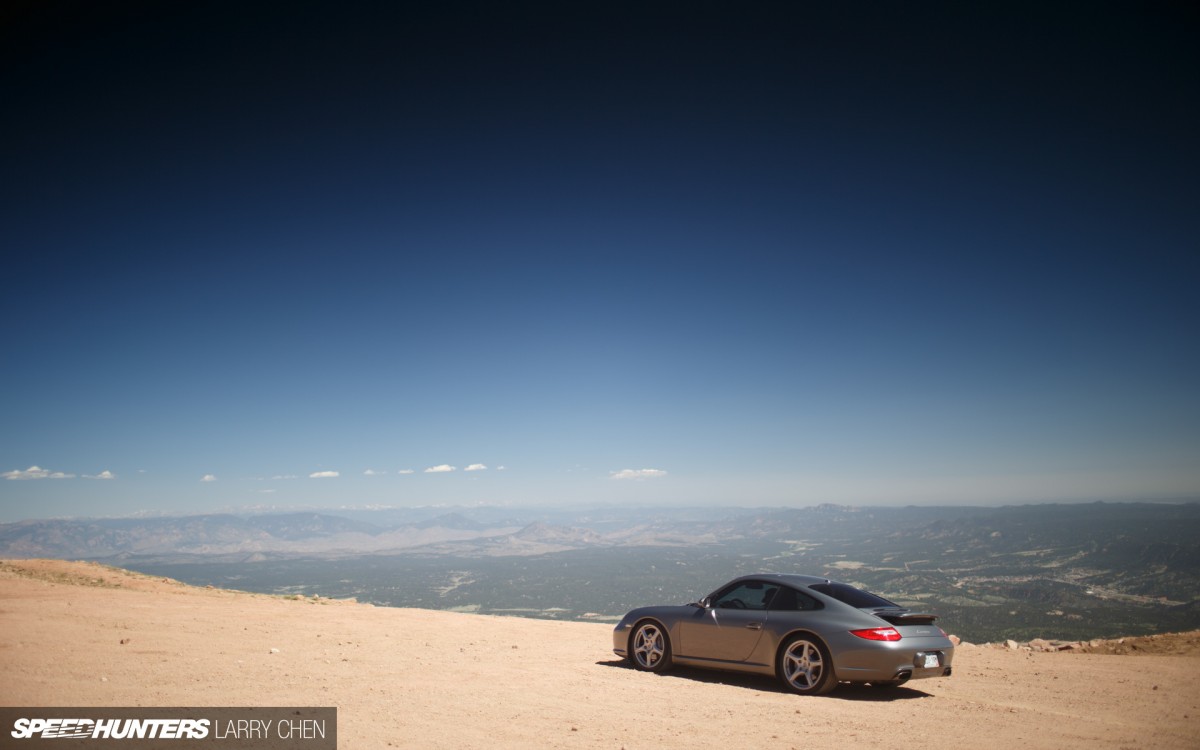 This was the second running of the Pikes Peak Hill climb while it was 100% paved. I heard quite a bit of negativity about the race now that it's paved, but honestly I think it's good for the sport. It opens so many new doors and I can't imagine Lexus would let Ken Gushi drive the LFA on dirt roads.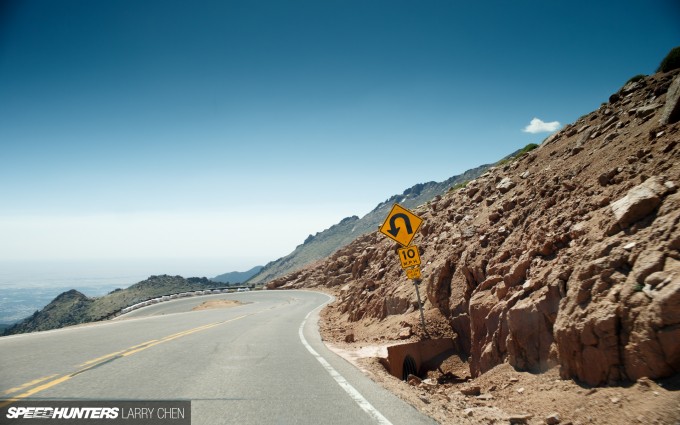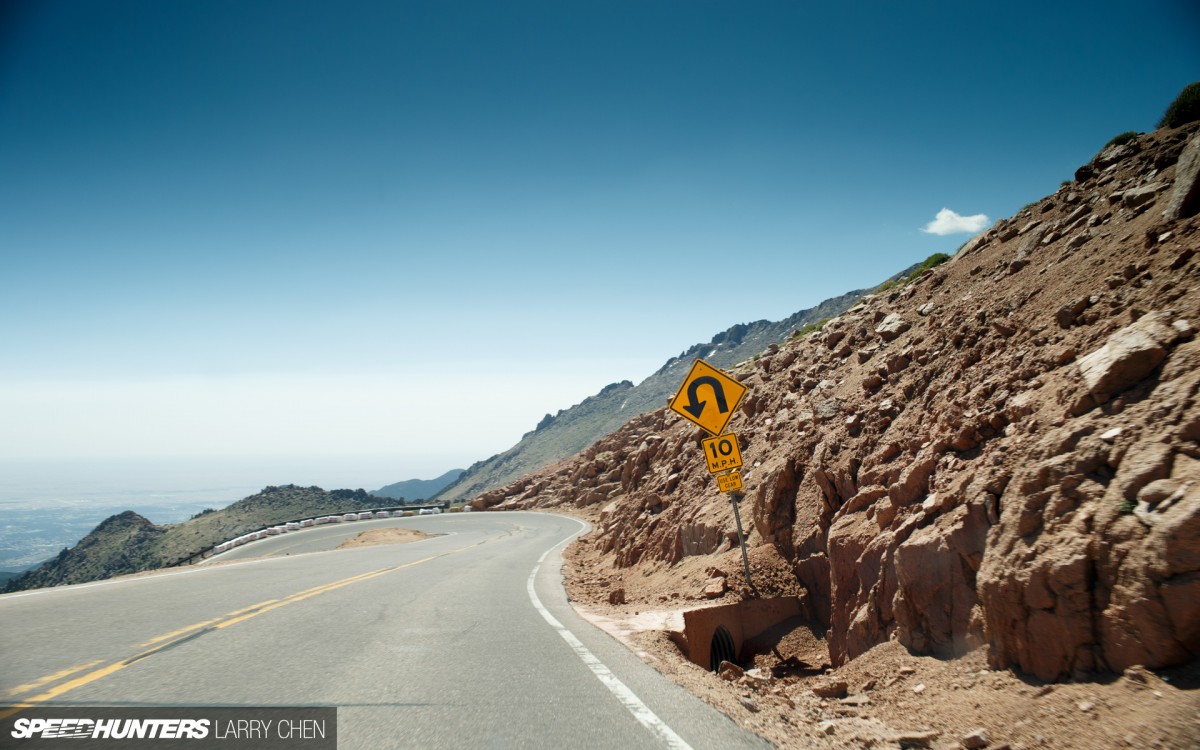 It's just amazing that a road like this exists for your enjoyment. That was one off the bucket list for me.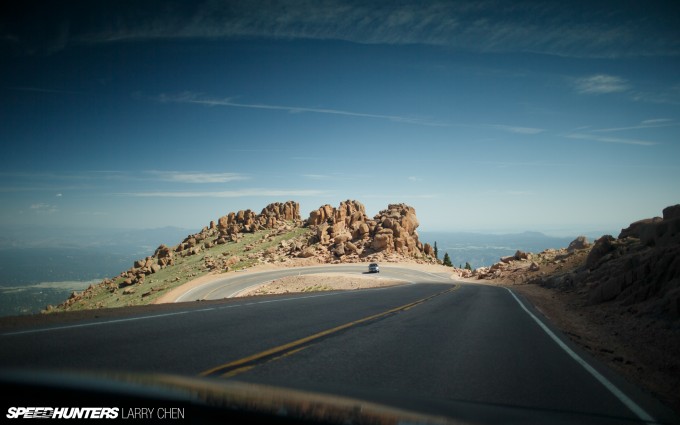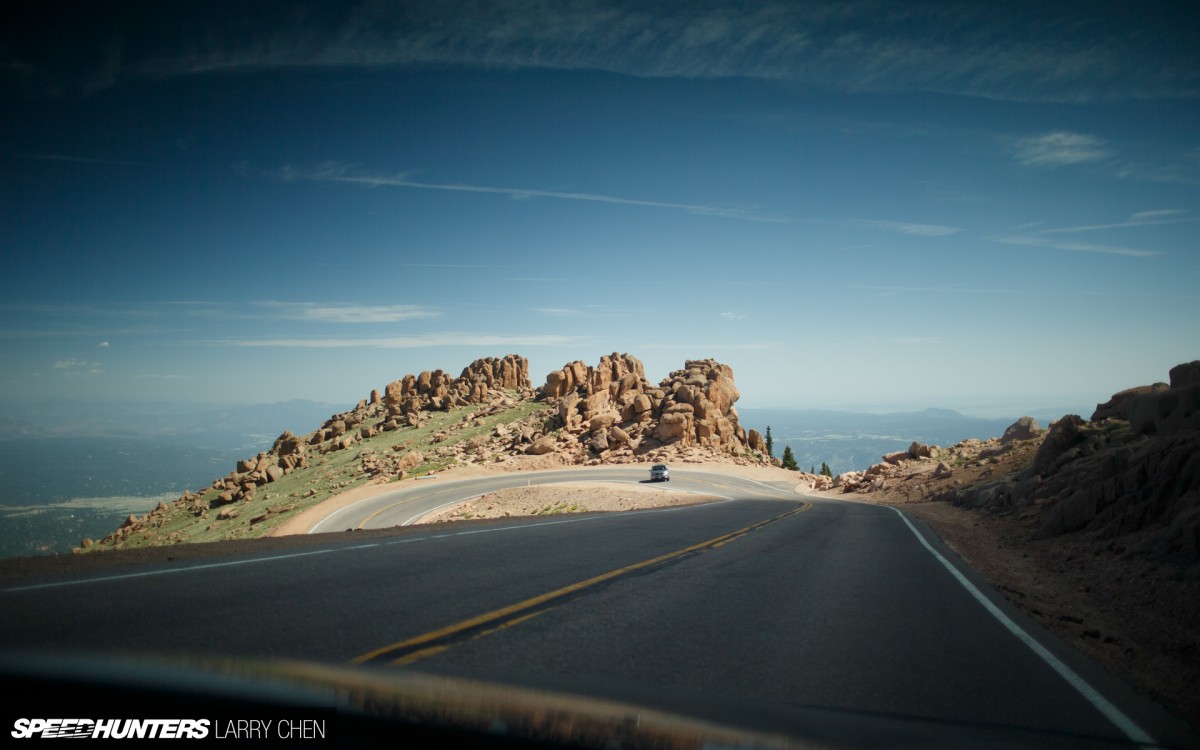 I've heard this time and time again – owning a Leica Camera is like owning a Porsche. Your first Porsche and your first Leica will always be second hand.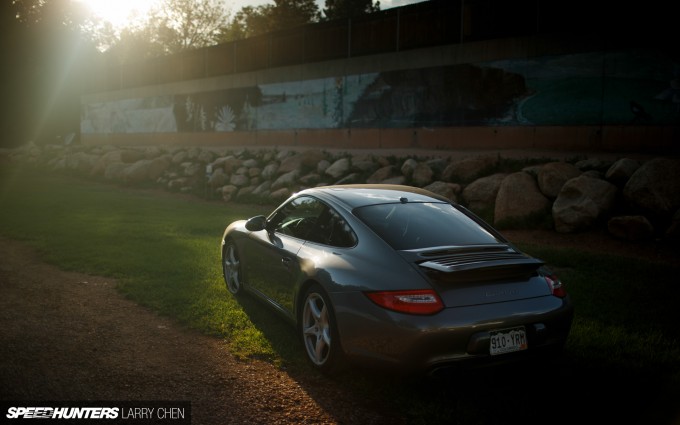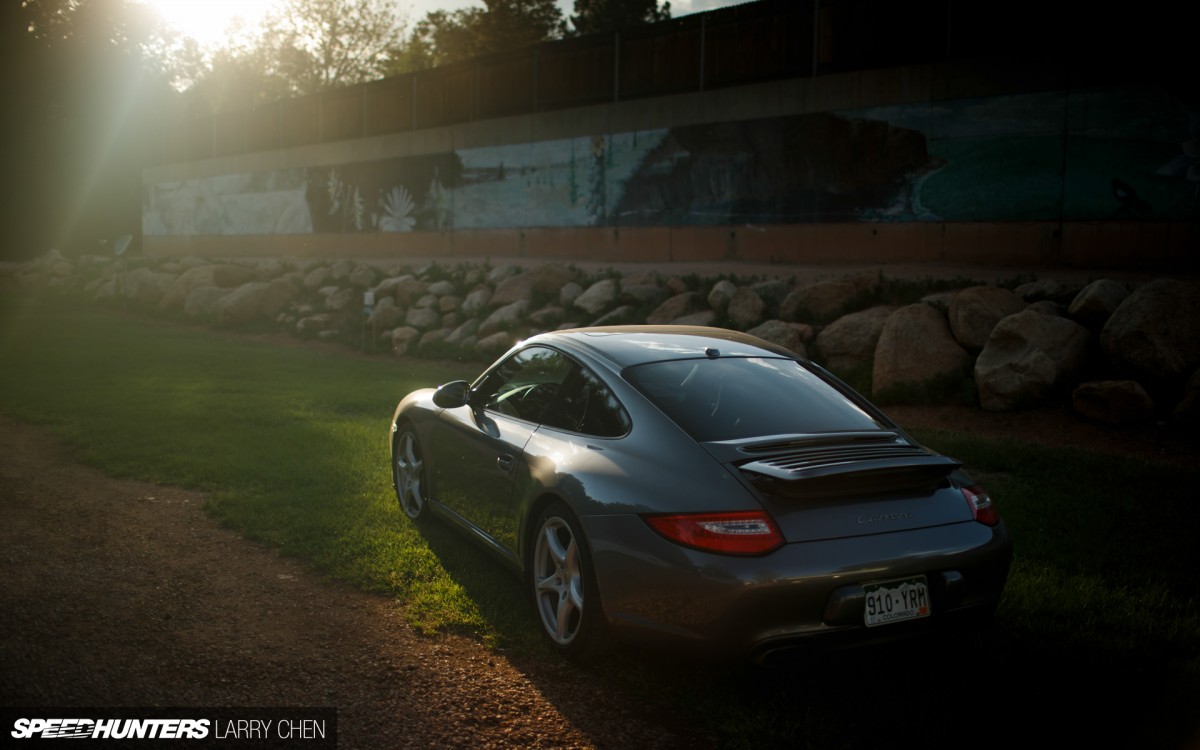 I've got my first Leica, now I just need my first Porsche….
This time at the wheel of the 911 wraps up our Porsche mini-theme. We hope you've enjoyed the coverage!