Diamonds everywhere
They say it's what's on the inside that counts. It's an approach that the VAG scene has certainly taken to heart. In a world where every detail is important, and where external bodywork is kept clean and simple, sometimes it's the interiors that really show a bit of flamboyancy. As we took a stroll round the Players Show, we stuck our heads into a few cars to check out whether the saying had any truth it in or not. We'll start off in the world of leather. First up is this MK II Golf.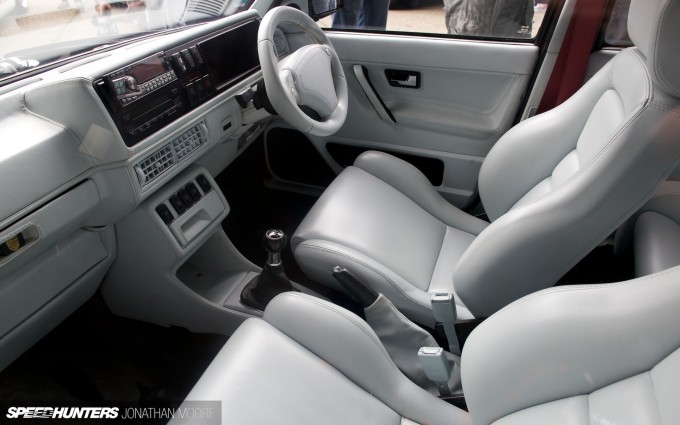 It's been re-trimmed in pristine white leather with white stitching. This isn't just a simple seat re-trim though. Oh no. Every part of the Golf's originally plastic dash has been covered, the doors are fully trimmed and even the steering wheel has been done to match.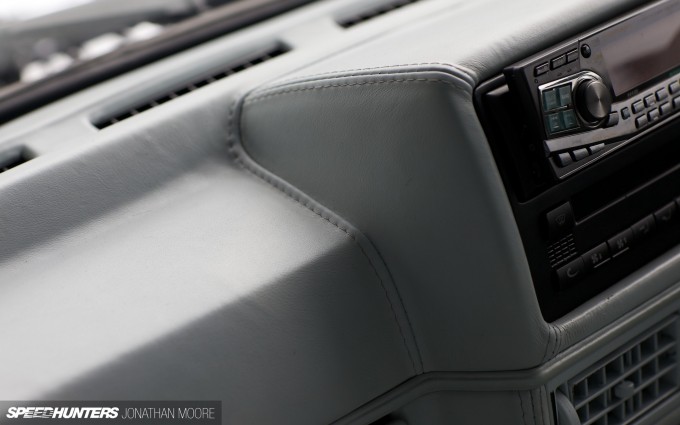 The little details make this really stand out – note that even the vents have been colour-coded, as well as the seatbelt clips.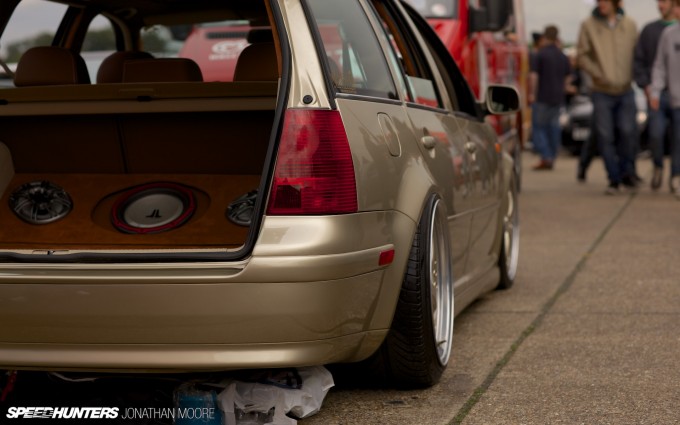 This Bora estate was bagged and featured a full boot install of ICE equipment plus the air compressor.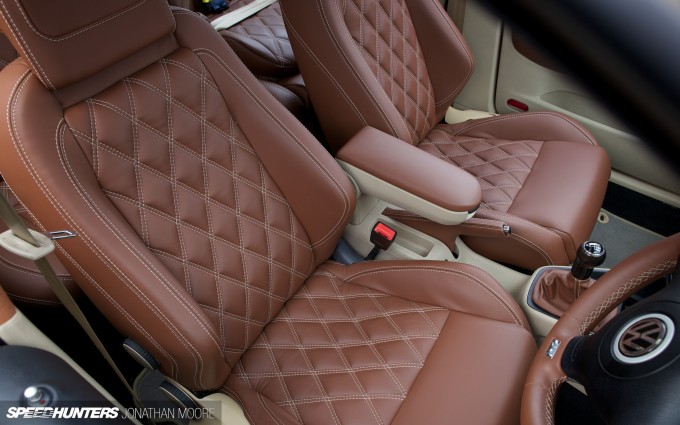 Inside the seats and door cards had been trimmed in brown leather with double diamond stitching, and the steering wheel to match. It contrasted nicely with the beige trim.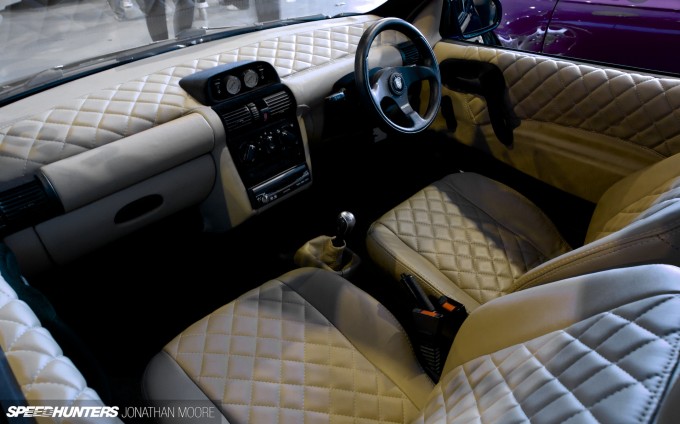 In fact, diamond stitching seemed to be everywhere. Once the reserve of high-end luxury vehicles, the VAG scene seems determined to spread the diamond stitching love around a bit more. Quilted, diamond-stitched leather dash anyone?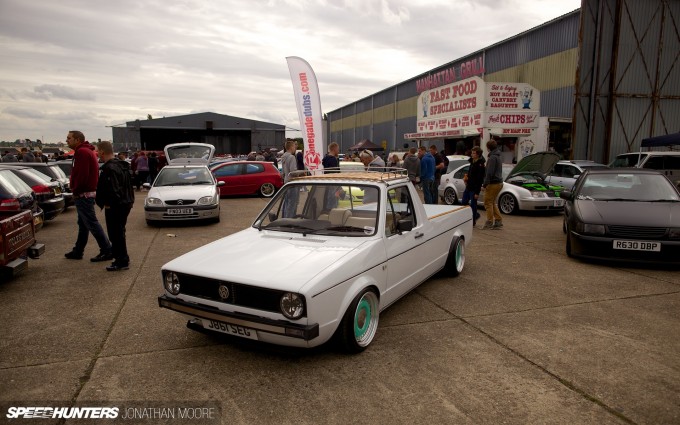 It wasn't just the newer cars getting treated to it either. I have a massive soft spot for Caddys and this beautifully clean example with a full wood bed out back…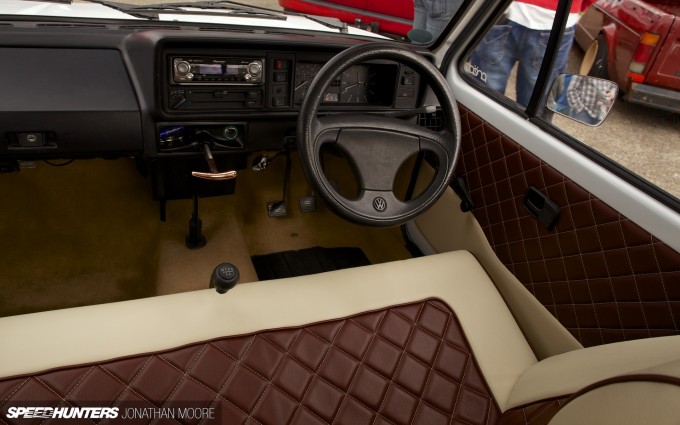 …had, you guessed it, a cream/brown diamond-stitched leather bench and door trims.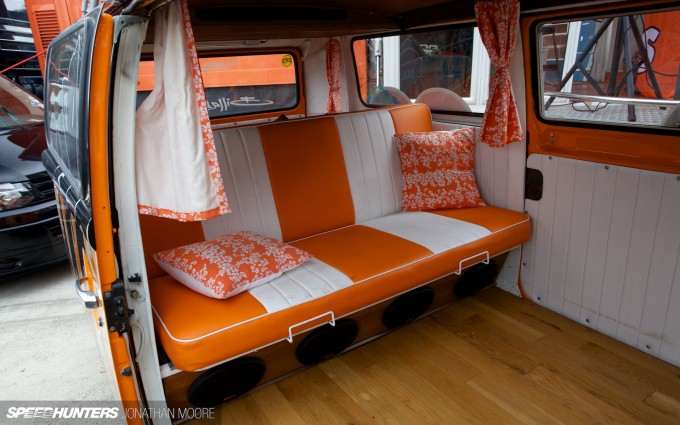 Of course, if you're talking about a VAG show and some old school influence, it would be rude not to show a Camper interior. Bright, breezy and with plenty of bass!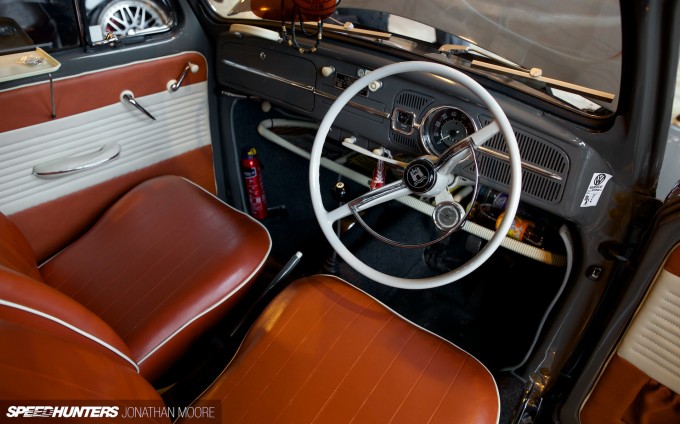 And how could I forget a classic Beetle. This reminds me of burning the backs of my legs in summer on these seats when I was a kid!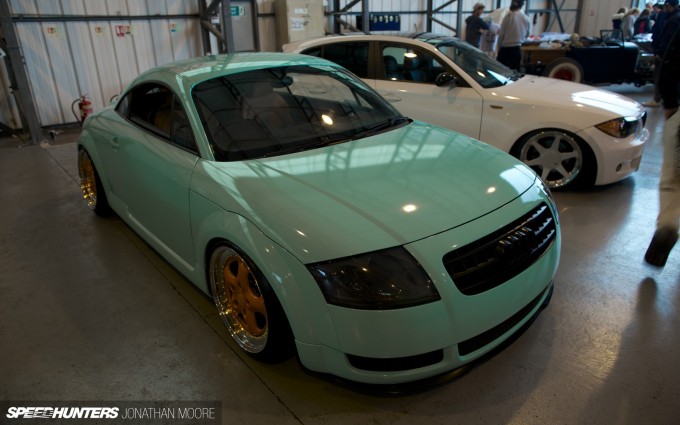 Meanwhile, this minty green Audi…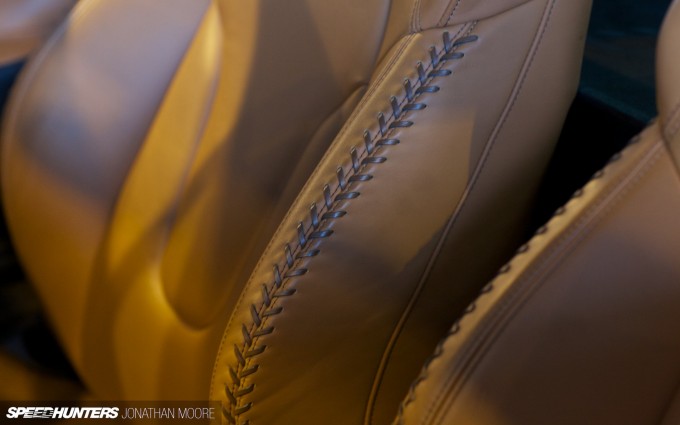 …was sporting a beautifully stitched set of beige leather seats. Impressive.
So soft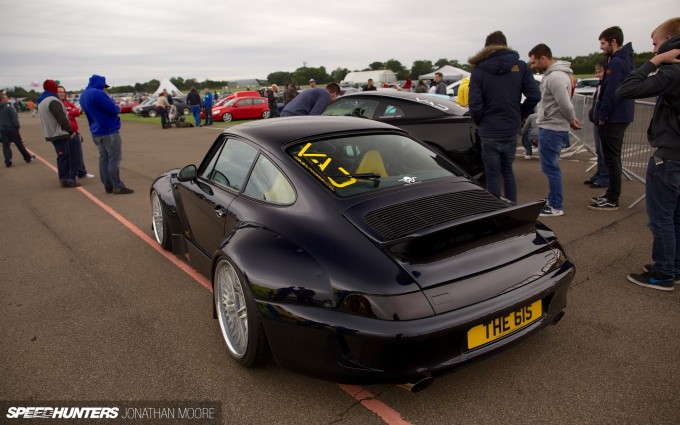 Leather wasn't the only high-end fabric being used though. VAD's wide-arched Porsche 993…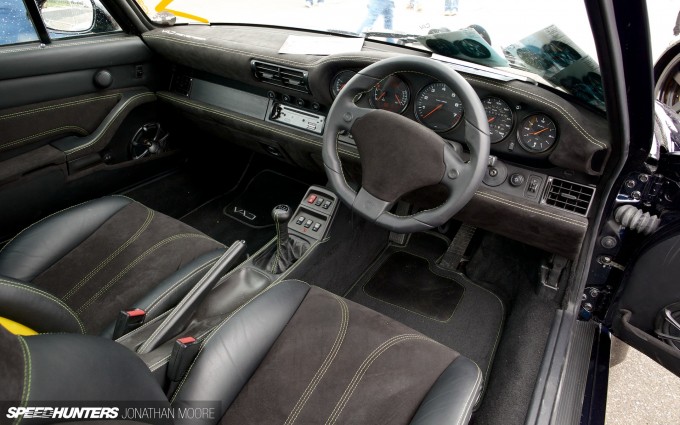 …was sporting a tasteful mix of black leather with black alcantara and contrasting yellow stitching. It's a set-up that was carried out to perfection in the Aston Martin V12 Vantage we had, and very much to my relatively subtle tastes. This gives me a warm fuzzy feeling inside.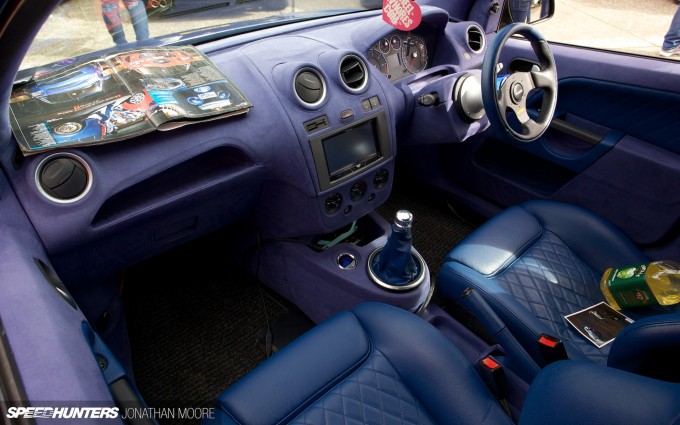 If that's far too subtle for your liking, this bright purple mixed with blue seats might be more your thing?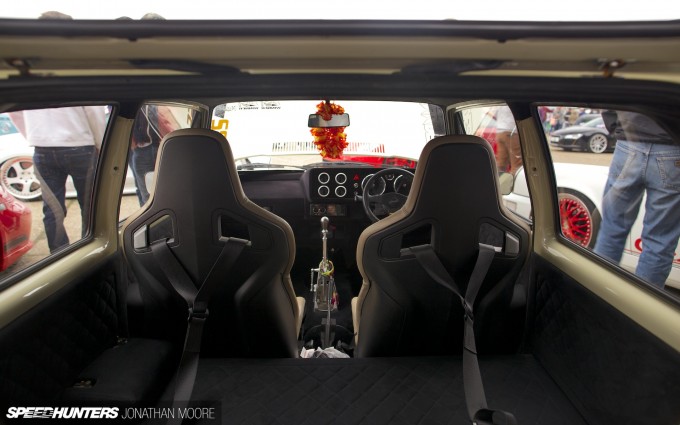 Sometimes a bit of contrast works well to provide definition, as expertly demonstrated in this MkI Golf. The beige leather on the seats matches the paintwork and stands out against the darkness of the alcantara rear and flocked dash. Simple but perfectly executed. Look out for a full feature on this car soon!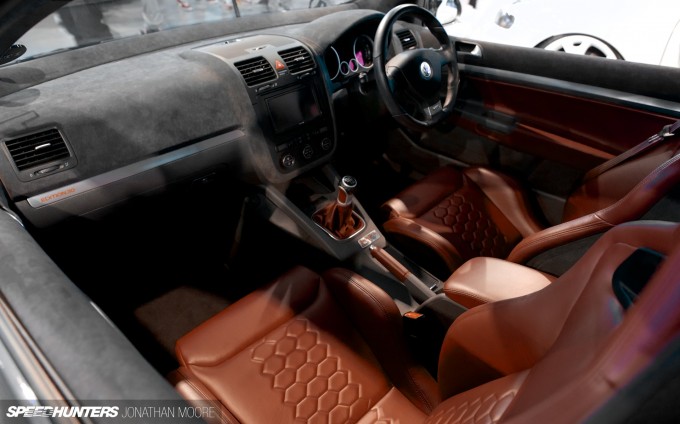 Perhaps the best trimmed car I laid eyes on was this Mk5 Golf. What it did so well was to look stock in its execution (if you can suspend your disbelief about this being in a Golf!). Whilst the custom hexagon stitching on the leather Recaros looked amazing, what was even more stunning was the fact that the backs of the seats had been trimmed in matching black alcantara.
The alcantara even reached the roof lining! It didn't scream for attention and was absolutely spot-on with attention to detail and quality. This is a seriously good re-trim.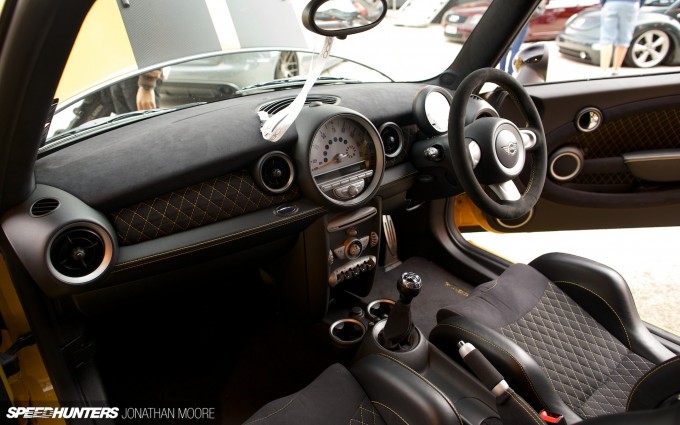 How about some of this then? Alcantara as far as the eye can see. The diamond-stitched patch in the centre of the dash is an especially nice touch.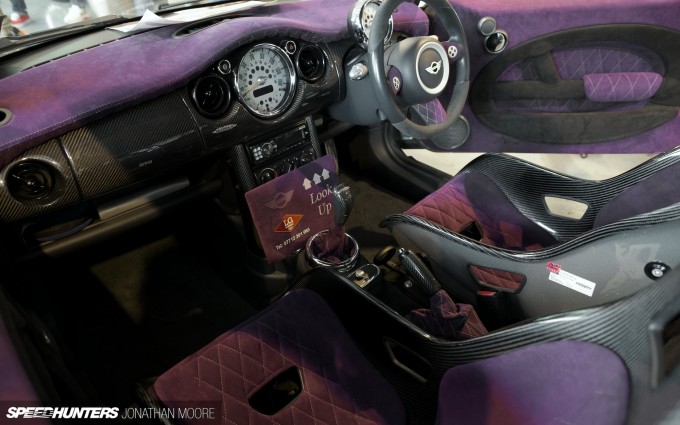 Back at Players Classic, Sean picked up on this extensively trimmed Mini, where even the headlining was quilted!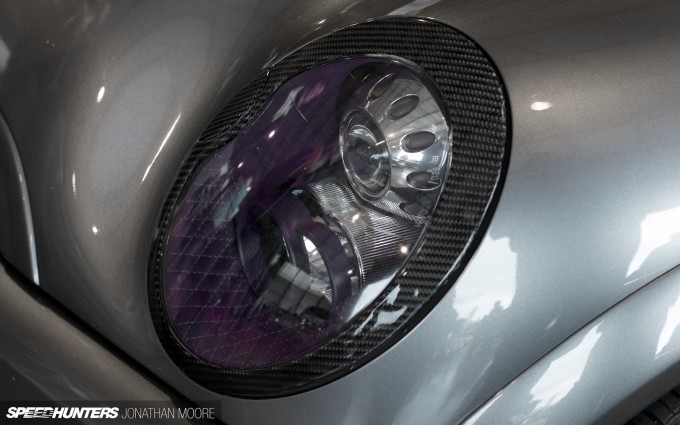 But what I think slipped under the radar back then was that the carbon fibre/purple diamond stitched alcantara theme was even carried through to the headlights! Now that's dedication to a theme!
Sporty character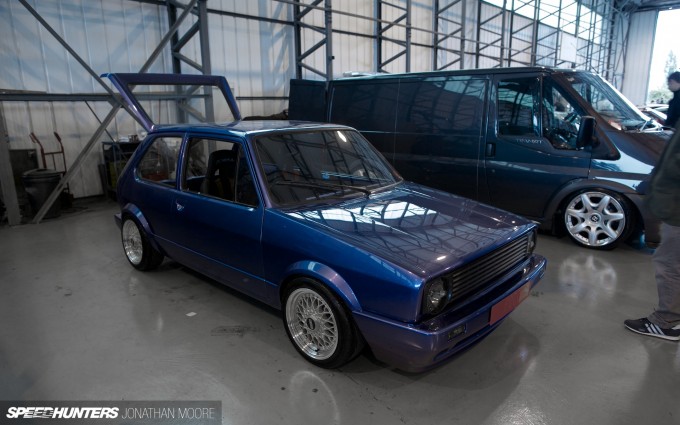 Although there were a lot of luxurious interiors, it wasn't all about sumptuous fabrics and comfort. This awesome MkI Golf…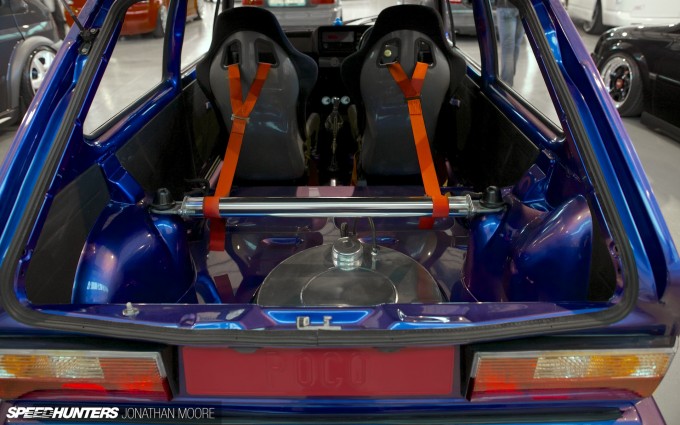 …was showing off a far more sporty look. The rear had been completely stripped and smoothed, then painted to the same gorgeous metallic blue as the outside. I particularly liked the round chrome fuel tank in the space where the wheel well was. Very nice.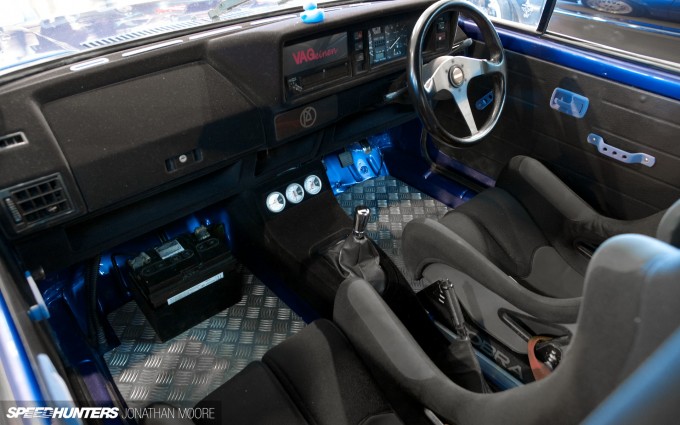 Up front, two Cobra seats, harnesses, some chequer plate, a flocked dash and gauges keep things looking purposeful.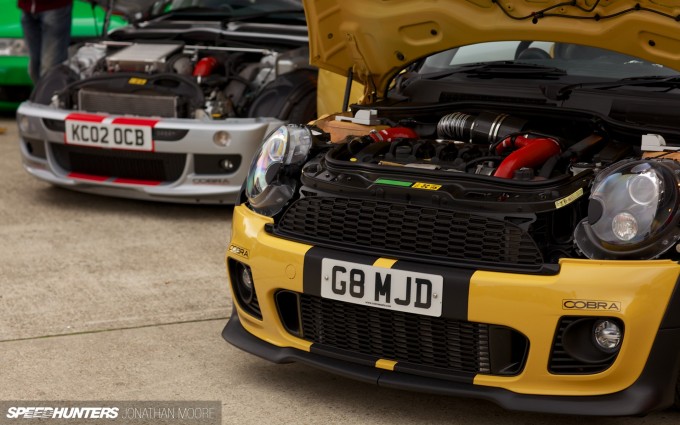 Round the corner, Cobra had prepped a couple of Minis. The yellow one was more of a road car, but me being me, I was instantly drawn to the silver one…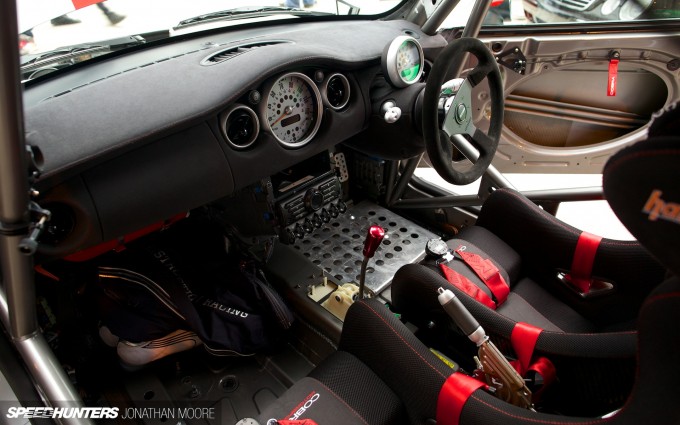 …courtesy of the track-inspired interior diet. Just compare this to its alcantara-trimmed counterparts! Speaking with the guys, they explained that the car was not quite finished yet, but was pulled together to make it to Players – it had been shaken down at the Forge Action Day at Castle Combe the day before.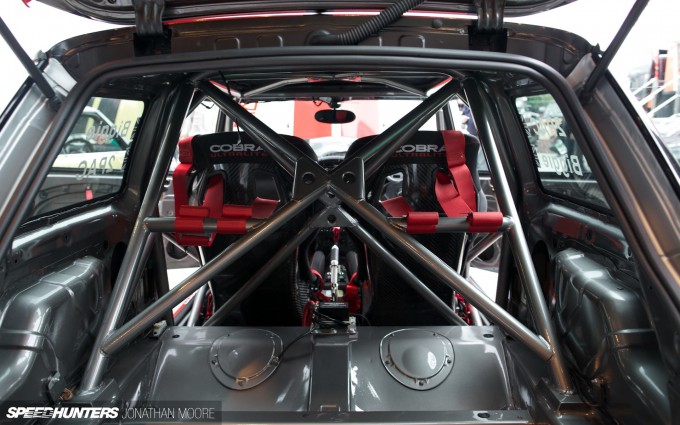 I particularly liked that weld-in cage in the rear, with the view perfectly showing off the 2×2 carbon weave on the back of the seats. Looking forward to seeing this when it's finished!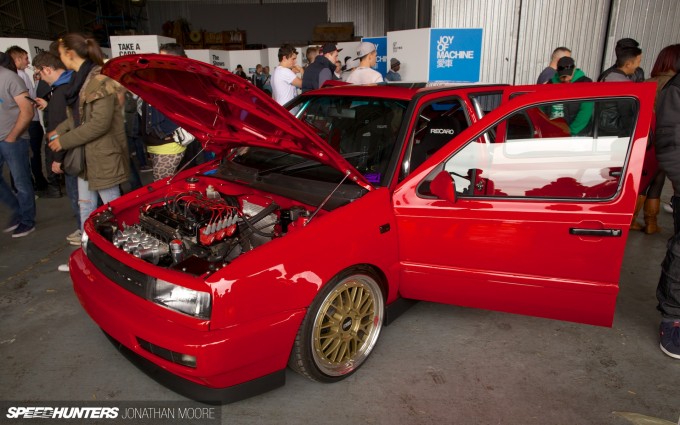 But if we're talking perfectly executed motorsport-styled interiors, this Jetta had it nailed. If the exterior looked immaculate on the outside…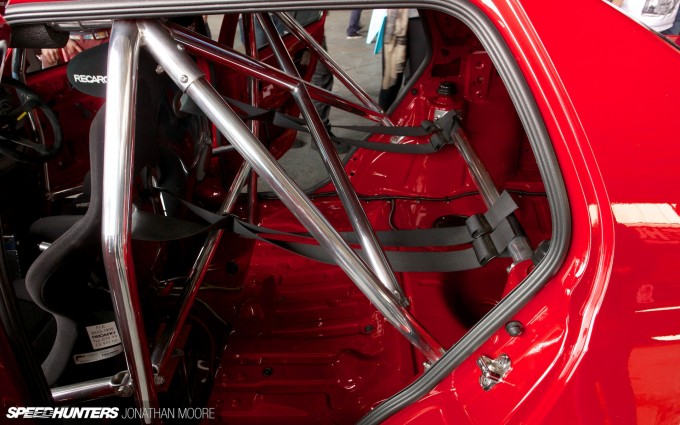 …the inside wasn't too shabby either! Fully stripped, with all unsightly wires tidied away and pristine interior paintwork, there's just a chromed, dash-dodger bolt-in cage and two Recaros left.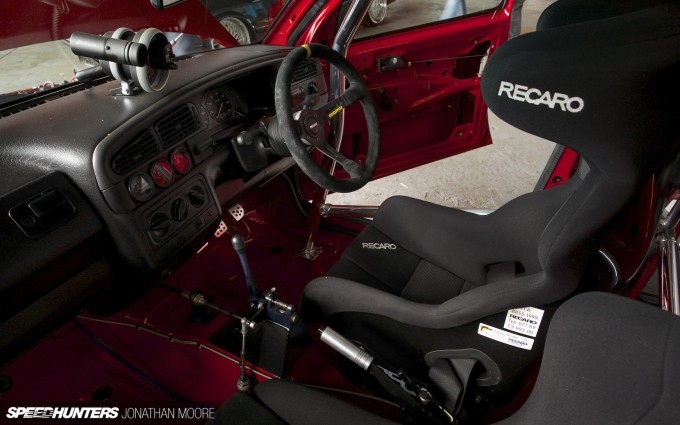 Up front a handful of small gauges, Momo steering wheel and bloody huge tacho were all that was left in this spartan interior and it looked the business. It's been giving me ideas…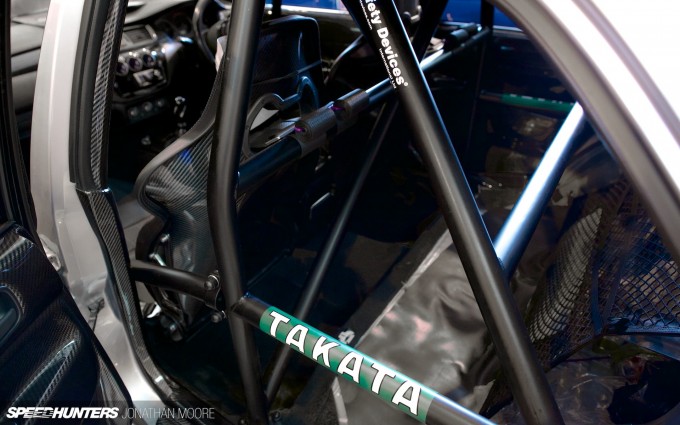 Ideas which weren't being helped by the Daibutsu-R Evo either with its Safety Devices cage. I'm rapidly becoming convinced that I need one of these in my Evo. I just need a bit of convincing that wearing harnesses day-in, day-out will be worth it. And to try and figure out where my track wheels will go!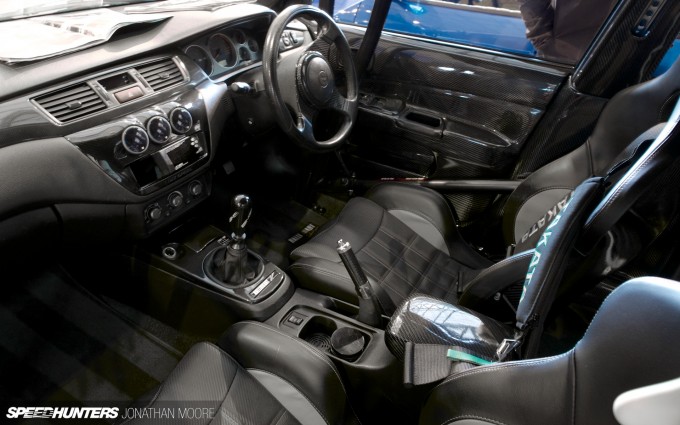 Up front, it was my other weak spot that was being prodded – the one that goes all squidgy when I see carbon fibre. Must… resist…
Old school cool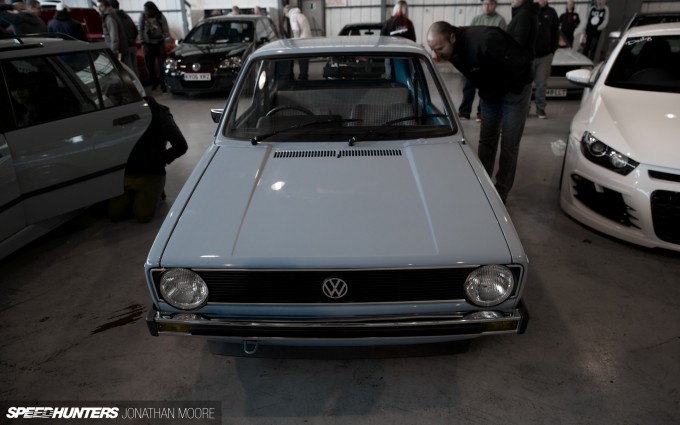 Getting back to a more classic vibe was this gorgeous MkI Golf…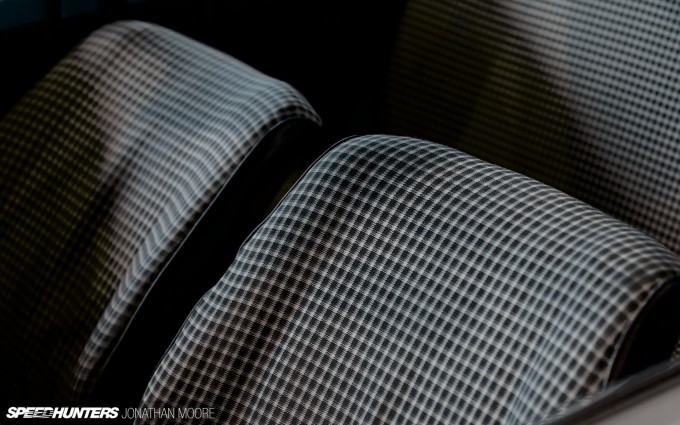 …with its classic Volkswagen tartan seats. I'm not sure you could get away with this on a modern car, but they just match the Golf so well.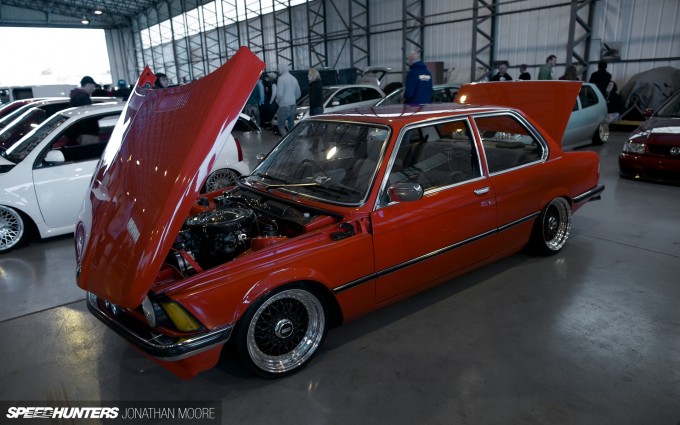 Carrying on the old school vibe was this spotless E21 BMW.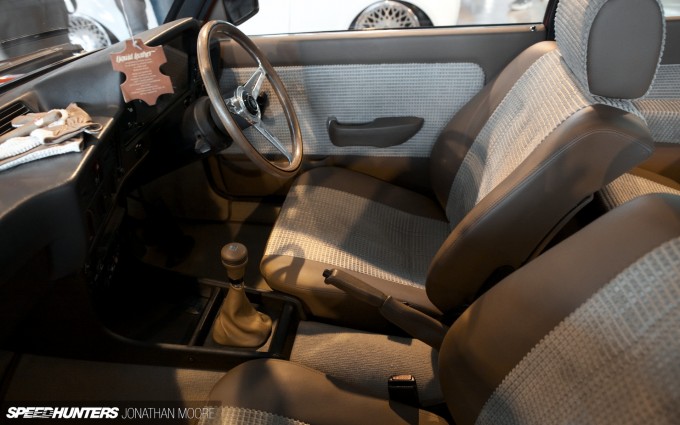 Inside, it was clad in this awesome waffle material. The contrast in both the colours and textures of the centre panels and bolsters were a perfect fit for the car.
And now for something completely different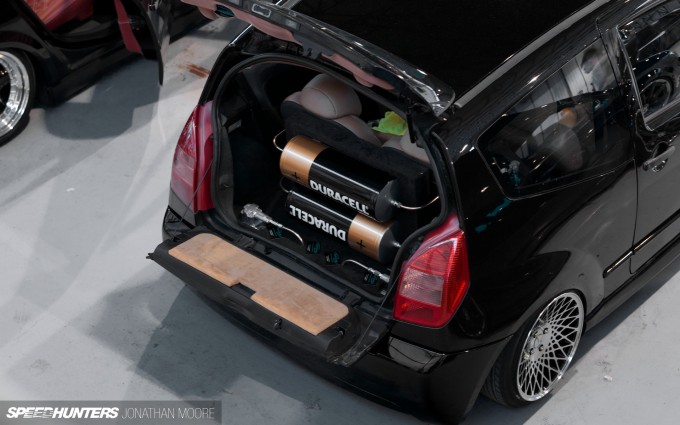 If there's one thing I've learnt about this community, it's that they like to be unique. Whether that means they don't take themselves too seriously or they just do something extreme, Players is a place where being different is definitely celebrated. It could be something like these air compressors mocked up to look like Duracell batteries…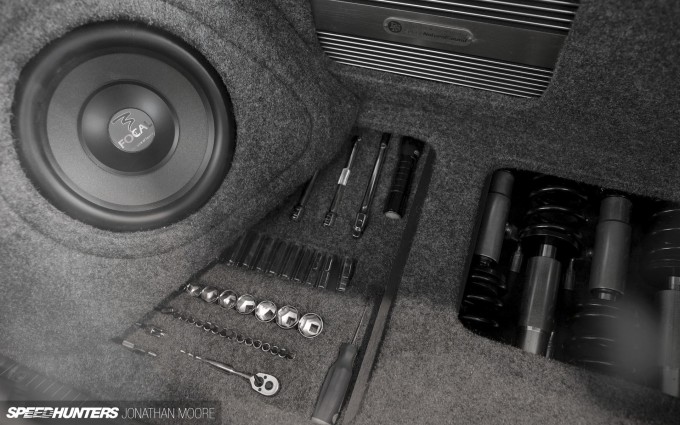 …or this custom boot set-up featuring not only an ICE install and hydraulics package, but also a tool kit as well!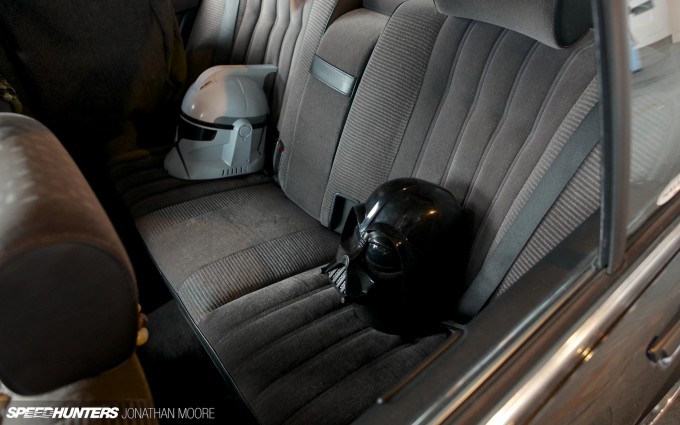 Darth Vader and Clone Trooper helmets on the back seat. For when they have a day off of course…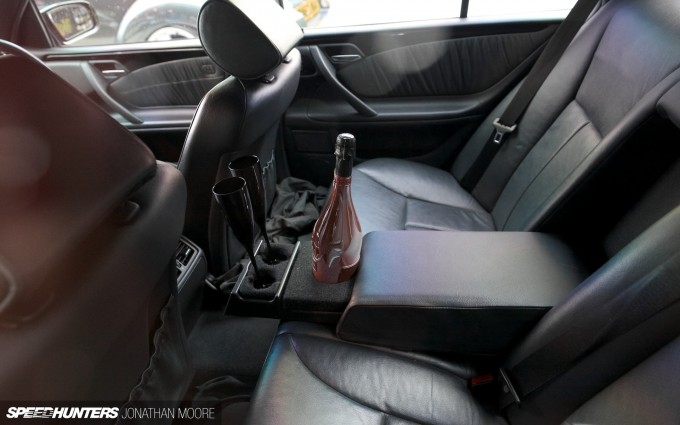 Complimentary bottle of bubbly anyone?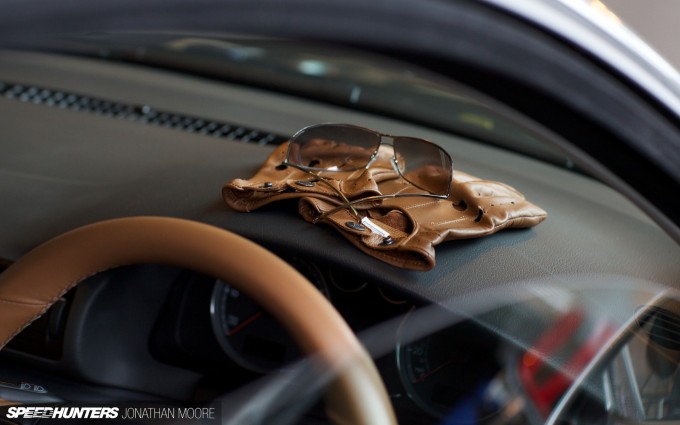 Driving gloves and glasses…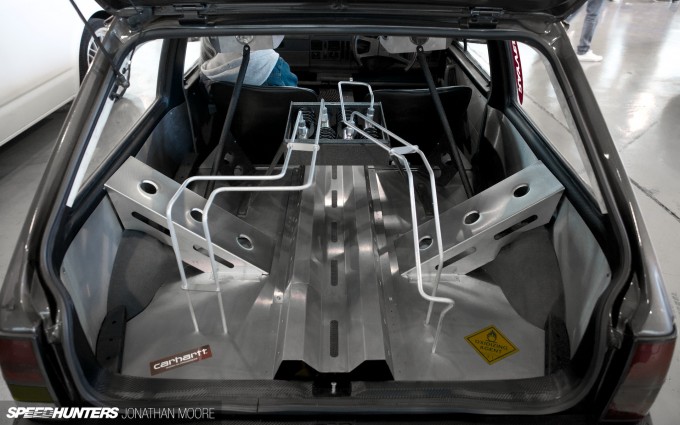 This industrial-looking metal-plated rear housed the hydraulic suspension so you could see it working as you drove along.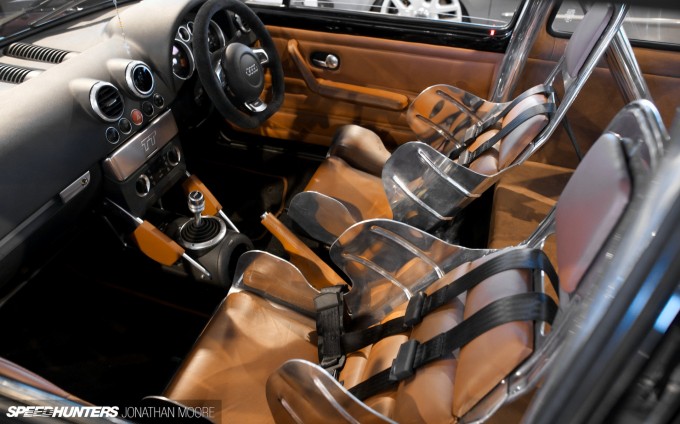 This MkI Golf definitely won the award for the most uncomfortable looking seats ever!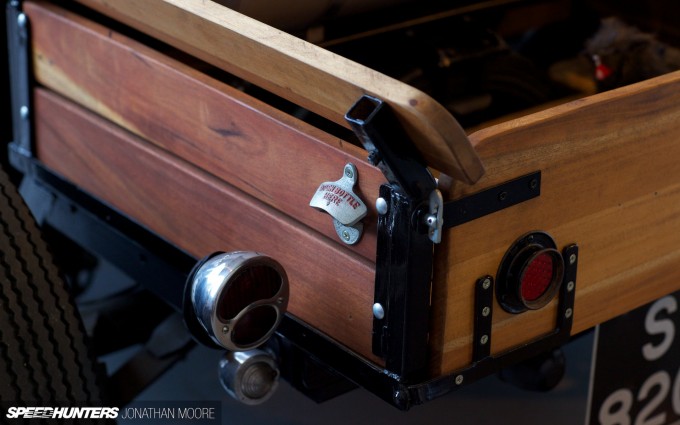 Hopefully only used after rolling to a stop! And what's that in the back?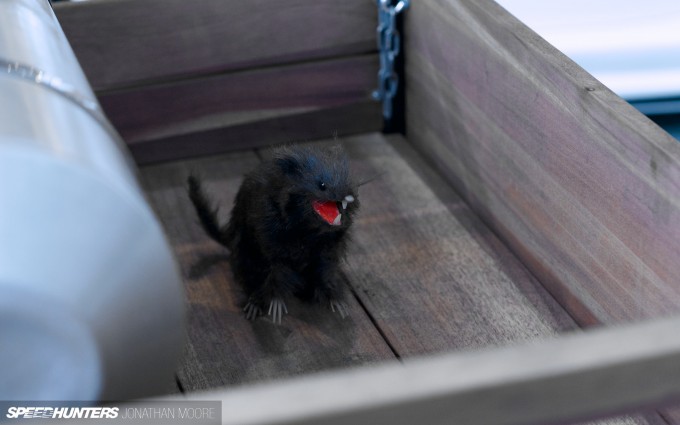 Jesus, that's one evil-looking rat! And he's got Wolverine claws too. Look out cats of England!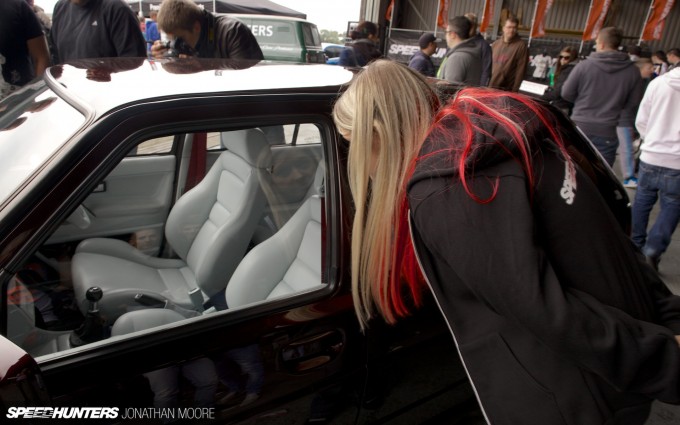 With everything on show from skeletons to roll cages, the interiors on show at Players were certainly varied and had something on offer for all tastes. I love the way a relatively clean looking car from the outside can harbour a wild interior – it's a bit of a Jekyll and Hyde thing. So what would you go for? Luxury, function or something a little bit crazy?