Courtesy of some last minute event coverage, we had to push back the reveal of this theme to now. I'm grateful we did to be honest, as even right up until today, we were still getting some beautiful submissions. Instead of me rambling on, we've done something different for this reveal. We asked everyone who submitted to include a short blurb about the person in the image or the context of the photograph. For me, this has created a very special post indeed. Read on…
Brandon LaJoie: "The photograph was taken from day two of practice on the top section of the mountain. As soon as he climbed out of his Peugeot, he walked over to the finish line and looked out over the mountain, closed his eyes, and took a deep breath. A few seconds later he walked about fifteen feet to the right of where we were standing, whipped it out and started peeing with his back turned to everyone. The best part is that he was about 20 feet from a porta-potty. I really can't blame him for not using it. I fought the urge to take a picture of the act, but out of respect, I didn't."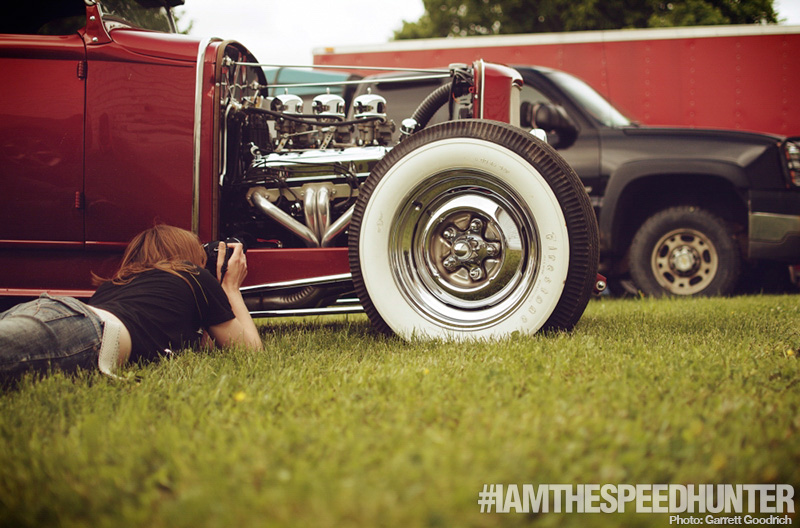 Garrett Goodrich: "Me and two of my photographer friends went up to a local car show for the day. We got there early before just about any car showed up, and while walking around the vendor section, we spotted this '30s Ford near a building, so immediately we all ran over and started shooting it, and that's where I got this: my friend Jes laying flat out on the still damp grass to get a shot of the engine, from a crazy low perspective. It's just one of those spontaneous shots that remind us how odd we look sometimes while photographing the Automotive Art, but it's worth it no matter how weirdly we have to position ourselves."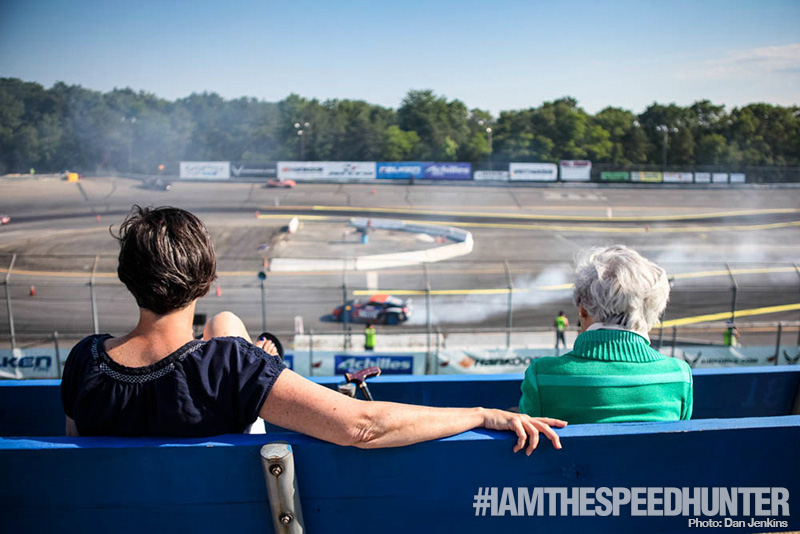 Dan Jenkins: "I shot this photo at FD NJ. I watched this elderly lady and her family at the Thursday practice sessions. I was kind of intrigued about why she was there and what she thought about drifting. So I talked to her for a few moments then snapped some quick photos. Turns out, she was Andy Luk's wife's grandmother. Her family has been in the racing business for years. Erin left this comment on the photo on my Facebook page:  'That's my grandma and my mom!!! My grandma is 92, almost 93. Her father built a motor that won the Indy 500 in the '50s. She's a speed freak! Still drives, and loves to watch racing of all kinds because as she said "It's in her blood." She wanted to go for a ride along so badly. In another of your photos you see my mom, my daughter, and myself which makes four generations of car lovers present at the track that day!'"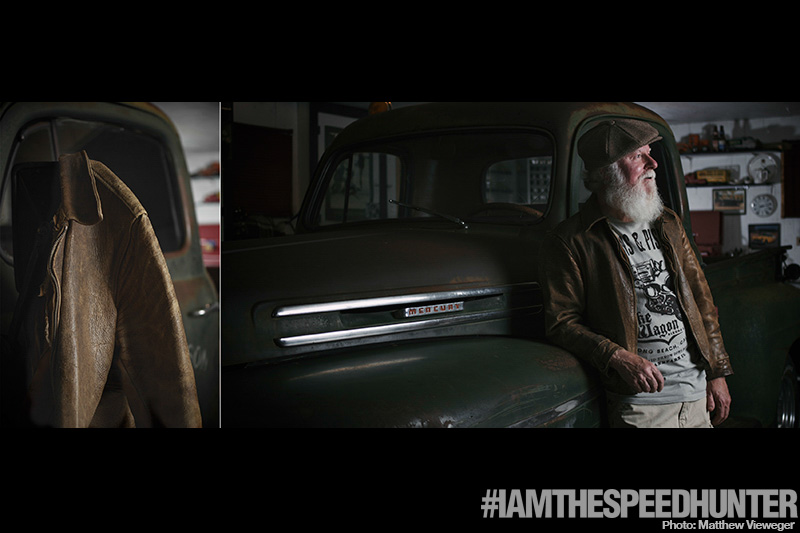 Matthew Vieweger: "I shot this guy and his '49 Merc a couple of weeks ago. His name is Dennis. The jacket was his dad's and his beard is wicked."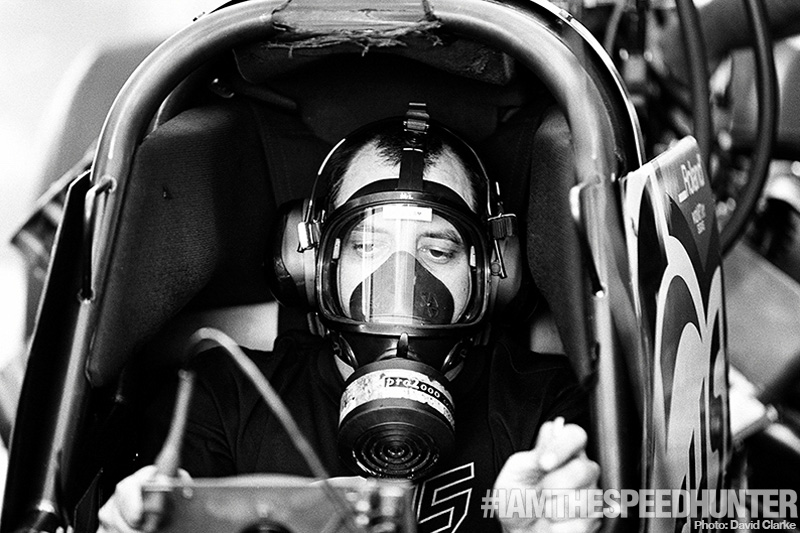 David Clarke: "Just recently have decided to start shooting film at some of the larger meets I travel to. Got this shot of Top Fuel driver Phil Lamattina during the shake down before heading out for a pass at this year's Winternationals, which is the biggest drag racing event in the southern hemisphere. This was shot on 35mm Kodak 400tx."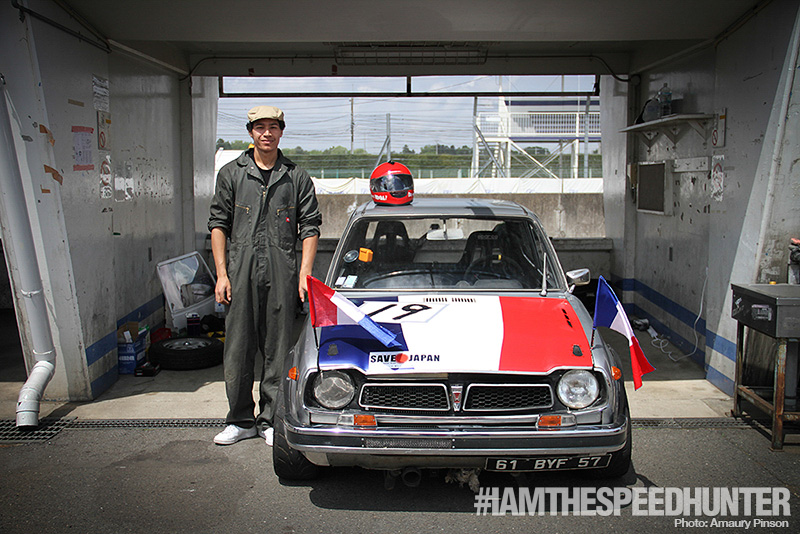 Amaury Pinson: "Georges is a very special French guy who always has completely crazy ideas, such as sending his own car from France to Japan to tour the legendary circuits that he has wanted to do since childhood. Imagine travelling more than 2000km around Japan in this 1976 Honda Civic SB1! No comfort, but a head full of memories, since with Georges, you are sure that nothing will go as planned! This guy is really gold, very humble, who does not like to be put forward… sorry Georges for this coverage on you. C'est le buzz!"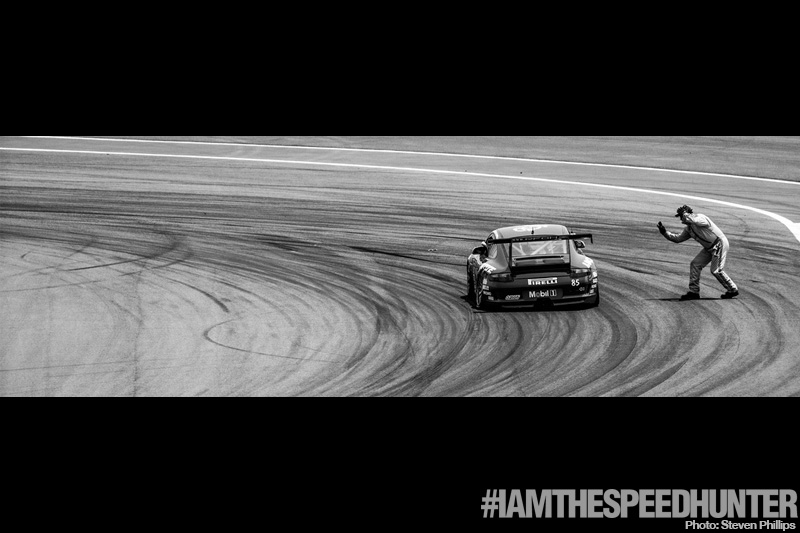 Steven Phillips: "A corner worker checks on a driver, gesturing with the ok sign, after an accident during a Pirelli World Challenge event."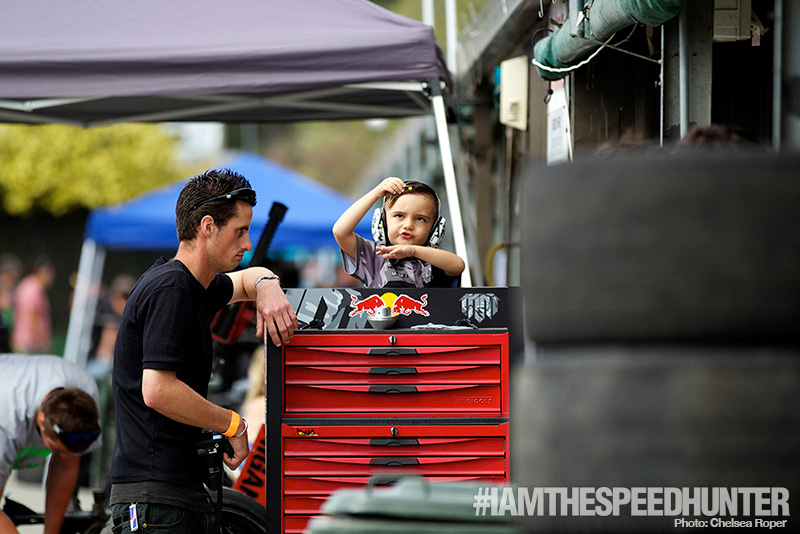 Chelsea Roper: "I've submitted an image I took at D1NZ Round 4 in Christchurch, NZ, of Mad Mike's boy Lincoln having fun and showing off his moto skills with his toys, while playing on his new track day climbing frame custom built by Mike (which is really a tyre caddy). Like father, like son. It wont be long before we see Lincoln showing off his skills to the world."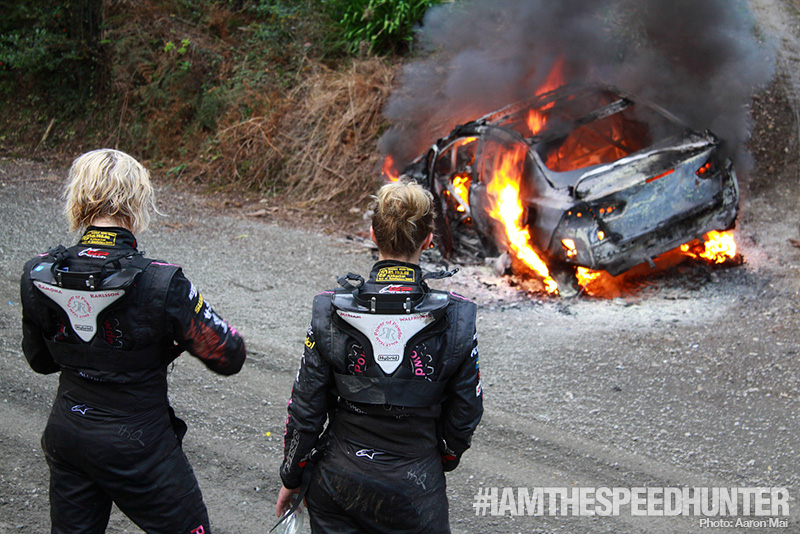 Aaron Mai: "The photo was taken on Day 2 of the 2012 WRC Rally New Zealand. I shot this image after a fuel line came off. Both driver and co-driver jumped out of the car while it was moving and were then forced to watch their PWRC Mitsubishi Evo X burn to the ground. I didn't want to intrude taking many photos so clicked off this particular shot. Watching your pride and joy burn to the ground must be the hardest thing for any automotive person to have to experience. Neither of the crew were hurt as a result of the fire."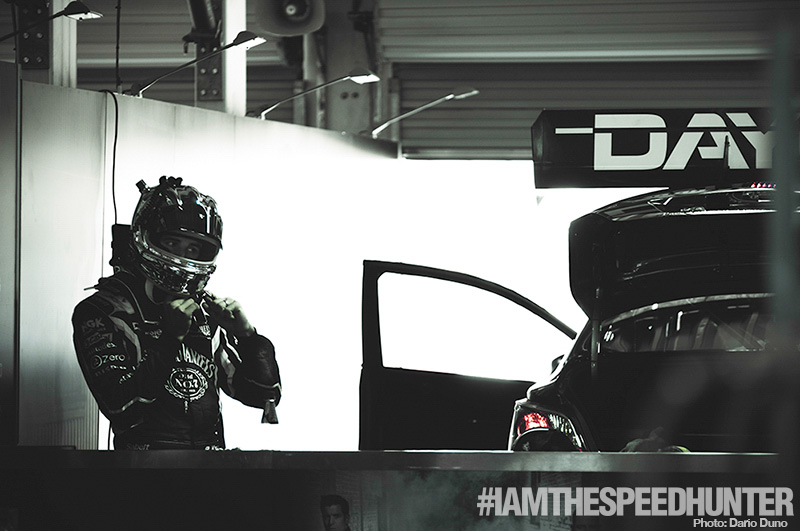 Dario Duno: "The shot I'm sending you is one I got at this year's Adelaide Clipsal 500, and it's of Rick Kelly prepping for the race. This is as close as I could get to the drivers. One day I will wear a fluoro photographer vest and get closer! One day!"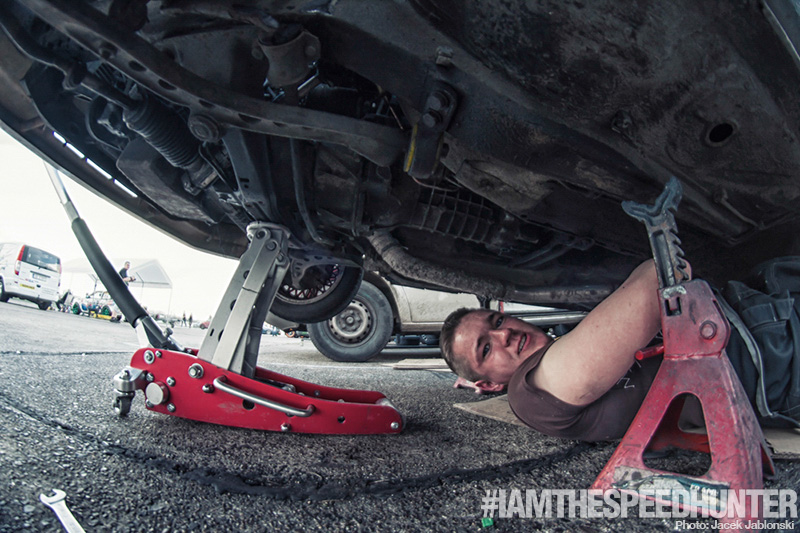 Jacek Jablonski: "Grzegorz Grenda is a mechanic in Pirs Drift Team. Working with engines and spending long hours under the car is his whole life for him. In our team, we often call him engine wizard."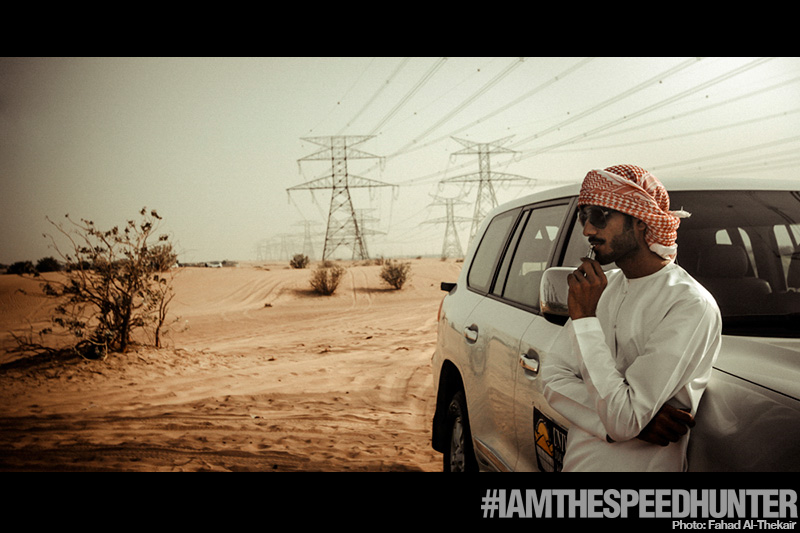 Fahad Al-Thekair: "I'm from Kuwait. This shot was taken when I went to the Safari trip with my friends in Dubai. The driver shown in this shot was really focused on the deadly sand dunes right in front of him, as he was thinking how to obliterate it with his Land Cruiser."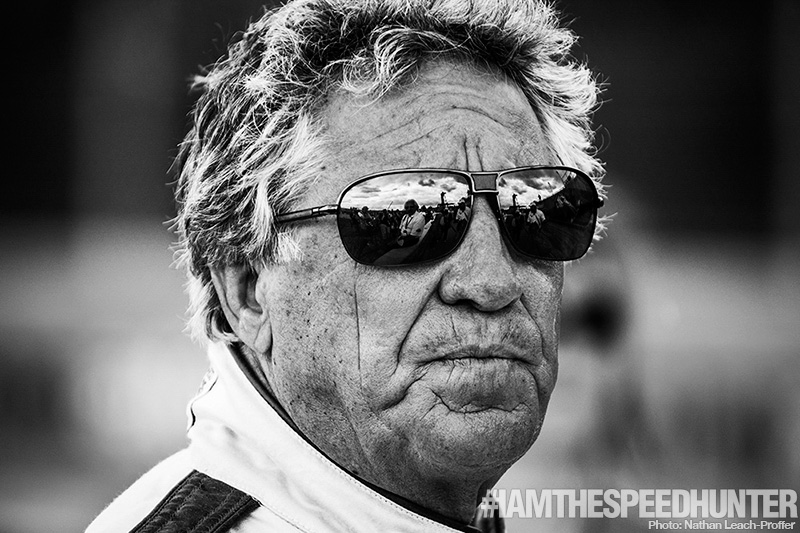 Nathan Leach-Proffer: "Mario Andretti at the 2012 Detroit Grand Prix"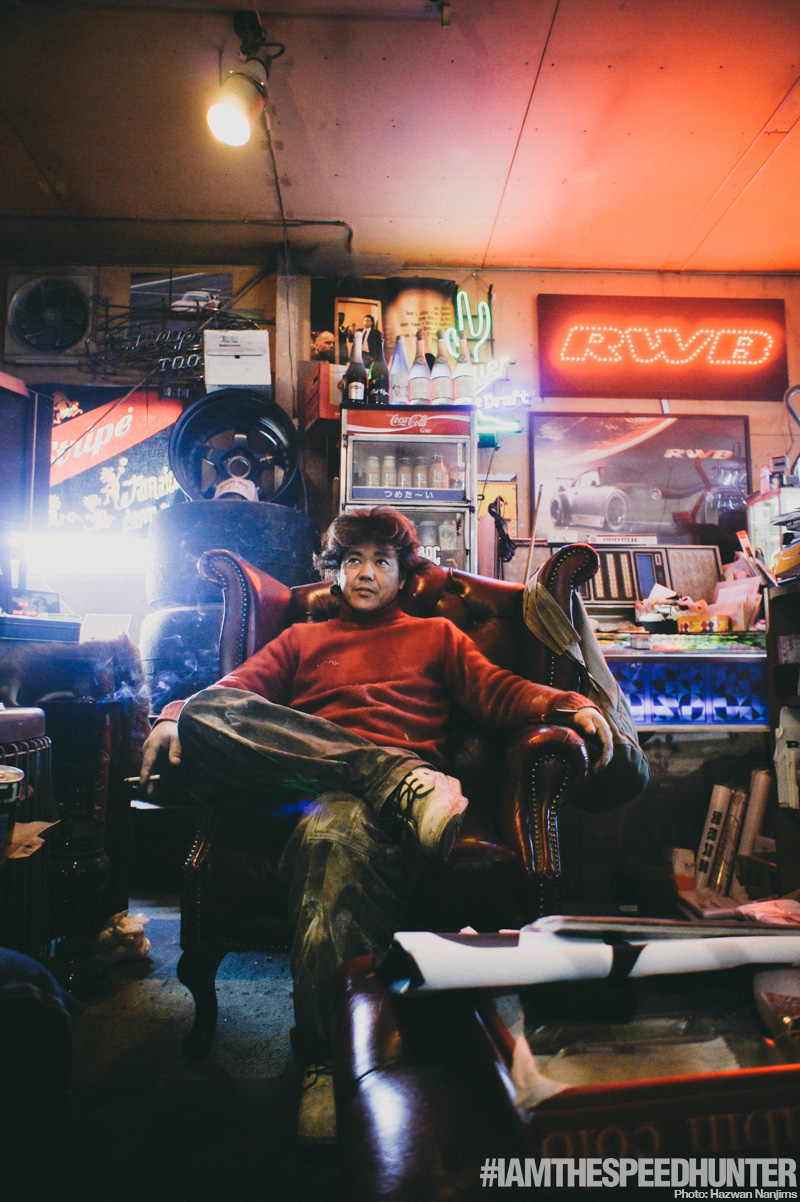 Hazwan Nanjims: "Attached is the picture of the legendary Nakai-san. I took this picture during my visit to Japan early this year. He is a true living artist. Even though we are not related or been friends for so long, he is a friendly guy and easy to get along with. I did an interview with him for a Malaysian tuner magazine."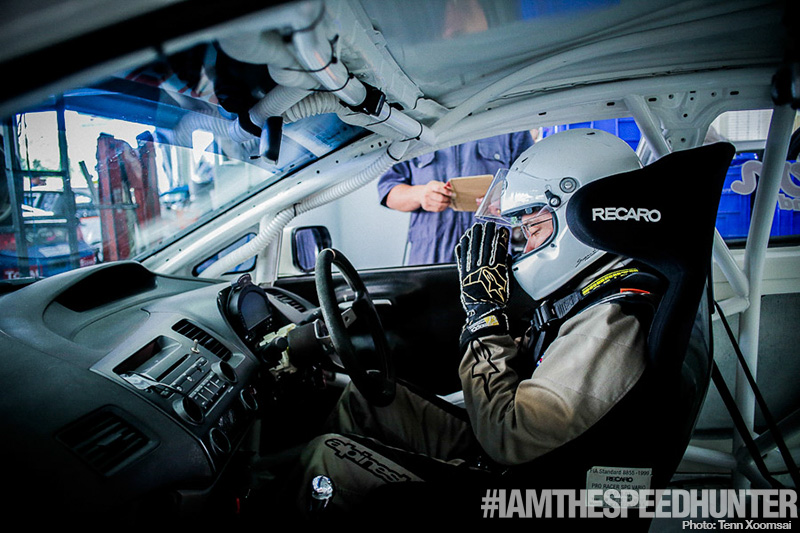 Tenn Xoomsai: "This is my friend Tre and his ritual of praying for luck and to keep him calm and focus before he goes out on the grid. This was his race of the season in Thailand Super Series."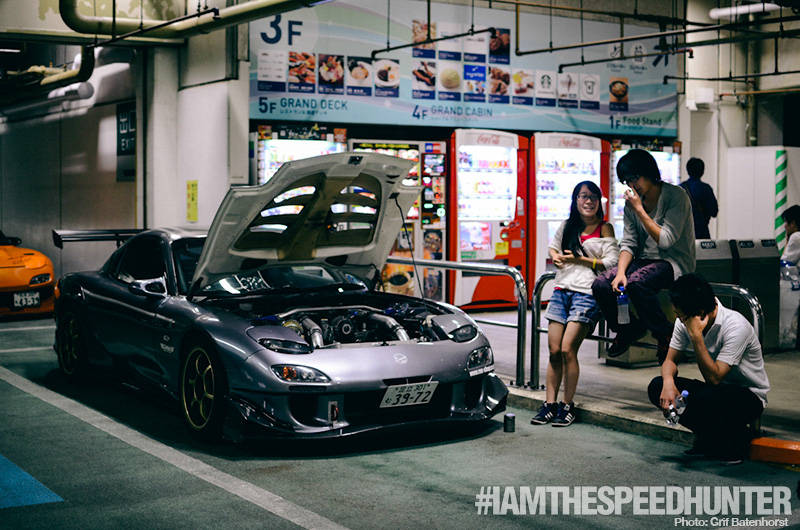 Grif Batenhorst: "This photo was taken at this years 7's day at Umihotaru parking area, after it had moved from Daikoku PA. The goal was to capture the unique vibe of the community that makes the street scene here so vibrant and special. Without friendly people and the laid back atmosphere, it just wouldn't be the same. It's not always about the cars you know."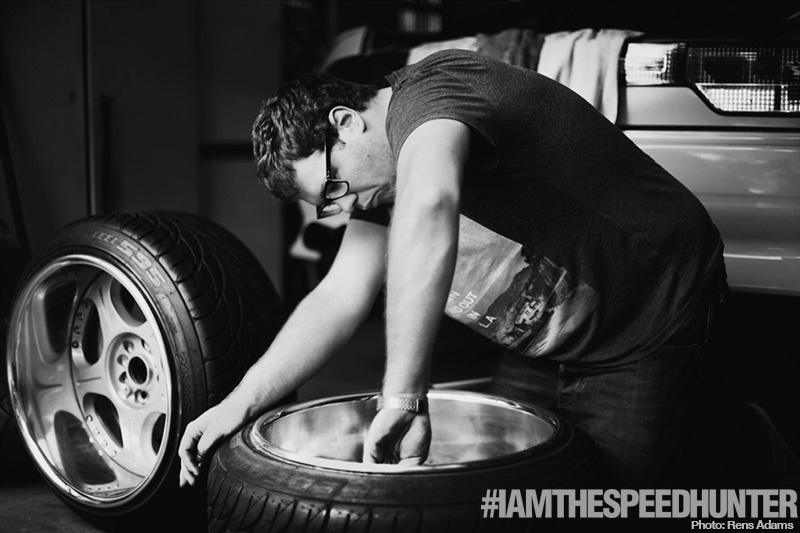 Rens Adams: "This is Noud Fieten… I don't even know where to start with this guy. To be honest, if it wasn't for him I wouldn't have got in to automotive photography. About seven years ago we wanted to kill each other (we hated each other during our skateboarding era) but became best friends when we got in to this automotive world. He was also present at DMPD with the ridiculous coloured wide body S13. And to add some extra info, this was the first RB25DET-powered S13 (street legal) in our country. He's cleaning the **** out of his 12j deep dish wheels in this shot for DMPD."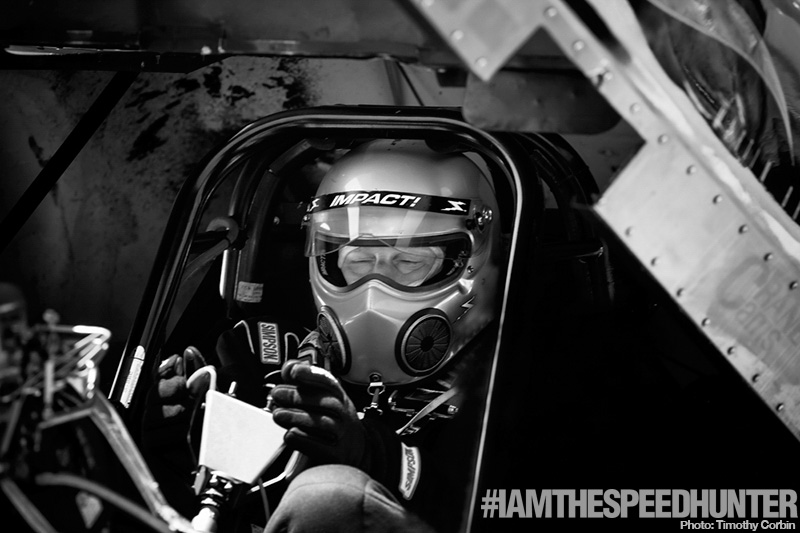 Timothy Corbin: "The shot was taken at a Sports compact series event at Toronto Motosports track in Cayuga, Ontario. This driver of a pro-modified drag car made a guest appearance at the track. I managed to catch him taking a few moments to himself before he made his pass."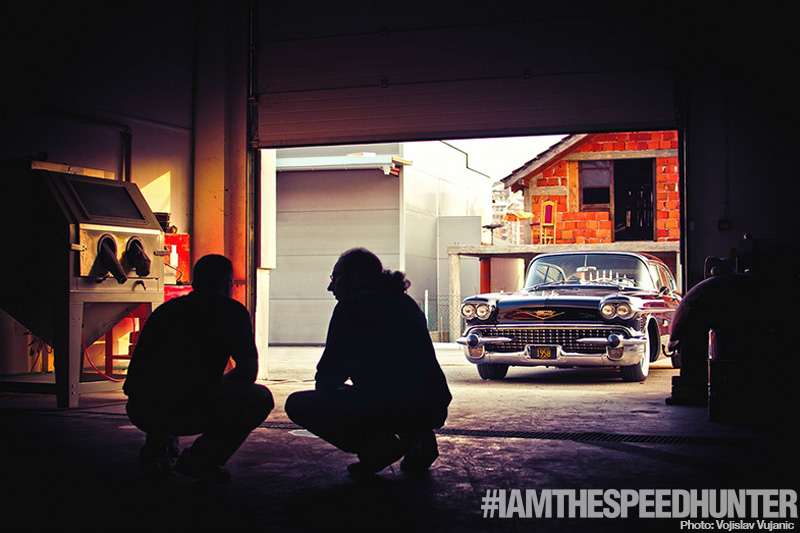 Vojislav Vujanic: "Car came in about 18-20 months ago and disassembly started. It took six months to collect all the parts and another six months of just assembling this Cadillac Sedan deVille. This is the first time it saw the light of the day and the guys that worked on the restoration finally saw it in daylight in full working condition."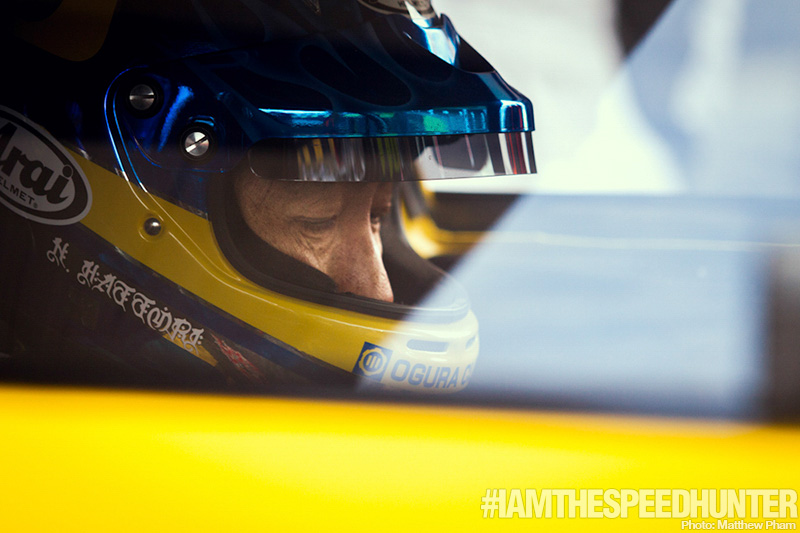 Matthew Pham: "Attached is my entry to the latest #IAMTHESPEEDHUNTER theme, of Naoki Hattori at the 2012 World Time Attack Challenge as he waited in the Panspeed RX8 prior to his last time attack run. The day was considered over for many of the teams but before the last session drew to a close, the Panspeed RX8 headed out for a few flying laps around the track. There were no other sounds, only the RX8's 20B reverberating through Eastern Creek."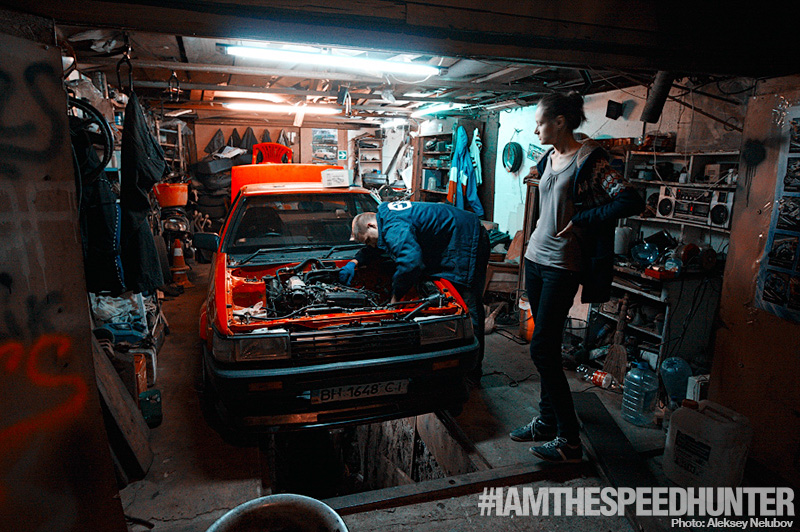 Aleksey Nelubov: "Pavel Besselyan (Japanese car culture lover) preparing his AE86 for an engine replacement, to the more powerful 4A-GZE. Olga Rozhok (Old school car lover) meanwhile controls the process."
Because the post was late being published, we've included some extra photographs that we just couldn't cull. Just a note that some of the quotes have been edited for grammatical errors and relevance. Next week, we will be revealing the 911 Theme, the results of which so far are already blowing us away…
Safe shooting.
Paddy McGrath
Twitter: @PaddyMcGrathSH
Instagram: speedhunters_paddy
paddy@speedhunters.com
About #IAMTHESPEEDHUNTER
We created #IAMTHESPEEDHUNTER to allow you the opportunity to share your skills and car culture experiences from around the globe with the rest of the Speedhunters audience.
How do you get involved? It's simple…
Flickr - Join our #IAMTHESPEEDHUNTER Flickr Group and share your favourite photos with us and others.
Instagram – Follow us on Instagram at @TheSpeedhunters and tag your own car culture images with #IAMTHESPEEDHUNTER
Twitter – Follow us on Twitter at @SPEEDHUNTERS and share your tweets with the #IAMTHESPEEDHUNTER hashtag.
Tumblr – Visit our Tumblr page to view the latest #IAMTHESPEEDHUNTER tagged images.
E-Mail – If you've been to a cool event and captured some amazing images, be sure to e-mail them to us on iamthespeedhunter@speedhunters.com and tell us a little bit about the event. The images need to be a minimum of 800×533 pixels.
Have you submitted already but yet been featured? Here are some tips to help you…
DO – Tell us your name!
DO – Submit your best work, regardless of when it was taken
DO – Take your time shooting and consider each detail
DO – Try to submit each image no larger than 1000PX wide
DON'T – Put a huge watermark on it. We'll make sure you're credited
DON'T – Send us huge image files that kill our e-mail system
DON'T – Send us scary ZIP or RAR files
日本のSpeedhunters読者にお知らせです。
Speedhuntersでは、週一回#IAMTHESPEEDHUNTERにて、読者の皆さんから寄せられたカーシーンの投稿写真を紹介しています。
投稿写真は、カーレース、カーショー、イベント等、車に関するものならなんでもOKです。
Speedhuntersで皆さんの撮ったカーシーンショットを世界中のファンに紹介して、あなたもSpeedhunters記者の仲間入りしましょう!
#IAMTHESPEEDHUNTERには、ツイッターかインスタグラムにて簡単に写真を投稿していただけます。
上記方法で写真を投稿する際は、写真に#IAMTHESPEEDHUNTERのハッシュタグを付けてください。
また、メールアドレスiamthespeedhunter@speedhunters.comでも投稿受付しています。
写真は、800×533 ピクセル以上のJPGのフォーマットでお願いします。
上記サイズより小さい写真ですと、すばらしい写真でもサイトの写真サイズの関係上掲載できないことがありますのでお気をつけください。
投稿された写真は世界中のSpeedhunters読者とシェアされますので、あなたのベストショット写真を投稿してくださいね!
また、写真に併せてどういった写真なのか、どこで撮られた写真なのかの説明と投稿者様のお名前を明記の上投稿お願いします。