A quarter mile at a time
Once every year, Australia's fastest sport compact racers converge on Queensland to do battle on Willowbank Raceway's world-class strip. They've been coming here since the very early 1990s, and although the idea of building an import car exclusively for quarter mile duty is lost on many in this day and age, the turnout last weekend is proof that the antipodean drag scene is well and truly still alive.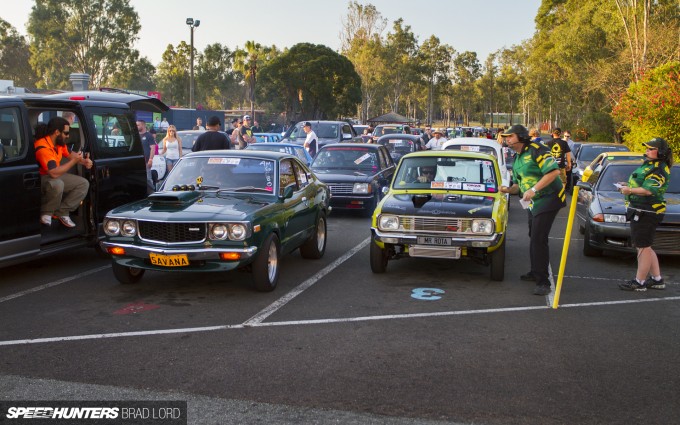 I timed an early spring escape from a cold and wet Auckland, to a warm and sunny Brisbane especially for this year's Sport Compact Group (SCG) Jamboree – the 23rd running of the iconic Australian event no less – and I'm pretty pleased I did.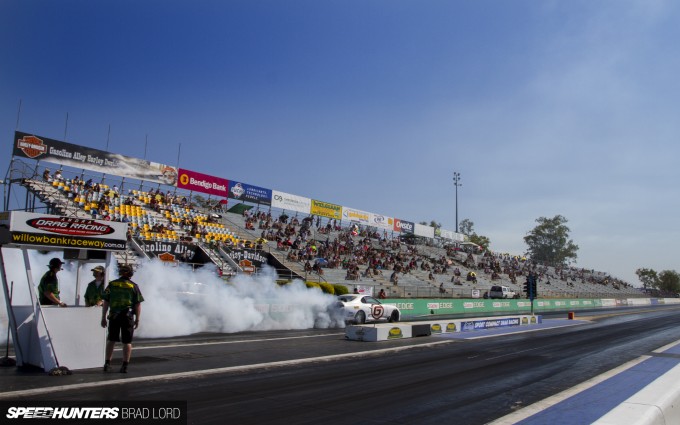 It's often said that the Jamboree is the biggest event of its kind anywhere in the world, and although dwindling spectator numbers haven't entirely reflected that fact over the past few years, the 220-odd racers that signed up to be a part of 'J23′ should.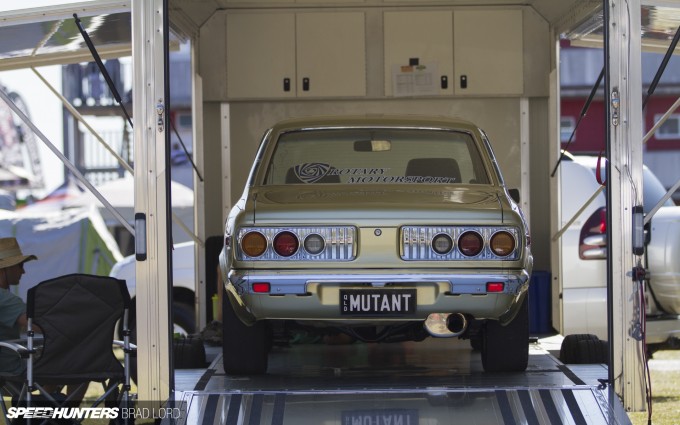 The Jamboree's roots can be traced back to Australia's VW movement, but for a long time this event has been the mainstay of the entire compact car tuning scene – one that in 2013 encapsulates a wide array of vehicles – from old school Mazda rotaries through to the latest high tech tube frame machines.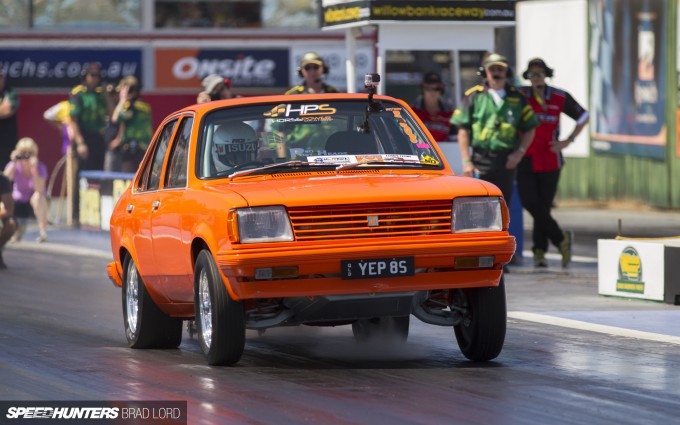 It's a unique scene too, and one that given strict importing restrictions, has largely been built on domestic models. Today it's home to some of the quickest sport compact machines on the face of the earth.
Conversion central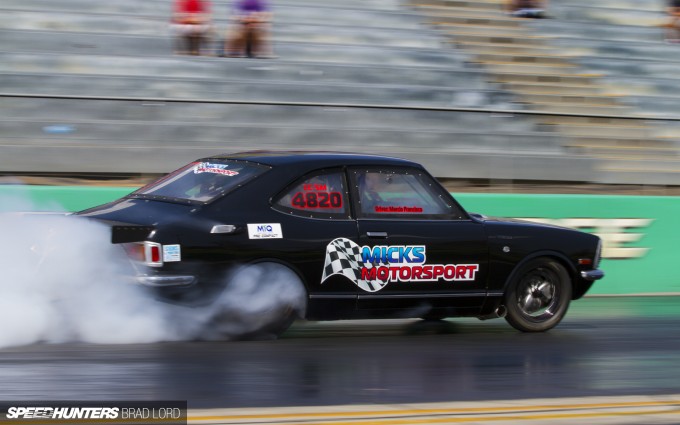 When we ran our Gatebil coverage a couple of months back, the Scandinavian approach to car building taught us to always expect the unexpected. The same can definitely be said for Australia too. Take the recently debuted Mick's Motorsport Corolla for example. It might have a 1970s skin, but beneath the metal is a modern chassis that packs close to 1000hp of Mitsubishi Lancer Evo-derived 4G63 firepower.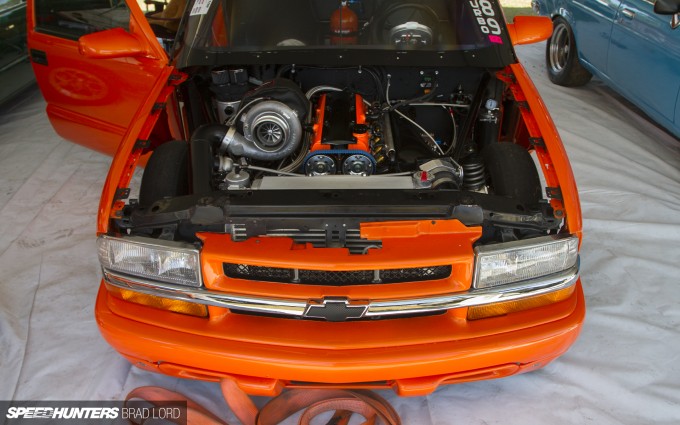 A Toyota 2JZ in a Chevy S10 and eight-second quarters ? Yeah, why not!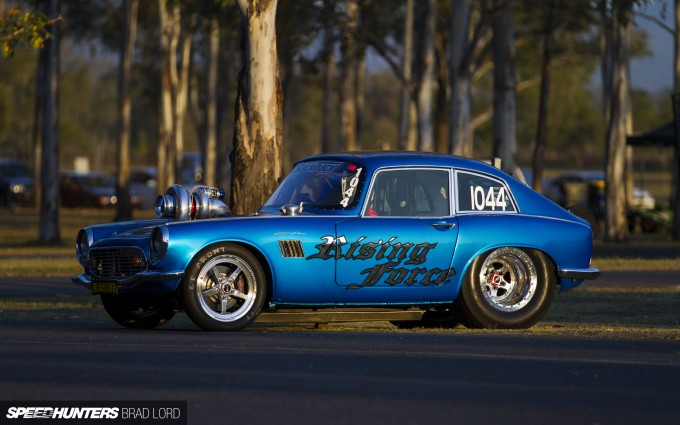 On the subject of the unconventional places to shove a 2JZ engine, Phil Penny's S600 that Bryn took a closer look at earlier in the year was back for J23. I only saw it take to the strip once, maybe twice during the weekend, so I'm guessing there might have been some problems, but even when it's standing still, the little Honda coupé looks amazing.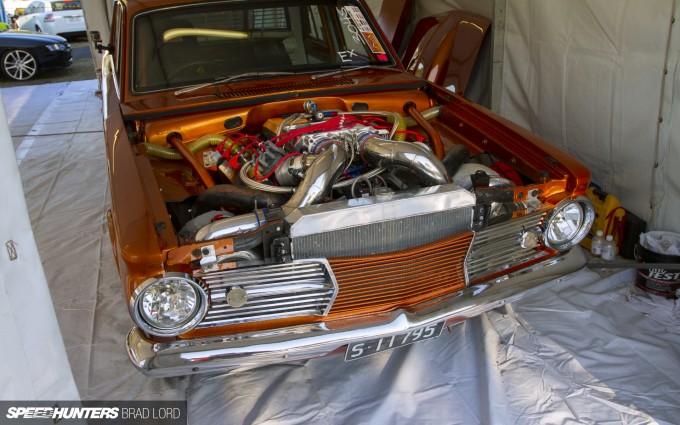 The Hemi V8 in this Australian Chrylser AP6 Valiant isn't at all out of place, but those two giant turbochargers that flank its banks absolutely are. I think it's cool that cars like this one, which break tradition by incorporating turbo technology, have been welcomed into the fold by the Jamboree promoter.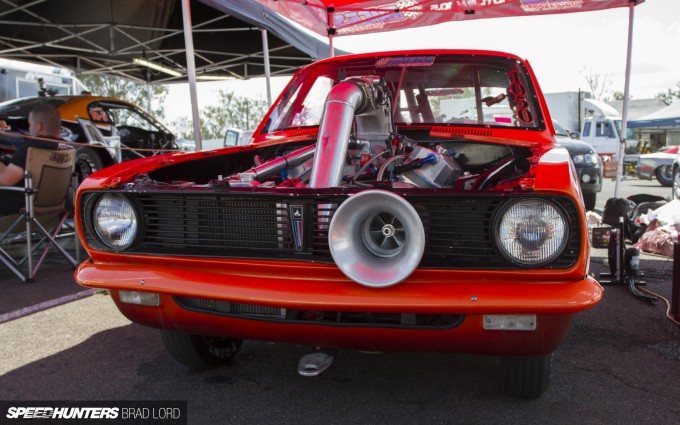 I mean, a Chevy big block stuffed into an HB Holden Torana is one thing – but add a gargantuan Turbonetics turbo into the mix and you reach a whole new level of awesome that everyone has time for. And in this particular case, low seven-second quarters to boot.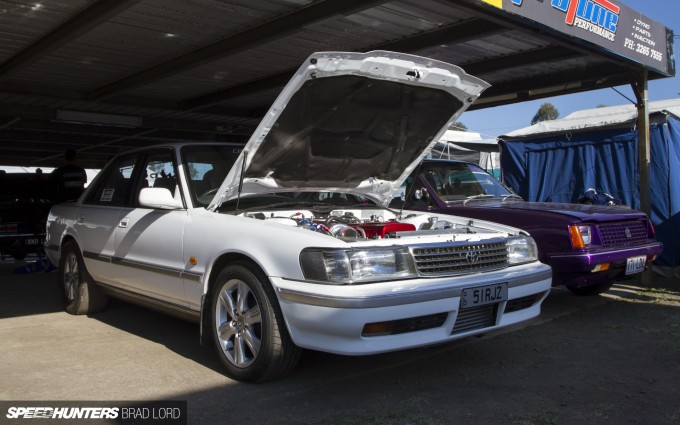 Somewhat more subtle, but executed equally as well, was this sleeper-style Toyota Cressida.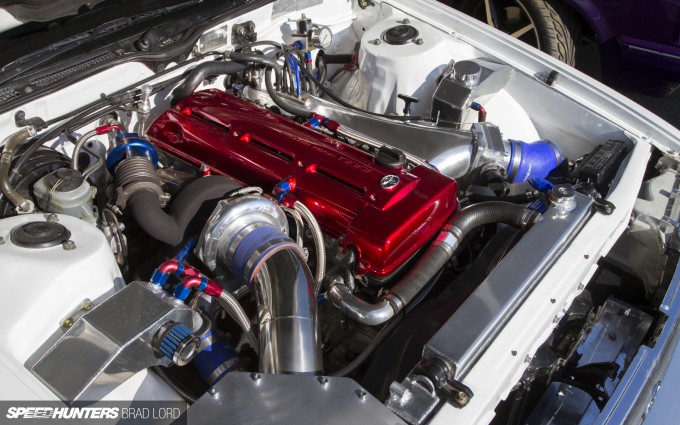 Yep, that's another retrofitted 2JZ, this time strapped with a Garrett GT3540 and packing enough power to turn low 10-second slips in full street trim.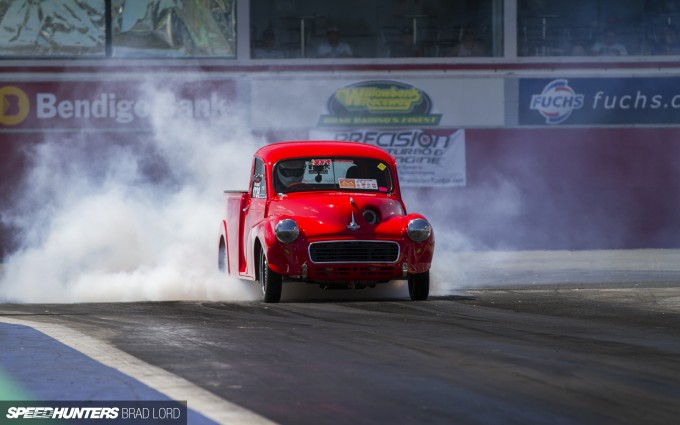 And who would ever expect to see a 1954 Morris Minor cutting single-digits on the strip, let alone with motivation from a big-power 13B package and nitrous oxide? But it's how they do things in this part of the world.
Culture collision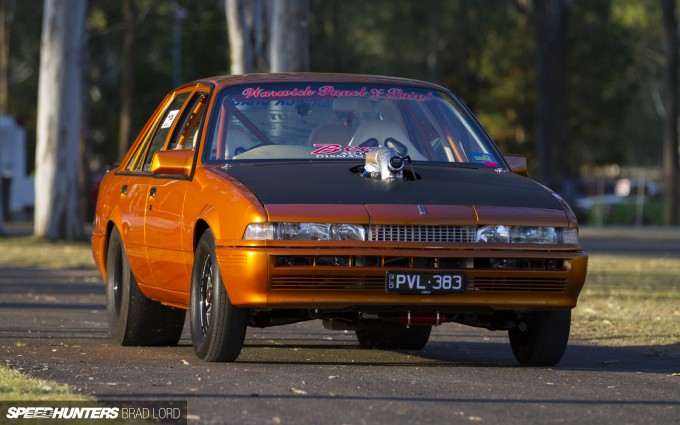 You could say there are two main performance automotive movements in Australian car culture; one built around Mazda rotary and Japanese-oriented small capacity engines, and the other that revolves around the locally-built Ford and GM-Holden models unique to the region. Sometimes the two worlds collide though, and when they do there's a good chance you'll find a VL-series Holden Commodore in the middle.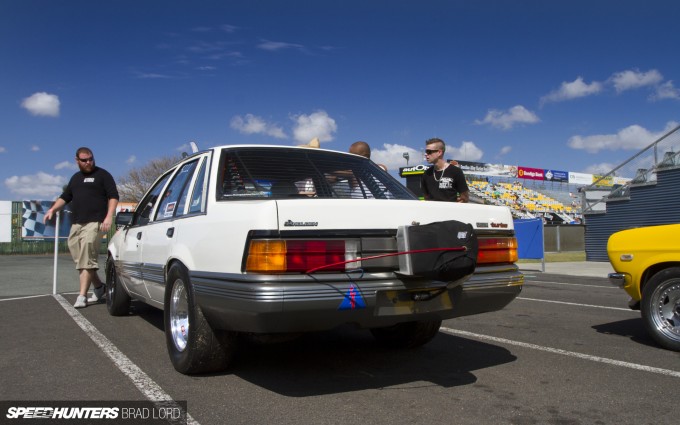 That's not entirely surprising though, because the six-cylinder variants of this particular model from the late '80s utilised Nissan-derived RB engines. GM-Holden even produced a factory RB30ET turbo version, which in Interceptor specification were used by the Australian police for highway pursuit vehicles.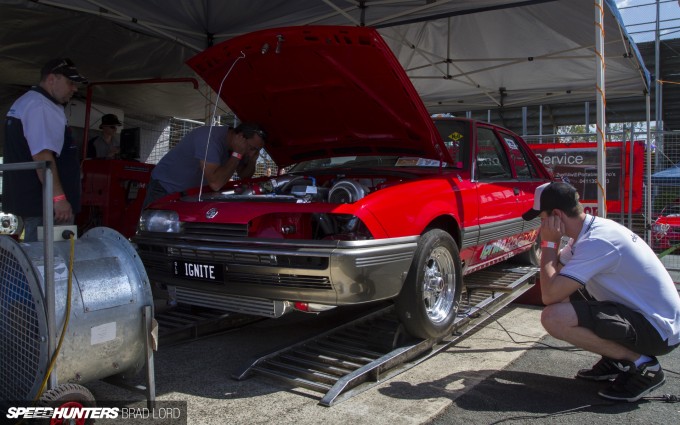 A strong and suitably-sized bottom end – plus the ability to utilise other engine componentry from Nissan's RB parts bin – makes the VL six ripe for modifying.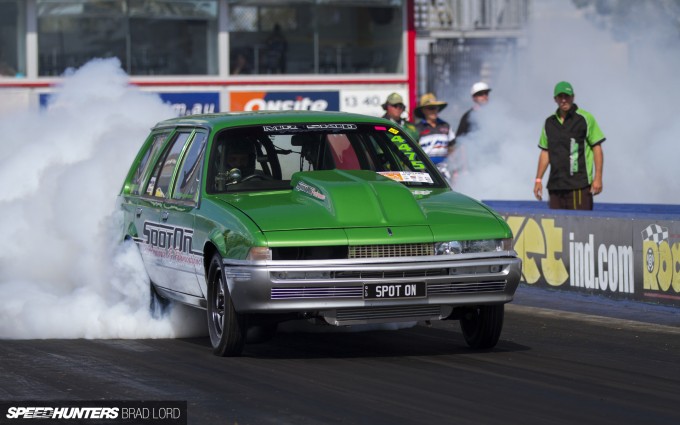 Of course, not everyone sticks to the script though. The Spot On Performance & Fabrications VL Holden Commodore wagon – which I'll be bringing you a full feature on next month – swaps Nissan running gear for Toyota; or more specifically a hard-tuned 2JZ mill. Eight-second quarters are the result, as was the Biggest Burnout award at J23.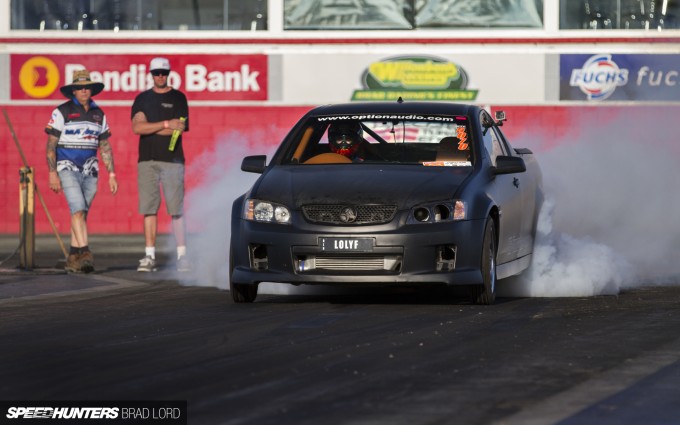 It's not just older Holdens getting in on the sport compact act either. This VE Commodore ute/pickup built by Hi-Torque Performance makes over 1000whp and runs low nine-second ETs thanks to a GT55-equipped 400ci LSX engine. Not bad for a streeter, right?
Chasing ETs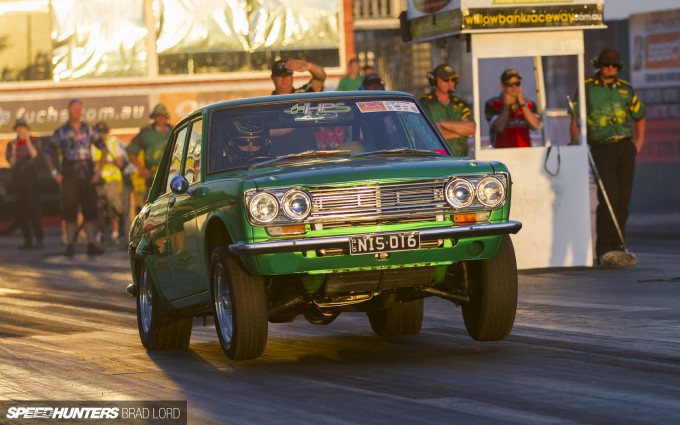 I was given the opportunity to take a decent look over Mick McGregor's Datsun 1600 at last year's event, so it was good to see the lime/gold candy-coated machine back at Willowbank for J23 and doing what it does best.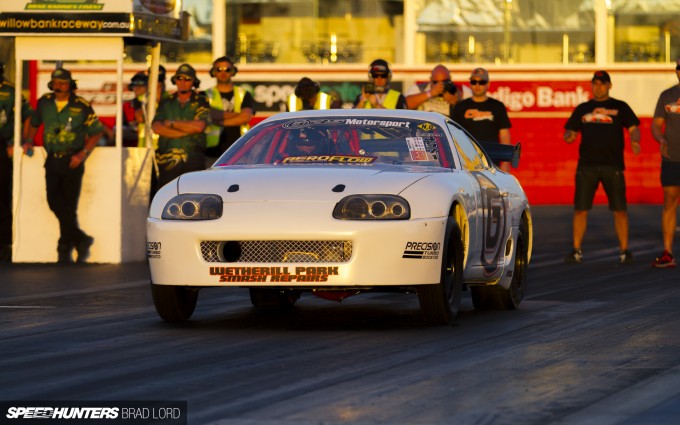 Getting his car cleanly off the line is something Po Tung does very well too. I believe that the GAS Motorsport-built JZA80 is still the  fastest full-bodied Supra in the world, having eclipsed 200mph on a number of occasions. Po's consistency earned him the hotly contested Pro 289 class win.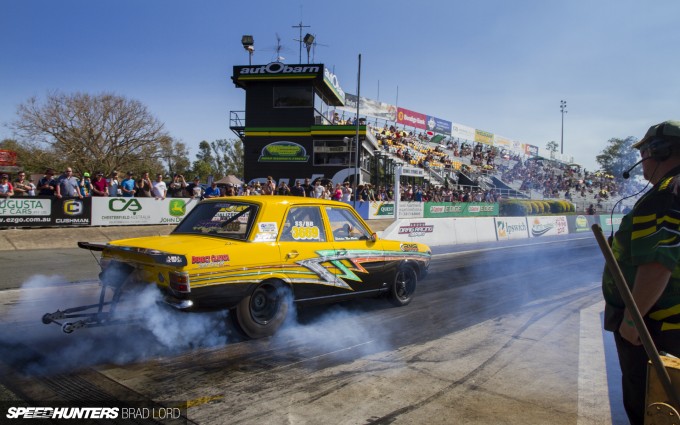 Tim Kreis's Bushpig rotary-powered Ford Cortina has been around for some time, so it's great to see it still in service and very much doing the business. Switching from a 13B to a new Rotary Motor Sport (RMS) 20B three-rotor engine package, finally saw the chassis crack the seven-second barrier at J23.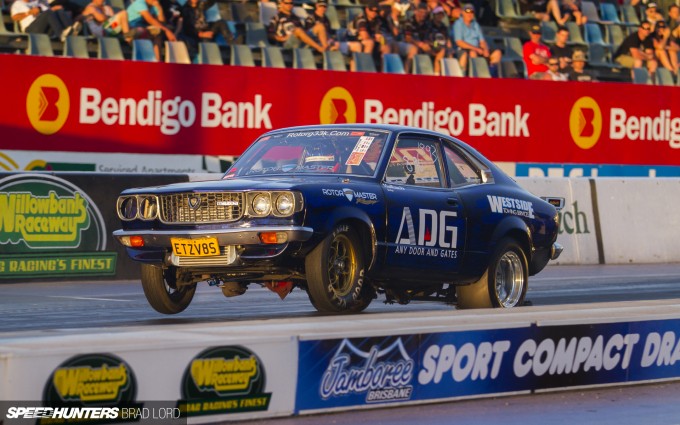 Seeing so many quick sport compact cars in one place at one time has kept the event going for more than two decades and counting, which is a pretty amazing thing when you think about it.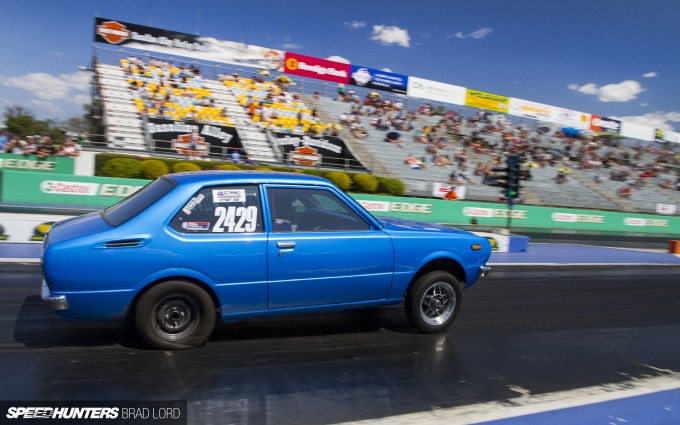 Sure, the grandstand's are nowhere near as full as they used to be when the local modified scene totally revolved around drag racing, but the on-strip action is still every bit as exciting.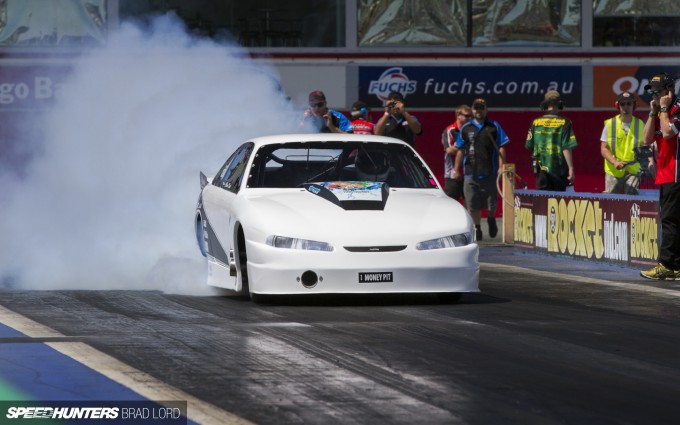 It helps when you have locally-built cars like Chris Tait's 3RZ-powered Money Pit Silvia thumping on the six-second door. He got tantalisingly close too, running a new PB of 7.000 on his quickest pass.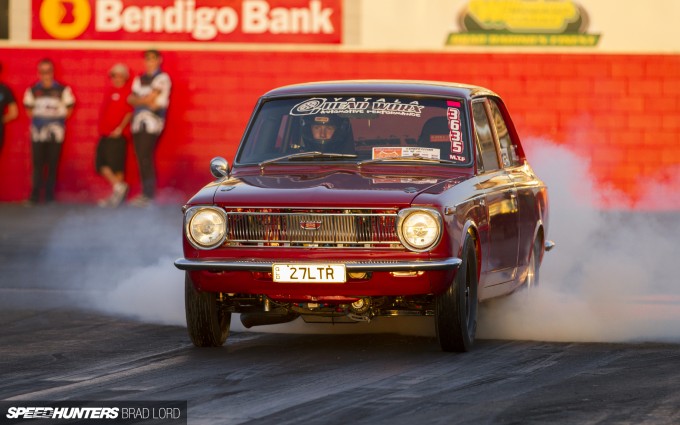 Luke Coy's 3RZ-powered Toyota Corolla KE10 is a real crowd pleaser too. There's something very cool about a small, old school car with an absurd amount of power.
A festival of fast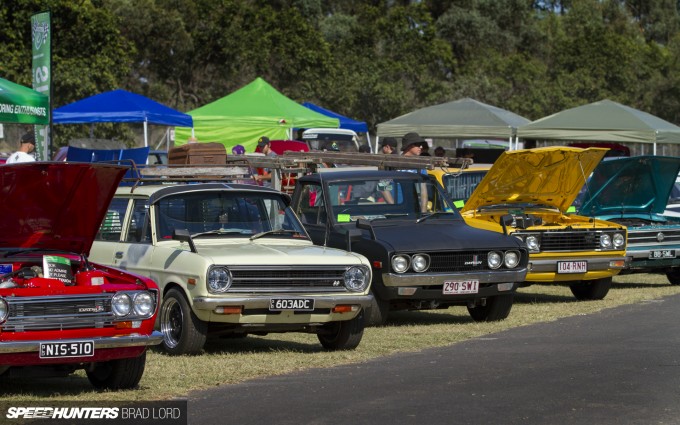 Along the with drag action, J23 played host to a small static show celebrating modern muscle on Saturday and old school cool on Sunday.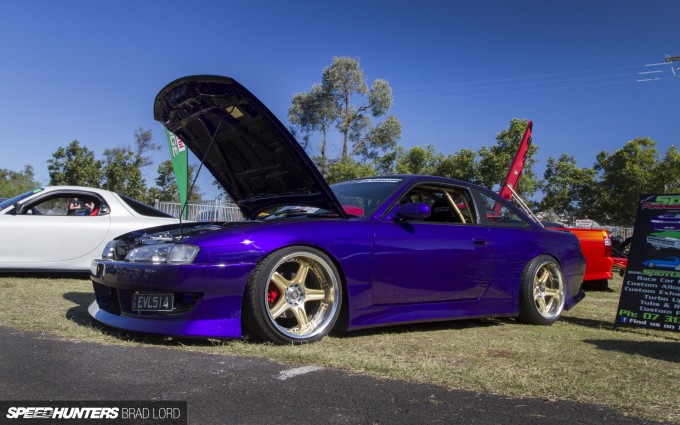 This Silvia S14 built by Spot On is a good example of the former, featuring custom candy paint and nicely fitted Volk Racing rims, plus a fully caged-up interior and hard-tuned SR20DET.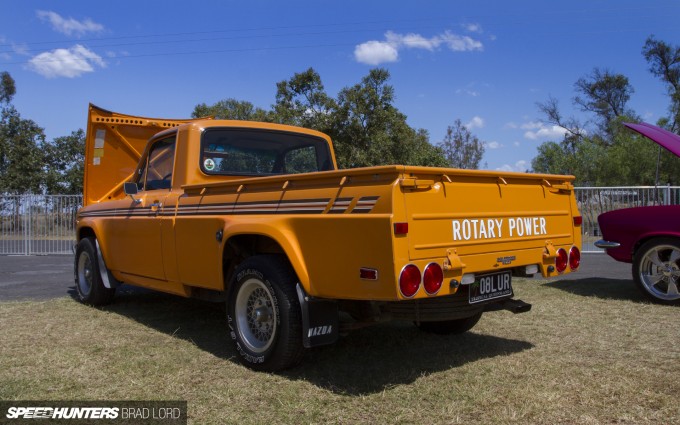 At the other end of the spectrum I came across this very original-looking Mazda Rotary Pickup (aka REPU).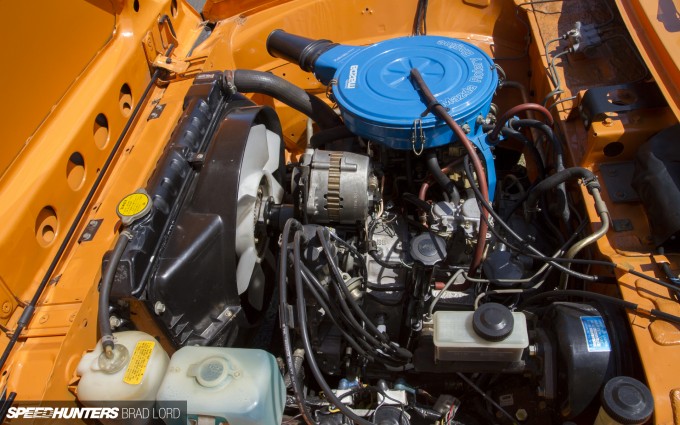 And by original, I mean right down to its factory-fitted 13B engine. It didn't looked like it had been restored, which makes it all the more impressive considering it has to be pushing 40 years old.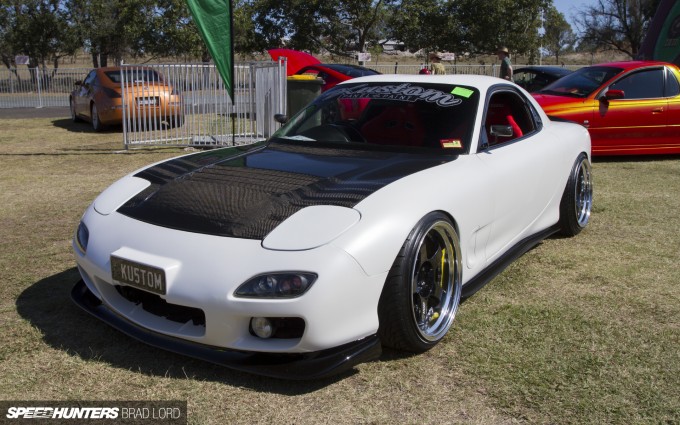 This pearl white FD3S Mazda RX-7 sitting pretty on SSR Professor SP1 rims caught my eye too. Sometimes less is definitely more, don't you think?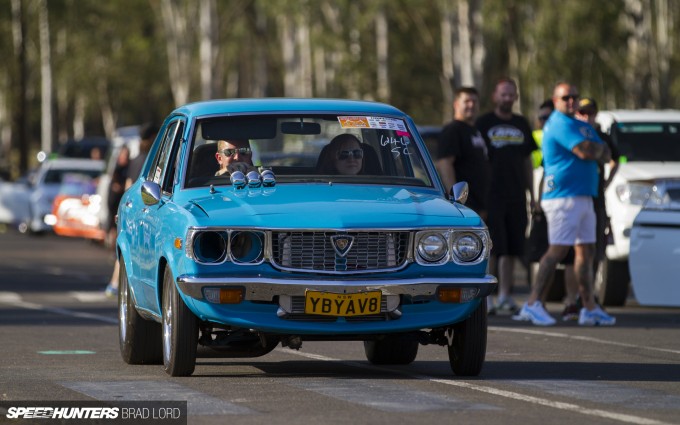 The thing that really impresses me about the Australian scene is the quality of the builds; whether they're for the street, exclusively for the strip, or a mix between the two.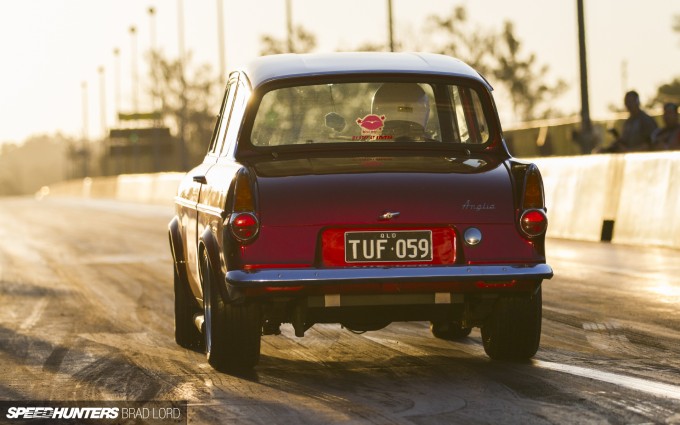 Candy paint laid over perfectly-prepared body lines gives this '59 Ford Anglia a show-worthy look. A Nissan SR20DET conversion provides suitable performance.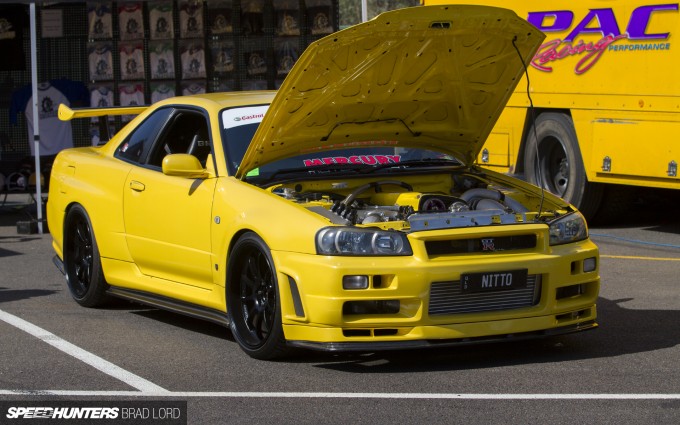 I really like the thinking behind Mercury Motorsport's GT-R. From the outside, Nitto looks like any other mildly modified BNR34 street car, but in fact the Lightning Yellow machine has run 9.6 at 160mph (257km/h) down the strip.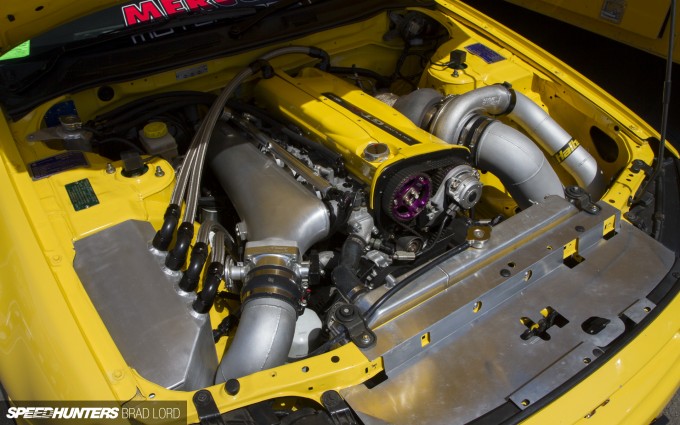 And this is why: a Nitto 3.2-litre stroker motor built around a modified RB30 block, complete with a rather large Precision turbocharger and a ZEX nitrous oxide kit. The result is a reputed 1050whp, which I'm sure you'll agree is rather a lot for a bonafide street car.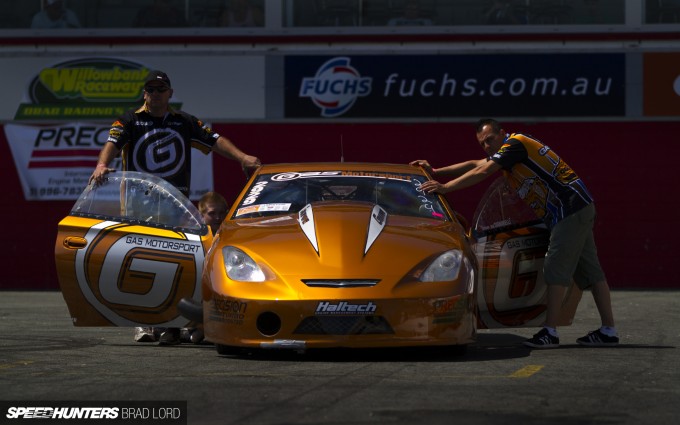 Many of the world's fastest sport compact drag cars now call Australia home, so as expected there was a solid field of Factory Xtreme machines. That of course included Joe Signorelli's GAS Motorsport 2JZ-powered Celica – the world's quickest sport compact with a best pass to date of 6.26 at 230mph realised at last year's event – and top qualifier in class at J23.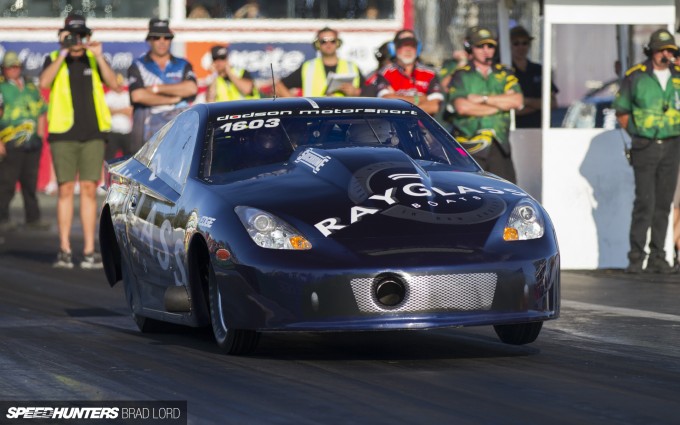 And whenever GAS hits the strip you can bet that the Rayglass Boats Racing team from New Zealand will be gunning for sport compact supremacy too. In qualifying, driver Rod Harvey drove the Rayglass Celica into second spot.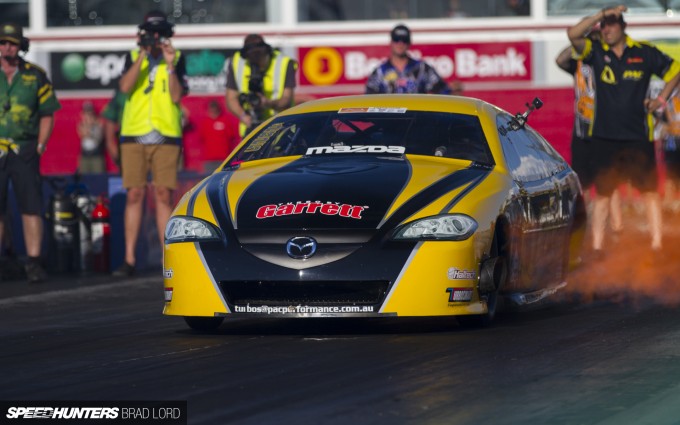 When it was all said and done though, perhaps the biggest accomplishment of the event was a new PB ET set by PAC Performance in its 20B-powered Mazda 6 SP late Sunday afternoon. Up until that point the PAC machine seemed to be running off the pace, so to make the biggest statement they possibly could at the biggest sport compact event on the Australian calendar was a nice way for the team from Sydney to wrap up the weekend.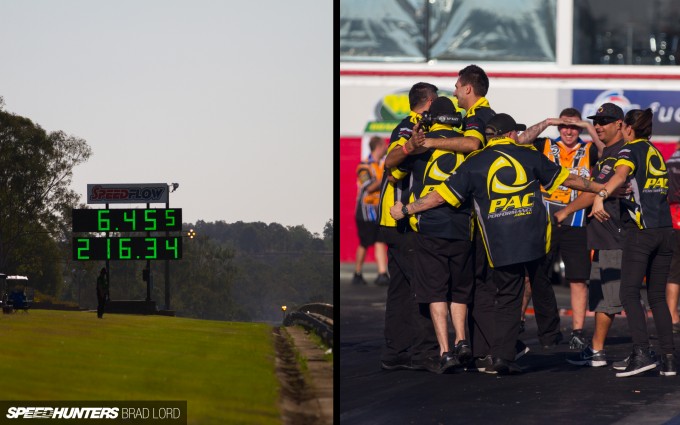 The 6.45-second ET rewrote the record books as the quickest-ever rotary pass, which goes some way in explaining why the PAC team was ecstatic on the start line after George Rehayem blew through the traps. A few days later Puerto Rico's New Generation/Major League team snatched the ET title back, running 6.44 in their 20B RX-8, however the trap speed record– a previously recorded 222mph (357km/h) – still rests with PAC.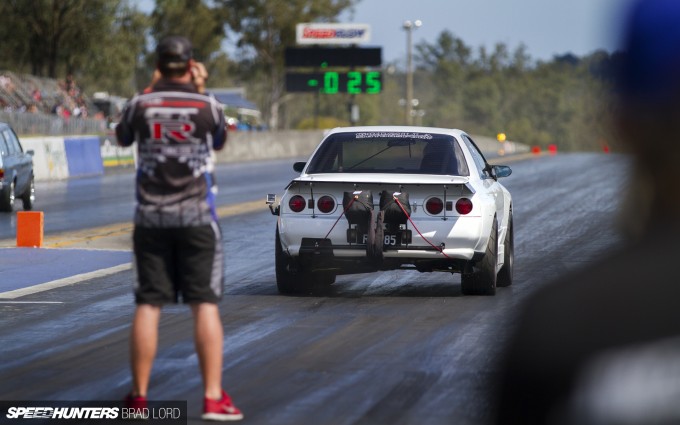 On the subject of records, another machine that set one at J23 was Matt Earl's Nissan Skyline GT-R. With a 2.7-litre JUN-based engine built and tuned by Godzilla Motorsport, factory-based H-pattern gearbox and street-legal semi slicks on all four corners, the  BNR32 blitzed the radial-tyred GT-R record when it went 8.39 at 164mph (264km/h). It's rumoured that a US-built GT-R has run 8.28 since, in which case the Australian team now has a little bit of catching up to do. Given the way the GT-R seemed to effortlessly get down the quarter, I think it's only going to be a matter of time before the Australian car steals it back.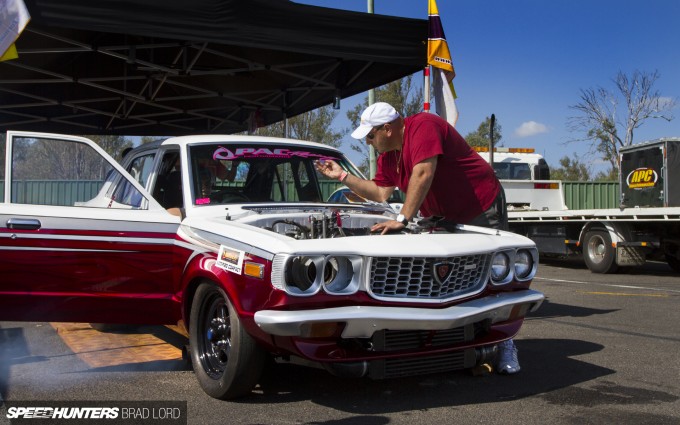 I had really hoped that The Godfather – Sam Sadek – would have his 20B RX-3 coupe back up and running for the J23 after it was involved in a huge incident at Sydney Dragway earlier in the year. Although the PAC-supported team had been working hard to make the date, ultimately they didn't the car finished in time. What they did recently complete, was the reincarnation of Sam's son Simon's 13B turbo RX-3 sedan, which reappeared a few weeks back running straight in the low eight-second zone.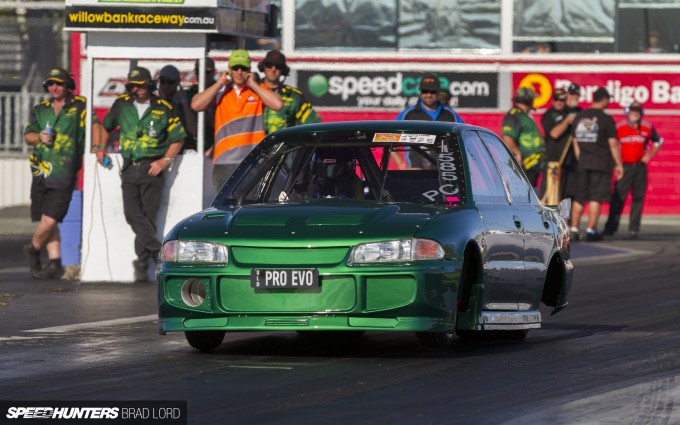 Before a broken pulley ended their J23 prematurely, Forbidden Performance gave everyone a taste of the potential of their rear-wheel drive Pro Compact class Mitsubishi Lancer Evolution III. Utilising much of the Evo's original steel bodywork and the same 4G63 engine built by the its original owner when it was stock bodied, four-wheel drive and street legal, Forbidden's Michael Maclean pointed PRO EVO to a new PB of 7.82 ET.
The J23 experience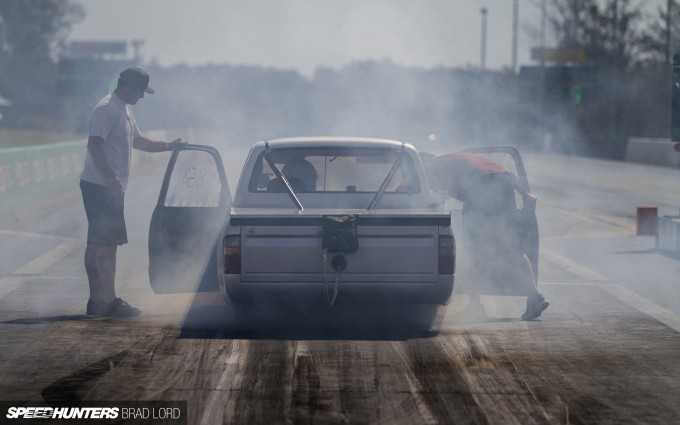 Once the smoke cleared and the methanol fumes stopped burning my eyes, I don't think a moment passed by during the weekend when there wasn't something interesting to point my camera at.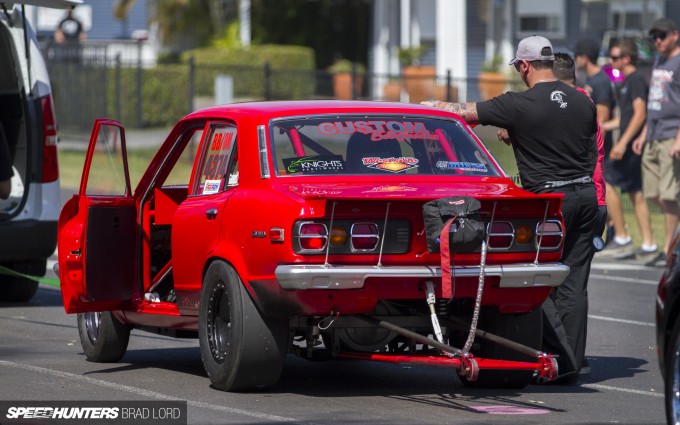 In fact, even after two long days strip-side there were cars that I hadn't had the chance to take a proper look at.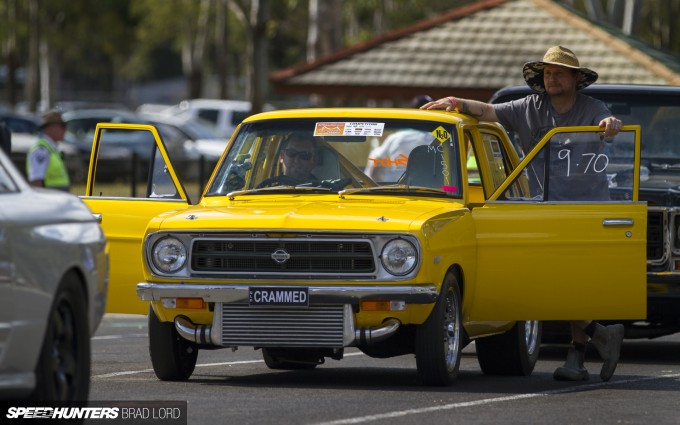 And in my mind that's a pretty good sign that the Jamboree will be around for many more years to come.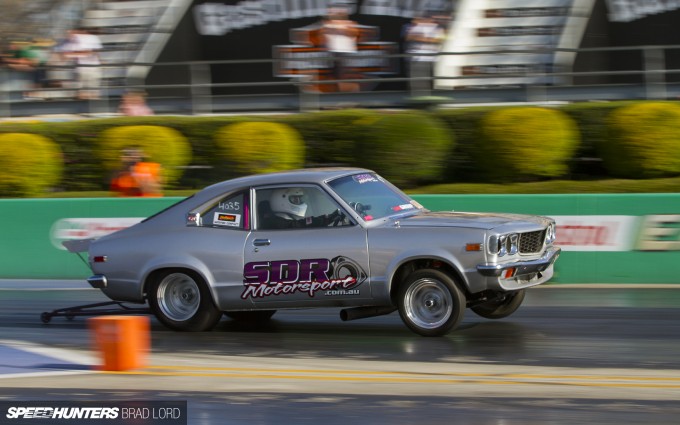 I've still got plenty more to show you from J23, so check back very soon for more coverage of the greatest sport compact show on earth.