Analog life
Scott Baker doesn't have an iPhone and he isn't on Instagram or Facebook. In fact, he doesn't really feel the need to use a computer at all. As you can imagine then, he was a bit puzzled as to why we would want to put pictures of his truck on the internet. After a bit of explaining he agreed to stick around until the end of the day for a photoshoot – as long as we would help him load his Honda Trail 90 in the bed when we were done.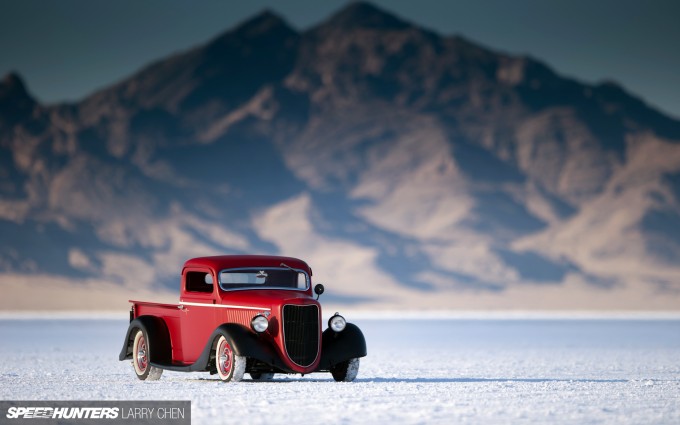 In the sea of custom cars at Speedweek, Scott's truck stood out. You see, guys go nuts on hot rods – swapping parts, shaving stuff, overchopping tops and punching holes in things – so there was something refreshing and honest about this mostly original, hot rodded '36 pickup.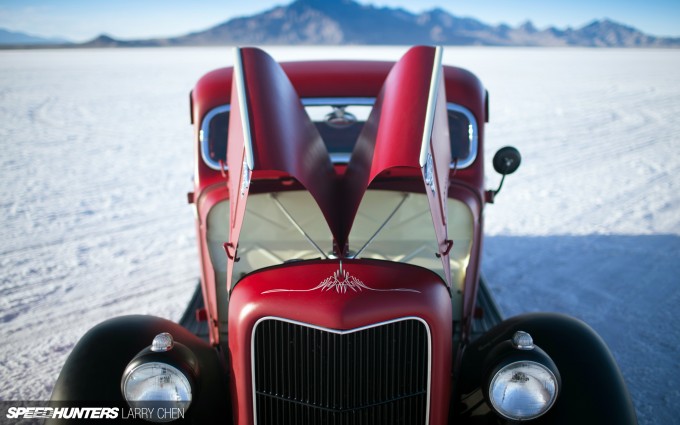 I just got off the phone with Scott, a landline of course. After he cooked his dinner over an open fire he walked three miles to ask a neighbor if he could borrow their internet. It took him 90 minutes to find Speedhunters.com. Okay maybe I embellished a bit, but I did learn that Scott is a third-generation orange grower, and to be honest, I'm a little envious of his lifestyle, which includes daily driving the '36.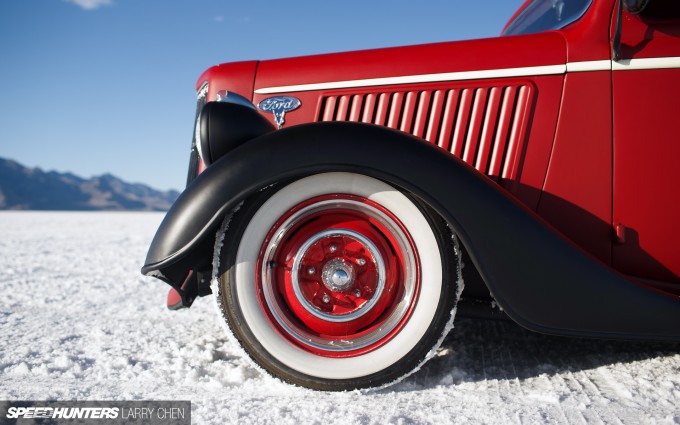 The citrus connection piqued my interest. Scott runs a 200-acre orange farm, so there's a good chance that Sunkist you're eating is the result of his toil. Also sitting on that land is his grandfather's Studebaker farm truck with contrasting fenders, the inspiration for the black-on-red color scheme he chose for his pickup.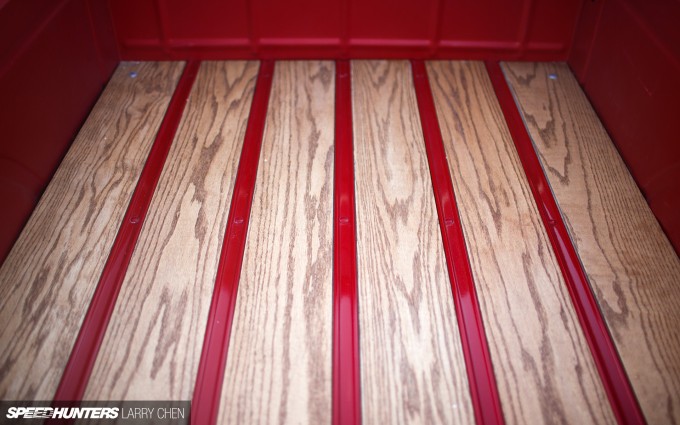 This bed won't be hauling crates of oranges any time soon though.
Meet the Boling Brothers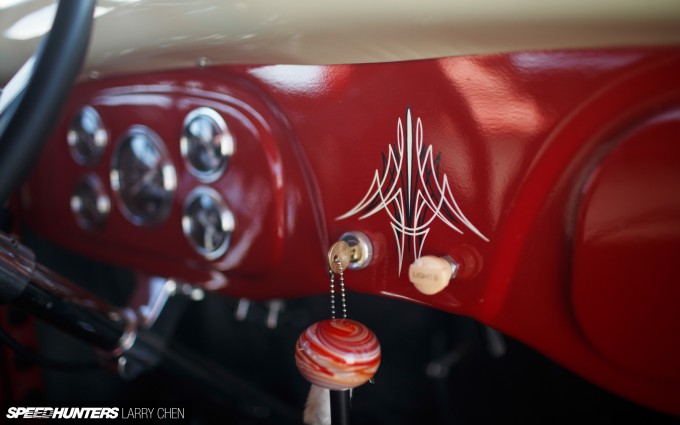 After selling his old '36 Ford rat rod to a friend, Scott asked Derek Boling of Boling Brothers Early Iron to build him another one – only this time more on the finished end of things. The exact year of the truck is a bit fuzzy since the 1935 and 1936 models are so similar. As best as I can tell it's sitting on a '35 chassis with '35 fenders bolted to a '36 body. After a two-and-a-half year build the pickup was completed just six weeks before Bonneville. Scott's logged 3500 miles on it already, so it's time for an oil change I suppose.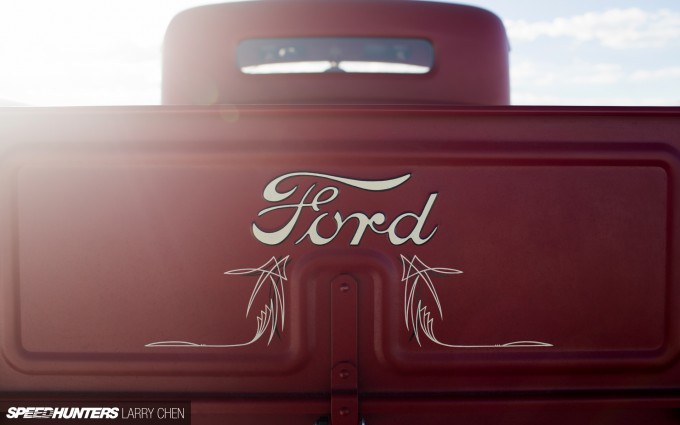 Once Boling Brothers finished all the chassis work, rust repair and top chopping, the truck was taken to nearby Royal Vintage, a paint shop run by a guy named Pepper. Scott swore to us that Ruben, the pinstriper, had brushed his name somewhere on the tailgate, but we couldn't find it…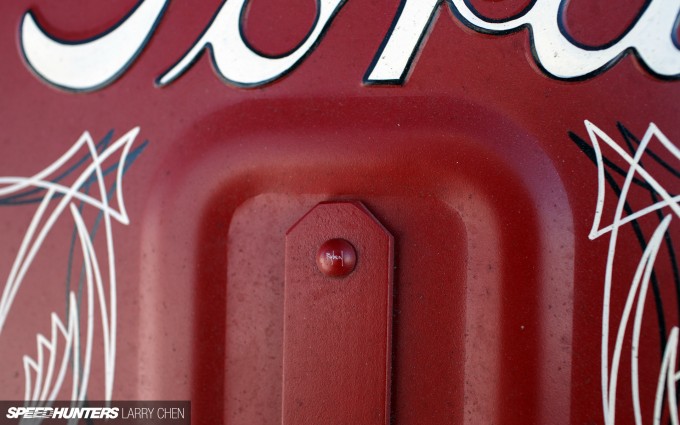 …until Larry got in real close. Ruben had signed a rivet right in the middle of the tailgate, and it's so miniature you can barely make it out with the naked eye.
Peek inside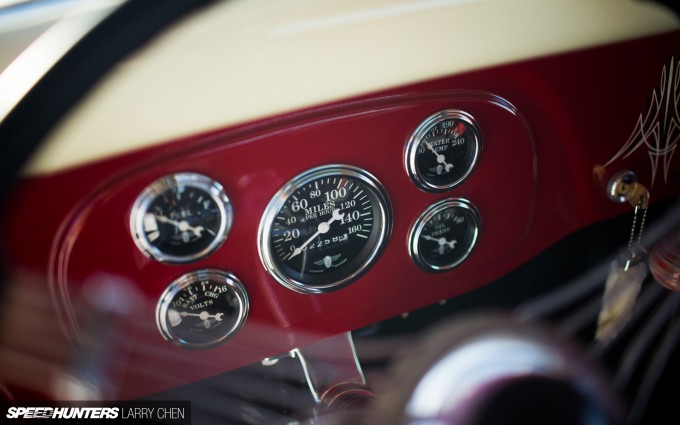 Derek at Boling Brothers sourced some curved-glass Stewart Warner gauges and laid them out nicely in the dash.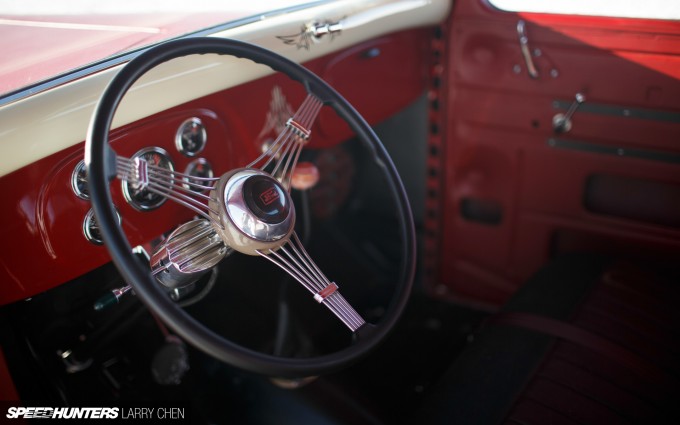 Then he mounted a traditional banjo steering wheel to a Limeworks steering column.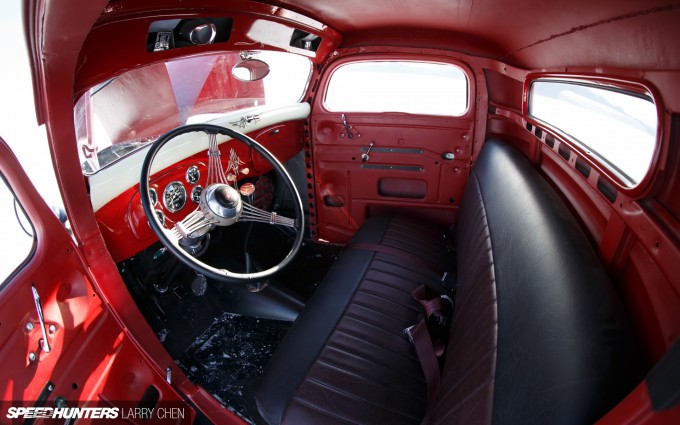 Although Scott says it's not finished, I thought the interior to be perfectly acceptable for a hot rod. I like looking at the cut and weld lines inside the roof anyways: To me it's more honesty on display since Derek's chopping skills are right there for all to see.
Derek bent up a shifter and made a linkage for the Turbo 350, and Scott found this old heater at a junkyard to hang under the dash.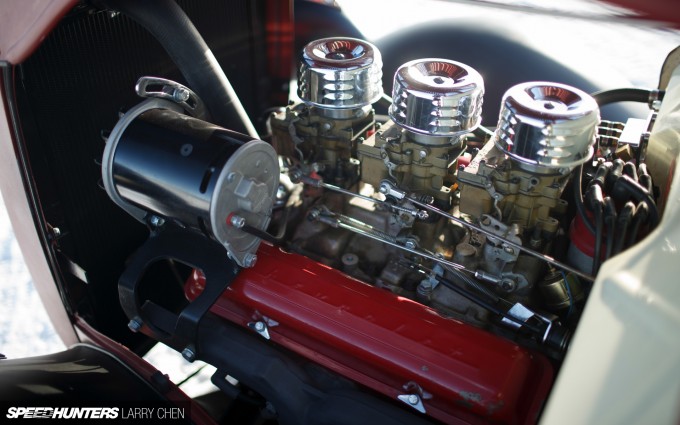 Hooked to the Turbo 350 is a 327ci small block with an Edelbrock intake manifold and three Rochester two-barrels, which are apparently a pain in the ass to tune. Scott's one allowance for modern equipment is the Powermaster alternator which is disguised as an old generator.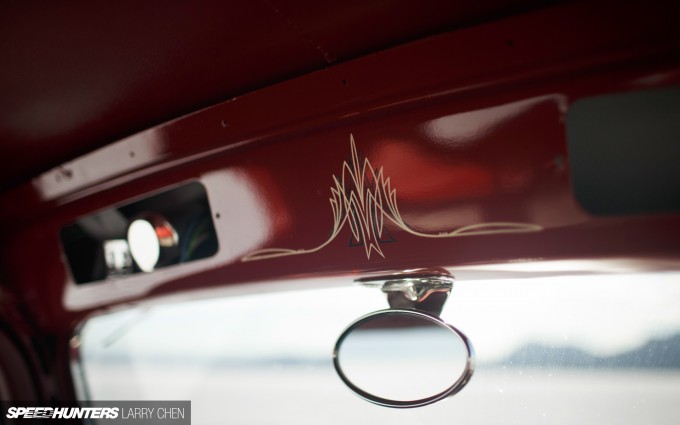 Like any real hot-rodder, Scott can't help but continue tinkering with his truck. He just got the panels that cover these holes back from paint after making a custom blistered version to cover the wiper motor.
Body mods, or a lack thereof…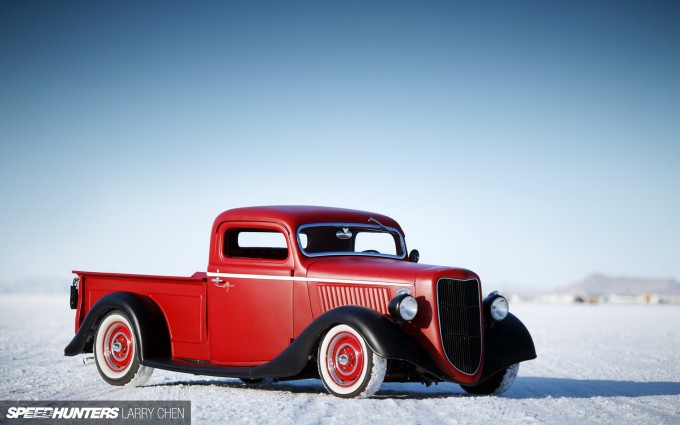 The windshield wiper is one of those original bits that the guys chose to leave alone. In fact, looking around the truck you'll find that the body is almost completely stock…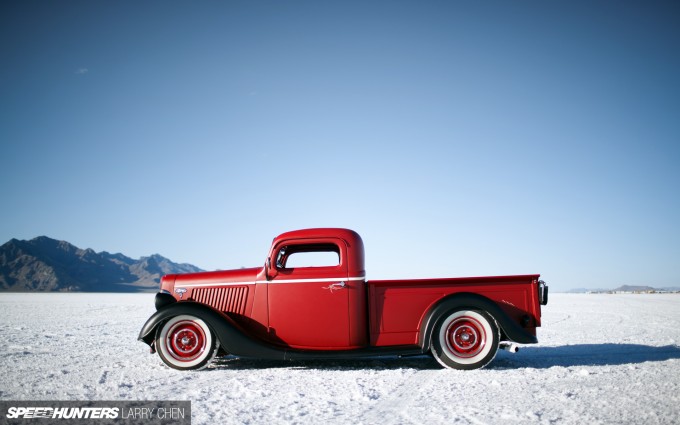 … save for the 5-inch chop of course.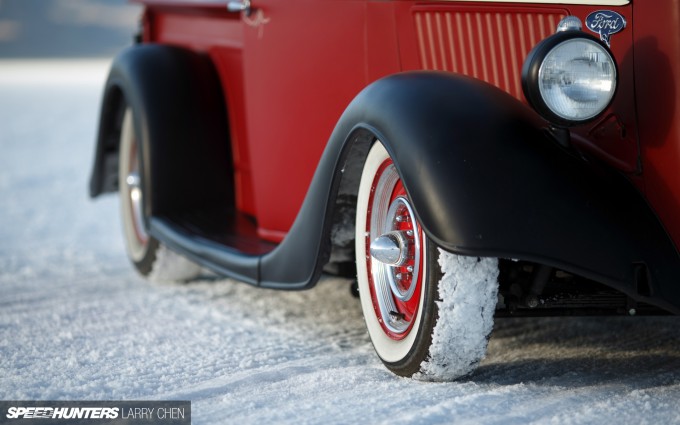 Obviously some work has been done to the chassis to get it this low. There's a 4-inch dropped axle in the front, and a narrowed Ford 9-inch below the c-notched frame in the back.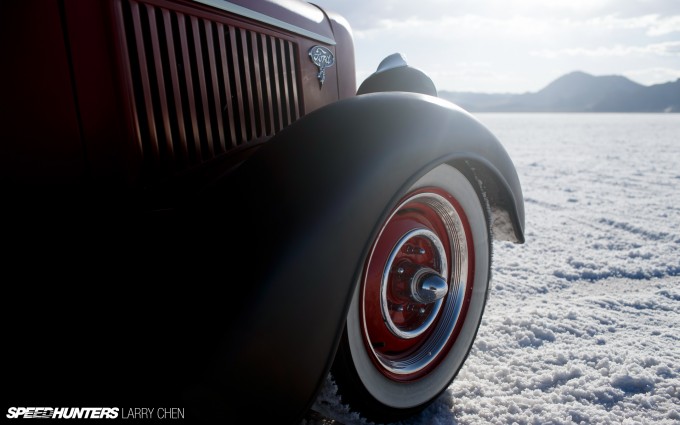 Although they're not visible since the truck is full-fendered, Scott chose to use traditional Lincoln drum brakes in the front. The steel wheels were powdercoated in a close-enough red, then dressed up a little with trim rings and bullets.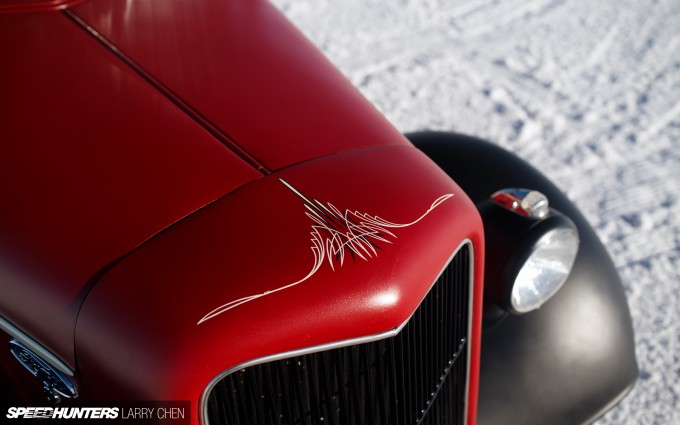 Like I said though, the beauty of this build lies in its ability to stay true to the original design while adopting a hot rod attitude. No need to swap a bunch of parts or change the original folding hood.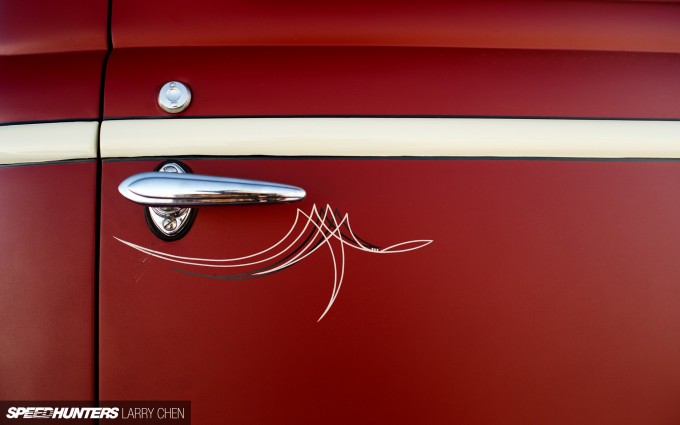 The stock handles and locks are fine as is.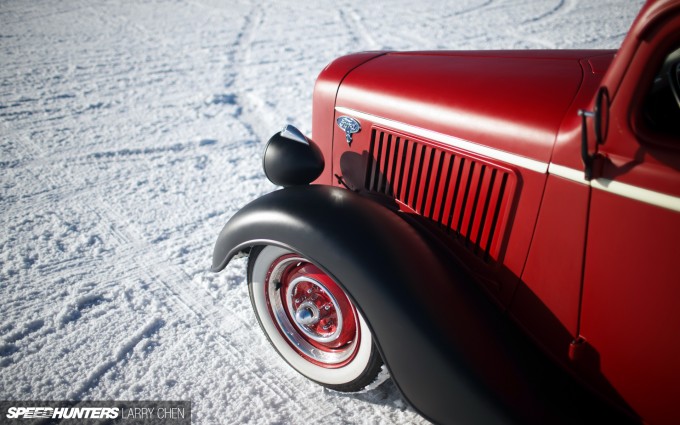 The hood louvers didn't need any tinkering, and those stock mirrors give it a bit of farm-truck vibe too.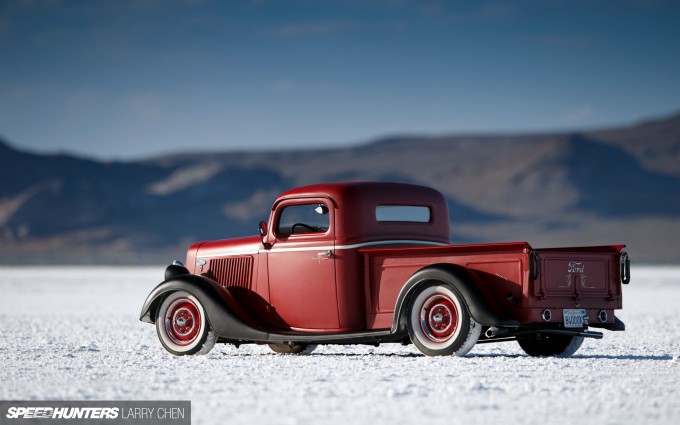 At the rear all Derek did was build a roll pan to house '50 Pontiac tail lights. It might have been tempting to pull the fenders off, bob the bed and delete the chains on the tailgate, but these are the details that make this a citrus farmer's hot rod.
Deep thoughts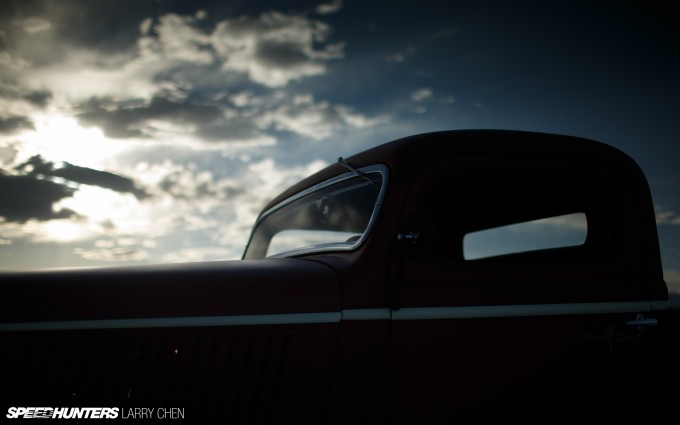 Scott's truck got me thinking about what hot rodding has turned into today.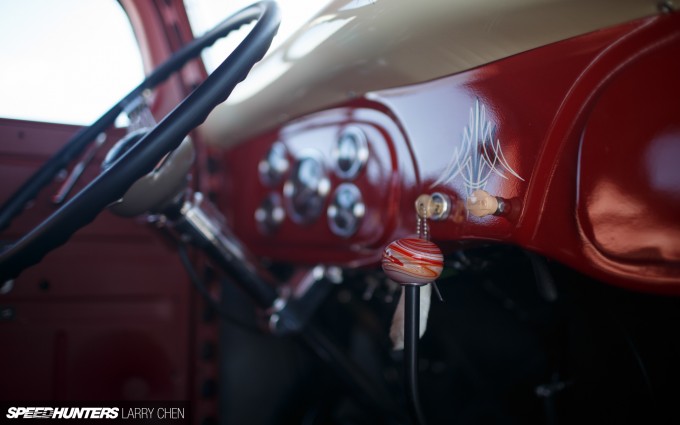 Maybe everything we build doesn't need to be hammered to the max and shaved clean of every last detail. Maybe we should slow down a bit and appreciate things as they were.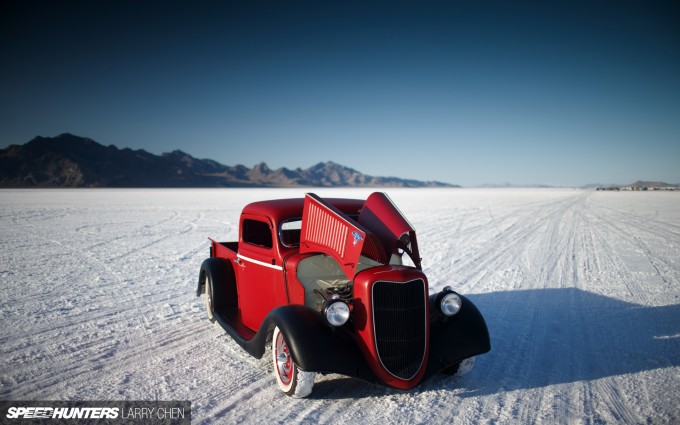 Which is probably easier without a smartphone glowing in your face all the time.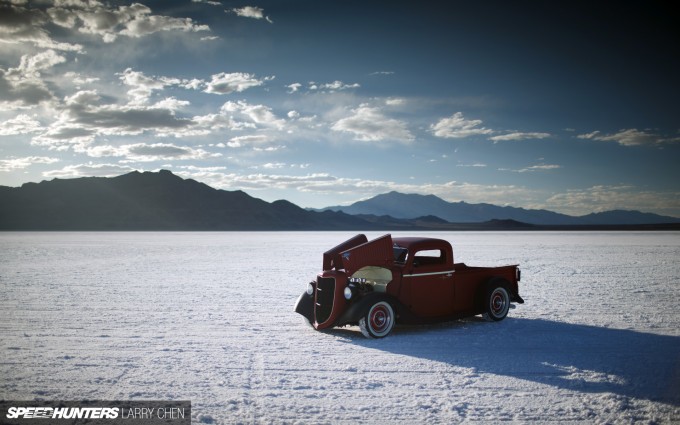 It makes me wonder if Scott's got something figured out, living the analog life, driving his hot rod around every day…Oh wait, hang on, my phone just beeped.