I'm dimly aware of talking going on behind me. Any minute now something important's going to be said and I'm going to miss it. I should really be paying more attention to what's happening, but right now, my brain has stopped performing any kind of higher-level function. All normal thought processes have faded into the background. I can't draw my gaze away from the sight in front of me.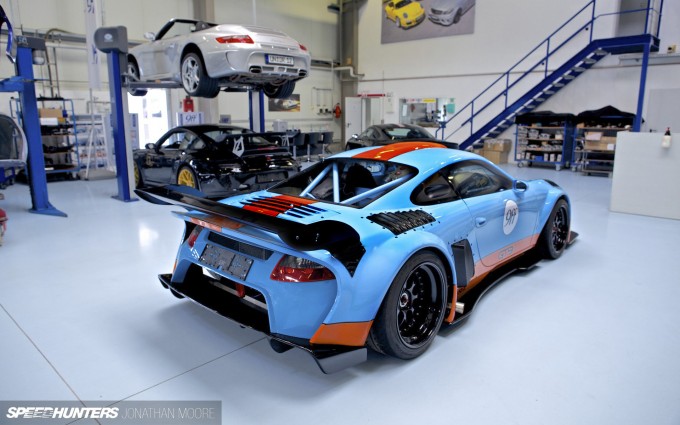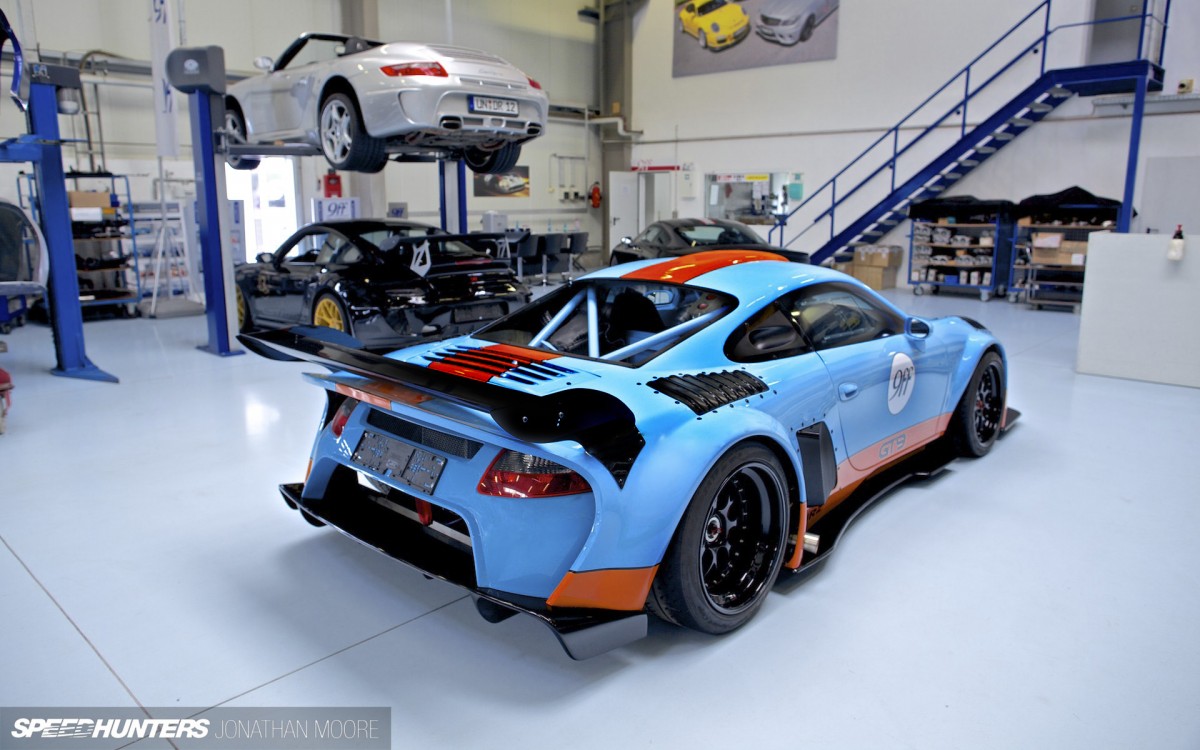 I'm in the premises of Porsche tuner 9ff in Dortmund, Germany. We've been in Germany for a number of days now and the visit here was always planned. Of course I'd heard of 9ff before, so I was prepared for some pretty cool machinery. I wasn't prepared for this.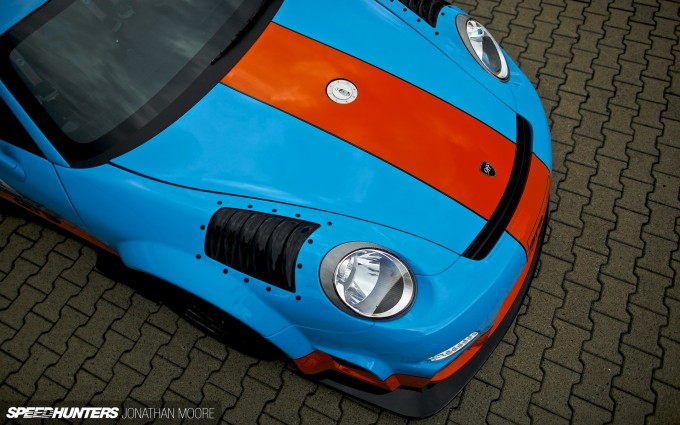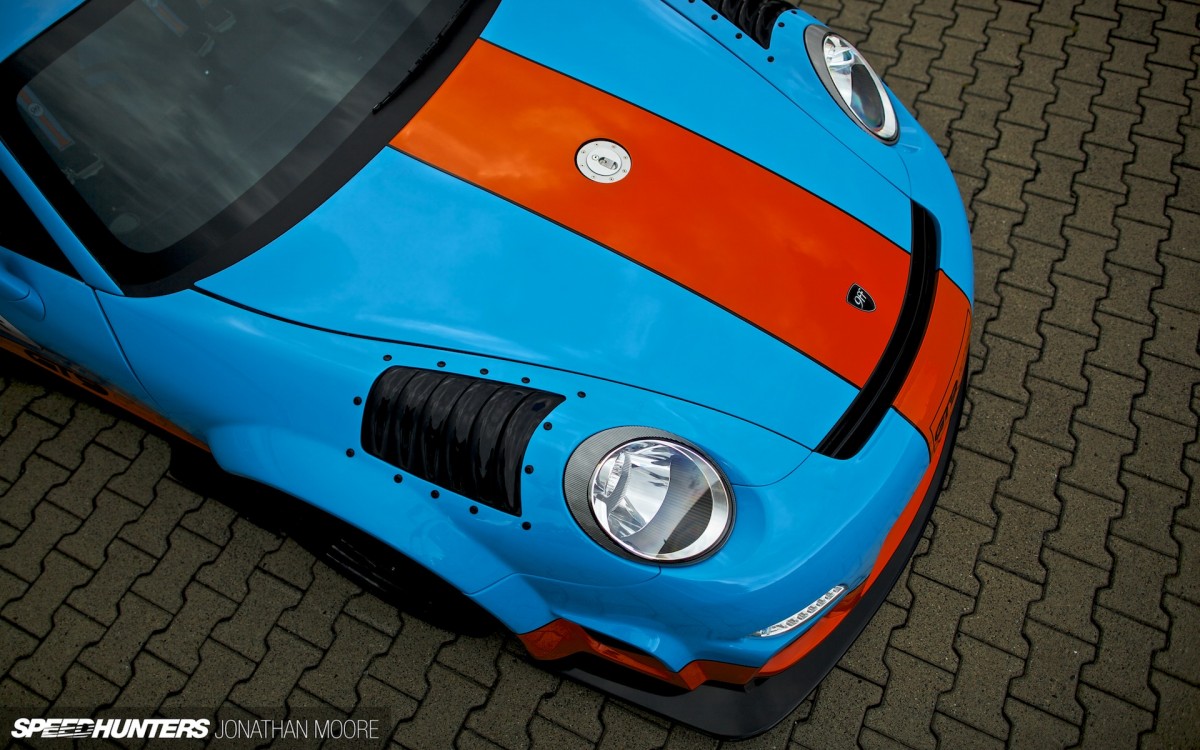 It's at this point that I should probably hold my hands up and admit that I've never been the biggest Porsche fan. It's not that I've actively disliked the brand's cars per se, but just that I've tended to always be a fan of the more wild and wonderful creations to have rolled out of the underbelly of the automotive world. I've always respected its prowess, and held an admiration for its clean and simple design. But Porsches have just never grabbed me in the same way that some of my favourite cars have.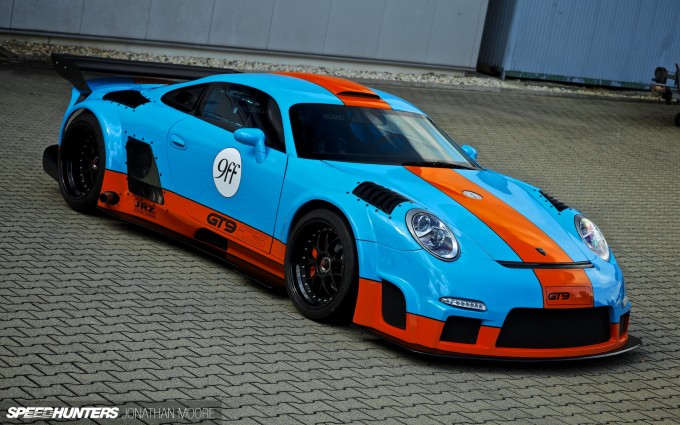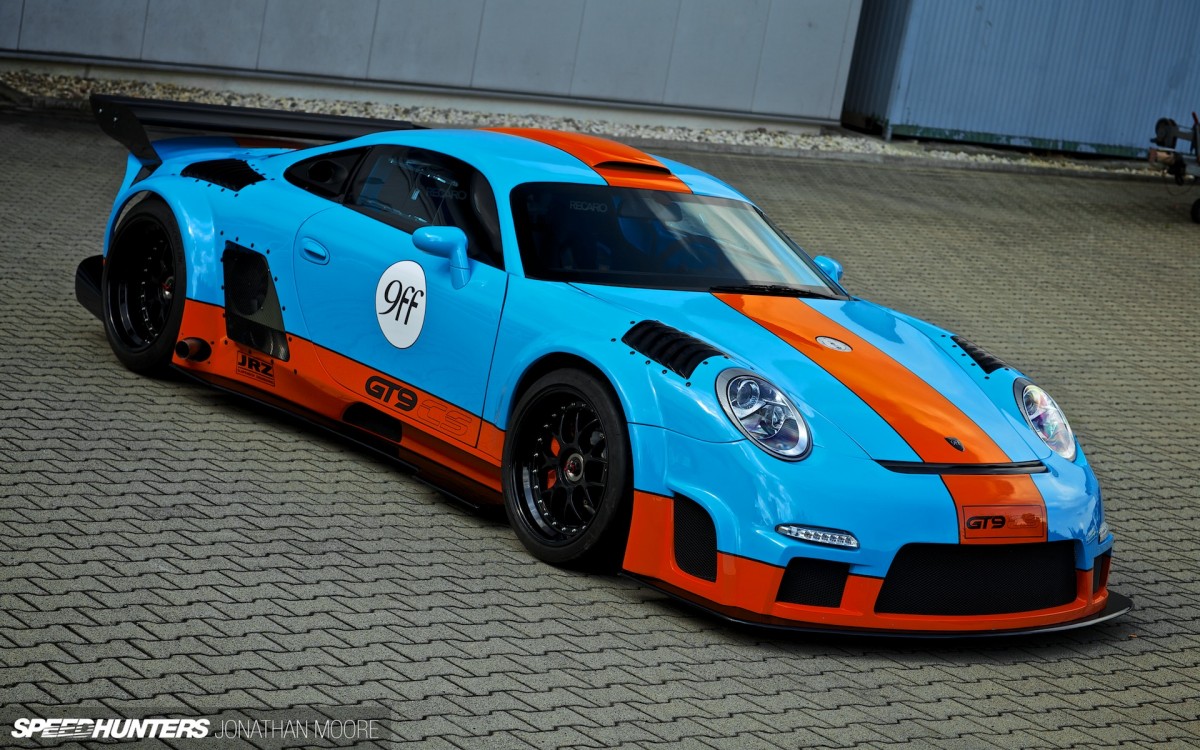 Well, consider me grabbed. Ensnared, bewitched, possessed, mesmerised, whatever you want to call it. This is the effect any great car has on a beholder. I literally can't take my eyes off the GT9 CS.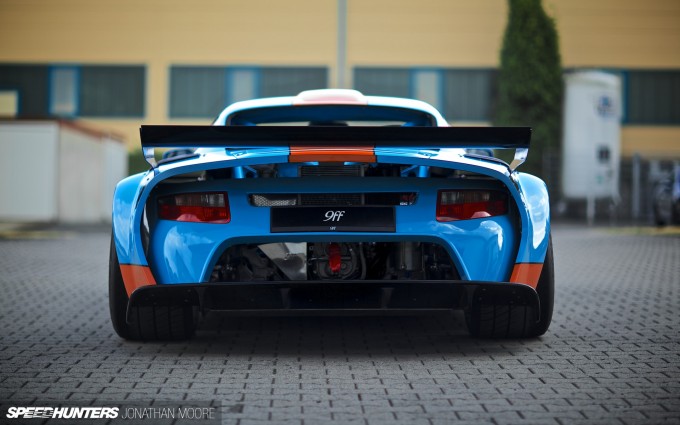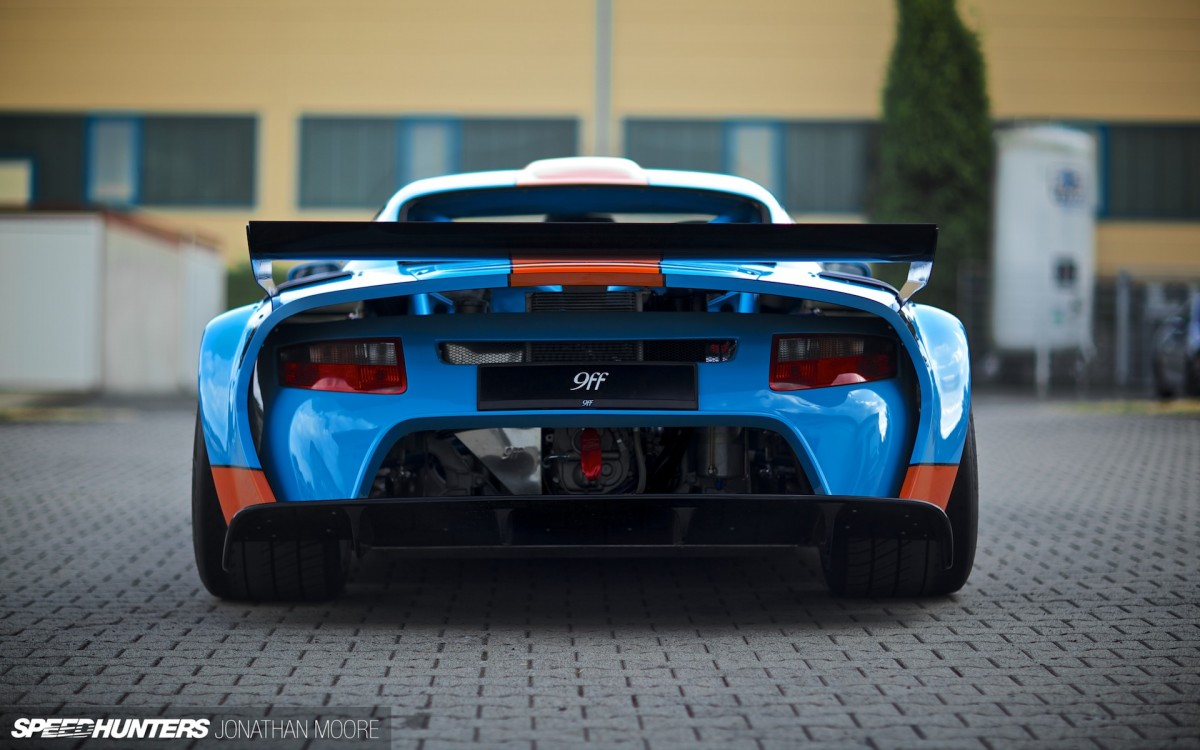 I'm not sure if it's the stunning Gulf-inspired livery, the sheer amount of engineering that I know has gone into it, or the way the custom bodywork looks like it's been draped over a normal Porsche in the way a predatory spider immobilises then descends over its prey to feed. I'm pretty sure it's a combination of all these and more, but as I said before, all higher-level function is currently suspended.
A Body To Die For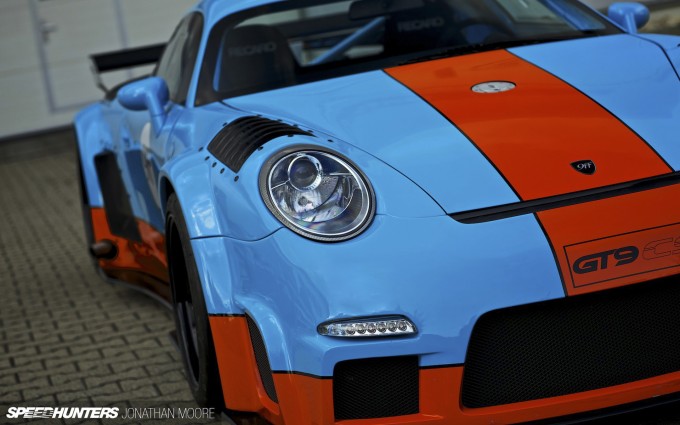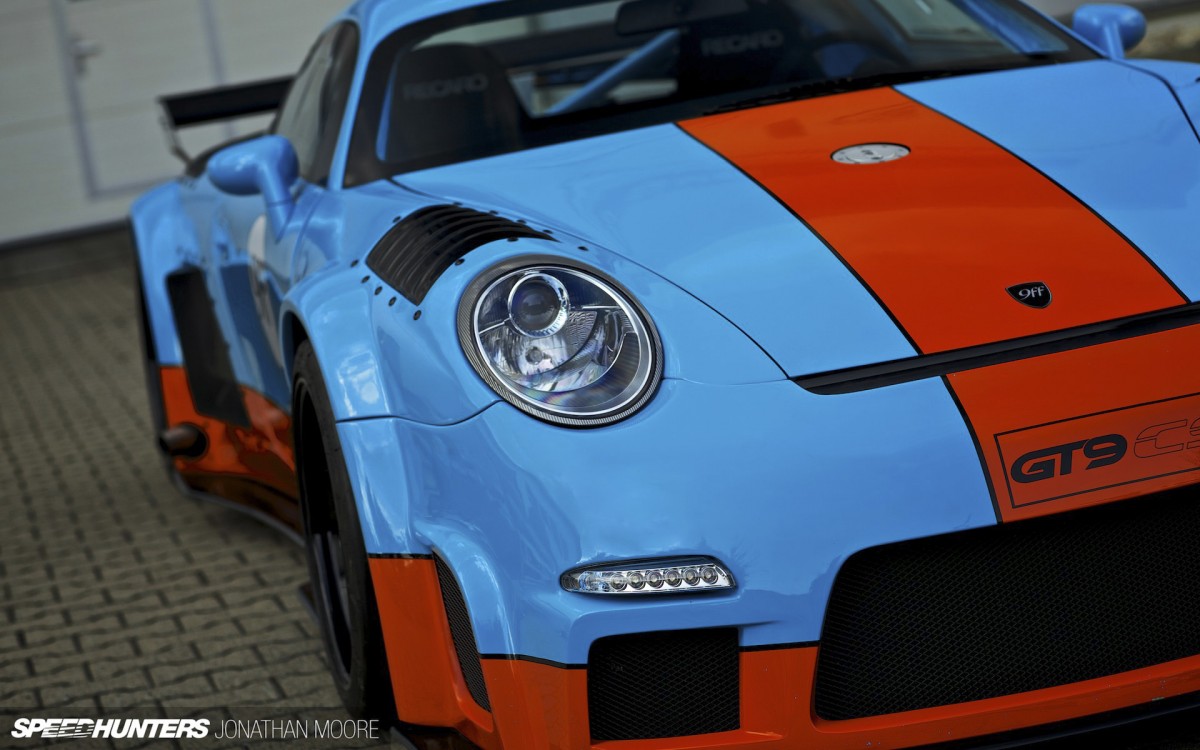 At last, I manage to tear my gaze away from the car and return it to Jan Fatthauer, our host for the day and owner of 9ff. He explains that the owner of the GT9 ClubSport previously owned a 9ff-tuned GT2 in the same colour combination running around 800hp. After two years of driving the GT2, he came back to 9ff saying that he wasn't such a good driver so needed a faster car. So Jan took a GT9, which had previously been purpose-built for top-end speed, and made it into a track car.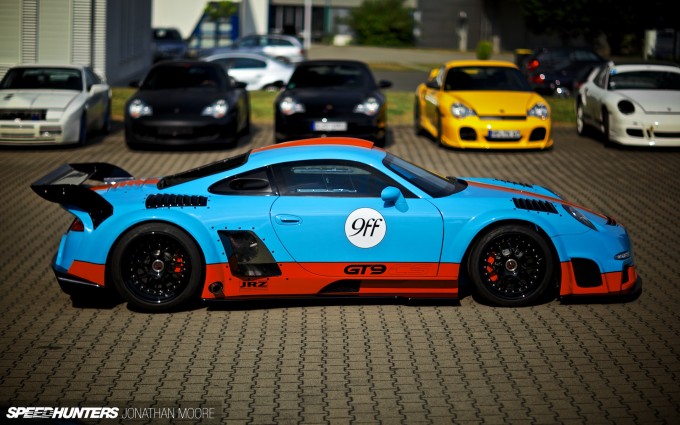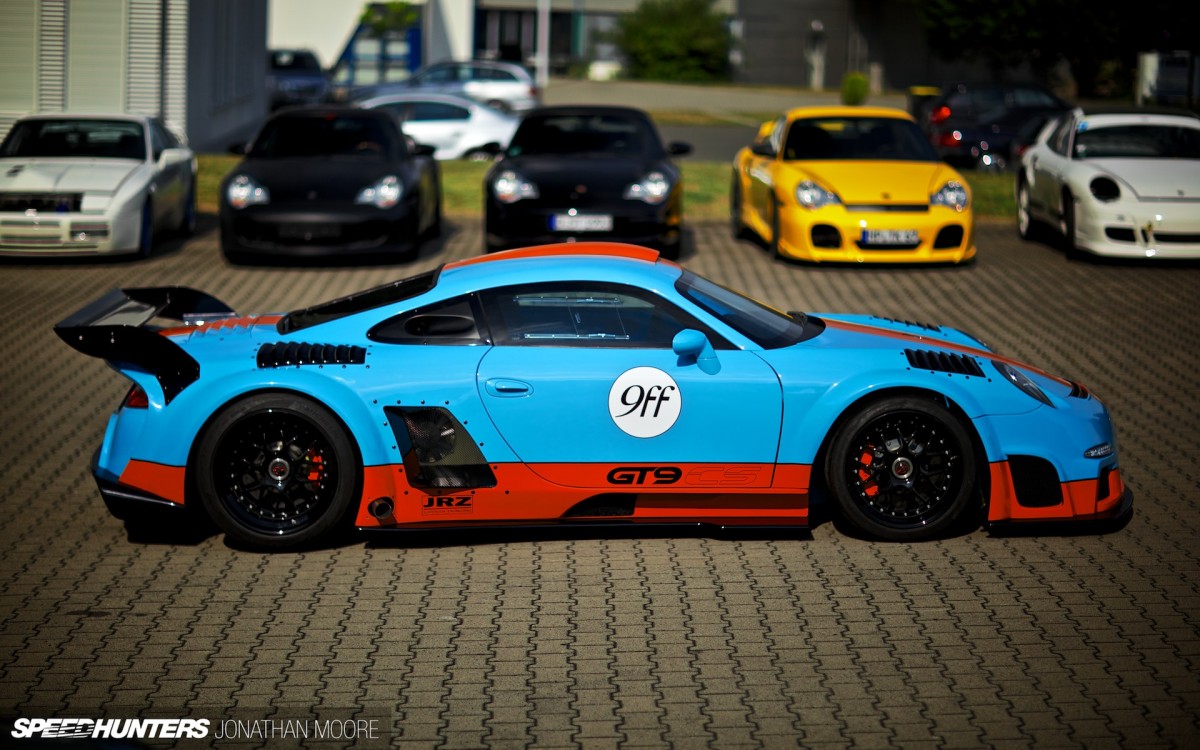 Sounds simple right? But what you have to appreciate here is just how different the standard GT9 is to a normal car anyway. Along the route to trying to achieve 400km/h (the original aim of the GT9), the entire car has shed its skin and replaced it with another – one designed to cut through the air with more ease.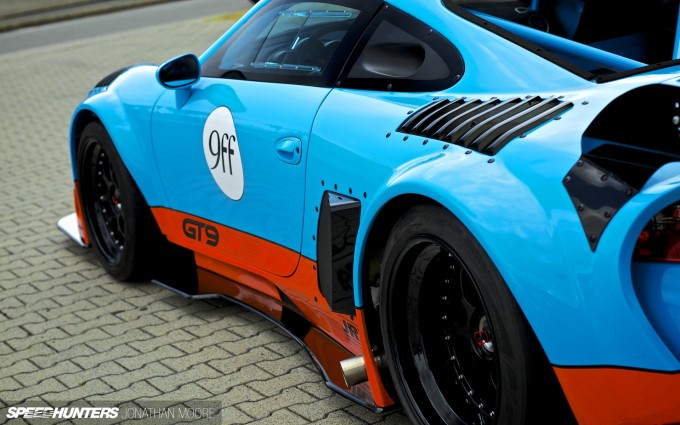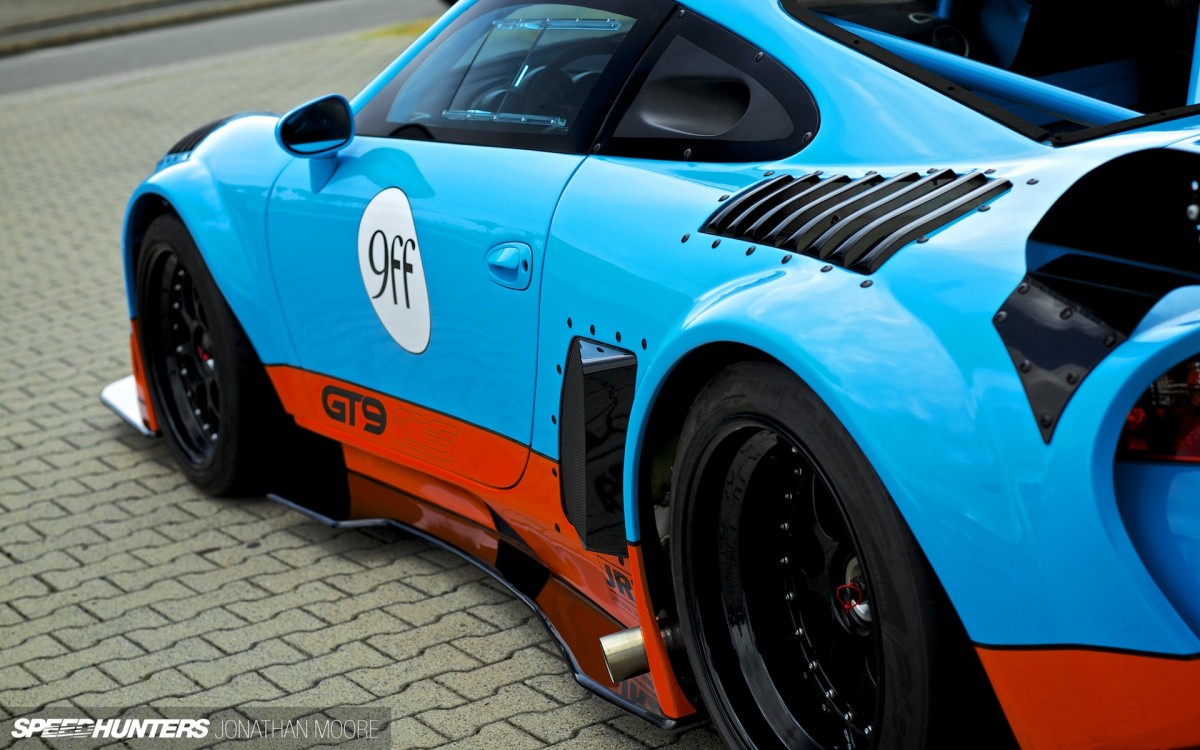 The CS then starts to reel back that flat-out shape and moulds it to something more suited for the track with RSR-inspired wider arches, arch louvres, a sleek rear wing, and cut-out running-board style skirts. The rear three quarter windows are replaced with intakes to feed the turbos.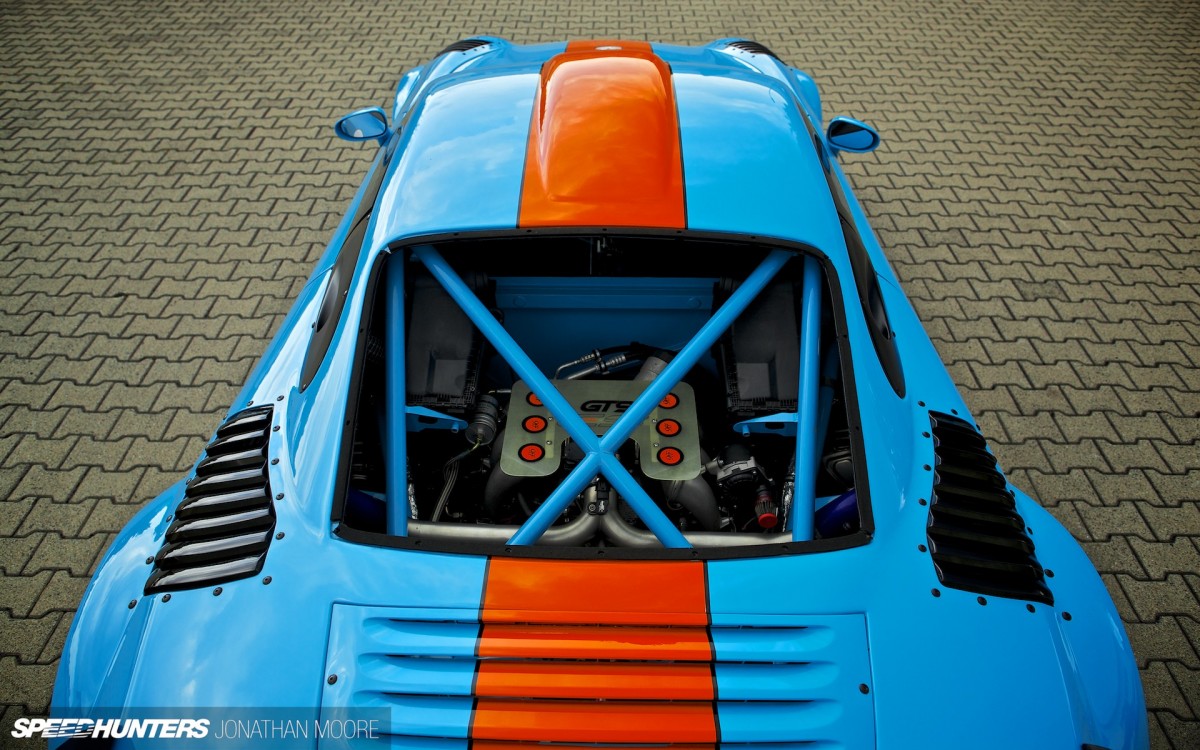 The one-piece carbon fibre bodywork is draped over a custom 9ff tubeframe chassis. The engine is now mid-mounted, while also lying as far down as possible to lower the centre of gravity. It's actually hard work to see any engine inside at all when you peer through the rear window – if you can even reach it past the huge arches that is!
All Is Revealed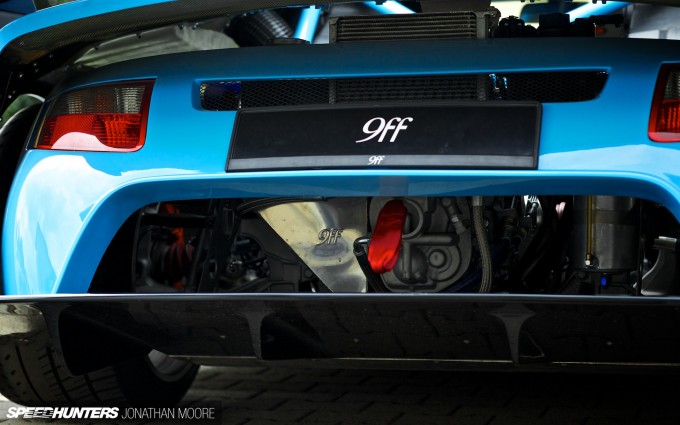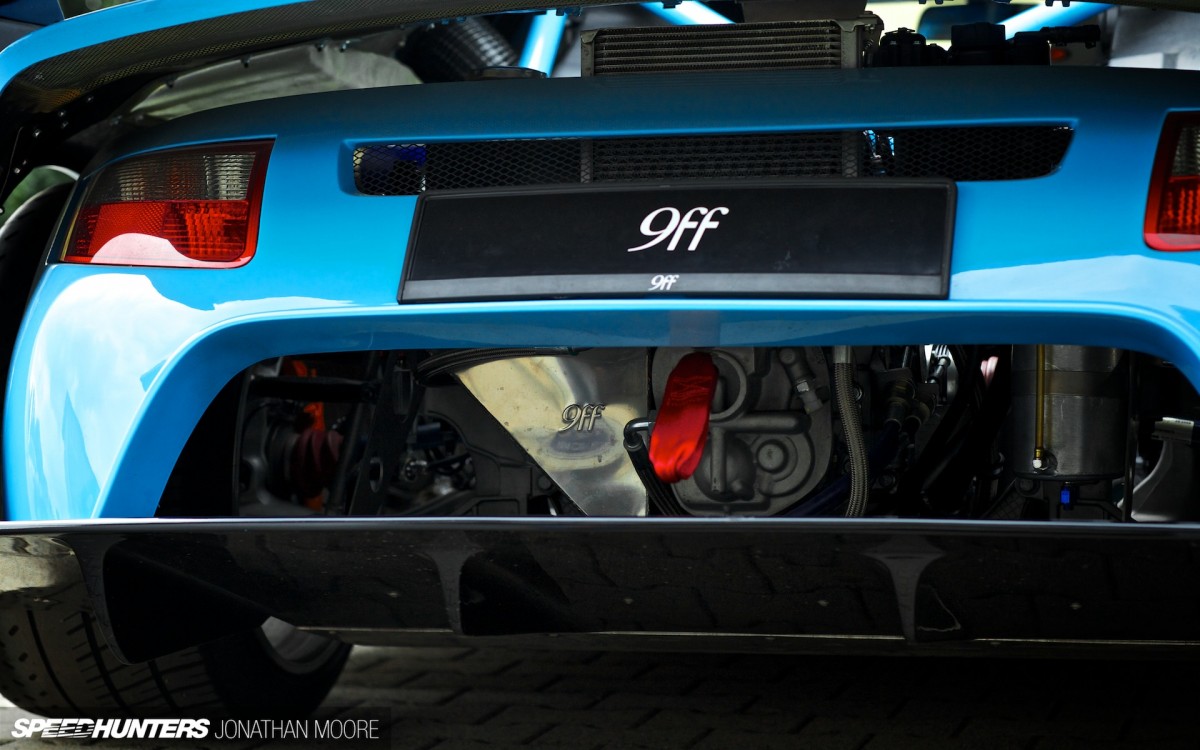 The 3.6-litre boxer motor is, as you'd expect, extensively modified. There's forged pistons, titanium conrods, and a lightened and balanced knife-edge crankshaft sitting in a modified crank case. Up top, custom 9ff camshafts, cylinder heads, fuelling system, intake/exhaust manifolds, twin VGT-750R turbos and a whole heap of other top-notch parts finish the job off to wonderful effect. The result is a colossal 750hp on tap to the rear wheels. If you've read my 9ff shop tour post, you'll know that the company regularly outputs cars with much more power, but remember that this is designed as a track car.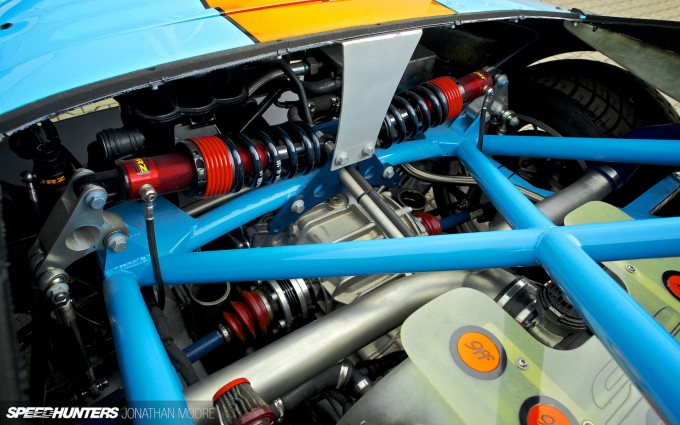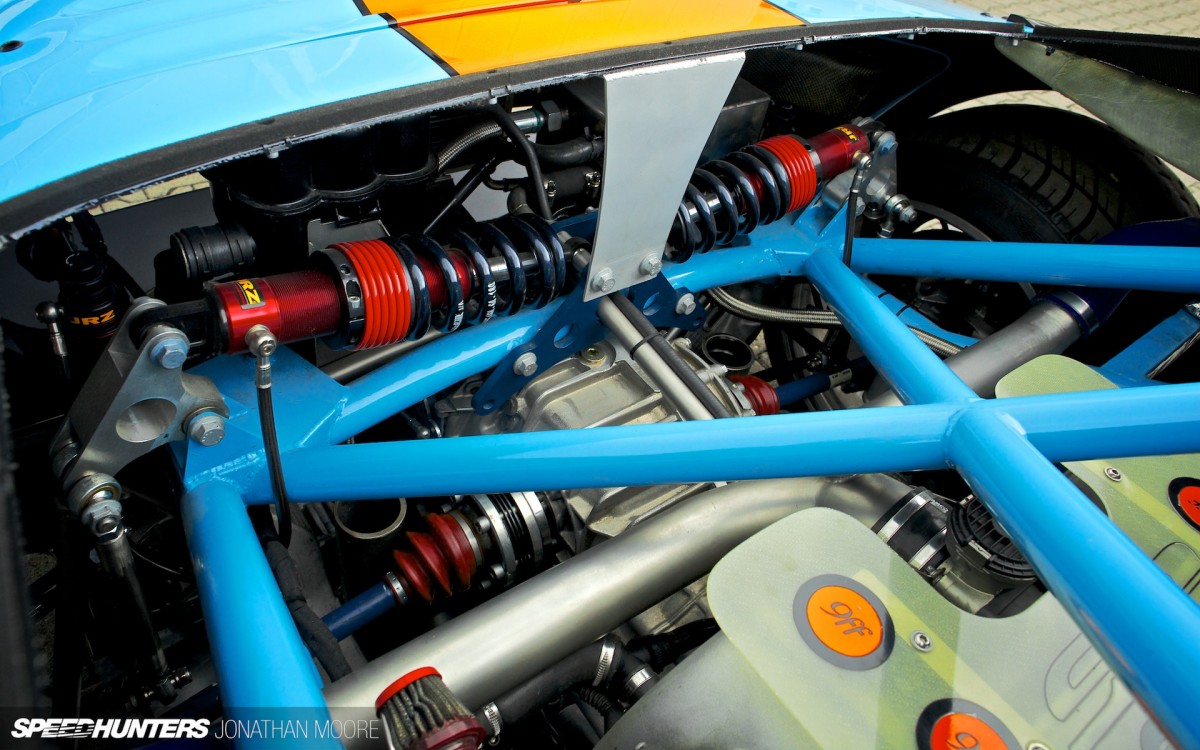 What is much easier to spot in the rear is the push-rod suspension set-up, courtesy of JRZ Suspension. At the front there's a more standard McPherson set-up, and the shocks are three-way adjustable all round with 60mm double coilover racing springs. There's also solid aluminium top mounts, special RSR arms and a four-way adjustable front and rear anti-roll bar, all helping to keep the CS glued to the tarmac.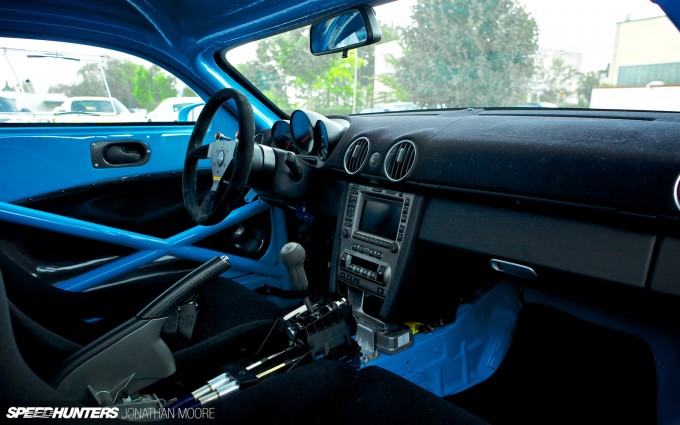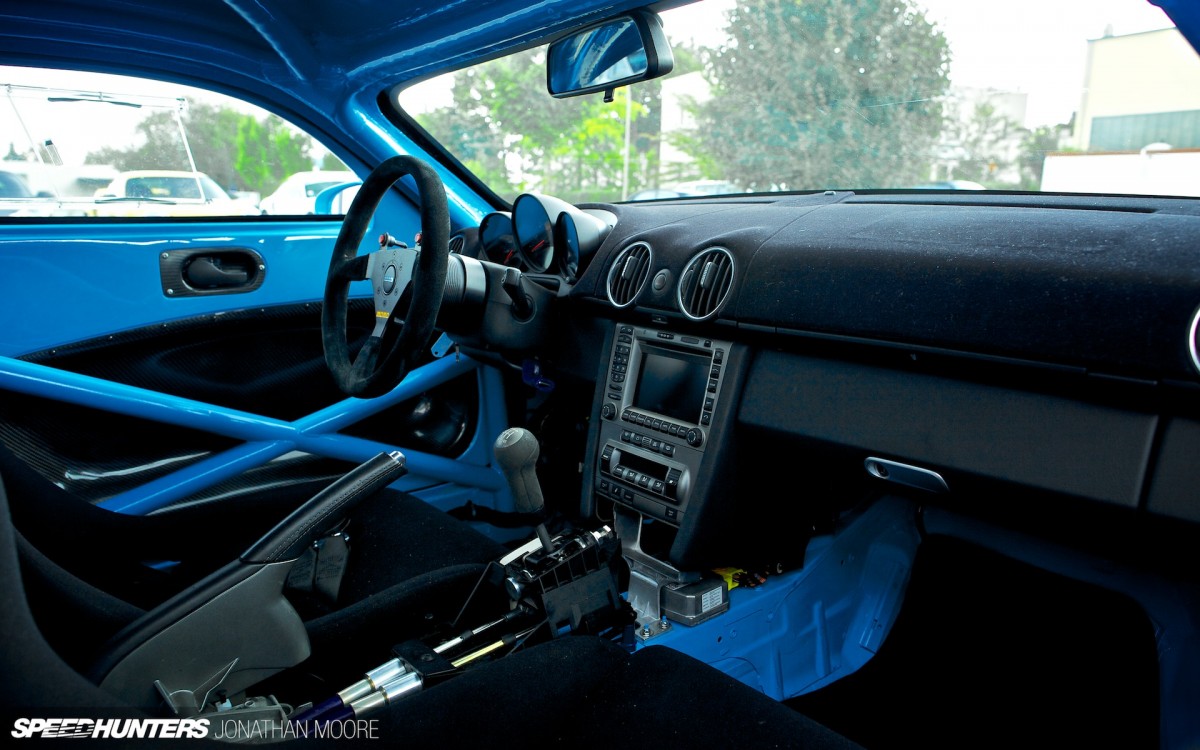 Inside, things look almost sane. The integrated roll cage with door bars is set off by sleek carbon fibre door panels. Both driver and passenger are held in place by custom 9ff/Recaro lightweight racing seats and harnesses, and the weight reducing continues through to the Makrolon acrylic glass windows.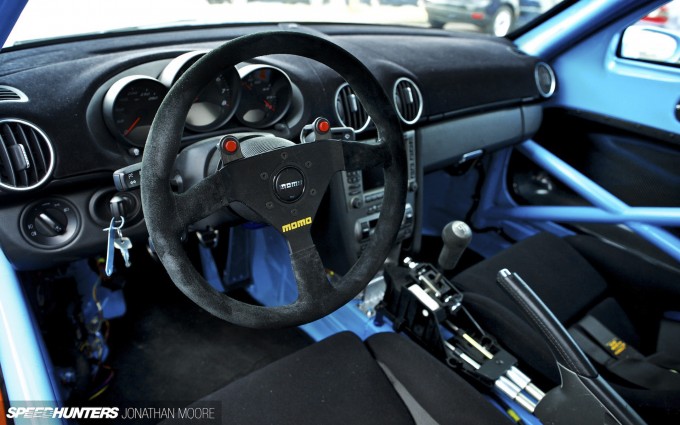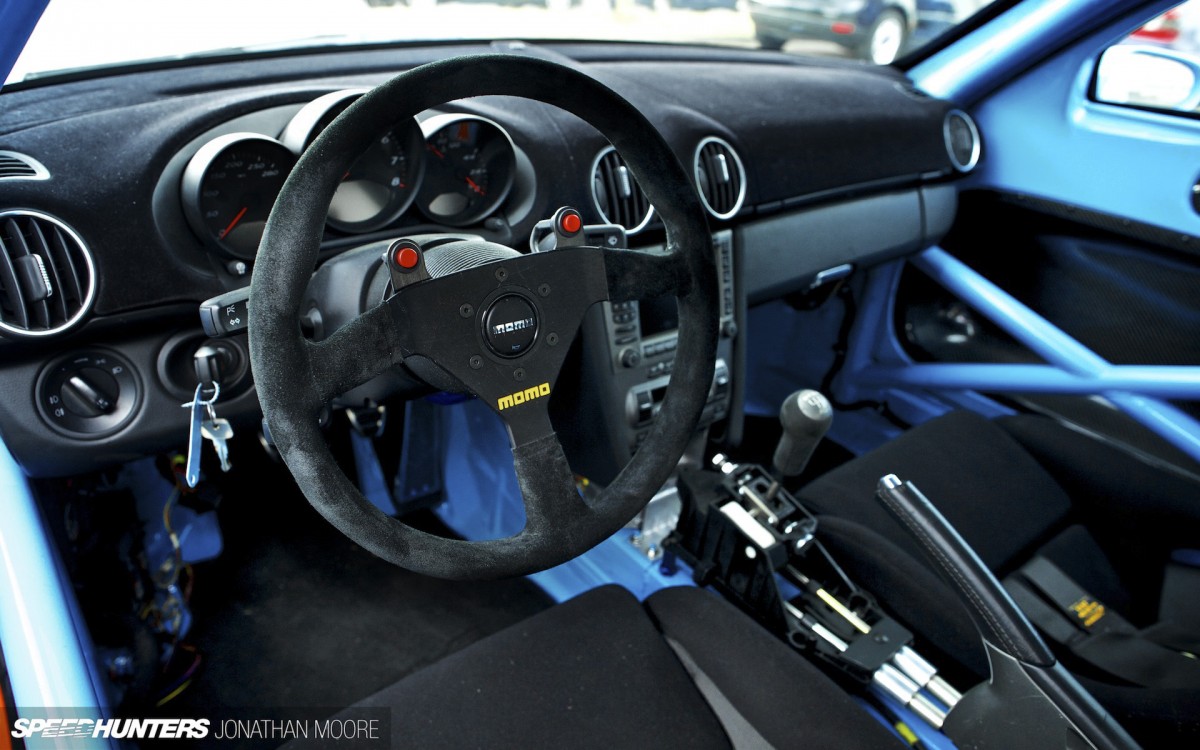 A modified Cayman/Boxster dash sits in place – flocked of course to eliminate glare. There's even still a radio and satnav in place, although how much of either you'd be able to hear when this is fired up I'm not sure.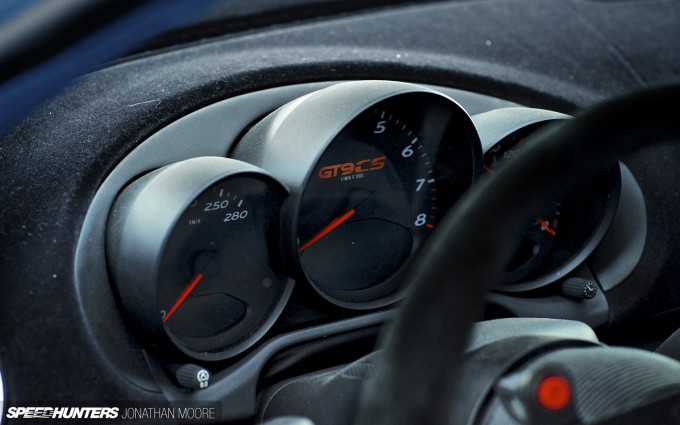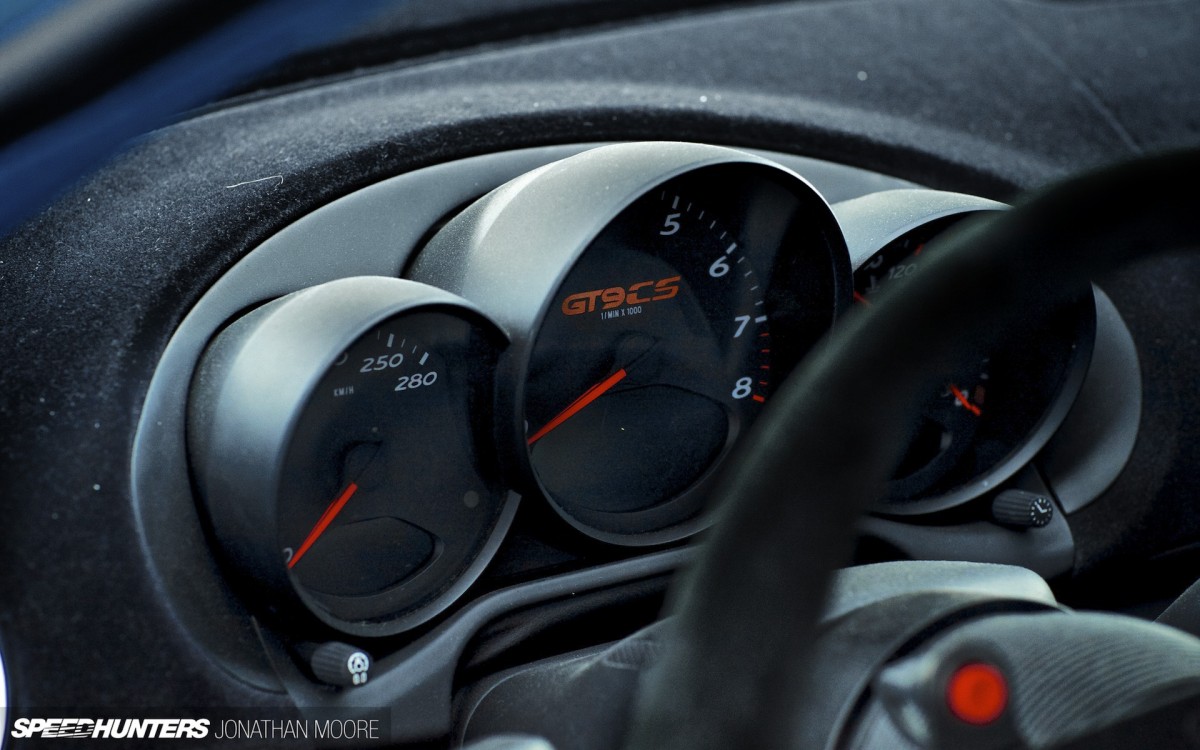 The custom GT9 CS clocks are a small giveaway as to the true nature of the car.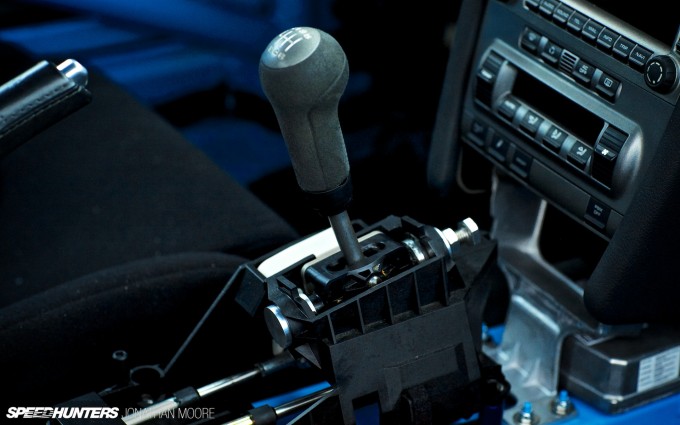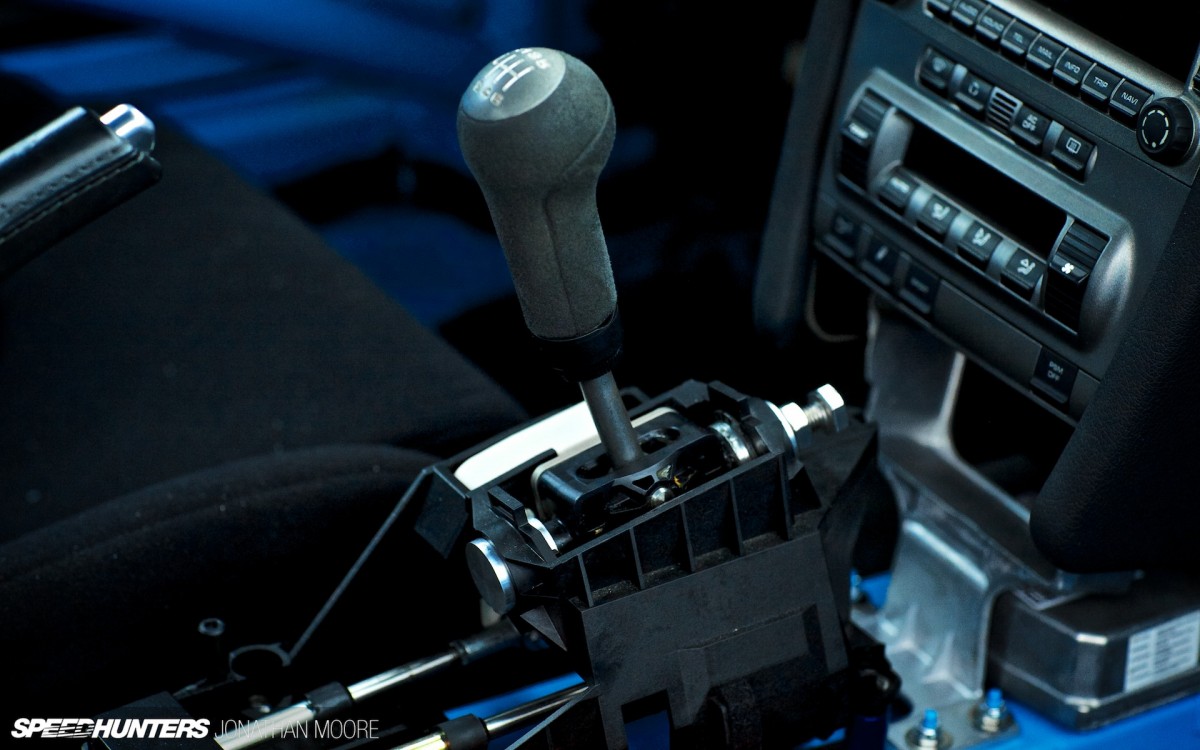 Still running a standard H-pattern, the gearbox lives behind the rear axle and 9ff has replaced the gears itself with a stronger set to prevent any possible issues. This is coupled with an extra-strong limited slip diff, stronger driveshafts, lightened flywheel and custom clutch capable of putting the huge amounts of power down to the rear wheels. To help reduce the shock on the drivetrain when changing gears, a 9ff 'Power Shift' system is installed that allows for flat shifting.
Rolling Stock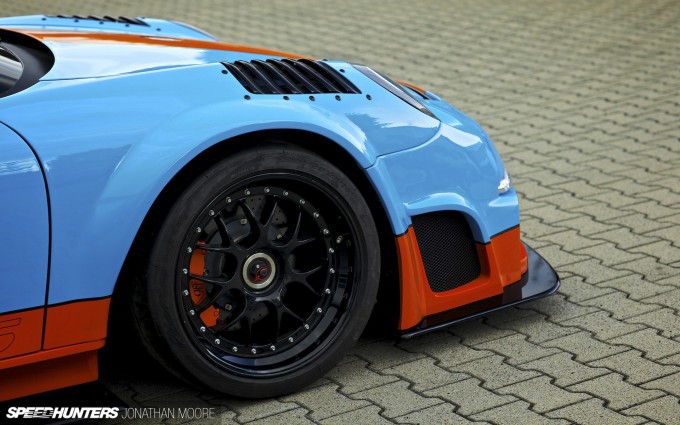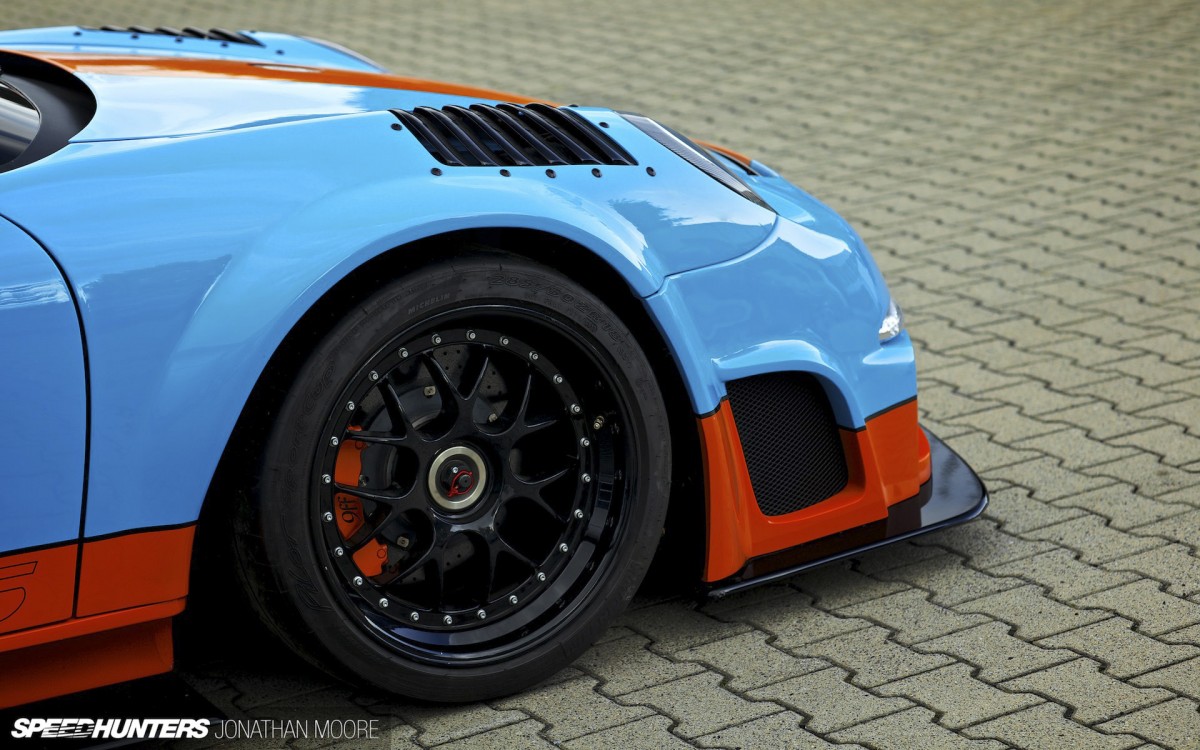 Of course, with all that power, you need to be guaranteed to stop. A full set of ceramic brakes does the job of hauling the car up, with six-pot calipers at the front and four-pot calipers at the rear clamping down on two-piece brake discs with Pagid Sport brake pads. There's also the option to deactivate the PSM (Porsche Stability Management system) should you feel brave.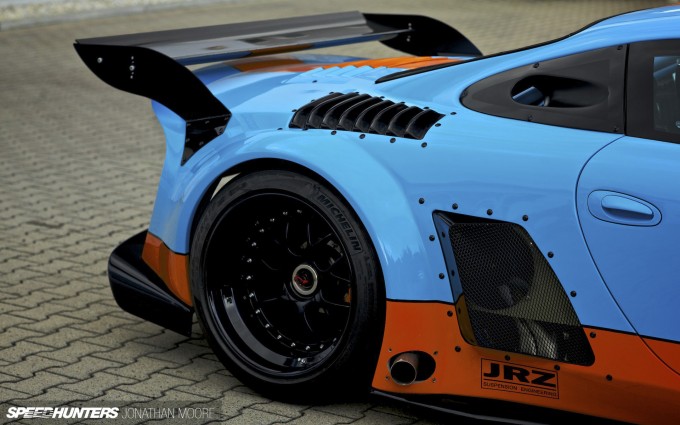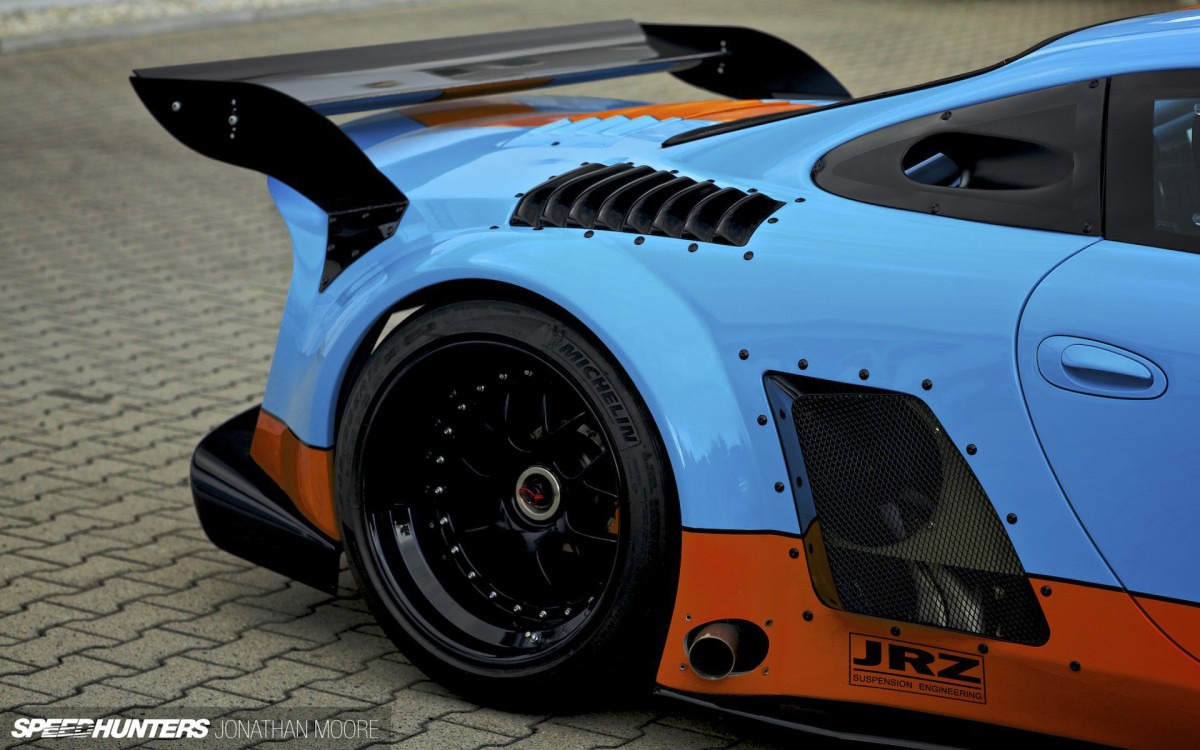 Of course, you can't miss the sculpted carbon fibre rear wing that provides added downforce on the slippery shape of the CS. Nor the stunning 9ff special edition BBS CH wheels: 18×10.5-inch up front and a monstrous 19×13.5-inch at the rear.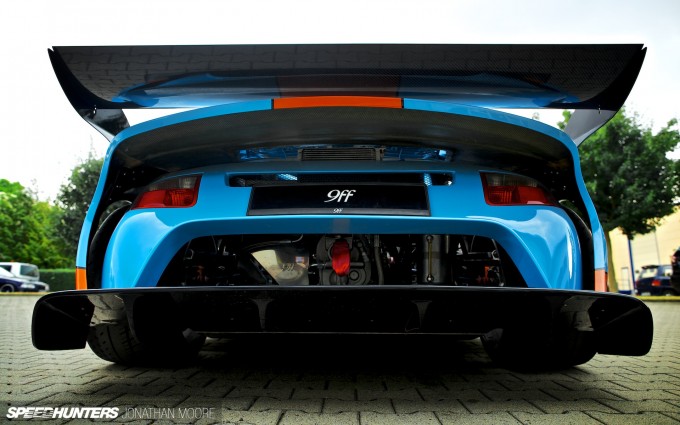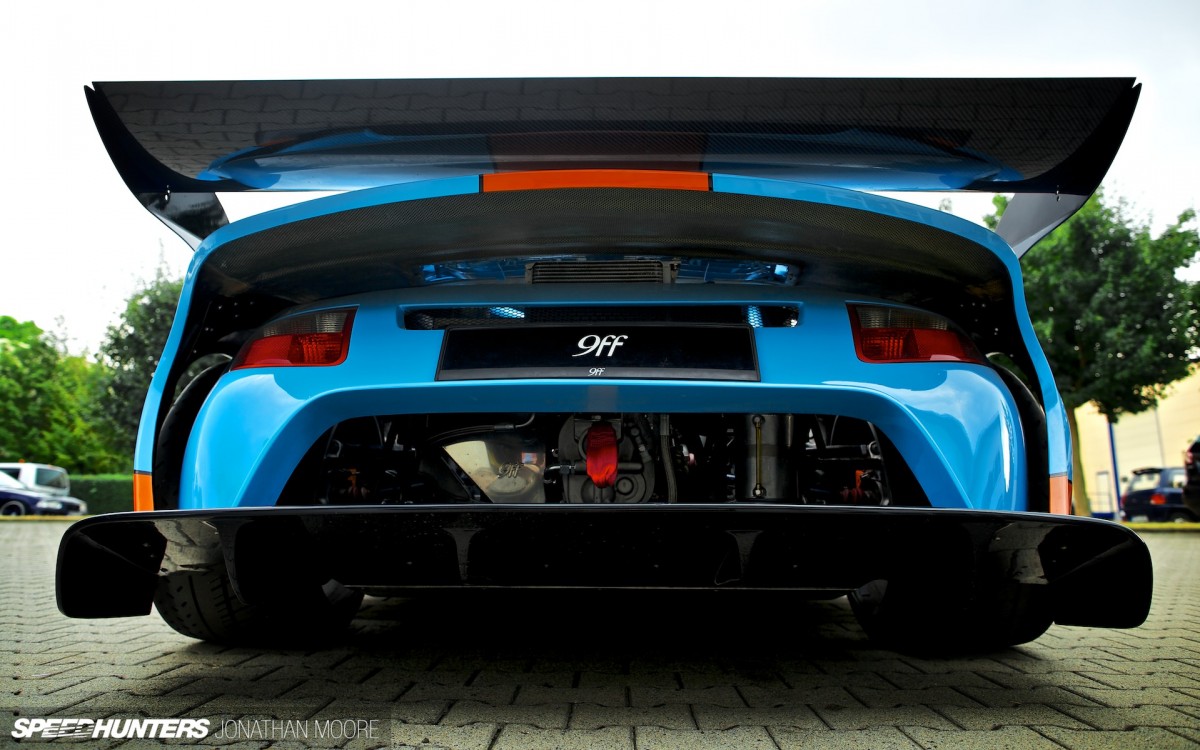 These are shod in sticky Michelin Cup tyres, with the rears sporting a massive 345 width. This car has a serious contact patch! Here you can notice the complete flat bottom with integrated rear diffuser as well: the CS means business.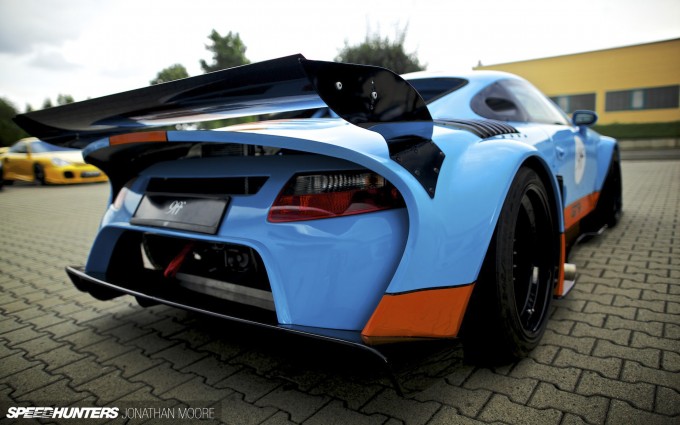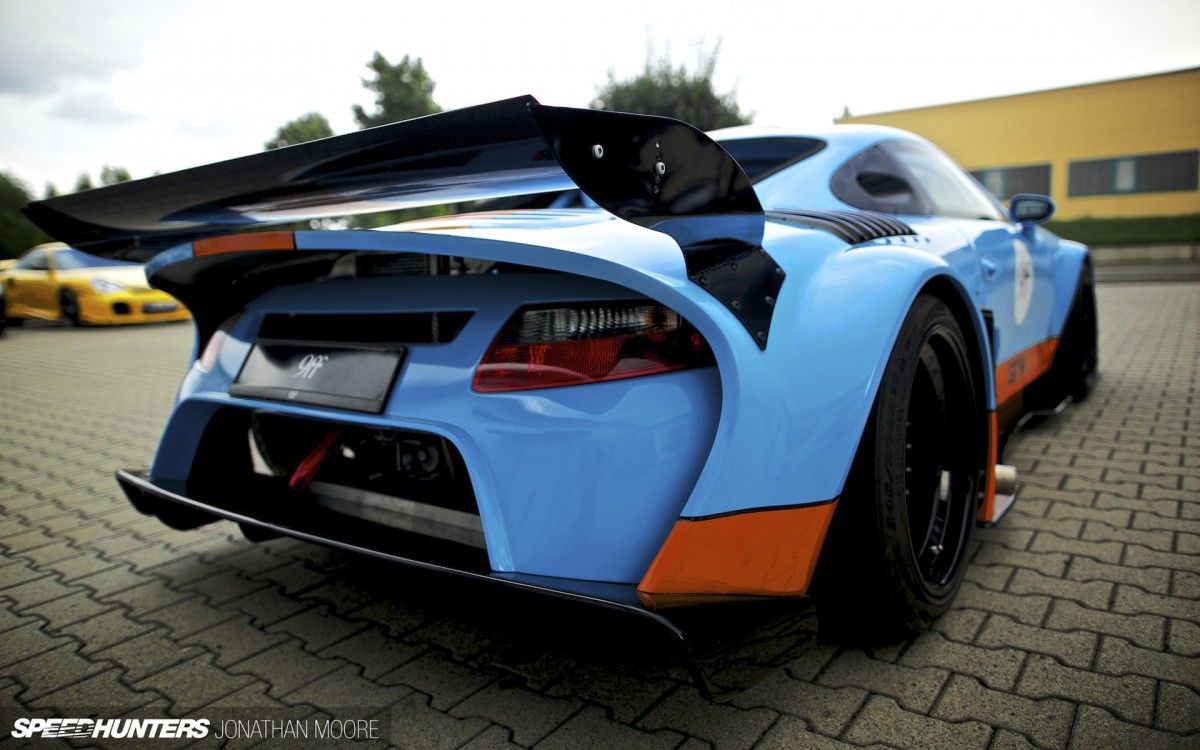 If the rear view reminds you of a GT1, that's purely intentional. As Porsche made a 993 and 996 version of the GT1, but never a 997, this is 9ff's modern-day take on what that version of the Stuttgart supercar might have looked like.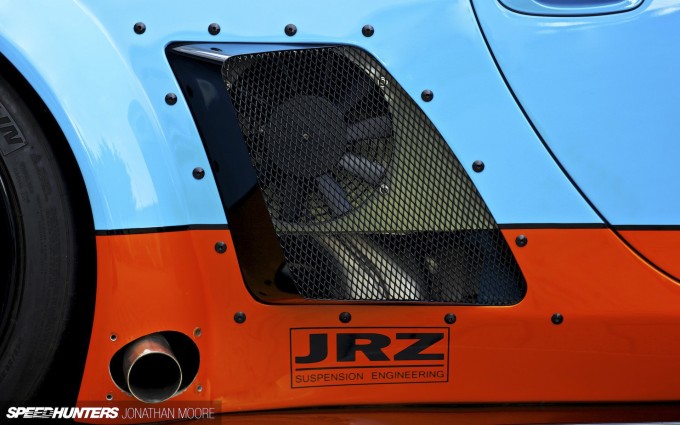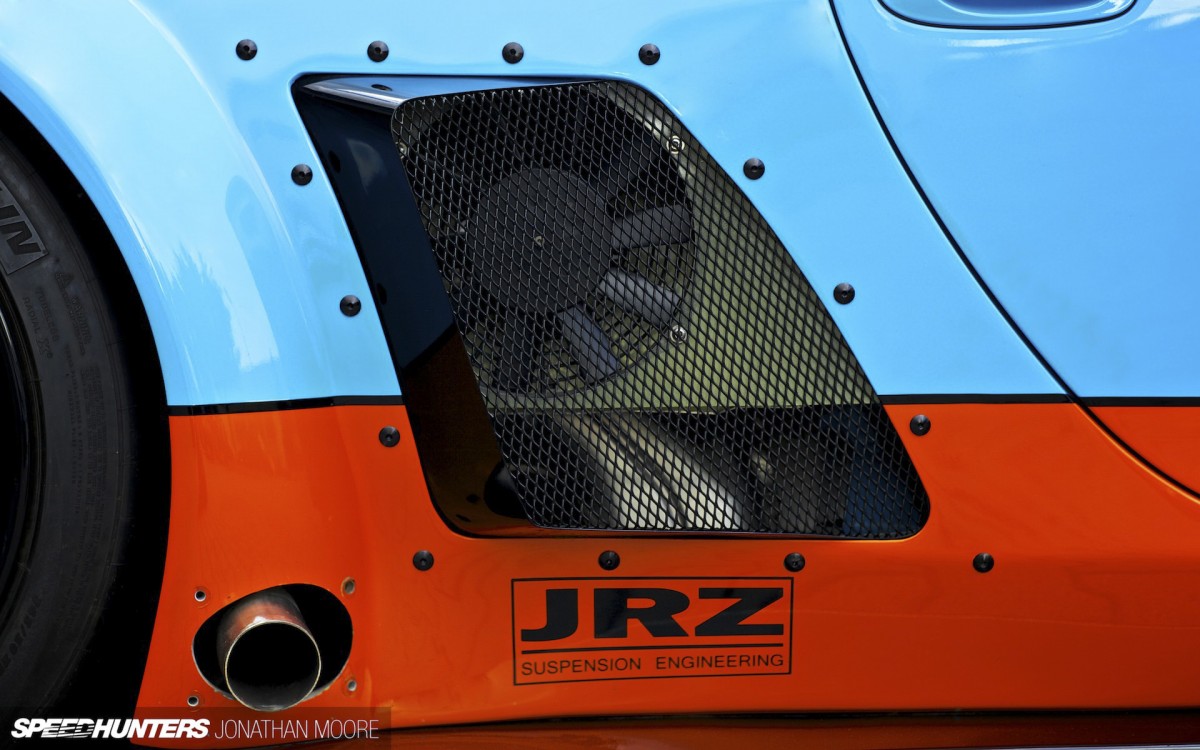 Intakes on the side draw air in to feed the huge radiators. The exhausts currently sticking out of the side are a temporary measure – the car is in the middle of being TÜV tested so that it will be road legal. Yes, that's right – the CS will not only be the ultimate track toy, but able to drive to and from the circuit as well. I think I've just fallen off my seat with excitement.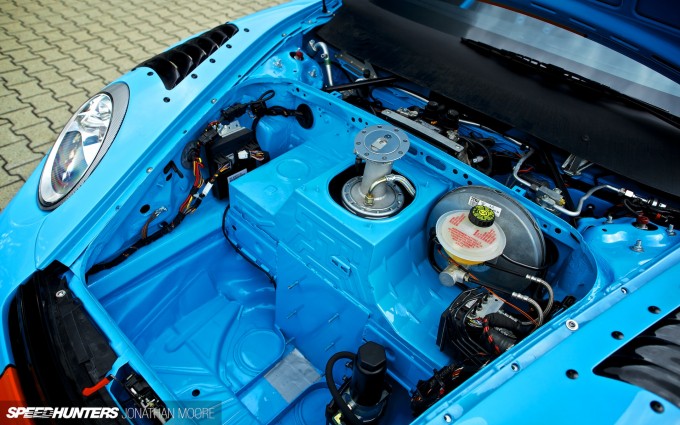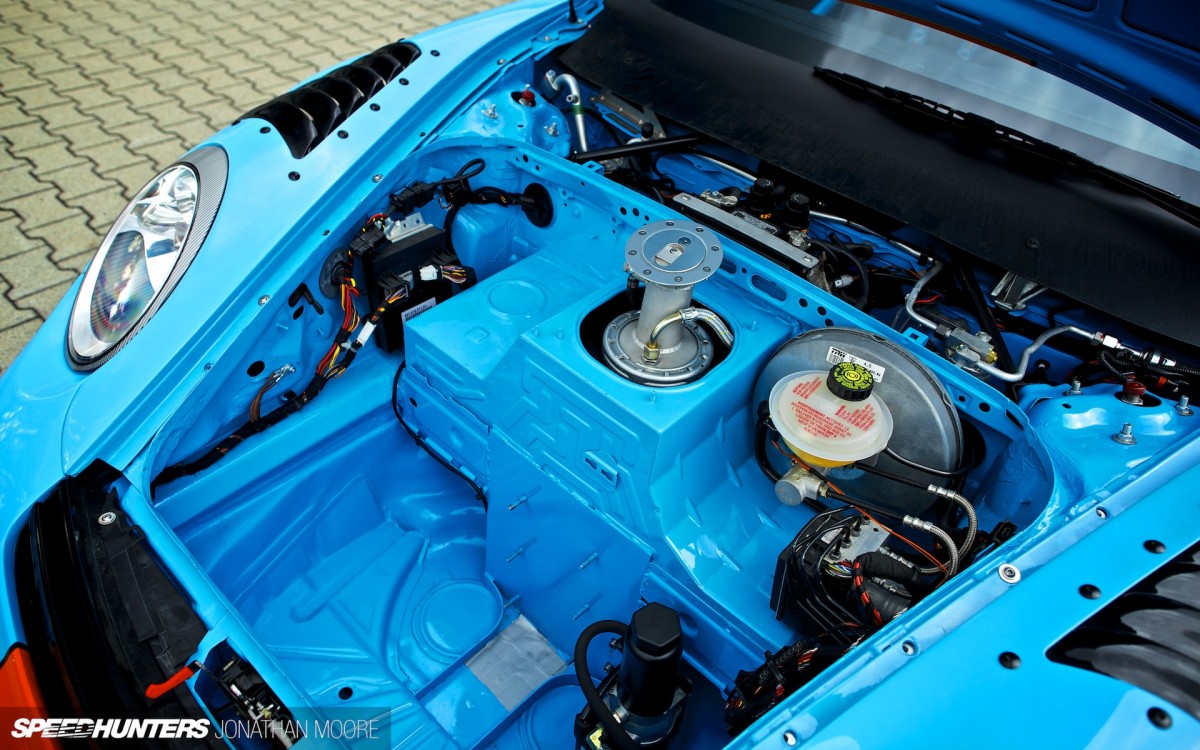 There's even room for your luggage. Sort of.
Conclusion And Specs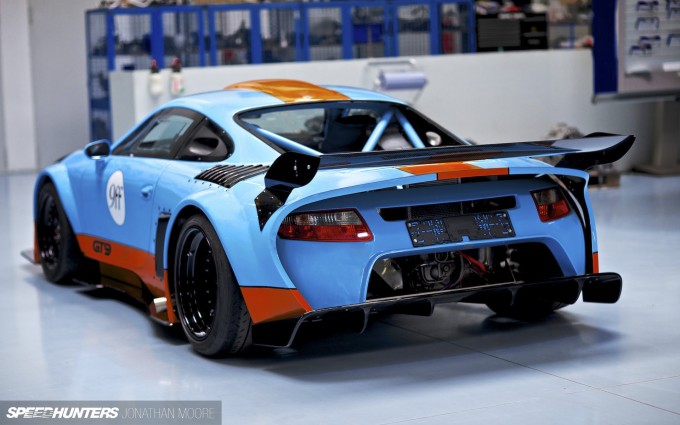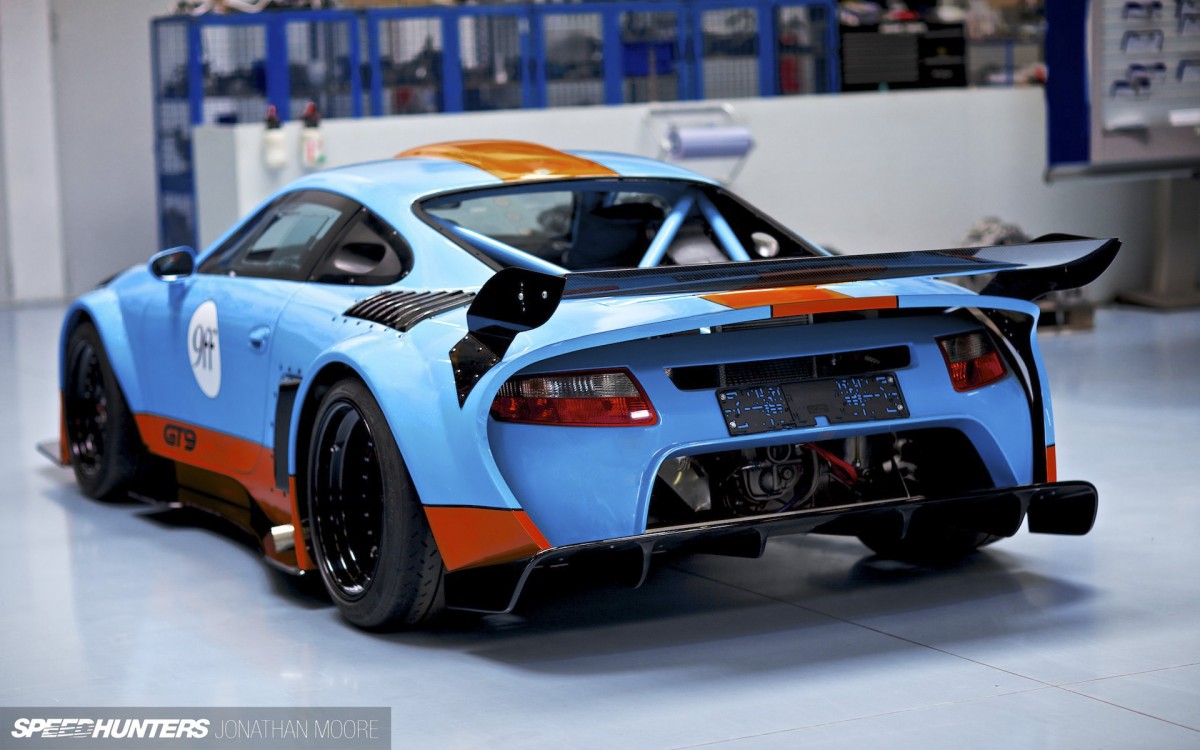 Having spent what was probably by now an inappropriately long time drooling over the CS, it was time to let the 9ff guys wheel it back into the workshop. I've just about regained higher-level brain function by now and my mind has turned to trying to think of a single option I would prefer to have as a road-legal track car.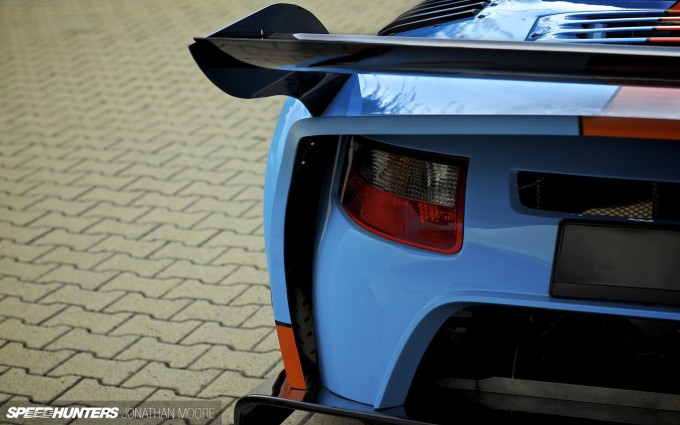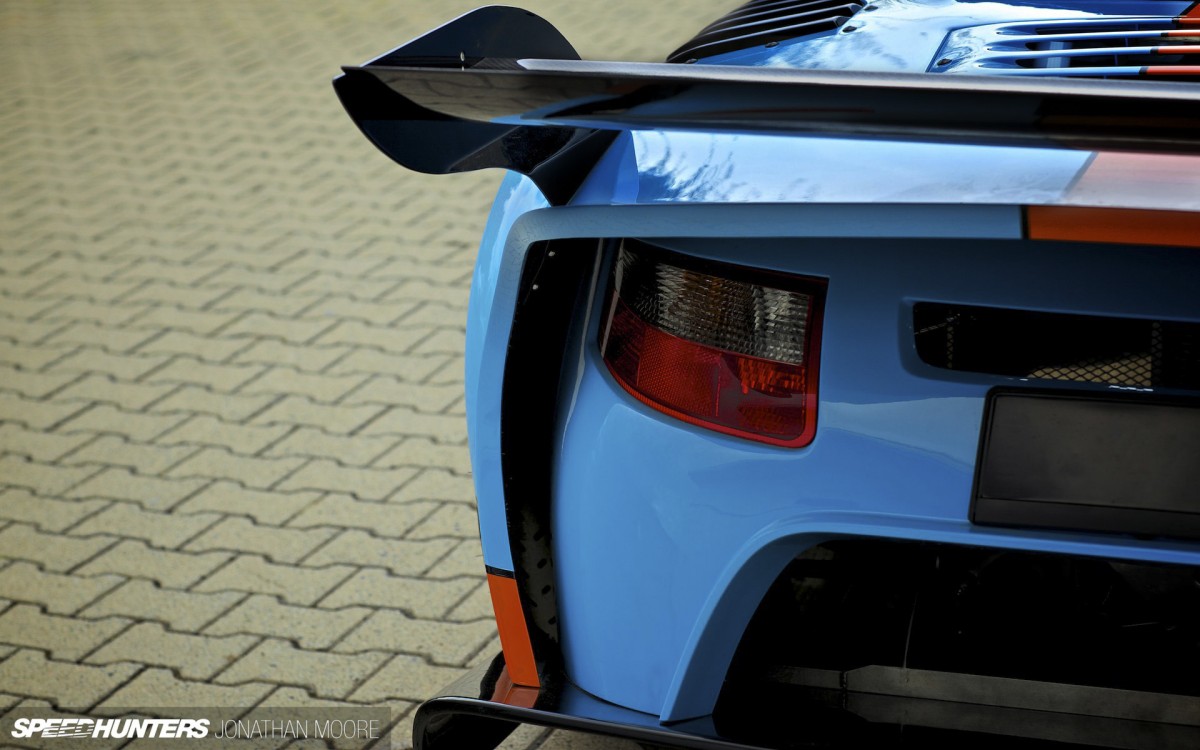 Nope, I'm just about out of candidates. Whilst I have a passion for most cars, I'm also incredibly picky. There's always one little niggle I don't like or would change on just about every car I've laid eyes on. But I'm struggling here. Not only does it just look so damn good from every angle, but every detail, every curvature, every vent, louvre and line seems perfect.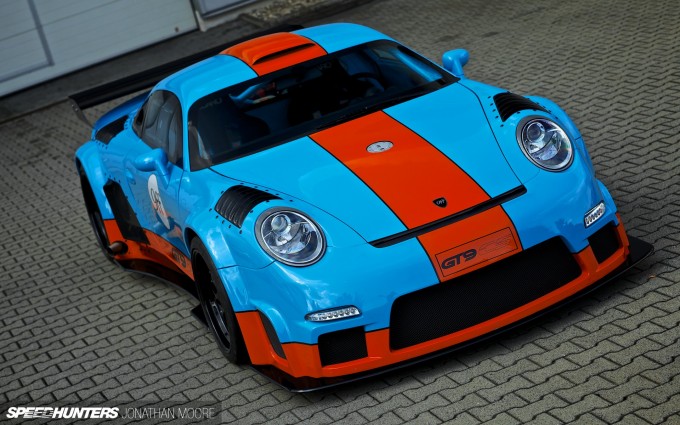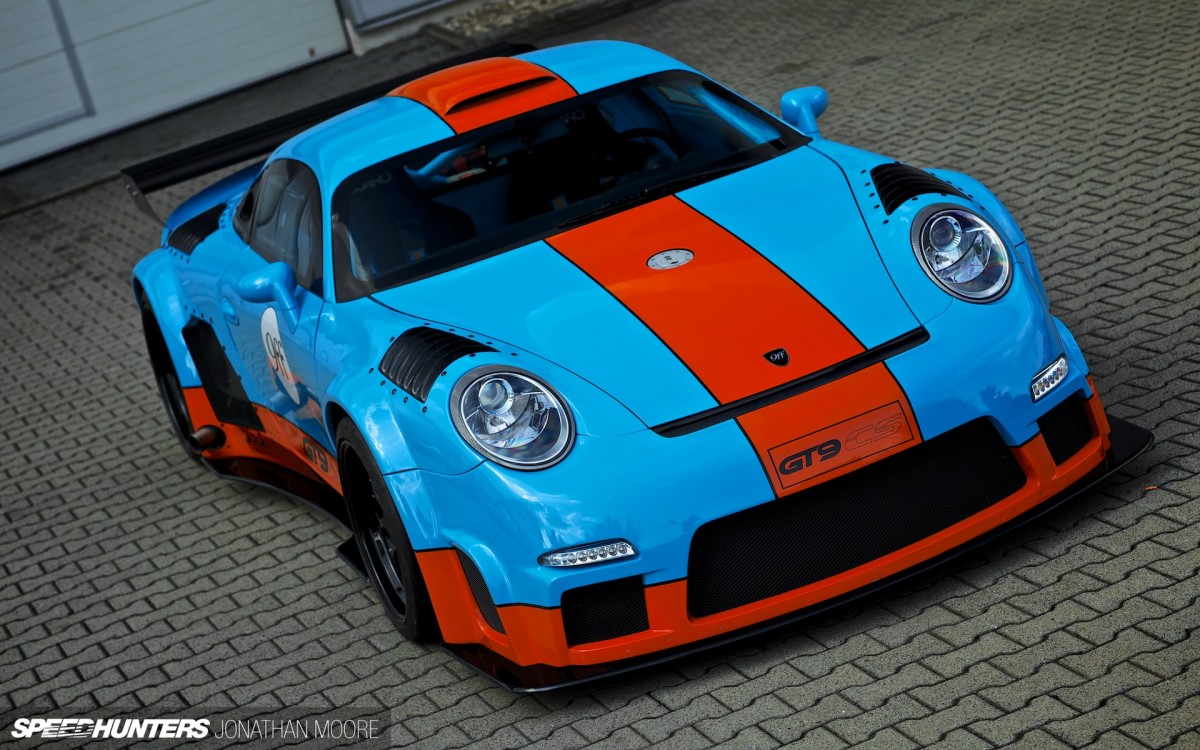 My earlier brain lull is well and truly over. Now it's gone into overdrive. Because there's only one thing I can think of as we drive away. What would I have to do to get this car in my life?