It's always fun to break the rules a little. So when we were lucky enough to get access to not just one but two cars from Aston Martin's line-up recently – a Rapide S in Tokyo and a V12 Vanquish in the UK – we thought it would be a good idea to break the normal Dream Drive story convention and get together to share our thoughts and make comparisons…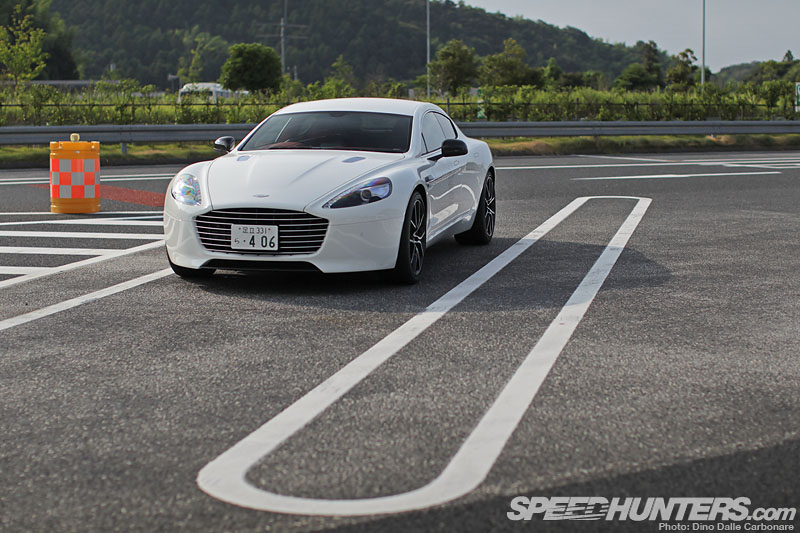 Dino: This was my very first time ever driving an Aston and I picked up the brand new Rapide S in Tokyo. I didn't know quite what to expect because I had no preconceptions and I find that's the best way to approach cars. How about you guys?
Rod: Hmmm, that's an interesting one. I've had an idea of what Aston Martin stands for in my mind and for me it means a sense of taste and class. When you think about exotic cars, often there's a sense of envy. You get any miscellaneous Italian supercar driving down the street and often people will look at that car and have a feeling of irritation towards the owner of that car, right? Especially Italians. *Everyone laughs* But with Aston Martins, I get the feeling  that a lot of people admire those cars and it's a high-end car that seems to elicit responses of respect and joy from others. What do you think Suzy?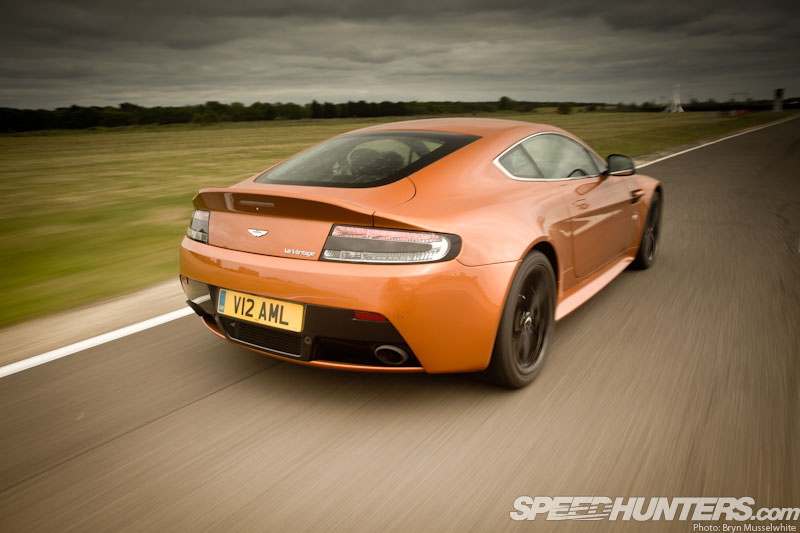 Suzy: I've been a bit spoilt in that I was lucky enough to get to drive the Vanquish a short while before the Vantage so it wasn't the first Aston I've driven recently, but my perception of Aston Martins has always been as the most elegant and beautiful supercars, although I guess traditionally I've always thought of them as a little bit too understated. Driving them has changed my opinion of that though.
Rod: I'd agree with you. I didn't really know what it would be like to drive one. I more had the feeling of what the brand meant from my perspective, so getting behind the wheel of the car was quite interesting.
Rod: What was your first impression when you first sat behind the wheel?
Dino: I had a very big grin as soon as I turned it on. I was in an underground car park underneath the Aston Martin offices and it echoed through the whole car park.
Suzy: Were you perhaps expecting it to be a little bit more reserved, especially because it was a four door?
Dino: Especially so yeah. I thought it was more of a car for the gentleman driver rather than someone who wants a sports car.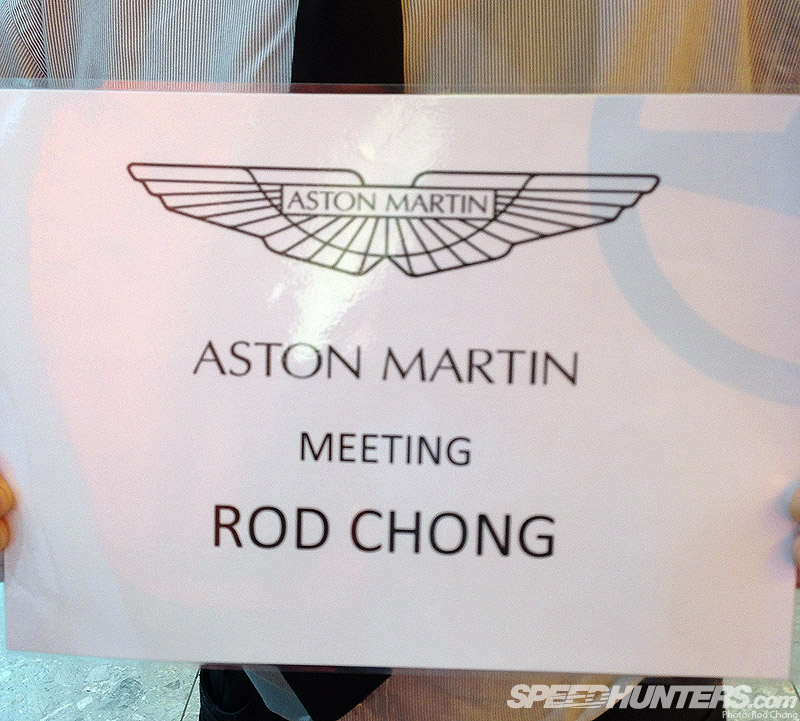 Rod: My experience was quite interesting. We'd arranged for an Aston Martin press car for when we were coming into the UK for the Players Classic Goodwood event. I was flying in from Sweden and I was met at the gate at Heathrow by a gentleman holding a sign with the Aston Martin logo on it with my name underneath. It was the most incredible VIP experience I'd ever had with a press car. We were talking about the car as we were going to fetch it in the car park and he told me it had a six speed stick shift manual transmission and I got very excited when I heard this. I've driven a few supercars – I've driven a McLaren and a Lamborghini and so forth, but I've never driven one of these exotics cars with a manual transmission, so this was very exciting.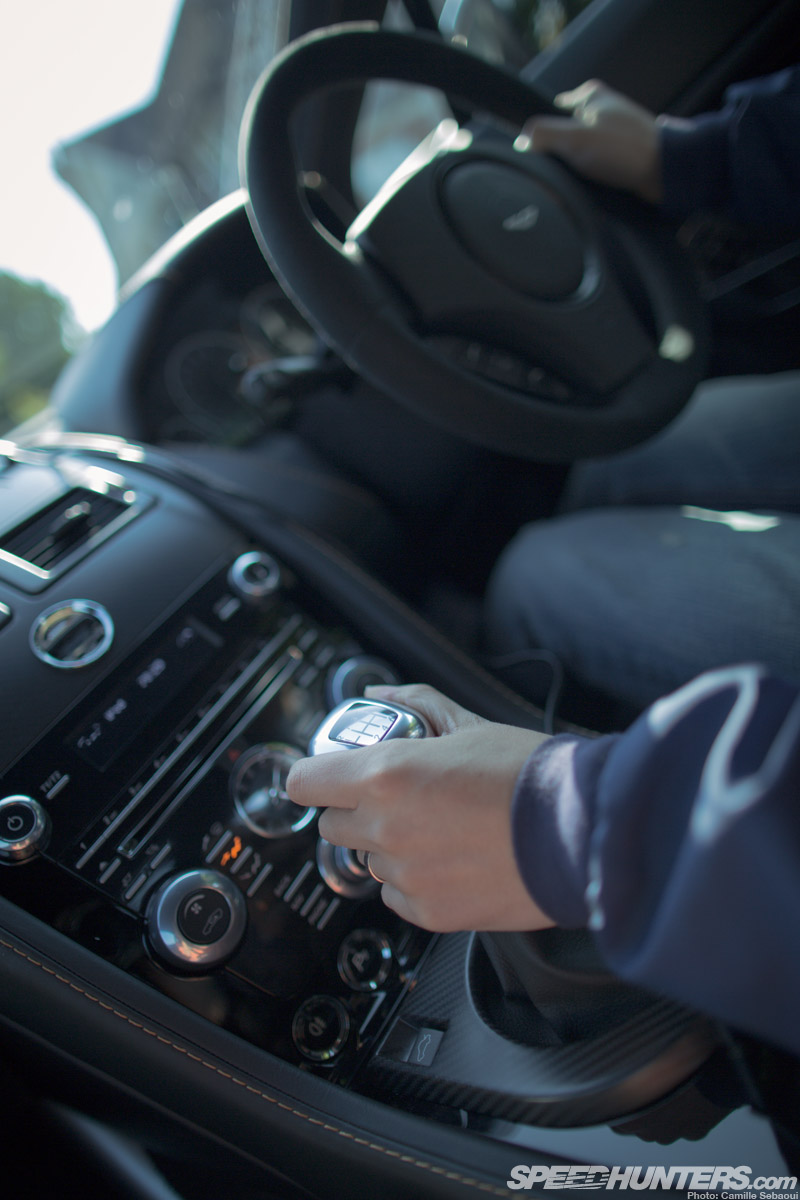 Suzy: I genuinely had no idea that they still did a proper manual. I just assumed that pretty much all supercars were flappy paddle gearboxes now. I was very surprised.
Dino: Yeah, lots of respect to Aston for that for sure. *Everyone agrees*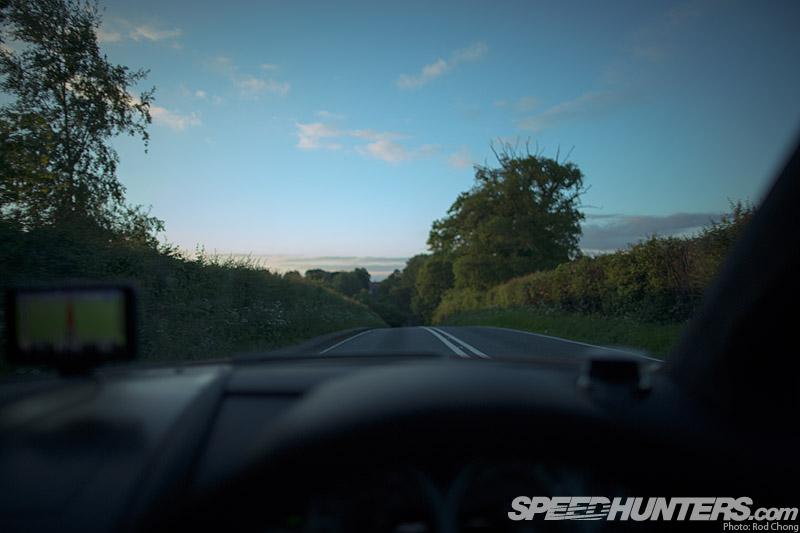 Rod: So driving this car – it almost felt like a retro idea of what a high performance car should be. It felt very mechanical – it didn't feel like there were computers involved in the mix.  The Aston Martin didn't feel like it was filtering my driving inputs as is often the case with modern high-performance cars do. The Aston, because you're directly involved with the experience of controlling it, you have to really think about what you're doing as you pilot it up through the gears. I found I had to work at making the gear shifts smooth.
Dino: It's definitely more analogue compared to what's normally found these days.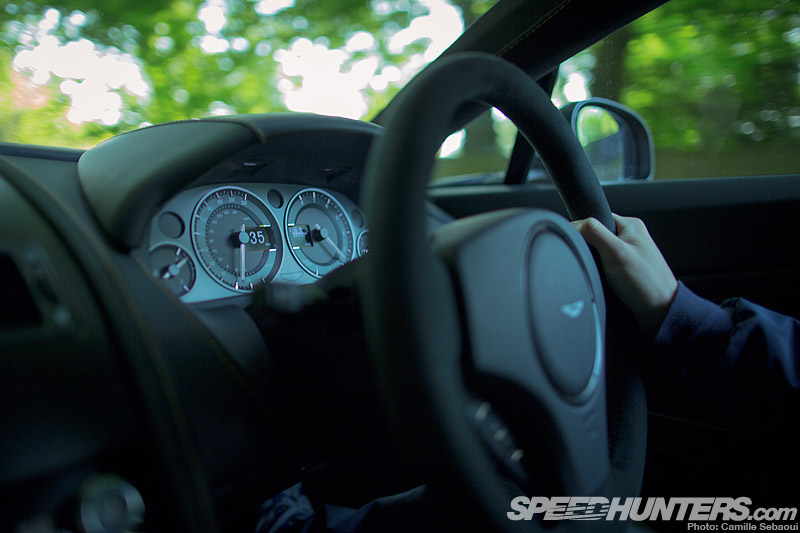 Rod: How did you find it Suzy? Since we both drove the V12 Vantage.
Suzy: Really, really nice. I was pleasantly surprised. A bit nervous at first as I think you always are when you're driving such an expensive car, but it's such an enjoyable driving experience as well and I soon felt quite at home. A very satisfying car to drive. And thanks to all that power and torque it was easily possible to spin the rears up which kept you on your toes, especially with a manual box.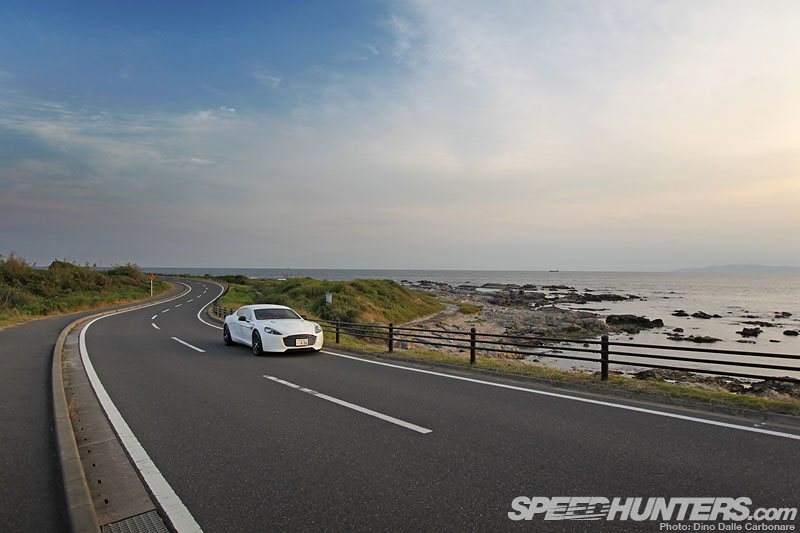 Dino: The Rapide wasn't THAT exciting! With the 6-speed automatic, it gets from A to B very quickly and without drama. You still have that kind of analogue feel from the engine because it's kind of old school in the way it feels. It's a very linear power delivery with pretty linear torque as well. It was a good fusion of elegance and performance and everything you would expect in a car like that. At least with the Rapide, there was no drama in the performance.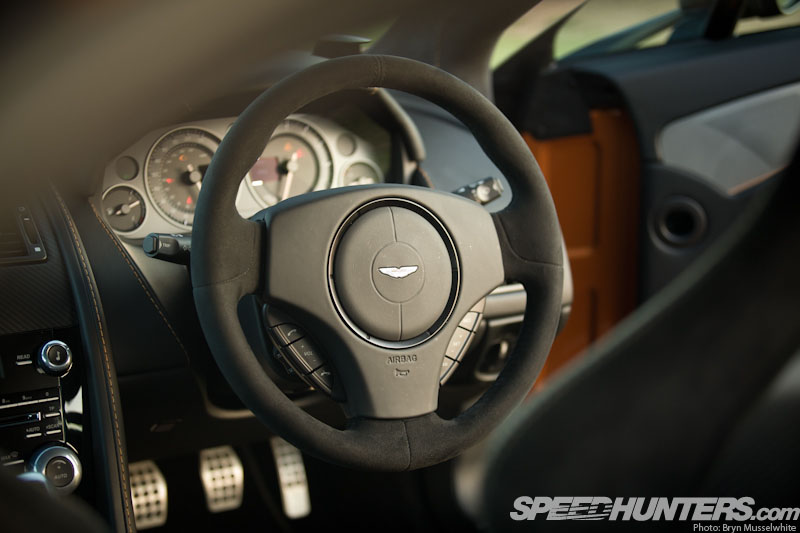 Rod: I find, from a design perspective, when you're in the interior of this car, there's a certain feeling of modernity, but also a real sense of dexterity with the materials. The surfaces that your hands are touching, any button, everything around you – the stitching, the leather, the steering wheel – there's so much attention to detail. There's a real elegance to the design. I find some hypercars are so worried about presenting futuristic design to you that they feel almost chintzy with their science-fiction displays and space ship buttons. Here you have pure functionality with a real attention to detail. Even the weight of the key and the way that you put it into the dashboard, everything's so beautifully crafted, that it feels like a bespoke machine.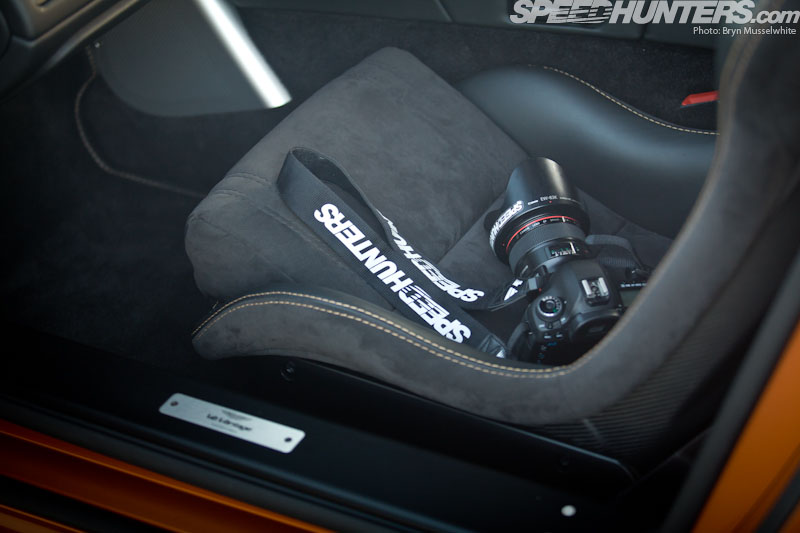 Suzy: I have to say that the interior of the Vantage is one of the nicest I've ever been in. It was a perfect blend of a sports car with a bit of luxury but done with real taste. Even the way you operate the sat nav is very easy to pick up, all the buttons are in the right place and you don't struggle to find anything but the actual quality of the upholstery – the seats with their combination of alcantara, leather, carbon-fibre and the stitching, was just exquisite.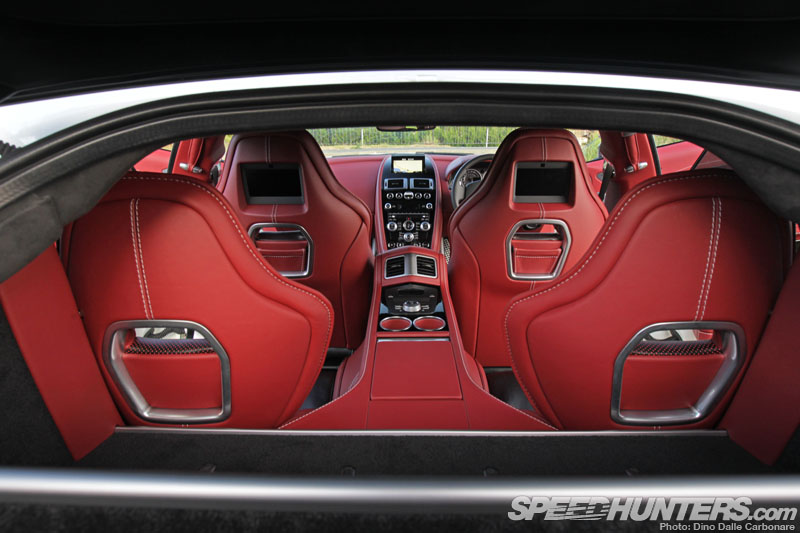 Dino: I have to say the same for the Rapide S. The way they combine the sports seats, with the 2+2 in the back – individual bucket seats in the rear is incredible.
Rod:  The designers at Aston really know what their brand means.
Dino: Yeah, absolutely, I'd agree with that. Although I have to say, at least for the automatic, I don't like the buttons for the transmission on the centre console – they're really high. And the way you press the key inside – you have the PTR or whatever, I didn't like that too much. It's confusing. I guess if you drive it every day you get used to it.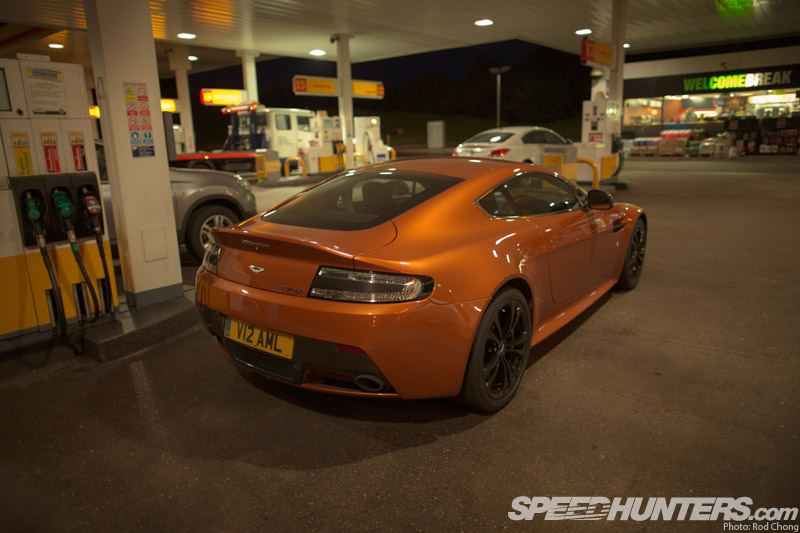 Suzy: I should just point out the one bit that was a bit confusing though. When I returned home from Snetterton with the car, I went to fill the tank up and pulled into the petrol garage. Firstly on the wrong side so had to reverse out with the man at the till looking at me like I'd just stolen an Aston Martin. As let's face it, I don't look like the typical person who's going to be getting out of one – jeans, trainers, hoody, half-red hair. Then it must have taken me 15 minutes to find the fuel filler cap release. *Everyone laughs* I ended up ringing a friend, who suggested, very sensibly, that the manual might be in the glovebox, which it was so I got it out, found the instructions and it still took me another five minutes to find where it was! Because the diagram – and this still confuses me – has it on the left-hand side. So I was literally down on my hands and knees looking – there's only two foot that it can be in! Then I realised that the diagram is for a left-hand drive car, so the release was actually on the right-hand side. Despite being in a right-hand drive car from a UK manufacturer. I was a bit confused at that.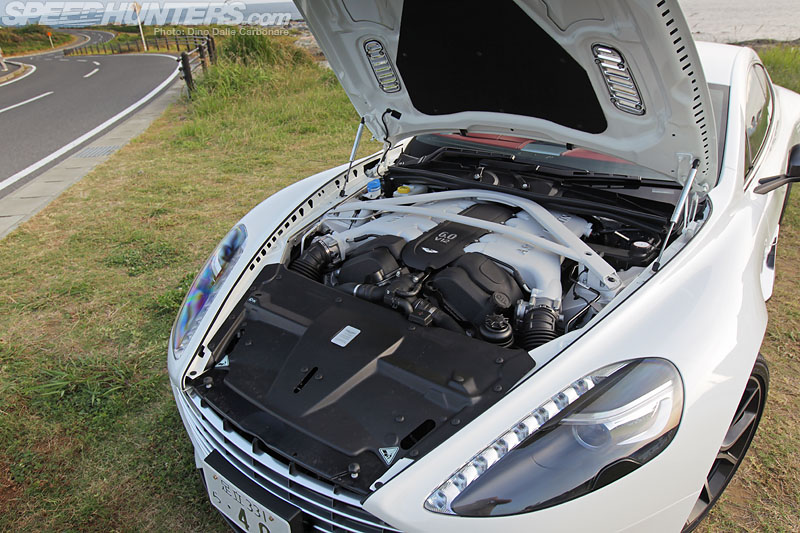 Rod: The guy that gave me the car gave me very specific instructions on where to find it.
Suzy: Lucky you. It's really tucked away, even when you're looking for it. I was literally kneeling on the floor with my head in the footwell. The guy in the garage must have thought I was insane.
Dino: Did you guys have a problem opening the bonnet?
Rod: No.
Dino: It took me about 15 minutes to find that the latch was on the passenger side. *Everyone laughs* I had to call the Aston Martin girl. She had to ask someone else where it was and then she called me back.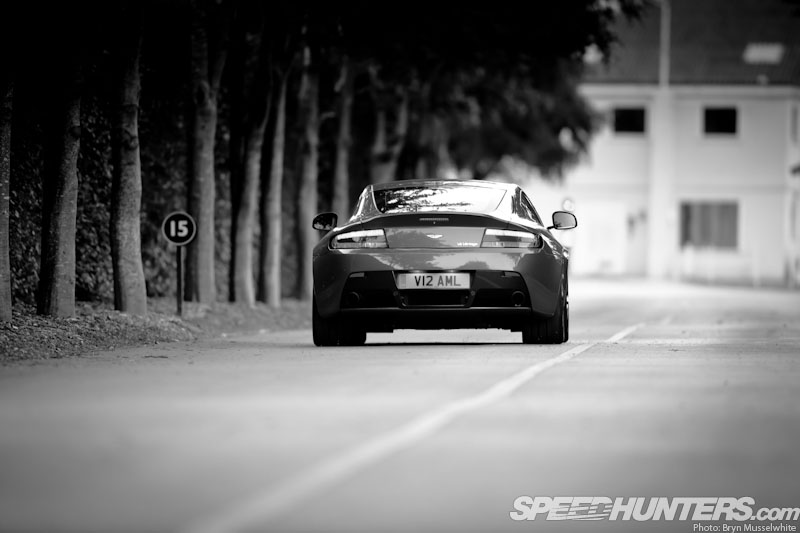 Dino: I can't say that I've driven a car that fuses elegance, performance and outright character before, as much as the Aston. Was the Vantage the same?
Rod: What's interesting about the V12 Vantage is that it's a relatively small car with a relatively big engine. Normally with a high-performance car, a bigger engine comes in a bigger chassis. If you take the Lamborghini Aventador for example, it's actually quite a big car, so that gave it quite a powerful character – it felt like a little rocket ship. Very brutal in many ways, although still with a sense of sophistication. Here you have something that's quite aggressive yet on the surface is very refined. And I have to say that engine note is incredible.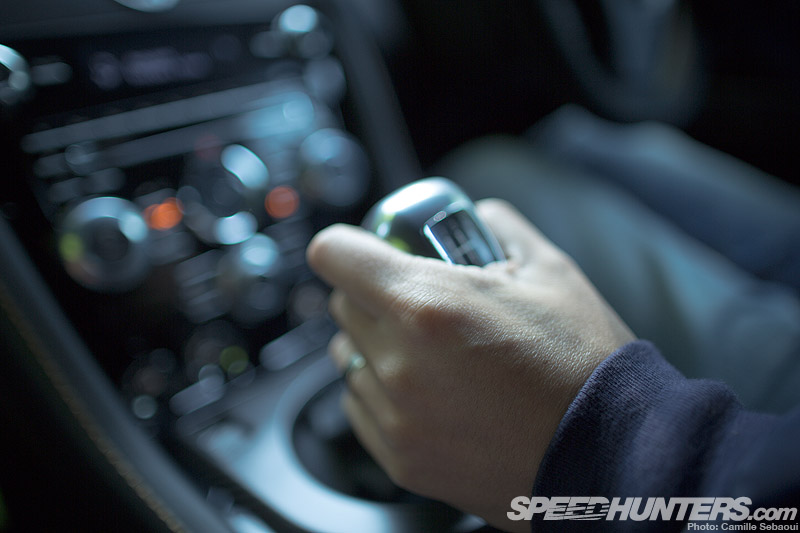 Dino: Did you find the actual handling front-heavy for such a big engined car?
Rod: You had to be careful how you laid down the power with this car. Once you leave the motorway in the UK, you're faced with a lot of roundabouts and dual carriageways – as you're bringing the car back up to speed, you have to be careful when you're going to do that. So if the car is still cornering and you put too much throttle on, the back end can get a little bit loose. But I almost like that sense that you had to be careful how you pilot this thing. With other high-performance cars I've driven, you don't really have to think about that very much – the car does all the work , you just mash the throttle and it does the rest. I enjoy that the Aston Martin made you think a little bit.
Suzy: Because it's a smaller car, I think it actually copes with it pretty well. It's quite easy to spin the rears with the manual, but in roundabouts it felt so flat and it was such a pleasure to drive round corners. If it was front-heavy, it certainly didn't seem to hamper it – it felt great to drive.
Dino: Well let's talk about the actual drive since this is a Dream Drive. I took it to the tip of the Chiba peninsula which is on the outermost edge of Tokyo Bay and I left mid-afternoon and wanted to get there before the sun set so I could get nice light for the shots. Where did you guys take your car?
Rod: We both drove the Vantage at different times. My drive was picking the car up at Heathrow airport, then going round the M25 in traffic which was a nice way to get acclimatised to just being in the car.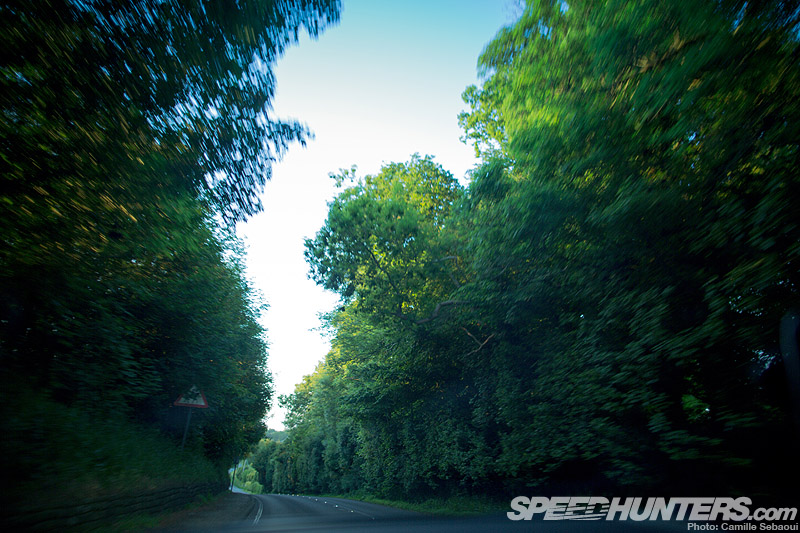 Rod: I was going to Goodwood Circuit. I don't think the roads that you use to get from the motorway to Goodwood are necessarily famous, but to me as a foreigner, I find driving in the UK – as long as it's not in heavy traffic – on the country lanes, wonderful because the speed limits are still reasonably high and the roads are quite narrow and weave through beautiful forest, it's quite scenic. It felt like the perfect place to drive this kind of car.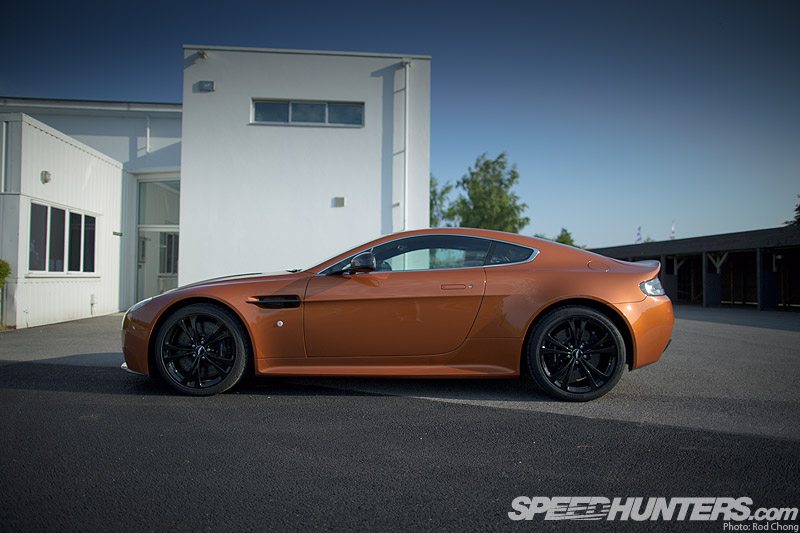 Suzy: I think to take it to such a historic racing circuit was a nice fit for a brand with such a racing pedigree.
Rod: It certainly felt right to be pulling into Goodwood with this car, although interestingly we were there at a modified car event – we had it on display at the Speedhunters' booth together with all sort of rides and machines.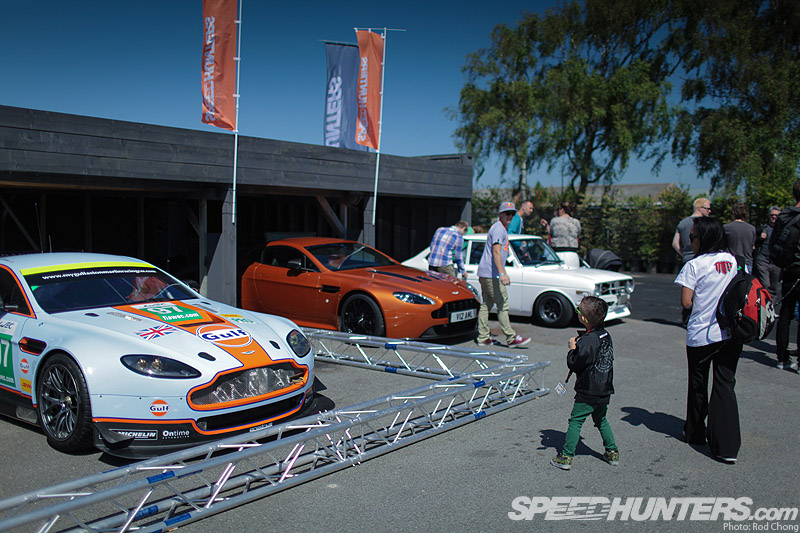 Rod:It was parked up there with Mad Mike's RX8 and Fredric's 86-X, but I think the Players crew kind of liked how we brought in some traditional cars as well. We drove the car around the paddock a little bit before the show kicked off and did a photoshoot out on the airfield. There's some shots from there – Bryn did the photoshoot with some airplanes. It was quite beautiful.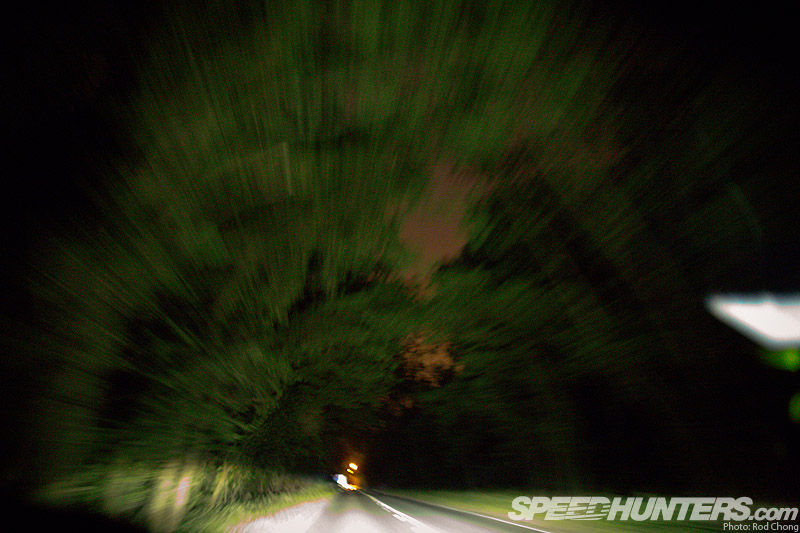 Suzy: You then got to drive it up to Snetterton didn't you Rod?
Rod: Yeah, then we drove it that night for about three hours, mostly on the motorway and it was quite comfortable for a long distance, well medium distance motorway drive and it was at that moment I really got to enjoy the stereo. Haha.
Suzy: What? Hang on. WHAT? You put the stereo on?
Rod: Yeah, I put it on really loud.
Suzy: It's the most amazing aural soundtrack I've ever heard in a car and you put the stereo on?
Rod: It's three hours of driving at the same speed, so I wanted to try the stereo.
Suzy: I'm going to disown you Rod. I'll never speak to you again.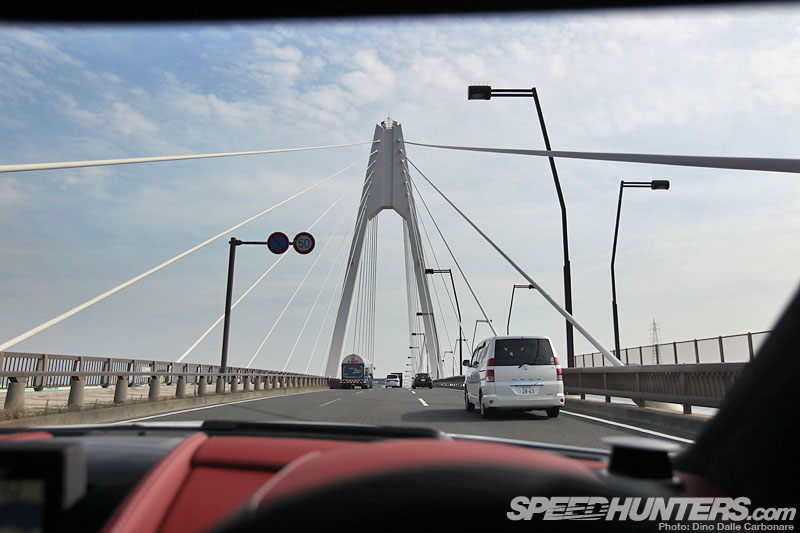 Dino: The next question is that I had the Rapide in Tokyo traffic and out on motorways as well. It's such a luxurious sedan/coupe/whatever, it felt really at home either cruising in traffic or out on the highways. Would you consider the Vantage to be a decent everyday car? Because the Rapide really felt at home pretty much everywhere I drove it.
Rod: Here's the thing with a car like this – you're driving a very expensive car and you're always aware that everyone is looking at you, especially in a bright orange Aston Martin. But at least I didn't find they were looking at me with a sense of hostility. I think that the car was somewhat challenging to be feeding the clutch in during heavy traffic but I don't mind that – I'd personally never own an automatic.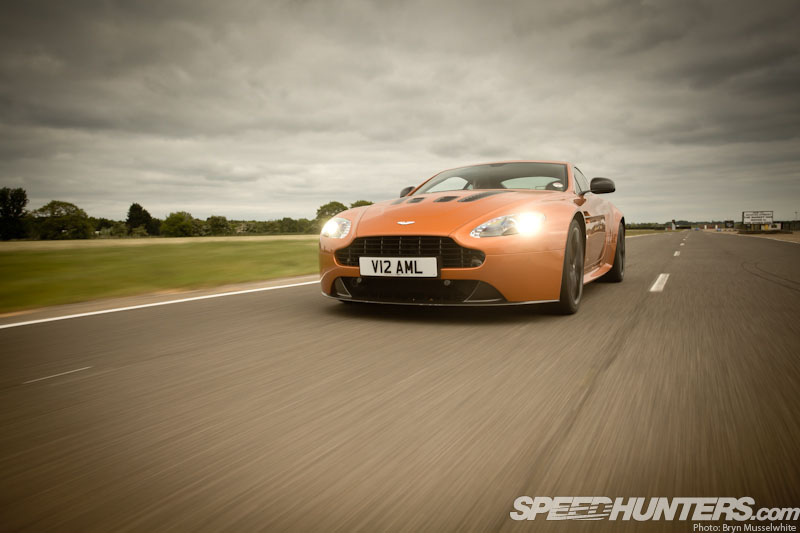 Suzy: It's also very easy to drive though – the accelerator pedal is very progressive . It's not just an on and off switch. It was easy to drive around town and still be normal. I still giggled like a little kid every time I pressed that 'Engine Start' button thanks to the throttle blip that it makes. It just sounds so good!
Rod: It's certainly the most fun car I've ever driven. With over 500hp on your foot with three pedals. For me that's the best thing ever.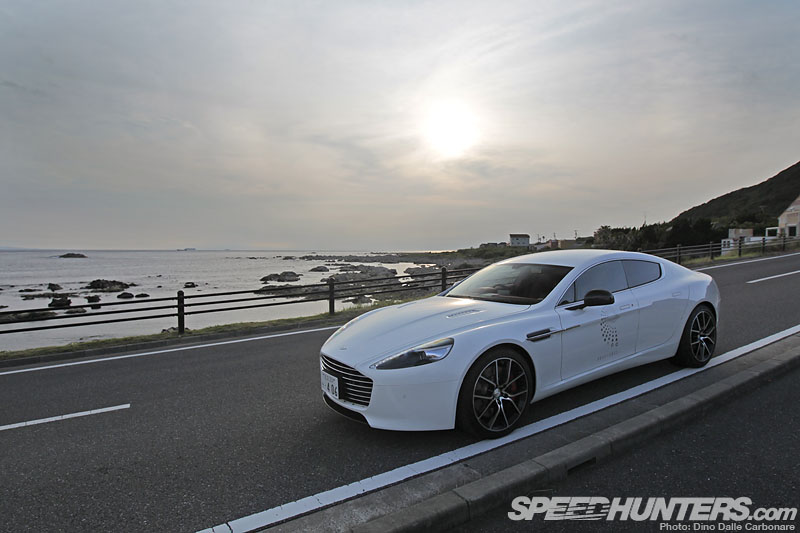 Rod: Dino, how did you find driving this four door? In my mind the Rapide is probably the most beautiful four door in the world currently. It's such an interesting design. How did you find it when you were driving it? Did it feel like a sedan? Or did it feel more like a slightly big GT car that just by coincidence has four doors?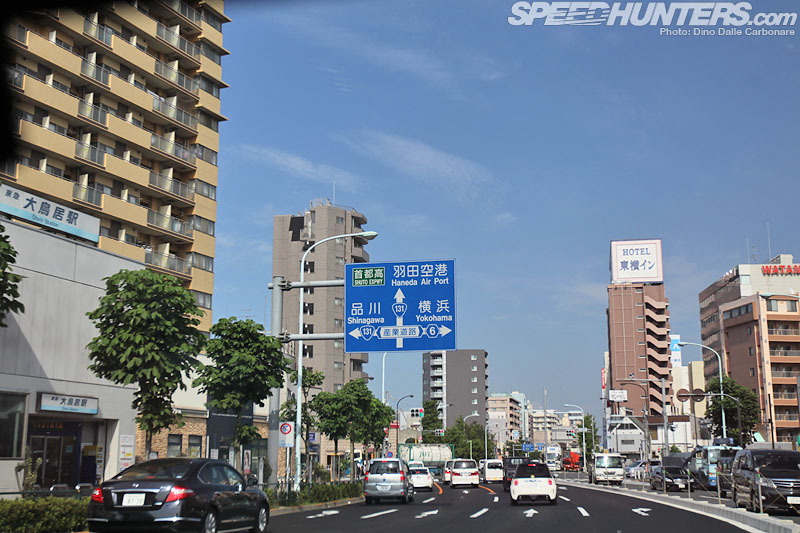 Dino: Kind of a little bit of everything because it's a very beautiful design and it looks so huge when you're standing next to it but once you get in it, it kind of shrinks around you so you don'y notice it as much as you would assume. What I did find when driving in the centre of Tokyo, where everybody kind of ignores cars like this – you know, you could drive a Pagani Zonda down the centre of Tokyo and nobody would care – I had people stopping and staring at this because it's so beautiful. They're kind of attracted to it.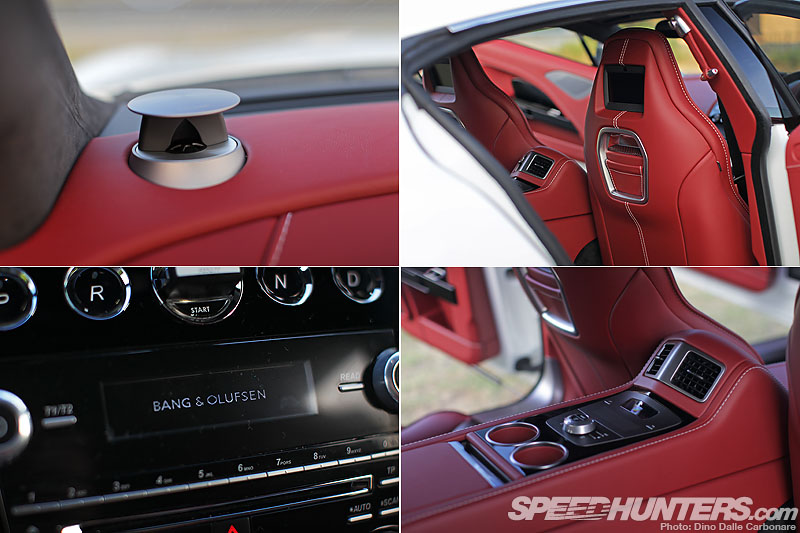 Rod: So did you try the stereo?
Dino: Oh yeah. *Suzy groans* Yeah, I was on the motorway for an hour and a half and when you cruise at a hundred and whatever, you tend to fiddle around and I turned the stereo on and I was very surprised. It's probably the best stereo I've ever heard in a car by far.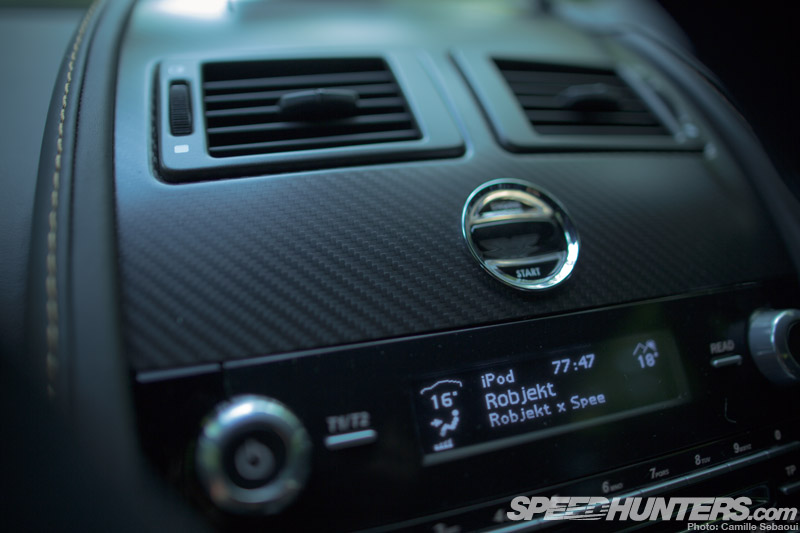 Rod: It has these pods that stick out the top of the dash for it. It has very good bass too.
Suzy: I did listen to the stereo in the Aston but only when it was standing still. I thought to myself "Oh this is a really good stereo" then I'd start the engine and wouldn't want to hear the stereo any more. As good as it is….
Rod: Did you drive it all the way in fourth gear so it was like your Evo too? *Rod makes a high-revving car noise*
Suzy: Ahem – second gear! How can I put this… second gear takes you all the way to the motorway speed limit in the Aston. It'll take you a way past the limit too. And then there's another four gears. It's good and bad at the same time – good fun but bad from a licence standpoint!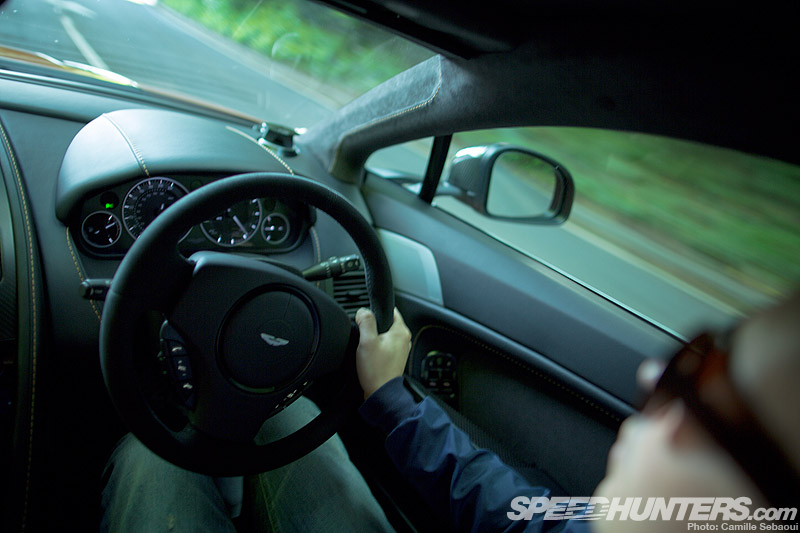 Dino: We have to talk about the engine, so, sound aside, which was unbelievably good, what did you think about it – power and torque-wise and delivery?
Rod: If you didn't bring the engine up into a high powerband and start your pull with it at lower rpms, it can be quite deceptive in that the power delivery starts and then the car starts to leap forward and then as the car builds revs up, then the wheelspin is coming. *Rod laughs* I'm not used to driving a naturally aspirated engine that revs so quickly. I think I needed a couple more days with it to get the hang of the best way to use it with a manual transmission.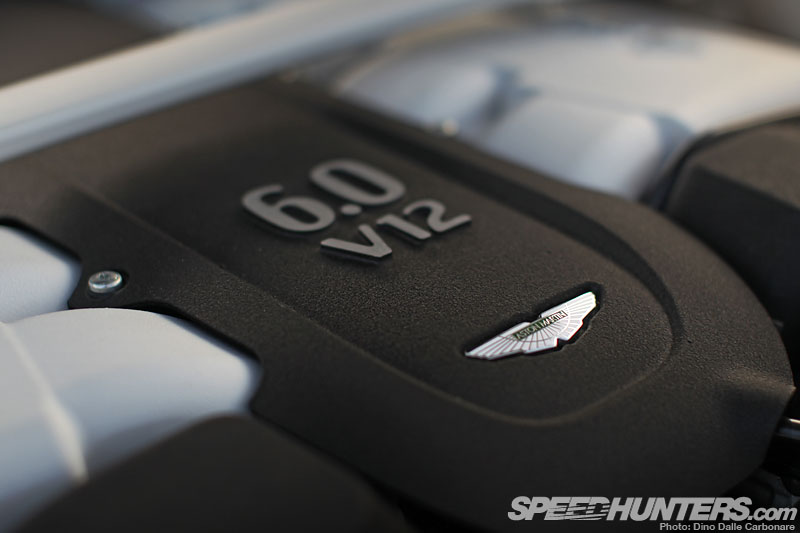 Suzy: I found that the amount of torque low down was impressive. Because my daily driver is a turbocharged car, I'm used to not having any low-down torque until the turbo spools up. I loved how smooth it was across the rev range. It's just a continuous onslaught of power. I thought it was great to drive because it was so responsive in pretty much any kind of rev range. It makes it quite a shock when the rev limiter kicks in – it's so aggressive in pulling forwards then all of a sudden you're almost jolted back when it hits the limiter.
Rod: Yeah, it comes up so quickly you have to be ready to shift gears quite soon which is something you have to do quite readily with a manual transmission.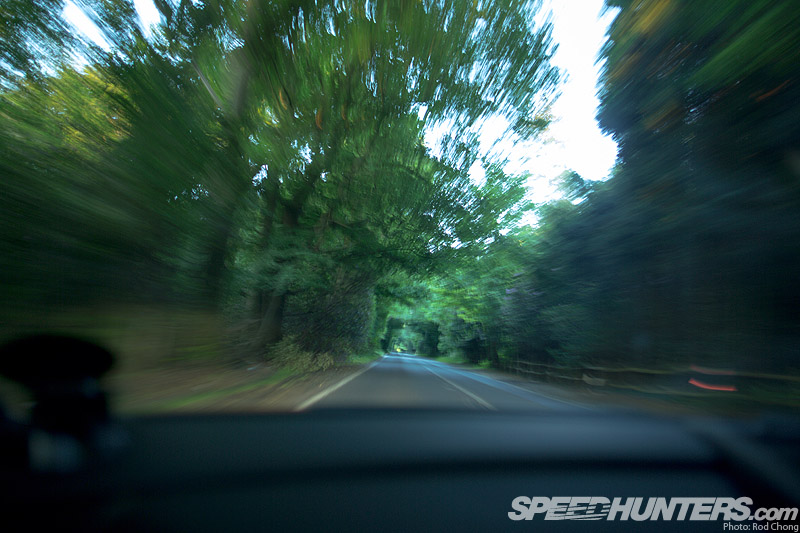 Suzy: Yeah, it's also quite deceiving to drive – because the car's so smooth, it cocoons you a bit from the power, so you don't actually feel like you're going as fast as you actually are. Quite often I would be going 20mph+ over what I thought, and there's so much torque that just breathing on the pedal the tiniest amount – enough to just keep you moving forward at a constant speed in any other car, sees you gaining 10mph or so. Second gear is enough to lose you your licence – that's what I learnt!
Dino: Sounds like I have to borrow a Vantage manual!
Dino: How about the handling? What did you guys think about the handling?
Suzy: Like I said, I think I was a bit scared of it to start off with. I'm not used to driving a RWD car either. But it was so flat in roundabouts, it was a joy to pilot through the corners. The handling was nice and sharp – it had good turn-in and you still felt very connected. It feels quite precise and so it encourages you to push on.
Rod: I found it to be almost an old-fashioned idea of what a performance car should be – very mechanical. It felt like there were no computers interfering with my inputs, no computers between my foot and the engine, no computers between my steering inputs and what was happening with the diff and the suspension and steering. All that led to a sensory input of what the machine is doing going into my body so that I can react to it. It felt very direct and I really like that.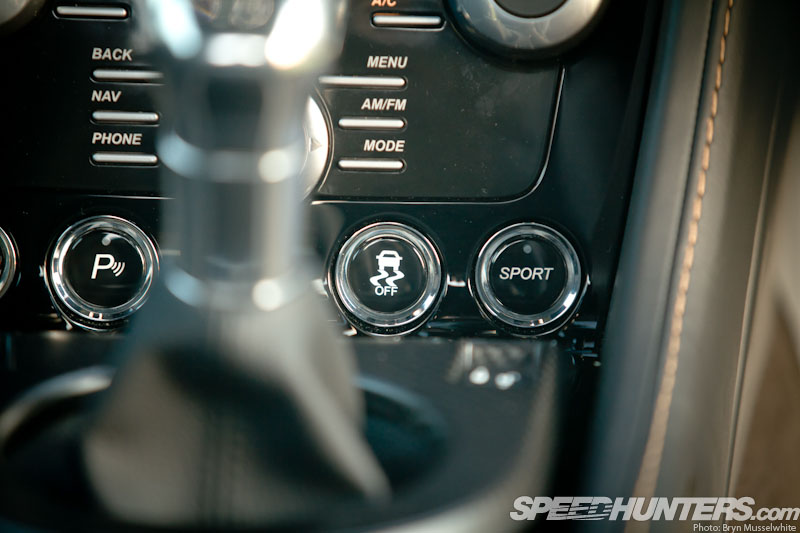 Dino: How about the traction control and stability control? Do they intervene too quickly?
Rod: No, they didn't. They'd let you feel like you were being badass and it never felt like your hand was being slapped. If it was, it didn't feel like it.
Suzy: I admit I didn't take the traction control off but I didn't feel like it was too heavy. In first gear especially, it was easy to light the rears up but it didn't feel too intrusive, like it took all control away from you. It was probably a welcome help in first actually. I think the difference when you put it into sport mode was quite noticeable as well – it just firmed the car up nicely. UK roads can be pretty terrible quality so it does soak them up quite nicely without it on but putting it on definitely firmed it up for the corners. I thought that the handling was pretty much spot on for a GT car.
Rod: The ride never felt too hard. It seemed to deal with rough roads. It never felt too soft either – the chassis was nicely dampened and very flat. It didn't move around very much – it didn't dive, or squat, or roll. It just went forward. Just sometimes the back got a bit 'excited'…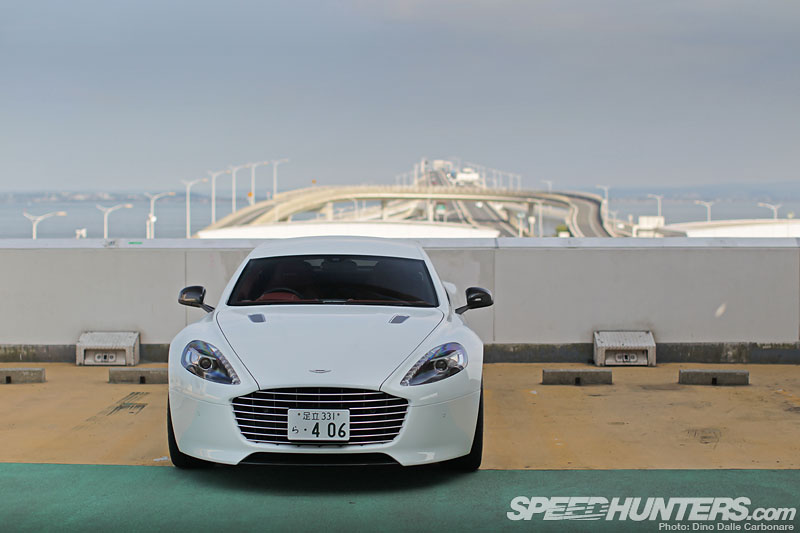 Suzy: What about the Rapide Dino?
Dino: Well being the S, it's definitely more geared towards handling. It weighs, I think over two tons actually – it's a heavy car – but once you start throwing it around, it's kind of like a GT-R – it hides its weight. Although you're always aware of the mass and the momentum that you're carrying.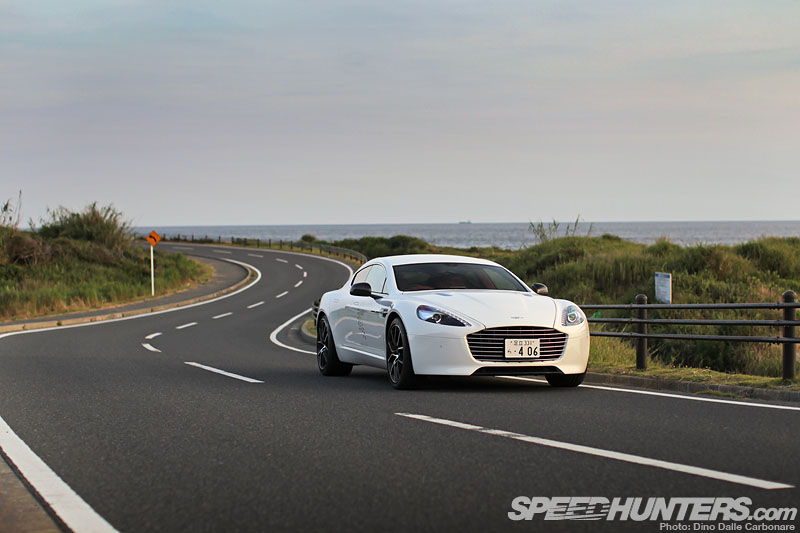 Dino: So you can definitely throw it around but there's a limit that you reach and then you're like "Oh shit, I'd better stop before something happens," but there's always the safety of the stability control kind of holding you in so you can lean against it through the corners knowing that you can do it. For such a big car, it's definitely a lot of fun to throw around.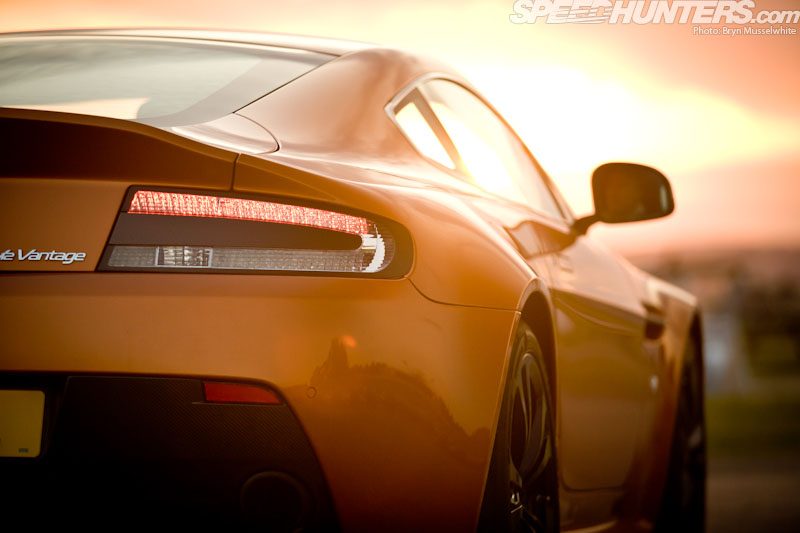 Rod: There was the sense in the Vantage that it was a small car – very light and very happy to be performance driven and it always felt like it wanted to go quicker. And quicker and quicker. To the point that you have to back off because it's a very expensive press car.
Suzy: I think it would make an interesting track car actually – the Vantage. If I ever had a crazy amount of money.
Rod: Would you slam it though?
Suzy: No.
Rod: Demon camber, stretched tyres, some nice stickers.
Suzy: No. It's not going to happen.
Rod: It would be interesting to see a Rapide done VIP style don't you think? *Rod laughs*
Dino: I'd rather not.
Suzy: Can we chuck him out of this conversation?
Dino: Go ahead.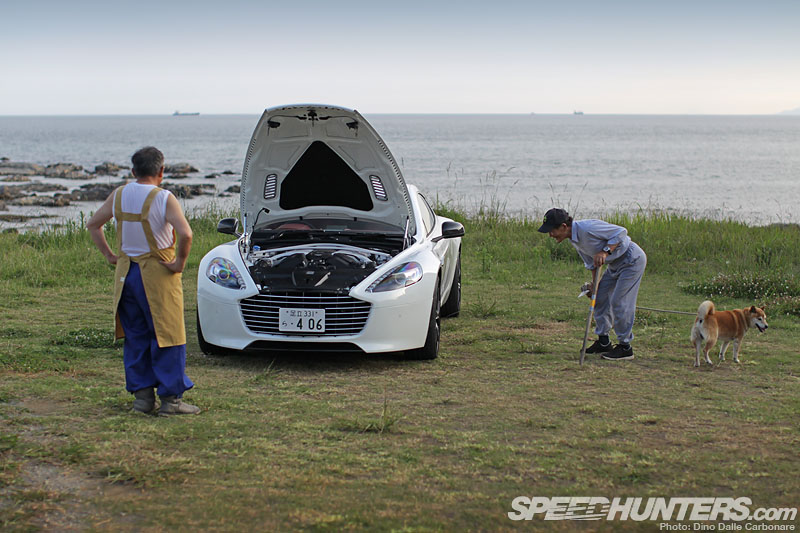 Dino: We already talked a bit about design. I think everybody's pretty much of the  same opinion that Astons are probably some of the most beautiful cars currently on sale. The Rapide especially manages to look like a Vanquish from far away. If you see it, you don't really notice the two doors in the back. I think they did an amazing job.
Rod: I've driven some performance cars that feel like they have no character at all. When you drive them hard, they accelerate very quickly but they're quite muted. It's as if the engineers have set out some performance targets and they're going down a checklist, "Ok, we're doing 0-60 in 4 seconds. We're doing 1.5 Gs lateral acceleration." Then there are other machine where it feels like the car itself is bored unless you're doing 120mph and you're not really experiencing the car unless you're performance driving it. I love how with the Aston that every moment with it is quite enjoyable, even if you're just sitting at the lights. The full experience of being inside of one of these things is absolutely fantastic.
Dino: It definitely feels special.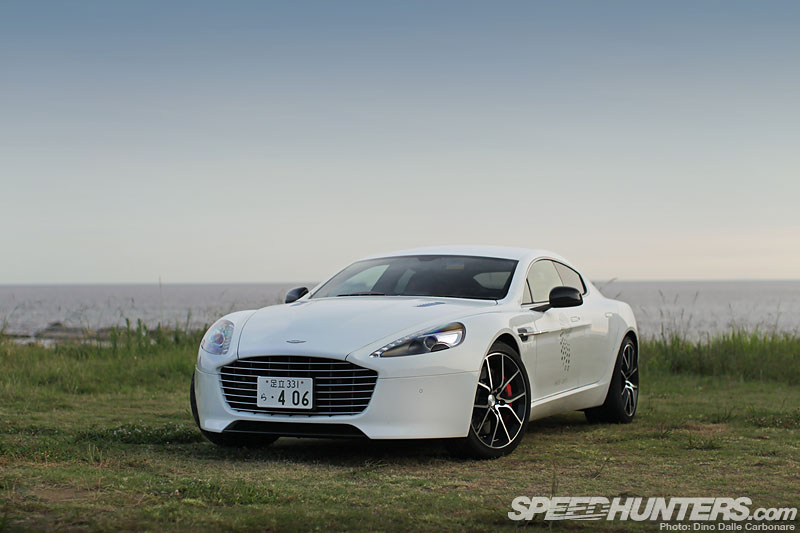 Suzy: I think in terms of the design, I don't think anybody can deny that the Rapide is the most beautiful four door supercar. We don't really need to mention rivals but they've not quite hit the mark. What Aston have done so well is to make it still unmistakably an Aston Martin. There's no compromise in the design and to do that with four doors is really impressive. I think the Vantage on the other hand – I actually prefer the design of the bigger Aston Martins. For me, the Vanquish is possibly one of the most beautiful cars on the market at the moment. The Vantage, because it's so much smaller and it looks quite squat, it makes it look sportier, which fits its nature.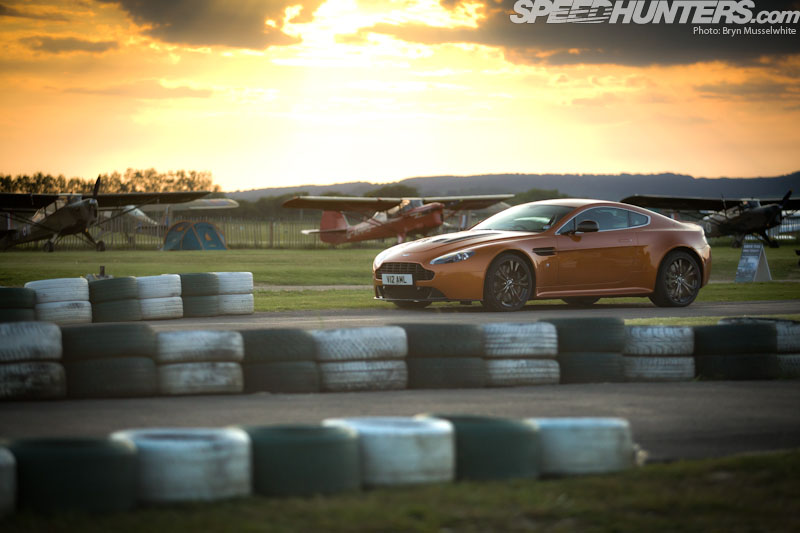 Rod: I have this pet peeve, I don't like how cars keep getting bigger and bigger every year. Look at the Porsche 911 – it keeps upsizing, and the same with the GT-R. I like how Aston have built this small car with a very big engine.
Suzy: It's not actually that small, it's just in terms of their line-up, that it's small. But it does feel like a much smaller car compared to say the Vanquish.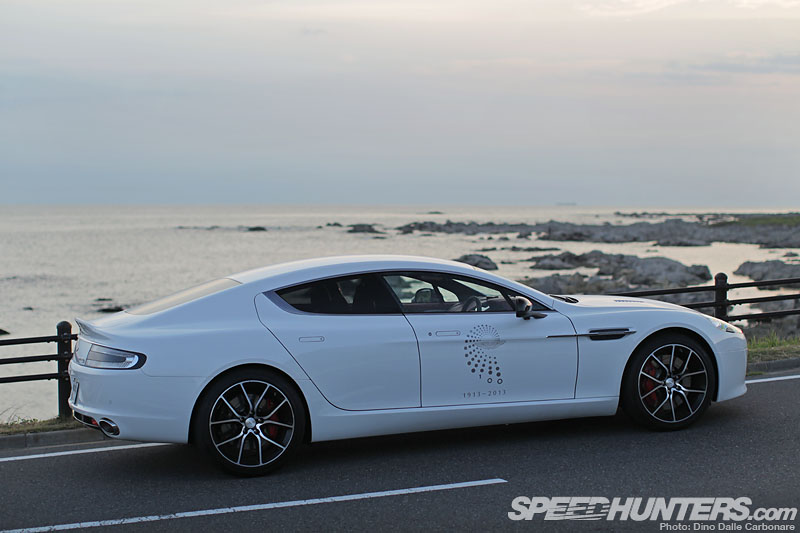 Dino: What Aston does really well is proportions. No matter how big or small the car actually is, they manage to get the proportions really sorted out so that it's flowing and well-matched to the size.
Suzy: Yeah, definitely. The four doors don't feel forced on the Rapide – it doesn't feel like they've put that on and had to design around them – it feels very natural.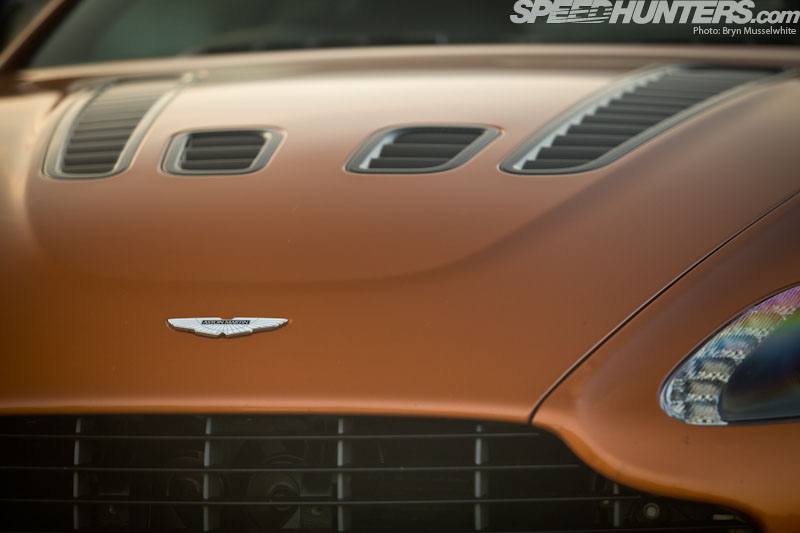 Dino: Thinking about the future, is there a direction you would like to see the Aston brand go in?
Rod: I would like them to avoid making their cars too computerised, bloated and plasticky. I would like Aston Martin to keep their cars svelte.
Suzy: For me they're some of the most beautiful cars on sale – poster cars as I call them – but the only possible criticism I might have of Aston Martin might be that their range feels a bit too similar. I also think that's a strength because they have such a great design going on though. Maybe a couple of models that were a little bit outside of the current design ethos… I don't want Aston to make something like a crazy Aventador or something, but maybe just something a little bit different. That's such a minor criticism though.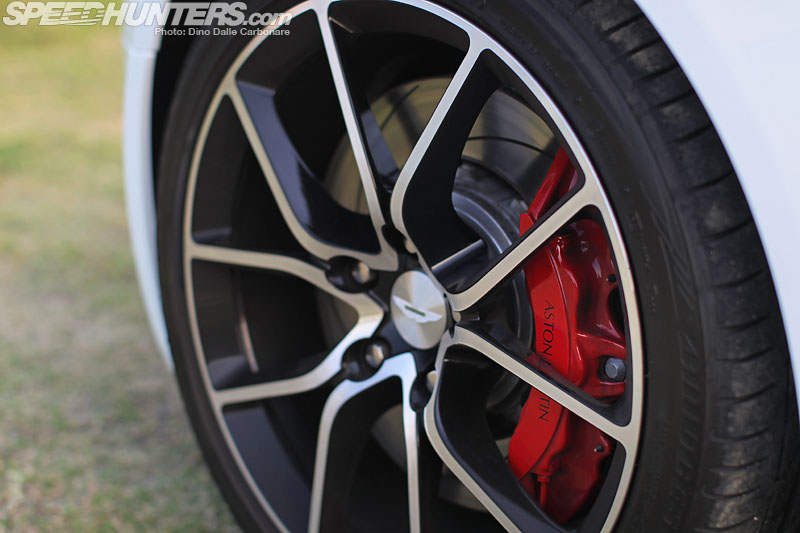 Dino: I think the direction they're taking now with their new cars like the Vanquish where they're using carbon fibre more for the body and still sticking with that mix of elegance and sportiness is perfect. Mechanically, they should never give up the V12 because that's such a recognisable image for Aston. What they could do is maybe modernise their automatic transmissions – they do feel dated compared to some of the more modern ones out there.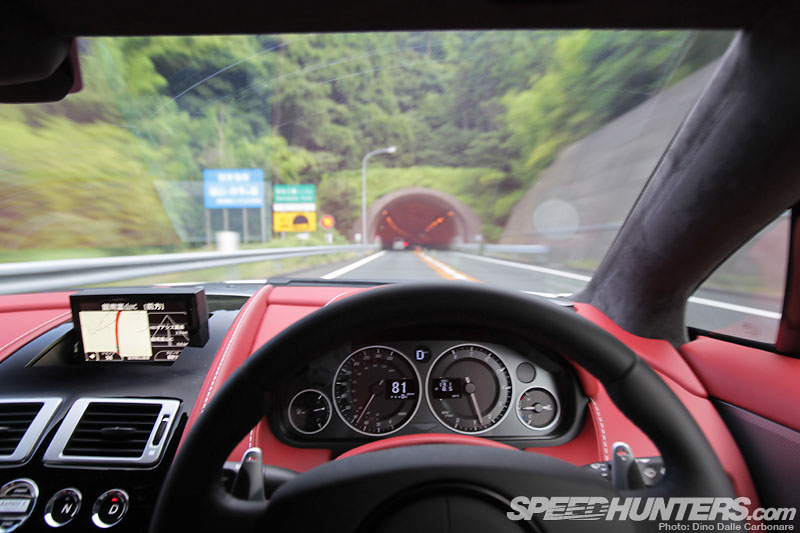 Suzy: Do you mean in terms of speed of gear changes?
Dino: It feels like an old torque converter, it's not fast. It's not dual clutch. If they get that part right, I think it would make the whole experience even better. For me, maybe I'm nitpicking but it's definitely something that they need to evolve the brand towards a little bit in the future.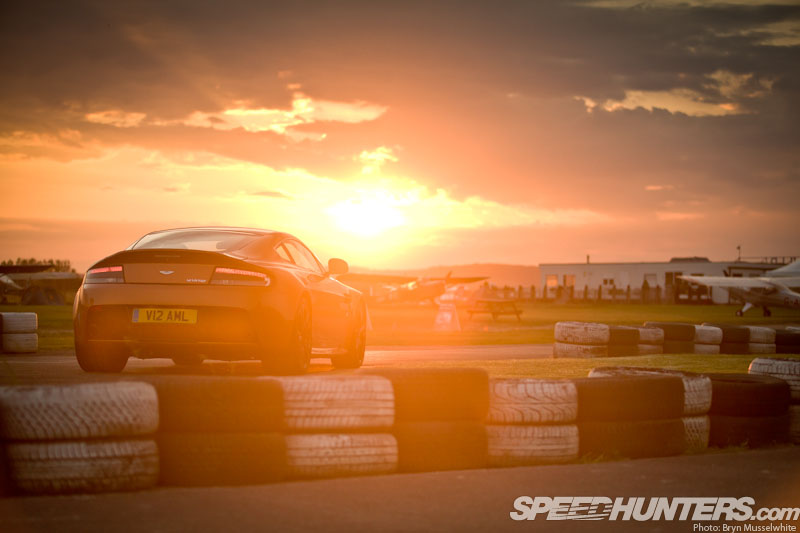 Suzy: Oh, there is one other thing – I would like them to continue supplying a manual version of their cars.
Dino: Agreed!
Rod: Yes, take out what I said before because that's smart. Three pedals please!
Many thanks to Aston Martin for the loan of both cars.
Words by…
Rod Chong
Twitter: @rodbotchong
Instagram: speedhunters_rod
Suzy Wallace
Instagram: speedhunters_suzy
Email: suzy@speedhunters.com
Dino Dalle Carbonare
Instagram: speedhunters_dino
Additional Photos by Bryn Musselwhite and Camille Sebaoui
Aston Martin theme on Speedhunters
More Aston Martin stories on Speedhunters