I can't look at the picture above without grinning like an idiot. In fact, I've pretty much been wearing this same stupid expression since I returned from my trip to Germany last week. Nine days of true Speedhunting. What I originally thought was going to be just a normal Nürburgring visit (as if such a thing wasn't enough!), turned into one of the most enjoyable experiences I've had since joining Speedhunters. Not only did I manage to get my 'Ring fix (no sniggers in the back) but I also experienced some other amazing German machinery too. But I'm getting ahead of myself…
Anyone who caught my Project Evo update last month will know that I was ready and waiting for the day to come that I headed off to my 'home from home'. Although that makes it sound like I was literally ready to go, it didn't exactly account for the fact that I was still changing wheels, fussing over my brakes and generally still doing stuff to the car on the day before I left. Oh, and writing my last Project Evo story too. So now you have a better understanding of the chaos that preceeded my trip, I shall continue.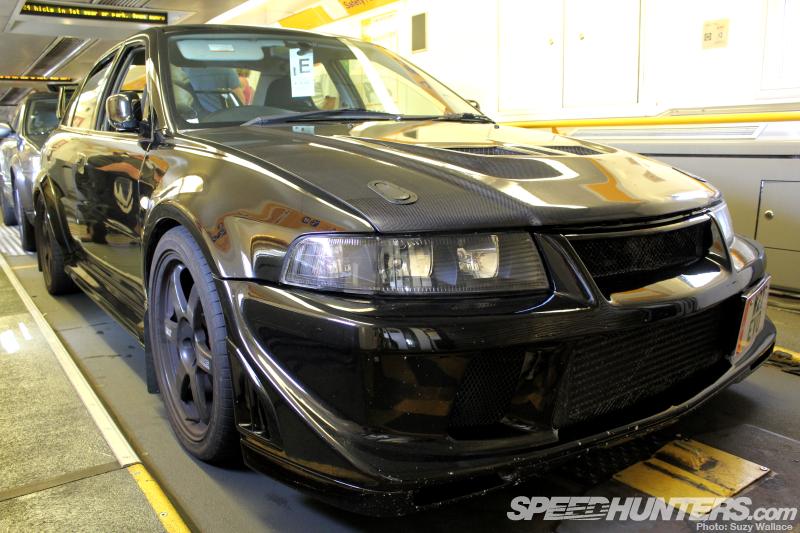 I was up until 2:30am the night before getting everything packed, which meant that I only got four hours sleep before I had to leave and feeling anything but prepared for a 400-mile drive across four countries. Still, there's nothing quite like a totally-not-geared-for-the-motorway-and-running-stiff-suspension car to wake you up first thing in the morning! I arrived at the Eurotunnel terminal with literally minutes to spare before check-in closed. There was no time for the coffee I desperately needed – I met my friends as they were getting into their cars and we headed straight onto the train.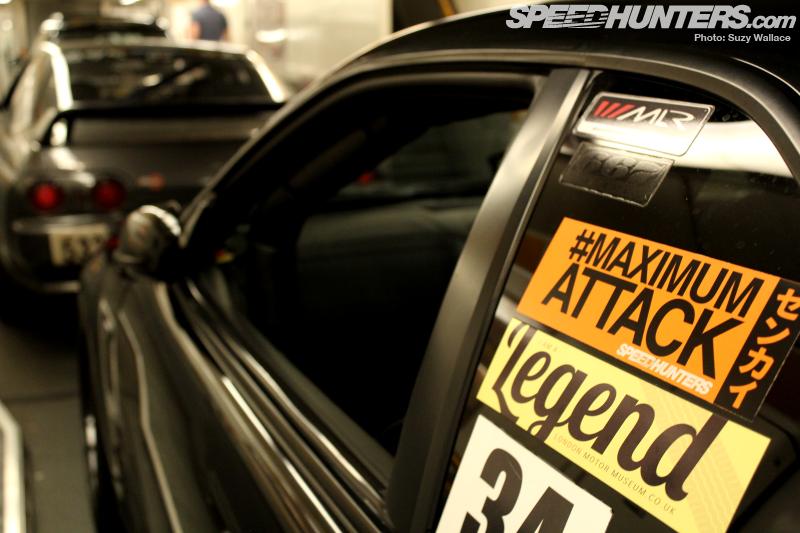 My travelling companions/partners in crime were to be the usual friends I've been making the trip out there with all these years. I'm pretty much the odd one out in the group – not least because I'm the only girl, but with the rest of the crew being made up of an R32, R33 and R34 Skyline, the Evo is a bit like the adopted kid of the bunch. Ah well, there's nothing like ruining someone else's party – namely Nissan's in this case! At least my fellow travel mates are well set-up for a bit of Speedhunting…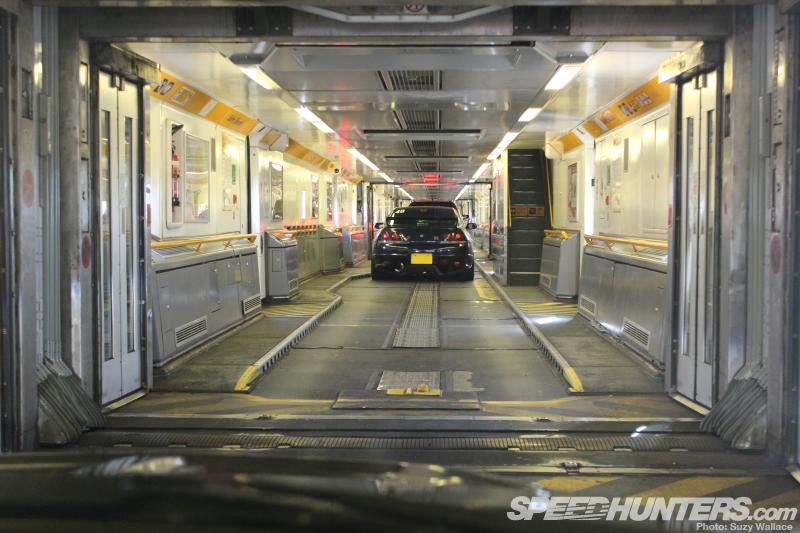 After barely any time to catch up with people and bemoan my lack of caffeine, we'd already arrived in France – the Eurotunnel's a mere 30 minute journey under the English Channel. There's a running joke about being the person to reach the fastest speed in the train. Given that there's just inches of clearance on both sides and I quite like my Volks, I don't hold any records.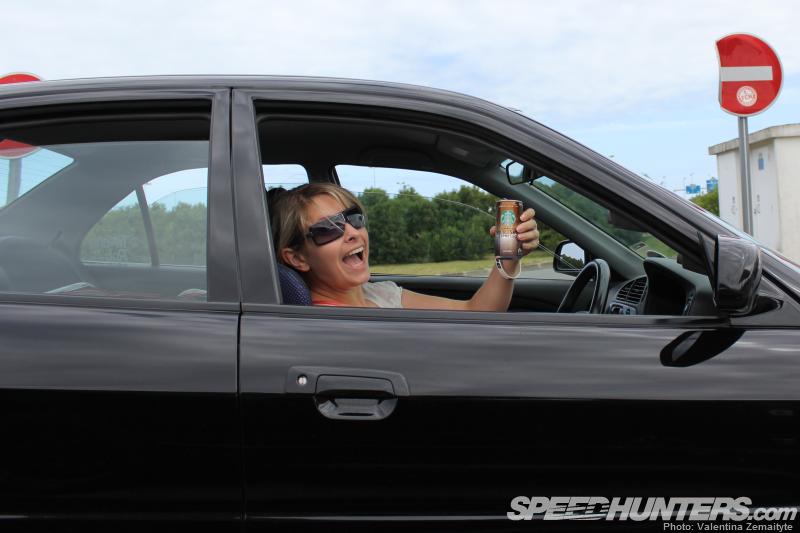 Before the road trip could start in earnest though, it was time to top the cars up with fuel for the journey ahead. And the drivers! Coffee at last!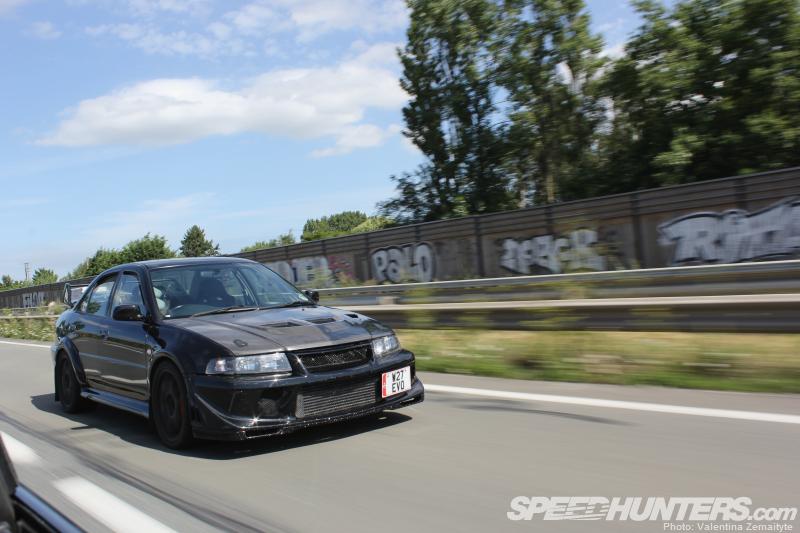 And so we hit the road. Having been making this journey for a number of years now, we've learnt a few things. Firstly, that taking the sat nav route all the way to Nürburgring is the very definition of dull motorway driving. And secondly, that the 'joy' of the Brussells ring road is best avoided. Our latest route there is via France, down to Lille and then crossing over into Belgium and heading towards Spa. It's a bit further and still mostly motorway but at least progress is pretty constant.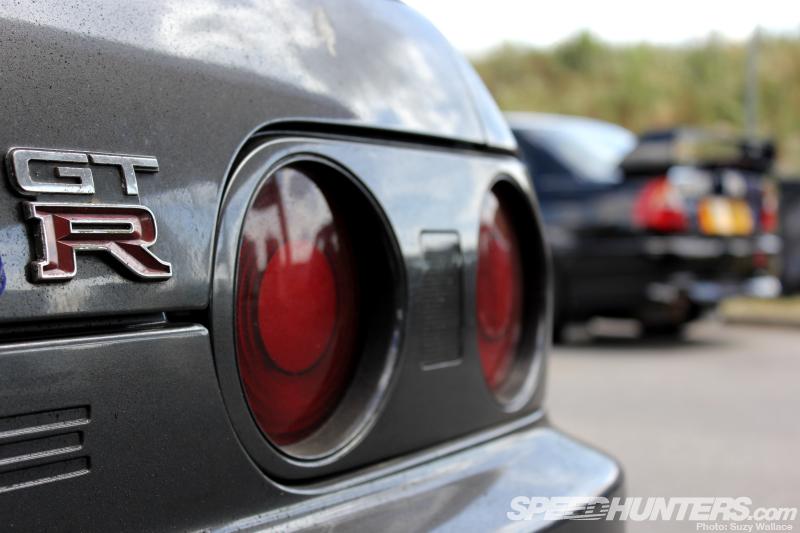 We couldn't have picked better weather for the trip. Well, for sitting around and getting a tan maybe. For sitting in a car with no air-conditioning that sits at around 4,000 to 4,500rpm on the motorway, it wasn't quite so glorious. I managed by trailing a hand out of my window, though by the end of the journey, three bugs had met their death on my palm. The only breaks from the tediousness of the motorway at this stage were fuel stops which provided a nice break to stretch your legs, take some obligatory pics…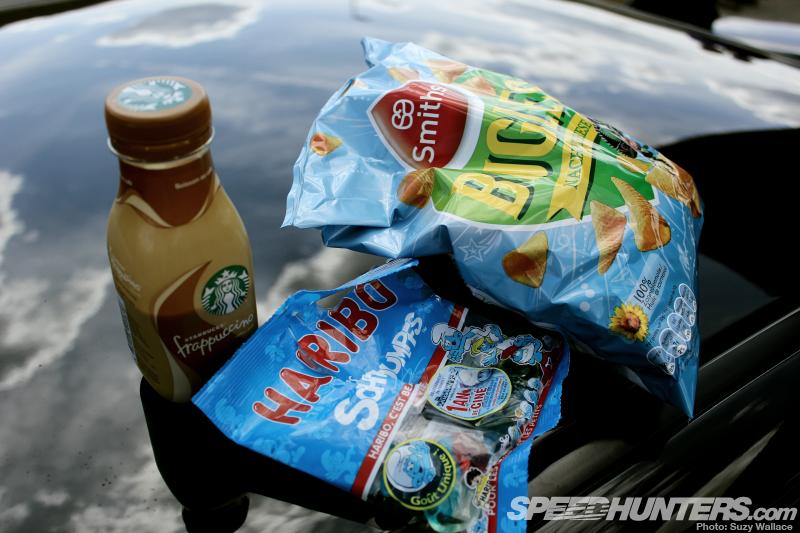 … and stock up on yet more essential driver fuel. Iced coffee, Haribo gummy candies and Bugle crisps – that's all of your essential food groups catered for right there!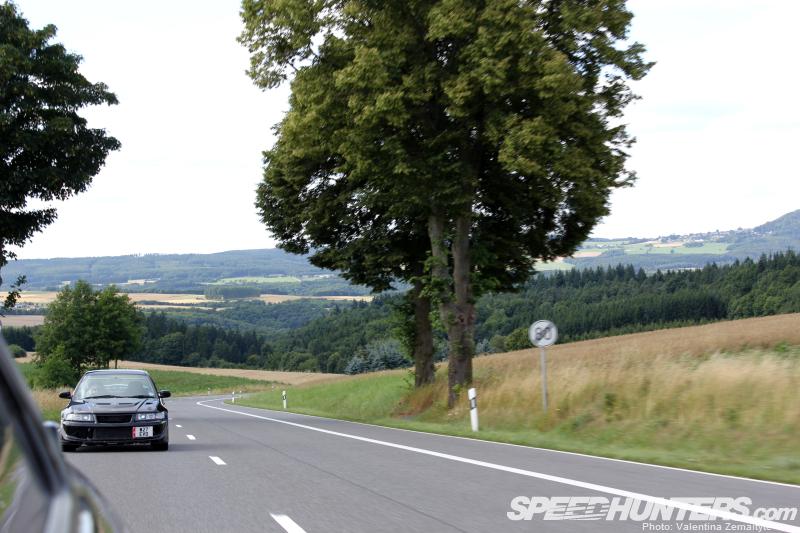 At last we turned off the motorway and headed into the Belgian countryside. It's always a bit weird after driving for such a long time in a straight line to be confronted with corners again. Even more so when you head into them with glee only to have your load of wheels/tyres/tools/luggage shift around in the back with the sound of crunching interior trim. Oops.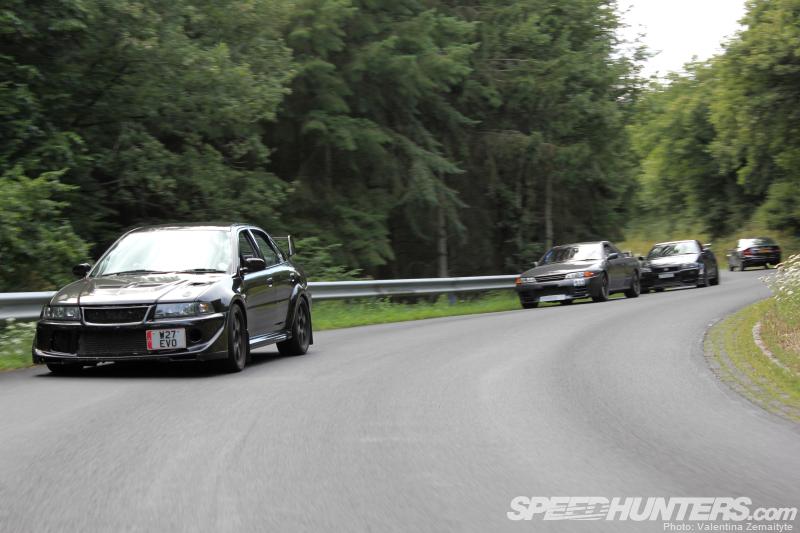 The final approach into Nürburgring is always a thrill. Not only do the roads turn into fantastic twists of pine-tree-lined tarmac, but you can feel the excitement growing as you near your destination. The thought of finally getting out of the driver's seat is always a good motivator too.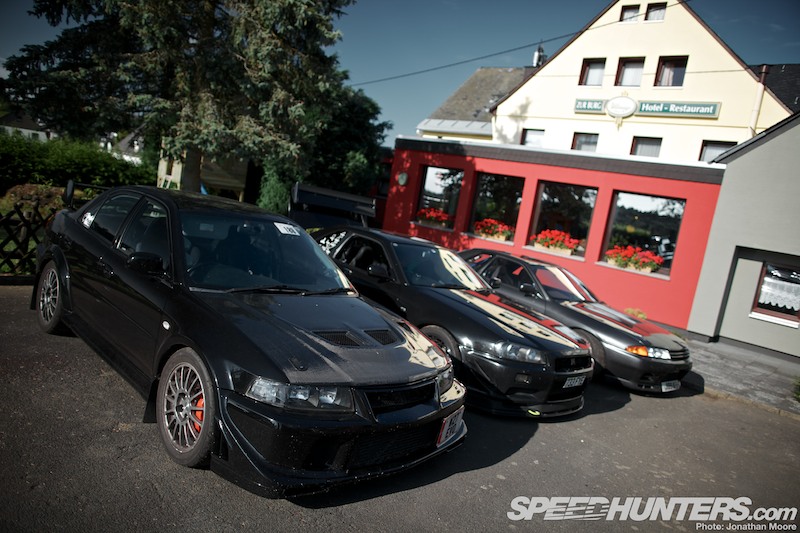 Nearly 300 miles after leaving Calais, we finally arrived at our hotel. After a sweltering journey it was hard not to just head straight to the hotel bar for a drink of anything cold, but there was work to be done first…
After unpacking the car, it's time to ready it for the circuit. First task was to swap the wheels onto my other set clad in sticky semi-slicks. I'm making do with my original OZ Racing Superturismos for the moment on track – they're pretty light for an OEM wheel, but they are rather beat up from the previous owner and are a bit lacking in the looks department. Wheels swapped, it was time to hook the harnesses back up, ready the Racelogic PerformanceBox, stick the track numbers on the windows, put the suspension onto track settings and set the spoiler blade to #MaximumAttack. Only it turned out that the last person at the spoiler (not me!) had rounded off one of the allen key bolts. Despite the best efforts of myself and some WD40, it didn't want to budge. #MinimumAttack it was then.
Side note: I really need to get my front bumper re-painted!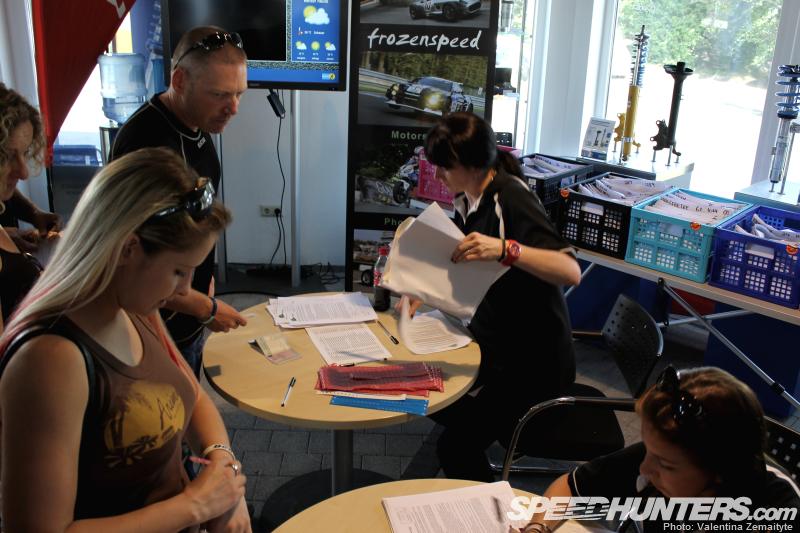 Cars prepped, it was time to head over to the tourist entrance of the Nordschleife for the Destination Nürburgring briefing and sign-on. I very rarely venture all the way out to Germany just for tourist days any more for a number of reasons; firstly, the amount of traffic on circuit (including bikes, which take a completely different line) can reach quite crazy levels; secondly, with numerous over-enthusiastic drivers crashing and closing the circuit on a regular basis on tourist days, it can sometimes be hard to get a decent amount of laps in; third it's always a concern to be driving on a track with people with no idea of track etiquette; and fourth, the whole complicated insurance issue is always looming over you. When you're driving on such a potentially dangerous track anyway, reducing the number of worries you have is always a bonus, so closed trackdays have become my favoured way of getting my Nords fix.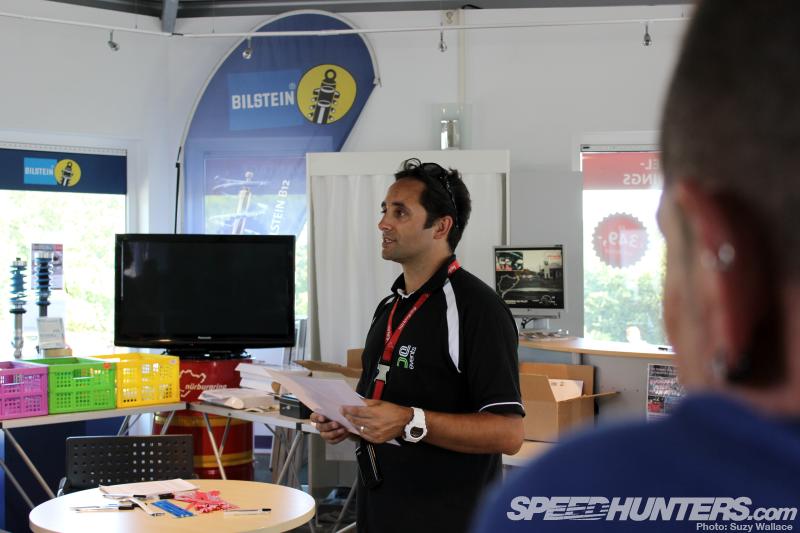 I've been attending Destination Nürburgring days for a number of years now and they're always excellently run by Darren – who you see here giving the driver briefing – and his team. Although the days are always packed to capacity, the circuit's so vast it never feels very busy out there, and you can be safe in the knowledge that pretty much everyone has track experience, so the standard of driving is way higher than on a tourist day.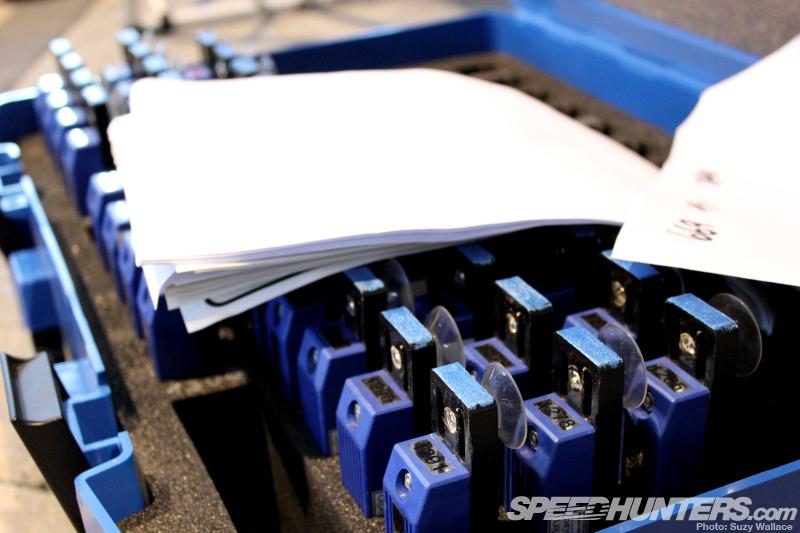 Briefing attended and wrist bands handed out, it was time to grab a transponder for the car so that it can be identified by the officials if need be. A day and a half of track action on the Green Hell lay before me. It's about now that the excitement starts to give way to nerves. It's something I can't quite explain. It's not like I'm new to the car or the track, but guaranteed at every track day/sprint/driving event I attend, just before I get in my car to head off, my stomach starts doing back-flips. Is it just me?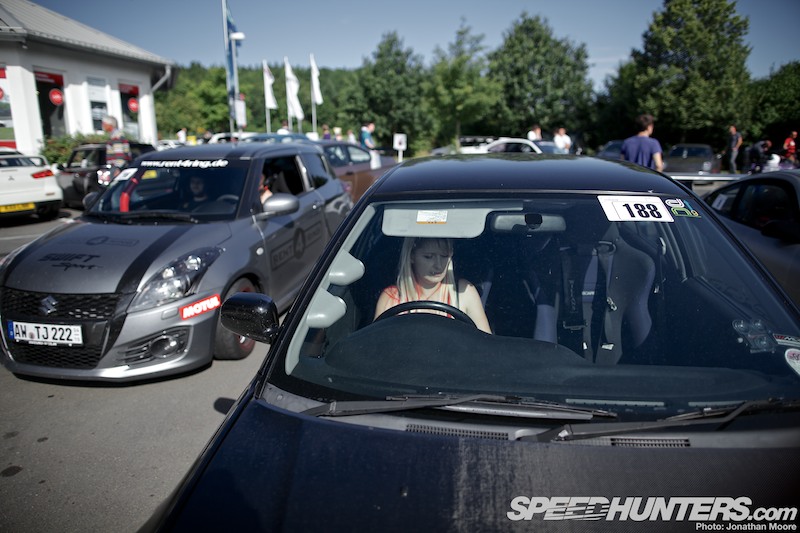 Nervous or not, this is what I was here for. So off I headed to the car, and ran through some last minute checks. Nothing loose? Check. PerformanceBox plugged in? Check. Passenger harnesses connected up so they're not flapping about? Check. Boost on low settings for a few easy sighting laps? Check.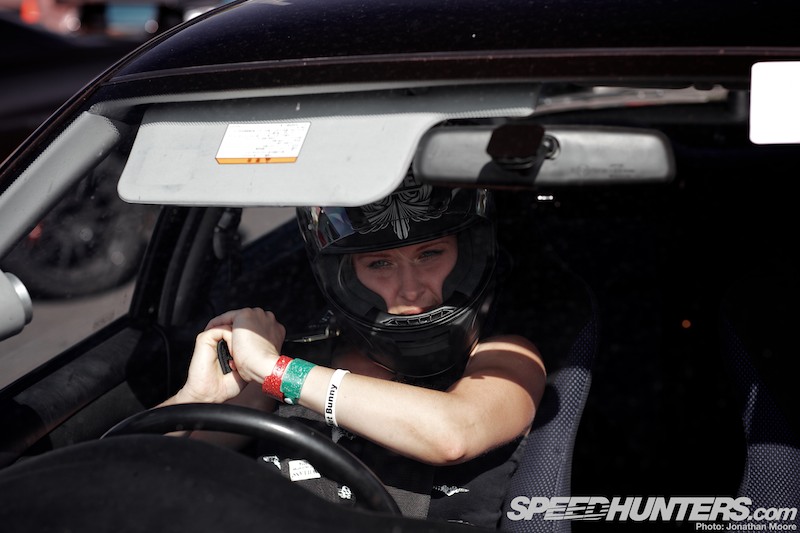 All checks done, it was time to don my helmet and do up the harnesses. We're all set. If only my stomach would stop churning…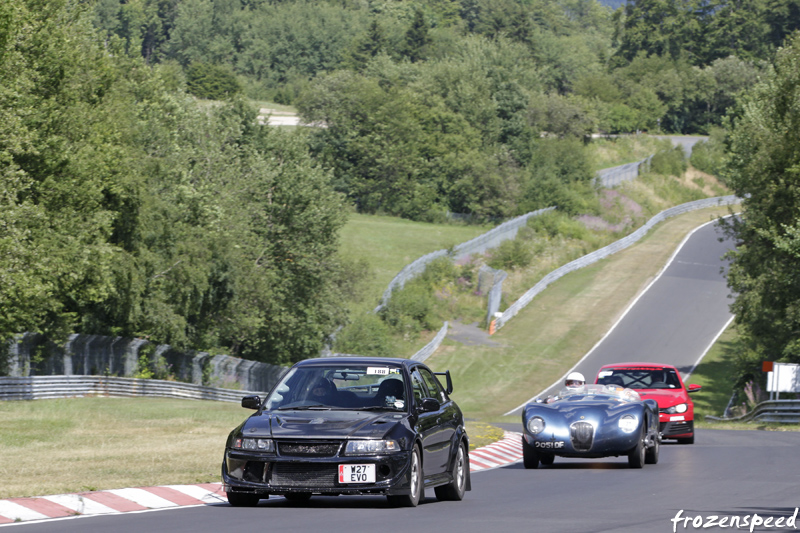 And so I headed out onto the circuit for a few easy laps. Although coming out of the tourist barriers on a track day is a little different to normal. With the full circuit open – including the monstrously long Döttinger Höhe straight – it's critical that you stay on the right and keep checking your mirrors as you can have cars bearing down on you at speeds topping 180mph. As I was out on cold tyres and cold brakes, I checked my mirrors, let both of these cars through and tucked in behind. And yes, that's a C-Type Jaguar behind me! The guy had travelled all the way over from the UK in it.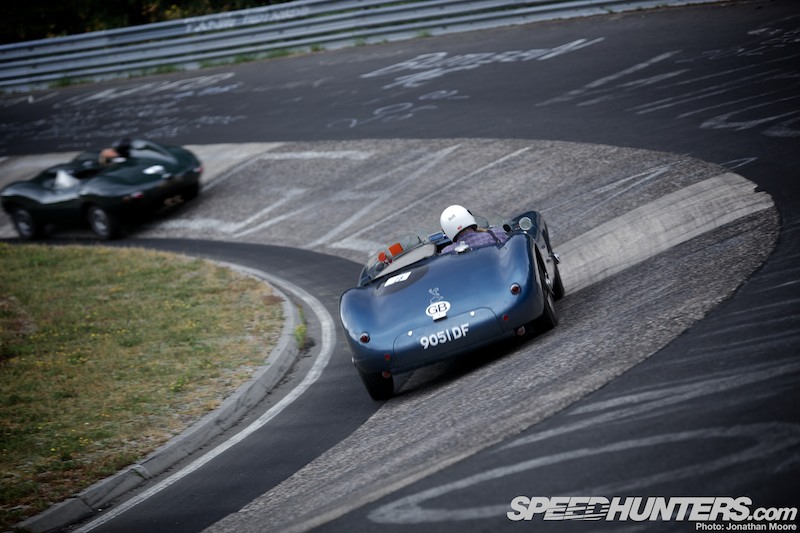 Watching the old Jag slide around in the corners was fantastic. He definitely wasn't out for a Sunday drive!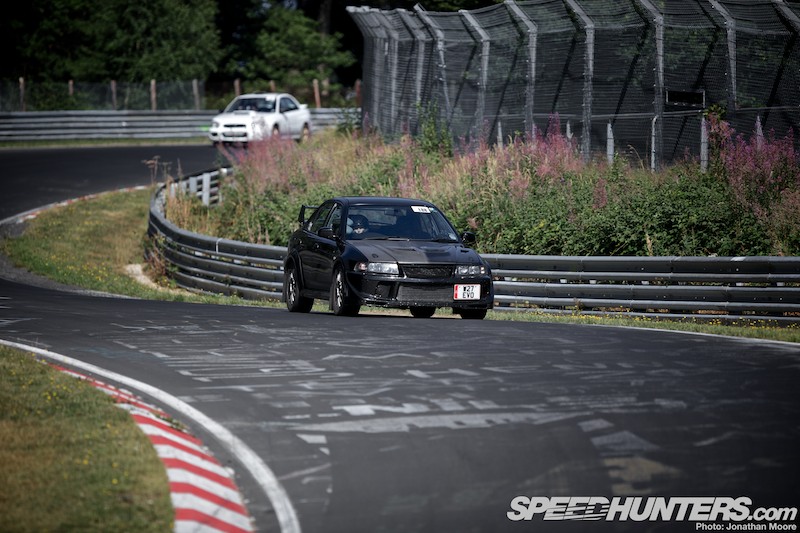 A short way into the circuit and with everything now up to temperature, I was at last relaxing and enjoying myself. In all the years I've been coming here, I've never had a day without issues of some kind. For the last three years, I've suffered from a brake issue which would only show up at the 'Ring which would see my pedal getting progressively spongier as the day went on. Not exactly a way to inspire confidence. Earlier on this year, the master cylinder was changed in an effort to cure it, and lo and behold, it had worked. My brakes were performing beautifully! I could really feel the new Carbotech AX6s in the rear really helping to keep the car much flatter under braking.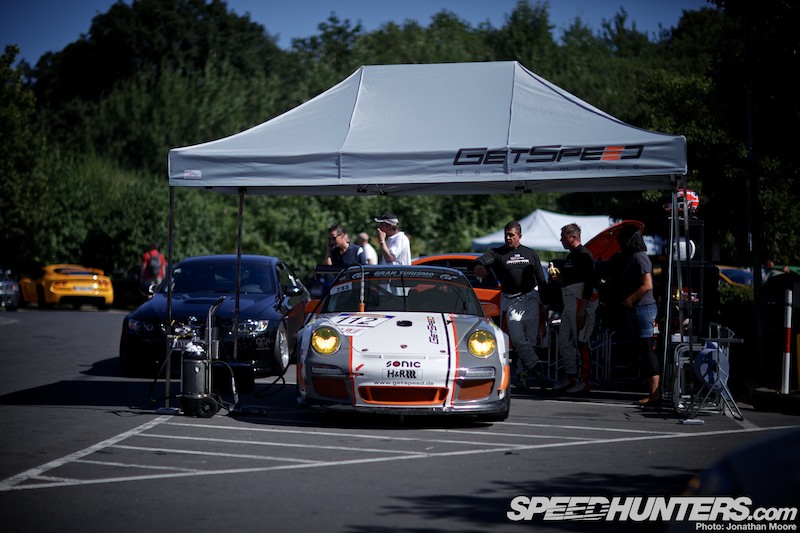 Two successful warm-up laps completed and all vestiges of nerves out of the window, it was time to come in. The blistering temperatures weren't really helping, and as well as being sweltering in the car, my tyre pressures were way off, so I set to adjusting those. I discovered that when the temperatures are that high and you've just been for a couple of laps, bleeding air out of your tyres is a hazardous business – it's scalding hot!  Any attending race cars were at least smart enough to bring awnings to shelter from the rays.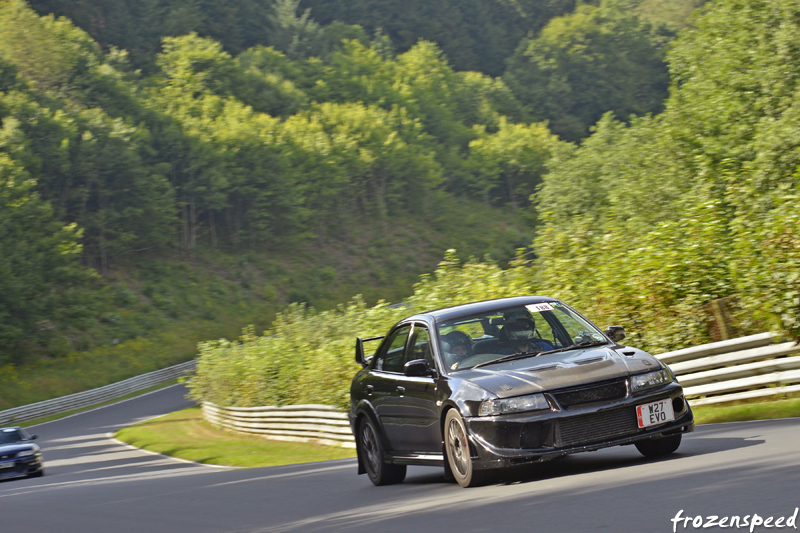 Another two laps at a faster pace and one more adjustment of tyre pressures, my confidence was growing. Driving at the Nürburgring is an odd thing though. I genuinely think anyone who isn't respectful of the dangers of this place is either crazy, or overdue an accident. On a normal track day, you pick your braking points, then adjust them on the next lap depending upon how it went. When you have 90 corners and a lap that can take anywhere from seven and a half to 12 minutes (depending upon your bravery, skill and knowledge of the circuit as well as the capabilities of your car), you physically can't remember all of the individual details. Get it wrong and the Armco is waiting mere feet away and an expensive bill awaits. It demands respect.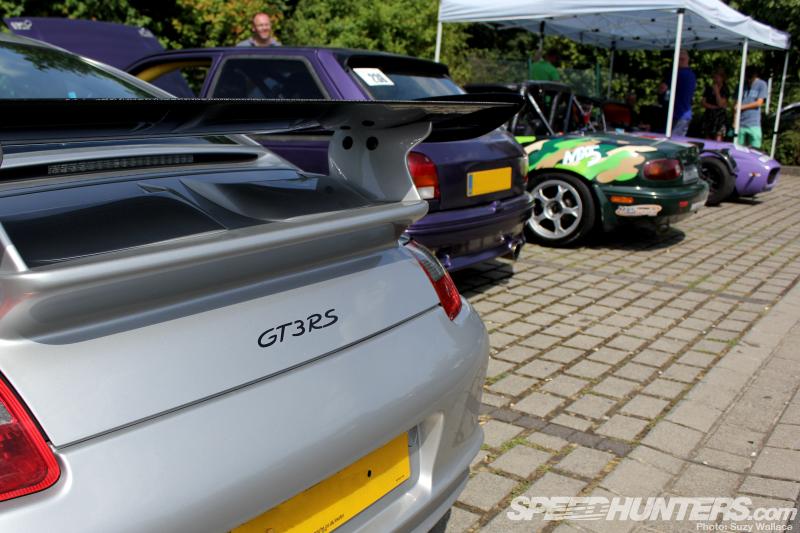 The next stop in, the sound of the Klaxon announced a track closure. It seemed some rather expensive Italian machinery had got too hot. And by too hot I mean was on fire. Track closures are thankfully a rarity rather than the norm on DN days, so I took a break from the furnace that was the Evo and decided to stroll round the car park to have a look at the other cars in attendance. There's always a good mix as you can see here, and though high-end Porsches and BMWs are literally 10 to the dozen, there's always something interesting to see.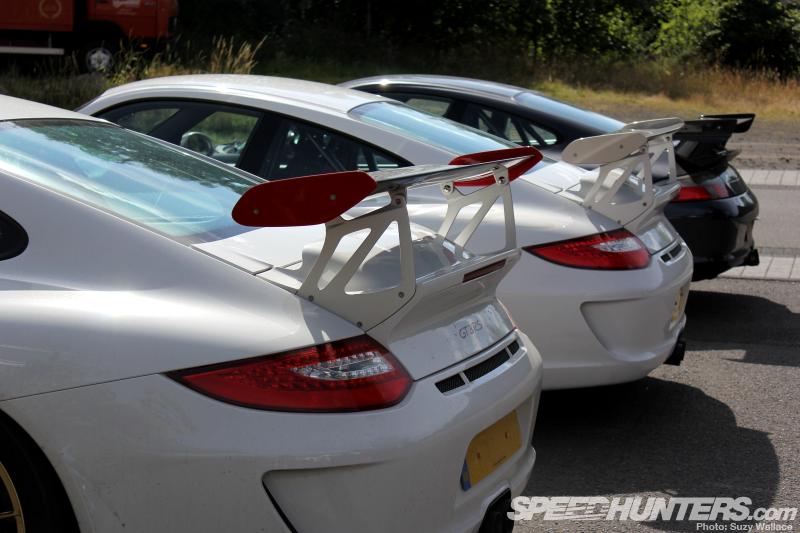 What was I saying about Porsches being common out here?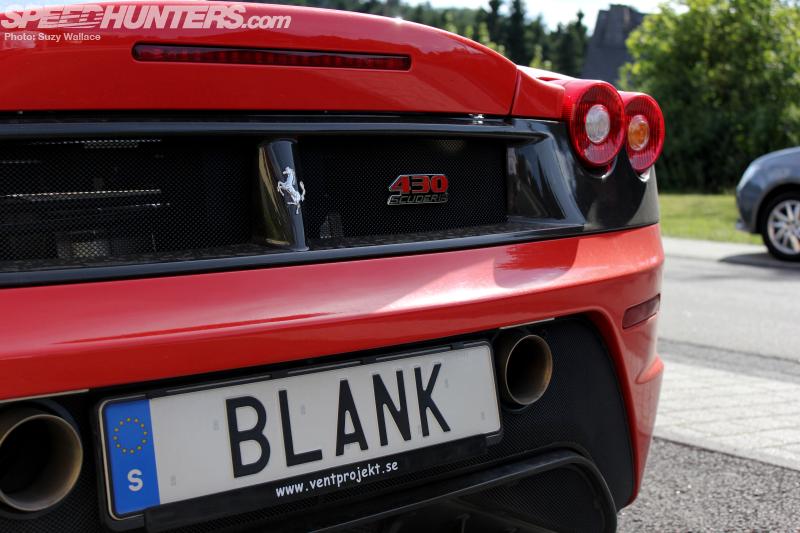 This one thankfully wasn't on fire. And his number plate is genius!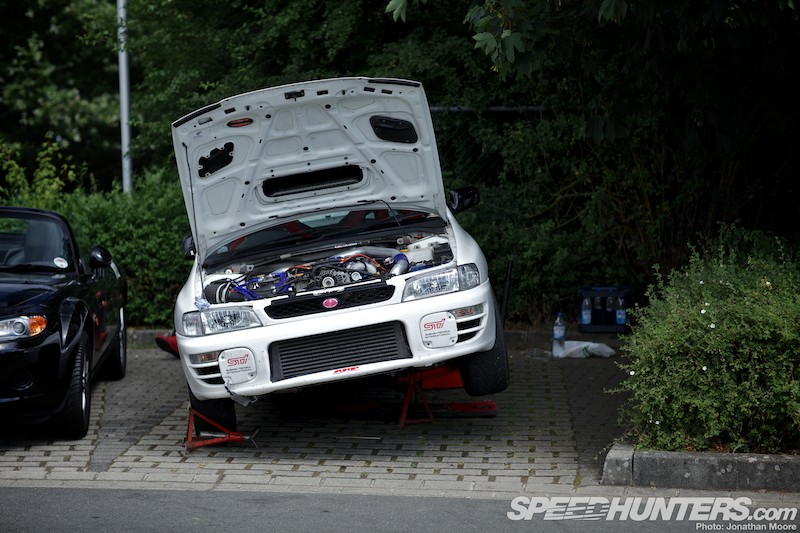 People took advantage of the lull to conduct some quick checks and fixes…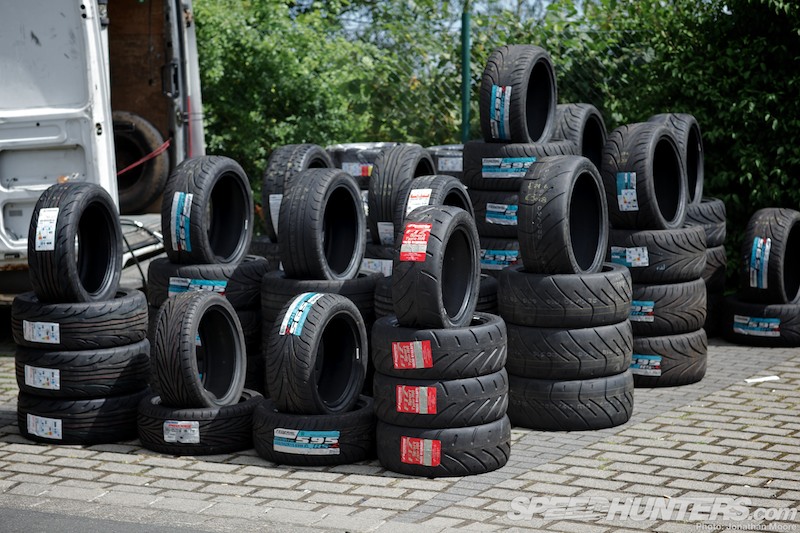 … and if anyone needed a change of tyres, they were well catered for!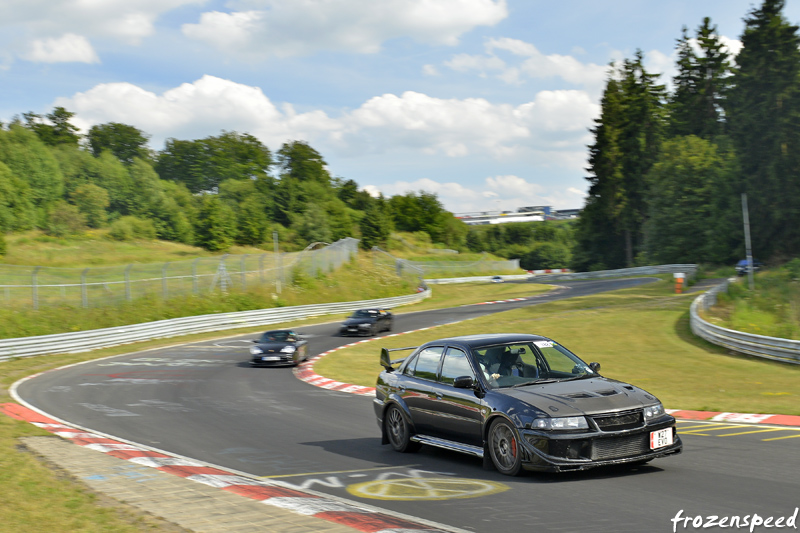 By the time the track opened again, there was barely an hour left of the afternoon, so it was time to head back out onto the circuit and get a few more laps in. Soon the day was finished and both cars and drivers headed back to the hotel for a welcome cold drink and shower.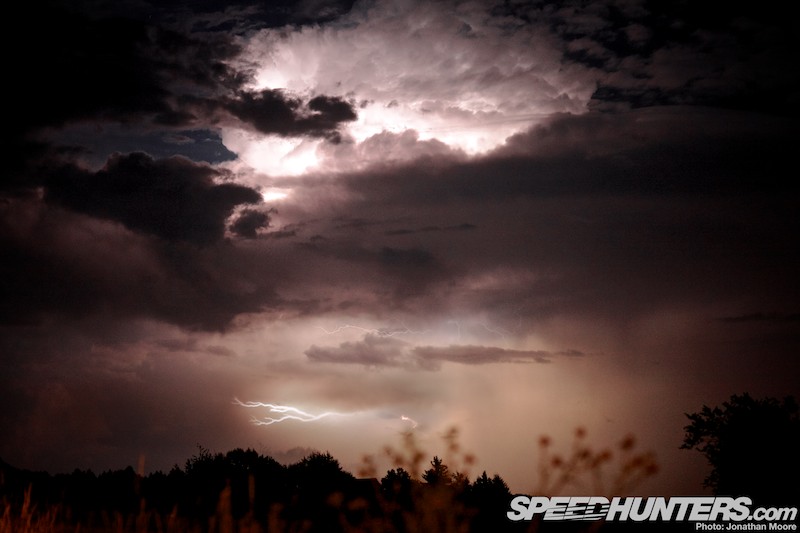 As is our custom, dinner was the famous steak on a stone at the Pistenklause. If you're ever heading to the Nürburgring, you have to try it out – it's literally a slab of raw steak on a sizzling hot stone. Post-caveman food, we headed back to the hotel but were somewhat distracted by what I can only describe as the most epic storm I've ever seen in my life. The actual storm was so far away that there was no thunder but lightning lit the skies every few seconds for the 45 minutes we stood and watched. As amazing a sight as it was, it didn't bode well for the day ahead…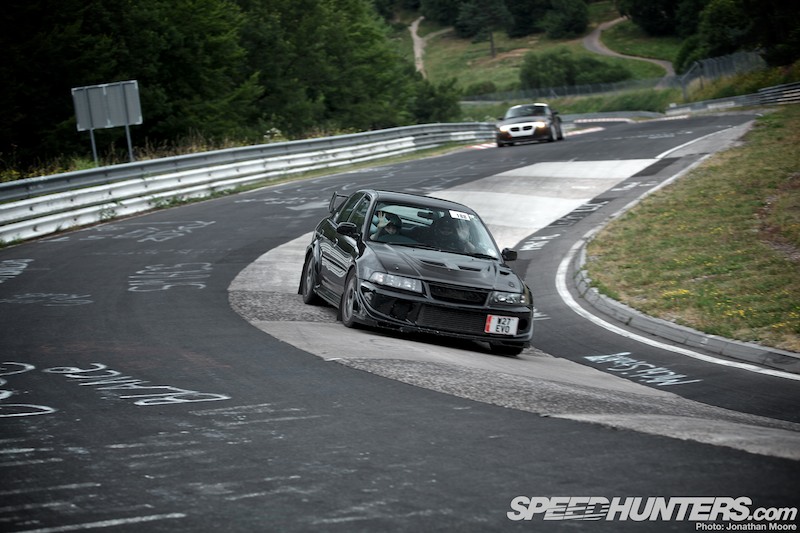 My fears were unfounded though. The next day proved thankfully cooler, helping with both the car's performance and the rate at which the tyres went off. So I celebrated by waving at Jonathan at the top of the Karussell. As you do.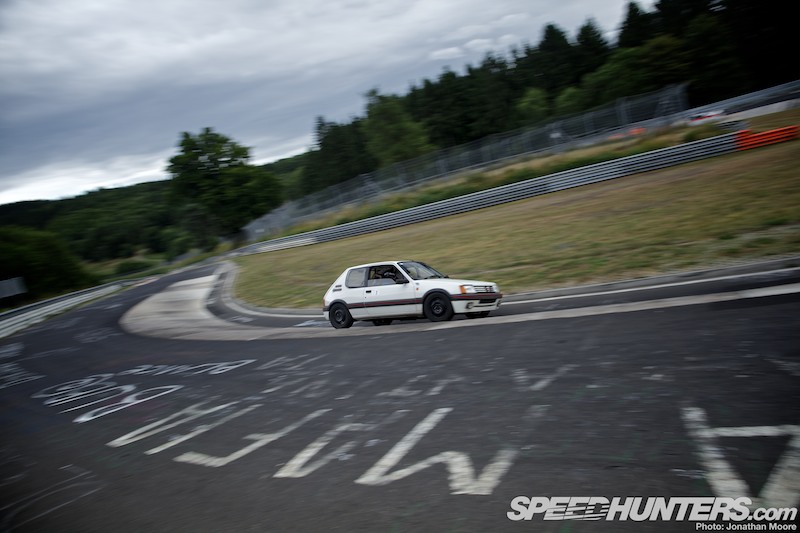 One thing you learn very quickly at the 'Ring is to ignore what car people are in. I've seen Minis overtaking Ferraris and just about every combination in between. A quick driver who knows the circuit at the wheel of a relatively modest car can, and will, embarrass far more powerful machinery. This is not the place for egos.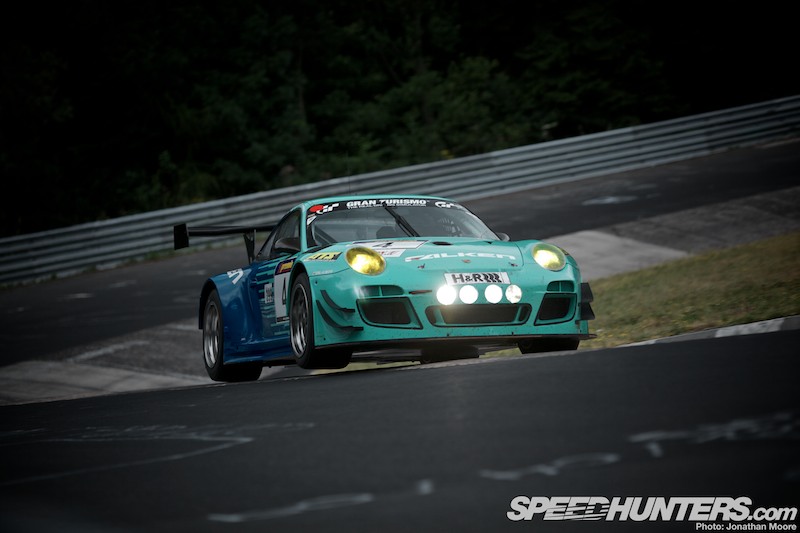 That said, if you see the Falken Porsche RSR coming up in your rear-view mirror, you'd better move the hell out of the way! It's perhaps slightly unusual that race teams can join the day as well, but very cool nonetheless. Just look at it taking off out of the Karussell. Proper #MaximumAttack!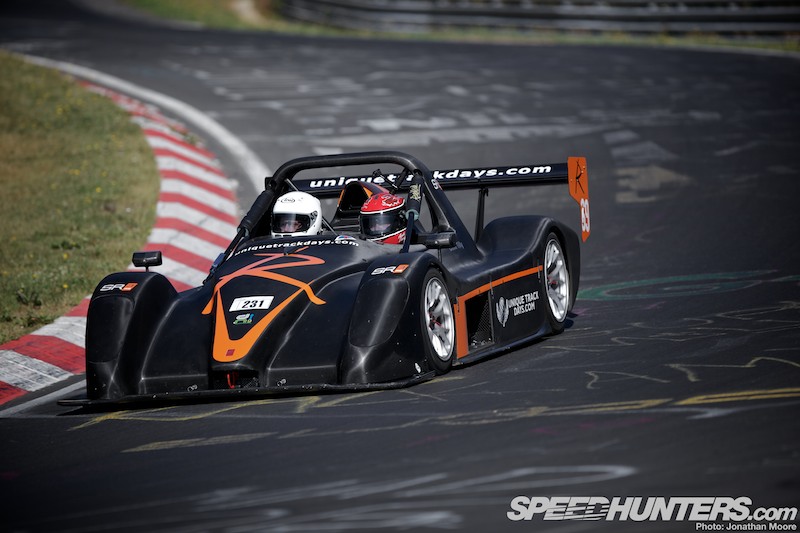 Here's something that's actually pretty hard to spot approaching. The fully carbon-bodied Radical was on hand, for a suitable sum of money of course, to provide hot laps to those crazy brave enough (previous DN days have seen Michael Vergers at the wheel, the current lap record holder for a production vehicle), or the opportunity to take the wheel themselves. I'm not sure how I'd feel about doing an open-top lap at the 'Ring…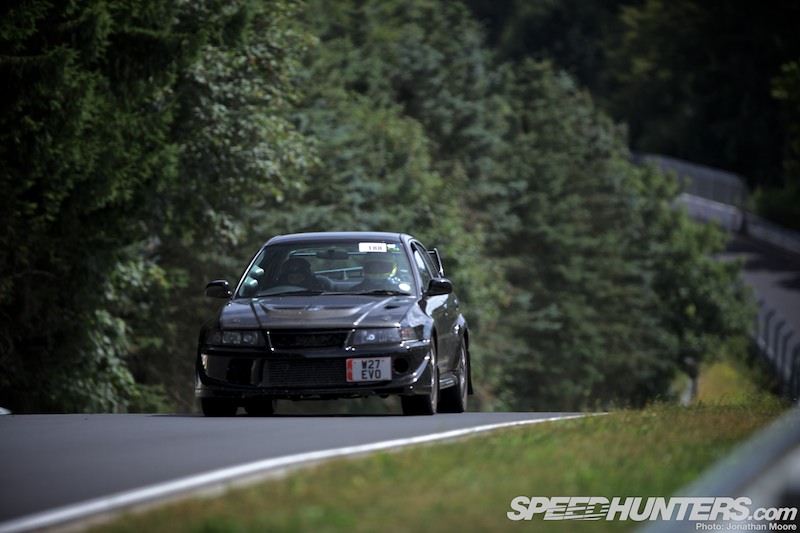 For the moment, I was happy to stick to my own car. With it behaving so well, I found myself pushing in areas that I used to chicken out on – although I'm not quite at the stage of taking-off over Flugplatz. I'm still hitting 120mph here, finally being brave enough to not brake before the crest. With my new-found confidence in my brakes, I was also starting to take the high-speed left at Schwedenkreuz faster; taking any corner at over 100mph takes a certain amount of bravado but the car was more than up to the job.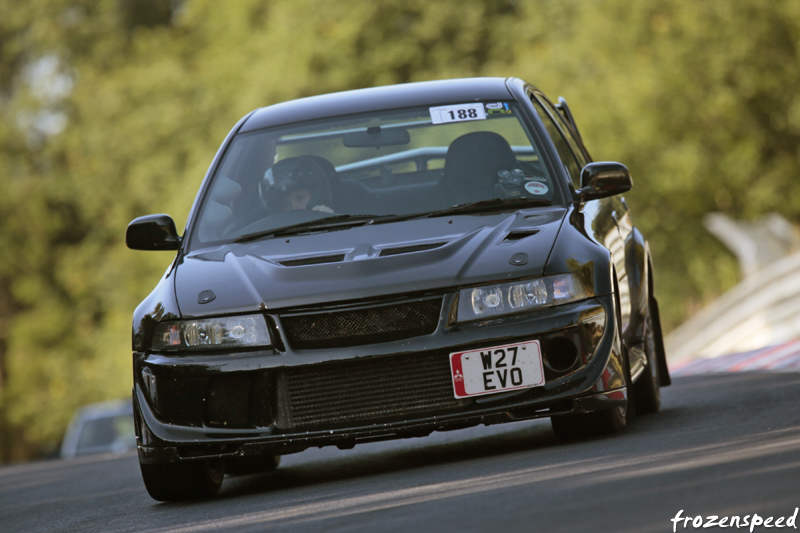 I was starting to take the Foxhole faster too. On the second day I took Jonathan for his first 'at speed' lap of the circuit. Despite him shooting here for years, he's only ever been on one rather sedate parade lap, so I definitely had to remedy that! When we returned to the car park, his first words were "The Foxhole. Oh my god", and that probably sums it up pretty well. For anyone who's not familiar, it's like driving down and then up a big slope. Only the downhill bit means threading a straight line between four off-camber kerbs. As I've discovered, as you start picking up pace, these off-camber bits really throw the car about. There's no let-off at the bottom though, as you're faced with a sheer wall curving away to the left to climb out. The car hits full compression and your stomach contents threaten to make a reappearance, as you power up towards the blind chicane of Adenauer Forst. I'm now hitting that at 120mph too. As a confident driver, it's fun. As a passenger on your first lap, probably not so much.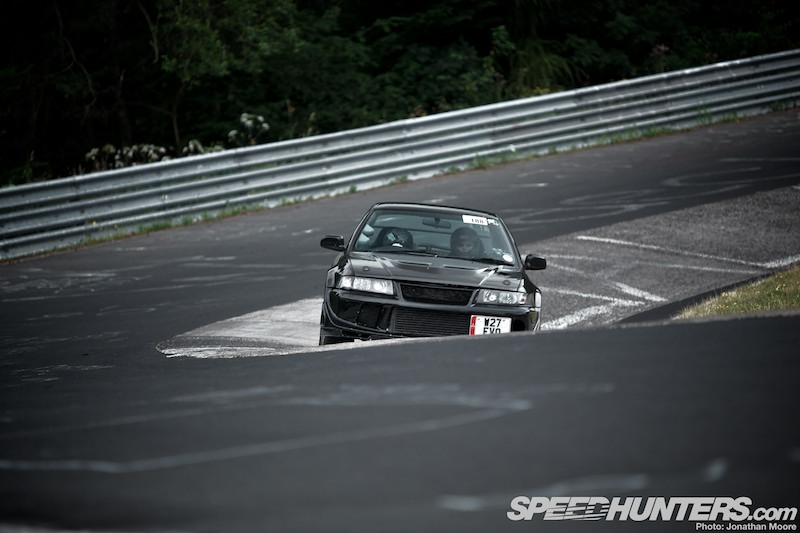 I was seriously enjoying myself. Who needs to see over the steering wheel anyway?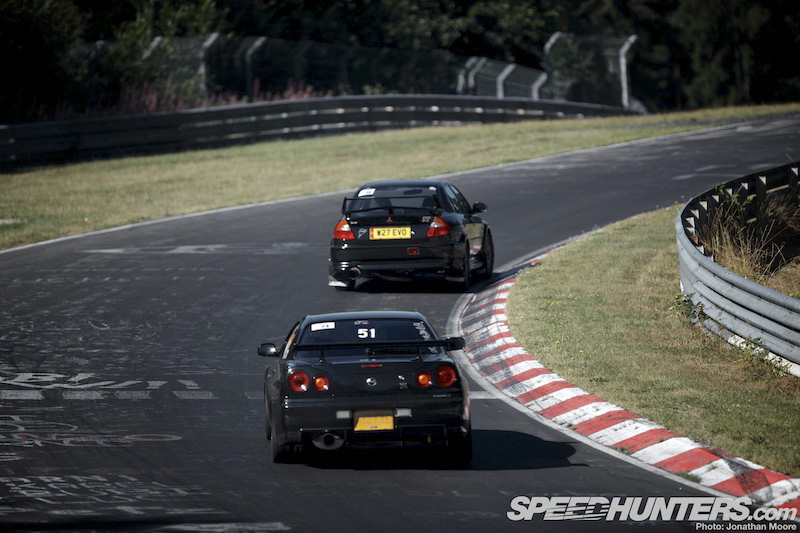 Pflanzgarten was another area where I was getting braver. The track dips away here just before rounding the right-hander you see above. Accepted practice is to brake before the crest, then afterwards as needed before turning in. My confidence getting the better of me, I thought I would go without the pre-crest brake. The car flew over the crest before landing and I went for the brake. Nope, no brakes here, just the ABS kicking in as the car struggled to cope with full compression. The only thing I could do was to get back onto a steady throttle to push me round the corner, hang onto the steering wheel for dear life and hope. Luckily we made it round, but I won't be trying that again in a hurry!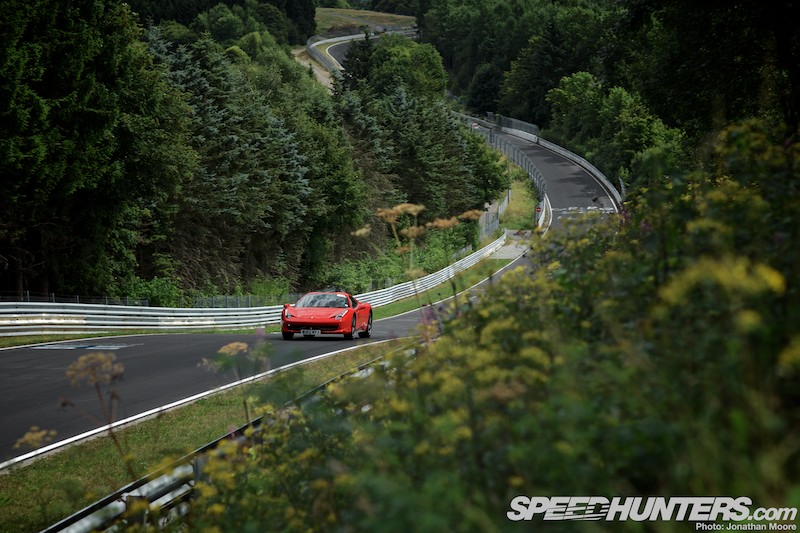 As the day went on, I slowly lost my buddies out on track. First the R34 sheared off two wheel studs and needed to be recovered from the track. The R33 was next, cracking both of his brake discs – an issue experienced before at Spa. Finally, my friend with the R32 had a 'moment' and decided to call it a day. The Green Hell had claimed its victims. But the Evo was still going strong: a victory for Mitsubishi! Which of course I rubbed into my friends' faces. An hour from the end of the day, the heavens finally opened, pretty much calling a halt to proceedings, and the car park emptied. No complaints though – despite some understeer, caused by a combination of wheel/tyre fitment and geometry settings, I'd had my most successful track day there yet.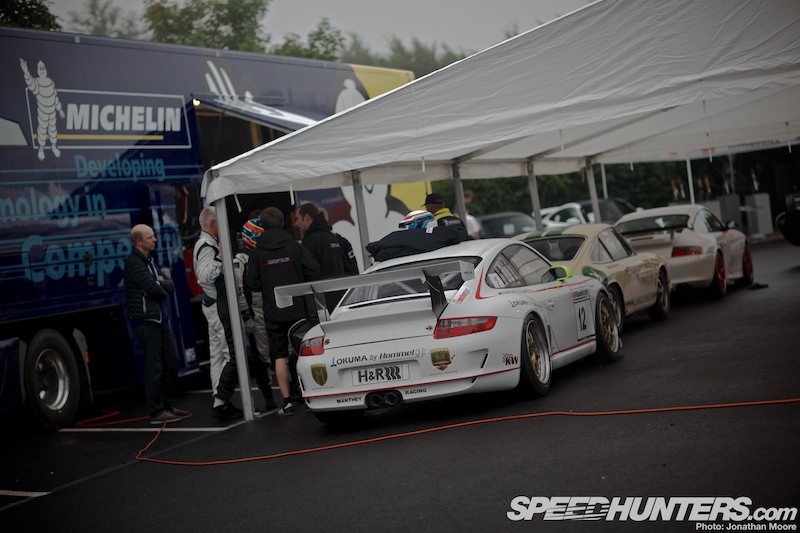 Of course, as a Speedhunter, I couldn't call it quits after my own enjoyment though – there was just too much automotive goodness to be experienced out there to go straight home! The very next day we returned to the circuit as guests on a Manthey Racing track day.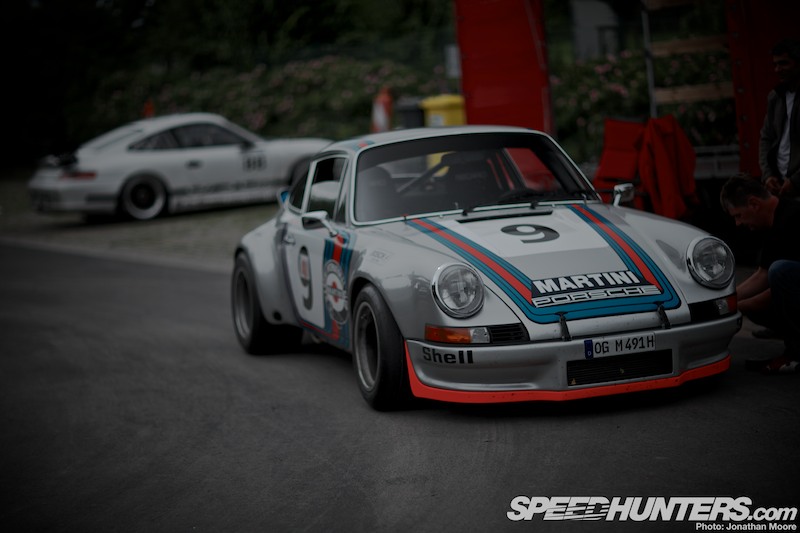 Catering for just Stuttgart's finest, the car park was awash with both race and road cars. We found it particularly difficult to take our eye off this Martini-liveried 911.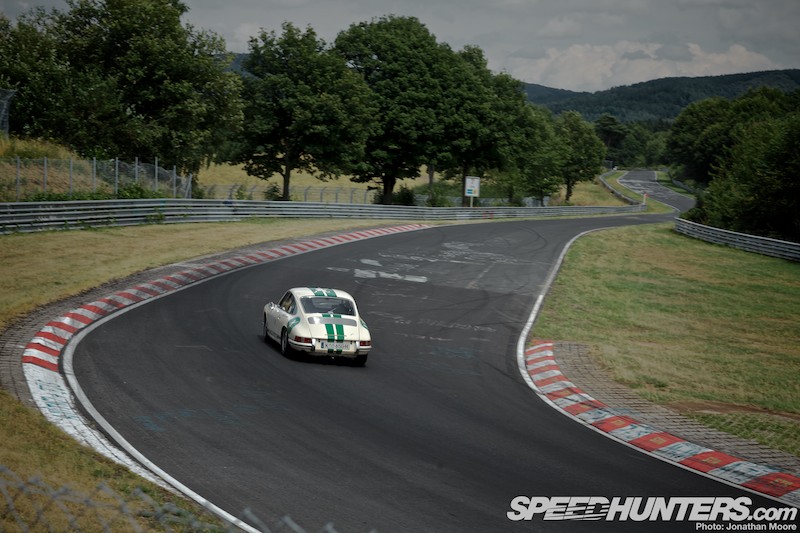 After hanging around the car park drooling for a while, we took the opportunity to scout out some more shooting locations. Anyone who's ever been to Nordschleife and its 13 miles of looping, winding tarmac that rolls seemingly endlessly through the Eifel mountains will appreciate just how many facets of this track there are. In all my years of visiting, I'm still learning how to get to various points of the circuit as a spectator, and after Jonathan showed me how to drive to the outside of the Karussell, I showed him the route to Adenauer Forst. I'm still amazed by just how different the track appears when you're standing at the side of it instead of barrelling around it.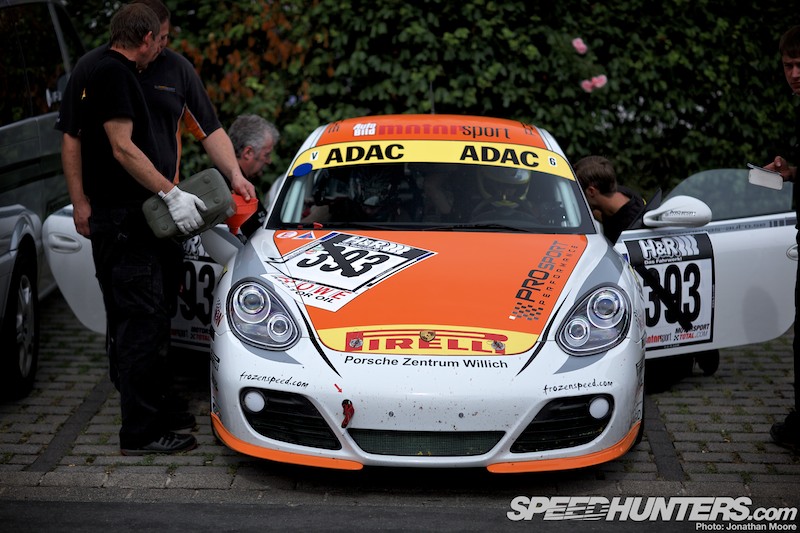 The day drew on and after notching up a handful more shooting locations and getting to practice my panning skills, we headed back to the circuit to finish up and say our goodbyes. Michael Grassl from KW Automotive had been on hand to provide suspension advice to the cars present and as I flippantly made a joking comment of, "Well, unless we're getting to go out in anything, I think we're done for the day", his face lit up and he ran off. As I exchanged looks of disbelief with Jonathan, he returned with a set of keys. I had a ride. In a Porsche Cayman race car. I've been for some quick passenger laps around the circuit but never in a proper race car! It was time to strap in and shut up.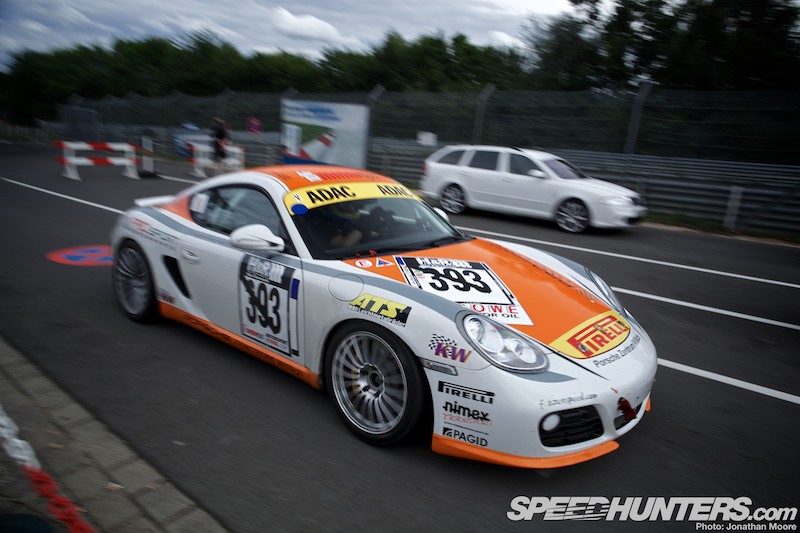 "We'll go for one warm-up lap and one flying lap" he promised. It was then that I discovered that when someone who's driven in the N24 tells you we're going for a warm-up lap, this does not mean a slow and steady one! With the track still fresh in my memory, I was astonished at the sheer amount of grip the car had, barrelling round corners at speeds far in excess of what I'd been doing the day before. Sadly, a yellow flag slowed us down at Brünnchen on our first lap before a red flag a few corners later at Pflanzgarten signalled the end of the day. I'll be back for that flying lap though!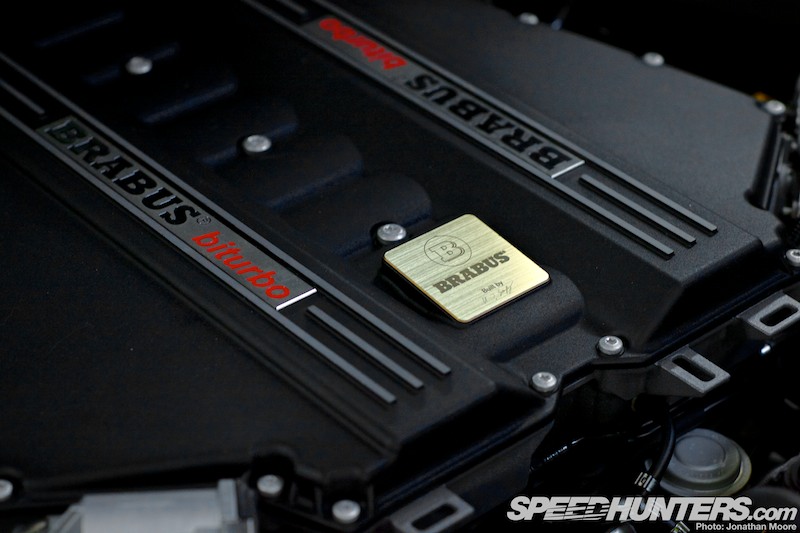 Still trying to wrap my head round the Cayman's corner speeds, it was time to head North to Essen in something much slower – our hateful hire car. The next morning saw us heading to Bottrop to visit Brabus. A full shop tour exposed us to the brute force of its 700 Biturbo – a tuned version of the SLS putting out, you guessed it, 700hp. It wasn't just about sheer power though – a visit to the upholstery department let us get a taster of some spectacular interiors.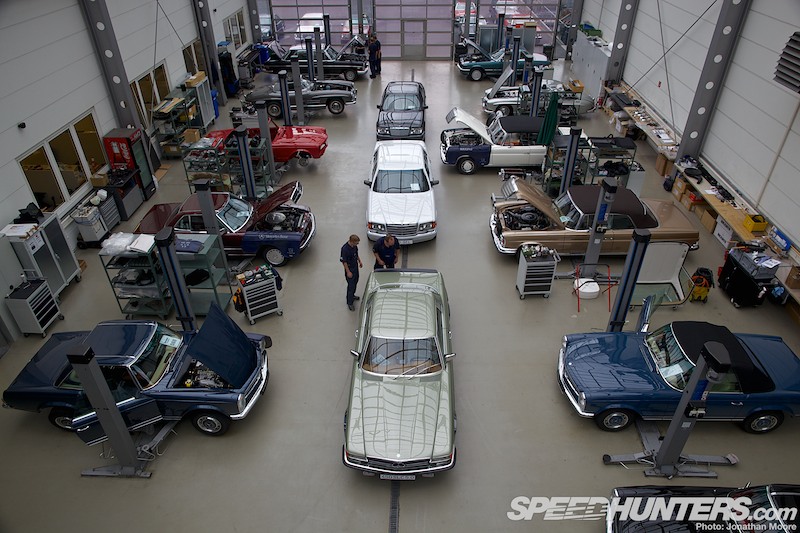 There were unexpected twists too. Did you know Brabus specialises in renovating old classics as well? Full bare shell, nut and bolt jobs too. Us neither. Jaws on the floor. Expect a full shop tour soon…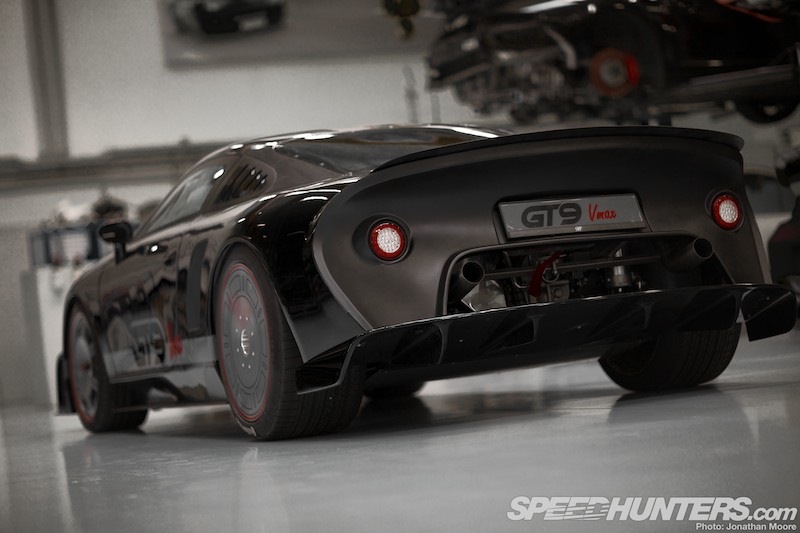 There was no time to dawdle though – jumping back into our cars, we journeyed to Dortmund to visit the Porsche tuners 9ff. We'd particularly wanted to get some time with the GT9 Vmax, an absolute beast of a car that's capable of 270mph…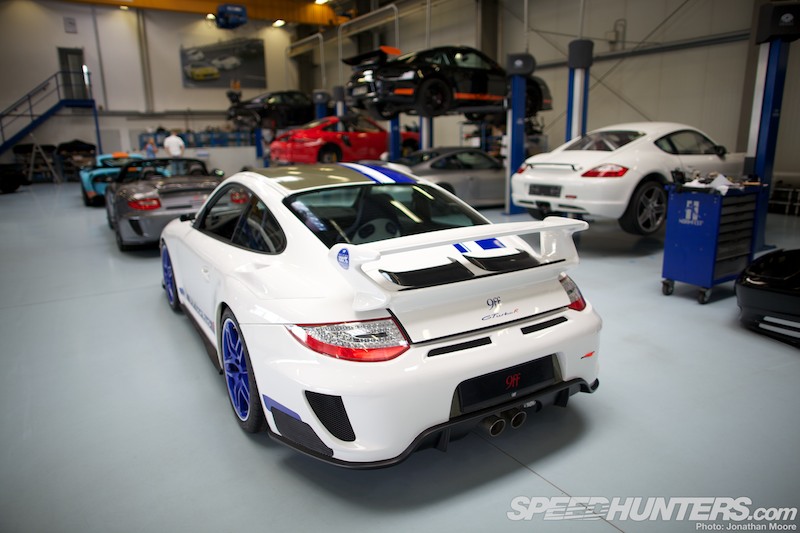 … but I don't think we'd banked on there being so many amazing cars present. If Brabus had surprised us earlier in the day, 9ff was turning my brain to liquid. Keep your eyes peeled for content from this amazing place.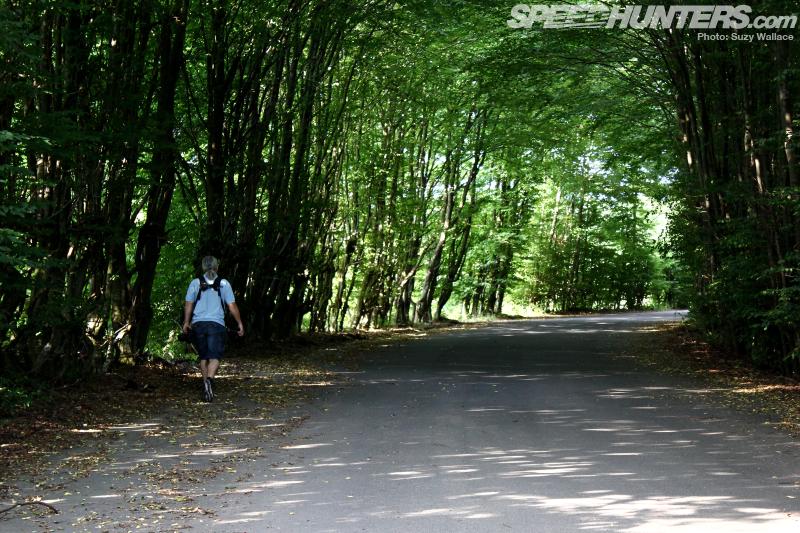 The next day we headed back to Nürburg. We were there for the OldTimer GP on the weekend but couldn't resist the opportunity to do a bit more Speedhunting and see if we could dig out the old Südschleife. Built at the same time as the Nordschleife, only part of the circuit remains – the rest is lost underneath the GP circuit and the new roads surrounding it. What is still there is steep though! More to come on what we found soon.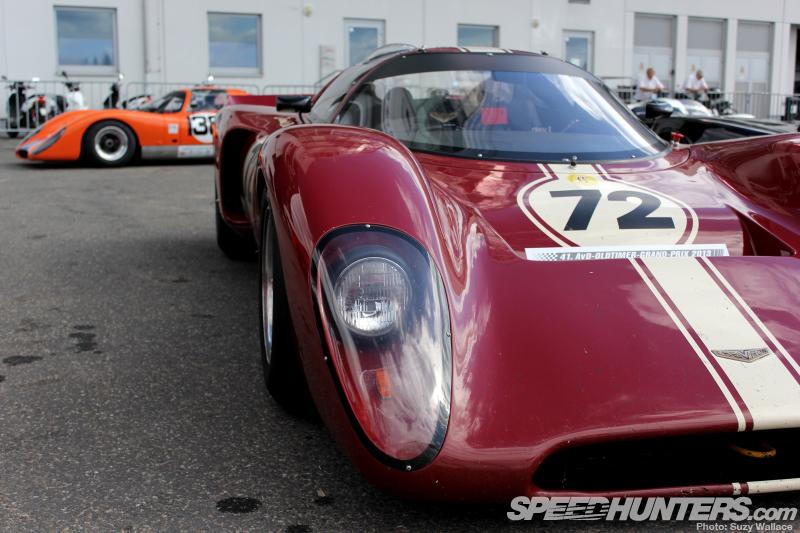 Legs aching, we headed to the GP circuit only to be assaulted by the aural assault of old race cars pounding the tarmac. Waking up in the morning and hearing these machines tearing round the circuit from my hotel room has genuinely got to be one of life's greatest pleasures. There is no better alarm clock.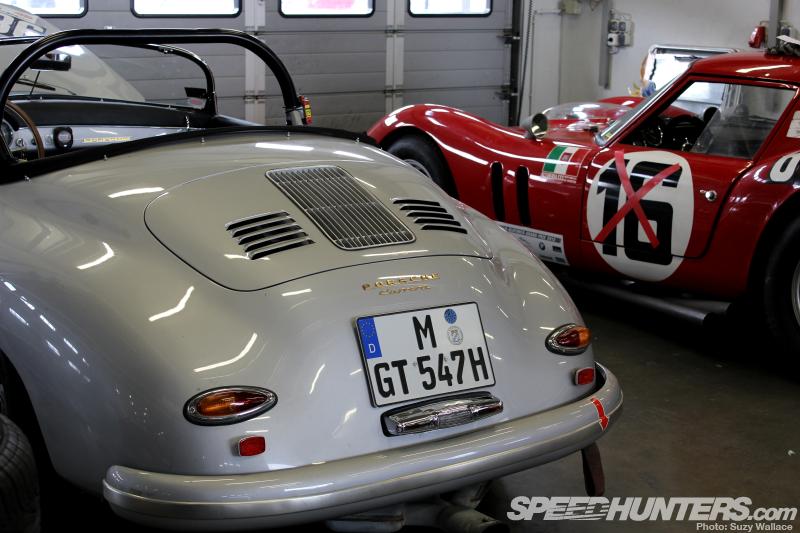 The sheer variety of cars on offer was astounding. Each garage we walked past was packed to the brim with classic racing machinery, and rival marques rubbed shoulders in the confines of the space.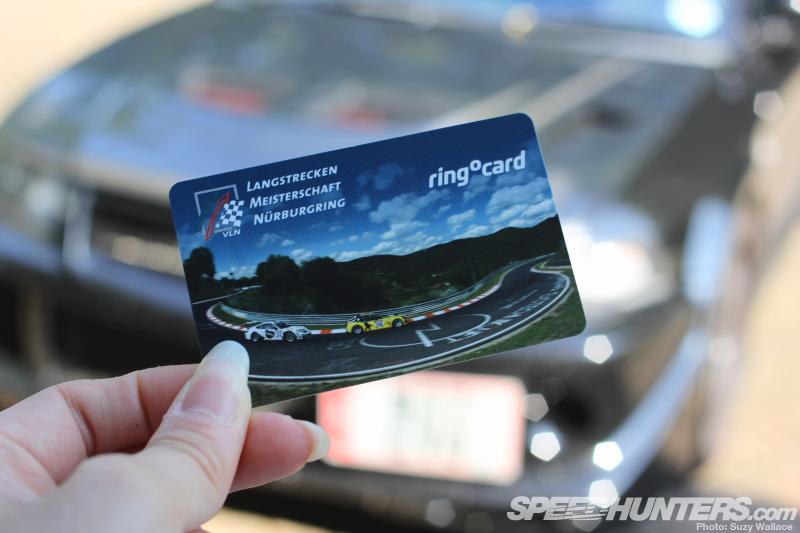 Returning to the hotel after the day had finished, I remembered I hadn't put the road wheels back on the Evo yet. And that the track was open for public laps. Well, when in Rome…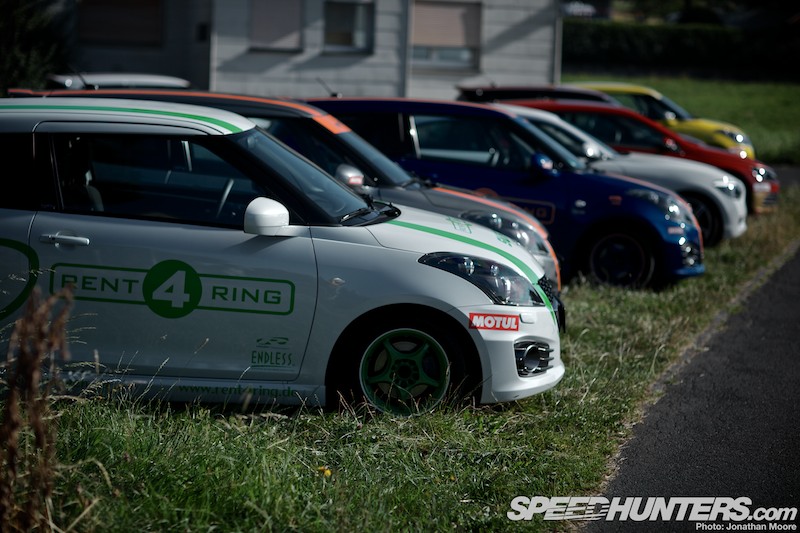 Having driven past the fleet of Suzuki Swift Sports at Rent4Ring every day, we decided to pay a visit. I've met some of the guys before when they've been very helpful in changing my brake fluid and was pleasantly surprised to find that I'm still remembered. Our visiting chat soon turned to the subject of Swifts and before long, we were being told to head back on Sunday for a briefing. What's this? More laps? Oh, go on then…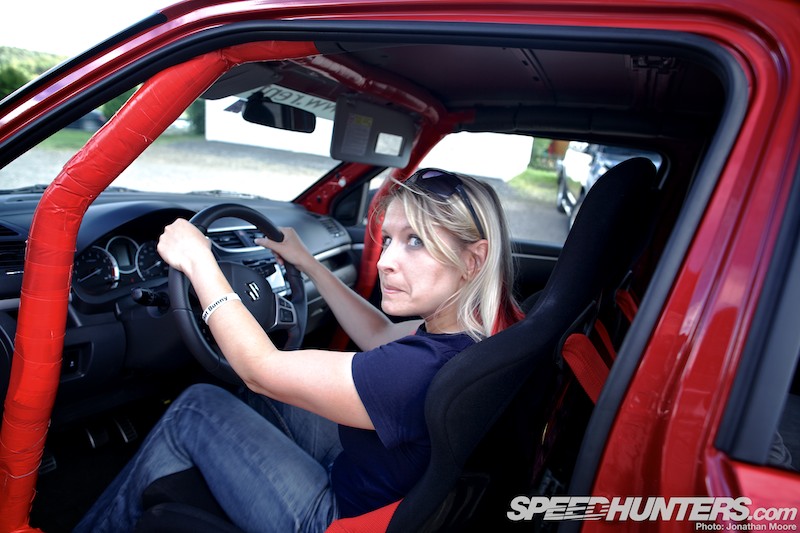 I've seen the Swifts on circuit at every 'Ring event I've been to. And before you turn your nose up, you should know that the Stage 2 cars that make up the majority of the fleet are stripped, with a full cage, racing seats, harnesses, track-spec pads and fluid, Öhlins suspension, and semi-slicks. They're the only 'Ring car hire place that actively preps their cars in this way. I've been wanting to try one out for a long time now and after an introductory briefing, I found myself being handed the keys. This is my excited look. After a week of being excited.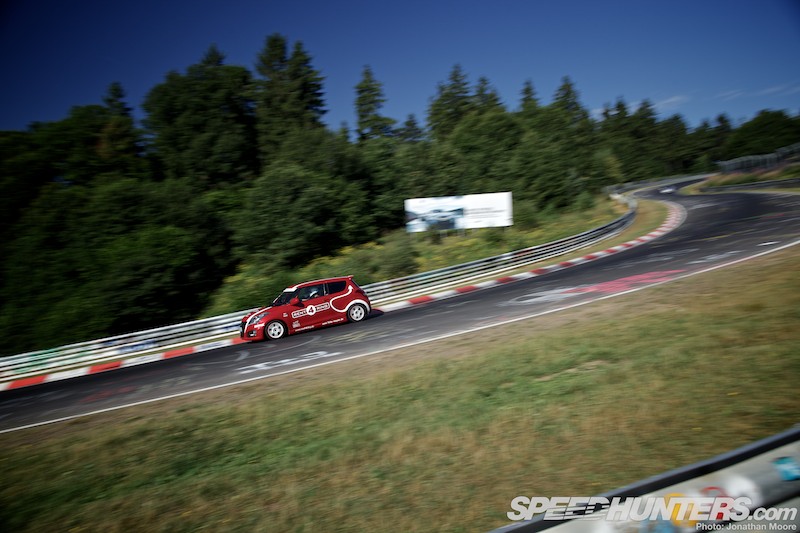 Heading out onto the circuit, I was rather taken aback with the Swift. I'd expected them to handle pretty well, but there was little to no understeer at all and the car was a blast to throw into the corners. What I hadn't counted on was the brakes being so sharp that I almost got the car sideways! I love driving my Evo here without a doubt but there's something so satisfying about overtaking a nice car in the Swift – preferably whilst waving at the same time. If you're ever in the region but don't feel happy with driving your own car round the circuit, make sure you get one of these. Massive thanks to all the guys at Rent4Ring. I'll definitely be back, and hopefully not for any more brake fluid changes!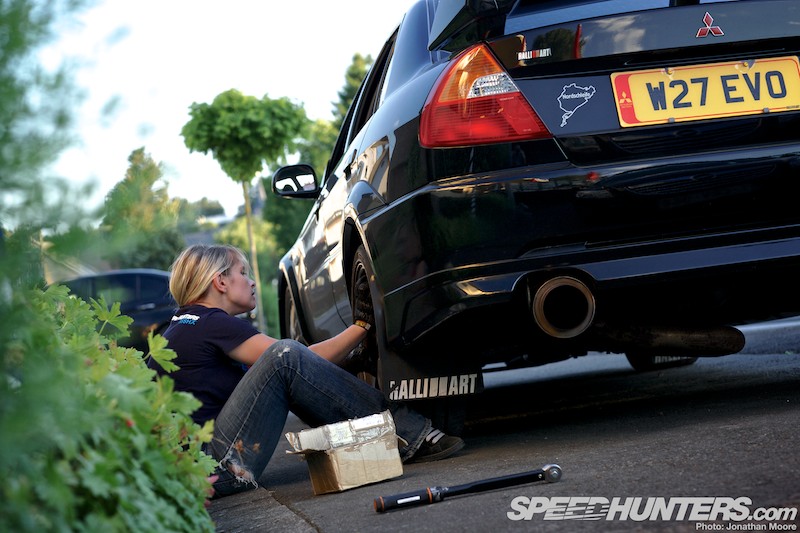 As the circuit closed, I was finally forced to admit that there would be no more laps in the Evo, so it was back on with the road wheels. Much to his annoyance, I refused to let Jonathan help me out, insisting that he get some pictures instead. This also meant that nearly everybody walking past assumed that he was just some mean boyfriend who was making his girlfriend do all the hard work, which amused me no end.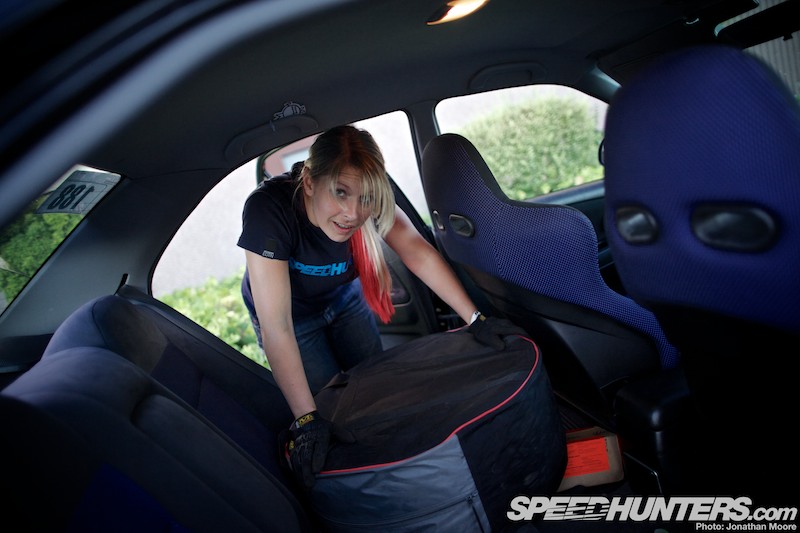 With the road wheels back on, it was time to load the car back up again. I don't view my Evo as a practical car at all, but it did swallow four wheels/tyres, a harness bar, tools, a broken trolley jack, spare oil and brake fluid, two bags of luggage, a backpack, two bags of camera equipment, a helmet, a bag containing all the necessary equipment needed to drive in Europe, and more. I couldn't fit a finger between my rear tyres and the wheel arch when it was loaded, but it did all fit!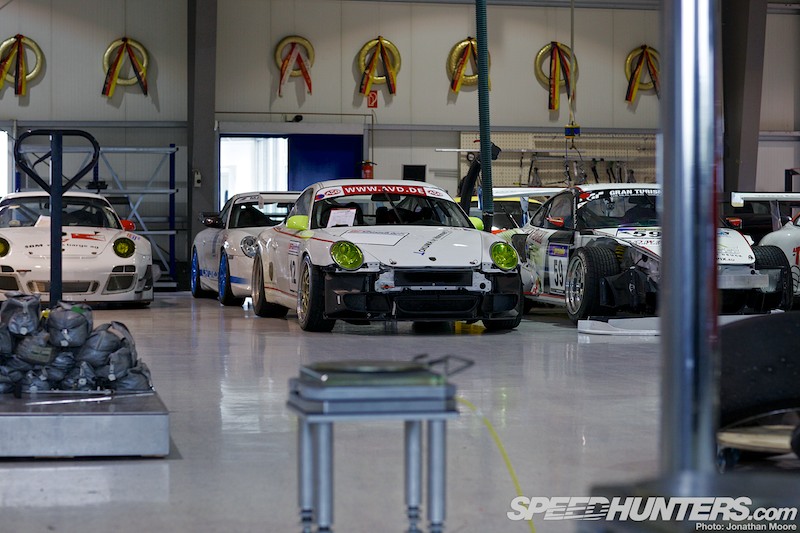 On Monday morning, we were finally made to say our goodbyes to the Nürburgring. Despite pleading with Jonathan that we could just set up camp somewhere (perhaps in the ticket office?), it was time to head home. But not before we did one final spot of Speedhunting and visited the premises of Manthey Racing, being shown around by none other than Olaf Manthey himself. Another shop tour to come!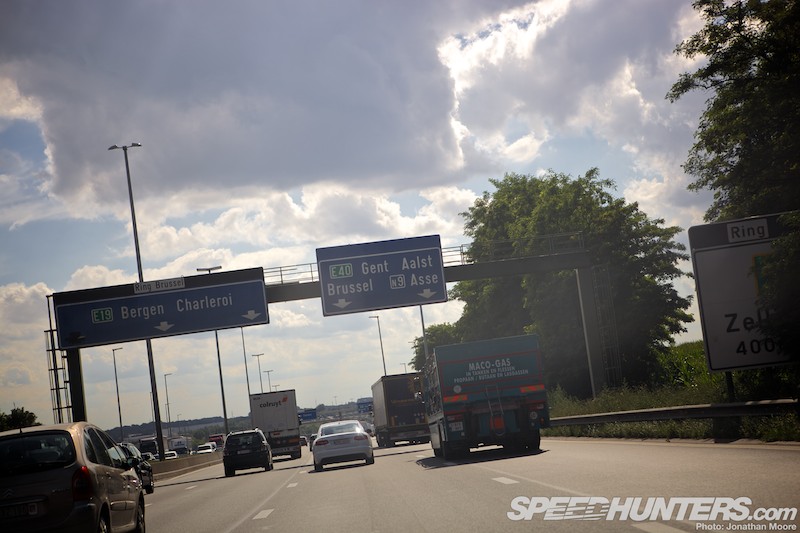 And so we hit the road. This time it wasn't about enjoying the journey but getting home before we fell asleep at the wheel. Thank god for that stereo I should really remove! At least some of the place names on the way provided some amusement….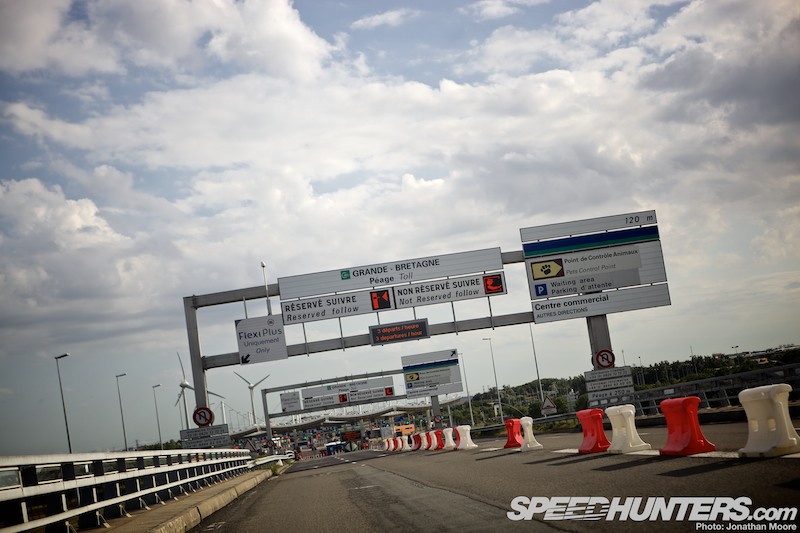 At last we made it back to Calais and the EuroTunnel. The excited high of the previous week had started to slip away, being replaced by a weary desire to just get home and have some sleep.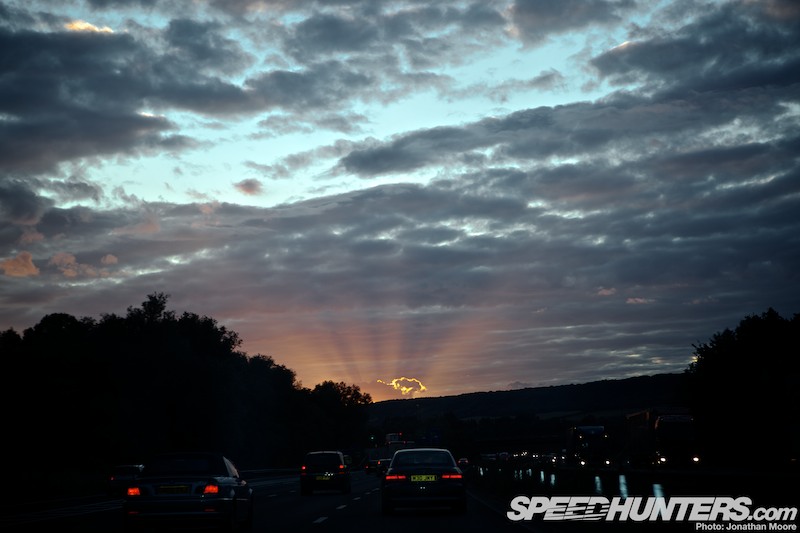 As we disembarked in the UK, the sun had started dipping and the final leg of our journey was made to one of the most beautiful sunsets I'd seen in years. It had been a truly epic trip, encompassing driving, passenger laps, racing cars, shop tours, interviews and much more. But there was only one question on our lips as the sun sunk… when are we going back?
Words by Suzy Wallace
Instagram: speedhunters_suzy
Email: suzy@speedhunters.com
Photos by Jonathan Moore
Instagram: speedhunters_jonathan
jonathan@speedhunters.com
Additional photos by Jochen @ Frozenspeed and Valentina Zemaityte
Thanks to Destination Nurburgring, Jochen, Michael Grassl, Manthey Racing, Brabus, 9ff and Rent4Ring.
Previous Project Evo posts on Speedhunters
OldTimer GP stories on Speedhunters