With the final round of the 2012/2013 D1NZ championship wrapping up later than expected this year, there's been little downtime between then and last weekend, when the event that unofficially kicks off the new season of drifting played out at Hampton Downs Motorsport Park. The NAC Insurance NZ Drift Nationals is a one day, once-a-year event hosted by our friends at NZ Performance Car magazine, and run by the crew behind the 4&Rotary events. It's always a good day out, so Saturday past I jumped in the car and headed along for a quick look.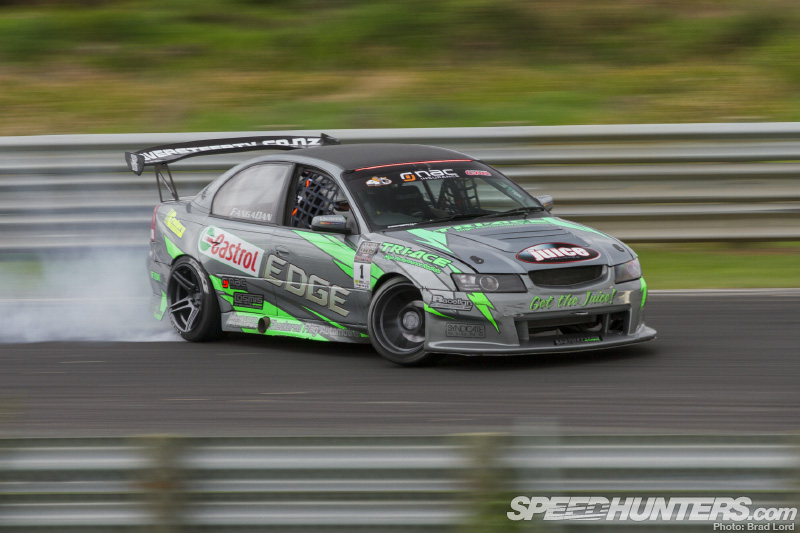 A Top 32 drift competition is the main focus of the Drift Nats, but the event always enjoys a good turnout from the wider import car community – partly because every customer of NAC, the naming rights sponsor and a specialist modified car insurer, receives a couple of complimentary passes, but also because it's a very nice way to bid a fond farewell to winter in the Southern Hemisphere.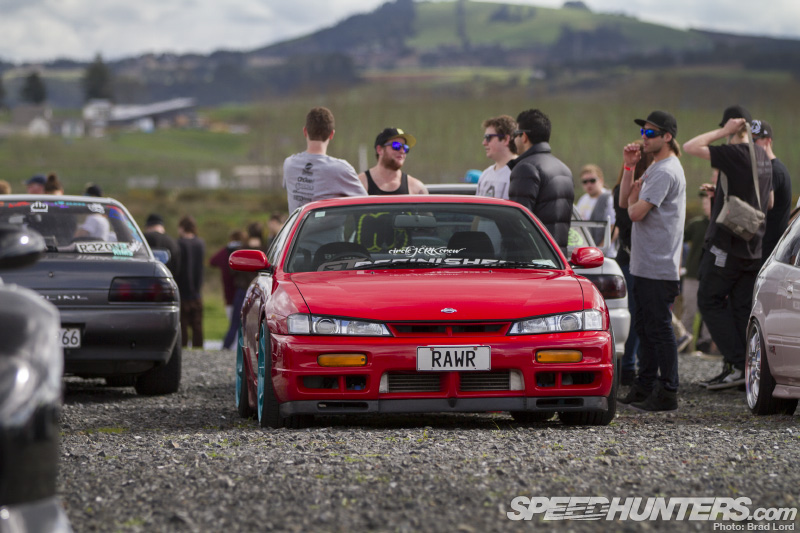 So along with the cars on the track vying for the coveted Drift Nats title, there were no shortage of interesting cars parked up in the the infield lot.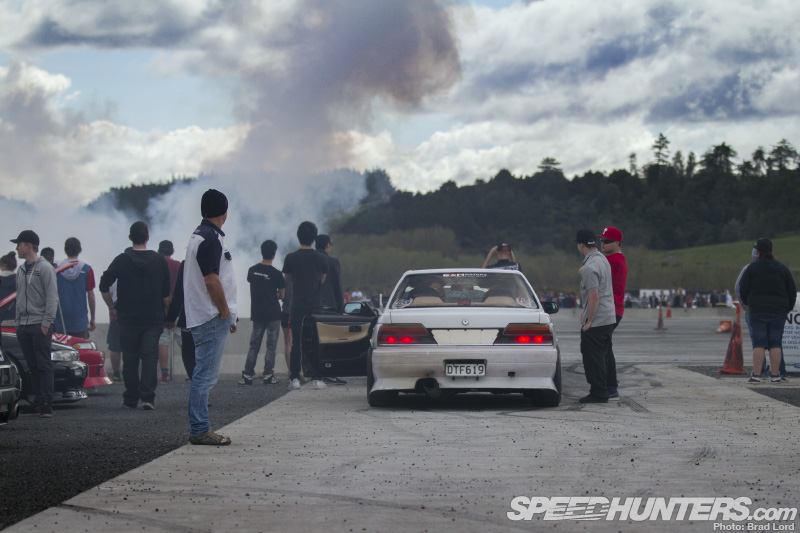 And there was plenty of other stuff happening around the facility, like a simulator challenge, R/C drift competition and 'Drift-Cross' on the slippery Hampton Downs skid pan.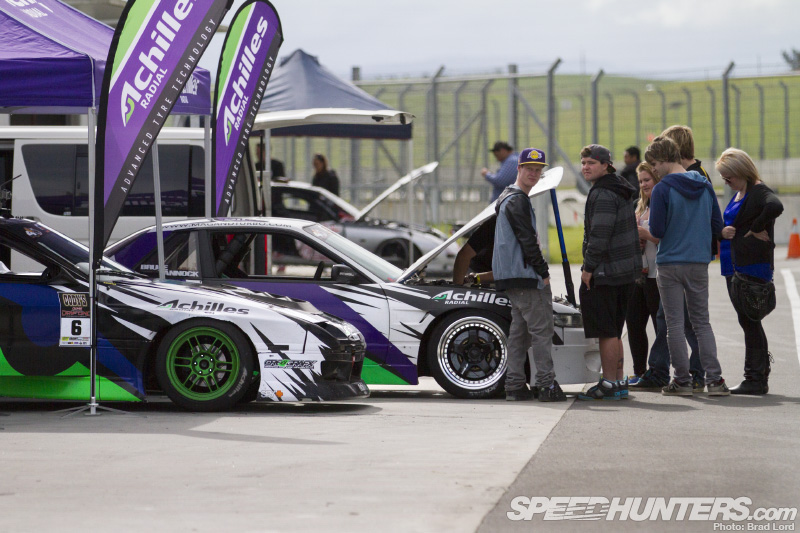 The pits were open all day long as well, allowing spectators the opportunity to check out some of the country's best drift cars up close whenever they weren't out on track.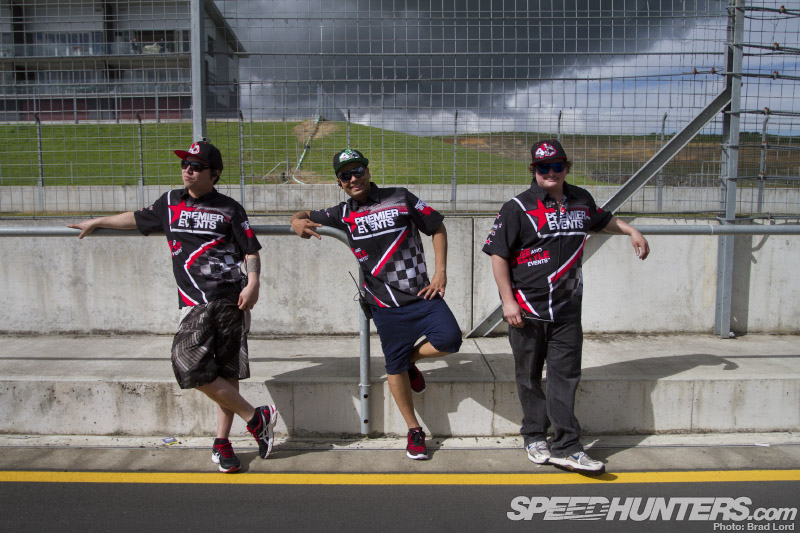 There was definitely a relaxed atmosphere around the place, and nice early spring weather too, despite the ominous clouds that hung around all day.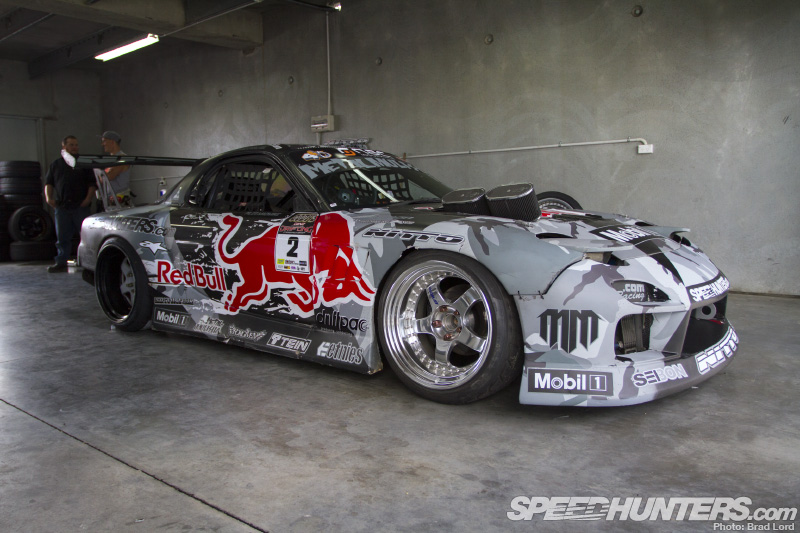 With a fresh PPRE four-rotor engine up front, everyone was wondering whether Speedhunters' own Mad Mike Whiddett could take the New Zealand Drift Nationals title for the third time running.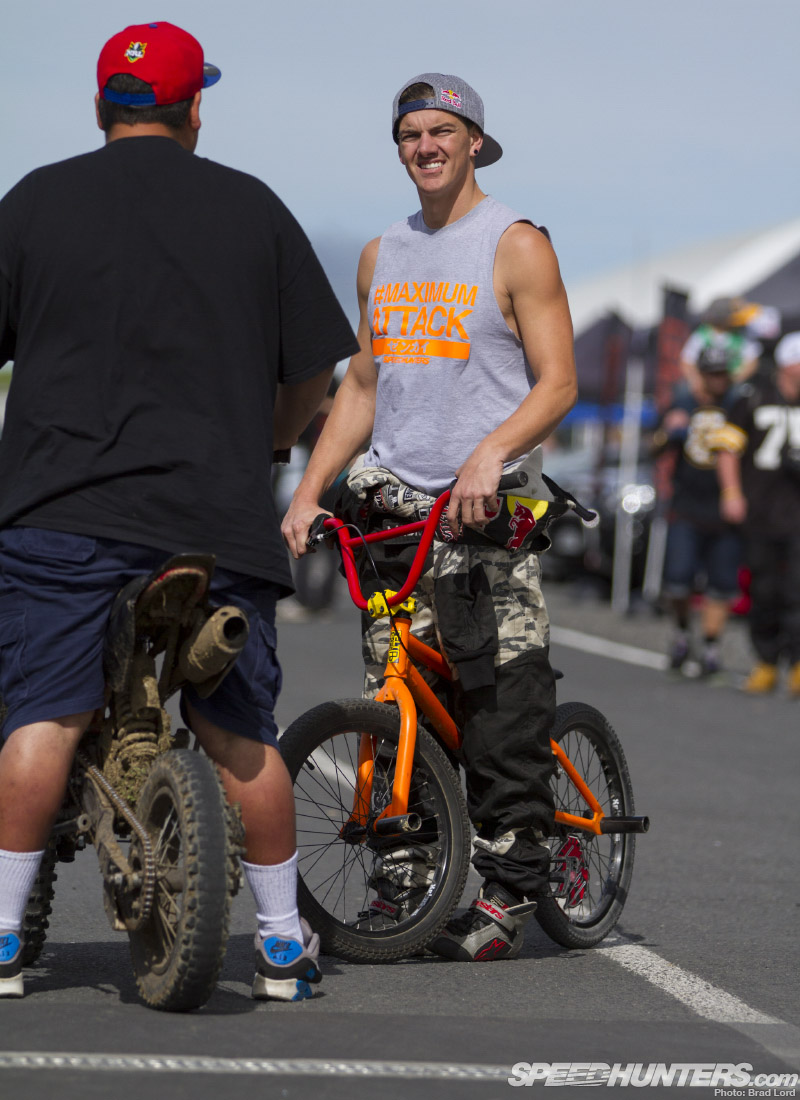 But unfortunately for Mike, an ECU issue early on in the day meant that he had to retire before qualifying even began. It was a shame, but I'm sure the team was happy that it happened here in New Zealand, and not in Sydney at the Tectaloy International Drift Challenge – part of the Yokohama World Time Attack Challenge – happening in less than two months time.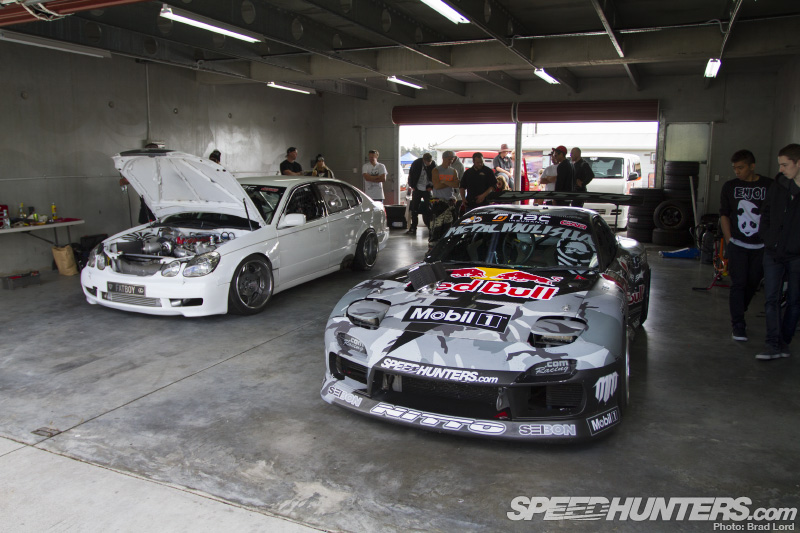 Even though MADBUL wasn't going anywhere, Mike's pit was still a hive of activity all day long. Of course, that's going to happen when you get two cars with eight collective rotors together in one place.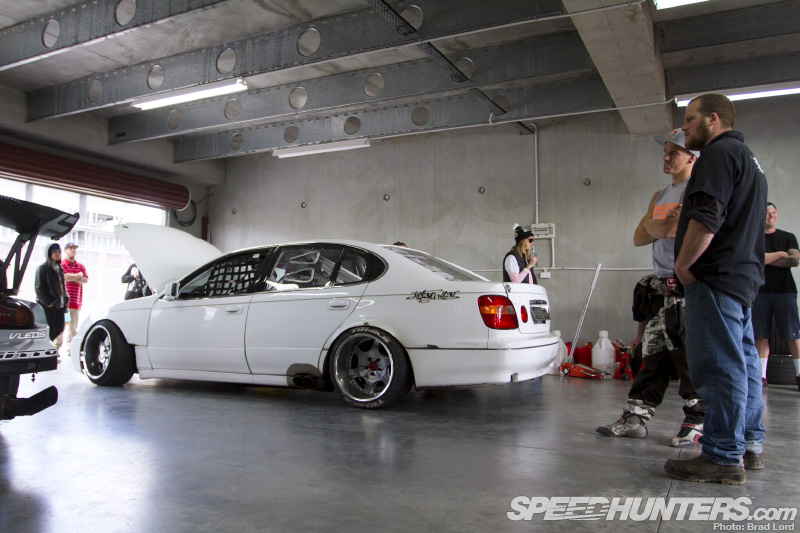 The other machine in garage was Mike's Rotang Klan teammate Carl Thompson's four-rotor, turbocharged and nitrous-assisted Lexus. It was the first time Carl had brought the Mazda-powered GS300 out to play in the public arena, and the car was receiving a lot of attention.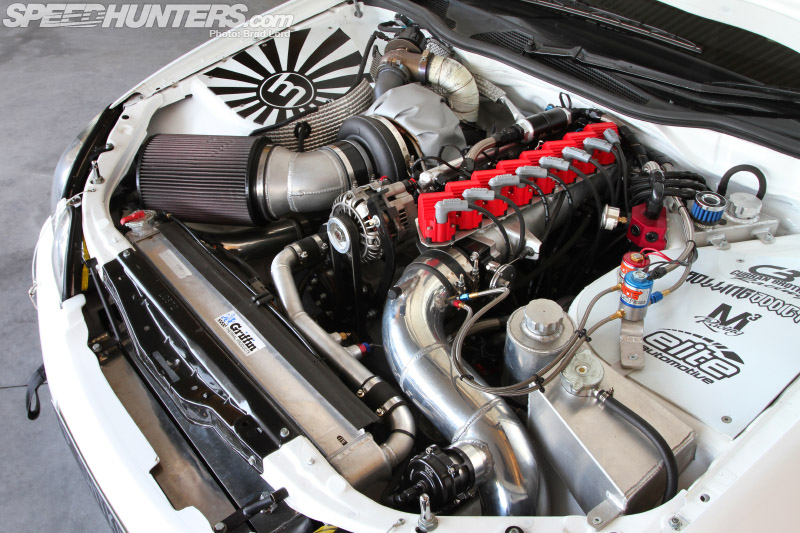 But even standing still, it's not hard to understand why. As we showed you in our world-first feature earlier in the year, this is what more than 1000 horsepower worth of custom quad-rotor firepower looks like.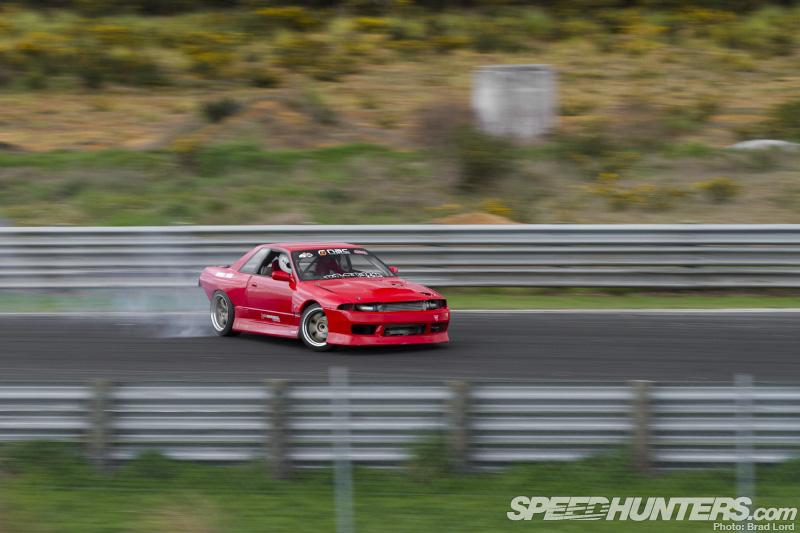 After the morning's practice sessions, the first order of business for the drift event proper was qualifiying. In a break from the New Zealand norm, the NZ Drift Nationals judges decided to run a two-pass Formula D-style format – the first run determining the Top 16 order, and the second pass a chance for those that didn't make the cut to bag themselves a spot elsewhere in the Top 32.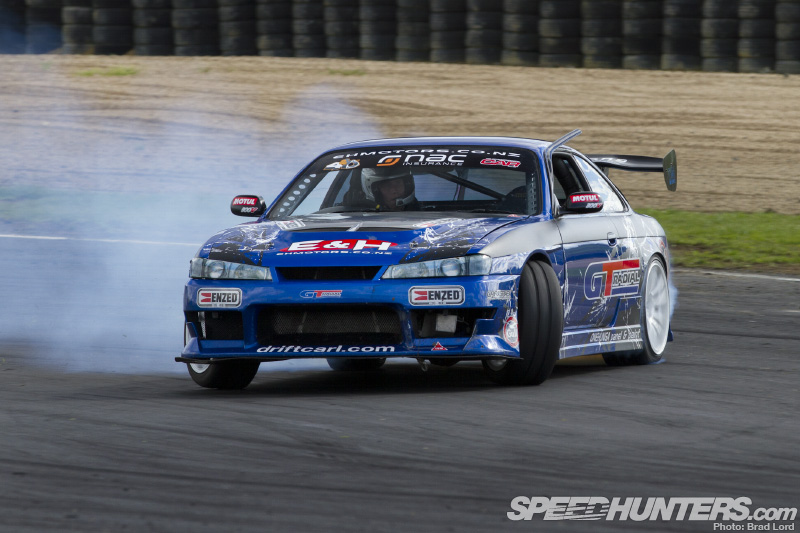 In D1NZ competition drivers have three passes to qualify; most opting for a 'safe' first run to guarantee a battle spot and using the two remaining passes to push harder and achieve a higher rank. This way though, drivers needed to come out all guns blazing from the get go, or risk ending up right down the bottom of the ladder. Former Kiwi drifting champion Carl Ruiterman earned the top spot behind the wheel of his E&H Motors 2.2L, 580whp Silvia S15.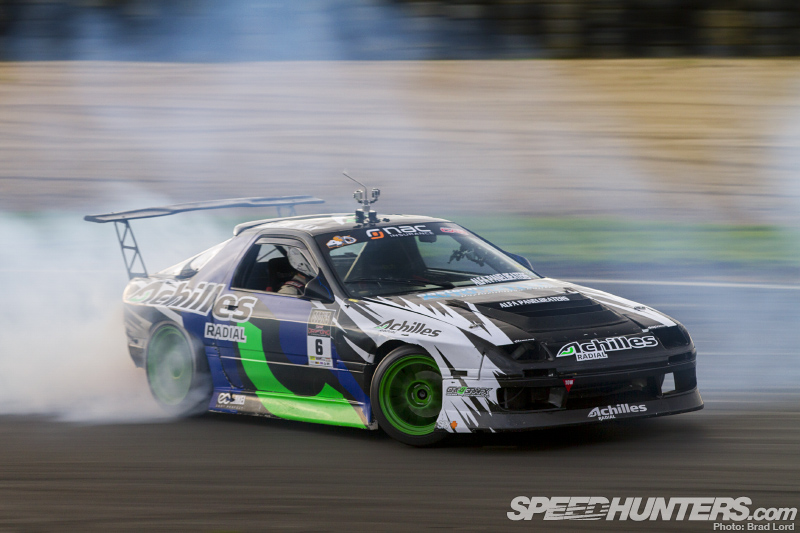 Behind the wheel of his LS1-powered FC3S Mazda RX-7, Team Achilles Radial driver Andrew Redward was up there too. A little part of me hoped that Andrew would be out in his new car – the ex-Charles Ng/Evasive Motorsports Formula Drift FC RX-7 – that he recently bought out of the USA. But I guess I'll have to wait for the beginning of the D1NZ season to see whether he'll be driving that, or amalgamating the parts into this chassis.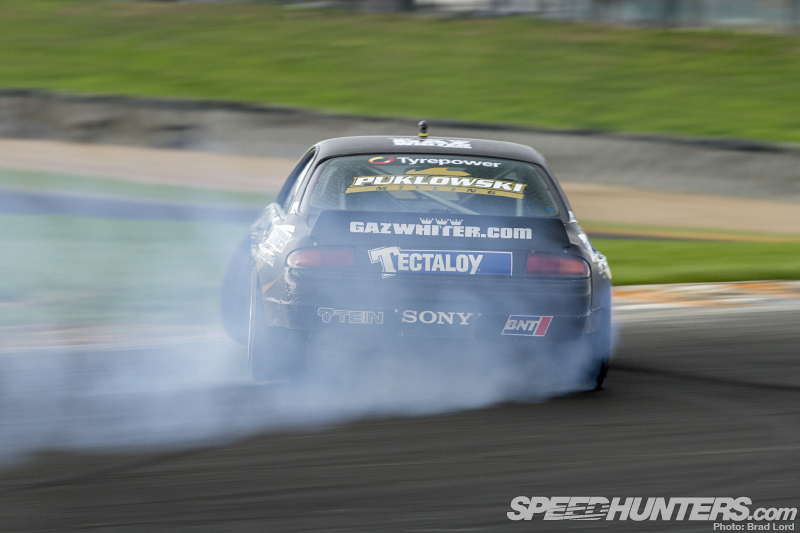 Off the back of a tough D1NZ season, it was good to see Gaz Whiter rounding out the top three in qualifying with a solid run in his Chevy LS7-powered Silvia S13.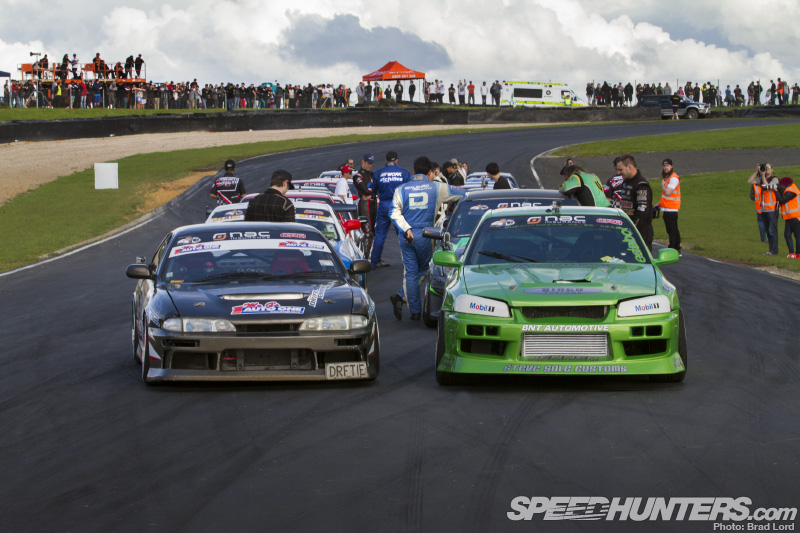 After the first round of qualifying, the Top 16 was to be announced. Because so many cars had fallen by the wayside during the day and only 23 were left to do battle, the nine highest rank drivers scored themselves a ticket straight into the Top 8, leaving the rest to re-qualify for the remaining positions.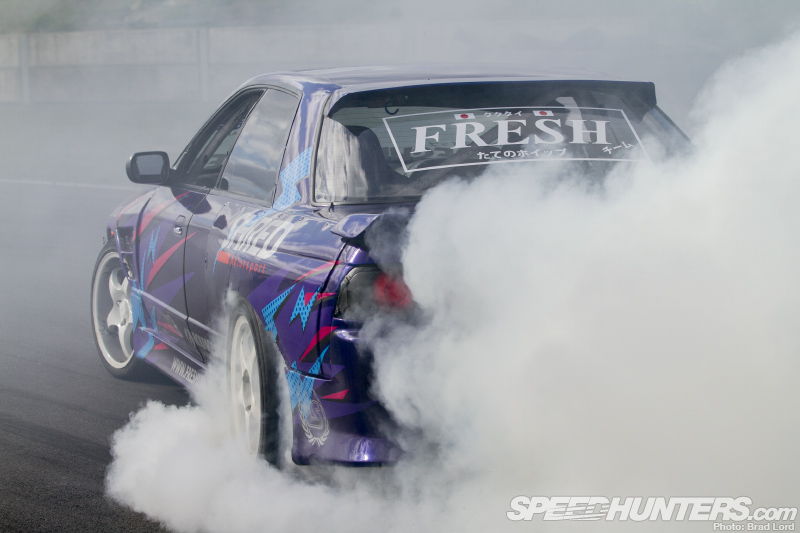 Up-and-comer Joe Kukutai wasted no time warming up the tyres on his R32 Nissan Skyline.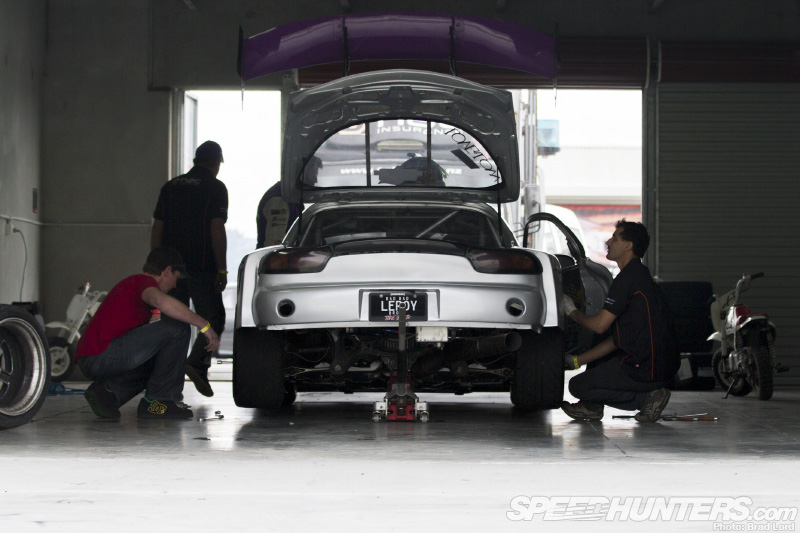 One top-ranked driver that didn't fare so well was Formula Drift Asia regular Daynom Templeman; back behind the wheel of Leroy – his 20B-powered FD3S RX-7.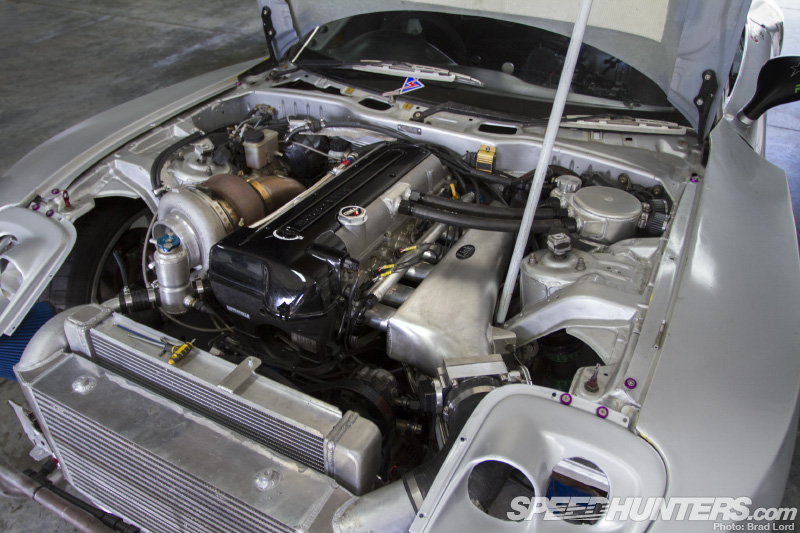 Except, Leroy has now been rebuilt to similar specification to his other car, Ginger, with Toyota 2JZ power. Leroy doesn't have nitrous (yet), but with more than 700hp being developed with just 5psi of boost, it's certainly not lacking in the output department. Once it's fully dialled in, Daynom will have a real weapon on his hands here.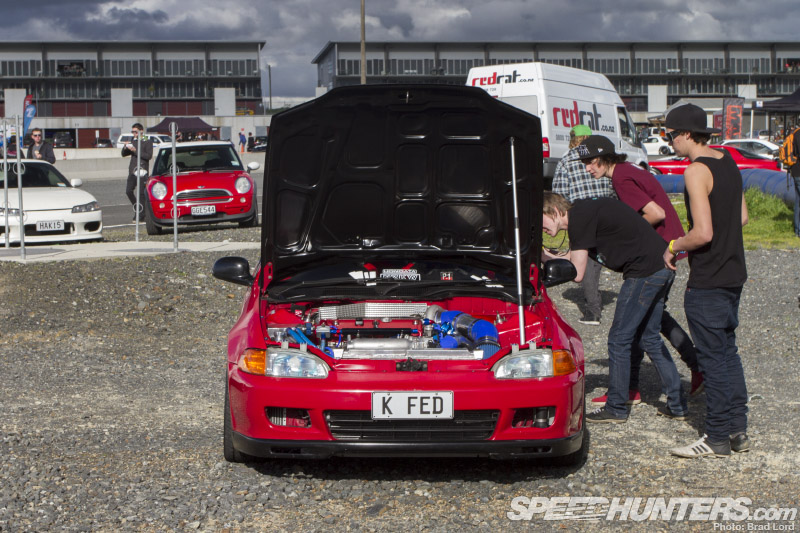 Before the battles kicked off I took a stroll around the carpark to see what I could uncover. One car that seemed to be attracting a lot of attention all day, was this EG-series Honda Civic.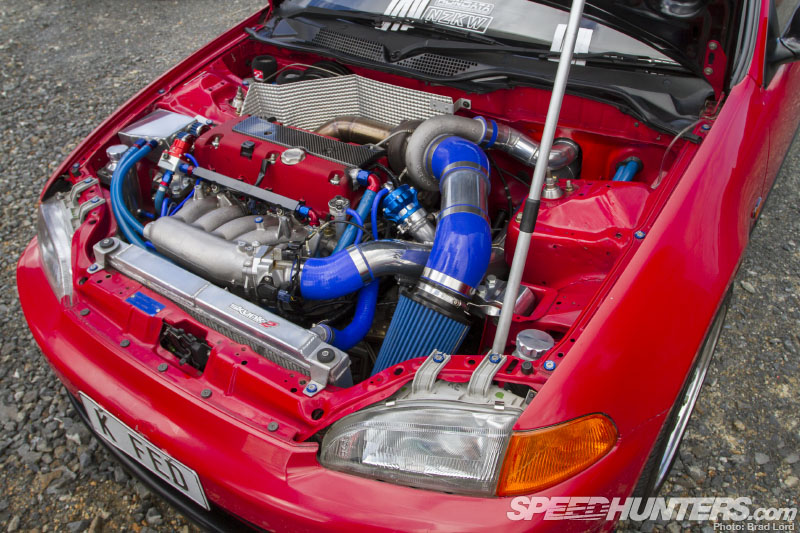 Although, that's not hard to understand why when you see what's been cooked up in the engine department. The last I heard this little Civic streeter was throwing down around 400whp thanks to the K20A plus Garrett GT3582R combo.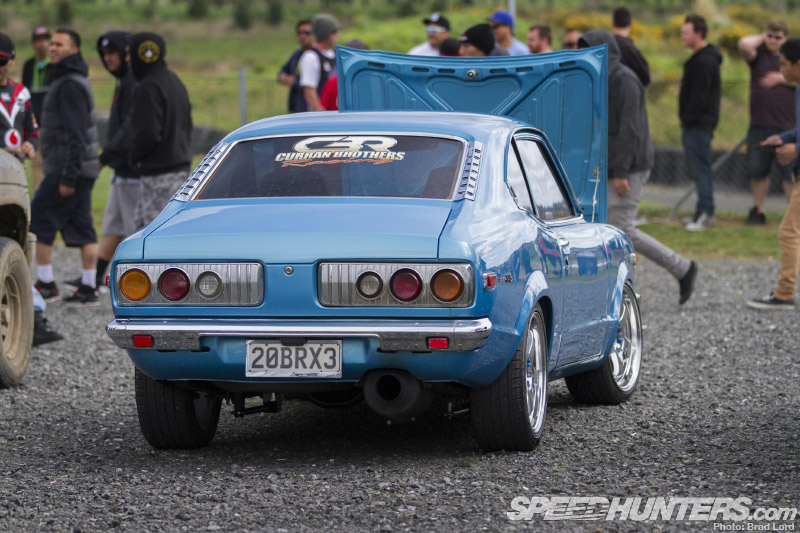 Of course, no impromptu modified car show in New Zealand is complete with a Mazda rotary or two. No guesses to what's under the hood of this immaculate RX-3 coupé.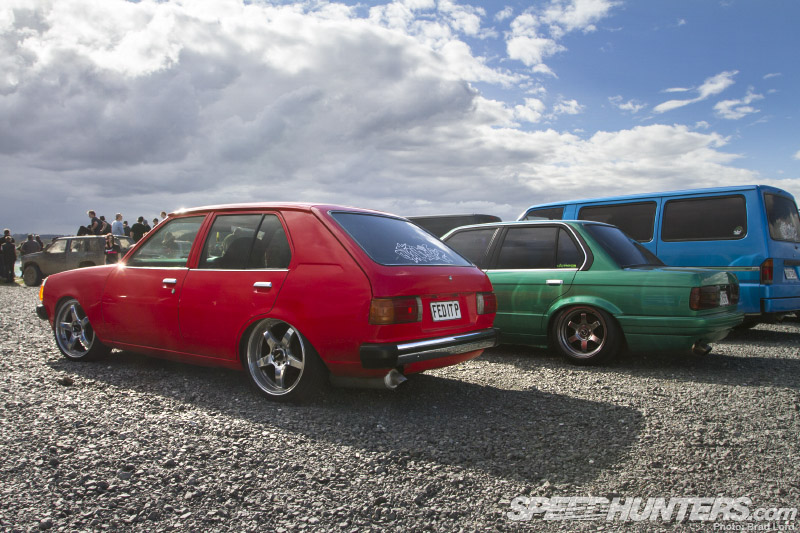 Mazda 323 hatchback – rotary-powered. BMW E30 3 Series – rotary-powered. And there's a very good chance that vans beats to the sound of a twin-rotor drum too!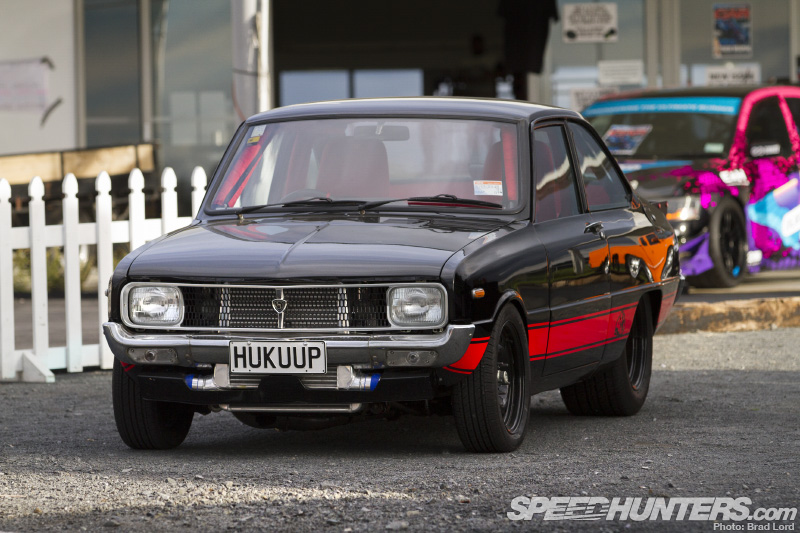 Or maybe a street-legal, 13B turbo-packing, mini-tubbed Mazda R100 is more your thing?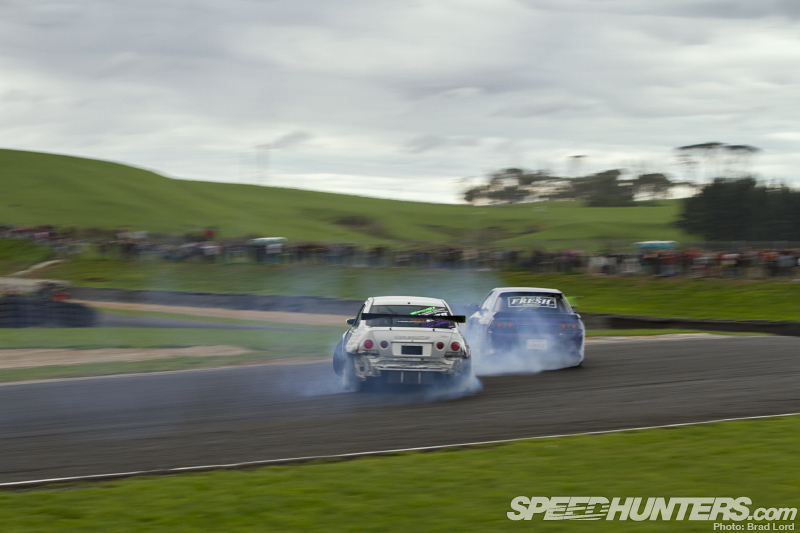 The battle element of the day was pretty good, with every driver pushing 100 per cent in the hopes of stepping atop the podium.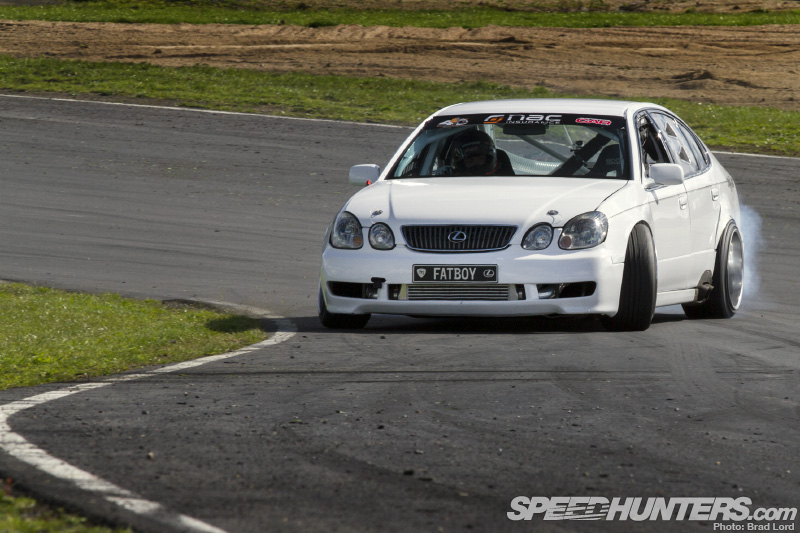 Carl Thompson had qualified in eighth spot, which wasn't bad given the company, or the fact that it was his first time being judged. But a drive belt breakage in the staging area ultimately meant that he didn't get the chance to battle, which was a shame.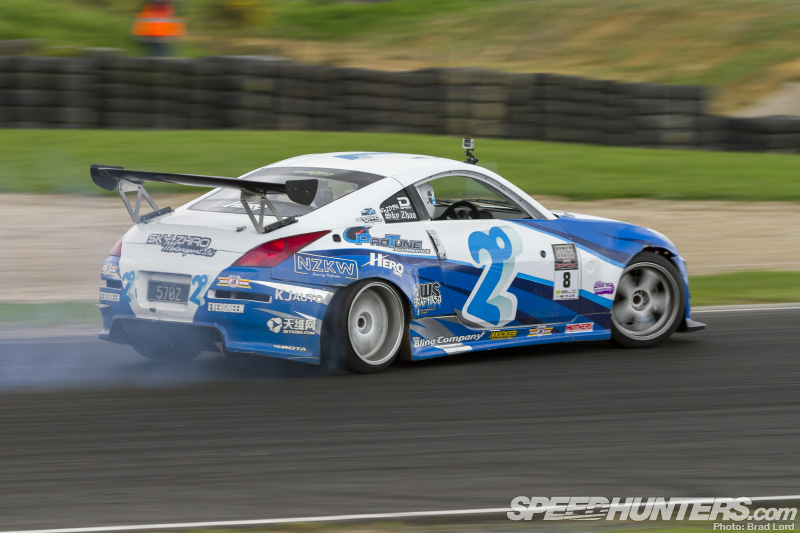 Sky Zhao achieved his best ever qualifying performance with fifth spot in his LS1-powered '570Z' Nissan 350′, but like newly-crowned D1NZ champ Fanga Dan Woolhouse, exited the competition in the Top 16.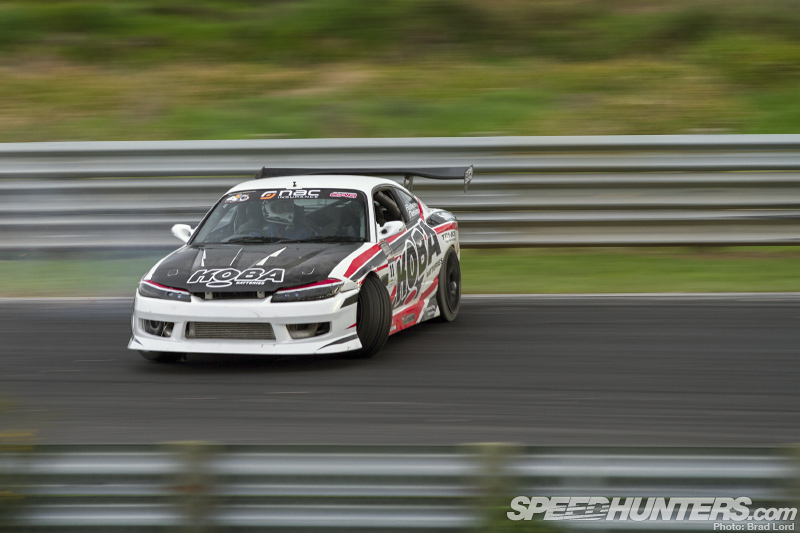 Rising star Robee Nelson on the other hand, found his groove early on, throwing his ex-Woolhouse Silvia 15 into the judged section with plenty of speed and angle.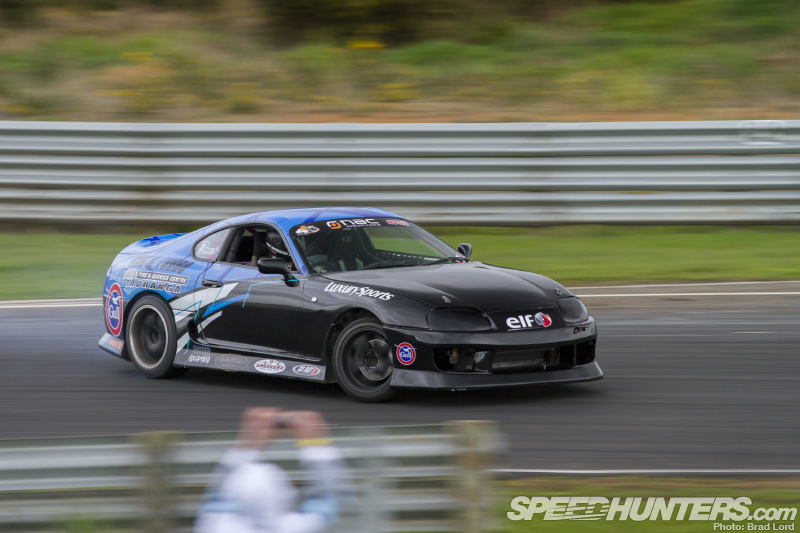 He, like New Zealand's first lady of drifting, Jodie Verhulst, made it through to the Top 8 before being knocked out of contention.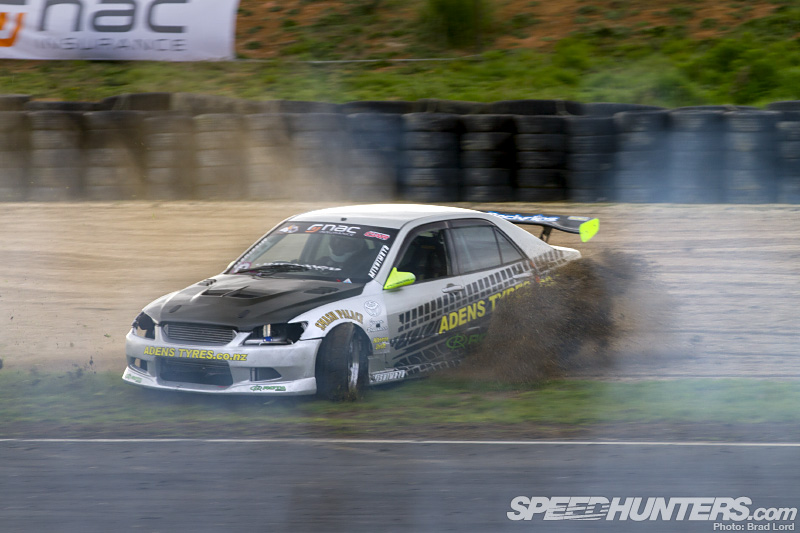 Aden Omnet suffered the same fate. Up until his spin when battling Andrew Redward, he had been doing well in his 2JZ-powered Toyota Altezza.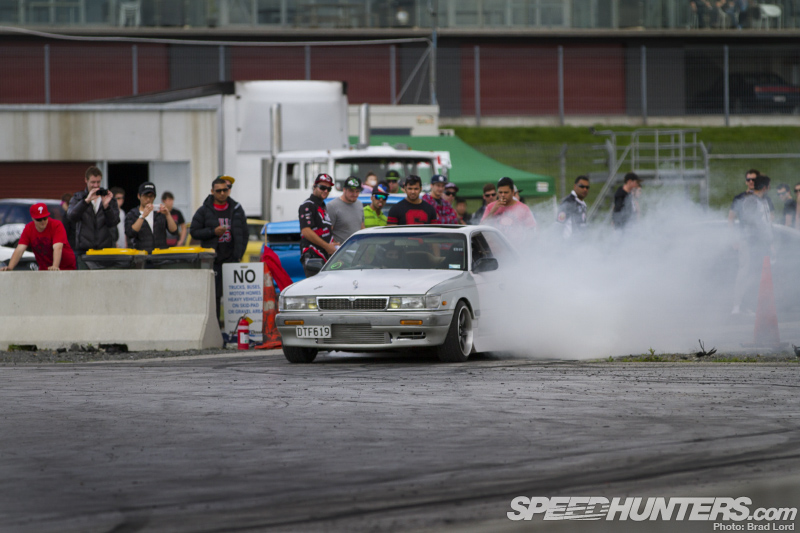 In between it all, everyone that hit up the skid pan looked like they were having a whole lot of fun…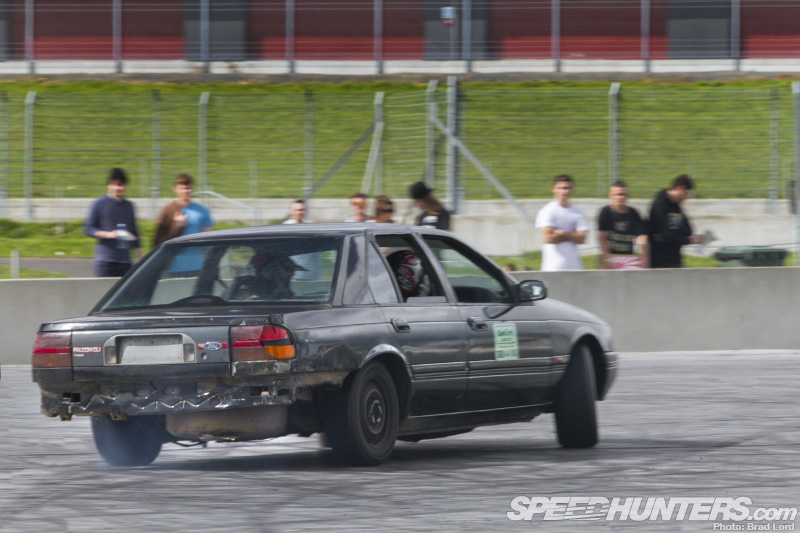 … regardless of what they were driving. In this case a plain nasty six-cylinder Ford Falcon. At least it was rear-wheel drive I guess!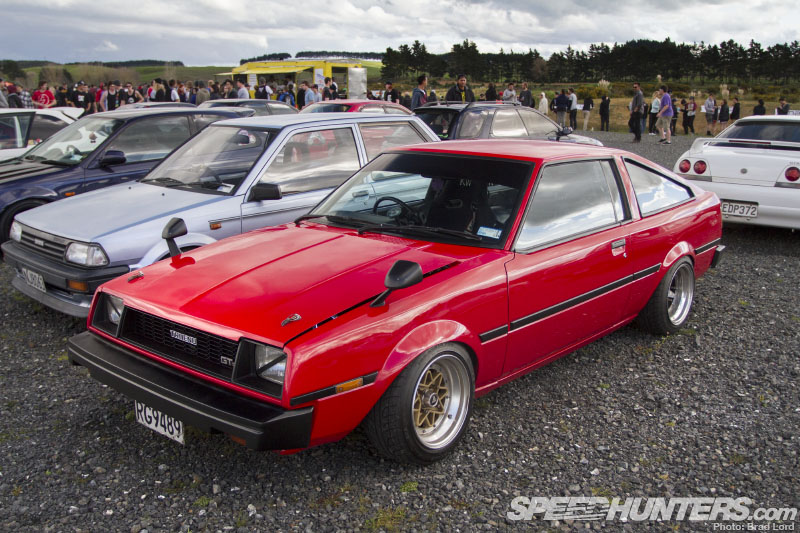 Back in the infield car park I was really digging the look of this Toyota Trueno TE71. When you're dealing with '70s and '80s Japanese metal, it's impossible to go wrong with a suspension drop and a set of well-fitted old school JDM rims.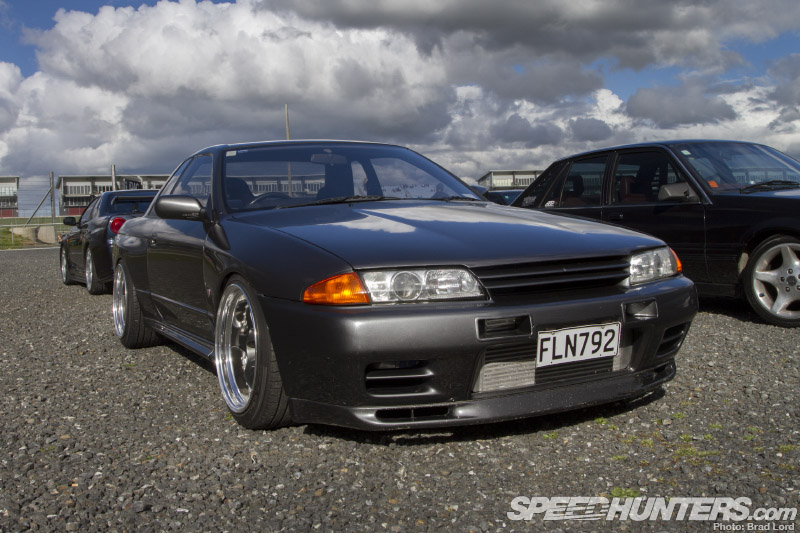 Ever since 2009, when the first BNR32 GT-Rs turned 20 years old and could once again be put legally on the road in New Zealand, there's been a resurgence of imports from Japan. It doesn't take much to make one of these look good as this example goes to show.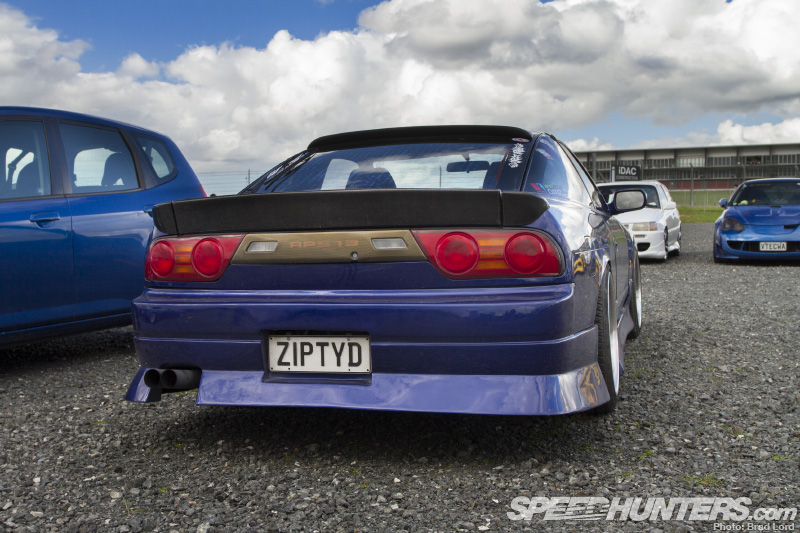 The Devolution RPS13 180SX is a recently-completed, long-term build that ticks all the right boxes. There's a strawberry face (AKA S15) conversion at the front end too.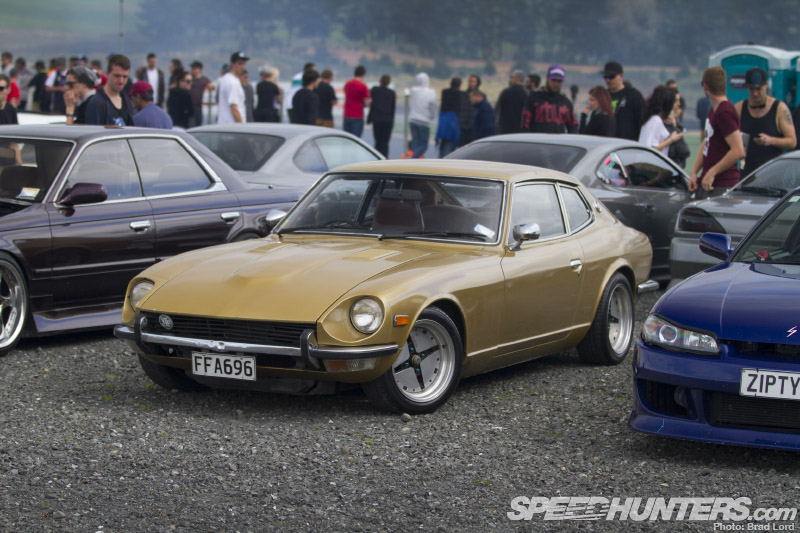 Impul G5s by Hoshino Racing on this S30 Datsun 260Z are a good look, don't you think?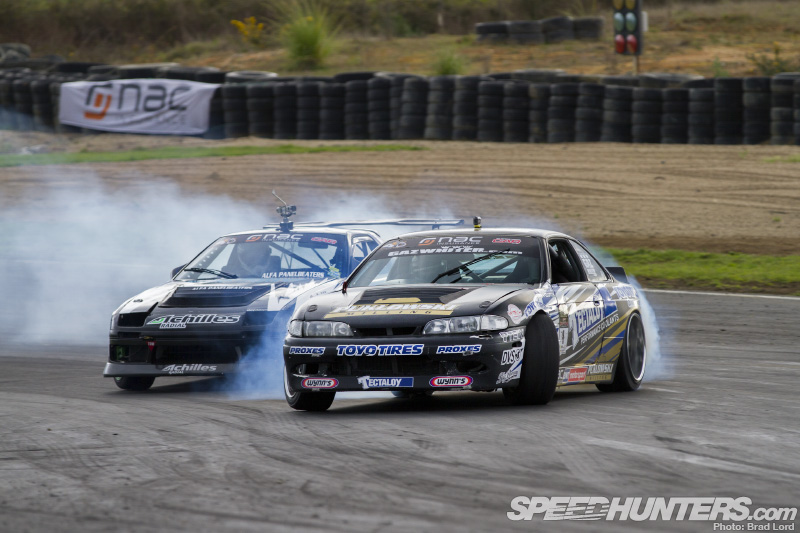 Back into the pointy end of the competition Gaz Whiter beat Andrew Redward for a spot in the final.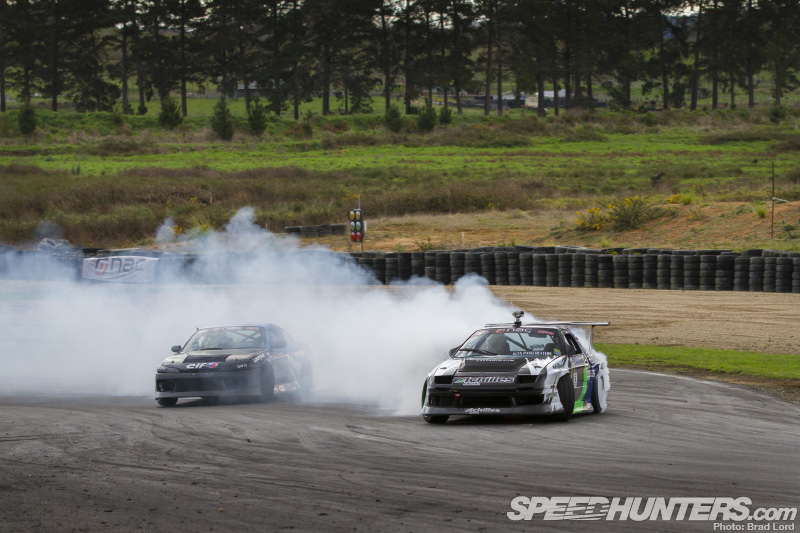 Leaving the defeated Redward and Drew Donovan – who had been beaten by Cole Armstrong in his semi-final match-up – to battle it out for third and fourth. Redward won.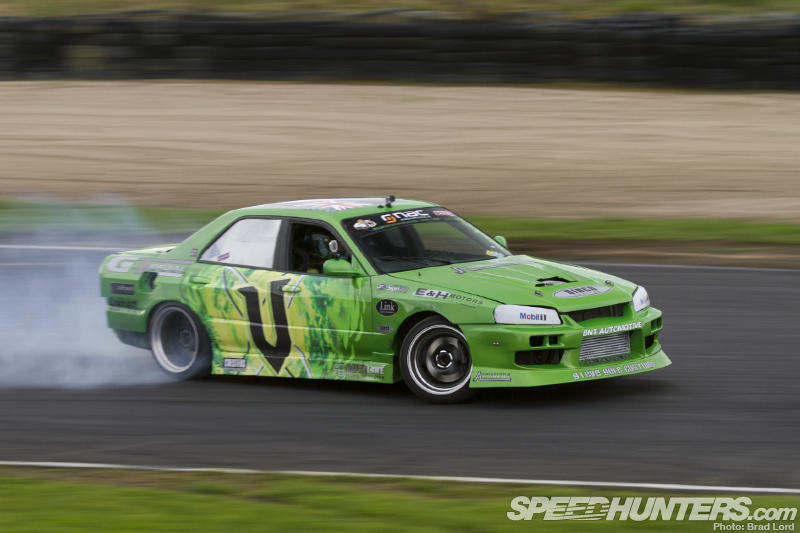 Which meant Whiter met Armstrong and his V Energy Drink ER34 Skyline in the grand finale. Contact and a spin by the S13 driver on his chase lap ultimately handed the win, cash and prize haul, to Cole, who definitely deserved it considering he had flown in especially for the event in from Perth in Western Australia (a 7.5-hour flight) early that morning.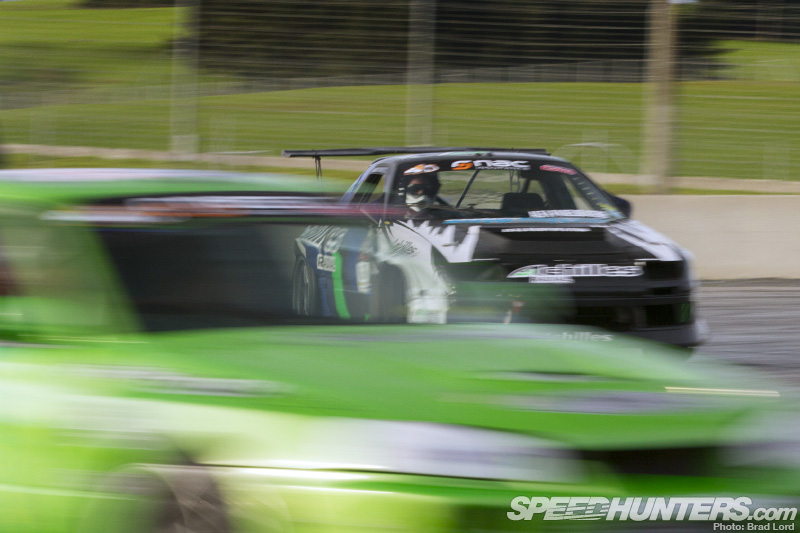 That just left one more order of business: victory skids. Although skids – AKA burnouts – aren't allowed on the track at Hampton Downs since the spectacle that was the 2011/2012 D1NZ final, so the podium placers had to make do with sliding their cars around the skid pan instead. Not quite the same, but a cool end to the day no less.
Brad Lord
brad@performancecar.co.nz
More stories from New Zealand on Speedhunters
More drift event stories on Speedhunters