Last Saturday, I dropped by Woking in the UK for an impressive line-up of McLaren Formula 1 machinery from across the decades – a rare opportunity in general to see this kind of line-up in one place, let alone in the normally closed-access environment of the McLaren Technology Centre. Over 40 years of cutting edge technology was set out to compare and contrast at leisure: the materials, the shapes, the suspension, all laid bare.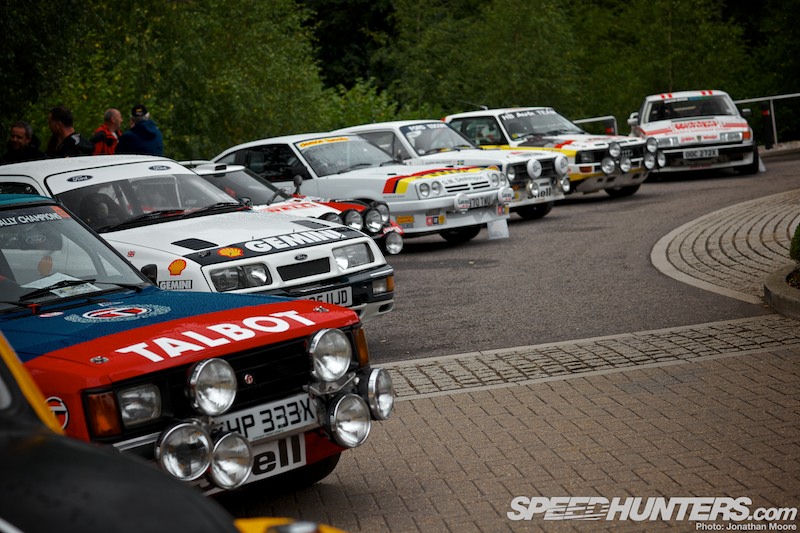 Last Saturday, I dropped by Woking in the UK to catch an impressive line-up of rally machinery, including some awesome Group B weapons. Whether the original car with top-line pedigree or faithful recreation, owners stood by to proudly talk through their pride and joys.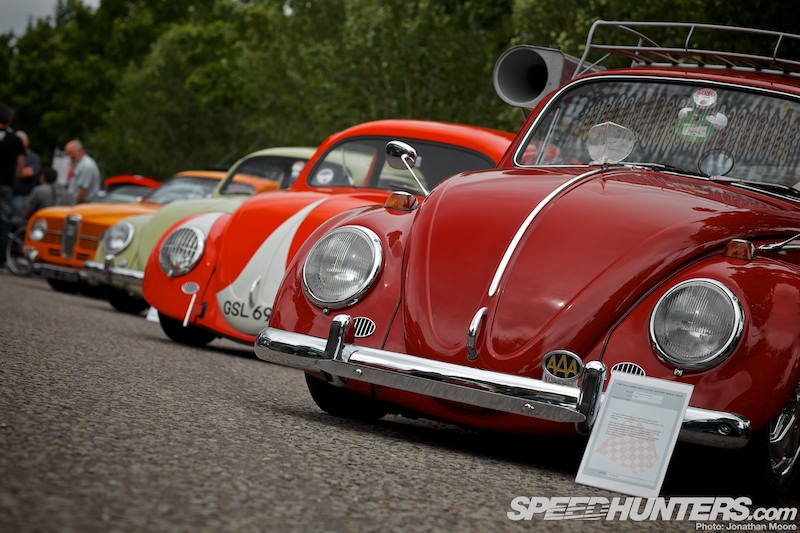 Last Saturday, I dropped by Woking in the UK for a small but select gathering of air-cooled goodness: Beetles and vans, both original and custom, from low to lower, plus some unexpected Golf conversions and even air-cooled older Porsche cousins.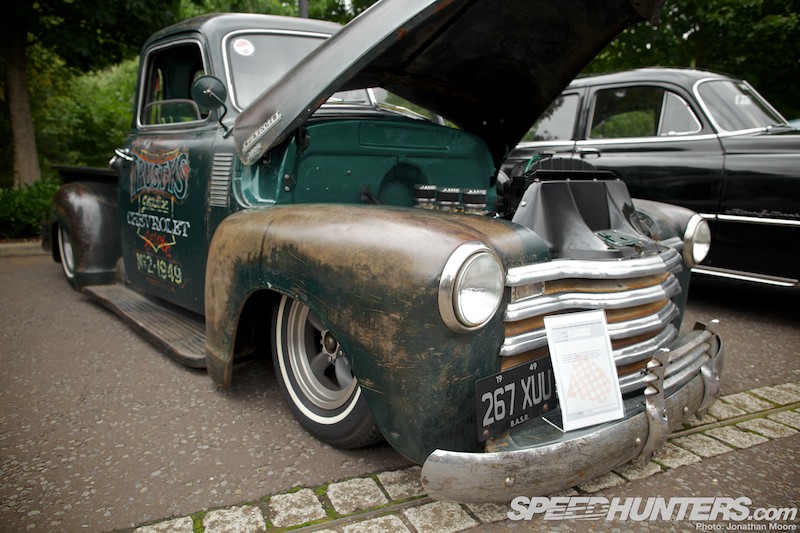 Last Saturday, I dropped by Woking in the UK for a get-together of full-on Americana: pristine '50s street cruisers, classic Ford hot rods and old school slammed customs, all with appropriately big metal beating hearts, against the backdrop of an authentically styled diner operating out of the back of a semi trailer.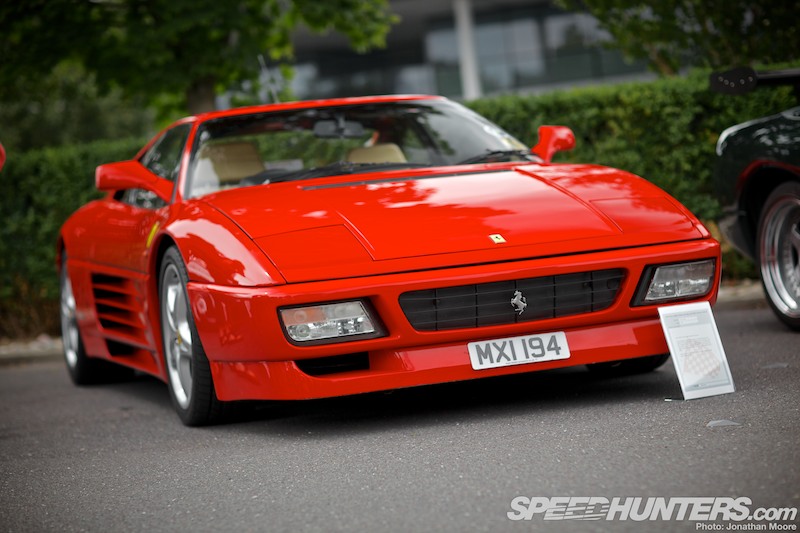 Last Saturday, I dropped by Woking in the UK to soak up a whole squadron of exotics, from a timeline-in-the-flesh of Modena's finest output to the latest hypercar to emerge from the UK. Ferraris, Lamborghinis, Maseratis, Porsches, TVRs – and then McLarens and growling SLRs.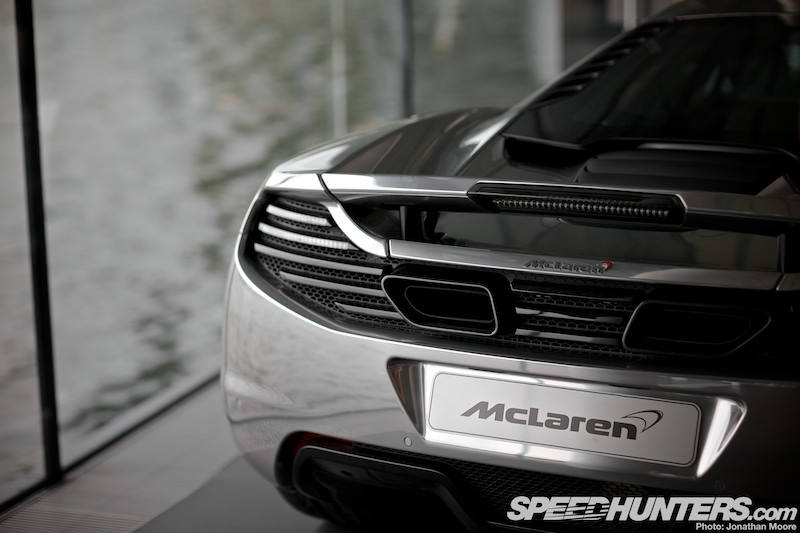 Hang on, is there anything I didn't see on Saturday? Looking back, it would seem not. This was the joy of McLaren's annual Employee Motor Show, a staff-led celebration of all things motoring.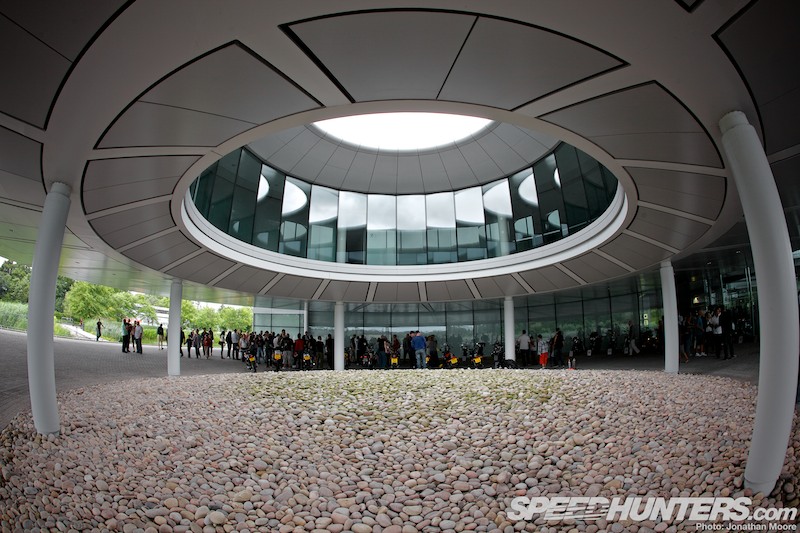 The event is invite only, open to McLaren employees and their families plus members of the Team McLaren fan club. But with almost a thousand people working at the various McLaren facilities on the space-age Woking site and many more in the club, it's a capacity event that couldn't really cope with being any busier. From the car parks outside to the UFO-like entrance to the MTC and Boulevard within, the whole place was awash with cars, bikes and people.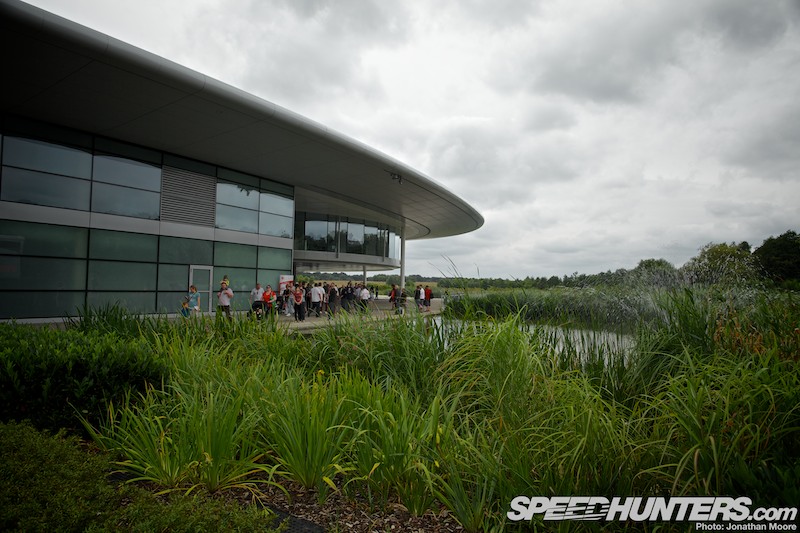 The location was part of the joy: we all got to see a different side to the stark frontage to MTC, where the regimented squares of car park give way to lush wetland and reed beds, allowing nature a little peak into the world of high technology.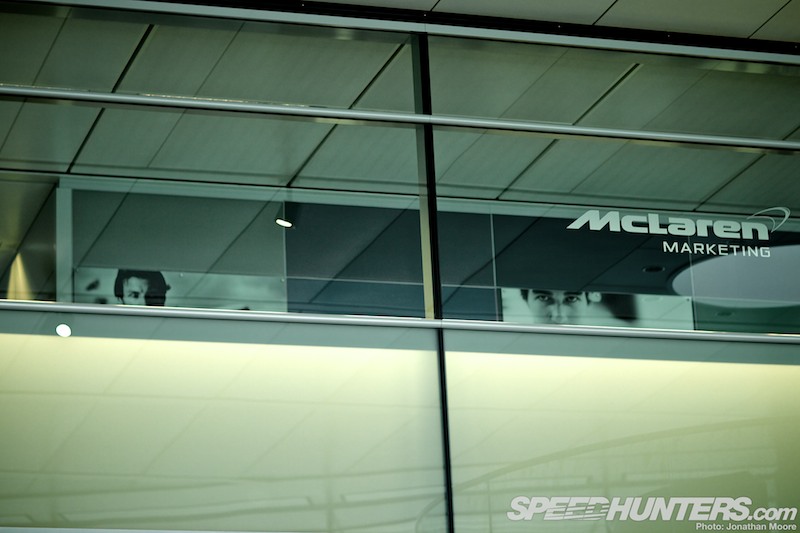 In the main Boulevard of the MTC, images of Jenson Button and Sergio Perez oversaw proceedings, with their rubberised Tooned equivalents walking around to delight/terrify (delete as appropriate) children – of which there were many, as this was very much a family-themed event…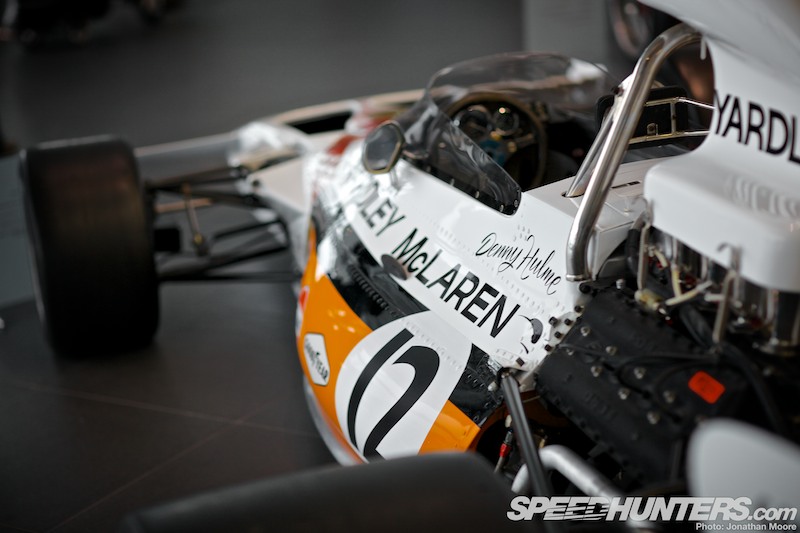 … though most eyes were firmly fixed on the cockpits and engine compartments of the iconic McLaren racers on show.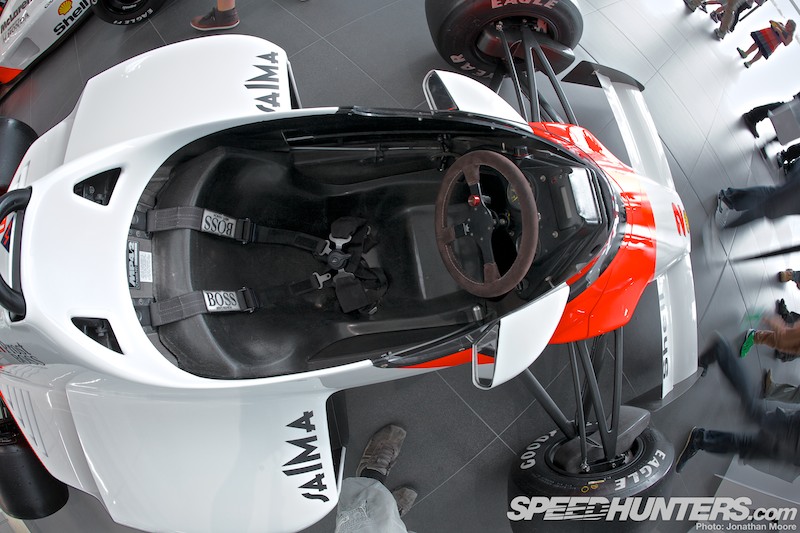 There are precious few places where you can look into a cockpit where a famous racing driver once sat. Yet here, in one place, were cars driven by Alain Prost, Ayrton Senna, James Hunt, Niki Lauda, Mika Häkkinen, Kimi Räikkönnen and more.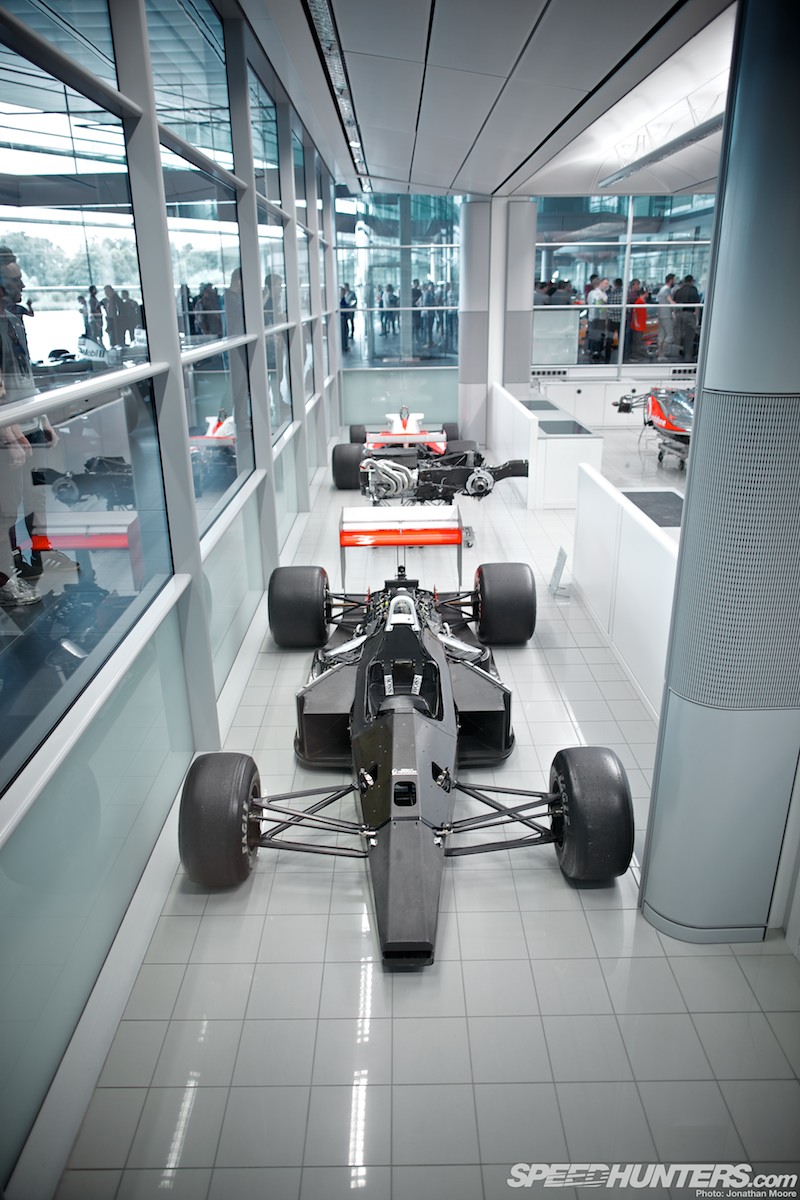 Not only was the Boulevard packed with well over a dozen F1 cars, from orange to red and white to silver, but the adjacent workshops were also open to view. Whilst the weekend shift beavered away on carbon parts likely bound for Spa, the historic prep bays were full of yet more classic cars in various states of undress – this was truly unprecedented access.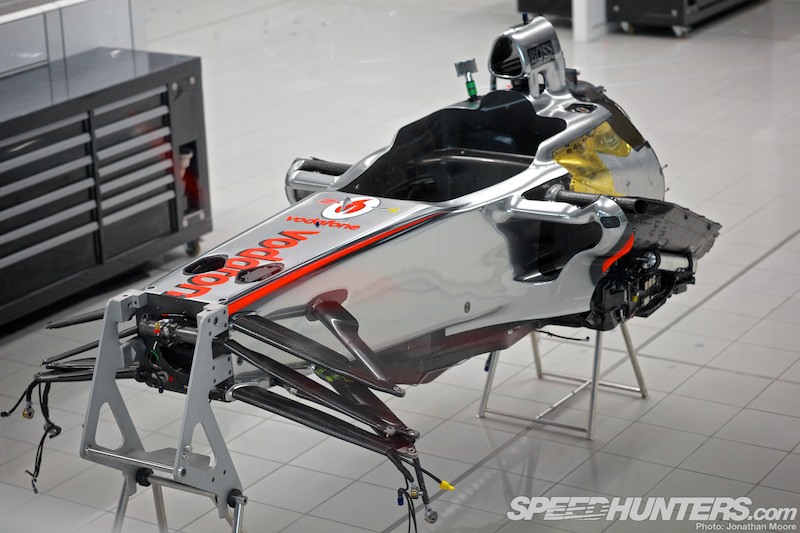 The modern race bays were stark and empty except for two F1 tubs sitting up on stands, with the race trucks dotted around the parking and possibly already loaded up for the next Grand Prix. Bereft of bodywork, shorn of engines and wings and with gold heat-repelling material open to view, they looked like high-tech satellites ready to be launched into space. Although the racers inside may have been silent, outside Emmerson Fittipaldi's M23 was fired up on the hour, every hour, to provide the perfect orchestral accompaniment to the visual feast.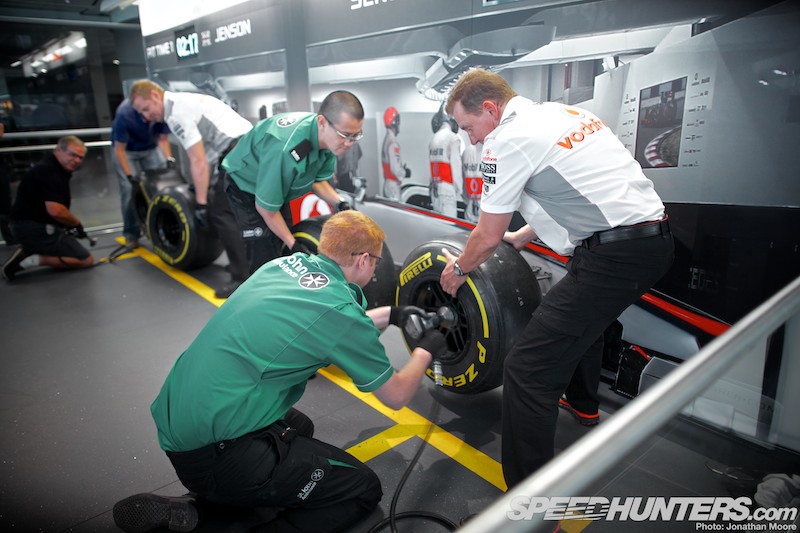 The day was as much about taking part as it was enjoying the visual aspect though: McLaren had set up several interactive stands, where you could have your photo professionally taken next to a modern F1 machine or take part in a pit-stop challenge.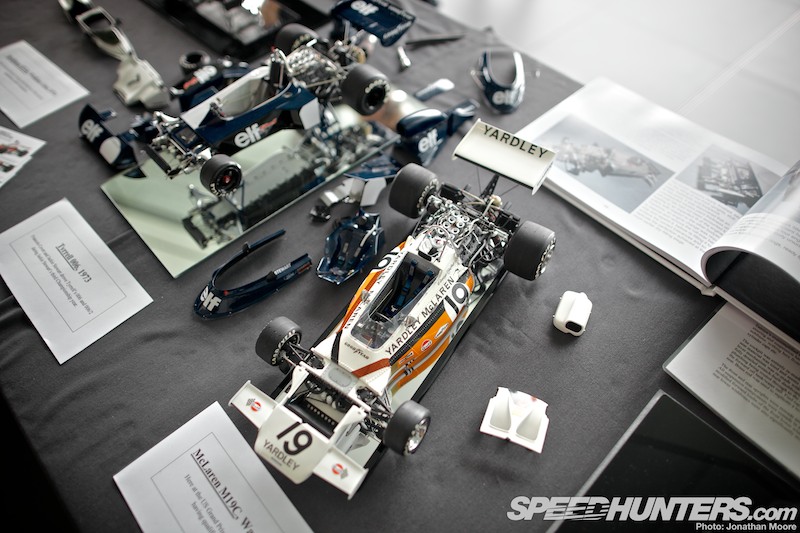 Cars got even smaller on the MRO Engineering stand, where insanely detailed, bespoke models of classic F1 cars were for sale.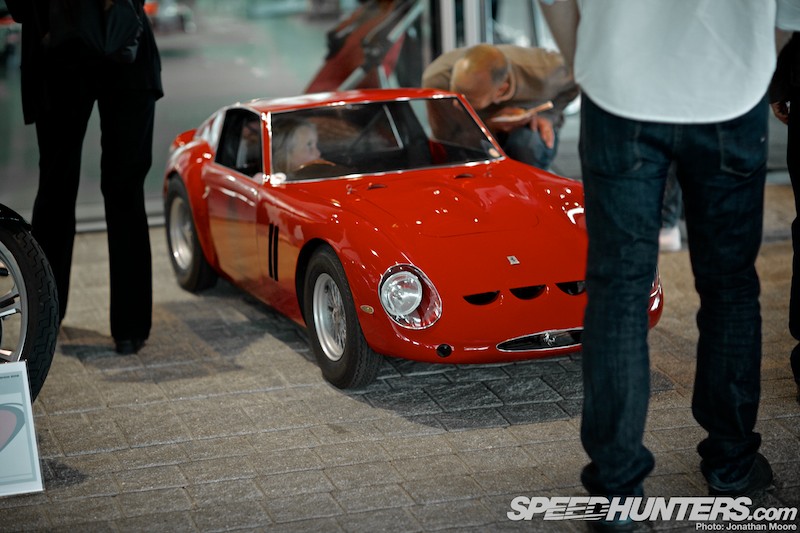 The scale marginally increased in the MTC foyer, with this mini Ferrari 250 GTO warping perspective – and wallets I would imagine…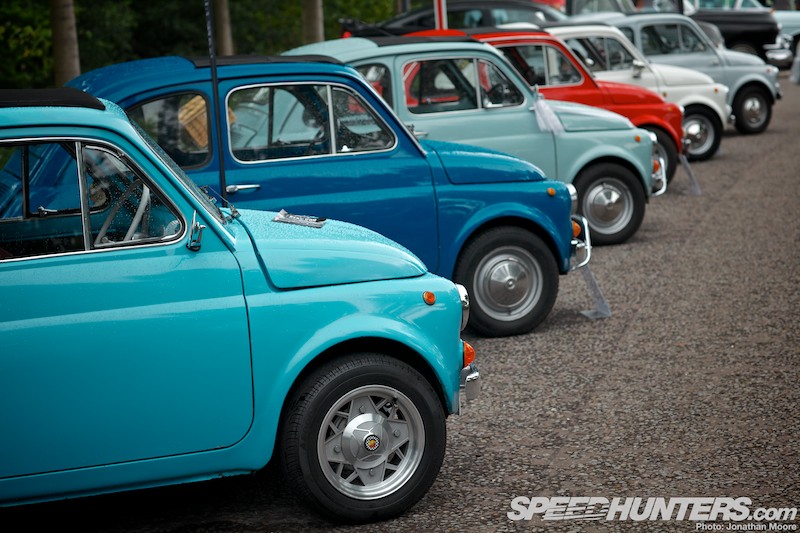 The Boulevard and its display of glorious McLarens was just a part of the day though: the main attraction was the range of cars displayed by both McLaren employees and invited car clubs, where marques and models ran wild.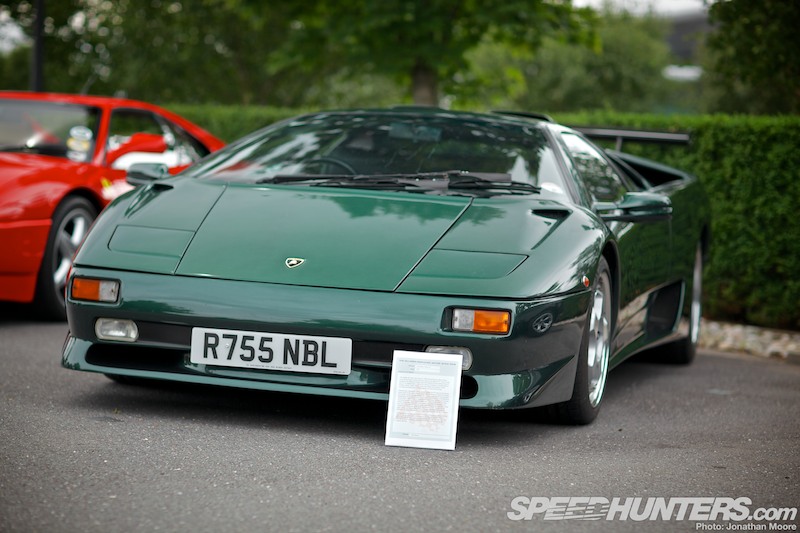 This being a McLaren event, presentation was immaculate, from the parking to the signage that adorned each vehicle with individual model details and history.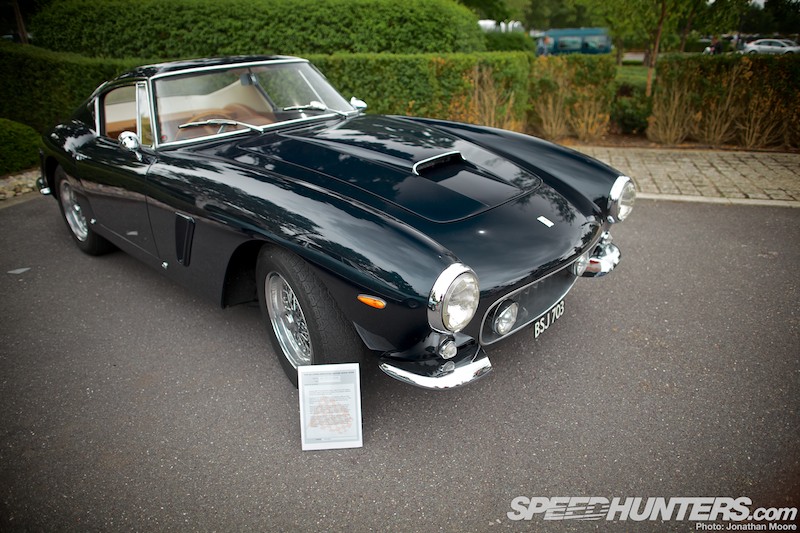 When I'd received the list of cars due to attend, I'd almost broken my scroll wheel. I hadn't been expecting over 200 cars in number, let alone the breathtaking models that were included – like this short wheelbase 250 GT. Keeping it in Italian company were a pair of 550s, a Dino, a 330 and more…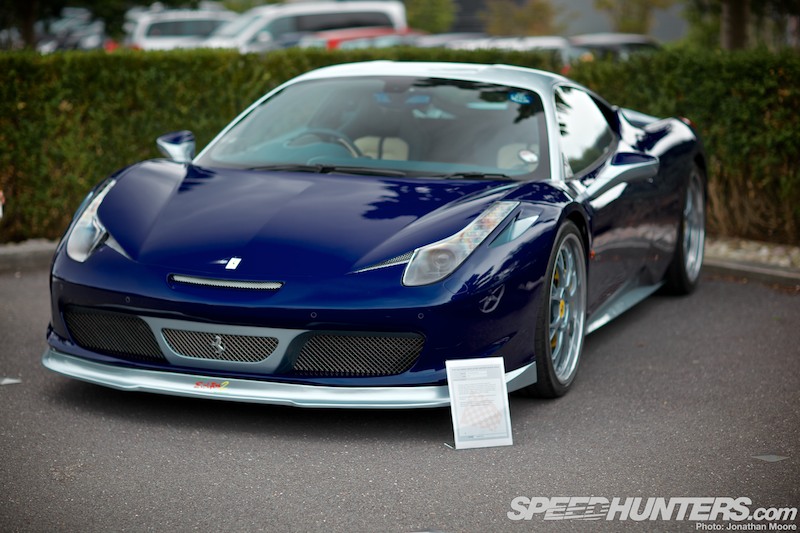 Even a tuned Ferrari was allowed to the party: the almighty 602hp Evolution2 Motorsports 458.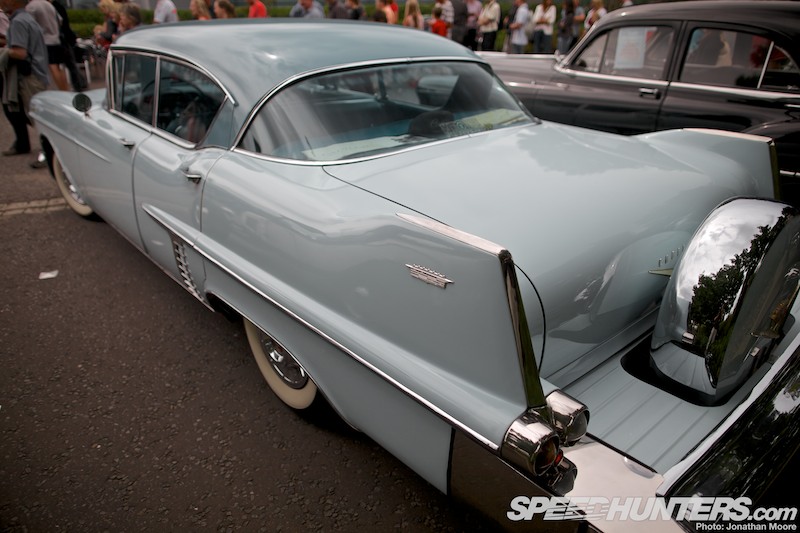 But the delight was that as every hedge that divided parking squares was crossed, you'd venture across something completely different. So, just down from Ferraris and Lamborghinis… yacht sized Cadillacs! The rocket-nose of the Sedan De Ville was captivating most people, but I couldn't believe the almost boat-deck size rear where the spare wheel was perched. It was a time where 'can' outweighed any question of 'why'.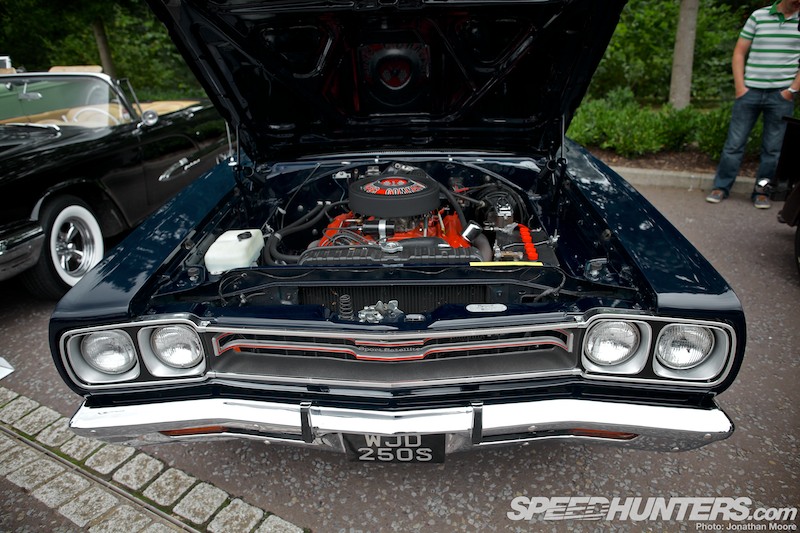 The '69 Plymouth Sport Satellite had a typical muscle car look…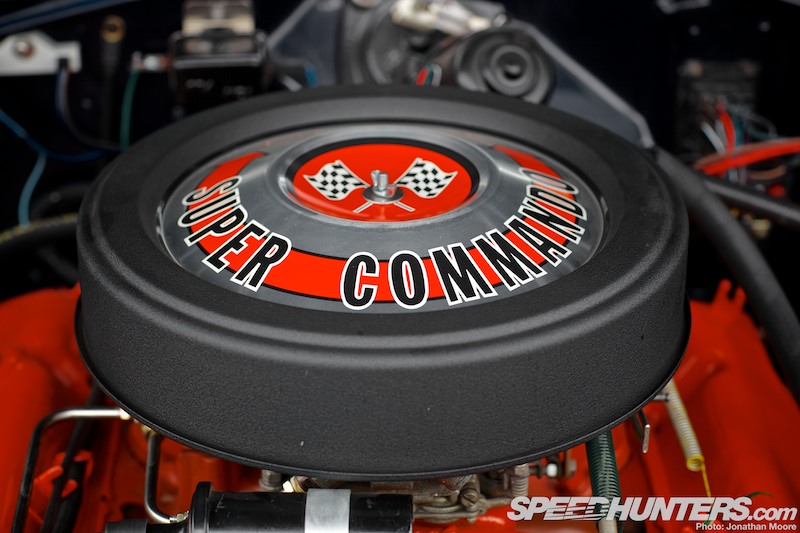 …which of course was backed up by the big V8 up front. How can you not love something with Super Commando written on it?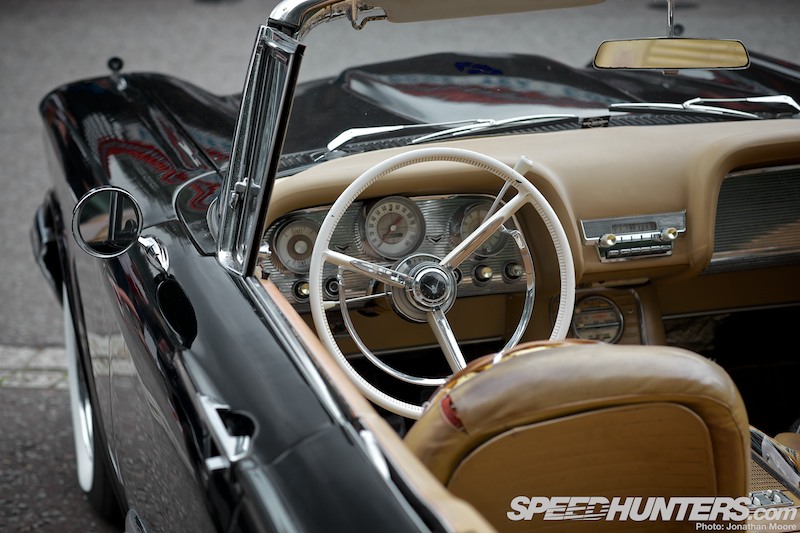 But for cruising, the cool of this Pontiac would be hard to beat. Except it being better suited to the West Coast of the USA rather than the often rainy west of Surrey…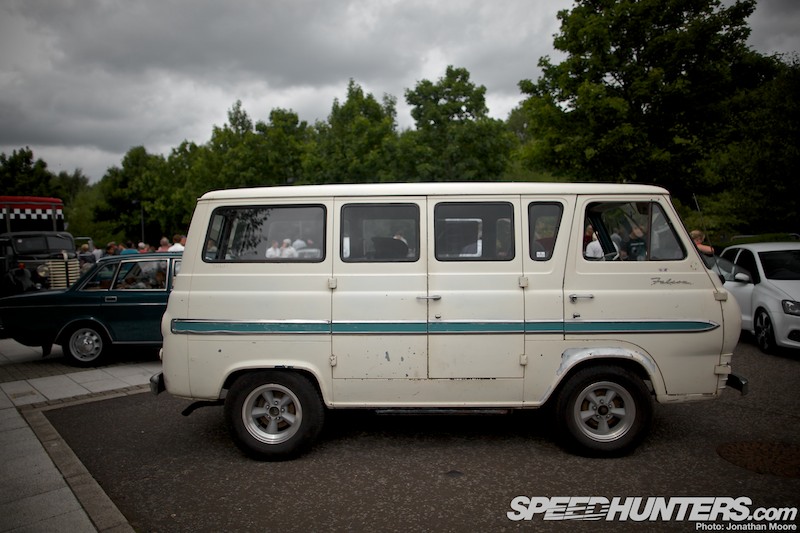 Still, if practicality was the need, then how about a Ford Falcon van? Perhaps the antithesis of something with the same model name as the enormous Falcon saloon, this compact van required a 75kg block over the back wheels to act as a counterweight…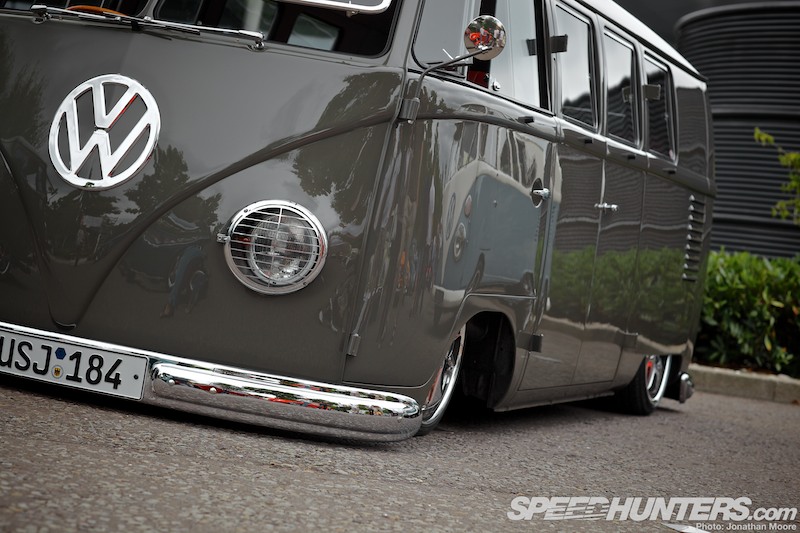 Talking of vans, this air-ride '58 Split Screen VW was utterly stunning. You had to join it on the ground to truly appreciate it.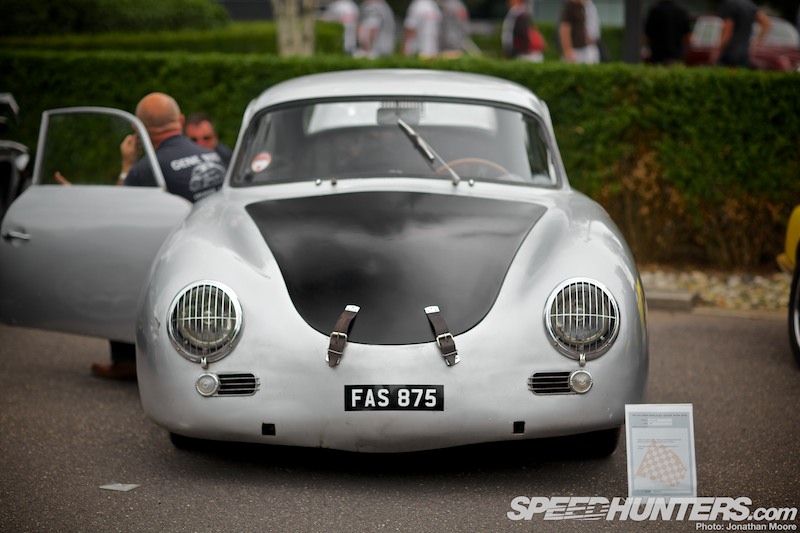 Although Ferraris were relatively numerous, Stuttgart's finest definitely wasn't: this 356A was showing off the Beetle similarities more than the weaponised 720hp Storm Developments Porsche 911 997 GT2RS next door – although the latter was listed as a VW Beetle! I was disappointed to find out that it wasn't deliberate, but actually that the spot was originally destined for the awesome Time Attack Beetle.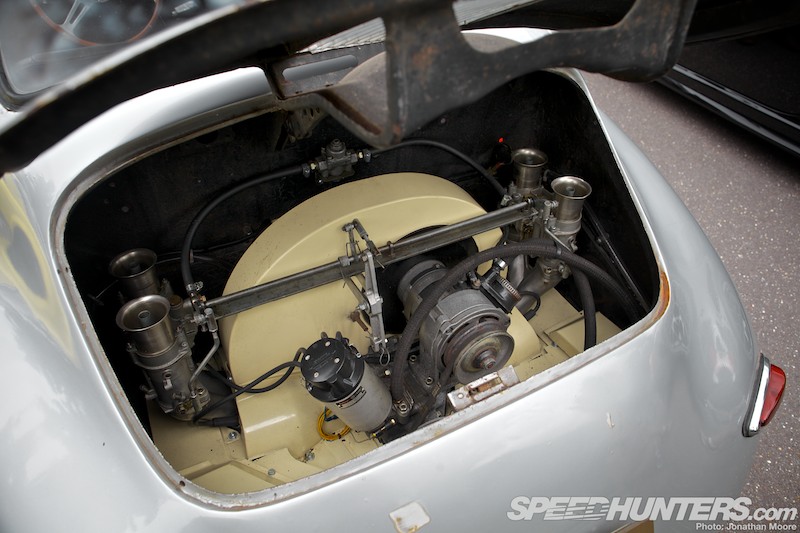 In the back of the 356A, more evidence of the link to its cousin: a four-cylinder, air-cooled engine, though this unit was a 1.8-litre VW engine built by Wolfsburg Performance, featuring Webers and putting out around 160hp.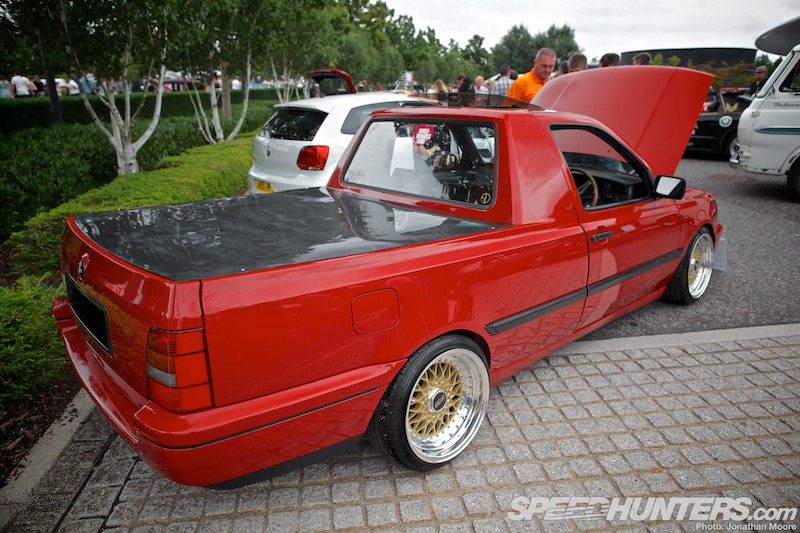 European customs weren't ignored: a rare MkIII pick-up conversion was attracting plenty of attention, with its very tidy engine bay and deep dish BBS split-rims completing the look.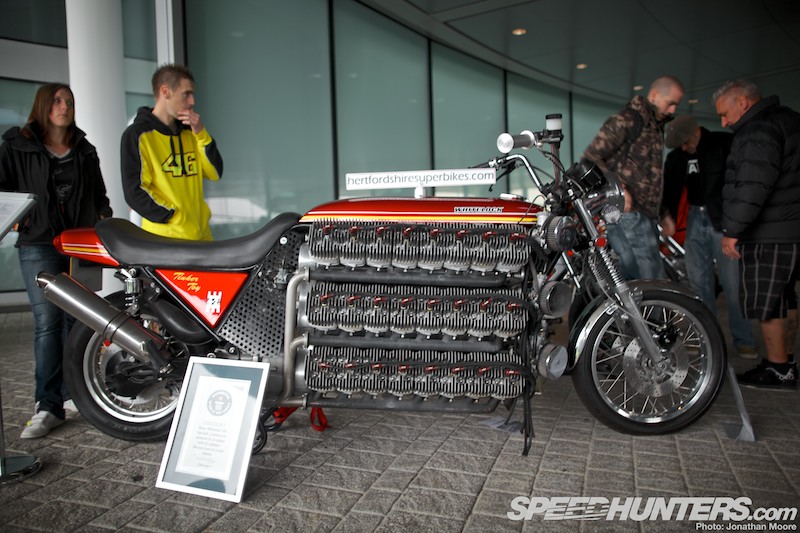 Customisation extended to bikes as well, but there was nothing that could match this crazy 48 cylinder, 4.2 litre monster. It has six banks of eight cylinders, uses a 125 engine just as a starter motor and has an unknown but likely stupid amount of power. It's not something for corners of course, and you really don't want to drop it: the thing weighed almost a ton!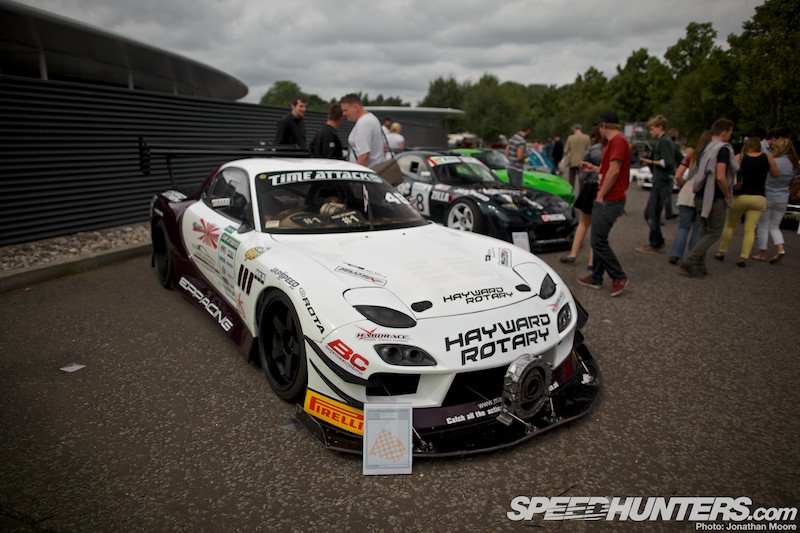 Cars with racing pedigree was definitely not confined to just McLarens: the fearsome Hayward Rotary Time Attack RX7 headed up a trio of rotary Mazdas…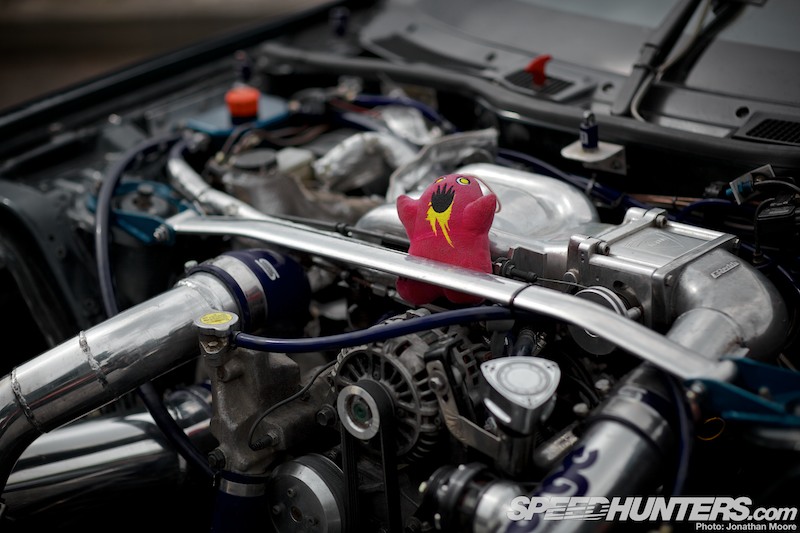 …one of which packed a real monster of an engine.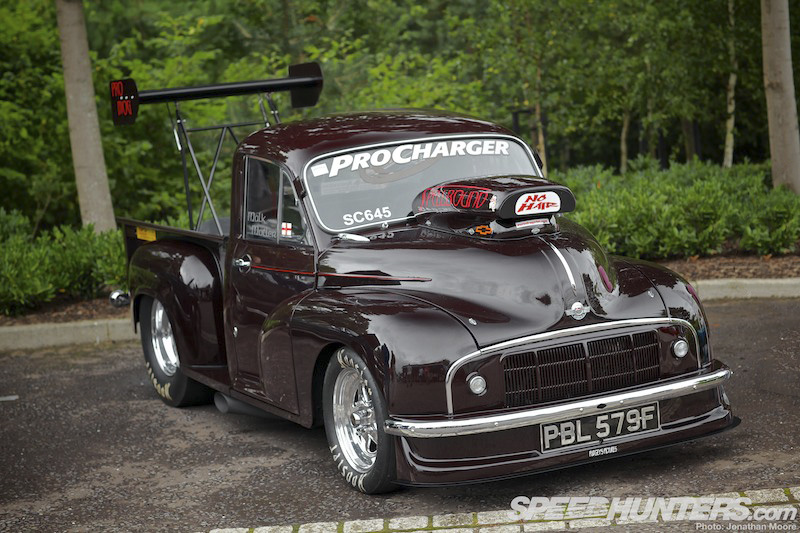 Power can be found in the most unexpected places: like under the bonnet of a Morris Minor! This '68 Step Side Pick-up has been in the current owner's hands since 1977, and has been through many iterations of both body and motivation before settling on the current spec. The supercharged V8 powers the humble Morris to a 9.05 second quarter mile at 148mph.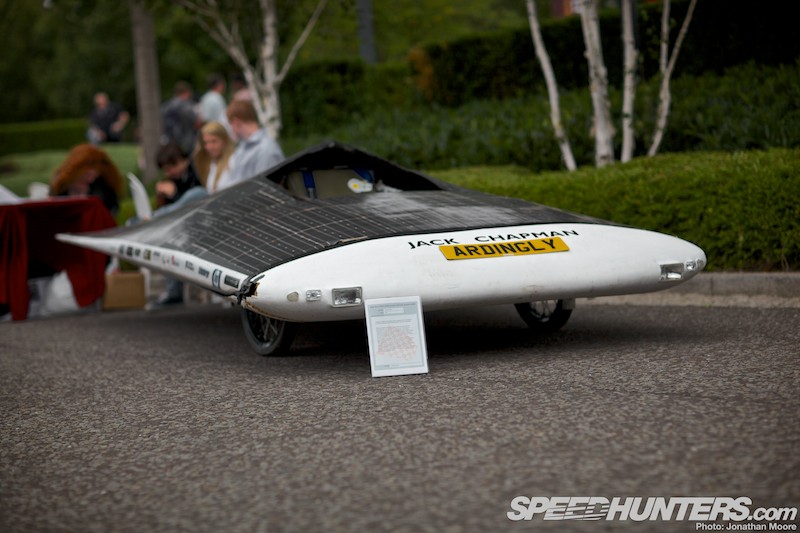 For something with slightly less aural impact but quite some visual interest was this solar powered technology test-bed being used for development by students at Ardingly College. With technical input from companies including McLaren, the students are planning to take on the challenge of the 2015 Australian World Challenge race from Darwin to Adelaide.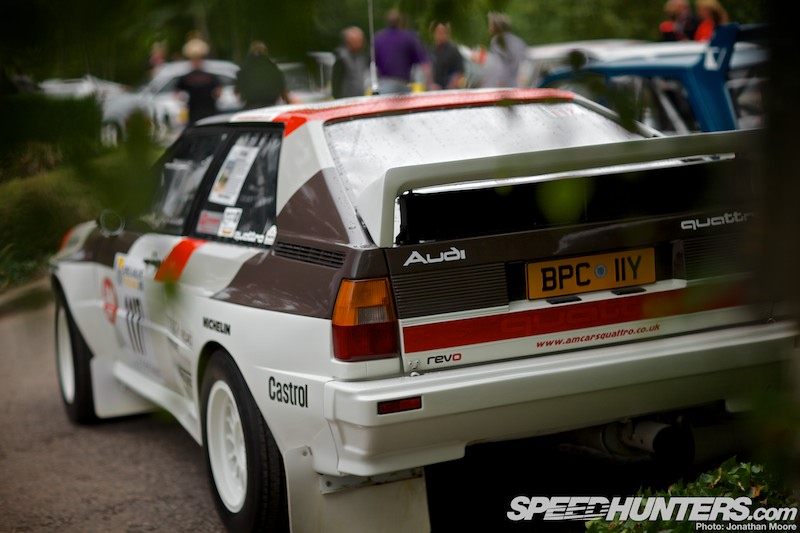 One of the specially invited car clubs at this year's show was a historic rallying organisation, who do fine work bringing together fantastic collections of rallying's most iconic cars. Honest replicas stand shoulder to shoulder with classics, where the originals are just too rare or valuable to campaign.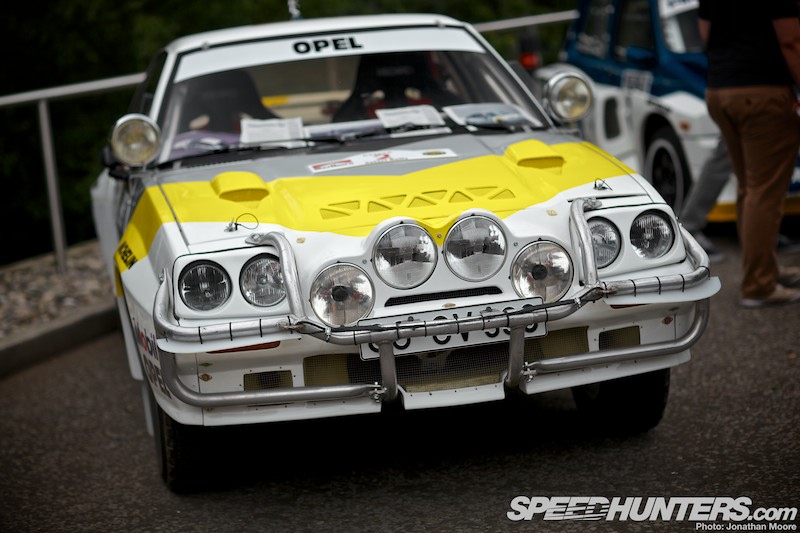 The lack of big lighting packs are one of the things I miss about modern rallycars: in the glory years of Group B (and even up until relatively recently, to be fair), night driving was a part of the game, with football stadium-esque lighting nacelles bolted on. This Opel Manta 400 from 1985 is the actual car that competed in that year's East African Safari Rally, surely the toughest event ever in the WRC calendar. It's just had a five-year restoration – which is probably what you'd need after competing in the Safari rally anyway…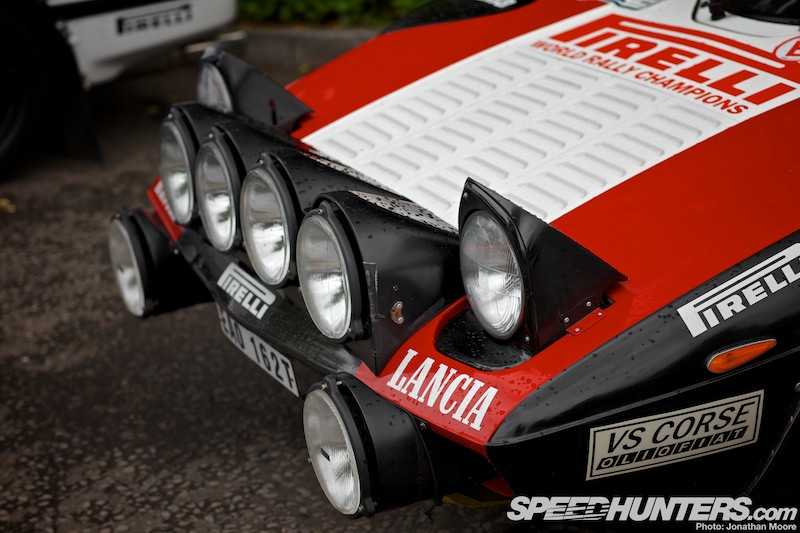 Genuine Lancia Stratos are rare but beautiful beasts, so as with Audi quattros I have no issue with well-presented replicas paying homage to the originals. Especially when they're festooned with those lights…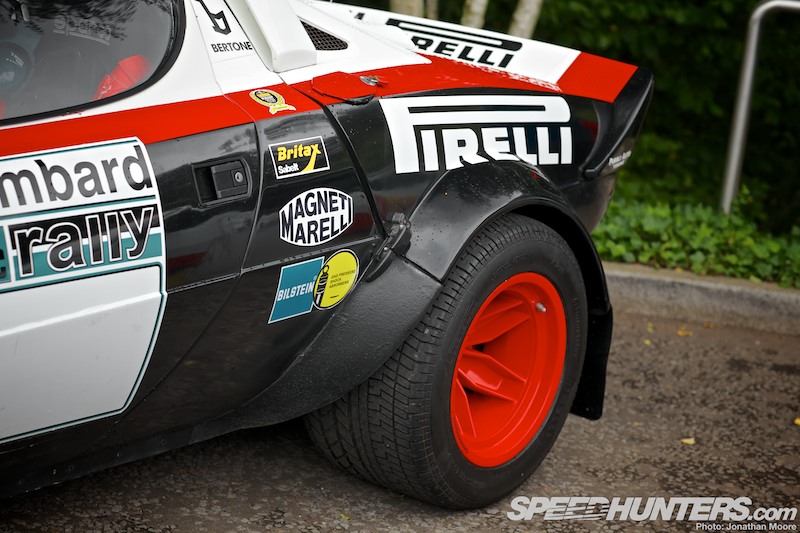 Seeing a Stratos up close makes you appreciate just how cutting edge they were at the time: the wedge shape is a given, but the wheelbase and track combined with the ultra-wide rear rubber makes them look like there's a single-seater chassis underneath.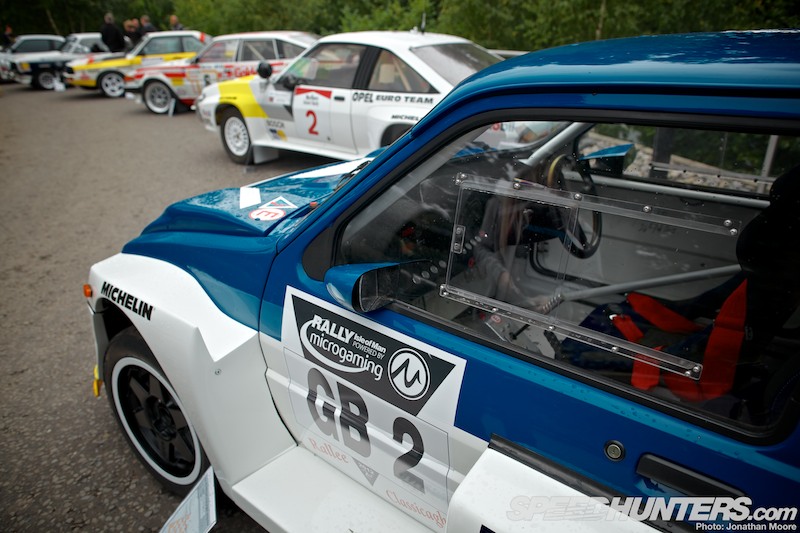 This Metro 6R4 was another replica built up using original parts wherever possible. Although the rear was definitely the poorer for housing a small Honda unit rather than a meaty three-litre V6…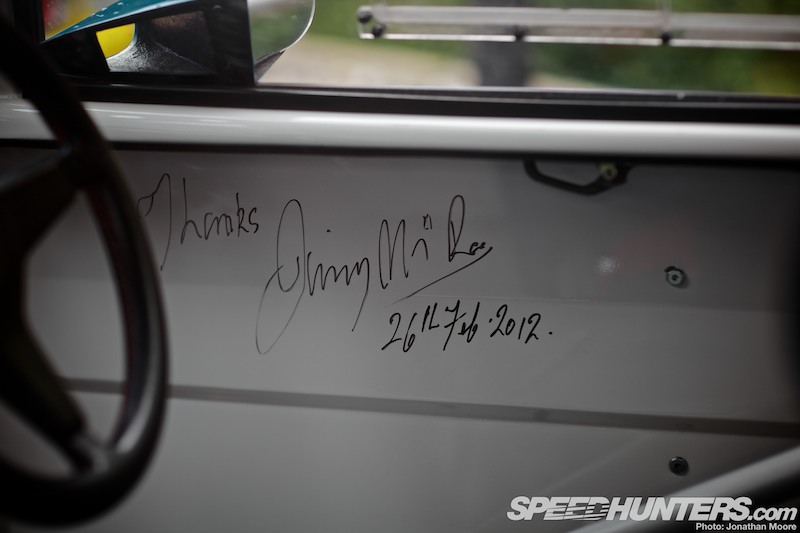 … the cabin signature definitely added credibility.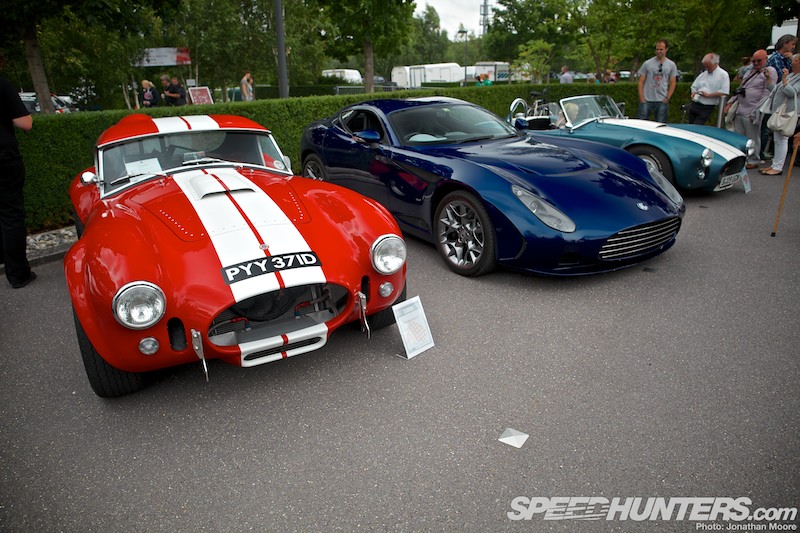 Another fine display was just opposite the rally cars: a quartet of ACs. Aston Martin may be celebrating their century, but AC Cars goes even further back: their first car was unveiled in 1903.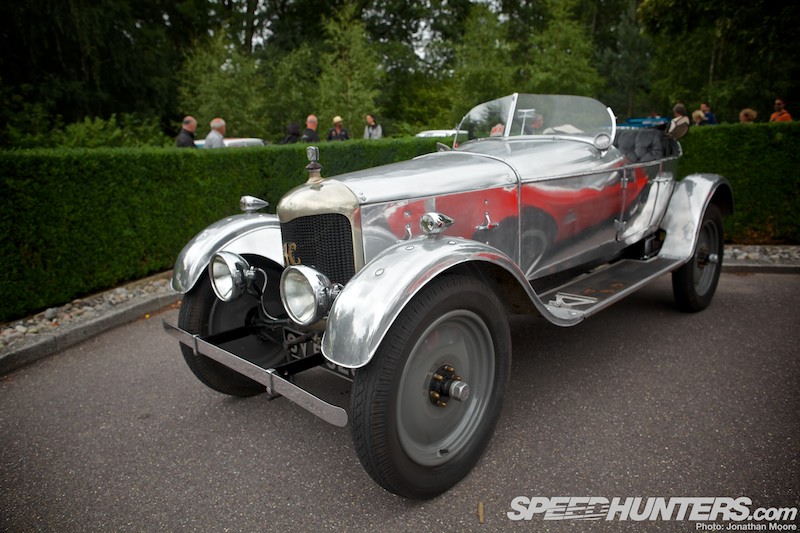 Whilst we may all be familiar with the Cobra, AC had a strong production history from its very beginning: 850 of the lightweight 12hp AC Sports models were built in the 1920s, and they held many records at their local track of Brooklands.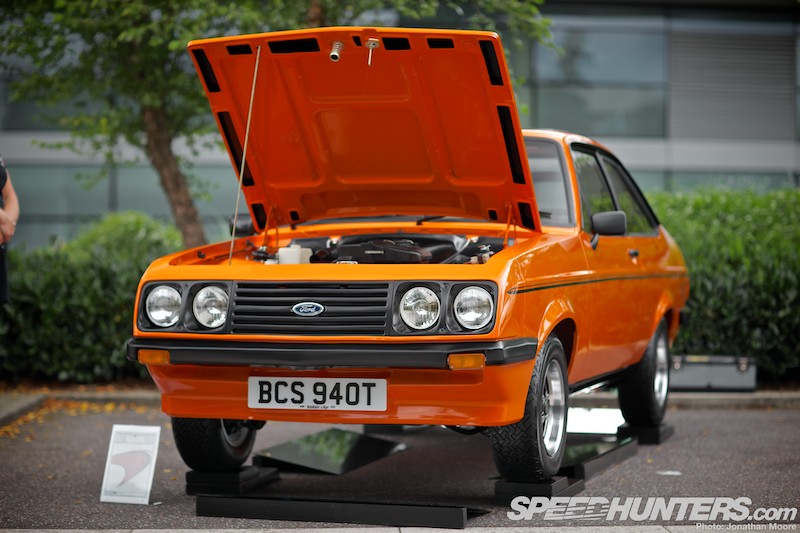 Ford's popularity in the UK didn't go without mention: alongside several Escorts and a Sierra was this utterly immaculate RS2000, looking like it had just rolled off the production line. Underbody mirrors taunted onlookers to suggest otherwise.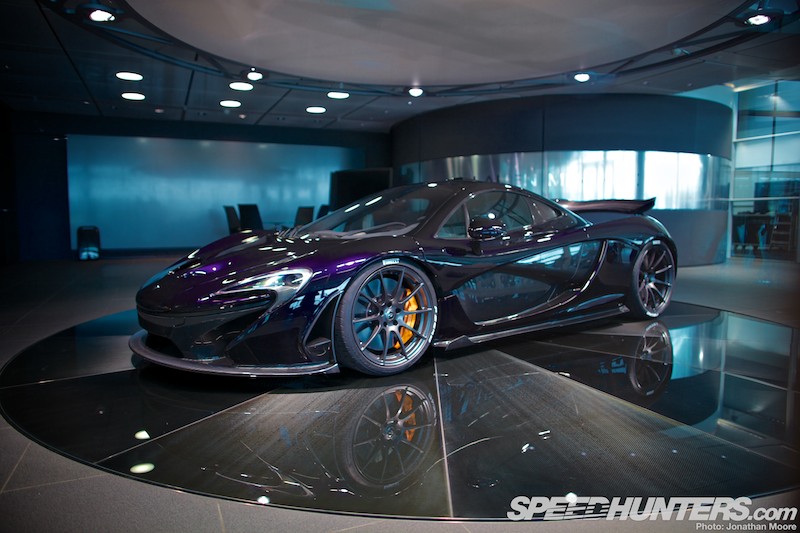 The RS2000 only had one challenger in the shiny department, and that was back on the Boulevard, slowly rotating on its reflective pedestal: a stunning metallic purple P1. Possibly the most spectacular colour I've yet seen it in?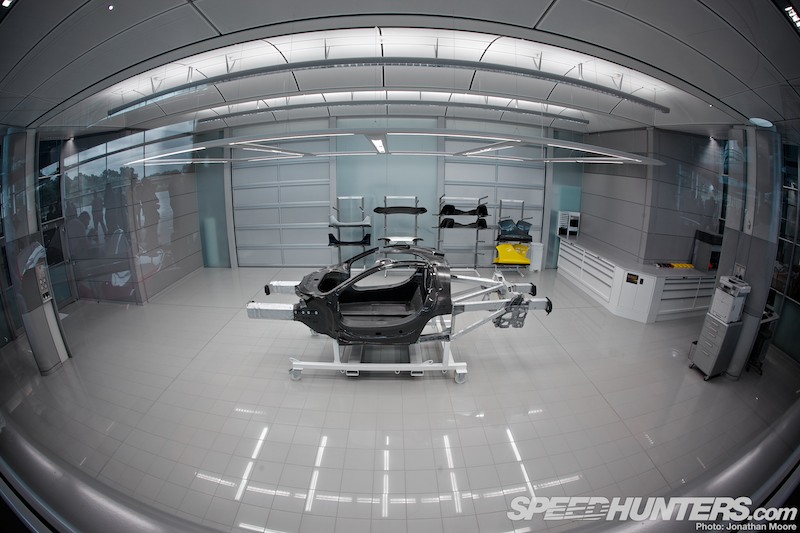 The 'McLaren unveiled' theme continued with a bare P1 monocoque sitting on its jig in an adjacent bay…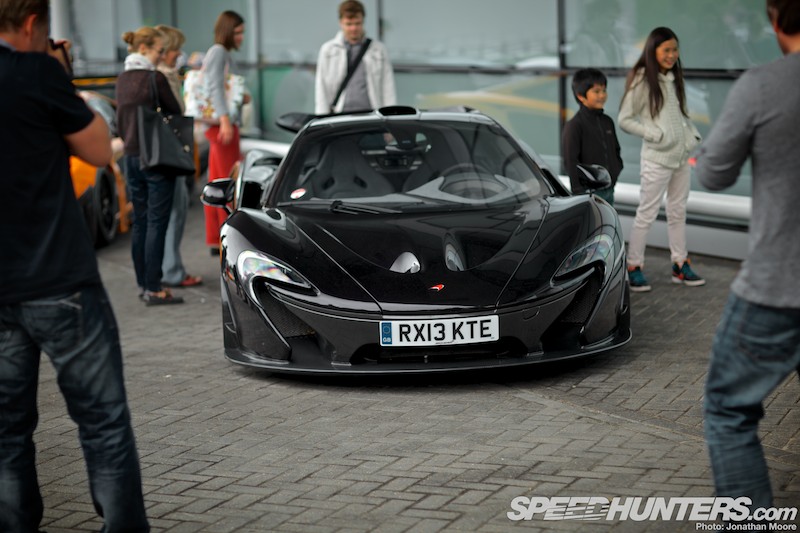 … whilst outside another production P1 sat nonchalantly outside, allowing visitors to get more P1 in a day than most people have had in the last year!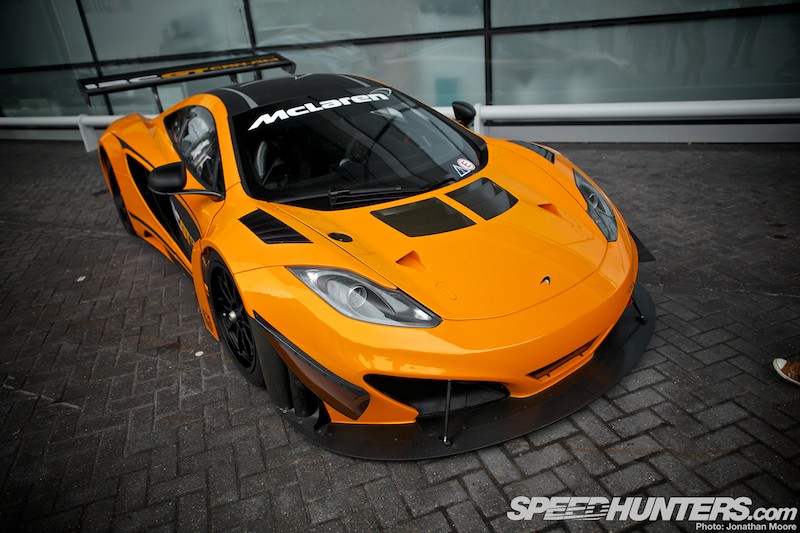 Next to it was the prototype Can Am Edition MP4-12C…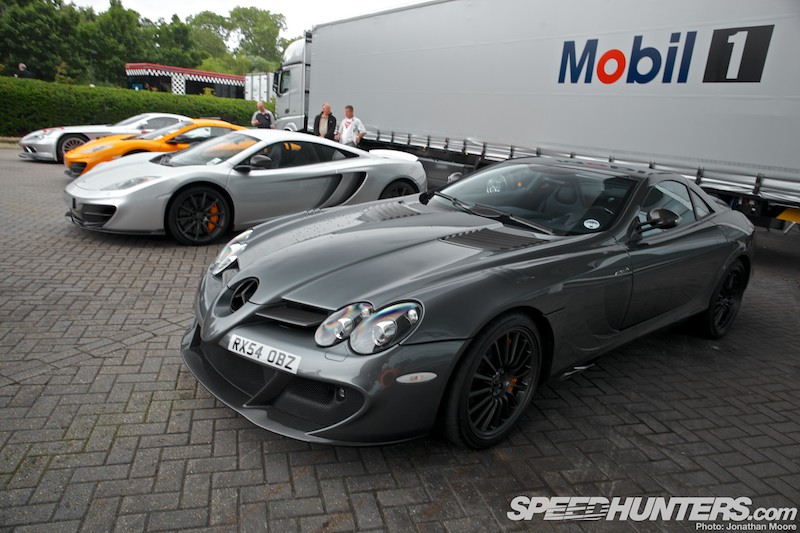 … with another fine quartet backing the pair up – which included two examples of McLaren's past Mercedes collaborations.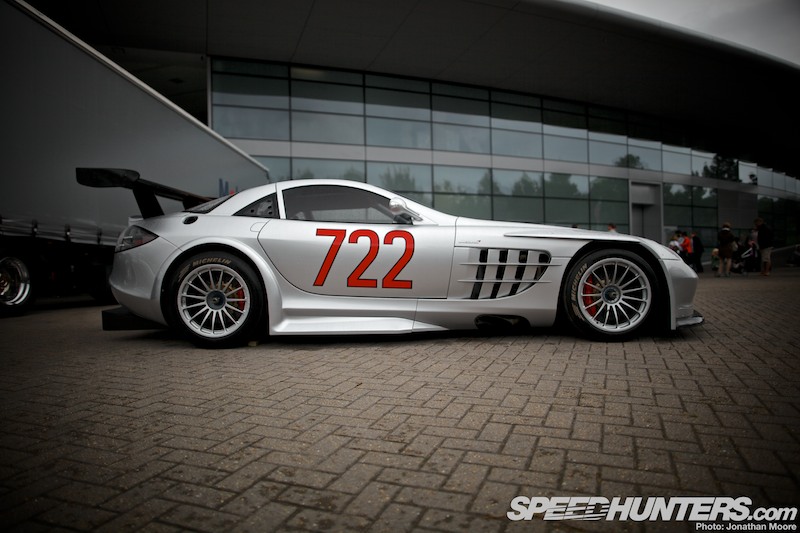 The stripped out 722 GT edition of the Mercedes-Benz McLaren SLR was utterly brutal: I don't think I've seen this rare model before, built for a one-make racing series. Every angle oozed monstrous power: seeing a pack of these racing must have been immense.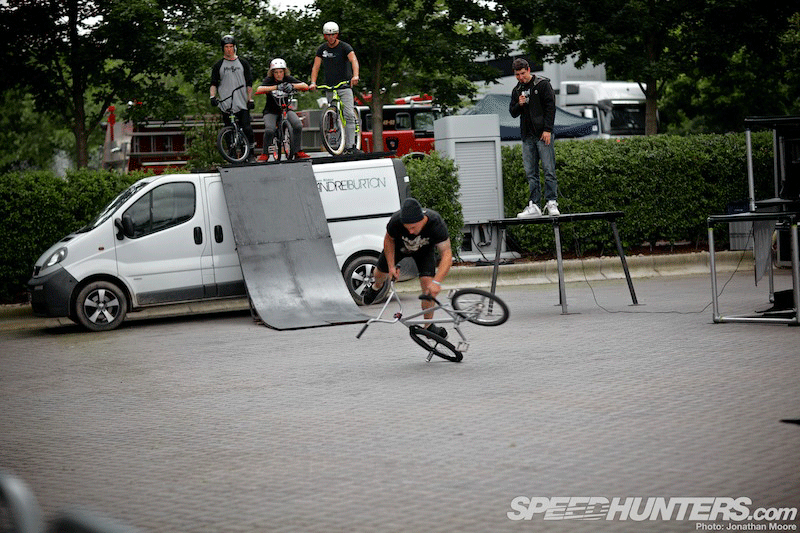 Formula 1, racers, customs, bikes, rallycars and more… It left your head spinning. The agreement was that the 2013 McLaren Employee Motor Show was even bigger and better than previous years; so, how to enjoy this next year? Time to join the Team McLaren club perhaps!
Jonathan Moore
Instagram: speedhunters_jonathan
jonathan@speedhunters.com
The MP4-12C on Speedhunters
More McLaren stories on Speedhunters