With a brand as prestigious and respected as Aston Martin, it's no surprise that their cars have been the focus of a lot of your attention. I'd probably go as far as saying that this has been visually the strongest response we have had for a special theme on #IAMTHESPEEDHUNTER. Sometimes, it's all too easy to get lazy and take an average picture of a great looking car, but when you put the effort in, you're always rewarded with something special…
(Above) Choosing the lead image caused me massive grief for this week as honestly, there were so many potentials. However, Martin Persson won out with this spectacular profile shot with superb lighting and colour grading.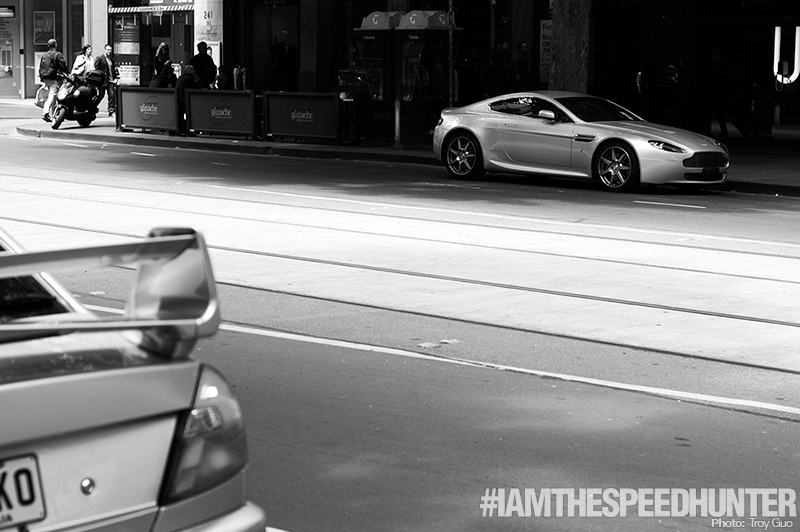 This is a tricker shot than it looks, as exposing for the car sat in the shade without blowing out the areas that lie in sunshine is a balancing act.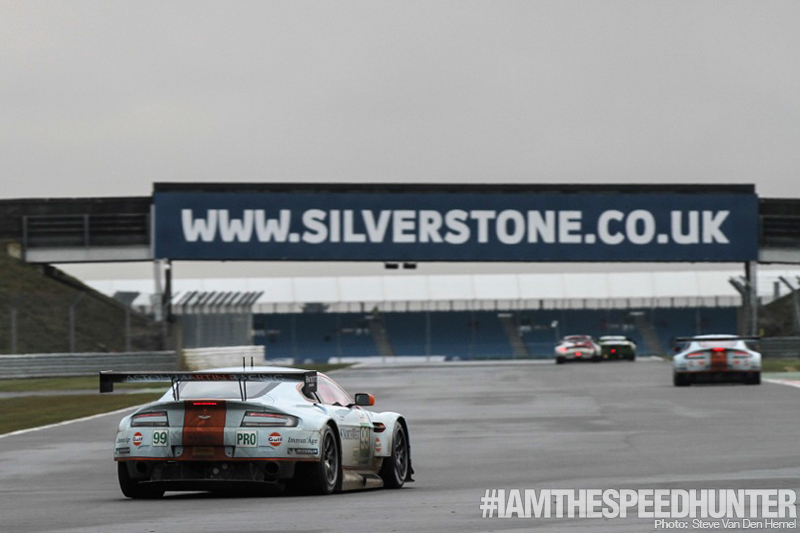 It's quite an iconic view of the Silverstone Circuit, and with considered depth of field control , Steve has done well to capture the two Astons as they head towards Brooklands.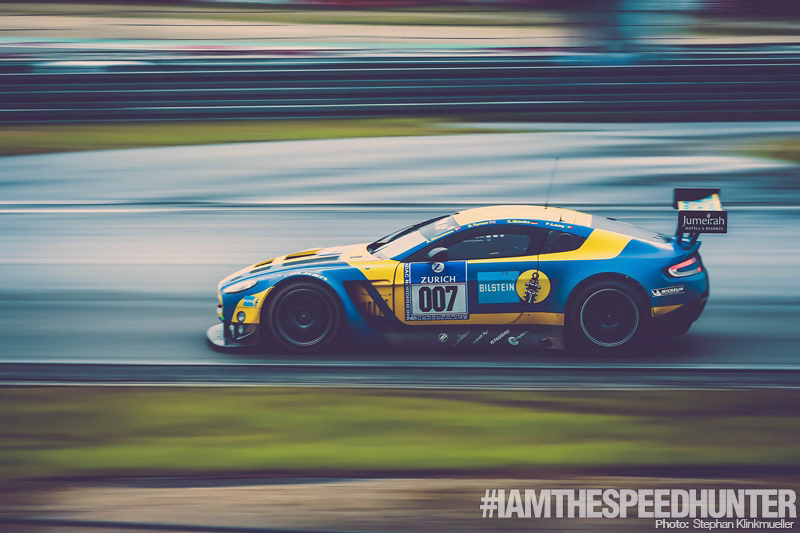 Strong processing on this one, but the milky blacks work with the overall treatment of what is a solid panning shot.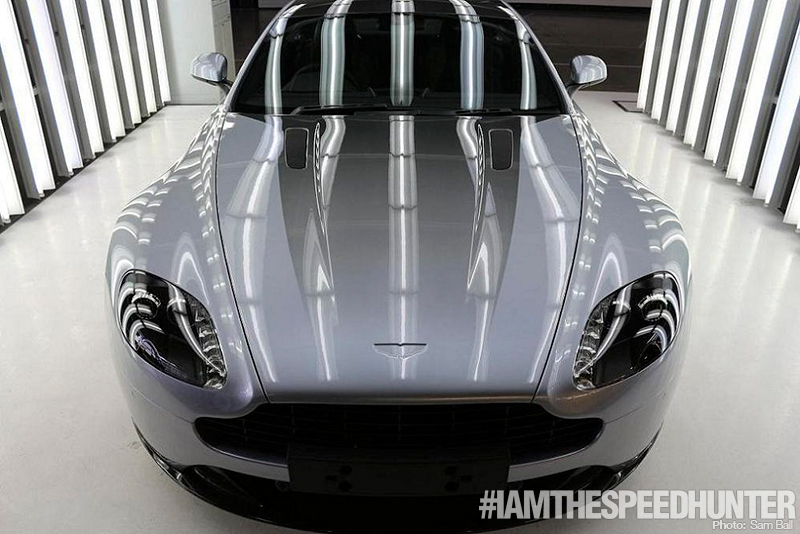 This one is all about the symmetry and Sam also pointed out that the badge is the last thing added to an Aston Martin, once it has passed all inspections.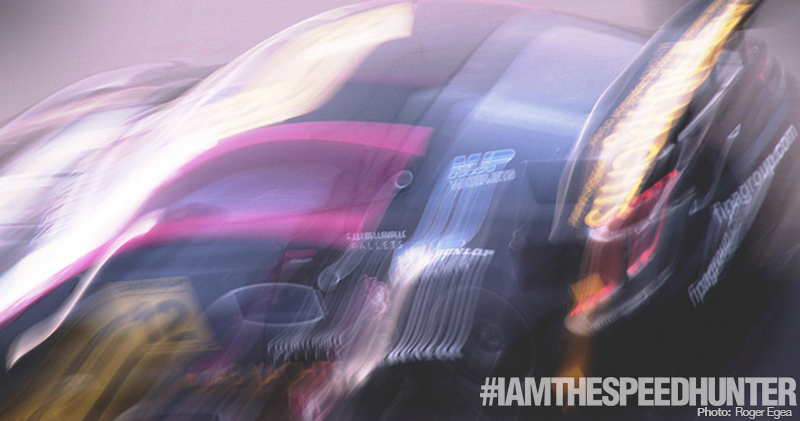 This is a really beautiful abstract shot by Roger. When you drop your shutter speed into previously uncharted territories, beautiful things often happen.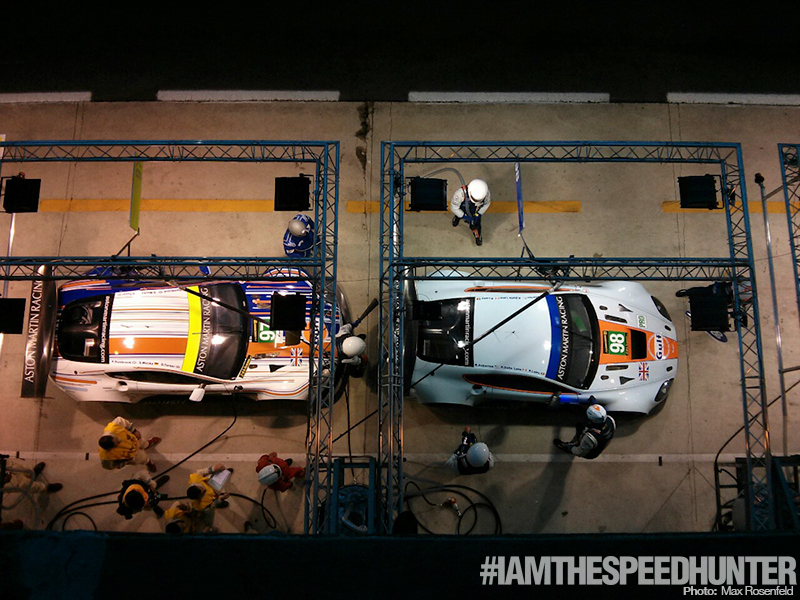 I love this top down view of what would otherwise be a standard pit stop shot. Always seek that different perspective.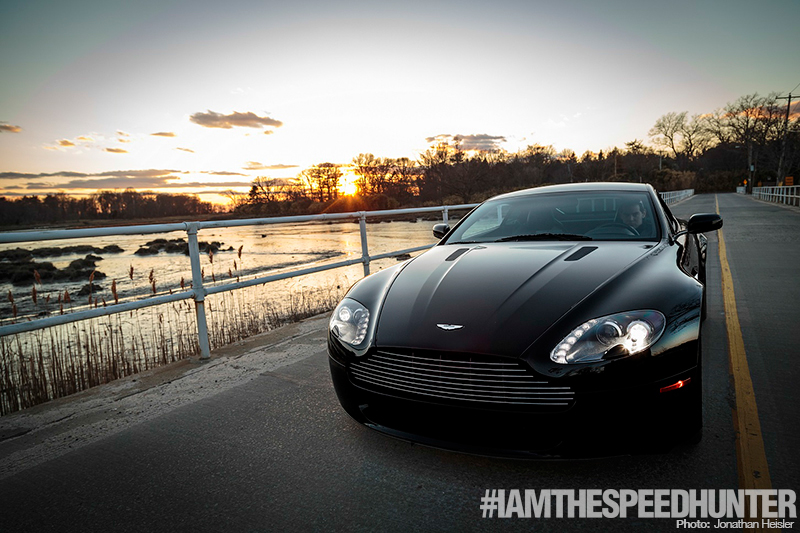 A circular polarising filter has been deployed here to minimise reflections and glare along the top of the car's body. It's a beautiful image, helped by choosing the perfect time of day to shoot.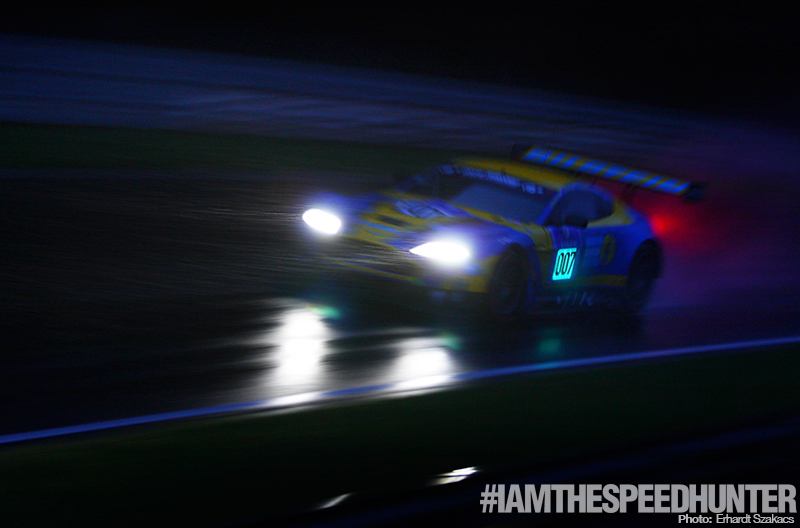 Erhardt nailed this dark panning shot under extreme weather conditions at this year's N24. This is about as hard as motorsport photography gets: low light, poor weather and extremely quick cars.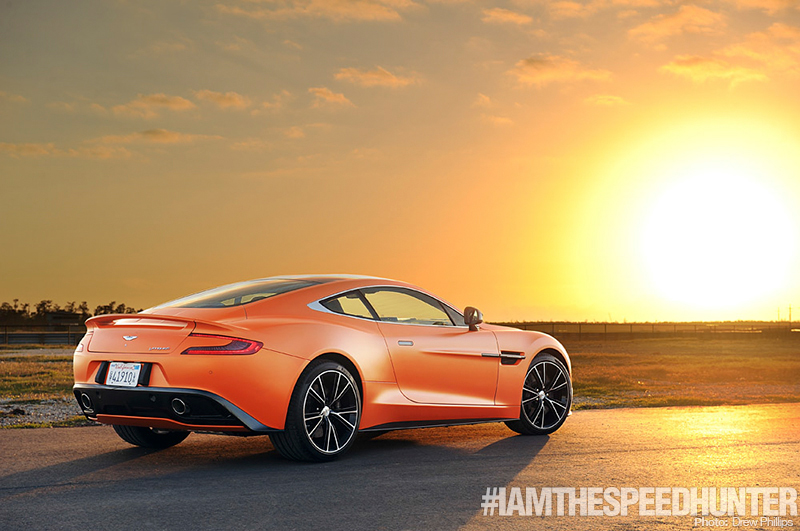 By presumably combining exposures, Drew was able to capture all the information he needed to create this eye-catching composition.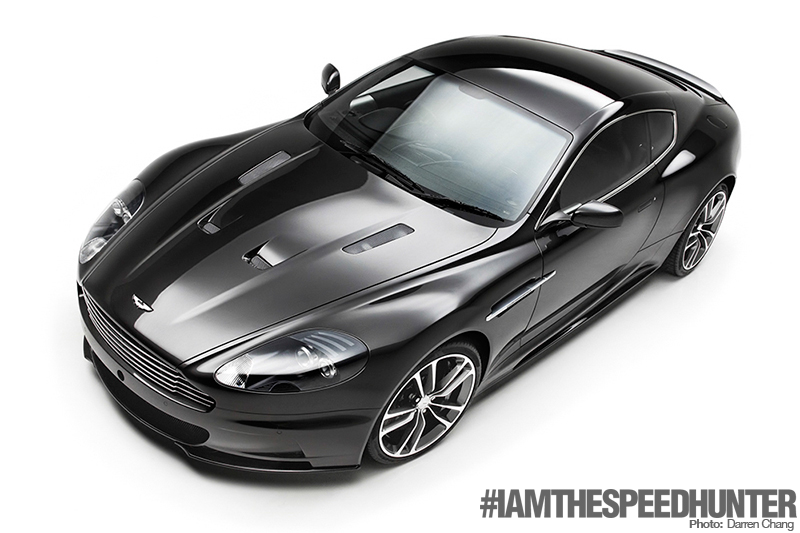 One of the standout images from this theme's submission was this studio shot by Darren Chang. A large overhead soft box creates those smooth lines on the car.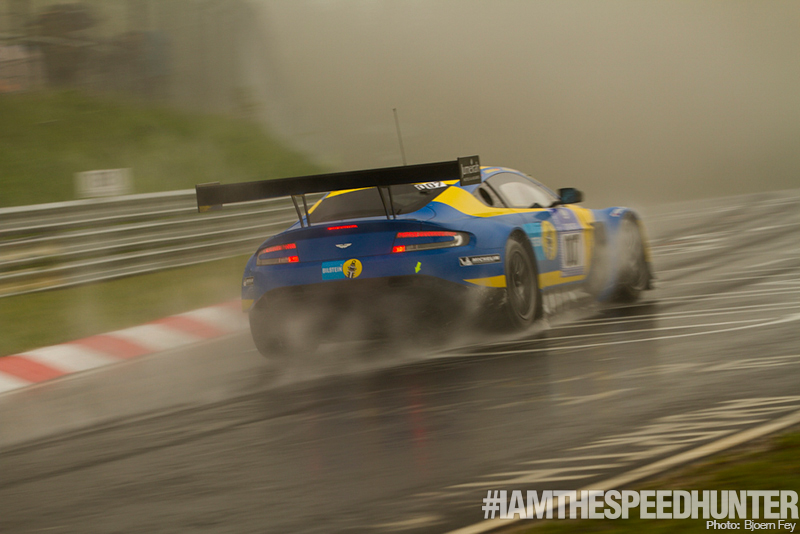 Another who braved the elements at the N24 was rewarded for his efforts.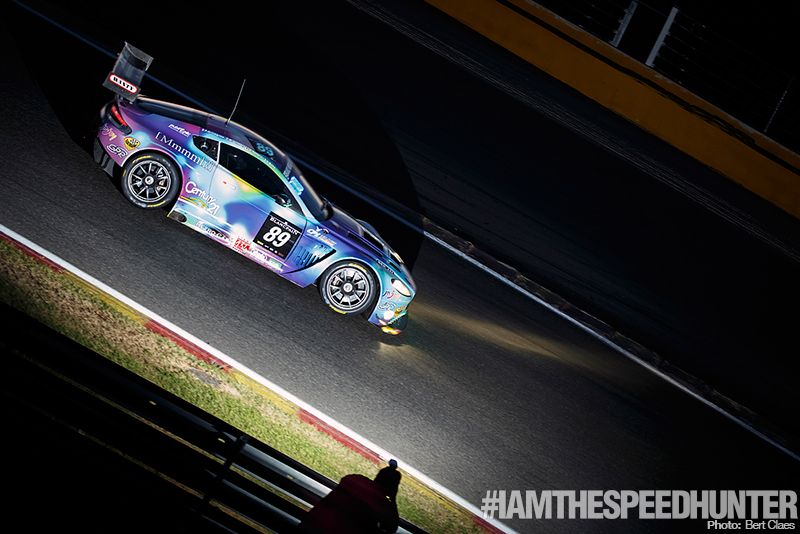 By taking advantage of another photographer's flashgun, Bert has captured a perfect moment in time.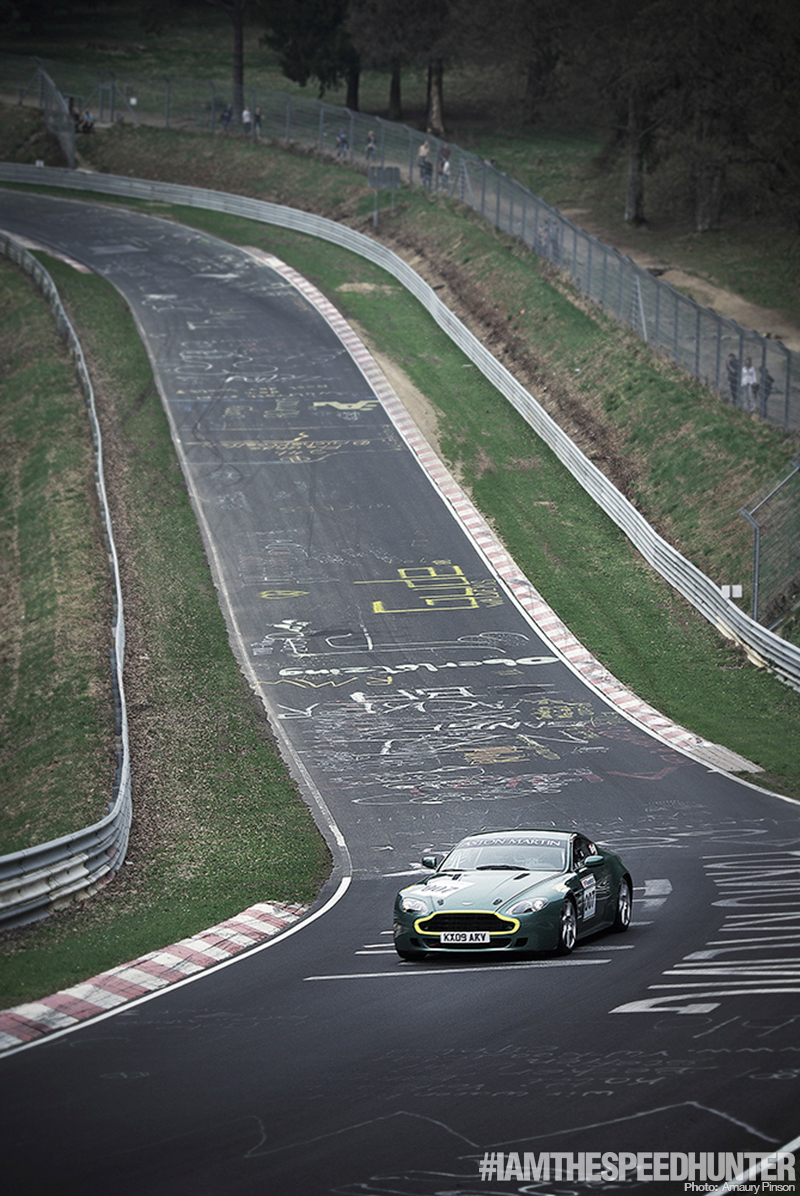 A portrait orientation shows us this Aston's run through the Wippermann section of the Nordschleife.
Last but of course not least is some fine depth of field control giving a perfect view of those famous clocks.
That's it for this theme. We still have the people theme to reveal but have decided to keep it open for another week or so, as the submissions are still coming in for it. Thank you everyone for your time sending us in your work, we appreciate it.
Paddy McGrath
Twitter: @PaddyMcGrathSH
Instagram: speedhunters_paddy
paddy@speedhunters.com
About #IAMTHESPEEDHUNTER
We created #IAMTHESPEEDHUNTER to allow you the opportunity to share your skills and car culture experiences from around the globe with the rest of the Speedhunters audience.
How do you get involved? It's simple…
Flickr - Join our #IAMTHESPEEDHUNTER Flickr Group and share your favourite photos with us and others.
Instagram – Follow us on Instagram at @TheSpeedhunters and tag your own car culture images with #IAMTHESPEEDHUNTER
Twitter – Follow us on Twitter at @SPEEDHUNTERS and share your tweets with the #IAMTHESPEEDHUNTER hashtag.
Tumblr – Visit our Tumblr page to view the latest #IAMTHESPEEDHUNTER tagged images.
E-Mail – If you've been to a cool event and captured some amazing images, be sure to e-mail them to us on iamthespeedhunter@speedhunters.com and tell us a little bit about the event. The images need to be a minimum of 800×533 pixels.
Have you submitted already but yet been featured? Here are some tips to help you…
DO – Tell us your name!
DO – Submit your best work, regardless of when it was taken
DO – Take your time shooting and consider each detail
DO – Try to submit each image no larger than 1000PX wide
DON'T – Put a huge watermark on it. We'll make sure you're credited
DON'T – Send us huge image files that kill our e-mail system
DON'T – Send us scary ZIP or RAR files
日本のSpeedhunters読者にお知らせです。
Speedhuntersでは、週一回#IAMTHESPEEDHUNTERにて、読者の皆さんから寄せられたカーシーンの投稿写真を紹介しています。
投稿写真は、カーレース、カーショー、イベント等、車に関するものならなんでもOKです。
Speedhuntersで皆さんの撮ったカーシーンショットを世界中のファンに紹介して、あなたもSpeedhunters記者の仲間入りしましょう!
#IAMTHESPEEDHUNTERには、ツイッターかインスタグラムにて簡単に写真を投稿していただけます。
上記方法で写真を投稿する際は、写真に#IAMTHESPEEDHUNTERのハッシュタグを付けてください。
また、メールアドレスiamthespeedhunter@speedhunters.comでも投稿受付しています。
写真は、800×533 ピクセル以上のJPGのフォーマットでお願いします。
上記サイズより小さい写真ですと、すばらしい写真でもサイトの写真サイズの関係上掲載できないことがありますのでお気をつけください。
投稿された写真は世界中のSpeedhunters読者とシェアされますので、あなたのベストショット写真を投稿してくださいね!
また、写真に併せてどういった写真なのか、どこで撮られた写真なのかの説明と投稿者様のお名前を明記の上投稿お願いします。