My visit to the Toyota Automobile Museum in Aichi, Japan this year was an unforgettable experience. With the large display of historic vehicles from around the world and the limited-time Toyota 75 exhibit with its incredible 1:5 scale model lineup – there was a lot to take in. Even so, I'm still not quite done sharing my experiences from this must-see destination.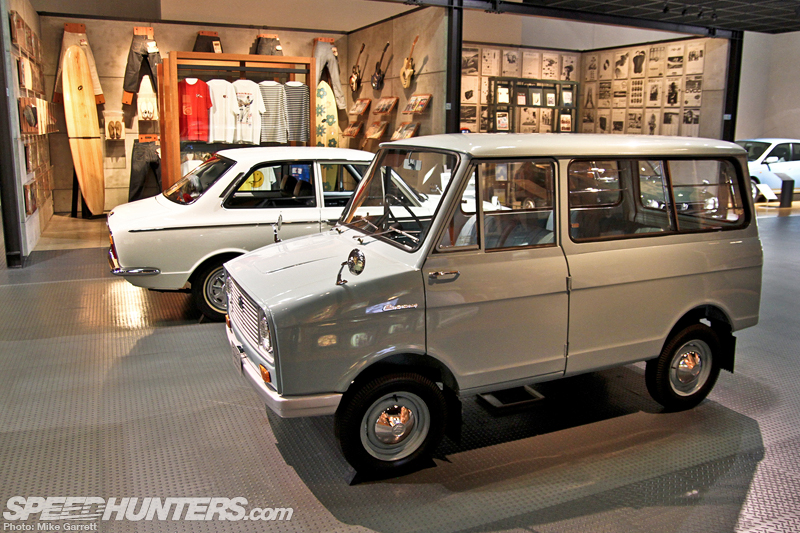 In addition to the main museum building, the facility also includes a separate annex which was opened in 1999 to mark the museum's 10th anniversary. As I've touched on in my previous posts, the mission of the museum is not to promote the Toyota brand and its products, but to spread appreciation and knowledge about the history of motor vehicles and how they've changed our lives.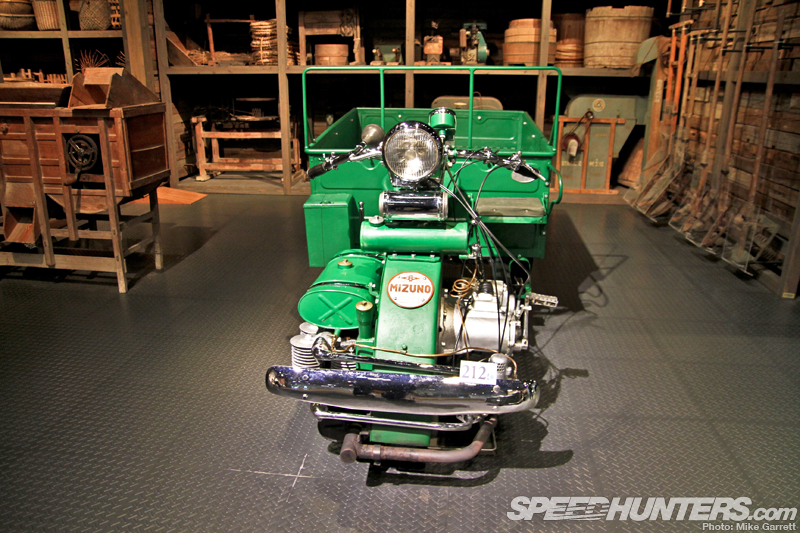 More specifically, the exhibits in the annex building are designed to tell the story of how Japan itself came to be a motorized nation, using a collection of both historic vehicles and cultural artifacts that span well over 100 years of transportation history.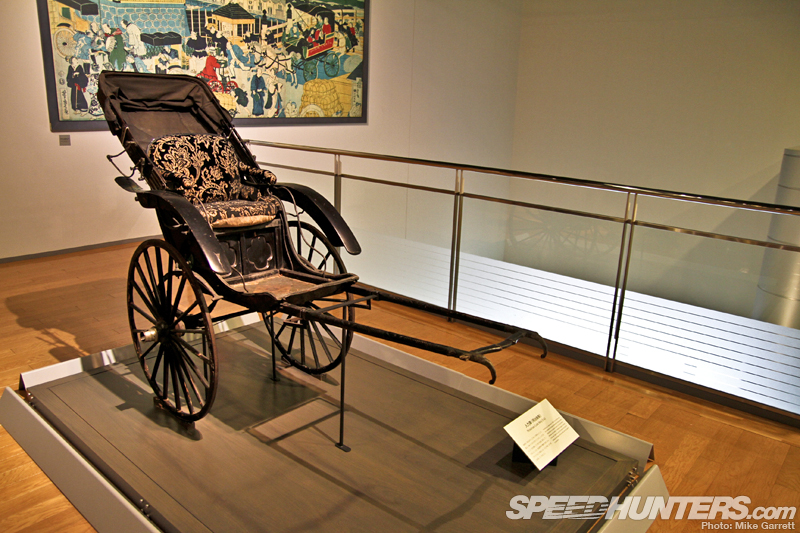 When you first enter the exhibit, this is the sight that greets you. Before automobiles even existed, the primitive roads of Japan were home to vehicles like this Rickshaw from the late 1800s. But with technology rapidly advancing and Japan's increasing westernization, the Rickshaw's days were numbered.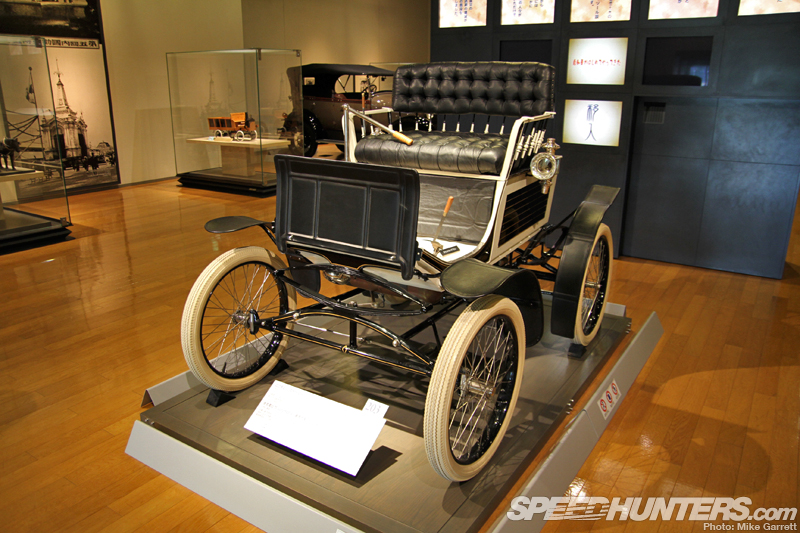 At the beginning of 1900s with horse-drawn and electric street cars beginning to take over public transportation in Japan, some of the first automobiles began to appear as well. For example, Baron Ryokichi Kawada's vehicle of choice was a Locomobile Steamer imported from the United States. By the way, whatever happened to Barons?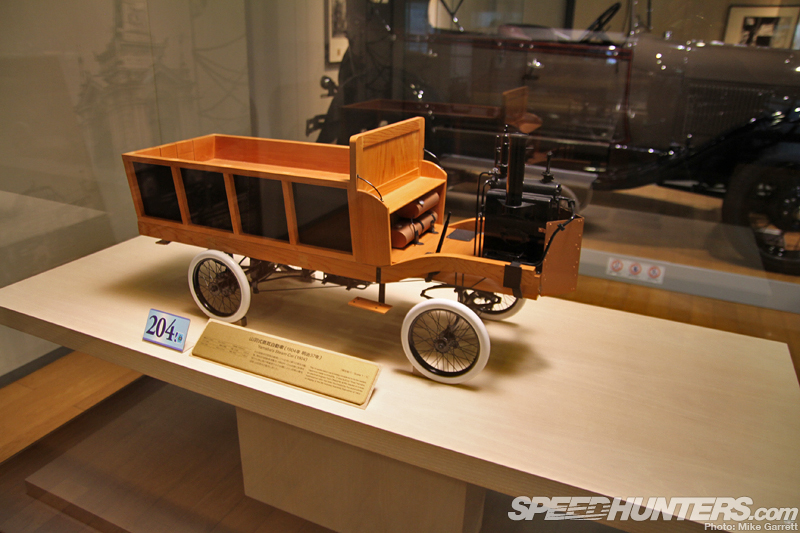 Not surprisingly, Japanese engineers soon got to work producing some of these strange new machines for themselves. Seen here in 1:5 scale form is Yamaba's Steam Car from 1904, which is considered to be Japan's earliest automobile.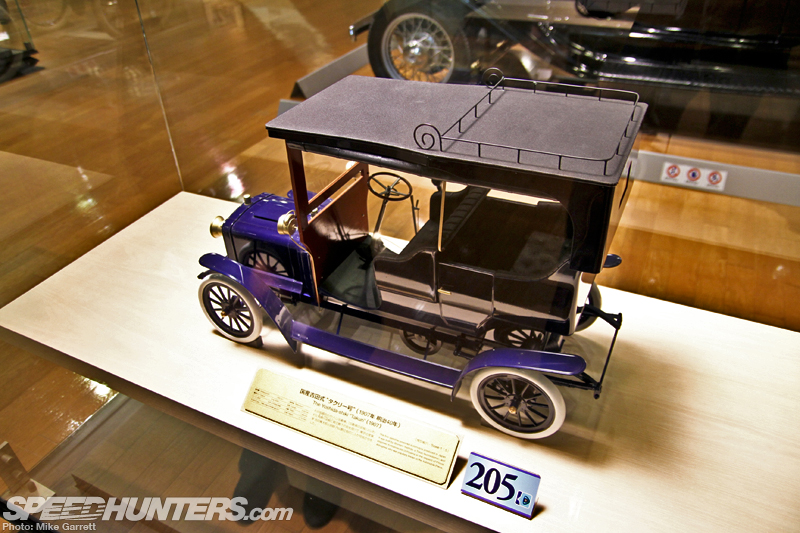 Japan's first gasoline automobile came a few years later in the form of the Yoshida-shiki 'Takuri', which was built at the request of Prince Arisugawa, a strong supporter of the automobile.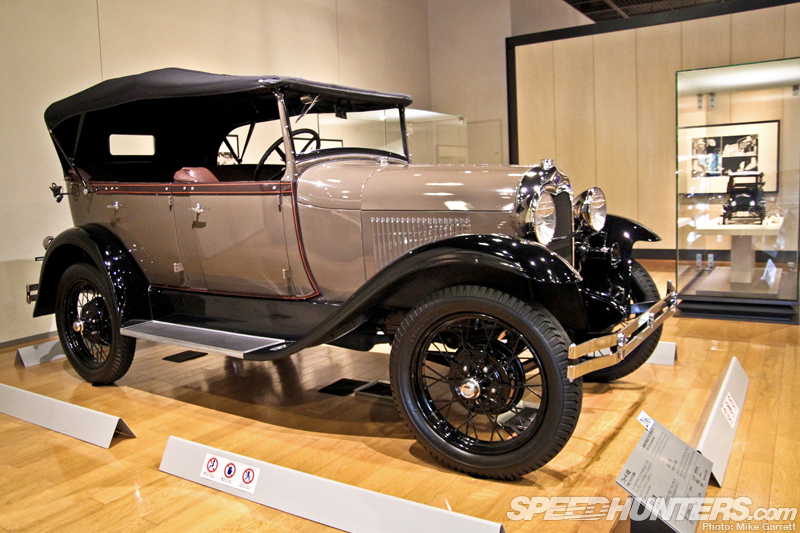 While it would be some time before Japan's own auto industry really got rolling, American automakers made big inroads to the country during the pre-war years. In 1925 Ford opened up a factory in Yokohama to assemble Model Ts, and later Model As, for the Japanese market. That's where this '29 Model A was built.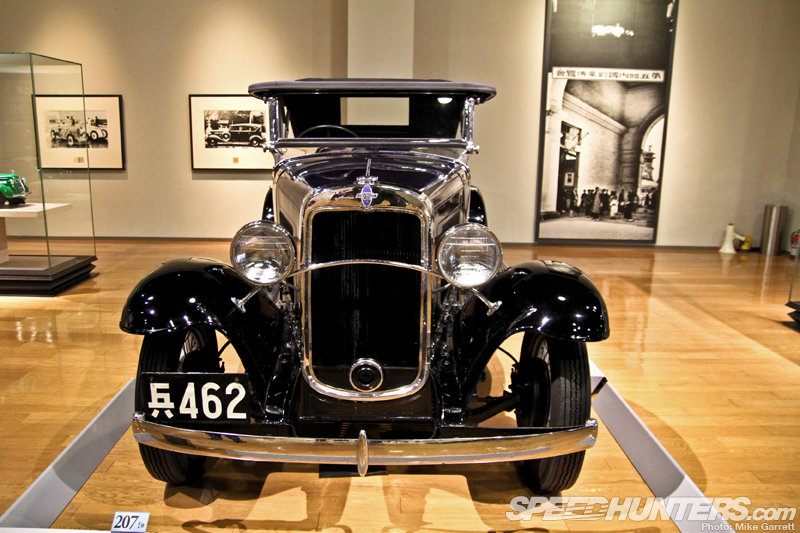 GM did the same, opening an assembly line for Chevrolets in Osaka in 1927.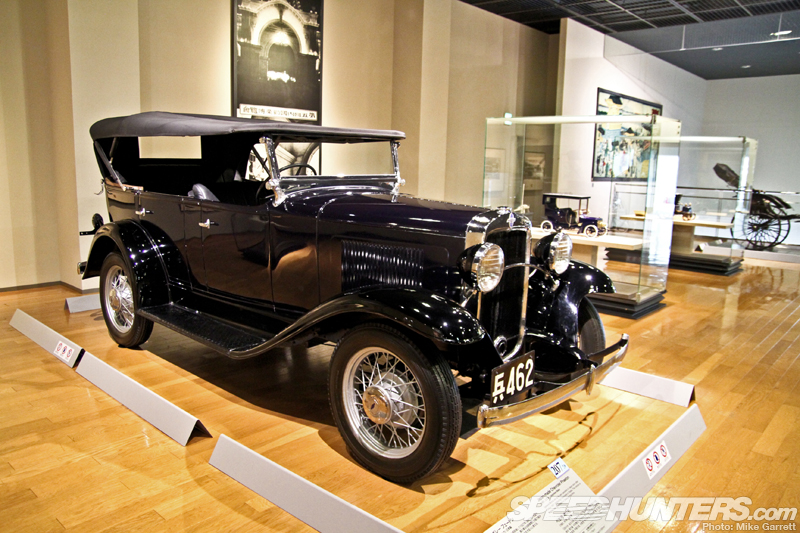 This Chevrolet Phaeton is a product of the Osaka factory, built in 1931 and powered by a 60hp inline-six.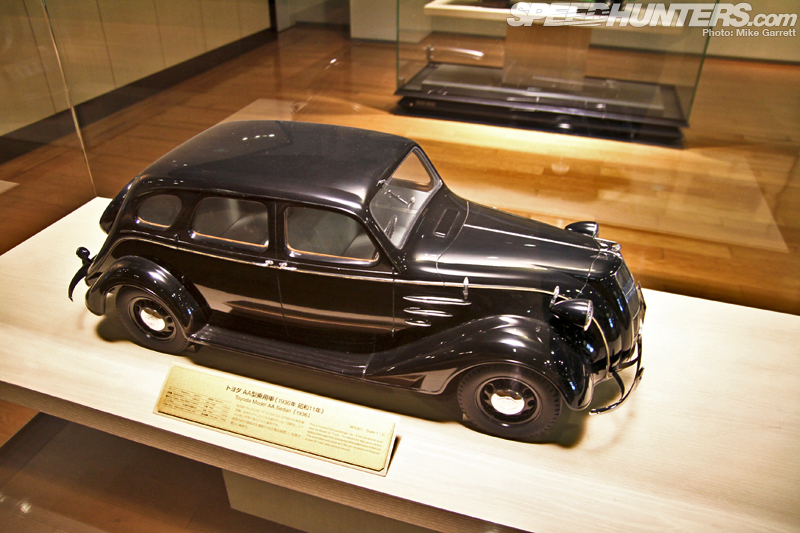 A few years later Toyota's first passenger car arrived in the from of the Toyoda Model AA, which can be seen in full size form in my earlier museum coverage.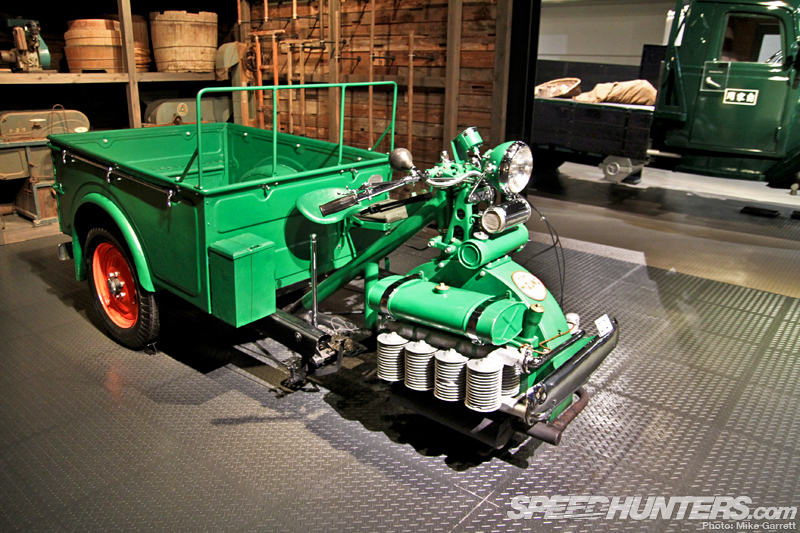 Around the same time companies like Mizuno Ironworks began to introduce commercial vehicles like this three-wheeled, front-wheel drive truck.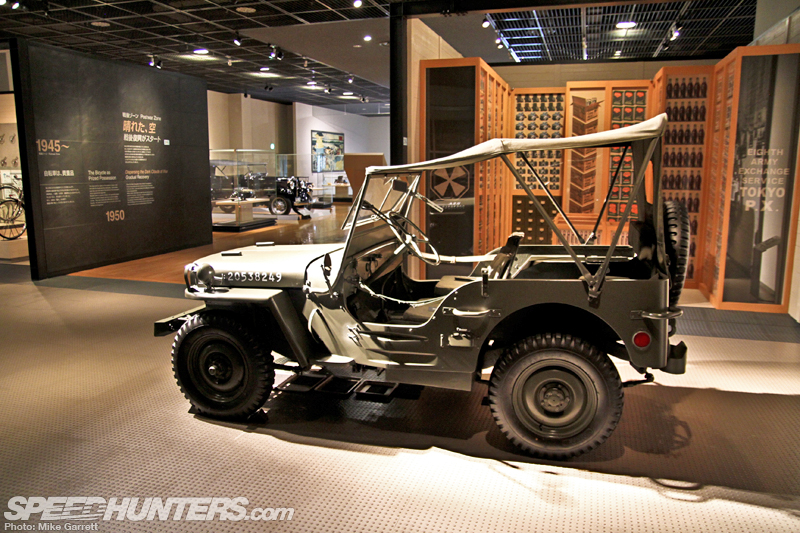 But even as Japan's auto industry grew, there were dark clouds brewing with the impending second world war on the horizon. Following the end of the war in 1945, Japan and much of its industry lay in ruins.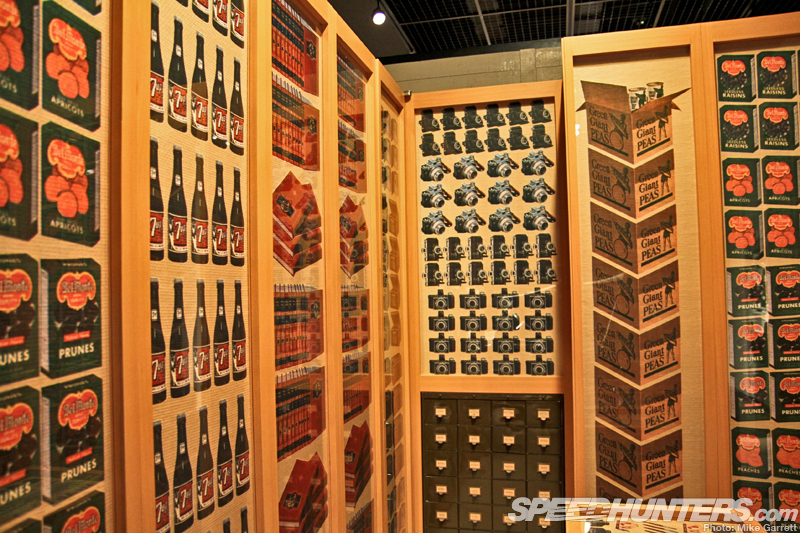 But even during the dark times of the post-war period, the Japanese looked to things like the Post Exchanges of the American occupation and saw hints of a brighter, more affluent future in which the automobile would play a significant role.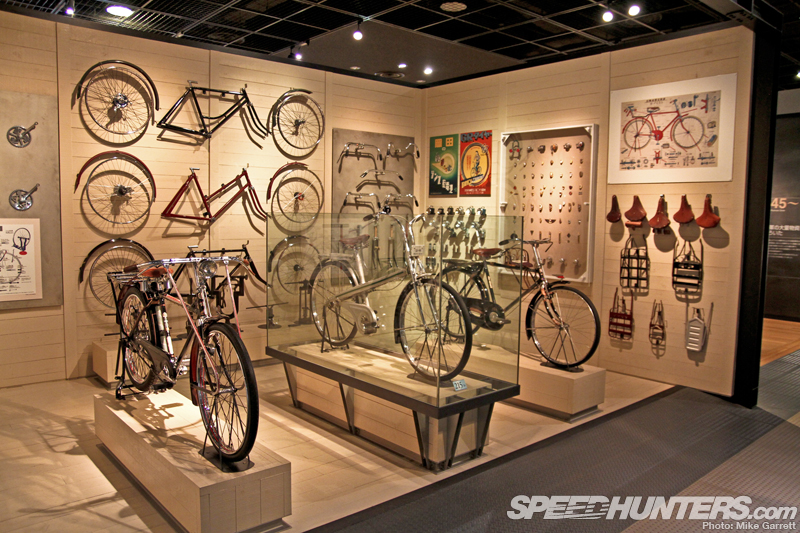 And while widespread use of the automobile was still a way off , the bicycle became increasingly popular and more important as a means of transportation for the Japanese.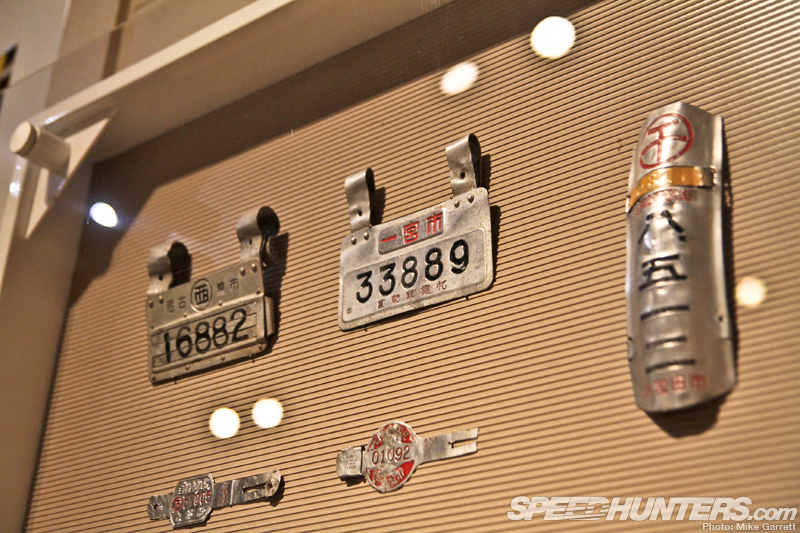 Given that the bike is still a massively important form of transportation in Japanese cities today, it was nice to see the exhibit shed some light on Japan's pedal-powered history.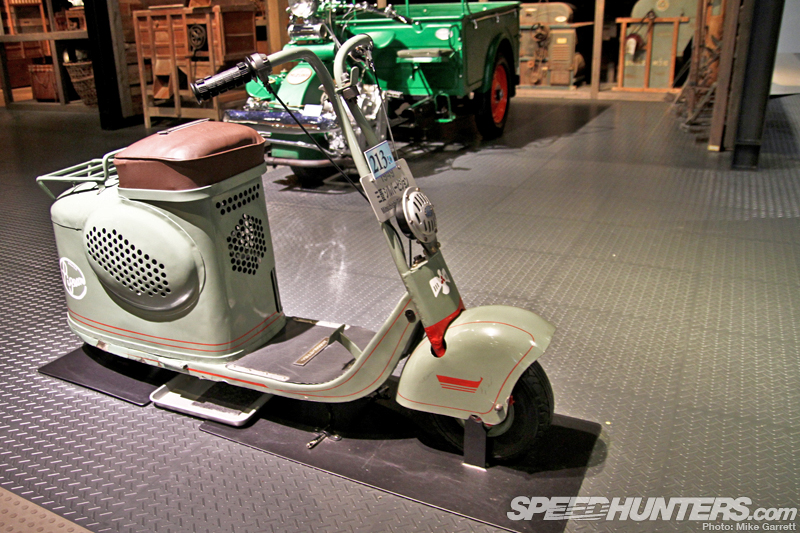 Eventually, Japanese companies would begin producing consumer vehicles again, with many aircraft makers switching to scooters following the war. This is the 1949 Mitsubishi Silver Pigeon, which was built using wheels from fighter planes and other old military equipment.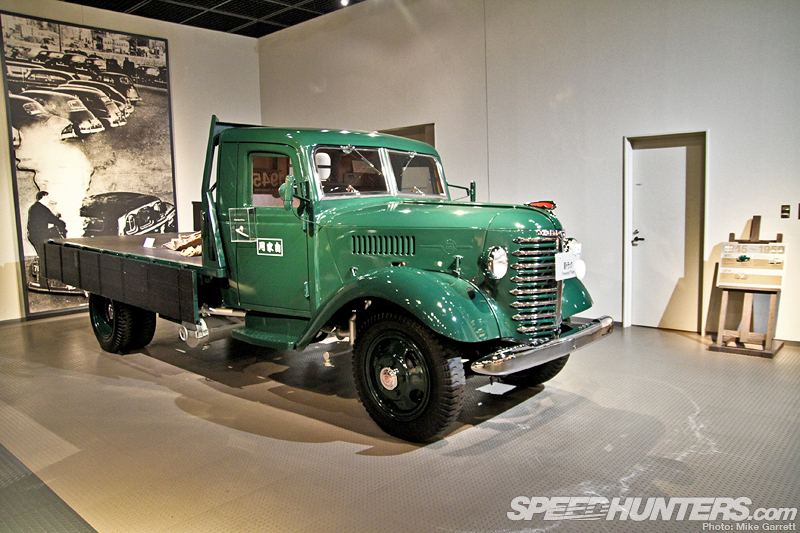 Gasoline was scarce in Japan during the immediate post-war years, so automakers tried to come with alternatives. For example, this 1950 Toyota Model BM truck is powered by a firewood gas generator. Although it was an interesting idea, the trucks suffered from a severe lack of power, particularly when trying to negotiate inclines.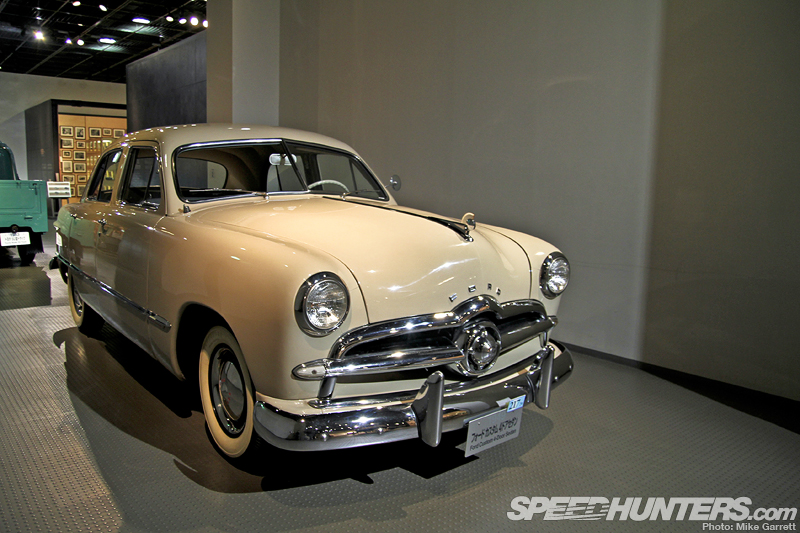 Of course, it wasn't just Japan that saw its auto industry go on hiatus during the war. A similar situation occurred in the United States with its automakers switching to wartime production. In 1949 though, Ford introduced its first new vehicle following the war, a car better known to enthusiasts as the Shoebox.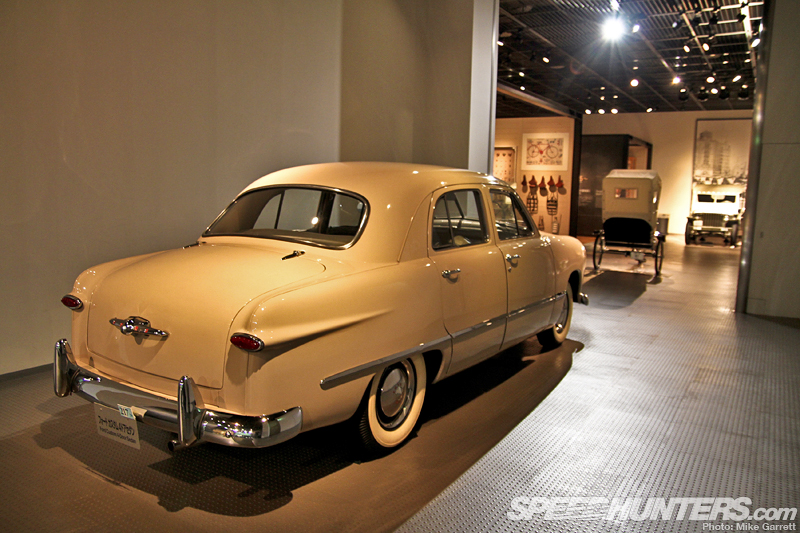 With its streamlined styling and more advanced powertrain, the new Ford received praise both at home and in Japan where it arrived soon after. Needless to say, this completely modern car would serve as a big inspiration for Japan's own automakers.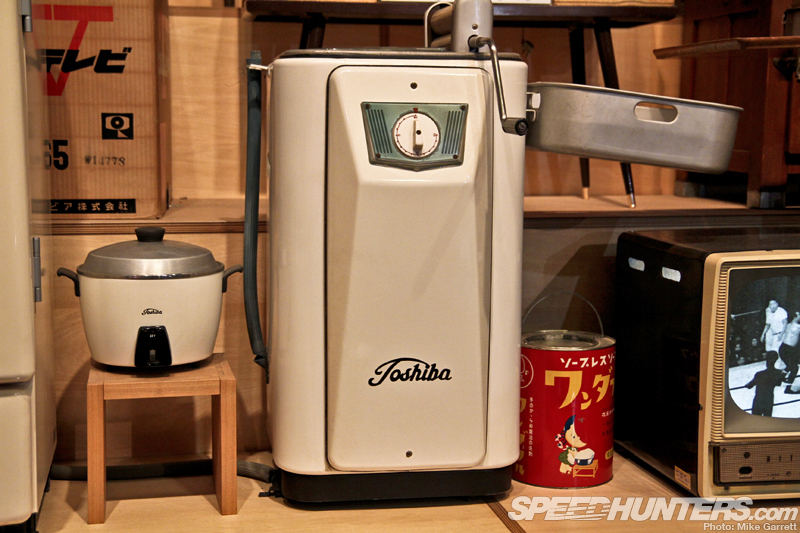 As the 1950s began, Japan continued to advance in terms of consumer items, with a new high-tech products like the refrigerator, electric washing machine…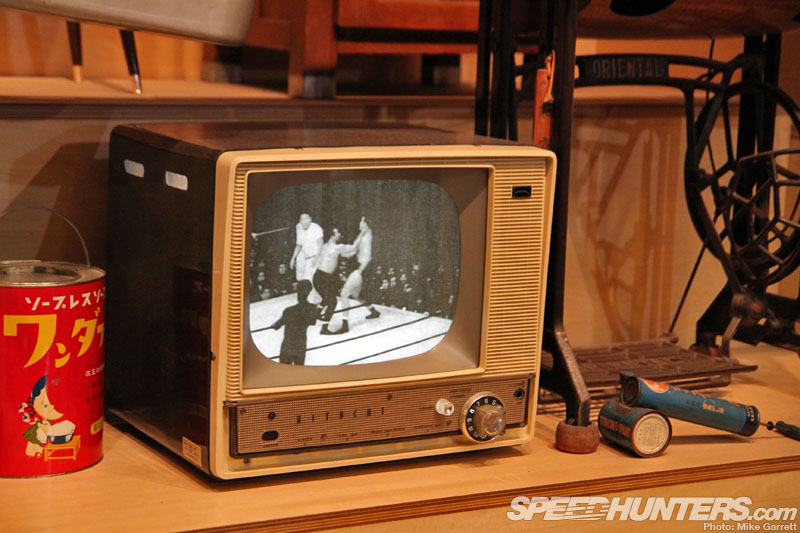 … and the television set all becoming household necessities for a growing middle class. I have to say the addition of these elements to the museum exhibits really helped to bring the history to life.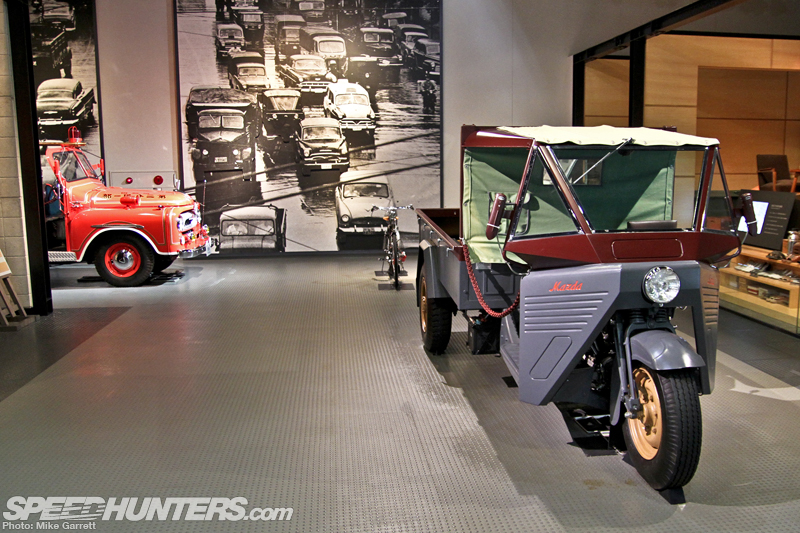 The Japanese auto industry continued to grow in the early '50s as well, but rather than cars for individuals, the bulk of the market was made up of trucks, taxis, and other commercial vehicles. This 1953 Mazda three-wheeled truck  is powered by a two-cylinder engine and had an extremely impressive (for the time) two-ton cargo capacity.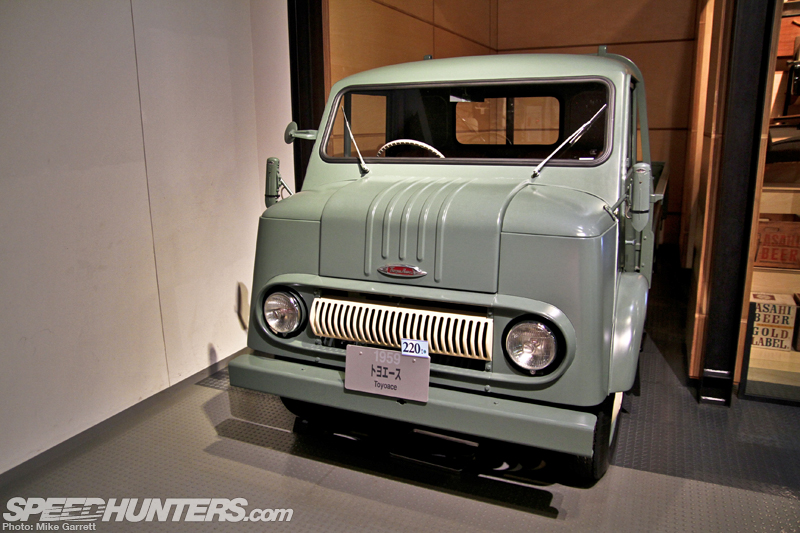 Eventually, the truck market would shift from three-wheeled vehicles to four-wheeled machines like this Toyoace delivery truck. With a low purchase price, this particular model quickly became known as the 'people's truck'.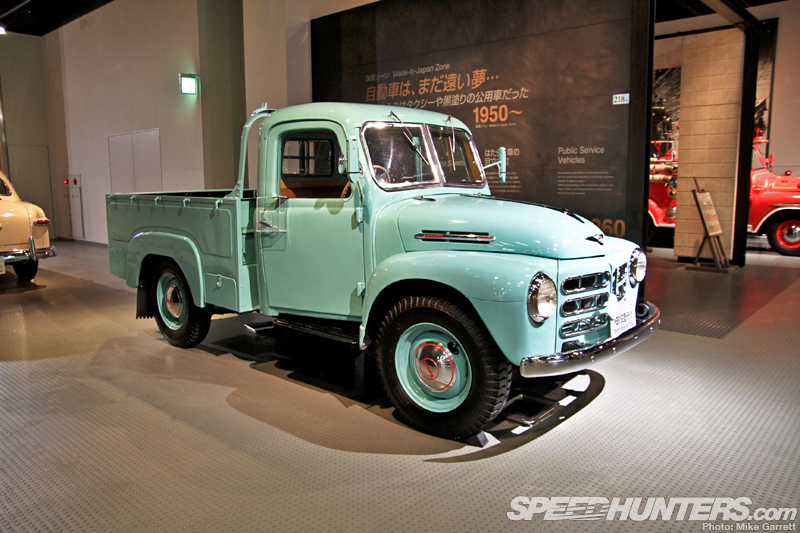 In the early 1950s Toyota introduced the model SG pickup truck, which despite being designed for the rough roads of the time, offered increased comfort and more compact dimensions.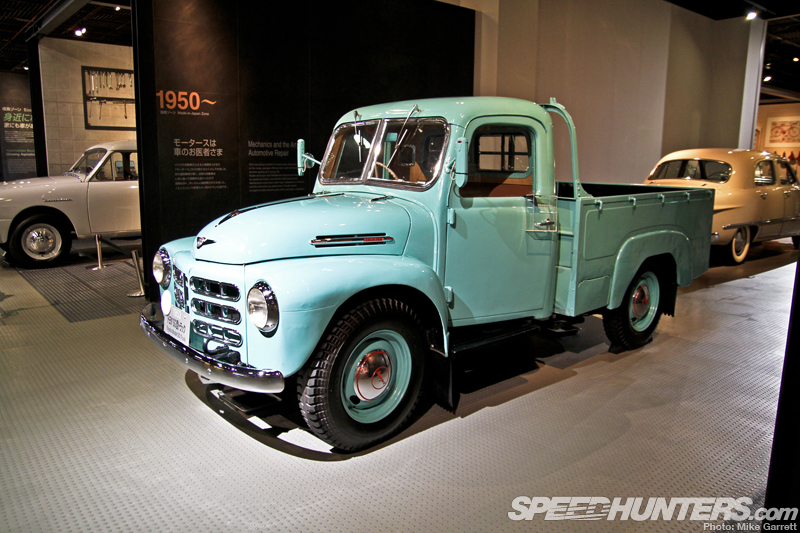 As you can see, the styling on the model SG was heavily influenced by the American vehicles of the time. Check out that cool split windshield too.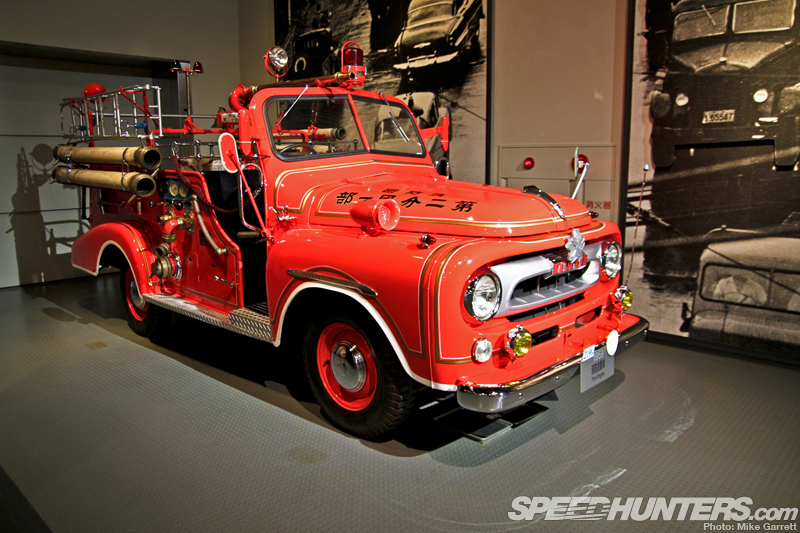 The museum's collection even includes a Model FH24 Toyota fire truck from 1959 – just one of the many industrial-grade vehicles that helped to propel Japan's economy, and another sign that the post-war years were disappearing in the rear-view mirror.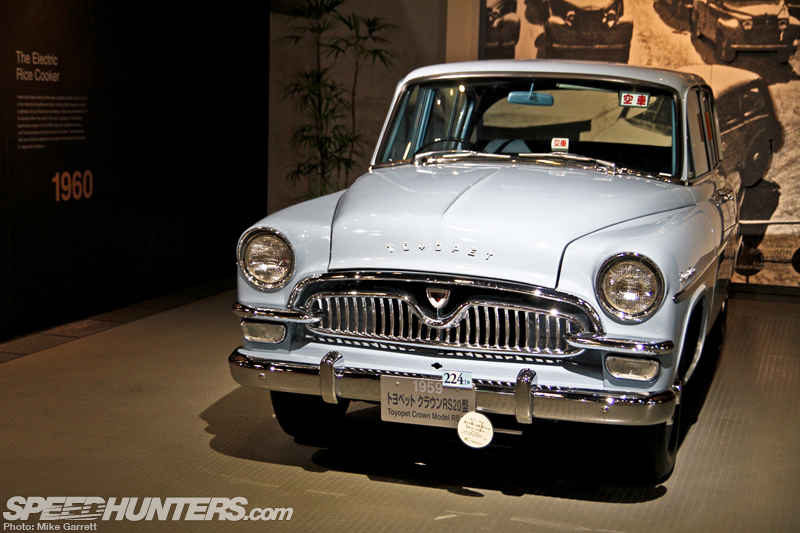 With economic conditions in Japan rapidly improving and an auto industry on the rise, it would soon be time for the automobile to capture the hearts and minds of the Japanese public.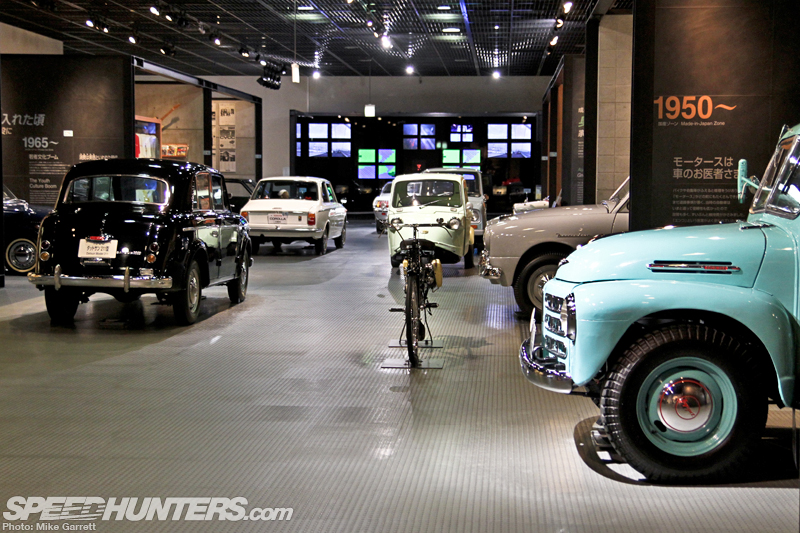 But that tale will have to wait until next time as we continue our journey through the impressive and fascinating display of Japanese motoring history at the Toyota Automobile Museum. I'll be back with more from Aichi soon.
Mike Garrett
Instagram: speedhunters_mike
mike@speedhunters.com
Tags: Ford, History, japan, mazda, Mike Garrett, Museum, Toyota, Toyota Automobile Museum
---
A history lesson I would love to study in class.
love the old truck content
love the old truck content
Great article, I like the 50's Japanese car style it is so American in a way and then again it is not.
Really great seeing this Mike.
Great article, I'm loving the Japanese history.
Can somebody tell me more about the Toyopet and Toyoace? These were divisions of Toyota, yes?
Neat collection they have going there! 
 @Raphy Thanks buddy. As for the Toyopet , mostly a branding thing. Even in today Toyota dealers in Japan have different names that sell different models, with Toyopet being one of them.
Agreed. Not just the "sexy" stuff but some extremely important historical vehicles on hand.