Where the Thursday & Friday of a GP weekend have a relaxed – well, as about as relaxed as Formula One can be – atmosphere about them, you definitely notice the change and shift in attitudes come Saturday morning.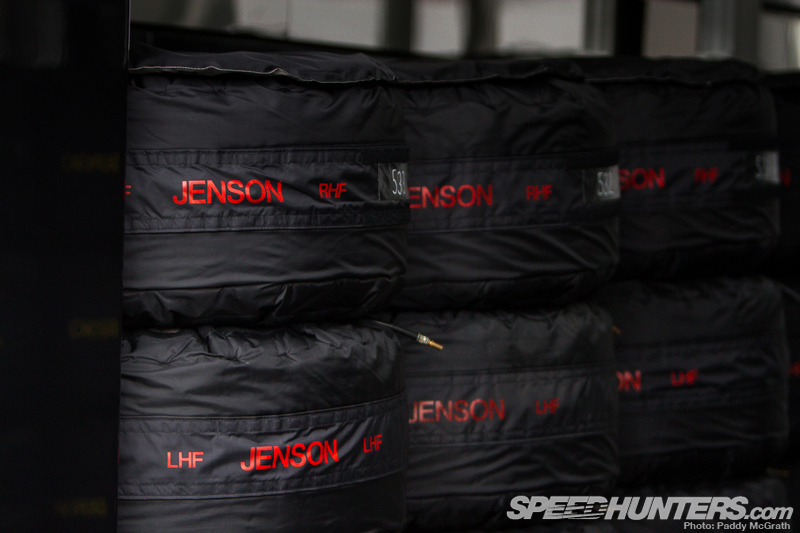 Although with one last practice session before they get down to the business of determining grid positions for Sunday's afternoon race, all the teams had one eye on the knock out style qualification process and the other eye on the changeable Spa weather.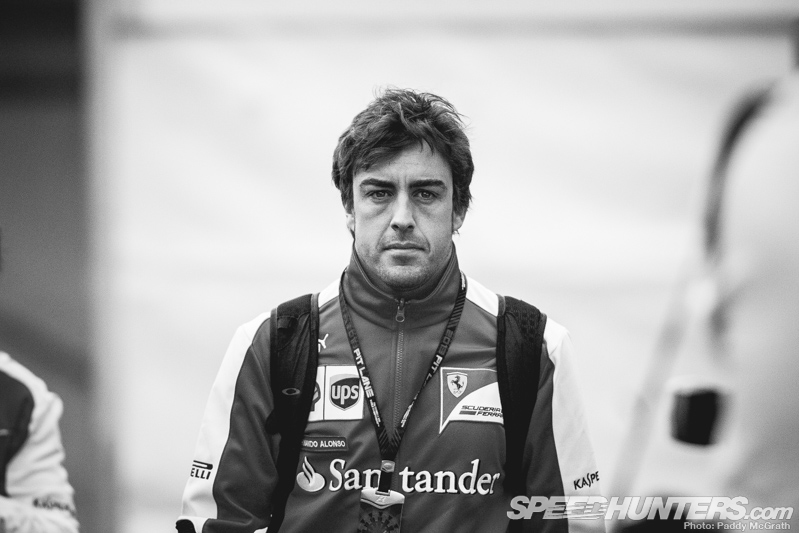 The morning ritual of drivers and personalities arriving was a more interesting matter, with each person's body language and expression being scrutinised by the media.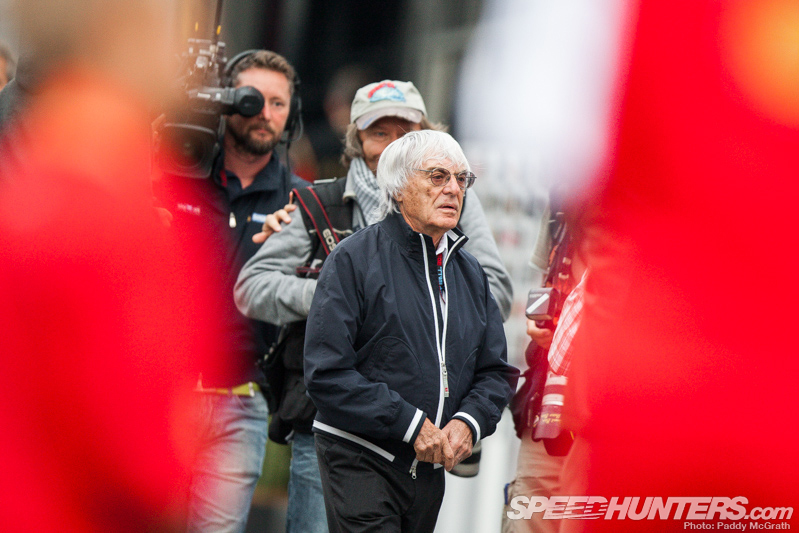 It's quite a surreal experience watching the faces we have become so familiar with on our TV screens walk in before you…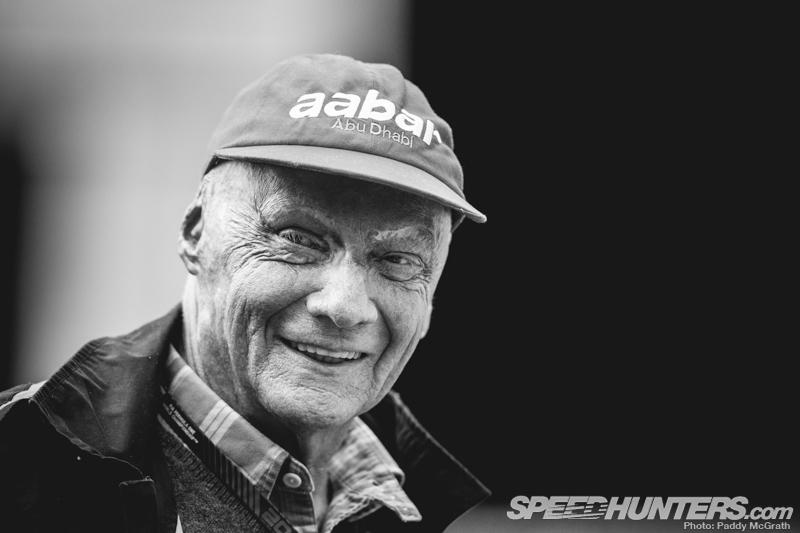 … although some do leave you in more awe than others.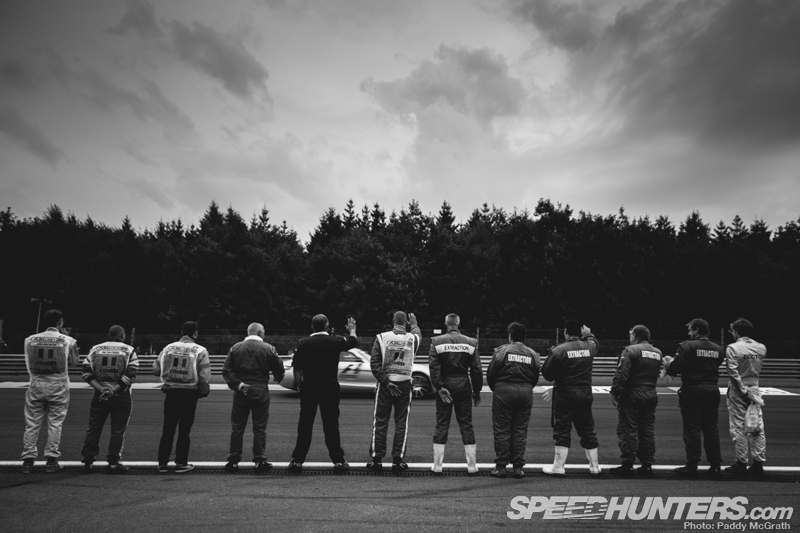 Rather than waste any more time playing the role of a paparazzi, it was destination trackside once more. Again, I would start my day at Les Combes, but from the opposite side of the track where it would be far easier to navigate my way towards my final planned destination of turn 14.
Before each F1 session begins, all the safety crews and corner workers must present themselves for inspection by the passing course vehicles. Once the thumbs up has been received, they retreat behind the barriers once more where everyone hopes they stay for the duration of the session.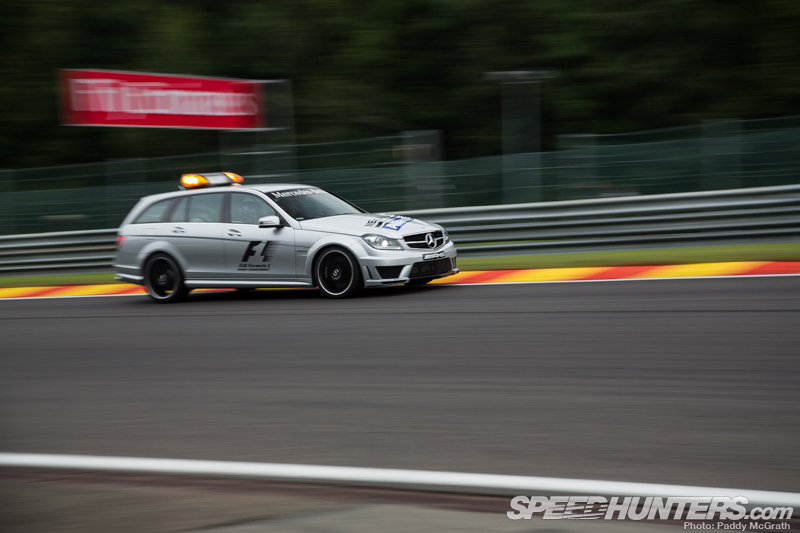 On the brief subject of course cars, whilst the SLS safety car gets all the fame and glory, this medical car makes it sound like a kitten. It's more akin to a World War II fighter plane than anything else with four wheels, and would force a smile and a knowing nod on the face of all those present each time it passed by.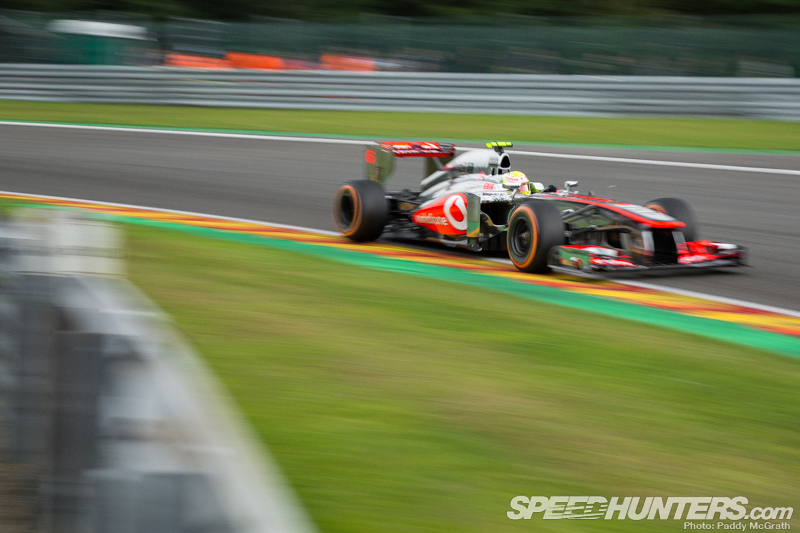 Of course, it wasn't the only aural pleasure on show last weekend. What I couldn't really gauge from the outside of Les Combes, was just how fast the cars arrived into the section. Buzzing on the rev limiter as they hit maximum speed down the Kemmel straight, they speed towards you much longer than you feel comfortable with before a heavy stab of the brakes, rapid fire downshifts, turn in…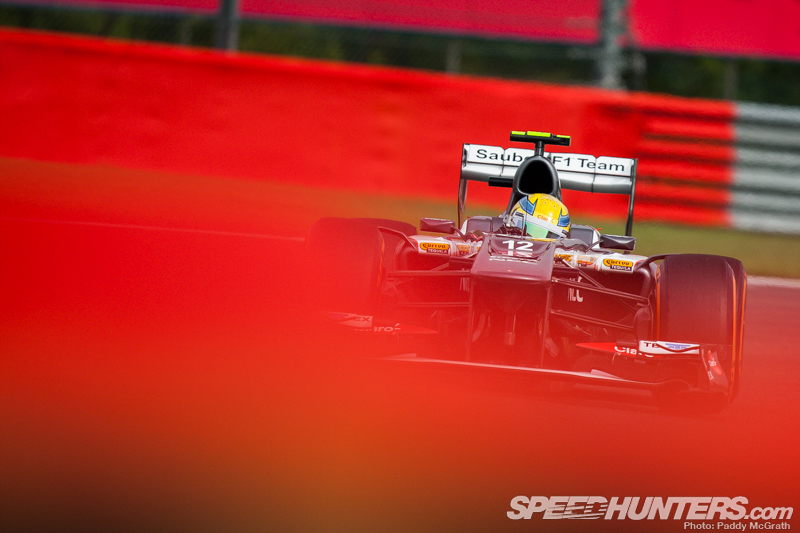 … collect their apexes and vanish out the other side. If ever there was a location to appreciate how quickly a Formula One car can slow, change direction and accelerate again, this must be one of the finer examples.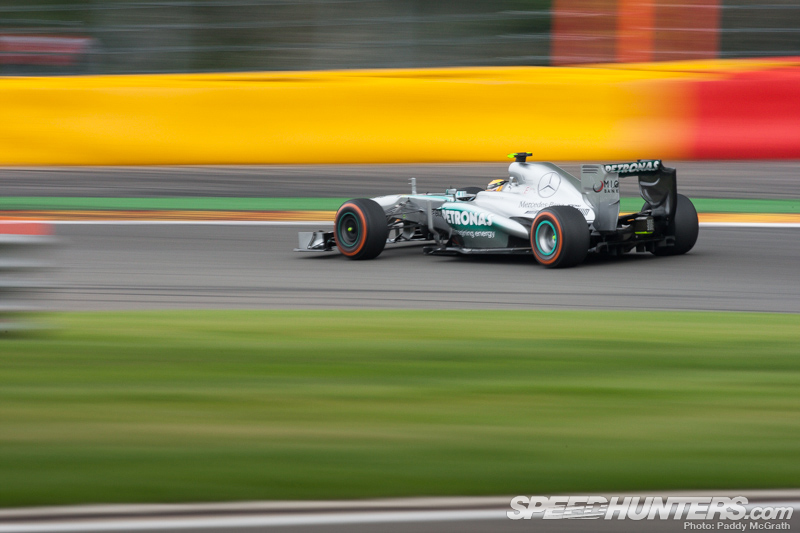 From Les Combes, it's all downhill back to the start/finish line.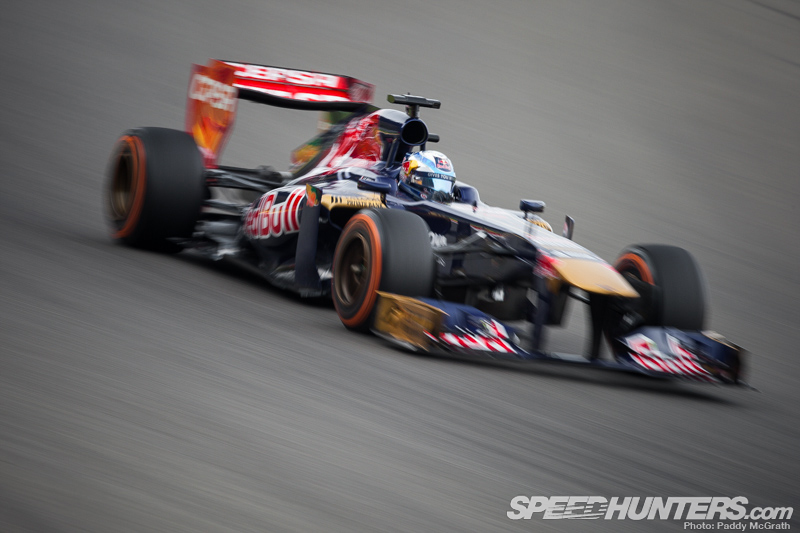 Some of you mentioned it in the comments of the previous story, but you don't really get an idea of how much elevation change there is at Spa from TV coverage.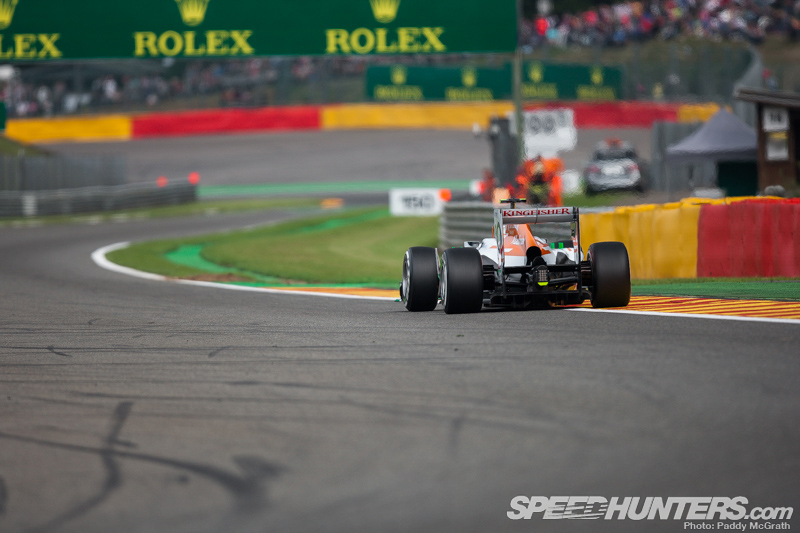 Trying to convey it with still photography is quite tricky too, as you want to show a more accurate representation without over-doing it.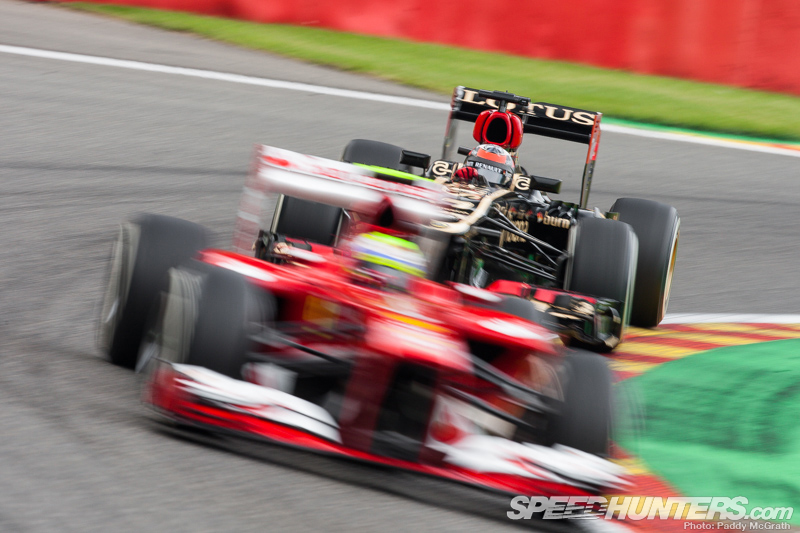 Needless to say, next to the Nordschleife, Spa is easily one of the greatest venues I've ever shot at. Although getting around isn't the easiest, you're always rewarded for your persistence.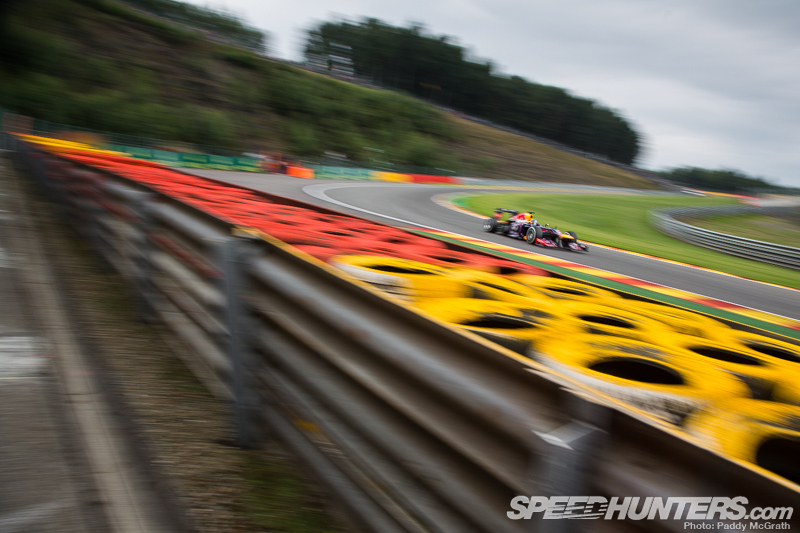 As P3 drew to a close, we were treated to an almost mini-qualifying session as the cars ventured out on the softer of the compounds available for the weekend.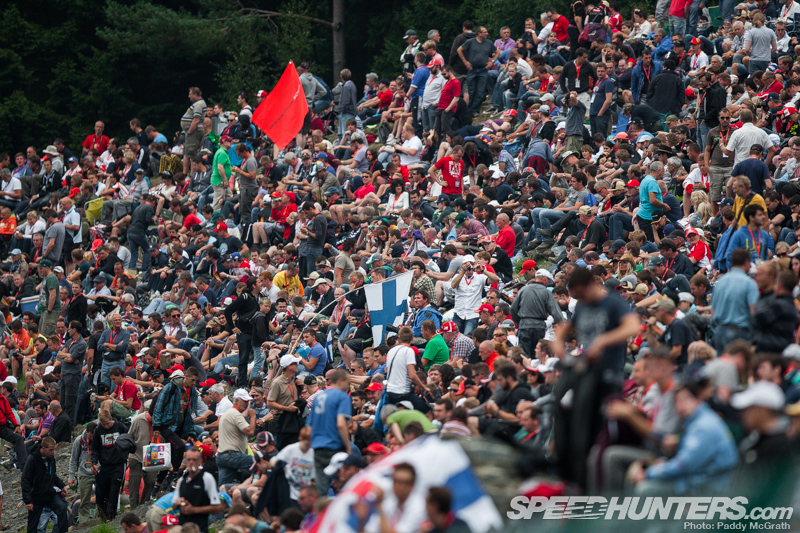 I'm not sure quite how bad it looked on TV, but we were treated to a brief shower of rain about 15 minutes before qualifying began.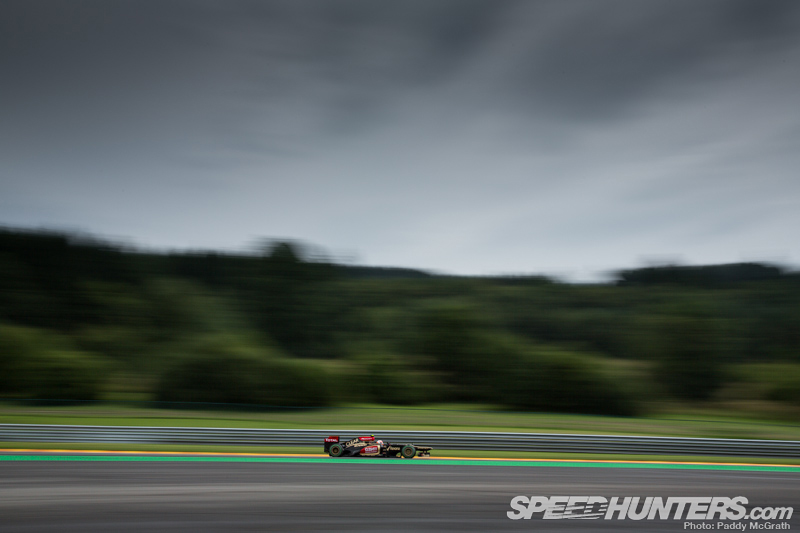 The first cars arrived out in Q1 on intermediates and quickly displaced the water on track. Right at the death of the first part of qualifying, some teams gambled on the harder dry compound. It was a gamble which paid off, and caused a number of upsets.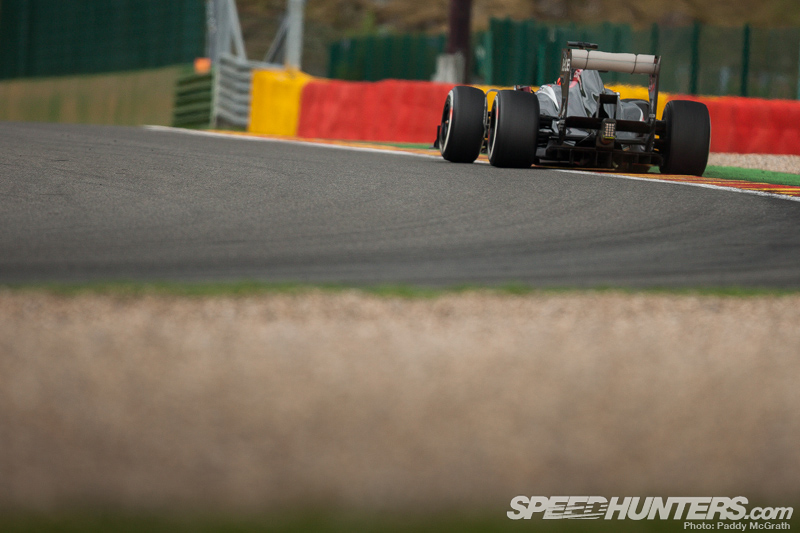 It's pretty difficult to tell what's going on when you're shooting trackside but I think that adds to the incredible pace that qualifying unfolds with.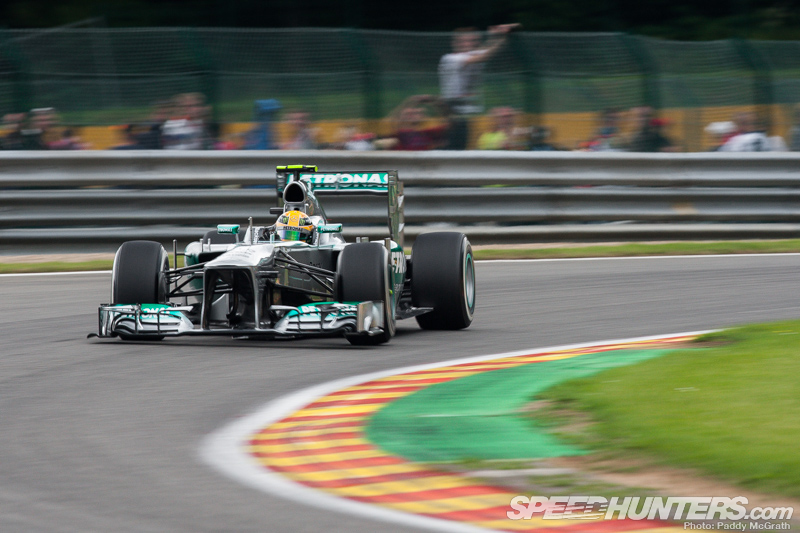 There's one thing for sure though – being witness to the likes of Hamilton, Vettel or Alonso coming through on a stormer of a lap is a very special thing.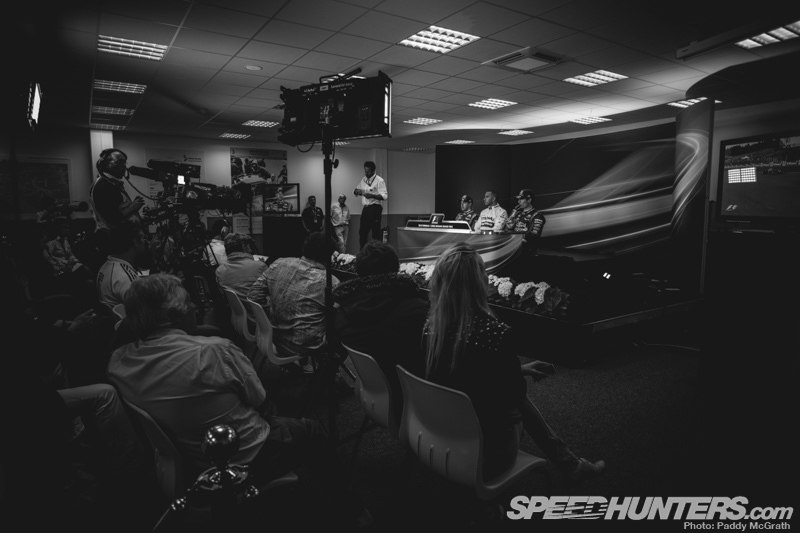 Before the post-qualifying press conference starts, there is a short period of time as the drivers are being mic'd up where they're talking candidly to each other about what had just happened. It was such a fascinating experience to hear them speaking off camera as Vettel told Hamilton he knew that Lewis was quicker on the last lap of Q3 as he could see him gaining in his mirrors and would curse himself for not pushing harder after each section. "I knew I should have gone quicker there" he told Lewis with a smile.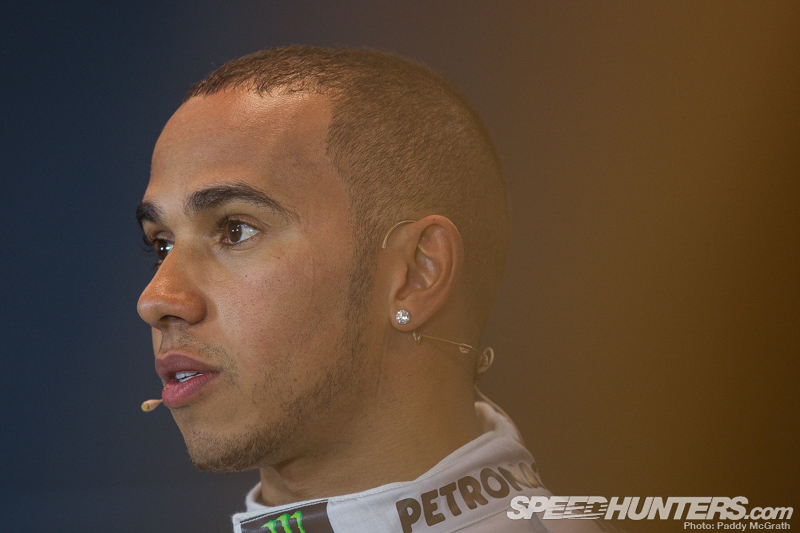 Of course, once the cameras start rolling, you get a much more refined and diplomatic version of events from the drivers.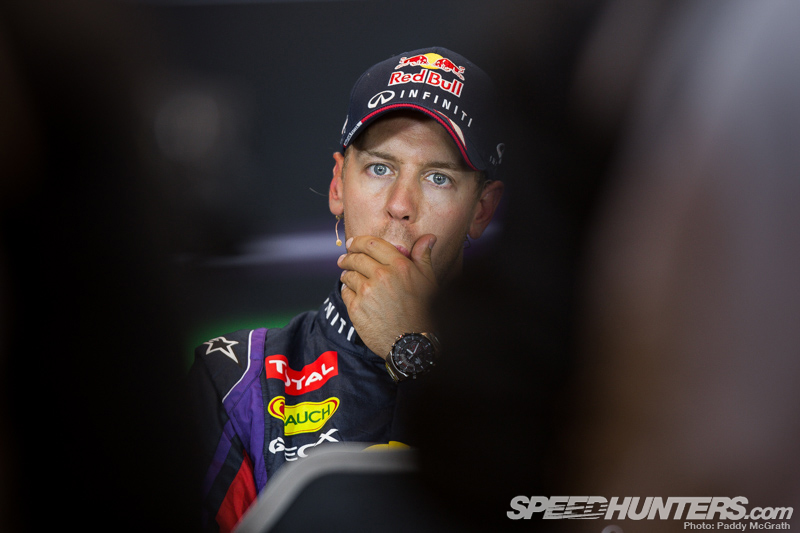 Still though, it's to be expected as their every word and movement will be scrutinised for hours and days to come.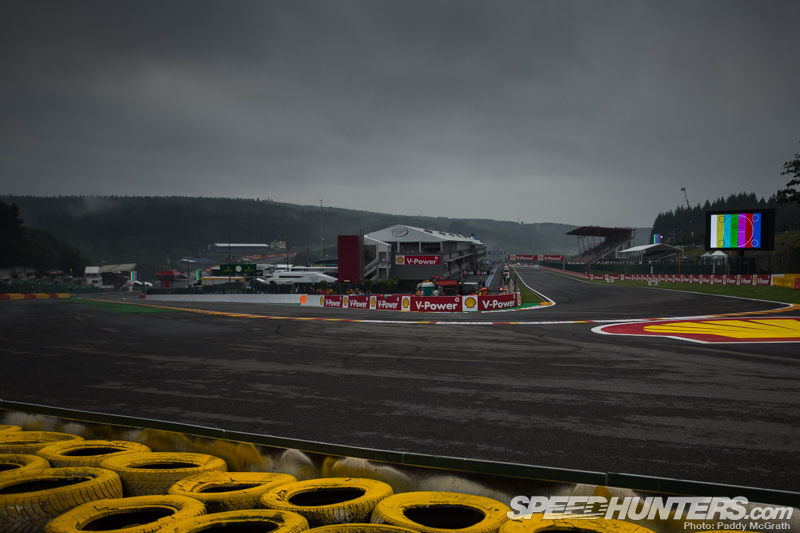 After a night of heavy rain and spectacular thunderstorms, Circuit de Spa Francorchamps was feeling rather gloomy on Sunday morning. With conflicting weather reports, what the weather would do was anyone's guess. The faster teams prayed for a dry race, whilst those lower down the pecking order did everything they could to summon the rain to help provide a level playing field.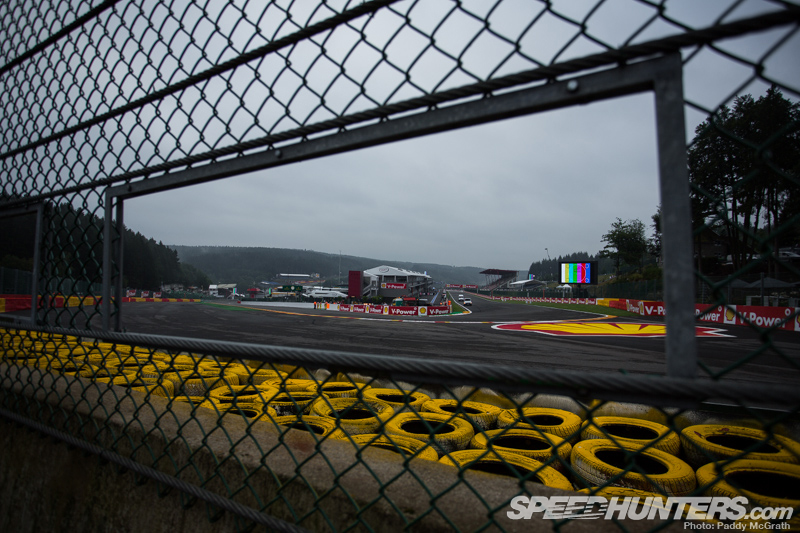 As the permanent F1 photographers can reserve their place for the race start, us single event snappers need to get in place early to hold a spot. This would be my view for six hours before the lights went out.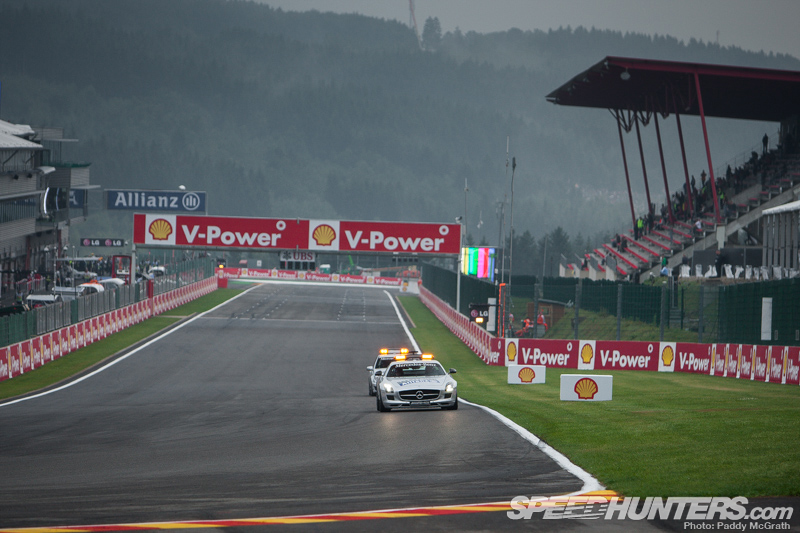 Actually, that's a little lie as I had the opportunity to scout out a couple of options before settling on one that gave me a view straight up along the start/finish straight…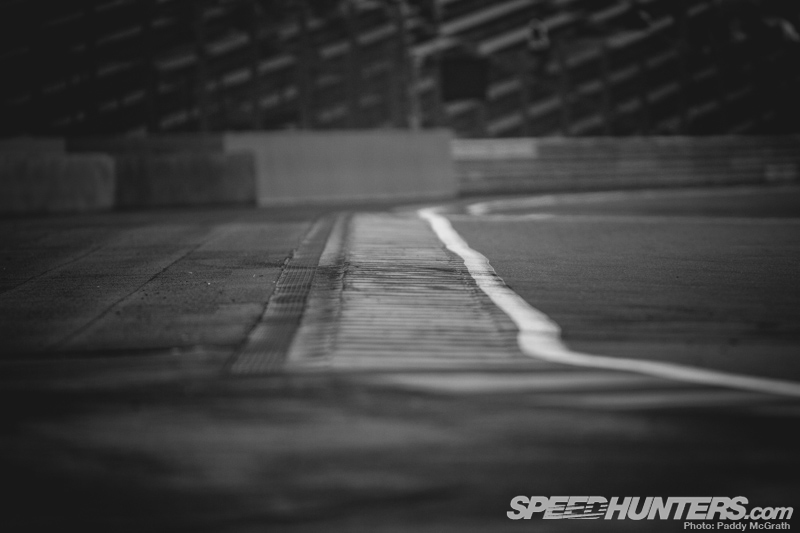 … and also of the run down from La Source to Eau Rouge.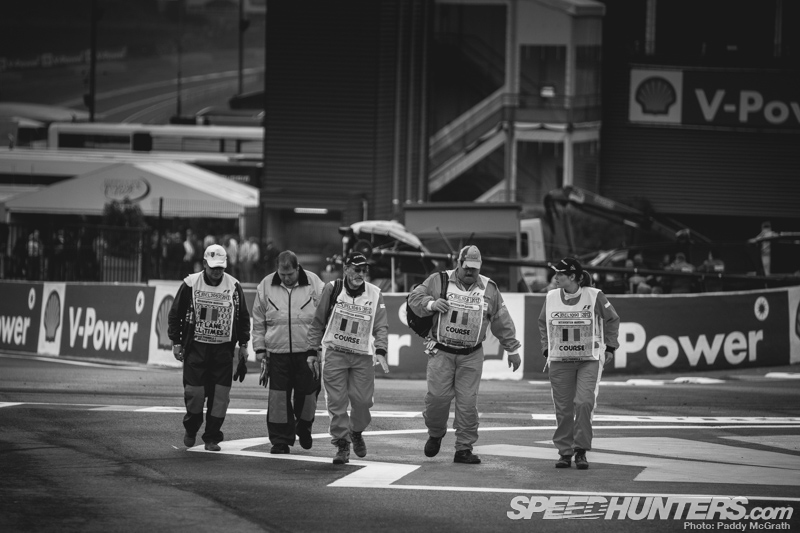 As the hours rolled on, activity increased and with the help of the support races, it wasn't long before the hours became minutes to go.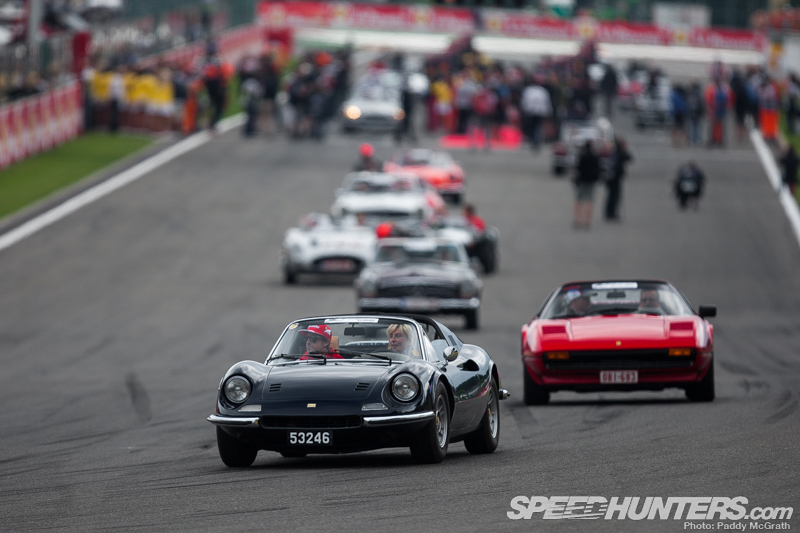 With the token driver presentation laps done…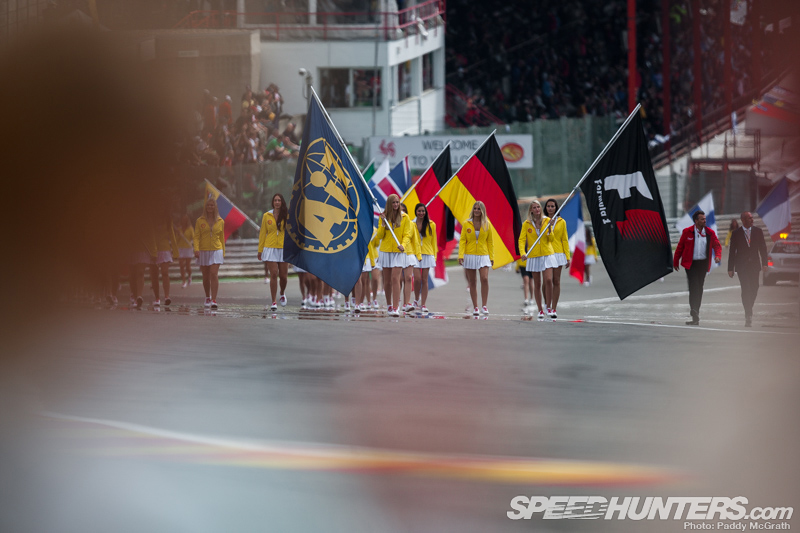 … and the grid girls parading into position…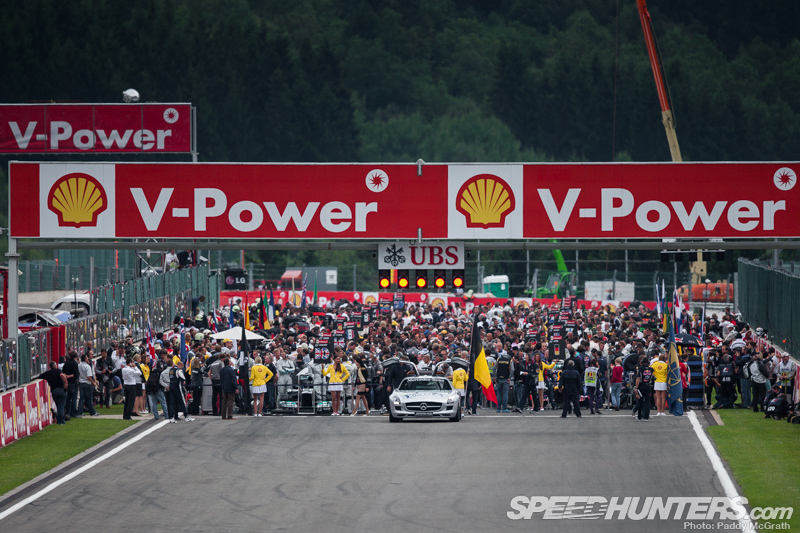 … it was almost time to unleash the mayhem.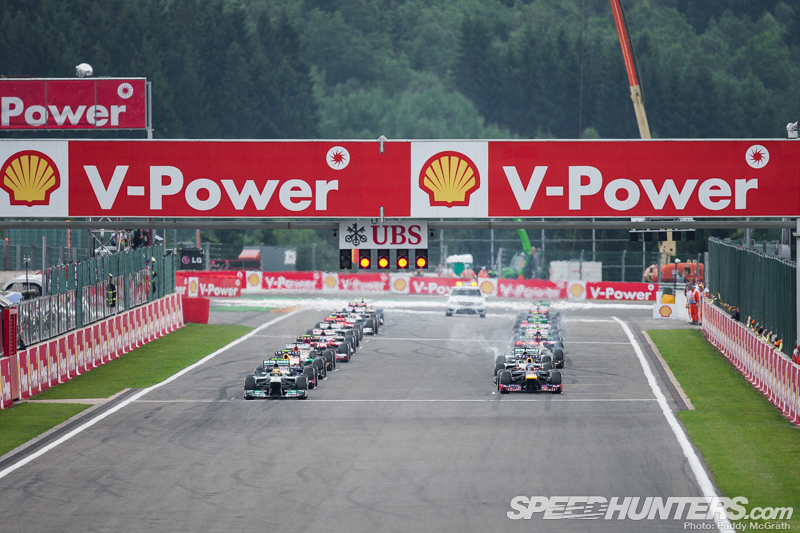 This was the moment I had waited all my life for. Turn one, race start at the Belgian GP.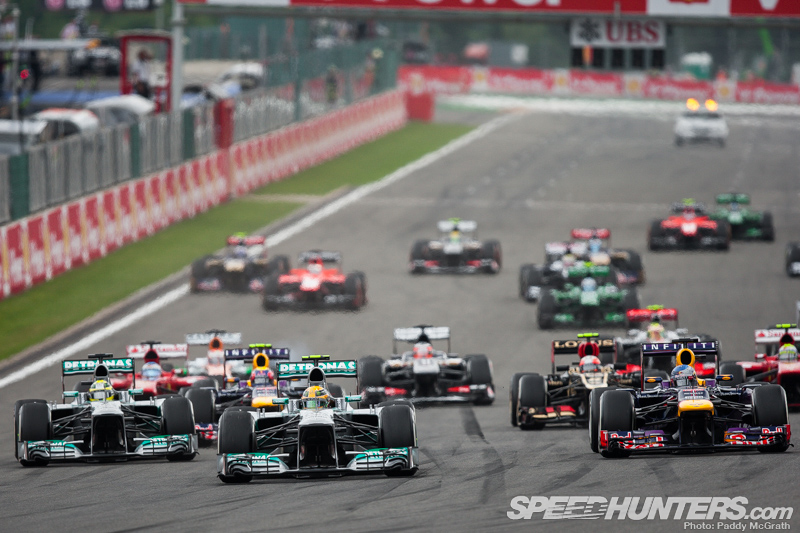 With the lights out, the cars tore away from their starting positions. It was impossible to keep up with what was happening behind the lead drivers as the cars combined into one chaotic machine of noise and aggression, before disappearing out of sight.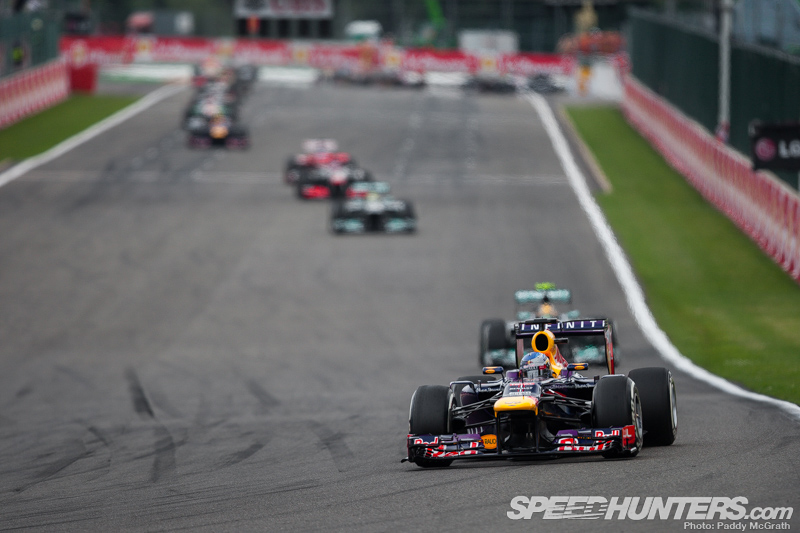 We waited with bated breath for the cars to complete the first seven kilometres, to see how the first lap had unfolded. As we now know, Vettel had already taken first place from Hamilton and the chase was on…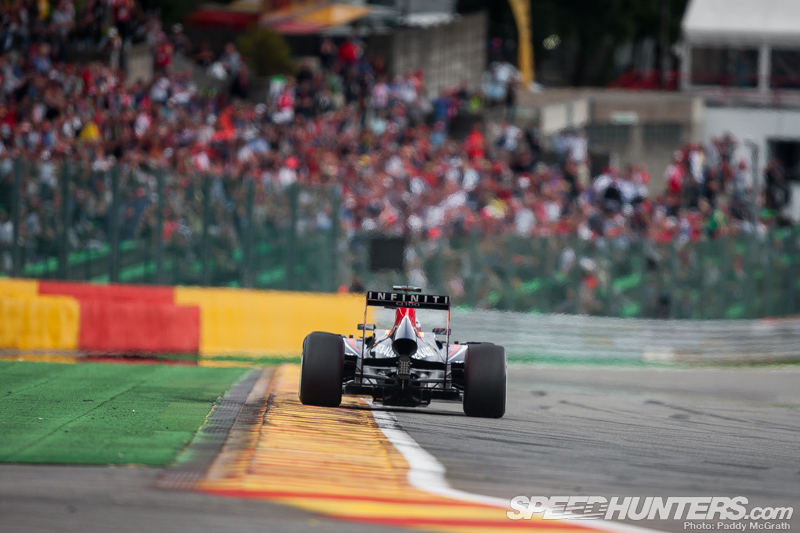 … for Hamilton as he followed this view of the RB9 around and around.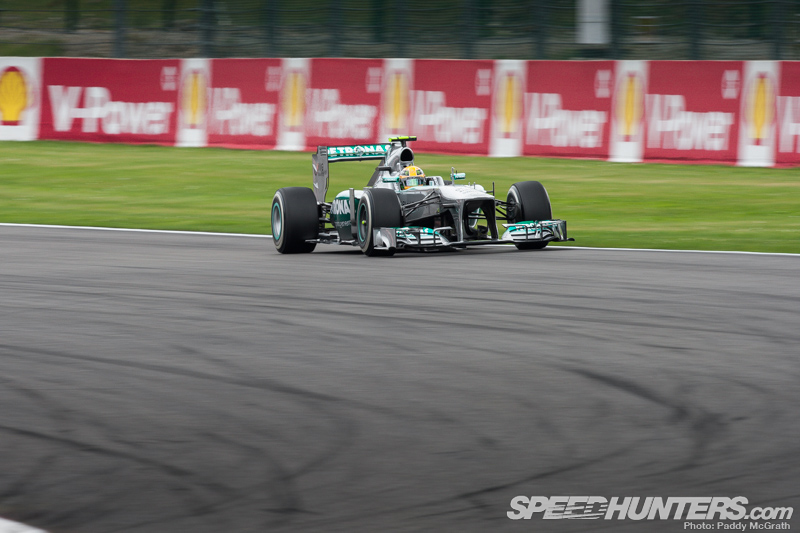 Watching from trackside, you could honestly see that as a driver, Hamilton was giving it everything he could, but Vettel and his RB9 just looked so much more composed.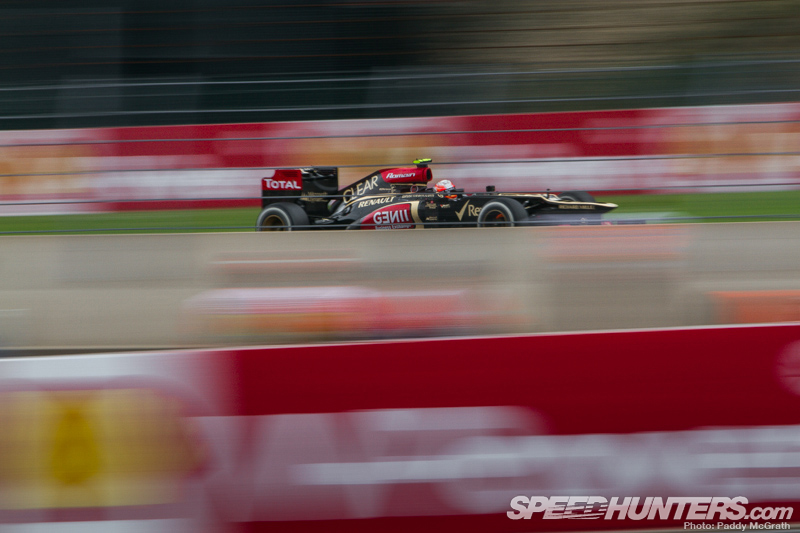 After the first few laps had passed, it was time to move about and capture as much action as possible.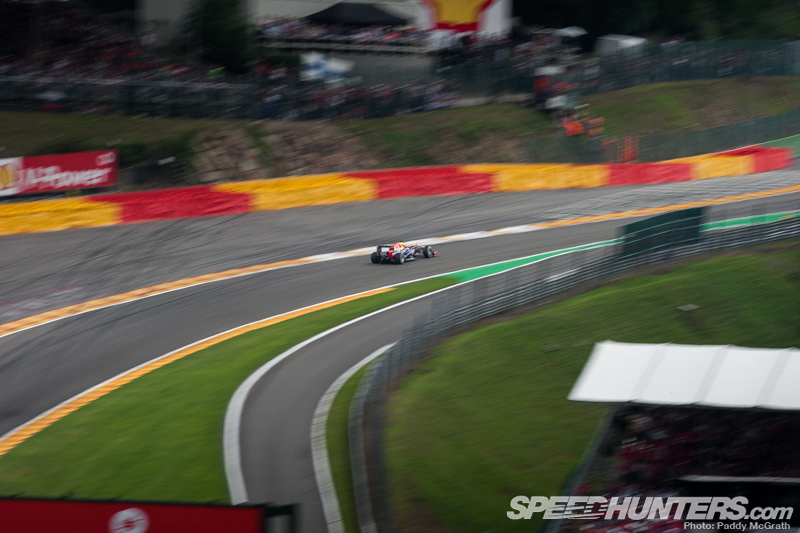 Since it's pretty much impossible to follow the details of the race from trackside, you need to use your intuition to figure out who to follow and what to shoot.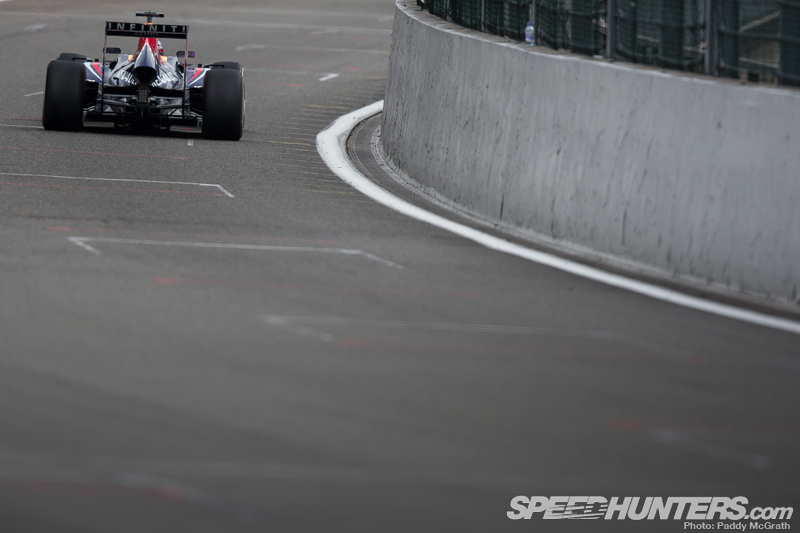 As race leader, and someone who doesn't usually relinquish his position too easily, Vettel was the obvious choice to keep shooting as he completed lap after lap.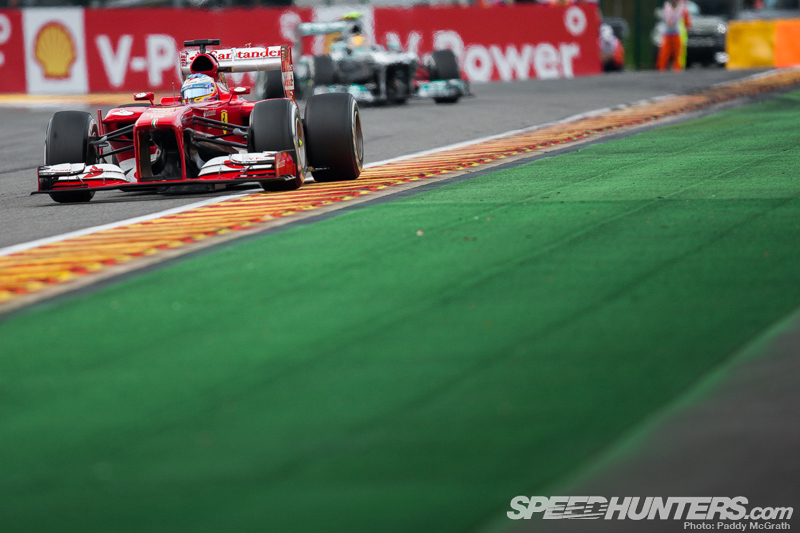 The Ferrari faithful had travelled north from Italy to support their red cars, and provided us with feedback as Alonso made his way through the pack. When a Ferrari overtakes somebody, the tifosi will gladly let you know about it.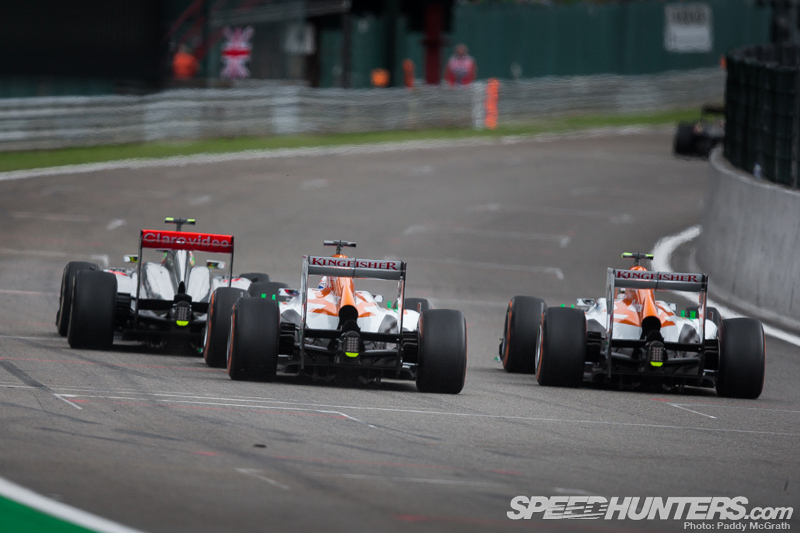 Other than that, it's a case of gauging what's in front of you and trying to make it work. Three wide on the run down to Eau Rouge? That's something of note.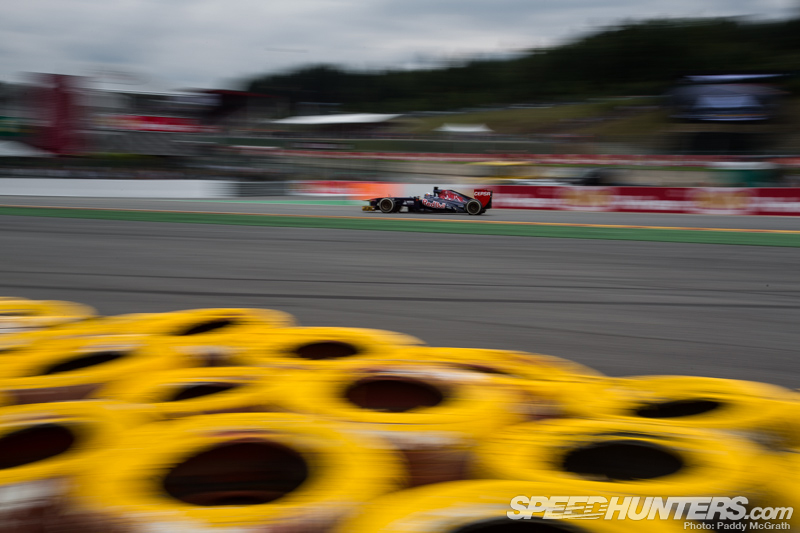 Once the race is underway, you don't really have the option of moving about much, especially if you're on the outside of the circuit.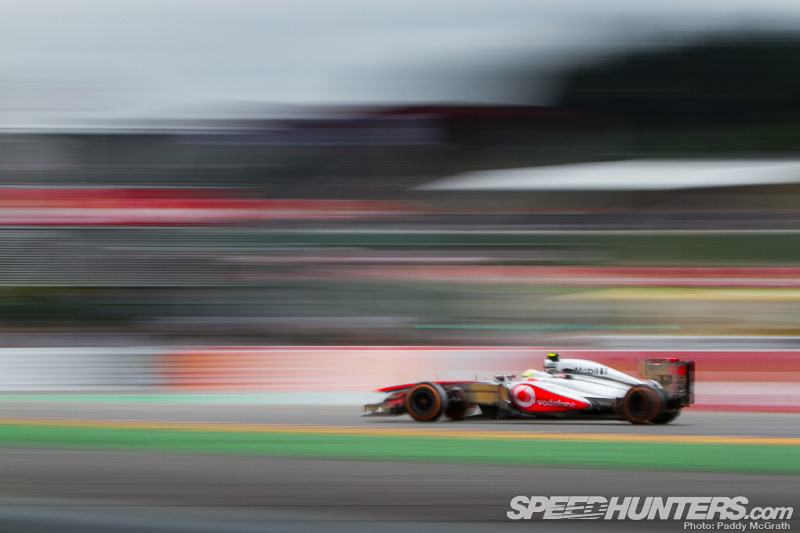 So you need to make the most of what is in front of you and do everything in your power to capture that special something about the race.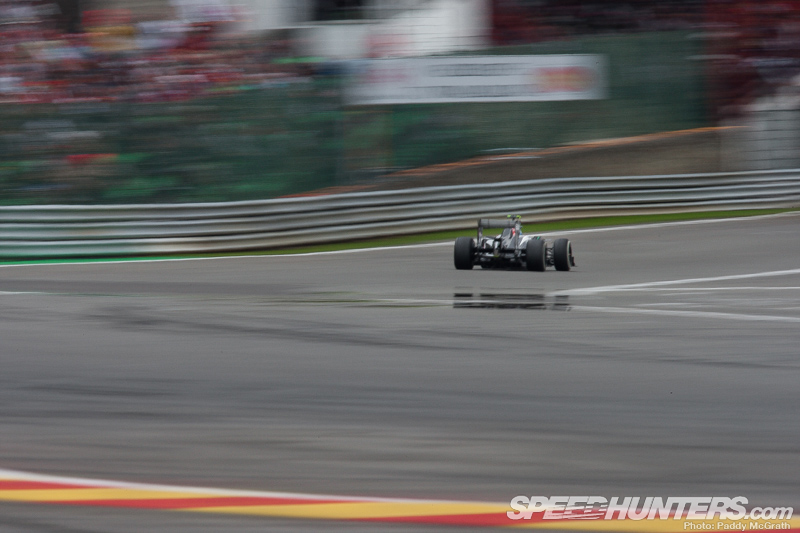 You're constantly aware of the time constraints as the laps fly by and the clock ticks down…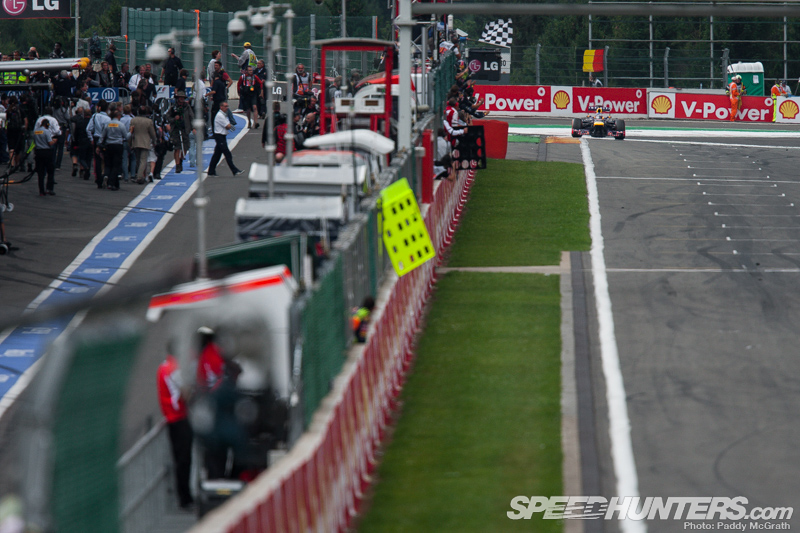 I was told afterwards that it was a pretty mundane race, and I guess I can understand why it would be seen as that on TV. With Vettel leading from the first lap right until the end, bar during a pit stop period, I'm sure it looked processional.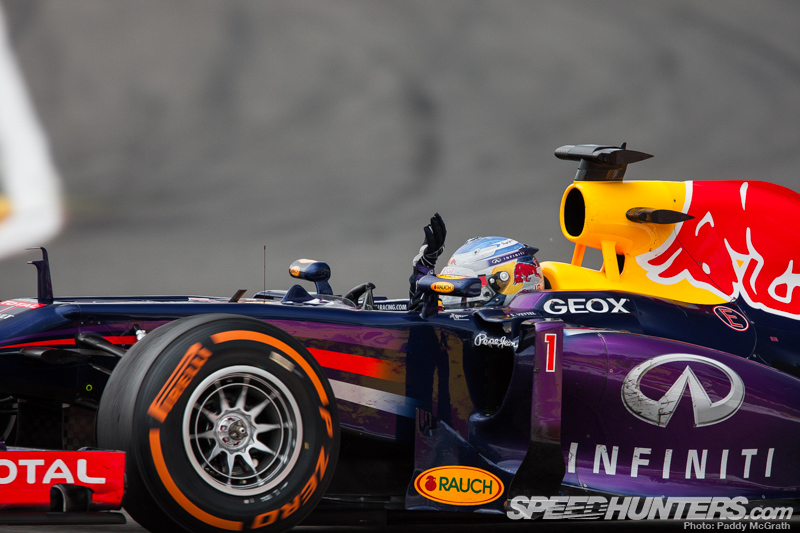 I can assure you however that it was anything but from where I was standing.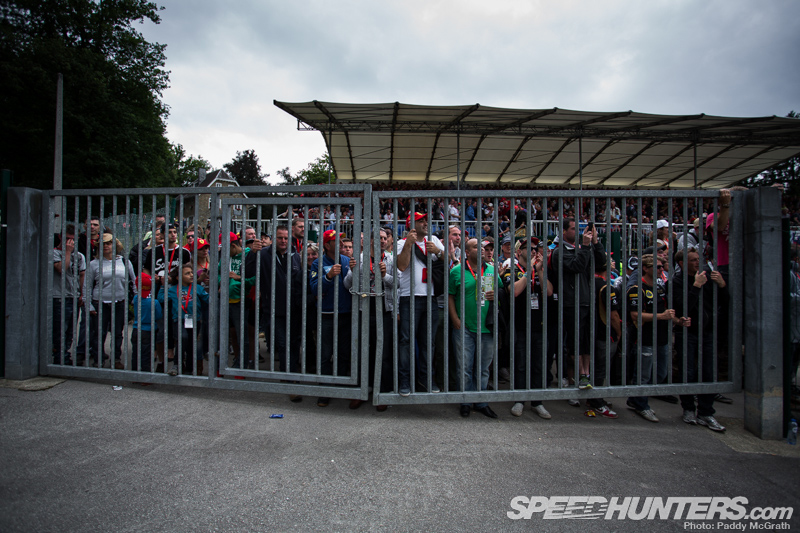 They say that the best place to watch motorsport is from the comfort of your arm chair. All the information is right in front of you and you can re-watch those decisive moments again and again.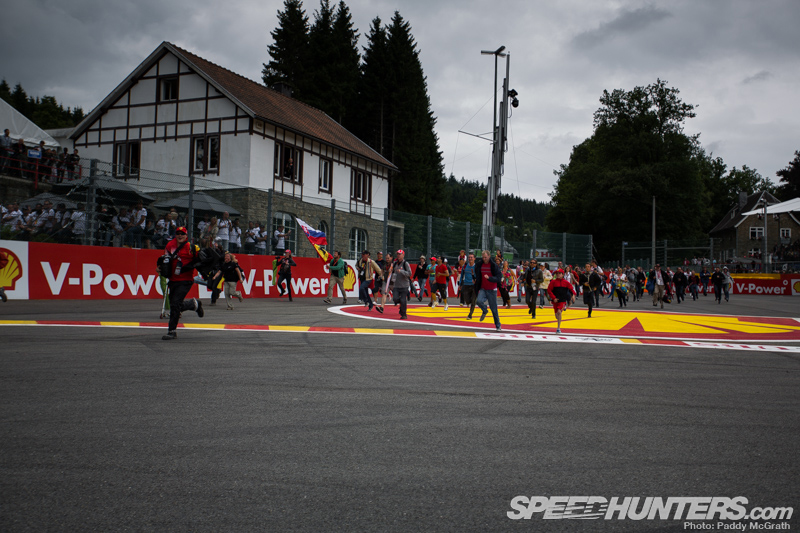 But can you feel the cars as they pass by you from your living room? Can you hear the roars of the crowd as their favourite driver makes that overtake stick?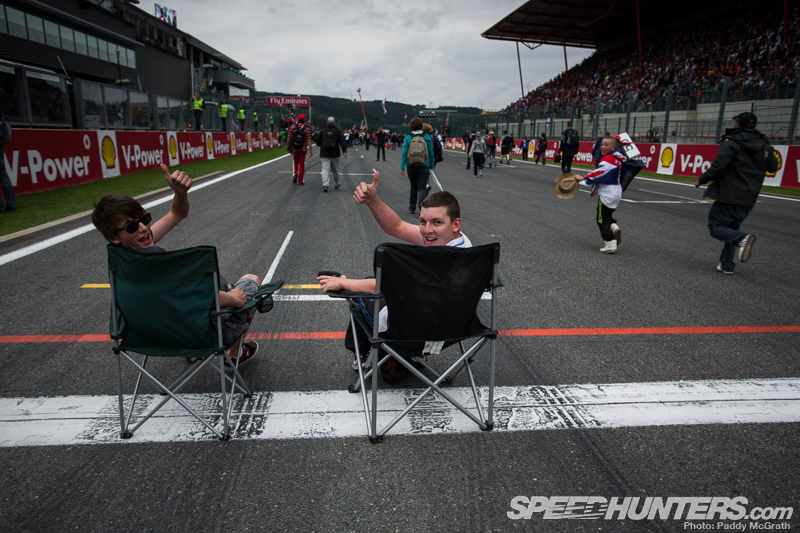 Can you really see everything that's going on through your television set? Are you seeing the whole picture?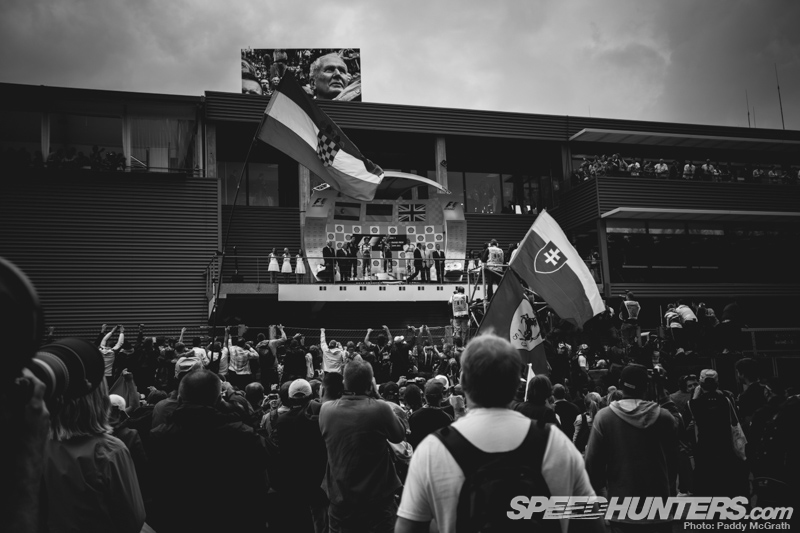 The sights, the sounds, the atmosphere, the smells, the tastes, the exposure to the greatest motorsport on earth.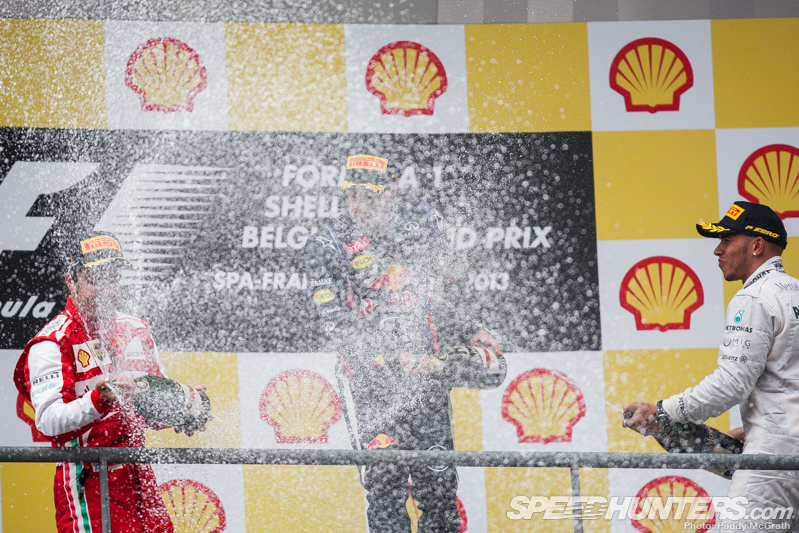 This is Formula One. And there's nothing like being there.
Photo by Paddy McGrath
Twitter: @PaddyMcGrathSH
Instagram: speedhunters_paddy
paddy@speedhunters.com