Never forget the roots. With the frenetic pace the motor industry is churning out new cars these days, not to mention the sheer amount of motorsport and exhibition type events that we are bombarded with, if you're into cars, well then your interest may well be fully saturated. However, no matter if you have a strong interest in classic cars or not, I think keeping tabs on some history every now and again is a great way to not only expand your knowledge, but gain a deeper understanding about the brands and cars you like the most.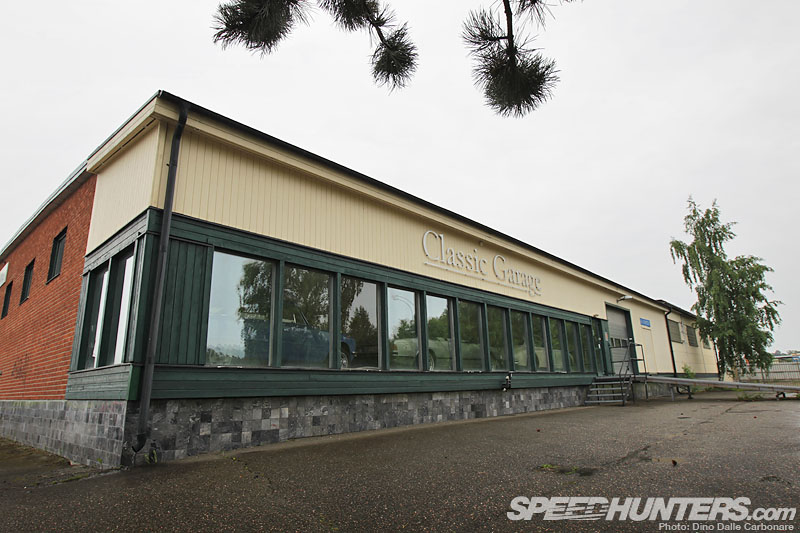 We were recently able to do this during our Speedhunting trip to Sweden, now already a distant memory, even if it only happened but a few weeks ago. After having the pleasure of shooting Oscar's stunning Lamborghini Espada outside his Classic Garage shop….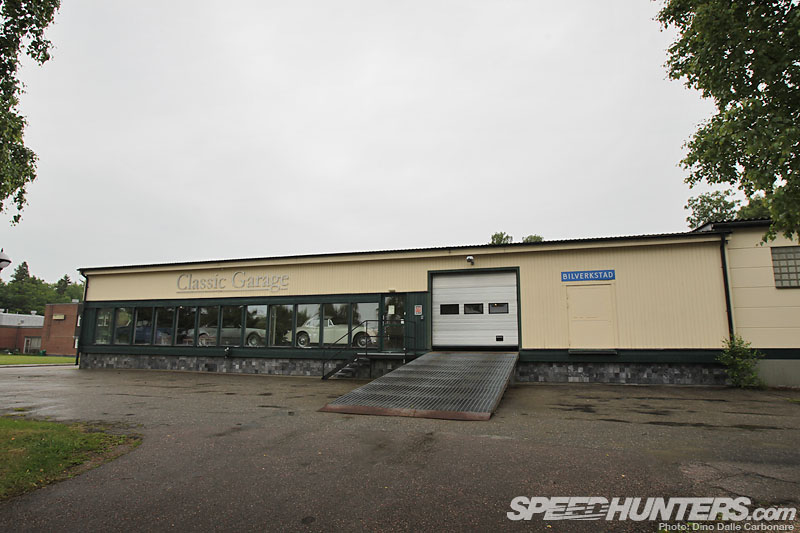 … and getting completely soaked in the process…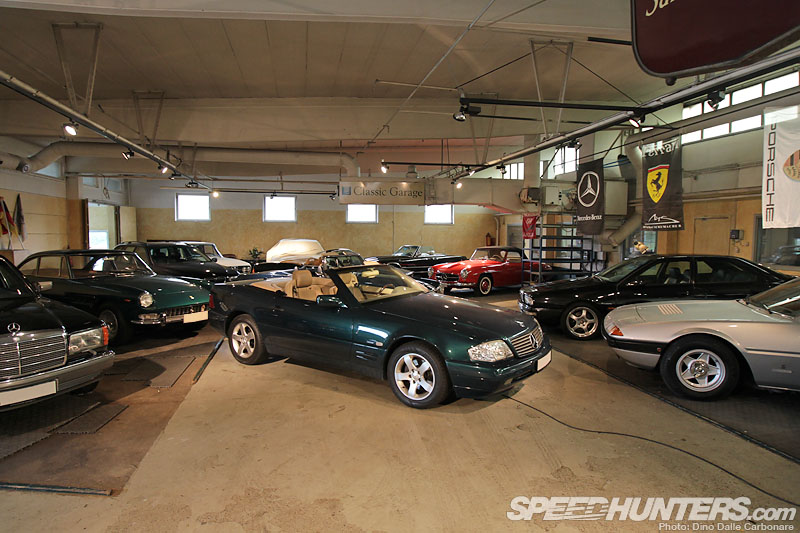 … I decided that there was no way I would pass up the chance to go through all the jewels inside.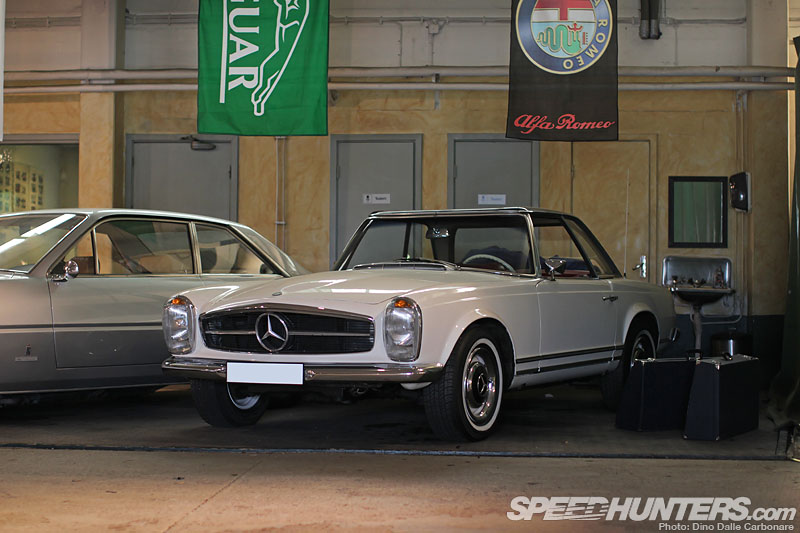 So, while happy that I was keeping out of the rain, Oscar began to show me around his wonderful collection…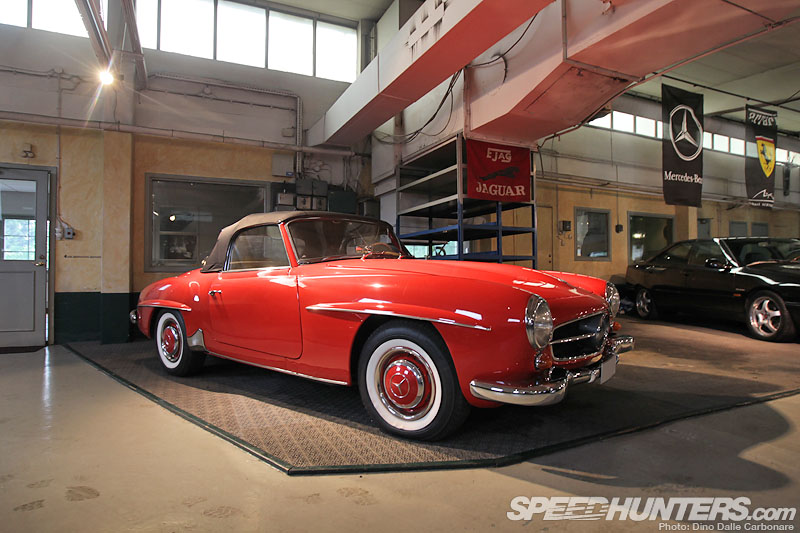 … cars that like this 190SL, he has searched for and hand-picked himself. It's inevitable, no matter if you are a connoisseur or just have a passing interest in older cars, it's impossible to resist the lure of the details…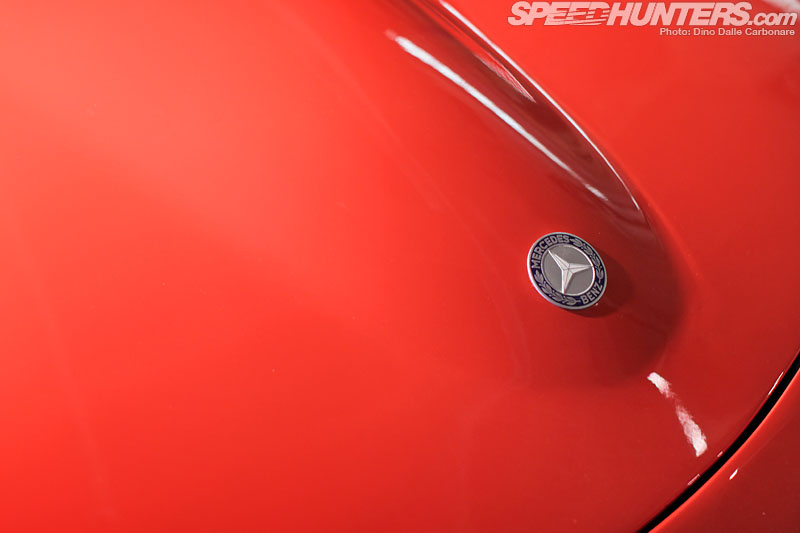 … to admire how differently cars were made back then.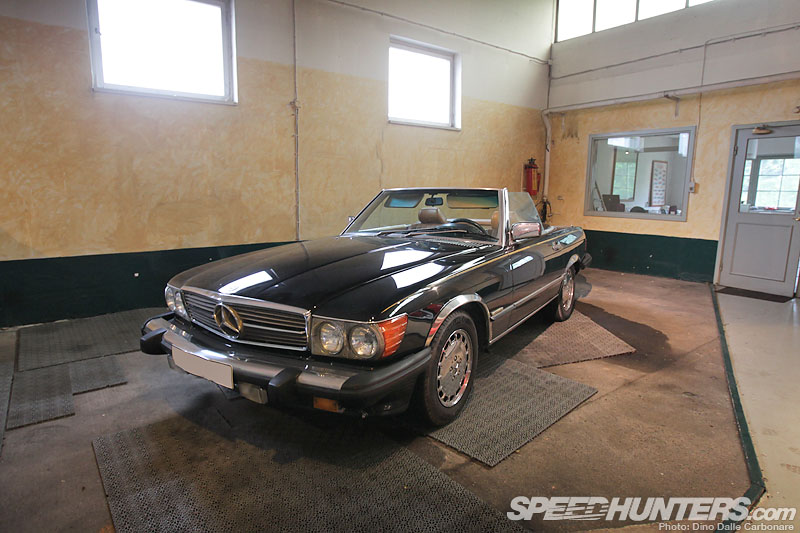 And you don't even need to go back that many years; I mean even this 560SL from the early eighties has a presence all its own.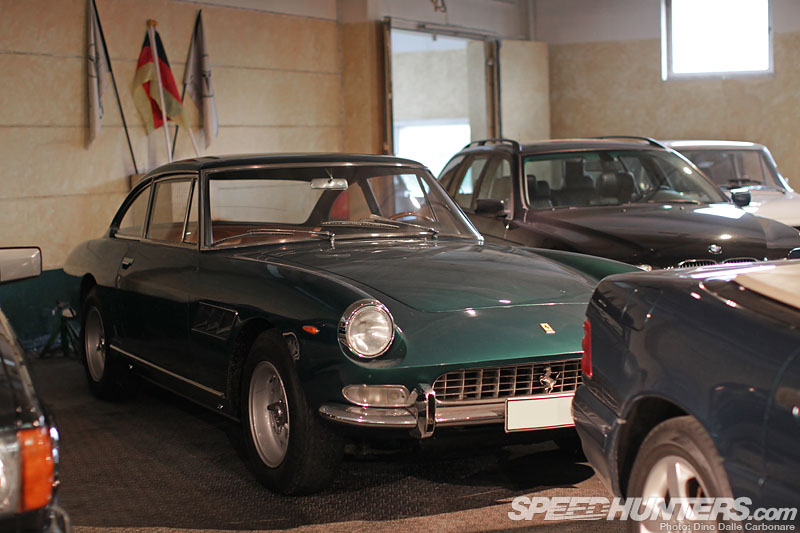 There was one car that immediately stood out, and it's not because I'm Italian and I automatically go and find cars from my own country in shops like these, but it's because this Ferrari 330 looked especially unique finished off in a factory metallic green color.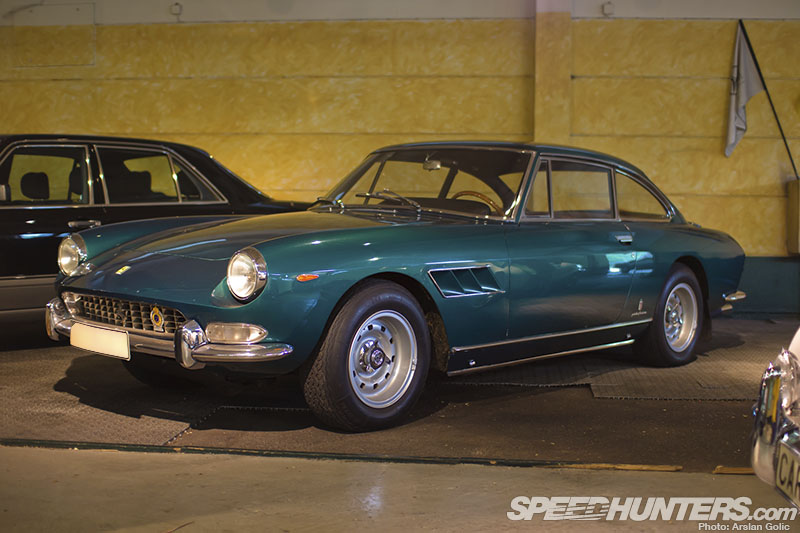 'Patina' is an Italian word that has made into the English dictionary and it's used to describe the natural wear and tear a vintage piece – in this case a car – has. Oscar goes on to explain that his father bough this 330 new in 1967 and the car has remained in the family ever since.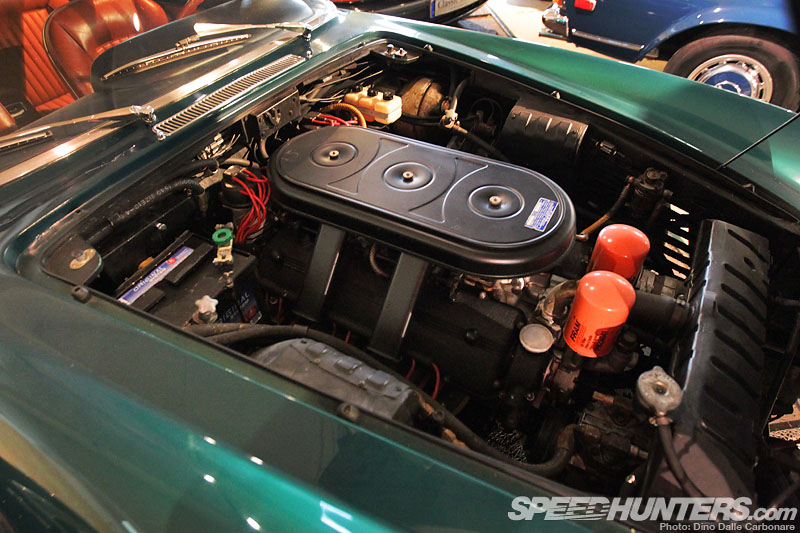 It's got just 38,000 km on the clocks and in some places it even lacks the aforementioned patina, it just plainly looks factory fresh, probably even more so than the day it rolled off the production line in Maranello.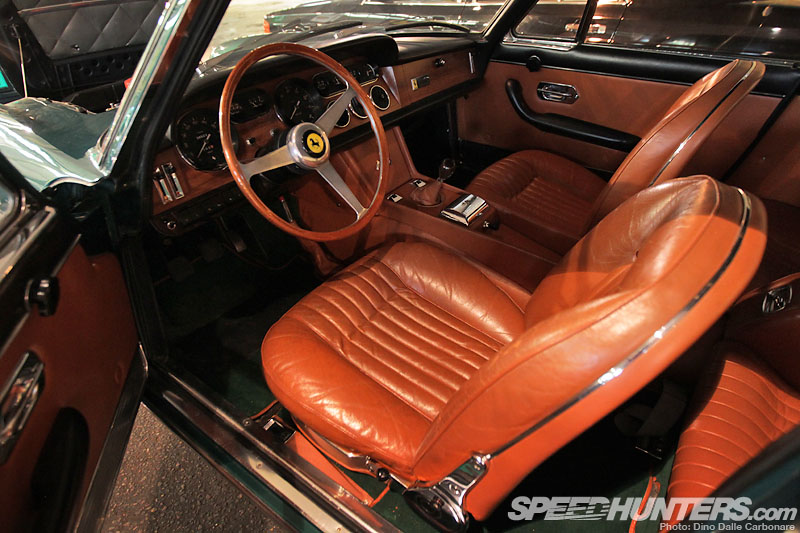 I had to take a good few whiffs inside the luxurious cabin. You can really smell the sixties; a mix of aged leather, wood and plastics all topped off with a little scent of oil and gasoline emanating from the V12 up front.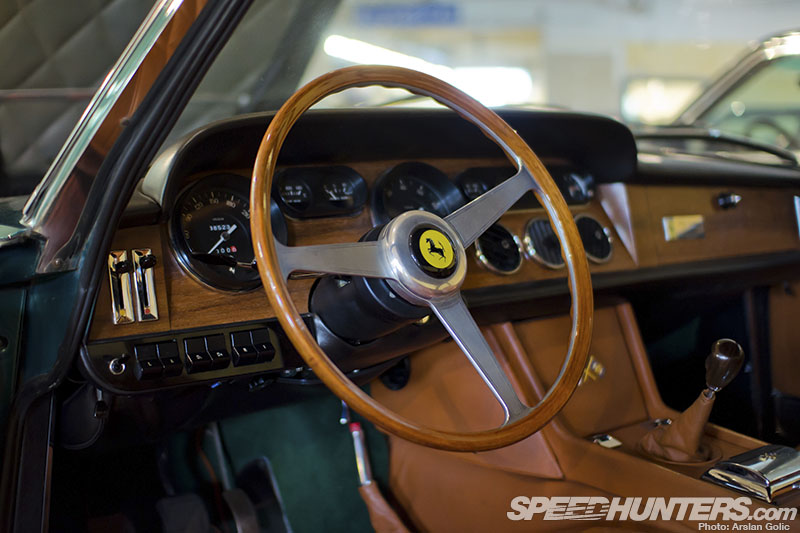 The 330 was always praised for its impressive build quality and unsurpassed fit and finish for the period and it only takes a moment to realize this is still very much evident, even 46 years later.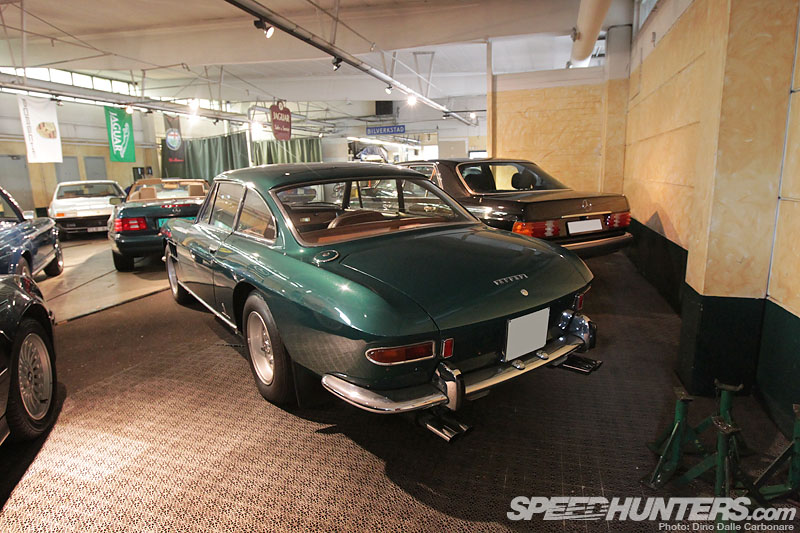 For obvious reasons Oscar has no intention of parting with this car, but rather than storing it away he makes sure it sees some use, taking it out for short regular drives on nice sunny days, keeping all the oily bits working as they should.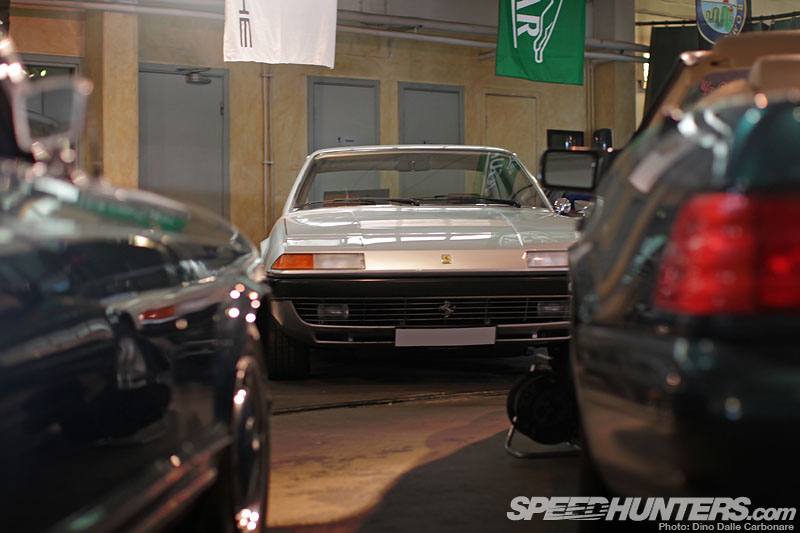 Opposite the 330 was one of my favorite old school Ferraris, probably the least understood of them all – either that or I have strange tastes! The 1972 365 GT4 2+2 is somewhat a successor to the 330…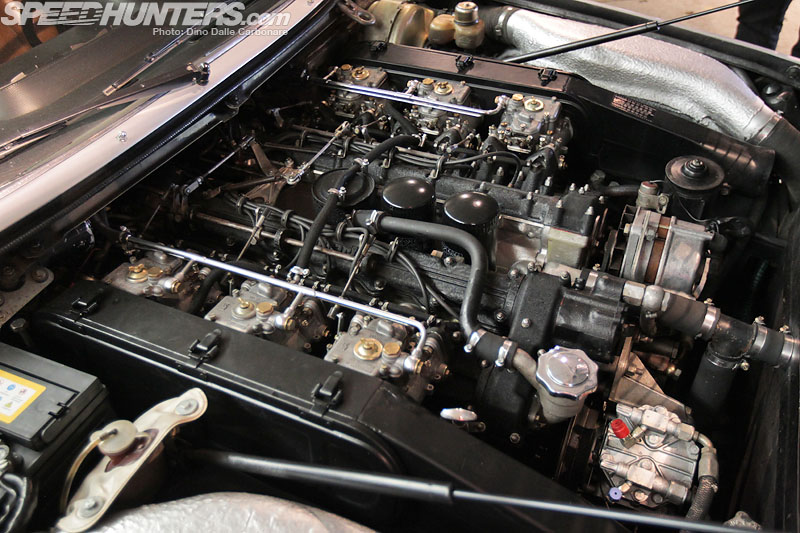 … offering up the similar mix of V12 power and a two plus two seating arrangement.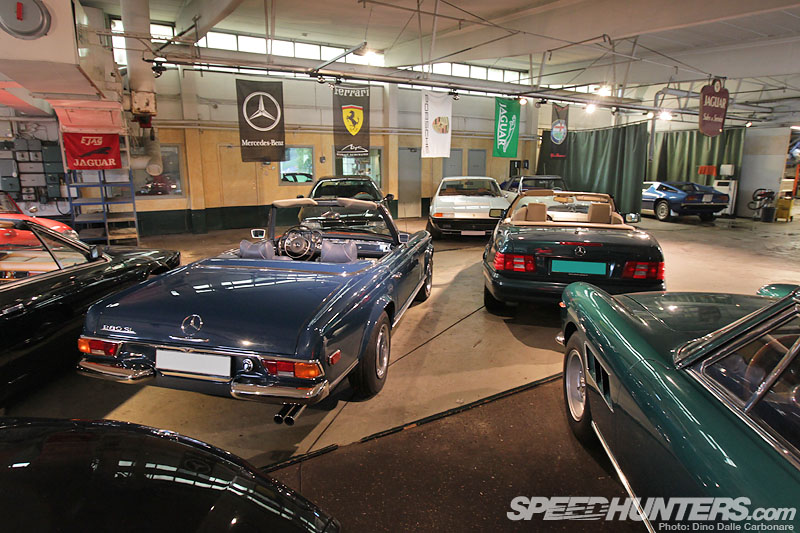 Not a bad mix of vintage rides right?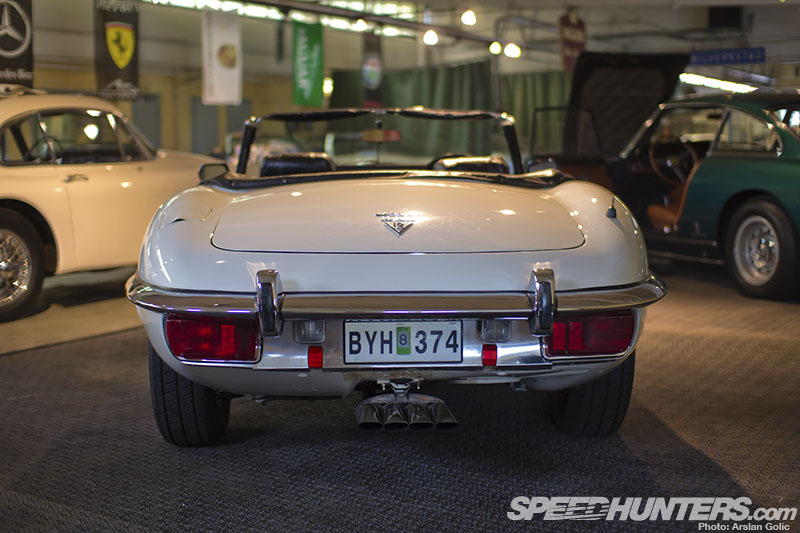 On a previous visit to the shop Rod and Arslan also spotted this pristine '73 E-Type Jaguar…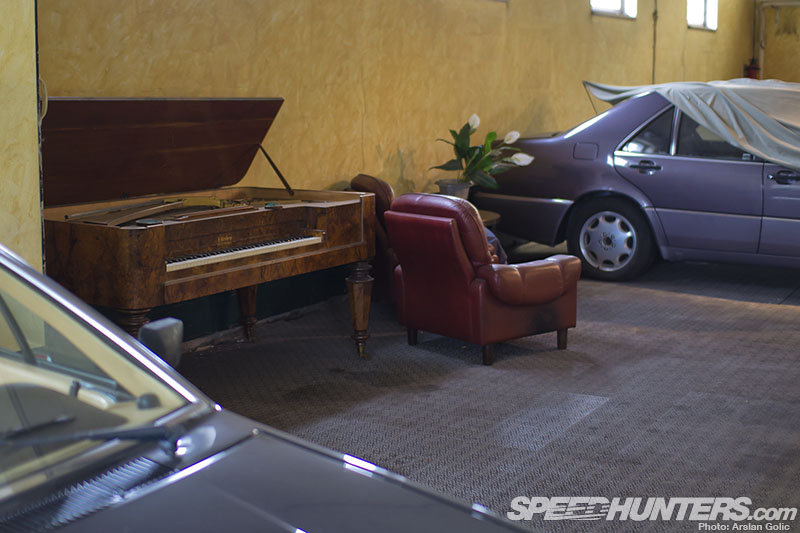 … and much like myself it was great to see that Arslan also took notice of the interesting decor that Oscar has dotted his shop with. When was the last time you saw an old piano and a pair of leather sofas sitting alongside a nice selection of cars?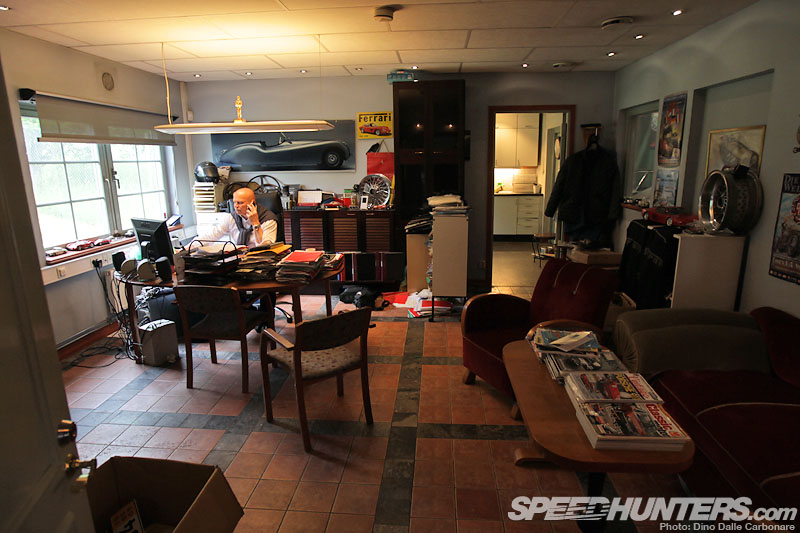 And it gets even better when you step inside Oscar's office. This is where Classic Garage is run from and when not on the phone tracking down cars and parts…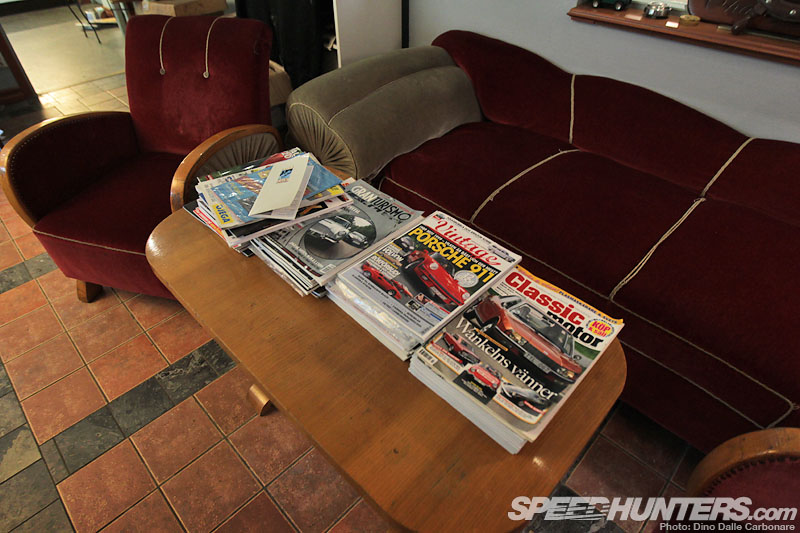 … Oscar can sit back and enjoy the nice selection of magazines or books he has collected over the years.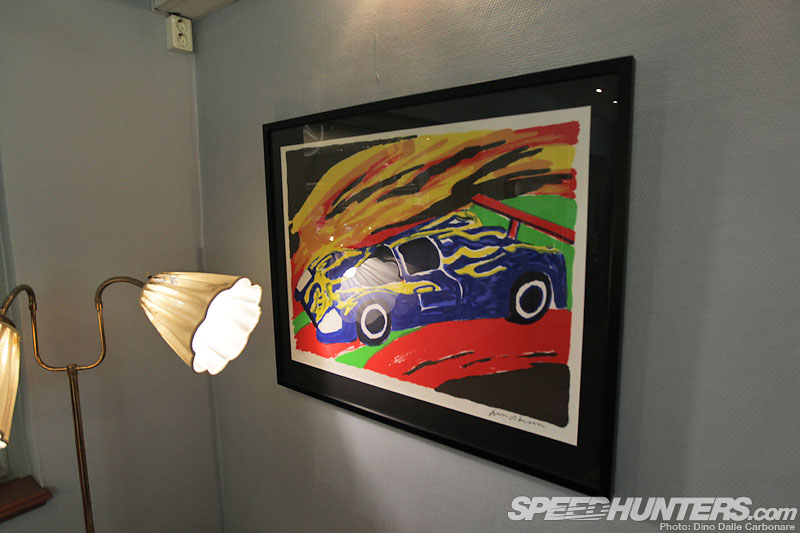 But as comfortable and visually inspiring as the office was, there was no time to sit down and take it easy…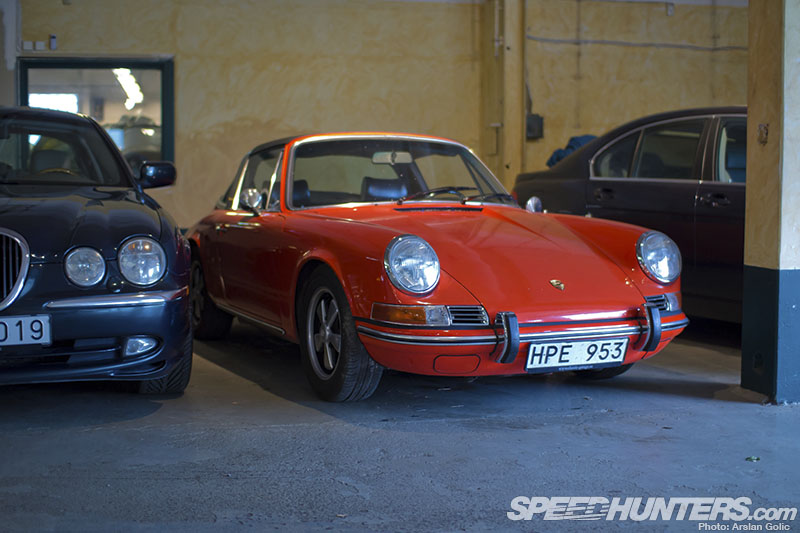 … there was still much to see around the corners of the main display room that I hadn't yet explored.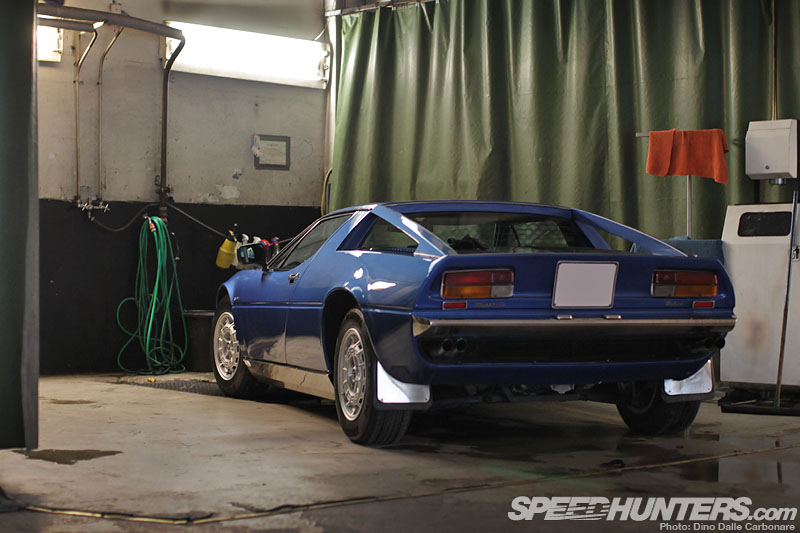 This 1973 Maserati Merak is quite the rarity and it was the first time I had a chance to spend some time with one. It was very cool hunting for all the Citroën bits in its interior and engine bay!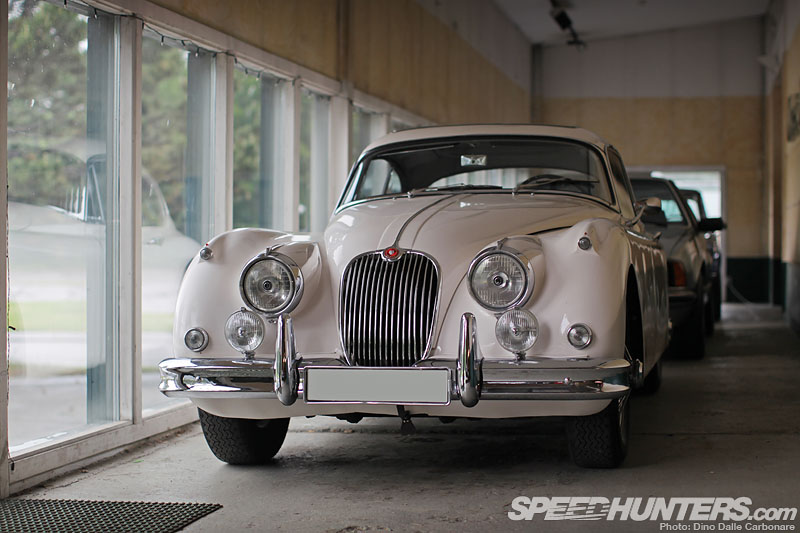 Up front on the window display was this white 1959 Jaguar XJ150 3.8S that if I'm not mistaken, Oscar said was in original, non-restored condition.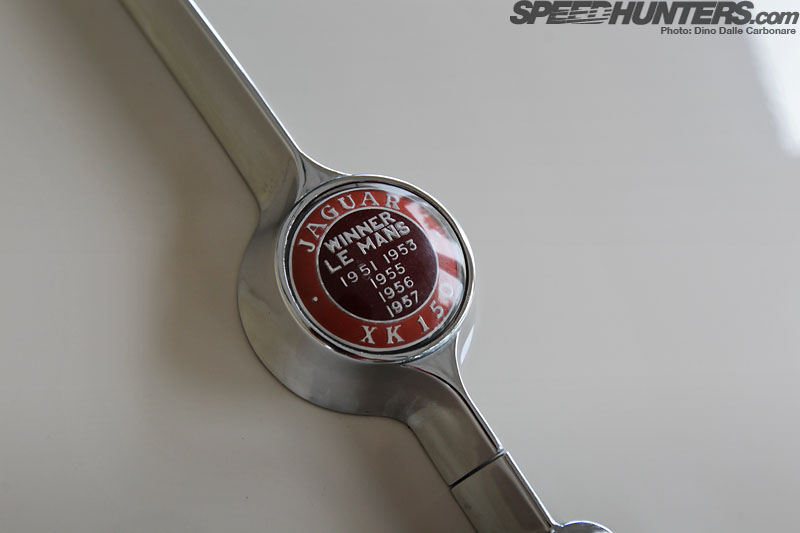 This is the best sort of condition for any car to be in, knowing that it's been well looked after with everything still where it should be, just as it was when put together at the factory. I'm of course in no way saying that restored cars are any worse, but you know what I mean. Authenticity counts for a lot in the classic car world.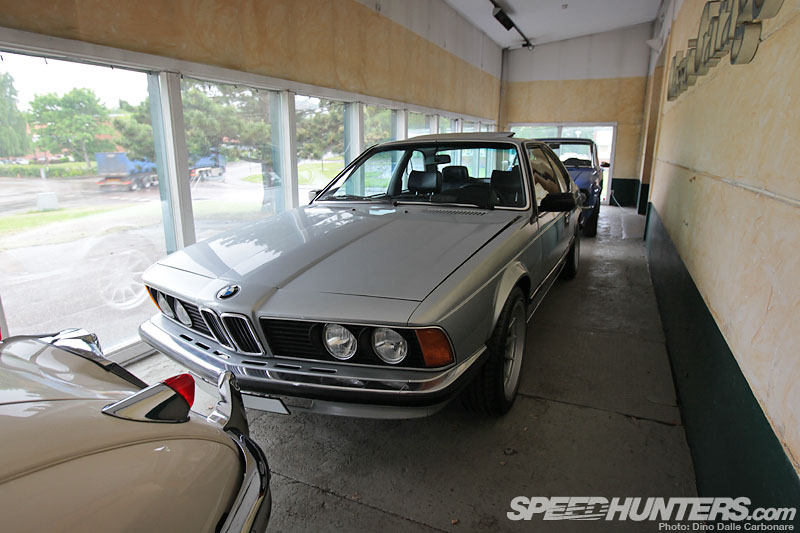 Right behind it, a modern classic, an E24 635ci…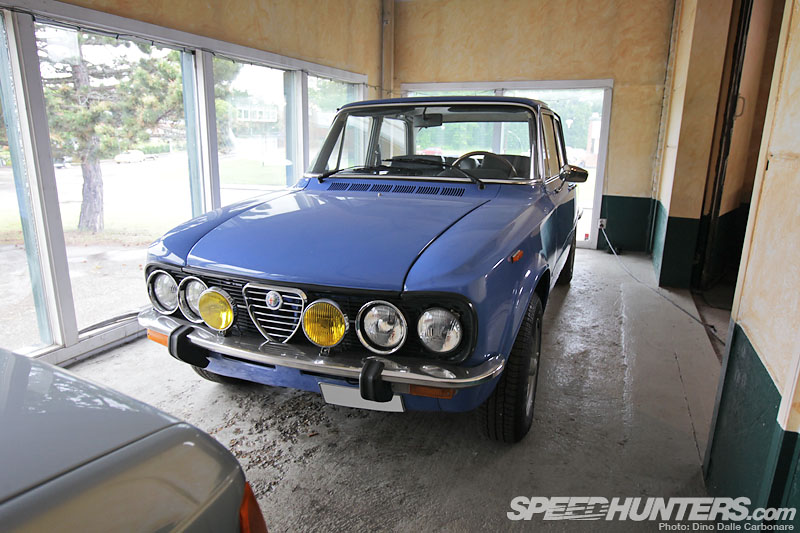 … and right behind that a 1973 Alfa Romeo 2000 Giulia Berlina, finished off in an almost Polizia looking flat blue. Quite the line-up!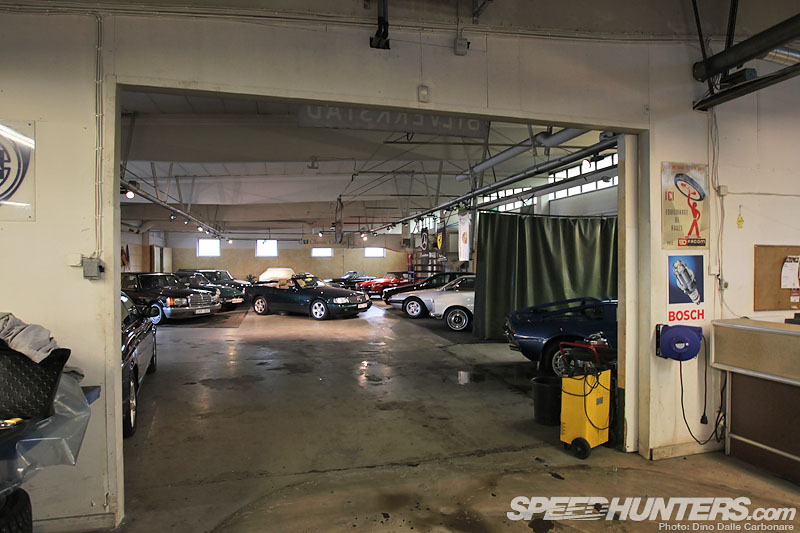 Stepping away from the showroom…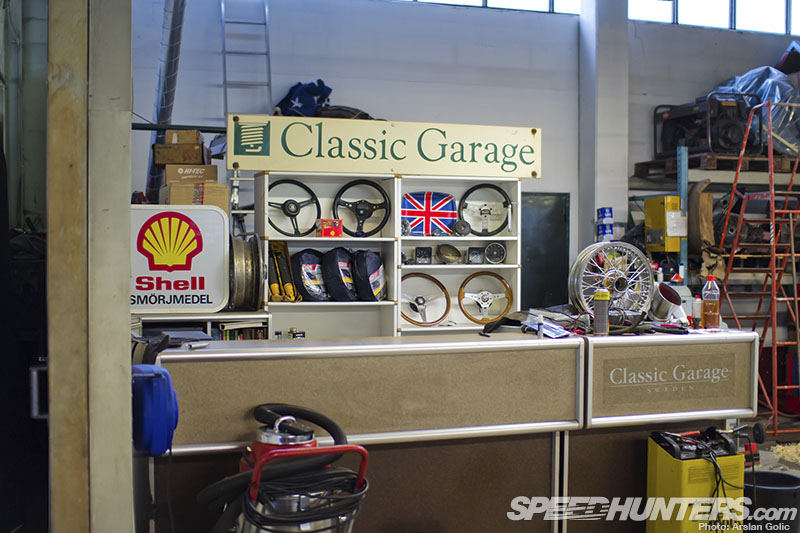 … there was plenty more to see in the workshop area. This, aside from doubling up as a small display…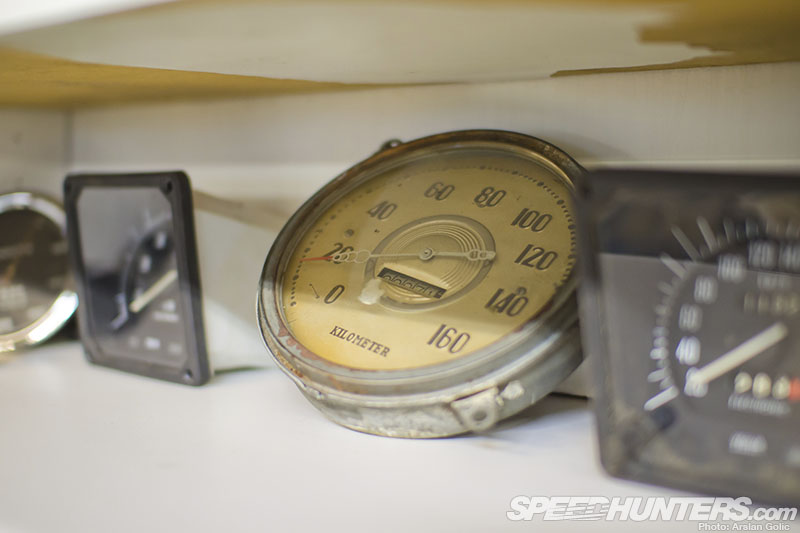 … of various bits and pieces…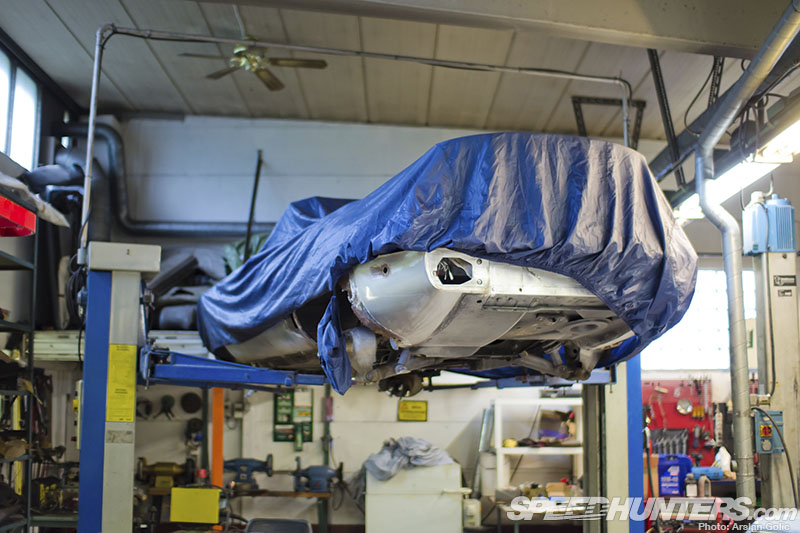 … is where Oscar handles anything from full restorations, all the way to maintenance of his customer's cars. I immediately spotted the unmistakable curvature of an E-type's rear end…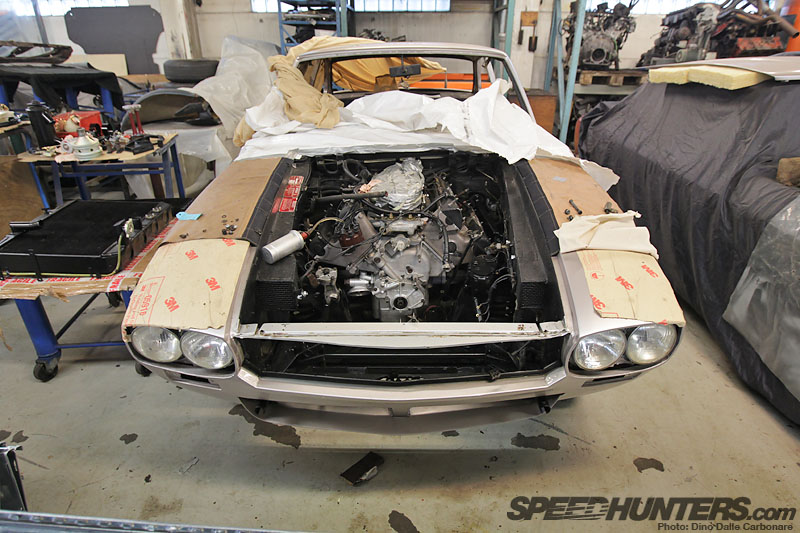 … but it was this car that Oscar really wanted to show me. This rare '68 Maserati Mexico has been treated to a full mechanical overhaul…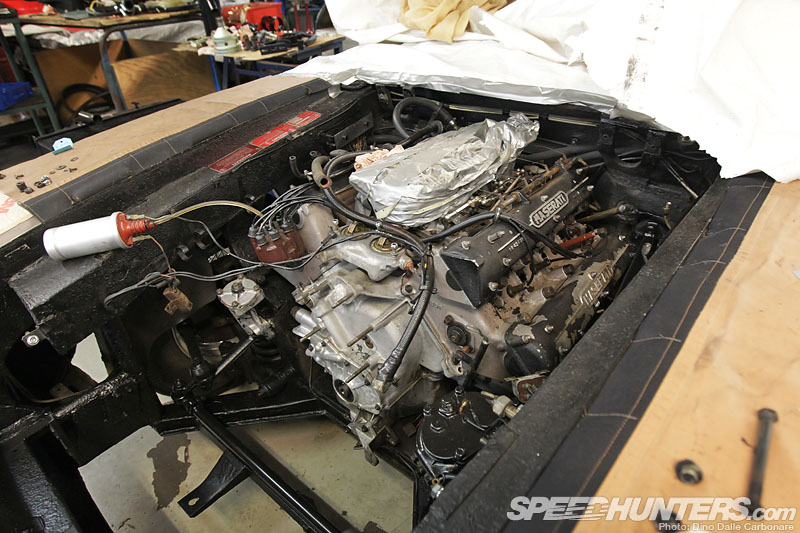 … its V8 freshened up…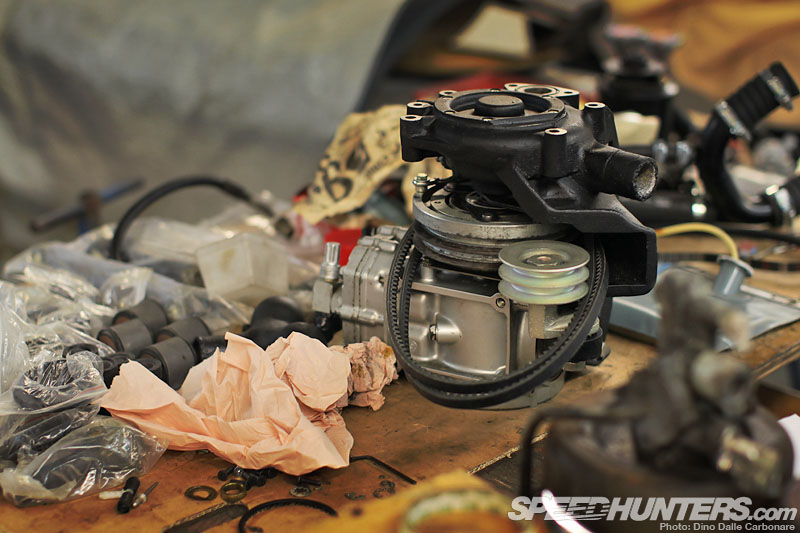 … along with all of its ancillaries.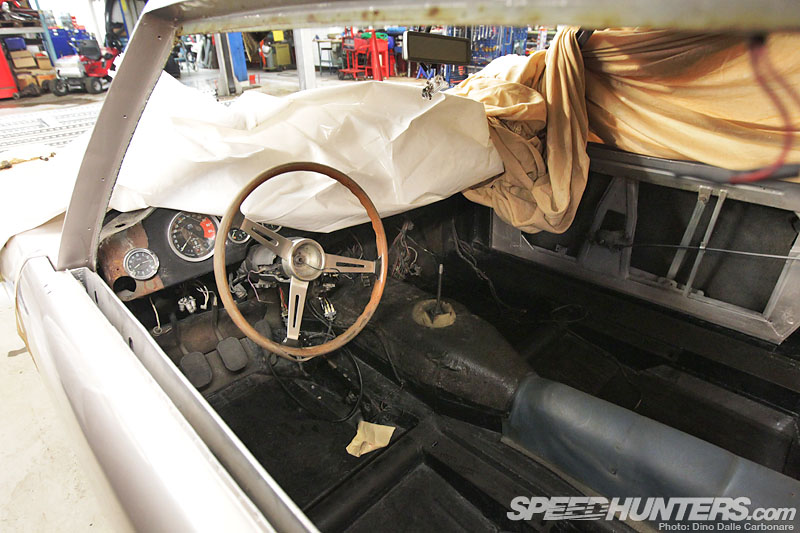 Here is a quick glimpse inside. Under 500 examples of the Vignale bodied Mexico were produced from 1966 till 1972, initially powered by a 4.7L V8 and later on in the production with the 4.2L V8 that would eventually be used in the Quattroporte.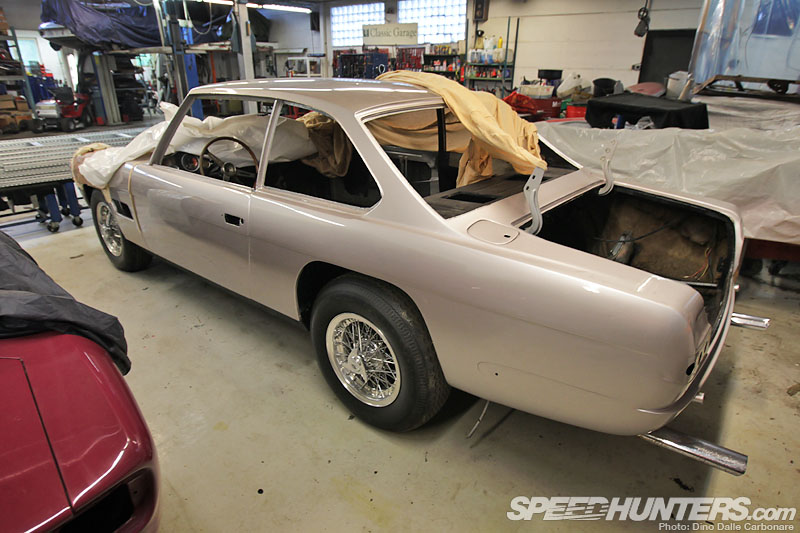 A true beauty!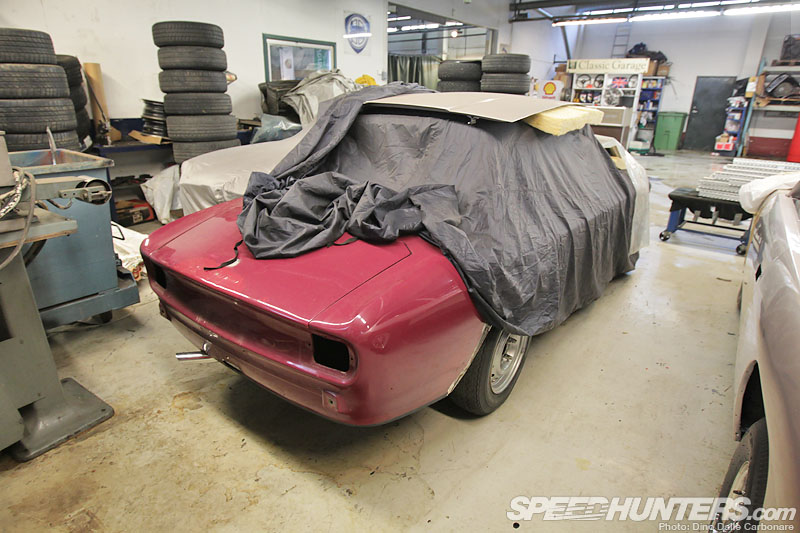 Next to it was another Italian classic in the midst of a restoration: a red '75 Alfa Romeo 1600 GT Junior.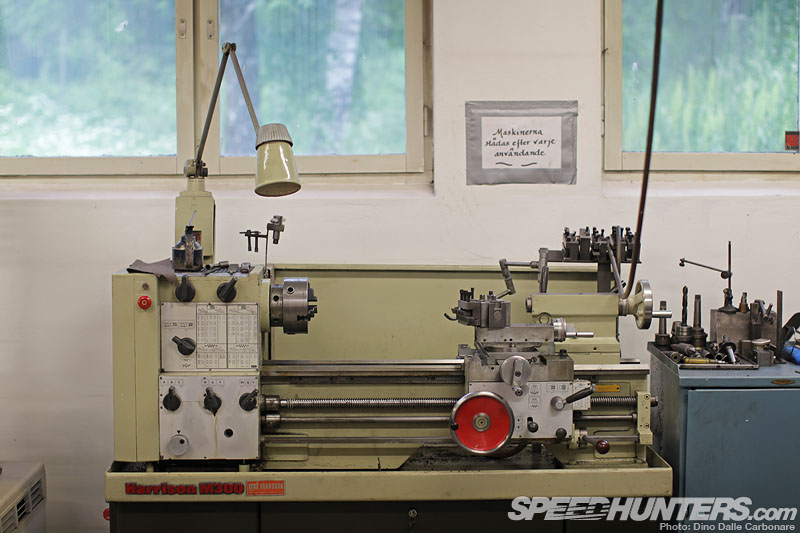 With a well-accessorized machine shop, Classic Garage are able to machine and fabricate all the bits and pieces that they may need when fitting or restoring parts…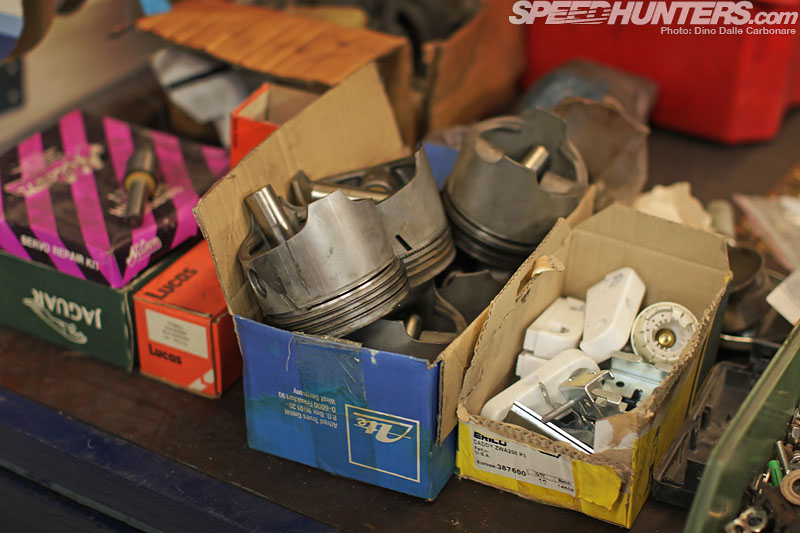 … and there was certainly plenty of stock around to help them tackle even the most complex of jobs.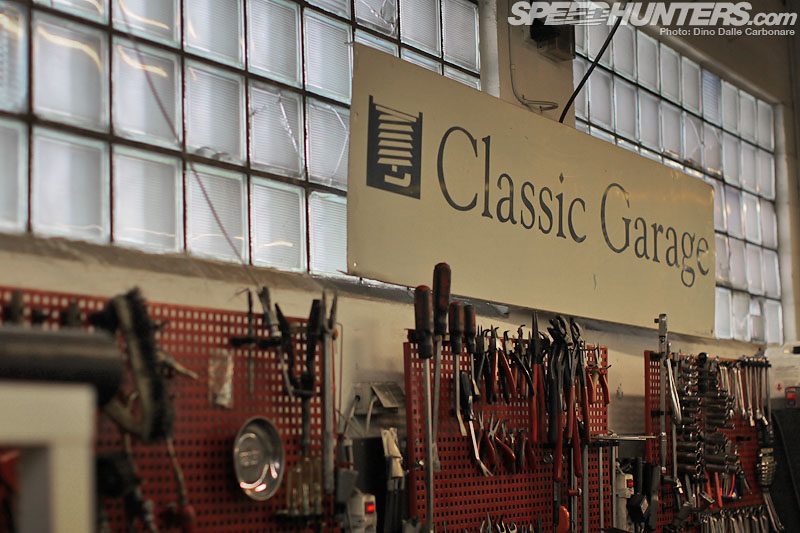 We have to give a special thank you to Oscar for opening his doors and allowing us to nose around for a very memorable morning and an invaluable learning experience.
Dino Dalle Carbonare
Instagram: speedhunters_dino
Additional photos by Arslan Golic
Special Kind Of Love: The Lamborghini Espada
The '70s Theme on Speedhunters