It's time to wrap up the 7's Day coverage, but not before I give you one final selection of cars that I spotted back on Sunday at Daikoku. I have to start with probably the most menacing FD at the whole meet: this dark, custom-built widebody creation that has been based around an Abflug kit. This is one car I've been wanting to feature for a while, but every time I come across it, it just seems to disappear before I have a chance to track its owner down. Like me, I'm sure you are all wondering what it runs under that Scoot hood!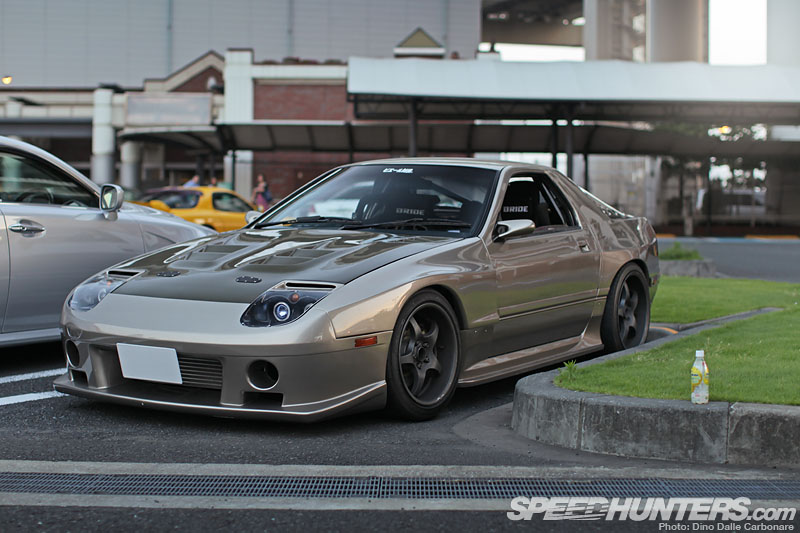 I hope you are also noticing how the quality of cars just keeps improving year by year…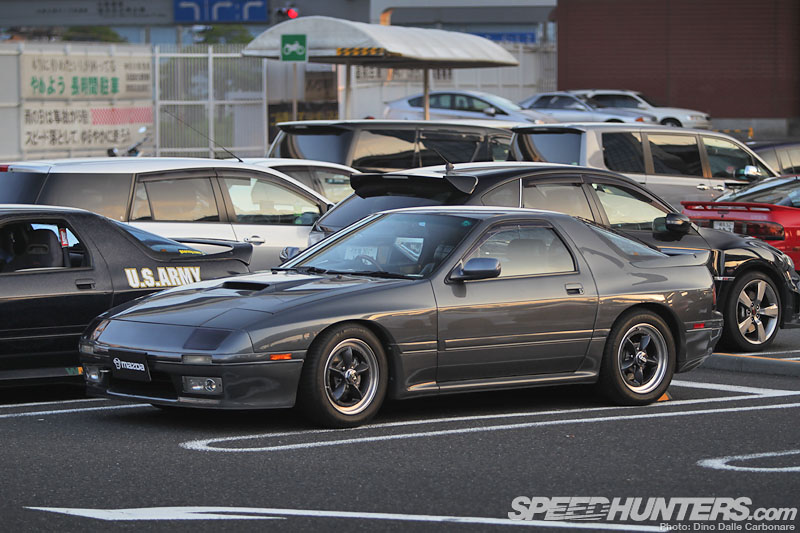 … and this is especially true for the FC!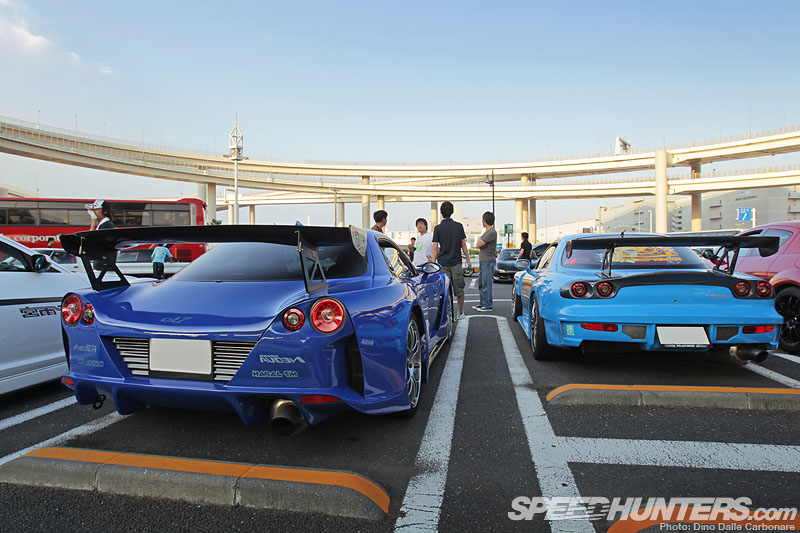 It's always cool to see how many ex-Amemiya demo cars stop by the PA on this special July afternoon…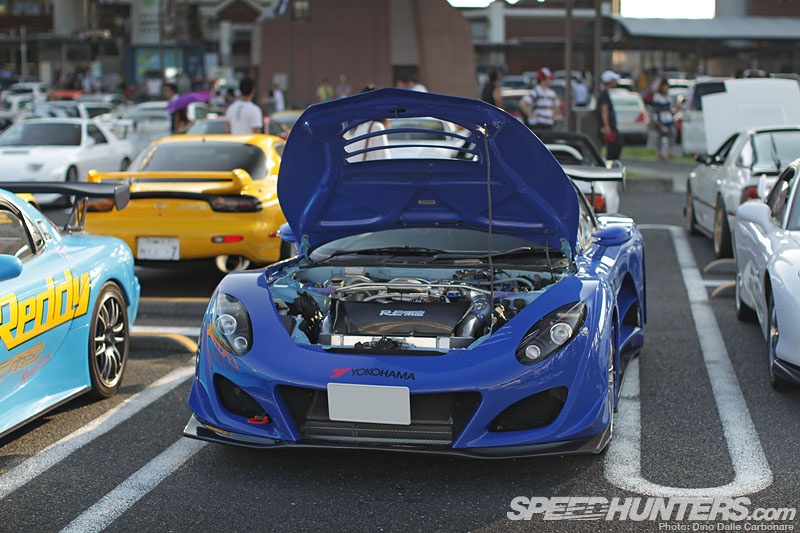 … cars that at one time have all been the center of attention at RE-Amemiya's booth during the Tokyo Auto Salon. I shot this Genki 7 back in 2009 and saw it later in 2010 at TAS sporting its 'UFO' look with covers sealing off the rear wheel arches and strange discs bolted onto its front Enkeis.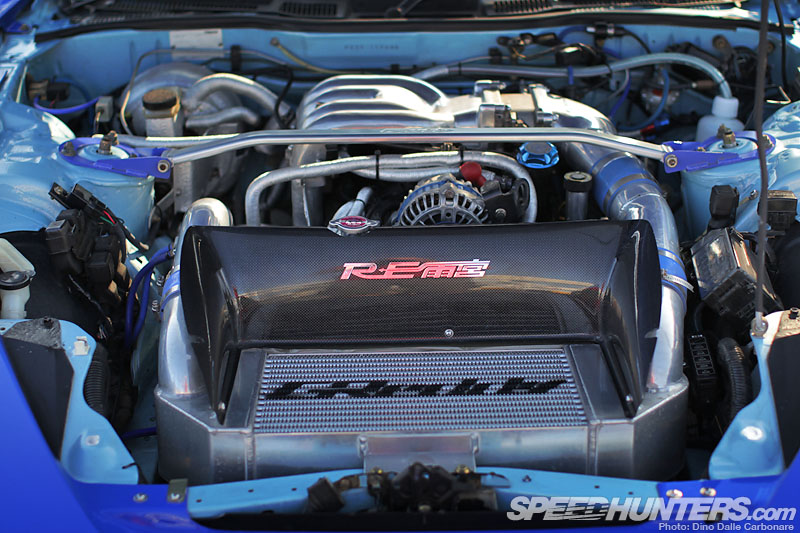 The older Amemiya-san gets, the wilder his creations become! Although as he has announced, he won't be making any more FD-based show cars. Maybe he knows something we don't know? Will Mazda surprise us at this year's Tokyo Motor Show in the fall?  I bloody well hope so!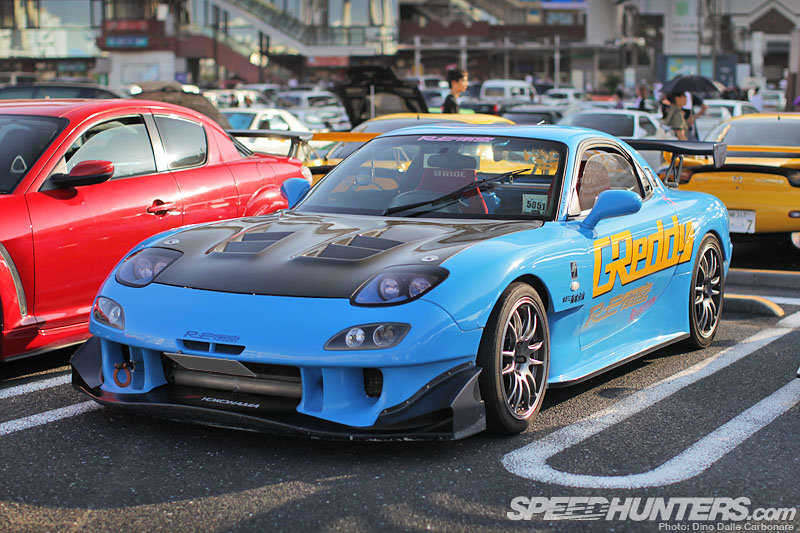 This look has been one of Amemiya's most successful, and it's not hard to see why.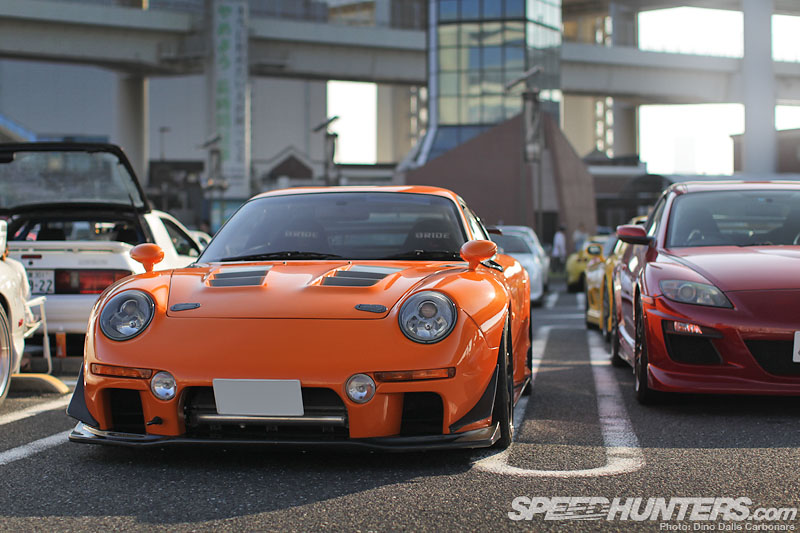 I've never really minded the 911 headlight swap either, but while the front end does work well as a show-car or demo-car type project…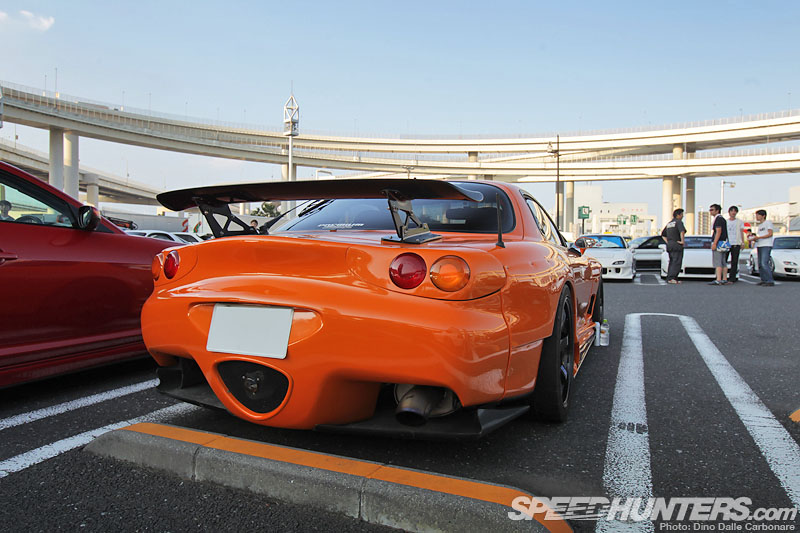 … some of the rear ends do take time to understand!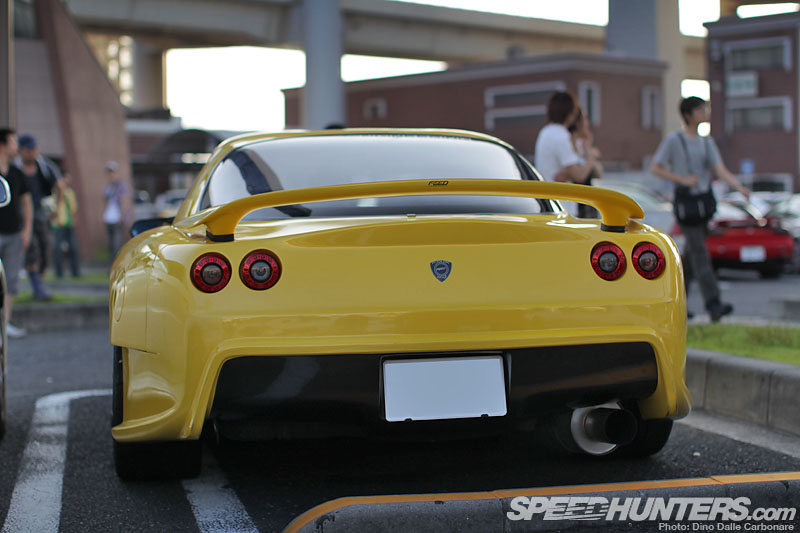 And speaking of rear ends, here is what the TVR-look FD from Feed looks like from the back.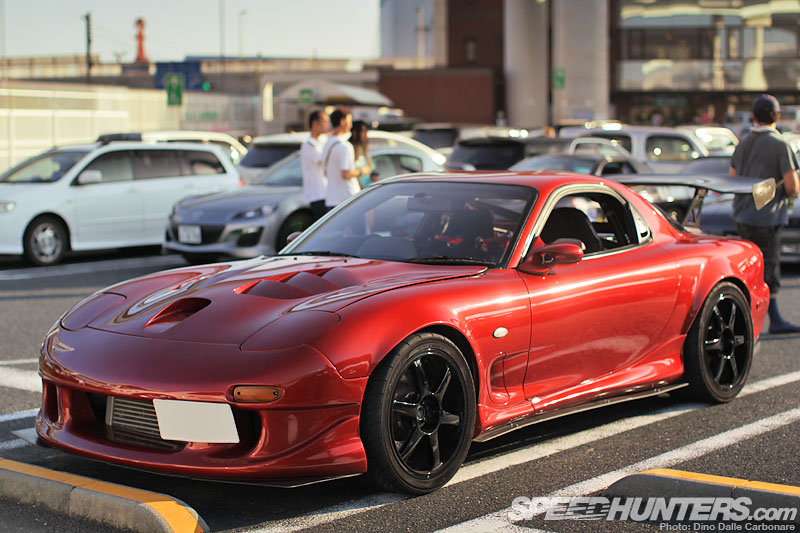 As I looped round the top of the main parking area I came across this candy red FD which did the widened fender thing in a more subtle way to the usual massive GT-look. Definitely much better suited for a road car…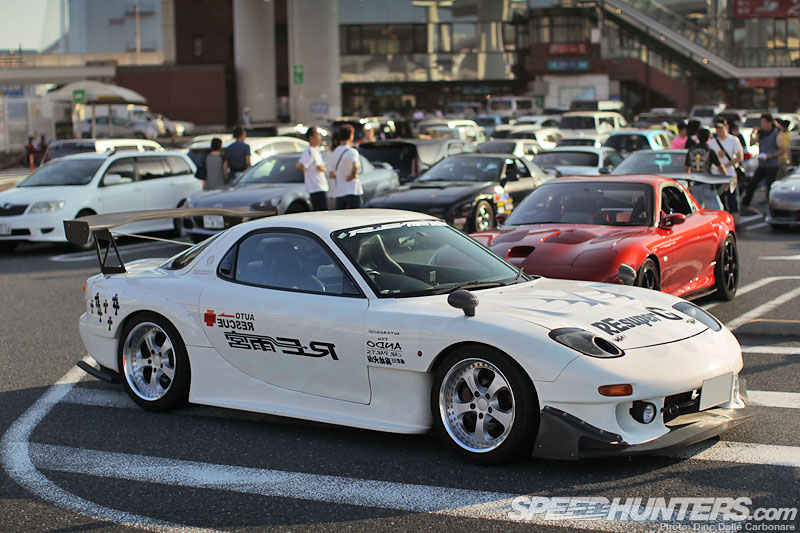 … but then how can you say this looks bad! Check out the vintage RE-Amemiya wheels!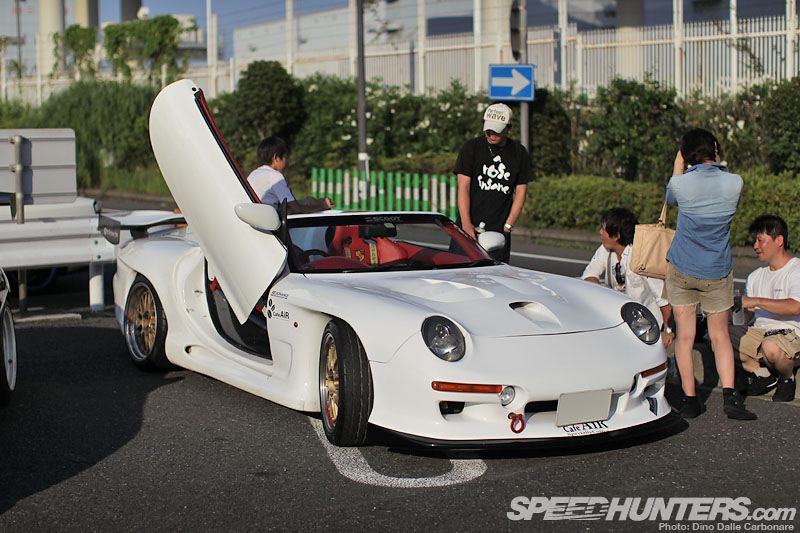 Oh and here is one more from Amemiya. Bye bye roof! I remember seeing the first roadster FD that RE-Amemiya built in the pages of Max Power when I was still in school. Impressive that it still looks pretty modern!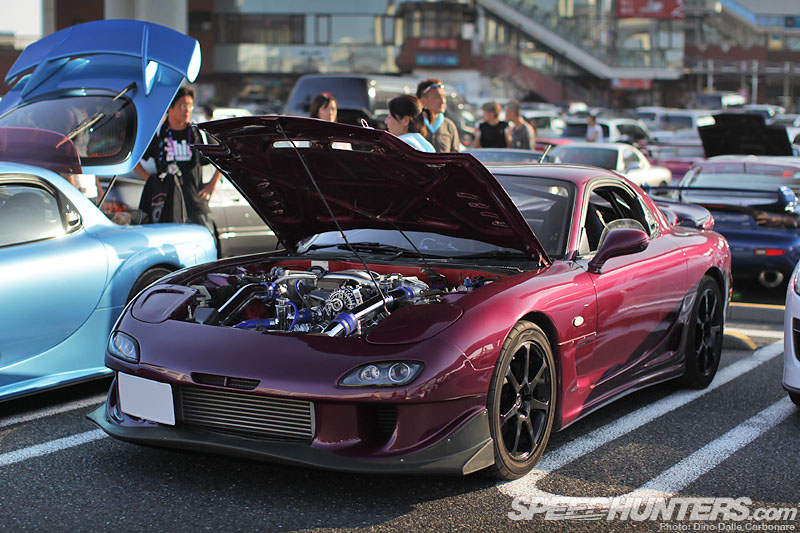 However, as cool as FRP and carbon fiber aero bits and pieces are…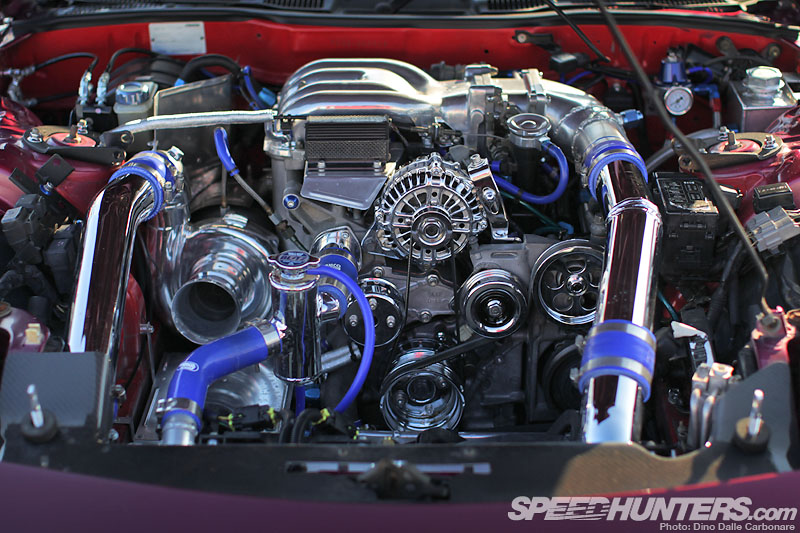 … you just can't beat a properly built motor!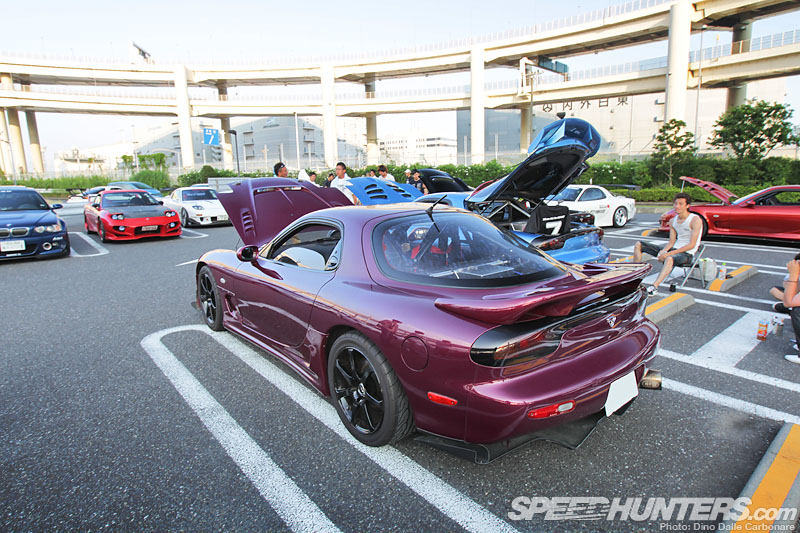 Simple and to the point gets my nod of respect.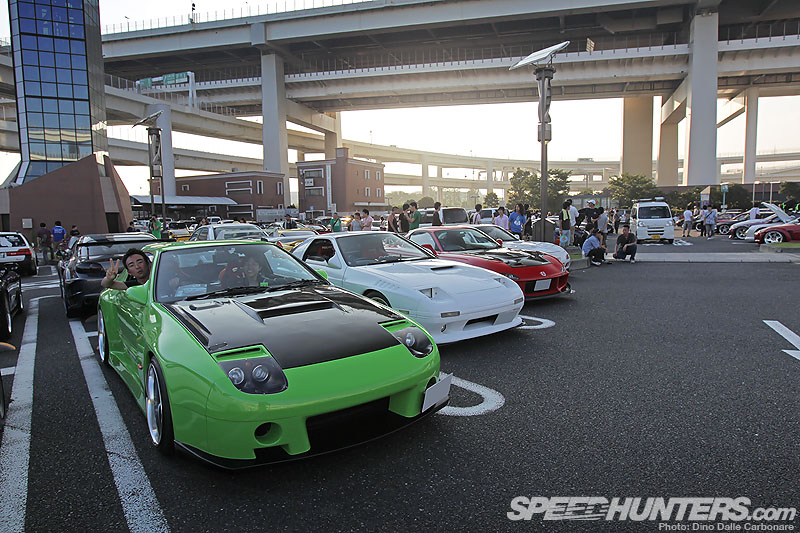 The atmosphere at these sort of gatherings is always super friendly, with lots of laughing and joking around to be heard, adding to the whole experience.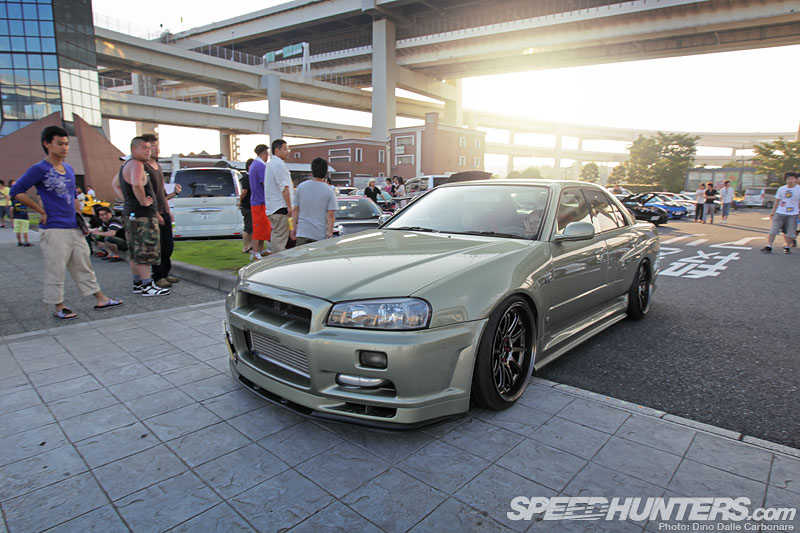 Check out this R34 sedan that I managed to catch as it was exiting the PA. It's not that simple going for a GT-R look on a base four-door: aside from the obvious additions up front, the owner of this car applied BNR34-like flared rear fenders and doors. I wonder if it runs an RB26 too.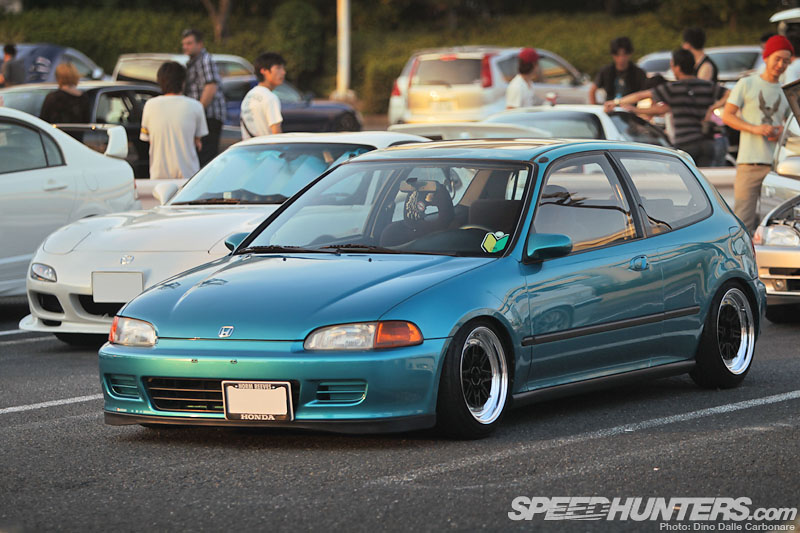 Thought I'd add one image for the Honda guys!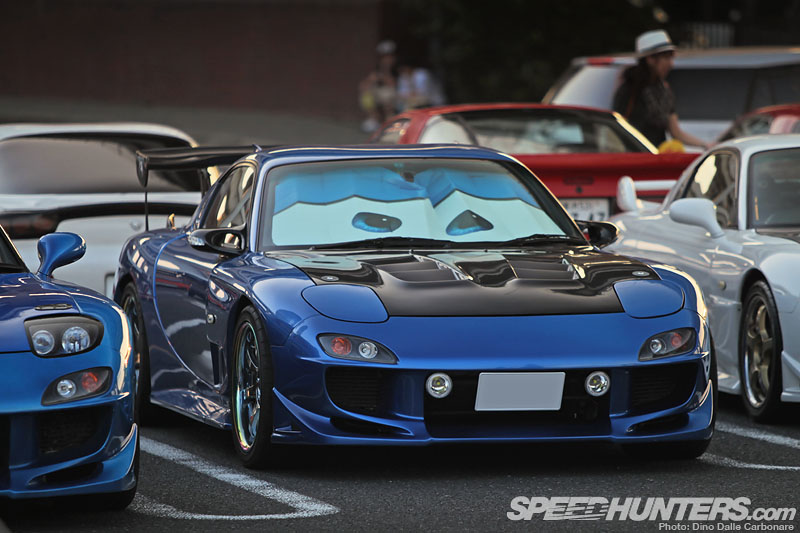 The stunning line up of FDs continued…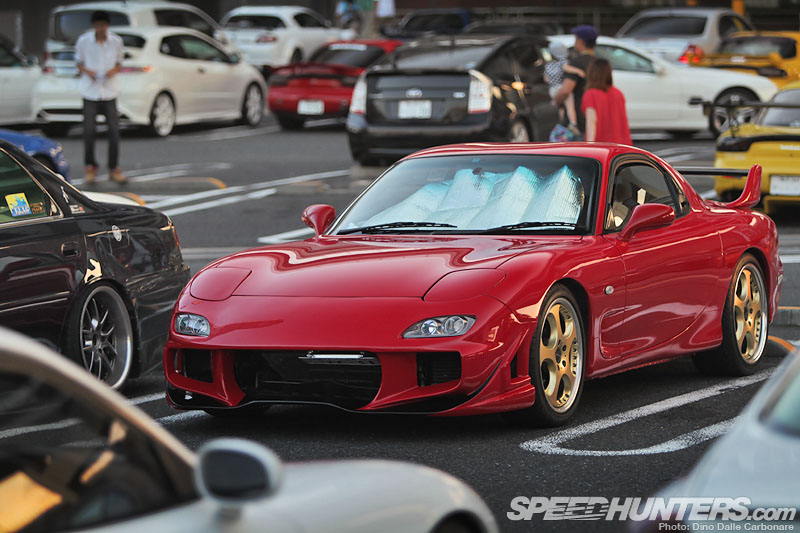 … but after seeing so many variations…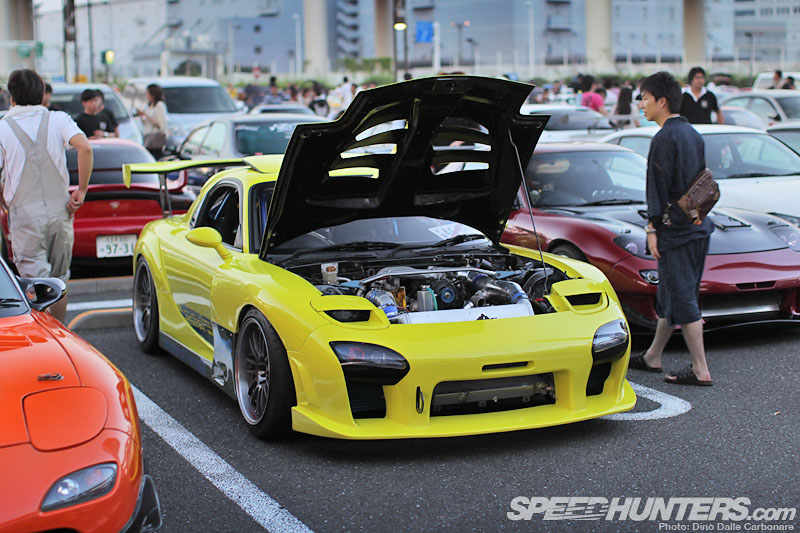 … it became harder to decide which one stood out the most. The A-spec look for me, always wins however!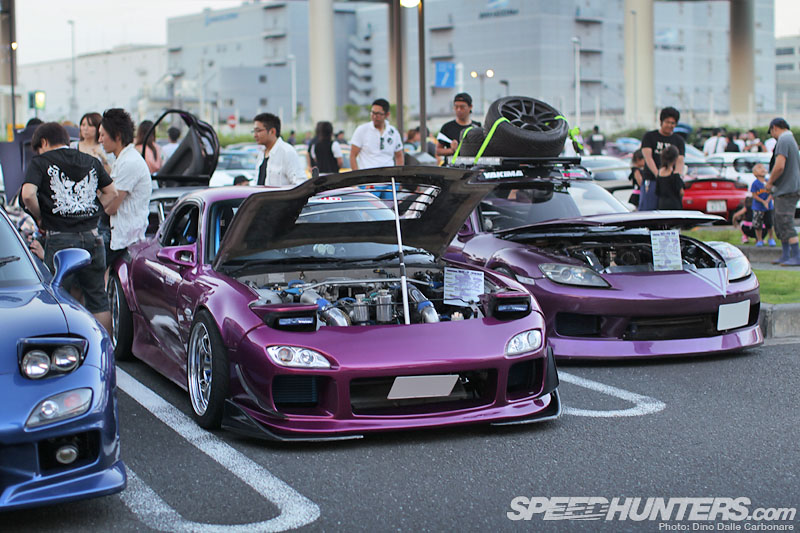 These two guys from Utsunomiya up in Tochigi prefecture came down with their purple FDs…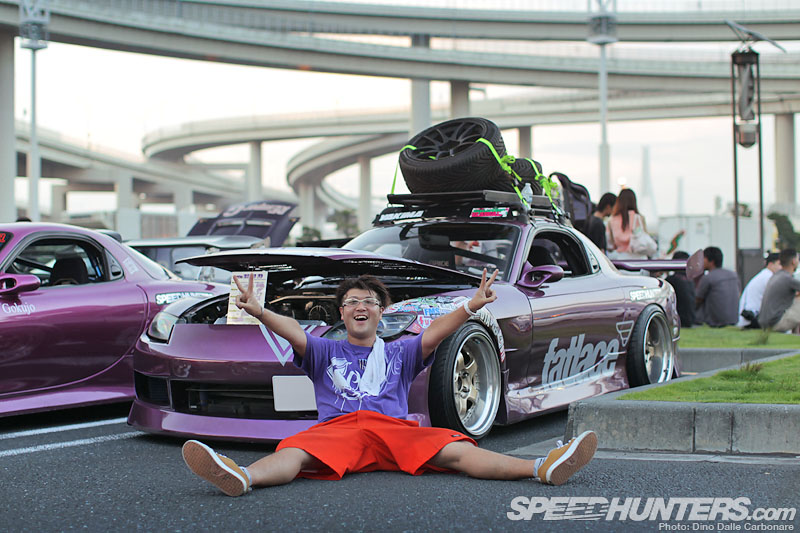 … the second of which was wearing an RX-8 face and carrying a few tires on the roof rack for the next drift soukoukai!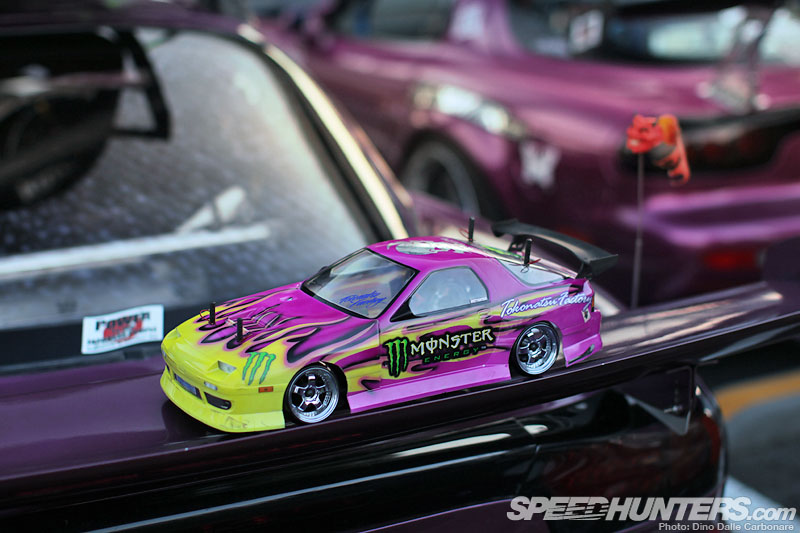 Color-matched RC drift cars are also all the rage.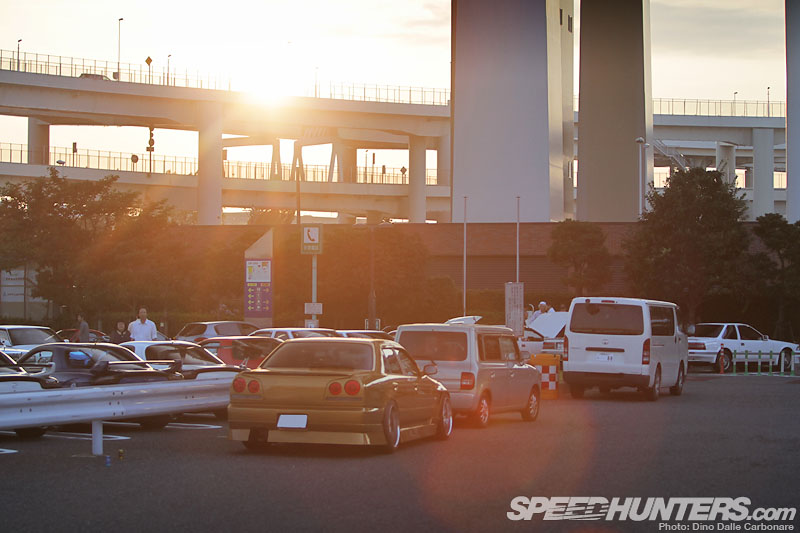 As the sun began to set, the party continued…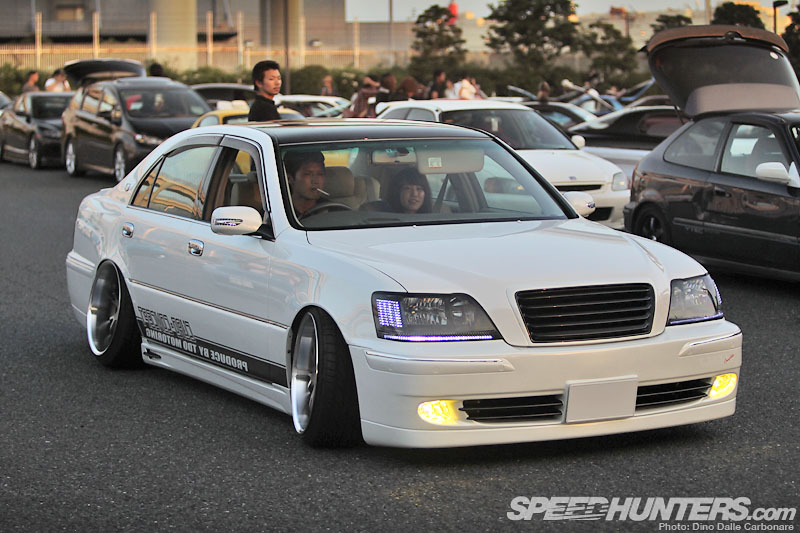 … and more cars kept pulling in and parking up – not all necessarily 7s.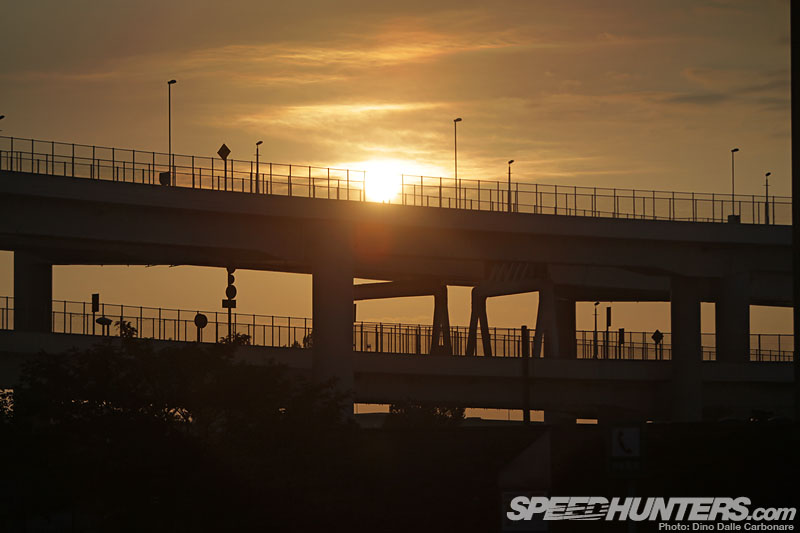 However, after having been on my feet since 6 am I decided to call it a day. While this ends the 7's Day coverage, there's still the Mazda Rotary Festa that I need to share with you all. That should take it all up a notch and inject a much needed focus on performance and speed rather than just the visuals of these very special cars.
Dino Dalle Carbonare
Instagram: speedhunters_dino
7's Day 2013 Coverage on Speedhunters
More RX7 stories on Speedhunters