Photographers are drawn to Pikes Peak because of its sheer beauty. The endless layers of colors and breathtaking views can be overwhelming for any shutterbug.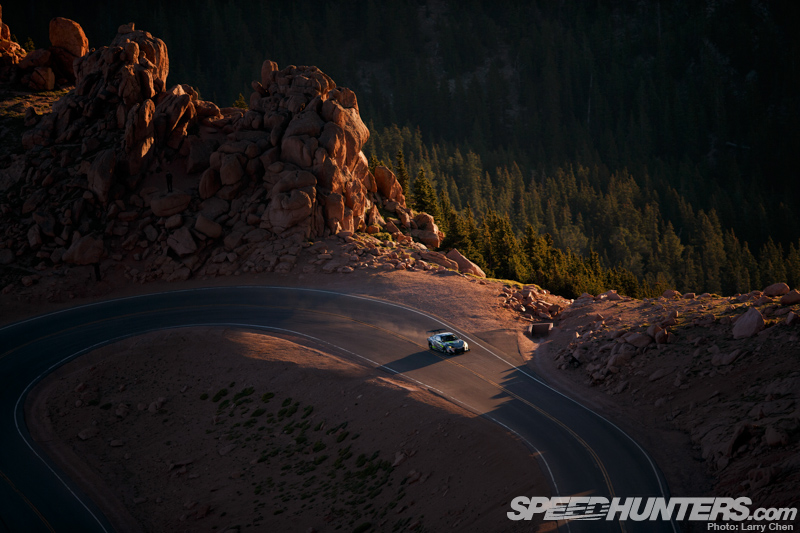 Drivers are drawn to Pikes Peak because there is no other mountain road like it. It's the highest race track in the world and it's also one of the most challenging.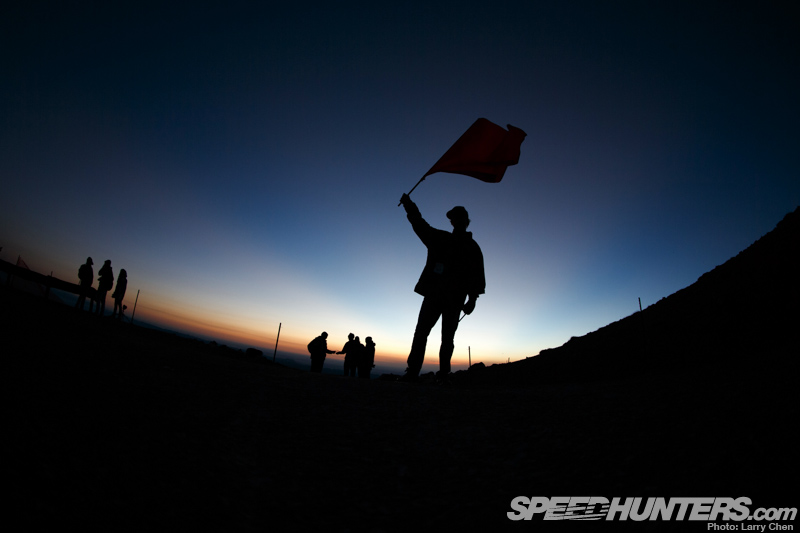 As a Speedhunter, I'm drawn to it because Pikes Peak is synonymous with the best hill climb action the racing world has to offer.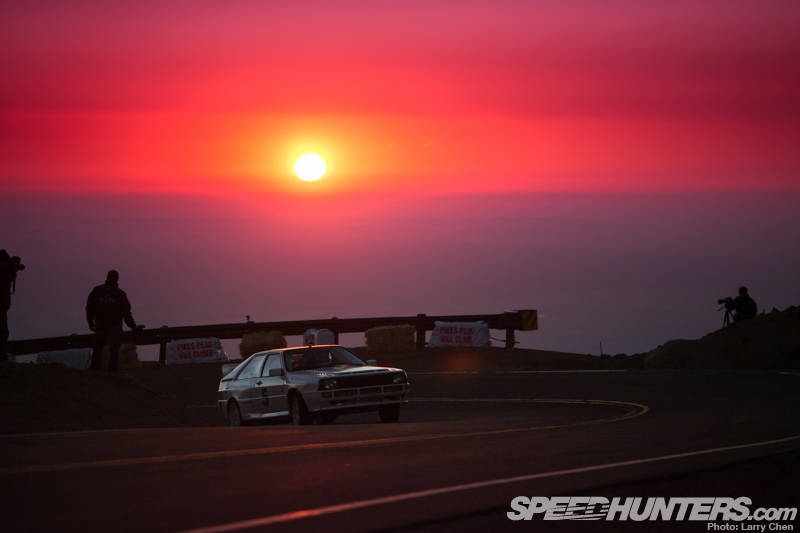 At 14,000 feet, it feels like you have to breathe twice as hard just to stay conscious. That's why many drivers run oxygen tanks – otherwise they run the risk of passing out.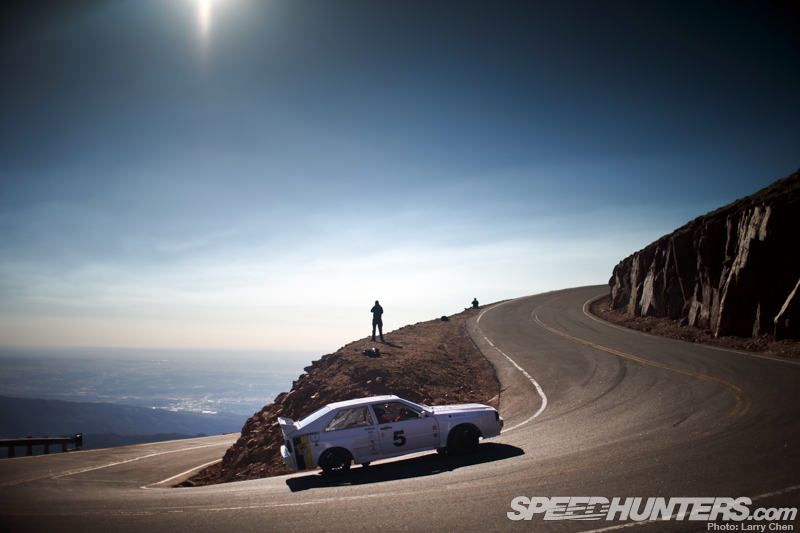 The course is 12.42 miles long and there are 156 turns. Some of them are very tight and some of them are flat out, but all of them are very dangerous.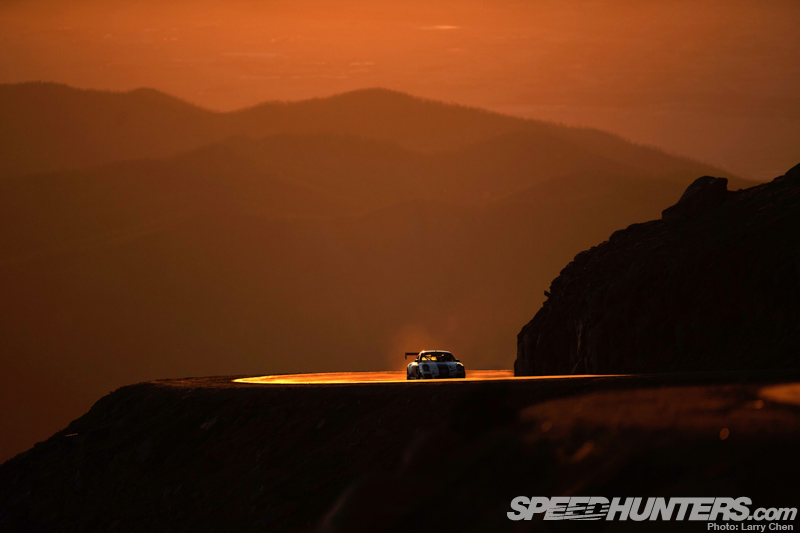 The starting line sits at 9390 feet and the finish line is at 14,110 feet. I'm writing this at sea level, but I need to catch my breath just thinking about it.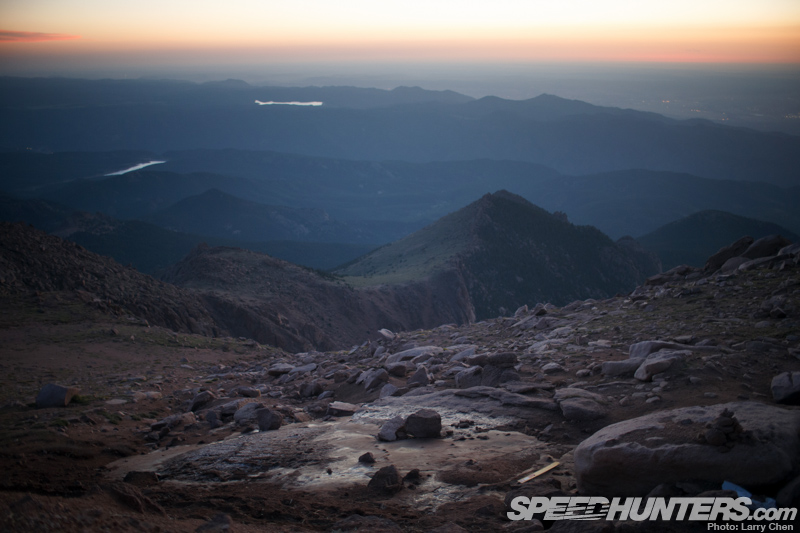 For the fans Pikes Peak is just a one day event, but for guys like me, the event is an entire week. The mornings were very tough as we had to wake up at 2:30 am every morning to get ready for practice that starts at 5am sharp.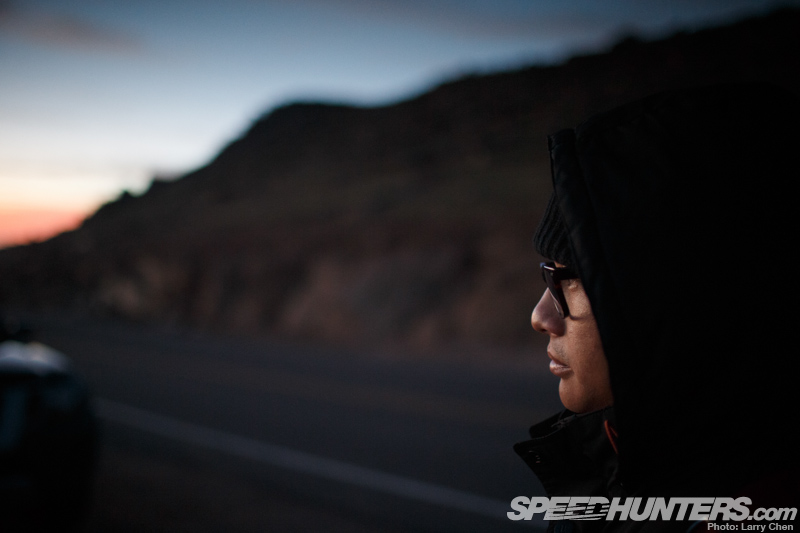 Accompanying me was the one and only Linhbergh, who showed me the ropes at Pikes Peak a few years back. No matter how many times you cover this race it does not get any easier. In fact it seems that as the years go by, it gets harder and harder!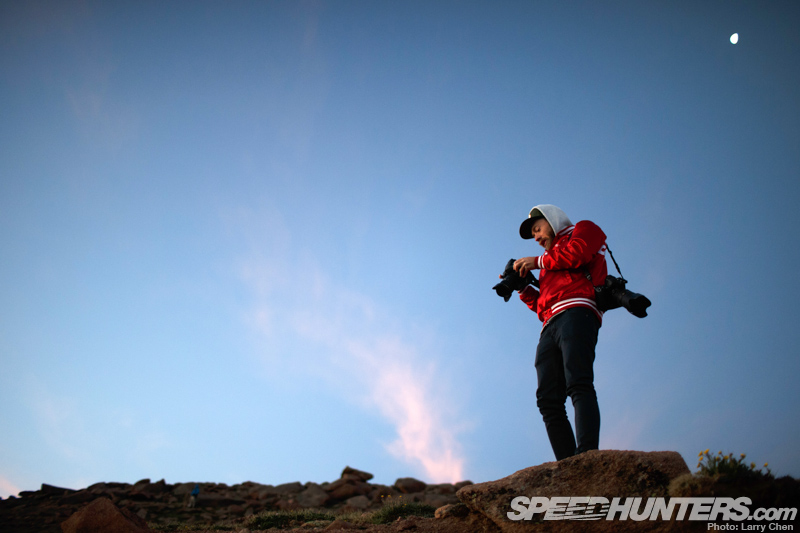 Our very own Sean Klingelhoefer had the chance to experience the peak for the first time, which also meant he had the chance to experience the massive headaches from the drastic change in altitude.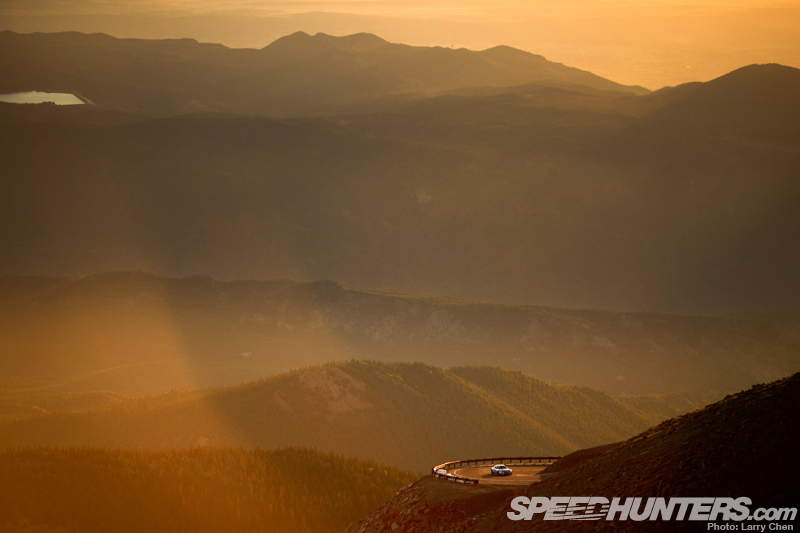 Of course all that pain is worth it for breathtaking views like this. Most of the time we're shooting above the tree line. Barely anything grows above 12,000 feet.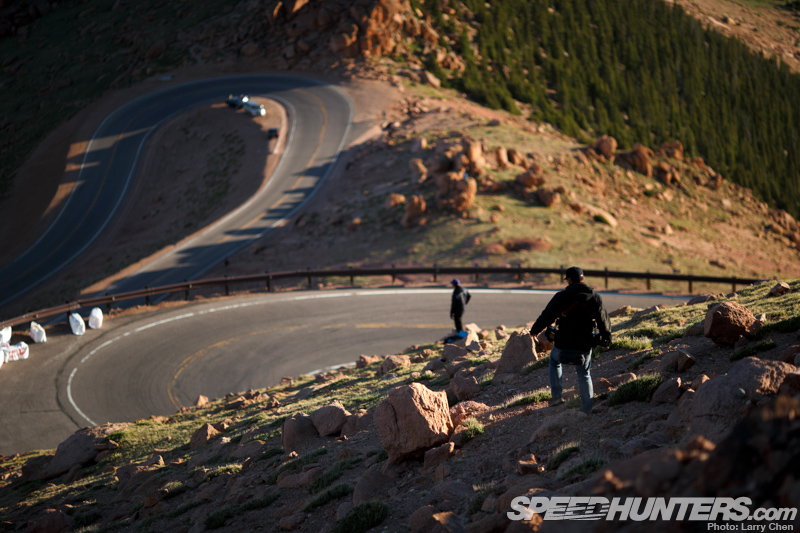 The nice thing about shooting on the mountain is the accessibility is better than any race track that I've ever been to. With a little common sense, you can practically shoot anywhere.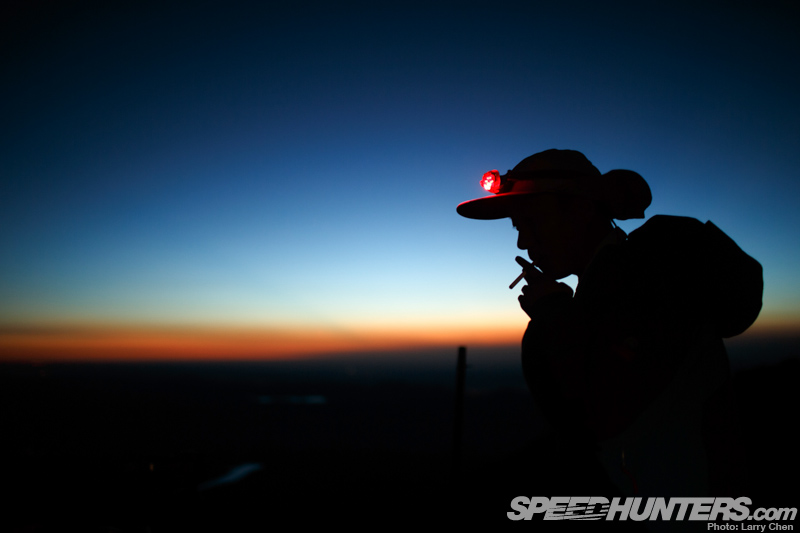 To beat the traffic everyone needs to be in their positions early, which means lots of time to kill.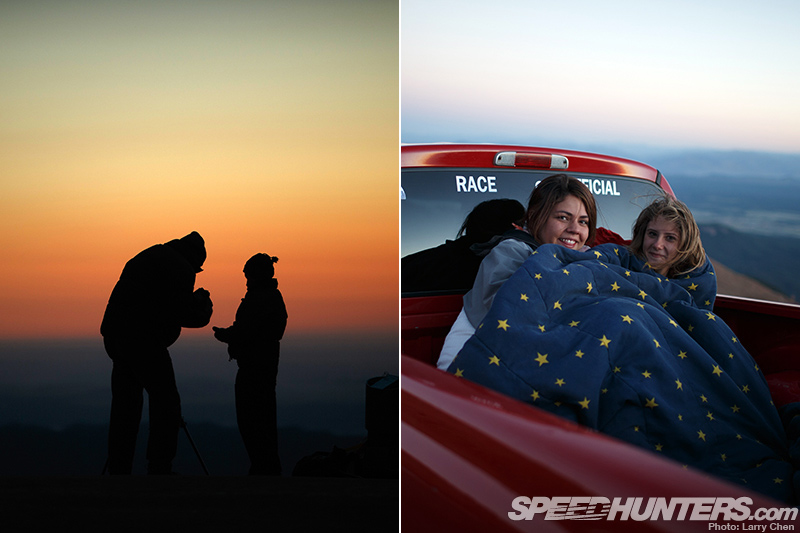 Some of the people were more prepared than others, but luckily for everyone it was not very cold this year.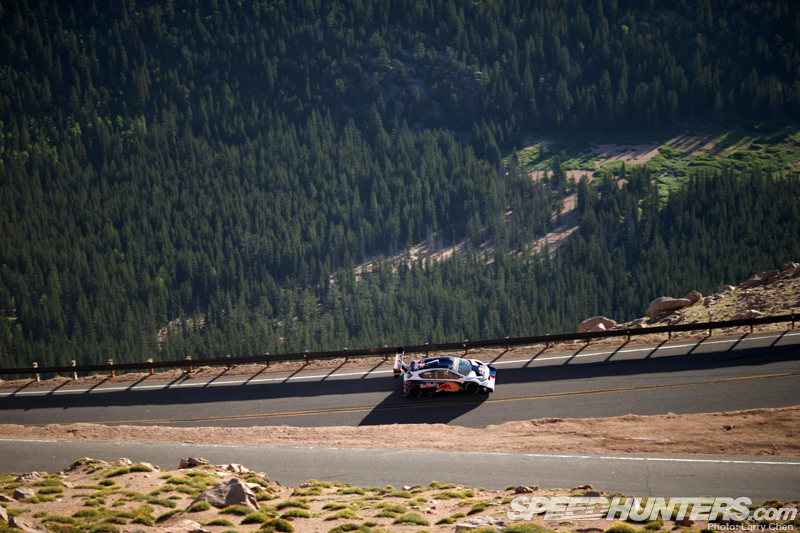 It seems this year's race had quite a bit of buzz compared to years before due to one single brilliant man.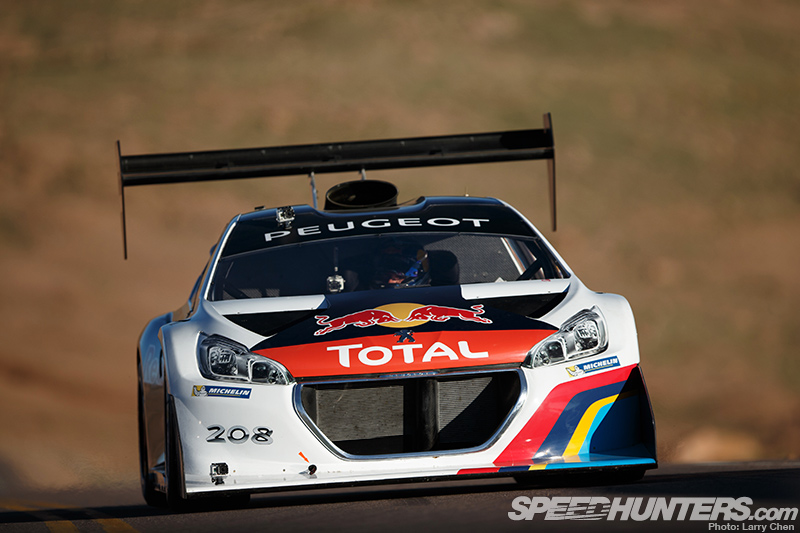 This was the first year for Sebastien Loeb, and the electrician/gymnast turned race car driver smashed the course record by over a minute and a half.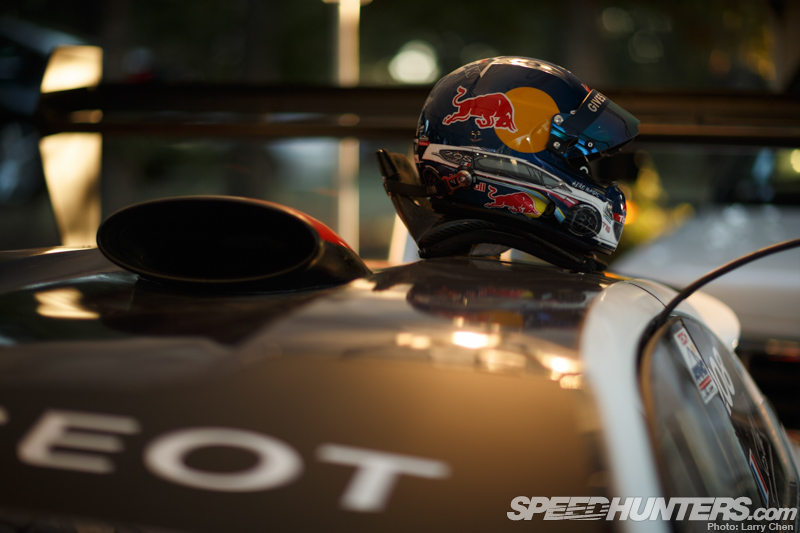 The Peugeot team brought a level of competition to Pikes Peak that has not been seen in years.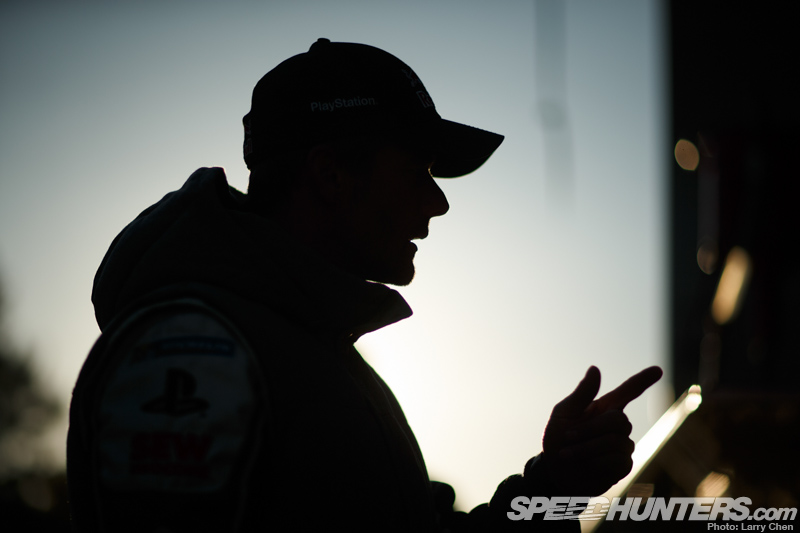 It begs the question, who will be able to beat that record? Maybe only Loeb himself is capable of that.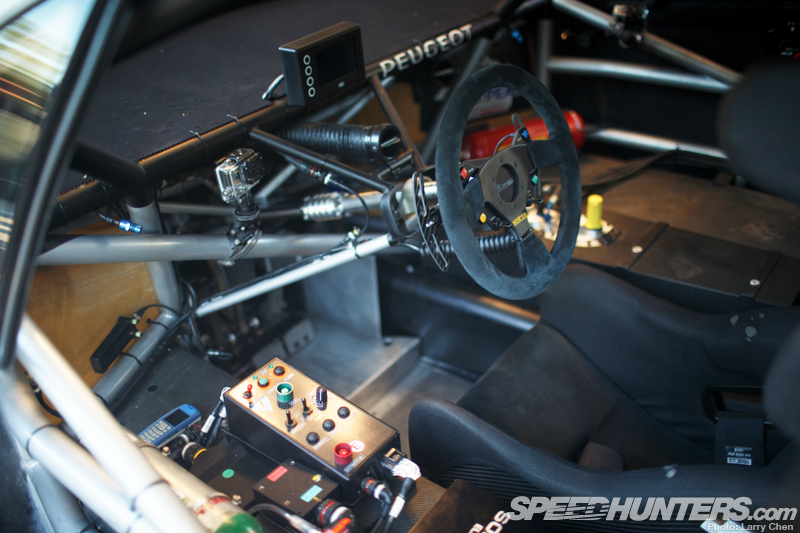 He did mention that before starting, he wasn't sure whether he should push to the maximum or just a comfortable pace to be sure of victory but in the end, he decided to push to the limit.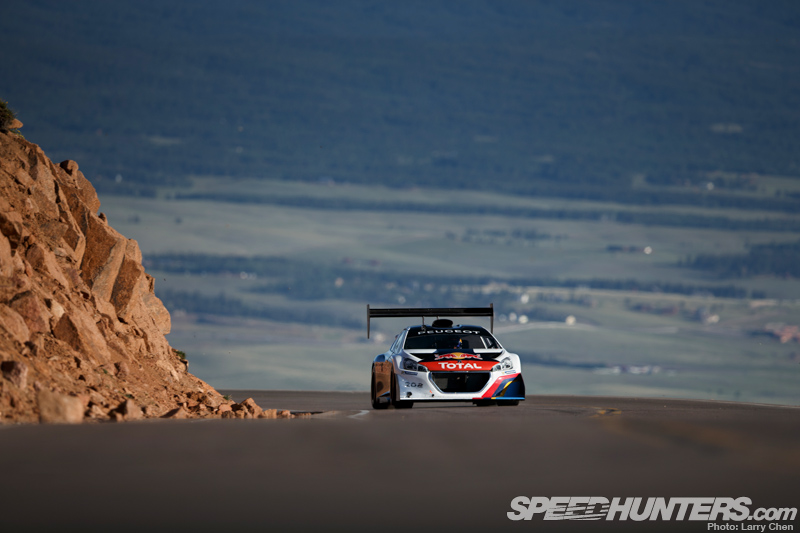 Who knows, maybe Audi will make a comeback after seeing how much interest this historic race has stirred up. Or maybe Citroen will step in to hire Loeb to pilot one of their cars – that would be really interesting to watch.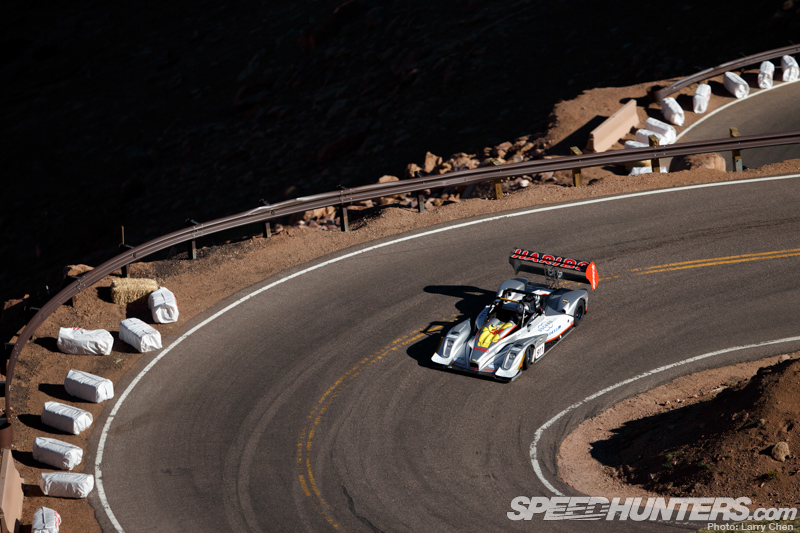 Last year the overall record just barely slipped out of Romain Dumas' hands to a drift car running in the Time Attack class.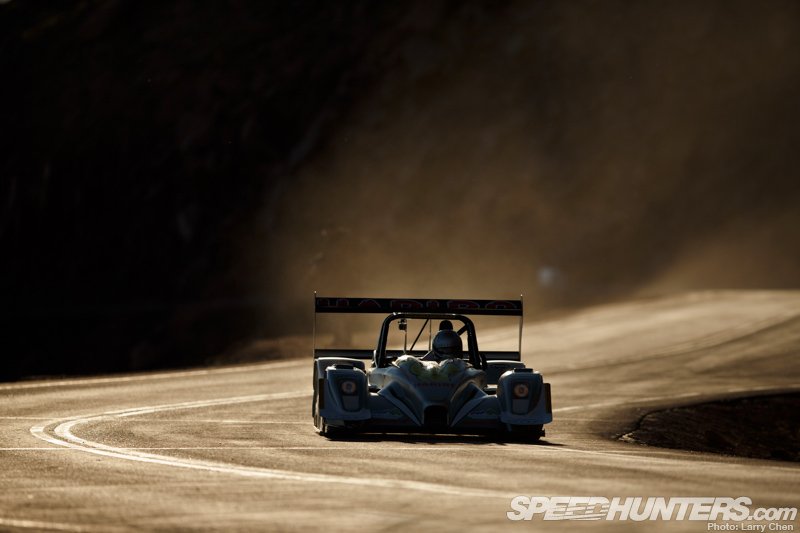 This year he brought out the big guns in the form of a Norma M20FC PP entered in Unlimited Class.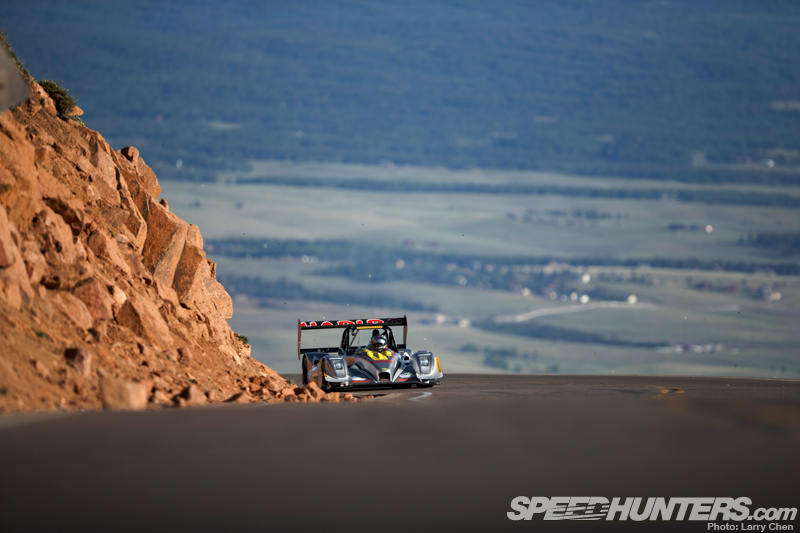 Unfortunately for him he ran the 24 hours of LeMans the weekend before which meant he did not have as much testing time as Loeb.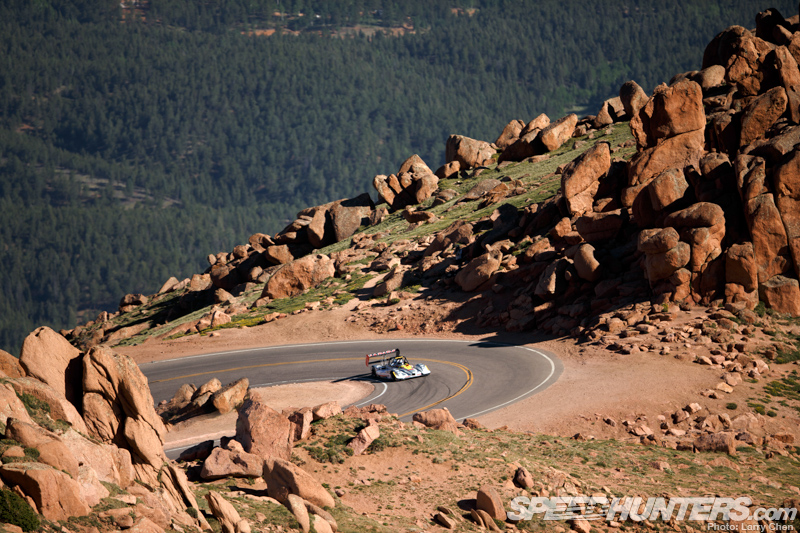 The car shut down due to an electrical failure shortly after leaving the starting line and was not able to make a run up the summit during race day.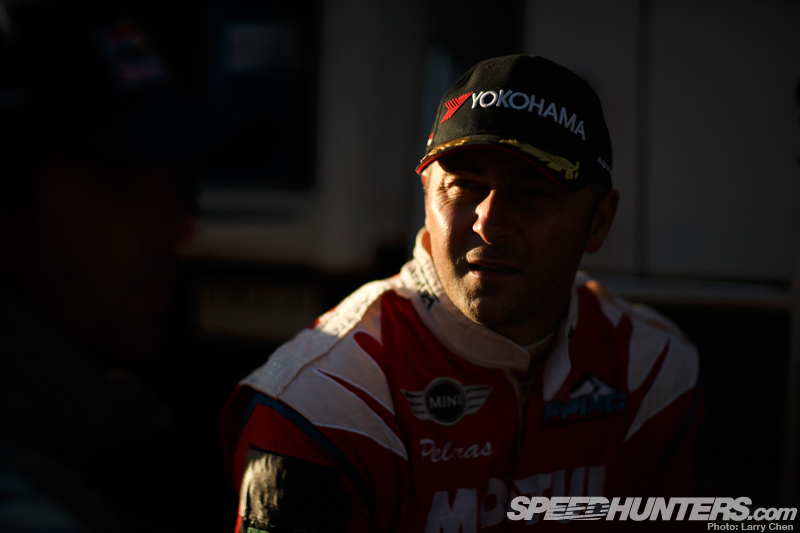 One of my favorite cars that previously ran in the Unlimited class was a Dacia Duster piloted by the French driver, Jean-Philippe Dayraut.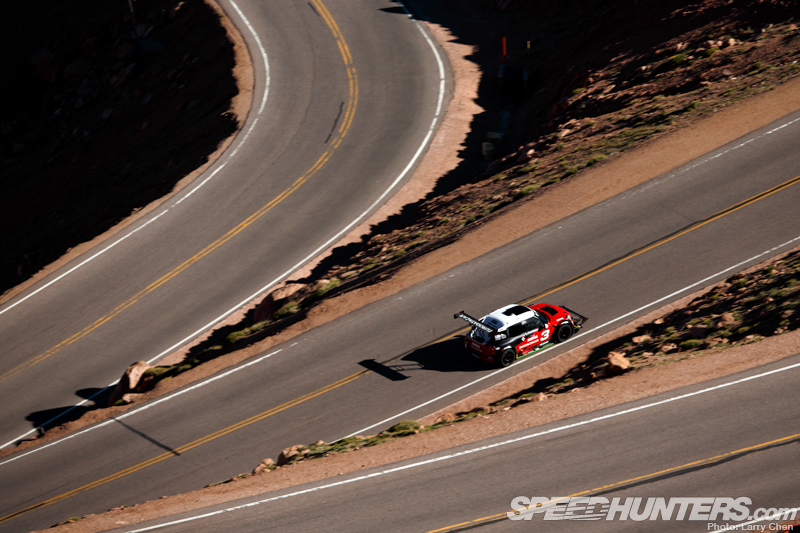 He had a brake failure last year in the Duster, but now he's back in a 912 horsepower Mini Countryman.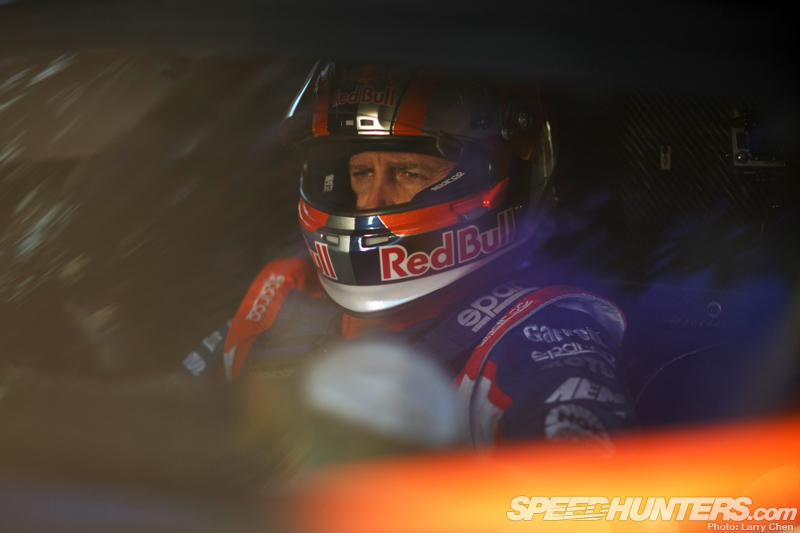 Rhys Millen had also come back to defend his title, with a meager budget and very little factory backing from his sponsors.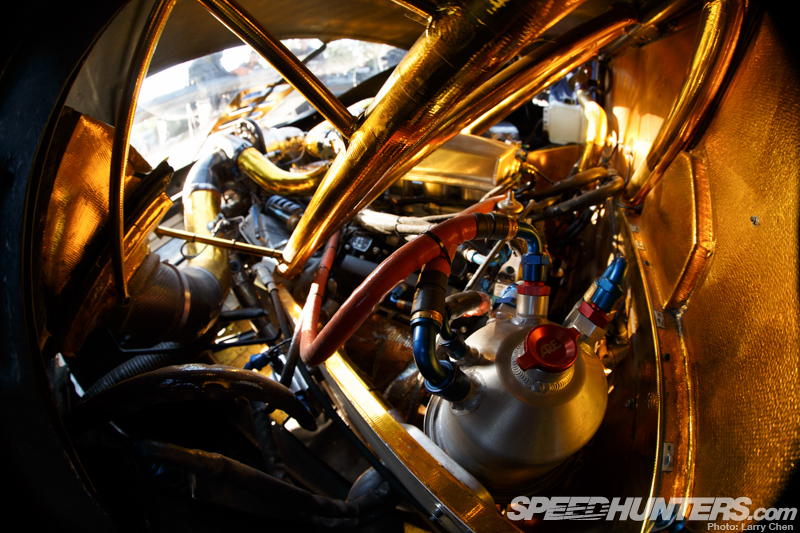 Rhys is not competing in Formula Drift anymore, but instead he's spending his time driving in movies and commercials, and when he's not doing that he's been building his Hyundai-powered Pikes Peak car.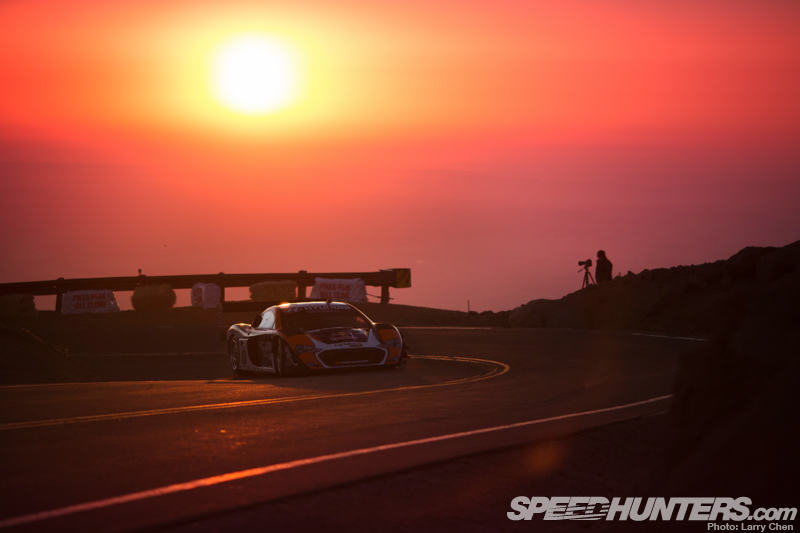 Even though he didn't get the overall win this time, he still bettered his old time by 45 seconds and on top of that his car is the fastest two-wheel drive car to ever go up Pikes Peak.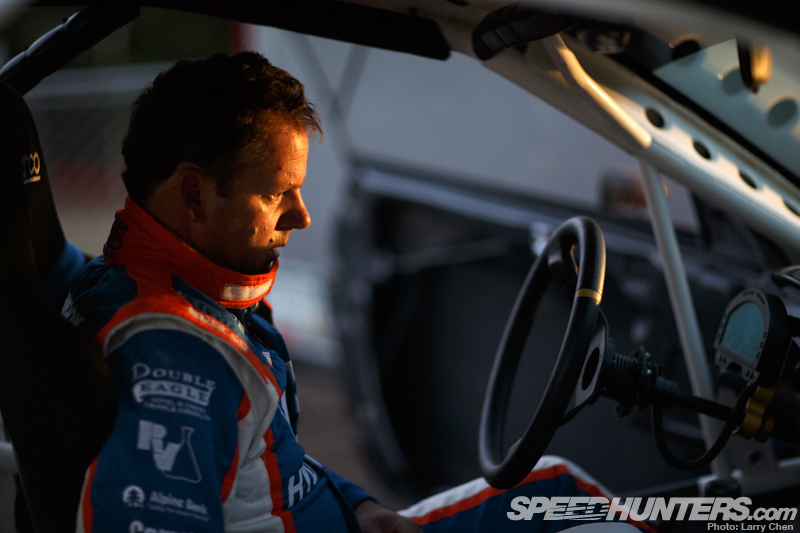 The car that Rhys used to break the overall record last year was competing again, but now with Paul Dallenbach behind the wheel.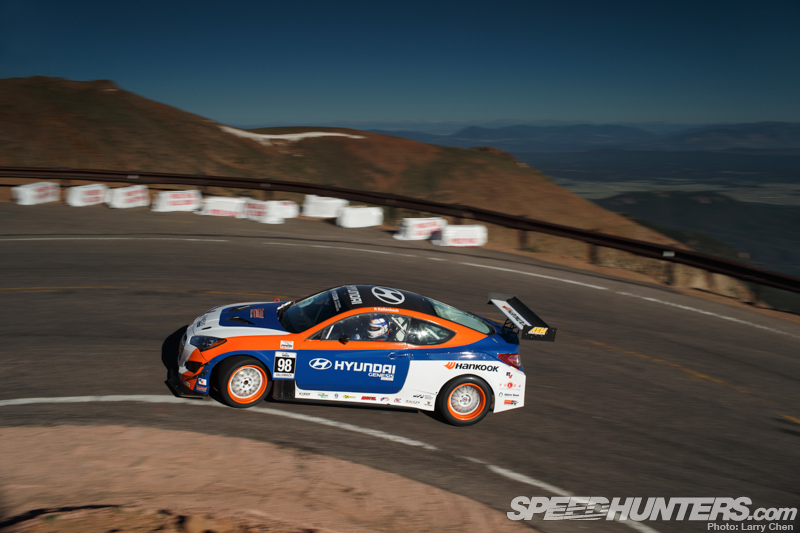 Paul was a favorite last year to win overall, but when his throttle stuck in his open-wheel car it put him into the trees. Paul took the Time Attack class this year by seven and a half seconds with a 9:46.001.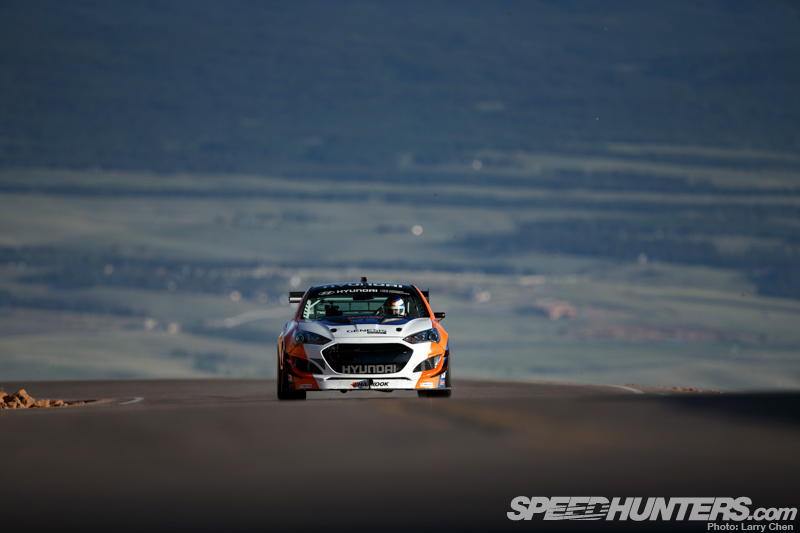 That put him ahead of Rhys Millen's 2012 time by a little over a tenth of a second, but his run was mostly in the dry.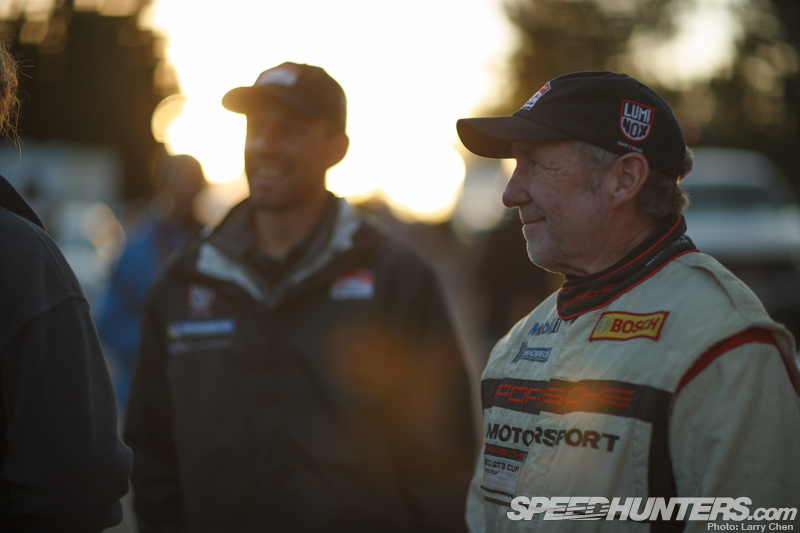 Last year was the first year that Pikes Peak was fully paved, and I was really looking forward to seeing what Jeff Zwart's Porsche GT2 RS could pull off, but he decided to skip a year.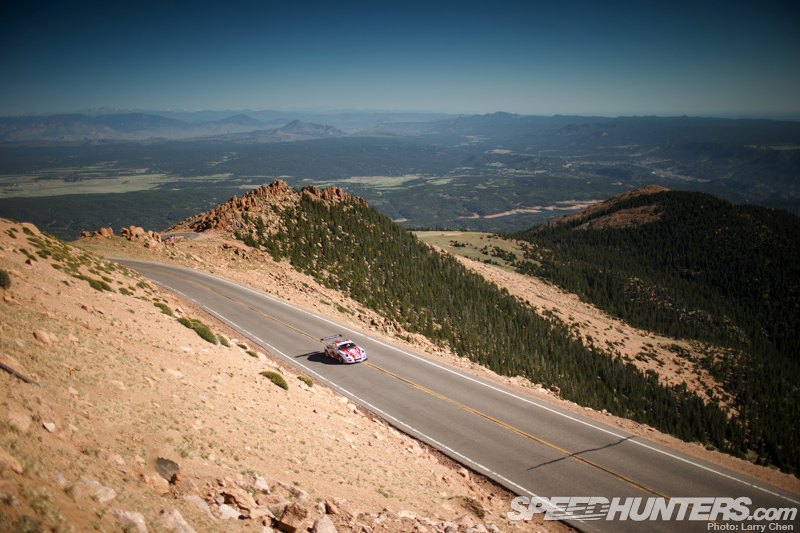 This year he brought out a monster 997 GT3 Cup car with the goal of smashing the time attack record. As always the weather during race day was very unpredictable, because it rained, hailed and snowed during Jeff's attack run. He still ended up getting third in class despite running in such horrible conditions.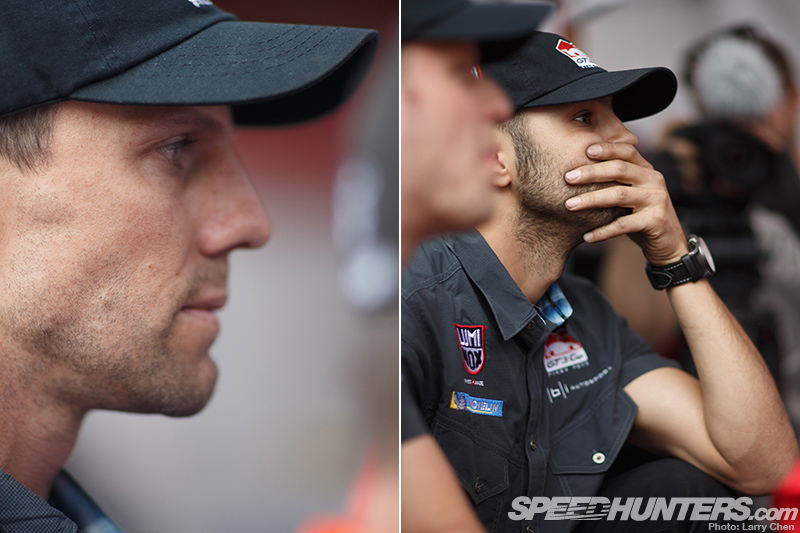 Joey Seely and Betim Berisha are the masterminds behind BBI Autosport. They built Jeff's Porsche in just a few months. I've never seen anyone watch a screen with moving numbers so intensely as these two. Hopefully we will see Jeff and the BBI team next year. Stay tuned for a full interview.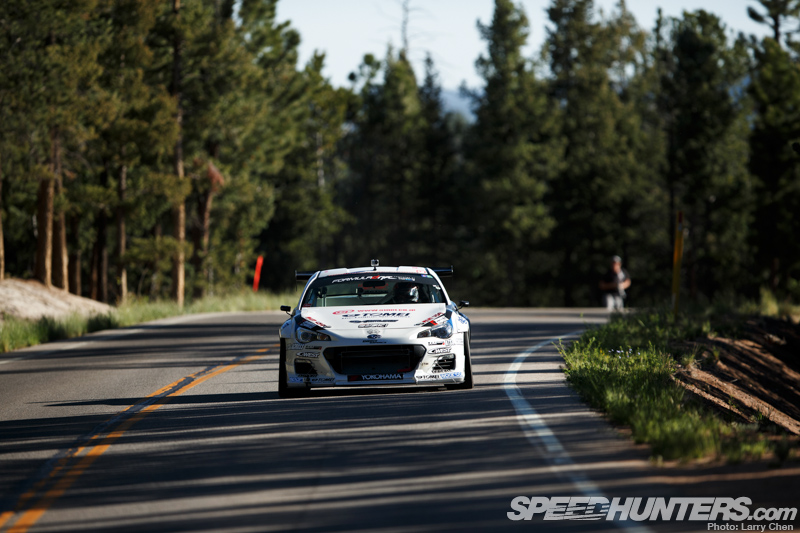 I really like seeing professional drifters competing at Pikes Peak – Toshiki Yoshioka is determined to be a force to be reckoned with in Time Attack class.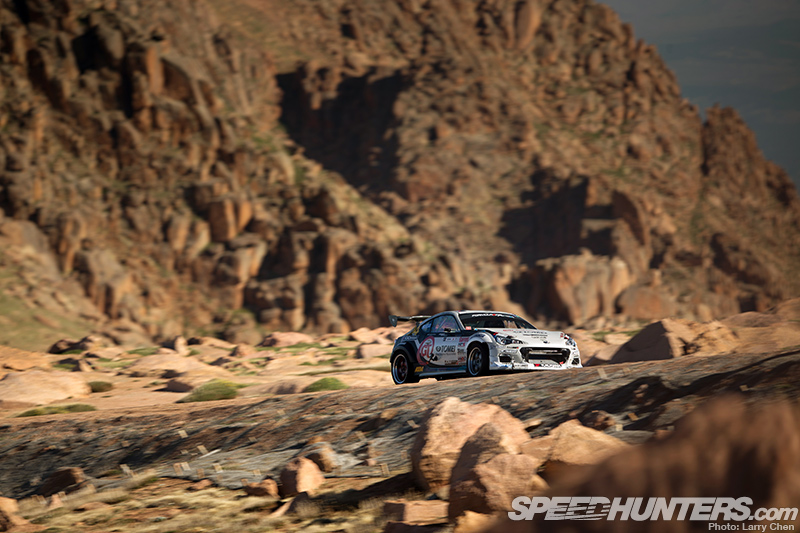 In fact he was a no show at Formula Drift New Jersey, because there was no way he could do both events as they were on back-to-back weekends.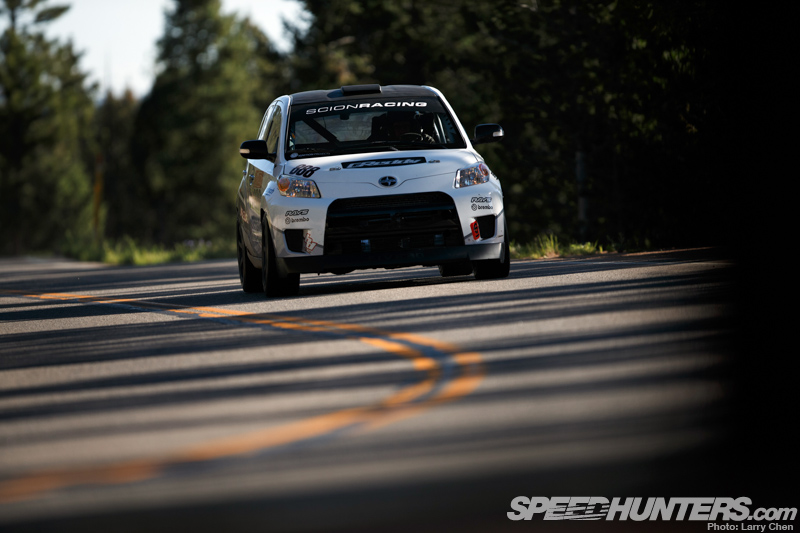 Last year I interviewed Andrew Comrie-Picard as it was his first year competing in Pikes Peak. This time he was back in the Scion xD, but this time the car has a lot more power and ACP has Pikes Peak experience. The problem is there is no separate class for front-wheel drive cars in Time Attack class, so he did not place very well (although there are rumors that next year there will be more classes that will cater to front-wheel drive cars).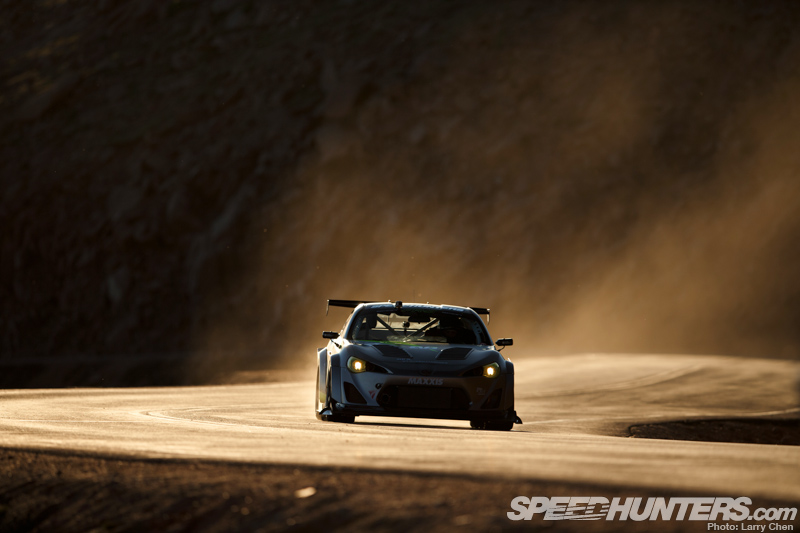 I think the Evasive Motorsports' Scion FR-S is one of the best looking Time Attack cars on the mountain.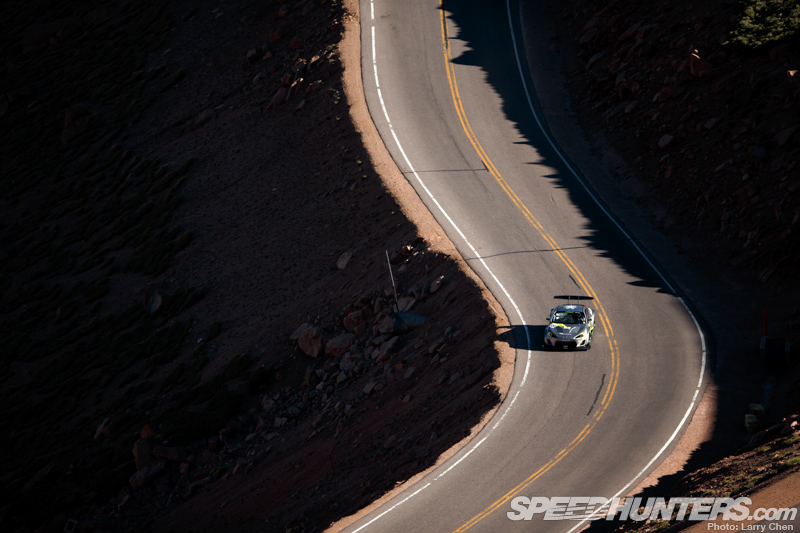 Unfortunately for them they were bumped into Unlimited class due to some aero modifications. I guess it worked out in the end because most of Time Attack class had to run in the wet.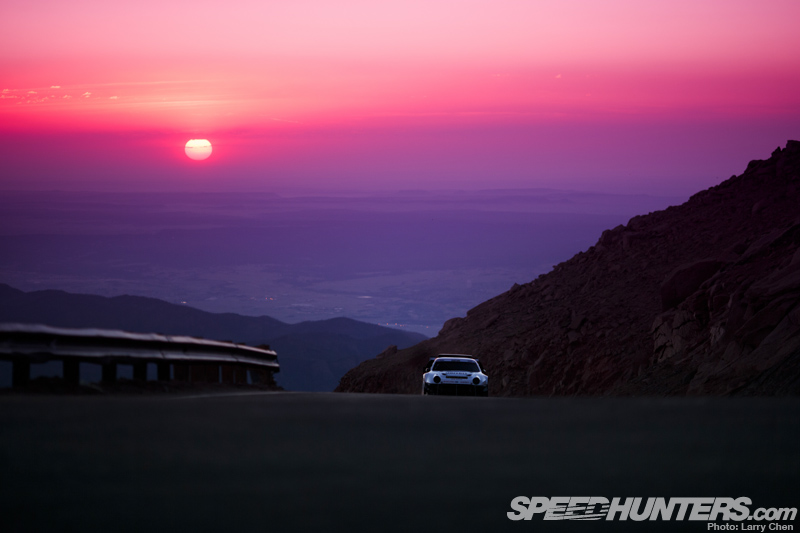 Because the race is on a public road, practice is only for three hours each day, from 5am to 8am.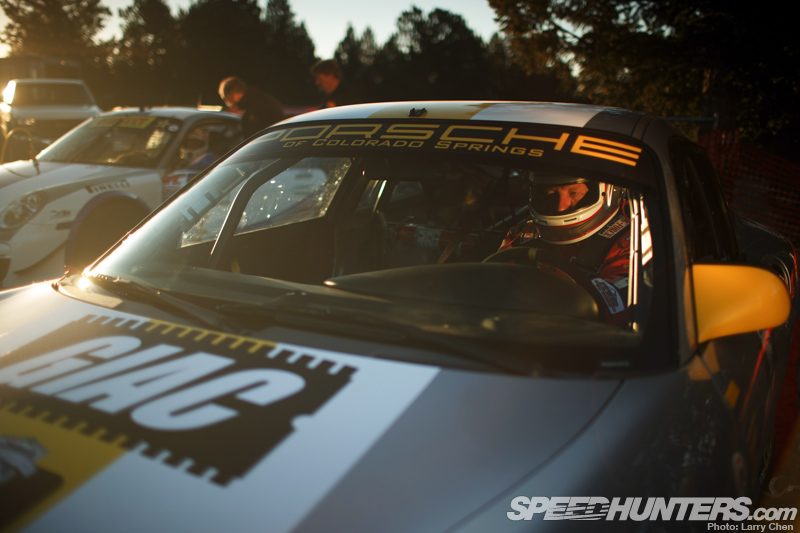 Due to the amount of cars, you're lucky if you get in more than three runs per day.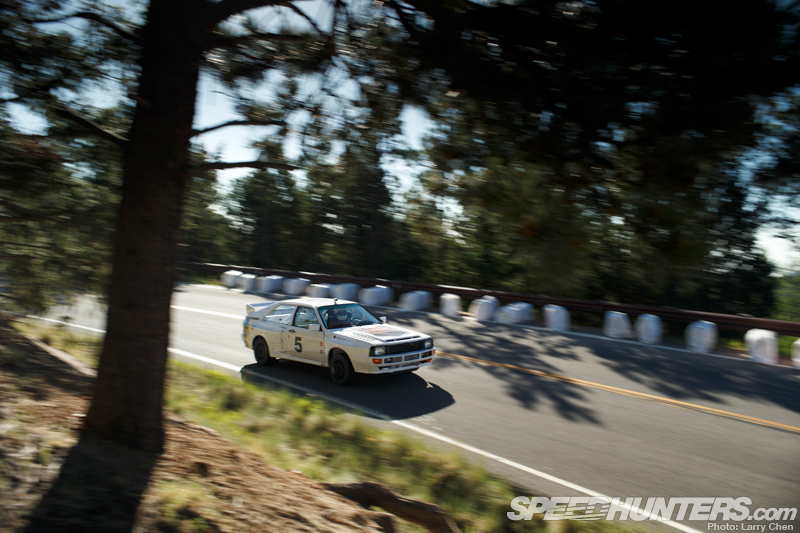 I always say that I love professional drifting because of the variety of cars – well it's the same with Pikes Peak. You get old school Audi quattros…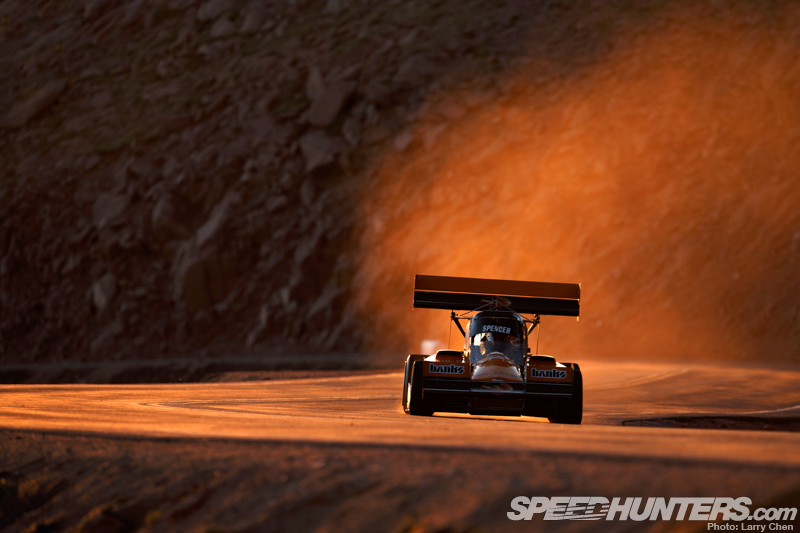 … running in the same race as crazy open-wheel cars. Just check out how much dust these guys kick up.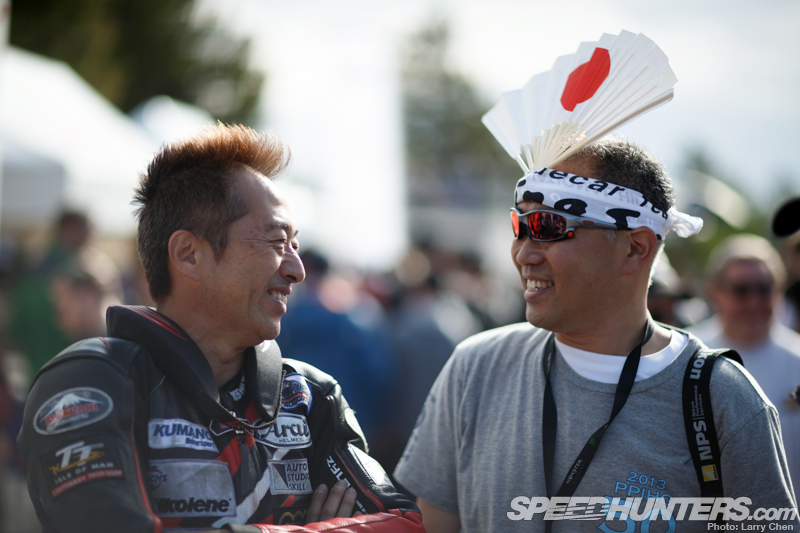 It really is an international affair as many teams come from all over the world to compete in the historic race.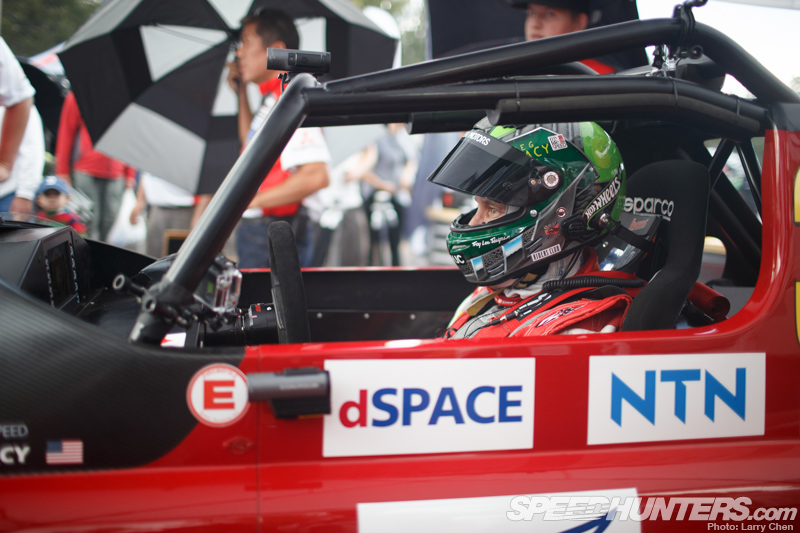 The race week goes by quite slowly, but race day is especially long. There are always many delays due to red flags.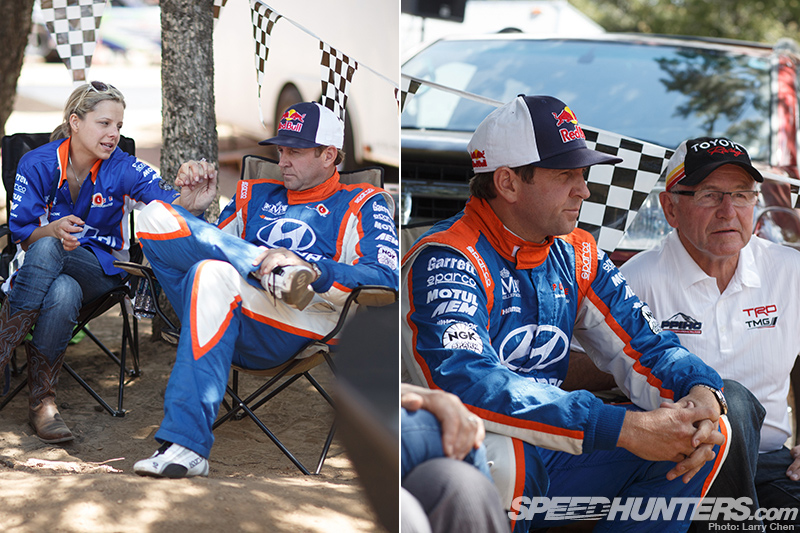 Rhys does not seem to get nervous, as he has a great family to support him, but he gets into this mindset every time he is about to take the plunge.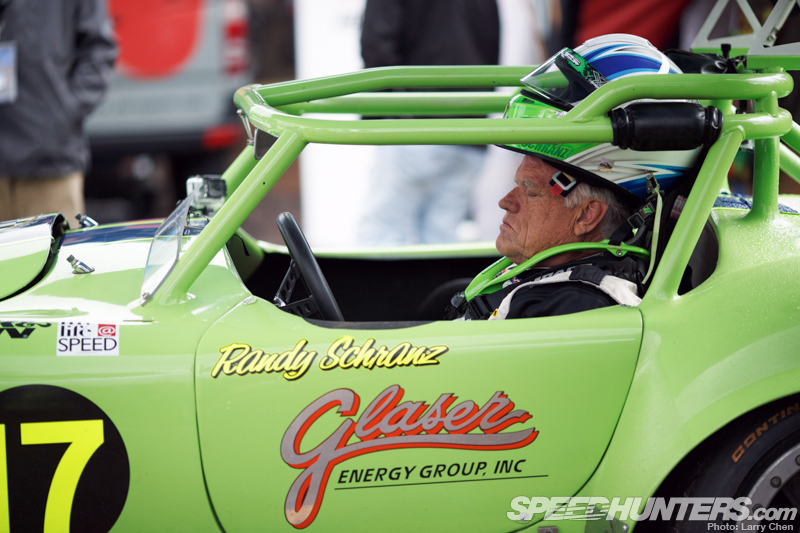 The delays get so bad sometimes that it's not uncommon to take a nap while on grid.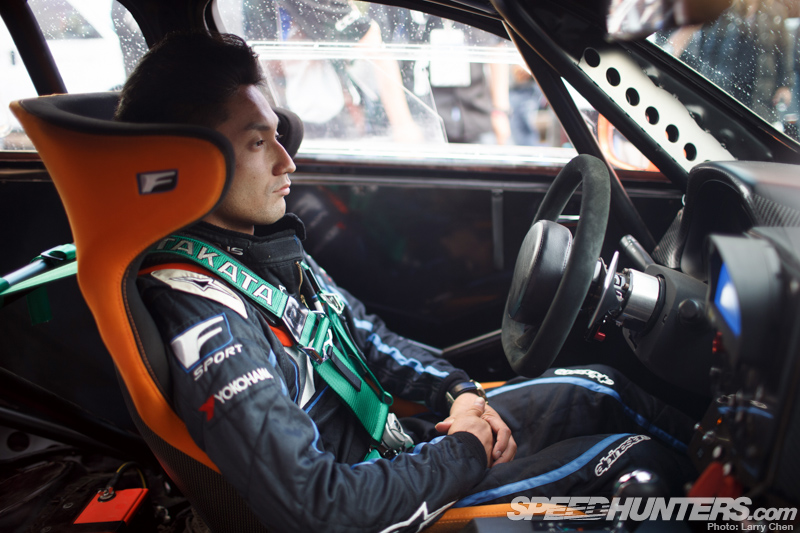 This was Ken Gushi's second time competing in Exhibition class with a Lexus IS-F. I'm curious to see how he would do with a more competitive car in Time Attack class.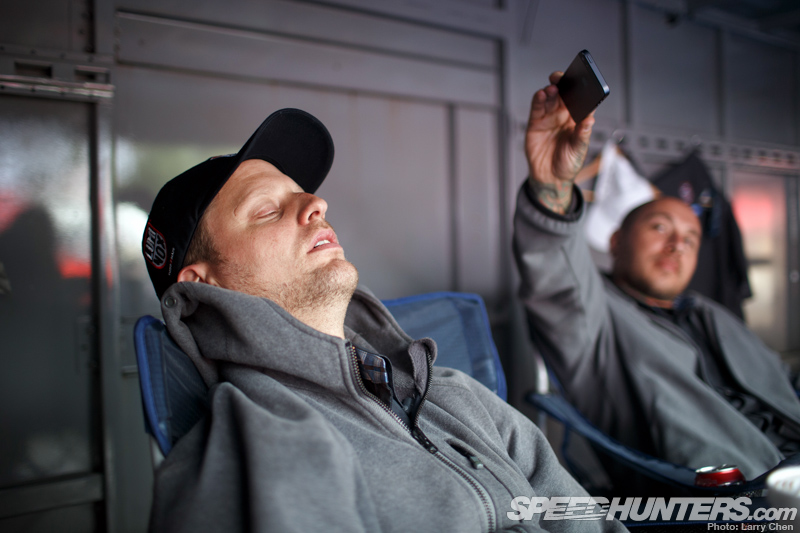 Just looking at other people sleep makes me want to shut my eyes for just a few minutes, but Speedhunters don't get to sleep. EVER!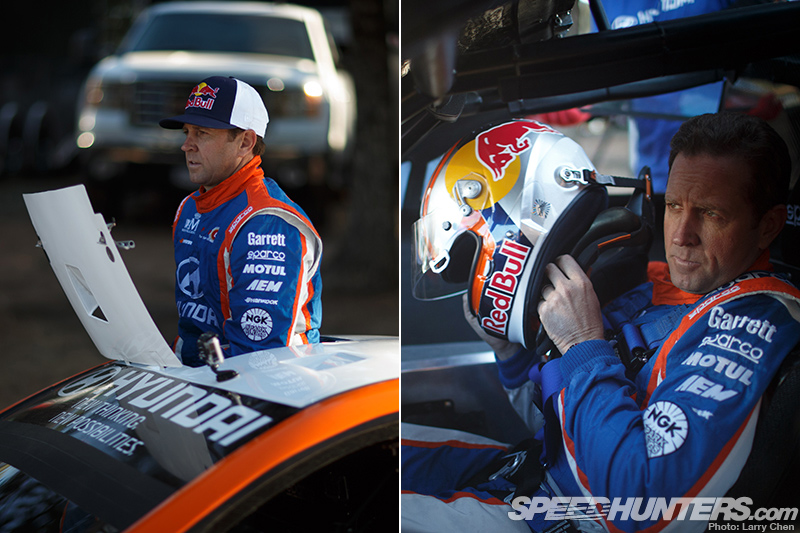 When it was time for Rhys to run he popped into his hatch like a gopher and strapped in for action.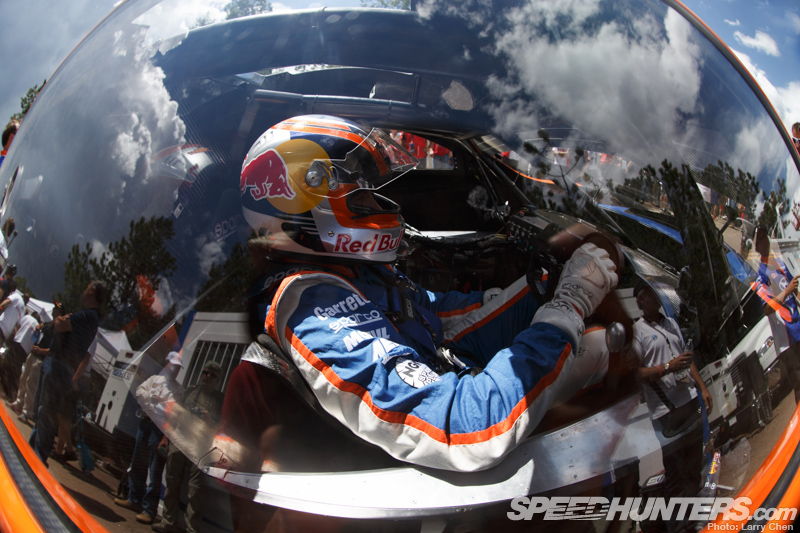 At this point Loeb and Dumas were already off the line. No word about their times yet, but it doesn't really matter as Rhys was just going to tackle that mountain the only way he knew how.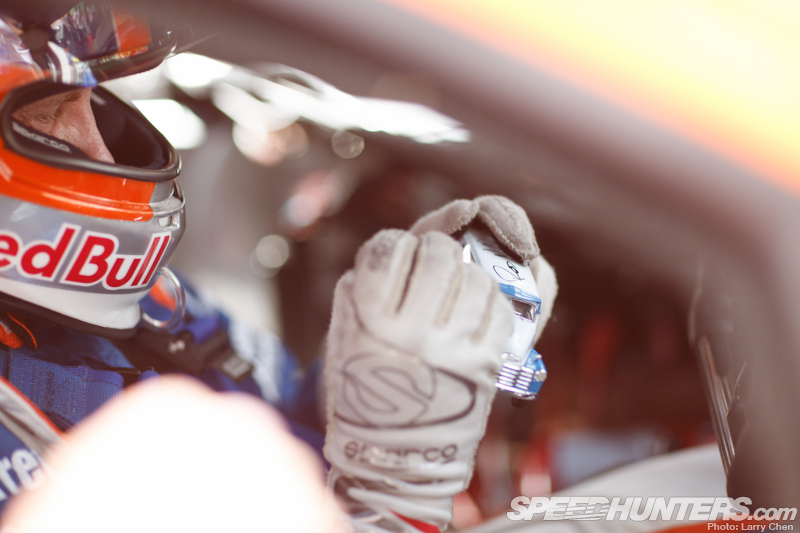 Even on the starting line he was signing autographs for fans.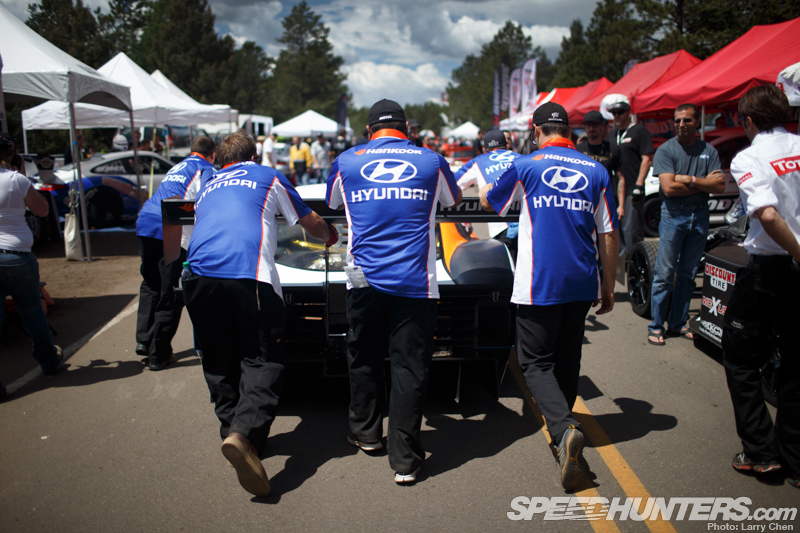 The team pushed the Hyundai-powered prototype to the starting line.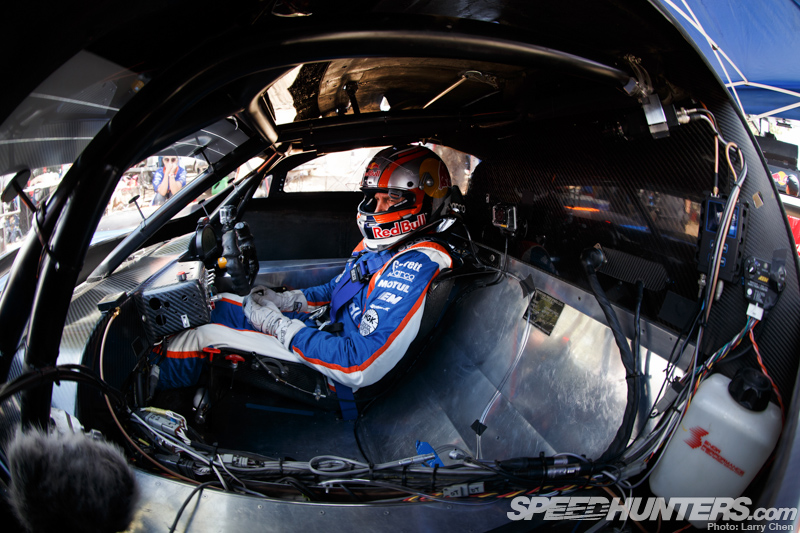 News came in about Loeb's 8 minute run, but news also came in about Romain Dumas not making it to the top.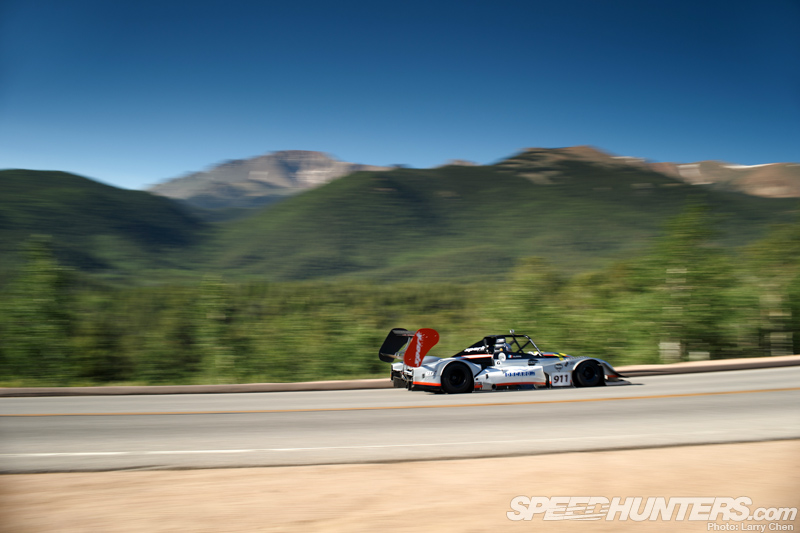 It was still up in the air as to whether Romain had really had an incident, as there were whispers in the paddock that it could have just been a crazed fan on the radio spreading rumors.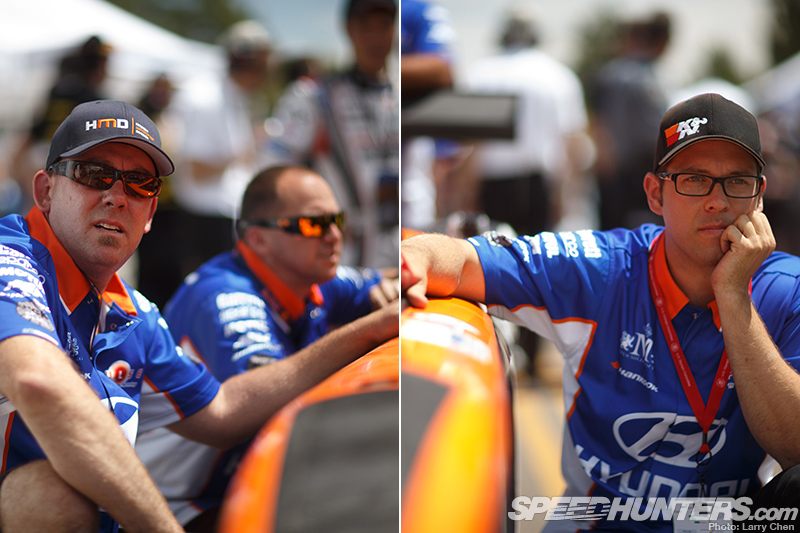 The team waited as the course was red flagged.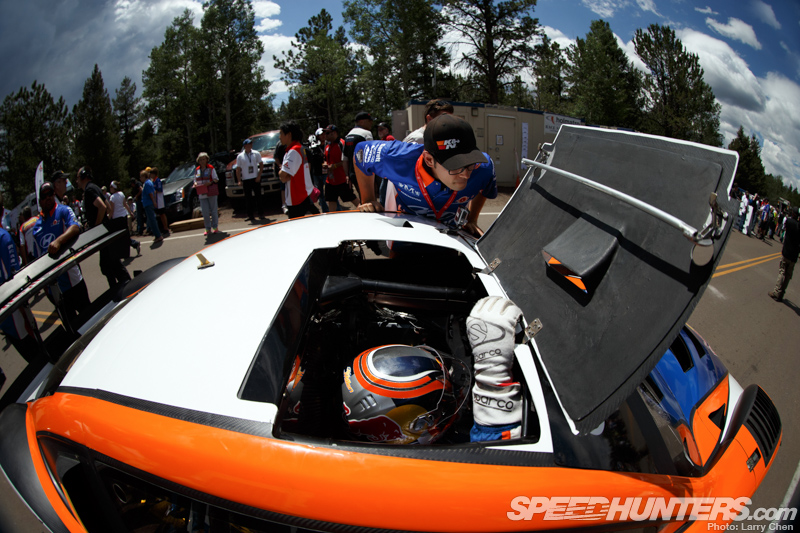 A few minutes went by and there was Romain Dumas getting towed by a safety truck back down the mountain through the paddock. It was go time for Rhys and he knew he had second place in the bag.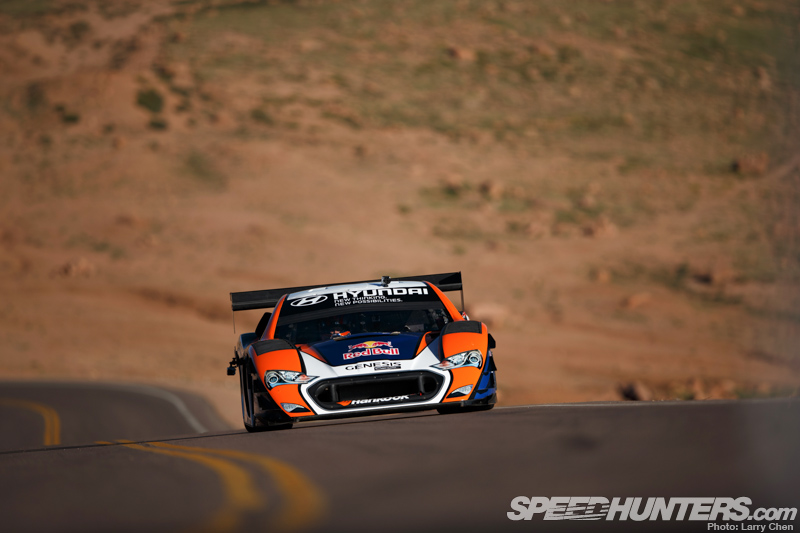 Rhys went for a conservative run as he was pretty much guaranteed a second place overall, but after he found out his time he probably kicked himself for not pushing himself just a smidge more to get into the coveted 8 minute mark.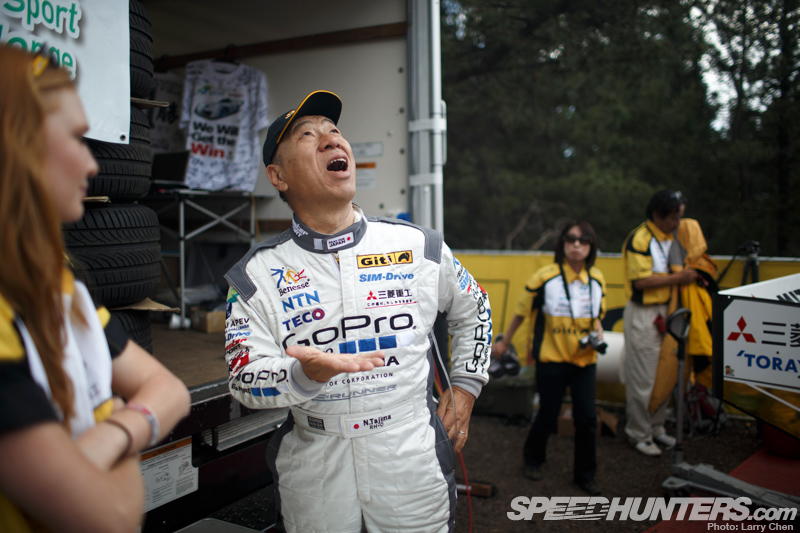 After the Unlimited cars were all up on the summit, it was time for the electric cars to make the trek, but the skies opened up. I heard Nobuhiro 'Monster' Tajima mutter something under his breath about "not this year…"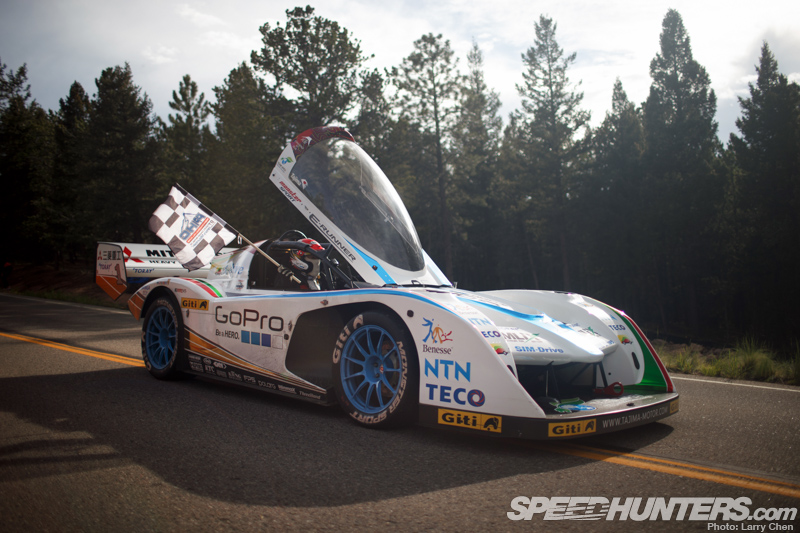 But it was his year. He won the Electric class and he was the only one to run under ten minutes with a time of 9:46.530. Just a hair shy of Rhys Millen's record-breaking run last year, which means that if the e-runner did not catch on fire last year, then Tajima could have very well taken the overall record then. On top of that he ran his time this year in the wet with rain tires on.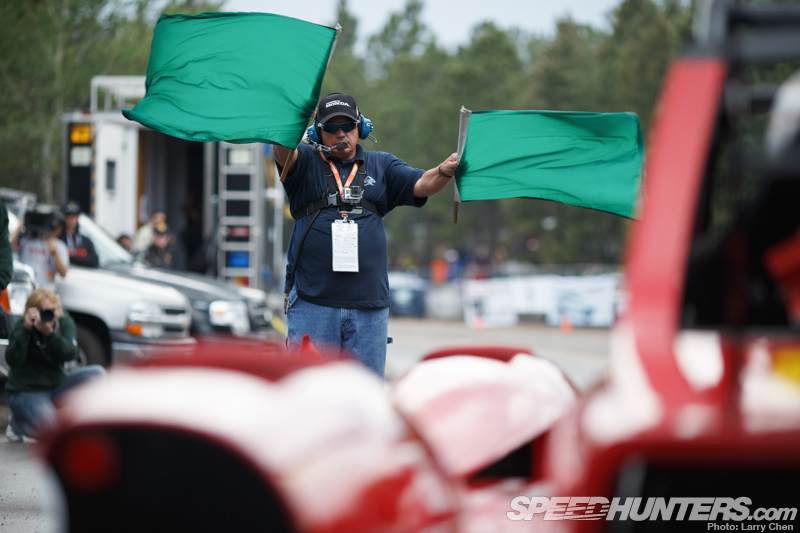 One big advantage the electric cars have over the combustion engines is the consistency in power from bottom to top. I'm sure there's a slight loss of power due to the batteries draining, but I'm sure by now they've managed to figure out a way to keep it consistent.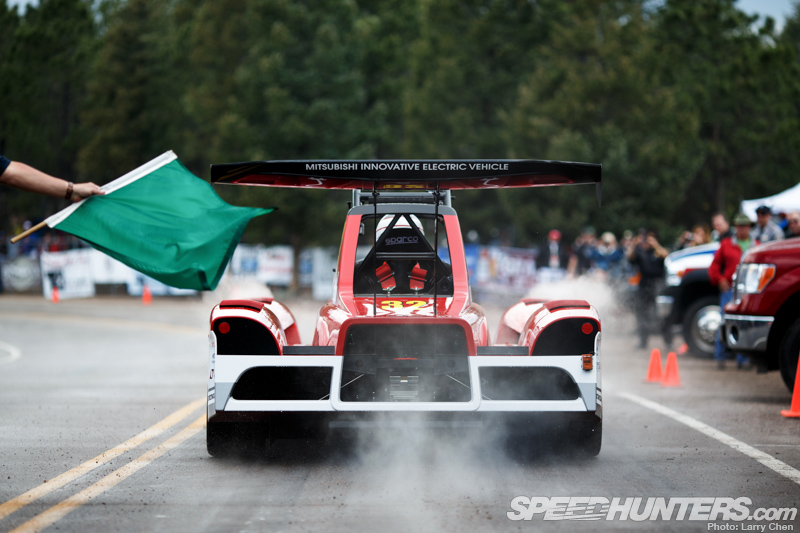 Of course there's the instant torque off the line as most of the electric cars did some very quiet burnouts when the green flag dropped.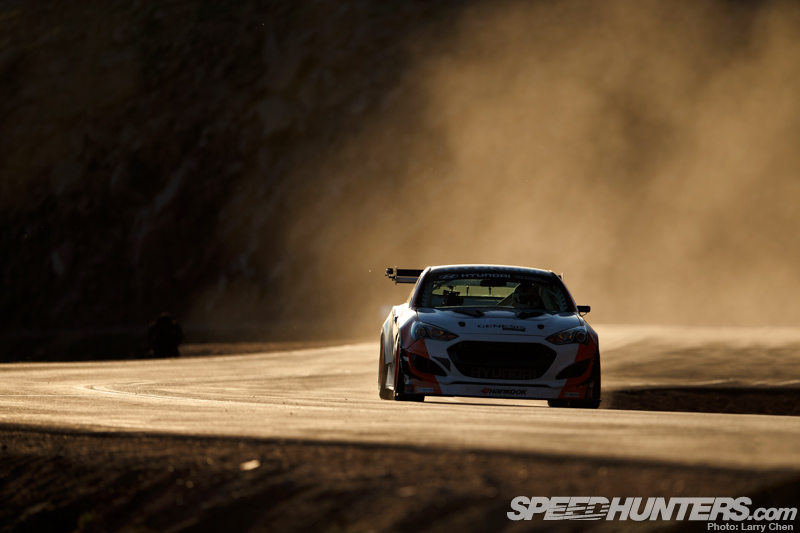 There were a total of 20 cars in Time Attack class this year. This was the most popular class and once again it was dominated by a Hyundai Genesis.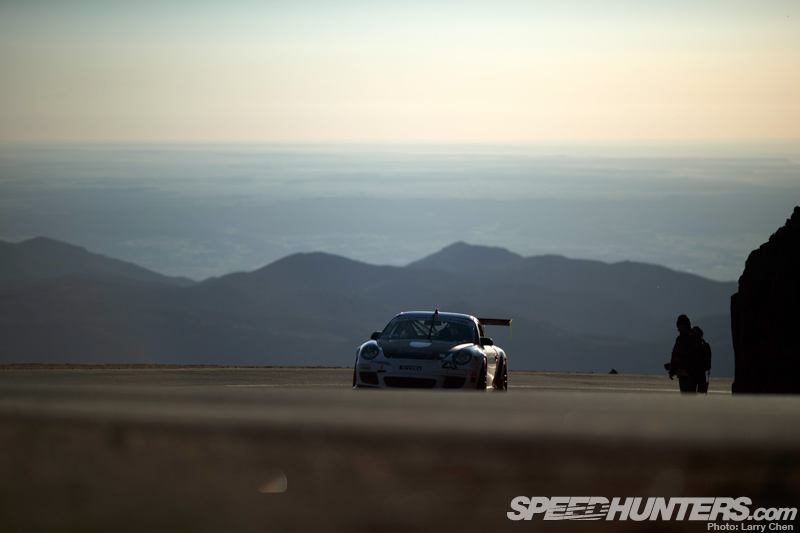 There are so many people who hate the fact that Pikes Peak is now completely paved, but I welcomed it with open arms, as it opens the race up to a completely different crowd of racers.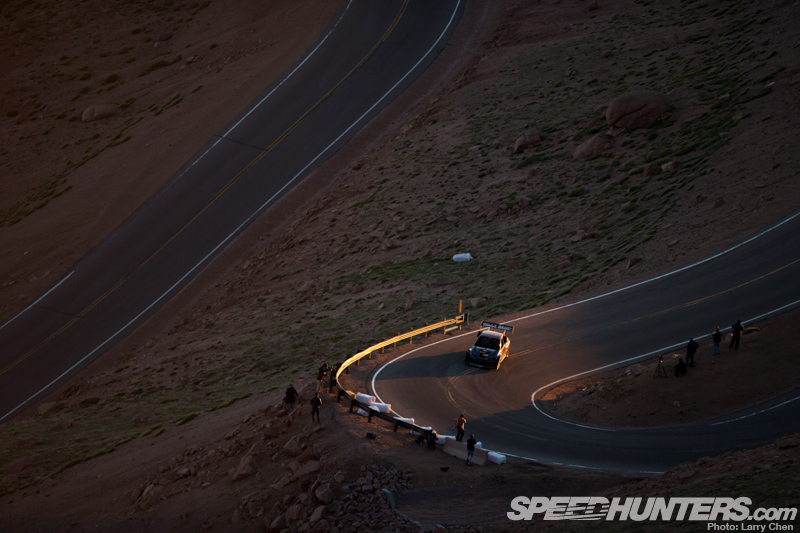 Who knows, maybe the NEMO Racing Evo will make the trip across the pond one day to compete in Time Attack Class.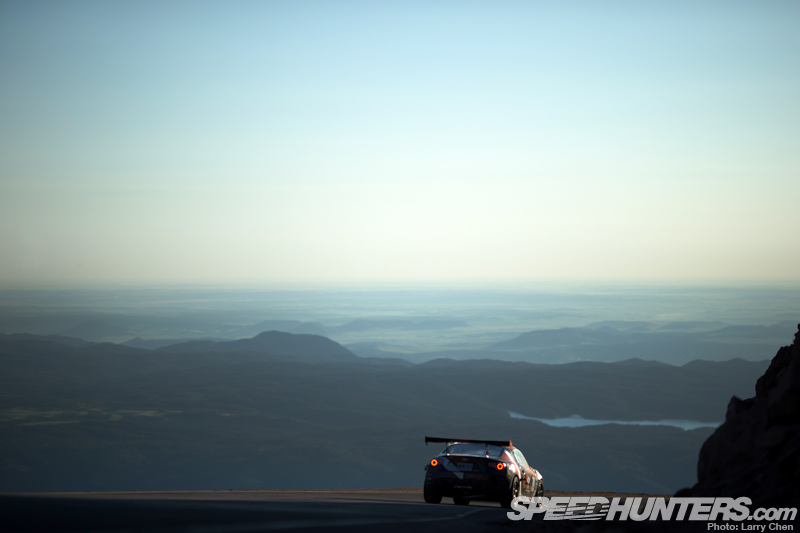 No matter how practice went during the week, anything can happen during race day. Look at what happened last year. There was no way Rhys Millen could have known that he was battling for the overall win let alone the course record.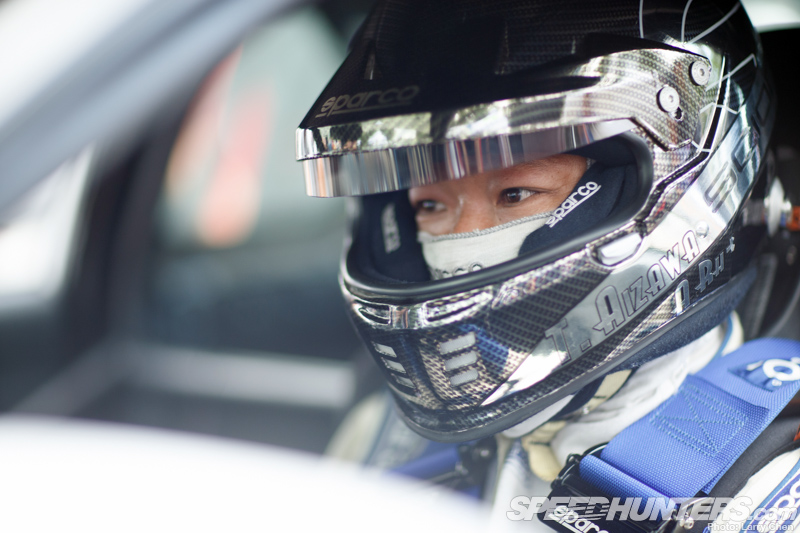 It just goes to show that no matter how many times you drive up that mountain, you can still get the jitters. This was Takeshi Aizawa's second year competing in Time Attack class in his Scion tC, but he was just as nervous as the first time.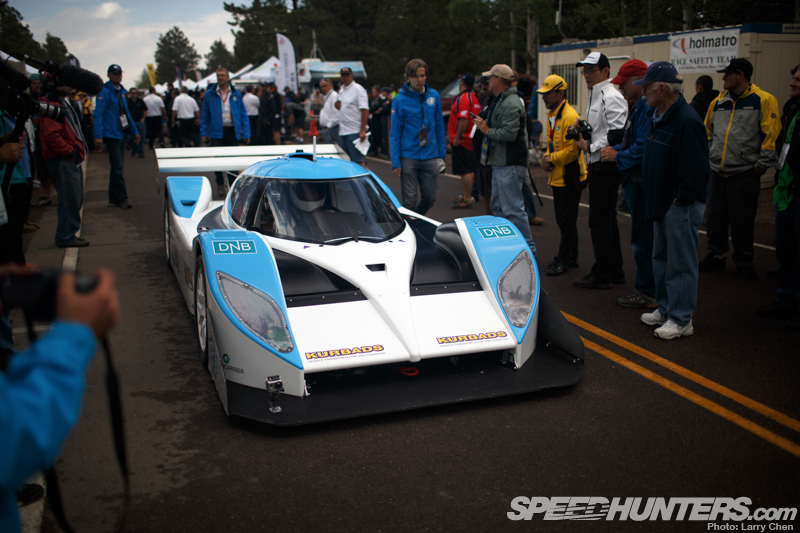 There were a fair share of red flags due to incidents on course including one that involved this really sleek-looking Electric class prototype.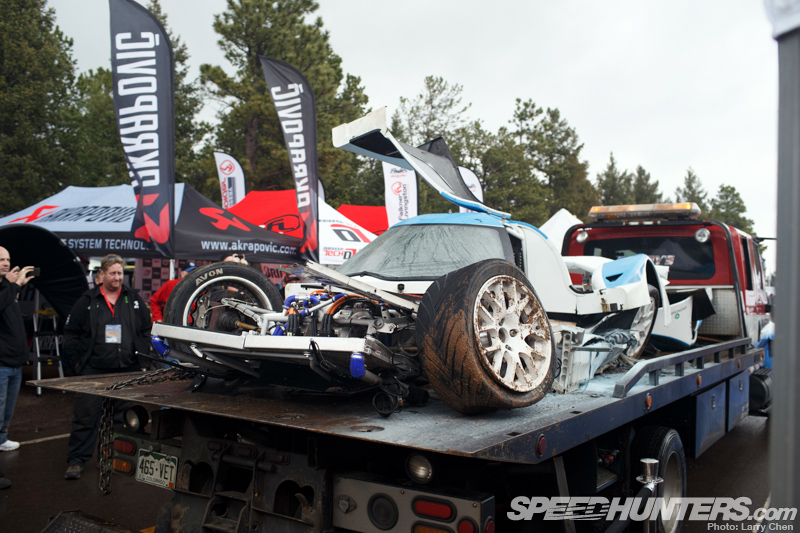 He went off just a few miles from the starting line, landing the car on its roof.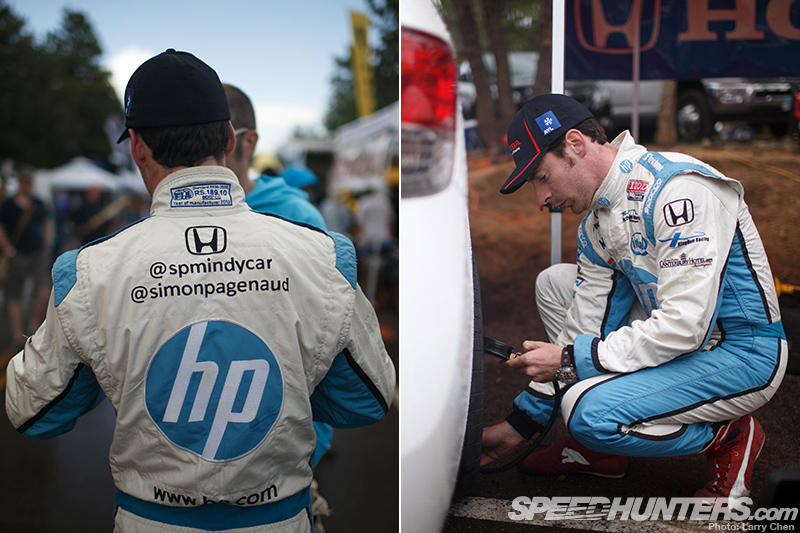 Honda thought it would be a great idea to invite one of their IndyCar drivers out to drive in Exhibition class.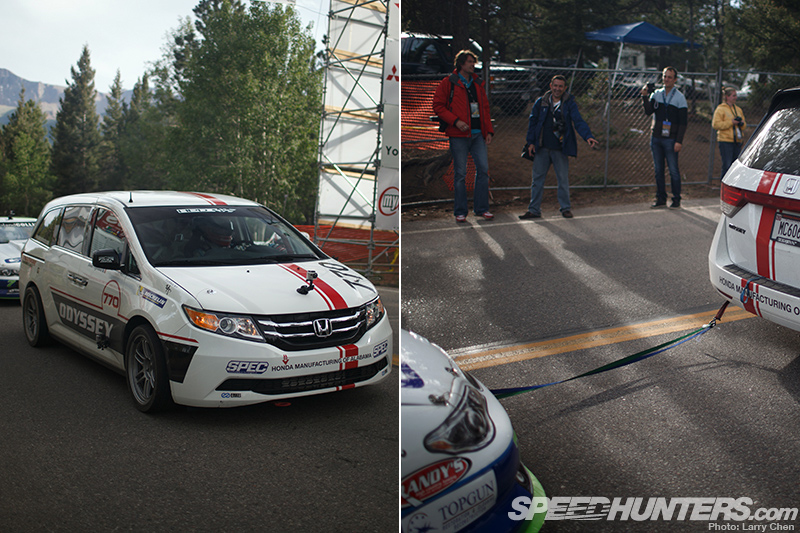 They gave him a turbo Honda Odyssey. What I thought was funny was on the way back down from the mountain, the 500 horsepower Odyssey was towing another car.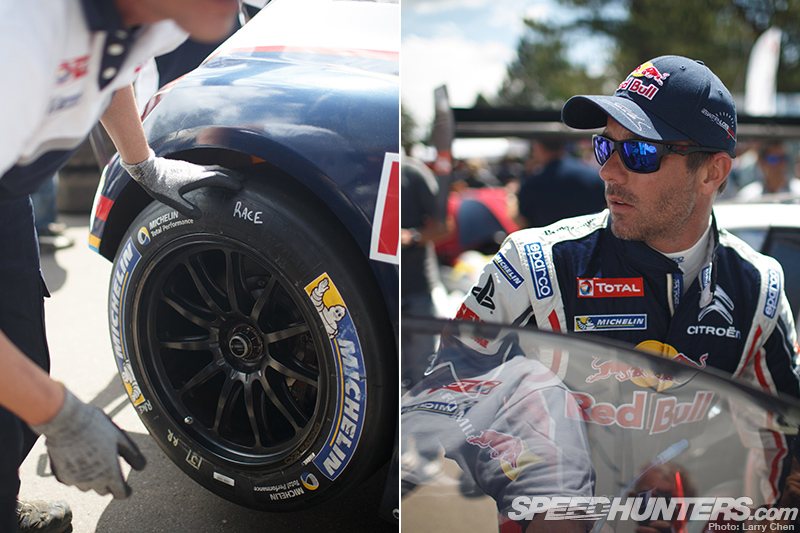 Sebastien Loeb's run was nothing short of amazing. It was a choreographed dance from beginning to end, starting with when the tires were unsheathed from their electric warmers.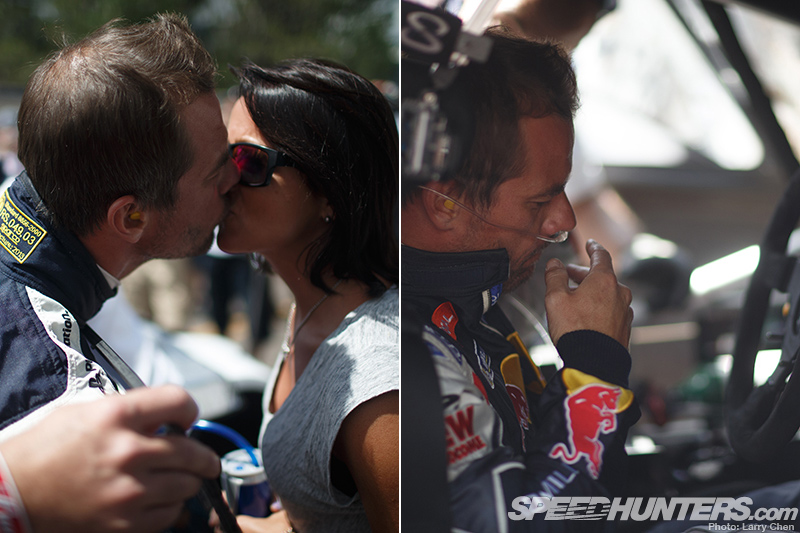 With a good luck kiss from his wife, Loeb quickly strapped in and connected his oxygen supply.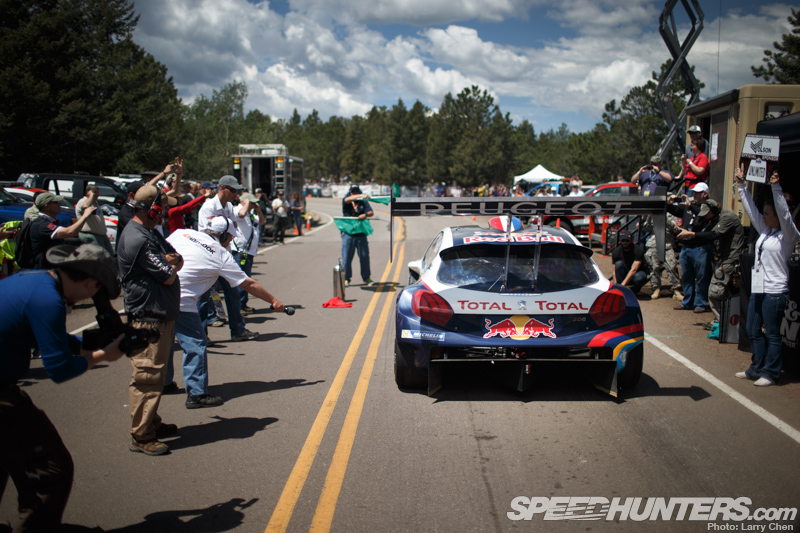 The anticipation was killing me. Loeb had not even taken off and I already wanted to know what his time could be. When the green flag dropped, Loeb let all four wheels spin and then he was gone.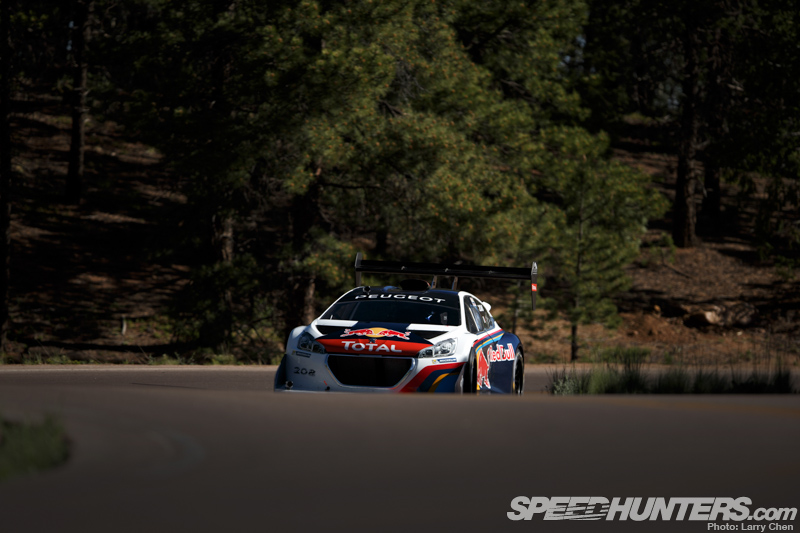 I always love saying this, but this time I really mean it: it's literally like watching him drive in fast forward. It's unreal. Watch the video footage to see what I mean!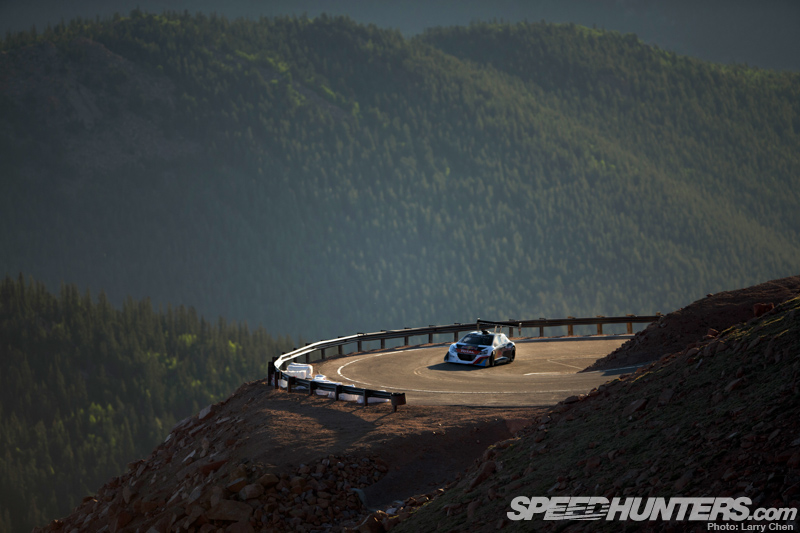 When he passes by you he displaces so much air its ridiculous. You just think to yourself that a car could not possibly move that quickly. It's like watching a remote control car that weighs nothing.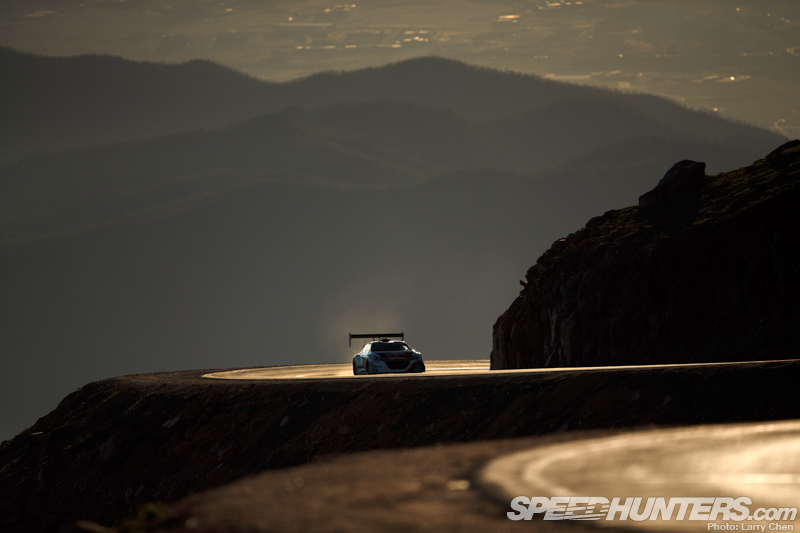 I saw people just standing in the paddock, frozen in disbelief when the news broke that he crossed the finish line in 8:13.878.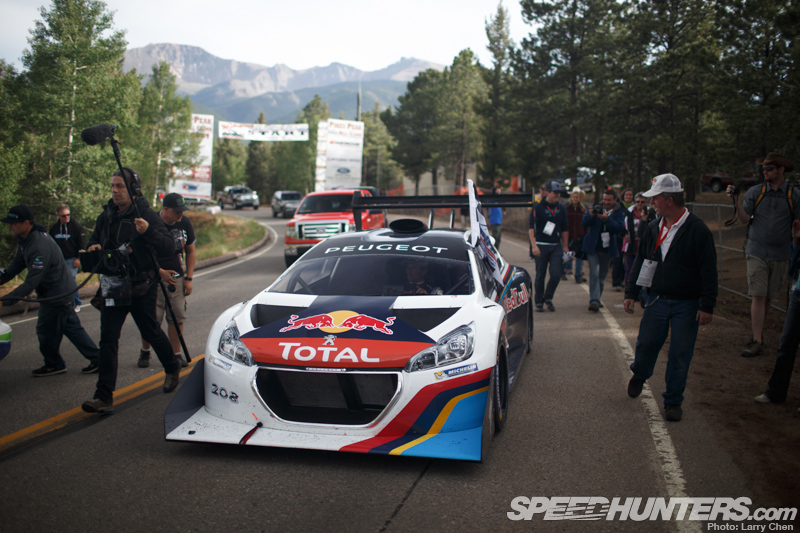 Crowds waited for him as he came back down the mountain. He waved to fans and well wishers.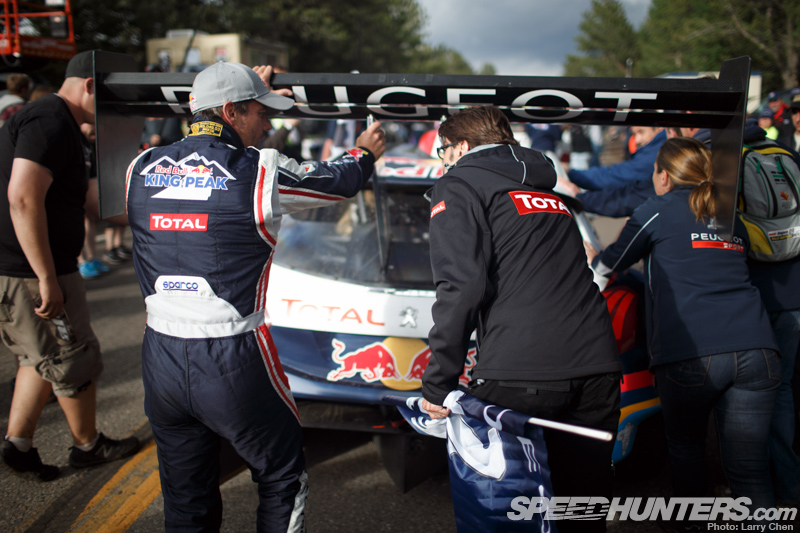 Maybe he ran out of fuel because he got out and started pushing. Then everyone pitched in and helped him push the car to the pits.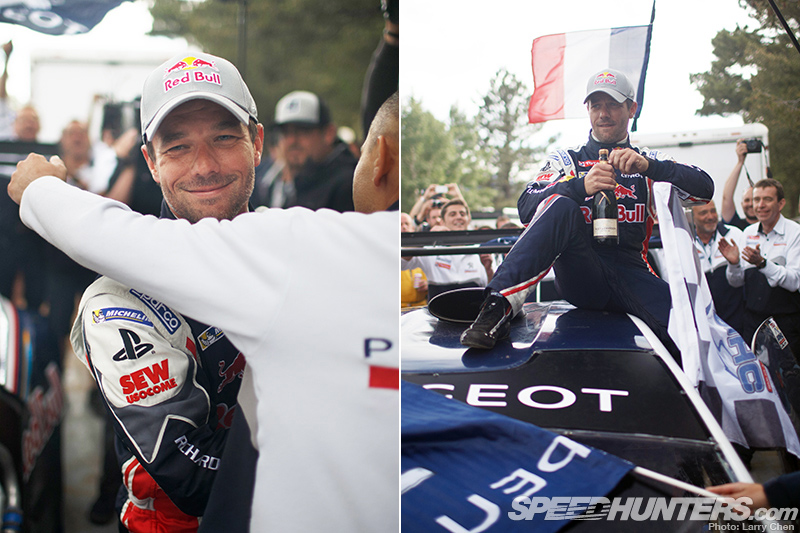 From the looks of it he was a happy man. He took his time and enjoyed one of his many moments in the spotlight.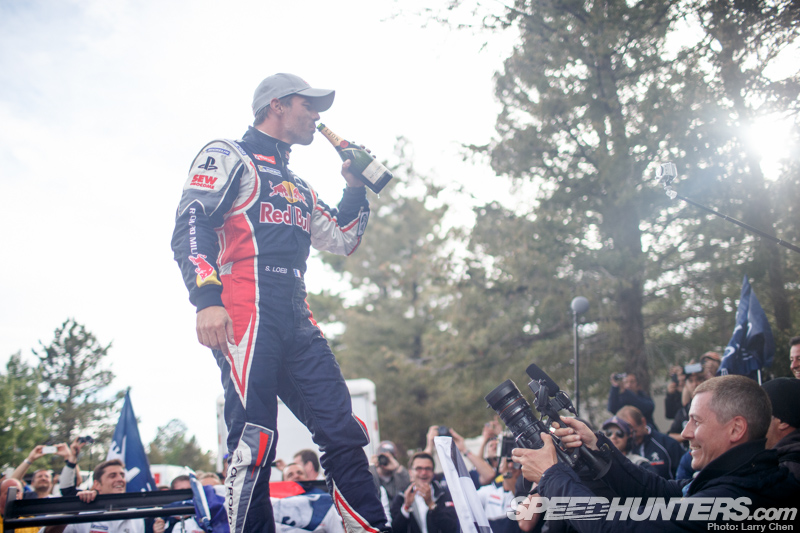 Congratulations to Sebastian Loeb and the Peugeot team for a job well done!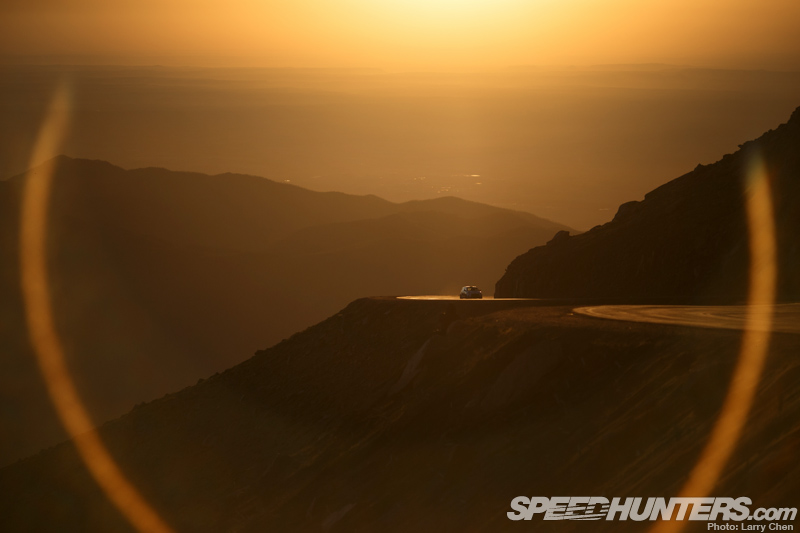 Just over the past few years I've seen this race grow exponentially. It's so crazy to think that in just a few short years this race will be running its 100th year. It's the second oldest race behind the Indianapolis 500.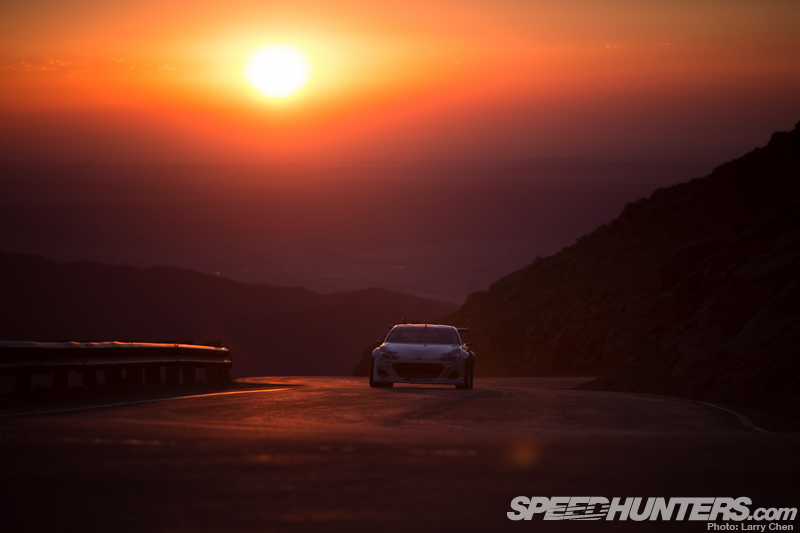 I look forward to all the new types of cars that I will get to see on the windy roads of Pikes Peak.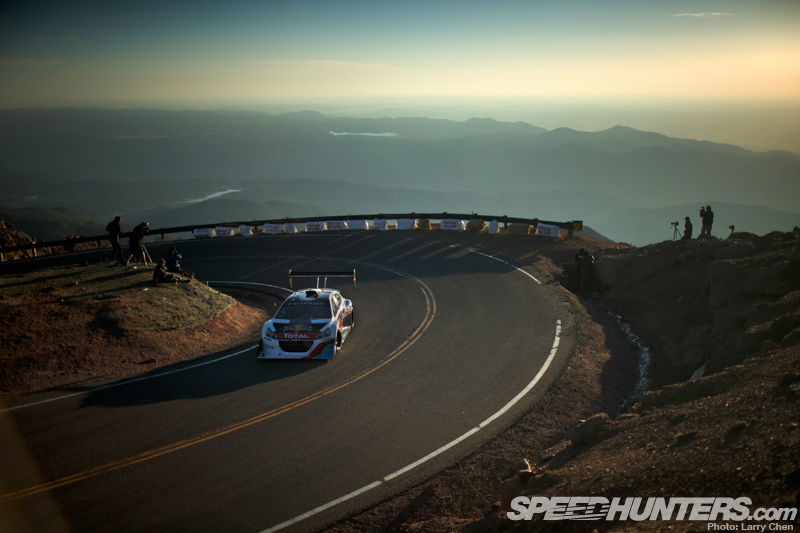 The first winner of the hill climb did it in the mid 16 minute range. It has taken over 90 years to cut that in half. I wonder what's next for this race. I have a feeling that when battery technology improves we will be seeing an electric versus combustion engine battle. Although perhaps it's already begun because for the first time ever the fastest motorcycle was electric.
Larry Chen
Instagram: larry_chen_foto
Email: larry@speedhunters.com
More Pikes Peak stories on Speedhunters
Video of Sébastien Loeb's record-breaking run