While those big race events and giant car shows are great, some times it's the smaller more relaxed events that are the most enjoyable, and that was certainly the case this past Saturday at the Gambino Kustoms Sit Down in San Jose, California. For me it was a much needed return to the hot rod and custom world and a fine way to spend a summer afternoon in Northern California.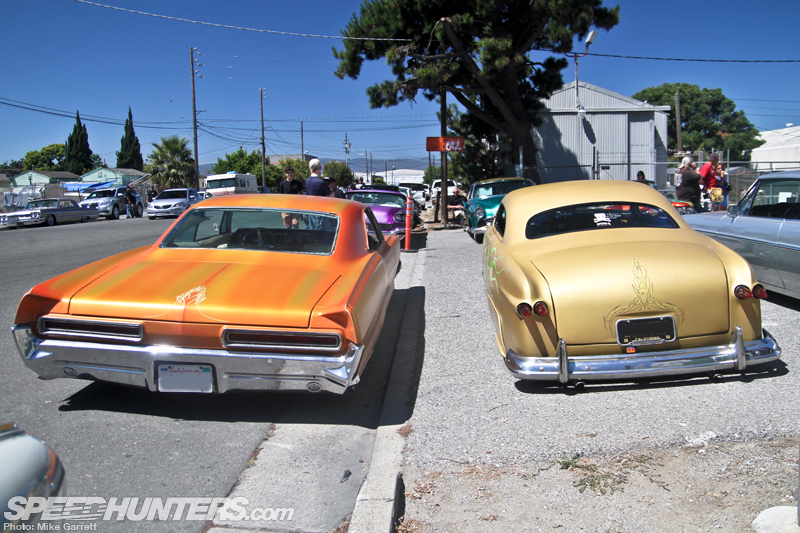 Gambino Kustoms is one of the Bay Area's most well known rod and custom shops, with a distinct appreciation for hot rodding's roots and traditional '50s and '60s style builds. Its motto: "chopping up cars is not a crime".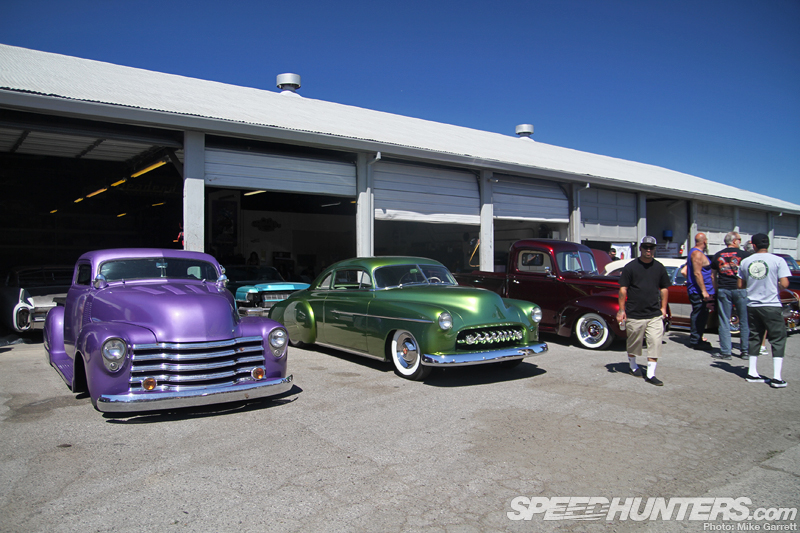 Seeing as the shop shares its name with the infamous crime family, The Sit Down is the perfect name for this annual gathering. It's one part car show and one part open house, but most of all it's a big party.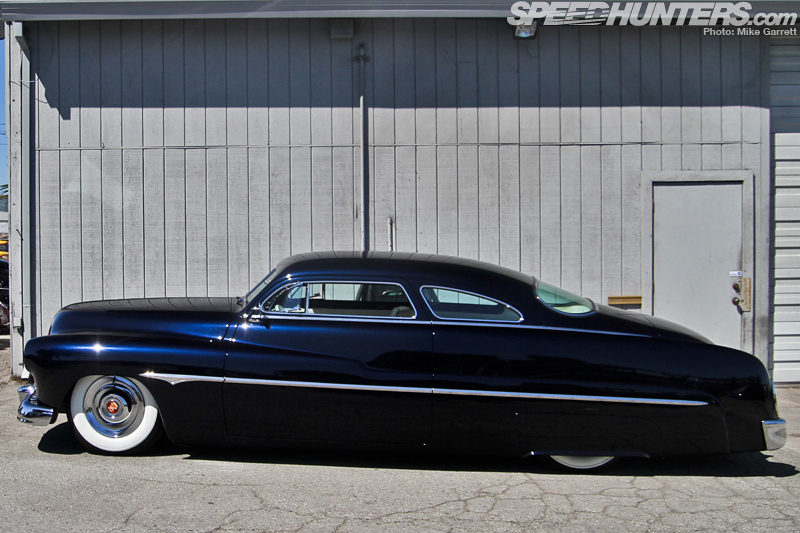 The event is free to attend and the area around the shop is filled with a selection of invited cars owned by customers and friends of the shop. In addition to the NorCal locals, there was a sizable contingent that made the trip up from the LA area…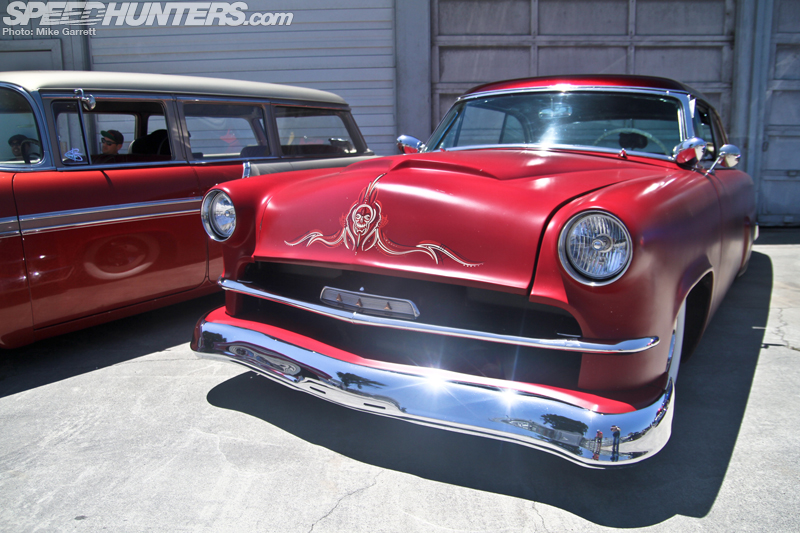 … including a bunch of the gang from the Autoholics Car Club and Starlite Rod & Kustom. What's better than a long road trip up the 101 with a group of badass traditional customs?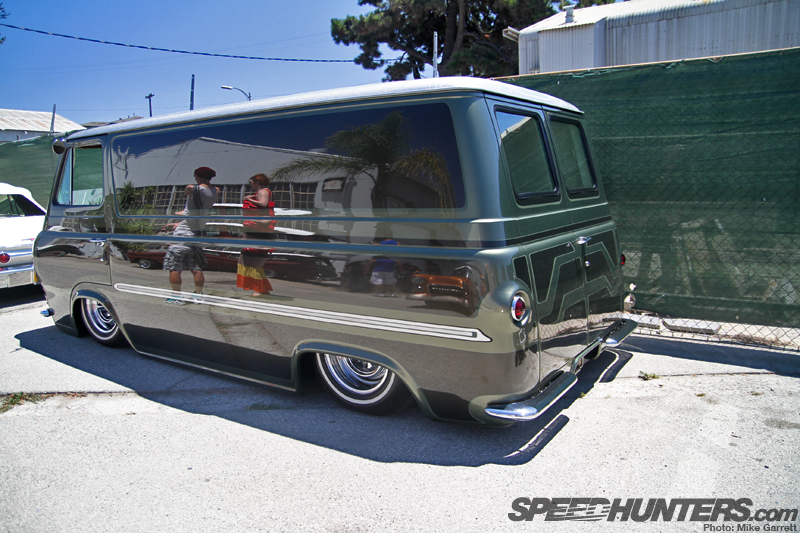 Also joining the caravan was Coby from Church Equipped in his Van Go Ford Econoline. Once the lenses of Larry Chen or Sean Klingelhoefer can get a hold of this thing we are planning a full feature. I can't wait!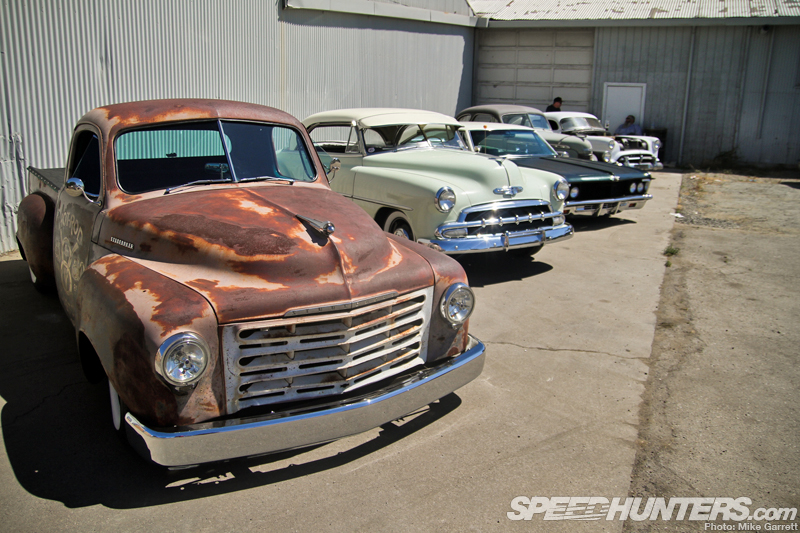 Elsewhere, the lot was full with all matter of traditional rods and customs, from modest daily drivers to full-on show machines.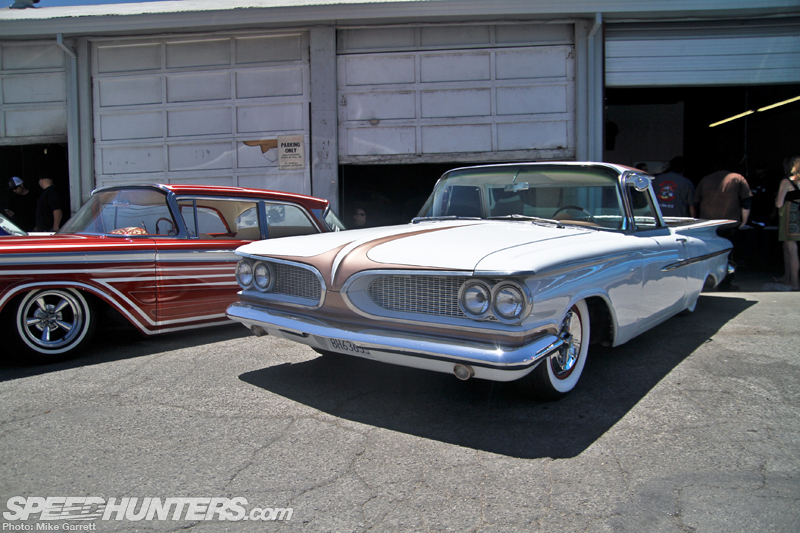 Naturally, many of the cars had already won me over at previous West Coast events. This El Camino with a '59 Pontiac front end conversion is always a favorite.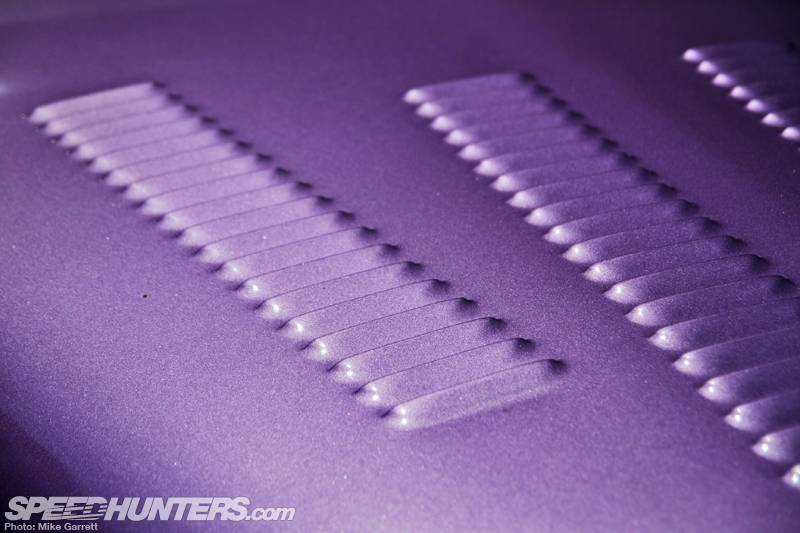 Louvers, scallops, flames, shaved handles and more. It had been quite a while since I"d been to a rod and custom event so it felt pretty good to be surrounded by this stuff again.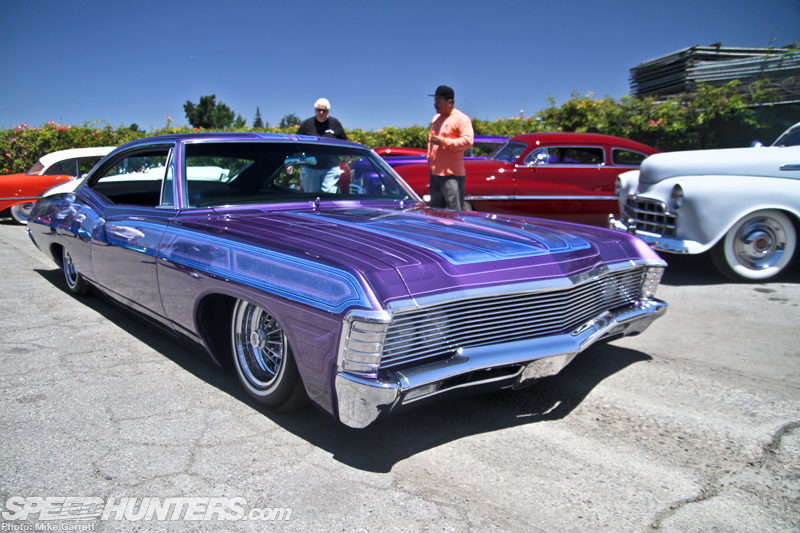 There were even a few lowriders hanging around as well, like this amazing '67 Impala known as 'Night Train'. Despite its immaculate show car appearance, this Chevy gets driven – or should I say cruised – regularly. Much respect.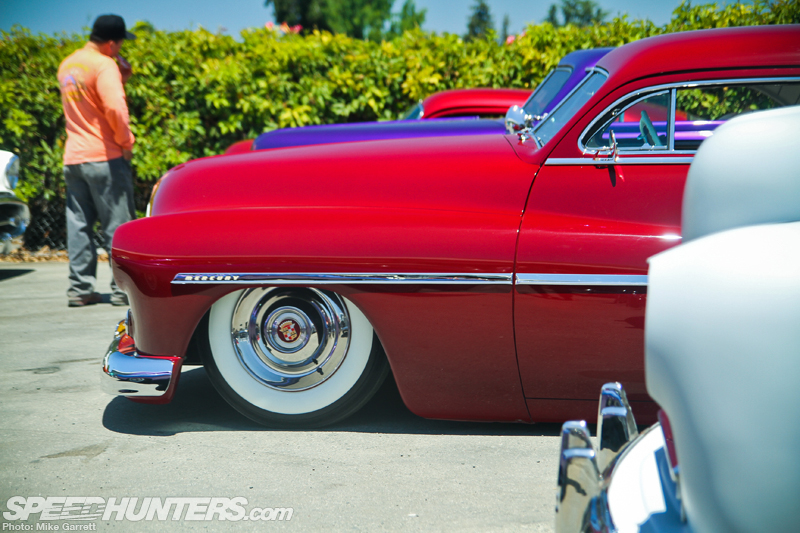 While the cars were great, the atmosphere at the Sit Down was perhaps even better.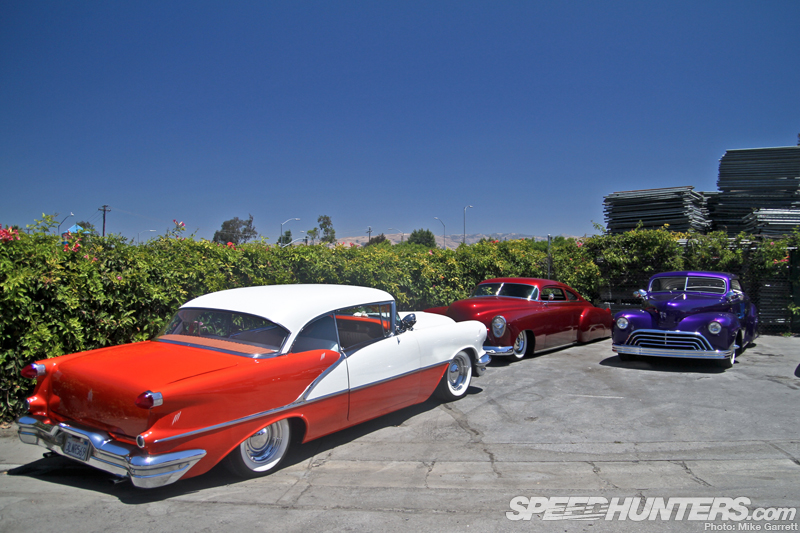 The weather was great, the people were friendly and the Gambino crew rolled out the hospitality in a big way.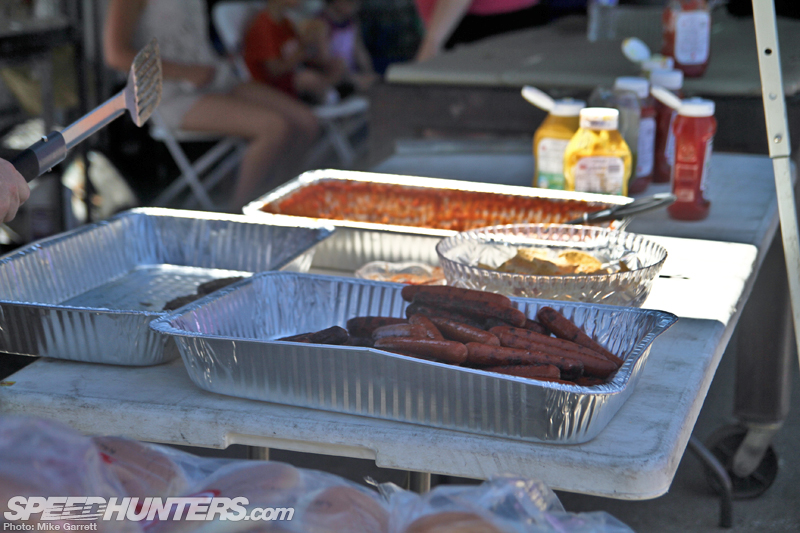 In addition to free drinks and a BBQ lunch for all who attended…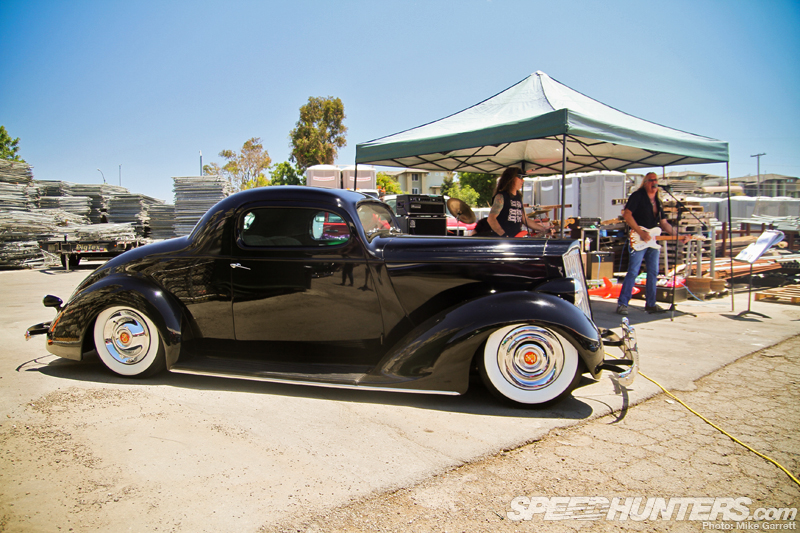 … there was also a live band on site dropping down vintage rock tunes all day long. Rod and custom events certainly never disappoint in the music department.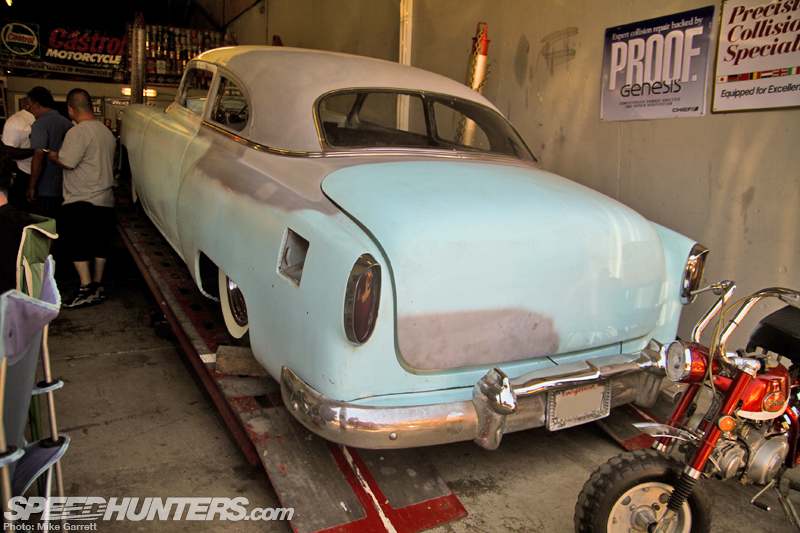 Of course the Gambino Kustoms shop itself was also open, giving visitors the opportunity to check out some of their current projects, like this chopped Chevy.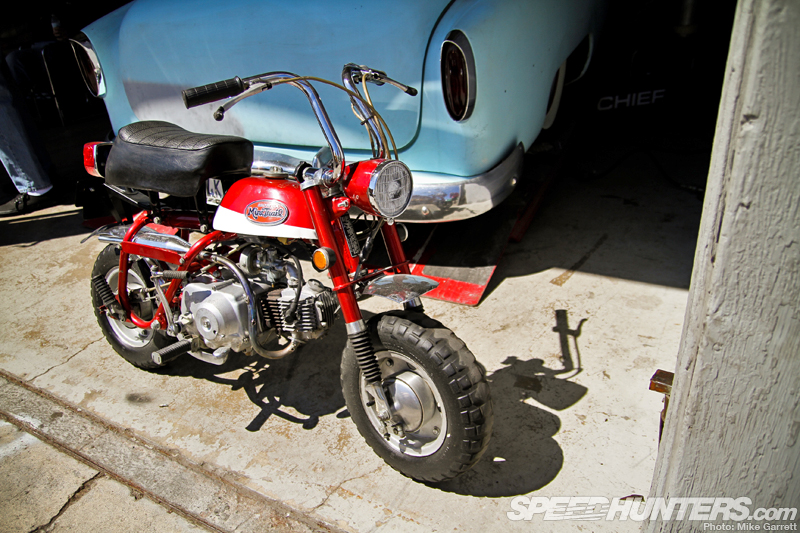 I also thought this original old school Honda Mini Trail was completely awesome as well.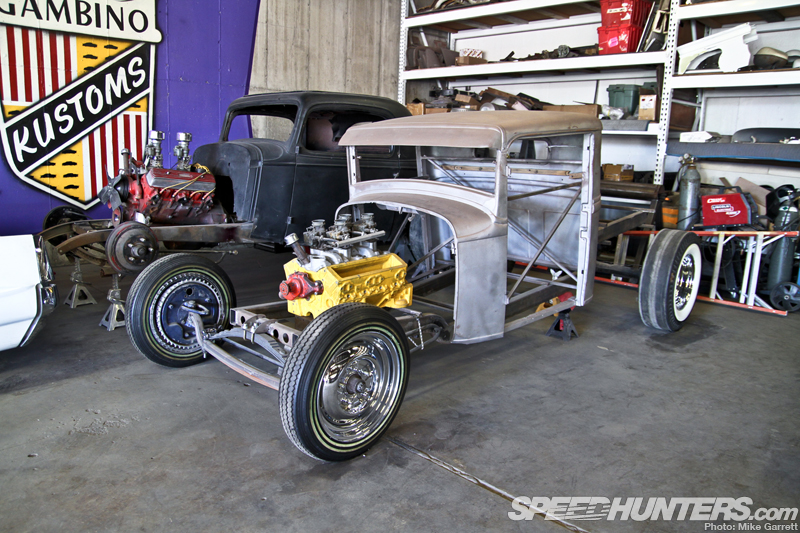 Elsewhere in the shop, I spotted this little pickup project that looks like it's shaping up to be something quite special. Love those white-walled slicks out back.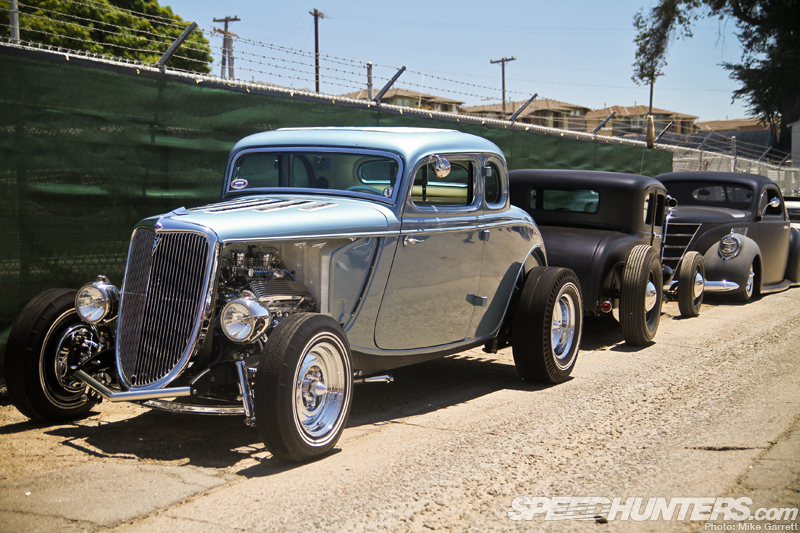 While the majority of the cars that came out to the Sit Down were of the custom and lead sled variety, hot rods were also well represented.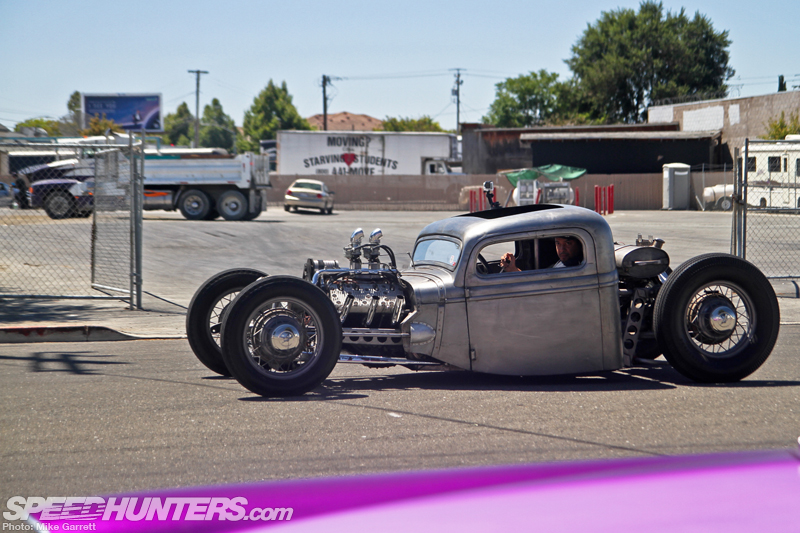 One of the craziest cars of the day was the '35 Ford built by Top Notch Kustoms, another local San Jose area shop.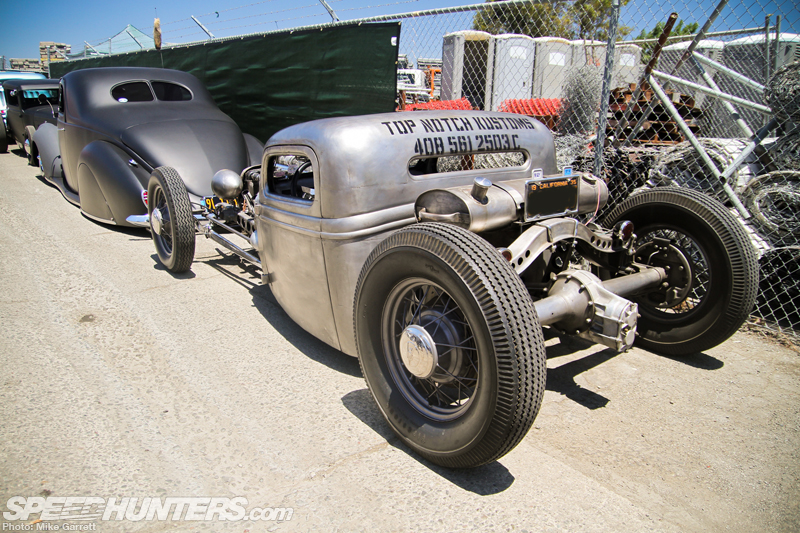 The low-slung Ford is powered by a Mercury flathead with a set of rare Kong racing heads. Let's just say it sounds every bit as tough as it looks.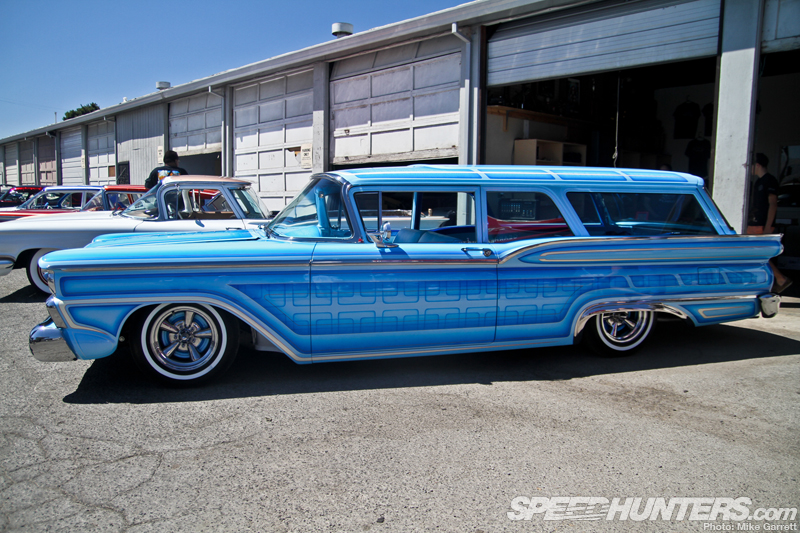 Another one my personal favorites was this amazing '59 Ford Ranch Wagon two-door, finished in perfect 1960s custom style.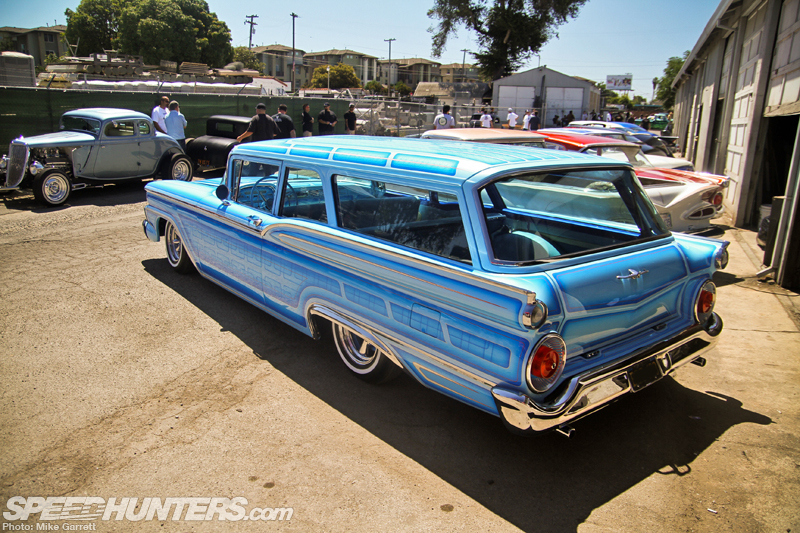 I first saw this wagon at the Grand National Roadster Show a few years back, and it just seems to get better with each subsequent encounter.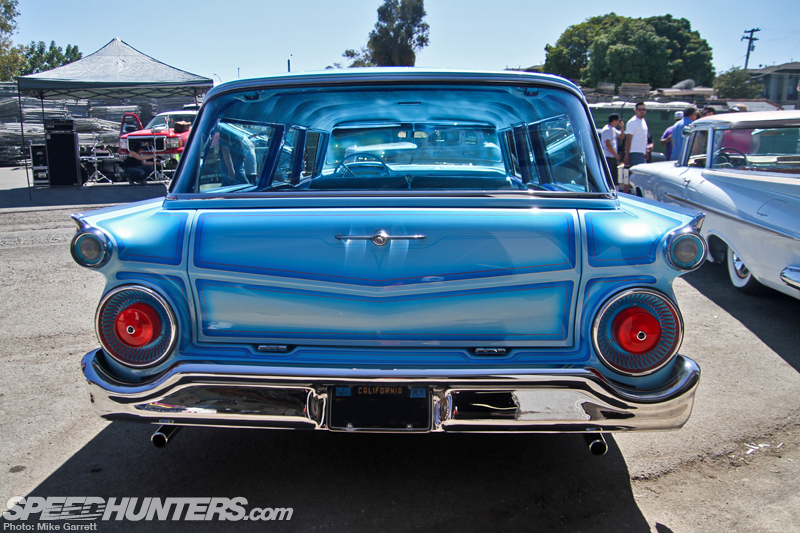 Someday I dream of having my own Toyota Crown wagon looking something like this. Now I just need to hit the lotto or something…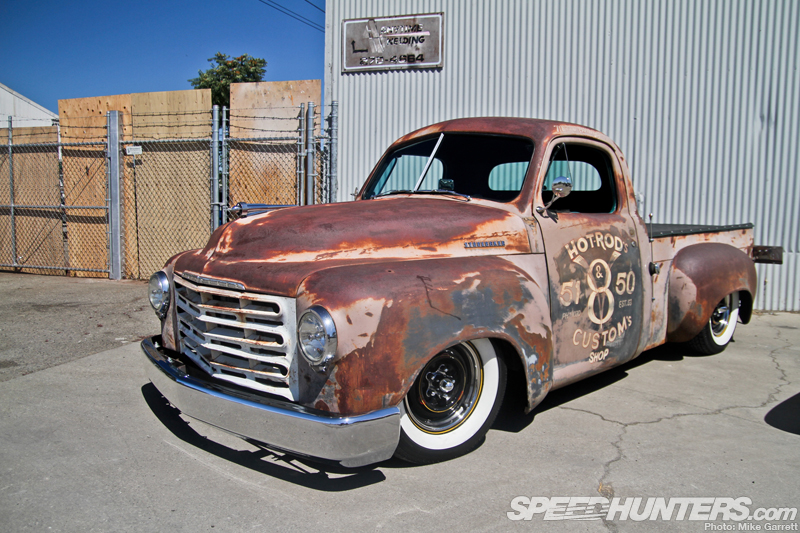 Also impressive was the 'Mexican Hillbilly' Studebaker pickup which was wearing its patina with a whole lot of pride.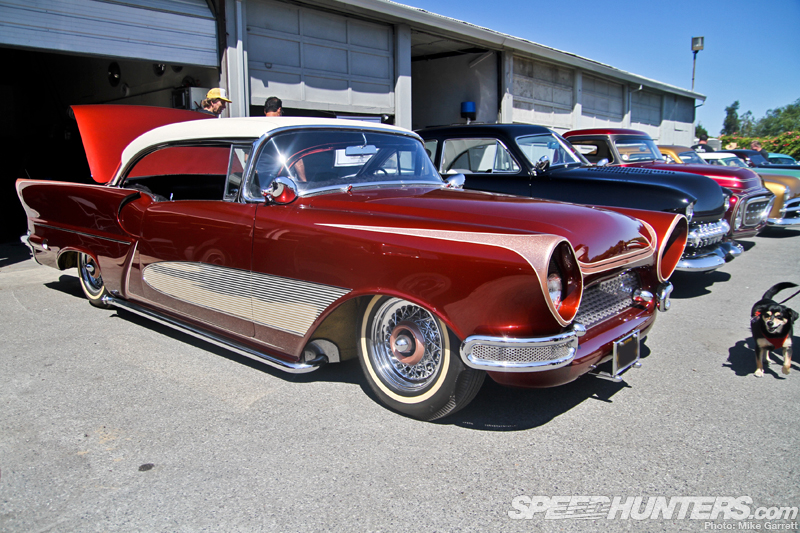 Time capsule. There's no other words to describe this amazing specimen of late-1950s and early-1960s customization. Wow!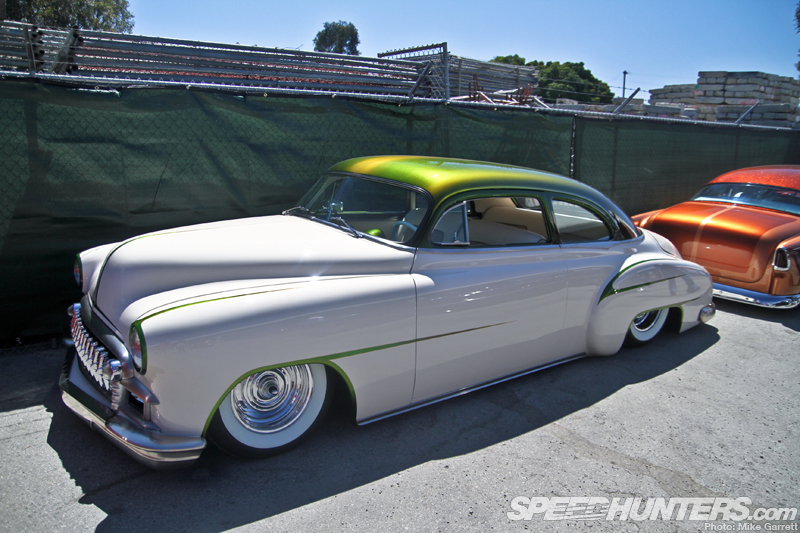 It goes without saying that the '49-'54 Chevy was well represented at the Sit Down. These are, after all, one of the most popular custom platforms of all time.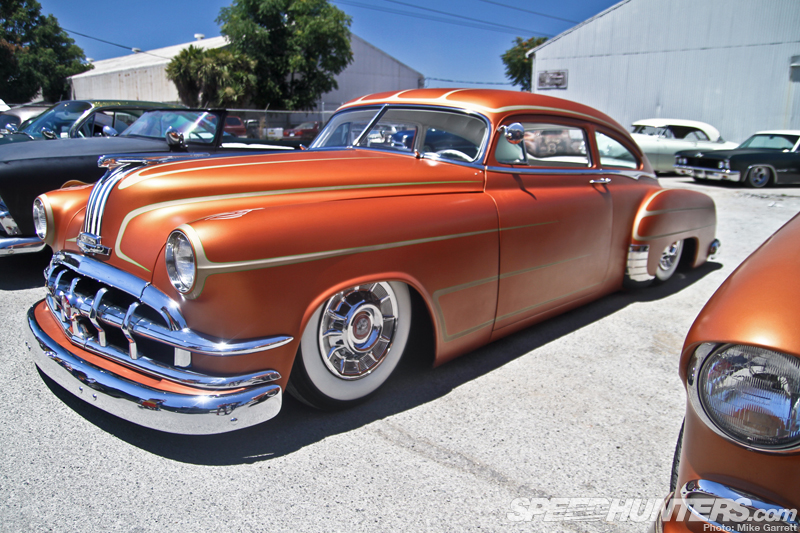 Pontiacs of the same vintage can definitley get down as well. Love this bagged and scalloped Poncho with Caddy hub caps.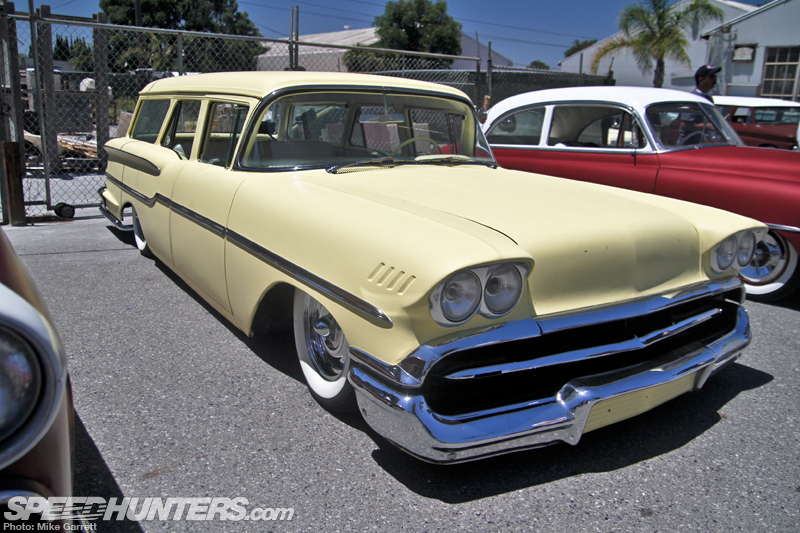 Compared to a lot of the cars that came out, this '58 Chevy wagon was pretty tame, but that's why I liked it. Whether bone stock or heavily modified, I'm a sucker for cool old wagons.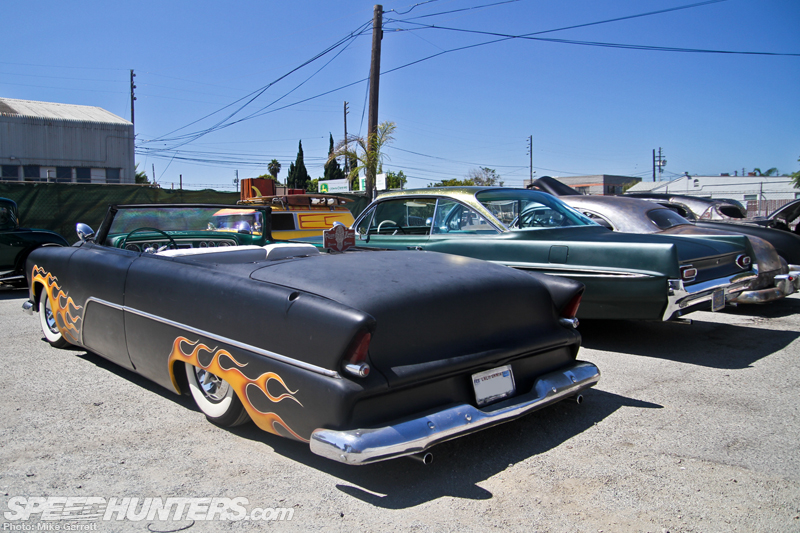 Another great thing about living in California, you can chop your car into a convertible and not need to worry about having a top, as this member of the Road Zombies Car Club has done.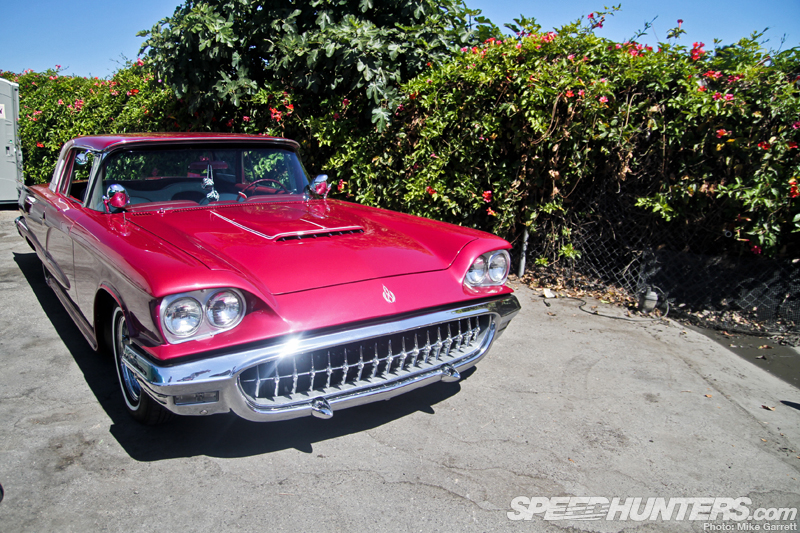 While it might not be outrageous in terms of custom work, this Thunderbird definitely looks like something you might have seen cruising the streets back in the early 1960s. Very cool.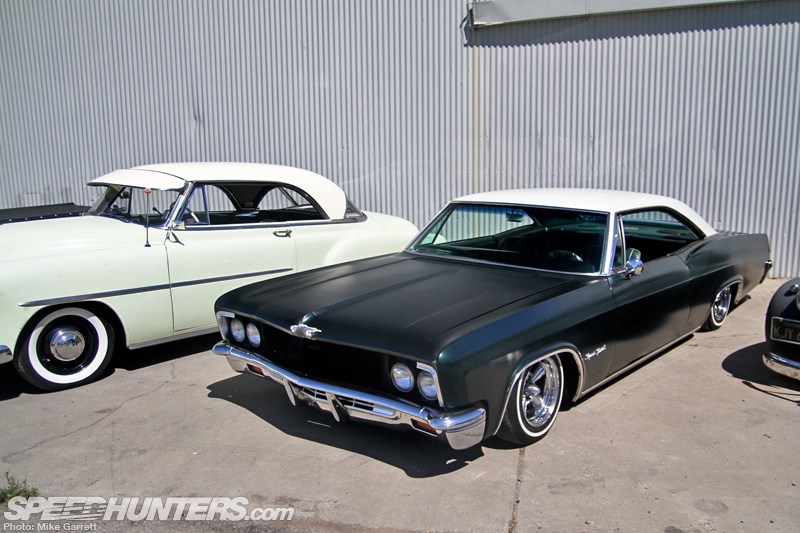 Lowrider? Custom? Whatever it is, you can't beat the simple look of this Impala dumped down on a set Astro Supremes and set of thin whites. A quintessential West Coast look.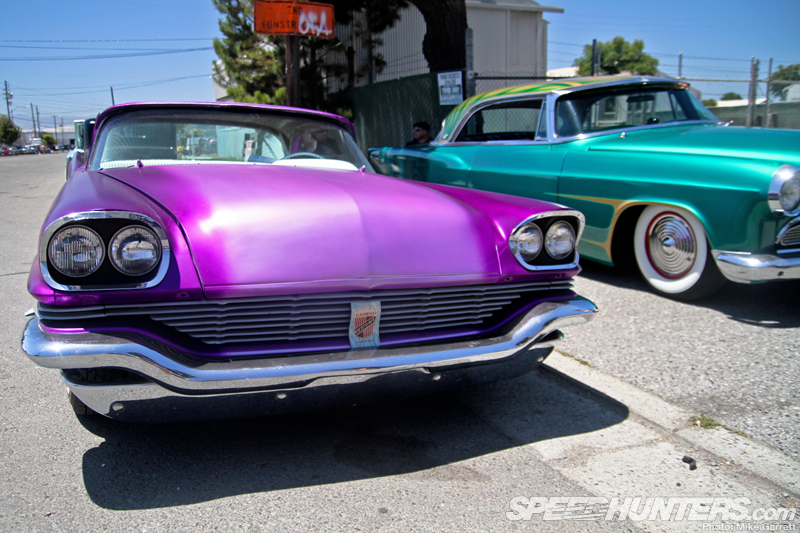 Sick cars, cool people and tons of sunshine. Sometimes I just love California. I'll return tomorrow with more scenes from the Gambino Kustoms Sit Down.
Mike Garrett
Instagram : speedhunters_mike
Email: mike@speedhunters.com
Bay Area Tradition with the Good Guys on Speedhunters