12 years. I've been writing about car culture for a dozen years and what a lovely long adventure it has been. I've seen it all, or so I thought. This week, on Speedhunters, we've been getting excited about an event called Gatebil. You may have noticed? If not, then shame on you for missing out on all of the mayhem. Fear not though, you can see the whole shebang in glorious RGB colour by immediately clicking the word mental that I just typed with my own hands.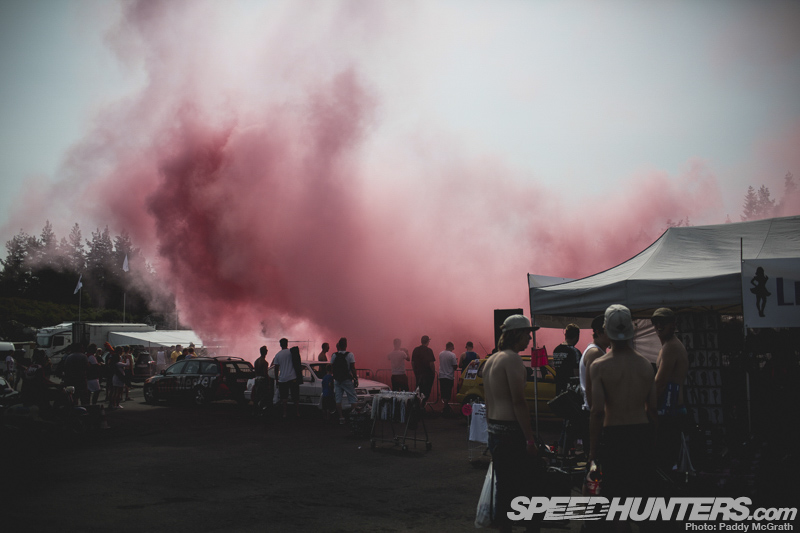 Gatebil is, without any doubt in my mind, one of the most magnificent automotive happenings. It's basically the best track day you can possibly imagine. Add to this a bunch of drift cars piloted by some humans with an incredible ability to smoke tyres at 100mph+ speeds, perform spectacular rear-entries and rub the pit lane wall (whilst being black flagged) and the recipe for success is a sure-fire formula. So, as we stood there, amongst the mayhem I asked out loud, "Exactly how much fun can be had in two hours?'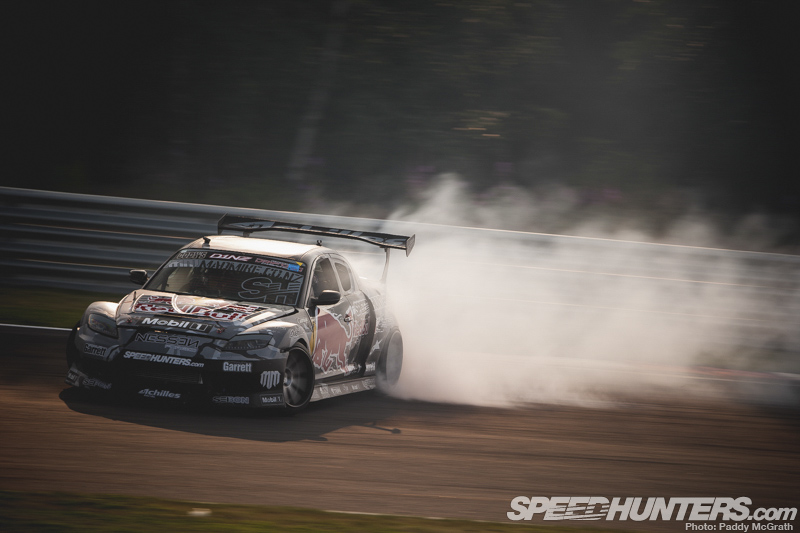 Without any encouragement necessary Rod quickly suggested that I go and seek out as many passenger rides as possible during the next 120 minutes. Armed with Larry's Canon 1DX, which is more like a machine gun than a camera, I asked Mad Mike if I could ride shotgun in his BADBUL. The answer was a firm yes, and very swiftly I was sat in the car that you see above. This was one of those 'too-excited-to-talk' moments that I rarely ever have. So pretty much speechless, I simply sat there firing off shots whilst laughing like a complete idiot.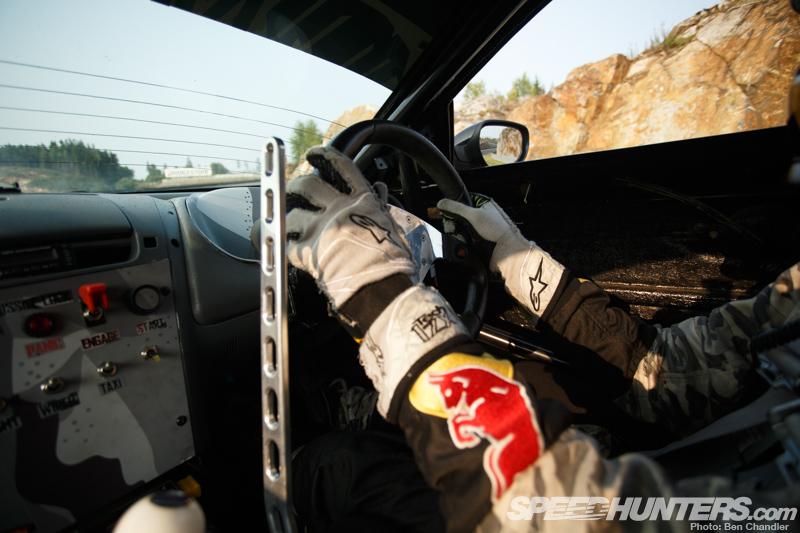 The noise that this car makes is orchestral! It's like art coming into your ears! The fun, however, was short but sweet. Why? Because decibel limit exceeded! We got black flagged due to the mega-noise the BADBUL's excessive rotary motor puts out.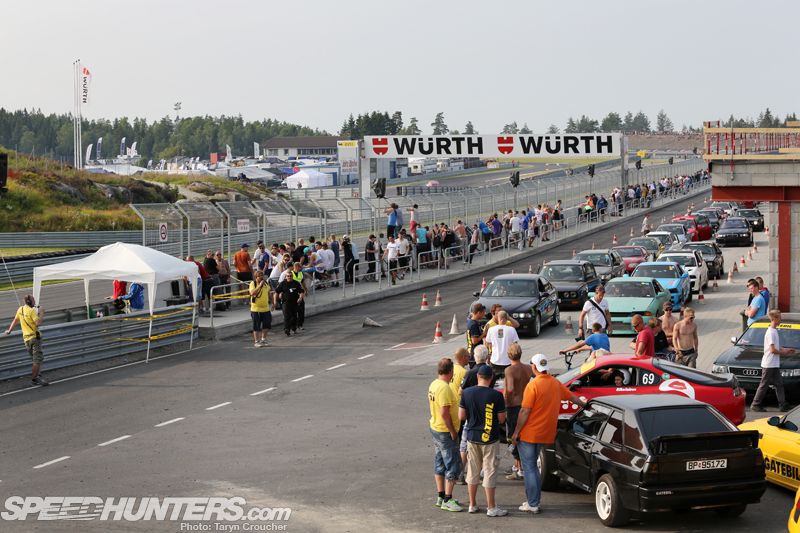 So back to the paddock we went. Game over for Mr Mike Whiddett, but just the beginning for me!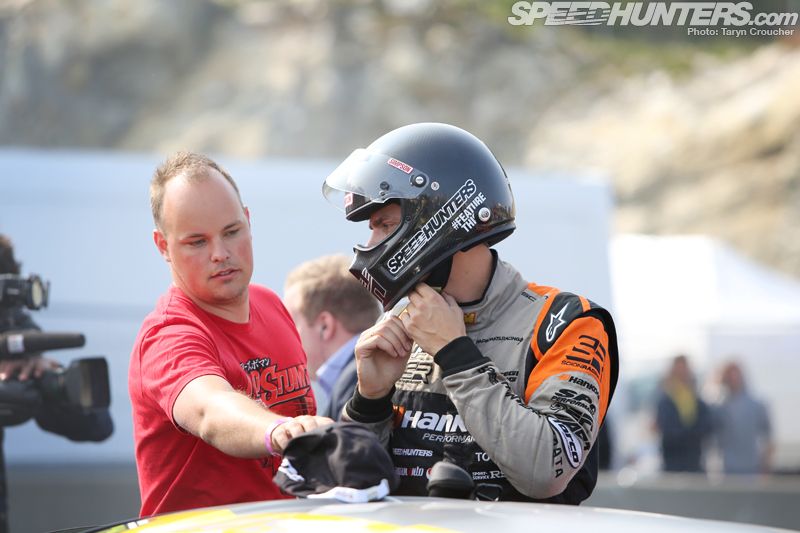 I was now on the hunt for a new ride. Fredric Aasbø already had a passenger loaded into his Toyota.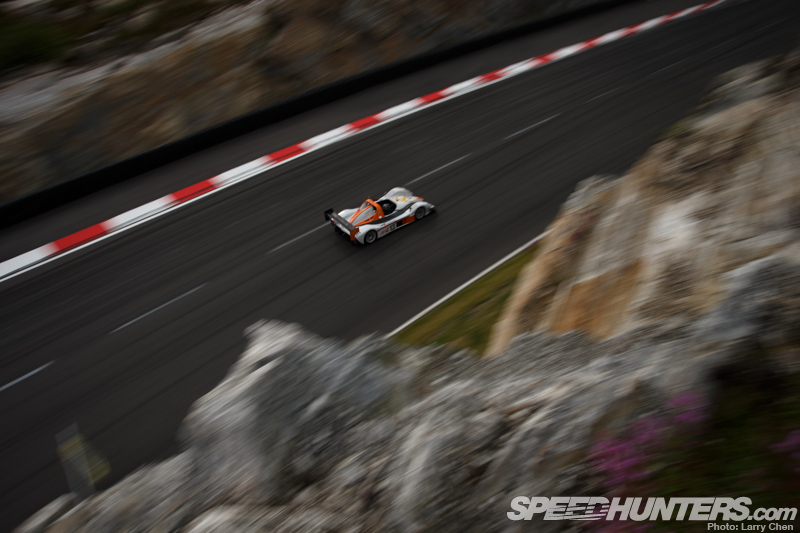 The mission brief from Rod was to experience an eclectic mix of cars. I had my drift blinkers on after that BADBUL experience, so it was time to get them off and hunt for a grip car.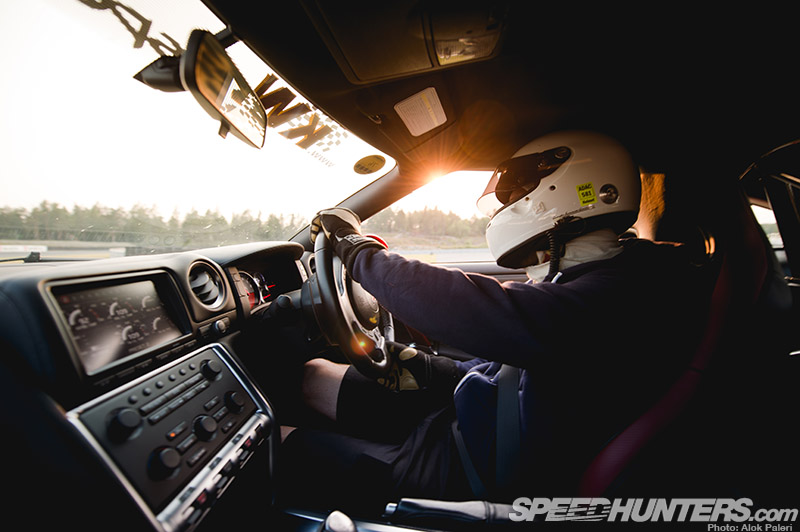 I caught Alok getting out of KW Automotive's Nissan GT-R so I asked the driver if I could jump in. It was Michael Grassl! In my excited state I forgot to grab a camera, but fortunately Alok captured the happenings of the last joy ride. Michael, or Mitch as he's known to many people, looks after Motorsport Suspension Sales and Technical Support at KW's HQ in Fichtenberg, Germany. If the name sounds familiar, you may have come across some of his wisdom before.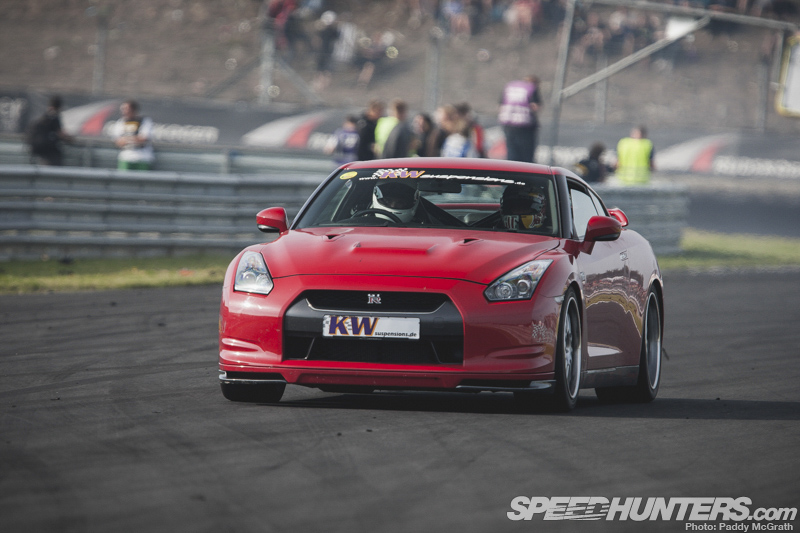 Mitch is also a very modest racing driver, who is extremely talented behind the wheel of a car. He knows the fastest way around a race track and having recently competed in (and survived) the 24 Hours Nürburgring, I knew that this would be fun. So how did a grip car compare to a drift car?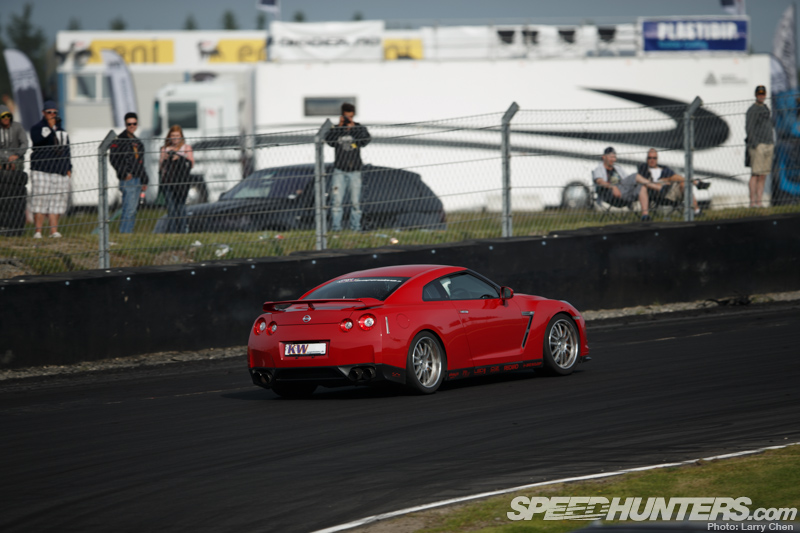 Braking. That's the biggest difference. Whilst drifters mainly use the braking system to initiate or correct, Mitch used the stoppers to, well, stop the car going forward. Fairly normal, right? Well no, not exactly. Never have I been in a car piloted by a man who leaves the braking so very late. Mitch's confidence going into corners was phenomenal. At first I wondered if he was going to brake at all… Then at the very last nano-second, we slowed down a little bit, went round the corner (quickly) and headed for the next apex. I need to get this guy to ride along with me next time at the Nürburgring, so I can learn just some of his Jedi ways!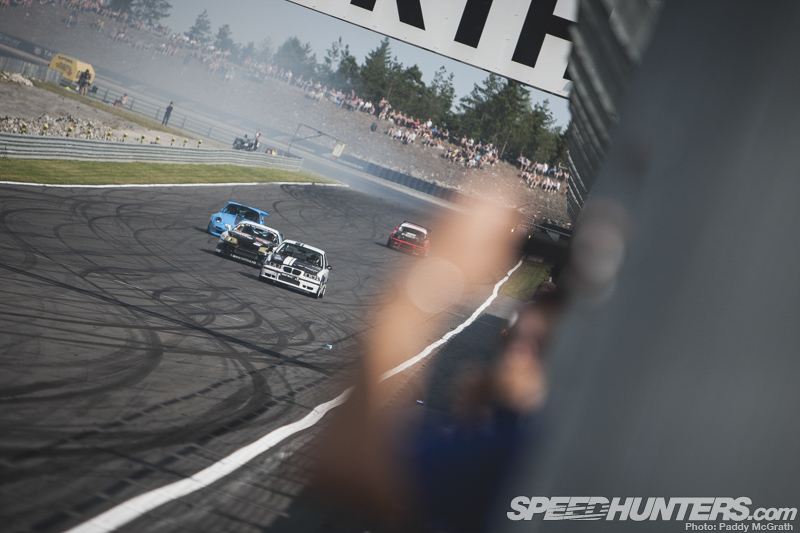 One quick look at the Rudskogen track and it's clear that Maximum Attack is well celebrated!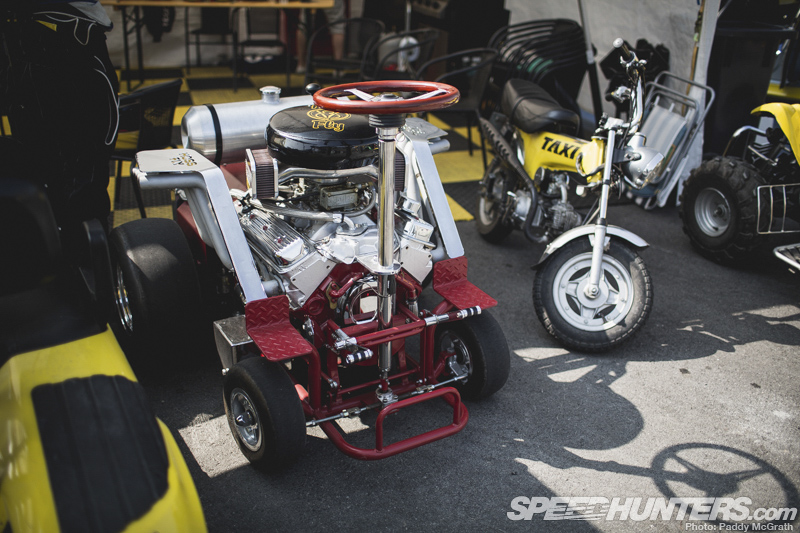 Word amongst the Speedhunters team soon spread about my challenge and Taryn had a suggestion for me. Paddy and our favourite Kiwi took me over to check out this V8-powered bar stool. They thought they were funny, but I genuinely would have gone around the track on this thing! It was, however, missing one thing: a passenger seat! I guess this kind of shows how bonkers the Gatebil festival really is.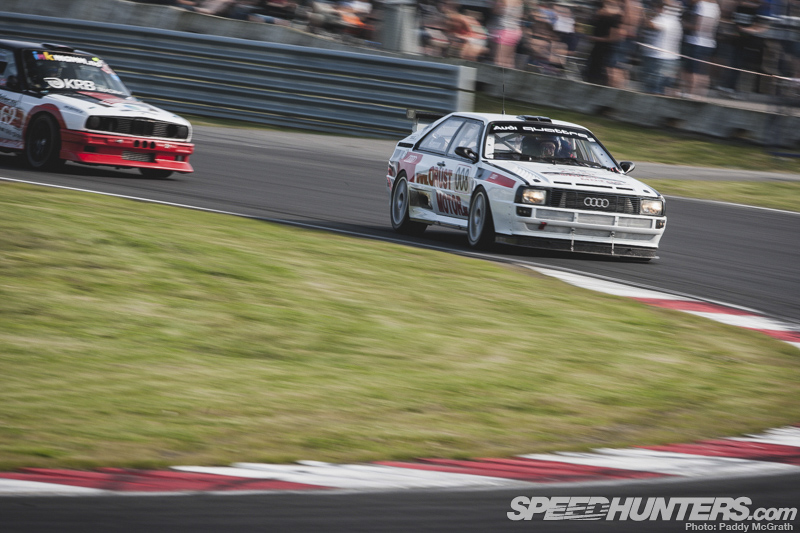 Anyway, back to the matter in hand. I was losing focus on my challenge. It was time for more driverhunting! When I was young we lived next door to a doctors' surgery. This one guy had a Ur-quattro. His name was Dr Terry and he was my hero.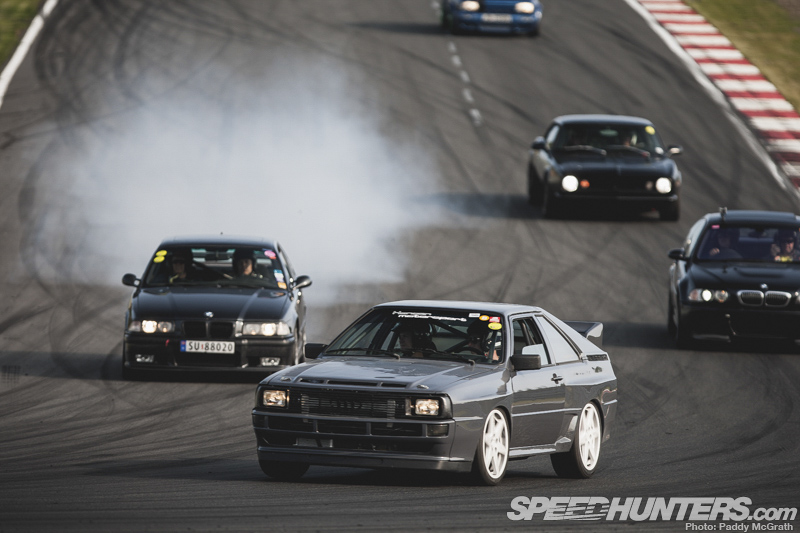 Unwittingly, he's the dude that got me into the Audi brand and I have loved their awesome quattro cars ever since. I was hoping to find an Audi pilot to bring terror into my life, but alas it was not to be.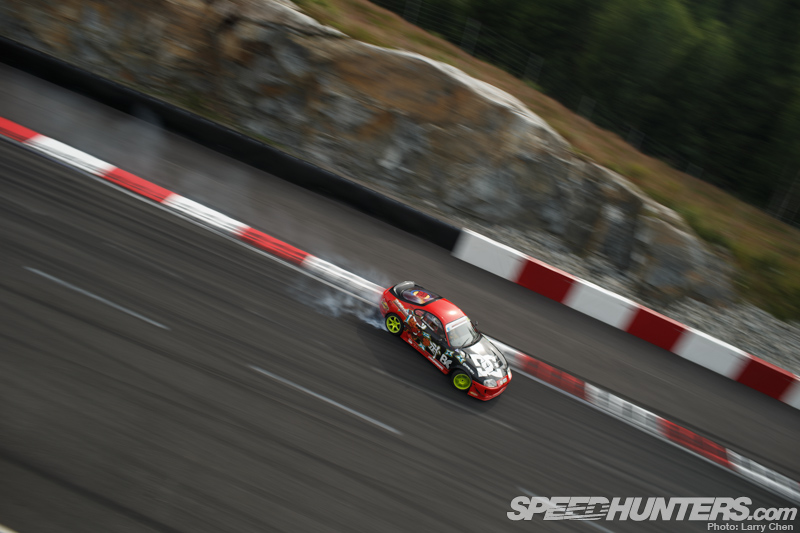 It's difficult to not get sucked in by all these cool cars and turn into a child singling out one particular car you would really like to be experiencing from the shotgun seat.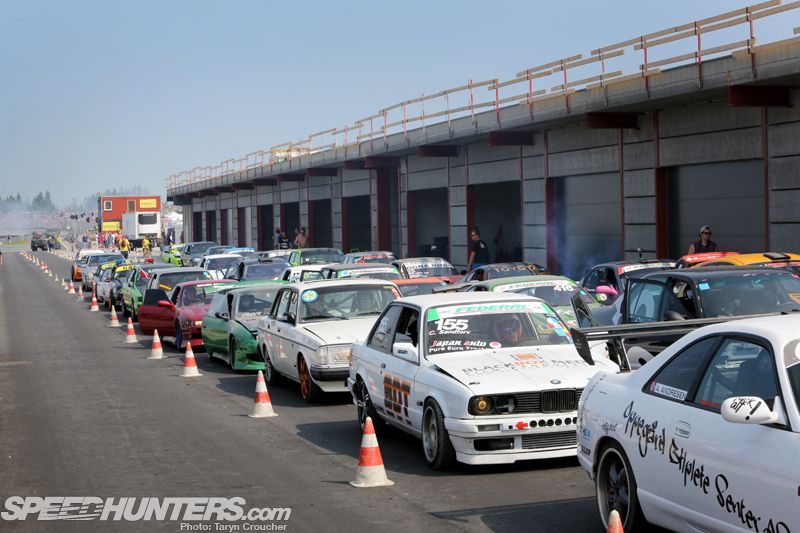 The amount of awesome metal waiting to get to use attack the track at any time is pretty absurd.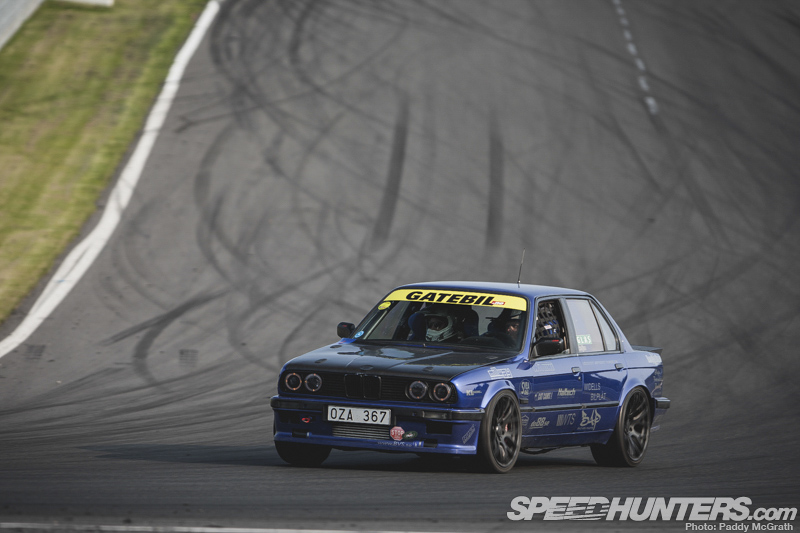 To type "Just then, my phone rang and it was Karel, owner of this bonkers BMW asking if I wanted a joyride", sort of sounds like something I made up to make this story work. But it's actually how things happened. The driverhunter became the hunted! A couple of months back Paddy and I featured Karel's mega BMW, so this was a super-cool opportunity.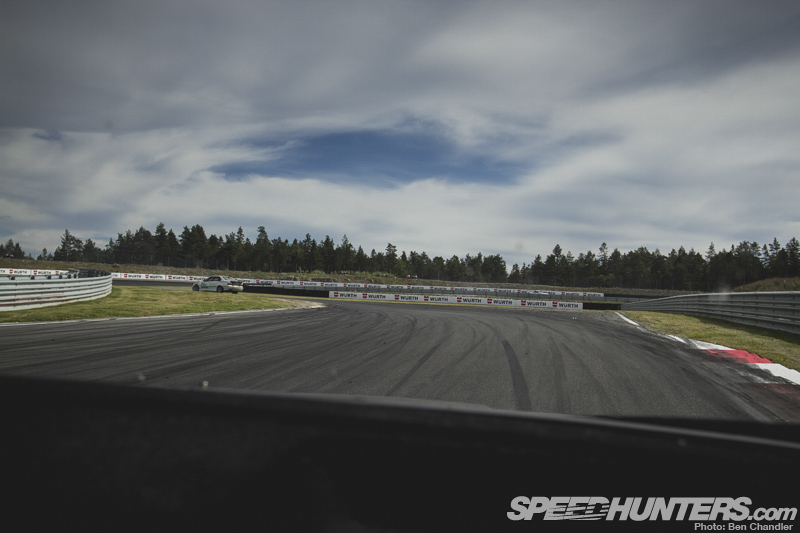 The car made 931hp when we put the story together and now it was making even more! Karel was running around 600hp for my ride along, though. This, as I was soon to find out, was more than enough!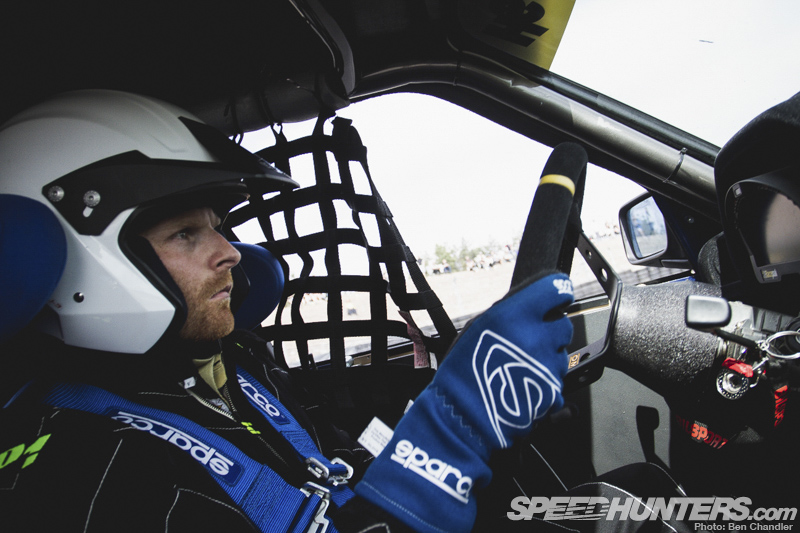 This driving is a serious business, right Karel!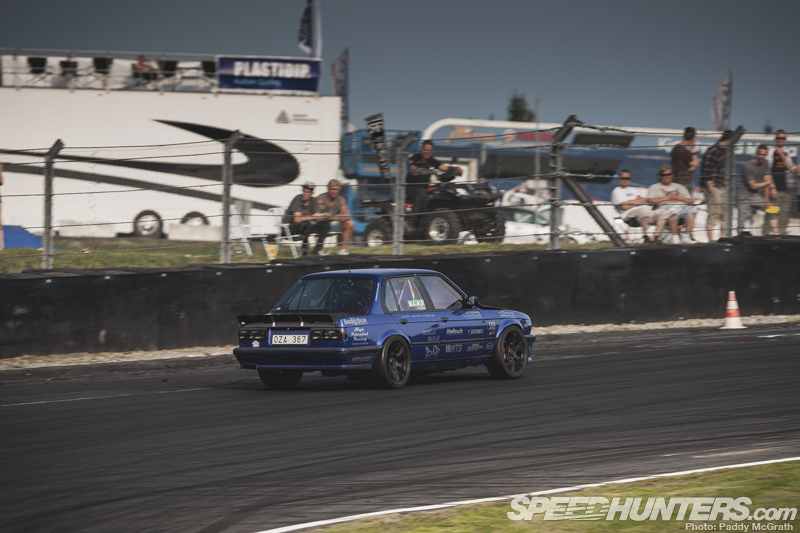 Powered by an M20B25 engine block stroked to 2.85L, this is a car that can put down some serious 1/4 mile times and also drift well too. The raw power of the motor can be felt even in its 600hp form. As I sat in the passenger seat of this amazing car, I had a realisation of how very lucky I was to be having this experience. I think the best thing is about this automotive passion is the willingness of others to share their builds with like-minded people. Real car enthusiasts just love to give people a taste of what they have built and Karel is one of these good guys.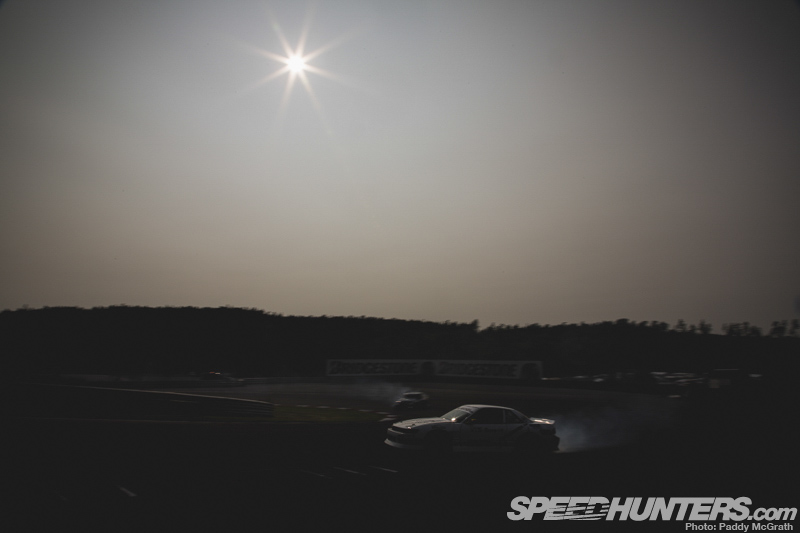 The Scandinavians take things to a whole new level with the automotive craziness, but they also raise the bar when it comes to being friendly. It's another thing on the list of awesome that makes Gatebil so enjoyable.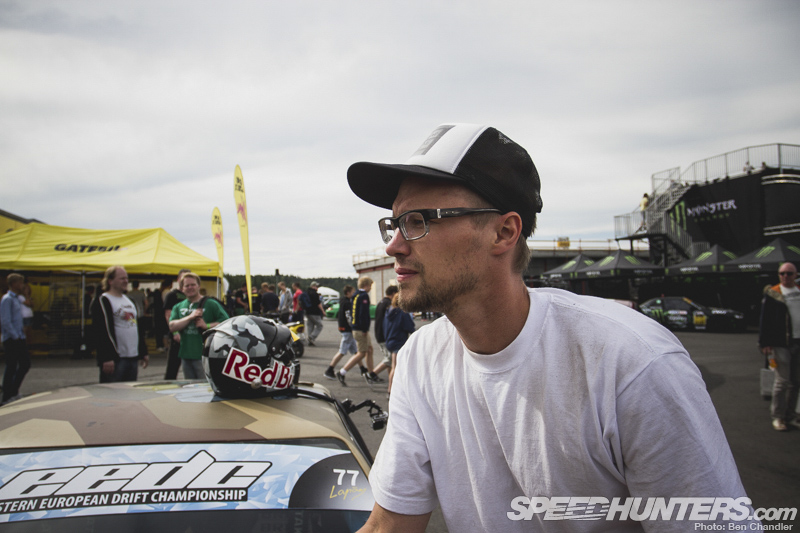 Speaking of friendly people, just over an hour and a half into the challenge I met this Russian guy. Slava Kalashnikov, or El Kaka as he's known by his friends from the Fail Crew, is one of the coolest and most ballsy people on the planet. As well as having the best surname I ever did hear, Slava owns a tough as hell Rocket Bunny-kitted PS13. He spoke a little bit of English, which is approximately one metric tonne more than the amount of Russian I can talk. From what I could understand, upon hearing of Mad Mike's BADBUL noise-related ban, El Kaka was prepared to loan Mike his car.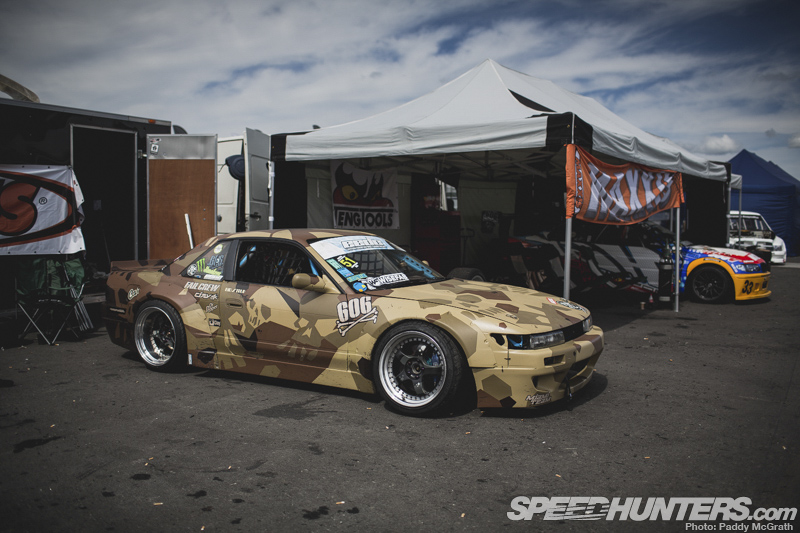 Yeah, this one. Completely awesome, right?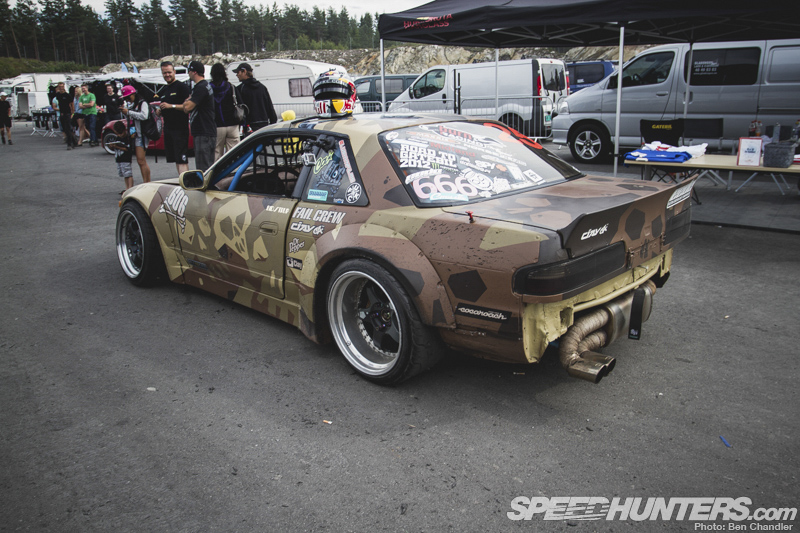 Well here's the best bit. My new friend, El Kaka, was more than happy for me to ride along with Mike. This was quickly turning into the best day ever!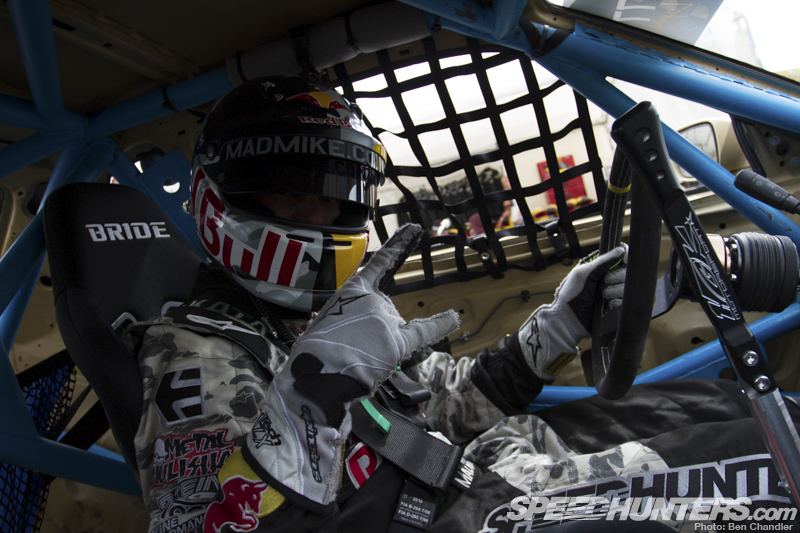 Soon I was sat next to my new friend Mike, in his new car!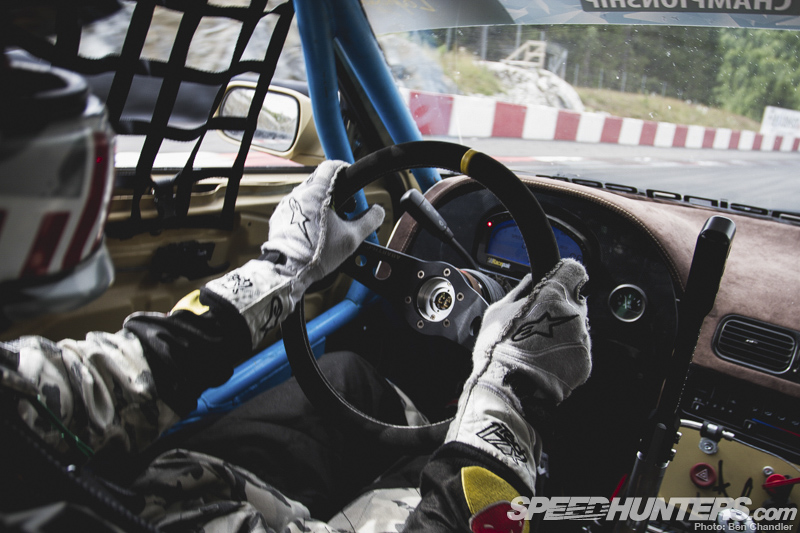 And this would hopefully answer a question that's been on my mind since I met this extremely talented Red Bull driver for the first time at Goodwood: is Mad Mike really mad?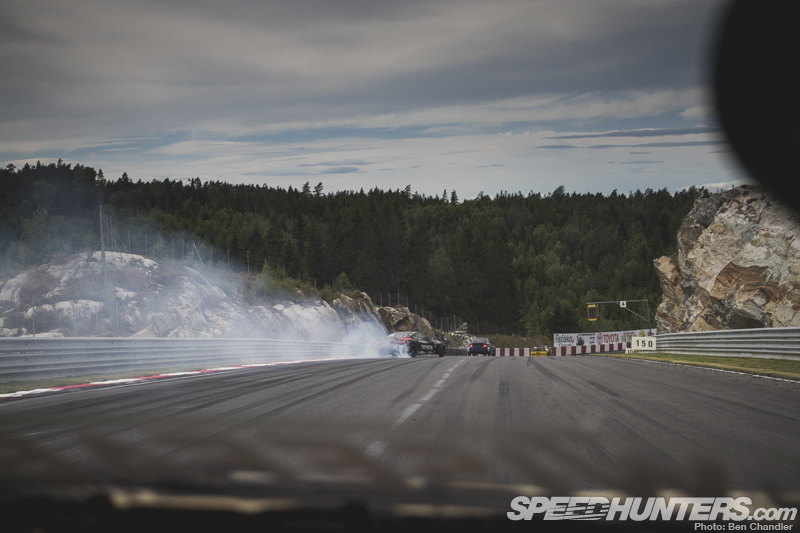 As we chased down Fredric Aasbø on just the second lap that Mike had ever driven in this fine LS-powered Nissan, the answer became very clear when we headed towards the wall of the pit lane at well over 100mph. If a look at the video in the link doesn't confirm that Mike Whiddett really is mentally unstable, then I don't know what will. Sitting in the passenger seat whilst that took place was nothing short of the best automotive experience I have ever had.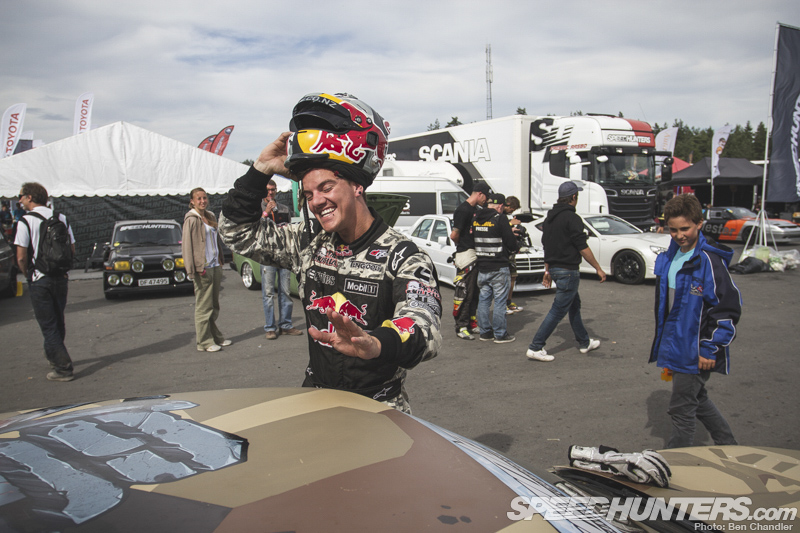 This is the face of a mad man!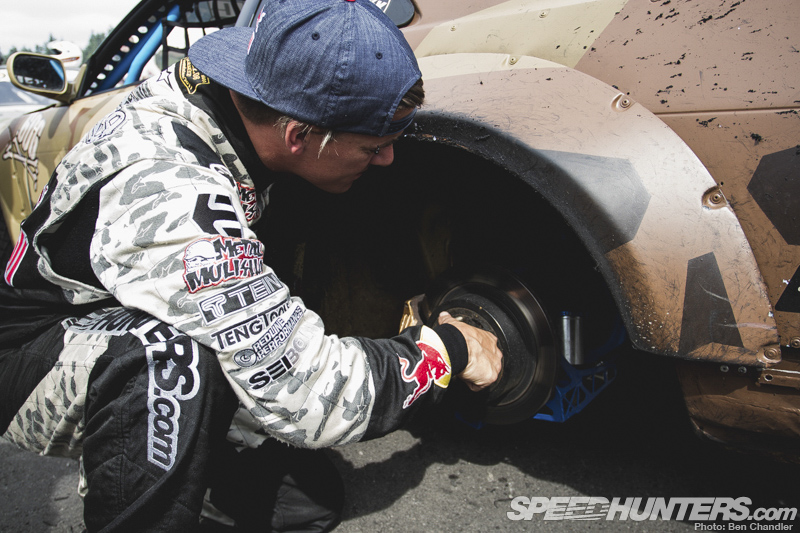 Tyres were changed. The impressive Wisefab geometry-enhancing gear was admired and we headed straight back out to cause more carnage…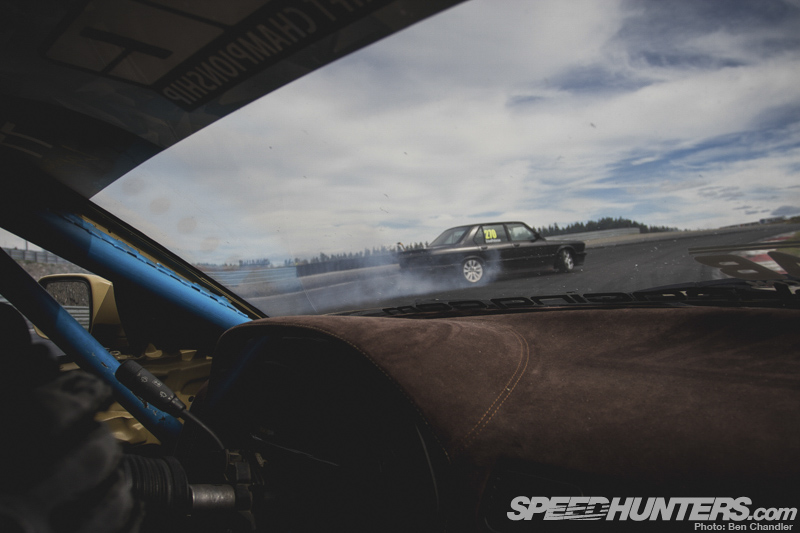 It was really impressive how quickly and easily Mike adapted to all of the controls being on the opposite side.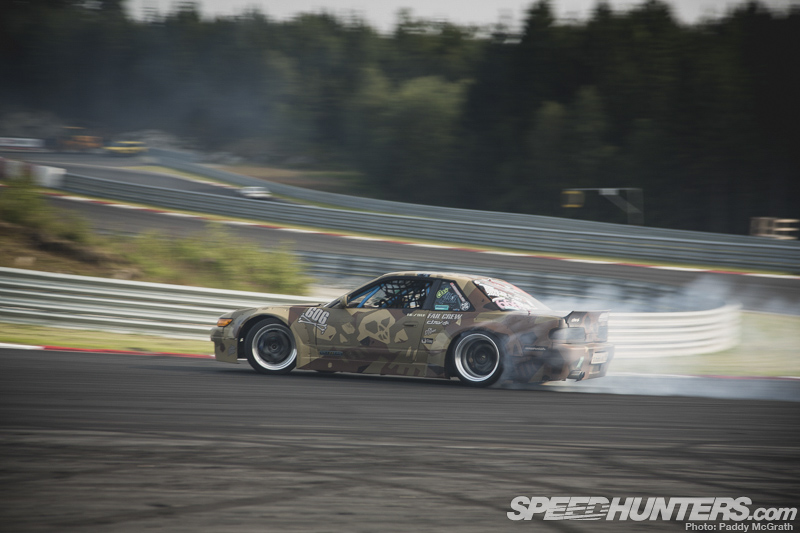 He was totally blown away by the chassis set-up of this Fail Crew PS13 too.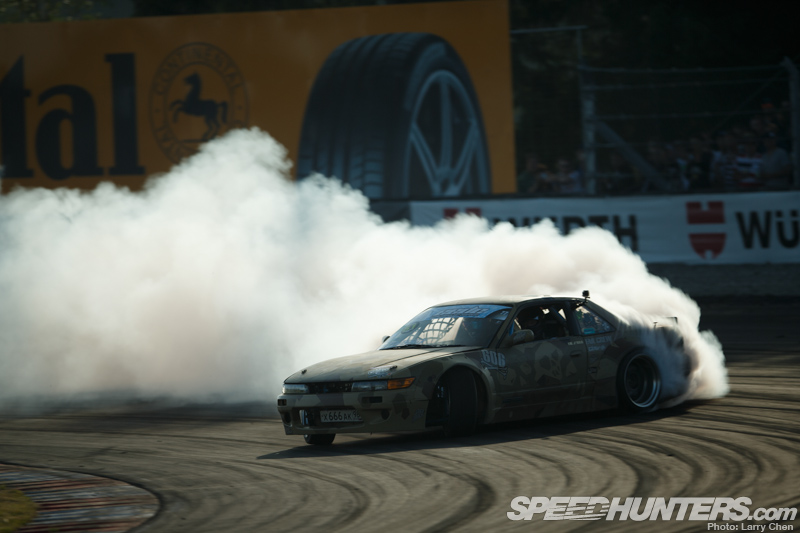 Unfortunately though, it quickly became clear that the track marshals didn't appreciate the geo or us running the pit wall at the speed of mad.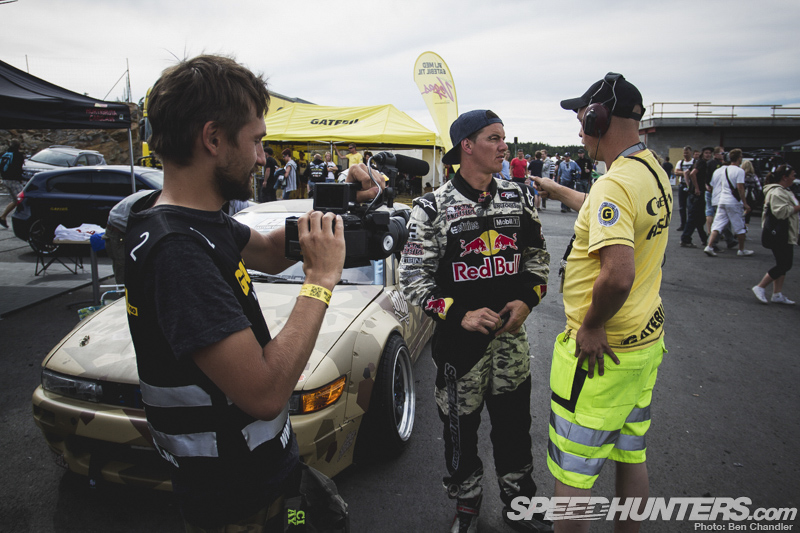 Apparently we got black-flagged five times. I only realised this when a marshal actually ran on to the track and started hitting the car with his yellow flag! I think the two hour challenge had come to a sort of natural end. Mad Mike was in trouble for living up to his name. And, after a couple of hours of excitement without a drink of water, I felt like a dog that had been locked in a hot car.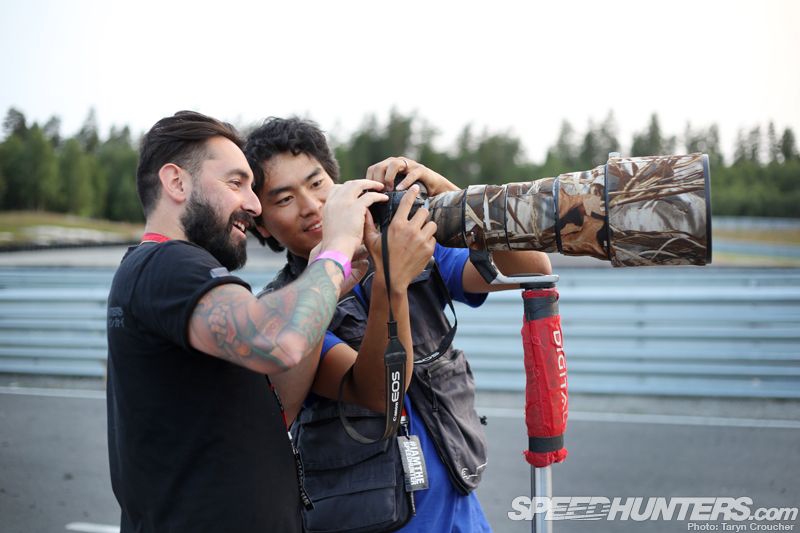 So then, back to the question that caused all of this. Exactly how much fun can be had in two hours? The answer is this: a lot! Furthermore my mind has been bent up by this event as a whole. The car culture that I once knew well no longer exists. In just three days, Gatebil has completely reinvented the automotive world in front of my own eyes. The mental gathering is like nothing else on earth. Gatebil Rudskogen rhymes with driftageddon! If Goodwood Festival of Speed is the best event on the planet, then this is definitely the most insane. It's positively sectionable!
Words by Ben Chandler
Twitter: @Ben_SceneMedia
Instagram: @ben_scenemedia
Photos by Paddy McGrath
Twitter: @PaddyMcGrathSH
Instagram: speedhunters_paddy
paddy@speedhunters.com
Additional photos by Larry Chen, Taryn Croucher, Alok Paleri