This is a Speedhunters health warning. If you don't like over the top, full-blown builds on outrageous base models, with a sense of humour thrown in that could shock a stand-up then turn away, go on, go back to everything you know and be content. However, if you want to take a trip into a world where excess is not enough and limits don't seem to exist, then welcome. This is Finland.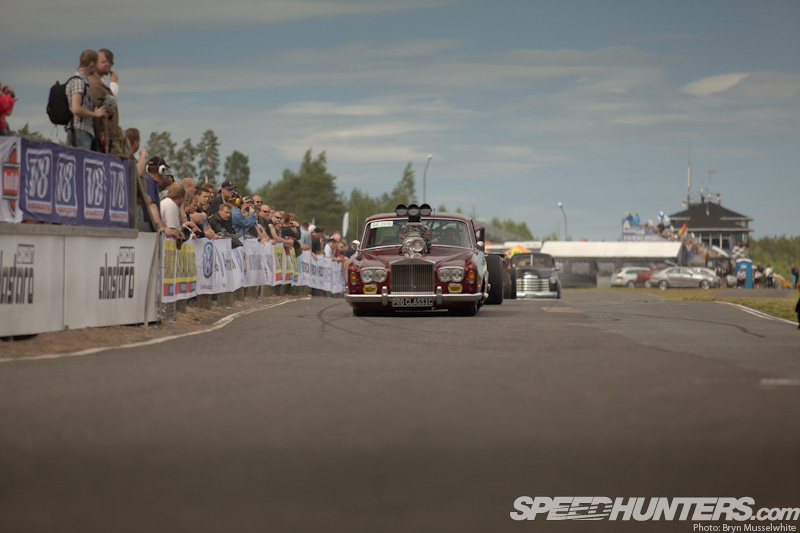 As part of our Scandinavian theme for July, we wanted to cover as wide of an angle as possible when it came to shooting feature cars. Because of course we want to showcase what's happening up there, but the region isn't defined by one country or one event, which is why I was at the Alastaro Drag Strip, a couple of scenic hours drive north of Helsinki. And as I stood there looking through my lens at the approaching shape I started to smile broadly…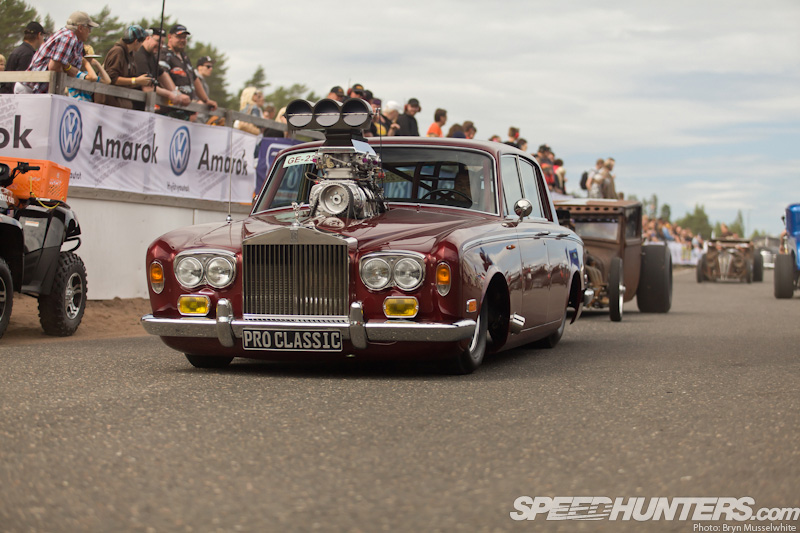 I absolutely love pointless cars and by that I mean the ones that serve no obvious function when you first see them – these are the ones that draw me in. After all, every car that ever rolled off a production line was destined for a wide variety of tasks. Did you ever see an Integra Type R being driven by a grandmother? Of course you did, because anybody could buy them. That's why when you talk to somebody about their project you'll generally get a definitive answer, "I wanted to build a track/drag/race/show* car." But what would you class this as? Really?
*delete as appropriate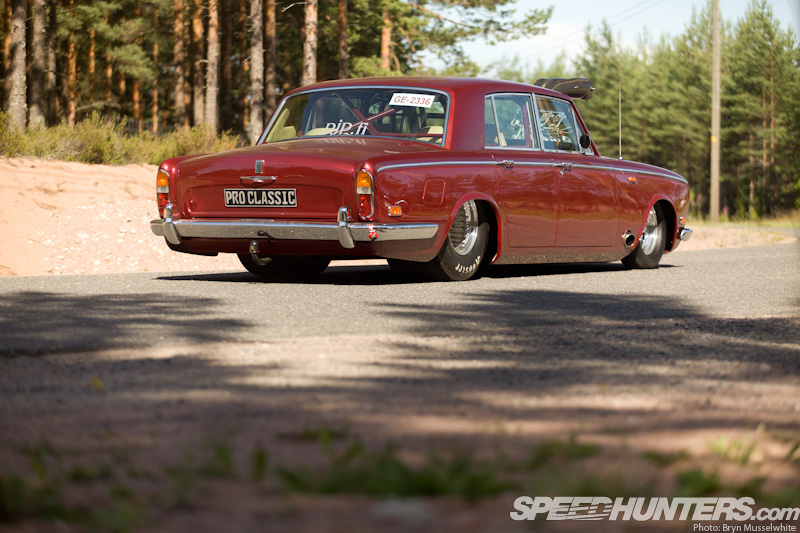 Sure it says Pro Classic on the plates, but is it more Pro Resto? To be honest I don't know why I'm asking these questions of you because I get a certain sense of freedom when I look at this Rolls Royce. It's a proper why not car. The sort that when people ask the question why?, then the only answer is why not? Because if you try and think of a reason, you'll be hard pressed as to what function it actually serves. But then why wouldn't you want it to exist? There are plenty of bog stock Rolls Royces in the world, there are plenty of Weld Convo Pro wheels, and plenty of blown big block V8s even. What we don't have enough of are those elements combined in one package.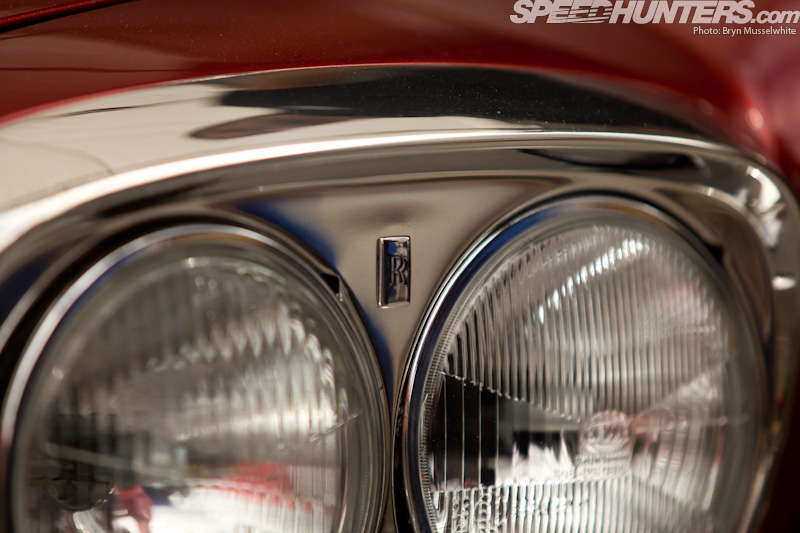 The guys who built this are true craftsmen; running a metal fabrication business called PJP, Petri and Raine produce anything you want in the material. Out of business hours they put the tools to good use though. In fact I cannot recommend highly enough that you take some time out of your busy day and wander through the build shots and other projects the pair have put together, right here.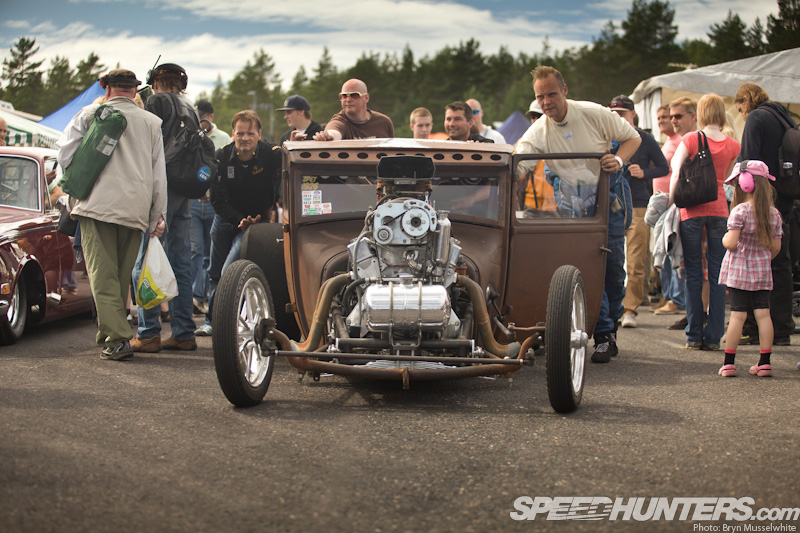 That day the Rolls was in action as a return tow vehicle for the Team Rust Model A drag car, all steel and all business. I watched as people caught sight of the big British saloon and then spied the drag car behind it. Can we have all of your attention please?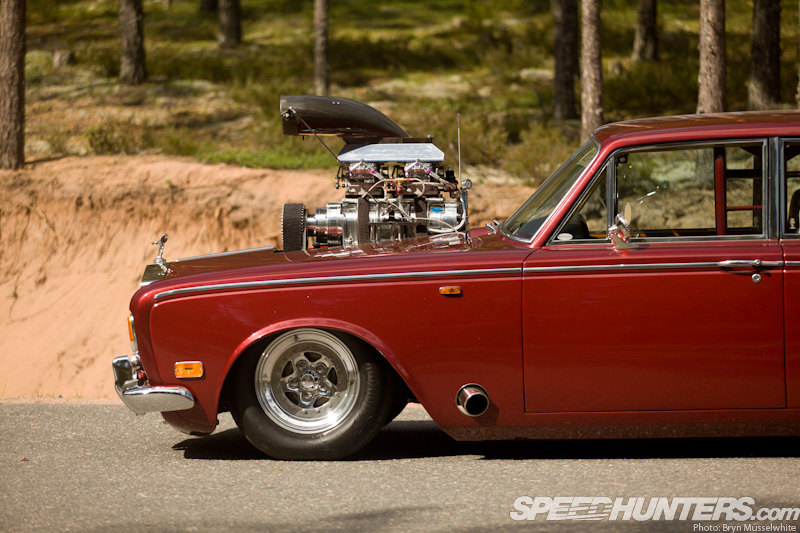 Like I said back at the start, nothing is normal with these guys. That 462ci GM V8 with the 14/71 Mooneyham blower sat on top of it was fitted in the back of a Mk4 Escort van before the Rolls Royce, and if I've got my information correct after being passed through translation it's also called the middle of a Skoda Estelle home too. So you can start to see that the team have a different way of  looking at things.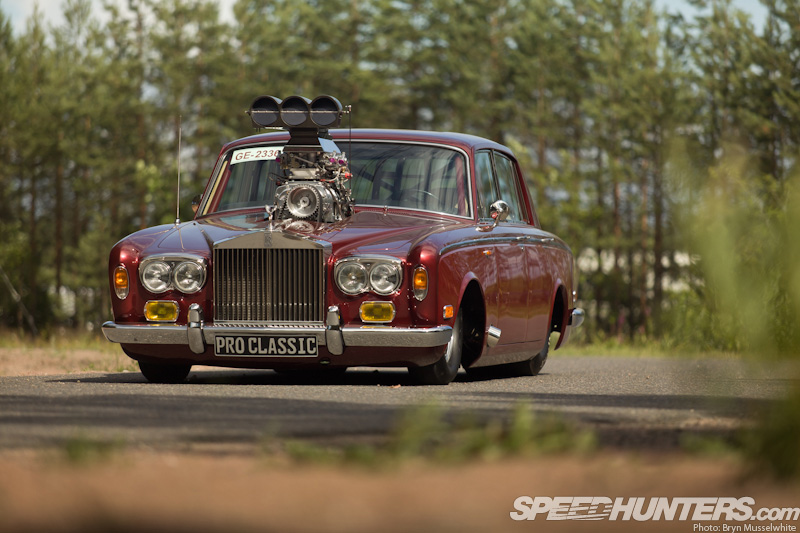 One thing is for sure – they don't take life too seriously! Look at the beautifully restored body work and trim.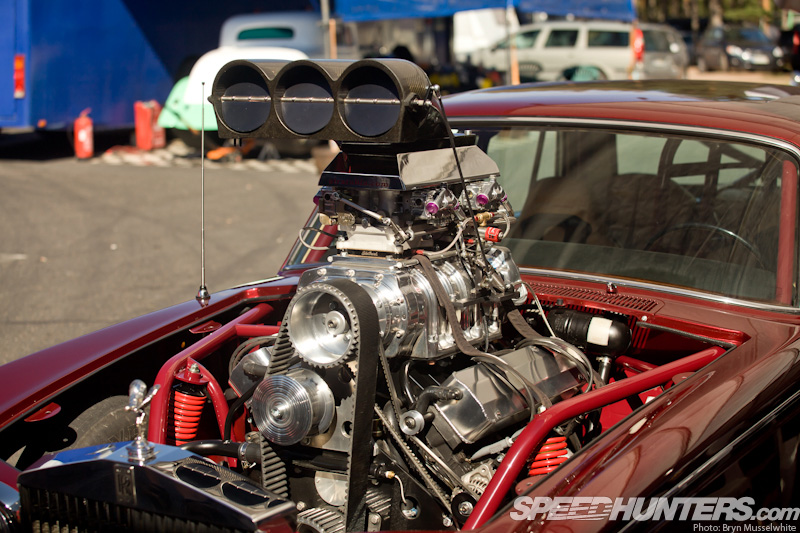 Then the Pro Mod carbon scoop on top of the twin Holley Dominator carbs. It's purely there for looks, but who cares? A normal chrome scoop just wouldn't cut it now would it?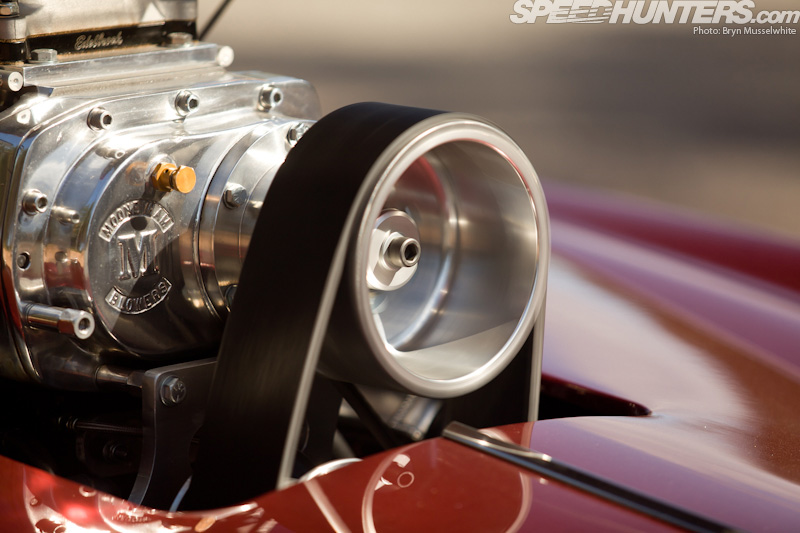 As I looked around the Rolls, I quickly realised it's a massive jigsaw with pieces from different puzzles, making it particularly hard to figure out. Just where do you start with something like this?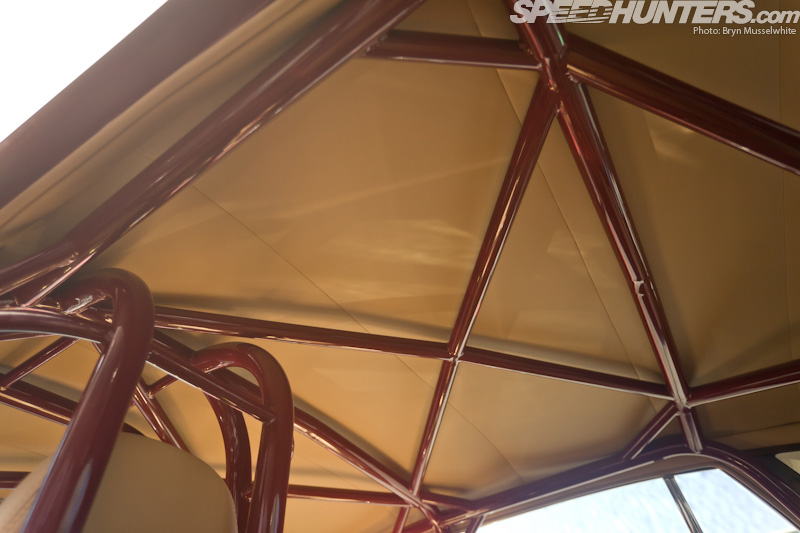 Here's what prompted that thought process – the leather headlining and yes I know this is the first time you've seen any of the interior, which is nothing short of jaw dropping. But just momentarily consider this,: how do you go about getting such a complex cage in, sprayed and then the headlining to fit so snugly above it?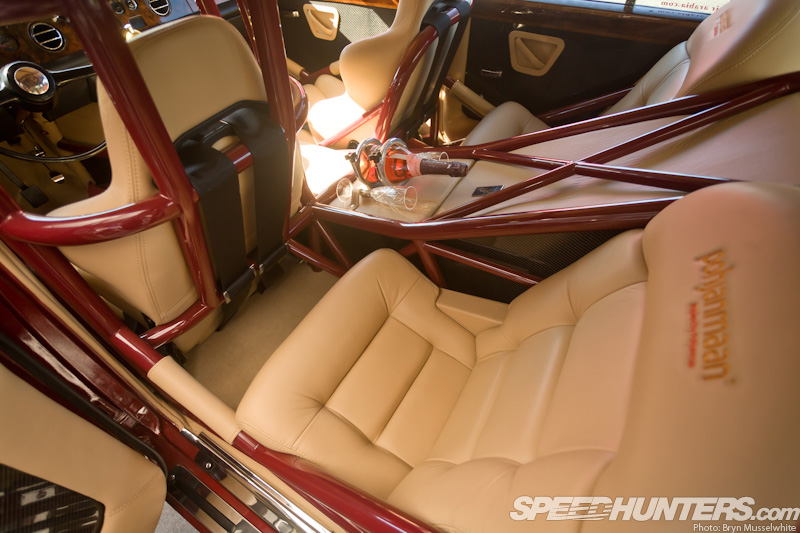 Now take a look at this. See what I mean? This really is a complete build. How sumptuous does that leather look? The craftsman at local Finnish furniture company Pohjanmaan got involved with the build and stitched it all together – something the guys are eternally grateful for.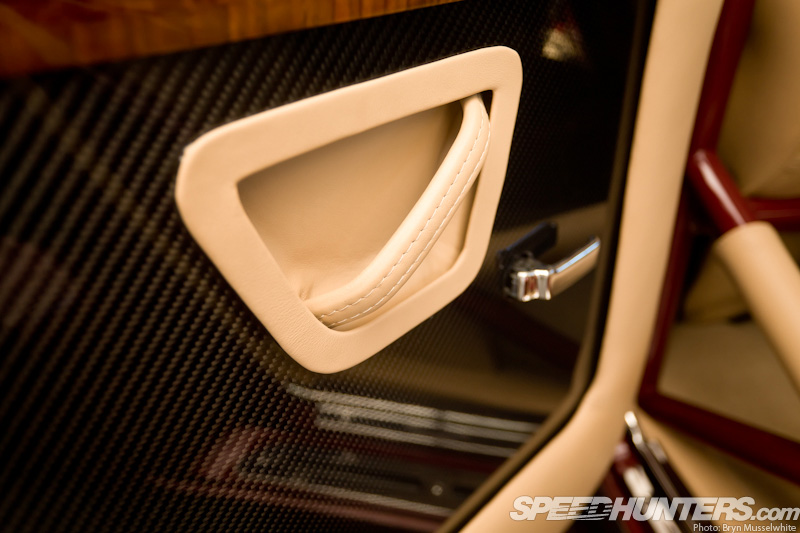 But once again, look at how the metal, leather, wood and carbon fibre all work so well together. And that's not a line of text I thought I'd ever write to be honest.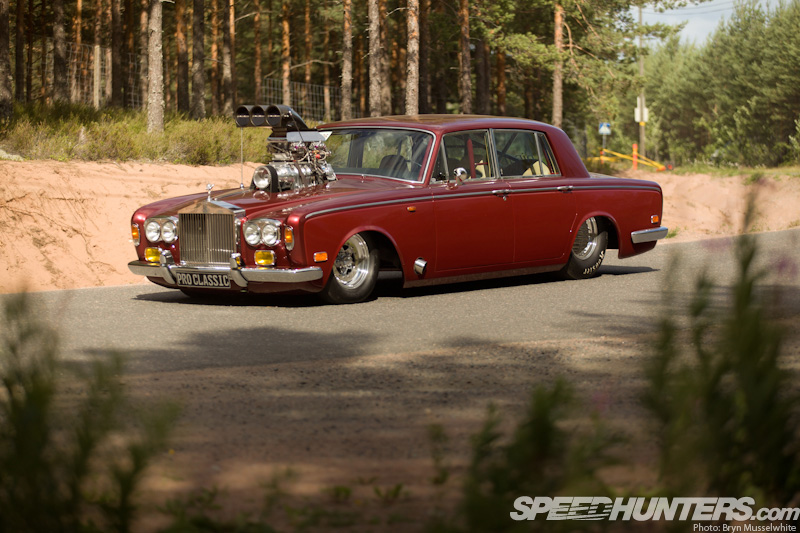 So this is how they did it: starting with a standard Rolls Royce Shadow, the pair cut the entire floor out leaving something similar to a remote control car body, just a skin. They then fabricated a full tube chassis.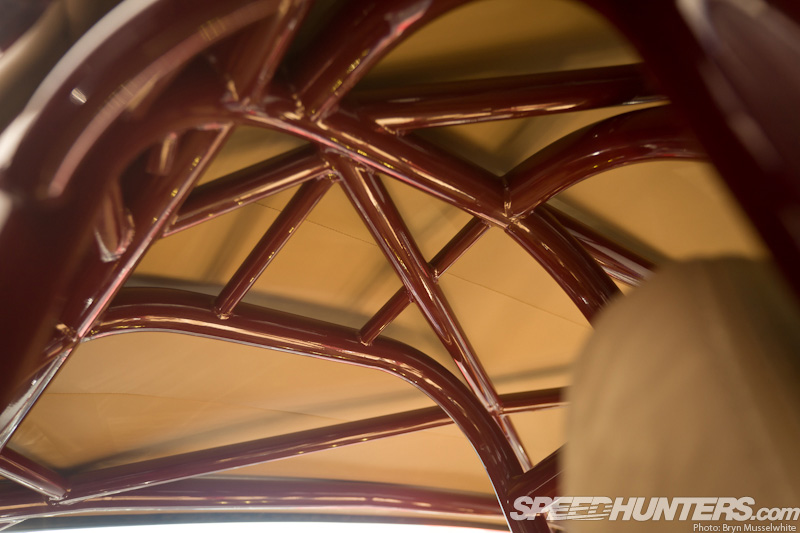 Which allowed them a free rein when it came to the complexity of the tube – the only limitations being the outline of the bodyshell. So this crazy, over-the-top amount of bars could be expertly welded together without hindrance. With the entire chassis sprayed in the colour you see here, the headlining was then trimmed in an otherwise unfinished bodyshell. It had been prepped for paint, but the final primer and top coat hadn't been applied. But of course the two parts had to be put together then to carry on…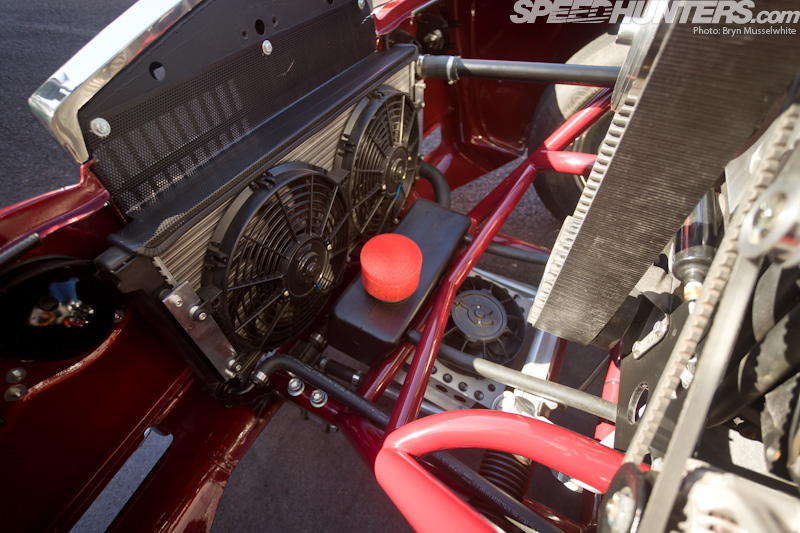 You can see the front end of the new chassis here, with the frame horns coming up towards the engine where they then tie in to the front suspension mounting points before passing through that mass of interior tube and then emerging…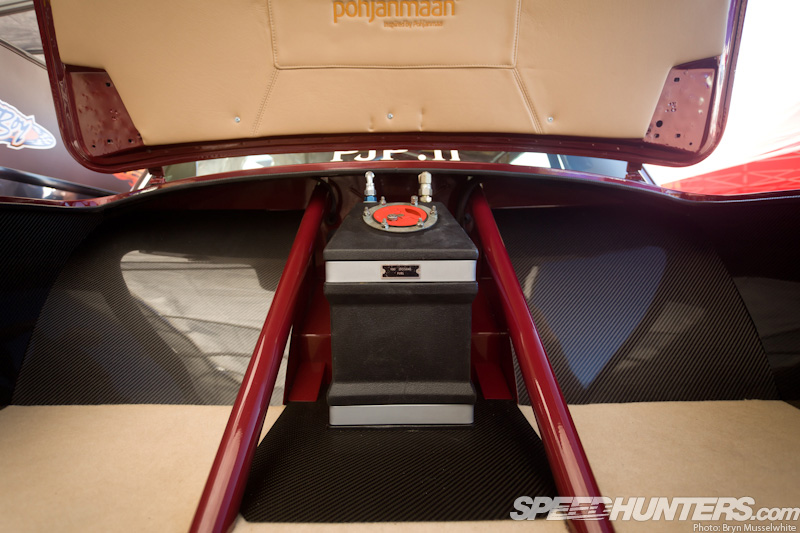 At the back end, forming that all important cage. Another thing that I really like about the colour-matched cage is that it's very much a feature of the build. The Rolls will never run a seven second pass in the form it is today, but the cage makes you feel like it's possible.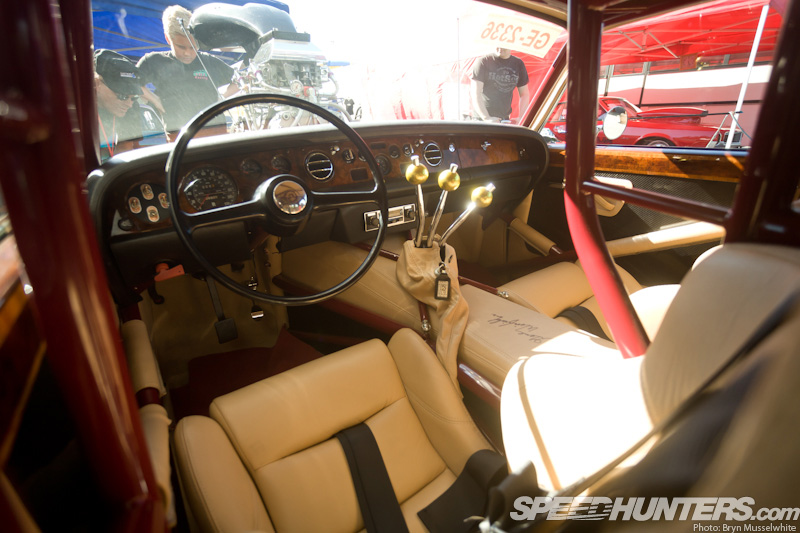 The mix of components confused me at first, wildly modified with driver restraint cage and crazy gear specific shifters for the TH400 auto box. But no monster tach on the dash, or aftermarket steering wheel for example. So I tried to look at it as though I'd spent countless hours, evenings and days working on it like the guys did.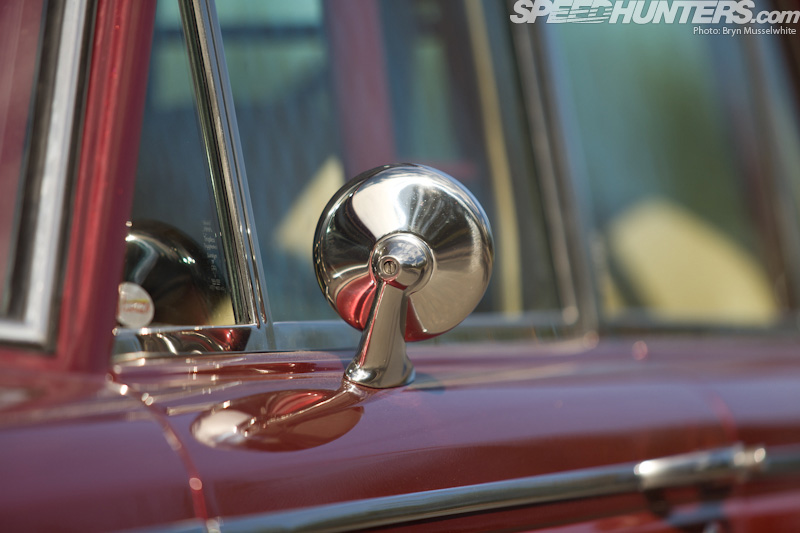 That's when it becomes clearer why you'd keep certain elements relatively untouched: firstly it looks good and actually adds to the overall impact because it adds to the air of 'factory standard'. Secondly because it also keeps the budget down: as I was told by plenty of friends as I shot around the Rolls Royce, the pair are normal people with normal depth pockets. This is very much about skill and observation, not masses of money.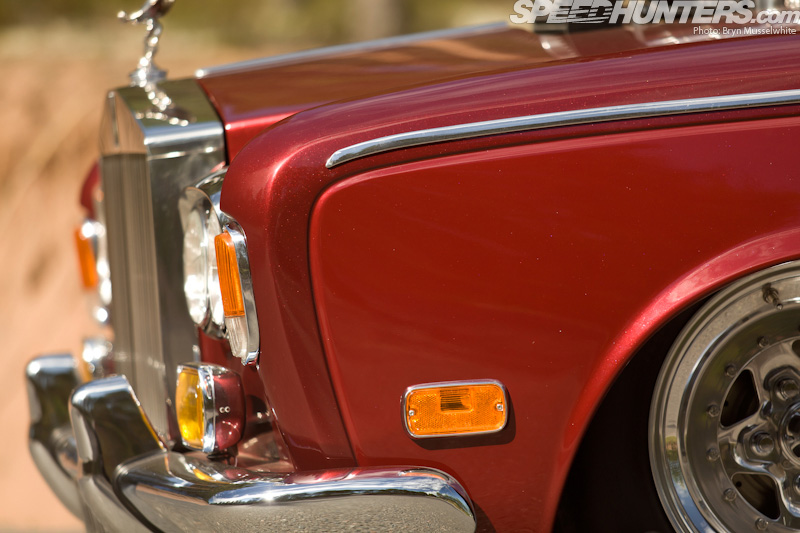 There are no wild colour choices here, but there is a very subtle two-tone scheme going on. The original mid blue colour was replaced by the heavy metallic Ruby, which when you get up close adds to the custom effect.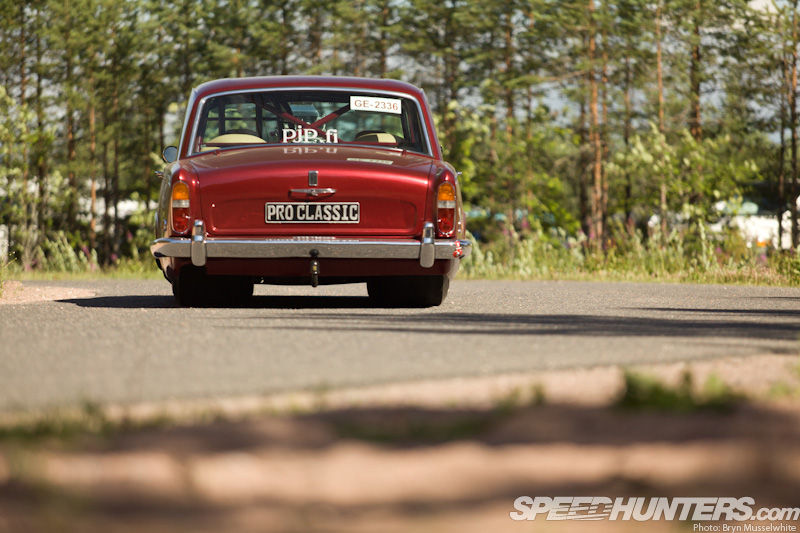 So okay it's never going to be confused with stock.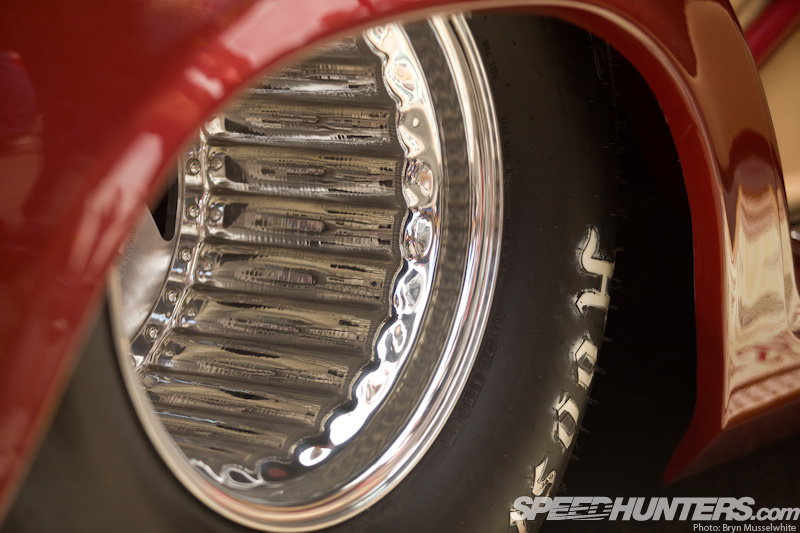 At the back the 12x15in Weld Convo Pro wheels and Hoosier tyres see to that.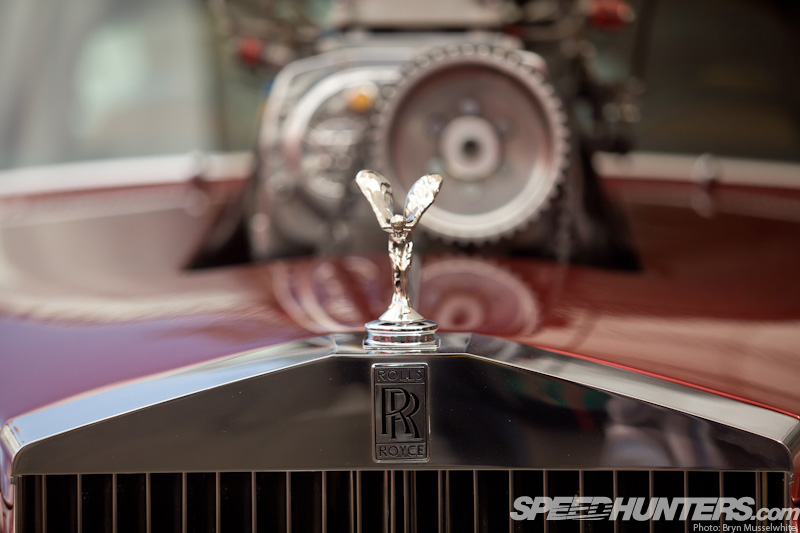 With the Mooneyham blower trying to suck the famous flying lady's wings off.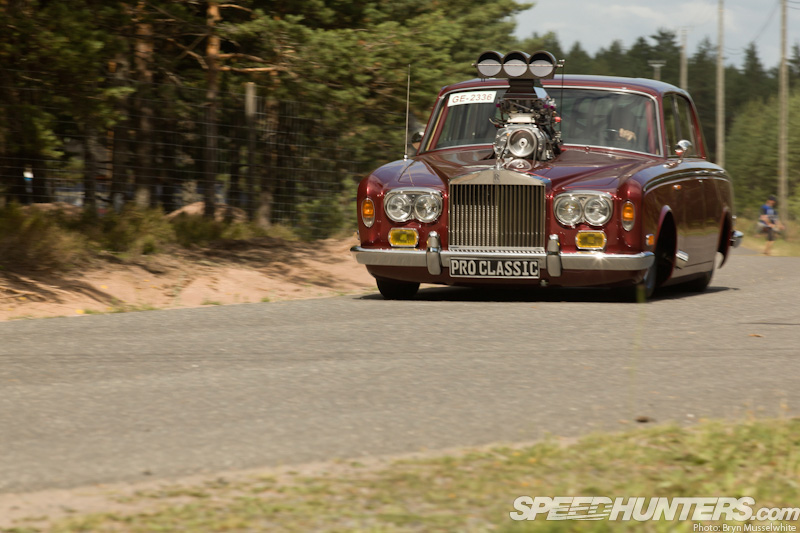 On the move the Rolls attracts so much attention. I know this isn't really surprising but given that we're at a major Finnish drag racing event and there is some seriously impressive machinery here, it's the way that attention manifests itself that strikes me.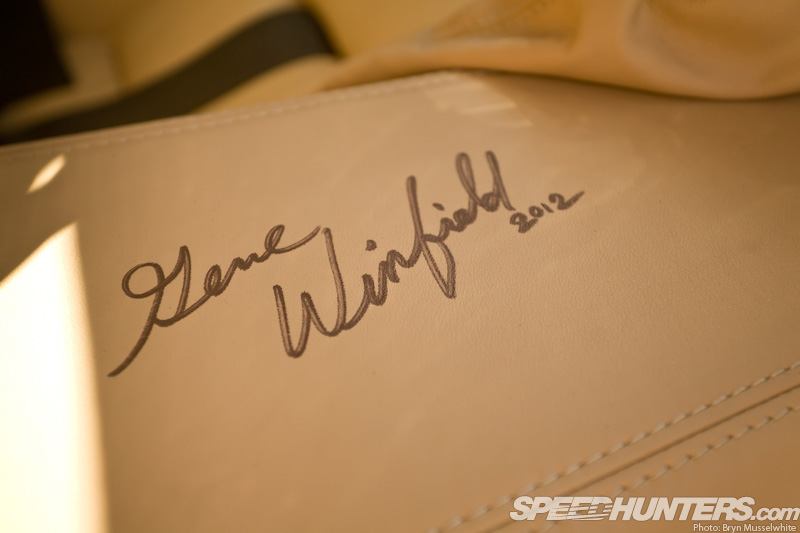 People simply stop what they're doing and wave or even applaud – they love it. Gene Winfield even fell under the influence and made a beeline for the Rolls at a custom show last year, signing the centre panel.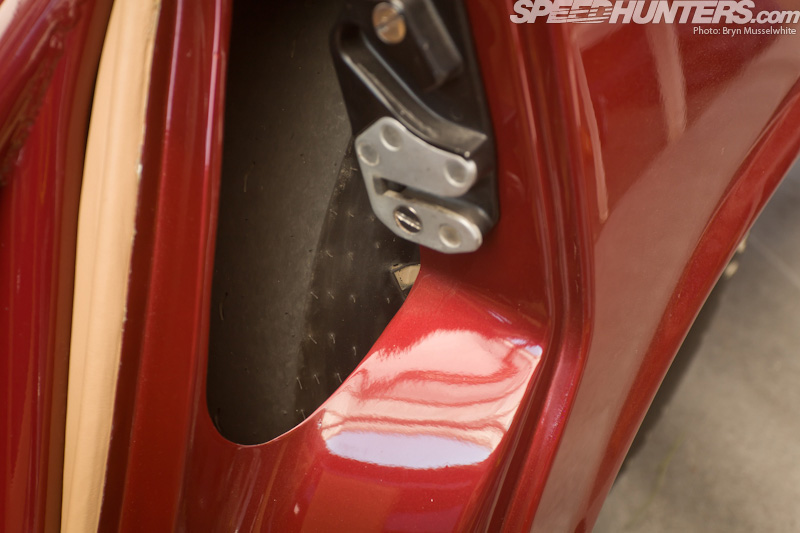 I know of at least two other custom Rolls Royce Shadows in the world: one in the States which deviates even further from original than this one and a drag-specific one in the UK. What I don't think either of those do though  is keep the Crewe (where they were made) spirit so intact. There's just something about the way the guys can cut out the inner rear arch to expose the Hoosier tyre, yet make it feel natural, that works for me.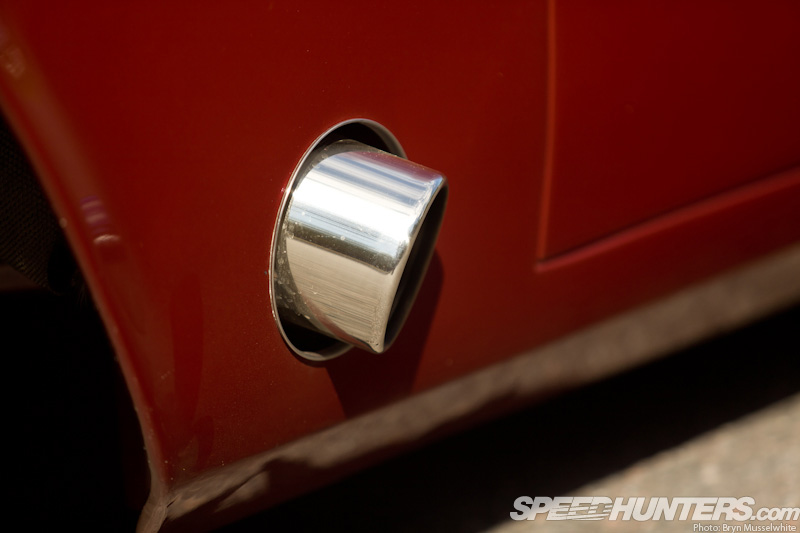 The exhaust note might be loud, but the chrome trim around the wing exit point is a very considered detail and smacks of restrained quality.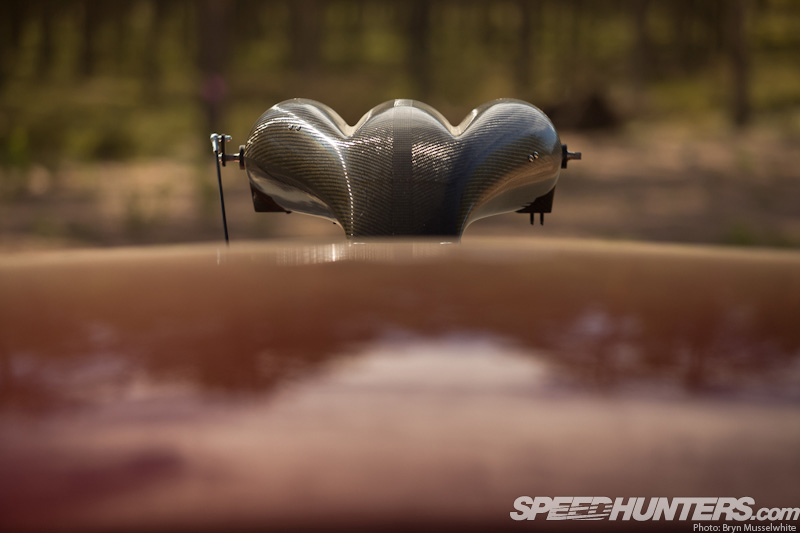 I can't remember seeing such a successful mix of styles, materials and finishes in just one build. You'd have to combine a whole car show to get them usually.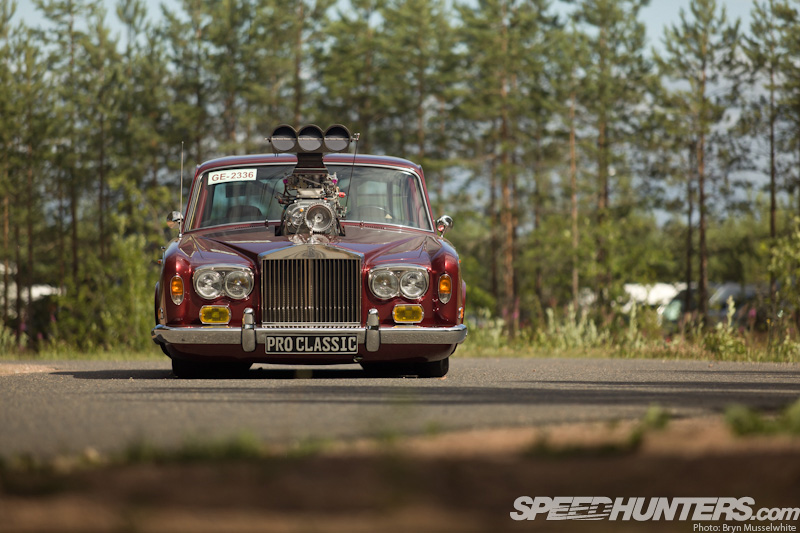 But that's what the Rolls is I guess… a whole car show in one bodyshell. It's whatever you want it to be, whatever you need it to be for you. Drag, show, luxury.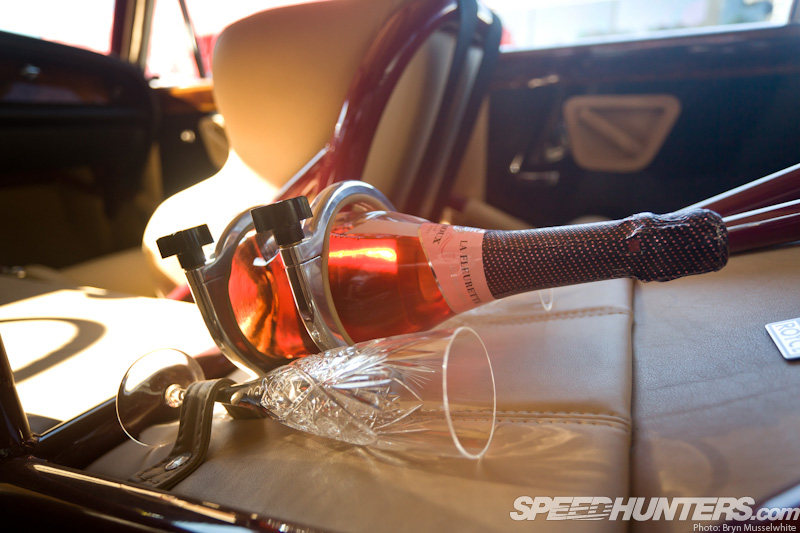 But if you're still in any doubt as to what the point of the Rolls Royce is, I'll try and help lift you from your misery. It's a smile maker. We don't need no stinking nitrous… Well not inside the luxurious interior at least.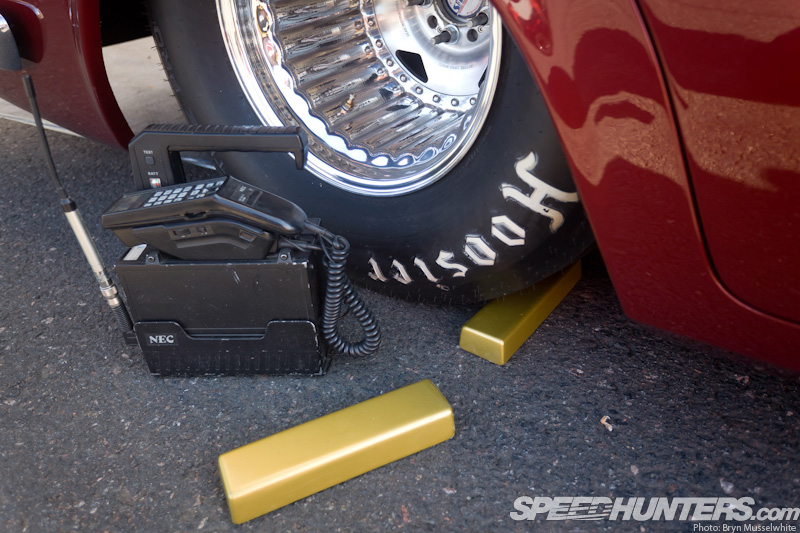 An original '80s brick mobile phone and fake gold bars as wheel chocks? Are you getting it yet?
Plain and simple it will stop you in your tracks, make you point, laugh, smile, applaud and want to know more. Then when you look at it closer you'll realise that unlike a whole load of other very specific project cars, with the Rolls you can do so many things. It's a tow car today but it could also be a drag car. Yet it also works perfectly as a show car. You want to run down to the shops? Okay so maybe that's pushing it… just.
Bryn Musselwhite
Instagram: Speedhunters_bryn
bryn@speedhunters.com
PJP Pro Classic Rolls Royce
Engine
462ci GM V8, Mooneyham 14/71 Supercharger, full teflon belts, 2×1150 Dominator carbs and 200bhp nitrous
Transmission
Th400 auto box, three lever shifter, Strange shafts
Suspension/Brakes
QA1 suspension kits, BMW E36 components, Wilwood Drag lite discs and calipers
Wheels/Tyres
15×6 (front) and 15×12 (rear) Weld Convo Pro wheels, Hoosier drag slicks
Interior
Full custom leather retrim, original Rolls Royce steering wheel, full drag spec cage
Exterior
Standard with a hole cut in the bonnet for the supercharger and two in the front wings for the exhausts, two tone metallic paint
More Scandinavian builds on Speedhunters
More Rolls Royce stories on Speedhunters