Good things take some time to materialize, and the wait to get my shiny red TE37RTs onto Project GT-R was a long one. But boy was it worth it! It all came down to rubber; after seeing Taniguchi demonstrate the potential of a state of the art compound months back, I too wanted to dress up those lovely RAYS with some Yokohama Neova AD08Rs.  Problem is that I am stubborn and I really wanted to go with the new 'GT-R size' that everyone is beginning to run on their 32s, 33s and 34s – 295/30R18. Now with the 'R' version of the Neova being such a new model, Yokohama kicked off production of the most popular sizes first. It wasn't until mid-June that the two-nine-fives finally began being cooked up at the secret Advan lair, and a little while after that the four monstrously-wide rings of sticky rubber showed up at my door.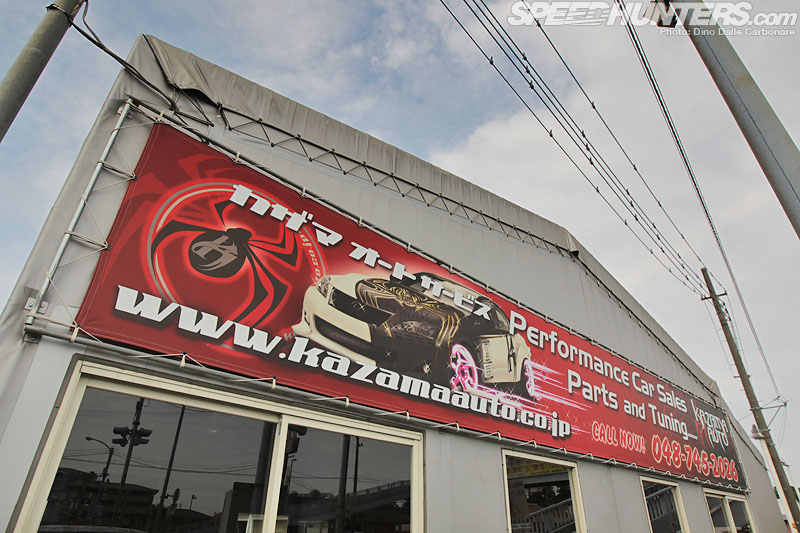 It wasn't long before I was on the phone to Kazama-san of Kazama Auto to book a few hours with their tire fitting machine. So this past Sunday…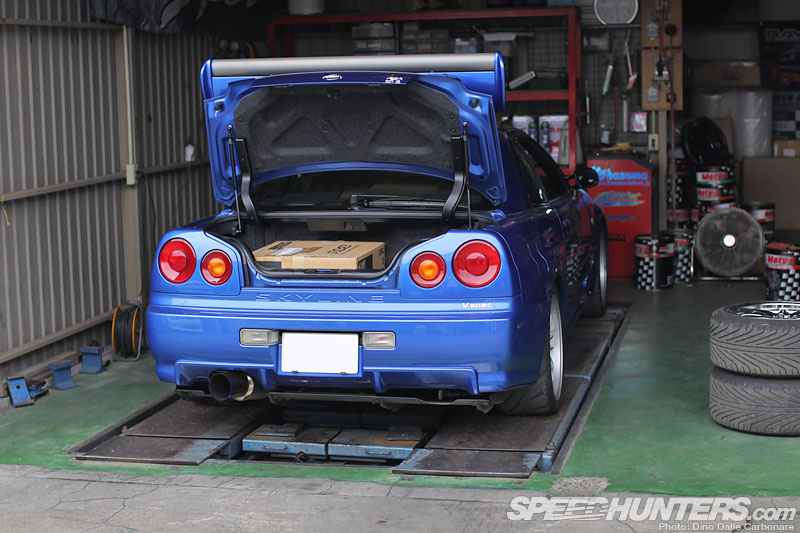 … I got to experiment with just how much loading capacity a BNR34 has.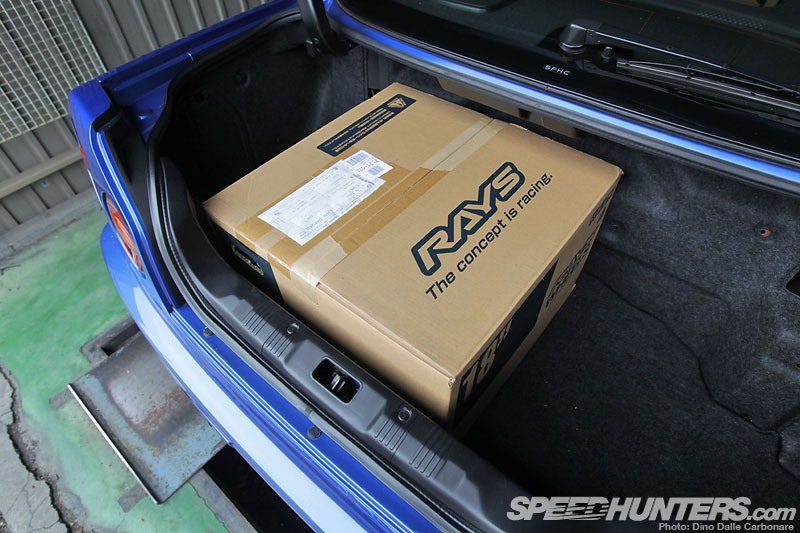 I managed to squeeze one TE37RT box into the trunk…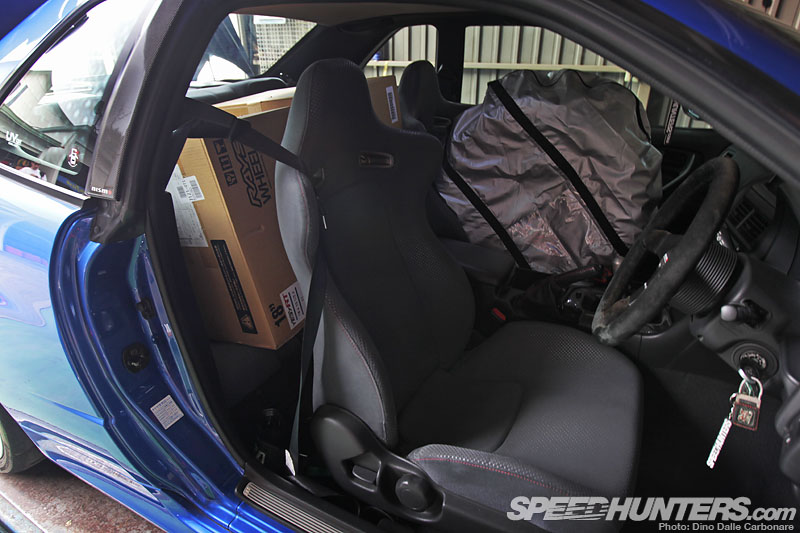 … and the other three vertically on the back seats after having slid the Takata belts back through those tiny harness eyelets on the seat backs. I could only manage to fit a single tire on the passenger seat though – the other three had to be carried in my friend's BNR32.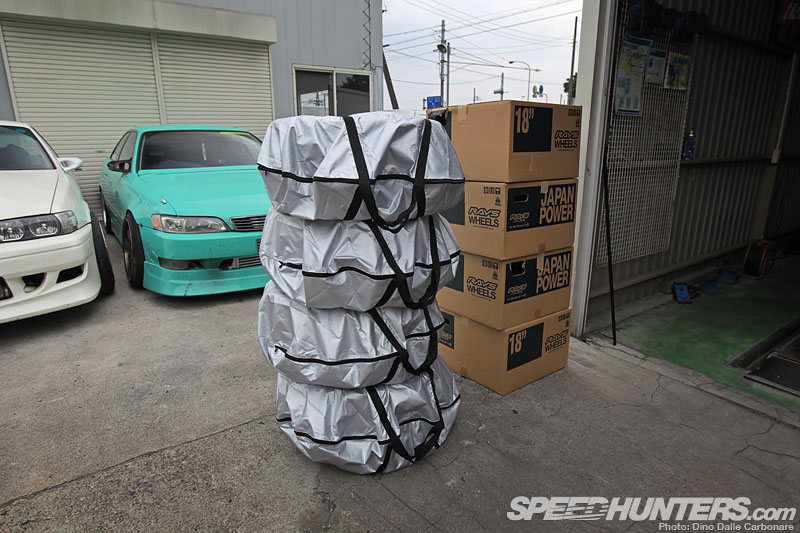 So after getting everything unloaded, this is what we had to work with. My friend kindly donated his wheel bags for the transportation so we didn't leave any nasty black rubber marks on any of our interior trim.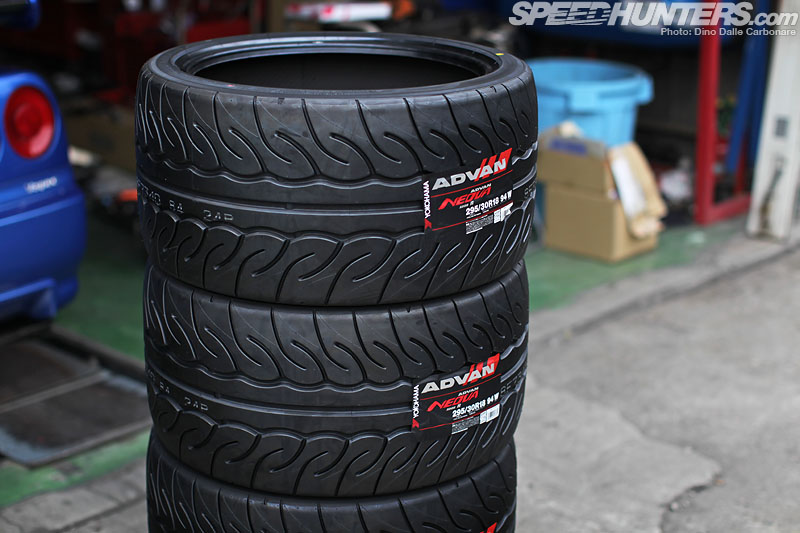 These new Neovas will be the widest tyres I've ever run on the R34. When new, it came from the factory with a set of Bridgestone Potenza in 245/40R18. Since getting rid of the stock BBS rims I've run 265/35R18 (the old 'GT-R size' as it's always been referred to in Japan) as well as 275/30R19 on the CE28Ns. Both of these were on a 9.5″ wide rim so with 10.5-inches to play with on the RT's there was definitely enough girth for the wider size.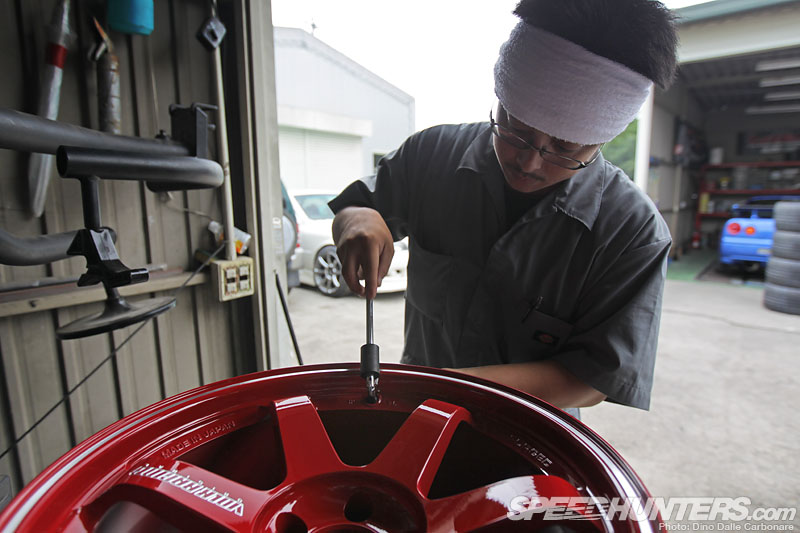 So with no time to waste the guys at Kazama Auto got to work, first fitting the included black anodized valves…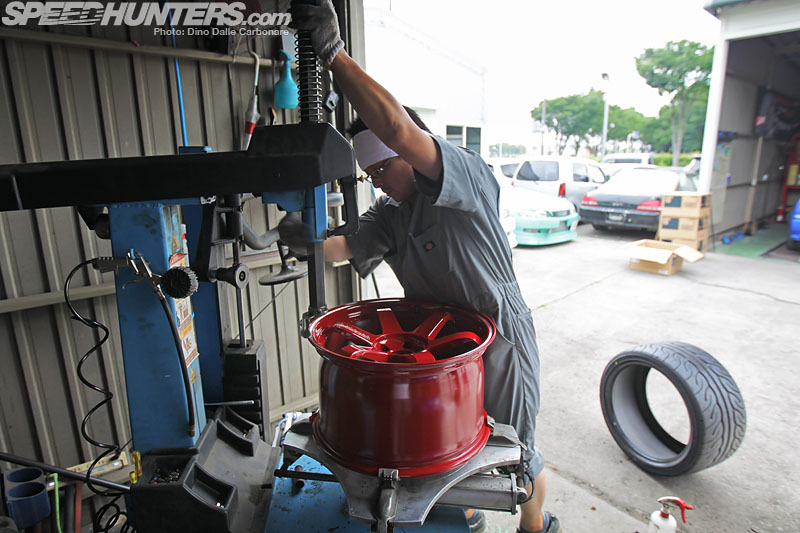 … and then calibrating the tire fitting machine to the rim's diameter.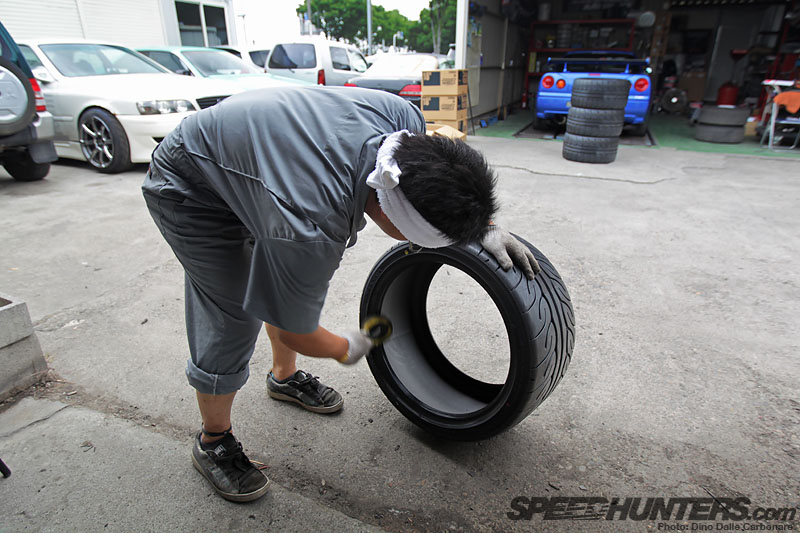 Next up Yamashita-san, Kazama's chief mechanic, soaped up both the tires and edges of the rim…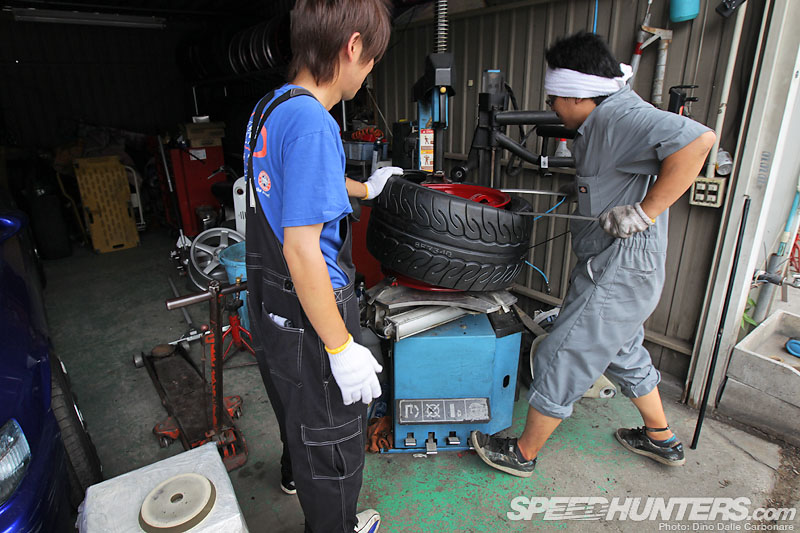 … before aligning the tires' balance point as well as he could with the valve. The harness of the sidewall created some difficulties but eventually, after a bit of manhandling…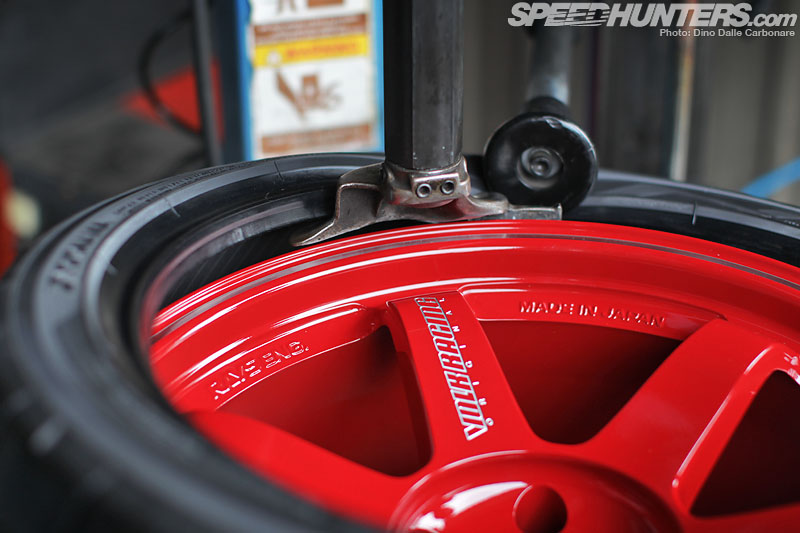 … the rubber cleared the rim. Having had these wheels sitting in my office for quite a while, before I took them to Kazama I treated them to a protective coating courtesy of Kleers, which is why they look especially glossy. But more about that in a separate post.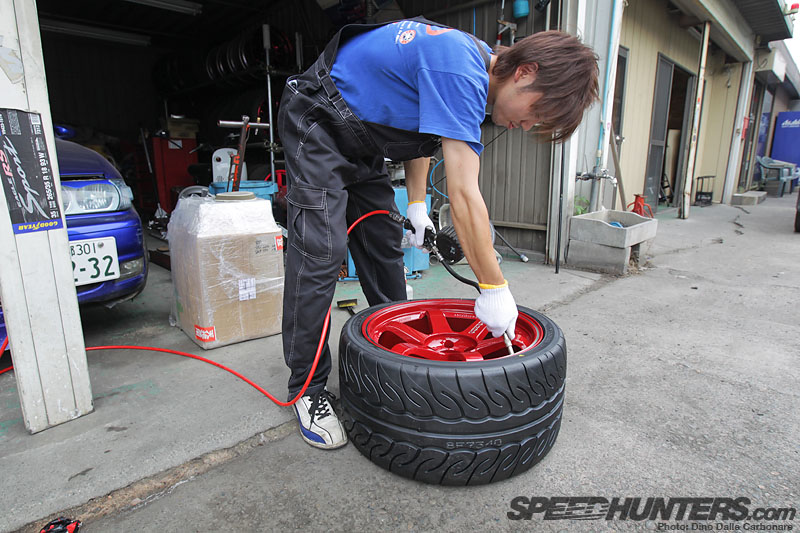 It took a good 5 bar of air to get the tire to bead and snap into place…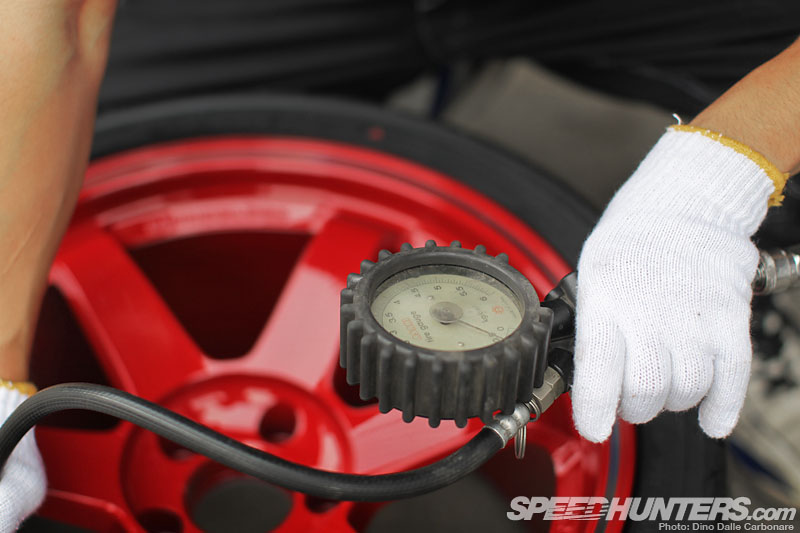 … before being taken down to 2.3 bar which is what I'm starting off with initially.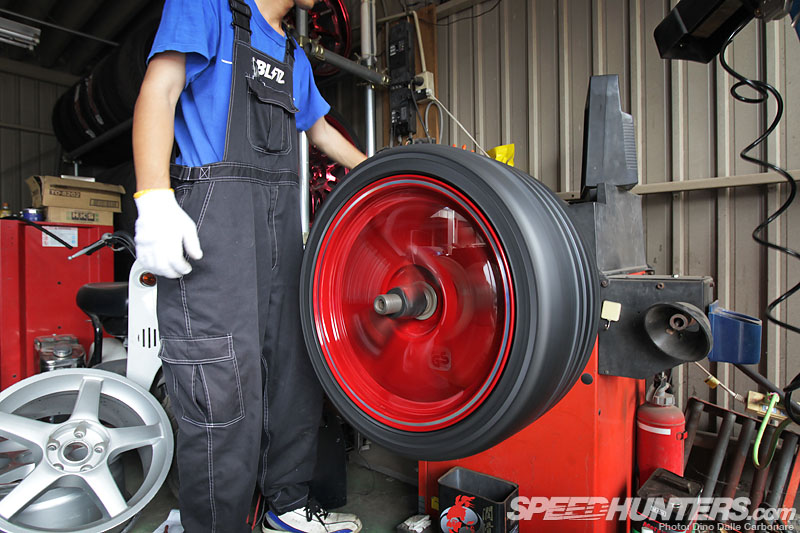 To everyone's surprise, the first two wheels required no balancing at all – they were spot on as they were. The second pair were just a whisker off – nothing a tiny lead weight couldn't cure.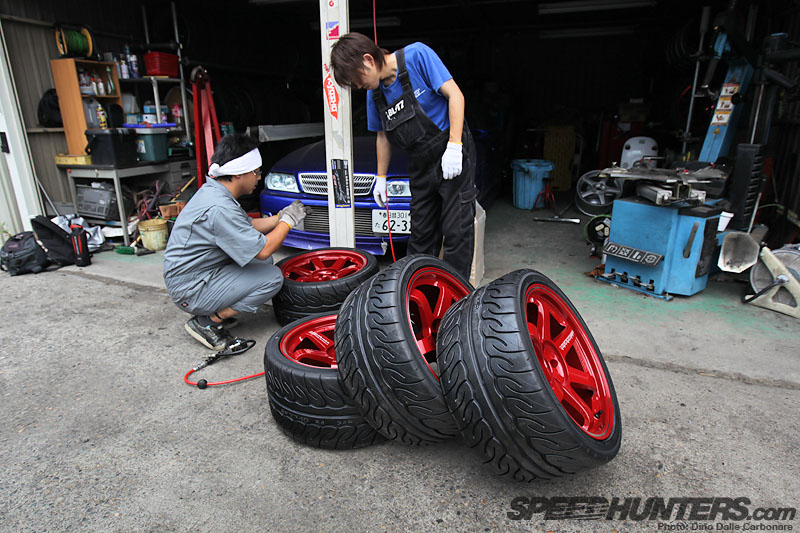 In no time, all tires had been mounted…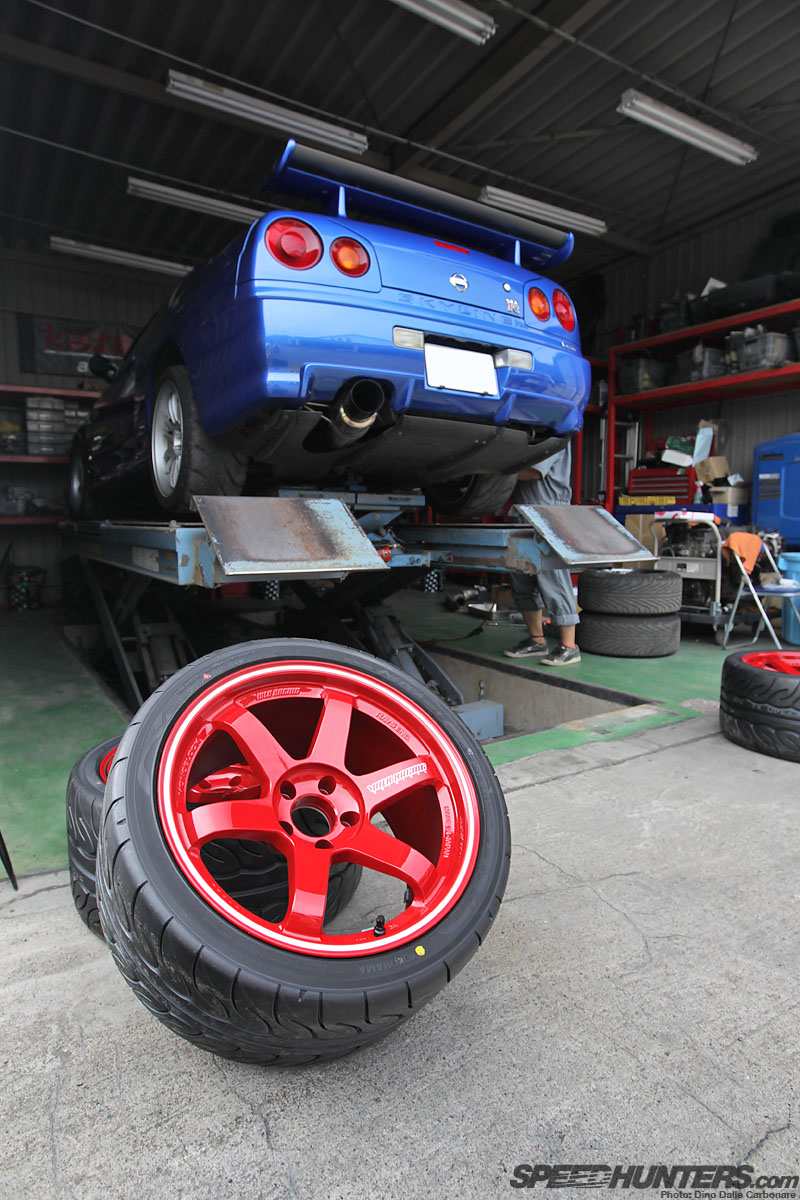 … so we moved them into place behind the car and we began removing the old RE30s.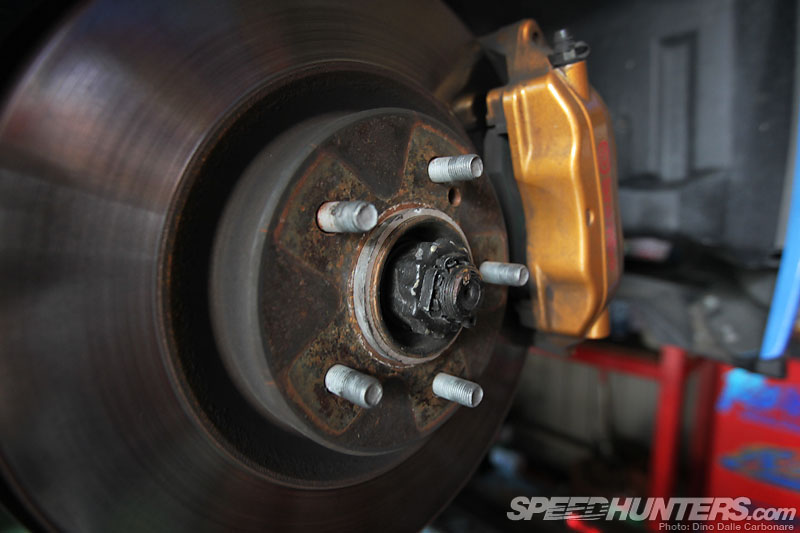 Before fitting, the RAYS aluminum hub rings were slid onto each hub. Since RAYS rims have a hub-centric design they require these little rings to achieve proper centering.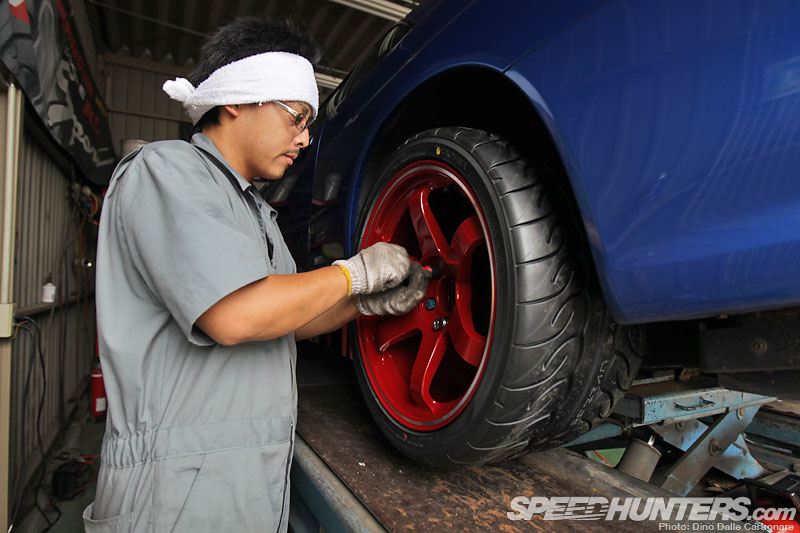 Since I was unable to get a set of black RAYS wheel nuts the blue anodized ones I was running on the RE30s had to do…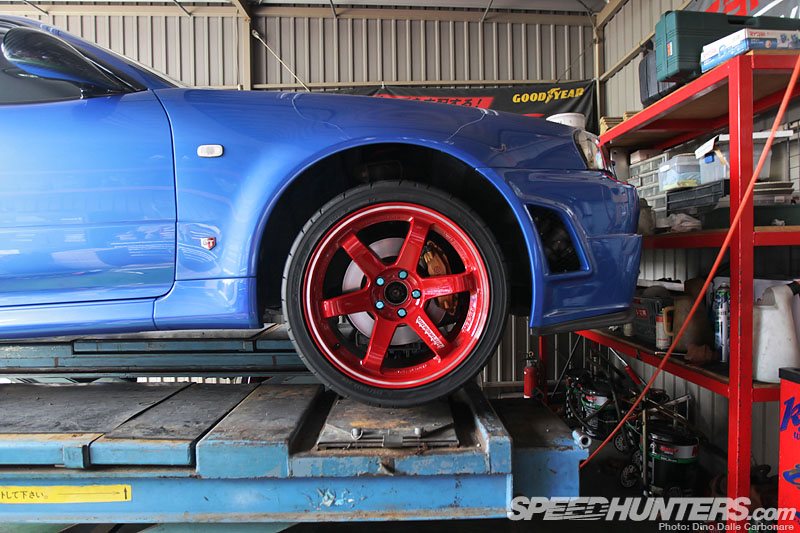 … so yes I'm quite aware they look out of place, especially since the valves and valve caps are black, but I'll be fixing this at a later date.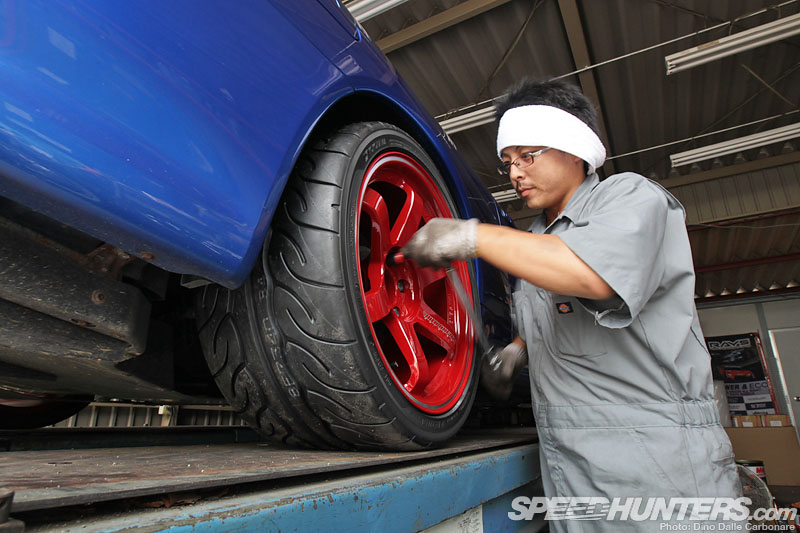 With all four wheels fitted, Yamashita-san dropped the car back onto its wheels and proceeded to torque each bolt.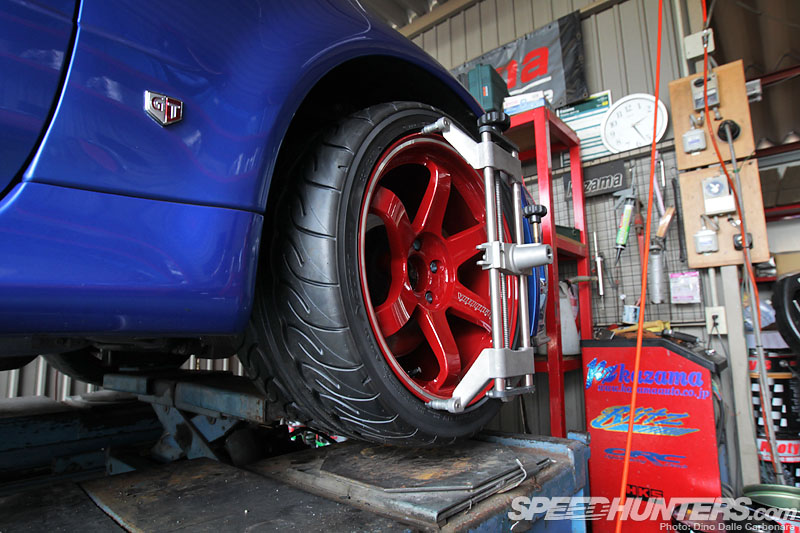 Next up was the laser alignment, just to make sure that everything was tracking straight, or as close as the factory suspension arm adjustments allow.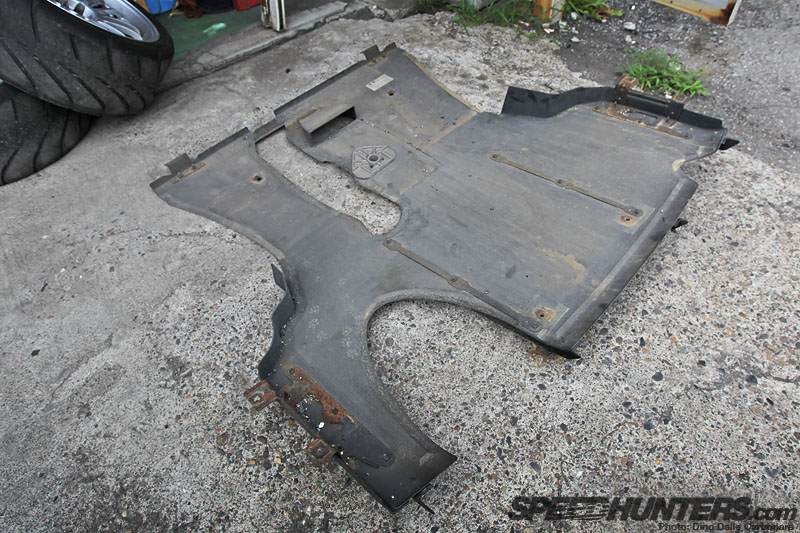 To get to the rear upper links the rear carbon diffuser had to be removed. After having seen my friend – and fellow GT-R owner – recently restore his diffuser to a factory shine, I've decided I will be doing the same thing. Aside from the fact that the actual finish on the carbon looks like crap, it was the cheap steel Nissan brackets that really worried me. These will have to be taken off by drilling out the rivets, stripped down and all rust removed, before being powder coated with a more corrosion-resistant paint and fitted back in place with aluminum rivets. A job for a rainy day I guess!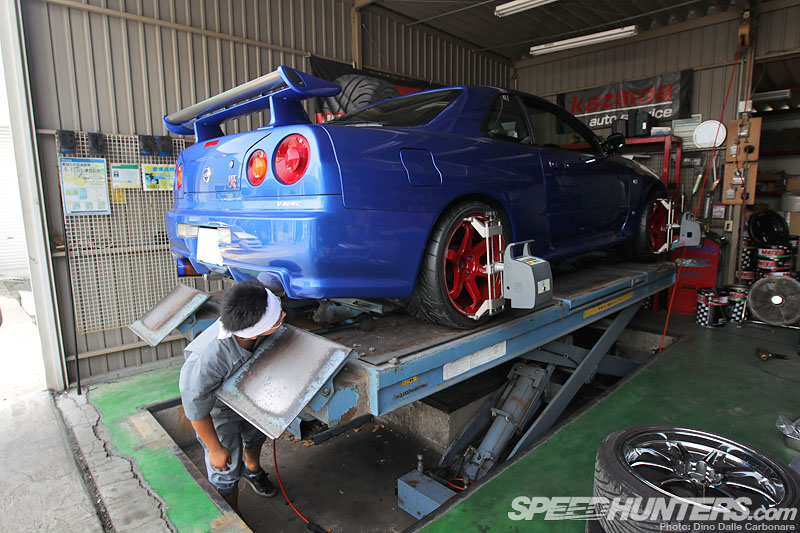 Anyway, with the sensors in place and calibrated, the steering wheel locked into position…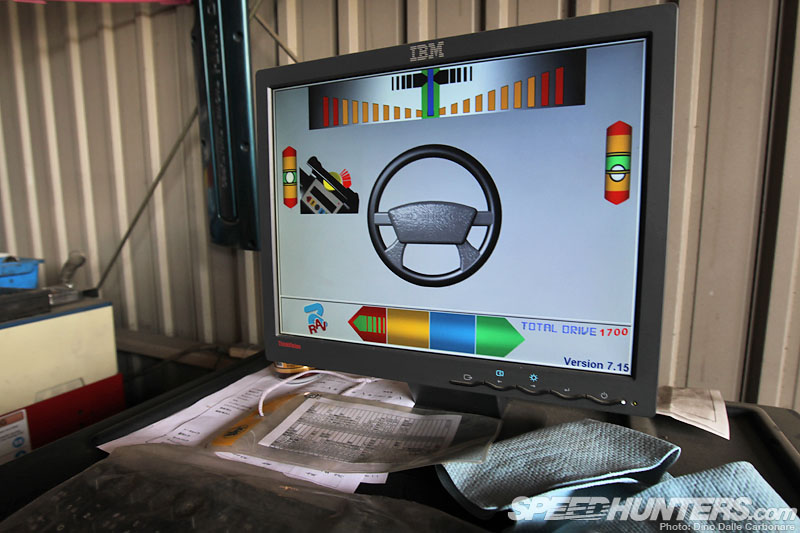 … the first thing was to make sure that the steering was centered…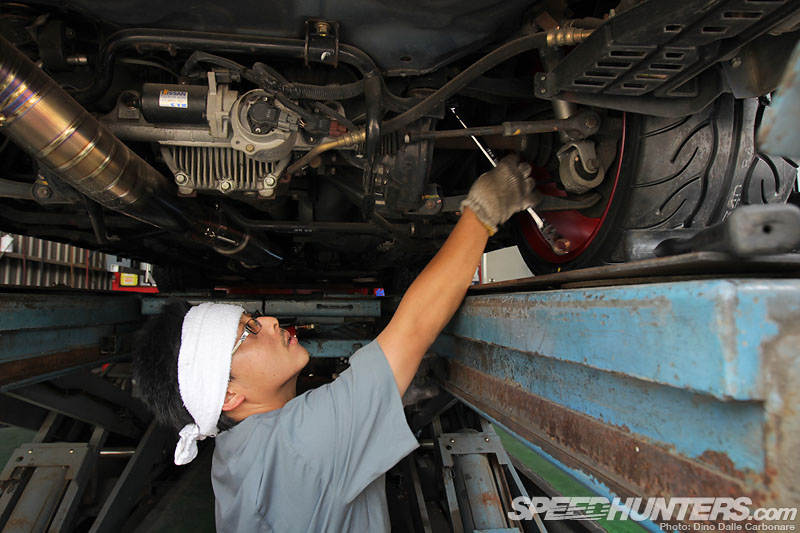 … before proceeding to getting the alignment…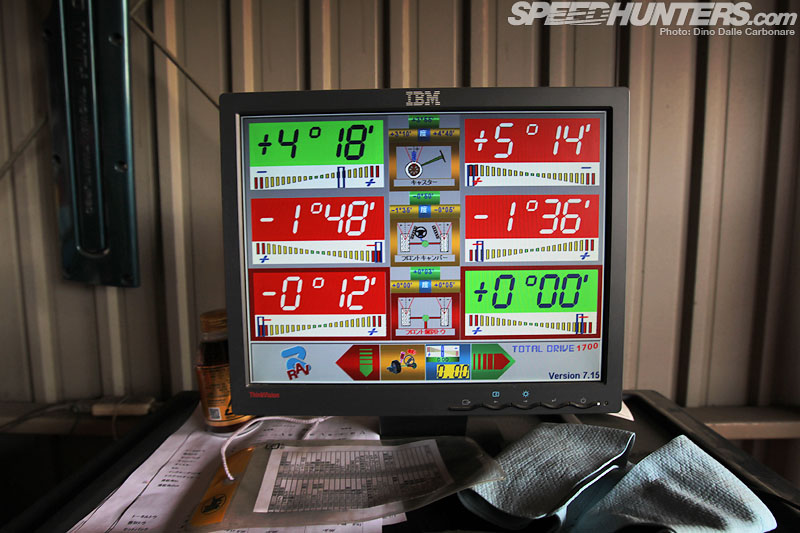 … of caster, camber and toe as close as possible.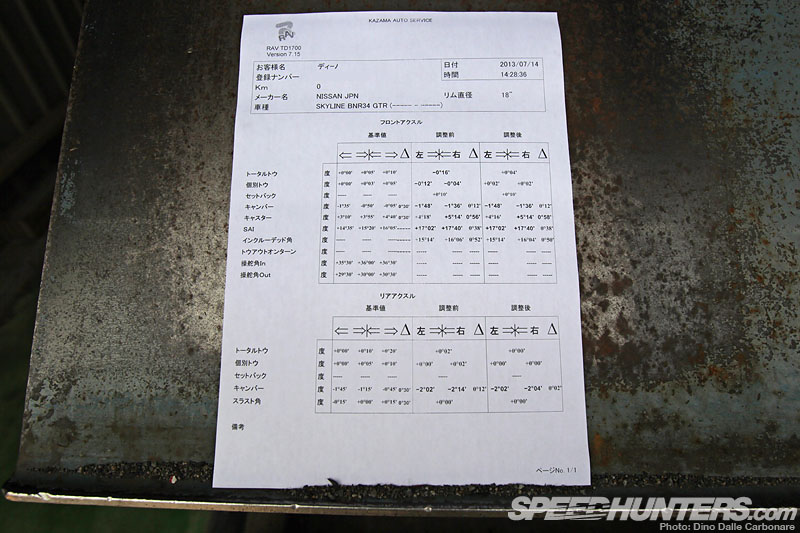 Once everything was finished up all values were printed up for my records.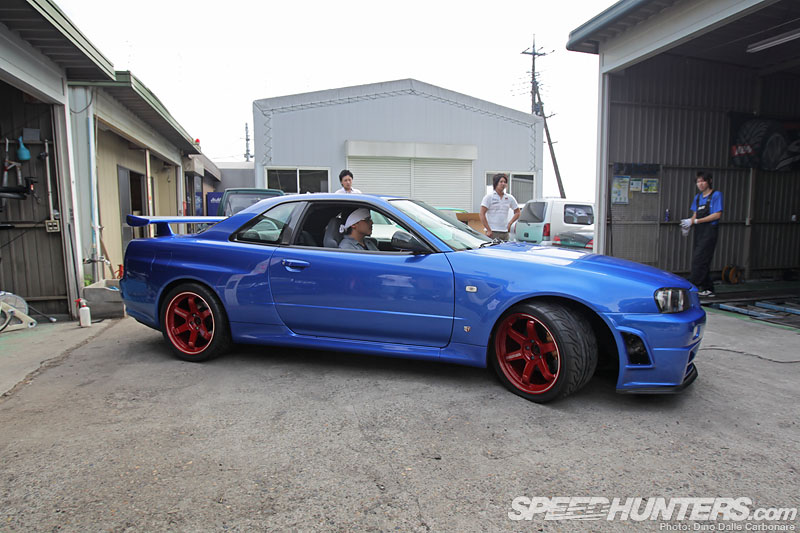 Yamashita-san took the car out for a little spin to make sure everything was ok.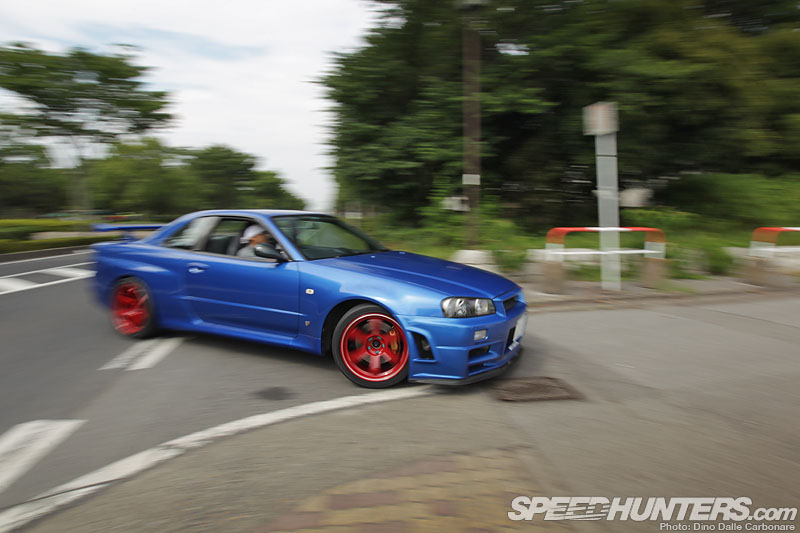 When he came back he commented on how tight and planted the car felt so I really wanted to go and feel things for myself!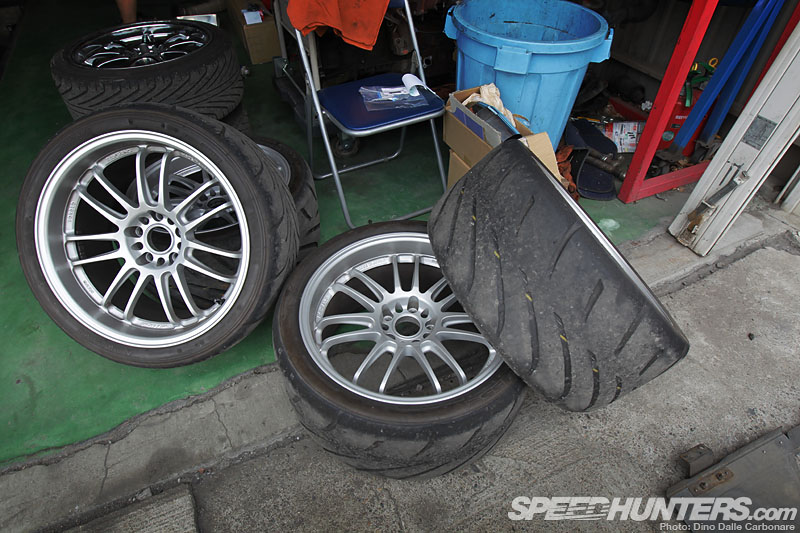 In the meantime my old RE30s and the remainder of what is left of the Bridgestone RE55Ss…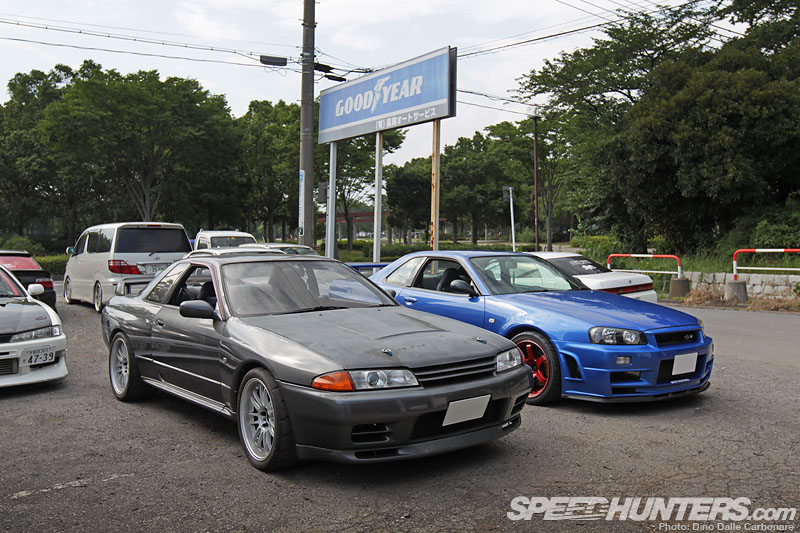 … were fitted onto my friends BNR32, where I have to say they looked tons better than they ever did on my san-yon. They certainly are a massive visual and performance upgrade compared to the stock 16-inch rims he was still running. We were two very happy campers!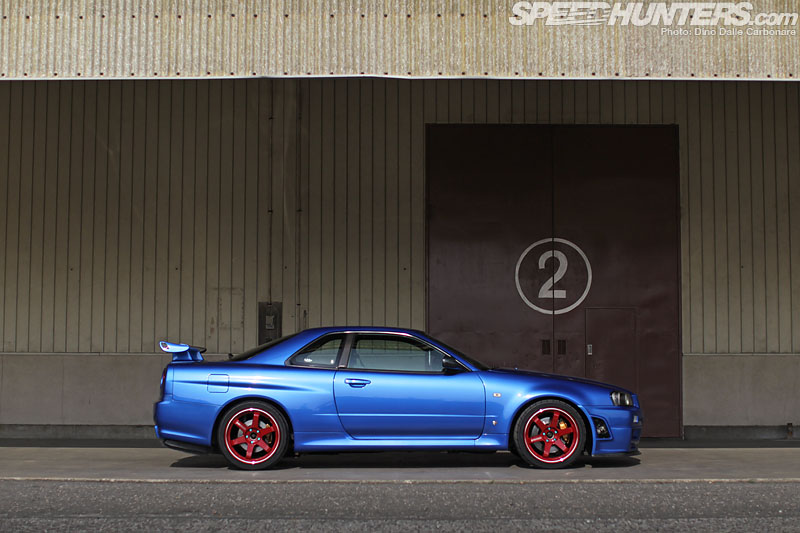 I headed out for a little spin through some empty Saitama-ken countryside roads and was initially relieved at how damn quiet the AD08Rs felt compared to the S-tires I had been running. After two years on semis, I'd almost forgotten how smooth-rolling radials really are! Despite the +11 offset and the extra girth I was also impressed that there is only a very faint rub on left full-lock, something that won't be an issue.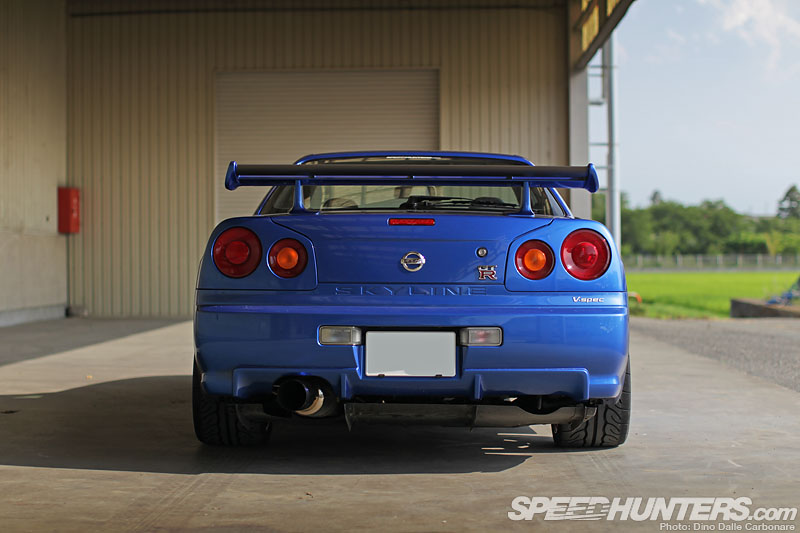 The 295-width really is pretty badass when seen from the back; it's good for grip but it also doesn't hurt in the visual department!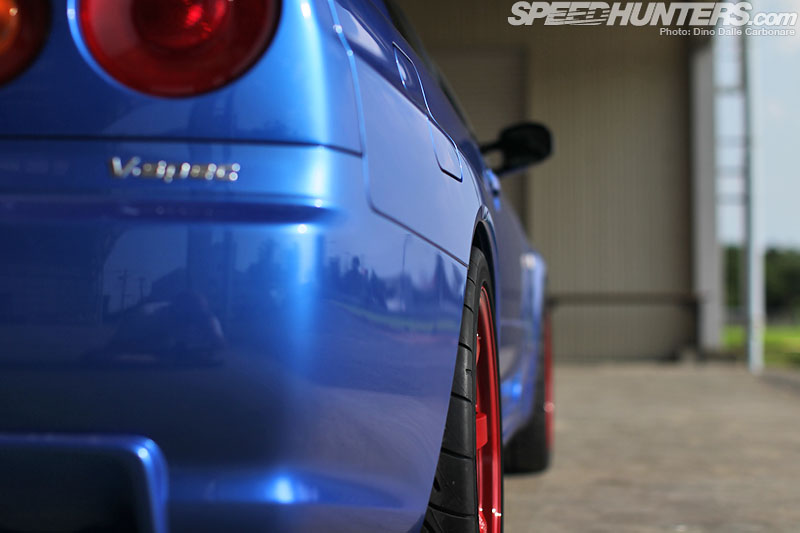 I'm very satisfied at how flush the rears sit…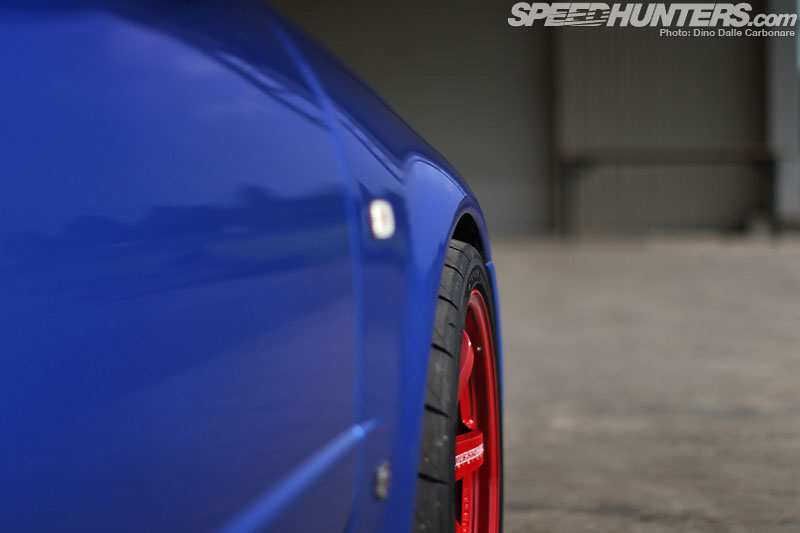 … as well as the very slight poke up front. The marginal overall track increase will come in handy through twisty mountain roads and out on track. As for the actual red of the TE37RTs, well I'm really liking it. It was quite an impact at first but it's unique and it does seem to work well. Now the only thing that I don't like is the wheel gap. The marginal decrease in overall diameter, due to the lower sidewall of the 295/30s, has negatively impacted the perceived ride height of the car. Since the Nismo S-tune suspension I run isn't height adjustable I'm sort of stuck, so will have to start considering other options. While the S-tunes have been very good for the last ten years, I will definitely be needing a solution that will take full advantage of the extra grip, not to mention also a serious think about links, bushes and roll-center adjusters.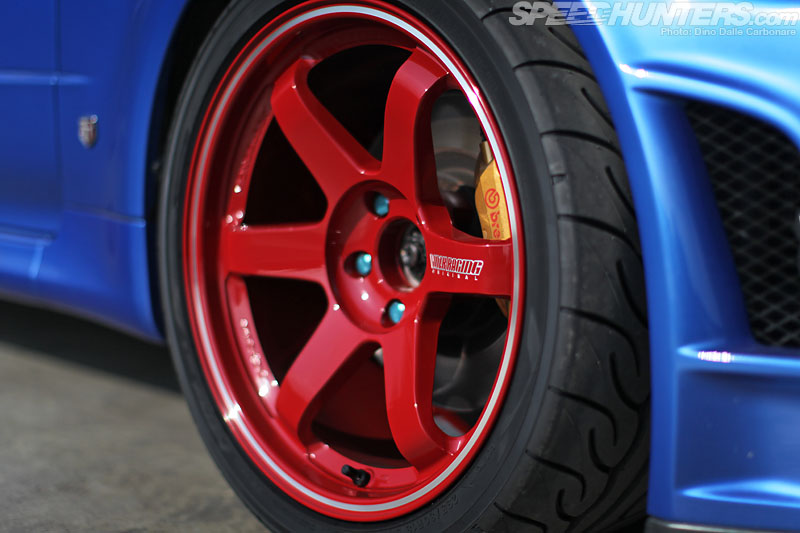 For now however I'm extremely happy as I've given a fresh new look to the GT-R and have just as much grip (maybe more?) as with the S-tires, without the obvious drawbacks race rubber has in wet conditions and for everyday driving. I'll be taking the car out for a proper drive next month so I can put the new boots to a bit of a workout!
Dino Dalle Carbonare
Instagram: speedhunters_dino
More Project GT-R stories
Other Speedhunters Project Cars
RAYS Official Website
Volk Racing TE37RT
Kleers
Yokohama Advan Neova AD08R