Let's go ahead now and continue on with some more scenes from Saturday's Sit Down and Gambino Kustoms in San Jose. In yesterday's post I gave a bit of the background on the event and its laid-back atmosphere, so today I'll wrap up by sharing some more of the impressive hot rods and customs that came out for an afternoon of fun.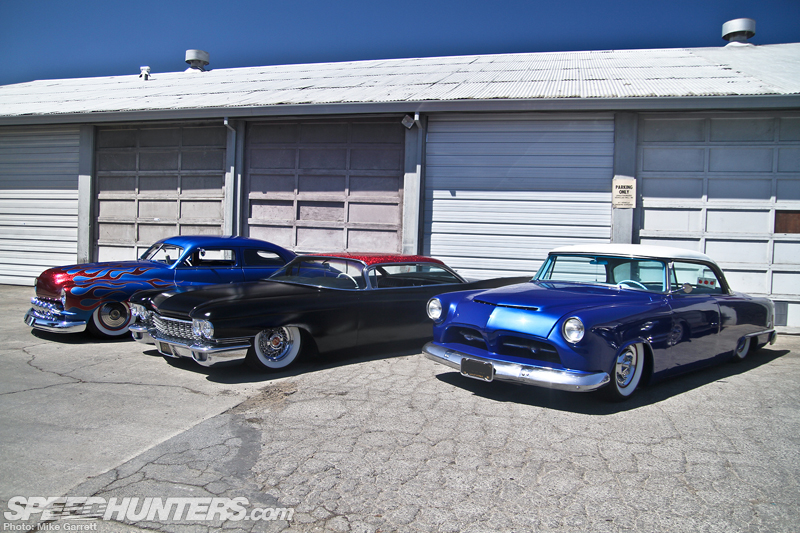 Here we have a unique trio of cruisers, including a particularly interesting four-door Mercury parked there on the left.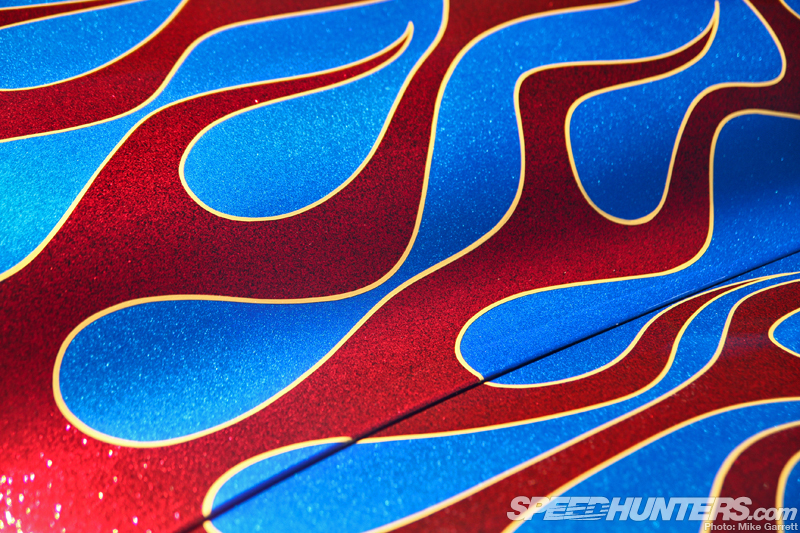 What I especially liked about the Merc was its paint job. Red flames over blue with copius amounts of metal flake just looks so right, doesn't it?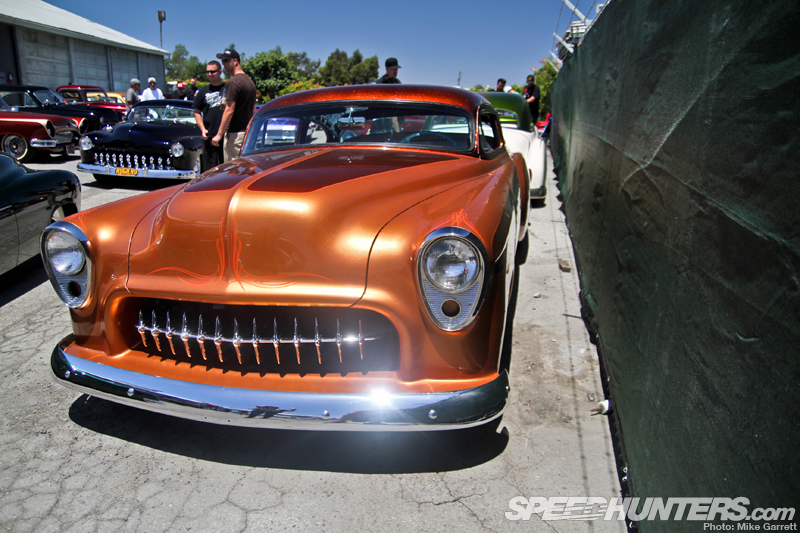 In comparison to many of the other hot rod and custom events I've attended here in California, the turnout at the Sit Down was pretty low, but the smaller number of cars was more than made up for by their quality. This can be attributed to the selective process by which cars were invited.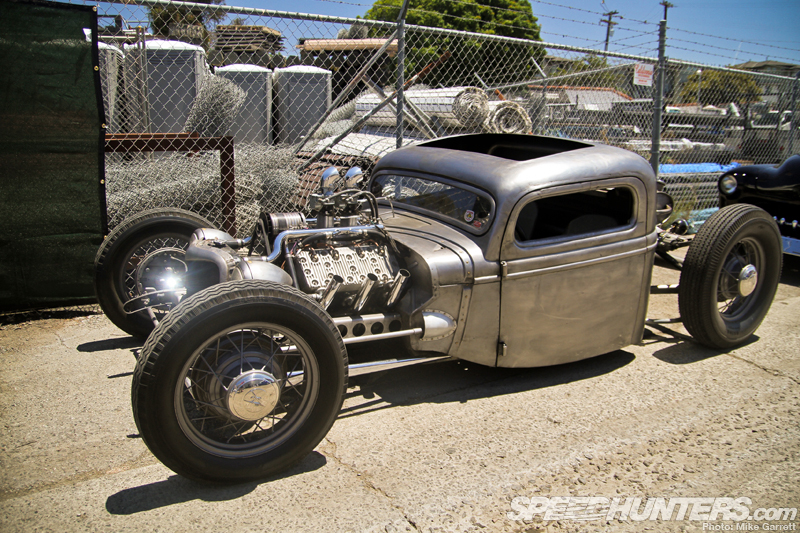 Here's another view of the Top Notch Kustoms '35 Ford, this one providing a better glimpse at its radical flathead powerplant. Surely one of the coolest-looking motors ever.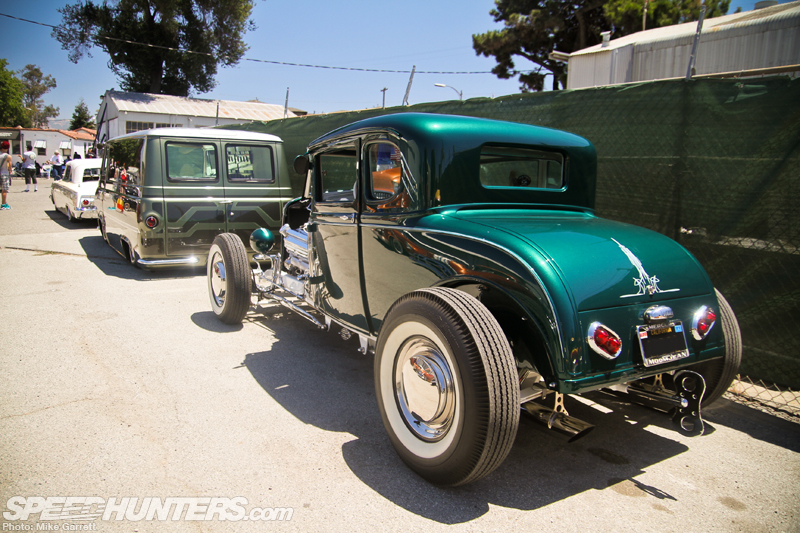 Here's a nice little five-window coupe that's done in more of a period-correct 1950s style. Digging those full wheel covers, angled tail lamps and subtle pinstriping.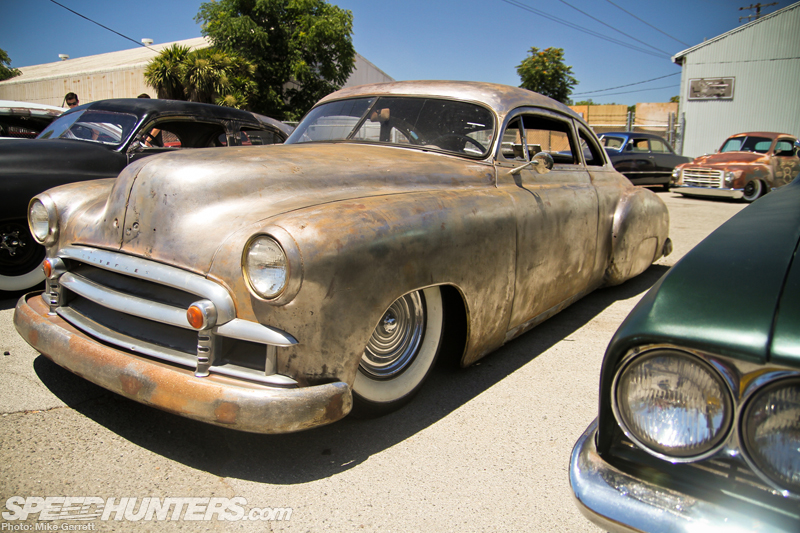 Or you could go the way of this Chevy sled and skip the paintjob altogether.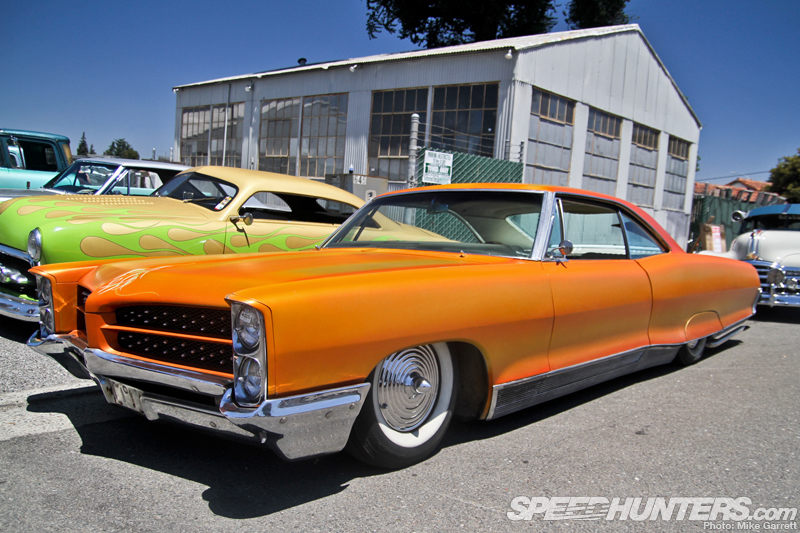 This '66 Pontiac is one of the Gambino Kustoms shop cars, and although this a 'new car' by the standards of traditional customs it looks right at home with a slammed stance, shaved handles and a custom grille treatment.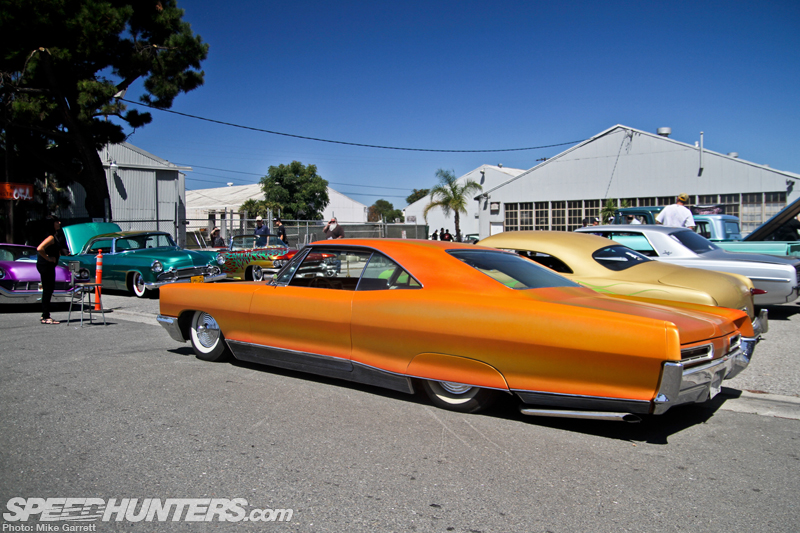 The long and low Pontiac is also sporting an orange paintjob that's very reminiscent of the one on Gambino Kustoms' well-known '54 Chevy.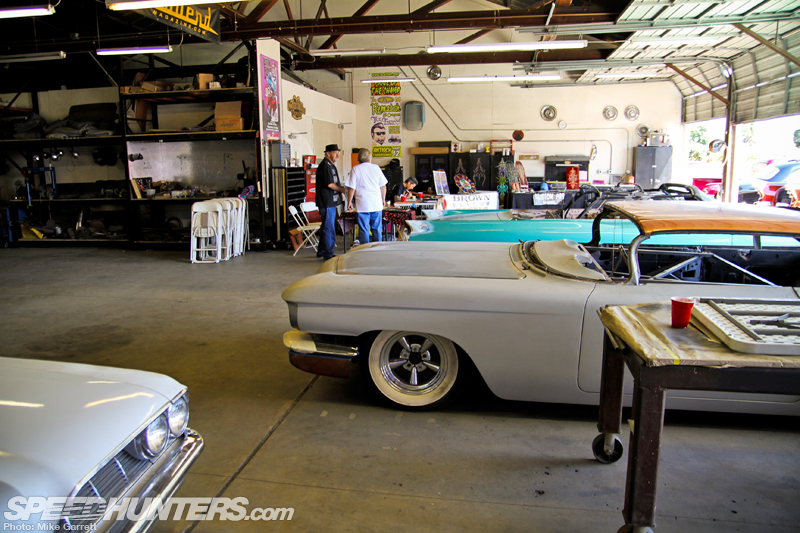 If you wanted to take a break from the sun, there was a lot to see inside the shop itself – be it the pinstriping displays or one of the several project cars occupying the garage.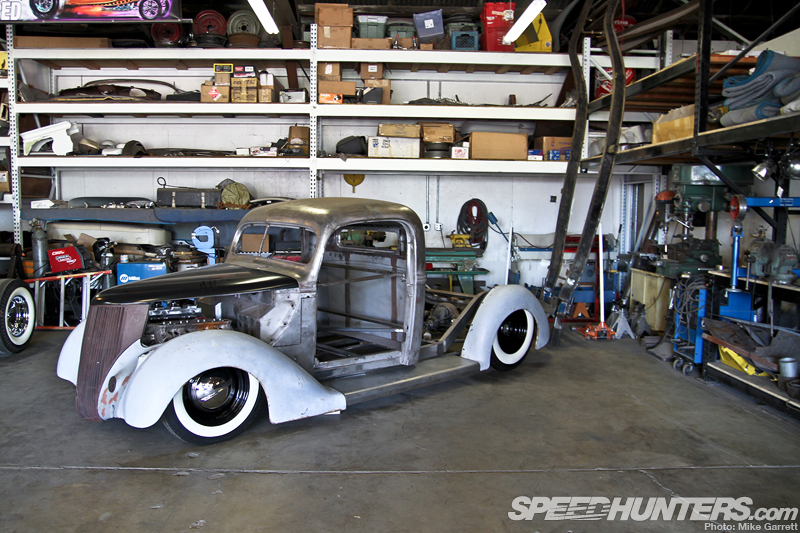 Things like this pickup provide a nice glimpse at some of the fabrication work that Gambino Kustoms is capable of. It's always kind of a shame to see all this work get covered up when the builds are finished.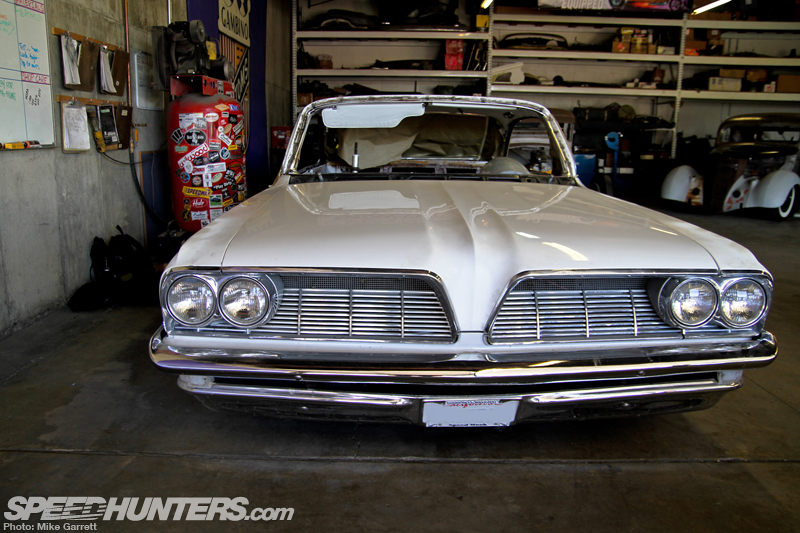 I think my favorite car in the shop though was this '61 Pontiac Bonneville that's in the process of getting a restyle at the hands of the Gambino crew.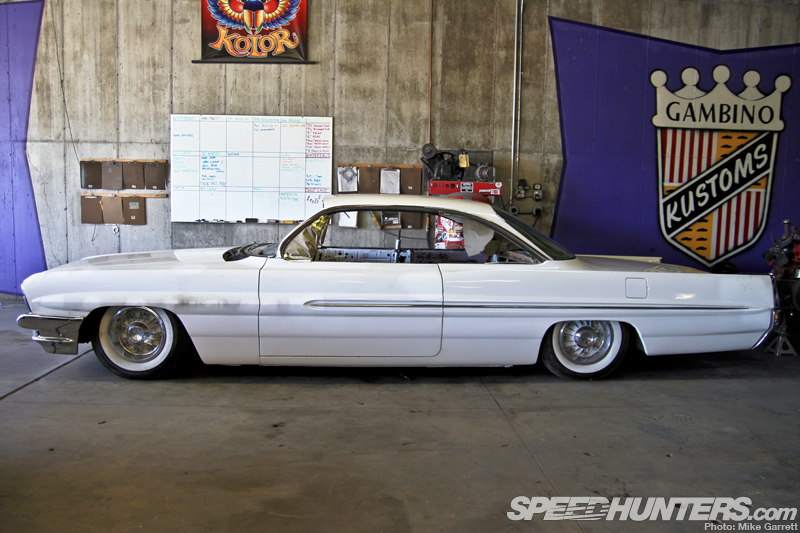 Now these bubbletop GM cars are pretty damn attractive machines in factory form, so it's not surprising that the changes here are pretty subtle – namely some body shaving and a healthy suspension drop.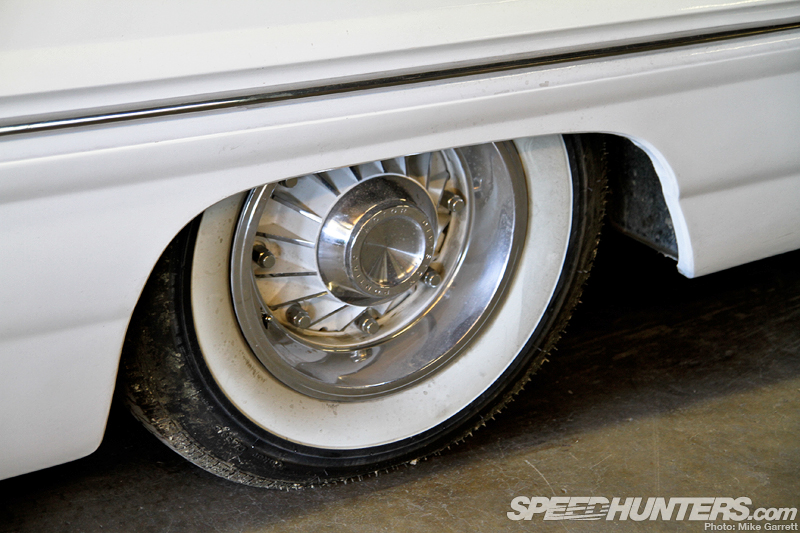 You can see the car is still wearing its original eight-lug drums and wheels with a set of wide white walls. Very cool.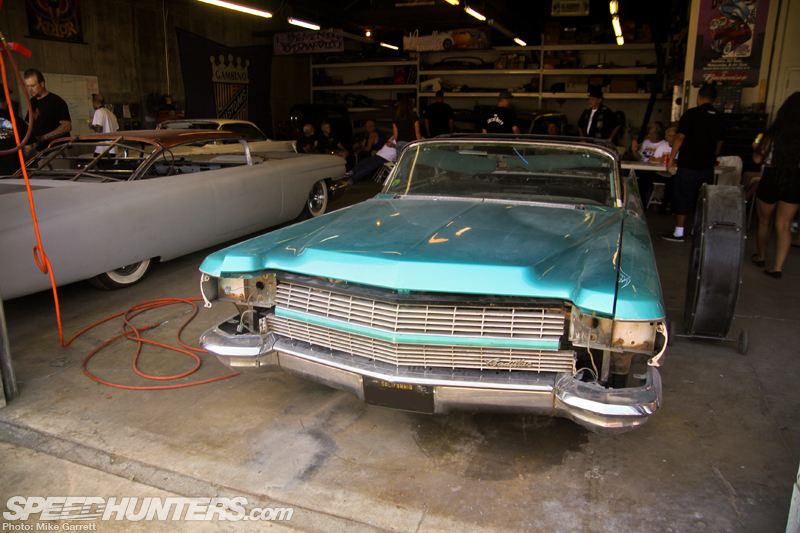 It also seems the Gambino family has a thing for playing around with old Cadillacs.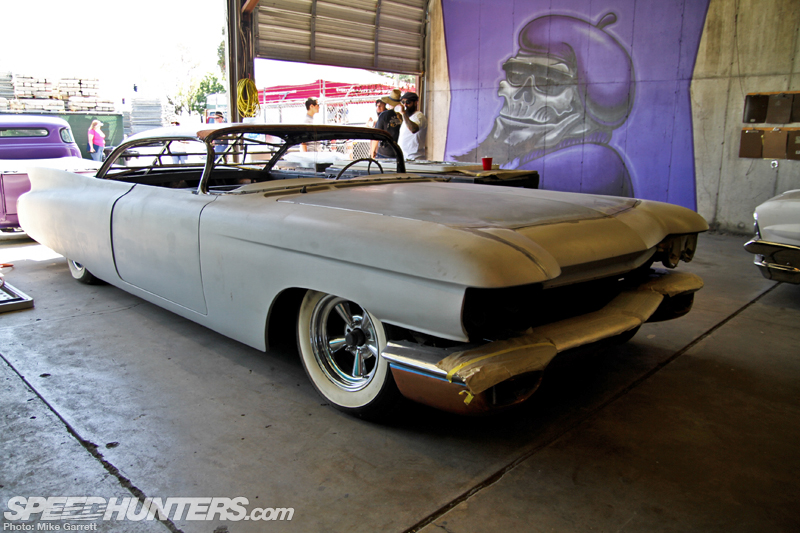 Shaved, chopped, and slammed on Supremes. I approve.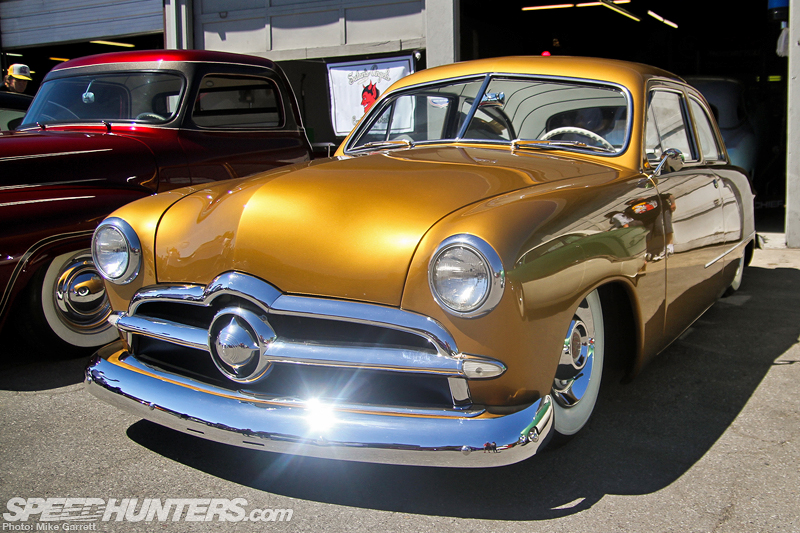 Back outside, we have a Shoebox Ford coated in an absolutely beautiful shade of gold that perfectly complements its modestly customized body lines.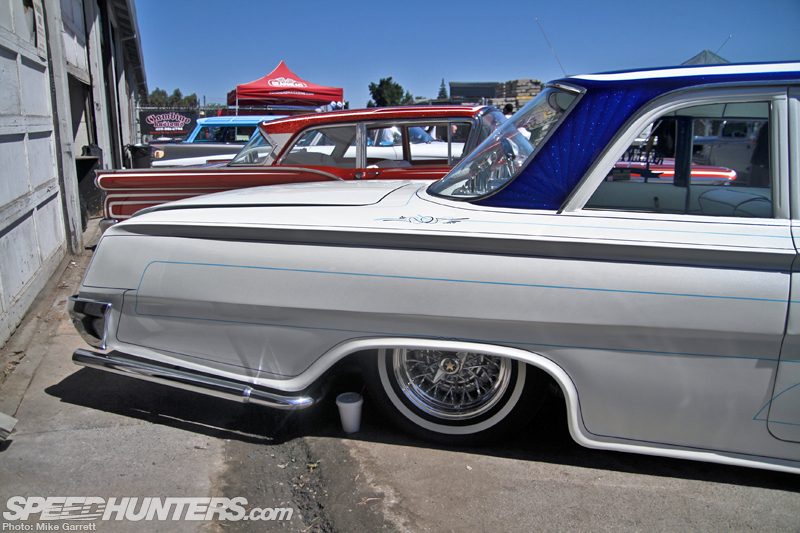 Here's what you might call an 'early style' '62 Chevy Lowrider. I remember being very impressed by this car when I saw it at last year's Billetproof show in Antioch.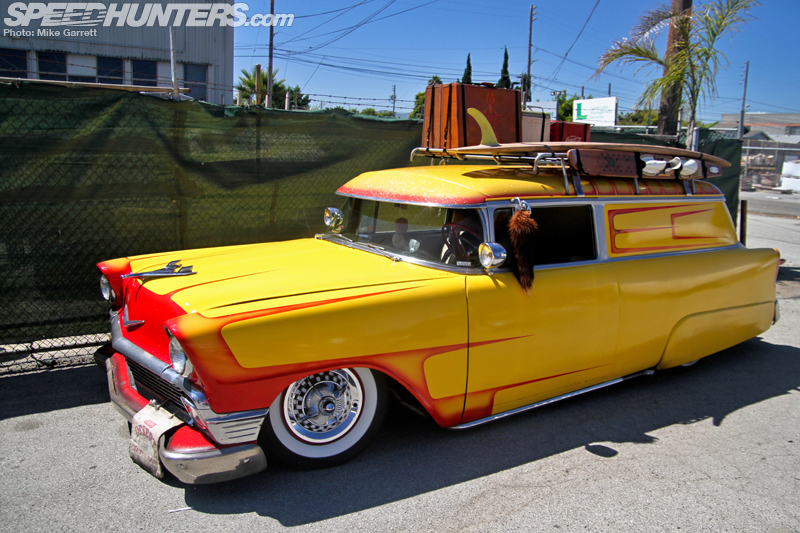 Beach trip anyone? This '56 Chevy panel wagon looks like it's perfectly set up for the task.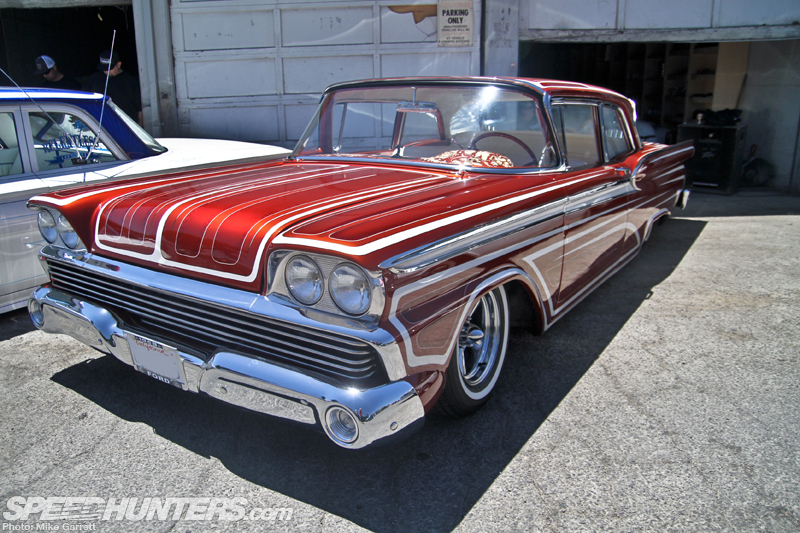 Someone requested a photo of this '59 Ford, so here you go. It perfectly complements the same year Ford Ranch Wagon seen in yesterday's post and is done in a very similar early 1960s show car style. Beautiful.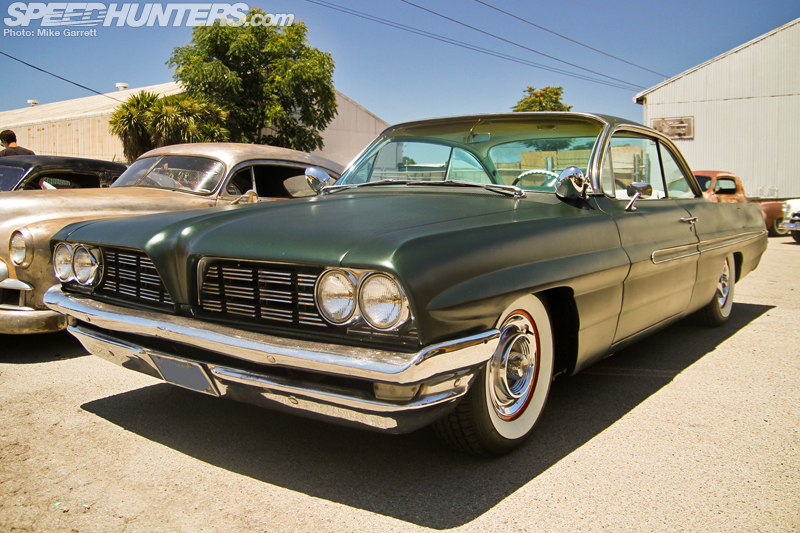 It really doesn't get much better than early '60s Pontiacs – here's another '61 with a custom grille, spotlights and few other subtle touches.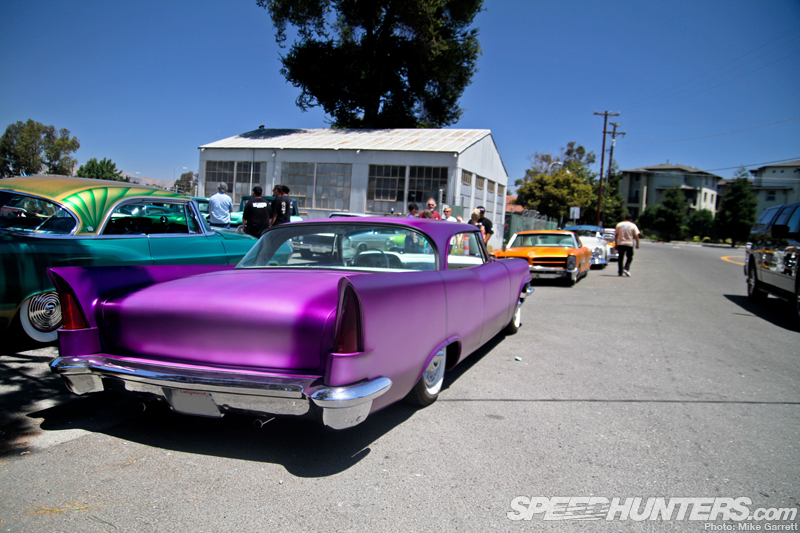 This '57 Chrysler known as the Santa Maria Special is another one of the Gambino shop creations.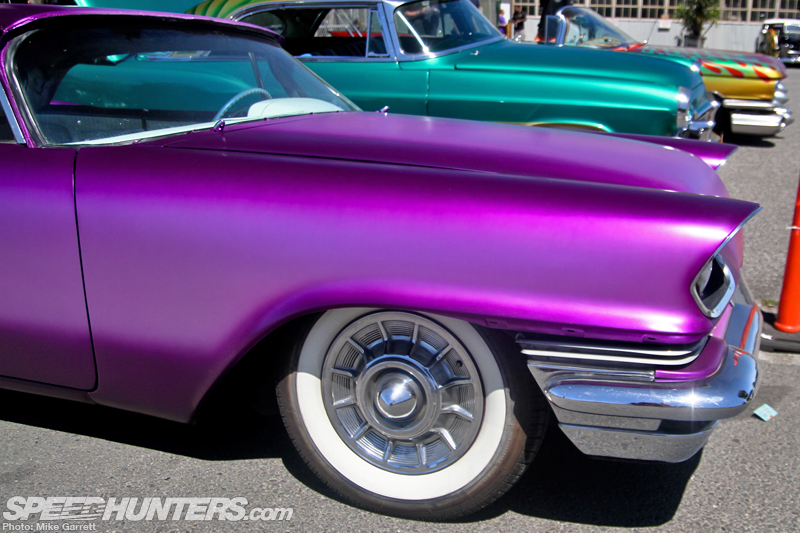 It's such a cool-looking machine that it makes you wonder why more people aren't giving finned late '50s Mopars the custom treatment.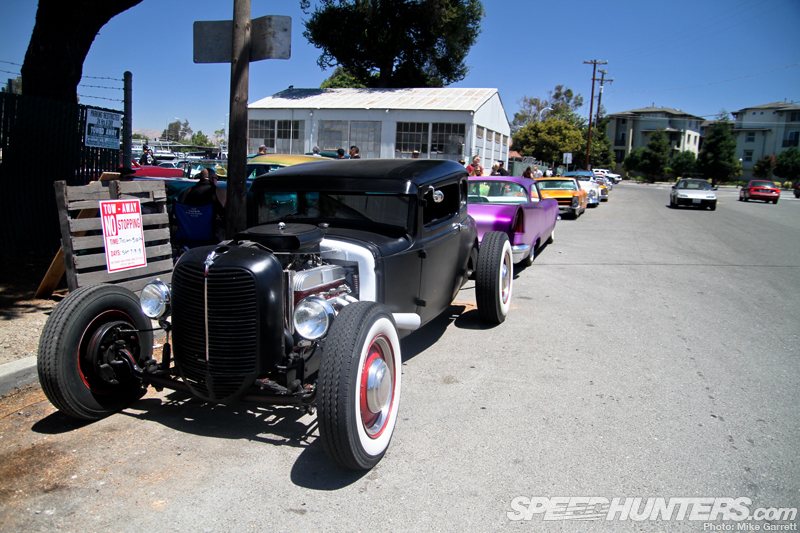 Hot rod or custom? It's a choice I don't think I'd be able to make. As much as I love the style of lowdown cruisers, it'd be hard to resist the thrills of a stripped down coupe or roadster. In a perfect world, I'd just settle for both.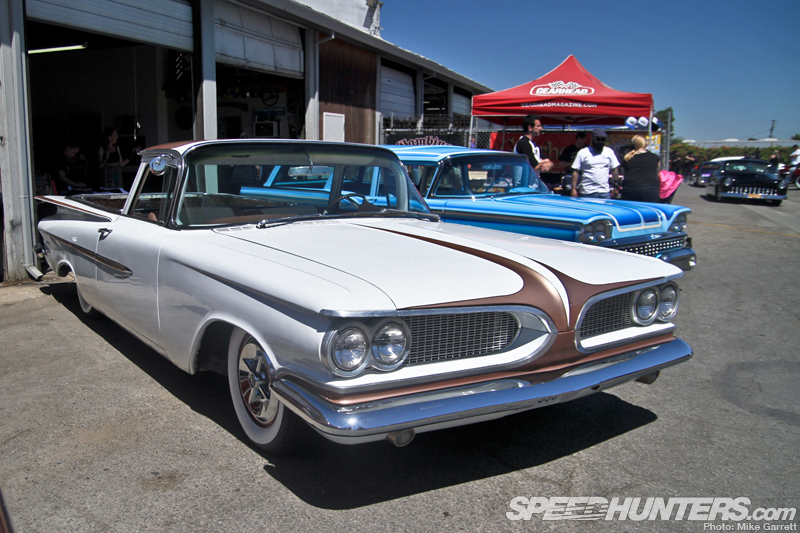 Here's another view of the Pontiac-faced El Camino from yesterday's post. Seeing this car always makes me wonder what would happen if Pontiac would have been allowed to actually make its own pickup? Maybe the brand would still be around today?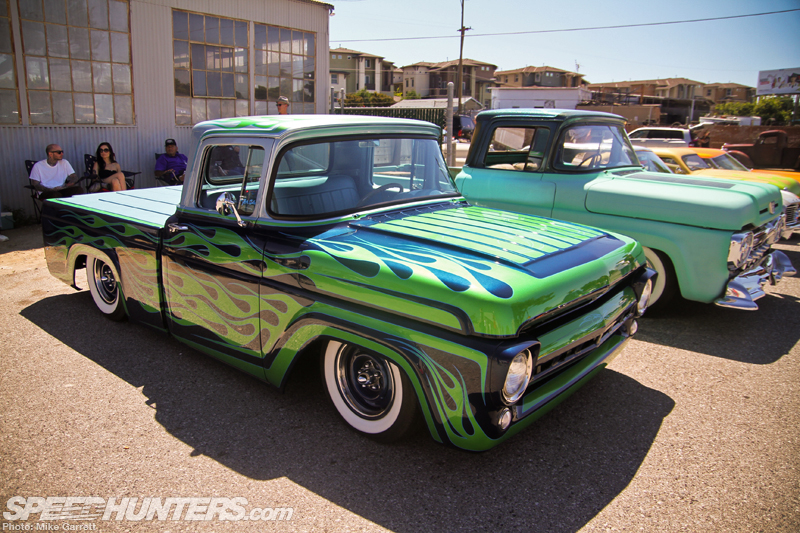 This stunning '57 Ford pickup is another creation from Phil Leonard, the man who's responsible for the paintwork on the Night Train '67 Impala seen in yesterday's post. Without a doubt one of the most talented painters out there right now.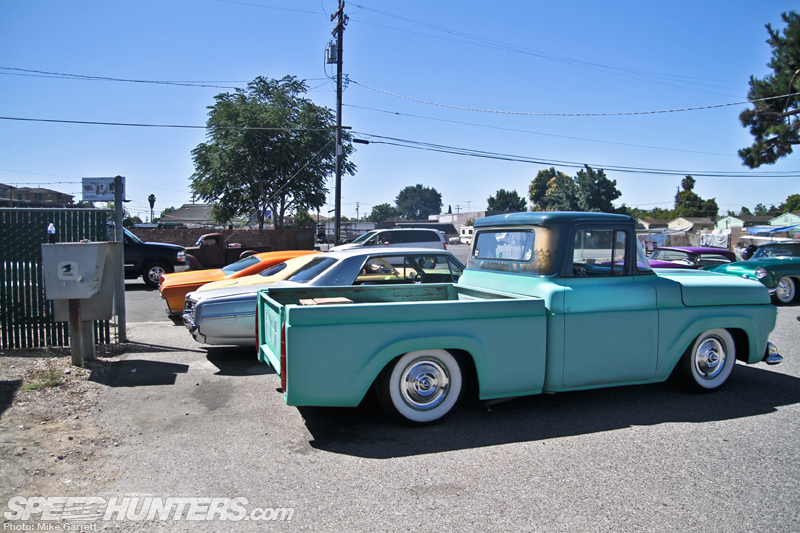 Parked right beside it was another Ford pickup, looking more restrained but still very cool. Chevy trucks have been popular among customizers for decades now, but it's always nice to see more and more blue oval builds out there.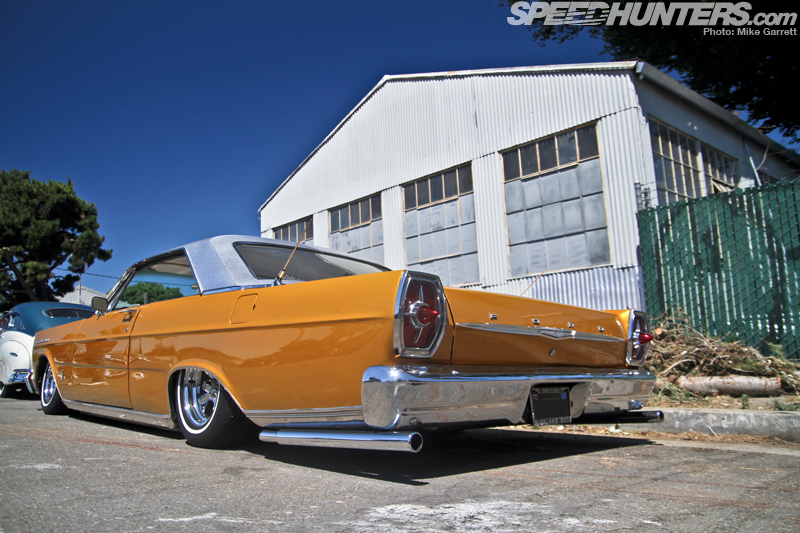 Speaking of Ford, this '65 Galaxie is owned by my friend Roel Garza. Roel is a long time buddy and a guy who also happens to have an extremely diverse taste in cars.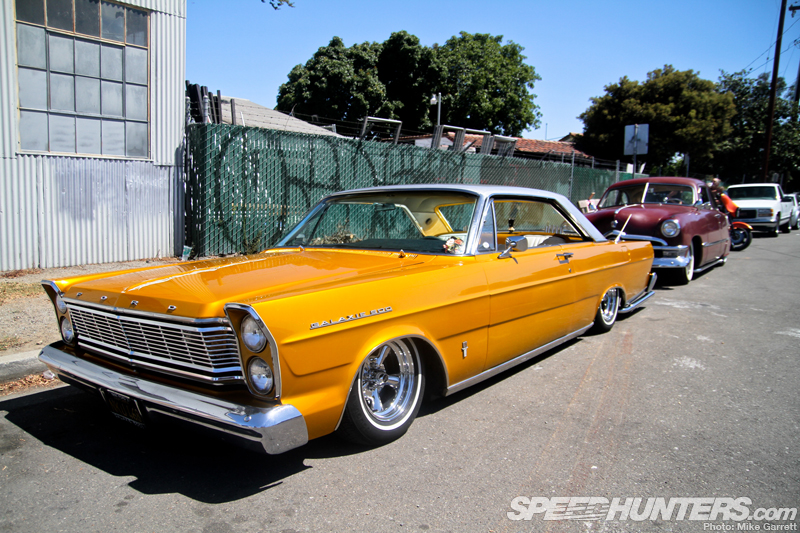 When he's not cruising the streets or making road trips in the slammed Ford, he can be found commuting to his day job at KW Automotive North America behind the wheel of his heavily modified Mitsubishi Evo. A true gearhead for sure.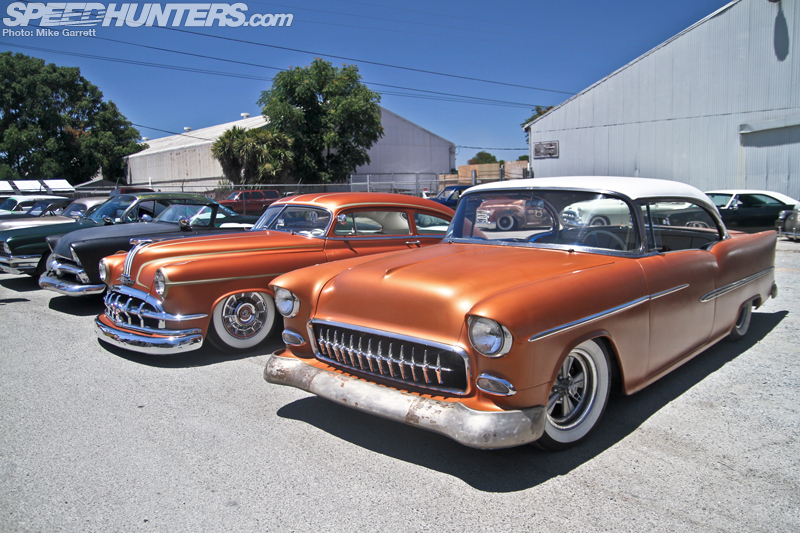 Well that will do it for my visit to the Sit Down. A big thanks goes out to Gambino Kustoms for opening up their shop for such an enjoyable and relaxed event. I'm already looking forward to the next one.
Mike Garrett
Instagram: speedhunters_mike
mike@speedhunters.com
The Sit Down Nor Cal Kustom Hang-out
Bay Area Tradition with the Good Guys on Speedhunters