With the onslaught of coverage recently here on Speedhunters, I don't think I need to go into much detail explaining just how insane many of the builds that frequent Gatebil events are. In fact, more often than not, the body on the surface of a vehicle doesn't give any indication whatsoever to the madness that lies beneath. After a while, you start to actually come to expect this – it's something I call 'the Gatebil effect'.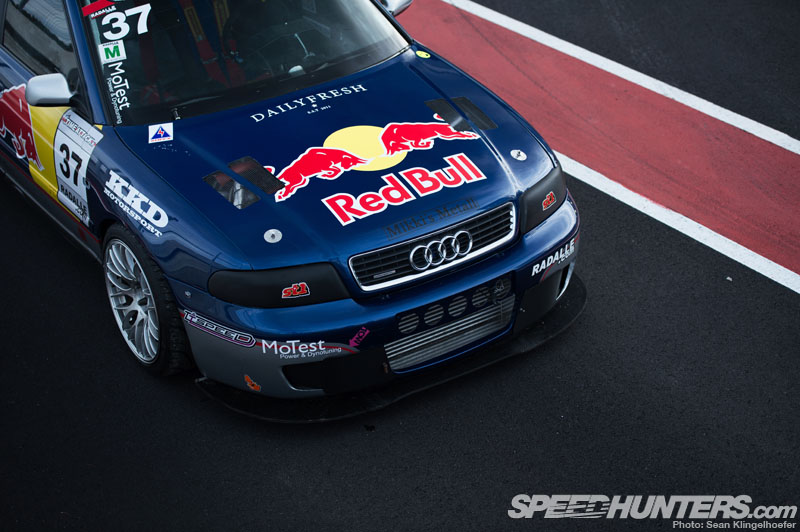 Yet in spotting trends it's nearly impossible for me to not also take notice of the outliers. There is one brand in particular that seems to be a minority in the world of complex drivetrain conversions and monster engine swaps and that brand is Audi. That's not to say that these cars aren't often heavily modified and highly formidable, just that they seem to prefer to keep it within the family.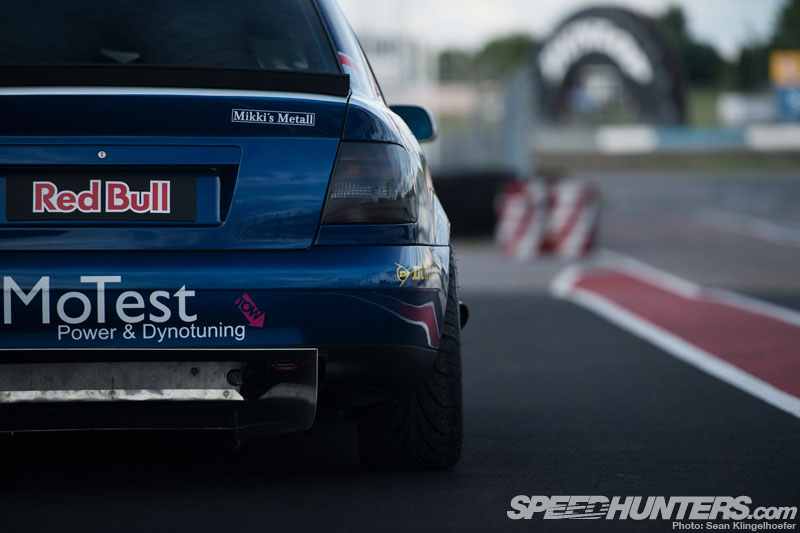 And that's one of the reasons why this particular A4 struck my fancy at Mantorp, not for what it is so much as what it isn't. It was a refreshing breath of fresh air back to some dimension I had previously known as reality. In a sense, it was a car I could actually see myself building and driving. In recent years my opinion of Audi has done a virtual 180, largely in part to builds like this I've seen in Scandinavia.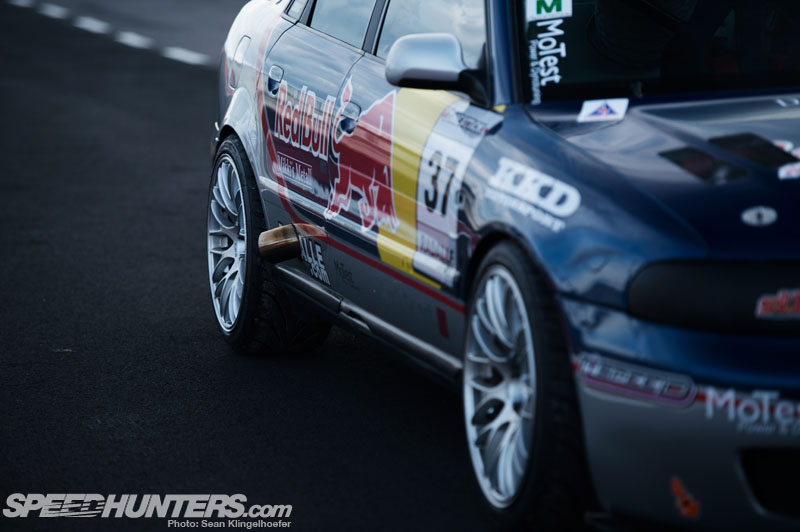 Of course I'm not trying to suggest in the slightest that this car isn't totally bonkers, because it certainly is in its own right. It just seems as though there's a more particular method behind the way these cars are cut up and welded back together again that differs from the rest of the lot. Perhaps by the time we get to the end of this story you'll see what I mean. Perhaps not.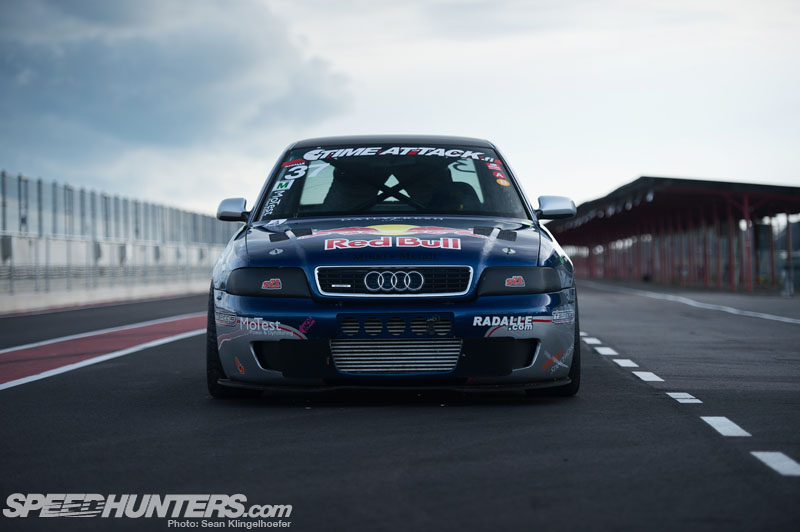 When the car first caught my eye while making an early round through the paddock, what initially grabbed my attention was the livery. There's just something about a Red Bull colorway that screams badass – plus you don't usually find Red Bull logos slapped on turds. When I moved in and gave it a closer look I dog-eared this car for a shoot later.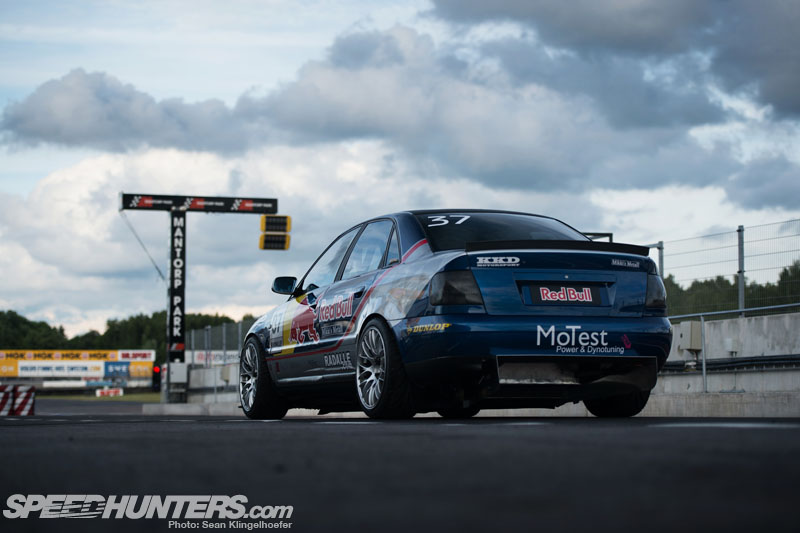 I knew from the windscreen banner that this car was an outcast in more ways than one, since it was one of the few cars that wasn't around to drift over the weekend. Furthermore it had made the long trek from Finland to compete which also piqued my interest, leading to me following the car as it went through tech. Inevitably this ended up being the very first car I shot at Mantorp.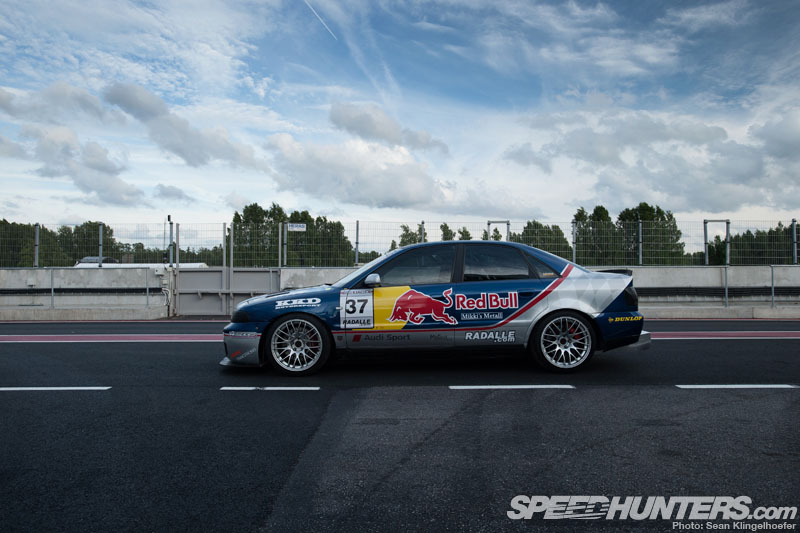 There's something about the simple no-BS demeanor of a time attack car that I like. There are no huge wings, in fact there are very little I-read-about-this-once-in-a-magazine-about-Formula-One-cars modifications at all. It's just the basics, a hole here, a hole there, lighten this, lighten that. Voila. But I would soon find out that there was quite a bit of work lying underneath the surface.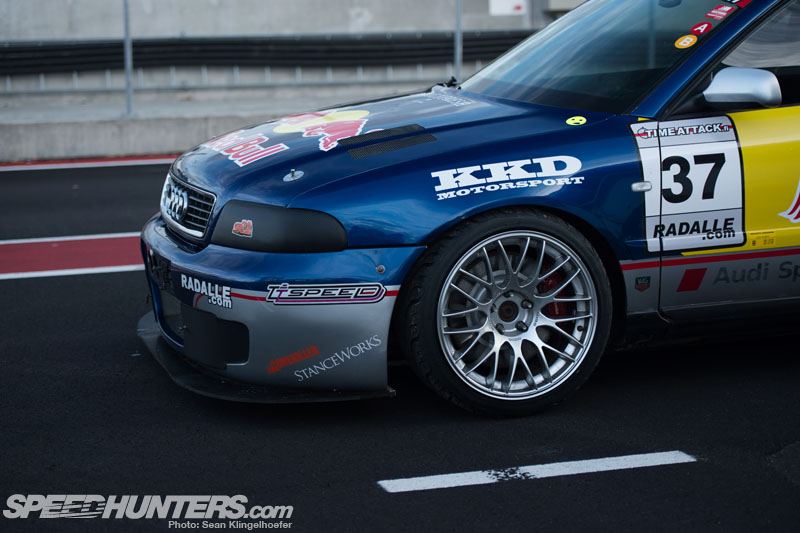 From the outside little things like the headlight covers and the way the front bumper's secured appear to be common track modifications. But what I later discovered was that they were absolute necessities since the front frame rails were shortened by 20cm and the entire front bumper assembly has been replaced by a custom tubular framework.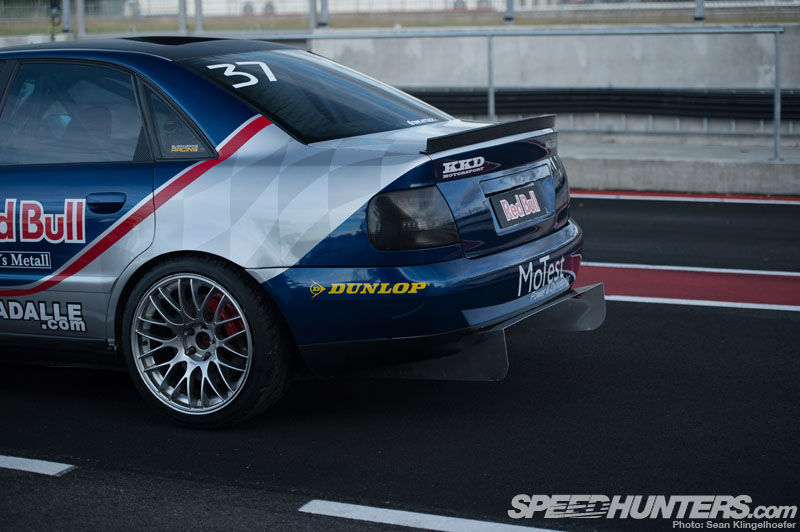 In the rear is another seemingly ubiquitous modification amongst the time attack crowd (and even the show scene in 2013) – the rear diffuser. However what appears to be simply some sheet metal fashioned from tin snips in a futile attempt to add some downforce is actually significantly more complicated than that.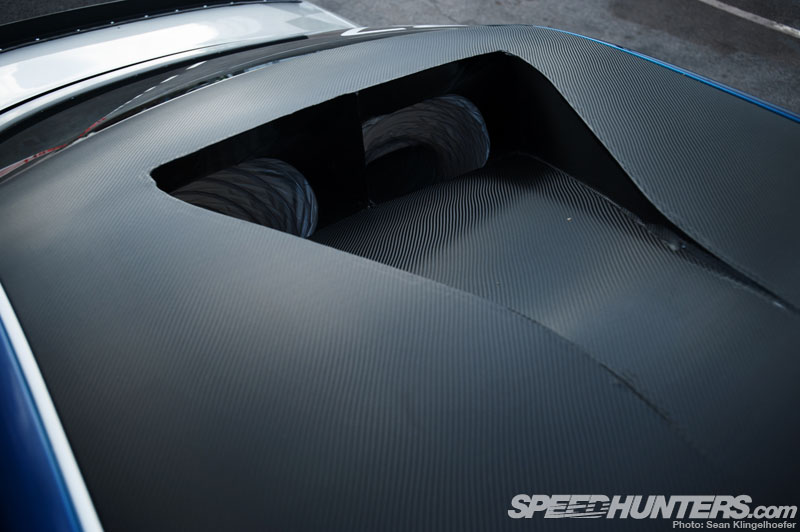 What's this, a hole in the roof? I guess it is a Gatebil car after all! Last year I had joked that the rear-mounted radiator had become the staple modification required for entry at Gatebil, but all kidding aside it has become extremely common here. While it's a bit overboard for a lot of cars, on the front-heavy Audis it actually makes a lot of sense.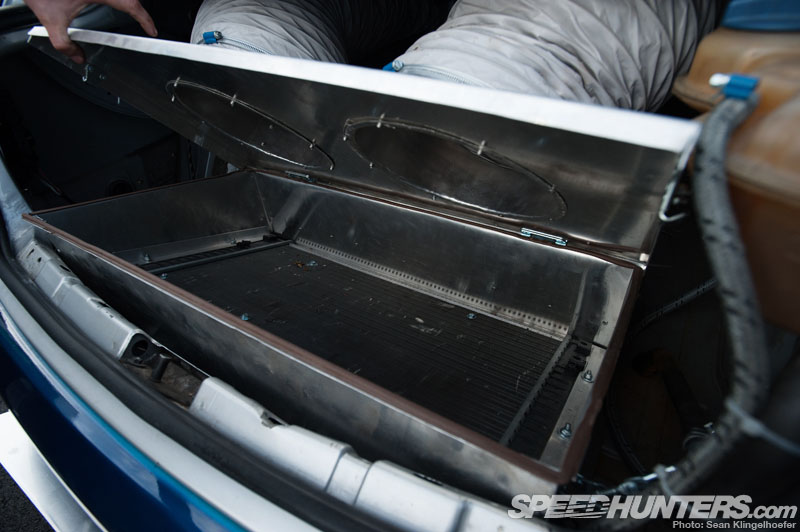 The roof duct funnels air through two massive chutes into a custom metal box that contains the radiator.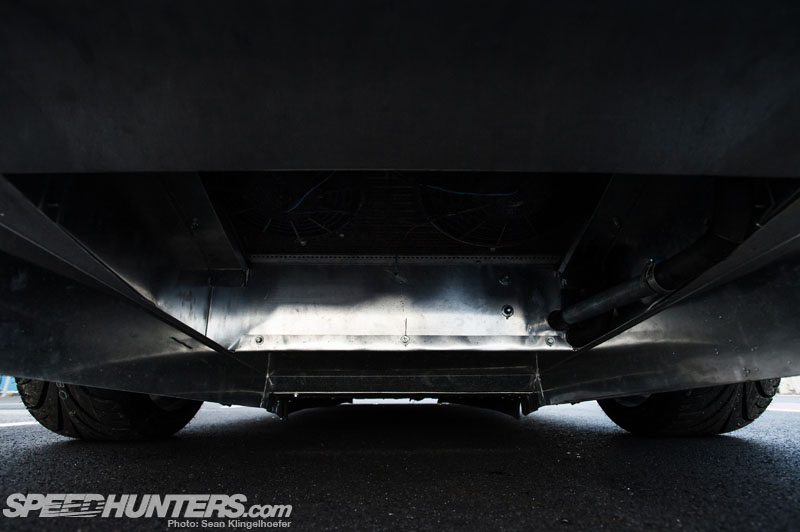 From there the air exits under the diffuser after passing through the radiator and picking up a substantial amount of heat, thus further aiding in the creation of a low-pressure zone under the rear of the car. If that Formula One magazine has taught us anything, that should be helpful.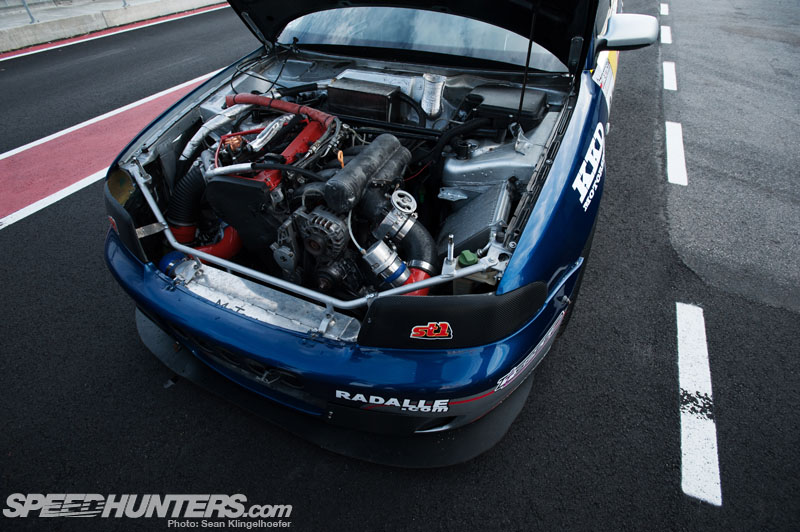 The engine set-up is pretty straightforward and budget friendly. When Tero Tuohimaa picked it up the car was basically scrapped and without an engine. He decided from the get-go that this would be a track-only build and took the path of least resistance when it came to finding parts and modifying the car. An NA ADR engine from an A4 currently resides in the bay…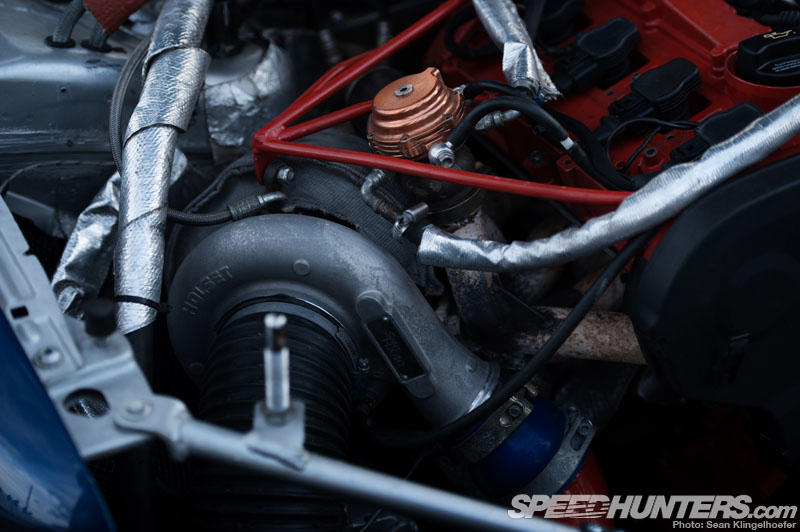 But it obviously hasn't remained naturally aspirated. A massive Holset turbo has been fitted in conjunction with a bunch of DIY parts like the manifold it sits on and the dual-plenum intake it feeds. To accommodate the turbocharging, Tero upgraded the connecting rods and bolts and had some headwork performed to allow the new cams and valvetrain to soak up all the additional boost.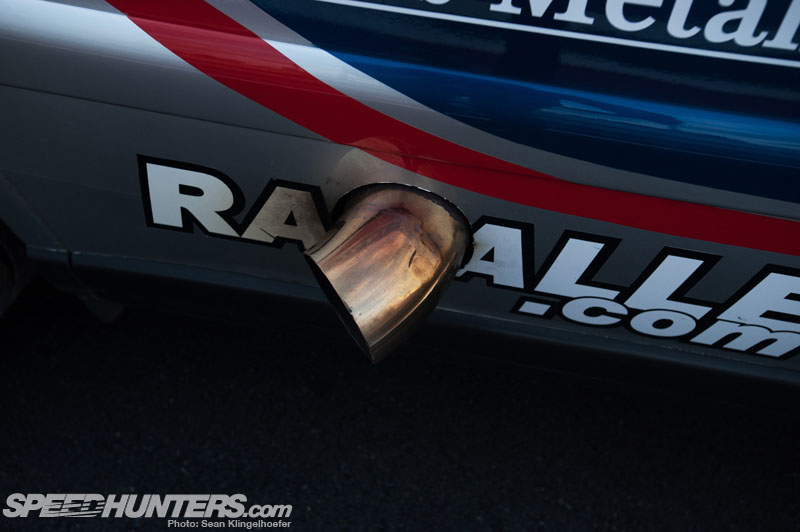 Nothing says "I'm pretty hardcore and generally don't give a $#*& about my car" like a side-exit exhaust. While it may be the cherry on top in theory, Tero says that in retrospect the cabin gets really hot having both the coolant lines and exhaust now running inside the car. Oh well. #becausegatebil.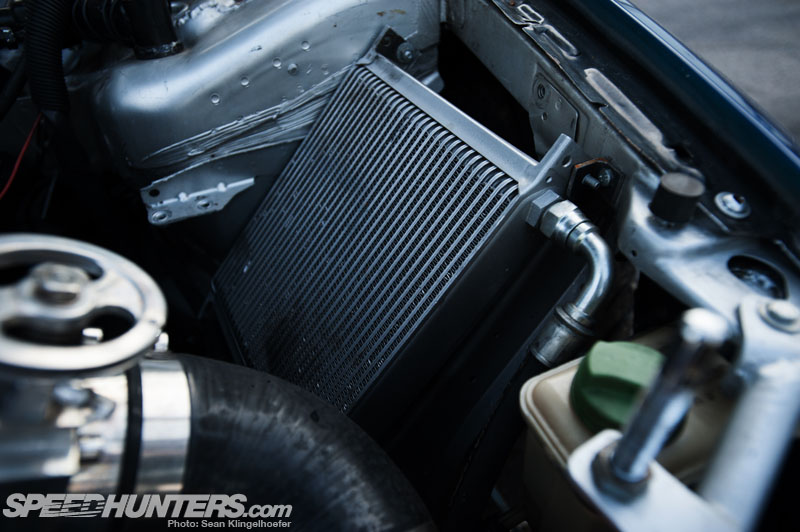 The set-up might not be flashy, but it's good enough to produce over 600hp which is plenty enough to get the job done. The main issue with forced induction is the additional heat introduced by the system, hence the complex rear radiator set-up and massive oil cooler.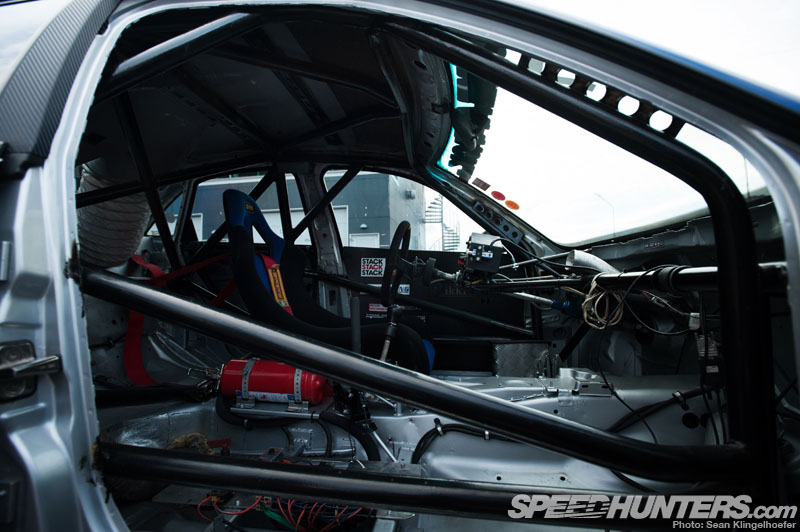 The inside of the car, however lackluster it may appear, is probably the most extremely modified area of the car. Obvious things like the fact that the entirety of OEM paneling has been removed stand out. There are some less obvious things as well like the fact that the entirety of OEM wiring, a stereotypical problem area for VAG cars, has also been discarded.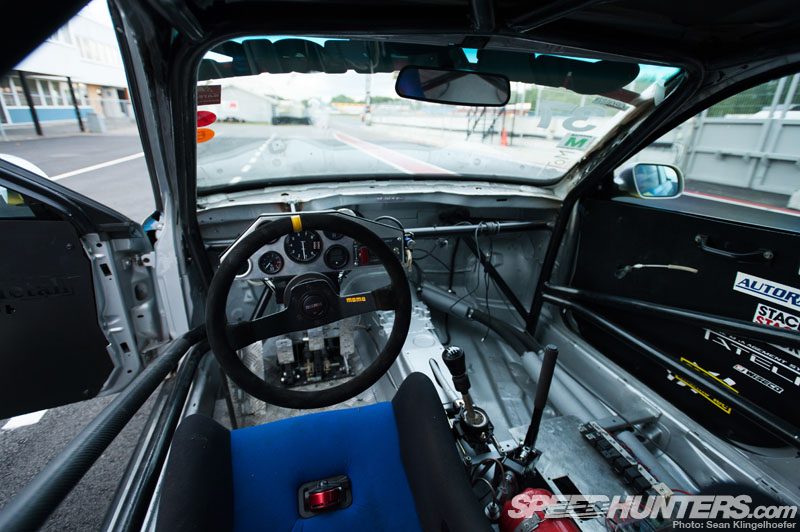 The driver's seat has also been transported miles away from its original location and now sits some 50cm or so aft, completely behind the B-pillar. Tero mentioned that he got the idea from a scene in Police Academy where one of the characters drives a car from the back seat. After all, "comfort's important!" In order to accommodate for this new comfort, a number of other bits had to be moved around.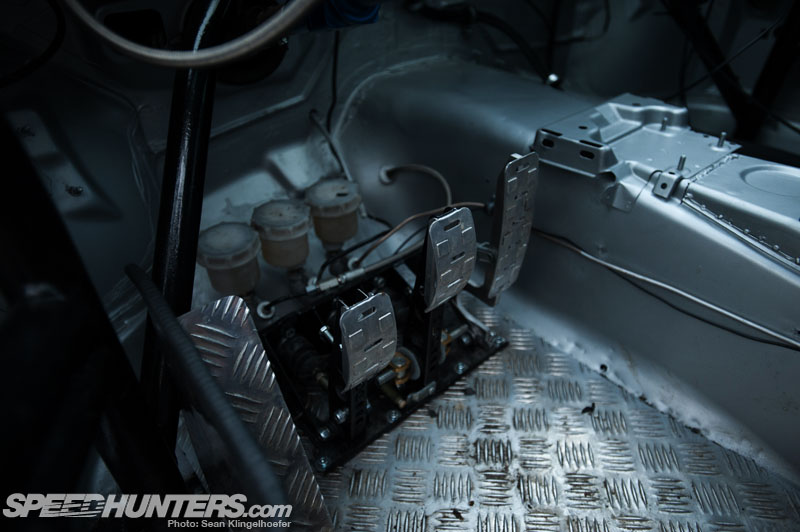 The pedal box was the easy part. Next the steering column had to be extended, which also wasn't too bad. The major hurdle was the fact that Tero could no longer reach the gear-shifter, so Mikkis Metal custom fabricated a relocated short-throw just for this application. Perfection.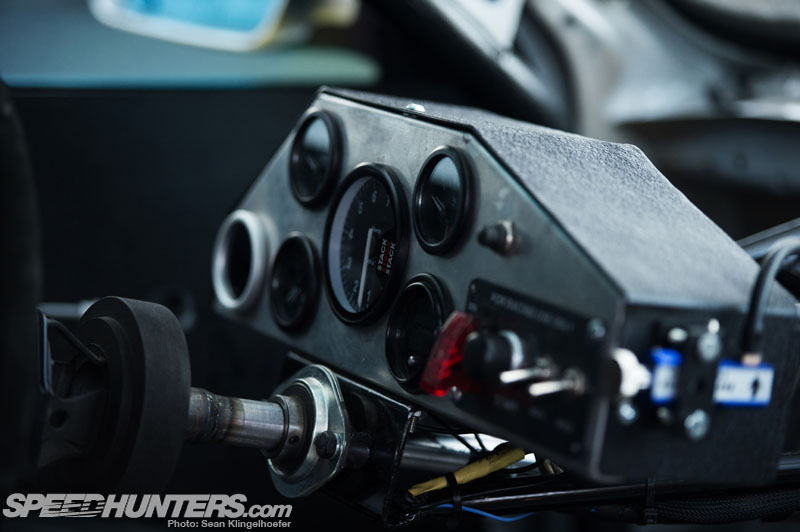 With the seat repositioned and the dash completely removed it was obvious that something had to be done to house the instruments. A simple metal box was all that was needed to neatly arrange the STACK gauges and switch panel in plain view.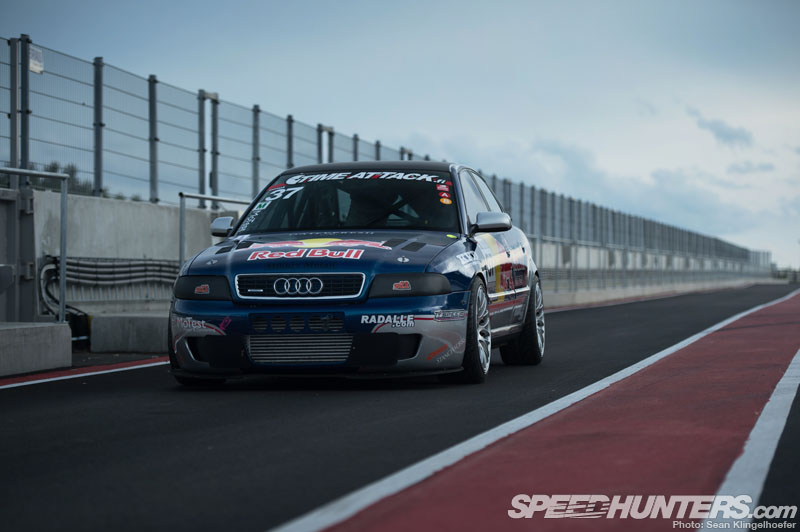 I was really excited to see how the car would perform over the weekend, unfortunately it didn't end up making it trackside much. At first I figured there must have been some kind of mechanical problem, but Tero assured me that it was the driver who was at fault. Gatebil is really a 24-hour festival and it would appear that Tero participated a little too hard in the after-hours festivities if you know what I mean.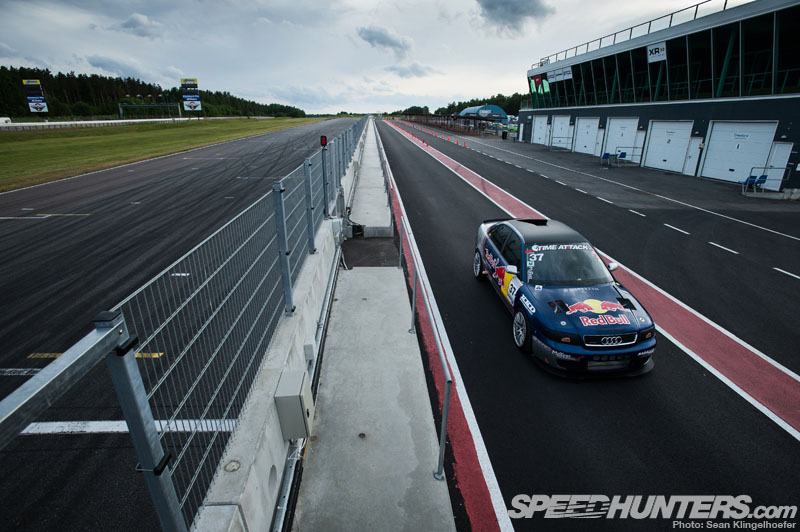 Nevertheless, he has assembled a pretty radical car if I do say so myself. In the land of never-ending face-melting conversions and four-digit power figures, it's refreshing to see a build that's a little more focused and attainable. As Freud would say, even at Gatebil, sometimes an A4 is just an A4.
Sean Klingelhoefer
Instagram: seanklingelhoefer
sean(at)speedhunters(dot)com
Tero Tuohimaa's 2000 Audi A4
Numbers
636hp / 654Nm (482 lb/ft)
Engine
1.8L turbocharged ADR engine, Holset HX40 turbo #16 by KKD Motorsport, Tatech ECU tuned for E85 by Motest.fi, TiAL 38mm wastegate, custom 33mm DIY turbo manifold, custom DIY dual-plenum intake manifold, custom intercooler and piping, ported cylinder head, Rosten Performance valvetrain, Catcams 3652 camshafts, stock pistons, Eagle connecting rods, ARP rod bolts, custom side-exit exhaust, rear-mounted radiator w/ custom box and ducting by Mikkis Metal, 1700cc injectors, 2x Bosch 044 fuel pumps
Driveline
Quattro five-speed gearbox, custom relocated short shifter by Mikkis Metal, Sachs 240 sinter clutch
Suspension/Brakes
KW V3 coilovers, 32mm(F)/ 29mm(R) swaybars, 034 Motorsports adjustable suspension arms, Seat Leon Cupra R front brakes, Porsche Cayenne Turbo rear brakes, Ferodo  3000 pads, custom floor-mounted OPB pedal box, hydraulic e-brake, roll cage, shortened front crossmember (20cm) w/ custom bumper bars, faster ratio steering rack
Wheels and Tires
18×9.5″ Lenso PD2 wheels, 245/35R18 Federal RS-R tires, wheel stud conversion
Exterior
Custom front splitter, headlight covers, roof scoop, rear diffuser, rear spoiler, vented hood, smoked taillights
Interior
Gutted OEM panels, covers, seats, wiring, driver's seating position moved back around 50cm, OMP bucket seat, Radelli harness, Momo steering wheel, custom steering column, STACK gauges on custom binnacle, fire extinguisher
More insanity from Gatebil on Speedhunters
More Scandinavian builds