I'm sure that if you really wanted to, it would be possible to argue that there's not really a lot going for the Goodwood Festival Of Speed. You could complain that maybe the F1 cars that come out to play aren't necessarily the absolute latest evolutions…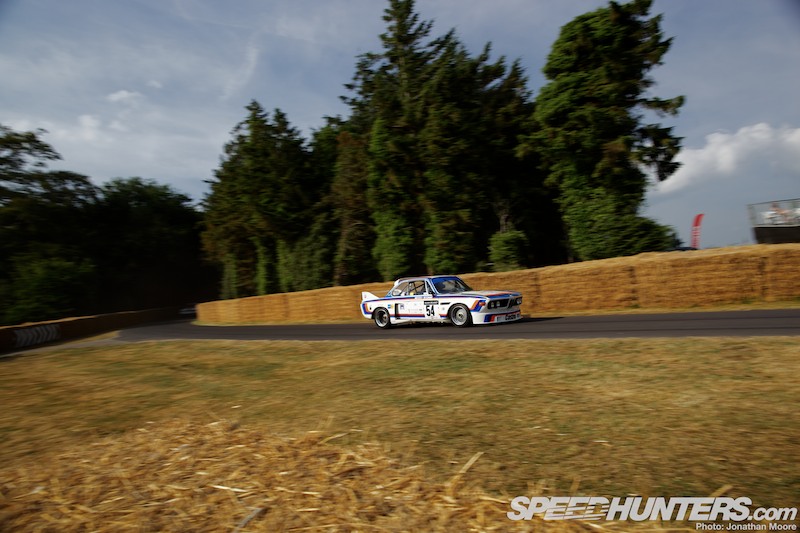 That the hill climb is a single short and narrow piece of tarmac that meanders up a not very steep hill.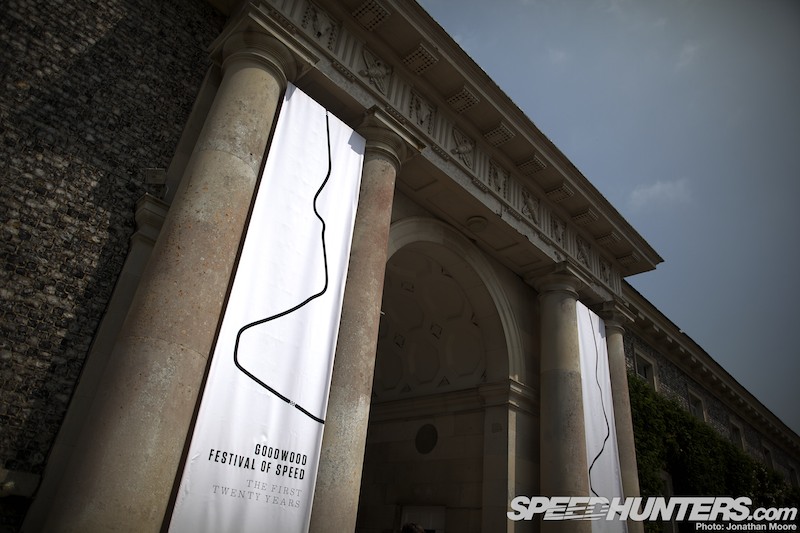 There are only a couple of corners. This poster shows the course, which doesn't look like much of a serious hillclimb, does it?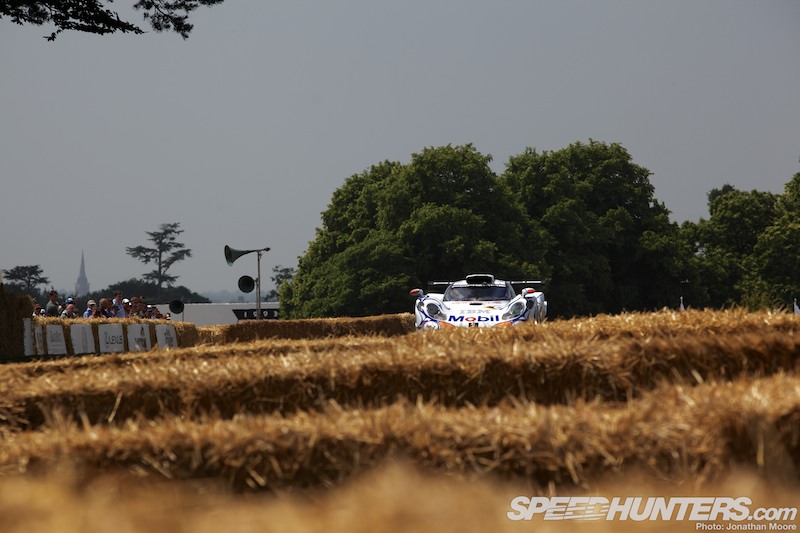 Straw bales for barriers show the agricultural nature of the land we tramp over for four days a year.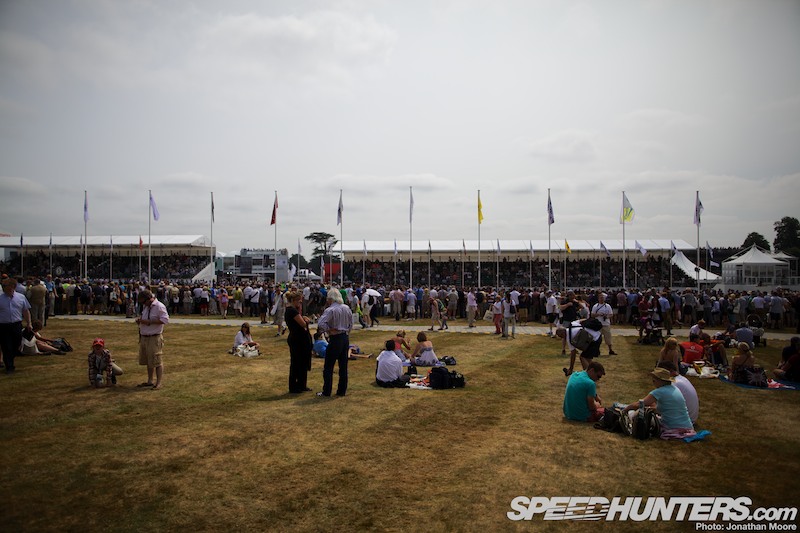 So why is it that on each of those four days of the Festival me and 150,000 other people make the pilgrimage down to the country pile of Charles Gordon-Lennox, Earl of March and Kinrara, to press ourselves up against the barriers and stew under the sun of a July in heat?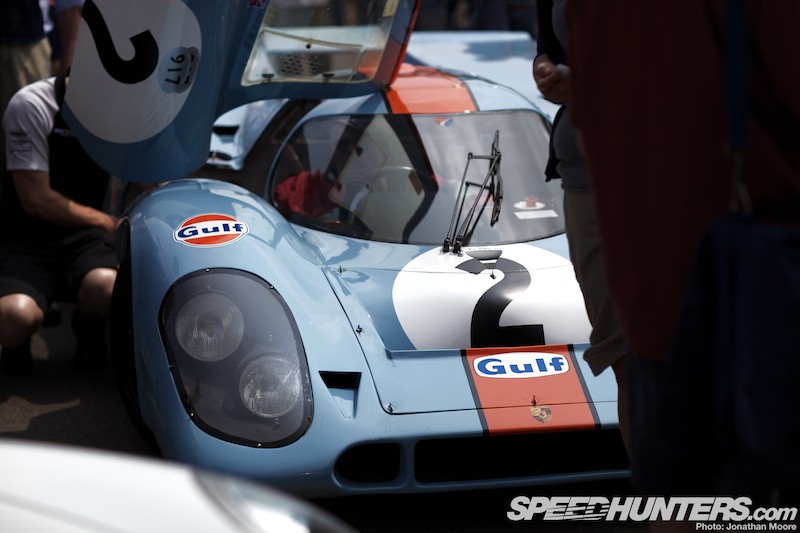 Oh yes. It's coming back to me. It's because Festival Of Speed is the most incredible automotive event on the planet. Where else do you get to be hip-to-cockpit with a Porsche 917K?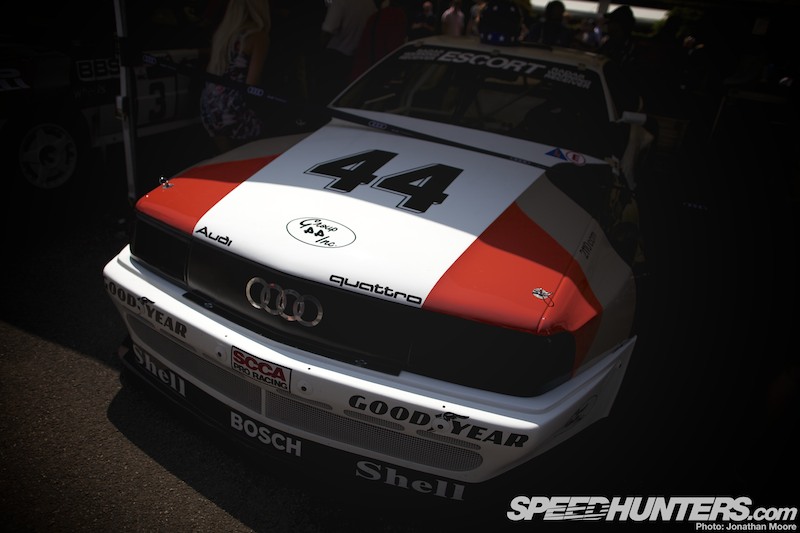 Or to ogle at some of the most impressive or important cars there have been?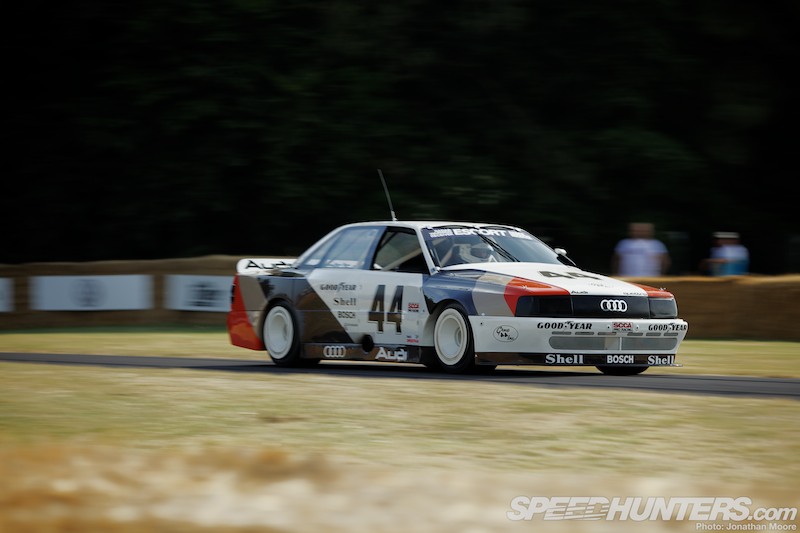 It's the fact that the 1.16-mile long strip of narrow tarmac snakes its way uphill with barely any run-off. The ascent is deceptively challenging (how about being confronted with a sold flint wall halfway up?), plus it's tackled by cars spanning well over 100 years of automotive history. Some of which are priceless and irreplaceable. And mostly driven by racing drivers, who are of course maniacs.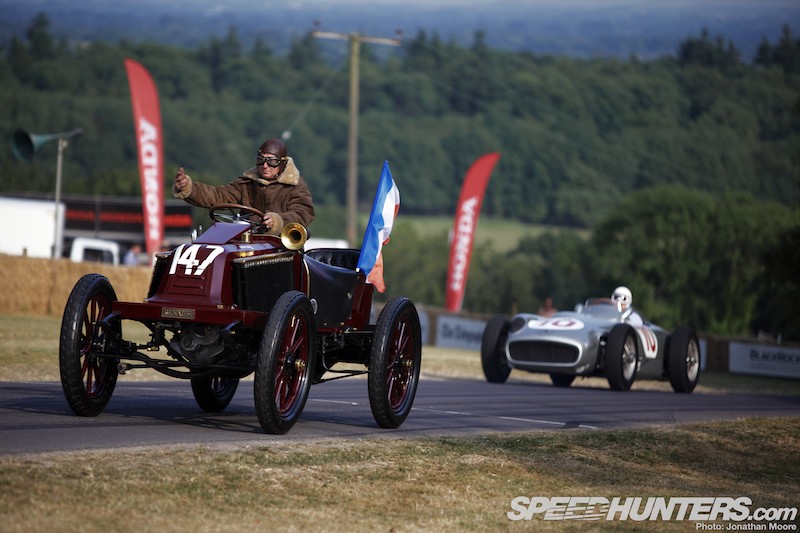 One minute you're being parped at by a 1902 Renault Type K, just about to be overtaken by Stirling Moss in his W196…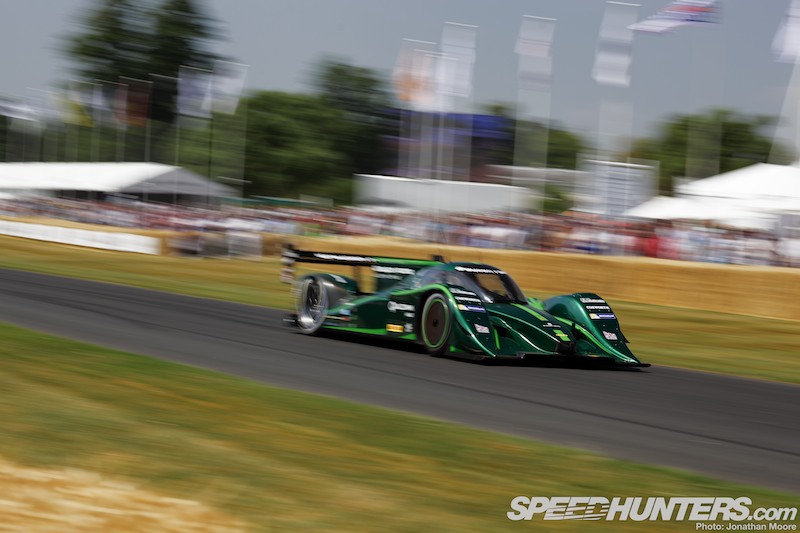 …then your ears are struggling to comprehend the lack of aural assault as the fastest electric-powered car in the world, Paul Lord Drayson's Lola B12/69EV LMP, scythes past at an impossible speed given its silence. One hundred and eleven years of progress in front of you. It's like a petrolhead's dream made real.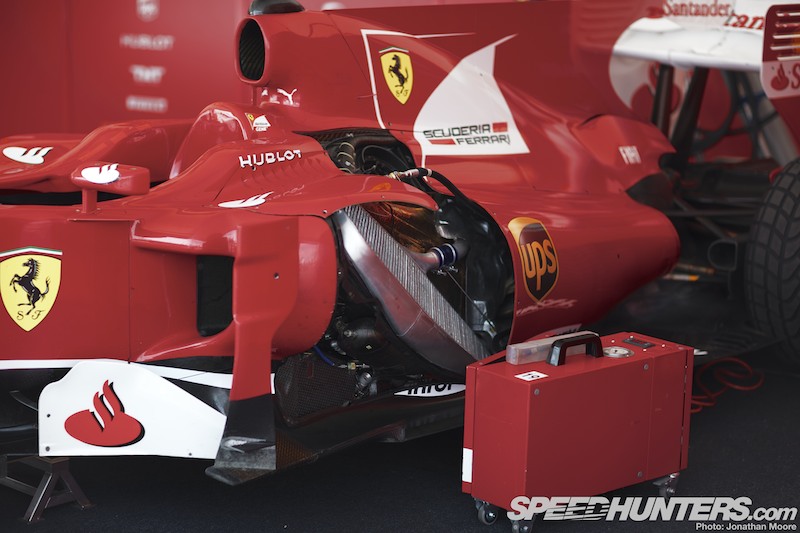 The Festival is about being able to see the almost-melted radiator configuration of a modern Formula 1 car…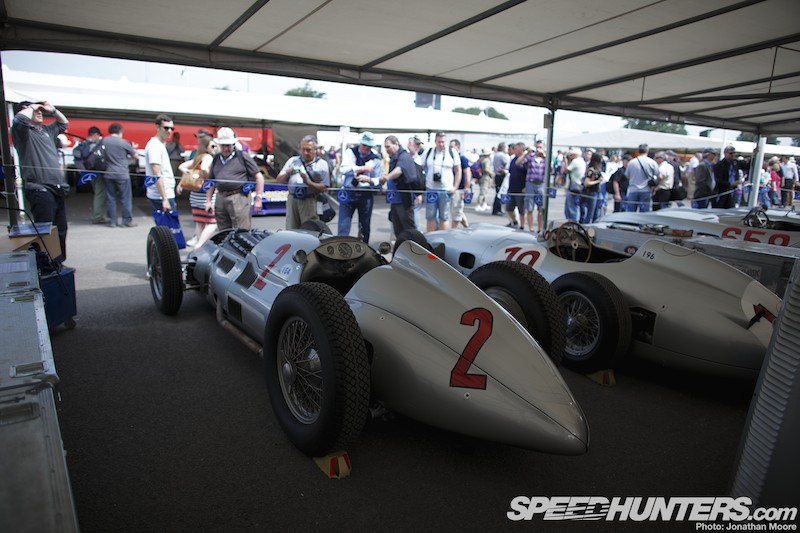 … which sits just 20 metres away from F1 cars at the other end of the championship's spectrum in age.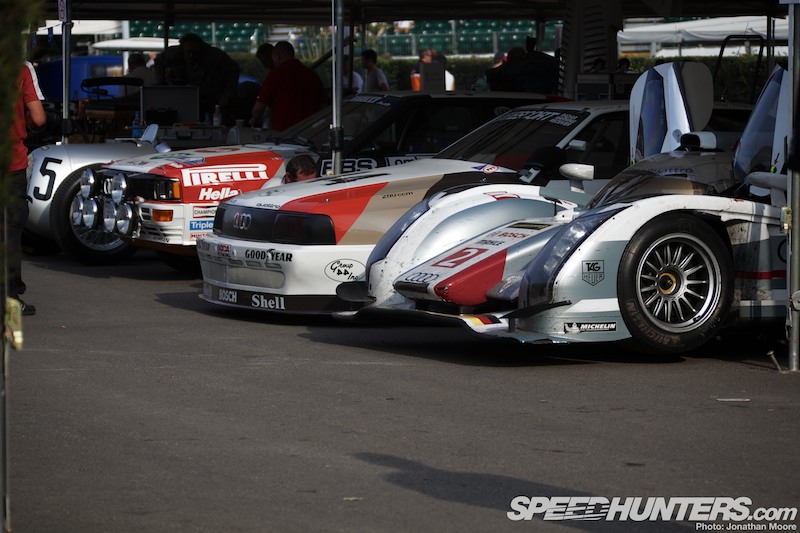 It's that juxtaposition that captivates me – and I'm sure all the other people who attend: fans, teams and drivers alike. For me, the Goodwood Festival Of Speed is also about education. Education in the most enjoyable sense and in the most important things: the three automotive Rs: road, racing, rally.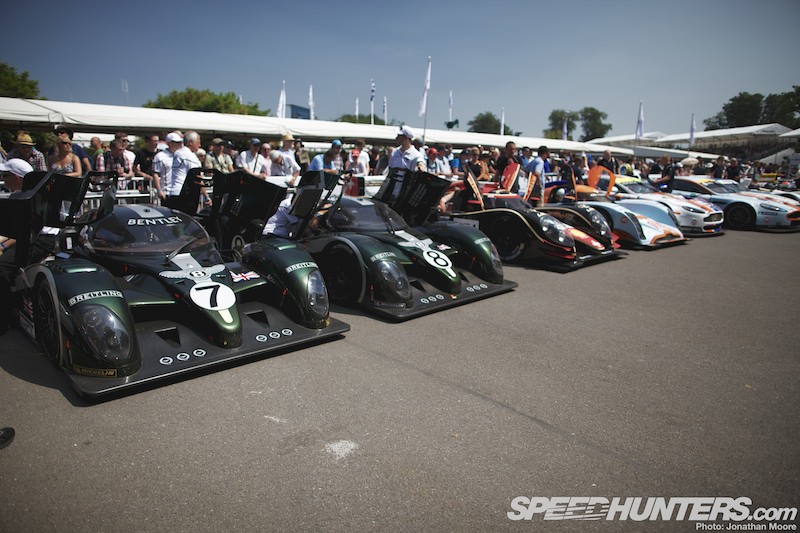 In this opening story on the 2013 Festival Of Speed I'm going to concentrate on the racing side of the displays. It's almost pointless to say everything is 'impressive' or 'stunning' or whatever – you quickly run out of superlatives at FOS.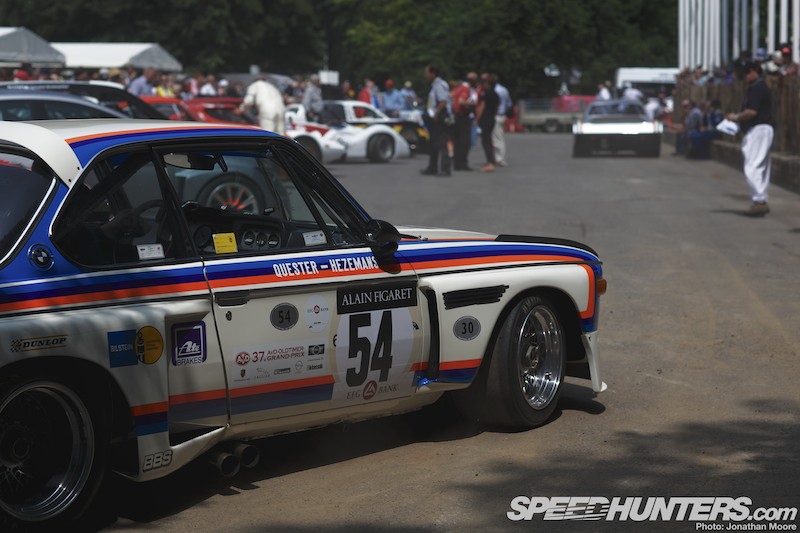 The joy starts as soon as you arrive on site through one of the many entrances. It doesn't really matter which one you choose; you could arrive into the modern metal of the Moving Motor Show, the rally stage or into the main Formula 1 paddock. Cars suddenly appear as crowds part at marshals whistle blasts, and another incredible machine is wheeled past, either on its way back to its temporary paddock home or moving to the formation area to go out on the hill.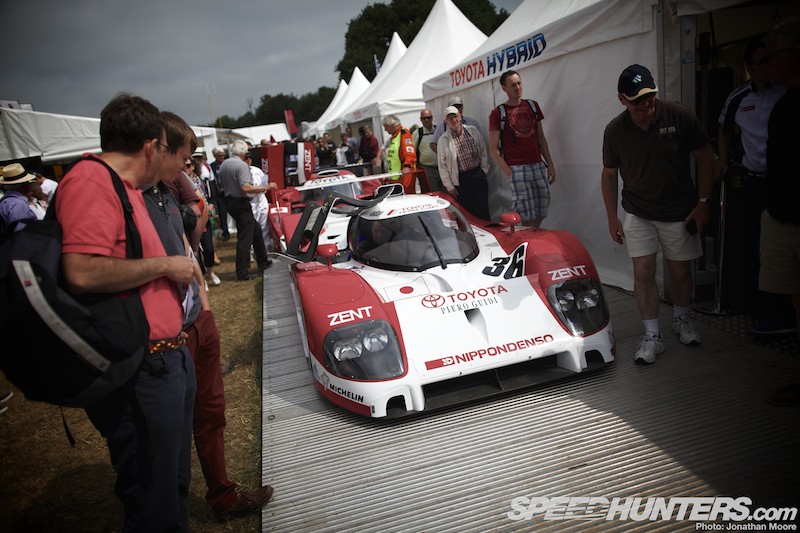 It's rare that manufacturers bring but a single car to Goodwood. In fact, more often than not they open their vaults, load the trucks, boats or cargo planes and bring platoons of cars across. For instance, Toyota had all three generations of their TS Le Mans sports prototypes: 1992's TS010, 1998's TS020 GT-One and this year's TS030 Hybrid.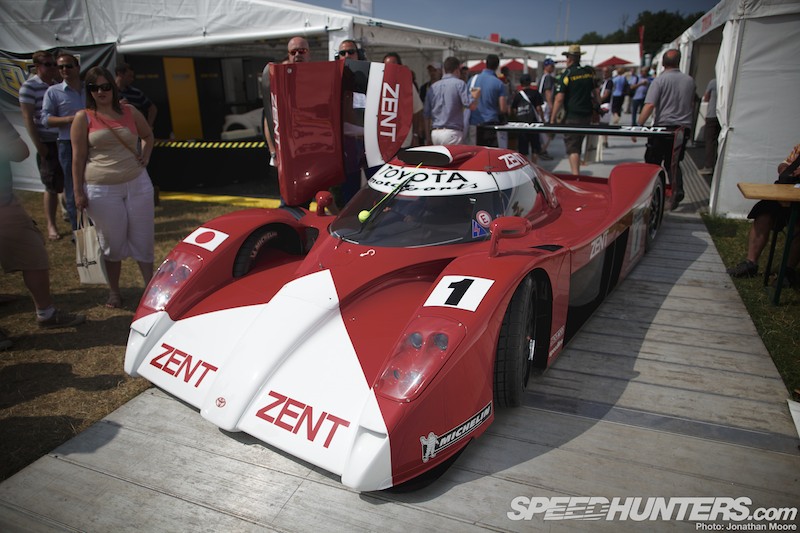 It's like the car world's Crown Jewels are brought out into the open, for everyone to see and experience. The chances of walking into a top F1 or sportscar teams headquarters unannounced and expecting to be able to poke round a bit and have a chat with the drivers isn't really going to happen. But at Goodwood there are few restrictions and even fewer barriers.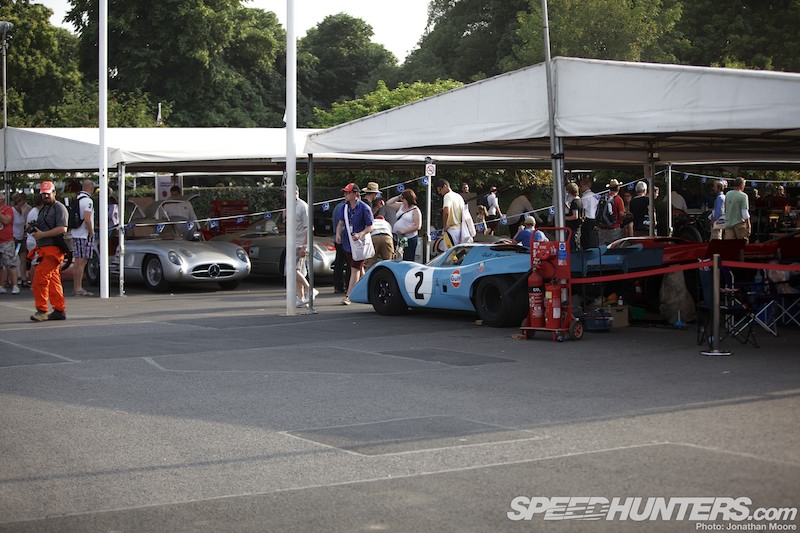 It could be a normally untouchable supercar, a 50-year-old sports racer, a century-old vintage ground-breaker or anything in between. You get to examine them from every angle, talk to the team and maybe get an autograph from a driver…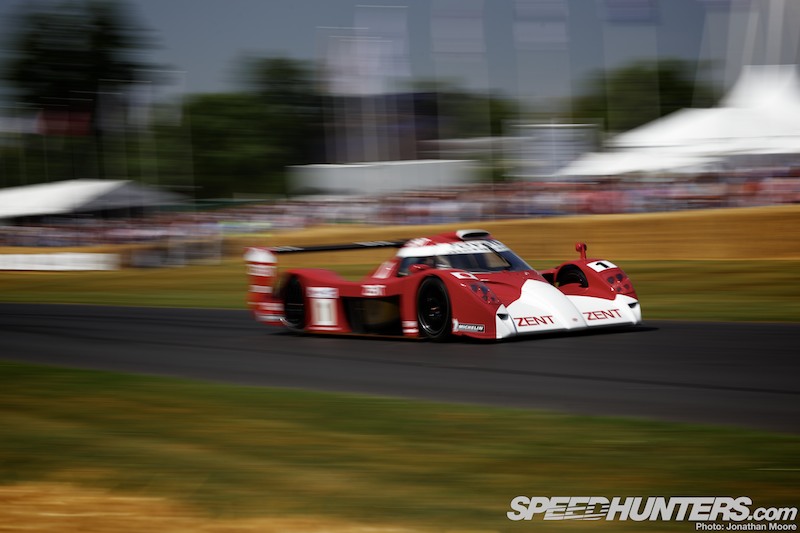 … then half an hour later you can see and hear that same machine howling up the hill, and be one of the thousands of people performing a virtual Mexican Wave of heads, snapping to follow the car's progress as it passes.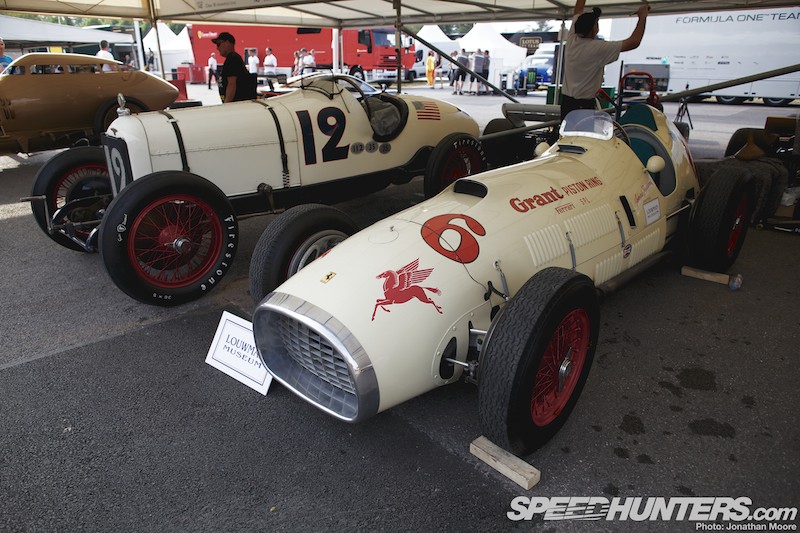 Even more exciting is padding around the packed paddocks and being confronted with something you've never seen before. Sure, there are some cars that you almost expect to be at Goodwood, but there are far more that you not only don't expect, and had likely never even heard of. I don't know about you, but that just makes me want to find out more. For instance, Ferrari's ill-starred Indy racer from 1952.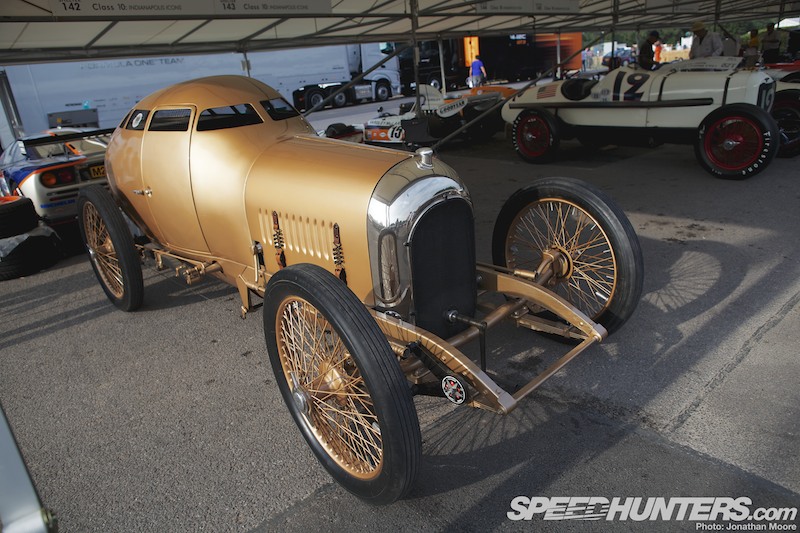 Next door, this glowing Bioshock-style racer was unsurprisingly gathering a large crowd all day (there are advantages of waiting right until evening for a final paddock sweep if you want to get clear shots). This is the Miller Aerodynamic Coupé, nicknamed the 'Golden Submarine'. It's a replica of a speedway special built for showman Harry Miller in 1916, built up around the single surviving engine, which is always a hit on its rare appearances.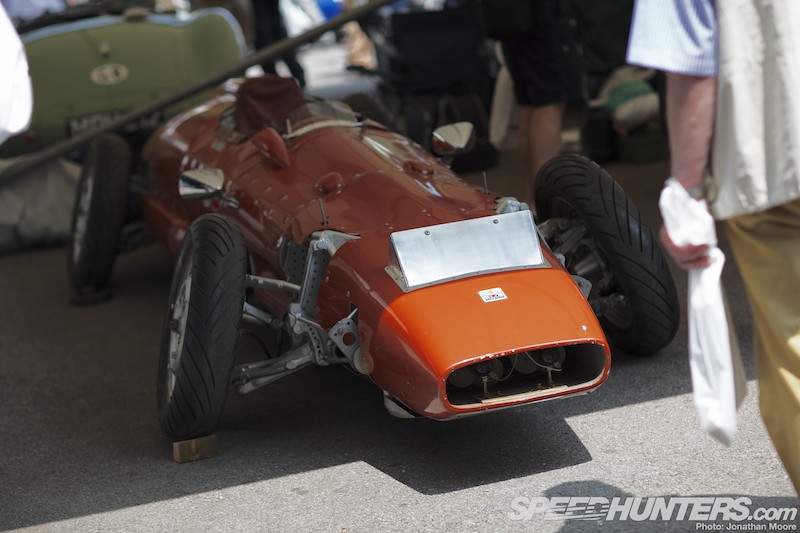 Then there's the Milliken MX1 'Camber Car'. Built in 1960 as an experiment, it has an exaggerated 22-degree camber, which increases lateral force from 0.8 to 1g. I quote: "The idea is to combine the camber thrust mechanism used to produce cornering grip on motorcycles with the slip angle approach used in conjunction with the steering input of traditional cars so as to increase the tyre's lateral grip capability beyond conventional levels."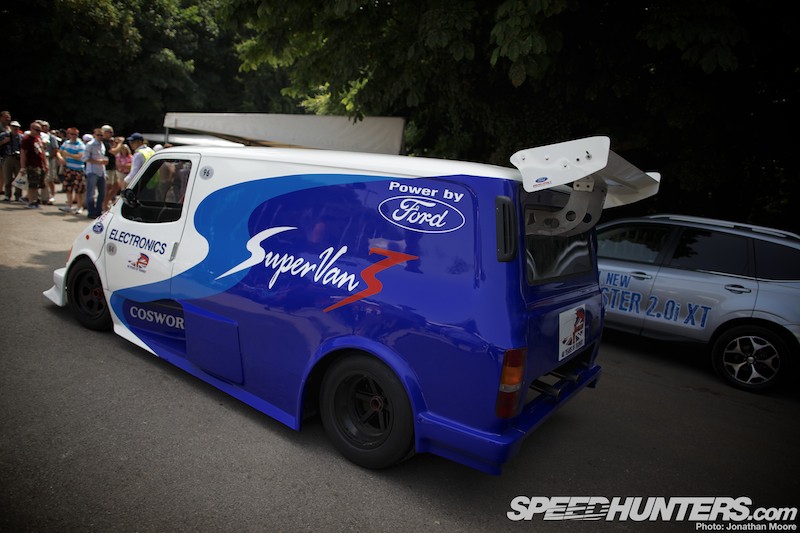 Another car to challenge lateral grip beyond conventional levels was Ford's 1995 Transit Supervan 3, which features a C100 Group C chassis and a Cosworth Pro Sports 3000 V6 beneath. It was one of the fastest vehicles timed on the hill over the weekend.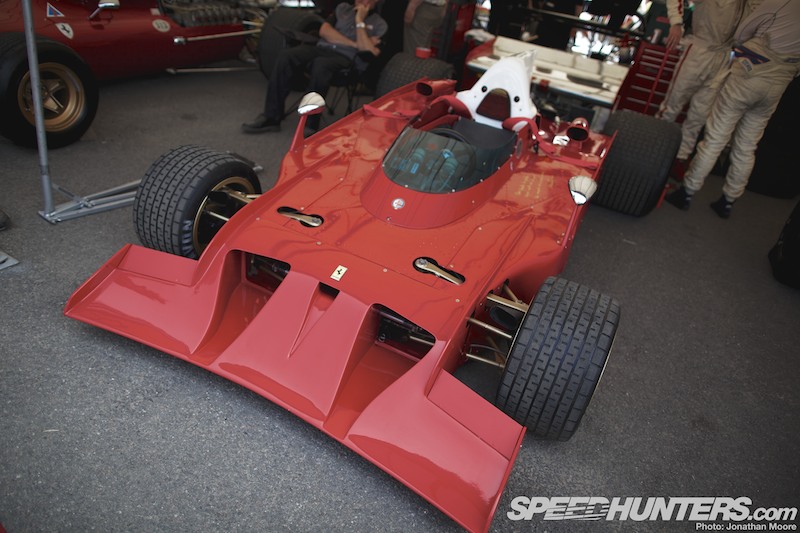 In 1973 Ferrari tested the extreme 312 B3S 'Spazzaneve' ('Snowplough') prototype for F1. The big intakes and integrated wing combined with the ultra-wide bodywork was more like cars of several years down the line. Jacky Ickx drove the car, but it was never raced. Not necessarily beautiful in the Ferrari tradition, there's still something about it. Maybe Ferrari Red covers all sins?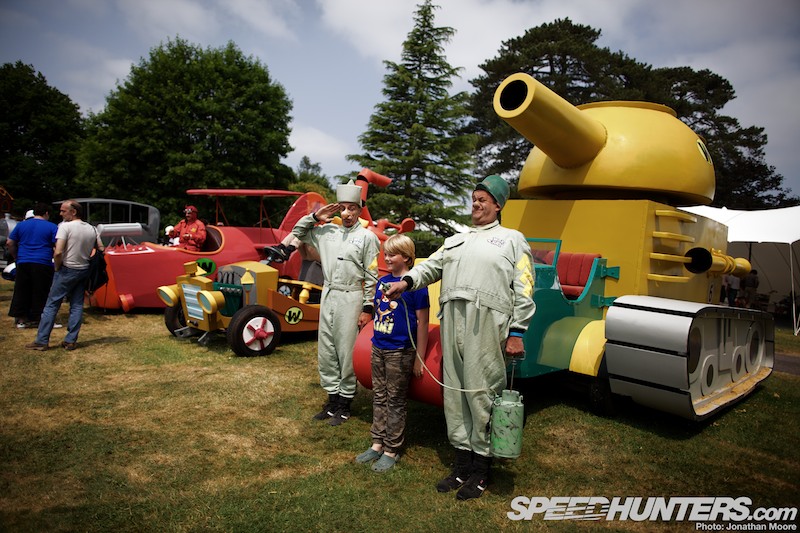 And then, did you know that the Wacky Races cartoon was apparently based on real life? No, nor did I. Forty five years on, they're still demonstrating 'The most extreme cheating ever seen in motorsport'. Now, did I imagine that I saw F1 designers sneaking a look at these machines? Surely not.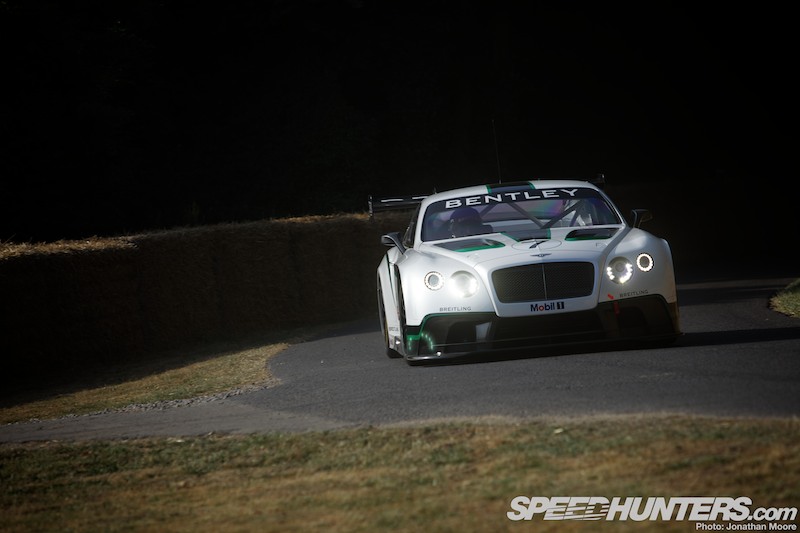 FOS has very much become the place to launch cars in the raw after soft static launches at regular motor shows. Goodwood provided the proof that the Bentley GT3 is not only alive and kicking, but also noisy and fast! I can't wait to see this brute at the races.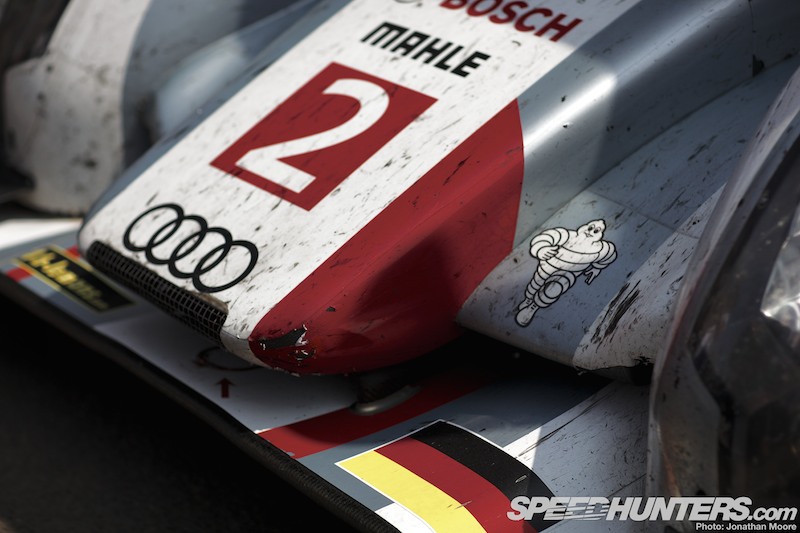 Another of my favourite traditions at Goodwood is when teams bring their cars straight from the previous month's Le Mans 24 Hours preserved in their non-pristine, just-about-survived condition. Save the polish for the (admittedly awe-inspiring) Cartier Style Et Luxe enclosure; this is where you get to see racing cars having done what they're supposed to do – showing the purist scars of their most recent encounter. The flies are so fresh you can almost taste the race.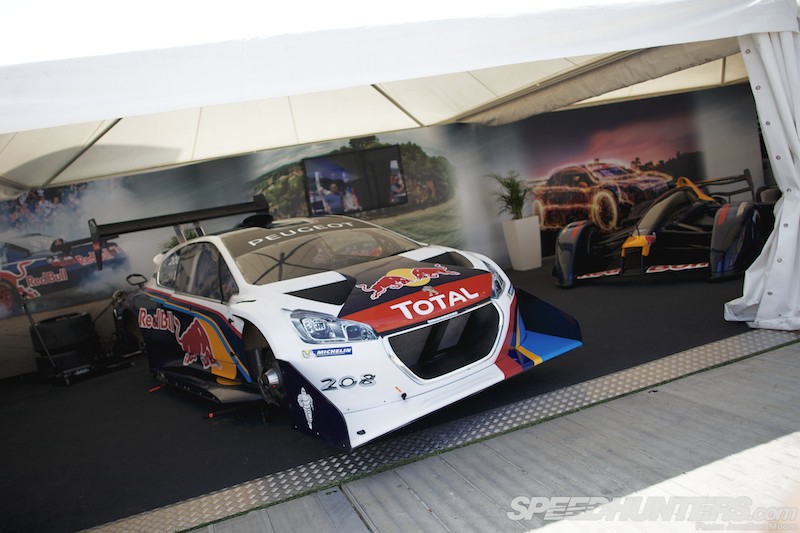 And for fresh from a race, we had not one, but two 208 T16s: one demo vehicle, which was next to Adrian Newey's X1 'future F1′ concept…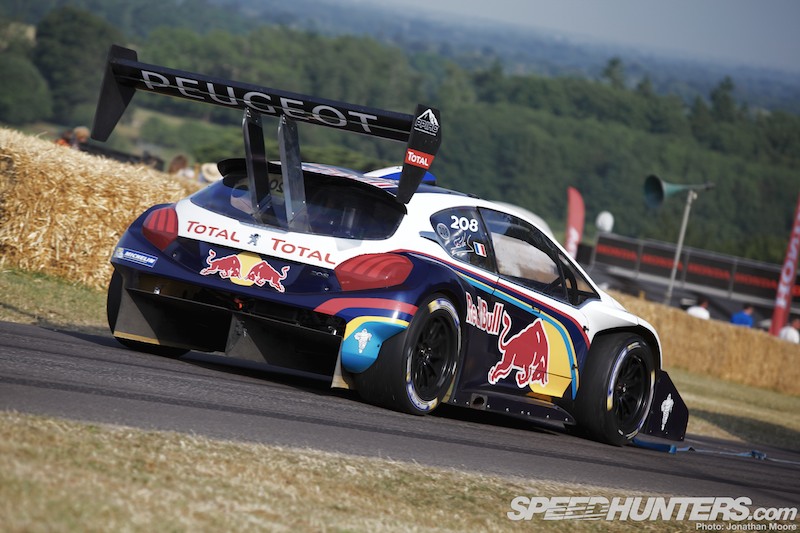 … and then the 875hp, twin turbo Pikes Peak rocketship in the flesh, which was tackling the hill. Everything about it is just so extreme, just as a proper Pikes Peak car should be…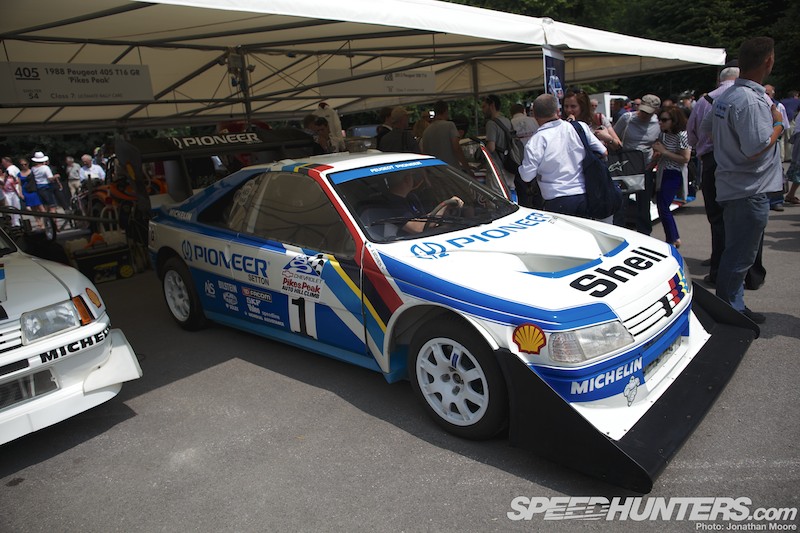 … and exactly in the mould of its famous predecessor, the 405 T16 from 1988, which was next door to the 208 in the Cathedral Paddock.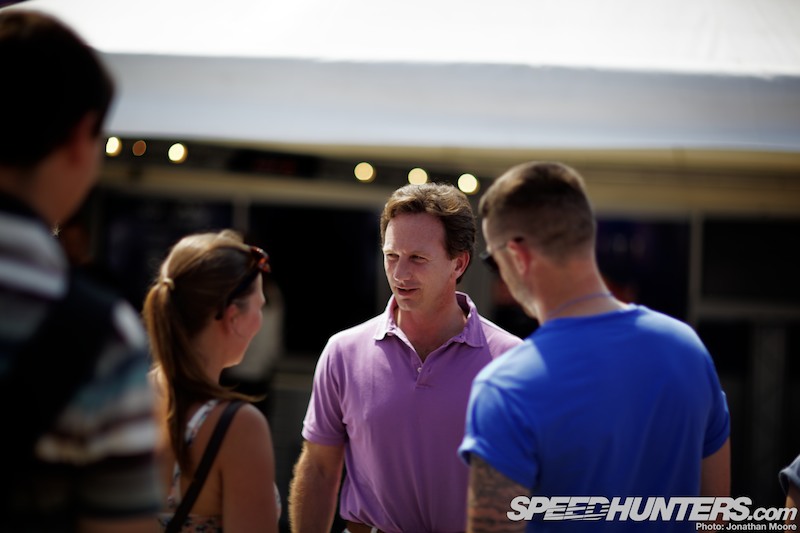 FOS is always deliberately timed to not clash with an F1 race, hence the number of teams that regularly turn out. Yet despite the size and importance of the event, it somehow still manages to retain its low-key atmosphere, and you quickly get used to catching glimpses of well-known faces. It's that misplaced familiarity of seeing people on the TV, and then thinking that you actually know them…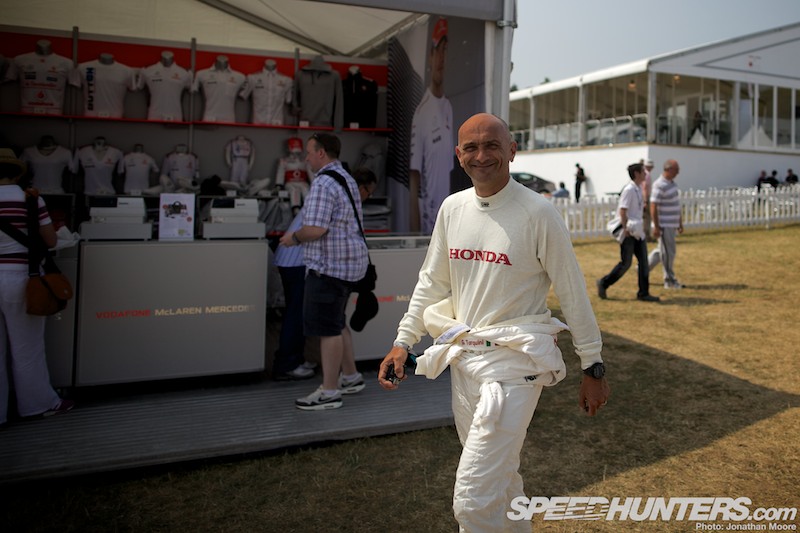 Drivers stroll through the paddocks, happily signing autographs and smiling for pictures; here's WTCC veteran champion Gabriele Tarquini for instance. It's massively refreshing for all involved: drivers turn up because they want to, therefore there's none of the hiding away you so often get at regular races.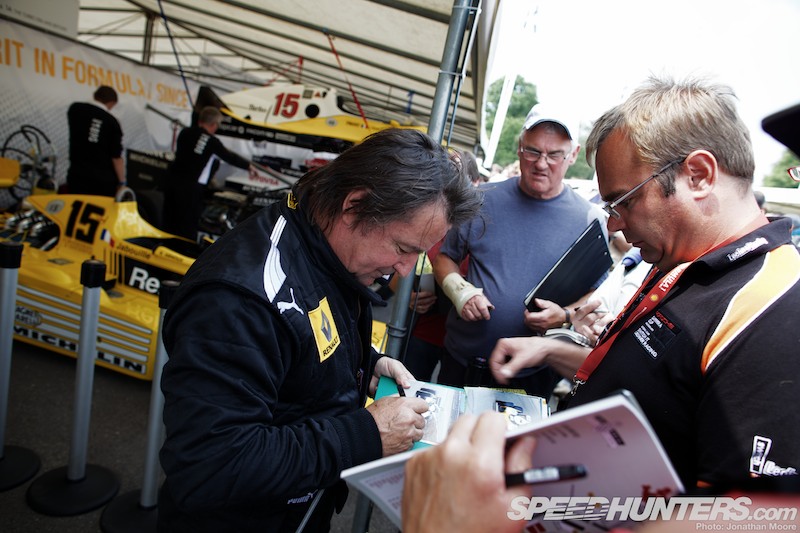 Seventeen F1 race winners from every era were at Goodwood this year, just some of a list of famous drivers too long to name individually who arrived over the weekend. Some were paired with famous cars, as with René Arnoux and his 1977 Renault RS01, the first turbocharged F1 car…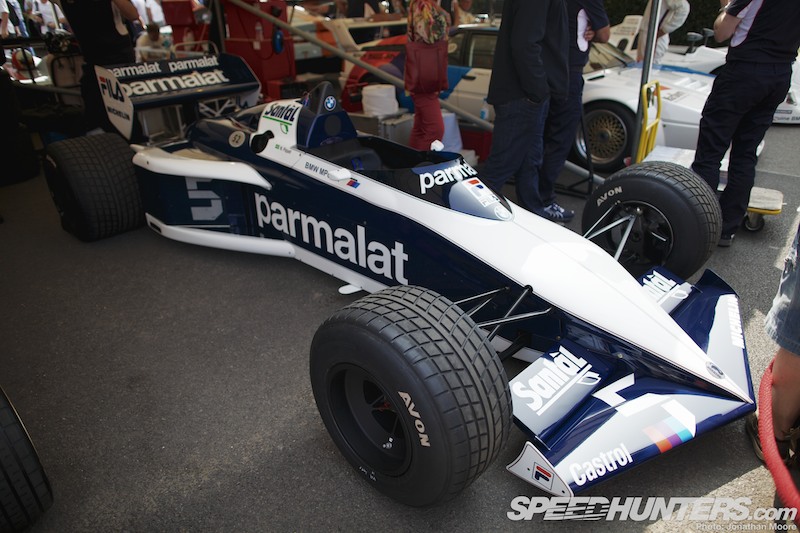 … and Nelson Piquet would be reunited with his arrow-sharp, wickedly fast Brabham BT52 turbo that carried him to the world title in 1983.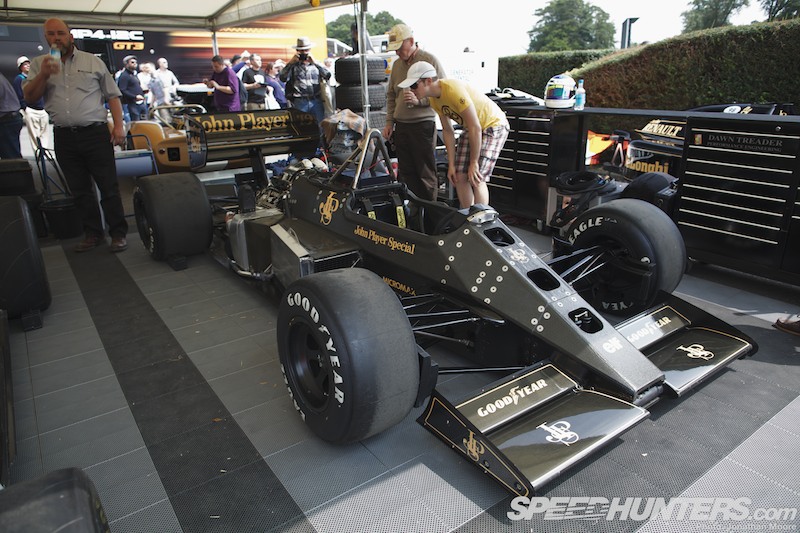 Those no longer with us were celebrated through their cars, like Ayrton Senna, whose legend was represented by the 1986 Lotus Renault 98T.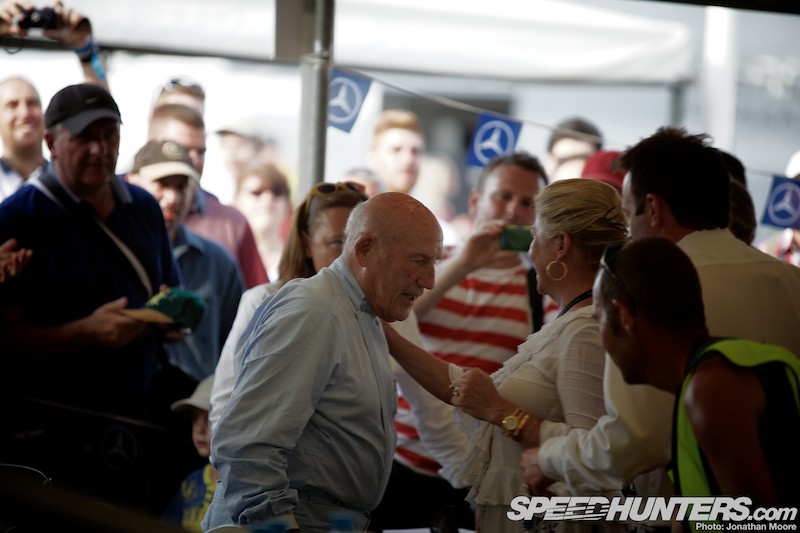 But enduring legends like Stirling Moss continue to delight Festival fans year-in, year-out, still taking his old cars up the hill to the cheers of the crowd.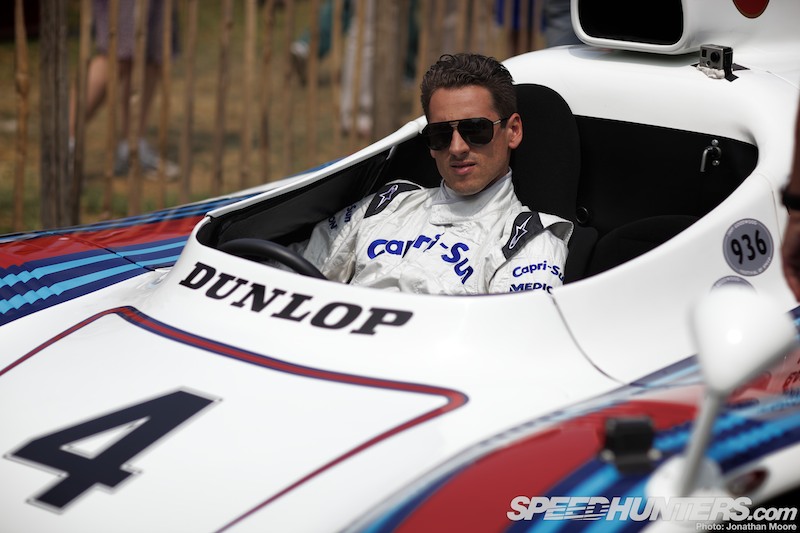 It's become de rigeur for current F1 drivers to pitch up; word seems to have spread about that relaxed atmosphere I've already mentioned, allaying the fears of all but the most publicity shy. Often they're present to drive their own day-job machinery, but just as frequently they get their hands on something completely different. Adrian Sutil was at the wheel of the Martini-liveried Group 6 Porsche 936 sportscar…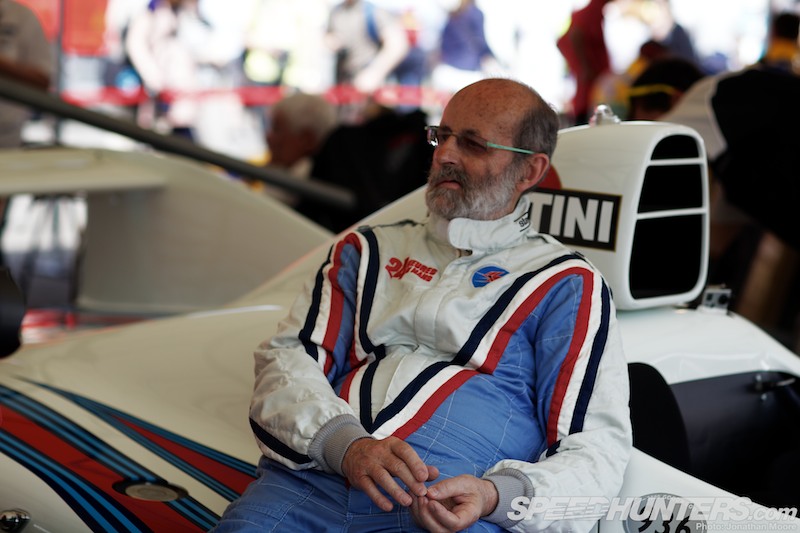 … which had French sportscar legend Henri Pescarolo leaning up against it at one stage…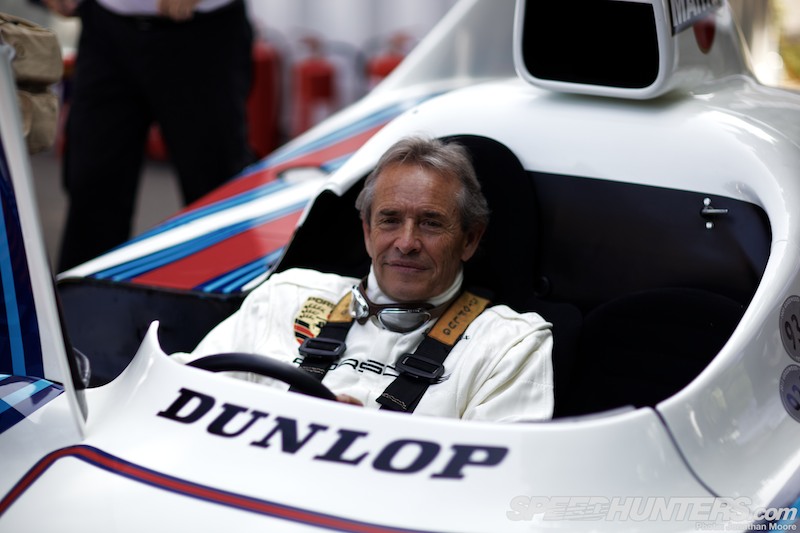 … before the car's 'owner', in the winning sense, Jacky Ickx, was back where he belonged on the Saturday. 2013 seems to be a particularly strong year for anniversaries and celebrations. McLaren and the Porsche 911 are 50, the World Rally Championship was inaugurated 40 years ago, it's Martini's 150th birthday (it first sponsored a racing car 45 years ago) – and the Festival itself is 20 years old.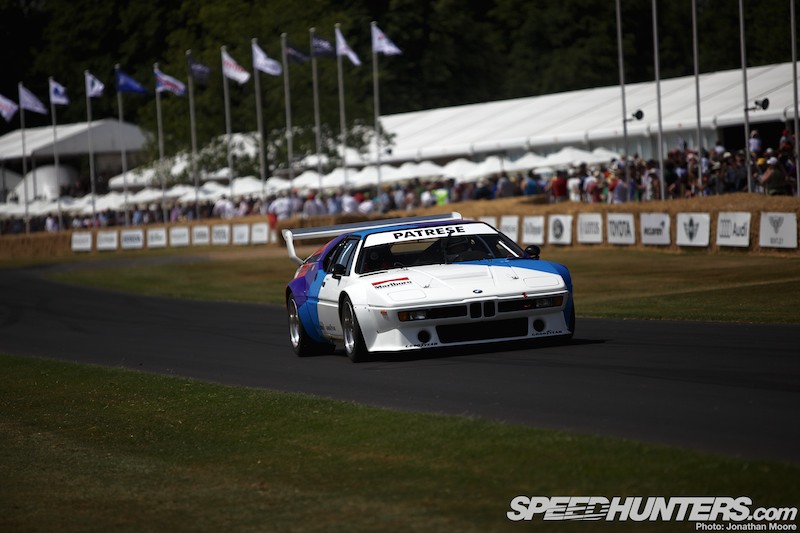 Riccardo Patrese headed out in his 1979 BMW M1 Procar from the one-make series that supported F1 through '79 and '80 .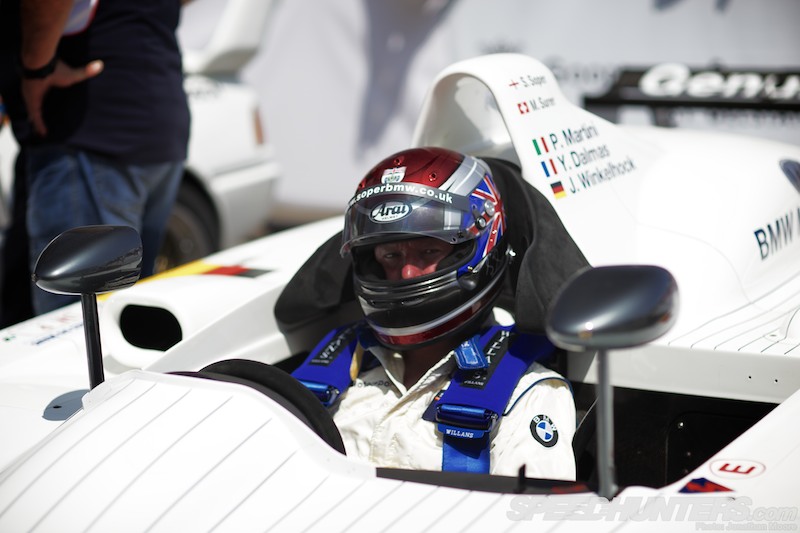 I was particularly pleased to see touring car and BMW specialist Steve Soper back behind the wheel as he'd retired from racing following an accident in the BTCC in 2001. I was even more happy that he was in the 1999 Le Mans winning BMW V12 LMR, which I saw win the race at the first 24 Hours I attended.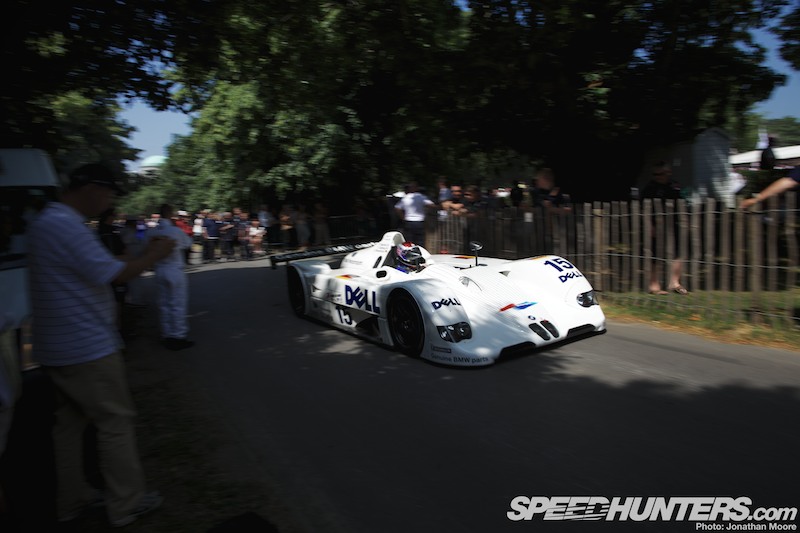 Like Audi's R18 this year, this car was driven up the hill in '99 just weeks after winning at Le Mans.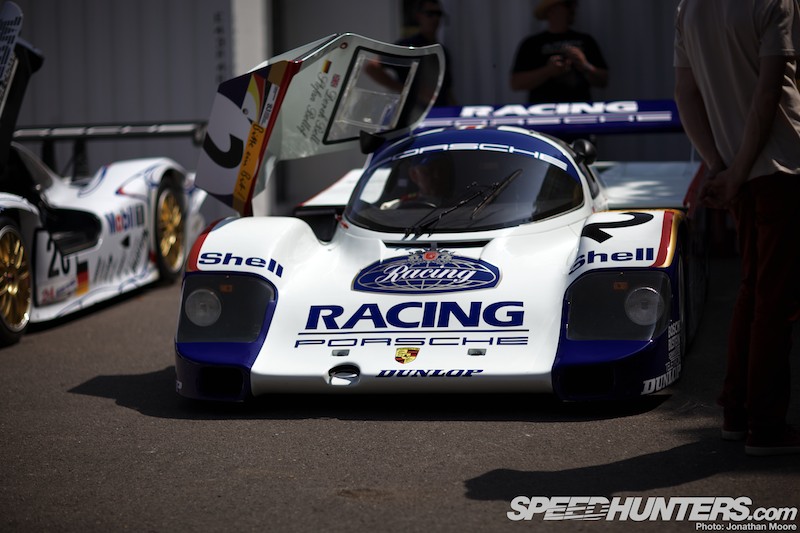 Martini stripes weren't the only famous stripes adorning famous Porsche sportscars, although the slightly over-zealous censorship of the classic Rothmans livery seemed a shame…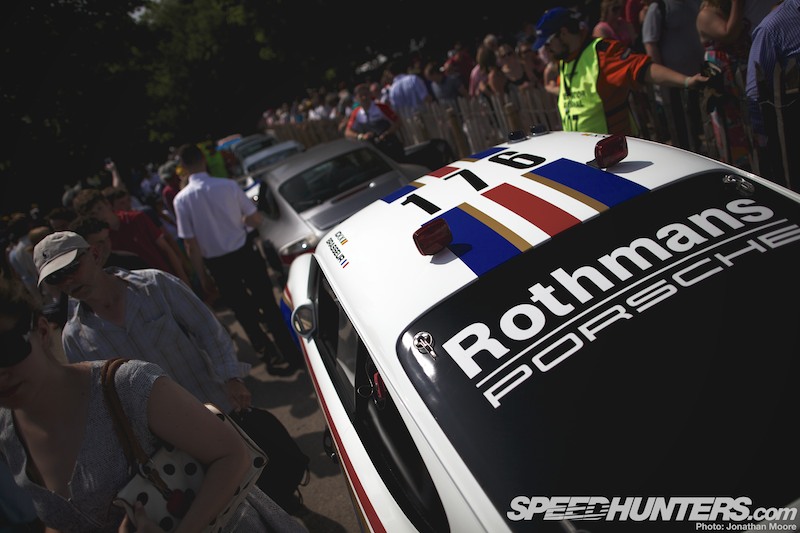 … especially when there were so many other Porsches which had no such problem.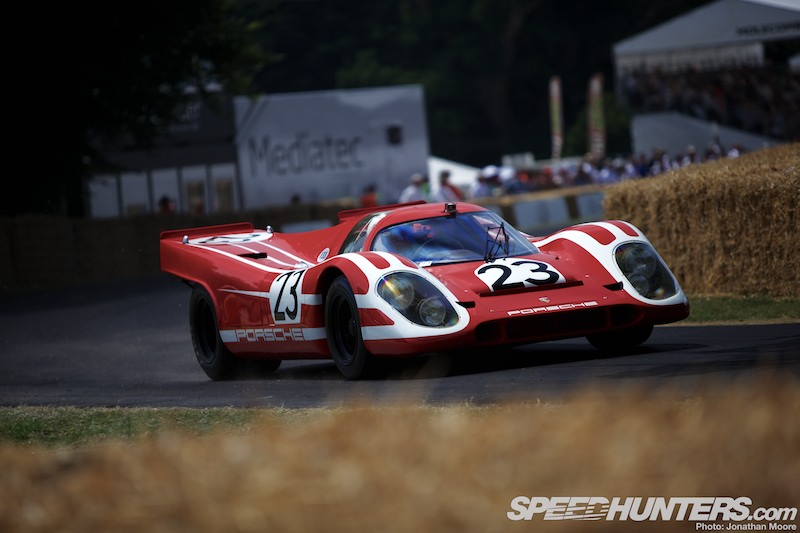 Talking of Porsches, there was no less than a trio of 917Ks. To see one is special, so I needed a little sit-down after seeing three in quick succession.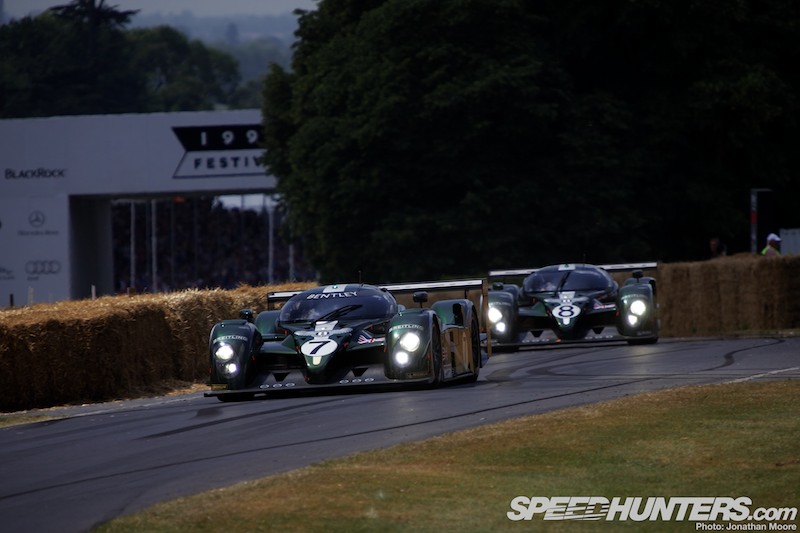 Oh, and both Bentley Speed 8 LMGTPs from 2003 were present, firing up the hill in close formation.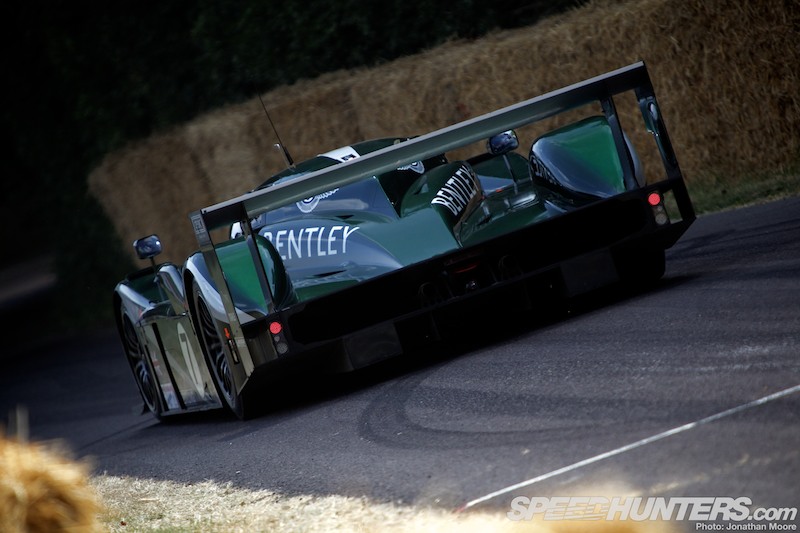 The Bentley was a beautiful design 10 years ago, and I don't think it would look out of place on a modern LMP grid. In fact, maybe Toyota got its idea for the rear wheel arch wing 'extensions' from the decade-old Bentley!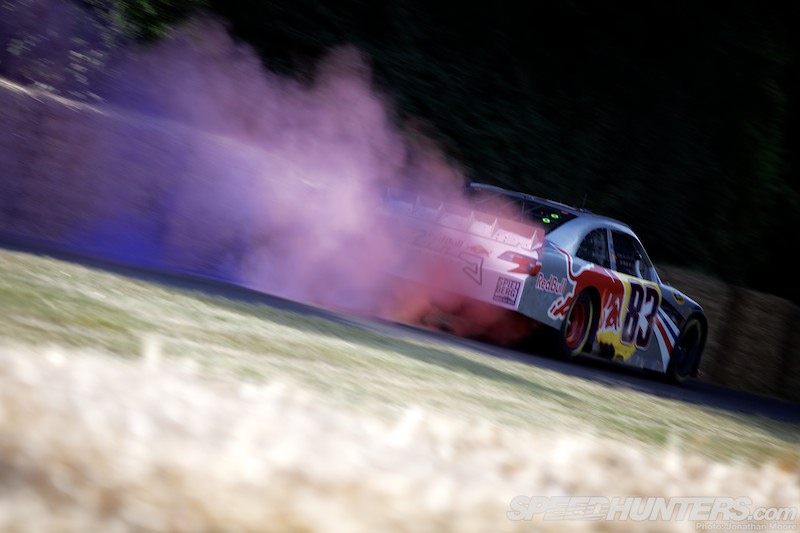 Smoke and thunder naturally came courtesy of the American contingent, with a clutch of contemporary NASCAR machinery hammering up the hill.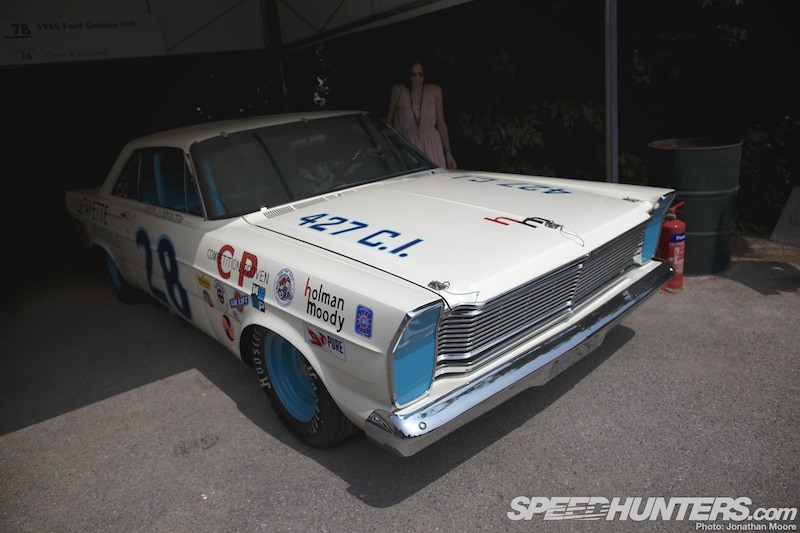 Back in the Cathedral Paddock, their precursor by 50 years was represented by this Ford Galaxie 500, which dwarfed the European tin-tops that lined up next to it. The awning simply wasn't wide enough to accommodate all 280 feet of it (that's a rough measurement)…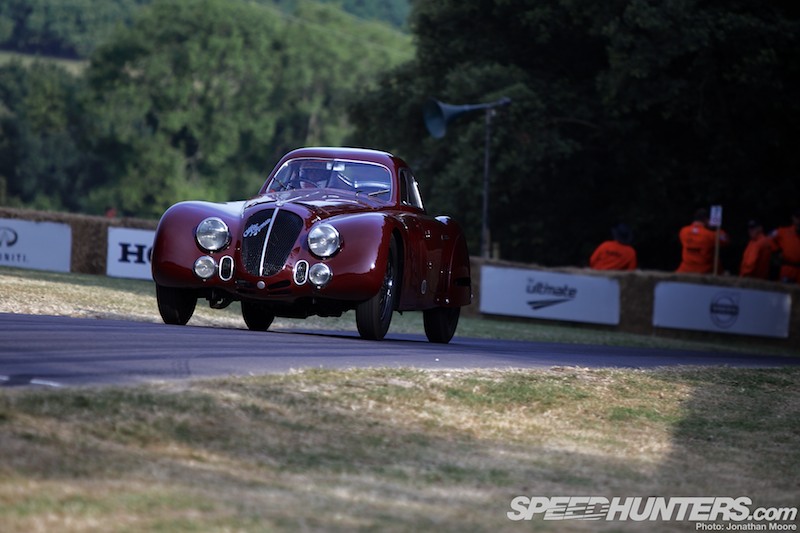 The Festival is all about surprise and opposites, and there could be few things less the opposite of a NASCAR than the Alfa Romeo 8C 2900B Le Mans Coupé. That epithet was no throwaway title, because despite its classic concours looks the streamliner was designed to win at Le Mans in 1938. It had a 100-mile lead when a dropped valve forced the car into retirement, handing the win to Delahaye.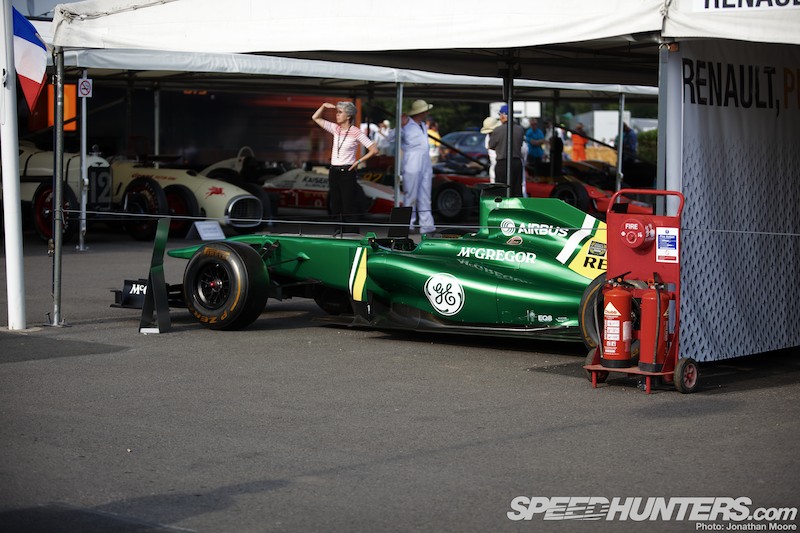 Going to the Festival Of Speed is easy. Trying to decide what to show you after is far more difficult, and even more frustrating is what you realise you've missed when checking through the programme for references. There really is that much on that even four days isn't enough to take it all in.
Next up, I'll look at the second of the Rs: the road-going contingent, followed by celebrations of Martini, McLaren and the 911, and then we'll take a trip to the top of the hill and the awesome rally stage. I think I left what little wits I had left in the passenger seat of Robert Barrable's S2000 Skoda Fabia…
Jonathan Moore
Instagram: speedhunters_jonathan
jonathan@speedhunters.com