This season of Formula Drift is just getting better and better. I wanted to quickly touch on some highlights from FD Seattle and look at how the championship – where currently only three points separate the top three drivers – has panned out so far.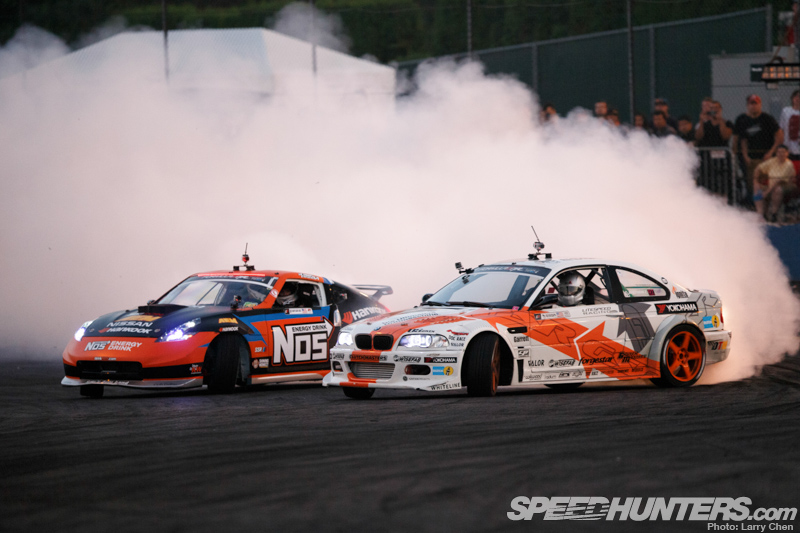 Chris Forsberg is now in 1st place, just 1.5 points ahead of Michael Essa. Both drivers have had one win each this season after five rounds.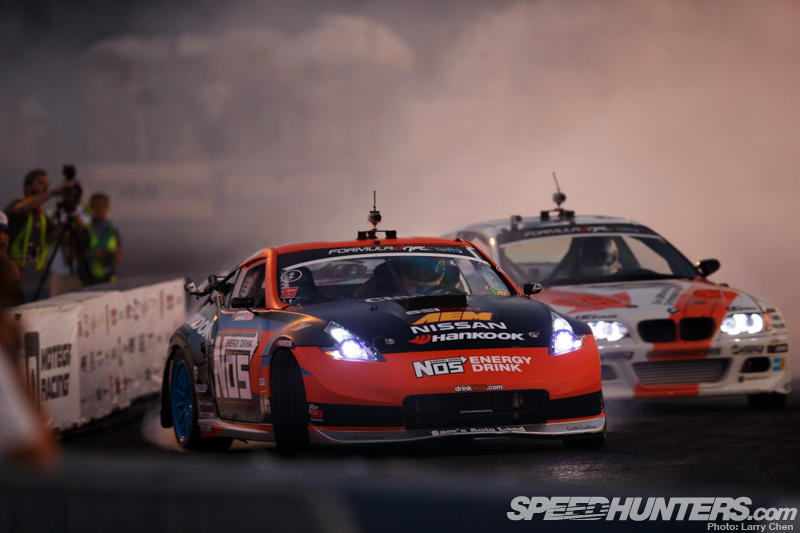 The final battle between Forsberg and Essa was one to remember. I've said this about Darren McNamara's Saturn Sky, but it seemed as if Chris was drifting within a drift. He has mastered the art of 'Driftception'.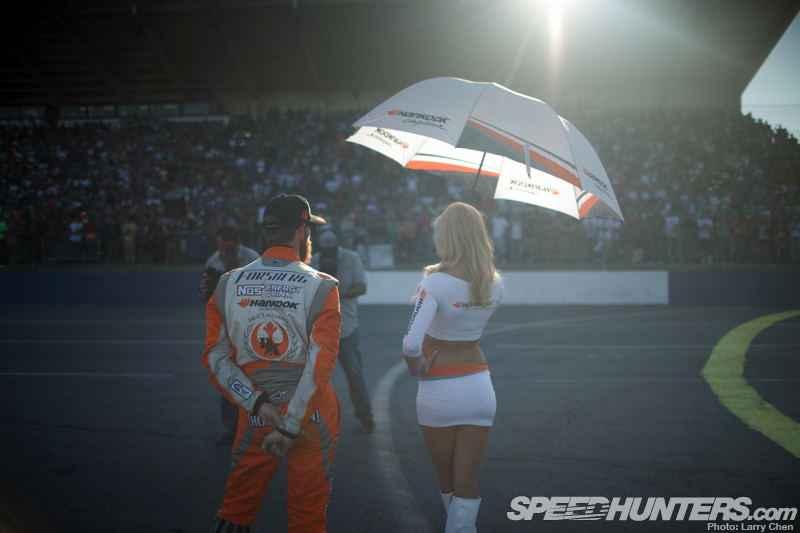 It was not an easy road to victory as he qualified back in 11th place and had to battle the likes of Matt Powers, Robbie Nishida and Fredric Aasbø on his way to the top step of the podium.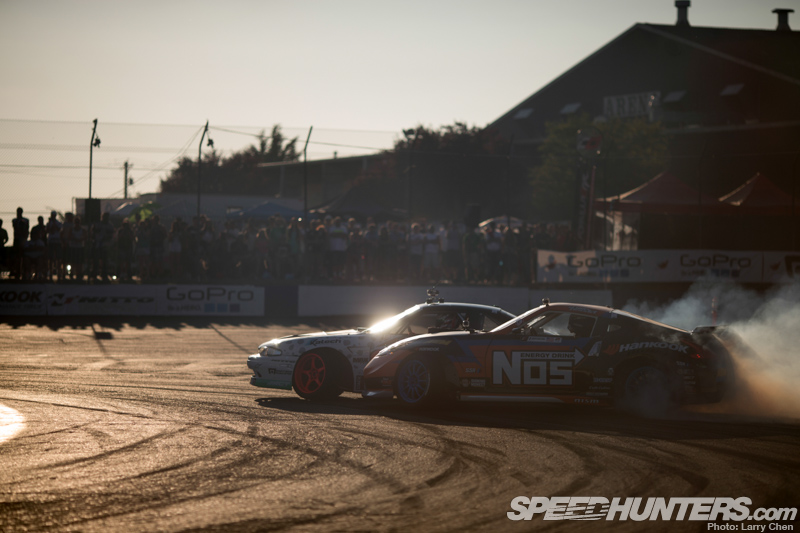 The top 16 battle versus Matt Powers was textbook-perfect with very clean driving from both drivers.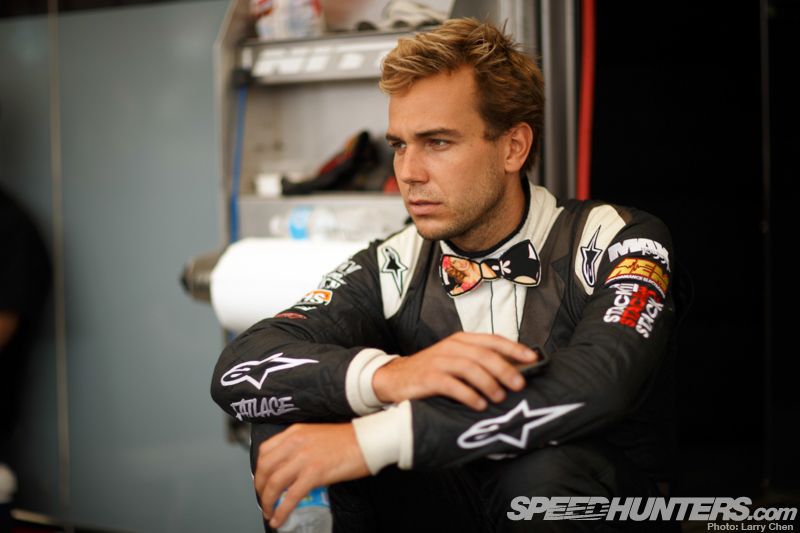 Matt looked stylish as always on and off the track, but something seems to be bothering him. He mentioned to me that he feels he is doing much better this year than in years past – but not when it counts.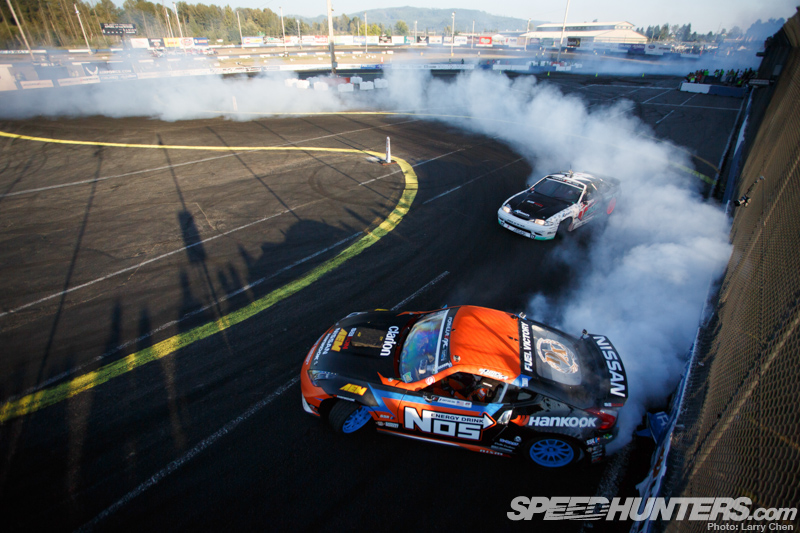 It's tough to lose against the event winner, but hopefully Matt gets his groove back soon. When he does I'm sure we'll see him on the podium once again.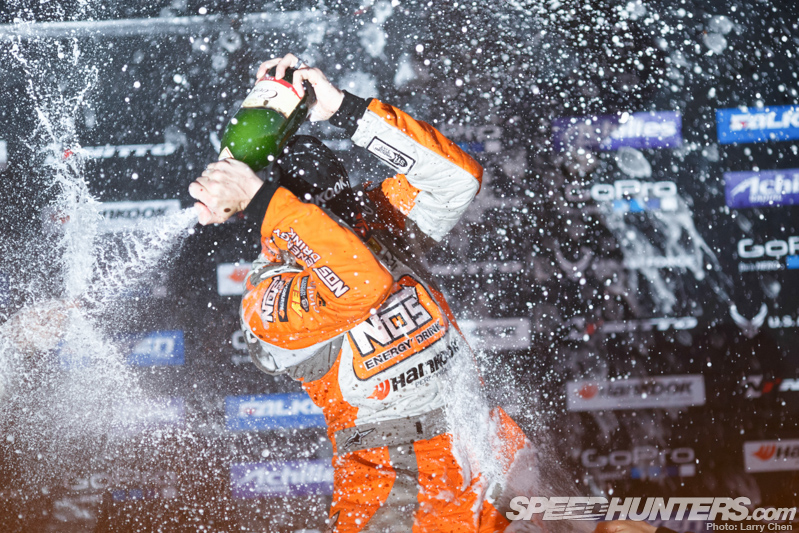 Chris has not had a win since 2009 when he nabbed the championship. This could very well be the year where he will earn his second FD title.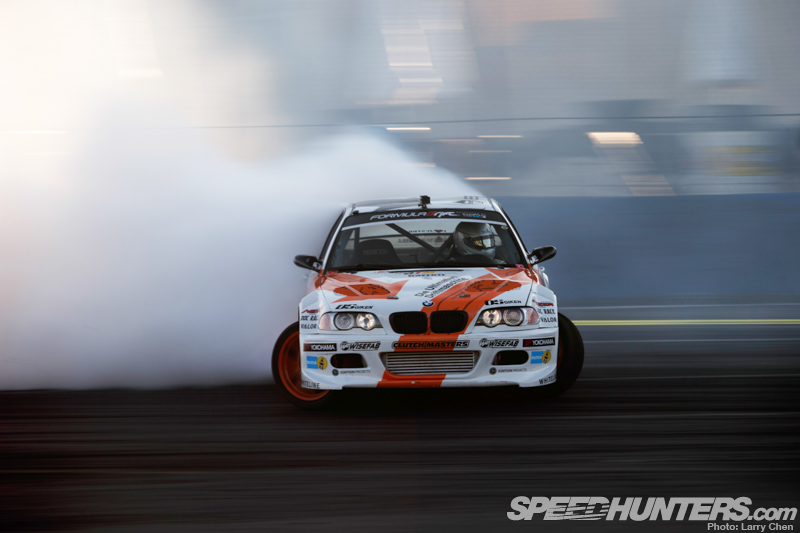 It's so crazy to see how well Essa is doing this season, especially when you consider it is the first year he's campaigned this new E46 chassis.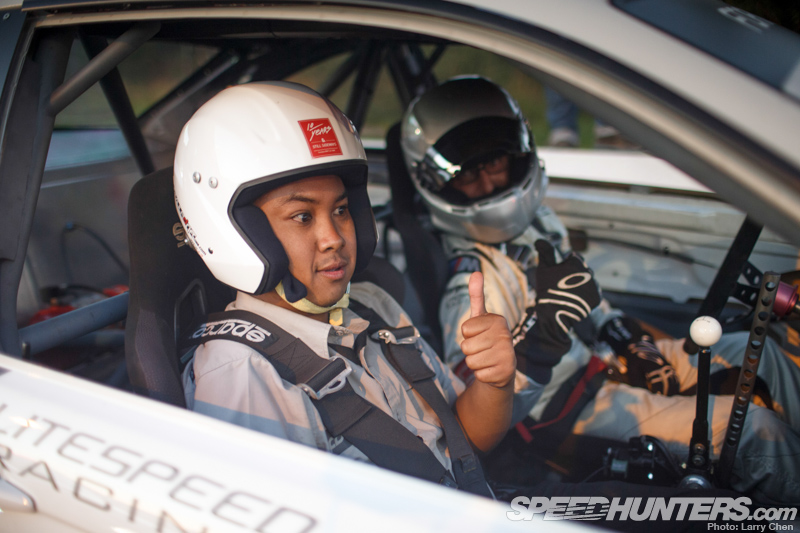 He drives ten-tenths every run, even when he is giving rides. Ceso, a Formula Drift staff member, is giving a thumbs up, but his expression is saying "Get me out of here!"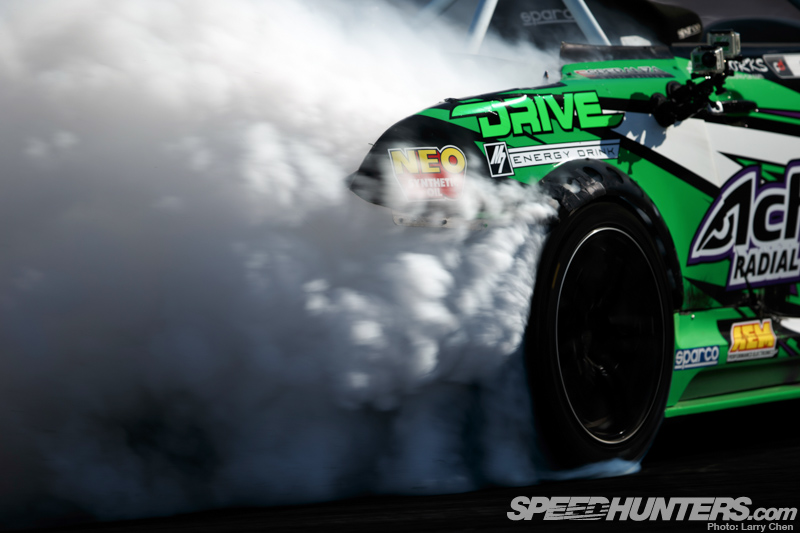 Daigo Saito earned the championship title last year due to the savage tandem battle skills that he possesses, but he has never been strong at qualifying.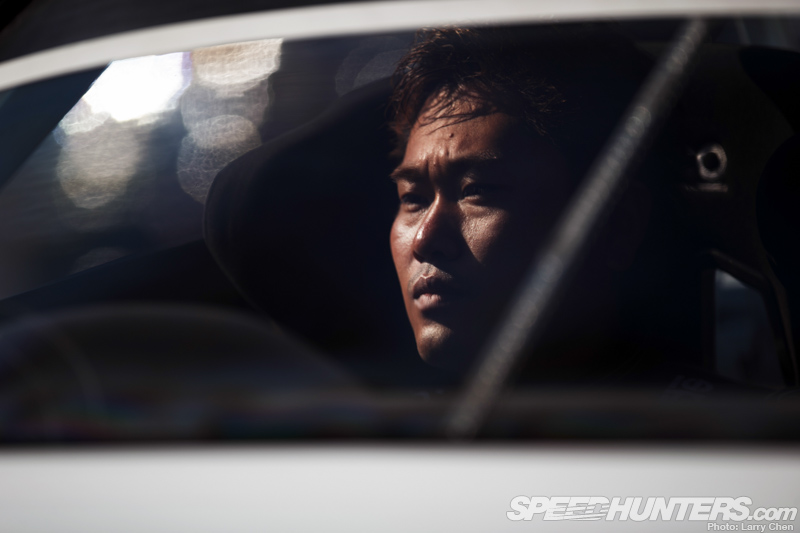 Although he always makes it into the show, no one expected him to crash on his first qualifying run. There's something about the Evergreen Speedway track that does not sit well with him and last year he had troubles with the bank too.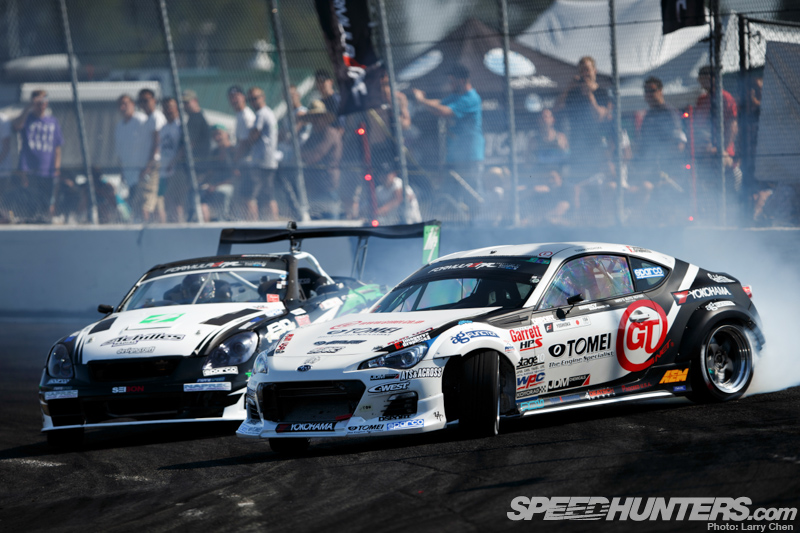 This was the battle heard around the world as for the first time ever in Formula Drift competition Daigo knocked himself out of the top 32 bracket, giving an opportunity to the rest of the field to close up his runaway 60-point lead.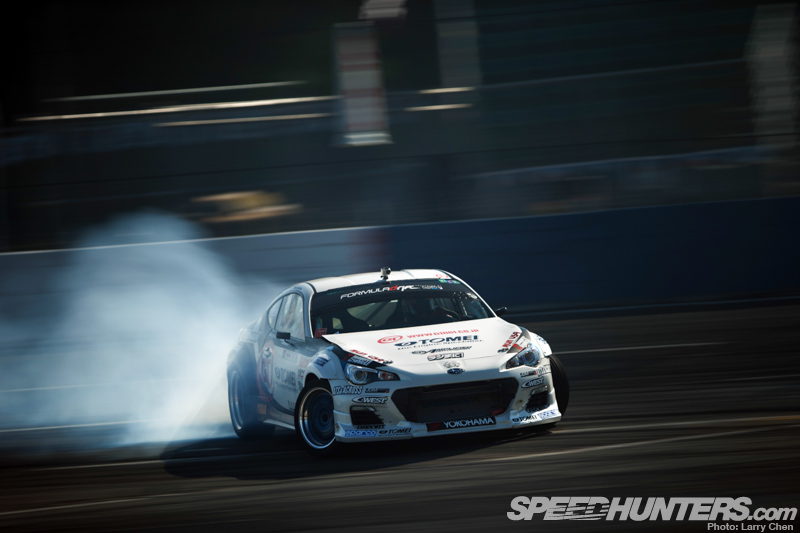 Without a doubt, that battle will be one that impacts the outcome of the championship.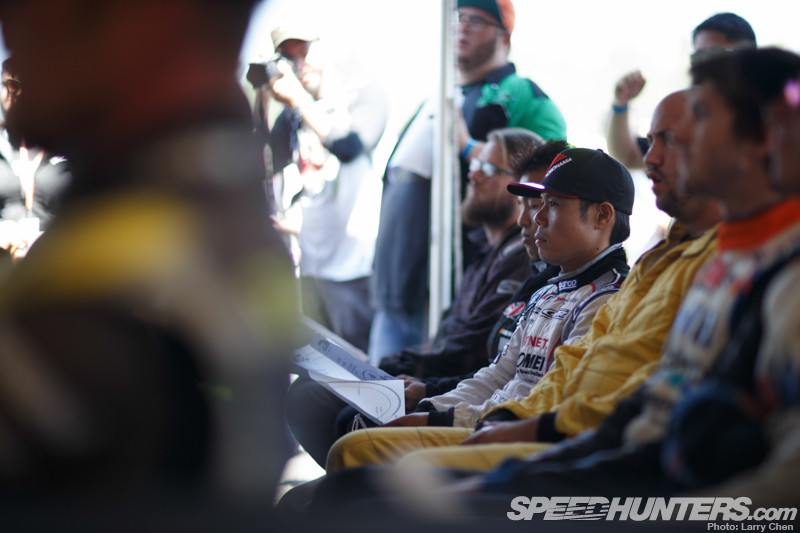 Toshiki Yoshioka was fresh from competing in time attack class at Pikes Peak. It's too bad he does not have two race cars as he had to skip Round 4 in New Jersey because it was too close to the hill climb.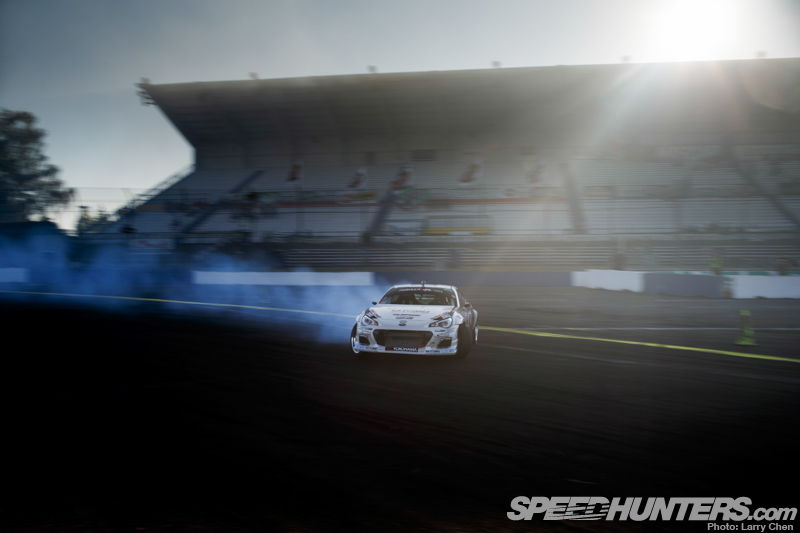 He did not make it much further after being knocked out of contention by Justin Pawlak in the top 16.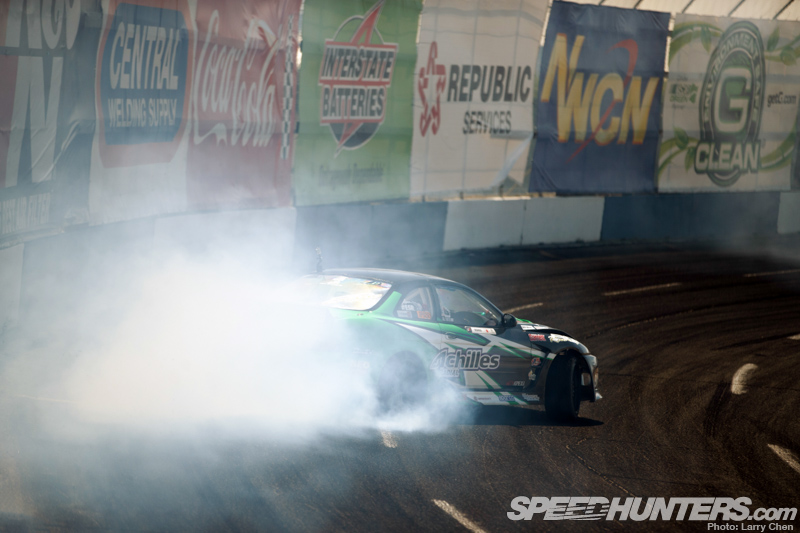 For the first time Daigo Saito's teammate and best friend, Robbie Nishida, held down the fort for the Achilles Radial team in the top 16.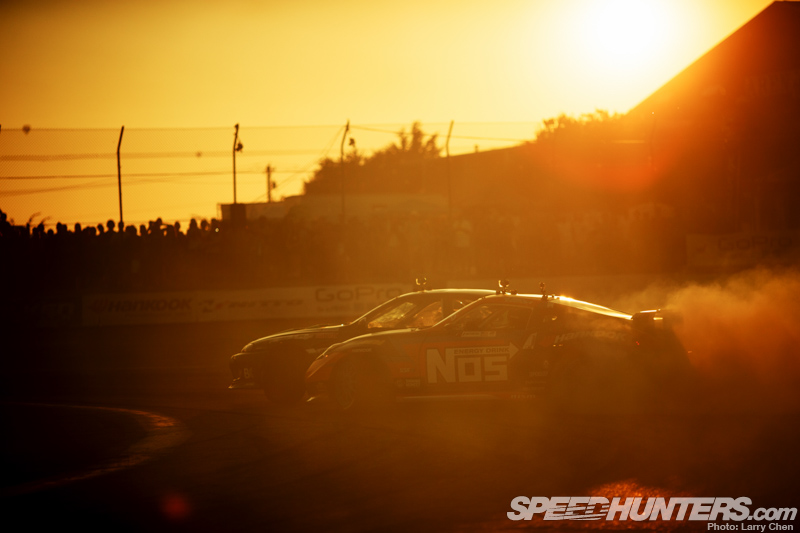 He was doing very well, and it looked as if there was a great chance that he was going to earn his second podium of the year, but he got knocked out fair and square by Chris Forsberg.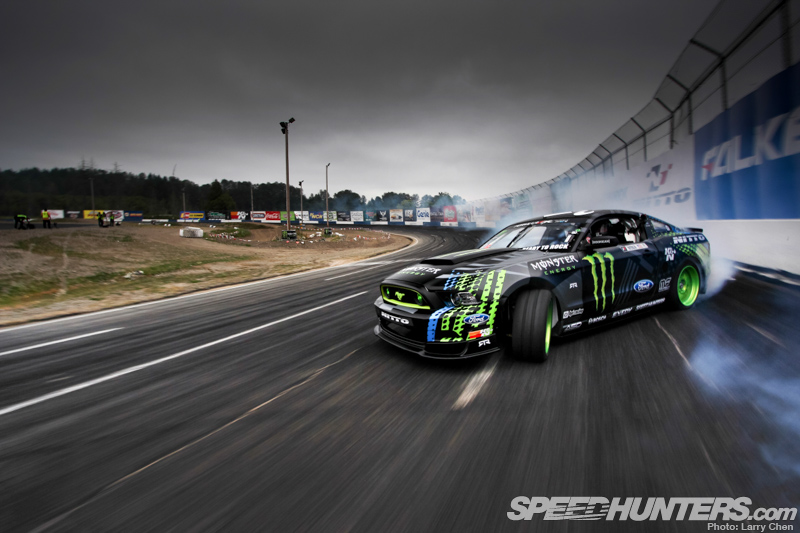 Fourth in the championship standings is our very own Vaughn Gittin, Jr.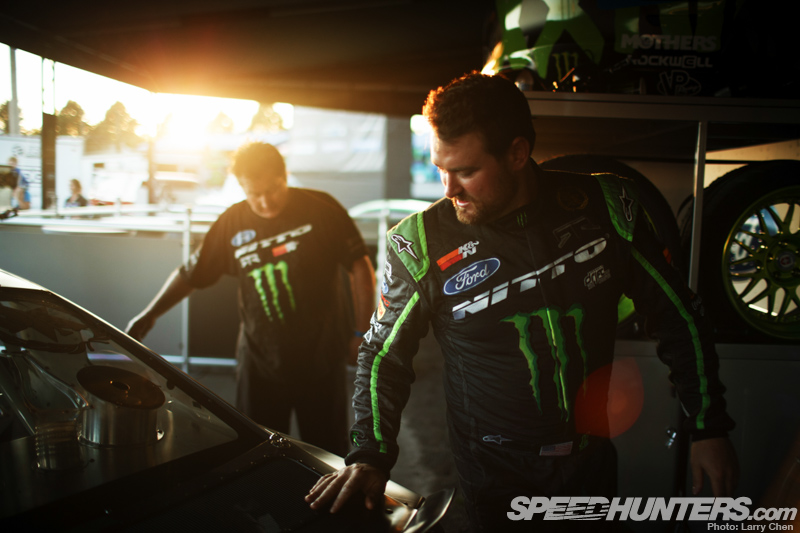 When Daigo crashed during qualifying there were whispers in the paddock of Vaughn taking back the lead.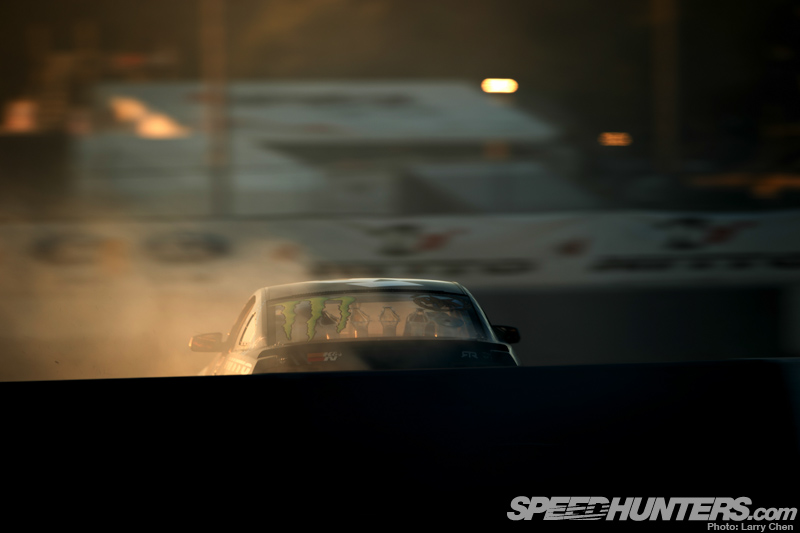 He qualified in a very safe 4th place, which put him in a great bracket going all the way to the top.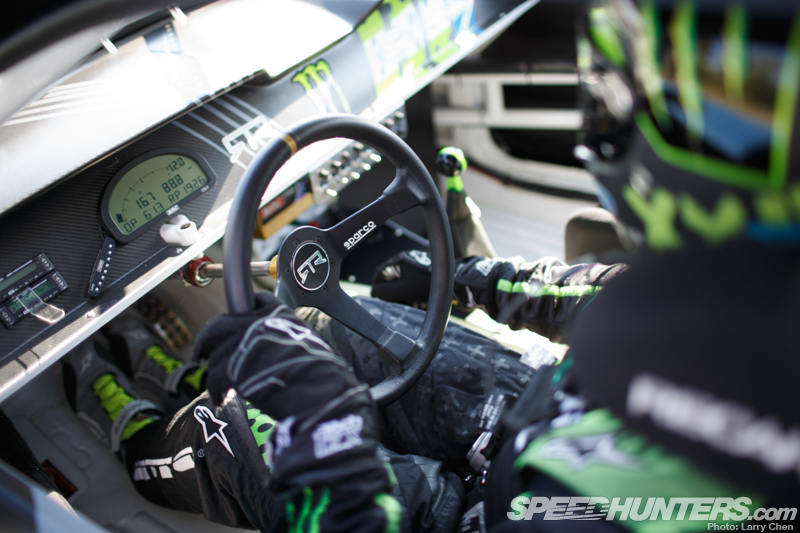 He ended up getting knocked out in the top 8 by Odi Bakchis, but it still was enough to close the gap to Daigo to a mere 21 points.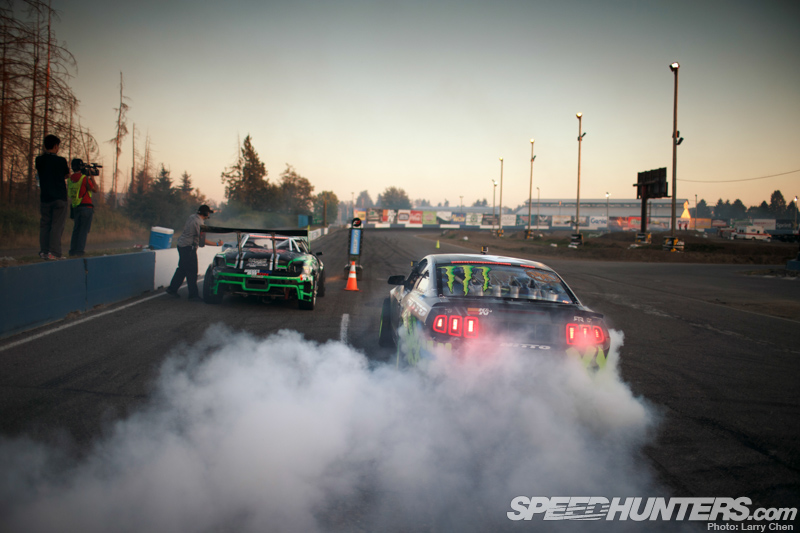 Last year Vaughn was just one battle away from snagging the championship from the Japanese driver. I have a feeling it will come down the final battles at Irwindale this year as well.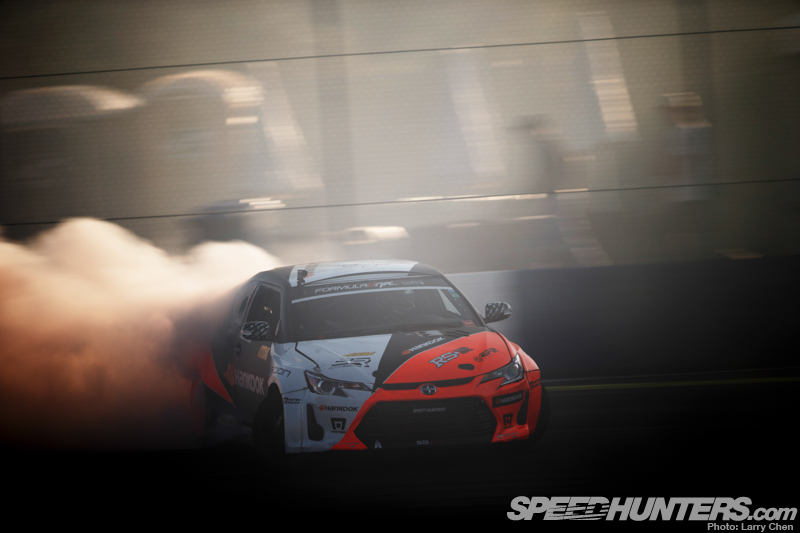 After qualifying in 2nd and finishing 3rd, Fredric Aasbø got bumped up to 5th place, where he is now well within reach of his first championship.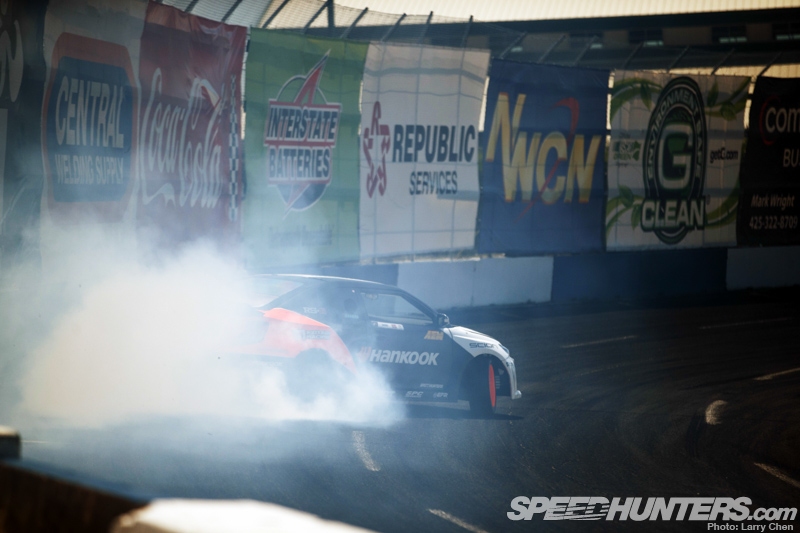 Even though Fredric is a front-runner many people assume that he has already had a win, but in fact he has never finished on top of the podium. There have been two 2nd places though, so it's just a matter of time.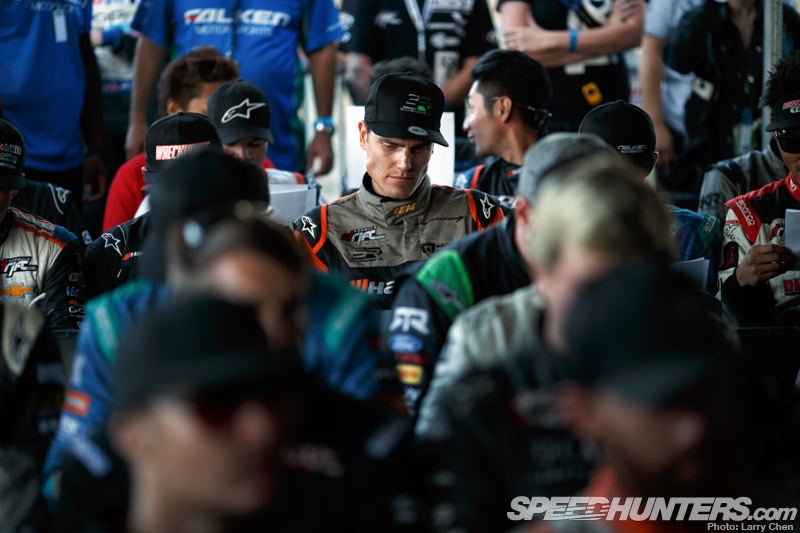 When Fredric is not behind the wheel he is a very well-mannered, young Norwegian man with a true love for life.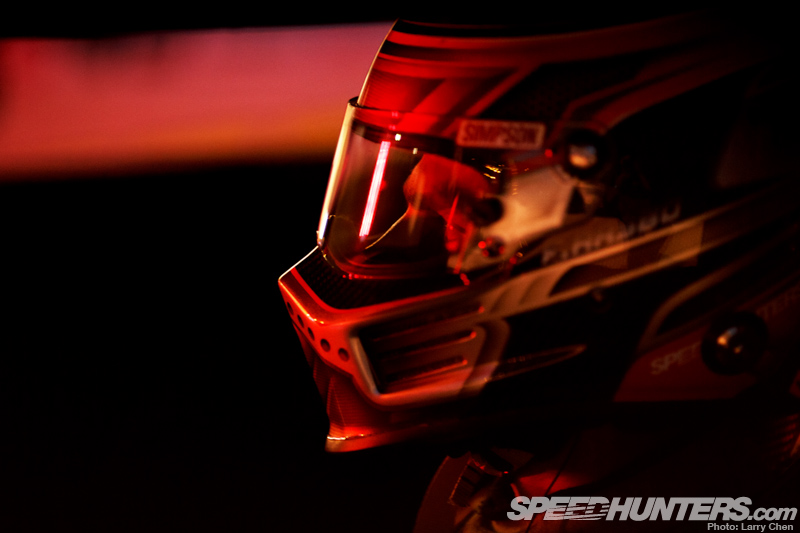 However, as soon as he gets behind the wheel of a car – even if it was my rental car that I let him drive in Norway – he turns into some sort of demon. It's almost like he gets possessed by something and becomes an absolute monster. It's scary!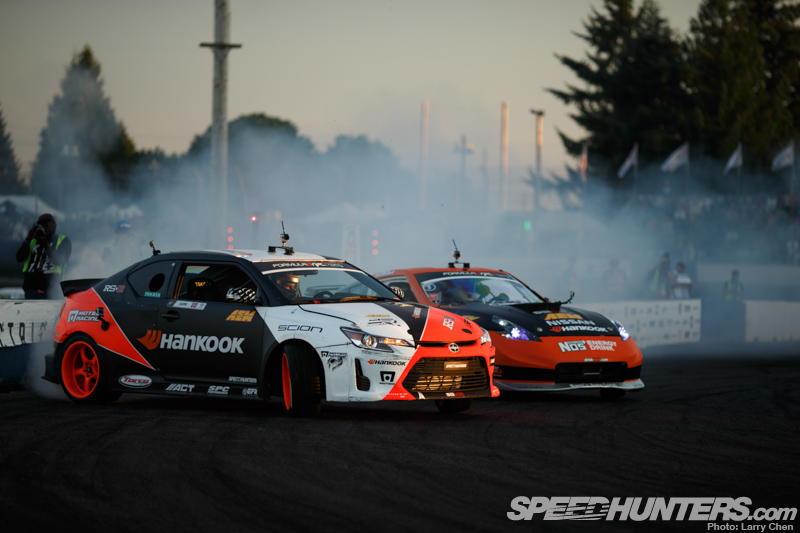 Over the years he has become more consistent and has made the top 8 every single round this season.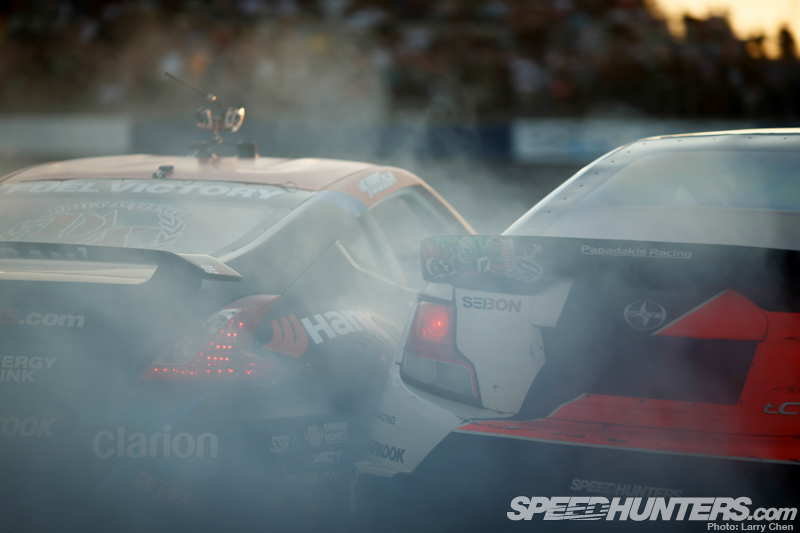 This round however, things were cut short due to mechanical failure going against Chris Forsberg.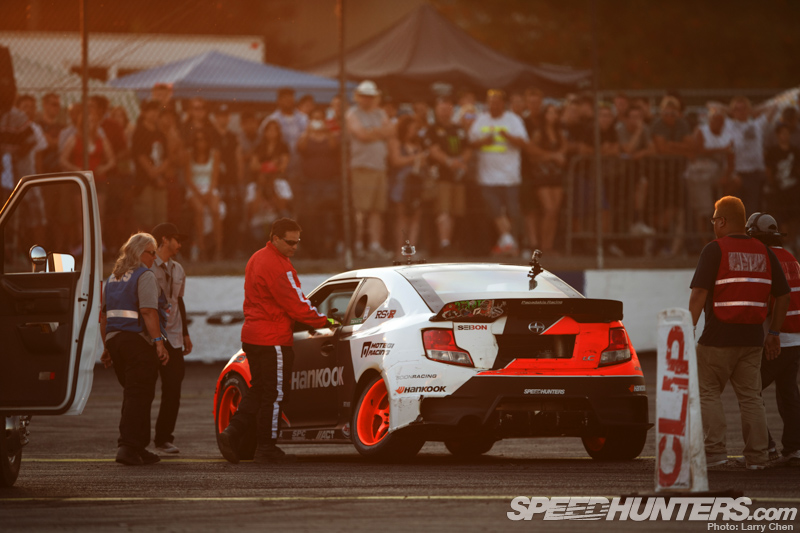 And for a brief moment the Scion tC looked like it was a show car on air bags. The team was able to fix it in time for his 3rd place battle.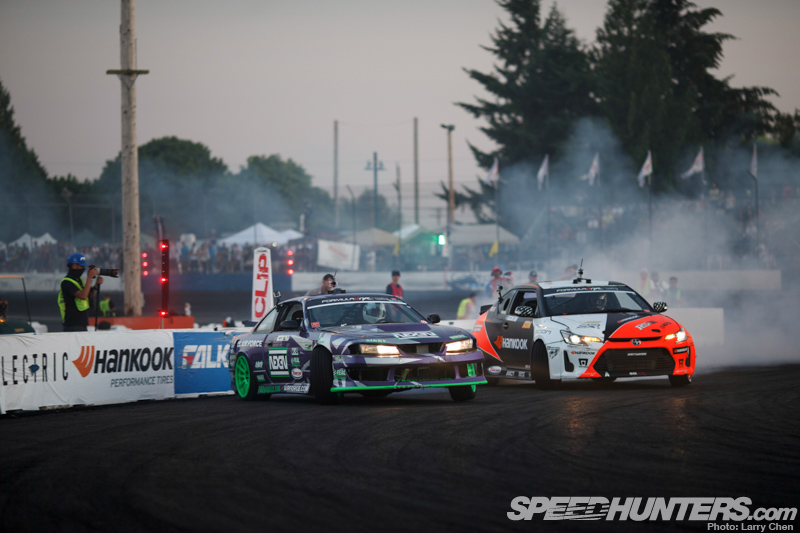 His opponent, Odi Bakchis, was on fire. He has always been one of the most competitive privateers on the grid, but this round he was super aggressive.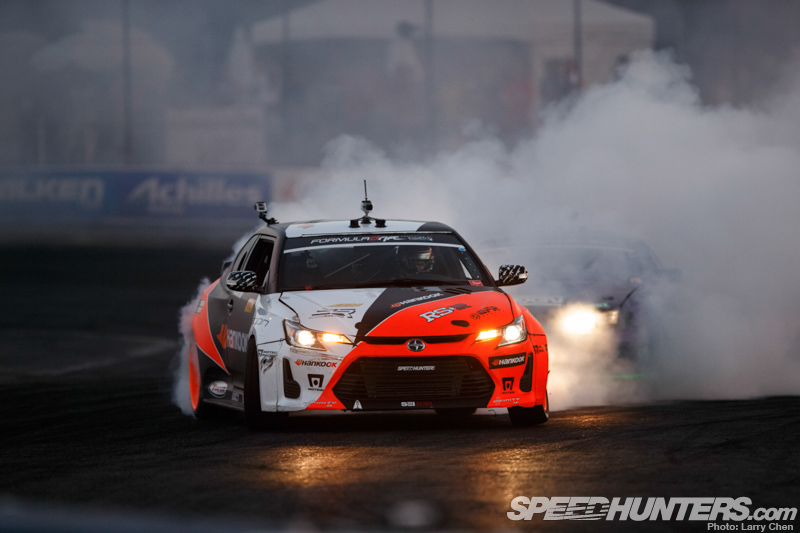 He had so much grip, and I think it amounted to running lower and lower tire pressures as the day went on. Although, the extra grip came with a cost. He debeaded his tire in three separate battles, one of which cost him his first ever podium finish.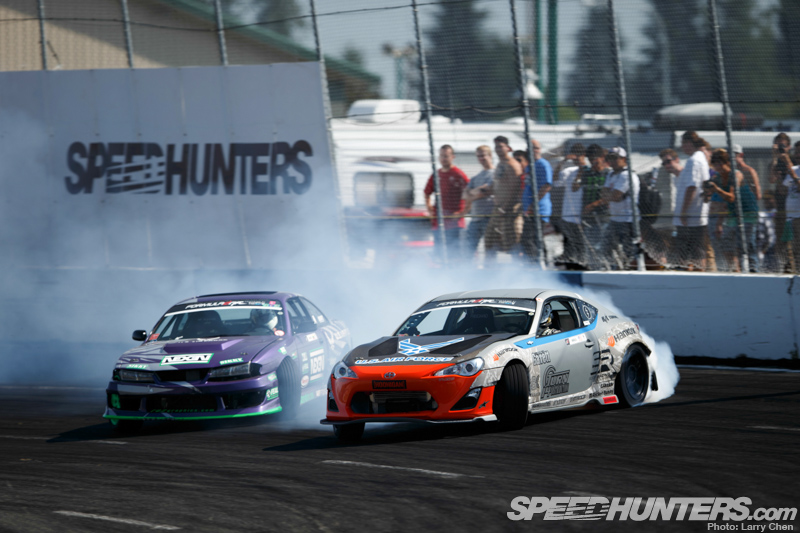 Odi also was involved in one of the more controversial calls of round five in Seattle when he went up against Tony 'The Hurricane' Angelo.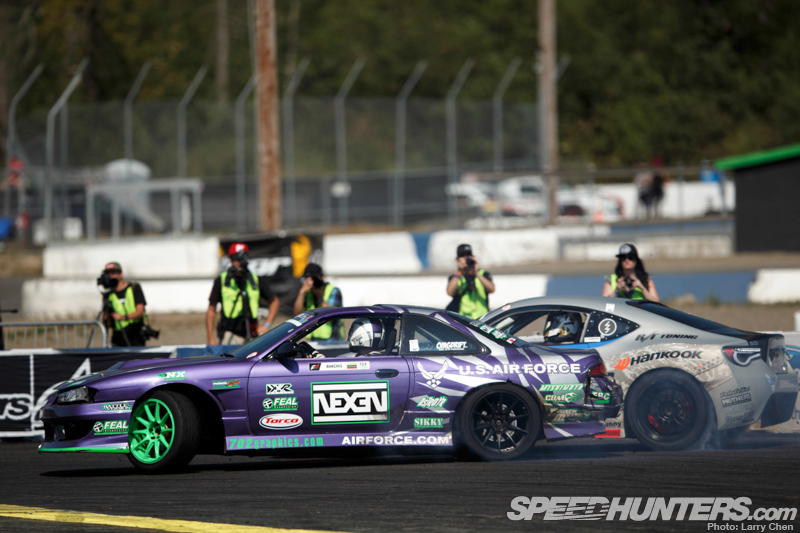 From where I was standing it looked like he passed Tony while off-line, but the judges saw it differently and gave the win to Odi. I know there were many other factors in their decision, but it still caused quite a stir.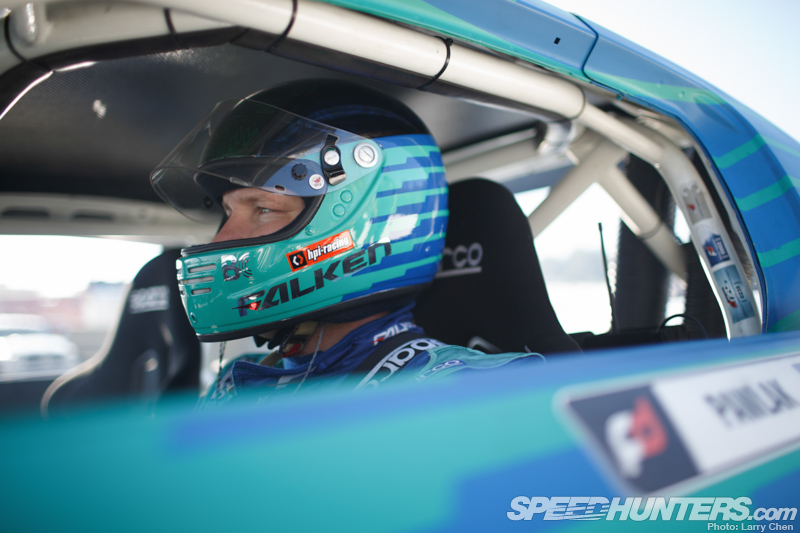 In 6th place is Justin Pawlak, and given the way he drove at the round, he can't be discounted as a title contender, even at this late stage of the season.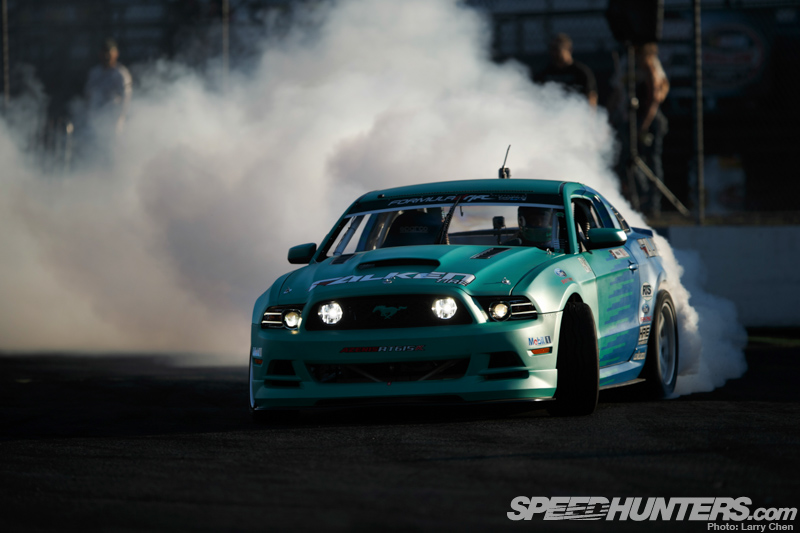 He has always been a front-runner ever since he started driving the teal and blue Mustang.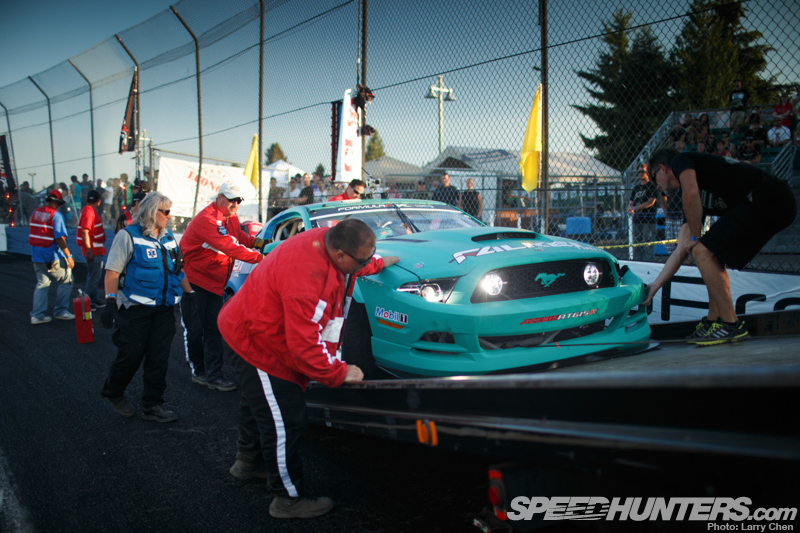 Although this year he has two major incidents, one of which nearly wrote the car off in Long Beach.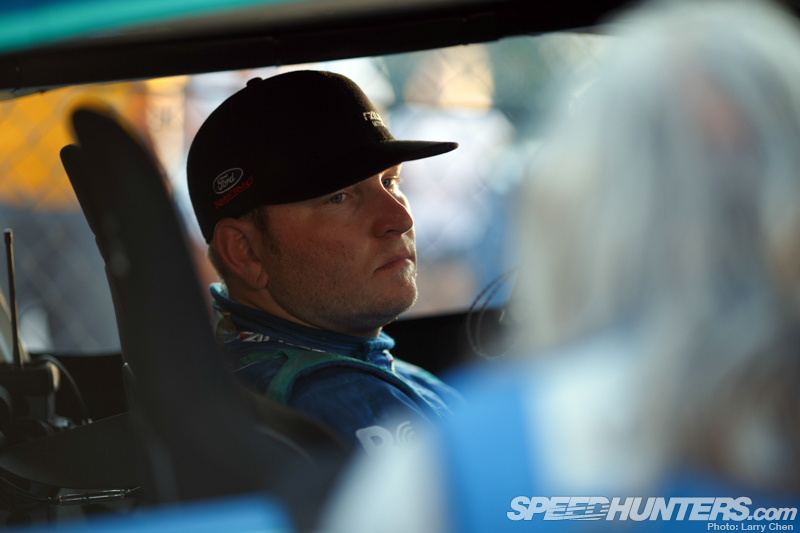 The team worked very hard to fix the car and continue the battle against Fredric Aasbo, but they could not finish the repairs in the allotted five minutes.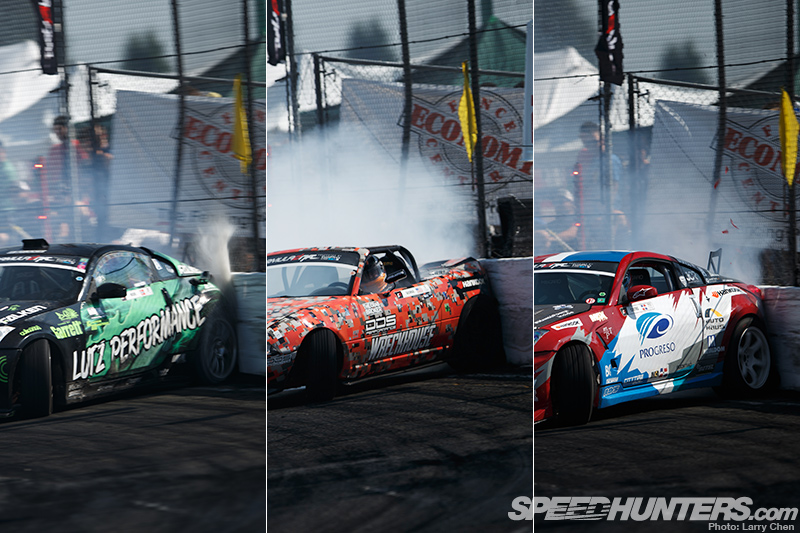 JTP was not the only one who met with the Evergreen Speedway wall. Many drivers tapped the very same spot coming in just a smidge too hot.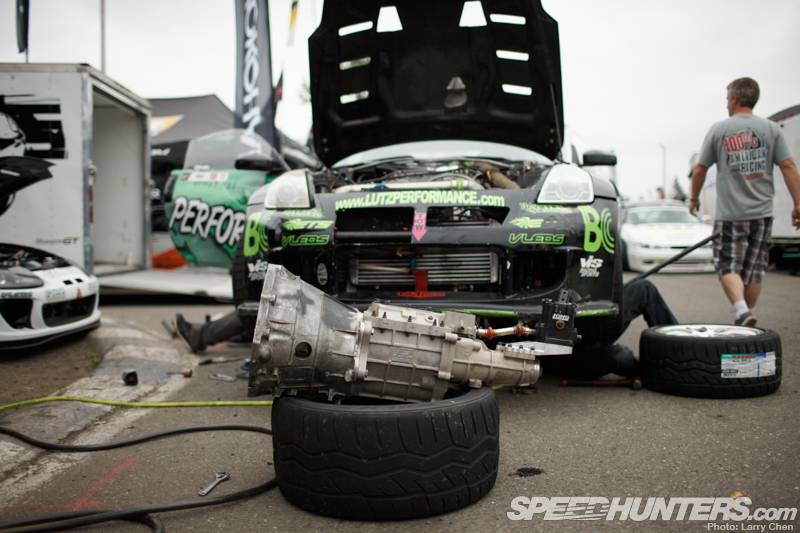 Kenneth Moen is always a strong finisher who has taken out many big names. His 350z – which was Tanner Foust's 2006 championship-winning car – is very tired and ready to be replaced by his Supra.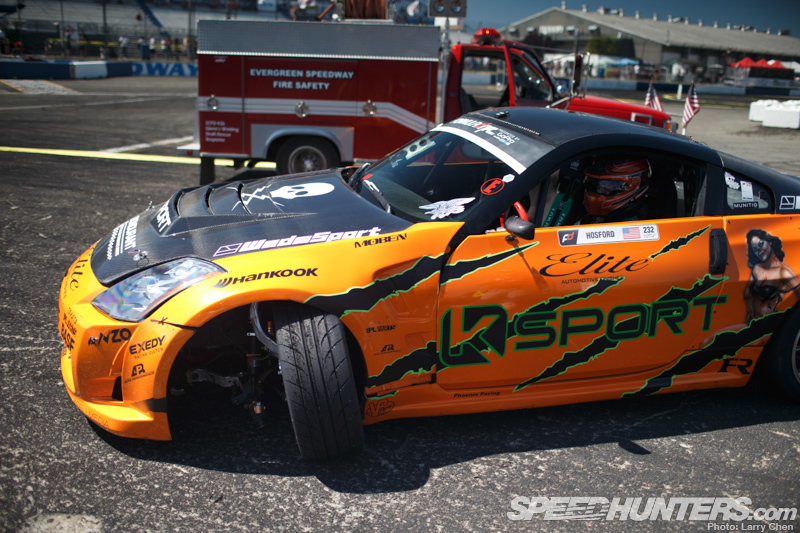 Like many of the tracks in the Formula Drift series, Evergreen Speedway is very harsh on the hardware.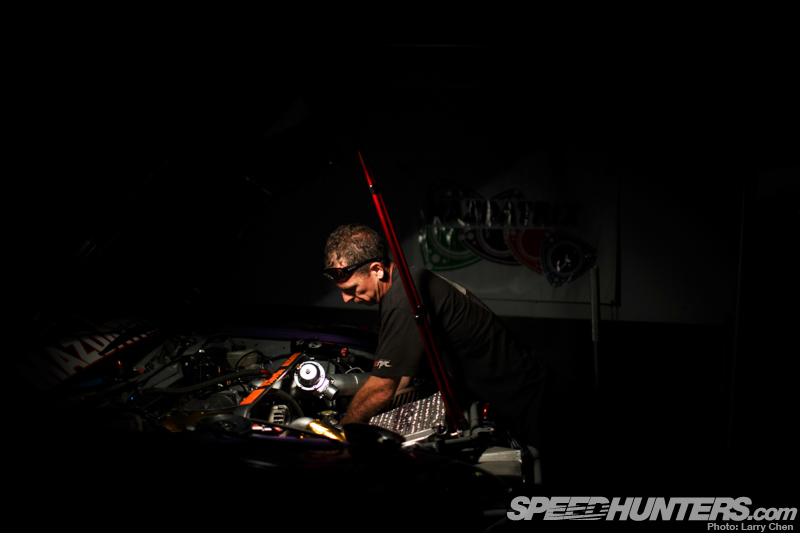 It's common for teams to stay up all night making repairs after practice or qualifying.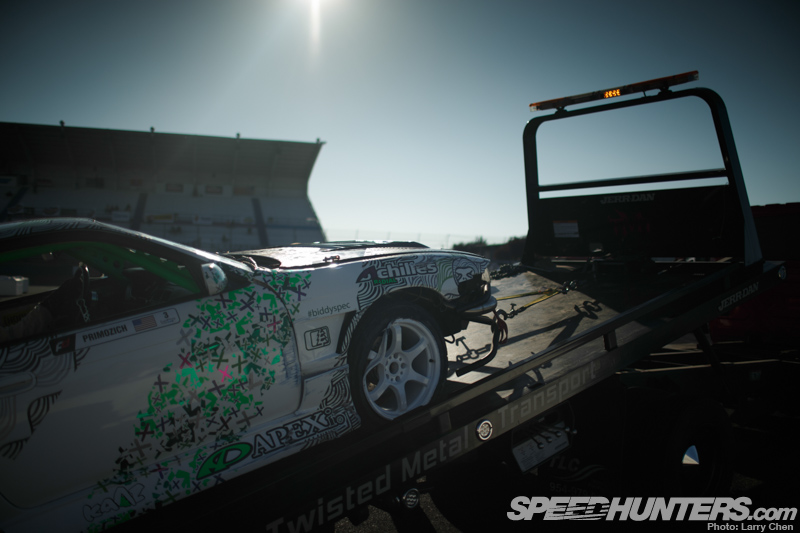 Even though there were many incidents, none of the 50-plus drivers damaged their cars beyond salvage.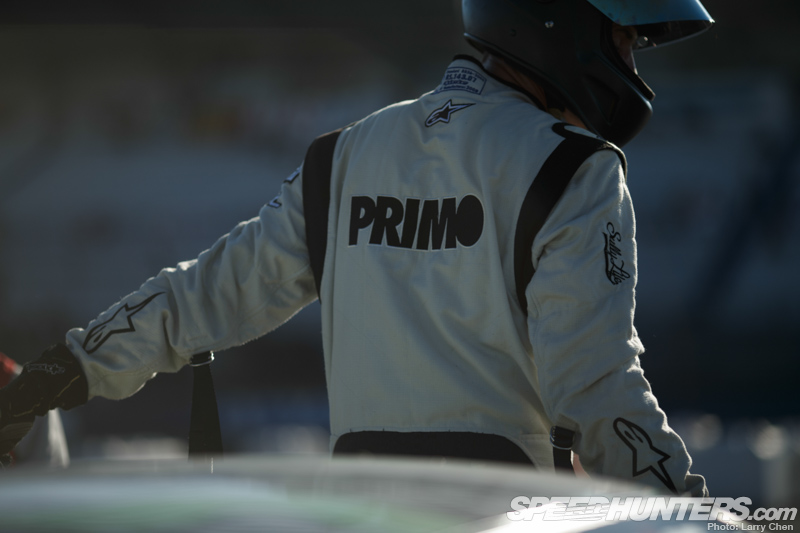 FD newcomers like Rob Primo have been having a really tough time this season trying to get the coveted 'Rookie of the Year' title. Eight of the 14 rookies have yet to qualify in the top 32.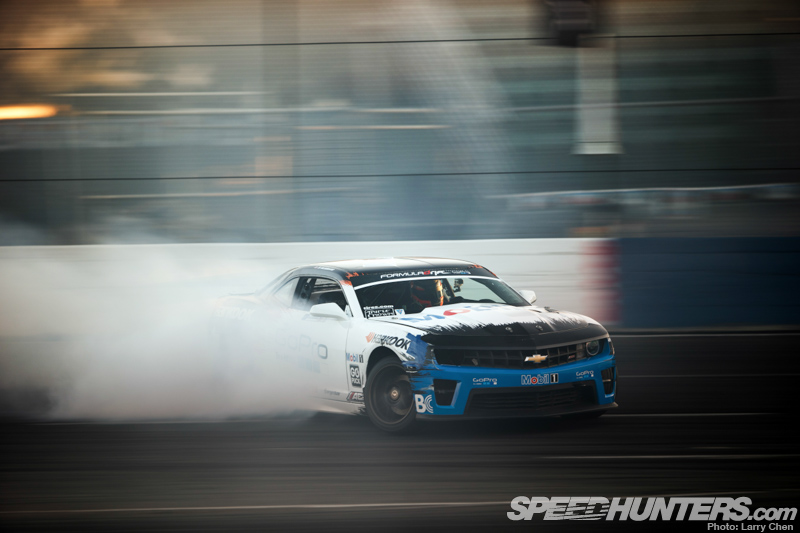 That includes IndyCar veteran J.R. Hildebrand. This round was the first time he has ever competed in Formula Drift, but unfortunately he failed to qualify in the top 32.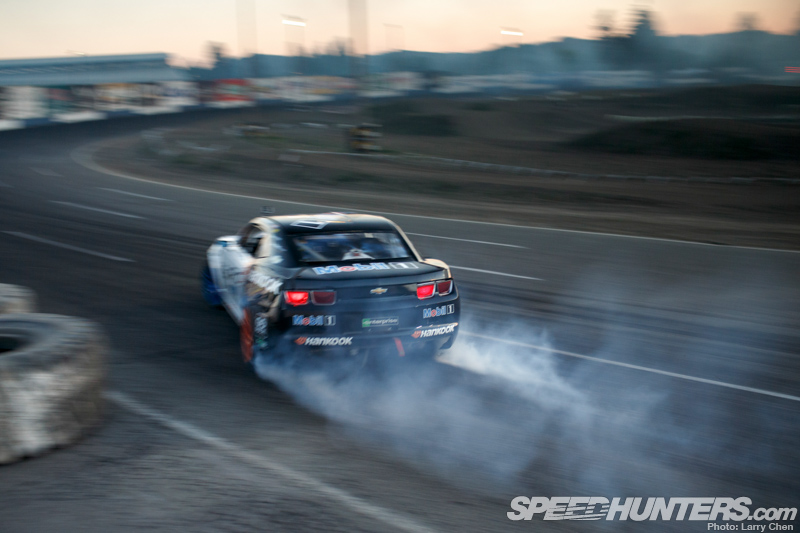 However, his teammate and FD veteran Tyler McQuarrie did. This weekend Tyler will be racing in the Grand Am series where he qualified on pole.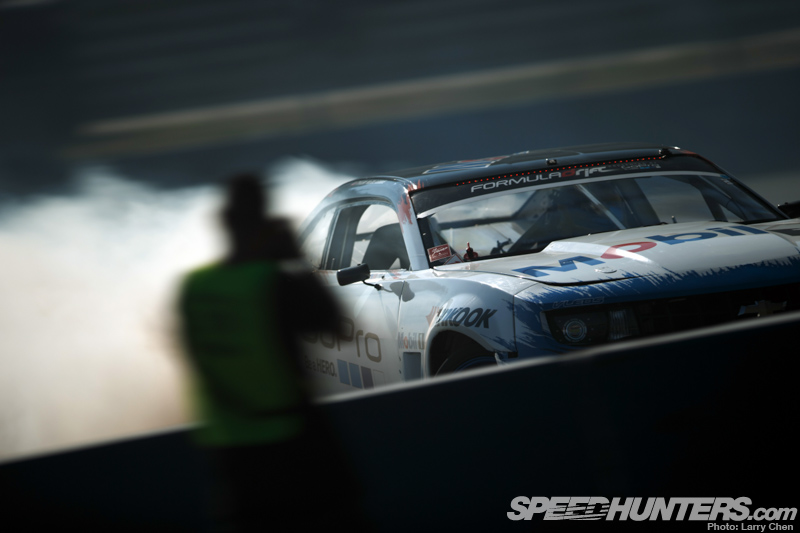 He has not had much luck this year as he is still fairly new to running his own program. Currently Tyler is the only veteran driver who is actively racing in a wheel-to-wheel series.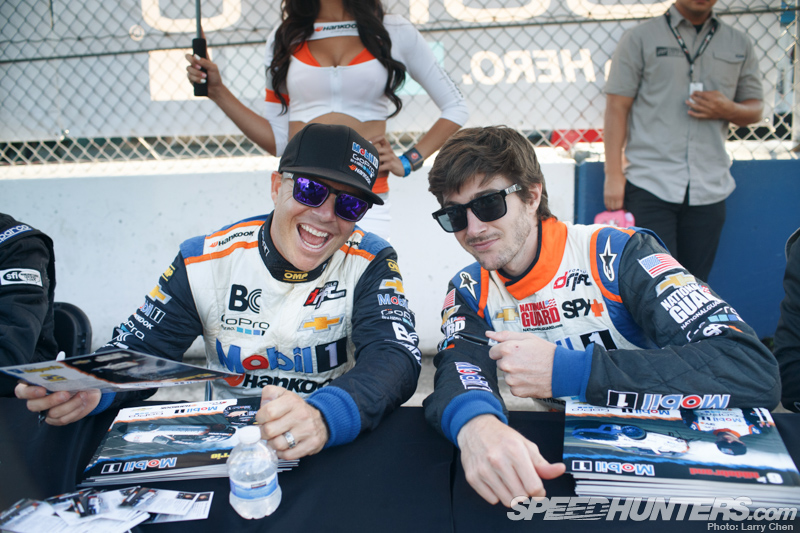 Hopefully the drift experience was interesting enough to bring Hildebrand back for some more action next season.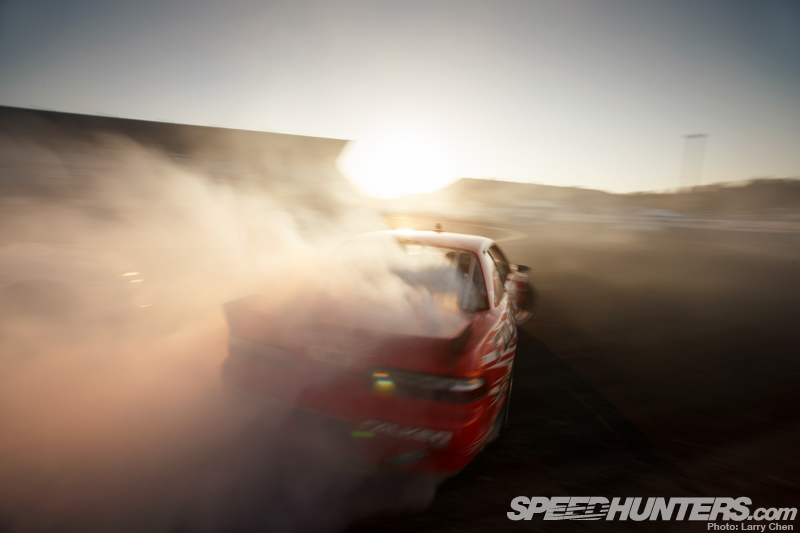 Daijiro Yoshihara began this year with a perfect start, but since Long Beach he has been struggling to find his way past the top 16. This round Dai got knocked out of the top 32 by Robbie Nishida. Although, I do have to say it seems the team has changed the setup quite a bit, because now he is making more smoke from his car than I have ever seen before.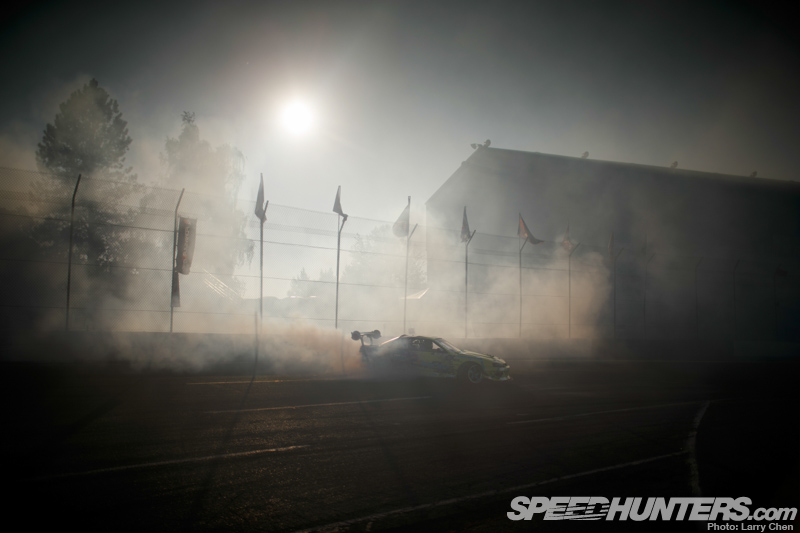 Matt Field has been doing better and better every event, and how he can keep progressing on such a small budget is beyond me.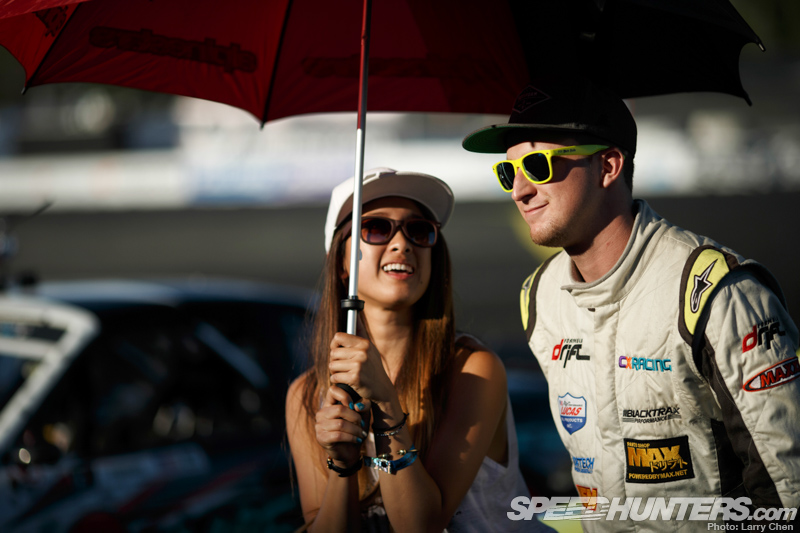 I think it's time for a team to pick Matt up for a full ride so we can see what he can really do.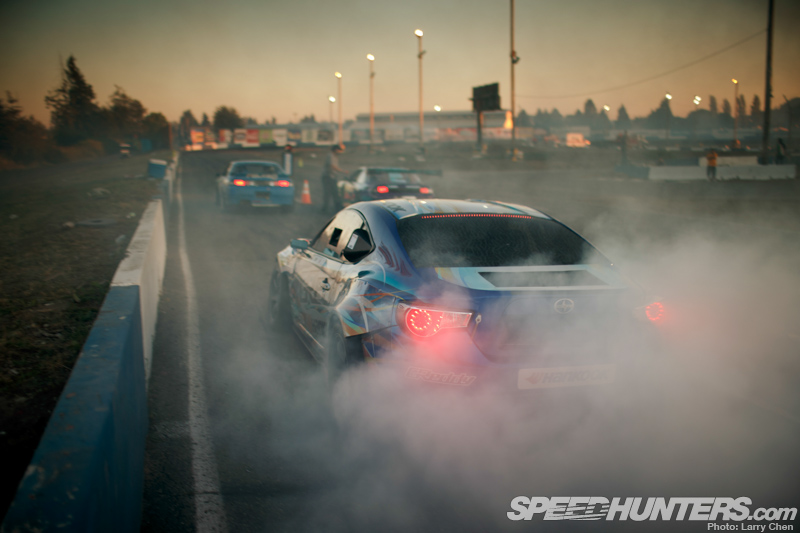 Ken Gushi is back in action with a brand new engine in his GReddy Scion FR-S. He was looking very good all weekend, riding high up the bank with ease. He even tapped the wall during practice.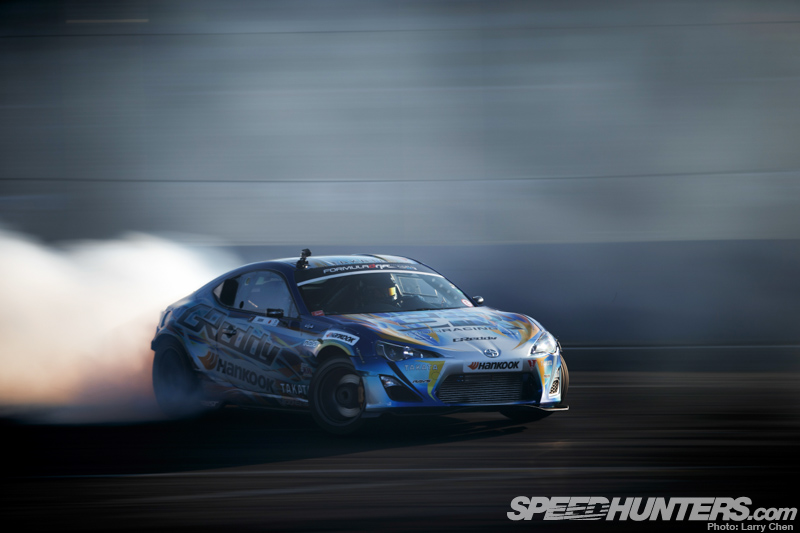 Ken is one of the few remaining original drivers that has been with the series since the beginning.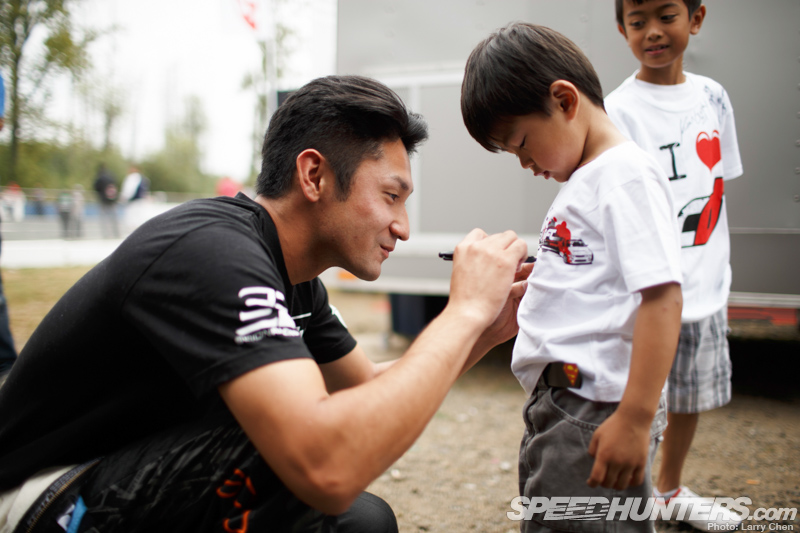 He is now more dedicated than ever to his fans and to the sport of drifting.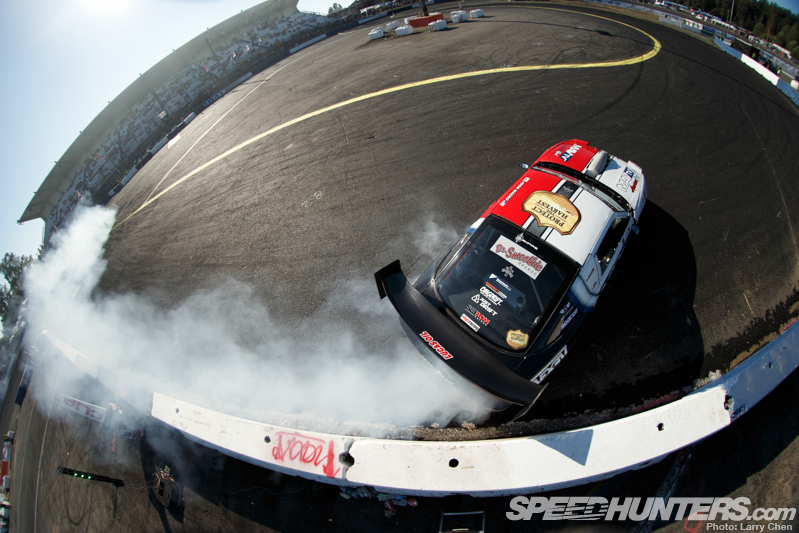 Joon Maeng has also been in the series for quite some time now, and even though he hasn't had great results over the past couple of years, he's still keeping his chin up at every event.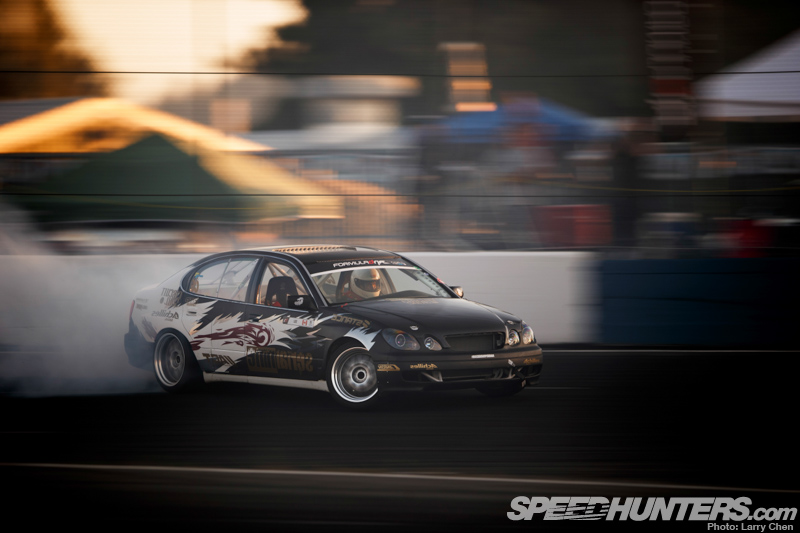 FD Seattle always brings some local talent from across the border. Alex Lee, one of the few Canadian drivers in the series, brought down his Lexus GS sedan. What a great looking car.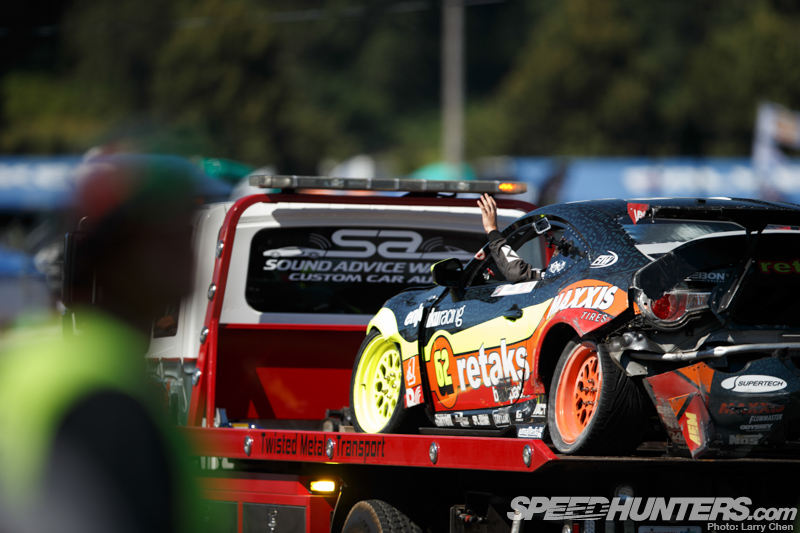 Ryan Tuerck put his Scion FR-S into the wall pretty hard during qualifying, but he still made it through. He got knocked out of the top 32 by Justin Pawlak.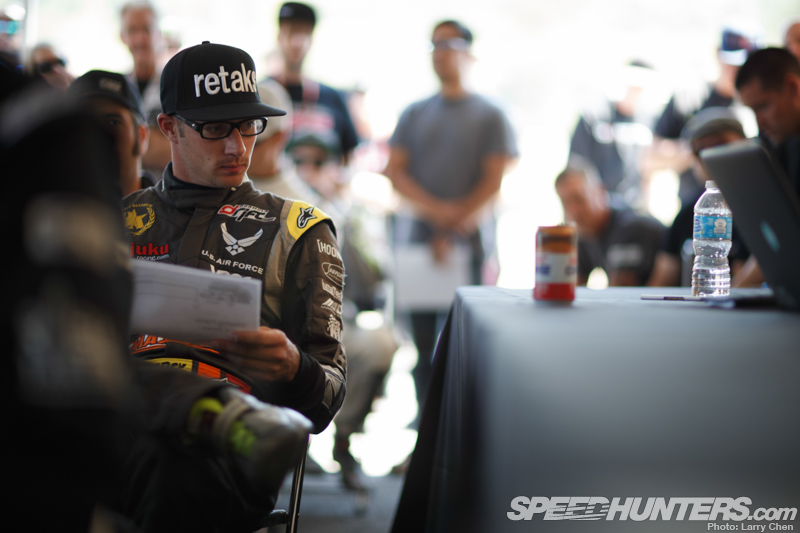 It was unfortunate, as he did very well last year at Evergreen. Maybe he has a lot on his mind? Or maybe he just wanted a sip of that oh-so-sweet UCC coffee…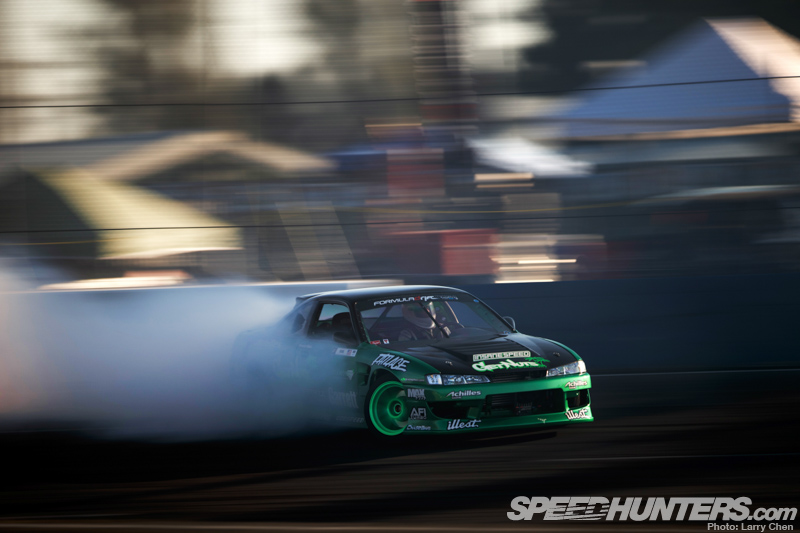 As I've mentioned before, I think Forest Wang's S14 is one of the best looking cars on the FD grid. He had a major incident in New Jersey, but repaired the car and is back in action.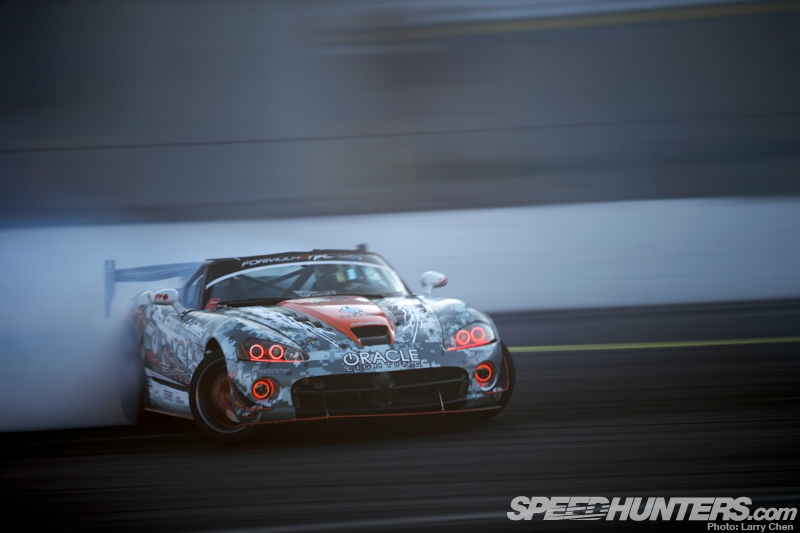 Out of the entire field Dean Kearney had some of the fastest entry speeds. For some reason though, he could not put together a clean enough run to qualify in the top 32.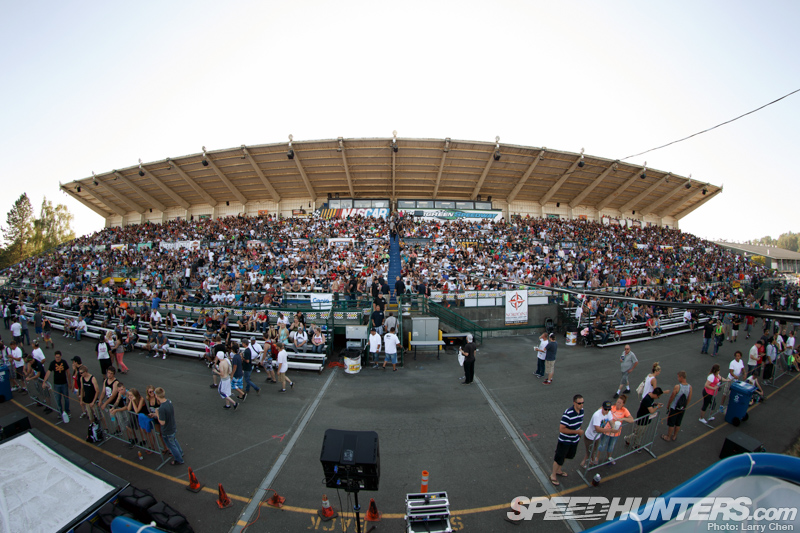 As usual it was a sold out crowd during the top 16 competiton. I shot this during top 32 and I've never seen this many people watch the opening round of eliminations.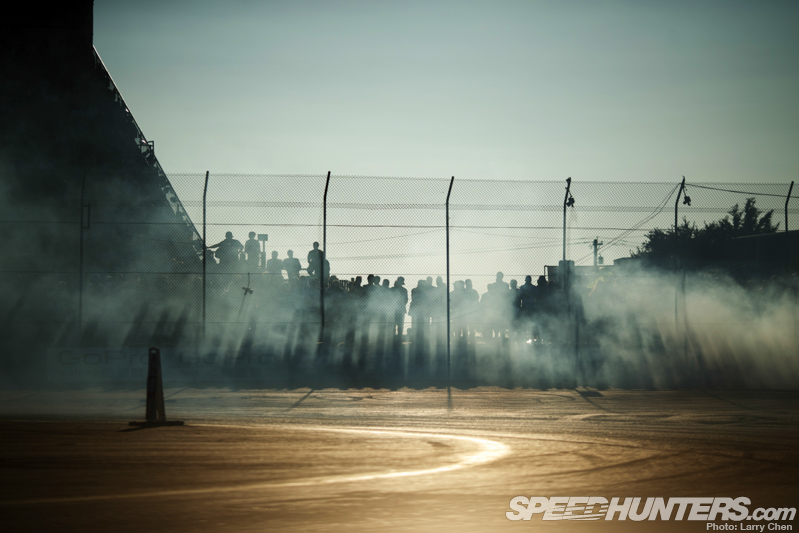 During top 16 it was standing room only along the entire fence surrounding the track.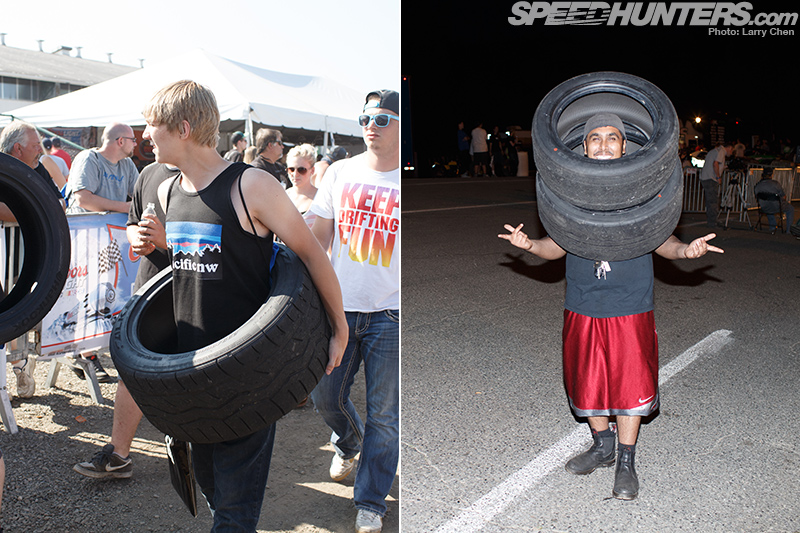 I always wondered what the fans do with the used tires. I guess some use them as tutus and others use them as hats.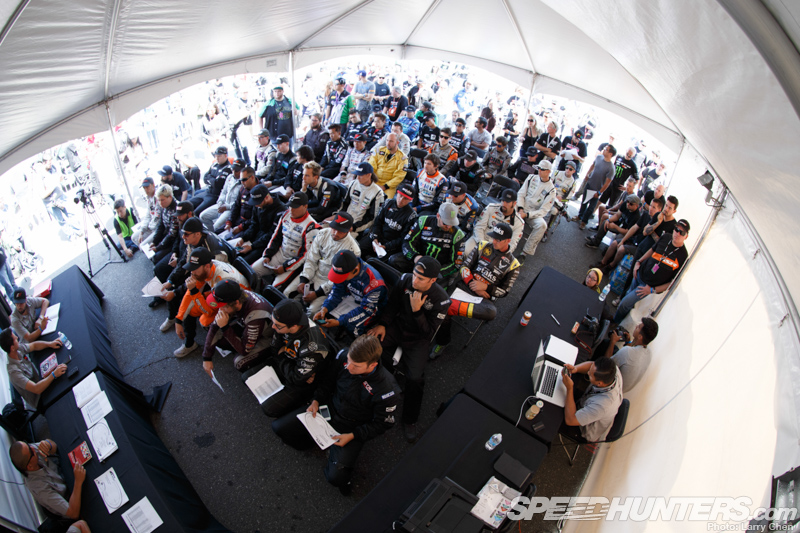 With rounds constantly attracting more than 50 drivers, I can't imagine the field getting any bigger next year.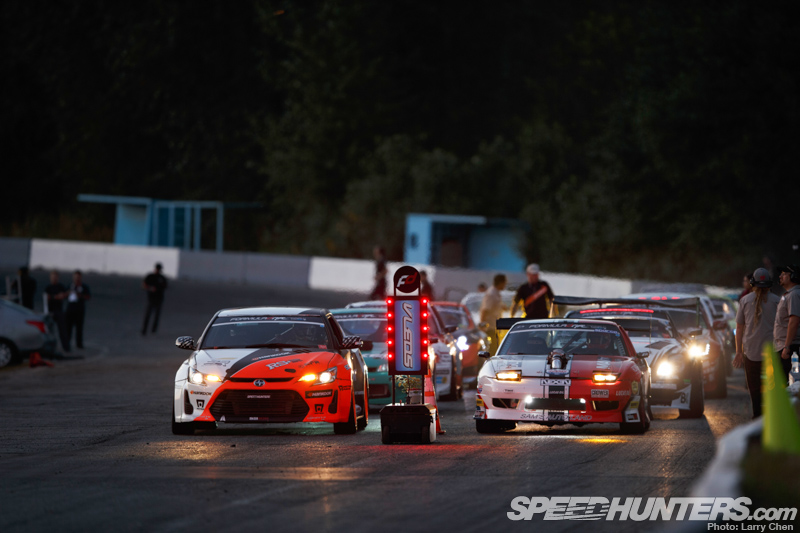 As 'The Voice' of Formula Drift always says, the best kept secret about FD events is the Friday night tandem practice. So if you ever have a chance to go to an event make sure you hang around until after qualifying.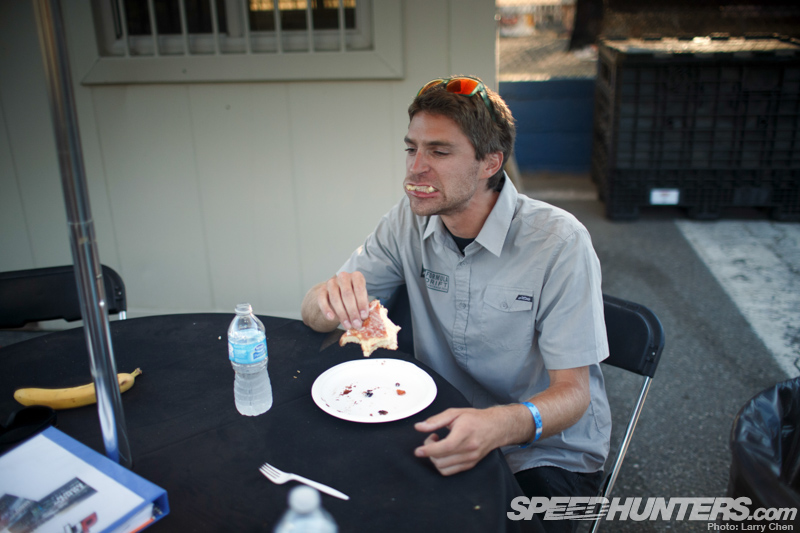 There is non-stop action both on and off the track. Here's FD safety stewart Doug Artus partaking in a donut eating challenge.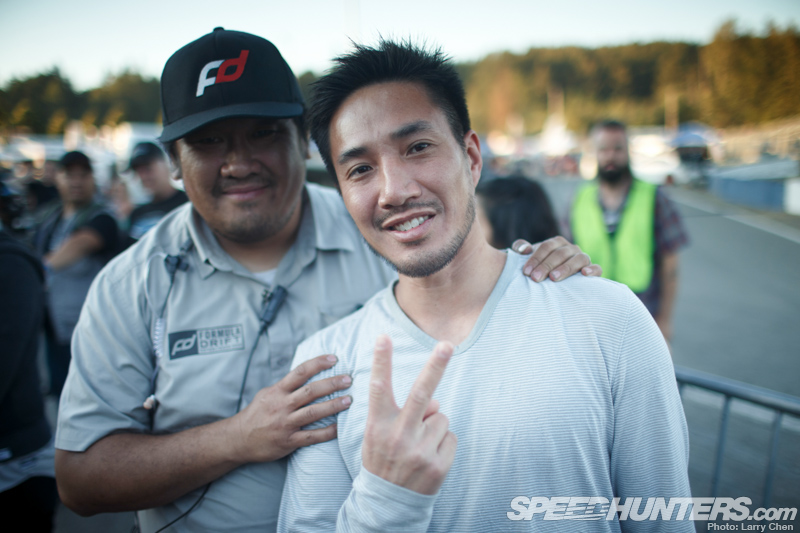 A few familiar faces showed up including Calvin Wan – one of the few drivers to ever win an event, and the first FD driver to put a Japanese car on the top spot.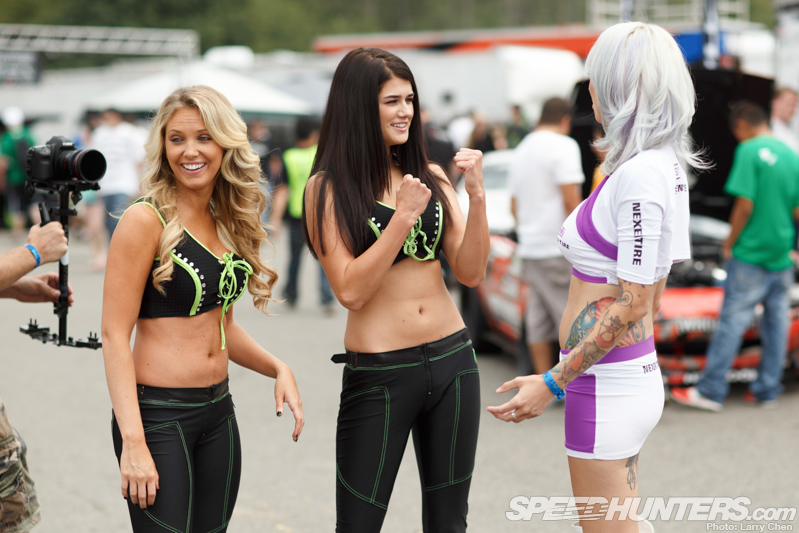 The drivers are not the only ones getting super competitive, the spokesmodels also like to duke it out at events. Can't we all just get along?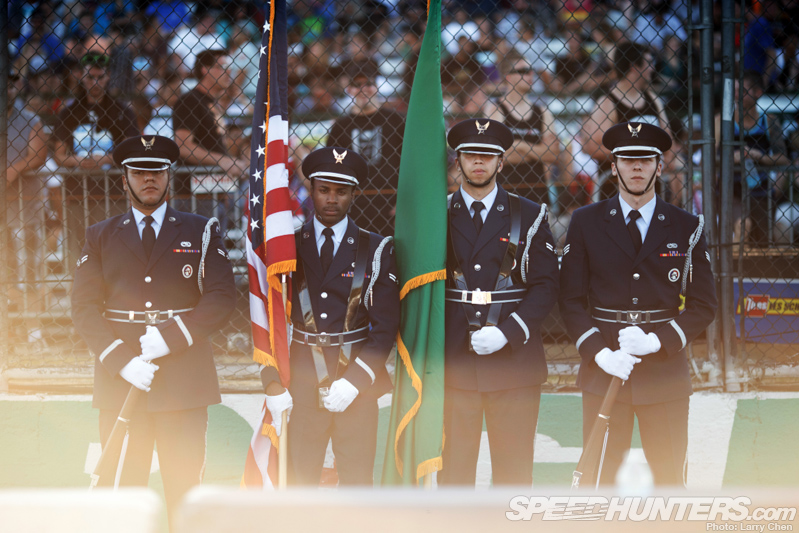 FD runs such a tight ship and I think this event was the best out of the entire year with zero protests and little down time. Although, during the few time-outs, the fans passed the time with some awesome paper airplanes.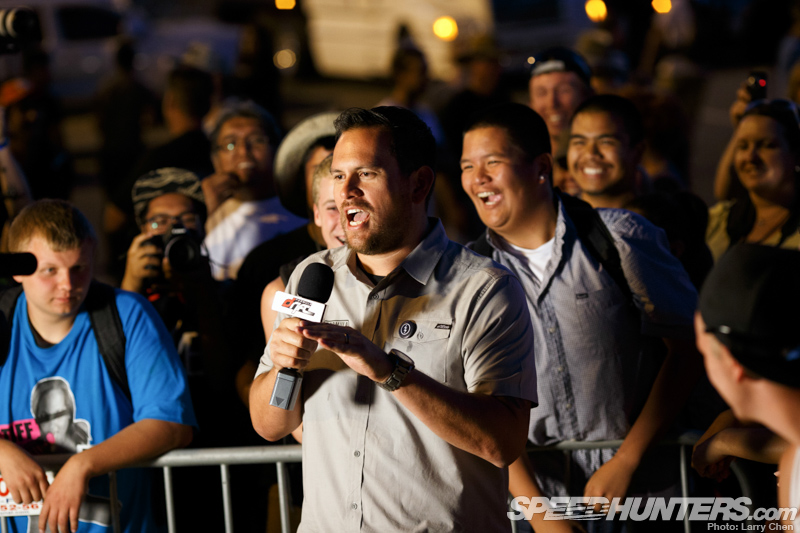 As the years have gone by I noticed more and more fans staying to the very end to watch the podium ceremony. I also noticed more and more fans listening in on the drivers meetings, for the full experience.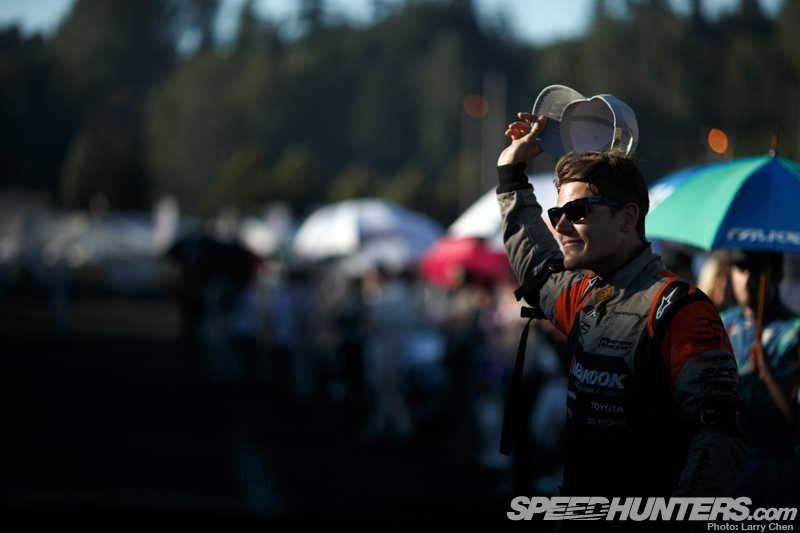 With just two events left we will see if Fredric Aasbø can pull off his first championship.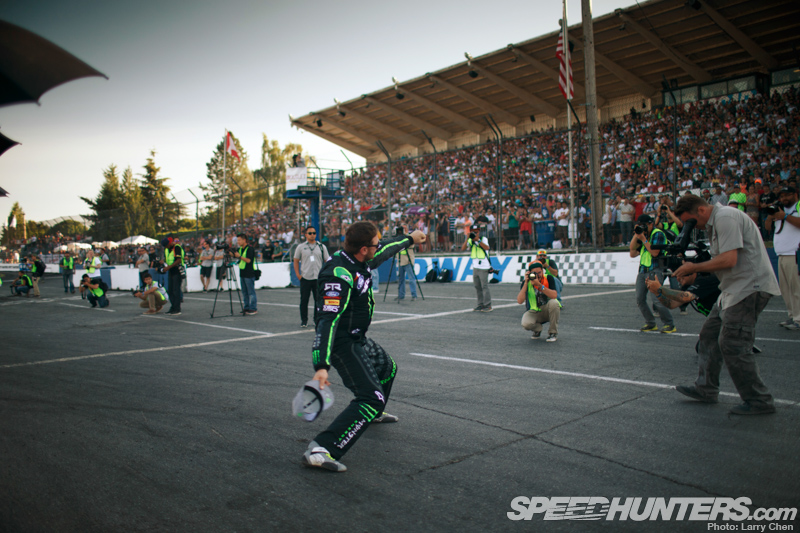 It's also looking very good for his Speedhunters teammate, Vaughn Gittin Jr, as he is really contributing to the manufacturers championship as well. Currently Ford is leading.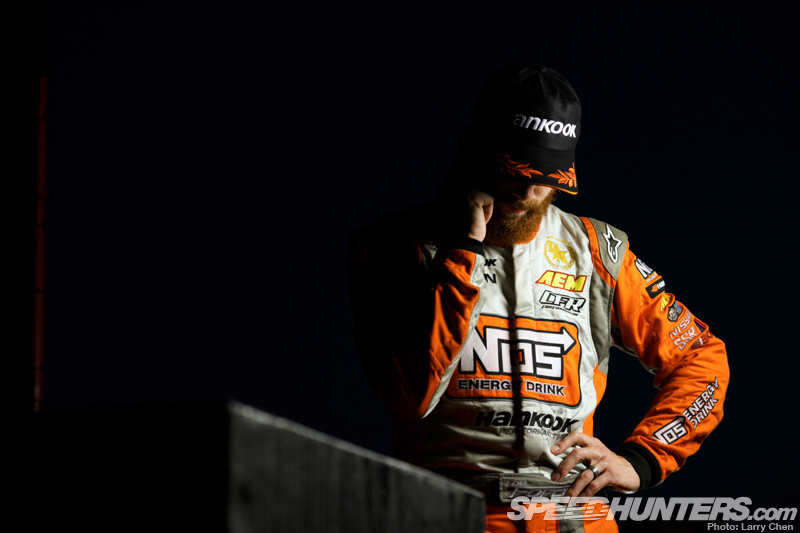 Will Chris Forsberg be able to keep the lead and pilot his Nissan 370z x-wing fighter to his second championship? There are only two rounds left, so anything can happen.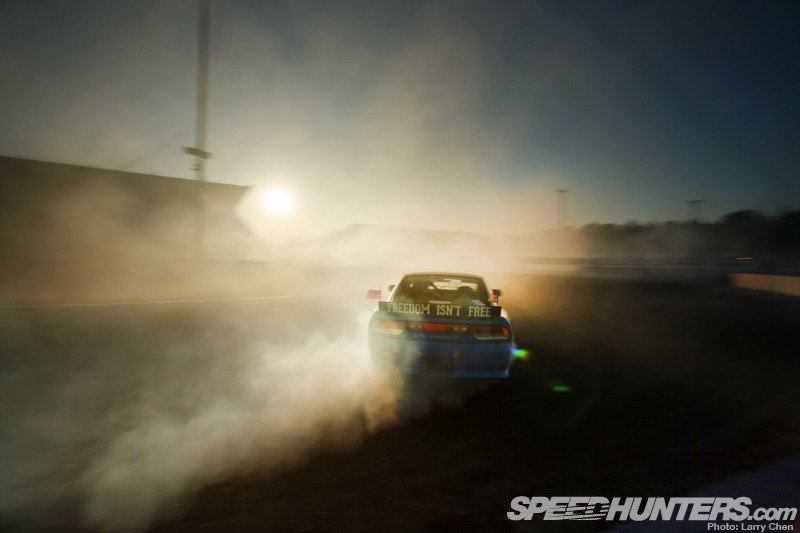 It doesn't matter where I travel to or which motorsport events I get to check out, I always find myself coming back to Formula Drift wide-eyed and jaw to the floor. There is just no way to know what will happen next.
Larry Chen
Instagram: Larry_Chen_Foto