We left off last time after the Drift Workshop in the UK. At the end of the day, the smoke had finally cleared, the workshop drivers had left the circuit, the Speedhunters booth was dismantled, and the steeds of our two drivers were safely packed away. But things were far from over: less than a week after the gates had closed at Snetterton, the party would be continuing about 1100km away, in Sweden. There just lay the small matter of getting there…
Suzy: So how was it to drive all the way from the UK to Sweden, Mike?
Mike: It's a long drive but I feel very honored to have the opportunity to travel the world and see such amazing places and experience different cultures. The scenes were picturesque; with luscious, vibrant green hills and huge red barns, the German autobahns with their cars screaming passed at unreal speeds and the "Danger! Moose" signs scattered along the drive are some of the memorable things we saw along the way.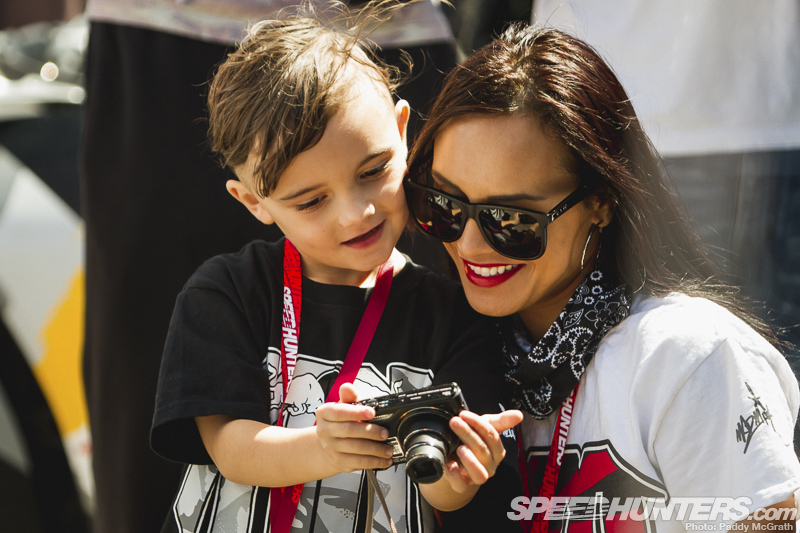 Suzy: Good thinking on bringing the SH stickers with you too! What's it been like to have Toni and Lincoln with you?
Mike: Making stickers is an easy task for me, ha. It's a dream to be able to do this with Toni and Linc, a massive experience for all of us. Toni manages everything with MadMike Motorsports so it's great to give her a break from the full time roll with all the logistics, paperwork, emails and phone calls etc that it takes to run our operation. Although she is still working on and thinking of what's the next best thing, and actually took over the wheel to our camper with the BADBUL in tow and drove us all night long from Denmark to Sweden!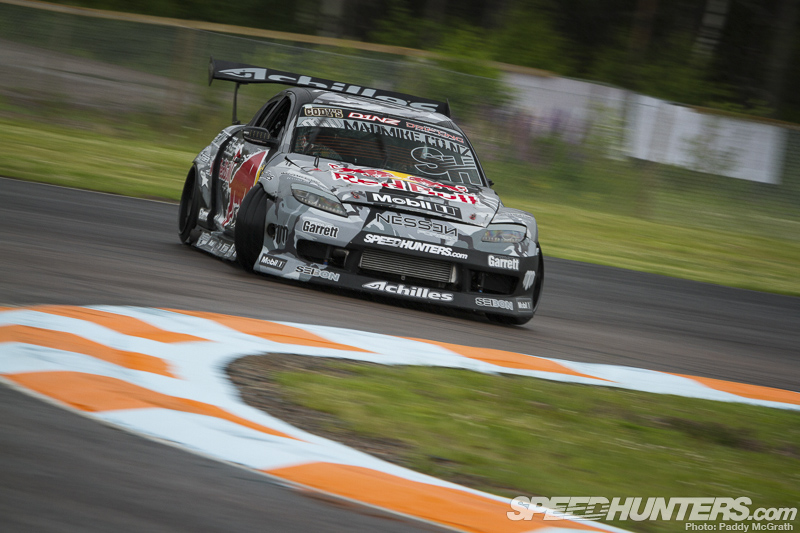 Suzy: We met up with you before Gatebil at Eskilstuna to conduct some photoshoots and give you a chance to drift round the circuit with the locals. How was that?
Mike: The Eskilstuna track was definitely worth the extra drive. We literally pulled into the track right on time having driven from Denmark overnight; the other drift cars were sitting waiting for our arrival. We met the guys, unloaded the BADBUL and went out to link up the track; it was a lot of fun.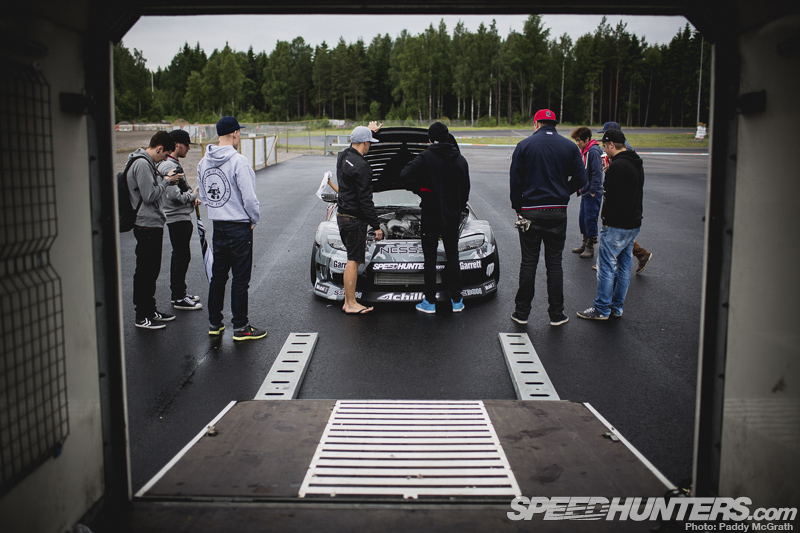 Suzy: So what did you make of the circuit?
Mike: Oh man the circuit was so much fun, I really wish someone would take the plan of Eskilstuna and make it in New Zealand. The facility had a lot of other stuff as well with off-roading and trail rides etc.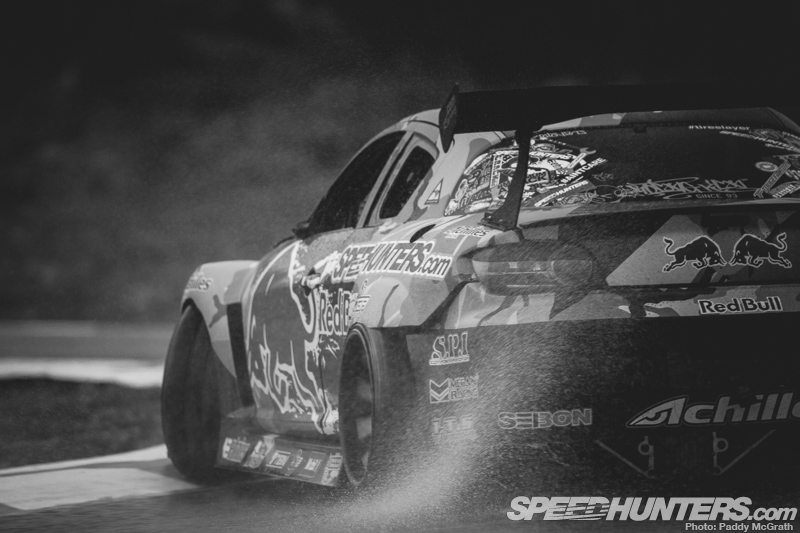 Suzy:  The weather really didn't want to play ball when we were there (although we notice you still had your flip flops on!). How does that affect things for you out on track?
Mike: Haha they're called jandals Suzy! The New Zealand climate has provided me with a lot of wet weather drift experience so a little rain doesn't dampen our spirits at all. It was also a blessing in disguise as I was running low on tyres.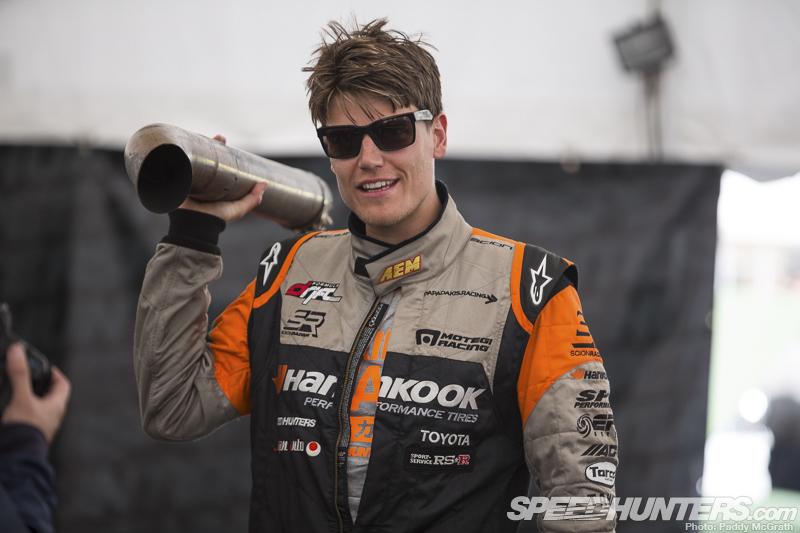 Suzy: So, moving onto the Gatebil event itself. From the outside, both cars seemed to behave themselves pretty well, all things considered. Was that just luck, or the benefit of experience?
Fredric: A little bit of everything. When Sunday afternoon came around and we were sitting in the tent having gone through a shit-load of tires, I felt that we had just drifted ashore in a pirate ship that was leaking at every end. I'd blown up two clutches, one transmission, the engine was draining oil. It took its toll on the equipment and the personnel. If we were a pirate ship, the whole of Gatebil Sweden was definitely a battlefield.
Suzy: It didn't look it. From the outside it looked like everything went pretty smoothly.
Fredric: Yeah, we were trying to make it look that way. And it did go well. When shit hits the fan, it's not the first time it does. We were prepared. We try to line up spares and we've seen a lot of these things fail before so it's part of the service. Drifting gives you a little bit of a different perspective on things because going through tires every other minute is going to put strain on the equipment so it's just part of your regular servicing.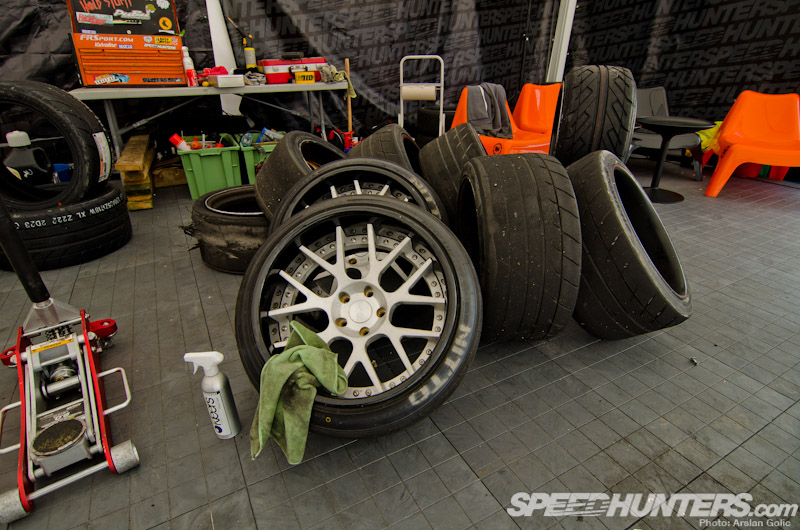 Mike: We've spent the last New Zealand season developing the RX-8 to be stronger, faster, lighter and more reliable. Last year at Gatebil our only issues were complying with the noise regulations, this year in preparation for the dB limits we opted to bring the 20B turbocharged BADBUL RX-8; with its whopping Garrett GTX45 huffer it seems to muffle the rasp of the rotor. Our quiet set-up however still seems to be louder than everyone else's. By the end of the weekend we had smashed through body panels and destroyed a clutch.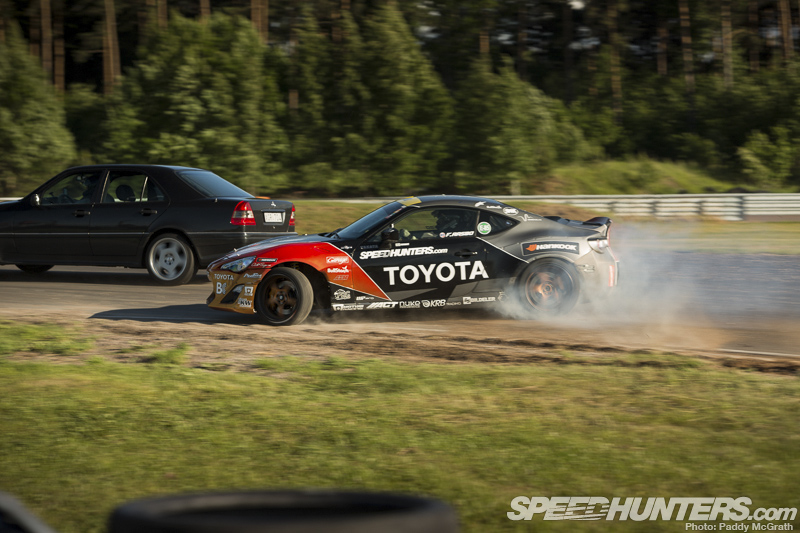 Suzy: So what's it actually like to drift through traffic? Because it looks both terrifying and amazing.
Mike: It's nuts. I liken it to a supercross race: if you've ever watched the gate drop and watched the riders go for the holeshot that's what it's like the entire time – but sideways. No equally numbered groups, just a race track entirely full of mayhem. You have every level of drifter so cars are flying off track yet still drifting and spinning out in front of you. I'm just trying to keep up with Freddie as he fights his way through the Gatebil traffic in his raucous driving style, not losing his drift anywhere but certainly losing body parts as he bounces off rumble strips, jumps over the grass, roosts dirt over the crowd and swaps paint with the other cars. It's the loosest driving I have ever seen in my life because guys still 'hold stumt' until the checkered flag or they have literally shredded their tyres and are left sliding back to the pits on rims only.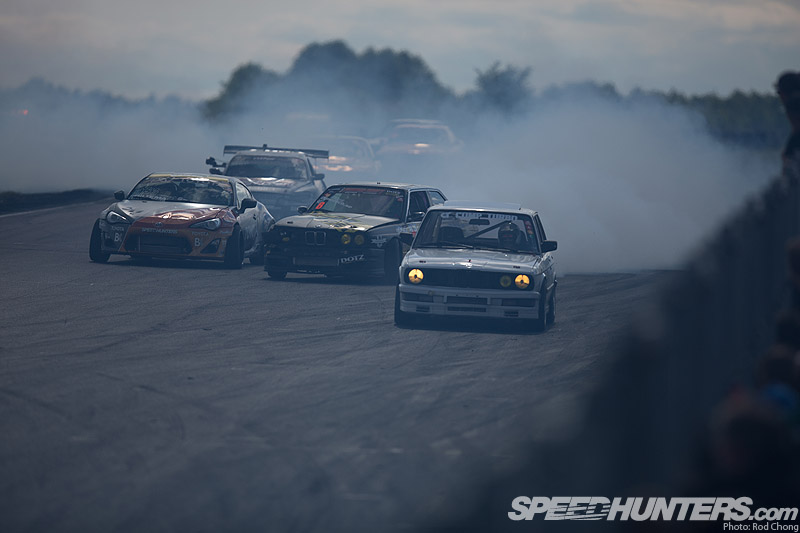 Fredric: It's no fun at all. Haha! It's so cool. What I truly love about Gatebil that I never see anywhere else, is that all these different cars and drivers and different skill levels are going out there on the track at the same time, trying to get through the same turn with 10 different lines. It's a catastrophe waiting to happen, but then again it's not because it's a race track and everybody is going the same way. There's a trick though. You would think that cars going close together is dangerous, whereas in reality it's the opposite because cars that are close together are usually going about the same speed. It looks a lot wilder than it actually is. It's just a walk in the park!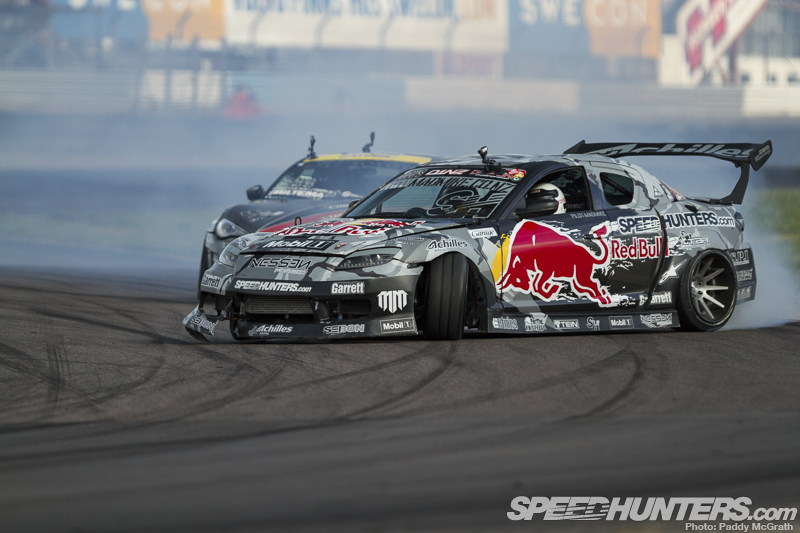 Suzy: Yeah, I think it was everyone drifting actually around each other that had me a bit gobsmacked on the first day. I mean, there were times where there'd be a car drifting round a corner, then you'd come drifting past them going faster on the inside. It's just nuts.
Fredric: Haha. Yeah it's really cool and this is what I've always loved about Gatebil. This is how I grew up – trying to dodge all these cars and put on a show. I was always in the most shitty looking cars, but being amidst all these 1,000 horsepower creations and local big names, it forced me to try and do my own thing. It was a great school so to speak, and helped prepare me for the US. It made me work with what I had, which was always sub-par compared to most of the other guys. It taught me to be a little bit wild and get people to recognize who you were. There's some tricks out there on the track that people love to see. There's always new people and crazy cars coming up, so the bar is raised every year with all the new driving. At the same time I feel like what I've learned in Formula Drift is helping me in the Gatebil scene. The way we won the powerslide competition was simply down to the consistency and strategy that I learned in Formula Drift. We were far from the best competitor out there. We didn't have the best car or the best smoke, but we were able to stay calm and collective where a lot of the other guys were going off track left and right. It's cool to see how the different scenes connect and how we can utilize them. I feel incredibly lucky to get to see both sides of it – literally.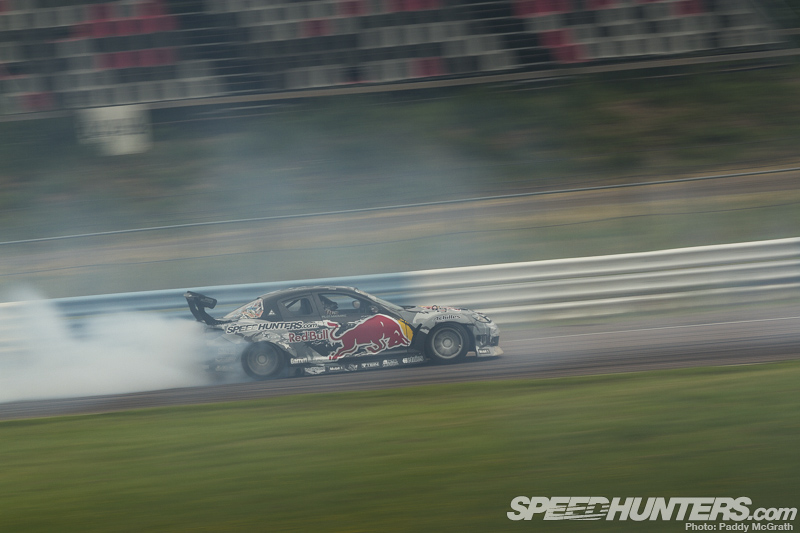 Suzy: Now you've mentioned it, can you talk us through a bit of the Breisladd competition? You two couldn't have done any better, with Mike placing first in qualifying and then Fredric winning, so what were your thoughts on how it went? 
Mike: Leading into qualifying the RX-8 was running perfect, we had big power, lots of angle and left a nice cloudy smoke trail through the section; I went on to lay down the number one qualifying pass for the Breisladd competition. In between qualifying and the competition I did several sessions including demos with the FMX guys. Due to the amount of downforce and grip with the high speed entry into the judged section the clutch was starting to slip. With the layout of the track and high speed entry I needed to be aggressive to snap the car sideways and this required a huge clutch kick in top gear on the main straight. The top 16 is a much different format to your typical drift competition as the competition is open to 4WD cars. The insane Audis are so impressive to watch so it's rad to have them part of the competition. I remember back a year ago before I had witnessed this event and if anyone mentioned Gatebil, I instantly thought of massive backwards entries in 1200hp 4WD Audis.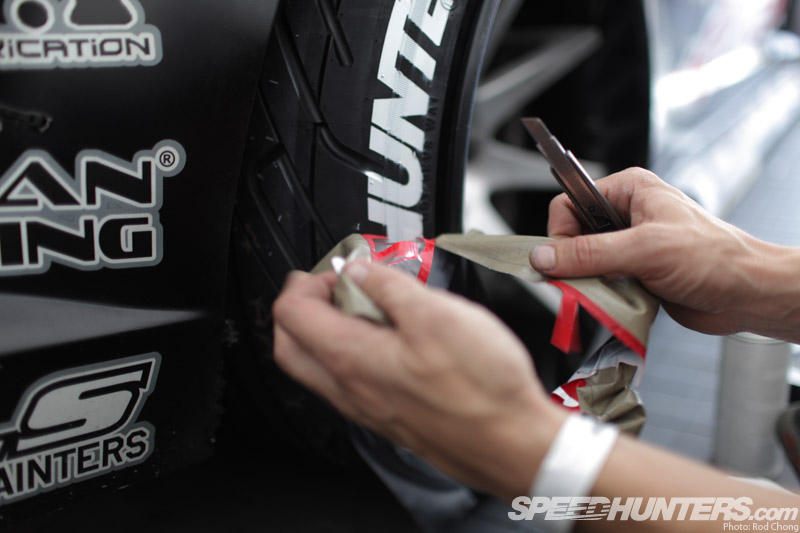 The format is all single pass runs. When top 16 commenced, on my first run I came flying down the straight and went to initiate hard but had clutch spin and the car went straight, which meant I had to double initiate by ripping the handbrake, then with the clutch slipping my run was rather average so that was me knocked out of competition. I ran down to Toni and Linc in the grandstand to watch Freddie shred his way to the number one spot so yeah team Speedhunters was flawless in this competition. The BADBUL also won best wheels/stance in the show section so I'm pretty happy. I've packed some fresh clutch plates in my bag for Rudskogen!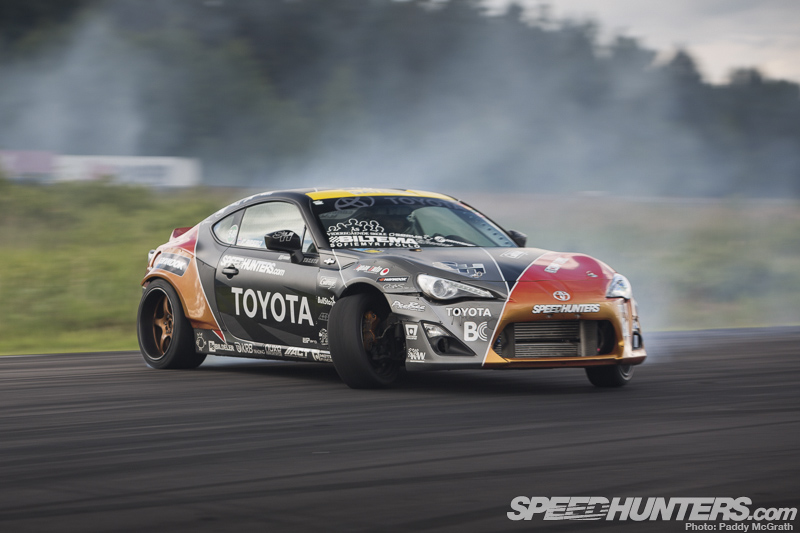 Fredric: We were struggling to begin with, because with all these cars with all this power they were just smoking up the track. With all the grip we had we were lacking the flair that a lot of the other guys had. We upped the boost, we upped the ignition trying to add more power to the motor. That's the perfect example of the Gatebil spirit – if it's not enough, add more boost. So we did that and reworked the line a little bit and we just stuck with that. It was barely enough to get us through the top 16, then the top 8 and top 4. As we came into the finals I started doing a little bit of a harder flick and I kept the drift going a little bit longer – small things that would push us in the right direction while the other guys were at their max already. It was  barely enough. I felt like there were other guys that were more deserving or had better runs over the course of the weekend, but they weren't able to do it when it really mattered, which is why we got the win in the end I guess. It would have been cool though to see a Swedish winner. For the next event at Rudskogen in Norway in July, we've already started to get our new motor together. If it works out, it's gonna be pretty loud.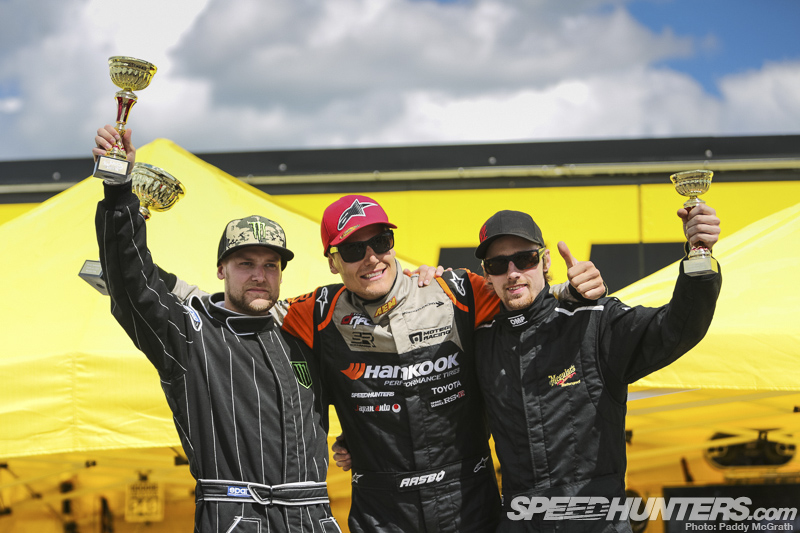 Suzy: So you need more boost?
Fredric: Yeah! Exactly. We gotta take it to the next level. We've been planning this motor for a while. The motor that we currently have has been nicknamed Frankenstein because it has a lot of different parts and was built over the course of a dark night. It's about time we retire Frankenstein and build a new one and give it a new name. We're looking for suggestions – ideally a dictator name or something like that.
Suzy: We'll have to get some suggestions then. Anyone?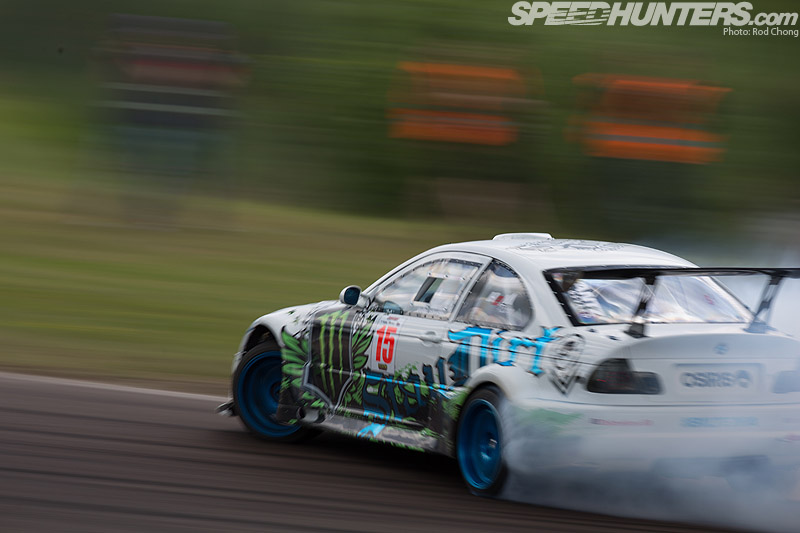 Suzy: Do you think the quality is improving at Gatebil and in your local home scene, Fredric? Is there a lot of talent coming through?
Fredric: There is. There's a lot of talent coming up and a lot of guys that look to Formula Drift and what's happening elsewhere, and thanks to Speedhunters there's a lot of international attention now. The quality is increasing, yes. Maybe it's getting a little more streamlined. Maybe there's not as much room to be wild and crazy. In the powerslide competition they are starting to use a template and introducing more drifting rules instead of just allowing people to go crazy and throw dirt everywhere. So maybe the risk is becoming too sterile and not letting the local hero shine as much as he was before now that the big names are kind of taking the spotlight. So that's one thing that might be contrary to the growth of Gatebil, but I still think there's room for the little man and still room for new talent and new ways of doing it.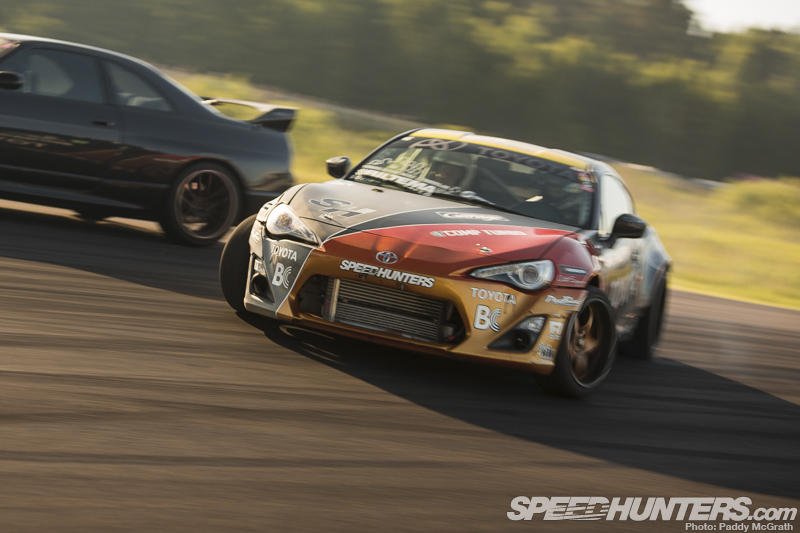 Suzy: You were talking about big names. What do you think about Vaughn Gittin Jr. coming to Rudskogen next month? How do you think he's gonna cope with traffic?
Fredric: JR is gonna fit right in. It's a redneck festival – no offense! I love JR and I've known him for a lot of years now and he's one of my big inspirations. He's such a hardworking good guy and he might look a little too much for some people but he's honest and he's himself and he's a fair competitor. I've been talking to him for, I wanna say four years, about getting him to come over, and he was very close to actually coming last year. Now that he's pulling it off this year, it's gonna be crazy. It's gonna be the wildest one yet.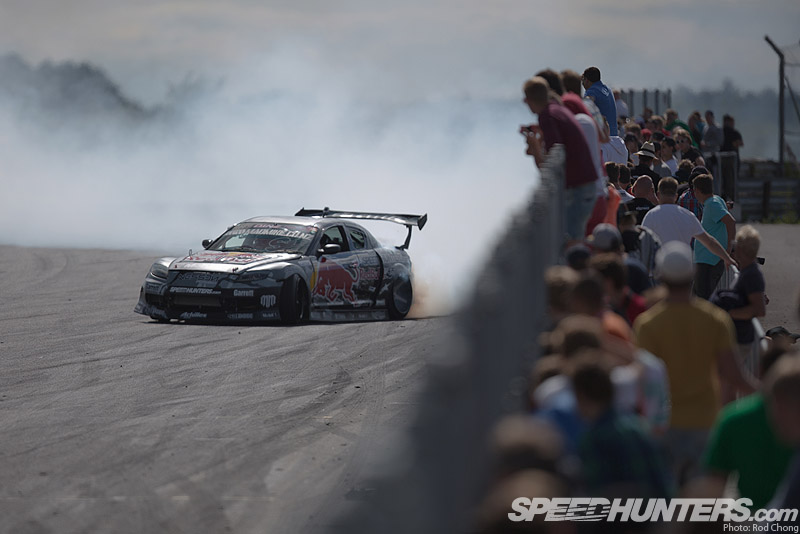 Suzy: The image of the Mustang weaving through traffic… it's a bit strange.
Fredric: It's gonna be cool, huh?
Mike: Yeah I agree with Freddie on most points – Vaughn is a monster truck so he should have no worries getting through the traffic! Ha! He's a very skilled driver – one of my favourites who has helped me out a lot over the years, especially when I was up in the States. It's going to be interesting to see his reaction to the maximum attack style circus after his first session out!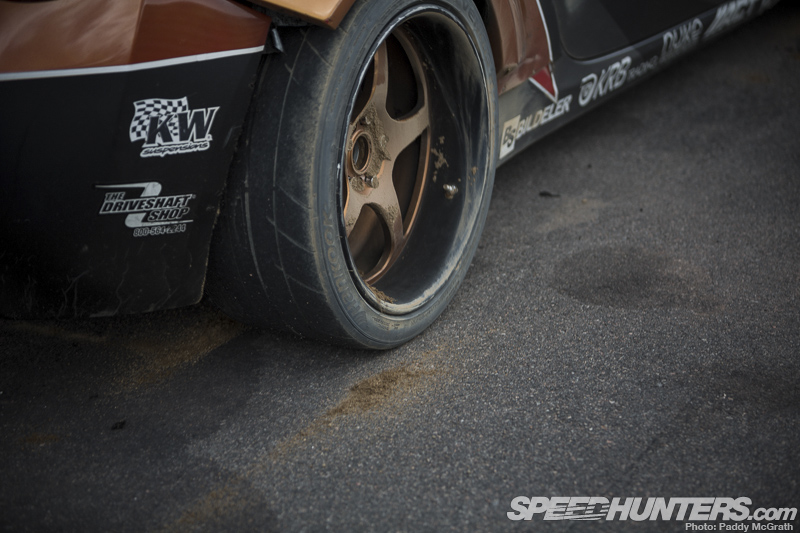 Suzy: Both you and Mike were killing it out on track, but I think you both had a bit of an incident on the first day. Was that just part of the fun, or do you think you were pushing it too far?
Fredric: A little bit of both. It's cool to just feel like you can go as hard as you want and even just fly off track. You know, drifting is about pushing the boundaries. If you never go over the edge, you're not pushing the boundaries and Gatebil is definitely the place to do just that. It was fun, we had Toni, Mike's fiancée on board for that. Coming over the crest there was a car ahead of me that I tried to slingshot around, I just literally flew off the track. It's fun to feel like you can do that. It's like diving off a cliff with your eyes closed. With as big and corporate as the sport has become, it's nice to feel like you're free-flying sometimes.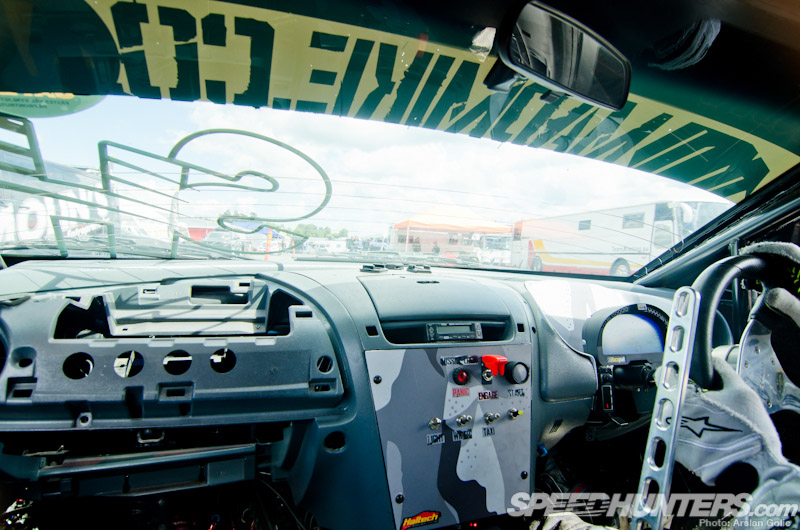 Mike: Yeah whenever I'm behind the wheel I'm always pushing 110 per cent, always pushing the boundaries. As a driver that's where I get my adrenaline dose from. I also need to live up to my name – they wouldn't call me Mad if I didn't keep the crowd on their toes. You know, I scare myself a lot in my cars. I guess the last thing you want to hear as a passenger is that your driver is scared – this makes you feel great after your ride in the BADBUL, eh Suzy?
Suzy: Umm… *nervous laughter*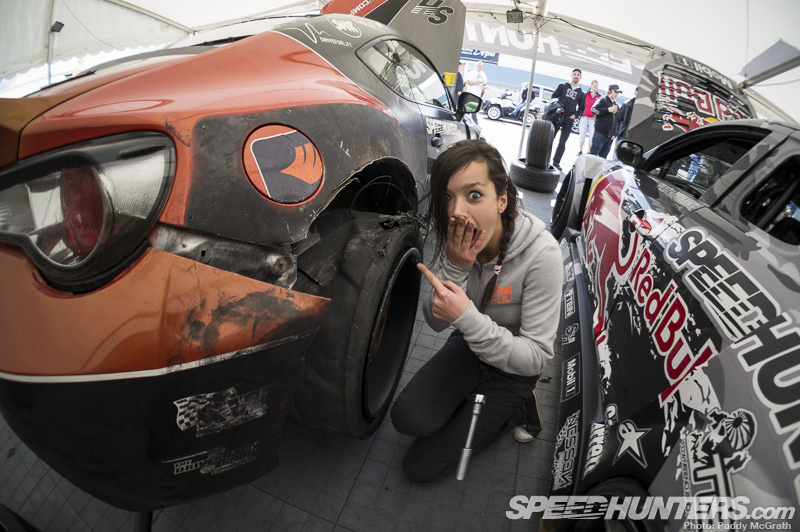 Suzy: Did you have any narrow misses or crashes?
Fredric:  Yeah. About a dozen I guess?
Suzy: Haha, so what happened with those?
Fredric: Yeah I hit a car, but that's an unwritten rule – that you play hard. I had a tire explode at the top of the top gear, and that blew my whole fender off. I barely hit Mike. He kind of came in deep and I came in too hot and barely passed him inside. There was a Subaru that came around. All those things were near-crashes, but yeah that's part of the nature.
Mike: Lost count of these on the first lap, haha, but seriously so many close calls. I do remember a Volvo spinning in front of me; I kept it full throttle to power around the outside before he closed the gap and had to squeeze between him and the barrier. I clipped his rear bumper which broke my cable ties holding the front bumper on. I thought I was good until the next corner where my front went totally under the BADBUL and got spat out the back in a heap of pieces. And yeah as Freddie mentioned we were continuously trading paint.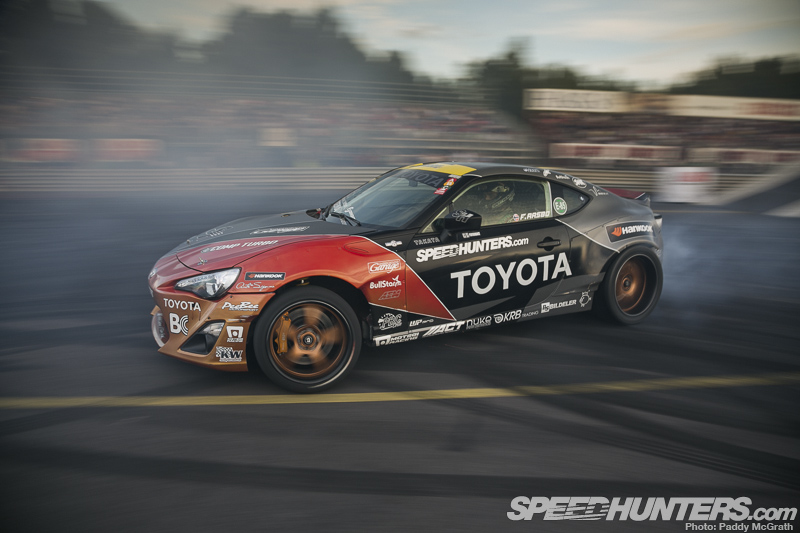 Suzy: You took part in the FMX drift demo. Can you tell us a little bit about that?
Fredric: Yeah we did Friday's, and we were set to do Saturday's one as well but I broke my clutch. After two full days of use it just gave up, and that was a let down. I didn't get to do the tandem with Mike during the actual FMX jumps, which was a bummer. It was a really cool set-up and I spoke to Hans Andersson, the founder of Gatebil, the day after and he thought the FMX drift demo was some of the coolest stuff they've ever done. They were really happy, the crowd seemed to cheer and it was like a big pre-party.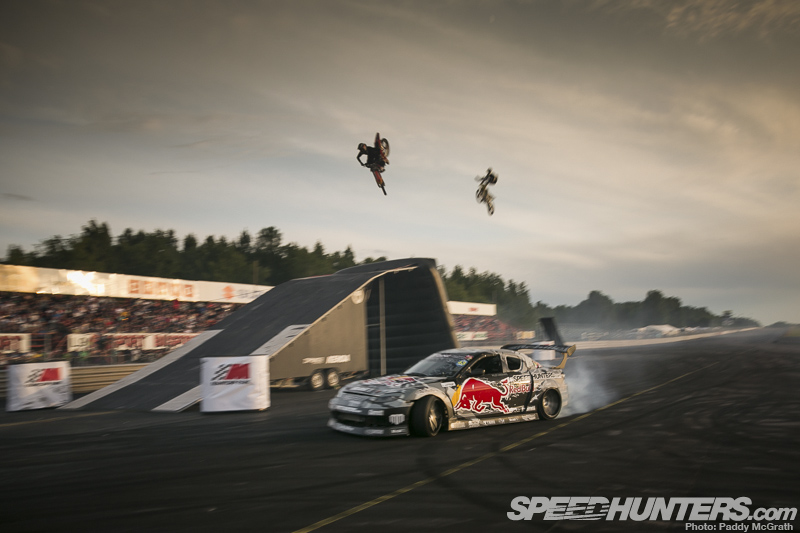 Mike: This was sick, it was great to do demos with the FMX guys. I have done a lot of drift/FMX demos back in New Zealand and I think the two sports fit well together and bring an explosive show to the crowd. Towards the last shows it got a bit hairy with my clutch slipping but it was still great to be a part of. The riders were throwing down solid tricks and the crowd was into it; I always find myself pushing that extra bit more if the crowd are behind you so it was good to hear screaming fans.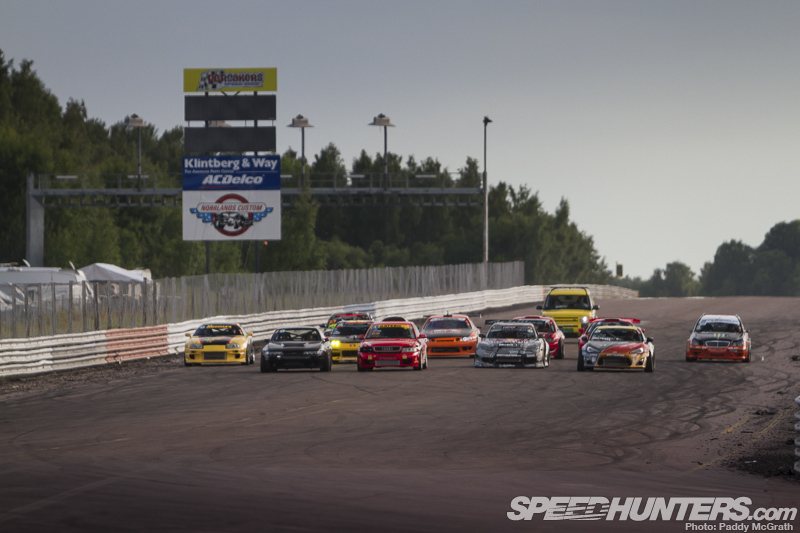 Suzy: As it was your first time at Mantorp Mike, what did you make of it compared to Rudskogen?
Mike: Mantorp was a very similar vibe, the track was awesome and served great viewing for the spectators. Of course there were all the crazy cars and mayhem on track and people up partying all night. I can't wait til Rudskogen though.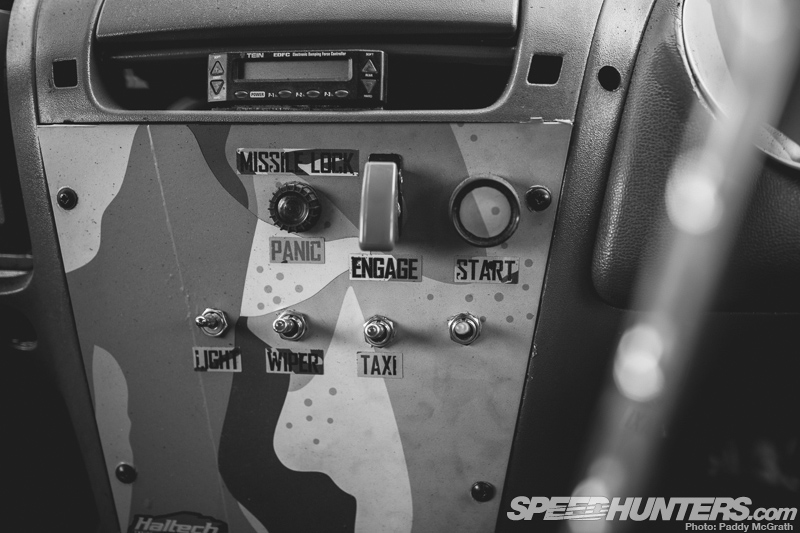 Suzy: What would you say is the best part of a Gatebil event?
Fredric: There's so many good parts. The best part is the smiles. You have all these guys that come here for vacation. For most people it's like half-vacation, half-work because it's definitely not relaxing. A lot of people are going 24/7. They're partying at night and helping their buddy or even driving during the day, then partying again the next night. Then changing clutches the next night. Still, on Sunday afternoon they're smiling. They've had a good vacation. Seeing those smiles and seeing how much people put into it – I think that's the best part out of everything. You should have seen Friday night in the tents. We were changing parts from the other car and I just popped out of the tent quickly and when I came back it was a booming party. I have a lot of cool pictures from that night that I'm probably not gonna share. Some of the people there said that was the best party of the entire weekend. We had 60,000 watts of music that was playing that night. I've never had that many people offering to help – though I'm not sure how helpful they would have been! We got the car fixed in no time. I like that, that we can actually use our booth for that. We cleaned it up and it was ready to go the next day.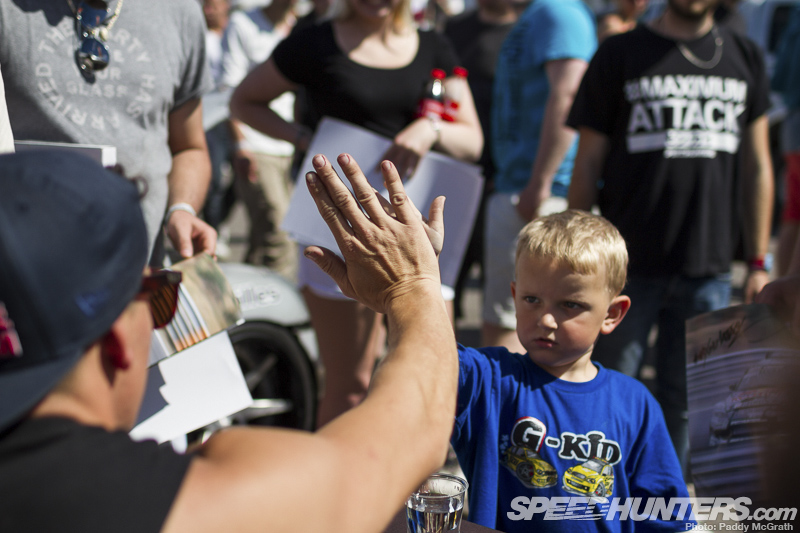 Mike: The best part for me is hanging out with like-minded people who have built one-off cars and are passionate about motorsport and having fun at the track. This feels like an event where it's hard to live up to my name because the entire field is mad! It adds to the fun that in Sweden I speak Swenglish and in Norway I will be speaking Norwenglish, but when it comes to party time people still speak to me in their native tongue and don't realise I'm speaking English anyway. I guess the language of motorsport is universal with my sound effects and body language. As Freddie says, after three days when people are still smiling you know it's been a good weekend.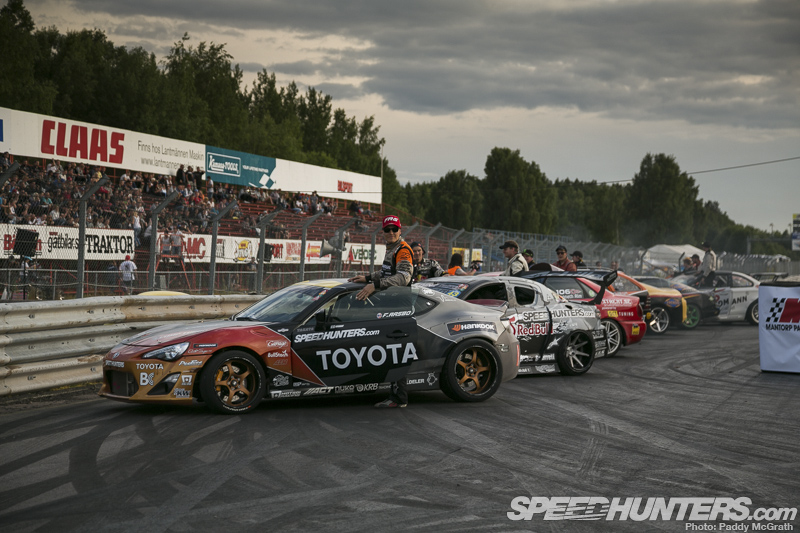 Suzy: Do you think the Gatebil events capture the true spirit of drifting? After all, every car here is going sideways – even the time attack ones from time to time!  
Fredric: That's a good question. The true spirit of drifting is Japanese, right? At least that's what we've been taught to think. Drifting started in Japan and they were hooning up and down the mountains and not really obeying any laws and having fun. So yeah, I guess it is the true spirit of drifting.
Suzy: I think you've got the history and roots of drifting in Japan, but I'd like to say the core of it's about having fun.
Mike: The true spirit of drifting to me is about just that – keeping drifting fun. So I think yes, Gatebil succeeds there. I think they have a nice mix of time on track and competition time.
Fredric: Well, the Scandinavian Flick obviously isn't Japanese, so I guess you're right. Even though the history of drifting started in Japan, people were drifting in a lot of other places as well. My parents and my dad's friends were sliding around in cars back in Norway not really knowing that it was technically drifting, but that whole spirit ties into getting in your car, going out and having fun.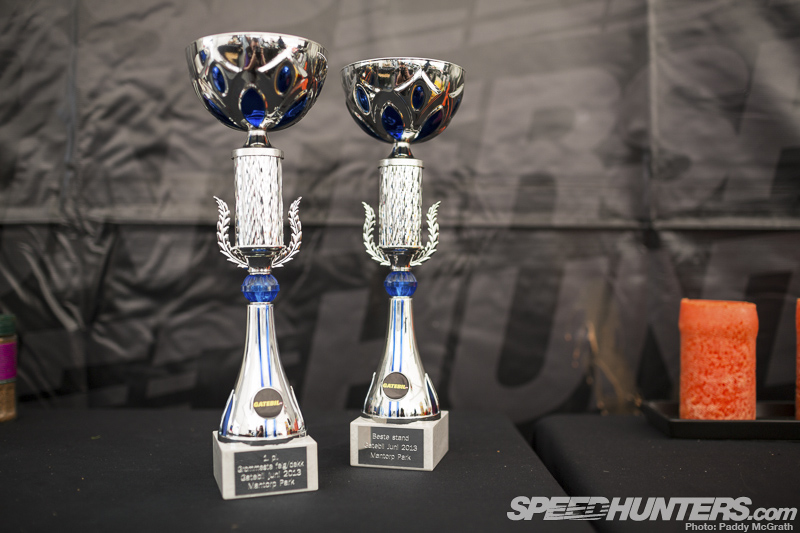 Suzy: The Speedhunters booth actually won best stand of the show, so what was it like to be a part of that? What did you make of the other cars in the stand?
Mike: The Speedhunters booth had a really chilled atmosphere and welcomed people in with its lounge area where people could sit and talk to the car owners. The award was very deserving and it was a rad place to be based out of. Rob's fresh beats were cranking, the merchandise stand was busy all weekend and we had a wicked mix of wild rides on show.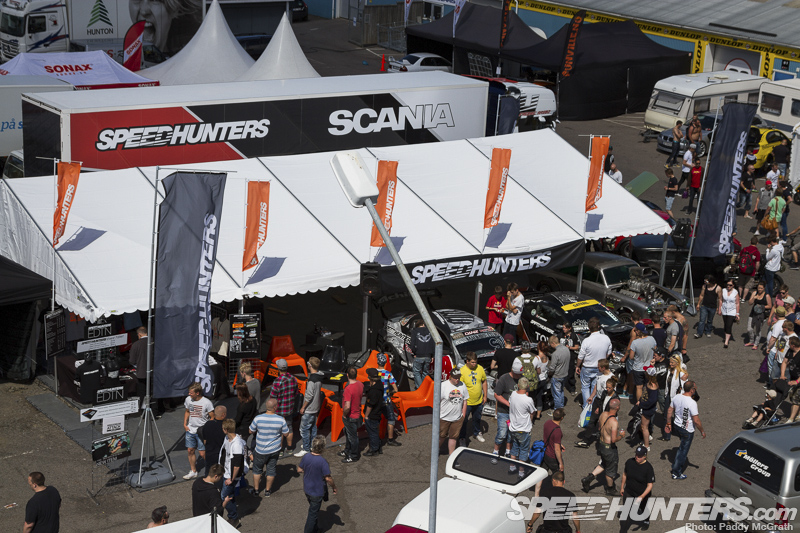 Fredric: It was cool. It was a beast to put up and down, but I think it all worked out in the end. We got the best stand award, which is basically the best pit space. The cars on display were such an eclectic mix of cars. We had a super cool 240Z, we had the Hemizon – which I have to say is probably the coolest car I've seen. I'm dreaming of building my own hot rod at some point and actually taking a unibody chassis to start. That was just right up my alley. Big kudos to Rod for putting that all together and helping to organize it all. I tried to walk out of the stand and look in. With the music playing it was definitely a very cool and inspiring set-up. Talking to the Gatebil organizers afterward, they thought the same as well. I think Speedhunters is bringing a definite element of coolness into all this.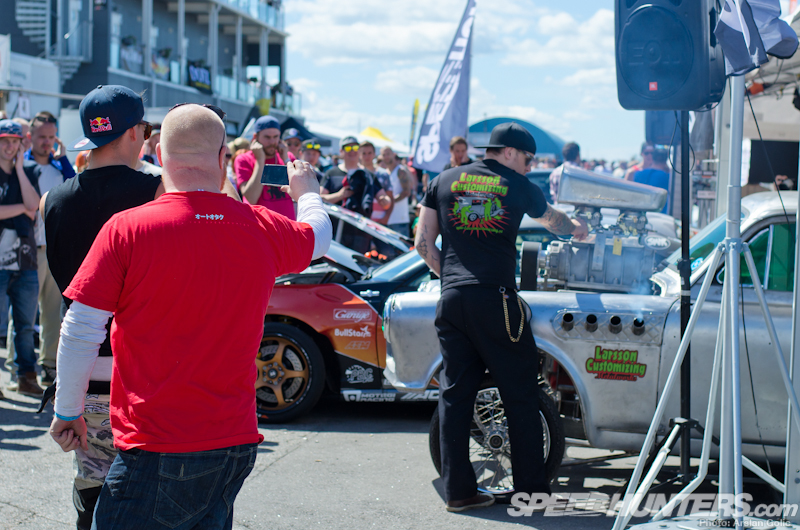 Suzy: Were you there when they started the Hemizon up?
Fredric: I was there. So cool, huh?
Suzy: Did you have your fingers in your ears?
Fredric: The thing is they started it up the night before during the party, and that was when the party really took off.
Suzy: I made the mistake of only having a finger in one ear. The other one was just ringing afterwards.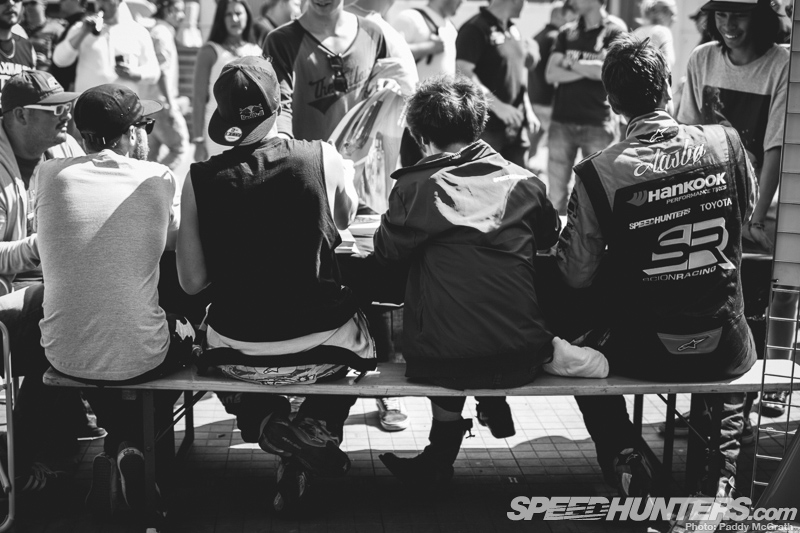 Suzy: I was going to ask your favorite moment of the weekend, but I'm guessing it was the impromptu party on Friday?
Fredric: Yes and no. I wasn't partying because we were fixing my car, but it was just cool to have everyone come in and embrace what we're doing. It's really hard for me to pick one moment. Maybe the best thing was rolling home, walking in the door with my fiancée and just smiling and calling it a night. Maybe that was the best part. There was so much stuff going on, so many highlights. Everything from having all of the Speedhunters crew together, having the rig all set up, getting the shots on track, doing the demos. Winning the competition was cool of course. Taking people for rides and hearing them say it was the wildest ride they've ever had. All of those things… it's hard to pick one. I feel like if I do it kind of undermines all the other ones which were equally cool, so I want to say the major highlight was letting it sink in and looking back on what we just did.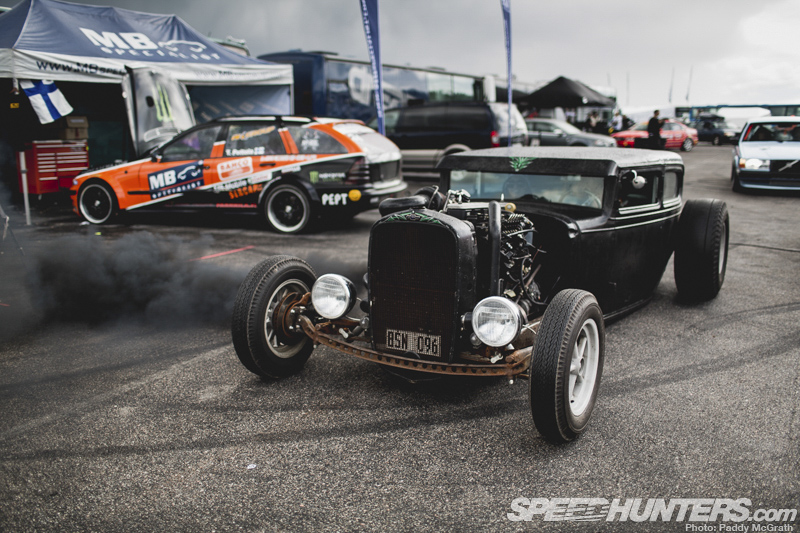 Mike:  There were so many but to narrow it to one, Freddie mentioned it earlier. I was chasing Freddie and he had Toni as passenger. Shit got crazy on track and ended up with Freddie in the kitty litter. Aside from that it's very hard to choose just one moment during the whole experience.  Right up there was taking Linc for his first ride in a hot rod and me driving some of the wildest rides on the planet.
Suzy: So would that have been your favourite car there then?
Mike: Oh yeah, for sure – the hot rod built by Larsson Customizing. Emanuel Sandén is the owner of the 1931 Chevy Cummins-powered diesel rod and I had the honour of scraping it around the pits at Gatebil. They have some really sweet whips coming out of their stables and I guess you can say that I've been inspired.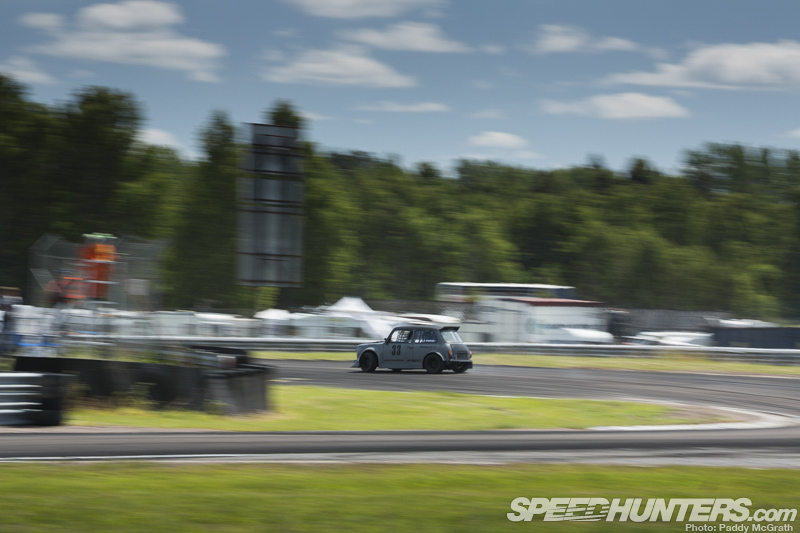 Suzy: How was it driving the rotary Mini?
Mike:  The Mini was a blast; it runs a 13B turbo with water/methanol injection, rear-wheel drive conversion with a Volvo diff fabricated into the rear. The power to weight ratio was the first thing I noticed as I smoked past Porsches down the back straight in the Extreme Time Attack class. The owner also requested that I try to drift his Mini; that was a super difficult task with such a short wheelbase, violent power, a truck load of aero and no handbrake. We managed to link up the judged section and drift the back section too. We burnt through of his set of high performance race tyres though. The reaction on peoples' faces in the crowd as I drifted past was priceless.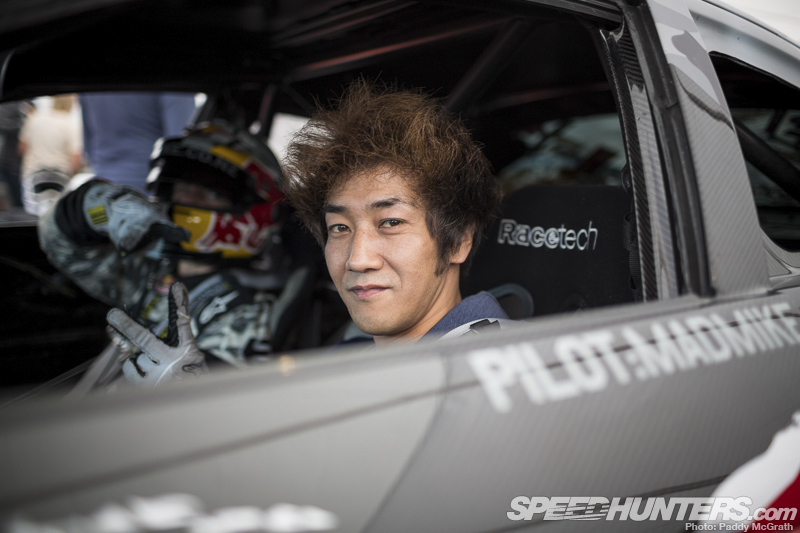 Suzy: You had a chance to have a good talk with Miura-san on Friday about the car didn't you Fredric?
Fredric: Yeah. You know I've seen Miura-san at a lot of places and it's cool to see him in my neck of the woods as well. He's such a cool character.
Suzy: We were looking at the Lancia Delta Integrale – Dino was with us and translating. He was asking the guy, "Who did all the fabrication?" and he said "I did". Then he asked, "Who did all the bodywork?" and he replied, "I did that too". Miura-san was just sitting there laughing. "How do all these people build these cars and do everything themselves?" He was shaking his head a lot.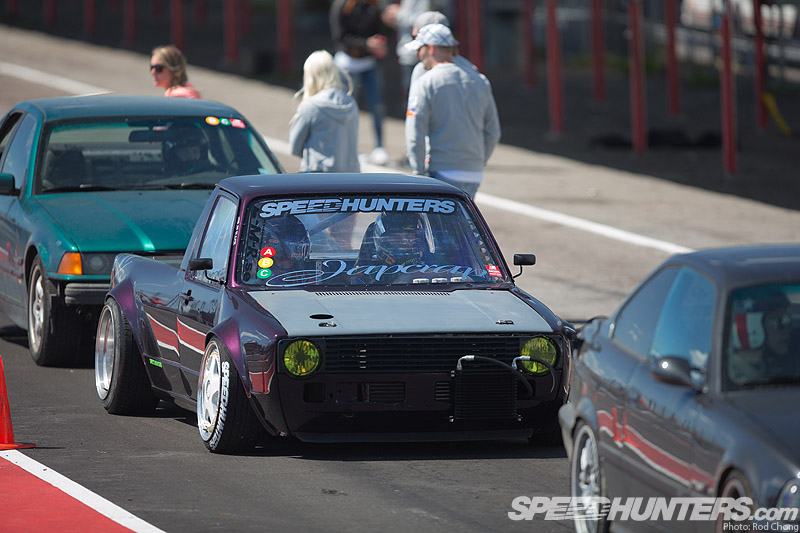 Suzy: Did you get to ride in anybody else's car?
Fredric: Yeah, in the JapCrap Caddy, but he broke down on the first lap out so hopefully we can try again in July.
Mike: Yep and my favourite was with Fredrik Sørlie in his old school Boso-style 2JZ-powered Cressida. The time, effort and development that Fredrik's boys have put into this chassis was truly mind-blowing on track, not to mention Fredrik's aggressive driving style made for one hell of a ride! As an added bonus it also looks sick.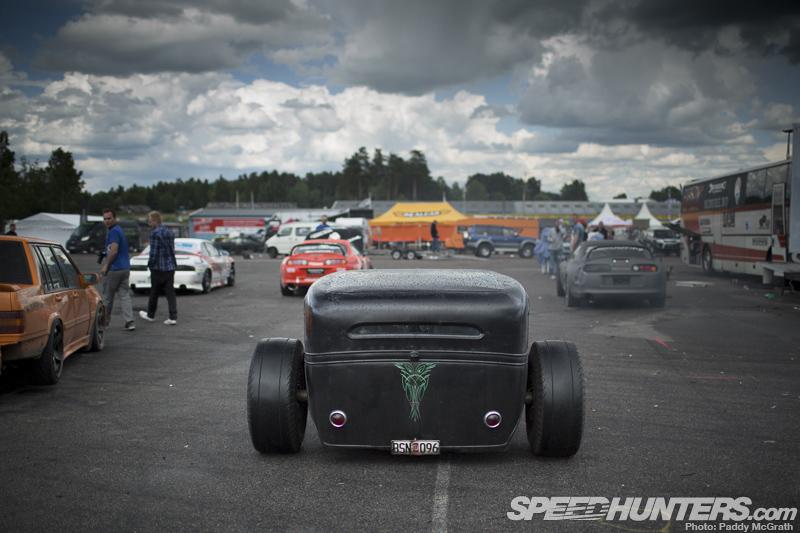 Suzy: Any last comments?
Fredric: Thanks for everything. It's an ongoing wild ride for sure.
Mike: Massive thanks for everything Speedhunters, Freddie and crew – looking forward to the next stop and catching up with JR. Can't wait to shred Rudskogen circuit again to try and win the world powerslide championship!
Suzy: Thanks guys! Til Rudskogen…
Words by Suzy Wallace
Instagram: speedhunters_suzy
suzy@speedhunters.com
Photos by Paddy McGrath
Twitter: @PaddyMcGrathSH
Instagram: speedhunters_paddy
paddy@speedhunters.com
Additional photos by Rod Chong and Arslan Golic
The UK Leg of the Drift Tour
More Gatebil Sweden stories on Speedhunters