If you're an RX-7 owner after a little bit of inspiration, you must get yourself to one of these 7's Day gatherings. I don't think there is any other place where you could see so many different interpretations of Mazda's popular chassis, while having the chance to chat to their owners and get some advice. I'm pretty sure I say the same thing every year, but as time goes on it seems like the quality of cars at this event is always improving.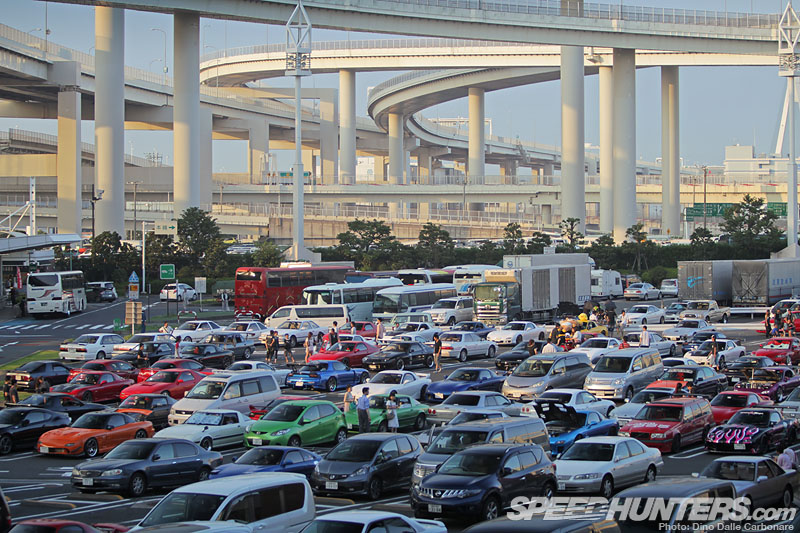 Maybe it's a good thing that Mazda has stopped – at least for the time being – making rotary powered cars. A bold statement I know, but if back in 2002 when the FD3S went out of production Mazda had replaced it with a newer iteration of the RX-7…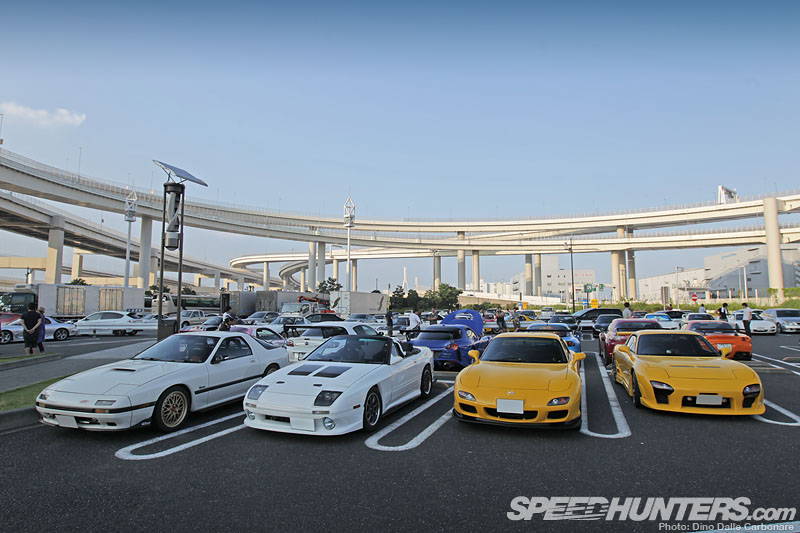 … there is no way we would have such a spotless selection of SAs, FCs and FDs roaming the streets of Japan.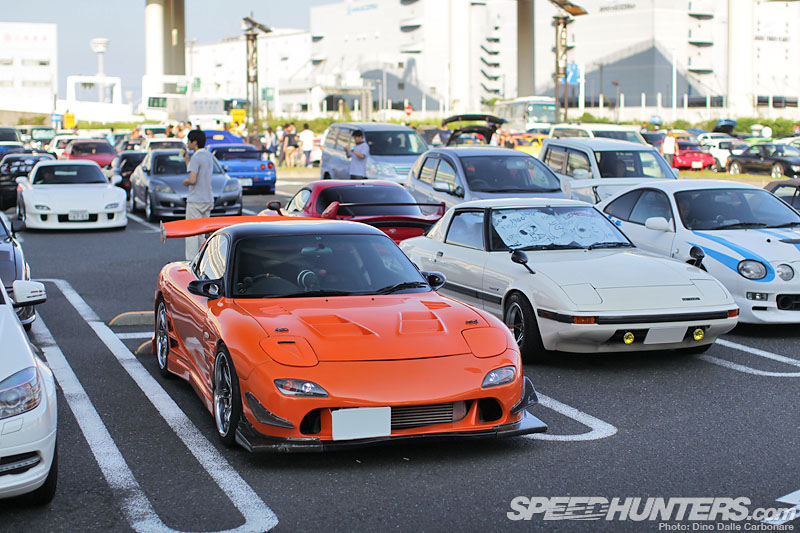 I hope this selection of pictures I have chosen from Sunday's Daikoku meet will serve to back-up my opinion…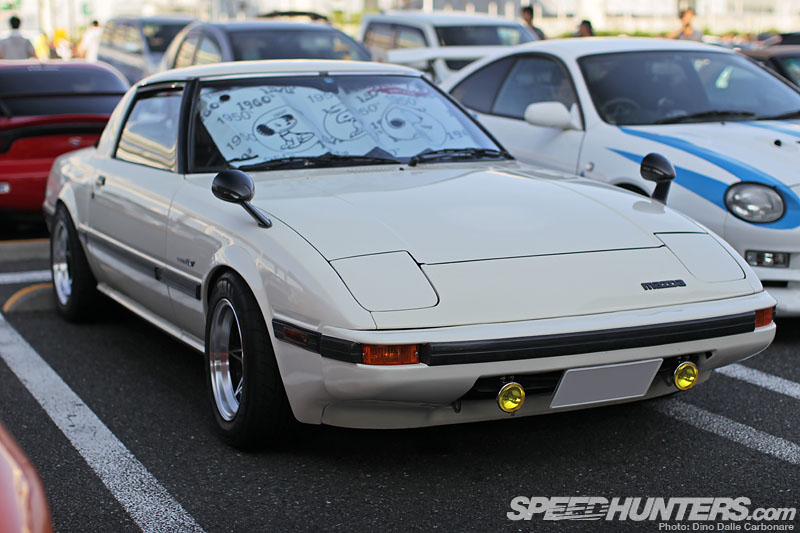 … I'll let you decide!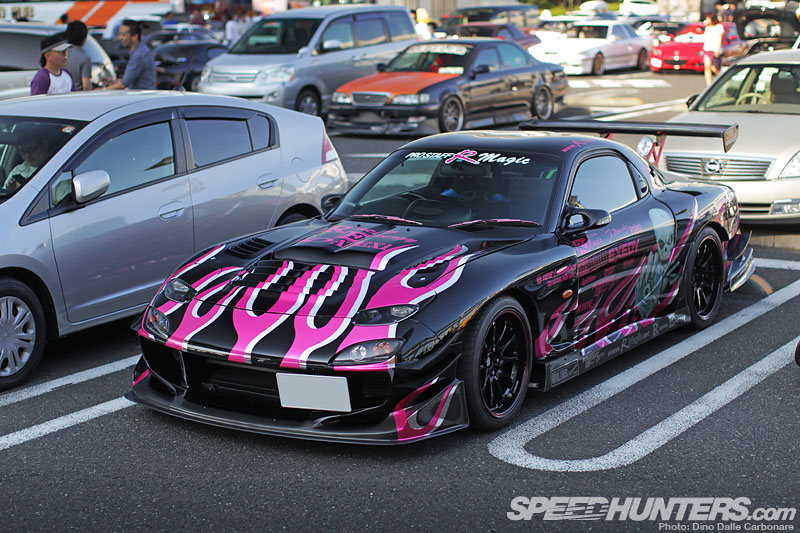 As soon as I got out of the air conditioned comfort of my Legacy this is the first car that I saw. Black might not be the best color to highlight the aggressive details of the R-Magic widebody kit, but it sure makes it look badass.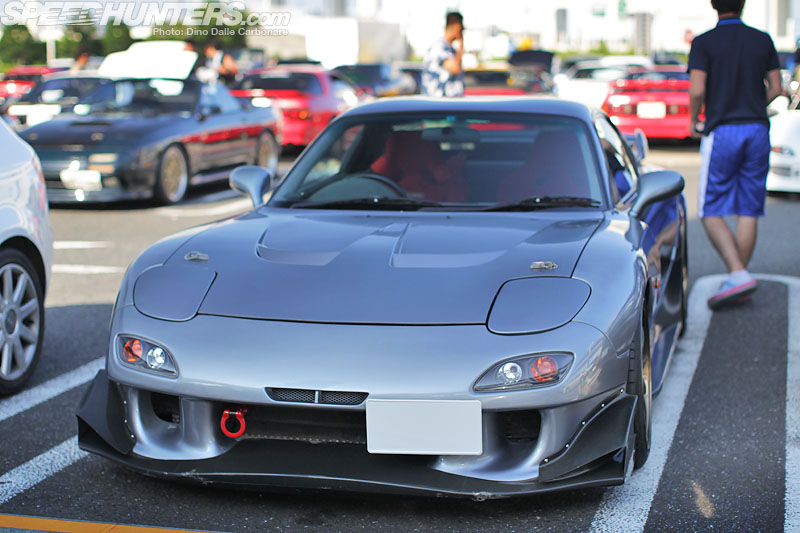 It was cool reading through your comments on yesterday's post and seeing everyone's opinions regarding some the various front-end conversions that exist for the FD. I'm happy to see that the majority of you seem to prefer the simpler route, keeping the seemingly ageless lines of this final RX-7 generation as they are, or maybe spicing them up just a little…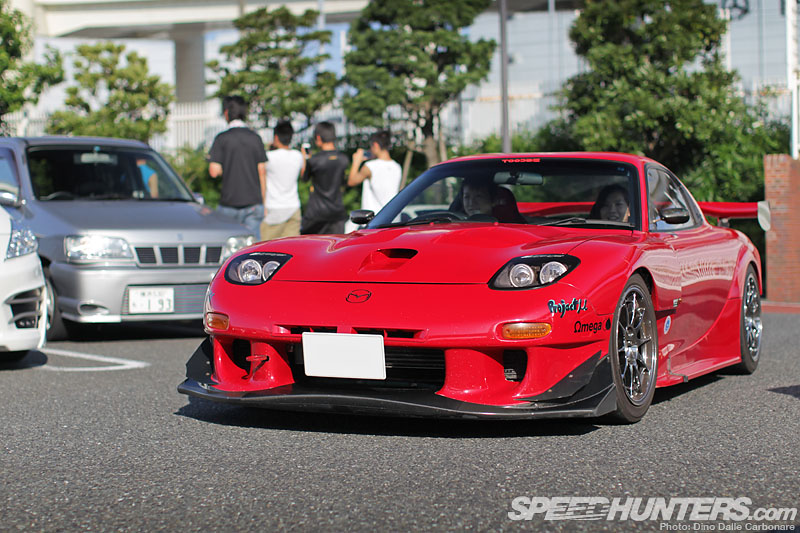 … with a few choice parts form the RE-Amemiya catalogues, as both this and the silver example above show. But let me ask you another important question when it comes to the FD…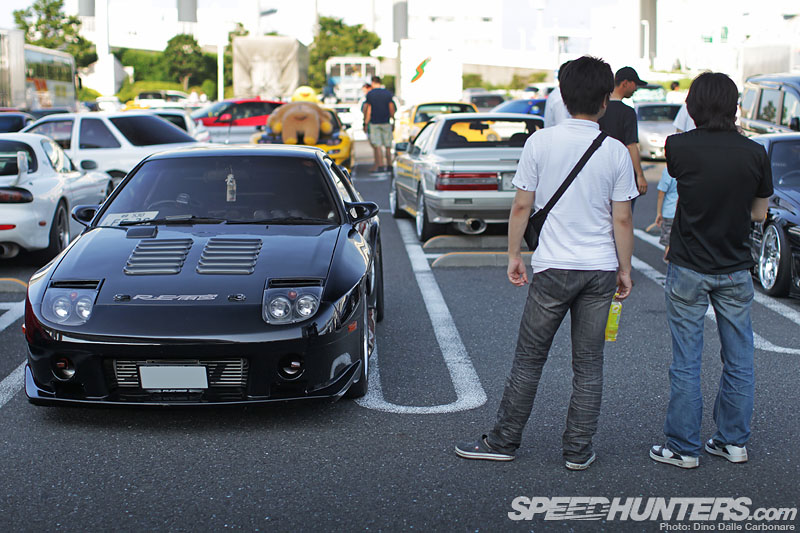 … and of course the FC. Would you keep the pop-up headlights or replace them with fixed units? I'm pretty sure this must be one of the hardest questions RX-7 owners would have to ask themselves.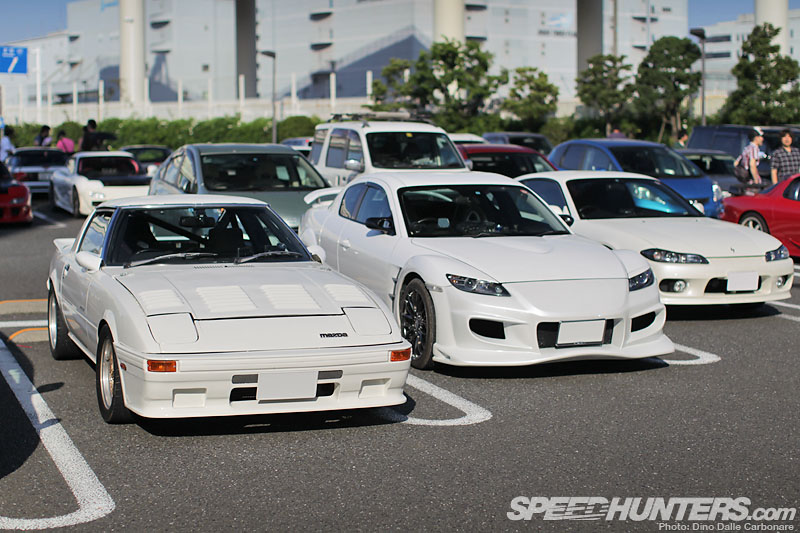 If you have an opinion, make sure you let us know!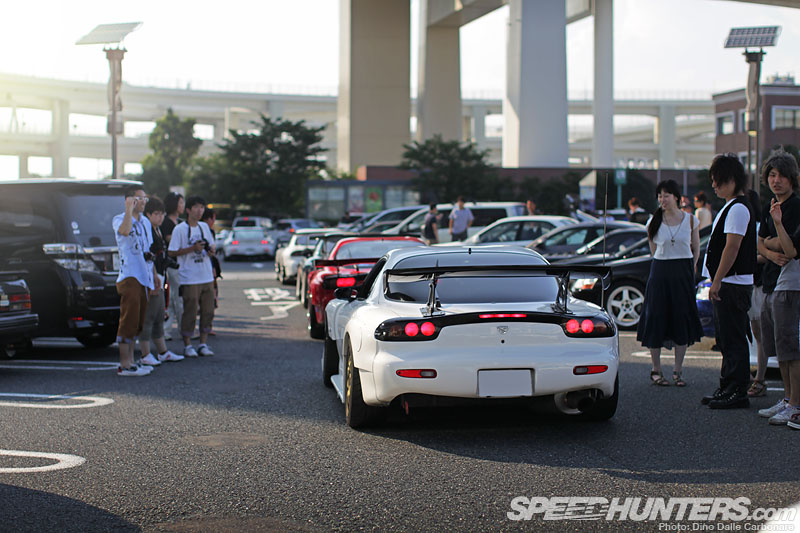 Much like any meeting at Daikoku the cars kept coming and going, keeping a fresh presence in the car park. This however does mean the occasional sprint is necessary if you happen to see a car you didn't get to photograph leaving. Some get away, and  for me this time it was a really cool RX-3 that I just couldn't catch. Ah well, it was the 7's Day, not the 3's Day after all!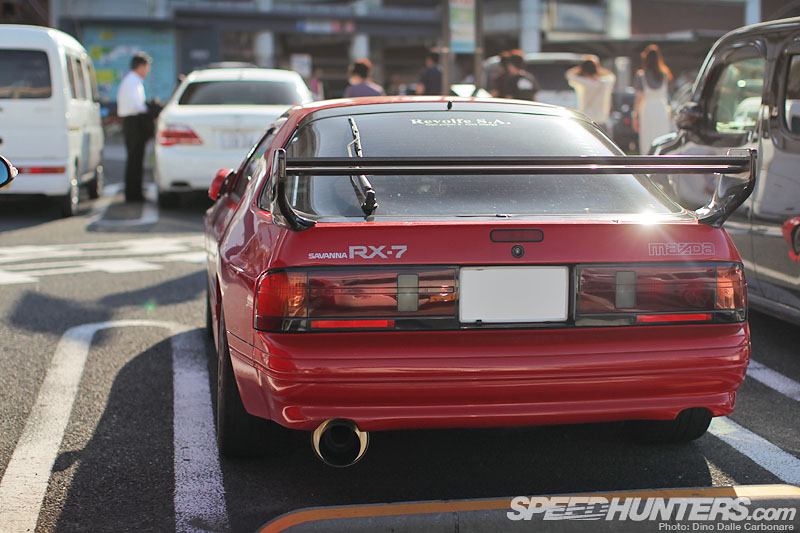 With plenty of other cars to look at I kept walking and spotted more greats like this Revolfe-tuned FC sporting a very mid-'90s style rear wing.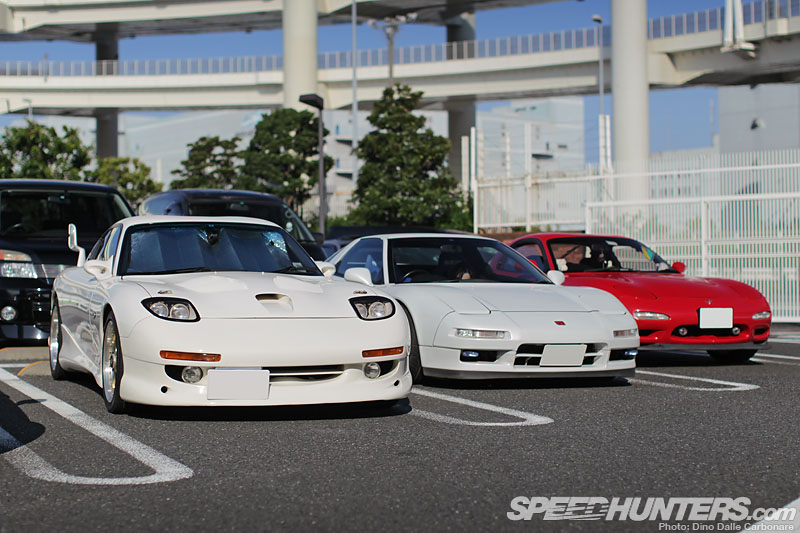 And speaking of the '90s, this little group looked like they were just about to hit the Gunsai track for a Hot Version Touge Battle!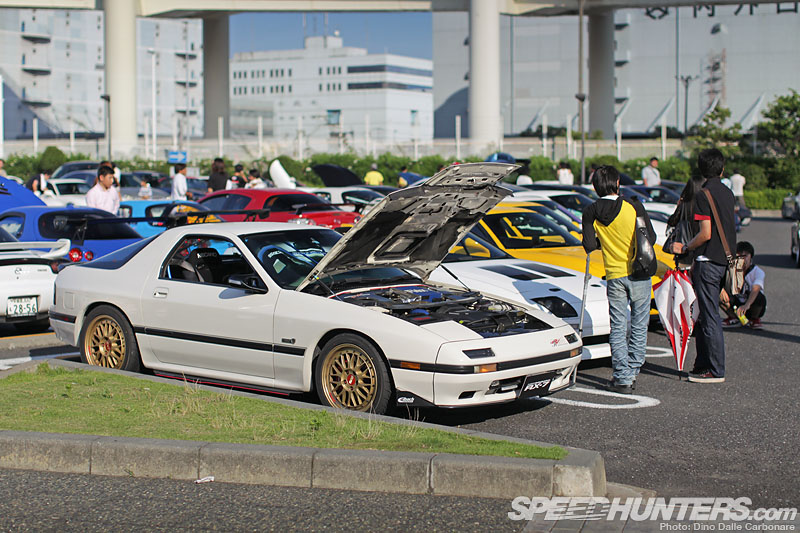 Check out this FC on gold BBS rims – not a combination you see often…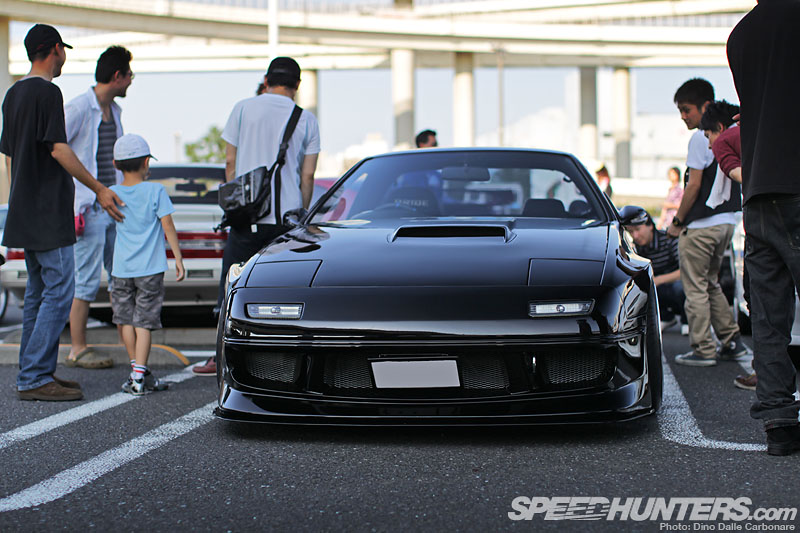 … but maybe a more modern day street-drifter look is what most people would go for. This particular car seemed to be attracting a lot of attention…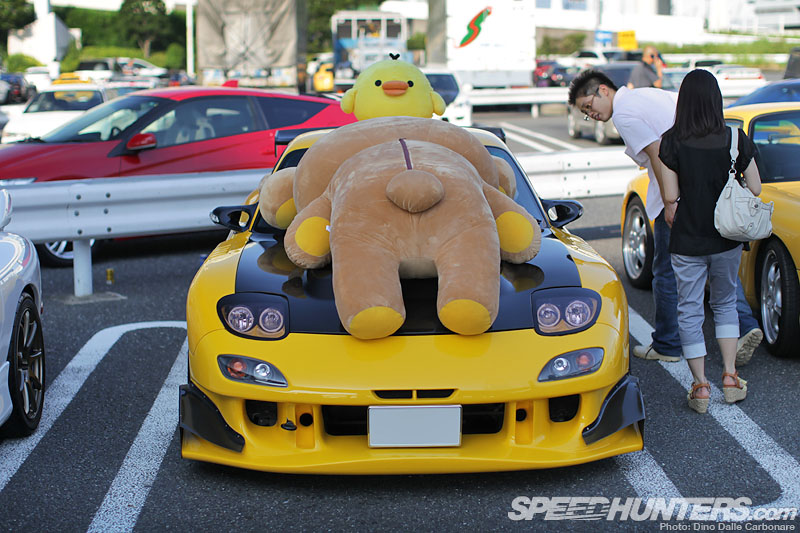 … much like this FD, but probably due to the curious selection of soft toys…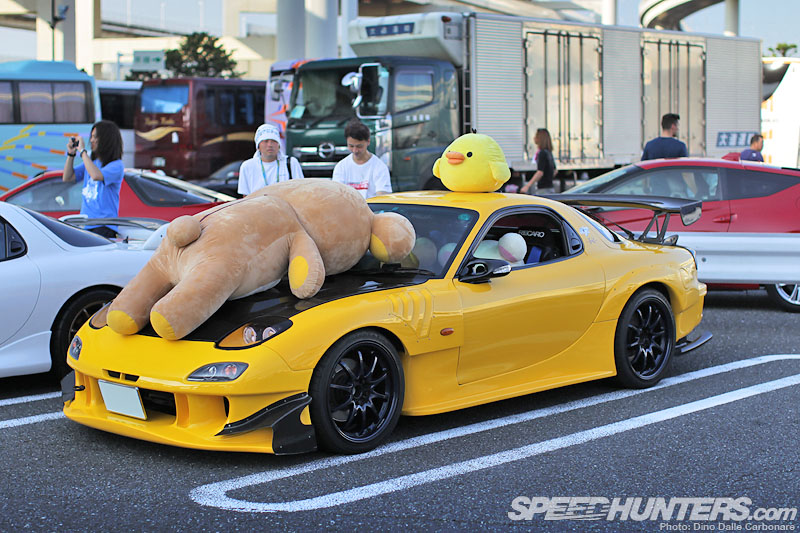 … both on it, as well as in it. An image that definitely needs captioning!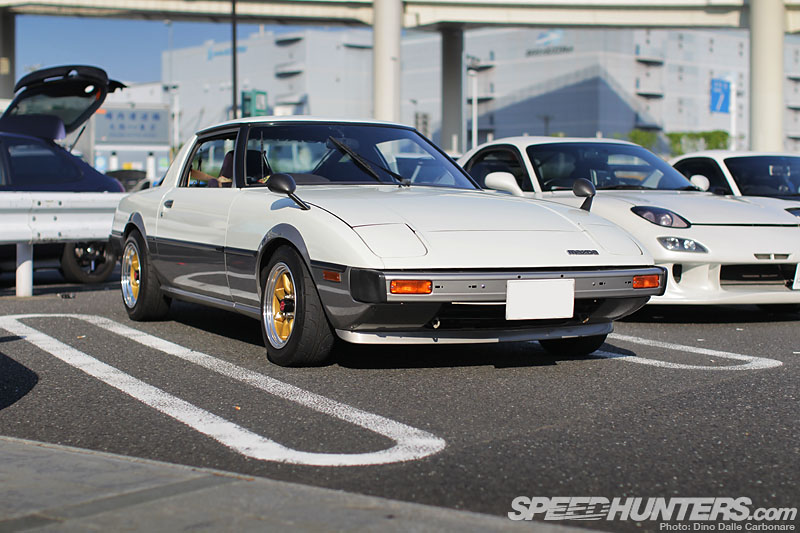 I did mention in the first post's comments section that I did have some cool SAs for you all. On top of the wild example I selected for the opening picture, there were more stock-looking cars too, of course.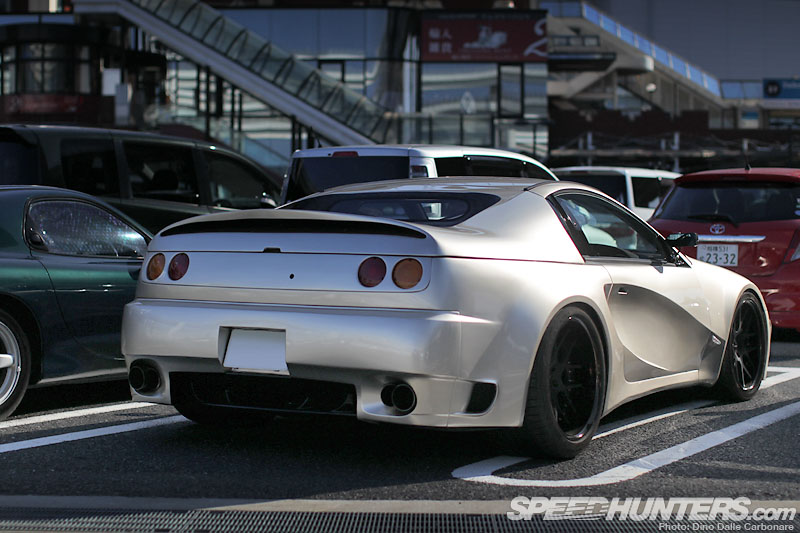 Being a Sunday there was a nice mix of other cars as well and I just can't help but share a few, like this Abflug-kitted Z32…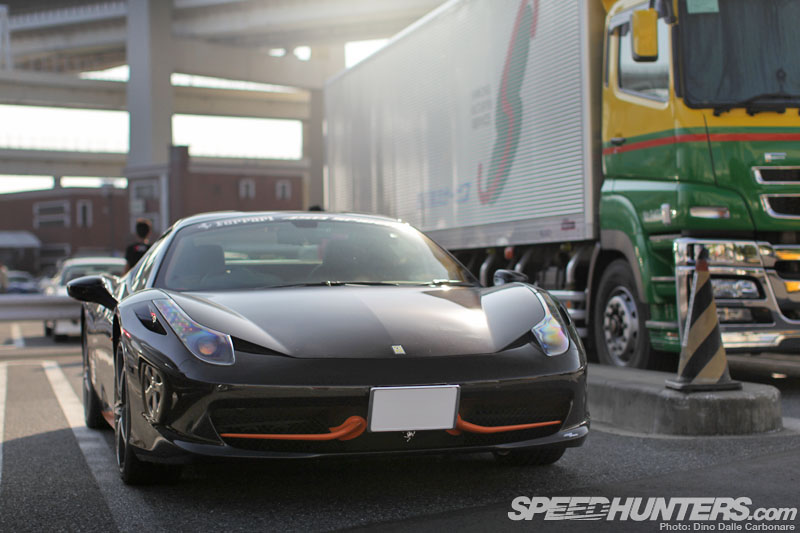 … and some of the supercars that showed up for a little while, starting with this orange 'tashed' 458…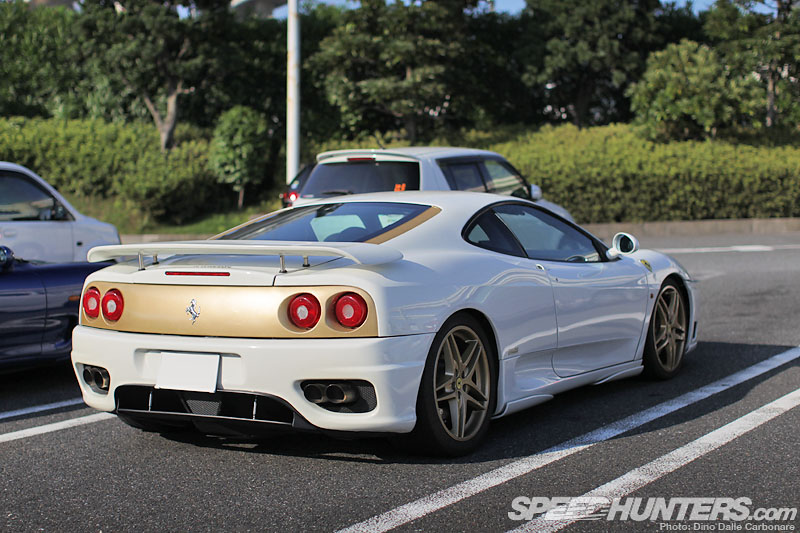 … and a F360 that was maybe attempting a Lotus-inspired livery.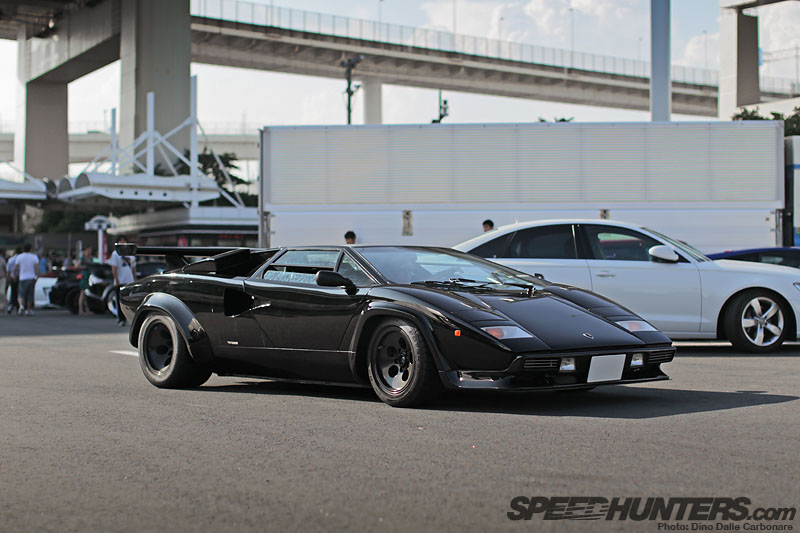 Black-on-black Countach anyone? And yes it sounded as angry as it looked!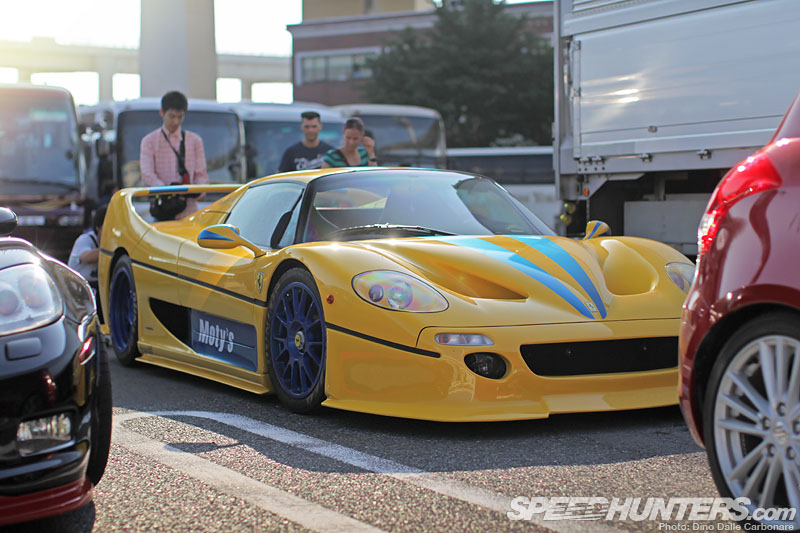 The biggest surprise of all was probably this Ferrari F50…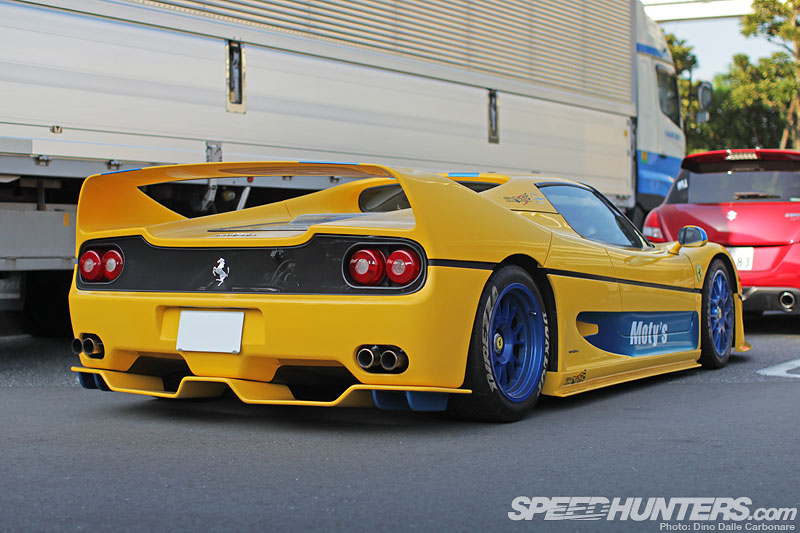 … that looked like it had just come back from a day at Fuji Speedway. I think this may be the first F50 I've seen with an aftermarket body kit!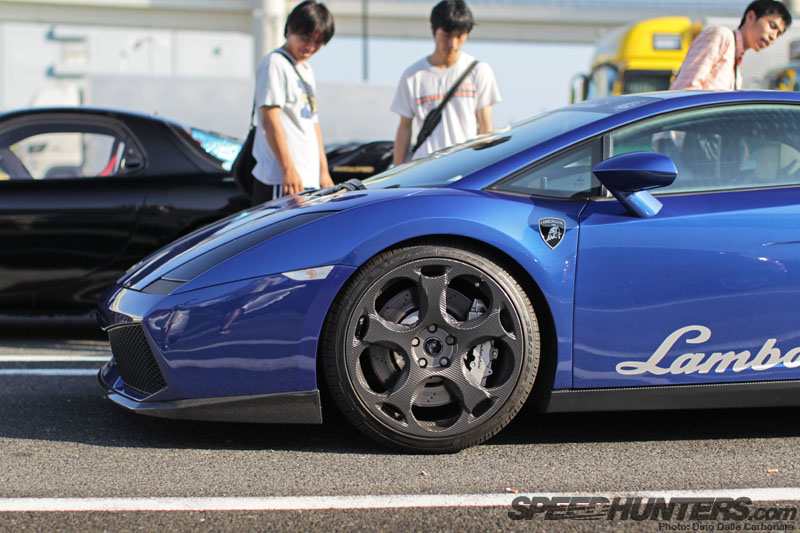 Carbon wrapping your wheels can't be the easiest of tasks.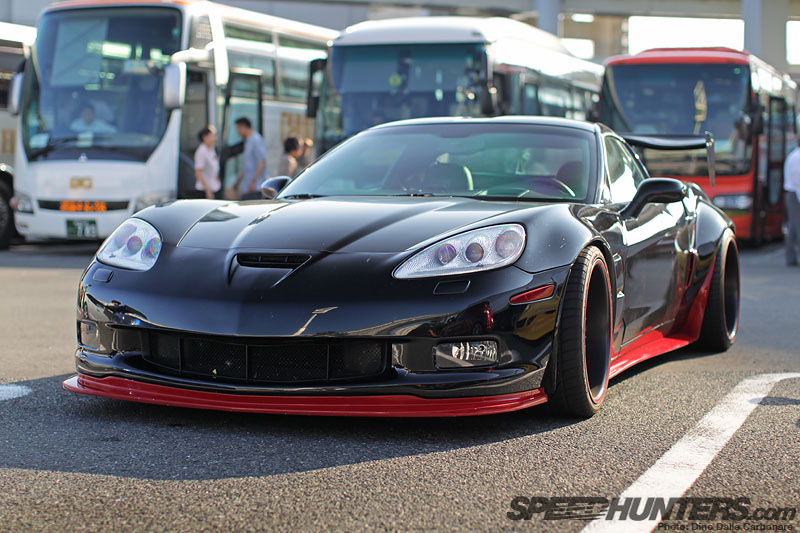 Nothing however managed to come close to this attention-grabbing Corvette…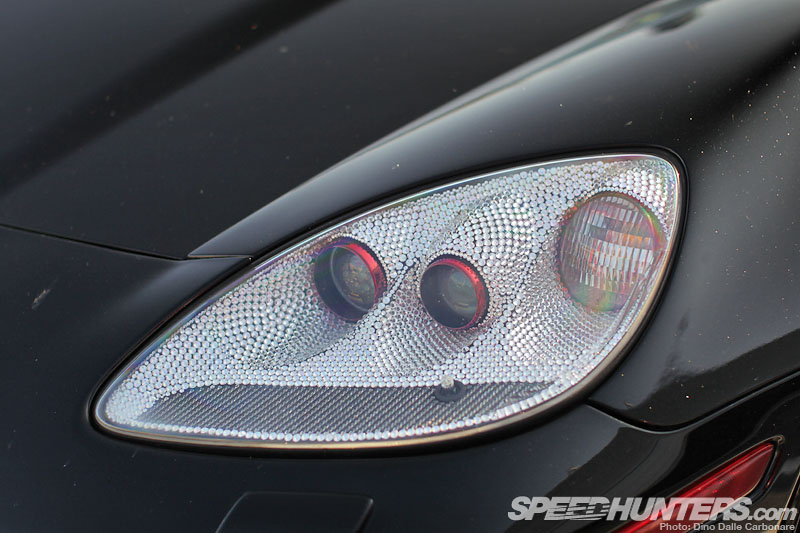 … which on top of a wild wide-body conversion boasted Swarovsky-encrusted headlight reflectors. Imagine if all those little fake diamonds were LEDs!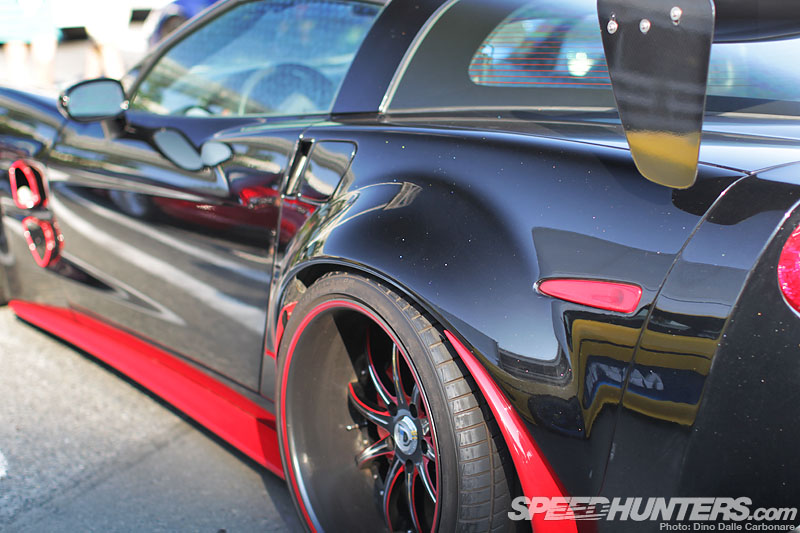 Oh and when I mean wide…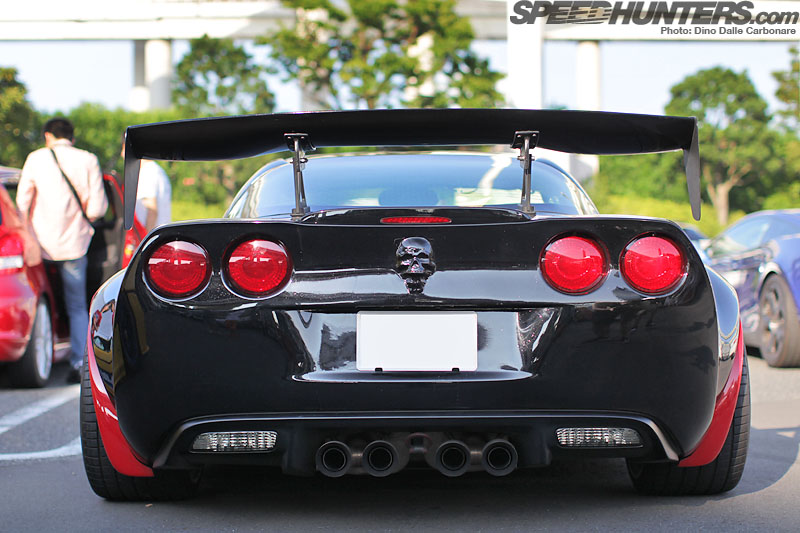 … I really mean wide!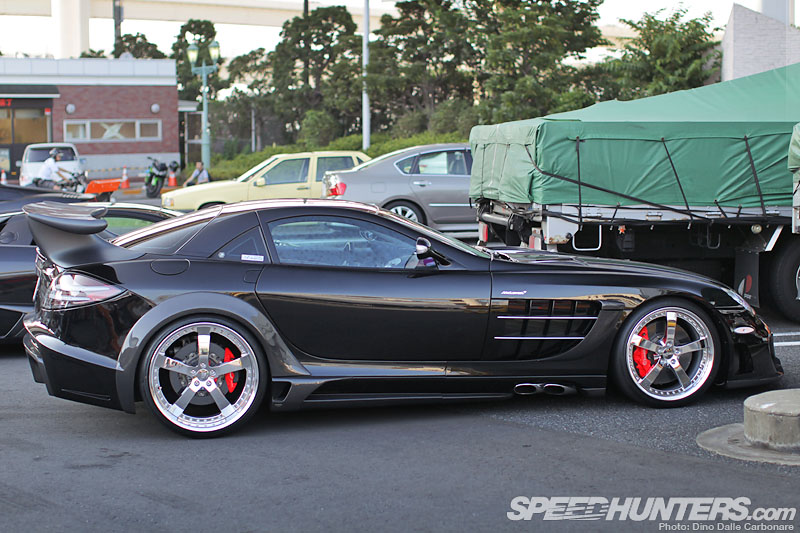 Sunday at Daikoku really brings out a great variety of cars, but seeing most of the parking lot was filled up with Mazdas, it wasn't long before these guys took off.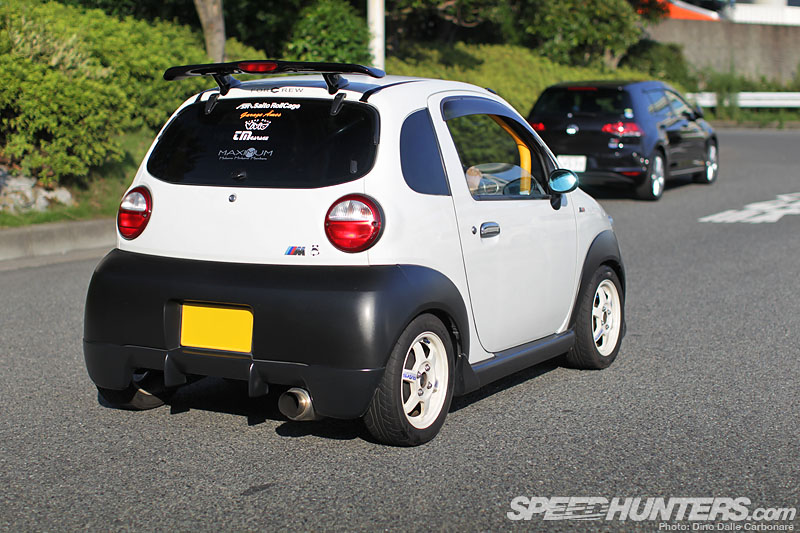 Best non-Mazda car however was this Suzuki Twin kei car that thought it was a BMW M special. I just love the little concave RAYS TE37s!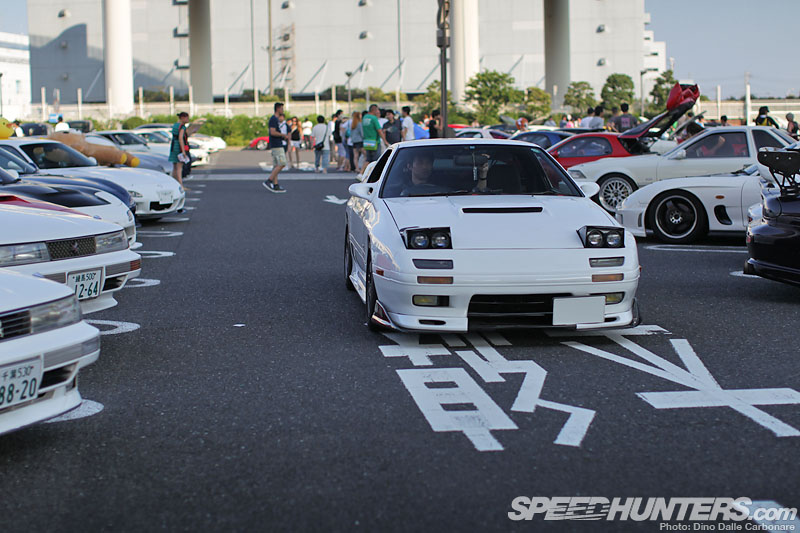 After the pleasant distraction, it was back to hunting some more rotaries…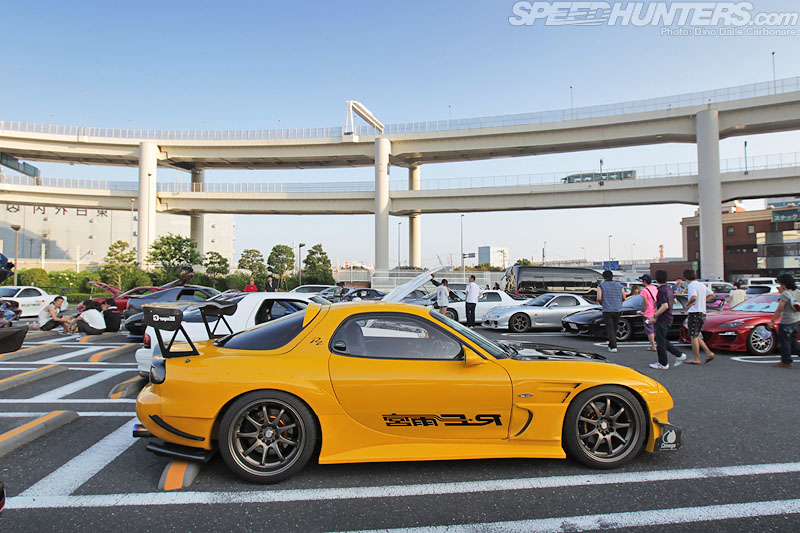 … and keeping an eye out for 'new' cars that had recently arrived.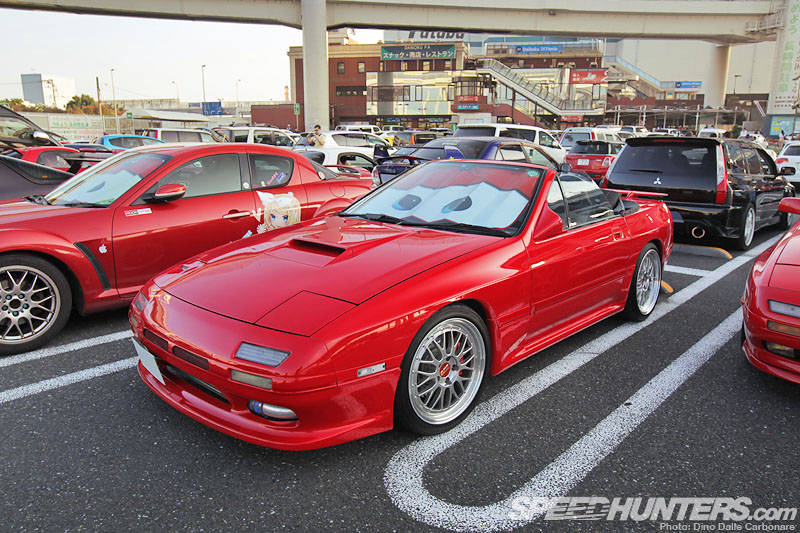 Another BBS-equipped FC, this time a cabrio. I'm really beginning to like the look, especially with such a clean body.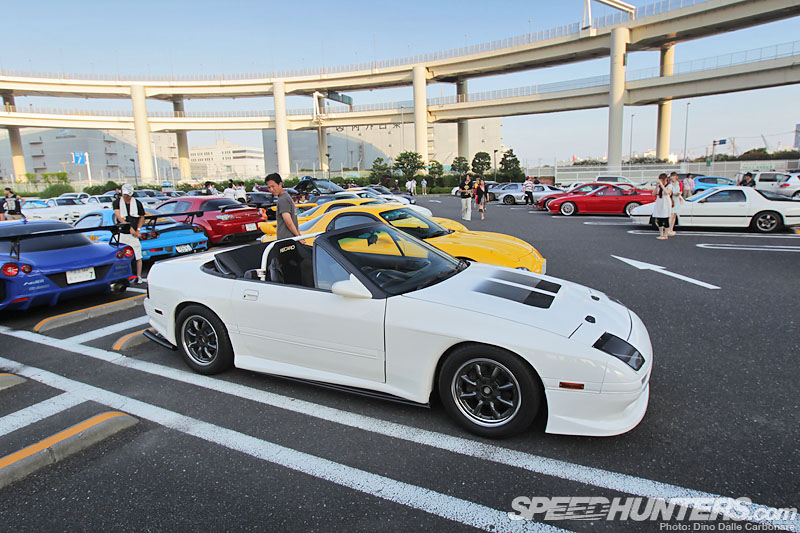 There were so many cool FCs present this year I was really enjoying checking each of them out, like this example on Watanabes.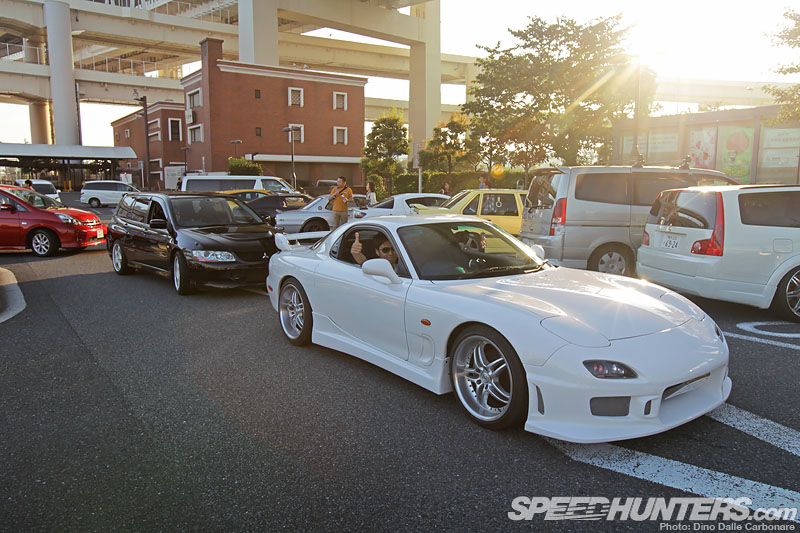 By about 5pm a line had formed of cars attempting to leave. Incredibly enough, the police didn't do the usual thing and kick everyone out – so the party continued!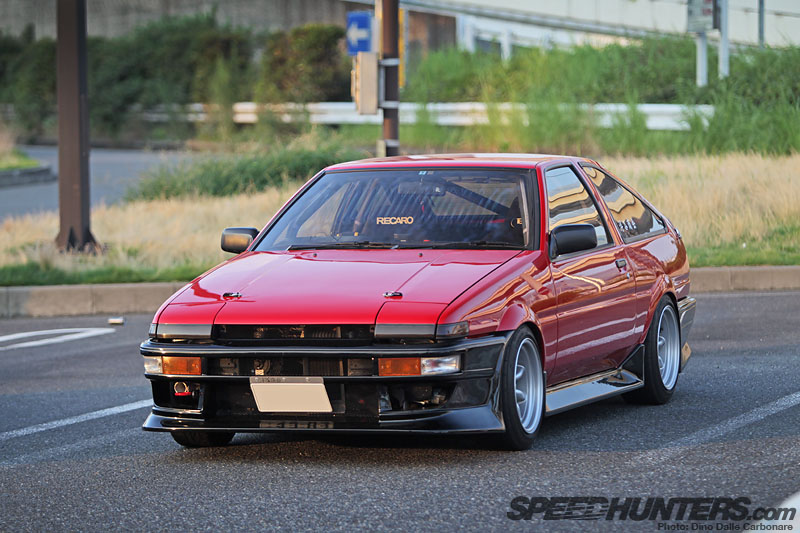 Don't worry lonely AE86, your day will come on the 6th of next month!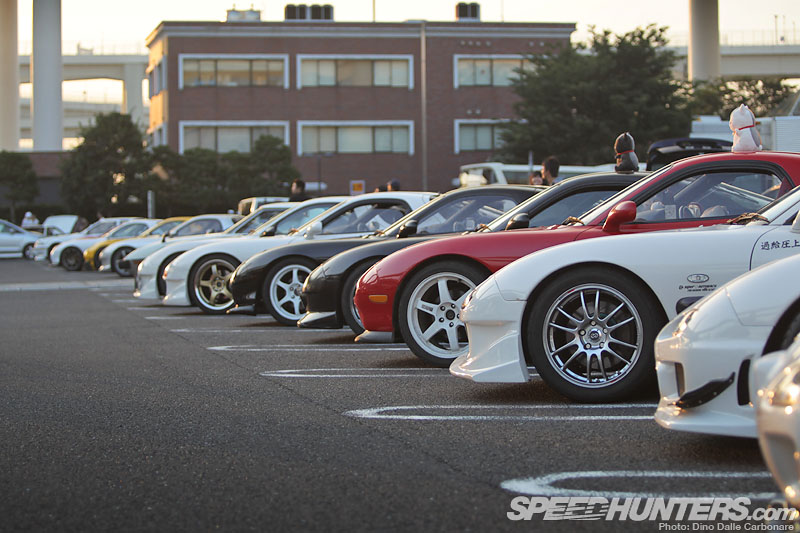 With the police – who's HQ you can see right there in the background – not disrupting things…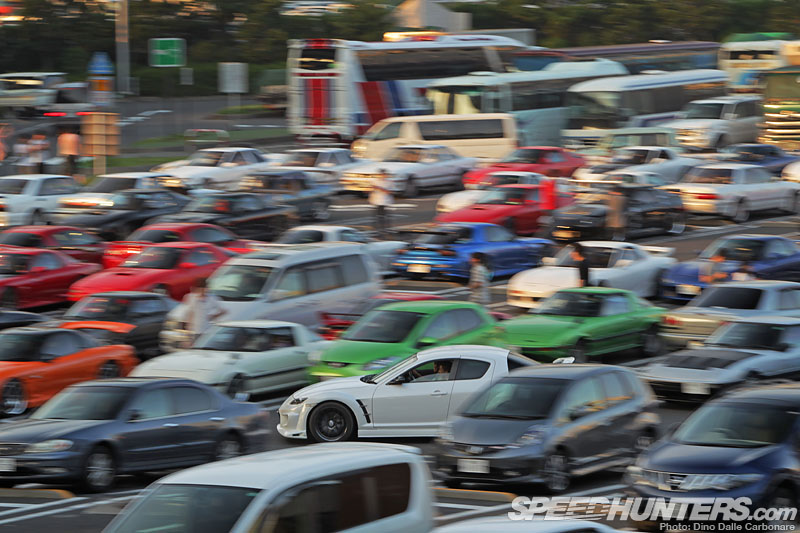 … people kept arriving, owners communicating among each other via phone from various PAs on the Bay ready to send out warnings if problem arose. I'll stop here for now, but fear not as I have one final post to wrap things up with. In the mean time make sure you download some desktops below.
Dino Dalle Carbonare
Instagram: speedhunters_dino
7's Day 2013 Coverage on Speedhunters