The Formula Drift Pro Championship season is more than halfway through and it's quickly becoming more evident what the outcome will be. Daigo Saito has mixed up the series in so many ways, and it's now more popular than it has ever been. Will there be a team in the near future who can step up to the plate and take the throne from Daigo? Who knows. But for now I just like sitting back and enjoying the crazy show that is Formula Drift.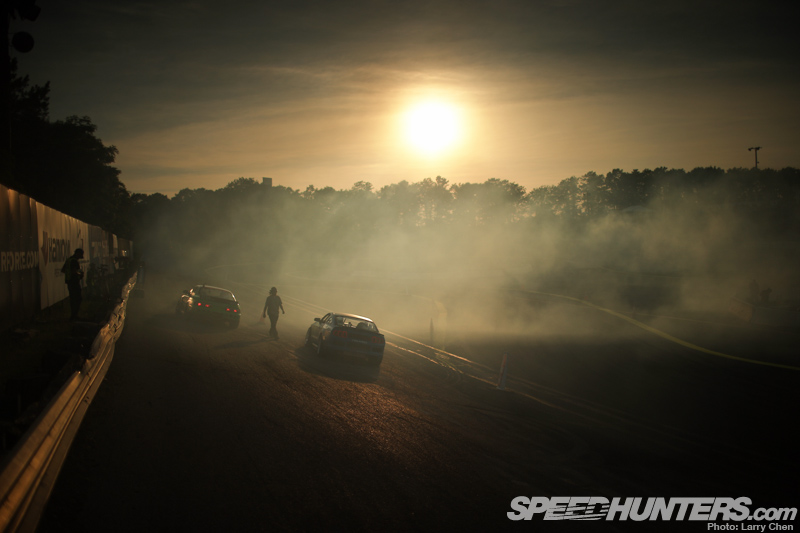 If you guys follow Speedhunters religiously, you'll already know that we get to cover the best motorsports and car culture events in the world. Out of all of those events, nothing gets my blood flowing like this series.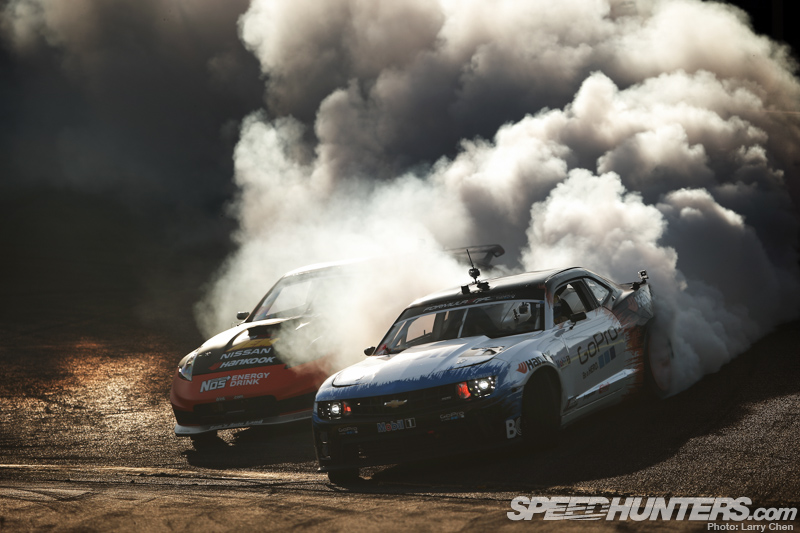 What makes Formula Drift so special is the variety of cars that compete within its ranks. This is a series with vast differences in horsepower and driver skill.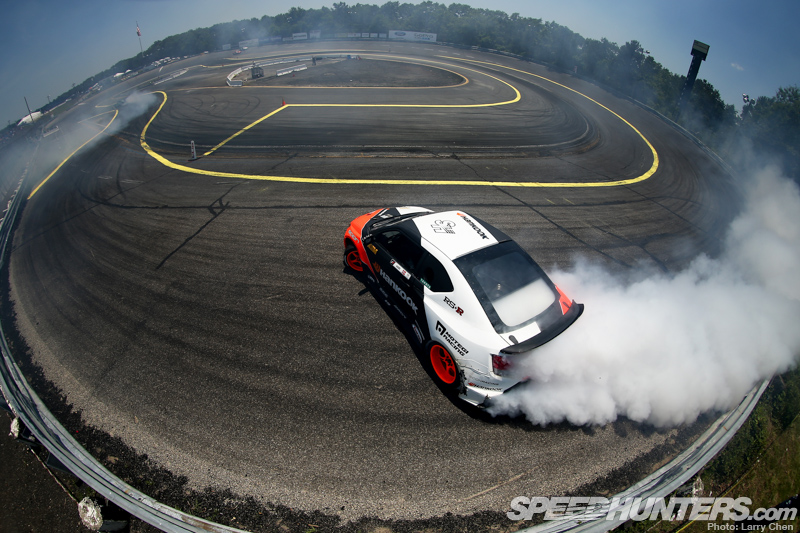 Yet, you go to these unique hole-in-the-wall race tracks and it becomes the ultimate equalizer. Wall Speedway in Wall Township New Jersey is, without a doubt, my favorite place to shoot drifting.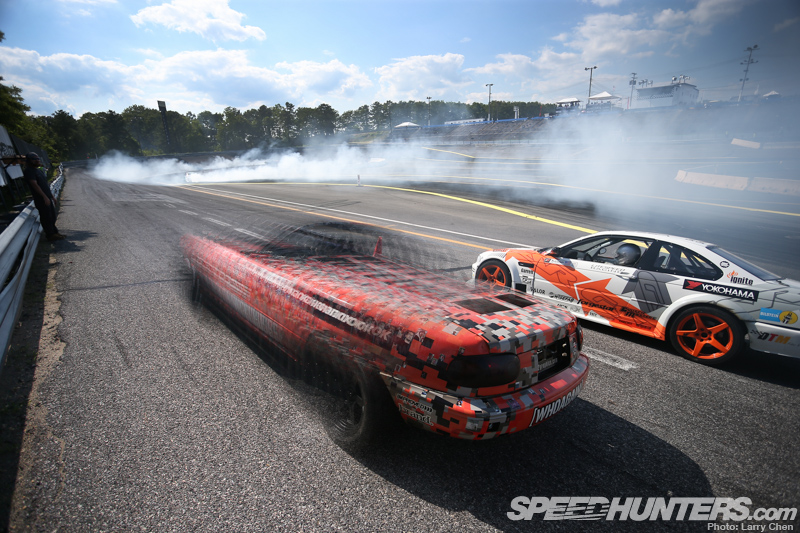 I can't speak for the drivers though, as many have a love/hate relationship with this place. Let's take a look at the starting grid, which because of the banking, makes it very difficult to launch.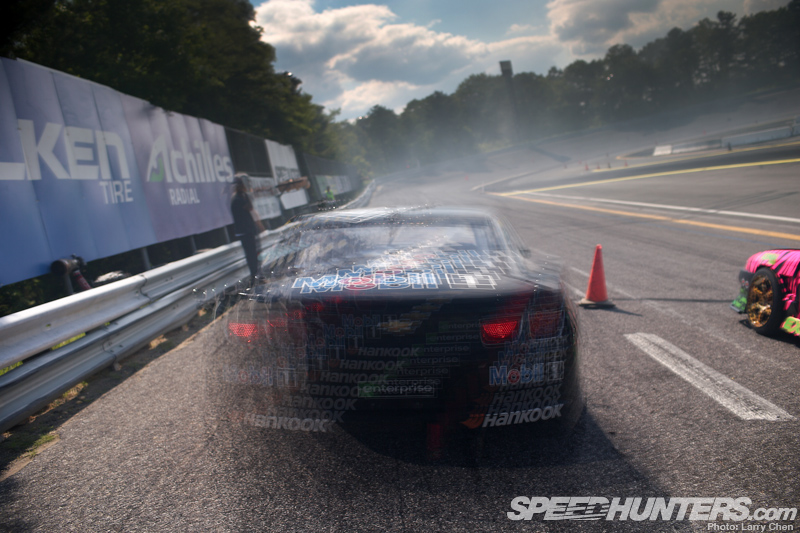 Drivers really struggle for traction here and that  really equalizes the drag race effect that we see in many drifting competitions.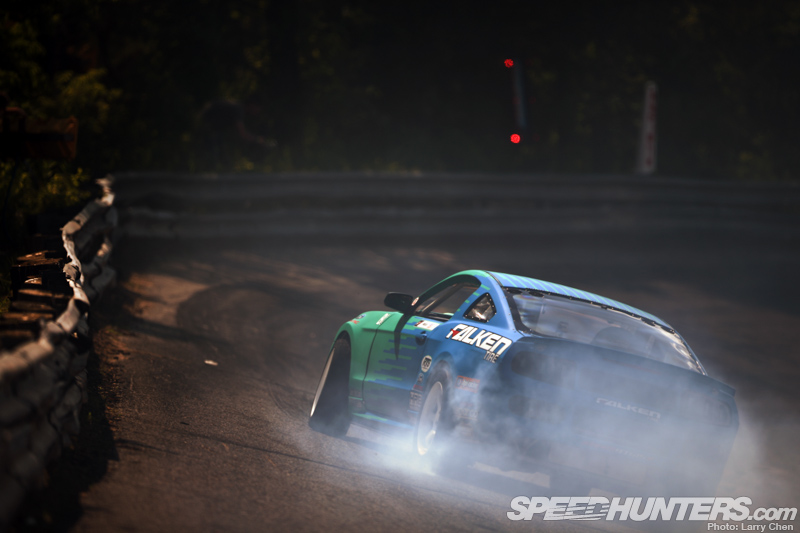 Even though the asphalt surface at Wall Speedway is the roughest of all the tracks on the Formula Drift calendar, there's little grip leading up to the initiation point. Here you can see JTP spinning tires all the way down the straightaway. I just love that.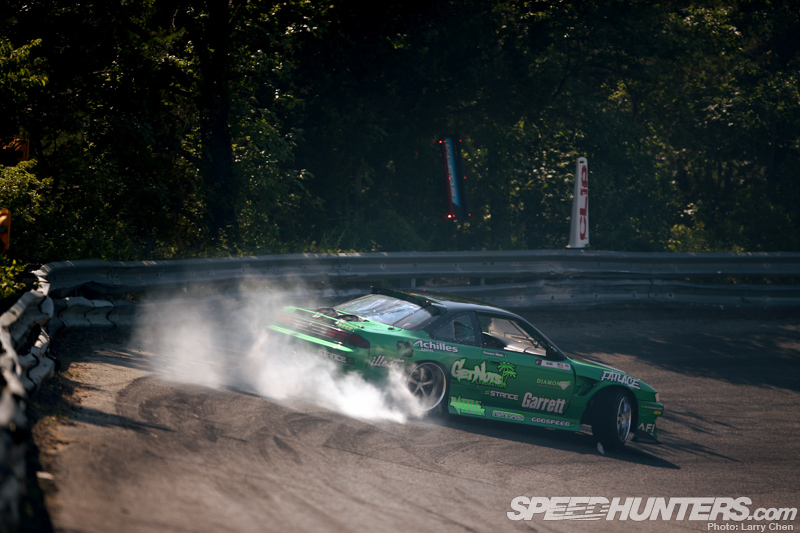 Although the drivers barely reach highway speeds, throwing themselves and their cars sideways towards the guardrail still takes a big pair of grapes.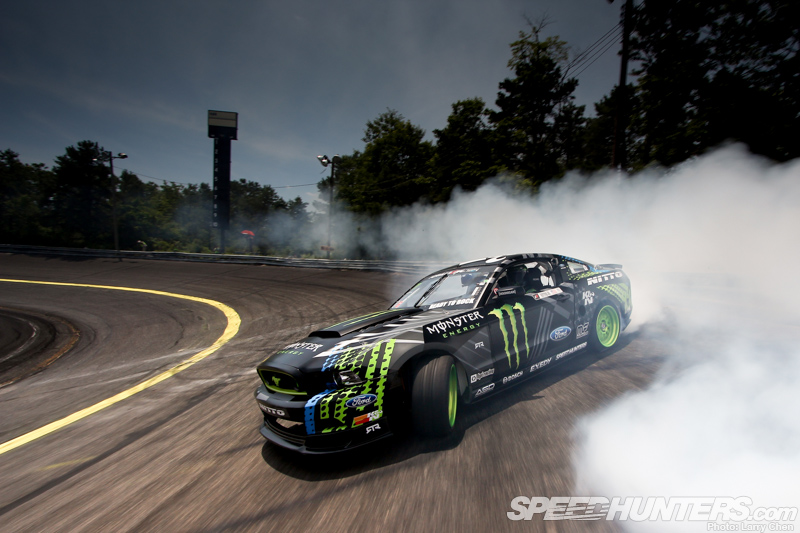 And then of course there is the banked corner. It's really hard to get a sense of how steep it actually is until you try to walk on it. I sprained my ankle a few years back just trying to climb over the guardrail.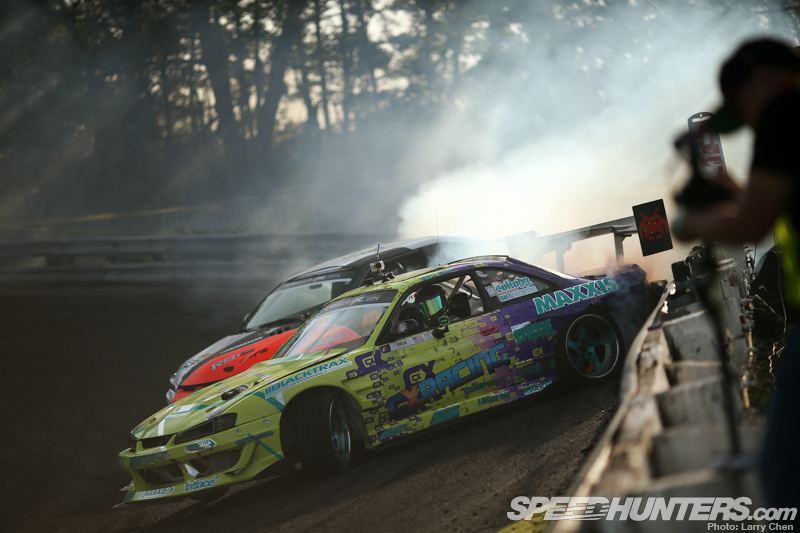 If you touch the rail in the wrong place it will suck you in and open you up like a tin can. I stole that line from Fredric Aasbø.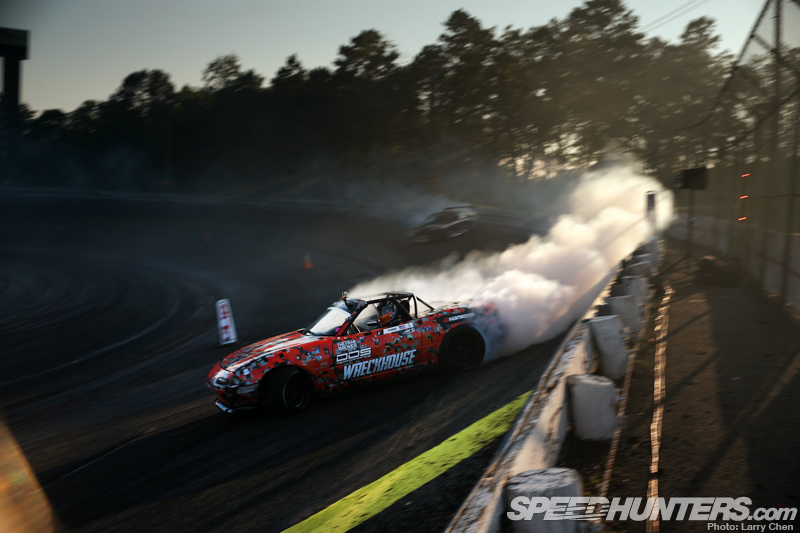 Because of the weight that is transferred to the rear wheels under load, the cars make the most amount of smoke through this small section.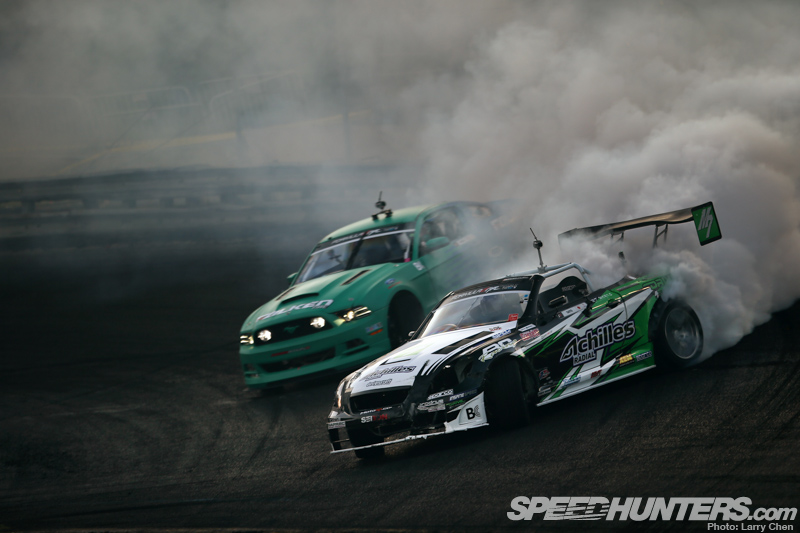 My favorite spot to shoot in Formula Drift used to be in Atlanta, but ever since they changed the layout here, this particular spot rules supreme.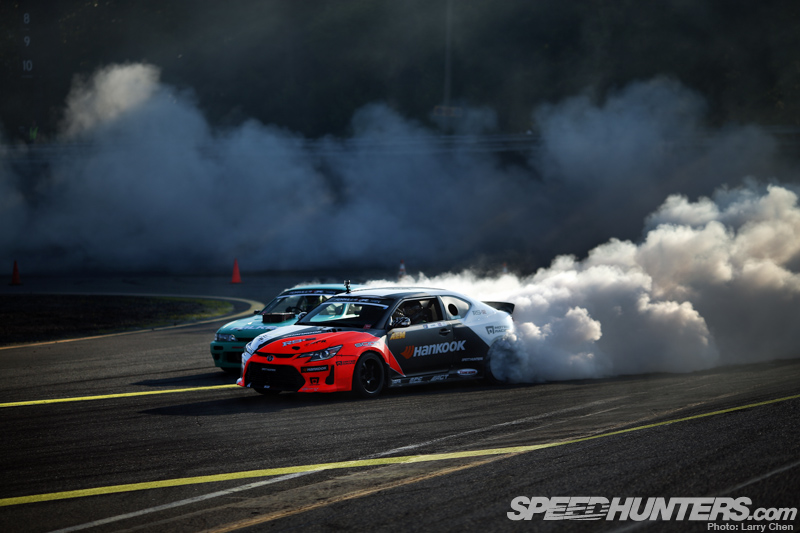 Many people complain about the amount of smoke that builds up in the bowl, but I actually welcome it.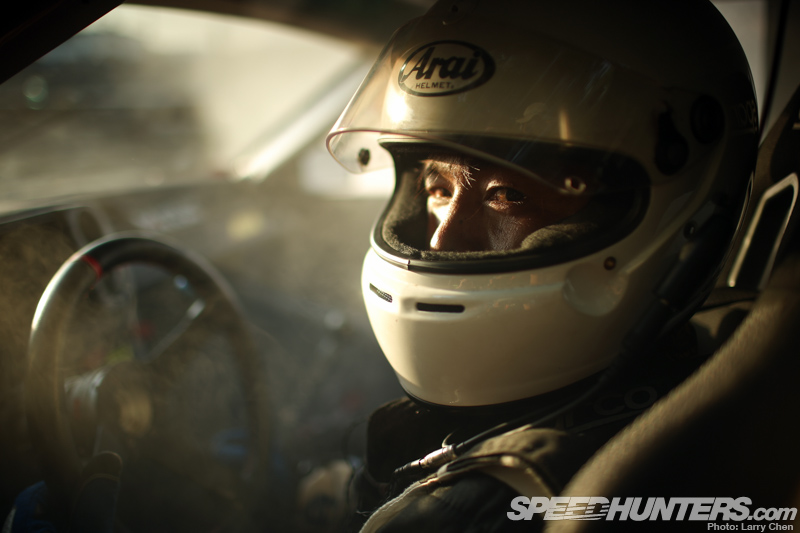 It kind of creates an artificial light quality that is not quite sunset, but still very cool. I know for a fact that all the drivers hate it though – they can't see a darn thing through the smoke.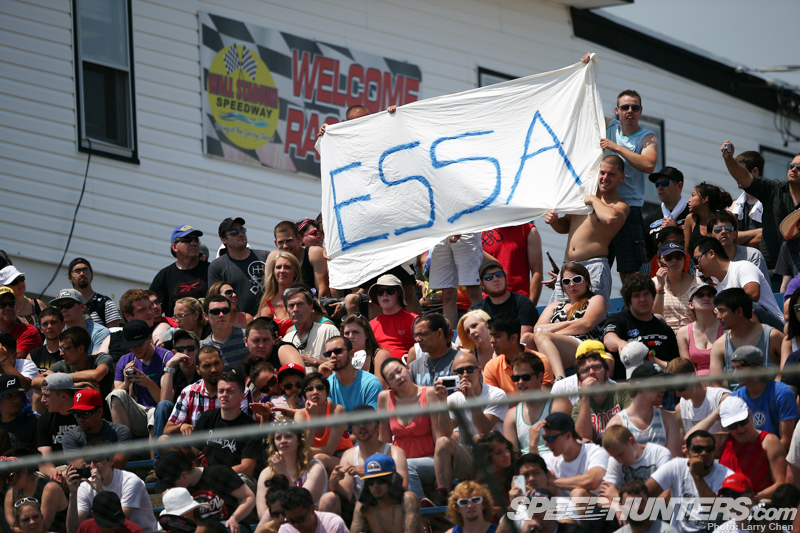 The fans also love this track. This round was 100 per cent sold out with many people having to stand as the grandstands overflowed, and the traffic getting into the tiny venue was backed up for miles.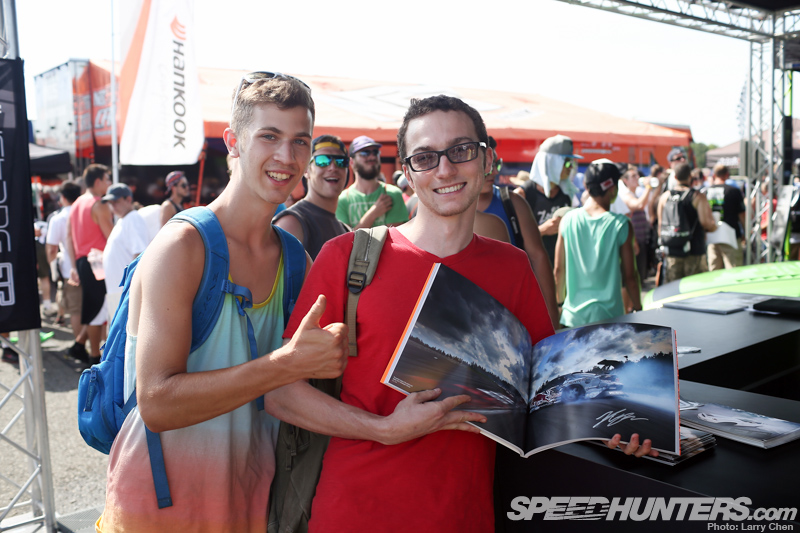 Since this is close to the New York tri-state area, many fans drove from afar to check out their favorite drivers. I even signed a couple of Maximum Attack books.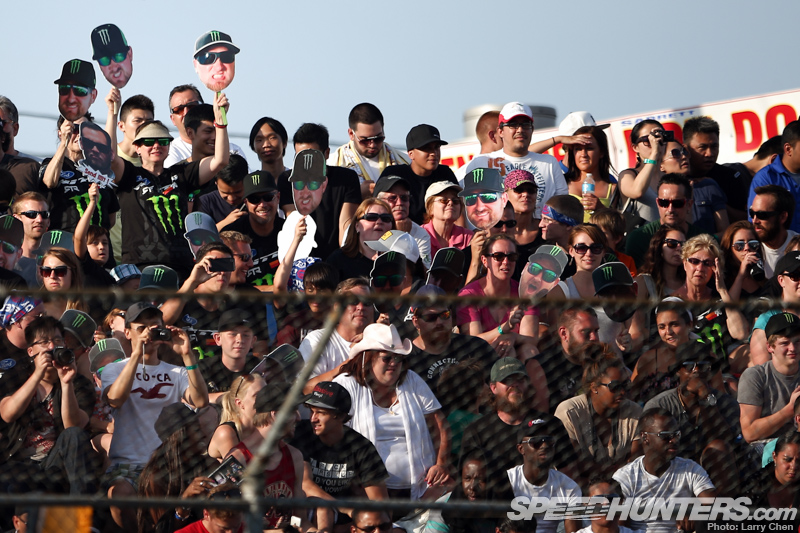 For many of the drivers who are based out of the East Coast, this is their home track. Naturally then, their extended families came out to support them and check out the event. This entire section was taken over by the Gittin family.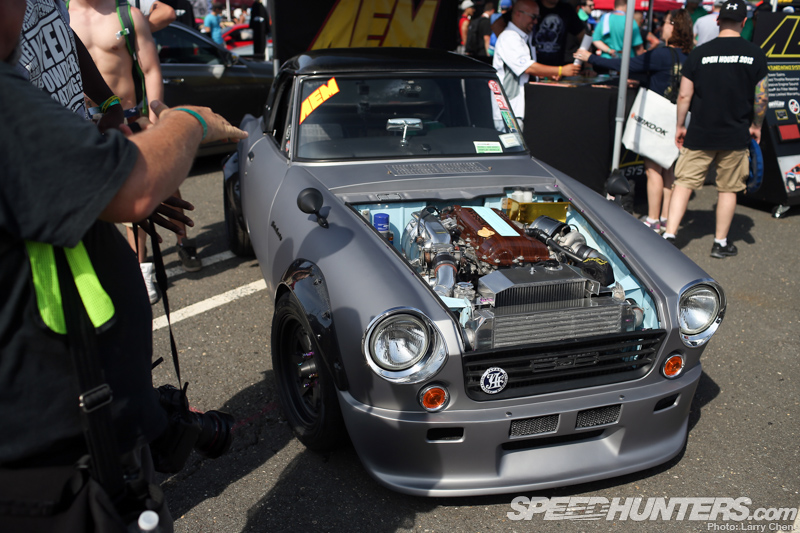 Due to the long harsh winters on the East Coast many project cars come out for the first time at events like these. Check out this awesome '68 Datsun Roadster with an S15 SR20DET. I swear I had a dream about a car like this just a few weeks ago.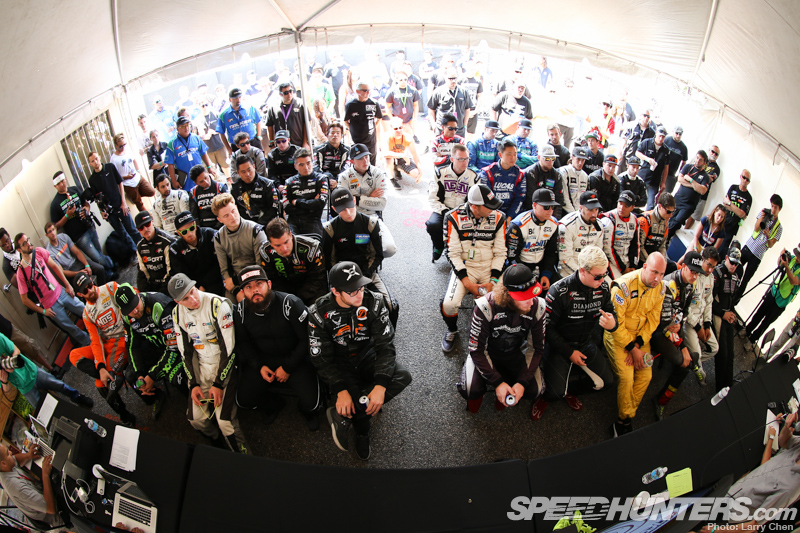 Historically speaking, this event has always attracted the fewest drivers, and once there were only 31 of them in attendance. That doesn't seem to be a problem anymore, and there was a full field of 45 drivers on hand this year. The series has come a long way since I began covering it.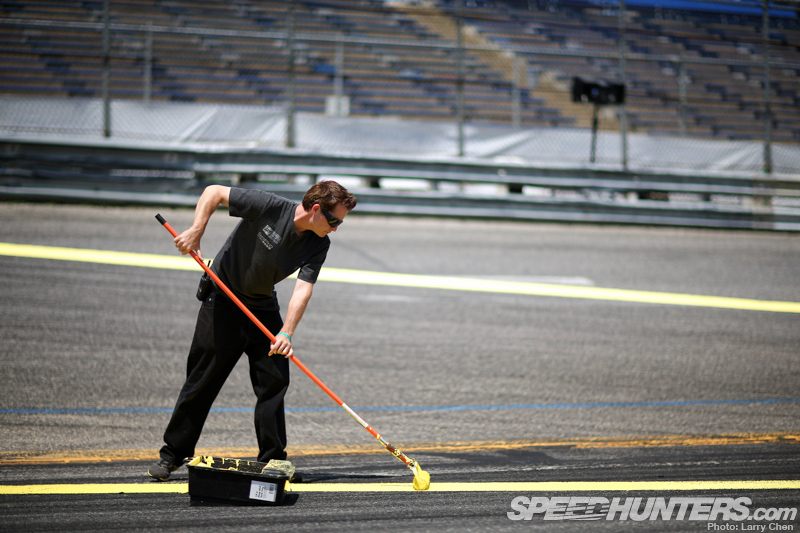 Unlike previous years, the weather was really nice with no sign of rain. The course was setup for Thursday practice and the drivers had a chance to take a walk through the new course layout.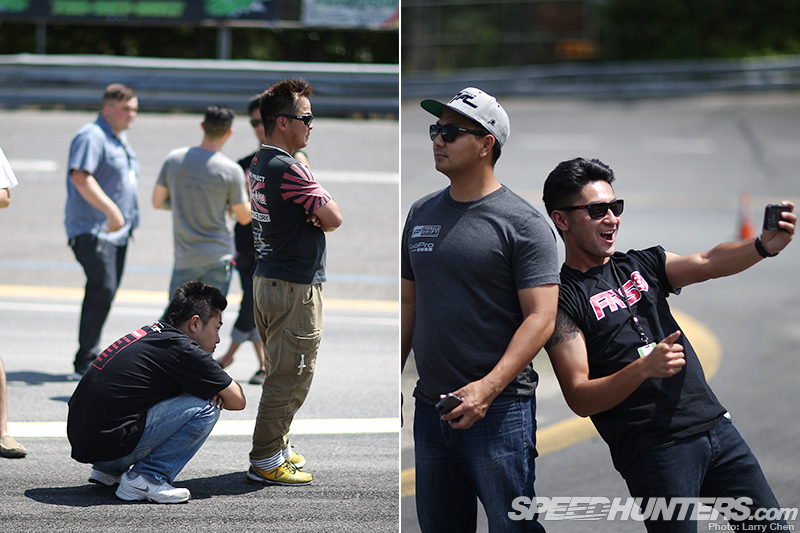 It's a great day for the drivers to relax and get a few runs in without any pressure. When you become a champion you can have a guy follow you around to provide shade.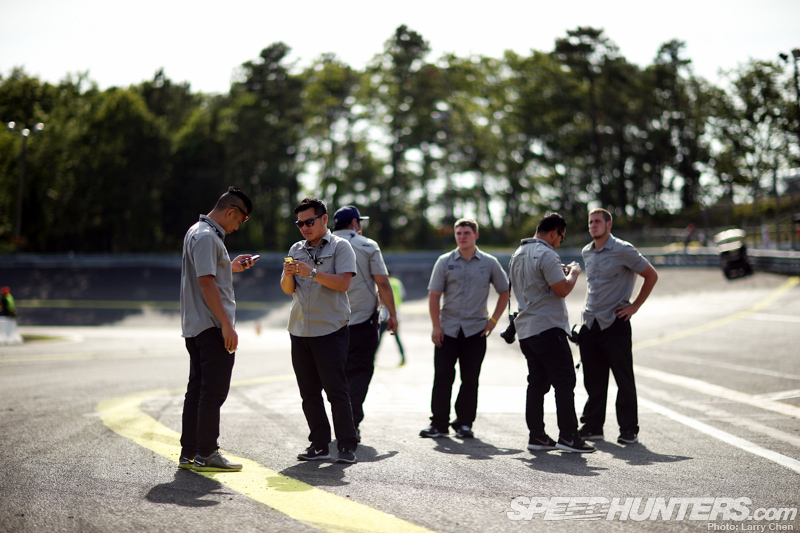 This is the eighth year that Formula Drift has had a round at Wall Speedway so they pretty much have it down to a science.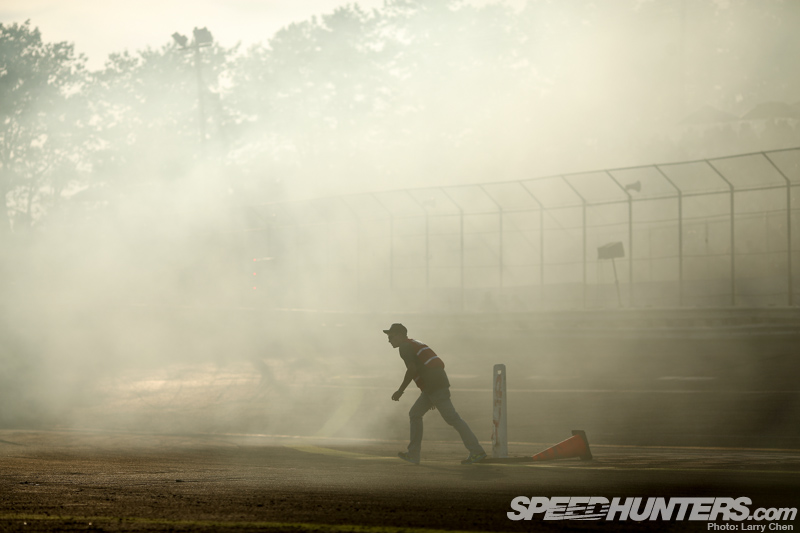 What the team couldn't predict however, were the amount of epic battles and contact between cars that would ensue. The track workers always seemed to be scrambling around.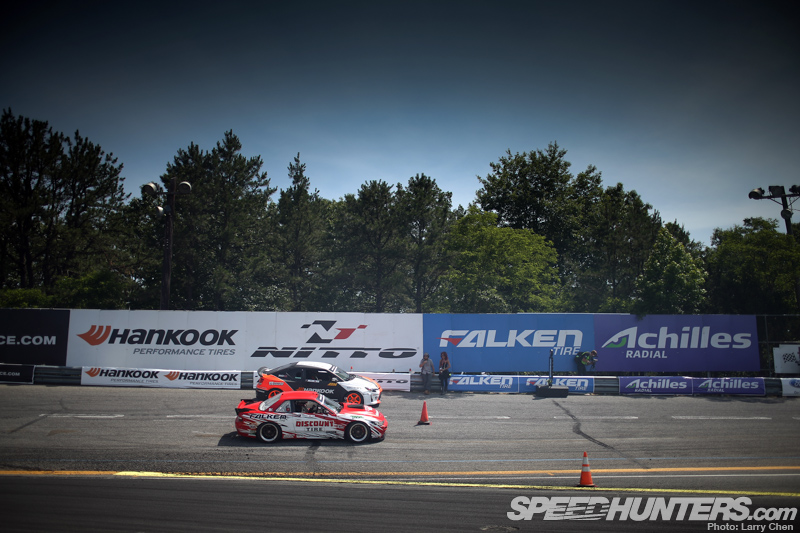 In my qualifying post I mentioned the stacked battles that would take place due to the way qualifying is run now. There was no better example of that than the match-up between Daijiro Yoshihara and Fredric Aasbø in the Top 32 bracket.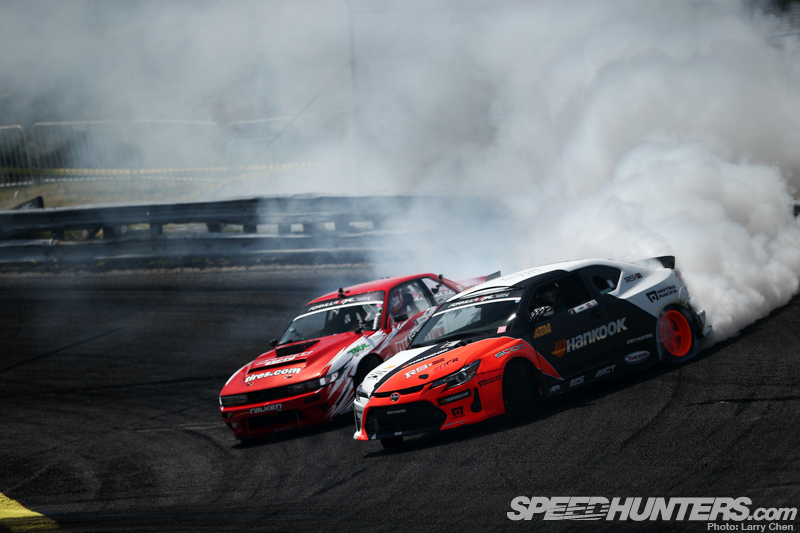 At any other drift day this battle would be fit for the finals, and to get knocked out this early means a serious blow to either championship hopeful.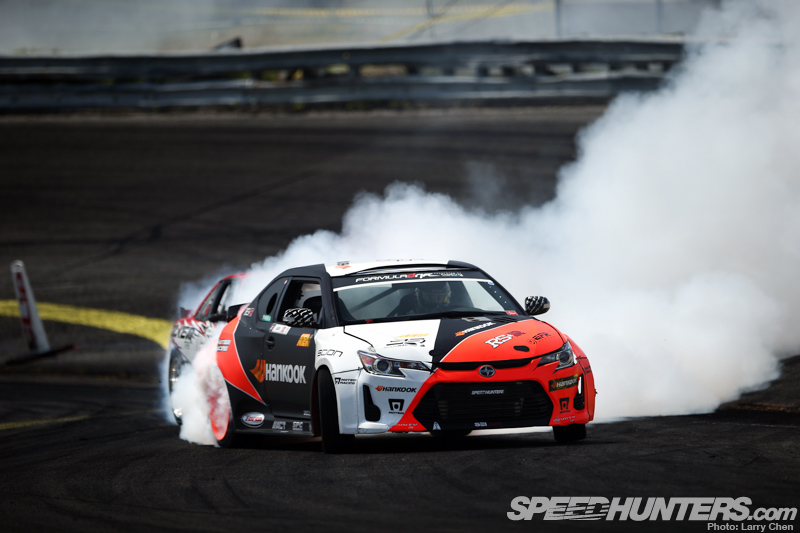 I don't know how it is with you guys, but when I actually know the person in the car behind the wheel I get pretty emotional. In this case I consider both drivers my friends, and as the two internationals battled  it out I was have a battle of my own of figuring out who to root for.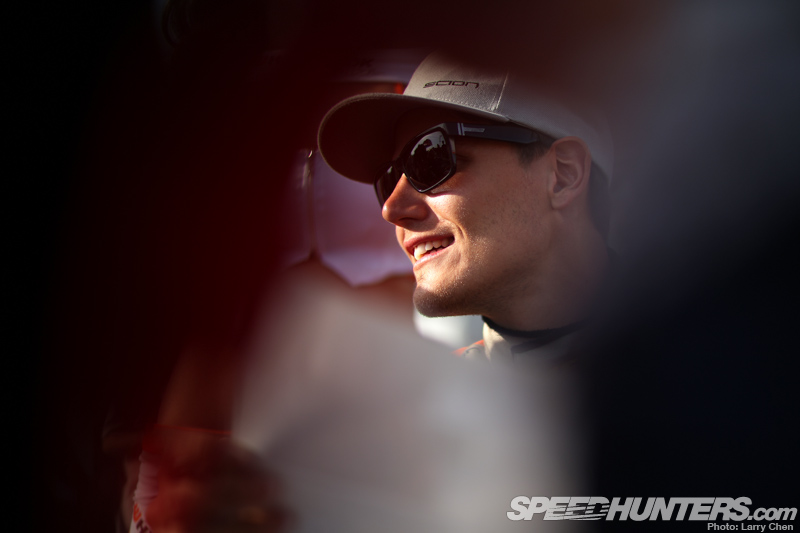 Fredric ended up taking the win, which put him in a great position to earn some much needed championship points.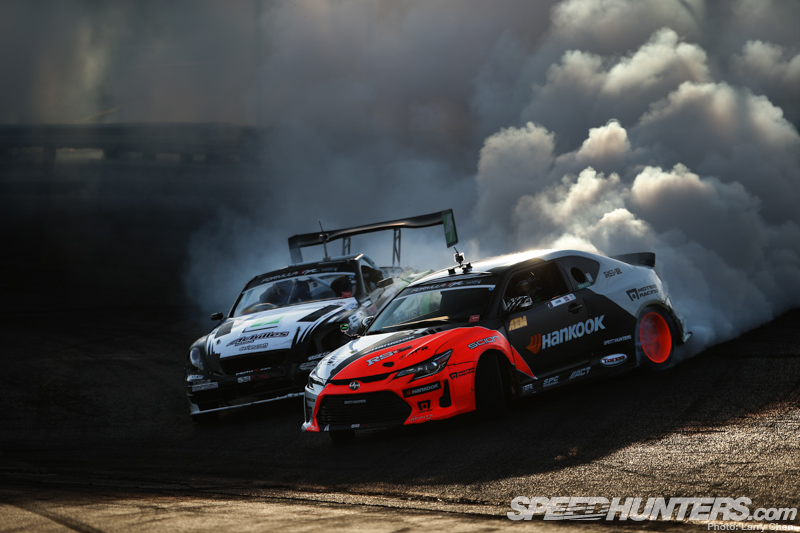 However, his unofficial rival, Daigo 'the Ninja' Saito stood in his way. I figured it would not be much of a problem for him as he is one of the very few Formula Drift drivers who has beaten the Japanese driver time and time again.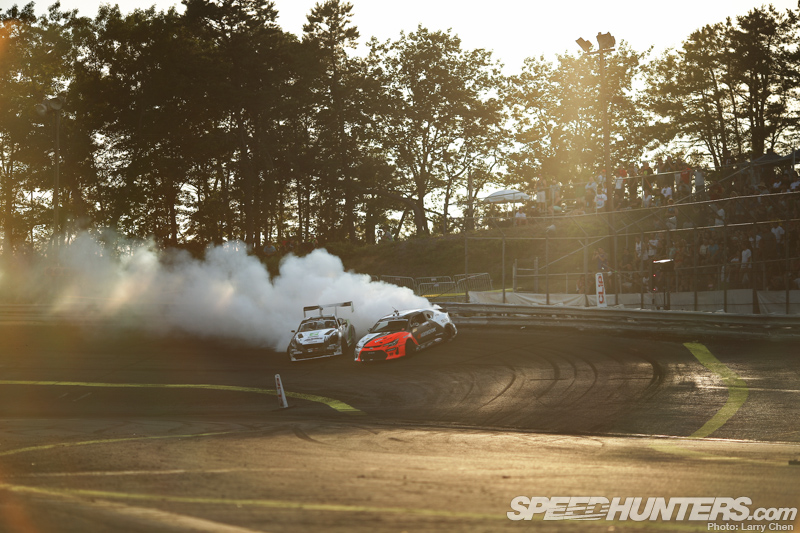 I'm sure Vaughn Gittin would have been watching this battle too, because if Fredric won, Jr. would be in a better position to earn his second championship.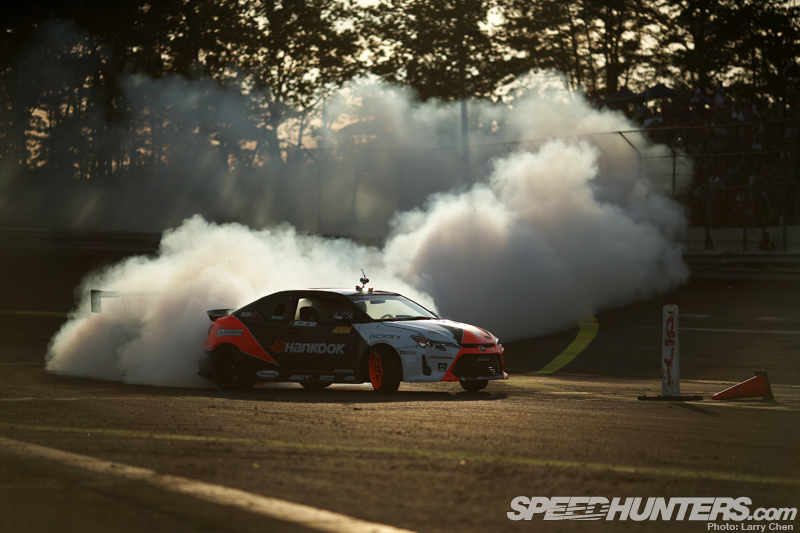 In this photo you can tell that Daigo is following Fredric, only because of his shower door-sized wing.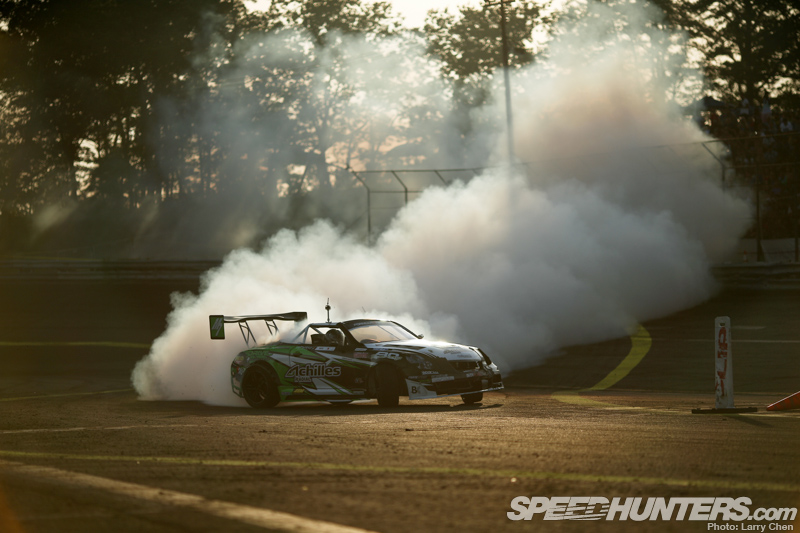 Now, in this photo can you tell that Fredric is following Daigo? I was sure that he would take the win.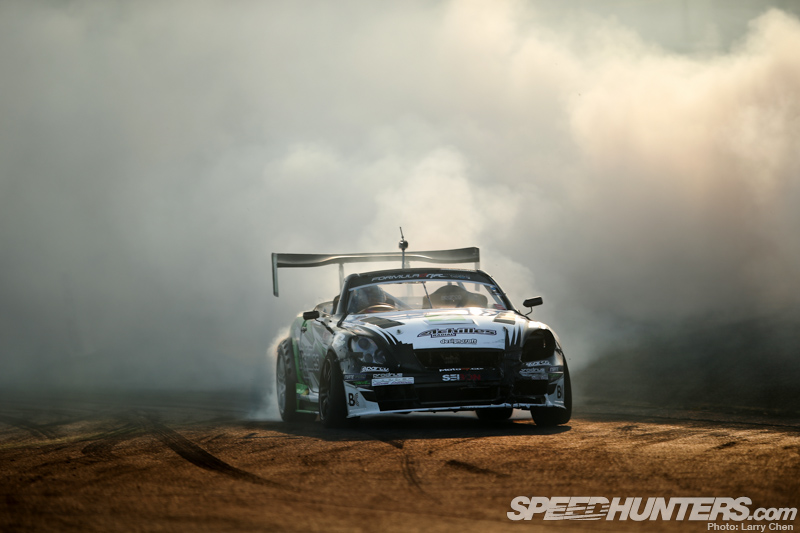 Most of the drivers were only getting two runs on a set of tires because of how rough the track is. There was some serious smoke!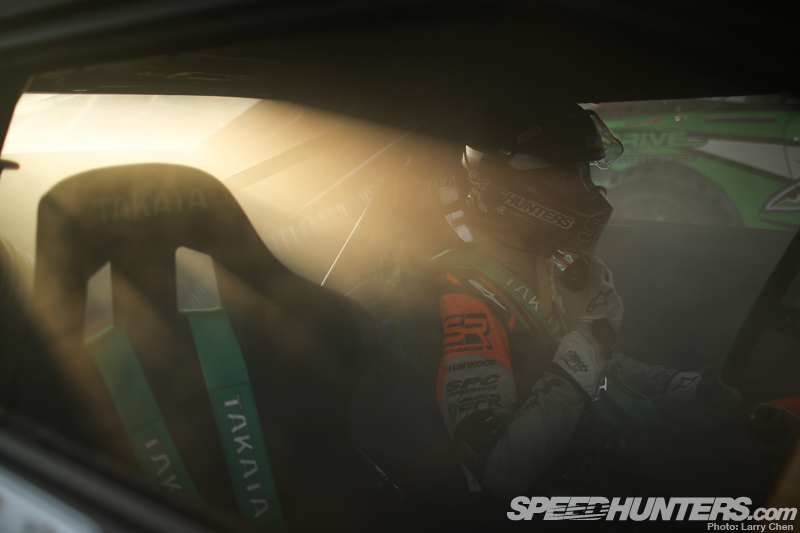 Waiting for the result at the finish line must seem like eternity for the drivers, especially when it's a close call.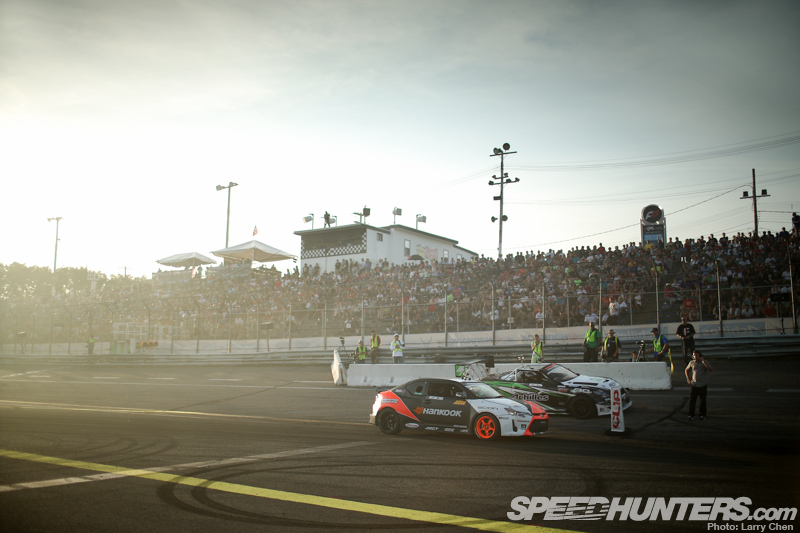 The judges favored Daigo as the clear winner.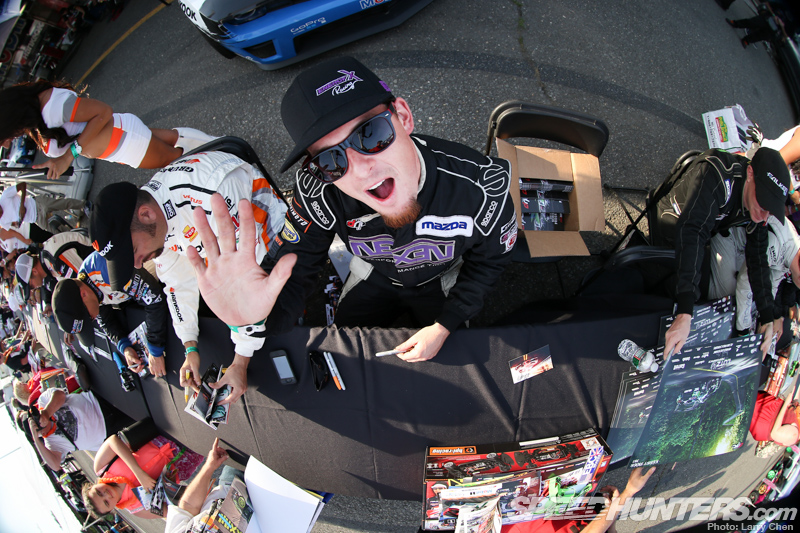 Kyle Mohan has always been a qualifying monster, but recently the rotary monster has been giving him so much trouble.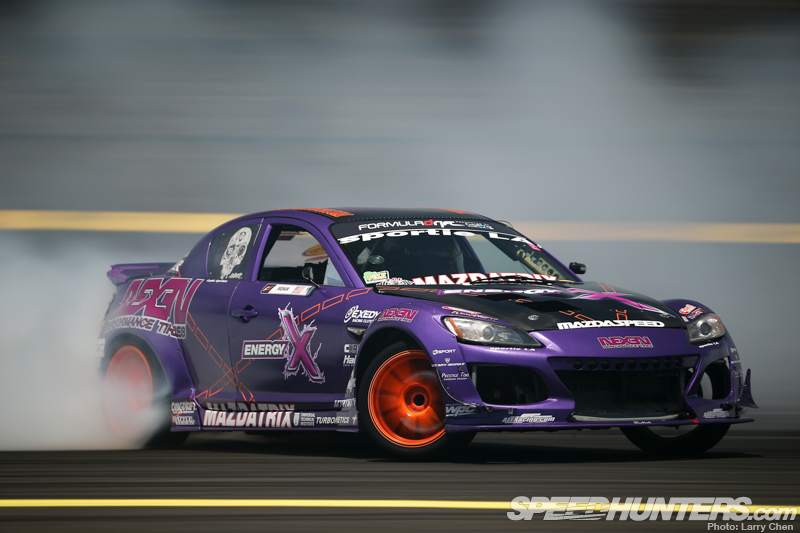 He was able to put down a fairly good qualifying run, which put him in a great position to at least get into the Top 16.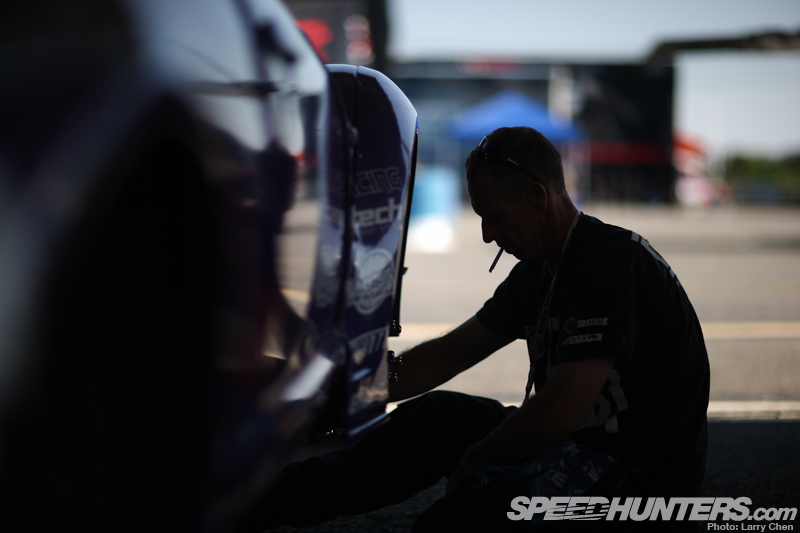 Dedicated to the cause, Kyle and his team have stuck with the rotary powerplant even though it has failed them time and time again.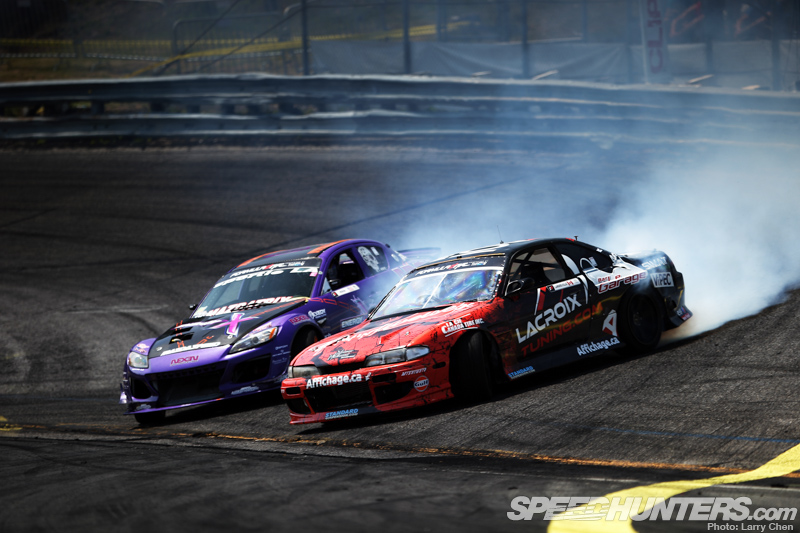 Kyle went up against rookie driver Marc Landreville from Canada in the Top 32 bracket. He was doing great and he had a great lead run, but when he lined up for his follow run the RX-8's engine would not start.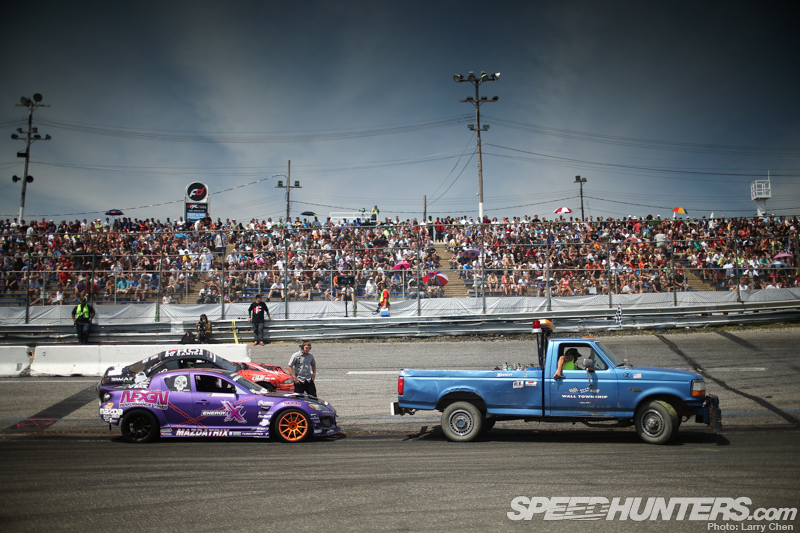 It looked like Kyle was going to take the win, all he had to do was finish the course. But his motor gave away once again right when he needed it the most. His weekend was over.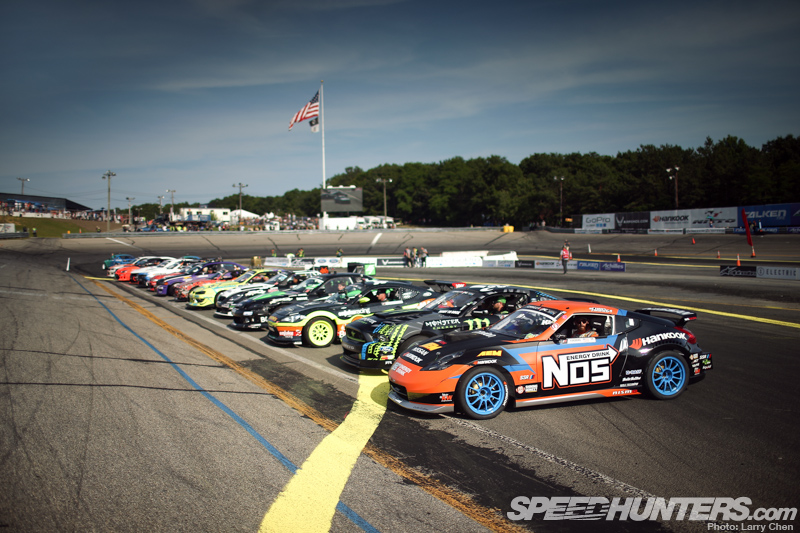 The Top 16 bracket was missing a few notable drivers including Matt Powers and Daijiro Yoshihara. This has become quite a common trend this year.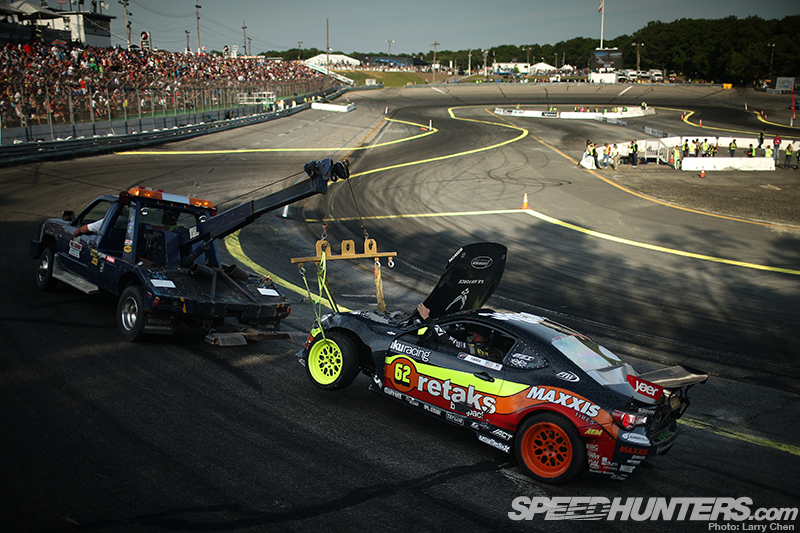 As usual there was a fair share of spills as the guardrail really has a way of sucking unsuspecting drivers in. Notice Ryan Tuerck holding up his hood with his hand. He has had two shaky events in a row, but I am sure he will recover in Seattle.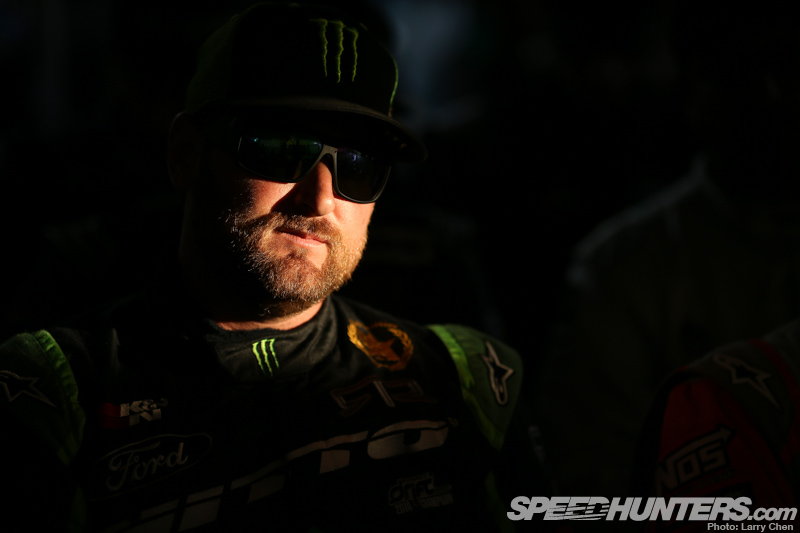 Vaughn is still in with a chance to win the championship this year as he only trails behind Daigo by a small margin. The strategy that the team seems to be taking is just getting a very solid qualifying run in, and not going too hard and risking mistakes that would see him get bumped down the qualifying order.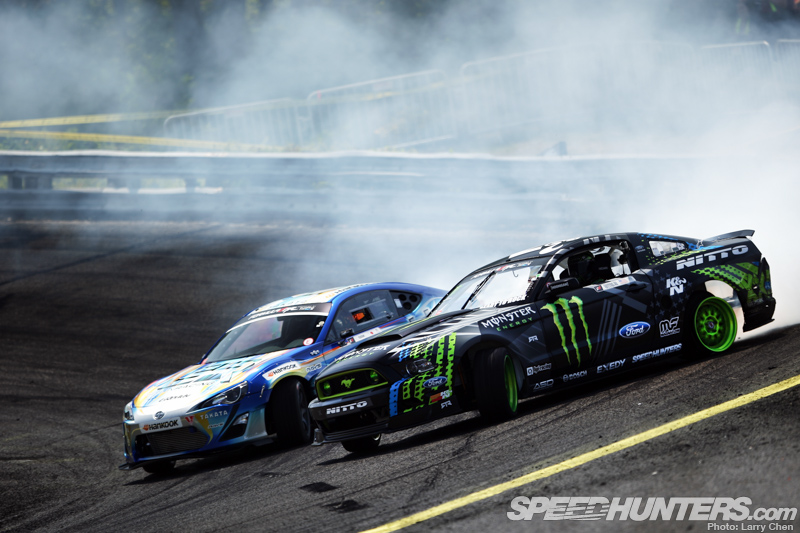 As I mentioned in my previous post he qualified 11th, which put him up against Ken Gushi. It could be said that both drivers drove the wheels off their cars, but Vaughn literally did it.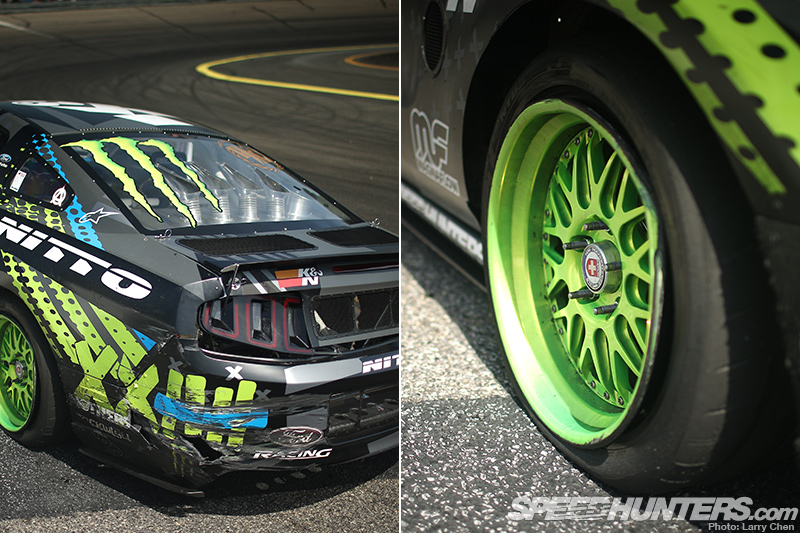 In order to achieve the maximum amount of grip the team runs very low tire pressures in the rear. That makes it very easy for the tire to de-bead.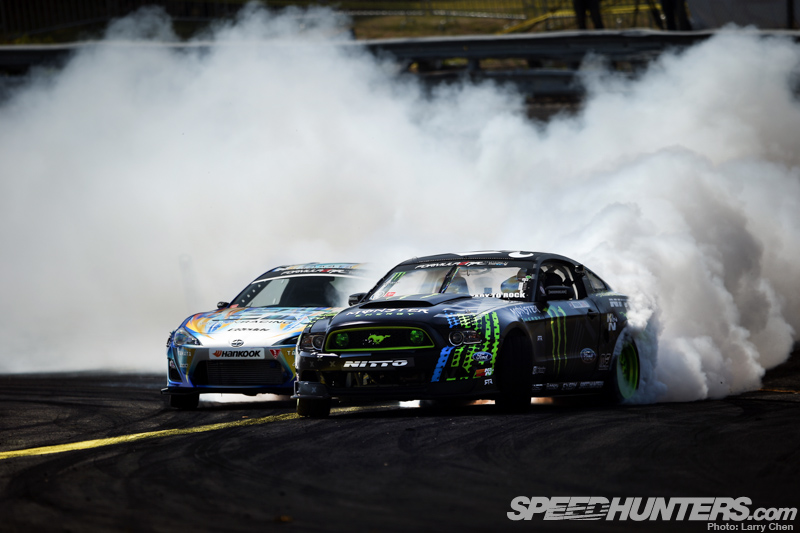 Luckily for Vaughn, Ken spun out of his own devices, which called for a one more time from the judges.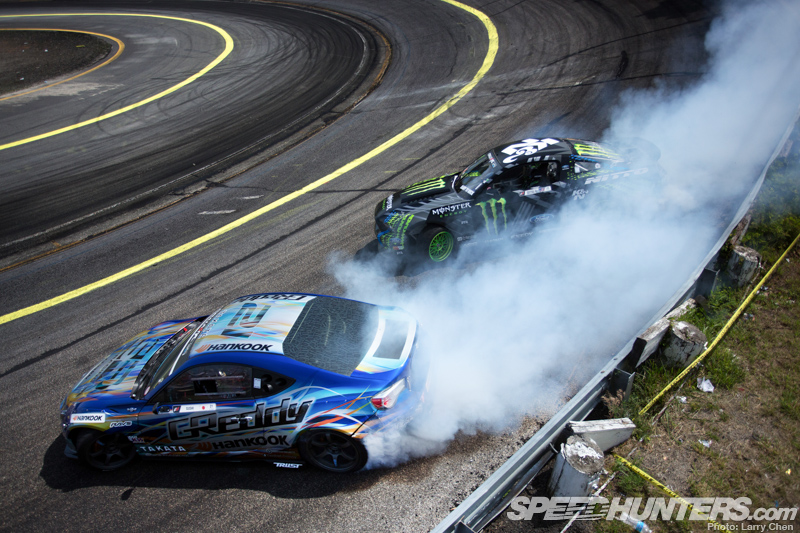 On the second battle both drivers went all-out yet again, but Ken pushed a little too hard and spun. Vaughn got the win.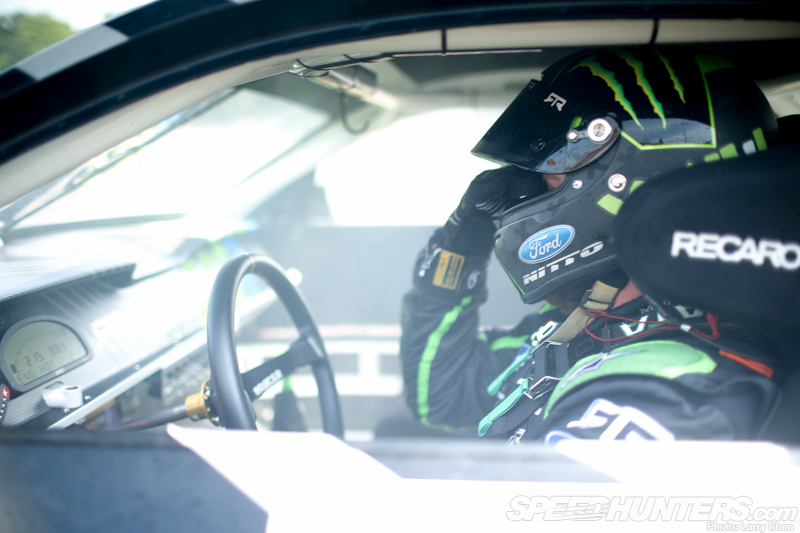 Vaughn's Ford was coated in water from Ken's car, so there was potentially a mechanical issue with the GReddy Scion FR-S.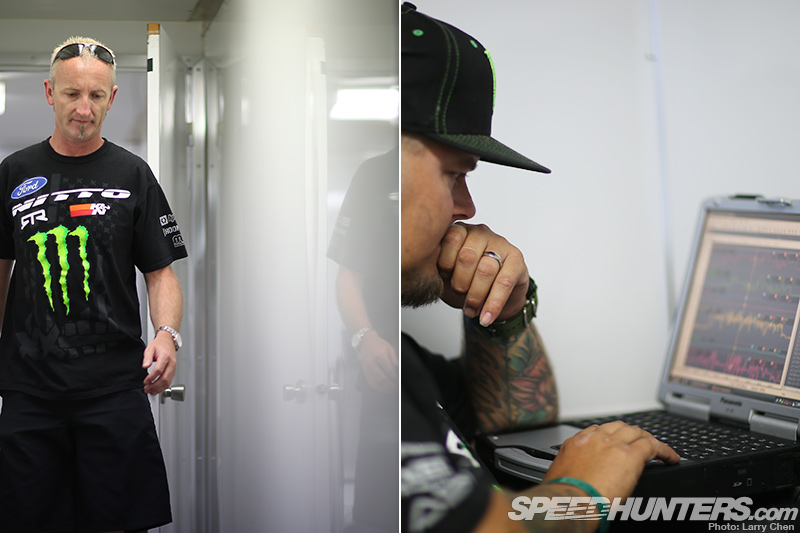 The mad scientists at ASD are really pushing the limits of that chassis. I bet the Mustang will perform even better once it gets an independent rear suspension arrangement next year.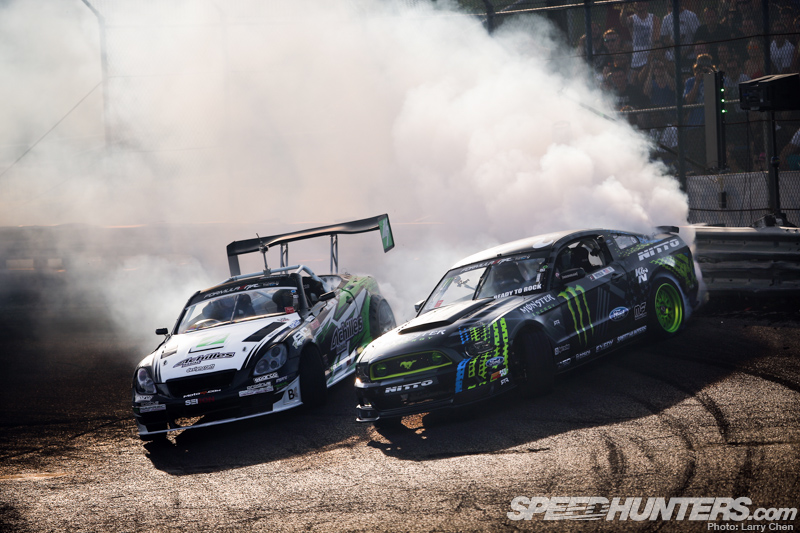 Every year there is a battle that really stands out as a turning point for the championship. The dual between Daigo Saito and Vaughn Gittin Jr in the Top 16 was that battle.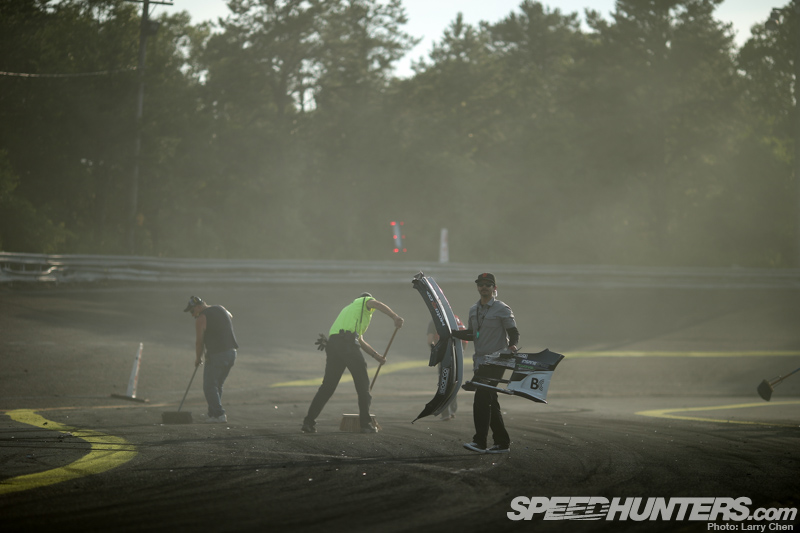 Vaughn pushed a bit too hard on his lead run, which caused Daigo to smash into him, littering SC430 parts all over the track. Now Daigo is leading by over 60 points.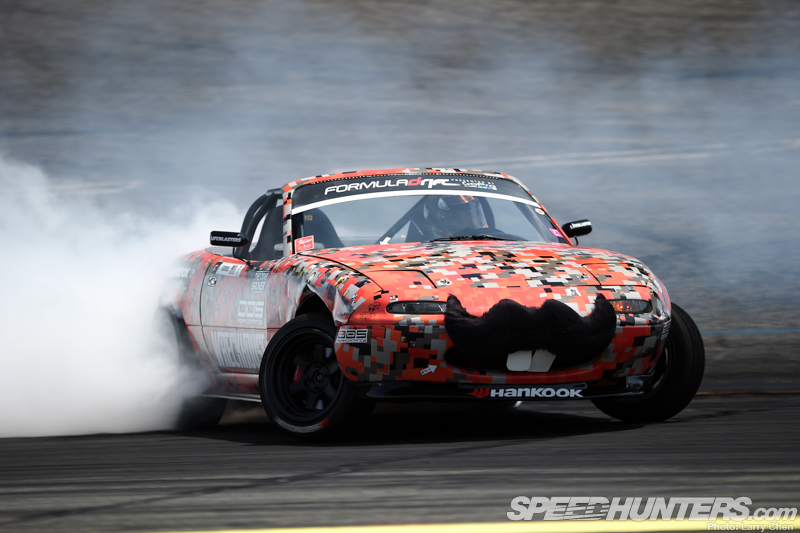 For the first time ever, Danny George made it into the Top 16. His team is fan-funded, which really shows how dedicated some Formula Drift followers are.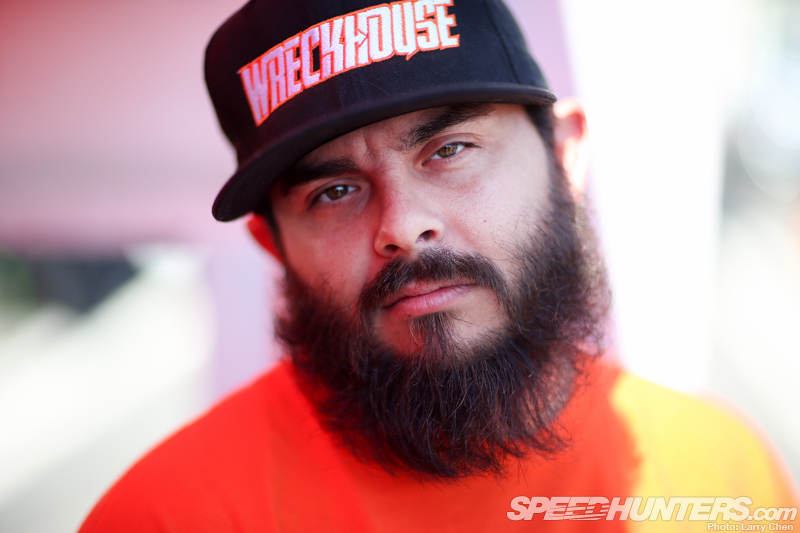 I made a prediction that he was going to sob like a little girl when he made Top 16 for the first time, but actually he was tough as nails.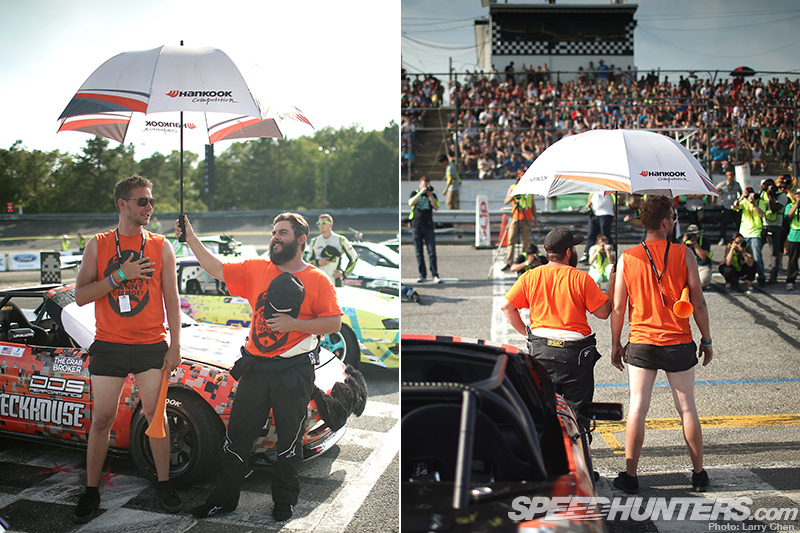 Someone does need to have a talk with him about being the umbrella boy for his spotter though.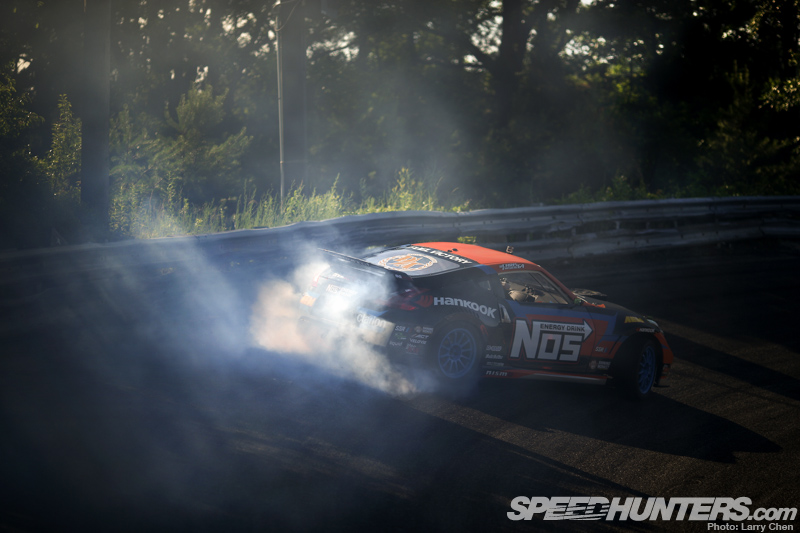 The last couple of battles I wanted to touch on were with Chris 'The Force' Forsberg and his path to his third place finish at Wall.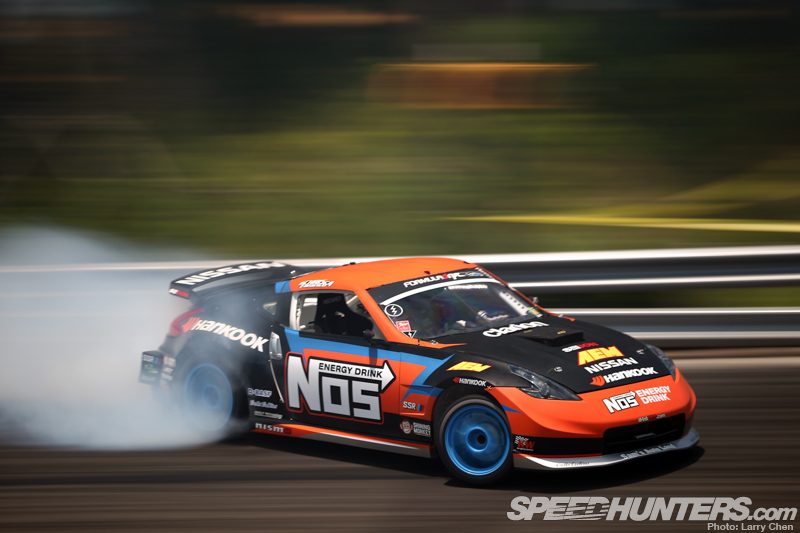 At this point Chris still has a very good chance to earn a second championship, as he is only 75 points behind Daigo and fourth in the standings.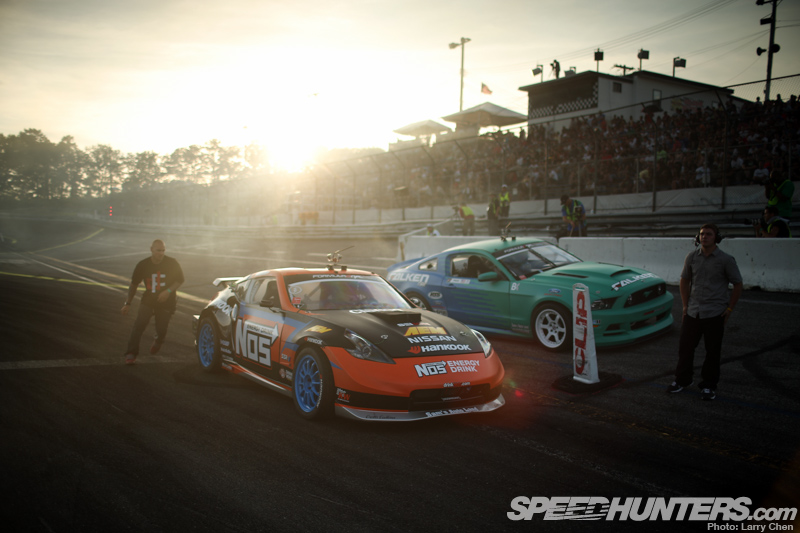 Right behind Forsberg in points is Justin Pawlak.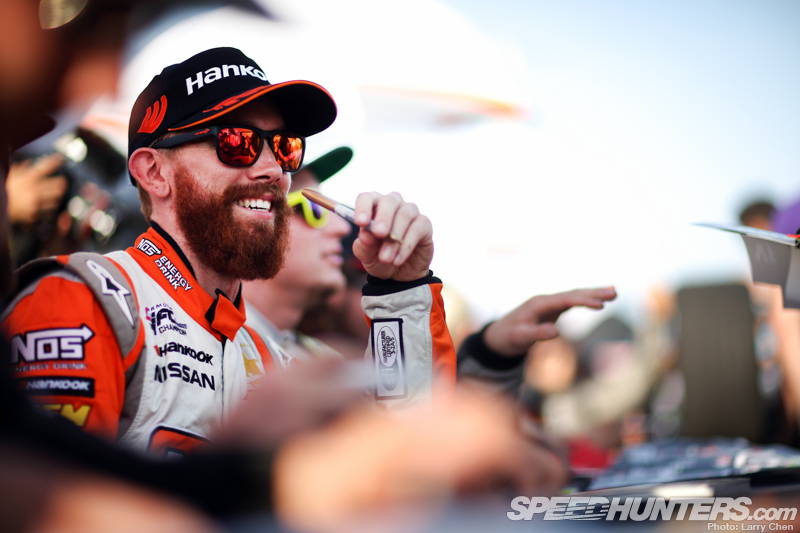 The bearded drifter has always been consistently at the top, which is a feat for being the driver and team owner.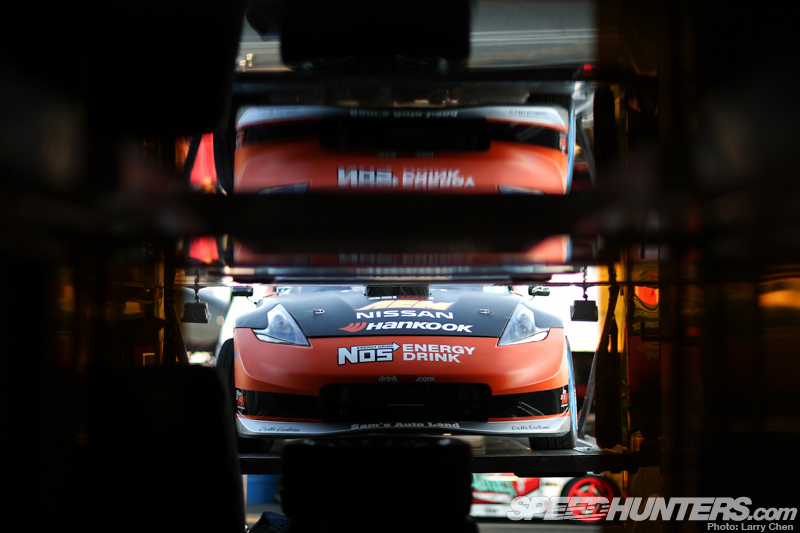 This year he is running a two car team with up-and-coming driver Corey Hosford.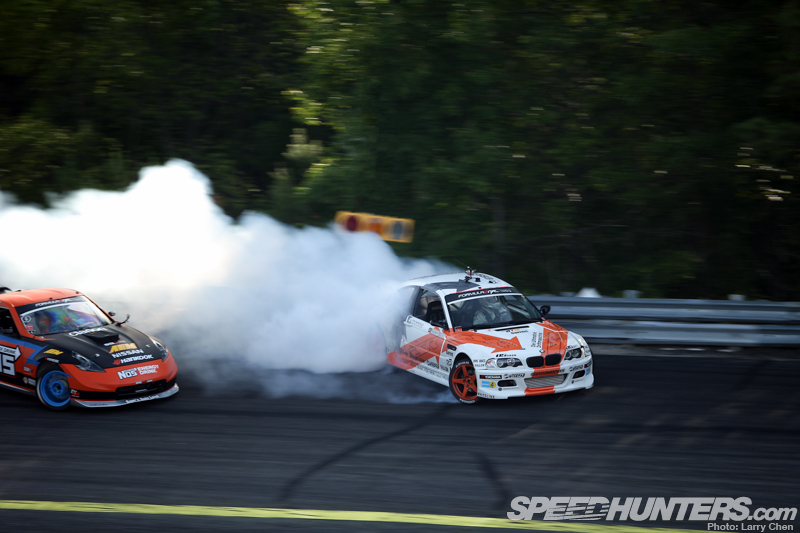 Chris's battle with Mike Essa in the Top 16 is one that I will remember for the rest of my life. These two seem to have some epic battles whenever they meet.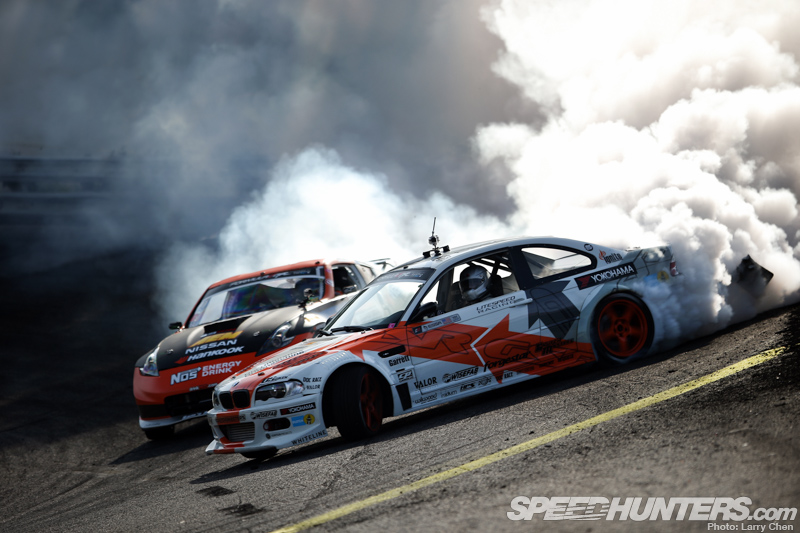 In the first run Essa got a zero from going off the course and hitting a clipping point, s he turned it up to 11 for his lead run. I have never seen Essa make so much smoke in his BMW.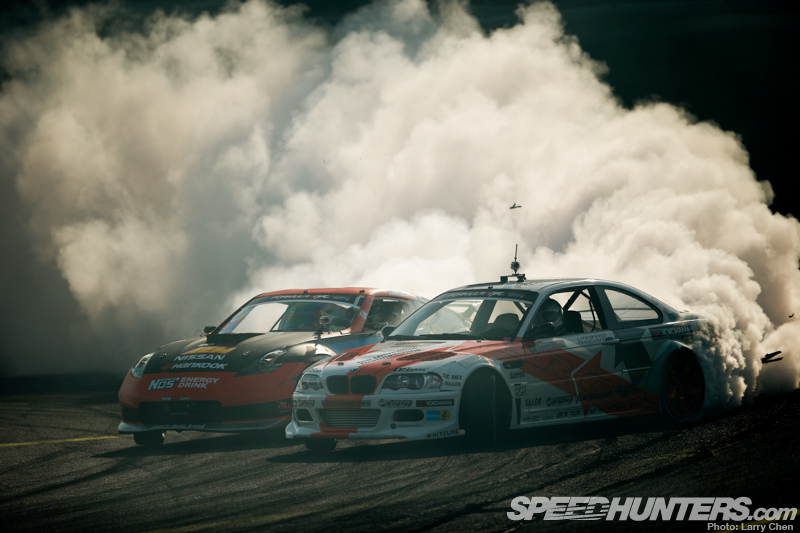 He grazed the guardrail with his bumper and mashed the throttle all the way to the finish line. It was utterly amazing, and I was going to vote this battle has the Speedhunters Battle of the Event, but then…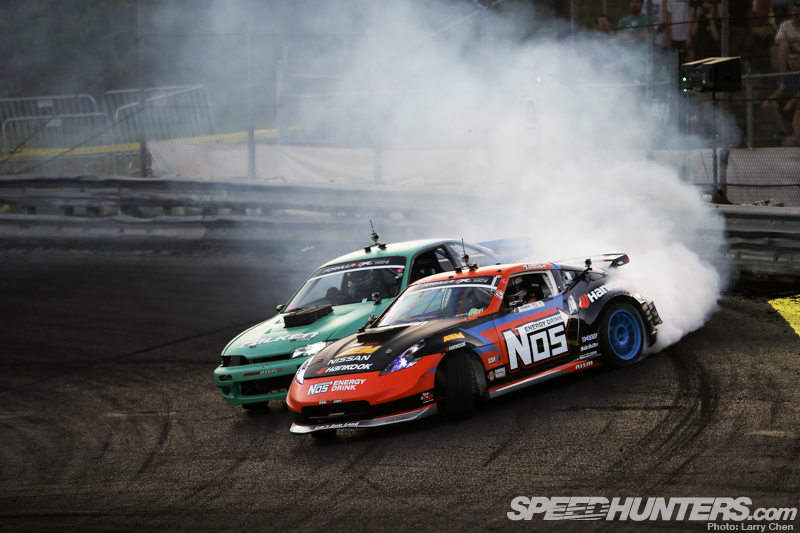 … there was the matter of the third place battle with Darren McNamara.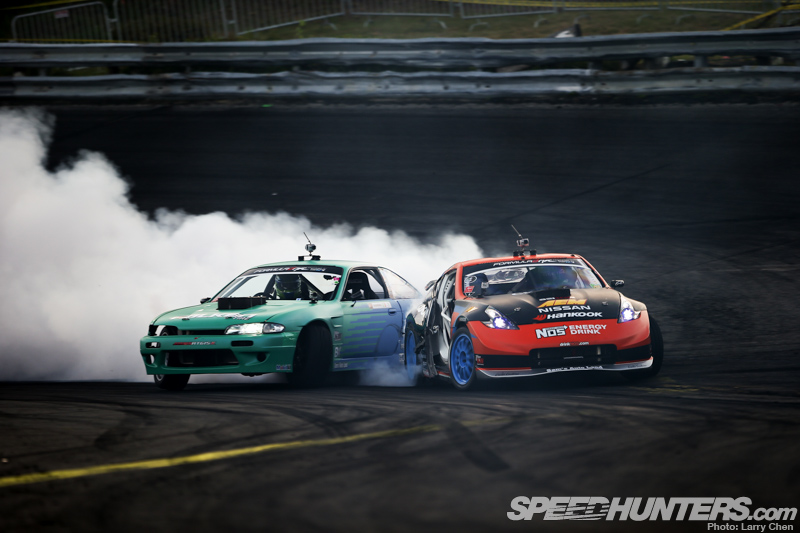 Darren got a little too close to Chris and took his door off with his front tire.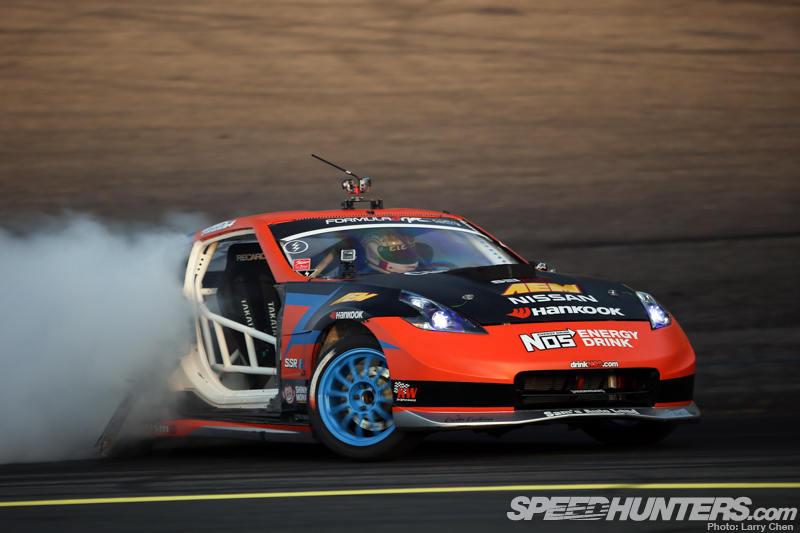 The funny thing is, Chris told me he didn't even know he was missing a door until midway through the run.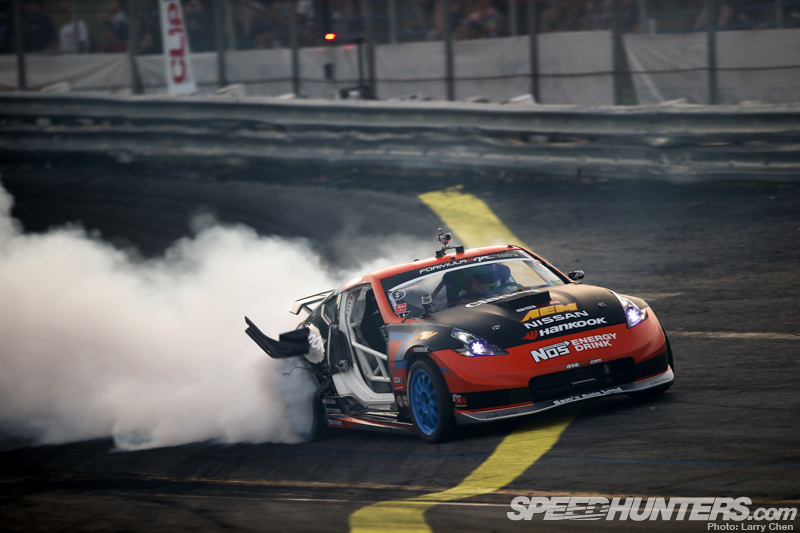 When he saw that he was missing a door he realized that Dmac came to party.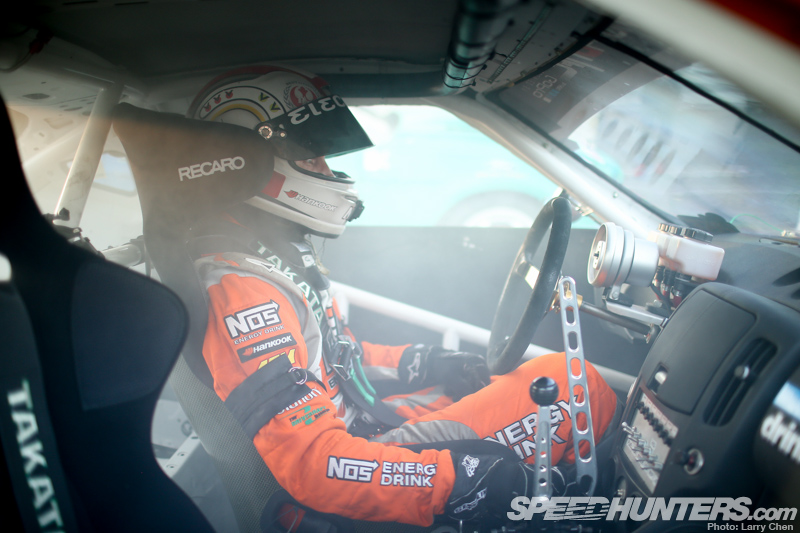 I awarded the Speedhunters Battle of the Event to those two for having such an epic tandem battle.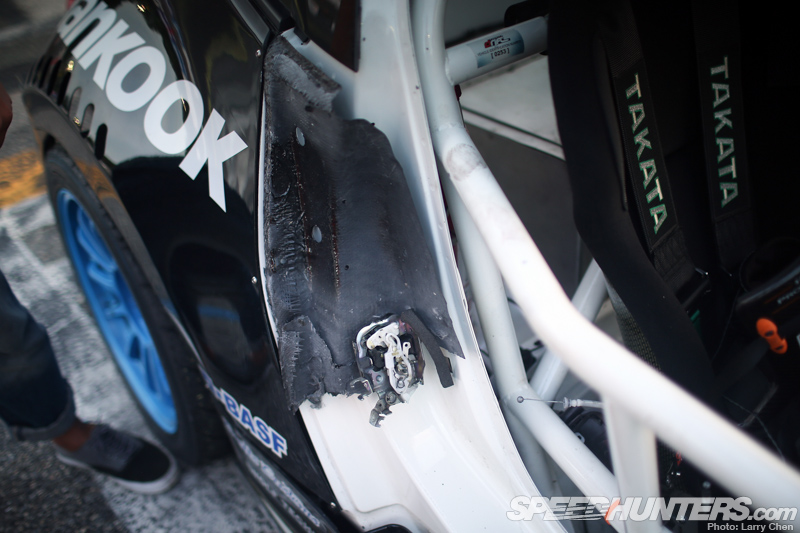 All that was left of the door was a little bit of the skin and the catch.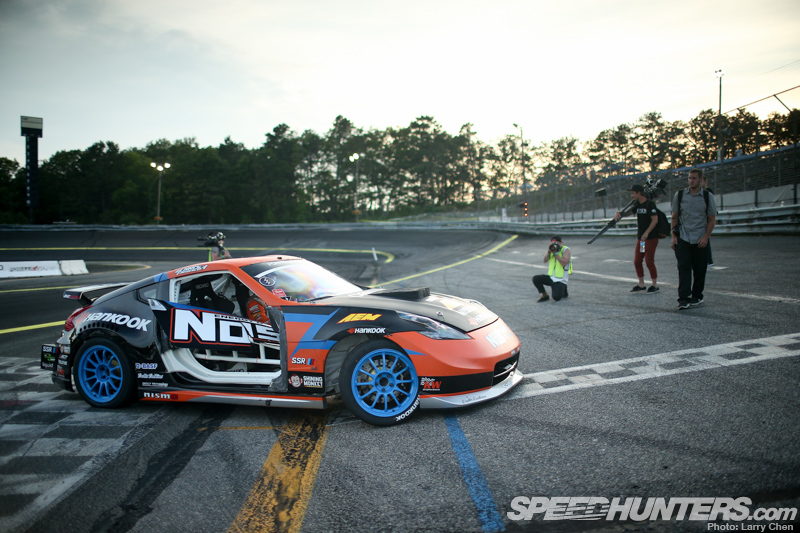 Another Formula Drift in the books and a great one at that.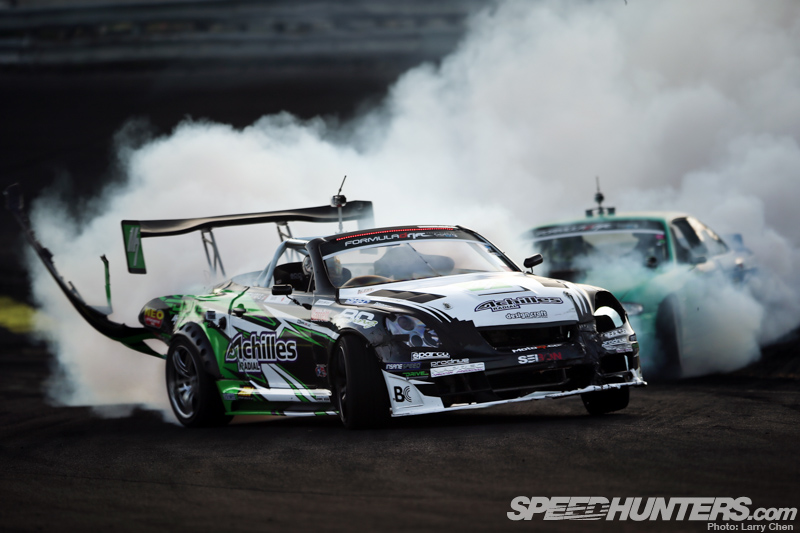 With Daigo doing so well, I feel like it is an open invitation for other Japanese D1 drivers to make the transition to Formula Drift.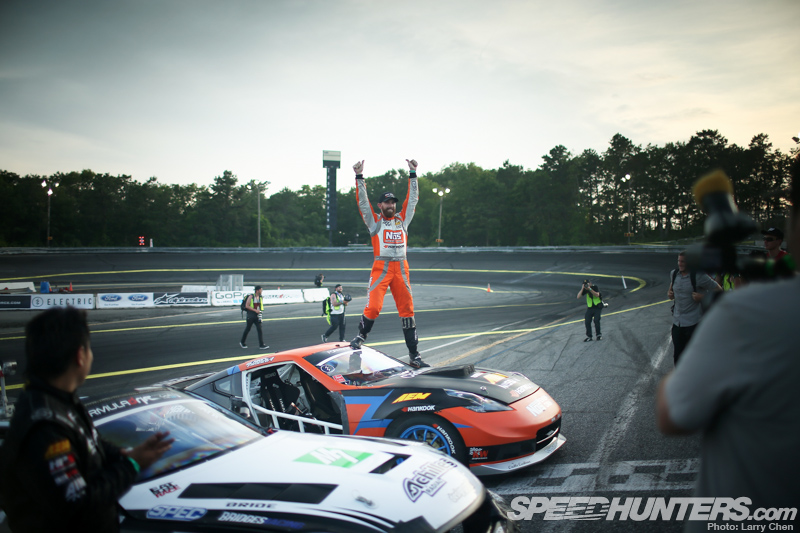 With three events left It will be interesting to see if the FD veterans will make a sprint for the championship.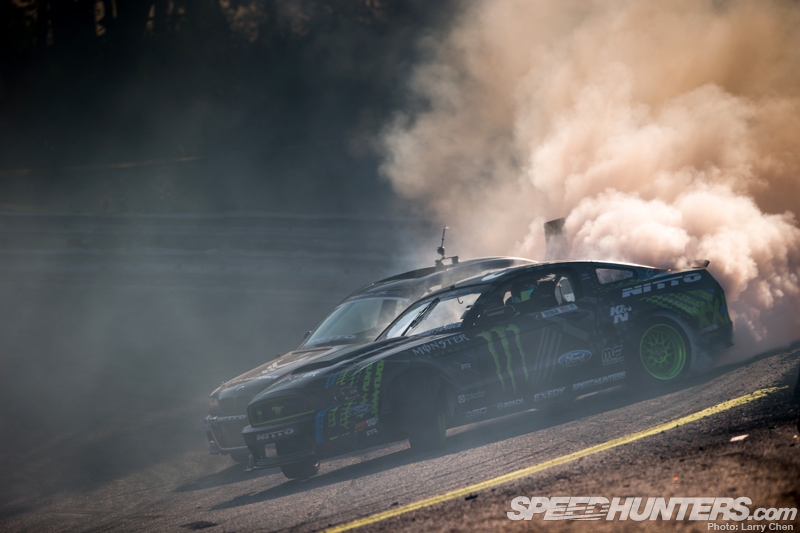 Vaughn always seems to do well later on in the season, so there's a very good chance he will close that 61-point gap between first and second place.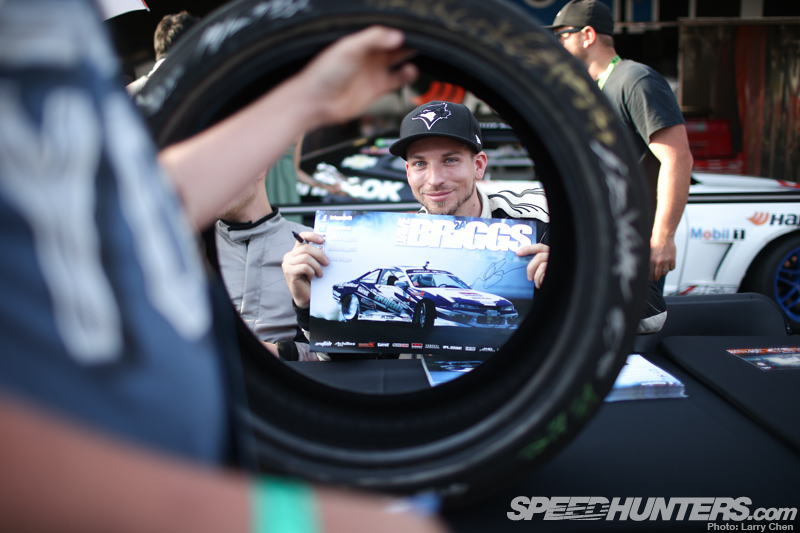 With the way the qualifying is this year, it's the perfect opportunity for some of the privateers to really shine.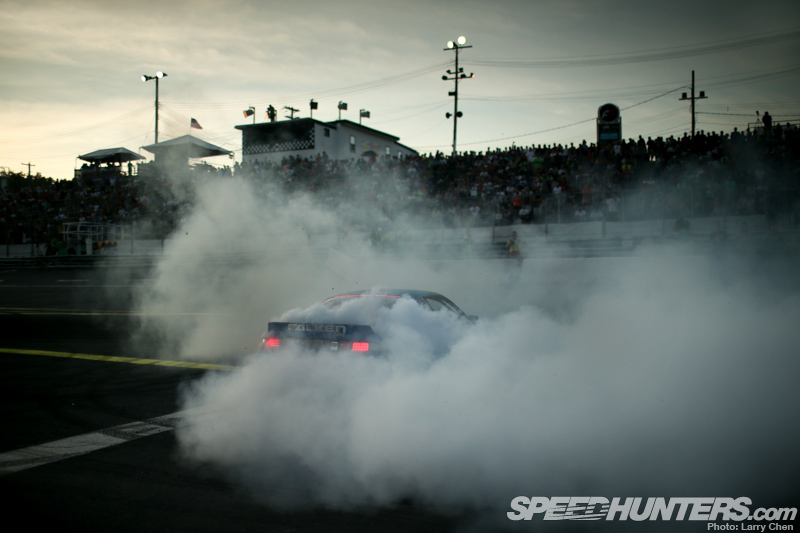 Well, that is pretty much my mid-season wrap up. I hope you enjoyed it and make sure you download some desktops below. See you guys in Seattle!
Larry Chen
Instagram: larry_chen_foto
Email: larry@speedhunters.com
More Formula Drift coverage on Speedhunters