When you think of an automotive collectable, the first thing that comes to mind is probably a scale diecast replica or maybe a plastic model kit. Really though, there's so much more that falls under the umbrella, including car magazines, car books and yes, car comic books. When I speak of these automotive-related comic books I'm of course referring to the numerous manga titles published in Japan.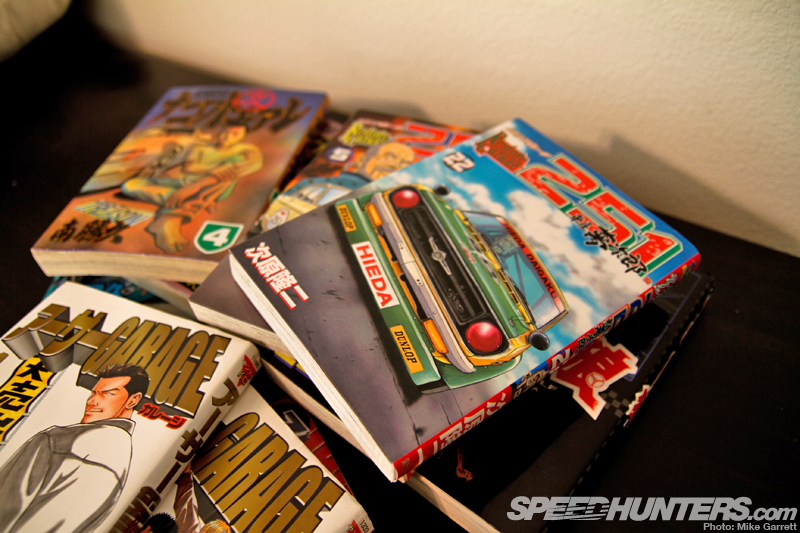 Over the years, I've amassed quite a library of these Japanese car comics. Collecting them has really become its own hobby for me, and I thought you guys might be interested to see some of these illustrated adventures in Japanese car culture.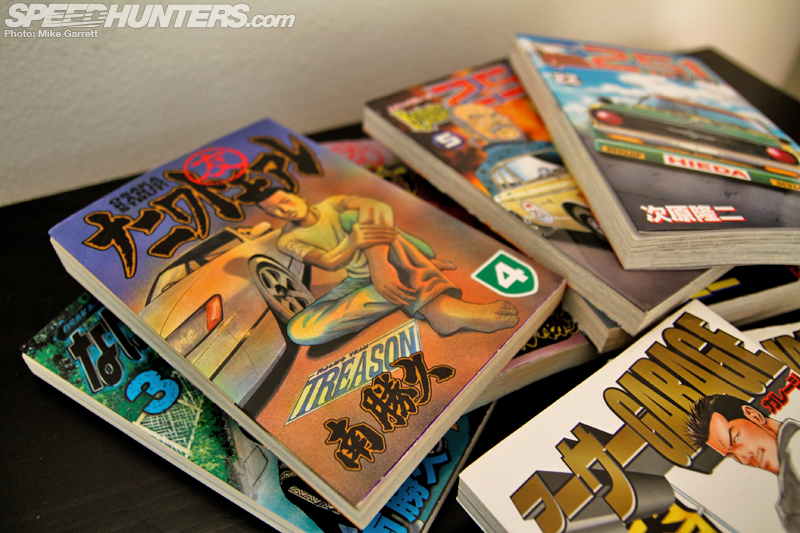 A few years back I briefly shared some of my favorites with you guys, but now I thought it would be fun to go in for a deeper look at some of these titles individually. Chances are you've probably heard of the big comic series like Initial D and Wangan Midnight, but besides those there are dozens of stories that are in some way based around car culture.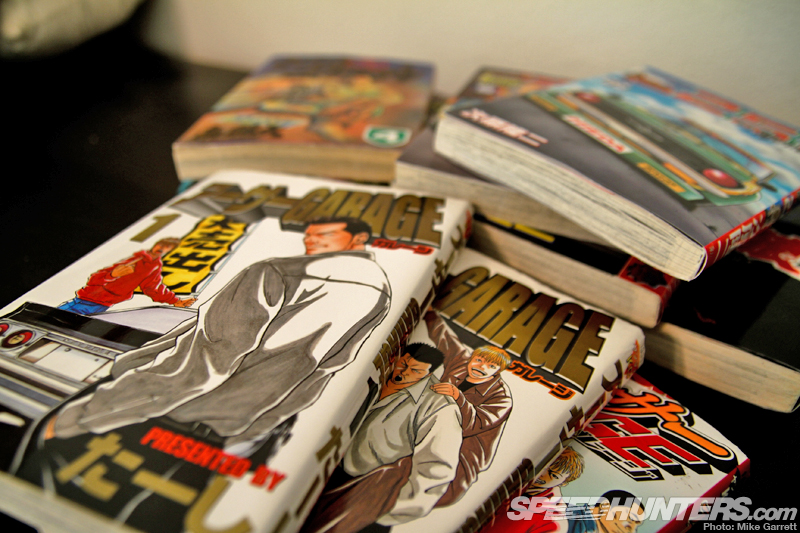 The traditional image of a Japanese comic is probably one of robots, superheroes or school girls that play in a rock band and have special powers – but there really is manga about everything. Cars are certainly no exception. To me the passion and attention to detail found in these stories are the perfect symbol of both Japan's obsession with cars and the country's obsession with hobbies themselves.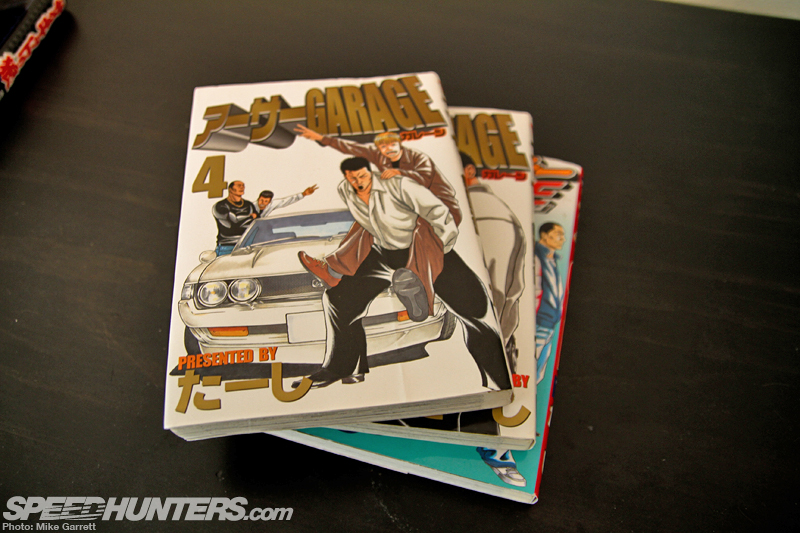 So to start off my little Auto Otaku Library series, I thought I'd begin with a relatively obscure manga called Arthur Garage authored by a fellow who goes by the name of Taashi.  Although the series didn't last nearly as long as some of the more popular titles, it offers a lot of cool stuff for car fans – particularly those who enjoy vintage Japanese cars.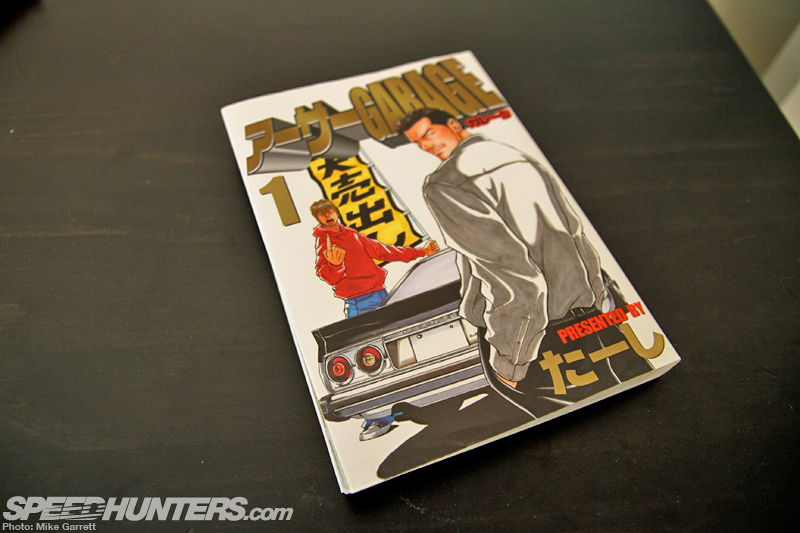 The story takes place in the Fukuoka area and follows a used car shop called Arthur Garage, owned by Asao "Arthur" Harada. Yes, that's right – a comic book about a used car dealer.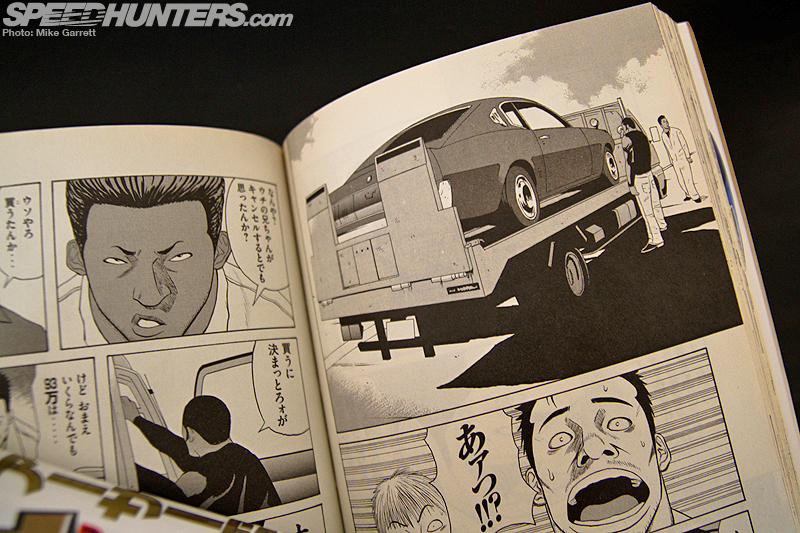 As strange as that might sound, the fact there exists a comic series about the seemingly mundane life of a used car dealer is exactly the reason I love this and other car-related manga. Taashi has been able to take the stories of a simple business and make it into something that's very exciting and enjoyable to read.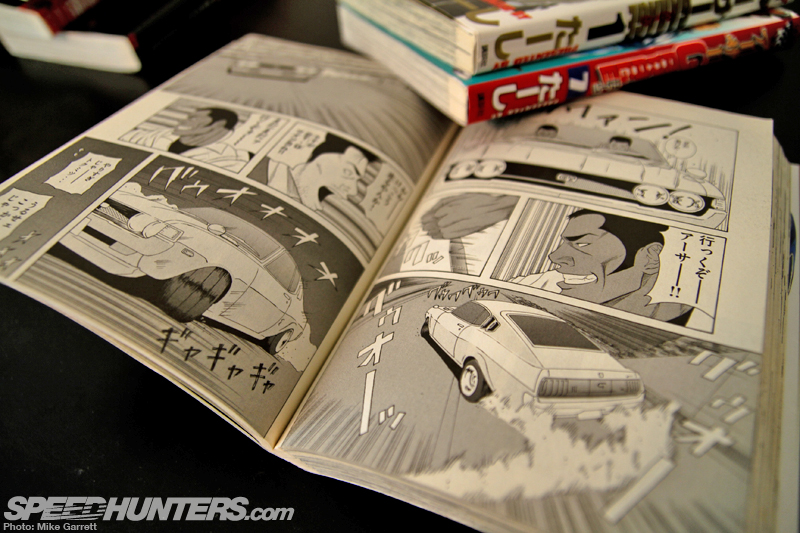 Of course it also helps that Arthur Garage is filled with beautifully illustrated depictions of of the kyusha shenanigans at every corner…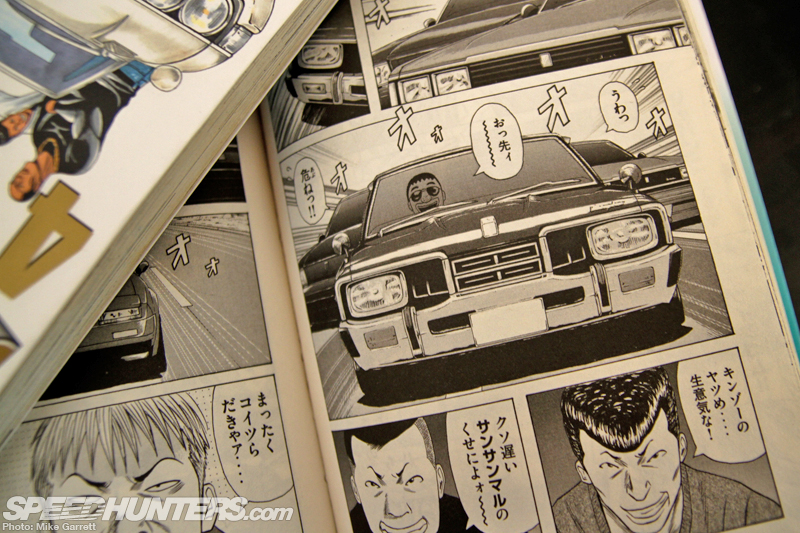 As I've found is this case with lots of these car culture comics, it's very clear that Taashi is a big car enthusiast himself. The Arthur Garage characters routinely talk about the cars in detail, and all of the mechanical facts and references are all very authentic. There are no 10-speed transmissions or nitro turbo boosters that shoot blue flames here.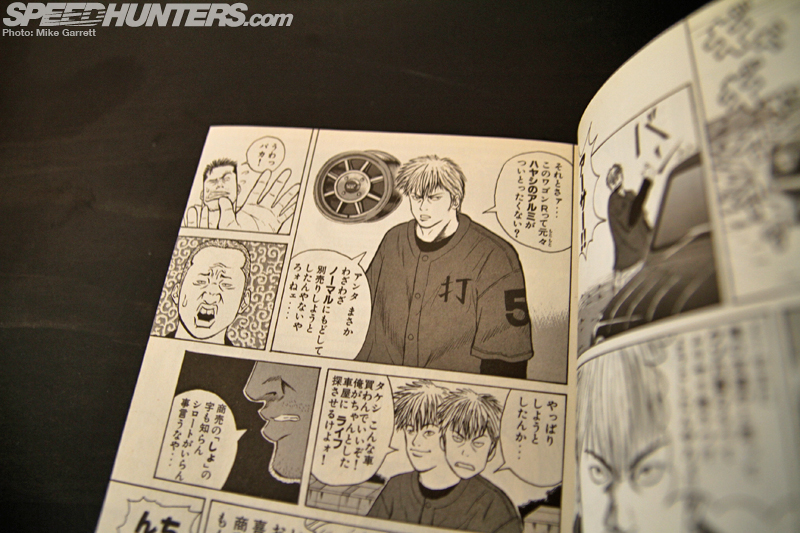 In Arthur Garage's opening scene, Arthur-san is trying to sell a used Suzuki Wagon R and his kouhai Chiharu argues about the car being equipped with a set of Hayashi Street wheels before Arthur returned it to stock. How's that for a riveting intro?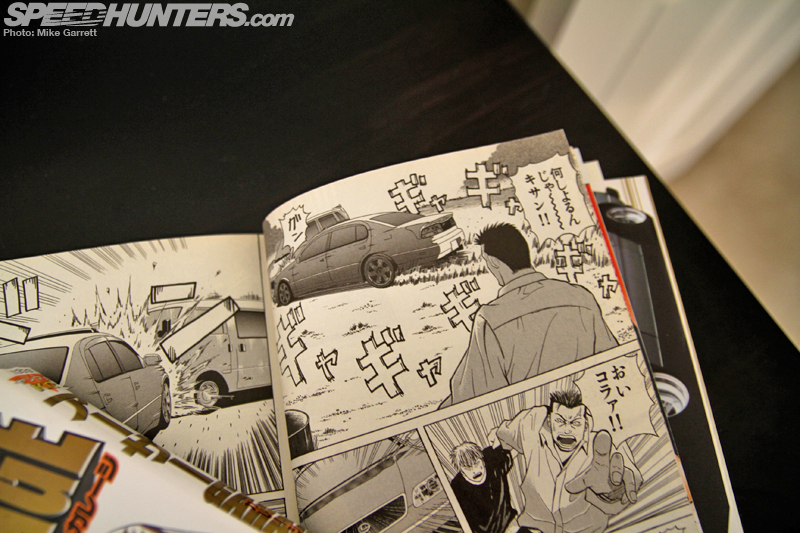 But of course the story is about much more than just buying and selling used cars. Arthur and his friends encounter all sorts of colorful characters during their quest to become Japan's best used car shop.
Naturally, not everyone they meet is considered friendly. There are plenty of encounters with shady folk, as well as rival used car dealers.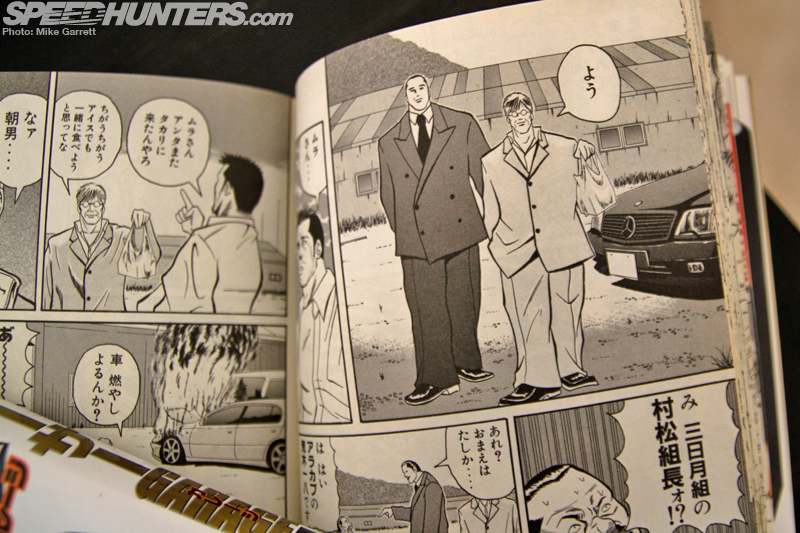 Also along the way, plenty of run-ins with the upstanding folk of the Yakuza.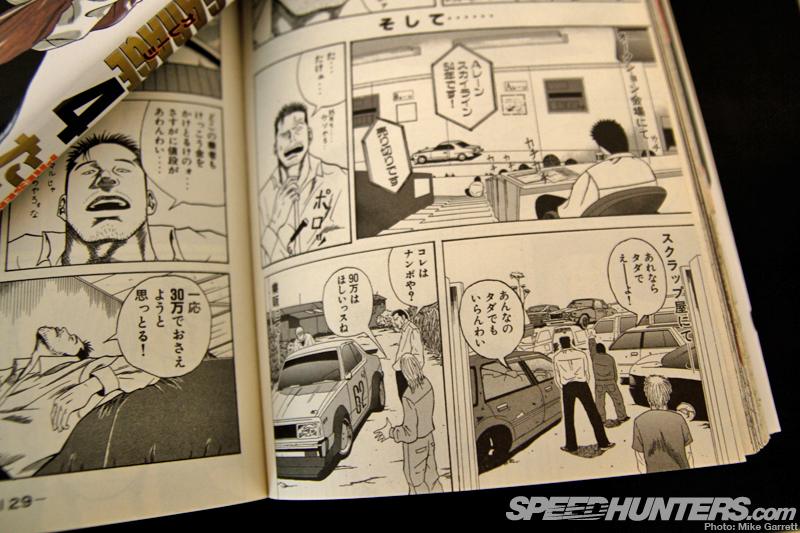 But again, what impresses me the most about Arthur Garage are the very authentic ways in which the business is portrayed, whether it's heading to the auction or junkyard to find a car…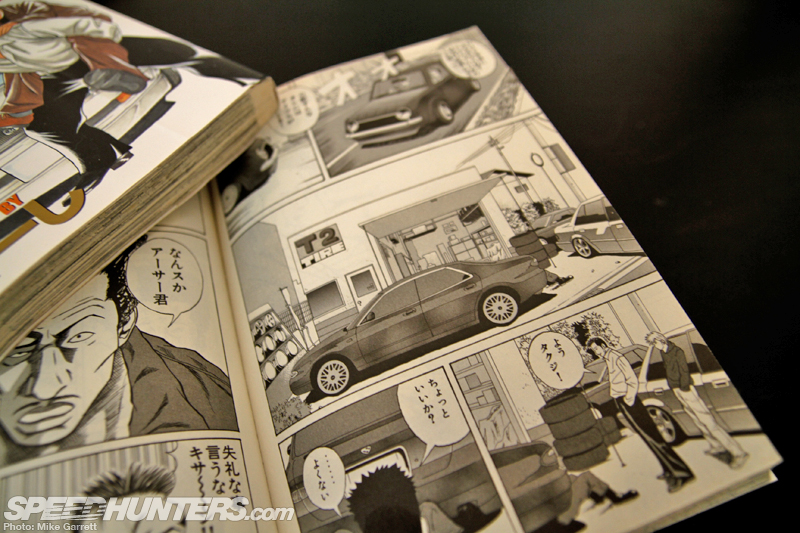 … or visiting their friends like Tadokoro-san at T2 Tire and Wheel shop to score some parts.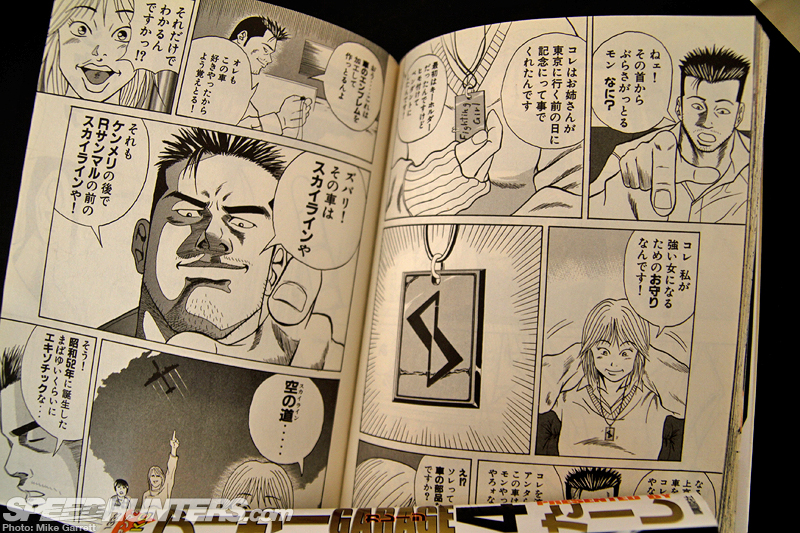 Just to give a little idea of what some of Arthur Garage's stories are like, the first volume of the series features a story where Arthur is approached by a young girl who wants to buy a specific car.  This car reminds her of a woman named Akemi that she looked up to as a child, but the only problem is she has no idea what kind of car what it actually was. Eventually Arthur recognizes the emblem on a necklace the girl was given as keepsake and the hunt for a C210 'Japan' Skyline begins.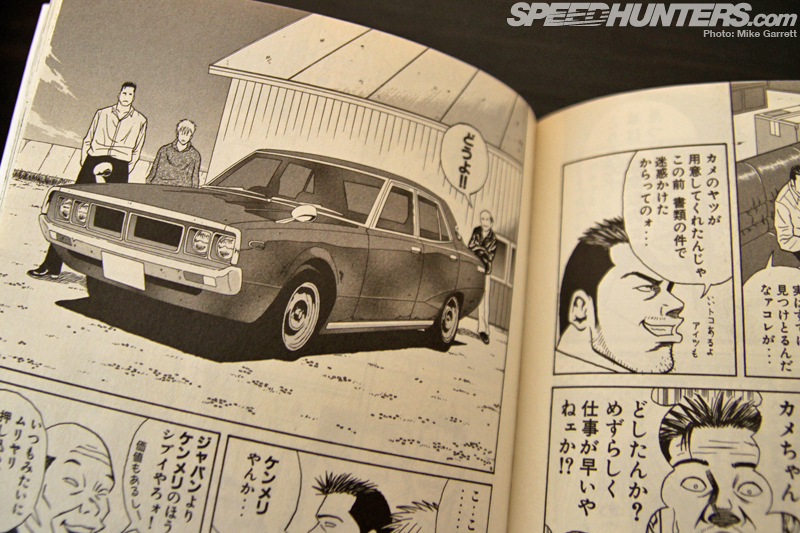 The search doesn't go easy, with Arthur and company having to look wide and far to find the right car to fit the girl's modest budget.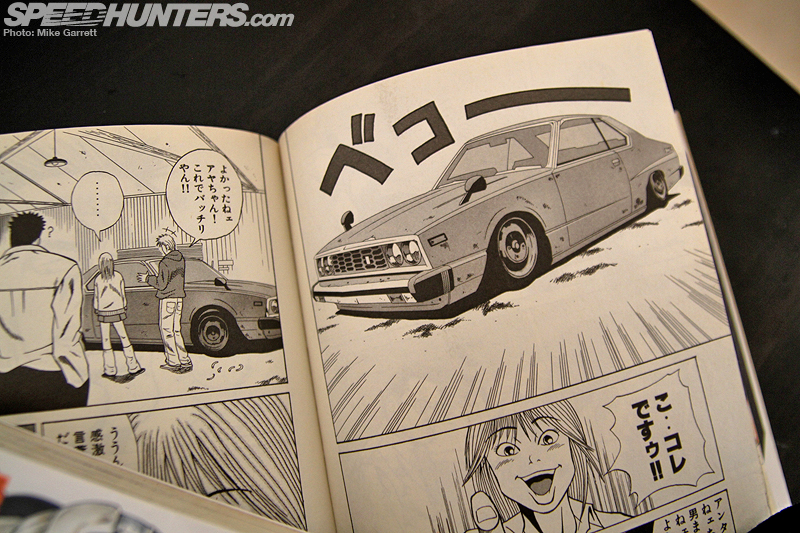 Finally, they score a beat up C210 Skyline which the girl doesn't recognize – until Arthur cuts the springs to give it a proper shakotan stance. Then it all comes back to her!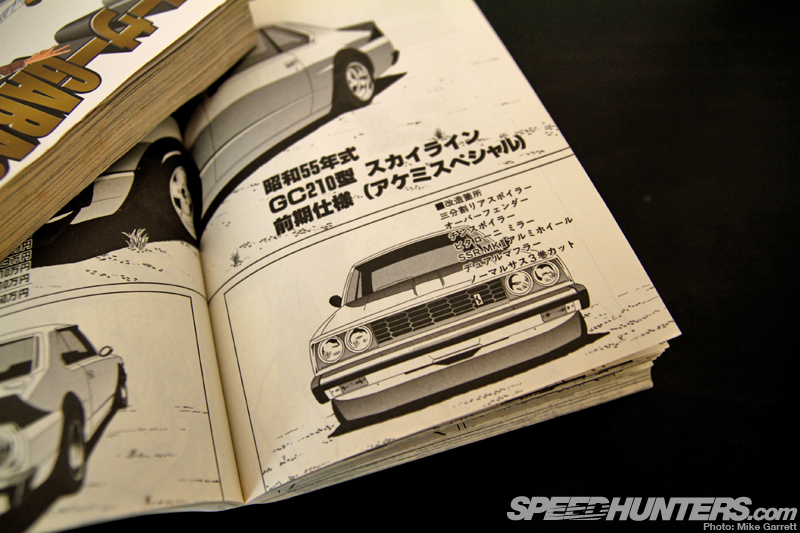 Eventually, they build the car into a perfect replica of the car that Akemi drove, and in the process the girl is reunited with the older version of the woman that she idolized – all thanks to the Skyline of course.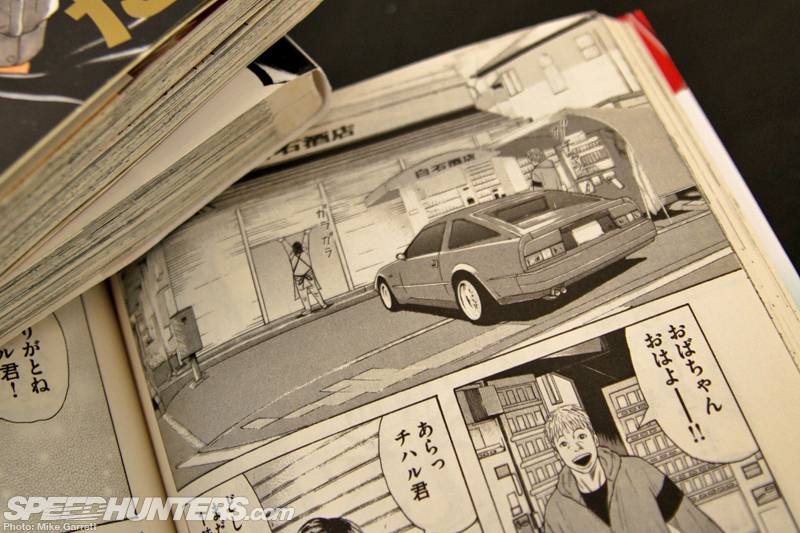 While my Japanese reading ability is far from great, I've gotten at least decent enough to pick up the main idea of the stories. I guess it also helps that there is plenty done with the universal language of cars. Another thing that I really like is the way Taashi has introduced some of Japan's less popular cars to the story – like the Z31 Fairlady that Chiharu drives.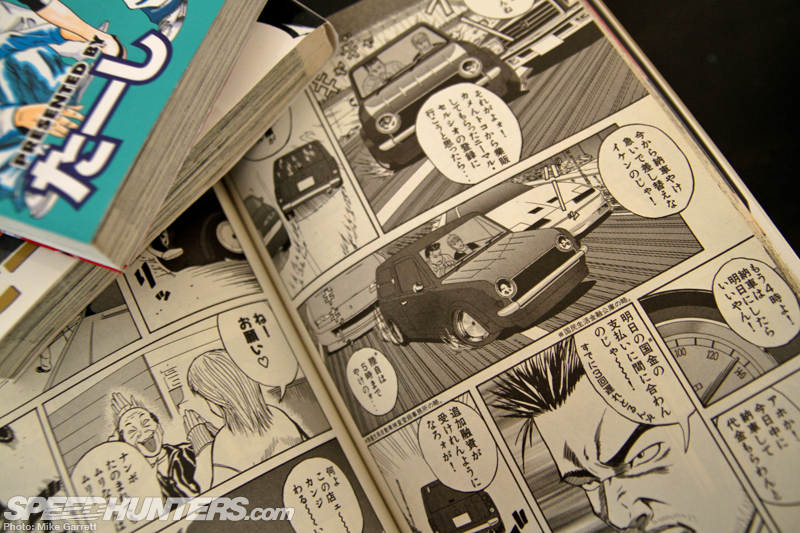 At an earlier point in the story, he also drives a Nissan Pao that's been slammed over a set of SSR Mk Is. Talk about cool!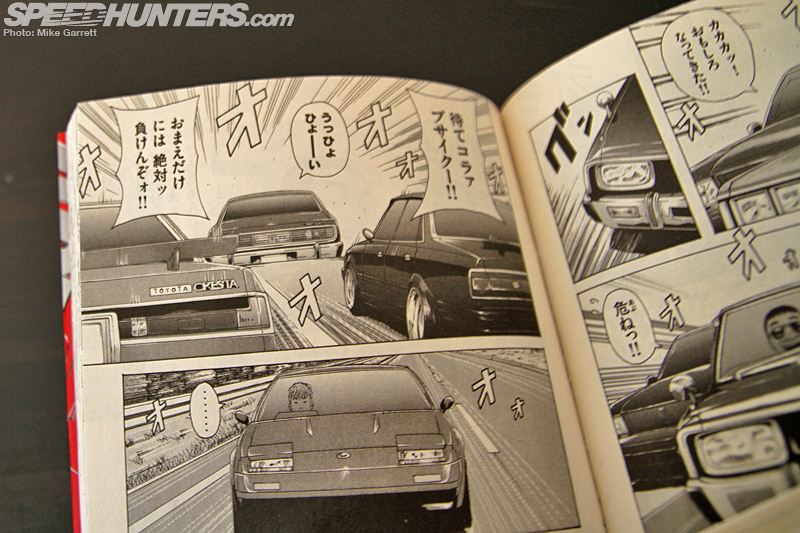 If that wasn't enough, there's also the awesome cars of Team Overheat, whose adventures are featured often in the story.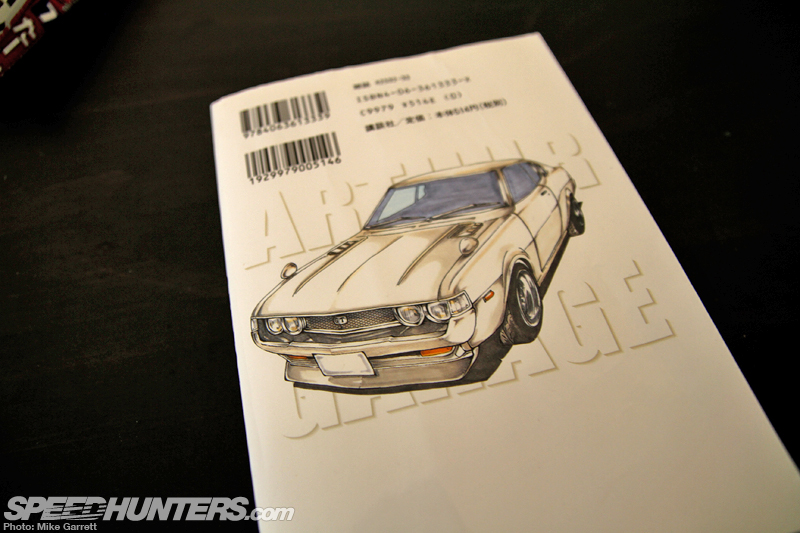 So there you have it, Arthur Garage in a nut shell. Who needs spaceships and magical powers when you have badass vintage cars and clever used car dealers?
I hope you've enjoyed reading this. If you like this sort of thing, I think I'll continue to profile more of the car culture manga from my collection in the future. In my eye, this stuff is just too cool not to share!
Mike Garrett
Instagram : speedhunters_mike
Email: mike@speedhunters.com
Initial D related stories on Speedhunters