Why 'ello there Speedhunters! After what seems like a hiatus of an eternity and a half, I'm finally back to share some thoughts with you guys. On this particular occasion I've flown across the proverbial pond to check out the car scene in the UK by attending some prestigious events, starting with today's look at how things are going down in the Players scene.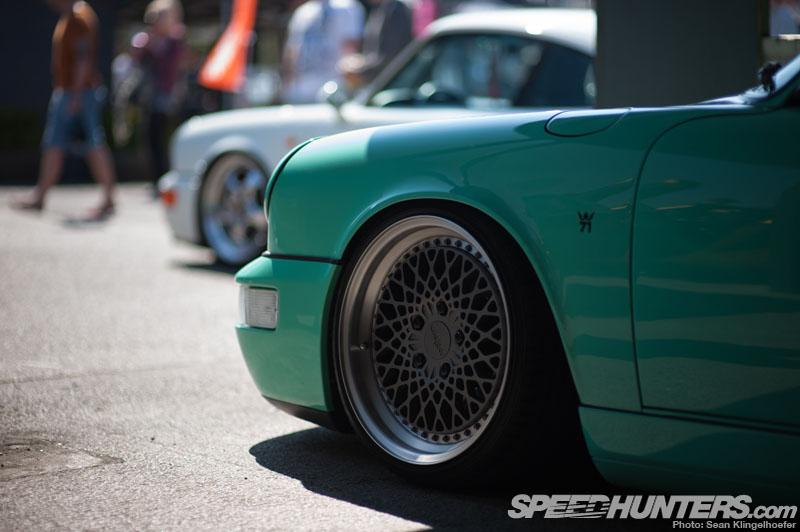 I've been aware of the Players shows for some time now, mostly thanks to this very site, but I was still keen to be able to attend one and have a look around for myself. After all, placing a fish out of water into a very tight-knit group often results in completely new observations. However I was rather surprised once I began walking throughout the Goodwood campus to realize just how tight-knit these gents really are.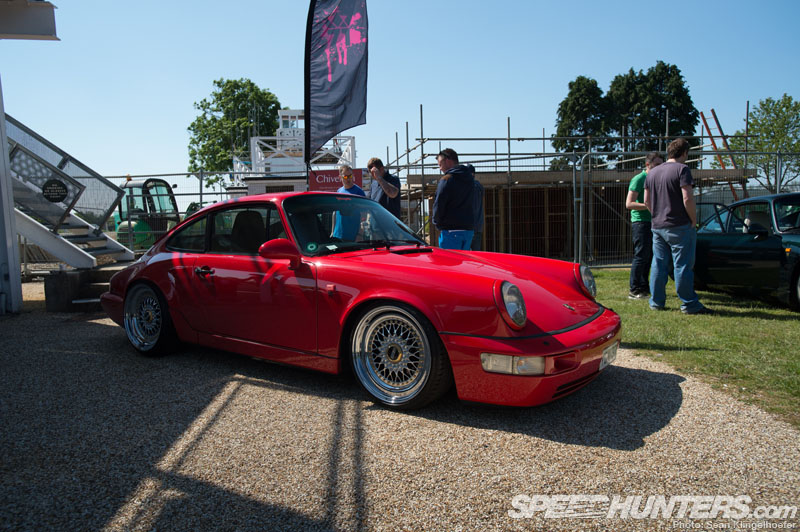 What I mean by that is that, unlike most shows I've attended elsewhere in the world, there really does only seem to be one 'look' that virtually everyone strictly adheres to here – super clean, super low with an insane amount of attention placed on wheel selection and interior finish. While I'll address most of those traits later, I'd like to start with a chassis I've noticed is becoming extremely popular – the Porsche 964.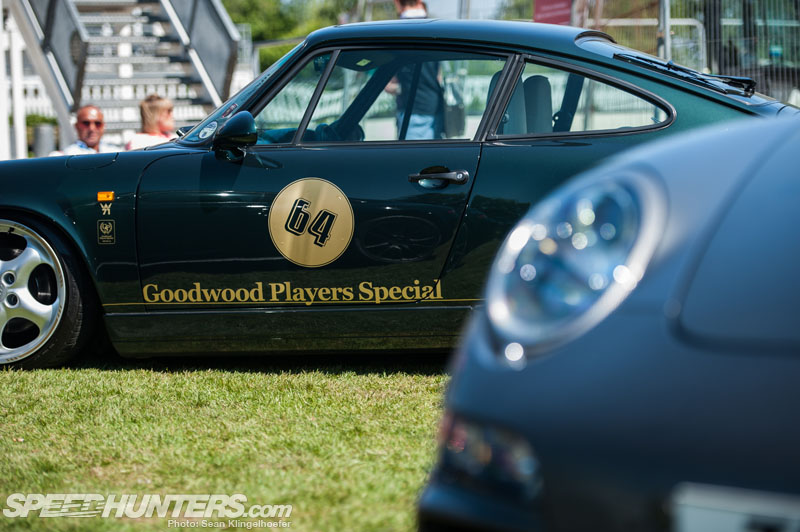 As a Porsche lover myself I was quite excited to see more than a handful on site, but it was a bit shocking how few other models seemed to be around. It's somewhat understandable though from the viewpoint of this crowd and I can definitely see the appeal of a 911 of this vintage: a fair price point, clean simple bumpers and sophisticated-enough suspension to allow it to be completely laid-out.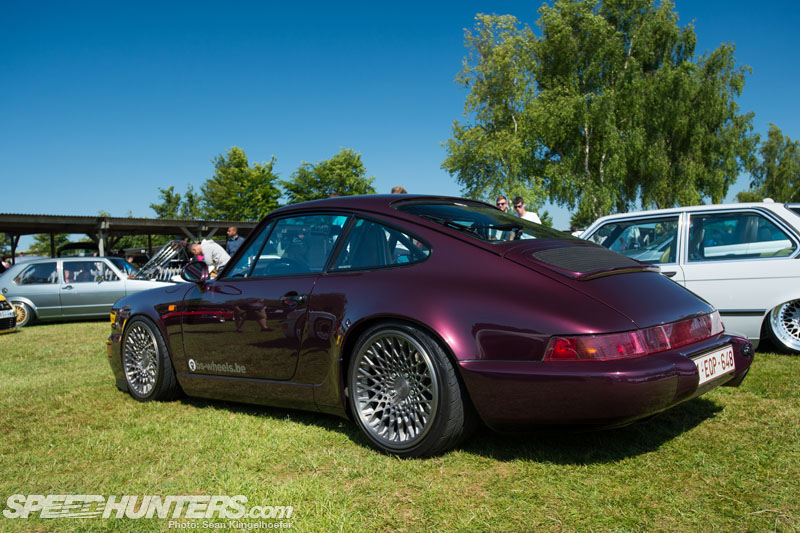 Plus who can argue with those body lines? It's a drool-worthy recipe indeed.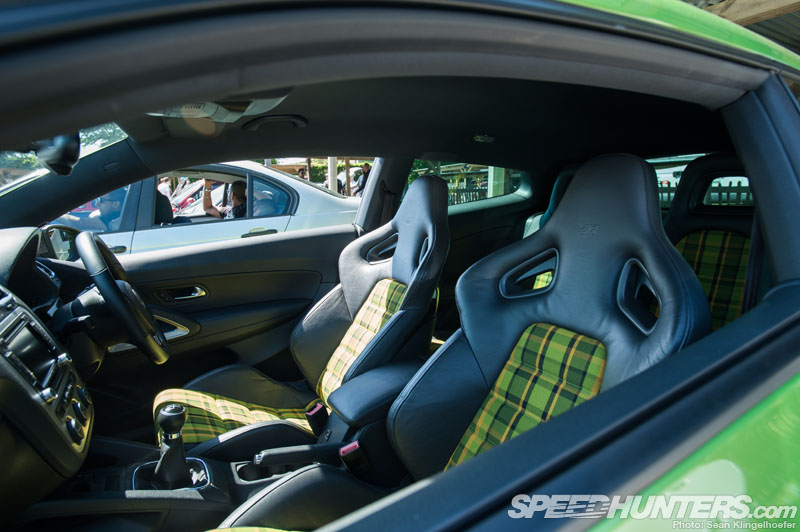 Right so, where were we? Interiors, that's it. Seeing so much thought, effort and money focused on the cabin was really a breath of fresh air for me. If you're going to build a show car, you might as well tick all the boxes and sadly the interior is often overlooked by many of today's builds.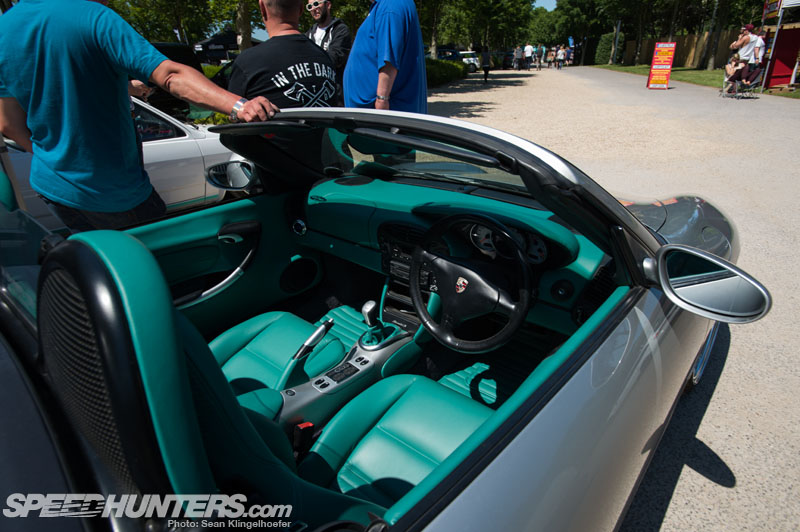 With the onset of the 'stance movement' in the states came a general disregard for anything other than being as low as possible on the lowest offset wheels you could get your hands on. Therefore, well rounded builds have mostly become a thing of the past, save for the most hardcore of enthusiasts. At Players however, it seemed like even the modest cars in some circumstances still had a properly mental amount of interior work performed.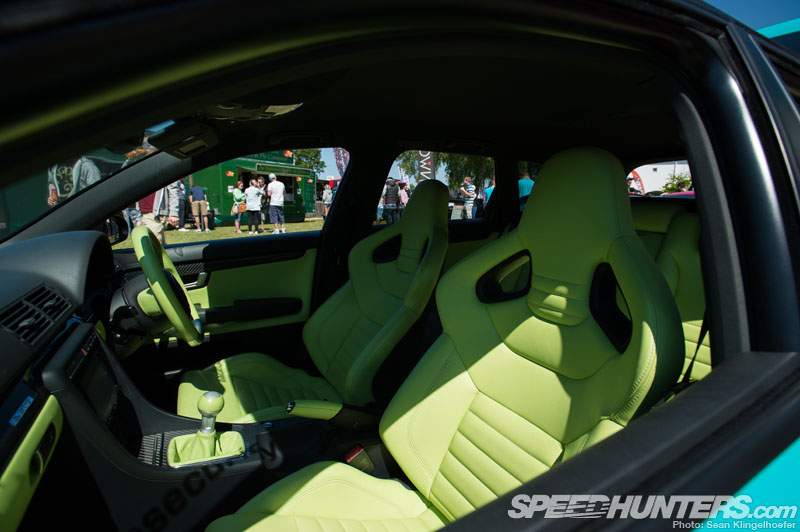 After a while I began to realize that virtually every car in attendance likely had a major reupholstery job. Granted you can see this type of anal-retentive attention to detail in the US dub scene, but the frequency at which I encountered this level at Goodwood was shocking.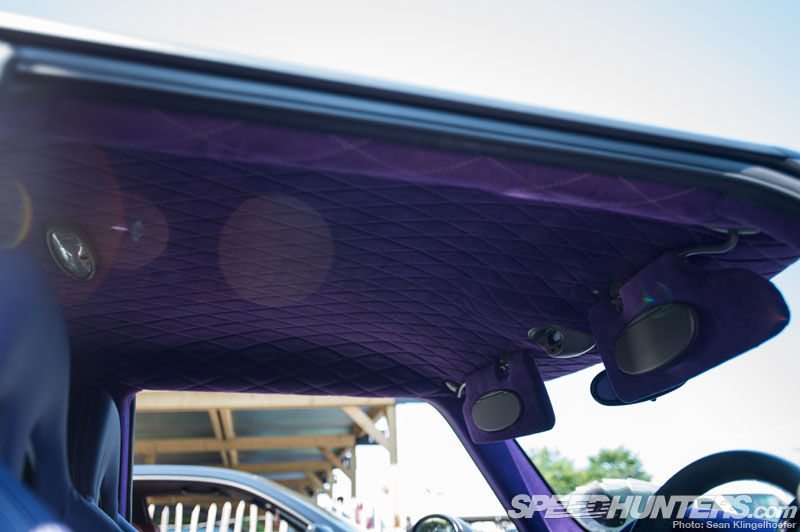 The proud owner of this mini kindly displayed a "Look up" sign on the passenger seat, so that's precisely what I did. A Crown Royal purple diamond-stitched headliner was the visual fruit of my labor.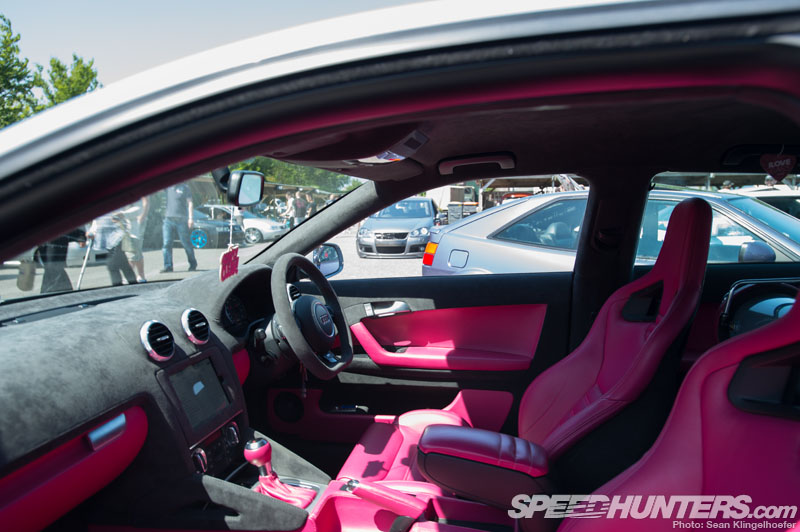 Many cars had seemingly every last bit of interior trim recovered at all costs. And with that many square yards of material I'd imagine 'all costs' is quite a lot; just the labor to remove all the bits alone must be a small fortune.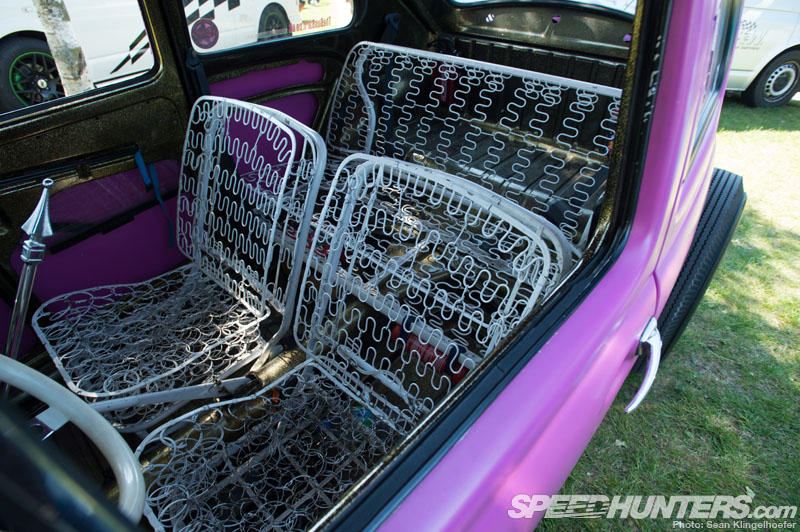 But even at the cheaper end of the spectrum there was some amazing creativity applied to the inside of cars. I particularly enjoyed the raw-skeleton look of this Beetle's seats, although I had no desire whatsoever to sit in them.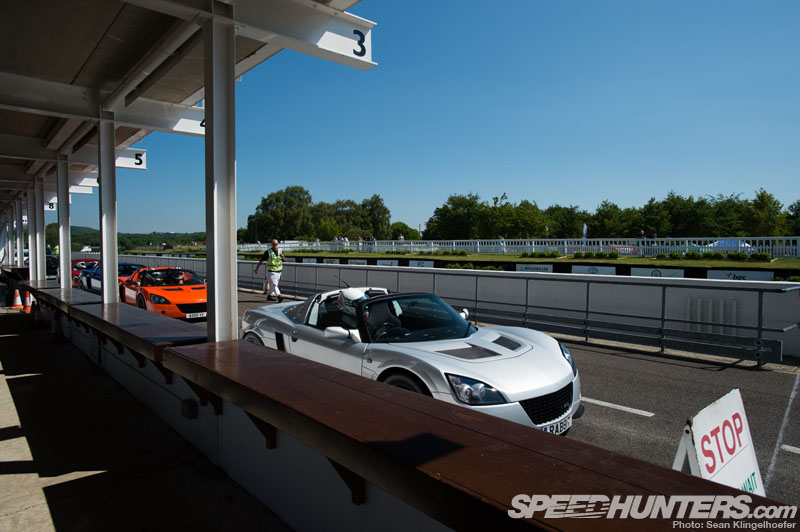 One of the interesting things about the Goodwood event is that they had an open track day running simultaneous to the show. Since I had never attended a British track day I was looking forward to seeing what this group was like, but I don't think that what I saw last weekend was a large enough sample to make a realistic impression…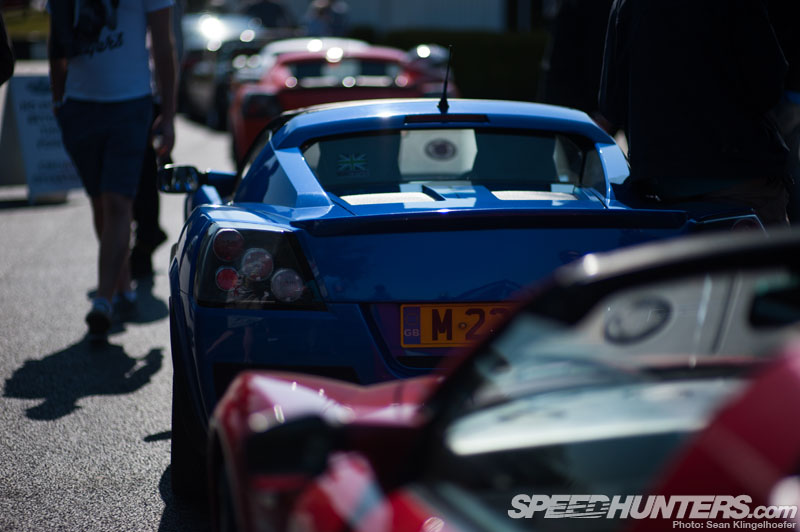 What I mean by that was the fact that the circuit was completely dominated by one car in particular: the Vauxhall VX220. I had seen the occasional Opel Speedster-branded version before in Germany, but never in numbers like this.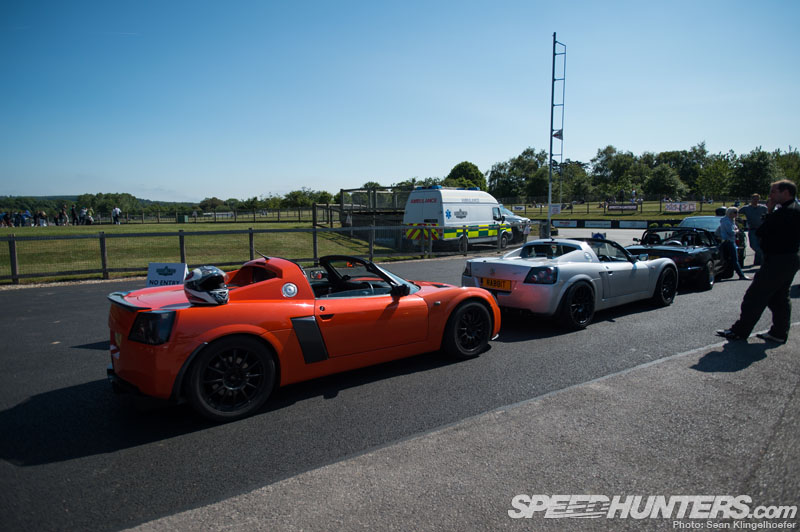 From what I understand, this car was actually built by Lotus as a joint venture between the lightweight sports car maker and GM Europe. The car shares some components with the Elise, hence the general size, shape and engine placement. However much of the car is bespoke and the VX and Speedster use a GM power plant rather than the Elise's Toyota derived unit.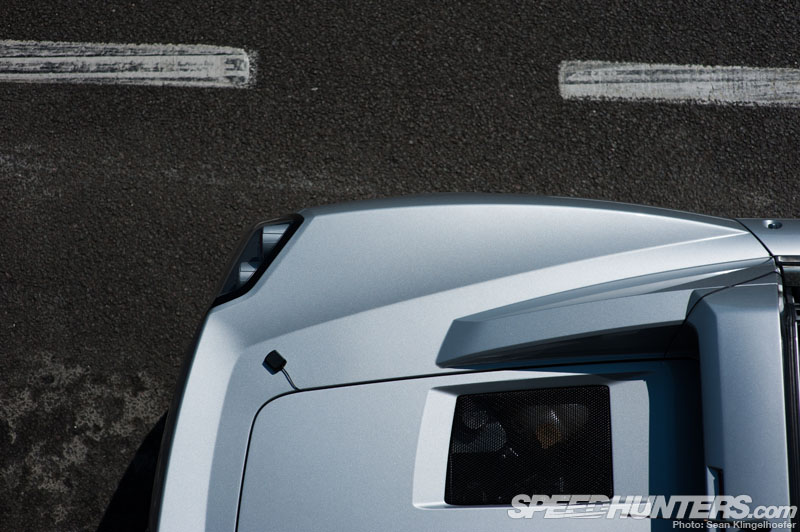 While I don't think it's generally as good-looking as the Lotus, the VX does have its angles.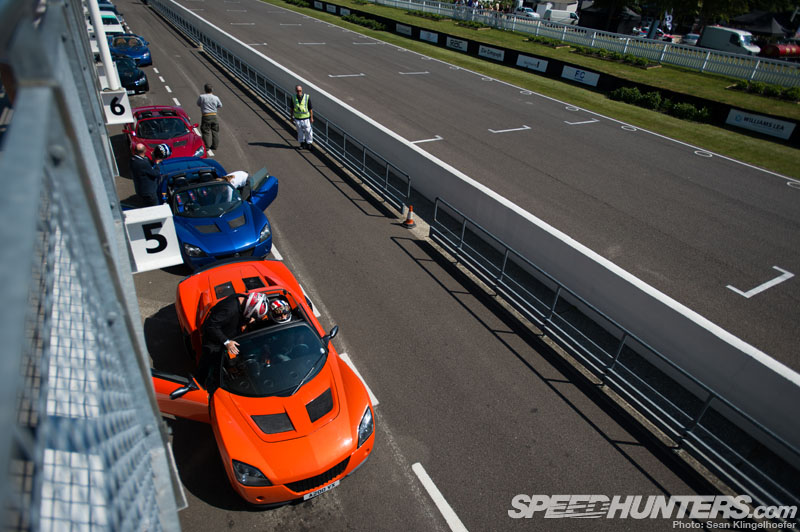 I understand this might be a bit of a snooze fest for British readers, but since this is a car we never received in the states under any name, it was really interesting to see them being abused out on track. After seeing used car prices on Autotrader I'm not surprised how popular this car is with the track whore crowd.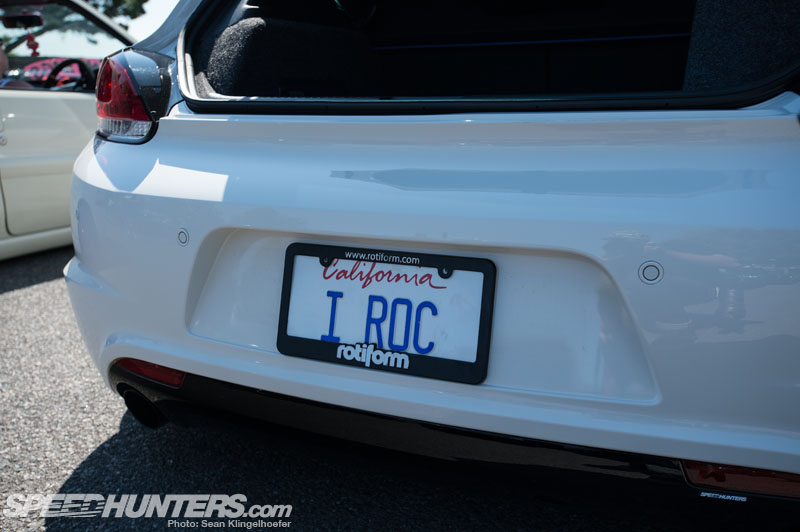 Another thing I found intriguing was the American influence on much of the show. There's no doubt that the UK scene originated many of the popular modifications and influenced the VW guys in the States, but now I'm starting to notice a bit of reverse appreciation happening.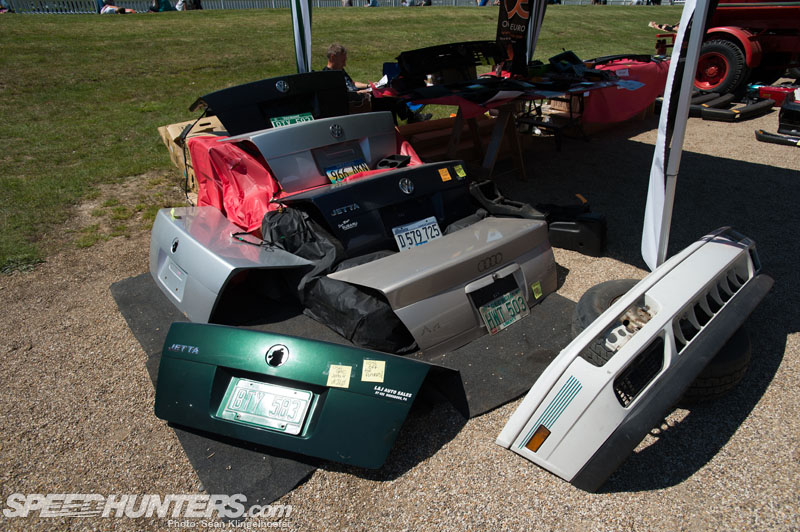 In fact it reminded me quite a lot of the USJDM scene which has exploded in Japan in recent years, where tuners in Japan are mimicking Americans that were mimicking the Japanese. It's all a bit of a mind melter, but seeing more and more USDM pieces being offered it wouldn't surprise me if soon we have a global mash-up of components.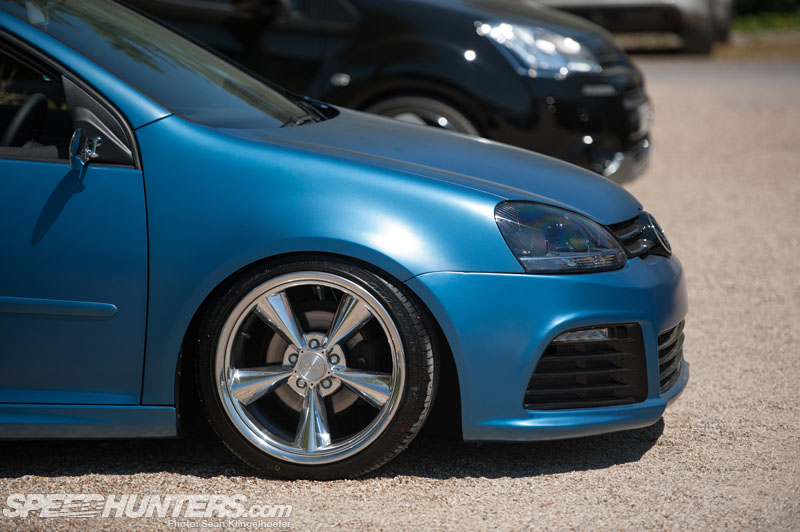 Another trend I found to be quite popular was tinted headlights. You do see this in the States occasionally, but it's often on cars that aren't the trendsetters or those being featured on magazine covers. In the UK it seems as though this mod is pretty well universally accepted.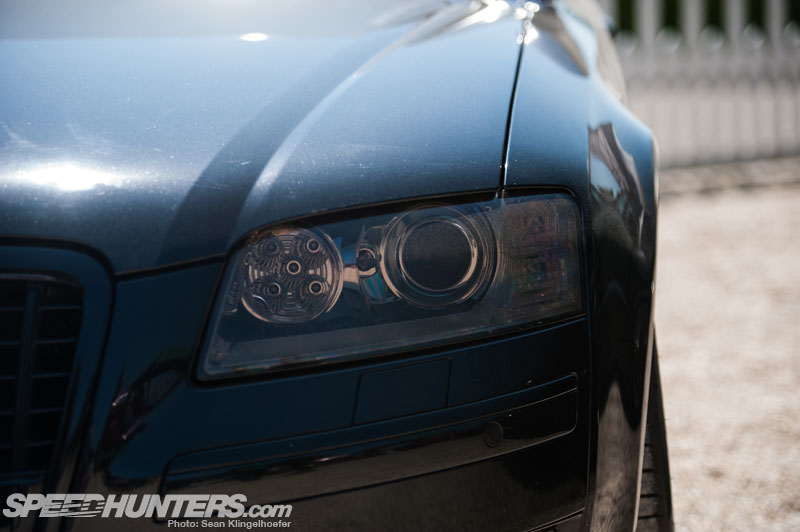 On a darker colored car I can definitely make sense of it since it helps to cut down the harsh contrast from a chrome headlamp, leading to a much smoother final look – obviously something this scene revolves around.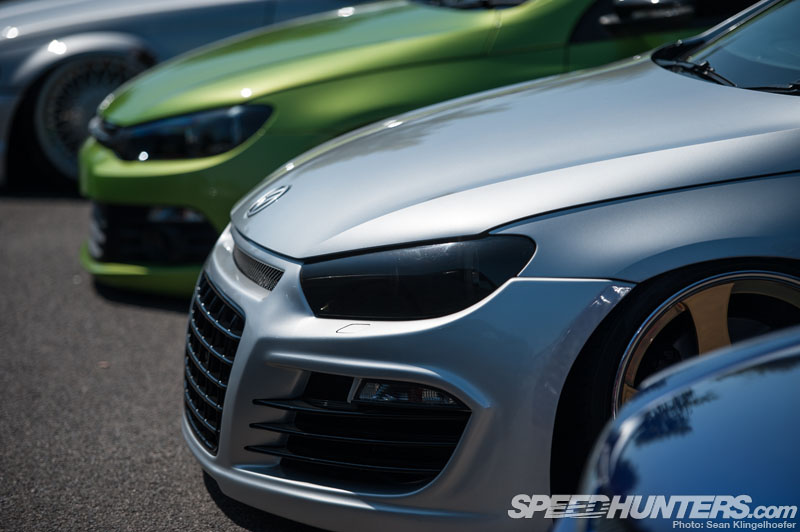 But on a lighter colored car it actually draws more attention to the housing and probably noticeably detracts from the usefulness of the headlights. However, safety and usability obviously aren't at the forefront of car owners' minds in this realm.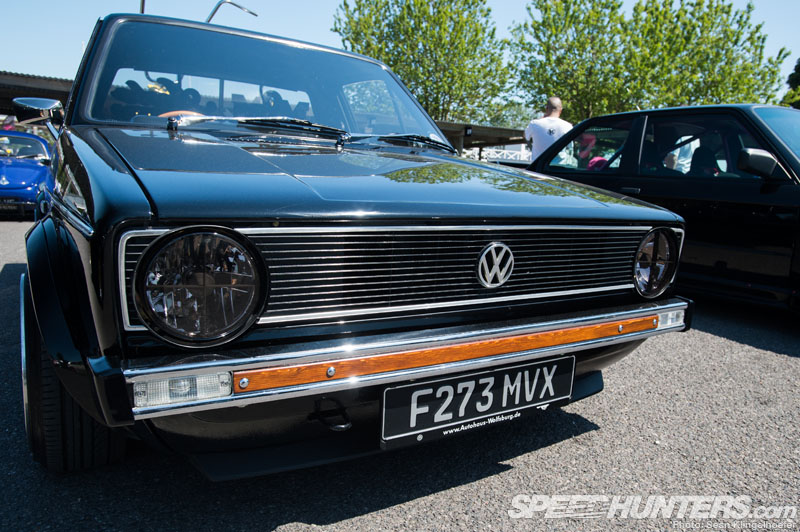 When done at a lower opacity I think this modification can come off quite classy though. Perhaps this is a trend that will catch on soon in America, or possibly already has, but it's certainly something I'll be looking out for in the future.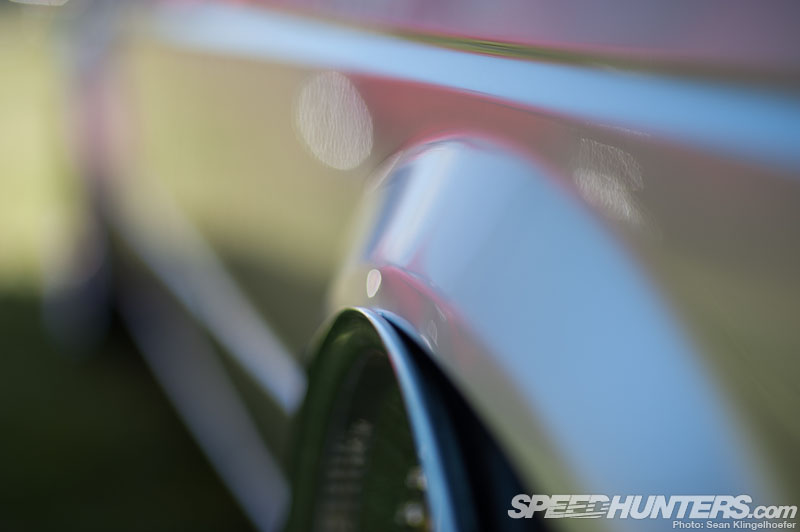 But as much as we could talk about shaved engine bays, rewrapped interiors and everything else, the one staple piece that this community revolves around are wheels. Finding just the right offset and tire combination is key and these guys have been doing it for decades and are the ones we can thank for the explosion of the hellaflush vibe now adopted all over the world.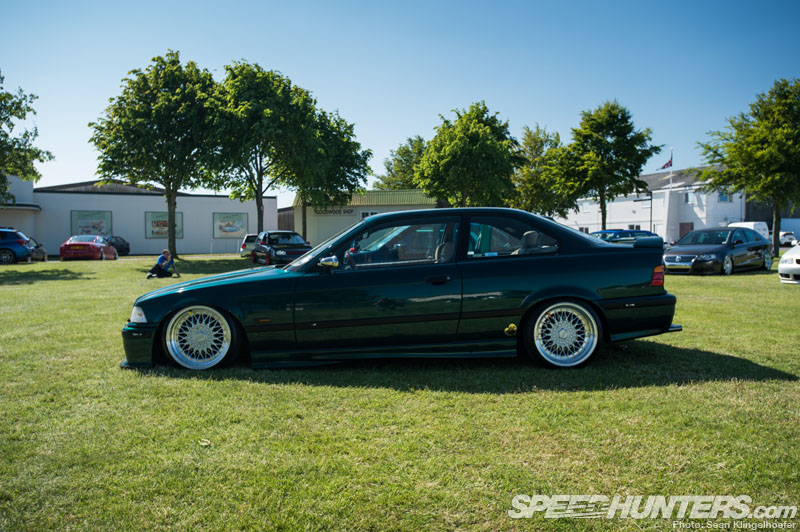 When it comes to selecting a wheel to bolt onto a European marque there is one brand that is by far and away the undisputed champ: BBS. Known for making some of the highest quality wheels in damn near every size you can imagine it's no wonder why they're so popular. While they offer a whole range of designs, there's one wheel in particular that is the most popular amongst the Players group – the classic mesh.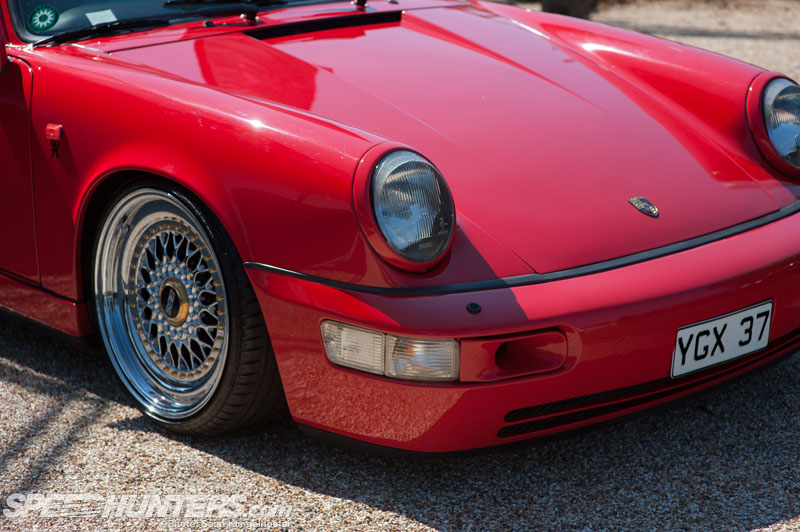 If you were to look up the word timeless in the dictionary I can't imagine a better image to correspond than a 911 silhouette flushed on a set of BBS RS. It just doesn't get much more elegant and beautiful than that.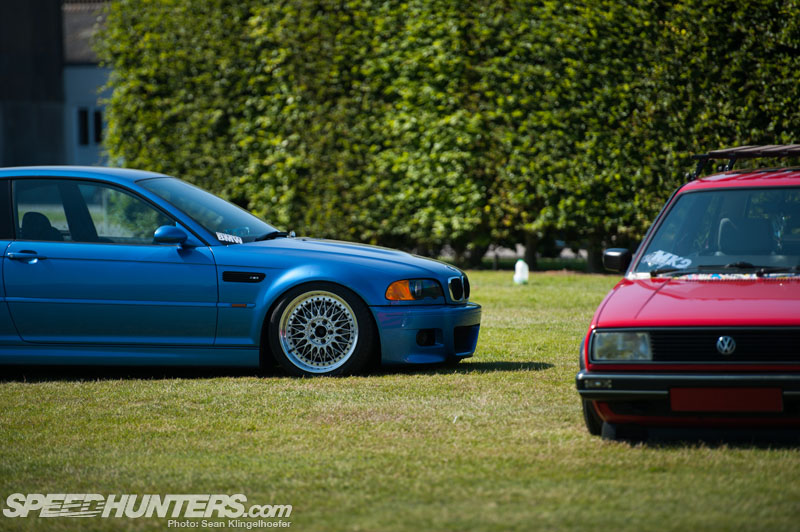 The popularity of the wheel is likely due to a handful of reasons, but the main entry point is likely the versatility of the wheel. Due to its three-piece design and massive size range you can find or build a set to fit just about anything. They're also relatively lightweight and can be played up to look shiny and expensive or played down to look light and fast.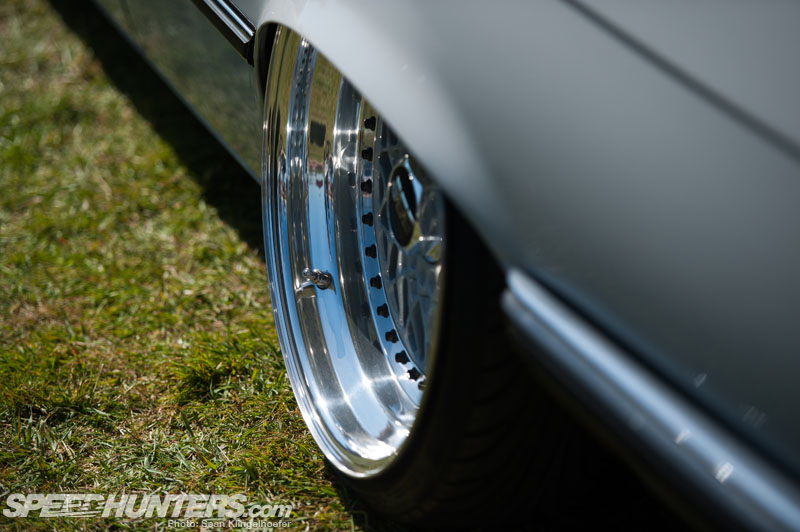 It's largely thanks to this very wheel that we have the wheel rebuilding and re-barreling specialists all over the planet. I can't say for sure, but I'd imagine this was one of the first – and certainly the most popular – wheels to ever be stripped apart and rebuilt in mental custom specifications.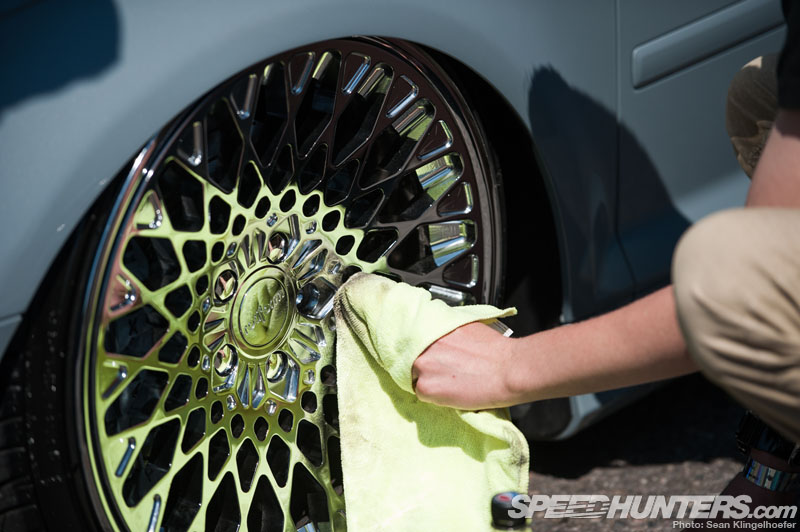 While BBS may still be holding on tight to their market share, there is one brand which has been on a skyward trajectory with the Euro guys all over the world and I don't think they need any introduction. I am, of course, talking about Southern California's own Rotiform.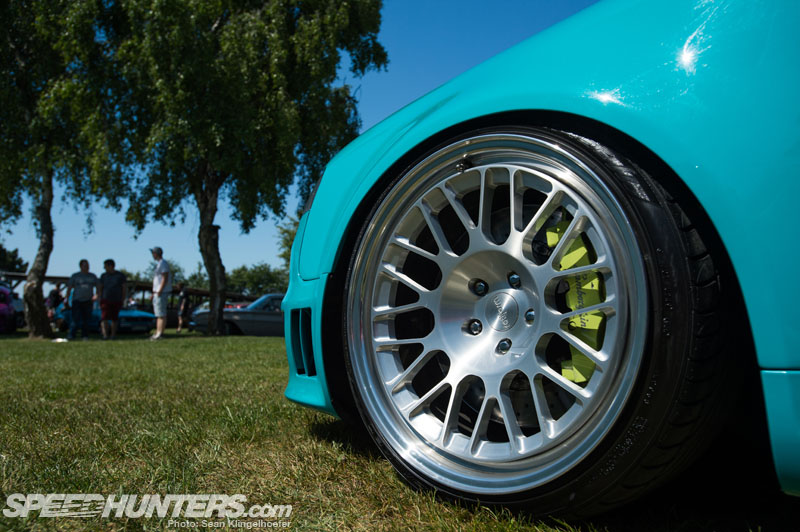 As one of the official sponsors of the Players show, I certainly expected to see a few sets of Rotiform wheels in the show, but the reality of how popular these wheels have become in such a short amount of time is truly staggering.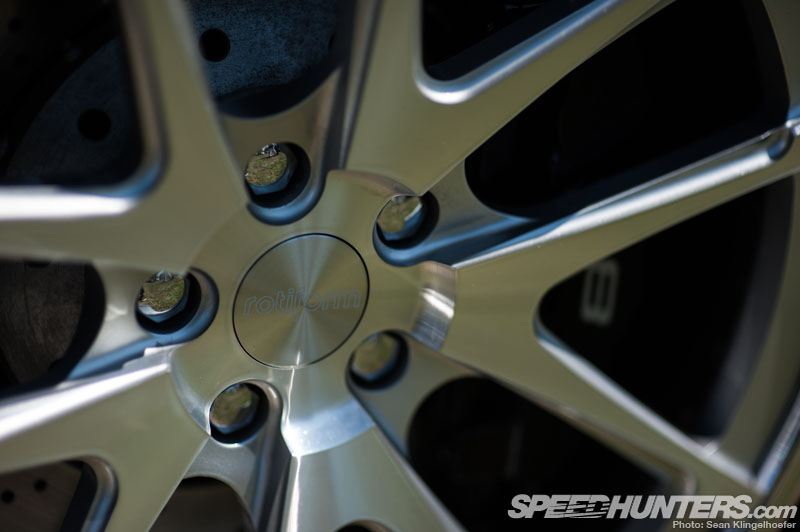 While this level of success and borderline domination would be a mind boggling feat for most companies, it actually makes sense in the case of Rotiform as the owners are true wheel-heads. By having an unbridled love for collecting, restoring and customizing wheels, it's only natural that their own designs and sizing options would be custom tailored to enthusiasts like themselves.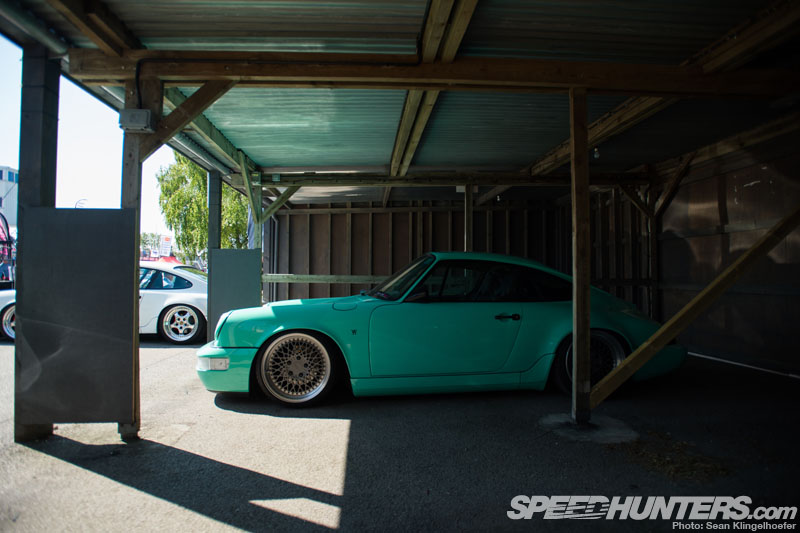 Brian Henderson is one of the men behind the wheel brand and he has shown loyalty and dedication to the scene by not only attending events in Europe but by building a car in the UK and showing it on site. While this type of a build isn't my usual cup of tea, the sheer caliber of work done on his personal 964 is mind-blowing.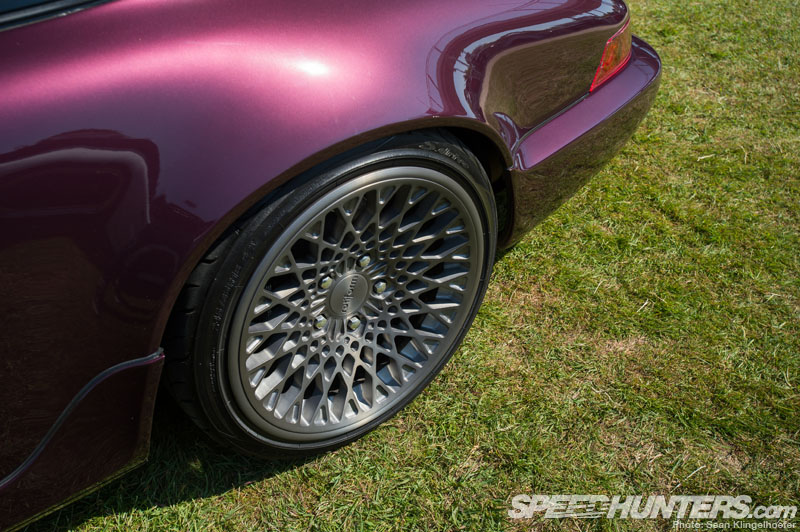 Judging from Brian's own build, you can see that the commitment to upholding a high standard has earned the brand street cred amongst the scene. Therefore it goes as no surprise in hindsight why the wheels have been fitted to so many vehicles; it's a wheel by enthusiasts for enthusiasts and it doesn't get much better than that.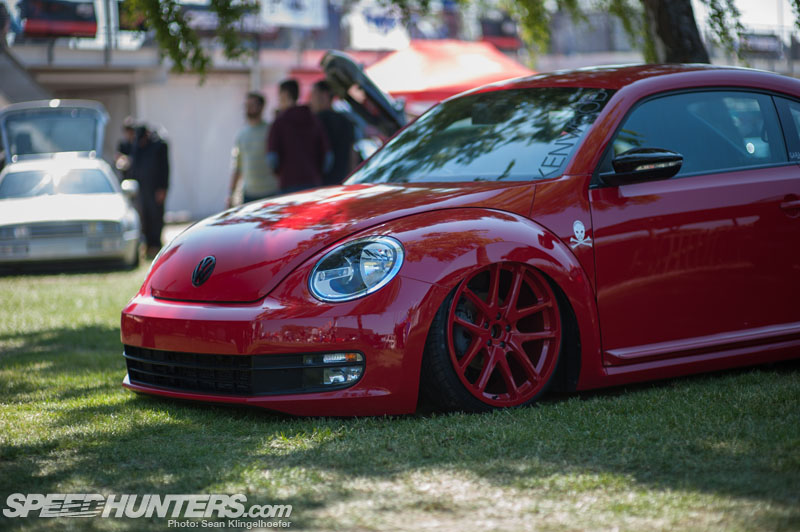 It would appear that even our very own Ben Chandler would agree, seeing as how he just bolted a set of these very wheels to his adorable little Beetle.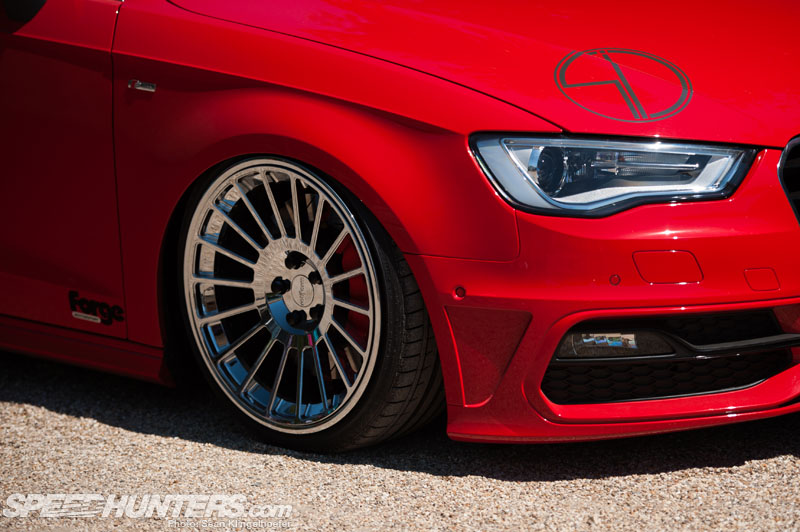 I'm often asked by aspiring photographers how to turn their hobby into a career and the advice I give them is to do it because it's something you truly love, and if it is, you're destined to turn out good work and gain the attention of others. It's a business policy that apparently is universal in application, because with the formation of every last spoke you can see the admiration Rotiform has for the modern wheel.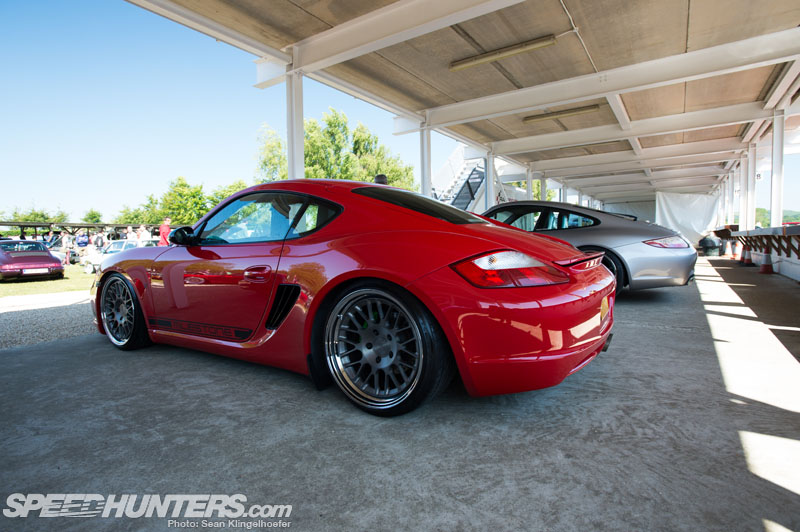 To me, seeing the explosion of Rotiform onto the UK scene is realizing the big picture come full circle. UK scene influences American guys, American guys obsess over wheels and eventually build their own which inevitably go back and influence the UK scene from which they were inspired. It's pretty mental stuff, right?
Anyway that should do it for today, I hope you've all enjoyed. I'll be back tomorrow with a look at the opposite end of the spectrum in the form of UK time attack.
Sean Klingelhoefer
Instagram: seanklingelhoefer
sean(at)speedhunters(dot)com
Other Players Classic coverage on Speedhunters