I recently interviewed 10 drivers on the Formula Drift grid asking what motivates them, and one of their responses really struck a chord with me. I asked Chelsea Denofa about the five battles needed to earn a win in Formula Drift. He told me that he never thought of it that way, because it's never just five simple battles, it's actually a countless amount one after the other. From mechanical issues, to simply getting the racecar to the event, the easiest part is getting behind the wheel and driving. The only way you will ever find yourself on the podium is if you take things one battle at a time.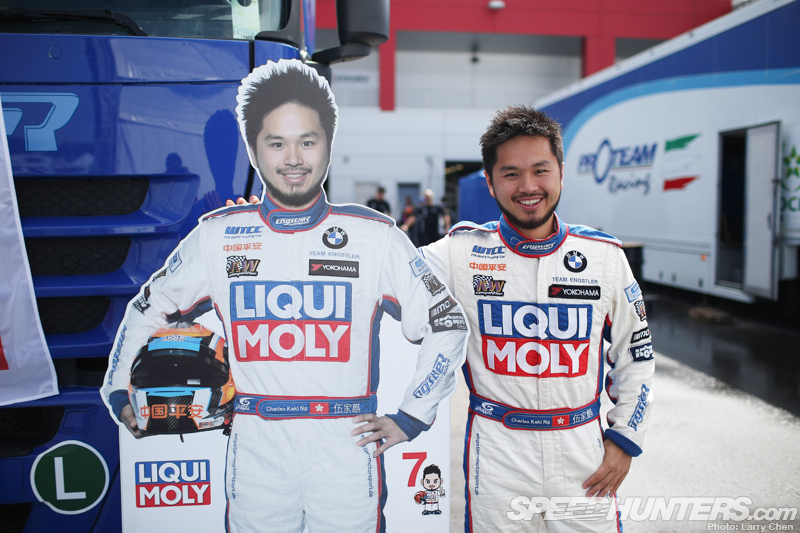 That logic can be applied across every type of motorsport. It most definitely applies a privateer racing in the FIA World Touring Car Championship. My good friend Charles Ng drives for Liqui Moly team Engstler and he is one of the many privateers who follow the world wide series.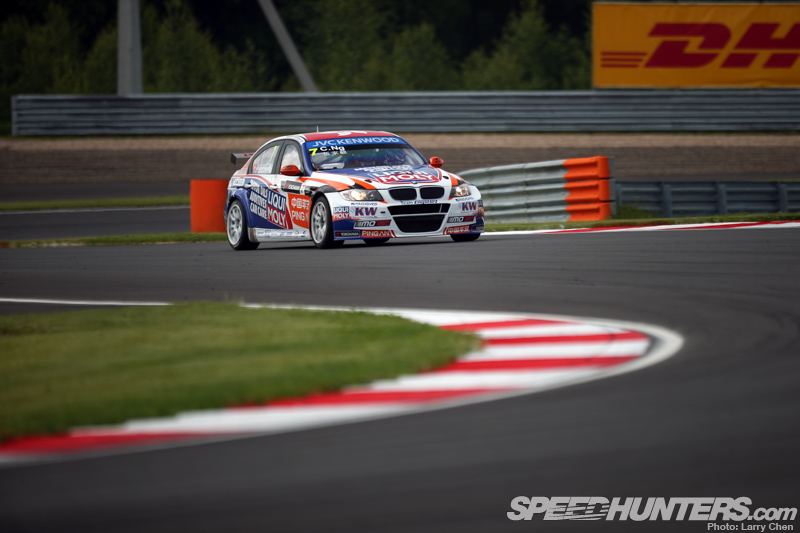 This was his second year and I've been to two of his races before. Both were during his rookie year– one in Sonoma and the other in Macau.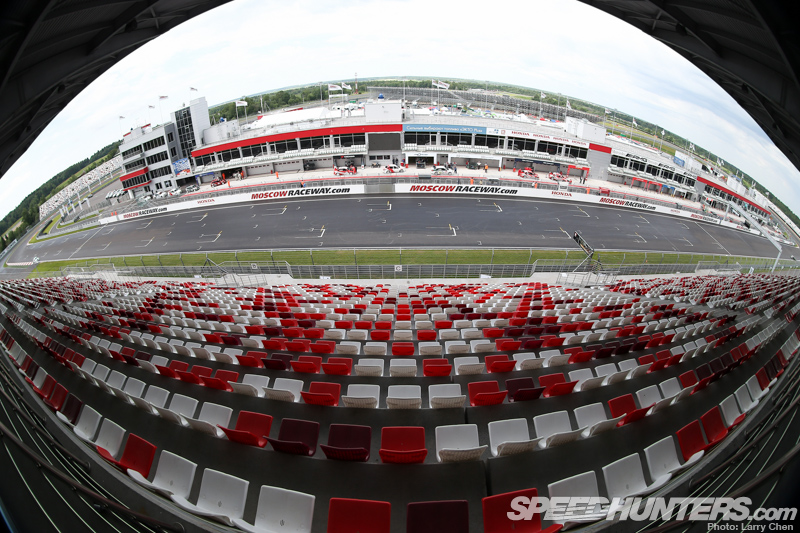 He invited me over to check out round six in Russia which was held at Moscow Raceway, which is located just a few kilometers outside of the city center. As it's still relatively new, this would be the inaugural WTCC race on this track.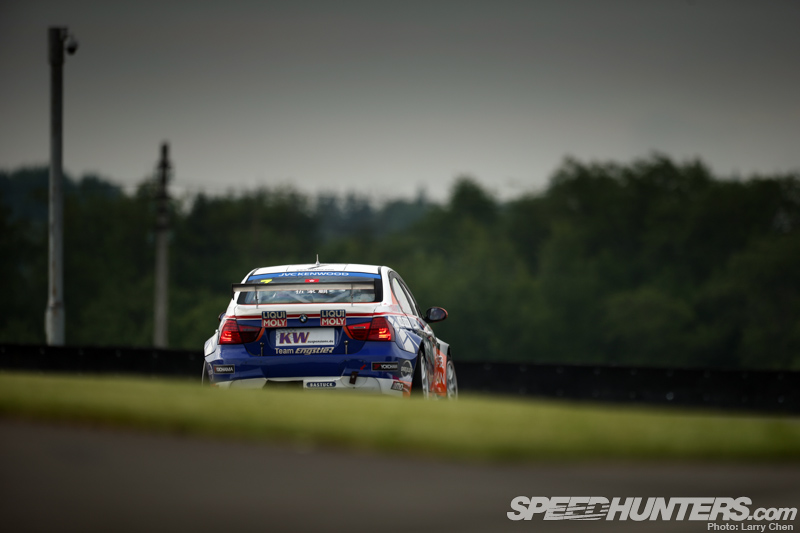 WTCC races are broadcast all over the world, but it's very hard to find in depth stories from behind the scenes, especially the lesser known privateers. So how many battles does Charles and his team have to overcome for this single event? More than I could have ever imagined.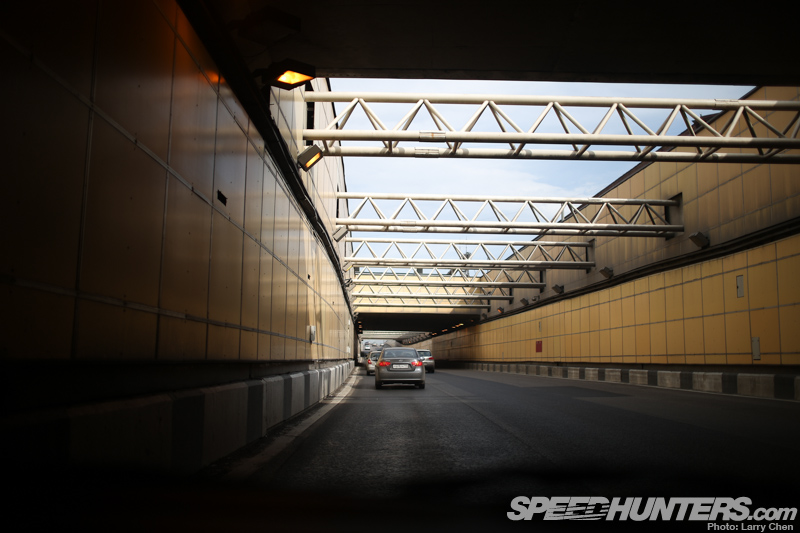 It started with Moscow traffic. Coming from someone who lives in Los Angeles, I can honestly say Moscow has got to have the worst traffic in the world. Beijing probably has the worst congestion, but there were plenty of times where I was fearful for my life, which may have had something to do with the amount of drivers speeding, on the wrong side of the road.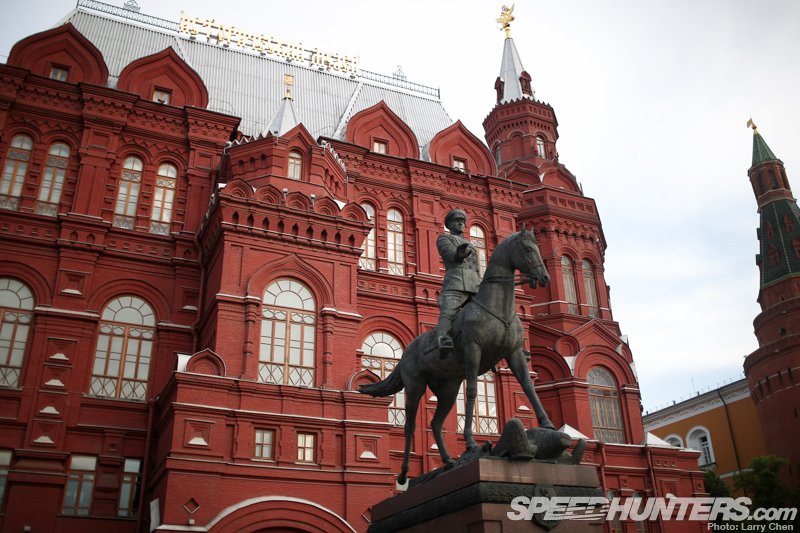 It's very rare for us Asian tourists Speedhunters to see the walls outside of a race track when we go to cover an event, so I really took the opportunity to enjoy the sights and sounds of Moscow.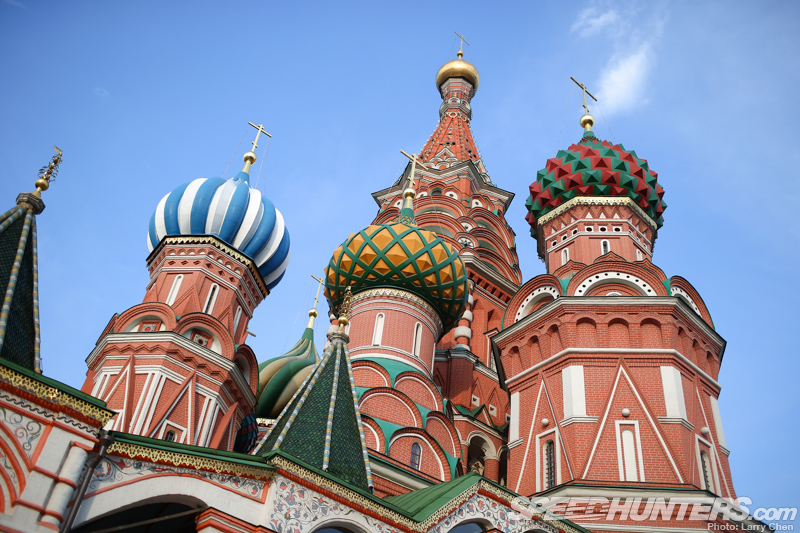 Red Square was as beautiful as I imagined it. The colors and architecture were like nothing I have seen before.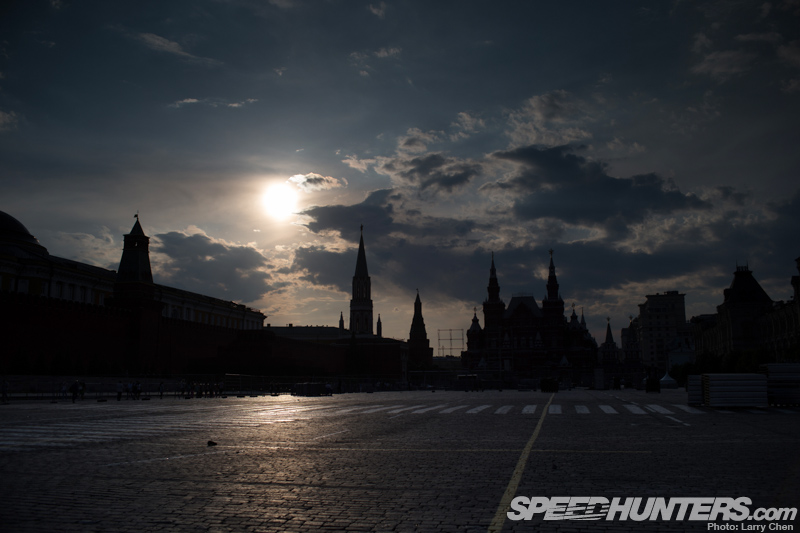 If only this race was on the streets of Moscow – then again it would only make the traffic worse. As my Russian drifter friend put it, the traffic will eat your soul.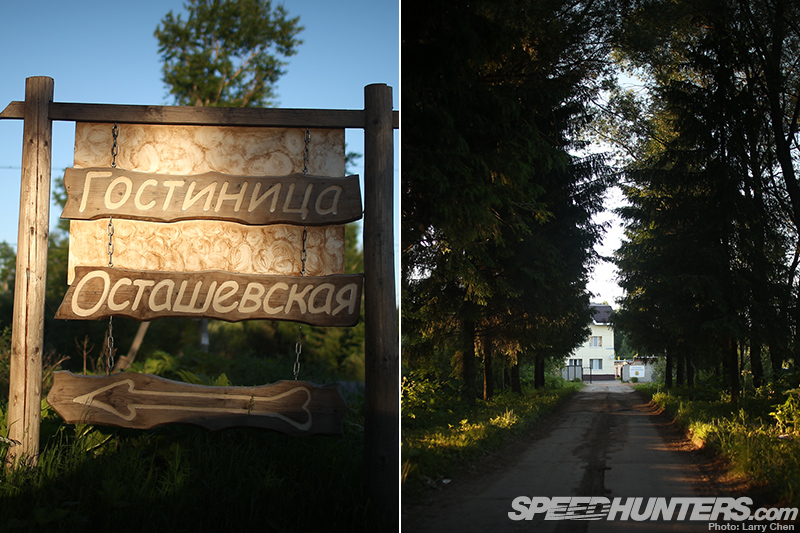 Many of the teams stayed near the city center, which proved difficult as there was a two or three hour commute to the track even though the distance was just 75 kilometers. We opted to stay near the track in the countryside, which came with its own challenges.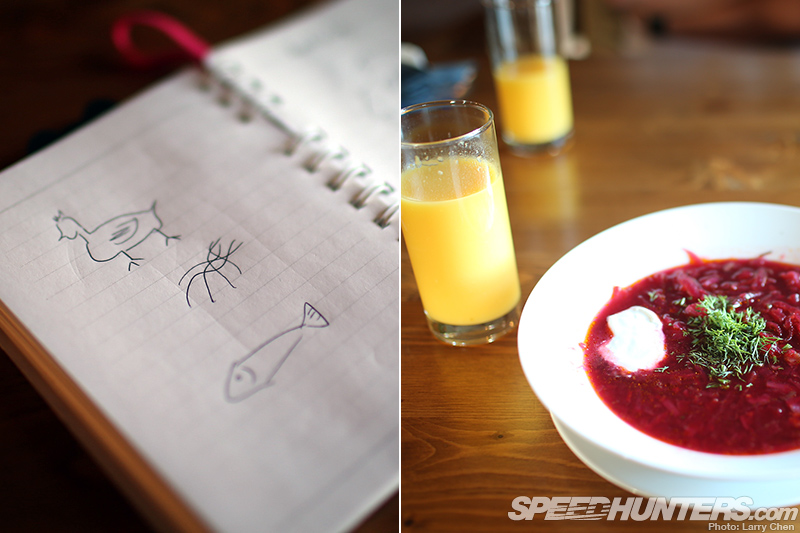 I did not speak a lick of Russian, and the locals spoke even less English. So we had to resort to drawings when it came time to order food at the local restaurants. I did know how to order one local dish called borscht, which is a beet soup, and was always very delicious.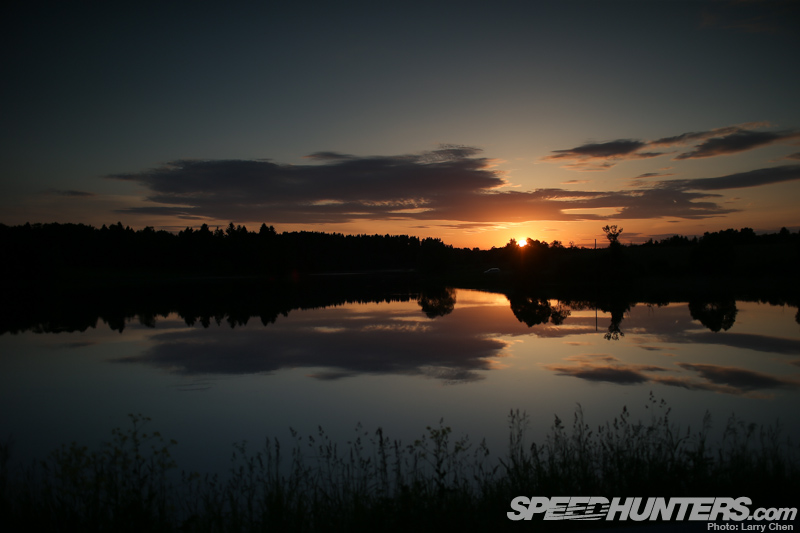 It was worth it though as the Russian countryside during this time of the year is stunning to say the least.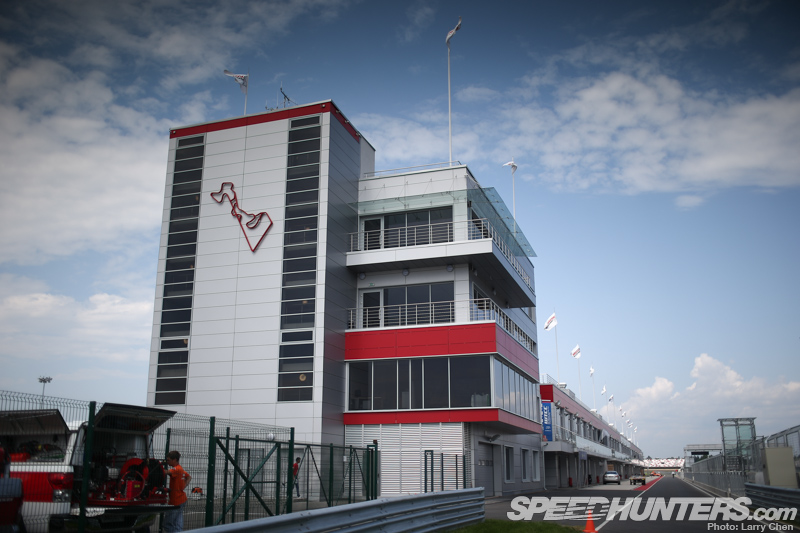 The track was brand-spanking new and it looked like it was created out of Lego. It was built with the hope that one day F1 will grace its many corners.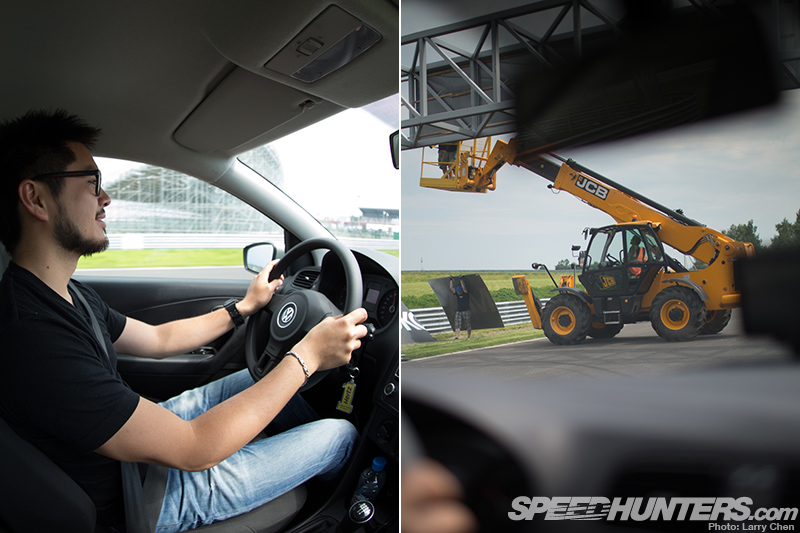 As a tradition, on setup day Charles takes his rental car on the track and goes for some hot laps. It was his first time at Moscow Raceway, so he took this time to learn it and memorize it. Of course there was occasional lap traffic in the form of cherry pickers and lawn mowers.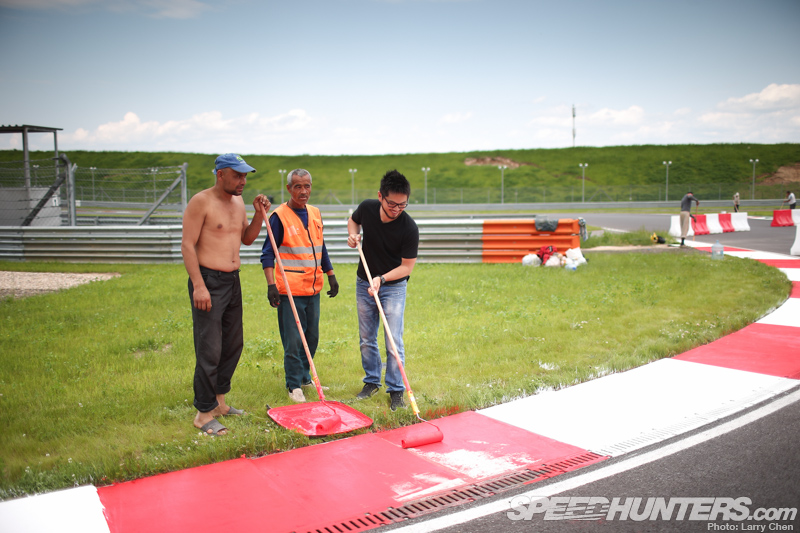 After driving the course Charles jogs around it a few times. It's the perfect way to get very intimate with each and every corner, and also a great way to stay in shape.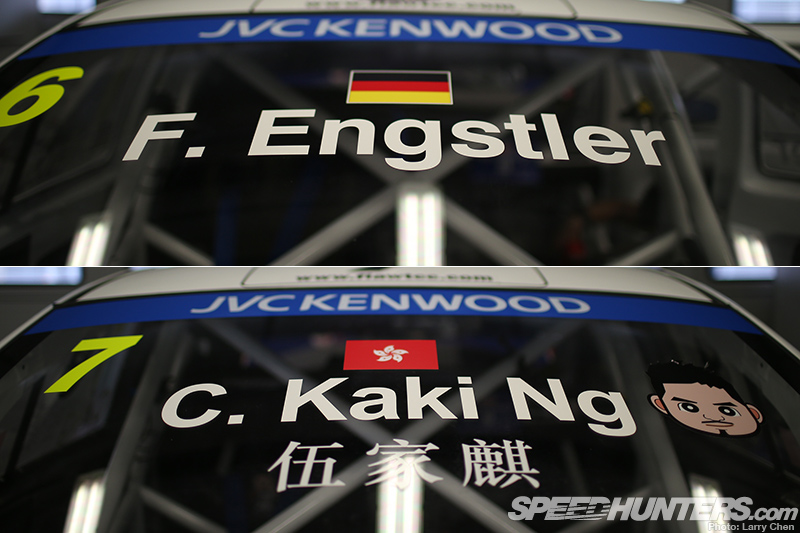 Liqui Moly team Engstler is owned by Franz Engstler, who is also Charles' teammate. He's very experienced having raced for over 30 years.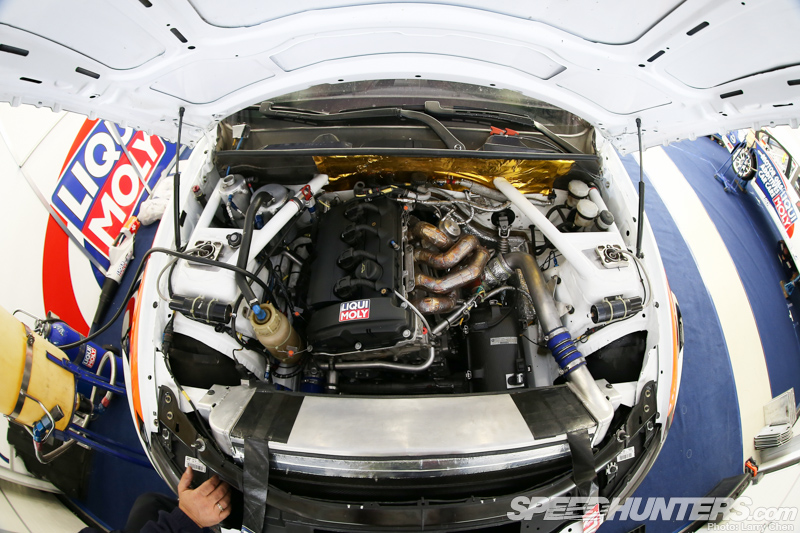 The two drivers campaign the BMW 320 TC  in a field of a variety of different touring cars. As all WTCC cars are regulated to, it's powered by a 1.6-liter turbocharged engine.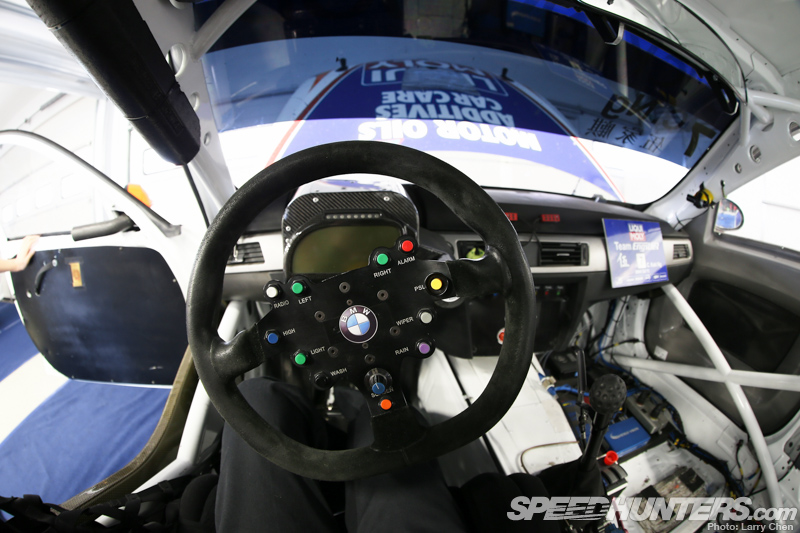 The chassis has been competing in the series since the inception, so it is over eight years old. BMW actually started off dominating the series in the beginning, but as time went on and more manufacturers joined the class, the chassis got slower and slower. Now it is a very rare occasion to see a 3 series on the podium.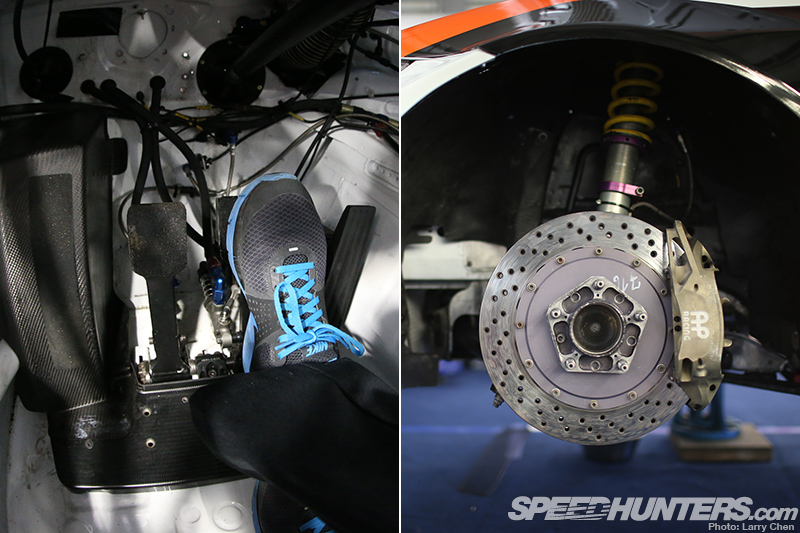 I had a chance to sit in Charles' car to feel it out for myself. I was told to try the brake pedal and see how stiff it was compared to a street car. It is very hard to modulate the brake pressure in this car, not only because it doesn't have ABS, but  also because it runs massive negative front camber – over six and a half degrees.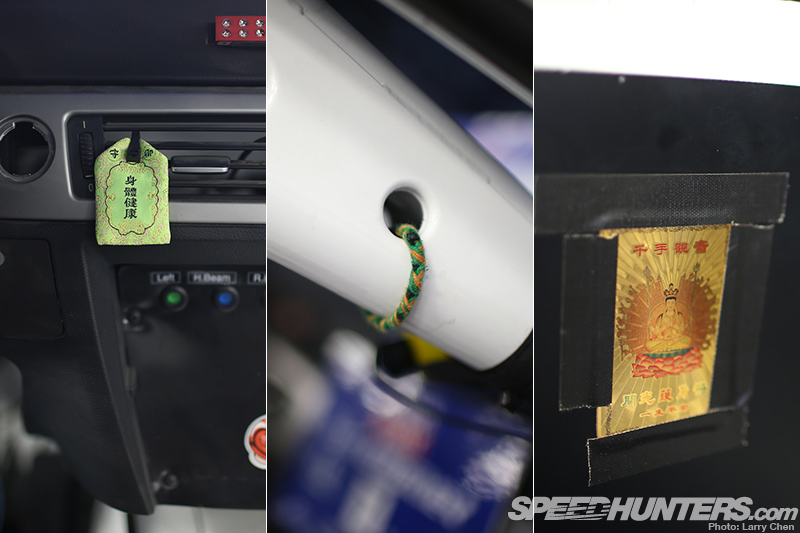 Charles was born and raised in Hong Kong, so being a Chinese native his family is very superstitious. There were little trinkets littered around the car that were blessed by certain temples and monks, and to join in on the tradition a team mechanic's wife made a little bracelet for good luck. They looped it into a gusset in the roll cage.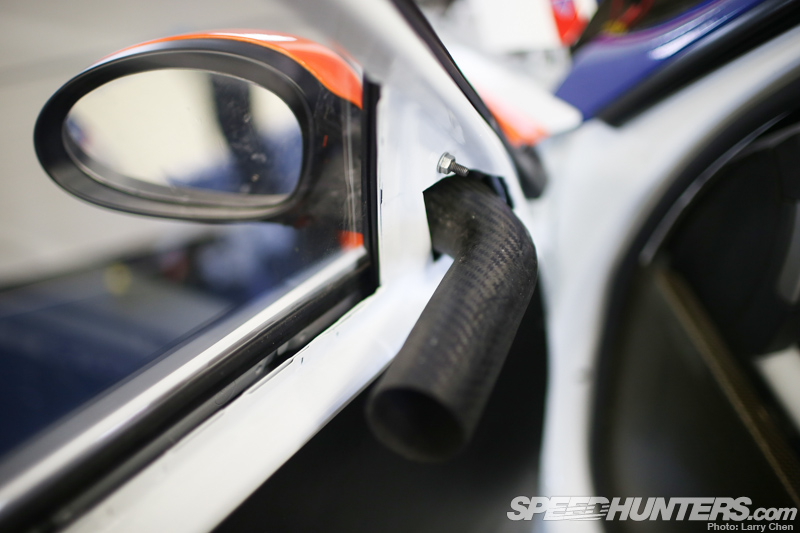 The team stocks many of these carbon fiber mirrors because on street courses Charles gets really close to the walls and knocks them off easily. Although, since they were on a real race track they had nothing to worry about, which is great as the team is on a privateer's budget and each of these mirrors costs 800 euro.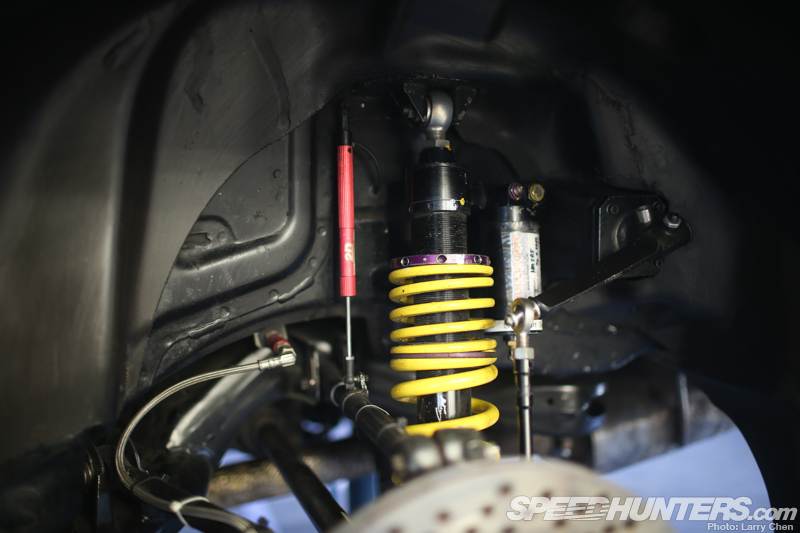 KW is a WTCC sponsor and the Engstler team run the same stuff in their cars. The engineers used Friday's practice session to dial in the optimum setting.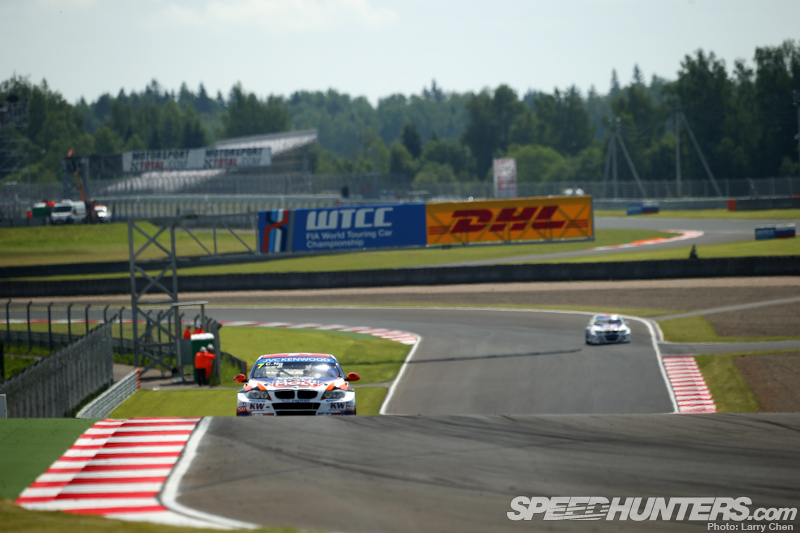 With the field being so competitive – especially between the BMWs – the cars are very strung out and are setup to drive on the absolute limit.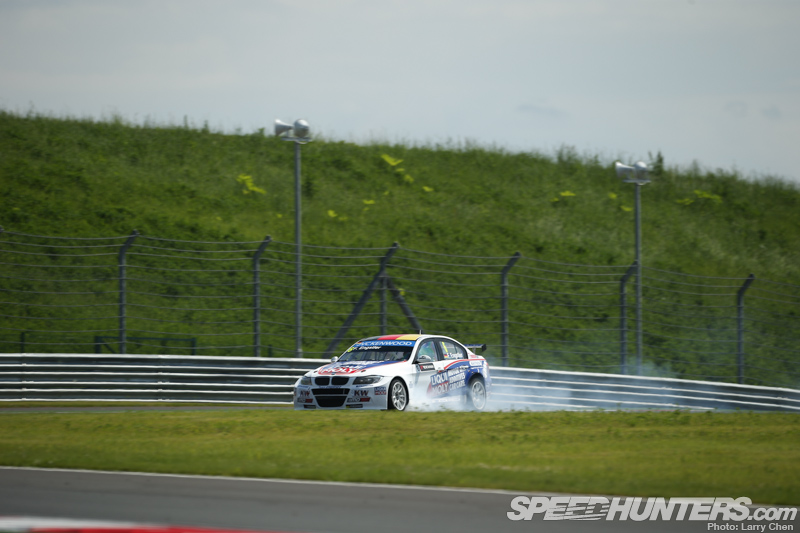 It's a very fine line between being fast and over-driving the car. With the inclement weather it was hard to nail down a good setting.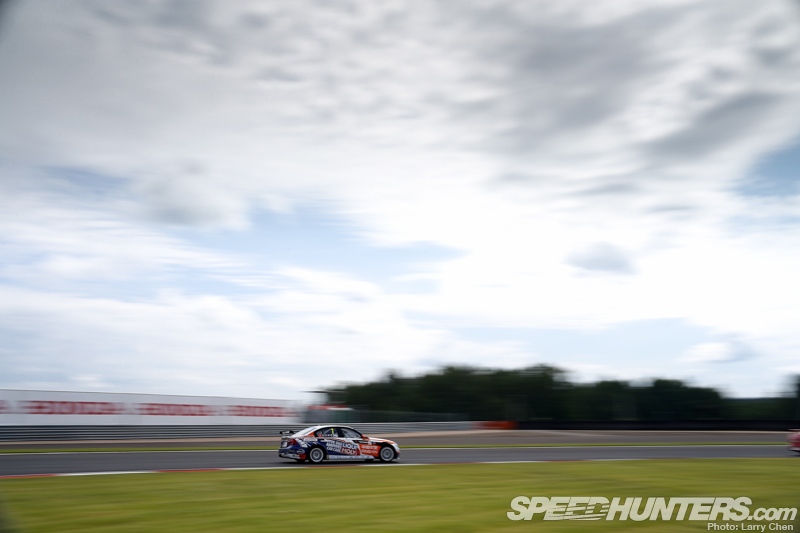 When it's too hot the tires get very greasy and it is very hard to find any traction, but if it rains the front-wheel-drive cars have a huge advantage over the rear-wheel-drive BMWs. The weather has to be just perfect – preferably with some cloud cover – for the Bavarian-built machines to keep up.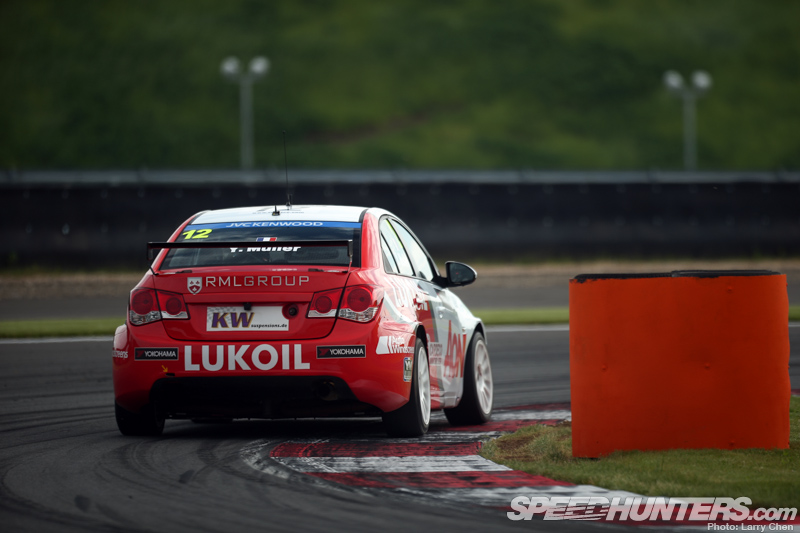 I love watching touring car racing as it's usually a recipe for lots of passing and extremely close races that almost always come down to the last corner. However, it's a little sad to see how this year's championship points are stacked so far. Only six events deep, the leading Chevy Cruze driven by Yvan Muller has almost double the amount of points over the second place driver.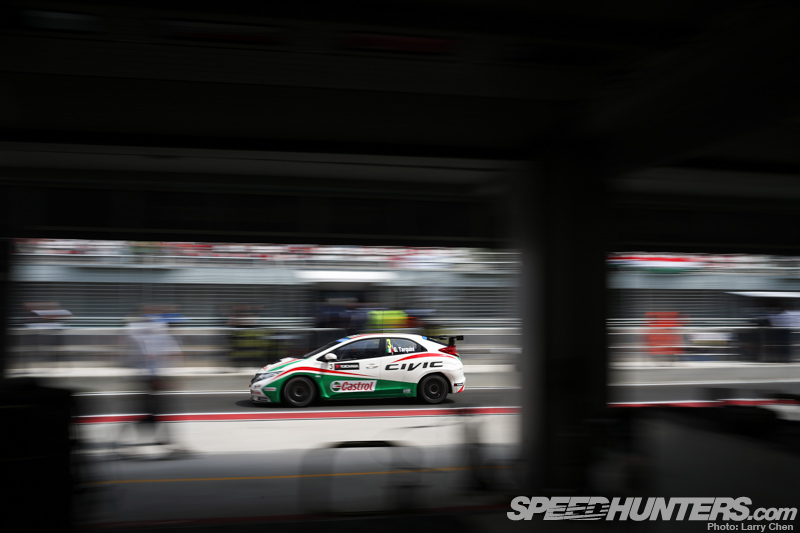 I just wish the cars were more equal as it is very clear that some cars in the series have much more horsepower than others – some say even as much as 30hp. That is almost ten percent more than what many of the BMWs in the series are running. With six events remaining it'll  be extremely hard for second placed Gabriele Tarquini in his Honda Civic to catch up to Muller.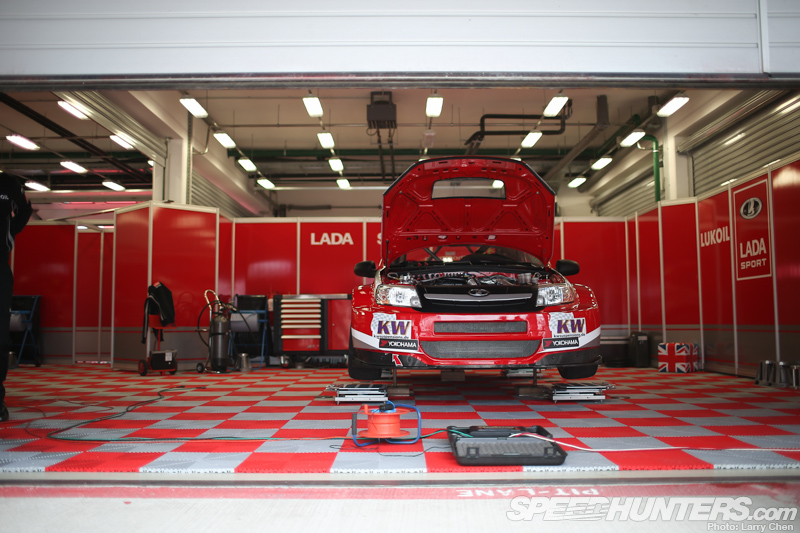 This year – with the addition of a round of racing in Russia – local car manufacturer Lada has jumped on board the WTCC.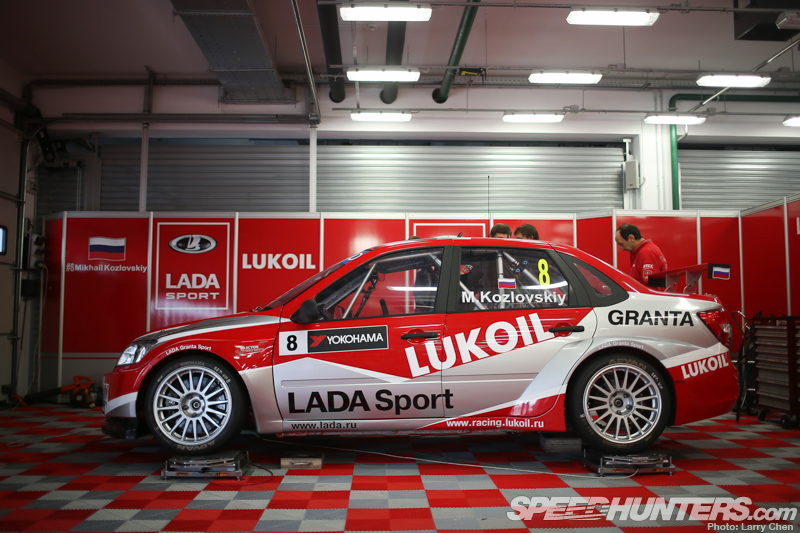 For its first time in the championship, Lada Sport is running a two car team with Russian driver, Mikhail Kozlovsky and British driver, James Thompson.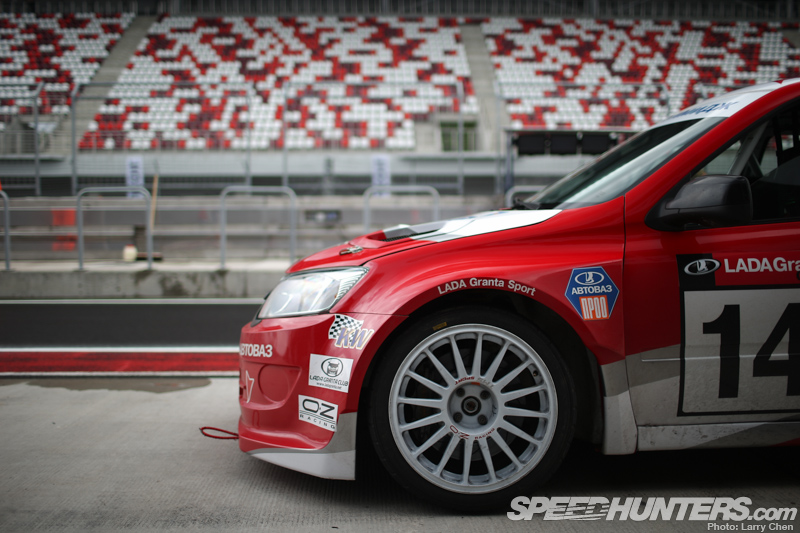 I got the feeling that the locals were not too keen on these cars as they see street versions of the Granata everyday, but I thought they looked great. The locals call them Lada Grenades for some reason, but they were very fast and also noticeably smaller than the rest of the cars on grid. I am very happy to see manufacturers like Lada taking a shot at the WTCC.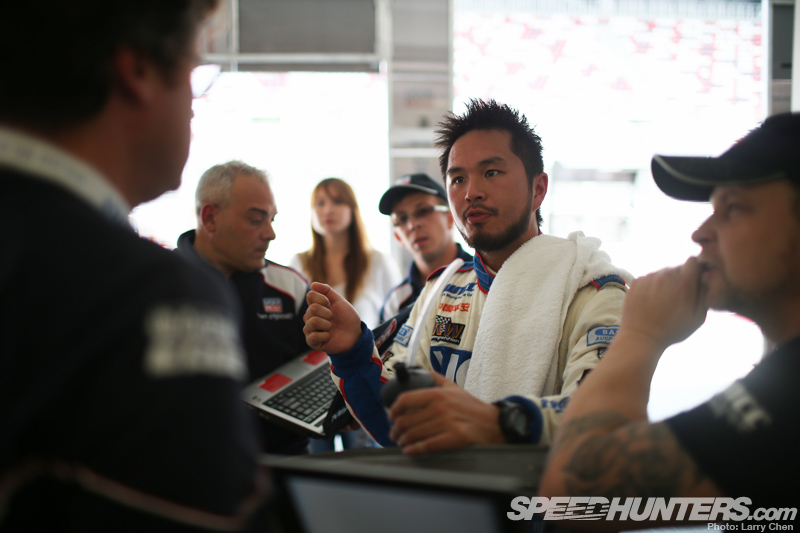 As test day came to an end the battles continued for the young driver and his team. The car was not down-shifting properly and Charles was finding himself having to force it into gear. The mechanics tried their best, but they could not diagnose the problem.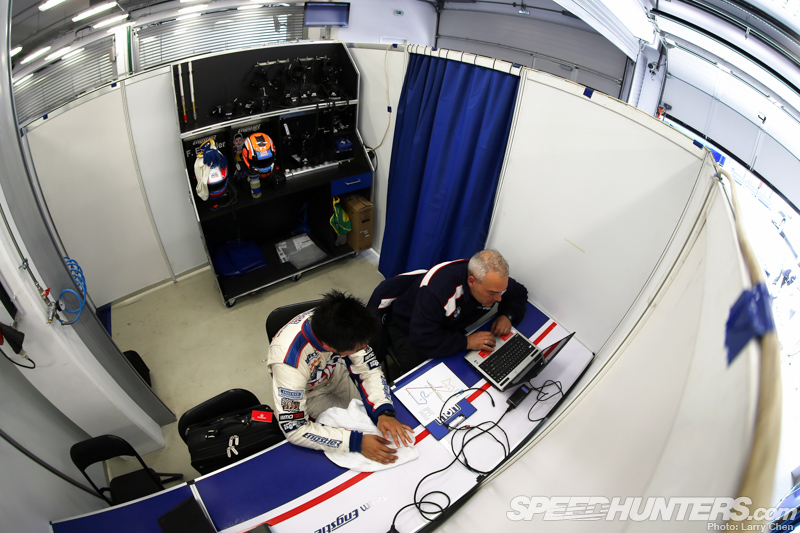 After every session Charles goes over sector times and strategies with Gabby, the team chassis engineer. The times that he was pulling were not very impressive and there was lots of work left to do if they want to qualify in a good position.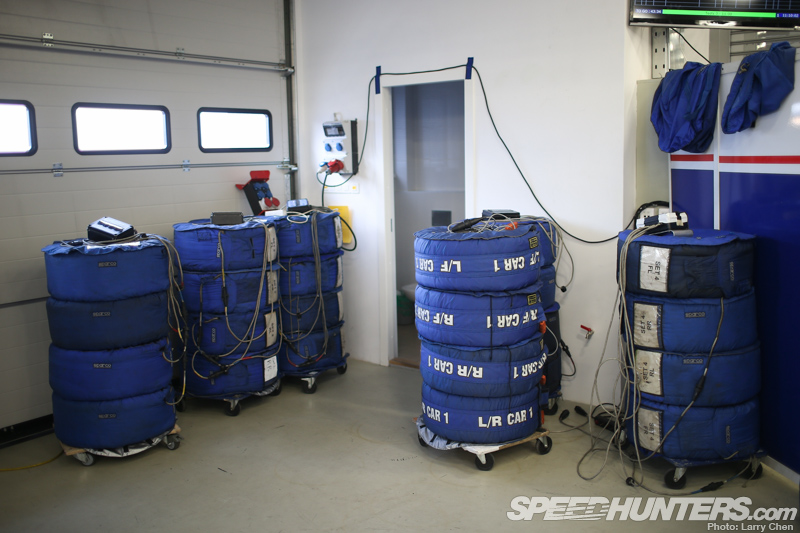 One of the most important factors in getting a good qualifying position is tire management. Each round every team, no matter how big or small, gets an allowance of 12 tires. That means that they really have to budget their tires and be very selective about when to use old sets that they have saved up, or when to use a fresh set. It is very important to also save enough tires for the actual races.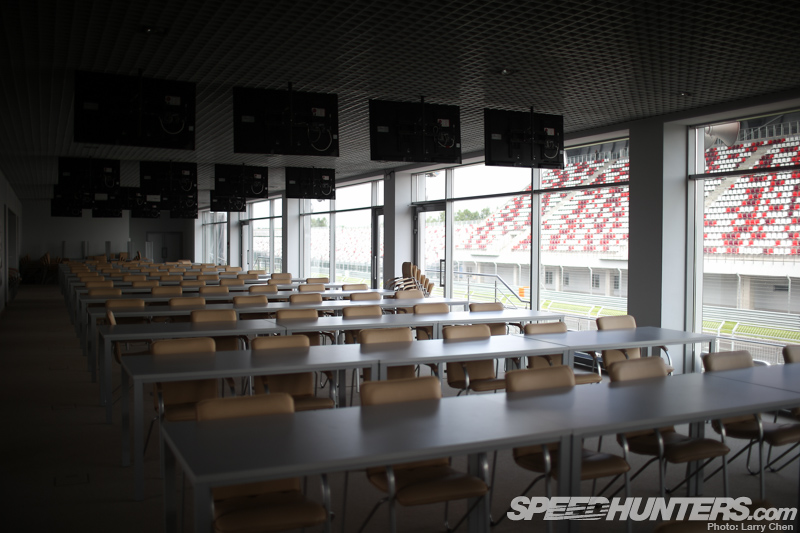 This was my office for the week. The media center was completely brand new and there were no coffee stains or funky odors.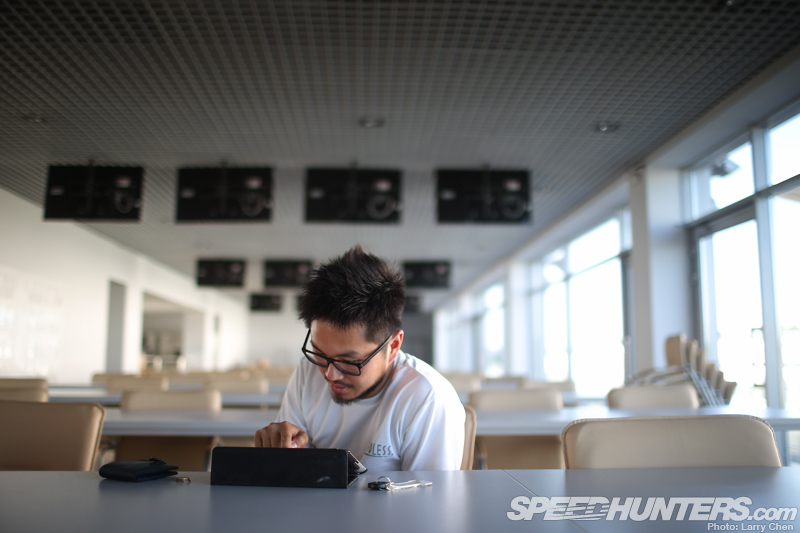 At the end of the day I found Charles sitting next to me as I went through photos. He was watching replays and videos of people driving the track on Youtube to further research the course and see how different people tackle the tighter corners.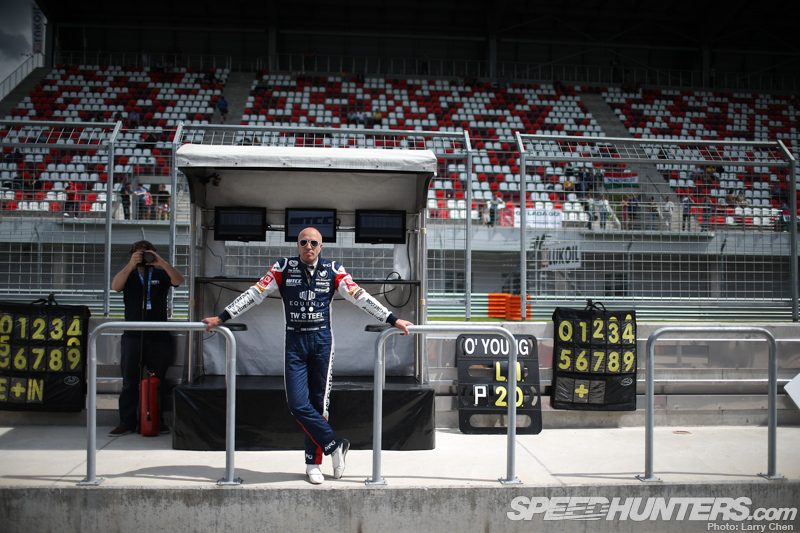 Qualifying day is always very stressful for the drivers and the teams as it sets a precedent for the rest of the weekend.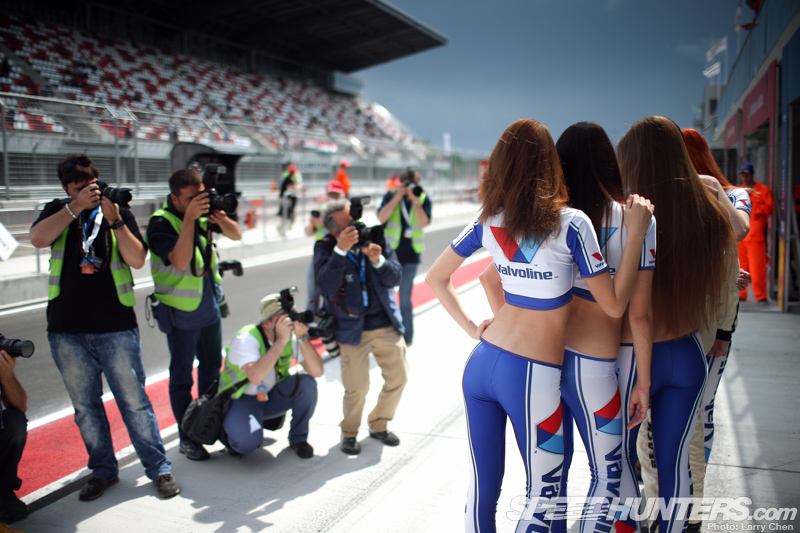 Media from all over the world were out in force as always and the spokesmodels appeared to be loving every moment of it.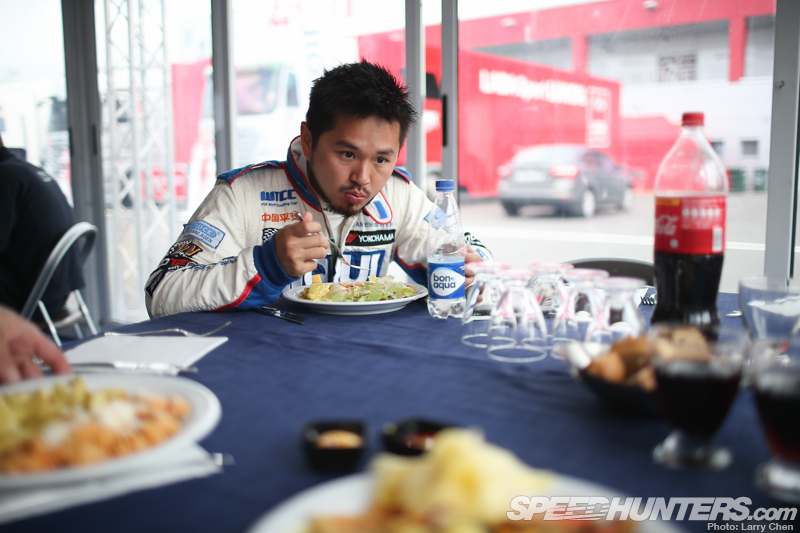 Charles did not eat much at lunch as he had way too much on his mind. The BMWs were having a really hard time on this course with the front-wheel-drive cars consistently lapping over one second faster. The worst part was, he and everyone else on the grid knew that there was much more left in the Chevys as they tend to sandbag their practice laps.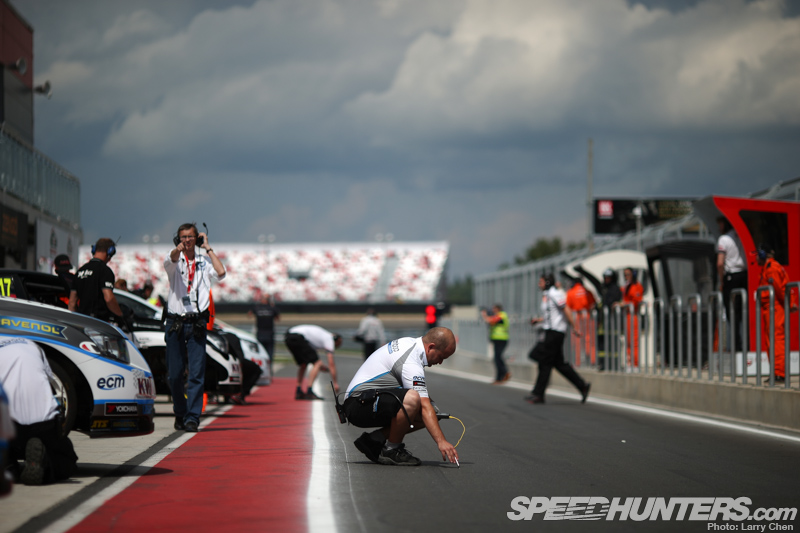 They really can unlock their true potential during qualifying, but to make things worse for the rear-wheel-drive car, there were ominous-looking rain clouds lurking nearby as the session was about to start.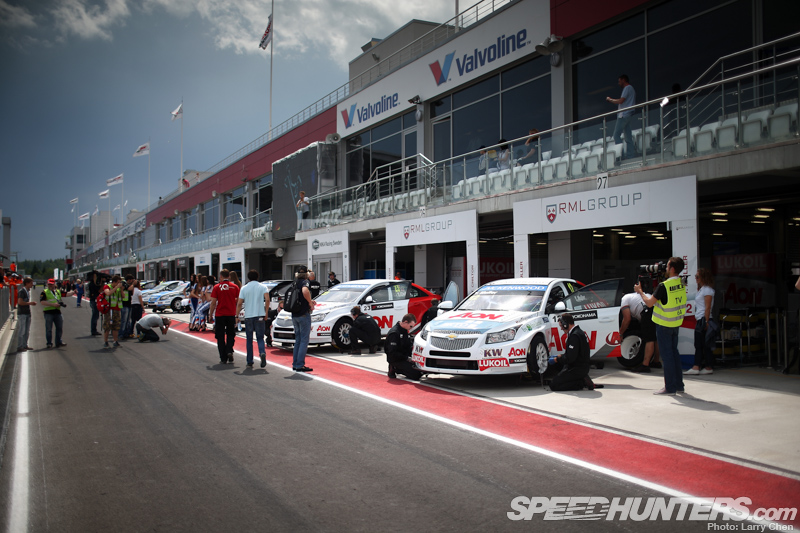 Qualifying is fairly straightforward in WTCC. All the cars go out at the same time and have 20 minutes to put down a fast lap.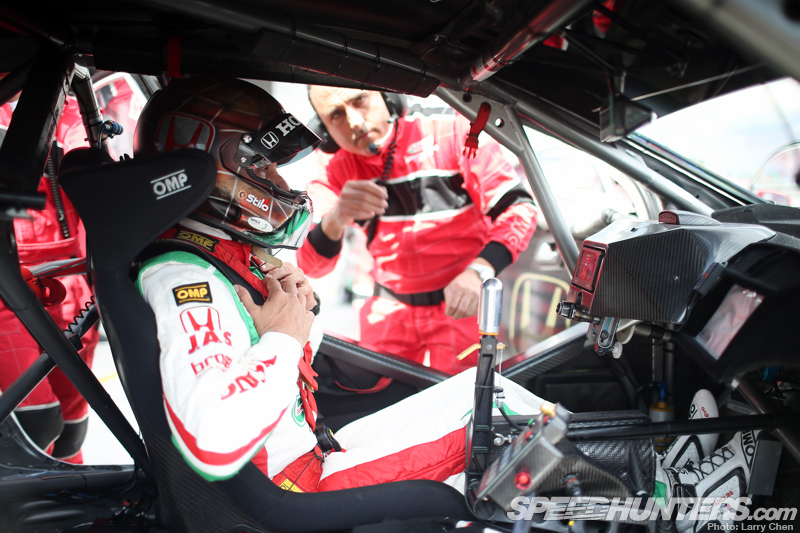 Out of the entire grid the 12 fastest cars get to move onto the second qualifying session where they can further improve their time without a full grid of traffic in the way.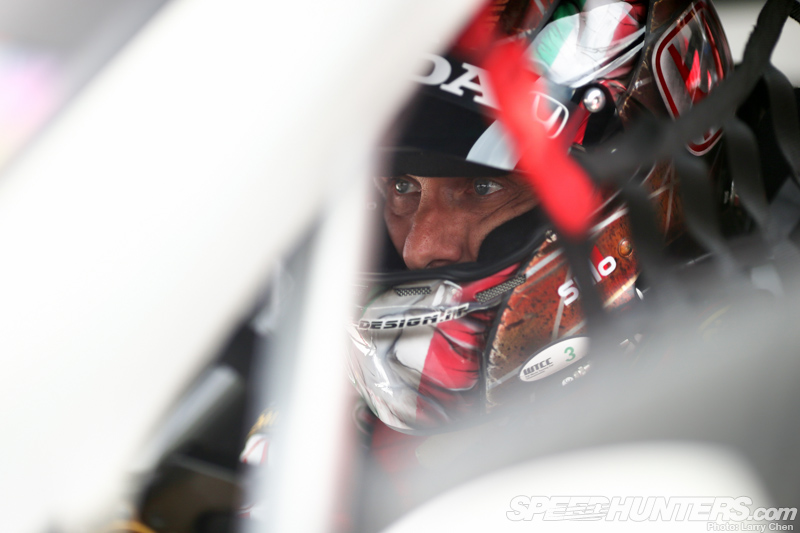 In the wet the front-wheel-drive cars are easily four seconds faster per lap, and with the power handicap there would be no way any BMW would get into the second qualifying session.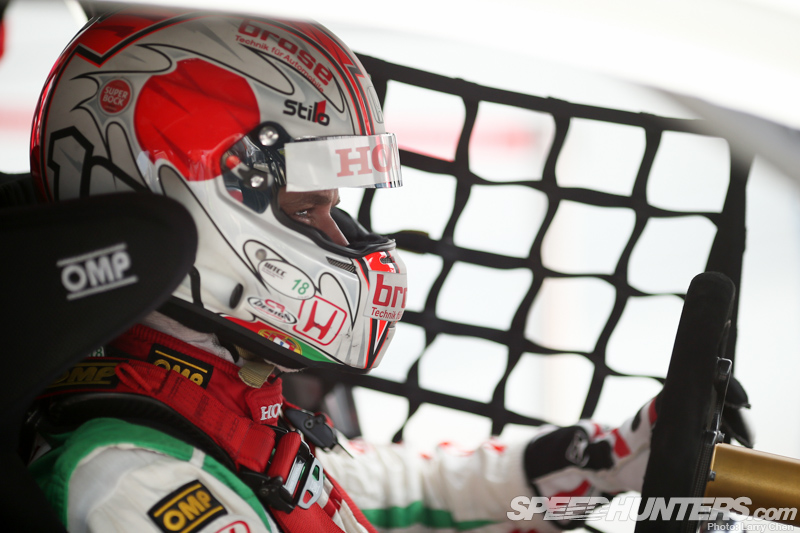 It doesn't matter how much these teams were handicapped, each and every one of them were essentially in a race of their own – whether gunning to become the top finishing privateer, or finishing in the overall top 10.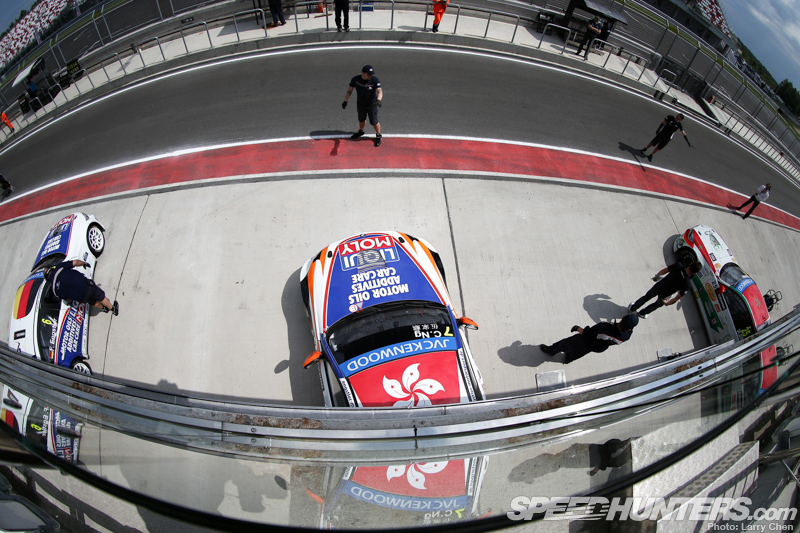 For example, Charles has never made it into the second qualifying session, but it's only his second year in the series. Many of the drivers have been there since the beginning. Round-by-round he pulls out of the pits for qualifying in hopes to run a lap quick enough for Q2.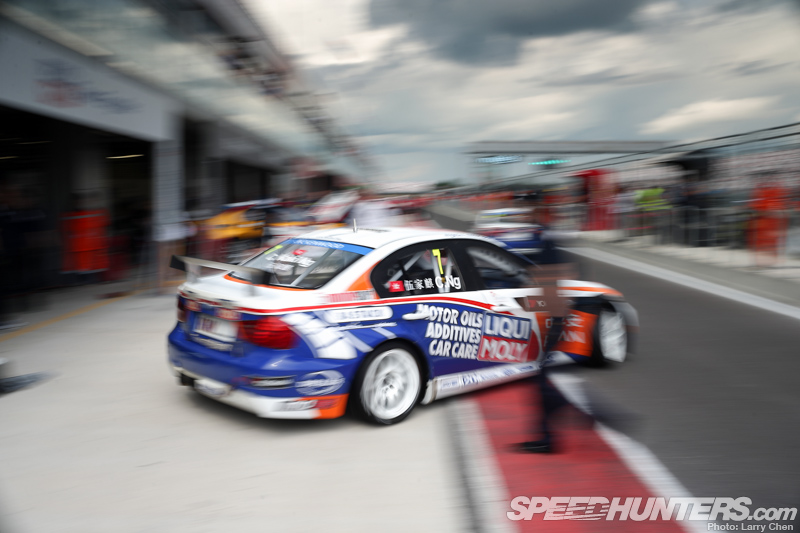 He was driving against some of the best touring car drivers in the world and being the top finishing BMW is a win in itself.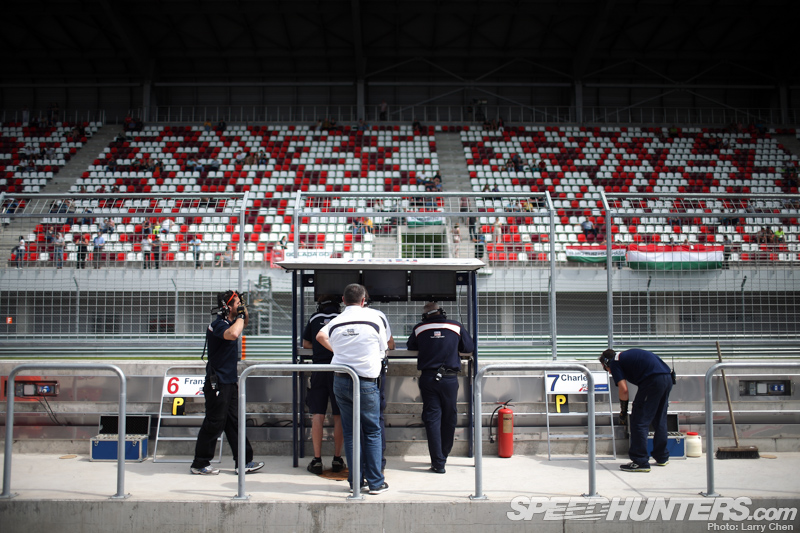 The only way the slower cars can pull a fast qualifying lap is if they draft someone faster than them. The Chevys, on the other hand, seem to have enough power to run fast laps without having to draft anyone.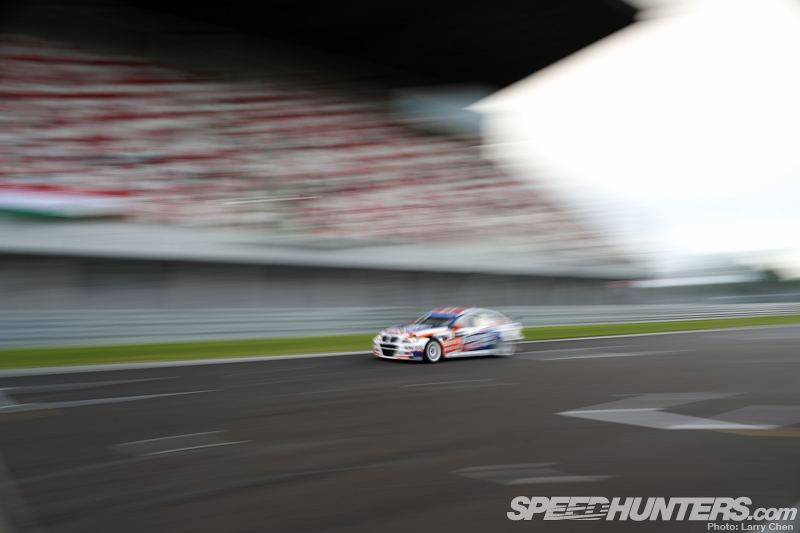 So far the Chevys have been in the low 1:43 range while most of the BMWs were hovering around the high 1:44 range. At this point Charles was in 20th place. It was not looking good.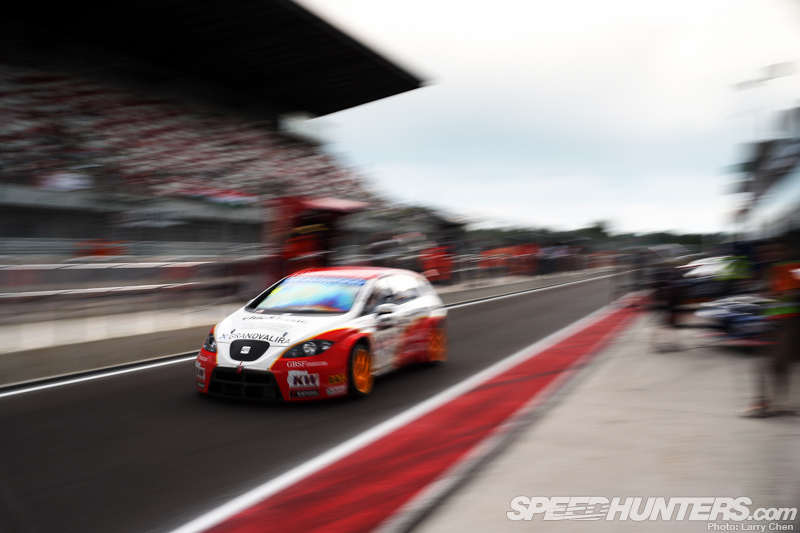 After two quick warm up laps on old tires it was time to pit and switch to brand new slicks for a single fast lap.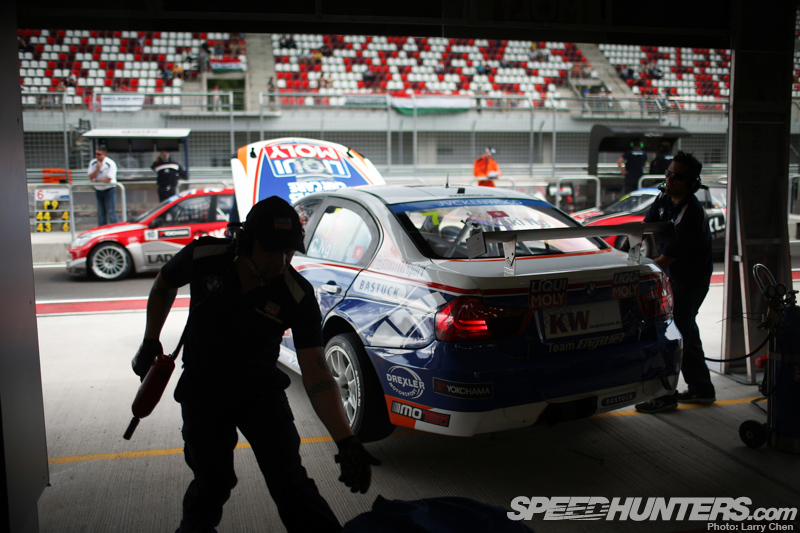 Charles pulled in and the team scrambled to get the car back out as time was running out.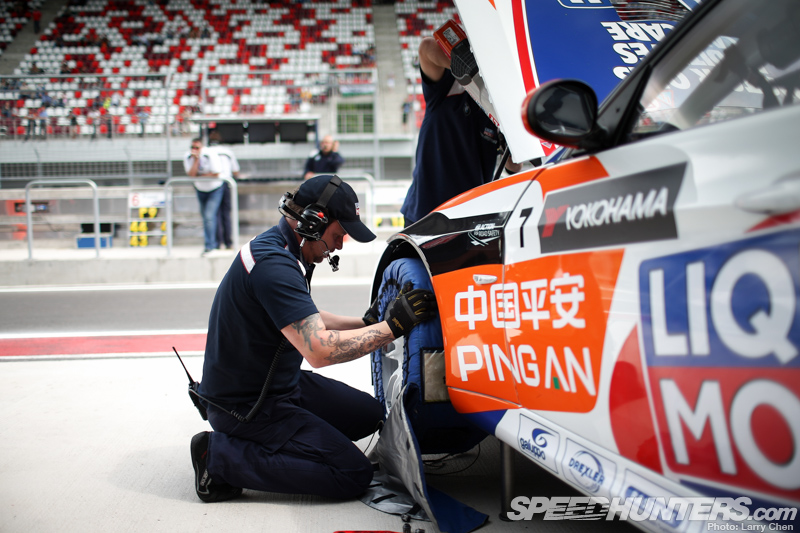 The new tires have been sitting in the tire warmers so they will be nice and sticky right off the bat.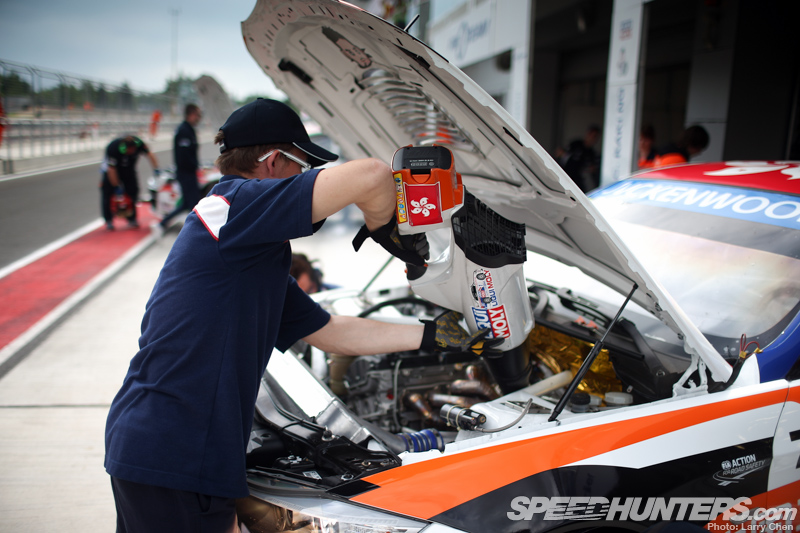 The team used an electric blower to cool down the turbo. Charles will need every bit of horsepower they can squeeze out of the 1.6-liter turbo.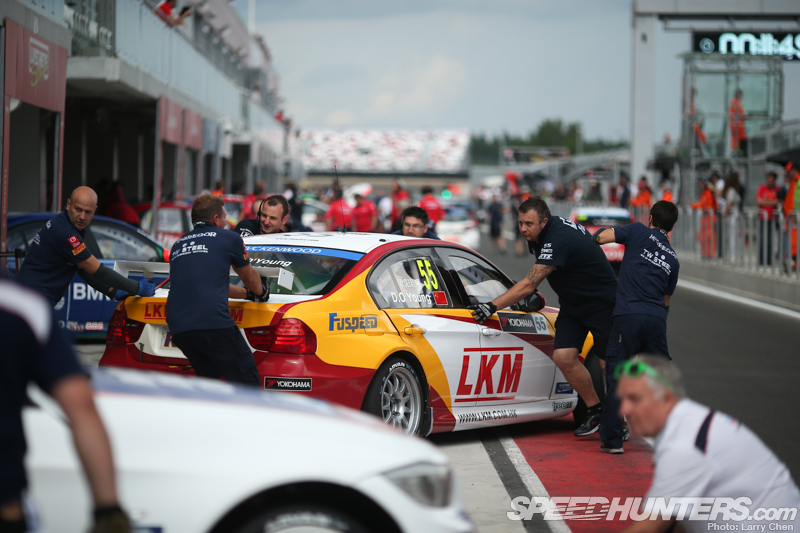 It was a crapshoot as cars started to pull out. There was no telling if you will end up behind a faster car that will let you draft behind. If you wait too long then there is a chance that you will run out of time.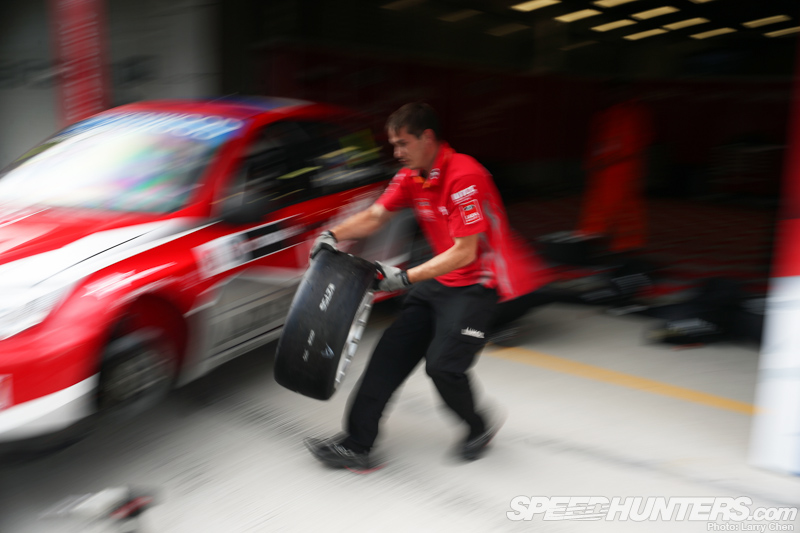 The Lada Sport team scrambled to get their star driver back out for a fast lap. These Ladas were very fast on the straightaway so they were perfect to draft behind if you were in a BMW.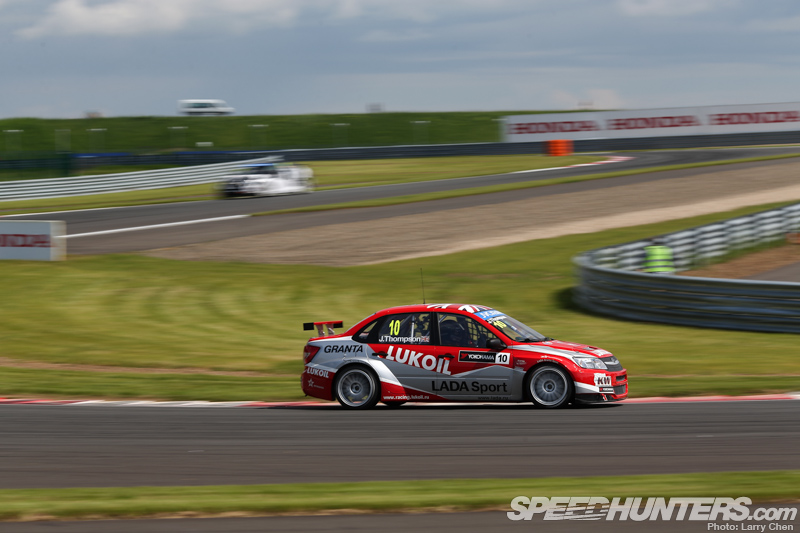 Charles pulled out of the pits in hopes of catching the slipstream of a Chevy, but it was too late. So he waited. Then a Lada whizzed by him, followed by another. He followed.
The Lada was very fast, and drafting behind it seemed to have worked. After crossing the line Charles looked down at his time and he could not believe it. He was in sixth place outright.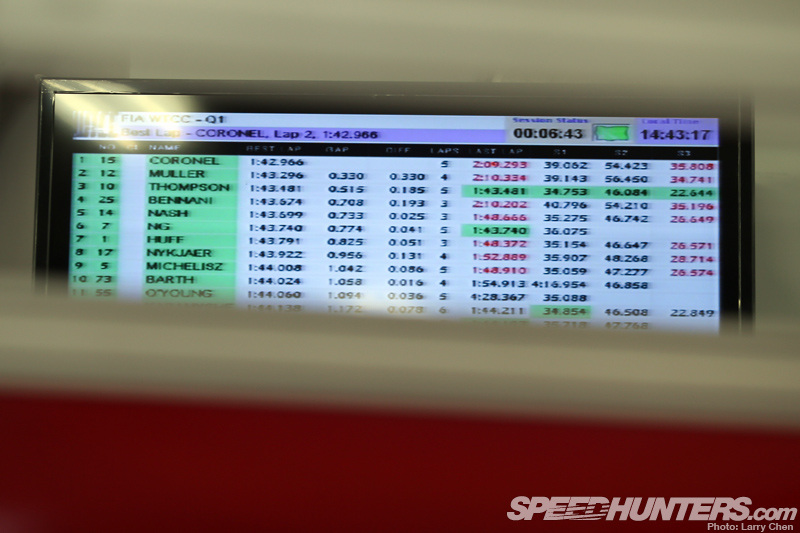 The Lada that Charles drafted behind was in third, but his time was fast enough for a ticket into Q2 for the very first time.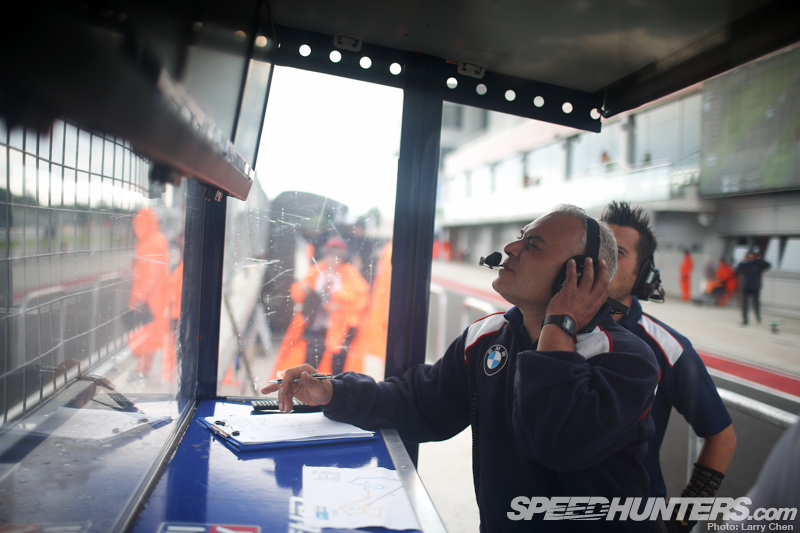 So what did he do differently from before? Practically nothing at all. There was so much luck involved, and he explained to me that it's very hard to find a car to draft behind, as they have to be on a fast lap as well. All too often he finds someone, just to have them shut down before the end of the lap, which is what happened in Macau last year.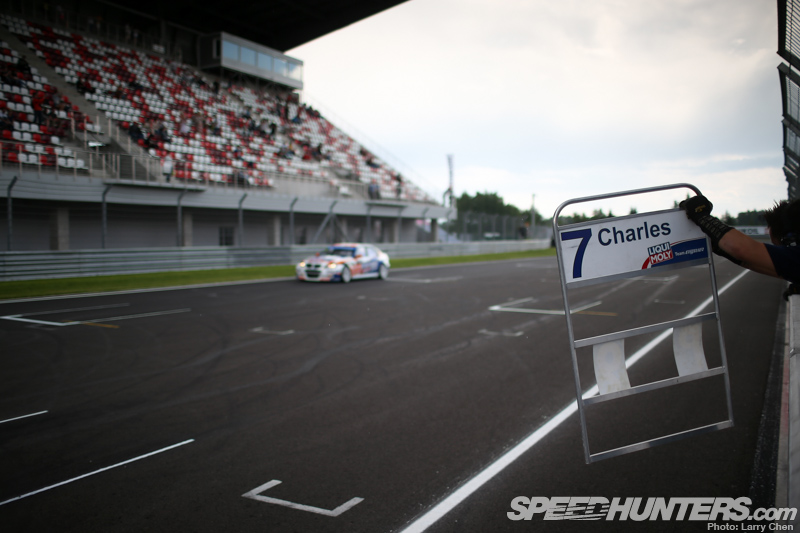 Although, there were two tricks that he applied this time. After thoroughly studying the course he figured out that you really have to play the waiting game while driving its many tight corners and be very timely with the throttle. It pains him to wait, but just a little oversteer coming out of the corner will be enough to slow you down.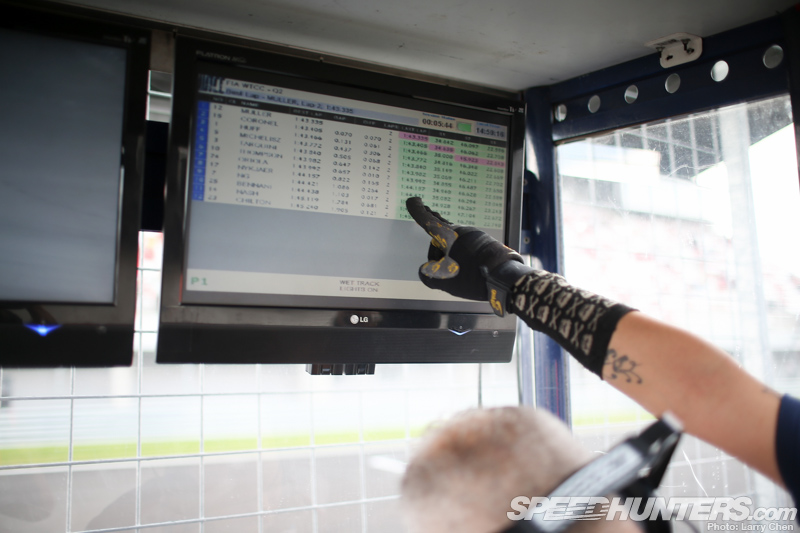 And then there was the last corner before the finish line. Fredric Aasbø told me that all drifters have a bag of tricks, and they use them when it comes time. Charles used a trick out of his bag, but what is interesting is he learned this trick from a fellow driver just a few days earlier.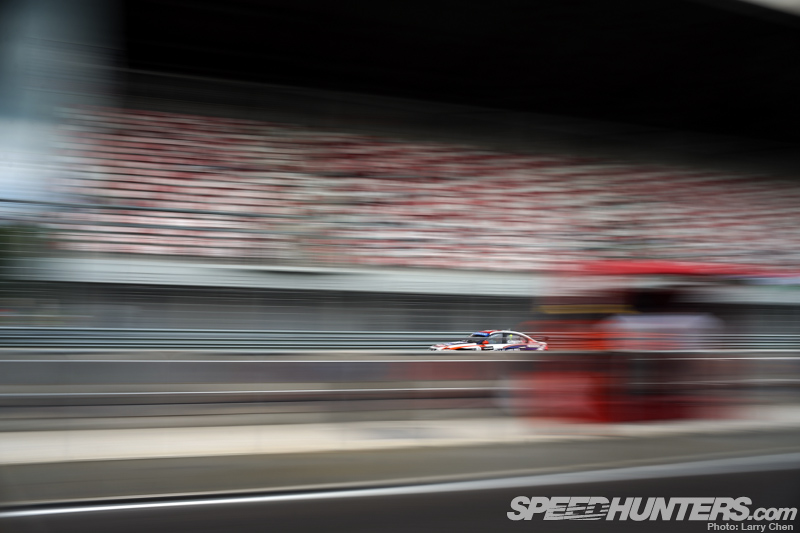 When I was competing in local Auto-X competitions it was constantly drilled into my head that it is better to enter a corner "slow in fast out" instead of "fast in dead out." The way this track was timed allowed Charles to essentially cheat the timer, because the beam was very close to the exit of the last corner. Basically, instead of entering the final corner in a fashion that would allow for the best straightaway speed, he entered it braking as late as possible, because as soon as he exited the corner, the lap was done. It's such a simple trick, but it was very effective.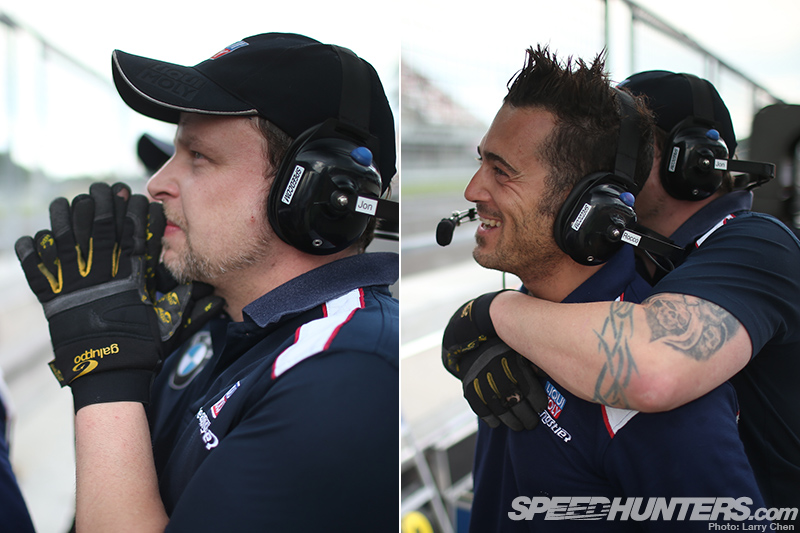 The clouds opened up and it started to rain, the second qualifying session was over and Charles ended up in ninth position. So why was the team so happy? It's not like he got pole! Well, in a way he did…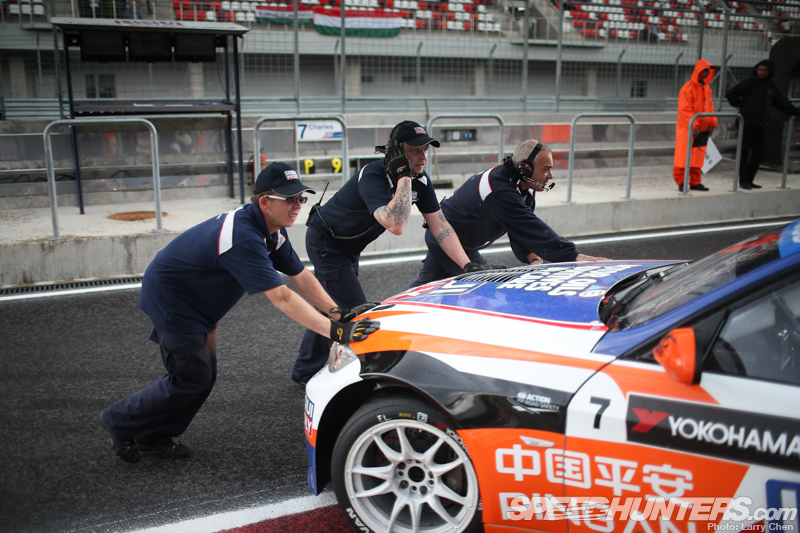 In WTCC there are two races every weekend, and the second race has a reverse-grid start from 10th place.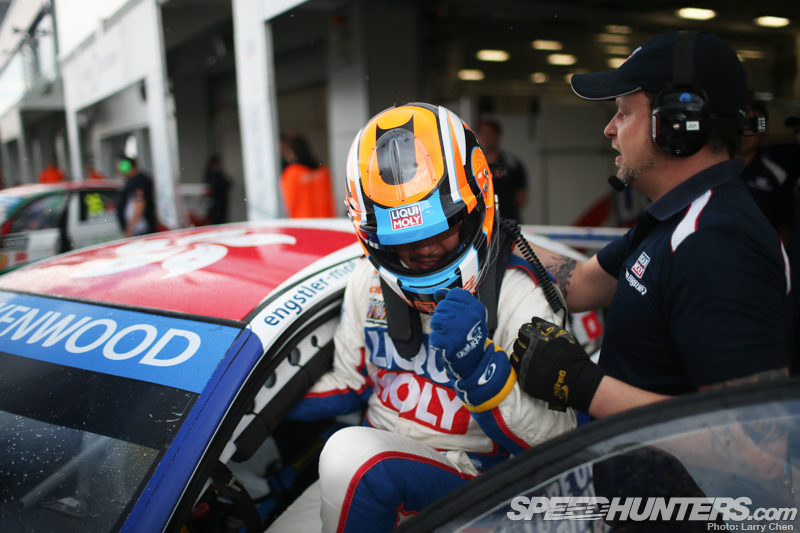 So, qualifying in ninth means Charles will get to start on the front row in race two. It means he gets a good shot at the podium.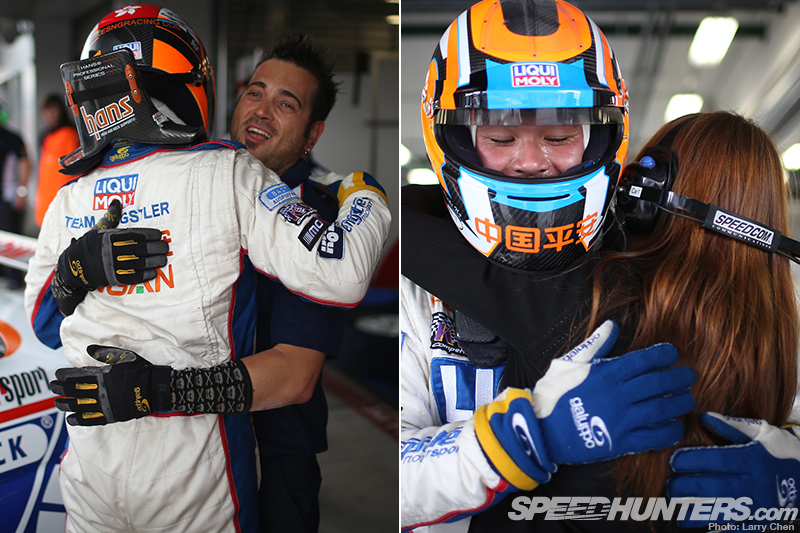 Hugs were aplenty in the pits that afternoon. Charles thanked his crew for such a wonderful car and he thanked his girlfriend as well, who also is his manager, for sticking by his side.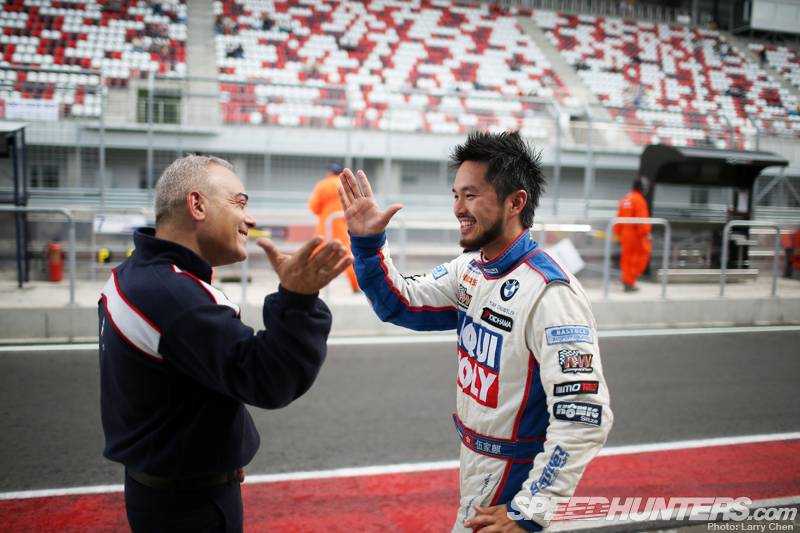 Gabby congratulated this kid who grew up in Hong Kong with dreams to become a professional racing driver. But he had stern words for Charles: "save the car in race one, so you can do well in race two"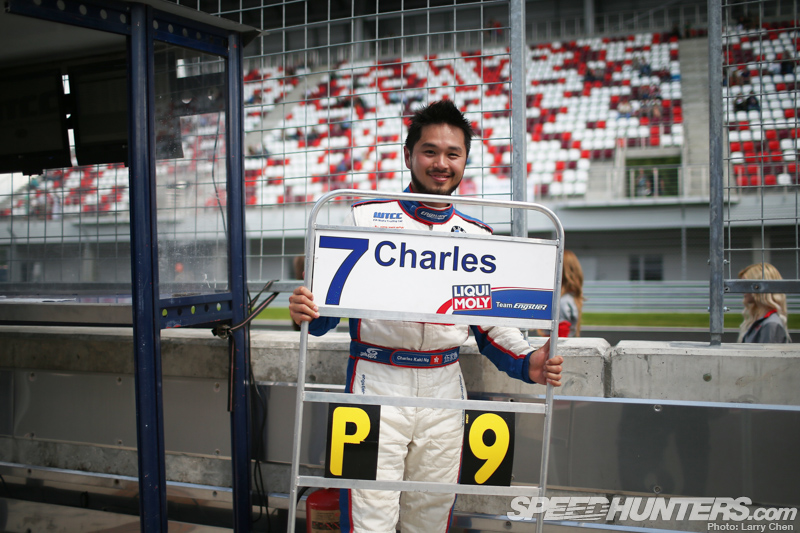 This was a personal victory for the young driver, and with a little bit of luck, he could finish well in the main race.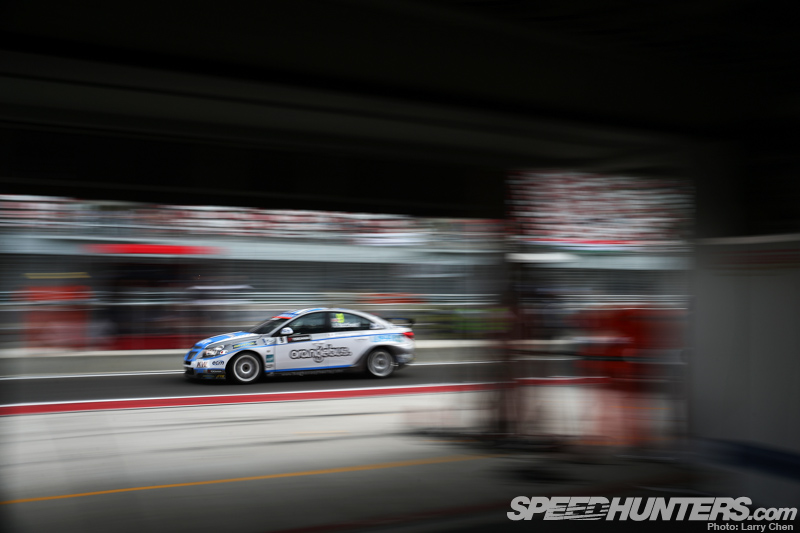 In an attempt to slow down the Chevys they are given a 40 kilogram handicap, but that does not slow them down much. No matter what racing series it is there will always be someone faster – it could never be truly equal. In a way I think it helps, because it really pushes the privateers to do their absolute best.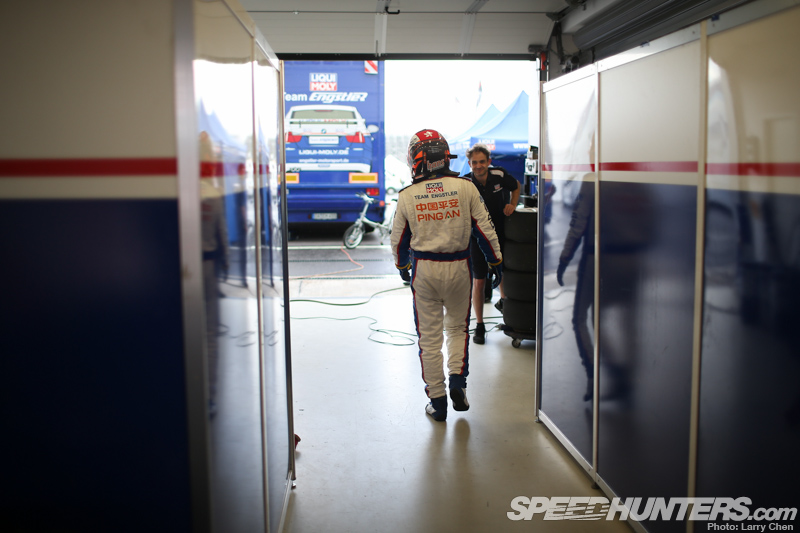 I'll pick the story up in my next post, which will focus on race day. For now enjoy the desktops from behind the iron curtain.
Larry Chen
Instagram: larry_chen_foto
Email: larry@speedhunters.com
More stories from Larry Chen on Speedhunters
More stories from WTCC on Speedhunters