It seems like an eternity ago now, but in reality, just over two weeks have passed since we kicked off the Speedhunters European Drift Tour. Okay, between then and now there's been three car shows, two countries and the small matter of a few thousand miles, so perhaps it's understandable that the first event of Players Classic at Goodwood seems like a distant memory. Of course, the stars of the tour themselves – Fredric Aasbø and Mad Mike Whiddett – have had an even more hectic schedule but we finally managed to grab both of them between international flights to get their feedback on how they feel things have been going.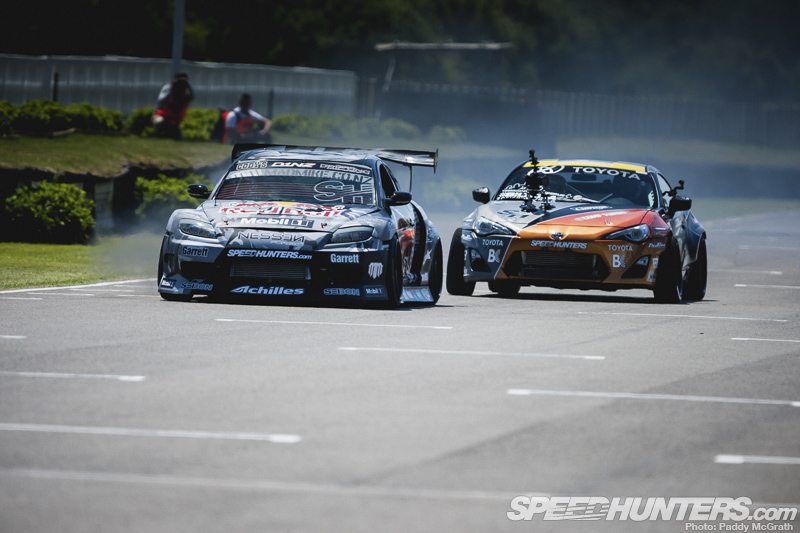 Suzy: So, how are you feeling now? You must be exhausted but was it all worth it? 
Mike: Well yeah, especially after another 30-hour journey to go back to New Zealand at the end of it all. Got a bit of rest on the plane but there was no time to rest while we were over there. It was pretty much three full days; a day of car prep and then two days of competition in New Zealand for the finals in which we managed to claim second in the championship, then straight back onto the plane on Monday after a drive back home.  Then arriving back in Norway last night, jumped in the camper and we're heading down to Germany to go down for the X-Games.
Suzy: You must have racked up some serious air miles!
Mike: Oh yeah, we're definitely clocking those up. We have some good points. The first leg of our European tour has been nothing short of epic!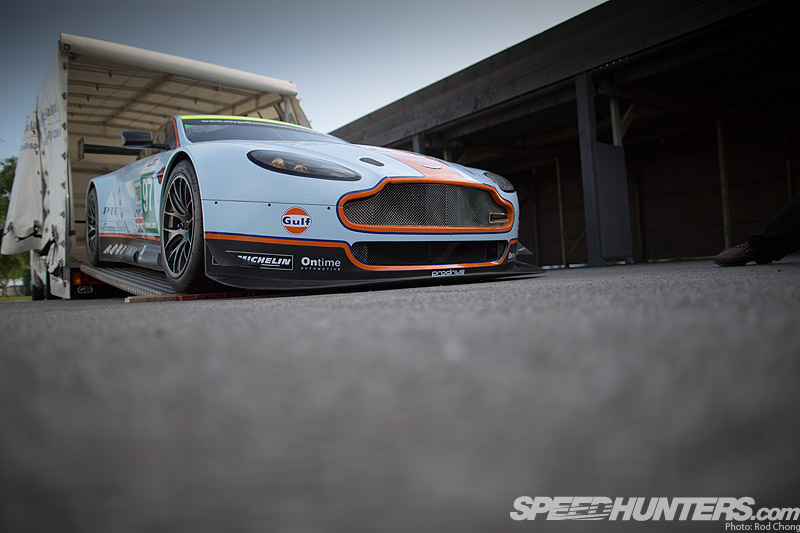 Fredric: Yeah, I was running around like a headless chicken, right? Haha. I'm happy with the way it turned out. We knew it was going to be a steep learning curve and there was a lot of new things for everyone, but it worked out well in the end thanks to all of the Speedhunters crew. I think the outward impression and what the crowd got to see was good. I think we were really appreciated by everyone who came, and I think Speedhunters' involvement is good for everyone. I think it turned out the way we hoped for, but yeah I'm 110 per cent exhausted. I got to sleep in a little bit yesterday, so it was good to finally have a good night of sleep.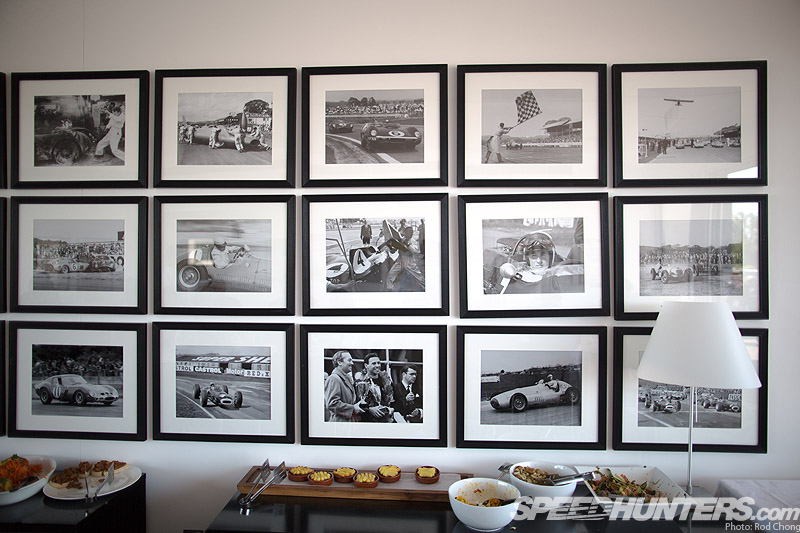 Suzy: How did it feel to be the first people to ever drift at Goodwood?
Mike: Always blessed to be the first to lay some serious burnt rubber down on a circuit. I'm not quite sure how it happens that a guy who's nickname includes the word 'Mad' gets to be the first to tear it up but it was a huge honour and something I was really looking forward to on this tour. Actually the last time I was the first to drift on a circuit was also with Freddie at Yas Marina F1 circuit in Abu Dhabi for Formula D UAE!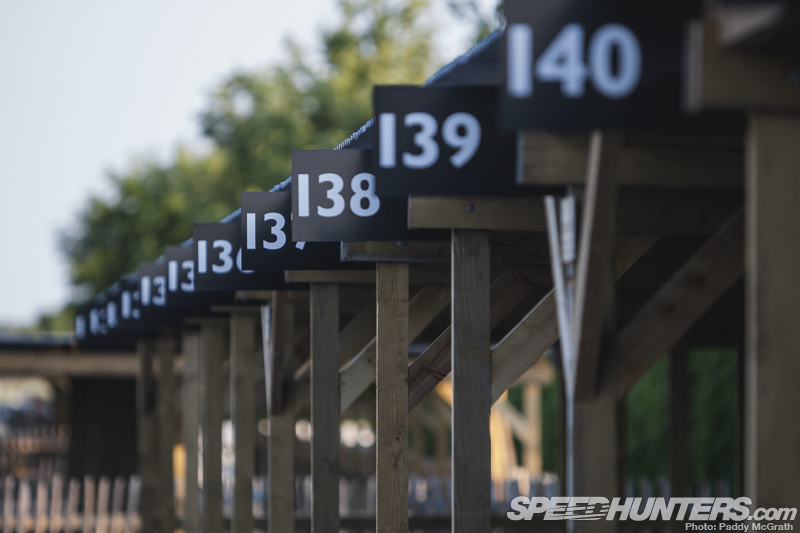 Fredric: That was epic. Do people say epic any more? Well it was epic. You know, growing up in Europe and being European and now touring America, I see the name Goodwood Motor Circuit popping up everywhere. Regardless of whether you're an old guy that likes classics or if you're just into race cars you know about Goodwood. It's such an institution and such a legendary name in British racing that being the first there with your motorsport is… historical. I knew that they were gonna be skeptical about us coming. You know, the hooligans and the drifters and the kids and all of that taking over their classic work of art. It's a very VIP-oriented place, right? So for them to open up to drifting was first and foremost incredibly cool, and then allowing us to go out, even though we tripped off the noise detectors over and over was cool. We all make an effort to unify different worlds of racing, and it was definitely a clash of cultures. You know, drifting meets classical racing. We definitely united.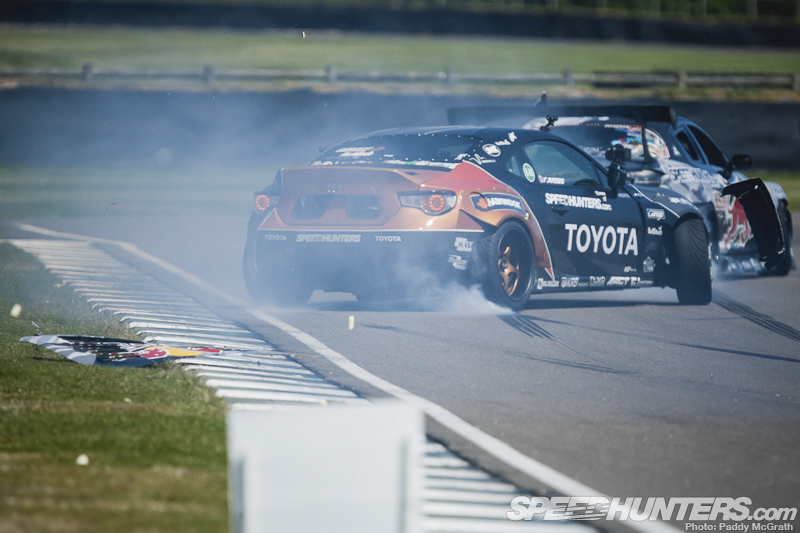 Suzy: What about your bonnet coming off on the first corner Mike? What happened?
Mike: Whoops my bad! After the hood coming up and down all morning for photos and the adrenaline when the course official said, "Good to go, please move to the grid", I simply forgot to check my hood pins. With no test time and straight into our first demo we wanted to hit it at maximum attack on our first past. After all, it would take the whole explosive excitement away from the demo if we were to cruise down for a look/warm-up lap. We screamed full pace down the start straight and just as I initiated the drift, the hood ejected, but with no hesitation I kept my throttle wide open. Freddie of course 'Hold Stumt' and didn't left off the throttle either, so we just carried on the demo like nothing happened. It was only a hood after all!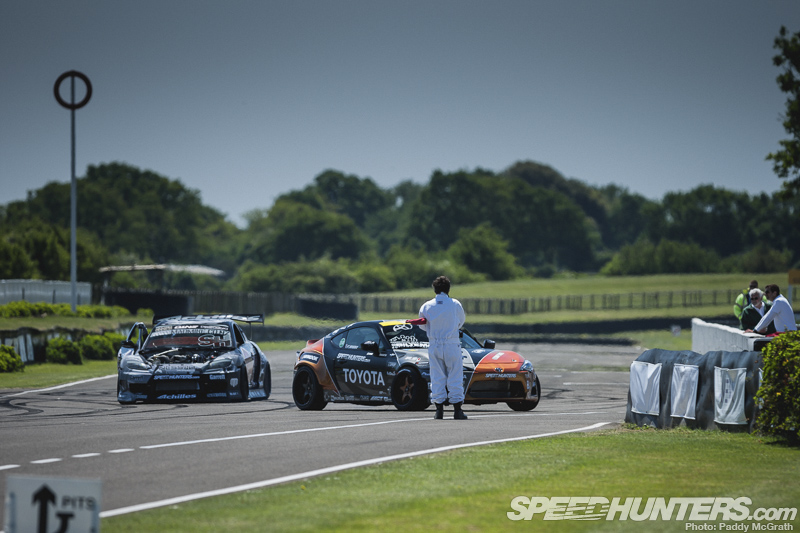 Suzy: Were you worried when you both got red-flagged?
Mike: To be honest I'm accustomed to being red or black flagged. I guess it's just something most rotary owners are familiar with because of the noise!
Fredric: Not really. In a sport where you go new places and do demos, we get red-flagged all the time. It's just part of the game I guess.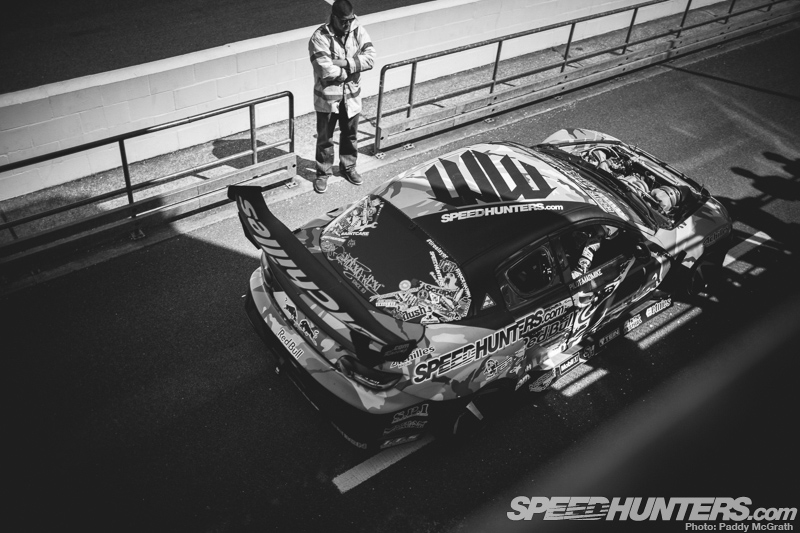 Suzy: The marshals were pretty cool about it though weren't they?
Fredric: They really were. They looked cool and they were even cooler in person. I don't want to say they had stiff upper lips… but we didn't really know what to expect. In the end they thought it was cool.
Mike: They were like "You guys need to slow down and not drift past where the noise meter is". But I told them, "If we come in three times as fast – I know it sounds wrong – but if we come in faster we'll actually be quieter because we'll be able to slide past the sound testing machine whilst we're on the handbrake and not the throttle." Straight away, they just looked at me like I was crazy and said "Well that's going to be noisier", but then we did it and proved the point that it was much quieter. They were super cool and took any advice we had.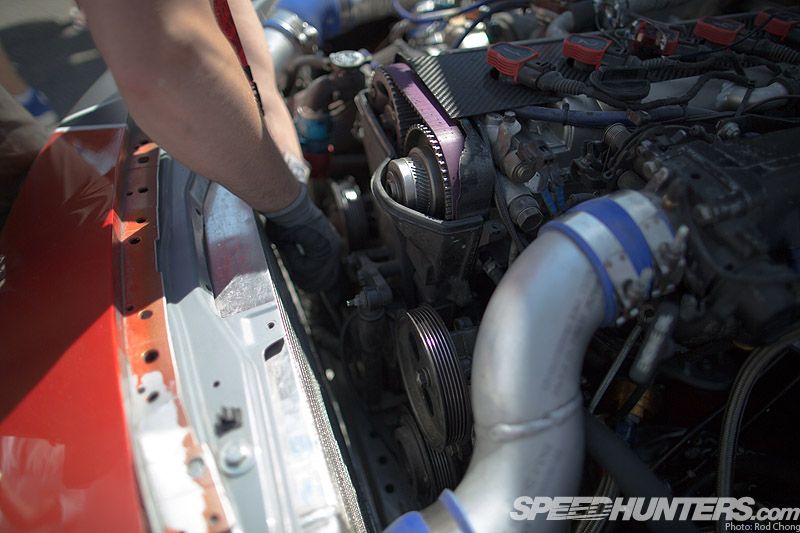 Suzy: You had problems with an engine pulley I think, Fredric?
Fredric: Yeah we had a pulley come loose, which would be detrimental for our second time out. So again a big-up to the drifting community. We just spoke to Andy Barnes from Speedhunters and Julian Smith from Garage-D and they all pulled through. Within a half an hour we had a new pulley. So that was kind of cool, and it reminded me of old school rallying from the '70s when they'd break their Ford Escort and take an axle from a car in the parking lot. So we worked it out no problem, thanks to everyone that wanted to see us back out there. It was a community effort.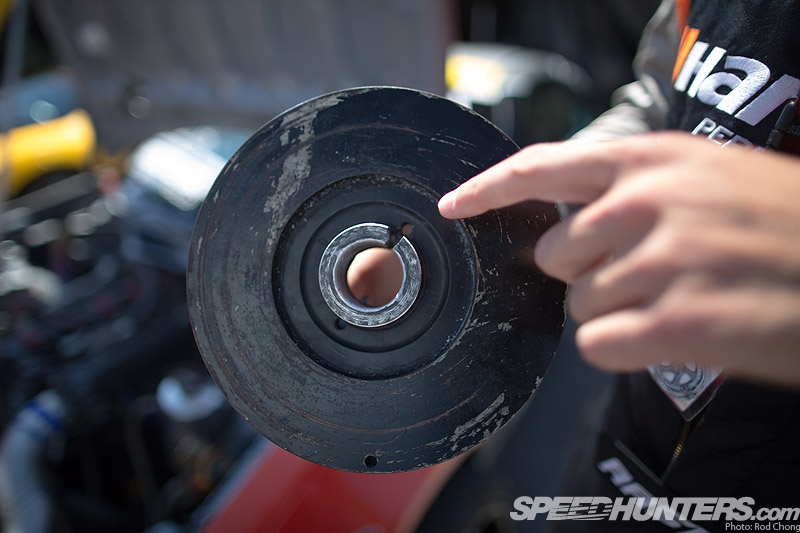 Suzy: So did it actually come off someone else's car?
Fredric: In the end we got a pulley from a shop that was just nearby and then we got two spares, but yeah it came off of the shop owner's car – Lee Perryman from SRD Tuning. I definitely want to say thank you to him, and also to Andy and Julian for sourcing two more for us in case of future mishaps.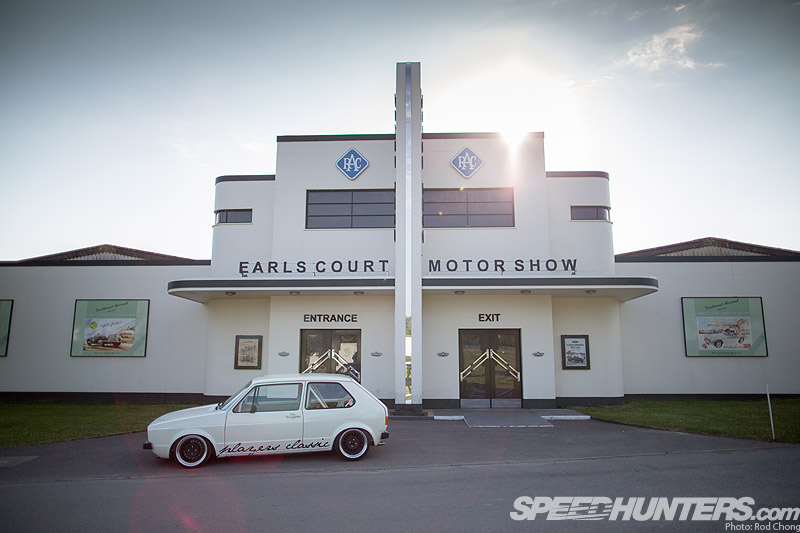 Suzy: What were your impressions of Players Classic overall?
Fredric: It was really cool, and very organized. Having never been to a Players event, this was my first encounter with them and they are all super nice guys. Seeing the diversity of all the cars there and how well they were all presented and how these different styles all collaborated was really cool. I don't know that much about Goodwood, but I think it's really cool that they've opened up to these kind of events as well, having a younger crowd come in there. There was a lot of cool inspiration there. I particularly loved the Porsches; I love Brian from Rotiform's Porsche. I'm not that big into the Vee Dub scene, but I can definitely appreciate all the work and style that goes in.
Suzy: Yeah, and we had good weather as well, which is…unusual.
Fredric: Yeah, they did a good job of ordering that!
Mike: The weather was good. By the end of the day I'd burnt through a lot of my tyres though as I got a bit carried away – the UK ones anyway!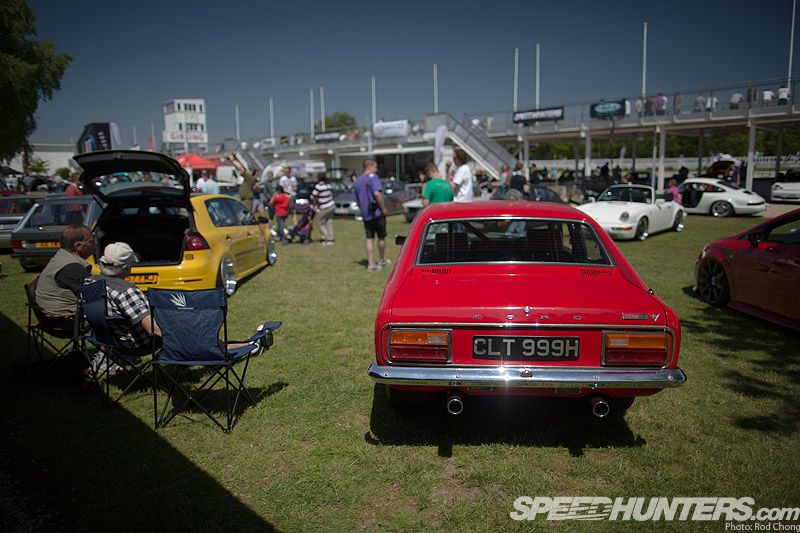 Mike: Players Classic to me was no doubt the best car show I have been to; the chilled atmosphere, the quality, the quantity and the style of all the cars on display were jaw-dropping to say the least. I'm a massive fan of stance and I got a HUGE dose of it here. Linc had a blast practising his Speedhunting skills with his camera and it was rad to bring the BADBUL to an event like this and show how much performance a hard-stanced car can throw down on track. It wasn't the usual drift crowd with the majority never having seen, heard or smelt professional drifting in person so that was cool to take that experience to them.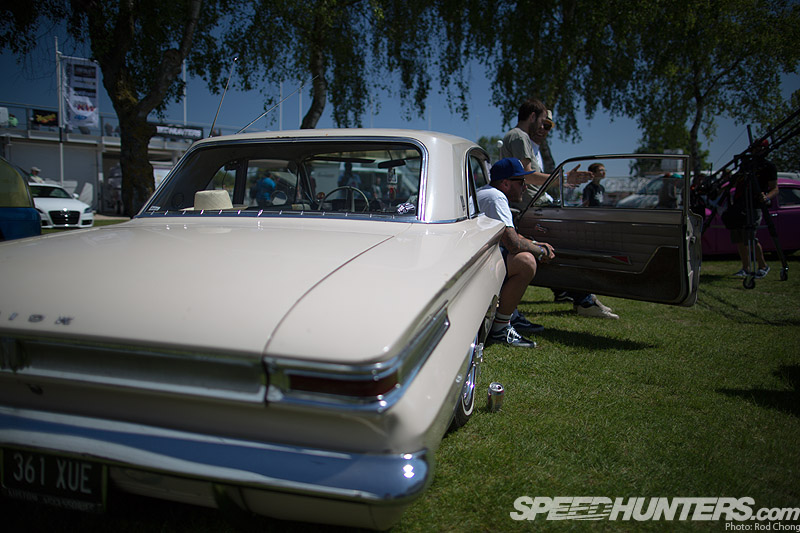 Suzy: Did you actually get to have a look around beyond the Speedhunters booth?
Mike: Yeah, we had a good look around. For us, we love that kind of style. In New Zealand, the Volkswagen movement has kind of taken off; we might be small but we have every style and category of all the different cars. It was very similar to Toni's last car that she built: an old-school Maserati Bi-turbo that would have fit in perfectly with BBS-style wheels. So it was really awesome to have all that kind of workmanship and great car builds surrounding us. I was inspired, who knows what else you may see next from our stables!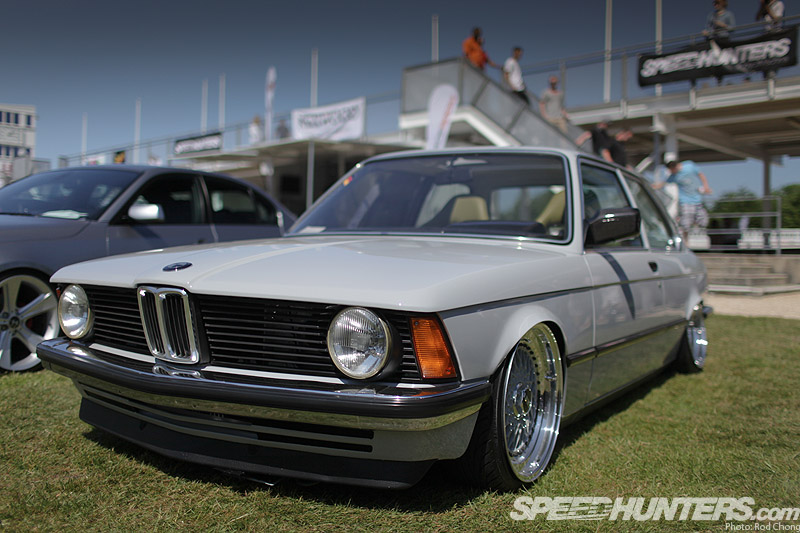 Suzy: Did you have a favourite car from when you walked around?
Mike: My favourite was probably the old-school BMW. There was an old-school BMW that was on BBS RSs.
Suzy: That was your first time you'd drifted in the UK wasn't it – so what did you make of it?
Mike: Yeah and also my first visit in the UK too. It's really good, it's very vibrant and green like New Zealand. I actually thought New Zealand was the most green country!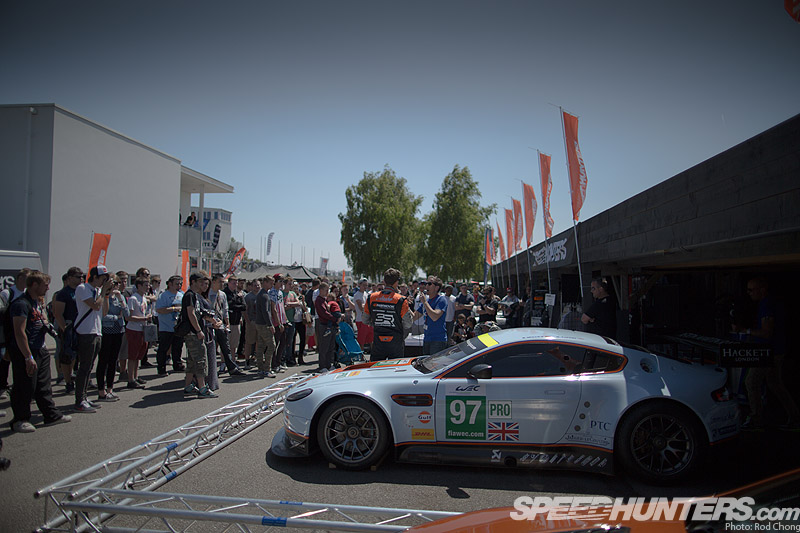 Suzy: You both certainly drew the crowds in – were you expecting so much support there? Especially given that the UK drift scene isn't as well-developed as it is in other parts of the world. 
Mike: Yeah I was blown away with the amount of support we had in UK and surprised how far fans had travelled to see us shred!
Fredric: I didn't really know what to expect. It was definitely heart-warming to see all the guys that embraced us and wanted us to go out there again; even the track marshals working with us to sort of bypass the noise metering. Really, I've been mindblown so many times that I really try not to expect this or that, but if people embrace us like they did it's just really really heart-warming. I've been to the UK before. We've done a couple events at Silverstone with Speedhunters over the last couple years, and I think the UK drift scene is big. It just needs direction – someone to take it to the next level. There's definitely a lot of talent and a lot of drifting interest out there, so hopefully stuff like this will help it get to the next level.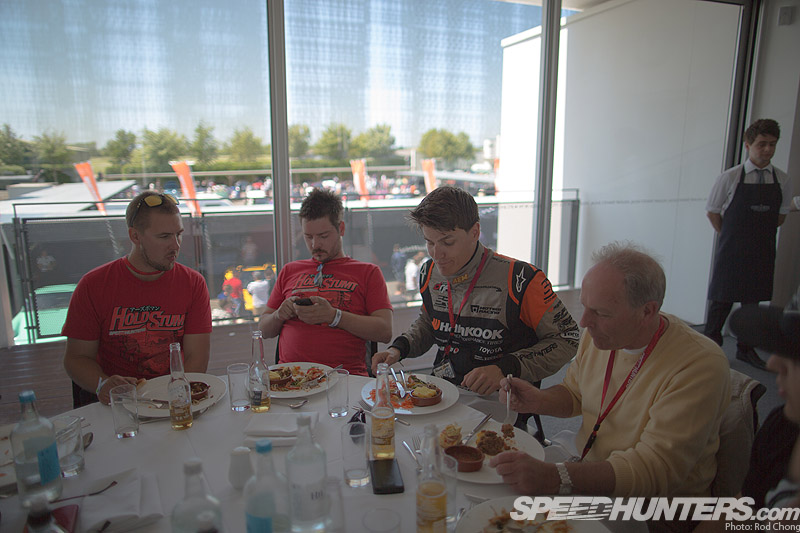 Suzy: So, Goodwood food. Was it the best of any car show?
Mike: Jay and crew definitely looked after us with VIP treatment in the Jackie Stewart pavilion. Thanks again Jay!
Fredric: Yeah my crew definitely upped their expectations for events to come. We got spoiled, straight up spoiled. I don't think I've ever had food that fancy – anywhere.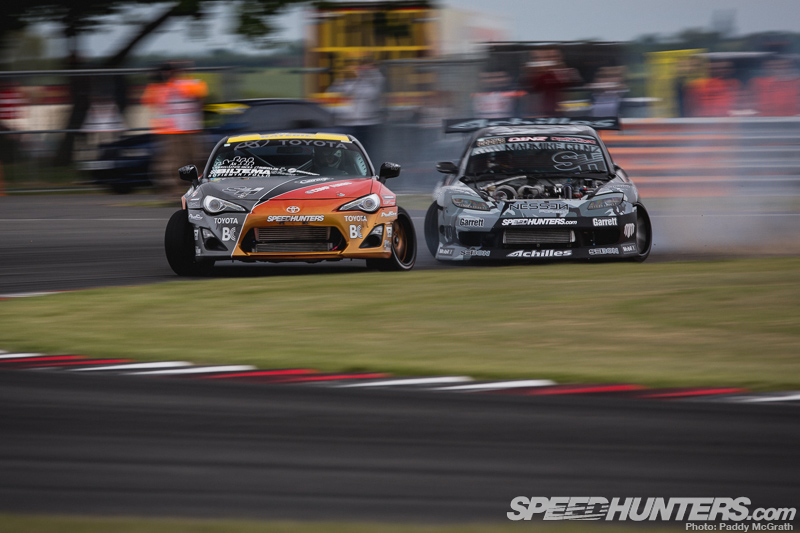 Suzy: So that rounds off Players Classic at Goodwood – always good to finish on a full stomach! Although we didn't seem to carry the good weather over to Snetterton, that seemed to do little to dampen the enthusiasm of 12 individuals arriving at the circuit early that morning. Mainly because that lucky dozen would soon be embarking upon the very first Speedhunters workshop. So what did you make of the event and the idea for the workshop in general?
Fredric: Being a race car driver and being into racing, a lot of times it feels like a big ego trip. Finally being able to give something back to the community was huge. It puts a smile on my face definitely. It was a great initiative and I had high hopes for that day. I was looking forward to giving pointers – how to improve, how to get sponsors and all that, but I was definitely looking to learn something myself. I think I did. We learned a lot about the scene and how these guys think, about the adversity of drifting. We had guys come out with everything from old Ford Escorts to full-blown S14 pro drift cars. Having those guys come up to us after and saying it was the best day of their lives – some of them actually said that – it felt incredibly good.
Mike: I thought it was a real sweet idea. It's great to be able to share all of the feedback I've learned over the years of drifting. I mean it's definitely hard to come into the game and even with things like sponsorship, it's more than just putting a sticker on the car. I think the reaction we got from all the students that were there was really good. For myself, to be involved in something like that with Rod and Freddie was great; while both me and Freddie are professional atheletes, we're also very different at the same time, so it was good to feed off each other, and have Rod involved as well.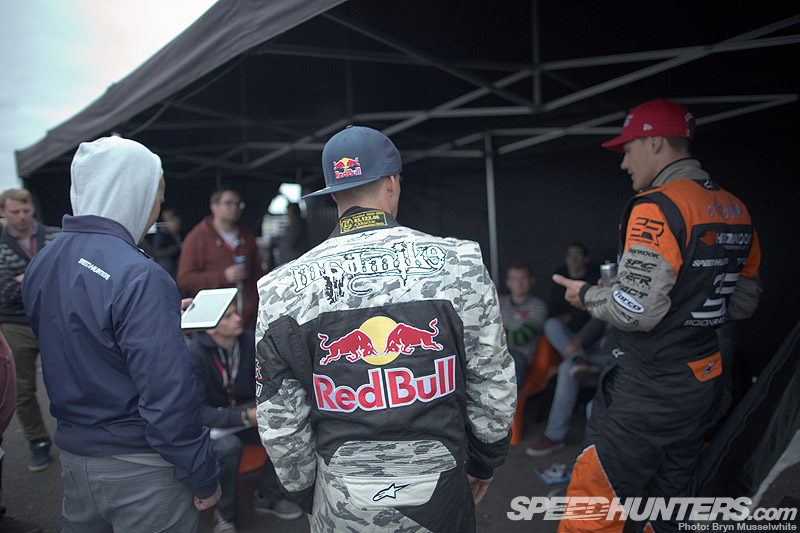 Suzy: Was it weird for you to give career advice to people, or had you done that before?
Mike: No, like I said I felt good. Between Rod, Freddie and myself we covered literally everything: theory and practical, not just car control techniques and set-up but building partnerships, social networking, personal image, commitments, investments and the toughest decisions, how Rod first noticed Freddie and myself, then of course all the on track fun with drifting techniques.
Fredric: I have, but not as structured as this. Rod has put together a good program. A full day eight-hour program, starting off with talking about our careers and how we met, working with sponsors, the actual driving technique, how to evolve with the sport and all that. I've given advice before, but never in such an environment.  Honestly speaking, I think this was a major help to these guys. We pulled from everything we knew and we wanted to give them a full run-down of how they can take it to the big leagues of drifting. It should be worth a lot. I definitely would be very happy to have been part of a workshop like that.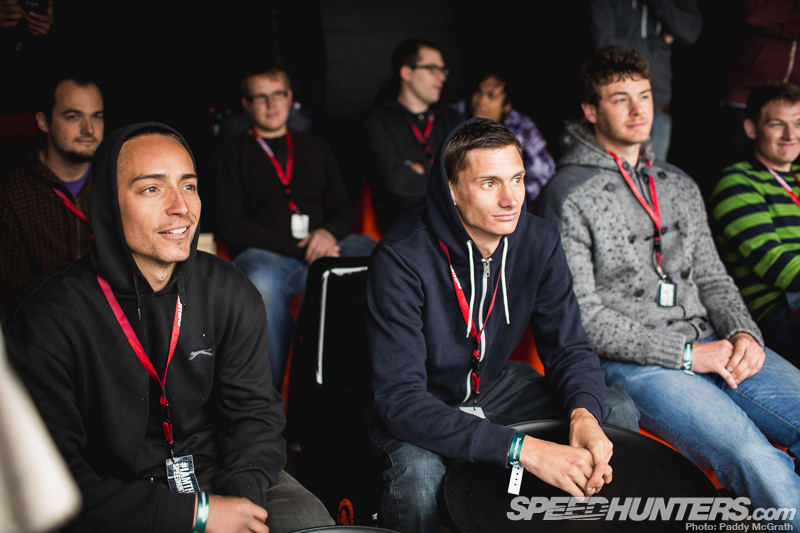 Suzy: Was there any particular advice you can give to those who are reading in terms of getting sponsorship?
Fredric: If was to sum it up with one thing, it would be 'have a plan'. It goes for everything in the sport. It goes for the driving, for how you want to shape your career, for what sponsors you want to get. It's crucial to have a plan. If you can plan ahead and see yourself say five years from now, if you can do that and stay with that, it's going to give you a whole lot of direction. Putting together a plan, be it a dream or an achievable plan, is going to take you somewhere. You learn more about yourself. You'll see yourself from the outside and see who you can best work with. In the end, the guys who can choose sponsors rather than relying on someone to choose them, they're going to do best because they can line up partnerships that will help everyone.
Mike: For sponsorship, there's so many people who would go into a meeting with their proposal and have that be all about what they want, whereas it should be quite the opposite and be about what you can actually deliver. Under-promise, over-deliver: that's definitely a key motto for being able to get good partnerships. And staying with them for a long-term relationship rather than just jumping ship. It's one thing I noticed in the USA with Formula D was that you have a driver driving for one team one year and driving for the opposition the next. I guess there's different ways to go about it and still be professional in yourself but my way has always been about building a long-term relationship.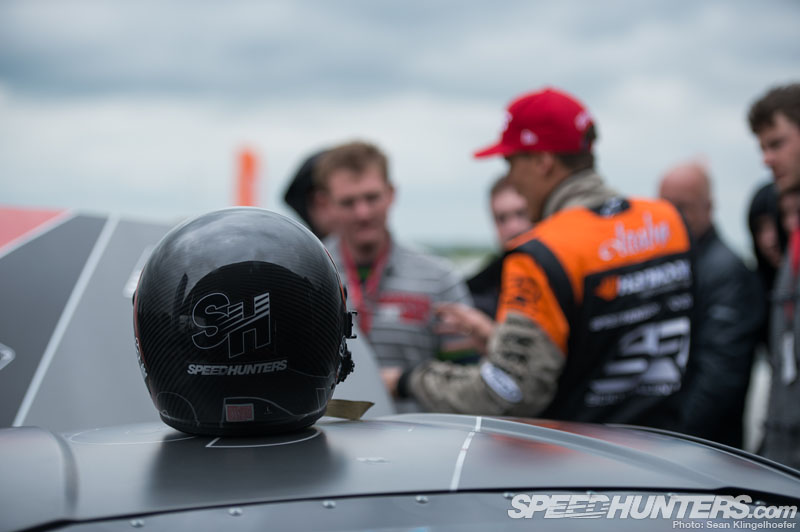 Suzy: Do you have any advice on how to present yourself to sponsors?
Fredric: I think the short answer is be true to yourself. Once you have that plan, you can know what you're shooting for and be honest about that. Don't be someone else. Be yourself and advance your strengths. Know your strengths and also know your disadvantages. One rule of life is that it's often better to be really good at something than be average Joe at everything. Focus on your strengths and that's when you'll present yourself at your best.
Mike: Be enthusiastic and passionate! We always have dreams of what we would like for the car or what sponsors we'd like. Even from the start in freestyle motocross, I wanted to be driving for Red Bull. Straight away you roll up to the track and people always know that their drivers are going to be one of the best. That was something that was super passionate for me and gave me a lot of drive to want to wear the Red Bull helmet one day, and we made it happen. Coming from such a small little country that's so far away from everything. we've done alright. In Australasia itself, I was the first four-wheel athlete that Red Bull sponsored, before any of the V8 Supercars or New Zealand V8s, or any of the other racing platforms we have. I was totally privileged to be the first motoring Red Bull athlete in our region.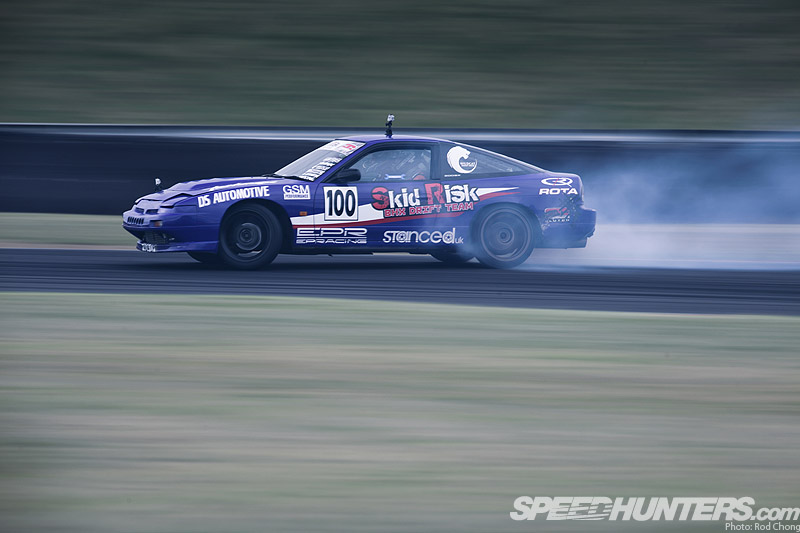 Suzy: What was it like to give feedback to people on their driving?
Fredric: It was really cool. We did a lot of passenger rides and I'll be honest – I was millimetres away from actually throwing up. We had very little time to give feedback, but over the three or four runs that we did there was such a steep learning curve and these guys picked it up really quick. All of these guys, they know how to drive. They only need small pointers. They need to be their own teacher, and if they can see themselves from the outside, they can look at what they are doing and what others are, then they can start to guide themselves. That was the main advice that I gave, rather than just the small tips. We had much more of an overall focus. The bits and pieces are going to fall into place as soon as you have your overall path.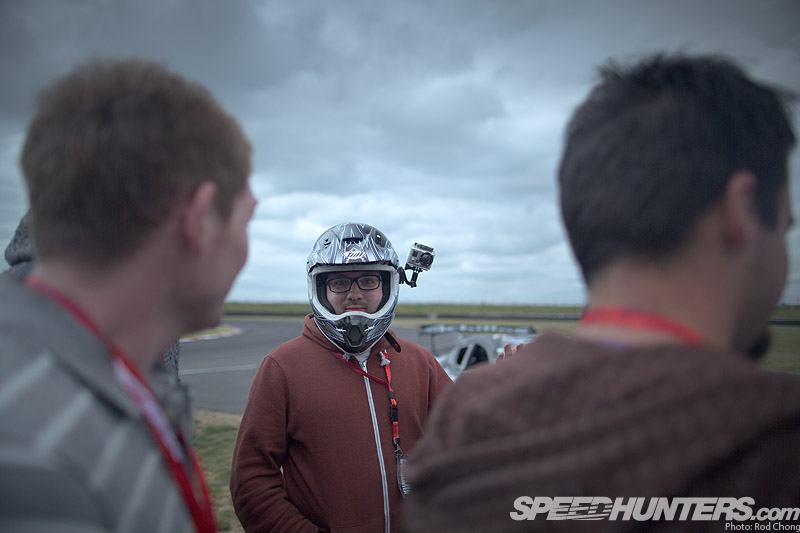 Mike: The bunch of guys we had were great students: they listened well, then did their absolute best to apply. It was great to see the big smiles with their rapid progression over the day. One of the main things I advise people to do is to just get as much seat time as possible. Just try to get a good platform to start with and then don't go to the track and trying to change something on the car every time. Try to get a base set-up and then just drive the car. There are people out there who spend more money than anyone else: every time they're at the track, they've brought something new or have a new big part, or see something and they have to have it, but they're still no good because the platform underneath them is continuously changing. It's like putting on a different pair of shoes every time you go running. You need to learn to adapt to it. It's a key element and needs to be an extension of your body. Sometimes you're better off getting used to what you've got and adapting around the car.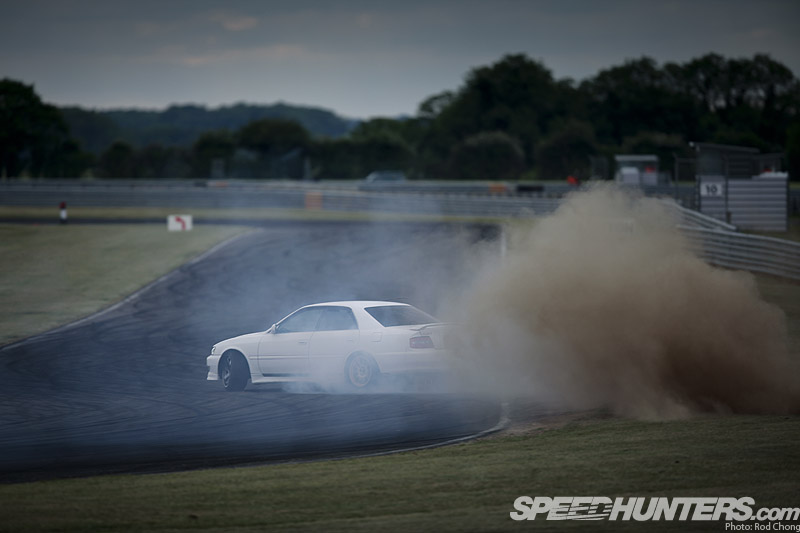 Suzy: Were there any common faults that a lot of people made?
Fredric: Definitely. A common fault would be people starting to look down at some specific thing they are trying to do rather than looking at the overall picture. It's okay to practice a certain part of driving or a certain part of a turn, but we are looking at the overall path or line they are taking. People kind of lose track of what they're doing by focusing on one small part on repeat. Another fault is that people get nervous. They forget that Mike and I are just drifters like them, and they try to impress us, or get scared about messing up when in fact messing up is okay because you can't learn how to ride a bike without face-planting a couple of times. Going over the edge a couple extra times is fine, and as long as people understood that and when we told them to take it easy and go at their own pace, they started doing a lot better. There's something to be said about not trying to impress someone else and not being afraid of losing.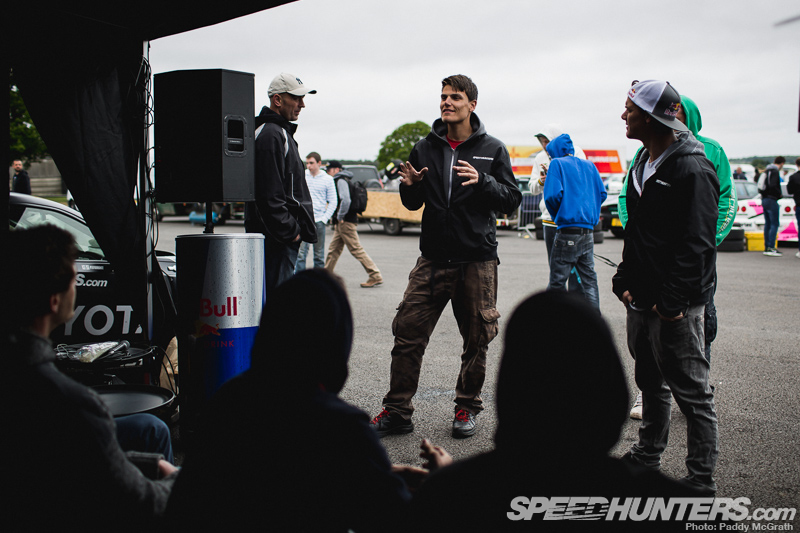 Mike: The biggest fault I see is car set-up; people tend to think drifting is about big horsepower and no grip, but it's quite the opposite. A competitive drift car is a combination of the perfect balance between power to traction to weight. People won't hesitate to throw as much power as possible into their car but then find themselves continuously destroying driveline parts, gearboxes, diffs, axles etc, which soon takes the fun away from the sport. My advice was (besides the basics of a locked or LSD diff and hydraulic handbrake) suspension and control arms. To be able to adjust these, you can change the car from being loose or tight then use the momentum and weight balance to drift and have solid control over the vehicle. After these mods it would then be my preference to build a tougher driveline because once you are ready for more traction and wanting a faster set-up your car will be set for the big horsepower gains.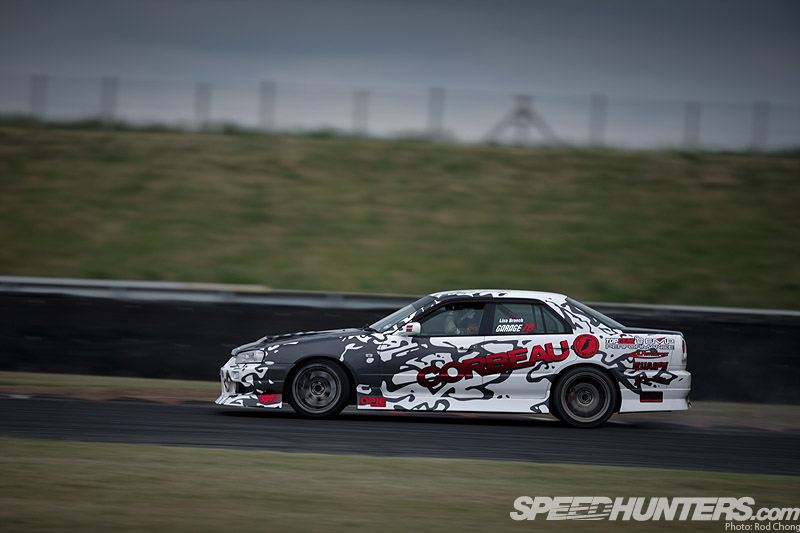 Suzy: When you talked a little bit about style, what advice did you give to people then?
Fredric: That was cool. I think Mike and I we really complement each other because he has such a developed full-out style while I have a much more bland style. My style is very different from Mike's. I'm more of a traditional race car driver perhaps, rather than an entertainer like Mike. It was really cool because we could bounce our ideas off of each other.
What we talked about is how our style is infused in everything we've done. Ever since I came out to the States, I was always really careful about going a little too hard. I knew that it was important  to leave a mark, perhaps more so than just focusing on the wins. That's a part of style, right? You want to develop your own. That's what we were talking about a lot. Look at yourself, know who you are and develop that style out of who you are. Looking at all those guys in the workshop, they were all different and they all had their own style. Some of them were really outgoing, some of them were more reserved, but they all had a lot of different things going for them. Developing their own style is crucial, rather than trying to copy someone else.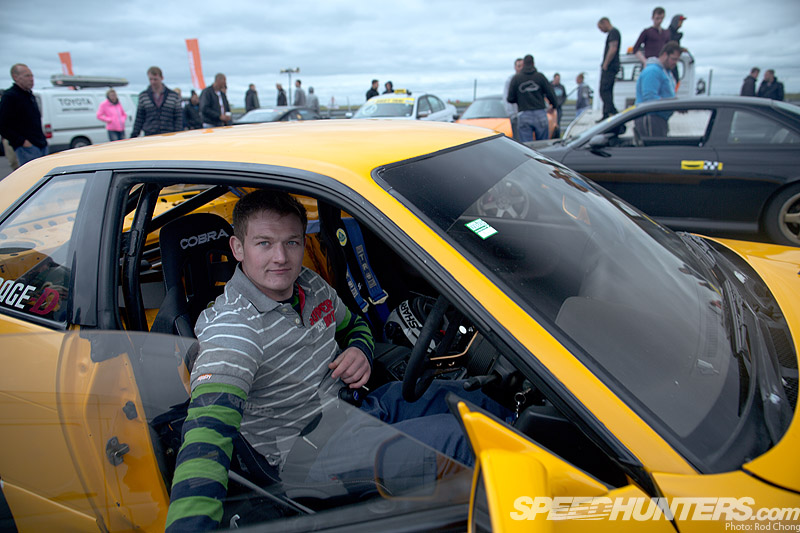 Suzy: Do you think that follows on to how you present and style your car?
Fredric: Definitely. It's good if you have a theme going and it all looks like it works together. You know how Mike has all the crazy colors and the camo and my cars have more straight-cut lines, I think that's a difference between the two of us, right? Trying to be aware of trend curves and being ahead of them, trying to make things look cool – after all, this is a visual show, more so than a race and trying to be part of something that people like is important. There's all of these subtle tricks to make your car stand out in competition and make people like your cars. It's a black art. If you can use that stuff to your advantage, you'll excel.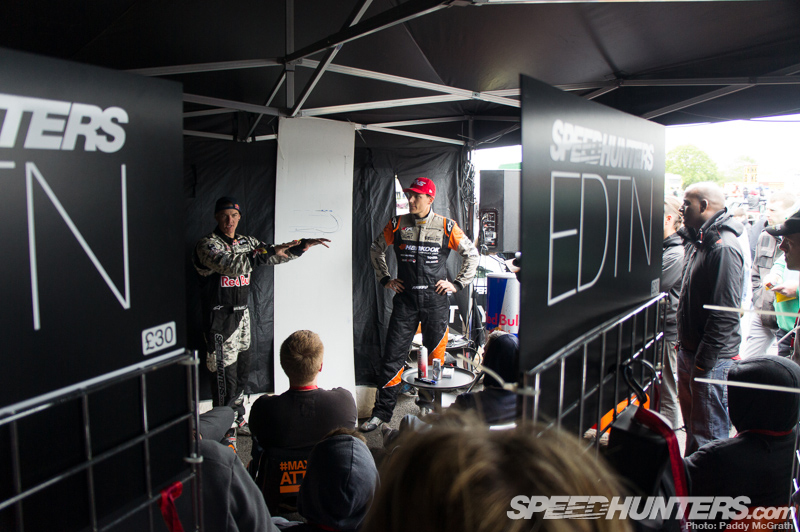 Suzy: How about you Mike? You're obviously very well-known for your distinctive style, both your character and your cars, so how much do you think that's helped you and how important do you think that is?
Mike: Style is everything! It makes the sport; the different characters, personalities, the car builds etc, this is what makes drifting so fun to watch and be a part of and your style needs to be natural to you. For me, I've always wanted to be different than everyone else. If people say you can't do stuff, I'm the type of person where that drives me on more to make it happen. Even just starting with the rotary-engined cars at the start – everyone said "Oh rotaries can't drift. They don't have enough power with that crazy engine". All the talk about us not being able to do it fuelled my fire, and made me want to make it even more explosive when it came out.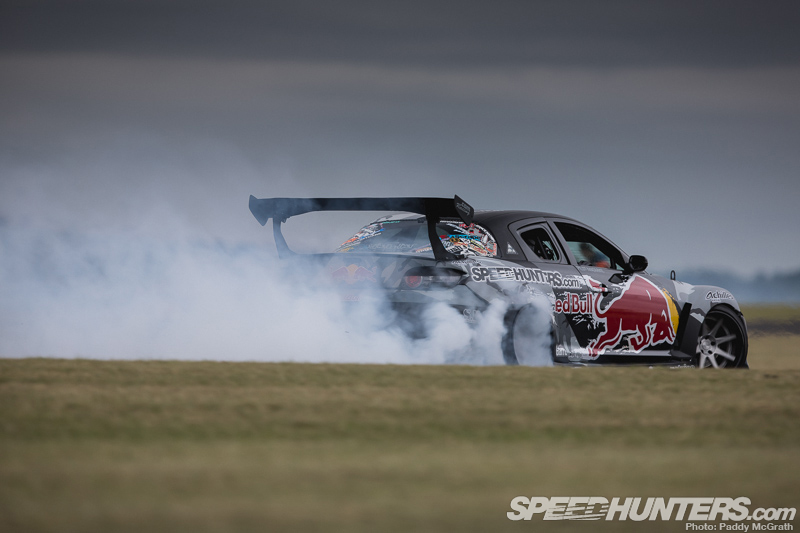 So I was obviously trying to build a car that was totally unique and different from everyone else but of course making sure that it's still a competitive package because if you're not competitive, you don't make the shows, you're not going to qualifying and you're not going to make it through the battles. It was really hard trying to build a professional quality competitive car and still having a lot of style. I was always fighting with my mechanics trying to get an equal medium between form and function, to get the right balance between the two.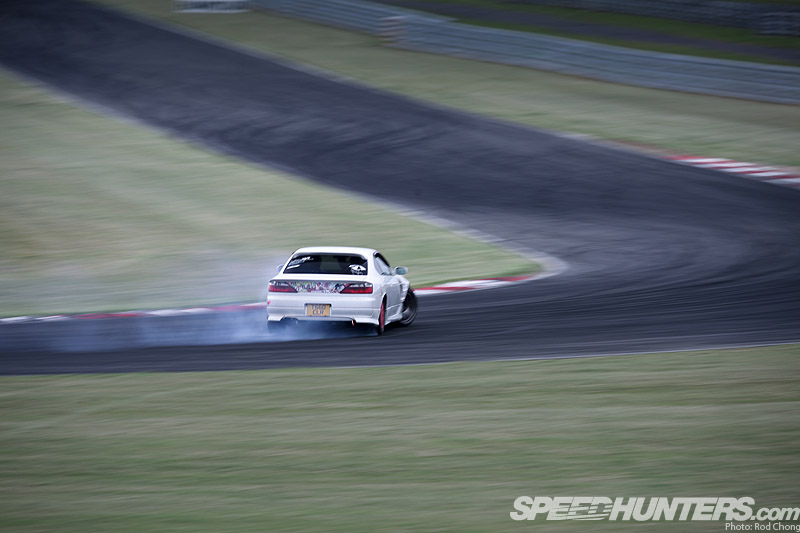 Suzy: You had a session on car set-up with the guys. What would you say is the most important advice you can give to people there?
Mike: Well my advice was try your own things as every driver is different and has their own style and technique. I had no advice from anyone about what camber, caster, toe, spring rates etc to run when I started, it was just trial and error. Also to test by making drastic changes so it's obvious how the changes are reacting to the car. Get along to as many pro events as you can and get involved with the crews; just being around teams with the knowledge will be of benefit.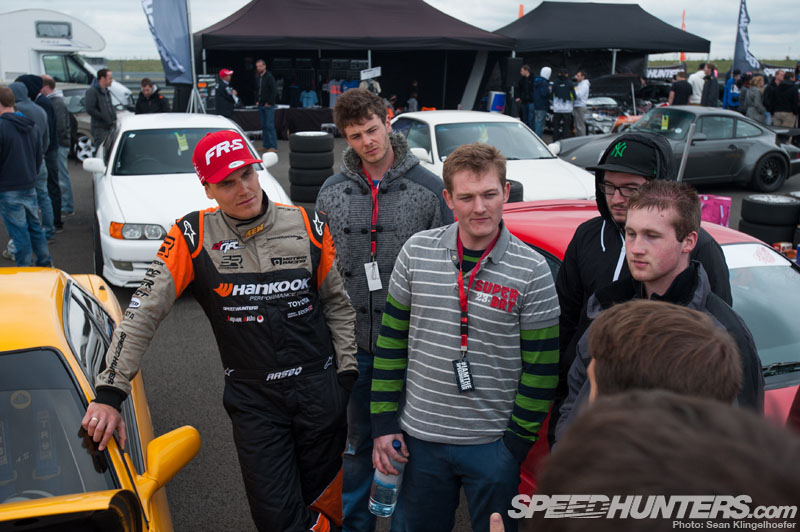 Fredric: Right, so I think if Mike's strength was style, then I had a lot to say when it came to car set-up and what I've learned over the last couple of years. There's been a trend in Formula Drift of increasing speeds; the runs are getting quicker, faster and have more grip. The speed doesn't come from the horsepower, it comes from the grip and you need the horsepower to pull off the speeds with all of that incredible grip. What I spoke about is how traditional racing car set-up has trickled down into drifting and how it's become such an important part of doing well in Formula Drift today. There are a lot of lessons you can take here, but the mechanical grip is all about balance between front and rear and how the front checks up and how it plants the rear tires. The short version is that today's drift cars are very much like the old school rear-wheel drive rallycross cars that were all about having the front end stiff and stabilizing the car while the rear is very compliant.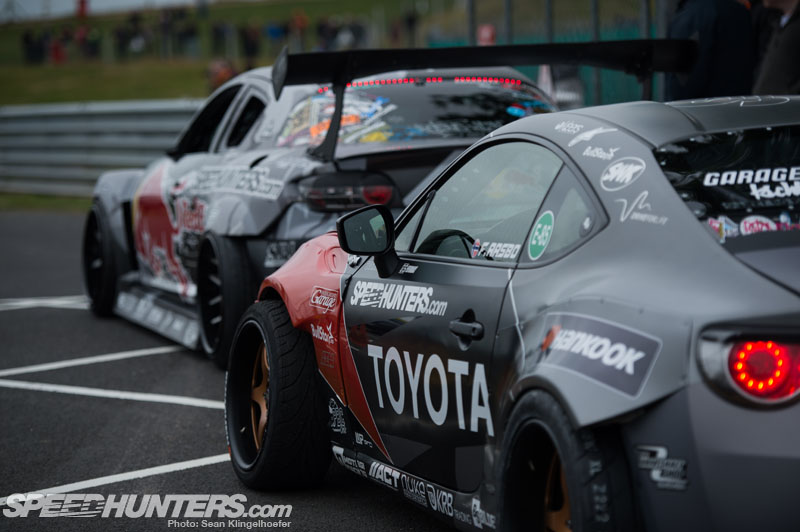 Today's drift cars are very much the opposite of what most people that are new to the sport think. It's not about making the car slide, it's about making the car have so much grip that you're barely going to slide, because that's when you're the quickest. A lot of the guys were really technical. We had a motorsport engineer there as well that had a lot of thoughts, input and questions. We went over all the participant's cars, looked at how they were set-up and asked what they liked and what they didn't like. We came up with small changes that they could try next. All of these cars were very different: some had a lot of understeer, some had a lot of oversteer, some had small things not working that really upset their cars. That was a good lesson, and it started a mindset of analyzing and looking at what you have and finding out where to improve on your own.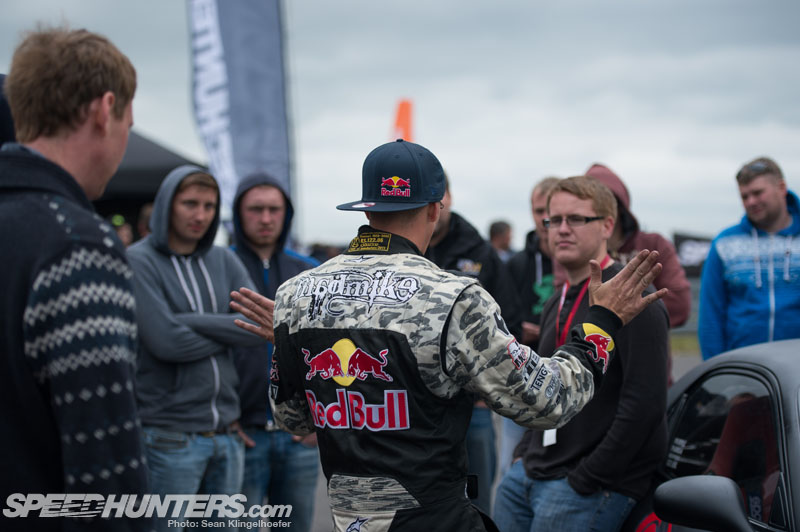 Suzy: Yeah I kind of followed you around when you were checking out the guys' cars and it was really interesting to listen to the different pieces of advice you gave. One of the things I definitely picked up on is that some people seem to be chasing power when I guess in drifting (and pretty much any form of motorsport) they should be starting off with where they're contacting the road – tires and then suspension and stuff like that.
Fredric: Right. It's really easy for people to start, one, overbuilding and two, focusing on the car rather than the overall goal when the overall goal is to drift best. And in order to drift good, you need to be able to drive. People look at Formula Drift and they see the horsepower numbers and forget that these are cars and drivers that have a lot of other things in place. There's a reason for all that power and it's all the grip they have. Pro-Am cars and competition are never going to require that amount of grip. I can see why it happens. People look at the pros and the elites and see what they are doing with cars, and they forget the basics. No driver in Formula Drift ever started out with 1000 horsepower – they did well with a lot less. So there's something to be said about not over-building your car.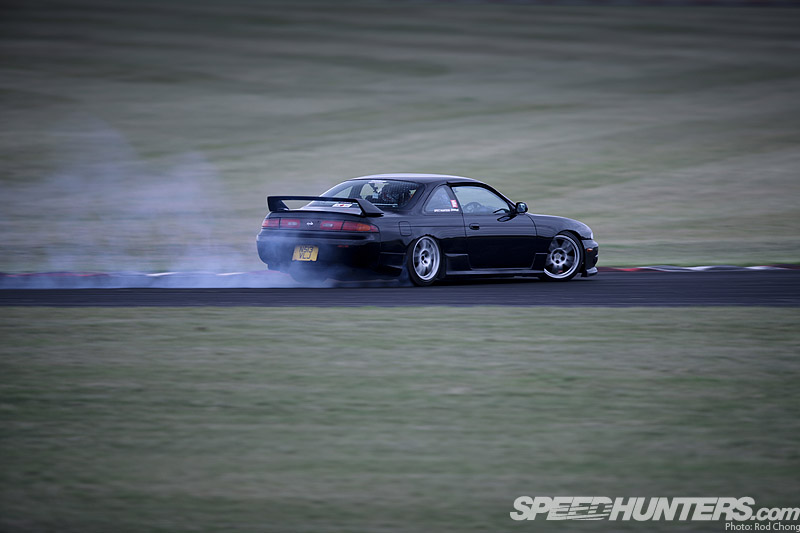 If you have a set budget – and for everybody it's limited – like Mike said, if you can prioritize seat time with what you have, instead of trying to build a car to the top level, it's going to set you up for the big leagues a lot quicker. You'll learn the basics and you'll learn how to drive around difficulties of a car that's not perfectly set up. And then, when you get the budget or when you win your competitions, or you get the sponsors to take the car to the next level, you'll already have the basics in your bag of tricks. So that's something that I preach a lot. Just leave your car as is and don't fall into the trap of over-building your car, because for one you're going to run out of budget before you ever get the car on the track, and then you're not going to have any money left for tires and fuel and actually going racing. That was a big part of my lesson to these guys.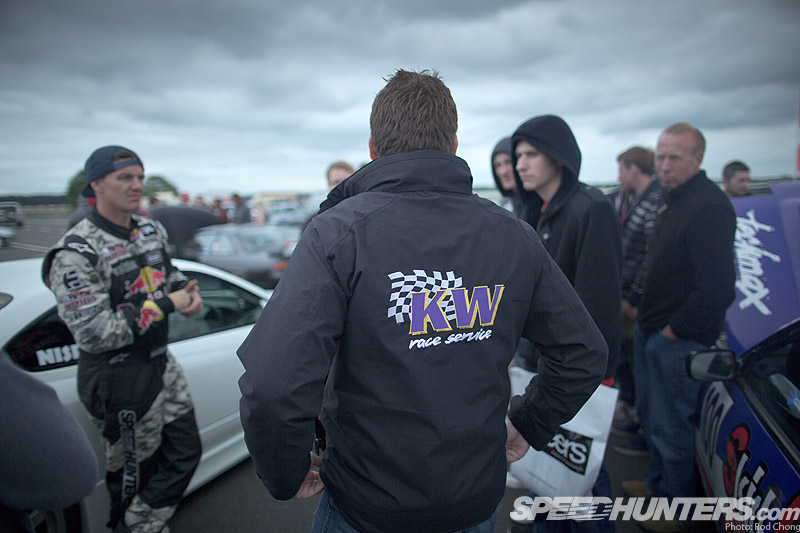 Suzy: And you had the KW guys coming around with you to give some feedback on suspension. Was there anything in particular they talked about that you thought was useful?
Mike: It was definitely a bonus having them talk about suspension set-ups. One big thing they talked was about spring rates, which is something I've never really gone into with set-ups for our cars. To be honest, my suspension set-up has always been put it in and then wind it down as low as it goes. Then I have my guys look over it a bit and like I was saying before, find that medium between form and function. That's where a lot of knowledge came from the KW guys. The three-way damping system which their suspension can offer will be a massive bonus to competitive drifters. Just talking about the damping and rebound – how they can speed the damping up but slow the rebound down so the car squats and holds its position, and uses that to gain more traction. Just a whole lot of things like that which I've never really looked into. I definitely learnt a lot!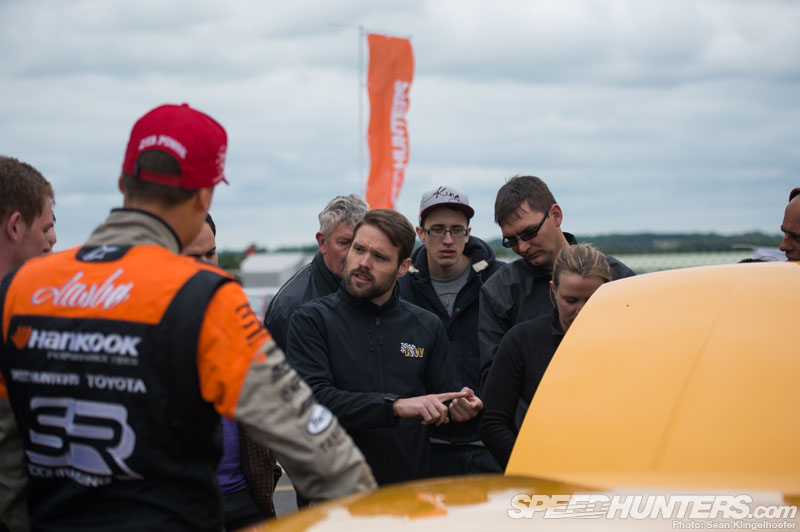 Fredric: Yeah I've been working with those guys for a while now, and product is one thing. They obviously have some of the best product on the market, but more importantly they're in the team. They want to listen and they have guys out there who want to help out. The product can take you far, but knowledge is going to take you to the next level beyond that. To make well-produced and well set-up parts for drifting, combined with the actual knowledge and skill to make it work is the great thing about KW. If drifters can line up with the companies that think that way, it's going to lead to partnerships that can stay with them for the future.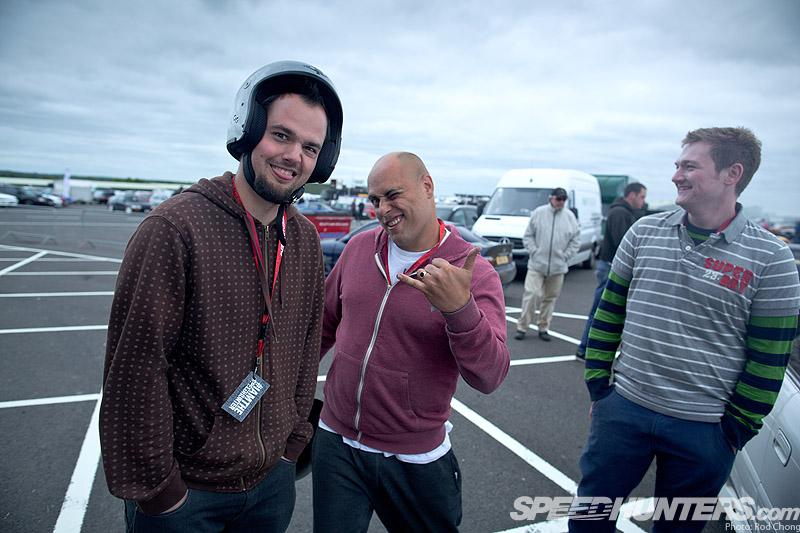 Suzy: How did the drifters respond to the tandem battle ride-a-longs you gave?
Mike: I think mostly they were blown away with the speeds and how much traction and forward drive our pro cars have. Starting from the cone, we'd take off and they'd be like "Yeah yeah, cool cool", talking about the car. By the time we were in fourth gear, they'd stopped talking and started grasping for something to hold onto. That's usually funny. I like to give them a whack on the leg mid-drift and be like "You ok?"
They were definitely impressed with the commitment it takes to drift the section fully blinded by Freddie's tyre smoke! The big thing with tandem drifts is to trust in the other driver and learn their driver style and technique.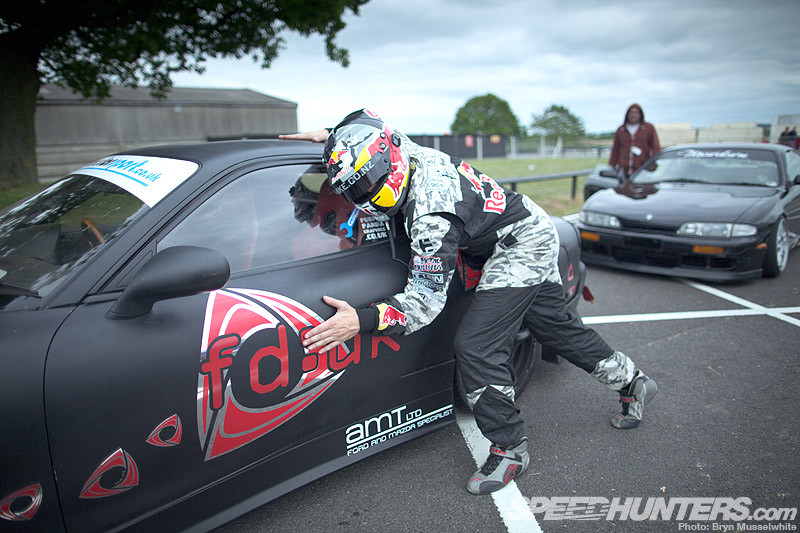 Suzy: How was it being passengers in their cars?
Mike: Actually the guy in the RX7 gave me a bit of a scare I'll be honest. He was twice as fast as he was in the morning. I guess he watched me and Freddie and thought "Shit, you've gotta go way faster". So he just went in full throttle at third gear in his RX7, which was quite fast and then when he initiated, it went the wrong way. We missed the wall by inches. So a little bit of a scare, but all of the guys were really good. Straight away he picked up when I told him "You need to just slow down a little, and go back to your normal pace that you were doing this morning" and then he was fine. I think it's a lot of pressure. I mean, I never had that opportunity when I was learning for a pro to jump into my car with me, but for some of them, when we were in their car, it may have affected them for the worse because of the nerves.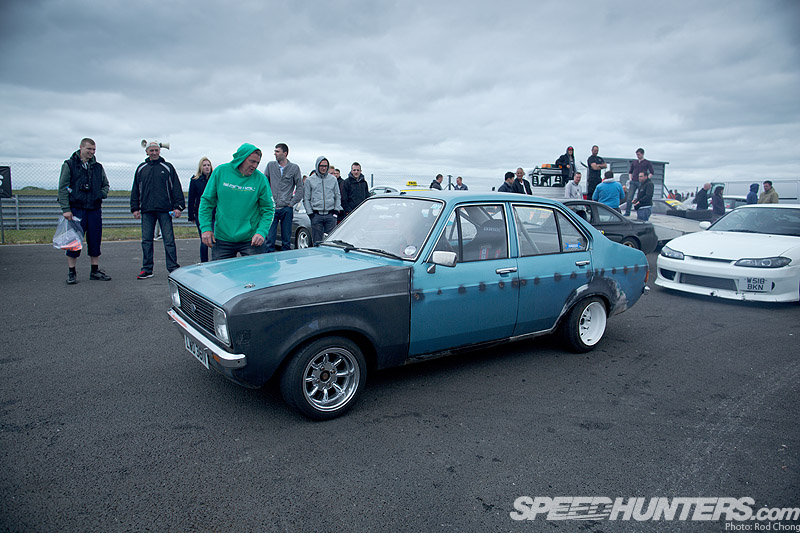 Suzy: Which drifter stood out for you?
Mike: Matt Urch in the Ford Escort was my stand-out driver, he progressed so well and was smiling all day. It was a matter of slowing him down as he was too eager; the type of guy that finds the limits then works back from there. Maybe a little like myself? He was the opposite to any of the guys who may have got a bit nervous – he took it completely the other way. He went in way over the pace and he went flying off the track. I ran over what he actually needed to do – when he'd got on the throttle was when he needed the handbrake. He adapted straight away to what I'd said, he knew exactly what to do, it wasn't awkward for him to pull the handbrake and got the corner bang on on the second lap. That was really cool to see that. From there on in for the rest of the day, we did five laps together and it was only progression. It was really good.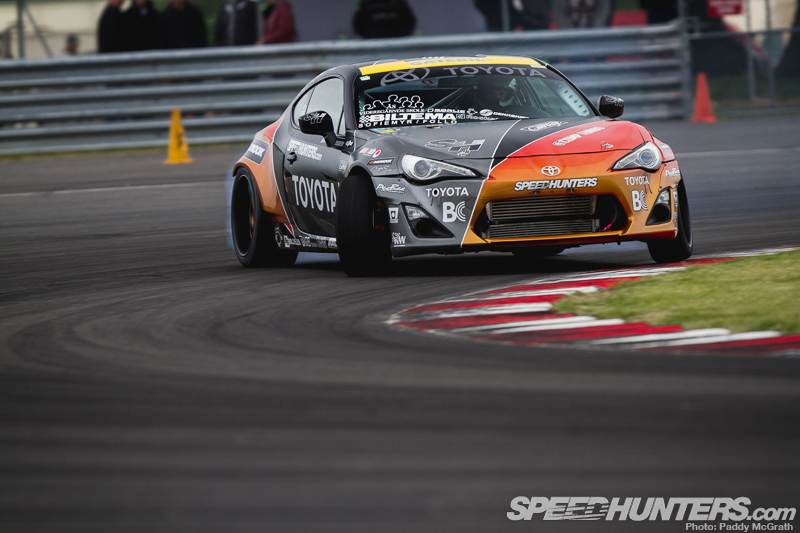 Suzy: What did you make of actually drifting on the circuit at Snetterton?
Mike: As a driver it's always so much fun to learn and experience new tracks and to have so much track time playing with Freddie brought a massive smile to my face.
Fredric: We ran the 100 circuit at Snetterton. The section that we ran is basically just one turn, but that worked out fine because we got a chance to show them how to chase; it was a long sweeping left-hander where you were able to catch up. For what we were doing it actually worked out really good even though it was just a section of the track. We could vary the entry speed; we could come in hot and put the initiation cone a little bit later to force them to go a little bit slower.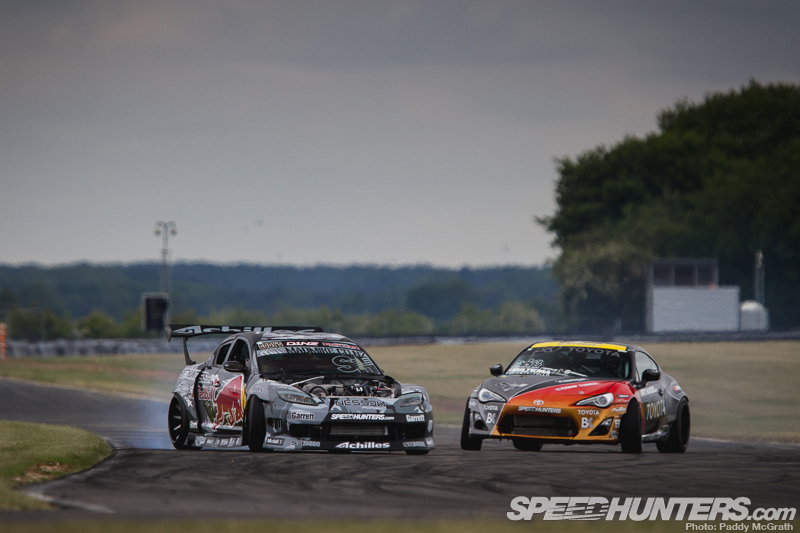 Suzy: It looked like you were both having good fun when you went out there to do the demonstrations. I think I saw a backwards entry from you Fredric?
Fredric: Yeah, we were out there to do a demo, but we were also out there to practice as well. It was fun. It's been great fun driving with Mike again. It's been way too long.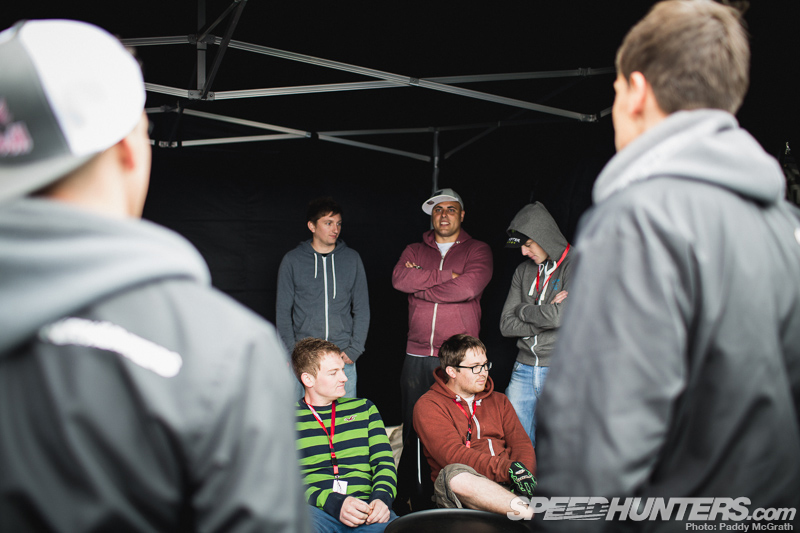 Suzy:  What do you think the most important bit of advice you gave that weekend was?
Fredric: Don't be afraid of trying. Like I said before, get a plan and be honest about it. Don't be afraid of losing, because the worst thing that can happen is damaging some pieces of metal. Just do it. That's it. People that are into drifting, they forget that they're among the most lucky people in the world. If we have the cash to spare to go around a track burning rubber and having fun, we are by definition some of the most lucky people in the world and they should embrace that. If they have problems with car set-up or anything like that, it's not the end of the world. Have fun with it, be grateful for the opportunity and once you win Formula Drift, be sure to thank each and every person that's helped you along the way!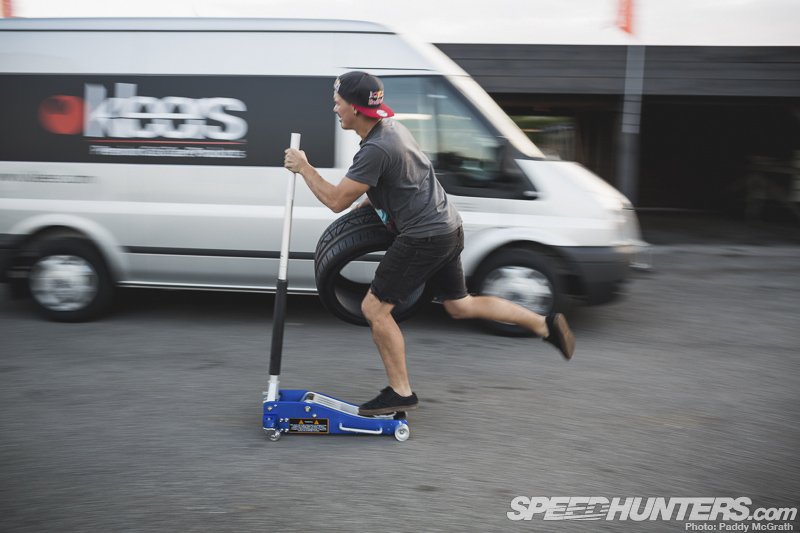 Mike: One of the big pieces of advice is getting a good group of friends who are passionate, want to go along with you, have fun and help. We've been so successful because Toni's been 110% into it as much as I have. I've also got a great bunch of guys back in New Zealand who are also just as passionate. It's a huge help. Above all though… Keep Drifting Fun!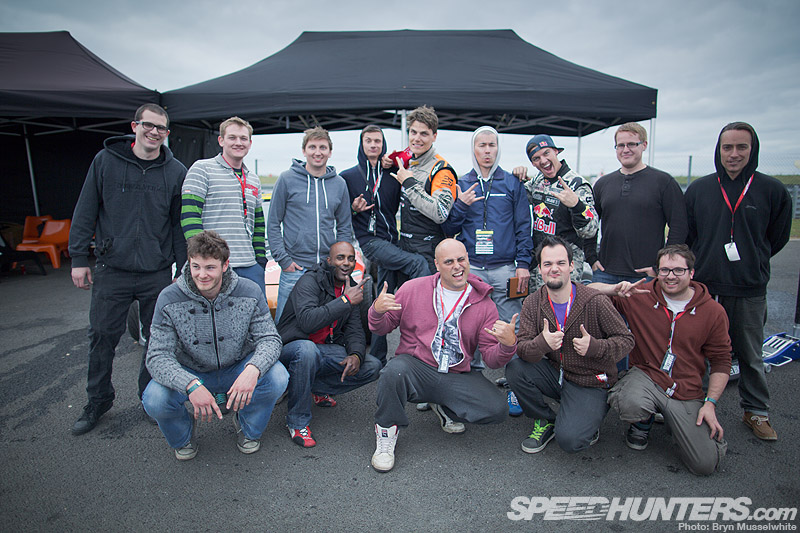 Thanks to all twelve guys who attended (especially to the guys who made the trip over from Ireland and Switzerland – that's some real dedication!). Looking around the group after things were finished, I'm pretty confident that judging by the huge grins on people's faces, everyone not only learnt a huge amount but also had a blast. I reckon we can call that a success then. Workshop.01 – done and dusted!
Words by Suzy Wallace
Instagram: speedhunters_suzy
suzy@speedhunters.com
Photos by Paddy McGrath
Twitter: @PaddyMcGrathSH
Instagram: speedhunters_paddy
paddy@speedhunters.com
Additional photos by Rod Chong, Sean Klingelhoefer and Bryn Musselwhite
Workshop attendants: Ali Cox, Dylan Thanushyan, Matt Urch, Matt Kerr, Dave Knowles, Marin Morier, Paul Kennedy, Matt Denham, Dave Cooper, Jack Andrew, Sasha Kulas, and Danny Rabin.
Thanks to the guy who owned the nearby trailer that both the Speedhunters team and the drivers were clambering over!
More Mad Mike coverage on Speedhunters