Many months ago, I heard rumours of a new car show. One being planned here in the UK. Nothing groundbreaking about that you may think. But this was different. The people involved had a reputation for delivering events with a huge following, all teamed-up with a chaser of cool. The new show would take place at Goodwood Motor Circuit and it would be aptly named: Players Classic. The gentlemen putting their rep on the line were to be Carl Taylor and Jamie McToldridge. These guys are well known for the highly successful Players Show held annually, sometime in the middle of September, at North Weald Airfield just outside of London. But this new show would be risky. A leap into the unknown.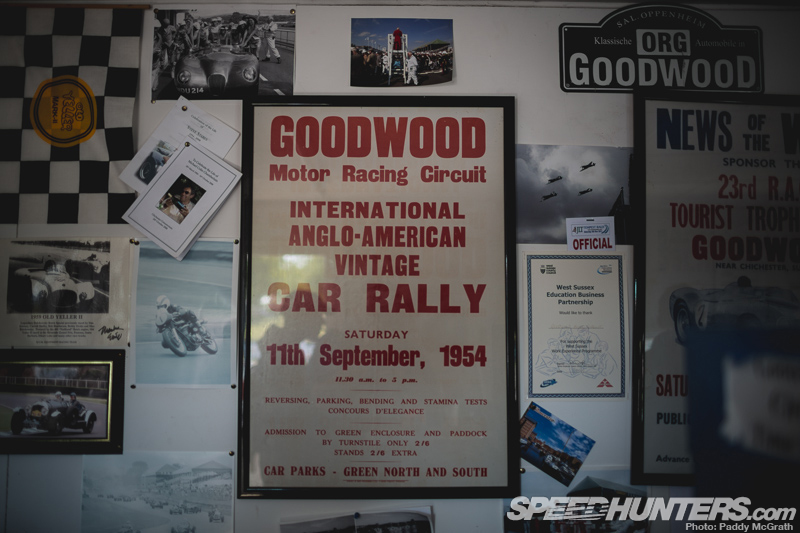 For Carl and Jay, the all-new Players Classic event would be defining. It would demonstrate the true character of these obsessive car builders.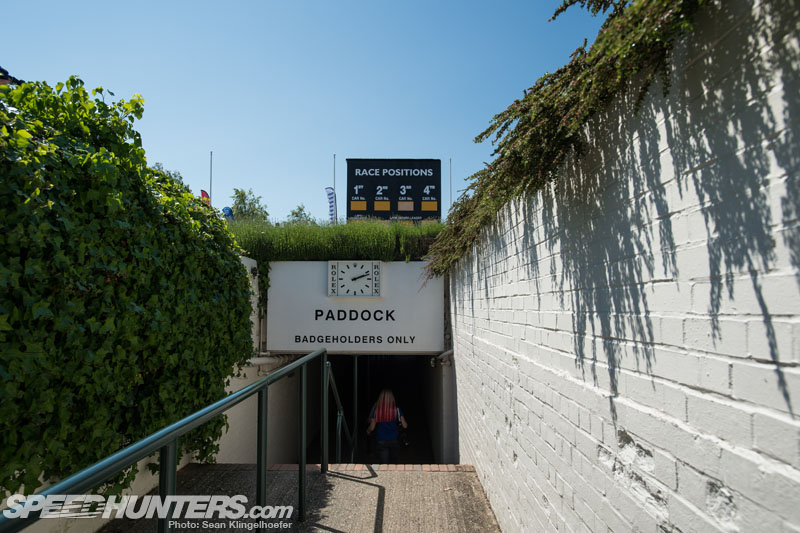 A full-on car tuning show has never been held at Goodwood Motor Racing Circuit before. Would this be the first and the last time an event like this would take place? One thing's for sure: I was excited to see what would happen!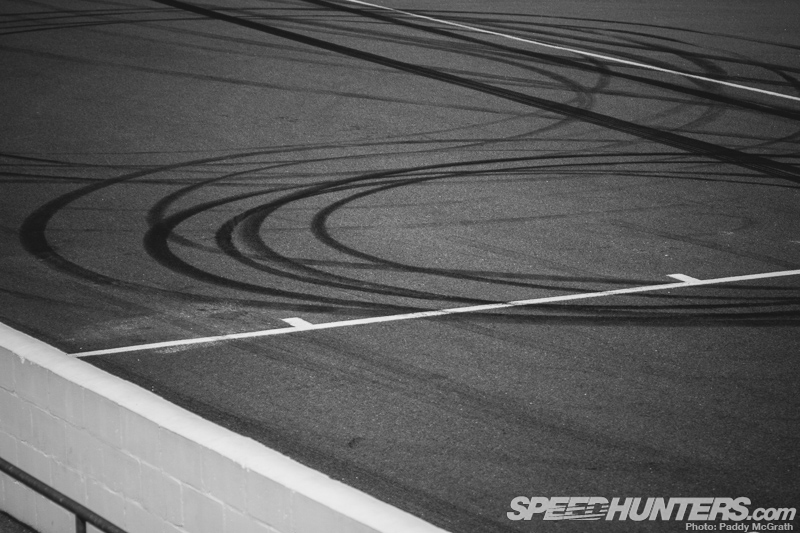 I suppose it's at this point that I could tell you about Goodwood Motor Circuit having loads of history, but to be honest, you will have almost certainly heard of Goodwood before. Plus, going into this show, I had some very important questions that needed to be answered.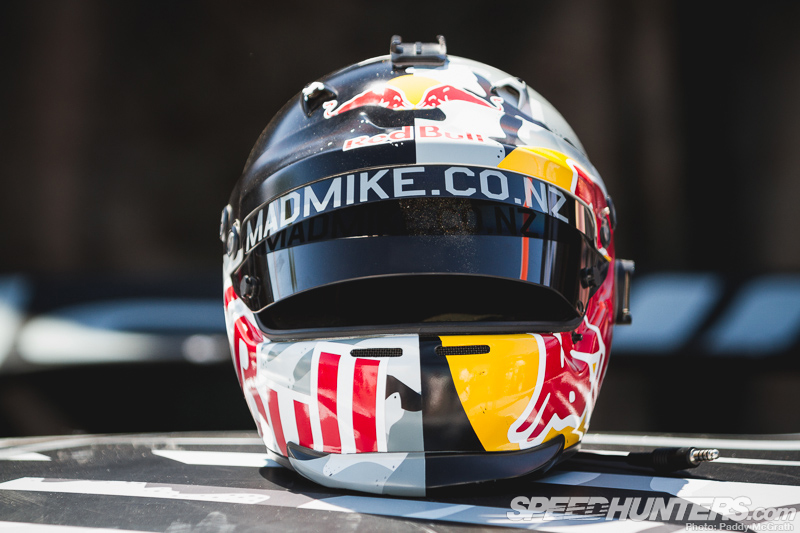 Questions such as the following: what sort of cars would Players Classic pull in? Would the vibe be good? And was Mad Mike really mad?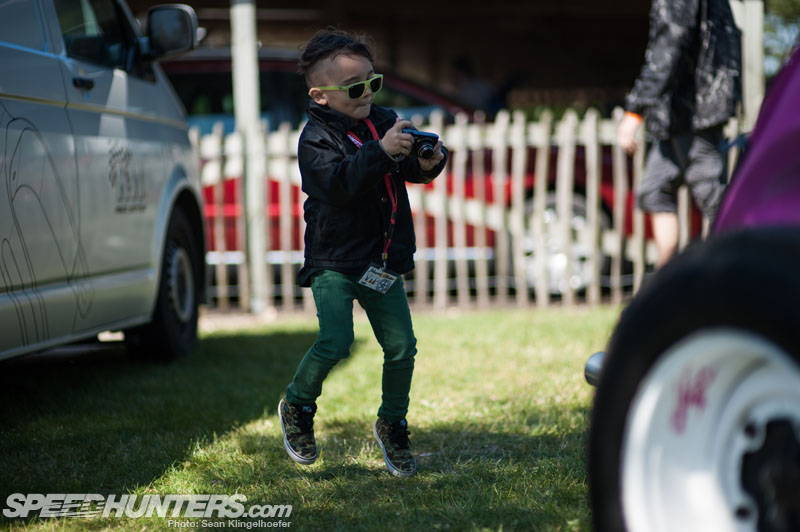 Oh, and one more thing that's been playing on my mind for quite some time, was this: could cool-looking kids levitate whilst taking photographs? The answer to this was a definite yes! As for the cars, atmosphere and sanity of Mad Mike, allow me to show you around Players Classic via the medium of Paddy and Sean's lenses, and answer those questions.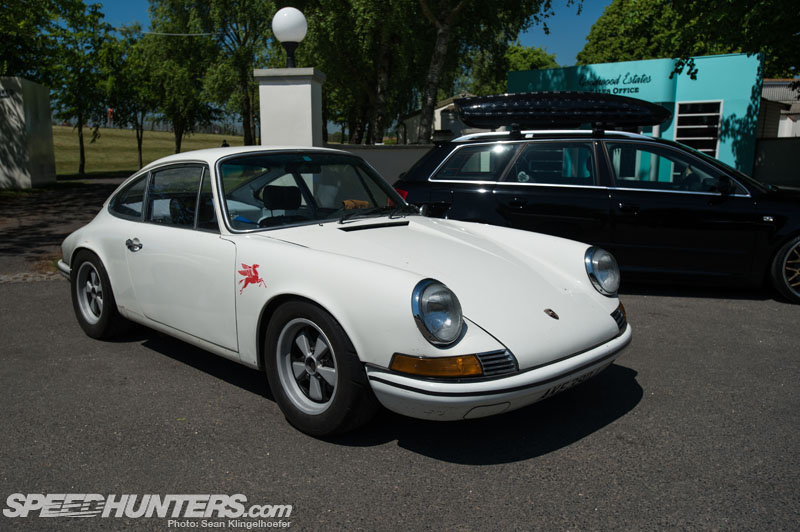 Starting off with some cars, Players Classic offered a pretty lovely combination of old and new metal. An eclectic mix of marques was on display and arranged in no particular order. This was nothing short of delightful for someone like myself with attention deficit of the highest order. And this Porsche 911T pulled you in close straight away.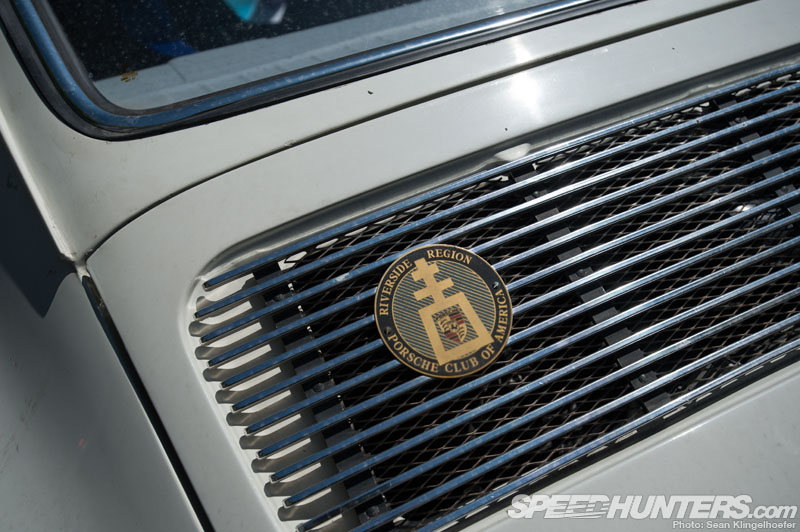 The left-hand drive car looked super original and sported a very cool-looking PCA badge on the deck lid.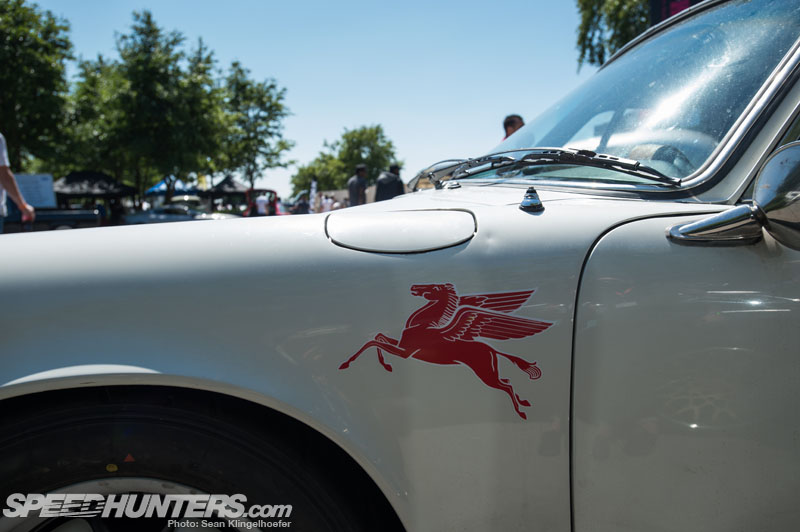 I'm guessing this has spent some serious time in California and with its slightly acquired patina looks I could have easily stayed right here and just looked at that 911T all day long.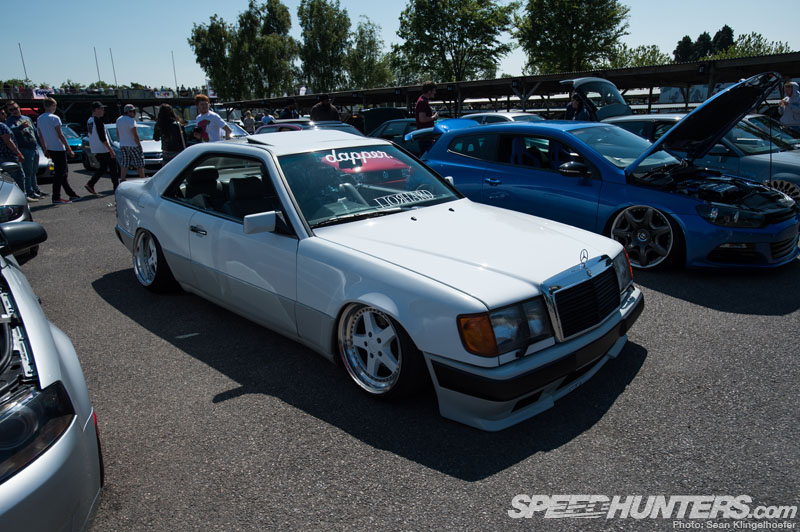 Staying in one spot at Goodwood is not an option though. The amazing venue makes you want to walk around and take in the view. And after just a few minutes it quickly became apparent that the best thing, from my perception at least, was the excellent mix of show cars and track-ready  vehicles. This W124 Mercedes Coupe was killing it! The car just screamed fun to me and I loved the freshness of the white combined with some spot-on wheel fitment. Ok, so if you're all about going fast, then the Merc might not be to your liking…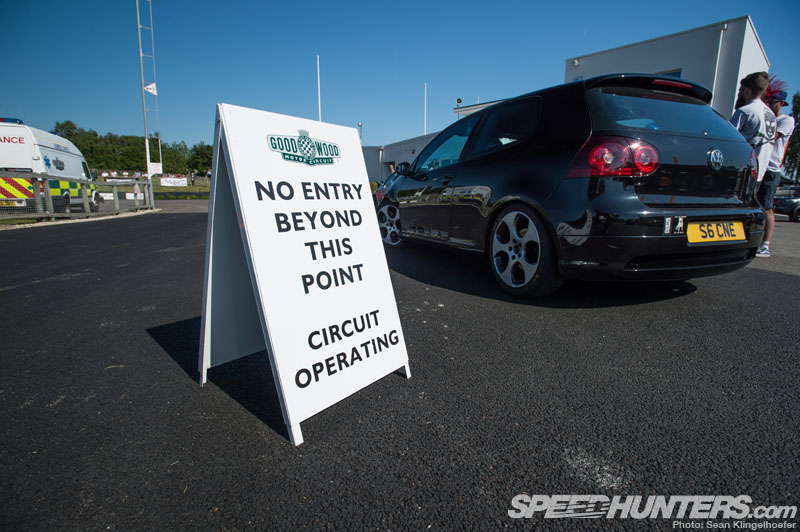 … but Ryan Stewart's very subtle 450hp Mk5 Golf GTi, running a clever AST suspension system with six months of circuit development, almost certainly will be. I don't think I saw any cars pass Ryan's incarnation of the original hot hatch during its entire day lapping Goodwood. This car not only has pretty decent power for such a lightweight and compact hatchback, but the chassis work makes it a formidable track day weapon. I'm always excited to see how Ryan's cars progress and evolve.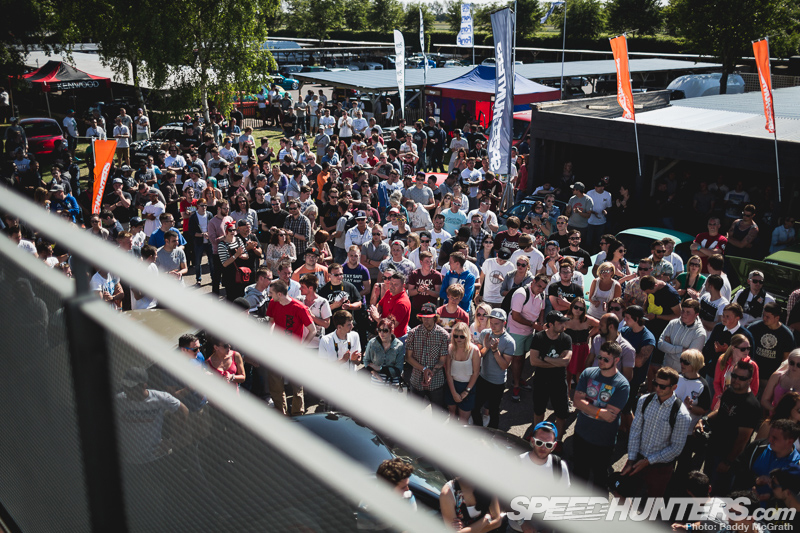 By mid-morning the show had a great buzz with the sun shining and many people passing through the paddock. Car quality was nothing short of insane. In fact, I'm going to break the rules a little with this post and share with you some mini car spotlights throughout this story. Some of the builds were just so out of their mind it would be a shame not to go into a little more detail.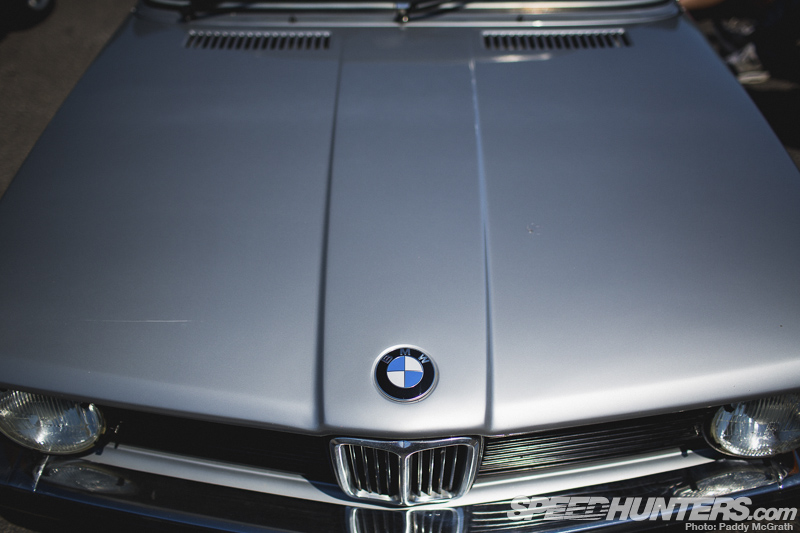 Builds like Ben Anson's simply classic 1982 BMW E21 deserve further explaining.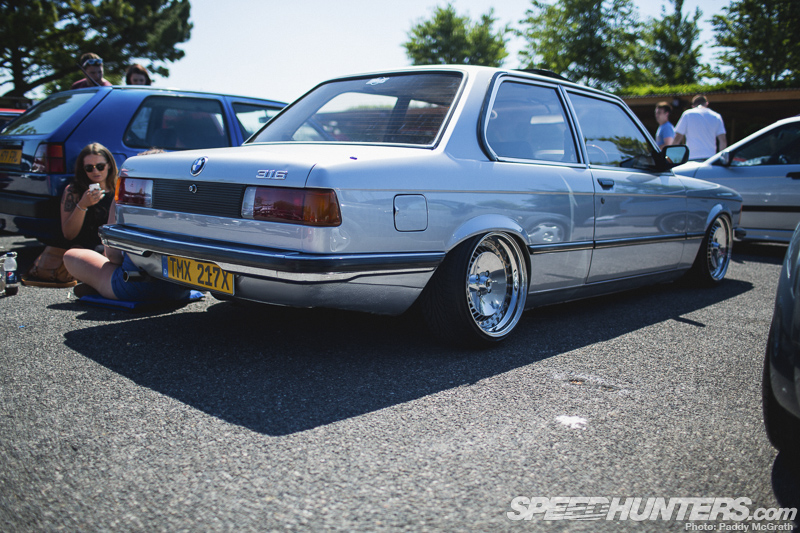 At just 20 years old, Ben has created a dreamy-looking car that's rolling on a set of Schmidt TH-Lines, one of my all-time favourite wheels. More about them in just a moment…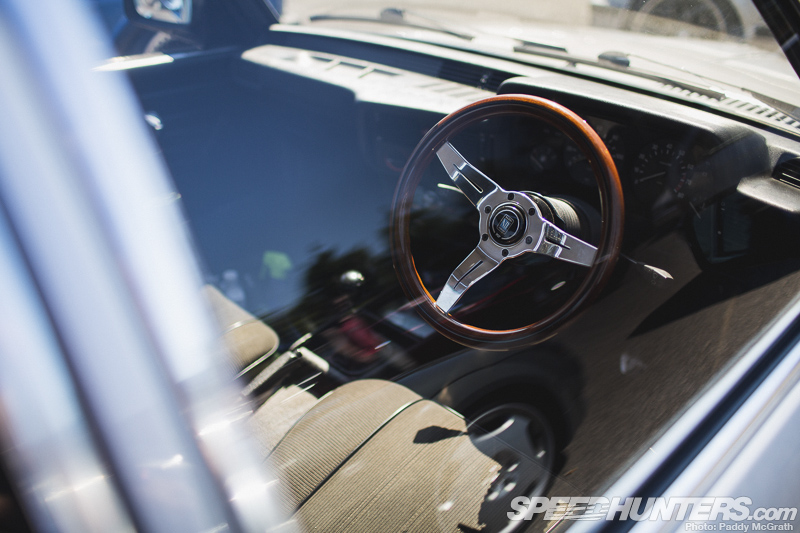 … because inside is another product that makes my wish list – the Nardi steering wheel – and perfect it is, too. Not too small and a well-chosen upgrade that keys in nicely with the rest of the car.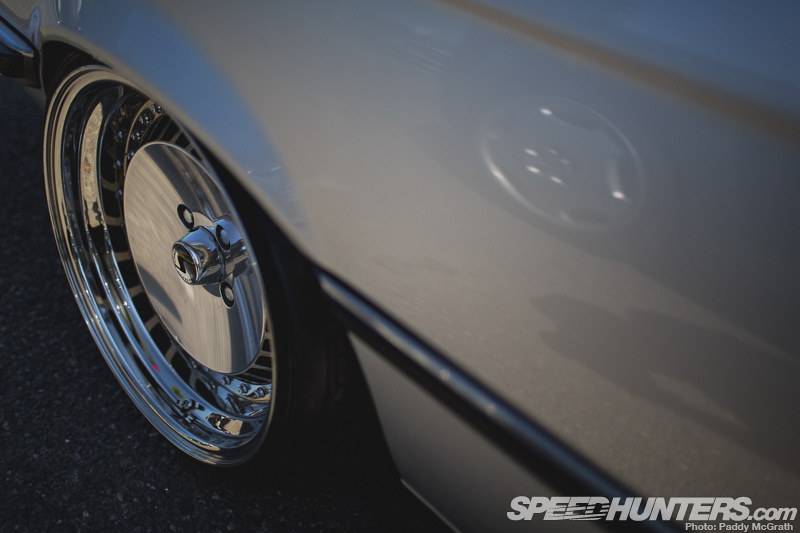 Back to those Radinox-lipped wheels then. Ben's running staggered 16×7.5 and 16×9-inch TH wheels which were purchased second-hand for a good price from someone in the Volkswagen scene. These earlier BMWs run a 4×100 stud pattern which can sometimes make for a much more interesting wheel choice than the 5×120 PCD that the later BMWs come with.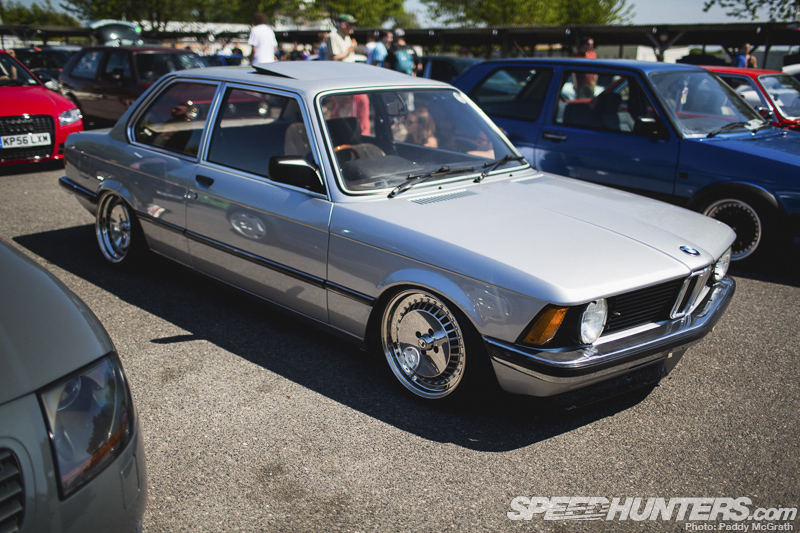 The 316 features a 1.8-litre 8v motor and the chassis drop comes courtesy of a custom Air Lift kit with Gaz shock absorbers. This car, for me, is a great example of minimal parts serving up maximum impact. Definitely one of my favourite cars of the event.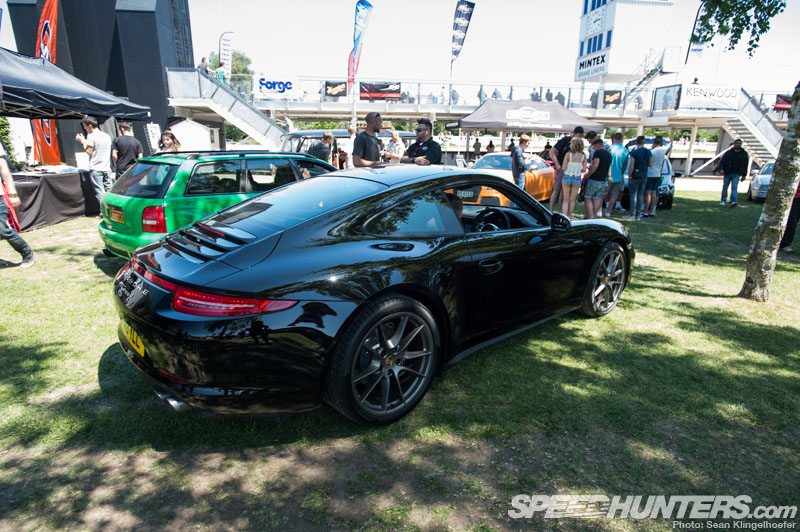 On to the new metal and this awesome Porsche 991 rocked up. After being loaned KW Automotive's development 991, I'm in love with these cars. Everything feels so tight, the engine and exhaust tone are fantastic and looks-wise I think Porsche has really nailed it down. It was definitely nice to see this amongst all of the crazy metal and it still managed to draw lots of attention.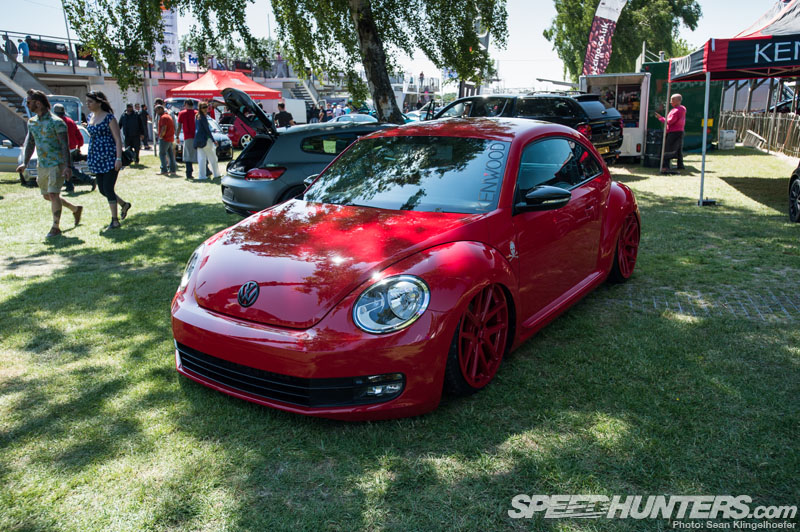 More brand new metal was there in the form of this 2012 TDi Beetle. Ok, so this car's actually mine, but Kenwood Electronics has been using it to showcase their multimedia line for the most part of this year. We'd recently added a set of 20-inch Rotiform SNA wheels painted in the same Tornado Red as the body. These new wave cars are so easy to make an impact with. A suspension drop and a set of wheels can often create a pretty cool-looking car.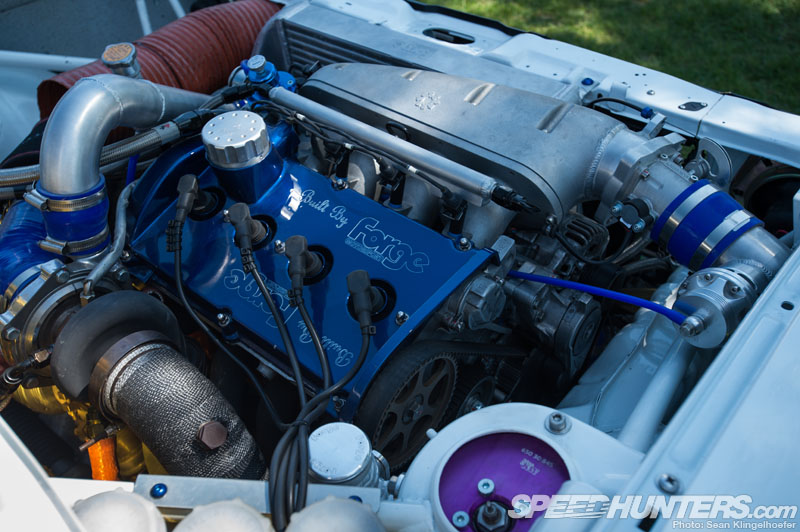 While that approach is great, it's always the full builds that will always hold your attention for the longest amount of time. Forge's Mk1 project is a true testament to this. Every time I see the car it's been further developed and I keep noticing cool extra touches. The whole car is a celebration of Forge Motorsport's fabrication ability.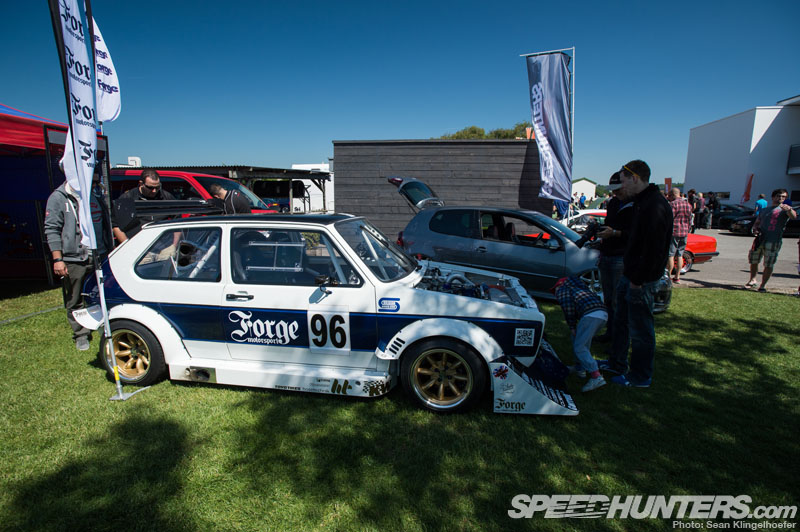 Outside the car looks like it was born ready to climb hills. And to some extent, it was! The Berg Cup body styling just screams business. I wonder what it's like to drive on track? Forge have had some gearbox issues of recent, so the car couldn't go out on track. But things should be sorted fairly soon, so it will be very interesting to see how this Mk1 performs. We'll keep you posted with a full feature soon!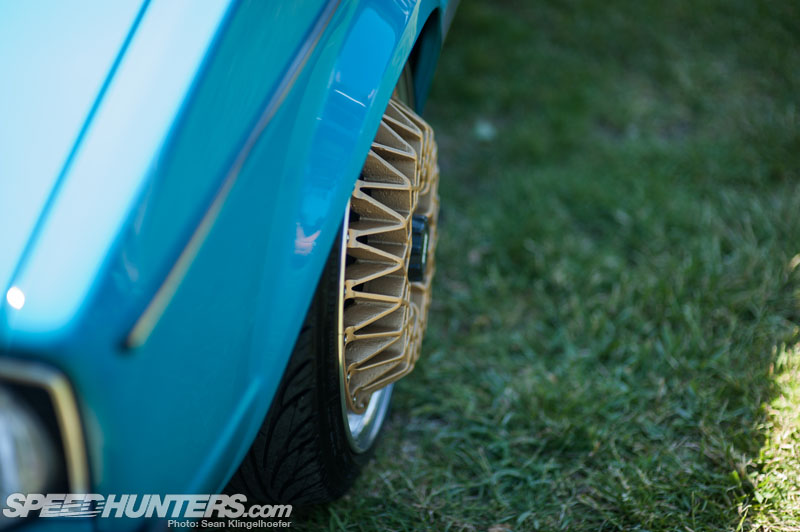 Wheels are one of, if not the most important choice anyone can make when building a car. Rolling stock will totally transform the appearance of a car and it can make or break the build.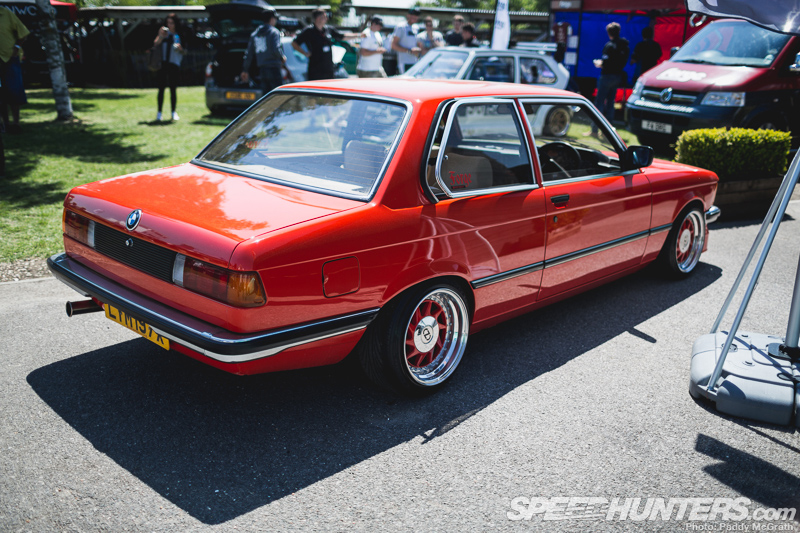 Forge Motorsport fabricator Luke Amon has built a sweet BMW with a killer wheel set-up. His E21 BMW runs 15×8 and 15×9-inch OZ Turbo wheels at the front and rear respectively. By using 20mm spacers all round, the wheels are effectively ET11 with a usable suspension drop courtesy of Gaz Gold coilover suspension. Adjustable top mounts have been installed by Luke along with much of the resto work. The result gives the Munich legend an aggressive stance. This wheel and chassis set-up transforms the look of the pretty much stock exterior creating one of the nicest E21 daily drivers I have seen in a long time.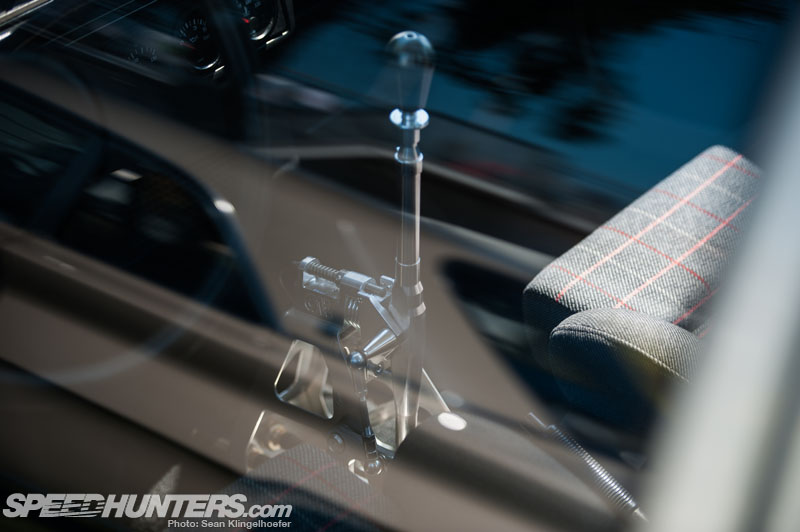 The attention to detail at Players Classic was also right on point. Take Jamie Fagan's Mk1 Jetta, for example. The CAE shifter looks beautiful sitting proudly on display in his Volkswagen coupe. It kinda just says "Drive me!" The photo by Sean Killing-it-hoefer is not bad out of ten, too. Very arty, Sean. You should maybe consider doing this photography thing for a living.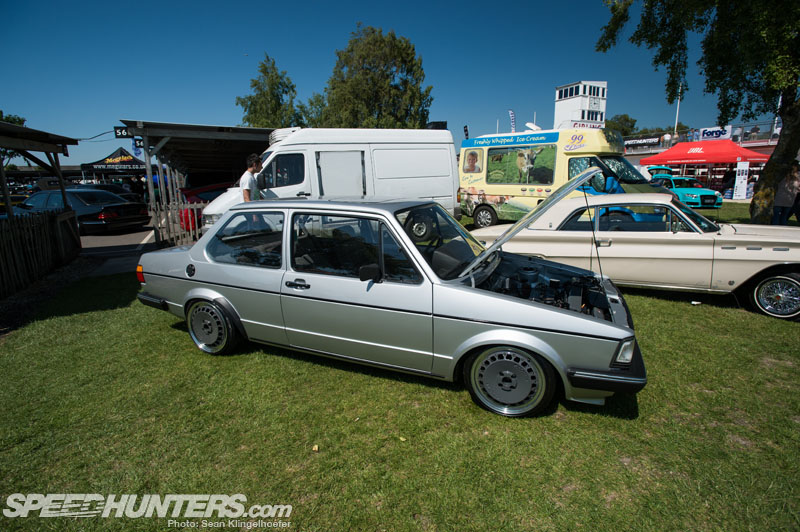 The exterior of the Jetta is also a sight to behold. We've covered this car before in various show reports, but I never tire of talking about it. The Ronal Racing wheels are extremely rare in this direct 4×100 fitment and the all-round finish is flawless. You can also see Martin Eley's 1962 Buick Skylark lurking in the background, too. Martin, or Tino to his friends, has an awesome collection of old school American cars and some pretty sweet European motors too, including a Rolls Royce and a Citroën DS in Scarface-pleasing white. We might have to check out his Essex-based collection sometime soon.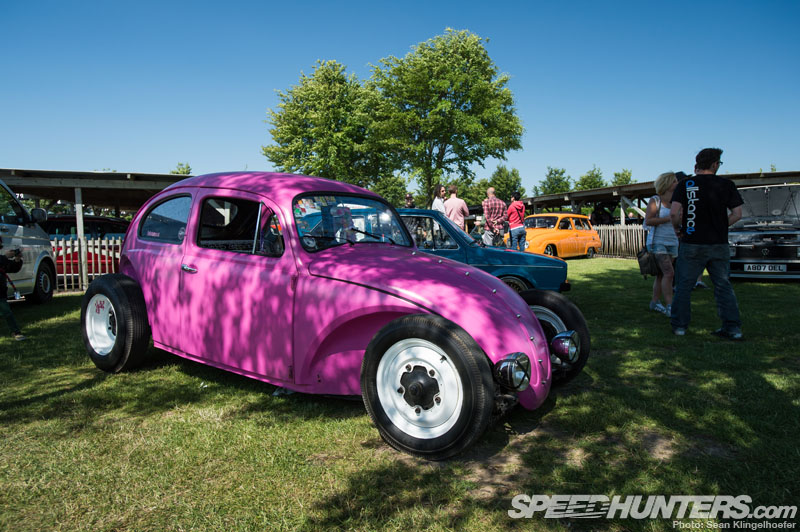 Tino's friend, 'Pink' Simon, was also there in his amazing Volksrod. I love this car. Simon encompasses everything that is great about car culture. He runs a shop called Interior Motive that offers bespoke woodworking services. His work is incredible and some of the camper van interiors he has been responsible for are nothing short of lovely. If car builds were ever an extension of someone's personality then this is a prime example.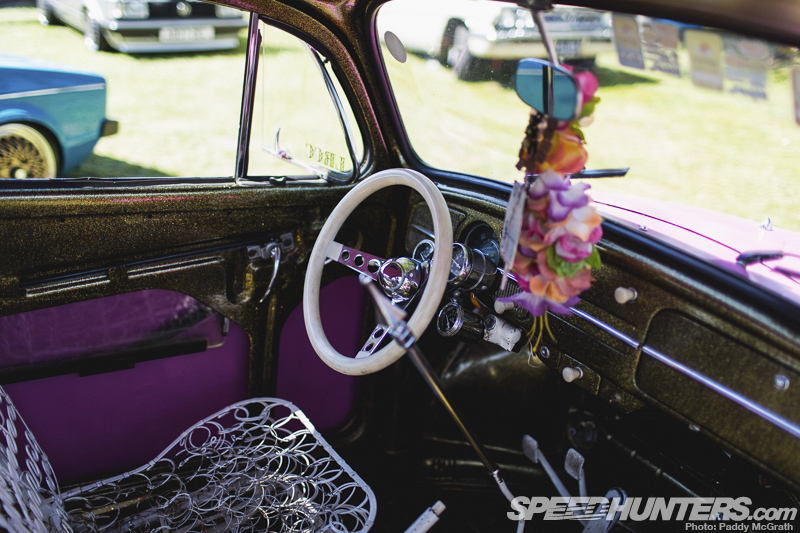 As you can see, it's pretty wild inside…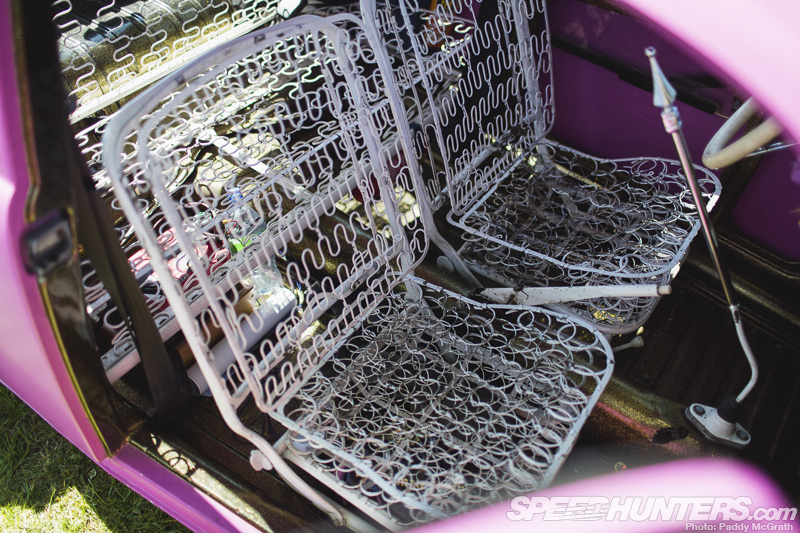 …well, when I say wild, I mean the innards of this car are padded-cell insane. I love the irony in that Simon builds amazing interiors for a living and yet his Bug's insides are super-off-the-wall. The glitter-painted floor is a cool touch as well, right? Love or hate the Beetle's interior, there's no denying it stands out.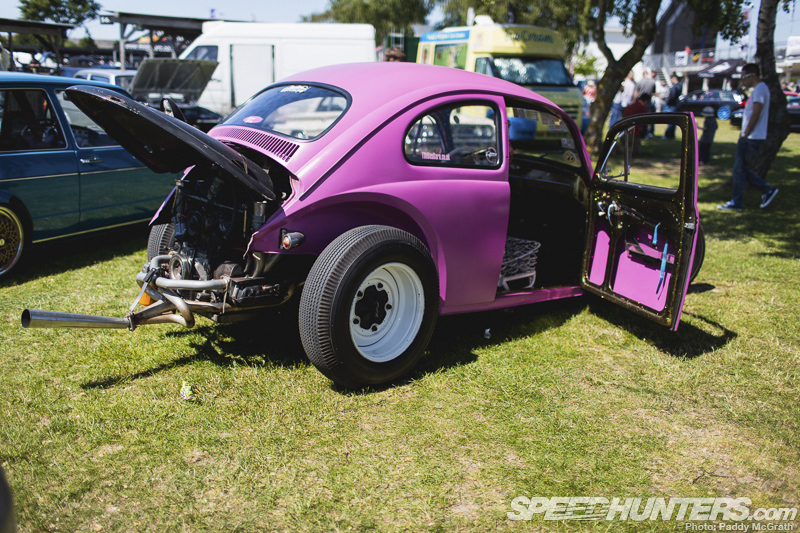 The 1958 Beetle is a Swedish import which originally had a light hot rod style look. After a curious turn of events that involved a small accident, the car received a full rebuild into the guise that it is now. That was back in 2005 and now the car features twin 48 IDA Weber carbs, sounds as mental as it looks and is like a part of 'Pink' Simon's family.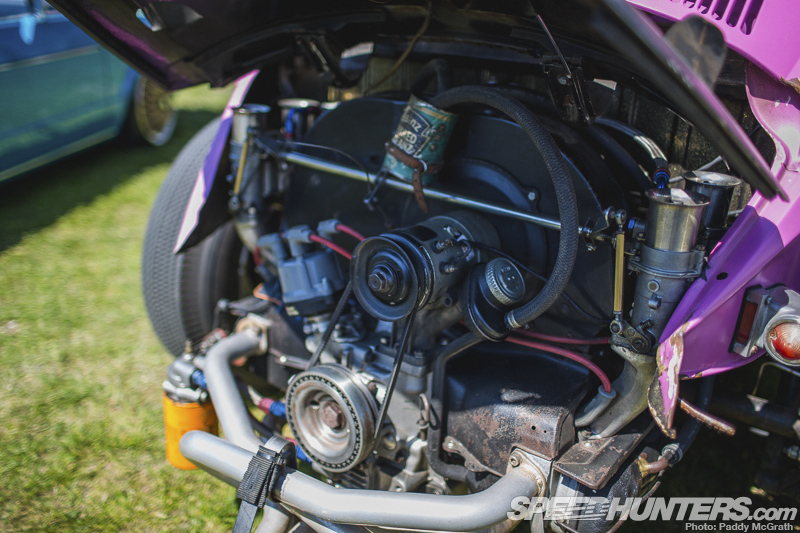 This is a street car all about fun and it gets driven seriously hard.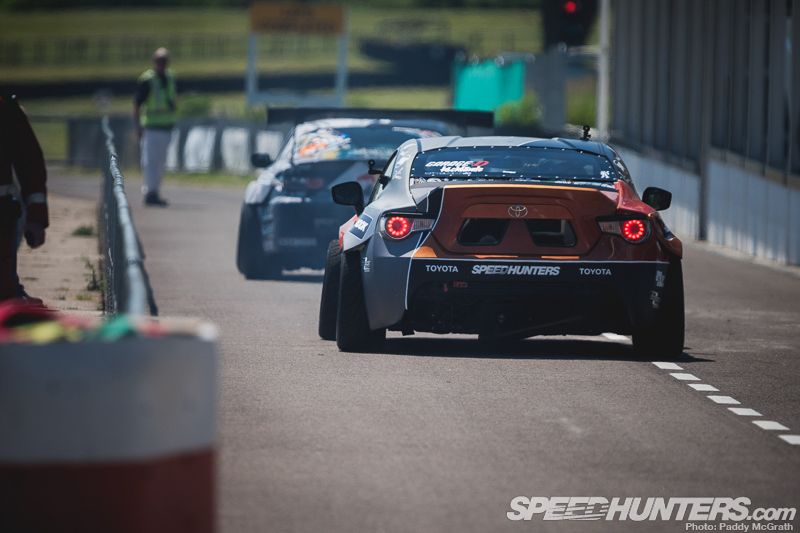 Same, same, but different are the guys piloting these, for drifting is a sport that finds its roots in the street. Fredric Aasbø and Mad Mike Whiddett hit up Goodwood as part of the Speedhunters European Tour.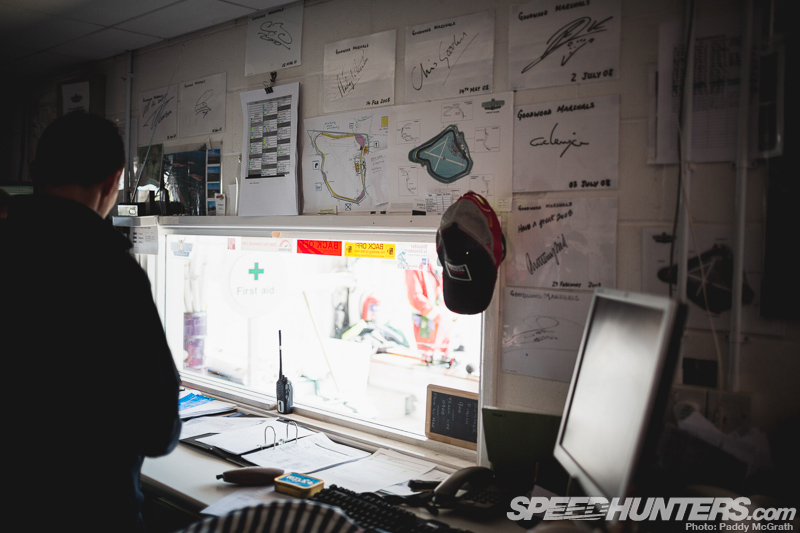 This was the first time a drift demo had taken place at Goodwood and after some serious safety talks, Fredric and Mike were let loose on the circuit.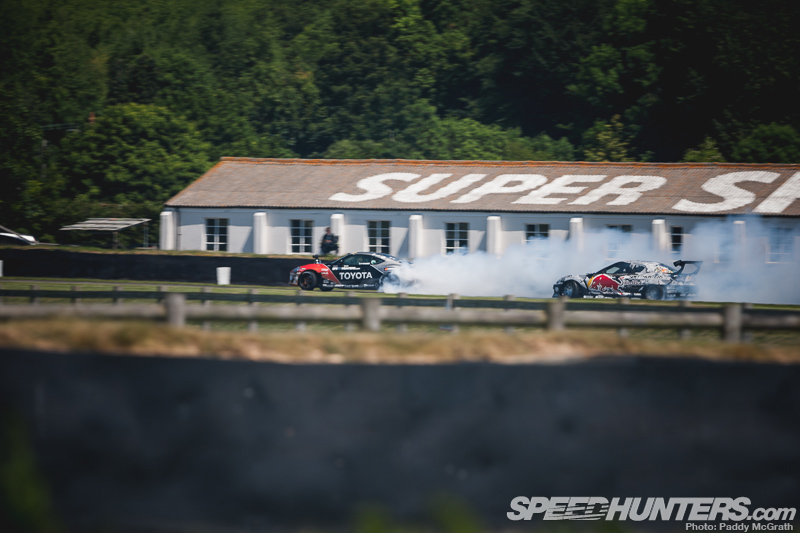 The result? Well as you can imagine it was pretty spectacular.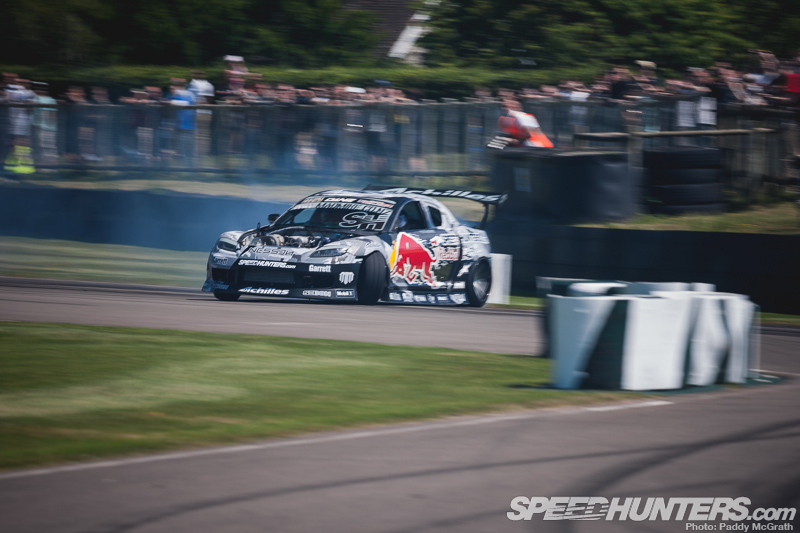 Even just hearing Mad Mike's BADBUL fire up, with its silly horsepower motor and incredible engine note, was a sound to behold.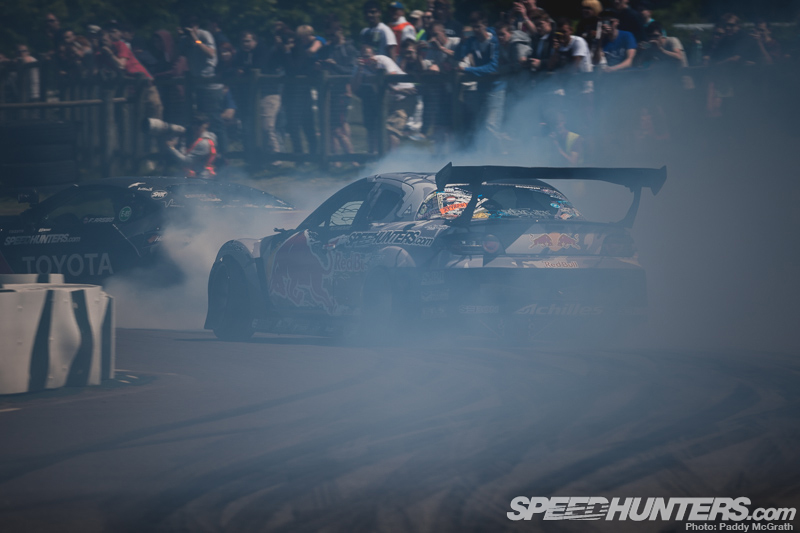 But then to see these two cars twinning around Goodwood was a pretty awe-inspiring sight. Impressive stuff indeed.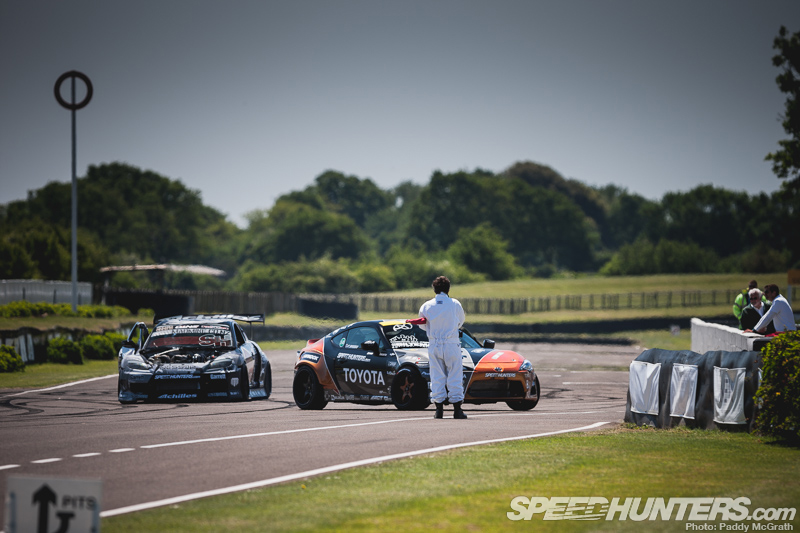 When the drift demos were done and the smoke had cleared it was time to look at the cars again.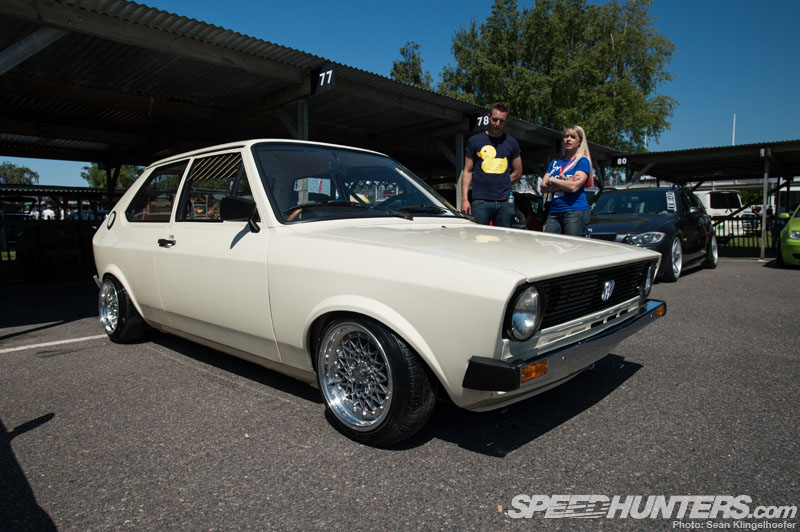 And what fine cars they were, too. From an immaculatel Mk1 Polo put together by a guy called James…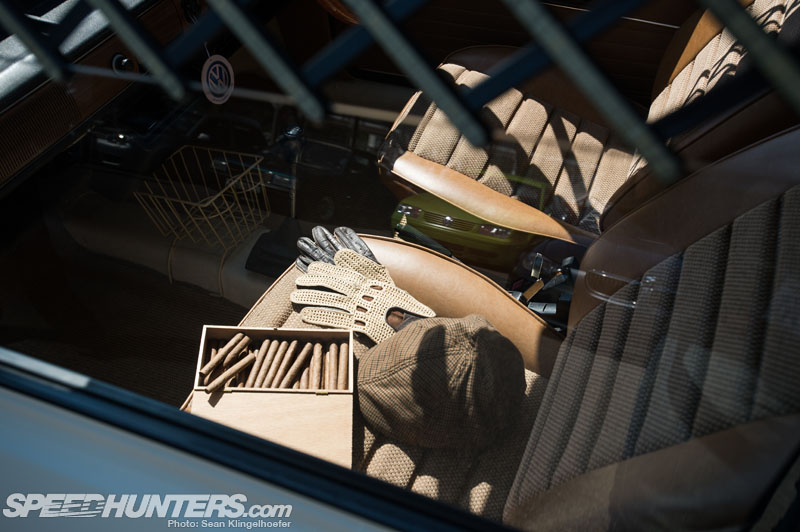 … complete with a box of cigars and some gentrified driving gloves…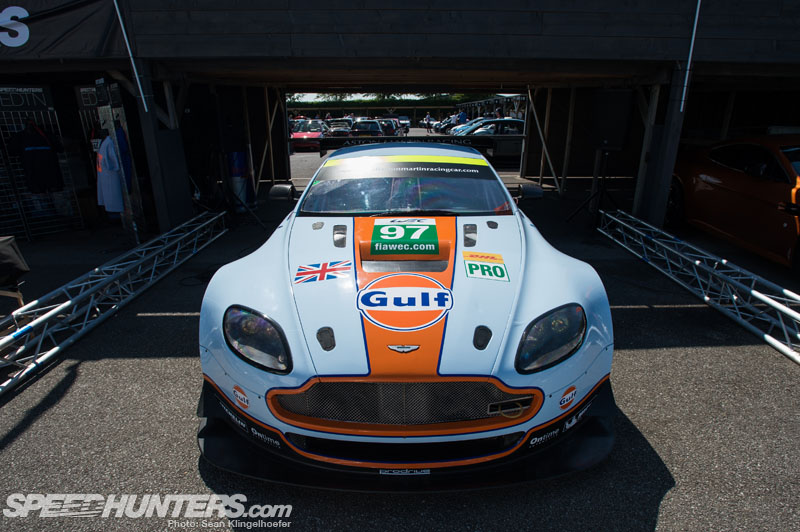 … to an Aston Martin that was built to race. Remember I was saying about the cars being an eclectic mix?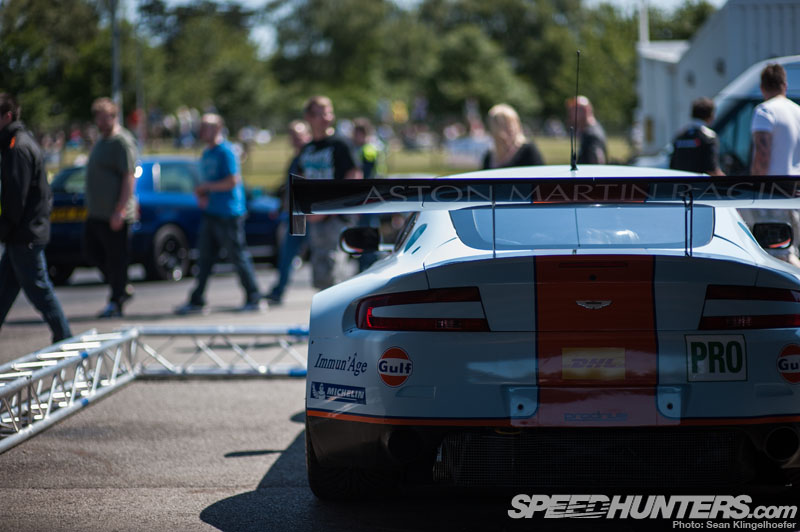 I will never get bored of looking at cars sporting the Gulf livery. Never.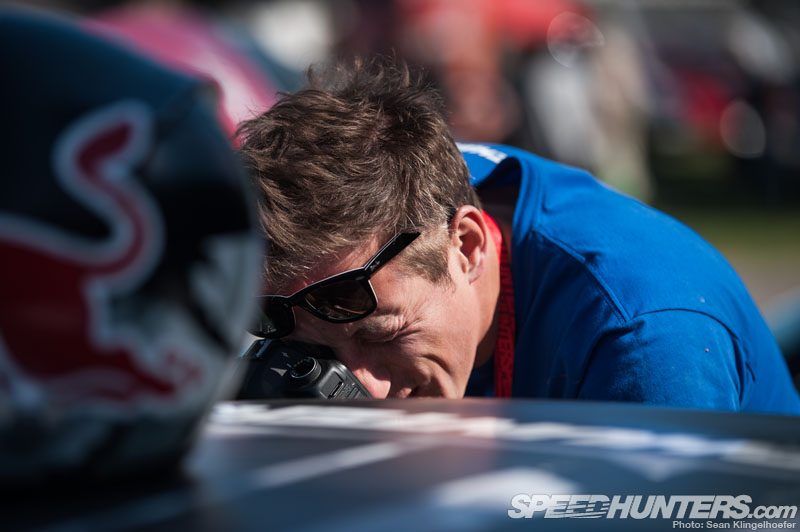 Anyway, less dreaming of Gulf colours and back to work. If you can call it that? Bryn was running around non-stop shooting some classic Ford metal and also an awesome Mk1 Jetta which I'll be bringing to you soon.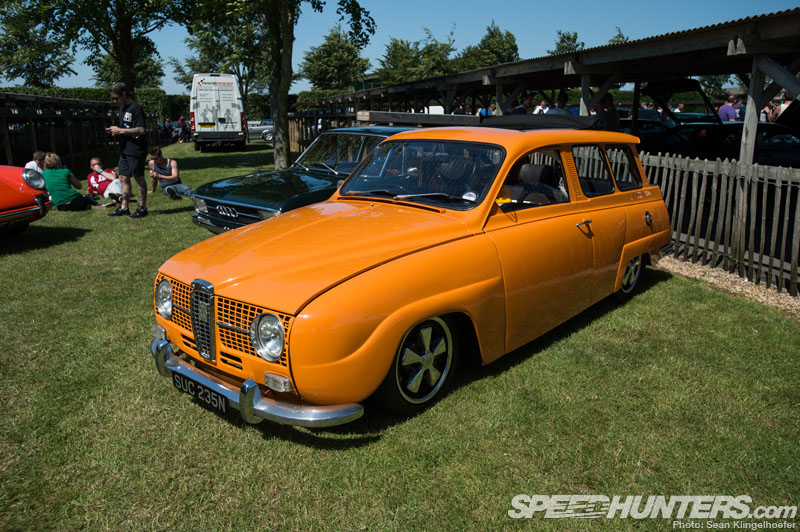 This Saab was quite a talking point on its Fuchs wheels with straight bodywork and a lovely drop of paint.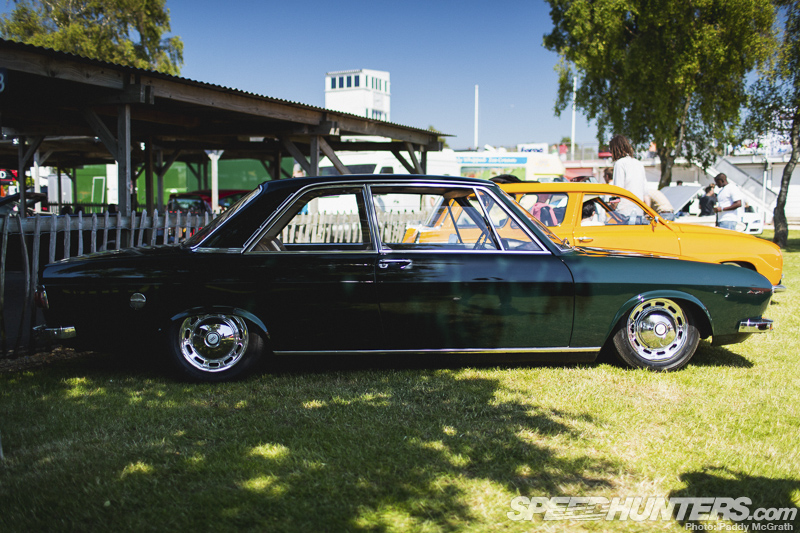 Sat right next to the Saab Nine Five on air ride was this jaw dropper of an Audi.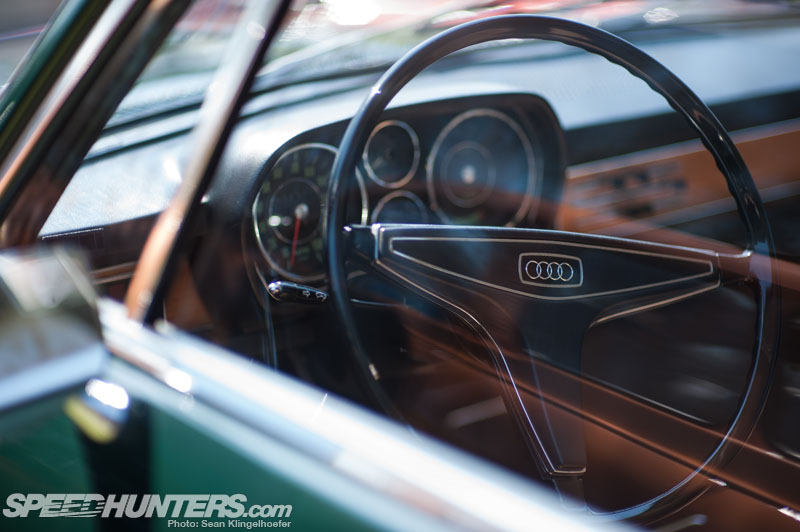 The flawless 100 also featured gauges for the Air Lift Performance suspension set-up installed in the centre of the dials.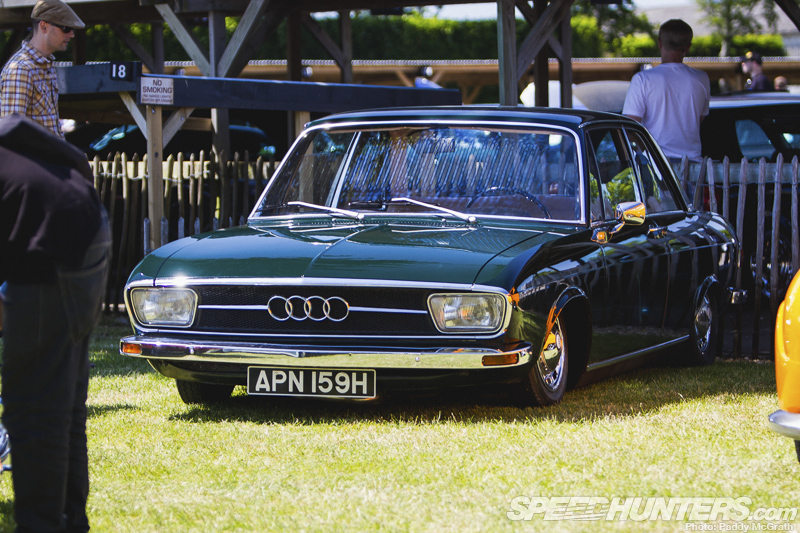 Owned by Graham Angus, the car is gorgeously original and possibly my most favourite car of the show.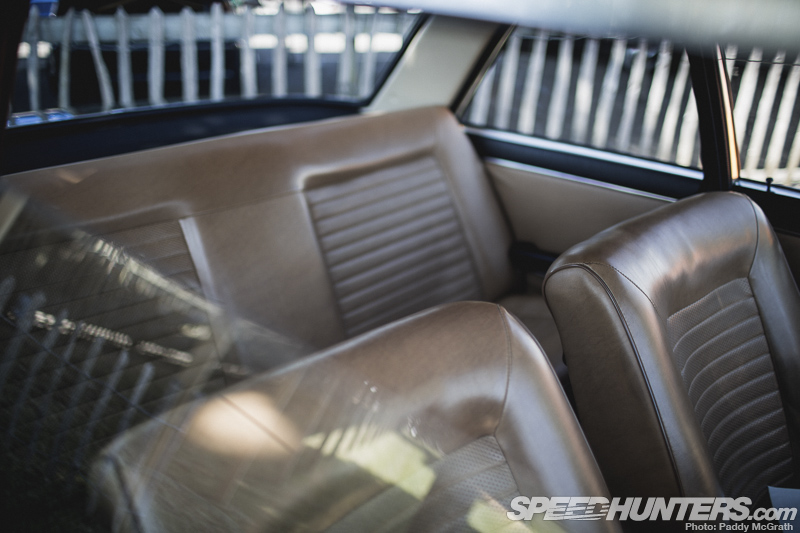 The interior…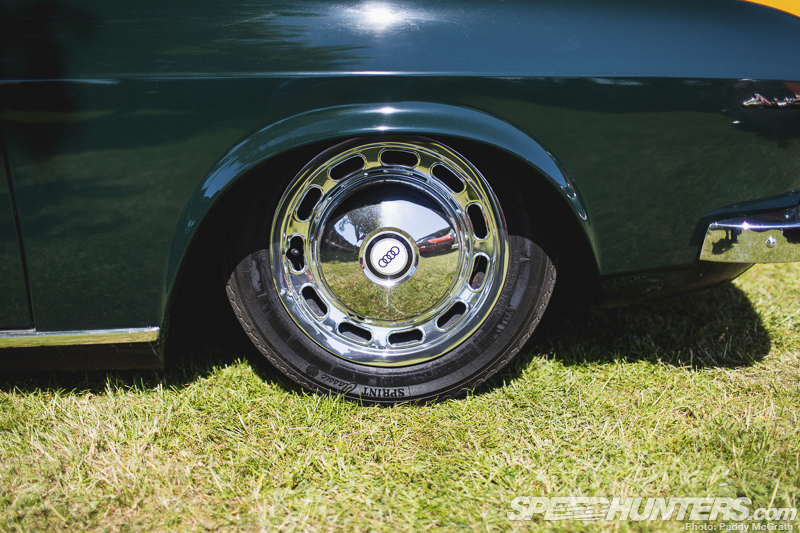 … the wheels and the paint were beautiful. A definite keeper of a car. There's something incredible about classic cars – just being inside one is an experience – and to drive them is fantastic!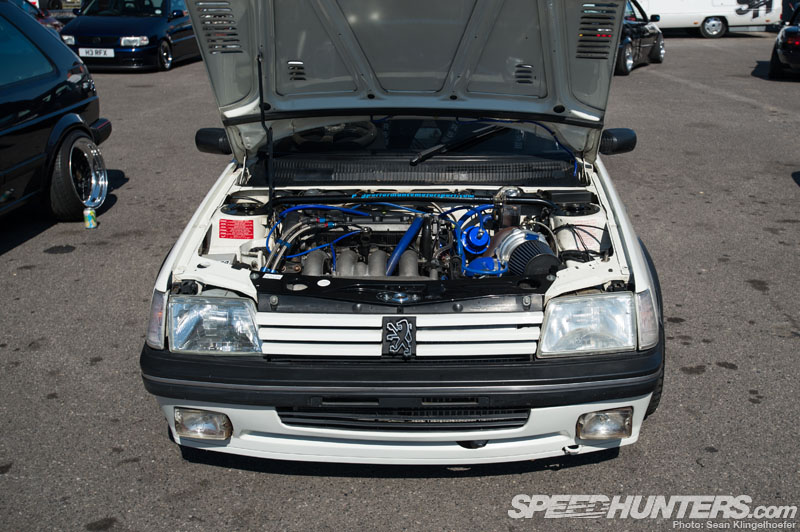 Back to going fast and this aggressive 205 is definitely mad. I missed this at the event and I feel like I've let myself down a bit. I love these cars and I'd have thought that the turbocharged 16v motor would make the chassis quite a lot of fun, if not a bit of a handful.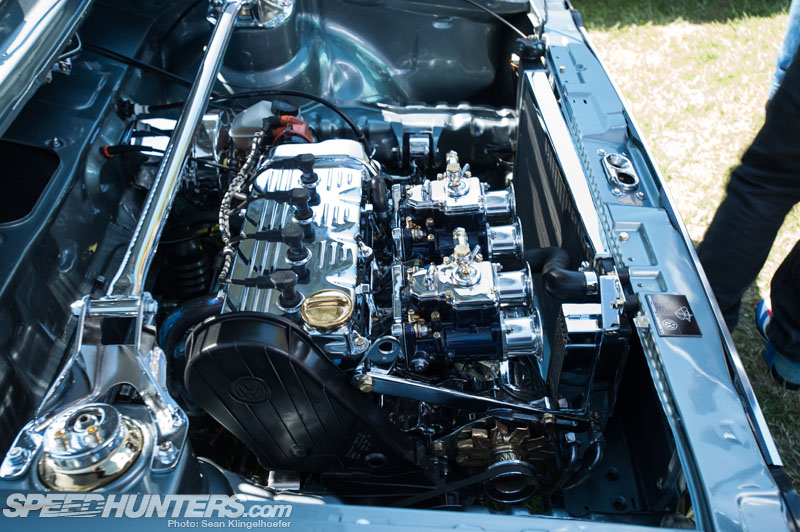 If the engine bay on the 205 was aggressive, then this twin carb 16v motor nestling in the bay of this Mk1 rhymes with wow! Too much awesome.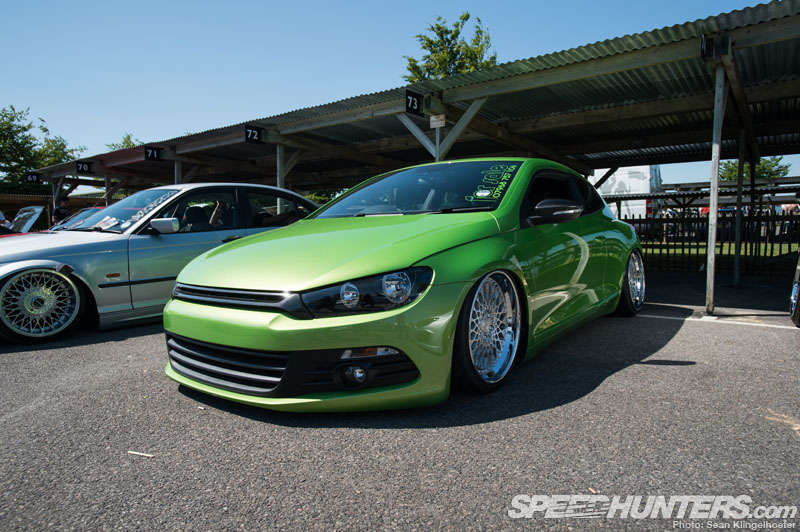 The mix of old and new was so cool. Lee's Scirocco looked tight on Rotiform LHR wheels and the interior harked back to the original GTi cars.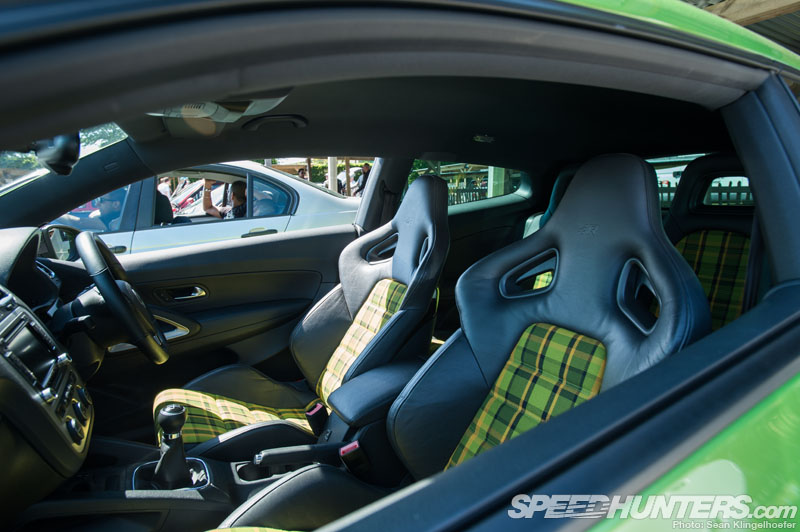 I just love this Westfalia plaid trim work on the great looking R seats and the rest of its innards. Nice.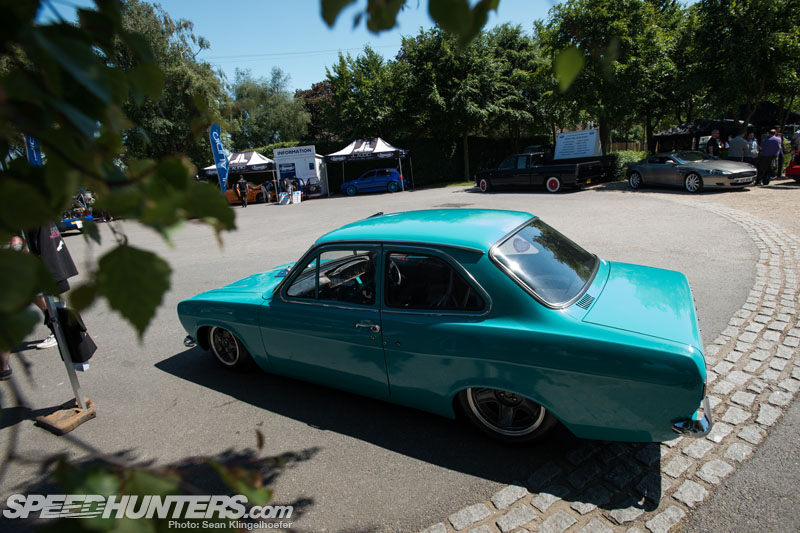 I mentioned before that Bryn was working like a machine thought the event and I think it's fair to say that all of the Speedhunters team celebrated this Mk1 Escort. I was a huge fan and I can't wait to see Bryn's feature on this car – it just oozed cool. Any vehicle that has holes cut into the bonnet to accommodate the motor must be good, right?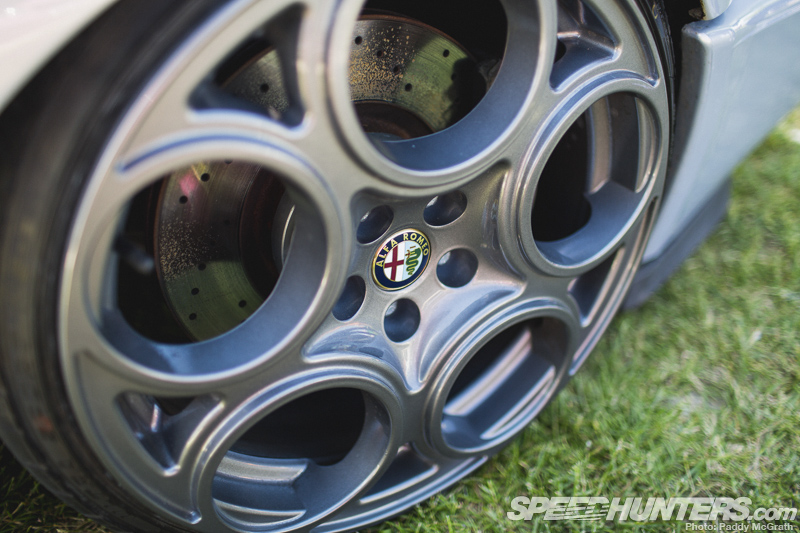 Speaking of things sticking out, these Alfa Romeo wheels had been fitted to a Volkswagen Corrado in a stroke of innovation.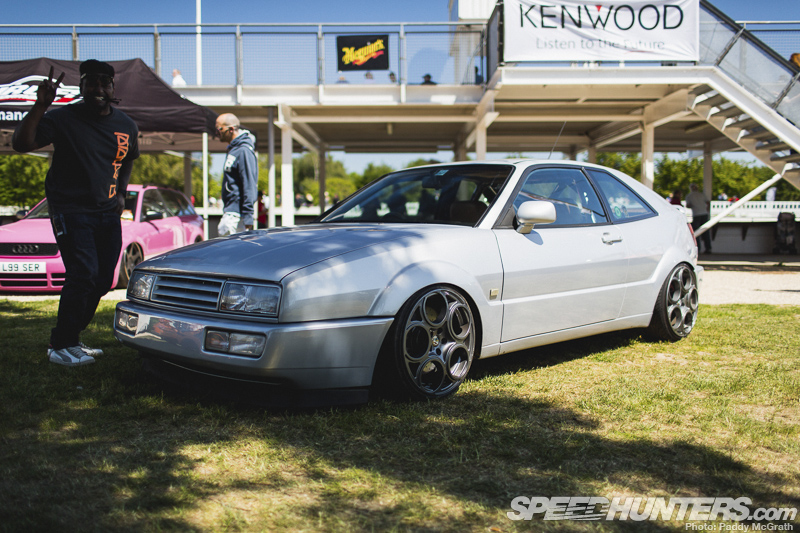 The aggressive installation resulted in the wheels kind of poking out in a really cool way. The car, owned by Patric James, has had various different looks over the years, but this, for me, is its best.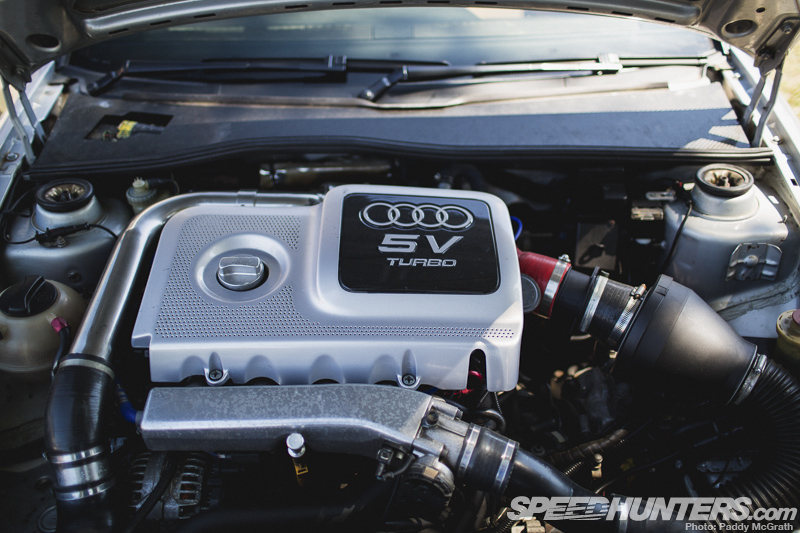 The Corrado featured a whole host of modifications. Parts and features that were pretty much obligatory around six or seven years ago. The 20-valve turbocharged motor was one these features and I really like the way that Pat has managed to keep his car looking fresh.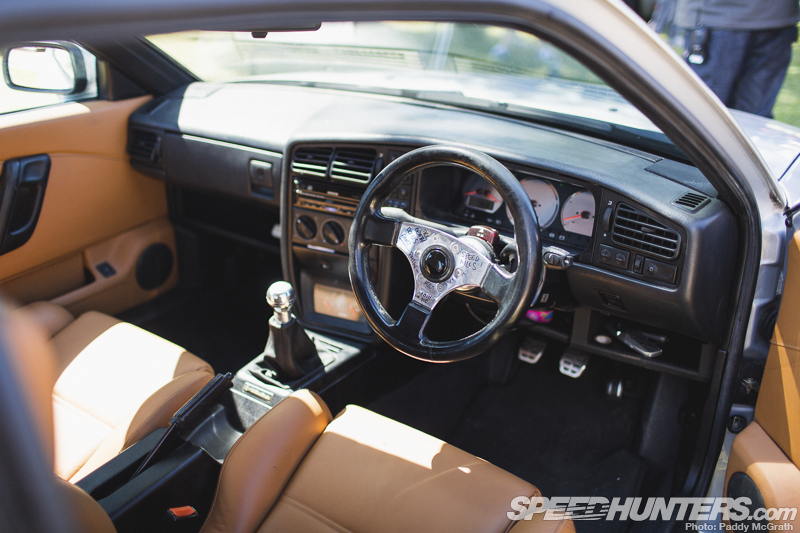 Inside, the steering wheel featured a few handwritten messages that let you into the mind of Patric James. I like it when people keep a car for a really long time and keep changing things up. It shows a bit of love and dedication.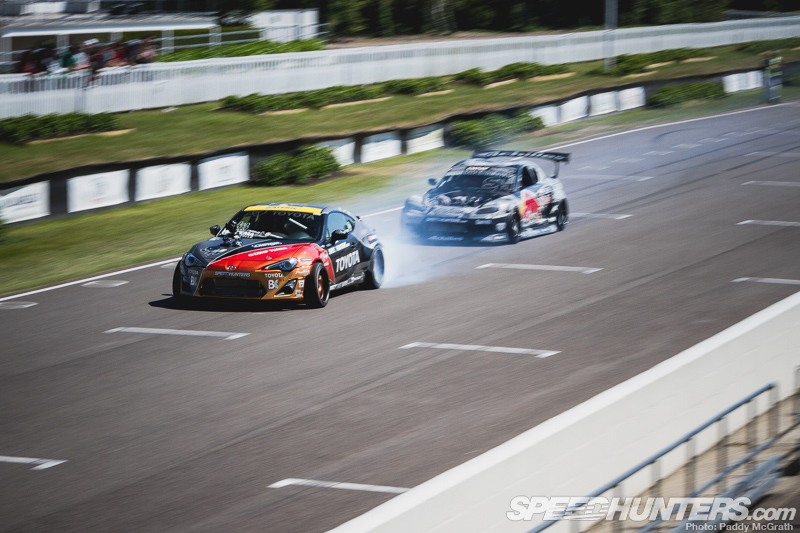 Talking of which, Carl Taylor and Jamie McToldridge have spent the last seven years laying the foundations of Players Show, creating an excellent event with an impressive reputation. Over the last 30 years collectively, Carl and Jay have been relentlessly car building, they're constantly attending shows and are consistently in magazines.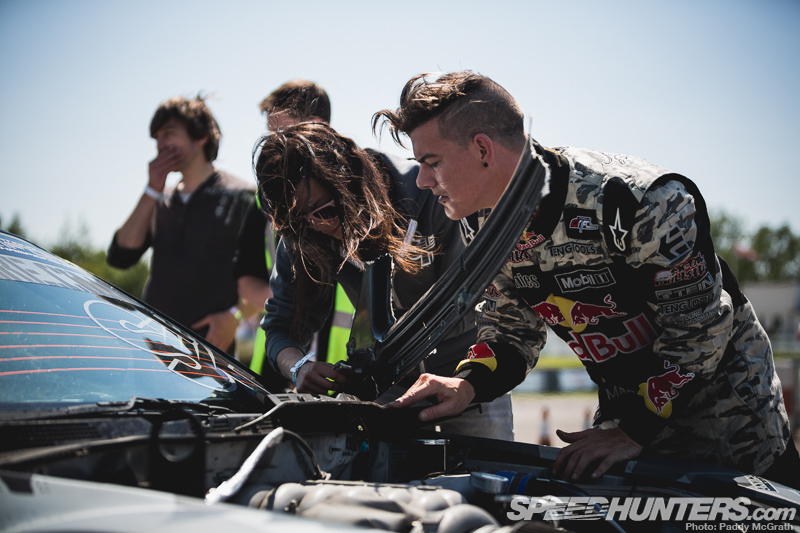 These are two people that are completely immersed in car culture. Much like the cars that we build in our garages, on our driveways and even out on the street, Players, as a show and a brand, would not be where it is today without the help of their friends. This is the secret to the success of the Players Show story. The events that they produce are fueled by passion. Everything else comes second.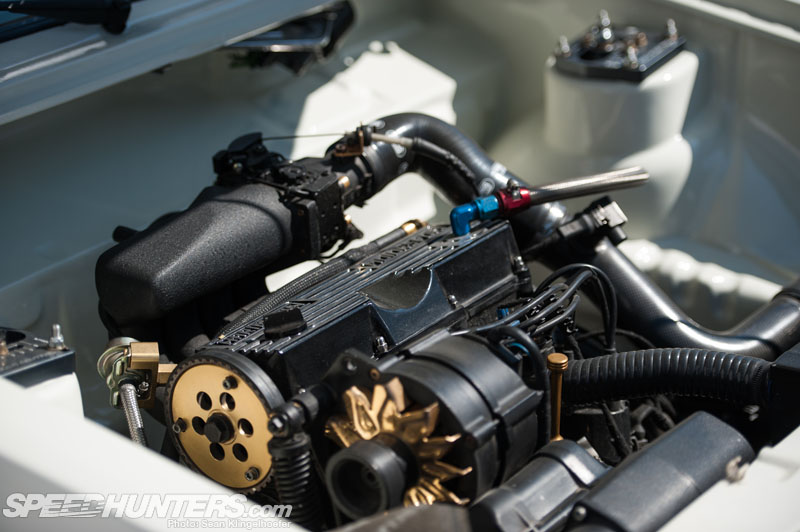 Character is what one is; reputation is what one is thought to be by others.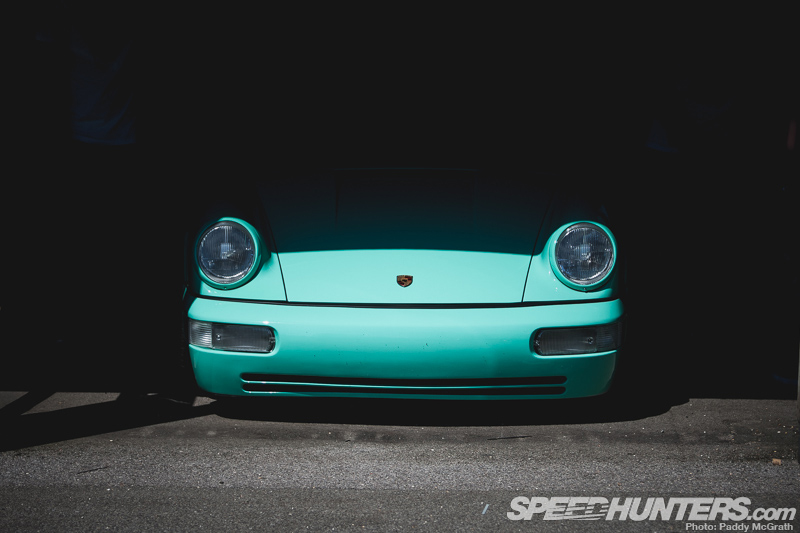 Players put their reputation on the line to do something different. They thought outside the box and brought a diverse event to Goodwood that Speedhunters was very proud to be a part of. It will be both exciting and interesting to see where Players goes next and how their Classic show at Goodwood Motor Circuit evolves.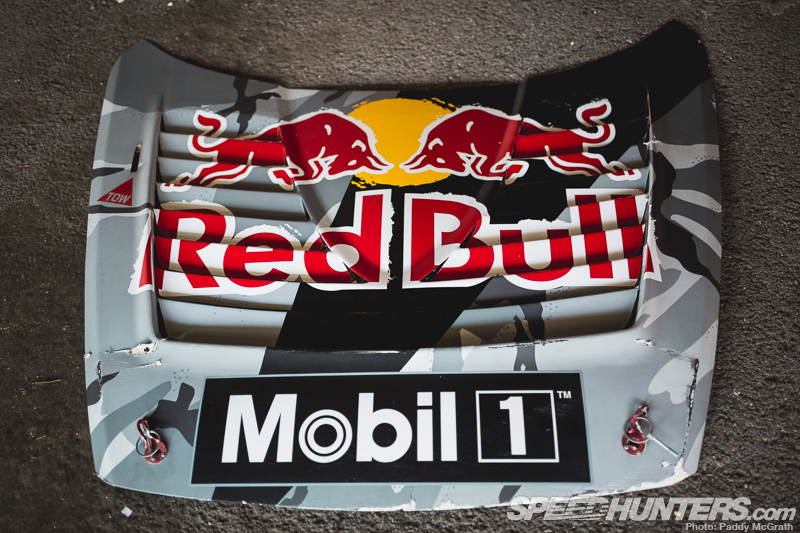 Oh, one last thing that I didn't get a chance to answer: is Mad Mike, really mad? The observation is definitely maybe, yes! There'll be film-based evidence to prove this, courtesy of Stephen Brooks, sometime very soon, so keep a look out!
Words by Ben Chandler
Twitter: @Ben_SceneMedia
Instagram: @ben_scenemedia
Photos by Paddy McGrath
Twitter: @PaddyMcGrathSH
Instagram: speedhunters_paddy
paddy@speedhunters.com
and Sean Klingelhoefer
Instagram: seanklingelhoefer
sean@speedhunters.com