Let's return now to the sun-drenched shores of Long Beach harbor for the second volume of my coverage from Wekfest LA 2013. Based on the reaction to my first post, these events will always bring out a lot of reaction – whether it's from those that admire the style and attention to detail these cars have, or those that can't imagine a car being built to do anything but go as fast as possible. Whatever your thoughts on the matter, it sure makes for some interesting conversation! Let's get to it…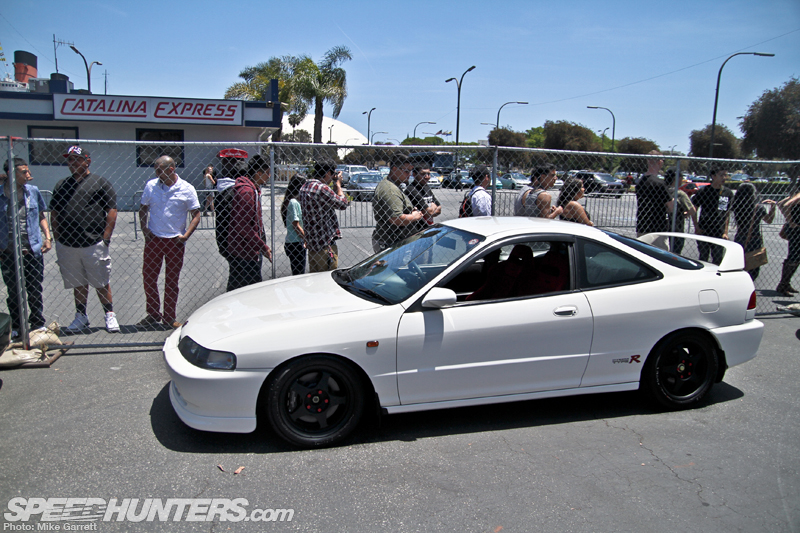 Then again, it would be a huge misconception to say that all the cars at Wekfest LA were built for function over form. Among the Hondas in particular it seemed there were lots of aesthetically pleasing vehicles that had also been built with the track in mind. It's a direction I see more and more cars going in lately.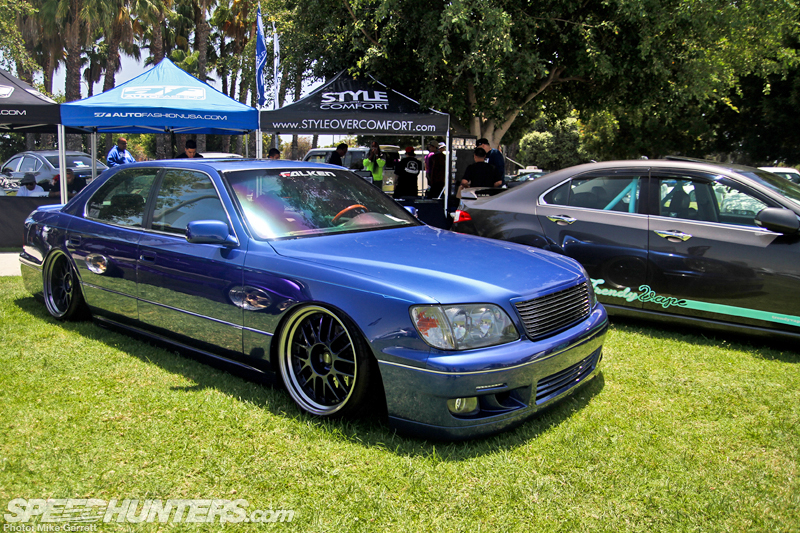 Another one of my personal favorites from the VIP selection was this blue and pinstriped LS400, dumped low on SSR Professor MS1 wheels. I just like seeing these cars done in what you might consider non-traditional colors.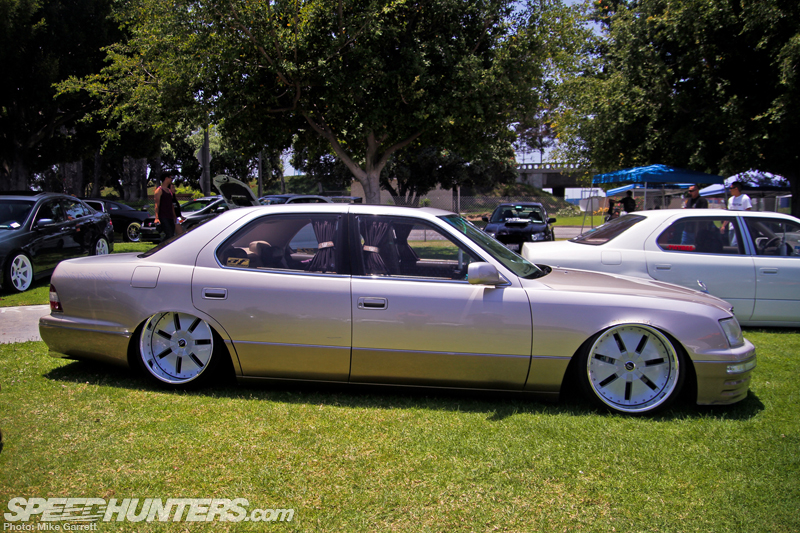 On the other hand, I also really liked this LS which is still proudly rocking its factory two-tone champagne gold coloring. Pure 1990s gangster status.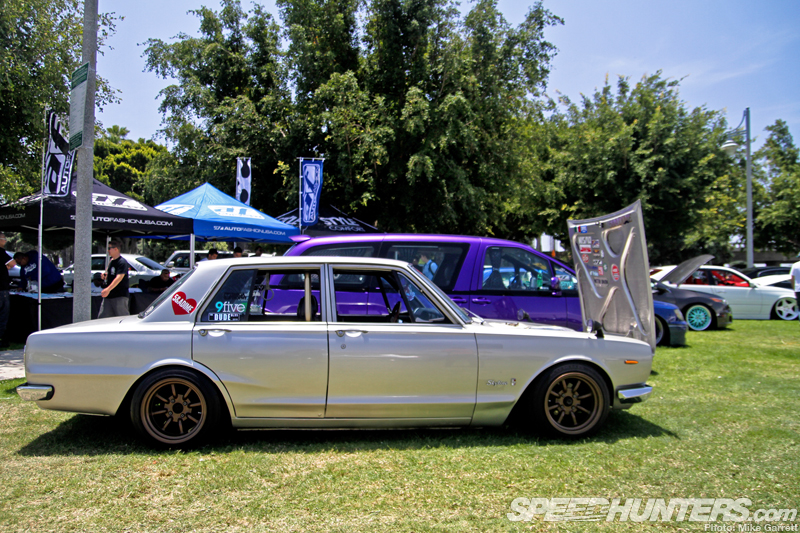 For the real kyusha experience in Long Beach we'll have to wait until JCCS in September, but there were still a few proper classics sprinkled in among the later model cars at Wekfest. This bad ass RB-powered Hakosuka sedan from San Diego for example.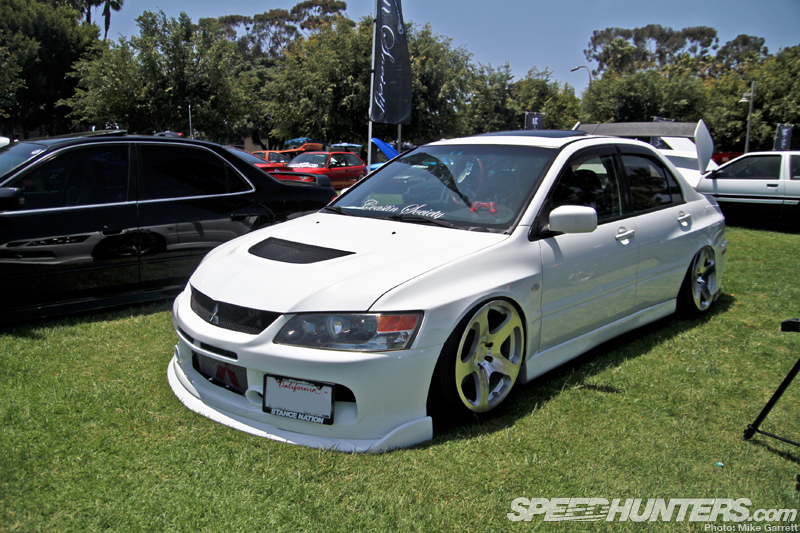 Here's a car that just seems like it was designed to start flame wars on the internet – an Evo 9 absolutely slammed over a set of Rotiform NUEs.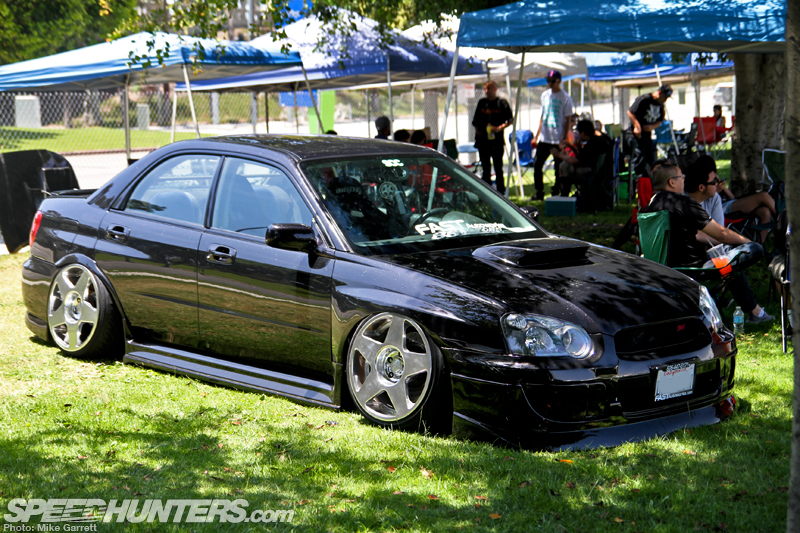 Just as the white Evo will likely ruffle the feathers of the Mitsubishi purists, this dumped STI on Fifteen52 Tarmacs will probably do the same for the hardcore Subaru fans.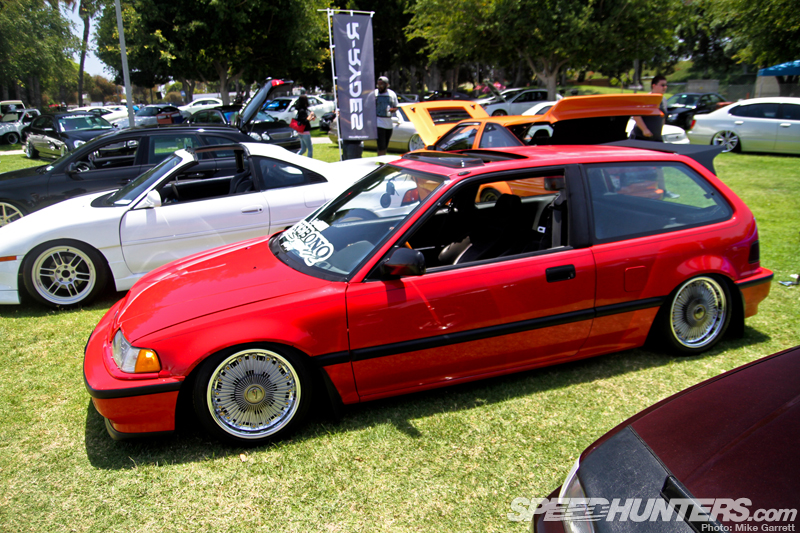 Here's another one of those classic Southern California-style EF Civics from the Akebono Crew, wearing a set of old school SSR McLaren finned wheels.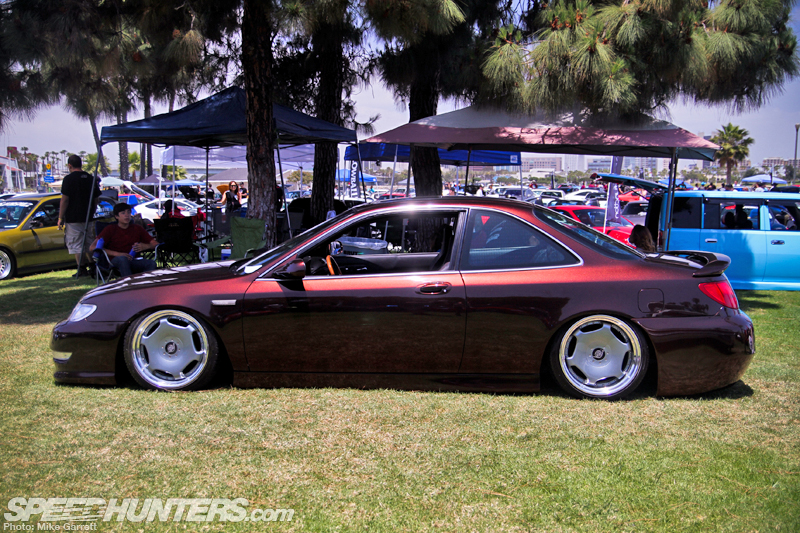 I honestly can't remember the last time I've seen a customized Acura CL. Pretty cool to see one of these USDM luxury coupes modified in a Japanese-influenced VIP style.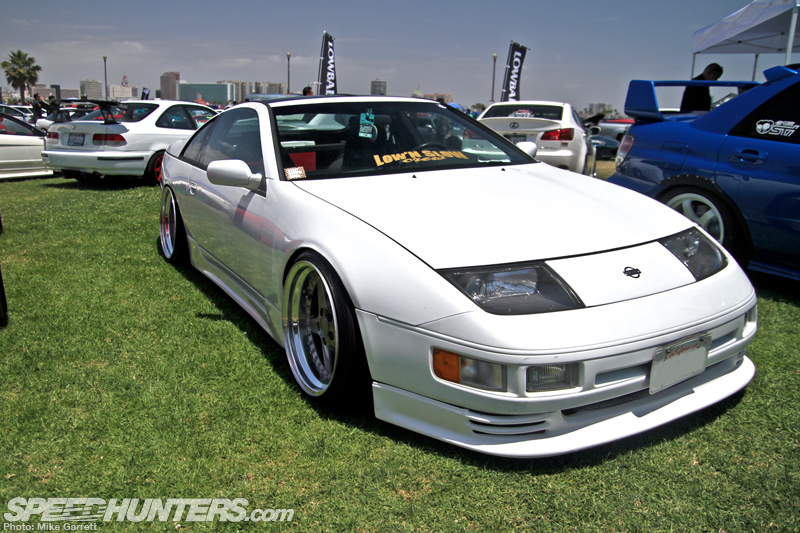 Although not quite as rare as the CL, it's certainly not common to see a Z32 at a show like Wekfest. This Z from the Low 'N Slow Crew was looking just right on a set of five-spoke Work Equips.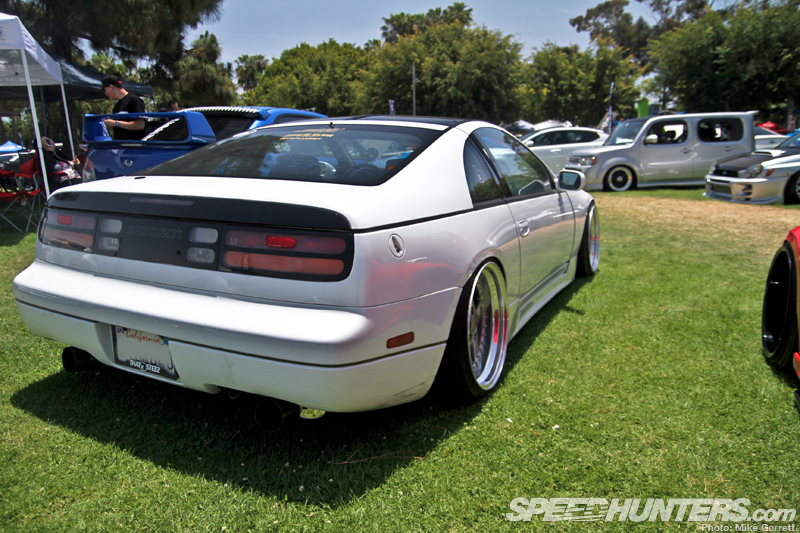 The Equips really are the perfect wheel choice to accentuate the Z32's aggressive, angular design. Just another reminder of just how cool these cars can be when modified right…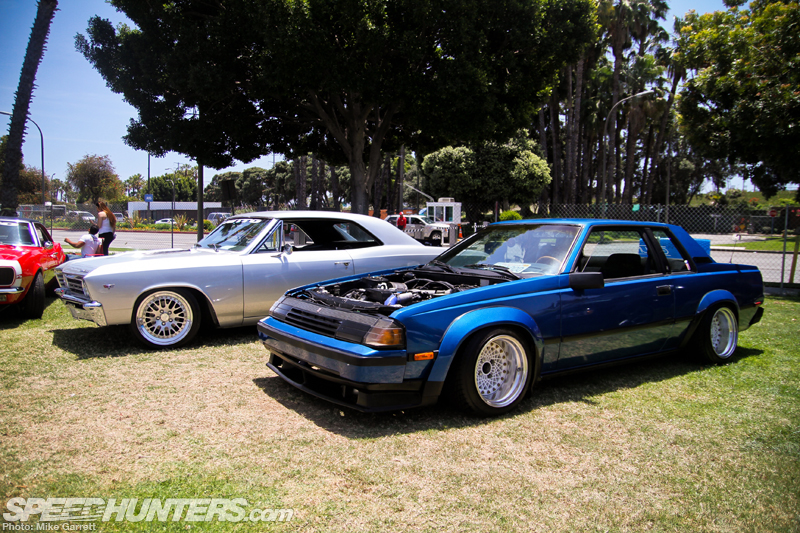 Taking the angular theme to an even more extreme level is this 1JZ-swapped Celica Notchback, also representing the Low 'N Slow Crew. Always one of my favorite cars to see at events in LA.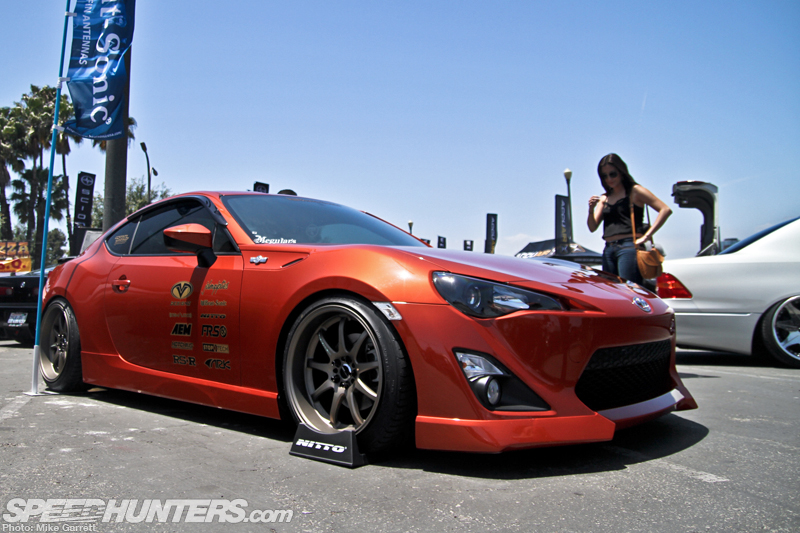 I know when the factory wheel specs for the new 86 were announced, many were concerned over the car's high offsets and 5×100 bolt pattern. It seems, however, that owners have had little problem squeezing aggressively sized wheels under the stock fenders – as modeled by this Hot Lava-colored FR-S.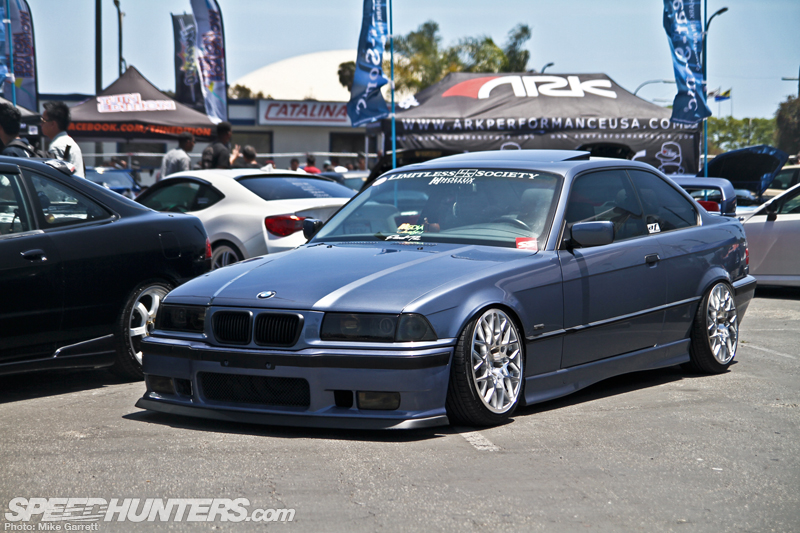 Would you agree with me when I say that the BMW E36 is a car that has aged extremely well. They were cool when they were new, and they've only gotten better as they've grown older.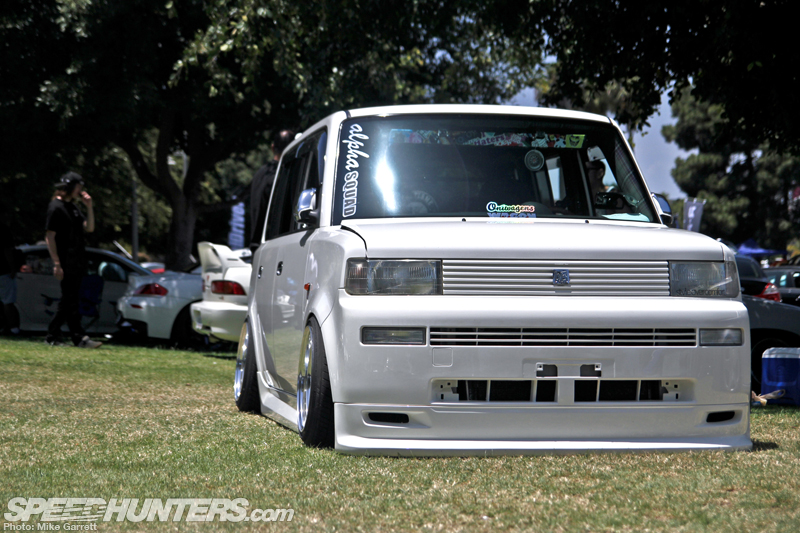 Another car that I think has aged well is the first generation Toyota bB/Scion xB. Although the simple boxy design is well over a decade old now, these things still look quite modern in my eye.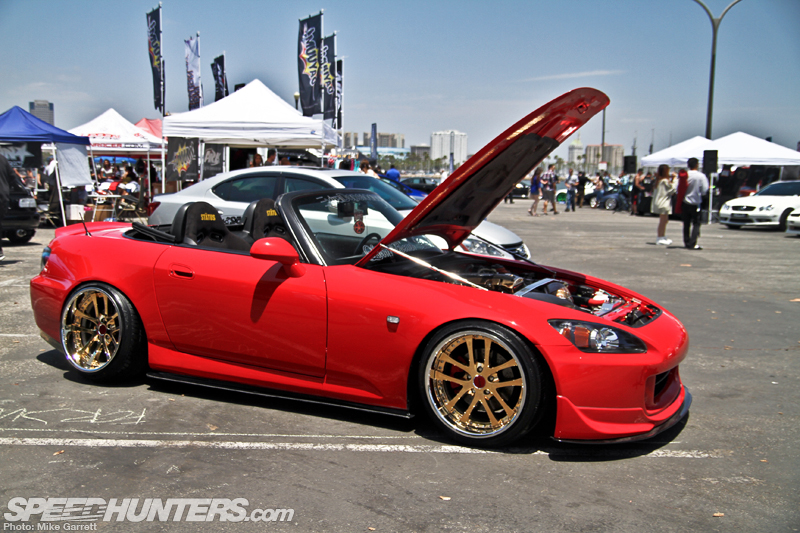 When I saw this gold-wheeled AP2, I immediately thought of it as an S2000 version of Mike Mao's NSX build. There's just something about that bright red and gold combo…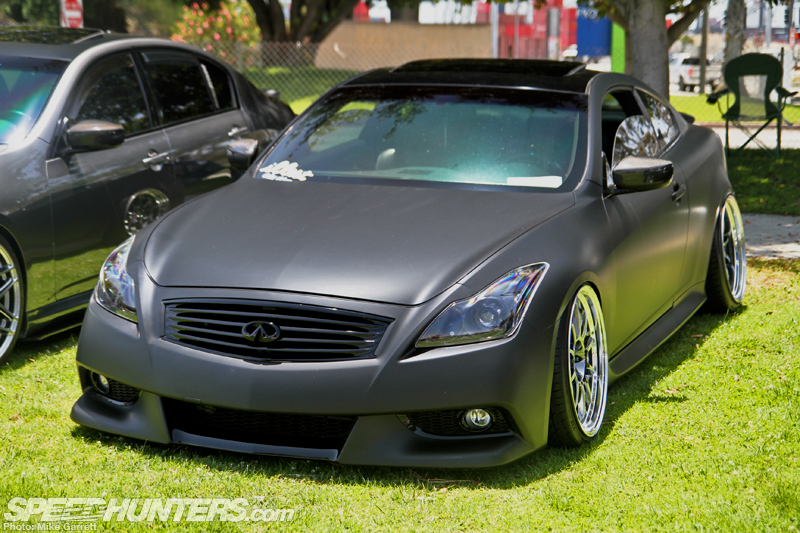 If you ask around, a lot of people will say that matte black finishes went out a while ago, but cars like this G37 Coupe show that it can still have a big impact under the right circumstances.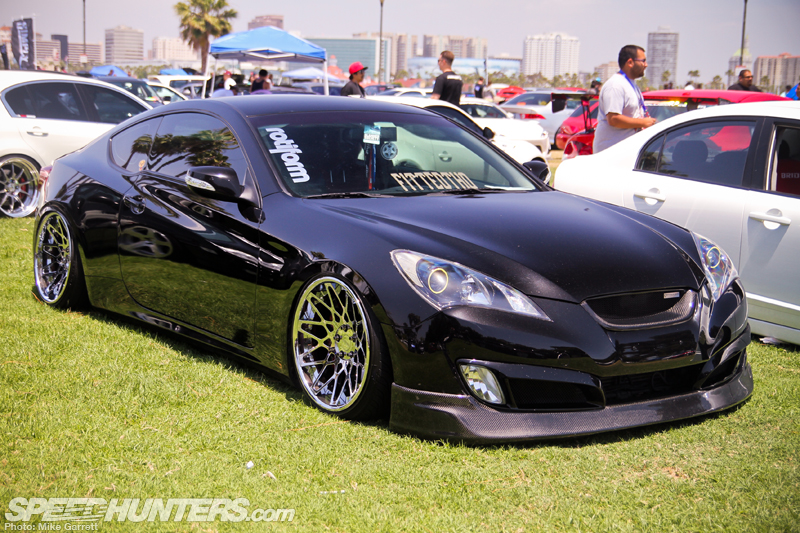 Nope, that's not another G37. That's a Hyundai Genesis Coupe that's been dropped over a very aggressive set of Rotiform BLQs.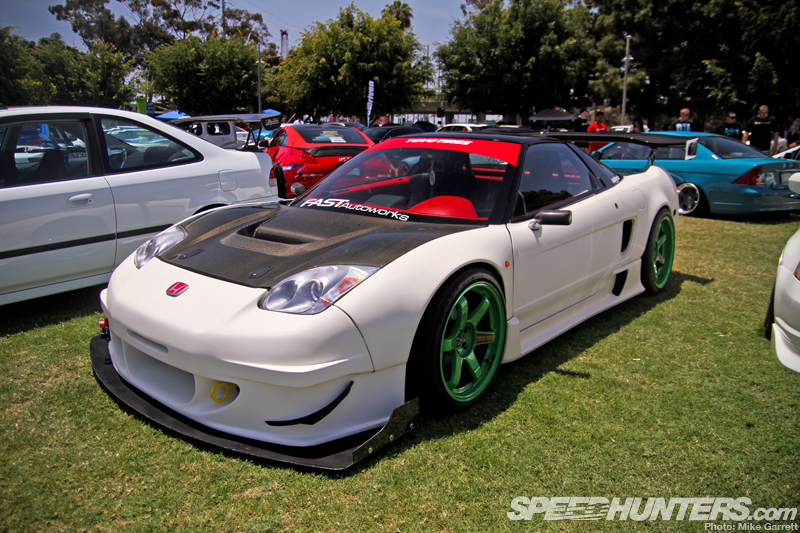 ']White car, red interior, green wheels' might not sound too appealing when you hear it, but then you see car like this NSX and it all comes together. Who wouldn't want to drive something that looks like a Super GT car on the street?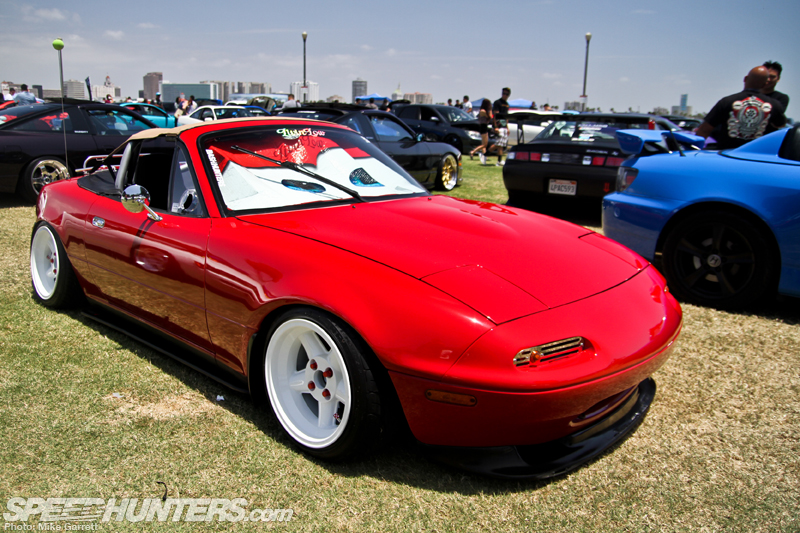 Perhaps the 'friendliest' looking car at the event was this Miata equipped with a set of Revolution wheels, a Project G top and a whole lot more.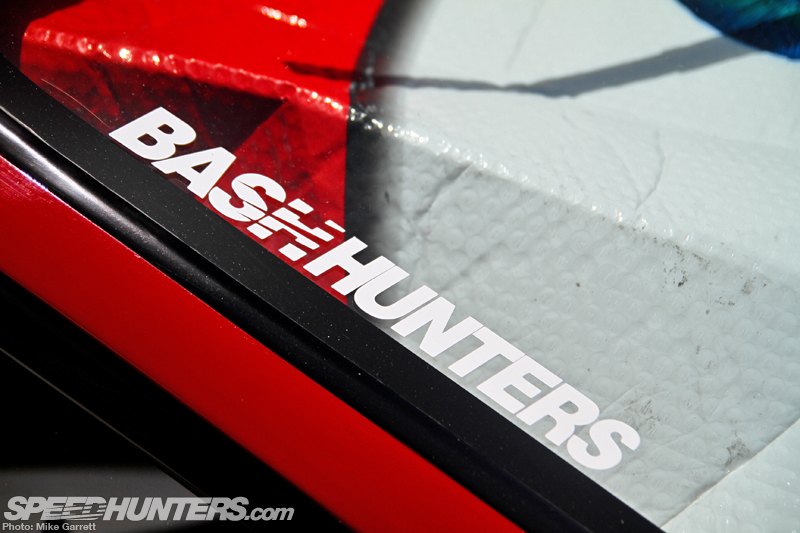 Clever!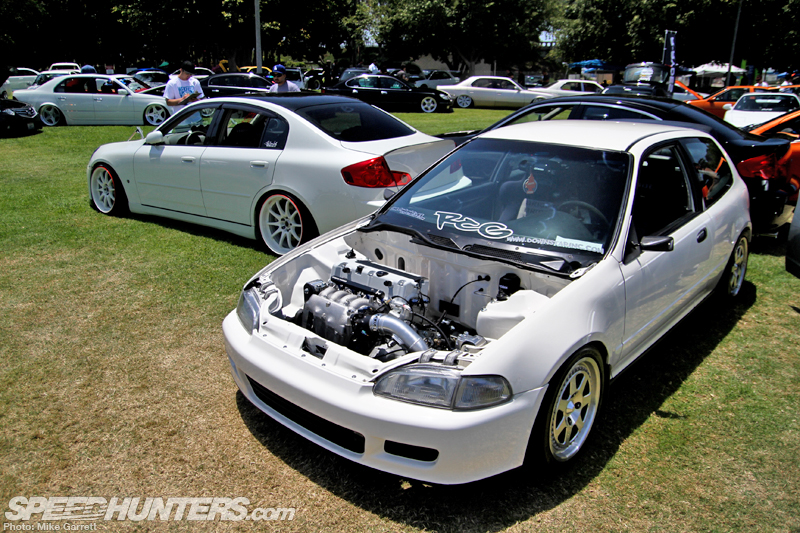 I've become so accustomed to seeing Hondas with K-swaps and shaved bays at car shows that it almost feels unnatural to look under the hood of a Civic and see a factory D or B series motor in there.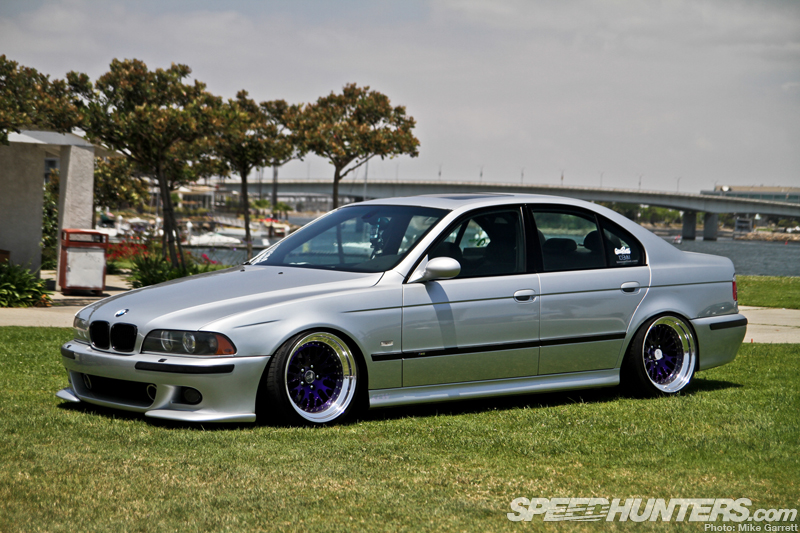 While it was clear that a lot of the cars at Wekfest were dedicated show cars, it seemed that plenty of others like this BMW E39 were daily drivers that just happened to be damn cool.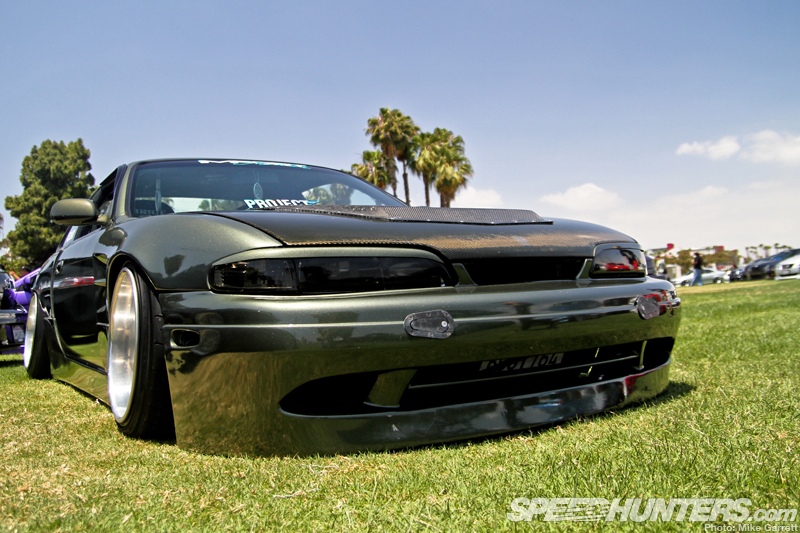 Of course the show wouldn't be complete without an assortment of S-chassis cars, including this classy looking Zenki S14 that's been popping up at events all around SoCal recently.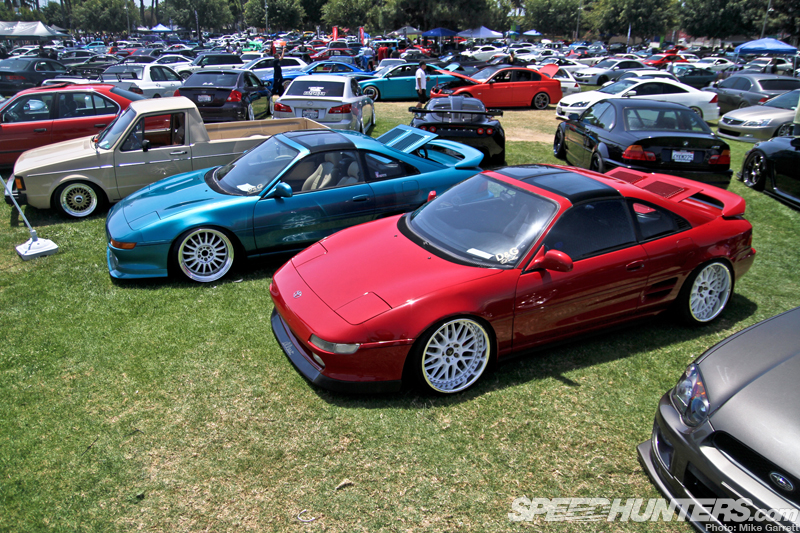 I was also pleasantly surprised to find a solid group of SW20 Toyota MR2s, one of which I'll be sharing in my upcoming Wekfest Spotlight-O-Rama.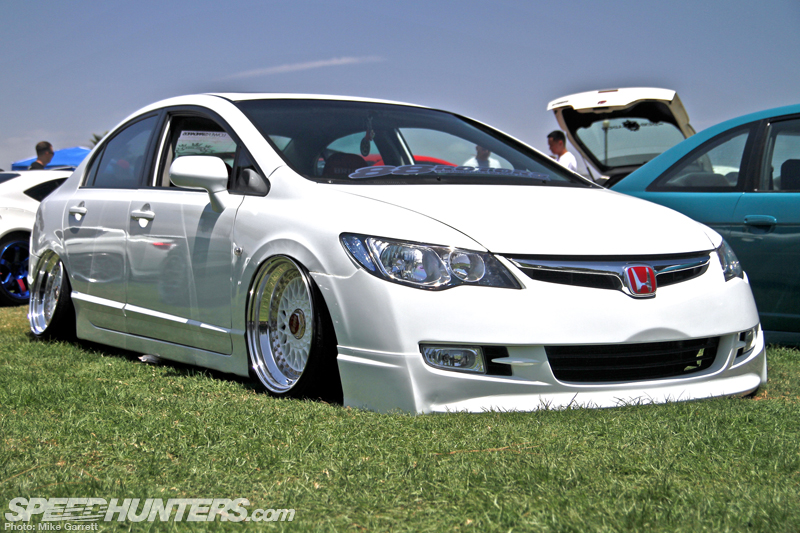 You might expect someone who does a JDM Type-R front end conversion to their Civic to go for the Time Attack route, but instead this FD2 conversion is sporting custom BBS wheels and tons of negative camber.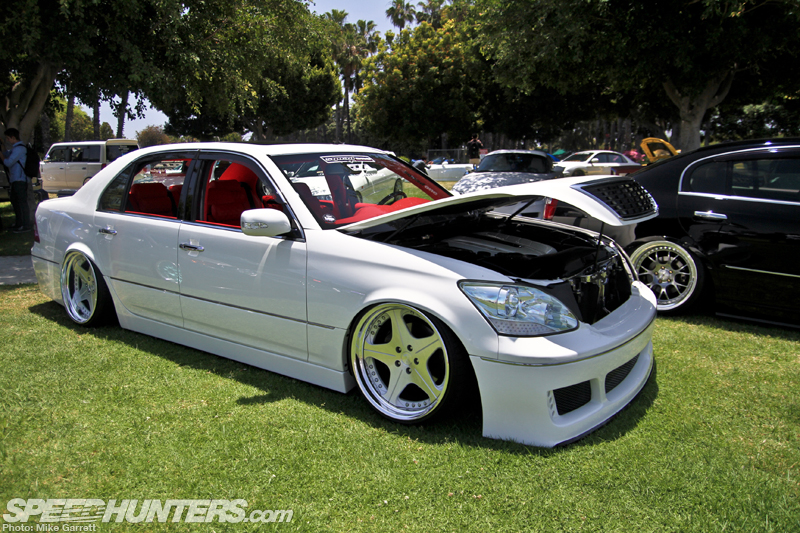 One more beautiful VIP machine: an LS430 with a trick red interior and lots of other custom work. A nice sign that the American VIP scene is continuing to evolve in new directions.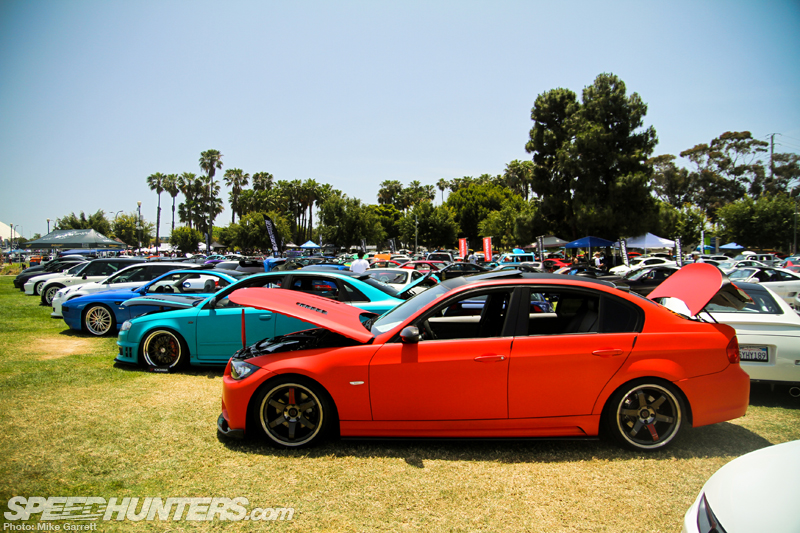 More and more, it's appearing that high-end Japanese wheels are becoming top choice for owners of European cars, as evidenced by cars like this four door M3 on TE37SLs.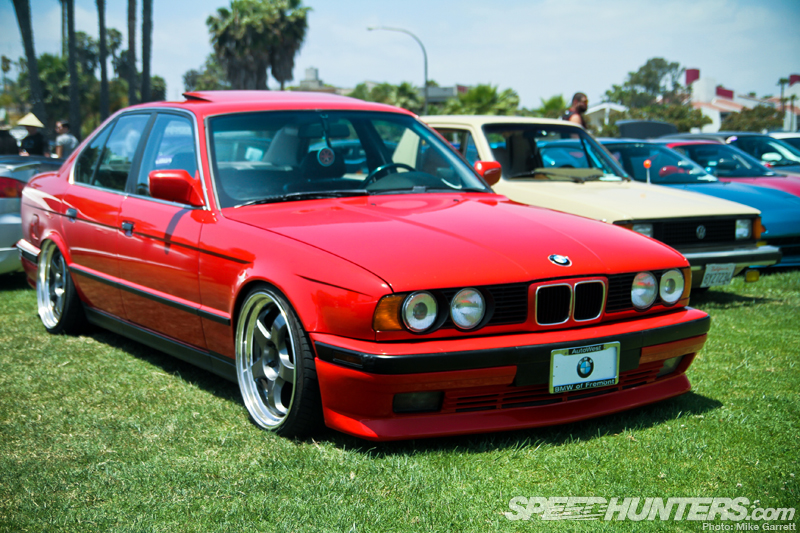 Here's a very similar theme executed on an absolutely mint E34 5 series.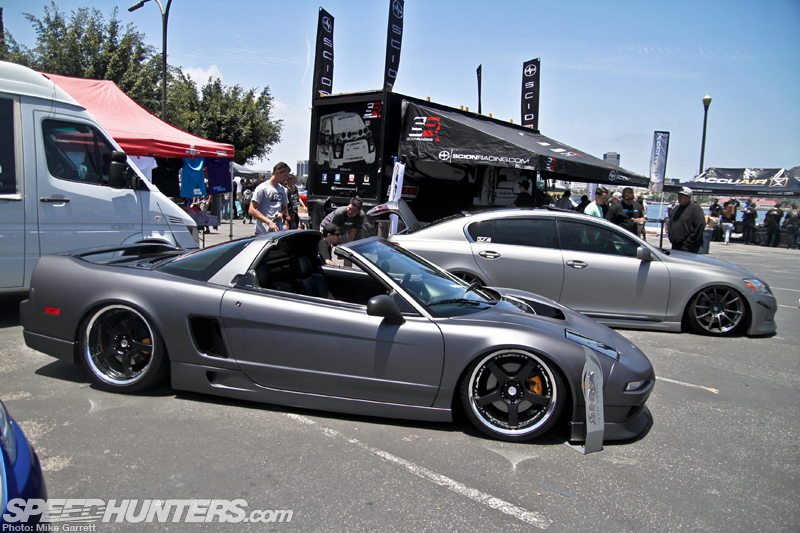 Just because you need one more reason to dream about owning an NSX, here's another one of the mid-engined beauties that was on display at Wekfest. Simple, but all too effective.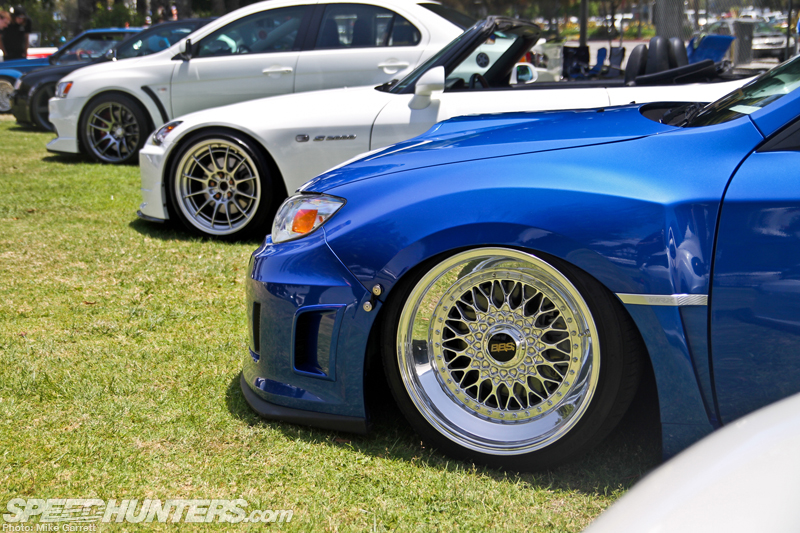 That will do for volume two, but I shall return tomorrow to wrap up my event coverage with a special Wekfest LA Spotlight-O-Rama.
Mike Garrett
Instagram : speedhunters_mike
Email: mike@speedhunters.com
Wekfest LA: Where the Cool Kids Are