I can hear Robbie Longley's Mazda wagon, as I'm sure anyone else in a couple of miles radius can too, but I can't see it. A few seconds ago he had flicked the switch marked LINE LOCK and stepped on the gas. Now all I see is white, and all I can taste is the pungent by-product of melting tyre treads. On a cool New Zealand autumn afternoon it's a warm welcome to 'Burnout Alley' – aka Robbie's driveway.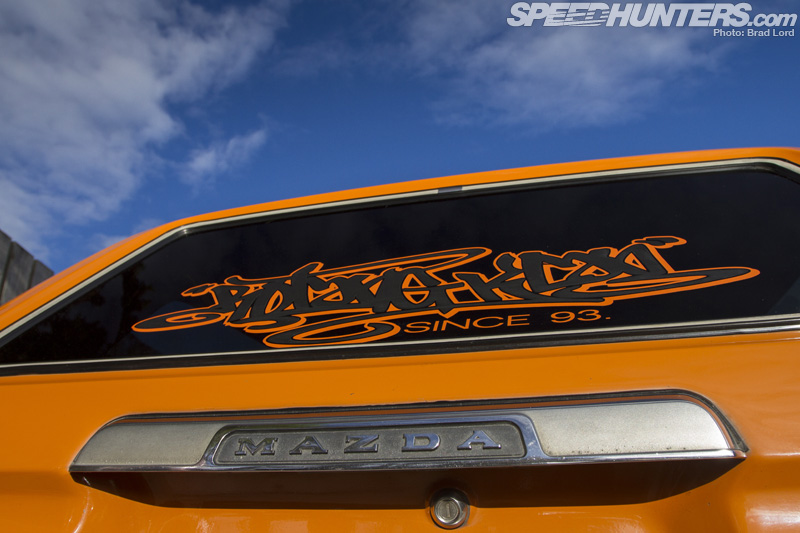 I first saw the RX-3-fronted Mazda 808 wagon at this year's 4&Rotary Nationals where it was parked up with a few other notable cars including Carl Thompson's four-rotor, turbo and nitrous-assisted Lexus GS300, and our own Mad Mike Whiddett's MADBUL RX-7. The "Rotang Klan" might only be an informal car club that Mike started back in '93, but its home to some of the country's toughest rotary-powered machines.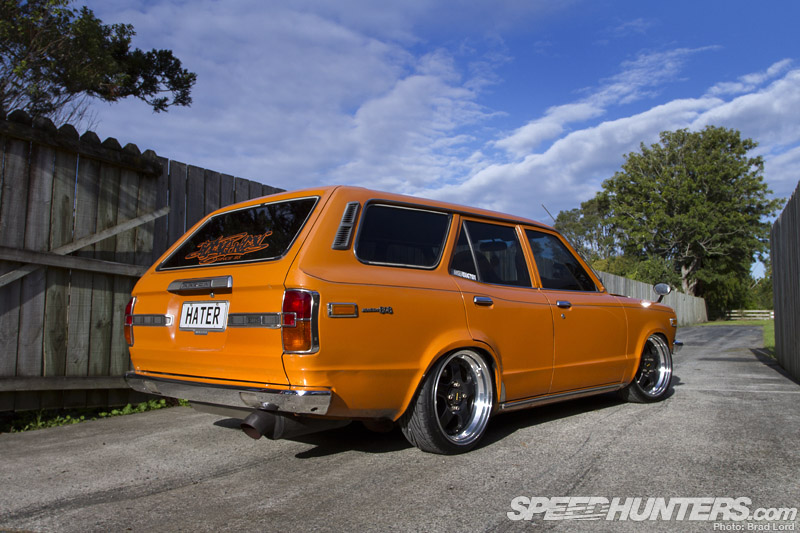 And by tough, I'm not just talking about the way the cars look, but also how they're engineered. Robbie's car – just like the old school, rotary-powered Mazdas that his brothers Sam and Glenn have owned – has been built to be beaten on.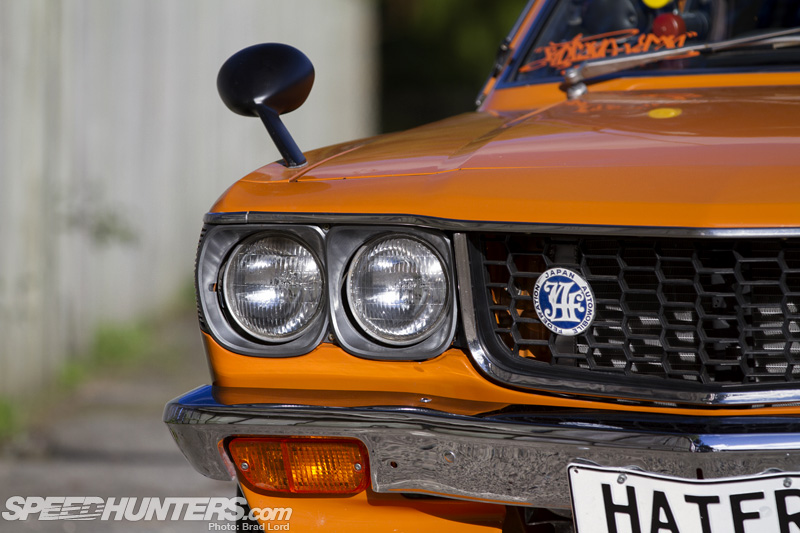 When it comes to old school Mazdas and other rotary retro-fitted street cars, New Zealand's community is quite close-knit. Before Robbie got his hands on the 808 – Mazda's piston-powered equivalent of the RX-3 – it had already changed hands a few times and was quite well known on the local scene.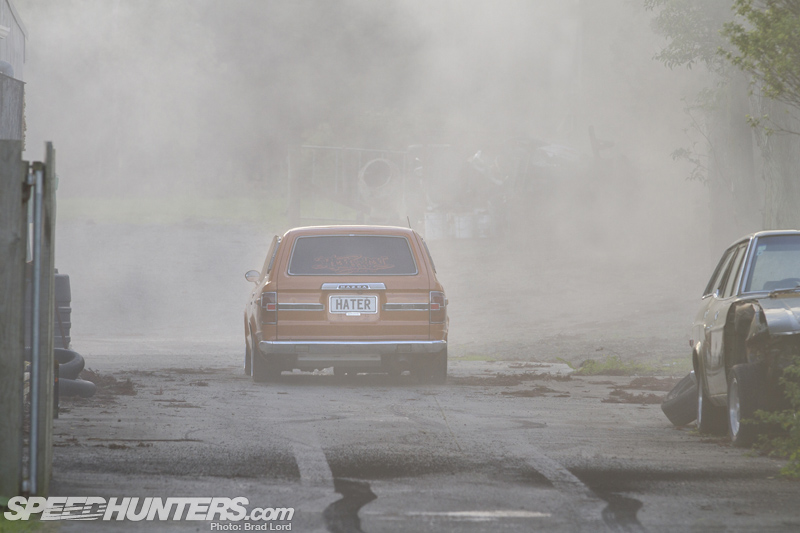 The fact that the wagon was being sold as a work in progress with a half completed, four-link rear-end conversion and no engine or gearbox wasn't a worry, but more of an opportunity for Robbie stamp his own mark on the machine. His brother Glenn completed the rear-end work and all of a sudden the 808 was back on its feet and powered by a fresh Rolling Addiction 13B J-port engine.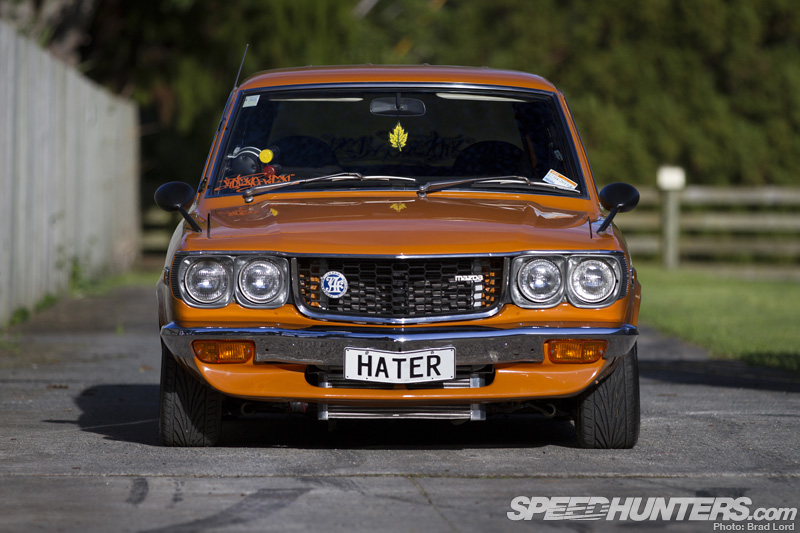 At the utmost limitsof side-porting, the J-port (aka monster port) set-up bestowed plenty of power on the lightweight 808 chassis, but when the chance to upgrade to a fuel injected, 13B peripheral port race motor came up, Robbie didn't let it go to waste.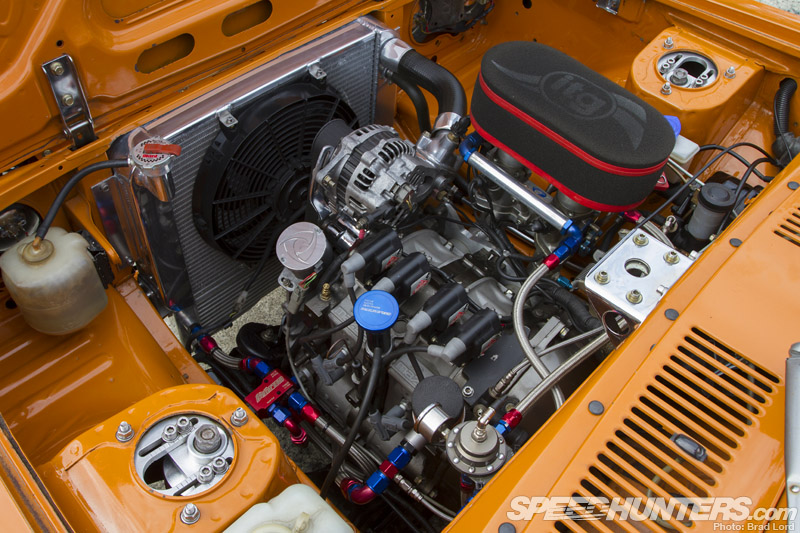 The Curran Brothers Racing (CBR) engine had originally been built for a GTRNZ race car, so unsurprisingly its powerband – which began at 8,000rpm and didn't relent until 11,000rpm – proved to be just a little bit too peaky for the street. Utilising brand new Mazda rotor housings, the rebuild that followed centered on reducing the peripheral intake port size down from 55mm to 43mm, which brought it in line with Mazda's factory peripheral port specification, and made it far more tractable. Well, as tractable as you'd ever get from a set-up like this anyway.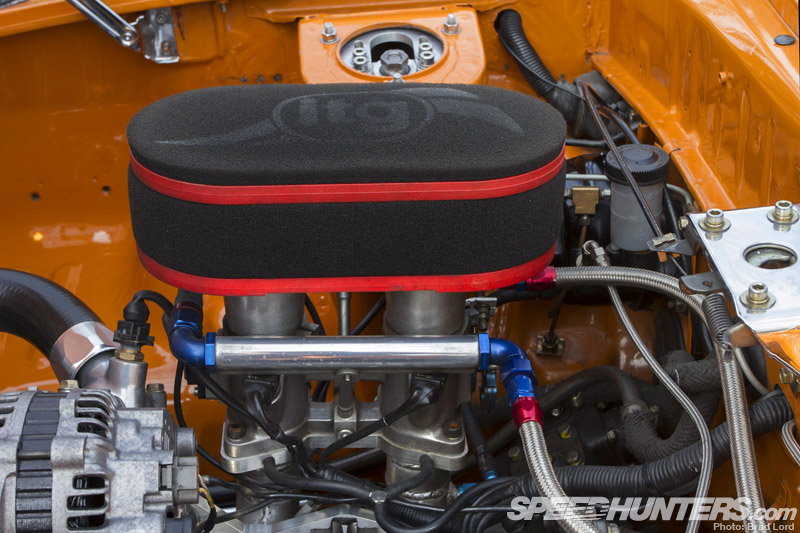 Instead of running with an Weber IDA carburettor as so often is the case with hardcore N/A builds in old school scenarios, the 13B breathes through an EFI Hardware 55mm throttle body mounted on top of a custom-built CBR aluminium manifold. For its high octane properties, the engine's been geared to run on E85 bio-fuel and that's delivered via 800cc primary injectors and 1600cc secondary injectors, a Tomei adjustable fuel pressure regulator, XRP braided lines and a Bosch Motorsport 044 pump that draws from a custom alloy Motorsport Fabrications drop tank. Four Bosch coils supply the spark and the firing orders are given through a MicroTech LTX-8 engine management system.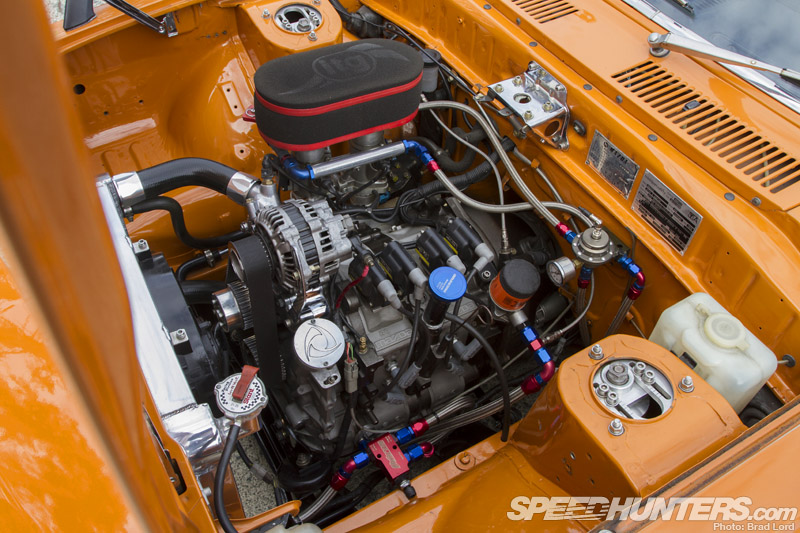 The whole set up is very clean looking and that's thanks in part to the de-loom job which has rid the engine bay of any unnecessary wiring, and rerouted the essentials as discretely as possible. As for the 13B itself, in its current street tune dialed in by local tuner Speedsource, there's a solid 262whp on tap and a willing 10,000rpm redline to boot.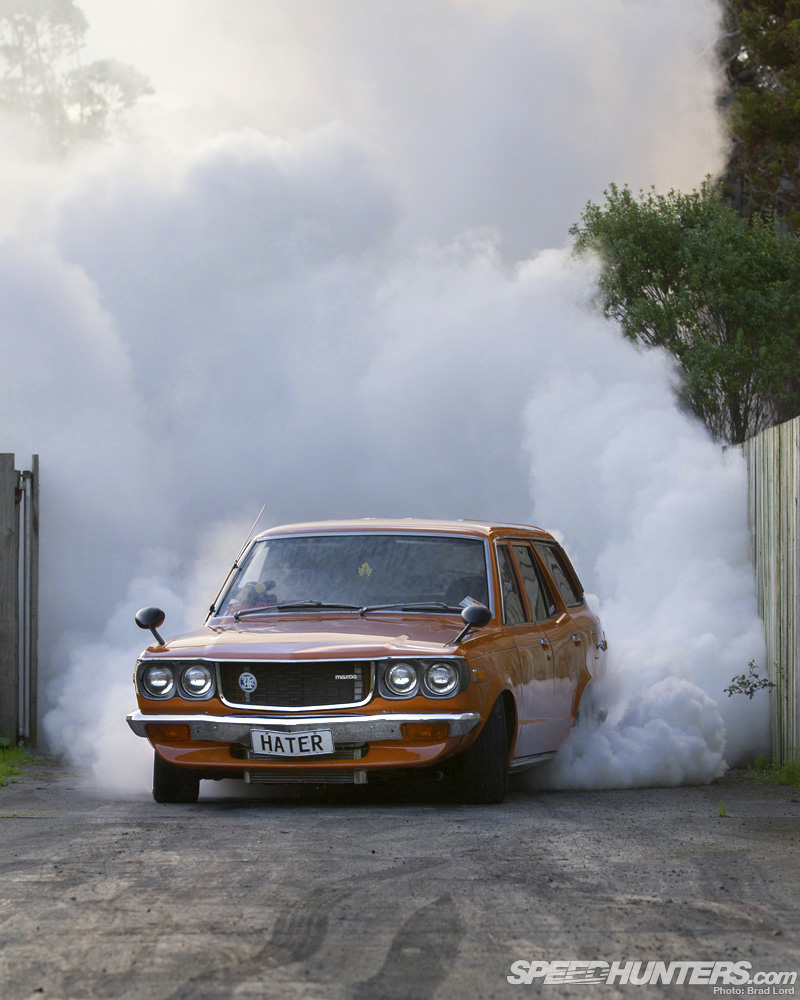 More importantly for Robbie, there's more than enough power at his right-foot's disposal to do this…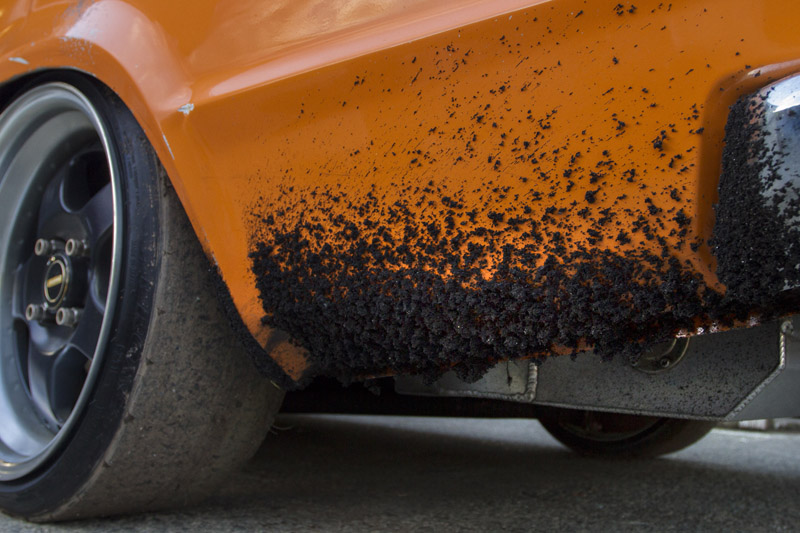 … until tyres look like this.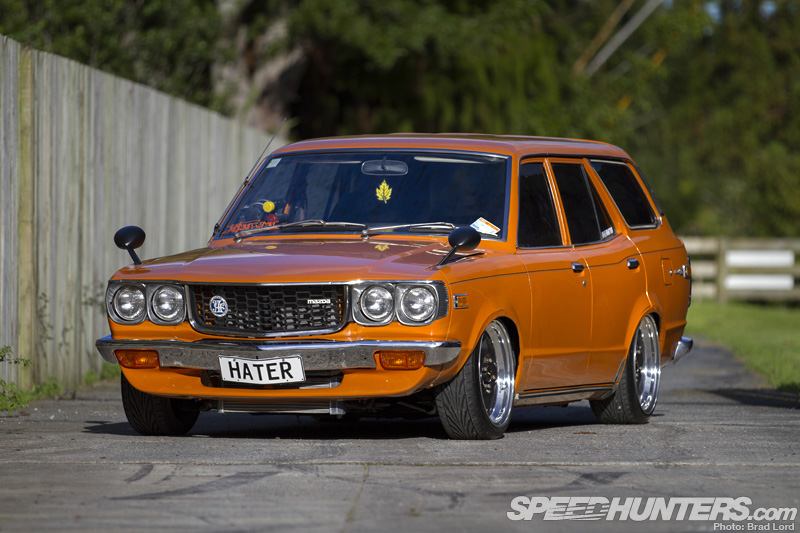 Of course, there's a big difference between five seconds burnouts, and burnouts that carry on until the tyres go pop or things catch on fire – or a combination of the both. To make sure the engine's up to task, special attention was made to oiling and cooling, hence the Mazda Competition oil pump and adjustable Peterson remote relief valve; and the large electric fan-equipped aluminium radiator and equal-width oil cooler mounted directly below it.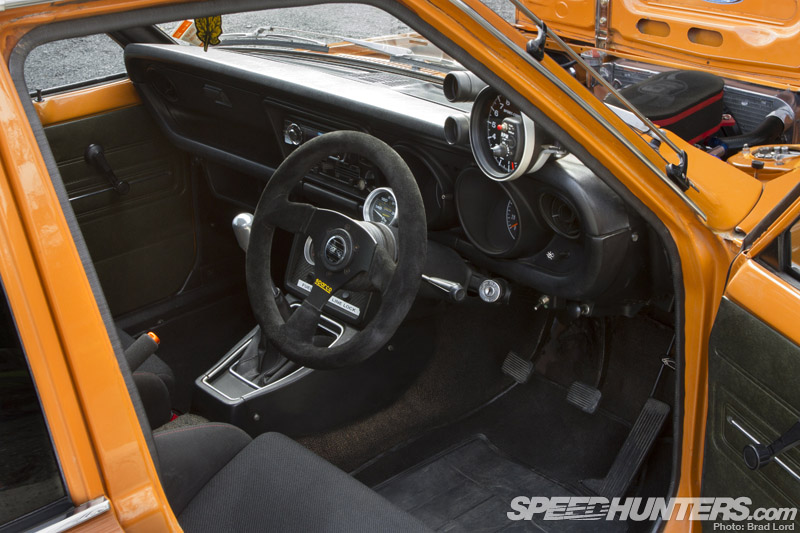 The interior space has purpose too; a place where perfectly-preserved factory fittings straight out of 1975 blend with some more modern offerings, like the Sparco suede-wrapped steering wheel and Auto Meter gauges.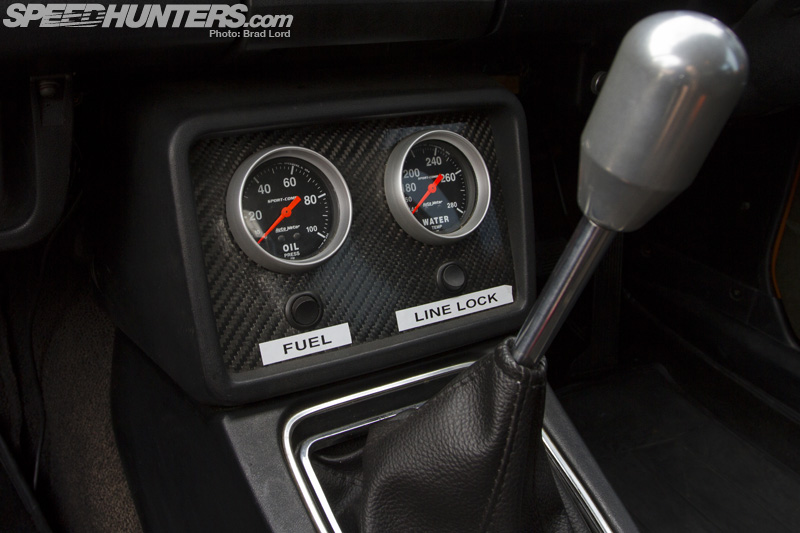 There's that magic switch that disconnects the rear brakes, allowing Robbie to stand on the brake pedal and the gas pedal at the same time and perform monster skids. Of course, that sort of carry on is pretty hard on the driveline, but that too has been suitably upgraded with a Toyota W57 five-speed transmission, Tilton twin-plate clutch and a shortened-to-fit Toyota Hilux LSD rear end with a tall 5.2:1 final drive. A Green Brothers Racing steel bell-housing mates engine to gearbox, and Robbie's brother Glenn fabricated a two-piece driveshaft after a couple of modified one-piece items tore apart on the dyno.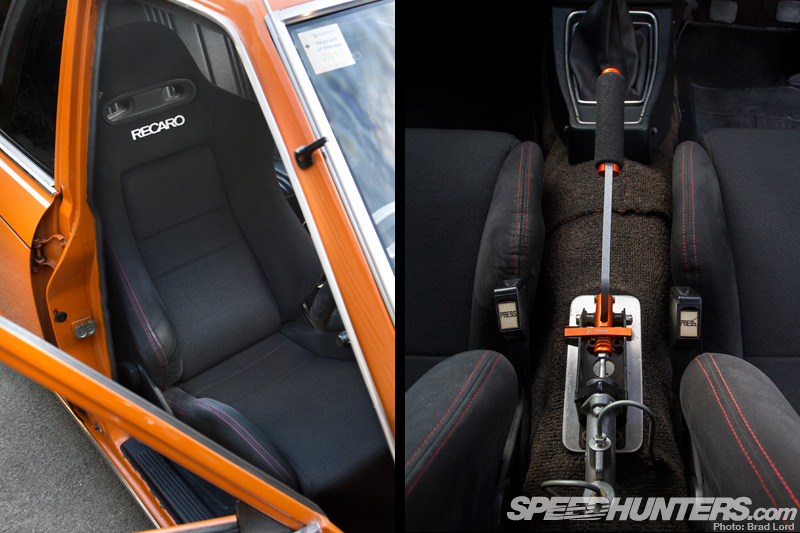 Elsewhere in the interior, there are Recaro seats from a DC5 Integra Type-R that replace the 808's vinyl-wrapped originals and a K-Sport hydraulic e-brake that found its way into the Mazda so the driveline tunnel could be rid of cables.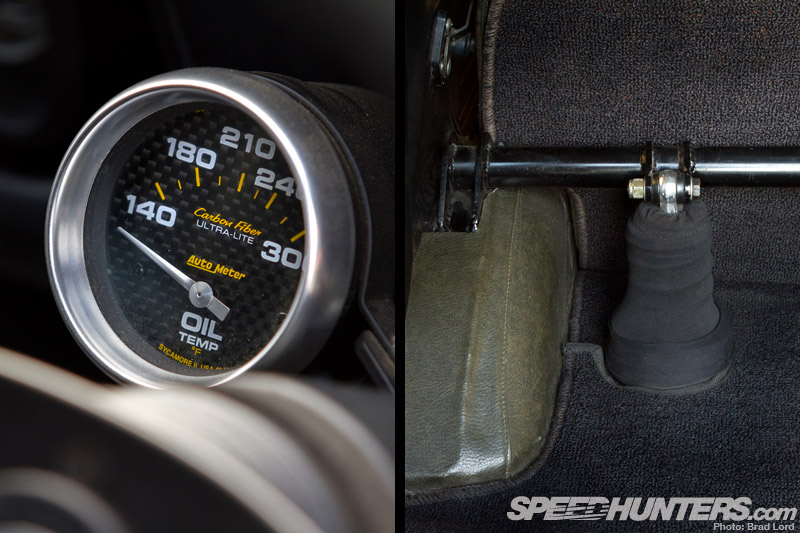 You don't have to venture under the rear of the Mazda to recognise the four-link suspension upgrade – QA1 adjustable coilovers in the trunk tell part of that story. The front end has been up-specced too, with custom coilovers built around Bilstein dampers and featuring adjustable camber plates and roll centre adjusters.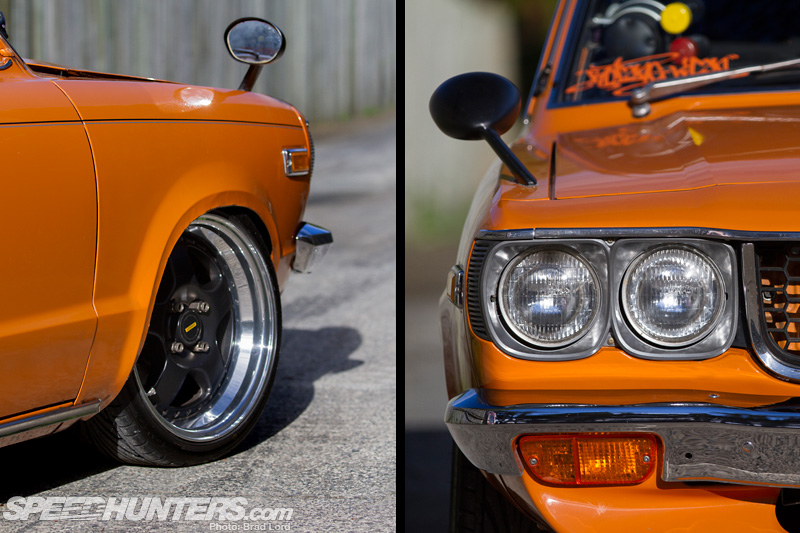 Apart from improving the wagon's handling prowess ten-fold, the suspension upgrade has allowed it to sit nice and low too. The wheels are classic Australian fare – Simmons F90s in 16×7-inch fitment at the front end and 16×8-inch about the back, with 195/40R16 Toyo rubber all round.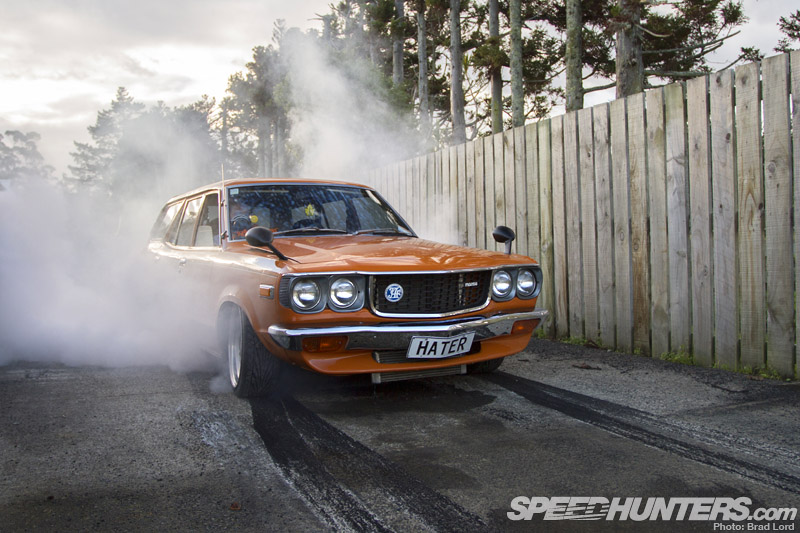 I can't forget the RX-3 Savanna front nose-cone conversion either, which is all original Mazda steel stuff and coincidentally was originally once affixed to Mad Mike's legendary FURSTY/HEDAKE 808 wagon. Amazingly enough, it's all factory paint on the car, save for the nose-cone which needed to be switched from blue to orange. The fender mirrors and the JAF badge are a cool Japanese touch.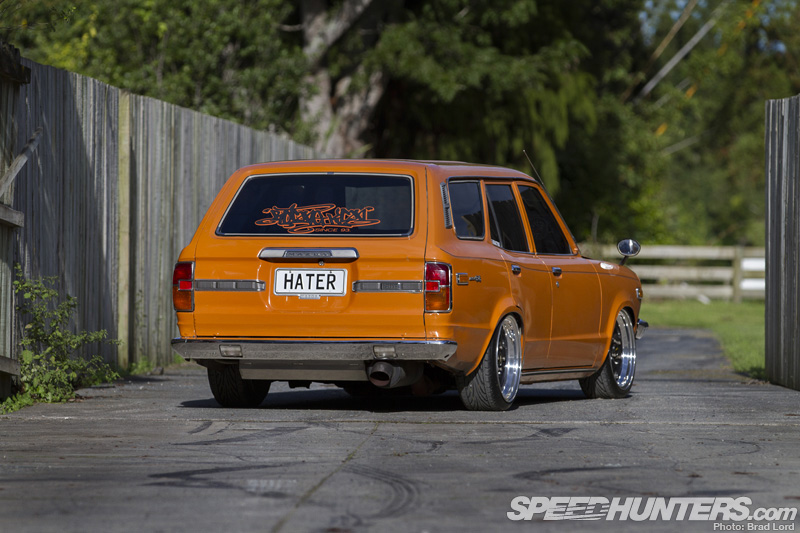 It's all 808 spec at the rear, right down to the polished model-denoting badges on the rear fenders, and the 'Deluxe' placard on the boot door. I love the juxtaposition between the original wagon – which given its exterior and interior condition was obviously very well cherished in a former life…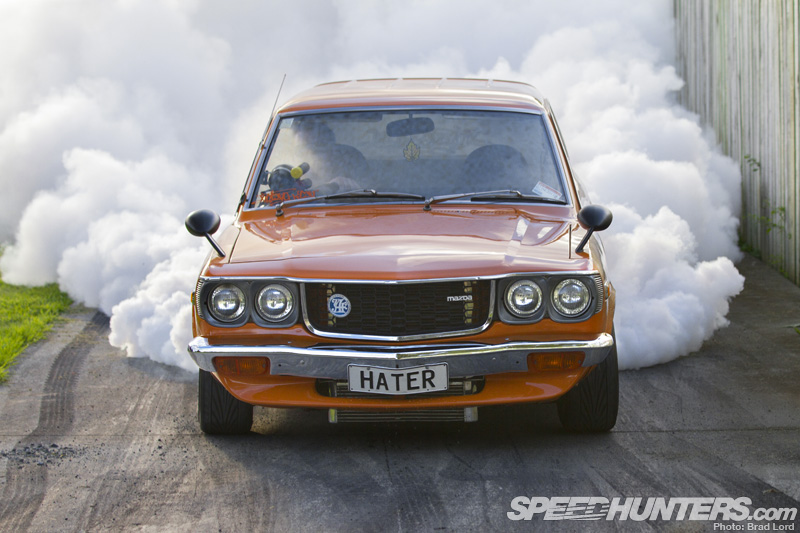 … and the sensory assaulting machine that it is today. Thanks for not running me over Robbie!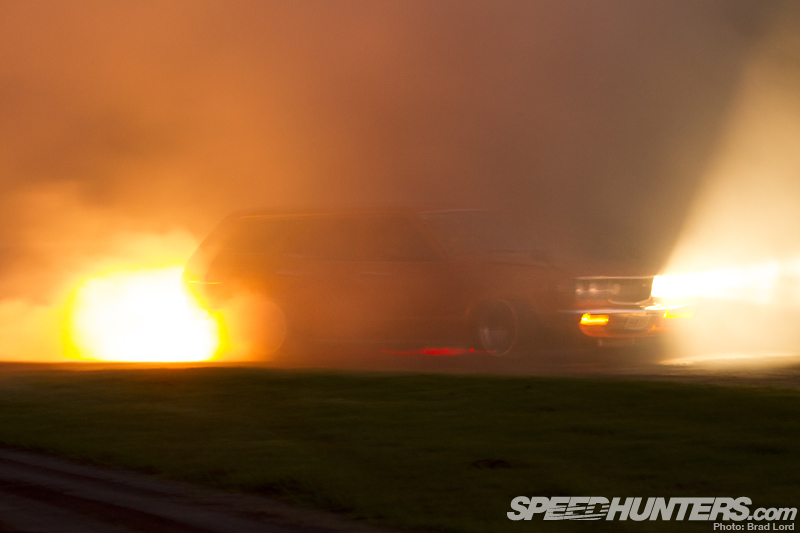 As it so often is, Burnout Alley was put to good use through the late afternoon and into the evening, culminating in the mother of all burnouts complete with fireballs. It was kinda awesome and quite timely too, because the very next day someone turned up wanting to buy the engine and it was subsequently pulled from the bay. That, of course, has left a literal void in the 808, but according to Robbie it won't be that way for long. A new plan of attack has already been cooked up and on his return from an impending overseas excursion, the old school Mazda will beat to the sound of a new three-rotor drum – naturally aspirated and peripherally ported of course. Robbie wouldn't have it any other way – unlike his brother Sam, who prefers his RX-2 with a 500hp side order of boosted 13B bridge port. But that's another story…
Brad Lord
brad@speedhunters.com
Robbie Longley's 1975 Mazda 808 
Engine
Mazda/CBR 13B twin-rotor, new Mazda FD3S housings, Mazdaspeed-spec 43mm peripheral porting by CBR, lightened and balanced FC3S S5 N/A RX-7 rotors, 3mm carbon apex seals, Mazda Competition bearings, Mazda 20B stationary gears, Mazda Competition oil pump, CBR aluminium intake manifold, EFI hardware 55mm throttle body, ITG air filter, MicroTech LTX-8 engine management system, Bosch coils, MSD leads, custom extractors, custom twin two-inch to three-inch system, AdrenalinR resonators, truck muffler, Bosch Motorsport 044 fuel pump, -6an XRP fuel lines, custom alloy drop tank, 800cc primary injectors, 1600cc secondary injectors, aluminium radiator, oil cooler, Peterson remote relief valve
Driveline
Toyota W57 5-speed gearbox, Tilton twin-plate clutch, 10lb flywheel, Green Brothers Racing steel bell-housing, custom two-piece driveshaft, shortened Toyota Hilux rear axle, limited slip differential with 5.2:1 final drive
Suspension/Brakes
Custom Bilstein coilovers, adjustable camber plates, roll centre adjusters, larger sway bar (front), 4-link conversion with adjustable arms by Rolling Addiction, QA1 coil-overs (rear), Mazda FC3S RX-7 S5 4-pot callipers, DBA drilled/slotted discs (front), Nissan discs/callipers (rear), K-Sport hydraulic e-brake, line lock
Wheels/Tyres
Simmons F90 alloys 16×7-inch (front), 16×8-inch (rear), Toyo Proxes 195/40R16 tyres (front/rear)
Exterior
Mazda RX-3 steel front nose cone, Mazda 808 factory body work
Interior
Recaro SR3 front seats, Sparco suede steering wheel, Sparco shift knob, Auto Meter Sport-Comp tachometer with Shift-Lite, Auto Meter Sport-Comp oil pressure and water temp gauges, Auto Meter Ultra-Lite oil temp gauge
Vintage tin at the 4&Rotary National on Speedhunters