When I set out last Saturday to round up some cars for a Spotlight-O-Rama post from Toyotafest, I wasn't specifically looking for a selection of vintage cars. But as I made my way around the show, it just seemed that all the cars drawing my interest were from the 1980s and earlier. I guess the appeal of properly done classic is just too hard to ignore? Whatever the case, here's six vintage machines that caught my eye at Toyotafest.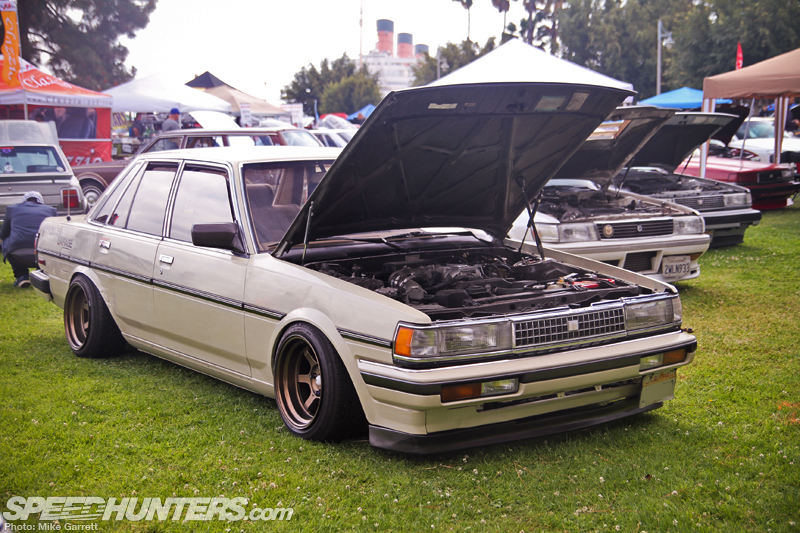 Let's begin with this 1987 MX73 Cressida that was representing with the Sparkle Garage crew. In contrast to some of the more pristine show cars of the day, this Cressida was wearing its battle scars with pride. You could easily sense that this thing gets pitched sideways often.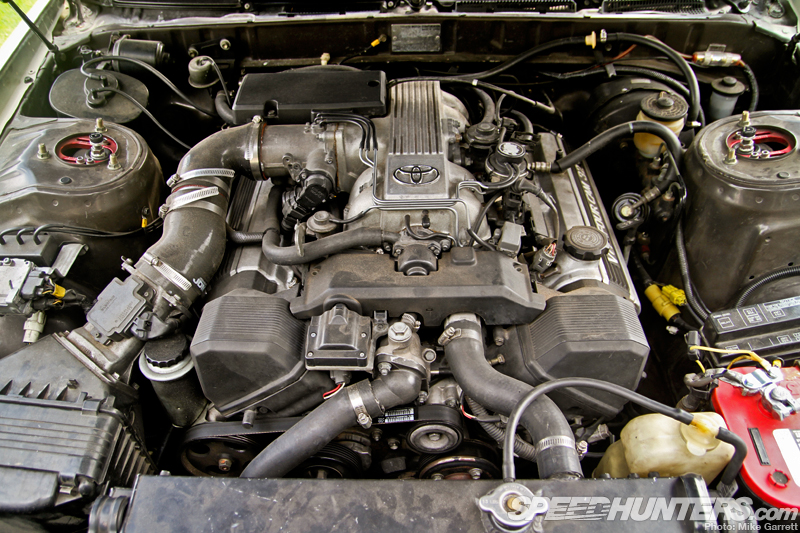 Helping to get those rear tires spinning is a 1uZ-FE V8 swap mated to a W58 five-speed transmission from a Lexus IS300. The quad cam V8 just looks right at home in the Cressida's engine bay, doesn't it?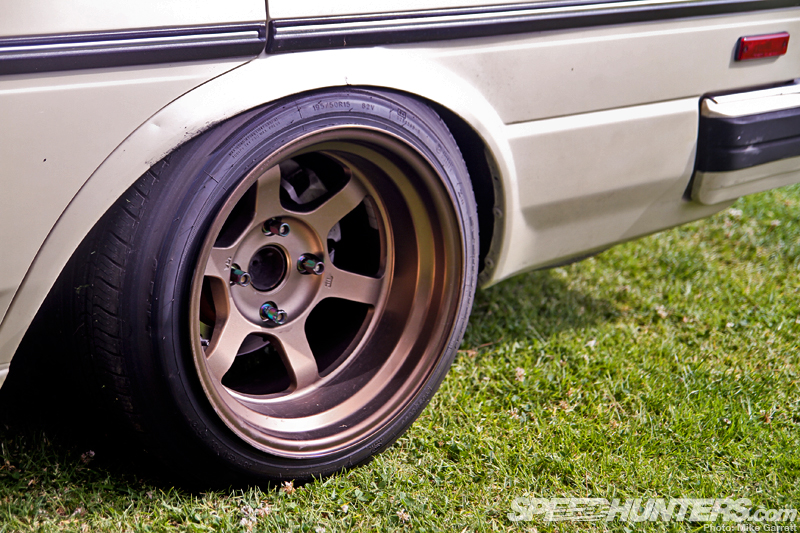 The car was also sporting an aggressive set of 15″ Volk TE37Vs with their bronze finish perfectly matching the Cressida's tan body color.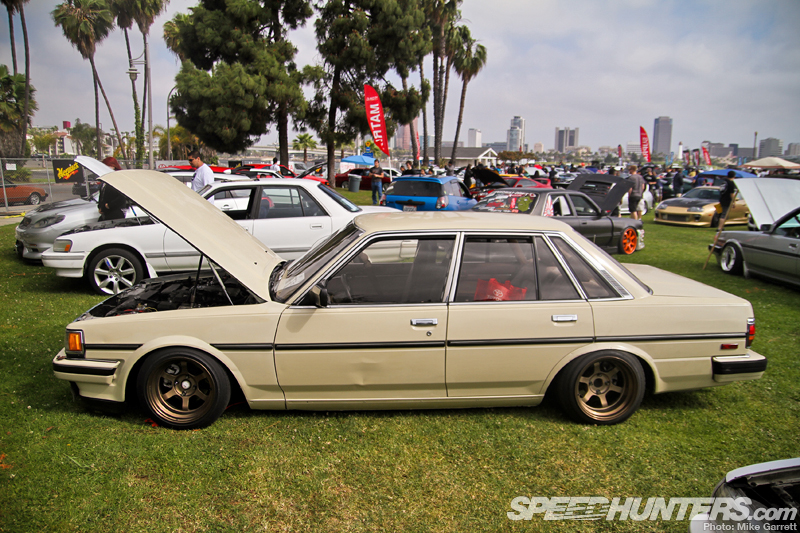 It's a unique and tasteful looking car with a cool engine swap that's also driven hard regularly. Hard to get much better than that.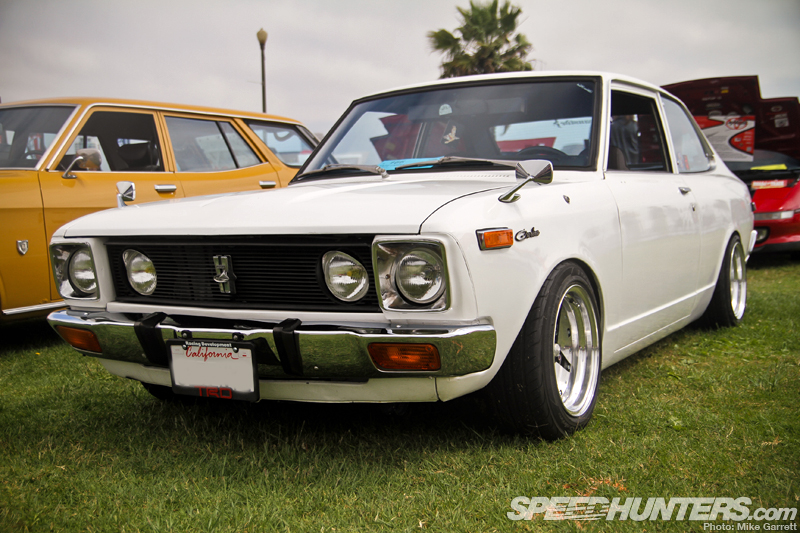 The chance to see rare cars is one of the big draws of Toyotafest, and the word rare can certainly be used to describe this 1972 TA12 Carina. Because it's one of those models that was only imported for a couple of years, it's easy to forget the Carina was actually sold in the United States.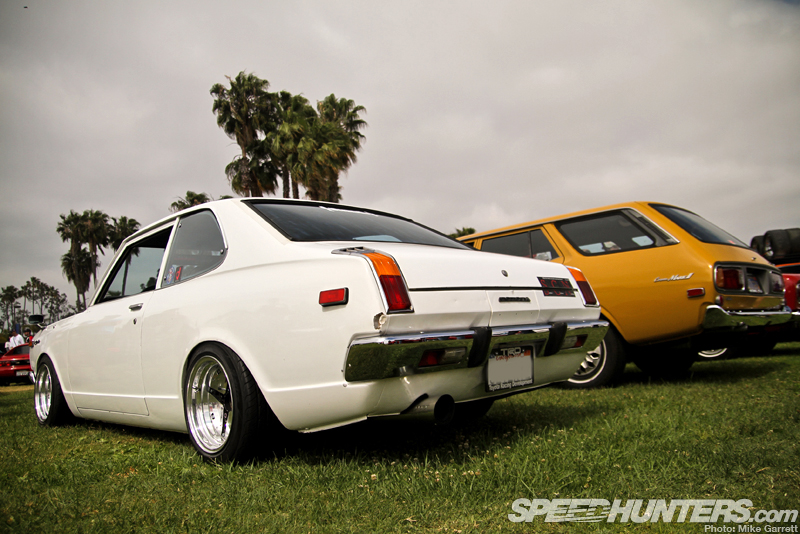 It's fitting then that this particular Carina has been kept largely original – with the exception of a few tasteful exterior modifications…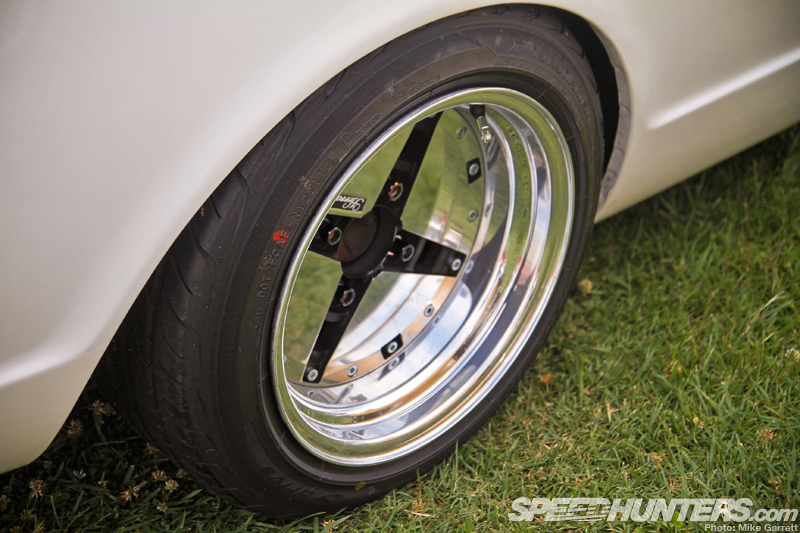 …like a set of 14″ Hoshino Impul wheels with a pristine finish that leads me to believe they were recently restored.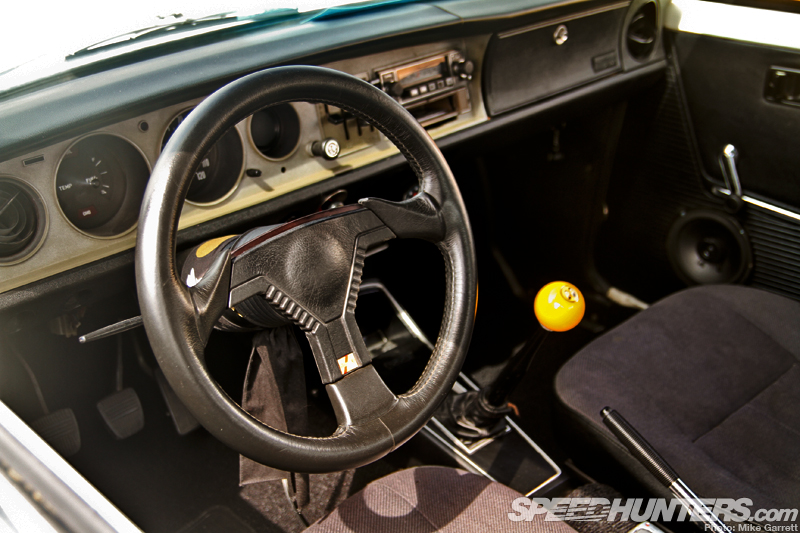 The same theme carried over into the interior: mostly original with a few changes, like a Mooneyes shift knob and a cool vintage steering wheel that I'm struggling to identify at the moment. Any of the old school experts have any ideas?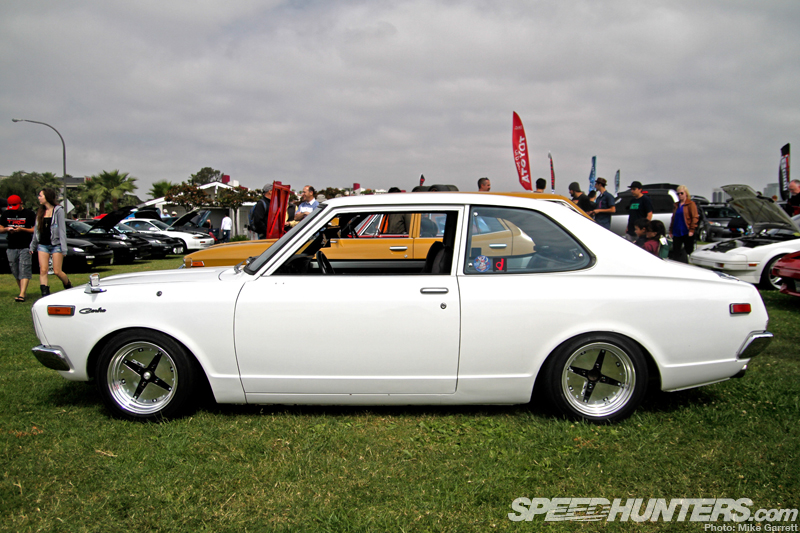 In comparison with some of the other cars in this post this Carina is very mild, but that's actually one of the big reasons I liked it so much. Sometimes simple and clean is just the way to go.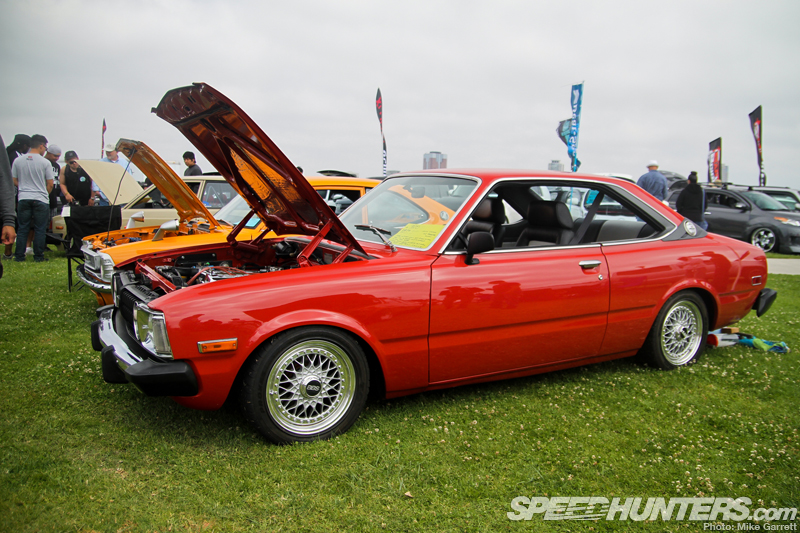 Next up, we have another rarely seen Toyota model from the early 1970s: a '74 Corona Coupe. I think I'm just a sucker for the sleek hard top lines that these cars have.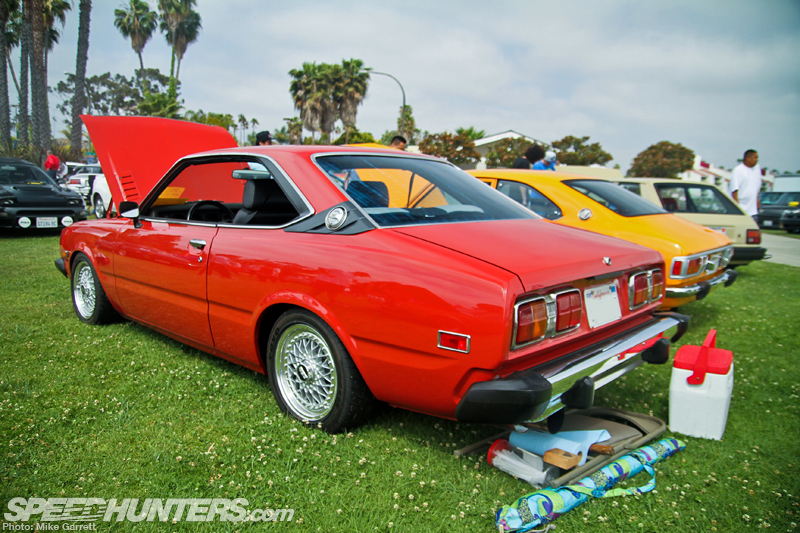 The Corona also looked to have a gone through an thorough restoration, with a keen sense of detail both inside and out.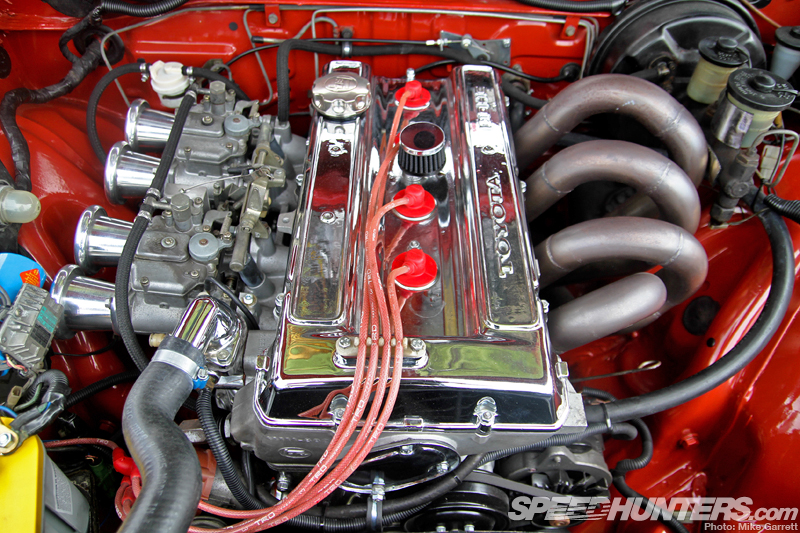 Under the Corona's hood sits a twin cam 18RG with with forged pistons, TRD cams and a very mean looking high rise header set-up. Thank goodness for smog-exempt cars in California!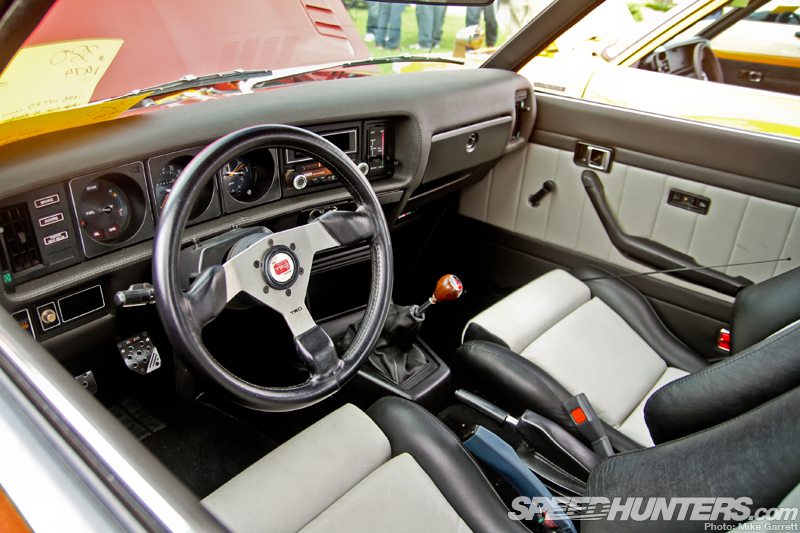 Inside there are a pair of old school Recaro seats with, the rest of the upholstery done to match. The old TRD steering wheel is another nice little touch.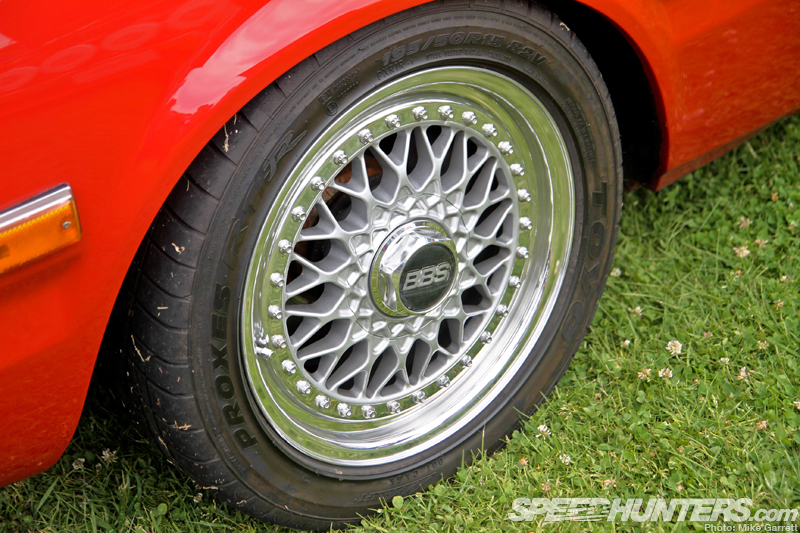 The modestly sized BBS RS wheels probably won't win over any stance freaks, but they actually suit the car quite nicely. To me it's high quality restorations like this that define what Toyotafest is all about.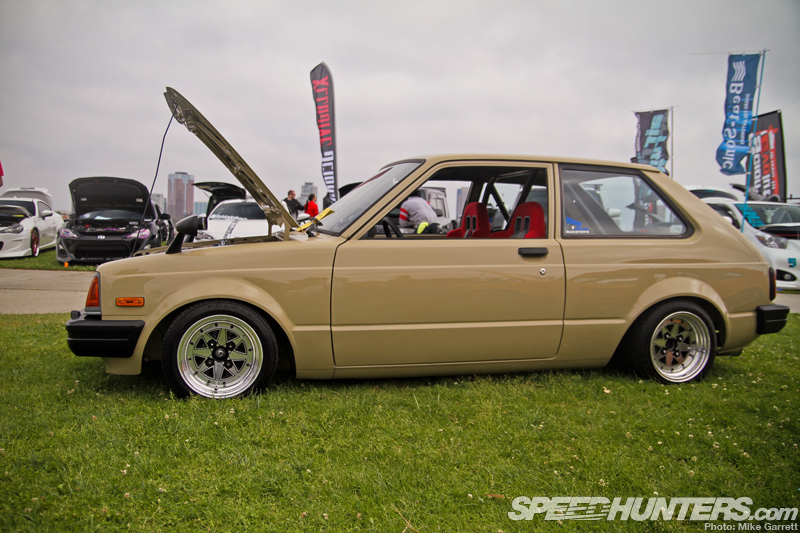 Next up we have Eugene Garcia's '84 KP61 Starlet: a car that was drawing a lot of onlookers not only with its tasteful period correct '80s styling…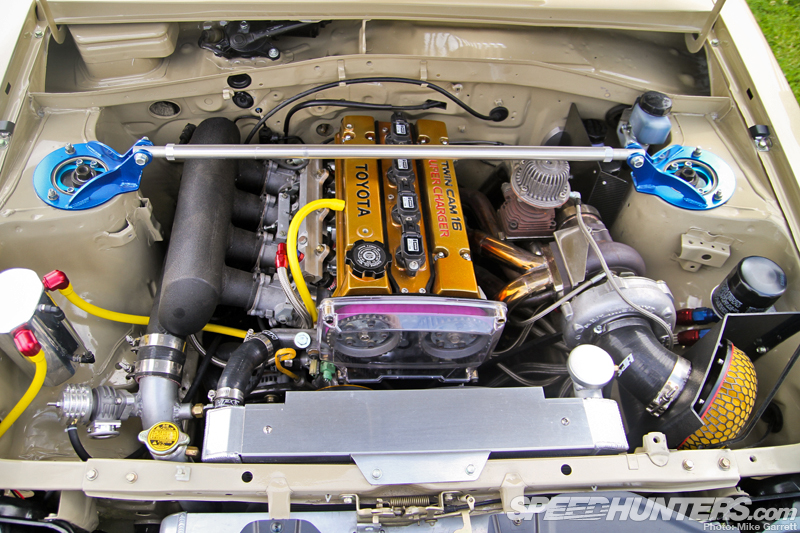 … but with its very impressive engine bay. That's a fully built 4A-GE setup based on a low compression GZE block with an HKS GT2540R turbocharger.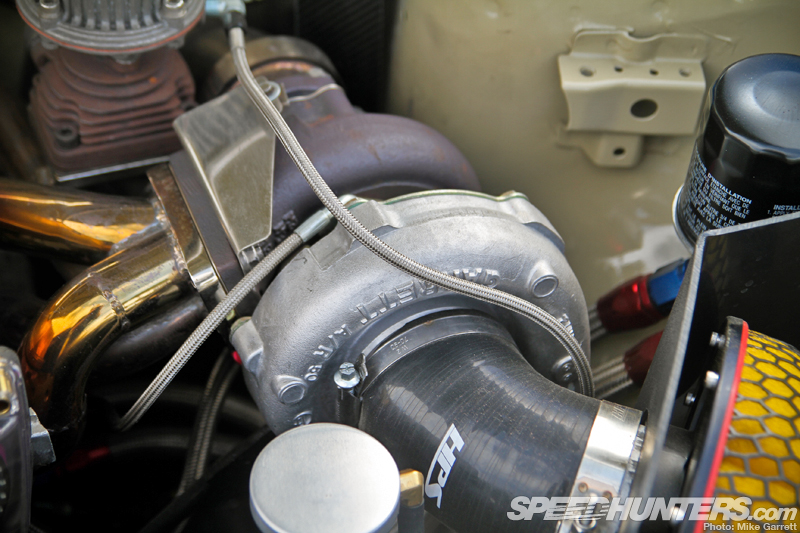 Eugene told me the setup is good for about 300 horsepower, which is somewhere around four times more than the car made when it left the factory. Yikes.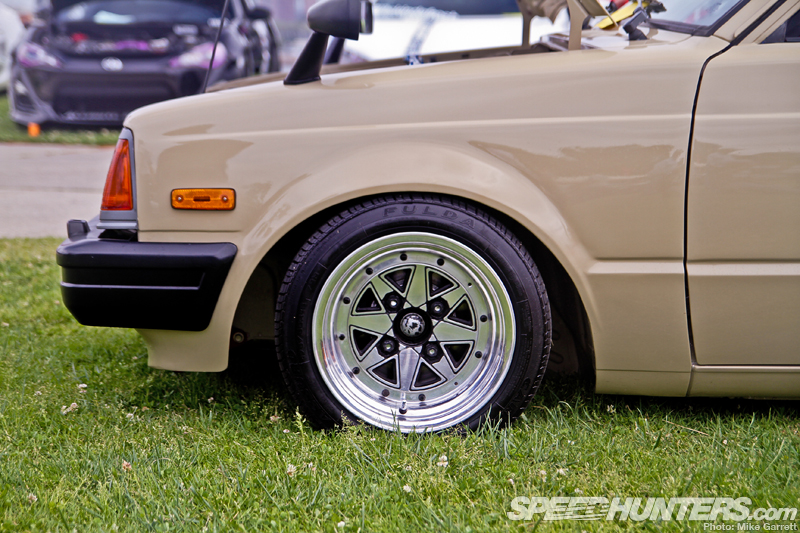 The Enkei wheels mounted on the car aren't something you see often in the US, but Eugene says they were quite popular in the Philippines: a place that's well known for its love of old Toyotas.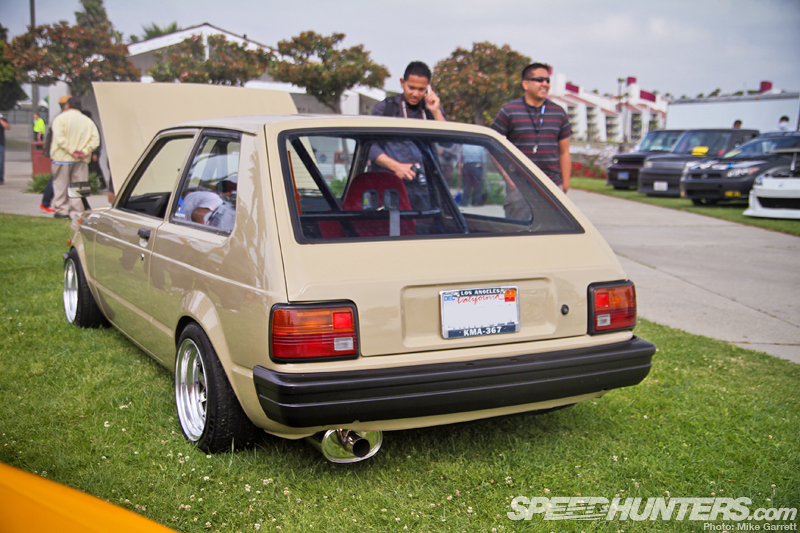 A very clean and tasteful KP61 street car with a big horsepower turbo under the hood. Definitely one of the standouts from this year's show.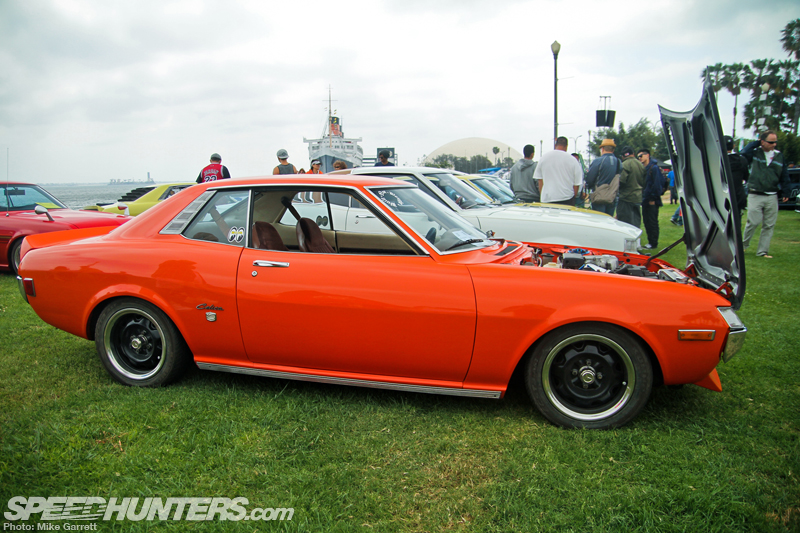 Next up we have a very subtle-looking 1975 RA22 Celica coupe that I would certainly classify as a sleeper.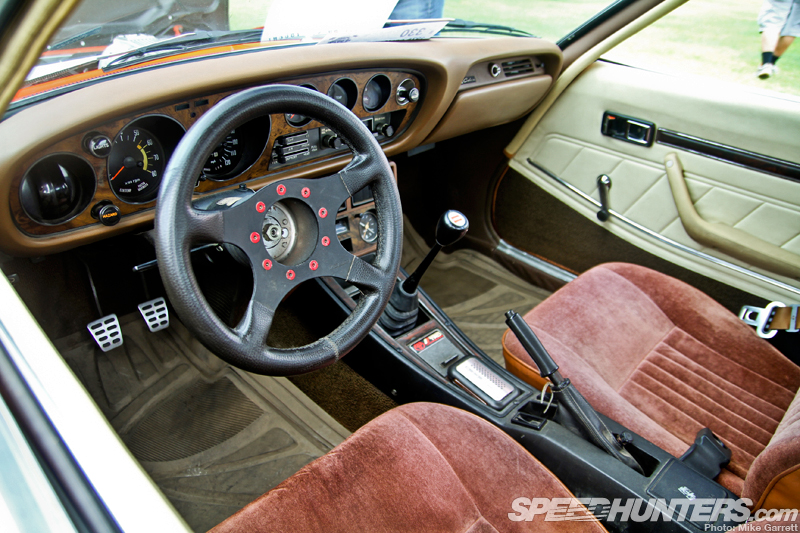 Why a sleeper? Well, for starters the original brown interior doesn't do much to hint at the car's performance potential. The steering wheel is really the only non-stock item that sticks out.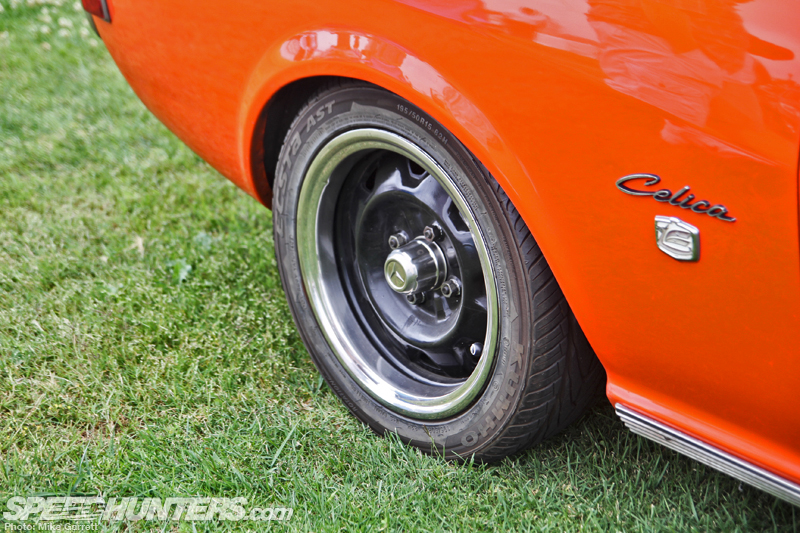 The same goes for the factory type steel wheels with trim rings and center caps. If you look closely though, you'll see that they have been enlarged to 15 inches – a cool and subtle touch.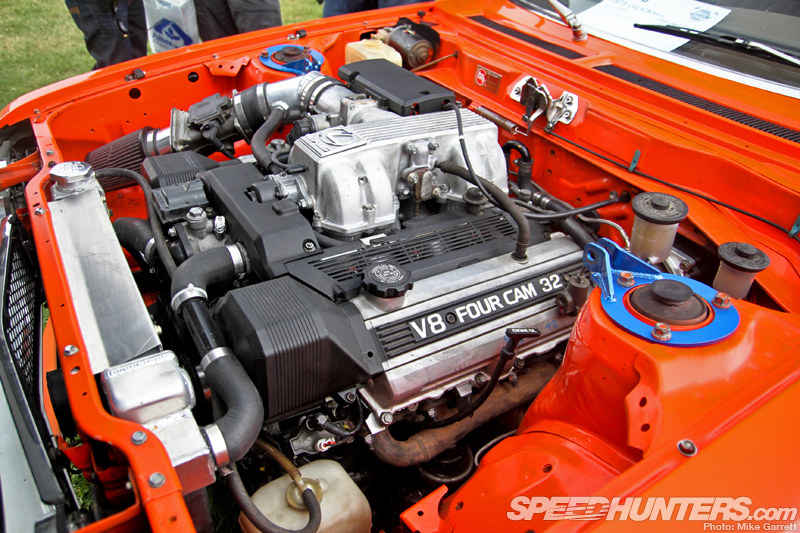 But then you look under the hood and see that a 1UZ-FE V8 has somehow been wedged into the engine bay. When it comes to bang for the buck, it's really getting tough to beat the 1UZ. They are cheap and extremely plentiful on the used market thanks to the thousands of  junked Lexus models equipped with them.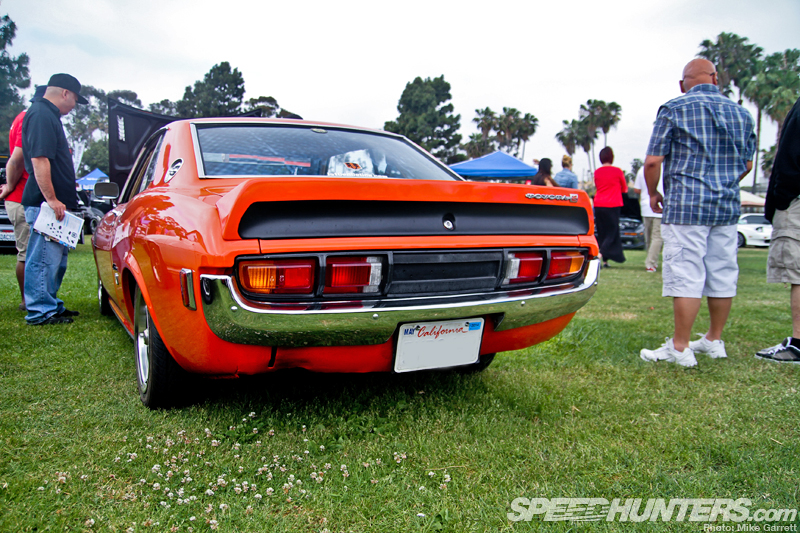 I imagine this car gets some pretty strange reactions from people on the street who think they're looking at a nice restored Celica and then hear that wonderful four cam V8 sound.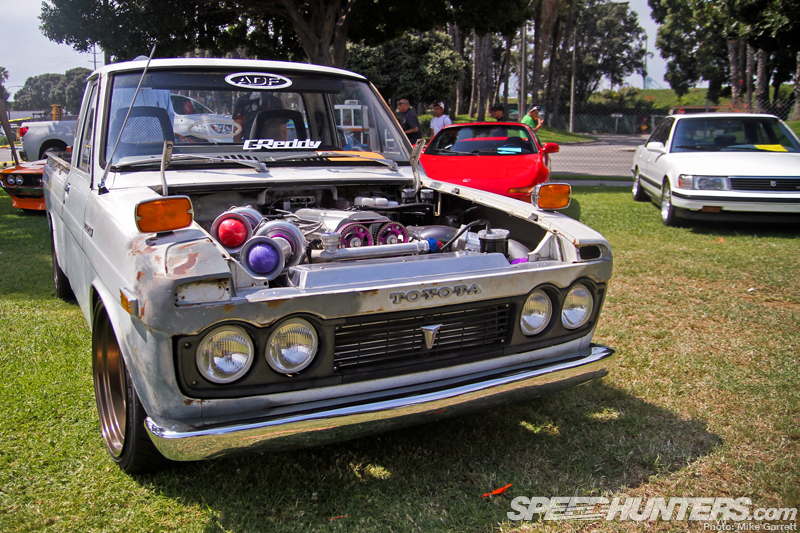 Last but not least, we have a car – or truck that is – that's been seen on Speedhunters in the past. In fact, Sean included this 2JZ-swapped Toyota Hilux in his Spotlight-O-Rama from last year's JCCS event.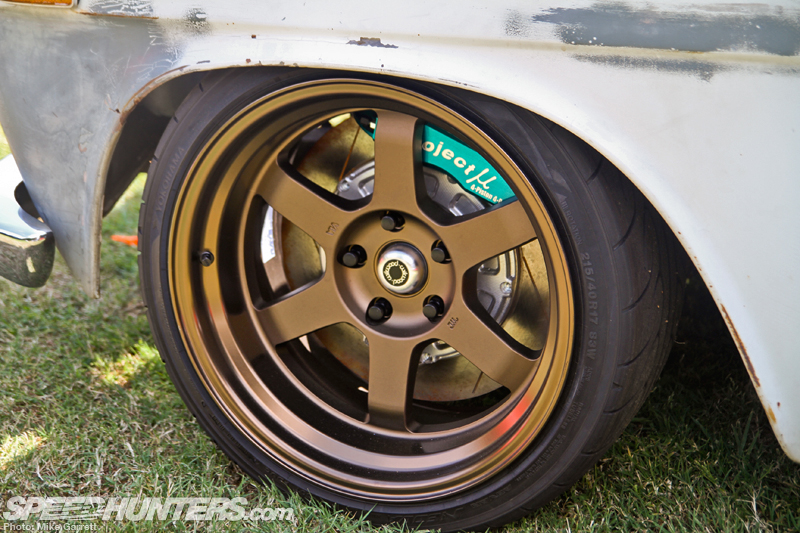 But seeing as how this truck is clearly an on-going project, it's always nice to check in and see what sort of progress has been made.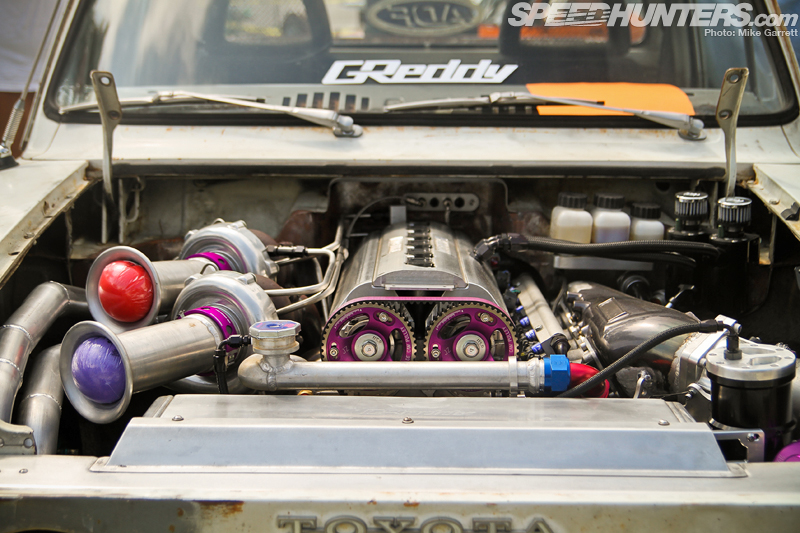 As you can see, the turbo setup looks a bit different from before, with the HKS mushroom filters replaced by a pair of pipes ready to shoot giant gumballs at anyone who comes to close.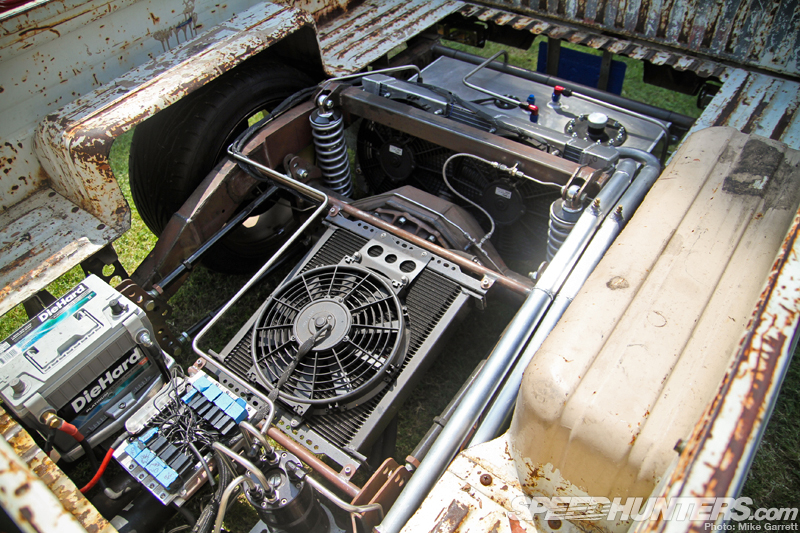 When Sean saw the truck at JCCS, the bed was not installed. Now it is, and you can also see some of the additional work done to the truck's rear-mounted cooling system.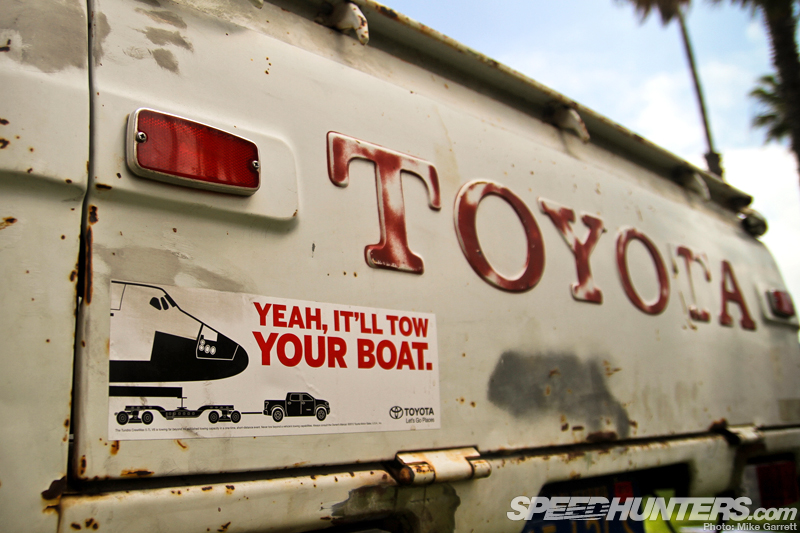 This goes without saying, but I think we'll have to get a hold of the completed truck for a full feature once it's finished.
I think that's a good note to close out this Spotlight-O-Rama and also my event coverage from Toyotafest 2013. Hope you've enjoyed it.
Mike Garrett
Instagram : speedhunters_mike
Email: mike@dev.speedhunters.com