I've talked in the past about how some of my favorite events to cover are the ones that feature a wide variety of cars. I think you'll agree with me that as much as you might like a certain model of car, seeing 50 identical ones in a row can get boring pretty quickly. It might sound strange then to hear that a one-make show like Toyotafest in Long Beach is actually one of my favorite events on the calendar.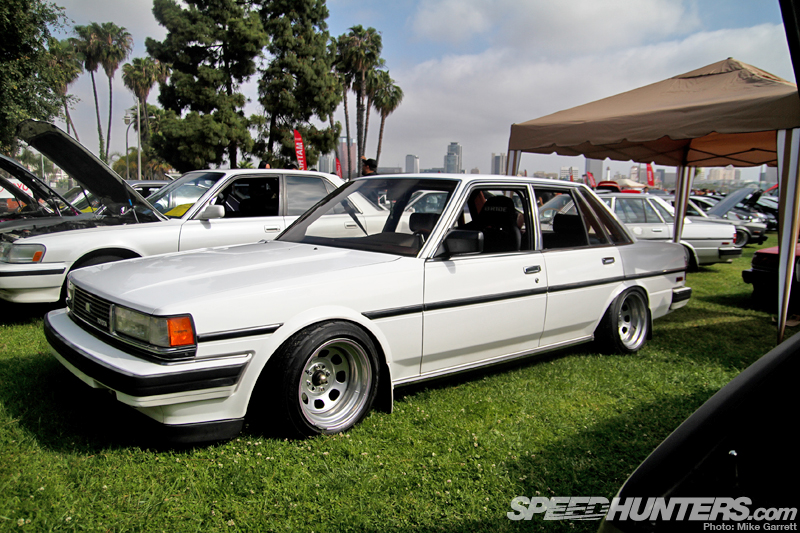 Due in large part to Toyota's massive scope and long history of building vehicles, Toyotafest is actually one of the most diverse car shows out  there. Yes, every vehicle at the event is wearing a Toyota, Lexus or Scion badge, but in many cases the badge is the only thing that ties these cars together.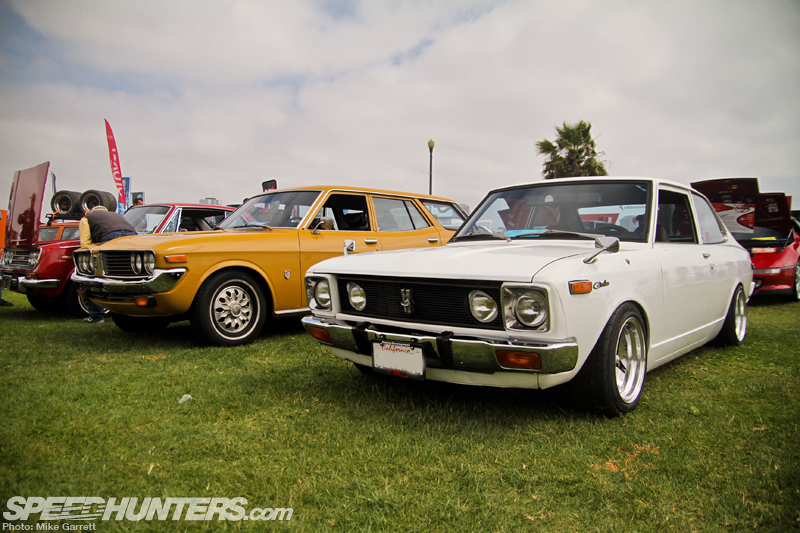 The mix at Toyotafest includes every sort of car imaginable. There are 100 percent factory correct restorations from the '60s and '70s, through to VIP sleds, 4x4s, crazy backyard builds with wild engine swaps, rare JDM imports and more.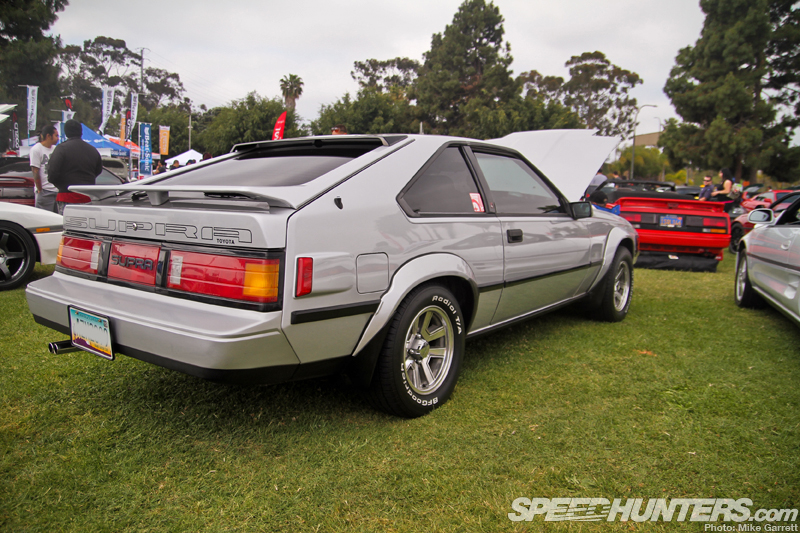 For 18 years now, Toyotafest has been bringing together people from all walks of life to celebrate the automobiles of Toyota and its related brands. Some of these people prefer to preserve their Toyotas just as they rolled off the assembly line while others have use the cars as blank canvases for heavy modification. Whatever the case, the atmosphere at Toyotafest is friendly and relaxed.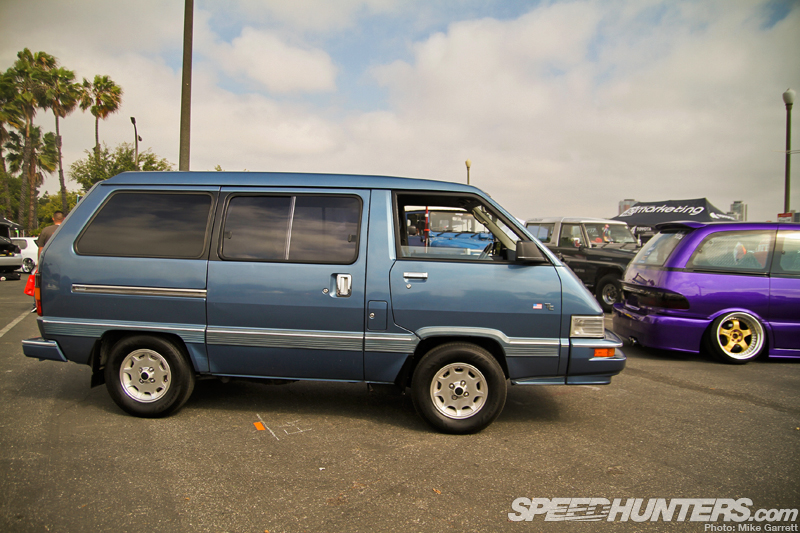 Another thing I love about Toyotafest is the fact that the more obscure models get just as much love as your more common Celicas and Supras. Take the classic Toyota Van for example. At one time these lovable haulers were plentiful on the freeways of Southern California but today they have all but vanished. It's always great to one like this that's been kept in such good condition. By the way, I'm still waiting for someone to take one of these suckers and do some wicked turbo drift build with it…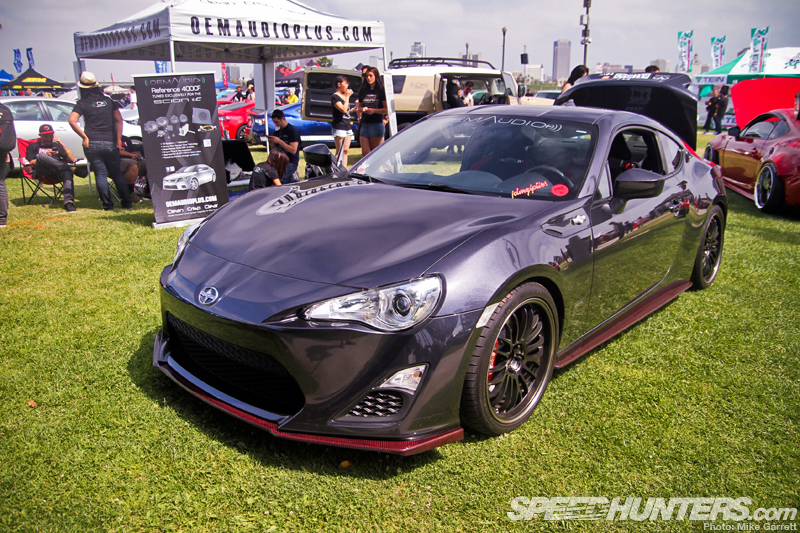 The 2013 edition of Toyotafest was perhaps most noticeable for the invasion of the Scion FR-S. I remember at last year's show the FR-S had just barely started getting into the hands of private owners, and 12 months later Toyotafest was packed with the FR-Ss modified to every degree.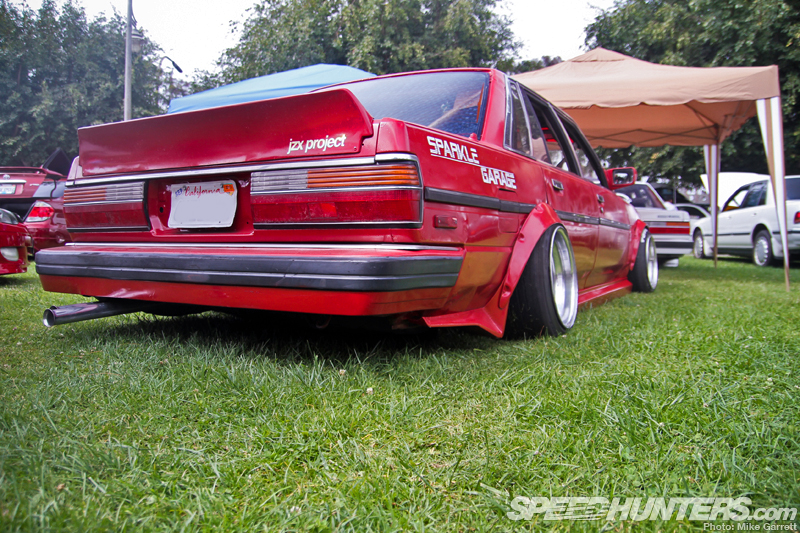 In addition to the FR-S selection, there were plenty of other interesting new cars which surfaced at the show. This MX73 Cressida belongs to Lloyd, who also owns the 2JZ-powered MX32 'Zombie' Cressida we featured last year.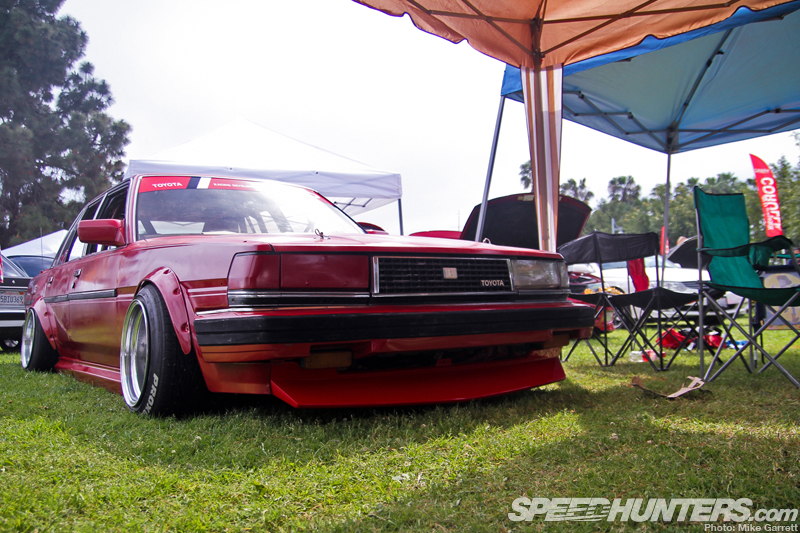 As you can see, Lloyd's new Cressida build is shaping up to be one of the most authentically-styled, US-based shakotan cars we've seen yet. I quite like the covered passenger side headlight and chin spoiler.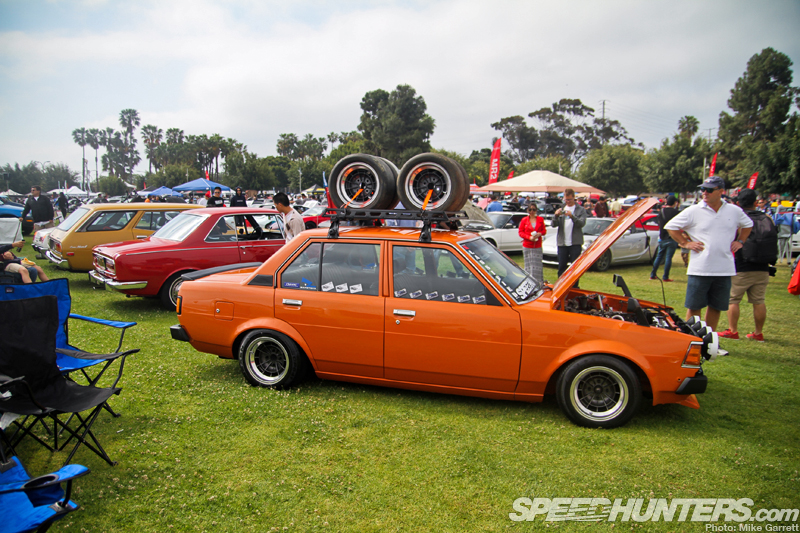 While on the subject of previously featured vehicles, here's another one that should look familiar. It's the AE71 Corolla that Sean somehow managed to shoot in the middle of a huge crowd at Formula Drift Irwindale last year. The car is sporting a few changes since the last time we saw it including a wicked cool set of rally style foglights and a set of TOSCO wheels.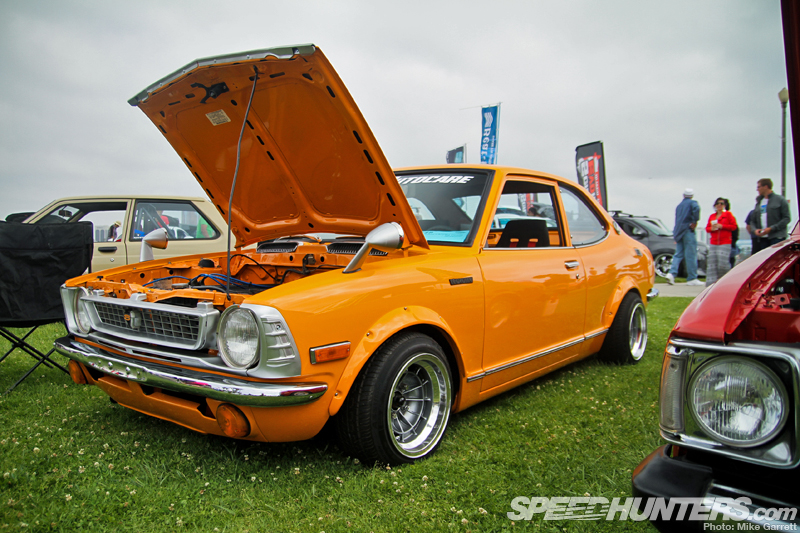 The TOSCO is of course considered by vintage Toyota enthusiasts to be the holy grail of wheels. A set could also be found affixed to this immaculate '74 TE27 Corolla owned by Joel Tan.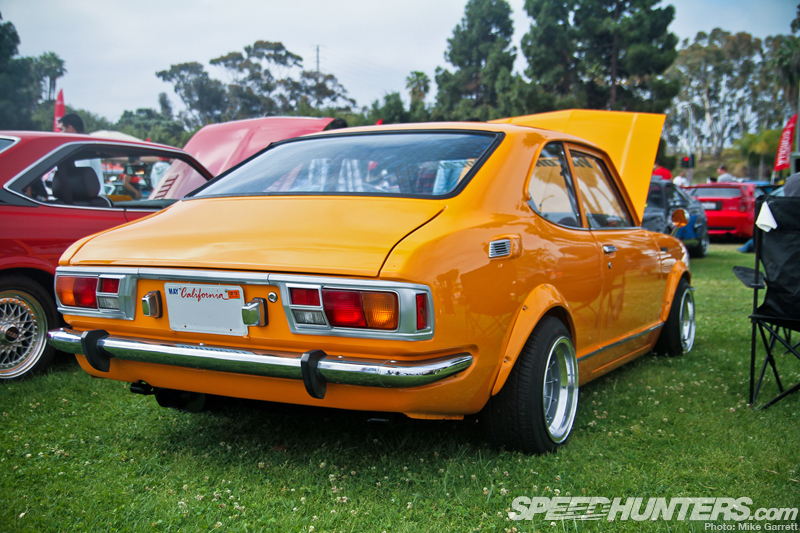 The TE27 is a perfect example of the immaculate classic Toyotas that can be found roaming the streets of Southern California.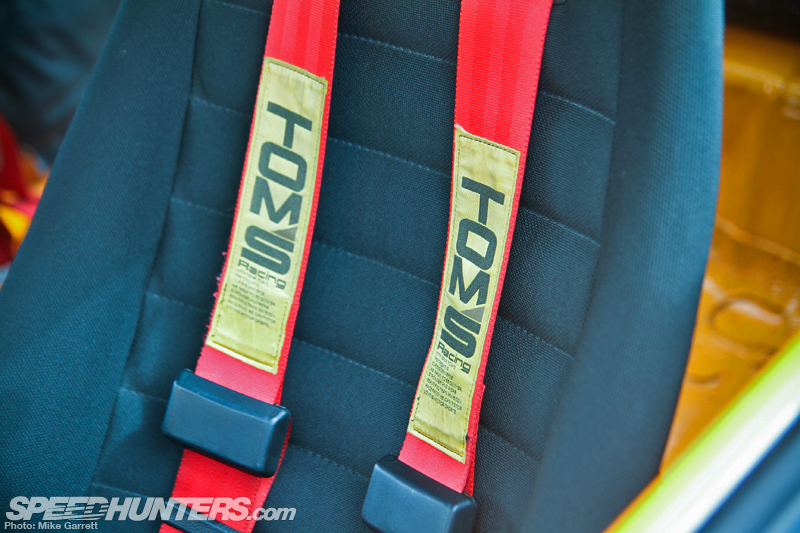 Besides an old school Toyota twin cam engine swap and the drool-worthy set of wheels, the Corolla was also sporting plenty of other cool details like these retro TOM'S harnesses.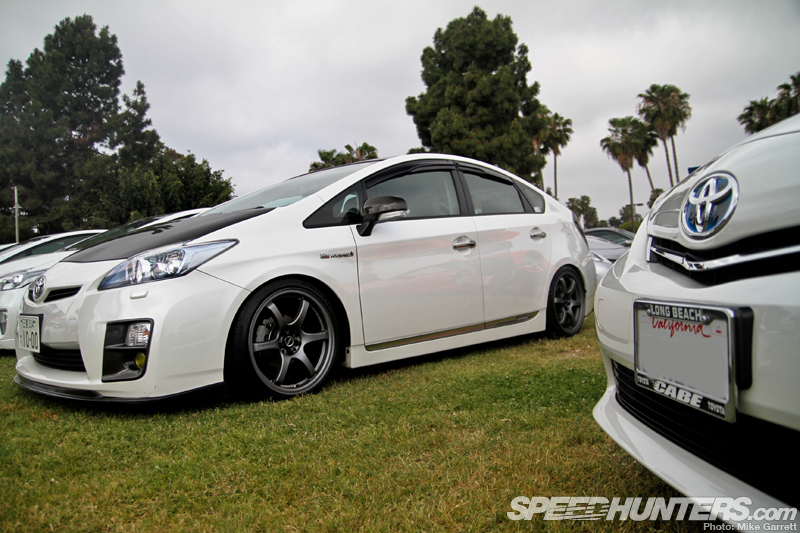 On the other side of the spectrum, there was a surprisingly big selection of of customized Toyota hybrids on hand. Again, the Toyotafest experience encompasses everything from the EPA-scaring sidedraft carbs on vintage Celicas and Corollas to the slient but stylish Prius.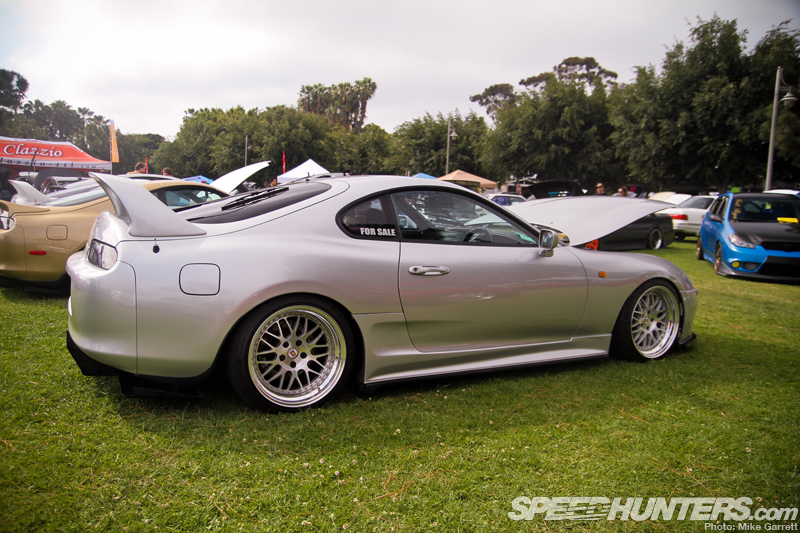 This right-hand-drive JZA80 Supra belongs to AE86 specialist and Formula Drift veteran John Rusakoff. When it comes to a street-going Supra I think many will agree that it's hard to get much better than this.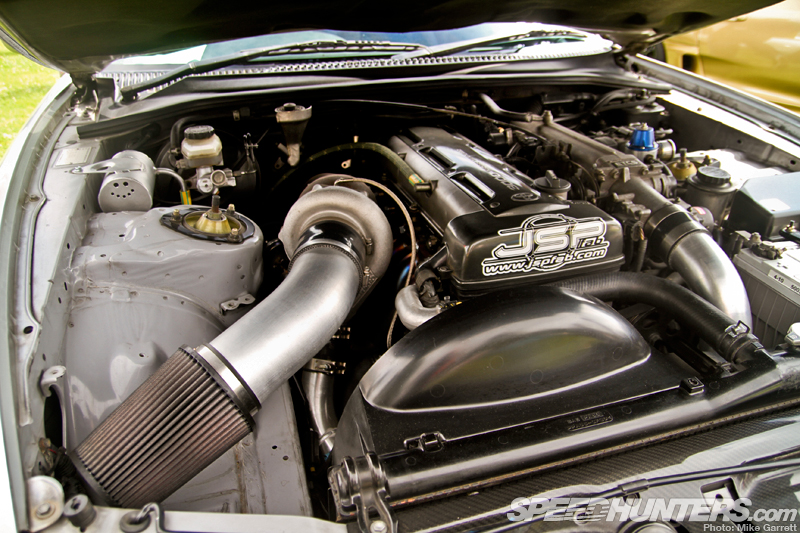 Besides the tough looking set of HRE wheels, John's Supra is also sporting a very healthy looking single turbo conversion.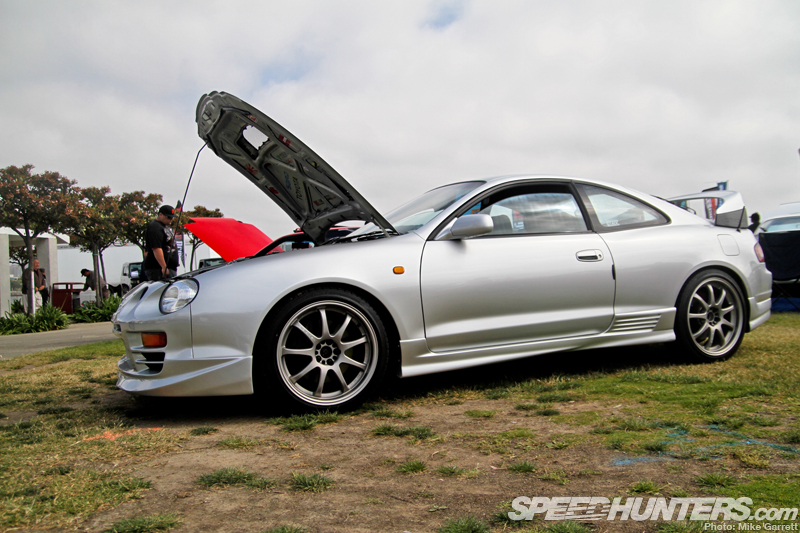 Another one of the non-US market cars hanging around was this beautiful ST205 Celica GT-Four. Given the difficulties and hassle of getting these machines into the USA, it's often better to stop asking "why" and just enjoy the JDM machinery for what it is.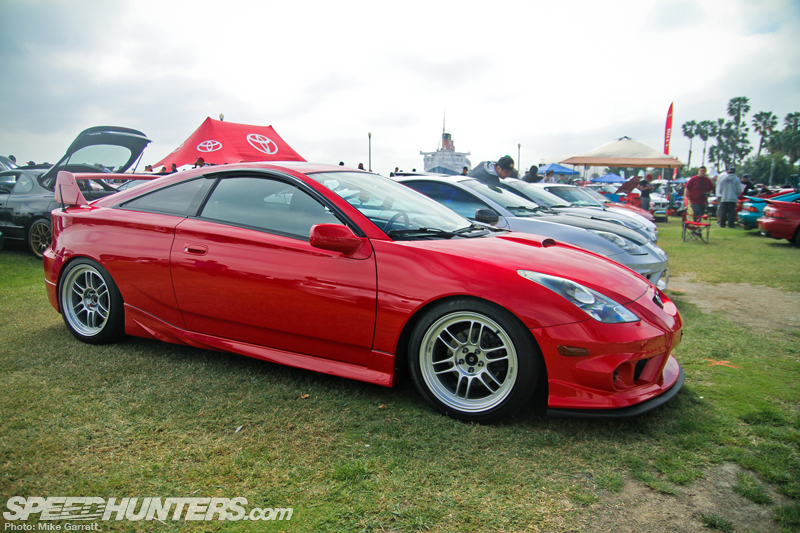 Speaking of Celicas, I continue to see the seventh generation of the Celica as being one of the most unappreciated cars out there. I think this tastefully modified example wearing a set of Enkei RP-F1s helps to prove my point.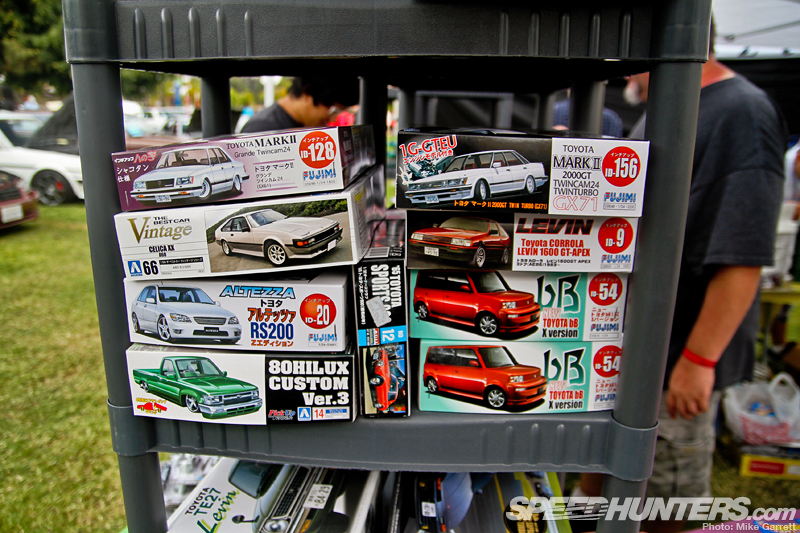 Another thing you can always count on at Toyotafest is the fellow selling all sorts of cool Toyota-related diecasts, model kits, and factory literature.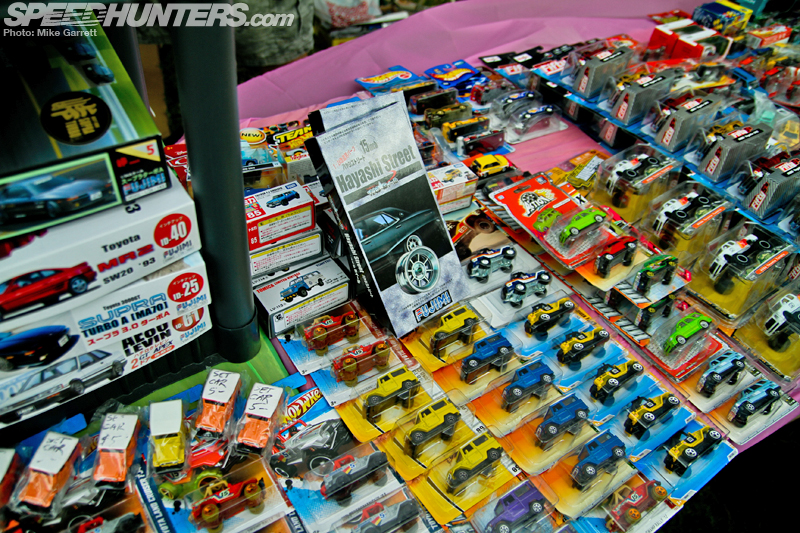 Even though my recent collectable hunting in Japan is still fresh in my mind, I couldn't resist taking a browse through this stuff.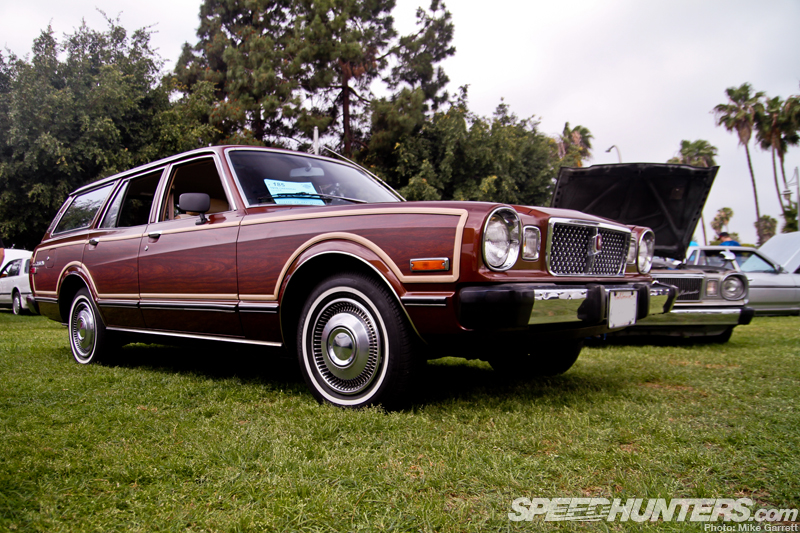 While modified machinery makes up a big part of the Toyotafest field, I have to say the completely original stuff can be just as enjoyable to look at. I'm talking about cars like this '78 Cressida wagon with just over 100 thousand original miles on it.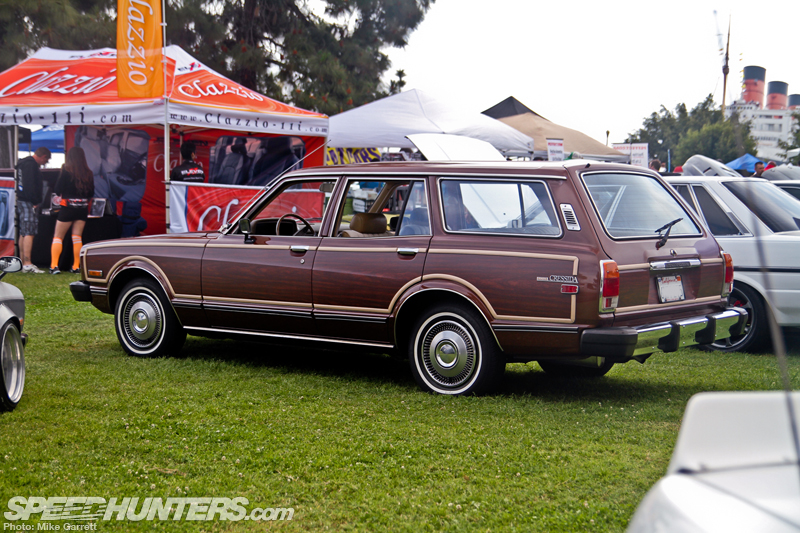 From the well-kept interior to the woodgrain paneling and original hubcaps with white wall tires, you gotta love survivors like this. While this wagon would certainly make a cool shakotan machine, I'd feel bad doing any sort of modification to something this nice.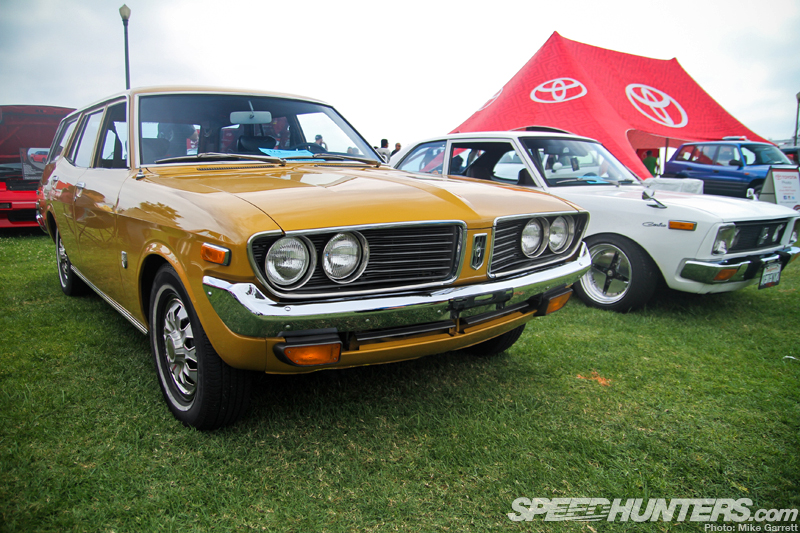 Also in the department of super cool original Toyota wagons was this 1973 Corona Mark II which was likewise sporting original paint and stock hubcaps with white walls.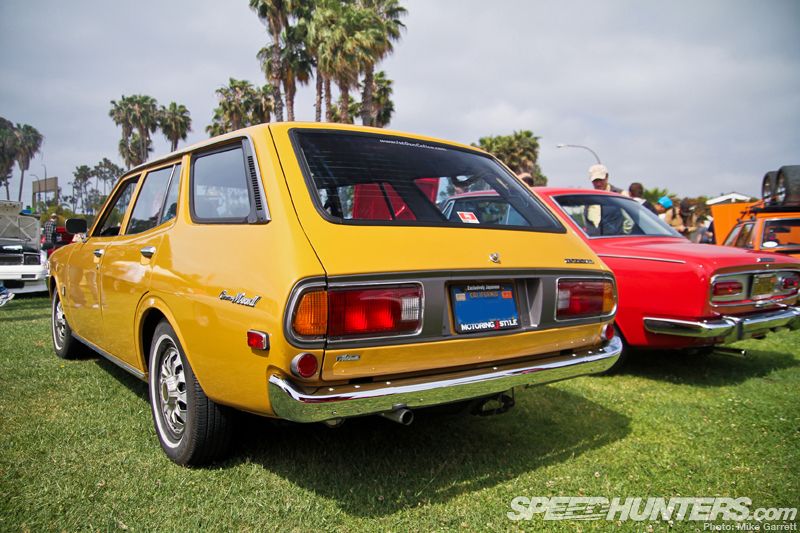 Naturally, seeing this assortment of old wagons got me thinking about the day when I'll be able to bring my own '69 Crown wagon to Toyotafest. Here's hoping for 2014!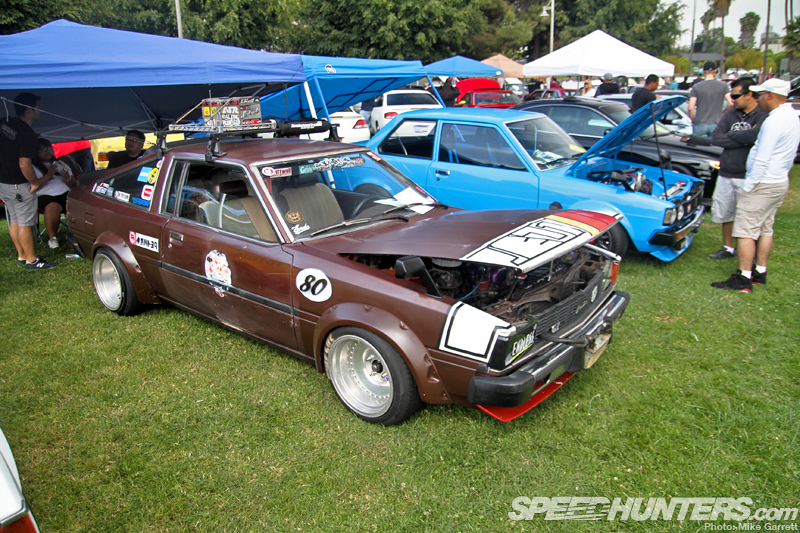 Here meanwhile we have a lift back 70 chassis Corolla looking a little less stock. It's an interesting mix of traditional Japanese kyusha elements and some original SoCal style.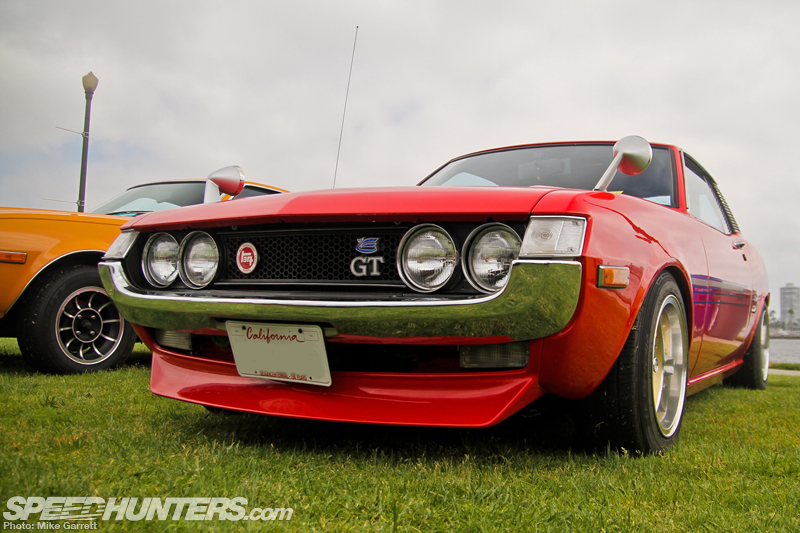 One car that I never tire of seeing whether its at Toyotfest or at JCCS is this absolutely gorgeous first generation Celica coupe. Not only is the car itself damn near perfect…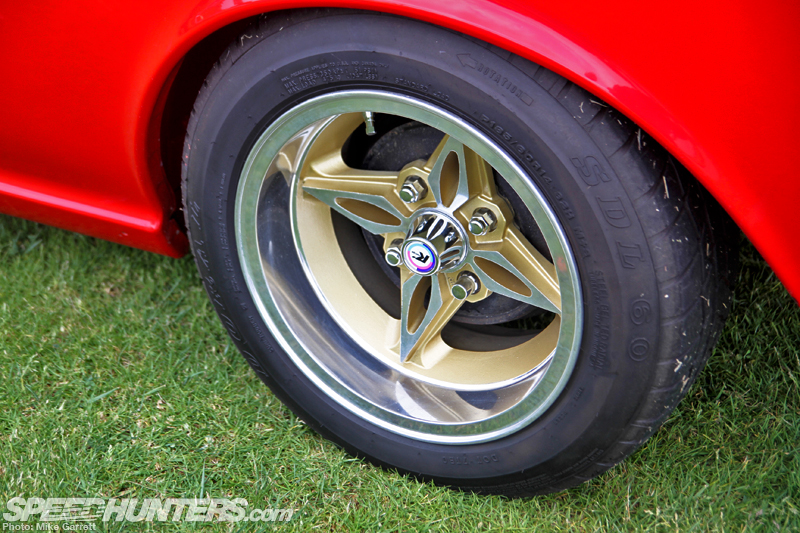 … but it's also equipped with an equally mint set of 14-inch Riverage wheels from Japan – a hot commodity no matter what side of the Pacific you are on.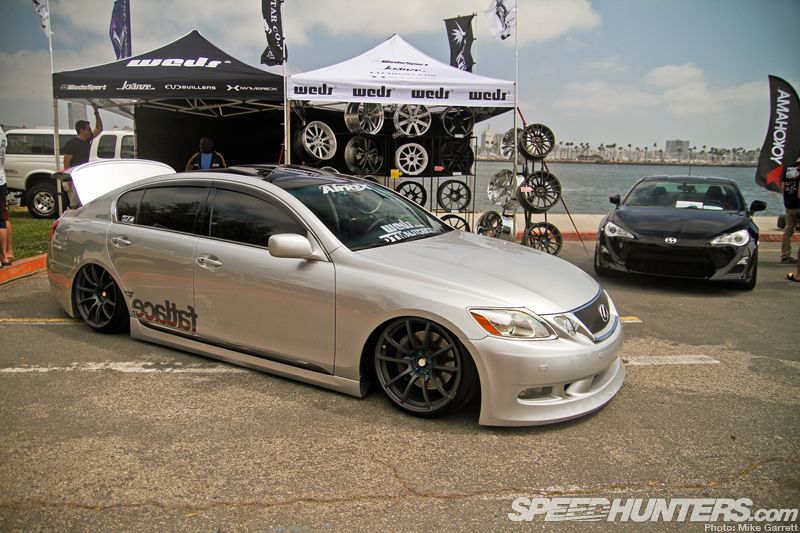 Over in the paved portion of the Queen Mary Events Park sat an impressive selection of VIP cars including this Weds-equipped Lexus GS on air. You might remember this thing from Taryn's Slammed Society coverage.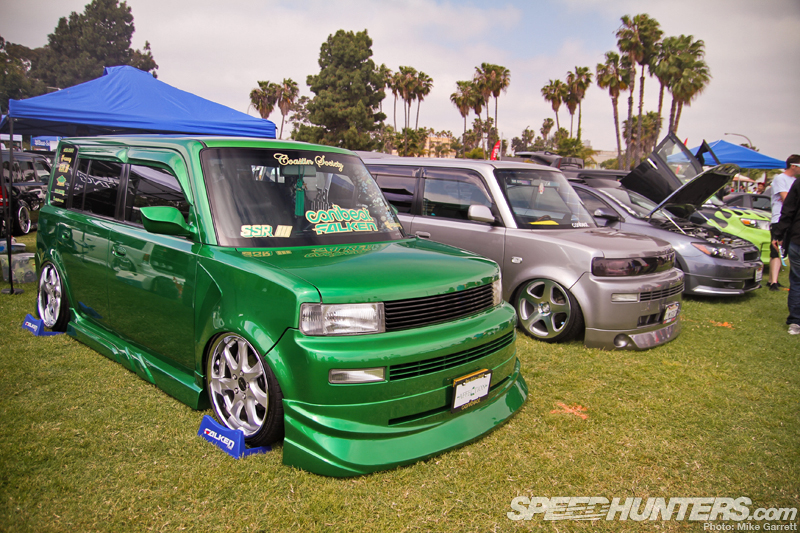 Let's not forget the Scions as well. While I admit a lot of these xBs and tCs were a bit too overt for my tastes, there were also plenty of well done examples with nice details and high quality parts.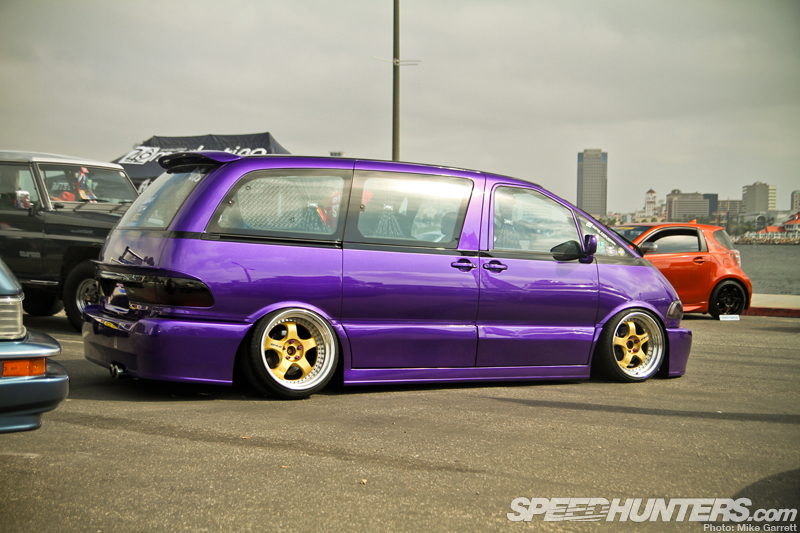 Another vehicle that popped up at the Slammed Society show a couple weeks ago was this mean Toyota Previa. It's so cool to see such an authentic Japanese-style VIP van in here in the states.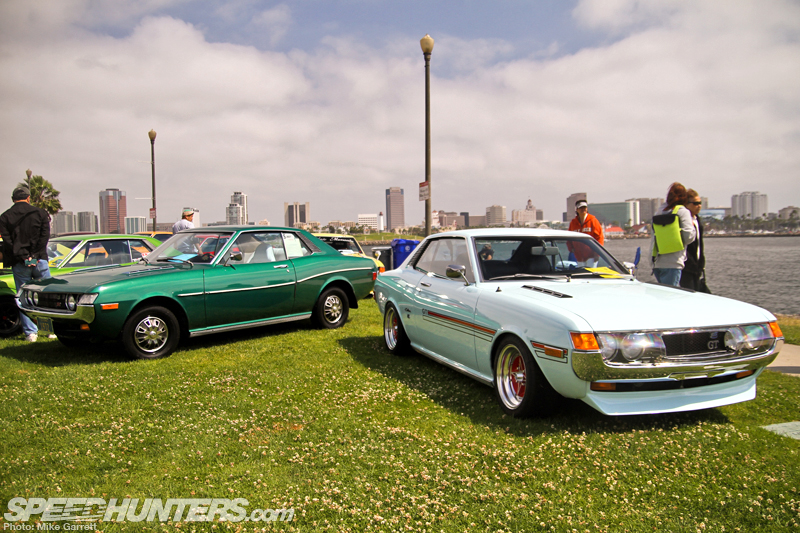 I'm going to sign off for now, but there's plenty more to come from Toyotafest 2013 including a Spotlight-O-Rama with some of my favorite vintage cars at the show. Stay tuned!
Mike Garrett
mike@dev.speedhunters.com
Instagram : speedhunters_mike
Toyotafest 2012 on Speedhunters
A USDM-style Cressida in Japan on Speedhunters
---
---
---